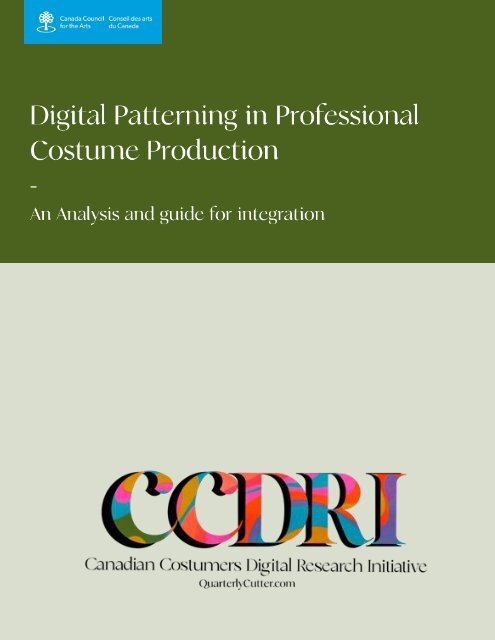 Canadian Costumer's Digital Research Initiative Results
This research is targeted to Canadian Costumers, and more specifically to those working in the production of theatrical costumes.
This research is targeted to Canadian Costumers, and more specifically to those working in the production of theatrical costumes.
SHOW MORE
SHOW LESS
Create successful ePaper yourself
Turn your PDF publications into a flip-book with our unique Google optimized e-Paper software.
2

Dior Suit Toiles

Marlee Bygate
---
Introduction......................................................... 5

Software ….......................................................... 8

2D patterning

Basics........................................................ 12

Digitizing Patterns..................................... 14

Grading..................................................... 15

Printing Patterns....................................... 16

3D

Sewing...................................................... 19

Custom fabric production......................... 20

Sustainability & Models of Integration…….......... 24

Testing

26

Results.....................................................

The Basic Block......................................... 30

Historical Women's Wear......................... 34

Historical Men's Wear.............................. 38

Chorus Costumes and Grading.................. 46

3D Modelling............................................. 51

Designer Collaboration

Rebecca Toone.......................................... 56

Cory Sincennes.......................................... 62

Michelle Bohn………….…............................. 66

Conclusions……………………………………................... 72

Conversations

Elizabeth Sutherland.................................. 74

KaeLeah Spallin.......................................... 76

Katie Klingvall………………………………………. 78

Dior Suit Final

Marlee Bygate

3
---
Cathleen Sbrizzi

-

Author,

Research Coordinator

Elizabeth Sutherland

-

Senior Cutting Consultant

Katie Klingvall

-

Head of Wardrobe

Consultant

Marlee Bygate

-

Test Cutter

Toronto

Michelle Bohn

-

Designer

Toronto

KaeLeah Spallin

-

Test Cutter

Calgary

Rebecca Toone

-

Designer

Calgary

Genevieve Savard

-

Test Cutter

Edmonton

Cory Sincennes

-

Designer

PEI

The Canadian Costumers Digital Research Initiative (CCDRI) is a research project exploring

the potential for integrating digital patterning software into the professional costuming

production process. The research has been conducted by a collective of professional

Costumers with funding from The Canada Council for The Arts, Calgary Arts Development,

and IATSE 212. This project was made possible through the support of Theatre Calgary, The

Citadel Theatre, The Calgary Opera, The Edmonton Opera, The Young People's Theatre, The

National Ballet, Dalhousie University, Costume Alchemy and individual professional

Canadian costumers, whom we would like to thank for their support and encouragement.

Thank you all for your time, financial support and trust.

4
---
5

I believe it is essential that

craftspeople with the skills

and expertise of their field

determine the terms of

technological integration

in our workrooms. It is my

sincere hope that the

results of this paper will

give our colleagues the

tools necessary to reassess

their current

production practices.

– C.Sbrizzi

The CCDRI project began with a proposal that software

used in bespoke fashion production could be equally

valuable in professional costume production for film and

theatre. In an industry with increasing demands and

diminishing resources, it is essential that the costume

workrooms seek out every tool that could expedite and

support our work without sacrificing quality.

Professional Costumers across Canada are looking to adopt

more sustainable production methods, both in terms of

labor and resources. Patterning software facilitates Cutters

and Designers' ability to communicate and collaborate on

garments at a distance. The role of Costume Designer and

Cutter are comparable to the roles of Architect and

Engineer – costumes are built through collaboration and

an understanding of the production requirements. Digital

patterning is a tool for costume cutters which could help

reduce paper, fabric and labor waste. In addition, these

tools will accelerate production through 3D virtual fittings

and the utilization of accessible 2D pattern archives. This

report discusses potential opportunities for digital

integration into the costume production process through

an examination of results and commentary by the test

cutters.
---
The established and ideal

method for costume production

involves the physical

manipulation of paper and

fabric using traditional draping

and drafting techniques. The

preservation of these bespoke

couture practices should be a

part of any plan for digital

integration as it remains the

benchmark for quality

production.

The art of cutting is tactile;

there is hard earned skill and

wisdom imparted in the act of

drawing out patterns on paper,

manipulating fabrics by hand

and draping over mannequins.

These physical methods should

not be lost or abandoned in the

adoption of new technologies.

However, these traditional

methods are resource intensive

and require time, toiles and

space to work. We believe that

technical innovation can

preserve the core of our

traditional methods while

removing the burden imposed

by some labor-intensive aspects

of the work, such as basic block

building, alterations, toile

building, and first fittings.

In the last decade there has

been a striking shift in theatre

and film production.

Generally, rehearsal times

have been reduced and

shooting schedules

condensed. Higher production

demands allow little room for

error or the time needed for

seasoned professionals to

transfer knowledge to

emerging talent. The

integration of modern digital

cutting could create

meaningful new roles for

young costuming

professionals while also

reducing the pressure being

placed on our senior cutters.

Theatre and Film

departments currently use a

variety of software as an

integral part of their

production process; Scenic

Designers, Art departments

and on-set Costumers have all

benefited from the

integration of digital tools.

Information is easier to access

and share when it is stored

digitally, and the digital

platform creates a new

forum for experimentation

and discussion prior to

consuming physical

resources. The integration of

digital patterning software

presents an opportunity to

open up space for young

talent to support senior staff,

where both parties can share

and benefit from the diverse

skills found in our

workrooms.

We need our workrooms to

continue to be viewed as a

valuable resource in which

producers, designers and

directors want to invest.

These new tools will allow

Professional Costuming a

competitive edge and

further the boundaries of

creative expression

operating under strict

timelines.

6
---
Disclaimer: The following report is

intended to assess the potential for

integrating traditional patterning

techniques in a digital workspace to

improve accessibility and efficiency.

This report is not intended as a review

of either the Gerber or CLO software

suites. The CCRDI team would like to

thank Gerber for providing excellent

customer service, guided training, and

access to their product. We would

further like to thank the instructors,

and sales staff at Gerber who kindly

dealt with our questions with

patience and generosity.
---
8

The majority of testing focused on training and

experimenting with Gerber Accumark software.

Gerber is a well-known fashion development

software and has been an industry mainstay for

decades. We chose to work with Gerber

because of their reputation and their suite of

products marketed to independent bespoke

fashion ateliers. The test cutting team assessed

Gerbers' basic patterning functions and grading

tools as they apply to costuming and also

reviewed methods for exporting digital

patterns and digitizing paper patterns.

Our testers reported that they found

themselves devoting more time than they had

intended perfecting their patterns, describing

the software as "addictive and enjoyable".

Many aspects of Gerber were considered

advantageous, but each tester also felt that

there must be a more direct and simple way to

complete the same actions. The testers found

Gerber difficult to master by an individual

hoping to become proficient in the variety of

specialized tools available for use. The

implication impressed by the software trainers

is that the typical user of the

software (i.e. Fashion companies) will train

individual specialists focusing on each area of

pattern development (e.g. 2D patterning, 3D

modelling, *Marker making etc.).

Gerber has maintained historical functions

alongside new features to cater to decades

worth of clients. Many of these functions

perform the same task in different ways.

Overall, we found that Gerber offers more

than was needed to complete the project

testing scenarios. The software was created

with a focus on manufacturing which meant

there were multiple additional steps in the

process that were needed to follow which

weren't applicable to our production process

(Easy Order, Model Maker). A more pared

down, streamlined patterning software would

be much more practical and accessible to

costuming professionals. Finally, the cost is

prohibitive to freelance workers.

*A marker is a fashion term for the layout of pattern pieces on fabric
---
Tech Design Bundle

1 year

$7,188 USD

*2021 price

Enterprise:

$9000

Includes unlimited 3D

support

Individual:

$450/year

$50/mo

• Superior Marker

Making

• More choices for

applying functionality

• Accuscan option

• Explorer is an excellent

file management

system

• PC/Mac compatible

• Offers individual user

license -Excellent price

point

• Superior 3D rendering

• Simplicity and ease of

use

• Comprehensive online

resources

• Overly complex

• Features we don't

require

• Price – no individual

license available

• Exclusively PC

compatible

• 3D difficult to use

• Less sophisticated

Marker making tools

• Does not have

integrated system for

digitizing patterns

We are recommending that costumers consider CLO 3D for meeting digital patterning

needs. CLO 3D offers an excellent price point for individual contractors, and a 30-day

free trail is available. There are many excellent online tutorials, and it provides many

of our favorite functions from Gerber. It is compatible with both MAC and PC, where

Gerber exclusively operates on Windows PC computers. Marker making is not as

sophisticated on CLO as it is in Gerber, but it met our needs sufficiently. CLO is also a

powerhouse when it comes to 3D rendering, and we found it more accessible.

Software CLO - PC CLO-Mac Gerber - PC

OS Windows 10/11 64-bit Mac devices released

after 2018

Processor AMD® Ryzen 4th Gen 7/9 5000

series

Intel® Core-7/9 10th Gen or

later

M1 series Mac

Mojave 10.14, Catalina

10.15

Big Sur 11.4, Monterey 12

Memory DDR4 32GB or more Intel® Core-i7 or Core-i9

Graphics

Card

NVIDIA® RTX 3000 series or

NVIDIA® Quadro RTX , RTX A

series

or Apple M1

DDR4 32GB or more

Windows 10 Pro

64 bit

Intel Coffee Lake (8 th ed)

Core i7-8700 @ 2.4 ghz or better

32 GB Ram or more

NVIDIA RTX2070ti

8VRAM or more

Storage SSD 20GB or more SSD 20GB or more SSD with 1TB storage

9

This information and overview is based on our 3 month trail use of Gerber and 1 month trail use of

CLO. It is a perspective specific to costumers and does not reflect an in depth expert overview.
---
2D patterning provides efficient methods for

altering patterns, tracing off scanned patterns and

the tools to build and store digital patterns which

are easy to share and archive. Refer to our testing

results for more detailed observations on

patterning in the 2D workspace.

Photo: Genevieve Savard

Toile of Design by Cory Sincennes

10
---
Walking a sleeve - Gerber

https://youtu.be/JjpaGUPOXXQ

The Test Cutters agreed that the 2D patterning experience is almost like a video game

for cutters, addictive and challenging. Here are some of our favorite 2D tools with their

advantages in the digital workspace:

•Measuring: Instant accuracy in producing a specific measurement or assessing a

measurement. Along with the ability toggle between showing/hiding the measurements

on a pattern.

•'Walking' a pattern piece digitally or truing up patterns digitally is simple and effective.

•Offset line: This function allows you to alter the depth of a line dragging up or down a

specified amount. This makes altering necklines/hemlines etc quick and easy.

•Tracing: Simple to trace off portions of a pattern to create new pieces.

12
---
To pattern effectively in a digital workspace, the cutter must understand how patterning

software reads the information they are inputting. Most software allows you to

manipulate your pattern by reading lines and points on an X/Y graph. There are different

categories of points and lines, for example: some points indicate a place where your line

is split in two, there are notches, end of line points, smoothing points and grading points.

Some lines indicate a fold, a pleat or a measurement. You must have the correct points

and lines in place for the software to allow certain functions. You can very accurately

place points and lines in digital software by inputting exact numbers based on an X/Y

graph. (see example)

New users should apply a

naming convention at the

outset to increase pattern

accessibility. Decide how you

will name projects, pieces and

versions of your work for

optimal organization.

When patterning in your

digital work area you must be

accurate and precise in

joining lines. If they do not

meet or if they overlap, you

will have issues manipulating

your pattern and applying

various functions.

Tux front Example: To widen

the CF the user can offset the

CF line by 1". The software

reads this information as an

input of 1" on the '-X' axis

13
---
"How to Trace Patterns From A Book."

youtu.be/K4cMoneETRg

.

"How to Trace Patterns From A Book." Youtube, uploaded by CLO, 31 Oct. 2018, youtu.be/K4cMoneETRg.

This exciting tutorial shares how to digitize scaled patterns from books into a

digital workspace. These methods have the potential to be applied to the historical

patterns found in Jean Hunnisett, R.I Davies, and Janet Arnold books, valuable

historical patterning references.

The same process can be used to digitize paper patterns if photographed from

above on a gridded work area using a camera mounted above the digital

workstation.

NOTE* Gerber software has a product called 'Accuscan' which allows users to digitize their paper

patterns by photographing pieces.

14
---
"All About Grading."

youtu.be/iBobPIUbZy0.

"All About Grading." Youtube, uploaded by CLO, 11 May 2020, youtu.be/iBobPIUbZy0.

Our testing focused on grading for Chorus Costumes. Gerber made alterations fast

and easy, however the 'made to measure functions' and grading process were not

simple to learn and apply. Our testers concluded that in practice they would prefer

to alter each pattern as opposed to grading in Gerber. CLO3D online tutorials

display a potentially accessible and quick method for alteration. There is also an

option to change the size of your garment by percentage (increase or decrease)

while it is being simulated on your 3D avatar.

15
---
Specific equipment such as printers, or projectors and computers are required

to access digitized patterns. Many Theatres and Film productions have large

scale printers in the art department which have the potential to be a shared

resource. Alternatively, printing can be contracted out to printing companies

(Fed-Ex, Staples, and Rick-Rack in Calgary). Users should not wait to set up

printing access until the last minute, they should troubleshoot with a 2x2

square pattern to assess for accuracy.

Projecting patterns directly onto a work surface (fabric or paper) is an

environmentally friendly alternative to physical printing. This method has

gained popularity among home sewers who work with PDF patterns purchased

online. Short throw projectors offer more mobility and a larger cutting surface

in a low ceiling workspace while long throw projectors offer a more affordable

alternative.

Investment in the hardware required to produce and access digital patterning

can be split between Cutters and Production. Cutters will want to organize and

maintain a catalogue of their work so they should invest in their own computers

and software access and request that production pays a kit rental for accessing

these tools. Permanent equipment requirements of the Digital workstations

(with projectors and cameras mounted above cutting tables) should be the

responsibility of the production to provide. Those items should be permanent

fixtures as they require calibration and mounting to work effectively. If

productions decide to print patterns on paper the head of wardrobe should

either petition for a large-scale printer, or make sure to coordinate efficient

access to the printer in the Art department.

16
---
17

Cole, Dana. "Cutting Fabric

Pieces with the Help of a

Projector."

youtu.be/NXtMGA-n328.

Cole, Dana. "Cutting Fabric Pieces with the Help of a Projector." Youtube, uploaded by Patterns For Pirates, 18

June 2021, youtu.be/NXtMGA-n328.

This video tutorial and blog post by Dana from Patterns for Pirates offers a nice

overview on setting up and calibrating your projector.

Patterns require a thicker line setting to be visible when exporting PDF patterns

from CLO. To achieve this, follow these steps: Go to 'Settings' in the top toolbar

> select 'User Setting' in the drop down menu > on the left hand menu choose

'User Interface', scroll down and you will see the option to increase the 'line

thickness' on your pattern.

There are two types of projectors recommended for cutting, short throw

projectors and long throw projectors. Short throw projectors are generally

smaller, lighter and project over a large space at a closer distance, however

they are very expensive ($1500+). Long throw projectors are a much more

affordable option; however, they do require more overhead room and a mount

to project over a larger work area. Projectors with a high Lumen number will

allow you to see the pattern even in a well-lit studio space. The throw ratio on

your projector indicates the number of inches of projection you get per foot of

distance and is a vital consideration when making this purchase.

A popular mountable long throw projector is the Vivimage Explorer 2, ($70 -

$250), 3500 lumens. A minimum distance of 61" between worktable and ceiling

is recommended. In the video tutorial above a short throw projector Epson

485WI ($2100) is being used, 3100 lumens, 0.29':1" (D:W) throw ratio.
---
Sewing lines 'Fractal Frockcoat' in Gerber

Gerber 3D workspace 'Sewing Lines' 17c Coat

18
---
19

Once a 2D pattern has been developed a sew function is applied to the

pattern. This indicates sewing connections to the software, which runs a 3D

simulation of the costume. Fabric specifications inform the drape of the

garment in the simulation.

The customizable avatar (found in the 3D workspace) has cylinders around

arms, torso, neck etc. Pattern pieces are organized by placing them onto the

cylinders. In Gerber you assign placement of your pattern pieces in the model

Editor. In CLO 'arrangement points' on the avatar can be activated for easy

placement.

https://youtu.be/rvrWDnmNv-A

Lay out your 2D pattern in an organized manner to maintain clear and visible

sewing connections.

It is important that your sewing lines do not overlap each other and that your

pattern pieces are not interrupted by the body of your avatar as both of those

scenarios will result in an error in the simulation.
---
Designers are beginning to take advantage of the creative opportunities of

custom printing fabric. The quality of printing and range of fabrics continue to

improve. Saturated, rich prints can be achieved on a variety of fabrics. Digital

patterning software is used to place, and scale digitally applied graphics for

custom printing. The application of graphics in the software is versatile and

economical. Yardage can be produced with more than one custom print.

images can be placed on curved hems and patterns can be matched with less

wastage of fabric. Graphics/Fabric patterns can be applied in the 2D or 3D

workspace in CLO. Users can adjust the scale and placement of these graphics

with the designer in real time. CLO and Gerber were invaluable tools in the

production of the custom printed fabric for the final work scenario in our

testing, a collaboration between Designers and Cutters.

The Test Cutters collaborated with

three professional industry

Designers in the creation of

costumes requiring the use of

custom printed fabric. In the final

test work scenario, we held virtual

distanced fittings. These fittings

were conducted prior to ordering

custom printed fabric to establish

the scale and placement of graphics.

3D simulations helped the CCDRI

team discuss the fit, proportions,

and cut of a costume. These 3D first

fittings allowed our designers to

communicate their desired

outcomes and eliminate errors prior

to ordering fabric and cutting into

real fabric.

Once the digital pattern has been

simulated into 3D it can be

adjusted on the avatar with a

virtual hand or altered by placing

digital pins. On the spot

alterations can be executed in the

3D or 2D space. The team

produced custom printed fabric

exactly to the scale and

placement of graphics desired by

the Designers. Digital patterning

is the best way to take advantage

of custom printed fabric, it

facilitates discussion, and

produces the most accurate

results.

Please see work scenario 6 notes for information on how to export patterns and upload them for to scale printing.

20
---
Insert video fitting adjustments

21
---
Digital Patterning facilitates the placement of graphics; however, the designer

will need to provide graphics for the cutter to place, this could be done by a

graphic designer, designer, or skilled assistant. In the CCRDI research the

coordinator produced graphics for the design collaborations.

Fill in the white background around pattern pieces in the yardage with the same

graphics as your pattern. This is helpful in the case of a cutting error (if a cutter

needs to shift a piece over slightly) and it provides potentially useful scraps of

fabric.

Test Cutters found Gerber more complex to navigate in 3D fittings, the 3D

viewer launches in a separate window creating lag time when moving from the

2D workspace to the 3D workspace. They also experienced more issues with

Gerber crashing in 3D.

The built in, adjustable Avatars represent key measurements and function

similar to having access to a wide range of dress forms. When using avatars keep

in mind that two performers could have the same measurement and carry their

weight differently, so fitting on an avatar will not produce flawless results.

In CLO 3D body scans can be imported as long as they are in OBJ or FBX file

format. However, the body mesh has to be "cleaned" (no holes or noises) so that

garments can be fitted correctly. This is an area for further research and

investigation.

22
---
23

https://youtu.be/Xd1yRH51AqA

Marlee Bygate Fractal Frockcoat – Fitting, and Branch Placement
---
The key to successful digital integration will be investing

in digital workstations, and training. Companies should

expect a slow integration into the production process as

each work room assesses where and when these tools

can best be applied. An initial integration into 10% of the

workload would be a hugely successful first start for a

workroom. That number will grow as craftspeople

continue to familiarize themselves with the digital tools

available to them. If costumers immediately tried to

digitize and virtually fit every costume in a show

production speed would decrease and stress would

increase. It is important to first identify where these

tools can provide the best support to our cutters.

Example Scenarios of potential positive applications:

• A film production has many stunts, the hero's

costumes are digitized for fast grading.

• A theatrical production has invested in expensive

fabric for a fantastic end of show costume and the

cutter has no fabric to spare. The pattern can be

digitized and the 'finished' 3D simulated costume

discussed with designer and director prior to

cutting.

• The designer wishes to assist a director in deciding

on the suitability of an important costume with a

first fitting, but the actor is set to perform

immediately after arrival. The cutter can produce a

digital first fitting to help the director envision the

fit and fabric choices of the costume, reducing the

likelihood of last minute changes.

• A theatrical company has many performers

returning annually. They maintain a catalogue of

digital basic blocks increasing the speed of the

initial drafting. Additionally, the basic blocks

contain fit information specific to these actors

reducing the number of alterations required after

first fittings.

24
---
Improving studio spaces with digital workstations

outfitted with projectors could reduce paper and

fabric waste and increase physical storage space.

Virtual first fittings would move the initial labor from

stitchers to the digital cutter and add to an archive of

digital patterns. Ultra portable digital patterns travel

easily with cutters from workroom to workroom and

can be emailed rather than physically shipped. These

patterns will help cutters efficiently contribute

simultaneously to multiple projects across Canada and

retain an accessible catalogue of their work.

Workrooms which create an additional role for a

digital cutter could shift the division of labor, reduce

pressure on lead cutters and create a space for

mentorship. The time sensitive nature of costume

production often prevents mentorship for new

cutters, tailors and stitchers. They work in a whirlwind

under the mantra of "The show must go on" without

fully assessing how to sustain such high levels of

production. Burnout and frustration can result in the

loss of talented creatives in the workroom. The role of

digital cutter will likely be filled by a younger, more

tech savvy demographic who could support senior

cutting staff by digitizing paper patterns for virtual

fittings/sharing or grading. This relationship would

create an excellent scenario for mentoring and skill

sharing and reduce the burden on senior staff

members.

Example Scenarios for the role of digital cutter:

•Digital Cutters produce basic blocks for a production

virtually which builds their skills while producing a

valuable resource for the company.

•Digital Cutters digitizes, and 3D sews the paper

patterns produced by traditionally drafted Sr. Cutter

providing a platform for designer and Sr.Cutter to fit

and discuss the costume. This experience allows the Jr

Cutter to observe the fitting process as well as

familiarizing them with the cutting choices of the

senior cutter (ease added, extent of curves etc.)

25
---
We approached this research with 3 key points of inquiry:

•How will our traditional skill set translate into digital technology?

•What elements of this technology will progress the creative potential of our work?

•How will Digital technology influence our current costume production practices?

In order to answer our key points of inquiry we've established 6 typical

costume work scenarios to test Digital Patterning software. Below you

will find descriptions of the work scenarios we tested. Our first 3 testing

scenarios address a range of typical drafting exercises which a cutter

would need to perform on any given theatrical show.

Work Scenario 1:

Creating a customized Sloper/Body Block: The basic block is the first step in

bespoke pattern drafting. The sloper becomes a template off of which the

cutter builds more complex patterns. The sloper is made to fit an actor's

specific measurements. These blocks were used as the basis for the following

testing scenarios.

Work Scenario 2:

Historical Women's Clothing :

Women's Dior Suit

Work Scenario 3:

Historical Men's Clothing :

1700's Men's Coat

26
---
These designs were patterned using digital software, allowing the test cutters

to assess the translation of their skills to a digital platform. Additionally, all

the patterns rendered were confirmed by building half scale shells of the

costumes. Miniature versions of the costumes proved accuracy of the digitally

produced patterns and assessed how easy/difficult they are to correct on a

digital platform.

The 4th,5th and 6th testing scenarios assessed the accuracy and speed of 3D

modelling technology, grading functionality and fabric pattern design

technology. Accurate virtual 3D renderings lead to fruitful, decisive

conversations prior to the production of a costume.

Work Scenario 4:

Grading for Chorus: Test

cutters drafted a chorus

costume, and used digital

patterning software to alter

the pattern to various sizes.

Work Scenario 5:

3D modelling: Test cutters used previously drafted digital patterns (work

scenario 2,3,4) to render 3D models and assess the accuracy and functionality

of the technology.

Work Scenario 6:

Custom printed digital fabric: Test cutters paired with industry Designers to

assess the use of Gerber and CLO in the custom fabric printing process. These

designers have generously volunteered these designs, each requires made to

order custom fabric. The Test Cutters worked with the Designers using digital

software to place the textile designs on the 2D pattern, assess them in 3D

and finally produce them in small half scale versions. This last test scenario

makes use of all the potential benefits of digital patterning.

27
---
is a Junior Cutter for Theatre, Opera and film. She

graduated from Red Deer College in 2005 with a Diploma in Costume

Cutting and Construction. She enjoys quilting and designing clothing for

herself.

's lifelong passion for sewing began at the age of nine

with 4-H sewing. Knowing that she wanted to pursue a career that could

put her sewing skills to work she attended Red Deer College and received

a Diploma in Costume Cutting and Construction. She was then able to

foster these skills working as a stitcher (Stratford), firsthand, junior cutter

and cutter at many theatres including the Citadel Theatre, The Banff

Centre, and Theatre Calgary.

is a graduate of Dalhousie University's Costume Studies

Program and has worked as a stitcher and cutter for theatre in both Nova

Scotia and Ontario. She now lives and works in Toronto, where she has

had the pleasure of cutting for Canadian Stage, Young People's Theatre,

the annual Ross Petty Pantomime, and innumerable independent

productions. She specializes in women's wear and historical costume, but

especially loves to build for children's theatre, where costumes are often

large, specialized and outrageous. For the past year she has been working

at the National Ballet of Canada as Junior Cutter on their upcoming

production of Swan Lake.

28
---
Work Scenario 6

Designer Collaborations

KaeLeah Spallin

Rebecca Toon

Genevieve Savard

Cory Sincennes

Marlee Bygate

Michelle Bohn

29
---
30
---
Basic body blocks are the starting point for any cutting project, they are a

2D blueprint of a 3D form fitted body shape. The Test Cutters created

blocks for a male and female half scale mannequin. These became a

template off which the cutters produced the rest of their test costumes.

Once testing was completed, and our testers were more comfortable

with the software they all agreed that basic body drafting was one of the

functions that could most immediately be helpful in our industry. It

would be beneficial for cutters to have an easily accessible archive of

body blocks to jumpstart their projects from.

Our test cutters became acquainted with drafting in the Software during

this first work scenario. Each Cutter was provided with one week of 2D

pattern development training by Gerber, which also came with 30 days of

technical support. Cutters are used to physically manipulating paper and

fabric, so they found some digital drafting tools difficult to pick up.

Initially the software felt like a barrier between what they were trying to

create rather than a facilitator. This first task took 3 – 5 times longer to

draft than the traditional method for our test cutters. Every cutter

attributed this to the learning curve involved.

"One thing our instructor said is there are lots of ways to build a

pattern with these tools and you have to figure out what works for

you. I remember in drafting class 15 years ago the teacher saying the

same thing. There is drafting books but you have to figure out your

own style and use whatever you can to make the costume pattern.

This sets you free." – Genevieve Savard

31
---
Marlee Bygate

Basic Block - Womens

32
---
Some functions that were more accessible and immediately helpful were the ability

to instantly trace off pieces, verify measurements, offset lines, and swap and

replace lines. Those functions made alterations to the digital patterns fast and easy.

KaeLeah found that drafting from a rectangle and tracing out her pattern or

extracting pattern pieces was an excellent method for drafting her basic block.

Everyone had difficulty manipulating darts in Gerber to start with. All testers

reported feeling like the program would arbitrarily work at times and not at others

which lead to a lot of 'clicking around' in hopes of success. In Gerber if a function

wasn't working it was often because it wasn't executed in the correct order or in

the correct direction, or points or lines are not the correct 'type' of line or point.

In traditional drafting cutters have a mental checklist of potential errors which they

work with as they draft, armhole size and shape, the balance of horizontal

measurements etc. Visually they look to see if everything looks and feels correct

based on years of acquired knowledge, and double check anything suspect.

Prolonged experience will provide digital cutters with a new mental checklist of

potential errors to guide their work in the virtual workspace.

Slash and spread darts in CLO

Pattern Editing Tools

Cloning, & Tracing in CLO

33
---
Left: Genevieve Savard

Right: Marlee Bygate

34
---
Work Scenario 2 :

Historical Womenswear

Dior Suit

In this scenario our cutters

developed patterns for a

1940's style Dior Suite. All

our testers found the pencil

skirt to be extremely simple

and easy to create in the

digital workspace. The jacket

was a more challenging cut

with the hourglass silhouette,

double breasted front

closure and the angled deep

pockets. The Test Cutters

found the most successful

method for developing this

complex pattern was to shift

between physically draping

and digitally patterning. The

best results came from

transferring the physical

draping info back into their

digital patterns. CLO's

workspace has a more

accessible 3D avatar which

could potentially be a

successful substitute for the

physical draping our testers

utilized in this project.

This work scenario revealed

that there are issues with

Gerber's pleat function.

Marlee found she could not

get it to work the same way

it did in her training sessions,

and KaeLeah could not get

the pleat function to work in

3D.

Eventually we discovered

that the 3D pleating isn't

currently working well in

Gerber, and it wasn't an

error on KaeLeah's part.

KaeLeah Spallin

experimented Gerber's

'Wizard tab' (which includes

standard pattern blocks) by

using the built-in standard

jacket and skirt block as her

starting point. She altered

the size using grading

functions and created an

alteration table to develop a

'petit' version of her outfit.

This process went smoothly

after she corrected the

'Attributes' of her points to

be 'grading points'. In

Gerber points and lines

function differently if they

are given different

attributes. For example a

centre back line could

become a 'mirror' line if you

wanted it to be cut on the

fold. In the end she found

that this method was not

the way to go, as modifying

the scale of the jacket was

difficult working in a 2D

workspace.

Marlee created her pattern

in steps, developing an

initial pattern in Gerber,

printing it, draping it and

then transferring the

alterations back to the

digital pattern.

She found it difficult to

match the overlapping

centre front pieces in the

digital workspace as it

required a huge amount of

measuring and remeasuring

to assess

placement. The same task

would have been very

simple to execute on paper.

However, she found that

the program worked well

for quickly developing her

facings and linings.

Genevieve began by

researching Dior patterns

and started her pattern by

draping her jacket to figure

out what shape she wanted

to develop in Gerber. She

included shoulder and hip

pads to accentuate the

square shoulders, and

round hip silhouette. "I'm

really pleased with how this

costume turned out…I don't

know why I think things

won't work out because it's

on a computer, but they do

just like paper." Midway

through this work scenario

Genevieve had to re-install

Gerber as her license

needed to be renewed. All

of us had to go through this

at one point in our testing,

and it was a frustrating task

to undertake, and involved

lots of re-installing and

logging in and out of our

accounts.

35
---
Marlee

Genevieve

KaeLeah

I found it hard to assess the scale of the pattern pieces on the

computer screen, in a paper pattern I would have held the pieces up

to a mannequin to check the scale of my block. - KaeLeah Spallin

36
---
Genevieve

Marlee

KaeLeah

37
---
38
---
Work Scenario 3 :

Men's Historical Cutting

1700s Coat

In this work scenario our cutters

developed patterns for a 1700's

men's coat, breeches and

waistcoat. This exercise

highlighted that the software is

most effective in the creation of

less nuanced patterns. The

software functioned well in the

development of the

straightforward pieces, such as

the breeches and shirt. In the

previous exercise our cutters

worked with physical pattern

pieces to produce their pattern,

and in this scenario, they looked

at historical references to

develop an accurate shape and

scale for their coats. The cutters

used R.I Davies 'Men's 17th &

18th Century Costume, Cut &

Fashion', and 'The Cut of Men's

Clothes' by Norah Waugh to

establish the cut of the coats.

They navigated the scale of the

coat drafts by utilizing the

measure function, and visually

checking these often.

The extreme curves of the coat

(along with the pleats) were the

most difficult aspect of drafting

this costume digitally. All the

cutters ended up drawing in the

side vent pleats manually as the

program again had difficulty with

pleat functions. KaeLeah used

rectangles as a starting point to

further assist her with the scaled

parameters for her patterns, she

drew in style lines and traced off

her pattern pieces from these

rectangles. The software

functioned well for developing the

pant, shirt and waistcoat patterns.

The back of a pant pattern is

drafted using the front piece as a

template, so the trace function is

very handy in creating an accurate

copy to start from. Period shirts

are essentially several square

pieces put together; it was easy to

create an accurate pattern quickly

as all measurements simply

needed to be input.

39
---
40
---
KaeLeah Spallin

41
---
Genevieve Savard

42
---
Marlee Bygate

43
---
44
---
Work Scenario 4 :

Grading For Chorus

One of the features of Patterning

Software in fashion are the grading

functions. In a manufacturing setting

they are used to create a range of

standard sizes; we applied the same

technology to develop different sizes

for chorus costumes. The software

makes altering individual costumes

quick, however we found grading in

Gerber to be too time intensive (both

the learning curve and application of

technology) for costume production.

CLO's automatic grading, and more

accessible grading features could be an

alternative to individually altering each

pattern.

The Gerber 'Made to Measure' function is

marketed to bespoke fashion

manufacturers. It is essentially a rule table

which enables you to apply custom

alterations to specific points on your

pattern, this is useful in a manufacturing

setting where you may increase or

decrease specific amounts repeatedly. In

costume production we are changing

sizes for custom measurements, so this

function was more labor intensive than

simply altering the pattern. The software

did make alterations incredibly easy; it is

fast to copy a pattern, display

measurements, and offset lines to create

a new size. Everyone felt the standard

grading options in Gerber weren't a good

fit for developing a range of custom

chorus sizes in costuming.

Alteration Tables produced

by KaeLeah Spallin to

develop different sizes of

her bodysuit

45
---
https://youtube.com/shorts/KoTqWcViKOw

Marlee Bygate – 3D modelling bodysuit in Gerber

Grading in the software was not as seamless as we had initially hoped

it would be. At this point in our testing, we discovered other time

saving benefits. Our test cutters were more familiar with the program

and all of them reported that building a simple costume like bodysuit

in the program was an easy task. The pattern could be adjusted in the

computer by adjusting the percent of stretch in the fabric. The

software generated sleeve pattern was an excellent starting point for

the sleeves of the tailcoat. The Dior suit jacket pattern was also used

as a base to expedite drafting of the tailcoat pattern.

The test cutters continued to struggle with pleating in Gerber, they all

manually applied the pleats for the back of the tailcoat. They all also

reported that the system repeatedly crashed during this work

scenario. Our test cutters were beginning to explore the 3D

workspace, so this could have been one of the reasons for the system

crashing more. Gerber has an automatic save function, so work was

rarely lost, but the interruption is disruptive to the process.

"I'm not too familiar with grading in general, so I went with

doing it manually (in CLO) - just to get the hang of what does

what in terms of X and Y axis. It worked really well, some

roadblocks but overall, very intuitive. Successful!"

– Marlee Bygate

46
---
KaeLeah Spallin

47
---
Genevieve Savard

48
---
Marlee Bygate

49
---
Gerber 3D workspace 'Sewing Lines' 17c Coat

50
---
In this work scenario we assessed

the 3D modelling for costumes in

Gerber. Our team attended 3D

patterning classes where they

modelled simple pieces like t-shirts

and leggings. The test cutters

reported that the 3D modelling was

most helpful with the fit of the

chorus bodysuit. Simple costume

pieces functioned well in the 3D

workspace. The Dior Suit, Tailcoat,

and 17th century coat all proved to

be exceedingly difficult to model in

the Gerber 3D workspace. We had

issues with the software crashing,

we couldn't get the pleat function

to work, and the testers reported

extreme frustration trying to model

their more complicated costumes in

the software.

KaeLeah found it simple to establish

an avatar with measurements

corresponding to her mannequin

She used an existing avatar and

edited the measurements in

Blender (a separate application) and

saved them. She observed that the

altered avatar didn't distribute the

measurements the same as her

mannequin and ended up with

more of a tummy where the actual

fullness was distributed over the

hips. The bodysuit fitting was very

helpful for her, it revealed 3 fit

issues: The neck band was too long,

the width of the crotch was too

wide, and the bodysuit was too long

in the body. She made these

alterations, and the fit was quite

good on her mannequin, although

she attributes an unforeseen

alteration at the centre back to poor

fabric choice (not enough stretch).

She found it difficult to fit the

tailcoat in 3D and ended up

modelling it without the collar or

sleeves attached.

"Overall, this 3D fitting was helpful, but it was also clunky and

frustrating" – KaeLeah Spallin

51
---
I managed to 3D simulate the chorus leotard pretty easily. There were

some computer issues. As there always is when learning any computer

program. My work was not saving. Actually, all the people in the class

were having trouble saving their work. There are simple solutions to every

problem but if you don't know it's like searching for a needle in a haystack

and my teacher had no clue why we were having trouble saving…I had a

consultation with a Gerber 3D expert the next day who solved my

problem…Basically you need to be careful where you are default saving

things to. Something my 2D pattern teacher set up. There are all these

setting you need to set up before beginning the program. We spend the

first day of class just plugging in these settings and if you are not paying

attention or not well versed in computer language you don't always

remember/Realize what you did earlier. Also, you need to save the

MODEL instead of just saving individual pattern pieces. Lesson Learned."

She describes her experience placing pattern pieces on the 3D cylinders

"You also have to adjust the cylinders first, so they are in the right angle

or covering the body part. It's very clunky. I found it irritating. They are so

hard to move and slip around and it really does affect the simulation. So,

if I moved one the wrong way by accident the whole thing won't work."

"The next step is sewing the pieces together…You are basically telling the

computer which pieces go to which pieces and make sure they are sewn

in the right direction. You obviously have to know how to construct

clothing otherwise you wouldn't know which piece goes where. I honestly

thought the design (designer collaboration with Cory Sincennes) would be

too complicated, but I pulled it off. It's possible! And it was fun!

52
---
Genevieve Savard – Cory Sincennes Design

53
---
These costume designs illustrated by our volunteer designers all require custom printed

fabrics. Test cutters collaborated with a designer to assess the workflow between

Designer, pattern cutter, and software. Here we explore one of the most exciting

creative opportunities presented through digital patterning, custom printed fabric, and

virtual fittings.

54
---
A huge thank you to these talented designers who donated their time and their

designs to this project. We thoroughly appreciate your generosity and talents. Thank

you a million times over.

has taught at Tulane University, CUNY – Hunter

College, Baker University, and Fanshawe College. She holds a BFA in

Design for the Theatre from Concordia University, and an MFA in

Costume Design from University​ of Missouri – Kansas City. She is a proud

member of Associated Designers of Canada.

is an award winning designer, currently residing in

Charlottetown,PEI. His designs have received both national and

international recognition having worked throughout Canada, Europe and

Russia. He holds a MFA in Theatre Design from the University of Alberta.

www.corysincennes.com

A graduate of the University of Lethbridge,

has been a

professional Costume Designer since 2006. Her deep knowledge and

appreciation of fashion history, combined with her artistic background,

has created a passion for costume design. In addition, Rebecca has honed

her craft as a cutter, stitcher, wig designer and head of wardrobe. This

knowledge is brought to her design work in film and theatre across

Alberta, where she was recently recognized on a national level with a

CAFTCAD award.

55
---
56
---
57
---
KaeLeah developed this

pattern from her basic block

and the pant block that

comes with Gerber's Wizard

tool. The graphics are laid on

as 'Trim' and layered as

needed. Rendering the 3D

model of the jumpsuit went

smoothly as the pattern is

fairly simple. There were

some slight hiccups with the

full pant legs initially

catching on the Avatars feet

during simulation, but this

was solved with minor

adjustments of the

placement of the pattern

piece. She was also never

able to stitch up the back

neck of her jumpsuit,

however the pattern

simulated well enough for a

virtual fitting.

We had two fittings with

Rebecca, in the first fitting

Rebecca requested a couple

adjustments to the fit and

the fullness of the pant. In

real-time KaeLeah moved

and resized graphic

placement for Rebecca. We

were impressed with the

versatility of the software as

KaeLeah

maneuvered between her

2D and 3D workspaces to

make on the spot changes.

Our second fitting served to

verify pattern alterations

and placement of graphics

prior to our printing the

fabric.

KaeLeah used Gerber's

Marker Maker tool to lay out

her pattern pieces. In

fashion the 'Marker' is how

you lay out your pattern

pieces on the fabric.

KaeLeah had to create an

'Easy Order' to tell the

system how many pieces she

would be cutting out, after

which she customized the

fabric dimensions in

Gerber's Easy Mark

application and laid out her

pattern pieces. She added a

'buffer' to each piece to

provide some extra space

between pattern pieces in

addition to her seam

allowance. The marker was

then exported as an SVG file

and sent to the me (research

coordinator). In practice it

should be sent to a graphic

designer or a designer or a

savvy assistant designer.

In order to purchase custom

print fabric, you must upload

either a high-resolution TIFF

file or JPEG file. There are

limitations on the size of the

file you can upload so

uploading a high-resolution

JPEG file is best. Gerber

produces SVG files which are

'vector' files, this means that

the images in the file can be

resized without distorting. I

took note of the exact size of

my marker and produced a

'canvas' that size in 'Affinity

Designer'. I then placed my

vector file onto that canvas

matching it up exactly. I was

then able to export the

canvas as a high-resolution

JPEG image. We purchased

fabric from American

company Contrado via their

'Bags of Love' website. We

would have preferred to

have used Canadian

Company 'Design Your

Fabric' out of Ottawa but

they were having issues with

their printers at the time

unfortunately.

DesignYourOwnFabric.com

does have sales

representatives who assist

Theatre and Film customers

specifically, quality product

and excellent pricing.

58
---
Pattern placement

on Gerber's Easy

Marker

Pattern placement

on CLO's print

layout

Uploaded Marker on Bagsoflove.com

59
---
leen Sbrizzi: I love how your design

ed out, it's so fun and pretty! We

two virtual fittings together and

ade some good changes on the

ortions in regard to the fullness on

ant, and really utilized the

are for placement of the graphics.

you see yourself wanting to use

sort of technology for future

gns?

cca Toon: I would definitely use

technology in the future. The

fit of being able to add or reduce

olume in a variety of areas was

a time saver. My favorite part

y was being able to customize the

ement of the birds to the pattern

use we spend so much time

ally trying to manipulate fabrics

se the existing prints to our

ntage, which can actually lead to a

f fabric waste. I'm looking forward

plying the software to future

ects!
---
The resulting costume is a testament to the quality of the fabric

printing, and KaeLeah's careful cutting and sewing.

.

61
---
62
---
63
---
Genevieve drafted this piece

from her basic body block.

The challenge in executing

this design in 3D were the

multiple tiers of gathered

fabric. "I had a lot of gathers

in my design, so you have to

do this math for inserting

elastic. I felt like I was doing

algebra. I guess I was doing

algebra...I honestly thought

this design would be too

complicated, but I pulled it

off. It's possible! And it was

fun!"

Genevieve didn't have

confidence in the 3D model

rendering and decided to

produce a toile of her

pattern. "I also did a mock

up… to see how well the

program was doing. I would

have made some changes

that were wrong if I had

trusted the computer 3D fit. I

knew the fit was perfect

because I made the physical

mock up."

The 3D modelling was

mostly helpful in this

scenario in establishing the

scale of the graphics on the

pattern pieces and

identifying where we

wanted to replace certain

graphics. We had a single

virtual fitting, and once

Genevieve made the

discussed changes, she

provided Cory with a

'Turntable' of the costume

for approval. The turntable

is a 3D view of the costume,

and it is an excellent

communication tool. Once

we had approval, we sent

our fabric for printing and

learned a valuable lesson; fill

in the white background of

your fabric.

The graphics came out well,

and the pattern pieces were

to scale, however we printed

all of our pieces on a white

background. Genevieve was

working with silk on the

body of the dress and

thought her organza sleeves

were also silk, but they were

actually polyester. The top

corner of one of her sleeves

melted when she tried to

iron it. If we had filled the

background, rather than

leaving it white, she would

have been able to shift her

pattern piece over and still

cut her sleeve out. This was

an excellent lesson for us to

learn. Always fill in the back

of your pattern piece with a

matching print in case of

human error.

64
---
65
---
66
---
67
---
Marlee used her 17th

century coat draft as a base

for this frock coat. The initial

attempts to put this coat

into the 3D workspace on

Gerber were unsuccessful.

This was in part due to the

intense curves and fit in the

armhole and the pleats at

the back of the jacket.

Gerber provided specialty

assistance and helped us to

attain a workable 3D model,

however we didn't always

have success in utilizing this

model and we weren't able

to successfully make

changes. Marlee decided to

proceed with her 3D

modelling and virtual fitting

in CLO.

We were really impressed

with the user friendliness of

CLO's software. Marlee had

no problem rendering her

model, and the online

tutorials available for CLO

allowed her to work freely in

the software "It was super

fast and a pleasure to learn

on CLO".

The avatar displayed the

kick-back on the pleats of

the coat, and we were able

to assess it's fit in different

poses during the fitting.

Marlee adjusted several

elements in real time with

designer such as the angle of

the coat pocket, and the

length of the sleeves. These

changes were easy to

execute even though Marlee

was new to the program. It

felt much more intuitive to

navigate in CLO. Visually the

layout looks similar to

Photoshop which is familiar

to a lot of computer users.

All of the buttons in CLO link

directly to tutorials which

explain how to use them for

a fast reference. Michelle,

(the designer) was

impressed with the

software. We all felt that it

would be a useful

communication tool to

discuss visual details with

designers and directors prior

to investing physical labour

and resources into a piece.

We had a single fitting with

Michelle where we assessed

the fit of the costume, and

then Marlee proceeded to

execute the graphics. She

took on the daunting task of

trying to match the branches

in the design through the

pattern pieces. CLO allows

users to place internal

pattern lines on the 3D

model which can run

through several pattern

pieces. Marlee placed

internal lines hoping to have

them as reference points

when she placed her

graphics. She found placing

her branches to be difficult

in CLO because they would

disappear as she moved

them. This was a tedious

task because of the organic

nature of the design, and

she was only partially

successful in matching the

branches. The results of her

efforts were impressive, and

the designer approved her

graphics for printing.

68
---
Marlee emailed me her CLO

project file and I was able to

upload it and access it easily. I

used the "3D screenshot" function

to take pictures of our avatar

wearing the coat with the updated

graphics and submitted it to

Michelle for approval. I then used

the "2D 1:1 snapshot" function to

create a PSD Marker. The PSD file

was perfect because it produced a

file without a background. I placed

my PSD file on my canvas in

Affinity Designer as I had with the

other two projects, however this

time I filled in the background with

matching graphics so there was no

white background. I sent Marlee

the image files with and without

the background so she could more

easily orient herself when she

went to cut out the coat.

3D model and 2D Pattern

Fabric Yardage Ordered

69
---
Gerber

Simulating

with error

Gerber

Simulating

complete

Gerber

sewing

lines

CLO

Simulation

in progress

CLO

Simulation

completed

CLO sewing

lines

Sewing

connections in 2D

Gerber

Sewing

connections in 2D

CLO

70
---
Cathleen Sbrizzi (CS): Thank you so much for

joining us on this project! We had a fun virtual

fitting for your fractal Frock Coat. Can you

share what you most enjoyed about the

process?

Michelle Bohn : It was truly a pleasure to be a

part of the project, thank you so much for

asking me to participate. I learned a lot over

the time that we did this, about how to think

about a garment design and build differently. I

had to use a different part of my brain from

when I have done other, more "old fashioned"

or "conventional" design work, which I loved! I

really enjoyed the dynamic interaction of the

virtual fitting. It was so great to see the

adjustments that we were discussing happen

in real time, as Marlee adjusted the pattern.

That was a novelty that I do not think would

ever wear off. It was so great to see how small

adjustments affected the way the garment

hung on the body. I would definitely love to

experience that kind of process again, with

projects that were being fully realized!

71
---
Patterning digitally takes time to master, and

initially it is not faster than paper drafting. All

the test cutters agreed that it could

immediately be a useful tool for Basic Block

production. The basic block is a simple draft

to execute in a digital workspace, and it

creates a pattern which is a useful starting

point for many projects. It would create a

valuable resource which cutters could handily

take with them from production to

production on a portable drive or laptop.

Additionally digital patterns would be an

excellent option for any costume which will

be requiring multiples, either for a chorus line

or for stunts. Altering patterns in the digital

workspace is an economical use of time.

3D modeling is an exciting tool for

communication and custom fabric printing. It

is an excellent platform for designer and

cutter to discuss and perfect technical work

in real time and can help designers share

their vision more accurately with directors

ahead of costume production. Sewing a 3D

costume is not instantaneous and requires an

investment of time by the digital cutter, as

such we would not suggest it as a tool to be

used carte blanche for every costume piece.

Another drawback is that it would require the

digitization of any paper pattern drafted by

traditional cutters which is a further

investment of time. 3D fittings should be

reserved for specialty pieces such as

costumes using digitally printed fabric, or for

garments where the cutter/designer feel

further communication tools are needed to

troubleshoot complications ahead of time or

to assist in directorial approvals ahead of

tight costume turn arounds.

There are many areas where digital

integration can improve on our current

production models. However, each workroom

will need to assess where and when it will be

useful in their process and each production

company will need to assess their level of

initial investment.

Craftspeople should begin to discuss the

potential pitfalls of digital integration as well

and ask our unions to help us safeguard from

these. The accessibility and transferability of

digital patterns does create a question as to

cutters creative rights, and opens the

discussion of who has rights to access and

distribute their patterns, designer, producer

or cutter?

Problematic Scenarios to be considered:

• Producers or Designers requests digital patterns so they can send costume construction

work to non-union manufacturers, or out of the country.

• A seasonal show has digital patterns produced by a Sr.Cutter, and in subsequent years

attempts to hire a less expensive Jr. Cutter to alter Sr. Cutter's patterns, or requests that

a head of wardrobe does not hire a cutter as digital patterns are available.

• A production decides to sell the digital patterns produced for a show as a commodified

commercial pattern.

• Cutters not being credited/compensated for digital patterns being re-used in

subsequent shows.

72
---
Post Research Interviews

73
---
Cathleen Sbrizzi (CS): How do you feel about the prospect of having digital cutting

as something that's being used in the sewing room?

Elizabeth Sutherland (ES): I think the technology certainly has a lot of good

options, a lot of opportunities for learning and for growing in that area. At the

moment it's the steep learning curve and as I think you've discussed, it will take

time to integrate and you can't do a full stop, sudden switchover. It's going to

take time to figure out how to integrate it. The little bit that KaeLeah did at

Theatre Calgary was a learning curve as well, and fortunately we had time so that

she could work that through, but it was successful...and certainly the production

people were happy to help out and happy to support that.

CS: Do you feel like your job would be at risk at all? I know when people first heard

about it, that is something they worry about. Similar to when factory jobs were

replaced with machines.

ES: Yes, where the French tailors rebelled because of sewing machines coming

into production and use...you know it's a new technology. I don't feel that way, I

don't feel my job is in danger. I'm not sure at this stage in my life how much I

want to dive into it, but I'm happy to support it, encourage it. Bring it on, but I

don't think I'm going to fully take it on at this point in my career.

CS: You got a little bit into it though.

ES: Yes, I can see the value and I can see there's wonderful opportunities there,

and certainly there's lots of young people coming up into the industry...Well, no, I

don't think there are lots, but there are people who look at this and can take it on

and be encouraged. Even Genevieve, who said she wasn't really into computers a

lot, has done amazing things on it, as did all of our test cutters and they've done a

lot of work learning and growing through it and producing pieces each in their

own way. Scanning through (the test results) you see how they cut and how their

design line choices were all slightly different...like how they manage the pleats.

That's true in any wardrobe situation, what you would cut would be slightly

different approach even with the same design. And that's a part of the beauty of

it. You get the different approaches, and that's part of the creativity for me in

cutting, it is in collaboration with the designer, choosing where you put your

design lines and how that's going to work. And of course, being informed with the

historical lens so oftentimes in theater and film, and how we manage that.

74
---
CS: What is your perspective on the proposed collaboration between new

cutters using digital patterning software to assist senior cutters?

ES: I think that would be, almost like an ideal situation for them to take on

a pattern and put it in (Digitize it), because as you know coming up in the

industry, you learn about the shapes of the cuts from the historical and

modern perspective for different body shapes. Because in theater we

have to deal with all shapes and sizes of people, plus adjusting to the

modern sense of understanding of costume and clothes, and of course

the reality of a person today trying to move and act and perform. Like the

three piece suit that is worn while cartwheels are done, you know?

Exactly how does that look different?

CS: Yeah! Right? And how you accommodate that.

ES: So it is very different from the fashion industry which uses the slopers

and standard sizes and growing your skills into accommodating those.

CS: Yeah exactly. It's so different. I mean, you can even just see in the Dior

coat testing, I'm really glad KaeLeah played with it and she tried doing it

from sloper completely digitally. They have those slopers available on

Gerber, but it didn't work out in the same way at all. To assess the size

and the scale and where it had to go in everything....to be fair, she didn't

have this access to the CLO3D, which might help in that situation. She says

that one didn't work out, but she tried it, which was great.

ES: Yes, and 10 points to her! The challenges of trying to do things in

different ways and that's what cutters do too, right? Traditionally you try

different things. Is this a drape the fabric on a mannequin thing? Is it a

traditional draft on paper which you put it on the mannequin, you mark

some alterations and you adjust? But that's how we've done it for years.

Depending on your fabric and what the garment challenges are. There are

different approaches depending on the cutter and the resources

available, and I see digital options fitting into the mix in the future.

75
---
– –

Cathleen Sbrizzi: What was the most difficult aspect of using digital patterning

software?

KaeLeah Spallin: Just re-learning, drafting in a different way. Using my computer

brain at the same time as my drafting brain...It was so hard, not just being able to

manipulate paper.

CS: Do you feel like it's gotten better? Do you feel more comfortable with it after

having spent three months doing it or?

KS: Yes, because when I was first drafting that block, my first block it took ages,

but by the time we got to the last thing it did get easier even though it was still

hard.

CS: What were your favorite tools? What are your go-to's when you're drafting

digitally?

KS: The measurement tool, when you right click and you can put in the length of

the line or like find center...that sort of thing is nice. I liked the curve tools on

CLO, but not on Gerber. Like adding pleats and stuff. On CLO, it works really well

to add fullness and instead of the traditional cutting a piece of paper and taping.

CS: What do you value the most in digital patterning? Where do you feel like it

has the most value in your process?

KS: I'd say storage.

CS: And do you think it makes it worth it though, to have to put all the effort to

learn it and to draft it just to have access to it later? Or if you could avoid ever

learning digital drafting and you could just outsource someone who would, say,

digitize your files for you, would that be a better thing? Would you just not

bother?

KS: I kind of like it, like we all said it's strangely addictive, right so? I don't mind

doing it, especially in CLO...With Gerber it was just too expensive and too clunky

for what we do. Also, you can control it if you're not handing it off to somebody

else and then you have to trust that they're translating your pattern

correctly...You know what you've done, and you can go in and alter it too. I

mean, it's a nice thing to do if you've made it and then you're going in to alter it.

CS: You said the automatic sewing, is that something that expedites it, then it's

not such a headache to put together for that 3D fitting? Then it makes a big

difference too, right?

76
---
KS: Yeah, I struggled less in CLO 3D. The automatic sewing works well for less

complicated garments and saves a lot of time.

CS: That's what Marley said too.

KS: But I did still run into some problems, but I think it was me, not the program.

Just getting used to it.

CS: How often do you think you'd have to use it to be comfortable? Because it's

not something you can put down, and you'll automatically remember, right? You

have to keep using it to stay in the mode.

KS: I want to make sure that I'm at least using it once a month. I don't have it

right now, but I'm going to purchase it and I want to make sure that I'm just

constantly on it, so I can build the skills.

CS: How does the real experience compare to the expected experience? We

talked before going into this, we all had an idea of what we wanted it to be or

what we thought it would be...What do you feel is a big difference between the

two?

KS: Definitely not as magical as Imagined yeah, the great Autograding and that

sort of thing...although I haven't tried the auto grading in CLO, yet. But even that

only goes to their avatars (sizes). You can't auto grade to specific body

measurements. Yeah, I thought "oh if I have a frock coat pattern I can just make

it fit anybody really easy"..But if you can get close then you can make

those alterations, so you could pick a size which is still helpful...So then at least

it's a starting place...So not as magical... it takes a long time.

CS: It doesn't do it for us, right?

KS: Yeah, but you do get faster, so my first body block took me four or five

hours...forever and then I timed myself on my second one I did on CLO and it

took me 40 minutes... Liz can do a body block in 15 minutes (paper drafting)…but

now I have that basic block so that saves me my 15 minutes next time because I

just have to pull it off the computer...

CS: Do you think it would be a valuable skill for new cutters to have...if they

started teaching it at university and they just came out already familiar with it?

KS: Yeah, I think it should be taught in drafting. For sure, and it's not going to

take away from the skill of drafting on paper, I think students still need to learn

that. I don't see me using digital drafting for everything. It should be taught

because I think it would be so much easier to learn it from the beginning. The

growing pains are difficult, of adding anything (new processes).

CS: What is one piece of advice you'd give somebody who's new to learning the

software?

KS: Be patient. No, it's not you if it doesn't work. Don't get stuck on something

and obsess over it. Try a different way or just let it go...Let it go, leave it out and

draw it on after. You don't have to complete the pattern in digital...It's like

sewing where if you're hitting a roadblock, you just have to walk away for a bit.

Take a breather. Try and find a different resource later and figure it out...I think

on the computer you don't realize that "Oh Gee, it's been 3 hours that I've

been making a dart." So you need to just watch your time and keep going.

77
---
–

Cathleen Sbrizzi (CS): In the ideal situation, where

you have all the resources you needed to use

digital pattering (skilled digital cutter, printing

access etc) how often would you utilize digital

tools on a build?

Kate Klingvall (KK): I would try to use it wherever

my cutter would feel comfortable with it. If they

felt confident they could draft a whole show on

it, great, let's go for it. If they still wanted to do a

couple "old school", whatever works. Part of my

job is to trust and support the team however

they need.

CS: What was your experience like working on

Steel Magnolia's with KaeLeah using CLO?

Katie Klingvall (KK): It was interesting, and I can

see how this can greatly change the way we

pattern draft in the future. There is still some

kinks to work out like the cutter learning the

program and getting better at using the

program. But can see how this could help in so

many ways.

CS: How essential is the backing of your

producers to successfully executing costumes

using digital patterning?

Katie Klingvall (KK): It will be very essential,

especially in the first few years of using the

program. As it will take time to adjust our way of

thinking of how we pattern draft, having the

support will makes things easier. The first few

years it will take a bit more time which means a

bit more in the labor budget and money to

refigure a shop like how we print the patterns

either in a plotter or using a projector. Expenses

that upfront are more but long term can save

time and material waste.

CS: How can Heads of Wardrobe's help facilitate the

use of digital cutting? What challenges do you

foresee?

Katie Klingvall (KK): I think by supporting whatever

the cutter needs. If that is more prep time in

learning the programs. Or letting them have the

time to work with the program without feeling

stress. I foresee challenges of people wanting to

stick to the "old school" ways, which I understand

but I can see this interesting more younger

generations who already have more computer skills

than any other generation.

CS: How would you choose organize show patterns?

And how do you currently organize your size sheets?

Katie Klingvall (KK): We currently just have them filed

as hard copies, which I have always wanted to do a

digital database, and this sounds like we would have

it that way! And as performers bodies change, it

sounds easier to update their avatar to reflect these

changes.

As for organizing show patterns, I'm not sure if filing

by show or by period would be better for ease of

future use. Either way it would have to be a

discussion with the cutter

CS: When you're looking at the scope of what you

need to accomplish to execute a design does it make

you nervous to look at incorporating new

technology?

(KK): I think until our cutters get more comfortable

and confident with the software I would start with

smaller shows. Ones that maybe don't have a big

build but some smaller builds on a show. I don't

think it matters if it's period or modern, but more

how much we build on the whole show.

78
---
is a formally trained Cutter, Designer and Technician.

In addition to a decade of industry experience she brings with her

credentials which include a BA from Dalhousie Universities Costume

Studies program, Auxillery fashion classes from NSCAD University, and

the 'Innovative Pattern Cutting' certificate from Central Saint Martins

(London Uk)

Website: Cathleen.Design

is one of Alberta's most talented cutters. She

has worked as a Tailor, and Cutter for stage and film for over 20 years

and taught costuming in the Theatre Studies Program at Mount Royal

College, Calgary for 7 years. She has been Lead Costume Cutter at

Theatre Calgary for the past 15 years.

Liz enjoys the wealth of creativity found in a wardrobe team and the

challenge of interpreting costume design for the stage.

has been working steadily in Theatre since graduating

from the University of Lethbridge with a BFA (technical theatre) in 2005.

Since then she has worked in almost all areas of wardrobe such as

stitching, breakdown and dressing for various theatre companies in

Calgary and overseas in Macau. Currently you can find her as the

Assistant Head of Wardrobe at Theatre Calgary where she believes in the

power of hot stones always

79