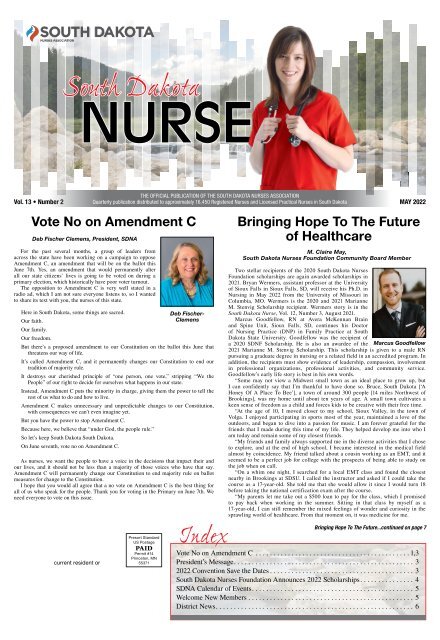 South Dakota Nurse - May 2022
You also want an ePaper? Increase the reach of your titles
YUMPU automatically turns print PDFs into web optimized ePapers that Google loves.
South Dakota

NURSE

THE OFFICIAL PUBLICATION OF THE SOUTH DAKOTA NURSES ASSOCIATION

Vol. 13 • Number 2 Quarterly publication distributed to approximately 16,450 Registered Nurses and Licensed Practical Nurses in South Dakota

MAY 2022

Vote No on Amendment C

Deb Fischer Clemens, President, SDNA

For the past several months, a group of leaders from

across the state have been working on a campaign to oppose

Amendment C, an amendment that will be on the ballot this

June 7th. Yes, an amendment that would permanently alter

all our state citizens' lives is going to be voted on during a

primary election, which historically have poor voter turnout.

The opposition to Amendment C is very well stated in a

radio ad, which I am not sure everyone listens to, so I wanted

to share its text with you, the nurses of this state.

Here in South Dakota, some things are sacred.

Our faith.

Our family.

Our freedom.

current resident or

Presort Standard

US Postage

PAID

Permit #14

Princeton, MN

55371

Deb Fischer-

Clemens

But there's a proposed amendment to our Constitution on the ballot this June that

threatens our way of life.

It's called Amendment C, and it permanently changes our Constitution to end our

tradition of majority rule.

It destroys our cherished principle of "one person, one vote," stripping "We the

People" of our right to decide for ourselves what happens in our state.

Instead, Amendment C puts the minority in charge, giving them the power to tell the

rest of us what to do and how to live.

Amendment C makes unnecessary and unpredictable changes to our Constitution,

with consequences we can't even imagine yet.

But you have the power to stop Amendment C.

Because here, we believe that "under God, the people rule."

So let's keep South Dakota South Dakota.

On June seventh, vote no on Amendment C.

As nurses, we want the people to have a voice in the decisions that impact their and

our lives, and it should not be less than a majority of those voices who have that say.

Amendment C will permanently change our Constitution to end majority rule on ballot

measures for change to the Constitution.

I hope that you would all agree that a no vote on Amendment C is the best thing for

all of us who speak for the people. Thank you for voting in the Primary on June 7th. We

need everyone to vote on this issue.

Bringing Hope To The Future

of Healthcare

M. Claire May,

South Dakota Nurses Foundation Community Board Member

Two stellar recipients of the 2020 South Dakota Nurses

Foundation scholarships are again awarded scholarships in

2021. Bryan Wermers, assistant professor at the University

of Sioux Falls in Sioux Falls, SD, will receive his Ph.D. in

Nursing in May 2022 from the University of Missouri in

Columbia, MO. Wermers is the 2020 and 2021 Marianne

M. Stenvig Scholarship recipient. Wermers story is in the

South Dakota Nurse, Vol. 12, Number 3, August 2021.

Marcus Goodfellow, RN at Avera McKennan Brain

and Spine Unit, Sioux Falls, SD, continues his Doctor

of Nursing Practice (DNP) in Family Practice at South

Dakota State University. Goodfellow was the recipient of

a 2020 SDNF Scholarship. He is also an awardee of the Marcus Goodfellow

2021 Marianne M. Stenvig Scholarship. This scholarship is given to a male RN

pursuing a graduate degree in nursing or a related field in an accredited program. In

addition, the recipients must show evidence of leadership, compassion, involvement

in professional organizations, professional activities, and community service.

Goodfellow's early life story is best in his own words.

"Some may not view a Midwest small town as an ideal place to grow up, but

I can confidently say that I'm thankful to have done so. Bruce, South Dakota ['A

Honey Of A Place To Bee'], a town of around 300 people [14 miles Northwest of

Brookings], was my home until about ten years of age. A small town cultivates a

keen sense of freedom as a child and forces kids to be creative with their free time.

"At the age of 10, I moved closer to my school, Sioux Valley, in the town of

Volga. I enjoyed participating in sports most of the year, maintained a love of the

outdoors, and began to dive into a passion for music. I am forever grateful for the

friends that I made during this time of my life. They helped develop me into who I

am today and remain some of my closest friends.

"My friends and family always supported me in the diverse activities that I chose

to explore, and at the end of high school, I became interested in the medical field

almost by coincidence. My friend talked about a cousin working as an EMT, and it

seemed to be a perfect job for college with the prospects of being able to study on

the job when on call.

"On a whim one night, I searched for a local EMT class and found the closest

nearby in Brookings at SDSU. I called the instructor and asked if I could take the

course as a 17-year-old. She told me that she would allow it since I would turn 18

before taking the national certification exam after the course.

"My parents let me take out a $500 loan to pay for the class, which I promised

to pay back when working in the summer. Sitting in that class by myself as a

17-year-old, I can still remember the mixed feelings of wonder and curiosity in the

sprawling world of healthcare. From that moment on, it was medicine for me.

Index

Vote No on Amendment C ........................................... 1,3

President's Message. ..................................................3

2022 Convention Save the Dates. ........................................3

South Dakota Nurses Foundation Announces 2022 Scholarships. ...............4

SDNA Calendar of Events..............................................5

Welcome New Members. ..............................................5

District News. .......................................................6

Bringing Hope To The Future...continued on page 7
---
Page 2 South Dakota Nurse May, June, July 2022

SDNA Board of Directors

President

Term: 2021-2023

Deb Fischer Clemens

District 10

deb.fischerclemens@avera.org

Vice President

Term: 2021-2023

Kay Foland

District 1, 2, 3

Office: 605.394.2878

kay.foland@sdstate.edu

Secretary

Term: 2020-2022

Dawn R. Warren

District 2

Office: 605.791.6348

dawn.warren@usd.edu

Treasurer

Term: 2021-2023

Sara Watson

District 5-7

sara@prnpros.net

Government Relations

Committee (GRC) Chair

Term: 2020-2022

Ashley Kingdon-Reese

District 5-7

Huron, SD

AshleyK@IndependentHealthSD.com

W: 605.352.4663

President, District 1-3

Term: 2020-2022

Jeri Culbertson

jculbertson5@gmail.com

President, District 4

Term: 2022-2024

Carrie Clausen-Hansen

carrie.clausenhansen@yahoo.com

President, District 5-7

Term: 2020-2021

Sara Watson

sara@prnpros.net

President, District 8 & 9

Term: 2021-2023

Venita Winterboer

venita.winterboer@sdstate.edu

President, District 10

Term 2020-2022

Gala Woitte

gwoitte@gmail.com

Cell: 605-376-8639

President, District 11

Term: 2021-2023

Charlene Bierema

biecrn@yahoo.com

SDNA Staff

Eric Ollila

Executive Director

PO Box 1015 Pierre SD 57501

Phone: 271.7708

Fax: 888.600.1232

contactus@sdnurses.org

Revised Feb. 2021

The SOUTH DAKOTA NURSE is published quarterly

every February, May, August and November by the South

Dakota Nurses Association (a constituent member of

the American Nurses Association) and Arthur L. Davis

Publishing Agency, Inc. All rights reserved by copyright.

This newspaper or parts there of must not be reproduced in

any form without permission in writing from the publishers.

ADVERTISING

For advertising rates and information, please contact

Arthur L. Davis Publishing Agency, Inc., PO Box 216,

Cedar Falls, Iowa 50613, (800) 626-4081. SDNA and the

Arthur L. Davis Publishing Agency, Inc. reserve the right

to reject any advertisement. Responsibility for errors in

advertising is limited to corrections in the next issue or

refund of price of advertisement.

Acceptance of advertising does not imply endorsement

or approval by the South Dakota Nurses Association

of products advertised, the advertisers, or the claims

made. Rejection of an advertisement does not imply a

product offered for advertising is without merit, or that

the manufacturer lacks integrity, or that this association

disapproves of the product or its use. SDNA and the Arthur

L. Davis Publishing Agency, Inc. shall not be held liable

for any consequences resulting from purchase or use of an

advertiser's product. Articles appearing in this publication

express the opinions of the authors; they do not necessarily

reflect views of the staff, board, or membership of SDNA

or those of the national or local associations.

CIRCULATION, ARTICLES, LETTER TO THE EDITOR,

ETC. 2022 deadlines for articles submitted to the South

Dakota Nurse: July 8 – August issue, and October 7 –

November issue.

Join SDNA Today!

https://sdnursesassociation.nursingnetwork.com/off-site-membership

The South Dakota Nurse accepts and encourages

manuscripts or editorials. We will determine which letters

and articles are printed by the availability of publication

space and appropriateness of the material. We welcome

signed letters of 300 words or less, typed and double spaced

and articles of 1,500 words or less. All materials should be

mailed to: South Dakota Nurses Association, P.O. Box 1015,

Pierre, SD 57501 or e-mailed to: contactus@sdnurses.org.

NursingALD.com

can point you right to that perfect

NURSING JOB!

NursingALD.com

Free to Nurses

Privacy Assured

Easy to Use

E-mailed Job Leads

The views expressed in the articles and editorials are those

of the individual contributors and do not necessarily reflect

the viewpoint of SDNA.

South Dakota Nurse is the newsletter of the South Dakota

Nurses Association. Direct inquiries about SDNA or this

newsletter to:

South Dakota Nurses Association

PO Box 1015, Pierre, SD 57501

Phone: 605-945-4265

Fax: 1-888-600-1232

Email: contactus@sdnurses.org

Website: www.sdnursesassociation.org

'Like' us on Facebook!

www.facebook.com/sdnurses
---
May, June, July 2022 South Dakota Nurse Page 3

President's

Message

Deb Fischer Clemens, President, SDNA

Easter is behind us, and

although the weather at this

time has not demonstrated that,

Spring is here. It's a time of

new growth, despite occasional

appearances of snow and

cold. As I thought about this

President's Address, I came up

with three things that I wanted

to share.

The first thought is that

May is at hand, and we

celebrate nurses for the entire

month. The theme this year Deb Fischeris

"You Make a Difference." Clemens

Nurses do make a difference as trusted advocates who

ensure individuals, families, and communities receive

quality patient care and services. They also make a

difference by influencing and shaping health policy

decisions to ensure access to high-quality, affordable

healthcare coverage. Nurses unique expertise has

resulted in the 20 years straight of recognition as the

most trusted professionals. Congratulations!

The American Nurses Association will show

appreciation for nurses according to the following

weekly themes for May.

• Self-Care Week: May 1-7

• Recognition Week: May 8-14

• Professional Development Week: May 15-21

• Community Engagement Week: May 22-28

On May 18th at 1:00 p.m. Eastern Time the

American Nurses Association is hosting a virtual event

to celebrate.

The second thought to share is that Nurses must

acknowledge the professional expertise they bring

to their work and take credit for the amazing job of

prioritizing what's most important: a true professional

possesses unique knowledge and skills derived from

research and education in a specific discipline, adheres

to a code of ethics and promotes the public good within

their expert domain.

My third and final thought for this address was

brought to mind in a book I was given called "Life is

Messy." The book was written by Matthew Kelly, a

New York Times best-selling author: "So life is messy,

it isn't a color-within-the-lines exercise. It's a wild

and outrageous invitation full of uncertain outcomes.

The mess of life is both inevitable and unexpected.

It is filled with delightful mysteries and frustrating

predicaments." The quotation brought to my mind the

situation of the last two years. Life is messy, but as

professionals we must allow ourselves to be filled with

hope, grace, and prayer as we move forward.

Happy Nurses Month!

"NO" on Amendment C

South Dakotans for Fair Elections, the campaign

formed to oppose amendment C, is comprised of a broad

coalition of individuals and organizations that spans

industries and partisan politics, working to ensure that

South Dakota's ballot initiative measures, constitutional

amendment, and referred measure process stay intact.

Amendment C will lead to unintended consequences

for our state. It's confusing, unnecessary, risky, and it will

permanently change our constitution in ways we can't even

imagine yet. So if it ain't broke, don't fix it.

Here's the fine print: Amendment C would permanently

change our constitution to end majority rule for ballot

measures, allowing a small minority to block important

decisions that most voters want. It shreds the sacred "majority

rules" tradition this country and our state was founded on.

Amendment C is also unconstitutional, and a lawsuit

has already been filed against it.

The truth is that out-of-state lobbyists and special

interests will be the real winners if C passes. Amendment C

Sunday, October 2, 2022

&

Monday, October 3, 2022

gives power to special interests while undermining the will

of South Dakota voters – perhaps that's why an out-of-state

special interest group is bankrolling the campaign to pass it.

Lastly, consider this: if C passes, it will take just 41% of

voters to block funding for important programs, including

law enforcement, rural health centers, nursing homes,

schools – the list goes on. We can't allow our state to be

held hostage by just a few people.

Amendment C would profoundly impact South Dakota's

long history of voter engagement at the ballot box since

creating the ballot initiative process in 1898. Since then,

South Dakotans have regularly been asked to play a role

in policy-making. Yet, for over 124 years, South Dakotan

voices have been heard with a simple majority.

Amendment C faces widespread opposition from

business owners, workers, mayors of our cities, and rural

residents alike, who all oppose C because they know it's

wrong for South Dakota's future.

Join us in voting "NO" on Amendment C.

Please Save the Dates

2022 South Dakota Nurses Association

Annual Convention

Location:

Ramkota Hotel

3200 West Maple Street

Sioux Falls, South Dakota

Please mark your calendars today for the annual

South Dakota Nurses Association's Convention where

you will have the opportunity to hear from nursing

leaders and clinical experts on leadership, clinical and

self-care topics.

The convention also provides you an opportunity

to network and build professional relationships with

nurses from throughout South Dakota.

2022 SDNA Convention Web Page:

https://bit.ly/3LNFheF

JOIN OUR TEAM TODAY!

Where BIG hearts, WARM smiles,

and BRIGHT futures grow.

Enjoy a career that offers:

• RN/LPN/New grad

opportunities

• Health insurance

• Competitive benefits

• Flexible schedule

• Tuition reimbursement

• Shift differential

• 24-hour management

support

• Positive work/life balance

• Employee bonuses

• Case-specific training

"This has been the best home health

agency I have worked with!"

-Cynthia, LPN

To learn more or to apply, visit:

www.universalpediatrics.com/join-our-team/careers
---
Page 4 South Dakota Nurse May, June, July 2022

Carman Timmerman, EdD, RN

SDNF Treasurer and Scholarship Committee

Chair

With appreciation for the many individuals who've

contributed to the South Dakota Nurses Foundation,

the South Dakota Nurses Foundations is proud to offer

these scholarships for nurses advancing their education.

Here are the details about the 2022 scholarships:

South Dakota Nurses Foundation

Scholarship (1 available):

Amount—$2000

South Dakota Nurses Foundation Announces

2022 Scholarships

Purpose—To support a registered nurse pursuing

a master's or doctoral degree with the career goal of

education program.

Criteria

1. Current South Dakota resident.

2. Current South Dakota RN license.

3. Member of SDNA for at least one year.

4. Graduate student pursuing a master's or doctoral

degree in nursing or a related field in an

accredited program with the goal of practicing

nursing in a South Dakota high need area or

teaching in a South Dakota baccalaureate or

higher degree nursing education program.

5. Cumulative GPA 3.0 or higher upon completion

of highest degree, i.e., baccalaureate nursing

program or master's in nursing program.

6. Career goals and personal qualities congruent

with South Dakota Nurses Foundation purposes.

7. Evidence of leadership, compassion, involvement

in professional organization(s), professional

activities, and community service.

Rita H. Walsh Scholarship (2 available):

Amount—$2000

Purpose—To support a person pursuing a nursing

education. The scholarship will be awarded annually for

the spring semester.

Criteria (please note these are new, broader

criteria)

1. Current South Dakota resident.

2. Current South Dakota RN license if an RN.

3. A student pursuing a bachelor's degree (or higher)

in nursing.

4. Demonstrates the qualities of patient advocacy,

patient education, compassion and leadership.

Marianne M. Stenvig Scholarship (1 available):

Amount—$1000

Purpose—To support a male registered nurse in

pursuit of his educational goals.

Criteria

Revised Rita H. Walsh Scholarship Criteria!

1. Current South Dakota resident.

2. Current South Dakota RN license.

3. Male RN pursuing a graduate degree in nursing

(preferred) or a related field in an accredited

program.

4. SDNA membership preferred.

5. Career goals consistent with South Dakota Nurses

Foundation purposes of education, research and

service.

6. Evidence of leadership, compassion, involvement

in professional organization(s), professional

activities, and community service.

Nurses are the heart of our mission.

When you join Avera, your career opportunities are endless:

Scholarships' Application Deadline:

A postmark or email date of October 1, 2022 is

the deadline for the South Dakota Nurses Foundation

Scholarships.

Award Date for Scholarships: Fall 2022

Applying for More Than One Scholarship:

If you meet the criteria for more than one

scholarship, consider applying for more than one

scholarship.

• Leadership opportunities

• Award-winning facilities

• Innovative technology

• Continuing education

Application Materials for Scholarships:

Access the South Dakota Nurses Association (SDNA)

website at www.sdnursesassociation.org / South Dakota

Nurses Foundation / Scholarships. Alternatively,

contact the South Dakota Nurses Association office at

contactus@sdnurses.org or 605.945.4265.

To help recruit and retain talented people,

Avera is investing in its workforce.

Competitive pay and benefits:

• One week of paid time off front-loaded

for new hires

• Free individual health insurance and

competitive rates on other plans

• Student loan repayment program for

select positions

• Employee discount program

Apply at AveraJobs.org

Avera is an Equal Opportunity/Affirmative Action Employer

Minority/Female/Disabled/Veteran/Sexual Orientation/Gender Identity

Nursing opportunities

in a variety of settings, including:

Questions About Scholarship Eligibility and

Applications:

Contact Carman Timmerman, SDNF Scholarship

Chair and SDNF Treasurer, at 605.391.4053 or

carmantimmerman@gmail.com.

Supporting the South Dakota Nurse Foundation:

The fact that these scholarships are available

underscores the generosity of South Dakota nurses as

well as their families and friends. We thank you for

that generosity. If you are interested in donating to

the South Dakota Nurses Foundation, your gift will

help sustain the Foundation's efforts to endorse the

nursing profession as SDNF promotes positive health

care changes in South Dakota. Please make your check

payable to South Dakota Nurses Foundation Fund

and send your check to South Dakota Community

Foundation ~ Box 296 ~ Pierre, SD 57501.
---
May, June, July 2022 South Dakota Nurse Page 5

SDNA

Calendar of Events

If you have events that you want posted on the SDNA

Calendar of Events please contact the SDNA Office at

(605) 945-4265 or by email at

contactus@sdnurses.org.

Welcome

New Members

MAY

All Month - National

Nurses Month

JUNE

June 10-11

2022 ANA Membership

Assembly

JULY

July 1

SDNA Consent to Serve

Forms Due

July 11

SD Nurse Article

Submission Deadline

AUGUST

August 1

Awards Nominations

Due

SEPTEMBER

TBD

ANA Lobbyist Meeting

OCTOBER

October 2

SDNA Board of

Directors Meeting

(Sioux Falls)

October 2-3

SDNA Annual

Convention (Sioux Falls)

October 10

SD Nurse Article

Submission Deadline

DECEMBER

December 1

District Leadership

Reporting Form Due to

SDNA Office

District 1, 2 & 3

Paige Laird

Kaleh Knutson

Jennifer Aldren

Debra Morello

Jessica Nelson

Lisa Frasier

District 5-7

Brenna Pahlke

Shelly Monnens

Angela Wollmann

Nicole Bamberg

District 8 & 9

Michele Cordell

Rebecca Erickson

Elizabeth Byrd

District 10

Jennifer Sjaarda-

Dinger

Joseph Osazee

Meghan Foster

Hilary Olinger

Paige Martin

Megan Broadbent

Denise Haisch

Now hiring

RNs and LPNs

Check our new benefits:

Day Care Assistance!

$5,000. Sign on Bonus! conditions apply

Visit our website, or contact us today!

candersen@tieszenhome.com

www.tieszenhome.com

KEYSTONE TREATMENT CENTER – NOW HIRING NURSES!

AVAILABLE SHIFTS:

We have full and part-time staff RN and LPN positions available for all shifts.

Shifts are 12-hours, 3 days per week with shift differentials available.

All RNs and LPNs rotate weekend shifts.

BENEFITS INCLUDE:

• Competitive hourly rate with shift differentials

• Medical, Dental, and Vision insurance

• Acadia Healthcare 401(k) plan

• Company paid life insurance

• Sign on bonus

• Excellent training programs

• Professional growth opportunities

TO APPLY, VISIT: RECRUITING.ULTIPRO.COM/ACA1001

JOIN OUR

TEAM

Health Facilities Surveyor/

Registered Nurse II

Statewide, SD

The South Dakota Department of Health can offer you a rewarding career with a strong

sense of mission – to protect the health and safety of individuals receiving health care in

South Dakota. The Registered Nurse candidate must be a licensed Registered Nurse eligible

to practice in SD. Areas surveyed include nursing practices, medication administration and

pharmaceutical standards of care, patient activities, dietary, infection control, resident rights,

and physical environment. Travel is necessary with overnight stays at motels paid by the

State along with a per diem allotment. Training for the survey process is through required

online Centers for Medicare and Medicaid Services (CMS) courses and through precepted

surveys in licensed healthcare facilities. Candidate must pass the CMS Surveyor Minimum

Qualifications Test within approximately 6 months of employment.

For more information and to apply, please go to http://bhr.sd.gov/workforus

or contact any South Dakota Department of Labor and Regulation Local Office.

An Equal Opportunity Employer.
---
Page 6 South Dakota Nurse May, June, July 2022

District News

District 1, 2, 3 Report

We held our first meeting of 2022 on April 14, a dinner

meeting at Minerva's. It was my first meeting since assuming

the office of the President. Jeri Culbertson has resigned her

office due to a move and new career move. We wish her

success and we will miss her enthusiasm and direction as

president.

Mary Sebert, speaker for the 2021 convention, is

scheduled to visit Rapid City. We hope to meet her for a

dinner to celebrate her outstanding presentation.

Kay Foland will be attending June ANA meeting in

Washington DC, with expenses paid by ANA.

Our next meeting is scheduled for May 12 5:30 pm at

Minerva's to celebrate Nurses Week. Our topic: develop to

plan to support the nurses in Ukraine.

Linda Wolden, RN, BSN, District 1,2,3 President

lrwolden@gmail.com 605 381 1289

District 5-7 Report

Hello fellow nurses,

Hope all is well with you. Thank you for all that you

do! Positions in leadership are available. Feel free to reach

out to me via email, text, or a phone call to serve today.

District 5-7 would like to invite you to our social media on

Facebook. The Facebook link: https://www.facebook.com/

SouthDakotaNursesAssociationDistricts57

Everyone is welcome to follow us and check out giveaways

of donated prizes, news, articles, statics, and events both

locally and at the state level. It will be awesome to connect

with you all at Convention this year! SDNA Annual

Convention is in Sioux Falls in October 2022!

Sara Watson, MBA, MSN, RN

District 5-7 President

sara@prnpros.net

Cell (605)353-5799

District 8&9 Report

District 8 and 9 invited Deb Fischer Clemens to the

February meeting. Deb provided information from the South

Dakota legislative session. She considered the session a

success for SDNA and nurses. There were eight bills passed

that SDNA was involved with. Several highlights included

defeating the anti-vaccine bills, increased reimbursement

for Medicaid to health care and long-term care facilities.

There will be a November ballot item related to Medicaid

expansion. Several challenges during the legislative session

included bills related to marijuana usage in health care and

the certification process for physicians.

In April, members welcomed several school nurses to

the meeting. They updated the group on some of the current

trends in school nursing as well as insight into issues school

nurses are currently experiencing.

Venita Winterboer, President, District 8 & 9

District 10 Report

Save the Date! Oct 2 and 3 Best Western in Sioux Falls for

the 2022 Fall Conference.

District 10 has been busy with planning the fall

conference. Our meetings are one hour in length. We try

hard to keep it to one hour as we know everyone has a busy

schedule.

If you are looking to get involved, please join us the first

Monday of the month at Scooter's 57th and Western at 6 pm.

(Our June meeting will be on Tuesday, June 21, at 6 pm at the

convention location, the Ramkota on West Maple in Sioux

Falls.)

Can't make the meetings but want to be involved? Send us

an email and we can help find a spot for you to get involved.

May is Nurse Month with the American Nurses

Association. The theme this year is Nurses Make a

Difference.

The last two years have been hard for nurses during the

Pandemic. Every day, remember you are making a difference.

It doesn't matter in what kind of nursing you work, you

have a positive impact on lives every day.

Gala Woitte District 10 President

gwoitte@gmail.com

605-376-8639

District 11 Report

District 11 met in January via zoom. Charlene Bierema,

district president, led a discussion of the SDNA Health Policy

Agenda and current legislative issues. Dr. Robin Brown

and Dr. Brandi Pravecek presented their research entitled

"Factors Associated with Nurse's Emotional Distress During

COVID-19 Pandemic." This research project involved nurses

who practiced in the state of South Dakota. A literature

review identified that one in five healthcare professionals

experienced anxiety and/or depression related to fear of

contact with a COVID-19 positive patient, fear of contracting

the illness and fear of exposing family members to the illness.

Social support, a sense of control, and reduced perceived

risks promoted the nurse's well-being.

Several members participated in SDNA's Nurses Day at

the Legislature 2022. This was an excellent introduction to

the legislative process and review of the current bills in the

House and Senate. A special thank you to the organizers

and presenters as this was a very well-organized zoom

conference.

In March, the district meeting was again held via zoom.

The program was a discussion of the 2022 legislative session

by Representative Sydney Davis, Legislative District 17. An

interesting program on the issues, expenditures, etc. was

presented. Money was allocated to Black Hills State and

Northern State to work with SDSU for increased numbers of

student nurses. SETI was offered money for LPNs who serve

as a feeder program for RN program. Student nurses are now

paying more money for accelerated nursing programs. The

EMS statutes were evaluated as the statutes are now 50 years

old. The legislature paid for iPADS and AEDs to be placed in

the back of all South Dakota ambulances.

The State Student Nurse Conference was held in Yankton

and District #11 represented SDNA at a booth. We shared

information regarding ANA and SDNA.

Charlene Bierema, District # 11 President

Wilmont Care Center

is now Hiring!

DIRECTOR OF NURSING

SERVICES

FT- Evening/Night Nurses

8 or 12 hour shifts available

Email resume to:

jvanbeek@wilmotcarecenter.com

or mail to Wilmot Care Center,

501 4th Street, Wilmot, SD 57279
---
May, June, July 2022 South Dakota Nurse Page 7

Bringing Hope To The Future...continued from page 1

"After my last high school summer, I moved to the

Twin Cities to attend the Free Lutheran Bible College

(FLBC). My time there was invaluable and provided

me with a solid foundation and tremendous growth

spiritually and as a person. I also gained a broader

worldview which played into my career choice.

"I saw the needs of people here in the US and

elsewhere in the world and subsequently found the

profession of nursing, which provided hope to meet

some of these needs. At Bible College, I am surrounded

by an incredible group of people and immersed in

valuable studies. It was the perfect place to form the

goals I still am pursuing.

"My mind became set on becoming a nurse

practitioner with the ambition to practice here in the US

and other countries in some form of mission work. The

path forward seemed to indicate SDSU as the university

to obtain my nursing degree, but I was not ready to go

home yet.

"I discussed this with my friends. Four of my closest

classmates who graduated from FLBC and I moved to

Hawaii for the adventure of a lifetime. Here, I attended

a small community college to start knocking out the

prerequisites required for the SDSU nursing program.

"I moved back to my home land and was accepted

into the nursing program at SDSU. I couldn't ask for a

better nursing school experience. Still in pursuit of my

final goal of nurse practitioner, I applied for grad school

while in under grad and was accepted two weeks after

graduation."

Goodfellow has worked in the Brain and Spine

Unit at Avera McKennan Hospital in Sioux Falls since

2019. The Brain and Spine Unit has all three levels

of inpatient care (medical/surgical, step-down ICU,

and neurocritical care). "This is a perfect location to

gain a broad range of skills while gaining experience

in all levels of care. I participate in the Unit Practice

Committee and have obtained my national stroke

certification. This unit has its challenges, but the team

is top notch and it's a great place to make a difference

in the lives of patients," he said.

"Serving those who need health care the most"

is Goodfellow's number one professional goal. "I

am a man who takes pride in his home state of South

Dakota, this means considering where I can make the

biggest difference here in this great state and finding

innovative ways to change the lives of individual people

and improve the care of underserved people groups."

Additionally, he seeks additional certifications in other

critical care areas that interest him and enhance the

DNP degree.

Goodfellows doctoral project centers on

implementing a neurocritical care unit for a palliative

screening intervention program. "The project is

basically teaching and enabling our nurses to screen for

and identify any palliative needs that our patients and/

or family members may be experiencing. The needs can

then be brought to the care team and addressed using

a list of options available for the patient such as a care

conference or a palliative specialist consult."

This project is vital to Goodfellow because of the

patients it will serve. "A neuro critical care unit serves

a patient population that has complicated diagnoses,

difficult prognoses, and often times poor outcomes. My

hope for this project is to bring important patient and

family needs to the forefront of our care and to meet

these needs with holistic, patient-centered care."

"It's exciting to be taking steps towards becoming

a provider while carrying with me [that which] I have

learned as a bedside nurse. Having a basis of previous

medical knowledge has helped greatly when diving

further into healthcare issues," said Goodfellow. "The

leadership portion of the doctoral process has so far

surprised me in that, it is forcing me to consider issues

from a leadership perspective and to consider how the

NP role can be used to its fullest extent."

It is a significant challenge to balance job

responsibilities and academia. "Most floors in the

nation are experiencing staff shortages due to burnout

from COVID and multiple other factors so the pressure

to work more as an RN makes balancing work and

school extremely difficult and often times exhausting,"

he said. "There is rarely time to recover from a difficult

shift and there are few days where long hours of

studying are required."

When she was Goodfellow's supervisor, Alyssa

Stauffacher proved to be an exceptionally supportive

and helpful mentor. "She helped me every step of the

way!" said Goodfellow.

Stauffacher gives her impressions of meeting

Goodfellow for his Brain and Spine Unit RN position

interview. "From the very first moment of introductions

Marcus's evangelistic virtue was obvious through

his words and his actions. Marcus doesn't sort his

life experiences into buckets: work life, personal

life, worship activities, etc. Instead, Marcus is fully

comfortable and is an expert at living life as a person

who is true to all aspects of what is important."

She describes Goodfellow as hospitable, a listener,

and compassionate. "Marcus has a beautiful ability

to instantly read a situation and sense whether his

approach should be calm, slow and gentle, upbeat

and energetic, or fun and entertaining," she said. His

passion for healthcare and caring for people is evident

to his patients and colleagues."

Stauffacher saw his passion and dedication to

patients, family members, colleagues, and strangers

from the very beginning of his nursing experiences.

A notably responsible leader, Goodfellow takes every

opportunity "to help as many people as possible as

often as possible." For example, during the global

pandemic, he never showed "discouragement,

exhaustion, or lack of dedication to his personal

mission." "He was at work with a smile on his face, a

positive word of encouragement for absolutely everyone,

and a personal toolbox of opportunities to bring hope

and encouragement to everyone he interacts," she said.

Goodfellow takes commitment to his colleagues

beyond the end of his work shift. For example, he

initiated, arranged, and hosted a Bible study group

and social events for colleagues, excluding no one.

"He recognizes the daily struggle that healthcare

workers experience and has had a tremendously positive

and uplifting impact on his fellow coworkers," said

Stauffacher.

Resilience and positivity are signature Goodfellow

qualities. "We work in a career that often experiences

tragedy firsthand. A person with positivity is helpful

through the good times and the bad. He affects the

people we work with and the patients we serve." And

the cornerstone of his personal life and nursing practice

is his "spiritual views in a sense that I view each

individual as loved, special, and on equal standings

with myself and everyone else in terms of overall

merit."

"Marcus is a truly selfless person," said Stauffacher.

"Marcus has the most incredible resilience and

positivity of anyone that I've met, [which] allow him

to instantly connect with people in a manner that

involves no judgement, no agenda, just pure and honest

kindness."

Goodfellows selflessness is demonstrated in serving

professional organization activities at the district,

region, council, state and national levels for the past

five years. Service is his middle name.

His appreciation of and gratitude for his parents

(Connie and Dean) and his two brothers (Josh and

Andrew) is evident. "They have always supported me

throughout my life and academic journey." He enjoys

hunting, music, fishing, water sports, any sport on a

board, mountain biking, and frisbee golf. He is open to

"trying new things and experiencing different cultures."

And a good read ("textbooks of course!"), video games,

spending time with friends and family, and hunting

(turkey, deer, elk) are his go-to activities to renew his

soul and spirit.

For Goodfellow, there has never been a question

of what he was supposed to do with his life? On the

contrary, "I can say confidently that ever since the

thought of entering the field of nursing came into my

mind, I have had the blessing of knowing that there is

no other place I would rather be."

Stauffacher confidently summaries Goodfellow.

"He honors the nursing profession through exemplary

clinical performance, outstanding selflessness and

kindness to everyone and teamwork and innovation

that constantly strives to better support patients and

healthcare colleagues. [He] brings hope to the future of

healthcare."
---
Volunteers Needed!

What is SERV SD? A database of pre-registered health care

professionals who are ready to volunteer in the event of an emergency.

Who should volunteer? Everyone! All skill levels and experience

needed.

When registering with SERV SD, you can join preparedness groups in

your community.

isit us online today: SERV.SD.gov

Are you passionate about cardiovascular disease or chronic disease prevention, treatment or management?

Join the South Dakota

Cardiovascular Collaborative!

Contact Rachel Sehr at 605-367-5356 or Rachel.Sehr@state.sd.us

https://doh.sd.gov/CardioCollaborative/

Advancement of Health Equity • Chronic Disease Prevention • Response to Acute Incidents • Disease Management