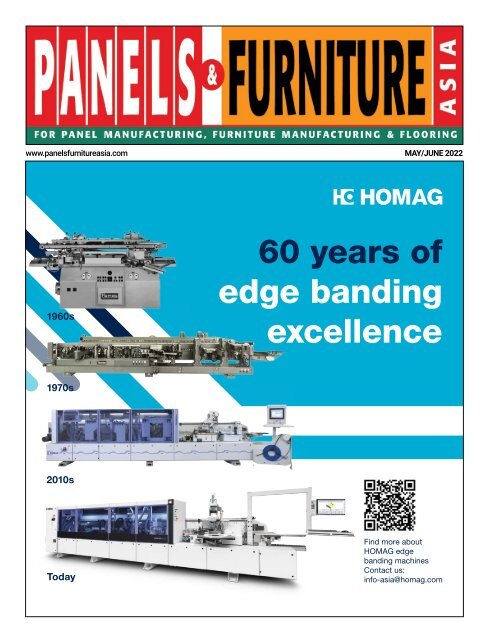 Panels & Furniture Asia May/June 2022
Panels & Furniture Asia (PFA) is a leading regional trade magazine dedicated to the woodbased panel, furniture and flooring processing industry. Published bi-monthly since 2000, PFA delivers authentic journalism to cover the latest news, technology, machinery, projects, products and trade events throughout the sector. With a hardcopy and digital readership comprising manufacturers, designers and specifiers, among others, PFA is the platform of choice for connecting brands across the global woodworking landscape.
Panels & Furniture Asia (PFA) is a leading regional trade magazine dedicated to the woodbased panel, furniture and flooring processing industry. Published bi-monthly since 2000, PFA delivers authentic journalism to cover the latest news, technology, machinery, projects, products and trade events throughout the sector. With a hardcopy and digital readership comprising manufacturers, designers and specifiers, among others, PFA is the platform of choice for connecting brands across the global woodworking landscape.
SHOW MORE
SHOW LESS
Do you know the secret to free website traffic?
Use this trick to increase the number of new potential customers.
www.panelsfurnitureasia.com

MAY/JUNE 2022

60 years of

edge banding

1960s

excellence

1970s

2010s

Today

Find more about

HOMAG edge

banding machines

Contact us:

info-asia@homag.com
---
CONTENTS

CONTENTS

PANELS & FURNITURE ASIA (ISSUE 3)

May / June 2022

06

Editor's Note

08

News

Market Report

16

Markets poised for growth, supply chain disruptions

slowing resurgence

18

French timber market in 2022

20

Pay-per-use: An alternative to the classic machine

purchase

Environmental Report

22

When values add value: Consumer preferences for

sustainable furniture

26

Sourcing sustainable forest fibre in Asia for furniture

and furnishing

In Person

28

Sustainability as competitive advantage for Koda

Panel Manufacturing

30

Kastamonu Entegre eyes top spots in the global

wood-based panel market

34

Improvements to productivity through log x-ray

technology

36

The one-sided liquid extruder gluing: A glue-saving

solution by Raute

Furniture Manufacturing

38

Sixty years of edgebanding quality

42

Planning and automating window and door systems

production

45

The change process: From traditional methods to

automation

46

A one-stop purchasing and intelligent production

solution

Materials

48

Understanding finishing materials for interior door

and moulding

Recycling

50

Wood recycling: From waste to resource

Flooring

54

Modern wood is more than just decoration

57

Structural Elements

57

Timber bridge in Gulou Waterfront

Columnists

60

Poor adhesive force of finger-jointed timber

64

Oil palm trunk: An untapped resource

20

66

Calendar of Events

67

List of Advertisers

26

4 Panels & Furniture Asia | May / June 2022
---
Y O U R S M A R T P L A N T

PRODUCE SMARTER

Using a holistic approach, CEBRO combines digitalization and advanced

plant engineering with operational excellence and sustainability solutions.

That makes your plant smart.

Watch the video at cebro.dieffenbacher.com to discover

what CEBRO can do for you.

VISIT US AT INDIAWOOD,

JUNE 2–6, 2022

HALL 4, BOOTH J 327A
---
FROM THE EDITOR

Making the best

of what we have

Some parts of the world are celebrating

a return to pre-pandemic normalcy: for

Singapore, the easing of safe distancing

and travel restrictions brings relief and joy,

and for most of the world, the reopening

of borders. But we should not forget that

uncertainty still has a chokehold on a few

parts of the world. Shanghai, China has gone

into lockdown, and the Russia-Ukraine war

spells economic and environmental trouble

across the world.

It certainly puts things into perspective; let

us make the best of what we have, and be

grateful for experiencing normalcy again.

This year, woodworking machinery

manufacturer HOMAG celebrates 60 years

of edgebanding quality. The company takes

a memory trip down the evolution of their

edgebanding machines in this issue, how

they have evolved in breadth, complexity

and performance over the years (p.38).

As Judd Johnson noted in his report, having

just barely recovered from the pandemic,

we are now adding "war to the list of things

that are damaging to the manufacture and

delivery of materials and goods" (p.16). The

Programme for the Endorsement of Forest

Certification (PEFC) has also declared timber

from Belarus and Russia to be "conflict

timber" since the war is destructive to the

environment (p.10).

Technological innovations are also

underway. Nanxing Machinery has

collaborated with FinChinaSoft to

develop one-stop software and hardware

solutions for furniture enterprises to better

respond to market needs (p.46). Tomra

Recycling touts the benefits of intelligent

sorting solutions, such as deep learning

technology, that can sort waste wood

efficiently and precisely (p.50).

Physical exhibitions have finally returned,

and in particular, the BIFA Wood Vietnam

exhibition is set to return in August after a

two-year hiatus (p.8). We welcome everyone

to join us, and we are more than happy

to catch up with everyone on the latest

happenings in the woodworking industry.

YAP SHI QUAN | Assistant Editor

PANELS & FURNITURE ASIA

PABLO SINGAPORE

Publisher

William Pang • williampang@pabloasia.com

Senior Editor

Josephine Tan • josephine@pabloasia.com

Assistant Editor

Yap Shi Quan • shiquan@pabloasia.com

Business Development Manager

Pang YanJun • yanjun@pabloasia.com

Graphic Designer

Goh Meng Yong • mengyong@pabloasia.com

Circulation Manager

Shu Ai Ling • circulation@pabloasia.com

PABLO BEIJING

General Manager

Ellen Gao • pablobeijing@163.com

PABLO SHANGHAI

Editor

Kresly Shen • pabloshanghai@163.net

HEAD OFFICE

PABLO PUBLISHING & EXHIBITION PTE LTD

3 Ang Mo Kio Street 62, #01-23, Link@AMK,

Singapore 569139

Tel : +65 6266 5512

Email: info@pabloasia.com

www.panelsfurnitureasia.com

Company Registration No: 200001473N

Singapore MICA (P) No: 105/12/2021

REGIONAL OFFICES (CHINA)

PABLO BEIJING

Tel : +86 10 6509 7728

Email : pablobeijing@163.com

PABLO SHANGHAI

Tel : +86 21 5238 9737 / 36

Email : pabloshanghai@163.net

let's connect!

@panelsfurnitureasia

All rights reserved. Views of writers do not necessarily reflect the views of the

Publisher. No part of this publication may be reproduced in any form or by any

means, without prior permission in writing from the Publisher and copyright

owner. Whilst every care is taken to ensure accuracy of the information in

this publication, the Publisher accepts no liability for damages caused by

misinterpretation of information, expressed or implied, within the pages of

the magazine. All advertisements are accepted on the understanding that the

Advertiser is authorised to publish the contents of the advertisements, and in

this respect, the Advertiser shall indemnify the Publisher against all claims

or suits for libel, violation of right of privacy and copyright infringements.

Panels & Furniture Asia is a controlled-circulation magazine with two issues

a year. It is mailed free-of-charge to readers who meet a set of criteria. Paid

subscription is available to those who do not fit our terms of control. Please

refer to subscription form provided in the publication for more details.

Printed by Times Printers Pte Ltd

Scan to subscribe

to PFA's enewsletter

6 Panels & Furniture Asia | May / June 2022
---
Getting what you need can be complex. We make it feel easy.

Why do so many customers continue do business with us? Because we care. As we've seen,

the hardwoods industry can be difficult. When it is we are a rock-solid source

of service and support. We put in the time, make the extra call, do whatever we can

to solve our customers' problems and meet their needs.

We care, that's why they do business with us.

northwesthardwoods.com
---
NEWS

BIFA WOOD VIETNAM

TO RETURN IN

AUGUST 2022

In light of border control and quarantine

measures, BIFA Wood Vietnam, a wood and

woodworking exhibition held in Binh Duong,

Vietnam has been postponed to 8-11 Aug

2022.

"Currently, Vietnam borders are still closed

and quarantine is required upon arrival,"

elaborated William Pang, co-organiser of

BIFA Wood Vietnam and publisher of the

Panels & Furniture Group of wood magazines.

"Moving our event to August will give

Vietnam and other borders more time to

establish quarantine-free travel for visitors

BIFA Wood

Vietnam 2018

and exhibitors, and more time for exhibitors to

freight their exhibits or machinery for the show."

BIFA Wood Vietnam will be held in a new

exhibition hall, the WTC Binh Duong New

City Expo Centre, which was completed in

mid-2021. Visitors can look forward to leading

international woodworking machinery, plus

hardwood, softwood and wood materials for

the manufacturing of panels, flooring, doors

and windows, and other industry trends and

developments.

Prior to that, the 2018 edition treated

4,200 visitors to 183 exhibitors of the latest

technologies and products in the furniture

manufacturing and woodworking sector.

For more information about BIFA Wood

Vietnam, visit www.bifawoodvietnam.com. P

"INTELLIGENT ENGINEERING FOR FUTURE

GENERATIONS": SIEMPELKAMP REPOSITIONS ITSELF

Siempelkamp has announced that they will be

starting the spring of 2022 with a new claim,

"Intelligent engineering for future generations",

which stands for the group's proposition to

strengthen existing expertise with new content.

Engineering is considered to be the core

competence of Siempelkamp, anchoring new

concepts and technologies tailored to current

challenges in the market.

From now on, this core competence

will be flanked by two news features

reflected in Siempelkamp's claim. First is

"Intelligent engineering", which integrates

Siempelkamp's specialty in digitalisation

into the new positioning. Automation for

efficiency and productivity in increasing

processes are the focuses of all business

units.

The digital plant twin, the Prod-IQ MES system,

and new approaches to machine learning are

a few examples of Siempelkamp's approach

to increasing productivity, designing quality

products, and to also ensure maximum

efficiency in the area of raw material use and

plant design.

The second feature is "Future generations",

which focuses on the responsibility to shape

industries and society in a sustainable,

modern, and long-lasting way.

Examples of their sustainability concept

include research and development in the area

of alternative raw materials and recycling

to protect scarce resource wood. Also, the

product portfolio, which is geared towards

energy efficiency, supports sustainable

production while reducing its impact on the

environment.

"Our new claim 'Intelligent engineering

for future generations' bundles key values

such as responsibility and pioneering spirit,

ambition and sustainability into a coherent

overall concept. This positioning stands

for the energy to align our technological

competence even more strongly with

the future topics of digitalisation and

sustainability," said Martin Stark, CEO of the

Siempelkamp group. P

8 Panels & Furniture Asia | May / June 2022
---
NEWS

GLOBAL SANCTIONS

ON RUSSIA TO AFFECT

VIETNAM'S TIMBER

INDUSTRY

Russia's invasion of Ukraine along with the sanctions imposed on Russia

by the US, EU and others are poised to have a big impact on the global

wood processing and export industries.

An online seminar in early March by the Vietnam Timber and Forest

Product Association (VIFORES) in coordination with the General

Department of Forestry and the Ministry of Agriculture and Rural

Development (MARD) spoke about assessing the risks and identifying

solutions relating to mechanisms and policies to help wood enterprises

reduce the negative impacts from the conflict.

Vo Quang Ha, general director of Tan Vinh Cuu Joint Stock Company,

noted that prices have started to rise, and said: "Birch supplies from

Russia must be balanced but we can still have it whether we depend on

Chinese sources or buy it directly."

According to Vu Hai Bang, chairman of the board of directors of

Woodsland Company, the shortage of wood supply from Russia may

create new demands for alternative types of imports from eastern

European countries. It is possible that Vietnamese wood sourced from

planted forests can become one of the alternative sources of timber.

Therefore, it can be viewed as necessary to devise policies aimed at

supporting businesses in ensuring this supply.

"Fortunately, Vietnamese businesses that have locally grown wood

and relatively stable prices over the years have not had to pay for

shipping. Therefore, the MARD should have support policies to help

wood processing enterprises maintain the domestic wood supply,"

emphasised Vu.

Bui Chinh Nghia, deputy head of the General Department of Forestry,

said that it is impossible to predict how long the conflict will last and

how serious the ultimate impact of it will be. Due to this, it can be viewed

as necessary to adopt timely mechanisms and policies aimed at helping

timber businesses reduce the negative impacts, thereby contributing to

the wood industry's sustainable development in the future.

Bui also said that it remains essential to have a specific assessment and

be increasingly proactive to get the best adaptations for the local wood

and forest product processing industry.

The General Department of Forestry and the MARD are ready to review

all opinions and then produce a joint report featuring specific proposals

and recommendations regarding adaptation to the emerging supply

issues. P

Source: ITTO

Panels & Furniture Asia | May / June 2022 9
---
NEWS

HOMAG AND HEESEMANN PARTNER

TO OFFER SANDING MACHINES

Christoph Giese, managing director of Karl

Heesemann (left), and Frederik Meyer, executive

vice-president, HOMAG business unit CNC

processing (right), agree on a partnership

The HOMAG group reported that to focus

their resources on R&D and production. They

will be discontinuing in-house development

and production of wide belt sanding

machines, and instead, make available Karl

Heesemann solutions.

HOMAG and Heesemann have been working

together for several years, but it is only

recently that the two companies agreed on a

more extensive cooperation.

"Covering the entire process chain and the

associated satisfaction of our customers is

our focus. In Heesemann, we have found

the ideal partner to continue providing our

customers with end-to-end solutions for

sanding and to cover the entire process chain,"

commented Frederik Meyer, executive vicepresident

of CNC processing business unit,

HOMAG.

"We at Heesemann are very excited about

this great prospect for both companies,"

said Christoph Giese, managing director,

Heesemann. "It is an opportunity to take our

long-standing partnership to a new level and

once again demonstrate our expertise and

innovative strength for the benefit of our

customers."

The overall strategic goal of HOMAG is still

to cover the entire process chain in wood

processing, which includes sanding. To

continue covering the entire process chain,

Heesemann will expand its sanding machine

portfolio and offer end-to-end solutions for

all segments in the future, from entry-level

to high-end solutions. For the entry-level

machines, in particular, Heesemann will be

drawing on HOMAG's specialty.

The two companies will also be working

closely together in the sales and service

network. HOMAG will continue providing

services, such as a hotline, on-site service and

spare parts, for the sanding machines supplied

under the BÜTFERING and HOMAG brands. For

the sanding machines supplied by Heesemann

in the future, Heesemann will take over the

corresponding service. P

INDONESIA HITS

RECORD FORESTRY

SECTOR EXPORTS

IN 2021

The Association of Indonesian Forest

Concession Holders (APHI) has reported

that forestry sector exports were at a record

RP$193.8 trillion (US$13.5 billion) in 2021.

The chairman of APHI, Indroyono Soesilo, said

that changes in international market demand

due to the adjustments to home-working and a

focus on renovation were mainly responsible for

the export growth.

Based on data from the Indonesian Forestry

Society Communication Forum (FKMPI), timber

production from plantation forests in 2021

reached 46.43 million metric tonnes, an increase

of 1.2% on an annual basis.

Meanwhile, wood products from natural forests

rose 14.4% on an annual basis to 6.013 million

metric tonnes. Last year forestry sector exports

increased by 31% on an annual basis from

US$11.07bn in 2020 to $14.48bn.

The wood chip industry experienced the highest

growth of over 90% from $50.45 million to

$96.24m. The largest contributor to the export

growth was the wood panel industry which

earned $3.97bn, up 83% on an annual basis.

This is followed by the paper and pulp industry

with exports of $3.72bn and $3.19bn. P

Source: ITTO

TIMBER FROM RUSSIA AND BELARUS

CONSIDERED "CONFLICT TIMBER": PEFC

The Programme for the Endorsement of Forest

Certification (PEFC) has released a statement

that timber from Russia and Belarus is now

classified as conflict timber. This is the PEFC

International board's response to the Russian

government and President Putin's "military

aggression" against Ukraine, which is in "direct

opposition" to the PEFC's values.

Conflict timber is defined by PEFC as "timber

that has been traded at some point in the chain

of custody by armed groups, be they rebel

factions or regular soldiers, or by a civilian

administration involved in armed conflict

or its representatives, either to perpetuate

a conflict or take advantage of conflict

situations for personal gain".

The categorisation of timber from Russia

and Belarus as conflict timber follows the

adoption of the Resolution on Aggression

against Ukraine by the United Nations

General Assembly, which "deplores in

the strongest terms the aggression by the

Russian Federation against Ukraine […]

[and] the involvement of Belarus".

The aggression also has an immediate

and long-term destructive impact on the

environment, on forests, and on the many

people that depend on forests for their

livelihoods.

The PEFC International board will

continue to monitor the situation and

consider additional measures when

necessary. P

10 Panels & Furniture Asia | May / June 2022
---
US HARDWOODS TO INDIA REACHED US$12.22M IN 2021

NEWS

US hardwood exports to India has reached

a new record high. In an announcement

released by the American Hardwood Export

Council (AHEC), both the value and volume of

hardwood lumber shipped to India last year

were more than double the previous high set

in 2019.

The total value of American hardwood lumber,

logs and veneer exported to India reached

US$12.22 million last year despite global

lumber shortages, uncertainty in freight rates

and availability of containers, and generally

increasing prices across all species.

Aiming to support and sustain this increased

interest in American hardwoods, AHEC has

announced its participation at INDIAWOOD,

which is due to run from 2-6 Jun 2022 at the

Bangalore International Exhibition Centre.

"Limited domestic hardwood supplies,

coupled with strong sustained growth in the

retail furniture, handicraft and hospitality

sectors have driven the demand for new

species, making India an attractive and

long-term prospective market for US

hardwoods," said Roderick Wiles, regional

director of AHEC. "With India making genuine

progress towards fulfilling its potential as

a major market for US hardwoods, AHEC

is participating at INDIAWOOD with an

American hardwood pavilion, which includes

several US-based hardwood and veneer

exporters. P

Overall exports of both US hardwood

lumber and veneer to India were up year-onyear,

while exports of logs continued their

downward spiral, in line with the general shift

seen in recent years by Indian buyers towards

importing value-added kiln-dried lumber

instead of logs.

The statistics, which have been compiled from

the latest data released by the United States

Department of Agriculture (USDA), reveal that

total hardwood lumber shipped from the US to

India increased by 292% in value to $6.5m, up

from $1.66m in 2020, and by 288% in volume

to 11,109m 3 , up from 2,863m 3 in 2020.

At the same time, direct exports of American

hardwood veneers to the market increased by

9% to reach $2.69m. The increases witnessed

last year prove that 2020 was a temporary

dip in an otherwise upward trend. The value

and volume of logs exported to India declined

by 3% to $3.03m and by 18% to 5,411m 3

respectively.

Affordable

2D image scanning system

with the world's highest cost to performance ratio!

The top five American hardwood species

exported were hickory ($2.056m and 2,941m 3 ),

white oak ($1.5m and 2,223m 3 ), red alder

($1.012m and 3,028m 3 ), red oak ($815,000 and

1,353m 3 ), and ash ($804,000 and 1,184m 3 ).

• 2~3 moveable saw blades

(will be launched in August 2022!)

• Laser scan feeding system equipped,

cutting 5~6 boards per minute

Significant increases were seen in the value

and volume of exports of all species — hickory

with 141% and 115% respectively, white oak

with 454% and 375%, red alder with 4,013%

and 3,548%, red oak with 731% and 696%,

ash with 360% and 293%, walnut with 406%

and 146%, and maple with 183% and 170%.

Panels & Furniture Asia | May / June 2022 11
---
NEWS

WINTERSTEIGER TARGETS TURNOVER OF €200 MILLION IN 2022

an increase of 38%, and €39m, an

increase of 18%, respectively.

"In 2021 all of our divisions

posted profits despite significant

investments in the future,"

highlighted Harold Kostka, CFO of

Wintersteiger.

Wintersteiger has declared its turnover

target for 2022, aiming for €200 million,

an increase from the manufacturer's

results in 2021 which was reportedly

€168m.

According to the press release, Florestan

von Boxberg, CEO of Wintersteiger,

is convinced that despite current

procurement problems, Wintersteiger

will overcome the downturn caused

by COVID-19 this year and exceed the

€200m turnover threshold for the first

time.

The company's sales and profits

were affected by the beginning of the

Harold Kostka, CFO

of Wintersteiger

(left), and Florestan

von Boxberg, CEO of

the company (right)

pandemic in 2020, with a collapse in

turnover of 26%.

But Wintersteiger used the crisis as an

opportunity for company acquisitions

and a product drive. The general

importer for Norway and Sweden

was acquired in 2021. At the start of

2022, a majority stake was acquired in

a mechanical engineering company

for Wintersteiger's Division Woodtech

near Stuttgart, Germany, along with

a minority stake in an IT company in

Vienna, Austria.

Last year, the divisions Seedmech and

Woodtech also saw growth up to €44m,

In 2022, with turnovers of around

€50m per division, Wintersteiger

will reach a size that allows more

independence. This was the

argument the management board

used when announcing the spin-off

of the four divisions into independent

companies, a production and supply

chain limited company and the

formation of a strategic holding as a

major project for the current year.

"We are delegating decisions to

the areas where they can be made

proficiently and quickly," said

Boxberg about the restructuring.

"This will allow us to focus even

more on the needs of our customers

in the divisions, and the production

company will be able to further drive

forward the industrialisation of our

products." P

FSC TO SUSPEND CERTIFICATES IN UKRAINE CONFLICT AREAS

The Forest Stewardship Council (FSC)

has announced that it will suspend

FSC certificates in the invaded regions

of Ukraine, with effect from 4 May

2022.

According to FSC, the reason for

this decision took into account how

government legislation "cannot be

enforced" in Ukraine conflict regions,

and it is "not safe" for auditors to carry

out their work. Such factors increase

the risks of forests not being managed

according to FSC's standards.

However, FSC remains determined

to continue to support Ukrainian

certificate holders as far as possible

and therefore will allow certification

bodies — the independent auditors of

FSC certificate holders — to continue

their work in areas not affected by war,

for example through remote audits

and extending the time between

audits to over a year, if required.

FSC reported that it has worked closely

with colleagues based in Ukraine to

provide as clear as possible guidance

on where the armed conflict zones are.

For this purpose, FSC has identified

three categories of Ukraine

information sources regarding the

location of conflict zones. First are

public sources, including but not

limited to, the Ministry of Defence

of Ukraine, The Armed Forces of

Ukraine, The State Emergency

Service of Ukraine, and more. The

second is the Ukraine State Forest

Resources Agency, for state-owned

forests, and the third is directly

from local authorities within

Ukraine.

Certificate holders importing FSC

material from Ukraine are required

to amend their supply chain due

diligence to avoid sourcing from

zones of armed conflict. P

12 Panels & Furniture Asia | May / June 2022
---
NEWS

CANADA WOOD TO USE

NAIL-LAMINATED TIMBER

IN JAPANESE UNIVERSITY

Canada Wood Group visited a

manufacturing plant in Ishikawa

prefecture, Japan, in March 2022

to view the production of naillaminated

timber (NLT) panel

production.

According to Canada Wood, the

NLT panels are for a new Tokyo

University of the Arts International

Exchange Centre, a Canada Wood

Demonstration Project, which is

currently under construction in the

Ueno Ward of Tokyo.

The five-storey mid-rise structure

is a combination of steel frame and

wooden post and beam elements

with NLT floor diaphragms. The

NLT panels will use approximately

85m 3 of 2×6 SPF J Grade on the

third, fourth and fifth floors of the

structure.

The use of NLT floor panel was

made possible with the joint

Council of Forest Industries (COFI)

and Japan 2×4 Home Builders

Association Ministry of Land,

Infrastructure, Transport and

Tourism (MLIT) NLT floor assembly

fireproof approval which was

obtained in 2020. The Canada Wood

team has been working with Maeda

Construction, who also visited the

manufacturing plant with Canada

Wood in 2019 to realise this "first

large-scale application" of NLT

construction in Japan, as claimed

by Canada Wood.

Tokyo University of the Arts

International Exchange Centre

is Canada Wood Japan's newest

demonstration project funded by

the Government of Alberta to display

the use of NLT in large-scale public

buildings.

Canada Wood reported that research

has been conducted before the project

to determine the impacts of humidity

and temperature conditions on the NLT

floor assembly performance to confirm

optimal design parameters suitable for

Japan's climate conditions. P

Canada Wood

Group visited a

manufacturing

plant in Ishikawa,

Japan, with Maeda

Construction (Image:

Canada Wood)

Panels & Furniture Asia | May / June 2022 13
---
NEWS

NEW UNIT BY WEINIG FOR CAPPING AND DRILLING IN ONE PASS

The optimising

crosscut saw with

integrated drilling

unit OptiCut S

50+ Powerdrill

offers a two-in-one

solution to improve

production (Image:

Weinig)

Weinig has launched the new OptiCut

S 50+ Powerdrill, a combination

machine for simple, fast and efficient

capping and drilling in one pass.

The new Powerdrill drilling unit

serves as an addition to the product

portfolio for easy cutting on an

OptiCut S 50+ optimising crosscut

saw.

According to Weinig, both drilling

and cross-cutting can be performed

in a single step. With this technical

change and option, customers have

new possibilities in the design of

their production process and can

maximise their production capacity.

By combining two processing steps

on one machine, efficient production

can be achieved, whereas previously

such production had to be carried

out on two, partly manual,

machines. Via OptiCom, the saw's

control system, all cross-cuts and

drill holes can be intuitively created

and processed in lists without any

prior computer knowledge. This

is also possible from the office

computer, with faster results.

The drilling unit is integrated

with the machine body in front

of the sawing unit. The unit

is designed with components

for precise positioning in the

workpiece width and height.

In the longitudinal direction

of the workpiece, transport is

through positioning slides. For

clamping the workpiece, a variety

of pressure options can be used

upstream and downstream of the

machining units.

The drilling unit with five-tool

holders is ideal for those who are

looking for combined machining

by a single machine and attach

importance to an optimised

process flow in their production;

for example, in the machining

of wood in the garden such as

fences, screens and decking, of

furniture parts or construction

parts, among others. P

ANDRITZ STARTS UP PRESSURISED REFINING SYSTEM

FOR MDF PRODUCTION

International technology group Andritz

has completed the start-up of a highcapacity,

pressurised refining system at

Guangxi Guoxu Dongteng Wood-Based

Panel in Guangxi province, China.

The pressurised refining system,

featuring a capacity of 45 bone dry

metric tonne per hour and a 64-inch disc

refiner, is designed to achieve greater

fibre properties at low consumption

of electrical and thermal energy. The

system uses a mixture of eucalyptus

and pine wood chips as raw materials to

produce furniture boards.

Li Xiaobo, director and general

manager of Guangxi Forest Industry

Group, said: "Excellent fibre quality is

essential to obtain high-end fibreboard

quality. That's why we trust in Andritz

Panelboard when it comes to highconsistency

refining. This was our

second collaboration, and again,

we were very satisfied with their

technological solution, service and

support during the entire project

phase."

Guangxi Guoxu Wood-Based Panel is

part of the Guangxi Forest Industry

Group, a wood-based panel industry

group in China, operating seven

production sites there. P

Andritz refiner, type

S2064M (Photo:

Andritz)

14 Panels & Furniture Asia | May / June 2022
---
IN VIETNAM'S

FURNITURE

CLUSTER

www.bifawoodvietnam.com

NEW DATE: 8-11 AUGUST 2022

NEW

VENUE

WTC Binh Duong New City Expo

Lot A19, Hung Vuong Street, Hoa Phu Ward,

Thu Dau Mot City, Binh Duong Province, Vietnam

Google Map

QR code

Exhibition Site

WOOD & WOODWORKING MACHINERY EXHIBITION

Enquiries For International Exhibitors

Pablo Publishing & Exhibition Pte Ltd

3 Ang Mo Kio Street 62

#01-23 Link@AMK,

Singapore 569139

Tel: (65) 6266 5512

Email: williampang@pabloasia.com

info@pabloasia.com

WeChat

Jointly organised by

• BINH DUONG FURNITURE ASSOCIATION (BIFA) • PANELS & FURNITURE Group

BINH DUONG FURNITURE ASSOCIATION

Photo: elena rouame, helena lopes, guzman barquin/unsplash
---
MARKET REPORT

Markets poised for growth,

supply chain disruptions

slowing resurgence

By Judd Johnson, managing

editor, Hardwood Market

Report Publications

The recovery in eastern US hardwood

sawmill production has reached a plateau

of approximately 17 million cubic metres.

Importantly, that level of output is not

nearly at capacity. Hardwood Market

Report (HMR) believes that hardwood

sawmill production systems currently in

place could surpass the 20 million cubic

metres mark. Despite prices reaching

record highs these past months for most

primary species and many secondary

species, eastern US hardwood sawmill

production did not respond to the

incentives as expected.

HMR also believes that the underlying

demand for US hardwood lumber is

much higher than the level at which

the marketplace is performing. Before

disruptions from COVID-19, global

consumption of US hardwoods was

averaging nearly 20 million cubic metres

annually. If demand for US hardwood

lumber has fundamentally changed

since then, it is likely increasing, not

decreasing. More on that later.

The fact that higher numbers have been

achieved in the past provides a strong

argument that both the supply and

demand sides of the marketplace can

perform better. But until that happens,

there are not many individual businesses

can do to push things forward (Figs. 1

and 2).

WAITING

Just as one is for their business, the

world is waiting for transportation

snarls to clear: Delayed receipts of

purchased lumber; delayed shipments

of manufactured goods to intended

destinations; and ever-higher spiralling

prices for ocean container and inland

shipping.

These constraints become larger

problems. Delayed deliveries of materials,

parts and goods turn into supply

shortages in downstream markets. These

shortages trigger competitive pricing,

which invites inflation.

Higher prices can be absorbed in the

marketplace to a point. Over time,

elevated prices can change the designs

or scopes of projects. Rapid and rampant

inflation, as seen in the US with softwood

building materials, can bring projects to

a halt – even if temporarily. Unchecked,

inflation can force consumers out of the

marketplace.

Figure 1

26,000,000

24,000,000

22,000,000

20,000,000

18,000,000

16,000,000

14,000,000

12,000,000

10,000,000

8,000,000

6,000,000

4,000,000

2,000,000

0

2014-1

2

3

4

2015-1

2

3

4

2016-1

2

Separately, COVID-19 and its variants

are still disruptive forces in the

marketplace. Yes, there have been great

improvements in guarding humans

against the disease, but there is no

comprehensive prevention of the virus.

Therefore, whatever means are taken

to mitigate the spread from areas with

breakout cases, commerce is at risk of

ongoing disruptions.

A recent example is China's lockdown of

Shanghai to achieve "zero COVID". A city

of Shanghai's stature being shut down

even for a few weeks has tremendous

repercussions on global commerce.

Just in terms of population, economic

activity is compressed for this city of

over 26 million people. For comparison,

the country of Canada has 38 million

Quarterly Eastern US Hardwood Sawmill Production

(Annualized - Cubic Meters)

Production averaged

19.6 million M3 from Q1 2014

through Q3 2018

3

4

2017-1

2

3

©2022 HMR

4

2018-1

2

3

4

2019-1

Production averaged

14.9 million M3 from Q1 2020

through Q1 2022

2

Historical record low

quarterly production of 11.2

million M3 meters set in Q3

2020.

3

4

2020-1

2

3

4

2021-1

2

3

4

2022-1

16 Panels & Furniture Asia | May / June 2022
---
MARKET REPORT

people. This is not questioning China's

methods for controlling COVID. It is

pointing out the reality that COVID is

still disrupting business in all industries

around the world.

Figure 2

22,000,000

20,000,000

Hardwood Lumber Consumption by US Industrial

and Grade Lumber Markets

©2022 HMR

ANOTHER BARRIER

The effectiveness of just-in-time

inventory models depends on each

component in the supply chain operating

efficiently and in synchronisation with

adjacent supply chain components.

These systems are scalable and

responsive to market contraction and

expansion. However, supply chains are

not easily adaptable to lasting shocks,

as we have experienced during the

COVID-19 pandemic. Now we can add

war to the list of things that are damaging

to the manufacture and delivery of

materials and goods.

Cubic Meters

18,000,000

16,000,000

14,000,000

12,000,000

10,000,000

8,000,000

6,000,000

4,000,000

2,000,000

-

2016 2017 2018 2019 2020 2021

Industrial lumber Grade lumber - Domestic Grade lumber - Export

The direct economic impact of Russia's

war on Ukraine sent oil prices higher on

the world market. Transportation costs,

already at record highs, also responded.

Sanctions against Russia have forced

buyers to pursue other sources of

materials and goods, as their respective

government regulations require. There

also are discussions of sanctions against

Russia which are causing the same

effects; buyers are not waiting for these

restrictions to become law before finding

alternative supply sources.

As far as Russian hardwoods are

concerned, the big item for the US

and much of the world is birch — birch

plywood, to be specific. It is a widely used

material for cabinet and door panels

and as a platform for engineered wood

flooring.

It is not that Russian birch plywood

cannot be replaced by plywood

manufacturers in other places from other

species. It can be. Rather, the plywood

manufacturing capacity required to

replace Russian birch is not immediately

available. Transitioning manufacturing

from one source to another is not a lateral

move in this instance, and supplies could

easily be disrupted during this process.

WHILE WE ARE WAITING

Being forced out of the marketplace

from higher prices does not mean

consumer demand is diminished.

Referring to the example mentioned

earlier about US homebuyers, the US

housing market is substantially undersupplied,

and there is a basic human

need for housing. Demand for housing

has not decreased.

Neither is demand decreased by

consumers being held out of the

marketplace. Transactions are delayed

in these circumstances, but the need or

desire for goods, services and human

interaction is still there.

Not only is demand still there, but

changing populations are pressing

demand even higher. One important

example of global manufacturing is

that the US now has the largest adult

population in its history. Furthermore,

the adult population will only get bigger

as the next generation comes of age.

Consider the impacts of a large and

growing US population on demand for

just housing, home furnishings, and

interior finishes.

Pent-up demand is another predictable

development. As conditions and costs

allow, consumer spending becomes

energised when restraints are lifted.

This has been demonstrated globally in

post-recession human behaviour when

consumers have greater confidence in job

opportunities and economic conditions.

It is also something that resulted from

COVID mitigation lockdowns during

these past two years. Once restrictions

eased and consumers could participate

in-person with shopping and dining, they

did so eagerly.

Do not count consumers out. They are

expecting more from the marketplace.

Spending might be delayed for various

reasons. Transactions can be postponed.

But demand for manufactured goods and

services is intact. Supply chains need to

deliver. P

Hardwood Market Report (HMR)

is the leading source of pricing

and market information for North

American hardwoods. It has

provided reliable, expert analysis

of pricing and market trends to

hardwood companies throughout

the world since 1922. Sample copies

and subscription services for HMR

and all other HMR publications are

available online at www.hmr.com.

Panels & Furniture Asia | May / June 2022 17
---
MARKET REPORT

French timber

market in 2022

By Thibaud Le Moign, export development manager at French Timber

As an association created by the French

wood federation about two decades

ago, French Timber promotes French

lumber products in foreign markets

and offers several different products

including softwood, hardwood and

sawn lumber, as well as finished

products like flooring, treated wood

for garden and landscaping, or gluelaminated

(glulam) products. Its role

is to help its members export their

productions while providing them with

regular and reliable information on the

different key markets.

French lumber products are sold

everywhere in the world. Depending

on the product, French Timber's

customers are mainly based in Europe,

but the association is also active in

the Middle East, Asia and the US. We

aim to accompany more companies in

export markets, particularly smaller

companies who have not exported

yet or are not comfortable with

the necessities of developing trade

relations abroad.

One of French Timber's goals is

also to find new markets for its

companies and help them to diversify

their customer base. This year, for

example, we are focusing on new

markets such as Egypt, South Africa

and northern Europe. We are also

very eager to return to Asia and

resume our promotional activities

there when the travel restrictions are

lifted. Fortunately, with our office in

Shanghai, China, we were able to stay

in close contact with the market and

still exhibit at major Chinese trade

fairs.

18 Panels & Furniture Asia | May / June 2022
---
MARKET REPORT

The global market has been incredible

this year, with demand levels rising

to unprecedented levels all over the

world. All the different types of wood

products are in very high demand,

both in the softwood and hardwood

industries. In consequence, after

several months of high activity, the

sawmills are reaching their maximum

production capacity, and many of

them need to reduce orders, increase

delays, and even sometimes refuse

new customers as they have no extra

volume available.

demand from Asian manufacturers

who also struggle to keep up with their

orders.

Furthermore, the political situation and

the drastic logistic issues in two regions,

which are known as major lumber

suppliers, are also aggravating factors,

putting more stress on an already very

tense market. The outlook for this

year is uncertain, to say the least, and

depends on a combination of factors,

several of them which are not in the

industry's hands.

We can only hope that the situation

stabilises and trust that all the actors

in the industry will continue to do their

best to serve their customers with quality

products while keeping in mind the longterm

interest of our industry. P

Legend

1 Sawmills have been in maximum

production capacity

2 Increased demand for decorative and

joinery products has impacted demand for

furniture and flooring

3 All types of wood products are in high

demand, both in the softwood and

hardwood industries

This situation is now standard for all

the different species of hardwood

lumber. Other semi-finished or

engineered products are also

concerned as the availability of the

raw material is impacted by such high

levels of demand. The prices of all

lumber products have risen sharply,

and this should remain the same in

the coming months until the situation

cools down.

For the moment, we do not expect

to see any signs of the market

slowing considerably. In Europe

and the US, the construction and

home improvement markets are on

record levels, boosting demand for

decorative and joinery products. This

also impacts the demand for furniture

and flooring, hence the increase in

1

2 3

Panels & Furniture Asia | May / June 2022 19
---
MARKET REPORT

Pay-per-use:

An alternative to the

classic machine purchase

By Yap Shi Quan

the event of market and economic

fluctuations and access to the latest

technologies. It provides services,

maintenance and software updates to

be integrated with various versions and

packages.

As a start, Weinig's goal is to develop

a billing model that takes all these

parameters into account, Geiselhardt

explained to Panels & Furniture Asia, and

the company has been working closely

with a pilot customer to integrate as

many scenarios as possible into the

model. He said: "In the first step, we will

focus on one machine type in the area of

planing and profiling and already develop

a transferability for other machines.

Our idea is that the Woodworking-as-a-

Service structure can then be used for

many machines and services."

MODERN AND FLEXIBLE ALTERNATIVE

What has worked for a long time does

not mean it will work forever — if

there is anything the pandemic has

taught, it is this. Flexibility is key to

navigating through an era where

economic uncertainties and supply

disruptions are frequent, and the

classic business model of one-time

purchases is, perhaps, not up to the

task of reaping stable and greater

profits for the woodworking industry

anymore.

What, then, are the alternatives?

Customer-centric business models are

one such alternative, one of which is

the pay-per-use (PPU) business model,

which Weinig will be transitioning into

over the next two years.

Under the Woodworking-as-a-Service

model, the machine is no longer in the

foreground of a business model but

rather its performance, output and

availability and the service that ensures

all of this. The German provider of solid

wood and panel processing solutions

will bill their customers at regular

intervals based on actual use of the

machine instead of a traditional onetime

purchase of the machine.

"Weinig is developing a completely

new business model and, in a sense,

disrupting conventional machine

sales," declared Julian Geiselhardt,

innovation manager of New Business

and Innovation at Weinig Group.

Woodworking-as-a-Service is designed

in response to more flexibility in

CUSTOMER CENTRICITY

The PPU model, while new to the

woodworking industry, has been around

in other industries for decades. One

example is British aerospace engine

manufacturer Rolls-Royce which has been

using the PPU model since the 1960s.

Termed by them as "power-by the-hour",

Rolls-Royce charges its customers by the

number of hours used on the engine,

together with the cost of installations,

check-ups and maintenances.

The value of PPU, according to

Geiselhardt, is that customers will be

"relieved of a lot of work" and can

concentrate on their actual production.

The burden of maintenance and servicing

no longer falls on the customer but rather

on Weinig, who is still the proprietor

20 Panels & Furniture Asia | May / June 2022
---
MARKET REPORT

of the machines. Additionally, since

payment is based on the running meter

of the machines, customers can claim

costs directly and gain better control

of their capital expenditure. The high

degree of liquidity of PPU is one of the

timelier benefits in a world fraught

with fluctuations from COVID-19.

Geiselhardt added: "Machines in

Woodworking-as-a-Service are

equipped with the latest technology.

Therefore, they work energy-efficiently

and sustainably. The customer also

has the option of making their

production more efficient through

various analyses, thus saving material

and costs. In addition, we can control

our service in a better and more

targeted way. What's more, we want

to give each machine a 'second life'

by overhauling it at the end of the

contract period and selling it on the

secondary market."

models have already been adopted in

many other industries.

He concluded: "This is also because

customers are focusing on holistic

processes and workflows, and the

machine is merely one part of this

construct. To follow this trend, we

can then offer a good option with

Woodworking-as-a-Service."

Indeed, the goal of PPU, as with

any business model, remains the

same — to make a successful business

case for both the supplier and

customer. Perhaps the bigger question

the industry should ask itself is this:

How can we improve our businesses

and services such that every party

comes out stronger and more resilient

towards future crises? P

Weinig presented

an overview of the

Woodworking-asa-Service

concept

at Solid Wood

Summit, a virtual

woodworking

showcase

Although Weinig is still in the

midst of exploring all the stages

of Woodworking-as-a-Service,

Geiselhardt is confident that it will

establish itself "as an alternative to

the classic machine purchase" as such

Woodworking-as-a-Service will first focus on one machine type in the area of planing and profiling, to ultimately cover

all woodworking machines and services

Panels & Furniture Asia | May / June 2022 21
---
ENVIRONMENTAL REPORT

When values add value:

Consumer preferences for

sustainable furniture

The demand for sustainably sourced

wooden furniture is booming. According

to PwC's Global consumer insights pulse

survey 1 published in December 2021,

51% of global respondents indicate

that when considering a purchase,

they factor in whether the product

was produced with a traceable and

transparent origin. Another consumer

preference survey 2 conducted by the

Sustainable Furnishings Council in 2021

found that 67% of respondents felt that

making products sustainably was the

right thing to do.

This is a trend that is years in the

making, driven by rising disposable

income and heightened environmental

awareness among consumers,

particularly in developed economies.

Understanding this trend, and taking

the appropriate steps to adapt, will be

important for anyone hoping to have

success in an increasingly sustainable

furniture industry.

DRIVING THE SHIFT IN CONSUMER

PREFERENCES

The expanding awareness of climate

change and the key role that forests play

in storing carbon has long been well

understood among conservationists,

foresters and policymakers. More

recently, the importance of forests has

also become commonly understood

by the general public. Extensive

coverage 3 of the COP26, and public

interaction with news content about

the conference, is just one indicator of

this. Consumers are re-examining the

relationship between the wood in their

homes and its environmental impact.

In a similar fashion to the paper and

packaging industries, the furnishings

industry is undergoing a shift in

consumer behaviour.

The onset of COVID-19 has only

amplified these considerations. In 2020,

the public spent much more time at

home, and many purchased furniture

to convert their living spaces into

home offices. This is likely to continue

in a post-COVID world. As businesses

realise the benefits of allowing more

employees to work from home, many

consumers expect to increase their

purchase of furniture after the pandemic

ends 4 .

In addition, millennials and younger

homebuyers, normally assumed

to be especially sensitive to issues

surrounding sustainability, are entering

the housing market and influencing

furniture manufacturers and retailers

to consider the responsible sourcing

of timber. This is a buyer-driven value

chain, and the buyers have spoken.

VALUE IN SUSTAINABLE APPROACH

Producers, manufacturers and retailers

recognise that getting a certification

— such as the Programme for the

Enforcement of Forest Certification

(PEFC) chain-of-custody (CoC)

22 Panels & Furniture Asia | May / June 2022
---
ENVIRONMENTAL REPORT

certification 5 — is more than just

a value-driven decision, but also a

competitive advantage.

Sustainable practices promote

responsible forest management

and regeneration and can help to

maintain the productivity of forest

lands for generations. Many firms have

a direct interest in sustainable forest

management, as the forests remain

economically viable. Producers and

manufacturers who get certified are

well-placed to operate within the

present and future legal frameworks,

such as the European Union Timber

Regulation.

These are just some benefits of

certification. A business case study 6

from Preferred by Nature found that

Malaysian timber companies reported

a range of benefits to certification. First,

it increases market access; 77% of the

companies interviewed said that they

increased market access, particularly

in countries that had legislation

prohibiting illegal timber. Second, it

can increase price premiums; 61% of

the companies interviewed said that

they could sell their certified products

at a premium. Third, it can improve

brand image; half of the companies

interviewed said that getting certified

helped strengthen their brand and

boosted the confidence of buyers.

And lastly, producers, suppliers and

manufacturers are catching on that

sustainability is no longer a niche

marketing strategy. Rather, it can form

the focal point of a brand's identity and

approach.

LEARNING FROM THOSE WHO CAME

BEFORE

Bunnings Warehouse, a home

improvement retailer in Australia,

is an example of how retailers can

successfully respond to the shifting

demands of consumers. In 2001, the

company set out to eliminate the risk of

illegally harvested timber from entering

its supply chain. It highlighted timber

from tropical hardwoods in South

East Asia, which were used in its wood

furniture products.

Realising that failing to act could be

a long-term threat to the continuity

of supply, Bunnings introduced its

Sustainable

practices promote

responsible forest

management and

regeneration and

can help to maintain

the productivity

of forest lands for

generations

Panels & Furniture Asia | May / June 2022 23
---
ENVIRONMENTAL REPORT

1 2

commitment to sustainable timber

procurement in 2003. The company

adjusted its strategy to focus on

building established, long-term

relationships of trust with suppliers.

Rather than 'pull the chain', Bunnings

worked with suppliers to educate

them about complex CoC, to help

them understand that unsustainable

practices would not benefit either

supplier or retailer. The company

believed that building resilience and

integrity in its supply chain was more

valuable in the longer term. The

company shifted from the previous

policy of relying on ad-hoc shipments

of timber, which suppliers often

offered at massive discounts.

This coincided with growing public

awareness among consumers in

Australia regarding the sustainability

and sourcing of wood. The Australian

government passed the Illegal

Logging Prohibition Bill, which

banned all illegally sourced timber

imports into Australia in 2012. In 2018,

Bunnings revised its responsible

timber sourcing policy to include a

commitment 7 that all-natural forest

products be certified.

In Australia, the consumer has

spoken, and Bunnings has noticed

and responded to these concerns.

THE BOTTOM LINE

Becoming certified is the first

step in the right direction. Savvy

consumers are sensitive to the

lifecycle of wood products in their

homes and are looking for a sign that

they are making environmentally

sound choices. The PEFC label is

therefore a powerful symbol that

inspires confidence in buyers that

the purchases they make are socially

responsible and committed to

sustainability.

MEETING CONSUMER DEMANDS

FOR SUSTAINABILITY

PEFC has worked with furniture

manufacturers and retailers of all

sizes to certify their supply chains

and finished products. That makes

the PEFC logo on a piece of furniture

meaningful proof that it was

harvested in a way that both keeps

forests standing, and uplifts the

livelihoods of independent foresters,

giving them a financial incentive to

protect these ecologically important

habitats.

The market has spoken, and

it is increasingly demanding

sustainability. When furniture

companies listen, they will protect

their bottom lines and forests at the

same time. P

References:

1. PwC. A time for hope: Consumers' outlook brightens

despite headwinds.

7. Bunnings. About Us: Sustainability.

Legend

1 Bunnings has

worked with

suppliers to

educate them

about complex

CoC

2 Furniture

manufacturers

and retailers are

recognising that

certification,

such as PEFC's

CoC certificate,

is a competitive

advantage

24 Panels & Furniture Asia | May / June 2022
---
ENVIRONMENTAL REPORT

Sourcing sustainable

forest fibre in Asia

for furniture

resort buildings, low-cost housing,

as well as floating homes 1 , it got me

thinking that we could do much more

with many of the plantation sources of

fibre in South East Asia and wood that

would otherwise go to waste.

and furnishing

Wood is everywhere

when it is reclaimed

and fashioned by

Harith the carpenter

By Ken Hickson

Look at what Asia Pacific Rayon (APR)

is doing in Indonesia with what is now

becoming a major industry — taking

forest fibre and turning it into viscose,

primarily as a textile for the fashion

industry.

But viscose is also ideal for home

furnishings such as curtains, drapes and

upholstery, for example.

I was reading the other day what the

Yorkshire Fabric Shop, an online shop

based in the UK that sells fabrics, has

to say about it: "When it comes to

upholstery furnishings, the viscose

is considered one of the best choices

because of its absorbency, comfort, and

it's economical." 2

The Yorkshire Fabric Shop explains

that viscose is a semi-synthetic type of

rayon fabric produced from wood pulp

from beech, pine, eucalyptus, and even

bamboo.

The Green Factory

turns boxes and

racks into useful

wooden furniture

items

When I talk to my timber friend Kevin

Hill, as you would expect, he cannot

stop singing the praises of wood. In all

shapes and sizes. On land and water.

Inside and out. Not only for built

structures but panels and furniture too,

of course.

Lately, he has been putting even more

stress on fibre, which he says is the

future. Forest fibre, naturally.

And just as Kevin's company Venturer

Timberwork is now looking to use

timber from Indian forests for tourist

APR produces 100% natural and

biodegradable viscose rayon used in

textile products. Made from renewable

wood cellulose, APR is committed to

"sustainable sourcing and efficient

manufacturing, producing top-quality

products that address customer

needs while touching the lives of the

communities around our areas of

operations" 3 .

So, let us see what more we can do

with a locally available resource — from

sustainably managed forests — and use

much more viscose for home furnishings.

Another readily available resource

in South East Asia is rubber and

26 Panels & Furniture Asia | May / June 2022
---
ENVIRONMENTAL REPORT

rubberwood. In fact, 92% of the world's

supply of rubber, according to the

United Nations Conference on Trade and

Development (UNCTAD), is produced

in ASEAN, mainly Thailand, Malaysia,

Indonesia and Vietnam.

Along with its global furniture campaign

launched last year, the Programme for

the Enforcement of Forest Certification

(PEFC) made a big play for sustainable

rubber and rubberwood.

One strong supporter of sustainably

sourced timber supply chains in

Malaysia is Harith Ridzuan, the Green

Carpenter. He has been championing

green manufacturing and sustainable

woodworking for more than a decade

and has said that a good alternative

to forest-harvested timber is wood

gathered from plantation areas.

An example of plantation wood is

Malaysia's popular rubberwood, a byproduct

of the rubber industry.

He calls his place The Green Factory, and

besides using certified plantation wood,

including rubberwood, he makes very

good use of reclaimed wood — that is,

timber pieces that would otherwise be

scrapped, turned into woodchips and/or

burned, if he did not rescue them.

He knows these so-called scraps

are usually from old-growth forests,

wood which cannot be purchased or

cut down anymore. He is getting the

highest quality wood but doing it in an

environmentally friendly way.

Harith pointed to a local study that

found almost 70% of construction waste

in Malaysia consists of wood waste 4 . He

can take waste wood, such as shipping

pallets, crates and other wood debris

and repurpose them using innovative

methods. Even timber from old wooden

houses that are taken down can be

salvaged for further use.

is important furniture is safe for

people and the planet throughout its

manufacturing process.

There is no doubt that Harith the

carpenter is setting a fine example for

others to follow. Creating furniture

with the environment in mind but also

considering its carbon footprint, as

well as the sustainability of materials

and processes. He also considers the

conservation of resources like water,

energy, and land.

His work in Malaysia reminds me of

how an ancient wood in New Zealand

is recovered from swamps and old

buildings and then turned into

impressive and valuable furniture.

Recovered native Kauri trees are among

the most ancient and largest trees

in the world. They appeared during

the Jurassic period, between 135-190

million years ago.

Swamp Kauri is found only on the North

Island of New Zealand — north of 38° —

and has been buried and preserved in

peat swamps for up to 50,000 years.

Any size slab can be made into a custom

table to fit, using the wood's natural

edges or milled to a specific geometric

specified size.

Karin Venator of Kauri Vault, a furniture

manufacturer based in Opua, New

Zealand, tells us that these ancient

timbers are then transformed into

bespoke pieces of furniture. There are

various designs and materials that

complement the beauty of the ancient

Kauri 5 .

We know now that nearly all types of

solid wood can be reused. Wood can be

salvaged from old buildings, bridges and

wharfs and used again in modern décor,

from furniture to flooring.

particleboard and other composite

products 6 .

Better sorting of waste, technological

advances in recycled fibres, smart

product design, enabling reuse and

recycling, as well as responsible

consumer choices can all contribute to

making less resource-intensive products.

What is most important in all this is that

the consumer must have the assurance

from the retailer that the wood or

fibre used to produce these fine pieces

of furniture or furnishings has been

responsibly sourced and its supply chain

is sustainably managed.

Whether it is the protected ancient Kauri

wood in New Zealand or the forest fibre

viscose used in fashion and furnishings

in the UK or Indonesia, we need to be

certain of the species and the source.

We need more furniture makers and

suppliers like Harith, who not only turns

waste wood into "green furniture", but

also makes sure it is safe for people and

the planet throughout its manufacturing

and supply chain process. P

References:

1. Venturer Timberwork. Floating homes rising sea.

2. Yorkshire Fabric Shop. Is viscose a good fabric for

upholstery?

3. Asia Pacific Rayon. About us.

4. The Green Factory. Sustainability.

5. Kauri Vault. Our story.

6. Forest Solutions Platform. Reuse and recycling.

Venturer Timberwork

shows how wood

plays a dominant role

inside and out in a

new retail concept at

Amanpuri Resort on

Phuket's Andaman

coastline

The Green Factory turns waste wood

into "green furniture", which must

be free of toxins when they reach

the consumer. Harith says that it

The World Wide Fund for Nature's (WWF)

Forest Solutions Platform reminds us

that smaller, less valuable wood scraps

can be collected and used to make

Panels & Furniture Asia | May / June 2022 27
---
IN PERSON

Sustainability as

a competitive

advantage

for Koda

Ernie Koh, Executive Director

of Sales and Marketing,

Koda (Image: Koda)

Sustainability is no longer just an

ESG goal but increasingly a market

force that businesses have to embrace

to attract potential consumers.

Ernie Koh, executive director of sales

and marketing from Koda, an original

design manufacturer of furniture,

shares how the company turns

sustainability into a competitive

advantage.

By Yap Shi Quan

EMBRACING "WHAT THE MARKET WANTS"

Sustainability is increasingly becoming indispensable in a

company's branding or business strategy. Market research studies

by various organisations, including World Wide Fund for Nature

(WWF) and First Insight, have revealed that consumers want their

products to be certified sustainable, with a sizeable amount of

them willing to pay more.

Ernie Koh, executive director of sales and marketing for Koda,

noticed this phenomenon in the US, Europe and Asia-Pacific,

which are also the markets Koda serves. He explained: "I think

these countries, being more progressive and industrialised in their

markets, are embracing sustainability seriously where they have

to consider sustainability as part of their purchasing decision — so

much so that many of our customers started coming to us a couple

of years ago wanting that. And you have to embrace what the

market wants."

Koda began in 1972 as a woodworking workshop and an

original equipment manufacturer (OEM) of furniture, before

transitioning into an original design manufacturer (ODM)

currently. The manufacturer also has a lifestyle- and

design-driven retail brand called Commune Lifestyle that

sells globally, and has approximately 80 shops in China.

During the period of the pandemic when lockdowns

and factory shutdowns were still the norms,

28 Panels & Furniture Asia | May / June 2022
---
IN PERSON

Koda fared relatively well due to the boom in

demand for home furnishing. Koda's Commune

warehouses got empty as there was widespread

buying by customers, but ultimately, the

company faced logistic issues, such as the

increase in freight costs and manpower

shortage, particularly for their factories in

Vietnam and Malaysia.

Now, as borders are opening up, Koh expressed

that at least in the lifestyle aspect, the world

will not return to the pre-pandemic state,

having experienced what he calls "suburban

urbanisation", where urban people will

experience a more suburban living, and the

suburban people will experience a more

urbanised lifestyle. This has an impact on

the furniture and home furnishing industry,

in particular, suburban malls and shopping

centres in the city, and the living and working

space which have become close to each other.

The business implications of these excites Koh.

Even so, he is still cautious about how the postpandemic

world will turn out.

He explained to Panels & Furniture Asia that as

an ODM, Koda's main marketing force is the

quality and delivery of furniture design, on

top of reasonable pricing. Under their motto

of 'Redefining Lifestyle', they follow what the

market is trending with regards to materials. For

instance, while Scandinavian, New Zealand or

Australian pine was trending in the past, today

oak and walnut are trending. And in recent

years, the market is trending toward the use of

natural materials and fibres, rattan, weaving

and ropes, recycled materials, and so on.

However, with their competitors catching up,

Koda felt that sustainability is an area that they

can use to gain a competitive edge. Speaking

in a panel discussion at the Singapore Apex

Business Summit which took place from 22-25

Mar 2022 at Marina Bay Sands in Singapore,

Koh asserted that sustainability should be a

"competitive advantage" which companies can

use in their businesses.

Koh reiterated: "For the past few years, we have

been accommodating our customer's requests

and requirements on sustainability. It is

therefore natural to use sustainability as one of

our corporate policies moving forward, which is

not difficult because we have been doing it. It is

just to package it so that we know our roadmap,

"Dealing with

sustainability

individually or as a

compartment of just our

company is not dynamic

enough unless you bring

in your entire value

chain."

Ernie Koh

Executive Director of Sales

and Marketing, Koda

where we are going, how we are doing it, and

what is the result of it."

This is aligned with Koda's overall aim of

balancing aesthetics with the environment,

by infusing 'Green' in the materials they use,

processes they engage, and products they

develop. According to Koh, the company is

looking into whether they can use water-based

finishing surface coating and whether they can

use lower formaldehyde glue for consumer

health and safety. Instead of using plywood or

medium-density fibreboard (MDF), they are

considering using alternative wood materials

like strawboard.

In addition, the manufacturer does not lose

sight of what is trending, balancing what the

market wants with what is sustainable: "Now it

is trending to use certified timber — if you are

not going into certified timber, you are not in

the market. We have been using certified timber

since years ago, and when our customers

wanted it, our factories were certified by Forest

Stewardship Council (FSC)."

THE SUSTAINABILITY JOURNEY

That is not to say that Koda commits to

sustainability purely for profit's sake. Koh

stated that Koda will not use sustainability to

heavily brand their company. He also believed

that it should not be a company's main

marketing tool, but embraced as a corporate

strategy or DNA — that is to say, integrated

into the company's business or manufacturing

processes.

For example, Koda sells their wood chips from

processing timber to other businesses that

Image: Singapore

Business Federation

require them, such as farming, effectively

repurposing them. Koh suggested that

businesses who are new to sustainability

practices can start with the "low-hanging"

fruits, such as cutting electricity and

water usage in manufacturing processes

by using solar panels or harvesting water,

cutting down on paper usage in day-today

operations and shifting to virtual

environments, or switching off the airconditioner

when leaving the room.

When working with customers on cradleto-grave

furniture designs, Koda tries to

use fewer materials and standardised

measurements, and will be developing a

buyback policy such that it can get back the

furniture items to be torn down and recycled.

Koh elaborated: "The dynamics involve

building a value chain where we work together

with our local customers, overseas customers,

and their consumers. This is a long-term

strategy where we're hoping that the cradleto-grave

furniture will be jointly developed

[among all of us], because a lot of times when

we put certain materials into products, they

are no longer considered recyclable."

He concluded: "Dealing with sustainability

individually or as a compartment of just our

company is not dynamic enough unless you

bring in your entire value chain. Our customers

are asking us to do a lot since it is part of their

value chain. Going upstream is an obligation

and we feel that we need to go to our suppliers

and subcontractors to slowly educate them

on sustainability so that the dynamics of the

whole sustainability journey and is taken care

of rather than working in isolation." P

Panels & Furniture Asia | May / June 2022 29
---
PANEL MANUFACTURING

Kastamonu Entegre

eyes top spots in the global

wood-based panel market

Kastamonu Entegre's

plant in Italy

Founded 53 years ago, Kastamonu

Entegre raises the bar to strive and

become one of the top manufacturers

in the global wood-based panel market.

Having launched an investment drive

over the past two years, the company

will improve the manufacturing capacity

of its facilities in Turkey and abroad, such

as Romania, Bosnia-Herzegovina, Russia

and Italy, to expand its market share.

Haluk Yıldız, CEO of Kastamonu Entegre,

affirmed the following on the new

investments: "We focused on Turkey in

our 2021 investments and concluded

a €150 million facility investment in

the city of Balıkesir. The facility will

commence operations by the end of

2022 and will increase our mediumdensity

fibreboard (MDF) manufacturing

capacity by 550,000 cubic metres. Our

total annual production will thus be near

7 million cubic metres.

"We also concluded an additional

€35m investment in melamine press

and impregnation in all our facilities

in Turkey. By 2022, we will further

accelerate our global investments. As the

largest Turkish investor in Italy, we are

augmenting our value-added product

capacity with our €20m new melamine

press investment."

KASTAMONU ENTEGRE IN ITS

OEPRATING MARKETS

Kastamonu Entegre claimed it has a

30% market share in particleboard

manufacturing in Romania and is the

"third largest" global manufacturer for

door panel manufacturing. It also has a

40% market share in the particleboard

manufacturing market in Bulgaria, while

in Bosnia-Herzegovina, it is the "largest

Kraft paper manufacturer" in the region,

as claimed by the company. In Russia,

Kastamonu Entegre has a 30% market

share in MDF and floorboard product

groups. The Pomposa facility, which

manufactures particleboard from 100%

recycled materials, will soon reach a 15%

market share in Italy.

With a €70m investment completed

during Q1 2021 in the city of Samsun,

Turkey, Kastamonu Entegre inaugurated

its new continuous particleboard

30 Panels & Furniture Asia | May / June 2022
---
PANEL MANUFACTURING

manufacturing facility of 500,000 cubic metres per year. The investments

collectively created a wood-based panel production capacity of 6.5

million cubic metres per year.

"TO HAVE ONE OF THE BEST MANAGEMENT SYSTEMS"

Kastamonu Entegre announced its brand purpose, "Bridging Nature and

Life", during a launch event with employees participating from all over

the world. Speaking at the event, Yıldız underlined that a good company

needs more than good figures.

He added: "We have achieved our goals in figures and became the

world's fifth-largest company in our industry. But a company's vision

cannot be to become the largest in the world. Our purpose is to have one

of the best management systems. Because sustainable success is only

possible through people. At Kastamonu Entegre, we prioritise people and

build our sustainability approach around people and environment."

MINIMISING ENERGY CONSUMPTION AND WASTE

Aware of all the environmental consequences of the manufacturing

processes, Kastamonu Entegre maintains international standards and

expands sustainability efforts within the scope of its "Bridging Nature

and Life" vision. The company aims to establish solar power plants

in six manufacturing facilities by 2030 in addition to the currently

operating one in the city of Adana, Turkey. The wastewater treatment

activities recycle wastewater worth the annual consumption of almost

5,000 people. The biomass power plant in the Turkish district of Gebze

transforms the waste previously unsuitable for manufacturing or

recycling processes into environmentally friendly electrical energy or

heat.

Kastamonu Entegre was awarded the TSE-approved "Food-Grade" certificate for its

various panel products

Panels & Furniture Asia | May / June 2022 31
---
PANEL MANUFACTURING

Aspiring to invest in new biomass

power plants in other facilities as

well, Kastamonu Entegre schedules to

complete 30% of this investment by the

end of 2022 with a €50m budget, and

the rest within the following decade.

Through these investments, Kastamonu

Entegre highlighted that it will be able

to generate electrical energy equal to

the annual consumption of one million

people, while also eliminating 400,000

tonnes per year of carbon emissions.

Kastamonu Entegre is a shareholder

of ENAT, an organisation in Turkey

operating in industrial forestry and

sustainable forest management, and

the two companies are cooperating

on afforestation activities. Kastamonu

Entegre carried out afforestation

activities on an area the size of almost

2,100 soccer fields since 2016 and will

maintain its sustainable developmentoriented

growth through its "Bridging

Nature and Life" vision.

AESTHETIC AND HYGIENIC LIVING

SPACES

Kastamonu Entegre prioritises

consumer expectations and needs in

manufacturing while continuing its

R&D activities. It has been expanding its

hygienic product ranges, the importance

of which has been made clear since

the breakout of the pandemic. The

Hygiene Plus laminate flooring and

panel collections by Kastamonu Entegre

minimise the growth of harmful microorganisms

carried in by shoes, pets or

other mediums, while the Safe Surface

technology is 99.9% effective against

viruses and bacteria, and is activated

within 24 hours. Melamine panels

with Safe Surface coating address

the increasing demand for hygienic

environments.

Kastamonu Entegre was awarded the

TSE-approved "Food-Grade" certificate

for its GlossmaxPro, MattPlus, Medelam

and Teknolam panel products.

Early this year, the company

introduced the Vision 2022 panel

collection. The collection comes

in 12 new decorations including

shades of wood, fantasy designs

and solid colours to add different

styles and eras of colours to different

environments, from walls to

furniture.

Welcoming 2022 with new product

lines, Kastamonu Entegre introduced

the Prime collection in its laminate

flooring range, which breathes new

life into the environment with its

new impact surface and joints on all

four sides. The hygienic flooring is

manufactured in an environmentally

friendly manner, according to the

company. Inspired by the world's

most spectacular bridges, the eight

different decorations of Prime bring

a fresh and spacious look to the

indoors, including homes, offices

and stores. P

The Vision 2022

panel collection

comes in 12

new decorations

for different

environments, from

walls to furniture

32 Panels & Furniture Asia | May / June 2022
---
NEWS

Panels & Furniture Asia | March / April 2022 33
---
PANEL MANUFACTURING

Improvements to

productivity through

log x-ray technology

With the help of log x-ray technology, it is possible to get less

waste and more profit with a constant quality. Behind the log

measurement systems produced by Finnish company Finnos,

there is an artificial intelligence that combines the data

acquired from the measuring devices.

WHAT IS LOG X-RAY SCANNING?

Scanning is about log x-ray technology. In

short, it is a scanning instrument system

to be installed at a sawmill. Finnos, a

Finnish company specialising in log x-ray

scanning, develops scanning technology

and provides the service globally. The

log x-ray service includes technology

design, device manufacture, software

development and end-user support.

Log x-ray technology includes software

that analyses scanned data and

integrates with production controls and

other information systems. The system

includes 3D and x-ray modules that can

be installed in stages or simultaneously.

For example, the Fusion log scanner

system combines laser and x-ray

measurement technologies into one

compact device.

The log and board measurement

systems use artificial intelligence

34 Panels & Furniture Asia | May / June 2022
---
PANEL MANUFACTURING

(AI) technology. With AI, Finnos

developed a software in which,

with the help of defect detection

and image processing, has been

programmed to detect various

defects, such as knots, from logs that

affect the sawing and quality of the

log.

Finnos's strategy is to develop

measuring equipment to support the

entire sawmill process. At its best,

the set of measuring equipment

and software serves as a source of

information and the ideal place for

the user to see how the whole sawmill

process is doing in real time.

It is important to get different

scanners to communicate with

each other. In log x-rays and board

scanners, measurement accuracy is

especially valued.

WHERE CAN THIS BE USED?

Scanning technology has long been

a well-known method in Europe. The

measurement systems were originally

designed for log sorting to scanning

logs. In addition, the scanners are

utilised on saw lines. The installation

of the measuring equipment is

typically adapted locally to the needs

of the sawmill.

In Finland, log x-ray technology has

been developed for a long time.

The developers of these systems at

Finnos understand where scanning

at the sawmill is used and can ensure

the best possible outcome from the

customer's perspective. As described

by Jyri Smagin, CSO of Finnos: "The

engineers have not closed into the

booth to think about the features of

the device, but the design started

to meet the practical needs of the

customer."

An example is Finnos's Optimiser

system, which optimises the

positioning and orientation of logs

and rotates them to the correct

position. The rotation utilises the

internal quality and geometry of

the log. Combining software and

measurement system enables the

use of fingerprint technology which

can be used for identifying and

removing production bottlenecks

and making the sawmill's processes

more efficient.

In addition to logs and saw lines,

the x-ray equipment is also suited

for scanning wood raw material at

pulp and paper mills. The pulp and

energy industry will benefit from

the woodchip analyser. The system

is based on several measurement

technologies offering an alternative

to traditional methods that require

sampling. The system is an innovative

approach to improve energy

production and pulp manufacturing.

Precision measurement technology is

also utilised in the plywood industry.

Finnos has developed a system

that enables bucking optimisation

for plywood industry needs, also

considering the volume of the

produced log. This system is modular

and expandable, for instance,

with x-ray technology to adapt to

developing needs.

BENEFITS OF SCANNING

From the point of view of cost and

efficiency, it is fundamental that

the sawmill gets the right sorting

result for the logs that arrives at

the sawmill. It is therefore worth

scanning logs as a raw material.

Scanning technology has been

developed to improve operational

efficiency and profitability. Log x-ray

solutions can ensure an increase

in efficiency when compared to

traditional technology. The payback

period for investment, even for

smaller mills, will be short when

scanning technology is deployed.

It is important that the information

generated by the scanner allows

payment to be paid on a quality basis.

Fair compensation for a forest owner

who sells logs is in the interests of

both parties and supports profitable

long-term customer relationships.

With the use of measurement

technology, the production of a

sawmill can be controlled against the

order backlog optimally. In terms of

efficiency and capacity, this helps to

develop operations without slowing

down or costly downtime.

From the employee's point of view,

the advantage is a more pleasant and

functional work environment at log

sorting. The faster and more efficient

the support from supplier to operator,

the better operators will be in solving

problems and preventing wastage or

production interruptions. P

1

2

Legend

1 AI is used to scan

for defects in logs,

such as knots

2 Finnos's Optimiser

system

Panels & Furniture Asia | May / June 2022 35
---
PANEL MANUFACTURING

The one-sided liquid

extruder gluing: A gluesaving

solution by Raute

Plywood lay-up is a crucial process in plywood

production, which is often reflected in the

final quality of the end panel. It can also be

one of the most expensive steps in plywood

production, especially with the increase in

glue prices.

A profitable production awaits if glue usage

and veneer handling in plywood production

is managed well. It is, however, easier said

than done. Producers often find themselves

spending vast amounts of money to buy

more glue when they do not need to. For

instance, the cost of glue wastage can go up

to US$500,000 a year for a mill with an annual

production of 60,000m 3 .

As such, Raute developed a one-sided liquid

extruder gluing (LEG) solution that eliminates

veneer setting prior to gluing and lay-up, thus

saving labour hours and reducing the risk of

recovery loss due to excessive manual veneer

handling.

TECHNOLOGY TO CURB GLUE WASTAGE,

VENEER BREAKAGES AND LABOUR COST

All Raute Plywood Lay-up lines use a technology

that utilises a one-sided LEG method to spread

glue evenly and accurately on veneers, ensuring

gentle veneer handling and optimal glue usage.

According to Raute, the one-sided LEG solution

results in an average of 20% glue savings

compared to conventional roller spreaders

by evenly and accurately spreading the glue.

A maximum of two operators are required to

operate the entire lay-up line, and no veneer

setting is required.

The one-sided LEG solution is reportedly

compatible with any wood species, veneer

thicknesses or grain directions, and it enables

36 Panels & Furniture Asia | May / June 2022
---
PANEL MANUFACTURING

easy plywood construction set-up in

the control panel human machine

interface (HMI), suited for any product

mix requirements. It is also composed

veneer friendly.

1 2

With up to doubled capacity of roller

spreader, it has high capacity and the

automatic veneer feeding increases

productivity and capacity compared

to manual handling. Minimal

mechanical contact is required with

the glue applicator, thus reducing the

risk of breakage, especially with wavy

and brittle veneers. Additionally, it

reduces manual veneer handling and

risks of breakage by operators.

The one-sided LEG solution also has

easy visual quality control with onesided

gluing. Veneers with thickness

variation and roughness use the same

glue spread, thus reducing the risk of

panel delamination.

2

Last year, Raute has sold 10 units of

Plywood Lay-up Lines around the

world and more orders are in the

pipeline. P

Legend

1 The one-sided LEG technology can be

found in all Raute Plywood Lay-up Lines

2 Plywood lay-up is a crucial process in

plywood production

3 Even glue spread on veneers which

results in an average of 20% in glue

savings

4 Easy operational control and monitoring

with integrated HMI on the Plywood

Lay-up lines

3 4

Panels & Furniture Asia | May / June 2022 37
---
FURNITURE MANUFACTURING

Sixty years of

edgebanding quality

Furniture manufacturers today are arguably

familiar with HOMAG's EDGETEQ series of

edgebanding machines, but it is the history

of the manufacturer's innovation that has

helped accelerate the group's reputation as

a specialist in this segment. This year, as

HOMAG celebrates 60 years of edgebanding

excellence, witness how their edgebanding

technology has evolved and improved in

breadth, complexity and performance.

Sixty years ago, HOMAG launched its

first throughfeed edgebanding machine

using the hot-cold application process.

The machine was well received by the

industry, and what followed over the

years was a series of innovations and

further developments.

HITTING MILESTONES FROM THE

BEGINNING

In 1962, two years after the company

was founded, HOMAG registered a

patent for what was reportedly the

first automatic edgebanding machine,

the KH 2/18, a series machine with a

veneer strip magazine, gluing unit,

pressure zone and flush trimming

unit. This technology was to become

the starting point for almost all

further developments by HOMAG in

this segment. In the same year, at the

Hanover trade fair, HOMAG launched

a new type of edgebanding machine

that utilised the hot-cold application

process. In comparison to competitors,

this machine allowed edges to be glued

faster and more economically.

From then on, HOMAG concentrated

on the production and further

development of this gluing technology,

and the process was further driven

in particular by an innovative glue

technology: hot-melt glue.

IMA Schelling's

fully automatic tape

handling system

The laserTec

In 1965, HOMAG launched a doublesided

edgebanding machine with a

new base frame- and width-adjustment

device. Two years later, they developed

the first single-sided edgebanding

machine: the KH 12.

Another milestone in furniture

production was reached with the KF

series, as it was the first combined

sizing and edgebanding machine, as

claimed by HOMAG. The KF 60 also

38 Panels & Furniture Asia | May / June 2022
---
FURNITURE MANUFACTURING

incorporated snipping and sanding

units in addition to edgebanding

and flush trimming. Today, up to 15

units are installed on these types of

machines, allowing workpieces to be

processed in a way that makes them

ready for installation.

To offer smaller furniture companies a

suitable edgebanding machine, HOMAG

launched the KH 10-13 series in 1973.

These machines were offered with two

different gluing stations to allow coil

material, solid edges and pre-coated

edges to be processed.

1

Legend

1 HOMAG's firstever

edgebanding

machine for

the hot-cold

application

process

2 The KF 60

3 The powerLine

series

4 The Ambition

series

At the 1975 LIGNA trade fair, HOMAG

presented the cold-glue activation

process to the industry for the first time

— a technology for edge gluing using

polyvinyl acetate (PVAc) glue.

The following year, a majority stake

was acquired in Heinrich Brandt, later

BRANDT. This move strengthened

HOMAG's position in the woodworking

sector.

2

In 1982, a new generation of

edgebanding machines, the KL 70, was

shown at a trade fair for woodcraft

in Munich, Germany. Fundamental

innovations in construction, versatility

and work safety were implemented

in these machines, particularly

the mechanical air-supported chip

removal, which was integrated into

the stand and reduced required

suction power by 70%. The machine

was further developed to become, for

example, the KL 70 Optimat in 1995.

3

In 1999, HOMAG launched its

powerLine series, a range of doublesided

machines designed for series

production. According to HOMAG, they

offered a 50% increase in performance

at just 30% additional cost, achieved

with higher feed speeds, shorter gaps

and changeover times, and longer

availability.

Small series production and individual

production became more and more

important in the following years.

4

In 2001, HOMAG presented a new

automated generation of the powerLine

series for batch-size-one production.

In 2004, HOMAG responded to the

growing use of lightweight panels and

began offering machines and systems

not only for the production but also for

the further processing and edging of

these panels.

HOMAG was again able to celebrate a

world premiere at LIGNA 2009, through

the launch of the Ambition series of

edgebanding machines in the form of

six series from BRANDT and HOMAG.

Panels & Furniture Asia | May / June 2022 39
---
FURNITURE MANUFACTURING

1

2

2016, the airTec unit has been available

with a rotation air heater, making it

quieter and more powerful. In 2017,

the process was established in door

production, allowing the manufacturing

of optical zero joints with ABS or PP edge

material.

THE EDGETEQ ERA

After the consolidation of HOMAG Group

and its companies in 2017 into a single

HOMAG brand, the group launched a

whole series of new machine generations

that covered the entire process chain

and combined new functional designs.

From then on, HOMAG's edgebanding

machines bore the name EDGETEQ and

the technology has continued to develop

to meet changing market needs.

The entry-level EDGETEQ S-200 machine,

model 1130 FC, was launched in 2018,

followed by the new EDGETEQ S-500

and EDGETEQ S-800 series. In 2021, the

company kept up with the market shift

toward autonomous and automated

production systems by introducing

two cell solutions with edgebanding

machines: an EDGETEQ S-380 with

LOOPTEQ O-300 return conveyor, ideal for

the production of construction elements,

and an EDGETEQ S-500 with LOOPTEQ

O-600 return conveyor and a new

workpiece infeed system for workpieces

requiring a particular sizing accuracy.

Legend

1 The EDGETEQ S-200

2 The

woodCommander

5 with Edge Data

Plugin on the

EDGETEQ S-500

edgebanding

machines

3 Ashton Chan

from Sen Wan

Group, testifying

to HOMAG's

edgebanding

machine's quality

4 Dongsheng Cabinets

& Wardrobes uses

HOMAG's EDGETEQ

S-500

The basic version of the series covered

over 90% of all applications required in

woodworking factories, and in 2014, the

next generation of the Ambition series

followed, featuring new unit technology

and models in various performance

classes.

A NEW AGE IN EDGE PROCESSING

The introduction of the laserTec process

in 2009 heralded a new age in edge

application. Using a laser beam to melt

the surface to be glued and then pressing

it directly onto the workpiece, the

laserTec process ensured a consistently

high processing quality with almost no

joints. It could also process all standard

edge types, including polyvinyl chloride

(PVC), acrylonitrile butadiene styrene

(ABS), polypropylene (PP), polymethyl

methacrylate (PMMA), veneer and

melamine. Introduced in 2017, the

laserTec Next Generation was available in

two performance classes and offered the

industry zero-joint edge quality in both

batch-size-one and series production.

In 2013, airTec was launched for the

processing of invisible joints using

hot air, for special edges with both

decorative and functional layers. Melted

at a constant temperature and volume

flow, the functional layer can be securely

connected to narrow surfaces. Since

To be at the forefront of further

digitalising manufacturing in

woodworking, HOMAG has emphasised

ensuring that software and machinery

are integrated for better data generation,

management and utilisation, as well as

diagnostic capabilities.

The current milestone in the software

sector for the EDGETEQ was marked

in 2022 by woodCommander 5 with

Edge Data Plugin on the EDGETEQ

S-500 edgebanding machines. This

enables quick selection of processing

programmes and edge materials, as

well as the recording of production

parameters and the workpiece-oriented

creation of machine programmes. In

addition, it forms the direct connection

40 Panels & Furniture Asia | May / June 2022
---
FURNITURE MANUFACTURING

between the machine and the materialAssist

application, which manages the edging

material.

PARTNERING GROWTH IN THE INDUSTRY

In edge processing, the range of services offered

by HOMAG today extends from individual

machines in the entry-level, medium- or

high-end segment, through the engineering

and installation of complex production lines

and systems, to complete industry solutions,

including consulting and software. With this

machine and service range, the group continues

to offer a product range with customer benefits.

Meicha Furniture, a Taiwanese do-it-yourself

furniture manufacturing company since 1973,

has been using the same HOMAG edgebanding

machine acquired in 1987 to create its softforming

edges, alongside newer units.

"We are impressed by the quality, durability

and stability of HOMAG's machines. As a trusted

brand, HOMAG is always the first we consult

whenever we have needs for edgebanding

machines," said Bing Chen, factory manager at

Meicha.

Meicha Furniture has since acquired other

HOMAG models over the years, including

the EDGETEQ D-610, EDGETEQ S-500 and

TENONTEQ D-500, among others, to optimise

production and increase efficiency for their

larger honeycomb panels.

"The high-quality edgebanding machines,

combined with our special panels, increase

our productivity and give us high-quality

edges that are recognised, appraised and

trusted by customers worldwide — even by

our European customers who have many

more options in their region," added Chen.

"We would like to emphasise the smooth

production and high productivity for serial

or small-batch production, especially larger

honeycomb panels; high quality and precision

can be achieved thanks to the double-sided

edgebander."

Singapore-based Sen Wan Group, a plywood

and wood panel supplier, echoed HOMAG's

consistency in producing high-quality edging

amid a high production volume of 1,000 parts

per shift for furniture parts and 3,000 boards

per shift for lamination.

"Because we deal with all types of plywood

surfaces, one of the most important features

of HOMAG's edgebanding machines is the

automated calibration to suit each batch of

incoming materials," explained Ashton Chan,

group executive director of Sen Wan Group.

"Even if you have 100 very skilled carpenters

to do edging, typically there would still be

inconsistent quality and all of them would

need to know how to manually calibrate

the machine according to the material,"

continued Claudia Eio, director of innovation

at Sen Wan Group. "HOMAG's machine

calibration is automated and saves time and

skilled manpower. It allows production to be

seamless, saves a lot of time and increases the

consistency of the quality."

Besides the high-quality edgebanding process

offered by the HOMAG KDF 110 and HOMAG

KDF 650 edgebanding machines purchased in

3 4

2016, Sen Wan has also experienced optimal

after-sales service from the HOMAG team.

"For so many years, we have never felt that if

something goes wrong with production or the

machine, we would be left in the lurch. Once,

there was a software system issue that needed

attention and the engineers were even able

to connect to the machine from Germany to

conduct diagnostics and resolve the issue on

the spot," commented Chan.

For Dongsheng Cabinets & Wardrobes in

Taiwan, which retails systems furniture

for residential homes, the EDGETEQ S-500

edgebanding machines purchased in 2018

and 2021 are stable, straightforward and userfriendly.

They are also flexible and adaptable,

producing high-quality edges to meet the

diverse and changing demands of customers.

"With increasing levels of demand and

sophistication, customers are starting to pay

attention to details such as perfect edges

and drilling. With more demand comes more

choices, ultimately giving consumers better

ability to select only the best among a wide

variety of options," expressed Lo Yu-Ming,

owner of Dongsheng Cabinets & Wardrobes.

"The highly stable and high-yield HOMAG

machines produce these quality parts and

furniture that build trust and confidence

among end-users."

HOMAG declared that it will continue to be

a partner to manufacturers of all sizes as

the industry progresses and evolves to meet

ever-growing customer needs and quality

demands. P

Panels & Furniture Asia | May / June 2022 41
---
FURNITURE MANUFACTURING

Planning

and automating

window and door

systems production

in construction. Consequently,

insulating window systems made

of the renewable, sustainable

frame material wood are becoming

increasingly popular.

Weather extremes are reportedly

occurring more frequently, which is

why demands on window systems

are increasing. In the future, futureoriented

window and door systems

will have to fulfil the highest technical

properties, such as resistance to wind

load, impermeability to driving rain,

air permeability or optimal thermal

values — all these with the highest

ease of use, maximum safety and long

material durability.

ProfilCut Q tool

family by Leitz

Hardly any other sector within

the wood and plastics processing

industries is currently exposed to

such strong changes as the window

and door sector. The market for

construction elements has grown

with the increasing construction

boom in recent years, and the

demand for window and door

systems remains high. However, a

variety of factors, such as advancing

climate change, the increased use of

natural resources, rising construction

costs, security concerns, design

trends and functionality are

impacting the demands that end

consumers are making on their

future living space. But what is the

benefit of a building built according

to the most modern aspects if the

windows or doors available on the

market are not as modern?

Two main trends are apparent

here and thus set the trend that

manufacturing companies will

have to take into account in the

future with regard to their product

range:

CLIMATE PROTECTION

The goal of replacing fossil fuels,

reducing energy consumption

at home and increasing the

use of natural raw materials

have particularly important

roles to windows and doors

COMPACT AND COMFORTABLE

LIVING SPACE

The trend towards space-saving

construction can currently be seen

all over the world. Reasons for this

trend are manifold: rising land

and building costs, population

concentration, alternative life

planning or the low availability

of building materials. The fact is,

however, the minimised use of space

simultaneously places demands

on the functionality of windows

and doors. For example, systems

that do not additionally restrict the

limited living space are required;

variable and flexible window and

door systems, designed as sliding

elements or as outward-opening

constructions, or systems with

large glass clearances are not only

popular for this trend.

Increasingly, window and door

manufacturers are asking themselves

how expectations of the market

can be translated into suitable

products and, even more importantly,

into entrepreneurially successful

production concepts. Apart from

financial risks, it is primarily economic

framework conditions, such as the

situation on the labour market or

scarce material resources, that make

the path to change difficult to identify

and challenging for people.

42 Panels & Furniture Asia | May / June 2022
---
FURNITURE MANUFACTURING

SOLUTION APPROACH 2:

AUTOMATION

The many different requirements

for windows and doors can result

in quite a large number of different

systems. Implementing these

successfully and economically

within a production process is a

challenge, especially with smaller

batch sizes. The key to success in

this regard is provided by highperformance

machine concepts

with a high degree of automation.

The performance and production

capacity of companies are thus

ensured for years to come and

processes become leaner or less

personnel-intensive. In times of

shortage of skilled workers, this

can be a competitive advantage for

manufacturing companies.

However, such modern machine

concepts also require tools to

ensure a highly efficient overall

package. After all, it is the tool

that contributes to the efficiency

of the machine on the material.

Therefore, the more powerful

the tool, the higher the economic

success. Leitz provides the

solution in this area with its

ProfilCut Q system series — it

is not only a fast tool system in

terms of productivity, resource

conservation and sustainability

were also taken into account

during development. For example,

the tools are equipped with

specially coated knives that keep

cutting-material wear as low

as possible and extend the tool

lifespan. With the ProfilCut Q PLUS

and ProfilCut Q Diamond systems,

Leitz also provides re-sharpenable,

constant-diameter and constantprofile

tools that make tool

changes even more cost- and

Climate protection through sustainable and environmentally conscious building, such

as highly insulating window and door systems made from sustainable raw materials

SOLUTION APPROACH 1:

WINDOW SYSTEM SOLUTION

Raw material, cost and price

developments, skilled labour,

control technology, and machine

and tool technologies represent

factors that influence a production

plant. However, if several factors

come into action at the same time,

for example in a product portfolio

change, entrepreneurial success

will be at risk. One approach to

a solution is therefore the use

of tested systems. In the course

of their development, all these

factors have already been taken

into account and, with a view to

the long-term development of

construction trends, such products

last longer on the market.

For example, to take into

account the rising prices of raw

materials and ensure sustainable,

cost-secure production, it is a

question of the raw material

for the customer product — the

window and door systems on one

hand, and the materials required

to manufacture it on the other.

Systems that allow for small face

widths and thus manage with

small material dimensions, such

as the ClimaTrend Style window

system from Leitz, therefore offer

advantages. In addition, this

system meets requirements such as

high burglar resistance, maximum

insulation and impermeability.

ClimaTrend Style can be produced

in various construction depths and

as a timber and timber-aluminium

system. Its modular design — the

same basic profiles are used for

timber and timber-aluminium

constructions — ensures more

efficiency and thus less time and

costs in production.

Panels & Furniture Asia | May / June 2022 43
---
FURNITURE MANUFACTURING

time-saving. Leitz also provides a

range of coated solid carbide drills and

routers which are also characterised by

durability and ideal machining quality.

SOLUTION APPROACH 3: PLANNING

When investing in modern production,

the concrete planning of the products

to be manufactured is often completely

underestimated. Questions such as

"Who are my customers and what are

their requirements?" are asked, but

some producers ignore the fact that

this also includes the definition of

the profile systems required in each

case, including determining which are

the main systems and which window

systems are needed to complement the

programme. In addition, the concrete

sections including the presentation of

all required profile variants must be

planned and considered. Confusion

and questions then arise about the

frequency of these variants. The

principle "less is more" should come

into use here, but how much less and

more makes sense in the end may

overwhelm planners again.

Planning as precisely as possible will

help personnel rarely experience

the unpleasant surprises during

implementation and commissioning

that cost time, nerves and additional

money. Since in the rarest of cases there

is an expert for mechanical engineering,

software, tool technology and process

engineering in every company, it

makes sense to work together with

partners. Ideally, these should have a

corresponding professional network

from all production-relevant areas

and also have knowledge about the

interaction of all functional areas. These

networks of experienced partners can

ensure joint project success and troublefree

implementation of new production

systems. Delays or even production

downtimes can result in economic or

even existential problems.

Leitz, with its network of technical

consultants and years of international

know-how, provides support in

such decisive pre-project phases.

Another cornerstone of Leitz's

consulting specialty is the exchange

with suppliers from the window

and door industry, such as machine

manufacturers, software houses, system

houses or fittings, seals and lacquer

manufacturers. In addition, reliability is

important not only during the project

phase, but also afterwards, and Leitz

can provide a network of technical

consultants and manufacturer-quality

service.

Ensuring the long-term success of a

company is therefore based on the

choice of future-proof window and door

systems in the product portfolio, and

on cost-effective production, even with

small batch sizes, which can be achieved

through automation. P

Images: Leitz

ClimaTrend Style

from Leitz

44 Panels & Furniture Asia | May / June 2022
---
FURNITURE MANUFACTURING

The change process:

From traditional

methods to automation

Automating the manufacturing process

and adapting to new technology are no

easy tasks, and there is no best time to

make the change.

However, for furniture manufacturer

Globexo to remain competitive, they

knew they needed to make a change

and invest in automation.

"Every end of the year, we will face

a hard time on clearing orders,"

a spokesperson from Globexo

said. "We were over-relying on the

human power." This is not caused by

transportation or busy traffic on the

streets. The workers work hard but

are inefficient, causing high wastage

on material usage, missing parts,

incomplete operation on parts, missed

handling of the material and wrong

size cutting. It has cost Globexo not

just the money, but also time and

reputation.

1

The company then made the

decision after attending a Cabinet

Vision presentation, declaring that

Cabinet Vision will "revolutionise"

their business. Two weeks after the

completion of Cabinet Vision training

with products libraries and databases,

they started cutting cabinets parts that

includes borings and grooves using

a computer numerical control (CNC)

nesting machine that was powered by

Cabinet Vision and S2M. They followed

the workflow provided by Cabinet

Vision, simplified the process, and

increased productivity.

"Cabinet Vision SEA (CVSEA) provides

us with a complete solution. We have

2

not just learnt software, but also the

knowledge of the machinery and

tools," the spokesperson added.

CVSEA will analyse the suitability

of the machine and tools to avoid

spending extra costs on the wrong

machine and tools.

Cabinet Vision provides users with

a fully modular software package

that allows users to go from design

to manufacturing in moments,

with the flexibility to make changes

to meet customers' demands

today without causing production

nightmares as it automatically

updates the manufacturing

operations as a design is modified.

Using a flexible system, a business

can adapt to new technology, offering

greater options for customers while

reducing the labour requirement

in the factory and office through

automation, which has become

important during the COVID-19

pandemic. P

Legend

1 CNC machines

powered by

Cabinet Vision

and S2M software

2 Cabinet Vision

provides users

with a modular

software package

that allows

them to go from

furniture design to

manufacturing in

moments

Panels & Furniture Asia | May / June 2022 45
---
FURNITURE MANUFACTURING

A one-stop

purchasing

and intelligent

production solution

FinDesign

software can be

used for wholehouse

furniture

customisation

Through the digital transformation

of custom furniture manufacturers,

informatisation is combined with

lean production to help enterprises

lower costs and increase efficiency

with current conditions. This

involves two key factors: software

and hardware. With regards to the

software, it is necessary to establish

an order connection hub between the

enterprise stores and the factory by

integrating software and hardware

resources and optimising configuration

and production management. A

complete closed-loop from sales to

production can be formed through

close cooperation with an enterprise

management system. First, the

sales places the order received by

the factory; second, the factory

makes production schedule and

order splitting and arranges process

management, production and

warehousing till on-site installation

for customers. Based on the "device

and software, online and offline"

production and marketing model,

allocation of resources can be

optimised and information silos

can be broken down. The hardware

devices can be flexibly connected to

enterprises' production management

systems through the computer, so that

enterprises can realise digitisation,

intelligent code scanning and

processing, and conduct man-machine

integration to achieve intelligent

production, thus maximising

production capacity under limited

conditions.

Nanxing Machinery and FinChinaSoft,

a provider of automation products,

have cooperated to provide custom

furniture enterprises with a one-stop

intelligent production solution for

service chain aspects in terms of

software and hardware, including

design and order splitting,

production, quality checking (QC),

logistics, installation and after-sale

services.

DESIGN SOFTWARE PROCESS:

FINDESIGN SOFTWARE

Used by over 700 factories for 12 years,

FinDesign Software is a design and

order splitting software developed

by FinChinaSoft that integrates

scenario design and cupboard design,

supporting 3D scheme design and

connecting the front- and rear-ends

together. The cloud-sharing product,

house-type and product libraries can

be used for fast design and the do-ityourself

(DIY) method for professional

design. After design, orders will be split

automatically, and product drawing,

quotation and production data will

be generated with one click — which,

after the manufacturing execution

system (MES) and advanced planning

and scheduling (APS) orders are

scheduled, will be transmitted to all

devices. Subsequently, the generated

processing data will be printed on

label stickers by the production line

to automatically label the boards

before cutting. The labels of each

board can facilitate the subsequent

procedure in which the codes will

be scanned automatically to acquire

the corresponding data for board

processing.

Taking Nanxing devices as an example,

customers can perform automatic

labelling, feeding, top drilling, slotting

and board cutting on the doublegantry

NCG3021L-PLUS production

line. After which, codes of labelled

boards will be scanned by the

NB7PCGM-PC edgebander. The edge

tapes and glue colours will be changed

automatically before edgebanding.

After edgebanding, codes will be

scanned at the CNC six-sided drilling

or the side drilling and dowel insertion

NDC011D1, and processing data will be

acquired according to the information

on the boards for drilling.

46 Panels & Furniture Asia | May / June 2022
---
FURNITURE MANUFACTURING

According to Nanxing, FinDesign

Software has been used in wholehouse

furniture customisation,

production of cupboards and

bathrooms, office, recreational vehicle

and yacht furniture, and engineering

original equipment manufacturer

(OEM), among others.

ENTERPRISE MANAGEMENT SYSTEM

SOFTWARE

The enterprise management

system software includes order

management system (OMS), APS,

MES, and warehouse management

system (WMS), all of which can help

enterprises realise informatisation

management in the customer order,

raw material management, material

planning, production scheduling,

order schedule follow-up, product

delivery and installation. This achieves

cost reduction, improves production

and management efficiency, and

lowers the error rate.

FinChinaSoft OMS can help home

furnishing enterprises to build

an order management platform

and realise the informatisation

management in-store customer

management, order process approval,

progress inquiry and decision

analysis. Orders can be visible, placed

in diverse manners and connected

to other front-end design software,

supporting multi-factory management

and automatic quotation, as well as a

status query from the mobile terminal.

resources using intelligent algorithms.

This can improve the production

efficiency, and complete the kit rate of

orders and utilisation rate of boards.

FinChinaSoft MES provides workshop

tasks allocation, production

optimisation, production dispatch,

production monitoring, order

sorting and packaging functions.

It enables all stages of production

to be interconnected smoothly for

accurate delivery of the information

and efficient real-time control

of workshop production, thus

meeting requirements for product

management, QC, device integration

and management, problem tracking

and analysis, and real-time data

acquisition in the production

workshop. It also helps managers to

implement integrated management

during all processes and for every

staff in the workshop. Therefore, the

workshop production can be managed

in a more efficient and real-time

manner.

Combining the features of the custom

furniture industry, FinChinaSoft WMS

provides a warehouse management

function for raw material and

finished product warehouses for the

fine management of warehouses.

In addition, it can provide the

warehousing department with

real-time and accurate management

support by making close cooperation

with the production department,

making warehouse management

easier, more accurate and more

efficient.

With Nanxing Machinery and

FinChinaSoft's one-stop solutions,

furniture enterprises can therefore

respond to the market needs

more quickly and efficiently,

thus enhancing their overall

competitiveness. Solutions from

design and order splitting software,

and enterprise management systems

to intelligent production lines are

cost-effective choices for furniture

enterprises to upgrade from standalone

production or simple automatic

production lines to intelligent

production so that they can maximise

the production capacity under

limited conditions. P

The process from

FinDesign software

to production

FinChinaSoft APS provides advanced

scheduling and advanced production

scheduling functions. It can

automatically generate relatively

optimised scheduling schemes and

production batch schemes during

the production process with multiple

tasks and numerous restraints, in

combination with the enterprises'

Panels & Furniture Asia | May / June 2022 47
---
MATERIALS

Understanding

finishing materials

for interior door

and moulding

of the door industry — an optimised

system with an attractive costperformance

ratio.

Unfinished wood doors should

not be left exposed to the natural

elements but preserved and

protected to last longer. All

surfaces should be finished using

one or a combination of wood

coatings to provide the desirable

characteristics and performance,

including but not limited to

enhancing the appearance and

increasing resistance to moisture

and other environmental agents.

Stained surfaces

can be sealed and

top-coated in various

ways, with different

coatings and

systems

Doors have been an essential

component for all buildings, with

the primary function of providing

privacy or security, and also

providing insulation, soundproofing

and in some instances fire-retardant

purposes. Apart from selecting the

preferred interior door for its desired

function, the type, design and

durable finishing on the door are also

equally important. Timber used for

wooden doors has remained popular

over the years as it can complement

any interior style of décor, with each

wooden door coming in its natural

colour and grains. No two pieces of

wood are alike, and this results in a

beautiful, natural-looking door that

is suited for different functions and

locations.

Teknos has shared some pointers

and examples to help door

manufacturers, buyers and

end customers have a deeper

understanding of the finishing

materials and finished wooden door

products to ensure their durability

and performance. A good coating

system forms a foundation for

final lacquering that satisfies the

technical and physical requirements

Waterborne coating for primed

doors is a good choice for those

concerned about the environment

due to its low or zero volatile

organic compound (VOC) content.

It is an optimal foundation for

finishing coats on wood, mediumdensity

fibreboard (MDF), highdensity

fibreboard (HDF) or

plywood. Easily top-coated with

other waterborne, ultraviolet (UV)

and/or solvent finishes, good

adhesion and waterborne primer

sands with minimum effort,

without clogging the sandpaper.

The waterborne coating system

is used for primed flat doors,

particularly with waterborne

putty or filler (if necessary and

depending on the surface and type

of substrate), waterborne primer,

waterborne basecoat or sealer, and

finally waterborne topcoat. The

system is also for primed profiled

or textured doors with waterborne

primer.

The UV coating on the other hand

is a surface treatment that either

48 Panels & Furniture Asia | May / June 2022
---
MATERIALS

is cured by UV radiation or has much

higher chemical resistance. There are

three options: 100% UV, Hydro-UV, and

Solvent-UV.

A combination of UV and waterborne

coatings is also possible — a hybrid

coating system to suit the application

and finishing requirements. However,

the application method is dependent

on the substrate used, the desired

finished quality and the production rate

that finishing must be able to achieve.

The application of 100% UV coating

is also easier, requiring less time with

immediate curing at the production

line, and eliminating labour monitoring

as well as application problems due

to evaporation of the viscosity control

chemicals used in waterborne or

solvent-based coatings.

Whether it is a transparent or opaque

door finishing is largely a matter of taste

or a question of style and appearance.

People often want to use a translucent

finish to retain the solid timber feel of

a door, and opaque colours in white to

achieve a contemporary appearance.

Pigmented wood finishes are available

in a variety of formulations and colour

options, including full-hiding opaque

colours. Waterborne filler or primer can

be matched to any colour either by a

master colour sample or international

colour charts like RAL, NCS or Pantone

colour spectrum. Then, a clear sealer

and topcoat are applied to finish the

coating system. Again, these can be

either used with waterborne or UV

coatings.

When the door's natural colour

does not match the other colours or

wood tones in a home, staining can

change the colour while also helping

to enhance the natural colour of the

wood by highlighting different grains

and textures. Compared to oil-based

stains, waterborne stains have less

odour, dry faster, require only soap

and water for cleaning, and come in a

wider range of vibrant stain colours.

The stained surface can be sealed and

APPLICATION RECOMMENDATION

(Pigmented white door)

3

UV Sandable Sealer

2

WB Filler

1

WB Filler

5

WB Basecoat

4

WB Basecoat

Primed hybrid system by industrial

roller application on MDF

top-coated in various ways with

different coatings and systems.

Roller coating and spraying are

the most common application

methods. However, vacuum coating

is also becoming a popular method,

applying single-colour waterborne

and UV coatings to linear materials

such as wood mouldings, skirting

boards, architraves, and door frames.

Vacuum coaters are like a black

box and the substrate can be a flat

surface or 3D shape, a system that

was installed, including a UV-curing

oven, such as a multiple-UV-lampcuring

chamber.

Substrates are conveyed through

an application chamber where the

coating in vapour form is physically

deposited in layers onto the solid

surface. It can coat all sides of a

substrate at a uniform film thickness,

around 0.8-4mm, at high speeds

for high production needs. Uniform

film thickness is achieved as the

substrates exit, the vacuum strips the

coating off to the desired thickness

by using a template or profile of the

substrate on the inlet and outlet

sides of the vacuum coater. The

template is designed such that

APPLICATION RECOMMENDATION

(Clear coated door)

3

UV Sealer

2

UV Sealer

1

UV Filler

the tolerance between the substrate

and the template is less than 0.125

inches. This gap is used to control the

film thickness. The vacuum serves

to remove excess uncured material

prior to UV exposure. Not only does it

deposit both thick and thin coatings of

materials that cannot be deposited by

other means, but it also does so at a low

temperature and with little atmospheric

or water pollution. Most importantly,

vacuum coating allows for large

quantities of wood to be processed in a

small amount of time, while freeing up

resources for other important tasks.

Performance may be an important

aspect of specifying wood doors where

use is heavy and frequent, moderate

or low, which then requires different

performance standards.

Unlike floors, there are no dedicated

test standards and methods for

wood door finishes. Everyone might

be using different performance

specifications and care must be taken

when evaluating these products.

Therefore, standards and regulatory

considerations may not be clear but

there are exceptions such as the

performance and durability of door

finishing. P

5

4

UV Topcoat Transparent

Full UV system by industrial roller

application on veneer surface

Extra heavy duty Heavy duty Standard duty

Classroom Big office – interior passage Wardrobe or closet

Public restroom Hotel room entry Private bathroom

Gymnasium room or locker Condominium or apartment entry Small, low usage office

Table listing examples of different frequencies of using doors

Panels & Furniture Asia | May / June 2022 49
---
RECYCLING

Wood recycling:

From waste to resource

Traditional or modern?

An overview of wood

sorting systems

Waste generation shows to be at a

constant high, and waste wood is no

exception. In Germany, 8 million tonnes

of waste wood are produced every

year 1 . Its primary source is construction,

demolition and municipal solid waste, as

well as the wood processing industry. Of

the 8 million tonnes, about 80% is used

for energy production, whereas despite

the increasing demand for recycled wood

and the high prices of fresh wood, only

20% is processed and recycled to be used

in particleboard production. Given the

current push for more circularity, greater

resource productivity, and the industry's

quest to operate profitably while meeting

market demands, we should make it

our goal to recover as many recyclable

materials from waste wood as possible

and leave only the lower-grade fractions

for energy production.

With over 15 years of experience

in wood-based solutions and

production, Jose Matas joined

Tomra Recycling as segment

manager in 2021 to advance

the material recycling and

circularity of waste wood for

the panelboard industry. His

international experience with some

of the world's largest wood-based

producers offers insights into

the challenges and future of the

industry.

Waste wood is very complex in

composition but contains many materials

that, once recovered from the stream, can

be used as secondary raw materials to

manufacture new products, extending the

lifecycle of wood. It consists of processed

wood and non-processed fractions,

the latter of which is of particular

interest for recyclers and particleboard

manufacturers. Non-processed wood

fractions come with the necessary

composition and quality requirements to

be used in the production of high-quality

particleboards, but processed wood also

contains material that plant operators can

flexibly target, recover or remove, such

50 Panels & Furniture Asia | May / June 2022
---
RECYCLING

same density as wood go undetected,

like compound wood materials such

as wood chips with nails, coatings, or

metallic pieces. For small plants, air

separators may be a more favourable

option, both economically and due to

fewer maintenance requirements.

Sorting waste

wood by material

type with optical

sorters and

deep learning

technologies

as medium-density fibreboard (MDF),

plywood, oriented-strand board (OSB),

or coated materials.

Recyclers and particleboard

manufacturers can reap numerous

operational benefits when diverting

recyclable wood from waste streams

that would end up being burnt,

therefore reducing atmospheric carbon.

To do so, they require innovative

sorting solutions capable of detecting

impurities of all types and sizes, even

by wood types. High-precision sorting

processes are decisive for the quality

of the end product and the amount of

recycled content new products contain.

The market is saturated with solutions

to separate non-processed wood from

waste. Particleboard manufacturers

and recyclers face the challenge of

finding solutions and equipment that

are suitable for their requirements and

within their capital expenditure budget.

CONVENTIONAL SORTING METHODS

Many particleboard manufacturers

producing at an industrial scale rely on

a multitude of systems to effectively

sort wood — some requiring large-scale

investment and vast amounts of space.

Multiple-stage cleaning systems:

Multiple-stage cleaning systems are

one method to sort the waste wood

after it has been collected and cut into

smaller pieces. With heights reaching

up to 40m, such systems combine

numerous techniques working top-down

and removing contaminants such as

metals, inert material, heavy metals,

and many more from the infeed stream.

While it is possible to process up to

50 metric tonnes of waste wood per

hour, multiple-stage cleaning systems

only remove larger impurity fractions.

To remove the remaining impurities,

operators must often add additional

systems such as air separators or optical

sorters at the end of the processing line

for further purification.

Air separators: Air separators can be

used to clean wood chips using blasts

of air as materials are transported on

a conveyor belt. Lighter wood chips

targeted by the airstream continue

for processing, while heavier fractions

are collected in a separate chamber.

Although a vast number of contaminants

can be removed with air separators, the

level of precision and purity achievable

is limited. Impure materials with the

Water separators: Another solution

processors have tried is using water

separators based on a sink-float

method. Wood chips are fed into

a water tank, where the forces of

gravity cause lighter fractions to float

and heavier materials such as stone,

metals and glass to sink. The lighter

fractions are then transported by a

conveyor belt for further processing.

For small-scale production, this is a

reliable method that requires simple

construction and little maintenance.

It is, however, very limited in

functionality and performance. Like

air separators, the system can only

separate light wood fractions and is

not capable of sorting processed from

non-processed wood materials.

INTELLIGENT SORTING SOLUTIONS

In the face of the current market

demand to manufacture high-quality

particleboards with up to 100%

recycled content, conventional

sorting methods are not up to scale.

Advanced sorting technologies are

needed to remove more impurities

and sort wood chips by type.

Innovative, intelligent sorting systems

are the solution to this challenge and

support operators in their pursuit of

greater efficiencies and better product

qualities.

X-ray technology: To achieve higher

purity levels, the first step is to extract

metals, glass, and inert materials of

all sizes from waste wood. Sorting

units working with x-ray transmission

technology provide an alternative

to multiple-stage cleaning systems

and conventional methods. They

accurately sort materials based on

their atomic density and create a highpurity

pre-sorted wood chip fraction

suitable for further purification.

Panels & Furniture Asia | May / June 2022 51
---
RECYCLING

SORTING METHODS CONSTRUCTION MAINTENANCE ENERGY

CONSUMPTION

THROUGHPUT PURITY LEVELS SORTING BY

WOOD TYPE

INVESTMENT

Air Separators Simple Low Middle Limited Low Impossible Low

Water Separators Simple Low Low Limited Low Impossible Low

Multiple-stage

Complex High High High Middle Impossible High

Cleaning Systems

Optical Sorters Simple High Low Middle High Impossible Middle

Deep learning-based

Technologies

Simple Low Low Middle High Possible Middle

X-ray Sorters Simple High Middle High High Impossible Middle

Multiple Technology

Machines

Comparison of different sorting methods

Complex High Middle Limited High Impossible Middle

Optical sorters: Once waste wood is presorted,

optical sorters come into play.

These sorting units use near infrared (NIR)

technology to distinguish materials based

on their spectral information. Combined

with additional technologies, such as colour

sensors and illumination units, optical sorters

can separate wood A and wood B and remove

impurities such as plastics to bring the quality

of recyclable wood to a new level.

Multiple technology machine: Today, there

are machines that combine x-ray and optical

sensor technology that are ideal for small

plants. While all-in-one machines are optimal

for restricted spaces, there is a significant

compromise on throughput and performance

levels.

Optical sorters with deep learning:

Considered a groundbreaking innovation for

previously hard-to-solve sorting tasks, optical

sorters with deep learning technology enable

the separation of different types of wood.

It utilises the power of its artificial neural

networks that hold a pool of object information

based on which the system identifies and sorts

wood by material type, such as non-processed

and processed wood, including MDF.

DEVELOPING THE RIGHT RECIPE

Deep learning technologies are becoming a

decisive element in the entire recycling sector.

To date, this technology is still in its infancy

but provides greater flexibility to waste wood

processors who can go beyond recovering

non-processed wood from processed wood.

Another sorting task that will increasingly gain

importance is the recovery and subsequent

recycling of MDF. The sorting options and

material combinations that deep learning offers

are endless.

Today, an extensive product portfolio of sorting

equipment and technologies already exists

to meet future demands. Operators that use

deep learning technology gain more control

over their sorting tasks and can develop the

ideal recipe for their business. We advise plant

operators to identify their goals and define

the right equipment needs for the respective

application. Together, we weigh the pros

against the cons of the systems available,

including the overall environmental footprint,

which unconditionally impacts the plant's

Valerio Sama, vice-president and head of product

management, Tomra Recycling

Tomra has provided wood sorting solutions

since 2012. Relying on our speciality and

with an investment of 8% of our revenues

in R&D, we continuously develop and

optimise our wood sorting solutions to

support our partners and customers in

meeting their recycling goals.

sustainability. To close, I encourage the industry

to keep a close eye on the latest innovations

— it is worth considering these technologies

since they are key to increasing profits and

optimising operations.

In the next issue, we will look at the new buzz

and promising technology of deep learning. P

References:

1. German Waste Wood Association.

With today's dynamic and demanding

market, Tomra have expanded its portfolio

to offer a wood sorting solution to bring

waste wood full circle, particularly with the

X-TRACT sorting system for more than 10

years. X-TRACT is a sorting unit that sorts

materials by their atomic density even at a

high throughput of up to 30 metric tonnes

per hour, regardless of material thickness.

It removes impurities down to 5mm in size,

preparing wood chips for further processing.

While the system excels at creating highpurity

fractions of waste wood for energy

recovery, an additional technology is

required to sort recycled wood materials

by type for the wood-based panel industry.

Therefore, our in-house team of software

engineers and application specialists have

developed our new deep learning-based

application for wood. GAIN, an add-on for

our AUTOSORT units, uses artificial neural

networks trained with thousands of images

to separate non-processed and processed

wood. It also enables plant operators to

define different combinations of materials

they want to sort, giving them more flexibility

and a future-forward solution.

52 Panels & Furniture Asia | May / June 2022
---
AMERICAN AMERICAN HARDWOOD

HARDWOOD

Kitchen accessory

Kitchen accessory

Instruments

Instruments

Staircases

Staircases

Furniture

Furniture

Veneer

Veneer

Floorings

Floorings

Wooden toys

Wooden toys

THE MANY USES OF AMERICAN HARDWOOD

THE MANY USES OF AMERICAN HARDWOOD

If you manufacture quality elements in wood, we are the supplier to rely

If on. you We manufacture ship sustainable quality timber elements to our customers in wood, we around are the Asia supplier from Europe, to rely

on. Africa, We and ship America, sustainable and timber we can to help our you customers too. around Asia from Europe,

Africa, Contact and Global America, Timber and for we a good can help offer. you too.

Contact Global Timber for a good offer.

Per Friis Knudsen

Per Friis Knudsen

pfk@globaltimber.dk +60 111 429 7073

pfk@globaltimber.dk +60 111 429 7073

www.asia.globaltimber.net

www.asia.globaltimber.net
---
FLOORING

Modern wood

is more than

just decoration

By Graham Harvey, global group director, Microban International

LIMITATIONS OF TRADITIONAL

CLEANING

Microbes are tiny living organisms that

are too small to see with the naked

eye, but they can be found all around

us. These unseen co-inhabitants can

multiply very quickly and are often

hard to get rid of, especially in moist

warm environments like kitchens

and bathrooms, or in countries

with naturally high humidity and

temperature. The growth of moulds

and mildews will make surfaces dirty,

creating stains and bad odours, and

reduce the longevity of the products

due to contamination or degradation.

Wood and wood-effect materials —

in the form of furniture, flooring or

panels — are an elegant and versatile

way to accent the home or workplace.

Oak, birch or cherry are just a few of

the many choices that must be made

regarding the interior design, as the

appearance of wood can be achieved

using many different materials ranging

from hardwoods and softwoods to

laminate or even wood-effect luxury

vinyl tiles (LVTs). However, whichever

material is selected, indoor surfaces

can be subject to a whole host of

contaminants as a result of foot traffic,

pets, food residues or cleaning lapses.

This will lead to microbial growth that

can cause odours and staining, as well

as shortening the lifetime of wood

products.

This article discusses the benefits of

built-in antimicrobial technologies for

wood finishes and describes how they

can be used in different materials to

reduce the growth of microbes without

affecting the characteristics of the

product.

Conventional cleaning methods

using disinfectants can only offer a

short-term solution, as they provide

limited residual activity against

microbes, which can grow and build

up again as soon as the surface is

touched or comes in contact with

something dirty. In addition, some

materials are harder to clean than

others. For example, disinfecting

hardwood or engineered wood floors

and furniture is challenging, since

excessive water or harsh cleaning

chemicals can alter the finish. Finding

the right balance between maintaining

a high standard of cleanliness and

reducing the wear caused by vigorous

cleaning is, therefore, an important

goal. However, there is a solution.

Prolonged cleanliness can be achieved

if a product has built-in antimicrobial

chemistries or is treated with a

protective coating to support regular

cleaning protocols.

ENHANCED CLEANLINESS AROUND

THE CLOCK

Antimicrobial additives work 24/7,

interacting with microbial cells that

come into contact with the treated

surface to prevent their reproduction.

This type of technology can be

incorporated into the products at

the manufacturing stage or can be

added in the form of a permanent

coating that adheres to surfaces,

effectively acting as a barrier to

reduce the microbial population.

54 Panels & Furniture Asia | May / June 2022
---
FLOORING

Independent of the method, the

antimicrobial properties become

an integral part of the material, and

cannot be washed off or worn away,

making this approach the ideal

complementary solution to cleaning in

household and commercial settings.

However, it is important to remember

that different types of material require

different solutions.

1

Solid hardwood: Even if solid

hardwood floors, panels and furniture

are associated with a high-end finish,

they can still become victims of bacterial

infestation. Disinfecting hardwood is

tricky, as moisture and harsh chemicals

are not recommended. Similarly,

options for built-in product protection

are challenging, as the boards are

made from a natural material. Instead,

a thin urethane top film infused

with antimicrobial properties can be

applied to the surface, adding a layer of

protection without affecting the quality

or appearance of the wood.

2

Engineered wood: Engineered wood

has come a long way in the past

decades, and today it can be hard

to tell apart from the real deal. In

addition, engineered woods can be

more versatile for specific situations,

for example where there is underfloor

heating, or in areas that experience

fluctuations in heat and humidity, such

as conservatories. The other advantage

is price, as this material is usually a

more affordable option compared to the

solid wood counterpart. However, as

the top wear layer is made from natural

wood, the same restrictions for cleaning

solid wood apply. Again, adding an

antimicrobial layer as a coating to the

outer wood surface is an ideal solution

for engineered wood features.

Vinyl sheets: Wood-effect vinyl décor

combines the look of real wood with the

durability, flexibility and water-resistant

features of vinyl. Unfortunately, it can be

particularly susceptible to staining from

the growth of moulds and mildews,

especially as it is often used in areas

that are frequently exposed to spills

3

Legend

1 Laminates are

regularly used

for flooring in

places such

as healthcare,

consumer and

commercial

environments

2 Selecting products

with built-in

antimicrobial

technology

puts builders,

architects and

designers at the

cutting edge of

innovation in

cleaning

3 Excessive water

or harsh cleaning

chemicals can

alter the finish

of wood flooring,

thus antimicrobial

coating is ideal

Panels & Furniture Asia | May / June 2022 55
---
FLOORING

and higher humidity, such as kitchens,

bathrooms and laundry rooms.

Antimicrobial chemistries can be

infused into all three layers of the vinyl

sheeting — the foam, vinyl, and surface

topcoat — before extrusion, calendaring

or coating. This will provide long-lasting

product protection and help reduce

microbial growth.

Wood-effect LVTs: LVTs that mimic

wood are a lower-cost alternative

to traditional wood materials while

offering similar durability. However,

spills and dirt can fall through the

seams between tiles, becoming trapped

underneath. Antimicrobial technologies

can be incorporated into both the

surface wear layer and the pre-attached

underlay of LVTs, helping to prevent

staining, odours and premature

degradation caused by the growth of

bacteria, moulds and mildews.

Laminate: Laminates are regularly

used for flooring in places where

hygiene is of utmost importance,

such as healthcare, consumer and

commercial environments. Laminates

are also a popular choice for tiles

and vinyl in homes, and can even

be used for panelling and furniture.

Selecting a laminate with a wood-grain

effect gives the illusion of wood, but

is easier to maintain. Antimicrobial

technologies can be easily and costeffectively

implemented by laminate

manufacturers. High-pressure laminates

(HPLs) are thermosetting materials

that naturally have a certain degree of

resistance to microbial proliferation, but

these properties have a limited lifespan

and will eventually wear off. Permanent

antimicrobial laminate protection can

be introduced into HPL during the final

resin bath of the impregnation process.

The result is a laminate surface that is

protected from microbial growth for

the product's lifespan, complementing

existing cleaning practices to reduce the

risk of contamination.

SOLID FOUNDATION

Underlay is a key factor for a wood

floor's finish. It not only improves the

stability of the floor but, in addition,

provides insulation, noise reduction

and moisture protection. Antimicrobial

additives can be added to the underlay

during the manufacturing process,

providing continual protection from

the growth of stain and odour causing

bacteria, moulds and mildews,

prolonging the product's lifetime.

This protection is important for wood

flooring applications, as premature

degradation of the underlay can only be

fixed by replacing the entire floor.

A FINISHING TOUCH

Selecting an option with built-in

antimicrobial technology offers an ideal

solution when fitting a new floor, or for

creating durable panels and furniture.

However, it is also possible to add

protection to old décor, as antimicrobial

product protection can be added to

surface finishes such as varnishes,

waxes and oils applied during routine

maintenance.

CONCLUSION

Antimicrobial experts can incorporate

product protection into a range of

materials and finishes for a systemic

approach to cleaning. Most importantly,

all of this can be achieved without

affecting the quality, design or finish

of the flooring, panel and furniture,

which have been carefully selected to

fit the practicalities and appearance of

its surroundings. With many consumers

asking for products that are not only

easy to clean but also help to alleviate

anxieties around cleanliness, selecting

products with built-in antimicrobial

technology puts builders, architects

and designers at the cutting edge of

innovation in cleaning. P

Indoor surfaces

can be subject to

a whole host of

contaminants from

foot traffic, pets, food

residues or cleaning

lapses, and thus

need antimicrobial

finishing

56 Panels & Furniture Asia | May / June 2022
---
STRUCTURAL ELEMENTS

Timber bridge in

Gulou Waterfront

background of local villages on the premise of

preserving the spatial fabrics featuring mounds

and ponds. The resort maintains the form of

the basic local water system while organically

integrating nature education, parent-child

recreation, and fishing and husbandry activities.

Location: Gulou Waterfront,

Jiangmen, Guangdong, China

Client: Jiangmen OCT

Design studio: LUO studio

Design / construction instruction:

Luo Yujie, Lu Zhuojian, Wang Beilei

Structural consulting:

LaLu Structural Consulting

Construction firm: Shenzhen Zhenhui

Architectural Engineering

Wood material suppliers:

Shengtehaosen, Kingspine-House

Photography: Jin Weiqi, LUO studio

Total spatial area: 166m 2

Duration: March 2021 –

January 2022

BACKGROUND: RURAL REVITALISATION

Due to the tidal flat landform, Gulou in

Jiangmen City established the tradition of

making use of the water system to dig ponds

and form mounds for fishing and farming. As

the water system and fish ponds occupy a large

area and form a fragmented spatial pattern in

local villages, many bridges have been built to

connect the areas segmented by water. With

rapid urbanisation in the Guangdong-Hong

Kong-Macao Greater Bay Area, many local

villagers have abandoned the traditional fishing

lifestyle in favour of living a more urban life.

For this reason, water villages in which people

make a living by fishing have been gradually

disappearing.

Gulou Waterfront is an eco-cultural tourism

resort developed by Jiangmen OCT in the

context of rural revitalisation, aiming to

combine rural development with the cultural

Those operations in the resort require several

bridges in certain areas, to facilitate the

movement of people and fishing boats.

ARCHED WOODEN BRIDGE

During the fishing civilisation period, roads were

poorly developed so water systems became

the key route for transportation and logistics.

Since bridges needed to be walkable while also

ensuring more space for boats underneath to

pass through, traditional bridge construction

techniques in China adopted arches to create

space for the passage of boats under bridges,

and enhance the effectiveness of the structure.

Due to the abundance of woods, southern China

has the tradition of applying timber to build

bridges.

This project is a timber bridge, which is one

of the many in Gulou Waterfront Resort. To

differentiate it from urban constructions and

revitalise traditional rural culture, LUO studio

Panels & Furniture Asia | May / June 2022 57
---
STRUCTURAL ELEMENTS

adopted natural wooden materials to construct

an arched bridge. The resort provides access for

small fishing vessels as well as large tour ships.

To enable boats of various sizes to pass under

the bridge smoothly, the load-bearing platform

at the bottom of the arch, which is 1.35m

higher than the normal water level, combined

with the 2.8m-arched structure, forms a space

more than 4m higher than the normal water

level. This meets the clearance requirements

for large tour boats to pass through. Based on

geological surveys, the span of the bridge is

set at 25.2m. Through structural calculation

and construction analysis, LUO studio utilised

three large curved beams as main structural

components, which are arranged in a parallel

manner with a 2.8 spacing between each other.

With full consideration of manufacturing and

transportation costs, each main beam was

divided into three sections at appropriate

positions, connected and assembled by steelstrengthened

bolts on the site, to form the

complete wooden beam.

SET COVERED CORRIDOR

The ridge is located in the joint area between

a dense traditional commercial street area

and a children's recreation area. LUO studio

created a relatively "closed" corridor space on

the timber bridge, which is different from other

open landscape bridges in the resort. It aims

to accentuate the transition from the practical

commercial street area to the relatively dreamy

children's recreation area, allowing visitors

to feel a sense of ceremony in the moving

process.

Constructing a covered corridor on bridges has

been an old tradition that dates back to the

Spring and Autumn Period and the Warring

States Period. The initial intention was to

strengthen the bridge structure, resist rain and

moisture, keep the wood dry and prevent it

from corrosion.

This project also inherits the construction

wisdom of ancient covered bridges. The

covered corridor enhances the overall structural

stability and protects the arched wooden

structure beneath from exposure to sun and

rain.

The west area of the Pearl River Delta where

the timber bridge is located has abundant

rainfall, so the corridor was constructed in

a relatively closed form. The exterior of the

corridor space is covered by layers of metal

plates, which protect it from rain and also

create a sense of cohesion for the space.

COVERED CORRIDOR CONSTRUCTION

1. Sub-structural system formed by wooden

components with small sections

Apart from the three large wooden arched

beams that bear the main load of the bridge

body having a section size of 600x300mm,

other wooden components adopt small

sections. They are either 100x100mm or

100x50mm. Small wooden components

are interlocked and anchored to the three

1 2

58 Panels & Furniture Asia | May / June 2022
---
STRUCTURAL ELEMENTS

Legend

1 Entrance details (Image: Jin Weiqi)

2 Bridge corridor (Image: Jin Weiqi)

3 Sub-structural system (Image: LUO studio)

4 Completed skeleton of the corridor space

(Image: LUO studio)

5 Entrance details (Image: Jin Weiqi)

3

4

5

main arched beams, 3 functioning

as sub-beams on upper and lower

levels. In addition, the two ends

of these sub-beams are combined

with upward components to form a

stable triangle of forces.

The plane of the bridge's roof is a

complete rectangle. The top, left,

right edges of the bridge's side

facades also consist of rectangular

silhouettes, while only the lower

edge is a natural curve. This

generates height variations of the

corridor space that is higher on the

two sides and lower in the middle.

To ensure the structural stability

of the covered corridor space,

the design team set horizontal

connecting rods in the middle

section and added two viewing

platforms on either side, which also

avoided the monotonous feeling

when viewing the corridor space

from the entrance and exit.

The small-section sub-structural

system not only enhances the

sense of structure in the corridor

space but also reveals the elaborate

craftsmanship and details to

visitors on tour boats and offers

them a unique visual experience.

2. Construction modules and

material specifications

The small-scale wooden

components are arranged with

small spacing in between. The

spacing between neighbouring

sub-structures is set at 1,000mm

equally. This matches the scales

of the steps and metal exteriors.

Between neighbouring sub-beams,

three steps are set at the steep

sections of the arch, while two

steps are set at the gentle sections.

The length of each external

metal plate is controlled at about

900mm, which is appropriate for

manufacturing, transporting, and

installation. The 900mm length

of timber frames also provides a

suitable space for a single person to

stand, lean and rest.

3. Top light, side and bottom gaps

The neighbouring upper and

lower steps of the corridor have a

clearance of 70mm. A gap of about

200mm is set in between layered

metal plates on the exteriors of the

corridor space. A 1,500mm-wide

daylighting belt is set in the middle

of the corridor roof. When walking

slowly into the corridor space

from the entrances at both ends,

visitors can catch the sparkling

water under the bridge through the

narrow gaps between steps.

As they continue to climb the

bridge, the bright light refracted

by the upper and lower metal

plates attract them to look out

through the side gaps. Such

a special "collected" viewing

experience distinguishes this

timber bridge from other open

bridges. While passing through the

platforms from two ends to reach

the centre of the bridge corridor,

visitors can experience the light

and shadows from the top,

feeling calmness and openness

in the mind. Such design forms a

continuous spatial rhythm that

gradually reaches the climax.

INDUSTRIALISATION AND

HANDWORK

The materials utilised were

manufactured and processed by

factories based on industrialisation

standards, and all the necessary

timber and metal components

were treated by modern industrial

technology and methods. During the

installation and construction, only the

three main beams were hoisted by

large machinery. All other follow-up

construction steps were adaptable

and transportable through the hands

of the workers in response to the

local context. The whole construction

process not only harmonised with

the surrounding construction sites

and took advantage of efficient

industrialised methods, but also

conveyed rural warmth as well as the

"localisation" of construction. P

Panels & Furniture Asia | May / June 2022 59
---
WOOD CLINIC

Hello Mr Shim,

The company I am working for supplies adhesives, and I am

responsible for the sales of woodworking adhesives. A customer of

ours has a small woodworking factory that is equipped with two

two-finger-jointing machines, and one of which uses our waterbased

white emulsion (PVAs) to produce finger-jointed lumber.

Some of the feedback I received were obvious glue lines, poor glue

adhesion, small gaps in the finger joints and others. I hope you can

explain the factors that affect the stability of finger-jointed lumber

and suggest ways for improvements. Thank you!

Sincerely,

Chen Yongcai

Poor adhesive force

of finger-jointed timber

Shim Yee Shin is a specialist

consultant in the woodworking

and panel industry, with more

than four decades of experience

in the field. He graduated

from Taiwan's National Chun-

Hsing University with a major

in forestry in 1973, and has

since accumulated a wealth of

experience through his work

in various countries across

South East Asia and Greater

China. Mr Shim now runs his

own consultancy firm providing

ad-hoc consultancy services and

bespoke training workshops.

Prior to this, he was Henkel's

Woodworking Adhesives

technical service director for

the Asia-Pacific region.

Mr Chen, thank you for your letter.

Based on the information you

provided, these are some of the factors

that might have caused the adhesive

force of the finger-jointed lumber to be

unstable, as described below:

I. There are five factors that

contribute to the inconsistent

quality of finger-jointed lumber:

1. Unstable wood moisture

content: Very high moisture

content in finger-jointed

timber may lead to defects. If

the moisture content of the

finger-jointing material is up to

20%, it will lead to finger joint

fluffing and poor adhesive

strength. When lumber with

moisture content between

14-20% is used, the adhesive

strength will not be as good

as it should be. When the

moisture content of the fingerjointed

lumber decreases to

10-12%, the wood shrinks and

leads to defects of local small

gaps of some finger-jointed

lumber.

60 Panels & Furniture Asia | May / June 2022
---
WOOD CLINIC

II.

2. Non-standard wood

classification: If lumber of

different species or with

excessively large density

tolerances is used for fingerjointed

lumber, it may lead

to unstable pressure of the

finger-jointed lumber. Using

lumber with excessively large

density tolerances may also

cause cracking or deformation

of the finger joints (Fig. 1). It is

recommended to control the

density tolerance of fingerjoined

lumber below 0.2g/cm³

or classify according to the

species of the tree.

3. Irregular wood texture: Unsound

wood grains such as diagonal

twill or dead knots at the end of

the wood will make the lumber

easy to break, resulting in

pinholes at the end of the finger

joints (Fig. 2). Additionally,

results of the tensile strength

test have shown that fingerjointed

lumber with unsound

wood texture cannot achieve

the tensile strength as required.

4. Non-standard wood

specification: Lumber with

excessively large specification

tolerance often blocks the

finger-jointing machine, which

should be shut down to deal

with the blockage. The glue film

at the back section of the gluecoated

finger joint has been

crusted, leading to unstable glue

force.

5. Wood resin: It is not

recommended to use wood

species rich in resin or other

extractable for jointing, because

it will lead to poor glue force.

Failure to let the finger-jointed

lumber set in place will also result in

defects. If the time taken to set the

finger joint is too short, the finger

joint may spring back, causing

pinholes or cracking of finger joints

(Fig. 3). If the finger joint is set too

long, it will loosen the finger joint

(Fig. 3c).

III. If the amount of glue applied is

too low to moisten the finger joint

tenon, it will result in poor glue

force of the finger-jointed lumber.

The reasons for a lower amount of

glue are as follows:

1. Improper amount of glue

applied: The area covered by

the film is less than two-thirds

of the total, and the amount

of glue applied is insufficient

to moisten the finger joints.

It is recommended that after

the glue is set, the finger joints

should overflow with small

sesame-like beads of glue after

pressure is applied.

2. Improper setting of glue roller:

If the height of the glue roller

is not set high enough, and the

finger joint is not in the centre

contour of the glue groove,

there will be insufficient glue

application on one side of the

finger joint, thus resulting in

poor glue force.

3. Unstandardised maintenance

of the glue-coating roller:

If the glue-coating roller is

not thoroughly cleaned, the

residual glue or wood chips in

the groove of the roller will lead

to insufficient glue coating. It is

necessary to thoroughly remove

the residual glue wood chips in

the groove of the glue-coating

roller.

4. Wearing of aluminium glue

coating roller: If the aluminium

rubber roller has been used for

a long time and the rubber tank

is worn out, or the rubber tank

is deformed due to improper

cleaning, the glue applied will

be uneven. The worn roller

should be replaced with a new

one (Fig. 4).

Figure 1: Lumber with excessively low density used as finger-jointed

lumber can cause defects such as deformation or cracking

Figure 2: Lumber with wood grains in the shape of thread or scallop

used for finger-jointed lumber can cause the tips of finger joints prone

to break, resulting in defects such as pinholes in the finger joints

a. X=Y finger joint setting properly

b. XY finger joint setting too long

Figure 3a: The finger joint is set standard, but due to the material

density tolerance, it is still necessary to observe and adjust to the ideal

state. Figure 3b: If the finger joint sets too short, it causes spring-back

or cracking. Figure 3c: If the finger joint sets too long, the finger joint

will not be strong enough, and is easy to loosen

Panels & Furniture Asia | May / June 2022 61
---
WOOD CLINIC

Figure 4: The aluminium rubber roller

has been used for a long time and the

rubber tank is worn out, or the rubber tank

is deformed due to improper cleaning,

causing the glue to be uneven

IV. Poor control of forming time:

Failure of the finger jointing

machine may leave the gluecoated

finger-jointed lumber in

the conveyor belt for too long. If

the film has dried or crusted when

splicing, it will lead to poor local

adhesive force of finger-jointed

lumber. It is recommended to

remove and re-glue the fingerjointed

lumber left in the belt.

V. If the finger-jointed lumber down

the line has insufficient or no

nurturing and is used for secondary

processing direct, it may lead to the

following defects:

1. Uneven moisture content: If

the finger-joint material is just

off the assembly line, it will

absorb the water content of the

water-based glue, resulting in

an increase and unevenness

in the moisture content. It

is necessary to reduce the

moisture of finger-jointed

timber to an ideal state of

10-12% on average through the

nurturing workshop.

2. Collapse: If the finger joint

lumber is directly processed

for the second time without

nurturing, and the water

content of the finger joint

material is gradually released, it

will lead to surface indentation

in the partial section of the

finger-jointed lumber.

VI. If the finger jointing machine

is used day and night and not

maintained properly, it will cause

poor processing accuracy, resulting

in poor quality of finger-jointed

lumber. The reasons for poor

maintenance are as follows:

1. Damaged bearing of finger

jointing knife shaft: If the finger

jointing machine has been

used for a long time, the knife

shaft bearing is worn, and the

knife shaft swings ≥0.025mm,

one side will be tight and the

opposite side will not be tight

enough with obvious seams

after the finger jointing machine

is assembled. It is necessary to

replace the bearing and check

the knife shaft and belt to

ensure normal operation.

2. Improper setting of end

trimming saw and scoring

saw: If the repair end saw

and scoring saw of the finger

jointing machine are not sharp

enough, and the benchmark and

angle setting is inaccurate, they

will lead to poor docking of the

machine shoulder, poor splicing,

holes or obvious thick glue lines.

It is recommended that the end

trimming saw, the scoring saw

and the knife of the finger jointing

machine must be kept sharp and

the benchmarking should be set in

place.

3. Pressure instability: If the

pressurised oil cylinder is

used for a long time, and the

wearing of the piston oil seal

causes oil leakage, these will

result in unstable pressure

which cannot reach the set

standard, and insufficient

pressure-holding time which

will lead to inconsistent quality

of finger-jointed lumber. It is

recommended to test regularly

to ensure that the pressurised

cylinder operates properly. P

I hope you will find useful the knowledge

about the quality of finger-jointed lumber,

based on the information you provided. P

Sincerely,

Shim Yee Shin

62 Panels & Furniture Asia | May / June 2022
---
Photo Credit: LEITZ Toolings

International

Wood & Woodworking

Machinery Expo

NOV

20-22

2022

MALAYSIA INTERNATIONAL TRADE

AND EXHIBITION CENTRE (MITEC)

KUALA LUMPUR, MALAYSIA

Endorsed by:

Ministry of Plantation Industries

and Commodities (MPIC)

Malaysian Timber Industry

Board (MTIB)

Malaysian Wood Industries

Association (MWIA)

Malaysian Panel-Products

Manufacturers' Association

(MPMA)

For enquiry, contact us at:

Pablo Publishing & Exhibition Pte Ltd

+65 6266 5512

williampang@pabloasia.com

Malaysian Wood Moulding

& Joinery Council (MWMJC)

Malaysian Furniture

Council (MFC)

The Timber Exporters'

Association of Malaysia

(TEAM)

Association of Malaysian

Bumiputra Timber & Furniture

Entrepreneurs (PEKA)

Malaysian Timber Council

+603 9281 1999

info@malaysianwoodexpo.com.my

American Hardwood

Export Council

FrenchTimber

Thai Timber Association

Softwood Export Council

Malaysian Timber

Certification Council

(MTCC)

China Timber & Wood Products

Distribution Association

International Wood

Product Association

Guangdong Timber

Industry Association

Hong Kong Kowloon

Timber Merchant

Association
---
SUSTAINABILITY

Oil palm trunk:

An untapped resource

OIL PALM TREES

Malaysia has approximately

14.5 million acres of oil palm

trees that needed to be

replanted every 20-25 years.

Felled trees provide an abundant

source of OPT.

In Malaysia, the palm oil sector is the

main producer of bioenergy, with a

considerable volume of biomass waste

created each year and only a tiny

percentage turned into value-added

goods.

The depleting global forest resources

combined with an increasing

environmental awareness has led to

businesses and consumers looking for

alternative sustainable sources of wood.

With pressure on timber resources

within Malaysia and increasing

competition for wood fibre around

the world, new sources of usable raw

materials such as oil palm trunk (OPT)

can prove to be important in the future

for not just furniture but timber-based

construction materials.

TRANSFORMING OIL PALM TRUNKS

INTO SUSTAINABLE MATERIALS

IOI Palm Wood (IOIPW) is one of

Malaysia's first manufacturing plants to

commercially and sustainably convert

unused OPT into eco-friendly and

sustainable wood panels for the furniture

and building industries.

Established in June 2020, IOIPW is a

joint venture between IOI Corporation, a

global palm oil plantation conglomerate,

and Hans Peter Fitch, CEO of IOIPW. The

vision of IOIPW is to create new materials

using the biomass available from the

mature and established cultivation of

oil palm. The oil palm trunks, which are

left to rot in the field after replanting,

constitute approximately 20% of the total

biomass.

Fitch emphasised that for many years the

timber industry has been frustrated with

64 Panels & Furniture Asia | May / June 2022
---
SUSTAINABILITY

The name OnCore refers to palm

wood's core of inner fibres that are

like 'reinforced concrete' that gives

the wood its strength. Stronger than

some conventional timber, palm

wood is also lighter and more ecofriendly.

The IOI Information

Hub was unveiled

last December at the

Ground Floor East

Wing at IOI City Mall

the lack of raw materials, as the industry

primarily used rubberwood.

He said: "With less and less rubberwood

being available, it has always been

my ambition to find a sustainable and

alternative material. And with OPT, I

can see the immense potential of this

material to be used not only in Malaysia

but in Thailand, Indonesia, West Africa

and South America as a substitute for

tropical timbers and rubberwood."

Commencement of production of the

first 21-acre palm wood manufacturing

plant located at Mukim Pogoh, Segamat,

Johor, is due by the end of 2022. The

new plant equipped with kiln drying

and panel production expertise and

technology has a production capacity

of approximately 80,000m 3 per annum

of palm products under the OnCore

brand to supply to the local and

overseas market.

HIGH-PERFORMANCE MATERIALS

PRODUCED SUSTAINABLY

IOIPW's OnCore brand, which offers a

range of products including kiln-dried

palm wood, blockboards, palm wood

panels and palm wood core materials

are designed to meet the rising

demand for high-quality wood panel

solutions.

The production of palm wood

is supported by their innovative

manufacturing processes and

customised technologies from Europe.

As IOIPW aspires to offer a range of

high-performing and environmentally

sustainable wood that conform

to international standards and

certifications for quality and safety,

the OnCore brand will be marketed

to expanding demand for office,

household furniture, and building

construction materials.

MAKING PROFIT WITH PURPOSE

Fitch elaborated: "For every cubic

metre of palm wood produced, we

are in effect capturing approximately

250kg of carbon, which would

otherwise be released into the

atmosphere as carbon dioxide or

methane. We are also contributing to

the circular economy by eliminating

waste as we are using everything from

a palm tree.

"We will start with the development of

engineered materials produced from

the humble OPT, which is sustainably

available from existing plantation

replanting programmes. In the future,

we may even consider engineering

materials from the fronds, which

constitute almost 60% of the available

biomass." P

Hans Peter Fitch,

CEO of IOIPW, looks

forward to changing

the world positively

with OnCore

ORIGINS OF THE NAME,

ONCORE

This palm wood is not such a

beautiful wood with all its rough

and heavy fibrous texture. But

the core is beautiful because

of its inner fibres that are like

reinforced concrete that give the

wood its ultimate strength.

Panels & Furniture Asia | May / June 2022 65
---
EVENTS CALENDAR

Events Calendar 2022–2023

AUGUST, 25 – 28

2022 2023

JUNE, 01 – 03

Carrefour International du Bois

Nantes, France

JUNE, 02 – 06

Korea International Furniture & Interior Fair

(KOFURN)

Korea

SEPTEMBER, 05 – 08

China International Furniture Fair (Shanghai)

2022

Shanghai, China

DOMOTEX 2023

Hannover, Germany

JANUARY, 12 – 15

India Wood

Bangalore, India

JUNE, 30 – JULY, 03

Qingdao International Furniture Fair

Qingdao, China

JULY, 06 – 09

Photo: Akshay nanavati / Unsplash

Malaysia International Furniture Fair 2022

Kuala Lumpur, Malaysia

FMC China 2022

Shanghai, China

SEPTEMBER, 13 – 17

SEPTEMBER, 21 – 23

125th NHLA Annual

Convention & Exhibit Showcase

Ohio, United States

SEPTEMBER, 21 – 24

IFMAC & WOODMAC 2022

Jakarta, Indonesia

imm Cologne 2023

Cologne, Germany

Hanoi Wood Vietnam

Hanoi, Vietnam

DelhiWood

New Delhi, India

JANUARY, 16 – 21

FEBRUARY, 09 – 11

MARCH, 02 – 05

Photo: Warren Gold Swain / Unsplash

Holz-Handwerk 2022

Nuremberg, Germany

JULY, 12 – 15

Xylexpo

Milan, Italy

OCTOBER, 12 – 15

Photo: Warren Gold Swain / Unsplash

MAY, 09 – 12

AUGUST, 08 – 11

Photo: Markus spiske / Unsplash

OCTOBER, 18 – 21

VietnamWood 2022

Ho Chi Minh, Vietnam

NOVEMBER, 20 – 22

interzum Cologne

Cologne, Germany

LIGNA

Hannover, Germany

MAY, 15 – 19

Photo: marco czollmann / Unsplash

BIFA Wood Vietnam 2022

Binh Duong, Vietnam

AUGUST, 18 – 21

Indonesia International Furniture Expo

Jakarta, Indonesia

Malaysian Wood Expo 2022

Kuala Lumpur, Malaysia

DECEMBER, 15 – 18

Cairo WoodShow 2022

Cairo, Egypt

Photo: Azlan Baharudin / Unsplash

SYLVA WOOD 2023

Shanghai, China

JUNE, 26 – 28

66 Panels & Furniture Asia | May / June 2022
---
INDEX OF ADVERTISERS

PANELS & FURNITURE ASIA • May / June 2022

COMPANY PAGE COMPANY PAGE

American Hardwood Export Council

OBC

Nanxing Machinery Co., Ltd 2-3

Anthon GmbH 31

Baillie Lumber 9

BIFA Wood Vietnam 15

Cabinet Vision South East Asia 13

Dieffenbacher Industriemarketing GmbH 5

Northwest Hardwoods 7

PEFC International 43

Plytec Oy 23

Shanghai Wood-based Panel Machinery Co., Ltd 33

Softwood Export Council 1

Forestry Innovation Investment Ltd. 68

Global Timber Asia Sdn Bhd 53

Technik Associates, Inc

Teknos (M) Sdn Bhd

IBC

IFC

Homag Asia Pte Ltd

FC

Yalian Machinery Co., Ltd 25

IMEAS spa 67

Kuang Yung Machinery Co., Ltd 11

Malaysian Wood Expo 2022 63

ai161597024816_EN_PFA_IMEAS_202105.pdf 1 17/03/21 09:37

Scan to download eBook

PFA May/June 2022

The new EvoL sanding machines from Imeas are the result of more than 50

years of know-how and evolution and offer State-of-the-Art technologies

for sanding of wood-based panels such as MDF and ParticleBoard. EvoL

sanders feature Minimal Costs, Excellent Calibration, High Speed,

Flexibility, Superior Quality, and Full Automation.

C

M

Y

CM

MY

CY

CMY

K

IMEAS S.p.A. via Pacinotti, 36 - 20020 VILLA CORTESE (MI) ITALY | Tel. +39.0331.463011 | Fax +39.0331.432311 | imeas@imeas.it | www.imeas.it

Panels & Furniture Asia | May / June 2022 67
---
Canadian wood.

Versatile and durable.

Gỗ Canada.

Đa dụng và bền bỉ.

WESTERN HEMLOCK GỖ ĐỘC CẦN BỜ TÂY

TRY CANADIAN WOOD

HÃY DÙNG THỬ GỖ CANADA

canadianwood.com.vn

+84 (0)909 222 408

A range of high-quality certified lumber from sustainably

managed forests of British Columbia, Canada.

Các loại gỗ xẻ chất lượng cao được chứng nhận từ nguồn rừng trồng

được quản lý bền vững của tỉnh bang British Columbia, Canada.