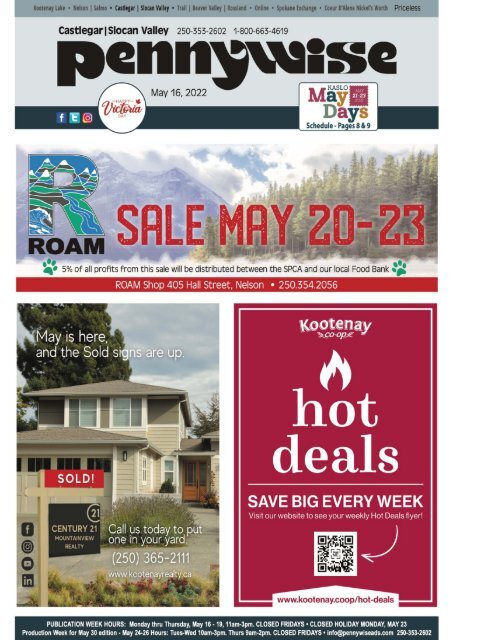 May 16, Pennywise – Castlegar, Slocan Valley
Total coverage of the City of Castlegar, Genelle, South Slocan, Crescent Valley, Thrums, Slocan Park, Winlaw and Slocan.
Total coverage of the City of Castlegar, Genelle, South Slocan, Crescent Valley, Thrums, Slocan Park, Winlaw and Slocan.
SHOW MORE
SHOW LESS
Create successful ePaper yourself
Turn your PDF publications into a flip-book with our unique Google optimized e-Paper software.
Tiny Lights 2022

This year the Tiny Lights Festival organizers will be running

a smaller, more intimate festival with fewer stages. The lineup

is nearly complete and we are looking for only a few more

incredible artists to share their talents.

Please only apply if you are already touring Western Canada

in September 2022, and are versatile and able to play different

stages (intimate and large). The application form can be found

at https://tinyurl.com/yckw5skw

Thank you in advance for taking the time, we are always

overwhelmed and inspired with the quality and diversity of

Canadian independent music.

Tiny Lights is presented by the Renascence Arts and Sustainability

Society in Ymir, BC. Check out our website for the

ADMISSION

ON THE

SPOT

Are you ready to

start post-secondary

learning?

It's never been easier to apply to Selkirk College!

On May 19, 2022 from 2 to 4 pm, attend our

virtual Admission on the Spot event where you can

have your application processed immediately and

for FREE!

Everyone interested in studying at Selkirk College is

welcome to attend. Admission on the Spot is online

and it's easy, find all the details at selkirk.ca/aos

The Kootenays' Triple Threat!

is the BEST! $ 249

Now in stock and on display!

latest news on our tenth festival, to take place September 2 – 4,

2022 http://www.tinylightsfestival.com

Renascence Arts and Sustainability Society

Spring Fling Thursdays

Did you know that Thursdays from 4 to 8 pm the admission

to Touchstones Museum of Art and History in Nelson is absolutely

free?

Take in the two shows in our galleries: Broken Promises (Feb

26 to May 28), and Emma Nishimura's Generational Echoes

(March 17 to June 4). Head up to the second floor and learn

about the history of the region, and don't forget to check out

the museum shop for new work weekly!

In need of Barge Services?

~ we drive pilings

~ set or move anchors

~ move anything in or across the water

(equipment, campers, ATVs, freight, etc)

Kaslo and area – book now

for barge work at the end of June.

Available to go to Lardeau as well.

Serving Crawford Bay area next.

NOTE: All pilings and anchors need

permits. Time is ticking! You need to

apply ASAP to be able to complete

your project this season.

http://brooklynbt.ca

778-671-2780

info@brooklynbt.ca

Touchstones

Next Pennywise Publication Date: Monday, May 30

Next Ad Deadline Wednesday, May 25 • 3 pm 1-800-663-4619

Animals/Pets ....................................................................................................................... 15

Antiques ................................................................................................................................ 4

Automotive ...................................................................................................................15, 16

Auto Parts/Service .......................................................................................................15, 16

Boats/Watercraft ................................................................................................................ 15

Building Supplies ............................................................................................................. 4, 5

Bulletin Board.................................................................................................................... 2-4

Business Opportunity.......................................................................................................... 7

Cars ...................................................................................................................................... 15

Computers/Electronics ........................................................................................................ 5

Services, Contractors/Trades ..................................................................................7, 10-14

Classes/Workshops ............................................................................................................ 15

Education ............................................................................................................................ 15

Employment ..................................................................................................................... 6, 7

Events ................................................................................................................................ 3, 4

Firewood ............................................................................................................................... 5

Free for Free ......................................................................................................................... 4

Furniture & Appliances ....................................................................................................... 5

Gardening/Landscaping .................................................................................................... 14

Garage Sales ......................................................................................................................... 4

Health/Personal Care ........................................................................................................ 14

Heavy/Farm Equipment .................................................................................................... 15

Help Wanted ......................................................................................................................... 7

Hiring ................................................................................................................................. 6, 7

Markets/Fairs ........................................................................................................................ 4

Merchandise .....................................................................................................................4- 6

Notices/Announcements ............................................................................................14, 15

Personals .............................................................................................................................. 4

Puzzles ................................................................................................................................... 4

Real Estate, Agents ............................................................................................................ 16

Rentals/Commercial Rentals ............................................................................................ 16

RVs/Campers ...................................................................................................................... 15

Seniors Discounts .............................................................................................................. 16

Shared Accommodation ................................................................................................... 16

Sporting Goods .................................................................................................................... 6

SUVs ..................................................................................................................................... 15

Trucks .................................................................................................................................. 15

Wanted/Looking For ............................................................................................................ 7

OBITUARIES/IN MEMORIAM

Mark Bysouth .................................................................................................................. 5

Kohle Ocello .................................................................................................................. 15

Karma Halleran

karma@pennywiseads.com

Kaslo Area - Ainsworth

250-353-2602

It's Been Postponed

May 16

Larger solution online

https://www.pennywiseads.com/

puzzle-solutions/

Advertising Strategists

Adam Prisciak

adam@pennywiseads.com

Castlegar/Nelson/Trail Area

250-505-2921

Larissa Scott

larissa@pennywiseads.com

WK Features/Sales Support

250-353-2602

This Week's Puzzle Answers

email: info@pennywiseads.com editorial@pennywiseads.com

Box 430, #209 312 4th St, Kaslo, BC V0G 1M0

Pennywise also publishes the Go & Do Regional Guide, Visit Kaslo Guide, 4 Seasons in Salmo

the Central Kootenay Farm & Food Directory, Discover Sixty-Five

Printed in Canada. All Rights Reserved. © 2022 by KS•Perry Publishing Ltd.,

Karma Halleran, Publisher. We reserve the right to edit or reject submissions or

advertising that are not within our guidelines, see at www.pennywiseads.com

Bulletin Board Bulletin Board Bulletin Board Bulletin Board Bulletin Board

AFFORDABLE & SECURE HOUSE-

HOLD STORAGE CONTAINERS:

20´ & 40´ units for sale or rent.

Kootenay Containers, Castlegar.

250-365-3014.

ALL UKRAINIAN FUNDRAISING

CLASSIFIED ADS ARE FREE: Call

Pennywise 1-800-663-4619, 250-353-

2602 in Kaslo, or email to info@pennywiseads.com

APPLEWOOD MASSAGE THER-

APY: Paul Chernoff, Registered

Massage Therapist, injury related

treatments, deep tissue therapy,

ICBC, RCMP, VA, MSP. Appointments,

please call 250-365-7752. 785 Silverbirch

Lane, in the Oglow Subdivision,

Castlegar.

BIBLE STUDY: Don, 778-877-0579.

JEWELLERY SALE at May Days. Selected

antique, silver and other valuable

jewellery will be for sale at the

VHKAS table Monday, May 23.

BOIL WATER NOTICE for Fletcher

Creek Improvement District water

users. Please inform all renters &

guests. FCID has a moratorium on all

connections until further notice. Visit

www.fletchercreekwater.com

BORED TEENAGERS LOOKING

FOR SOMETHING TO DO? Castlegar

Youth Action Network has Youth

Led programming, community leadership,

educational and mentorship

opportunities for youth in the Castlegar

area. Regular programming

and Drop-ins on Mondays, Wednesdays

and Thursdays between 3-6pm

and additional activities and events

scheduled monthly with zoom options

available. Contact Zoe Mackay

at youth@cdcss.ca or call 250-365-

2104 extn#226 for more info.

BUYING ALL GOLD & SILVER!

Coins, 9999 Bullion, Bars, Rounds, Ingots,

Jewelry, Nuggets, Etc. Also buying

Coin Collections, Old Coins, Royal

Canadian Mint Coins +++. Todd,

250-864-3521.

CALL THE BLINDMAN for Awnings

and Window Coverings. 25 years of

quality service. Free consultations,

250-352-3800.

CEDAR LUMBER: Fencing, fence

posts, siding, decking, tongue

and groove, garden beds, etc. Call

250-505-4207.

CHECK OUT DISCOVER SIXTY-FIVE

Kootenay Seniors Living Magazine at

www.discoversixty-five.com

CHIROPRACTOR in KASLO: 409

Water St, (behind Figments), DR.

McKENZIE, Tuesdays, 250-551-3225.

For appointments, 250-352-1322.

CHIROPRACTOR, DR. McKENZIE,

SALMO: Thursdays, Willow Healing

Arts Centre. Call 250-551-3225. NEL-

SON, M.W.F, Community First Health

Co-op, 250-352-1322.

COLLECTOR'S FABULOUS FAB-

RIC SALE! All seasons. All colours.

Beads, trims, threads, buttons. Bargain

prices! Tuesday May 17, 12-2pm;

Wednesday May 18, 3-5pm; Thursday

May 19, 10am-1pm. 905 Davies St,

Nelson. Fairview area. Cash, cheque,

e-transfer.

DID YOU KNOW... Pennywise ad

payments (cash or cheques) can be

dropped off at And More Second

Hand Store, 1398 McQuarrie St,

Trail during regular store hours.

Questions? Call 1-800-663-4619.

Thank you, Pennywise.

DR. McKENZIE, CHIROPRACTOR

has closed his Slocan office and is

accepting patients in his Nelson or

Salmo offices. Call 250-352-1322 for

appointments.

HEATING AND COOLING FOR

YOUR HOME OR BUSINESS?

Call Canadian Aerothermal serving

the Kootenays for over 15 years.

250-304-0455 or 250-505-8209.

curttoni@noducts.ca

IDIDARIDE & RUN KASLO: Sunday,

July 3, 2022. www.ididaride-kaslo.ca

JB'S WELCOMES YOU BACK

FOR OUR SPRING SEASON!

Hours Wednesday-Sundays, 3pm

till closing. Happy Hour 3-6pm!

250-353-7717.

KASLO E-KRUISE SERVICE CEN-

TRE NOW OPEN! We service all

traditional, mountain and e-bikes.

423 Front St. 250-300-7923,

https://www.ekruise.com/kaslo/

MIRROR LAKE WATER USERS

COMMUNITY: Boil water advisory

for all users. Inform renters and

guests.

2 May 16, 2022 Your local shopper N picture online: www.pennywiseads.com
---
Alzheimer Society

When a person in the Kootenays living with dementia moves

into long-term care, attending care conferences becomes part

of the process, ensuring that everyone involved in the care

team provides the best care possible. The Alzheimer Society of

BC is helping local families make the most of the conferences.

It's offering a new webinar, Understanding Care Conferences.

The Alzheimer Society has invited Dr. Gloria Puurveen and

Dr. Heather Cooke to speak about their experiences with families

affected by dementia and discuss what to expect at a care

conference. The session will cover what questions to ask, what

documentation is needed in advance, and tips for effective

communication with the care team.

As a researcher who is passionate about understanding the

experiences of older adults and people living with dementia,

Dr. Puurveen focuses on dementia experiences in relation to

"living well" to the end of life, personhood and social citizenship.

Dr. Cooke has more than 25 years of experience working

in dementia care, in both a front-line and research capacity.

Previously a research associate at the UBC School of Nursing,

she now works at the Alzheimer Society of B.C., where she

leads the organization's knowledge mobilization efforts.

The free online session takes place on Wednesday, May 18 at

2 pm. To register visit alzbc.org/care-conference.

Upcoming webinar sessions available to Kootenays families

and caregivers also include:

Understanding communication changes (Wednesday,

May 25, 2 pm): Explore how communication is affected by

dementia and learn effective communication strategies.

Living safely with dementia (Wednesday, June 1, 2 pm):

Explore how people living with dementia and their families

can live safely in the community.

Focus on behaviour: Understanding behaviour changes

(Wednesday, June 8, 2 pm): Learn practical strategies to

better understand changes in behaviour and respond in

supportive ways.

To learn about other upcoming webinar topics, visit

alzbc.org/webinars

Applications are open, Apply Today!

In-demand, hands-on, well paid.

Are you ready for a career in

the Trades? Funding Available.

WANTED

JUNK VEHICLES

REWARD $200 * - Bring to us MUST be complete!

Just added

to our fleet:

50 TON TRI-DRIVE

WRECKER!

1660 Airport Rd, Salmo 250-357-2091

Auto

DEAD OR ALIVE:

* Some restrictions apply.

Price may change

without notice.

Open Monday to Friday 8am to 5pm

International

Business

Commercial, Industrial and Residential

Garage Door Sales, Service,

Repair & Installation

24 HR

EMERGENCY

SERVICE

• CARPENTRY FOUNDATION - Start Aug 2, 24-weeks, earn

Level 1 technical training & 450 work based hours, local

employment opportunities.

• MILLWRIGHT/MACHINIST - Start Sept 6, 36-weeks, earn

Millwright Level 1 & 2 Machinist Level 1 technical training.

Advanced credit for 425 work-based hours.

• PLANT OPERATOR - Start October 11, 24-weeks, operate,

control, and troubleshoot industrial processes. Enjoy the

lifestyle and nearly flawless employability rate.

Home

360 º

advantage

choice • coverage • clarity

Employee

Benefits

Travel

new

DATE!

bobsdoorserviceinc.com

bobsdoorservicerh@gmail.com

236-972-BOBS (2627)

Sunday, July 3, 2022

• WELDING - Start Aug 29, Complete the next step in

training towards your Red Seal. Spaces available for

Welding A & B, Apprenticeship Levels 1, 2 & 3, Multi-Process

Alloy Welding (MPAW), and Welding Upgrading.

Questions?

Contact us! hello@selkirk.ca, 1.250.304.5071

selkirk.ca/trades

HUB Insurance Brokers

(formerly RHC Insurance Brokers)

1-877-797-5366

Cranbrook Nelson Grand Forks

Castlegar Trail New Denver

Rossland

pennywise office

#209 312 Fourth St, UPSTairs in the Kemball, Kaslo

Kaslo - book online

www.iDIDaRide.ca

New Routes

New Price!

Open to

serve you

If you need us and can't make the stairs, we'll come down to you! 250-353-2602

Bulletin Board Bulletin Board Bulletin Board Bulletin Board Bulletin Board

KOOTENAY GEM, MINERAL,

FOSSIL, SHOW & SALE: June 4 &

5 SUNFEST Saturday, 10am-5pm;

Sunday, 10am-4pm, Castlegar &

District Community Complex. Gems

- Crystals – Minerals - Geodes - Fossils

- Jewelry - Lapidary Supplies -

Displays - Gold Panning. Bring your

'Mystery Rock' and have the Selkirk

College Geology Department identify

it. Adults $5. Youth 6-12 $2.

Under 6 free.

North Kootenay Lake Community

Services Society (NKLCSS)

with the support of the United

Way and the Province of BC, offers

a FREE Senior's Meal Program

for Kaslo and area residents. Once

per week a meal will be delivered

to the senior's door by a NKLCSS

staff person. If you or someone

you know is 55+ and would benefit

from this program or would like

more information, please call Kathy,

250-353-7691 extn#204 or email

kathyallaire@nklcss.org

LOOKING FOR LANGHAM INFO?

Visit www.thelangham.ca

REMEMBER FIGMENTS FOR SPE-

CIAL GIFTS & CARDS for Mother's

Day, May Days, and more!

Visit us Monday-Saturday until

May 14; from May 16 on we are

open every day. 250-353-2566,

www.figmentscanada.com

SALE SALE SALE! May 20-23 at

ROAM, 405 Hall Street Nelson.

250-354-2056.

SELKIRK TRUSS, can provide all

your custom trusses for your reno

or new build. Visit our website www.

selkirktruss.com and get the answers

to many of your questions. Selkirk

Truss, 2894 Sentinel Rd, South

Slocan. 250-359-7000.

SHARPENING SERVICE: Saws, tools,

scissors, knives, clipper blades. C&D

Sharpening Service, 250-365-3658.

SHIPPING CONTAINER SALES,

RENTALS & SELF-STORAGE: Call

250-304-5955. MKV International

Trading, 2812 Popoff Rd, South

Slocan, BC.

SLOCAN COMMUNITY LIBRARY

HAS EXPANDED HOURS! New

hours are SATURDAY and SUN-

DAY, 11am-3pm; THURSDAY

1-5pm and FRIDAY, 7-9pm which

is our tea and chat. Keep updated

at www.slocanlibrary.ca

SPECIAL DELIVERY ClassiCanadian

Crosswords. Brand new, straight to

you. Check your inbox, Wednesday's

the day. For weekly delivery subscribe

at www.ClassiCanadianXwords.ca

THE TREASURE SHOP CASTLEGAR

IS OPEN Tuesday, Thursday, Saturday,

11am-3pm. Donations accepted

Tuesday & Saturday, please call

250-365-7317 before bringing your

donations. Check out our summer

clothing and our auction. www.castlegarhospitalauxiliary.org

Looking

for volunteers, apply on our website

or stop by the shop! See you there!

VICTORIAN HOSPITAL OF KASLO

AUXILIARY SOCIETY BURSARY:

$1500 bursary applications may be

submitted by any citizen of Kaslo.

Proof of accepted enrollment at an

accredited Canadian College/University

in a healthcare related field

is required. The bursary application

form is available by contacting mterlinger@sd8.bc.ca

or J.V. Humphries

School. Mail applications to: Bursary

Committee, VHKAS, Box 607, Kaslo

BC V0G 1M0. Deadline May 27.

WANECO ENTERPRISES CUSTOM

SAWMILLING: Fir, cedar, clears,

decking, timbers. 250-353-7126,

wanecoent@gmail.com

WE OFFER SUPPORT FOR UNPAID

CAREGIVERS caring for someone

55+. West Kootenay Boundary Caregiver

Support, 1-888-212-2337 or

email wkbcaregiver.org

USA - BECOME A PUBLISHED AU-

THOR. We want to read your book!

Dorrance Publishing trusted since

1920. Consultation, production, promotion

& distribution. Call for free

author's guide 1-877-729-4998 or

visit dorranceinfo.com/acp

Events

KASLO COMMUNITY GARDEN

PLANT SALE: Saturday, May 28,

9am–12noon at the Community

Garden, Ave A and Washington.

Plant donations welcome. All sales

by donation. Growing plots still

available at the garden. Contact cgmcc351@gmail.com

Learn more at

www.kaslogarden.blogspot.com

N picture online: www.pennywiseads.com Your local shopper • Pennywise May 16, 2022 3
---
Local shoppers

read the

"Nothing is

impossible.

The word

itself says

'I'm

possible'!"

~ Audrey Hepburn

Advertising

will help get you there.

1-800-663-4619

Invest in

yourself,

advertise!

Do you want

to sponsor

our popular

Sudoku/

Crossword

puzzle page

in the Castlegar/

Slocan Valley

Pennywise?

Contact:

Adam Prisciak

Ph 250-505-2921

1-800-663-4619

adam@pennywiseads.com

ACROSS

1 "Northern" lake fish

5 ___ profundo

10 Video game people?

14 Feminine ones in Québec

15 Irish actor Milo

16 Stick in one's ___ (aggravate)

17 They bring 24-Across, after a

postponement?

19 Lead-in to "viction"

20 Rockies unit: Abbr.

21 Big name at the arcade

22 Italian for "one hundred"

23 Ranch extension?

24 See 17-Across

26 Unleash, as a tirade

28 "Huh, that so?"

29 "I can't ___ way around this"

30 Christopher Columbus's

birthplace

33 Sub sought by Jack Ryan, after

a postponement?

38 Stick a new price on

39 "Phooey," in a Schulz strip

42 Ransom demander, maybe

46 Like a wetland

48 Day to "beware," after a

postponement?

52 Offering to a signatory

53 Managed, despite all

54 "Check at Information"

55 Suffix with gran- or glob-

56 Word with "while," once

57 Johnny Cash's wife, after a

postponement?

59 Some Blue Jays stats

60 Vowel quintet

61 Corner-to-corner meas.

62 Prefix meaning "bone"

63 ___ and the same (equals)

64 Skydiggers frontman Maize

DOWN

1 Lays a thumping on

2 Where "k-i-s-s-i-n-g" takes place

3 Big talker at a convention

4 Difficult letter for Daffy Duck

5 Turn on, as a computer

6 Dam on the Nile

7 Kipling's ___ Khan ("Tiger

King")

8 Times New Roman letter doodad

9 Retiree's gov't. income

10 A little kooky

11 Ankle-strapped sandal with a

woman's name

12 Words to live by

For brand new puzzles by email, sign up at

www.ClassiCanadianXwords.ca

It's Been Postponed

13 Word branded as Nike's symbol

18 Mecca trekker

22 Roomie

25 Rug making apparatus

27 Former Liberal politician Bob

30 Understood

31 Gabor or Cassidy

32 Flat end of a Duracell: Abbr.

34 Edwin in a Dickens mystery

35 Soft ball brand

36 Be human, per Pope

37 "Russia's greatest love

machine," in a Boney M hit

40 What the fastest racer has

41 Collaboration benefit

Barbara Olson

© ClassiCanadian

Crosswords

May 16

42 Roman orator dubbed "Tully"

43 Totes cute

44 Colas once marketed as

digestion aids

45 Bantu word meaning "fly"

46 Snooker slipup

47 ___-Seltzer

49 Chills-and-fever spells

50 Salk's vaccine target

51 Soft synthetic fabric

57 Rodriguez of TV's "Queer Eye"

58 Vitamin label abbr.

SUDOKU

Sudoku puzzles are formatted as a 9x9 grid, broken

down into nine 3x3 boxes. To solve a sudoku, the

numbers 1 through 9 must fi ll each row, column and box.

Each number can appear only once in each row, column

and box. You can fi gure out the order in which the

numbers will appear by using the numeric clues already

provided in the boxes. The more numbers

you name, the easier it gets to solve the puzzle!

Solutions on Page 2 or

pennywiseads.com/local news/puzzles&solutions

START SEPTEMBER 2022

Interested in helping build

healthy communities?

In-demand and rewarding careers await.

Be job-ready in as little as 8 months!

Certificate, Diploma, and transfer options available.

• EARLY CHILDHOOD CARE & EDUCATION

• EDUCATION ASSISTANT & COMMUNITY SUPPORT WORKER

• SOCIAL SERVICE WORKER

Questions? Email hello@selkirk.ca

Max

APPLY

TODAY!

selkirk.ca/school/human-services

❤❤ ❤

sponsored by

Max came to us as an intact stray who was trying to survive

on his own. Since coming into shelter, he has become very

affectionate. He likes to perch on his cat tower and watch the

world go by. Max will come for scratches and loves to rub up on

your legs while feeding him. Max likely won't be suitable for a

home with other cats and would prefer to be the only man of the

house. We are unsure how he will be with children.

250 509 0297 BC SPCA

West Kootenay Community Animal Centre

124 Heritage Way, Castlegar • https://adopt.spca.bc.ca

Bulletin Board Bulletin Board Bulletin Board Bulletin Board Merchandise

Events

GILL & GIFT'S OPEN RAINBOW

DERBY, MAY 21-23: Prizes 50%,

30% and 20% of Net. Tickets available

at Woodbury Resort and Gill &

Gift, Balfour. 250-229-2113.

Markets/Fairs

SLOCAN VALLEY BLACK ANGUS

BEEF: Sides $4.99/lb; ground beef

special, $100 freezer packs; 50lb

dog bones, $49.99, soup bones and

organs. Government inspected.

Home of the Happy Cows. Wayne

Savinkoff, 250-226-BEEF.

THE SALMO VALLEY YOUTH &

COMMUNITY CENTRE is hosting

their first annual Dandelion Festival

May 21, 2022. This will be a

celebration of Spring, community

and well-being. Vendor Applications

are available through our website

www.svycc.ca Email info@svycc.ca

or phone 250-357-2320 for more

information.

Markets/Fairs

TARZWELL FARMS: Top grade,

locally grown & naturally raised

beef. Grain & grass finished, available

year-round. Delivery to Nelson,

Castlegar & Trail available. 250-428-

4316 or find us on Facebook!

Garage Sales

HUGE COMMUNITY TAILGATE/

GARAGE SALE: Saturday, June 11,

9am at the Appledale Hall, 6841 Appledale

Park Rd. Sell unused household

items, crafts, produce, tools,

art, etc. (nothing illegal). $20/per

spot, (pickup, trailer, car trunk full).

One table and two chairs provided

for each spot. Homemade borscht,

hotdogs, coffee and soft drinks

available. Bring your own rain cover.

Call Mabel Kabatoff, 250-226-

7577 or Ted Okkerse, 250-226-0030

to preregister.

SATURDAY MAY 14, 9am-3pm,

7931 Birchwood Dr. Trail. Lots of

home goods. No early birds.

Garage Sales

SATURDAY/SUNDAY MAY 21-22,

9am-5pm, 413 Tower Rd, Nelson.

Good household items, clothing, etc.

WOODBURY VILLAGE RD NEIGH-

BORHOOD YARD SALES: Saturday

May 21, 9am to 4pm. Phone

250-353-2624.

YARD SALE SATURDAY & SUN-

DAY, May 21-22, 8am-3pm. Downsizing

after decades, lots of treasures.

5660 Our Rd, Winlaw.

Free for Free

SOME ODD, GOOD PARTS to

fit Case 300 series Crawlers &

Terratracs. 778-785-0433.

TV STAND: W/drawers and shelves,

50˝Hx54˝W, photo available. 250-

353-7128, Kaslo.

WHITE WALL OVEN and white ceramic

4 element cooktop. Both clean

& work. 250-364-2226, Warfield.

Thank You

YARD & YARDAGE 2022 WAS A

GREAT SUCCESS! Thank you from

the Slocan Valley Threads Guild for

supporting our sale by attending

and donating fabric and plants.

Check us out at slocanvalleythreadsguild.wordpress.com

and on

facebook.

Personals

OLDER GENTLEMAN LOOKING

FOR female companion. I have a

great sense of humour, love gardening,

woodworking and going for

walks. Erich, 250-352-3293.

Antiques

OLD SCHOOL FURNITURE: Stop

into our shop at 434 Rossland Ave

in Trail. Open Thursday-Saturday

12-4pm or book an appointment

to view our WAREHOUSE or all. We

BUY, SELL & TRADE furniture! Follow

us on Facebook or Instagram

for exclusive offers and behind the

scenes! 250-521-3028.

Building Supplies

ACE BUILDING CENTRE, KASLO:

Check us out for all your building

needs and more! 250-353-7628,

www.kaslobuilding.com

BOB'S DOOR SERVICE: Commercial,

industrial and residential

garage door sales, service, repair

and installation. 24hr emergency

service. 236-972-2627.

FREE ON-SITE CONSULTATION:

Bob's Doors Service offering commercial,

industrial and residential

garage door sales, service, repair

and installation. 236-972-2627.

4 May 16, 2022 Your local shopper N picture online: www.pennywiseads.com
---
Nuffield Scholarships open

Mid-career

Canadian farmers

can apply to

participate in

a unique program

designed

to fast-track

their leadership development in a way that might otherwise take

a lifetime to achieve, then go on to become influencers in their

sectors. That is the essence and mission of Nuffield.

The Nuffield name and emblem - a bull riding a bicycle - both

derive from its founder, William Morris, also known as Lord

Nuffield. Morris, a UK industrialist and philanthropist, made

his fortune building bicycles and later launching Morris Motor

Company. Lord Nuffield started the Nuffield Agricultural Scholarships

after WWII to help ensure world peace through food

security in the UK and beyond. 2023 Nuffield Canada Scholarship

applications are open now through to June 30 at nuffield.ca.

Thomas (Mark) Bysouth

passed away Feb 16th

at age sixty after a short

fight with lung cancer

and a long struggle with

schizophrenia.

Mark was a son and

companion for his

mother, and a brother

and an uncle who

was warm, witty and

intelligent.

Before Mark's illness

he worked as a house

framer and trail builder.

At a towering 6'4", he was

our gentle giant who,

without a ladder, could simply lift his arms to nail walls

into place. He was a familiar figure around the community

and did many odd jobs. He had a great memory and

would surprise us all by supplying a Trivia answer from

the sidelines. Mark built himself a media room where he

would spend endless hours watching hockey and listening

to his favourite music and discovering news channels from

around the globe.

Ironically his last few weeks of life would be some of his

best as he was able to accept and return our hugs and

kisses and even cracked a few jokes.

The family is grateful that Mark was able to live in his own

home with the love and support of his mother Barbara

Neelands, his longtime care worker, Donna Cormie and the

people of Kaslo who accepted him.

Please send a donation to a mental health charity of your

choice and extend a warm smile and a helping hand to

someone who is struggling❤

Life Celebration May 22nd, 2 - 4pm

Pot Luck at 4:30 4787 Hwy 31

More at the Thompson Funeral Service website:

www.thompsonfs.ca/obituary/mark-bysouth/

Thank

Porcupine Wood Products

Kalesnikoff Lumber Company Ltd

PRT Growing Services

Clint Carlson / Sunshine Logging

FortisBC

Hairy Productions Sound Equipment

Iron Peak Logging

Kootenay Savings Credit Union

Lardeau Forest Products Ltd

MacNicol Enterprises Ltd

Nakusp & Area Community Forest

Narrows Timber Co Ltd

Nelson Ford

Slocan Integral Forestry Cooperative

Stella-Jones Canada Inc.

Western Financial Group

Yellowhead Road & Bridge

Thank

You!

Ace Building Centre, Kaslo

Kaslo Front Street Market

Ainsworth Hot Springs Resort

A.F. Timber Co. Ltd

Alpine Logging Ltd

Bekker Truck Worx

BA Benson & Son Ltd

Angry Hen Brewing

Big Cranium Design

DW Sicotte Trucking Ltd.

Chez Serge Takeout

BRD Logging Ltd - Klaus Streichert

Galena Contractors Ltd.

CJ Logging Ltd.

Chris Choquette Enterprises Ltd.

Gary Burns Consulting Ltd.

Columbia Basin Trust

Erickson Enterprises

Glover Contracting Ltd.

Cornucopia Enterprises

Irma Aldinger

JB's Pub/Woodbury Resort

Figments Fine Canadian Crafts JSA Holdings Inc

Kaslo Hotel & Stellar Heliskiing Hamill Creek Timber

Logan Jacobs - Athletic Therapy

Main Jet Motor Sports

Interior Lumber Manufacturer

North Kootenay Veterinary Services

McKinnon Logging

Jones Boys Boats (1999) Ltd

Schroeder Creek Resort

RDCK - Area D

Kaslo Motel

Stan Baker Trucking

Selkirk Snowcat Skiing

Kevin Kooznetsoff Trucking

Steve Jacksitz

Sutco Contracting Ltd.

Megla Trucking Ltd.

Sunnyside Naturals

Timberland Consultants (2001)

Minichiello & Company

The Kaslo Pump

Timber Ridge Contracting Ltd.

Pennywise - KS Perry Publishing Wilf Hewat Repairs Ltd

Treehouse Restaurant

Settle Holdings Ltd.

Willow Home Gallery

Vince DeVito's Specialty Footwear

Thank

T.H.E. Pharmacy, Kaslo/Ward Taylor

Trail Tire Nakusp

WINNER OF THE T-SHIRT LOGO DESIGN COMPETITION: Louis FortierYou!

Woodland Equipment Inc.

You!

You!

Woodbury Resort & Marina,

Would like to thank the following

sponsors of our Easter Long-Weekend

Bull Trout Fishing Derby!

Thank You

Gilberts, Pharmasave, Home Hardware,

Maglio Building Supply, Nelson Chrysler,

Reel Adventures, Bob Garding, Jones Boys Boats,

Billy's Auto Service, King Fisher Boats–Vernon,

Best Western, Hume Hotel, Gill and Gift,

Kaslo Ace Hardware, Kaslo Pharmacy, Sea Pro,

Kaslo Hotel, Adventure Hotel, Carol Jeske,

Ainsworth Hot Springs, Save On Foods,

Blue Sky Imports, Nelson Ford,

The Harbour Chandler, John Wayne, Yamaha

Woodbury Resort

& Marina

1st Place

Ed

Gudjonson

9.12 lb = $2000

4 kms north of

Ainsworth Hot Springs

250-353-7717

Toll Free 1-877-353-7717

email: woodburyresort@netidea.com

www.woodburyresort.com

2nd Place

Melyssa

Summer

7.6 lb = $1500

3rd Place

Trevor

Ferguson

5.12 lb = $1000

62 heads were entered into the Angler Incentive Program!

Restaurant & Pub

Wed - Sun

3pm to closing

250-353-7716

Merchandise Merchandise Merchandise Merchandise Merchandise

Building Supplies

HARROP-PROCTER FOREST

PRODUCTS: Your local source for

sustainably harvested building materials.

A wide variety of cedar/fir lumber

for every project. We also custom

cut to order. Go green by supporting

BC's only Eco-Certified Community

Forest. Check out our products at

http://www.hpcommunityforest.org

Call 250-551-5452 or email sales@

hpcommunityforest.org for a quote.

Monday-Friday, 8am-4:30pm &

Saturday, 9am-3pm.

PERRY RIDGE PANELLING: Manufacturer

of cedar, pine, knotty fir/

clear fir, edge or flat grain into siding,

molding, panelling, flooring,

decking and trim. 250-226-7530.

SOAK UP THE DEALS! Save big on

select BeautiTone, Fiskars and Miracle-Gro

products at Nelson Home

Hardware Building Centre, 101 Mc-

Donald Dr, 250-352-1919.

Building Supplies

WANECO ENTERPRISES CUSTOM

SAWMILLING: Fir, cedar, clears,

decking, timbers. 250-353-7126,

wanecoent@gmail.com

Computers/Electronics

HEXA-TEK REPAIR: Computer repairs,

upgrades, maintenance, diagnostics,

406 Baker Ave, Salmo. 250-

357-9271, www.HexaTek.ca

WINLAW FINE COMPUTING.....

www.winlawtech.com, Windows, Apple,

Linux. Pat, 250-226-7215.

Firewood

ONE CORD CEDAR FIREWOOD:

Bucked 16˝, quarter rounds, easy

access, Balfour, $200. 250-551-4386.

Furniture & Appliances

HOME GOODS FURNITURE: A family

business serving Kootenay families

since 1950. 1790 HomeGoods Rd,

Genelle, BC. www.homegoodsfurniture.com

and on Facebook.

Furniture & Appliances

MAKE IT LAST EVENT! Save up to

$600 on select Electrolux laundry

pairs. Bears Furniture & Appliances,

612 Lakeside Dr, Nelson, BC.

www.bearsbrandsource.ca

Misc Merch

ARIENS RIDE ON MOWER: Excellent

condition, maintained regularly,

Kohler 19hp Courage engine,

$1250. 250-353-2258.

BIRCH WOOD LOGS: Cut to 1´

length, $250. 250-231-1515, Trail.

BLACK & DECKER ELECTRIC

LAWN MOWER: 36V, 18˝, great

condition, $150. 250-551-1525.

BRIGGS & STRATTON 8.75HP

MOTOR, Weed Eater trimmer,

Homelite trimmer, $130obo for all.

250-365-6759.

Misc Merch

COLLECTOR'S FABULOUS FAB-

RIC SALE! All seasons. All colours.

Beads, trims, threads, buttons. Bargain

prices! Tuesday May 17, 12-

2pm; Wednesday May 18, 3-5pm;

Thursday May 19, 10am-1pm. 905

Davies St, Nelson. Fairview area.

Cash, cheque, e-transfer.

DO YOU HAVE YOURS? Call the

Pennywise at 250-353-2602 or

1-800-663-4619 for copies of the

2022 VISIT KASLO GUIDE!

FOUR MICHELIN TIRES,

215/60R/16, $30/ea.; 170+ 6˝x2´

ceramic tiles, light multi-brown,

indoor use, $300; countertop oven,

$50; food processor, $50; video cassette

recorder, $20. FREE: new single

bed frame; wire hangers; 4 lawn

chairs. 250-367-7907.

HOUSEHOLD STORAGE: Steel

shipping containers for sale/rent.

20´ & 40´ units. Kootenay Containers,

Castlegar. 250-365-3014.

Misc Merch

NEW TEETER INVERSION TA-

BLE, paid $450 selling $200; NEAR

NEW Pilates Pro Chair, complete

w/six instruction DVDs, $100.

250-359-7476.

QUEEN SIZE BED AND MAT-

TRESS, headboard has shelf, $200;

Pentax 35mm camera, many attachments,

$500. 250-229-4431.

SAVE BIG EVERY WEEK! Visit our

website to see your weekly Hot

Deals Flyer. www.kootenay.coop/

hot-deals

SPRING IS HERE! Wheelbarrows,

planters, seedling starter trays,

garden boots, soils and seeds have

all arrived at Slocan Valley Home

Hardware, 5763 Hwy 6, Winlaw.

250-226-6748.

WE KNOW OUR STUFF! Mallard's

Source for Sports, Castlegar

& Nelson locations. 250-365-5588,

250-352-3200.

N picture online: www.pennywiseads.com Where locals shop. May 16, 2022 5
---
Courses Coming up in Nelson

Exploring Gratitude through Photography ...May 19

Psychological First Aid ..................................May 19

Occupational First Aid Level 1 ...........May 24, June 1

OFA Transportation Endorsement .................May 25

Standard First Aid with CPR C

(OFA 1 Equivalent) ...........................May 26, June 4

Foodsafe Level 1 ..........................................May 27

Forklift Operator Certification ......................May 28

Qi Gong: An Introduction &

Developing Your Practice .............................May 28

Creative Copper Smithing .............................June 2

Maternity Massage for Professionals & Support

Persons (Zoom) ............................................ June 3

Learn to Knit Cables ......................................June 6

selkirk.ca/ce 250-354-3220 for more info

www.facebook.com/SelkirkCommunityEducation

Community Education & Workplace Training

Lawn &

Garden

Tools

PHILIP KANIGAN BSc, DMD

Notary Public Inc. A Name You Can Trust

WE ARE OPEN FOR BUSINESS by appointment

Please call 250-365-2289. Ask us about our safety procedures!

2009 Columbia Ave, Castlegar, BC Tel. 250-365-2289 Fax 250-365-2275 www.castlegarnotary.com

Slocan Valley

Dahlia, Gladiolus bulbs

Begonia tubers and more for

beautiful summer gardens!

• lawn seed

• soil

• manures

New Shipments of

fencing and posts

have arrived!

Bundle pricing on posts available

Vision for Campbell Field

Located at the Playmor Junction, adjacent to Mount Sentinel Secondary

School and the Slocan Valley Rail Trail, Campbell Field was gifted to the

RDCK in 2016 by the South Slocan Sports Association. Last November,

the Regional District of Central Kootenay (RDCK) presented two highlevel

options for the reimagination of Campbell Field to the community

for input. More than half of the people who provided input on the concepts

(57%) said they preferred the option with a greater focus on outdoor

elements. Based on the information gathered, a single concept was

developed.

"I'd like to thank and acknowledge the community for participating in

this process and providing insight into their vision for Campbell Field,"

said Walter Popoff, Director of RDCK Electoral Area H. "This is still early

days of the project, and there will be more conversations to come—especially

with the students and staff at Mount Sentinel School. But I believe

that what is presented in this concept will support the recreation goals of

the community, for now and for generations to come."

The two high-level concepts were developed based on a previous community

survey. Option 1 had a greater focus on the indoor elements, and

Option 2 had a greater focus on outdoor elements. Between November

22, 2021 and January 5, 2022, the concepts were available for viewing at

"Spring has

sprung and we

have everything

you need to tackle

your garden!"

Flower & vegetable

seeds, flats, inserts,

pots, domes & more!

Potatoes

Seed

& Onion Bulbs

LARGEST SUPPLIER

OF FENCING, POSTS,

CORRAL PANELS

IN THE KOOTENAYS!

5763 Hwy 6, Winlaw | 250-226-7771

Open 9-5 Monday-Friday, 10-4 Saturday

Closed Sundays

Wills & Power of Attorneys

Representation Agreements

Real Estate Purchases & Sales

Real Estate Contracts

Mortgages/Refinances

Changes to Land Titles

Subdivisions

Easements

and more

info@hadean.ca | 778.774.7625

Locally owned and operated, we strive to

achieve superior customer service.

We have the aggregates you need to

complete your project!

• Stone slinging services

• Gravel delivery services

SOLD

• Road gravel

• Sand • Drain rock

CLOSE, CONVENIENT, LOCAL, OPEN TO PUBLIC

2306 Crystal Springs Road, Nelson

a number of community locations and on the RDCK website. A virtual

public information session was hosted on December 5, during which the

two concepts were presented. A total of 375 comments were gathered

though this process.

Overall, respondents indicated that a multi-activity development that

makes use of outdoor amenities, while providing some respite from the

weather in all seasons, would be the best fit for the community. The

updated concept includes the following features: full-size soccer field,

track and field amenities, field house, basketball and tennis courts, splash

pad, skate park, bike pump track, and park space.

The involvement of the community and youth will continue to be a

priority as the project progresses. Gathering more detailed information

about potential use is vital, as are partnerships with schools and community

organizations.

At this stage, the project moves from the strategic planning phase of

the process into the tactical planning phase. Tactical planning includes

exploring the impacts and options of the development, the capital and

operating financial implications, the development of an operational plan,

and the recommended course of action to develop the project. Further

direction from the RDCK Board of Directors and input from the community

will be sought at key points as the project moves forward.

The community is invited to review the updated concept and

the feedback report, "Campbell Field Feasibility Study: Concept

Development," on the RDCK website at www.rdck.ca/Campbell-

Field.

RDCK

Looking for a new career?

KS•Perry Publishing has a permanent 3/4 time position

(25 - 30 hours a week) opening up on our team.

We publish the bi-weekly Pennywise, numerous tourist publications,

the Central Kootenay Farm & Food Directory and the

Discover Sixty-Five Seniors' magazine. We have another product

in development.

Our office is in Kaslo, room #209 on the 2nd floor of the Kemball

Building (304 Fourth Street). We have up to 7 staff in the office

and another two who work remotely, as well as 3 delivery people.

We are a creative, fun loving bunch who at the same time

work hard to offer excellent service and to create quality ads

and products for our clients. Our designers have all won numerous

International design awards. We all strive to offer the best

service we can. Does this sound rewarding to you?

Do you have these skills to share?

Required skills are:

~ Excellent grammar

~ Spelling bee champ (2nd or 3rd place is amazing too)

~ Comfortably computer literate

~ First-rate phone abilities

~ Ultra efficient and organized

~ Self motivated

~ Team player, can follow instruction

Preference given to

~ Mac/InDesign user

~ Proficient writer/content creator

~ Ad design experience

~ Sales experience

~ Bookkeeping experience

~ Wordpress experience

~ Social media capable

The first best

applicants will

be called in for

interviews.

All applicants will

be contacted.

We thank you for

your interest and

look forward to

meeting you.

Email your resume & references to karma@pennywiseads.com

Subject: 'I Want to Join the Team'

Merchandise Merchandise Employment Employment Employment

Misc Merch

TREES COMPANY GARDEN SUP-

PLIES: Organic Fertilizers and Soil

amendments. Soil Mixes. Garden

seeds & cannabis seeds. Irrigation

pipe. Trickle irrigation supplies,

pumps & controllers. Greenhouse

poly, ground cover, crop cover,

shade cloth and much more. 7030

Powell Rd. Winlaw. Monday-Friday

9am-5pm, Saturday 10am-

2pm till June 30. 250-226-7334 or

1-800-661-4461.

VINCE DEVITO SHOES AND OR-

THOTICS: We carry Blundstone,

Cobb Hill, Dunham, Muck Boot

Company, New Balance, Red Wing

Shoes, Royer, Saucony and Viberg.

411 Hall St, Nelson. 250-352-6261,

www.vincedevito.ca

Musical Equipment

GODIN TRIC LIGHTWEIGHT

CASE for classical/folk guitar, great

condition, new $160, $85 firm.

250-353-8027, Kaslo.

Sporting Goods

BUYING, SELLING & TRADING

FIREARMS: BEST PRICES PAID.

Call Wally, 250-231-3721.

EXCALIBUR ASSASSIN CROSS-

BOW: Excellent condition,

$1100obo. Phone 250-512-9455.

Employment

Hiring

DOWNTOWN MEADOW CREEK,

BC: Part-time positions available

at the restaurant and store. Must

be able to work weekends. Friendly,

flexible place to work with

above average compensation.

Send resume to meadowcreekstore@telus.net

HAMILL CREEK TIMBER HOMES

in Meadow Creek is hiring full-time,

part-time year-round timberframers/labourers,

machine operators

and designers. Please apply to

info@hamillcreek.com

Hiring

ATTENTION YOUTH! The Kaslo &

District Public Library is accepting

applications for a Library Services Assistant

to run Summer Reading Club

and be part of our team. Work from

June 28-Aug 13, 30hrs/wk. Successful

applicants will be between the ages

of 15 and 30, will have experience

with groups of children ages 3-12,

will be able to plan and carry out

programming, and have computer &

customer service skills. Criminal Record

check required; wage is $16.60/

hr. Application deadline is Thursday,

June 9 at 4pm. Apply by email: info@

kaslo.bclibrary.ca with a resume and

cover letter. Only shortlisted applicants

will be contacted.

GALENA CONTRACTORS LTD. is

seeking a heavy-duty mechanic, experienced

with logging equipment.

This is a permanent full-time position

that offers competitive wages

and a health benefit plan. To apply

please contact Kevin by email at

shop@galenacontractors.com

6 May 16, 2022 C Your local shopper N picture online: www.pennywiseads.com

Hiring

HADEAN AGGREGATE SOLU-

TIONS IS HIRING A DUMP

TRUCK & PUP DRIVER for our

gravel pit operations near Nelson.

Must have 2yrs experience driving

dump truck and valid Class 1 driver's

licence with clean abstract. Apply

online at www.bit.ly/DmpTrk

or call 778-754-4021 extn#129.

KORTS/KMBC TRAIL CREW IS

HIRING CREW for maintenance

and new builds. Tuesday-Saturday,

6am-3pm. $20-$22/hr depending

on experience. Apr.19-Oct. 31.

Check out www.facebook.com/

KasloTrailCrew for details and or

call/text Steve D. at 250-353-1657.

LOOKING FOR A PART-TIME, ON

CALL CARE WORKER with care

worker training, in Nelson. Call Jonathan

White, 250-354-4194 or email

jcwhite25@hotmail.com

Hiring

HADEAN AGGREGATE SOLU-

TIONS IS HIRING A STONE

SLINGER OPERATOR for our

gravel pit operations near Nelson.

Must have 2yrs experience

operating stone slinger and valid

Class 3 driver's licence with clean

abstract. Apply online at www.

bit.ly/slingr or call 778-754-4021

extn#129.

GET A JUMP ON THE GREAT

DEALS & GET PENNYWISE

FIRST! Sign up for an e-Subscription.

Fastest delivery in town! 250-

353-2602,www.pennywiseads.com
---
Not even for a minute!

The traditional mental image we make for ourselves of a hot

day tends to involve a bright, shining sun and a cloudless sky.

Yet, as most Canadians are aware, summer months in Canada

can be deceptively hot even when the sun appears to be

out of sight. With that in mind, the Canada Safety Council is

reminding Canadians about the impact that a hot day can have

on the interior cabin of a vehicle.

"I think we would all agree that a hot car can be a hazardous

and potentially deadly environment for anyone," said Gareth

Jones, president and CEO of the Canada Safety Council. "And

yet too often, we hear of children being left in vehicles. Let's

be clear, there is no acceptable period of time where a person

should be subjected to excessive heat or heat suffocation in a

vehicle. This is simply unsafe behaviour."

The Issue

At an ambient temperature of 35 °C, it takes only 10 minutes

parked in the sun for the vehicle's internal temperature to

rise by 10 degrees. In the span of one hour, that same vehicle's

internal temperature spikes to 59 degrees.

This issue is only exacerbated when we consider that young

children are frequently victims of these circumstances — while

the human body is able to regulate its internal temperature

through sweating, infants and younger children do not yet

have fully formed body cooling systems and are affected by the

sudden rise in heat even more so than their adult counterparts.

Most often, these fatalities are accidental. The American-based

KidsandCars.org states that 56 per cent of all child

hot car deaths were a result of being unknowingly left in the

vehicle, while an additional 26 per cent of children gained

access to the vehicle on their own.

Prevention Tips

Often, incidents like these occur due to simple forgetfulness

owing to the child not being in the parent or guardian's line of

sight. As such, it is important to take deliberate steps to ensure

an accident like this will not happen on your watch. Get into

the habit of leaving an item you cannot do without — a wallet,

a cell phone, a scan card — in the back seat with your child.

A common aggravating factor lies in a change of routine. A

parent or guardian who is used to leaving home and heading

straight for work may forget that it is their day to leave their

child at daycare, for instance. Lapses in memory can happen

too easily in such circumstances, though apps exist that can

send a reminder to your phone to check the backseat once

you're out of range of your vehicle's Bluetooth system.

Canada Safety Council

Non-Profit Leadership Workshops

$10 per

workshop

Register soon –

space is limited

May 25 Budgeting and Funding (Nakusp)

June 7 Social Media Story Telling (Trail)

June 16 Strategic Planning (Kaslo)

Full details and registration information is here:

https://selkirk.ca/ce/courses/non-profit-leadership-series

The Non-Profit Leadership Series is made possible with

funding from Columbia Basin Trust.

WIN A NEW $15,000 BOAT!

2021 Marlon SWV16L Boat with a Mercury 25ELH Outboard & Karavan Trailer

Need a Plumber?

Roofer? Electrician?

Painter? Framer?

Check out our new Directory website!

www.WK-Trades.com

#1) Select

your location

#2) Pick the

work you

need done

West Kootenay

Contractors &

Trades Directory

To advertise on the site call

1-800-663-4619

#3) View your

results and

choose your

trades person

Play it safe around our reservoirs

Play it safe when boating or swimming this summer. Our reservoirs can be enjoyable recreation

destinations, provided certain common sense safety precautions are observed.

Because the water in our reservoirs is utilized for flood control and the production of electricity, reservoir

water levels can rise or fall daily. Reservoir users should be aware that changing water levels can conceal

submerged hazards, particularly in shallow water near the shoreline. It is important that visitors be

aware of these potential dangers and take precautions to stay safe. Canadian Hydrographic Charts are an

excellent reference for boaters and are available at www.charts.gc.ca.

Boating, fishing and swimming above or below a dam or generating station can be very dangerous.

For your own safety and the safety of those with you, obey all warning signs and stay out of restricted

areas.

Boaters must comply with all Canadian Coast Guard regulations and practice safe boating at all times.

Have fun – but be careful!

To learn more, visit bchydro.com.

5955

Employment Employment Employment Wanted Services

Hiring

Hiring

Business Opportunity

Looking For

Contractors/Trades

NORTH KOOTENAY LAKE COM-

MUNITY SERVICES SOCIETY is looking

to hire a permanent part-time

support and outreach worker. For full

job details visit www.nklcss.org

LOOKING TO HIRE IMMEDIATELY:

Operations Manager; Dismantlers;

and Tow Truck drivers. Please apply

w/resume and phone number. Scrap

King Auto Wrecking & Towing Ltd,

1660 Airport Rd, Salmo. scrapking@

telus.net

KASLO GOLF CLUB IS HIRING!!!

Part-time position available now

for Pro Shop including collection

of green fees and cart rentals.

Serve It Right an asset. Call 250-

353-3479.

WANTED EXPERIENCED YARD

AND GARDEN MAINTENANCE

PERSON: Part-time basis, Castlegar.

250-365-3014.

MULTI-SERVICE WORKER: April's

Caregiving for Seniors in Trail is

looking for an individual who loves

cleaning, gardening and cooking.

24-32 hrs/wk. Foodsafe is an asset.

Must have a reliable vehicle,

be physically fit and have good

organizational and time management

skills. Criminal Record check

required. Please send resume to

acahman@telus.net

REGISTERED CARE AIDE: April's

Caregiving for Seniors in Trail, is

looking for a home support worker

for weekends. 12-16 hrs/wk. Memory

Care is an asset. Must have

a reliable vehicle, be physically

fit, enjoy detailed and methodical

work. Criminal Record check

required. Please send resume to

acashman@telus.net

GET THE RESULTS YOU WANT!

Use the Pennywise to advertise!

COMMERCIAL KITCHEN RENT-

AL: Fully equipped, Acorn+Oak

cafe and kitchen, Nelson. www.

acornandoakcafe.ca/kitchen-rental,

skyelea@acornandoakcafe.ca,

778-836-3012.

Help Wanted

CAREGIVER REQUIRED FOR

HOME CARE IN KASLO: 8am-1pm,

Monday-Friday, $22/hr. Contact

France, 250-661-5268 or flachmoi@

yahoo.com

Wanted

Looking For

16´-18´ CATAMARAN, in good

shape. 250-353-2427.

OLD BEER/POP SIGNS, wooden/

metal crates, old gas/service station

items, old Coke/pop machines.

250-231-9397.

$$$ COIN COLLECTOR LOOKING

TO PURCHASE COLLECTIONS, Accumulations,

Royal Canadian Mint

Coins & Sets, Olympic, Gold and Silver

Coins, Paper Currency, etc. Please

call Chad 250-863-3082 cell, 250-499-

0251, Kootenays.

FIREARMS: Call John Urquhart in

confidence anytime. I will come to

your home. 250-367-7540.

FREE CLEAN FILL: 250-551-8286.

USA - !!OLD GUITARS WANTED!!

GIBSON, FENDER, MARTIN, Etc.,

1930's to 1980's. TOP DOLLAR PAID.

CALL TOLL FREE 1-866-433-8277.

USA - PAYING TOP CASH FOR

MEN'S SPORTWATCHES! Rolex,

Breitling,Omega, Patek Philippe, Heuer,

Daytona, GMT, Submariner and

Speedmaster. Call 833-603-3236.

A.D. CONTRACTING: Residential

Renovation and Construction, Windows,

Doors, Kitchens, Bathrooms,

Decks, Rot Repair, Laneway Homes

and more. Red Seal. acrrodesign@

gmail.com 778-962-0707.

A&A PAINTING LTD. 32 YEARS

IN BUSINESS: Professional and

best service guaranteed. Bonded,

licenced and insured. Call

now 250-354-9015 Nelson; 250-

304-5237 Castlegar; 250-368-

1044 Trail. office@aapainting.ca

www.aapainting.ca

N picture online: www.pennywiseads.com Where locals shop. May 16, 2022 7
---
April 7 - June 22, 2022

www.frigidaire.ca

How's our snowpack this year?

As of April 1, 2022, the West Kootenay and East Kootenay

snow basins had a near normal snowpack. The Upper Columbia

snow basin had a higher than normal snowpack at 115%

and the Boundary snow basin had a lower than normal snowpack

at 87%. Snowpack data from April 1 provides a good

indication of the amount of water available for the spring and

summer months.

Find out more at https://stateofthebasin.ca/environment/

water/snowpack

Selkirk College/Selkirk Innovates

Would your acreage benefit from soil amendment?

Mercer Celgar is looking for landowners with 2 or more acres within 55 km

that would benefit from using their Celgrow soil amendment. Pastures and

hay fields are good options.

Mercer Celgar will cover the costs of a Qualified Professional performing

soil sampling, obtaining government authorization and delivery costs of Celgrow

soil amendment based on access with a large truck/pup combination.

Acreage should be able to accommodate at least 6 truck/pup loads. The two

major components of Celgrow are individual wood fibres lost from the pulping

process and surplus bacteria from the wastewater biological treatment

facility. Wood fibres enhance soil moisture retention and bacteria are a good

source of soil nutrients. The landowner is responsible for spreading and incorporating

Celgrow into their soil.

If interested, please contact Len Hewat

Email: leonard.hewat@mercerint.com • Phone: 250-608-3513

NOW SHOWING AT

GEAR by Bettina Matzkuhn

Textile artist Bettina Matzkuhn

examines the human presence in

the backcountry by deconstructing

outdoor gear and reconstructing it

with the addition of embroidered

imagery. Gear features interactive

pieces revealing the artist's response

to the role of outdoor gear in the

consumption, promotion and

diminishment of natural spaces.

GALLERIES

Gallery hours Thursday – Sunday 1 – 4pm

447 A Avenue Kaslo, BC • 250-353-2661

www.thelangham.ca • langham@netidea.com

Showing from May 13th till July 17th

612 Lakeside Dr., Nelson • 250-352-2202

bearsbrandsource@shaw.ca

bearsbrandsource.ca

VIOLENT FEMME

by Branda Christoffersen

In her new body of work Violent

Femme, Nelson artist Branda

Christoffersen explores her path

through womanhood. Using line and

color she investigates love, rejection,

and becoming a mother.

Please observe COVID protocols while visiting the galleries.

Services Services Services Services Services

Contractors/Trades

AINSLO ELECTRIC LTD.: Fully Licenced,

Bonded & Insured. Residential,

Commercial, Industrial. Technical

Safety BC Licence # LEL0211358.

Serving Kaslo, Nelson and Area. Give

us a call at 250-353-1888.

ALERT, PHONE NUMBER SCAM:

Please be aware of a phone number

scam using 1-800-353-2602. This is

NOT the Pennywise toll free number

and if you call it in error, do not follow

the instructions, hang up. Pennywise.

ALL AROUND SEPTIC SERVICES

LTD.: Offering sewage pumpouts,

septic system evaluations

& installations, and commercial

grease trap services. 250-354-3644,

www.allaroundsepticservices.com

WE'RE JUST A PHONE CALL

AWAY for all your ad ver tis ing

needs. Big or small, we have it all!

Pen ny wise ads get re sults! 1-800-

663-4619 or 250-353-2602 in

Kaslo

Contractors/Trades

ALL PHASES HOME RENOVA-

TIONS: Kitchens, bathrooms,

windows & doors. Licensed, registered,

insured. Photos, references.

Book in advance. Michael Nesbitt

Contracting, 250-825-4771.

ALL TYPE ROOFING & RENOVAT-

ING: For all your general contracting

needs, since 1993. 250-368-8857.

DINNISSEN DESIGN CO LTD:

Kitchen And Bath Design & Custom

Millwork. Call Us For Free

In-Home Consultation. 250-521-

0537, www.dinnissendesign.com

Contractors/Trades

ALUMINUM RAILINGS AND VI-

NYL DECKING: Free estimates. Call

Royal Vinyl Decking at 250-231-7905

or email royalvinyl@shaw.ca

AVIS EXCAVATING, Winlaw: Landscaping,

Driveways, Waterline Ditches,

Property Development, Land

Clearing, Tree Removal, Fire Mitigation,

Gravel & Topsoil Hauling, etc.

Larry Avis, 250-226-7849, lmavis@

telus.net www.avisexcavating.com

BILSKI MASONRY: Serving the

Kootenays since 1992. For high

quality tile work, custom showers,

stone work, etc. Call Peter Bilski,

250-229-2157 or 250-505-3005 (cell).

Contractors/Trades

BASED IN HARROP, SERVING

KOOTENAY LAKE AND NELSON:

EAE Electrical Contracting offers affordable

rates for any size of job. Call

or text 250-551-5511.

BRENTON INDUSTRIES LTD: Kaslo

Excavation Contractor, Septic & Utility

Installations, Land Clearing & Tree

Trimming. Call Sean, 250-551-4058,

www.brentonindustries.ca

BULLDOG CONCRETE FINISHING:

Your Kootenay Concrete Specialist!

Basement/garage floors, patios,

driveways, form to finish. Organized

journeyman. 250-365-5573,

www.bulldogconcretefinishing.ca

CURRY'S EXCAVATING: EX-120 and

5T Mini for all your digging needs!!

WAYNE CURRY, 250-226-7661,

valhallacur@hotmail.com

Contractors/Trades

CLELAND ROOFING & REPAIRS:

30yrs experience, 23yrs certified.

Certified roofers are the only way to

get your manufacturer's warranty,

10yr transferable warranty. Old-fashioned

service. Call 250-231-0142.

CRESTVIEW PAINTING: 25yrs+ experience,

reliable/quality work that

lasts, new construction, residential,

repaints, certified journeyman. Fully

insured. 250-304-5197.

DESIGNING AND CRAFTING

UNIQUE Timber Frame Homes for

the Kootenays and beyond since

1989. Hamill Creek Timberwrights,

1-888-713-1800.

General Services

A MAN AND HIS DOLLY MOVING

COMPANY: 1T cube van. Moving to

and from most places in BC and Alberta.

Accepting VISA, Mastercard and

Debit at your door. www.AManAnd-

HisDolly.com 250-304-8400.

10 May 16, 2022 C Your local shopper N picture online: www.pennywiseads.com
---
LIKE US ON FACEBOOK TO KEEP UP TO DATE ON ALL THE LATEST HOMES ON THE MARKET:

www.facebook.com/PropertyGuys.comWestKootenays

Support for unpaid caregivers

caring for someone 55+

1-888-212-2337 wkbcaregiver.org

Caregivers can access:

• Support navigating

healthcare system

• Emotional support

• Home visits

• Phone support

• Support groups

• Social activities

CASTLEGAR 199129

1-778-738-1697

$255,000

Wonderful lot location just

above Castlegar. 1.32 acre

vacant lot on Crestview

Crescent. Great city & valley

view! Power, sewer and city

water connection at lot line.

NELSON 198968

1-778-738-1697

$759,000

Located in quiet Rosemont,

this 4 bed 2 bath home has

wonderful views of Kootenay

Lake & city. Recent makeover

has put major sparkle to home.

Ideal for family on the go.

CRESTON 198472

1-778-738-1697

$135,000

Fantastic but quiet Creston

location for this 0.16

acre vacant lot with all

services at lot line. Peaceful

neighbourhood and lovely

views of Creston Valley.

250-304-2269

ROBSON 199117

1-778-738-1697

$324,999

Gorgeous condo at the

waterfront on Arrow Lakes!

2 bed 2 bath with premium

views. Enjoy a soak in your

own hot tub on private deck.

Investment/Airbnb or ultimate

get-away property.

CASTLEGAR 199103

1-778-738-1697

$559,900

Hidden gem in Castlegar!

This 4 bed 2 bath home is

move in ready and minutes

from downtown. Large, fully

landscaped lot - a gardener's

delight. Detached 2 car garage.

Over 1 million people in British Columbia provide

physical and/or emotional care to a family member,

partner, friend or neighbour.

Our program supports the West Kootenay and

Boundary area, including Grand Forks, Trail, Castlegar,

Salmo, Nelson, Kaslo, Slocan and New Denver.

NELSON 198959

$1,250,000

5 bed 3 bath home with full makeover

inside and out! Beautiful landscaped

yard & gardens, amazing lake views.

1-778-738-1697

ROSS SPUR 198504

CRESCENT VALLEY 198942

$699,000

Between Nelson and Castlegar and

minutes to the Rail Trail and Slocan

River. Choose your own home style!

1-778-738-1697

CASTLEGAR 199128

CRESCENT VALLEY 198963

$1,100,000

3 bed 2 bath home in private location,

minutes to Slocan amenities. Brand

new windows, lighting & ventilation

upgrades, air conditioned shop, vaulted

ceiling, central vacuum system.

1-778-738-1697

WINLAW 199095

CHRISTINA LAKE 198977

$599,999

Cozy barn style, post & beam, 3 bed

2 bath home on private 2.5 acre lot.

Gardens and great deck with view of lake.

1-778-738-1697

ROSSLAND 198517

GRAND FORKS 199101

$765,000

Awesome 35 acre property with huge

shop, barn, sub-irrigated hay field, 20

minutes to town. Tastefully upgraded.

1-778-738-1697

GRAND FORKS 199102

KASLO 198937

$699,999

5 bed 3.5 bath, 2 storey home in lovely

quiet location on large landscaped lot.

Close to all amenities.

1-778-738-1697

GRAND FORKS 199115

On Stands Now...

The West Kootenay Regional Visitor Magazine

Stay & Play

Go & Do

Spring/Summer

Edition 2022

This guide is

loaded with

information on

recreation,

accommodation,

dining and events.

Featuring hiking,

biking, hot springs,

markets, festivals

and local craft

beers in the West

Kootenay!

YOUR

Ainsworth • Balfour • Castlegar • Creston • East Shore • Kaslo • Nakusp • Nelson • New Denver • Rossland • Salmo • Sandon • Slocan Valley • Trail

WEST KOOTENAY Magazine

SPRING

SUMMER 2022

FREE

#gokootenays

BC ❤ Canada

Regional

s t ay

West Kootenay Go & Do gokootenays.com

&

p l ay

&

FREE

For Locals

& Visitors

INTRO

$974,500

Private executive 4 bed 3 bath home

on 2+ acres next to Beaver Creek, with

water rights. Detailed high-end build.

1-778-738-1697

CRESCENT VALLEY 198943

$179,900

1.317 acres ready for you to build your

dream home! Power and water to the lot

line and telephone is available.

1-778-738-1697

CRESCENT VALLEY 198944

$699,900

1.517 acres between Castlegar and

Nelson and minutes to the Slocan River.

Choose your own home style!

1-778-738-1697

CHRISTINA LAKE 198904

$725,000

Amazing one-of-a-kind engineered post

& beam, 3 bed 2 bath home with great

views! Barrier free, all one level.

1-778-738-1697

BALFOUR 198929

$309,900

Unique turn key vacation property or new

home build lot! Several options to consid-

er. Power, water, septic, mins to lake.

1-250-229-4137

KASLO 199108

OPEN HOUSE

MAY 21-22

CALL 250-498-9675

FOR BOAT RIDE

$649,000

Gorgeous solar powered log home in

secluded portion off Kootenay Lake!!

200' lake frontage. Boat access only.

1-778-738-1697

MONTROSE 198538

$465,000

LOCATION! Unique property at the edge of

Valley View Golf Course! 5 acres with 600

ft of river frontage & 2 bed 1 bath home.

1-514-591-3939

NELSON 198988

$898,000

Must see 3 bed 4 bath home on private

1 acre lot with basement suite & cabin.

Rental income is $5200 a month!

1-778-738-1697

HARROP 198972

$1,200,000

Subdividable lakeside, 11 acre lot

bordering Crown land, mature trees,

primed for electrical hook up.

1-778-738-1697

NAKUSP 198859

$1,398,000

Right in the heart of ski country! 5 bed 3

bath chalet style home on 6.1 acres with

lots of privacy, hobby farm, rental suite.

1-778-738-1697

CHRISTINA LAKE 198921

$999,999

1 block from Christina Lake beaches!

Stunning 5 bed 3 bath log style home

with views, open concept floor plan.

1-778-738-1697

SILVERTON 198971

$499,999

Private 1/4 acre lot, newly upgraded

3 bed 2+ bath home, 2 bay detached

carport, workshop. Offers over $500K

will be considered.

1-778-738-1697

ARROW CREEK 198519

COMING SOON!

Lovely acreage with 4bed 1bath home!

Level and landscaped! Fenced! Ideal for

horses or small farm!

1-778-738-1697

CRESTON 198520

NEW PRICE!

$169,000

Ideal home for 55+. Rare double wide

modular in Creston Estates. 3 bed 1 bath

well kept home w. deck, carport, garden.

1-778-738-1697

BURTON 198997

$199,999

1-403-499-9139

$335,000

Charmer with promise! This 2 bed 1 bath

home is situated on a level lot in quiet

neighbourhood. Ideal for small family.

1-778-738-1697

SANCA 198522

$749,777

Country living! Beautiful 3 bed 2 bath

home on 4.29 acres. Sun porch, gardens,

garage, creek running through property.

1-778-738-1697

MONTROSE 198500

$399,800

Lakeview acreage! 9.02 acres with water

3.25 acre lot with build site! Great views.

license to creek and amenities to lot

All services at lot line, mature trees,

line. Adjacent 11.21 acre lot available.

private yet close to all amenities.

1-250-485-8988

PROCTER 199110 TROUT LAKE 198975

The Go & Do is made for visitors

and used by locals too.

Find your copy at a business or InfoCentre near you!

www.gokootenays.com • IG #gokootenays

www.facebook.com/WestKootGoAndDo

$499,900

3 bed, 2 bath home is move-in ready!

Walk to Christina Lake Provincial Park,

you have everything at your fingertips.

1-778-738-1697

$399,800

Fantastic one level 1 bed 1 bath home in

Montrose! Large corner lot with ample

privacy and room to expand!

1-250-485-8988

$947,000

Completely private with lake and moun-

Private! Build new and live in mobile 2 bed

tain view, 4 bed home with separate guest

1 bath unit! 2.84 acres backs onto Crown

suite, 12.73 acres on edge of town.

Land. Easy access, level property.

1-778-738-1697

$399,700

1-778-738-1697

SOLD

$31,000 IN

COMMISSION SAVED!

SOLD

$23,000 IN

COMMISSION SAVED!

Legal disclaimers - propertyguys.Com inc. (Collectively 'us' or 'we') is a private sale marketing company and we represent neither the buyer nor the seller. We do not trade in real estate. We neither warranty nor make any representations as to the outcome of a property sale. *Our pro approach

may include services which are performed for our customers by third party service providers. Such services are not performed or provided by us. * "List now. Pay later." (Our "pay nothing upfront" program) is a payment program offered through a third party provider, and is only available in

participating franchise areas. The program is offered on approved credit, certain conditions do apply. The telephone numbers associated with these listings are those of the private sellers or their personal answering service. Any amount of commission saved referenced above is for illustrative

purposes only. It represents the potential money saved if the private seller had paid commission to a real estate agent instead of using propertyguys.Com. *© 2015 Propertyguys.Com inc., All rights reserved.

Services Services Services Services Services

Contractors/Trades

EAS ELECTRIC: Rewires, service upgrades,

renovations and more. No

job too small. Free estimates. Fully

licensed, insured and bonded. Call

Eddy, 250-231-9950.

ELECTRICIAN FOR HIRE: Licensed,

experienced, semi-retired. Back-up

power generator install, renos, small

jobs, serge protection. Reasonable

rates. Jim Rogan, 250-353-9638, 250-

354-8910.

FLOW PLUMBING & HEATING

LTD: We make it drain! Competitive

pricing, no job too small. 250-685-

8177.

GRAY CREEK STORE: Your heating

specialists! Wood, gas & pellet sales

& service. WETT inspections. 250-

227-9315, graycreekstoves@gmail.

com

HEAT-CHECK: WETT Inspections,

chimneys, woodstoves, liners, duct

work, HRV. Call 250-355-2338.

Contractors/Trades

HIM N HER CONTRACTING:

Home renovation, maintenance &

repair, licensed and insured, over

32yrs in construction industry. Excellent

references and photos available,

check us out on Facebook. For

fast, friendly and courteous service

please call Vanessa or Dusty, 250-

212-2384.

JUSTHINK PAINTING: Serving

Kaslo & Area. Residential, commercial,

interior & exteriors. Seniors

discount. Free estimates. 25+ yrs

experience. All work guaranteed.

Call Stephan 250-353-7128, 250-

353-8763.

Contractors/Trades

HOOVER MASONRY, CERTIFIED

EXPERIENCED MASON: Stonework,

Bricklaying, Tile Setting, Custom

Masonry Fireplaces, Restoration,

Chimney Re-pointing, Stone

Patios & Stairs, Retaining Walls, Manufactured

Stone. Communication...

Service...Satisfaction! 250-551-3245,

hoovermasonry@gmail.com

IN NEED OF BARGE SERVICES?

Brooklyn Barge & Tug Services Ltd,

info@brooklynbt.ca, 778-671-2780,

http://brooklynbt.ca

INTERIOR PAINTING: Quality

workmanship guaranteed. Have excellent

local references. Paige, 250-

551-0982.

LOKI TREE SERVICE: Complete tree

& forest services. Certified Arborists

& Fallers. Hazardous Tree Removal,

Pruning, Chipping, Stump-Grinding,

Forest Management, FireSmart. No

job too big or small. 250-353-2405,

www.lokitree.com

Contractors/Trades

MONASHEE CONSTRUCTION:

Serving the community for over

30yrs. Home renovations, bathrooms,

kitchens, basements, etc. Fully

insured & licensed. 250-368-1850.

MOUNTAIN HIGH LIGHTING:

Lighting layout & design, residential &

commercial. 301 11th Ave Castlegar.

250-365-0500, www.mhlighting.ca

MY PLUMBER: No job too small.

Maintain, service, install, plumbing

systems, blocked sewer lines. 250-

521-0206, 250-687-9041 (cell), email

columbiamyplumber@gmail.com

PACE ELECTRIC: Underground to

overhead. Residential or commercial.

All your electrical needs. 250-

304-8930 (cell).

PULPIT PLUMBING: Call us for all

your plumbing and heating needs.

250-551-6575

, www.pulpitplumbing.com

Contractors/Trades

PARADISE VALLEY PLUMB-

ING: Plumbing contractor serving

the Kootenay area, www.

paradisevalley plumbing.ca 250-

226-7947, 250-777-3588 (cell) or

schaferspeare@gmail.com

R.J. EARTHWORKS EXCAVATING

AND CONTRACTING: E50 Bobcat,

dump trailer. Land development,

site prep, land clearing, driveways,

boulder walls, retaining walls, basements,

septic, underground utilities,

fencing, hauling. Fully insured, fast,

efficient. Call/text 250-551-7347,

r.j.earthworks@gmail.com

N picture online: www.pennywiseads.com Where locals shop. May 16, 2022 11
---
JEB JEBGROSSUT

SALES ASSOCIA

Special Feature in

8000 Hwy 3B

next to Waneta Plaza

1-800-961-0202

2795 Hwy

Drive

and

summer

MARKETS

2022 FORD

4 ECO SPORT

IN-STOCK/TRAN

NEW PRE-OWNED ARRIVALS

2022 FORD

4 BRONCO

IN-STOCK/TRAN

2022 FORD

13 ESCAPE

IN-STOCK/TRAN

2022 FORD

2 EXPEDITION

IN-STOCK/TRAN

2022 FORD

8 EXPLORER

IN-STOCK/TRAN

2022 FORD

23 F-150

IN-STOCK/TRAN

2022FORD

4 MAVERICK

IN-STOCK/TRAN

2022 FORD

4 MUSTANG

IN-STOCK/TRAN

2022 FORD

5 SUPER DUTY

IN-STOCK/TRAN

2020 FORD F-150 XLT 4WD

2020 HYUNDAI SANTA FE

2020 FORD EXPLORER XLT 4WD

2021 FORD RANGER LARIAT 4WD

2008 FORD F-150 XLT

SuperCrew 6.5' box, 28,555 km,

375hp 3.5l v6 stk#63121

$

25

DAILY

$

346

BI-WEEKLY

$49,989

2.4l essential AWD w/safety, 19,835 km,

185hp, 2.4l 4 cyl stk#64857

$

18

DAILY

$

252

BI-WEEKLY

$36,989

$

24

DAILY

59,350 km, 300hp 2.3l 4 cyl

STK#74089

$

339

BI-WEEKLY

$48,989

SuperCrew 5' box, 10,013 km,

270hp 2.3l 4 cyl STK#D34368

$

37

DAILY

$

52

BI-WEEKLY

$59,989

4WD, SuperCrew, 235,607km,

STK#64460

$14,989

2019 FORD SUPER DUTY F-350 SRW

2018 FORD ESCAPE SE 4WD

2018 KIA FORTE LX AUTO

2017 TOYOTA TACOMA 4WD

2017 FORD ESCAPE

Lariat 4wd CrewCab 6.75' box, 93,329 km,

450hp 6.7l 8 cyl 4WD, STK#85381

$

45

DAILY

$

621

BI-WEEKLY

$85,989

80,251 km, 179hp 1.5l 4 cyl, 4WD,

STK#B91377

$

14

DAILY

$

199

BI-WEEKLY

$26,989

94,242 km, 147hp 2.0l 4 cyl, FWD

STK#213398

$

10

DAILY

$

144

BI-WEEKLY

$19,989

DoubleCab v6 auto TRD, 111,874 km,

278hp 3.5l v6 cyl STK#107967

$

28

DAILY

$

387

BI-WEEKLY

$47,989

4WD Titanium, 96,008 km,

2.0l GTDI I-4 STK#70266

Please Call

2016 JEEP CHEROKEE

2016 DODGE RAM 1500 4WD

2016 FORD F-150

2015 RAM 1500 *LTD AVAIL*

2015 FORD F-150

4WD 4dr limited, 63,142 km,

271hp 3.2l v6 cyl, 4WD, STK#43190

$

18

DAILY

$

251

BI-WEEKLY

$29,989

Crew Cab 140.5" ST 169,803 km

STK#89644

$

17

DAILY

$

233

BI-WEEKLY

$27,989

4WD SupercCew 157" Lariat , 120,222

km, 385hp 5.0l 8 cyl, stk#36867

$

24

DAILY

$

341

BI-WEEKLY

$39,989

L4WD CrewCab 149" Laramie,

170,811 km, 395hp 5.7l 8 cyl stk#94705

$

23

DAILY

$

317

BI-WEEKLY

$34,989

4WD SuperCrew 145" Lariat, 93,381 km,

365hp 3.5l v6 cyl stk#32469

$

26

DAILY

$

359

BI-WEEKLY

$41,989

2015 JEEP WRANGLER UNLIMITED

2015 JEEP WRANGLER UNLIMITED

2021 FORD F-150 SUPERCREW

2009 TOYOTA TACOMA TRD

2019 FORD EDGE SEL AWD

Publishing in the May 30 Pennywise

and June Discover Sixty-Five Magazine

✔ Pull out section in centre of Pennywise

✔ All 4 Pennywise Area Editions

✔ Centre Spread of the Discover Sixty-Five

✔ Includes Free Full Colour in each publication

✔ Only $415+tx for both publications, 1/4 pg

Run in one or the other, $299+tx

Larissa Scott

office 250-353-2602

larissa@pennywiseads.com

Karma Halleran

office 250-353-2602

karma@pennywiseads.com

1-800-663-4619, local Kaslo 250-353-2602

4WD 4dr Rubicon, 133,436 Km,

285hp 3.6l V6 Cyl Stk#523407

Please Call

4WD 4dr Sport, 84,364 km,

285hp 3.6l v6 cyl stk#633147

Please Call

Images are for illustration purposes only. STK#74089 / STK#61263.

AM FORD EXPERIENCE

2795 Hwy Dr

Trail BC

DL# 7336/30770

Lariat 4WD5.5' box, 40,632 km,

400hp 3.5l v6 STK#a01302

$

39

DAILY

$

539

BI-WEEKLY

Visit us at

AMFORD.COM

$74,989

Always the best inventory, always the best

prices, always a team that works hard for you

ALL MAKE SERVICE WITH 10 AUTO TECHNICIANS

LOAN BY

PHONE

1-800-961-0202 250-364-0202

Need description

STK#61263

$22,989

8000 Hwy 3B

Trail BC

DL# 7336/30770

$

17

DAILY

35,507 km, 250hp 2.0l 4 cyl

STK#B58464

$

238

BI-WEEKLY

$34,989

$3000 Down or trade equity/7.49%/OAC, all administration / documentation fees of $789 included in stated bi-weekly/daily payment. DL#7336/30770

Services Services Services Services Services

Contractors/Trades

R&S ROOFING: Seamless Gutters

too! Call for free estimate. WCB/insured,

licensed, workmanship guaranteed

on labour. Booking for 2022!

Richard, 250-367-9404.

RENK MASONRY & TILE: High quality

stonework, tile, bricks, blocks, etc.

Call Brian Renk, 250-354-8439 (cell) or

email brianrenk@shaw.ca

RNR ELECTRIC & CONTROLS: Your

local Kaslo & Area electrician for residential,

commercial and industrial

projects. Call Randy, 250-366-0087.

SELKIRK INSULATORS a division of

Seib Contracting: For all your residential

and commercial insulation needs.

Certified spray foam installation,

conventional & blown-in residential.

Licensed, Insured, and WorkSafeBC.

Serving Trail, Rossland, Castlegar,

Fruitvale, Nelson and Grand Forks

area. 250-231-2837.

Contractors/Trades

SAMURAI HARDWOOD FLOOR-

ING: Refinishing services, staircases,

ENG/solid hardwood, cork, vinyl &

tile. Sales, design and installation. 295

Baker St, Nelson, 778-463-5388.

SEVEN REFRIGERATION: Serving

Kaslo and area. 35 years experience.

Commercial Refrigeration,

Heating and Cooling, Heat Pumps.

Cell 250-551-2152. House 250-

353-2965. E-mail sevenrefrigeration77@gmail.com

TRAIL ROOFING LTD: Gov't certified,

commercial, industrial, residential.

Free estimates. Bonded &

Insured, 250-364-2900.

Contractors/Trades

SERVING ALL YOUR ELECTRICAL

NEEDS in Nelson, Kaslo and Area.

AINSLO ELECTRIC LTD. Fully Licenced,

Bonded & Insured. Residential, Commercial,

Industrial. Technical Safety

BC Licence # LEL0211358. Give us a

call at 250-353-1888.

TRIXIE'S CLEANING AND JUNK

REMOVAL IS NOW BOOKING

junk removal and demolition jobs.

Have a garage or shed that's broken

and need it gone? Moving and need

to get rid of stuff? We can get rid of

it for you! Also hiring for a house

cleaning position in Castlegar. Email

trixiejennifer@gmail.com or text

250-365-9313. www.trixiecleaners.

ca

WOLFGANG'S PLUMBING:

Serving the Slocan Valley and

surrounding area. Qualified

pump installer. 250-226-7320,

wteiner@netidea.com

Contractors/Trades

WATER FEATURES, excavation

services, paver installations, decks,

fences, retaining/garden walls,

stone work -natural/faux. 250-505-

6004, www.cascadialandscaping.ca

SAMURAI HARDWOOD FLOOR-

ING: Residential/Commercial Flooring

and Tiling Services, Professional

Installations, Custom Stairs, Refinishing

Services. 295 Baker St, Nelson,

778-463-5388.

12 May 16, 2022 Pennywise Publishing every 2nd week N picture online: www.pennywiseads.com

Contractors/Trades

WATER HEATER GUYS: Gas & electric

water heaters, on demand units,

free quotes, 250-362-5665.

WITH AN ACCENT FINE CAR-

PENTRY: Specializing in interior

finishing, built-ins and railings.

250-551-1842.

General Services

A HANDY HUSBAND: Repairs,

replace, maintenance, decks,

fences and most everything else.

250-354-8598.

ALL-HOME & COMMERCIAL RE-

PAIR: Handyman services, roofs,

gutters and more. Light deliveries/

small moves. 250-267-8591.

ASK OUR EXPERTS for your

home furnishings and appliance deliveries.

We deliver for Bears, Floyds

and Kootenai Moon. Found it on

Facebook? We will pick it up and deliver

it to you. Call Positive Apparel,

250-505-5444.
---
WE WANT TO

BUY YOUR

2008 JEEP WRANGLER

4WD, Rubicon, 3.8L V6, 259,358km,

STK#0637

$17,989

1-800-961-0202

TRUCKS, SUVS

OR CARS 1-800-961-0202

2007 TACOMA

171,286 km,4wd doublecab v6 auto

236hp 4.0l v6, 4WD STK#08830

$22,989

2010 FORD F-250 XLT

4WD, SuperCab, white, 158", 151,316km,

STK#2847 Image for illustration purposes only

$

21

DAILY

$

290

BI-WEEKLY

$19,989

Make music in the valley

The Slocan Valley Economic Development Partnership

is excited to introduce a new campaign, Make Music Here,

launching in June 2022. We want to feature and promote

the artists, musicians, bands and live music-related businesses

in the Slocan Valley. This campaign will:

1. Build a contact list and networking tools to help music

professionals and businesses find each and collaborate.

2. Showcase Slocan Valley working musicians and bands

(recently active recording or performing) through website

and social media features during the month of June.

3. Offer a fun contest with rewarding prizes

4. Produce a series of eight video profiles, each one featuring

a different champion of our local music scene.

If you have any questions about this process please contact

Karen Kornelsen at karenkornelsen@gmail.com

2017 TOYOTA TACOMA TRD

2011 TOYOTA VENZA

2020 FORD F-150 XLT

JEB JEBGROSSUTTI

SALES ASSOCIATE

2018 FORD F-150 XLT

SuperCrew, 4WD, 5.5' box, 3.5L V6,

32,620km, STK#42085

$

27

DAILY

$

381

BI-WEEKLY

$49,989

2016 TOYOTA SIENNA

XLE, 5 dr 7 passenger, AWD, 3.5L V6,

107,101km, STK#145888

$

24

DAILY

$

340

BI-WEEKLY

$37,989

2017 FORD ESCAPE

4WD, Titanium, 2.0L 4 cyl, 78,473km,

STK#0540

$

18

DAILY

$

253

BI-WEEKLY

2795 Hwy Dr Trail BC

DL# 7336/30770

4WD, double cab, V6, off road,

106,433km, STK#024905

$

28

DAILY

$

385

BI-WEEKLY

$31,989

2017 HYUNDAI SANTA FE

SE, Sport, AWD, 4 dr, 2.0T, 2.0L 4 cyl,

103,802km, STK#475311

$

15

DAILY

$

207

BI-WEEKLY

$

371

BI-WEEKLY

$26,989

2019 HONDA RIDGELINE

$

27

DAILY

$

28

DAILY

$47,989

Sport, AWD, 41,050km,

STK#502223

$48,989

2017 FORD F-150

4WD, SuperCrew, Lariat, 3.5L V6,

93,296km, STK#68298

$

396

BI-WEEKLY

$48,989

171,286 km,4wd doublecab v6 auto

236hp 4.0l v6, AWD STK#026547

$

28

DAILY

2019 GMC TERRAIN SLT

$

24

DAILY

$

19

DAILY

2018 FORD EDGE AWD

Titanium, 2.oL 4 cyl, 70,054km,

STK#82440

$

19

DAILY

$

398

BI-WEEKLY

AWD, 4 dr, 25,814km,

STK#64455

$

342

BI-WEEKLY

2018 FORD EDGE

AWD, Titanium, 2.0L 4 cyl, 111,119km,

STK#92304

$

270

BI-WEEKLY

$

263

BI-WEEKLY

$33,989

$32,989

LOAN BY PHONE

1-800-961-0202

2017 FORD FUSION SE

4 dr sdn, FWD, 2.5L 4 cyl, 119,969km,

STK#19954

$

11

DAILY

2016 FORD EDGE AWD

Titanium, 2.0L 4 cyl, 46,660km,

STK#69110

$

20

DAILY

$

144

BI-WEEKLY

$

278

BI-WEEKLY

$19,989

$32,989

$3000 Down or trade equity/7.49%/OAC, all administration / documentation fees of $789 included in stated bi-weekly/daily payment. DL#7336/30770

NO PAYMENTS

FOR 90 DAYS

$19,989

$44,989

2019 GMC CANYON

4WD, CrewCab, 140.5", leather,

79,545km, 3.6l, 6cyl stk#93906

$

23

DAILY

$

317

BI-WEEKLY

4WD, SuperCrew, 6.5' box, 3.5L V6,

28,555km, STK#63121

$

26

DAILY

$

369

BI-WEEKLY

OVER 40 PRE-OWNED IN STOCK

$42,989

2017 FORD F-350 SRW

SuperDuty, Lariat, 4WD, crew cab, 6.7L

8 cyl, 72,220km, STK#88541

$

42

DAILY

2017 FORD ESCAPE SE

4WD, 2.oL 4 cyl, 4 dr, 115,032km,

STK#B47524

$

17

DAILY

$51,989

$

588

BI-WEEKLY

$

236

BI-WEEKLY

DIESEL

$66,989

$29,989

2016 FORD F-150 XLT

SuperCrew, 4WD, 5.0L 8 cyl, 75,758km,

STK#29051

$

26

DAILY

$

359

BI-WEEKLY

$39,989

8000 Hwy 3B, Trail BC

DL# 7336/30770

Ceramic Birdbaths

$99 99

Ceramic Pots starting

at $72 99 3 pc set

Over 300 Perennials

starting at $6 99

Our Greenhouses are bursting with

beautiful colour & varieties of plants.

Best selection & price in the Kootenays.

4" flowers $3 59 • Fruit & shade trees

Many Petunia varieties • David Austin, fragrant

including EZ Waves,

Crazys, Starlet, Mainstage shrub roses, climbing

Flowers & veggies roses

4 pac $2 99 – 6 pac $5 99 • Shrubs & evergreens

• Wasabi & horseradish

Single 3 1/2" veggies $2 19

root

1 gal tomato plants $12 99 • Many small fruits

Soils, manures, fertilizers, grass & clover seed

Friendly, knowledgeable

advice backed by 37 years of

growing experience.

Four Seasons

Greenhouse & Nursery

5531 SLOCAN RIVER RD, WINLAW 250-226-7254

Turn left at Mama Sita's Café, left off Winlaw bridge 1.5 km

Only 45 minutes from Nelson or Castlegar

OPEN 9-5 DAILY

Services Services Services Services Services

General Services

BEAVER'S SEPTIC TANK CLEAN-

ING SERVICE: Serving the Kootenays.

Goes the distance! 250-354-

3508 (cell) or 250-357-9724.

BEKKER TRUCK WORX: Towing &

Hauling Vehicles, Sea Containers,

Light Equipment, Building Supplies.

Roll-back truck with 20´ tilt deck.

Call Niko, 250-353-1091.

CHERYL'S CLEANING SERVICE:

Castlegar area. 20+ years experience.

Honest, reliable, thorough,

reasonable rates. Call/text 778-633-

1221.

CHILD CARE SERVICE: Stay-athome

mom, interested in babysitting

babies up to 2yrs old, in my

home. Weekdays only. I have

18yrs of experience with children

and would provide a loving, structured

atmosphere for your little

one. Located in Ootischenia. $15/

hr or $100/day. Call/text Martha,

250-833-5067.

General Services

CLEANING WINDOWS, GUTTERS,

ROOFS, SIDING: Pressure washing

with care. WorkSafeBC insured, 20+

years experience, 40´+ reach! Free

estimates, professional services,

& fulfilling local careers. Request

services at www.ElevateKootenays.

com admin@ElevateKootenays.com

250-353-3136, Kaslo.

COOL BEAMS MOBILE SAWMILL

SERVICE: Turning your logs into

lumber on-site. 250-777-7366.

EXPERIENCED PAINTER, 20

YEARS: Exterior painting. Free

quotes. Ron, 778-932-2528 (cell).

GW CONTRACTING: For All

Your Building Needs! 250-231-4532,

bit.ly/3ilFCIp

General Services

FOR ALL YOUR DRYWALL AND

PAINTING NEEDS: Steel stud and

suspended ceilings. No Job Too

Small! Serving Trail & Castlegar areas.

Rob, 604-551-8554, Fruitvale.

HANDYPERSON SERVICES: Small

jobs & weekdays only. $50/hr, cash

only. Text Ben 403-246-5221, Nelson.

HUB INTERNATIONAL: Offering

tailored personal and business insurance

solutions for our clients. Formerly

RHC Insurance Brokers. 1-877-

797-5366.

KERRY'S STITCHERY: Custom sewing,

alterations & repairs, including

denim, leather, canvas & drapery. In

Kaslo, 250-353-7722.

KOOTENAY CURRENCY EX-

CHANGE: For all your foreign currency

needs. Better than bank rates

when buying or selling US dollars.

Canadian Gold and Silver. Call 250-

354-1441.

General Services

LOCAL MOVING & SPRING

CLEANING: Residential. Commercial.

Long Distance moving. Brush

clearing and junk removal. 250-777-

3454.

NELSON MINI-STORAGE: 1.6kms

from City Centre, heated, easy access,

18yrs of friendly, personalized

service. 1393 Knox Rd, 250-354-8289,

www.nelsonministorage.ca

PASS CREEK TOOL REPAIR: Air and

electric tools, small compressors,

quality repairs, fair price. 250-304-

4811.

PHILIP KANIGAN BSC. DMD NO-

TARY PUBLIC INC: Offering residential

& commercial property services,

estate planning, notarizations,

legal advice and mediation. 250-365-

2289, www.castlegarnotary.com

TREE SERVICE: Certified, Licensed,

Insured. Pruning to removal of hazardous

trees. Free Estimates. 250-

505-6114, www.fallguy.ca

General Services

PROFESSIONAL DELIVERIES,

Junk Removal, Plumbing, Sewer

Backups, Dry Cleaning, Laundry

Service, Furnace/ Air Duct Cleaning,

Carpet Cleaning. 24/7 Emergency

Service. 250-231-8529, 250-

921-4356, 250-364-0145. http://

kootenaymoveandjunk.vpweb.ca

http://dirtbusters.vpweb.ca

PROFESSIONAL PLUMBING SER-

VICES: 24/7 EMERGENCY! Licensed,

WCB, Bondable, work and materials

guaranteed C.V.M.S. 250-921-4356.

facebook.com@CVMS/CVMS.vpweb.

ca.

RBT ACCOUNTING SERVICES:

Accepting New Clients. Bookkeeping,

Personal and Corporate Taxes,

GST, Payroll and Other Services.

Call 250-354-7107 or email rbtcpa@

outlook.com

N picture online: www.pennywiseads.com Where locals shop. May 16, 2022 13
---
The 2022 Hyundai TUCSON

Discover the all-new 2022 Hyundai Tucson at Castlegar Hyundai. The Tucson now offers a dramatic

exterior design, marked by a unique front grill with "hidden" driving lights, more interior room and a

huge leap forward in comfort, features and technology. The all-wheel drive Tucson also excels in all

road conditions, while providing impressive fuel efficiency. As always, Hyundai offers attractive

financing and lease terms for maximum affordability. Contact Castlegar Hyundai to arrange a test drive.

CASTLEGAR

713 - 17th Street, Castlegar

(250) 365-5200

sales@castlegarhyundai.com

MVSA #30959

A note from

the publisher:

All obituaries run in the

Pennywise are at our

lowest rate, we provide

free colour, as well as

running your placement

for three weeks on our

website.

From there you are able

to share with friends and

family who may not be in

the area to pick up a copy.

Obituaries can be sent to karma@pennywiseads.com

or larissa@pennywiseads.com

250.353.2602

1.800.663.4619

Get a NEW START this SPRING!

2018 Ford Escape

AWD SEL 2.0L Eco Boost

82,415 kms#22EC8415A

SALE PRICE $29,500

2019 Ford F150 4x4

XLT 3.5L EcoBoost with

Max Tow Pkg 42,985 kms#22SD0288A

SALE PRICE $48,900

2019 Ford F150 4x4

Lariat, leather, loaded

56,195 kms #22LT2874A

SALE PRICE $59,500

DROP IN

TODAY

and

take

one

for a

TEST

DRIVE!

NEW

2021 Ford Ranger

4x4 XL STX Special Edition Pkg

18" black aluminum wheels #PW0799

SALE PRICE $44,989

2018 KIa Sportage EX AWD

112,440 kms#22MU8347A

SALE PRICE $25,800

2022 Ford Escape SE AWD

SE 200a Cold Weather Pkg,

1.5L Eco Boost #22EC7390

SALE PRICE $35,744

Nelsonfordsales.com

623 Railway Street, Nelson BC DL 28082

NEW

NEW

NEW

250-352-7202

1.888.955.5528

2022 Ford Escape SE AWD

200a Convenience Pkg,

1.5L Eco Boost #22EC1854

SALE PRICE $36,744

2022 Ford F150 4x4

Tremor Cancelled Order -

IN STOCK, BUY NOW!! #22LT5806

SALE PRICE $81,355

2022 Ford Edge AWD

S201a Cold Weather Pkg,

2.0L Eco Boost #22ED9079

SALE PRICE $47,944

Prices are + taxes & $699

admin fee. Financing

rates from 4.99% OAC

Services Services Services Services Services

General Services

RUBBISH REMOVAL & RECYCLE,

SNOW REMOVAL, estate removal,

gutter cleaning/sealing, moving,

deliveries, building demolition. 250-

231-9397.

SHARPENING SERVICE: Saws,

tools, scissors, knives, clipper

blades. C&D Sharpening Service,

250-365-3658.

VALHALLA SEPTIC SERVICES

LTD.: Fully insured for all your

residential and commercial septic

pumping needs. 778-454-2221.

VACUUM REPAIRS AND SALES:

Best prices in area. Belts and Bags.

Call 250-231-6041.

Gardening/Landscaping

*GLACIER VALLEY TREE CARE:

Local danger tree professionals.

Utility certified lift trucks. Whole

tree chippers. Stump grinding.

Pruning. Land clearing. Certified

arborists, fallers, assessors. Free

same day assessment and advice.

Certified & insured WCB. Jim Sipkes,

25yrs experience. 250-304-

3774, jim@glaciertree.com

Gardening/Landscaping

*AAATREEWORKSNELSON.COM

BY WYLEE WORKS INC: Serving

the West Kootenay since 2005. Professional

Tree Care and Wildfire

Protection. WCB Certified Fallers

and ITA Arborists. WorkSafe & Commercially

Insured. Large Residential

Removals, Selective Harvesting and

Wildlife/Hazardous Tree Assessments.

15˝ Tree Chipper, Stump

Grinder, 14´ Dumper Trailer and

4x4 John Deere Loader w/12,000lb

Winch. Free estimates. Wylee Charbonneau,

250-551-4672.

BEETLE'S STUMP GRINDING:

Why dig it when you can grind it!

Best rates, insured, free estimates.

Ben, 250-304-6963.

BETTER LAWN & GARDEN: Mowing,

trimming, weeding, deadheading,

installations, waste removal,

beach cleaning & more. 250-352-

7447 www.betterlawnandgarden.

com

CALL NOW TO BOOK YOUR

SPRING YARD WORK: Pruning,

aeration, and power raking. We also

provide scheduled seasonal mowing

and hedge trimming. Rick, 250-

687-1345 Bauman Enterprises.

Gardening/Landscaping

COLUMBIA TREE SERVICES/SIMS

CONTRACTING LTD: Call Pat Sims

for a free estimate for 60´ bucket

truck, chipping, climbing/rigging,

stump grinding, soil delivery. Certified,

Insured, WorkSafe. Thousands

of satisfied customers since 1980.

250-367-7939.

COW MANURE: Delivered by the

truck load, fresh and aged. Also straw.

Wayne Savinkoff, 250-226-BEEF.

EXPERIENCED LANDSCAPER:

Spring yard cleanup and pruning, you

supply the tools and dispose of cuttings,

$16/hr. Albert, 778-828-6333.

LOKI TREE SERVICE: Complete tree

& forest services. Certified Arborists

& Fallers. Hazardous Tree Removal,

Pruning, Chipping, Stump-Grinding,

Forest Management, FireSmart. No

job too big or small. 250-353-2405,

www.lokitree.com

YES YOU CAN ADVERTISE LAST

MINUTE DECISIONS WITH PEN-

NYWISE! Did you decide at the

last minute to have a Yard Sale?

Open House? Anniversary Party?

Call us right away at 1-800-663-

4619 to have your ad Live Loaded

to the Pennywise website or visit

www.pennywiseads.com to place

your ad online

YOU WILL FIND IT IN

PENNYWISE!

Gardening/Landscaping

SPRING HAS SPRUNG, and it's

spring yard cleanup again. Add

in some new soil or mulch! Thinking

of adding some new trees or

shrubs? Or a landscape redesign?

Please call for a free onsite quote.

Carrie @ Creative Cut Landscaping,

250-809-8971.

TOPSOIL & BEAUTY BARK

MULCH: $55/yd. Delivery available.

250-365-1632.

TREES COMPANY GARDEN SUP-

PLIES: Organic Fertilizers and Soil

amendments. Soil Mixes. Garden

seeds & cannabis seeds. Irrigation

pipe. Trickle irrigation supplies,

pumps & controllers. Greenhouse

poly, ground cover, crop cover,

shade cloth and much more. 7030

Powell Rd. Winlaw. Monday-Friday

9am-5pm, Saturday 10am-2pm till

June 30. 250-226-7334 or 1-800-661-

4461.

WINLAW EARTHWORKS: Excavating,

ditching, site/garden prep,

landscaping, ponds. Wildfire interface

fuel removal and access trails.

No job too small. Seniors Discounts.

Call 250-505-6042.

Health/Personal

GLASS HOUSE OPTICAL: 701

Front St, Nelson, 250-354-3937 and

Unit 2, 688 18th St, Castlegar, 250-

365-2026. Free sight testing at both

locations.

Health/Personal

ASSISTED LIVING IN AN EX-

CLUSIVE PRIVATE COUNTRY

SETTING! A brand new spacious

and sunny apartment w/patio and

excellent view. Professional and

caring support with an acute care

orderly/registered care aid on

site. Borders Salmo, BC with easy

access to the Nelson-Salmo Rail

Trail. For more info: 250-307-6043

or ron@bigbeartours.ca

NEW LOCATION: Red Clover Dental

is now located at 810 Vernon

St. Nelson. Accepting new patients.

250-352-5012.

SHADE TREE MASSAGE THERAPY

NOW WELCOMING new and returning

clients for therapeutic and

relaxation treatments. Clean, quiet,

professional office located in Winlaw.

Jessica Coonen, RMT 250-226-

6887, shadetreemassagetherapy@

fastmail.com

Notices Page

14 May 16, 2022 C Your local shopper N picture online: www.pennywiseads.com

Notice

ALL UKRAINIAN FUNDRAISING

CLASSIFIED ADS ARE FREE: Call

Pennywise 1-800-663-4619, 250-

353-2602 in Kaslo, or email to info@

pennywiseads.com

CASTLEGAR & DISTRICT HOSPI-

TAL AUXILIARY SOCIETY AGM:

Friday, June 3, 11am at Chances Casino,

100 Hall Rd, Castlegar.
---
Free to roam in your new home

2022 Forest River

R POD 193 Hood River

Travel Trailer

sleeps 5, 1 slideout,

Weight 3210 lbs

Bi-Weekly $158 Was $47,995

NOW ONLY $44,995

New 2022 Keystone

Cougar Fifth Wheel

24 RDS 1/2 TON

sleeps 4, 2 slideouts,

Weight 7350 lbs

Bi-Weekly $237 Was $74,995

NOW ONLY $71,995

VIN #11231

PLUS TAX

VIN #02085

PLUS TAX

sleeps 3, 1 slideout,

backup camera prep

Bi-Weekly $135 Was $44,995

NOW ONLY $40,995

on

wheels...

250-364-2323 Parts 250-364-1267 Toll Free 1-888-817-2323

NEW

NEW

See Rock Island RV for

NEW, USED Parts & MORE!

2021 Dutchmen Coleman

Rubicon 1608

Travel Trailer

2022 Keystone

Cougar 22 MLSWE

Travel Trailer

Sleeps 4

1 slideout

Weight 5,700 lbs

Was $64,995

NOW ONLY $60,995

VIN #12343

PLUS TAX

VIN#009876

PLUS TAX

Rock Island RV

NEW

NEW

2021 Forest River

2251 LE Class C

Motorhome

Sleeps 4 , 1 slideout,

backup camera, cruise control,

only 14,000 km!

Bi-Weekly $350

NOW ONLY $119,995

2021 Dutchmen Coleman

Rubicon

1628 BH

Travel Trailer

Sleeps 5,

Weight 3,560 lbs

Bi-Weekly $130 Was $44,995

NOW ONLY $38,995

2022 Keystone

Hideout 25 DBWE8

Travel Trailer

Sleeps 6

1 slideout

Weight 6,000 lbs

Bi-Weekly $164 Was $51,995

NOW ONLY $47,995

VIN #U99990

PLUS TAX

VIN#11221

PLUS TAX

VIN#45468

PLUS TAX

NEW

NEW

2022 Forest River

Surveyor Legend 19 BHLE

Travel Trailer

1 slideout

Sleeps 6,

Length: 23.7 ft.

NOW ONLY $48,995

2022 Keystone Cougar

5th Wheel

Sleeps 4,

2 Slideouts

weight: 7350 lbs

28.11 ft

Bi-Weekly $237 Was $74,995

NOW ONLY $71,995

2011 Tiffin Allegro

Bus Class A

Motorhome

Diesel

Only 34,500 km!

Sleeps 6, 37 ft.

NOW ONLY $269,995

8023 Old Waneta Road, Trail

www.rockislandrv.com DL#9096

VIN#112114

PLUS TAX

VIN #02085

PLUS TAX

VIN#U87251

PLUS TAX

NEW

Notices Page Education Animals Animals Automotive

Notice

DID YOU KNOW... Pennywise ad

payments (cash or cheques) can be

dropped off at And More Second

Hand Store, 1398 McQuarrie St,

Trail during regular store hours.

Questions? Call 1-800-663-4619.

Thank you, Pennywise.

THE KASLO BOAT CLUB AGM will

be held Wednesday May 25, 7pm at

Kaslo Seniors' Hall.

WE GRAHAM COMMUNITY SER-

VICES SOCIETY would like to invite

all members of the community to

attend our upcoming AGM on Thursday,

May 26 from 6-8pm. The meeting

will be held online via Zoom. The link

to register for the meeting is available

on our website www.wegcss.org Contact

250-355-2484 for queries.

Announcement

GILL & GIFT'S OPEN RAINBOW

DERBY, MAY 21-23: Prizes 50%, 30%

and 20% of Net. Tickets available at

Woodbury Resort and Gill & Gift, Balfour.

250-229-2113.

Obituary

In Memorium

THERE WILL BE A CELEBRATION

OF LIFE FOR KOHLE ON SUNDAY,

MAY 22 AT 2PM at the Kaslo beach,

(behind the skate park, somewhere

between the rock maze and the river.

Classes/Workshops

ARE YOU READY FOR A CAREER

IN THE TRADES? Applications are

open for courses in carpentry foundation,

millwright/machinist, plant

operator and welding. More info at

www.selkirk.ca/trades

COMMUNITY EDUCATION &

WORKPLACE TRAINING: Selkirk

College,1-866-301-6601.

www.selkirk.ca/ce

INTERESTED IN HELPING BUILD

HEALTHY COMMUNITIES? In-demand

and rewarding careers await.

Certificate, diploma and transfer

options available at Selkirk College.

For more details visit www.selkirk.ca/

school/human-services

NON-PROFIT LEADERSHIP

WORKSHOPS: Selkirk College, $10

per workshop. Full details at www.

selkirk.ca/ce/courses/non-profit-leadership-series

SELKIRK ADMISSION ON THE

SPOT: May 19 from 2-4pm. Attend

our virtual admission on the spot

event where you can have your application

processed immediately for

free! More details at www.selkirk.

ca/aos

Animals

Pets

BEAUTIFUL GERMAN/CAUCA-

SIAN SHEPHERD CROSS PUP-

PIES: Puppies will come with first

vet check, vaccination and deworming.

Available after May 1, $800/

ea. serious inquiries only. 250-304-

7904.

Pets

DIRTY DOGS DONE RIGHT: You

have a dog with shedding issues? I

can de-shed and groom your dog

from my seasonal backyard studio.

Small dogs also very welcome. All

grooms at least 20% discount from

salon prices. Pet Groomer, also certified

in Expert Animal Care. 250-512-

9513, goodwinjoleen1@gmail.com

F1 TRICOLOUR BERNEDOODLE

PUPPIES: Low to no shedding,

$1000-$3500. 250-505-1144.

MEET MAX: Max is an intact stray

who was trying to survive on his

own. Since coming into shelter, he

has become very affectionate. Max

likely won't be suitable for a home

with other cats and would prefer to

be the only man of the house. We

are unsure how he will be with children.

Call 250-509-0297, email rmcfaddin@spca.bc.ca

or visit westkootenay@spca.bc.ca

for more details.

PUREBRED MAREMMA PUPPIES:

Ready to go now! 250-365-7972.

N picture online: www.pennywiseads.com Where locals shop. May 16, 2022 15

Pets

USA - NEWFIE-PYR PUPPIES:

(Great Pyrenees x Newfoundland.)

Companion/ working dogs. Raised

with sheep, dogs, chickens, children.

1st vaccinations, health check,

dewormed, temperament tested,

ready May 23, starting at $950USD

each. www.HawesHeritageRanch.

com 509-850-0283.

Automotive

Cars

2010 CADILLAC AWD SPORT:

6.3L, 66,000kms, new tires, mint,

$19,000. 250-365-5481.

Trucks

2014 DODGE RAM 2500: Gas,

145,000kms, needs motor, first

$5000 owns it. Please contact 250-

608-2695 for viewing.

SUVs

CASTLEGAR HYUNDAI: Offers a

wide array of new & used vehicles.

We are a smaller lower-cost dealership

with big city selection. 713 17th

St, Castlegar. 250-365-5200.

RVs/Campers

18.5´ 1989 YUKON 5TH WHEEL:

Nice shape, $3000obo. 250-365-

7565.

RVs/Campers

2009 30' TRAIL-LITE TRAILER

(30RKU): Good condition, $15,000.

250-608-2695, Castlegar.

CUSTOM FLOW 5TH WHEEL

TAILGATE, fits 2009-2016 Ford,

$325; Husky 16T 5th wheel hitch,

$225. 250-365-3841.

ROCK ISLAND RV: Not only do we

have RVs but we also have used vehicles

and boats! 8023 Old Waneta Rd,

Hwy 3B, Trail BC. www.rockislandrv.

com

Motorcycles/ATVs

"STINGER" FOLDING MOTORCY-

CLE TRAILER: Used once, perfect

shape, new $2500, $2000 in Kaslo.

250-353-2244.

Heavy/Farm Equipment

HALVERSON 120 SKID STEER

MOUNT WOOD PROCESSOR:

Cut, splits a cord/hr, $13,000; 2016

JD320E Skid Steer, 1200 hours,

$42,000. Take them together for

$53,000. 250-777-1621.

Boats/Watercraft

WOODBURY RESORT MEMBER-

SHIP with 27.5´ Sea Ray boat w/

or without trailer, storage included

until Sept. 30, 2022. All can be sold

separately. Contact Orval, 780-679-

7682, 780-672-7671.

Auto Parts/Services

16˝ ALCOA RIMS: Ford Ranger

factory rims, set of 4, $400. 250-

304-8760.
---
JONI ASKEW

365-4731

REALTOR®

Office 250-365-2170

PROFESSIONALS

GET RESULTS

#110-1983 Columbia Avenue Castlegar, BC V1N 2W8

NIKKI JENSEN

365-2170

Unlicensed Assistant

Joni Askew Homeselling Team www.kootenayhomesales.com

Why not get

them both?

50%

Off Sale

705 30th Street

Castlegar

Potential plus, great square footage,

.99 acres.

MLS 2463070$419,900

259 35th Street

Castlegar

4 bedrooms, 2 full baths,

oversize garage, level lot.

MLS 2463792 $649,900

2015 Hwy 3A, Castlegar

Hobby farm between Nelson and Castlegar, sprawling rancher,

level 4.69 acres, plus great shop.

MLS 2463999 $899,900

595 Hwy 3A

Ootischenia

4.47 Acres, drilled well, foundation in

place, great views

MLS 2457080$399,900

C O MMERCIAL

330 Columbia Avenue

Castlegar

Well established hotel and restaurant,

great bottom line, downtown core

MLS 2462589 $1,300,000

1686 Mountain Ridge Road

Castlegar

High plateau above Robson,

12.74 acres, level, amazing views,

dissected by 3 roads.

MLS 2463881 $359,900

200 Lower Arrow Lake

Castlegar

Cabin in the woods, off the grid,

great sun exposure on 14.26 acres!

MLS 2463880 $239,900

C O MMERCIAL C O MMERCIAL

2513 Granite Road, Nelson

Mobile home park on 13.72 acres. Excellent long term tenants.

Unzoned property has a multitude of possibilities for future development

MLS 2464134 $1,100,000

Sale ends

June 15 th

2022

50% off a complete set of glasses

(frames and lenses, see in store for details)

All designer frames and all lenses included!

SOLD

2608 Columbia Avenue

Castlegar

Newer home with suite, great for a

home based business, lots of parking,

move in ready.

MLS 2462340 $629,900

SOLD

525 4th Avenue

Castlegar

Newer North Castlegar home,

move in ready, lane access, large deck

MLS 2462286 $549,900

SOLD

131 100th Street

Castlegar

Charming character home,

nice lot, double garage,

quiet neighbourhood.

MLS 2463441 $449,000

SOLD

709 28th Street

Castlegar

Nicely renovated, large family room, 2

bedroom suite, garage.

MLS 2462431 $539,900

SOLD

1030 Frances Street

Castlegar

One level living, fully fenced yard,

massive shop

MLS 2462269 $349,000

Tuesday-Friday 10am-5pm

Saturday 10am - 4pm

Free sight testing both locations

*See in store for details. Some restrictions apply.

701 Front St, Nelson

250.354.EYES (3937)

Unit 2, 688 18 th St,

Castlegar • 250.365.2026

Near Common Grounds Coffee Shop

SOLD

1914 Martin Street,

Fruitvale

Easy care living, close to downtown,

covered parking

$345,000

Automotive Automotive Real Estate

Auto Parts/Services

SELLERS!

SELL YOUR HOME TO ONE OF OUR

PRE-APPROVED BUYERS AND ONLY

PAY HALF THE FEE!

BODY WORK AND PAINT SPE-

CIALS: Paint jobs, satin finish, base

clear, single stage and specialized

coatings. 40+yrs experience. Pickup &

delivery available. Can accommodate

major equipment. 778-206-0969, local.

BORDERLINE TRANSMISSIONS is

your automatic transmission specialist.

Ed Batt Owner/Operator has over

45 years of rebuilding experience.

250-368-3231.

C & G TRANSMISSIONS: Your local

West Kootenay transmission shop.

Services all transmissions, transfer

cases & differential repairs. Bonnington,

250-505-7632.

FOR A FREE 30 MINUTE

IN-PERSON CONSULTATION

PLEASE CALL 250-365-2170.

Auto Parts/Services

FOUR 265/70R17 WINTERS on

Dodge rims, excellent condition,

$750. 250-353-2244, Kaslo.

IS IT TIME TO BRING YOUR CAR

IN FOR SERVICE? AM Ford has you

covered. We have a wide range of

maintenance and services available

in our service center. 2795 Highway

Dr, Trail, BC. 1-800-961-0202.

SCRAP KING AUTO WRECKING

AND TOWING: Salmo's one-stop

shop for any used auto part. www.

scrapkingauto.com

SET OF FOUR 19´ CHROME RIMS:

Good condition, $800obo. 250-365-

6759.

Real Estate

Agents

BUY AND SELL ON YOUR OWN

TERMS! Explore how you could save

thousands on commission. www.

propertyguys.com

BUYERS!

Agents

SOLD

969 Edgewater Place

Castlegar

Executive home, dream kitchen,

almost half acre level lot,

fully fenced back yard

MLS 2463659 $899,900

BECOME ONE OF OUR VIP BUYERS

ENJOY THE BENEFITS OF OUR

EXCLUSIVE SELLER LIST.

DID YOU KNOW THERE IS A WAY

TO SELL YOUR HOME conditional

on finding and securing your future

home? Call for a free no obligation

market valuation of your home.

Thinking of buying or selling? Contact

Sarah Rilkoff Valhalla Path Realty,

250-509-0006.

LOCALLY OWNED, COMMUNITY

MINDED: Castlegar Realty Ltd, 1761

Columbia Ave, 250-365-2166. www.

castlegarrealty.ca

THINKING OF SELLING? Give us a

call today! Century 21 Mountainview

Realty Ltd. 250-365-2111.

WHAT'S YOUR HOME WORTH?

Free, quick, over the net home evaluation.

www.joniaskew.com/homeeval

ALERT, PHONE NUMBER SCAM:

Please be aware of a phone number

scam using 1-800-353-2602. This is

NOT the Pennywise number. If you call

it in error, do not follow the instructions,

hang up. Thank you. Pennywise.

Real Estate

Commercial

SKYWAY HARDWARE

SALMO, BC: Serving since

1985. Flowers to Building

Supplies, $1,000,000+

sales. Real Estate and Business:

$1.15 million. Larry

Martin, 250-357-9911.

www.skywayhardware.wixsite.com/mysite

Land

USA - WATERFRONT LOT

FOR SALE on Lake Cocolalla.

1.7 acres with 104'

of lake frontage, has power

and community septic

hookup on lot line and private well.

Easy access off Hwy 95 at mile marker

461. Level building site, conveniently

located between Sandpoint and

CdA. Great lake and mountain views,

$399,000USD. 208-610-5605.

Rentals

Residential Rentals

HELLO OUT THERE! NEEDING a 2bdr

home/suite/loft in Nelson area, (not

in town) for June 1. Artist mom 62,

daughter & son 17 & 20, loves life's

beauty, gardening, light, forest and

quiet. In Kootenays 21yrs, 9yrs at previous

home, excellent references, ns/

np. Please call Lisa, 250-352-5898. Tx.

Commercial Rentals

5000SQ.FT. SHOP INCLUDES HIGH

TRUCK BAY: 3 phase power, 10 acres

flat cleared storage land, great Hwy

frontage at 6051 Hwy 3, Salmo BC.

Covered outdoor butler work area.

Could be shared and/or multiple

lease areas: equipment storage, light

industrial, fabrication, mechanical

shop, etc. 604-802-7551.

Rentals

Commercial Rentals

4200SQ.FT OFFICE AND SHOP

AREA in Genelle, BC. Available May

2022. Please call 250-231-2346 for

more information.

NEW COMMERCIAL KITCHEN FOR

RENT IN SALMO: Half day or full day

rates. Discount for regular bookings.

www.for-rest.ca/commercial-kitchen

Shared Accommodation

QUIET PERSON TO SHARE 2bdr

modern, furnished apartment,

$550/mo. +utilities, June 1. 250-352-

0486.

Seniors

Discounts

SENIORS DAY 2/1 ELECTRIC

BIKE RENTALS EVERY MONDAY:

Please book by Saturday so we can

have a bike ready to go. Call Neil

at 250-300-7923 or book online at

www.kaslo E-Kruise.com

SENIORS RECEIVE 10% OFF supplement

purchases at Sunnyside

Naturals everyday. 404 Front St,

Kaslo, 250-353-9667.

SENIORS! SHOP THE FIRST

WEDNESDAY OF EVERY MONTH

and receive 10% off your purchase.

Some exclusions apply. Kaslo Front

Street Market, 411 Front St, 250-

353-2331.

SMALL ENGINE TUNE-UPS AND

REPAIRS: All makes and models.

Mowers/riders, chainsaws, etc.

Senior Discount offered. 250-365-

0005.

16 May 16, 2022 C Your local shopper N picture online: www.pennywiseads.com