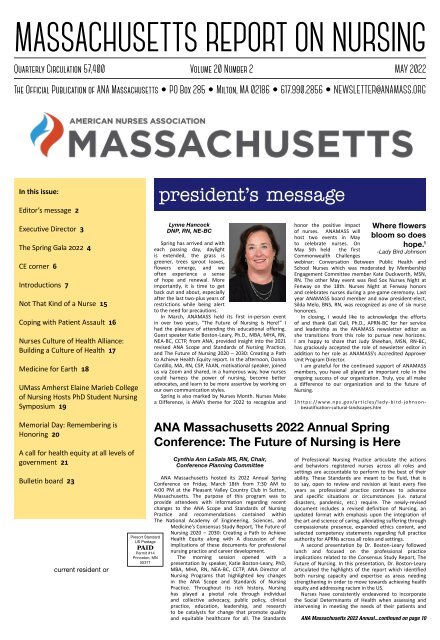 Massachusetts Report on Nursing - May 2022
You also want an ePaper? Increase the reach of your titles
YUMPU automatically turns print PDFs into web optimized ePapers that Google loves.
MASSACHUSETTS REPORT ON NURSING

Quarterly Circulation 57,400 Volume 20 Number 2 MAY 2022

The Official Publication of ANA ong>Massachusettsong> • PO Box 285 • Milton, MA 02186 • 617.990.2856 • NEWSLETTER@ANAMASS.ORG

In this issue:

Editor's message 2

president's message

Executive Director 3

The Spring Gala 2022 4

CE corner 6

Introductions 7

Not That Kind of a Nurse 15

Coping with Patient Assault 16

Nurses Culture of Health Alliance:

Building a Culture of Health 17

Medicine for Earth 18

UMass Amherst Elaine Marieb College

of Nursing Hosts PhD Student Nursing

Symposium 19

Lynne Hancock

DNP, RN, NE-BC

Spring has arrived and with

each passing day, daylight

is extended, the grass is

greener, trees sprout leaves,

flowers emerge, and we

often experience a sense

of hope and renewal. More

importantly, it is time to get

back out and about, especially

after the last two-plus years of

restrictions while being alert

to the need for precautions.

In March, ANAMASS held its first in-person event

in over two years, "The Future of Nursing is Here!" I

had the pleasure of attending this educational offering.

Guest speaker Katie Boston-Leary, Ph.D., MBA, MHA, RN,

NEA-BC, CCTP, from ANA, provided insight into the 2021

revised ANA Scope and Standards of Nursing Practice,

and The Future of Nursing 2020 – 2030: Creating a Path

to Achieve Health Equity report. In the afternoon, Donna

Cardillo, MA, RN, CSP, FAAN, motivational speaker, joined

us via Zoom and shared, in a humorous way, how nurses

could harness the power of nursing, become better

advocates, and learn to be more assertive by working on

our own communication styles.

Spring is also marked by Nurses Month. Nurses Make

a Difference, is ANA's theme for 2022 to recognize and

honor the positive impact

of nurses. ANAMASS will

host two events in May

to celebrate nurses. On

May 5th held the first

Where flowers

bloom so does

hope. 1

-Lady Bird Johnson

Commonwealth Challenges

webinar: Conversation Between Public Health and

School Nurses which was moderated by Membership

Engagement Committee member Kate Duckworth, MSN,

RN. The other May event was Red Sox Nurses Night at

Fenway on the 18th. Nurses Night at Fenway honors

and celebrates nurses during a pre-game ceremony. Last

year ANAMASS board member and now president-elect,

Silda Melo, BNS, RN, was recognized as one of six nurse

honorees.

In closing, I would like to acknowledge the efforts

of and thank Gail Gall, Ph.D., APRN-BC for her service

and leadership as the ANAMASS newsletter editor as

she transitions from this role to pursue new horizons.

I am happy to share that Judy Sheehan, MSN, RN-BC,

has graciously accepted the role of newsletter editor in

addition to her role as ANAMASS's Accredited Approver

Unit Program Director.

I am grateful for the continued support of ANAMASS

members, you have all played an important role in the

ongoing success of our organization. Truly, you all make

a difference to our organization and to the future of

Nursing.

1https://www.nps.gov/articles/lady-bird-johnsonbeautification-cultural-landscapes.htm

Memorial Day: Remembering is

Honoring 20

A call for health equity at all levels of

government 21

Bulletin board 23

current resident or

Presort Standard

US Postage

PAID

Permit #14

Princeton, MN

55371

ANA ong>Massachusettsong> 2022 Annual Spring

Conference: The Future of Nursing is Here

Cynthia Ann LaSala MS, RN, Chair,

Conference Planning Committee

ANA ong>Massachusettsong> hosted its 2022 Annual Spring

Conference on Friday, March 18th from 7:30 AM to

4:00 PM at the Pleasant Valley Country Club in Sutton,

ong>Massachusettsong>. The purpose of this program was to

provide attendees with information regarding recent

changes to the ANA Scope and Standards of Nursing

Practice and recommendations contained within

The National Academy of Engineering, Sciences, and

Medicine's Consensus Study ong>Reportong>, The Future of

Nursing 2020 – 2030: Creating a Path to Achieve

Health Equity along with A discussion of the

implications of these documents for professional

nursing practice and career development.

The morning session opened with a

presentation by speaker, Katie Boston-Leary, PhD,

MBA, MHA, RN, NEA-BC, CCTP, ANA Director of

Nursing Programs that highlighted key changes

in the ANA Scope and Standards of Nursing

Practice. Throughout its rich history, Nursing

has played a pivotal role through individual

and collective advocacy, public policy, clinical

practice, education, leadership, and research

to be catalysts for change that promote quality

and equitable healthcare for all. The Standards

of Professional Nursing Practice articulate the actions

and behaviors registered nurses across all roles and

settings are accountable to perform to the best of their

ability. These Standards are meant to be fluid, that is

to say, open to review and revision at least every five

years as professional practice continues to advance

and specific situations or circumstances (i.e. natural

disasters, pandemic, etc.) require. The newly-revised

document includes a revised definition of Nursing, an

updated format with emphasis upon the integration of

the art and science of caring, alleviating suffering through

compassionate presence, expanded ethics content, and

selected competency statements regarding full practice

authority for APRNs across all roles and settings.

A second presentation by Dr. Boston-Leary followed

lunch and focused on the professional practice

implications related to the Consensus Study ong>Reportong>, The

Future of Nursing. In this presentation, Dr. Boston-Leary

articulated the highlights of the report which identified

both nursing capacity and expertise as areas needing

strengthening in order to move towards achieving health

equity and addressing racism in the US.

Nurses have consistently endeavored to incorporate

the Social Determinants of Health when assessing and

intervening in meeting the needs of their patients and

ANA ong>Massachusettsong> 2022 Annual...continued on page 10
---
2 • ong>Massachusettsong> ong>Reportong> on Nursing May 2022

editor's message

Transitions

Gail B Gall PhD, RN

Please welcome Judy

Sheehan as the new editor of

the MA ong>Reportong> on Nursing.

Judy brings a great deal of

knowledge and talent to this

role and will continue her

work as Program Director

for the ANAMASS Accredited

Approver Unit.

I've greatly enjoyed

the experience of editing

our quarterly newsletter,

particularly in meeting so many nurses who write,

learning so much more about what nurses in MA and

RI do, and collaborating with a great team including the

ANAMASS staff, organizational leaders, and newsletter

committee members.

Hoping to continue the "Introduction" column for new

members and an occasional piece on our profession.

Editors' Welcome

Judy L. Sheehan MSN,

RN-BC

I believe in the power

of words. Words build

community, re-ignite

compassion, soothe the

wounded, and give voice

to the silent. Words can

also cause discord, change

friends to enemies, alienate

or victimize. As a psychiatric

nurse and clinical educator,

Judy L. Sheehan

CORRECTION

Our apologies to Dr. Sheila Davis, Dr. Karen

Devereaux Melillo, Dr. R. Gino Chisari and Ms. Eileen

Sporing for the misplacement of the ANAMASS

Living Legend banners in the February, 2022

MASSACHUSETTS REPORT ON NURSING.

The ANAMASS Living Legends 2021 banner over

Drs. Davis and Devereaux should have read 2020.

And the ANAMASS Living Legends banner over Dr.

Chisari and Ms. Sporing should have read 2021. Our

apologies for this error and any issues that might

have been created by this oversight. The Newsletter

Committee.

I have made a lifelong commitment to use words wisely

promoting health and wellbeing whenever possible.

Thus, I am happy to accept this role as newsletter editor

because I see it as another avenue to ensure words are

used well. Gail is a hard act to follow, but I am grateful

for the opportunity to give it a try. I invite you to join

me to strengthen and build our nursing community.

Submit articles about your experience in nursing, the

discoveries you are excited about, the goals you set, the

achievements you have or hope to attain. I am looking

forward to discovering with you and celebrating together.

Warm regards,

Judy L. Sheehan MSN, RN-BC, Editor

Receiving this newsletter does not mean that you are an

ANAMASS member. Please join ANA ong>Massachusettsong> today and

help promote the nursing profession.

Board of Directors

President

Lynne Hancock, DNP, RN, NE-BC

President Elect

Silda Melo, BS, RN

Secretary:

Janet Monagle, PhD, RN, CNE

Treasurer:

Christina Saraf, MSN, RN

Directors

Donna Begin, DNP, RN, NE-BC

Chris Caulfield, MSN, RN, NP-C

Nirva B. Lafontant, PhD, RN

Eilse Pierre-Louis, BSN, RN

Ekta Srinivasa, RN, PhD

New Grad Directors:

Gabriella Louis, RN, BSN

Jenny Shi, RN, BSN

Committee Chairs

Approver Unit:

Jeanne Q. Gibbs, MS, RN, chair emerita

Co-Chairs: Pamela Corey, EdD, MSN, CHSE, RN

Arlene Stoller, MS, RN-C, ACNS-BC, GCNS, CDP, RN-C

Awards and Living Legends:

Maura Fitzgerald, MS, RNC

Bylaws:

Mary McKenzie, EdM, MS, RN

Conference Planning:

Cynthia LaSala, MS, RN

Health Policy:

Co-Chairs: Regina Mood, BSN, ACM, RN

Christine Schrauf, PhD, MBA, RN

MA ong>Reportong> on Nursing:

Judy L. Sheehan, MSN, RN-BC

Nominations:

Julie Cronin, DNP, OCN, NE-BC, RN

Membership Engagement Committee

Co-Chairs: Janet E. Ross, MS, RN, PMHCNS

Deborah Gavin, BSN, RN, PMH-BC

~ ANA ong>Massachusettsong> Staff ~

Executive Director

Cammie Townsend, DNP, MS/MBA, RN

Office Administrator

Lisa Presutti

Accredited Approver Program Director

Judy L. Sheehan, MSN, RN-BC

For advertising rates and information, please contact Arthur

L. Davis Publishing Agency, Inc., PO Box 216, Cedar Falls,

Iowa 50613, (800) 626-4081, sales@aldpub.com. ANA

ong>Massachusettsong> and the Arthur L. Davis Publishing Agency, Inc.

reserve the right to reject any advertisement. Responsibility

for errors in advertising is limited to corrections in the next

issue or refund of price of advertisement.

Acceptance of advertising does not imply endorsement or

approval by ANA ong>Massachusettsong> of products advertised, the

advertisers, or the claims made. Rejection of an advertisement

does not imply a product offered for advertising is without

merit, or that the manufacturer lacks integrity, or that this

association disapproves of the product or its use. ANA

ong>Massachusettsong> and the Arthur L. Davis Publishing Agency, Inc.

shall not be held liable for any consequences resulting from

purchase or use of an advertiser's product. Articles appearing

in this publication express the opinions of the authors;

they do not necessarily reflect views of the staff, board, or

membership of ANA ong>Massachusettsong> or those of the national or

local associations.

ong>Massachusettsong> ong>Reportong> on Nursing is published quarterly every

February, May, August and November for ANA ong>Massachusettsong>,

P.O. Box 285, Milton, MA 02186, a constituent member of the

American Nurses Association.
---
May 2022 ong>Massachusettsong> ong>Reportong> on Nursing • 3

executive director

Inge B. Corless, PhD, RN, FAAN

First of all, congratulations on being invited to serve on

this important Commission.

1. Tell us about the National Commission to Address

Racism in Nursing and what lead to your involvement

in this Commission?

Launched on January 25, 2001, the National

Commission to Address Racism in Nursing has as its'

purpose to:

1. "Examine the issue of racism within nursing

nationwide:"

2. "Describe the impact on nurses, patients,

communities, and health care systems"

3. "Motivate all nurses to confront systemic racism." 1

Members of the Commission from ong>Massachusettsong>

include Dr. Karen Daley, former President of ANA

representing the American Nurses Foundation and Dr.

Carmela Townsend representing the ANA Eastern Region

of ANA's Constituent and State Nurses Associations

(ESREC) which includes CT, DE, MA, MD, ME, NH, NJ,

NY, PA, RI, and VT, and as the Executive Director of ANA

ong>Massachusettsong>.

When I learned about the opportunity to represent

the ANA Eastern Region of Constituent and State Nurses

Associations (ESREC), I volunteered to do so. This work

is so important, and it fit perfectly with the body of

research I've been working on for ten years with Dr.

Gaurdia Banister and Dr. Alyssa Harris. I have been

privileged to be present for focus groups as part of that

research where nurses felt comfortable enough to share

their experiences of racism with me as an investigator.

It was a unique experience to be the only Caucasian

or white nurse in the group and bear witness to those

sharing their experiences. At the same time, it was

uplifting and hopeful as I could see these young nurses

becoming leaders in our profession. I wanted to facilitate

bringing their voices to this Commission and bringing the

Commission's work back to the nurses of ong>Massachusettsong>

and ESREC.

2. Have you had any specific responsibilities with the

Commission?

I have served on the Policy sub-committee. We have

worked on developing strategies to actively address

racism within the policy arena, including addressing

issues of leadership and the use of power. The

incorporation of an antiracism point of view into policy,

procedures, and practices that govern decision-making

is critical to eliminating the long-standing lag in bringing

change to problems of bias, discrimination, and racism in

the profession.

3. How did the Commission crystalize its' focus?

The Commissioners worked on creating a new

definition of racism after considering existing definitions.

Through a series of listening sessions, hearing the

Commissioner's own stories, and thorough review of

current research and contemporary social media, the

Commission defined racism as: Assaults on the human

spirit in the form of actions, biases, prejudices, and an

ideology of superiority based on race that persistently

causes moral suffering and physical harm of individuals

and perpetuates systemic injustices and inequities.

4. Why did the Commission use the Strategy of

Listening Sessions?

Listening Sessions were used to collect nurses'

personal stories of the racism experienced in their

careers. The listening session questions were designed

to explore the challenges and barriers caused by racism

within the profession; workplace culture; equity,

and inclusion; sources for support; solutions; and

recommendations for allyship. The sessions captured

the voices of BIPOC nurses who had experienced racism,

and the profound effects it has had on their professional

practice and advancement within the profession.

These comments are eerily similar to the comments I

heard during focus groups in my previous research, and

so distressing to me that our profession is still, in 2022,

allowing these behaviors to occur.

5. What other strategies were used by the Commission

to capture data on racism?

The Commission also launched a national survey

in October 2021 to understand racism in nursing. The

results made it clear that racism is a pervasive and

acute issue in our profession that we need to address

immediately. Three out of four nurses have witnessed

racism in the workplace and 63% of respondents

personally experienced racism. Although 57% of the

nurses who responded to the survey said that they have

challenged racism in the workplace, more than half

(64%) of those nurses said their efforts resulted in no

change. Most Black nurses who responded (72%) say

that there is a lot of racism in nursing compared to 29%

of White nurse respondents. The majority (92%) of Black

respondents have personally experienced racism in the

workplace from their leaders (70%), peers (66%) and the

patients in their care (68%). For more information on the

survey results, please click here .

6. What are the next steps for the Commission?

The Commission was intended to be a time-limited

group and charged with examining the issue of racism and

describing its impact in nurses, patients, communities,

and healthcare systems to motivate all nurses to confront

systemic racism. We are in the process of finalizing

our foundational report which will cover the historical

context of racism in nursing, the contemporary context

of racism in nursing, and how racism shows up in four

target areas: Education, Policy, Practice and Research.

A draft of this document was widely circulated January-

February, and the target publication date is May 6, 2022,

in celebration of the anniversary of Mary Eliza Mahoney's

Birth.

In the meantime, the Commission is also working on

several other ways to disseminate its work, including:

• Developing Quick Video series on Anti-racist

Behaviors

• Project ECHO on Racism in Nursing education

series

• Virtual Forum on Racism in Nursing

• Navigate Nursing webinar

7. What have you learned that you would like to see

implemented in ong>Massachusettsong>?

If only I had unlimited time and resources!! On a

positive note, for many years the ANAMASS BOD has

been diverse, and it continues to be so, which I think

makes us a stronger organization. A number of our

members have gone on to national office in both ANA

and other professional associations. We are proud that

the first new scholarship established by the FNAMA was

the Scholarship to Advance Diversity in Nursing, and that

we are partnering with IntelyCare to fund this scholarship

in the future, especially as they provide staffing solutions

in post-acute skilled nursing facilities where there is

currently a significant staffing shortage.

I will continue to bring the findings and best

practices from the Commission to not just ANAMASS

members, but also the RNs of the Commonwealth via

the ong>Massachusettsong> ong>Reportong> on Nursing and our social

media channels. The information from the survey has

already been useful in informing the association and

legislators on the importance of supporting S.1388 An Act

establishing health equity at all levels in government, as

that legislation can be utilized as a model, for example, to

examine the effect of funding loan repayment programs

for nurses or tax credits for preceptors and benefits such

programs might have on BIPOC nurses and health equity.

At ANAMASS we have been reaching out to our

sister organizations such as the Cape Verdean Nurses

Association, New England Regional Black Nurses

Association, Philippine Nurses Association of New

England, and others to share educational opportunities

and invite participation in the upcoming Regional

Forums Moving from Surviving to Thriving: Resetting,

Recentering, Restoring Ourselves. ANAMASS will be

convening a President's Roundtable early this summer

to discuss the Commission ong>Reportong> with the professional

nursing associations from across the state and how we

can collaborate together to address the issue of racism.

1. Background, National Commission to Address Racism in

Nursing
---
4 • ong>Massachusettsong> ong>Reportong> on Nursing May 2022

The Spring Gala 2022

The ANA ong>Massachusettsong>/Foundation for the Advancement of Nursing in

ong>Massachusettsong> held the Award dinner on April 8 at the Royal Sonesta Hotel in

Cambridge, ong>Massachusettsong>. The sponsors and award recipients deserve a special

"Thank you" for making the event special for everyone.

Amber Smith, Medtronic

ANAMASS BOD cutting loose at the Gala (l-r) Nirva Berthold Lafontant,

Christina Saraf, Chris Caulfield, ED Cammie Townsend,

President Lynne Hancock, Donna Begin, and Janet Monagle

Marissa Thomas (2021 Excellence in Nursing Practice)

Dr. Sherley Belizaire (2020 Mary A. Manning

Mentoring Award)

Living Legend Gloria Cater (in pink in the Center) and her many family and friends!
---
May 2022 ong>Massachusettsong> ong>Reportong> on Nursing • 5

Governor Charlie Baker with Living Legends

(l-r) Elaine Tagliareni, Gloria Cater, Karen Melillo, Governor Baker,

Eileen Sporing, Gino Chisari (not pictured Sheila Davis)

Foundation to Advance Nursing in ong>Massachusettsong> (FNAMA) Scholarship to

Advance Diversity in Nursing Scholarship Recipients:

(l-r) Aubrey Griffin, Governor Baker, Carolina Robertson, Casey Crawford

(IntelyCare Sponsored Scholarship)
---
6 • ong>Massachusettsong> ong>Reportong> on Nursing May 2022

CE corner

Focus on The Nursing

Professional Development Criteria

Jeanne Gibbs, Arlene Stoller, Pamela Corey, and Judy Sheehan

Question: The new integrity standards require the nurse planner to determine

whether anyone in a position to control content (planners and nurse planners,

speakers, authors, content experts) be evaluated for having financial relationships

with ineligible organizations. What is an eligible vs an ineligible company?

Answer: The following definitions are included in the new materials recently

developed by the ANA ong>Massachusettsong> Accredited Approver Unit Team. These are

referenced from ANCCC and ACCME.

• Eligible Organizations - Mission and function are: 1) Providing clinical services

directly to patients, 2) the education of healthcare professionals, or 3) serving

as fiduciary to patients, the public or population health and other organizations

that are not otherwise ineligible.

o

Examples include providers of healthcare services, blood banks, medical

record companies, etc.

• Ineligible Organizations - Companies whose primary business is producing,

marketing, selling, re-selling, or distributing healthcare products used by or on

patients.

o

o

Examples include pharmaceutical or medical supply companies, distributers

of breast pumps or herbal remedies, manufacturers of nutritional

supplements etc.

Owners and employees of ineligible companies are considered to have

unresolvable financial relationships and must be excluded from all aspects

of educational activities

Consultants and Independent Contractors are not considered employees and are

allowed to participate in the nursing continuing professional development activities.

This relationship must be evaluated, disclosed, and may require mitigation.

Question: What mitigation strategies can be implemented for those who have

financial relationships to ineligible organizations but are not employees or owners?

Answer: A financial relationship must first be evaluated: Is it relevant to the content

and will there be a potential for bias? If so, then the presentation can be screened

ahead of time, an agreement to avoid bias can be signed or the person can recuse

themselves from that part of the program. Whatever mitigation strategy is used, the

relationship must be provided to the participants in a disclosure prior to the start of

the program. The disclosure must include the name of the person, the name of the

ineligible organization and the fact that it has been mitigated.

The ANA ong>Massachusettsong> Accredited Approver Unit distributed new informational

packets along with new templates to the Approved Provider Units in March. If you have

not received this may contact info@anamass.org. Webinars and trainings are being

planned for late May, June and throughout the summer to assist educational providers

learn to meet the new criteria.
---
May 2022 ong>Massachusettsong> ong>Reportong> on Nursing • 7

Introductions

Meet Julika Wocial

Interview by Inge B. Corless, PhD, RN, FNAP, FAAN

Julika Wocial, RN, MS, BSN, Staff Nurse, Cardiac ICU,

Tufts Medical Center

Julika, why did you decide to become a nurse and what

is your current nursing position?

My journey to nursing is long and complex. I have always

been compassionate and empathetic, and I have had a keen

interest in the human body and its physiology. I thought

about going to medical school when I was in high school,

but my other passion, marine biology, steered me towards

obtaining my graduate degree in biological oceanography

and then spending over 15 years of my life working in the

field of marine mammal and sea turtle rescue and research.

Even though I considered my career extraordinary and

meaningful, I felt like my life wasn't fulfilled. Then, in Julika Wocial

2016, I had a unique experience of donating a kidney to a colleague of mine, a whale

researcher from Woods Hole Oceanographic Institution (you can read about our story

here: https://www.huffpost.com/entry/from-chronic-kidney-disea_b_11866250) This

experience gave me the courage to leave my marine biology career and become a

Registered Nurse. I now work in a cardiac ICU at Tufts Medical Center, where I did my

novice RN orientation. I am absolutely loving my new job and, most importantly, my

colleagues.

As a relatively new nurse, what do you find most challenging?

I now have two years under my belt as a new grad, and what I found challenging

at first is different from what I am finding challenging now. Unfortunately, the COVID

pandemic lockdown happened the day after I started my orientation, so my nursing

career has been heavily affected by COVID on many fronts. I have worked with more

COVID than cardiac patients in those two years, even though I am a cardiac ICU nurse.

The first six months were difficult because of the astronomical, and, what appeared

to be, limitless, learning curve. I was mastering not only how to be a nurse, but also

how to be an ICU nurse, and, on top of that, all the new COVID protocols that were

sometimes changing on a daily basis. Right now, I consider myself comfortable with the

ICU setting, but I am still learning the cardiac "devices" – Impellas, Intra-Aortic Balloon

Pumps, centrimags, CVVH, etc. I have also, just last week, experienced my own patient

coding and dying. It is very different from other codes, and it took me a while to recover

from this event. I do want to mention that our team, and our manager, charge nurse

and educator, are some of the most amazing and supportive people I know, and it is

only thanks to them that I can go to work and know that no matter what happens, I will

be okay.

Since the Russian invasion of Ukraine, however, my Polish identity has woken up,

and I felt like I should be in Poland, helping, instead of here, in safety. I grew up under

a Russian regime as a child, and I still remember taking Russian at school, and books

highlighting the "greatness" of Stalin. When my Mom called me the other week and

told me about her plans of taking in two Ukrainian refugee families with children and

pets, I saw it as an opportunity to help. My Mom is a retired teacher and lives on a

modest fixed income. She is fortunate enough to have the space she can offer to these

families; however, she does not have the means to support them while they live there

indefinitely. This is what inspirated me to start a fundraising campaign, so that I could

help my Mom, and other people, financially, and provide these and other refugee

families with a safe life in Poland.

Is there anything we can do to help?

Yes, anyone can donate to help support the refugee families who will be staying

with my Mom, and with other people in Poland. A donation will go towards paying for

their utilities, food, personal hygiene items, baby diapers, baby formula, dog food, and

anything else that they need.

You can donate in three different ways:

• Online at GoFundMe: https://gofund.me/0e0ac498

• Via Venmo @ Julika-Wocial

• Or by mailing a check to:

Julika Wocial

132 W. Meadow Rd., Unit 15

Haverhill, MA 01832

I know the readers of this Newsletter wish you and your mother well. Thank you so

much for sharing your journey into nursing and your mother's efforts with Ukrainian

refugees.

I understand you're a writer as well as a nurse. What have you written about?

I have been writing since I was a nursing student. I mostly write about my

experiences as a new nurse, and about the feelings and emotions that accompany

them. I do have the heart of an empathic person, and seeing so much death, illness

and suffering among my patients and their families takes a huge emotional toll on

me. Writing helps me process what I see and experience. As I am passionate about

pathophysiology, I often incorporate pathophysiological processes occurring in my

patients' bodies into my writing, and I sometimes share these journals with my students

to help them develop clinical reasoning and clinical judgement skills. I do hope, one day,

to publish my journals in some form.

My name (Inge) is not a typical American name and I was born abroad. Is that the

case for you and do you have any family abroad as I do?

Yes, I was born and raised in Warsaw, Poland, and only emigrated to the United

States in my early 20s after I had graduated from Gdansk University with an

oceanography degree. My mom, sisters, and other family members all live in Poland

and Sweden. I only have extended family in this country. I always dreamed about

working with cetaceans – whales and dolphins – and this is why I decided to leave

Poland and come to America, to have more job opportunities. I came here with nothing

more than one suitcase and got to where I am today with the help and support from

others, for which I will be forever grateful. It hurts me to think how now the Ukrainian

refugees are fleeing their country, also with one suitcase, but for reasons so different

than mine, and under circumstances that are unfathomable.

Is it challenging to be separated from your family and when did you last see them?

I do miss my family, however, before the COVID pandemic my Swedish family (my

uncle and aunt) would usually come and visit me once a year, and I would occasionally

go to Poland to see my Mom, sisters, nephews and nieces. My last visit home was

in September 2019 after I graduated from nursing school. Additionally, modern

technology makes is easy to keep in touch and see everyone virtually and working two

jobs and going to school for my MSN degree keeps me busy enough to not have time to

miss them too much.
---
8 • ong>Massachusettsong> ong>Reportong> on Nursing May 2022

On Focus

Academy of Nursing

Interview by

Inge B. Corless,

PhD, RN, FNAP, FAAN

Interview with Dr. Gaurdia

Banister PhD RN NEA-BC

FAAN, Executive Director of

the Institute of Patient Care

at ong>Massachusettsong> General

Hospital.

I.C. Q.1. Dr. Banister

(G.B.), I have heard you

say we need more Fellows

from ong>Massachusettsong> in the Dr. Gaurdia Banister

American Academy of Nursing. What is the focus of the

Academy and when was the Academy founded?

G.B. To be precise and as the web-site states "The

American Academy of Nursing (AAN) was charted in 1973

to advance knowledge, education, and nursing practice."

Today, the focus of the Academy has expanded to "serve

the public and the nursing profession by advancing health

policy and practice through the generation, synthesis, and

dissemination of nursing knowledge" (AAN, 2021).

I.C. Q.2. Is the Academy simply an honorific or do the

members do something as a group?

G.B. The Academy's more than 2,900 members are

known as Fellows, collaborate as members of Expert

Panels to "create evidence-based, policy-related

initiatives to advance the provision of health care"

(AAN). The 24 Expert Panels include: Acute & Critical

Care; Bioethics; Breast Feeding; Cultural Competence

and Health Equity; Emerging Infectious Diseases;

Environmental and Public Health to name a few. There

are Panels for a range of current issues and interests.

And, of course, as a Fellow, if there isn't an expert Panel

which relates to your interest, just gather a few likeminded

Fellows and propose a new Expert Panel.

Academy Fellows also collaborate with health care

leaders outside the Academy to improve health care

systems by:

1. "Enhancing the quality of health and nursing care,

2. Promoting healthy aging and human development

across the life continuum,

3. Reducing health disparities and inequalities,

4. Shaping healthy behaviors and environments,

5. Integrating mental and physical health, and

Academy of Nursing continued on page 12
---
10 • ong>Massachusettsong> ong>Reportong> on Nursing May 2022

Does Transition to Practice Need

an APP?

Lisa Jean Thomas PhD, RN, CNE

President Elect

ong>Massachusettsong>/Rhode Island League for Nursing

Associate Professor and MSN Coordinator

Framingham State University

The COVID 19 pandemic has presented many challenges across all aspects of nursing.

Although we are all hopeful that the worst seems to be behind us there are many issues

still at hand. Transition into practice has been difficult for some time, and the pandemic

has highlighted this. Furthermore the "great resignation" has impacted nursing, and

nurses are leaving the field. How can nurses from practice and academia collaborate

and increase retention in our profession?

New Nurse Transition

Nurses who graduated over the past two years and again this year, experienced

changes in their education. In the spring of 2020 health care organizations needed

to request schools of nursing to leave practice areas. Reduced clinical experiences

have continued with limited clinical options and smaller sized clinical groups. These

challenges and others in academia directly affected students and may have included:

deficiencies in clinical education, skills and simulation labs and alternative delivery of

didactic information (Crismon et al., 2021).

It is well known that new nurses experience stressors when transitioning into

practice. This was identified as reality shock over 40 years ago (Kramer, 1974). New

nurses who transitioned during the pandemic, faced intensified and varied stressors.

Issues experienced during transition can have a long-lasting impact on a nurse's career

(Crismon et al., 2021). Throughout the pandemic nurses have been pulled in many

directions. Initially orientation sessions were cancelled during the summer of 2020

as organizations stabilized after the first surge. This delayed many new nurses' entry

into practice. When paired with missed clinical opportunities during spring of 2020 this

compounded their time away from the bedside. Once new nurses were being oriented

again, there was difficulty with having the manpower to precept and give new nurses

the support they needed as they entered healthcare during a chaotic time. Education

and support for new nurses are foundational to transition into practice (Casey et al.,

2021). Cao et al. (2021) found that higher transition shock contributed to more burnout

and increased departure from positions or even the profession.

Workforce Issues

In addition to transition issues, our nursing workforce is experiencing tremendous

change at incredible speed, contributors to these changes include an increase in

retirements, requests for reduced hours, and an increase in the use of temporary or

travel nurses (Organization of Nurse Leaders, 2022). These changes have been directly

attributed to the pandemic. What strategies can increase permanent replacements for

these vacancies? Data from 2021 show that the national average of RN staff turnover

was 18.7%, with a rate of 13.2% in the northeast (NSI Nursing Solutions, 2021). Could

Academic-Practice Partnerships be part of our solution?

Academic-Practice Partnerships

Academic-Practice Partnerships (APP) are formal relationships between schools

of nursing and health care organizations based on mutual goals, respect, and shared

knowledge (Paton et al., 2022). These relationships can facilitate smoother transitions

from student nurse to practicing nurse. True APP's serve schools of nursing, healthcare

organizations and students. Developing a bridge between a practice facility and nursing

students can better prepare new nurses for employment and retention (Fletcher et al.,

2021). APP's are not a new concept but in 2021 the ong>Massachusettsong> League for Nurses

surveyed 45 schools of nursing and 71% reported they were not familiar with APP programs.

The American Association of Colleges of Nursing (AACN) has identified seven principles

and provide an implementation toolkit (ANCC, 2012). (See https://www.aacnnursing.org/

Academic-Practice-Partnerships/The-Guiding-Principles for more detailed information.)

A partnership to unite practice and academia can address workforce readiness (Beal &

Zimmermann, 2019). Preparation, hiring and retention of nurses has never been more

critical. Now is the time for schools of nursing and healthcare organizations to forge

Academic Practice Partnerships.

References

American Association of Colleges of Nursing (2012). Guiding principles of academic-practice

partnerships. Retrieved: https://www.aacnnursing.org/Academic-Practice-Partnerships/

The-Guiding-Principles

Cao, X., Li, J., & Gong, S. (2021). The relationships of both transition shock, empathy, resilience

and coping strategies with professional quality of life in newly graduated nurses. BMC

Nursing, 20(1), 1-8. https://doi.org/10.1186/s12912-021-00589-0

Casey, K., Oja, K. J., & Makic, M. B. F. (2021). The lived experiences of graduate nurses

transitioning into professional practice during a pandemic. Nursing Outlook, 69(6), 1072-

1080. https://doi.org/10.1016/j.outlook.2021.06.006

Crismon, D., Mansfield, K., Hiatt, S., Christensen, S., & Cloyes, K. (2021). COVID-19 pandemic

impact on experiences and perceptions of nurse graduates. Journal of Professional Nursing

37, 857-865. https://doi.org/10.1016/j.profnurs.2021.06.008

Fletcher, J., Moore, F., & Riley, E. (2021). Transitioning newly licensed nurses into practice

through an academic-practice partnership. Nursing Education Perspectives, 42(6), E98-E99.

doi: 10.1097/01.NEP.0000000000000781

Kramer, M. (1974). Reality Shock. C.V. Mosby Co.

NSI Nursing Solutions (2021). 2021 NSI National Health Care Retention and RN Staffing ong>Reportong>.

Retrieved: https://www.nsinursingsolutions.com/Documents/Library/NSI_National_Health_

Care_Retention_ong>Reportong>.pdf

Organization of Nurse Leaders. (2022). The nursing workforce: Challenges and solutions

during the COVID era. Retrieved: https://onl.memberclicks.net/assets/docs/

ONLWorkforceong>Reportong>Jan2022/ONL_Workforce_ong>Reportong>_Jan2022.pdf

Paton, E. A., Wicks, M., Rhodes, L. N., Key, C. T., Day, S. W., Webb, S., & Likes, W. (2022). Journey

to a new era: An innovative academic-practice partnership. Journal of Professional Nursing,

40, 84-88. https://doi.org/10.1016/j.profnurs.2022.03.006

Membership Engagement

Committee Update and Save the

Dates!

The membership engagement committee is pleased to bring your attention to the

three events that were held in May:

• Commonwealth Challenges program with our own Kate Duckworth, a school

nurse, moderating a panel of nurses she recruited for a Conversation Between

Public Health and School Nurses on May 5th, 2022

• FNAMA Regional Forum on Friday, May 6th, 2022

• Red Sox Nurses' Night at Fenway Park on Wednesday, May 18th, 2022.

The Membership Engagement Committee is also excited to announce another

virtual program we are planning to sponsor which is especially for ANAMASS members

who participated in this year's ANA Mentorship Program, but is open for all members

to attend. On Tuesday, June 21st, 2022, from 6:30 – 8:30 p.m. Lynne Wagner, EdD,

MSN, RN, FACCE, CHMT, and Caritas Coach will be providing a keynote focused on a

Nursing Mentorship Model Through the Lens of Caring Science. Lynne's address will

be followed by an hour of small group discussions as a way to share experiences that

illustrate the principles involved in mentoring. Prior to the program, the virtual forum

will be opened up for networking between 6:00 – 6:30 p.m., where participants can

bring food and/or beverages of their choice. Please save the date and sign up for the

program once registration opens.

The Membership Engagement Committee meets monthly using Zoom to discuss the

trend of our membership numbers, brainstorm about ways to engage the membership

in our organization, and plan to reach out to nurses and nursing students to encourage

them to join their professional organization. We are always interested in welcoming

new members to the committee, so reach out to Lisa Presutti at lpresutti@anamass.

org who will forward your interest to our co-chairs, Debbie Gavin and Janet Ross. If our

committee isn't the right fit for your interests, please consider joining another one that

will better suit you. A list of committees can be found at https://www.anamass.org/

page/211

ANA ong>Massachusettsong> 2022 Annual...continued from page 1

families. They are a vital link to ensuring quality, equitable, and accessible healthcare

and, as such, need the support of policymakers, governmental systems, academic

institutions, and the like to orchestrate the changes necessary for nurses to meet

the burgeoning health care needs of the general public. This document presents nine

specific recommendations for addressing these and additional issues to ensure that the

nursing profession stands ready to address these challenges and others that lie ahead.

Both presentations were followed by small group break out sessions, organized by

practice area.

The day concluded with an uplifting, inspirational virtual presentation by nationally

and internationally known speaker, Donna Cardillo, RN, MA, CSP, FAAN, entitled Nurse

Power: Harnessing the Power, the Passion and the Pride of Nursing. Donna's passion for

nursing and commitment to helping nurses reach their full potential and be successful

in their careers was truly evident.

There were also six poster presentations addressing variety of topics

• Anti-Racism Pedagogy in Nursing Education

• Improving the care of the dyad after fetal loss: A qualitative exploration of

patient experiences

• Exploring Relationships Between Health-Promoting Self-Care Behaviors Among

Nurses and Their Perceived Incidence of Presenteeism

• New Graduate Nurse Transition to Practice: Investigating the Knowledge Practice

Gap in Acute Care Medicine

• Bridging the clinical experience gap: Aligning unfolding simulation scenarios with

the timing of didactic content to enhance students' knowledge and skills

• The Use of Mindfulness Practice to Reduce Stress in Undergraduate Nursing

Students: An Integrative Review

I would like to extend my personal thanks to the ongoing commitment and team

effort of Conference Planning Committee members, Mary Hanley, Maura Fitzgerald,

Terry Przybylowicz, Janet Monagle, Gabrielle Abelard, Jullieanne Burridge, and Kym

Peterson in addition to the unwavering support of Executive Director, Cammie

Townsend and Office Administrator, Lisa Presutti. We also wish to thank participants

that completed and submitted program evaluations. Your feedback is so important in

our efforts to offer educational programs to promote your professional development

and enhance your practice. We look forward to networking with you at future

programs!

Food for Thought

At the spring meeting, Dr. Boston-Leary provided two comments that the editor

would like to suggest are worth further consideration. The editor encourages the

readers to contemplate these "Pearls."

"Is the healthcare industry suffering from what is known as "Titanic

Syndrome?"

• She described this Syndrome as a "corporate disease in which

organizations facing disruption bring about their own downfall through

arrogance, excessive attachment to past success, or an inability to

recognize the new and emerging reality."

• "The challenge before us is that, despite the fact that the United States

(US) spends in excess of $3.5 trillion dollars per year on health care, it

underperforms in every metric in comparison to other world nations"

Editor's Note:

Cynthia Ann LaSala, MS, RN, had identified the following items within the

annual meeting article. It seems to be most appropriate for ongoing discussion

and has been presented as such by the editor.
---
May 2022 ong>Massachusettsong> ong>Reportong> on Nursing • 11

Apply Your Passion &

Nursing Experience

Earn a Specialty NPI in Patient Health

Education – Open to all Nurses

Nationally Accredited Program since 1977

1-888-354-HEAL (4325)
---
12 • ong>Massachusettsong> ong>Reportong> on Nursing May 2022

Antimicrobial Stewardship

Interview by

Inge B. Corless,

PhD, RN, FNAP, FAAN

Rita Olans, DNP, CPNP-PC,

APRN-BC FNAP, Associate

Professor MGH Institute of

Health Professions

1. Dr. Olans, you have

been concerned about

antimicrobial stewardship

for some time. What

prompted this interest?

It is a story of serendipity! Rita Olans

I was working in the U.S. Virgin Islands (USVI) in their

Department of Health's HIV/STD/TB department and

received an urgent message to come to New York City

for a meeting regarding a new, extremely resistant

type of gonorrhea-related organism. The Centers for

Disease Control and Prevention (CDC) was monitoring

a worrisome, related development arising in the

Middle East and Japan. I was impressed by the level of

concern the epidemiologists were voicing about this

extremely resistant organism. Owing to a dearth of

available antibiotics in the pipeline to address this strain

of gonorrhea, their message was to use public health

measures to decrease spread and to identify and treat the

partners of patients using extensive case finding. Upon

my return to the mainland, I entered a DNP program to

further investigate how nurses could bend the arc of

antimicrobial resistance.

2. Why is antimicrobial stewardship important to

nurses?

First let me clarify the distinction between antibiotic

stewardship and antimicrobial stewardship. The latter

term may be more familiar to you. Antimicrobial

stewardship is a broader term that includes fungi and

viruses, whereas antibiotic stewardship is narrowly

defined as pertaining only to bacteria. Stewardship

is defined as supervising or managing of something

entrusted into one's care. As nurses, our patients are

entrusted into our care, and we manage their care

from admission, through treatment, to discharge.

Antibiotics are a class of drugs that are very commonly

prescribed. Unfortunately, there are community health

implications for its misuse. Resistant organisms caused

by inappropriate use of antibiotics may be transmitted

to others. When there is inappropriate antibiotic use,

the entire community is at risk for multi-drug resistant

infection; case in point, gonorrhea! Nurses need to

understand the proper use of antibiotics for 21st century

health care as good nursing care is good antibiotic

stewardship.

3. You are involved on a national level regarding the

issues created by a lack of stewardship. What is the

focus of this national group?

I was the nurse technical expert to a four-year

research project conducted by the Agency for Healthcare

Research and Quality. A team of doctors, pharmacists,

hospital administrators, insurance companies and I

developed a comprehensive unit-based safety program

termed CUSPs to address overuse or inappropriate use

of antibiotics in acute care hospitals, long-term care

facilities, and in ambulatory care. CUSPs have a track

record of decreasing healthcare-associated infections.

Some readers may be familiar with earlier CUSPs such

as catheter-associated urinary tract infection (CAUTI)

and central line bloodstream infection (CLABSI). Each of

these earlier CUSPs had the profound effect of decreasing

indwelling catheter use and central line blood infections.

4. Are you aware of any state-level or professional

organization-level activities occurring in

ong>Massachusettsong>?

Yes, the ong>Massachusettsong> DPH Collaborative on

Antimicrobial Resistance of which I am a technical

advisory member monitors healthcare-associated

infections (HAIs) occurring in our state. I learn as much

as I contribute with such an august group of health

professionals participating in this Collaborative.

5. What can nurses do to help alleviate the issues

created by a lack of stewardship and in particular,

nurses working at the bedside?

Great question and one I am passionate about.

Nurses are critical frontline providers of healthcare,

and their very numbers demand their participation in

antimicrobial stewardship. Nurses take initial histories,

collect specimens, administer medications, monitor

changes in patients' health, and teach their patients

about their health and medications. Nurses are highly

respected and are viewed by the public as honest and

ethical. Given their proximity to patients and families,

and their reputation with the public, nurses are excellent

translators of important messages to the public about

antibiotic resistance.

6. What is the best approach to educating nursing

students about antimicrobial stewardship?

Today's nurses are well-educated in science and

communication, and the story of stewardship is a

case in point. Microbiology teaches the concepts of

the evolutionary pressure and resistance of microbes.

Pharmacology builds upon microbiology and the

importance of getting the 'right drug for the right bug'

again circling back to micro and appropriate testing

- getting the culture before giving that antimicrobial

medication. Community health courses teach students

about the importance of communicability and the

importance of vaccination, another tool in stewardship.

And clinical education brings all these concepts together

and emphasizes the importance of patient education

using good communication skills. Although there

(currently) is no one place that antimicrobial stewardship

is taught, the concepts of stewardship - the 'right drug,

for the right bug, for the right duration' - is woven

throughout nursing education.

7. Is there anything we haven't covered that you

would like to share or emphasize about the topic of

antimicrobial stewardship?

I am currently working on a project regarding the

ubiquitous penicillin allergy label in the electronic medical

record. CDC estimates that 90% of people who claim

to have a penicillin allergy, quite simply do not have

one. Penicillin is a great narrow spectrum drug that is

grossly underutilized. Broad spectrum antibiotics have

a propensity to cause Clostridioides difficile or C. difficile.

It is time we re-examine a patient's claim of penicillin

allergy through careful history-taking by everyone,

especially nurses.

Thank you, Dr. Olans, for sharing your efforts in

keeping all of us safe through antimicrobial stewardship.

Academy of Nursing continued from page 8

6. Strengthening the nursing and health delivery

system, nationally and internationally" (AAN website).

I.C. Q.3. Please tell our readers about the most

recently inducted Fellows and, in particular, those from

ong>Massachusettsong>.

G.B. The 2021 Class of Fellows are from 38 states, the

District of Columbia, and 17 countries. The three fellows

from the Commonwealth of ong>Massachusettsong> include:

Virginia Capasso, PhD, CNP, CNS, CWS, FACCWS from

ong>Massachusettsong> General Hospital; Amanda Stefancyk

Oberlies, PhD, MBA, RN from the Organization of Nurse

Leaders; and Laura J. Wood, DNP, MS, RN, NEA-BC from

Boston Children's Hospital. Given the incredible talent

and expertise in our state, as exhibited by these Fellows,

we should take the opportunity to increase the number of

our colleagues for induction into the Academy.

(I.C. The newly inducted Fellows were highlighted in a

previous issue of the Newsletter.)

I.C. Q.4 How does one become a member of the

American Academy of Nursing?

G.B. If you are interested in being nominated, the

following questions will help you in assessing your impact

on your practice.

1. What are your most outstanding contributions to

nursing/healthcare at the regional, national and/

or international levels? You might want to think

about one to three contributions

2. What is the impact of your contributions in

specific terms at the regional, national and/or

international levels?

3. What substantive evidence is there of the impact

of each contribution and its sustainability?

4. How does your significant contributions advance

the mission of the American Academy of Nursing?

I.C. Q.5. For those who are reading this and are Fellows

of the Academy, what are your suggestions regarding

sponsoring a colleague?

G.B. To sponsor a colleague, your responsibility

includes the following:

1. Only sponsor individuals who have exhibited the

requirements for admission to Fellowship and

for that do check the Academy website at www.

aannet.org.

2. Work with the applicant and other sponsor to

ensure the integrity and completeness of all

aspects of the submission. Be prepared to write

and rewrite until you arrive at the "final" version.

3. Be able to address the candidate's regional,

national, (and/or international) contributions so as

to enhance the understanding of the candidate's

impact on the profession by members of the

Academy's Fellow Selection.

4. Be sure that that the sponsor statements

support the candidate's statement about their

contribution(s) as this will strengthen the

application.

5. Remember that each potential fellow needs

statements from two sponsors.

The American Academy of Nursing website has a

wealth of resource materials to help with this process.

Please go to https://www.aannet.org/about/fellowshipapplication

I.C. Q.6. We started by discussing the call for new

candidates for Fellowship which is important. It is also

important for us to learn more about you and your

activities in the American Academy of Nursing.

G.B. I've been a Fellow since 2013. It was one of the

highlights of my professional career. One of my passions

has been advancing diversity, equity and inclusion (DEI)

in nursing. Currently, I serve as a member of the of

American Academy of Nursing's Institute for Nursing

Leadership's (INL) National Advisory Council. In June

2021, the Academy released a summary report of the

INL Critical Conversation on Health Equity and Racism.

We also hosted a signature educational program with

a focus on DEI in October 2021. I'm also the co-chair of

the Institute's Courageous Careers Sub-group to bring

the voices of courageous leaders who are trailblazers to

the larger community to learn from their successes and

setbacks. (Stay tuned for more information in 2022.)

I.C. Thank you so much Dr. Banister for sharing your

thoughts on the Call for Fellows. You can have the last

word (or sentence).

G.B. Being a member of the American Academy of

Nursing is an opportunity to showcase the incredible

contributions of nurses and how we can transform

healthcare now and in the future.
---
May 2022 ong>Massachusettsong> ong>Reportong> on Nursing • 13

Introductions

Questions for President Kenneth R.

White, PhD, APRN, FACHE, FAAN

Inge B. Corless, PhD, RN, FNAP, FAAN

First of all congratulations on becoming President of

the American Academy of Nursing (Academy; AAN) and for

taking the time to answer a few questions for the readers of

the ANAMASS Newsletter.

Q, 1. When were you inducted into the Academy and

what accomplishments did your sponsors note about you?

I was inducted in 2012 and my sponsors were Suzi

Burns and Patrick Coyne. At the time of the application, I

was a student at the University of Virginia pursuing a post-

Master's certificate to be an Adult/Gero Acute Care Nurse

Practitioner. Suzi was my program director and she had

background knowledge from my application essay and Kenneth R. White

encouraged me to apply. Suzi described my contributions to patient-centered care

through my articles, books, clinical practice, teaching, and national service. I developed

a "patient-centric" curriculum for students in health administration programs that

was widely adopted. She also commented on the executive leadership experience

and championing the important role of nurses on governing boards. Patrick Coyne, a

nationally-known palliative care provider, described the work that I had done with

developing survey instruments to evaluate educational gaps in end-of-life care and its

impact on the nursing and palliative care community.

Q. 2. How did you become involved in the activities of the Academy?

On the application I committed myself to serve in a leadership role. I immediately

was elected to serve a three-year term on the Academy's Fellow Selection Committee,

followed by election to the Board for four years and now in my fifth year, as President

until 2023.

Q. 3. What led you to seek the presidency of AAN?

I have a commitment to health equity and access to care for vulnerable populations.

My personal values align with the Academy and it is a vehicle for raising nursing's

visibility and involvement in policy discussions and decisions. You have heard me say

"nursing out LOUD" and what I mean by that is having a voice at the table, in the media,

on governing boards, and by elected political office.

Q. 4. What are the challenges that AAN is facing?

As an organization with 2,800 Fellows in 39 countries, we are a relatively small

organization considering the large number of nurses worldwide. Our biggest challenge

is amplifying our reach and impact on the advancement of nursing science, leadership,

and innovation, with a special emphasis on improving health policies to achieve our

vision of "healthy lives for all people." We have made great strides because of the

incredible contributions of our Fellows and as we know, there is always more to be

done. We are also committed to our Equity, Diversity, and Inclusivity Statement and

we always seek diversity in our membership including more applicants from nursing

practice, executive, and nontraditional roles.

Q. 5. What are your goals for AAN?

1. While I am president, we will celebrate our 50th year anniversary, over a threeyear

period. Our theme for 2022 is Reflection; 2023 Celebration; and 2024, the

Future.

2. Continue the work underway to conduct reviews of the Fellow Selection

Committee and governance (bylaws) Committee.

3. Carry out the strategic plan

4. Fundraising, including more President's Circle members and estate planning

5. Strengthening and deepening connections to the health care community and the

public

Q. 6. Some nurses may feel they don't have time for such activities. How do you

manage to accomplish all of your responsibilities?

I would not do this work without the support of Dr. Suzanne Miyamoto and the AAN

staff. We have a small but mighty team of experts and they provide enormous support.

Back at home at the IHP, I have a team of hardworking and committed professional

staff and faculty who manage and lead me to stay on track and it is Lisa O'Brien who

partners with me to see that we are managing multiple priorities. I am also pleased

that the President of the MGH Institute is a Fellow of the Academy and provides

much support for nursing and serves in leadership roles in the Academy. At home, I

am supported by my husband, Dr. Carl Outen, a retired ophthalmologist. I couldn't do

it without multitasking and staying focused and having boundaries about work/life

balance.

Q. 7. Having said that, what do you do to maintain your physical, socio-emotional,

and mental health?

As often as I can, I start my day thinking about what I am grateful for and affirming

to myself that I am here to serve and to help others be their best selves. When the

weather is nice, I am an avid gardener and that is how I recharge and reconnect. The

best thing for my mental health is to cook and enjoy dinners around the table with

friends and family.

Thank you President White. I know we all wish you well.

Interview with

Sylvia Abbeyquaye, PhD, RN

Gail B Gall, PhD, RN

Dr. Abbeyquaye brings a wealth of experience in long

term care (LTC) practice, teaching, and research. I was

delighted with her response to be interviewed as a new

member of ANAMASS.

"I want to make a difference"

Dr. Abbeyquaye grew up in Ghana and, like many nurses,

followed her mother's footsteps in choosing nursing as

a career after completing her BSc in Biochemistry at the

University of Science and Technology in Kumasi, Ghana.

She earned her MPA at Clark University, her BSN and PhD

in nursing at UMASS/Amherst and now teaches at MA

College of Pharmacy and Health Sciences. Dr. Abbeyquaye Sylvia Abbeyquaye

has developed expertise in patient care, research, and education with a goal to improve

nursing services in long term care facilities (LTC).

In more than two decades of practice in the Commonwealth, she has emerged as a

leader in this field by advocating for patients, developing direct care and management

skills based on sound research, knowledge of laws and regulations, financing and

budgets, teamwork, and leadership.

" I will be a voice"

LPNs provide most of the care in the state's LTC facilities. Dr. Abbeyquaye pointed

out that LPNs are challenged by lack of stature, are disconnected from management,

and do not have a public voice. She suggests, quite strongly, that developing transitional

pathways for LPNs to earn higher degrees is crucial to improving the LTC workforce. She

calls on ANAMASS to encourage such LTC improvements and to recognize the field as a

distinct specialty practice.

"I will do a lot more"

Based on the framework of person, health, and environment, Dr. Abbeyquaye

has developed a website dedicated to LTC nursing and released an application for

organizing care that is straightforward and comprehensive. Her goal is to create a LTC

residency for new BSN graduates and improve nursing leadership within this sector.

She is currently writing a book on LTC that addresses nursing roles, administration,

HIPPA, and leadership and uses the framework of "Assessment, Diagnosis, Planning,

Implementation, and Evaluation."

Please join me in welcoming Dr. Abbeyquaye to ANAMASS. She has already joined

the ANA Innovation interest group. For more information about this group go to:

https://www.nursingworld.org/practice-policy/innovation/team/.

For more information on the Nurse LTC App go to: https://www.nsdxpert.com/app/.

And for a real treat: Check out this film:

https://youtu.be/9T4hMWvGOYk.

NursingALD.com can point you

right to that perfect NURSING JOB!

NursingALD.com

Free to Nurses

Privacy Assured

Easy to Use

E-mailed Job Leads
---
14 • ong>Massachusettsong> ong>Reportong> on Nursing May 2022

Working around the World

An interview with: Sheila Davis, DNP, ANP-BC, FAAN, Chief Operating

Officer, Partners in Health, with Inge B. Corless

1. Dr. Davis, in addition to your educational

credentials, you have been a Carl Wilkens Fellow.

Would you tell us what that entailed?

The Carl Wilkens Fellowship, currently known as

the Pathways for Peace Collaborative, was once part

of the Genocide Intervention Network and United

to End Genocide. The Fellowship was a selective,

12-month program that provided emerging citizen

leaders with the tools and training to shape U.S.

policy on genocide. It was a great opportunity to learn

from human rights experts and those who have been

effective in impacting U.S. policy to prevent mass

atrocities.

2. You have a background of working in countries in

addition to the U.S. What prompted that interest

and where was your first out-of-country visit and

what did it involve?

Growing up in Maine, I visited Canada many times,

but other than that I did not start traveling outside

of the U.S. until after I graduated from college. I lived

in Europe a few years after graduating from nursing

school and my first trip to a low resourced country

was to Haiti in 1999 where I visited Cange, the first

ever Partners In Health (PIH) site. I never could have

known that 11 years later I would join PIH and now

be CEO. As HIV medications began to, belatedly, be

available in the early 2000's on the continent of Africa,

I began working in South Africa as part of my work as

a Nurse Practitioner at the ong>Massachusettsong> General

Hospital. The HIV/AIDS activist community in the U.S.

and globally, was an extraordinary training ground

emphasizing healthcare as a human right, now the

focus of my career at PIH.

3. What advice would you give to nurses interested

in working in other countries?

The need for expatriate nurses in resourcelimited

countries is very different than it was when I

started working globally. I brought infectious disease

expertise, which was needed at the time, but now, the

needs are in critical care, high technology-supported

care and other emerging clinical areas. An approach of

bidirectionality and humility is essential, and we go as

learners just as much as educators.

4. You were sent by Partners in Health (PIH) to

Liberia to confront the challenge of the Ebola

epidemic. How did you proceed?

Partners In Health leaders asked me to lead the

Ebola response in Sierra Leone and Liberia in 2014,

a big challenge. I knew it was critical that we had

local partners on the ground so I partnered with

community-based NGOs (Non Governmental Agencies)

in each country. During a humanitarian crisis, it is

essential that there is collaboration and coordination

amongst all responding organizations and those

efforts are best led by each country's Ministry of

Health, so I spent a lot of time working with each

country's leadership. We had to set up operations

very quickly, manage infection control and create

all systems needed to respond to the crisis in both

countries. Simultaneously, we built local teams and

supplemented these resources with clinicians and

operations staff from the U.S. It was critical that we

remain nimble to respond to the changing epidemic

in each country and had to raise funds to support our

efforts. Knowing Ebola was a symptom of a fractured

health system, PIH committed to staying in Sierra

Leone and Liberia long term to help strengthen the

health care systems and we remain there today. I am

very proud of the comprehensive programs that we

have built in both countries.

5. What are the greatest challenges you have faced

in your nursing career to date and how did you

address them?

Balancing being a single mother, furthering my

education and working in resource-limited settings

around the world has been challenging, but very

rewarding. I have never regretted taking chances

and being bold in my actions professionally, but it

often required taking risks and being willing to fail.

Nurse leaders are very underrepresented in global

health and in the NGO world and it can be lonely to

run a large organization of over 19,000 people in 12

countries but I am very fortunate to have dedicated,

visionary people to work with every day.

I didn't aspire to be the CEO of PIH, but the mission

to bring quality care to very underserved communities

globally has continued to inspire me to push myself to

be a better nurse and a better leader.

6. You are now the CEO of Partners in Health. What

experiences do you consider to be essential to

your attainment of this position?

Over 30 years as a nurse prepared me to think

comprehensively, focus on systems, be nimble, and

constantly iterate and evolve. As a nurse I have

worked at the bedside, in the classroom, in the

community in rural South Africa. And as an advanced

practice nurse I delivered care at one of the top

hospitals in the U.S. and held office in one of our

national nursing associations. Working as part of

a team, as a member, and a leader, is an essential

component of nursing. Being a nurse has enabled me

to have a fulfilling, exciting, difficult, and challenging

career and I am very thankful that I chose this path

over three decades ago. I am a good CEO, because I

am a nurse.

7. What are your favorite memories in your career?

I was privileged to work with patients with HIV for

many years. One very ill young woman with young

children I cared for at ong>Massachusettsong> General Hospital

asked me to promise she would be able to see her

child get through elementary school. That amazing

woman saw her children grow up, graduate from

college and now is a grandmother. Traveling to PIH

sites in 12 countries, I have met amazing nurses who

are leaders in their communities providing care with

very few resources. There are several nurses I work

with closely who have overcome very challenging

personal and professional circumstances to become

leaders who have built and lead complex health care

systems. I continue to learn from so many.

8. How will you remember Dr. Farmer?

Dr. Paul Farmer, one of the co-founders and the

visionary for PIH, died unexpectedly in Rwanda in

February of this year. I met Paul in the 1980's working

in the Boston HIV community, and we started working

together in 2010 when I joined Partners In Health (PIH)

a social justice global health organization. During the

PIH Ebola response in West Africa in 2014, I was able

to work more closely with Paul on the clinical strategy

and organizational response, and once I became CEO

in 2019, we became close friends. I will remember

his sense of humor, his compassion, unparalleled

commitment to serving the poor and the audacious

vision he had that we needed to work tirelessly to

make the world a better place for all.

9. How can the readers of this article support the

work of PIH and remember Dr. Farmer?

PIH is committed to finishing what Paul started as

a young medical student, fighting for global health

equity. We will honor Paul's legacy by continuing

our work in 12 countries to bring the benefits of

modern medicine to the most vulnerable globally and

challenging the idea that some lives are worth more

than others. Please check out our work at www.pih.

org .

10. Given all of your responsibilities, what do you do

to take care of yourself?

I moved to be close to the ocean on the South

Shore in 2017. The water has always been a healing

place for me, and I take walks on the beach year-round

to rejuvenate myself. I became a grandmother this

year to an amazing 3 and ½ year old and I spend as

much time as I can with my daughter and her family.

Editors' Note:

Partners in Health (PIH) is a nonprofit global social

justice organization www.pih.org

Nursing Virtual Career Fair

Northeast

24, 2022 | 5–8pm ET

May

6" Ads

OPEN

Scan QR Codee to Reegisteer
---
May 2022 ong>Massachusettsong> ong>Reportong> on Nursing • 15

Not That Kind of a Nurse

Alissa Kim

One of the few pleasures I look forward to after work

each week is when I take an Uber instead of my normal

MBTA commute back home. I save it for certain days-

- those days when my legs are close to giving out from

scrubbing all day, days when I make a rookie mistake

that I find unforgiving this far into my orientation, or just

bad days in general. Lately though, I find myself dreading

these Ubers.

I have never shied away from small talk, but there is

always a pattern to the conversations that I have with

my drivers. They ask if I work at the hospital, and I reply

that I am a nurse. Then, the conversation steers off to the

drivers asking about my experience as a nurse working

during the pandemic and soon after, the barrage of

gratitude starts. I really appreciate these chats; except I

am always left with the feeling of guilt because I do not

feel deserving of this gratitude that comes my way.

I say this because I have not been here as a nurse from

the start of the pandemic. I was like most of the general

public in awe of the pictures of the healthcare workers

during the peak of COVID. I was at home watching

the news during lockdown when my college sent us

home after closing campus as everything unfolded. I

stayed home when hospitals were actively recruiting

nursing students to "answer the call" as the pandemic

raged on because I was afraid. I never knew that the

immense amount of guilt I felt then would trickle into my

experience now as an actual nurse.

My experience as a new graduate nurse has been

very interesting. I chose to skip the bedside and pursue

perioperative nursing. I knew early on in school that I did

not enjoy bedside care, and I was fortunate enough to

secure a new graduate residency in the operating room.

Because I never had floor experience, I struggled to relate

to many of my peers who graduated with me. I hear

stories from my friends who are so overwhelmed with

the lack of support due to their accelerated orientations

and constant staffing shortages. I know people who are

already leaving their positions only after a few months

into their residencies, and even thinking about leaving the

profession.

As grateful as I am to be in the operating room, I feel

guilty when others say that "perioperative nursing is

not real nursing," or when experienced nurses seem

displeased that I did not "pay my dues" at the bedside.

I feel guilty when I do not share the same sentiments as

many of my peers who dread their shifts, or who already

fell victim to the infamous burnout among healthcare

workers. Someone once told me that suffering is not a

competition, but I find myself constantly invalidating

my own feelings as a new nurse and comparing my

experiences to others. I feel shame acknowledging when

I have rough shifts, or when I doubt myself if I made the

right choice in choosing this field.

I wanted to take this space to be honest with myself

and give voice to my personal challenges as a new nurse.

It has been a tough eight months, and I wish I would have

been more prepared for the reality check of the transition

from a student nurse to a registered nurse. There are

plenty of days when I do not love nursing, or when

I feel so lost still that I feel like I am moving backwards

in my orientation. Four years of nursing school, and I do

not think any of my lectures taught me how to navigate

through the struggles as a new nurse trying to stay afloat

during it all, especially during a pandemic.

My dilemma here goes back to the beginning of

this story. How can I explain all this in a matter of a

ten-minute Uber drive home? My go-to answer to the

question I get asked about what I do here at the hospital

is short, sweet, and simple.

"I am a nurse, but not that kind of a nurse."
---
16 • ong>Massachusettsong> ong>Reportong> on Nursing May 2022

Coping with Patient Assault

Marilyn Lewis Lanza

DNSc, ARNP, CS, FAAN

The problem of assault

is worldwide. There are

many definitions of assault

but the one used here,

violence-both verbal and nonverbal,

including threat, and

withholding information.

Background

Workplace violence or

assault is recognized as a

serious problem in healthcare Marilyn Lewis Lanza

settings in the United States and worldwide. Moreover,

nurses are reported to experience more nonfatal

violence than virtually any other occupational group.

Such nonfatal violence is more prominent in certain

nursing specialties such as emergency, psychiatric, and

geriatric nursing and it is reported across healthcare

settings, countries, and cultures. For example, in an

epidemiological study of all nursing specialties, reported

annual prevalence rates of 13.2%, 34.0%, and 7.0% for

Physical Violence, Verbal or Emotional Violence, and

Sexual Harassment.

Nurses are not only exposed to recurrent verbal and

physical threat but may work in settings where such

violence is accepted as "just the way it is" and where

nurses are urged by others and themselves to view

concern for their own well-being as incompatible with

altruistic concern for patient care.

Role Conflict

Nurses who are assaulted report conflict between

their role as a professional and a victim. Nurses are not

socialized to expect to be assault victims and most do

not receive any academic education to prepare them for

such a fate. Any formal training usually comes through

employment in a psychiatric facility. There is intense

conflict between opposing realities when a nurse is

assaulted. He or she generally believes that staff are

not assaulted and yet it has occurred. There is also

divided loyalty between allegiance to one's professional

functioning (putting the patient's needs first) and

attention to their own needs as a victim. For example,

the staff member is hit by a patient and is required

to continue working because staffing is inadequate

to permit him or her to go home. Family members

question why their mother or father, etc. works in

"such a place." The victim often defends the institution

to family members and denies his or her own feelings

of victimization. Nurses are somewhat in the unique

position of needing to provide extensive care for a person

who assaulted them.

Coping Strategies

Three assumptions (Buhlman, 1997) that are shared by

most people are affected by any victimization, regardless

of the cause. After victimization, the belief in personal

invulnerability is severely damaged and the person is

preoccupied with fear of recurrence. The perception of

the world as meaningful and comprehensible is no longer

applicable. One way for us to make sense of our world is

that it is controllable (e.g., we can prevent misfortune by

engaging in sufficiently cautious behavior and are good

people).

The problem of loss of meaning focuses not on the

question "Why did this event happen?" but rather on

the question "Why did this event happen to me?" It is

the selective incidence of victimization that appears to

warrant explanation.

Lastly, the view of ourselves in a positive light is

affected. The trauma activates negative self images.

Victims see themselves as weak, helpless, needy,

frightened, and out of control. They also experience

a sense of deviance. They were "singled out for

misfortune," and this sets them off as different from

other people.

Victims May Redefine the Victimization

Victims may selectively evaluate their victimization

by comparing with others less fortunate, comparing

on a basis of favorable attitude, creating hypothetical

worse worlds, construing benefits from the experience,

manufacturing normative standards of adjustment –

for example, walking four steps rather than the usual

amount of ten steps if one has a broken leg. How one

evaluates the victimization affects the extent to which

the victimization functions as a stressor and threat.

Making Sense of the Event

One way of making sense of an event is to find some

purpose in it. If the victimization can be viewed as serving

a purpose, the victim is able to reestablish a belief in an

orderly, comprehensible world.

Blaming one's-self (Wortman, 1977) is one way

of explaining why the event occurred to that victim.

Self-blame can be functional, particularly if it involves

attributions to one's behavior rather than enduring

personality characteristics. Behavioral self blame allows

attributions to a controllable and modifiable source.

Victims can alter their behavior. Thus, the victim believes

he or she can avoid being victimized in the future.

Characterological attributions are associated with

depression. Behavioral responses are not helpful for

victims who believe they engaged in safe or in cautious

practices before their victimization. Rules that had

provided them with a personal sense of invulnerability

did not work, and their perception of safety and security

was changed. Those who feel most invulnerable before

victimization may have the most difficulty coping after

victimization.

Your Relationship with Co-workers

It is important to know and communicate your own

strengths and weaknesses to co-workers before an

assault situation. Your coworkers need to know each

other very well. There should not be any "surprises" in

the middle of an emergency such as "I cannot restrain

him. I have a bad back." You do not have to give all the

details of how you acquired a "bad back" but you do

need to let everyone know that they can and cannot

count on you in certain ways. There is no one who does

not have a useful role. The point is when an emergency is

called everyone knows what they should do. Identify any

physical limitations and how they affect your ability to

intervene in assaultive situations.

Well-Being

Job stress and burnout are common among healthcare

professionals, and nurses in particular. In addition to the

heavy work-load and lack of resources, nurses are also

confronted with emotionally intense situations associated

with illness and suffering, which require empathic

abilities. Compassion, on the other hand, has been shown

to be a protective factor for a wide range of well-being

indicators and has been associated with compassion for

others. Self-compassion has been defined as extending

compassion to one's-self in instances of perceived

inadequacy, failure, or general suffering.

This in turn helps buffer the negative impact of stress,

increases job enjoyment, improves staff productivity, and

promotes greater retention of employees. The solution is

sustainable self-care.

Development of routines and rhythm that support the

commitment of self-loving practices create opportunities

to benefit from a balanced mind and body.

Take Home Lesson

These are important implications for all nurses and

suggests that the attitude of nurses toward self-care

needs to be urgently addressed, both through education

within the tertiary setting and open discussion in the

workplace.

For more information on measuring patient assault in

both hospital and community settings using the ARS-R

instrument, contact Dr. Lanza at: marilyn.lanza@va.gov.
---
May 2022 ong>Massachusettsong> ong>Reportong> on Nursing • 17

Nurses Culture of Health Alliance: Building a Culture of Health

Join AND Participate

Eleanor Vanetzian, PhD, RN, CS

Purpose

The Nurses Culture of Health Alliance is strongly

influenced by a national culture of health movement by

the Robert Wood Johnson Foundation. We are engaged

in changing the healthcare environment to one where

people want to be healthy.

Key goals:

• Improve health equity and population health

• Improve quality of life

• Reduce the cost and incidence of illness and

therefore, illness care

• Begin developing nursing knowledge of primary,

preventive care, health promotion, illness

prevention. Begin the process of replacing medical

model primary care with nursing models.

• Reduce silos of nursing knowledge in specialty

associations

• Advocate both interprofessional-group and

independent nursing practices utilizing the

Generic Blueprint for Establishing Nursing

Practices, accessible on the website

The website will:

• provide access to and communication between

professionals, citizens, and communities in areas

of mutual interest.

• encourage the exchange of study findings and

knowledge, experiences, ideas, and interventions

designed to reduce health disparities and improve

health equity.

• encourage interdisciplinary and cross sector

collaboration among healthcare providers.

• strengthen, enhance, and reward people's

natural tendencies to be self-sufficient, resilient,

respected and treated with dignity.

Who are the principal founders?

An Interest Group of accomplished nursing

professionals came together to strengthen primary

prevention in populations with an interest in primary

prevention from the nursing perspective. This resonated

with each person who became a founder of the Nurses

Culture of Health Initiative, which became the Nurses

Culture of Health Alliance (NCHA).

How will the Alliance implement strategies to be

successful and who will be recruited as participants?

To successfully fulfill the critical need to define,

initiate, and promote foundational ideas related to the

responsibility of nurses for health promotion, illness

prevention in all settings, a methodology known as

Communities of Practice will be utilized by entry level

and advanced practice registered nurses recruited

as members of NCHA. Communities of Practice were

originally used in apprenticeship models of learning

similar to early nursing education. Domain, Community,

and Practice are essential components of Communities

of Practice. Combination of these three elements

constitutes a community of practice. Developing these

three elements in parallel

cultivates such a community and

is the Methodology for building

a culture of health.

How will the Alliance measure

success?

Ideally, success will be

evidenced by Return on

Investment of primary

preventive nursing care that inspires, educates, engages,

and empowers people to live their healthiest lives.

Examples include:

• all aspects of high-quality life and health equity.

• reduced utilization of hospital emergency

room resources by populations educated and

empowered to prevent accidents and promote

healthy lifestyles.

• reduced insurance premium payments

• improved workplace performance

• healthy environments for children to develop into

healthy adolescents, and adults aging into older

adulthood

Go to www.nchalliance.org for more information

and to leave an email or phone call for Eleanor (Ellie)

Vanetzian. Calls and emails will be answered. Allow a few

days for a Reply.

Statehouse Update:

Effort to Join the Nurse Licensure Compact Continues

By Christine Schrauf, PhD, RN, MBA

Co-Chair, Health Policy Committee

As we enter the second year of the current

ong>Massachusettsong> legislative session, all bills supported

by ANAMASS are still being considered for enactment

by various legislative committees as of the time of this

writing in late March. These include bills addressing

nurse staffing, violence prevention, mental health access,

safe patient handling and the addition of ong>Massachusettsong>

to the multi-state Nurse Licensure Compact. Many of

these bills have been referred to the Joint Committee on

Health Care Financing which considers matters related

to the direct funding of healthcare programs and other

state health policy initiatives requiring fiscal support. The

ANAMASS Health Policy Committee (HPC) will continue to

track the progression of these bills affecting nursing and

report on them in future newsletter issues.

As with other policy initiatives, the pandemic has

highlighted some needed changes in ong>Massachusettsong>

policy affecting healthcare workers such as the state's

entry into the nation's Nurse Licensure Compact. As

explained in a previous ANA ong>Massachusettsong> Newsletter,

this Compact would enable registered nurses in

ong>Massachusettsong> to apply for a multi-state license and

move easily among member states to practice our

profession. Currently, 39 states and jurisdictions are

members of the Compact with pending legislation in

seven other states, ong>Massachusettsong> among these. Nurses

may view current state membership in the Compact at

https://www.ncsbn.org/nurse-licensure-compact.htm.

The HPC had submitted testimony supporting

ong>Massachusettsong>' entry into the Compact through a

bill devoted to that initiative in 2021. However, at the

same time, Governor Baker had introduced his own

bill advocating for ong>Massachusettsong> to join multi-state

compacts not only for nurses, but also for other compacts

serving the interests of psychologists and physical

therapists. This proposal, Senate Bill 2542, is titled An Act

to support military families and provides another frame

to encourage ong>Massachusettsong> to join multi-state compacts

for healthcare professions.

One news source describes the impetus for this bill

to be the desire for ong>Massachusettsong> military bases to

continue to be of value to the Department of Defense 1 .

ong>Massachusettsong> has six military installations – Hanscom

Air Force Base (Bedford), Natick Soldier Systems Center,

Joint Base Cape Cod (Buzzards Bay), Fort Devens (Ayer,

Shirley and Harvard), Westover Air Force Reserve Base

(Chicopee) and Barnes Air National Base (Westfield).

Together, these military installations are responsible for

about $13 billion in annual economic activity and about

57,000 jobs, a substantial boost to these cities and towns.

The value of existing US military bases is partly

assessed by the degree of accommodation for military

family members on public education and professional

licensure, as one effort to retain military members to

continue their careers. This is thought to have influenced

the development of Senate Bill 2542 which was originally

sent to the Joint Veterans and Federal Affairs Committee

in the legislature for consideration. Its support by

legislators who represent the cities and towns where

these bases exist was influenced by the recognition that

in order to retain these installations, ong>Massachusettsong>

must be seen as supportive of all measures to retain

military families. Hence, the bill seeks to join multi-state

compacts not only for nurses, but also for psychologists

and physical therapists. The bill is currently before

the Joint Committee on Health Care Financing to be

considered for movement to the House and Senate

chambers. It can be viewed at https://malegislature.

gov/Bills/192/S2542. This sequence of events may not

have been that envisioned by nursing advocates for

ong>Massachusettsong>' inclusion in the Compact, but as they say

"whatever works!"

ANAMASS also supports another bill, Senate Bill

1388, An Act establishing health equity at all levels

in government, that advances the goal of ANAMASS

members to address the structural inequities in our

society that fuel persistent health inequities. This bill was

JOIN OUR TEAM!

We offer LPN and RN positions at our

18 Assisted Living communities.

We have FT, PT, and PD shifts available.

Find our openings:

www.seniorlivingresidences.com/careers

Reach out to our Team: jobs@slr-usa.com

proposed by Senator Jo Comerford, Co-Chair of the Joint

Committee on Public Health who has described what this

bill can accomplish in another piece in this newsletter.

Be sure to read it – it describes what so many of us want

for ourselves and our patients. And if this is a topic of

particular interest to you, see the National Academy

of Medicine report – The Future of Nursing 2020-2030:

Charting a Path to Achieve Health Equity at https://nam.

edu/publications/the-future-of-nursing-2020-2030/.

1 Young, C. A. December 1, 2021. Licensing bill framed as lure

for military investments. 22 News WWLP.com. https://

www.wwlp.com/news/local-news/licensing-bill-framedas-lure-for-military-investments/#

Community Health Network

A selective staffing agency for

experienced Home Care Nurses

• More control over your schedule

• Better Work-Life balance

• Better pay

• Full Benefits package

• Cross-training opportunities

Looking for something different?

Want time off when you need it?

Call or Text 508-429-6949

www.chninc.com

Providing thoughtful staffing solutions for

both agencies and nurses for over 30 years.
---
18 • ong>Massachusettsong> ong>Reportong> on Nursing May 2022

Medicine for Earth

Barbara Belanger

The impact of climate change exemplified by flooding, extreme weather conditions

and temperatures, and changing ecosystems has been well-documented. Nurses

have observed the impact of climate change on the health of their patients including

dehydration, heat stress, respiratory and cardiac issues, cancers, and vector-borne

infections. The greatest impact is observed in vulnerable communities. Nurses

are stepping up as leaders and advocates in programs focused on education and

engagement for better health outcomes.

One program based in Boston, MA Medicine for Earth (click for more information)

was founded by Elizabeth Chung RN. An introduction to climate change in nursing

school may have influenced her observation, while in clinical practice, of the connection

between the volume of waste generated by hospitals and human health and climate

change. Ms. Chung's interest in climate change increased during the COVID-19

pandemic in response to an increase in use of single-use-only plastic items disposed of

as waste. Medicine for Earth was conceptualized following several personal events and

conversations with colleagues.

In November 2020, Ms. Chung became ill and during an evaluation for autoimmune

disorder, her provider started treatment for a differential diagnosis of Lyme disease,

despite the fact that ticks were considered dormant during winter. Ms. Chung was fully

recovered after two weeks. At that time, she learned about an increase in the number

of ticks and Lyme disease due to the warmer winter months.

During the Summer of 2021, a record heat wave in the Pacific Northwest impacted

the health of many residents with the concomitant occurrence of heat-related deaths.

Power surges left residents without power. Ms. Chung's mother, a Type II diabetic

living in Washington state, had challenges keeping her insulin cool due to intermittent

power outages and had difficulty managing her blood sugar levels due to the effects

of the heat. These personal events shed light for Ms. Chung on the gravity of the

current climate crisis. She and colleagues discussed their shared concern about the

impact of healthcare waste on the environment and the lack of processes in healthcare

workplaces to alleviate the negative impact of waste on the environment during the

pandemic. Ms. Chung with co-founder Matt Harzman organized Medicine for Earth

with a vision to bolster a transition from waste that is detrimental to the environment

to sustainable health care. They also proposed promoting self-care activities to prevent

provider burnout by creating a network of healthcare employees/providers from

different healthcare organizations across Boston. The goal is to enhance knowledge

about the detrimental effects of healthcare waste and facilitate collaboration so

that providers are inspired to start institutional or local initiatives, create innovative

solutions, and/or participate in advocacy efforts.

Communication is maintained through a web page and social media with access

to future events through a listserv. A positive response has been noted from event

attendees. Ms. Chung states that through developing Medicine for Earth, she is more

aware of the interconnected nature of life and human health on planetary health.

"The negative impact hospital operations have on the environment is within the

realm of our control. Culture change is tough. That's why it is important to collaborate

with different clinical providers to learn the nuances of each clinical area, the barriers

to change, and what is required to make an initiative successful. The community we

are building at hospitals throughout the city of clinical providers in different specialties

really allows us to cast a wide net and weave together a unified mission to green our

hospitals."

Medicine for Earth was just an idea in the minds of two nurses a little over a year

ago. Planting trees to mitigate the impact of urban heat in a vulnerable area of the city

is only one part of their advocacy efforts. The positive impact these two nurses have

had today and their plans for the future is an inspiration.

The Foundation for Nursing

Advancement in ong>Massachusettsong>

Prepares to Celebrate its Second

Anniversary

R. Gino Chisari, RN, DNP – President,

Foundation for Nursing Advancement in ong>Massachusettsong>

The Foundation for Nursing Advancement in ong>Massachusettsong> (FNAMA) is the

501C3, philanthropic arm of the ANA ong>Massachusettsong> that unofficially launched in July

2020. Under the leadership of Dr. Julie Cronin, past president of ANA ong>Massachusettsong>,

the FNAMA board was comprised of past presidents of the ANA ong>Massachusettsong>

organization who agreed to volunteer their time in launching the FNAMA. The idea for

creating a foundation originated among several long-standing and forward-thinking

members of ANA ong>Massachusettsong> that firmly took hold when Dr. Cronin agreed to lead

the effort.

Since July 2020, the FNAMA board has grown from its original five members to 11,

all with an unwavering passion for the profession, and in full support of the thousands

of nurses across the Commonwealth (for a full listing of the board of directors, please

see https://www.fnama.org/board.)Among its first duties was to pass a set of governing

bylaws, formally incorporate the foundation with the Secretary of the Commonwealth

and set a strategic agenda that included forming a mission statement and developing its

values that would guide its direction. Put simply, the mission of the FNAMA is:

…to advance the nursing profession through philanthropic activities that promote

scholarship, nursing research, and innovation…

The FNAMA was officially introduced at the 2021 business meeting of the ANA

ong>Massachusettsong>. Since that time, the FNAMA has successfully launched the Scholarship

to Advance Diversity in Nursing and is in its second cycle for a call for applications.

This scholarship is designed to support a nursing student who has matriculated as a

degree candidate and enrolled either part-time or full-time in a baccalaureate, masters

or doctoral degree program in nursing accredited by NLN-AC or CCNE. The scholarship

award is currently $2500 and the FNAMA is committed to growing both the amount and

number of scholarships that will support our current and future nursing colleagues with

diverse backgrounds.

In addition, the FNAMA collaborated with Dr. Ethan Lester, a clinical psychologist

at the ong>Massachusettsong> General Hospital to offer a full-day workshop, Moving from

Surviving to Thriving: Resetting, Recentering, Restoring Ourselves. The workshop is

the FNAMA's gift to our nursing colleagues who shouldered the burden of the pandemic

in many unimaginable ways. Through this workshop, the FNAMA hopes to provide 300

nurses from across ong>Massachusettsong> the opportunity to continue healing from the trauma

of the past two years. During the workshop, Dr. Lester led discussions and reviewed

evidence-based techniques we can all use towards improving self-care. The workshop

is made possible through the sponsorship of the FNAMA, Blue Cross Blue Shield of

ong>Massachusettsong>, ong>Massachusettsong> General Hospital Department of Nursing, Brigham and

Women's Hospital Department of Nursing, ong>Massachusettsong> Association of Health Plans,

and the generous contributions of the ANA ong>Massachusettsong> membership.

The full day workshop held May 6 at the Boston Marriott Hotel in Newton, provided

meals, parking and four nursing contact hours at no cost to the partipants. The

FNAMA board hopes to be able to offer additional workshops in other areas of the

Commonwealth in late summer-early fall. For more information, please visit https://

www.fnama.org

With no shortage of things to be done to care for our fellow nurses and ourselves,

the FNAMA seeks your help. If you have one or two hours per month to give, please

consider joining one of the FNAMA committees. We are seeking colleagues with

an interest in fundraising, outreach, finance, and serving on the annual scholarship

committee. If you are unable to give time, perhaps you will consider a donation that

will be used to continue promoting the FNAMA mission in tangible ways. No donation

is too small, so please consider a gift by visiting https://www.fnama.org/support-us. As

we begin Nurse Recognition Week and plan to celebrate the phenomenal contributions

nurses make to society, please consider a gift to say, "Thank You" to a special nurse or

nurses.

On behalf of the board of directors of the Foundation for Nursing Advancement in

ong>Massachusettsong>, thank you for all you do to care for the patients and families entrusted

to you, and thank you for all you do to care and support each other.

FNAMA Board of Directors
---
May 2022 ong>Massachusettsong> ong>Reportong> on Nursing • 19

UMass Amherst Elaine Marieb College of Nursing

Hosts PhD Student Nursing Symposium

Christine Schrauf, PhD, RN, MBA

A planning committee of PhD students from the

College of Nursing enabled both in-person and virtual

attendees to attend its third annual symposium titled

From Gaslighting to growth: Moving past resilience to

support nurses as they heal on February 22, 2022. Eightytwo

attendees participated in the symposium with

much audience participation as audience members both

validated speaker experiences and added their own

observations. The symposium sought to recognize the

experiences of nurses, especially during the pandemic,

and identify ways in which nurses can support themselves

and each other toward places of renewal and growth.

As noted by Dr. Rachel Walker, PhD Program Director,

"the very title of the symposium. talking about moving

beyond gaslighting and discussions of 'resilience' towards

institutional accountability and transformation, was

both a call-in and a call to action. I'm so proud of the

PhD students for their leadership and courage in tackling

these challenges."

The first program panel began with reflections from

four current PhD nursing students, most participating

virtually in a session moderated by PhD student, Jane

Matuli. Emily Lugdon, a nurse practitioner who is in active

military duty stationed in Alaska, shared the importance

of using nursing research and proven models to inform

nurse leaders as they support practicing nurses during

the pandemic. Linda Young, working in maternal and

child nursing, described the healthy work environment

in which she practices as nurses co-support each other,

do frequent gratitude checks, and sometimes practice

"respectful persistence" in urging their leaders to create

sustainable supportive environments.

Participating virtually from Turkey, international

PhD student Sabriye Abban described the struggles of

international students during the pandemic, especially

those living far from their home countries. Emotional

distress experienced as travel stopped and financial

difficulties when financial transfers became impossible

added to the stresses of also living in a foreign country.

Fortunately, Sabriye did not experience these problems

since she remained in Turkey during her studies thus far

and was complimentary of the many ways of support she

received from the College of Nursing. Finally, PhD student

JD DaSilva practices in the area of mental health and

shared her personal story of experiencing psychological

distress and the eventual success of acquiring her nursing

degrees because of the encouragement and support of

others. The need to combat psychological illness among

nurses, including suicide, require much more attention

and resources, especially now with the additional stresses

that the pandemic brings.

Sheri Herron, moderator for the second panel,

introduced five nurse guest speakers with different

areas of expertise and nursing experience who added

their perspectives to the event. Patrick MacMurray, RN

is a pre-surgical care nurse at the University of North

Carolina Medical Center enrolled in a master's program

in nursing, and plans to progress to a PhD program. His

comments focused on the value of all nurses, from LPNs

to those with PhDs and feels that access to associate

degree education to become a RN enables many to join

the profession to fill needed nursing roles. However,

their value is often not appreciated unless they achieve

BSN education, creating a hierarchical system and

unnecessary friction within the profession.

Ellen Smithline, a PhD nursing graduate of UMass/

Amherst shared her experience in her role as Director of

Nursing for Clinical and Support Options, most recently

working with the staff at Healthcare for the Homeless in

Springfield to care for homeless individuals during the

pandemic. Having developed a perseverance model for

nurses working in difficult situations, Ellen emphasized

the need to "staff the needs of the nurse" as nurses strive

to meet the needs of their patients. The importance of

connecting with each patient beyond the necessary tasks

in caring for others allows the nurse to provide care not

only quickly and efficiently, but also reinforces the essence

of nursing through reflection on these connections.

Felicia Cramer, a certified nurse midwife in Springfield

and member of the Political Action Committee within

the American College of Nurse-Midwives, emphasized

the disparity between the heroic comments about

nurses during the pandemic and the lack of protection

experienced by nurses while caring for patients with a

highly infectious disease. Future efforts need to focus on

pro-active and concrete ways to protect nurses in these

situations going forward.

Nellipher (Nellie) Lewis Mchenga, PhD, RN is Assistant

Professor in Nursing at Fitchburg State University and

co-founder of Youthline, a non-profit that provides food,

clothing, and education assistance to high school and

college students in Malawi, a country in southeastern

Africa. Nellie recognizes the need to attract more

students into nursing, but feels it is especially important

to grow a more diverse nursing population that more

appropriately represents the population it serves. As

more students with diverse backgrounds are recruited

into the nursing field, Nellie believes it is also especially

important to put resources in place to support these

future nurses as they progress through their nursing

programs. This will assist students in building resilience

and achieve their dreams of becoming nurses.

Christine Schrauf, PhD, RN, MBA, a double graduate

of the College of Nursing at UMass/Amherst described

the important role professional nursing organizations

play in advocating for nurses as government health

policy is proposed and enacted into law. As co-chair of

the Health Policy Committee of the American Nurses

Association ong>Massachusettsong>, she briefed participants on

three current state bills the association is supporting

concerning nurse staffing, violence prevention for health

care professionals, and addition of ong>Massachusettsong> to the

Nurse Licensure Compact. An electronic handout was

produced and sent to nurses attending the symposium to

brief them further on these initiatives. A lively question

and answer period following each panel enabled the

audience to add their perspectives to this symposium.
---
20 • ong>Massachusettsong> ong>Reportong> on Nursing May 2022

Memorial Day: Remembering is Honoring

The following has been extracted from a speech given on Veterans Day by Barbara

Poremba November 2021. Thank you Carol L. Betty L.P.N for assisting with this article.

Did you know there are about 19 million American Veterans and 1.9 million of them

are women? In total, 124,000 young women enlisted in the US Cadet Nurse Corps. They

served in the military, VA and in private and public hospitals. During WWII, they saved

our health care system from complete collapse. Yet, despite their service in WWII, the

Cadet Nurses are the only uniformed corps who have not been formally recognized as

veterans. Here are some of their stories:

1st Lt Army Nurse Dorothy Taft (Barre) Berry from Charlton, MA trained at Fort

Devens and served with the 16th General Hospital in Europe. They set up MASH (Mobile

Army Surgical Hospital) tents in the fields of Normandy and then Belgium close to the

front lines of the Battle of the Bulge, the largest and bloodiest battle of WWII. The unit

was hit three times by pilotless planes dropping "buzz" bombs in the night including the

Christmas Eve bombing of 1944.

Dorothy has said, "The scariest part was when they stopped buzzing, that meant the

bomb was dropped. Many patients were killed but they didn't tell us about the nurses

who died because they didn't want us to know."

Dorothy is now 103 and is one of very few surviving Army WWII nurses. Lt Berry had

the honor of laying the wreath at the tomb of the Unknown Soldier about 10 years ago.

2nd Lt Army Nurse Anne Montgomery Hargreaves proudly served in the 135th

Evacuation Hospital. Her first brush with death was on a voyage to Europe when her

ship sunk after being struck by another ship in the convoy. Luckily, she was able to get in

a rescue boat that transferred her safely to another ship.

In France, her MASH unit was close to the battlefield, there was always shooting

around the unit and they had to be extremely careful when leaving the tent as snipers

could "easily pick them off."

WWII Cadet Nurse Mary Schofield Maione of Hamilton, MA served at McGuire

Military Hospital in Richmond, VA. She cared for returning soldiers who were

badly injured, many with traumatic amputations and "shellshock" from what they

experienced.

The late Cadet Nurses Evelyn Cahill of Lynnfield and Jean Capobianco of Framingham

cared for soldiers at Cushing Army Hospital in Framingham, MA. Critically injured,

Robert Mitchell, 3rd Infantry Division, spent two years at Cushing. He said, "It is hard to

think what care would have been like if it hadn't been for the Cadet Nurses, who cared

for me and other retuning wounded soldiers."

1st Lt Helen Berman Abrahams, enlisted in the Army Air Corps and was sent to

Maxwell Field in Montgomery, AL, a training base for Cadet pilots. Because there was

such a shortage of trained nurses, there were only 35 nurses at Maxwell Field for

400,000 men. That is less than one nurse for every 10,000 soldiers.

"There were many training accidents at the base," she said," most due to planes

crashing on landing." One in which all the soldiers died on impact.

"It was wartime," she said, "we all did our part and there were many tragedies."

1st Lt Catherine Marie Larkin of Salem, MA, was one such war tragedy.

"Kay" was born in Salem in 1921, the second of five children to Nora Kelleher Larkin

and Edward Larkin, an Irish Catholic family with deep Salem roots.

Her father was a butcher who owned Larkin Market at 132 Boston St., the family

residing above the store.

"Kay" attended Salem Schools and went on for further training in Home Economics

at Essex Aggie. It was there that she discovered her passion for taking care of people

and enrolled in the Salem Hospital Training School for Nurses. Upon her graduation in

1938, she did further training in hospitals in Salem and Providence, RI. When war broke

out, she wanted to join the Army Nurse Corps. Her parents were understandably not

supportive of her idea. Her older brother, Edward, Jr., and her two younger brothers,

John and Robert had all enlisted in the military. Catherine was persistent and she

enlisted in the Army Nurse Corps in 1941, leaving only her younger sister, Margaret,

home to care for her older parents.

Catherine first served stateside at Harding Field in Baton Rouge, LA, where she

enjoyed the camaraderie of other military nurses, writing letters home with sketches

of people and places. She wrote about how excited she was to be promoted to 1st

lieutenant in the rank of Chief Nurse.

The war ramped up in December 1944, she was assigned to the 803rd Medical Air

Evacuation Squadron in the Persian and Indian Theatres.

While establishing a MASH unit in Calcutta, she wrote home about how moved

she was by the poverty she witnessed. Sadly, just a few months later, Catherine was

tragically killed along with other military nurses when the C-47 Transport crashed into

a mountain in bad weather near Ledo, India. After some time to recover her remains, Lt

Catherine Larkin was returned home to Salem and buried in St. Mary's Cemetery.

In memory of Lt Catherine Larkin, the Larkin family and Friends of the United States

Cadet Nurses Corps of WWII have established:

The Lt Catherine M. Larkin, RN Memorial at Larkin Square, Salem, MA, was dedicated

to her service to our country in wartime and serves as an inspiration to others.

The Catherine M. Larkin Memorial Practice Cottage at Essex County Homemaking

School in 1950 and is currently being rebuilt as a multi-use facility, museum and

learning lab.

The Larkin Room for Homeless Women Veterans at Montachusett Veterans Outreach

Center in Gardner, MA, was named in her honor.

A Note about Cadet Nurses

In 2019, ong>Massachusettsong> passed legislation designating every July 1 as "Cadet Nurse

Day" and installing a permanent plaque in the state house commemorating the service

of the 9,000 Mass Cadet Nurses.

But for Cadet Nurses like Mary Maione, being recognized as a WWII Veteran is most

important to preserving the legacy of the US Cadet Nurse Corps.

Currently, there is federal legislation to fix this. The US Cadet Corps Service

Recognition Act s1200 is sponsored by Sen. Elizabeth Warren and HR 2568 sponsored

by Rep. Seth Moulton and have 100% support from the VFW.

The bill will grant Honorary Veteran Status to all WWII Cadet Nurses and provide a

grave marker to mark their service to our country in wartime.

It does not provide burial rights at Arlington National Cemetery or additional VA

benefits.

It simply but importantly pays our nation's respects to the incredible service these

women of the Greatest Generation provided in wartime nearly 80 years ago.

The Pandemic has shown us the impact of nurses and nursing shortages have on our

communities.

Need a hero? Look to nurses!

Coming Soon - New ANA/

ANAMASS Member Benefit

Recent data finds 84% of registered nurses are experiencing burnout, and only

42% feel their employer values their mental health. That is why ANA/ANAMASS are

partnering with SE Healthcare to provide our members with up to four months of free

access to the Burnout Prevention Program starting next week on May 1st through

August 31, 2022 if you register by June 30th. And ANA/ANAMASS members can earn

22 free CNE through this important program!

What is the SE Healthcare Burnout Prevention Program?

• A collection of 190 videos on all aspects of burnout prevention.

• Videos are short - focused on a single topic, tool, or tactic - so you can fit them

into your schedule at your convenience.

• Content developed by respected experts and designed for nurses.

• Videos provide CNE – up to 22 contact hours!
---
May 2022 ong>Massachusettsong> ong>Reportong> on Nursing • 21

A call for health equity at all levels of government

Senator Jo Comerford,

Co-chair, Joint

Committee on Public

Health, General Court of

the Commonwealth of

ong>Massachusettsong>

ong>Massachusettsong> is often

celebrated nationally as a

leader in health care. But

if we look closely, we see

another painful reality —

deep chasms of racial and

ethnic health inequities in the

Commonwealth — created

by generations of structural

racism and socioeconomic inequality.

Senator Jo

Comerford

From a study reported by GBH, "Black women in

ong>Massachusettsong> are 2.5 times more likely to die from

pregnancy-related causes than other women." The latest

Department of Public Health (DPH) data show that the

rate of COVID-19 infections in ong>Massachusettsong> is almost

three times higher for people identifying as Latinx as

compared to white people. And the stark and ugly list

could go on and on from here.

What if we could ensure that a governor's

administration and the state legislature had to prioritize

racial and ethnic health equity — in all levels of state

government — when making budgeting and policy

decisions? This would mean that all major spending

choices, all consequential policies, would be evaluated as

to whether they increased or hurt health equity.

This very question propelled Representative Liz

Miranda (D-Boston) and me to file S.1388/H2373, An Act

Establishing Health Equity at All Levels In Government, also

known as The HEALING Act.

The COVID-19 pandemic demonstrated how brutal

inequities can mean the difference between life and

death. That's why this legislation tackles structural

racism head-on by centering health equity throughout

government, in every agency, with leadership in

the governor's office and sharp, community-led

accountability measures.

This is a racial justice imperative. It is also a matter

of urgent health policy. And the related issues are so

massive that we can't reform. We must transform.

The HEALING Act initiates three concrete steps

to (1) build a culture of health equity throughout the

Commonwealth's government; (2) provide government

agencies and the Legislature with tools and structures to

engage; and (3) ensure accountability through community

oversight.

The bill starts from the understanding that our

individual and community health is only partially

based on our medical care system. Government also

has a significant impact on our health through what

it does around education, housing, transportation,

environmental policy, and more — and through how

it responds in a pandemic. Where we build a road, or

whether school meals are available to children, or which

toxic chemicals are permitted in our water all have an

enormous impact on health equity.

Why go about it like this? We spoke with experts

from other states that have created similar initiatives

with success. The key, we learned, is to build a culture

throughout state government which recognizes that

advancing health equity is the role of the entire

government.

Our legislation proposes a HEALING Initiative within

DPH, a new hub which would advise other state agencies

and track decisions across state government. The

initiative would provide training and technical assistance,

assisting with self-audits and policy review. It would

also bring public voices into these decisions to provide

feedback and accountability.

Because the best time to consider how a policy

will affect health equity is before it becomes law, the

HEALING Act also gives DPH and the Legislature a new

tool — the Health Equity Assessment — to evaluate the

potential impact of pending legislation and spending

decisions.

Health equity requires genuine buy-in from all sectors

that contribute to the social determinants of health. So,

the HEALING Act asks each agency to take charge of its

own health equity work. The legislation proposes that

agencies develop health equity strategic plans, working

with DPH's HEALING Initiative and a well-constructed

Community Oversight Board.

As nurses, you experience firsthand the role social

factors play in determining who is sick and who is well.

You can see the aching disparities across race and

ethnicity. You also have substantial political power,

with the voice of nursing reflecting the need for

compassionate care for the whole patient. I respectfully

ask the nurses of ong>Massachusettsong> to review this legislation,

and determine if they can put their full weight behind

it, as a call for equity and justice for everyone in our

Commonwealth. I remain deeply grateful for your tireless

service.

Jo Comerford represents the Hampshire, Franklin,

Worcester district in the ong>Massachusettsong> State Senate
---
22 • ong>Massachusettsong> ong>Reportong> on Nursing May 2022

Chronic Pain Experiences in Lupus: Implications for Healthcare

Pamela Coombs Delis

PhD, RN, CNE

Nurse Author, Lupus

Ambassador

Lupus Foundation of

America

pamela@lupusnurse.net

Emmitt Henderson III

CEO Male Lupus Warriors

malelupuswarriors@gmail.

com

Chronic pain lasts longer

than 3-6 months and fulfills

no protective physiologic

function, has physical,

psychosocial, and economic

ramifications, and negatively

impacts

functioning.

According to Zelaya et al.

(2020) approximately 20.4% of

individuals in the US, aged 18

years and older report chronic

pain, and approximately onethird

of those reported "high

impact chronic pain" that

restricts life activities and/

or occupation. Approximately

65% of those with Lupus

report chronic pain as the

most burdensome symptom

(Lupus Foundation of America

(LFA), 2022a). Causes associated with pain include

arthralgias, myalgias, arthritis, tendonitis, fibromyalgia,

bursitis, depression, and anxiety. Chronic pain negatively

impacts quality of life, and disrupts familial and social

relationships (Howard, 2017).

A R BOUR

COUNSELING SERVICES

Pamela Coombs

Emmitt Henderson

III

Hiring PMHNP's - $4k Signing Bonus for 32+ hour employees!

Lowell • Haverhill • Woburn • Allston • Norwell

Franklin • Fall River • Worcester

Benefits include: Generous PTO, Excellent Medical,

Dental & Prescription Drug Plans, Employee Assistance

Programs, Employee Discounts, Flexible Schedule

Please scan here to apply or reach out to our

Recruitment team at acsrecruitment@uhsinc.com !

Lived experiences of pain in Lupus

"Chronic pain is so wearisome. It's with me every

minute of every day, with some days worse than others.

I've learned that my pain increases with fatigue, anxiety,

and depression, or if I do too much. The balance between

managing pain and staying active is hard. The worst

time for me is bedtime. It is so hard to get comfortable

enough to go to sleep, despite exhaustion. My shoulders

and hip joints are pierced by the pain of bursitis, and my

legs tingle in pain due to peripheral neuropathy. My

muscles hurt all over. My feet and wrists ache. I meditate

before bed, sit with a heating pad, go for walks daily, use

topical analgesics on my back, neck, shoulders, hips, legs,

and feet. Steroid injections and nerve ablations help. My

pain is not controlled well, but I don't want to be labeled

a 'drug seeker.' Others see you looking just fine on the

outside and discredit your pain. Before I was diagnosed

with lupus, physicians told my husband that it was all in my

head. I think it's because of the "hysterical woman" myth.

Now, I just keeping living my life day-by-day, trying to stay

positive." (Lupus patient, female, age 61).

"As a kid, I experienced pain from the cuts and bruises

that almost all kids endure, but chronic pain, now that's

something else. In 1995, when I got diagnosed with

Lupus and stage 3 kidney failure, I thought I was strong

enough physically to be able to get through the pain but

didn't realize that this pain was at a whole different level.

As a young man, I wouldn't dare show that I was in pain

especially from something that people couldn't visibly see

me suffering from, so I did a good job of hiding it.

At times the pain from Lupus flares were so unbearable

that medications didn't always bring relief. I still worked

but didn't show my pain. Being in management made

hiding my pain a lot easier.

Due to my Lupus medications, I had developed avascular

necrosis in all my joints. My knees, hips and shoulders were

the worst. Raising my arms, lifting, or grabbing anything

was a challenge. Even with my arms down to the side, my

shoulders were in so much pain from every movement

that my doctor knew I needed joint replacements. I ended

up having a shoulder replacement and knee replacement

with both hips and opposite joints on the verge of possible

replacements soon. The chronic pain from my joints is an

everyday problem.

I also suffer from encephalopathy with chronic

migraines on a daily that on a scale from 1-10, I feel a 6

and up every single day. Symptoms like these make it hard

to function daily. Alternative is to rest but who wants to do

that all day, every day? The drugs that do work for pain,

cause drowsiness and makes it hard to function. I've been

involved with pain management doctors but not much was

achieved in relieving my pain.

Chronic pain can break down a person mentally. It

can trigger anxieties, depression if we're not careful. I've

learned mental health practices because of my chronic

pain." (Lupus patient, male, age 52).

Healthcare and Chronic Pain

Healthcare providers' actions can add to the burden

carried by Lupus patients with chronic pain. A nonsupportive

healthcare environment negatively impacts

the experience of those with chronic pain and may

elevate levels of psychological stress. Individuals may

find themselves walking the fine line between advocating

for oneself and being viewed as drug-seeking or difficult

to manage. The negative and stereotypical image of

the hysterical woman can create additional barriers to

care. Empowering the patient may lessen feelings of

helplessness through engendering self-management (LFA,

2022b).

Best practice guidelines include, but are not limited to:

1. Use a patient-centered approach and develop a

therapeutic relationship.

2. Apply multimodal approaches to include physical

therapy, nerve blocks, and other modalities.

3. Base care on the biopsychosocial model.

4. Improve access to care.

5. Engage in compassionate and empathetic care to

address chronic pain stigma.

6. Improve education regarding chronic pain for both

clinicians and patients.

7. Engage in research and development. (Health and

Human Services (HHS), 2019)

References

HHS (2019, May 6). Pain management: Best practices. www.hhs.

gov/sites/default/files/pain-mgmt-best-practices-draftfinal-report-05062019.pdf

Howard, P. (2017, April 4). Pain Management. Blog. www.

lupusuk.org.uk/pain-management/

LFA (2022a). Impact on daily life. www.lupus.org/

understanding-lupus/impact-on-daily-life

LFA (2022b). SELF: Strategies to embrace living with lupus

fearlessly. www.lupus.org/resources/self

Zelaya, C. E., Dahlhamer, J. M., Lucas, J. W., & Conner, E.

M. (2020). Chronic pain and high impact chronic pain

among US adults, 2019. https://www.cdc.gov/nchs/data/

databriefs/db390-H.pd
---
May 2022 ong>Massachusettsong> ong>Reportong> on Nursing • 23

bulletin board

As a nurse and ANA/ANAMASS member, you are

committed to providing superior care to your patients.

It is your passion, and you invest all of your energy

in your work. But who is taking care of you while you

take care of others? Through ANA's Personal Benefits,

we are here to help with six important programs that

every nurse must consider. ANA has carefully screened

partners committed to providing ANA/ANAMASS

member nurses with great value, and we make it easy

to cover yourself in these critical areas.

It is critical for nurses to be active and fit, both for

their physical and mental well-being. ANA members

now have access to the Active & Fit Direct Fitness

Membership program to help. For only $25 a month

(plus enrollment fees and applicable taxes), ANA/

ANAMASS members can join one of 11,000+ fitness

centers in Active & Fit Direct's Standard network

(including brands like Gold's Gym, LA Fitness, YMCA,

SNAP Fitness, and Curves). In addition, the Active & Fit

Direct program includes access to over 4,000+ digital

workout videos for those who prefer to exercise at

home, requires no long-term contracts, and offers

healthy lifestyle one-on-one coaching. Plus, the

Active&Fit Direct program just added over 5,000+

Exercise Studiosv and Fitness Centers in their new

Premium network (including brands like Club Pilates,

Pure Barre, Cyclebar and YogaSix), where ANA/

ANAMASS members can save 10-30% on membership.

This offer is not open to the general public, but ANA/

ANAMASS members can enroll their spouse (or

Domestic Partner). The Active&Fit Direct program

allows you to see the participating centers in your

area before you join. Also, all ANA members can view

200 online workout videos for free just by registering

on the website. Find out why the Active&Fit Direct

program has 96% overall satisfaction!

Click here to learn more about the Active & Fit Direct

program.

Watch this video to get tips about navigating the

Active & Fit Direct website.

Everyone needs Auto and Home insurance – let ANA/

ANAMASS take the hassle out of finding the best

provider and best rate. We are partnering with Liberty

Mutual to offer auto and home insurance to members

with a quick and convenient application process and

great rates. Members can potentially save $947 with

customized auto and home insurance.*

Click here to apply now or find out more information

on Auto and Home insurance or call 855-948-6267.

JOIN ANA ong>Massachusettsong>

and ANA TODAY!

Nurses need to protect themselves and their career

by maintaining Professional Liability Insurance, a.k.a.

Medical Malpractice Insurance. Do not assume your

employer's liability insurance will cover you when a

lawsuit or complaint is filed. Nurses Service Organization

(NSO) has a 45+ year history of defending nursing

professionals from allegations of medical malpractice

and licensing complaints. With over 500,000 nursing

professionals insured and 60+ professional nursing

association partners, they are the premier administrator

of nurses' malpractice insurance in the U.S.

We encourage you to explore NSO's website, receive

a quick rate quote, and browse the case studies and

articles in NSO's Learning Center. In the Learning Center,

you will find NSO's 4th Nurses Claim ong>Reportong>. It provides

statistical data and an analysis of malpractice and

licensing claims, as well as recommendations on how you

can avoid potential problems in your practice.

Click here to learn more about NSO Professional

Liability Insurance for ANA/ANAMASS Members.

ANA's collaboration with Prudential provides exclusive

insurance plans for ANA/ANAMASS Members. Term

Life Insurance can help protect your loved ones in

the event you pass away – and your coverage stays in

place even if your health or employer changes. AD&D

protects you from an accident that results in death or

dismemberment. Both products offer competitive and

affordable rates for ANA/ANAMASS members with quick

and simple access – applying takes about 10 minutes and

you can get coverage in as little as 30 days! Products may

not be available in all states.

Click here for a 1-minute video explaining Term Life

Insurance.

Click here to register to watch a 30-minute webinar on

the ANA Life Insurance Program.

Click here to apply now or find out more information on

Term Life and AD&D insurance.

Laurel Road specializes in helping nurses, with special

rates available to nurses that allow them to save

thousands of dollars. Refinancing might help you

consolidate your loans into one, manageable amount

with one, potentially lower rate. ANA members also

receive a special 0.25% rate discount or $300 cash bonus

when using the link below.

Laurel Road's quick and easy online application allows

you to get preliminary rates in minutes – without

impacting your credit score and with no obligation to

accept. Laurel Road has no fees to apply. You'll also have

the option to set up automatic payments to receive an

additional 0.25% rate discount.

To watch "Student Debt 101 and ANA Resources"

webinar, click here.

Click here to learn more and check your rates now.

Travel discounts are the #1 requested benefit program

from ANA/ANAMASS members. We have partnered

with BookingCommunity to offer members hotel room

rates that are discounted up to 70% -- lower rates than

you will find at any online travel or hotel website. ANA/

ANAMASS members get access to amazing deals that are

not available to the public, at over 800,000 participating

Hotels and Resorts Worldwide. Plan a trip and watch the

savings grow – it pays to be an ANA member!

Click here to access these great, member-exclusive

rates and book travel today.

Long Term Care Insurance is increasingly the choice

of ANA/ANAMASS Members seeking to protect their

hardearned assets from the high cost of long-term

services along with the resulting financial spend-down

and potential loss of self-reliance.

Final Expense Insurance, also known as Burial or Funeral

Insurance, is a type of whole life insurance designed for

those over 40 years of age, to cover funeral expenses and

existing bills when you pass.

Through ANA's partnership with Anchor Health

Administrators (AHA), members receive specialized

advocate services for these much-needed protections.

AHA is a company that, for almost 30 years, has

specialized in working with Nurses/Spouses to provide

the best personal solutions for their planning needs.

Click here for more information on Long Term Care,

or Final Expense coverage and to receive a free, no

obligation consultation with a licensed advocate.

Active&Fit Direct:

Other terms and conditions apply. The Active&Fit Direct

program is provided by American Specialty Health

Fitness, Inc., a subsidiary of American Specialty Health

Incorporated (ASH). Active&Fit Direct and the Active&Fit

Direct logo(s) are trademarks of ASH and used with

permission herein. Not all services may be available in

all areas and the program may be changed (including

monthly and enrollment fees and/or the introductory

period) or discontinued at anytime.

About Prudential Financial

Prudential Financial, Inc. (NYSE: PRU), a financial

services leader, has operations in the United States,

Asia, Europe and Latin America. Prudential's diverse and

talented employees are committed to helping individual

and institutional customers grow and protect their

wealth through a variety of products and services. In

the U.S., Prudential's iconic Rock symbol has stood for

strength, stability, expertise and innovation for more

than a century. For more information, please visit news.

prudential.com.

Laurel Road:

All credit products are subject to credit approval. Laurel

Road is a brand of KeyBank National Association. All

products offered by KeyBank N.A.

Member FDIC.

If you are refinancing any federal student loans with

Laurel Road, you will no longer be able to take advantage

of any federal benefits, including but not limited to:

COVID-19 payment relief, Income Based Repayment

(IBR), Pay As You Earn (PAYE), or Revised Pay As You Earn

(REPAYE), and Public Service Loan Forgiveness (PSLF).

For more information about the benefits of these federal

programs and other federal student loan programs,

please visit https://studentaid.gov.

1) Savings vary based on rate and term of your existing

and refinanced loan(s). Refinancing to a longer term may

lower your monthly payments, but may also increase the

total interest paid over the life of the loan. Refinancing to

a shorter term may increase your monthly payments, but

may lower the total interest paid over the life of the loan.

Review your loan documentation for total cost of your

refinanced loan.

2) A 0.25% interest rate discount offered on new student

loan refinance applications from active ANA members.

The ANA discount is applied to your monthly payment and

will be reflected in your billing statement. The discount

will end if the ANA notifies Laurel Road that the borrower

is no longer a member. This offer cannot be combined

with other member or employee discounts.

3) A $300 cash bonus offered on new student loan

refinance applications from active ANA members. The

loan application must close in order to qualify for the

bonus which will be paid within 45 days of closing.

Existing customers are not eligible. This offer cannot be

combined with other member or employee discounts nor

the Student Loan Refer-a-Friend Program.

4) Checking your rate with Laurel Road only requires a

soft credit pull, which will not affect your credit score.

To proceed with an application, a hard credit pull will be

required, which may affect your credit score.

5) AutoPay/EFT Discount: if the borrower chooses to

make monthly payments automatically by electronic fund

transfer (EFT) from a bank account, the interest rate will

decrease by 0.25% and will increase back if the borrower

stops making (or we stop accepting) monthly payments

automatically by EFT from the borrower's bank account.

The AutoPay/EFT Discount will not reduce the monthly

payment; instead, the discount is applied to the principal

to help pay the loan down faster.

Liberty Mutual:

*Savings validated by new customers who switched

to Liberty Mutual between 1/2020-10/2020 and

participated in a countrywide survey. Savings may vary.

Comparison does not apply in MA. Coverage provided

and underwritten by Liberty Mutual Insurance Company

or its affiliates or subsidiaries, 175 Berkeley Street,

Boston, MA 02116.

To access electronic copies of the

ong>Massachusettsong> ong>Reportong> on Nursing, please visit

http://www.nursingALD.com/publications