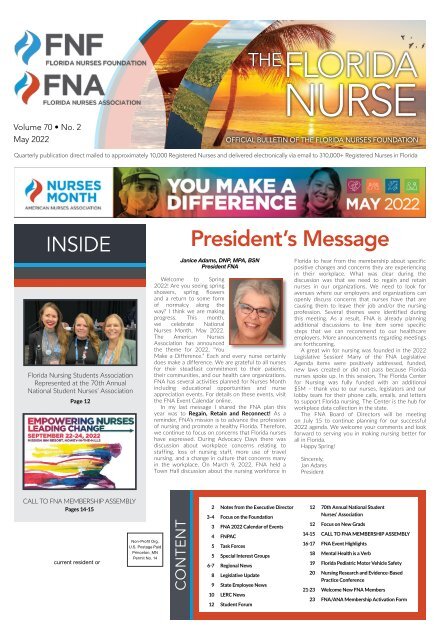 The Florida Nurse - May 2022
You also want an ePaper? Increase the reach of your titles
YUMPU automatically turns print PDFs into web optimized ePapers that Google loves.
THE

FLORIDA

NURSE

Volume 70 • No. 2

May 2022

OFFICIAL BULLETIN OF THE FLORIDA NURSES FOUNDATION

Quarterly publication direct mailed to approximately 10,000 Registered Nurses and delivered electronically via email to 310,000+ Registered Nurses in Florida

INSIDE

Florida Nursing Students Association

Represented at the 70th Annual

National Student Nurses' Association

Page 12

President's Message

Janice Adams, DNP, MPA, BSN

President FNA

Welcome to Spring

2022! Are you seeing spring

showers, spring flowers

and a return to some form

of normalcy along the

way? I think we are making

progress. This month,

we celebrate National

Nurses Month, May 2022.

The American Nurses

Association has announced

the theme for 2022, "You

Make a Difference." Each and every nurse certainly

does make a difference. We are grateful to all nurses

for their steadfast commitment to their patients,

their communities, and our health care organizations.

FNA has several activities planned for Nurses Month

including educational opportunities and nurse

appreciation events. For details on these events, visit

the FNA Event Calendar online.

In my last message I shared the FNA plan this

year was to Regain, Retain and Reconnect! As a

reminder, FNA's mission is to advance the profession

of nursing and promote a healthy Florida. Therefore,

we continue to focus on concerns that Florida nurses

have expressed. During Advocacy Days there was

discussion about workplace concerns relating to

staffing, loss of nursing staff, more use of travel

nursing, and a change in culture that concerns many

in the workplace. On March 9, 2022, FNA held a

Town Hall discussion about the nursing workforce in

Florida to hear from the membership about specific

positive changes and concerns they are experiencing

in their workplace. What was clear during the

discussion was that we need to regain and retain

nurses in our organizations. We need to look for

avenues where our employers and organizations can

openly discuss concerns that nurses have that are

causing them to leave their job and/or the nursing

profession. Several themes were identified during

this meeting. As a result, FNA is already planning

additional discussions to line item some specific

steps that we can recommend to our healthcare

employers. More announcements regarding meetings

are forthcoming.

A great win for nursing was founded in the 2022

Legislative Session! Many of the FNA Legislative

Agenda items were positively addressed, funded,

new laws created or did not pass because Florida

nurses spoke up. In this session, The Florida Center

for Nursing was fully funded with an additional

$5M – thank you to our nurses, legislators and our

lobby team for their phone calls, emails, and letters

to support Florida nursing. The Center is the hub for

workplace data collection in the state.

The FNA Board of Directors will be meeting

on July 15 to continue planning for our successful

2022 agenda. We welcome your comments and look

forward to serving you in making nursing better for

all in Florida.

Happy Spring!

Sincerely,

Jan Adams

President

CALL TO FNA MEMBERSHIP ASSEMBLY

Pages 14-15

current resident or

Non-Profit Org.

U.S. Postage Paid

Princeton, MN

Permit No. 14

CONTENT

2 Notes from the Executive Director

3-4 Focus on the Foundation

3 FNA 2022 Calendar of Events

4 FNPAC

5 Task Forces

5 Special Interest Groups

6-7 Regional News

8 Legislative Update

9 State Employee News

10 LERC News

12 Student Forum

12 70th Annual National Student

Nurses' Association

12 Focus on New Grads

14-15 CALL TO FNA MEMBERSHIP ASSEMBLY

16-17 FNA Event Highlights

18 Mental Health is a Verb

19 Florida Pediatric Motor Vehicle Safety

20 Nursing Research and Evidence-Based

Practice Conference

21-23 Welcome New FNA Members

23 FNA/ANA Membership Activation Form
---
Page 2 The Florida Nurse May 2022

Notes from the Executive Director

We Know the Answer

T H E

FLORIDA

NURSE

Willa Fuller, BSN, RN

Executive Director, Florida Nurses Association

There has been much

discussion among nursing

and healthcare groups about

the devastating impact of the

COVID-19 pandemic on the

nursing work environment.

From education to frontline

care, the damage that has

occurred has affected nursing

across the globe. From the

intensification of the nursing

shortage, the effect of travel Willa Fuller

opportunities and the financial

impact on healthcare institutions, to the loss of nurses

due to retirements and resignations many institutions

are struggling to meet demands of providing care.

In the education sector, nursing students were

unable to complete hands-on clinical experiences

and also had to convert to remote learning which

is not always ideal for a profession that has been

based at least in part on hands-on experiences.

New graduates have reported feeling unprepared

and a lack of support at the onset of their

careers, often due to the fact that there were few

experienced nurses to mentor them in transitioning

to their new role. Some reported working with

travelers who were unfamiliar with their specialties

and who were unwilling to perform duties other

than the most basic nursing functions as they did

not feel safe in the environment they were assigned

to. Educational leadership and faculty also reported

difficulty creating meaningful clinical experiences

and cited a lack of consistency with how various

institutions responded to the pandemic.

In the early days, many nurses called FNA in

great distress due to the inconsistent information

coming from the CDC on guidance related to masks

as well ask safety guidelines for both patients and

nurses. Some reported being ordered to work

with COVID-19 patients without masks or with

surgical masks that they deemed to be unsafe.

Several reported that they contracted COVID-19

and were told that they must work or they would

be terminated. They shared that they had to use

their own personal leave time if they got COVID-19

and some with prolonged illness reported that they

were denied disability claims.

There were many calls of nurses in distress

regarding the conditions they were working under

and their feelings that they were not delivering safe

care with the high standards that they had been

educated and professionally socialized to deliver.

The physical and psychological toll on nurses (and

other healthcare workers) is continuing to unfold.

And particularly when you add to the trauma they

already experienced by being exposed to the impact

of the "politics" of COVID. Patients who refused to

believe they had it or those that realized the gravity

of their illness and began to beg for help, including

the vaccine, much too late. At one point, nurses

reported that they went from being heroes to being

reviled and called names while doing their best to

care for patients.

This article can only scratch the surface of

their experiences, but provides a backdrop for the

question I have most often from people who are not

in healthcare and who have little to no idea what it

is like. The question, as you can all predict is "What

can we do to fix it?" At some level, this question

infuriates me, primarily because that same question

was being asked in meetings all across the country

long before I became a nurse over 30 years ago.

And since I started, the landscape has become even

more complex, with evolving definitions of quality

and the evolution of reimbursement. So many

things affect nurses in complex systems where they

seem to have very little power to influence change.

Even today, much of the discussion occurs at levels

that we are not included in and seem to focus on

tangential issues that never get to the heart of the

problem.

I, along with every nurse working at the bedside

today (or have ever worked in direct care) KNOW

THE ANSWER. And I believe that "they" know that

we know it. But it is danced around like a ballerina

with steel-toed shoes on hot lava. So I am going to

share this long-awaited secret in simple terms that

anyone can understand. In order to stem the tide

of the nursing shortage we MUST create a nursing

work environment where nurses will stay and have

longevity by providing:

1. A manageable number of patients to enable

them to provide the hands-on, ethical, highquality

care that we learned about in school

and pledged at our pinning ceremonies or

graduations.

2. A supportive work environment that is

actually guided by our Standards of Practice

and Code of Ethics at all times, even in a

pandemic.

3. A non-punitive approach to errors which

follows the principles outlined in Too Err is

Human and focuses on systems and process

improvement rather than punishment, which

cures nothing.

4. Extensive orientation or Nurse Residency

programs for new graduates that focus on

development of critical thinking and a path

from Novice to Expert.

5. Adequate compensation for all nurses and

recognition for service such as charge nurse

or preceptorship. Make them feel valued.

6. As a caring profession, it should not be

too much to ask to have a caring work

environment. We have had situations where

nurses have called us in tears for occurrences

such as being denied time off for their

wedding, which of course, had been planned

months in advance.

7. Managers who are well-trained with

leadership and management skills to enable

them to interact professionally and with

respect for their employee colleagues in any

situation.

8. An environment where nurses do not go

home each day so tense and stressed that

they cannot mentally and emotionally

disconnect from work without obsessing

about what they might have missed or done

incorrectly.

9. An environment where a nurse is not thrown

under the bus for an error and treated like a

pariah for fear of legal reprisals, particularly

when the error was most likely caused by

staffing deficits or flawed systems. There has

to be a better way.

10. Repeat #1

Historically, nursing as a caring and perhaps

"sacrificial" role has often been relegated to a "Just

do it" philosophy. This approach, more than ever,

is not sustainable. As Gallup's the most trusted

professional for over two decades, it is time that

healthcare leaders and stakeholders seek out

their voices and include them as we move forward

to seek solutions and make positive change for

nursing's future. All of our lives depend on it.

Owned and Published by,

Florida Nurses Association

1235 E. Concord Street,

Orlando, FL 32803-5403

P.O. Box 536985, Orlando, FL 32853-6985

Telephone: (407) 896-3261

FAX: (407) 896-9042

E-mail: info@floridanurse.org

Website: http://www.floridanurse.org

Office Hours: 8:30 a.m. to 4:30 p.m.,

Monday thru Friday

For advertising rates and information, please

contact Arthur L. Davis Publishing Agency, Inc., PO

Box 216, Cedar Falls, Iowa 50613, (800) 626-4081,

sales@aldpub.com. FNA and the Arthur L. Davis

Publishing Agency, Inc. reserve the right to reject any

advertisement. Responsibility for errors in advertising

is limited to corrections in the next issue or refund of

price of advertisement.

Acceptance of advertising does not imply

endorsement or approval by the Florida Nurses

Association of products advertised, the advertisers, or

the claims made. Rejection of an advertisement does

not imply a product offered for advertising is without

merit, or that the manufacturer lacks integrity, or

that this association disapproves of the product or its

use. FNA and the Arthur L. Davis Publishing Agency,

Inc. shall not be held liable for any consequences

resulting from purchase or use of an advertiser's

product. Articles appearing in this publication express

the opinions of the authors; they do not necessarily

reflect views of the staff, board, or membership of

FNA or those of the national or local associations.

Published quarterly, February, May, August and

November by FNA, a constituent member of the

American Nurses Association.

Editor – Kaitlin Scarbary, 1235 E. Concord St.,

Orlando, FL 32803-5403

Subscription available at $20.00 plus tax, per year.

Members of FNA receive the newspaper as a benefit of

membership.

COPIES of The Florida Nurse are available on

35mm microfilm, 106mm microfilm, article reprints

and issue copies through Bell & Howell, 300 North

Zeeb Road, Ann Arbor, Michigan 48106

Board of Directors

2021–2023

Officers

Janice Adams, DNP, MPA, BSN, President

Marie Etienne, DNP, APRN, FNP, PNP, PLNC,

President-Elect

Debbie Hogan, RN, BSN, MPH, Vice President

Valerie Halstead, PhD, APRN, FNP-BC, Secretary

Mavra Kear, PHD, APRN, BC, Treasurer

Region Directors

Jake Bush, MSN, RN, Northwest Region

Kellyann Curnayn, DNP, APRN-BC, North Central

Region

Susie Norman, MSN, Northeast Region

Marcos Gayol, EdD, MSN, MPH, RN, East Central Region

Meghan Moroney, BSN, RN, West Central Region

Cynthia Tagliaferri, RN, BSN, DNP Student, Southeast

Region

Camille Baldwin, EdD, MSN, RN, CNE, CHSE,

Southwest Region

Linda Washington-Brown, PHD, EJD, MSN, APRN-C,

FAANP, FAAN, South Region

Director of Recent Graduates

Danielle Weaver, BSN, RN, CEN

LERC Liaison

Marsha Martin, RN

FNA Office

Willa Fuller, BSN, RN, Executive Director

John Berry, Jr., Director of Labor Relations &

Government Affairs

Kaitlin Scarbary, Director of Member Programs,

Technology, and Marketing
---
May 2022 The Florida Nurse Page 3

Focus on the Foundation

Leaving Legacies in Nursing:

Three Profiles of Past Foundation Leaders

Patricia Messmer, PhD, RN-BC, FAAN

Treasurer, Florida Nurses Foundation

The Foundation is excited to

welcome back George Peraza-

Smith, DNP, APRN as a

Trustee! George served as

FNF Trustee (2014-2019), FNF

President (2017-2019) and

Florida Nurses Association

(FNA) President 2019-2021.

Three FNA nurse

colleagues Carolyn Vallone,

Claire Good and Imogene King

(deceased) helped George

Peraza-Smith, DNP, APRN become FNF Trustee & FNF

President and FNA President; all three colleagues were

members of District IV in Tampa, Florida.

2022

Calendar of Events

Some meetings such as committee meetings and

recurring regional meetings are not included in the

list below. View the Full FNA Calendar at

www.floridanurse.org/events.

1st Annual Southeast Region Nurse Appreciation Event

May 12, 2022 | 3pm-9pm ET

Florida Atlantic University College of Nursing, Boca Raton, FL

Nursing Summit

Conversations with a Purpose: Nursing Workforce

Strategies and Solutions

June 8 | 9am - 1pm ET

Zoom Conference

8th Annual FNA Nursing Research and

Evidence-Based Practice Conference

July 16 | 8:00am – 4:00pm ET

Sheraton Orlando North Hotel, Maitland, FL

2022 FNA Membership Assembly

September 22-24, 2022

Mission Inn Resort, Howey-in-the-Hills, FL

Health Policy Special Interest Group

Every Second Tuesday | 7:00-8:00pm EST

Zoom Meeting

Ethics Special Interest Group

Every Third Tuesday | 6:00-7:00pm EST

Zoom Meeting

Holistic Nursing Special Interest Group

Every Third Thursday | 5:00-6:00pm EST

Zoom Meeting

Carolyn Vallone, FNF

Trustee 1988-1992 and

President 1990-1991

Carolyn Weaver Vallone

graduated from the DePaul

Hospital School of Nursing

in Norfolk, Virginia, in 1952.

The city's first public hospital

offered a rigorous residential

3-year program administered

by the Catholic Daughters of

Charity. As a student, Vallone

worked full-time at DePaul Hospital six days a week,

spent afternoons in class, and by her junior year, served

as the sole nurse for 50 patients. From studying infectious

disease at a tuberculosis hospital to supporting polio

patients in "iron lung" tank respirators, Carolyn Weaver's

early nursing education prepared her to be both adaptive

and innovative. It also grounded her in the duality of

nursing excellence: compassion and clinical care.

Carolyn went on to work in hospitals in Virginia, New

York and Vermont, earning a bachelor's in nursing in

1970 from the University of Vermont while working as

an assistant director of nursing services, teaching student

nurses, and raising four children. In 1971, she earned a

master's degree from the University of Florida through

the Professional Nurse Traineeship Program (a grant

program she'd like to revive!). As a UF student, Vallone

became involved with Florida Nurses Association (FNA)

and, through its connections, was hired by St. Joseph's

Hospital. She remained an active FNA member and

leader for decades and was inducted into its Hall of

Fame in 2017.

In her 40-year career, Vallone worked with the FNA

to elevate the public perception of nurses as highly skilled

health-care professionals. While acknowledging the

excellent training provided by diploma nursing programs,

she successfully advocated for increased education and

licensure requirements – and commensurate pay. During

her tenure as vice president for nursing services at

Tampa's St. Joseph's Hospital, she fought initiatives that

failed to acknowledge nurses' vital role in patient care;

oversaw the hospital's transition to computerized recordkeeping;

and helped lead the expansion of educational

programs to address the nursing shortage.

During that time, she served several years as a

flight nurse in the U.S. Air Force Reserves, advancing

from captain to major while training fellow reservists.

Vallone retired in 1991 and remained licensed until age

88, working as a nurse at residential summer camps to

provide her Florida grandchildren with mountain camp

experiences, and volunteering for numerous healthcare

initiatives. Though personally modest about her

Legacies in Nursing continued on page 4

Interested in presenting for FNA?

Go to www.floridanurse.org/speak

Members of FNA/ANA will be given priority.

We welcome all nursing students and Registered Nurses

regardless of membership status to all of our events unless

otherwise noted. For registration and more information

about FNA events, go to www.floridanurse.org/events.
---
Page 4 The Florida Nurse May 2022

Focus on the Foundation

Legacies in Nursing continued from page 3

contributions, generations of colleague's credit Vallone with unflappable leadership

through four decades of rapid evolution in the nursing profession. Her bottom

lines never wavered: maintaining quality patient care and supporting nurses

individually and collectively. Carolyn as Regional Director met Imogene when she

relocated from Loyola University-Chicago to University of South Florida.

Claire Good, Former Foundation Trustee and President

Claire Good, RN, BSN received her diploma from Bellevue

School of Nursing in New York City. Nursing was an influence

in Claire's growing-up; she had no thoughts of making it her

career. When she graduated from HS and was unable to "go

away to college' due to finances, she discovered the Nurse

Cadet Corps with US government paying for "training."

Graduate nurses would serve in the Military. Claire found

Cadet Nurse exciting with the gray uniforms and hats "chic."

The war ended with the Cadet Corp ceasing. Claire was in

the 1st post-war class graduating 1949; 1st class to work a

40-hour week.

Upon graduation Claire worked in the Clinic at Bellevue Hospital for almost

a year until her first daughter was born. She did not return to nursing until after

the birth of her second daughter, at which time she worked part-time in Labor

& Delivery at the Brooklyn Jewish Hospital. Once again her employment was

interrupted by her move to South Florida with her husband and daughter in

1955. Once "settled" Claire again pursued her nursing career. First it was nights

in the Labor & Delivery rooms at Jackson Memorial Hospital. Claire moved to

North Shore Hospital (recently opened) offering her a day tour and the Newborn

Nursery. After a few years Claire asked for a transfer since the nursery was no

longer challenging, nor the Head Nurse innovative or stimulating. Then Claire was

given the position of the Recovery Room-initially alone. At this point in Claire's

career she took it upon herself to establish a policy and procedure manual for

the area, enabling relief nurses to become familiar with the area and know the

routine for the post-op patients. After several years Claire transferred to per-diem

working at the same institution which gave her an opportunity to work on the

medical and surgical floors.

Claire was the first Inservice director and then Assistant Director of Nursing at

the new hospital Plantation General Hospital, Plantation, Florida. Claire received

a BSN at University of Miami in 1970. Claire's husband worked with Scandinavian

Airlines and was transferred to Tampa in 1981. Claire joined FNA/ANA in 1961. She

met Carolyn at the District IV-Tampa meetings and met Imogene at the 1981 FNA

convention in Jacksonville, Florda when Imogene was elected as a Regional Director.

Claire currently lives in West Palm Beach. She has two daughters,

granddaughter and grandson, five (two great grand-daughters and three greatgrand-sons)

with one great, great grandson. One granddaughter is attending

nursing program in Tampa and will graduate December, 2022 in time to celebrate

Claire's 93rd birthday on February 7, 2023.

Imogene served as Director of Nursing at The Ohio State University (1968-1972).

Imogene was a professor at University of South Florida from 1980 until her retirement

in 1990 as Professor Emeritus. Tampa General Hospital implemented Imogene's Theory

of Goal Attainment. Imogene served on the advisory board for the Nursing program

at University of Tampa. Imogene was inducted as a Living Legend at the American

Academy of Nursing (AAN) and the ANA and FNA Hall of Fame and Teachers College,

Columbia University Hall of Fame. Imogene was the 1996 ANA Jessie Scott recipient

and was thrilled when Jessie Scott came for her presentation. Imogene was one of

the original SIGMA Virginia Henderson Fellows, receiving the 1989 Elizabeth Russell

Founders Award for Education. In 1997, Governor Chiles presented Imogene a Gold

Medalion for advancing the nursing profession in the State of Florida.

Imogene was recognized as one of the Nurse Theorists, Toward a Theory of Nursing

(1971) and A Theory of Nursing: Systems, Concepts and Processes (1981) which was

translated into Japanese, Spanish and German. Imogene authored numerous articles on

Theory of Goal Attainment, serving on the Editorial board of Nursing Science Quarterly

and authoring several chapters in Frey and Seiloff's (1995) Advancing King's Systems

Framework and Theory of Nursing and 2007 Middle Range Theory Using King's Conceptual

Systems. Imogene was totally dedicated to the Nursing Profession while not afraid to

speak out on the "concerns." Imogene was quite thoughtful and a good friend-always

willing to discuss mutual concerns for the future of nursing. Carolyn and Claire could

depend upon Imogene to deliver anything she promised including returning calls

and being of help if requested, Discussion of "nursing theories" with her were very

stimulating and "motivating" to Carolyn and Claire!

Carolyn, Claire and Imogene at District IV and FNA Conventions discussed George

Peraza-Smith's potential leading Florida Nurses Foundation and Florida Nurses

Association. George contributes his interest in leadership to FNA and FNF to the

mentorship of these three "Super Senior Mentors." FNA and FNF would like to extend

our appreciation to these three and also to all the nurses who mentor other nurses and

encourage them to get involved and become leaders in FNA and FNF.

FNPAC

Imogene King, FNF Secretary 1987-1988 and FNF

President 1988-1990

Imogene King, EdD, RN, FAAN (January 30,

1923-December 24, 2007), received a diploma in nursing

from St Johns Hospital School of Nursing, St Louis, Mo in

1945, a BS in Nursing Education in 1948 and an MSN in 1957

both from St Louis University. Imogene studied under Mildred

Montag earning a Doctorate in Education from Teachers

College, Columbia University. Imogene served (1966-68) as

Assistant Chief in the Research Grants Branch, Division of

Nursing Bureau of Health Manpower and Welfare (HEW)

under Dr. Jessie Scott. Imogene was a professor at Loyola

University of Chicago (1961-1972) where her archives are housed. Additional archives

are at University of Virginia.

Veterans' Homes

RNs, LPNs, & CNAs needed at all locations

Lake City

Daytona Beach

Land O' Lakes

Pembroke Pines

Panama City

Port Charlotte

St. Augustine

Port St. Lucie

Orlando

The Robert H. Jenkins Jr. Veterans' Domiciliary Home

The Emory L. Bennett State Veterans' Nursing Home

The Baldomero Lopez State Veterans' Nursing Home

The Alexander "Sandy" Nininger State Veterans'

Nursing Home

The Clifford C. Sims State Veterans' Nursing Home

The Douglas T. Jacobson State Veterans' Nursing Home

The Clyde E. Lassen State Veterans' Nursing Home

The Ardie R. Copas State Veterans' Nursing Home

Alwyn C. Cashe State Veterans' Nursing Home

For employment opportunities at the homes, call the FDVA

Human Resources Office at (727) 518-3202, Ext. 5579 or visit the

People First website at https://jobs.myflorida.com/joblist.html
---
May 2022 The Florida Nurse Page 5

Task Forces

Special Interest Groups

Diversity, Equity and Inclusion Task Force and the Social Justice Task Force

The Diversity, Equity and Inclusion Task Force and the Social Justice Task Force

have merged. After the Social Justice Task Force completed their first year, they

submitted a reference proposal to the Membership Assembly which was accepted.

There were several goals outlined in that proposal which the task force continues

to move forward on but at that point they proposed a merger with the DEI Task

Force which was approved. The combined Task Forces have renamed themselves

as the Justice, Equity, Diversity and Inclusion Task Force (JEDI). They are currently

working on summarizing the survey of FNA members which focused on how FNA

is doing in their quest toward being a diverse and inclusive organization. That

report is currently being prepared. In the meantime, the open-ended responses

are being evaluated in terms of next steps for action. This Task Force is being cochaired

by Marie Etienne and Sue Fowler. Special recognition to Charlie Buscemi

who remains on the Task Force and served as Co-Chair of the Social Justice Task

Force before the merger.

Pandemic and Disaster Task Force

This group has been very active overseeing the Pandemic and Disaster Resource

Page, and looking toward some educational webinars in the future. Their current

project is a video project related to telling the nursing story throughout the pandemic.

They have met with the videographer and plans are underway to begin filming. Deirdre

Krause is the chair of this task force and we appreciate her leadership.

Holistic Nursing SIG

Members of the Holistic Nursing special interest group are currently working on a

project centered around nurse self-care. The project will be a webpage dubbed the

Nurse Zen Zone that will contain various resources and tools focused on self-care

such as meditation guides, mental health resources, healthy lifestyle information, and

humor. The group hope that this webpage will become a go-to resource for nurses

when they need a bit of "Zen" time. Expect the launch later this year!

Nursing Ethics SIG

The Ethics special interest group has met several times this year and each

meeting, similar issues come up in conversation. Most of those revolve around the

ethical concerns brought forth by nursing shortages and the abundance of travel

nursing positions. The group plans to submit a reference proposal for the 2022 FNA

Membership Assembly summarizing those concerns.

Research SIG

Members of the Nursing Research special interest group are busy planning the

2022 FNA Nursing Research and Evidence-Based Practice Conference to take place

on July 16, 2022 in Maitland, FL. The group has collected a large number of abstracts

to consider for poster and podium presentation. They will be making their reviews

and selections in late May. More information on the Research Conference is posted at

www.floridanurse.org/ResearchConference-2022.
---
Page 6 The Florida Nurse May 2022

Regional News

Many of our members participate in networking

and professional development opportunities

available in our East Central (EC) region. Over the

years, our regional members have had several

opportunities to experience the camaraderie,

engagement and support of their nursing peers &

colleagues. We are lucky to have a large number

of capable leaders in our eight-county region,

both in clinical practice and academia and many

of those leaders are published experts in their

particular areas. A specific request came from our

EC meeting early this year – and that is the creation

of a professional development opportunity on how

to become published. To meet this request, we

are going to be hosting a developmental webinar

on how to publish an article in a peer-reviewed

journal. If you are interested in attending our

educational offering on publishing in May 2022,

please register on the FNA Event Calendar at www.

floridanurse.org/events. I look forward to a great

turnout and hearing about all the wonderful work

each of you are doing.

Hello Northeast Region Members,

The Florida 2022 Legislative Session ended on

March 14th and now is the time to start preparing for

the 2023 session which will begin in January. Do you

know who your local and state legislators are? Need

help? The FNA website offers an easy and convenient

way to find out. Go to https://www.floridanurse.org/

page /FindMyLegislator#/. Have you heard about our

legislative grassroots program? It's an opportunity

to meet with our local legislators to thank them for

their support and to share FNA's Legislative Platform.

Your participation can make a positive impact for our

profession. I look forward to working with all of you

and would like to express my sincere gratitude for

allowing me the opportunity to serve our region.

NW1 – February 24, 2022 Northwest Social

featuring Micro-Practices of Self-Care

presentation by Dr. Angela Blackburn

The North Central Region plans to have a

meeting in the next quarter. Details will be emailed

to members in the Region and posted to the FNA

website.

LIFE-CHANGING CAREERS

Now Hiring Nurse Instructors!

Jacksonville

For nearly 50 years, Concorde Career Institute has prepared thousands of

people for rewarding careers in the healthcare industry.

We specialize in education with a clearly defined purpose.

Our goal is to prepare students for the most in-demand jobs in healthcare.

Qualifications to teach diploma and degree programs include:

• Current RN license in Florida

• BSN (Diploma Program), MSN (Degree Program)

• 3-4 years of recent clinical experience

• Meet all state Board of Nursing qualifications

We offer: Medical/dental/vision, 401K retirement plan, paid holidays, vacation,

and education reimbursement for full-time and part-time employees.

To apply visit https://careers.concorde.edu/

Apply with Concorde today!

Train our future skilled Nurses.

EOE/M/F/D/V

Greetings everyone! Thank you to those who were

able to attend our social event on February 24, 2022,

which featured the presentation "Micro-Practices of

Self-Care" from Dr. Angela Blackburn. I am planning

our next face-to-face meeting. Lookout for forthcoming

information for our next event via email and on the

FNA website. Also, I am continuing the search for FNA

members in our region who are interested in being part

of the Northwest Region Leadership Council. Our NW

Region covers quite a large geographical region. As a

member of our NW Region Leadership Council, you

would be instrumental in planning collaborative events

in your local area. If you would like to be part of our

region's leadership council, share any professional

accomplishments, or have any regional activity ideas/

questions, please feel free to contact me @ stebn21@

gmail.com. I look forward to hearing from you. May

is Mental Health Awareness month. Check out the

National Alliance on Mental Illness (NAMI) website

(https://www.nami.org/Get-Involved/Awareness-

Events/Mental-Health-Awareness-Month) for

resources to celebrate. Thank you for allowing me the

opportunity to serve our region!

Dr. Jake Bush

Drawings created by attendees at February 24th

Self-care event

The South Region held its 12th Annual Symposium

and Awards Ceremony on April 9, 2022. This was

FNA's first event back in person since early 2020

and it was a resounding success! A full recap of the

symposium is featured on pages 16-17.

South Region also hosted a Nurse Appreciation

Event on Friday, May 6, the first day of 2022 Nurses

Week. The event aimed to be a place of restoration

and reflection for the nurses in attendance. Services

such as massage, meditation, yoga, and aromatherapy

were provided for free to attending nurses. Thank you

to our partnering organizations that helped make this

event possible!
---
May 2022 The Florida Nurse Page 7

Regional News

In March 2022, Dr. Adams and I presented as guest

lecturers to the FNP and PMHNP class of 2024 at Nova

Southeastern. We shared information about FNA's

Grassroot Legislative Program and 2022 Legislative

Platform. Top issues shared pertained to autonomous

practice by APRNs, recurring funding for the Florida

Center for Nursing, pandemic management, and stateemployed

healthcare professionals support and protection.

Happy Springtime!

Hello Southeast Region Members!

I am happy to share my continued enthusiasm

for growing our Southeast Region and thank you

all for helping to make these past few months a big

success!

Our Event Planning Committee and Legislative

Committee have been busy working together to

advance our Region and invite you to join them!

In honor of Nurses Week, we held the '1st

Annual Nurse Appreciation Event' on May 12 at

the Florida Atlantic University College of Nursing.

This event was FREE to all nurses! This Self-

Care Themed Event provided rejuvenating and

refreshing services to all nurses such as: Massage,

Acupuncture, Reiki, Hand Microdermabrasion,

Foot Reflexology, Guided Meditation Sessions and

more! We also held hourly gift-basket giveaways

and a silent auction for an 'Ultimate Wellness

Week Get-Away.' Thank you to our amazing

volunteer team who worked so hard to put this

event together: Rebecca Armstrong, Altavia

Evans, Deirdre Krause, Mara Raggi, Delilah Rivera,

Maritess Quinto, and Yamiley Theodore.

We also held an important legislative event to

honor Nurses Week. On May 3, Commissioner

McKinley, District 6, for the Town of Loxahatchee

Grove sponsored a proclamation declaring Nurses

Week May 6th–May 12th during the regularly

scheduled BCC meeting. Well done CAPT Deirdre

Krause and Darlene Dempsey on our Legislative

Committee!

Leadership Council positions are still available

for a few of our five counties to help further

develop and strengthen our Region. Little effort….

Big rewards! Help me, Help you…. Email cynthia.

fna@gmail.com for more information

Our SE Region leadership zoom meetings are

scheduled monthly on Wednesday evenings, midmonth,

from 6:30 to 7:30pm throughout the year,

with exact dates posted on the FNA website

calendar each month. All Region members are

welcome to join these meetings! We are in the

process of planning our participation in FNA's

annual Membership Assembly, which will be the

focus for our third quarter event, so bring your

great ideas and energy to our next meeting on May

18 at 6:30pm and let the SE Region bring about

great changes for the future of nursing in Florida!

See you soon on zoom!

Warm Regards,

Cynthia

Cynthia Tagilaferri, RN, BSN, DNP Student

FNA SE Region Director

Cynthia.fna@gmail.com

The heart of healthcare is celebrated during

National Nurses Week beginning each year on May

6th and ending on May 12th, Florence Nightingale's

birthday. As of 1998, May 8th was designated as

National Student Nurses Day, to be celebrated

annually as well. With over four million working

nurses in the US today, nurses make up the highest

percentage of the US healthcare workforce with an

impressive 20-year running rated as the most trusted

profession (Gallup Poll).

On behalf of FNA, President Janice Adams

and I celebrated Nurses Week 2022 with Nova

Southeastern University Tampa Bay Regional Campus.

President Adams' four-year partnership provides CE

contact hours during special celebration weeks at

NSU. This year, FNA partnered with Nova to provide

five mandatory CE courses as webinars offered to the

whole state.

Left to right: Michael Abraham, MAEd Assistant

Director III, Student Recruitment & Enrollment

Management, April Stidham, DNP, FNPC,

Program Director MSN FNP,

FNA President, Dr. Janice Adams, FNA West

Central Region Director Meghan Moroney

Students: FNP & PMHNP Class 2024 -

Advanced Health Assessment

FNA appreciates you and recognizes your vital and

unique contributions to health care and society at

large. Thank you for being the heart of health care!

Live life when you have it. Life is a splendid

gift-there is nothing small about it.

– Florence Nightingale

Sant ut libus nobiscide escita dem volorent vendignietEt

Assistant & Adjunct Professor in Nursing

Broward College invites applicants for full-time

tenure track teaching and adjunct faculty

positions in Nursing to start with the fall

2022 semester.

Responsibilities to include: teaching, student consultation, course preparation, review of course

outlines, grade processing within deadlines, preparation of syllabus and committee work.

Qualifications to include: A Master's Degree in Nursing is required, a PhD is preferred. Active

Nursing License in the State of Florida without restrictions.

The ideal candidate will be knowledgeable about culturally responsive pedagogical techniques

and effective practices for engaging Black/African American, White, Asian-American,

and multiracial and Native American students, who are historically underrepresented and

underserved in traditional classrooms.

Broward College serves more than 68,000 students annually and employs a faculty and

staff of more than 2,000 and is committed to fostering a learning-centered community that

celebrates diversity and inclusion by empowering and engaging students, faculty and staff.

For more information and to apply, please visit:

HTTPS://WWW.BROWARD.EDU/JOBS/
---
Page 8 The Florida Nurse May 2022

Legislative Update

The Florida Legislature adjourned, Sine Die on March 14th at 1:03 pm.

In an unusual year, filled with uncertainty, the

Florida Legislature had only two constitutionally

required tasks: 1) to pass a balanced budget, as is

required every year, and 2) to pass House, Senate and

Congressional maps.

These tasks must be completed within the 60-

day regular session, and even with more money

than the state has seen in recent years to work

with, the two chambers were forced to extend

three days past the sixty-day mark, March 11th, in

order to allow for the 72-hour cooling off period for

the budget.

This year 3,735 bills and proposed committee bills

were filed. 1,896 total amendments were filed. There

were 39 floor sessions (times the Chambers sat on the

floor). 4,324 votes were taken in all committees and

floor sessions that allowed for 285 bills to pass both

chambers.

FNA followed a total of 105 bills this session. 53

bills became priorities, and out of those priorities

seven passed. One of those bills was supported by

the FNA, the others became bills for monitoring.

Below are few of the bills we monitored and their

status. A Legislative Session Wrap-Up was presented

for FNA members on March 14, 2022. To watch

the recording, go to https://www.floridanurse.org/

news/600265/2022-Legislative-Session-Wrap-Up.

htm.

SB 7014 COVID-19-related Claims Against Health

Care Providers by Judiciary

- Extending the duration of liability protections

from COVID-19-related claims against health

care providers, etc.

- FNA Supported this Bill

- Status: APPROVED by Governor

SB 1686 Autonomous Practice by Advanced Practice

Registered Nurses by Rodriguez (A)

- Requiring certified nurse midwives providing

out-of-hospital birth services to have a

written plan for the appropriate delivery of

emergency care; providing requirements for

the plan; deleting a requirement that certified

nurse midwives have a written patient transfer

agreement with a hospital and a written referral

agreement with a licensed physician, etc.

- FNA Supported this Bill

- Status: Died

HB 687 - Free Speech of Health Care Practitioners

by Representative Brad Drake and SB 1184 by

Senator Doug Broxson

- Prohibits certain entities from revoking license,

certificate, or registration of health care practitioner

for specified use of his or her right of free speech

without specified proof; provides liability & penalty.

- FNA Monitored this Bill

- Status: Died

HB 1197 Employee Organizations Representing

Public Employees by Byrd, Plakon

- Revises provisions related to employee organizations

including organizations for public employees, forms,

dues & uniform assessments, applications for

renewal of registration, recertification, & revocation

of registration & certification.

- FNA Opposed this Bill

- Status: Died

SB 1458 Employee Organizations by Baxley

- Employee Organizations; Requiring employee

organizations to provide a notice of employees'

rights form to specified employees; requiring an

employee organization to revoke an employee's

membership upon receipt of the employee's written

request for revocation; prohibiting certain employee

organizations from having dues and uniform

assessments deducted by the employer from

certain employees' salaries; revising requirements

for applications for renewal of registration of an

employee organization; revising requirements

for applications for renewals of registration for

employee organizations certified as bargaining

agents for units of instructional personnel, etc.

- FNA Opposed this Bill

- Status: Died

HB 4725 - University of South Florida - Florida

Center for Nursing- Representative Kamia Brown

(Orlando)

- University of South Florida - Florida Center

for Nursing: Provides an appropriation for the

University of South Florida - Florida Center for

Nursing.

- FNA Supported this Bill

- Status: $5,000,000 allocated in the budget

towards the Florida Center for Nursing. At the

time of this report we are still awaiting approval

of the budget.

We are currently planning for the next few

months by encouraging members to make contact

with their legislator. These are the steps we ask

you to take to make sure we maintain and build

relationships with your local policy makers

1. Go to our website at www.floridanurse.org

and click on the Advocacy button on the

menu. Navigate to Tools and find the "Find

My Legislator" Button. Enter your address

with zip code to find your legislators.

2. Focus on Florida State Senator and

Representatives. Write down your

legislators' names, address, phone number

and email.

3. Also make notes of other interesting facts

like birthday, schools or colleges, pets or any

other items of interest that may be common

interests or could spark a conversation.

4. Set 3 more dates before the end of the year

to touch base with the legislator.

a. What do you talk about?

i. Introduce yourself and tell them

about the area of nursing you work

in.

ii. Introduce FNA's legislative agenda

and offer to email it to them.

iii. Try to answer any questions they

might have if you do not know the

answer, tell them you will get back

to them. Contact FNA headquarters

with your question.

iv. Please do not introduce non-FNA

issues during these calls but feel free

to advocate for other issues on your

own time.

v. Report these visits back to us by

completing a Legislative Feedback

Form at https://www.floridanurse.

org/page/LegFeedbackForm

The importance of these calls (or face to face

visits during the off-session months) is so we

have a relationship with every legislator in Florida

regardless of party affiliation.

Bradenton, Gainesville, Lecanto, Live Oak, Orange Park, Palatka,

Pasco, Sarasota, Tampa, and The Villages
---
May 2022 The Florida Nurse Page 9

Thank You Public Health!

State Employee News

Deborah Hogan, RN, MPH

FNA HCP Bargaining Unit

As we celebrated Public

Health Week from April 4-11,

it was and still is important

to think about what public

health has accomplished in

terms of prevention and health

promotion. There are so many

successes that we tend to

take for granted in our society

today.

Thank you, Public Health and

our Public Health Professionals,

for these accomplishments from

2001-2010:

1) Control of Vaccine Preventable Diseases with 17

different vaccines.

2) Prevention and Control of Infectious Diseases

including TB, HIV, safe blood donations and

rabies control.

3) Increase in tobacco control measures.

Debbie Hogan

4) Improved Maternal and Infant health due to early

infant screenings.

5) Improvements in motor vehicle safety due to

seat belt and child safety seat requirements.

6) Prevention of cardiovascular disease by

decreasing cardiac risk factors such as

uncontrolled hypertension, elevated cholesterol

and smoking.

7) Improvements in occupational safety through

improved working conditions and the reduction

of workplace-associated injuries.

8) Cancer prevention through evidence-based

screening recommendations.

9) Decreases in the incidence of cases of

childhood lead poisoning through lead poisoning

prevention laws.

10) Emphasis on public health preparedness and

response initiatives to respond to public health

threats.

In our world today, after two years of dealing with

the impact of a pandemic, we have become aware

of more of the contributions of our public health

services – development of rapid testing capabilities

for the COVID virus, prevention strategies involving

masking and social distancing, and the development

of safe and effective mRNA vaccines that have saved

so many lives. There is hope that with the success

of the mRNA vaccines against COVID, there will be

future advances in the treatment of a host of other

pathogens, such as influenza, Zika, rabies, HIV and

respiratory syncytial virus (RSV). In addition, there is

also promise in mRNA to treat cancer, cystic fibrosis

and some rare, inherited metabolic disorders, although

these therapies are still many years away.

We are grateful for these accomplishments and to

our public health providers! However, in celebrating

these successes, we are reminded that these issues

will continue to threaten our population unless we

remain vigilant in maintaining a strong public health

infrastructure and public health workforce capable of

responding immediately to current and future disease

threats. Prevention is the goal of our public health

providers, and we must all support them in this goal also.

https:www.cdc.gov/mmwr/preview/mmwrhtml/mm6019a5.

htm

Szabo, Liz, "COVID's "Silver Lining": Research Breakthroughs

for Chronic Disease, Cancer and Common, Flu,"

Kaiser Health News,.
---
Page 10 The Florida Nurse May 2022

LERC News

Employees Can Be Terminated During FMLA Leave

John Berry, Director of Labor Relations

The Family Medical Leave

Act (FMLA) entitles eligible

employees of covered

employers to take job-protected

unpaid leave for specified family

and medical reasons. Employees

cannot be terminated for taking

medical leave, however, they

can be terminated while on

medical leave for other reasons

such as performance issues. The

following is a brief review of the

standards of the FMLA program:

John Berry

Save the Date

June 8, 2022 | 9am-12pm EDT

Conversations with a

Purpose: Nursing Workforce

Strategies and Solutions

The Florida Nurses Association, the Florida

Center for Nursing and the Florida Action

Coalition are joining together to hold a summit

called Conversations with a Purpose to bring

stake holders together to discuss SOLUTIONS to

all the challenges we have previously discussed in

our many meetings and sessions across the state.

Each session will be facilitated by a Conversation

Starter who will begin the discussion with a brief

presentation leading to a work session meant

to result in tangible solutions to share with the

healthcare community.

Qualified employers under FMLA are:

- A private sector employer with 50 or more

employees.

- A public agency, which includes a local, state, or

federal government agency, regardless of the

number of employees it employs.

- Public or private elementary or secondary school,

regardless of the number of employees it employs.

Eligible employees who are entitled to take FMLA are:

- Someone who works for a covered employer.

- Who works for that same employer for at least 12

months and has worked for at least 1,250 hours

of service for that same employer during the

12-month period immediately preceding the leave.

- Has worked at a location that has at least 50

employees in the private sector.

Eligible employees can use up to 12 work weeks of

leave in a 12-month period for one or more of the

following reasons:

- The birth of a child or placement of a child with

the employee for adoption or foster care.

- To care for a spouse, son, daughter, or a parent

who has a serious health condition.

- A serious health condition that makes the

employee unable to perform the essential

functions of their job.

- For any qualifying emergency arising out of the

fact that a spouse, son, daughter, or parent, is a

military member on covered active duty or call to

covered active duty status.

An eligible employee may also take up to 26 work

weeks of leave during a "single 12-month period" to

care for a servicemember with a serious injury or

illness. Under some circumstances, employees may

take FMLA on an intermittent or reduced schedule

(i.e., they can use blocks of time during the work day).

Employees must also comply with their employer's

usual or customary requirements for requesting

leave and to provide enough information for their

employer to determine whether the FMLA may apply

to the leave request. When the leave is foreseeable,

employees must request the leave 30 days in advance

or as soon as possible under the circumstances.

When an employee is returning to work, they

must be restored to his or her original job or to an

equivalent job with equivalent pay benefits and other

terms and conditions of employment. An employee's

use of FMLA cannot be counted against the employee

under the attendance policy of the employer.

Employers are also required to continue group health

insurance.

With all of the eligibility requirements for employees

and employers to meet under the FMLA, an employee

has always been protected from termination for

taking leave, as long as those requirements were met.

This, however, does not prevent them from being

terminated for other causes while on leave. A recent

decision handed down by the U.S. Court of Appeals

for the Seventh Circuit, ruled that while an employee

is protected from being terminated for taking FMLA,

they are not protected from being terminated due to

performance issues that were discovered while the

employee is on FMLA leave.

The case in question is Anderson v. National

Lending Corp, in which an employee sued their

employer for allegedly violating their rights under

the FMLA. The employee was terminated from their

position shortly after returning from medical leave.

While the employee was away on leave, an internal

audit system within the company discovered a

number of errors in the employee's work, resulting

in a citation to the employer. An investigation was

conducted by the company's human resources

department, resulting in the termination of the

employee for performance issues.

In the case ruling, the Court of Appeals Seventh

Circuit stated that "an employee is not entitled

to return to their former position if [they] would

have been fired regardless of whether [they] took

the leave or not." The Seventh Circuit found that

the employer had evidence of the employee's poor

performance, which warranted the company's

decision for termination.

While this case does support the employer's

ability to take appropriate disciplinary action,

regardless of being on FMLA leave, caution must

be made by employers to ensure that all employees

are being treated consistently and fairly with similar

issues.

References:

Family Medical Leave Act, US Department of Labor, Wage

and Hour Division. (Revised 2012).

Employees May Be Terminated for Performance Issues

Discovered During FMLA Leave. Ong, Fiona W.,

Shawe Rosenthal LLP., (March 31, 2022).
---
Page 12 The Florida Nurse May 2022

Caroline Porter, FNSA President

Student Forum

Florida Nursing Students Association Represented at the 70th

Annual National Student Nurses' Association

At the beginning of April,

nursing students from across

the state of Florida traveled to

Salt Lake City, Utah, to attend

the National Student Nurses'

Association (NSNA) 70th

Anniversary Convention! For

five days' students had the

opportunity to learn, network,

and enjoy an eventful inperson

convention for the

first time in over two years.

Caroline Porter

This year's convention

was themed Here's to the Heroes! in honor of all of

the nursing heroes. There were over 1,200 members

in attendance. Students and faculty were able to

attend various educational workshops and NCLEX-

RN Review sessions, explore nursing specialty areas

and visit tons of exhibitor booths. Students also had

the opportunity to serve as a delegate and attend The

House of Delegates. Discussions and voting held in

The House of Delegates covered significant matters

such as the NSNA Code of Ethics and Resolutions.

Florida had a total of 21 delegates, the second most

delegates of all states in attendance.

We provide quality mental health and substance abuse services

to adults and children in outpatient, inpatient, residential and

emergency/crisis sittings. SalusCare is the most comprehensive

provider of behavioral healthcare services in Southwest Florida.

We have RN and LPN openings in our Crisis Stabilization Unit as

well as our Detoxification program.

We have new increased Nursing salaries and offer generous

Sign-On and Relocation bonus.

Come and join us in doing this

important and highly rewarding work

www.Saluscareflorida.org/careers/

Florida student nurses showed a wide

representation throughout the entire convention,

and I would like to recognize some of these brilliant

students for representing our state and FNSA so

tremendously!

Congratulations to the following students for being

elected to the NSNA Board:

• Vice President- Rachael Schmoll, Florida State

College of Jacksonville

• Southern Election Area Director- Andrea

Wollitz, Jacksonville University

• Nominating & Elections Committee Chair and

South- Erin Kelly, Florida State College at

Jacksonville

Congratulations to the following students from

UCF-Orlando for having their resolution titled

In Support of Education About Post Intensive Care

Syndrome, unanimously pass in the NSNA House

of Delegates: Elizabeth Brown, Savannah Duke,

Vanessa Iturri, and Caroline Porter.

Congratulations to Monique Csenteri, from UCF-

Orlando for being recognized as the 2022 Project

InTouch Grand Prize Winner for recruiting the most

members into NSNA this year!

Also, a special shout out to:

• Caitlyn Barbier, from The University of Tampa

for presenting her research titled COVID-19 Was

a Trying Time: Whole Health Resources on The

Climb.

• Sabina Swanson, from Seminole State College

for presenting her poster showcasing the

Mentorship Program at her college.

• Kaitlyn Yu, from UCF-Orlando for being

selected to sing the National Anthem at the

Opening Ceremony.

• UCF-Daytona SNA, for winning the UWorld

Qbank Challenge and being awarded 10

scholarships to their chapter.

Lastly, thank you to NSNA

Director Convention &

Program Planning Committee

Chair Camila Fred, from

Florida Atlantic University, for

coordinating such a wonderful

convention!

It was an honor to

represent as the FNSA

President at this year's

National Convention and to

have met so many fabulous

student nurses from across the nation. I look forward

to continuing to network and recharging the state of

Florida as we hold our in-person 68th Annual State

Convention in Daytona, Florida, October 27-29, 2022.

NursingALD.com can point you

right to that perfect NURSING JOB!

NursingALD.com

Free to Nurses

Privacy Assured

Easy to Use

E-mailed Job Leads

Focus on New Grads

Recent Graduate Advisory Board Needed

During our many discussions regarding the impact of the COVID-19 Pandemic

there were mentions of the various ways in which newer nurses were impacted. We

noted however that few recent graduates participated on those calls. Some of the

issues related to abbreviated clinicals, increased simulation and reduced opportunities

for hands-on care, lack of orientation or inadequate orientation, inexperienced nurses

performing as preceptors or their own experiences of feeling unprepared for the

roles they were asked to fulfill. We would like to convene an advisory panel of new

graduates so that we can collect accurate data from those who experience it firsthand.

This group will meet virtually for the first meeting and can determine further

meetings if they find there is a need. We would also like to propose that they work on

specific activities for recent grads based on what they determine as the need.

To volunteer for this group or If you have any questions regarding this initiative feel

free to contact Willa Fuller at wfuller@floridanurse.org.
---
May 2022 The Florida Nurse Page 13

The Student Nurses Association of Arizona College of

Nursing – Fort Lauderdale Campus (SNAAZC - FL) was

officially created in February 2022. I am honored to serve

as the Founding President alongside these great Founding

Board Members: Casey Norton, President-Elect; Nathalie

Canterbury, Vice President; Camasha Douglas, Treasurer;

Dhana Clarke, Secretary; Gabriela Belchior, Program

Coordinator; and Jada Williams, Historian. I want to thank

our Faculty Advisor – Professor Kaydeen Green, and Dr.

Marie O. Etienne, President-Elect of the Florida Nurses

Association for helping us create the chapter at the Fort

Lauderdale Campus. Additionally, I would like to thank Dr.

Shawn Higgins, Dean of Nursing and Mr. James Jones,

Executive Director of Academic Operations for their

support to SNAAZC-FL.

Melissa Jones, President, SNAAZC-FL

Student Forum

The Student Nurses Association of Arizona College of Nursing –

Fort Lauderdale Campus
---
Page 14 The Florida Nurse May 2022

Nurses, Join Us in Leading the Change

CALL TO FNA MEMBERSHIP ASSEMBLY

Nursing has always faced challenges. Since the

onset of the COVID-19 pandemic those issues have

become more complex and even more daunting.

While healthcare leadership is laser-focused on

the problems, there is a perception that the nursing

voice is not always heard. As the largest group of

healthcare providers, it is essential that we are one

of the leading voices in re-designing the future of

healthcare with a particular focus on the role of

nurses. Please join us as we explore critical topics

that are key to much needed evolution in our

profession.

We challenge you to answer the call and be a

part of directing those changes. Join us at this year's

Membership Assembly for dynamic presentations

by nurses from diverse segments in the healthcare

community. Membership Assembly offers a place

for you to network with other nurses and stay in

tune with evolving workforce trends. It also serves

as the place to conduct the official business of

the association and have a voice in decisions that

affect nurses in Florida. Join us and be a part of

empowering nurses to lead change! Registration is

open!

To learn more about the conference, go to our

official Membership Assembly homepage at www.

floridanurse.org/MembershipAssembly-2022

Thursday, September 22

Pre-conference

Bonus CE Sessions

Friday, September 23

Keynote + Plenary Sessions

Breakout Sessions

Networking Lunch

Awards Dinner + Reception

Saturday, September 24

Advocacy Breakfast

Business Meeting

Foundation Luncheon

Registration is Open! Early bird rates available through August 9

www.floridanurse.org/MembershipAssembly-2022

Join us 45 minutes northwest of Orlando at

the beautiful Mission Inn Resort…

Make your reservation online at www.missioninnresort.

com with Group Code 0720G7 or by calling the resort at

800-874-9053 and letting the attendant know you are

with the Florida Nurses Association. Room rates start at

$142 for Single/Double. A deposit will be required at the

time of booking. The cut-off for making reservations is

Monday, August 22, 2022.

#3 Best Online FNP

Master's Program
---
May 2022 The Florida Nurse Page 15

Reference Proposals: A Voice

in Directing the Association

Constituent groups as well as individual members

of FNA have the opportunity to voice their concerns

or express their thoughts on matters of significance to

nursing, nurses, and health needs of the public through

the formation of Reference Proposals.

What starts out as one member's idea or concern

may become an official position of the Florida Nurses

Association. Reference Proposals help drive future

activities of the association. For example, proposals

submitted in 2020 led to the formation of three new

task forces that have been actively working on projects

and issues related to social justice, diversity and equity,

and pandemic response.

The Reference Committee is now accepting

proposals for the 2022 Membership Assembly.

All proposals are due by August 1. To view

submission guidelines and see past proposals go to

www.floridanurse.org/MembershipAssembly-2022.

Submit Your Awards

Nominations Now!

The nursing workforce boasts incredible change

leaders in all areas of healthcare, administration, and

academia. It is important that we recognize these

leaders as a testament to the important efforts they

drive.

Now is your opportunity to submit your nominations

for the 2022 FNA Nurse Icon Awards. There are 15

awards categories recognizing many disciplines within

nursing from academia to advocacy, bedside nursing to

administration, media communications to community

action, and many more.

The Awards Recognition Ceremony will be held

during Membership Assembly on the evening of Friday,

September 23 at the Mission Inn Resort. Nomination

forms and guidelines can be found at www.floridanurse.

org/MA22Awards.

New Awards Category for 2022 –

FNA Phoenix Award

Recognizing the contribution of bedside nurses during

the COVID-19 Pandemic

In honor of the extraordinary work and sacrifices of

the nurses in Florida, the FNA Awards Committee has

created a new award category with the specific purpose

of honoring nurses who worked in direct patient care

throughout the Pandemic in the state of Florida.

This award will recognize two categories of

registered nurses: Experienced/Seasoned Nurses and

Recent Graduates.

The award will be named the FNA Phoenix Award

to recognize nurses who rose to the occasion during

very challenging circumstances. To find out more

information go to www.floridanurse.org/MA22Awards.

Proposed Bylaws Changes

The FNA Bylaws committee has reviewed

proposed changes to the FNA Bylaws and made their

recommendations. Members will receive an emailed copy

of the proposed changes and will be able to access a

copy through the Membership Assembly webpage at

www.floridanurse.org/MA22BusinessMeeting.

Poster Presentation Opportunity –

Abstracts Now Being Accepted

The FNA Board of Directors is committed to

supporting and showcasing colleagues conducting

nursing research. FNA members are invited to submit

abstracts for a poster presentation at the FNA

Membership Assembly to be held on September

22-24, 2022. Abstracts will be peer-reviewed by

members of the Research Special Interest Group.

Submissions are due by Friday, July 29, 2022.

Download the Abstract Submission Guidelines at

www.floridanurse.org/MembershipAssembly-2022.

Sponsorship Opportunities

Sponsors are a vital part of our annual conference!

They support our event and allow us to keep our

registration rates lower than many other industry

conferences. FNA Membership Assembly is a great

opportunity for healthcare companies, universities,

and many other businesses to showcase their brand

to hundreds of nurses and nursing students from

diverse backgrounds. Many tiers of sponsorship

from vendor to platinum level are available. Make a

memorable connection with leaders in the profession

through your participation in the FNA Membership

Assembly. More details available on our website.

All items related to Membership Assembly are accessible through

our website. Scan the QR code for easy access.

This constitutes the official notice of the 2022 Membership Assembly of the Florida Nurses Association to take place September 22-24, 2022

at the Mission Inn Resort, Howey-in-the-Hills, FL. The official business meeting will be held on Saturday, September 24, 2022.
---
Page 16 The Florida Nurse May 2022

FNA Event Highlights

Members of the South Region Unite for an Impactful Event

A Recap of the 12th Annual FNA South Region Nursing Symposium and Awards Ceremony

by Region Director, Linda Washington-Brown

On Saturday, April 9, 2022, FNA South Region held

its 12th Annual Symposium and Awards Ceremony

at Gulfstream Park in Hallandale Beach, Florida.

The theme for the Symposium was "The Impact of

COVID-19 on Nurses, Nursing Care and Beyond."

The event was well attended with over 150 nurses,

many attending in person and others who participated

via livestream. Our Keynote Speaker was Maggie

Hansen, MHSc, RN, Senior Vice President and Chief

Nurse Executive, Memorial Healthcare Systems

(MHS) and current Chair of the Florida Board of

Nursing. Following Ms. Hansen's riveting message

on the impact of COVID on nurses at the bedside

and healthcare systems, was a dynamic panel of

nurse experts. Barbara Russell, MPH, BSN, Infectious

Disease Control and Preventionist provided the

attendees with the latest updates on the COVID-19

pandemic in Florida, followed by Dawn Grace-

Jones, Esq. RN, Attorney and Former Nurse who

provided a roadmap to nurses on self-care. Last was

Maria Olenick, PhD, FNP, RN, Chair Undergraduate

Nursing and Associate Professor, Florida International

University who shared insights on the impact of

COVID-19 on nursing students and academic

institutions. The Symposium also provided a venue for

researchers to share their work through digital poster

presentations. This year there were 30 research

poster presentations on display at the conference and

through the virtual conference app.

We thank our Gold Sponsors - Florida International

University, Memorial Healthcare System, and VITAS

Healthcare - for their continued support of nurses

and our annual Symposium. We also thank our

vendors, American Sentinel College of Nursing,

Florida Clinicians for Climate Action, Haitian American

Nurses Association (HANA) of Florida, Miami Chapter

Black Nurses Association, Inc., Practice Nation, LLC,

St. Thomas University, and the University of West

Florida for participating. Additionally, we thank our

table sponsors and their attendees, Arizona College

of Nursing, Barry University, Barry University Lambda

Chi Chapter, Benjamin Leon School of Nursing Miami

Dade College, Black Nurses Association – Miami

Chapter, Chi Eta Phi Nursing Sorority, NU Chapter,

FIU Nicole Wertheim College of Nursing, HANA of

Florida, Jackson Memorial Hospital, Miami Regional

University, Miami VA, Nurses Charitable Trust,

and Royce Nursing Foundation. Together, these

organizations helped to make this year's event a

tremendous success.

Each, year, the South Region Symposium Voluntary

Leadership Council recognizes nursing excellence in

South Florida. This year's award categories included

Registered Nurse Practice, Advanced Practice

Nursing, Nursing Leader Administration/Academia,

Nurse Educator, Community Action, Promoting

Environment for Excellence in Nursing, Nurse

Researcher, and Nurse of the Year. The nominees for

each category are listed below with photos of the

winners in each category. There was also an award

given to the best digital research poster. In addition

to the individual or group and research poster awards,

scholarships and grants were awarded by the Nurses

Charitable Trust and Royce Nursing Foundations.

I want to thank the Volunteer Leadership Council

members for their dedication and hard work: Awards

Chair, Guillermo Valdes, DNP, PGCNE, AMSN,

CMSRN, committee members, Alina Diaz-Cruz, PhD,

MAMC, RN, Vicky Framil Suarez, DNP, APRN, ANP-

BC, and Barbara Lovell-Martin, PhD, RN; Posters

Chair, Ferrona Beason, Ph.D., APRN and Shreee

Mundy, DNP, BSc, APRN, PPCNP-BC; Scholarships

and Grants Chair, Elizabeth Olafson, PHD, MSEd,

RN, committee members, Barbara Russell, BSHSA,

MPH, RN, and Jason Dunne, DNP, MN, RN, CNE.

Darlene Harris, DNP, APRN-BC, served as the

secretary for the Leadership Council and performed

excellently as our Mistress of Ceremony for the

Symposium. Marie Etienne, DNP, APRN, PLNC, past

South Region Director, FNA President-elect, and

Chair of the Nursing Ethnic Diversity committee,

recognized the multicultural nursing organizations

attending the event. The organizations included

the Black Nurses Association, Hispanic Nurses

Association, Haitian American Nurses Association of

Florida, Chi Eta Phi Nursing Sorority, and Alpha Beta

Epsilon and Lambda Sigma Theta Tau International

Nursing Sorority.

To end the event, South Region had two raffles.

One raffle was for a 41-inch Smart TV donated by

Mr. Terry Wright form Wright Funeral Home. The

other raffle was a 50/50 raffle to support upcoming

South Region nursing events and our Nurse Week

Celebration scheduled for Friday, May 6, 2022 at

Miami Regional University. A special thank you to

Kaitlin Scarbary for providing all technical support and

Constance Miller, DNP, RN for overseeing the raffles.

In summary, our 12th Annual Symposium and Awards

Ceremony at Gulfstream Park in Hallandale, Florida

was a huge success.

Linda Washington-Brown, PhD, EJD, PNP, ANP-C,

FNP, FAANP, FAAN

South Region Director

Awards Nominees

and Winners

Registered Nurse Practice

Carolina de Almargo – Winner

Advanced Nurse Practice

Luz Mary O'Campo - Winner

Heathe Brathwaite

Marjorie Hardy Hibbert

Nursing Leader – Academia /

Administration

Antonio Navarro – Winner

Nurse Educator

Dr. Deana Goldin – Winner

Yesenia Blanco

Dr. Ruth Dass Molina

Dr. Raquel Brown

Dr. Sharon Smith

Dr. Amarilys Gonzalez

Dr. Karen Perez

Dr. Annie Dionne

Promoting an Environment of

Excellence in Nursing

Dr. Ana Espinosa – Winner

NOW HIRING

Psychiatric RNs & LPNs Full-Time

Psychiatric APRN

Medical Assisted Treatment (MAT) certified

Nurse Researcher

Dr. Beth Pratt - Winner

Dr. Jon Osborne

Dr. Kassandra Greci

Inpatient & Residential Programs

NURSING

OPPORTUNITIES IN

TALLAHASSEE, FL

APRNs may qualify for the NHSC loan repayment. APRNs

& RNs may qualify for the Nurse Corp loan repayment.

Visit www.apalacheecenter.org or call Stephanie

at 850-523-3212 for additional information.

Apalachee Center, Inc participates in E-Verify. Federal law requires Apalachee Center, Inc to verify the identity and employment eligibility of all persons

hired to work in the United States. Apalachee Center, Inc. is an at-will employer. An equal opportunity/affirmative action employer. Drug-free workplace.

Community Action

Bridget Pelaez – Winner

Nurse of the Year Award –

Given to the FNA Member

Nominee with the Highest

Overall Score

Bridget Pelaez - Winner
---
May 2022 The Florida Nurse Page 17

FNA Event Highlights

Scholarship and

Grant Recipients

Nurses Charitable Trust Research Grant

- Ashley Chantel Bernard, Florida International

University

- Fadjeannah Annilus, Florida International University

- Maureen Stout, Miami Dade College

Royce Foundation Undergraduate Scholarship

- Christina Blackwood, Nova

- Isaac Michael Levine, Miami Dade College

- Alexa De la Rosa, Florida International University

Dr. Sarah Fishman Memorial Graduate Scholarship

- Damaris Valldeperas, Florida International University

Poster Presentation Awards

Awarded to top-ranking abstract submissions

Evidence-Based Projects

Team from Jackson Health-Carol Powell, Roberto

Blanco, Natasha Thompson, Chakeidra Kinchen, &

Sharon Holwijn (supervised by Dr. Bridgette Johnson)

- Reducing Use of Restraints in a Trauma Intensive Care

Unit: A Quality Improvement Project.

Best Practice (Literature Review)

Corvette Yacoob DNP - Exploring Critical Factors

that Influence Early Breast Cancer Screening in African

American and American-Caribbean Women of African

Ancestry

Luzmary Ocampo DNP, Eric Fenkl PhD, & Ladynez

Espinal MD - Improving the Screening of Patients with PCOS

to Reduce Infertility and Its Sequela: A Systematic Review

Research Projects

Ivette Hidalgo PhD, JoAnne Youngblut PhD, Dorothy

Brooten PhD, Whitney Bauman PhD - Children's

Spiritual Coping and its Effects on Children's Grief, Personal

Growth, and Mental Health 2-24 Months after the Death

of a Parent, Grandparent, or Sibling.

Conchita Freitag PhD - Phenomenological Study of Nurses'

Perceptions and Lived Experiences of Quality and Safety
---
Nursing Virtual Career Fair

South

15, 2022 | 5–8pm ET

June

Page 18 The Florida Nurse May 2022

Mental Health is a Verb

Jake Bush, Ph.D., RN, CNE

Jake Bush, Ph.D., RN, CNE

Dr. Bush is the

Director of Northwest

Region FNA. He is a

lecturer at the University

of West Florida. His

professional research

interests are broadly

mental health and

LGBTQIA+ health.

May is Mental Health Awareness month (National

Alliance on Mental Illness [NAMI], 2022) and the

perfect opportunity to emphasize the crucial need

to prioritize our mental health as nurses. Nurses are

stressed. COVID-19 and staffing shortages have

exacerbated nurses' stress (Henderson, 2020). Nurses

are retiring (more than one million by 2030) (AACN,

2020). Novice nurses are leaving the profession now

more than ever. I know this is a lot of doom and gloom

and frankly, if you are reading this, you already know

all of the above. What can help mitigate personal

stress? In short, prioritize your mental health and selfcare.

Mental health is getting attention in all aspects of

our society. At every turn, you can find evidence of

the national mental health conversation such as in

the media, pop culture, and scholarly publications

and events. In addition, social media has joined the

conversation. Mental health is health. Mental health

matters. It's okay not to be okay. These are just a

Scan QR Codee to Reegisteer

few of the mental health awareness slogans. A quick

search for "#mentalhealth" on two social media

outlets indicated there were 35+ million posts

on Instagram and 1.9 million posts on Facebook.

This national attention to mental health has been

needed for quite some time and is encouraging for

future mental health promotion initiatives. Public

mental health advocacy helps to dispel the stigma

associated with mental health diagnoses and

concerns as well as arms others with the courage to

acknowledge and take action with personal mental

health struggles.

Nurses are caregivers. Modeling self-care

communicates to novice nurses and nursing students

the importance of caring for self in order to care for

others. We often give endlessly to those in need

without boundaries and carving out time for selfcare.

Prioritizing routine self-care can help build the

strength and resilience to have a rewarding nursing

career. Self-care is about progress, not perfection.

Similar to other life changes, there will be times that

you don't prioritize your self-care. Start each day

anew. The more you implement routine self-care, you

will reap the mental health benefits and those you

love and care for in your life will benefit as well. It's

also important to accept that most life's stressors do

not cease, at least not overnight, but stressors can be

managed. You have an exciting opportunity to begin

an exploration of self-care practices to find which

ingredients will work best for you.

My personal recipe for prioritizing my mental

health and self-care includes routine use of the

Calm smartphone application (Calm.com, Inc., 2021),

reading various titles typically related to mental health

or LGBTQ+ health topics, writing or journaling, riding

my bicycle, and creating pen drawings. A brief search

revealed a selection of self-care resources that nurses

may find helpful.

Here are a few mental health resources specific to

Florida (in no particular order):

● https://namiflorida.org/ (NAMI, 2022)

● https://www.hopeforhealingfl.com/

(WPTallahassee, 2022)

● Keener: Self-Care for Nurses (HealthStream, Inc.,

2021)

● Provider Resilience (National Center for

Telehealth & Technology, 2021)

My challenge to you: Cut out this article and place

it somewhere that you will see it every day. Live by

the mantra "Mental Health is a Verb" to help remind

you that your mental health is a priority. Your goal is

to take action and incorporate daily self-care activities.

Author Disclosure: The author has no financial

or proprietary interests in any resources

discussed in this article.

References

American Association of Colleges of Nurses [AACN]. (2020,

September). AACN fact sheet - nursing shortage.

Retrieved January 2, 2022, from https://www.

aacnnursing.org/news-information/fact-sheets/

nursing-shortage Calm.com, Inc. (2021). Calm (5.31.1)

[Mobile app]. Apple App Store.

HealthStream, Inc. (2021). Keener: self-care for nurses (1.5.0)

[Mobile app]. Apple App Store.

Henderson, M. (2020, June 22). Legislative: COVID-19 and

mental health: the inevitable impact. The Online Journal

of Issues in Nursing. Retrieved January 2, 2022, from

https://ojin.nursingworld.org/MainMenuCategories/

ANAMarketplace/ANAPeriodicals/O JIN/Columns/

Legislative/COVID-19-and-Mental-Health-The-

Inevitable-Impact.html

National Alliance on Mental Illness (NAMI). (2022). Mental

health month | NAMI: National Alliance on Mental

Illness. NAMI: National Alliance on Mental Illness.

Retrieved April 1, 2022, from https://www.nami.org/

Get-Involved/Awareness-Events/Mental-Health-

Awareness -Month

National Center for Telehealth & Technology. (2021). Provider

Resilience (2.0.1) [Mobile app]. Apple App Store.

State of Florida. (2021, July 14). First Lady Casey DeSantis

announces expanded hope for healing website and the

expansion of hope ambassadors, Florida's successful

peer-to-peer student mentorship program. Ron DeSantis

46th Governor of Florida. Retrieved January 3, 2022,

from https://www.flgov.com/2021/07/14/firstlady-casey-desantis-announces-expanded-hope-f

or-healing-website-and-the-expansion-of-hopeambassadors-floridas-successful-peer-to-p

eerstudent-mentorship-program/

WPTallahassee. (2022). Hope for healing Florida. Hope For

Healing Florida. Retrieved January 2, 2022, from

https://www.hopeforhealingfl.com/

Florida's HIV STD Testing Law for Pregnant Women

(64-D-3.042, F.A.C.)

All pregnant women are to be tested for

HIV, syphilis, hepatitis B, chlamydia and gonorrhea

• At initial prenatal care visit

• Again at 28-32 weeks, and

• At labor and delivery

For more information, visit:

floridahealth.gov/diseases-and-conditions/aids/prevention/perinatal.html

or call 850-245-4336
---
May 2022 The Florida Nurse Page 19

Florida Pediatric Motor Vehicle Safety

Mary Katherine Hayes & Marc Rosales

Mary Katherine Hayes, BSN, RN

Mrs. Hayes is a Registered Nurse at a level one

trauma center in the Pediatric Intensive Care Unit.

She is a Pediatric Advanced Life Support instructor

and has presented locally on pediatrics and inpatient

care topics. She is completing a Master's in Pediatric

Health Nursing with a certificate in Nursing

Education.

Marc Rosales, DNP, MBA/HCM, RN, CCRN,

CNE, CHSE

Dr. Marc Rosales is an Assistant Professor at

the USF College of Nursing. He holds specialty

certifications as a Critical Care Nurse, Certified

Nurse Educator, & Certified Healthcare

Simulation Educator. Dr. Rosales has presented

locally, nationally, and internationally on teaching

innovations and quality & safety topics.

Children die daily in car accidents due to a lack of proper car seat or seatbelt

use, and even more are seriously injured. This continues to be a national

issue affecting families throughout the United States (Centers for Disease

Control and Prevention, 2021). Laws for child safety in motor vehicles vary

with each state. Still, those with stronger restraint laws for children can

decrease child death and injury statistics in vehicle accidents through revisions

of Fla. Stat. § 316.613 with recommendations from globally recognized

organizations.

According to the Centers for Disease Control and Prevention (CDC),

motor vehicle crashes continue to be a leading cause of death for children

nationwide. The data in 2019 shows that 608 children died from motor vehicle

crashes, and over 91,000 were injured (Centers for Disease Control and

Prevention, 2021). A major contributing factor to child death and injury is the

lack of proper car safety seats and seat-belts. According to the data discovered

by Park et al. (2018), car seat and seat-belt use can reduce death and serious

injury for infants by 71%, toddlers by 54%, and children in booster seats by

45% (Park et al., 2018). The CDC found that through adopting strong evidencebased

child restraint laws, children are less likely to die in car crashes and are

more likely to use appropriate seat-belts (Centers for Disease Control and

Prevention, 2021).

The current 2021 Florida Statutes address child restraint requirements

in motor vehicles specifically for children through the age of three years,

with particular requirements for children ages four through five years. The

current laws do not address the proven need for rear-facing seats for children

beyond five years of age and proper measures to ensure safety (Child restraint

requirements, 1983/2021). The American Academy of Pediatrics (AAP)

recommends the following five best-practice, evidence-based steps:

1. Rear-facing car seats should be used as long as possible

2. Children should be in a forward-facing car seat once they have outgrown

a rear-facing car seat through at least four years of age

3. Booster seats to aid with proper seat-belt positions should be used until

the age of eight years

4. Seat-belts covering the lap and shoulders should be used for everyone

who has outgrown booster seats

5. Everyone younger than 13 years of age should only ride in the rear seats

of vehicles (Durbin et al., 2018)

By revising Fla. Stat. § 316.613 to reflect recommendations proven effective

by the AAP and referred to by the CDC, child fatalities and devastating injury

from motor vehicle crashes can be reduced and prevented. Fla. Stat. § 316.613

should reflect the AAP recommendations that all children under the age of four

and 40 pounds or less must be in a separate rear-facing car seat. Fla. Stat. §

316.613 should also include that all children under the age of eight and four

feet nine inches or less must be in a booster seat. Finally, Fla. Stat. § 316.613

should include that all children under the age of 13 must be seated in the

rear seats of motor vehicles (Durbin et al., 2018). We encourage all nurses

to advocate for implementing these evidence-based, best practice proposals

in the state of Florida so pediatric injury and death in motor vehicles can be

reduced.

References

Centers for Disease Control and Prevention. (2021, September 20). Child

passenger safety: Get the facts. Transportation safety. https://www.cdc.gov/

transportationsafety/child_passenger_safety/cps-factsheet.html

Child restraint requirements Fla. Stat. § 316.613 (1983 & rev. 2021). http://www.

leg.state.fl.us/statutes/index.cfm?App_mode=Display_Statute&Search_

String=motor%20vehicle%20safety&URL=0300-0399/0316/Sections/0316.613.

html

Durbin, D. R., Hoffman, B. D., & AAP Council on Injury, Violence, and Poison

Prevention. (2018). Child passenger safety. Pediatrics, 142(5), 1–8. https://doi.

org/10.1542/peds.2018-2461

Park, G., Ro, Y., Shin, S., Song, K., Hong, K., & Jeong, J. (2018). Preventive effects of

car safety seat use on clinical outcomes in infants and young children with road

traffic injuries: A 7-year observational study. Injury, 49(6), 1097–1103. https://doi.

org/10.1016/j.injury.2018.04.001

Join Our Team of Nursing Educators

We are searching for engaging, passionate, Nursing professionals to join Miami Dade

College's Nursing Department. Be a part of our expanding nursing programs and share

your expertise and industry experience with students who are aspiring to achieve their

goals! As a Faculty member you will assist students in achieving their nursing objectives

on an individual and group basis in clinical and college laboratories.

Individuals with clinical practice experience in medical/surgical, community, public

health, or mental health nursing are encouraged to apply.

Medical Campus

• Faculty, Nursing (LPN Program)

• Faculty, Nursing (Generic)

Homestead Campus

• Faculty, Nursing (Generic)

Minimum Requirements

• Master's degree in Nursing from an accredited institution

• Florida registered nursing licensure (active)

• Two (2) years equivalent full-time clinical practice experience as a Registered Nurse.

To learn more about these and other positions at Miami Dade College

visit us at www.mdc.edu/jobs.

Miami Dade College is an equal access/equal opportunity institution which does not

discriminate on the basis of sex, race, color, marital status, age, religion, national origin,

disability, veteran's status, ethnicity, pregnancy, sexual orientation or genetic information.

Additional information may be obtained by contacting the College's Equity Officer: Dr. Joy C.

Ruff, at (305) 237-2577 (Voice) or 711 (Relay Service). jruff@mdc.edu
---
Page 20 The Florida Nurse May 2022

8th Annual Florida Nurses Association

Nursing Research and

Evidence-Based Practice Conference

Saturday, July 16, 2022 | 8:00am – 4:30pm | Sheraton Orlando North

Igniting Passion for Research and Evidence-Based Practice

Nurses are making extraordinary contributions in

research and evidence-based practice across Florida.

The Florida Nurses Association is proud to highlight and

promote the work of these nurse researchers and provide

a platform for the dissemination of scholarly projects.

FNA will host its 8th Annual Nursing Research and

Evidence-Based Practice Conference on Saturday,

July 16, 2022 at the Sheraton Orlando North in

Maitland, FL. This conference offers an opportunity

for nurse researchers of all levels to promote their

research and evidence-based practice projects,

network and collaborate with other nurse researchers

in their field and obtain feedback on their findings

from peers. Participating is also a great way to

develop a statewide reputation and associate your

name with a specific topic or area of research.

The Nursing Research Conference is an interactive

conference that continues to evolve. We invite you

to become a part of its growth and development. We

also encourage interested novice nurses to attend

this conference as an introduction to nursing research

so that they can have first-hand knowledge of how

research and evidence-based inquiry can make a

difference to nursing practice and patient care. We

look forward to seeing returning attendees as well as

many new faces at the conference this year. Contact

us at info@floridanurse.org if you have questions

about participating or attending this conference.

NEW Location this Year!

Register at

www.floridanurse.org/ResearchConference-2022

Sheraton Orlando North

600 N Lake Destiny Rd

Maitland, FL 32751

The Sheraton Orlando North is located centrally in

Maitland, FL about 20 minutes north of downtown

Orlando. The hotel is easily accessible off of I-4.

Visit nursingALD.com today!

Search job listings

in all 50 states, and filter by location and credentials.

Browse our online database

of articles and content.

Find events

for nursing professionals in your area.

Your always-on resource for

nursing jobs, research, and events.
---
May 2022 The Florida Nurse Page 21

Welcome New FNA Members

Northwest

Kathleen Andresen

Jillian Ashbolt

Tavondria Bastien

Jessica Clark

Robin Doyle

Thomas Dunmore

Felicia Ellis

Diane Fletcher

Rosabel Garcia Perez

Emily Glossop

John Griggs

Sharon Hanna

Laura Harris

Robin Kent

Robert Majors

Michael McArdell

Susan McKenzie

Bryan Newsom

Tisha Oake

Crystal Oates

Leah Ortenzo

Ann Parker

Taylor Perry

Teresa Rakas

Arlena Rowell

Gretchen Secord

Amanda Vincent

Brittany Wade

Mackensie Williams

Kecia Williams

Kathy Wilson

Gay Wunder

North Central

Sarita Adhikari

Sarah Allen

Veronica Arevalo

Kiara Barnes

Jason Bashaw

Amy Behrens

Katherine Berry

Leigha Bos

Karen Brown

Jackie Brumbaugh

Christina Carr

Bryce Catarelli

Angela Ceccarelli

Sonia Ciena

Austin Clark

Bon Clarke

Jonathan Cohen

Jeanine Crosby

Jessica Davis

Roberta DeVane

Dianne Doane-Bustetter

Joni Donahoo

Laurie Duckworth

Malinda Folkert

Kaianna Gerencser

Audriana Goldware

Amanda Gray

Gabriella Greane

Marie Hyppolite

Lisa Joseph

Tyler Juhan

Kristin King

Michelle Klenk-Cohen

Jilann Lietz

Keatredge Lightfoot

Tenna Liston

Brenda Macrides

Geraldine Martorella

Christine McKenna

KC Metha

Florina Mickel

Amelie Middlemas

Samantha Miller

Shonda Mitchell

Latarsha Murray

Huong Phan

Leah Rinehart

Cara Salg

Jessica Simpson

Amy Smith

Heather Stack

Amy Sterrett

Pamela Storey

Daniel Tibbert

Megan Tolaymat

Mindy Walsh

Caylan Wright

Brooke Yanko

Northeast

Jessica Andrade

Maria Batista

Nerlande Bellevue

Samara Brazile

Brad Briscoe

Jaime Cooper

Stephanie Cortes

Kelly Crider

Kia'Nicole Cull

King Davis

Kim Fredricks

Catherine Godoy

Sherri Harmon

Tara Harris

Margaret Hawkes

Melanie Hayes

Katharine Jasonek

Olivia Johnson

Erin Kinsey

Anne Langley

Tracy Langston

Melanie Lehmann

Britney Lilley

Sanela Meskic

Candace Moll

Meredith Moseley

Sandes Murad

Kathy Neely

Lynn Neeson

Brittany Nettles

Erika Nisbett

Karen Nolin

Sabrina Oliver

Melia Olson

Jennifer Otterbach

Melissa Pama

Andrea Patterson

Donna Peters

Tierra Rivers

Jasmine Rojas

Andrea Seus

Sandra Shapiro

Stacy Shihadeh

Tiffany Tillman-Williams

Irina Vella

Susan Waddington

Claudette Walker

Melissa Wasilenko

Kendra Williams

Ericka Wright

Mary Young

East Central

Natalie Adlam

Toya Alder

Lauren Anderson

Michele-Lee Anthonio

Dian Anzivino

Ariane Maria Araujo

Melissa Bailey

Amanda Barber

Eddie Basham

Laura Burns

Carmen Buzea

Marjorie Byrne

Michael Cabaccang

Erica Caban

Kristianne Andrea Cambaliza

Shannon Carlson

Sophia Casillas

Denise Chandler

Sarah Jane Chavez

Tanisha Cline

Josimir Cotto

Regina Dasilva

Maria Davis

John Davis

Rhoda Dumapig

Lelia Duran Mora

Juliette Elcock-Webster

Jessica Enos

Katherine Ensley

Stacey Escoto

Joanne Farley

Ashley Fender

Sheyla Franco

Cleusimene Francois

Tyler Gjesdahl

Shaniel Gordon

Letitia Griffin

Emily Hall

Litza Hernandez Munoz

Victoria Himes

Sameera Isoff

Bridget Jackson

Catherine Jenkins

Kajessa Joseph

Isabelle Kalahar

Cristina Kelly

Swapna Kuthokathan

Kristi Lafreniere

Tracy Lares

Stephanie Lazarus

Judy Lee

Robin Lowe

Erica Lucas

Jessica Luneburg

Melissa Maglio

Karen Malatesta

Meshell Mansor

Nishamol Mathew

Stacey Mathis

Lynette Maynard

Irene McDavid

Sabrina Meumann

Jessie Michael

Alexandria Miller

Shakeven Millhouse

Cyndia Milord-Giordani

Kristen Moore

Jennifer Morin

Holly Murch

Regina Murray

Jessica Odom

Aimee Pantaleon

Zarette Parker

Susan Parr

Lucienne Perceval

Amy Piazza

New Members continued on page 22

y,est

r,eneftts

rounc\\

Best Places to Work'"

• Nurses and CNAs earn up to

25% in shift differentials

• Full coverage at no cost

( + vision & dental)

•Long- and short-term

disability coverage

• Eight paid holidays

• Up to 21 days paid vacation

days your 1st year

• Plus sign-on bonuses up to $2,500

HOSPICE

OF MARION COUNTY

Feel better. Live better.

(352) 873-7400

3231 SW 34th Avenue

Ocala, FL 344 74

What are you waiting/or?

Apply online at:

www.hospiceofmarion.com/ careers

JOIN OUR HOSPICE FAMILY.
---
Page 22 The Florida Nurse May 2022

Welcome New FNA Members

New Members continued from page 21

Penni Pierce

Stephan Pierre

Katherine Posey

Monique Prince

Suzette Reese

Chris Register

Albert Rios

Modesta Rivera

Joaquin Rivera

Carmen Rivera Brittain

Cathy Robey-Williams

John Robinson

Kayelee Rock

Brenda Rojas

Y. Rosa

Stacey Roseberry

Starlight Marie Ruiz

Laura Rusnak

Summer Sakowski

Donna Salunkhe

Jeanette Schriever

Rosa Sepulveda

Joy Sera-Josef

Sara Shaff

Angela Sherman

Amanda Simmons

Shaihanne Singh

Kerry Smith

Ingrid Stewart

Melissa Stout

Nicholas Stram

Annemarie Stuart

Stacy Table

Ladda Thiamwong

Grace Troy

Lauren Tucker

Adrian Tuttle

Janet Vega

Brenda Washington Hoa

Rebecca Welch

Linda Whitaker

Nicole Whitaker

Fameisha Williams

Lorie Williams

Brittney Williams

Jane Woodson

Jennifer Yaden

West Central

Danielle Abukhalaf

Yvette Adames

Dawn Addison

Samya Almoumani

Alexsy Anderson

Gonzo Arboleda

Jasmine Atkins

Mary Aust

Karen Austin

Brandy Babin

Lacey Bahr

Christina Basile

Christina Bass

Joshua Bellmany

Christine Bennett

Maria Bologna

Sharon Boxill-Worrell

Kaleigh Braden

Jessica Brana

Rachel Broderick

Michelle Brown

Suzette Brown-Jones

Eduard Bucag

Sally Carlisle

Michelle Cha

Leslie Chamblee

Crystal Collins

Catherine Collins-Fulea

Robert Compitello

Elaine Cortese-Salalila

Kera Covani

Sherri Culver

Dawn Curtis

Jinky Dagney

Emily Dail

Tiffanie Daudelin

Yesenia DeJesus-Suarez

Katherine Deloso

Terea Diggs

Robin Dildine

Imee Downing

Eunice Edwards

Michelle Edwards

Betsy Elliott

Mayra Espinosa

Guesline Eugene

Jackie Evans

Deborah Evans

Sandtrail Feet

Jesika Florin

Marina Fosbo

Chrisjonna Foster

Islam Ganie

Angel Gibson

Terry Gilbaugh

Christina Gomez

Kristy Gould

Savannah Hannah

Carol Harrington

Destiny Hayes

Mary Katherine Hayes

Stacy Hinson

Pamela Hirsch

Savannah Hoover

Courtney Hubbell

Robert Hutchinson

Veronica Isaac

Dean Jaber

Julie James

Nathan Karst

Maritza Kinney

Jenna Laws

Paulette Levy

Alicia Liberatore

Ana Limbaco

Hillary Lindsey-Wurf

Latrice Lucombe

Tamara Mair

Zenaida Markowitz

Nicole Martinez

Jill Mason

Shelley Mattingly

Shakeel Mazumder

Sara McElroy

Shannon Meese

Gwynn Miculob

Tosha Moreland

Julie Moss

Michelle Odom

Yalidsa Ortiz

Angel Otero

Dave Paul

Christina Paul

Patricia Petro

Jennifer Plair

Judith Poole-Ramsay

Stacy Pryor

Laura Pulido

Kathryn Rigas

Chrystal Roberts

Walter Robey

Akaycha Robinson

Cassondra Rogers-Royael

Cynthia Rowell

Richard Ruddock

Teresa Santos

Jaimie Seymour

Renee Shaffer

Sierra Shankle

Garrick Smith

Kaarmin Stanton Patino

Lucy Stormanns

Crystal Swenney

Anabelle Taguba

Amy Tilander

Bridget Toussaint

Melissa Turner

Shannan Veit

Jennifer Warras

Rhonda Wendzel

Brittany Wetzel

Alana Wexler

Brenda Wheeler

Sue Wiessner

Margie Williams

Julia Woodroffe

Diane Zgaljic

Southeast

Sylvia Acosta

Masud Ahmad

Micheline Almanord

Peter Armstrong

Christina Baker

Stephen Baldwin

Junia Balthazar

Daimi Batista

Raquel Bicknell

Janese Boone

Bienvenida Brito

Nicole Brown

Michelle Browne

Krista Caffrey

Jesus Capriles

Kimberly Charles

Jennifer Combs

Rose Cortez

Kerryann Daley

Jessica Damiani

Eugene Darden

Gina Darr

Goury Dhar

Whitney Dieudonne

Anny Dionne

Yanet Dominguez

Tammy Donnick

Sandy Dorival

Henry Drummond

Christopher English

Altavia Evans

Marilyne Faustin

Leticia Fernandez

Pierna Fleurimond

Agnolite Florial
---
May 2022 The Florida Nurse Page 23

Welcome New FNA Members

Marisol Forrester

Monica Francis

Mariana Garcia

Anet Gomez

Milena Gomez

Amarilys Gonzalez

Karen Gordon

Emily Gore

Kassandra Greci

Melisa Hayman

Theodore Heninger

Jose Herrera

Brandee Herrera

Barbara Hyne

Trisha Ingrassia

Ashley Jackson

Sheeba Jacob

Garry Jerome

Mercilia Joseph

Michelle Kavall

April Lanehart

Valerie Lapp

Ruth Lim

Lesley Meade

Chantae Miller

Brittnie Mullen

Amanda Murphy

Samantha Murratti

Gerry Nissenbaum

David Obrien

Maria Lynn Palumbo

Gabriel Pancorbo

Elizabeth Peirano

Angela Pino

Alejandra Pizarro

Carlo-Jojo Quinto

Stephanie Rajewski

Mary Jill Reichert

Carol Reive

Grace Saleh

Jesenia Saunders

Kylie Jo Secoy

Danielle Stevens

Rebecca Tout

Katya Tsangarakis

Yvena Vixamar

Gretchen Voll

Richard Whetzel-Schill

Dawn White

Marsha Wint

Saunjoo Yoon

Southwest

Ileana Acosta

MacKenzie Althouse

Malgorzata Arnold

Sandra Aube-Langella

Jeffrey Bana

Mona Birk

Evelyn Casasus Posada

Chris Colombo

Kristina Crook

Amanda Dennis

Stephanie Doherty

Jeanne Dyckman

Kelli Erb

Jacqueline Estes-Wertzberger

Shannyn Estevez

Stephanie Ferguson Ross

Stacey Garofalo

Joon Germeille

Harold Girado

Kathleen Giroux Pfister

Candace Harden

Joann Honore

Mary Hudson

Kristie Kassay

Janet Konikow

Kerobin Lapawon

Jennifer Laws

Anne Maggi-Campbell

Nina Masters

Latoya Mitchell

Carla Mucko

Charlene Myers

Melissa Novak

Patricia Oberg

Kathleen Owens

Barbara Paganelli

Daimys Perez Mena

Brittany Pittsford

Karen Rainford

Alexander Rechlin

Mary Rosario

Ann Vlaun

Lisa Ziegler

South

Melissa Abreu

Clarissa Afable

Danara Alonso Rodriguez

Sydea Alsopp

Yvonne Alvarez Seijas

Angelique Antoine

Christina Aragon-Santiago

Laura Arbuckle

Viviana Arcila

Gilberto Barciela Sanchez

Iva Barnes

Audra Bartram

Jasmine Basso

Patricia Beharrie

Alicia Bell

Avonny Bennett

Claudine Bernier

Sonja Blackshear-McNeil

Theressa Brahim

Jamie Brown

Yanio Brunely Morales

Carolina Cabrera

Breonna Camareno

Denise Canchola

Jessica Cardenas

Elizabeth Cardona

German Carvajal

Tammy Cathers

Constantina Celicourt

Alexander Chacon Ardite

Karine Charles

Arminda Colmenare

Mary Cousins

Carolyn Cros

Diana Cuervo

Kristina David

Shelly Delfin

Kristyn D'elia

Emelouse Derameau

Elizabeth Diaz

Virginia Donofrio

Henry Echevarria

Marcia Elliton

Ana Espinosa

Christopher Espinosa

Nathalie Fernandez-Gomez

Rocio Ferrer

Andrea Florit

Selimah Francois

Lisa Fryar

Nadeline Fung-A-Fat

Ketrick Gage

Daisy Galindo-Ciocon

Merlys Garcia

PM Christine Gassant Alphonse

Megan Gillis

Joel Goldmann

Paola Gomez

Dannisa Gomez

Adriana Gonzalez

Karla Gonzalez

Zelaine Gonzalez

Francine Hamilton

Maria Hernandez Pedraza

Giovani Herrera

Darla Hoble-Erlich

Jeanetta Hoggins

Nola Holness

Ruby Hurley

Janet Huxley

Julio Iglesias

Beatriz Isaza

Magalie Isme

Sylphida Joseph

Nicholas Jurysta

Lori Kelvy

Chiqueta Kendrick

Kerri Kibler

Natacha Ladouceur

Fernando Laracuente

Martine Larrieux

Vilbrune Lauriston

Roselore Lavaud

Vuong Le

Steffi Leyva

Joshua LoBue

Marjorie Lozama

Rebeca Marcet

Shani Marks-Donkor

Lissanne Martin

Beatriz Martinez Velez

Betzy Martinez Velez

Naomi Mascharak

Michelle Mathieu

Kayla Mathis

Sidney Medina

Carolyn Merry

Nadine Mheisen

Cassandre Milien

Sheylah Mola

Raul Montejo

Grace Monti

Delisa Nance

Taylor Napoli

Nirva Narcisse

Antonio Navarro

Ivette Nunez

Jaclyn Pacetti

Shariel Palmer-Danhi

Yaoska Pasquier

David Patino

Georgette Pena

Ana Penenori-Montoto

Sael Perdomo

Sherily Pereira

Maria Perez

Janie Perez

Jeannette Perez

Anya Perez

Sara Perez

Luceydis Pernut

Arelys Ramirez

Yiska Ricardo

Alexis Rivera Rodriguez

Pedro Rivero Gort

Lisandra Rodriguez

Jeannette Rodriguez

Ninozzka Rodriguez

Monica Rodriguez Gomez

Marguerite Rowell

April Rymer

Deborah Salani

Hilda Salto

Roselle Samson-Mojares

Neo Sanchez Cachon

Trucha Sanon

Sharon Sarig

Desreen Sharpe

Latoya Simon

Katiana St. Thomas-Azemar

Kayli Stampler

Princess Stanislaus

Yosday Suarez

Regine Suarez Melano

Maxine Sutherland

Deborah Tedder

Doris Teran

Nurys Thurmond

Kevin Tipton

Daisy Torres

Yislem Torres

David Trabanco

Shannon Ueberfluss

Mario Valdes

Maria Alejandra Varela

Victoria Vazquez

Abby Villarroya

Genna Wadler

Jaynie Westerh

Deborah Williams

Rayma Yero

Other

Cherre Alfonso

Sanique Cole Stephens

Elizabeth Diaz Agosto

Sandy Printemps