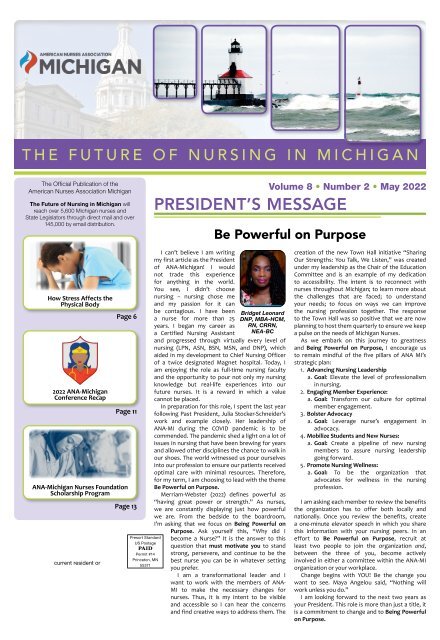 Future of Nursing in MI - May 2022
You also want an ePaper? Increase the reach of your titles
YUMPU automatically turns print PDFs into web optimized ePapers that Google loves.
THE FUTURE OF NURSING IN MICHIGAN

The Official Publication of the

American Nurses Association Michigan

The Future of Nursing in Michigan will

reach over 5,600 Michigan nurses and

State Legislators through direct mail and over

145,000 by email distribution.

PRESIDENT'S MESSAGE

Volume 8 • Number 2 • May 2022

Be Powerful on Purpose

How Stress Affects the

Physical Body

2022 ANA-Michigan

Conference Recap

current resident or

Page 6

Page 11

ANA-Michigan Nurses Foundation

Scholarship Program

Page 13

Presort Standard

US Postage

PAID

Permit #14

Princeton, MN

55371

I can't believe I am writing

my first article as the President

of ANA-Michigan! I would

not trade this experience

for anything in the world.

You see, I didn't choose

nursing – nursing chose me

and my passion for it can

be contagious. I have been

a nurse for more than 25

years. I began my career as

a Certified Nursing Assistant

Bridget Leonard

DNP, MBA-HCM,

RN, CRRN,

NEA-BC

and progressed through virtually every level of

nursing (LPN, ASN, BSN, MSN, and DNP), which

aided in my development to Chief Nursing Officer

of a twice designated Magnet hospital. Today, I

am enjoying the role as full-time nursing faculty

and the opportunity to pour not only my nursing

knowledge but real-life experiences into our

future nurses. It is a reward in which a value

cannot be placed.

In preparation for this role, I spent the last year

following Past President, Julia Stocker-Schneider's

work and example closely. Her leadership of

ANA-MI during the COVID pandemic is to be

commended. The pandemic shed a light on a lot of

issues in nursing that have been brewing for years

and allowed other disciplines the chance to walk in

our shoes. The world witnessed us pour ourselves

into our profession to ensure our patients received

optimal care with minimal resources. Therefore,

for my term, I am choosing to lead with the theme

Be Powerful on Purpose.

Merriam-Webster (2022) defines powerful as

"having great power or strength." As nurses,

we are constantly displaying just how powerful

we are. From the bedside to the boardroom,

I'm asking that we focus on Being Powerful on

Purpose. Ask yourself this, "Why did I

become a Nurse?" It is the answer to this

question that must motivate you to stand

strong, persevere, and continue to be the

best nurse you can be in whatever setting

you prefer.

I am a transformational leader and I

want to work with the members of ANA-

MI to make the necessary changes for

nurses. Thus, it is my intent to be visible

and accessible so I can hear the concerns

and find creative ways to address them. The

creation of the new Town Hall initiative "Sharing

Our Strengths: You Talk, We Listen," was created

under my leadership as the Chair of the Education

Committee and is an example of my dedication

to accessibility. The intent is to reconnect with

nurses throughout Michigan; to learn more about

the challenges that are faced; to understand

your needs; to focus on ways we can improve

the nursing profession together. The response

to the Town Hall was so positive that we are now

planning to host them quarterly to ensure we keep

a pulse on the needs of Michigan Nurses.

As we embark on this journey to greatness

and Being Powerful on Purpose, I encourage us

to remain mindful of the five pillars of ANA MI's

strategic plan:

1. Advancing Nursing Leadership

a. Goal: Elevate the level of professionalism

in nursing.

2. Engaging Member Experience:

a. Goal: Transform our culture for optimal

member engagement.

3. Bolster Advocacy

a. Goal: Leverage nurse's engagement in

advocacy.

4. Mobilize Students and New Nurses:

a. Goal: Create a pipeline of new nursing

members to assure nursing leadership

going forward.

5. Promote Nursing Wellness:

a. Goal: To be the organization that

advocates for wellness in the nursing

profession.

I am asking each member to review the benefits

the organization has to offer both locally and

nationally. Once you review the benefits, create

a one-minute elevator speech in which you share

this information with your nursing peers. In an

effort to Be Powerful on Purpose, recruit at

least two people to join the organization and,

between the three of you, become actively

involved in either a committee within the ANA-MI

organization or your workplace.

Change begins with YOU! Be the change you

want to see. Maya Angelou said, "Nothing will

work unless you do."

I am looking forward to the next two years as

your President. This role is more than just a title, it

is a commitment to change and to Being Powerful

on Purpose.
---
Page 2 The Future of Nursing in Michigan May, June, July 2022

CONTACT INFORMATION

ANA-Michigan

2501 Jolly Road, Suite 110

Okemos, MI 48864

517-325-5306

nurse@ana-michigan.org

EXECUTIVE DIRECTOR

Tobi Lyon, MBA, CAE

The Future of Nursing in Michigan is published

quarterly every February, May, August and

November by the Arthur L. Davis Publishing

Agency, Inc. Subscriber rates are available for

$25.

For advertising rates and information, please

contact Arthur L. Davis Publishing Agency,

Inc., PO Box 216, Cedar Falls, Iowa 50613. (800)

626-4081, sales@aldpub.com.

ANA-Michigan and the Arthur L. Davis

Publishing Agency, Inc. reserve the right to

reject any advertisement. Responsibility for

errors in advertising is limited to corrections

in the next issue or refund of price of

advertisement.

Acceptance of advertising does not imply

endorsement or approval by the American

Nurses Association Michigan of the products

advertised, the advertisers or the claims

made. Rejection of an advertisement

does not imply that a product offered for

advertising is without merit, or that the

manufacturer lacks integrity, or that this

association disapproves of the product

or its use. American Nurses Association

Michigan and the Arthur L. Davis Publishing

Agency, Inc. shall not be held liable for any

consequences resulting from purchase or use

of advertisers' products. Articles appearing

in this publication express the opinions of

the authors; they do not necessarily reflect

views of the staff, board, or membership of

American Nurses Association Michigan, or

those of the American Nurses Association.

4

NursingALD.com can point you

right to that perfect NURSING JOB!

April 15, 2024

October 15, 2023

NursingALD.com

Free to Nurses

Privacy Assured

Easy to Use

E-mailed Job Leads
---
May, June, July 2022 The Future of Nursing in Michigan Page 3

MESSAGE FROM THE EXECUTIVE DIRECTOR

"Sometimes carrying on, just

carrying on, is the superhuman

achievement."

Albert Camus

Sometimes I don't want

to bring up the pandemic

because nurses are tired. Then

I resolve myself to the idea

that the only thing worse than

talking about it is not talking

Tobi Lyon,

MBA, CAE

about it. Specifically, we are taking initiatives

to mitigate the undeniable consequences, and

the resiliency nurses have demonstrated to get

here. And that is not a whimsical accolade – by

definition, nurses have always faced inevitable

adversities. Still, consequently, to the pandemic,

they have readjusted in the face of such

monumental stress and done it quickly. The days

and shifts have been undoubtedly long – but the

years lapsed have been "short." Of course, two

years is a substantial amount of time. Given the

amount of work and advocacy we have done to

rally for ourselves and incite meaningful change, I

think it is worth noting (and celebrating) the wins

we had and the persevering hope nurses possess.

It has been through our teamwork and

allegiance that we are able to identify our

pain points and not only provide solutions but

implement actual change and create viable

resources for our community. ANA-Michigan has

taken deep strides to determine "what's wrong"

(through intentional listening, research, and data)

and seek nurses' input and expertise on fixing

it. For too long, nursing was a subsidiary of the

healthcare system; nurses were taken for granted,

and their voices were underutilized. While the

circumstance (of the pandemic) is regrettable,

to say the least, it did allow us to demand we be

heard, and the work of ANA-Michigan members

and leadership exhibits this stipulation to care.

By working together and prioritizing our needs,

we can actualize ANA-Michigan's vision that

registered nurses be recognized as a powerful,

unified force. Our ability to achieve that vision and

transform the way the world defines healthcare is

strengthened by the knowledge and experience

our members provide and the contributions not

just of their time but to our publications, meetings

and events. Our village remains strong, but it will

continue to require all our hands on deck. We have

been fortunate to have such staunch leadership

to guide ANA-Michigan and to have someone like

Dr. Bridget Leonard to continue the work and

indelible legacy of Dr. Julia Stocker-Schneider.

Whether through membership, programs,

educational resources, or the new Foundation,

we have operated with our strategic goals in mind

and are "off to the races" in 2022. This year began

with our Annual Conference and Membership

Assembly, our first-ever Ignite sessions, virtual

poster presentations, webinars on DEI and human

trafficking, town halls, and the development

of our new Empowered Leader Series. Most of

these programs offer accredited nurse continuing

education to support licensure renewal. These

initiatives reflect our efforts to provide tangible

action and accessible support to Michigan nurses.

While the resiliency of our nurses is

commendable, the only way to preserve nurses'

well-being is by prioritizing the care and support

of ourselves and each other. We talk about not

being able to fill an empty cup, and I continue to

urge each of you to prioritize yourself. Not just so

you can take care of others, but you can continue

to better the conditions for yourself and future

generations.

More than that, I want to encourage you to be

positive, I want to recognize the enormous feat of

what we are doing, no longer merely surviving but

building a sustainable, viable future. Historically,

nurses are lionhearted and committed to the care

they provide. Part of that history now includes a

global pandemic and the superhumanity called

upon. Let's continue with purpose as we define

our terms. ANA-Michigan is here for you, the way

you are always there for everyone else. Thank you!
---
Page 4 The Future of Nursing in Michigan May, June, July 2022

Thank You
---
May, June, July 2022 The Future of Nursing in Michigan Page 5

ANA-Michigan Nurses Foundation

Has Been Very Busy This Past Year!

Beginning in March 2021, the first Foundation

Advisory Board was appointed by the ANA-MI

Board of Directors. Since then, the advisory

board has worked diligently to sculpture

the framework that is serving to guide the

foundation goals and ongoing initiatives.

Since the launch on November 16, 2021, several

milestones have been reached:

• The $10,000 fundraising goal for 2021 was

met.

• The system to receive donations is now

in place through the Foundation website

www.ana-michiganfoundation.

• The first elected ANA-Michigan Nurses

Foundation Board of Directors is in place

and will continue to implement the goals

identified by the initial appointed advisory

board.

• Plans are in place to fulfill the mission to

support nurses by allocating two academic

scholarships in 2022.

• A personal assistance grant has been

established to help with unexpected

financial challenges faced by nursing

students.

Now is the time for the Foundation to actively

enact the mission. In recognition of the toll

that has been placed on nurses and nursing

during the pandemic, we start our work by

offering scholarships that will help increase

the nursing workforce. Due to the generosity

of those who have donated to the Foundation,

we are able to fund two scholarships. The first

is the Scholarship for Academic Excellence and

second is the Dorothea Milbrandt Leadership

Scholarship. These scholarships will be available

for the 2022/2023 academic year. Additionally,

the Foundation is also offering a Personal

Assistance Grant. This grant gives evidence

to the Foundation's values for education,

excellence, and compassion. We anticipate with

the generosity of our members and friends that

not only will these scholarships be awarded

annually, but as funds become available,

additional scholarships will be established.

Detailed information on the application process

can be found at www.ana-michigan.foundation.

The challenge before us is to recognize

that an important way to support nursing

is by donations, however modest, they are

necessary for the Foundation to carry out its

mission. Nurses are challenged to take care

of our own in a myriad of ways. Certainly, a

contribution to the Foundation is one way of

demonstrating caring. Members are encouraged

to consider setting up recurring donations. In

some respects, making a monthly pledge to the

Foundation, kind of a "once and done" is one

way of doing that. We also ask that members

consider one-time donations in recognition of

fellow nurses for a job well done, in memory

of a colleague, a friend or family member, or in

celebration of a special work-related event. The

possibilities for giving are endless.

Donations can be made through the

Foundation website: www.ana-michigan.

foundation via credit card, PayPal or by

downloading a form and mailing a check to

the address on the form. Donations are taxdeductible,

as ANA-Michigan Foundation is a

501(c) 3 organization.

2022/2023 ANA-Michigan Nurses

Foundation Board of Directors

Myrna Holland, President

Linda Taft, Vice President

Carole Stacy, Secretary

MaryLee Pakieser, Treasurer

Linda Bond, Director

Kathy Dontje, Director

Jonnie Hamilton, Director
---
Page 6 The Future of Nursing in Michigan May, June, July 2022

Keeping the Nursing Dream Alive

A calling or passion is the

way in which many nursing

professionals describe their

occupation. Many years of

nursing licensure survey

responses and member

nursing organization reports

at the Coalition of Michigan

Organizations of Nursing

(COMON) demonstrate that

retired nurses continue to

renew their licenses, participate

in volunteer events, and remain

in professional organizations

throughout their lifetime.

Many nurses still remember

Deborah Bach-

Stante, BSN,

MPH, MSW

Office of

Nursing Safety

and Workforce

Planning, MDHHS

where they were, what they were wearing, and

who they were with when realizing they wanted

to be a nurse, as well as the excitement of that first

clinical placement. Yet, at this juncture, reports of

the results of numerous national surveys and reports

by nurses at check-in calls hosted by professional

nursing organizations in Michigan throughout

the pandemic reveal that nurses are questioning

whether and why they wish to continue pursuing a

career as a licensed nursing professional.

As healthcare transitions from COVID-19

pandemic to endemic, nurses are reflecting on

the past months of chaos. Many professionals

spent months navigating situations never

previously envisioned to be on their career path,

figuring out how to continue providing the best

possible patient care, educational experiences,

and administrative services with limited or not

preferrable available supports and resources.

Some nurses, both novices and seasoned

veterans, are now questioning whether the

profession can provide the sense of fulfillment

they envisioned lasting throughout their working

career. It is imperative that leadership in all

organizations that employ or support professional

nurses, be prepared to address this question.

While this may sound like a daunting task, there

has never been a singular linear path by which every

nurse has followed. Often, a nurse has questioned

the path they were on and have chosen to make a

turn in a somewhat different direction or forge a

winding path through their career back and forth

between several types of nursing for which they

have a passionate interest. The collective body of

nursing needs to be prepared to assist our friends,

students, mentees and colleagues in assessing the

knowledge, skills and experience they have acquired

during their nursing education and career to reflect

on how their strengths and interests may be applied

to best chart a fulfilling alternative or hybrid path

forward in their nursing career. An ever-increasing,

variety of opportunities exists for nurses to apply

their organizational abilities and skills in innovation

and problem solving in many different aspects of

health care. Along with pointing nurses toward more

traditional alternatives to their current roles, now is

the time to engage in re-envisioning workflows and

nursing responsibilities in ways that offer nurses

opportunities to practice at the top of their scope in

traditional roles while, simultaneously designing new

roles or combining reduced traditional roles with

other alternative roles that allow them to embrace

other opportunities, grow as professionals and/or

reduce the level of stress they feel in their current

roles. In recognition of the need for innovation, in

FY2023 the MDHHS-ONP will be providing grants

to assist health providers in exploring technology

supported assistance for bedside nurses along

with associated redesign of nursing workflows to

accommodate adoption of the technologies.

There are a wide variety of available positions

that would benefit from an individual with a

passion for nursing. Yet, many nurses fail to

realize the breadth of roles for which they are

well-suited, and employers would benefit from

their knowledge and abilities. If we do not assist

disenchanted or overstressed nurses in reenvisioning

their nursing dream, we risk losing

these talented colleagues along with their passion,

knowledge and experience from the collective

body of professional nursing. This is a charge that

must be taken up by both professional nursing

organizations and each individual nurse in their

interactions with other nurses who reach out to

them questioning their continued commitment to

pursuing a career in nursing. It is also something

that needs to be elevated to leadership in our

workplaces, or we risk losing more, valuable,

colleagues to the stresses of the moment.

American Nurses Foundation & Joslin Insight © 2022. (2022).

(rep.). American Nurses Foundation COVID-19 Two-Year

Impact Assessment. Retrieved April 25, 2022, from https://

www.nursingworld.org/~492857/contentassets/872ebb

13c63f44f6b11a1bd0c74907c9/covid-19-two-year-impactassessment-written-report-final.pdf

Copyright © 2022, Massachusetts Nurses Association.

(2021). (rep.). As National Nurses Week Begins, 'State of

Nursing in Massachusetts' Survey Shows Existing Quality

of Care, Staffing and Safety Problems Worsened by

Inadequate COVID-19 Preparedness and Lack of Support

for Frontline Healthcare Workers. Retrieved April 25, 2022,

from https://www.massnurses.org/news-and-events/p/

openItem/12063

Costa, D. K., & Friese, C. R. (n.d.). Policy Strategies for

Addressing Current Threats to the U.S. Nursing

Workforce. The New England Journal of Medicine, 198(1).

https://doi.org/10.1056/NEJMp2202662

Johnson & Johnson, The American Nurses Association (ANA),

and The American Organization for Nursing Leadership

(ANOL). (2021). (rep.). The Impact of Covid-19 on the

Nursing Profession in the U.S.: 2020 Quantitative Survey

Summary. Retrieved April 25, 2022, from https://www.

nursingworld.org/~493ed9/globalassets/innovation/

listening_tour_whitepaper_2021.pdf

NSI Nursing Solutions, Inc. (2022, March 1). 2022 NSI National

Health Care Retention & RN Staffing Report. NSI Nursing

Solutions, Inc. Retrieved April 25, 2022, from https://

www.nsinursingsolutions.com/Documents/Library/NSI_

National_Health_Care_Retention_Report.pdf

Smiley , R. A., Ruttinger , C., Oliveira, C. M., Hudson , L. R.,

Allgeyer, R., Reneau , K. A., Silvestre, J. H., & Alexander,

M. (2021, April 1). The 2020 National Nursing Workforce

Survey. Journal of Nursing Regulation . Retrieved April 25,

2022, from https://www.journalofnursingregulation.com/

article/S2155-8256(21)00027-2/fulltext

How Stress Affects

the Physical Body

By Nicole Cerrini BSN, RN

Ascension Macomb – Nurse

Supervisor Operating Room

We are often consumed

with how stress can cause us

to experience mood changes,

sleep pattern disruptions

and overall anxiety. But what

about the physical symptoms that appear and

become chronic? Gastrointestinal (GI) distress,

headaches, back pain, TMJ, hormonal imbalances

and extreme fatigue (to name a few) can all be the

result of stress.

So how do we know if our physical ailments

are the result of stress, and how do we treat it?

Learning to listen to your body is the first step

in understanding if what you're experiencing is

directly related to stress. Do you find that your

stomach gets upset when you have a lot going

on, or you tend to lose your appetite (or eat more)

when you feel overwhelmed? These are both signs

that your body is battling an internal imbalance,

not a stomach bug. We've been conditioned to

believe that any and all physical symptoms must

be attributed to a true medical condition, instead

of looking at it from a holistic perspective.

There are definitely circumstances where you

may in fact have a medical condition and may need

specific treatment, but it should become a habit to

analyze outside factors that may be contributing

to your symptoms. The dreaded culprit of

back pain is another good example. There are

millions of people suffering from back pain in our

country, and a lot of times physicians are quick to

recommend invasive procedures or prescription

medication to help alleviate their symptoms.

Chemical and physical reactions take place in

your body when you are under stress, causing an

involuntary tightening of your muscles due to an

increase in cortisol and adrenaline levels. This can

display as back pain in certain individuals and may

branch out to include other physical symptoms.

Becoming aware that physical symptoms may

be related to stress is the first step in treating

these ailments at the root cause instead of

masking them. Once you're able to reflect and

listen to your body, the next step is to make it a

priority to listen to your needs! Holistic therapies

are often neglected as a primary means of

treatment. Analyzing the body through this

perspective allows for a unique approach that

focuses on physical, emotional and spiritual health

that develops a plan to align and balance the body.

Specific treatment therapies that are ideal

for treating physical symptoms caused by stress

include nutrition plans, mindset exercises,

meditation, breathwork, hypnosis, reiki and many

other modalities. Nutrition is one of the most

important variables in your health, especially as

it relates to stress and overall wellness. The term

"food is medicine" was coined for a reason; how

you fuel your body can have a direct impact on

preventing and treating physical ailments. Try to

keep an open mind when it comes to your health,

and don't disregard alternative therapies in your

quest for relief of physical symptoms!
---
May, June, July 2022 The Future of Nursing in Michigan Page 7

Michigan Nurses Need Support At All Levels

By: Beth Ammerman, DNP, FNP-BC; Alexa Anderson,

MA, BSN, RN; Marina Andriyakhova, BSN, RN,

CWCN; Deborah Bach-Stante, BSN, MPH, MSW;

Ramona Berry, MSA, BSN, RN; Wanda Chukwu,

DNP, MA, CNEci, RN; Sarah Jennings, DNP, MPA, RN,

NEA-BC; Holly Thalman, MSN, BSN, RN; and Nadine

Wodwaski, DNP, MSN-ed, CNS, RN

Introduction

The COVID-19 pandemic has changed the

nursing world. Overall, we have seen a huge

shift in our working environments. As nurses, we

have continuously identified with our workplace

settings and felt a camaraderie of sorts by bonding

with coworkers over time. We felt supported

knowing who we could turn to for advice, support,

mentorship, and help to care for our patients.

Many seasoned nurses, who were relied on the

most, have left nursing or are feeling burnt out

and not supported. Many of our experienced

nurses have left their home units to become travel

nurses, realizing they can be the nurse they want

to be, leaving after they too felt unsupported

to stay in their jobs. And our newer nurses, fresh

out of school with bright minds and big hearts,

need support to build upon the basics they

learned in school. When they lack mentorship,

and bonding and feel unsupported, they too are

leaving nursing. This goes for nurses of all levels in

the careers, the beginners to the expert, RNs and

APRNs. We see nurses of every type need support,

yet, in different ways.

Dr. Patricia Benner is a nurse theorist who

looked specifically at how nurses, of all levels,

function based on their work and skill experience

(1982). She also noted that the needs of newer

nurses differ from the needs of experienced

nurses. Benner's theory reflected that nurses

operate at five different levels including novice,

advanced beginner, competent, proficient, and

expert (1982), and that nurses move through these

stages as they practice nursing. She emphasized

that nurses at every level are important. Most

importantly, we as the ANA-Michigan Nursing &

Health Policy Committee believe that all nurses,

at all levels, and in all working environments need

to be supported, and we have proposed ways to

be good stewards to support our nurses at every

level.

Benner's Stages

Novice

With Dr. Benner's first stage, the novice nurse is

defined as an individual first starting out in his/her

nursing career. This could be an individual who's

working through college classes or in their first

year of clinical, or perhaps one in the first days on

the job as a nurse.

New nurses in their first year at the bedside

experience a time of great insecurity, growth,

and constant challenges. The mitigation begins

with trained preceptors providing support with

new procedures and tasks ensuring competence.

This support reduces frustration, burnout, and

turnover. New nurses can struggle during this

transition to the clinical setting, with a big obstacle

concerning giving and receiving feedback. When

nurses receive criticism, they may take it personally

or as an attack on their competence. Incorporating

a hospital-based education program on how to

give and receive useful feedback for both mentors

& mentees would assist mentors in their role.

Nurses in the novice stage would have a very

limited ability to predict what could happen to

their patient and in order to recognize certain

signs and symptoms being experienced, a novice

nurse would need to be introduced to those same

signs and symptoms in other patients. Dr. Benner

believed that the best nurses develop their skills

over time. Education and experience help to

contribute to this development, allowing a nurse

to fully understand what it means to provide high

quality patient care. This process of development

is the foundation for the Novice to Expert Nursing

Theory. In addition, organizations that canvas

novice nurses to share their ideas for process

improvements are perceived as caring.

Advanced Beginner

The advanced beginner nurse is defined as

a new graduate with less than six months of

experience and focuses on rules and guidelines

that have been taught during school. They

recognize that there is much to learn, they

struggle with setting priorities or seeing the "big

picture." Yet, they are excited when unfamiliar

conditions are recognized and can begin to

formulate guidelines that dictate actions. Still,

they need to validate/obtain support for their

clinical decisions from experienced nurses. They

struggle with heavy workloads and increased

responsibility which could make them quite

anxious and stressed. To be good stewards of

quality patient care, experienced nurses can assist

the advanced beginner by promoting a supportive

work environment, bridging the theory-practice

gap, and promoting a positive work environment.

It empowers the advanced beginner to seek

help and support from experienced colleagues.

Experienced nurses can nurture advanced

beginners' confidence and competence while

overseeing the development of skills and clinical

judgment with care. In doing so, they can reduce

their anxiety and begin to facilitate learning with

skilled communication and positive attitudes.

When advanced beginners experience a sense of

acceptance and safety, trust is built, teamwork

is authentic, they feel empowered to practice,

and they have a sense of belonging or feeling of

"home" at work. Let's dust off our welcome mat!

Competent Nurses

The definition of competency is the ability to

do something successfully or efficiently (Oxford

dictionary, 2022). A competent nurse has been on

the job long enough to feel comfortable going to

work, with confidence that they can effectively

address most situations that arise during their

shift. This nurse has spent two to three years

working in the same field (Benner 1982). As such,

the competent nurse is beginning to consider longterm

goals. The question of "what next" may be

on the horizon. Their comfort with their specialty

allows them to investigate ways to improve their

skills and knowledge, as well as contribute to their

organization. Supporting the competent nurse

in the workforce acknowledges their growth

and may include support for training on specialty

equipment or procedures. Another way to support

the competent nurse is to pair competent nurses

with novice and advanced beginner nurses to

promote growth for all involved, as skills are

passed on and relationships are built. Also,

advanced nurses can seize the opportunity to

impart their wisdom on the more challenging skills

to these nurses who have mastered the day-today

routine of their specialty but may be uncertain

about some of the more complicated cases. The

competent nurse is primed and ready to explore

the nuances of their field, and support in those

endeavors is the best way to keep a competent

nurse engaged and motivated. Maximizing the

interest and motivations of a competent nurse

is a win-win for the nurse looking at long-term

goals, as well as an organization that will stand to

gain from investment in expanding the abilities of

nurses in their employ.

Proficient

The proficient nurse has more experience

and can draw from his/ her own experiences to

view healthcare situations in a holistic manner

according to Dr. Benner (1982). In today's complex

health environment, there is a need for proficient

nurses willing to share their life work experiences

with those who are new to the nursing profession.

Health care organizations need experienced

professional nurses to share their knowledge and

skills. Proficient nurses sharing their skills and

expertise is critical to ensuring patient safety. The

skilled nurse also needs to share with the novice

nurse the importance of showing empathy to

the patients and co-workers by making genuine

efforts to understand what the other person is

experiencing. Today's proficient nurse needs to

model the expected behavior for the novice nurse.

Encouraging professional nurses to share their

knowledge, skills, and a positive attitude can assist

in developing a work culture that supports novice

nurses.

Expert

As nurses enter the expert stage of their

careers, they no longer need to rely on rules,

principles, or guidelines to connect them to

situations or to determine what actions should

be taken (Benner, 1982). This level of skill brings

forth knowledge, autonomy, and leadership

(Rolfe, 2011). The expert has an intuitive grasp

on clinical situations and their performance is

highly proficient and fluid. Their deep knowledge

and experience can guide them and allow them

to focus on the most relevant problems and only

seeking the help of tools when they have little to

no experience with an event (Benner, 1982). As

experts who may come across new situations or

events, they understand needing to foster growth,

continue their education and return to the novice

stage so they do not become complacent within

the field. This was strongly executed during the

COVID-19 pandemic, as even the high-level expert

nurses were asked to revert to novice. These

experts' vast knowledge base and experience

was used to bring nurses together, to encourage

change, mentor newer nurses, and to show

strong leadership even though the circumstances

were unforeseen. As we move forward in a world

with significant nursing shortages and constant

unknowns, the expert continues to be the glue

which binds and supports nurses through to the

next level of health care.

Conclusion

As you can see, there are many different levels

of nurses and all nurses are currently facing new

challenges the pandemic has brought upon them,

resulting in many feeling stressed, burnt out, and

many others leaving the profession. We need to

looking at this as a time of change. There is room

for growth and grace. All nurses, at all levels,

need our support. As nurses we need to care for

ourselves as well as our patients. We need to do

more to support one another.

References

Benner, P. (1982). From novice to expert. American Journal of

Nursing, 82(3), 402-407

Rolfe, Paula. (2011). Transformational Leadership Theory:

What Every Leader Needs to Know. Nurse Leader. 9. 54-

57. 10.1016/j.mnl.2011.01.014.

Oxford Learner's Dictionary. Definition of Competence;

found at https://www.lexico.com/definition/competence

4/25/2022.
---
Page 8 The Future of Nursing in Michigan May, June, July 2022

The Case of Nurse RaDonda Vaught:

How Administering the Wrong Medication Resulted in a

Criminal Conviction

Nurses across the country

have followed and are now

responding to the criminal

prosecution and conviction

of a Tennessee nurse who

mistakenly injected a patient

with a paralytic medication,

resulting in her death. There

have been strong reactions

to the guilty verdicts

handed down against Ms.

Donna J. Craig

RN, JD

Vaught. Since not all material facts in this case

were covered by the media, a more thorough

discussion is provided below.

Timeline of Events –

12/26/2017 – Nurse Vaught mistakenly

administered vecuronium (brand name

Norcuron) instead of the prescribed Versed to a

75-year-old patient, Charlene Murphey, prior to a

PET scan. In the PET scanning room, the patient

arrested and was placed on a ventilator.

12/27/2017 – The patient was declared brain

dead and removed from the ventilator.

12/27/2017 – Vanderbilt University Medical

Center ("Vanderbilt") reported the patient's

death to the county medical examiner.

Vanderbilt's report did not mention the

medication error.

12/27/2017 – The medical examiner determined

the cause of death as "natural."

1/2018 – Vanderbilt did not report the

patient's death to state or federal officials, as

required by law. Ms. Vaught's employment at

Vanderbilt was terminated.

Early 2018 – Vanderbilt negotiated an out-ofcourt

confidential settlement with the patient's

family.

10/3/2018 – An anonymous tipster advised

state and federal officials of the medication

error which resulted in the patient's death.

10/23/2018 – The Tennessee Department of

Health which oversees health professional

licensing determined there was no violation by

Ms. Vaught and issued her a letter indicating

"this matter did not meet further action."

10/31/2018 – The Centers for Medicare and

Medicaid Services ("CMS") conducted an

unannounced inspection of Vanderbilt.

11/8/2018 – CMS confirmed the patient's death

was due to an accidental dose of vecuronium

and that Vanderbilt did not report the

medication error to the medical examiner and

state officials.

11/16/2018 – In response to CMS's inspection

Vanderbilt developed a plan of correction. No

other action was taken against Vanderbilt or it's

Medicare provider status.

2/4/2019 – Ms. Vaught is arrested and

criminally charged with reckless homicide and

impaired adult abuse.

2/5/2019 – The CEO for Vanderbilt appeared

before the Tennessee Board of Licensing for

Health Care Facilities and admitted the death

of Ms. Murphey was not reported and admitted

the hospital's response was "too limited." The

Tennessee Board of Licensing for Health Care

Facilities took no action against Vanderbilt.

2/20/2019 – Ms. Vaught entered not guilty

pleas to the criminal charges brought against

her.

8/20/2019 – Law enforcement requested the

medical examiner re-examine the circumstances

of Ms. Murphey's death. The medical examiner

now with knowledge of the medication error,

changed the official manner of death to

"accidental."

9/27/2019 – The Tennessee Health Department

overseeing the Board of Nursing re-opened

Nurse Vaught's licensing case.

3/22/2022 – Criminal trial of Ms. Vaught began.

3/25/2022 – After a three-day trial and four

hours of deliberations the jury returns guilty

verdicts against Ms. Vaught.

5/13/2022 – Sentencing of Ms. Vaught is

scheduled to be held on May 13, 2022.

Facts – Nurse RaDonda Vaught became

employed by Vanderbilt in October 2015. On

December 26, 2017, she was working as a "help

all nurse" for the Neuro ICU, step down and the

6th floor nursing units. 1 At that time Charlene

Murphey, a 75-year woman with a subdural

hematoma was a patient in the Neuro ICU. The

patient was scheduled to undergo a full body

PET scan at 2:00 pm. It is not clear when the

patient arrived in radiology since there was

no documentation of her arrival time. She was

noted to be alert and oriented when she arrived

in radiology. Prior to undergoing the PET scan,

the patient requested something to reduce her

anxiety as she suffered from claustrophobia.

The physician ordered 2 mg of Versed IV. 2 The

AcuDose report showed the order was entered

at 2:47 pm and verified by pharmacy at 2:49

pm. 3 The report also shows at 2:59 pm Nurse

Vaught removed 10 mg of vecuronium from the

AcuDose cabinet, using an override. 4 There was

no order for vecuronium for this patient. There

was no override verified by pharmacy and there

was no documentation by Nurse Vaught that she

administered vecuronium. 5 At some time after

the incident the family was told of a possible

medication error. 6

A physician's note at 3:45 pm on 12/26/2017 7

indicates a code was called in the PET scan

area. Upon the physician's arrival the patient

was found to be pulseless and unresponsive.

The patient was intubated and regained

circulation after two to three attempts at chest

compressions. The patient was readmitted to

the Neuro ICU.

The next day, on December 27, 2017, a

physician's note 8 (time not specified) stated

"I discussed the case with the neurology

team and it is felt that these changes in exam

likely represent progression towards but not

complete brain death…very low likelihood of

neurological recovery, we made the decision to

pursue comfort care measures."

Hospital's Actions after the Patient's

Death– The patient's death was reported to

the county medical examiner. The amended

report from the county medical examiner's

office contains conflicting statements 9 as to

the cause of death. The report indicates that

the physician "will attest to the death as natural

causes of complications of the intra-cerebral

hemorrhage." The cause of death is listed as

"acute vecuronium intoxication", contributing

factors of death "intracerebral hemorrhage"

and the manner of death as "accidental." The

medical examiner originally determined that

the cause of death to be "natural" then after

more information was made available, changed

the cause of death to "acute vecuronium

intoxication."

Vanderbilt did not report the medication

error to either state or federal officials, as

required by law. It appears that the only actions

taken by Vanderbilt in January 2018 was to

terminate Nurse Vaught's employment and to

negotiate an out-of-court settlement with Ms.

Murphey's family. The terms of the settlement

are confidential.

Anonymous Tip to State and Federal Health

Officials – On October 3, 2018, an anonymous

tipster advised state and federal health

officials 10 of the unreported medication error

that resulted in the patient's death. The tipster

reported Nurse Vaught was orienting a new

registered nurse when the patient's nurse asked

Nurse Vaught to give Versed to the patient.

The report goes on to state that Nurse Vaught

removed the incorrect drug, did not read the

label, and accidently administered vecuronium

instead of Versed.

Tennessee's Board of Nursing Initial

Determination – The Tennessee Department

of Health ("Department") is responsible for

the licensing of healthcare professionals. After

receiving information from Vanderbilt the

Department conducted an investigation which

was reviewed by the Department's nursing

consultant and staff attorney. On October 23,

2018, the Department closed its files and issued

letters to Vanderbilt and Nurse Vaught. 11

A letter from the director of investigations

to Vanderbilt stated in part, "the complaint

received about Nurse Vaught has been

reviewed by the nurse consultant and staff

attorney for the Department and forwarded for

investigation. As a result of the investigation

and the review by the nursing consultant and

staff attorney their determination was that

the acts of the practitioner did not constitute

a violation of statutes and/or rules governing

the profession." 12 On the same day Nurse

Vaught was issued a similar letter indicating a

"review of the complaint by the Board's nursing

consultant and staff attorney a decision was

made that this matter did not merit further

action." 13

Investigation by Centers for Medicare

and Medicaid Services and State Officials –

Interview of RaDonda Vaught – Investigators

conducted a surprise inspection at Vanderbilt.

As part of this inspection investigators

interviewed Nurse Vaught by telephone.

According to the investigative report, Nurse

Vaught stated, 14 "I was in a patient care role.

I was the help-all nurse. As explained in the

report a help-all nurse is a resource nurse. 15

Nurse Vaught was also orienting a new nurse.

The patient's primary care asked Nurse

Vaught to go to the Radiology PET scanning

room and administer Versed to the patient

because she was not able to tolerate the PET

scan procedure. Nurse Vaught searched for

the Versed under the patient's AcuDose profile

which she could not find. She then chose the

override setting and searched for Versed. At

the time she indicated she was talking to the

orientee while she was searching for Versed and

typed in the first two letters of Versed which are

"VE" and chose the first medication on the list.
---
May, June, July 2022 The Future of Nursing in Michigan Page 9

According to the investigative report, Nurse

Vaught could not remember the reason she gave

for the override. The investigation also revealed

there was no scanner in the radiology unit. 17

When Nurse Vaught discussed her medication

error with the unit manager, she was instructed

not to scan the medication after the fact as

the MAR would note it. Nurse Vaught also

admitted that she was distracted by talking to

the orientee about a swallow test they were

going to do. She also admitted it struck her

"as a little odd" that she had to reconstitute

the medication and should have called the

pharmacy.

Nurse Vaught told the investigator 18 that

she took out the medication vial and looked at

the back of the vial for the directions on how

to reconstitute it. She admitted she did not recheck

the medication's name on the vial. Nurse

Vaught went on to say she grabbed a sticker

from the patient's file, a handful of flushes,

alcohol swabs, and a blunt tip needle. She

placed the medication vial in a baggie and wrote

on the baggie, "PET scan, Versed 1-2 mg" and

went to the radiology department to administer

the medication to the patient. The medication

was given but there is no documentation as to

when it was administered.

Once in the radiology department Nurse

Vaught went to the patient, checked her identity

and told her she was there to help her relax. She

then proceeded to reconstitute the medication

and measured what she needed. 19 When asked

how much she gave the patient she indicated

"I can't remember. I am pretty sure I gave her 1

millimeter". 20 She put the left over medication

in the baggie and gave it to another nurse [not

identified]. 21 When asked her next actions Nurse

Vaught indicated she left the radiology unit and

did not monitor the patient after giving the

medication. 22

Nurse Vaught went on to tell the investigator

that the family was standing outside in the

hallway…" we heard a rapid response call for

PET scan. That was a red flag since that patient

was ours". 23 The investigative report indicates

the rapid response team call occurred at 3:29

pm. Nurse Vaught went back into the PET scan

area and saw that the patient was intubated

and had regained a heartbeat. She told the

physician, "I had given Versed a few minutes

ago." 24 The nurse who was present when Nurse

Vaught administered the medication showed

her the baggie and asked if this is what was

given to the patient, Nurse Vaught responded

"yes". 25 The other nurse in response said, "This

isn't Versed. Its vecuronium." 26 Other staff

interviewed indicated the patient was estimated

to be alone in the room for about 30 minutes

once she was put in the scanning room. 27

The investigation also revealed that in the

days after the incident Nurse Vaught spoke

with her nurse manager and risk management

at Vanderbilt. 28 Nurse Vaught indicated

immediately after the events she spoke to

several people in management and also

completed a Veritas report around 4:00 pm on

December 26th. 29

Interview of the Vanderbilt Pharmacist – The

pharmacist reported the following events: 30

On December 26th a PET scan was ordered

at 2:00 pm, the Versed was ordered at 2:47 pm,

and the vecuronium was removed from the

AcuDose at 2:59 pm. The pharmacist confirmed

that the letters "VE" were entered in AcuDose

which defaults to generic medications. That is

why Versed did not show up. When vecuronium

popped up a warning in the red box was visible

for an override stating that is should be for

STAT orders. The time of administration of the

vecuronium was not documented.

What the Baggie Contained – Nurse Vaught

told the investigator that she labeled and placed

the administration set up in a baggie bag before

going to the Radiology department. The baggie

contained the following: 31

• Clear zip lock baggie with an orange

biohazard label had "Versed 1 mg – 2 mg

PET 1251 handwritten in pink colored marker

on it.

• Inside the baggie was a vial with a few

drops of clear liquid remaining in the

vial. The vial was labeled as "Vecuronium

Bromide 10 mg. 1mg/ml when reconstituted

to 10 ml. reconstitute with bacteriostatic

water."

• The vial had a red top that said "WARNING:

PARALYZING AGENT."

• There was a 10 ml syringe labeled "Normal

Saline" with a capped needle attached,

with 1.5 ml of a clear liquid remaining in it

and caped with a white cap with no needle.

• There was also a 2-inch alcohol prep pad in

the baggie.

Vanderbilt Issues a Correct Action Plan -

Following CMS's investigation, Vanderbilt issued

a corrective action plan in November 2018. The

corrective action plan included, among other

actions: 32

• Revising its medication administration

policy;

• Updating the transportation of critical

care patient policy to require appropriate

staff to accompany, monitor, and support

patients' needs, and document the

handover of patients between nursing

staff. If a no handover can be accomplished

the transporting staff is to remain with the

patient;

• Revising high alert medication policy;

• Establishing a work group to review

paralyzing agents; and

• Chief nursing officers conducting weekly

chart reviews (five patient/unit) for a total

of three months.

Criminal Charges Filed Against RaDonda

Vaught – On February 4, 2019, Nurse Vaught is

arrested on a criminal indictment for her role in

Ms. Murphey's death and charged with reckless

homicide and abuse of an impaired adult. This is

the first time Ms. Vaught is publicly identified.

On February 20, 2019, Ms. Vaught enters not

guilty pleas to both charges.

Tennessee Board of Licensing Health Care

Facilities – On February 5, 2019, the CEO of

Vanderbilt appeared before the Tennessee

Board of Licensing for Health Care Facilities.

The CEO admitted the patient's death was not

reported to state regulators and admitted

the hospital's response was "too limited."

Officials also confirmed that they negotiated

a confidential settlement with the family. The

Board of Licensing for Health Care Facilities took

no disciplinary action against Vanderbilt.

The Licensing Board Reexamines Prior

Licensing Decision Involving RaDonda Vaught

– On September 27, 2019, the Tennessee

Department of Health re-opened its prior

decision not to pursue disciplinary action

against Ms. Vaught's license. She is charged

with three violations, including unprofessional

conduct, abandoning, or neglecting a patient

that required care, and failing to maintain an

accurate patient record. 33

The licensing violations brought against Nurse

Vaught included 34 :

• Failure to follow the five rights of

medication administration, right patient,

right medication, right dose, right route,

and right time;

• After administrating the medication she

failed to monitor the patient; and

• Failed to document in the medical record

that she administered vecuronium.

Licensing Hearing – The licensing hearing

began on July 22, 2021. At the hearing Ms.

Vaught testified that the medication error was

"completely my fault" because she did not

double check the medicine she administered. 35

In addition to admitting to her error, Ms. Vaught

argues, through her attorney, that there were

flawed procedures at Vanderbilt. 36 They argued

that there was a problem that prevented

communication between Vanderbilt's electronic

health records, medication cabinets and the

hospital pharmacy. This flaw caused delays

in accessing medications and the hospital's

short-term workaround was to override the

safeguards on the cabinets so they could

remove drugs quickly.

Ms. Vaught testified that "overriding was

something we did as a part of our practice

every day. You couldn't get a bag of fluids for a

patient without using an override function." 37

Nurse Vaught testified that she allowed herself

to become "complacent" and "distracted"

while using the medication cabinet and did not

double-check which drug she had withdrawn

despite multiple opportunities. On July 23, 2021,

the Tennessee Board of Nursing unanimously

revokes Vaught's nursing license.

Ms. Vaught testified that overrides were

common at Vanderbilt and that a 2017 upgrade

to the hospital's electronic health record system

was causing rampant delays at medication

cabinets. Because of that flaw Vanderbilt

instructed nurses to use overrides to circumvent

delays and get medicine as needed. A state

investigator also told the board of nursing to

her knowledge that computer issues caused

problems with medication cabinets at Vanderbilt

in 2017.

Criminal Proceedings – As part of discovery

process prosecutors reveal that Ms. Vaught

made 10 separate errors when giving the wrong

medication to the patient, including overlooking

multiple warning signs. Court records state

that Vaught would have had to look directly

at a warning on the cap, saying "WARNING:

PARALYZING AGENT" before injecting the drug.

The State argued Ms. Vaught failed to scan

the medication against the patient's medical

identification bracelet. 38 She also pointed out

that vecuronium is a powder that needs to be

reconstituted unlike Versed which is already in

liquid form. 39

The prosecution's nursing expert testified

that Ms. Vaught failed to meet the standard of

care by: 40

• Being distracted when administering the

medication;

• Not looking up the generic name for

Versed;

• Failing to read the name of the drug, not

noticing a red warning on the top of the

vial, and not staying with the patient after

medication administration;

• Administering the medication when a

patient scanner was not available in the

Radiology unit;

The Case of Nurse RaDonda...continued on page 10
---
Page 10 The Future of Nursing in Michigan May, June, July 2022

The Case of Nurse RaDonda...continued from page 9

• Not double checking the medication with a

colleague; and

• Not monitoring the patient even if she

thought she was giving Versed.

A lead investigator in the criminal trial

testified that Vanderbilt had a "heavy burden

of responsibility" for a grievous drug error…

but pursued penalties and criminal charges only

against the nurse and not the hospital itself. 40

Vanderbilt received no punishment for the fatal

drug error.

After three days of trial followed by four

hours of deliberations the jury rendered its

verdict. The jury was made up of six men and

six women, with one juror being a practicing

registered nurse and another a former

respiratory therapist.

The Verdict – The jury found Ms. Vaught guilty

of criminal negligent homicide (a lesser charge

under reckless homicide) and gross neglect of

an impaired adult. She was acquitted of reckless

homicide. The neglect charge stemmed from

the allegation that Ms. Vaught did not properly

monitor Ms. Murphey after she was injected

with the wrong drug.

Stay Tuned – RaDonda Vaught, a convicted felon,

is scheduled to be sentenced on May 13, 2022.

Other Source Documents –

• Kelman, Brett; The RaDonda Vaught case

is confusing. This timeline will help. (msn.

com); Nashville Tennessean; March 22, 2022;

https://www.msn.com/en-us/news/crime/

the-radonda-vaught-case-is-confusing-thistimeline-will-help/ar-BB10EVFV

• Kelman, Brett; Ex-Vanderbilt nurse RaDonda

Vaught loses Nursing License for fatal

drug error; Nashville Tennessean; July 23,

2021; https://www.tennessean.com/story/

news/health/2021/07/23/ex-vanderbiltnurse-radonda-vaught-loses-license-fatalerror/8069185002/

• Timms, Mariah; Prosecutors, defense

lay out framework in homicide trial of

ex-Vanderbilt nurse RaDonda Vaught;

March 22, 2022; https://news.yahoo.com/

prosecutors-defense-lay-frameworkhomicide-193942097.html?fr=sycsrp_

catchall

Visit nursingALD.com today!

Search job listings

in all 50 states, and filter by location and credentials.

Browse our online database of articles and content.

Find events for nursing professionals in your area.

Your always-on resource for nursing jobs,

research, and events.

• Kelman, Brett; In nurse's trial, witness says

hospital bears 'heavy' responsibility for

patient death; Kaiser Health News; March

24, 2022; https://health.wusf.usf.edu/nprhealth/2022-03-24/in-nurses-trial-witnesssays-hospital-bears-heavy-responsibilityfor-patient-death.

• Fruen, Lauren; Inside the trial of ex-nurse

RaDonda Vaught who 'killed a patient by

giving her the wrong drug; March 24, 2022;

https://www.thesun.co.uk/news/18055626/

nurse-radonda-vaught-trial-killed-patient/

• Sutton, Caroline, West, Emily, Davis, Chris;

Trial of RaDonda Vaught: Jury to deliberate

case starting Friday; March 25, 2022; https://

www.newschannel5.com/news/trial-ofradonda-vaught-former-vanderbilt-medicalcenter-nurse-continues-into-third-day

• Kelman, Brett; Nurse Convicted of Neglect

and Negligent Homicide for Fatal Drug Error;

Nashville Tennessean; March 25, 2022;

https://khn.org/news/article/radondavaught-nurse-drug-error-vanderbilt-guiltyverdict/

• Levine, Zachary, McClendon, Shannon;

Statement in Response to the Conviction of

Nurse RaDonda Vaught; American Nurses

Association, March 25, 2022; https://www.

nursingworld.org/news/news-releases/2022-

news-releases/statement-in-response-tothe-conviction-of-nurse-radonda-vaught/

• Timms, Mariah; Former Vanderbilt nurse

RaDonda Vaught found guilty on 2 charges in

2017 death of patient; Nashville Tennessean;

March 25, 2022; https://www.yahoo.com/

now/former-vanderbilt-nurse-radondavaught-184322536.html

• Loller, Travis; Former nurse guilty of

homicide in medication error death;

Associated Press; March 25, 2022;

https://kstp.com/associated-press/apus-international/former-nurse-guilty-ofhomicide-in-medication-error-death/

• Timms, Mariah; Ex-Nurse RaDonda Vaught

found guilty on two charges in death of

patient; Nashville Tennessean; March 29,

2022; https://currently.att.yahoo.com/att/

ex-nurse-radonda-vaught-found-175845609.

html

• Kelman, Brett, Norman, Hannah; Why

Nurses Are Raging and Quitting after the

RaDonda Vaught Verdict; Kaiser Health; April

5, 2022; https://health.wusf.usf.edu/nprhealth/2022-04-05/why-nurses-are-ragingand-quitting-after-the-radonda-vaughtverdict

Donna J. Craig, RN, JD is legal counsel to the

ANA-Michigan Chapter and the Michigan Council

of Nurse Practitioners. She practiced as a cardiac

care nurse for several years before a chance

opportunity to audit a graduate course in health

care law and ethics changed her career path. That

course propelled her to earn her law degree. After

law school Ms. Craig joined a medical malpractice

defense law firm before transitioning her focus

to health care corporate and administrative law

matters. For over 20 years she has maintained her

private health law practice, representing health

care providers and facilities in business, licensure,

and compliance matters. For her expertise and

accomplishments, Detroit's Business Magazine

awarded Ms. Craig its Top Lawyer in Health Care

Law award on three occasions. Ms. Craig has the

distinction and is proud of being a bar member

of the Supreme Court of the United States of

America. For more information about The Health

Law Center, go to www.healthlawcenterplc.com.

1 Anonymous Complaint, page 1 of 3 pages at: https://

www.documentcloud.org/documents/6542003-CMS-

Complaint-Intake.html

2 Corrective Action Plan by Vanderbilt, page 7 of

105 pages at: https://www.documentcloud.org/

documents/6535181-Vanderbilt-Corrective-Plan.html.

3 Id.

4 Id.

5 Id.

6 Corrective Action Plan by Vanderbilt, page 33 of

105 pages at: https://www.documentcloud.org/

documents/6535181-Vanderbilt-Corrective-Plan.html

7 Corrective Action Plan by Vanderbilt, page 8 of

105 pages at: https://www.documentcloud.org/

documents/6535181-Vanderbilt-Corrective-Plan.html

8 Id.

9 Amended County Medical Examiner Investigator's

Report, at: https://www.documentcloud.org/

documents/6540657-Charlene-Murphey-ME-

Investigation.html

10 Report From the Anonymous Tipster at: https://

www.documentcloud.org/documents/6542003-CMS-

Complaint-Intake.html

11 Closing Letters From Tennessee Department of

Health at: https://www.documentcloud.org/

documents/6785898-RaDonda-Vaught-Letters.html

12 Id.

13 Id.

14 Corrective Action Plan by Vanderbilt, page 9 of

105 pages at: https://www.documentcloud.org/

documents/6535181-Vanderbilt-Corrective-Plan.html

15 Id.

16 Prosecutorial Discovery Documents, page 5 of

51 pages at: https://www.documentcloud.org/

documents/6785652-RaDonda-Vaught-DA-Discovery.html

17 Prosecutorial Discovery Documents, page 6 of 51 at:

https://www.documentcloud.org/documents/6785652-

RaDonda-Vaught-DA-Discovery.html

18 Corrective Action Plan by Vanderbilt, page 9 of

105 pages at: https://www.documentcloud.org/

documents/6535181-Vanderbilt-Corrective-Plan.html

19 Corrective Action Plan by Vanderbilt, page 10 of

105 pages at: https://www.documentcloud.org/

documents/6535181-Vanderbilt-Corrective-Plan.html

20 Id.

21 Id.

22 Id.

23 Id.

24 Id.

25 Corrective Action Plan by Vanderbilt, page 11 of

105 pages at: https://www.documentcloud.org/

documents/6535181-Vanderbilt-Corrective-Plan.html

26 Id.

27 Corrective Action Plan by Vanderbilt, page 12 of

105 pages at: https://www.documentcloud.org/

documents/6535181-Vanderbilt-Corrective-Plan.html

28 Corrective Action Plan by Vanderbilt, page 11 of

105 pages at: https://www.documentcloud.org/

documents/6535181-Vanderbilt-Corrective-Plan.html

29 Corrective Action Plan by Vanderbilt, page 25 of

105 pages at: https://www.documentcloud.org/

documents/6535181-Vanderbilt-Corrective-Plan.html

30 Corrective Action Plan by Vanderbilt, page 33 of

105 pages at: https://www.documentcloud.org/

documents/6535181-Vanderbilt-Corrective-Plan.html

31 Corrective Action Plan by Vanderbilt, page 35 of

105 pages at: https://www.documentcloud.org/

documents/6535181-Vanderbilt-Corrective-Plan.html

32 Corrective Action Plan by Vanderbilt, pages 1 – 105 at:

https://www.documentcloud.org/documents/6535181-

Vanderbilt-Corrective-Plan.html

33 Licensing Charges Filed by the Board of Nursing at:

https://www.documentcloud.org/documents/6483588

-Vaught-RaDonda-NOC-9-27-19.html

34 Id.

35 Kelman, Brett; Ex-Vanderbilt nurse RaDonda Vaught

loses Nursing License for fatal drug error; Nashville

Tennessean; July 23, 2021; https://www.tennessean.

com/story/news/health/2021/07/23/ex-vanderbilt-nurseradonda-vaught-loses-license-fatal-error/8069185002/

36 Id.

37 Id.

38 Fruen, Lauren; Inside the trial of ex-nurse RaDonda

Vaught who 'killed a patient by giving her the wrong

drug; March 24, 2022; https://www.thesun.co.uk/

news/18055626/nurse-radonda-vaught-trial-killedpatient/

39 Id.

40 Sutton, Caroline, West, Emily, Davis, Chris; Trial of

RaDonda Vaught: Jury to deliberate case starting

Friday; March 25, 2022; https://www.newschannel5.

com/news/trial-of-radonda-vaught-former-vanderbiltmedical-center-nurse-continues-into-third-day

41 Kelman, Brett; In nurse's trial, witness says hospital

bears 'heavy' responsibility for patient death; Kaiser

Health News; March 24, 2022; https://health.wusf.usf.

edu/npr-health/2022-03-24/in-nurses-trial-witness-sayshospital-bears-heavy-responsibility-for-patient-death.
---
May, June, July 2022 The Future of Nursing in Michigan Page 11

Conference Recap

The 2022 ANA-Michigan Conference & Membership Assembly was held

virtually on April 1st. We would like to thank our many participants and

innovative speakers. The presentations, including the first-ever Ignite

session, provided incredible insight along with some much-needed laughter,

engagement, and interaction. Everyone enjoyed sharing and celebrating our

strengths. #PowerOfNursing

Keynote speaker, Nikita B. Williams, had us Laughing for the Health of

It! She shared her personal stories and experiences and talked about how

self-care is often suggested to those we care for, but something we seldom

do for ourselves. She taught us that laughter does your body good, like a

medicine, so it's pertinent to take your daily dose. Erika Dudley spoke about

Leading with Humility & Grace. Her messaged helped us understand the

importance of embracing the responsibility of leading effective change for

individuals, teams, and organizations. This year's conference hosted our firstever

Ignite session. We greatly appreciate hearing the stories and messages

of encouragement from our Ignite presenters.

Another first for this year's event was our CE to GO offering three online

courses on the topics of DEI, human trafficking, and medical cannabis. We

were pleased to be able to offer 10 virtual poster presentations. All of our

educational activities offered continuing education contact hours to support

licensure renewals.

Though we could not be together in-person, celebrating, networking and

laughing together was bound to happen and proves to be the strength that

continues to hold us together as an association.

ANA-Michigan's Annual Membership

Meeting also took place during the virtual

conference where the leadership election

results were announced. The Association is

pleased to welcome its recent appointment

of Bridget A. Leonard DNP, MBA-HCM,

RN, CRRN, NEA-BC as President of the

organization. Dr. Leonard recently served

as President-Elect and Chair of the

Education Committee. During the annual

meeting, we also honored Julia Stocker-

Schneider, PhD, RN, CNL, for her two

years of service as ANA-Michigan's President. She led the Association from

April 2020 until her term commenced on April 1, 2022. On behalf of the ANA-

Michigan membership, we would like to thank Julia for her years of service,

dedication to the association, continued support, and flexibility in leading

through the challenges of the pandemic.

We are always honored to pay tribute to our outgoing board members,

the leadership pillars of our association. They show the way to our incoming

board members who bring new perspectives and experiences. We would like

to thank:

• Julia Stocker Schneider, PhD, RN, CNL

President

• Katherine Dontje, PhD, FNP-BC, FAANP

Director at Large

• Anne Kreft, BSN, RN

Director at Large

• Gerardo Infante, BSN, RN

Newly Licensed Director

During the Annual Membership Meeting, we had the honor to

congratulate and welcome the following members to the ANA-Michigan

Nurses Foundation Board of Directors.

Director 2 Year

• Linda Bond, PhD, MSN

• Jonnie Hamilton, DNP, MSHSA, PNP-BC, NE-BC, RN

• Myrna Holland, MSN, BSN, RN

• Linda Taft, RN

Director 3 Year

• Katherine Dontje, PhD, FNP-BC, FAANP

• MaryLee Pakieser, MSN, RN, FNP-BC

• Carole Stacy, MSN, MA, RN

We also had the honor to congratulate and welcome the following

members to the ANA-Michigan Nominations Committee.

• Joyce Reder, MSN, RN

• Sherry Thompson, MSN, RN

We are always grateful for the sponsors and exhibitors who support our

mission and events. With special thanks to:

• Altus

• Grand Canyon University College of Nursing & Health Care Professions

• Indiana Wesleyan University

• Michigan State University College of Nursing

• National Association of Hispanic Nurses-Michigan

• NSO

• Olivet College RN+BSN

• Oakland University School of Nursing

• The Morel Company

• University of Detroit Mercy

• Wayne State College of Nursing

Names in bold denotes our valued Champions for Nursing Partners. Thank

you for your continued support.
---
Page 12 The Future of Nursing in Michigan May, June, July 2022

Muchmore

Harrington Smalley

& Associates

Evelyn Zois Sweeney

Legislative Consultant

Muchmore Harrington

Smalley & Associates

As healthcare, and more

specifically the workforce

shortage within healthcare

continues to dominate

state headlines, the legislature continues to

brainstorm policy ideas they hope will not only

slow the exodus of health professionals but

entice individuals to enter the healthcare field.

Recently, Senators Jeff Irwin (D-Ann Arbor)

and Curt VanderWall (R-Ludington) introduced

a bipartisan set of bills, Senate Bills 998 and

999 respectively that would incentivize health

professionals to act as preceptors by offering a

tax incentive.

Senate Bill 998 (Irwin) would provide a $1000

tax credit for every 250 hours an individual

would serve as a preceptor for an advanced

practice nursing program-required clinical

rotation at an approved healthcare site in the

state. The tax credit could not exceed $5000

per tax year. The bill defines preceptor as

an advanced practice registered nurse who

provides supervision and instruction during

student clinical rotation training experiences

and is otherwise not compensated for the time

or services provided.

Similarly, Senate Bill 999 (VanderWall) would

create the same tax incentive structure for

individuals serving as a preceptor for a medical

school-required clinical rotation or physician

assistant program-required clinical rotation

at an approved health care site located in this

state.

Both Senators believe their legislation would

provide an added tool in aiding the fight against

the health worker shortage. Upon introducing

his legislation, Senator Irwin stated, "We're

not only facing a nursing shortage, but we're

also facing a shortage of people who teach

our nurses...Without preceptors, our medical

schools can't enroll as many students, and we

can't train enough doctors, nurses, and care

workers. We have a workforce shortage in

hospitals and clinics, and we need to take steps

now to address this issue before it gets worse."

Similarly, Senator VanderWall, who chairs

the Senate Health Policy and Human Services

Committee has been laser focused this

legislative session in passing legislation that

translates into real and tangible impacts. He

stated, "Just like when they treat patients,

preceptors are on the front lines of preparing

the next generation of nurses and doctors.

These experienced mentors are key. Reducing

their tax burden so that they can better support

families is one of the best ways we can show our

appreciation and recognize their critical role in

our health care system."

The bills were introduced on April 12, 2022 and

referred to the Senate Committee on Finance.

Both bills are awaiting a committee hearing.
---
May, June, July 2022 The Future of Nursing in Michigan Page 13

Complete brochure and additional scholarship details can be found on the

ANA Michigan website. https://www.ana-michigan.foundation/scholarships

Michigan Department of Corrections

NOW HIRING

REGISTERED NURSES

AND

GRADUATE NURSES!

$5,000 sign on bonus*

$250 retention bonus pilot*

Great pay and Benefits

Opportunities for advancement

13 paid Holidays (14 every other year)

To apply, visit www.michigan.gov/mdocjobs.

*For RN/approved locations only
---
Page 14 The Future of Nursing in Michigan May, June, July 2022

Meeting the Nurse Staffing Challenge,

Part One: Recruitment Tips

Georgia Reiner, MS, CPHRM, Risk Specialist, NSO

The COVID-19 pandemic has prompted nurses

to rethink their careers and reinforced the need

for healthcare and nursing leaders to shift their

approach to nurse recruitment and retention. A

2021 survey by the American Nurses Foundation

found that 18 percent of 22,316 respondents

planned to leave their current position in the next

six months. When the data are sorted by nurses

working in hospitals (8,524), that percentage rises

to 21 percent. These pandemic-related staffing

problems are intensified by factors that existed

before COVID-19 and that still plague leaders.

For example, hospitals in rural areas continue to

struggle more with nurse staffing than those in

urban locations. Generational differences also exist,

with Generation Zers and Millennials more likely

to leave positions compared to Generation Xers

and Baby Boomers. The exodus of bedside nurses

takes its toll on remaining staff and, in some cases,

quality of care.

Too often, organizations have viewed nurses

primarily as an expense, failing to understand

that investing in this workforce yields financial

rewards. High-quality nursing care helps to

reduce the likelihood of patient safety events and

costly medical malpractice lawsuits related to

missed errors. Savvy leaders know that ensuring

appropriate staffing levels is key to the financial

health of the organization, which means engaging

in effective recruitment and retention strategies.

This article, the first in a two-part series on nursing

recruitment and retention, will address recruitment

strategies that leaders can utilize to help attract

new nurses to their organization.

Recruitment

Nursing and other organizational leaders need to

work closely with human resources staff to ensure

recruitment processes are efficient and effective:

Craft ads that work. First impressions count.

Everyone is your competitor for a limited pool of

nursing talent, so do what you can to make your

organization stand out as an attractive place to

work. Be sure images in recruitment ads reflect

the organization, particularly when it comes to

diversity. Many organizations feature their own

nurses in ads, which has the additional benefit

of employee recognition. Try to make your

messaging as personalized as possible, emphasizing

your organization's culture and authentically

communicating why nurses should want to be a

part of your organization.

Reach out early. Ask staff who work with

students completing clinical rotations to identify

those who might make good employees when

they graduate. Then get to know the students and

encourage them to apply when the time comes. If

you lead a specialty unit, invite students to attend

meetings (onsite or virtual) of local chapters of

the national specialty nursing association so they

can learn more about the role. You also may want

to partner with local schools to teach a class or

workshop so you can connect with students.

Promote digital efforts. Organizations' websites

often miss the opportunity to feature nurses. Your

facility's website should have a special section

highlighting nursing, including stories that feature

individual nurses. You can ask staff to record

video testimonials that highlight what they enjoy

about working for your organization. In addition,

your organization's job portal and job application

process should not be so cumbersome that

potential employees give up in frustration.

Individualize benefits. Avoid a "one size fits

all" approach to benefits. Instead, offer a menu

that nurses can choose from. For example, a latecareer

nurse may be more interested in retirementmatching

funds, but a newer-to-practice nurse

may be attracted to a flexible schedule, tuition or

student loan assistance, or child-care benefits.

Obtain Magnet® status. Becoming a Magnet®designated

facility can be expensive, but many

nurses prefer organizations with this designation,

so it can be well worth the investment. Magnet®

status also may help reduce turnover and decrease

patient morbidity and mortality.

Provide optimal onboarding. This is often

discussed as a retention tool, but it also falls under

the recruitment category, as potential employees

want to know how supported they will be in their

new role. This is particularly true of new graduate

nurses, who have seen their recently graduated

colleagues rushed into practice as a result of

the pandemic. Many organizations are being

shortsighted in cutting back on nurse residency

programs, which not only attract staff, but also

promote a smoother transition into practice, thus

increasing retention.

Preceptors should be chosen based not only on

their level of expertise, but their effectiveness as

educators. Orientees (and preceptors) should know

that they can speak up if the match isn't working.

Be sure staff feel warmly welcomed. For

example, some organizations send a signed

welcome card to the employee's home before their

start date. Others post the employee's name and

photo in a visible location on the unit.

Check in regularly with new staff to see how they

are adjusting, such as weekly for a month, then

every other month or so, and then after 6 months.

Meeting the challenge

Finding creative solutions to recruit nurses

is more important than ever. However, it is only

the first piece of the puzzle to building a robust

nursing team. Creating a safe, supportive work

environment that recognizes nurses' meaningful

contributions is essential to encourage nurses to

want to keep working for your organization. Part

two will discuss retention strategies that healthcare

and nursing leaders can employ to help increase the

likelihood that they retain current nursing staff.

References

American Nurses Credentialing Center. Magnet benefits. n.d.

https://www.nursingworld.org/organizational-programs/

magnet/about-magnet/why-become-magnet/benefits/

American Nurses Foundation. COVID-19 impact assessment

survey – the first year. 2021. https://www.nursingworld.org/

practice-policy/work-environment/health-safety/disasterpreparedness/coronavirus/what-you-need-to-know/yearone-covid-19-impact-assessment-survey/

CNA & NSO. Nurse Professional Liability Exposure Claim

Report: 4th Edition: Minimizing Risk, Achieving Excellence.

2020. https://www.nso.com/Learning/Artifacts/Claim-

Reports/Minimizing-Risk-Achieving-Excellence

Malliaris AP, Phillips J, Bakerjian, D. Nursing and Patient Safety.

Agency for Healthcare Research and Quality. 2021. https://

psnet.ahrq.gov/primer/nursing-and-patient-safety

Pink D. When: The Scientific Secrets of Perfect Timing.

Riverhead Books; 2019.

Reitz O, Anderson M, Hill PD. Job embeddedness and nurse

retention. Nurs Admin Q. 2010;34(3):190-200.

Sherman RO. The Nuts and Bolts of Nursing Leadership: Your

Toolkit for Success. Rose. O. Sherman; 2021.

Wolters Kluwer. Ten recruiting strategies to attract nurses.

2019. https://www.wolterskluwer.com/en/expert-insights/

ten-recruiting-strategies-to-attract-nurses

Disclaimer: The information offered within this

article reflects general principles only and does

not constitute legal advice by Nurses Service

Organization (NSO) or establish appropriate or

acceptable standards of professional conduct.

Readers should consult with an attorney if they

have specific concerns. Neither Affinity Insurance

Services, Inc. nor NSO assumes any liability for how

this information is applied in practice or for the

accuracy of this information.

This risk management information was provided

by Nurses Service Organization (NSO), the nation's

largest provider of nurses' professional liability

insurance coverage for over 550,000 nurses since

1976. The individual professional liability insurance

policy administered through NSO is underwritten

by American Casualty Company of Reading,

Pennsylvania, a CNA company. Reproduction

without permission of the publisher is prohibited.

For questions, send an e-mail to service@nso.com

or call 1-800-247-1500. www.nso.com.
---
May, June, July 2022 The Future of Nursing in Michigan Page 15

ANA-Michigan Nursing Practice Chair Erin Sudheimer, MSN, RN,

Participated in Media Roundtable Encouraging Flu Shots

On February 1st, ANA-

Michigan's new Nursing

Practice Committee Chair,

Erin Sudheimer, MSN, RN,

participated in a media

roundtable to highlight

the need for flu vaccines.

The month of February is

considered peak flu season, so

together with Dr. Tina Tanner,

Erin Sudheimer

a primary care physician, and Zachary Yaksich, a

father who lost his daughter to the flu when she

was five years old, Erin helped bring attention to

the need for flu vaccinations by sharing a personal

story and by reiterating that vaccines are a great

way to prevent hospitalization.

ANA-Michigan is proud to have such a dedicated

nurse member who is willing to participate in

important discussions in the interest of public

health.

READ THE FULL PRESS RELEASE BELOW.

Physicians, nurses and grieving father to

Michigan residents: Protect yourself and your

family by getting your flu shot today

Lansing, MICH. – A primary care physician, a

nurse clinician and a father who lost his young

daughter to the flu came together virtually today

with a united message: please get your flu shot

today.

Flu season historically peaks in February, and

the stakes are especially high this year, with

documented cases of 'flurona' – co-infection of

the flu and COVID-19 at the same time. People of

all ages can become severely ill and even die from

flu infection; fortunately, everyone six months or

older is eligible to receive the flu vaccine.

Zachary Yaksich of West Bloomfield founded

Alana's Foundation to create awareness about flu

vaccination after he lost his daughter Alana to the

flu when she was just five years old.

"I never knew the flu could kill children until

Alana died," said Yaksich, Alana's dad. "Our family

will never be the same and we miss Alana every

single day. We only hope others do everything

they can to protect their children from the flu. Get

immunized. Get your kids immunized. Flu shots

save lives."

Dr. Tina Tanner, a primary care physician and

medical director at Mercy Health for Muskegon

and North Ottawa Counties, detailed her

experiences this flu season, including some patient

concerns about COVID-19 and the flu circulating at

the same time.

"As we see declining vaccine rates for the

flu, we want people to know it's not too late

to get vaccinated, as cases tend to be highest

in February," Dr. Tanner said. "Last year's flu

season was largely mitigated by people being

mostly at home, but now many people are back

in the workplace and kids are back in school and

daycare. To prevent the worst-case scenario of a

flu outbreak on top of the COVID pandemic, our flu

vaccination rate must rise swiftly."

Erin Sudheimer, a cardiothoracic resource nurse

clinician at Munson Medical Center in Traverse

City, notes the flu infection rate is above baseline

and the state of Michigan is far short of its goal

to vaccinate four million residents against the

seasonal flu.

"Getting your flu shot is easy and can even be

done at the same time as your COVID vaccine,"

Sudheimer said. "We're at a critical point of the

winter when both COVID and flu caseloads are

peaking, and every vaccine is possible prevention

of another hospitalization. Please get your vaccine

today and encourage your loved ones to do the

same."

The state set a goal of four million flu

vaccinations this season. As of this week, just

over three million doses have been administered –

nearing 77 percent of the goal.

There are more than 1,100 places in Michigan

to get a flu shot. Find yours today: https://www.

michigan.gov/flu/0,6720,7-321-101693_102060---,00.

html.

Sources:

Michigan Flu Vaccination Dashboard

CDC Flu Vaccination Dashboard

To access electronic copies of The

Future of Nursing in Michigan, please visit

http://www.NursingALD.com/publications