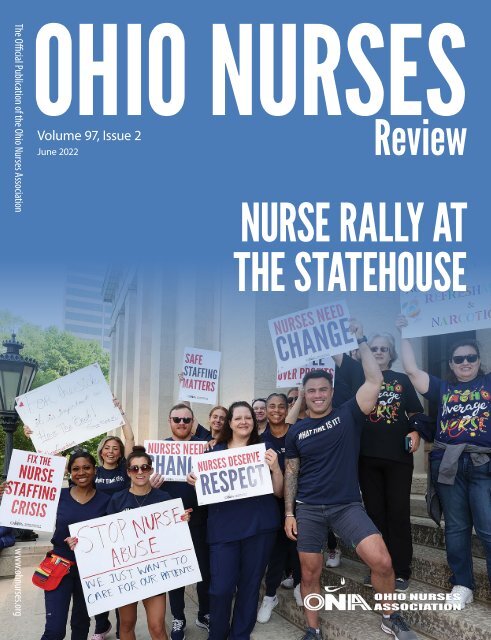 Ohio Nurses Review - June 2022
You also want an ePaper? Increase the reach of your titles
YUMPU automatically turns print PDFs into web optimized ePapers that Google loves.
The Official Publication of the Ohio Nurses Association www.ohnurses.org

OHIO NURSES

Volume 97, Issue 2

June 2022

1 | Ohio Nurses Review | Volume 97, Issue 2 | www.ohnurses.org

Review

NURSE RALLY AT

THE STATEHOUSE
---
OHIO NURSES Review

The Ohio Nurses Review (ISSN 0030-0993) is the official

publication of the Ohio Nurses Association, 3760 Ridge Mill

Drive, Hilliard, OH 43026, (614) 969-3800. Indexed in International

Nursing Index and Cumulative Index to Nursing and Allied Health

Literature. Published quarterly. Circulation approximately 10,000.

Published by ONA Staff and Arthur L. Davis Publishing Agency

Inc., PO Box 216, Cedar Falls, IA 50613. Layout and Design:

Chris Hall

ANNUAL SUBSCRIPTION – Members of ONA, $15, included

in dues as a member benefit; Corporate first class postage

subscription, $40; Agencies, $40; members of the Ohio

Nursing Students' Association, $15 with a copy of NSNA

membership card. Replacement copies, $5 prepaid with order.

POSTMASTER – Send address changes to Ohio Nurses Review,

3760 Ridge Mill Drive, Hilliard, OH 43026

MISSION STATEMENT – The mission of the Ohio Nurses

Review is: To advance professional nursing practice in Ohio in

service of quality health care.

Articles appearing in the Ohio Nurses Review are presented

for the information of our members. They are not intended as

legal advice and should not be used in lieu of such advice. For

specific legal advice, readers should contact their legal counsel.

Copyright © 2022 by Ohio Nurses Association.

ONA BOARD OF DIRECTORS – 2021-2023

OFFICERS

Robert Weitzel, BSN, RN, President, Harrison

Rick Lucas, BSN, RN, OCN, VA-BC, CCRN, First Vice-President,

New Lexington

Jacinta Tucker, MSN, RN, Second Vice-President, Midvale

Michelle Thoman, MSN, RN, Secretary, Cincinnati

Janet Corbin, RN, Treasurer, Urbana

DIRECTORS, UNSTRUCTURED

Tammi Ingledue, BSN, RN, Neatwater

Benitha Garrett, MSN, RN, North Olmsted

Alex Watts, BSN, RN, PCCN, Hilliard

Jamie Burchett, BSN, RN, New Franklin

DIRECTORS, STRUCTURED

Catharyne Henderson, RN, Reynoldsburg,

Deborah Baker-Loyd, RN, Akron

Barbara McGhee, RN, Tallmadge

Amy Pompeii, RN, Med/Surg Cert, Hilliard

Jennifer Hunt, RN, Morning View, KY

NEW NURSE

Taylor Mullin, MSN, RN, CNOR, Galloway

ECONOMIC & GENERAL WELFARE COMMISSIONERS

Amy Pompeii, RN,

Med/Surg Cert.

Chair

Barbara McGhee, RN,

Co-Chair

Michelle Croker, RN,

Secretary

Catharyne Henderson, RN

Deborah Baker-Loyd, RN

Lukas Killian, BSN, RN

Katie Lewis, RN

Jennifer Hunt, RN

2 | Ohio Nurses Review | Volume 97, Issue 2 | www.ohnurses.org

COUNCIL ON PRACTICE

Nicole Baltich, MS, APRNC,AGCNS-

AG, CCRN

Kris Cope, DNP, RN, NPD-BC, NE-BC

Catharyne Henderson, RN, BSN,

RNBC

Taylor Mullin, MSN, RN,, CNOR

Kayla Pfeiffer, MSN, CPN, RN

Erin Spies, RN, BS Edu

Nisia Thornton, RN, BSN, MSN, BA,

MEd

CONTINUING EDUCATION

COUNCIL

Barb Brunt, MA, MN, RN, NPDA-BC,

NE-BC (co-chair)

Melanie Morris, MBA, BSN, RN,

NPD-BC, CCRN-K (co-chair)

Lucinda Cave, MSN RN NPD-BC

Stephanie Clubbs, MSN, RN, NPD-

BC, APRN-CNS

Kristine Cope, DNP, RN, NPD-BC

Jacqueline Gierlach, MS, BSN, RN,

CDDN

Amy Knupp, PhD, RN, APRN-CNS,

CPPS

Kayla Pfeiffer, MSN, CPN, RN

Laura Rafeld, MSN, RN, NPD-BC

Deb Shields, PhD, RN, CCRN, QTTT

Sue Smith, MSN, RN, CCHP-RN

Pam Dickerson, PhD, RN, NPD-BC

(MS, BSN), FAAN (Liaison for ANCC)

Nancy Campbell, MS, RN,

MEDSURG-BC, NPD-BC (Liaison for

Indiana)

ONA STAFF

Lisa Ochs, CEO

Kristen Bailey, Labor

Representative

Phillip Bloomer, Organizer

Tiffany Bukoffsky, RN, Director of

Health Policy

Bob Cousins, DEO of Labor

Relations

Michelle Donovan,

Communication and

Development Coordinator

Dodie Dowden, Assistant to CEO

Dennis Dugan, Labor

Representative

Alex Gehrisch, Membership

Controller

Molly Homan, Director of

Communications and Marketing

Technology

James Humphreys, Organizer

Sangita Koparde, Organizer

HEALTH POLICY COUNCIL

MEMBERS

Kay Ball, Chair, PhD, RN, CNOR,

CMLSO, FAAN

Sara Arter, Co-Chair, PhD, RN

Peggy Berry, PHD, MSN, RN,

COHN-S, CLE, PLNC, FAAOHN

Kelly Duffey, MSN, RN, CCRN

Alyssa Figueroa, MPH, BSN, RN

Tina Foster, DNP, MSN, RN, CCRN

Catharyne Henderson, BSN, RN,

ANCC

Kelly Hickman Bigley, RN

Lukas Killian, RN

Janice Lanier, JD, RN

Rick Lucas, BSN, RN, VA-BC, OCN,

CCRN

Barbara McGhee, BSN RN, CNOR

Jeri Milstead, PhD, RN, NEA-BC,

FAAN, ANA Hall of Fame

Gina Severino, DNP, RN, ACNS-BC

Michelle Thoman, MSN, RN

Jacinta Tucker, MSN RN

Alex Watts, BSN, RN, PCCN

PUBLICATIONS COMMITTEE

Barb Brunt, MA, MN, RN, NPD-BC,

NE-BC, Editor

Kristine Cope, DNP, RN, NE-BC,

Lucinda Cave, MSN, RN, BC

Lataya De Jesus, BSN, RN

Elizabeth Digianantoni, RN

Amber Kruzen, RN

Jeri Milstead, PhD, RN, NEA-BC,

FAAN

Tracy Zeller, BSBA, BSN, RN

Angie Lemery, Business Office

Administrator

Cathy McClelland, Finance

Manager

Anne Mueller, Labor

Representative

Anne Ransone, Deputy Executive

Officer - Operations

Kelli Schweitzer, RN, Senior

Director of Professional Practice

Robin Smith, Membership

Controller

Sandy Swearingen, Continuing

Education Specialist

Brittany Turner, Nurse Planner

Lisa Walker, Health Policy and

Nursing Practice Specialist

Jake Whitehurst, Customer

Service, Administrative and

Membership Support Specialist

Rachel Wolfe, Assistant to DEO,

Labor Relations
---
PRESIDENT'S MESSAGE

Robert Weitzel, BSN, RN

Happy June, members! It feels great to finally reach the summer

months. A lot of great things have happened since the last ONR,

including Nurses Day at the Statehouse, the ONF's Virtual

Nurses Choice, and National Nurses' Week. The board has also

met several times. During our April 28th meeting in particular,

the Board voted to approve a recommendation to move members

of the Knox-Licking and Mohican Districts into the Mid Ohio

District. The leaders of each district approached the board

with their intention to dissolve. A committee of the board

was formed, and the board voted to accept this committee's

recommendation. This transition became effective June 1, 2022.

The board also discussed convening the Leadership Assembly.

A townhall with the board and association leadership will

take place July 28, 8:00pm-9:30pm. The primary focus of the

first townhall will be a review the ONA's strategic plan. An

invitation to association leadership is forthcoming.

I'm sure many of us have been watching the RaDonda Vaught

case closely, wondering how it may affect the future of our

profession and even possibly persuade nurses who are already

on the brink of leaving nursing to finally make an exit. The

criminal conviction of this circumstance is concerning, and is

why we felt it necessary to release the following statement on

April 5, 2022.

The Criminal Conviction of RaDonda Vaught

"The ONA stands with many Ohio nurses in deep concern

about the dangerous precedent set with the criminal conviction

of former Tennessee nurse, RaDonda Vaught. Ms. Vaught was

convicted of criminally negligent homicide and impaired adult

abuse on March 25 stemming from a 2017 medication error that

resulted in a patient death.

Medical errors are the third leading cause of preventable death

in the United States, resulting in more fatalities than motor

vehicle accidents, breast cancer or AIDS. Given the alarming

number of medical errors, we must begin to question why our

healthcare systems are not better designed to ensure safer patient

care. We must go beyond the individual healthcare workers,

evaluate the entire body of evidence about why medical errors

occur and take heed. We must do all that we can to protect

patients and families from preventable errors.

For example, research has repeatedly pointed to an increase

in medical errors and patient mortality when nurses are

understaffed and work lengthy shifts. Yet, many medical

systems continue to intentionally understaff nurses and mandate

nurses to work extra hours as cost-saving measures, while

federal and state legislatures stall common sense legislation to

curb unsafe nurse staffing.

Already, over 40% of nurses are considering leaving the

profession. Criminally punishing Ms. Vaught, who immediately

reported and took ownership of her error, and who was already

disciplined by the Tennessee Board of Nursing through

licensure revocation, will only further demoralize the nursing

profession, contribute to the nurse staffing crisis, and potentially

dissuade healthcare professionals from being fully transparent

about errors.

Decision makers must start trusting the most trusted profession.

All signs point to a need for change, and the time is now for

meaningful systemic change to happen."

CONTENTS

President's Message....................................... 3

CEO's Message................................................. 4

Anielski Appointed Executive Director

for the Ohio Board of Nursing.............. 5

ONA Heritage Hall....................................... 5-7

GCNA Helps MedWish Help the World... 8

Nurses Day at the Statehouse and

Virtual Advocacy Week........................... 9

2022 NDASH Photos...............................10-12

Ohio Nurse Attends State of the Union....13

ONA Upcoming Events...............................15

Navigating Virtual Accreditation,

Certification, and Regulatory Visits

During the Pandemic and Beyond...16

Spiderman - A Nurse?..................................18

Small but Mighty!..........................................18

Thank you to our 2022 ONF Nurse

Choice Sponsors!.....................................19

MODNA Executive Committee................19

Local Nursing Legends................................20

Nurse Rally at the Statehouse...................21

National Updates: ANA Position

Statement on Sexual and

Reproductive Health..............................22

www.ohnurses.org | Ohio Nurses Review | Volume 97, Issue 2 |

3
---
CEO'S MESSAGE

Lisa Ochs, CEO

Dear Members,

It has been a very busy 2022 at the Ohio Nurses Association

as we have been involved in many projects and numerous

events including Nurses Day at the Statehouse, Nurses Week,

Nurses March and Nurses Choice presented by Ohio Nurses

Foundation.

In addition to events, I have been working with the ONA Board

of Directors and Staff to create and execute a meaningful

strategic plan that will strengthen our organization, engage

and grow our members, work on meaningful issues facing our

nurses and ultimately magnify the voice and needs of Ohio

nurses. As we execute the strategic plan, I look forward to

working with members to move ONA forward.

One critical area of the strategic plan is addressing safe

staffing. According to the Ohio Board of Nursing, there are

nearly 250,000 Registered Nurses in the state of Ohio yet, our

hospitals, skilled nursing facilities, universities and virtually

every area needing Registered Nurses is understaffed. While

many employers see this issue resulting from a nursing shortage,

the truth is that Ohio has plenty of nurses but they are leaving

their careers behind - especially at the bedside.

The COVID pandemic was instrumental in shining a light on

flaws within the healthcare system. With COVID, the preexisting

staffing gaps in hospitals were much more obvious and

the need to have more nurses at the bedside during the pandemic

became critical. Because of the greed within the healthcare

system to spread staff so thin, it became blatantly apparent to

everyone that the need for effective staffing was vital. With

even more pressure put on nurses to perform under these

circumstances, many nurses chose to leave the bedside.

The trend of nurses leaving the bedside continues with 40%

considering this option. The time is now for our members and

nurses across the state to come together with one strong voice

to take a stand. Nurses deserve much better. Nurses are the

backbone of the healthcare system and nurses in all walks-of-life

make the system stronger. If nurses from across the state work

together, the power of one voice will make legislators, healthcare

systems and the public take notice.

4 | Ohio Nurses Review | Volume 97, Issue 2 | www.ohnurses.org
---
Anielski Appointed Executive Director for the Ohio Board of Nursing

The Ohio Board of Nursing voted to appoint Marlene Anielski,

MBA, OCPM, as Executive Director for the Ohio Board of

Nursing at their March meeting.

Ms. Anielski previously served for three years as the Executive

Director for the Vision Professionals Board, she also served the

citizens of the state of Ohio as a State Representative for Ohio

District 6 (previously District 17) and as a mayor in northeast

Ohio. Ms. Anielski holds a Master's degree in Business

Administration and her professional background is in project

management, process improvement and operational leadership.

Ms. Anielski brings a demonstrated history of working

successfully in government administration and effectively and

efficiently regulating the practices of health care providers in the

state of Ohio.

The Board of Nursing regulates more than 300,000 licenses and

certificates. The Board licenses and regulates registered nurses

(RNs), licensed practical nurses (LPNs), Advanced Practice

Registered Nurses (APRNs), Dialysis Technicians (DTs),

Community Health Workers (CHWs) and Medication Aides

(MA-Cs). The Board's top priorities are to efficiently license

the nursing workforce and remove dangerous practitioners from

practice in a timely manner to protect Ohio patients. Public

protection is critical, as nursing touches virtually every citizen

of Ohio.

ONA Heritage Hall

By Linda Bass

In 2018 The ONA Board of Directors resurrected ONA Heritage

Committee (HC) to devise a plan to highlight the organization

history in the new headquarters in Hilliard. The HC included:

Linda Bass, Kay Ball, Donna Curry, Joylyn Daniels, Doris

Edwards, Mary Beth Mathews, Carol Sams, and Lisa Walker

(staff). Five large panels displaying the history of the 125 years

of ONA were installed only weeks prior to the fire that destroyed

the headquarters. This was such a loss and few members had

the opportunity to see the panels. The Publication Committee

agreed to print each panel in the next five issues of Ohio Nurse

Review so members of the organization can see what was

created.

Panel One 1897-1925

At the time the Ohio Nurses Association was founded almost

125 years ago the nature of nursing was quite different from

what it is today. Hospitals were staffed by student nurses under

the direction of a superintendent of nursing who oversaw the

school of nursing and the hospital. People were hospitalized for

surgery, delivery of a baby, or when there was no one to care for

them at home.

Students dreamed of graduating and working in private duty.

These graduate nurses were entrepreneurs dictating the terms of

their employment, and marketing their skills. Initially graduate

nurses were hired by word of mouth and cared for generations

in the same family when a child was born, or a grandparent

became ill.

The formation of a professional organization with local

districts provided a great service to the nurses by providing a

registry where they could sign up for an assignment. This made

finding work much easier. The registry was like a temporary

employment agency; however, the nurse contracted directly with

the patient and family for terms of the contract. Most graduate

nurses were members of the ONA. A small number of nurses

worked in unique practice areas such as school nursing, public

health, and the operating room. When WWI began, nurses were

recruited to serve in field hospitals in Europe. In 1918 nursing

faced a major public health challenge. The Spanish Flu was a

highly contagious, epidemic, respiratory infection that killed

more US citizens than WWI.

Panel Two 1926- 1950

Following WWI more schools of nursing were founded in

conjunction with hospitals. The student nurses attended more

classroom lectures but they continued to provide most of the

direct care to hospitalized patients. The Great Depression

brought a major shift in nursing roles. Many private duty nurses

were out of work because families could no longer afford their

services. Nurses were literally starving. The New Deal provided

support to public health projects that employed graduate

nurses and hospitals to hire more nurses to care for indigent

hospitalized patients. This shift in employment from private

duty to hospital staff increased from the 1920's to 1940's. By

1950 private duty nursing was almost nonexistent.

In 1941 the military Cadet Nursing Programs was created to

accelerate nursing education and prepare nurses for military

service. By the end of WWII, more nurses were needed in the

civilian hospitals. Battlefield operations, the use of antibiotics,

and monitoring made their way into post war treatment in many

community hospitals. Hospitals grew in size and technology

following WWII. This justified the hiring of more nurses at the

bedside. By the end of this quarter graduate nurses had moved

from entrepreneurs to employees in large institutions.

www.ohnurses.org | Ohio Nurses Review | Volume 97, Issue 2 |

5
---
6 | Ohio Nurses Review | Volume 97, Issue 2 | www.ohnurses.org
---
www.ohnurses.org | Ohio Nurses Review | Volume 97, Issue 2 |

7
---
GCNA Helps MedWish Help the World

By Lucinda Cave, MSN, RN, NPD-BC

Hospitals in the U.S. generate over five million tons of waste

each year. That's 29 pounds per patient bed per day! Much of

this waste includes unused supplies and equipment which end up

in our landfills (Practice Greenhealth, 2022).

Worldwide, more than five million children die each year before

reaching their fifth birthday. Many of these deaths could be

prevented with access to adequate health care and medical

supplies (UN, 2021).

MedWish International, based in Cleveland, Ohio is a nonprofit

organization which works towards helping both situations. And

nurses from Greater Cleveland Nurses Association (GCNA, or

District 16) help MedWish – but more on that later. MedWish

saves lives and our environment by repurposing discarded

medical supplies and equipment to provide humanitarian aid

to people in need, regardless of race, religion, or political

affiliation.

The donated supplies and equipment have come from 136 U.S.

hospitals, clinics, physician offices, surgery centers, homecare,

and individuals. Facilities close, vendors change, and equipment

gets upgraded. All become reasons for having excess stock

which can be donated. Donations are made regularly or onetime.

MedWish accepts and redistributes everything from

2x2s, to urinary catheters, to defibrillators, to patient beds, and

everything in between! They do not distribute expired items

or about-to-expire items or prescription medications. Some

expired items can be re-purposed in an 'Alternate Recycling'

program. For anyone who works in a facility that might have

items to donate, there is a complete list of accepted supplies and

instructions on the website: www.medwish.org

placed in alternative recycling or are discarded. Other days the

sorting and packing becomes more fine-tuned. GCNA nurses

place all similar items in boxes, weigh them, pack for storage

or shipping, and affix the labels. Why are nurses particularly

good at this effort? Because we are already familiar with the

supplies, and just like with our patient care, we first check

expiration dates! We know the difference between say, Luer-Lok

and slip-tip syringes, and can quickly spot mis-sorted items.

We also exhibit the same concern we share with our own direct

care patients, because after all, we understand these supplies are

going to people in great need.

MedWish accomplishes its work through the actions of many

volunteers. In 2021, there were 7,646 total service hours

performed. GCNA nurses frequently work alongside others from

school, church, and community groups, as well as with helpful

staff. MedWish sets a few rules for volunteers and provides an

orientation for first-timers. Volunteer information may be found

on the MedWish website: www.MedWish.org

At a time when environmental and health justice issues are

forefront, MedWish provides one tangible way for nurses to

take action. Just as we are rewarded through our own direct

and indirect patient care, we benefit by knowing that through

MedWish we are also caring for others in need.

In 2021, MedWish shipped 431,000 lb. of supplies, impacting

nearly two million people here and around the globe. That's

431,000 lb. of useful materials that did not get buried in our

landfills. MedWish has helped people in Lebanon following

the 2020 explosion, sent PPE to Wuhan, China at the start of

the pandemic, then pivoted to distributing it here in the US

when supplies became sorely needed. Currently, MedWish is

collecting and shipping medical supplies to Ukraine. MedWish

works with a network of international agencies and individuals

to make sure supplies reach the intended recipients. Recipients

pay shipping costs, and supplies donated from MedWish may

not be resold.

So how do GCNA nurses help? By volunteering! Once a month

a group of GCNA members arrive at the MedWish warehouse to

sort, pack, count and weigh thousands of healthcare items. Some

of the nurses from GCNA participate more hours above that.

Donated supplies arrive at MedWish in boxes and bins all

jumbled together – sterile surgical instruments packed between

tubes of toothpaste; defibrillator pads nestled among ostomy

products. Volunteers first sort the items into about two dozen

bins with other like products – respiratory equipment, wound

care products, surgical supplies, and so forth. Expired items are

8 | Ohio Nurses Review | Volume 97, Issue 2 | www.ohnurses.org

GCNA nurses (and nurse friends) finish a MedWish volunteer shift. Note all

the boxes and the sorting bins.

References

1. Practice Greenhealth. 2022. Waste. https://practicegreenhealth.

org/topics/waste/waste Accessed April 8, 2022.

2. UN Inter-agency Group for Child Mortality Estimation. 2021.

Estimation Child Mortality Report 2021. https://childmortality.

org/wp-content/uploads/2021/12/UNICEF-2021-Child-

Mortality-Report.pdf Accessed April 8, 2022.
---
Nurses Day at the Statehouse and Virtual Advocacy Week

By Tiffany Bukoffsky, MHA, BSN, RN

While ONA's Nurses Day at the Statehouse looked different

this year, many nurses (and students) took advantage of a

week's worth of advocacy. On Monday and Tuesday of the

Virtual Advocacy Week, ONA launched a three-part continuing

education series that offered 2.5 contact hours. Presentations

included, The Legislative Process – How Does a Bill Become

a Law in Ohio?; Safe Staffing, Workplace Violence, Hospital

Licensure – History and Importance; and Legislative Update on

Issues Impacting Nurses in Ohio.

Monday also presented the launch of ONA's #TheTimeIsNow

campaign sign-on letter. This letter and campaign urges elected

leaders in Ohio to recognize that nurse staffing is a statewide

crisis and take immediate and robust action, that looks at both

short-term and long-term solutions. While the sign-on letter

began during the advocacy week, nurses and nurse supports can

still sign-on by visiting www.ohnurses.org/the-time-is-now.

On Tuesday, March 8, 2022, ONA President Robert Weitzel

provided testimony in the House Commerce and Labor

Committee to voice our association's concerns with House Bill

466. HB 466 would place regulations on healthcare staffing

agencies, cap nurses' wages, and potentially impede where a

nurse works.

While nurses from across the state could not meet in-person

for the typical Nurses Day at the Statehouse, a symbolic day at

Ohio's Statehouse took place in the atrium. Lawmakers, their

aides, and politicos entered the room with sounds of a typical

hospital ICU, while the New York Times opinion piece "Hospital

Greed is Destroying Our Nurses. Here's Why" played on two

large projector screens. As folks navigated through the room,

they read the tragic realities of what it's like to be nurse through

stories nurses submitted to ONA. Additionally, individuals

walked past three hospital beds that each shared the following

evidence-based statistic: The standard ICU nurse-to-patient

ratio is 1:2. Each additional patient added to a nurse's workload

has a 7% increase in mortality. The patient's (your spouse, your

child, your loved one) risk of death increases by 7%. Lastly, the

symbolic day at the statehouse ended with ONA's vice president,

Rick Lucas, providing a recorded interview with New Channel

4.

On Thursday of the Virtual Advocacy Week, ONA's Health

Policy Chair Kay Ball and Co-Chair Sara Arter led a virtual

panel discussion with several of Ohio's lawmakers who serve

on the House and Senate Health Committees. Members

who attended the panel discussion included House Minority

Leader Allison Russo, Representatives Brian Stewart, Susan

Manchester, Tom Young, Andrea White and Senator Kristina

Roegner. The discussion topics included questions regarding

keeping nurses at the bedside, the effects of COVID-19, staffing

agencies and capping nurses' wages, incentivizing nurses to stay

in Ohio, workplace violence, and safe nurse to patient limits.

On the last day of the virtual advocacy week, ONA's Director of

Communications interviewed Ashley Lantto, who is leading the

Nurse March Rally at the Ohio Statehouse on May 12th. Ashley

shared why she decided to start this grassroots effort and what

she is planning for this important rally.

Details, pictures, and videos of each of the week's activities

can be found on ONA's Facebook and Instagram pages. While

this year's virtual week of advocacy was a success, a week is

not enough to create change at Ohio's Statehouse. Advocacy is

a marathon, not a sprint! As ONA continues to move forward

with #TheTimeIsNow campaign, please be on the lookout for

opportunities to get involved.

www.ohnurses.org | Ohio Nurses Review | Volume 97, Issue 2 |

9
---
2022 NDASH Photos

10 | Ohio Nurses Review | Volume 97, Issue 2 | www.ohnurses.org
---
www.ohnurses.org | Ohio Nurses Review | Volume 97, Issue 2 | 11
---
12 | Ohio Nurses Review | Volume 97, Issue 2 | www.ohnurses.org
---
Ohio Nurse attends State of the Union

By Barbara Brunt, MA, MN, RN, NPDA-BC, NE-BC

Refynd Duro, BSN, RN, a nurse from the Progressive Care

Unit at the Ohio State Wexner Medical Center, was invited

by Dr. Jill Biden to join her in the viewing box for President

Biden's State of the Union address on March 1, 2022. Refynd

has been working for 19 years as a nurse. Over the past two

years, she's cared for COVID-19 patients who are no longer at

the critical level that warrants intensive care. She was invited

to attend through connections with the ONA, who knew her

as an advocate for patient safety and beside nurses. Refynd,

who was born in the Philippines, said First Lady Jill Biden was

specifically looking for an Asian-American nurse to invite.

When asked about her experience, Refynd said it was

unforgettable, using adjectives such as excited, honored, and

nervous. She felt responsible for representing all nurses in the

US. When she was in Washington, she had dinner at the White

House. Dr. Jill Biden, Doug Harris, and the President's sister

came out at the end of the dinner to meet all the invited guests,

and there was a photo shoot with Dr. Jill Biden and the Second

Gentleman. Refynd received a surprise at dinner when the group

sang Happy Birthday (her birthday was February 27th and two

of the other guests had birthdays on Feb. 28th). She was allowed

to bring one guest and selected her best friend Tanya Dean, who

enjoyed the ceremony inside the White House in a theater with

a giant screen eating popcorn and drinking champagne. After

dinner the invited guests were shuttled to the Capitol, following

the President's motorcade. The President came in to meet

everyone after the speech, and Refynd acknowledged that she

froze when she was introduced to the President.

Refynd started out working at Mount Carmel in 1994 and took a

break from school because she was not sure she wanted to be a

nurse. Her father took the Sunday paper, looked at the job hiring

section and circled all the nurses needed. He was the one who

convinced her to become a nurse. Nursing school was difficult

at first because she was just out of high school, so after a couple

years of nursing school, she took a break She wanted to get some

experience, so she became a Patient Care Assistant in 1997. She

worked as a PCA and Dialysis Tech before she went back to

nursing school

After she graduated years later, she started working at the

bedside and has been there ever since. Nursing is her calling

and her passion. She shared some of the stresses she had when

caring for COVID patients. One gentleman who had not been

vaccinated had eight children and she spent two hours in his

room because he was anxious and couldn't breathe. Initially

she was scared and quarantined from her family for a month,

sending her son to live with her parents. She missed her son's

birthday during this time. She also has felt the personal loss of

losing a loved one to COVID – her uncle died from COVID.

Refynd graduated from Columbus State Community College in

December of 2002 and got her BSN from Mt. Carmel in 2014.

She has been at Ohio State Medical Center for 12 years and

hopes to go back to school once her son is in school all day. Her

son will be five next week and she is looking forward to being

able to get him vaccinated. As a single Mom, she appreciates the

support of her parents and brother and sister-in-law to help her.

She has been part of the union at Ohio State since she started

in 2010 but became more involved with the union in 2017 when

the union filed a grievance about the nurse-to-patient ratio. She

helped pass out fliers and helped recruit members. In her spare

time, Refynd enjoys taking care of herself with massages and

manicures. She loves going to dinner with friends, as well as

cooking. She also loves to garden; flowers make her happy and

lift her spirits up. She talks with her plants every morning and

after she retires, she may work at a nursery.

www.ohnurses.org | Ohio Nurses Review | Volume 97, Issue 2 | 13
---
14 | Ohio Nurses Review | Volume 97, Issue 2 | www.ohnurses.org
---
Ohio Nurses Association

Upcoming Events

June 7th and 8th

The Retired Nurses Forum Presents: Healthcare Issues

Potpourri 2022

Registration is open for a virtual event for ALL nurses!

$175 for nonmembers and $115 for ONA members.

June 22nd

2nd Annual ONA Human Trafficking Awareness Symposium

12pm-1pm

ONA members free

$25 for nonmembers

Monday, September 12th -

Tuesday, September 13

8:00am-5:00pm

E&GW RN Labor Institute

Mohican Lodge & Conference Cernter, Perrysville, OH

October 12th

2022 Cornelius Leadership Conference

The Blackwell Inn - Columbus

Time: TBA

Save the Date

Monday, October 3, 2023-

Thursday, October 6, 2023

2023 ONA Convention

Details TBA.

The Ohio Nurses Association is accredited as a provider of

nursing continuing professional development by the American

Nurses Credentialing Center's Commission on Accreditation.

(OBN-001-91).

Visit ohnurses.org/ona-events/ to register for event or to see all

upcoming ONA events.

Medical Disclaimer: This publication's content is

provided for informational purposes only and is not

intended as medical advice, or as a substitute for the

medical advice of a physician, advanced practice

registered nurse or other qualified healthcare professional.

www.ohnurses.org | Ohio Nurses Review | Volume 97, Issue 2 | 15
---
Navigating Virtual Accreditation, Certification, and

Regulatory Visits During the Pandemic and Beyond

By Khaliah Fisher-Grace, PhD, RN, Jennifer Gonzalez, MSN, RN, Janet Kloos PhD, RN

University Hospitals Cleveland Medical Center, Cleveland, OH

Introduction

Hospitals and health systems have been forced to think

differently about clinical operations during the COVID-19

pandemic. While clinical operations upended, hospitals and

health systems worked tirelessly to ensure patients were safe

and received high quality care despite the challenges brought

on by the pandemic. Accreditation, certification, and regulatory

(ACR) visits were among some of the clinical operations

disrupted in 2020. ACR visits validate the quality of care

provided at an institution and help support quality patient

outcomes. During ACR visits staff and patients are interviewed;

and organizational processes and documents are reviewed to

validate compliance with patient safety and quality standards.

As a large academic medical center our organization averages

more than 20 anticipated and unanticipated ACR visits annually.

During the first two quarters of 2020, our ACR visits were

suspended. As regulatory agencies refined their visit methods,

our health system participated in virtual and hybrid anticipated

and unanticipated visits from our accrediting organizations, our

specialty certification programs, as well as our state inspection

and licensing authorities. The purpose of this article is to share

our experience, as well as best practices defined in literature for

navigating anticipated and unanticipated ACR visits during the

pandemic and beyond.

There is a paucity of information available in the literature to

help organizations prepare for virtual or hybrid ACR visits.

Recent publications have shared information about preparing for

virtual ACR visits from the Accreditation Council for Graduate

Medical Education International (ACGME-I) and the American

Nurses Credentialing Center's Magnet Recognition Program®

(Nasca, 2020; Tomaseki, 2020). This article synthesizes the

themes from these publications as well as our experience

navigating ten virtual or hybrid ACR visits in an academic

medical center with an aim of sharing how to successfully

conduct a virtual or hybrid Accreditation, Certification, or

Regulatory visit in other settings.

Visit Types

Accreditation, certification, and regulatory visits typically occur

in one of four methods. They may be anticipated, announced,

unanticipated, or unannounced (see Figure 1). During the

COVID-19 pandemic, anticipated and unanticipated visits

occurred virtual or in a hybrid format. We learned from our

experience and the existing literature that the core components

of virtual and hybrid visits are the same whether the visit was

anticipated or unanticipated.

Figure 1. Four Visit Types

Anticipated Visit

location: onsite, virtual, hybrid

reason for visit: validation of

compliance with quality and safety

standards set forth by regulatory

agency

Unanticipated Visit

location: onsite, virtual, hybrid

reason for visit: validation of

compliance with quality and safety

standards set forth by regulatory

agency, but may be the result of a

complaint

Announced Visit

dates known; made

in collaboration with

organization

Unannounced Visit

specific date

unknown, date range

may be made in

collaboration with

organization

Core Components of Virtual and Hybrid Visits

We identified equipment, technology support, a visit plan, and

a good communication strategy as the four core components

essential to the success of anticipated and unanticipated virtual

and hybrid ACR visits.

Equipment

Studies about virtual ACR visits described the need to secure

the appropriate equipment as a high priority (Cobourne

&Shellenbarger, 2021; Tomaseki, 2020). Given that ACR visits

can be unanticipated or unannounced we recommend addressing

the equipment needs immediately and planning for periodic

re-testing. Equipment needs include computers with camera and

microphones, conference phones, Electronic Medical Record

(EMR) access, and touchscreen tablets. Computers with cameras

are necessary to verify the identity of the ACR hospital team

members and to help with observation and interviews. Select

equipment participants are comfortable using. Test equipment

to ensure the microphones work, the internet connects in

various areas such as the stairwells, basement, operating room

and radiology departments, and the camera is wide enough to

display the entire audience.

Technology Support

Video conferencing, cybersecurity, and hands on support are

types of technology needed to successfully conduct a virtual

visit.

Video conferencing. Simultaneous video conferencing with

many people in the organization may need to occur. Consider

ACR and hospital team member needs when selecting a video

conferencing platform. Communicate with the ACR agency

to identify the optimal platform. User agreements or product

licenses may need to be obtained. Practice sessions are

16 | Ohio Nurses Review | Volume 97, Issue 2 | www.ohnurses.org
---
ecommended even with platforms that are regularly used to

enhance confidence.

Cyber Security. "Cybersecurity in healthcare involves

protecting electronic information and assets from unauthorized

access, use and disclosure" (Healthcare Information and

Management Systems Society, para 1, 2021). Ensure that

information shared remains confidential and risk for a

cybersecurity breach is minimized. Include your Privacy

Officer and Information Technology team, who can assist in

identifying a secure location to store and share documents, issue

EMR passwords, and provide instructions on how to securely

send protected health and employee information. Identify if

healthcare information can be shared via computer screen or if

it must be electronically transferred. Engaging cybersecurity

experts will save time and minimize risks.

Hands on Support. The IT team can be beneficial to troubleshoot

technology issues with audio, connectivity, or the conferencing

platform. They can assess connectivity before a planned visit.

Based on the results of the IT assessment, they can resolve or

communicate lack of connectivity and plans for reconnecting to

both teams ahead of time.

Visit Plan

ACR leaders collaborate with the organization to develop a

visit plan. Mutual development of the visit plan can enhance

the site visit workflow and agenda. Include phone numbers,

video conference links, and visit locations on the agenda. As

appropriate, plan to include non-clinical team members such as

Finance, and Human Resources. Inform staff of the schedule

and expectations such as virtual etiquette and speaking clearly

through face masks. Establish a team to move equipment

throughout the organization, navigate the meeting platform,

share secure documents, troubleshoot issues, and identify

optimal Wi-Fi spots on each unit (Tomaseki, 2020).

Communication Strategy

The key component for success during any visit is to begin

with a good communication strategy. The communication

strategy should be developed, tested, and activated. This

strategy includes notification of leadership and members of the

organization that a visit has begun, reporting to a designated

location to meet the ACR team, sharing the agenda, identifying

when the visit is complete, and sharing visit outcomes. Call

multiplier, email, and text messaging are communication

tools that can be utilized during an ACR visit. Leveraging

communication tools can facilitate a smooth visit process.

During an unannounced and unanticipated visit communication

from the external ACR agency may be initiated through email

or via phone call. Ensure that your organization has a process to

triage an email or call from an ACR agency.

Obtaining accreditation, certification or designation is often

the focus of an ACR visit. Outcomes of ACR visits are very

important; however, the process is also critical to the success of

the visit. As our organization hosted visits that entailed each of

the four visit methods we took lessons learned and disseminated

them throughout the health system. We improved our processes

so that all subsequent visits used the four components of a

successful visit; ensuring sustainability of our efforts.

A virtual visit can save money on travel expenses and remove

the barrier of geographical location preventing an ACR

visit from being possible. As we move out of the COVID-19

pandemic, accreditation, certification, and regulatory visits

may continue to be virtual, they may resume in person or

there may be a hybrid approach. A healthcare accreditation

organization announced that in person visits would resume

with minimal staff participating in visit related tours and

meetings. Consider how hybrid models may be used by your

accreditation, certification, and regulatory organizations and

plan to be prepared to support each model. This can ensure that

you can move your organization forward to obtain the quality

recognition it deserves, while maintaining safety of the patients

and the team.

References

Cobourne,K, Shellenbarger,T. (2021). Virtual site visits: a new

approach to nursing accreditation, Teaching and Learning in

Nursing, 16(2).162-165. doi:10.1016/j.teln.2020.11.001. Accessed

April 4, 2022.

Healthcare Information and Management Systems Society

(2021,May 21)Cybersecurity in Healthcare. Retrieved

from https://www.himss.org/resources/cybersecurityhealthcare#:~:text=Cybersecurity%20in%20healthcare%20

involves%20the,as%20the%20%E2%80%9CCIA%20

triad.%E2%80%9D

Nasca T. J. (2020). ACGME's Early Adaptation to the COVID-19

Pandemic: Principles and Lessons Learned. Journal of graduate

medical education, 12(3), 375–378. https://doi.org/10.4300/

JGME-D-20-00302.1

Tomaseki, C. (2020). The inside scoop of a virtual site visit. Plan

and prepare to ensure a successful visit. Retrieved from https://

www.myamericannurse.com/the-inside-scoop-of-a-virtual-sitevisit/

Suggested Reading:

The Joint Commission. (2021,April). New: The Joint Commission

Resumes On-Site, Unannounced Visits; Joint Commission

Perspectives. 41(4),3.

www.ohnurses.org | Ohio Nurses Review | Volume 97, Issue 2 | 17
---
Spiderman—a Nurse?

By Jeri A. Milstead, PhD, RN, NEA-BC, FAAN, ANA Hall of Fame

Yes, Spiderman is a nurse! Introducing Phil Re, a 2021 BSN

graduate of the Ohio State University College of Nursing. In

a recent interview, Phil said he has always had a love for the

Marvel comic book hero. He even acquired a costume that he

wore on occasion. On Halloween, 2021, a rainy day, Phil donned

his costume and, with an umbrella in hand, walked across

campus. He approached people walking in the rain and asked,

"If you don't have an umbrella, would you like to share mine?"

He was received by everyone with good humor and appreciation.

He continued to seek opportunities to make people smile and to

do small good deeds during games in the horseshoe and other

places on campus.

How did he think to combine a comic book hero with nursing?

He admitted to struggling sometimes in his studies and said

he was always "hitting the books" and often did not have time

to socialize with friends. But he noted that one concept kept

showing up throughout many courses: 'dimensions of wellness.'

He thought one of these, Physical Wellness' was the easiest

to relate to what he was learning. Then he began to consider

another dimension, Social Wellness, in light of the COVID

pandemic. That is, how people coped with separation and

isolation. During one course, students had to identify how they

actually could use those dimensions in practice. Phil realized

he had an opportunity to combine several dimensions and apply

them not only to his patients but to strangers. That is when he

began to don his costume and make others smile.

Phil is surprised that his persona has become so big. His nurse

manager at OSU Wexner Medical Center heard about his afterhours

activity, spoke to administrators about him, and the set

up an interview with OSU media representatives who, in turn,

set up an interview with Good Morning America. What does

he get out of being Spiderman? Phil says it is satisfying to do

small things that make even strangers smile. As for his nurse

practice in a medical-surgical unit that focuses on bariatrics,

he wants to continue to gain experience. He says his colleagues

are supportive of him and another 'new' nurse and their team

approach have helped them learn every day and have made the

transition to practice "easier than school." He does not have a

plan for more education right now but does not rule it out. He

will continue to do Instagram posts.

So, if you are in the area of OSU and see Spiderman walking

around, don't think you are hallucinating—you are seeing

a creative, caring Registered Nurse expanding the realm of

practice!

Small but Mighty!

By Tracy Zeller, BSBA, BSN, RN

Two local units of the Ohio Nurse Associations have something

to talk about! Mercy Allen Oberlin Hospital and East Liverpool

City Hospital have been able to make economic and fair labor

practice changes happen, proving that even smaller groups of

nurses have the power to achieve big changes. While nurses are

leaving bedside to travel or work in other aspects of healthcare,

those that remain at bedside continue the fight for fairness and

competitiveness.

Oberlin's Mercy Allen Hospital was able to make significant

gains with their most recent contract negotiations being

primarily economic in nature. While the Oberlin ONA is

comprised of 30 nurses, their small union group has tremendous

power. Nurses there will be receiving 5-11% wage increases in

the first year of the new contract based on if that particular nurse

experienced pay freezes noted in the previous contract. The pay

scale cap also increased from 20 years of service to 25 years and

night shift differential tripling from $1.25, increasing every year

until it reaches $3.75. These changes will help the staff thrive

and make the hospital more attractable for nurses.

Over 100 miles away, East Liverpool nurses also fought for and

won against Prime Healthcare regarding not only economic

attractiveness but also fair labor practices. East Liverpool

Hospital employs approximately 125 nurses, having lost

approximately 20 nurses over the last few years. While slightly

larger in size from Mercy Allen, East Liverpool nurses still

showed their strength on a much larger scale by successfully

having the National Labor Relations Board (NLRB) side with

them.

As previously discussed, the NLRB agreed with the ONA that

the hospital failed to properly compensate their nurses. The

hospital will be retroactively paying those nurses who were

employed between June 14th and December 13th, 2020. This

retroactive pay totals more than $170,000. The hospital must

also enter contract negotiations in good faith and have union

negotiators well-equipped with negotiation-related information.

Lastly, East Liverpool Hospital will publicly announce that the

hospital will not violate nurses' federal labor rights and will

not prematurely declare an impasse in negotiations as they had

previously done.

Nurses within these two hospital systems should stand proud

that they fought for and won what they truly deserved. With

dedicated nurses, the "David's" in healthcare can still stand

strong against the "Goliath's."

18 | Ohio Nurses Review | Volume 97, Issue 2 | www.ohnurses.org
---
Thank you to our 2022 Ohio Nurses

Foundation's Nurse Choice Sponsors!

Platinum Plus

Mid-Ohio District Nurses Association (MODNA)

Platinum

Aon Affinity/NSO

Arthur L. Davis Publishing/HealtheCareers

Case Western

Cloppert, Latanick, Sauter & Washburn

Ohio State School of Nursing

Quantum Health

Gold

California Casualty

Kent State University College of Nursing

I Love Nurses

Southeastern Ohio Nurses Association (SONA) DOUBLE

SPONSOR

District Three Nurses Association

Ohio State University Nurses Organization (OSUNO)

Greater Cleveland Nurses Association (GCNA)

Seeking MODNA

Executive Director

The Mid-Ohio District Nurses Association (MODNA) (www.

modna.org), Columbus, Ohio is seeking a part time (0.6 FTE)

Executive Director. Registered Nurse required; Master's

degree preferred. A minimum of three years' experience of

organizational management of a professional organization

related to nursing service, education, professional association,

union or other health care entity preferred. Knowledge of

contemporary issues in nursing, health care, and professional

association operations and management required. Must be

able to work effectively with a 13 member Board of Directors

and other governance structures in a membership driven

organization. The Executive Director directs and is responsible

and accountable for all association operations including hiring

and overseeing an Administrative Assistant/Continuing

Education Coordinator. Excellent interpersonal, fiscal, and

leadership skills required.

Resume and contact information for three references by June 30,

2022 to: executivedirector@modna.org

www.ohnurses.org | Ohio Nurses Review | Volume 97, Issue 2 | 19
---
Local Nursing Legends

By Jeri Milstead, PhD, RN, NEA-BC, FAAN

On May 5, 2022, the Medical Heritage Center at The Ohio State

University Health Sciences Library* paid tribute to 10 nurses

from the Central Ohio area. These outstanding nurses were

originally recognized in 2020, but formal acknowledgement

was delayed until 2022 because of COVID-19. Named Local

Nursing Legends, these nurses were cited because they have

made "significant contributions to the nursing profession and

health care." These "pioneers" have provided "exemplary

service" not only to the local population but through their work

within many organizations. You may know one or more of these

nurses but you may not realize the depth and extent of their gifts

to our professional association. We celebrate several who also

have contributed significantly to the profession through their

contributions to ONA.

Doris Edwards

Early in her career, Doris was active in a number of roles in

SONA including president and recipient of the Mary Hamer

Greenwood Award. Later she became chair of the ONA Nurse

Educator Assembly and was elected to the ONA Board for two

terms. Dr. Edwards served on the Yellow Team of Nursing

2015 (Education) and was subsequently Chair of the Advancing

Nursing Education Task Force, the Caucus on Advancing

Nursing Education and the Heritage Committee. She received

the ONA Outstanding Nursing Education Administrator Award

and the Elaine Martyn Writing Award. She is a member of the

Caucus on Racial Equity and Inclusion in Nursing and was

inducted into the Cornelius Congress.

Sandra Cornett

She served on the first (1994) nursing continuing education

committee for ONA that established criteria for individual

and institutional approval processes for granting continuing

education credits. She also was an active member of the

former ONA Clinical Nurse Specialist Assembly and the Staff

Development Nurses Assembly. Sandy also was a leader in

MODNA as first vice president (1990-1996) and member and

often chair of the CE/Program committee.

In 1974, Sandy served on an ONA task force that co-authored

A comprehensive cardiac care curriculum: A guide to course

development for registered nurses.

Janice K. Lanier

In the 1980s, Jan worked with legendary CEO Dorothy

Cornelius as ONA's policy director. She later earned a Juris

Doctor degree and became a regulatory specialist, associate

executive director and Interim Executive Director for the Ohio

Board of Nursing (OBN). Upon returning to ONA, she served

as director of health policy and deputy executive officer from

2002–2010. She oversaw health policy activities, developed

position papers and testified before the Ohio General Assembly.

During those years, she also oversaw extensive bylaws and

strategic plan revisions and led the redesign of Ohio Nurses

Review. Jan worked closely with the Mid-Ohio District Nurses

Association (MODNA) to establish effective communications

with local elected officials, establishing candidates' night

at MODNA, and ONA's Nurses Day at the Statehouse. She

spearheaded the Nursing 2015 Initiative that brought ONA,

OBN and the Ohio Organization for Nurse Executives together

to successfully develop strategies that addressed hospital

staffing levels and nurse education and practice issues including

workplace violence. This collaboration became the subject of

a presentation to congressional staff members on Capitol Hill.

Additional legislative and regulatory work included issues

surrounding health care reform, advance practice nursing, nurse

shortage reporting and other areas of nursing practice.

Deborah Shields

Dr. Shields exemplifies the definition of nursing excellence

by demonstrating caring, holistic practice at every level. Her

passion is infectious. Her member appointments include being a

member of the Continuing Education Council for Ohio Nurses

Association, the CE Advisory Group for the Ohio Board of

Nursing, nurse peer review leader (American Holistic Nurses

Association), and lead nurse planner (AHNA). Debbie was

awarded the Mid-Ohio District Nurses Association (MODNA)

Expert in Nursing Care Award in 2017.

Let's give our colleagues a round of applause for their long

commitment to the profession and to ONA.

*The Friends of Nursing History Steering Committee of the

Medical Heritage Center of The Ohio State University Health

Sciences Library collects, preserves, promotes, teaches, and

celebrates the legacy of nursing in central Ohio. Biosketches of

all 10 recipients can be found at www.go.osu.edu/LNL

20 | Ohio Nurses Review | Volume 97, Issue 2 | www.ohnurses.org
---
Nurse Rally at the Statehouse

ONA was honored to be asked by Nurse March-Ohio to help

organize the Nurse Rally at the Statehouse.

www.ohnurses.org | Ohio Nurses Review | Volume 97, Issue 2 | 21
---
National Updates:

ANA Position Statement on Sexual and Reproductive Health

Effective Date: March 7, 2022

Status: Position Statement

Adopted by: ANA Board of Directors

Purpose

The purpose of this Position Statement is to guide ANA's

advocacy and policy engagement on issues related to nursing

and sexual and reproductive health (SRH), as defined below.

SRH issues include respect for a person's reproductive choices;

sex education; access to contraception; access to abortion

care; ensuring equity in reproductive health, access, and care

delivery; and matters of conscience for nurses in SRH care.

Background

The term SRH encompasses sexual health as an aspect of

reproductive health. Sexual health is a "state of physical,

emotional, mental and social well-being in relation to sexuality;

it is not merely the absence of disease, dysfunction or infirmity.

Sexual health requires a positive and respectful approach to

sexuality and sexual relationships, as well as the possibility of

having pleasurable and safe sexual experiences, free of coercion,

discrimination and violence." (WHO) 1

The World Health Organization (WHO) discusses the broader

term reproductive health as "a state of complete physical, mental

and social well-being and not merely the absence of disease or

infirmity, in all matters relating to the reproductive system and

to its functions and processes." Further, "reproductive health

implies that people are able to have a satisfying and safe sex life

and that they have the capability to reproduce and the freedom

to decide if, when and how often to do so." 2 (WHO)

This Position Statement also encompasses principles of

reproductive justice, which are related to reproductive health

in ways that could have implications for nursing. Reproductive

justice is "the human right to maintain personal bodily

autonomy, have children, not have children, and parent the

children we have in safe and sustainable communities." 3

The right to seek and receive reproductive health care in the

United States has often been contested in the law and debated

in public policy at the state and federal levels. For instance,

access to contraception was not constitutionally protected

until 1965 when the Supreme Court ruled in Griswold versus

Connecticut (381 U.S. 479 (1965)). In 1973, the Supreme Court

issued Roe versus Wade (410 U.S. 113 (1973)), which recognized

a constitutional right to abortion during the first trimester of

pregnancy. Since 1973, states and courts have refined abortion

law and clarified the restrictive powers of state legislatures

to regulate abortion care. Advocates in favor of and opposed

to abortion rights have repeatedly sought judicial rulings to

support their positions. In 2021, the Supreme Court agreed to

reconsider Roe versus Wade. 4

The Code of Ethics for Nurses acknowledges that patients

under the care of a nurse have the moral and legal right to

22 | Ohio Nurses Review | Volume 97, Issue 2 | www.ohnurses.org

self-determination. Nurses have a duty to respect the decisions

of their patients, including those decisions that are related to

sexual health and pregnancy. Respect for patient decisions does

not mean that the nurse must agree or support the decision.

The Code of Ethics for Nurses requires nurses to provide

their patients with "accurate, complete and understandable

information in a manner that facilitates an informed decision."

Nurses should assist patients with weighing benefits, burdens,

and available options, including the choice of no treatment,

when discussing sexual health issues and pregnancy. ANA

believes that nurses should be aware of the history of misogyny,

racism, sexism and other forms of discrimination that has led to

the existing inequities, inequalities and limited access to SRH

care for certain populations. Nurses who provide SRH care

should deliver care that promotes reproductive justice and sexual

health within their scope of practice, such as care coordination

that supports a patient's decision not to have children, or to

safely have and raise children in a just society.

Statement of ANA Position

ANA affirms:

• Everyone has the right to privacy and the right to make

decisions about SRH based on full information and without

coercion.

• Nurses are obligated to share with their patients in an

unbiased manner all relevant information about SRH

choices that are available and to support that patient

regardless of the decisions that patient makes.

• Abortion is a reproductive health alternative that nurses and

other providers can discuss when counseling patients.

• SRH care should be widely available, accessible, and

affordable for all.

• Nurses have the right to refuse to participate in SRH

care based on ethical grounds, as long as patient safety is

assured, and alternative sources of care have been arranged.

Policy and Practice Recommendations

• Public programs that fund SRH care should:

o Provide access to the full range of SRH care consistent

with patient choice and other principles such as privacy

and fully informed consent.

o Promote care delivery models that include care

coordination for the health of the whole person, including

the need for SRH and supportive services.

o Allow and support SRH care delivery by nurses

practicing to full extent of their education, training,

and licensing. Policies must not interfere with an SRH

provider's ethical obligations, including the obligation to

provide complete and accurate information about SRH

and SRH care options.

o Be administered with provisions that guard against

patient coercion in treatment decisions, and ensure that

the rights of minors to choose and access SRH care are

protected consistent with their rights to choose and access

non-SRH care.
---
• To the extent that federal and state laws regulate the

provision of SRH, providers must not be subject to judicial

process when they act within their scope of practice and

ethical boundaries. Similarly, any such regulation must

not be enforced against patients based on their exercise of

choice in receiving SRH care.

• Health insurance plans should be accountable for providing

access to the full range of services for SRH care. Provider

networks should ensure adequate access to SRH care

providers, including advanced practice registered nurses

who are authorized to provide SRH care.

• Nurses should be knowledgeable about principles of

reproductive justice as they relate to nursing care, health

equity, and equitable access to care.

• Nurses providing SRH care should strive to create a nonjudgmental

atmosphere of shared decision making based on

mutual respect, adequate factual information, and freedom

from bias or discrimination for the persons in their care and

their families.

• Nurses who have concerns about the provision of specific

SRH services have an obligation to notify potential

employers and patients of those concerns, and to assist in

referral to an alternative source of care.

Previous Position Statements

In 2010, the ANA Board of Directors adopted a Position

Statement on Reproductive Health. This 2010 Position Statement

required revision and updating in 2022 to enable ANA to speak

to SRH issues as they are presented in contemporary terms.

For instance, the 2010 Position Statement asserted ANA's

belief that "abortion is a symptom of social failure." In this

superseding Position Statement, ANA unequivocally disavows

this perspective, and declines to express any social, professional,

or personal judgment regarding abortion.

Further, the 2010 Position Statement did not acknowledge

principles of reproductive justice. The 2022 Position Statement

was updated accordingly to recognize a person's right to have

children, not have children, and to parent children in safety; and

further to set expectations for nurses to be familiar with this

approach, as it relates to their provision of SRH care.

In other respects, this superseding Position Statement remains

consistent with core statements in the 2010 document. For

example, ANA retains the view, as expressed in the 2010

Position Statement: "ANA believes that the health care client

has the right to privacy and the right to make decisions about

personal health based on full information and without coercion.

It is the obligation of the health care provider to share with the

client all relevant information about health choices that are legal

and to support that client regardless of the decision the client

makes. … If the state limits the provision of such information

to the client, an unethical and inappropriate restraint will be

imposed on the provider and the provider-client relationship will

be jeopardized."

References

Note: This section includes sources that informed development of

this statement even if not quoted directly.

American Nurses Association (ANA). Code of ethics for nurses

with interpretive statements. 2015.

ANA. Letter to Secretary of Health and Human Services Xavier

Becerra, supporting repeal of 2019 final Title X rule.

American Academy of Nursing (AAN) and ANA. Letter to

Secretary of Health and Human Services Alex Azar, requesting

reconsideration of final Title X rule. March 2019. https://

higherlogicdownload.s3.amazonaws.com/AANNET/c8a8da9e-

918c-4dae-b0c6-6d630c46007f/UploadedImages/Academy_

ANA_Response_to_Title_X_Final_Rule.pdf

American College of Nurse Midwives. Access to Comprehensive

Sexual and Reproductive Health Care Services. 2016.

https://www.midwife.org/acnm/files/ACNMLibraryData/

UPLOADFILENAME/000000000087/Access-to-

Comprehensive-Sexual-and-Reproductive-Health-Care-

Services-FINAL-04-12-17.pdf

Blueprint Collaborative. Blueprint for Sexual and Reproductive

Health, Rights, and Justice. (2019). See https://blackrj.

org/sexual-and-reproductive-health-rights-and-justice-acollaboration/

(not cited in position statement)

Center for Reproductive Rights. Beyond Abortion: Roe and Other

Rights. https://reproductiverights.org/beyond-abortion-roe-andother-rights/

Nurse Practitioners in Women's Health. Statement on Abortion

Bans. Undated. https://www.npwh.org/lms/announcements/

details/88

Roberts, Dorothy. Killing the Black Body. Vintage Books. 1997.

Ross, Loretta J. and Rickie Solinger. Reproductive Justice: An

Introduction. University of California Press. 2017.

SisterSong. Reproductive Justice. Web Content. https://www.

sistersong.net/reproductive-justice

World Health Organization (WHO). https://www.who.int/teams/

sexual-and-reproductive-health-andresearch-(srh)/overview

WHO. Sexual Health. https://www.who.int/health-topics/sexualhealth#tab=tab_2

1

WHO. Sexual Health. Web content accessed January 19, 2022.

https://www.who.int/health-topics/sexual-health#tab=tab_2

2

See World Health Organization (WHO). Reproductive Health

Indicators. Guidelines for their generation, interpretation and

analysis for global monitoring. 2006.

3

SisterSong. Reproductive Justice. Web content accessed January

19, 2022. https://www.sistersong.net/reproductive-justice

4

See Center for Reproductive Rights. Beyond Abortion: Roe and

Other Rights. Web content accessed January 19, 2022. https://

reproductiverights.org/beyond-abortion-roe-and-other-rights/

Retired statement:

• Reproductive Health

www.ohnurses.org | Ohio Nurses Review | Volume 97, Issue 2 | 23
---
Ohio Nurses Review

5500 Frantz Rd, Ste 169

Dublin, OH 43017

Presort Standard

U.S. Postage

PAID

Permit #14

Princeton, MN

55371

current resident or