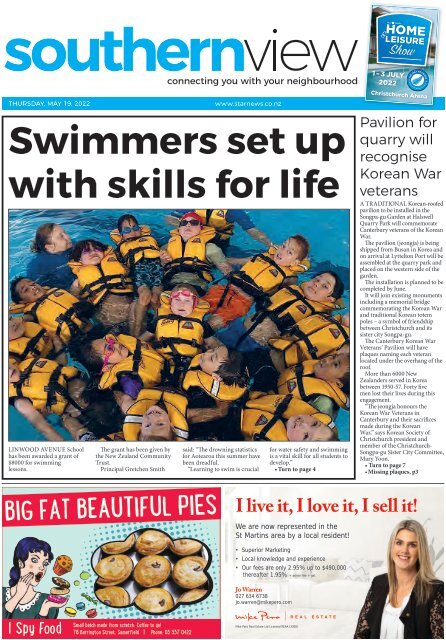 Southern View: May 19, 2022
You also want an ePaper? Increase the reach of your titles
YUMPU automatically turns print PDFs into web optimized ePapers that Google loves.
connecting you with your neighbourhood

1 – 3 July

2022

THURSDAY, MAY 19, 2022

www.starnews.co.nz

Swimmers set up

with skills for life

LINWOOD AVENUE School

has been awarded a grant of

$8000 for swimming

lessons.

The grant has been given by

the New Zealand Community

Trust.

Principal Gretchen Smith

said: "The drowning statistics

for Aotearoa this summer have

been dreadful.

"Learning to swim is crucial

for water safety and swimming

is a vital skill for all students to

develop."

• Turn to page 4

Christchurch Arena

Pavilion for

quarry will

recognise

Korean War

veterans

A TRADITIONAL Korean-roofed

pavilion to be installed in the

Songpa-gu Garden at Halswell

Quarry Park will commemorate

Canterbury veterans of the Korean

War.

The pavilion (jeongja) is being

shipped from Busan in Korea and

on arrival at Lyttelton Port will be

assembled at the quarry park and

placed on the western side of the

garden.

The installation is planned to be

completed by June.

It will join existing monuments

including a memorial bridge

commemorating the Korean War

and traditional Korean totem

poles – a symbol of friendship

between Christchurch and its

sister city Songpa-gu.

The Canterbury Korean War

Veterans' Pavilion will have

plaques naming each veteran

located under the overhang of the

roof.

More than 6000 New

Zealanders served in Korea

between 1950-57. Forty five

men lost their lives during this

engagement.

"The jeongja honours the

Korean War Veterans in

Canterbury and their sacrifices

made during the Korean

War," says Korean Society of

Christchurch president and

member of the Christchurch-

Songpa-gu Sister City Committee,

Mary Yoon.

• Turn to page 7

• Missing plaques, p3

Big Fat BeautiFul PieS I live it, I love it, I sell it!

We are now represented in the

St Martins area by a local resident!

• Superior Marketing

• Local knowledge and experience

• Our fees are only 2.95% up to $490,000

thereafter 1.95% + admin fee + gst.

Jo Warren

027 634 6738

jo.warren@mikepero.com

Small batch made from scratch, Coffee to go!

I Spy Food 78 Barrington Street, Somerfield | Phone: 03 337 0422

Mike Pero Real Estate Ltd Licensed REAA (2008)
---
Try this for Size

Grenadier Real Estate Ltd MREINZ Licensed Agent RE A 2 08

before

after

M 027 777 0411

1

rrp $10.99

2

Thursday May 19 2022

Advertise locally and

target customers most

likely to shop with you!

Effective Ad packages start from just $99

(inclusive full colour ad, creative setting,

photography and proofing).

No contracts required.

Your local community newspaper

connects neighbours in the following

suburbs

Spreydon • Hoon Hay • Hillmorton • Cracroft

Cashmere • St Martins • Somerfield

Sydenham • Addington • Waltham • Opawa

Beckenham • Huntsbury • Woolston

20,290 homes every week.

ADVERTISING

Mark Sinclair

Ph: 364 7461

mark.sinclair@starmedia.kiwi

NEWS

Emily Moorhouse

Ph: 021 910 788

emily.moorhouse@starmedia.kiwi

GENERAL INQUIRIES Ph 379 7100

CLASSIFIED ADVERTISING Ph 379 1100

www.starmedia.kiwi

what's on

this week

JP Clinic

Every Thursday, 10.30am-1.30pm

Spreydon Library

A justice of the peace will be

available to members of the

community, to witness signatures

and documents, certify document

copies, hear oaths, declarations,

affidavits or affirmations as well as

sign citizenship, sponsorship or rates

rebates applications. There is no

charge for this service.

Wā Kōrero-Storytimes

Thursday, 11-11.30am

South Library

Meet others in the community

when you and your pre-schooler go

along for a fun variety of stories,

songs and rhymes which foster

children's literacy. All whānau

and caregivers welcome. Free, no

bookings required. Guardians and

children over 12 will need to wear

a face mask and show their vaccine

pass on arrival. Room capacity is

limited and the number of attendees

possible at sessions will be influenced

by the number of users already in the

space.

South Christchurch Farmers'

Market

Every Sunday, 9am-noon

66 Colombo St, next to South Library

The South Christchurch Farmers'

Market prides itself on having the

best selection of fresh local produce

in Christchurch, including a large

Exhibition by MC Hébert, Thursday, all day, South Library. MC is a

self-taught artist but credits the development of her skills to an outstanding

art program at her high school in Canada, multiple massive art books

borrowed from the city council libraries, and YouTube painting tutorials.

She mostly works in acrylics in a colourful and impressionist style while

still aiming to capture realism in the subject's expression.

organic range from well-known and

trusted local growers. Top up your

vege shop with fresh artisan bread,

French-style pastries, free-range

eggs, locally made Italian cheeses,

seasonal fruits and much more.

Soak up the relaxed and friendly

atmosphere at this popular down

to earth market. This is a real-deal

growers' market. Free.

Social Games Club

Monday, 2-4pm

South Library

Go along to South Library and join

the group to play Scrabble, Upwords,

Chess and cards. Free, no bookings

required.

Technology Help Drop In

Session

Tuesday, 10.30-11.30am

Spreydon Library

Do you need help using your

smartphone, iPad, or tablet? Go

along to Spreydon Library for help

with email, searching the internet,

using the library catalogue, eBooks,

and general computer queries.

Take your laptop, tablet, or smartphone

for help with anything digital.

Free, no bookings required.

Auahatanga – South Creative

Time

Thursday, 10am-3pm

South Library

Go along to use the exciting range

of equipment available at South

Library – 3D printer, craft cutter,

sewing machine, badge maker, cameras,

tripods and microphones. Staff

will be on hand to support you with

equipment. These are not structured

sessions, but a chance for you to try

out the equipment available and

work on your own creative projects.

All ages are welcome but children

will need to be accompanied by an

adult.

Not-for-profit organisations

can send their What's

On listings to southern@

starmedia.kiwi

Local Body

Elections 2022

Are you planning on running

for council in the Cashmere,

Spreydon & Linwood ward?

I can help you with your

newspaper advertising.

Contact Mark Sinclair

Phone: 021 913 566

Email: mark.sinclair@starmedia.kiwi

THURSDAY, JANUARY 20, 2022

• By Emily Moorhouse

EILEEN KERR received a

fake vaccination booster form

in her mailbox and while she

recognised it was fake, she didn't

think everyone would.

Now the 70-year-old Spreydon

resident is warning others to be

wary of similar hoaxes.

When Eileen went to co lect

the mail, she noticed what

appeared to be a form to

book your Covid-19 booster

vaccinations in advance.

She sat down at the dinner

table with pen in hand, abou to

start fi ling ou the form, when

she noticed something strange.

"I started reading and that's

when the bomb went off," she said.

The form read: "Jabbing our

way to a "safer" New Zealand?"

That was enough to make Eileen

question its authenticity, in spite

of how official it looked.

a topic of discussion.

Eileen said the paper was good "I'm 70, my husband's

quality and the form had been 60-something and I thought

put in her mailbox at a time we're fine, we're not the flashest

when booster vaccinations were on social media, but a lot of

connecting you with your neighbourhood

www.starnews.co.nz

people around here are elderly

and they would go and worry

about that crap if they didn't

read the small print," she said.

The form had a space to fill in

your personal details and slots

to book your next booster shot,

which was shown to be required

every two weeks, totalling up to

120 booster shots to be booked

20 March 2022

EntriEs now opEn!

Prank Covid-19 booster

form concerns resident

Keep an

eye out

for fakes

Fall in love

with your favourite

furniture all over again!

• Recover your chairs and couches

• Excellent range of fabrics

• Quality workmanship guaranteed

• Free quotes available

• Over 30 years experience

and save money!

THURSDAY, JANUARY 27, 2022

Connecting

kids with

cricket a

way of life

for mother

and family

• By Emily Moorhouse

CRICKET HAS been a large part of

Libby Hickford's life, yet after 46 years

of playing and coaching it's the sense of

community that keeps her involved with

the sport.

Since becoming a budding young

cricketer a the age of five Hickford has

coached teams, mentored coaches, sat

on cricket committees and even met her

husband through the game.

Now the 51-year-old runs the Sydenham

Junior Cricket Club, overseeing

training, club management and being

responsible for more than 300 members.

Hickford's interest in cricket stemmed

from her father who played and while

she had to play in a boys team at school

due to the sport being very male dominated

she quickly became hooked.

"I just really enjoyed the game and

I got to play it quite a bit at lunch time

with the boys," she said.

"My passion for cricket grew from

there."

Hickford was eventua ly able to play in

a girls team during high school and later

dabbled in indoor cricket, where she met

her "very cricket passionate" husband

A lan when she was 21.

• Turn to page 6

Somerfield Upholstery welcome you to email a

photo for a quote online: somerfielduph@gmail.com

in advance.

This wasn' the firs time Kerr

had received unofficial Covid-19

forms in her mailbox.

• Turn to page 6

HOAX: Eileen Kerr was concerned some elderly people would think the Covid booster form was real. PHOTO: STARMEDIA

2/81 Union Street, New Brighton 2 1 1 1

Just two blocks from the beach, this quiet and surprisingly spacious

two-bedroom townhouse bestows a bri liant opportunity to secure an

a fordable home in a rapidly appreciating location.

Tidy, light and bright interiors are wrapped by rea suring brick cladding

and aluminium joinery, with capacity remaining to make your mark.

O fering a versatile configuration, open plan living connects seamle sly

with an adjoining sunroom, fulfi ling both day-to-day and entertaining

requirements. A neatly presented and e ficient kitchen provides plentiful

storage along with a dishwasher and breakfast bar.

Each bedroom is a genuine double, with ample wardrobe storage to

facilitate streamlined living. While largely original, the highly functional

bathroom comprises a bath and separate shower.

GRENADIER

Somerfield Upholstery Ltd

FURNITURE RECOVERY SPECIALIST

GRENADIER Debbie Pe tigrew

6/47 Sonter Road, Wigram | Ph 021 251 6200 | 349 0456

connecting you with your neighbourhood

Summer fun

that won't

hurt your

feet, Archies

Jandals

Fashionable • Functional • Footwear

www.starnews.co.nz

Libby Hickford puts Nathan Sumner through some fielding dri ls at

Sydenham Park. PHOTO: STAR MEDIA

1 1

Auction Thursday 10th February 2022,

(Unle s Sold Prior)

(98 Moorhouse Avenue, Christchurch)

View harcourts.co.nz/BE193855

100% butter

used in all of

our Danish

Pastries and

Croissants

Unit 3, 355 Riccarton Rd, Upper Riccarton

P. (03) 929 0927 E. info@theshoeroom.co.nz

www.theshoeroom.co.nz

FASHIONABLE FUNCTIONAL FOOTWEAR

20 March 2022

EntriEs now opEn!

School packs

take pressure

off struggling

families

• By Emily Moorhouse

A SURPRISE from an old school friend

and a nationwide company has seen the

Hoon Hay Food Bank create a new 'back to

school pack' for children in need.

Food bank founder

Corrin Webster

was surprised when

employees of Air New

Zealand arrived a the

food bank with a bunch

of school supplies to

donate.

"They just turned

up out of nowhere, we

didn't know they were

coming," he said. "It

was rea ly awesome."

One of the employees explained that Air

New Zealand did a similar thing last year

by donating to a charity of their choice, and

this year the Hoon Hay Food Bank was on

their radar after finding them on Facebook.

"It's amazing to know that such a

nationwide company as big as Air New

Zealand has noticed somebody as small as

us," Webster said. "It's a really good feeling

and it's good to get that recognition from

somebody so important."

Among the supplies Air New Zealand

donated were lunch boxes with drink

bottles and sma l containers for food

storage.

A couple weeks before Air New Zealand

donated the school supplies, an old school

friend of Webster's had visited to drop off a

bunch of school shoes.

This also took Webster by surprise,

as he hadn't seen his friend Becca since

intermediate and without Facebook she

wasn't fo lowing the food bank online.

• Turn to page 5

Corrin Webster

Pastries Galore

Open 7 Days | Phone 337 8214

Shop 2, 73 Centaurus Road, Huntsbury, Christchurch

RUGBY NEWS WILL DONATE $1 PER COPY SOLD TO TESTICULAR CANCER NZ

APRIL 2022

9 416770 121325

MASTER AND

APPRENTICE

SMITH AND FAKATAVA

save

LES BLEUS FINLAY CHRISTIE:

OF FRANCE:

'JOINING THE

WHY THEY ARE THE

BLUES WAS THE

BEST RIGHT NOW

RIGHT MOVE'

WILL JORDAN:

HOW HE CHILLS

WHEN NOT

SCORING TRIES

• SUPER RUGBY AUPIKI: GOOD, BUT CAN GET BETTER

• CLUB RIVALRIES: GREEN ISLAND v TAIERI

up tO

46%

OFF THE RRP

UNDER NEW MANAGEMENT

• W.O.F • Servicing

• Repairs • Batteries

• Tyres • Clutch • Cambelt

• Diagnostic Equipment

YOUR LOCAL

AUTOMOTIVE SHOP

287 Hoon Hay Road

Christchurch

Open Mon-Fri

Ph. 982 0405

Email: hoonhayauto@gmail.com

UBURBS

ENTRAL

YOU'LL FIND FIRST RATE LEGAL EXPERTISE AT FOUR HANDY CHRISTCHURCH LOCATIONS. LET'S TALK.

03 379 7690 | LAWYER@SAUNDERS.CO.NZ | WIGRAM, CITY, FERRYMEAD, BISHOPDALE | SAUNDERS.CO.NZ
---
Thursday May 19 2022 3

Committee upset by missing plaques

that signify friendship between cities

GONE: David Bolam-Smith at the site of a removed plaque. The Canterbury Japanese

Society and Christchurch Kurashiki Sister City committee members saw the plaques were

missing during a monthly working bee in the Kurashiki Garden.

• By Emily Moorhouse

TWO MISSING plaques at

Halswell Quarry have left

keepers of the garden frustrated

and confused.

The Canterbury Japanese

Society and Christchurch

Kurashiki Sister City committee

members noticed two plaques

had been taken from the

Kurashiki Garden when they

were completing their monthly

working bee.

The first plaque, which was

secured to a rock, represents the

40th anniversary of the relationship

between the city and Japan,

as the city's mayor at the time

was signed in the same time as

the Kurashiki mayor.

The second plaque was donated

to the gardens and installed

onto a shade house used for

people working in the gardens to

rest in.

Christchurch Kurashiki Sister

City committee member David

Bolam-Smith said it was devastating

to see the plaques were

missing, as they represented the

friendship between the committee

and Japan.

"It must have been quite an

effort, it was secured to a rock,"

Bolam-Smith said. "I have no

idea how they did it."

He said it was frustrating, as

committee members spend a lot

of volunteer hours making the

gardens look nice.

Bolam-Smith, who looks after

the garden along with a ranger,

said the 40th anniversary plaque

cost just under $2000 to make

and install.

He said he has contacted the

city council about reporting the

missing plaques to police and

hopes someone will return them.

Mmmm Donuts

Huge range of

donuts available,

including special

of the week'

Tracey McLellan

MP for Banks Peninsula

I'm here to help. Please contact my

office if you require any assistance.

03 376 4512

Tracey.McLellanMP@parliament.govt.nz

PO BOX 19 661, Woolston, Christchurch 8241

642 Ferry Road, Woolston, Christchurch

Open 7 Days | Phone 337 8214

Shop 2, 73 Centaurus Road, Huntsbury, Christchurch

Authorised by Tracey McLellan MP,

642 Ferry Road, Woolston

We were so impressed with Cameron and his team, we knew we were in

great hands with their professionalism and amazing organisational skills.

Everything ran so smoothly and efficiently. Cameron certainly knows what

was happening with the market at the time we had our house listed and

this was a huge part of us selling our home with him and our successful sale.

A huge thank you to Cameron and his amazing team Sam and Lisa, I would

certainly recommend them to everyone thinking of selling their home.

- Jill & Ramon -

Phone or text 027 555 7079

REINZ Residential Salesperson of the Year across all brands in NZ

No.1 Harcourts Canterbury 2012-2021

cameron.bailey@harcourts.co.nz

No.1 Harcourts New Zealand 2017-2021

www.cameronbailey.harcourts.co.nz No.1 Harcourts International 2017-2021

Licensed Sales Consultant REAA 2008
---
4

McMaster & Heap

Veterinary practice

A REGULAR DAY AT

McMaster & Heap VETS

Every day is an adventure as a veterinarian. But it is also hard work, and that's without

throwing COVID and an increasing pet population into the mix. There are always surprises

and events we can't predict, like the Labrador that swallowed a sock or a patient struggling

to breathe with heart failure. As professionally trained vets and nurse we have to be ready

to cope with any situation that presents itself any time of the day, respond quickly and have

the right team around us to save a life.

Below are a collection of photos telling a short story of what we see and treat in a single

day at McMaster & Heap. We all support and help each other manage cases, workload and

those emergency walkins. It takes a very special kind of person to do what we do day in day

out, 7 days a week. Steve and I are immensely proud of the team that have chosen to be

part of the McMaster & Heap Family, and I feel proud every single day of the work done by

our entire team.

Steve performing Cataract surgery.

Blue was referred to McMaster & Heap for an MRI because

he'd started seizuring and was not well controlled on epileptic

medication. Suffice to say we couldn't identify a cause causing

the seizures so can safely say he probably has idiopathic

epilepsy, which will require lifelong daily drug treatment.

Swimming lessons

teach life-long skills

• From page 1

Smith said Christchurch was

surrounded by beautiful beaches and

rivers – and it was essential young

children were taught basic skills to ensure

their safety in outdoor or indoor water

environments.

"By teaching children how to swim at

primary school, we hope that this will help

develop a life-long love of water sports,

and the necessary knowledge they will

need for water safety."

She said each year the school committed

to providing swimming lessons for its

students, as formal lessons were beyond

the reach of many of families within the

school community.

"Swimming lessons help tamariki to

develop important swimming and water

safety skills in a controlled and safe

aquatic environment."

The skills and knowledge gained could

then be used outside of school hours.

"We sought funding from NZCT for

swimming lessons for the entire school,

from year 1 through to year 6, with a

specific focus on our middle school

students in years 3 and 4," Smith said.

"The quote for the middle school was

larger than for the junior and senior

schools because it includes a swim week

in every term. Year 3 and 4 children are

the group who typically make the most

progress."

She said swimming lessons should be

provided by those with the appropriate

qualifications. Although teachers received

Thursday May 19 2022

STAYING AFLOAT: An $8000 grant

has ensured students at Linwood

Avenue School are able to receive

swimming lessons.

tuition in the teaching of swimming, the

progress that children make in a proper

facility with a trained coach did not compare

with "what we as a school are able to

offer".

"As a decile 2 school, it is difficult for

our whānau to contribute to or pay for

professional swimming lessons. Funding

from NZCT makes a huge difference

by taking the pressure off the already

strained budgets of our students' families

and whānau."

Dr Lynne is surgically gowned up, operating in a completely

sterile environment, to minimise infection and aid patient

recovery and surgery success. No one enters this room

unless dressed in surgical attire.

Desexing 7 week old kittens for Cats protection league

NUMBER ONE SUPPLIER

TO THE NZ JET BOATING

COMMUNITY FOR OVER

50 YEARS

PARKER

AUTOMOTIVE

All Automotive Repairs and

Servicing including 4WD

Suspension Brakes & Cambelts

Imagyst lab machine Cutting edge, innovative

technology, meaning we get answers quicker without the

need to send to an outside laboratory. Excellent also for

weekends, public holidays and afterhours work when the

laboratory isn't available.

Remi, a 4 year old Maine Coon, is recovering from Hip

surgery after being hit by a car. What a dude of a cat,

easy to medicate and care for whilst he resided with us.

It's always such a pleasure caring for the sick and injured

hospital patients.

• Part Boats & Hulls

• Turn Key Packages

• New Jet Units

• Custom Fabrication

• Expert Advice

SERVICING

03 962 0505

Lunns Road, Middleton

• Spare Parts Retailer

• Jet Unit Refurbishment

• Engine Tune-Ups

• Insurance Repairs

• Impellor Reconditioning

WOF, Tyres, Batteries

23B Birmingham Drive,

Middleton

Ph 03 982 4268

Mobile: 027 331 0382

Email: parkerauto89@outlook.com

We have the BEST ever team of 19 dedicated, highly skilled

, kind nurses who come to work every day to love and care

for your pet, ensuring they get all their needs met to make

a full recovery.

Here is Buffy, a 14 year old Maine Coon, receiving

intravenous chemotherapy for exocrine pancreatic cancer.

This treatment is slowly delivered in a 3 hour timed infusion.

We have to lightly sedate Buffy for his chemotherapy and

so keep him warm via a Bair Hugger, inside the incubator.

We have a veterinarian with a special interest in treating

cancers in pets and she invests a lot of time thoroughly

researching the right treatments for your pets. Not every

cancer pet patient is a candidate for chemotherapy but It

can be hugely rewarding when we can extend a pets life

and give them real quality.

EXCITING NEW DEVELOPMENT

…..watch this space

You may have noticed building works happening at the far end of the carpark. In

conjunction with Pacific Radiology we will be offering MRI at McMaster & Heap,

exclusive to animals only, 5 days a week, from July. A first for the veterinary profession

in NZL to have stand alone MRI onsite.

Open 7 days Cnr Hoon Hay & Coppell place ph: 338 2534

e. mcmasterandheap@yahoo.co.nz www.mcmasterheap.co.nz

69 Longhurst Terrace, Cashmere

A Backdrop to Bliss

Superbly situated on Cashmere's lower slopes, this sizeable 1,305m 2

site presents an exciting option for those seeking a superb plot on

which to craft their masterpiece. Beautifully positioned to attract

copious sun and warmth, the north facing parcel also enjoys views

across the city to the Alps and significant shelter. To help you realise

the incredible potential of this section, fully consented plans are

available to purchase, ready to build with options as to how they

are used. There is no guesswork here. Everything is ready to go, the

design as it is can suit many forms of family living arrangements.

Considerable preliminary work has already been undertaken, with a

Geotech report and Topographical Survey available for perusal.

Grenadier Real Estate Ltd MREINZ Licensed Agent REAA 2008

GRENADIER

Section Land area 1305 sqm

View harcourts.co.nz/BE193911

Debbie Pettigrew

M 027 777 0411
---
Thursday May 19 2022 5

The makeshift bar bringing

joy to a neighbourhood

• By Emily Moorhouse

WHAT STARTED out as a

joke has become a safe space

for residents to talk about

their feelings and meet their

neighbours.

Cody Adlam, 21 along with his

flatmate Cassius Kulsen, 19, and

their neighbour Adrian Page, 40,

are known by the community as

the 'Sydenham Street Wavers'.

The three men set up a bar

stand made from wooden pallets

each weekend on Huxley St and

invite their neighbours to stop by

for a hot drink and biscuit and

talk about their feelings.

"We're pretty shocked at how

big it is," Adlam said.

"It started out as a joke."

The trio quickly gained popularity

among residents in the

area and get a lot of waves from

passers-by.

Adlam said the idea started

when the group was fundraising

for breast cancer in January.

They set up a couch on the

street with a sign that said every

beep equals a dollar donation

from one of the three men.

"Every now and then we would

put a couch and rug on the street

and decided to have a bar one

weekend," Adlam said.

The group set up a sign that

reads "this is a safe place for all

people to talk about their feelings

haere mai".

After seeing the positive reactions

from people, the group decided

to make it a regular thing.

"People driving past stop and

ask us what we're doing," Adlam

said.

"Some people say: 'Oh I

needed to hear this today'."

Adlam said they often have

people stop by for a chat and

open up about things they're

struggling with.

"It feels good," Adlam said.

CONNECTION: Resident

Cinta Terry stops by for a

chat with the 'Sydenham

Street Wavers.'

"Growing up talking to people

was kind of hard to access so

it's nice to be able to have a chat

with people."

The group even had someone

who was drink driving pull over

for a chat and let them drive her

home and another person who

opened up about struggles with

domestic violence at home.

Adlam said even when the

group aren't out on the street

they can hear people beeping

their horns when they drive past.

"It's nice that it brings people

joy," he said.

"It brings us joy as well."

AUTUMN REFRESH DEAL

GET $30 OFF!

YOUR APPOINTMENT

It's the time of year

when your devices

need refreshing

before winter sets

in! Whether that's

a backup, security

check, or simply a

good clean, we've

got your back!

BOOK A GEEK!

CALL 0800 424 335

*Terms and Conditions: Price includes GST. To be eligible for the "Autumn Refresh" promotion, the

appointment must exceed 90 minutes. Standard Appointments are booked for a minimum

one-hour period. Any additional time is billed per quarter-hour. Cannot be used for Geek+

memberships. This promotion cannot be used in conjunction with any other offer, limit one per

customer. Offer valid until 31/05/2022
---
6

Thursday May 19 2022

GREAT

Autumn

READS

INSTORE!

NEW RELEASES

Dogs in Early New Zealand Photographs

Introduction by Mike White

Adorable and sometimes surprising historic images of dogs and their owners

This entertaining selection of over 100 photos of New Zealand dogs reveals some of the

more curious ways in which they have appeared in photographic collections from the

nineteenth and early twentieth centuries.

Dogs named Terror, Betsey Jane, Floss and Erebus appear alongside canines whose

names are longer known. The photos range from carefully staged studio portraits to New

Zealand landscapes.

The photographs take the reader across the towns and landscapes of Aotearoa New

Zealand, and the text profiles many of the photographers and studios that flourished prior

to the First World War. A charming mix of history and whimsy, this beautiful book makes

the perfect gift for any dog lover.

Yum - Nadia Lim

YUM! is for anyone who wants to feed the family nutritious, delicious food.

One of the best feelings you can have as a parent is when your child gobbles up a meal

you've cooked for them, especially when you know it's chockfull of good stuff. But any

parent knows that this doesn't happen every time. Getting your child to love food (and

I mean, good wholesome food) is not always easy. That's where I hope YUM! comes

in handy. With over 100 parent- and child-tested recipes, and practical, down-to-earth

tips and discussions about starting solids, fussy eating, food allergies and more, it will

become the go-to for families.

Freezing Order

a true story of russian Money laundering, state-sponsored

Murder,and surviving vladimir Putin's Wrath by Bill Browder

When Bill Browder's young Russian lawyer, Sergei Magnitsky, was beaten to death in a

Moscow jail, Browder made it his life's mission to go after his killers and make sure they

faced justice. The first step of that mission was to uncover who was behind the $230

million tax refund scheme that Magnitsky was killed over. As Browder and his team

tracked the money as it flowed out of Russia through the Baltics and Cyprus and on to

Western Europe and the Americas, they were shocked to discovered that Vladimir Putin

himself was a beneficiary of the crime.

As law enforcement agencies began freezing the money, Putin retaliated. At once a

financial caper, an international adventure and a passionate plea for justice, Freezing

Order is a timely and stirring morality tale about how one man can take on one of the

most ruthless villains in the world.

Cracking Open the Nest Egg

How to make your retirement savings last the distance

by Martin Hawes

Planning for retirement can be a scary thought, whether it is just around the corner or

years in the future. Martin Hawes, one of New Zealand's best-known experts on personal

finance, answers all of the questions that may be keeping you up at night: How much will

I need to retire? Can I ever afford to stop working? How do I make sure my money lasts

as long as I do? Working out how you can achieve a regular monthly retirement income

is more difficult than it used to be. Historically low interest rates (despite the current blip)

plus longer life expectancy means the old method of parking your nest egg in a savings

account and living off the interest is no longer an option. Hawes guides you step-by-step

through the planning process, showing you how you can safely create a regular income

for the rest of your life.

Ideals Are Like Stars

the dame yvette Williams story By angela Walker

The first New Zealand woman to win an Olympic gold medal, a feat not repeated for forty

years. Ideals Are Like Stars is the remarkable true story of Yvette Williams, a trailblazing

young athlete who defied the odds to win gold in the long jump at the Helsinki Olympics

in 1952. Ignoring the pressure to abandon her dreams and become a housewife, Yvette's

sports career is a highlight reel of newly set records which propelled her into the spotlight.

Well-known for her rigorous training, down-to-earth nature and sense of humour, Yvette

was the epitome of the Kiwi sporting hero - humble, hardworking and dedicated - who

won the hearts of the nation. This is a long overdue celebration of an extraordinary

sporting life and a highly engaging chronicle of a young woman's quest for excellence.

1005 Ferry rd

Ph 384 2063

CLOSED SUNDAY

while stocks last (see instore for terms and conditions)

Please

stay saFe

everyone!

Barry & kerry
---
Thursday May 19 2022 7

Traffic signals expected to make cycleway safer

TWO NEW signalised crossings on

Humphrey's Drive will provide safe

crossing points for people using the

Rapanui-Shag Rock cycleway.

Construction work began last

week and is expected to take

between five and seven months to

complete. Accompanying works

will also take place to widen 'pinch

points' on Humphrey's Drive and

upgrade Tidal View.

The crossing points will connect

the Charlesworth Reserve section

of the cycleway to the Ferrymead

Bridge-Redcliffs section of the

coastal pathway.

One will be placed near Windsurfer

Reserve and one near the

intersection of Humphrey's Drive

and Tidal View.

"These signalised crossing will

provide cyclists with a safe connection

point across what is a very

busy road. We'll also be replacing

• From page 1

"We also commemorate the

60th diplomatic relations anniversary

between New Zealand

and South Korea and hope to

further strengthen the relationship

for many years to come."

Songpa-gu Garden is maintained

by members of the committee

and the wider Korean

community.

"It is very well kept and greatly

enjoyed by visitors within the

wider context of the park," says

the failing seawall along the front

of Tidal View and implementing a

new streetscape plan for this area,"

city council head of transport Lynette

Ellis said.

"New picnic tables, cycle parking,

water drinking fountain and

an outdoor shower will make it

an amenable space for a picnic, for

windsurfers and foilers accessing

the estuary or to use it as a starting

point for a trip along the coastal

pathway."

Vehicle speeds will be reduced to

30km/h along Tidal View.

The cycleway connects Sumner

via the pathway to the central city,

passing through Linwood. It has

one final section through Moncks

Bay still to be completed as part of

the pathway.

That work is currently under

way and expected to be finished in

2023.

city council head of parks Andrew

Rutledge.

"This pavilion will form the

centrepiece of the garden and

further enhance what is an

important gathering place for the

Korean community."

Christchurch-Songpa-gu

Sister City Committee and the

Korean Society of Christchurch

are fundraising for the pavilion

which is estimated to cost

$110,000.

Along with the new pavilion,

an existing pyeong sang or

bench will be replaced and new

landscaping features added,

including rocks lining the

stream north of the site and a

row of six cherry trees to link the

PHOTO: NEWSLINE

Garden an important gathering place for Korean community

TRADITIONAL:

A Korean

pavilion will

be installed at

Halswell Quarry

Park. PHOTO:

NEWSLINE

Korean and Japanese gardens.

Cherry trees are a feature around

Seokchon Lake in Songpa-gu.

The garden is one of six sister

city gardens which are integrated

into Halswell Quarry Park and

were opened in 2001.

Christchurch's other sister

cities are Adelaide in Australia,

Gansu Province in China,

Kurashiki in Japan, Seattle in

the United States, Christchurch

in the United Kingdom and

Wuhan, also in China.

FULLY

ESCORTED

TASMANIA

TOUR

with House of Travel

JOIN US FOR OUR INFO EVENING WEDNESDAY 25 MAY

– CALL US TODAY TO REGISTER YOUR SPOT

11 DAYS/10 NIGHT TOUR

Join our wonderful tour escort

Debra Carnahan on this exclusive

House of Travel Escorted Tour of

Tasmania.Debra has escorted over

40 tours around NZ and overseas

and is looking forward to you joining

her on this incredible trip exploring

Tasmania with like minded travellers.

DEPARTS CHRISTCHURCH 06 OCTOBER 2022

from

$ 8199pp

Share twin. Single supplement $2270.

Maximum 24 passengers.

YOUR FULLY ESCORTED TOUR INCLUDES

10 NIGHT

STAY

PRIVATE

COACH

PRIVATE

TOUR GUIDE

EXCURSIONS

INCLUDED

(AS NOTED)

BREAKFAST

DAILY

3 LUNCHES &

6 DINNERS

* Flights are based on Return Economy Airfares from Christchurch to Hobart

RETURN

AIRFARES *

HIGHLIGHTS

| Port Arthur Historical Site

| Sample Chocolate & Fudge at Port Arthur

Lavender Farm

| MONA (Museum of New and Old Art)

| Salamanca Market

| Tasting tour on Bruny Island

| Walk to Russell Falls, Mt Field National Park

| Visit the Wall in the Wilderness Art Project,

Lake St Clair National Park

| Scenic Cruise on Gordon River, Strahan

| World Heritage listed Cradle Mountain National Park

| Behind the scenes visit at Devils@Cradle

| Honey tasting, Sheffield

| Guided walk scenic through Cataract Gorge,

Freycinet National Park

| Cruise on the extraordinary Wineglass Bay

| Visit Cape Tourville Lighthouse

T&C's apply call us for details

BETTER TOGETHER

COME IN-STORE | HOT.CO.NZ | 0800 713 715
---
8

WESTERN NEWS Thursday [Edition May datE]

19 2022

27

keep it local

and support businesses in your community

Popular Thai restaurant offers

authentic flavours and unique

twists

If you are looking for authentic

Thai flavours in all your favourite Thai

dishes, you should head along to Hoon

Hay Thai in Coppell Place. Since opening

in September 2013, this delightful Thai

restaurant has become a local favourite, with

many regular customers coming to dine in

or get takeaways.

The menu includes an extensive range of

dishes freshly made every day, and the staff

pride themselves on making all their own

entrees, which include spring rolls, curry

puffs, money bags and Thai fish cakes.

Pad Thai is one of the most popular dishes

on any Thai menu, and at Hoon Hay Thai

they put their own unique twist on the dish,

while other favourites include red, yellow

and green curries, Panang and Mussamun

curries, satays, and a wide selection of stir

fry choices.

They also offer a special lunch menu, with

items

ranging

in price from

just $5 to $12.

Dishes can be served mild, medium or

hot, according to customers' taste.

The restaurant is fully licensed and BYO.

It is also ideal for larger groups, such as work

parties or families and friends celebrating

special occasions. Off-street and on-street

parking is available.

Hoon Hay Thai, 9 Coppell Place, is

open Thursday and Friday 11am-2pm,

Wednesday 12pm-2pm, Monday to

Sunday 4.30pm-9pm, closed Tuesday. For

group bookings, phone 339 0320. Walk-ins

welcome. Check out their Facebook page

for the full menu and further information.

Authentic Thai

Cuisine

Lunch Special

Tuesday - Saturday

From

$10

Lunch Tuesday – Saturday, 11am to 2pm

Dinner Monday - Sunday, 4.30pm to 9pm

HOON HAY THAI RESTAURANT

Open 7 Days • Lunch & Dinner • 9 Coppell Place • Phone 339 0320

Designer Fashion

• Designer Brands

• Family Clothing

• Menswear

• Footwear

• Bric-a-brac

• Books

• Household Goods

• Workman Outdoor Clothing

• See the Retro Section

AND Formal Wear

New Zealand's Largest Recycled Clothing Retailer

Sydenham: 39 Battersea Street Papanui: 472 Cranford Street

Hornby: 94 Shands Road EFTPOS ONLY

Closed Monday's, open 6 days a week, 10am to 4pm

See Our

HUGE

Selection!

3000

items

arriving

daily!

Fall in love

with your favourite

furniture all over again!

• Recover your chairs and couches

and save money!

• Excellent range of fabrics

• Quality workmanship guaranteed

• Free quotes available

• Over 30 years experience

Somerfield Upholstery welcome you to email a

photo for a quote online: somerfielduph@gmail.com

before

after

Somerfield Upholstery Ltd

FURNITURE RECOVERY SPECIALIST

6/47 Sonter Road, Wigram | Ph 021 251 6200 | 349 0456

Advertising enquiries Mark Sinclair | Ph: 364 7461 | mark.sinclair@starmedia.kiwi
---
Thursday May 19 2022 9

RICHMOND

DISCOuNT FURNITuRE

Ther-a-pedic Mattress & Base

Reversible pillowtop innersprung.

THE BEST LITTlE FuRNITURE SHOP IN TOWN

Single Divan-Drawer

Base with Mattress

Sleepyhead Innerspring

Cot Mattress

1310mmL

x 695mm W

x 100mm H

Legacy

Single

Frame

Bed

Mattress not

included.

Single

Foam

Mattress

100mm,

1900x900

ONLY

$59

Single

$599

King Single/

Double/3/4

$699

Queen

$799

ONLY

$799

ONLY

$149

ONLY

$300

Lowboy 6 Drawer

1130 x 410 x 820.

Tallboy 4 Drawer

600 x 400 x 900.

7 Drawer

TV/DVD

Chest

760 x 1140 x 410.

(Gap 150)

Towerboy

6 Drawer

1260 x 460 x 410.

With metal

runners.

Also available

in Black.

Duchess

with

Mirror

1090 x 410 x 820

NZ made.

Bedside Cabinet

With metal runners.

ONLY $539 each

ONLY

$259

ONLY

$359

ONLY

$275

ONLY

$699

Small

510H x 460W x 410 D

$150each

Large

690H x 460W x 410 D

$199each

Midi 7 Drawer Scotch Chest

975 x 760 x 410. With metal runners.

Jumbo 4 Drawer Chest

1140 x 800 x 400. NZ made. Metal runners.

7 Drawer Scotch Chest

1140 x 800 x 410.

Also available in black.

6 Drawer Legacy Chest

(900W x 420 x 1065H)

11 Drawer

Legacy

Chest

(1200 x 1220H

x 400)

ONLY

ONLY

$329

each

$329

each

ONLY

$359

LIMITED

STOCK

$599

LIMITED

STOCK

$799

Pine Display

Cabinet

with 4 Glass

Shelves

(1800 x 400 x 900)

ONLY

$899

3 Piece

Dining

Suite

750 x 750.

ONLY

$399

5 Piece

Dining

Suite

Walnut

1200x750

ONLY

$599

7 Piece Dining

Suite

1500x900w

ONLY

$799

Foundry Hall

Table

1500 x 420 x 810

ONLY $599

Premium

Canvas

Beanbag

200L

Includes beans

ONLY

$99

Coffee

Table

1060w x 550x 420

ONLY

$149

Coffee

Table

1200 x 550 x 430H

ONLY

$149

Pine Coffee Table

with drawers

(1200 x 650 x 480)

ONLY

$459

Glass Ent/Unit

1000w x 410 x 510H

ONLY

$249

3 Dr Ent Unit

Available in

Black or White

ONLY

$449

Student Desk

Available in black or white.

1000w x 690h x 500d

ONLY

$349

White

Shelving

Unit

1980H x 800w

x 300

Padded

Headboards

Zinc, Lead, Pearl &

Black colours avail,

while stocks last

Entertainment Unit

1100 x 400 x 480.

White 2 Drawer

Entertainment Unit

1115 x 480H x 400D

ONLY

$249

Bedside Cabinet

(620H x 400W x 350)

ONLY

$140

each

Pearl Headboard

1500H

Queen $399

King $499

Queen only

$399

King/Super King only

$499

ONLY

$349

ONLY

$349

233 STANMORE ROAD • PHONE 03 389 0536 • OPEN MON-FRI 10AM–4.30PM SAT 10–1PM

WE ACCEPT EFTPOS, VISA AND MASTERCARD... PARKING AT REAR
---
10

Shakespeare's Globe beckons for actor

• By Shardey Harris

A TALENTED young actor has

been offered a once-in-a-lifetime

opportunity to represent New

Zealand on the world stage.

Hornby High School head

student Nadia Officer has become

a member of the Shakespeare

Globe Centre New Zealand

Young Shakespeare Company for

2022, and will be one of 24 young

actors from around the country

heading to the Globe Theatre in

London later this year.

Nadia was 'shocked but

very ecstatic' to be joining

the company after dedicating

six years to drama classes,

rehearsals, musicals and

Shakespeare festivals.

"It is my dream to get to the

Globe and I hope to express and

share the incredible themes,

lessons and language that

Shakespeare gifted us all those

years ago, which couldn't be

more relevant in today's world,"

Nadia said.

After gaining success at the

regional and national Sheila

Winn Shakespeare Festivals,

Nadia was awarded the most

promising actor.

She then went on to become

part of the National Shakespeare

Schools Production, where

only 50 students were selected

nationwide. From there, the

24 actors were chosen for the

SGCNZ Young Shakespeare

Company.

PHOTO:

MEMORY

OF LIGHT

PHOTOGRAPHY

Principal Robin Sutton was

filled with pride recalling the first

time he watched Nadia perform.

"I remember seeing Nadia as a

Year 8 student on the stage, and

even as a 12-year-old she had

the most natural stage presence

I've ever seen in a student in my

whole teaching career. And she's

just got better and better."

Not only has this opportunity

changed Nadia's life, but it has

helped inspire other students at

the school to pursue theatre.

Drama Teacher Joanne Clark

said: "Every student deserves

to have that opportunity and

to know you can go to those

productions, go to nationals, and

go to London. That opportunity

is there."

Shakespeare wrote in his play

The Merry Wives of Windsor:

'The world's mine oyster', and

this is undoubtedly true for

Nadia.

But with big dreams, and big

opportunities come big costs.

Nadia is rallying to raise $10,000

to help cover the cost of travel,

accommodation, workshop fees,

and meals across the two-week

experience.

If you would like to support

Nadia, a Givealittle page has been

set up and is open to donations.

A fundraiser event is also

being held next Wednesday,

May 25 at the Hornby High

School Auditorium. Nadia

invites the community to come

along and enjoy an evening of

Thursday May 19 2022

PRESENCE: Nadia Officer

performing A Midsummer

Night's Dream alongside

Meagan MacKinnon at

the National Sheila Winn

Shakespeare Festival,

and outside Hornby High

School.

performances from students and

staff, as well as a raffle. Doors

open at 6:30pm, and a gold coin

is required for entry. All proceeds

raised from the evening will go

towards supporting costs of the

trip.

• https://givealittle.co.nz/

cause/get-nadia-to-the-gl

obe?fbclid=IwAR2uwaae

VYVb2nFR4IShHcjSpI0FS

8g-2UoMKAFHt5kMbUDdwXA5EqDvMIk

Need Heat Fast?

The Fastest, Warmest Indoor/Outdoor Heater You Will Ever Own!

Buy One Get One Free! *

+Plus

Free

Floor

Stand!*

worth

$199.99

• Heats Up Instantly

• Suitable for Indoors or Outdoors

- In Rain, Fog, Wind or Snow

• Carbon-Fibre Bulb Technology

• Multi-Directional Stand

• Includes Remote Control

& Built-In Timer

• Motion Detection Function

1.8m High

• Commercial Grade

• Multi-Directional

• Easy Install

• Portable

• Indoors & Outdoors

*Call for Terms

& Conditions

CALL NOW! 0800 665 665
---
Thursday May 19 2022 11

Summerset Prebbleton

pre-selling now! *

Artist Impression

Development of our fourth Christchurch

village is now underway

Summerset Prebbleton is conveniently located for easy

access to the Christchurch CBD, and just 450m from local

shops. Offering nearly 300 homes to choose from once

complete, including villas, cottages and serviced apartments.

Our homes are accessible, high-quality and there are no

worries about maintenance or upkeep as we do it all for you.

If you need some extra care or support, our continuum of

care means we'll be there for you as your needs change,

giving you the peace of mind to continue living life to

its fullest.

The first brand-new homes in this stunning village are

pre-selling now!* Talk to our friendly sales team to view plans

and pricing before all of the Stage One homes are sold out.

Purchase off the plans and you'll be able to take advantage of

our fabulous early-bird offer too. Ask us to find out more!

*Licence to occupy.

View plans and

pricing today

Call the Sales Manager, Grace

on 03 353 6312 or email

prebbleton.sales@summerset.co.nz

Summerset Prebbleton

578 Springs Road

Prebbleton, Christchurch

Secure your brand-new home today!

SUM3843_FP
---
12

Thursday May 19 2022

HOME & HEATING

Keep cosy with

RD Petroleum

this winter

Sticky date

anything always

seems to be a

winner and this

simple, luscious

cake by Joan

Bishop is no

exception. It is

light but at the same time

quite densely moist. The

dates enrich the cake's deep,

delectable texture and the

grape juice provides the tang.

PHOTO: CHRISTINE O'CONNOR/ODT

Delicious sticky date

cake a yummy treat

RD Petroleum (RDP) is a familiar sight

for farm and rural residents around the

Canterbury region, however now days urban

residents also enjoy the same excellent

customer service for which RDP is known for

in rural communities, through their home

heating diesel.

RDP began its home heating diesel delivery

service to the lower South Island's main urban

centres of Christchurch, Timaru, Dunedin

and Invercargill a number of years ago.

Customer demand has continued to increase

year upon year, and RDP has responded

with specialised improvements to its delivery

equipment.

The trucks that deliver RDP's home heating

diesel in each urban centre are drawn from

the company's extensive vehicle fleet. This

means they have the latest communication

and GPS tracking technology on board, so

the operations team always know where they

are and how far away they are from their next

delivery stop.

RDP's home heating diesel trucks come

equipped with a specially-designed hose,

through which the diesel is pumped from

the truck into house tanks. The length of

the hose allows the trucks to access tanks

without having to enter the property, avoiding

damaging the driveway. RDP is the place to

go if you require diesel conveniently delivered

to your home and as a loyal RDP customer

you're offered discounted pricing and can

become eligible for value-added benefits.

For all enquiries please phone

0800 44 00 14, or visit the RDP website at

https://www.rdp.co.nz/home-heating or

signup at apply.rdp.co.nz/home-heating

AS A child, I remember very vividly the

warm, comforting and homely smell of

baking wafting through the house. As

a result of all this activity, the cake tins

were always full, in spite of the fact that a

number of ingredients were in short supply.

Afternoon tea was always quite an

occasion. Sometimes we accompanied our

mother to what was essentially a ladies

afternoon tea.

We, the children, had our eyes glued to

the tea trolly. What would we choose?

I've recently talked to a number of

friends about this and they too remember

the rule. We were allowed to choose two

pieces from the tea trolly and only two.

This was the time when children were

encouraged to be seen and not heard, so of

course, there was no discussion on whether

we liked what we had chosen.

Sticky date and grape juice cake

Makes 16 slices

Ingredients

270g pitted dates, halved

250ml dark grape juice

50g butter, roughly chopped

2 Tbsp treacle

120g dark cane or brown sugar

¾ tsp baking soda

2 large eggs, size 7, lightly beaten

190g plain flour

2 tsp ground allspice

Directions

Preheat the oven to 170degC.

Lightly oil the sides of a 20cm ring tin

and line the base with non-stick baking

paper.

Combine the chopped dates and the

grape juice in a microwave proof bowl.

Cover and microwave on full power for 3

minutes.

Stir in the butter, treacle, dark cane sugar

and baking soda. The baking soda will

cause the mixture to froth up.

Set the bowl aside to cool.

Pour the lightly beaten eggs into the date

mixture and stir to combine. In a mediumsized

bowl sift together the flour and the

allspice. Make a well in the centre and pour

in the liquid ingredients. Stir gently until

well combined.

Pour into the prepared cake tin, smooth

the top and bake in the preheated oven for

35-40 minutes, or until the top feels firm

to the touch and a skewer inserted into

the centre of the cake comes out clean. To

loosen, run a knife between the edge of the

cake and the tin.

Invert on to a plate. Peel off the baking

paper then turn right side up on to a

serving plate. Decorate with edible flowers

if you wish.

Serve just as it is or with whipped cream

or yoghurt. Cuts into 16 slices.

The cake will keep in a cool place in an

airtight tin for about a week.
---
Thursday May 19 2022 13

HOME & HEATING

Get the balance

right this winter

Enviro Master has been helping

Cantabrians get the balance right when it

comes to choosing the perfect heat pump or

air conditioning system for their home or

office since 2002.

Their team of expert sales people, qualified

electricians, heating and refrigeration

engineers, help to supply and install

Christchurch's widest range of heat pumps,

and because they have no affiliation with any

one brand, you can be assured their advice

on the benefits and differences between each

product is unbiased.

They will recommend the most energyefficient

and cost-effective system for your

individual situation, and will have you

regulating the heat in your home or office in

no time.

Nowadays, customers are often wanting

whole home solutions to be able to maintain

even temperatures throughout the home

both in Winter and Summer. This can be

achieved by using ducted systems or multi

systems and Enviro Master are experts in

designing, installing and commissioning

these systems.

Help is currently available with a

government subsidy covering 80 per cent of

the cost of a new heat pump up to $3000.

The subsidy is part of the Warmer Kiwi

Homes initiative and is available to Home

owner/occupiers with a Community

Services Card, a SuperGold combo card or

who live in a low-income area as determined

by deciles 8-10 on the New Zealand

Deprivation Index.

The applicant's home must also have been

built before 2008, have insulation up to code

(insulation subsidies also available) and have

no fixed heating in a living area, such as an

existing operational heat pump or fireplace.

With new regulations now in place for

Landlords to provide heating in rentals,

it's time to ensure you are meeting the new

standards.

Inadequate heating and ventilation can

lead to mould growth and dampness in your

property, leading to costlier maintenance

and an unhealthy living environment.

Providing a fixed heater with a higher heat

output and lower running costs, like a heat

pump, will enable your tenants to heat the

area effectively. Enviro Master are well

experienced with the Tenancy Services

software to ensure that you are meeting your

requirements.

To ensure you choose the right system

for your home or business, one of Enviro

Master's experts will visit to assess your

individual situation, offer advice and

answer any questions you may have. This

consultation is at no cost to the customer

and is always provided before a heat pump is

installed.

Anyone wondering about their eligibility

for a subsidised heat pump are welcome to

get in touch for details and help with the

application process. To find out more, call

Enviro Master on (03) 366 0525 or visit

their website www.enviromaster.co.nz

The perfect air

quality solution

The Aura Air Purifier is a ground breaking

product that creates better air, just like in

nature. Purifies, cleanses and disinfects

your home or office from multiple bacteria

and viruses, including COVID-19, mould,

and even bad odours! Thanks to its medical

science-based technologies, Aura Air

disinfects 99.9% of all viruses. With the Bio-

Polar technology, multi-layered filters & UVC

LEDs, you can know that everyone in your

home or office is protected and can breathe

safely.

Since COVID-19 first emerged as a global

health threat, people of all ages are facing

times of uncertainty. With the help of the

Aura Air, we can restore some peace of

mind to our lives. In a world where social

distancing is part of our routine, everyone is a

potential risk. Social interaction, movement,

breathing clean air, and eating well are

necessary elements for maintaining a healthy

body and mind.

However, good health involves a great deal

more than that. It's not just about what we eat

or how we sleep, but, most importantly - what

we breathe. Clean air is essential in combating

airborne viruses, bacteria, and mould that

are threatening people's health now more

than ever. By using the Aura Air smart air

purification system, families and businesses

can avoid unnecessary risks, and access up-todate

air 60 quality data.

%

The Aura Air is an all-in-one indoor air

purification and quality intelligence system.

It filters and disinfects indoor air through

a unique 4 stage purification process while

vigilantly monitoring its quality in real-time.

When hazards are detected, Aura alerts you

immediately, providing crucial intelligence as

to the origin of the problem, solutions of how

to rectify it.

• Wall or ceiling mounted - Filtering the

air from all directions, saving precious floor

space.

• 99.9% Effectiveness - Scientifically proven

to eliminate viruses, bacteria, allergens,

mould, and VOCs, including COVID-19.

• Filtration: -Aura Air captures and

eliminates 99.9% of viruses, bacteria, VOCs

and allergens.

PRE-FILTER The first layer targets large

particles, including dust, pollen, insects, and

animal hair.

RAY-FILTER Our patented HEPA Ray

Filter consists of 3 unique antibacterial layers

that target fine particles (PM 2.5 and PM 10),

germs, odours, bacteria, viruses, fungus, and

mould spores.

UV-C LEDs Eliminate bacteria, viruses,

and parasites by destroying their integral

membrane protein.

THE STERIONIZER Releases positive

and negative ions to freshen up the space

around you, and eliminate viruses, bacteria,

and spores.

"It's not just about what we eat or how we

sleep, but most importantly what we breathe"

Contact Smooth-Air on 0800 SMOOTH

or sales@smooth-air.co.nz for more

information on the Aura Air purifier.

HEAT PUMP

SALE NOW ON!

Amazin' Autumn Deals!!

80%

SubSidy

Warmer KiWi HomeS

Programme

*Eligibility criteria apply

• We will offer you the best quality brands and

option of heat pump for your home/business

• Providing Heat Pump solutions for over 20 years to Cantabrians

• We personally guarantee all our products & installs for 5 years

(providing annual maintenance has been completed)

Phone us today for your free consultation & quote

41A SHAKESPEARE RD, WALTHAM

PHONE 03 366 0525

www.enviromaster.co.nz

"A local team for local people"

[ CHALLENGE ]

ATTACK RISING DAMP

Our Daily Life Environment

Smooth-Air

Ventilation Equipment Suppliers

totrade

retail

Kills 99.99% of viruses, bacteria and allergens, including SARS-CoV-2

&

• Air quality control using a real-time

monitoring platform through an array of

smart sensors.

• Fight against bacteria, viruses and parasites.

• Plug & Play – Networkable solution,

relocatable at any time!

• User-friendly air quality monitoring platform.

T. 03 376 4608 E info@foamconcrete.nz

W. www.foamconcrete.nz

• Suitable everywhere – maximum fit for each

0800 SMOOTH

(0800 766 684)

sales@smooth-air.co.nz

Four Stage Purification Process

264 Annex Rd

Riccarton

Christchurch

03 343 6184

Monday - Friday

7.30am - 5pm

www.smooth-air.co.nz
---
14

Thursday May 19 2022

CHRISTCHURCH

CREMATORIUM

FUNERALS

CROSSWORD

1 2 3 4 5 6 7

8

9 10

244

SUDOKU

Every row, column and box should

contain the digits 1 to 9.

WordBuilder

WORDBUILDER

144

6

T R A

Y S A

11 12

13 14 15

16 17 18 19

How many words of three or more letters,

How including many plurals, words can you of make three from or the more six

letters, using each letter only once? No foreign

words or words beginning with a capital are

from allowed. the There's six letters, at least one using six-letter each word. only

once?

TODAY

Good 14 Very Good 18 Excellent 22

Solution 143: gin, girn, giro, gown, grin, groin, grow,

grown, ion, iron, nog, noir, nor, now, owing, own,

rig, ring, row, ROWING, wig, win, wing, wino, won,

word.

worn, wring, wrong.

letters, including plurals, can you make

No words beginning with a capital are

allowed. There's at least one six-letter

Good 14 Very Good 18 Excellent 22

20

21 22 23

24 25

26 27

Across

1. Flare (6)

4. Exit (6)

9. Russian ruler (4)

10. Fussy (10)

11. Dilly-dally (6)

12. Maternal (8)

13. Supple (9)

15. Lure (4)

16. Tricks (4)

17. List of items (9)

21. Immense (8)

22. Split off (6)

24. Shabby (4-2-4)

25. Assert (4)

26. Hypothesis (6)

27. Otherwise (6)

Decoder

Tel: 020 7622 1467 Fax: 020 7622 1522

Email: info@knightfeatures.co.uk

20 Crescent Grove, London SW4 7AH

Supplied by KNIGHT FEATURES

K L P U J G C N S V Z W O

14 15 16 17 18 19 20 21 22 23 24 25 26

F M Q D E R T B H A X I Y

1 2 3 4 5 6 7 8 9 10 11 12 13

A F Shuker

SOLUTION

No.144

A B C D E F G H I J K L M N O P Q R S T U V W X Y Z

1 2 3 4 5 6 7 8 9 10 11 12 13

T

14 15 16 17 18 19 20 21 22 23 24 25 26

E

A

All puzzles copyright

T H E P U Z Z L E C O M P A N Y

www.thepuzzlecompany.co.nz

Down

1. Type of rice (7)

2. Bitter or pungent (5)

3. Subjugate (7)

5. Culpable (6)

6. High-spirited (9)

7. Bright red (7)

8. Head of state (5,8)

14. Impediment (9)

16. Devise or invent (7)

18. Fifth letter of the Greek alphabet

(7)

19. Compensation (7)

20. Take care of (6)

23. Lifting machine (5)

21 2 26 11 11 23 25 24 21 2

Each number in our DECODER grid represents a different

letter - there is a number for all 26 letters of the alphabet.

DECODER

Enter the given letters into all squares with matching numbers.

The challenge now is to work out which letters are represented

Each by the number other represents numbers. a As different you get letter the of letters, the alphabet. enter them Write the into

given the main letters grid, into all and squares the reference with matching grid. numbers. To keep Now track work of out the

which letters letters you are have represented found, cross by them other off numbers. the alphabet provided.

23 12 2 16 17 7 8 12 6 20 9

26 26 6 5 10 10

2 17 22 7 18 10 21 19 15 12 21 19

12 3 26 17 17 21 19

7 26 17 6 21 10 2 5 21 7 15

12 20 10 22 5

22 5 7 7 5 5 25 12 20 14 5 4

16 26 24 20 13

9 6 5 1 5 6 5 21 4 17 2

5 5 11 10 4 12 5

6 12 4 12 20 17 15 5 10 23 5 6

12 19 5 26 5 12

20 6 5 5 15 7 17 8 6 10 7

R A T

A B C D E F G H I J K L M N O P Q R S T U V W X Y Z

11 22 33 44 55 66 77 88 99 10 11 12 13

R T A

14 15 16 17 18 19 20 21 22 23 24 25 26

SOLUTION

No.143

144

1 2 3 4 5 6 7 8 9 10 11 12 13

T M A N V J X Y S U R O Z

K B Q G F D C W H L E P I

14 15 16 17 18 19 20 21 22 23 24 25 26

15 9 18 19 4 18 12 26 18 23 13 2

3 22 10 25 5

9 5 23 4 13 23 24 9 11 5 3

14 9 25 25 22 26 26 23

11 26 22 4 18 18 19 9 10 3 11

18 26 17 21 14 21 25 23 18

Crossword

Across: 1. Beacon, 4.

Egress, 9. Tsar, 10. Particular,

11. Dawdle, 12. Motherly, 13.

Lithesome, 15. Bait, 16. Cons,

17. Inventory, 21. Enormous,

22. Secede, 24. Down-atheel,

25. Aver, 26. Theory, 27.

Unless.

Down: 1. Basmati, 2. Acrid,

3. Oppress, 5. Guilty, 6.

Exuberant, 7. Scarlet, 8.

Prime minister, 14. Hindrance,

16. Concoct, 18. Epsilon,

19. Redress, 20. Foster, 23.

Crane.

WordBuilder

art, arts, artsy, arty, ASTRAY,

rat, rata, rats, ray, rays, sat,

satay, satyr, say, star, stay,

stray, sty, tar, tars, tray,

trays, try, tsar.

Sudoku

3 23 4 25 21 24 7 23 2 14 5

26 14 11 18 3

11 16 13 21 3 1 9 11

A

13 24 21 4 20 26 11 9 5 26 21

E

21 24 4 8 14 11 21 26 1

T

CHRISTCHURCH

CREMATORIUM

FUNERALS

A F Shuker

Supplied by KNIGHT FEATURES

20 Crescent Grove, London SW4 7AH

Tel: 020 7622 1467 Fax: 020 7622 1522

Email: info@knightfeatures.co.uk
---
Thursday May 19 2022 15

Classifieds Contact us today Phone our local team 03 379 1100

Trades & Services

Trades & Services

Trades & Services

Trades & Services

FOR ALL YOUR

★Garden Clean-ups

★Pruning

★Lawn Mowing

★Garden Maintenance

Call us today for a FREE quote

PH 0800 4 546 546

(0800 4 JIMJIM)

BRICKLAYER

George Lockyer. Over

40 years bricklaying

experience. UK trained.

Insurance work, EQC

repairs. Heritage

brickwork & stonework

a speciality. No job too

small. Governers Bay.

Home 329 9344. Cell

027 684 4046. E mail

georgelockyer@xtra.co.nz

CARPET LAYING

Exp. Repairs, uplifting,

relaying, restretching.

Phone John on 0800

003181, 027 240 7416

jflattery@xtra.co.nz

ELECTRICIAN (CERT)

Prompt, quality. Call Jack

027 206 0080

ELECTRICIAN

A Prompt & reliable

registered electrician

with 24 years experience

for all residential and

commercial work, new

housing and switch board

replacements. Phone Chris

027 516 0669

PAINTING

Indoor / Outdoor, over 30

yrs exp, same day quotes,

ph Steve 021 255 7968

PLUMBER

Do you need a reliable

plumber? Quality and

timely services. No job

too big or small. Phone

V Plumbing Ltd. 022 351

4125

STUMP GRINDING

Best price guarantee Tony

0275 588 895

VHS VIDEO TAPES

& all camera tapes

converted to DVD or

USB. Video taping

special occasions, www.

grahamsvideo.co.nz ph 03

338-1655

Wanted To Buy

AAA Buying goods

quality furniture, beds,

stoves, washing machines,

fridge freezers. Same day

service. Selwyn Dealers.

Phone 980 5812 or 027

313 8156

TOOLS, Garden garage,

saw benches, Lathes. Cash

buyer Phone 355-2045

ADD SOME

COLOUR

TO YOUR ADVERT!

DRIVEWAYS

Exposed Aggregate

Stamped Concrete Plain

Concrete Resurfacing

Things we offer...

Competitive/affordable pricing

Attention to detail

Professional service

free quotes/insurance scopes

Cell 0278 145 848

www.drivecrete.co.nz

ELECTRICIAN

Contact for a free quote

phone 027 331 0400

dave@davesimpsonelectrical.co.nz

davesimpsonelectrical.co.nz

Experienced Domestic Electrician

Quality Workmanship

• New Build

• Renovations

• Fault finding

• Power

• Lighting

• Switchboards

PAINTING & PlAsTerING

• PAINTING • TILING

• PLASTERING

• WALLPAPERING

Phone Kevin Steel

• Interior/Exterior

• New Homes & Repaints

• Quality workmanship assured

• Correct preparation always undertaken

• 20+ years experience

• Earthquake repairs

(Painting/Plastering/Wallpapering/Tiling)

Ph 027 216 8946

www.facebook.com/kevinsteelpainters&decorators

Email: kpsteel@xtra.co.nz

WINDOW TINTING

tintawindow

advanced film solutions

99% uv block

fade protection

heat control

reduce glare

25 Years Experience

privacy films

frosting designs

non-darkening films

Workmanship Guaranteed

Lifetime Warranties on Most Films

UV

block

Free Quotes Canterbury and Districts

03 365 3653 0800 368 468

ADVERTISE YOUR BUSINESS HERE

Phone for further details

(03) 379 1100

Exhibitors

wanted!

Situations Vacant

1 – 3 July 2022

Christchurch Arena

Reach over

10,000 potential

customers across

three days!

You could feature in Canterbury's most

highly marketed Home and Leisure show.

This is the perfect opportunity to reach

new customers, generate ongoing leads

and boost your brand's awareness.

Stands are available in a range of sizes

to suit all budgets. We also have a new

exhibitor pack and monthly payment

options available to get you started.

Your business or services may also fit into

one of our unique zones, including:

NZ OWNED

HOMESHOW

HOMESHOW

CHRISTCHURCH

CHRISTCHURCH

ONLY

WE havE sTands avaiLabLE To suiT aLL budgETs!

Contact Lisa now on 021 800 809 or email lisa.lynch@starmedia.kiwi for a no obligation quote.

Payment options available. Terms & Conditions apply.
---
16

Thursday May 19 2022

FOR

LESS

THAN

Nissan LEAF

100% ELECTRIC

155 $ PER WEEK *

*Finance offer available to approved applicants of Nissan Financial Services only and excludes lease and some fleet purchasers. Nissan LEAF model at a price of $63,285 (includes ORC of $1,295). Deposit of $12,657, weekly repayments of $154.86

financed over a maximum 60 months, one lump sum payment of $8,625 and a final balloon of $18,985.50. Total amount payable over the term $67,564.38 with a fixed interest rate of $9.95% p.a. An establishment fee of $375, Dealer origination fee

of $250, PPSR fee of $8.05 and $6 per month account keeping fee is included in the above costs. Nissan reserves the right to vary, extend or cancel this offer.

CHRISTCHURCH NISSAN, 380 Moorhouse Avenue, Christchurch

Ph: 03 595 6820

www.christchurchnissan.co.nz

christchurchnissan.co.nz

RUNOUT

OUTLANDER LS 2.4L 2WD

$33,990+ORC *

The 7 seater Mitsubishi Outlander

brings everything you would need in a

family SUV: safety, technology, comfort,

unrivaled economy and that all important

space, plus a 10 Year Powertrain Warranty † .

Call 03 379 0588 or visit

christchurchmitsubishi.co.nz

RRP WAS $41,990 +ORC

*Price listed is for Outlander LS 2.4L 2wd and excludes on road costs which includes registration, WoF and a full tank of fuel. Available while stocks last.

†

Visit mmnz.co.nz for full Diamond Advantage warranty conditions.

CHRISTCHURCH MITSUBISHI

386 Moorhouse Avenue, Christchurch

Ph 03 379 0588 | christchurchmitsubishi.co.nz