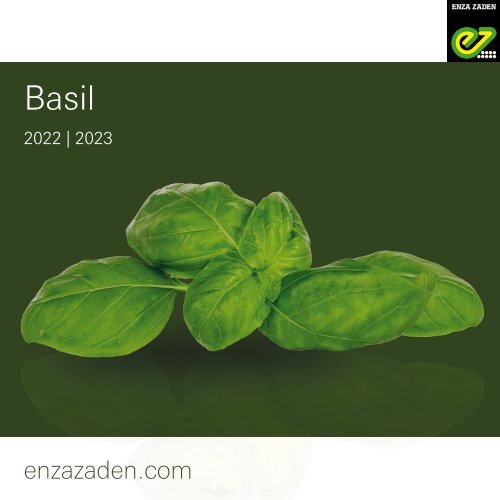 Create successful ePaper yourself
Turn your PDF publications into a flip-book with our unique Google optimized e-Paper software.
Basil

2022 | 2023

enzazaden.com
---
Resistance Makes The Difference

New generation

herb varieties

To attune our newest herb and rucola varieties to the wishes and demands

of the market, the Enza Zaden breeders are always in close contact with

our growers and other parties in the chain. This cooperation has led to

a new generation of herb varieties. A generation that covers new ideas and

offers unique solutions to our customers.

The focus of the basil breeding activities for this new

generation was:

• DM resistance

• Fusarium resistance

• Shelf life and cold tolerance

In addition, the focus of our selection is on easy and fast harvesting varieties.

Now we can proudly present the outcome of this successful

program:

• 3 basil varieties with DM resistance: Eleonora, Piamia and Evi

• 1 basil variety with Fusarium resistance: Elidia

• 1 basil variety with high cold tolerance: Keira

• In addition, some parsley and rucola varieties also have the

quality mark RMTD.

You will find more information about these new generation of herb varieties

and their characteristics on our website and other brochures.

indicates which varieties belong to this new generation.

Our RMTD-Program

Basil with DM resistance

Eleonora | *

Basil with intermediate resistance against downy mildew. Big, serrated leaves.

For open field, pot and pesto production.

Piamia (E09B.9026) |

New Genovese basil with strong resistance to downy mildew.

Best results in the powdery mildew year of 2021 in many countries in Europe

and America. Suitable for both cut and pot production.

Evi (E09B.9027) |

New Genovese basil with typical aroma and slightly more compact growth than

Piamia. Also with strong resistance to downy mildew. Suitable for pot and cut

production.

Basil with Fusarium resistance

Elidia |

Genovese type with intermediate resistance against Fusarium. Compact growth,

ideal for pot production.

Basilikum-Sorte mit erhöhter Kältetoleranz

Keira |

New Marian type for pot, NFT production and processing with excellent shelf

life. Cold tolerant.

Eleonora

Piamia (E09B.9026)

Please contact your local contact person for more information and advice.

2 | Enza Zaden

Organic seeds by Vitalis | New generation of herb varieties wth excellent resistence

or other specific added valus like shef life or cold-tolerance.

Fresh Cut | Processing | Pot production | NFT | * limited suitability

Evi (E09B.9027)

Enza Zaden | 3
---
Basil

Marian

Additional varieties

Edwina |

Fast growing, compact potted basil with a dark green, shiny

leaves and good flavor. Very uniform, well suited for winter

growing.

Marian |

A compact pot basil; very stable and erect with small leaves.

Tolerant against Downey Mildew. The international standard

variety for pot and NFT growers.

Piccolino | *

Very compact growing basil with very small leaves and a strong

aroma. Ideal for pot growing and original pesto.

Rosie |

Red variety with intense dark red color. Compact and upright

growth on robust stems.

Lemon sel. Lemona |

Fine leaved, quick growing, with an intense lemon flavor.

Piccolino

Emily |

Very compact pot basil variety. Genovese type with medium

large leaves and typical, Genovese taste. Emily is recommended

for summer production in more balanced climates, all year

round in hot climates or production under high light intensity.

The elongated shelf life of Emily enables an extended transport

phase. Very suitable for artificial lights.

Thai |

Thai basil with intense, typical aroma. The leaves have the typical

red speckling of Thai basils. In the later stages it has pink flowers.

Emily

Dolly | * *

Upright growing, very stable basil with large, medium green leaf,

uniform structure and very uniform growth. Good flavour and

suitable for pesto.

Rosie

Genovese standard

Genoveser |

Shiny, dark green, spoon shaped leaves. High yielding. Special

Genovese selection for fresh cut and processing industry.

Resistance breeding

Dolly

Organic seeds by Vitalis | New generation of herb varieties wth excellent resistence

or other specific added valus like shef life or cold-tolerance.

Fresh Cut | Processing | Pot production | NFT | * limited suitability

Enza Zaden is active in resistance breeding for over 10 years. Our aim is to create modern

basil varieties which link the latest downy mildew and fusarium resistance to the wellknown

basil flavour and fragrance. Potential varieties are selected by our breeders and

tested in cooperation with our growers to deliver suitable varieties. In doing so we create

basil with reliable yield for the grower and a sufficient shelf life which is important for

retailers while keeping the typical shape and basil taste which is appreciated and known by

the consumer.

Thai

4 | Enza Zaden

Enza Zaden | 5
---
NFT

Product description

Hydroponic growing techniques or NFT (nutrient film techniques) cover a broad range of different growing systems that

have important advantages in common:

• Use of less fertilizer and water during production compared to classical cultivation systems.

• Reduction of pesticides and fungicides, resulting in a fresh, tasty and healthy product.

• Consistent quality can be produced throughout the year. The sale with the roots attached provides an

extended shelf life of the herbs. This makes them particularly appealing to the retail chain and the consumer.

Enza Zaden is looking closely at these systems and is actively developing basil varieties ideally suited to these innovative

cultivation methods. We are working intensively with our customers and together we have selected herb varieties that

are suitable for both hydroponic production and vertical farming. By doing so, we want to ensure that the growers always

have the best varieties for their production to satisfy customer demands. To learn more about our suitable herb varieties

for NFT production or even salads, please contact your local contact person or check out the hydroponic brochure on

our website.

Annual, height 20-40 cm

Sowing:

.

Seed amount:

Cultivation

Open field:

Pots and NFT:

Harvesting:

From mid-May outdoor or under protected cultivation the whole year round.

Sensitive to frost, light germinator.

Direct sowing 30-35.000 seeds/100 m², in seedbed 1.200 seeds/1.000 plants, pot growing 70.000 seeds/1.000 pots.

Spacing for pots 20-25x25 cm; outdoor growing in rows 20 cm apart and 30-40 cm between the rows. Basil is quite

tender and susceptible to smothering through weeds. To ensure a good harvest it is recommended to use plastic

sheeting as a mulch. Also fleece for cold protection is advisable. Planting out young plants is an advantage and gives a

better start to the crop.

Cultivation in Pots and NFT is possible all year round. Leaves must be kept as dry as possible to prevent DM infections.

For the fresh market cut the young shoots into bundles. For industrial use the first cut should be done when flowering

begins. The cut should not be too low (approx. 10 cm) to encourage regrowth. Basil is very pressure-sensitive and

should be carefully dried at a temperature of 40°C immediately after harvest.

6 | Enza Zaden

Enza Zaden | 7
---
enzazaden.com

Enza Zaden

Postbus 7 | 1600 AA Enkhuizen | The Netherlands

Haling 1E | 1602 DB Enkhuizen | The Netherlands

tel +31 (0)228 35 01 00 | fax +31 (0)228 35 02 00

info@enzazaden.nl | www.enzazaden.nl

Descriptions, recommendations and illustrations in brochures and leaflets shall correspond as closely as possible to tests and practical experience

and are subject to typographical and/or printing errors. This information shall be provided to assist professional growers and users, whereby

variable local conditions must be taken into account. Under no circumstances shall Enza Zaden accept liability based on such information for

deviating results in the cultivated product. Current information concerning the resistances is available on www.enzazaden.com.

© Enza Zaden | Enkhuizen | The Netherlands | May 2022