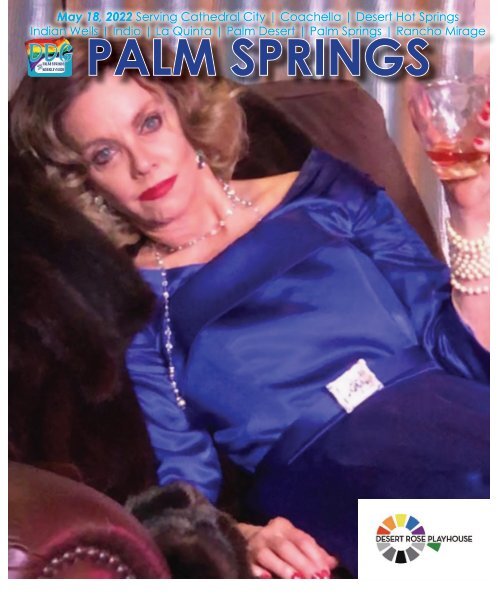 DDG this week May 18, 2022
On the Cover An Important Message From The Desert Rose Playhouse is in need of funding. Local Palm Springs gallery displays the art of Wim Griffith. Two men of Taunton shares an intimate look at our fist Revolution.
On the Cover An Important Message From The Desert
Rose Playhouse is in need of funding. Local Palm Springs gallery displays the art of Wim Griffith. Two men of Taunton shares an intimate look at our fist Revolution.
SHOW MORE
SHOW LESS
Create successful ePaper yourself
Turn your PDF publications into a flip-book with our unique Google optimized e-Paper software.
May 18, 2022 Serving Cathedral City | Coachella | Desert Hot Springs

Indian Wells | Indio | La Quinta | Palm Desert | Palm Springs | Rancho Mirage

PALM SPRINGS
---
2 Never miss a DDG we are always FREE only at ddg.gay
---
3
---
4 Never miss a DDG we are always FREE only at ddg.gay
---
5
---
6 Never miss a DDG we are always FREE only at ddg.gay
---
SINGLET

SATURDAY

8pm - 2am

Sexy Bartenders

Heavy Cruising

DJ Corey D

Happy Hour

Prices For

Wearing A

Singlet

Drink

Specials

600 E. Sunny Dunes Rd

7
---
REPORTER: Adam

EMAIL: adamsart@desertdailyguide.com

ADAMSARTEXPOSE'

WIM GRIFFITH

A MULTI-MEDIA ARTIST

ON THE SENSUALITY OF THE MALE

One local gallery in Palm Springs

displays the art of Wim Griffith. Wim

works with a variety of art media and

creates, paintings, murals, and unique

sculptures which are created from

sheets

of steel. The steel is cut with a welding

torch to reveal male figures in a new

way to view the contours of the male

figure. Although the material is hard

and immobile the figures become

alive and evocative modeling erotic

poses in the cut steel as if they were a

spontaneous silhouette drawing.

Griffith a Long Beach native has been

creating art since 1973. After graduating

from Woodbury University in Los Angeles

with a degree in design he worked

painting murals with a designer in

Hollywood. He also created bronze

sculpture busts of numerous celebrities

8 Never miss a DDG we are always FREE only at ddg.gay

continued on page 13
---
9
---
On the Cover

An Important Message From The Desert

Rose Playhouse

Many of you have no doubt seen an

email or post similar to the one below but

this is still an area we really need your help

in.

square foot facility, we had very high

hopes for the future of the Desert Rose

Playhouse. We have always prided ourselves

on being the "Communities Theatre"

and we strive to make the Desert

Rose Playhouse a place for everyone who

might not ever be given the chance to

have their projects fully staged and produced,

the rare opportunity to see their

vision become a reality and give them a

platform for their art.

If nothing else, please watch the video

below and consider donating, reserving

your seats for one of our many upcoming

productions, sign up to volunteer, or simply

help spread the word in our community.

https://www.youtube.com/watch?v=dso1TQ7drk

We simply would not still be here today

had it not been for the past support we received

from our community that allowed

us to make it through that very difficult

and unprecedented time.

Thank you so much for helping us stay

afloat!

But with this much larger venue, comes

greater costs. Rent tripled, utilities quadrupled,

performance rights for MainStage

productions since Covid have more than

tripled in most cases, and with Covid recommendations

for safe public gatherings,

we are still only allowed to currently sell

half of the capacity for the room to maintain

safe distancing for patrons.

Bottom line is we are currently having to

deal with considerably higher operational

and production costs with only gaining 40

additional seats.

Ticket sales alone cannot take care of all

the expenses we have incurred.

It is because of a supportive community By law, to maintain a 501 (C)3 Non-Profit

that we were able to open and produce status you must cover at least 1/3 of your

5 main stage productions in the last few total operational costs through community

support, private donations and/

months of 2021, including "The Miss Firecracker

Contest", "The Great American or grants. Since reopening, grants have

Trailer Park Musical", "Rocky Horror Show', been extremely difficult to acquire as everyone

is in need and community support

John Cameron Mitchell's "Hedwig', and

"Christmas with the Crawfords". We were donations have all but completely disappeared

for us. In the last two consecutive

also honored to have star performers such

as Jason Stuart, Devon Green, Brian Justin

Crum, Candice Cain, Mikalah Gordon munity support donations for the theatre

fiscal years, we have received less in com-

and many more to grace our stage and than any other period in the history of our

share their talents in our venue.

10 years of

operation.

When we took on converting the 7,000

10 Never miss a DDG we are always FREE only at ddg.gay continud on next page
---
A sold out run of 10 shows only generates

around $40,000. That gross is quickly

eaten up by the costs of paying stipends

for cast, crew pay for staff, performance

rights for each show, equipment maintanence

for lighting, sound, projections,

makeup, costumes, set building supplies

and construction on top of rent, electricity,

etc.

No one who dedicates their life to the Arts

in in it to get rich. Quite the opposite I'm

afraid. And with only a few donations in

the last year, these costs hit even harder.

For many of the past weeks there have

been some of us who don't even take a

weekly pay or stipend.

In short, the future of your community theatre

is ultimately in your hands.

Our fiscal year ends July 31st. We are still

way below the 1/3 coverage by donations/grants

mentioned above and currently

it is a very possible that we will lose

out non-profit status if we don't turn things

around, and fast!

On top of all of this, our roof is leaking and

continuously getting worse. with the 7 AC

units running in the summer and spring

and the rain we get in the fall and winter

cause multiple areas of dripping in the

theatre. More often than not it is dripping

water on seats, damaging very expensive

equipment and we have recently had a

leak that ruined several of our very expensive

fireproof commercial grade stage

curtains and scrims. At present, we simply

do not have the needed funds to properly

fix these issues and repair and replace the

roof and AC units so the problem is starting

to escalate.

So what can you do?

Community Support is the key to helping

us thrive, helping us survive.

Please take a moment to check out out

multiple options for support below.

Our "Ally" and "Mamma Rose" options

are both monthly and start at only $10.00.

We understand that for some, even that is

not possible but for many of you it would

have no affect on your bottom line while

making a huge impact on the availability

of enjoying the Arts in your Community.

We have around 4,000 subscribers subscribed

to this email list. If even half of

you showed your support via the "Ally"

sponsor option of $10 a month, we'd have

more than enough money to stay afloat

and continue to not only produce high

quality productions, but continue to make

them even better, even greater!

We Thank You So Much for your Continued

Support!

If you cannot donate yourself, please

share this around, make sure that anyone

who wants to help us and donate knows

how and why donating to us benefits the

community.

We have said it so many times before because

it is true, WE CAN NOT DO IT WITH-

OUT YOU!

Thank You!

https://ci.ovationtix.com/

36610/store/donations

11
---
Peaches Christ's Long Lost Cult Film All About

Evil Resurrected This June

Natasha Lyonne ("Russian Doll") Leads an

All-Star Cast

Severin Films Releasing Special Edition Bluray

As Campy Gorefest Debuts On Shudder

Peaches Christ to Host Gala Screenings

Along West Coast

All About Evil combines a wildly imaginative

script with eye-popping buckets of blood.

The film is anchored by a first-class cast:

Natasha Lyonne ("Russian Doll", "Orange is

the New Black") as the mad projectionist,

Thomas Dekker ("Terminator: The Sarah

Connor Chronicles", Kaboom), Cassandra

Peterson (Elvira: Mistress of the Dark, Rob

Zombie's The Munsters), John Waters muse

Mink Stole (Serial Mom, Hairspray), and Noah

Segan (Knives Out, Looper).

"The Ultimate Valentine to low-budget

horror." -- SFGATE

Los Angeles, CA - Following a world premiere

at the San Francisco International Film

Festival and a limited theatrical run in 2010,

Peaches Christ's All About Evil disappeared

underground for years, becoming the stuff

of legend. Now, the demented, bloodsplattered

classic is back for good, courtesy

of a June 10th special edition Blu-ray release

from Severin Films and a North American

streaming release on Shudder June 13th.

The Blu-ray of All About Evil will feature a

brand-new HD restoration of the feature,

along with newly-produced and archival

bonus features for fans to devour. Severin

Filmswill release the Blu-ray on June 10th.

Shudder will release the film on its service

June 13th to subscribers in North America.

Of the film's long awaited resurrection,

Peaches Christ shared, "For years, the movie

has been unavailable and fans have been

clamoring for it. As the creator, it's been

frustrating to say the least. I feel like I've

been given a great gift from both Severin

and Shudder and am thrilled so many new

people will discover my Evil little baby. The

BluRay and features are truly stunning. I'm

really proud of the film and am hoping the

re-release helps get another feature film

going!"

In the years since the birth of All About Evil,

Peaches Christ has toured the globe, scaring

and delighting audiences. For the past

two years, Peaches has hosted Midnight

Mass with Michael Varrati (Tales of Poe,

"Dragula"), a podcast based on Peaches'

long-running cult movie series in San

Francisco. Every week, the pair go deep into

discussions on the nature and fanbase of

cult cinema, discussing everything from the

To celebrate, Peaches Christ herself will

present the film at "Peaches Christ 4-D

Screenings" along the West Coast, including

the Los Feliz 3 in Los Angeles on June 9 and

the Victoria Theater in San Francisco on

June 11 where the film was shot. Fans in Los

Angeles can also attend a Blu-ray signing

works of Dario Argento to Rock N' Roll High

event

12 Never at Dark miss Delicacies a DDG we are on always June FREE 12 only with at ddg.gay continued on page 13

School to Matilda.

Peaches Christ and members of the cast.
---
for the Academy of Television Arts and

Sciences. Critics state that his busts

have a reality that allows immediate

recognition of the person the bust

represents as in the example of Norman

Lear standing near the bust created by

Wim.

for yourself if it is sensual or erotic.

Whatever you decide Wim's paintings

evoke in you, he says this of his work in

his bio,

"I have returned the individual human

male in all his finite conscious and

perishable aspects to the realm of

beauty, pain, and frailty."

Wims paintings also reflect his interest

in the male physique and depict an

eroticism, however, he states this

regarding his art, quote, "I get lumped

into a group of homoerotic artists

because I'm gay and paint men or

sculpt men," My work is not erotic, but it

might be sensual. I do the artwork that

gay men don't have to hide under their

bed." Viewing his work you determine

Wim Griffiths sculptures may be

viewed and purchased at the

Woodman Shimko Gallery on

North Palm Canyon. His work can

also be found on Etsy and other art

websites.

from page 8

.

13
---
10

Vol 26 Issue 34 05.18.22

08 ADAMSARTEXPOSE'

18 BAR|FOOD

32 FREE COMMUNITY LISTINGS

14 FEATURED BUSINESS

30 MASSAGE

10 ON THE COVER

Team DDG

08

PUBLISHER: Will Paige

will@desertdailyguide.com

EDITOR IN CHIEF: AA

AA@desertdailyguide.com

Contributing Photographers: Marko Russell,

David Stanfield

National Ad Representatives

Rivendell Media

(212) 242-6863

Contributing Writers

Vic Gerami

TheBluntPostWithVic.com

Art: Adams's Art

adamsart@desertdailyguide.com

32

Advertising

Digital or printed media packs available on

request.

SALES: Will Paige

will@desertdailyguide.com

Magazine is hand delivered every week

to select locations. Updated weekly ,

Currently under minimal COVID restrictions

Available

Online 2-4-7

AT DDG.GAY

DDG Media Group creates and prints Desert Daily Guide. Opinions expressed in the DDG columns do not necessarily reflect the

opinion of the DDG, its staff, or its advertisers. DDG is not responsible for claims made by its advertisers, or the products or services

they offer. Listings, pictures, or advertisements in the DDG should not be construed to represent or reflect the sexual orientation of

any business, its owners, or staff. All events are subject to change without notice. Any omissions of events are not intentional. ©

2021 DDG Media Group , All Rights Reserved.

14 Never miss a DDG we are always FREE only at ddg.gay
---
News on

Today, the conservative majority of United

States Supreme Court struck down a law

that prevents potential corruption from

arising when politicians make large personal

loans to their own campaigns only to repay

them with donations received after Election

Day. Candidates will now be able to take

out millions of dollars in personal loans for

their campaigns that can be repaid after

the election by special interest donors

who are effectively depositing money into

a politicians' personal bank accounts.

Common Cause filed an amicus brief in

Federal Election Commission (FEC) v. Ted

Cruz for Senate with the Campaign Legal

Center (CLC), Citizens for Responsibility

and Ethics in Washington (CREW), and

Democracy 21.

The federal law, part of the Bipartisan

Campaign Reform Act, limited candidates

from using more than $250,000 in

contributions raised after the date of an

election to repay outstanding personal

loans candidates make to their campaigns.

In 2018, Sen. Ted Cruz (R-T.X.) put $260,000 of

his own money into his reelection and sued

the FEC the following year, complaining that

this law prevented him from paying off the

last $10,000 with post-election contributions.

Last June, the United States Court of

Appeals for the District of Columbia Circuit

sided with Sen. Cruz, striking down the limit

on the amount candidates can raise postelection

to repay personal loans to their

campaigns.

Statement of Common Cause President

Karen Hobert Flynn

Today's ruling is the latest blow struck by

the Roberts Court against common sense

campaign finance laws designed to curb

corruption and potential corruption by our

federal officials. The U.S. Supreme Court with

its current majority has showed its hostility

to effective (and popular) laws enacted

to fight political corruption and ensure our

elected officials are more responsive to the

public, not just the wealthy few. This is the

same Court that has severely weakened

voting rights laws like the Voting Rights Act,

including the Shelby County decision nine

years ago and the Brnovich decision just last

summer.

With today's new ruling, donors will now

be able to deposit more money into the

personal bank accounts of politicians

after Election Day. As Justice Kagan wrote

in her dissent this morning, "it takes no

political genius to see the heightened risk

of corruption—the danger of 'I'll make

you richer and you'll make me richer'

arrangements between donors and

officeholders."

Today's decision creates a shell game that

will only serve to further undermine public

faith in their elected officials. These loans

could run into the millions of dollars and

voters will now not know who bankrolled

a candidate's campaign until after the

election.

California Common Cause

commoncause.org

To read the amicus brief filed by Common

Cause, the Campaign Legal Center (CLC),

Citizens for Responsibility and Ethics in

Washington (CREW), and Democracy 21,

commoncause.org.

15
---
16 Never miss a DDG we are always FREE only at ddg.gay
---
BUSINESS

DIRECTORY

FEATURED

BARS/DINING

AMP Sports Lounge Everyone is

welcome here at this local friendly bar

in the heart of Cathedral City plaza,

A sports bar with a twist featuring your

favorite sports and daily happy hour. All

the big sports games will be shown on

seven huge TV screens.

68-718 E Palm Canyon Dr #201,

Cathedral City, CA 92234

FEATURED RESORTS

CCBC RESORT 18+ 760 324-1350

68-300 Gay Resort Drive

CCBC is the largest clothing optional

Gay men's resort in Southern California.

Located just a few minutes from

downtown Palm Springs, Our 3.5 acre

fantasy playground is perfect for

weekend get-aways and extended

stays.ccbcresorthotel.com

RIO AZUL MEXICAN Style Rest. & Bar

Best authentic Mexican style restaurant

in the valley. With patio and Bar. Home

of an original and distinct interpretation

of Mexican food & Longest running

Sunday Drag Brunch.(760) 992-5641 350

South Indian Cyn. PS

SUNSHINE CAFE Nearly as perfect as it

gets! Known as a local hole in the wall

with a funky vibe and fantastic food,

frequented by celebrities, politicians

36815 Cathedral Canyon CC

RUNWAY RESTAURANT & BAR

The valleys premier arts and

entertainment. Featuring American

Casual Dining Drinks & Drag at CCBC

Resort Hotel.68300 Gay Resort Drive, CC

TRIANGLE INN 760-322-7993

555 E. San Lorenzo Rd Palm Springs CA

Romantic and relaxing or fun and frisky.

At the Triangle Inn Palm Springs, the

choice is yours. Historic Palm Springs

Resort is a feast for all your senses, with

a special flair for Southern (California)

hospitality. triangle-inn.com

Your Ad Here?

ads@desertdailyguide.com

New Online Only RATES!

Full Page Ads starting at

$25 per Issue

TOOL SHED LEVI/LEATHER In the Warm

Sands District in central Palm Springs.

600 E Sunny Dunes Rd , PS

bussiness directory next page 21

17
---
18 Never miss a DDG we are always FREE only at ddg.gay
---
BUSINESS Directory

BAR| FOOD | RESORTS

Cathedral City

BARS|FOOD

The Barracks

Runway

Sunshine Cafe

AMP Sports

Lounge

Roost

Trunks

Studio One 11

Desert Hot Springs

BARS|FOOD

Playoffs Sports Bar

Palm Springs

BARS|FOOD

Eagle 501 Bar

Rio Azul

Tool Shed

Toucan's

Streetbar

Oscar's

Chill bar

Hunters

Stacy's

BlackBook

QUADZ

RetroRoom

Resorts

CCBC

Triangle Inn

Descanso

All Worlds Resort

Desert Paradise

Resort

LA DOLCE VITA

RESORT & SPA

THE HACIENDA AT

WARM SANDS

Shopping

Q trading

Gear

Off Ramp Leathers

Gay Mart

Did We Miss

You?

Let us know

FREE

LISTING!

For all Gay and Gay

friendly Bars Resorts

and Lodging

SHOPPING

Gear Leather and Fetish 760-322-3363

We carry only the finest quality leather

and fetish goods, gym wear, toys and

furnishings, all designed to get you off

and make you look good while you're

doing it. gearleather.com 650 E. Sunny

Dunes

Off Ramp Leathers 760-778-2798

offrampleathers.com New and used

leather and fetish/BSDM gear.

Alterations and repairs handmade

item by Paul. Great selection of

consignment items. 650 E. Sunny Dunes

Rd., Unit 3,Palm Springs, CA

DAVE MAY CONCRETE

PATIOS | SIDEWALKS | DRIVEWAYS |KOOL DECKS

760-327-4849

LIC. #441265

bussiness directory from page 19 next page 24

19
---
Two Men of

Taunton Project

Part

2

preamble

Two Men

of Taunton

is about

revolution,

as it

happened.

If you grew up in Taunton, you also

learned it is considered "tidal" (saltwater

mix) for the last eighteen miles and is

characterized by a gentle gradient,

dropping only twenty feet in elevation

over its forty-mile course. Taunton

swamps are full of clay, and Bog Iron,

the only two ingredients needed to

smelt them into cannonballs.

As It turns out, Tanton was the first station

of an endless supply chain to wage war.

It should remind us of the importance

of this first election after a recent coup

attempt that was put down. From the

very first tea party and early British trials,

to our nation's first flag, and the petty

squabbles of great minds. Because the

second settlement in Taunton started it

the war,

ROBERT TREAT PAINE

Memorial Statue, Taunton

Every schoolchild learns that Geologic

evidence indicates that 10,000 years

ago, the landscape of southeastern

Massachusetts was covered by ice

flows. Retreating glaciers created

a large glacial lake that eventually

drained to become the Taunton River

and its tributaries. This river system

ran through a landscape of glacial

deposition that included outwash plains,

wetlands, and kettle ponds.

20 Never miss a DDG we are always FREE only at ddg.gay

Two long-vanished Yankee gentlemen, with

the hope that another generation may find

profit or pleasure in reading of men who

held high seats in the councils of their day.

The fact that a Taunton resident was a

signer of the Declaration of Independence

demonstrates the influence the city had

during the Revolutionary War!

next page 23
---
from page 22 next page 24

21
---
22 Never miss a DDG we are always FREE only at ddg.gay from page 23 next page 25
---
from page 24 next page 26

23
---
24 Never miss a DDG we are always FREE only at ddg.gay from page 25 next page 27
---
from page 26 next page 28

25
---
26 Never miss a DDG we are always FREE only at ddg.gay from page 27 next page 29
---
from page 28

27
---
EVERY DAY

7AM-7PM

Welcome!

WORSHIP WITH US IN PERSON

SUNDAYS AT 10 AM

3601 E. Mesquite Ave, Palm Springs

Demuth Community Center

God's Love &

Good Works.

760.327.3802

www.bloominthedesert.org

WORSHIP WITH US ONLINE

SUNDAYS AT 10 AM

Facebook

Bloom in the Desert Ministries UCC

REPLAY ANYTIME

YouTube

Bloom in the Desert Ministries UCC

28 Never miss a DDG we are always FREE only at ddg.gay
---
29
---
BUSINESS Directory

MASSAGE

MALE KNEADS Exceptional, Sensual,

Soothing, body work for men of all

ages. Outcalls only. Call Adam for an

extraordinary experience in innovative

erotic relaxation. 760-835-0727

HEY GUYS...take a break from life and

come relax with a great massage

by trained hands. I am a Professional

Massage Therapist here offering

something therapeutic, restorative and

sensually tailored to your needs. I am

well trained and provide a session that

is unparalleled. Say hi and tell me how I

can make your body feel awesome! The

massage is done on a table. I see

people at my location.

I am off Ramon by Sunrise.

845-866-0498 Mark

GENERAL SERVICES

Red's Hauling. We remove trash and

unwanted items. Garage clean outs.

Red 760-288-6956

HELP WANTED

AS DDG RAMPS UP FOR POST PANDEMIC PRINTING

SOLICITING

INVESTOR & SALES OPPORTUNITIES

EMAIL

WILL@DESERTDAILYGUIDE,COM

30 Never miss a DDG we are always FREE only at ddg.gay

NATURIST DAY PASSES

Gay Men CCBC Resort

Family DeAnza Desert Sun Resort

Starland Community Desert retreat

Sea Mountain Luxury Nude Resort and

Spa Hotel DHS

SOCAL Nude beaches which are also

called "free beach", or "clothingoptional".

Blacks Beach Nude Beach in San Diego

is located just north of La Jolla Shores

and beneath the Torrey Pines bluffs.

Pirate's Cove, Avila Beach

Corona Del Mar is one of California's

best nude beaches.

CALENDAR

-Memorial Day is Monday, May 30, 2022.

-Sunday, June 19, 2022 Father's Day

bussiness directory from 21 next page 25
---
LOCAL ATTRACTIONS

Promoting Independent Cinema in the

Coachella Valley Palm Springs Cultural

Center's Historic Camelot Theatre,

Historic Camelot Theatre @ the Palm

Springs Cultural Center, 2300 E Baristo Rd

Palm Springs, CA 92262 United States

psculturalcenter.org

desertfilmsociety.org

Upcoming Screenings

ONE-TIME PRESENTATION

Palm Springs Premiere

May 21, 2022 - NIGHT DOCTOR - Mikaël

is a doctor on night call. He looks

after patients from underprivileged

neighborhoods, as well as those

whom no one else wants to see: drug

addicts, homeless people, those living

in challenging areas, Tonight, he has to

reclaim control over his life.

Guided Nature Walks

Palm Springs Aerial Tramway

Check schedule. pstramway.com

Thursday nights VILLAGEFEST takes place

in downtown Palm Springs on Palm

Canyon Drive every. villagefest.org

Cabot's Pueblo Museum

760-329-7610

McCallum Adobe 760-323-8297

Indian Canyons 760-323-6018

Palm Springs Aerial Tram

760-325-1449

Palm Springs Air Museum

760-778-6262

Palm Springs Art Museum

760-325-7186

Sunnylands

760-328-2829

Patton Memorial Museum 760-227-3483

Joshua Tree National park 760-367-5500

FRIENDS OF THE DESERT

MOUNTAINS celebrate Friends'

champions and accomplishments

November 10th services hikes various

events check schedule

desertmountains.org

bussiness directory from 30 next page 32

31
---
FREE COMMUNITY LISTINGS

AAP - Food Samaritans (760) 325-8481

Eisenhower HIV Clinic (760) 834-7930

DAP/ DOCK Clinic (760) 992-0492

Borrego Health (Stonewall Medical

Center) Cathedral City 760-507-3310

Veterans Records https://vetrecs.

archives.gov/VeteranRequest/home.

html for vet or family or with written

authorization.

Lgbt community center

760-416-7790 thecenterps.org

VETERANS. MEMORIAL DAY

AWARDS LUNCHEON

SET FOR MAY 30!!!!!

NICOLINO'S ITALIAN RESTAURANT

35-325 DATE PALM DRIVE SUITE 111

CATHEDRAL CITY CA $25 ITALIAN BUFFET

INCLUDES TAX AND TIP DESSERT AND

BEVERAGE

SLIDING SCALE FOR LOW-INCOME

MAKE CHECKS PAYABLE TO "VFP".

CALL TOM SWANN HERNANDEZ

(760) 324-5670

FOR RESERVATIONS. SPACE IS LIMITED.

American cancer society

800-227-2345

Coachella Valley sexual assault

(760) 568-9071

Desert Legal aid: 760-832-9770

Stonewall democrats:

desert-stonewall.Org

Desert winds freedom band

760 776-2700Gay artists -760 835 0727

Transgender Community

Transcc.Org

Palm Springs Gay

Men's Chorus 760-219-2077

Prime Timers of the Desert

760-424-8014.

FOOD DISTRIBUTION

Every THURSDAY

5pm - 7pm

610 Belardo Rd.

World Day for Cultural Diversity for

Dialogue and Development

21 May

International Day for Biological Diversity

– May 22, 2022 This is a day dedicated

to making sure that Earth remains a

place to not only survive, but also thrive.

Towel Day on May 25 is an annual

holiday created to celebrate author

Palm Springs Leather Order of the Desert Douglas Adams by his fans. Adams

760 272-5553

wrote the classic sci-fi novel, "The

Hitchhiker's Guide to the Galaxy."

Palm Springs Pride

On this day, fans carry towels around

Pspride.Org

everywhere they go.

32 Never miss a DDG we are always FREE only at ddg.gay

bussiness directory from 31
---
012

3633 34533 78 7897

!$&&+ÿ*0%1$$ *%+ÿ'(,$+ !ÿ#$%&'()

.%(

ÿ

.$( / +$(ÿ0!) &ÿ-0%*% &$-ÿ,$ !%ÿ'!2+ )$+ÿ'() %#ÿ#'*$( .

'2%)ÿ3 #%$ÿ&$) $.' (%4 56ÿ167ÿ

This Weekend!

comicconrevolution.com

ONTARIO CONVENTION CENTER • MAY 21 & 22, 2022

)%ÿ(%,ÿ$*%ÿ'0)#$,!

.$&%'(ÿ#$-% *%+ÿ.%# )$$ÿ!)'(* '# 1 $ÿ$- !#%

33
---
Evan is Heaven

The OnlyFans Star Has the Voice of an Angel

By Robbie Todoro

Evan Peix is heating up gay

dance floors with two

energetic Spanish-language

singles, "Tu Si" and "Me

Elevas." The songs are part

of a music genre called

"Guaracha," a Cuban sound

that combines bold lyrics

with hip-shaking tempo.

"I was introduced to

Guaracha two years ago

while in Colombia," Evan

says. "A cab driver played

Fumaratto's 'Me Provocas'

and it literally threw me into

a three-minute trance! I

went into the studio to try

my hand at recreating the

sound. That's when 'Tu-Si'

was born."

Evan Peix was born in New

York but moved to Bolivia

when he was nine years old.

34 Never miss a DDG we are always FREE only at ddg.gay

continued on page 39
---
Grab a coffee,

take the survey,

make a difference.

Take the 16th Annual

LGBTQ Community Survey ®

LGBTQsurvey.com

LGBTQ research helps non-profits, universities

and businesses better understand and

serve our community.

Download survey results free of charge

HTTPS://SURVEY.CMI.INFO/SE/359D342B06DB7B00?CMID=22043

at cmi.info.

CLICK

Proudly LGBTQ-Owned and -Operated. A pioneer in LGBTQ

research since 1992.

Your information is confidential, used for research purposes only.

You will not be contacted for marketing purposes.

35
---
Poverty Prevention • Intervention • Advocacy

760-656-8905

36 Never miss a DDG we are always FREE only at ddg.gay
---
After dropping out of high

school at 18, he moved to

Miami with $500 in his

pocket. A gym buddy

suggested he try stripping

and when he did, he found

it to be, in his words, "easy

as breathing". It was also

very lucrative. He saved

$60,000, enrolled in audio

engineering school, and

began producing songs

and videos.

"I play instruments, dance,

sing, tumble… give me a

stripper pole and prepare

to be amazed," he laughs.

He is also a social

advocate. Evan runs "The

Dreamer Project," an

initiative that raises money

for the needy in South

America. They are currently

raising funds for Niños del

Sol, an orphanage in

Medellin, Colombia.

Follow Evan on Instagram @ evanpeix

Evan Peix's "Tu Si" and "Me

Elevas" are available on

Apple Music and Spotify. Visit

EvanPeix.com.

continued from page 28

37
---
Zoom Mass every Saturday at 430.

Call or 442-282-8389 or visit stgilesaltadena.org for more details.

38 Never miss a DDG we are always FREE only at ddg.gay
---
HARD WEAR

CELLBLOCK13

L E AT H E R & F E T I S H

G E A R L E AT H E R C O

G E A R L E AT H E R

6 5 0 E S U N N Y D U N E S PA L M S P R I N G S 7 6 0 3 2 2 3 3 6 3 G E A R L E AT H E R .C O M

39
---
40 Never miss a DDG we are always FREE only at ddg.gay