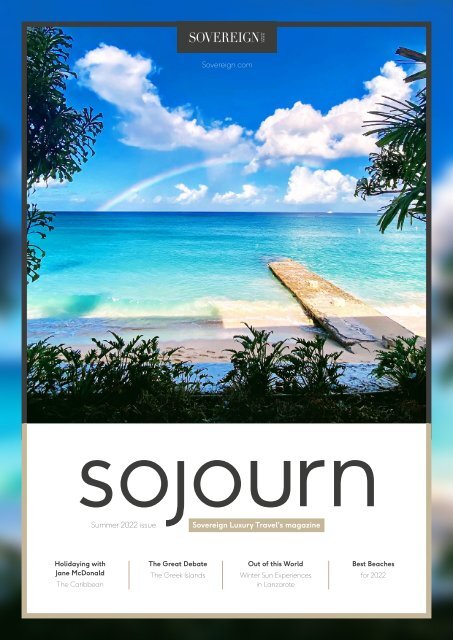 Sojourn | Sovereign Magazine Summer 2022
In this issue, you will find out all about our recent feature in Channel 5's Holidaying with Jane McDonald: The Caribbean and you can read all about her island-hopping adventure, including the spectacular hotels she stayed at and the experiences she had. How many times have you got to the airport with that nagging feeling you have left something behind? Our Marketing Director, Erin Johnson shares her top tips in the article A Perfectly Packed Suitcase. We will also delve into the Greek Islands in our article The Great Debate. The Greek Islands are all so diverse and unique that it can seem impossible to choose which one is right for you. Why not let us help? Our Personal Travel Planners share their favourite island and which hotel they think is best.
In this issue, you will find out all about our recent feature in Channel 5's Holidaying with Jane McDonald: The Caribbean and you can read all about her island-hopping adventure, including the spectacular hotels she stayed at and the experiences she had.

How many times have you got to the airport with that nagging feeling you have left something behind? Our Marketing Director, Erin Johnson shares her top tips in the article A Perfectly Packed Suitcase.

We will also delve into the Greek Islands in our article The Great Debate. The Greek Islands are all so diverse and unique that it can seem impossible to choose which one is right for you. Why not let us help? Our Personal Travel Planners share their favourite island and which hotel they think is best.
SHOW MORE
SHOW LESS
Create successful ePaper yourself
Turn your PDF publications into a flip-book with our unique Google optimized e-Paper software.
Sovereign.com

Summer 2022 issue

Sovereign Luxury Travel's magazine

Holidaying with

Jane McDonald

The Caribbean

The Great Debate

The Greek Islands

Out of this World

Winter Sun Experiences

in Lanzarote

Best Beaches

for 2022

Summer 2022

so Journ
---
commitment

Our

to you

At Sovereign Luxury Travel, we are committed to working with trusted partners and making sure

their hotels meet our standards to give you the peace of mind that you can holiday safely.

£

Free amendments

Be able to change your holiday up to three

times with no amendment fee (any extra

holiday costs incurred are payable).

Free cancellation*

If COVID-19 has affected your travel

plans you can cancel your holiday up to

three weeks before departure for free.

Refund guarantee

If we have to cancel your trip,

we will refund you.

Guaranteed.

Curated by experts

ABTA and ATOL bonded, we've been

creating holidays for 50 years, offering

a 24/7 concierge service for peace of mind.

Trusted partners only

We make sure that our partners

have your safety and wellbeing

at their core.

Privacy options

Private accommodation and dining

options are available. All holidays

come with private transfers to resort.

Destination knowledge

We will only offer you destinations

that we know are safe to travel to,

underpinned by FCDO advice.

Health and safety

All of our partners must adhere to

local health and safety standards,

which we closely monitor.

Your complete service

Your holiday with us includes all your

flights, accommodation, private transfers,

and airport lounge access as standard.

*Subject to change, correct at time of print as of 05/05/22. Please see website for latest Terms and Conditions.

2 Sovereign.com
---
noun: a temporary stay

verb (used without object ): to stay for a time in a place; live temporarily

sow·Juhn

BEACH LIFE | Summer 2022

Sun-soaked days await! We bring you the latest inspiration with

another edition of the Sovereign Luxury Travel magazine, SoJourn.

There's beaches, and then there's beaches.

Over the years, I've been lucky enough to

visit some of the world's best, and in this issue

we celebrate the soft sands that imprint on

our minds.

Starting with our cover story, Holidaying with

Jane McDonald: The Caribbean (page 8), our

team takes you behind the scenes while filming

the recent Channel 5 series. Off camera, from

Barbados to Grenada, the beaches were much

admired. We also share our Best Beaches for

2022 (page 46).

In the Indian Ocean, our guest Lin Johnson

shares her holiday memories when she went

Into the Maldives (page 38), while we spotlight

the Island Paradise that is the Seychelles

Islands (page 42).

Closer to home, we worship the Greek Islands,

as we take you into pretty streets with a Day

Out in Corfu Old Town (page 14), and where

our Personal Travel Planners fight it out for their

preferred island in The Great Debate (page

19). Plus there's all the untamed beauty of the

Canary Islands, from Out of this World winter

sun experiences in Lanzarote (page 28), to the

unsung Canary of La Gomera (page 40)!

And, how can we forget Portugal? A favourite

of mine that remains constantly delightful.

Discover more in Welcome to the Algarve

(page 24).

We've been helping guests for 50 years,

yet our luxury holidays remain the same:

tailor-made with personalised 24/7 service

and perks at every stage of the journey.

And, if plans change, there's always our

Book with Confidence guarantee.

It's time to wipe the cobwebs from your suitcase

- and you can now pack it perfectly with

Erin's tips (page 12)! Where will you go with

Sovereign Luxury Travel this summer?

Helen Adamson

Managing Director

Sovereign.com

Summer 2022

so Journ
---
Mx

Ja

Do

An

St

Bb

Ci

Pi

Po

Mo

Sp

Ba

It

Ma

Cr

Mn

Gr

Gi

Tu

Cy

Un

Se

Mr

Ml

Th

Bl

BEACH LIFE

COVER FEATURE

8 Join

Holidaying with Jane McDonald: The Caribbean

We were thrilled to be involved in the recent Channel 5 series.

us as we take you behind the scenes of Jane's trip of a lifetime!

INSIDE

OUR SUMMER

2022 EDITION

14

A Day in Corfu

Old Town

24

Welcome to

the Algarve

6

Where Will

You Go in 2022?

Destination Map

17

Seek the Real

Greek Experience

With Grecotel

Hotels & Resorts

25

From Farm to Fork

with VILA VITA

Parc Resort & Spa

8

Holidaying with

Jane McDonald:

The Caribbean

19

The Great

Debate: The

Greek Islands

26

Wildlife

Adventures

in Antigua

12

A Perfectly

Packed Suitcase

22

Welcome to

Domes Lake

Algarve

28

Out of this

World: Winter

Sun Experiences

in Lanzarote

ABTA No.V4068

Sojourn is a publication of Sovereign Luxury Travel | Sovereign.com

Travel with Confidence | customer.relations@sovereign.com

Managing Director: Helen Adamson

Publisher: Madhatter Creative Co. – Jen Marsden

Design: K8 Design & Marketing Ltd – James Palmer

Front cover image: The Fairmont Royal Pavilion, Barbados (Ellie Harding)

Connect with us

4 Sovereign.com
---
• Private & Tailormade Holidays

• Handpicked Accommodation & Destinations

• Small Group Escorted Tours

Citalia.com

CONTENTS

KEY FEATURES

19

The Great Debate

The Greek Islands are all so

diverse and unique, how do

you choose where to go? We

thought we'd ask our Personal

Travel Planners to fight it out!

26

Wildlife Adventures

in Antigua

Pause to reconnect with the

natural world in the wonderfully

wild side of the Caribbean.

28

Out of this World

Lanzarote's untamed

and dramatic wilderness

makes for amazing winter

sun experiences.

40

La Gomera: The Hidden

Canary Island

Discover the unsung

Canary Island of La Gomera,

which boasts old-world

Canarian charm.

42 Island Paradise: 46 Best Beaches for 2022

The Seychelles Islands

Soak your toes into the

Breathe in bliss with a

finest golden sands,

barefoot luxury experience

as we share our favourite

that delights with adventure,

destinations for 2022.

wildlife, and heritage.

32

Secrets of a

Hotelier with

Amara Cyprus

40

La Gomera:

The Hidden

Canary Island

46

Best Beaches

for 2022

34

Find your

Natural Spa

42

Island Paradise:

The Seychelles

49

Luxury, Redefined

with Blue Palace

36

Our Pick: Rooms

with a View

44

Summer Spirit

with Sheraton

Rhodes Resort

50

Why Sovereign

Luxury Travel

38

Guest Story:

Into the Maldives

with Lin Johnson

45

Eat Away at

Eagles Palace

& Villas

51

Discover our

sister brands

Images courtesy of: Amara Hotel, Cyprus, Anantara Vilamoura, Portugal, Antigua & Barbuda Humane Society Inc, Aqua Blu Boutique Hotel & Spa, Kos, Blue Palace, Crete, Casale Panayiotis Traditional Village Hotel & Spa, Troodos

Mountains, Coyaba Beach Resort, Grenada, Curtain Bluff, Antigua, Daios Cove Luxury Resort & Villas, Crete, Domes Aulus Zante, Domes Resorts & Reserves (Domes Lake Algarve), Donkey Sanctuary (Antigua & Barbuda Humane Society

Inc), Eagles Palace & Villas (Heinz Troll /Stef Tsakiris), Elite Suites, Rhodes, Ellie Harding (Caribbean), Fairmont Bab Al Bahr, Abu Dhabi, Forte Village, Sardinia, Grecotel Hotels & Resorts, Hotel Caesius Thermae & SPA Resort, Hotel Jardín

Tecina, Imran Ahmad, Chris Close, Michel Denousse, Ennio Maffei, Chris Mason Parker (The Seychelles Islands), Jumeirah at Saadiyat Island Resort, Abu Dhabi, Kuredu Island Resort & Spa, Maldives, Lin Johnson (Maldives), LUX* Belle

Mare, Mauritius, Marbella Elix, Parga, Raffles Seychelles, Secrets Bahía Real Resort & Spa, Fuerteventura, Sheraton Rhodes Resort, Shutterstock, Silversands, Grenada, Sugar Beach, A Viceroy Resort, St Lucia, The Fairmont Royal Pavilion,

Barbados, VILA VITA Parc Resort & Spa, Portugal.

Prices are estimations based on 2022/2023 travel and are correct at going to print but are subject to change. Please note that any flight or travel times included are approximations.

Summer 2022

so Journ
---
WHERE IN

THE WORLD

will you go ?

Sovereign Luxury Travel offers bespoke luxury holidays in over

22 countries and almost 100 destinations across the globe.

Speak to one of our Personal Travel Planners on 01293 765004

Po

Sp

Ba

Pi

Mo

Ci

Mx

Ja

Do

An

St

Gn

Bb

St

St Lucia

• Labrelotte Bay

• Soufrière

Mx

Ja

Mexico

• Cancun

• Playa Mujeres

• Riviera Cancun

• Riviera Maya

Jamaica

• Montego Bay

Do Dominican Republic

• Punta Cana

• Uvero Alto

An Antigua

• Jolly Harbour

• St. John's

• St. Mary's

Gn

Bb

• Eau Piquant

Grenada

• Grand Anse Beach

• L'Anse Aux Epines

Barbados

• Christ Church

• St. James

6 Sovereign.com
---
DESTINATION MAP

Cr

Croatia

Tu

Turkey

Po

Portugal

• Dubrovnik

• Belek

• Algarve

• Split

• Lisbon Coast

• Hvar

• Rovinj

• Trogir

Mo

Morocco

• Atlas Mountains

• Essaouira

Pi

Portuguese Islands

• Madeira

Cy

Cyprus

• Latchi

• Limassol

• Paphos

• Pissouri

• Troodos Mountains

Gr

• Marrakech

Greece

• Halkidiki

• Athenian Riviera

• Parga

• Peloponnese

Sp

Ba

Spain & Spanish Islands

Spain:

• Costa Del Sol

Balaeric Islands:

• Menorca

It Italy

Lakes:

• Lake Como

• Lake Garda

• Lake Maggiore

Regions:

• Liguria

• Neapolitan Riviera

• Puglia

• Sardinia

Gi

Greek Islands

• Corfu

• Crete

• Kefalonia

• Kos

• Mykonos

• Rhodes

• Santorini

• Skiathos

• Zakynthos

Ci

Ml

• Majorca

• Ibiza

Canary Islands

• Fuerteventura

• Gran Canaria

• Lanzarote

• Tenerife

• La Gomera

Maldives

It

Cr

Mn

• Sicily

• Tuscany

Ma

Mn

Malta

• Gozo

• St Julians

• Valetta

Montenegro

Mr

Mauritius

• Belle Mare

• Bel Ombre

• Flic En Flac

• Trou d'Eau Douce

Ma

Gr

Gi

Tu

Cy

Un

United Arab Emirates

• Abu Dhabi

• Dubai

Se

Seychelles

• Félicité Island

• Mahé

• Praslin

• Ras Al Khaimah

• Silhouette Island

Th

Thailand

Bl

Bali

Un

• Bangkok

• Chiang Mai

• Khao Lak

• Khao Sok

• Nusa Dua

• Sanur

• Seminyak

• Ubud

• Koh Phangan

• Koh Samui

• Krabi

Th

• Phuket

• Koh Yao Islands

Ml

Se

Bl

Mr

Summer 2022

so Journ
---
Holidaying with Jane McDonald:

The Caribbean

Did you watch Holidaying with Jane McDonald: The Caribbean on

Channel 5? Well, Sovereign Luxury Travel were thrilled to be featured

in this series and our Marketing Executive, Ellie Harding, was with Jane

throughout the filming, island-hopping across the Caribbean with her.

Join us as we take you behind the scenes of Jane's trip of a lifetime and

highlight the special experiences you too can enjoy as our guest!

BARBADOS

The first stop on Jane's luxurious Caribbean island-hopping holiday

was Barbados. This island is a fabulous introduction into the

Caribbean, with its happy and welcoming spirit.

Speaking of spirit, one of the absolute musts of your Barbados holiday

is to embrace the rum culture at the 350-year-old St. Nicolas Abbey

where Jane had a rum tasting experience.

"We all took the heritage steam railway up to Cherry Tree Hill,

which not only has amazing views across Barbados, but also had

some charming stalls to explore at the summit," says Ellie. "I highly

recommend you cool off with a fresh coconut to drink!"

With the waves of the Caribbean Sea lapping up onto this island

nation, it's no surprise that many of the activities here involved water.

Jane took a trip on a catamaran where she was able to go snorkelling

with sea turtles and had the chance to visit an old shipwreck.

"Tiffany, who is incidentally The Fairmont Royal Pavillion's yoga

instructor, invited Jane to a yoga class with a difference: yoga on a

paddleboard!" reveals Ellie. "Jane did an excellent job balancing on

the boards, but I stuck to Tiffany's on land sessions!"

In order to further explore the island, Jane took a 4x4 jeep ride excursion

that took her across mixed terrains to discover several hidden gems,

including Edge Cliff, Bathsheba, Joe's River Forest, and Little Bay.

One of the pit stops was Animal Flower Cave, which despite its

unusual name is a large waterside cave that can be accessed by

steps leading to a coral floor, where you'll find natural rock plunge

pools. Jane, like most of our guests, took the opportunity to go

swimming here among brightly-coloured sea anemones.

While taking a break from filming, Ellie headed north of Holetown

to enjoy lunch at Local & Co in Speightstown, a farm to fork eatery.

"The marketplace at Local & Co was amazing," says Ellie, "It was hard

to say no to the homemade and often unique produce available for

sale, such as banana and rum jam and watermelon rind pickle."

One night, Jane dropped into Harbour Lights, an open-air club

in Carlisle Bay, with renowned Caribbean Dinner Shows. The

entertainment here is always soul-stirring, with live music, stilt walkers,

fire eaters and limbo dancers, plus there's free-flowing drinks and a

traditional Bajan-style BBQ dinner to tuck into. The perfect place for all

the family to party under the stars? You be the judge!

Jane experienced a tranquil sunset dinner at Lone Star, which is known

for its celebrity clientele."You never know who you're going to run into

here, which adds to its allure, and the beachfront setting offers some

of the best sunsets on the island." says Ellie.

Our top recommendation? A holiday in Barbados is incomplete without

a visit to the institution that is Tides Restaurant, where Ellie and the

Sovereign Luxury Travel team enjoyed dinner one night. It's a charming

post-WW2 home with impeccable sea views, local coral stone and

mahogany decor, not to mention a mouthwatering menu, from

Caribbean grilled lobster to jerk-spiced cauliflower. While there, feast

your eyes on vibrant artwork from talented Caribbean artists.

WHERE TO STAY

Jane stayed in the Beachfront Junior Suite at The Fairmont

Royal Pavilion in St. James. The hotel boasts guaranteed

sea views from every room. Relish the access to soft white

sands where you can enjoy complimentary non-motorised

watersports in turquoise waters, or enjoy a yoga session

overlooking the Caribbean Sea.

A 7 night holiday staying at The Fairmont Royal Pavilion

in Barbados, starts from £2,439 per person.

8

Sovereign.com
---
COVER STORY

The Pitons, St Lucia

ST LUCIA

Framed by the dramatic mountains of the Pitons, St Lucia is a dreamy

Caribbean paradise.

Jane took a boat ride, arranged by her resort BodyHoliday, to witness

the beautiful Piton peaks. Along the way, she stopped at the historic

landmark of Marigot Bay, which is where both the 1967 adaptation of

the Doctor Dolittle books, and scenes from Pirates of the Caribbean

were filmed. Jane also visited the island's famous sulphur springs and

mud baths (see more on page 34).

The original Love Island, St Lucia is a popular destination for

weddings, honeymoons and plain old romance, so Jane embraced

the island's amorous nature with an opportunity to attend a vow

renewal ceremony.

Jane and team headed to the popular Rodney Bay, home to a

yacht-lined marina and a waterpark. North of there, they visited

Cas En Bas Beach, a well-known spot for kitesurfing and horse

riding. It's here that they enjoyed a drink at the St Lucian institution,

Marjorie's Restaurant and Beach Bar, with its funky community vibe

and marvellous sea views. We highly recommend you feel the sand

between your toes as you sip on a cool rum punch!

St Lucia's eastern coast is home to a vast rainforest and has become

an adventure eco-park, which Jane explored during her stay.

"The Aerial Tram was absolutely tranquil," says Ellie, "The whole team

were gliding among the treetops in an open-air gondola, keeping an

eye out for parrots and other wildlife while admiring incredible views

across the island."

WHERE TO STAY

Sugar Beach, A Viceroy Resort is in the picturesque valley

of the Pitons and set among 100 acres of rainforest and

garden, making it your ideal tropical haven in St Lucia.

Get pampered in the treehouse Rainforest Spa (see page

34), enjoy watersports from the blissful white sands right

on your doorstep, or sip a rum cocktail by the pool!

An 7 night holiday staying at Sugar Beach in St Lucia,

starts from £2,559 per person.

The Fairmont Royal Pavilion, Barbados

Summer 2022

so Journ
---
GRENADA

The Caribbean's very own spice island remains a quieter yet

equivalently sun-soaked destination.

"There's no high rise development here, and much of the island is home

to nutmeg, ginger and pepper plantations, so there's always a moreish

hint of spice in the air," shares Ellie.

Naturally, given its history with spices, Jane visited both the island's

renowned fish market and spice markets to shop for ingredients with a

chef, before heading to The Tower Estate to create a delicious, typical

Grenadian lunch.

Jane then visited the esteemed Belmont Estate, a huge organic cocoa

plantation where she saw cocoa being processed and tried her hand

at chocolate-making. (It's a hard job, but someone has to do it!) As

highlighted before in Sojourn, this 17th century estate is a must-visit

during your Grenada holiday, with its vast gardens, heritage museum,

petting farm, and craft cooperative.

Jane ventured further into Grenada's hinterland, with a jeep ride to

Grand Etang National Park. Jane and team then took the 30 minute

hike to the cooling waters of Seven Sisters Waterfalls.

If you'd prefer to explore the azure waters surrounding Grenada then

why not dive to the Grenada Underwater Sculpture Park, where you'll

find a stunning collection of figures five metres deep? Off-camera, Jane

took a diving refresher course at the four star Coyaba Beach Resort,

another favourite of Sovereign Luxury Travel guests.

"Embracing Grenadian culture, we joined Jane to watch the Bélé

drummers and dancers at Silversands," tells Ellie. "Bélé is a folk dance

that we were told may be one of the oldest Creole dances and is

influenced by African fertility rituals - it was hypnotic to watch."

WHERE TO STAY

Located right by the white sands of the Grand Anse Beach,

Silversands is a luxurious haven that's popular among

celebrities, so it was an obvious accommodation choice

for Jane. This five star resort has such a great culinary

reputation that many non-guests choose to visit for their

evening meals. What's more, the swimming pool that Jane

swam in is the longest swimming pool in the Caribbean!

Jane stayed in the Silversands Ocean View Junior Suite

on the top floor, which boasts an open plan living and

sleeping space with floor-to-ceiling windows and a

spacious balcony.

A 7 night holiday staying at Silversands in Grenada,

starts from £2,899 per person.

10 Sovereign.com
---
HOLIDAYING WITH JANE MCDONALD: THE CARIBBEAN

ANTIGUA

Last but not least on Jane's Caribbean itinerary was Antigua, with

its coral reefs and exquisite beaches. Amid its colourfully Caribbean

villages and laid-back character, Antigua has a distinctly English

nature to it.

Antigua's many bays were once popular with pirates and naval fleets

alike, including Admiral Nelson. This famed flag officer has been

immortalised in the UNESCO World Heritage site of Nelson's Dockyard

in the English Harbour, which Jane toured during her stay.

Did you know that Antigua is home to an impressive 365 beaches,

meaning you could technically have a different beach for every day

of the year? Guests at Curtain Bluff get to undergo their own beach

personality test, which identifies the perfect beach for you.

"Jane's perfect match was Pigeon Point Beach in the English Harbour,

so naturally she had to visit it," explains Ellie, "And the good news is she

wasn't disappointed - it was glamorous and popular!"

While there, Jane dined at Catherine's Café, a beachside brasserie that

meets Parisian chic, and is an incredible place to spend a lingering,

leisurely lunch with your loved ones. Think daybeds sprawled on white

sands, classical French sharing platters, and fragrant greenery of neem

trees and orchids - and you're almost there!

"Beach-loving aside, a speedboat ride out to Stingray City (read more

on page 26) gave Jane the opportunity to swim with stingrays, before

her and the team ventured to what the locals call 'Jurassic Park', aptly

named because it's home to one of the world's oldest living animals,

the Giant Aldabra Tortoise - as well as parrots and iguanas."

WHERE TO STAY

The all-inclusive Curtain Bluff is located on a beautiful

stretch of beach. This family-run resort used to be a family

house but has been expanded into this stylish Caribbean

haven. You can even try something new with a game of

'Pickleball', or discover one of the Caribbean's finest wine

cellars! Jane stayed in the One Bedroom Bluff Suite, which

boasts fresh chic interiors and indoor-outdoor living with

exceptional patio space.

A 7 night holiday staying at Curtain Bluff in Antigua,

starts from £3,299 per person.

Sovereign Luxury Travel was proud to feature in Holidaying with Jane McDonald: The Caribbean, which is still available to watch on

My5. Which Caribbean island is next on your bucket list? Speak to one of our Personal Travel Planners on 01293 765004.

Summer 2022

so Journ
---
A

Perfectly

Packed

Suitcase

Having the arduous (ahem) task of travelling for work, the Sovereign Luxury Travel

team certainly knows a thing or two about what a perfectly packed suitcase looks like.

Our Marketing Director, Erin Johnson, shares her top tips for smart and light packing.

After years of travelling for both my own holidays, and for work, I truly

believe that packing a perfect suitcase is a real skill that needs time

to be mastered. Each trip I take brings up a new tip for me, but most

recently, the old adage of less is more has definitely come into fruition.

Let's start almost 25 years ago when I holidayed with a friend after

taking my A-Levels. The bag I packed that included basically my

WHOLE wardrobe was heaved onto the baggage scales at Bristol

Airport by my long-suffering father, and off my friend and I went

to Zakynthos.

It was a green and purple holdall that was big enough for even

me to fit inside, and during those seven days, I think I only wore

seven items.

Fast-forward a quarter century and my own space is now at a

premium after the needs of my husband and children. I've come to

realise in these years though that efficiency plays the biggest part in

making the process easy, and most importantly swift.

I used to hate packing but now I live by a few simple rules that really

help – plus it makes the whole process enjoyable and exciting – just

what you want before a well-deserved holiday.

PACK FOR THE TRIP

This sounds obvious but you will need different items for a week's

Greek Island holiday compared to a combined Portugal city and

beach escape. Think about the activities you'll be enjoying during the

day and the evening, and pick multi-tasking pieces. More wear per

item has become one of my biggest packing saviours.

PICK A COLOUR THEME

This would be my foremost tip – pick a colour palette for your trip and

try hard to stick to it. Keeping colours limited is a simple way to make

sure pieces can be mixed and matched easily, for maximum wear.

Try and mix in a few prints and textures to complement the overall

theme and add some interest.

LAY OUT THE CLOTHES – OR EVEN TRY ON THE OUTFITS

This step drives my husband mad but it really does work! Take

everything you are thinking of packing and place together so you

can see everything at once. This will ensure that you don't have too

many of one thing, and you can also see what goes together. This is

really important to avoid over-packing or forgetting something.

PACK OUTFITS NOT ITEMS

Ensure you pack whole outfits and have in mind where you want to

wear them. This is a fail-safe for me and one that I always live by. It's

so important to think about the outfit as a whole as I never want to

be the Green and Purple Holdall Girl again!

YOU NEED LESS SWIMWEAR THAN YOU THINK

Keep swimwear to a small selection and coordinate it with the colour

palette from the rest of your packing list. It's good to take a mixture of

one and two pieces. You can perhaps do what I do, which is to treat

myself to something new for my holiday, but you definitely don't need

one costume or bikini per day!

12 Sovereign.com
---
ACCESSORIES WILL MAKE THINGS FUN

Accessories can make an outfit and on holiday, sunglasses are a

favourite of mine.

I tend to take three or four pairs for a different look and find they can

really transform an outfit.

Pack them in their original protective cases and place them into gaps

in your suitcase. Jewellery too can add a transformational touch.

It's wise to stick to a theme and pack an edit of pieces that can be

added to outfits with ease.

I always gravitate towards beach-inspired pearls, shells and beads,

and a few more glamorous pieces for evening wear. To keep them

safe, keep them in a small rigid jewellery box that you carry in your

hand-luggage.

In summer, I tend to choose flats, keeping my selection to a pair of

beach flip flops, a pair of leather sandals, and some dressy sandals

that can go from day to supper. However, for heels I like to take

wedge espadrilles with me – they offer the height but always feel

summer appropriate. If you do want to take heels, I find a block heel

works better for those walks along the promenade to dinner.

PACKING CUBES ARE A SAVIOUR

I've become a big fan of a packing cube. Cubes make packing and

unpacking so much easier and it means you can separate your items

easily. Once you reach your destination, you can simply remove each

cube and put them in a drawer or shelf. Pack your shoes in bags and

you won't damage your perfectly-picked clothes, and you can store

them tidily away too.

BAGS AND SHOES

For summer trips, I would always recommend taking bags that can

be used to easily go from the beach-to-bar, and choose bags that

will pack flat, thus saving you space.

Use textures that are appropriate for your trip – think straw, raffia and

cloth in colours that complement your outfits.

As for shoes, after years of travelling, I can say with certainty that no

holiday requires a lot of shoes, and I LOVE shoes! I once went to Las

Vegas with my husband for five nights and he constantly reminds me

that I took 14 pairs of shoes with me. CRAZY!

IF YOU CAN, TAKE HANGERS

It's a bugbear of mine that hotel rooms don't have enough hangers

for men and women. If you have space, pack dresses and pieces that

crease easily on space-saving hangers. I like the thin velvet ones and

use them at home anyway! This way, you'll always have enough.

AND YOU'RE GOOD TO GO

The final step? Wear your holiday hat to the airport to prevent it from

getting misshapen - and you're all set. Happy travels!

Do you have any extra packing tips? Share them with us on Instagram @sovereigntravel

Summer 2022

so Journ
---
A day in

CORFU OLD TOWN

We highly recommend you spend a day away from

your resort and discover a myriad of cultures in the

UNESCO World Heritage site of Corfu's pedestrian-only

Old Town. Here's how to best spend your day!

As we highlighted in the last edition of Sojourn,

Corfu has an incredible heritage that's brimming

with centuries of influence from the Byzantines,

French, Greeks, Venetians, and British.

Before we jump into details, know one thing: the

streets of the Old Town, or Kerkrya as it's known in

Greek, are a labyrinth and it's best to simply wander

around and allow yourself to get lost - because with

all the narrow alleyways or kandouni, you probably

will! (For a quieter spot to wander in, head to the old

medieval and residential quarter of Campiello.)

As you roam around cobblestoned streets that

pop with the pink of blossoming bougainvillaea,

you may come across British legacy in the form of

Guildford Street, named after a former British High

Commissioner, or perhaps a game of cricket in

the grass-filled square of Spianada, which is used

as an informal cricket pitch. Arguably two of the

most impressive British historic sites are the Ionian

Academy, which housed modern Greece's first

university, and the Ionian Parliament.

14 Sovereign.com
---
Morning

Dimarchiou Square

Old Fortress

Boschetto Gardens

We recommend you start early in the neighbourhood of Porta

Remounda, and sit out in the sunshine of a local bakery as you

enjoy a typical Greek breakfast. Starenio Bakery and Panetteria

are both institutions in their own right, as you tuck into delicious,

homemade spanakopita (spinach pie) or eliopsomo (olive bread)

with your morning coffee.

From here, wander a few minutes to the 17th century Venetian

architecture of Platia Dimarchiou, which over the centuries has

been used as a social club, opera house, and town hall. Right next

to it, you can nip into the 19th century Catholic cathedral of Saint

James and Saint Christopher, which feels like you're stepping

back in time.

We then suggest you stroll the 10 minute walk across the moat

to Palaio Frourio, the 14th century Old Fortress, which becomes

busier as the day goes on. Started by the Byzantines but completed

by the Venetians, this is one of several forts on the island. For

excellent views, climb to the top of the Tower of the Sea where

you can see across the terracotta roofs of the town, and over the

glittering Ionian Sea towards mainland Greece and Albania.

South of the fortress sits one of the largest churches in Corfu,

the Church of Saint George, which despite being built by the

British in the 19th century resembles an ancient Greek temple.

You can also stroll around the tranquil Boschetto Gardens, and

visit the neoclassical Palace of St Michael and St George, which

houses a leading Museum of Asian Art.

You can then wander into the old Jewish quarter and visit Corfu's

only surviving Jewish synagogue, before enjoying a typical Corfiot

lunch. We highly recommend Marina's Taverna where you can

tuck into local specialities such as pastitsada (chicken and tomato

penne), bourdeto (fish in a spicy red pepper sauce), as well as

lighter dishes such as taramasalata and salads.

Bourdetto

The Church of St George

Liston

Afternoon

After lunch, perhaps you'll want to visit the Archaeological

Museum before it closes, a 10 minute stroll away, where you can

witness a fabulous bas relief of Medusa.

Or maybe you prefer to head straight for some light retail therapy

in the most cosmopolitan part of the Old Town?

Liston is a 19th century promenade with elegant colonnades and

arches that were inspired by the Rue de Rivoli in Paris. Around here

you'll find many boutiques, jewellery, and craft shops selling local

products, including ouzo! Cool off from the beating sun with

a pit stop in one of the cafés for an espresso or a tsitsibira

(ginger beer), a British influence. Or, you might prefer

to wander to another institution, Papagiorgis Patiserie-

Gelateria, for delicious pistachio gelato?

Refreshed, you can then venture to the neighbourhood

of Kofineta, which is teeming with Venetian and

Neoclassical architecture. In the pink facade of the

Ionian Bank, learn about the drachma, one of the

world's oldest currencies, in a unique Banknote Museum.

Moments away is the Old Town's most important church,

the 16th century Cathedral of Saint Spyridon, which

houses relics of Corfu's patron saint, and an

eye-catching bell tower.

Cathedral of Saint Spyridon

Summer 2022

so Journ
---
A DAY IN CORFU OLD TOWN

"Corfu Old Town is a fascinating place due to

all the influences from many different countries.

It has Venetian facades and a cricket ground in the

middle of the town, a castle with a moat full of little

boats and a beautiful pedestrianised centre of town

with some lovely shops and restaurants."

Helen Lippe

Personal Travel Planner

Evening

As the sun sets and birdsong fills the air, the Old Town

cultivates a new energy. For a pre-dinner treat, dip into one

final Corfiot establishment, Lazaris Distillery & Artisan Sweets

Brand Store, to try some kumquat cream liquor, a tasty

alcoholic beverage inherited by the traders of Venice.

There are several restaurants to suit your mood for dinner.

Romantics should look no further than the intimate and

atmospheric Venetian Well, or if you'd prefer to continue

a traditional taverna vibe, head to Prosalendou Street,

where you can enjoy meze and spirits to the beat of

live music and dance. We also recommend Salto Wine

Bar-Bistro with its marina views. For a special occasion,

book dinner ahead of time at Pomo d'Oro, with its seasonal,

farm-to-fork gastronomy.

After an amazing time in Corfu Old Town, the following day

you can dream poolside in your resort as you revel in all

the memories!

A 7 night holiday in Corfu starts from £745 per person. Speak to one of our Personal Travel Planners on 01293 765004

16 Sovereign.com
---
ADVERTORIAL

From a traditional organic farm,

to following in the footsteps of The Durrell's,

Grecotel Hotels & Resorts will guarantee you

an authentic and luxurious Greek holiday.

If you're seeking impeccable service and warm, authentic

Greek hospitality, you'll always find it with the homespun

and proudly Greek brand of Grecotel Hotels & Resorts,

which hosts a collection of 35 exclusive boutique

properties across Greece and its distinct islands.

Every Grecotel property is individual and reflects

its unique location, and Sovereign Luxury Travel

currently offers six of these luxurious resorts.

Summer 2022

so Journ
---
ADVERTORIAL

EAT LIKE A GREEK

Gastronomy at Grecotel Hotels & Resorts is focused around

fresh, organic vegetables authentic Greek flavours from talented

executive chefs, whether you are eating à la carte or at a

buffet restaurant.

The half board basis Dine Club allows you to dine around at other

Grecotel restaurants and choose from a fabulous curated menu,

as well as tuck into beverages and snacks throughout the day.

FARMING TRADITIONS

If you wish to delve into the Cretan culture then visit Grecotel's

very own traditional Agreco Farm in Rethymnon, which practises

centuries-old organic farming, complete with an olive press,

water mill, winery, church, village square, and farm shop!

You can either tuck into a traditional Cretan lunch in the taverna,

or, you can spend the full day exploring and engaging in hands-on

activities like bread-making, cheese-making or treading grapes

and crushing wheat.

THE DURRELLS EXPERIENCE

Unique to Grecotel is the 1930s heritage site of Danilia Village

in sun-drenched Corfu, which is the stunning film location for the

TV series, The Durrells. Danilia Village also featured in the 1981

James Bond classic, For Your Eyes Only.

You'll get a real sense of tradition within this quaint replica village

that was built using reclaimed materials.

This is quite literally a living museum, as you explore the open-air

village squares and narrow lanes, as well as an outdoor and huge

indoor taverna.

A 7 night holiday staying at Grecotel Kos Imperial in Kos, starts from £839 per person.

Speak to one of our Personal Travel Planners on 01293 765004

18 Sovereign.com
---
The Great Debate

The Greek Islands

The Greek Islands are all so diverse and unique,

how do you choose where to go?

We thought we'd ask our Personal Travel Planners to fight it out!

Crete? Santorini? Zakynthos? Corfu? Rhodes? Kos?

Between all the Greek Islands, there really is something for every personality.

Perhaps you're looking for somewhere undiscovered and off-the-beaten track? Or perhaps

you'd rather explore rugged coves than laze away the day on sandy beaches? Maybe

you're a cultural traveller looking to unearth history and traditions? Or simply a foodie, who

wants to relish regional Grecian flavours?

The truth is, there's not a single Greek island that outdoes its rivals, as they all offer an array

of experiences. Even within each island you'll find very different experiences. Some might

suit a family sojourn whereas others may be perfect for a romantic retreat away.

With our tried and tested approach, our Personal Travel Planners intimately know the

Greek islands and are keen to share with you their preferences, from destinations and

accommodation to experiences and hidden gems.

Summer 2022

so Journ
---
Daios Cove Luxury Resort & Villas

Domes Aulus Zante

"For an authentic family holiday it has to be Crete"

"I just love the Blue Palace in Plaka, you must try the meze

in the Blue Door Taverna by the water's edge. Looking over

Spinalonga Island and eating delicious Greek food as you

hear the waves come in, this is my idea of Greece."

"Daios Cove Luxury Resort & Villas has a lovely Beach

Lounge Bar that's open all day and is a must in the evening.

After enjoying a meal in their fine dining Ocean Restaurant,

this is the perfect end to a fantastic evening as you sip on

cocktails, relax on the sofa, and listen to cool tunes."

"However, the privacy and service you get at Domes of

Elounda for a family is second to none. Imagine the scene:

a villa with your own pool to enjoy during the day, then in

the evening while the children sleep soundly you can relax

with a nightcap on your own terrace as you watch the

sunset. This is the home-from-home holiday lifestyle!"

"Yes, but Zakynthos is a natural wonder!"

"Zakynthos has such picturesque coves and emerald green

waters. It's home to the famous loggerhead sea turtles, so

a boat trip to see these majestic creatures should definitely

be on your to do list. I went on this excursion, and it was

amazing to see the turtles in their natural environment.

The new Domes Aulus Zante is a natural area near to the

turtle breeding ground, so your chance of seeing these

beautiful creatures up close is a real possibility."

"My other favourite hotel in Zakynthos has to be Lesante Blu.

It's a haven of peace and quiet and has the most stunning

views from its infinity pool across to the Peloponnese on one

side, and Kefalonia on the other."

Louise Burling-Cooper, Personal Travel Planner

Helen Lippe, Personal Travel Planner

Santorini

Corfu Beach

"But Santorini is stunning and romantic!"

"Santorini by far has the most stunning views! All the hotels

we feature are built into the cliff face and overlook the

renowned Santorini Caldera, where you can experience

some of the most amazing sunsets, with Oia and Imerovigli

fighting it out for the best. I suggest you wander the

cobbled streets of the capital, Fira, with its selection of

traditional Greek shops, restaurants, and cafés."

"All the hotels we feature here are small, boutique style

hotels, which makes it particularly great for honeymooners

or a romantic break. Also, Santorini is well positioned for an

island hop, so you can easily add on Mykonos and/or Crete

for a varied Greek island holiday."

"Well, for culture, it has to be Corfu"

"It's definitely worth a visit to Corfu. Did you know it's the

greenest Greek island with lots of beautiful sandy beaches?"

"You cannot leave without a visit to the UNESCO World

Heritage site of Corfu Town, which is great for shopping

in a relaxed and chilled environment and has wonderful

restaurants. For that truly memorable experience, I recommend

you hire a yacht for the day and live the high life!"

Samantha Grist, Personal Travel Planner

Karen Knight, Personal Travel Planner

20 Sovereign.com
---
THE GREAT DEBATE: THE GREEK ISLANDS

Elite Suites

Aqua Blu Boutique Hotel & Spa

"You can unearth treasures in Kos"

"Rhodes is best explored by foot"

"My all-time favourite Greek island has to be Rhodes.

The Elite Suites in Ixia Bay is a firm favourite of mine as it

has a sunset bar, which is the best place to go for sunset

cocktails. From here you can arrange a private yacht

rental to take in the unique views of the beautiful coast. We

hopped in a taxi and arrived in no more than 10 minutes at

the beautiful old town, and it was easy to get the taxi back

to our hotel too. There are little streets to explore, where

you'll find lots of lovely traditional Greek restaurants and

boutiques for a fun day out feasting and shopping."

"Given that it's the third largest of the Dodecanese Islands,

there are many ancient sites to explore and activities to

keep the family busy in Kos, which is why I love it. Close to

Kos Town, which has plenty of shops and bars, is Lambi

Beach, a family-friendly beach with parasols and sunbeds

that has something for everyone."

"If you're travelling as a couple then I suggest you stay at

Aqua Blu Boutique Hotel & Spa, as it will definitely have the

peace and quiet that you're looking for."

"One thing unique to Kos that I don't think many of our

guests realise is that you can combine a holiday here with

Turkey, as there's a catamaran that runs daily with just an

hour and a half voyage!"

Claire Wood, Personal Travel Planner

Deborah Hayley, Personal Travel Planner

HOP AROUND THE GREEK ISLANDS!

Why choose one Greek island when you can combine

several? Our Personal Travel Planners are experts at

creating tailor-made luxury holidays that take in more

than one destination, so that not only will you have a

varied holiday, you don't have to miss out on anything!

You may wish to Coast the Cyclades and take in the glittering

sights of Mykonos with its famous windmills, the whitewashed

wonder of Oia in Santorini, and the beaches and local fishing

villages of coastal Crete. This can include a half day trip to the

uninhabited island of Delos, home to the ancient and mystical

Temple of Apollo.

You could Discover the Dodecanese by combining the islands

of Rhodes, Symi & Kos, exploring medieval attractions and a

sacred monastery, discover a natural sponge-making industry,

and visit the Tree of Hippocrates.

Or you could head Into the Ionian Islands, basing yourself in

Corfu to take a luxury catamaran cruise to the smaller unspoilt

islands of Paxos and Antipaxos that are riddled in Greek

mythology, before finishing up in blissful Parga.

A 10 night luxury island-hopping holiday in the Greek Islands starts from £3,735 per person.

Speak to one of our Personal Travel Planners on 01293 765004

Summer 2022

so Journ
---
ADVERTORIAL

Domes

Welcome to

Lake Algarve

We're so thrilled to share with you the latest new resort from one of our preferred partners,

Domes Resorts & Reserves - where you can rest by tranquil waters in the Algarve!

Synonymous with luxury, you're always guaranteed a

stylish stay at Domes Resorts & Reserves, and in locations

teeming with soul-stirring nature and history. That's due to

the handpicked approach of each and every destination.

Your time can be peppered with immersive CORE

programmes, where everything from food and wellness

to even art can be explored through fabulous signature

experiences. Add in the Domes Haute Living Selection

where you can embrace exclusive spaces, and your

own private concierge service, and you'll find it hard

to return home!

You may be most familiar with the incredible collection

of Domes Resorts in the Greek Islands that has made

this brand legendary, but more properties are springing

up across the Mediterranean, and the latest addition is

the soulful Domes Lake Algarve!

22 Sovereign.com
---
In the heart of the Algarve just five minutes from Vilamoura, as the

name might suggest this five star resort is set next to its own private

saltwater lake.

The natural beauty encourages al fresco

living, as you're ensconced by gardens

and lawn that are dotted by exotic blooms,

fragrant fig and almond trees, pergolas,

and lakeside restaurants that are connected

by a wooden walkway.

There are three outdoor swimming pools in both designated family

and adults-only sections, including a natural sand bottom pool that

is an experience in itself!

Inside the hotel, you can enjoy the fruits of fresh and opulent -

yet unpretentious - interiors. These perfectly harmonise with the

peacock blue and green hues of the skyline and marine outdoors:

think marble floors, painted domed ceilings, nature-inspired

wallpaper, and a bounty of natural light.

In addition to the spacious retreat rooms and family suites, and

villas, there are also self-catering apartments to choose from that

add extra flexibility.

When you're not embracing Domes Lake Algarve's surroundings,

such as taking the complimentary shuttle to nearby award-winning

golf courses, going kayaking or cycling, and exploring Vilamoura,

you can tuck into fresh, local cuisine at one of three restaurants

- with a glass of Portugal's own Vino Regional, of course! Plus,

there's the signature Soma Spa to unwind in, and a choice of three

bars to settle in and watch fabulous sunsets.

Whether you're seeking a family holiday where your children can

play at the fabulous kids' club or on a romantic couple's retreat,

one thing you will feel is endlessly inspired.

A 7 night holiday at Domes Lake Algarve starts from £1,299 per person.

Speak to one of our Personal Travel Planners on 01293 765004

Summer 2022

so Journ
---
Welcome to the

Algarve

VILAMOURA

A cosmopolitan town home to a marina filled with luxury yachts,

fine wine bars, boutique shops, two golden beaches, and four

championship golf courses nearby.

The most-southerly region of Portugal are home to all-day

sunshine, fabulous beaches, cosmopolitan marinas,

and prestigious golf resorts. It's time to explore!

Under radiant sunbeams you'll find whitewashed sleepy

villages that poke out from the cliffside, and pristine beaches

where you can find your own secluded bay.

Pretty little family-run tavernas and chic bars on the side of

glittering marinas invite you in for fresh seafood, a delicious

bite of the famed Portuguese pastel de nata (custard tarts),

or a glass of vinho verde.

FERRAGUDO

A pretty village with old world charm, from its cobblestoned streets

and forts to its unusual lighthouse and sweeping beach paradise,

Praia Grande.

This is the Algarve - and it's easy to reach with a short flight

from the UK. With so much to choose from, here are our top

places to discover.

PORCHES

A tiny village famed for its local arts and pottery scene, quiet coves

and beaches, and home to VILA VITA Parc Resort & Spa!

BENAGIL

A traditional village where you can take a leisurely boat tour

to an amazing and picturesque formation of sea caves.

LAGOS

A historic town alive with a watersports hotspot on the soft sands

of Meia Praia Beach, theme parks, a fabulous nightlife, and medieval

attractions.

CABO DE SÃO VICENTE

Once considered the end of the world and home to an iconic red

lighthouse museum, this dramatic and historic headline is the perfect

place to watch the sunset.

24 Sovereign.com
---
ADVERTORIAL

Farm

From

Fork

To

WITH VILA VITA PARC RESORT & SPA

Discover how VILA VITA Parc Resort & Spa are preserving

Portuguese traditions and showcasing local flavours through their

marvellous farm to fork cuisine. This time we look at The Fork.

You're destined to have a gastronomic experience at VILA VITA

Parc Resort & Spa. As we learnt in the last issue, ingredients are

carefully picked from the resort's own Herdade dos Grous Organic

Farm, and from local suppliers, so you can always enjoy fresh,

naturally, locally-sourced, and organic produce.

This local bounty - from Algarvean oranges from the Silves area

and hand-harvested Flor de Sal to the Monchique enchidos

(sausages) and almonds - is thoughtfully enhanced with luxury

items, such as rare caviar, to create exquisite dishes.

This is then paired with the resort's philosophy of celebrating

diverse cuisines. You'll find an incredible six bars and 11 restaurants,

all with their own flavours and style, topped off with impeccable

yet unpretentious service.

Experience clean and crisp Japanese cuisine

at Mizu Teppanyaki. There's also the deliciously

sustainable Atlantico restaurant, which focuses on

modern Portuguese flavours inspired by nature,

and has a menu that changes based on what's

available from the local fishermen and farmers.

You can discover Portugal's regional specialties and traditions at

Adega restaurant, including classics from the islands of Madeira

and Azores, where every dish tells a story.

The pièce de résistance, however, is the two Michelin-starred

restaurant, Ocean, which reimagines authentic Portuguese food

at the hands of culinary superstar Hans Neuner. To top off your

sublime culinary experience, Ocean boasts brilliant views of the

Atlantic Ocean.

It would be rude of us not to mention VILA VITA Parc's incredible

wine cellar, which is stocked with over 11,000 bottles, the largest

private wine collection in Portugal. It's an experience in itself as

the first-class sommeliers are always on tap to suggest the perfect

pairing! Why not enjoy a romantic private dinner or intimate wine

tasting under the vaulted ceilings?

What are you waiting for? Visit VILA VITA this year and tuck in!

A 7 night holiday at Vila Vita Parc in the Algarve starts from £1,395 per person.

Speak to one of our Personal Travel Planners on 01293 765004

Summer 2022

so Journ
---
WILDLIFE ADVENTURES IN

Antigua

Some of the most magnificent travel experiences happen

when you pause to reconnect with the natural world.

Antigua is a favourite of ours for its wildlife attractions.

DONKEY DISCOVERY

Did you know that Antigua has an unusually large donkey

population?

The British imported donkeys into Antigua in the 17th century as

working animals for the sugar industry and on farms, but the mules

were left to their own devices in the 1970s. This caused an explosion

in their population, and there's now an estimated 400 wild donkeys

in Antigua. They can often be spotted meandering along roads,

eating up crops, or even grazing in the grounds of the country's

principal sports stadium!

The Antigua & Barbuda Humane Society is a non-profit animal

welfare organisation that shelters over 150 rescued and injured

donkeys at its Donkey Sanctuary.

If you ever find you've had enough of the beautiful beaches, you

might like to visit the 43 acre sanctuary for a family day out, which

is also fully wheelchair accessible. Spend time getting to know the

donkeys, as they all have different personalities, and you can even

help feed and groom these gentle equines.

ECO DESERT ISLAND

For a truly wild experience, you may like to visit Great Bird Island.

It's a tiny, uninhabited private islet that measures just 20 acres,

but is brimming with unique wildlife species. In fact, it was named

by passing sailors who were astonished by the sheer number

of birds nesting and living on this desert island with its blissful

white sugar sands.

You might like to stay on the beach, go snorkelling around the coral

reefs that are alive with activity, or hike into the islet's highlands on

canopied trails.

Great Bird Island is the only place on earth where you might see the

harmless and rare snake, the Antiguan racer. Plus, there are several

endangered species of lizard, brown pelicans, and exotic red-billed

tropicbirds to witness.

If you holiday between December to May, then you may be lucky to

spot some whales from the top of the hill, as well as hawksbill and

green turtles in the bay.

Our favourite donkey is Stevie, who was blinded by a vehicle

collision and really appreciates the attention he receives from

guests. Admission is free, but while you're there you may like to

adopt one of the Antiguan donkeys to support its ongoing care.

26 Sovereign.com
---
A WORLD OF BIRDS

Antigua's number one bird spot, Frigate Bird Sanctuary, is only

reachable with a short boat trip. Tucked away in a vast mangrove

lagoon on the neighbouring island of Barbuda, there are over

170 species of birds to observe here, including one of the world's

largest colonies of frigate birds.

The most extraordinary bird species are the magnificent frigatebirds,

also known as the man o'war bird, which are instantly identifiable

thanks to their impressive wingspan, which can be up to eight

feet in length, not to mention their giant size. Given that they can

comfortably soar in the sky for long periods at a time, they are easy

to observe.

The male frigate boasts a red throat pouch, which he can inflate

when feeling threatened, or as part of his mating dance, which

you can see between the mating season from September to April.

These same birds migrate to the Galapagos Islands each year.

Aside from frigates you'll also be able to spot pelicans and terns

on the beach, as well as the endemic tropical mockingbird, the

Christmas bird. If you're lucky, you may even spot the rare and

endangered West Indian whistling tree duck or Barbuda warbler.

Nesting Frigate Bird

SWIM WITH STINGRAYS

You've heard of swimming with wild dolphins, but what

about stingrays?

The fact they have the word sting in their name, you may think

of stingrays as fierce sea creatures, yet the southern rays found

in Antigua are friendly and gentle - and definitely worthy of

spending time with during your holiday.

Start your wildlife adventure with a five minute speedboat ride

zipping through the country's offshore islands, before you reach

Stingray City, located in the middle of the Caribbean Sea. This is a

non-enclosed area of shallow, clear warm waters where you can

see down to the white sandy seabed, which is surrounded by coral

reefs and tropical fish.

Stingrays come to this spot as they are attracted by the sound

and vibrations of the boat, knowing that they'll receive a free

feed of calamari!

"Stingray City is a once-in-a-lifetime experience!

I will never forget meeting one of my favourite

animals, the angelic southern stingray, in the crystalclear

waters of their natural habitat. They're free to

come and go as they please but they are incredibly

friendly and want to come and say hello."

Ellie Harding

Marketing Executive, Sovereign Luxury Travel

Once your boat has been moored, with a guide always by your

side you can step into the water from a wooden floating platform,

where a fever of wild stingrays will glide in to greet you in their

natural environment. Female stingrays are the largest, spanning

three feet long.

Green Lizard

Despite being related to sharks, stingrays aren't aggressive. They

have a venomous barb at the base of their tails, but stingrays

will only sting if they've been stepped on or feel threatened. Your

guides will teach you how to be careful in their presence and

to walk on the seabed in a 'stingray shuffle' - where you shuffle

without lifting your feet. The southern stingrays at Stingray City

are used to having visitors gently swim around them, so any risk

is minimal.

You can choose to stand, snorkel or swim with the stingrays, and

can even feed or touch them - plus you'll probably be surprised

by just how accommodating the rays are to selfies!

While snorkelling, you may also get to witness shoals of small

barracudas, boxfish, and jacks.

After rinsing off the ocean under a convenient shower, enjoy a

rum punch to end a fabulous day out.

A 7 night holiday in Antigua, staying at COCOS Hotel, starts from £2,199 per person.

Speak to one of our Personal Travel Planners on 01293 765004

Summer 2022

so Journ
---
Out of this World:

WINTER SUN

EXPERIENCES

IN LANZAROTE

Beyond the warmth of the Canarian sunshine and your

luxurious resort, Lanzarote is an untamed and dramatic

wilderness that has been shaped by volcanic eruptions of its

distant past and today is simply bursting with landscapes

that feel out of this world.

With its somewhat surreal terrain of lava flow and ash,

parts of Lanzarote are often compared to planet Mars.

In fact, the European Space Agency trains its astronauts

here, and the island was selected by NASA to practise

driving lunar buggies for moon landings!

Lanzarote is the perfect luxury holiday destination all year

round, including for winter sun with its comfortably warm

climate and average temperatures of 20°C from December

through February!

Your idyllic days of sun, sea and sand will be amplified as

you explore the treasures of this unique Canarian island.

28 Sovereign.com
---
Astronautical Ambience in Timanfaya National Park

You'd be mad to go to Lanzarote and not take a trip into Timanfaya

National Park, a seemingly desolate and somewhat eerie moonscape

that was forged by cooling lava from now dormant volcanoes. The

locals call this place Montañas del Fuego - the Fire Mountains.

It's easy to understand why the park was featured in the 1996

adventure fantasy film set in prehistoric times, One Million Years B.C.,

as well as the location of a hostile planet in the 1985 space war drama

Enemy Mine, among others.

With its massive craters of rocky earth, it's unstable underfoot and so

the main and popular coach tours are not permitted to walk around.

Our advice? Go on a small group walking tour with a ranger. As

there's no shade, this is best experienced in the winter months.

Visiting here is a favourite travel memory for Sovereign Luxury Travel's

Head of Commercial, Jon Hill. "It's literally like being on a different

planet! You can stop inside the park at El Diablo Restaurant with

amazing panoramic views, and tuck into dishes cooked by the natural

geothermal heat, or you can watch a straw burst into flames when it's

dropped into a hole at the visitor centre."

Crystal Vision at Salt Pans

From bubbled barren terrain, another otherworldly experience is

to be found at the Janubio Salt Pans. Waters from a natural lagoon

formed by the volcanic eruptions are left to evaporate and crystallise

into our favourite mealtime seasoning. Salt was an important industry

in Lanzarote in the late 19th century and today the salt pans are a

protected national heritage site.

Salt is an important part of Canarian culture and is dyed vibrant

colours and used in street displays to celebrate the island's traditional

Corpus Christi festival each year. Even in its natural form, the

patchwork of salt flats are wonderfully picturesque with their rising

white pyramids. These pile up until they are harvested by hand during

the summer.

Thorny Bites in Cactus Garden

Let's now move to the prickly and imaginative world of Jardín de

Cactus, a quarry-turned-garden that was the last endeavour by the

illustrious Canarian architect-artist, César Manrique.

Wonderfully arranged with its traversing paths, you'll find over 1,100

cacti varieties of many shapes, sizes, spikes, and flowers from around

the world. At the chic terrace café/bar, why not try a green-tinged

cactus burger featuring prickly pear cactus? Out. Of. This. World!

Summer 2022

so Journ
---
OUT OF THIS WORLD: LANZAROTE

Into the Dark at Los Hervidores

& El Golfo

Not all the lava from the violent volcanic

eruptions of the 18th century stayed on land.

Los Hervidores is a rugged landscape of caves

and cliffs that stretches as far as your eye can

see, forged when the roving lava collided with

the crashing and cool ocean waves.

Not far away, you'll find El Golfo, one of

Lanzarote's renowned black sand beaches.

Experience pure drama as you watch the

powerful Atlantic Ocean swell as it smashes

into the volcanic black rocks. While you're here

it's hard to miss and not be awed by the large,

vibrant green crater lake right by the beach,

coloured by a unique algae within its waters.

For their awe-inspiring grandeur, your heart

may skip a beat in these two spots.

Parade the Prom by Playa Blanca

Quite the opposite of black sands, discover

the resort town of Playa Blanca where inviting

restaurants line the harbour.

"There's a long promenade that you can stroll

down and absorb the bustling atmosphere in

the evening, while by day you can wander the

pretty yacht-lined harbour of upmarket Marina

Rubicón", reveals Jon.

You'll find the large beach of Playa Dorada,

right in front of Princesa Yaiza Suite Hotel

Resort. For kids and big kids alike, there's also

Aqualava Waterpark nearby, which celebrates

the volcanic landscapes, with pools that are

heated geothermally and perfect for colder

winter days, as well as a saltwater wave pool

among the water slides, lazy river, and play

structures.

Sail Away to Papagayo Beach

More beach bliss is to come your way at

Papagayo Beach on Lanzarote's southern

coast. Tucked within Monumento Natural de

Los Ajaches Park is a cluster of seven small

beaches that are sheltered among craggy

and bulbous lava rocks. Step onto divinely

soft sands where you can safely go swimming

in the warm, azure ocean waters.

Our recommended way to reach this beach

is with a private half day sailing trip on a

catamaran, where along the way you can

enjoy a delicious local lunch or tapas and

refreshments on board, before arriving at

Papagayo Beach. You can even go kayaking,

snorkelling or paddling using the equipment

provided!

30 Sovereign.com
---
Dizzying Jaunts in Lava Tubes

Lanzarote is teeming with lava tubes - underground cave systems

formed when lava travels beneath the surface. At La Cueva de los

Verdes, you'll find one that was formed over 4,000 years ago and is

four miles long, although only one mile is open to visitors. This section

is wonderfully lit up, so that you can enjoy a spectacle of light and

shadow as you wander through several connected galleries.

Near Cueva de los Verdes is the lava tube envisioned by César

Manrique, Jameos del Agua, where you'll find an underground

wonderland! There's a cool, curvy open-top swimming pool,

restaurant and bar, as well as an auditorium that hosts live music

events by night. Always joining you in the cave are a cast of teeny

tiny native albino crabs!

Walk the Crater of Volcán El Cuervo

Would it be rude to come all the way to volcanic Lanzarote without

going to see one up close?

You be the judge, but that's where our final out of this world

experience comes in handy. At Volcán El Cuervo you can actually

climb into the mouth of a volcano! Don't worry though, there's little

chance of an eruption! Not only is it a fascinating way to learn

about the island's historic geology and a great holiday hike, you'll be

rewarded with the most incredible panoramic birds-eye views.

A 7 night holiday in Lanzarote starts from £859 per person. Speak to one of our Personal Travel Planners on 01293 765004

Summer 2022

so Journ
---
Secrets

OF A HOTELIER

From winter sun to the perfect summer holiday,

there's one five star stay in Cyprus that has it all.

Sovereign Luxury Travel caught up with Costas Malaou,

Sales Manager of the Amara Hotel in Limassol.

The moment you arrive at Amara Hotel,

located just outside the coastal city of

Limassol, you feel like you've jumped

into the picture-perfect images that

you're tempted with on their Instagram

channel. Having opened its doors in

2019, Amara Hotel is the third and

latest addition to the world-class yet

Cyprus-owned hotel group, Stademos.

Costas Malaou started working in tourism

aged 15 years, working in local restaurants.

"It warmed my heart and I realised early

on that welcoming guests is something

I always had to do." He's been with

the Stademos group for five years,

and now finds it hard to imagine

being anywhere else.

32 Sovereign.com
---
Amara Hotel is very much a beach

destination, sitting on one of arguably the

best beaches in Cyprus, where you'll find

sunbeds, umbrellas, and a beach team to

cater to your food or drink needs.

"Our owner had great vision for Amara, he

didn't want it to be a run-of-the-mill five

star hotel," explains Costas. "He wanted

it to have the biggest rooms in Cyprus,

extraordinary facilities, and a huge spa with

dozens of treatment rooms."

This aspiration was attained, and begins

within the very fibre of the property, which

was designed collectively by an awardwinning

trio of architects and interior

designers. Amara Hotel boasts crisp clean

lines that's generous with space.

"Amara feels so alive, as it's always

changing and transforming itself for

the seasons, be that in the unique

artworks sourced from international

and local designers, to the plants

and the furniture that move location

depending on the time of year."

"People don't realise that Cyprus has

more than 150 Blue Flag beaches, which

is something we are very proud of and

grateful for. We made a point of ensuring

the hotel was situated right next to a 400

metre stretch of sand. Not only is it spacious

but it's easily accessible and ideal for

families, as when you enter the water it's

smooth and shallow, making it very safe."

With regular clean up days, the team

takes great care to ensure that their beach

remains clean and inviting, and even in the

peak of the summer holidays, there's still

plenty of quiet areas for couples to enjoy

their own space.

The hotel is incredibly close to the

archaeological city of Amathunta where

guests can learn about the ancient royal

city, which is a popular activity for guests

visiting in the winter. But if you don't feel like

stepping out of the hotel, you can always

find history within it.

"Guests are always surprised to learn that

we have a genuine restored and preserved

wall that dates back to Cyprus's ancient

history that you can physically see within

the spa."

Arguably, the star of the show is this

impressive spa, which spans 3,000 square

metres. "Our spa really is the launchpad into

our hotel, as we have nine spa treatment

rooms, and multiple treatments available in

what we call our Spa Bar." explains Costas.

"Our team custom makes every single

scrub to suit a guest's needs using

natural and fresh ingredients, such as

locally-produced carob and olive oil,

as well as carefully-sourced organic

coffee, sugar and essential oils, so that

guests really go on a wellness journey."

When it comes to dining, you're also spoilt

for choice. You'll find the Michelin-starred

chef Giorgio Locateli who is very much

hands-on with creating Italian dishes

at Ristorante Locatelli, as well as Nobu

Matsuhisa's famous Japanese-Peruvian

restaurant Nobu, the only one of its kind on

the entire island.

"The restaurants are a destination in their

own right, and our global Michelin-starred

chefs and menus attract high-end visitors."

"One of our biggest ongoing challenges is

that we have guests who book to stay in one

of the Amara suites or Cabana rooms for a

week, but on their last day ask us to extend

their stay, which isn't possible in those rooms

as we just don't have availability. So, if we

could change one thing we'd have more

suites and ground floor cabanas with the

private pools, as they are so popular."

The Amara Hotel team are always creating

unique experiences for guests, whether

that's arranging 300 red roses, a room full

of balloons, a private dinner with a piano

player, or a meal in which their expert chefs

build a menu specifically to a guest's tastes.

"If a guest wants a specific fish, our chefs

will personally go to the fish market to select

the best catch that morning."

And what's the best location for one of

these legendary private dinners? "The

Rooftop Duplex Suite", says Costas. "It's an

adults-only, two level suite with a private

pool and is just such an amazing place for

a private dinner! You have a magnificent

view of the whole Mediterranean Sea, and

complete privacy."

"Everywhere you go, you have your eye on

the Mediterranean Sea, so you are always

left with a feeling of freedom and calm. The

rooftop bar is very elegant and stylish, and

in the summertime it's a perfect place to be

as you enjoy live lounge music and amazing

cocktails. But everywhere is wonderful - the

terrace, the lobby lounge, everywhere!

"Our hotel motto is

'Own your horizon'

and it really is true."

"Our hotel is a perfect place for holidays

throughout the year and there are no

language barriers here as everyone speaks

English and we even drive on the same

side and have the same road signs! You

can chase the winter sun from November to

March, without having to venture as far as

the Caribbean or Indian Ocean, and enjoy

a range of activities, from cycling and skiing,

to winery visits."

"Cypriot wines are now winning global

medals and the nearest winery to us has

just invested €8 million, which makes it

the perfect marriage with Amara's

fabulous food."

A 7 night holiday at Amara Hotel in Limassol starts from £1,795 per person.

Speak to one of our Personal Travel Planners on 01293 765004

Summer 2022

so Journ
---
FIND YOUR

Natural

Spa

Unwind with our selection of curative spa treatments

that come completely from nature.

Are you ready for a natural spa experience? Cocoon yourself in

a mineral mud bath, or soak in waters that come from thermal

mineral springs and you'll be tapping into time-honoured wisdom,

as natural springs are believed to soothe and revitalise not only

your mind but also your body, healing chronic health conditions

or injuries. We can't guarantee you'll look ten years younger, but

you might just gain a new spring in your step!

SLOW DOWN IN THE TROODOS MOUNTAINS

When you stay at Casale Panayiotis Traditional Village Hotel &

Spa at Kalopanayiotis, high in the Troodos Mountains of Cyprus,

you'll be unearthing several centuries of healing at the sulphur

springs in this historic spa village. This unique luxury resort has

redefined the area's ancient traditions so that you can experience

restful bathing rituals in a sumptuous and award-winning

environment.

In a special hydrobath massage tub with over 100 microjets you'll

be steeped in the natural local spring waters, known as theouha.

Embrace a traditional thermal circuit as you make your way

through a sauna, mint ice mist, herbal steam room, snow cabin,

tropical rain, and foot baths. There's also a cabin where you can

relax with a detoxifying all-body rhassoul mud treatment.

For a special spa moment that's truly bathed in romance and

offers bubbles in more ways than one, then we recommend

the Night Spa Journey, where you can enjoy a private couple's

after-hours spa experience that finishes with a candlelit dinner.

Add on a 3 night stay to your Cyprus holiday from £425 per person.

34 Sovereign.com
---
LAZE BY LAKE GARDA

Hotel Caesius Thermae & SPA Resort in Bardolino is a true haven

of relaxation, perched by the crystal-clear waters on the eastern

shore of Italy's largest lake. Its lush Caesius spa sources pure,

thermal water that gurgles out from the natural mountain springs

of nearby Monte Baldo.

This water is brimming with minerals, including calcium, magnesium,

iron, silicon and potassium, which can provide you with an array of

health benefits. The best way to embrace its hydrotherapeutic and

cleansing effects is in the spa's two hydromassage pools, which stay

at a constant warming temperature of 34°C.

This spa oasis, which sprawls across 3,000 square metres, boasts

an on-site doctor to tailor personalised health and medical spa

treatments during your stay.

A 7 night stay starts from £1,149 per person.

BASK IN ST LUCIA

For a truly tropical experience, head to Sugar Beach, a Viceroy

Resort, where you'll find the delightfully serene Rainforest Spa,

nestled among verdant foliage with a stream running through it, and

offering soaring mountain views. Unwind with bamboo massages,

scrubs and hot rock therapies in a dreamy thatched stone or

treehouse treatment room.

If it's ever at all possible to tire of this lush, sunny haven, then less

than a 15 minute drive away are the Sulphur Springs, allegedly the

only place in the world where you can drive into a dormant volcano,

which last erupted over 200 years ago!

Dive into the potent rejuvenating mud baths, which are great for

soothing aching joints, sunburn or other skin conditions. You can then

wash the mud off at a refreshing natural waterfall. With both full and

half day experiences, this is a place you'll remember.

A 7 night stay starts from £2,559 per person.

Soak up your natural spa bliss with us! Speak to one of our Personal Travel Planners on 01293 765004

Summer 2022

so Journ
---
OUR PICK

Rooms with a View

Dreamy views make for a fabulous start to each day on your holiday.

You'll be pinching yourself with our pick of rooms with a unique view.

GRAND PARK HOTEL ROVINJ

CROATIA

Grand Park Hotel Rovinj provides epic views to the gem that is Rovinj. Gaze across

tranquil yacht-lined waters to terracotta tiled roofs and the pop of emerald cypress trees.

36 Sovereign.com

Grand Park Hotel Rovinj
---
MarBella Elix

Raffles Seychelles

MARBELLA ELIX

GREECE

RAFFLES

SEYCHELLES

Breathtaking. That's the only way to describe your view at

MarBella Elix, as your private infinity pool floats out into

the endless horizon blue of the Ionian Sea.

Your magical island haven is uplifted by the calm tropical views

from your pool villa at Raffles Seychelles, where bountiful

palm trees and the Indian Ocean glitters before you.

ANANTARA VILAMOURA

PORTUGAL

FAIRMONT BAB AL BAHR

ABU DHABI

The lush green fairways of Victoria Golf Course provide

a soothing and serene picture to wake up to from your

room at Anantara Vilamoura.

Embrace the regal spectacle of the Sheikh Zayed Grand Mosque

with its spherical domes and reaching minarets right from

your room at Fairmont Bab Al Bahr.

Anantara Vilamoura

Fairmont Bab Al Bahr

Summer 2022

so Journ
---
GUEST STORY

Into the

Maldives

with Lin Johnson

We used Sovereign Luxury Travel for our Maldives trip in December

last year. This was our first time getting away since November 2019

and we kept pinching ourselves to make ourselves believe we were

actually there!

As a family we usually enjoy self-catering holidays. Now our children

are adults and it's just my husband and I travelling together, we like

to stay in boutique style hotels, and we go to Gran Canaria at least

once a year if we can. We do not do highrise large hotels!

We tend to independently book our holidays but it was nice on

this occasion to have it organised by someone else. We found our

Personal Travel Planner, Antonia Coppolella, very helpful and it

made life easier.

Kuredu Island Resort & Spa suited our budget and had everything

that we wanted from a holiday. We had a wonderful time there -

the white soft sand and warm turquoise water will stay with me

forever. We stayed in a Beach Villa, which was lovely and had

great uninterrupted views over the ocean.

The sea plane ride to the island was amazing and definitely

something ticked off the bucket list and on arriving at the

island we were welcomed with drums beating and staff

clapping their hands. It made us feel very welcome.

You could literally kick off your shoes and relax. On arrival there was

a bottle of sparkling rosé wine waiting for us. We were allocated

an 'island host' and he was very helpful, and we could contact him via

Whatsapp, which we thought was great. The staff were friendly

at all times.

We took advantage of the spa, which I would thoroughly recommend!

I have never stayed anywhere with an outside bathroom before so that

is also an experience ticked off the bucket list. Having a shower while

fruit bats flew from tree to tree nearby was quite something.

We brought our own snorkelling gear from home

and it was amazing to be able to snorkel off the beach

and witness sea turtles, reef tip sharks, stingrays,

and lovely colourful and large fish!

While the island is the third largest in the Maldives it still had an

exclusive feel to it and never felt too busy. There are four restaurants

on Kuredu, including one à la carte restaurant. On arrival we

were allocated to one of them but we could also use the other

restaurants if we made a reservation, which we did.

The food was of excellent quality at all the restaurants, and there

was plenty to choose from. I can recommend both the red and

white wine and local beer to have with dinner. We also had yummy

cocktails - pina coladas and daiquiris, which were included in our

all inclusive stay.

We had two fridges in our room that were restocked daily and were

very generous. They included wine, beer, soft drinks, fruit juices,

snacks and, at extra cost, sparkling wine and spirits.

Our favourite thing to do was to wander back to the room at about

4pm and relax on the daybed on our deck, watching the sea while

enjoying a glass of wine before we got ready to go to dinner. There

were a number of shops where you could also purchase limited

supplies as well as souvenirs and clothes.

We spent our days around the pool, with our loungers looking

towards the beach. We loved watching the sea planes coming in

and leaving. And we could choose to swim between the pool or the

sea! The palms gave great shade when needed.

On our last night we had a special table that

had been decorated to say farewell to us. It was a truly

magical and beautiful time away.

38 Sovereign.com
---
A 7 night holiday at Kuredu Island Resort & Spa in the Maldives starts from £1,799 per person.

Speak to one of our Personal Travel Planners on 01293 765004

Summer 2022

so Journ
---
La Gomera

The Hidden

Canary Island

Did you know that there's an unsung Canary Island?

The second smallest of the eight Canary Islands,

La Gomera is relatively forgotten about, making it

a haven for nature lovers and boasting old-world

Canarian charm and traditions.

With mild yet warm temperatures throughout the year, La Gomera

lives in what the locals call an eternal spring. It has a more demure

and tranquil vibe than other islands in the archipelago - in fact

La Gomera only gained mains electricity and water after 1975.

It's surprisingly easy to reach La Gomera - just a 40 minute ferry

ride from Tenerife's Los Cristianos Harbour, which takes you into the

island's picturesque capital of San Sebastián, where pretty pastel

cliffside houses seem to almost spill into the sea.

Incidentally, the island was Christopher Columbus's last stop before

he sailed to the Americas in 1492. La Gomera's most recent global

claim to fame is that it was the location of the 2015 film, In the Heart

of the Sea, which was set in the mid-19th century.

La Gomera was a former hippie hangout too: in the 1960s and 1970s

the island attracted Americans who would hide in its caves to avoid

military conscription during the Vietnam War.

One of La Gomera's most unusual customs is Silbo Gomero, a

whistled language that shepherds and other inhabitants of the

island have used for many centuries to help communicate to one

another across the rugged volcanic landscapes of deep ravines

and narrow valleys. It's believed that this whistling can convey

messages over three miles. Even today, school children still learn

the language.

If you enjoy hiking then you're in luck, as there's over

400 miles of zigzagging walking trails that take you

into incredible landscapes, including up to the island's

highest peak, the Alto de Garajonay.

In the heart of the island, you'll find the UNESCO World Heritage

site of Garajonay National Park, which is mostly made up of a vast,

fairytale-esque and foggy laurel forest that you can easily venture

through and discover gnarled trees, horizontal rain, and unique

animals, including a giant lizard species.

Like the other Canary Islands, La Gomera also boasts a homegrown

winemaking culture, producing a whopping 30,000 litres every year

with its own designation of origin. You can visit vineyards and

bodegas in Vallehermoso and Hermigua.

We recommend you watch rather than partake in the somewhat

eccentric folk sport of salto del pastor or shepherd's leap, where

shepherd's nimbly pole-vault across mountaintops. It's quite a feat!

Spend your time unwinding on the island's many unspoilt beaches,

including the three Blue Flag beaches - Playa de Santiago in

Alajeró, and both Playa de La Cueva and Playa de San Sebastián

de La Gomera in San Sebastián. Tapahuga Beach is easily reached

by a direct walkway from Hotel Jardín Tecina.

Go whale watching off the Atlantic Coast, or on

guided walks, such as a historical stroll, a wander

under the stars, or a walk through banana plantations.

You'll also find unusual rock formations, such as Los Organos,

which resembles a set of church organ pipes.

There are many villages to discover, such as the hilltop village

of Agulo, which is ensconced by the 'yellow gold' of banana

plantations, and the hamlet of Chipude, which is bursting with history.

Driving around you'll find people in straw hats tending to the land,

low-key settlements, and terraces sprawling with prickly pears,

aloe, and palms.

La Gomera really does feel like the place that time

forgot - but you'll be so glad you've found it.

The now-dormant volcanoes really shaped La Gomera, creating

natural treasures of black sand beaches, palm-filled valleys,

and almost ethereal mountainous slopes.

40 Sovereign.com
---
ADVERTORIAL

WHERE TO STAY

HOTEL JARDÍN TECINA

There's only one place we recommend you stay in La Gomera,

as it offers such an array of fantastic experiences.

Situated on a clifftop, Hotel Jardín Tecina is a flower-filled haven

that feels like a pretty Canarian village with its botanical gardens,

swaying palm trees, and typical architecture. Backed by mountains

with mesmerising panoramas of the Atlantic Ocean, there are

steps and lifts down to the shingle beach, where you can splash

in the crystalline waters, play beach volley, a game of boules or

even mini golf.

There are five swimming pools and two solariums to unwind in,

as well as the adults-only Spa Ahemon with its open-air terrace

and glittering views.

All the rooms have a brilliant beach spirit with their bright,

contemporary interiors. When you're not playing a game of

tennis or golf on the hotel's own fairways, you can explore the

100% organic garden, Eco Finca Tecina, which provides El Laurel

Restaurant for a garden-to-table meal.

You're spoilt for choice here, as you can tuck into global flavours

and traditional Canarian dishes at any one of Hotel Jardín Tecina's

11 bars and restaurants, or have a special, private meal dining in

candlelight in a natural cave.

A 7 night holiday at Hotel Jardín Tecina in La Gomera

starts from £975 per person.

Speak to one of our Personal Travel Planners on 01293 765004.

Summer 2022

so Journ
---
ADVERTORIAL

Island Paradise

The Seychelles Islands

Breathe in bliss with an island paradise that delights with adventure, wildlife,

and heritage. The Seychelles is that once-in-a-lifetime barefoot luxury experience

that will likely entice you back for more.

There's an almost ethereal aura about the Seychelles. Unlike other

destinations in the Indian Ocean, this archipelago of 115 islands

is brimming with nature. Perhaps it's due to the close proximity to

East Africa, or maybe it's the remoteness of its location that

creates this sprawling Garden of Eden.

Whatever the reason, if you're someone who loves to break up

your beach time with activity and one-of-a-kind experiences,

then the Seychelles is where you need to be.

Every divine Seychelles holiday begins in the archipelago's

largest island of Mahé, and from the moment you arrive you'll

be mesmerised by the sway of verdant palm trees, dazzlingly soft

white sands, and shimmering turquoise waters.

"The beaches are delightfully wild and untouched,

remaining unchanged for centuries, which is why

it's possible to find critically endangered hawksbill

sea turtles nesting on them, a breathtaking sight

that will stir your heart for a lifetime."

Ben Stratton

Regional Destination Manager at Sovereign Luxury Travel

MAHÉ:

Cultural Treasures, Unearthed

Space out your days between relaxing

on the sands and exploring. Known for its

exotic spices, Mahé is home to the small

capital city of Victoria that houses the

wonderfully tropical botanical gardens,

and the many cultural markets where you'll

be welcomed by warm and kind-natured

Seychellois people.

There's also plenty of roaming to do.

Visit the hilltop retreat of Le Jardin Du Roi

Spice Garden, where you can surround

yourself with organic spices and delve

into the island's historic spice trade, or

get a taste for rum at the Takamaka Rum

Distillery. (The rum drinking culture is

understandable. Many of the islands of

the Seychelles were used to bury

treasure by passing pirates, before being

transformed into coconut and vanilla

plantations in the 18th century.)

Head for dinner at Marie Antoinette,

a traditional colonial mansion that serves

up deliciously authentic Creole cuisine

from a menu that hasn't changed in 50

years - think battered parrotfish and

aubergine fritters!

Meet wise and friendly

100 year-old giant Aldabra

tortoises in the breeding wildlife

reserve of Mayenne Island.

In southern Mahé, there are also plenty of

local Creole beach restaurants, where you

can feast on freshly-caught fish, prawns

and crab and the Indian influence of

curries, lentils and chutneys while your

feet sink into the divinely warm sand.

If you're travelling to a resort island, you

might find you're joined on your journey by

glittering flying fish who quite literally fly

alongside your speedboat.

With all there is to do in Mahé alone, it's

understandable why most visitors stay here

for the duration of their holiday. But, to

really make the most of the Seychelles, our

advice is to island-hop around three or four

islands in one trip so that you don't miss out,

as each island has a different vibe, both in

terms of activities and character.

What's more, it's easy to get around, with

short travel times between islands, making

it suitable for travelling with youngsters.

42 Sovereign.com
---
PRASLIN:

A Brilliant Brush with Nature

To really get up close to nature, venture to

the small island of Praslin, where at its heart

lies the tucked away Vallée de Mai Nature

Reserve, a UNESCO World Heritage site

that is brimming with endemic birds, flora,

and fauna.

"It's possible to develop an entirely

new relationship with wildlife,

particularly when you hear the

distinctly human-sounding whistle

of the Seychelles warbler."

Even if you're not much of a walker, head

out on one of three hiking trails that take

you into this emerald forest and you'll be

rewarded with views to die for. This is one

of only two places on earth where you'll

find the renowned coco de mer, the world's

largest seed from a palm tree, which is

steeped in fascinating legend and can

weigh up to 36 kgs!

The Seychelles has no poisonous or

dangerous wildlife, and no predators, so

it's quite possible to connect with millions

of years of evolution in one holiday, be that

with dinosaur millipedes, the Seychelles

bulbul, skinks and geckos, or fairy terns.

Across the Seychelles you can take day trips

to islands that are dedicated specifically

to birds.

"Praslin arguably holds the world's

most beautiful 18-hole golf course

at Constance Lemuria, which is

edged by mountainous jungle

and the azure ocean."

SEYCHELLES

ISLAND HOPPING FOR…

FAMILIES

Constance Ephelia, Mahe & Hilton Seychelles

Labriz Resort & Spa, Silhouette Island

LA DIGUE:

Where Time Stands Still

The one island you must take a day trip to

is the delightfully tiny La Digue.

Everything here runs at a much slower

pace, and life here is as wonderfully

archaic as it is laid-back. In fact, the only

way to get around the island is by bicycle,

even if you're a president or royal!

La Digue truly takes the cake with its

beaches, such as the secluded Petite Anse

Beach, home to powdery white sands

and granite boulders. Some of La Digue's

beaches are so well hidden that it's best to

go with a local guide, and a few can only

be reached by foot, such as the remote but

hauntingly attractive Anse Marron.

INTO THE OCEAN:

Adventure always seems to meet nature

in the Seychelles, not least when you're

indulging in watersports. The waters

are safe and wonderfully warm here,

with average temperatures of 28°C.

With six marine parks that are home to

colourful marine life and corals, there's

so much to see!

If you're lucky, you can witness

bottlenose dolphins while you're day

tripping on a catamaran, or witness

schools of clownfish while scuba

diving or simply snorkelling near the

shore edge.

You may leave her behind, but the

Seychelles will forever imprint on

your soul.

LUXURY HONEYMOONERS

Anantara MAIA, Mahe & Raffles Seychelles, Praslin

CULTURE LOVERS

Carana Beach & Hotel L'Archipel, Praslin

A 7 night holiday in the Seychelles starts from £1,899 per person. Speak to one of our Personal Travel Planners on 01293 765004

Summer 2022

so Journ
---
ADVERTORIAL

SummerSpirit

Soak into the spirit of Rhodes with a stay

at Sheraton Rhodes Resort.

WITH

SHERATON RHODES RESORT

Located on the northern tip of the island, less than two and a half miles

from the city centre and Old Town, Sheraton Rhodes Resort is ensconced by

gorgeous landscaped gardens, and has a light, contemporary air to it that's

sprinkled with classical Grecian elements.

You're perfectly positioned to explore the 2,400 year history around you, as you

venture into ancient cobbled towns, or dig into awe-inspiring UNESCO World

Heritage archaeological sites.

All the resort team are brimming with local knowledge and able to suggest

unique activities, whether that's renting a bike to head into the city, walking

through the Valley of Butterflies, visiting local vineyards, or hopping on a ferry to

the nearby island of Symi, home to multicoloured houses and hidden coves.

The resort is your ideal home-away-from-home spot, as you stay in breezy

rooms that boast floor-to-ceiling windows overlooking the native flora and

Aegean Sea, not to mention crisp marble en suite bathrooms.

Of the four resort restaurants, our favourite has to be Thèa. It has a fabulously

authentic chic vibe as you sit among grand olive trees witnessing breathtaking views

and feast on fresh Greek local produce and flavours. This is what holidays are all about!

What's more, Sheraton Rhodes Resort is set by its own private beach,

so you can feel sun-kissed as you relax on complimentary sunbeds with

umbrellas, or dive into the sea where you can enjoy an array of watersports,

including stand-up paddleboarding, and windsurfing.

Families will feel really welcome here, with daily fun programmes, live evening

entertainment, an all-day buffet restaurant, family rooms, and a dedicated kids'

pool and menus.

The three sports courts are an ideal place for you to come together to play

a game of squash, tennis or basketball. There are three magnificent outdoor

swimming pools for you to cool off in, including a peaceful outdoor pool on the

sixth floor. You can also find a sense of wellbeing in the soothing spa with its

Jacuzzi, sauna and indoor pool.

At the heart of the resort set within olive grove gardens is the Main Pool, the

Pool Bar, and the Mediterraneo Restaurant, where you can enjoy poolside

plates of fresh, local bites for leisurely afternoons.

By sunset, when you're not enjoying the social lounge of Knight's Bar with its

ambient music and deep sofas, you'll love the authentic Italian flavours found

at L'Onda. Situated on the terrace, if the delicious antipasti, traditional dishes,

seafood, and refreshing salads don't blow you away, then the views over the

Aegean Sea will!

A 7 night holiday staying at Sheraton Rhodes Resort starts from £999 per person.

Speak to one of our Personal Travel Planners on 01293 765004

44 Sovereign.com
---
ADVERTORIAL

Eat Away

AT EAGLES PALACE & VILLAS

Freshness and flavour are always on the menu

at Eagles Palace & Villas in Halkidiki.

At the five star beach resort of Eagles Palace

& Villas, you'll find some of Halkidiki's

finest dining, making it an ideal stay for

food-lovers.

The resort's restaurants really are one of the

perks of staying here, so you might want

to choose the half-board premium dine

around option, which includes both varied

international buffet meals as well as divine,

fine dining experiences. Catering to all the

dietary requirements and wishes of guests of

all ages, it's an easy choice to make.

Start each morning with a delicious

breakfast buffet that's filled with fresh and

local specialities. By evening, you can tuck

into authentic Asian dishes overlooking

the pool, or feast on Italian cuisine as

you watch the sun go down. There's even

a traditional taverna at the beachfront ​

Armyra, which honours Greek tapas and

the fresh catch of the day. Here are just a

few highlights!

ELEONAS BY FUGA

You'll get a taste of Italy at this pretty

al fresco restaurant next to Eagles Villas.

Don your chic apparel and tuck into

award-winning authentic Italian flavours

of wood-fired pizza and succulently fresh

pasta while you look across the bay of

Mount Athos. Time your reservation with

sunset for some memorable views!

KAMARES BY SPONDI

One of the most special spots of Eagles

Palace, Kamares by Spondi is an adultsonly

restaurant located on a wooden

balcony where you can enjoy delightful sea

views across to the island of Ammouliani

while tucking into a gourmet feast. There's

a three course tasting menu that has

been designed by the esteemed two star

Michelin chef, Arnaud Bignon, and features

seasonally-inspired dishes from around

the globe. For celebratory occasions and

candlelit romance, this is the place to be.

WASHI

Whet your palate with aromatic and spicy

dishes at the resort's decadent Asian

restaurant. Elevated on an elegant terrace

that looks over the outdoor pool, this is a

majestic space where you can dream away

the night, should you wish to! The pinnacle

of dining here are the live cooking stations

where you can witness the theatre of the

resort's very talented chefs.

A 7 night holiday staying at Eagles Palace

& Villas starts from £945 per person.

Speak to one of our Personal Travel Planners

on 01293 765004

Summer 2022

so Journ
---
Best

Beaches

for 2022

There are beaches, and then there are elite beaches.

We know what you want! Soak your toes into the finest golden

sands, as we share our favourite beach destinations for 2022.

SAADIYAT ISLAND | ABU DHABI

In one of the world's most exclusive locations, Saadiyat Island

boasts a most beautiful natural coastline where a tropical spirit

meets sophistication and premium service.

Saadiyat Beach is home to five miles of pristine, silky white

sands that are carefully preserved and undeveloped.

Native wildlife is allowed to thrive here, such as the critically

endangered hawksbill turtles, which use parts of the beach to

nest from March to September, and their hidden hatching sites

are protected and patrolled by expert naturalists. Protection

of its surrounding dunes means you access the beach by

elevated wooden boardwalks.

Once on the beach, you have magnificent views over the

Persian Gulf, where if you're lucky you might spot playful

humpback dolphins in the waters.

Slow down and breathe with a beach yoga class, or take

to the waters for thrilling non-motorised watersports like

windsurfing and sailing. Linger until dusk to embrace the

stunning sunset sights over the sea.

You only need to wander a few minutes to find your own sandy

spot, plus there's an exclusive beach club where you can

lounge in contemporary comfort while you enjoy exceptional

hospitality. However, to make the most of Saadiyat Beach,

there are several luxury beachfront resorts you can choose.

The eco-conscious Jumeirah at Saadiyat Island Resort has

adopted a revolutionary plastic-free approach, and even

features an on-site marine biologist who shares local wildlife

and sustainable initiatives with guests.

Speak to your Personal Travel Planner about

a luxury beach holiday in Saadiyat Island.

46 Sovereign.com
---
CORRALEJO | FUERTEVENTURA

In the northeast of Fuerteventura is one of the largest and

most idyllic of beach destinations, the Grandes Playas (Big

Beaches) of Corralejo, located within Corralejo Natural Park.

Five and a half miles of powder white sands are sandwiched

between dunes and hidden coves, and lapping turquoise

waters. The waves here are ideal for surfing and kite surfing,

and you can enjoy the sunshine all-year round.

Across the Atlantic Ocean, the neighbouring Canarian

islands of Lanzarote and Los Lobos shimmer in the distance.

To experience this beach beauty, look no further than the

adults-only oasis of the newly renovated Secrets Bahía

Real Resort & Spa, which opens right onto the sands. Just a

minute's walk to the beach through tranquil exotic gardens,

the soothing sound of waves will be your heavenly holiday

soundtrack.

A 7 night holiday staying at Secrets Bahía Real Resort

& Spa in Fuerteventura, starts from £1,199 per person.

SOUTHERN SARDINIA

Sun-drenched Sardinia is your perfect summer and winter

sun holiday spot. However, beyond its warm rays, the south of

this Italian island is also home to some of the Mediterranean's

finest beaches.

For your ultimate family holiday in style, there's one resort that

triumphs: the multi-award-winning Forte Village, which is just

a 45 minute drive from the international airport.

This sprawling resort on the Cagliari coast is actually a

resort within a resort, with a total of eight five and four

star hotels and 13 luxurious pool villas tucked away within

beautiful gardens.There are an infinite number of restaurants,

swimming pools and activities tailored to all ages to

appreciate, but one of its main highlights is undoubtedly its

location.

Its private beach is already set up with umbrellas and

loungers so you can just show up! Edged right along

powdery white sands with a mountain that protects it,

Forte Village benefits from its own tropical microclimate,

ensuring it's never too windy but never too hot.

Even the crystalline turquoise waters feel perfectly heated,

and boast shallow shores that allow non-swimming visitors

to wade safely. If you're seeking an adrenaline rush then

you can hire a kayak or catamaran, or even receive scuba

diving lessons.

Once you're in this sublime corner of Sardinia, you'll find it

hard to leave.

A 7 night holiday staying at Forte Village in Sardinia,

starts from £1,679 per person.

Spring / Summer 2022

so Journ
---
BEST BEACHES

BELLE MARE | MAURITIUS

GRAND ANSE | GRENADA

Winning the crown for this year's best Caribbean beach

has to be the award-winning Grand Anse, located in

the exclusive southwest area of Saint George Parish.

This beach was also featured on Holidaying with Jane

McDonald: The Caribbean.

It's hard to believe, but this amazing sweep of sparkling

fine sands is only a few minutes' drive from the international

airport. Sandwiched between verdant hills and the vibrant

blue of the Caribbean Sea, the beach stretches across two

miles in a striking crescent moon shape, allowing it to never

feel too crowded.

One of our standout Indian Ocean beaches is Belle Mare in

Mauritius, which literally translates as Beautiful Sea! Situated

on the wild and unspoiled east coast of the island, you'll find

miles of tree-lined soft white sands stretching out, dotted with

chic restaurants, bars and resorts.

One of our favourite resorts here is the thatched-roof

haven of LUX* Belle Mare, where you can dip into in-house

watersports, beachfront yoga classes, or a glass-bottom boat

ride. Close to the beach, a beautiful lagoon is teeming with

protected coral, which you can discover while snorkelling.

When you're not embracing your beach bliss, you can tee off

at one of three nearby top-notch golf courses, luxuriate in the

spa, or visit the resort's own organic farm, located a short five

minute walk away.

A 7 night holiday staying at LUX* Belle Mare

in Mauritius, starts from £1,665 per person.

It's so easy to fill your days as you flit between swimming in

the sea and sunbathing in your tropical surroundings, with

swaying palms and almond trees as your shade.

For your dreamy stay in Grand Anse, it's got to be the

family-run Coyaba Beach Resort, where you can enjoy

a premium, all-inclusive stay, which boasts an on-site

PADI diving centre.

A 7 night holiday staying at Coyaba Beach Resort

in Grenada, starts from £1,365 per person.

48 Sovereign.com
---
ADVERTORIAL

Luxury, Redefined

WITH BLUE PALACE

Find a sense of stillness in your own Cretan haven at the ever-so elegant Blue Palace.

Crete's popularity might make you think it's crowded and busy,

but all you need to do to challenge this view is head to Blue

Palace, where you can soak in the Greek island's wild beauty

and timeless essence.

Tucked away between the chic port town of Elounda and the

sleepy fishing village of Plaka, Blue Palace lulls you into a slower,

gentler pace.

You and your family will find genuinely warm hospitality as you

unearth the region's local culture and historic roots, be that

through learning to make dolma (stuffed vine leaves) in an al

fresco kitchen, or sailing off into the Aegean Sea on a caique

(a traditional fishing boat).

You'll feel a million miles away from reality as

you reconnect with your family - with watersports

lessons, open-air cinema nights, beachside BBQ

parties at Blue Palace's own Isola Beach Club,

or when visiting the organic garden together.

This is what we call luxury redefined.

To elevate your stay, choose the Haven Collection, the resort's

premium collection of exclusive and discreet suites and villas,

where you'll immediately feel at home - yet won't have to lift

a finger.

Revel in VIP service and amenities, such as an in-suite check-in

and unpacking service, in-room dining, a private heated pool,

a pillow menu, high-tech in-room entertainment with streaming

services, complimentary daily stretching or yoga sessions by the

beach, and a complimentary premium minibar that's replenished

every day, to name but a few!

The ideal way to start your day? Tuck into a scrumptious and

secluded Haven Breakfast at the seasonal, à la carte pebblemosaic

courtyard of the resort's star eatery, Anthós Restaurant.

Enjoy exclusive access to The Beach Haven, a private section

of the beach with top-notch beach service and amenities.

The Haven Concierge will be on hand throughout your stay

to create bespoke services and activities for you.

The Haven Collection is your dream-come-true, authentically

Greek family holiday.

A 7 night holiday staying at Blue Palace in Crete starts from £1,479 per person.

Speak to one of our Personal Travel Planners on 01293 765004

Spring / Summer 2022

so Journ
---
Why

SOVEREIGN LUXURY TRAVEL

GREAT VALUE

We stand for affordable luxury. You'll always receive

exceptional experiences at competitive prices.

All our prices include flights, complimentary lounge

passes, and private transfers as standard.

EXPERIENCED

We've been crafting luxury holidays for our

guests for 50 years and know the industry.

We are fully ATOL and ABTA bonded and strictly

managed by the Civil Aviation Authority (CAA).

TAILORED

Your luxury holiday is crafted just for you,

based on your interests and needs.

Expect personalised service as standard,

for a smooth and hassle-free holiday.

EXCLUSIVE

You'll always benefit from exclusive offers and

upgrades thanks to our great, long-term partnerships.

Enjoy various perks, including

complimentary airport lounge access.

EXPERT

You'll have a single point of contact with

your own assigned Personal Travel Planner.

Benefit from our destination expertise, 24/7

support, and up-to-the-minute travel advice.

TRUSTED

Book with confidence with our high

guest satisfaction rates.

Your safety is our priority. We use tried and tested

accommodation, and provide full flexibility.

Find out what other Sovereign Luxury Travel guests say about us on the independent review site Feefo

50 Sovereign.com
---
Where's your next

Holiday?

At Sovereign Luxury Travel, we are part of a family of brands who live and breathe travel.

These include Citalia, experts in discovering the real Italy, and American Holidays,

specialising in tailor-made holidays to America, Canada and the Caribbean,

where the possibilities are unlimited.

Browse their collections of great Italian escapes and awe-inspiring journeys.

• Private & Tailormade Holidays

• Handpicked Accommodation & Destinations

• Small Group Escorted Tours

Citalia.com

Inspired?

Book Your 2022/2023 Holiday Now And Save Later. Speak to one of our Personal Travel Planners on 01293 765004

Alternatively visit citalia.com or americanholidays.com

Summer 2022

so Journ
---
EYEBROW

To book or find out more, visit Sovereign.com

or speak to one of our Personal Travel Planners on 01293 765004

WINNER

52 Sovereign.com