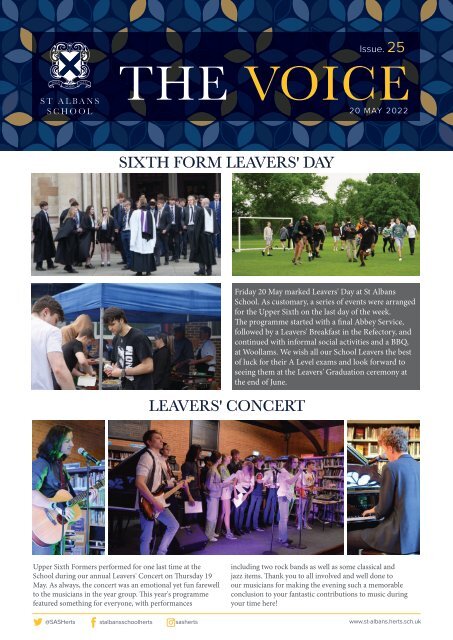 You also want an ePaper? Increase the reach of your titles
YUMPU automatically turns print PDFs into web optimized ePapers that Google loves.
Issue. 25

THE VOICE

20 MAY 2022

SIXTH FORM LEAVERS' DAY

LEAVERS' CONCERT

Friday 20 May marked Leavers' Day at St Albans

School. As customary, a series of events were arranged

for the Upper Sixth on the last day of the week.

The programme started with a final Abbey Service,

followed by a Leavers' Breakfast in the Refectory, and

continued with informal social activities and a BBQ,

at Woollams. We wish all our School Leavers the best

of luck for their A Level exams and look forward to

seeing them at the Leavers' Graduation ceremony at

the end of June.

Upper Sixth Formers performed for one last time at the

School during our annual Leavers' Concert on Thursday 19

May. As always, the concert was an emotional yet fun farewell

to the musicians in the year group. This year's programme

featured something for everyone, with performances

including two rock bands as well as some classical and

jazz items. Thank you to all involved and well done to

our musicians for making the evening such a memorable

conclusion to your fantastic contributions to music during

your time here!

@SASHerts stalbansschoolherts sasherts

www.st-albans.herts.sch.uk
---
THE VOICE 2

PLATINUM JUBILEE - SCHOOL MEMORIES OF OA's

The long awaited four-day bank holiday to mark the Queen Elizabeth

II Platinum Jubilee will take place from Thursday 2 June to Sunday 5

June. To commemorate the Queen's 70 years of service, the School and

its pupils will join in the tree-planting initiative and will be burying a

time capsule in the dungeon of the Gateway on 27 May. To get into the

celebration spirit, we asked three OA's to share their School memories

of this period along with their recollections of the Coronation.

Could you tell us a bit about your time at St Albans School?

I came to SAS in September 1945, fortunately having won a then

County Scholarship as my parents would not have been able to

afford the School's fees. I progressed through school and into the

Science side of the Sixth Form to do Maths, Physics, Chemistry

and Further Maths for the then A Level examinations which,

though I passed, did not lead on to a University place.

What do you remember of the Queen's Coronation?

My recollections of the Coronation remain quite vivid. A small

group of us clad in CCF Greatcoats and carrying sleepingbags,

installed ourselves on the pavement just North of Apsley

Gate, Hyde Park the previous evening. We survived quite heavy

overnight rain and watched the various processions assembling.

Meanwhile the cheering news of the ascent of Mount Everest

by Hilary and Tensing was announced over the loudspeakers.

Then we watched the most marvellous, seemingly unending

and colourful procession pass by, heard the broadcast of the

ceremony itself and later some of the procession returned to

dismiss. We trekked home elated but with greatcoats that took

days to dry out.

Where did you go after St Albans School?

Leaving School in 1953, I unexpectedly failed my medical for

National Service with a minor hernia, probably caused as I can

remember by a scrum collapsing on me some months before. I

obtained articles to a city firm of Chartered Accountants with

the somewhat Dickensian name of Whinney, Smith & Whinney.

Surprisingly in this day and age, I stayed with that firm and its

many developments until my early retirement in 1992 when it

was known as Ernst & Young.

What advice would you give to the current pupils at the school?

What I would say to pupils is work hard, ask questions until you

are satisfied with the answer, develop your friendships and above

all have fun whilst you are doing so.

Robert B Sharpe (OA 1953)

Could you tell us a bit about your time at St Albans School?

I entered the School on 20 September 1949. For the first two

years we were streamed into a form where the students had been

to a private preparatory school and had studied Latin, French

and were perhaps more advanced in Maths. In the third year the

forms were merged, and we learnt most of the bright boys had

not been to prep school. My favourite subject was Maths, and I

was a member of a new specialist Maths set in the first year of

the Sixth Form. We were taught by a most influential teacher

newly recruited Dick Tahta. He was the first teacher, newly

recruited of my experience bringing poetry and Bach to his

teaching of Maths.

Where did you go after St Albans School?

I stayed at the School for two terms after A levels trying to get

a Maths scholarship to Oxford. I was not successful and to the

delight of my Father started training as a Chartered Accountant.

What do you remember of the Queen's Coronation?

I remember the death of King George VI very well. We had

joined our classrooms before his death was announced so we

were told in class. We were told to go to the playground and on

a grey, cold February we walked around in silence genuinely

saddened by the news. It was a holiday and I got up at two in the

morning and with a friend I cycled to a tube station a few miles

away because not all stations were open. We arrived at Trafalgar

Square already busy and found a place in front of Malaysia

House at the head of The Mall. We were there all day, and the

crowd were very kind and allowed us to the front where we saw

the procession three times.

What advice would you give to the current pupils at the school?

I think it is dangerous for the old to imagine they have acquired

great wisdom which will be useful to younger generations, but

I will give some advice. Every successful man or woman that I

met during my career had some intelligence of course but more

importantly great physical and mental stamina. I suspect that

this quality like intelligence is in the genes but like intelligence it

can be developed if you work at it. It is important to follow the

practice of keeping going and avoid

giving up. This includes participating

in activities which you are not very

good at, accepting any criticism and

despite not being a winner enjoying

yourself.

John Roques (OA 1956)
---
3

THE VOICE

Could you tell us a bit about your time at St Albans School?

I started at St Albans School in September 1942, and I left

between 1952 and 1953. I was almost nine years old when I

started at St Albans School and in Pemberton House.

Where did you go after St Albans School?

In 1953 conscription into the armed forces was still in hand.

I originally wanted to join the Royal Navy as a career, but

circumstances changed and in order to at least get some

Naval experience I tried to enlist in the Fleet Air Arm on a

three-year short service commission to cover my conscription

requirements.

I then decided to become a Naval Architect and applied to

the two Schools of Naval Architecture in Great Britain, The

University of Glasgow and the University of Newcastle. I

took the first offer I got - Glasgow and entered University

in October 1953. It was somewhat of a culture shock! I

graduated in 1957 with an Honours Degree and subsequently

undertook a post graduate course in Mechanical Engineering

at Imperial Collage, London. I then applied for a job at Vickers

Armstrong shipyard in Barrow-in-Furness in 1958 and started

there in January 1959 and was immediately employed on

the first British nuclear submarine project, HM Submarine

Dreadnought.

What do you remember of the Queen's Coronation?

I had just left the School by the time of the Queen's Coronation

and cannot recall anything specific. I do recall watching the

proceedings on a black and white television at the house of a

school friend, Brian Davidson, who became a Master at the

School later on.

What advice would you give to the current pupils at the

school?

Advice, well, for those that hope

to go to university, I would say

this. University is different from

School. You go to School to

learn. University teaches how

to learn. Think about it, there

is a subtle difference. I found

out that difference after a year

at university and I had to repeat

some exams. It was then I put

my "head down" and got on

with it.

Roger Seymour (OA 1952)
---
THE VOICE 4

SPORTS AWARDS

NEWS

ATHLETICS

Congratulations to Sportsman (Alex) and

Sportswoman (Islay) of the Year. Thank you to all

nominees for the hard work and commitment THE

Upper Sixth Form has shown to School sport this year.

DRONE PILOTS

RAF cadets learnt about drone flying theory. Having

successfully passed their exam to be awarded their Civil

Aviation Authority flying licence, they put their newly

developed skills and knowledge piloting the drone at The

Woollam Playing Fields themselves! Their next challenge

will be to go through the theory and look at completing the

A2 certificate of competency allowing them to fly further

afield and larger drones than previously.

SOCIAL MEDIA

Take a look at what's happening on our social media accounts! Follow us at:

@SASHerts stalbansschoolherts sasherts

Well done and congratulations to our Senior

athletes! Zac, Matt, Luca and Johnny broke a ten

year long meeting record at Harrow School, clocking

3.30.1 minutes on the 4x400m.

Fourth Formers have been demonstrating

great collaboration & original thinking

skills in English. 10

Thank you to our pupils for their

fantastic performances during the Junior

Music Scholars' Concert last night. 39

Thank you to everyone who made our

SASA BBQ so memorable!

71

NEWS COMING SOON...

25 May First Form Food For

Thought Workshop

27 May The Queen's Platinum

Jubilee Celebrations

27 May Lower Sixth Enrichment

Lecture 'The Film Industry'

Zygi Kamasa

28 May Second and Third Form

Trip, Wareham, Dorset

Keep an eye out for Sports Fixtures on our website