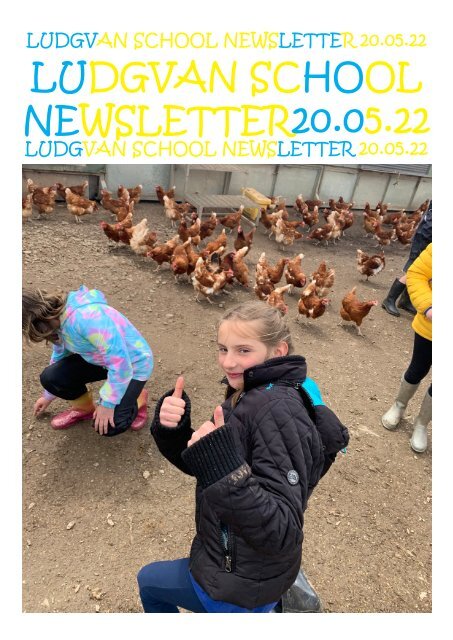 Do you know the secret to free website traffic?
Use this trick to increase the number of new potential customers.
LUDGVAN SCHOOL NEWSLETTER 20.05.22

LUDGVAN SCHOOL

NEWSLETTER20.05.22

LUDGVAN SCHOOL NEWSLETTER 20.05.22
---
A word from the Principal...

Welcome,

I must start by saying how proud I am of our Y6 children. Last week, they undertook their SATs and

their positive approach and levels of determination to do their best was fantastic to see. Not only

have they had their Y4 and Y5 disrupted by lockdowns, but even their Y6 has been severely impacted

by multiple positive COVID tests, isolations and absences. We will not find out their results for a

while yet, but regardless of the 'official' outcome, I couldn't be more proud of them.

Some people have asked about the 6th June being listed as a school bank holiday. Due to the official

Jubilee Bank Holiday falling in half term, the DfE have tasked all schools with allocating a replacement

bank holiday instead. We have chosen the 6th June as it is the closest day to the official Jubilee.

Thank you to everyone who completed the parents survey organised by our Local Academy Committee

during Parent Consultation Day. Michael Payne, the Chair of the LAC, has compiled the results

and will be producing a response highlighting the main themes from your responses and how they

will inform our priorities moving forward. I was delighted with the overall positivity of the responses,

which demonstrated how effectively we have all worked together as a school community through the

last couple of years, which have been hugely challenging for us all.

This week, we had a special visitor! The Kernow King joined us on Wednesday as part of his tour

of Cornish schools and spent time with our Y6 children before delivering a wonderful whole school

performance. The children thoroughly enjoyed it and we look forward to welcoming Ed again in the

future.

If you have time during drop off or collection, please take the time to have a look at the climbing

wall in our smaller playground. Oliver and Jon, from the FLS, have spent time painting the wall with

a wonderful nature scene and every child has added their hand prints as leaves. It looks great, thank

you Oliver and Jon!

Kind regards,

Adam Anderson

Principal
---
Useful information...

Term Dates 22/23

7th Sep – 16th Dec (HT 24-28 Oct)

4th Jan – 31 March (HT 13-17 Feb)

17 April – 21 July (HT 29 May-2 Jun)

Inset Days

5th September

6th September

3rd Jan

24th July

25th July

Community Centre Car Park

For those of you who may be unaware, there is a path from Ludgvan Community

Centre (TR20 8ES) to the back gate of our school site. There is

lots of parking at the Community Centre and this can be used at the start

and end of the day when parking is challenging at the start of the school.

School Uniform

Please be reminded that when your child has outdoor learning or PE, there are

still school uniform requirements in place. Children should be wearing their

school PE shirt, a school hoodie or jumper and black shorts or tracksuit bottoms.

Absence

If your child is absent from school, please ensure you ring into school and leave a

message so we know why your child is not in. Whilst you may also message the

class teacher via Dojo, it is important our admin team are also made aware.

Term Dates 21-22 and Important Events

Summer Term 25 April - 26 July (Half term 30 May - 3 June)

Inset Days: 25th July and 26th July.

Replacement Platinum Jubilee Bank Holiday: 6th June

Queen's Platinum Jubilee Playground Celebration - 7 June

Sports Day - 4th July
---
Exciting and Engaging...

EYFS

This week has been a very busy and exciting week in our class. We were lucky

enough to have a balance bike session, which we loved! It was so much fun as

we got to play lots of games and have a go at using our legs to help us move.

In our forest school session we read a story that explained that our feelings are

like clouds and they always pass. We lay down and looked at the clouds passing

over us. It was so relaxing that some of us even fell asleep!
---
Exciting and Engaging...

Y1

The children really enjoyed learning all about fruits and vegetables. They were

very surprised that tomatoes and cucumbers were fruits! They designed their

own fruit kebab and then had great fun making and eating them!!

After listening to the story of 'Somebody swallowed Stanley' the children used

recyclable objects to make their own under the sea animals.
---
Exciting and Engaging...

Y2

What a busy week Year 2 have had! We have been so impressed by all of their

hard work and focus during their SATs. It has been amazing to see them all

trying their best and remembering everything that we have learnt during Year

2. They have also been getting creative this week and doing some painting.

The class had a go at recreating one of John Dyer's paintings. They really impressed

us with their painting skills and eye for detail as there are lots of intricate

details to spot in his paintings. We also received a letter from Bob (the

man on the moon) last week. Since then, Year 2 have been speculating about

who his boss is. Bob gave us the challenge of writing some persuasive letters

to his boss to try and convince them that his days working on the moon are too

long. We have seen some amazing questions and exclamations being written

in the build up to creating our letters. Year 2 have also enjoyed learning more

about fractions in Maths. They took on the challenge of finding a third of an

amount in one of their independent activities this week and blew us away by

how confident they were at doing this. Well done Year 2!
---
Exciting and Engaging...

Y3

Year 3 have continued to learn about Cornwall. They have spent time exploring aerial

and ordnance survey maps of our local area and have compared Ludgvan in 1877 to

the present day. The children have learnt about the significance of St Michael's Way

and how it was used by the pilgrims. They went on a soggy pilgrimage walk to explore

part of the route through Ludgvan. The children have also been listening to

more Cornish legends and are now writing a legend of their own. They have also continued

to go to Penzance gymnastics club each week and have been visiting different

farms. It's been busy! Well done Year 3.
---
Exciting and Engaging...

Y4

It's been all go in year 4 over the past two weeks. As part of our farming topic we

have been learning about the different types of farms in the UK. We were then able

to learn about this first hand by visiting both Trevaskis Farm and Cornhill Farm, learning

about their farming operations and what different types of farming entails. We all

learned a lot! Adults included!

We've also been hard at work in the classroom! Our Maths learning has seen us exploring

working with money. We have been applying this to real life applications. In

English we have started story writing using suspense. So far we have started to explore

the features we can use to build up suspense in our writing. It's been great to

see what the children have come up with already - I can't wait to see the final outcome!
---
Exciting and Engaging...

Y5

Class 5 has had a busy week, with lots of new learning! As part of our new explorers

topic, Class 5 have been learning about famous explorers, including Sir Ernest Shackleton

and Christopher Columbus. They have used their debating skills and discussed

'what makes a good explorer' and whether Christopher Columbus was a hero. They

have also created some excellent presentations about Shackleton's journey, having

researched his Endurance expedition. We have also started our cooking and nutrition

unit and have begun our very own 'Ludgvan Bake off' challenge. We kick started last

week with the technical challenge where the children were given ingredients and instructions

to make scones and then had 45 minutes to make them without any adult

help! All of the scones were delicious and Mary and Mr Anderson had a great time

sampling and offering feedback to each group. We will be working towards our show

stoppers over the next few weeks.
---
Exciting and Engaging...

Y6

Year 6 have had a roller coaster few weeks at Ludgvan. We began last week

with 4 days of SATs test papers and the children were absolutely fantastic -

from the positive attitude to their amazing effort.

We finished the week with a celebration day, which consisted of going to Hayle

Park; playing football, exploring the play equipment, skating in the skate park,

having a lolly refreshment and finished the day with a water balloon war. Not

so much a war as it was 'Gang up on Mr Uren'.
---
Exciting and Engaging...

Y6

This week, we have completed 2 foundation units for PSHE and Computing.

In PSHE, year 6 have been learning about their economic well-being and considering

aspects of occupational aspirations as well as learning about safe and

risk-aversive ways to save money. Our computing unit has been exploring the

use of infa red light for data transmition. We took part in a clue-hunt to find

out Mr Uren's favourite Television program by scanning numerous QR codes

and finding the hints within the data inside the code.

Finally, we were visited by The Kernow King and took part in a workshop about

communication throughout history. We played an educational board game and

also watched his fantastic production to consolidate the aforementioned learning

within class.
---
Ludgvan School

Staff profiles...

_____________________

PRODUCTION OF

June 21 – Opening Night, 6pm

June 22 – Second Performance, 6pm

June 23– Final Performance, 6pm
---
A word from the Principal...

SCOTT SPORTS FOOTY DAYS!

We will be holding Football Fun Days in May Half term at

St. Uny School.

Monday 30 th May ~ St. Uny School

Tuesday 31 ST May ~ St. Uny School

From 10am – 2pm

(registration from 9.30am)

Ages 5–14-year-olds

£10 per child

Boys and girls, all abilities welcome.

Please bring football kit, boots, packed lunch and drinks.

To book, ring or text Scott Goodchild with your Child's Name and Age to

07763171524.
---
A word from the Principal...