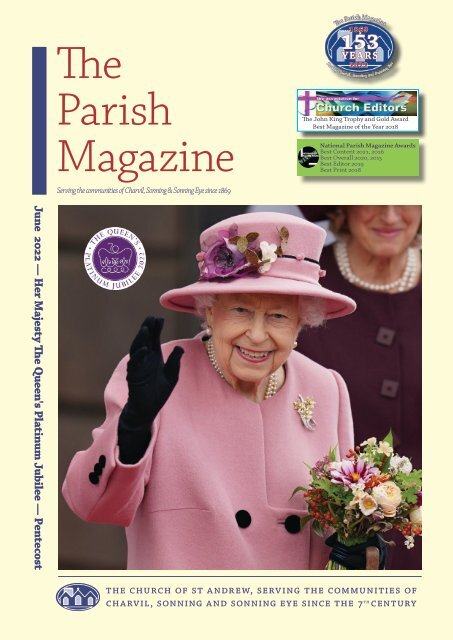 The Parish Magazine June 2022
Serving the communities of Charvil, Sonning and Sonning Eye since 1869
Serving the communities of Charvil, Sonning and Sonning Eye since 1869
SHOW MORE
SHOW LESS
Create successful ePaper yourself
Turn your PDF publications into a flip-book with our unique Google optimized e-Paper software.
The Parish Magazine - June 2022 1

The

Parish

Magazine

The John King Trophy and Gold Award

Best Magazine of the Year 2018

National Parish Magazine Awards

Best Content 2021, 2016

Best Overall 2020, 2015

Best Editor 2019

Best Print 2018

Serving the communities of Charvil, Sonning & Sonning Eye since 1869

June 2022 — Her Majesty The Queen's Platinum Jubilee — Pentecost

Church of St Andrew

Serving Sonning, Charvil & Sonning Eye

the church of st andrew, SERVING THE COMMUNITIES OF

CHARVIL, SONNING and sonning eye SINCE THE 7 th CENTURY
---
2 The Parish Magazine -June 2022

Please mention The Parish Magazine when responding to this advertisement

184 years selling homes

across the Thames Valley region

Feel at home with Haslams

0118 960 1000
---
Serving the communities of Charvil, Sonning & Sonning Eye since 1869

Church of St Andrew

Serving Sonning, Charvil & Sonning Eye

The Parish Magazine - May 2022 1

The John King Trophy and Gold Award

Best Magazine of the Year 2018

National Parish Magazine Awards

Best Content 2021, 2016

Best Overall 2020, 2015

Best Editor 2019

Best Print 2018

information — 1

Contents June 2022

THE VICAR'S LETTER, 5

THE PARISH NOTICEBOARD

— Churchyard buggy, 7

— Platinum Jubilee Service, 7

— For your prayers in June, 7

— Christian Basics Part 5, 9

— Claude's view from the pew, 9

— STAY, 10

— Easter Fun Day, 10

— From the editor's desk, 13

— The Persecuted Church, 15

features

— The river of everlasting life, 17

— Hedgehog rescue, 19

— Platinum parties, 20

— God save the Queen, 21

— Platinum Jubilee poem, 21

— Ukraine War, 22-25

— Karun covid update, 27

around the villages

— FoStAC fund raising, 29

— Art Club stone painting, 29

— Not too late for a scarecrow, 29

— Village Rounders, 29

— Pearson Hall users meeting, 29

— S&SE outing, 29

— London Virtual Marathon, 29

— Woodley Carnival, 29

— Ride & Stride, 31

— Charvil Project Singers, 31

HEALTH

— Dr Simon Ruffle, 33

HOME & GARDEn

— Energy tips, 35

— In the garden, 35

— Recipe of the Month, 35

THE ARTS

— Thread of God's love, 37

— Poetry Corner, 37

history, 38

This ISSUE's FRONT COVER

June 2022 — Her Majesty The Queen's Platinum Jubilee — Pentecost

The

Parish

Magazine

the church of st andrew, SERVING THE COMMUNITIES OF

CHARVIL, SONNING and sonning eye SINCE THE 7 th CENTURY

An official Platinum Jubilee portrait of

Her Majesty The Queen by

Jacob King/PA Wire/PA Images

EDITORIAL DEADLINE

The editorial deadline for every issue

of The Parish Magazine is 12 noon on

the sixth day of the month prior to the

date of publication.

The deadline for the July/August

issue of The Parish Magazine is:

Monday 6 June at 12 noon

The Parish Magazine online

The most recent issues can be viewed at:

http://www.theparishmagazine.co.uk

Earlier issues from 1869 onwards are

stored in a secure online archive. If you

wish to view these archives contact the

editor who will authorise access for you:

editor@theparishmagazine.co.uk

The Parish Magazine - June 2022 3

Services at

St Andrew's

Pentecost Sunday 5 June

— 11.ooam Community Service

to celebrate the Queen's

Platinum Jubilee

Trinity Sunday 12 June

— 8.00am Holy Communion

— 10.30am Parish Eucharist with

STAY and Sunday Club

Sunday 19 June

— 8.00am Holy Communion

— 10.30am Family Communion

— 3.00pm Messy Church in The Ark

Sunday 26 June

— 8.00am Holy Communion

— 10.30am Parish Eucharist with

STAY and Sunday Club

— 6.00pm Sunday at Six in The

Ark with refreshments served

on arrival from 5.50pm.

OTHER REGULAR SERVICES

Morning Prayer is held in church

every Tuesday at 9.30am.

Mid-week Communion in The Ark is

held every Wednesday at 10.00am. Tea

and coffee is available following the

service.

Home Communion at Signature at

Sonning is held on the first Monday

of each month at 11.00am. Visitors

must comply with the care home's

Covid restrictions so please check with

Signature at least four days before.

the sciences

— Dinosaurs or God? 38

PUZZLE PAGE, 39

children's page, 41

information

— Church services, 3

— From the registers, 3

— Parish contacts, 42

— Advertisers index, 42

From the register

BAPTISMs

— Sunday 1 May, Florence Violet Roberts

FUNERALs

— Thursday 28 April, Kenneth Flitcroft, interment of ashes in the churchyard

— Saturday 7 May, Valerie Buxton, memorial service in church
---
4 The Parish Magazine - June 2022

Please mention The Parish Magazine when responding to this advertisement

BOOKING NOW

DIRECTED

BY

BRIAN

BLESSED

28 APR - 25 JUN 30 JUN - 20 AUG

THE WATERWHEEL BAR

Open Tuesday - Sunday 11am - 5pm

for Hot Bar Food, Homemade Cakes

& Artisan Coffee.

Come and treat yourself to a scrumptious lunch

in the most beautiful setting.

8 SEP - 5 NOV

FIND (0118) OUT 969 7082 MORE

PLEASE FIND FULL MENU ONLINE

millatsonning.com/millang
---
The vicar's letter

DEAR FRIENDS,

It is 40 years since the Falklands conflict and 14 June is the date when the white flags

flew over Port Stanley and the people of those islands were liberated by our armed

forces. I was 9 years of age and those events have left a lasting impression on me. A

school friend's father was a Harrier pilot and he shot down the first Argentinian plane.

My own father, in a civilian capacity, worked with the Fleet Air Arm to support the

enormous efforts involved in sailing the Task Force 8,000 miles to fight a war. The Prime

Minister who took the courageous decision to see off the invader was, of course, the late

Margaret Thatcher. In the early part of the campaign she famously came out onto the

steps of Number 10 with John Nott, her Defence Secretary and invited Mr Nott to read

a statement which I remember watching during the next news bulletin. He then read a

message from the Task Group Commander, Captain Brian Young, after the surrender at

South Georgia: 'Be pleased to inform Her Majesty that the White Ensign flies alongside

the Union Jack in South Georgia. God save the Queen.'

LET'S PULL OUT THE STOPS

The Parish Magazine - June 2022 5

All these years later I recall feeling puzzled by those opening words 'Be pleased to

inform Her Majesty'. There he was standing next to the seemingly all-powerful PM and

I simply couldn't understand why he wasn't addressing her. Of course, the finer

details of a constitutional monarchy are lost on most 9 year olds, so my confusion

is not surprising. An 'A' Level in Government and Politics and years of interest

in current affairs has enabled me to appreciate completely why the task group

commander was addressing the sovereign, as head of the armed forces, rather than a politician who could have been

kicked out of office within two years. In many ways in this modern world a hereditary monarchy is a questionable

concept, except for the fact that it works rather well!

That this month we celebrate the 70 year reign of the longest serving monarch of all time, is not lost on any of us. We look

forward at St Andrew's to a celebration on Sunday 5 June at 11am, with choral music from the Coronation, the 103rd Archbishop of

Canterbury preaching and an Ark garden party afterwards. The villages of our parish are also bringing their communities together

for celebrations and I am sure we will all do justice to this remarkable landmark of dedicated service from our treasured Queen.

It is pretty much inconceivable that anyone alive in Britain today will ever have the opportunity to celebrate a Platinum Jubilee

again, so let's pull out all the stops, and not just on our wonderful new organ!

SERVICE, FAITHFULNESS AND DETERMINATION

Sometimes with anniversaries of 'a significant age' you are celebrating no more than the fact that someone has survived for

a very long time. In the case of Queen Elizabeth II, however, we do not simply celebrate years but virtues as well. It has been

suggested that our Queen has demonstrated three great virtues, all particularly commendable because they are rare in our age.

1. Service — In 1947, at the age of 21, she said this in a broadcast to the nation: 'I declare before you all that my whole life,

whether it be long or short, shall be devoted to your service and the service of our great imperial family to which we all belong.'

She has more than kept that promise. We take her service to the nation for granted but it's worth remembering that we live at a

time when putting yourself first is almost universally taken to be the first rule of life. Denying this, our Queen has served, and

continues to serve, her people, nation and the Commonwealth.

2. Faithfulness — We have a Queen on whose shoulders have fallen enormous responsibilities yet who has remained committed

for seven decades to fulfilling them. This lifelong commitment is striking given how unpopular duty is in our age. One of the

overriding trends in Western culture has been the gradual erosion of commitment and obligation in almost every area of life.

Whether in private or public life, we find that where there were once solemn bonds there are now only loose, breakable and

disposable links. Behind this trend is the belief, now celebrated as a universal truth, that we human beings can only find the true

purpose of life if we have the freedom to seek our own pleasure. Here, too, the Queen has gone against the flow.

3. Determination — In one sense determination is the least of virtues. In another, it is the rarest. After all, we can all do a bit of

duty and service for a few hours or even a few days; the challenge is to do it for a lifetime. And that is exactly what the Queen has

done. Here again we find that determination is not one of the values of our unsettled age. During her long reign the currents of

shifting values and fashion have flowed so fast and fierce through British life that age-old traditions and social patterns have been

swept away. Amidst it all, the Queen has persevered, enduring as a fixed element in the tumult of our time. Indeed, as the bonds

that unite the peoples of Britain seem to become fewer and more strained, her role as the embodiment of what we are as a nation

has become even more vital. There can be no higher praise for the Queen's role here than the fact that it is troubling to imagine the

thought of Great Britain without her.

The Queen has demonstrated service, faithfulness and determination. That she has been able to do this against the spirit of the

world is surely because she takes her bearings not from the world and its wisdom, but from something else. That something else is

her strong Christian faith, something that Her Majesty has openly and unashamedly talked about. The qualities she has displayed

are Christian virtues, lived out to the full in Jesus Christ who came to serve and to give his own life for the world. The Queen

exhibits these virtues not simply because she seeks to imitate Christ but because she has a relationship with him. She knows, I

believe, the great truth that in order to live out Christ's teaching you must live in Christ. In Her Majesty we see a great Monarch,

perhaps our greatest ever, but her greatness comes from the fact that she has trusted in an even greater King. May he continue to

bless and keep her. God save the Queen! Warm wishes, Jamie
---
6 The Parish Magazine -June 2022 Please mention The Parish Magazine when responding to advertisements

©Alice Morgan Photography

Summer Issue

| Hair Cutting and Beauty Therapy

| Experts in Colouring and Permanent Waving

| Hairdressing for Men, Women and Children

@stylebyjulieReading

@stylebyjulie

@stylebyjulieRG

Private Hair

and Beauty Salon

Badgers Rise,

Woodley, Reading,

RG5 3AJ

0118 4378178

salon@stylebyjulie.co.uk

www.stylebyjulie.co.uk

Banish limescale with a

TwinTec Water Softener

• Enjoy a scale-free kitchen and bathrooms

• Protect and improve the efficiency

of your boiler

• Lower your energy bills

• Reduce time spent cleaning

• Enjoy softer skin and shinier hair

No buttons or routine maintenance: it's easy

Call for a free installation

survey or quote

Twyford: 0118 9344485

Finchampstead: 0118 9733110

thamesvalleywatersofteners.co.uk

10

YEAR

GUARANTEE

THAMES VALLEY

WATER SOFTENERS
---
the parish noticeboard — 1

Churchyard buggy to

be inaugurated

The new churchyard mobility buggy

will be unveiled and inaugurated

during the drinks party after the

Jubilee service. The total costs are

being generously met by Christina

Goodacre, in memory of her late

husband, Peter, and also by Janet

Robson, in thanksgiving for the

work of our church. We will be

seeking volunteer drivers (with a

driving licence) to cover Sunday

services, Rendezvous lunch club and

the Wednesday communion. Please

let the Parish Administrator know if

you are interested in helping.

The Parish Magazine - June 2022 7

HER MAJESTY THE QUEEN ELIZABETH II PLATINUM JUBILEE

A Community Service of Celebration

Sunday 5 June

at 11.00am

St Andrew's

Church

Sonning

Guest Preacher: The 103rd Archbishop of

Canterbury, The Rt Rev & Rt Hon

The Lord Carey of Clifton

Followed by a Drinks Reception in

The Ark Gardens

For your

prayers

in June

Our Most Gracious Sovereign

Lady, Queen Elizabeth II

The Dean and people of Port

Stanley Cathedral, Falkland

Islands

All veterans who were involved

in the liberation

of the Falkland Islands

For all who are thinking of being

Confirmed this year

For peace in Ukraine, those

trying to find safety in their home

or elsewhere, and those who are

seeking to relieve the suffering

Church of St Andrew

Serving Sonning, Charvil & Sonning Eye

EVERYONE

WELCOME!

the church of st andrew, SERVING THE COMMUNITIES OF

CHARVIL, SONNING and sonning eye SINCE THE 7th CENTURY
---
8 The Parish Magazine - June 2022 Please mention The Parish Magazine when responding to advertisements

TAKE AWAY

FISH AND CHIPS £10

BOOK A BEAUTIFUL

NIGHT STAY WITH

US.

RECEIVE 15% OFF

QUOTE THE CODE

FST1845

The Bull Inn, Sonning on Thames

Berkshire RG4 6UP, T: 0118 969 3901

e: bullinn@fullers.co.uk www.bullinnsonning.co.uk

Gardiner's Homecare is an established family

business that has been serving the local community

since 1968. Proudly supporting people to continue

to enjoy living independent lives in their own homes

for as long as possible.

Our team of experienced care workers can provide

help with personal care, medication, overnight stays,

housework, companionship and much more. You will be

assigned your own Care Manager who will work closely

with you to ensure you receive the care and support

that is tailored to your personal wishes and needs.

For more information, contact us on

0118 334 7474

www.thebmgc.com

10% of the value of your first order will be donated to the new community hall fund when you quote Ref: BMGC-CH

• Pull-up banners

• Point of sale

• Window graphics

• Vehicle livery

• PVC banners

• Posters

• Corporate branding

• Graphic design

• Installation services

• Shop signage

• Exhibition systems

• Signage for commerce

• Bespoke wall coverings

For cost effective, locally produced, quality graphics call us on 0118 934 5016

The Homestead, Park Lane, Charvil, Reading RG10 9TR

email: sales@thebmgc.com
---
the parish noticeboard — 2

Christian Basics — Part 5

Rev Paul Hardingham's series on the foundations of the Christian faith

Worship

freedom

is still

worth

fighting

for . . .

The Parish Magazine - June 2022 9

Claude's

view

from

the

pew

Andrey Popov, dreamstime.com

Understanding the Bible

'THE MOST PRECIOUS THING THIS WORLD AFFORDS'

The Holy Bible is a popular book — with about 100

million copies printed worldwide every year — as well

as being a uniquely precious book. At her coronation the

Queen was given a Bible, 'the most precious thing this

world affords'.

The Bible isn't simply one book, but a library of 66 books,

composed by some 44 writers over a period of 1,500 years

in a range of styles including history, poetry, prophecy,

letters and apocalyptic — looking at the end times.

Despite having a number of different writers, the Bible

claims one author — God himself!

INSPIRED WORD

As the Word of God, it is the primary way by which God

speaks to us. 'All Scripture is God-breathed and is useful for

teaching, rebuking, correcting and training in righteousness,

so that the man of God may be thoroughly equipped for every

good work' (2 Timothy 3:16).

The Bible is inspired, 'the word of God in the words of

men' and is a manual for life, equipping us to live for God

in every aspect of our lives.

We also have the promise of the Holy Spirit, who helps

us to apply its words to our lives: 'But when he, the Spirit of

truth, comes, he will guide you into all truth' (John 16:13).

The Bible can also be described as a love letter from

God, as it deepens our relationship with him. Jesus said:

'You diligently study the Scriptures because you think that by

them you possess eternal life. These are the Scriptures that

testify about me, yet you refuse to come to me to have life'

(John 5:39,40).

Christians follow a person not a book, and the

Scriptures are intended to help us to know Jesus better.

Like a signpost, the Bible points us to the person of Jesus.

By Claude Masters

I expect most people, like me, can remember things that

happened in their early years better than the things that

happened yesterday! Being born in 1934, one of my earliest

memories is the Battle of Britain (July 1940 – October 1941).

I remember cheering when I heard on the wireless how many

more of the enemy aircraft had been shot down compared

with those the RAF had lost. The Nazis, led by Adolf Hitler,

thought that all they had to do to bring Britain to our knees

was to crush the RAF. However, this was not to be the case

because Winston Churchill and his advisers had foreseen the

likelihood of war and our country had been well prepared.

STRONGER POSITION

During the Battle of Britain, the RAF Fighter Command

had more Spitfire and Hurricane aircraft than the Luftwaffe

Messerschmitt and Stukas, although that was not what most

people thought at the time. The RAF believed that the enemy

had more planes than them, while the Luftwaffe thought

they had the strongest force.

The RAF, however, was in a stronger position and the

Nazis attempt to destroy them by bombing our airfields was

unsuccessful because Hitler made the mistake of changing

tack. He started bombing the East End of London instead.

Here again the RAF fighters were successful in breaking

up the German bomber squadrons and in fending off the

Nazi fighters trying to defend them. When Hitler asked his

commanders why they were losing so many aircraft he was

told it was because of the Spitfires.

THEN AND NOW

So, the enemy started night-time air raids and the Blitz

of London ensued. It must have been awful for Eastenders

to emerge from their overnight shelters to find their homes

destroyed. Sadly, history is repeating itself in Ukraine. Let

us pray that the war will soon end peacefully, and innocent

Christians will not only be reunited with their families once

more, but that their churches will be in a condition that

enables them to worship together with the same freedom

that we enjoy today. It was a freedom worth fighting for when

I was 6 years old, and it is still worth fighting for now that I

am 86!
---
10 The Parish Magazine - June 2022

the parish noticeboard — 3

They hunted high . . .

STAY at Easter

Over the Easter school holidays we had a full

programme of activities and fun events for the

youth. We kicked off with a favourite drop-in sports

session in Charvil. We played football, uni hoc,

dodgeball and had free ice pops and lemonade. We

also went bowling and allowed the young people to

make up our names, never again!

At the end of week one we arranged a football

match with our friends from the SYNC youth club

in Emmer Green, but we don't dwell on the 7-1 win

score line. The rematch is already in place for May

half term.

Easter Saturday was a knock out day. We had

a soft obstacle course, a bouncy castle, Messy

Church activities, tower tours, a BBQ, drinks and

two massive Easter egg hunts for the children

and youth! 500 eggs across 75 children and young

people! That's a lot of chocolate eaten!

The second week 20 of us went to Thorpe Park

and all the amazing roller coasters they have on

offer — we all agreed that: Swarm, Saw, Nemesis,

Stealth, Detonator, Colossus and Rumba Rapids all

were the best rides!

To end week two we took a few young people to

see Lost City at the Cinema. It's always enjoyable

watching a movie together with popcorn, drinks,

sweets and mates.

On your marks for The Easter Saturday obstacle course

STAY on Friday

Our weekly Friday youth club has continued to be

really popular with 50-60 young people attending

each week. We've baked fairy cakes and cookies,

played football and swing ball, we've double dutched

on the jump rope and we've had final thoughts on

being generous, working as a team and how life can

sometimes feel like the game 'shot in the dark'. We

can sometimes feel like we are winging it at life, but

with good friends, a supportive family and a God

who loves us, it makes life that bit more manageable.

STAY on Sunday

Our STAY on Sunday sessions have been lots of fun.

The theme of relationships has continued and as we

thought about our relationship with creativity. Do

we consider ourselves to be creative? What do we

think of when we hear the word creativity? Do we

ever think that a creator, created us to be creative?

STAY Detached Project

Our detached work on Thursdays in Charvil still

sees up to 45 or so local young people taking part.

We engage in positive conversations, we give out

lemonade and ice pops and we get them to think

about important topics such as revision, exams,

work ethic and planning our futures.

STAY Schools Work

We were invited to do a Blue Coat assembly about

Easter, so Rev Kate and I did a double act and got the

students to think about what eggs have to do with

it. We thought about the old Cadbury's creme egg

adverts asking 'how do you eat yours?', and watched

a video of young people talking about what Easter

means to them. We ended by asking them what

Easter meant to them? We also had the privilege

of speaking to years 7-11 at The Piggott School in

Wargrave on Jesus feeding the 5,000. With a couple

of stories and a game called SHARE or STEAL we

made the point that Jesus' heart is always to see us

fulfilled and our needs met, just like the 5,000 people

he fed!

For more info, to chat or grab a coffee, email me on

youthminister@sonningparish.org.uk — Westy

they hunted low . . .

. . . and between!

Bowling is always fun
---
The Parish Magazine - June 2022 11

GO! One of two massive Easter Egg Hunts begins

Hundreds of of Easter eggs were hunted

by different age groups inside the church

and in the churchyard

When the egg hunting was over there were plenty of other activities for all the family including, egg and spoon racing, a bouncy castle, an assault

course and a very popular Messy Church tent.

Pictures by: Indy Biddulph
---
12 The Parish Magazine -June 2022

Please mention The Parish Magazine when responding to advertisements

Independent And FREE Advice For All Individual & Company Members

• Switch to an alternative scheme – If you are currently insured, switching to a competitor can mean substantially lower rates

• Pre-existing conditions covered – It is often possible to include pre-existing medical conditions currently covered by your existing provider

• Improve your coverage – We can frequently improve your cover whilst also lowering the cost of your premium

• Complexities of different schemes – In many cases, people are over insured – we can ensure you are covered with a scheme that

meets your individual needs and requirements

• Full cover for cancer treatment – Many polices do not cover cancer in full – we are able to advise on your current level of coverage

For further information, please call Steve Maguire at M&L Healthcare Solutions:-

PHONE 01628 945944 or 01223 881779

Email: steve.maguire@mlhs.co.uk

quoting ref: The Parish Magazine

M&L Healthcare Solutions is authorised and regulated by the Financial Conduct Authority (FCA Reference number 554206)

A.D.D. Plumbing & Heating

THE FUNERAL PEOPLE

A FAMILY BUSINESS SERVING

SONNING SINCE 1826

READING 0118 957 3650

HENLEY 01491 413434

CAVERSHAM 0118 947 7007

ALSO AT MAIDENHEAD, BRACKNELL, WOKINGHAM, THATCHAM

TRADITIONAL AND CONTEMPORARY FUNERAL

SERVICE AND DIRECT CREMATION

FLORAL DESIGN & MONUMENTAL MASONRY

PRE-PAID FUNERALS, LATER LIFE LEGAL SERVICES

BEREAVEMENT CARE

WWW.ABWALKER.CO.UK

SELECTED

Independent

FUNERAL HOMES

Heating installation, servicing & repairs

All domestic plumbing

Free written estimates

No job too small

Local and fully insured

References available

0118 934 4624 or 07932 072912

www.addplumbingsolutions.co.uk

In-Home Services for

Seniors by Seniors.

We provide friendly and dependable seniors to help

with services such as light housework, transportation,

shopping, personal care, companionship...and much

more. It's like getting a little help from your friends.

Contact us today 01628 302 132

For more information contact:

steve@seniorshelpingseniors.co.uk

www.seniorshelpingseniors.co.uk
---
the parish noticeboard — 4

From the editor's desk

editor@theparishmagazine.co.uk

The day when I

almost met the

Queen . . .

On my first day as a weekly news

reporter I was greeted with a huge

pile of paper that had arrived in the

morning post. My job was to edit

every sheet and write some stories

before lunch time. I had the most

advanced office equipment of the

time, an IBM electric typewriter —

personal computers had not been

invented! Since then my desk has

always been piled high with paper,

although today it is rare to receive

'news' by post, so you can imagine my

surprise when an envelope appeared

with the words ER Buckingham Place

stamped on it.

I assumed it was a mailer from a Royal

Household department — I am on

some their email lists to receive news

about exhibitions and royal gardens

that I sometimes write about in this

magazine. The letter sat on my desk

with a pile of other unopened junk

mail until curiosity got the better of

me and I opened it. I was wrong!

Unknown to me, my name had

been put forward by the Diocese of

Oxford to be a recipient of this year's

Maundy Money, the annual gift

that The Queen gives personally in

recognition of service to the Church.

It was an invitation for me, and a

companion, to attend the Maundy

Thursday service in St George's Chapel

followed by a reception in Windsor

Castle — yes, Sue bought a new dress!

Unfortunately, a few days before

Maundy Thursday, it was announced

Prince Charles presents the Maundy Money to me

that the Queen would not be present.

Prince Charles would represent her at

this service for the first time.

Traditionally the Queen personally

hands Maundy Money to the number

of men and women that reflects her

age. This year this meant 96 women

and 96 men were personally given two

Maundy leather purses.

RELAXED

One purse contained silver coins

to the value, in today's money, of the

silver coins originally given to the

poor by the monarch in the 1600's. We

received a newly minted Jubilee crown

and a Jubilee 50p.

The second purse had 96p in silver

1p, 2p, 3p and 4p coins — 96 reflecting

the Queen's age. All are legal tender,

although I doubt many traders will

accept a 4p silver coin!

Prince Charles handled the task

in such a dignified and unhurried

manner that the 192 anxious recipients

were soon as relaxed as he appeared.

During my career I have attended

countless press conferences and

events staged by some of the largest

international organisations but

The Parish Magazine - June 2022 13

bcafilm.co.uk

none were so well organised, or as

welcoming, as this. From the moment

we arrived at Windsor Castle to the

time we left there were always friendly

and helpful people to show us where

to go, explain what happens next and

suggest when we should take a comfort

break! And this includes the armed

police officers who greeted us when we

arrived and said farewell.

During the reception after the

service a constant stream of Royal

Household staff wandered around

chatting to the recipients while the

catering staff constantly plied us with

refreshments.

We met many members of the

Royal Household and others on duty

including one of the Queen's GPs, the

matron of the boys choir — the choir

sang magnificently during the service

— a gardener, some junior officers

in training and a slightly eccentric

but charming Knight of the Garter

wearing full dress uniform and his

ceremonial sword.

It was a very special and colourful

day. If you ever receive an envelope

stamped, ER Buckingham Palace,

make sure you open it!

From left, a Knight of the Garter, a Yeoman of the Guard, local school children

bcafilm.co.uk

Maundy purses and money

Bob Peters
---
14 The Parish Magazine - June 2022

Please mention The Parish Magazine when responding to advertisements

Follow Us

@ShiplakeCollege

Welcoming

Year 7 girls

from 2023

• Top brand name flooring at the lowest price

• Samples to view in your home/office day/evening

• Free Advice / FreeQuotes

• Old flooring uplifted & furniture moved

• Fast turn around on fitting if required

• Carpet, design and wood flooring specialists

We supply and install: Amtico

Carpets - Laminate - Wood - Vinyl

Non-slip and more...

Next Open Mornings

Saturday 1 October (Sixth Form)

Saturday 19 November (All Years)

www.shiplake.org.uk/opendays

Tel: 0118 958 0445

10 Richfield Avenue, Reading, Berkshire, RG1 8EQ

info@richfieldflooring.co.uk/www.richfieldflooring.eo.uk
---
the parish noticeboard — 5

Myanmar Christians

sheltering under bamboo

trees and plastic sheeting

Myanmar (previously called Burma) has been under a

military coup since February 2021. The military, known as

Tatmadaw, are well known for their genocide against the

Muslim majority Rohingya.

This was recognised as genocide by the US government

in March 2022. According to the annual report of the US

Commission on International Religious Freedom (USCIRF)

released at the end of April, the treatment of Myanmar's

Christian minority since the military coup is comparable.

Myanmar is at number 12 on the Open Doors World

Watch List. Christians are numbered at around 8% (4.4

million people) of the country's population. The World

Watch List entry for Myanmar also states that persecution

of Christians in Myanmar has worsened since the February

2021 coup.

FORCED TO LIVE IN CAMPS

Christians were systematically persecuted between

1962 and 2011, during the leadership of Myanmar by the

'staunchly-Buddhist' military. The military junta was

officially dissolved in 2011 and there was for a transitional

period a military dominated civilian parliament.

The first nationwide multiparty elections were held in

2015. Aung San Suu Kyi became Myanmar's de facto leader.

After the 2021 coup she was detained, and the military have

brought several cases against her.

The coup of 2021 has exacerbated the country's ongoing

civil war and the army has attacked Christian villages and

churches.

Open Doors reports that more Christians than ever have

been forced to live in internally displaced people camps

where they are often deprived of food and water. Persecution

from their Buddhist, Muslim or tribal families is experienced

by converts who leave their former faith.

Thousands of Christians from Myanmar's ethnic

minorities have fled into nearby countries, including a

district in India's mainly Christian Mizoram state.

Local Indian Christians have welcomed the refugees.

Some are sheltering under bamboo and plastic sheeting,

which will be vulnerable in the monsoon season.

To donate towards provision for these refugees please

follow the bottom link (above right) or call 0800 587 4006 and

quote project '75-763 Myanmar Christian refugees in India'.

The Parish Magazine - June 2022 15

The Persecuted Church by Colin Bailey

Naw Bu Baw Mountain

Aung Myint Myat, dreamstime.com

References and further reading

Persecution of Myanmar minorities – Barnabas Fund article: https://

www.barnabasfund.org/gb/news/persecution-of-myanmar-christianslikened-to-rohingya-genocide

SCIRF press release for the 2022 Annual Report with

recommendations for US policy: https://www.uscirf.gov/newsroom/releases-statements/uscirf-releases-2022-annual-reportrecommendations-us-policy

Open Doors World Watch List – Myanmar: https://www.opendoorsuk.

org/persecution/world-watch-list/myanmar/

Background on Myanmar history – Council on Foreign Relations article:

https://www.cfr.org/backgrounder/myanmar-history-coup-militaryrule-ethnic-conflict-rohingya

Myanmar Christian refugees in India – Barnabas Fund article:

https://mailchi.mp/barnabasfund/myanmar-christian-refugees-in-indiaurgently-need-food-and-shelter-will-you-help-820049?e=a668ae9426

Barnabas Fund appeal for Myanmar persecuted Christians:

https://www.barnabasfund.org/gb/donate/?project=75-

763&amount=25&appealcode=RME%2004/22

If you

would like to

explore what being

confirmed in the

Church of England

means call:

0118 969 3298

Hans Slegers, dreamstime.com

10-18 year young people will meet on a Monday

Adults will meet on a Tuesday evening

If you decide to be confirmed this will take place in

St Andrew's Church on Sunday 20 November 2022
---
16 The Parish Magazine -June 2022

Please mention The Parish Magazine when responding to advertisements

The Window Cleaner

• Interior & exterior

• All windows, frames, sills & doors

• Conservatory cleaning

• Fully insured

We provide a reliable, professional service, ensuring that your home

will sparkle. For a free quote call or email

07967 004426

thewindowcleaner1@googlemail.com

Whatever you want to store...

...for whatever reason - house sale and purchase

not coinciding, travelling, house building work,

paperwork overload or even "de-cluttering" to

sell your house more quickly - we offer a

friendly and flexible local service.

With competitive rates, secure storage

and hassle free 24/7 access,

contact us now!

0118 940 4163

www.barn-store.co.uk

Only 5 minutes

from Henley on

the Reading road!

With 35+ years of experience, the Active Domestic

Appliances team have built an excellent

reputation in and around the local area.

Specialising in the repair of all makes and models

of washing machine, washer dryer, tumble dryer,

dishwasher, oven, hob and refrigeration they are

Gas Safe registered and offer a 12 month

warranty on parts and labour.

Active Domestic Appliances have an extensive

customer base working with letting agents,

landlords, private schools, colleges, care homes

and residential property owners.

Fully insured and DBS checked.

Contact us on:

0118 931 2071

0777 080 6129 (no sms)

repairs@activedomestic.co.uk
---
feature — 1

By Sally Churchus, Chair of the Association for Church Editors

On a recent pilgrimage to the Holy Land, I was fortunate to visit some of the sites

on the River Jordan. It has now dawned on me that we had been from the source

to the end of the river, but that was not the end of the story.

The river rises from the foot of Mount

Hermon in the north at a beautiful

place called Caesarea Philippi — or

Banias. It is where in Jesus' time there

were numerous temples to pagan gods,

including Pan and it was here that

Jesus asked his disciples, 'Who do you

say I am?' Peter replied, 'You are the

Messiah, the Son of the living God'. Jesus

told him, 'You are Peter and on this rock I

will build my church and I will give you the

keys to the kingdom of heaven'.

From here, the river flows into the

Sea of Galilee, where we enjoyed a

boat trip to the hotel in which we were

staying at Tiberias, near Nazareth. I

was relieved it was calm as I don't have

very good sea legs!

The geography of the area means

storms can blow up quickly, especially

in the late afternoon. The gospels

of Matthew, Mark and Luke give an

account of how Jesus calmed a storm

when the disciples were terrified that

they were going to drown, although

they were seasoned fishermen. It is

also where Jesus walked on the water,

and Peter briefly did too.

FIRST CENTURY

In 1986, during a severe drought

when the water levels were low, the

remains of a 1st Century boat were

found and after years of treatment it is

now on display. Analysis of crew sizes

suggests that this was the type of boat

used by the disciples referred to in the

Gospels.

On the north west shore of the

Sea of Galilee where the resurrected

Jesus appeared to his disciples for the

third time, we visited a church called

Mensa Christi — Latin for the table

The Parish Magazine - June 2022 17

The River Jordan takes us from birth to death

. . . and on to an everlasting life

Sea of Galilee by Alefbet26, Dreamstime.com

Cave of Pan, Caesarea Philippi

S Churchus

of Christ. There is a large rock, both

inside and outside the church, said to

be the site of the breakfast of fish and

bread, cooked on a charcoal fire, that

he shared with the disciples early one

morning on the shore.

They had been fishing all night

but not caught anything. Jesus called

out to them to lower the nets on the

right side of the boat, and they were

soon full to bursting. Jesus then asked

Peter three times if he loved him — to

counter the three times that he had

denied knowing him on the eve of the

crucifixion. He also told him 'Feed my

sheep'.

We were able to renew our Baptism

vows at a place called Qasr El-Yahud,

which is just southeast of Jericho and

within a military zone, with warning

signs of land mines. This is very likely

the site where Jesus was baptised by

John the Baptist, when the Spirit of

God descended on him like a dove and

a voice from heaven said 'This is my Son,

whom I love; with him I am well pleased'.

First Century fishing boat, Sally Churchus

CAESAREA PHILIPPI

From an illustration, Mycolors, dreamstime.com

(Matthew 4:13-17). On the opposite

bank in Jordan, others were also being

baptised.

The River Jordan is mentioned at

other times in the Bible, including

when the prophets Elijah and Elisha

crossed it dry-shod and when Naaman

was cured of leprosy when Elisha told

him to bathe in it seven times.

The southern most part of the river

flows into the Dead Sea, which is 430m

below sea level making it the lowest

place on earth. The warm climate

causes the water to evaporate leaving

all the salt and minerals at very high

concentrations. We had fun floating

on it — it is impossible not to, but

we were warned that the salt stings

if you have a cut! It was an amazing

experience, as indeed was the whole

pilgrimage … but the story goes on ...

EVERLASTING LIFE

In Ezekiel 47, the Bible talks of a

spiritual river flowing from God in the

Temple in Jerusalem down to the Dead

Sea where it brings the new, eternal,

everlasting life, that we can read about

in John 7:37. At a feast day ceremony

that re-enacts this spiritual river by

the pouring of water on the Temple

altar and allowing it to flow out and

down the mountainside towards the

Dead Sea, Jesus cried out: 'If anyone is

thirsty, let him come to me and drink'. The

way to everlasting life is through Jesus!
---
18 The Parish Magazine -June 2022

Please mention The Parish Magazine when responding to advertisements

Thinking about

Equity Release?

Then speak to us first!

Mortgage Required is a local, friendly award

winning Equity Release Specialist who puts

their clients first.

We don't spend thousands on expensive TV

advertising or employ celebrities to represent us.

This enables us to pass these savings on to you.

We tick all the boxes

Compare our low fees

Whole of market

Free first

appointments

Mortgage and Equity

Release Advice

Initial chat without providing

personal details

5 star

Google reviews

Typical

Fees

£599

mortgagerequired.com

01628 507477

Finance House, 5 Bath Road, Maidenhead, Berkshire, SL6 4AQ

This is a lifetime mortgage to understand the features and risks, ask for a personalised illustration. There will be no fee for Mortgage Advice. There may be

a fee for arranging a mortgage. The precise amount will depend upon your circumstances, but we estimate it to be £599. Mortgage Required Ltd, Finance

House, 5 Bath Road, Maidenhead, SL6 4AQ is authorised and regulated by the Financial Conduct Authority reference 573718 at www.fca.org.uk.
---
feature — 2

INQUISITIVE

The Parish Magazine - June 2022 19

Shweta Saikumar is unfortunately all too familiar with this type of injury. Shweta (pictured above left), runs Herbie

Hedgehog Rescue, and knows that as the warmer weather arrives in spring, it brings with it the casualties that have

fallen foul of people using these types of garden tools, writes Karen Ostrowski.

Herbie Hedgehog Rescue is our local,

home run, self-funded hospital whose

aim is to rescue, rehabilitate, and

release injured hedgehogs.

As each new case arrives, Shweta

makes a detailed assessment to check

for injuries and infection.

New arrivals are usually cold and

dehydrated, so require warmth and

fluids before treatment can begin.

The rehabilitation period can last

several weeks and sometimes involves

intensive care in an incubator.

Wounds from dog attacks, which

result in fractures and lacerations,

can be complicated to treat. Injuries

also arise from hedgehogs' becoming

trapped in netting, wire, and

discarded elastic bands.

Plastic litter also poses a threat,

as hedgehogs can become stuck in

cups and caught in plastic rings that

surround drink cans.

'Hedgehogs are naturally inquisitive

creatures', says Shweta. This, coupled

with their poor eyesight, can become

a problem when they fall into open

drains or become trapped in deep

pits left by builders. Ponds, pools and

cattle grids, which lack escape ramps,

are also big hazards to these little

animals.

Last year Herbie Hedgehog Rescue

admitted over 250 hedgehogs, with

Shweta single handedly cleaning

out, feeding and administrating

treatments. In December she took on

a handful of volunteers to help her, of

which I was one, and I now know first

A cardboard box is

taken to a home in

Lower Earley by a

concerned member

of the public. The box

contains an injured

hedgehog, yet another

casualty caused by a

strimmer . . .

hand how hardworking, caring and

dedicated she is.

Unfortunately, the rescue

doesn't receive any funding from

the government. So, any donations

or fund raising from supporters,

wanting to help with the immense

costs of food, vet bills, and medicines

are always appreciated.

Once rehabilitated, the hedgehogs

are preferably released at the same

location as where they were found.

Hedgehogs have fantastic memories

and can recall established nesting

sites and bountiful food sources.

However, if a hedgehog was found

injured on a busy road or building

site, then a new safe release location

nearby must be found.

The reasons for the humble

hedgehog's decline are complex.

However, the predominant reason

why their numbers have plummeted

is due to the actions of mankind

resulting in habitat loss, lack of food

and water and other physical hazards.

HOW TO HELP

— Make sure hedgehogs can access your

garden. Having gaps in your fences is

the easiest way to help. New hedgehog

highways can then be logged on The Big

Hedgehog Street Map at:.

https://bighedgehogmap.org/

— Put out fresh water in shallow dishes.

— Make your garden more wildlife friendly

by growing a range of plants or creating a

log pile to attract insects.

— Make ponds and pools safe.

— Support feed with cat/kitten biscuits.

— Pick up litter.

— Drive carefully at night.

— Donate to a local rescue. They are always

grateful for cat biscuits and newspapers!

— Keep dogs on a lead when letting them

out at night.

— Don't use slug pellets or poisons.

— Don't use a garden fork in a compost bin

or strim/mow without thoroughly checking

the area first.

— Don't look after a sick hedgehog yourself.

Hedgehogs need specialist care and

deteriorate rapidly due to the stress of

captivity.

— Don't leave drains/ holes uncovered

overnight

— Don't place traps on the ground

If you discover an injured or sick

hedgehog, please contact the rescue as

soon as possible, either by phone, 0759

879 4442, (leaving a voicemail), text or

Facebook message http://www.facebook.

com/herbiehedgehogrescue

Shweta works full-time in addition to

caring for hedgehogs, so please be

patient when contacting her.
---
20 The Parish Magazine - June 2022

PLATINUM JUBILEE EVENTS

Street parties are at the top of the list

of events that Buckingham Palace asks

the nation to hold as we celebrate Her

Majesty The Queen's unprecedented

achievement of serving the United

Kingdom, the Commonwealth and the

Church for 70 years.

Jubilee Street Parties — send us

your pictures for our souvenir issue!

The village of Sonning's street party is on

Sunday 6 June from 2.30pm in Pearson

Road (near Pearson Hall). The road will be

closed for the street party which is being

organised by the Sonning and Sonning

Eye Society.

The names of everyone attending the

party should have been registered by

now.

The Sonning street party follows the

special parish celebration service in St

Andrew's Church at 11am, when the

103rd Archbishop of Canterbury, Lord

Carey, will be preaching.

Charvil Parish Council has told us that

it will be supporting local street parties,

although they could not give any details.

They also told us that a virtual treasure

hunt might be being arranged, but again,

no further details were available when we

went to press.

Below is the Jubilee Calendar for

events arranged in the parish of

St Andrew's Church.

The July/August issue of The Parish

Magazine will include a souvenir section

for the Jubilee celebrations so please send

your photographs (of the highest possible

resolution please) to us and we will try to

include as many as possible.

Please note: the deadline for our July/August

issue will be extended by 6 hours to 6pm on

Monday 6 June for your Jubilee photographs

which should be emailed to:

editor@theparishmagazine.co.uk

Parish Platinum Jubilee Diary

SATURDAY 28 MAY — SUNDAY 5 JUNE

SATURDAY 28 MAY SUNDAY 29 MAY MONDAY 30 MAY

Sonning Regatta

on the

River Thames

12 noon - 6pm

Adult Wetland Walk

led by Ali Driver

Meet in St Andrew's

churchyard at 2pm

Children's Tennis

at the

Sonning Tennis Club

2pm - 4pm

TUESDAY 31 MAY WEDNESDAY 1 JUNE THURSDAY 2 JUNE

Put your feet up!

Vladgavriloff, dreamstime.com

Children's Pond Dipping

led by Ali Driver

10am - 12 noon

Children's Football

7 - 11 years, 1pm - 3pm

Berkshire County

Sports Ground

Sonning Scarecrows

10am-5pm

Cherished Car Display

Bishops Close 1pm - 4.30pm

Art Exhibition

Pearson Hall 10am - 5pm

FRIDAY 3 JUNE

Sonning Scarecrows

10am-5pm

Cherished Car Display

Bishops Close 1pm - 4.30pm

Art Exhibition

Pearson Hall 10am - 5pm

SATURDAY 4 JUNE

Sonning Elegant Picnic

Reading Blue Coat

7.30pm - 11.45pm

SUNDAY 5 JUNE

Platinum Celebration

Service for Her Majesty

The Queen at 11am

Sonning Village Street

Party in Pearson Road

2.30pm
---
Traditional images of monarchy

portray power, status, and superiority

over other people. In Biblical times,

monarchs were to be feared.

When teaching his disciples about

leadership, Jesus said, 'The kings of the

Gentiles (pagans) lord it over them; and

those in authority over them are called

benefactors.'

A benefactor was a conspicuously

generous person who acted in a way that

made the recipient feel obligated.

All this was in complete contrast to

Christ's own style, which was to act like

a servant.

This radical stance was adopted by

the young Princess Elizabeth, when she

promised the British Commonwealth,

'I declare before you all that my whole life

whether it be long or short shall be devoted

to your service …'

It was just the same when she became

Queen in 1952. Queen Elizabeth has

consciously and deliberately applied

Christ's teaching to her reign for 70

years.

She has outlived scores of leaders,

some with ambitions beyond their

abilities, and a few with delusions of

grandeur. Her ideals have outlasted

theirs. Consistent, determined,

charming, and single-minded, she has

held before her the model of Christ

washing his disciples' feet.

Those closest to her also speak of the

Queen's sense of humour. It emerged

publicly at the opening ceremony of the

2012 Olympic Games in London, when

she took part in a spoof scene with James

Bond, before seemingly parachuting into

the Stadium.

This year we celebrate her Majesty's

Platinum Jubilee. Over 50 countries will

light beacons on 2 June to start four

days of events: a spectacular pageant,

a live concert at Buckingham Palace,

The Parish Magazine - June 2022 21

Sing 'God save the Queen' with more gusto than ever

Ven John Barton asks 'what kind of Queen'?

SINGLE-MINDED

Platinum Prosperity

Give the Queen your judgements

O God, wisdom, good sense

You have upheld years seventy

All by your good grace be

And give your righteousness

To royalty, them bless

So shall they judge your people free

With righteousness, so be

Karollyne Hubert, unsplash.com

Jubilee lunches and street parties across

the nation, plus a nationwide bake-off

competition to create a new 'platinum

pudding'. From the northernmost tip

of Scotland to the Channel Islands and

beyond, 848 public events are planned,

plus 1,171 parties or private events.

So popular is Britain's monarch, that

there are calls to perpetuate the occasion

with a new public holiday each year.

This month we shall sing, 'God save the

Queen' with more gusto than ever.

By Steven Rolling

Based on Psalm 72; Tune: Diademata 'Crown him with many crowns'

Grant they be like the rain

Which showers earth again

Bringing refreshment, in their days

Righteous flourish in ways

Of the Lord, too and peace

Abundant, ne'er shall cease

Shall endure long as moon and sun

Their nature courses run

And the poor of the land

They shall assist, good hand

Of justice, judgement shall be shown

And your ways shall be known

Help unto the needy

Freedom from tyranny

As they do your justice dispense

O God, from now and hence

Speedfighter17, dreamstime.com

Their name shall endure e'er

In blessings do we share

All peoples, nations, give Him praise

For many gracious days

Silver, gold, and diamond

A rich heritage fund

Platinum, three score years and ten

You favour us again
---
22 The Parish Magazine - June 2022

THE WAR IN UKRAINE — 1

'Thank you to the world for your support, thank you for hostin

Masha, a remarkable young Ukrainian who is staying with friends in Charvil,

shares some of her experiences of the Russian invasion of her country.

Masha with her Charvil friend, Stuart Holden

A year before the war a friend told

me that he had joined the Territorial

Defense. 'If the war starts I will

fight', he said. I thought he had found

a hobby, that these were just words,

this cannot happen in our country . . .

And why you?' I said. 'Let someone go, but

not you!' 'Masha,' he replied, 'you have

spoken like every woman in Ukraine. Who

will defend Ukraine then?'

I was outraged and upset that he could

think such a thing. I remember telling my

dad, who said, 'You should be proud of him

and respect his choice. This is the position

of every ordinary man. If the war starts, I

will also go to fight.'

Deep down, I was upset with both of

them. How can they leave everyone they

love and go? What about us, how will we

feel if something happens? This is unfair.

FAR FROM REALITY

Then a friend gave me instructions

on what to do if there was an invasion. I

remember reading it and thinking that he

is smart. But it was all far from reality. I

thought there would not be war. I thought

that video files with the instructions about

Martial law were a waste of time.

Then, all my friends who were joining

the Territorial Defense, and my relatives,

started calling me to say that if it happened

I should leave. They were all paranoid, I

thought.

Because I was not interested in politics

and did not read the news, I stopped

communicating with some of them because

I did not want to hear about it. I just

listened and said: 'Yes, I understand.' I went

home where everything was quiet and life

went on — boxing training in the morning,

classes in the evening, I was happy with my

life, there would be no trouble . . .

On 23 February I walked along the

embankment in Kyiv with a friend and

looked at the clear evening sky. We talked

about remembering this moment. What

if there is a war and we will not see the

beauty of Kyiv again?

I lay in bed thinking about tomorrow.

I was about to launch a completely new

project and my career would take off. It was

something I had waited a long time for.

THE WAR BEGINS

I was woken up by my mom's call, she

never rang me early, she knew my boxing

practice was at 7.30am. Something must

have had happened. 'Get ready and leave,

the war has begun,' she said. However, I

was lost in my thoughts about training,

work, a laptop that I left in the office, and

so on. I was sitting in shorts on the couch.

Then I came to after hearing explosions.

I turned on the TV, and there were

pictures of the people leaving in cars in all

directions. They said martial law had been

introduced.

Then I started looking for nearby bomb

shelters. I packed my things in chaos — I

wanted to take everything. I called my

family and friends and decided to go to my

friends in a village in the Chernihiv region.

One friend I phoned asked me to pick

up her two children, Kiril, 16 years old, who

was at college, and Zhenya, who had been

studying at a school outside Kyiv. Kiril was

able to get a taxi to my house, but it was

more difficult with Zhenya.

LOUD EXPLOSIONS

When I left home to go to the office,

there were loud explosions, so I thought

about the laptop to take my mind off them.

The streets and the subway were unusually

empty. There were people in the centre near

the metro. It was not possible to pick up

Zhenya, none of the taxi drivers wanted to

go. It was too dangerous.

That night we picked up all the towels,

blankets, pillows, and jackets and decided

to spend the night in the basement. There

were many thoughts in my head, how I

wanted to sob.

At such moments you overestimate

everything and material things become

so unimportant. Looking at the families

in the basement I thought how happy

The beautiful city of Kyiv pictured before the invasion

they are, hugging and comforting each

other, while the children ran around. I

asked myself, why didn't I get married,

why didn't I give birth to children, what

was I waiting for, or whom? Work, money,

material things, an apartment, ambitions,

fulfilment, hobbies, books, these would

not warm me that night.

It was cold and painful inside where

such thoughts took over my mind. I

constantly read the news in order to

understand what was happening. My

Masha leaves home to become a volunteer in Lviv
---
I stood and forced myself to believe that

this is reality and you need to learn how to

live in this reality. I began to write down

the thoughts in my head on the third day

of the war. I made the following notes in

case I stay alive, then I will re-read how it

was. And if not, then at least something

would be left of me.

— I tried not to close my eyes in the basement,

I was afraid that I would never open them again

and see tomorrow.

— I miss my relatives who are in Kyiv so much,

I so wanted to see you that on 26 February

2022, on a bright sunny morning, I decided to

run through the park to visit my sister, Nadya.

I had to run, as walking was not safe. Nadya is

leaving Kyiv with her 8 month old daughter, my

niece, Zlata. I miss them terribly, but I am not

scared of being killed because of the meeting. I

want to see them before they leave, kiss them

goodbye, smell my niece, hug her and touch her

chubby cheeks

— I was not afraid of explosions. When you sit

for 3 days in the basement and go out only to

cook, go to the store and sometimes get some air,

you feel like you are in prison. When you hear

the voice of your relatives only in the handset,

you hate the phone, because you cannot do much

through the phone. This hour we spent together

was very valuable for me, they left, I stayed.

— I thought about death, it seemed that death

was near, because people were dying. I thought

I was in the last days of my life. I thought about

the past, memories scoured my soul. There was

no future, my dreams would never come true.

— I realized that it's not scary to die, it's scary

before death not to apologize to someone, not to

see loved ones. Everything changes in your head

and you understand that life is one and you need

to live only today. Tomorrow may not come.

— Every day was the same: news, call everyone

to find out where explosions can be heard,

whether everyone still lives, cooking, and

basement. It seemed like it would be forever.

The Parish Magazine - June 2022 23

g us in your homes, thank you for not remaining indifferent!'

of Ukraine

Olena Buyskykh, dreamstime.com

father went to the draft board, the fear

inside for him is beyond words.

My friends who called me said that they

were going to fight. I was so sorry for being

in a quarrel with someone, then it seems to

me that I forgave everyone and let go of all

grievances.

I realized that none of this matters. I

sent a lot of SMS messages to everyone

with apologies, with support, I wanted to

help everyone. I wanted to apologize to

everyone, I just thought that there might

not be a tomorrow.

It was so cold at night that when I

woke, my chest hurt and it was difficult to

breathe. I decided not to go anywhere, but

to stay in Kyiv, at home.

My friend brought Zhenya to me. He

really wanted his mother and asked me

to take him to her. The taxi couldn't and I

can't drive such distances.

I was so hurt inside, so scared. I

understood that I had a great responsibility

for their lives, but I did not even allow the

thought that I could not cope.

After a while, we all became friends,

they listened to my instructions and did

everything.

I left them in the basement, while I ran

to quickly cook food upstairs. Every time I

thought, 'what if a missile would fly in now'.

I prayed that they would live.

At night, I came out of the basement

to stand and see what was happening. The

sky was red and blinking constantly from

explosions, they were somewhere on the

other side of us, you could see how the sky

was sparkling, and shots were heard.

MY NOTES

Aunt Masha with her husband, Kiril, Zhenya and Stuart

ESCAPE PLAN

In March, we decided to leave the

basement. Going to the boys' village was

not possible, 100 metres away there was

a shell, trenches, and soldiers, so they

returned to my house in Kyiv. Their mother

was in a village that had been taken over

by Russian soldiers. She was offered the

chance to send her boys to Sweden, so I

started to pack for their journey, but I had

decided to stay in Kyiv.

However, my plans changed because

of my hero of the time. The world should

know about this hero, because often they

are in the shadows. His name is Stuart

Holden. He lives in Charvil. We met

when I was 15 years old and I lived in an

orphanage. Stuart promised to take care of

me and change my life.

He often came to Ukraine where he

helps low-income families. That day he

kept in close contact. He told me he was

leaving for Warsaw and that we should

meet there. I did not hesitate. I packed,

and we went to the train station. The boys

managed to get an upper bunk, but I had

to stand for 8 hours. For the first time in

a long time, I allowed myself to cry in the

toilet — strangers, broken lives, crying

children, I was exhausted.

PEOPLE WITH BIG HEARTS

From the border with Poland it was a

7 hour bus ride to Warsaw where Stuart

was. He had not let me down. I ran to meet

him in tears and hugged him as tightly as

possible. Only from the beginning of the

war did I understand what it was like to be

bored and I understand why people need

separation, so that there would be such

meetings — it cannot be said in words how

touching it was. I am very proud of Stuart

and have huge respect for him and his wife,

Jo. I thank them for taking me into their

family on a sponsored visa. They have big

hearts!

Zhenya, one of the boys, did not have

enough documents, so we could not buy

him a plane ticket and because their

mother was in an occupied village there

was no phone connection or Internet

access to get the documents. So Stuart took

the boys from Poland to Sweden, first by

bus and then by ferry to Stockholm. He

handed them over to Children's Embassy,

a children's charity with which he has

worked for many years. Then Stuart

returned to England, and I decided to

return to Lviv as a volunteer.

turn to page 25
---
24 The Parish Magazine -June 2022 Please mention The Parish Magazine when responding to advertisements

Pearson Hall Sonning

is an ideal venue for

your parties, regular

classes or meetings

Complete Pest

Solutions

WASPS • RATS • MICE • SQUIRRELS

BED BUGS • FLEAS • BIRDS & RODENT PROOFING

Leslie Parker

parkerleslie65@aol.com

0125 624 2135 0799 081 4143

PROFESSIONAL PEST

CONTROLLERS REGISTER

2 Vyne Lodge Farm Cottage, Bramley, Tadley, Hampshire RG26 5EA

24 hours service | Private client parking | Private chapel of rest

Free home visits | Pre-paid funeral plans | Full written estimate

Woodland funerals | Religious and non-religious services

Find out more and check availability

using our online booking system

www.pearsonhall.org.uk

Tel: 01491 573370

www.tomalins.co.uk tomalin@btconnect.com

Anderson House, 38 Reading Road, Henley-On-Thames, RG9 1AG

A Family Run Independent Funeral Service

CELEBRATE SPRING

WITH US

reception@thegreathouseatsonning.co.uk

0118 969 2277 | www.greathousesonning.co.uk | @the_great_house
---
THE WAR IN UKRAINE — 2

from page 23 Stuart, his friends and family

had sent money for the refugees

which meant, when I arrived in Lviv, I

would be able to buy tickets to Poland

for those without money, as well as

medicines, food and clothes.

In Lviv, I stayed one night in the

volunteer centre where so many people

came to us. Everyone wanted to tell

their story. They cried. I knew that

I must be strong to help, this is my

mission. This is why I went to Lviv.

Apartment rents were very high, so

I lived in a volunteer centre with the

migrants. There was no place to stay

alone, there were people all around.

There was cold water in the shower

and it was terribly hard to wash. But I

didn't think about comfort, although

inside I wanted to run away and hide.

HELPING EACH OTHER

Then I found a way to unload. I

went to the kitchen to help and I met

many people. I was glad to help, I was

glad to see happy people, they were

filled with grateful hearts. With each

person I wanted to do more.

I made friends with the military

who helped me find an apartment at

a good price, they drove me home, I

am very grateful to them. I helped

someone. Someone helped me. It was

nice to see Ukrainians, helping each

other.

There was no time for photos or

videos. Everything happened fast.

The volunteer centre was closed

so I decided to do everything by

myself. Thanks to friends, I began

humanitarian aid by sending goods

to cities in Ukraine. Migrants staying

with me overnight received food and

medicine. Many came from the occupied

territories. They were exhausted, and

frightened. It's impossible to put into

words what I felt when seeing these

people. I slept 2 hours a day for about

a month. Then came burnout, fatigue,

sometimes I didn't want to do anything.

FOUR SHORT STORIES

ALEXANDER PECHALOV: 34 years

old, he was wounded by shrapnel in the

leg. His courage, and love for Ukraine,

bring tears and my respect. He is not

only my friend, but my example. I pray

for him and wait for victory to come,

so that I can see him and just hug. On

Facebook, Alexander maintains his

page, where he talks about his days,

shares his thoughts. You can subscribe,

Александр Печалов, and write words

Masha's friend, Alexander Pechalov, signed up

for service a year before the war started.

of support. Every military man needs

support. From his Facebook page came

the following . . .

MILITARY QUOTES

— 'And those who come to us with weapons,

we will send straight to hell.'

— 'In every broken window, blown up house,

I see thousands and thousands of lives now

filled with horror, grief and despair.'

— 'I want my children not to know war. To do

this, I will teach them to negotiate and teach

them to hit in the teeth, I will teach them

diplomacy and how to shoot an AK, I will

teach them history and the importance in

defending their freedom.

— 'I cannot look at the destroyed Mariupol,

at the bodies of raped women, at the

killed civilians, at the funerals of Ukrainian

defenders...'

— 'But 2 months ago, life, not blood, was in full

swing in our cities.'

— 'And all this happened with your tacit

consent. Each of you who is silent is

responsible for the death of my people.'

— 'Putin is an expression of the desires and

aspirations of the Russian people, and not

vice versa.'

— 'This war tempers the Ukrainians as a nation,

and finally turns the Russians into slaves.'

— 'In Ukraine they say "Slaves are not allowed

in heaven!'

GALINA MIKHAILOVNA from

Kharkov, 67 years old: She lived in a

volunteer centre, her son is in New

Zealand. She had nowhere to go.

In Kharkov, she left a three room

apartment. Her husband died, they

had lived together for 40 years. The

house was subsequently bombed and

she lived there for about a month,

before arriving with me.

She wanted to find somewhere

she could be useful, but no one found

work for her because we were all busy.

She lay in the room and waited for

someone to come to talk, as I often did.

The Parish Magazine - June 2022 25

We went for a walk and she constantly

said, 'Masha, why do you need me?

I'm old, you're so young, it would be

better if you spent time on yourself'.

But I enjoyed taking care of her. She

wanted to get a haircut in an ordinary

hairdressing salon, in order to feel the

usual peaceful life, so we went to the

hairdressing salon. She cried so much

from happiness, and this made me

insanely happy. I sent her to Turkey,

where her son's friend lives.

TANYA AND FOUR CHILDREN

Pisky village, Chernihiv: Someone in

the village said there was a corridor

so we started to leave. Russian troops

stopped us, putting a machine gun to

our heads. I told them, I have children.

They searched us, took our phones and

let us go. At that moment, my heart

sank into my heels, I thought that was

all we had. We had no electricity, we

cooked in the street on a fire. It was so

cold at home, we slept in the pantry.

MARINA, 35 years old, Mariupol:

My husband died in the war. I stayed

with the children and lost contact

with relatives. Shops were looted,

pharmacies were closed. We sat in

the basement for two weeks and did

not go out. Stocks were running out,

there was nothing to replenish them.

We slept on the cold floor, there was a

terrible cobweb and darkness around.

I just wanted to see the sun. I had to

go out to get food for the children,

corpses and civilians lay on the streets.

Children constantly asked: 'Mom, are

we going to die?' At my entrance there

were volunteers who gave us food

and helped us get out of this hell. The

children are crying, they are vomiting,

our house is gone, we have nothing else.

MY FINAL THOUGHTS

— The war has changed the heart of

every Ukrainian.

— Ukrainians united.

— It will never be like before.

— We have learned to appreciate, we

have learned to love, to forgive.

— Everything has become important

now and you need to live now.

— The war will end, but there are no

winners.

— The war destroyed our entire life.

— The war taught us to hate the

enemy and wish for death.

— I know one thing, we will not

forgive Russia for taking our lives!

— Thank you to the world for your

support, thank you for hosting

us in your homes, thank you for

not remaining indifferent!
---
26 The Parish Magazine - June 2022

'Excellent' School

An independent company

rated good

by Care Quality

Commission, our customers

and staff alike.

Home Carers Wanted!

Bridges Home Care is growing...

Rated highly by customers... Staff and the profession...

Providing quality care in the Oxfordshire area...

Why not join our close knit team?

I love care work

and being around

to help people

The managers

are approachable

and supportive

My main carer

is very good, she

is wonderful,

like a friend

The training gives

you confidence to

learn more

'Pupils' social development and collaboration skills

are excellent.'

'Pupils make an outstanding contribution to

the lives of others.'

ISI Inspection, November 2019

Register online: rbcs.org.uk

An Independent Day School for Boys 11-18, and Girls 16 -18

Bridges ticks all the boxes

n✔ Full training given

n✔ Existing skills

& experience valued

n✔ Guaranteed work,

local area

n✔ Flexible hours or

shifts available

n✔ Supportive hands-on

management

If you think this might be for you, find out more...

call Bonny or Wendy on 01491 578758

or email bonny@bridgeshomecare.co.uk

visit www.bridgeshomecare.co.uk

UKHCA

Supported by Oxfordshire County Council

Oxfordshire Association

of Care Providers

Interior & exterior blinds,

shutters, awnings

& screens

Always excellent service

and great value

www.blinds-reading.co.uk

Call John at Blinds Direct

on 0118 950 4272

johndacre@blinds-reading.co.uk

Bathrooms &Kitchens Ltd

Plumbing, Plastering, Tiling

and all associated work

Contact us today for a

FREE

No obligation Consultation

and Quotation

0778 897 2921

markt@kingfisher-bathrooms.com

http://www.kingfisher-bathrooms.com

167 167 Fairwater Kingfisher Drive, Woodley, Reading, Berks RG5 3JQ
---
feature — 5

The Breakthrough Trustees would

like to thank everyone at St Andrew's

for your prayers, encouragement and

continued financial support during

the uncertain and difficult period

of covid. Your support enables us

to make a difference to the lives of

children and young people at Karun.

Karun School was closed for over 19

months during covid but is now finally

open again. Many children have had

no formal schooling for nearly 2 years.

In this academic year alone because

of a general lockdown in the state,

children have missed more than 6

months schooling. This has had a

devastating effect on their education.

Covid has led to many changes in

schools and children's homes. Karun

School has yet to return to its precovid

strength. At present, children

come to school by a bus funded by

Karunand they have breakfast, midday

lunch and a snack before returning

home. Families very much welcome

this provision.

HOME VISITS

Karun children are from

disadvantaged backgrounds and

many have poor basic skills. The long

school closure has meant they have

fallen even further behind in their

work. Although the government

provided some online lessons, most

families have no internet so the

children were unable to follow them.

Karun teachers tried to help them

with reading and writing by visiting

them in their homes.

This year the government is

providing refresher classes and after

school catch up classes and there

are plans to shorten the summer

vacation to make up the lost time.

Teachers have welcomed these

initiatives and have found that after

school catch up classes are of great

help to the children.

The school is very fortunate to have

a dedicated computer room that was

kindly donated by the Rotary Club of

Loddon Vale and a new specialist IT

teacher has been appointed to give the

children more opportunity to develop

their IT skills and access the internet

to support their learning at school.

Sewing and IT classes for the local

community continue to be very

popular and the numbers enrolling

have been steadily growing. Sewing

classes take place three times a week

and the IT class is at the weekend.

Many of the girls have become very

competent and some are looking to

apply for jobs in textile companies.

The Trust has also funded girls for

nursing and teaching degree courses.

The professional qualifications they

have gained has enabled them to get

jobs very quickly and to earn a good

salary. We are also funding two girls

on degree courses.

One boy, the Trust sponsored to

train as an electrician at a technical

college, is now an apprentice in a large

firm.

The Parish Magazine - June 2022 27

Your support is helping Karun emerge from Covid

An update from Leslie Stephen

From growing and harvesting cotton to teaching IT and internet skills and sewing, Karun

continues to help the disadvantaged families in South India

We continue to explore different

ways to fund opportunities that

encourage girls to access higher

education. Two high achieving girls'

schools approached us to fund students

from disadvantaged single parent

families who were badly affected by

covid and we now fund two girls with

mentoring so they will hopefully

continue to higher education.

The garden project started by

the ancillary staff during lockdown

continues to thrive with good harvests

of vegetables, and a cotton crop proved

to be very successful. Both provide a

good income for Karun. The children

have been using the garden to support

their work on the environment.

Thank you once again!
---
28 The Parish Magazine - June 2022

Please mention The Parish Magazine when responding to advertisements

Cruz Kitchens

Bespoke, Made to

Measure Kitchens

Designed | Supplied | Installed

Call 0118 961 1295

Email: info@cruzkitchens.co.uk

Visit: www.cruzkitchens.co.uk

studio dfp

complete graphic

and web design

service on your

doorstep

Since 1984 · 0118 969 3633

david@designforprint.org

WATER SOFTENER SALT

Q Tablet 10kg Q Tablet 25kg Harvey Block

• 5x10kg=£35

*

• 3x25kg=£34

*

Salt 2 x 4kg

*

• 10x10kg=£65

• 20x10kg=£130

• 5x25kg=£46

• 10x25kg=£94

• 5 Packs £35

• 10 Packs £65

• 20 Packs £115

FREE LOCAL DELIVERY

Email: Martyncollins@portmanpm.com

FOR OFFERS & PRICES ORDER ON LINE AT

www.salt-deliveries-online.com

Tel 07785 772263 or 0118 959 1796

Unit 2, 6 Portman Road Reading RG30 1EA

*Prices are subject to change please check our website.

The

50

plus

Home Repairs

Handy and Property

Services for domestic

& commercial customers

Call us or visit our

website for full details of

our broad range of

services, helpful advice

& pricing

• Book a timed appointment

• Free estimates

• Friendly advice

0118 207 1387

www.the50plus.co.uk

Serving customers for over 20 years

For the best deal

on heating oil,

buy direct

Local depots

Order 24/7

online

For a quote call

01635 926606 or

visit cpsfuels.co.uk

Use code

'Sonning'

online for a £10

discount
---
around the villages — 1

Music friends raise £1,300

for FoStAC projects

The Friends of St Andrew's Church's (FoStAC) third

successful music evening on Saturday 30 April raised

£1,300 for 'restoration and beautification' work on the

church building. The evening was once again led by Ascot

Brass, and directed by David Rudd.

As well as varied items and solos by Ascot Brass, the

programme included the Bulmershe Singers, the

Bulmershe Ensemble choirs from Bulmershe School,

and soloist Celeste Hexter, from the St Andrew's Church

Junior Choir. Celeste was accompanied by Ian Westley.

FoStAC's next event will be in The Ark at St Andrew's

when they will be providing refreshments for visitors to

the Sonning Scarecrow Trail on 2-3 June. You will also be

able to find some 'scarecrows' in The Ark gardens.

It's not too late to book for a Scarecrow

Barbara Carr, one of the Scarecrow Trail organisers, tells

us that there may still be time to enter a Scarecrow if you

do it now! Unregistered scarecrows will not be included

on the trail map, so contact her as soon as possible on

Barbara.carr71@hotmail.co.uk or 0118 934 5886.

Sonning Village Rounders strike again

The Sonning Village rounders match for teams from local

organisations is on Friday 17 June at 5.30pm on King George's

Playing Field. Sonning Cricket Club will be opening its bar

and Sonning Primary School PTA will be cooking a BBQ.

An invitation for all Pearson Hall users

The Pearson Hall AGM will be held in the committee room

at Pearson Hall on Wednesday 22 June, 6.30pm for a 6.45pm

start. Everyone who uses Pearson Hall is welcome to attend.

Sonning & Sonning Eye Society outing

The next outing is a tour of the 'boutique' Fairmile Vineyard

in Henley on 21 June at 10.30am. Make your own way there

(and home again!) and picnic in the grounds or enjoy a pub

lunch. More details and tickets from Penny Feathers on:

penny.feathers@btinternet.com 0118 934 3193

It's time to train for London's Virtual Marathon

The Virtual TCS London Marathon provides participants of

all abilities with the opportunity to complete a 26.2 miles

marathon within a 24 hour period – making it an inclusive

option for those who might not have considered taking on a

marathon before. 'Team Me2 Club' is looking for volunteers

to join them on Sunday 2 October to run the virtual

marathon — held on the same day as the mass event — and

raise vital sponsorship for their children. All finishers will

receive the same coveted TCS London Marathon medal and

T-shirt as participants in the main event, along with audio

support and route tracking on the Official App, powered by

TCS. Contact Liz on 0118 969 6369.

Woodley Carnival celebrates 60 years of fun

From 12noon to 5pm on Saturday 11 June, Woodley Carnival

will be throwing its largest party ever.

https://www.woodleycarnival.org.uk/pages/carnival-day

The Parish Magazine - June 2022 29

Stones for the Queen Bee

During the Scarecrow Trail, Sonning Art Group will

be exhibiting in Pearson Hall. They have been busy

preparing for their exhibits, including their scarecrow

— The Queen Bee. They are highlighting the need to look

after bees as they are vital in pollinating the plants we

need, and they are also 'nodding' to the Jubilee and our

Queen.

The picture above was taken when the group were

preparing for their Jubilee Scarecrow exhibition. It shows

Pauline Simpson, Kay Mottram, Joan Sedgewick, and

Joan Baines painting stones which form part of their

exhibition. They look forward to seeing you there!

Planning Your

Traditional Wedding?

Then you might like to

discuss the possibility of

marriage in our ancient and

beautiful parish church.

If so, call the vicar, Jamie

0118 969 3298

He will be pleased to help!

In addition to the stunning and historic location in Sonning,

we will work hard to provide you with a memorable and

moving occasion. We can provide a choir, organ, peal of

eight bells, beautiful flowers, over 100 lit candles set in

ornate Victorian chandeliers and the use of our beautiful

churchyard as a backdrop for your photographs.

Church of St Andrew

Serving Sonning, Charvil & Sonning Eye

the church of st andrew SERVING CHARVIL,

SONNING & sonning eye since the 7 th century
---
30 The Parish Magazine -June 2022 Please mention The Parish Magazine when responding to advertisements

Louise Amanda Sheppard (BA/Dip)

EMDR Specialist

Hypnotherapist

Mobile Therapist covering

Oxfordshire & Berkshire

EMDR Therapy

(Eye Movement Desensitisation Reprocessing)

A powerful tool, proven to be extremely useful in the

treatment of traumatised individuals, which can give

people back control in just a few sessions

Trauma . Victims of Rape . Assault

Combat . Drug Addiction . Bereavement

Fears/Phobias . Anxiety . Depression

Hypnotherapy

Pain . Anxiety . Fears . Phobias

Smoking . Weight Management

Age Regression/Past-Life Regression

Gestalt Therapy/Dreamwork

Parts Therapy

07842 262 583

lasheppard61@gmail.com
---
around the villages — 2

The Parish Magazine - June 2022 31

SAVE THE DATE: 10 September for a Ride & Stride . . .

This national event happens every year in every county.

In 2021 Berkshire raised nearly £25,000 for its historic

churches. This year they hope to do even better.

Any mode of transport is fine. You could walk, cycle, ride —

simply choose a route and find lots of sponsorship from all

your friends and family.

You can go by yourself or in a group, any time between

10am and 6pm; many people make a day of it. There are

many wonderful and interesting churches to visit, many

will be open and offering refreshments.

Your nominated church will benefit by receiving half

of your sponsorship. The remaining 50% goes to Berkshire

Historic Churches Trust (BHCT) which in turn makes

generous grants to churches in need.

More details from the BHCT Ride & Stride website

http://www.berkschurchestrust.org.uk/ride-and-stride

Charvil's Project Singers are hard at

work rehearsing for their next local

concert in St Mary's Church, Twyford

on Sunday 3 July at 6.45pm.

The Project Singers for female voices

have a section for girls between the

ages of 10 & 18 as well as a section for

ladies. As their name implies, they

Reading's local charity caring for older

"putting care before profits"

Jacek Chabraszewski dreamstime.com

. . . and save 3 July for a 'Let's Sing!' concert in Twyford

work on various projects each term.

For the summer term it will be 'Let's

Sing!' with lots of great songs about

singing including -

With a voice of singing

Thank you for the music

How can I keep from singing?

Why we sing

The singers are led by local music

teacher Suzanne Newman who has

been running choirs in Charvil

since 1990. The summer project will

finish with the concert at St Mary's

Church. Tickets are £7 and available

from Suzanne on 0118 934 0589 or

suzanneynewman@btinternet.com

Call 01252 979111 today,

to discuss your care needs and availability

at our newly refurbished

Maitland House care home

care | compassion | companionship

"The place is always fresh, clean, cheerful and vibrant. The staff are friendly,

helpful,caring and always available for a chat.

There is a lot of laughter and silliness

which is greatly appreciated" Rosemary (89), resident

Maitland House | 11 Maitland Road | Reading | RG1 6NL

Email | admin@abbeyfieldweyvalley.co.uk

www.abbeyfieldweyvalley.co.uk
---
32 The Parish Magazine - June 2022

Please mention The Parish Magazine when responding to advertisements

For a helpful professional service

FIELDSPHARMACY

Wide range of health advice provided

including private consultation area

www.etsheppard.co.uk

01491 574 644

36 Reading Road, Henley-on-Thames RG9 1AG

1a LONGFIELD ROAD, TWYFORD RG10 9AN

Telephone: 0118 934 1222

Fax: 0118 932 0372

Email: fields.pharmacy@gmail.com

www.afjones.co.uk

0118 9573 537

33 Bedford Road, Reading, RG1 7EX

Established in 1858

A.F. Jones

Stonemasons

Limited

CHRIS the plumber

I offer the same friendly, reliable service as

always but in addition to general plumbing

I now offer domestic and commercial gas

work — boiler repairs, installations, fault

finding, power flush.

Repairs not covered by Homeserve?

Speak to a tradesman, not a salesman!

Emergency call out available

Ask Chris Duvall for a FREE quote

christheplumber75@gmail.com

0785 095 6354

3584769

57732 AF Jones Parish Magazine Advert.indd 1 19/11/2014 10:43
---
The Parish Magazine - June 2022 33

HEALTH

Dr Simon Ruffle writes . . . Vibrio bacteria (and pearls)

June, the sixth month of the Gregorian calendar. It has

two suggestions of how it was named. One is that May

comes from maiores meaning the elders and is followed

by juniores meaning younger ones. Or it was named

after Juno, wife to the Roman god Jupiter?1

June has three gemstones, one of which is pearl. Slightly

ironically, June is the second month of the lull in the

oyster eating season in the northern hemisphere. Waters

are warmer, the quantity of bacteria in the water is higher

and oysters are filter feeders. Thus the advice never to eat

oysters in a month without an 'R' in it holds some truth.

Modern harvesting techniques and cleaning ponds makes

it a lot safer, but straight out of the ocean risks catching a

species of bacteria called Vibrio.

THINKING LOGICALLY

Most of us will have heard of Cholera. This was named

long before knowing what caused it, Vibrio Cholerae.

Cholera is the disease caused by vibrio and other bacteria

that leads to severe gastroenteritis and fluid loss. There

are over 70 vibrio species recognised so far.

To add to the irony, oysters are a great source

of potassium and magnesium and the best way to

rid the body of potassium and magnesium is to get

gastroenteritis!

Magnesium and potassium are, by weight, the 12th

and 7th most abundant element in the human body. They

are usually known as electrolytes. This is because they

both carry an electrical (+ve) charge and are active in the

body forming many functions. Like all electrolytes our

bodies depend on a balance. When being taught medicine,

and this applies to many professions, we have to think

logically about why there is deficiency and overload.

Is there too much going in?

Is too much coming out?

Is it absorbed?

Is something forcing it

out?

Is something binding it?

Is something releasing it?

So many questions.

Working through basic

questions often leads to

targeted investigations as

to why?

Sometimes 'it is what

it is.'2 Fihi ma Fihi 13th C

Persian script (left)

If your kidneys

aren't working properly

you can retain or lose

Wikipedia

electrolytes. If your bowel

isn't working you may

not absorb them or you can lose them. You can eat too

much or take supplements or eat too little, medicines can

interfere with them, tissue growth and tissue destruction

can use or release them; I could go on but it will remind

me of my biochemistry module at university, without the

aid of the internet in my day!

Black Pearl

What we do know is that imbalance is really bad for

the heart and heart rhythms. This is why people get fed up

with us asking for blood tests when we change medicines

to do with heart rhythm, kidney function and chronic

bowel disease. Diabetic patients are at risk too and some

medicines can cause other deficiencies. Antoine taking

metformin should now be advised to increase B12 in their

diet.

Patients that have had their bowels shortened

through diseases or altered by bariatric surgery are very

susceptible to deficiencies and should be monitored at

least annually.

KNOW YOUR OWN RULES

Simon Ruffle

If you are on many medications it is worth knowing

your 'sick day' rules in general but the well established

ones are for patients on ACE inhibitors, metformin

and diuretics. If you should be unlucky enough to get

gastroenteritis then it is best to stop your medications

briefly until you recover.

I had forgotten just how abundant potassium and

magnesium are in proportion to other elements as I

thought sodium was more common than potassium but it

isn't. Also vibrio from uncooked oysters is quite rare but

not usually fatal. One thing I did learn from researching

this month's article is that you can get skin infection from

vibrio. Apparently more common in open wounds and it

is very unwise to swim in the sea with new tattoos until

healed.

That's my skull and crossbones put off for another year.

Picture me on the Black Pearl!

1. https://en.wikipedia.org/wiki/June

2. By Rumi - http://portal.unesco.org/ci/en/ev.php-URL_

ID=15370&URL_DO=DO_TOPIC&URL_SECTION=201.

html, Public Domain, https://commons.wikimedia.org/w/index.

php?curid=17374467
---
34 The Parish Magazine -June 2022 Please mention The Parish Magazine when responding to advertisements

Simply

stunning,

simply

Sabella

If you have a love of original art, Sabella Interiors can source, curate and display your

artwork and bring beautiful pieces direct to your home to consider, with no obligation.

We work with galleries, art dealers and experts, all with the knowledge to create the

perfect art collection for you.

Sonning-on-Thames, Berkshire and Alderley Edge, Cheshire

Call us for an informal chat or visit The Studio (by appointment only)

www.sabellainteriors.com | 0118 944 9629 | 07780 836747 | enquiries@sabellainteriors.com
---
HOME AND GARDEN

The Parish Magazine - June 2022 35

In the garden

Gushcha, dreamstime.com

Is it time to get out that stuffed dog?

Some simple, well proven ways to save energy

— Turn off the lights when you leave a room.

— Turn down your thermostat by at least a degree, or two, or three!

— Get some LED bulbs – they are six times more efficient, last much longer, and use

90% less energy than old-style bulbs.

— Shower rather than bath. Don't worry about a bit of dirt on children. It can

strengthen the immune system and help prevent allergies.

— Don't boil the kettle all the time – it eats up about 6% of all your electricity per

year. Make a pot rather than a mug, so that you drink as much, but less often.

— Make a draught excluder, the ones that look like sausage dogs. Don't turn up the

heat to combat a draught, fix the draught.

— Keep doors closed. If you don't need to heat your whole house, don't.

— Put more clothes on. We all know people who like to wear only tee-shirts at home,

even in winter. Get them to put on a jumper, cuddle the dog, wrap up in a blanket,

or run up and down the stairs, not turn up the heating.

— Set your washing machine at 30°, rather than 40°. It can reduce energy use by 60%.

— Use your electric clothes dryer less. It can account for 5% of all household

electricity. Far cheaper to buy a washing line!

— Use your oven only when you can fill it up. Never cook just one thing at a time.

And when you are done, leave the oven door open to help heat the house.

All of these are small steps, but together they could make a big difference this year.

Platinum Jubilee Recipe of the Month

Step back 70 platinum years and enjoy an original 'Coronation Chicken' created by

Rosemary Hume for Queen Elizabeth II's Coronation lunch on 2 June 1953. It was

later included in the Constance Spry Cookery Book, first published in 1956. This

recipe serves 6-8 people.

PREPARING THE MEAT: Poach two young roasting chickens with carrot, bouquet

garni, salt and peppercorns in water and a little wine, to barely to cover, for about

40 minutes or until tender. Allow to cool in the liquid. Joint the birds, remove bones

with care.

TO MAKE THE CREAM OF CURRY SAUCE

— 1 tbsp oil

Heat the oil, add onion, cook gently

— 50g/2oz onion, finely chopped for 3-4 minutes, add curry powder.

— 1 dessert spoon curry powder Cook again for 1-2 minutes.

— 1 good tsp tomato purée

Add purée, wine, water, and bay

— 1 wineglass red wine

leaf. Bring to boil, add salt, sugar

— ¾ wineglass water

to taste, pepper, and the lemon and

— A bay leaf

lemon juice. Simmer with the pan

— Salt, sugar, a touch of pepper uncovered for 5-10 minutes. Strain

— A slice or two of lemon and a and cool. Add by degrees to the

squeeze of lemon juice

mayonnaise with the apricot purée

— 1-2 tbsp apricot purée

to taste. Adjust seasoning, adding a

— 450ml/¾ pint mayonnaise

little more lemon juice if necessary.

— 2-3 tbsp lightly whipped cream Finish with the whipped cream.

TO SERVE: Mix a small amount of the sauce (enough to coat the chicken) with a little

extra cream and seasoning. Mix the chicken and the sauce together, arrange at one

end of a dish, coat with the extra sauce. At the Queen's Coronation an oblong dish was

used with a rice salad at the other end of the dish. The salad was made of rice, peas,

diced raw cucumber and finely chopped mixed herbs, all mixed in a well-seasoned

French dressing.

Famveldman, dreamstime.com

Mosquitoes! Do they

make you see red?

Mosquitoes date back millions of

years, they seem to have always

been around, and with summer

officially starting on 21 June we can

be sure that these blood sucking

insects will still be with us in our

gardens this year.

There are, of course, lots of ideas

about how to avoid them by using

such things as sprays, zappers or

citronella candles.

COOLER SHADES

Here's another suggestion that

follows a recent study in Nature

Communication, a peer-reviewed,

open access, scientific journal

published by Nature Research, which

interestingly was founded in 1869,

the same year that this magazine

was first published.

This latest study suggests that we

might also consider not wearing red

clothes. It seems that mosquitoes see

only certain wavelengths of light,

and therefore only certain colours

are seen to be a source of food. Red is

their favourite colour! Fortunately,

white, green, purple or blue clothes

go unnoticed by the hungry bugs.

So, it may be helpful this summer to

cover your skin with cooler shades of

clothes.

But don't expect miracles, because

unfortunately, mosquitos are also

attracted by our breath, our sweat

and even the temperature of our

skin. Which, sadly, puts you back to

square one!
---
36 The Parish Magazine - June 2022 Please mention The Parish Magazine when responding this advertisement

Visit our website or follow us on

Facebook for details of events and

Platinum Jubilee celebrations

ASSISTED LIVING | NURSING | DEMENTIA CARE | RESPITE

Delivering peace of mind - the Signature way

Our award winning care team are on hand 24 hours a day providing care that

is responsive to individual preferences and needs. We take pride in going above

and beyond for your loved ones.

We encourage and empower residents to live independent lifestyles, providing discreet

assistance as and when needed. From a little assistance with washing, dressing and

taking medication to those residents who have greater needs, all our residents receive the

tailored support they need delivered in their own apartment.

To find out more, please contact the Client Liaison Manager at a Signature home near you:

Cliveden Manor, Marlow

01628 702310

Sonning

0118 338 2986

signature-care-homes.co.uk
---
The ARTS

Rev Michael Burgess continues his series on God in the Arts with a look at the famous

'Book of Kells'. . . our picture shows an eagle from this famous book.

The thread of God's love

In 563 an Irish monk was forced to leave his homeland because

of a conflict that had led to a misuse of power and bloodshed.

On Pentecost Sunday he arrived on the island of Iona off

the northwest coast of Scotland with 12 companions. There

he began a new way of life, founded on Christ's mercy and

forgiveness of the past, and so created one of the great

centres of faith and mission in the Christian Church. His

name was Columba, and we keep his feast day on 9 June.

His monastery on Iona started as a small cluster of

wooden buildings with a church and a guest house. Around

were fields of crops and cattle and bees. Under Columba's

guidance, it grew, and from Iona monks were sent into

Scotland as one arm of a missionary advance that reached

down through England to France and across Europe.

A DELIGHT IN PATTERNS

That outreach was an amazing achievement. But just as

amazing was the consolidation of monastic life on Iona that

resulted two centuries later in the Book of Kells.

This text of the four Gospels was begun by scribes

and artists in the library of Iona. It grew into one of the

masterpieces of Celtic art that was taken to Kells in Ireland

to escape the Viking invaders who ravaged the island.

Along with the text of the Gospels, there are illustrations

of Jesus, Mary and the four evangelists, together with

decorations at once intricate and fantastic: patterns that

interweave and interlace across the page with an odd face

here and a weird creature there. The design is in brilliant

detail, and you can follow the lines as they weave in and out.

This delight in patterns is evident in lots of Celtic art.

It is good to imagine Columba on Iona meditating on the

thread of God's grace woven into his life as he looked back to

his years in Ireland and his pilgrimage to Iona.

Poetry Corner

The U in JesUs (Author unknown)

Before U were thought of or time had begun,

God even stuck U in the name of his Son.

And each time U pray, you'll see it's true

You can't spell out JesUs and not include U.

You're a pretty big part of his wonderful name,

For U, he was born; that's why he came.

And his great love for U is the reason he died.

It even takes U to spell crUcified.

Isn't it thrilling and splendidly grand

He rose from the dead, with U in his plan?

The stones split away, the gold trUmpet blew,

and this word resUrrection is spelled with a U.

When JesUs left earth at his upward ascension,

He felt there was one thing he just had to mention.

"Now go into the world and tell them it's true

That the love I have shown is not just for U."

So many great people are spelled with a U,

Don't they have a right to know JesUs too?

It all depends now on what U will do,

He'd like them to know, But it all starts with U.

The Parish Magazine - June 2022 37

It might have seemed at one glance a complicated

interweaving of events and experiences, and then perhaps

as he looked again, he would see God's love threading its way

through that history and redeeming both it and him.

It is the same for us. As we look at our lives, they

may seem complex and involved patterns of events and

circumstances taking us here and there.

As we ponder those patterns, then we can begin to see a

thread woven into the patterns that guides and leads us on.

And as we stand back, all the patterns and threads seem

to make sense as we spot that guiding thread. Just as we can

stand back from the designs of this page and see God's love

spelling out the name of Christ, our Lord.
---
38 The Parish Magazine - June 2022

History

Was it really . . . ?

. . . 250 YEARS AGO on 22 June 1772 that the Court of

King's Bench ruled that slavery was illegal in England and

Wales. It remained legal in British Overseas Territories

and colonies until 1833.

. . . 100 YEARS AGO on 10 June 1922 that Judy Garland,

American actress and singer, was born. She is best known

for her films The Wizard of Oz and Meet Me in St Louis. She

died in 1969.

. . . 100 YEARS AGO from 28 June 1922 to 24 May

1923, that the Irish Civil War took place. It led to the

confirmation of the Irish Free State.

. . . 75 YEARS AGO on 5 June 1947 that the Marshall Plan

was proposed. US Secretary of State George C Marshall

offered a self-help programme to Europe that would

enable countries to rebuild democratic societies and resist

communism after the Second World War.

. . . 65 YEARS AGO on 1 June 1957 that the first premium

bond prize draw took place in Britain.

. . . Also 65 YEARS AGO on 27 June 1957 that Britain's

Medical Research Council reported that there was a causeand-effect

relationship between smoking and lung cancer.

. . . 50 YEARS AGO on 17 June 1972 that the Watergate

Scandal began when five men were arrested for breaking

into the Democratic National Committee headquarters at

the Watergate complex in Washington DC.

. . . 40 YEARS AGO, on 14 June 1982 that the Falklands

War ended. Argentine forces surrendered to the British

in Port Stanley and a ceasefire was agreed. Argentine

president Leopold Galtieri resigned on 17 June.

Thomas Dutou, dreamstime.com

. . . 40 YEARS AGO on 21 June 1982 that Prince William

of Wales (pictured above at his wedding in April 2011 to Kate

Middleton) was born. Son of Charles and Diana, he is

second-in-line to the throne.

THE SCIENCES

Dinosaurs and God?

Pavel Losevsky, dreamstime.com

These questions and answers are taken from The Faraday Kids

website (http://www.faradaykids.com). For more science-faith

Q&A's, check out 101 Great Big Questions About God and Science,

Edited by L Henderson & S Bryant (Lion, 2022)

Why aren't dinosaurs in the Bible?

The Bible wasn't written to list all the animals on earth or

tell us about science. It was written a long time before people

started to use science to learn about the world.

When the Bible was written, people didn't even have a

word for dinosaurs yet! But it's not just dinosaurs that aren't

mentioned in the Bible, it doesn't talk about armadillos,

kangaroos, sabre-toothed cats or penguins either!

That doesn't mean that the Bible is out of date or wrong,

or that these animals aren't important. Rather than teaching

us science, many Christians believe that the Bible was

written to tell people about God, how much he loves them,

and all the amazing things he has done.

The Bible says that God made everything, and loves

everything he made, so that includes dinosaurs. It also

encourages people to explore and find out all about the

wonderful things it says God has made. Science is a part of

this exploration.

Did God make the dinosaurs?

The Bible, the holy book that Christians read, says that God

made everything. All the stars, the Earth and all the amazing

plants and animals that have ever lived here. So yes, most

Christians believe that God made the dinosaurs!

The Bible also teaches that God loves it when people

explore his creation, and science is a great way of doing that.

So, for many Christians, science is one of the fun things

we can use to learn all about how God made everything,

including all of the dinosaurs!

Did humans and dinosaurs live together?

Yes! But probably not the kind of dinosaur you're thinking

of! Most of the dinosaurs died out a very, very, long time

ago, way before humans first lived. But some of the smaller,

feathery dinosaurs survived and over a long time they have

evolved into the animals we call birds. So, from chickens and

robins to penguins and ostriches there are dinosaurs living

all over our world today!

. . . 25 YEARS AGO, on 26 June 1997 that J K Rowling's

first Harry Potter novel, Harry Potter and the Philosopher's

Stone was published in the UK.

. . . 15 YEARS AGO on 27 June 2007 that Gordon Brown

became Prime Minister.

Ondřej Prosický, dreamstime.com
---
CROSSWORD

1 2 3 4 5 6

8

7

9 10

11 12 13

14

15 16 17 18 19

21 22

24

Across

1 - Makes available available for sale (6) for sale (6)

7 - Science of classification of classification (8) (8)

8

- Mixture

Mixture

of gases

of gases

we breathe

we

(3)

breathe (3)

9 Place of worship (6)

9 - Place of worship (6)

10 Prayer (4)

10 - Prayer (4)

11 Piece of writing (5)

11 - Piece of writing (5)

13 Wealthiest (7)

13

15

-

Tightly

Wealthiest

framed

(7)

camera shot (5-2)

15 17 - Tightly Keep framed (5) camera shot (5-2)

17 21 - Keep First (5) man (4)

21

22

- First

Small

man (4)

shoots (6)

23 Former measure of length (3)

22 - Small shoots (6)

24 Substitutes (8)

23 - Former measure of length (3)

25 Arboreal marsupial (6)

24 - Substitutes (8)

CODEWORD

25 - Arboreal marsupial (6)

20

25

23

Down Down

1 Juicy citrus 1 - Juicy citrus fruit fruit (6)

2 Compels 2 - Compels to do something to do (6)

3 Paces

3

(5)

- Paces (5)

4 Give reasons for (7)

4 - Give reasons for (7)

5 Photograph (8)

5 - Photograph (8)

6 Remains of a fire (6)

6 - Remains of a fire (6)

12 Bring together (8)

14 Tuft of 12 - grass Bring together (7) (8)

16 Lived 14 with - Tuft of as grass a (7) guest (6)

18 Be preoccupied 16 - Lived with with as a guest a topic (6) (6)

19 Symbol or representation (6)

20 Understand (5)

18 - Be preoccupied with a topic (6)

19 - Symbol or representation (6)

20 - Understand (5)

24 8 16 16 2 15 8 15 10 3 2 7

13 15 9 2 2 10 8

8 25 2 1 2 6 16 20 5 23

8 19 24 16 8 15 26 22 7 1

1 19 11 10 3 22 8 2

12 2 24 11 1 13 2 15

25 1 17 22 14 4 10

14 8 3 2 6 2 24 6

22 2 25 7 15 22 21 2

6 10 18 22 2 1 3 22 2 1

22 2 21 6 10 14 2 25 3 1

2 1 2 12 6 7 2

11 25 3 22 7 12 20 12 15 10 3 2

A B C D E F G H I J K L M N O P Q R S T U V W X Y Z

1 2 3 4 5 6 7 8 9 10 11 12 13

L J

14 15 16 17 18 19 20 21 22 23 24 25 26

F

SUDOKU

Each of the nine blocks has to contain all the

numbers 1-9 within its squares. Each number

can only appear once in a row, column or box.

WORDSEARCH THE JUBILEE

This year Her Majesty The Queen became the

first British Monarch to celebrate a Platinum

Jubilee marking 70 years of service to the people

of the United Kingdom, the Realms and the

Commonwealth. Celebrations will include The

Queen's Birthday Parade (Trooping the Colour)

on 2nd June when more than 1,400 parading

soldiers, 200 horses and 400 musicians will come

together. Beginning at Buckingham Palace, the

Parade will move down The Mall to Horse Guard's

Parade, joined by Members of the Royal Family on

horseback and in carriages. The Parade will close

with the traditional RAF fly-past, watched by The

Queen and Members of the Royal Family from

the Buckingham Palace balcony. Platinum Jubilee

Beacons: The United Kingdom's long tradition

of celebrating Royal Jubilees, Weddings and

Coronations with the lighting of beacons will also

continue. Over 1,500 beacons will be lit throughout

the United Kingdom, Channel Islands, Isle of Man

and UK Overseas Territories.

The Parish Magazine - June 2022 39

PUZZLE PAGE — the answers will be published in the next issue

QUIZ : The Queen's Coronation

MAJESTY

QUEEN

FIRST

YEARS

BRITISH

MONARCH

PLATINUM

JUBILEE

SEVENTY

SERVICE

UNITED

KINGDOM

REALMS

PARADE

PALACE

BALCONY

BIRTHDAY

TROOPING

COLOUR

SOLDIERS

HORSES

BUCKINGHAM

BEACONS

COMMONWEALTH

CELEBRATIONS

May

Solutions

CROSSWORD

D I S P I R I T C H U M

I H N M U I

S P O O F P L A Y F U L

H V L E F K

CODEWORD

V E L V E T Z F W

A O O V E R L I E S

C O G P A A A

A J O V I A L M A P S

N A C O E O

T A M E S Q U I N I N E

M C S C

E S C U D O S S O N I C

T L M G I O

O R E S B U N K U M A

A I U A B O X

D I F F U S E S U E

N Y T H O R S E S

SUDOKU

1. How many Queens were crowned in Westminster Abbey before Queen Elizabeth II?

2. What were the names of the eight horses that pulled the Queen's Gold Coach for her Coronation?

3. What is the name of the chair that the Queen sat on to be crowned?

4. How many people watched the Queen's Coronation on television?

5. How many people listened to the Queen's Coronation on the radio?

6. How many guests were in Westminster Abbey for the Queen's Coronation?

E U L O O S E L Y

M A L L E T S C D W

I N C A

S W C S T A T E L Y

T R I R E M E S G

R T S I R O

E C H I D N A O C E A N

A E M N S E

T I R E P E R S I S T S

WORDSEARCH LAST SUPPER

THE QUEEN'S EARLY YEARS?

1. Mayfair, London

2. 2.40am

3. 21 April

4. Clarence House in London

5. At home

6. The first life saving award

Christopher Elwell, dreamstime.com
---
40 The Parish Magazine - June 2022

Local Trades and Services

ACG SERVICES - LOCKSMITH

Locks changed, fitted, repaired and opened

Door and window locks fitted, UPVC door lock expert

Checkatrade member - Which Trusted Trader

Call Richard Homden: 0149 168 2050 / 0771 040 9216

Please mention The Parish Magazine when responding to advertisements

CHIROPODY AND PODIATRY

Linda Frewin MInstChp, HCPC member

General foot care and treatments

25 Ashtrees Road, Woodley RG5 4LP

0118 969 6978 - 0790 022 4999

CLARK BICKNELL LTD - PLUMBING & HEATING

Qualified Plumbing and Heating Engineers Gas Safe

25 years experience - local family run company

Office: 0118 961 8784 - Paul: 0776 887 4440

paul@clarkbicknell.co.uk

COMPUTER FRUSTRATIONS?

For jargon free help with your computer problems

PC & laptop repairs, upgrades, installations, virus removal

Free advice, reasonable rates

0798 012 9364 help@computerfrustrations.co.uk

INTERSMART LIMITED

Electrical Installation and Smart Home Automation

intersmartuk@gmail.com

Elliott — 0777 186 6696

Nick — 0758 429 4986

HANDYMAN & DECORATING SERVICES

Reliable and affordable

Small jobs a speciality!

Call Andy on 0795 810 0128

http://www.handyman-reading.co.uk

JAMES AUTOS

Car Servicing, Repairs and MOT

Mole Road, Sindlesham, RG41 5DJ

0118 977 0831

http://www.jamesautos.co.uk

ALL AERIALS

A local business based in Sonning. TV - FM - DAB aerials etc.

Sky dishes. Communal premises IRS systems, TV points.

Free estimates - All work guaranteed

0118 944 0000

MC CLEANING

We are a family business with excellent references

and we are fully insured

All cleaning materials provided

For free quote call: Maria 0779 902 7901

PROFESSIONAL HOME VISIT SERVICE

Thames Valley Will Service

Also Lasting Powers of Attorney and Probate Service

We are still working during the pandemic period

0134 464 1885 tvwills@yahoo.co.uk

THAMES CHIMNEY SWEEPS

0779 926 8123 0162 882 8130

enquiries@thameschimneysweeps.co.uk

http://www.thameschimneysweeps.co.uk

Member of the Guild of Master Sweeps

CALLAGHAN CARPETS & FLOORING

Thirty-six years local experience

Family run company

0118 962 8527 0779 223 9474

callaghancarpets@btinternet.com

WANT HELP WITH AN 'ODD JOB'?

For local odd jobs please call Phil on

0118 944 0000

0797 950 3908

Thames Street, Sonning

BIG HEART TREE CARE

Reliable and friendly service for all tree care

NPTC qualified — Public Liability of £10million

0118 937 1929 0786 172 4071

bighearttreecare.co.uk info@bighearttreecare.co.uk

SMALLWOOD

Landscaping, garden construction,

patios, lawns, fencing, decking etc

0118 969 8989 https://www.smallwoodlandscaping.co.uk/

office@smallwoodlandscaping.co.uk

ALL WASTE CLEARANCE & DISPOSAL

Waste clearance from office, house, garden, loft

Licensed waste carriers, no job too small or large

Contact: John

0771 021 2056 j.garmston@ntworld.com

BERKSHIRE STUMP REMOVALS

Stump grinding and tree stump removal

Latest narrow access machinery

Contact: Mark

0798 495 7334 http://www.berkshirestumpremoval

PAINTER and DECORATOR

Roger McGrath has 25 years experience

Restoration painting work of any size undertaken

For a free quotation call

Roger 0742 332 1179
---
CHILDREN'S PAGE

The Parish Magazine - June 2022 41
---
42 The Parish Magazine - June 2022 Please mention The Parish Magazine when replying to advertisements

information — 2

Parish contacts

ABD

Ministry Team

— The Vicar: Revd Jamie Taylor (Day off Friday)

The Parish Office, Thames Street, Sonning, RG4 6UR

vicar@sonningparish.org.uk / 0118 969 3298

— Associate Vicar: Revd Kate Wakeman-Toogood

revkate@sonningparish.org.uk / 0746 380 6735

On duty Tuesday, Friday and Sunday

— Youth Minister: Chris West (Westy)

youthminister@sonningparish.org.uk / 0794 622 4106

— Licensed Lay Minister: Bob Peters

bob@sonningparish.org.uk / 0118 377 5887

Children's Ministry

— Alison Smyly office@sonningparish.org.uk / 0118 969 3298

Churchwardens

— Stuart Bowman sdbowman73@aol.com / 0118 978 8414

— Liz Nelson liz.nelson1@ntlworld.com / 0779 194 4270

Deputy Churchwardens

— Simon Darvall sdarvall@businessmoves.com 0793 928 2535

— Sue Peters mail@susanjpeters.com / 0118 377 5887

— Molly Woodley (deputy churchwarden emeritus)

mollywoodley@live.co.uk / 0118 946 3667

Parish Administrator

— Hilary Rennie

office@sonningparish.org.uk / 0118 969 3298

Parochial Church Council

— Secretary: Hilary Rennie 0118 969 3298

— Treasurer: Richard Moore 0118 969 2588

Director of Music, organist and choirmaster

— Hannah Towndrow BA (Oxon), LRAM

music@sonningparish.org.uk

Sonning Bell Ringers

— Tower Captain: Pam Elliston

pam.elliston@talktalk.net / 0118 969 5967

— Deputy Tower Captain: Rod Needham

r06needham@gmail.com / 0118 926 7724

Parish Website: http://www.sonningparish.org.uk

The Parish Magazine: http://www.theparishmagazine.co.uk

— Editor: Bob Peters

editor@theparishmagazine.co.uk / 0118 377 5887

— Advertising and Distribution: Gordon Nutbrown

advertising@theparishmagazine.co.uk / 0118 969 3282

— Treasurer: Pat Livesey

pat.livesey@yahoo.co.uk / 0118 961 8017

— The Parish Magazine is produced by St Andrew's PCC and delivered

free of charge to every home in Charvil, Sonning and Sonning Eye.

— The Parish Magazine is printed in the United Kingdom by The Print

Factory at Sarum Graphics Ltd, Old Sarum, Salisbury SP4 6QX

— The Parish Magazine is distributed by Abracadabra Leaflet

Distribution Ltd, Reading RG7 1AW

— The Parish Magazine template was designed in 2012 by Roger

Swindale rogerswindale@hotmail.co.uk and David Woodward

david@designforprint.org

Advertisers index

Construction 6

Abbeyfield Wey Valley Society 31

ACG Services Locksmith 40

Active Domestic Appliances 16

Active Security 30

ADD Plumbing 12

All Aerials 40

All Waste Clearance 40

Barn Store Henley 16

Berkshire Stump Removals 40

Big Heart Tree Care 40

Blandy & Blandy Solicitors 14

Blinds Direct 26

Blue Moose 8

Bridge House 43

Bridges Home Care 26

Bull Inn 8

Callaghan Carpets & Flooring 40

Chimney Sweep, Thames 40

Chiropody, Linda Frewin 40

Chris the Plumber 32

Clark Bicknell 40

Complete Pest Solutions 40

Computer Frustrations 40

CPS Fuels 28

Cruz Kitchens 28

Design for Print 28

EMDR Hypnotherapist 30

Freebody Boatbuilders 6

Fields Pharmacy 32

French Horn 44

Gardiners Nursing 8

Great House Sonning 24

Handyman and Decorating Services 40

Haslams Estate Agents 2

Hicks Group 16

Intersmart Electrical Installations 40

James Autos 40

Jones & Sheppard Stone Masons 32

Kingfisher Bathrooms 26

MC Cleaning 40

Mill at Sonning 4

M & L Healthcare Solutions 12

Mortgage Required 18

Muck & Mulch 28

Odd Jobs 40

Painter and Decorator 40

Pearson Hall Sonning 24

Reading Blue Coat School 26

Richfield Flooring 14

Sabella Interiors 34

Seniors Helping Seniors 12

Shiplake College 14

Signature Care Homes 36

Sonning Golf Club 32

Sonning Scouts Marquees 30

Smallwood Garden Services 40

Style by Julie 6

Thames Valley Water Softeners 6

Thames Valley Wills Service 40

The 50 Plus Home Repairs 28

Tomalin Funerals 24

Walker Funerals 12

Water Softener Salt 28

Window Cleaner 16
---
Please mention The Parish Magazine when responding this advertisement

The Parish Magazine - June 2022 43

BRIDGE HOUSE

of TWYFORD

Because you deserve

the very best

Welcome to Bridge House Nursing Home

Established for 35 years, the elegant Georgian Grade II listed Bridge House has extended its facilities to

include a beautiful, light-filled and airy purpose built nursing home.

Our philosophy is built upon helping residents maintain their independence and dignity, whilst ensuring

their needs and expectations are fully met. We believe that being independent means having the freedom

of choice and flexibility over how the day is spent. Working closely with families and professionals

is fundamental in delivering and maintaining the required level of health and wellbeing.

At Bridge House, our comprehensive facilities and care provision is designed to deliver skilled,

professional and individually planned care in an unobtrusive manner.

Call 0800 230 0206

Visit www.bridgehouseoftwyford.co.uk

INDEPENDENT LIVING • ASSISTED LIVING • NURSING HOME

190821 - Bridge House Ad Parish Mag v01.indd 1 21/08/2019 18:06
---
44 The Parish Magazine - June Please 2022 mention The Parish Magazine when responding this advertisement

The French Horn,

Sonning. Quality.

A continuing commitment to

wonderful food and wine.

0118 969 2204

www.thefrenchhorn.co.uk