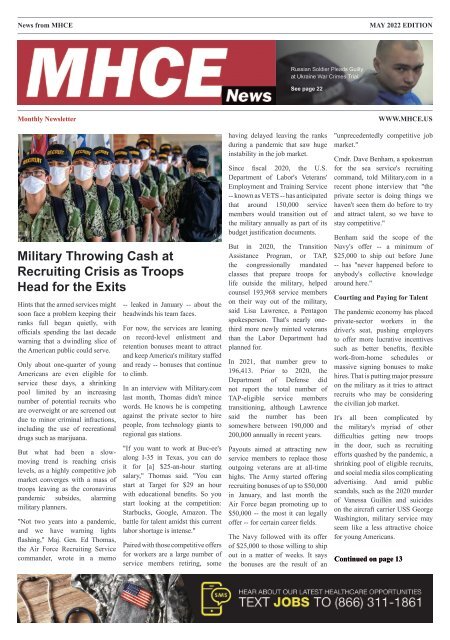 May 2022 — MHCE Newsletter
You also want an ePaper? Increase the reach of your titles
YUMPU automatically turns print PDFs into web optimized ePapers that Google loves.
News from MHCE

MAY 2022 EDITION

Russian Soldier Pleads Guilty

at Ukraine War Crimes Trial

See page 22

Monthly Newsletter

Military Throwing Cash at

Recruiting Crisis as Troops

Head for the Exits

Hints that the armed services might

soon face a problem keeping their

ranks full began quietly, with

officials spending the last decade

warning that a dwindling slice of

the American public could serve.

Only about one-quarter of young

Americans are even eligible for

service these days, a shrinking

pool limited by an increasing

number of potential recruits who

are overweight or are screened out

due to minor criminal infractions,

including the use of recreational

drugs such as marijuana.

But what had been a slowmoving

trend is reaching crisis

levels, as a highly competitive job

market converges with a mass of

troops leaving as the coronavirus

pandemic subsides, alarming

military planners.

"Not two years into a pandemic,

and we have warning lights

flashing," Maj. Gen. Ed Thomas,

the Air Force Recruiting Service

commander, wrote in a memo

-- leaked in January -- about the

headwinds his team faces.

For now, the services are leaning

on record-level enlistment and

retention bonuses meant to attract

and keep America's military staffed

and ready -- bonuses that continue

to climb.

In an interview with Military.com

last month, Thomas didn't mince

words. He knows he is competing

against the private sector to hire

people, from technology giants to

regional gas stations.

"If you want to work at Buc-ee's

along I-35 in Texas, you can do

it for [a] $25-an-hour starting

salary," Thomas said. "You can

start at Target for $29 an hour

with educational benefits. So you

start looking at the competition:

Starbucks, Google, Amazon. The

battle for talent amidst this current

labor shortage is intense."

Paired with those competitive offers

for workers are a large number of

service members retiring, some

having delayed leaving the ranks

during a pandemic that saw huge

instability in the job market.

Since fiscal 2020, the U.S.

Department of Labor's Veterans'

Employment and Training Service

-- known as VETS -- has anticipated

that around 150,000 service

members would transition out of

the military annually as part of its

budget justification documents.

But in 2020, the Transition

Assistance Program, or TAP,

the congressionally mandated

classes that prepare troops for

life outside the military, helped

counsel 193,968 service members

on their way out of the military,

said Lisa Lawrence, a Pentagon

spokesperson. That's nearly onethird

more newly minted veterans

than the Labor Department had

planned for.

In 2021, that number grew to

196,413. Prior to 2020, the

Department of Defense did

not report the total number of

TAP-eligible service members

transitioning, although Lawrence

said the number has been

somewhere between 190,000 and

200,000 annually in recent years.

Payouts aimed at attracting new

service members to replace those

outgoing veterans are at all-time

highs. The Army started offering

recruiting bonuses of up to $50,000

in January, and last month the

Air Force began promoting up to

$50,000 -- the most it can legally

offer -- for certain career fields.

The Navy followed with its offer

of $25,000 to those willing to ship

out in a matter of weeks. It says

the bonuses are the result of an

WWW.MHCE.US

"unprecedentedly competitive job

market."

Cmdr. Dave Benham, a spokesman

for the sea service's recruiting

command, told Military.com in a

recent phone interview that "the

private sector is doing things we

haven't seen them do before to try

and attract talent, so we have to

stay competitive."

Benham said the scope of the

Navy's offer -- a minimum of

$25,000 to ship out before June

-- has "never happened before to

anybody's collective knowledge

around here."

Courting and Paying for Talent

The pandemic economy has placed

private-sector workers in the

driver's seat, pushing employers

to offer more lucrative incentives

such as better benefits, flexible

work-from-home schedules or

massive signing bonuses to make

hires. That is putting major pressure

on the military as it tries to attract

recruits who may be considering

the civilian job market.

It's all been complicated by

the military's myriad of other

difficulties getting new troops

in the door, such as recruiting

efforts quashed by the pandemic, a

shrinking pool of eligible recruits,

and social media silos complicating

advertising. And amid public

scandals, such as the 2020 murder

of Vanessa Guillén and suicides

on the aircraft carrier USS George

Washington, military service may

seem like a less attractive choice

for young Americans.

Continued on page 13
---
2 | MHCE - News www.mhce.us MAY 2022 EDITION
---
WWW.MHCE.US Monthly Newsletter | 3
---
4 | MHCE - News www.mhce.us MAY 2022 EDITION
---
WWW.MHCE.US Monthly Newsletter | 5

Focus on Oversight a Key for Success at

CoreCivic

In the corrections industry, maintaining high standards of

operation is imperative to meeting the needs of the individuals

in our care. That's why CoreCivic adheres to a stringent set of

guidelines set forth by our own standards, as well as those of our

government partners and the American Correctional Association

(ACA).

Founded in 1870, the ACA is considered the national benchmark

for the effective operation of correctional systems throughout

the United States. To become accredited, a facility must achieve

compliance with ACA mandatory standards and a minimum of

90 percent non-mandatory standards. CoreCivic facilities adhere

to ACA standards, and in 2020, CoreCivic earned an average

ACA audit score of 99.6 percent across all facilities.

Key ACA audit areas include facility personnel, resident reentry

programs, resident safety, health care, and more.

holds our facilities and staff to a high standard. To be able to

represent our facility and receive reaccreditation in person is an

honor."

Adhering to ACA standards is only one part of CoreCivic's

commitment to robust oversight. When government partners

utilize CoreCivic's services, we are held not only to our own

high standards and those of the ACA, but we are often held to

the same or higher accountability of our public counterparts

through stringent government contracts, unfettered access to

our facilities for our partners, and hundreds of on-site quality

assurance monitors.

We provide access to our government partners, with most of

our facilities having government agency employees known as

contract monitors who are physically on-site to ensure we are

operating in line with partner guidelines.

Recently, the ACA held in Nashville, Tennessee, its 151st

Congress of Corrections, an annual convention that brings

together corrections professionals from across the country. In

addition to various workshops and events at the convention, the

ACA Commission on Accreditation also held panel hearings to

award accreditation to correctional facilities that meet the ACA's

rigorous requirements. Listed below are the seven CoreCivic

facilities that earned reaccreditation this year, with mandatory/

non-mandatory scores:

• Bent County Correctional Facility - 100/99.0

• Citrus County Detention Facility - 100/100

• Eloy Detention Center - 100/100

• Lake Erie Correctional Institution - 100/99.3

• Saguaro Correctional Center - 100/99.8

• Stewart Detention Center - 100/100

• Tallahatchie County Correctional Facility - 100/100

"The accreditation process is very important," said Warden

Fred Figueroa from Eloy Detention Center, one of the seven

CoreCivic facilities that was awarded reaccreditation. "ACA

To maintain our own high standards, annual on-site audits covering

all operational areas are administered to ensure compliance with

contractual and regulatory obligations and corporate-mandated

requirements. Each CoreCivic Safety facility is audited by our

internal quality assurance division, which is independent from

our operations division. Facilities are expected to be audit-ready

year-round, maintaining continuous compliance with numerous

applicable standards.

CoreCivic employs 75 staff members dedicated to quality

assurance, including several subject matter experts with extensive

experience from all major disciplines within our institutional

operations.

"A lot of hard work goes into preparing for these audits,"

Figueroa said. "Once they're complete, the staff can see their

accomplishments and feel proud."

Having multiple levels of oversight helps CoreCivic maintain

a safe environment for those in our care. By holding ourselves

accountable to our own high standards, along with our

government partners' and ACA's standards, CoreCivic continues

to be a trusted partner working to better the public good.
---
6 | MHCE - News www.mhce.us MAY 2022 EDITION
---
WWW.MHCE.US Monthly Newsletter | 7
---
8 | MHCE - News www.mhce.us MAY 2022 EDITION

Major Cuts to Cost-of-Living Allowances for

Thousands of Military Families in Germany

Coming This Summer

Thousands of service members and their families stationed in

Germany will see a major hit to their cost-of-living allowances

starting next month, despite continued struggles for Americans

living overseas with heightened utility costs and economic

strain caused by Russia's invasion of Ukraine.

The Pentagon announced Wednesday that there will be a

reduction in the overseas cost-of-living allowance -- otherwise

known as COLA -- for families in the Kaiserslautern Military

Community starting June 1 because prices in the continental

United States are now more expensive than those in Germany.

Senior leaders are aware that this is poor timing for a reduction

in rate, and are working to determine a way forward," Lt. Col.

Micah Neece, the 86th Comptroller Squadron commander at

Ramstein Air Base, said in a statement.

With approximately 50,000 service members and families,

Kaiserslautern is the largest military community outside the

continental United States

The decrease in the monthly allowance depends on rank, years

of service and number of dependents. But an unverified email

circulating online that appears to be from the 86th Airlift Wing

out of Ramstein explaining the decrease to base commanders

describes a cut in the COLA between "$200 and $500" for

some service members.

Spokesmen for the Air Force, Army and Pentagon did not

immediately return a request for comment asking about the

email and the cost-of-living decrease.

The Kaiserslautern Military Community is made up of Air

Force facilities located at Ramstein, Einsiedlerhof, Pirmasens,

Vogelweh and Kapaun Air Station, along with Army facilities

at Sembach, Kleber, Panzer and Daenner Kasernen; Landstuhl;

Kirchberg; Miesau Depot; Kaiserslautern Industrial Center;

Rhine Ordnance; and Pulaski Barracks.

The non-taxable COLA allowance exists to make living in

these areas more affordable for service members by offsetting

the cost of daily expenses to make them comparable to costs

stateside. With rising prices in the United States, the gap has

diminished, leading to the cuts.

"When the strength of the dollar increases against the euro,

and as the cost of goods in the U.S. rise compared to the cost

of goods in the Kaiserslautern Military Community, service

members can expect COLA payments to decrease," the release

said.

Cost-of-living rates are also determined by input from service

members and their families. The most recent increase in the

Kaiserslautern Military Community was based on a survey

from the fall of 2021, well before Russia's invasion of Ukraine

and widespread inflation in the U.S.

Two surveys determine the relative cost of living overseas: the

Living Pattern Survey, which happens every three years and

asks where and how families purchase goods, and the Retail

Price Schedule, which is conducted every year and collects

prices for groceries, car insurance, gasoline, and day care.
---
WWW.MHCE.US Monthly Newsletter | 9

Fears are also growing that Russia may cut off the gas supply to

Europe. Germany depends on Russia for 40% of its gas supplies,

according to Bloomberg, and utility hikes in the country, as

well as across Europe, have spiked since the invasion.

The Pentagon, however, said service members should rely on

their utility allowances instead of their cost-of-living funds to

address the price hikes.

"Although we have seen [a] significant increase in utility costs

as a result of the conflict in Ukraine, COLA surveys also do not

account for utility costs. Members receive a utility allowance

to address utility costs," the Pentagon said in a press release.

Backlash to news about COLA decrease was swift online,

especially on the popular Air Force amn/nco/snco Facebook

page.

"It blows my mind how they can just change how much money

we get at the drop of a hat," one commenter wrote. "If it was

$50 I wouldn't complain. But I am talking HUNDREDS of

dollars a month."

The Pentagon, however, said in its press release that service

members and their families shouldn't count on COLA being

consistent each month.

"Since COLA is not a fixed amount and fluctuates annually as

well pay period to pay period, Defense Department officials

continually stress that fixed expenses such as rent and car

payments should be based on what a service member can afford

without COLA," the Pentagon wrote.

Join Our Team!

Embark on a new career

with Central New York

Psychiatric Center!

Our Team Promotes

Hope, Resilience and Recovery!

Central New York Psychiatric Center is seeking

candidates to fill the following positions;

Psychiatrists, Psychiatric Nurse Practitioners,

Psychologists, and Registered Nurses.

These positions are available at our Inpatient

Forensic Hospital in Marcy, New York, as

well as our Corrections Based Satellite Units

across the State.

Benefits Include:

• NYS Pension

• Competitive Salaries

• Comprehensive Health Insurance

• Flexible Spending Accounts for

Healthcare & Dependent Care

• Generous Paid Time Off

Contact Us:

315-765-3375 or by e-mail

CNpersonnel@omh.ny.gov

TO ADVERTISE

contact nathan.stiles@mhce.us
---
10 | MHCE - News www.mhce.us MAY 2022 EDITION
---
WWW.MHCE.US Monthly Newsletter | 11

VISIT OUR WEBSITE

AT MHCE.US
---
12 | MHCE - News www.mhce.us MAY 2022 EDITION

TO ADVERTISE

contact kyle.stephens@mhce.us
---
WWW.MHCE.US Monthly Newsletter | 13

"This is arguably the most challenging recruiting year since the inception

of the all-volunteer force," Lt. Gen. David Ottignon, the Marine Corps

officer in charge of manpower, told the Senate during a public hearing

April 27.

All of the military's service branches are scrambling to find ways to

compete for a younger generation of talent that has plenty of employment

opportunities.

VISIT OUR WEBSITE AT MHCE.US

"The military provides a wonderful option for young people, but it's

not the only option and so recruiters, I think just like other employers,

are trying to understand what the different options are for young people

and to address those effectively," said Joey Von Nessen, an economics

professor at the University of South Carolina.

The bonuses that serve as one of the most immediately tangible lures for

new recruits, while escalating, aren't uniform across or even within the

services.

Most of the bonuses offered for new Air Force recruits range around

$8,000 for certain career fields. But for two of the most dangerous jobs,

Special Warfare operations and explosive ordnance disposal, the service

is making its maximum allowed offer of $50,000 for people to join.

"It is necessary. I think these are two of our hardest career fields to

recruit toward," said Col. Jason Scott, chief of operations for the Air

Force Recruiting Service. "It is absolutely necessary to do $50,000 for

each of those, and actually $50,000 is the highest initial enlistment bonus

amount that we can give."

Overall, the Air Force is dedicating $31 million to recruiting bonuses in

2022, nearly double what was originally planned for.

The Army faces the same problem -- and is putting up the same big offers.

"We're in a search for talent just like corporate America and other

businesses; almost everyone has the same issue the military does right

now," Maj. Gen. Kevin Vereen, head of U.S. Army Recruiting Command,

told Military.com. "We're trying to match incentives for what resonates.

For example, financial incentives. Nobody wants to be in debt, so we're

offering sign-up bonuses at a historic rate.

"We've never offered $50,000 to join the Army," he added.

In addition to the sign-on bonuses, the Army is also offering new recruits

their first duty station of choice -- an unprecedented move as new

soldiers are typically placed at random around the world. New recruits

can choose locations such as Alaska, Fort Drum in New York, and Fort

Carson in Colorado.

"Youth today want to make their own decisions. We're letting them do

that," Vereen said.

The services are also trying to keep troops from leaving, knowing that a

raft of employment opportunities are available for them if they get fed

up with military life.

The Army, Air Force and Navy have all announced reenlistment bonuses

for certain career fields and specialties, some of them in the six-figure

range.

The Air Force is offering up to $100,000 reenlistment bonuses based on

experience and career field. The Navy is also offering those incentives,

with fields such as network cryptologists and nuclear technicians making

anywhere from $90,000 to $100,000. The Army is offering a more modest

cap of $81,000 to reenlist for some jobs.

Anecdotally, military families are describing on social media an inability

to find open slots for TAP's sessions. Each in-person class is generally

limited to 50 people, but Lawrence, the Pentagon spokesperson, denied
---
14 | MHCE - News www.mhce.us MAY 2022 EDITION

the program is being overwhelmed since classes are also available in live

online, on-demand or hybrid formats.

The urgency described by leaders who are putting their money toward

keeping skilled service members is a sign of the worry about a brain

drain.

Unlike the broader enlistment bonuses, many military career fields don't

offer cash for reenlistment, and some of these incentives existed prior to

the pandemic. But the job market has put pressure on the services to pay

up to keep service members in the force.

Overweight and Hard to Reach

The military's difficulties attracting recruits go far beyond making the

right bonus offer. The forces working against recruiting increased during

the grinding global pandemic -- lockdowns kept recruiters home and

young Americans are refusing vaccines, for example -- and are also rooted

in longer-term societal shifts in physical fitness and communication.

"The aggregate effects of two years of COVID is that is two years of

not being in high school classrooms, two years of not having air shows

and major public events like being in those public spaces, where our

potential applicants or potential recruits are getting personal exposure,

face-to-face relationships with military recruiters," Thomas said.

Only about 40% of Americans who are of prime recruiting age are

vaccinated against the virus. Outright refusal to get the shot immediately

precludes joining the force and short-circuits any pitch from recruiters.

COVID vaccines are among at least a dozen inoculations mandated by

the Defense Department.

"Seventeen-to-24-year-olds are not getting vaccinated, and those [are]

people we aren't having a conversation with," Vereen said.

Even when potential recruits are interested and big bonuses motivate

them to sign on the dotted line, only about 23% of young Americans are

even eligible for service.

Past legal run-ins or a drug history prevent potential recruits from

joining, and more and more Americans are overweight. According to the

Centers for Disease Control and Prevention, 40% of adults aged 20 to

39 are obese. That problem has been deemed a national security risk by

somebecause it causes an increasingly shallow pool of potential recruits.

The confluence of challenges has others loudly alerting the public that

there's a problem.

Sen. Thom Tillis, R-N.C., the ranking member of the Senate Armed

Services Committee personnel panel, says the military is on the cusp of

a recruiting crisis.

"To put it bluntly, I am worried we are now in the early days of a longterm

threat to the all-volunteer force. [There is] a small and declining

number of Americans who are eligible and interested in military service,"

Tillis said during an April 27 hearing.

He added that "every single metric tracking the military recruiting

environment is going in the wrong direction." Just 8% of young

Americans have seriously considered joining the military, while only

23% are eligible to enlist, according to Tillis.

Meanwhile, the prime demographic for recruiting -- 17-to-24-year-olds

-- is getting harder to reach. The military is running high production

value recruiting ads on TV, but most younger Americans are watching

YouTube, Twitch and other streaming services. On those platforms,

ads are dictated by algorithms based on a person's search history, and

prime-age viewers may never be exposed to recruiting spots if they don't

already have a general interest in the military.

The military has relied on Facebook, with its user base that skews

much older, and Instagram pointing users to ads based on their existing

interests. The Defense Department banned TikTok from governmentissued

phones in 2019, shutting out Generation Z's social media platform

of choice. However, some recruiters have ignored the ban on the Chineseowned

platform, which is seen by some as a security risk.

"I know a lot of young people are on TikTok and we're not," Vereen said.

When the military does get widespread exposure and makes the news, it

can be due to scandals such as the slaying of Guillén at Fort Hood, Texas,

or other problems that raise questions about safety and the quality of life

in the services.

Following a wave of suicides and disclosure of a lack of basic ameneties

such as hot water and ventilation aboard the George Washington, Master

Chief Petty Officer Russell Smith, the Navy's top enlisted leader, was

asked by a sailor why the service was spending so much on new recruits,

specifically mentioning the hefty $25,000 bonus.

"I gotta use those bonuses to compel something. ... A post-COVID

workforce doesn't love the idea that they have to, they actually have to

go to work, talk to people, see them face-to-face, exchange ideas and

do work," Smith told the crew, according to a Navy-provided transcript.

"They would rather phone it in or work from home somehow and, with

the military, you just can't do that."

Some sailors said it didn't seem like the service was prioritizing making

its current ranks happy or financially incentivizing them to stick around.

Smith said the Navy already offers some bonuses to in-demand specialties

and that if a particular job doesn't offer one it's because enough of those

sailors "love the work that they do ... and when they do, I don't have to

use money as leverage."

Smith also told the sailor that he "can compel [them] to stay right here for

eight years." Most contracts have an inactive period of reserve service

built in following the end of active duty that the Navy can tap into.

"So, you want me finding sailors to come in and relieve you on time,"

Smith added.

The military services hope the new bonuses will overcome all the

difficulties and that they will meet recruiting goals for the year. But the

numbers are not encouraging so far.

The Army has an uphill climb for the rest of the year, having recruited

just 23% of its target in the first five months of the fiscal year.

The Navy said that, in order to reach its recruiting goal this year, it will

have to reduce the delayed-entry program -- allowing someone to enlist

before they plan on actually shipping out -- to below "historic norms,"

which could in turn cause recruiting issues in future years.

There's likely no relief in sight, according to experts.

U.S. population demographics are going in the wrong direction and will

make the recruiting job increasingly hard. The millennial and Gen-Z

generations are smaller than previous generations, meaning there is a

dwindling workforce to pull from. And only a small percentage of those

youths appear likely to meet the physical qualifications to join in the first

place.

"I think it's likely that the labor shortage is going to be long-lasting," Von

Nessen said. "This is not a short-term phenomenon. It was exacerbated

by the pandemic, but it wasn't created by the pandemic exclusively."
---
WWW.MHCE.US Monthly Newsletter | 15

VISIT OUR WEBSITE AT MHCE.US
---
16 | MHCE - News www.mhce.us MAY 2022 EDITION

Space Force Offering Bonuses Up to $20,000 for

New Guardians with Tech Backgrounds

The Space Force has unveiled a wave of bonuses to lure recruits

with highly specialized tech backgrounds to become Guardians.

Bonuses range from $12,000 to $20,000 for certain technology

certifications that could be used for the Space Force's cyber

career fields, according to a press release from the Department

of the Air Force's Recruiting Service.

Earlier this month, the Department of the Air Force unveiled

more than a dozen bonuses as a way to entice new recruits amid

a national labor shortage and a pandemic economy.

But while the Air Force said it's facing headwinds to fill its ranks,

the Space Force is having no problem getting recruits into the

small number of spots it has, as interest continues to grow in the

newest military service branch.

Maj. Gen. Ed Thomas, the Air Force Recruiting Service

commander, told Military.com that last year they had more than

42,000 leads on people interested in joining to fill just 500 spots.

is floating a proposal to have Guardians either be part-time or

full-time instead.

Gen. John Raymond, the chief of space operations, has spoken

publicly about the full-time and part-time concept as a possible

way to recruit talent from the private sector to fill the highly

specialized roles in the Space Force's ranks.

"We would be giving opportunities for people to go to the

commercial industry, to go to NASA, and then come back,"

Raymond told Space News earlier this month. "Maybe at certain

times in their life, if they want to have children, they can go parttime

for a while and then come back without having to get out of

active duty and then go into the reserves."

The Space Force will make history next month when 72 men

and women start the first Guardians-only boot camp at Joint

Base San Antonio, Texas.

"Space Force recruiting is on very solid ground right now,"

Thomas said.

The Space Force is the smallest of the military service branches.

It has grown to 8,400 Guardians since being created at the behest

of former President Donald Trump in 2019 and is expected to

grow by 200 new recruits in 2023.

For Space Force Guardians who have already joined the ranks,

the Department of the Air Force is also offering reenlistment

bonuses for a dozen careers, such as cyber intelligence analysts

and communications specialists, to retain their specialized

knowledge and skills.

TO ADVERTISE

contact nathan.stiles@mhce.us

Unlike other services, the Space Force does not have a reserve or

National Guard component; Air Force Secretary Frank Kendall
---
WWW.MHCE.US Monthly Newsletter | 17
---
18 | MHCE - News www.mhce.us MAY 2022 EDITION

Business Is Global. Your Education Can Be, Too.

Complete Business Minor in One

Summer across Two Countries

By taking the five courses offered in this 12-week program, you

can complete a Business Minor and enjoy the unique opportunity

to immerse yourself in a cultural experience. Our Complete

Business Minor Abroad program will take you to the beautiful

streets of Rome, Italy, and Madrid, Spain, this Summer 2022

semesters

Business Core Fast Track

By taking the five courses offered in this 12-week program, you

can complete a Business Minor and enjoy the unique opportunity

to immerse yourself in a cultural experience. Our Complete

Business Minor Abroad program will take you to the beautiful

streets of Rome, Italy, and Madrid, Spain, this Summer 2022

semesters

2022 Program Update

In these uncertain times, the Harbert College of Business is

taking extraordinary steps to ensure the health and welfare of its

students. As such, only two study abroad trips will be offered for

this summer.

Please be on the lookout for details on offerings of a range of

Study Abroad Programs in Summer 2023. We appreciate your

interest and will be global again as soon as possible.

Study Abroad

At the Harbert College of Business, we offer the opportunity to

experience different business cultures, practices and standards

around the world. Round out your undergraduate experience with

a study abroad trip to Italy and Spain and gain a global business

perspective.

Undergraduate study abroad opportunities will allow you to gain

experience with a variety of contexts.

Have Questions?

COVID-19 has made the idea of international travel seem far

away. Let us reassure you we will provide a safe study abroad

experience that will give you an edge in your future career

Dr. Daniel Butler

Assistant Dean, Harbert Global Programs

Thomas Walter Professor

334-844-2464

butledd@auburn.edu
---
WWW.MHCE.US Monthly Newsletter | 19

When the practice of medicine

becomes the business of medicine.

You spent years studying medicine.

But what about the business side of

your practice?

It's easy to get started.

Take the next step toward a

Physicians Executive MBA

and contact us:

auburn-military.mba

334-844-4060

Auburn MBA
---
20 | MHCE - News www.mhce.us MAY 2022 EDITION

Vice President Tells Coast Guard Grads Rule of Law

Is Under Attack

WASHINGTON — Vice President

Kamala Harris told the U.S. Coast

Guard Academy's graduating cadets

that they are starting their service at a

crucial moment for the world, a period

in history when the "rule of law is

strained" and "fundamental principles

are under threat."

Harris, in the commencement speech

Wednesday at the academy in New

London, Connecticut, reflected on

the state of the world in which longstanding

rules and norms are more

frequently coming under attack, noting

the Russian invasion of Ukraine.

"And the challenges we face are broader

than Russia," Harris said. "Around

the world, we see additional attempts

to undermine the rules-based order:

Nations that threaten the freedom of the

seas; criminal gangs and traffickers who

skirt the rule of law, and fuel corruption

and violence; those that manipulate

and undermine the foundations of

international commerce."

The Democratic vice president also

made the case that as Coast Guard

members the graduates will play an

important role in helping the United

States uphold the international rulesbased

order, calling it one of the United

States' "defining missions."

"Over time, this order has been tried.

This order has been tested. And far

too often, this order has been taken

for granted," Harris said. "Frankly,

sometimes we forget how rare it is

in human history to have a period of

relative peace and stability among

nations."

Earlier this month, Harris used the

commencement address at Tennessee

State University in Nashville to urge

graduates to apply their leadership

skills to help tackle the multitude of

challenges posed by an unsettled world.

In her speech at the historically Black

university, Harris said the Class of

2022 stands "on the brink of a new

frontier," pointing to the prospects of

more breakthroughs in technology and

medical research.

But with war raging in Ukraine, the

risks from climate change and basic

freedoms under threat in the United

States, graduates are stepping off into an

uncertain future, she said at Tennessee

State.

Last year, Harris delivered a

commencement speech at the U.S.

Naval Academy. President Joe Biden is

scheduled to deliver the commencement

address at this year's Naval Academy

graduation.

TO ADVERTISE

contact nathan.stiles@mhce.us
---
WWW.MHCE.US Monthly Newsletter | 21
---
22 | MHCE - News www.mhce.us MAY 2022 EDITION

Russian Soldier Pleads Guilty at Ukraine War Crimes

Trial

KYIV, Ukraine — A 21-year-old Russian

soldier facing the first war crimes trial

since Moscow invaded Ukraine pleaded

guilty Wednesday to killing an unarmed

civilian.

Sgt. Vadim Shishimarin could get life

in prison for shooting a a 62-year-old

Ukrainian man in the head through an

open car window in the northeastern

Sumy region on Feb. 28, four days into the

invasion.

Shishimarin, a captured member of a

Russian tank unit, was prosecuted under a

section of the Ukrainian criminal code that

addresses the laws and customs of war.

Ukrainian Prosecutor General Iryna

Venediktova previously said her office

was readying war crimes cases against 41

Russian soldiers for offenses that included

bombing civilian infrastructure, killing

civilians, rape and looting.
---
WWW.MHCE.US Monthly Newsletter | 23

It was not immediately clear how many of the suspects

are in Ukrainian hands and how many would be tried

in absentia.

Prosecutors plan to continue presenting evidence

against Shishimarin following his guilty plea,

although the trial is like to be shorter.

As the inaugural war-crimes case in Ukraine,

Shishimarin's prosecution was being watched closely.

Investigators have been collecting evidence of

possible war crimes to bring before the International

Criminal Court in The Hague.

Venediktova's office has said it was looking into

more than 10,700 potential war crimes involving

more than 600 suspects, including Russian soldiers

and government officials.

With help from foreign experts, prosecutors are

investigating allegations that Russian troops violated

Ukrainian and international law by killing, torturing

and abusing possibly thousands of Ukrainian

civilians.

Shishimarin's trial opened Friday, when he made a

brief court appearance while lawyers and judges

discussed prosecedural matters. After his plea on

Wednesday, the proceedings were continued until

Thursday, when the trial is expecgted to resume in a

large courtroom to accomodate more journalists.

Ukrainian authorities posted a few details on social

media last week from their investigation in his case.

Shishimarin was among a group of Russian troops

that fled Ukrainian forces on Feb. 28, according to

Venediktova's Facebook account. The Russians

allegedly fired at a private car and seized the vehicle,

then drove to Chupakhivka, a village about 200 miles

east of Kyiv.

On the way, the prosecutor-general alleged, the

Russian soldiers saw a man walking on the sidewalk

and talking on his phone. Shyshimarin was ordered

to kill the man so he wouldn't be able to report them

to Ukrainian military authorities. Venediktova did

not identify who gave the order.

Shyshimarin fired his Kalashnikov rifle through

the open window and hit the victim in the head,

Venediktova wrote.

The Security Service of Ukraine, known as the SBU, posted a short video

on May 4 of Shyshimarin speaking in front of camera and briefly describing

how he shot the man. The SBU described the video as "one of the first

confessions of the enemy invaders."

"I was ordered to shoot," Shyshimarin said. "I shot one (round) at him. He

falls. And we kept on going."

Russia is believed to be preparing war crime trials for Ukrainian soldiers.

VISIT OUR WEBSITE

AT MHCE.US

"The man died on the spot just a few dozen meters

from his house," she said.
---
24 | MHCE - News www.mhce.us MAY 2022 EDITION

For Spring

Recruitment Specials

contact:

Kyle.Stephens@mhce.us or

Advertise with us today.

TO ADVERTISE

contact nathan.stiles@mhce.us

VISIT OUR WEBSITE AT MHCE.US
---
WWW.MHCE.US Monthly Newsletter | 25

Navy Christens Destroyer Named for

First Black Marine General Officer

CHARLESTON, South Carolina —

With Secretary of the Navy Carlos

Del Toro calling it "the very best

ship that our nation has to offer," the

U.S. Navy christened Aegis-class

destroyer USS Frank E. Petersen Jr.

(DDG 121) during ceremonies in

Charleston, S.C., Saturday.

The Petersen, built by Ingalls

Shipbuilding in Pascagoula, is named

in honor of U.S. Marine Corps Lt.

Gen. Frank E. Petersen Jr., the first

black Marine Corps aviator and the

first black Marine to rise to the rank

of three-star general.

Serving two combat tours — Korea

in 1953 and Vietnam in 1968 —

Petersen flew more than 350 combat

missions and had over 4,000 hours in

multiple fighter and attack aircraft.

In 1979, Petersen was promoted

to brigadier general, becoming the

first Black general officer in the

Marine Corps. He retired in 1988,

with awards and honors including

the Defense Superior Service Medal,

Legion of Merit with Combat "V",

Distinguished Flying Cross; Purple

Heart; Meritorious Service Medal,

Air Medal, Navy Commendation

Medal with Combat "V", and the Air

Force Commendation Medal.

Petersen died in August 2015 at the

age of 83. He is buried in Arlington

National Cemetery.

Saturday's keynote speaker was

Carlos Campbell, former Navy

aviator and assistant Secretary

of Commercie for Economic

Development, who served alongside

Petersen and spoke of Petersen's

courage and dedication.

American warship," said Chief of

Naval Operations Adm. Mike Gilday.

"Sailors aboard this mighty warship

will deploy wherever, whenever

needed, with General Petersen's

fighting spirit and tenacity, for

generations to come."

Marine Corps Commandant Gen.

David Berger, was also among the

dignitaries on hand.

"General Petersen was a man of many

firsts," Berger said. "There's a saying

that ships take on the characteristics

of their namesakes, and if that's true,

then God help any adversary to ever

confronts the Frank E. Petersen Jr."

Members of Petersen's family were

on hand for the christening, with his

daughter, Gayle Petersen, speaking

for the family and paying tribute to

one special person in her father's life.

"We would not be having this

ceremony today if not for a

gentleman named Robert Adams,"

Gayle Petersen said. "When my dad

was shot down in Vietnam, he was

rescued by Robert Adams."

She also paid tribute to the Ingalls

shipbuilders who brought DDG 121

to life.

"I would like to thank all who had a

hand in building this ship, from stem

to stern."

The Petersen's commanding officer,

Cmdr. Daniel Hancock, reported the

ship ready, and — assisted by Gen.

Petersen's daughters Gayle Petersen,

Dana Petersen Moore, Lindsay

Pulliam and Monique Petersen —

ship sponsor D'Arcy Ann Neller gave

the traditional order to "man our ship

and bring her to life."

Neller is the wife of former Marine

Corps Commandant Gen. Robert

Neller. Co-sponsor Alicia J. Petersen,

Gen. Petersen's widow, died last

September.

Creating a Culture

of Caring

Offering master's

and doctoral

degrees for

Registered Nurses

Specialties Offered:

Nurse-Midwife

Family Nurse Practitioner

Women's Health Care NP

Psychiatric-Mental Health NP

"He received a (fragment) wound, he

was treated in the field, and returned

to combat," Campbell recalled of

Petersen.

"It is fitting that a name synonymous

with service and sacrifice be

emblazoned on the steel of this

Learn more at frontier.edu/military
---
26 | MHCE - News www.mhce.us MAY 2022 EDITION

TO ADVERTISE

contact

Kyle.stephens@mhce.us
---
WWW.MHCE.US Monthly Newsletter | 27

TO ADVERTISE

contact Kyle.Stephens@mhce.us
---
28 | MHCE - News www.mhce.us MAY 2022 EDITION
---
WWW.MHCE.US Monthly Newsletter | 29

Veterans to Get Improved

Access to Mammograms

Through Bills Headed to

Biden's Desk

Veterans, including those who

may be at increased risk for

breast cancer because of their

service near burn pits, could

have better access to breast

cancer screenings under a pair

of bills that cleared Congress

this week.

The House on Wednesday

night voted 418-0 to approve

the Dr. Kate Hendricks

Thomas Supporting Expanded

Review for Veterans in

Combat Environments, or

SERVICE, Act, which would

require the Department of

Veterans Affairsto conduct

mammograms for all women

who served near burn pits

or other toxic exposures,

regardless of symptoms, age

or family history.

The chamber also voted 419-0

to pass the Making Advances

in Mammography and Medical

Options, or MAMMO, for

Veterans Act, which would

require the VA to craft a

strategic plan to improve

breast imaging services within

a year, create a three-year pilot

program of telemammography

for veterans in areas where the

VA does not offer in-house

mammograms, and expand

veterans' access to clinical

trials through partnerships

with the National Cancer

Institute.

Both bills passed the Senate

unanimously in March,

meaning they now only await

President Joe Biden's signature

before becoming law.

The Dr. Kate Hendricks

Thomas SERVICE Act is

named after a Marine Corps

veteran who died in April after

being diagnosed with stage

4 breast cancer at age 38.

Thomas served near a burn pit

in Iraq and was unaware she

faced an elevated risk of breast

cancer, but was advised to get

a mammogram in 2018 during

a routine medical exam.

In written testimony last year,

Thomas told senators that she

"needed that mammogram

sooner."

"Early detection and treatment

are key in the fight against

breast cancer," Sen. John

Boozman, R-Ark., the lead

sponsor of the bill, said in

a statement when the bill

passed the Senate. "Given

the additional risk factors

associated with toxic exposure,

which we know has occurred

in recent combat settings, the

VA must update its policies

so vulnerable veterans can

receive mammograms."

Passage of the bill came the

same day senators announced

a bipartisan deal to greatly

expand health care and

benefits for veterans suffering

from illnesses related to toxic

exposure. While the full text of

the agreement has not yet been

released, the House-passed

bill upon which the deal is

based did not include breast

cancer as one of the ailments

for which benefits would

automatically be extended.

The two mammogram

bills were among a slate of

19 veterans-related bills,

including several others that

also focus on issues primarily

affecting female veterans, the

House passed this week, its

last before it goes on a twoweek

Memorial Day recess.

Bills approved Wednesday

included four meant to

improve support for survivors

of military sexual trauma.

One bill, approved 417-0,

seeks to improve coordination

between the Veterans Benefits

Administration and Veterans

Health Administration when

helping veterans file claims

related to sexual trauma.

Another, passed 405-12, would

add annual training on sexual

trauma for members of the

Board of Veterans' Appeals,

which hears veterans' benefits

claims after they've been

denied. The opposition came

entirely from Republicans.

The House also advanced a

bill in a 414-2 vote to require

the VA to have the National

Academies of Sciences,

Engineering and Medicine

conduct a comprehensive

review of VA medical

examinations for people who

submit claims for mental and

physical conditions related to

sexual trauma. The "no" votes

came from Reps. Sean Casten,

D-Ill., and Diana Harshbarger,

R-Tenn.

And the chamber passed a

bill in a 420-0 vote to create

a peer support program

at the Veterans Benefits

Administration for sexual

trauma survivors.

The House also voted 420-0

to require the VA to provide

lactation rooms for veteran

moms in all of its medical

centers. An estimated 90 VA

facilities across the country

already have nursing rooms,

but only VA employees can

access them.

"The bills passed today

address the unique needs of

women veterans, including

ensuring safe and discreet

lactation spaces for veteran

mothers who seek care at

VA facilities and providing

dignity to survivors of MST

as they go through the claims

process," House Veterans

Affairs Committee Chairman

Mark Takano, D-Calif., said

in a statement.

The MST bills and the lactation

room bill still need to be voted

on by the Senate before they

could be signed into law by

Biden.
---
30 | MHCE - News www.mhce.us MAY 2022 EDITION

Britain: Russian Troops Likely to Redeploy from

Mariupol

KYIV, Ukraine — With the number of defenders left holed up in

a Mariupol steel factory dwindling, Russian commanders will be

coming under increasing pressure to reallocate troops from the

strategic southern port city to bolster their offensive in eastern

Ukraine, Britain's Defense Ministry said Friday.

More than 1,700 defenders of the Azovstal steel plant in Mariupol

have surrendered since Monday, Russian authorities said, in what

appeared to be the final stage in the nearly three-month siege of the

now-pulverized port city.

In fighting in the eastern Donbas region, 12 people were killed and

60 houses destroyed when Russia shelled the neighboring cities of

Severodonetsk and Lysychansk, northwest of Luhansk, regional

governor Serhiy Haidai said in a Telegram post Friday.

In addition to Thursday's artillery attack, Russian ground troops

attempted to assault Severodonetsk but took losses and retreated,

Ukraine's General Staff said in its morning update.

In Mariupol, an unknown number of defenders remain in the

sprawling Azovstal complex, which is the last bastion of Ukrainian

resistance in the city — a target from the start of the invasion that

has been under effective Russian control for some time.

maneuver, Britain's Ministry of Defense said in a daily intelligence

report.

"Staunch Ukrainian resistance in Mariupol since the start of the

war means Russian forces in the area must be re-equipped and

refurbished before they can be redeployed effectively," the ministry

wrote on Twitter.

"Russian commanders, however, are under pressure to demonstrably

achieve operational objectives. That means that Russia will probably

redistribute their forces swiftly without adequate preparation, which

risks further force attrition."

Analysts have said it is likely that most of the Russian forces that

were tied down by the battle there have already left.

How long the remaining troops in the Azovstal factory can still hold

out, however, is not clear.

In a brief video message Thursday, the deputy commander of the

Azov Regiment, which led the defense of the steel mill, said he and

other fighters were still inside.

"An operation is underway, the details of which I will not announce,"

Svyatoslav Palamar said.

If the factory falls, Russia will likely use troops from the city to

reinforce operations elsewhere in the industrial Donbas region, but

the duration of the stiff resistance will complicate or prolong that

Ukrainian troops, bolstered by Western weapons, thwarted Russia's

initial goal of storming the capital, Kyiv, and have put up stiff
---
WWW.MHCE.US Monthly Newsletter | 31

resistance against Moscow's forces in the Donbas, which President

Vladimir Putin now has set his sights on capturing.

The International Committee of the Red Cross said Thursday that

it had gathered personal information from hundreds of the soldiers

who had surrendered — name, date of birth, closest relative — and

registered them as prisoners as part of its role in ensuring the humane

treatment of POWs under the Geneva Conventions.

Amnesty International said in a tweet that the POW status means

that the soldiers "must not be subjected to any form of torture or illtreatment."

At least some of the fighters were taken by the Russians to a former

penal colony in territory controlled by Moscow-backed separatists.

Others were hospitalized, according to a separatist official.

Russian state television distributed a video showing what it said was

wounded Ukrainian soldiers from the Azovstal plant in a hospital in

the Donetsk region.

The disheveled men, three to a room, lay in beds as they were fed and

seen to by doctors and nurses. A doctor, identified only as Natalya,

said most were in serious condition with multiple fractures and that

many would need prosthetic limbs.

One unidentified Ukrainian patient winced and groaned as a nurse

changed a bandage on his leg.

"The most important thing is that the leg was saved," he said in

Russian. "The pain can be endured."

While Ukraine expressed hope for a prisoner exchange, Russian

authorities have threatened to investigate some of the Azovstal

fighters for war crimes and put them on trial, branding them "Nazis"

and criminals.

The Azov Regiment's far-right origins have been seized on by the

Kremlin as part of an effort to cast Russia's invasion as a battle

against Nazi influence in Ukraine.

Meanwhile, in the first war crimes trial held by Ukraine, Sgt. Vadim

Shishimarin, a 21-year-old member of a Russian tank unit, told

a court in Kyiv on Thursday that he shot Oleksandr Shelipov, a

62-year-old Ukrainian civilian, in the head on orders from an officer.

Shishimarin apologized to the victim's widow, Kateryna Shelipova,

who described seeing her husband being shot just outside their home

in the early days of Russia's invasion.

She told the court that she believes Shishimarin deserves a life

sentence, the maximum possible, but that she wouldn't mind if he

were exchanged as part of a swap for the Azovstal defenders.

Also, more U.S. aid appeared to be on its way to Ukraine when the

Senate overwhelmingly approved a $40 billion package of military

and economic aid for the country and its allies. The House voted for

it last week. President Joe Biden's quick signature was certain.

"Help is on the way, really significant help. Help that could make

sure that the Ukrainians are victorious," Senate Majority Leader

Chuck Schumer said.

In other developments, Gen. Mark Milley, chairman of the U.S.

Joint Chiefs of Staff, spoke by phone on Thursday with his Russian

counterpart for the first time since the war began, and they agreed to

keep the lines of communications open, the Pentagon said.
---
32 | MHCE - News www.mhce.us MAY 2022 EDITION

Air Force Academy Cadet

Submits Resignation

After Refusing Vaccine

on Religious Grounds

A senior Air Force Academy cadet

who faces the possibility of being

kept from graduating with his

classmates after refusing to take

the COVID-19 vaccine on religious

grounds has begun proceedings to

resign from the school, according

to an academy official.

The cadet, whose name was not

released, has submitted paperwork

but his resignation has not been

finalized and is not yet official, said

academy spokesman Lt. Col. Brian

Maguire.

If the resignation goes through,

it will leave two senior cadets,

or "firsties," who have refused

the vaccine and will not be

allowed to participate in next

Wednesday's commencement

ceremony, according to Gordon

Klingenschmitt, a former Navy

chaplain who has been advocating

for the religious rights of 13 cadets

who raised faith-based objections

to taking the vaccine.

Dean Miller, academy chief of

media relations, told The Gazette

on Saturday that the three senior

cadets still could graduate and

receive their commissions if they

commit to receiving the COVID

vaccine according to the FDA's

schedule.

One senior cadet has reversed

course and taken the vaccine,

Klingenschmitt said, but only

because he is being treated for

cancer and refusal would have

made him ineligible for military

health care benefits.

"He basically was pressured to

violate his conscience and religious

freedom," said Klingenschmitt, a

1991 academy graduate. "He gave

in and took the vaccine only in

order to save his life."

Klingenschmitt said he did not

know a cadet had begun the

resignation process, but said he

would have advised against it.

"Strategically, it's a bad idea to

resign because they might lose

their legal standing, and they may

be forced to repay their tuition,"

he said. "If they resign, they still

owe."

Several of the cadets who refused

the vaccine are hoping to add

their names to the more than 200

"intervening plaintiffs" in a lawsuit

filed in Ohio earlier this year,

Klingenschmitt said. The lawsuit,

Doster v. Kendall, claims that Air

Force commanders were under

orders to deny religious waivers to

any airmen who wished to remain

in the service.

A copy of the lawsuit, obtained by

The Gazette, details a whistleblower

account alleging that in October

2021 Air Force Secretary Frank

Kendall held a closed-door meeting

with commanders "responsible

for adjudicating accommodation

requests to the Air Force's vaccine

mandate" and told them "no

religious accommodations could

or should be approved for anyone

who would be remaining in the

Department of the Air Force."

The lawsuit is requesting a

preliminary injunction that would

temporarily keep the Department

of the Air Force from taking any

administrative or punitive action

against the plaintiffs.

According to the lawsuit, the Air

Force has granted, to date, nearly

2,300 medical and administrative

vaccination exemptions, but only

42 out of more than 5,000 initial

requests for religious exemption.

All 42 service members who

received the religious waivers were

nearing the end of their careers.

"To be clear, the Department of

the Air Force has accommodated

thousands of airmen, at least

from a medical or administrative

perspective, thus belying any

claim that vaccination is a must

for mission accomplishment," the

lawsuit states.

On Wednesday, academy Director

of Public Affairs Brian Maguire

told The Gazette that "we provided

resources and information to the

cadets in order to make a decision

and graduate with the Class of

2022.

"The majority of our religious

accommodation requests centered

on the use of stem cells in the

development and/or production of

the currently available vaccines.

There are vaccines available

that did not use stem cells in the

development, testing or production,

which was presented as an option.

The cadets refused to commit to

this vaccine."

Klingenschmitt said several Air

Force Academy cadets have

received an official letter of

reprimand for not taking the

vaccine. A redacted copy of the letter

states the cadets are in violation of

Article 90 of the Uniform Code

of Military Justice for disobeying

an order from a superior officer.

A prospective military officer is

expected to follow orders from the

officers appointed over them even

if they disagree with the orders, the

letter states.

"Your failure to follow this order

calls into question your suitability

for military service," the letter

reads, in part. "In addition, your

failure to follow the vaccination

order jeopardizes the health, safety

and readiness of yourself and of

your fellow military members and

compromises our mission."

Klingenschmitt said he believes the

academy has violated the spirit, if

not the letter, of the vaccine policy

by denying religious exemptions

across the board.

"The vaccine policy says

exemptions will be granted on a

case-by-case basis," he said. "Well,

if they've granted zero out of 13,

then it's no longer a case-by-case

basis. It is a blanket denial."

About 80 people attended a rally on

Saturday in support of the senior

vaccine refusers, Klingenschmitt

said. Another protest will take

place near the north and south

Academy gates on graduation day,

May 25, he said.

"Our protest signs will be directed

at (academy Superintendent) Gen.

Richard Clark," he said. "They say,

'Keep your oath. Defend religious

freedom. Let them graduate.'"