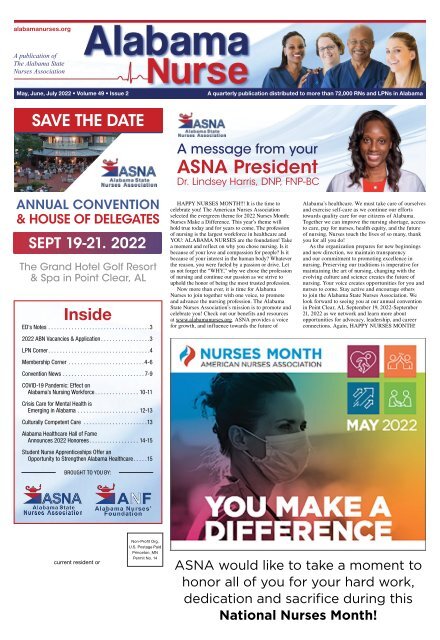 The Alabama Nurse - May 2022
You also want an ePaper? Increase the reach of your titles
YUMPU automatically turns print PDFs into web optimized ePapers that Google loves.
alabamanurses.org

A publication of

The Alabama State

Nurses Association

May, June, July 2022 • Volume 49 • Issue 2

A quarterly publication distributed to more than 72,000 RNs and LPNs in Alabama

SAVE THE DATE

A message from your

ASNA President

Dr. Lindsey Harris, DNP, FNP-BC

ANNUAL CONVENTION

& HOUSE OF DELEGATES

SEPT 19-21. 2022

The Grand Hotel Golf Resort

& Spa in Point Clear, AL

Inside

ED's Notes. .................................. 3

2022 ABN Vacancies & Application. ................ 3

LPN Corner. .................................. 4

Membership Corner .......................... 4-6

Convention News. ........................... 7-9

COVID-19 Pandemic: Effect on

Alabama's Nursing Workforce. ...............10-11

Crisis Care for Mental Health is

Emerging in Alabama. .....................12-13

Culturally Competent Care ...................... 13

Alabama Healthcare Hall of Fame

Announces 2022 Honorees..................14-15

Student Nurse Apprenticeships Offer an

Opportunity to Strengthen Alabama Healthcare..... 15

BROUGHT TO YOU BY:

HAPPY NURSES MONTH!!! It is the time to

celebrate you! The American Nurses Association

selected the evergreen theme for 2022 Nurses Month:

Nurses Make a Difference. This year's theme will

hold true today and for years to come. The profession

of nursing is the largest workforce in healthcare and

YOU: ALABAMA NURSES are the foundation! Take

a moment and reflect on why you chose nursing. Is it

because of your love and compassion for people? Is it

because of your interest in the human body? Whatever

the reason, you were fueled by a passion or drive. Let

us not forget the "WHY," why we chose the profession

of nursing and continue our passion as we strive to

uphold the honor of being the most trusted profession.

Now more than ever, it is time for Alabama

Nurses to join together with one voice, to promote

and advance the nursing profession. The Alabama

State Nurses Association's mission is to promote and

celebrate you! Check out our benefits and resources

at www.alabamanurses.org. ASNA provides a voice

for growth, and influence towards the future of

Alabama's healthcare. We must take care of ourselves

and exercise self-care as we continue our efforts

towards quality care for our citizens of Alabama.

Together we can improve the nursing shortage, access

to care, pay for nurses, health equity, and the future

of nursing. Nurses touch the lives of so many, thank

you for all you do!

As the organization prepares for new beginnings

and new direction, we maintain transparency

and our commitment to promoting excellence in

nursing. Preserving our traditions is imperative for

maintaining the art of nursing, changing with the

evolving culture and science creates the future of

nursing. Your voice creates opportunities for you and

nurses to come. Stay active and encourage others

to join the Alabama State Nurses Association. We

look forward to seeing you at our annual convention

in Point Clear, AL September 19, 2022-September

21, 2022 as we network and learn more about

opportunities for advocacy, leadership, and career

connections. Again, HAPPY NURSES MONTH!

current resident or

Non-Profit Org.

U.S. Postage Paid

Princeton, MN

Permit No. 14

ASNA would like to take a moment to

honor all of you for your hard work,

dedication and sacrifice during this

National Nurses Month!
---
Page 2 • Alabama Nurse May, June, July 2022

HOT JOBS!

The Alabama State Nurses Association is proud

to announce a fresh UNIQUE opportunity for job

seekers and employers. Our new Career Center, HOT

JOBS marries two services that have great benefits

for job seekers and employers. The HOT JOBS site,

alabamanurses.org/hotjobs, helps the prospective employee

(nurse) enhance their chances in the application / interview

process with FREE consultation from ASNA's professional

career coach, Bridget Stevens. Bridget has over 25 years

UPDATE MY INFORMATION:

https://form.jotform.com/50155902976965

ASNA extends our deepest

sympathies to the following:

To the family and friends of Rebecca "Becky" Viall,

long-time ASNA District 1 member passed away

February 21, 2022.

experience as a recruiter in the medical field and is widely

respected by major employers in the state. You can ask for

her help at the email provided below.

Employers will love using HOT JOBS to prioritize

high demand positions in their posts. Bridget can help

employers get set up on HOT JOBS and refer qualified

candidates with no recruiting fee! If you are a job seeker

or HR staff, give Bridget a call or email and find out how

ASNA's HOT JOBS can help you.

Updated Author Submission

Guidelines for Alabama Nurse

Manuscript Format – Submit in APA style as double

spaced word document using 12 –point font. Include article's

title and author(s) name, credentials, organization/employer,

contact information and current email address. Authors must

address any potential conflict of interest, whether financial or

other, and identify any applicable commercial affiliation.

Photographs – Photographs of high resolution (300 dpi

preferred) may be submitted digitally as a separate file in

.jpg or .tiff format. Photos taken for ASNA related purposes

may be used in ASNA publications/social media unless other

requested by the subject. Supply a caption or photo credit for

each photo. All material submitted become the property of

ASNA.

Advertising – Product, program, promotional, or service

announcements are considered advertisement, please contact

our publisher, Arthur L. Davis Publishing Agency, Inc. at

sales@ALDpub.com or phone 800-626-4081.

MONTGOMERY, ALABAMA

KIM OLIVER

ATTORNEY AT LAW

Nursing License Defense

Nurses Employment

Contract Review

334-316-3844

www.kimoliverlaw.com

ASNA Board of Directors

President Lindsey Harris, DNP, FNP-BC

President-elect James Hardin, MSc, BSN, RN, NE-BC

Vice President Jennifer Humphries, DNP, CRNP, NNP-BC

Secretary Lisa Gurley, PhD, RN, CNE, COAT

Treasurer Frankie Wallis, DNP, FNP, NEA-BC, COI

District 1 Kindra Swauger, BSN, RN, CRC

District 2 Abby Horton, EdD, RN, CHC, CLC

District 3 Adrienne Curry, DNP, RN

District 4 Brenda Woodmansee, DNP, RN

District 5 Katilya Ware, PhD, RN

Commission on Professional Issues: Jo Ann Otts, DNP,

RN, NEA-BC

Parlimentarian: Philip Cohn, RN

Recent Grad Liaison: Kristina Gentle,

BSN, RN

ASNA Staff

Interim Executive Director, D'Ann Somerall, DNP,

MA Ed, CRNP, FNP-BC, FAANP

Director Leadership Services,

VACANT

ASNA Attorney, VACANT

Programs & Structural Unit Coordinator,

April Bishop, MPA, BS, ASIT

Continuing Education Coordinator,

Amy Morris, MSN, RN

Our Mission

ASNA is committed to promoting excellence in nursing.

Our Vision

ASNA is the professional voice of all

registered nurses in Alabama.

Our Values

• Modeling professional nursing practices to other

nurses

• Adhering to the Code of Ethics for Nurses

• Becoming more recognizably influential as an

association

• Unifying nurses

• Advocating for nurses

• Promoting cultural diversity

• Promoting health parity

• Advancing professional competence

• Promoting the ethical care and the human dignity of

every person

• Maintaining integrity in all nursing careers

Advertising

For advertising rates and information, please contact Arthur

L. Davis Publishing Agency, Inc., PO Box 216, Cedar Falls,

Iowa 50613, (800) 626-4081, sales@aldpub.com. ASNA and

the Arthur L. Davis Publishing Agency, Inc. reserve the

right to reject any advertisement. Responsibility for errors in

advertising is limited to corrections in the next issue or refund

of price of advertisement.

Acceptance of advertising does not imply endorsement

or approval by the Alabama State Nurses Association

of products advertised, the advertisers, or the claims

made. Rejection of an advertisement does not imply a

product offered for advertising is without merit, or that

the manufacturer lacks integrity, or that this association

disapproves of the product or its use. ASNA and the Arthur

L. Davis Publishing Agency, Inc. shall not be held liable

for any consequences resulting from purchase or use of an

advertiser's product. Articles appearing in this publication

express the opinions of the authors; they do not necessarily

reflect views of the staff, board, or membership of ASNA or

those of the national or local associations.

The Alabama Nurse is published quarterly every February,

May, August and November for the Alabama State Nurses

Association, 360 North Hull Street, Montgomery, AL 36104

© Copyright by the Alabama State Nurses Association.

Alabama State Nurses Association is a constituent

member of the American Nurses Association.
---
May, June, July 2022 Alabama Nurse • Page 3

2022 Alabama Board of Nursing

Vacancies & Application

ASNA is accepting applications for two (2) different positions for registered

nurses to serve on the Alabama Board of Nursing (ABN). The qualifications,

responsibilities, and compensation and nominating process for the two (2) different

positions are as follows:

1.) Nursing practice - must be engaged in a nursing practice role or

administration within a health care facility

2.) Advanced practice - must be engaged in the role as an advanced practice

provider (APRN)

Compensation:

ABN board members are volunteers, do not receive a salary, and are not state

employees. ABN members do receive compensation at each meeting if eligible and

for travel, as set by the Board. (Usually comparable to state employee's per diem.)

Qualifications for both positions:

1. Citizen of the United States and Alabama Resident

2. A graduate of a state approved educational program for the preparation of

practitioners of professional nursing

3. Currently licensed professional nurse in Alabama and if applicable,

Advanced Practice certification and approval to practice

4. A minimum of five years successful professional nursing experience in an

administration, teaching, clinical, or advanced practice capacity

5. Must be actively engaged in nursing prior to and during appointment to the

Board of Nursing

Note:

1. When applying please send CV to EDASNA@alabamanurses.org

2. Interviews will be held in Montgomery, AL at the ASNA Office the week

of July 11, 2022. Once nominations have closed a specific time and date

will be assigned.

Deadline: June 22, 2022

Apply here:

https://form.jotform.com/202086272489966

ED's Notes

Message from the Interim

Executive Director

Just days after Naomi Judd died from "complications due

to mental health," multiple talk shows discussed Naomi Judd's

history of depression and anxiety. Hearing the different reports

while channel-surfing, I thought, "This is very sad. It is a good

thing to highlight how depression impacts our society. But our

health care workers are suffering with their mental health on so

many levels.

The statistics of the number of healthcare professionals who have

died by suicide is not up to date. Research has shown that it takes two

years to calculate accurate statistics, but I can tell you from personal

knowledge that we are not paying enough attention to this health care

crisis of the mental health needs of health care workers.

About a year ago, I had a conversation with a wonderful nurse and friend who voiced

how COVID was so isolating to her physically and mentally, especially when the country

was in lockdown. I remember saying, "You know, I am not that much of a people person, so

it hasn't been a big deal." By making that statement, I negated her feelings of isolation, her

distance from the human race, and her being able to share the joy of being a nurse with her

students. That nurse, who started her career 40 years ago, took her own life a few months

ago. Her darkness could not be overcome. She was such a light to so many, and my heart

still aches and is sad that I, for one, lessened the impact that this pandemic had on her life.

I ask now you all to focus on ALL nurses and how they are doing mentally, physically,

and emotionally. Do not assume because they have a smile on their face that life is all

fairy tales and rainbows. Ask: "How are you REALLY doing?" Create support groups to

touch base with fellow nurses. Start a book club (another way to say join some friends for

a class wine, cup of coffee and have some laughs.) If you are feeling down, reach out –

many of us are here to help you!

The death of my friend and colleague spurred me to reach out to several psychiatric

mental health nurse practitioners to ask if they would write a monthly newsletter update

on mental health issues. Look for this column in the upcoming electronic ASNA

newsletter. I hope this series can provide us all with better skills for our own mental

health, but also to help our fellow nurses.

D'Ann Somerall, DNP, MAEd, CRNP, FNP-BC, FAANP

Interim Executive Director

Alabama State Nurses Association

Serving on the

Alabama Board of Nursing:

An Incredible Experience

Dr. Natalie Baker, ABON APRN Member

The Alabama Board of Nursing (ABN) is comprised of 13 members - one consumer

and 12 nurses (four LPNs and eight RNs, two of which are advanced practice nurses). All

board members are appointed by the Governor to serve a four-year term and can apply for

reappointment for one additional four-year term. Each of the RN positions is designated

for a specific area of focus (three positions for education, three for nursing clinical

practice and administration, and two for advanced practice). Terms are staggered so that

all members do not rotate off at the same time, allowing for continuity and mentorship.

Serving on the ABN is an opportunity to learn about the role of a regulatory agency.

As the regulatory board for every nurse practicing in the state, the ABN is responsible for

the safety and welfare of all Alabamians. As a board member, I have learned to respect

this responsibility and carefully weigh all decisions based on Alabama's rules governing

the practice of nursing. While the ABN is diverse, representing many different cultures,

beliefs, and educational backgrounds, we are united and speak in one voice.

Board members must be able to drive to Montgomery for all scheduled meetings. We

currently meet on a Friday every other month. One must also allow sufficient time to

review all board material prior to the meeting. I typically average 6-8 hours prep time prior

to the meetings. New members can expect to spend more time (8-12 hours) reviewing the

documents; you get more efficient as you become more familiar with the paperwork and

lingo. A lot of the board content is confidential, so board members, like healthcare workers,

must be careful to share information judiciously, to avoid breeches of privacy.

During ABN meetings, you may be required to vote on matters related to educational

programs, rules governing nursing, proposed legislative bills, etc. One of the toughest

responsibilities of serving on the board is disciplinary actions. Safeguarding the public

is the board's primary purpose; unfortunately, honoring this responsibility requires us to

discipline nurses who violate the Nurse Practice Act.

I was appointed to the CRNP position on the ABN in 2016 and am serving in my eighth

and final year on the ABN. I have found the experience to be humbling and rewarding. I

have learned about different educational programs, nursing workforce issues, barriers to

practice, national nursing hot topics, emergency rulings during a pandemic, and so much

more. Under the direction of ABN's Executive Officer, Mrs. Peggy Benson, the atmosphere

is energetic and nonthreatening. I have a greater appreciation for nursing because of serving

with other advanced practice nurses, RNs, and LPNs from across our state. If you are

thinking of running for an ABN position, I encourage you to apply!
---
Page 4 • Alabama Nurse May, June, July 2022

LPN Corner

How Efficient

Are You "In Your

Professional and

Personal Life"

Gregory Howard

LPN

Efficient – " achieving

maximum productivity with

minimum wasted effort or

expense; working in a well

organized and competent way."

Your professional and

personal life should mirror

each other to a large degree.

To be efficient one must:

1. Know what is expected

2. Plan ahead

3. Have a time line

4. Be proactive

5. Think safety

6. Think cost effective

7. Plan for the unexpected

8. Identify experts

Membership Corner

Dr. Lindsey Harris Represents ASNA

at ALN Conference

Dr. Lindsey Harris, President of the

Alabama State Nurses Association,

represented ASNA at the Alabama League

of Nursing Conference at the Birmingham

Marriott Hotel. The day was filled with

speaking with educators from around the

state on the benefits of being an active

member of the Association that represents

the approximately 100,000 nurses of

Alabama.

If your hospital/district/organization

would like to hear of the achievements

and struggles of nursing in the COVID/

Post-COVID time, the benefits of ASNA

membership, please reach out to Dr. D'Ann

Somerall, interim Executive Director, to

schedule an appointment at:

EDASNA@alabamanurses.org.

These eight things outline efficiency. I am sure

this is just one persons view. What is Yours?

16th Annual Conference

"Expanding the Possibilities"

October 14-15th 2022

Renaissance Mobile Riverview Plaza Hotel

Mobile, Alabama

Volunteers Sought –

The World Games 2022

July 7 – 17, 2022,

Birmingham, Alabama

The World Games is an 11-day international multisport

event organized with the support of the International

Olympic Committee. Held the year following the Summer

Olympic Games, The World Games 2022 will showcase a

New Generation of Global Sports in Birmingham from July

7-17, 2022. An anticipated 3,600 elite athletes from over 100

countries will compete for gold in 34 of the fastest growing

sports in the world.

The World Games 2022 will be held July 7 – 17 in

Birmingham, Alabama. We are looking for volunteers to join

our team, including youth, medical and general volunteers.

Please note: There is a very strong need for licensed medical

professionals, especially nurses and medical assistants.

To volunteer, visit The World Games 2022 and apply

through the volunteer tab at https://twg2022.com/volunteer/

and click on "APPLY" located on the left side. Create an

account that will yield an email directing you to finish the

entire application. The process will also allow for required

FBI background checks. If you have questions not listed on

the website, please contact volunteers@twg2022.com.

Abstract packets should include:

1.) A word document with

a. Title of Presentation

Submit an Abstract

b. 3 learning objectives (at least one objective should focus on -Short paragraph describing content

pharmacology).

c. Presenter's name(s) (limited to two), credentials, contact information, and a brief bio (3-5 sentences),

citing the educational background, work history, and expertise in the content area.

2.) Head shot photo.

3.) The two fillable ALBON pdf forms (i.e., Course and Instructor information):

https://npalliancealabama.org/resources/Documents/15th%20Annual%20Conference/Course.pdf

https://npalliancealabama.org/resources/Documents/15th%20Annual%20Conference/Instructor.pdf

Full submission form may be found at: https://docs.google.com/forms/

d/15h6w9CLR6yWzxVVcACp0__DlFtJ4RSCyRj7VLFiauwU/prefill
---
May, June, July 2022 Alabama Nurse • Page 5

Membership Corner

District 4 Members in the News:

ASNA District 4 is proud to announce that our Dr. Bobbie Holt-Ragler is one of 10 outstanding local leaders who will be receiving the 2022 Mobile

Community Health Leadership award this May. Her dedication to improving the health of the people of Mobile County is a shining example for all of us.

NEWS RELEASE

For Immediate Release

February 22, 2022

Contact: Daryn P. Glassbrook, Ph.D., Executive Director

(251) 415-1109

admin@mobilemedicalmuseum.org

Mobile, Alabama – On Saturday, May 14, 2022, the

Mobile Medical Museum will host the third annual Mobile

Community Health Leadership Awards. Awards will be

presented to local leaders in education, awareness and action

around Mobile's most urgent community health issues.

"This year's honorees have shown exceptional leadership

in helping our community cope with such community health

issues as COVID-19, mental health, and child nutrition—all of

which are interrelated," says Dr. Daryn Glassbrook, Executive

Director of the Mobile Medical Museum. "We know that

COVID-19 has stretched health care systems to the breaking

point, but other critical illnesses, chronic health conditions,

preventive and diagnostic care services demand attention as

well."

The 2022 Honorees are:

• Dr. Benjamin Estrada, USA Health

• Corey Harvard, Prism United

• John Malone Smith, Lifetime Healthcare

• Ida Lockette, National Alliance on Mental Illness

• Stephanie Houston, The Cookery Project

• Thelma Shamburger, midwife (posthumous)

• Dr. Bobbie Holt-Ragler, USA Center for Healthy

Communities

• Dr. Natalie Fox, USA Health

• Chief Jeremy P. Lami, City of Mobile Fire and Rescue

Department

• Mary B. Austin Elementary School

The awards—handcrafted by local artist and Mobile

Medical Museum Board Treasurer April Livingston—will be

diamond-shaped to commemorate the sixtieth anniversary of

the founding of the Museum by Dr. Samuel Eichold II. They

will be presented at an outdoor luncheon on the grounds of the

Mobile Medical Museum on Saturday, May 14, 2022. Tickets

are priced at $35 per individual or $250 for a table of eight

guests and will go on sale in March.

"For the past three years, the Mobile Medical Museum

has had the honor and privilege of highlighting those in

our community who pursue their passion to help others

'live out loud' with visible purpose and dare to perpetuate

tangible lasting change," says Valencia Belle, President

of the Mobile Medical Museum Board of Trustees. "This

year's list of honorees is no exception, running the gamut

of programs targeting mental, physical and spiritual

health—from elementary students caring for causes to first

responders answering the call of duty. Congratulations to

these trendsetters who have each taught us, in their unique

and powerful ways, how to reimagine community and

connectedness in the midst of COVID-19!" The 2022 Mobile

Community Health Leadership Awards Presentation is

sponsored by Outlaw Plastic Surgery. For more information,

please contact Daryn Glassbrook at (251) 415-1109 or

admin@mobilemedicalmuseum.org. Sponsorship inquiries

welcome.

About the Mobile Medical Museum

Founded in 1962, by Dr. Samuel Eichold, II, the Mobile

Medical Museum preserves and exhibits medical artifacts

and archives to commemorate Mobile's prominent place in

the history of medical education and public health within

the state of Alabama and the Gulf Coast. The Museum's

collections and exhibitions provide the public with a broad

understanding of the evolution of the art and science of

health care.

The Museum's permanent exhibit showcases over 300

years of local and world medical history, from the colonial

period through the present. C-ollection highlights include

pre-Civil War era anatomical models, early 20th century X-ray

equipment, a functioning 1969 heart-lung machine, and an

Emerson model iron lung from the 1930s.

The Robert Thrower Medicinal Garden, Mobile's

only public medicinal garden, features fifty plant species

representing ancient herbalist traditions from five continents, as

well as sculptures dedicated to midwives and historic African

American and Native American medical practitioners.

Working to meet the interests of our community, the

Museum curates and hosts special exhibits that are both timely

and resonant. Recent and upcoming exhibits include Dreaming

at Dawn: African Americans and Healthcare, 1865—1945,

Where Does It Hurt? The Enduring Mystery of Pain, One

Hundred Years of Insulin, and Different/Fit: Eugenics in

Alabama, 1919-1935.

The Mobile Medical Museum is a privately operated and

supported 501(c)(3) nonprofit organization and is not affiliated

with any public entity.
---
Page 6 • Alabama Nurse May, June, July 2022

Membership Corner

Welcome New ASNA Members

(January 16 – April 15, 2022)

DISTRICT 1:

Melissa Adame

Melissa Ashley

Kristi Beam

Kathryn Corley

Cara Dennis

Elizabeth Dobbs

Amelia Garrison

Kaitlin Gresham

Paula Hancock

Kristin Harbin

Elizabeth Holcomb

Christie Johnson

Emily Johnson

Angela King

Yolanda Lewis

Rebecca Martin

Yeow Chye Ng

Jessica Rainey

Teresa South

Vicki Strickland

Christy Such

Lorrie Sutherland

Jennifer Underwood

Jennifer White

Layton Wisecarver

DISTRICT 2:

Tracy Bartlett

Amy Beasley

Riley Byars

Carla Coffee

Jeanette Crusoe

Jasmine Eades Whatley

Charity Fransen

David Holland

Sharon McCarthy

Toshia Milam

Kimberly Parker

Thaddeus Pate

Congraleatha Payne

Cindy Pugh

Sonequa Quarles

Jennifer Saltzmann

Krista Simpson

DISTRICT 3:

Laura Abrams

Elizabeth Benfield

Frances Bosarge

Andrea Brush

Jessie Bunton

Mary Burgess-Parker

Stewart Butler

Tiffany Butler

Gretchen Cassavoy

Barbara Cleino

Quran Crowell

Deneidra Dailey

Judy Endsley

Kristen Ezekiel

Anna Ferguson

Amelia Gamble

Regina Godwin

Helendria Goldman

Lorri Gray

Cynthia Hall

Jasmine Hollingsworth

Amanda Hunter

Kiuna Ivory

Madhuri Jean

Lawanda Jennings

Simone Jerome-Hannon

Kaylan Jones

Joni Kelley

Angela Kennedy

Jessica Kirkwood-Harp

Candace Knight

Kaneesha Knight

Laura Krubinski

Sandrea Lawler

Jennifer Ledlow

Lorijean Maney

Jennifer McCormick

Stephanie Merritt

Joshua Mitchem

Miranda Nichols

Heather Parker

Emily Pentecost

Sandra Powell

Giselle Rainwater

Casey Ramsey

Clara Scott

Lauren Smith

Lashawndra Storey

Lacendia Swain

Jacob Tibbitt

Brandy Warren

Samantha Weaver

Joni Weaver Hinote

Ruoting Wei

Bryan Wilbanks

DISTICT 4:

McKensie Aaron

Breanna Clements

Whitney Colombo

Brandie Crawford

Sydney Gallaher

Kristen Kroodsma

Sheryl McDonald

Eleanor Odom

Tristan Portwood

Paul Read

Suzette Saucier

Samaiyah Shareef

Kavita Sherpa

DISTRICT 5:

Lacie Adams

Benjamin Baldwin

Benjamin Beall

Tiffany Bell

Pia Buatti

Charlotte Butler

Anna Camphouse

Ciera Cook

Melissa Davis

Crystal Derico

Lori Duck

Katherine Edgington

Kayla Fenske

Austin Fike

Tobias Fredeking

Shelia Fulford

Anna-Brooke Harrison-

Hall

Karen Henderson

Katie Hollifield

Tara Jacobs

Terrence Johnson

Jason Jones

Nataleigh Jones

Judith Middlebrooks

Candice Phillips

Emily Ramsey

Marilyn Rhodes

Bernadette Scott

Marilyn Scott

Jennifer Scruggs

Sandra Shavers-Craig

Ebony Smith

Tiffany Smith

Ada Thompson

Crystalyn Winfield

ASNA/ANA membership only $15 a month!

Join your colleagues at alabamanurses.org!

Dothan, Enterprise, Hoover, Huntsville, Jasper, McCalla, Montgomery

and Prattville, Alabama
---
May, June, July 2022 Alabama Nurse • Page 7

Convention News

AWARDS NOMINATIONS ARE DUE IN THE ASNA OFFICE BY 11:59 PM JULY 15, 2022

Visit alabamanurses.org/annual-convention/ for more information

Guideline for

Writing Resolutions

A Resolution reflects the priorities of any organization. The Alabama State Nurses

Association (ASNA) incorporates our Resolutions into the organization's Strategic Plan

for the following year. Shorter is better in writing a Resolution.

The title of a Resolution should reflect the intent of the document. Structurally, it

begins with "Whereas" statements. This will provide reasons and basic facts supporting

the resolution of the issue. The statements should lead the reader to your conclusion

(resolved). They should be factual rather than speculative and include references and/or

statistical information to provide support for the document. Structurally the statements

need to be brief, specify the issue, reflect urgency of the problem, effect of the issue, and

indicate a call to action.

The Resolution concludes with a "Resolved" statement identifying a specific proposal

or course of action. This statement should be both actionable and measurable. Each

Resolution should be a single sentence in length and make sense when read alone as this

is a request for adoption of policy by ASNA.

Structure is as follows:

Whereas

Whereas

Whereas

Resolved,

Resolved,

Resolved,

The text of first preamble clause;

… text of the next to last preamble; and

… text of the last preamble clause; now, therefore, be it

The text of the action to be taken;

… text of next to last action to be taken; and

… text of last action to be taken.

NOMINATIONS AND

ELECTION OF OFFICERS

Alabama State Nurses Association's (ASNA) nomination and election of

Officers shall be conducted in accordance with the current issue of Robert's Rules

of Order during the official meeting of the ASNA House of Delegates (HOD).

1. NOMINATIONS

A. Nominations Committee

a. Nominations from the Nominations Committee shall be accomplished

according to ASNA Bylaws.

B. Nominations from the floor of the HOD shall be accomplished according

to the current issue of Robert's Rules of Order.

2022 Nominations

The following positions are for a two-year term and will be voted on by the ASNA

Delegates:

1) President-Elect

- assumes the duties of the president in his/her absence

- serves as a representative to the ANA Membership Assembly

- serves as a liaison to the districts

2) Treasurer

- responsible for monitoring the fiscal affairs of the association and shall provide

reports and interpretation of the ASNA fiscal condition to the House of

Delegates, the Board, and the membership

- serves as the Chairperson on the Committee of Finance

3) Commission on Professional Issues (four individuals)

- develop policy alternatives essential to the purpose of ASNA and submit

recommendations to the board

- provide for dissemination of information

4) Nomination Committee (District 4, District 5, and District 1 (one year term)

- submit a proposed slate of nominees to the board for approval

- develop and implement criteria for solicitation and selection for nominees

1. ELECTION OF OFFICERS

A. Elections will be by secret ballot.

B. Only credentialed delegates will be allowed to vote at the ASNA

Convention. See ASNA website (alabamanurses.org) under members only

section for convention information.

Positions for 2022 - 2024 Elections

President-Elect/Delegate

Treasurer

Commission on Professional Issues (four positions)

Nominating Committee (three positions, one each from Districts 1, 2 & 3)

Now Accepting Abstracts for Oral and/or Poster Presentations

at the ASNA Annual Convention, September 19 – 21, 2022

at the Grand Hotel in Orange Beach, AL.

Deadline to submit: July 11, 2022
---
Page 8 • Alabama Nurse May, June, July 2022

Convention News

AWARDS CRITERIA AND PROCEDURE

• Awards are for ASNA members, unless otherwise

stated.

• Any ASNA member, group, or staff may submit

nominations.

• All ASNA awards must be submitted on the ASNA

Nominations Form.

• Award recipients will be selected by the ASNA Awards

Committee.

• Awards will be presented at the ASNA Convention.

_________________________________________________

1. Lillian B. Smith Award

Lillian B. Smith was the Executive Director of the

Alabama State Nurses Association from 1940-1968.

She always gave above and beyond the call of duty

for nurses and the profession in Alabama. She was

recognized and respected for her commitment to

improving health care in Alabama by other healthcare

providers.

To be awarded to a member who has demonstrated longterm

commitment to ASNA and the nursing profession. This

commitment demonstrates activities above and beyond usual

responsibilities at the local level.

A. Evidence of long-term commitment to ASNA:

• Years of membership

• ASNA activities

• District, county, and/or state-level activities

B. Other professional activities

C. Community involvement

D. Other supporting documentation and comments

2. D.O. McClusky Award

D.O. McClusky was the Administrator of Druid City

Hospital from 1946-1976. Mr. McClusky was always

a leader in assuring that nurses had good working

conditions. He believed if nurses had good working

conditions, they could give better nursing care. He

was also very supportive of the Alabama State Nurses

Association.

To be awarded to a healthcare administrator who

has demonstrated outstanding support of nurses and the

profession. ASNA membership is not required.

A. Evidence that the nominee is the chief executive officer,

chief nursing officer, or other administrator of the

healthcare agency

B. Evidence of involvement with or on behalf of nursing

C. Evidence of involvement with or for:

• Specific hospital or agency

• Local nursing organization

• State nursing organization

• Nursing or healthcare in general

D. Other supporting documentation and comments

3. Outstanding Non-Member Award

To be awarded to a person who is not a member of ASNA

but has demonstrated significant contributions to and/or

support of nursing, healthcare, and/or ASNA during the past

year.

A. Evidence of involvement with or on behalf of nursing

and/or healthcare:

• Specific hospital or agency

• Local nursing organization

• State organization

• Nursing or healthcare in general

B. Other supporting documentation and comments

4. Outstanding New Member Award

To be awarded to a new member, defined as a person who

has been an ASNA member for two years or less.

A. Evidence of significant contributions to ASNA, district,

and county

B. Other supporting documentation and comments

5. Lillian Holland Harvey Award

Lillian Holland Harvey was a dynamic professional who

promoted transcultural relations by leading all of nursing

forward. She started the first baccalaureate school of nursing

in Alabama.

To be awarded to an ASNA member who has made

significant contributions in one or more of the following areas:

fostering transcultural relations, promoting advancement of

minority groups, and upgrading healthcare services to those

who are culturally and economically underserved.

A. Evidence of contributions to:

• Fostering transcultural relations

• Promoting advancement of minority groups

• Upgrading healthcare services to those who are

culturally and economically underserved

• Professional involvement

• Community involvement

B. Other supporting documentation and comments

6. Louise Barksdale Outstanding Nursing Practice Award

Louise Barksdale gave her entire nursing career being a

staff nurse. She not only committed her vast energies to

her patients and community, but also to her professional

association, being active on the local, state, and national

level.

To be awarded to an ASNA member who:

A. Assists patients in functioning at and maintaining

optimum levels of health and activities as persons,

members of families, and members of their

communities through application of nursing knowledge

B. Demonstrates excellence in nursing and contributes to

improving the quality of care

C. Evidence of contributions to ASNA, county, district,

and/or state and to the community

D. Other supporting documentation and comments

To access electronic copies of the

Alabama Nurse, please visit

http://www.NursingALD.com/publications
---
May, June, July 2022 Alabama Nurse • Page 9

Convention News

7. Health Policy Award

To be awarded to an active party in the legislature or in an

organization that promotes health policy in Alabama. ASNA

membership is not required.

A. Evidence of involvement with or on behalf of nursing

and/or healthcare in general

B. Other supporting documentation or comments

8. Cindajo Overton Outstanding Nurse Educator Award

Cindajo Overton made a tremendous contribution to nursing

education. Her career consisted of 10 years of bedside nursing

and 26 years of nursing instruction at Wallace Community

College. Cindajo chose nursing education as she believed

this was the best way to have the greatest impact on nursing.

Cindajo was a member of ASNA for 38 years and was active

at the local, state, and national level.

To be awarded to an ASNA member who is an outstanding

nurse educator in an academic or service setting.

A. Evidence of excellence in teaching or service

B. Advances the science of nursing through clarifying,

refining, and/or expanding the knowledge base of nursing

C. Promotes a theory base for nursing curricula

D. Influences scholarly development in nursing education

and/or research

E. Innovative in assisting and encouraging student nurses

in professional development

F. Contributes to the improvement of quality healthcare

through the teaching process

G. Professional and community involvement

H. Publications and presentations

I. Other supporting documentation and comments

9. Outstanding Nursing Administrator Award – Academe

or Service

To be awarded to an ASNA member who is/has been

employed in administration of a healthcare organization

or school/college of nursing and demonstrates outstanding

performance.

A. Demonstrates and encourages excellence in

teaching or nursing care delivery

B. Advances the science of nursing through

clarifying, refining, and/or expanding the

knowledge base of nursing

C. Promotes a theory base for nursing practice and/or

curricula

D. Supports the professional development of faculty/

staff

E. Professional and community involvement

F. Provides innovative leadership to fulfill the

mission of the organization

G. Other supporting documentation and comments.

10. Outstanding Retired Nurse Award

To be awarded to an ASNA member who is retired

from employment as a nurse and has made significant

contributions to nursing and healthcare following

retirement.

A. Evidence of:

• Contributions to nursing and ASNA

• Contributions to politics in relationship to

nursing

• Community involvement

B. Other supporting documentation and comments

11. Outstanding Healthcare Organization Award

To be awarded to an organization that provides

extraordinary direct healthcare to patients.

A. Recognized for provision of quality care to

patients

B. Promotes a positive image of nursing

C. Provides desirable working conditions for nurses

D. Promotes ethical and professional nursing practice

E. Recognizes nurses for their contributions to the

organization and quality of patient care

F. Community involvement

G. Other supporting documentation and comments

12. Outstanding Advocate of the Year Award

To be awarded to an individual who actively supports

ASNA and is directly involved in promoting nursing and

healthcare issues in Alabama.

A. Evidence of involvement with or on behalf of

nursing and/or healthcare

B. Other supporting documentation or comments

13. Charlene Roberson Mentorship Award

Charlene Roberson has been involved in ASNA since

1985 and currently serves as the Director of Leadership

Services. Charlene possesses expert knowledge on all

things ASNA, and has touched the lives of all ASNA's

membership through advertisement, questioning,

fellowship, and mentorship.

To be awarded to a registered nurse who has

demonstrated attributes of mentorship. ASNA

membership is not required.

A. Encourages peers in their practice of professional

nursing

B. Acts as a role model to other healthcare

professionals

C. Innovative in assisting/encouraging nurses in

personal and professional development

14. Don Eddins Advocacy Grant

A. The Alabama Nurses Foundation will award an

annual $3000 advocacy grant to an ASNA member.

The recipient should use existing organizational

structure or develop an initiative which promotes

excellence in nursing and quality patient care.

The grant will be awarded at the ASNA Annual

Convention.

B. Applicants may either self-nominate or be

nominated. Applicants should submit a document

explaining how the grant will be utilized for

excellence in nursing and/or quality patient care.

The narrative should not exceed 300 words.
---
Page 10 • Alabama Nurse May, June, July 2022

COVID-19 Pandemic: Effect on Alabama's Nursing Workforce

Authors:

Tracey K. Dick, PhD, RN, CNE, COI

Assistant Professor

School of Nursing

UAB | The University of Alabama at Birmingham

tdick@uab.edu

Aoyjai P. Montgomery, PhD, BSN

Office of Research and Scholarship

School of Nursing

UAB | The University of Alabama at Birmingham

aoyjai@uab.edu

Courtney Sullivan, PhD, APRN,

CPNMP-AC, CPHON

AHRQ T32 HSOER Training Program

Center for Outcomes and Effectiveness Research and

Education (COERE)

School of Medicine

UAB | The University of Alabama at Birmingham

chahn@uab.edu

Patricia A. Patrician, PhD, RN, FAAN

Professor & Rachel Z. Booth Endowed Chair

School of Nursing

UAB | The University of Alabama at Birmingham

ppatrici@uab.edu

The COVID-19 pandemic has now impacted healthcare

delivery for over two years. Nurses and other healthcare

professionals have experienced an upheaval from

professional practice that can only be characterized as

historical. During this unprecedented time, the Alabama

State Nurses Association (ASNA) initiated a series

of anonymous and voluntary surveys to examine the

impact of the pandemic on nurses in Alabama. ASNA

collaborated with nurse scientists at the University of

Alabama at Birmingham to analyze survey findings from

July 2020 to February 2021.

Two thousand five-hundred and sixty-one nurses

participated in the survey. Participants contributed

approximately 400 pages of free-text responses. To

better understand nurses' experiences by practice area,

we categorized nurses' responses into the following

categories: a) inpatient intensive care unit (ICU), b)

inpatient acute care (acute care), c) long-term care/assisted

living (LTC), d) outpatient (OP), and e) other. Main

findings of the survey are presented below.

Quantitative Findings

The final work area categorizations reflected 33% (n =

821) acute care nurses, 13% (n = 325) ICU nurses, 6% (n

= 155) LTC nurses, 9% (n = 223) OP nurses, and 38% (n =

934) Other nurses. A summary of participant responses by

practice area is shown in Figure 1.

Figure 1 – Summary of Participant Responses by Practice Area

Stress

Fifty-eight percent of ICU nurses, 50% of acute care

nurses, 48% of LTC nurses, 36% of OP nurses, and 32%

of Other nurses reported feeling exhausted and stressed to

the core. ICU nurses (56%) also had the highest percentage

that reported feeling undervalued by their employers,

followed by acute care (45%), and LTC (42%) nurses.

Employer Protection

To determine nurses' perception of employer protection,

participants were asked to respond to the following

question: Do you feel like your employer is doing

everything necessary to protect you? Over half of ICU

(56%) and acute care (54%) nurses answered no to this

question. The remaining practice areas answered yes: OP

(63%), LTC (59%), and Other (58%) nurses.

Shortage of Nurses

Survey participants were asked to consider the

following statement: My perception is that my facility

has a shortage of nurses. All practice areas reflected

a perceived shortage of nurses. ICU (94%), acute care

(91%), and LTC (89%) nurses had the largest percentages

of nurses agreeing with the statement while Other (67%)

and OP (63%) nurses showed only a slightly lower level of

agreement.

The authors declare no financial conflict of interest.

Visit nursingALD.com today!

Search job listings

in all 50 states, and filter by location and credentials.

Browse our online database of articles and content.

Find events for nursing professionals in your area.

Your always-on resource for nursing jobs, research, and events.

ADVANCED FORENSIC NURSING CARE EDUCATION FOR

SEXUAL ASSAULT NURSE EXAMINER (ANE/SANE)

REMARKABLE PEOPLE...

REMARKABLE CARE

Making Healthcare Better Together!

NOW HIRING NURSES!

Competitive salaries – sign on bonuses available!

APPLY

TODAY

Director of Surgery

Nurses – OR

Nurses – Geri Psych Unit

www.troymedicalcenter.com

ANE/SANE EDUCATION

The purpose of the ANE/SANE funding is to increase the number of

Registered Nurses (RNs), Advanced Practice Registered Nurses (APRNs)

and Forensic Nurses trained and certified as sexual assault nurse examiners

(SANEs) in communities on a local, state or regional level.

USA offers two online didactic

pathways to SANE education:

1. Community and

2. Academic (sub-specialty) Advanced Forensic Nursing.

Simulated patient clinical skills training, certification preparation,

continuing education and networking opportunities are available.

Contact us: www.southalabama.edu/con/SANE or (251) 517-5171

southsanes@southalabama.edu.

"This publication is supported by the Health Resources and Services Administration (HRSA) of the U.S. Department of Health and Human Services

(HHS) as part of an award totaling approximately $1.1 million with zero percentage financed with nongovernmental sources. The contents are those

of the author(s) and do not necessarily represent the official views of, nor an endorsement, by HRSA, HHS or the U.S. Government."
---
May, June, July 2022 Alabama Nurse • Page 11

Time to Maintain Self-Care

Survey participants were also asked to consider this statement: I have been

able to maintain a reasonable amount of self-care, diet, exercise, relaxation, and

sleep. Most of the participants representing ICU (68%), LTC (64%), and acute care

(57%) disagreed with this statement. Nurses categorized as representing OP or

Other areas had a higher percentage of participants that chose to neither agree nor

disagree which resulted in a more tempered group response to the question.

Qualitative Findings

Open-ended comments from nurse participants were grouped by themes. The

top themes are shown below.

Top Concern with COVID-19

Survey participants were asked: What is your top concern with COVID-19? The

top two themes identified in the ICU and acute care practice areas were infection

risk and staffing/workload. Although secondary themes differed, LTC, OP, and

Other nurses echoed infection risk as their top theme. Examples of participant

responses include:

People returning to work too soon and contaminating others. Having to

use same break room with other nurses. Having to share equipment. Covid

population extending throughout hospital instead of to a confined area. Not

enough testing or incoming pts, visitors, etc., having to be exposed to visitors

who have no regard for our safety. Not having employees tested weekly so we

can prevent an outbreak between us. Not being told who you have an exposure

when management is aware so you can take better precautions around your

family members. This list could go on and on. –Acute care nurse

Limit the number of patients we can legally care for. With staff shortages

statewide, we are often caring for eight patients at a time in an acute setting,

sometimes with no cna [certified nursing assistant]. It is physically impossible

to meet our patient's needs with this type of staffing. –Acute care nurse

If we are able to practice without restrictions during a pandemic, we should

be able to do the same when it is not a pandemic. There are way too many

restrictions on advanced practice in the state of Alabama. —OP nurse

Implications

The findings from this ASNA survey suggest that there is a lot of work to

be done for the health and sustainability of Alabama's nursing workforce. The

COVID-19 pandemic has deepened and highlighted the stress that existed within

our healthcare system even before the pandemic. Responding to the voice of our

frontline nurses and other healthcare professionals requires an immediate response

to ensure delivery of high-quality healthcare in the state of Alabama. The ICU

and acute care nurses are particularly vulnerable, as they are stressed to the core,

feel unprotected by their employer, felt the nursing shortage more acutely, and did

not have time to maintain their own self-care. Professional organizations and our

state legislative bodies must work together along with healthcare organizations,

systems, and leaders to propose and institute changes which will result in a better

future for patients, nurses, and all healthcare professionals. Nurses must continue

to advocate, both for our workforce and for our patients. We are all stakeholders on

this journey.

Dangerous nurse to patient ratio in ICU. Cannot give the needed care to these

critically ill patients. They deserve so much more than what they are receiving.

It is mentally, physically, and emotionally exhausting!!—ICU nurse

Toughest Experience Emotionally

Survey participants were also asked: What has been the toughest experience

you've faced emotionally during this pandemic? The top two themes identified

in the ICU, acute care, and Other practice areas were the amount of death and

concerns about personal mental health. The LTC and outpatient practice areas

also reflected a top theme of amount of death but had different secondary themes

(understaffed and risk to family, respectively). Examples of participant responses

include:

Death, the overwhelming amount of death. My entire career, 19 years, has been

spent in critical care or ER and the amount of death and suffering in such a

short amount of time is nothing that anyone could prepare themselves for. The

heartbreak of having daily talks with patients facing intubation in minutes to

hours that are being forced to make decisions on their code status and listening

to doctors tell them that once intubated they will most likely not make it,

literally watching someone face their death sentence and seeing the fear and

sadness on their faces is excruciating. —ICU nurse

The isolation has been hard. I've definitely experienced some depression. But

it's the only way I can be certain that I'm not bringing the virus to my friends

and family should I have it. Also people dying alone from COVID. —Acute care

nurse

While the mental health of nurses was a theme identified, it was also clear that

nurses had concerns about the mental health of their patients. One nurse wrote:

"Residents becoming depressed and angry due to isolation."—LTC nurse

Most Rewarding Experience

Survey participants were also given the opportunity to share any experiences

viewed as rewarding. The participants were asked: What has been the most

rewarding experience you've faced emotionally during this pandemic? Comments

shared by nurses representing the ICU practice area reflected patient recovery,

nothing, and service (in that order) as top themes. Comparatively, acute care

nurses identified nothing as their top theme followed by patient recovery and

service. Comments from nurses representing the LTC, OP, and Other practice areas

identified service as their top group theme along with nothing and patient recovery

as secondary themes. Examples of participant responses include:

Honestly, I cannot think of one rewarding experience. —Other nurse

This year has been called the Year of the Nurse. Our profession has once again

risen to an overwhelming challenge & made a difference. Being able to make a

difference in the lives of my patients & their families remains one of the most

rewarding things.

–Acute care nurse

Seeing the patient that went to ICU, the one didn't look like they were going to

make [it], get better and go home.

–Acute care nurse

Requested ASNA Action

The final survey question posed by ASNA was: How can we best help you in the

current environment? The top themes identified for the ICU and acute care areas

were hazard pay/adequate compensation and staffing/nurse: patient ratios. The

LTC, OP, and Other practice areas reflected a need for adequate PPE as the top

theme with staffing/nurse: patient ratios, full scope of practice, and hazard pay/

adequate compensation as secondary themes respectively. Examples of participant

responses include:

Kierra Montgomery

kierra.montgomery@adph.state.al.us

RAISE OUR WAGES NOW! —LTC/Assisted Living nurse
---
Page 12 • Alabama Nurse May, June, July 2022

Crisis Care for Mental Health is Emerging in Alabama

Teena McGuinness, PhD, RN, FAAN

Thomas Insel, former director of the National Institute of Mental Health,

observed, "There are only two kinds of families in America: those who are

struggling with mental illness and those not struggling with mental illness

yet" (Insel, 2022, p. 30). This is another way of stating that mental illness is an

inconvenient fact of life for Americans and their families. Most families will

eventually be forced to address a mental health care crisis with a loved one. Sadly,

our system of care for persons with mental illness was not designed to be responsive

or even adequate for the current need of services.

Here are several harsh realities:

1. Our state, Alabama, ranks 50th out of 51 (including D.C.) states for statewide

access to mental health care.

2. There is an enormous unfilled need for hospital beds for the mentally ill.

Currently our country has fewer than 13 public hospital beds per 100,00 people.

This number meets only a quarter of the beds needed and is less than 5% of the

number of allotted beds in mid-1950s at which time our population was less

than half of what it is today.

3. Currently, only about 16% of persons with severe mental illness (disorders of

bipolar and schizophrenia) receive minimally acceptable treatment. Those not

receiving adequate treatment are incarcerated or in street camps or relegated to

custodial care where effective treatment is not administered.

4. Approximately half of US counties are without any dedicated psychiatrist.

These counties are overwhelmingly rural.

5. About 60% of psychiatrists will not accept Medicaid and 45% of psychiatrists

will not accept private insurance. Thus, in many locales, cash is the key to

access the services of psychiatrists (Satel, 2022). This is yet another barrier to

accessing crisis-preventing psychiatric services.

The truth is that most mental health crises today are initially handled by law

enforcement officers, much to the frustration of police whose primary mission lies

in public safety and have little, if any, training in coping with persons with mental

illness. In fact, persons in crisis may find themselves incarcerated or receiving

no psychiatric help at all, a situation which benefits neither the person nor the

justice system nor wider society. In Jefferson County Alabama approximately 240

people are taken to Jefferson County jails every month with mental illness and/or

substance use disorders, costing approximately $468,000* each month to house them

(*Source of statistic is Jefferson County Sheriff's Department, 2022). Many of these

individuals could be helped outside the corrections system sparing their dignity and

saving tax dollars.

Historically, Alabama Code §22-51 and 52 established structure and procedures

for the Alabama Department of Mental Health (ADMH) but state funding is provided

year by year and may vary significantly contingent on funding source availability.

Minimum standards for mental health services (as established in Federal and State

Court cases such as Wyatt v. Stickney and Braggs v. Dunn) establish a legal basis

for mental health care but mental health care delivery system falls short by failing

to reliably and consistently diagnose and treat mental illness. One well established

reason for the persistent failure was the reduction in state psychiatric beds which

was never matched by the establishment of local community-based services.

The disappearance of institutional hospital beds without an adequate number of

community based replacement settings resulted in increasing levels of mental health

crises in our cities, towns and hospital emergency rooms. Management of these

mental health crises defaulted to local law enforcement and thus our corrections

system became de facto mental health treatment centers.

But there is promising news: a mental health crisis deserves a mental health

response (NAMI, 2022) and by July 2022, 988 (a new 3-digit number for suicide

crises and mental health) will be implemented. Alabama is moving toward this best

practice.

In addition, Alabama's Crisis System of Care, supported by the Alabama

Department of Mental Health (ADMH), was developed in response to an obligation

to provide quality mental health care for all Alabamians who live with mental illness

and to response to suicidal crises. A new to Alabama concept, Crisis Care Centers,

will alleviate strains on local governments and establish links between community

organizations, psychiatric and medical services, and crisis services by reducing

arrests and opening space in local jails. In short, Crisis Care Centers will transform

delivery of mental health care in Alabama.

As of spring 2022, three Crisis Care Centers funded by the Alabama Department

of Mental Health are operating in Mobile, Montgomery, and Huntsville. In August

2022, the Region II Crisis Care Center (CCC) in Birmingham will begin offering

services to those who are experiencing psychiatric, behavioral and/or substance use

crises. Operating 24 hours a day, Birmingham's CCC will include 48 beds consisting

of 32 temporary and 16 extended observation beds. The maximum length of stay will

be 23 hours for temporary observation which is adjustable based on need. Sixteen

extended observation beds will accommodate patients who need up to three days

of crisis care. Prescribers will staff the CCC to diagnose and provide care quickly

and effectively. A psychiatrist and psychiatric nurse practitioner will be available on

site on the day shift with a total of five psychiatric nurse practitioners staffing the

evening, overnight, and weekend shifts. Once the CCC is fully operational, walk-ins

will be welcome.

This CCC concept and design is intended to benefit several key groups:

1. Law enforcement officers and agencies will benefit with far shorter turnover

times at the CCC than at traditional emergency rooms; we anticipated that 15

minutes or less will be the norm for admitting a patient to a CCC. Formerly,

officers often had to wait for several hours in an emergency room until the

patient was admitted.

2. Individuals and family members will benefit due to the relatively quick

availability of crisis services delivered by mental health providers, an

appropriate response. Additionally, emergency departments, which are not

geared to treat people in a mental health crisis given the loud noises, busy pace,

and crowding, will not further traumatize people in crisis while seeking mental

health services.
---
May, June, July 2022 Alabama Nurse • Page 13

3. Hospital emergency departments will have reduced numbers of patients, freeing

up space for medical emergencies.

4. Jails will be less crowded because people in crisis will be referred to mental

health services.

How can Alabama nurses help this transition to improved mental health services?

1. Teach colleagues, friends and family about the nature of mental health crisis

and recognize that a mental health crisis deserves a mental health response;

familiarize yourself with your closest CCC.

2. The recent pandemic has been called a mass trauma and resulted in an untold

number of smaller personal crises, experienced on many levels. Allow people

to share their stories about their crises by listening supportively. All those on

the front lines of health care deserve our recognition and support. By doing so,

we help one another to honor the truth of their experiences.

3. Share the information about CCCs with colleagues and patients.

4. Join the National Alliance on Mental Illness which has several affiliate

chapters in Alabama and lobbies for support of mental health care for all

Alabamians. The web address is https://namialabama.org/

5. Retain your membership in the Alabama State Nurses Association. We are

the leaders in advocacy for whole health of our citizens. Since the pandemic,

mental health been placed center stage and in the spotlight. Fortunately,

improved mental health care access is becoming a reality for Alabama in 2022.

For further information on the Alabama Crisis System of Care sponsored by the

Alabama Department of Mental Health, please visit https://mh.alabama.gov/crisissystem-care/

References

Insel, T. (2022). Healing: Our path from mental illness to mental health. Penguin.

Satel, S. (2022, March 13). Healing review: More help for mental health please. Wall

Street Journal. https://www.wsj.com/healing-review-more-help-for-mental-healthplease-11647207100

National Alliance on Mental Illness (NAMI). (2022). A mental health crisis deserves a mental

health response. https://nami.org/Support-Education/Video-Resource-Library/A-

Mental-Health-Crisis-Deserves-a-Mental-Health-Response

Teena McGuinness, PhD, RN, FAAN.

I have no conflicts of interest to disclose.

Professor Emerita, UAB School of Nursing,

ASNA District 3, tmcg@uab.edu

Culturally Competent Care

Charlene Roberson, Med, NPD-BC, RN-BC

Cultural Assessment

A true cultural assessment may take many hours; however, this much time is usually not

available. At a minimum the following concepts should be addressed.

• Where was the person born? If an immigrant how long have they been in the US?

• What is their ethnic affiliation & how strong is their ethnic identity?

• Who are the major support people? Does the person live in an ethnic community?

• What are the primary and secondary languages, speaking & reading ability?

• How would characterize their non-verbal communication style?

• What is the person's religion? Is it important in their daily life, what are their current

practices?

• What are the person's food preferences and prohibitions?

• What is the person's economic status & is their income adequate to meet both their needs

and the family?

• What are their health & illness practices & beliefs?

• What are their customs & beliefs around such transitions as birth, illness, & death?

Working with an Interpreter

Untrained interpreters (which most institutions use) often base the translation on their own

perception of the situation & may withhold vital information because it may embarrass either

themselves or the patient or a family member. The following guidelines are suggested:

• Be patient – careful interpretation often requires long, explanatory phrases & most

languages are not as exact as English.

• Meet with the interpreter before the session & explain the purpose of the session.

• Encourage the interpreter to meet with the person before hand to develop rapport &

determine the understanding & education level of the person & family.

• Speak in short units of speech. Limit each session to one (1) topic.

• Use simple language – avoid professional jargon.

• Encourage translation of the person's own words rather than paraphrase into professional

jargon.

• Encourage the interpreter to refrain from inserting his or her own ideas or interpretations.

• Check the person's understanding & accuracy of the translation by asking them to repeat

the message or instructions in their own words facilitated by the interpreter.

• During the interaction look & speak directly to the person & not the interpreter.

• Listen to the person; watch for non-verbal clues, i.e. facial expressions, voice intonations,

& body movements to learn about emotions associated with the topic.
---
Page 14 • Alabama Nurse May, June, July 2022

Alabama Healthcare Hall of Fame Announces 2022 Honorees

Just over 24 years ago the Alabama Healthcare Hall of Fame was founded to

recognize healthcare professionals who have made outstanding contributions to, or

rendered exemplary service for, healthcare in the State of Alabama. Every two years the

organization's selection committee chooses nominees for induction.

No other not-for-profit healthcare organization honors such a wide range of

healthcare professionals. Past honorees include physicians, nurses, dentists, pharmacists,

administrators, researchers, and academic professionals. Since 1997 the organization's

spirit and camaraderie have endeared our mission to over 200 honorees and their

families.

The 2022 Awards Luncheon will be held on Saturday, August 13, 2022, at the

Alabama Activity Center in Montgomery. On this special occasion, the Class of 2020,

previously delayed because of COVID, will also be inducted. For more information about

the awards luncheon or to make reservations, contact AHHOF President, Dennis Stanard,

at dmstanard@icloud.com, or 205-561-7911. AHHOF's website is healtlhcarehof.org.

The Class of 2022 includes the following honorees:

Stanley Wade Griffin, MD (deceased)

From the humble beginnings of a country gentleman doctor,

Dr. Wade Griffin arose as a giant among the physicians of his day

and was to make history in the world of Emergency Medicine. He

studied at the University of Alabama School of Medicine and was

a student of distinguished professor Dr. Tinsley Harrison.

Dr. Griffin was one of the first full time emergency medicine

practitioners in the country when "The Emergency Room" was

staffed only by nurses and on call physicians. He was singularly

responsible for the origin and impetus of Emergency Medical

Services training and implementation throughout Alabama.

Dr. Griffin was instrumental in designing and authoring Alabama EMS laws including

the passage of state law 1590, which required training for EMTs and paramedics. A true

example of selfless dedication to medicine, Dr. Griffin was a teacher and pioneer of

unsurpassed ability and devotion.

Bryan N. Kindred, FACHE

Bryan N. Kindred has served DCH Health System in

Tuscaloosa, Alabama, for over 37 years and was named

CEO in 1996. As President/CEO he has demonstrated

highly effective leadership. DCH is now one of the

state's largest healthcare systems with close to 1,000

beds including DCH Regional Medical Center, Northport

Medical Center, and Fayette Medical Center.

Some of the services and innovations developed with Mr.

Kindred's leadership include the Lewis and Faye Manderson

Cancer Center (affiliated with the M. D. Anderson Cancer

Center), robotic surgery, palliative care, state of the art ICUs, advanced neonatal

care, and advanced cardiac care.

A state health leader, Mr. Kindred has served as past chairman of the Alabama

Hospital Association and board member of Blue Cross Blue Shield of Alabama. Mr.

Kindred is a person of high competence and integrity with the mindset of a servant

leader.

Aaron Lopez, MD (deceased)

Dr. Aaron Lopez was born in 1800 in Charleston, South Carolina. He graduated

from the College of Physicians and Surgeons of Columbia University in New York

City and in the late 1830s moved to Mobile to practice medicine.

When the Medical Association of the State of Alabama was organized in 1847 in

Mobile, Dr. Lopez was appointed Chairman and served as President the following

year. In 1852 he was present at the founding session of the American Medical

Association and elected vice-president.

In the mid 1850s the MASA appointed Dr. Lopez to "Memorialize the

Legislature" and provide funds for a state mental hospital. He was appointed by

the Governor to head a commission to accomplish this task. The commission later

designed Bryce Hospital. Dr. E. Lamar Thomas of Mt. Brook, Alabama, is his

great-great grandson.

NursingALD.com can point you

right to that perfect NURSING JOB!

NursingALD.com

Free to Nurses

Privacy Assured

Easy to Use

E-mailed Job Leads

Karen Meneses, PhD, RN, FAAN (deceased)

Dr. Karen Meneses was an internationally

known researcher in cancer survivorship

disparities research with a prolific and

sustained history of scientific contributions that

have improved the lives of cancer survivors.

While Dr. Meneses' scholarly interests were

diverse, much of her work was focused on

breast cancer survivorship.

Dr. Meneses received numerous honors

during her lifetime for her groundbreaking

research and leadership including the 2013

Ada Sue Hinshaw Award, one of the highest honors given to a scientist in

the field of nursing. She was also bestowed the highest Academic Health

Center honor at UAB, being name the Distinguished Faculty Lecturer in

2016.

Dr. Karen Meneses was one of kind: an influential leader; eminent role

model; distinguished scholar; and relentless advocate for Alabama breast

cancer patients, survivors, and their families.
---
May, June, July 2022 Alabama Nurse • Page 15

Arthur F. Toole, MD (deceased)

Dr. Arthur Toole was born

in Talladega, Alabama, and

graduated from the University of

North Carolina and subsequently

the Harvard Medical School. For

many years Dr. Toole served as

chief of surgery and chief of staff

for Citizens Hospital in Talladega,

and he was attending physician for

Southern Railroad employees and

the Alabama School for Deaf and Blind.

Dr. Toole was a life member of the Medical Association

of Alabama, served on its Board of Censors and elected a life

counselor. As a dedicated community leader, he served as

chair of the Talladega Public Library and in 1986, the City of

Talladega honored Dr. Toole as its Man of the Year.

One of his colleagues stated that medical schools can

confer the MD degree, but being a physician is earned by

a life lived of dedication and service to one's patients. Dr.

Arthur Toole exemplified and honored that title.

James Orr Walker, Sr. (deceased)

Mr. Jim Walker was a 1957

graduate of Auburn University's

Pharmacy School. He served on

the Dean's Advisory Council and

received a Distinguished Alumnus

Award by its alumni association.

Mr. Walker's grandfather and

father had a huge impact on the

pharmaceutical industry in the

State of Alabama. They instilled a

love of pharmacy in a young man who carried the principles

and ethics learned at an early age.

Jim Walker began his career at Reynolds Pharmacy in

Birmingham and later joined his brother to oversee operations

of Walker Drug Company. He was the recipient of the

Bowl of Hygeia Award, the most prestigious award given in

pharmacy, and he was first to receive the Alabama Pharmacy

Association President's Special Achievement Award.

Mr. Walker served as president of the Birmingham Better

Business Bureau and was a board member of Carraway

Methodist Hospital for 15 years.

Student Nurse Apprenticeships

Offer an Opportunity to Strengthen

Alabama Healthcare

Peggy Sellers Benson

MSN, RN, MSHA, NE-BC

Executive Officer

Alabama Board of Nursing

On March 17, 2022, the Alabama Board of Nursing (ABN)

officially began accepting applications for nursing students to

engage in Student Nurse Apprenticeships in licensed healthcare

facilities. This represents a monumental advancement for

Alabama nursing education and for our healthcare delivery

system.

Student Nurse Apprentices are authorized under Chapter

610-X-15 of the ABN Administrative Code to perform select

routine nursing tasks (listed on the Approved Skills List,

available on the ABN website) in licensed healthcare facilities

and under the supervision of licensed nurses. This program

offers an unprecedented opportunity for nursing students to

engage in real-life healthcare delivery, while also satisfying a

portion of their clinical requirements for graduation. In turn,

apprentices will alleviate some of the strain on nursing staff,

freeing licensed nurses to care for patients at the bedside.

I want to stress that this is not a delegation program.

Apprenticeship permits carry their own standards of practice,

and each apprentice must have his or her skills competency

validated by the nursing education program.

Establishment of the Student Nurse Apprenticeship

program has been a joint effort between the ABN, the Alabama

Community College System (ACCS), and the Alabama Office

of Apprenticeship (AOA). In addition to requisite coursework

and competency validation, each applicant must be engaged

in a registered apprenticeship through the AOA and submit

an application and required supporting documentation to the

ABN for approval. A registered apprenticeship includes both a

sponsor (usually the nursing education program) and employer,

each of which is registered through the AOA.

The first cohort of student nurse apprentices will

begin this summer at Coastal Alabama Community

College and Gadsden State Community College.

Additional sponsors and employers for the apprenticeship

program will be accepted in the fall.

For further information on Student Nurse Apprentice

permits and practice, please visit the ABN Student Nurse

Apprentice page. Questions regarding registration of

apprenticeships, please contact the Alabama Office of

Apprenticeship.