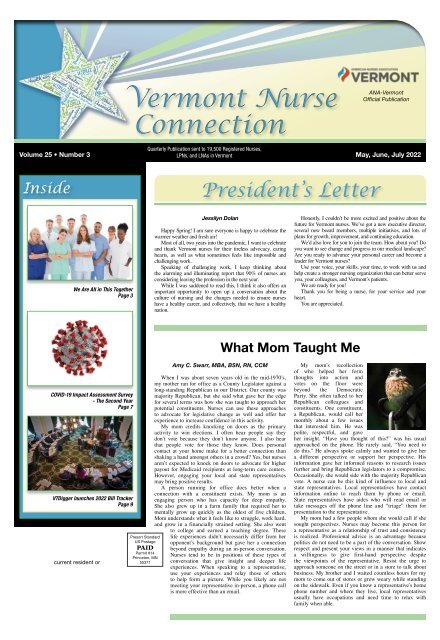 The Vermont Nurse Connection - May 2022
You also want an ePaper? Increase the reach of your titles
YUMPU automatically turns print PDFs into web optimized ePapers that Google loves.
Vermont Nurse

Connection

ANA-Vermont

Official Publication

Quarterly Publication sent to 19,500 Registered Nurses,

Volume 25 • Number 3 LPNs, and LNAs in Vermont

May, June, July 2022

Inside

We Are All in This Together

Page 3

Jessilyn Dolan

Happy Spring! I am sure everyone is happy to celebrate the

warmer weather and fresh air!

Most of all, two years into the pandemic, I want to celebrate

and thank Vermont nurses for their tireless advocacy, caring

hearts, as well as what sometimes feels like impossible and

challenging work.

Speaking of challenging work, I keep thinking about

the alarming and illuminating report that 90% of nurses are

considering leaving the profession in the next year.

While I was saddened to read this, I think it also offers an

important opportunity to open up a conversation about the

culture of nursing and the changes needed to ensure nurses

have a healthy career, and collectively, that we have a healthy

nation.

Honestly, I couldn't be more excited and positive about the

future for Vermont nurses. We've got a new executive director,

several new board members, multiple initiatives, and lots of

plans for growth, improvement, and continuing education.

We'd also love for you to join the team. How about you? Do

you want to see change and progress in our medical landscape?

Are you ready to advance your personal career and become a

leader for Vermont nurses?

Use your voice, your skills, your time, to work with us and

help create a stronger nursing organization that can better serve

you, your colleagues, and Vermont's patients.

We are ready for you!

Thank you for being a nurse, for your service and your

heart.

You are appreciated.

What Mom Taught Me

COVID-19 Impact Assessment Survey

- The Second Year

Page 7

VTDigger launches 2022 Bill Tracker

Page 9

current resident or

Presort Standard

US Postage

PAID

Permit #14

Princeton, MN

55371

Amy C. Swarr, MBA, BSN, RN, CCM

When I was about seven years old in the mid-1970's,

my mother ran for office as a County Legislator against a

long-standing Republican in our District. Our county was

majority Republican, but she said what gave her the edge

for several terms was how she was taught to approach her

potential constituents. Nurses can use these approaches

to advocate for legislative change as well and offer her

experience to increase confidence in this activity.

My mom credits knocking on doors as the primary

activity to win elections. I often hear people say they

don't vote because they don't know anyone. I also hear

that people vote for those they know. Does personal

contact at your home make for a better connection than

shaking a hand amongst others in a crowd? Yes, but nurses

aren't expected to knock on doors to advocate for higher

payout for Medicaid recipients at long-term care centers.

However, engaging your local and state representatives

may bring positive results.

A person running for office does better when a

connection with a constituent exists. My mom is an

engaging person who has capacity for deep empathy.

She also grew up in a farm family that required her to

mentally grow up quickly as the oldest of five children.

Mom understands what it feels like to struggle, work hard,

and grow in a financially strained setting. She also went

to college and earned a teaching degree. These

life experiences didn't necessarily differ from her

opponent's background but gave her a connection

beyond empathy during an in-person conversation.

Nurses tend to be in positions of these types of

conversation that give insight and deeper life

experiences. When speaking to a representative,

use your experiences and relay those of others

to help form a picture. While you likely are not

meeting your representative in-person, a phone call

is more effective than an email.

My mom's recollection

of who helped her form

thoughts into action and

votes on the floor were

beyond the Democratic

Party. She often talked to her

Republican colleagues and

constituents. One constituent,

a Republican, would call her

monthly about a few issues

that interested him. He was

polite, respectful, and gave

her insight. "Have you thought of this?" was his usual

approached on the phone. He rarely said, "You need to

do this." He always spoke calmly and wanted to give her

a different perspective or support her perspective. His

information gave her informed reasons to research issues

further and bring Republican legislators to a compromise.

Occasionally, she would side with the majority Republican

vote. A nurse can be this kind of influence to local and

state representatives. Local representatives have contact

information online to reach them by phone or email.

State representatives have aides who will read email or

take messages off the phone line and "triage" them for

presentation to the representative.

My mom had a few people whom she would call if she

sought perspectives. Nurses may become this person for

a representative as a relationship of trust and consistency

is realized. Professional advice is an advantage because

politics do not need to be a part of the conversation. Show

respect and present your views in a manner that indicates

a willingness to give first-hand perspective despite

the viewpoints of the representative. Resist the urge to

approach someone on the street or in a store to talk about

business. My brother and I waited countless hours for my

mom to come out of stores or grew weary while standing

on the sidewalk. Even if you know a representative's home

phone number and where they live, local representatives

usually have occupations and need time to relax with

family when able.
---
Page 2 • Vermont Nurse Connection May, June, July 2022

ANA-VT Welcomes New Executive

Director/ Updates to ANA-Vermont

Lobbying Efforts

ANA-VT is thrilled to welcome Amy Martone as our

new Executive Director. With this exciting transition,

we'll also be changing our advocacy and lobbying efforts.

Starting next biennium, 2023, we will hire a lobbying

group and work with other nursing organizations to

promote our agenda with a more unified voice.

The ANA-VT Government Affairs committee will

continue to meet monthly, and we're always looking for

member nurses who want to participate and join our team.

Legislative Report

We're now several weeks past crossover and heading

into May and the close of the session. Fortunately, we've

seen several positive changes recently, and will continue to

update you as the session continues.

H.654, which would extend COVID-19 health care

regulatory flexibility, passed and is now Act 85.

H.717, which would provide humanitarian assistance to

the people of Ukraine, also passed, and is now Act 82.

S.4 Now ensures that nobody can knowingly possess a

firearm within a hospital building.

Voices of Vermont Nurses

premiered at VSNA Convention 2000 and

is available from the ANA-Vermont Office at:

ANA - Vermont

4 Carmichael Street, Suite 111, #215

Essex, VT 05452

Price: $20 each book

(plus $3.95 for postage and handling)

Make check or money order payable to:

VERMONT STATE NURSES FOUNDATION

Name: _____________________________________

Address: ___________________________________

City: _______________________________________

State: __________________ Zip: _______________

The legislature, in its final push, is working on a

number of other bills that could end up heading to the

governor's desk.

Look for a full legislative update in our next issue!

Thank you!

Deadlines for the

Vermont Nurse Connection

Are you interested in contributing an article to an

upcoming issue of the Vermont Nurse Connection? If so,

here is a list of submission deadlines for the next 2 issues:

Vol. 25 #4 – July 11, 2022

Vol. 26 #1 – October 10, 2022

Articles may be sent to the editors of the Vermont

Nurse Connection at:

ANA-Vermont

Attention: VNC

4 Carmichael Street, Suite 111, #215

Essex, VT 05452

Articles may also be submitted electronically to

vtnurse@ana-vermont.org.

If you wish to submit a "Letter to the Editor," please

address it to:

ANA-Vermont

Attn: Vermont Nurse Connection

4 Carmichael Street, Suite 111, #215

Essex, VT 05452

Please remember to include contact information,

as letter authors may need to be contacted by the

editors of the VNC for clarification. NOTE: Letters to

the Editor reflect the opinions of the letter authors

and should not be assumed to reflect the opinions

of the ANA-Vermont.

Cynthia Peterson, MSN, RN, Editor

Official publication of ANA-Vermont, a constituent member

of the American Nurses Association. Published quarterly every

January, April, July and October. Library subscription price is $20

per year. ISSN# 1529-4609.

Editorial Offices

ANA-Vermont, 4 Carmichael Street, Suite 111, #215, Essex, VT

05452, PH: (802) 651-8886, E-mail: vtnurse@ana-vermont.org

Editor: Jean E. Graham

Advertising

For advertising rates and information, please contact Arthur

L. Davis Publishing Agency, Inc., PO Box 216, Cedar Falls, Iowa

50613, (800) 626-4081, sales@aldpub.com. ANA-Vermont and the

Arthur L. Davis Publishing Agency, Inc. reserve the right to reject any

advertisement. Responsibility for errors in advertising is limited to

corrections in the next issue or refund of price of advertisement.

Acceptance of advertising does not imply endorsement or

approval by ANA-Vermont of products advertised, the advertisers,

or the claims made. Rejection of an advertisement does not imply

a product offered for advertising is without merit, or that the

manufacturer lacks integrity, or that this association disapproves

of the product or its use. ANA-Vermont and the Arthur L. Davis

Publishing Agency, Inc. shall not be held liable for any consequences

resulting from purchase or use of an advertiser's product. Articles

appearing in this publication express the opinions of the authors; they

do not necessarily reflect views of the staff, board, or membership of

ANA-Vermont or those of the national or local associations.

Content

ANA-Vermont welcomes unsolicited manuscripts and

suggestions for articles. Manuscripts can be up to:

• 750 words for a press release

• 1500 words for a feature article

Manuscripts should be typed double-spaced and spell-checked

with only one space after a period and can be submitted:

1) As paper hard copy

2) As a Word Perfect or MS Word document file saved to a

CD-Rom or zip disk

3) Or e-mailed as a Word Perfect or MS Word document file to

vtnurse@ana-vermont.org.

No faxes will be accepted. Authors' names should be placed after

title with credentials and affiliation. Please send a photograph of

yourself if you are submitting a feature article.

All articles submitted to and/or published in Vermont Nurse

Connection become the sole property of ANA-Vermont and may not

be reprinted without permission.

All accepted manuscripts may undergo editorial revision to conform

to the standards of the newsletter or to improve clarity.

The Vermont Nurse Connection is not a peer review publication.

Articles appearing in this publication express the opinions of the

authors; they do not necessarily reflect views of the staff, board,

or membership of ANA-Vermont or those of the national or local

association.

Copyright Policy Criteria for Articles

The policy of the ANA-Vermont Editorial Board is to retain

copyright privileges and control of articles published in the Vermont

Nurse Connection unless the articles have been previously published

or the author retains copyright.

3

3

Opportunity Awaits

REGISTERED NURSES

Emergency Department

IPCU

Specialty Clinic

Psychiatric Inpatient

Adult Day Program

To view all current job

opportunities, and to apply

please go to:

https://

springfieldhospital.org/

careers/

Equal Opportunity Employer

ANA-Vermont Officers and Board of Directors

President ...................................Jessilyn Dolan

Vice President ............................. Dionne Heyliger

Secretary ...............................Samantha Gambero

Treasurer ......................................Amy Swarr

Director .................................Amy Visser-Lynch

Director ....................................Michelle Wade

Director .......................................... Vacant

Delegate Membership Assembly .................Betsy Hassan

Alternative Delegate ........................Cynthia Peterson

ANA-Vermont Foundation Board

President ....................................Carol Hodges

Vice President ..............................Christina Olcott

Treasurer ......................................Amy Swarr

Secretary ..................................Christina Olcott

Trustee .....................................Jessilyn Dolan

Trustee ...................................Meredith Roberts

Trustee .....................................Michelle Wade

Trustee ........................................... Vacant

Trustee ........................................... Vacant

VNC Editor

Jeannie Graham

Committee Chairpersons

Bylaws ........................................Amy Swarr

Finance ........................................Amy Swarr

Government Affairs ..........................Jessilyn Dolan

Membership & Publicity ...................Amy Visser-Lynch

Nominations & Elections ......................Michelle Wade

Programs ......................................... Vacant

Congressional Coordinator for Welch .........Meredith Roberts

Senate Coordinator for Sanders ..............Meredith Roberts

Senate Coordinator for Leahy ...............Meredith Roberts
---
May, June, July 2022 Vermont Nurse Connection • Page 3

We Are All in This Together

With multiple generations in

the nursing workforce, unique

opportunities exist for growth,

learning and development.

~ Sallie Jimenez Healthcare

Journalist

It is often said that "hope

is not a strategy," but perhaps

when planning the future

of the nursing workforce, it

should be. i The healthcare

organizations of today must

take action to recruit younger

nurses to replace those retiring,

yet also retain experienced

Priscilla Smith-

Trudeau

nurses currently working to stabilize the workforce. Given

the seriousness of the situation, effective strategies are

required to promote job satisfaction, nurse retention and

overall healthy workplace environments for all generations

of nurses in the current workforce. ii However, one-sizefits-all

intervention programs do not address the priorities

and expectations of the four different generations found

in today's nursing workforce. iii The question remains

how to resolve intergenerational conflicts? The fatherdaughter

team Larry and Meagan Johnson, Phoenix,

Ariz.-based workplace training experts and authors of

Generations, Inc.: From Boomers to Linksters–Managing

the Friction Between Generations at Work offer several

solutions to resolving intergenerational conflicts by simply

understanding work styles, values, shared perceptions,

finding a generationally appropriate fix, finding

commonality and finally learning from each other. iv

Building a better future will depend on our ability to

appreciate generational differences. ~ Mal Fletcher

An acceptance of generational diversity in the

workplace allows for a richer scope for practice as the

experiences and knowledge of each generation in the

nursing workforce creates an environment of acceptance

and harmony facilitating retention of nurses. v To bridge

the difference, you need to see the value in recognizing

someone else's perspective and be willing to have your

own mind changed. Know that your beliefs, values

and ideas stem from your unique path through life and

represent only one view of the world, advises Columbia

University associate professor of science education

Christopher Emdin, PhD, author of Rachetdemic. "The

only expertise I have is my own perspective," says Emdin,

who advises "radical humility" in the hard work of

seeking to understand others. "Take the time to be still and

to study." vi

work; instead, they focus on bringing out the best of

what works, individually and collectively. In order to

transform opposition into collaboration, team members

need to discover and understand their differences. To do

this, they must be courageously open to learn what makes

them different from one another, and recognize how these

differences can serve their team. Only then can they

align strengths and work harmoniously toward a common

purpose. vii

Alone we can do so little, together we can do so much.

~ Helen Keller

Each generation of nurses stands on the shoulders of

the previous generations and, in turn, have paved the way

for the next generation. If values are considered central

to the nursing culture, they must be transmitted from

one generation to another. How do we keep the values

of each generation alive in our culture? It happens when

we keep remembering that none of us got here on our

own. We stood on the shoulders of previous generations

who often carried us through difficult times, nurturing

us through the fear of failure, teaching us to be strong, to

learn from our mistakes and to do the right thing. Diverse

generational teams offer the strength and flexibility that

comes from sharing multiple ways of looking at an issue,

a strength which is accessible at any time. When we

appreciate generational differences, we broaden trust and

respect for individuals which can lead to considerably

better teamwork. Margaret Wheatley a well-respected

writer, speaker, and teacher on the subject of how we

can accomplish our work, sustain our relationships, and

willingly step forward to serve in this troubling time

suggests that "We have the opportunity many times a day,

every day, to be the one who listens to others, curious

rather than certain. And the greatest benefit that comes

to those who listen is that we develop closer relationships

with those we thought we couldn't understand. When

we listen with less judgment, we always develop better

relationships with each other. It's not differences that

divide us. It's our judgments that do. Curiosity and good

listening bring us back together." viii

Each of us can make a difference. Together we make

change. ~ Barbara Mikulski

Priscilla Smith-Trudeau MSM RN BSN CCM CRRN

HNB-BC is board certified in holistic nursing and board

certified in rehabilitation nursing. She has been a nurse for

forty-five years and understands the interconnectedness of

body, mind and spirit. She brings a comprehensive holistic

and integrative approach to her practice for providing

whole person care.

Baby Boomers

• Independent

• Strong work ethic

• Personal growth

• Teamwork

• Job security

Generation X

• Resourceful

• Independent

• Work-life balance

• Technologically

adept

• Adapt well to

change

Generational Traits

Generation Y

• Honesty

• Integrity

• Diversity

• Meaningful work

• Achievement

oriented

Generation Z

• Preference

for traditional

communication

• Desire to work

individually

• Mobile-first

habits

• Motivated by

stability

• Naturally

competitive

v Hendricks JM, Cope VC. Generational diversity: what nurse

managers need to know. J Adv Nurs. 2013 Mar;69(3):717-

25. doi: 10.1111/j.1365-2648.2012.06079.x. Epub 2012 Jul 9.

PMID: 22775766.

vi Emdin, C., (2021). Ratchetdemic: Reimagining Academic

Success. Boston: Beacon Press, Boston, MA.

vii Whitney, D. K. (2004). Appreciative team building: Positive

questions to bring out the best of your team. iUniverse, Inc.

viii Wheatly, M., (2001), Partnering with Confusion and

Uncertainty. Retrieved February 18, 2022 from: https://www.

margaretwheatley.com/articles/partneringwithconfusion.html

What I do, you cannot do; but what you do, I cannot do.

The needs are great, and none of us, including me, ever

do great things. But we can all do small things, with great

love, and together we can do something wonderful.

~ Mother Theresa

We know that successful [nursing] teams thrive on

opposition, including differences of opinions, approaches,

cultures, ways of thinking, and styles of working. They

do so by transforming opposition into collaboration. By

aligning their strengths in the face of differences, they

optimize resources and work efficiently toward their

goals. They don't waste time or energy on what doesn't

i Klug, S. H. (January 01, 2009). Recruit, respect, and retain:

the impact of baby boomer nurses on hospital workforce

strategy--a case study. Creative Nursing, 15, 2, 70-4.

ii Wilson, B., Squires, M., Widger, K., Cranley, L., &

Tourangeau, A. (January 01, 2008). Job satisfaction among

a multigenerational nursing workforce. Journal of Nursing

Management, 16, 6, 716-23.

iii Wieck, K. L., Dols, J., & Landrum, P. (January 01, 2010).

Retention priorities for the intergenerational nurse workforce.

Nursing Forum, 45, 1.)

iv Johnson, M., & Johnson, L. (2010). Generations, inc.: From

boomers to linksters - managing the friction between

generations at work. AMACOM.

SFC Theodore P. Provost

AMEDD Specialty Branch Manager

theodore.p.provost.mil@mail.mil

802-338-3405

The ANA-Vermont website has been updated:

ANA-Vermont.org. We will continue to update and

expand the website.

Do you want to stay updated on the latest ANA-Vermont has to offer?

Learn of webinars offered by the ANA?

How you can earn CEU hours?

'Like Us' on Facebook. Find us at

https://www.facebook.com/VTNurses

Questions regarding our social media and website?

E-Mail: vtnurse@ana-vermont.org
---
Page 4 • Vermont Nurse Connection May, June, July 2022

Letter from the

New Executive Director

Amy Martone, MBA, BSN, RN, NPD-BC

I am honored to share the news with you that I have

assumed the role as Interim Executive Director for the ANA-

Vermont. I want to recognize Dr. Meredith Roberts, PhD,

RN, for the incredible contribution that she has made to

the ANA-Vermont over the last five years in her role as the

Executive Director! For anyone that has ever had the privilege

to work with Meredith, her commitment to the nurses of

Vermont and passion for the advancement of the nursing

profession in our state was wildly evident. She has left me

with some very big shoes to fill – and I have promised her to

do my best. Please join me in thanking Meredith for all she

has accomplished and in wishing her the best in retirement!

Amy Martone

As we kick off Nurses Month in May 2022, there are

so many things to celebrate – and much work for us to do! This is an important time

for nurses as we reflect back on the incredible ways that we led colleagues, teams,

and organizations through the COVID-19 pandemic using our knowledge and skills

to provide best outcomes for patients and to keep our communities as safe as possible.

This is just one of the many reasons that nurses continue to be voted the most trusted

profession, for over 20 consecutive years in a row. Now, as we begin to enter into the

pandemic recovery period, and as we are faced with a healthcare workforce crisis unlike

we have ever seen, we must come together as nurses and continue to lead.

The national ANA represents the over four million nurses nationwide, and our ANA

Vermont represents the 15,000 nurses that are licensed in our state. When you join ANA-

Vermont, it also includes membership to the national ANA. That is two memberships

for only $15 per month! I encourage you to join us today by completing the form in this

mailing, going to anavermont.nursingnetwork.com, or emailing memberinfo@ana.org.

As a member, it is important to check your emails and follow us on social media to stay

up to date on communications. You can find us on Facebook at https://www.facebook.

com/VTNurses.

At this time, I am working closely with the ANA-Vermont Board of Directors to

finalize the 2022-2023 Strategic Plan. We are excited to complete it and share it with

you! Our primary focus over the coming year will be to connect with our current

members, re-engage with past members, and recruit new members. We will also explore

the opportunity to form a Coalition with our state partners in nursing, such as the

Vermont Nurse Practitioners Association. This priority is based on the understanding that

we are stronger together and can share resources to advocate for change with the issues

facing nursing. This includes workplace violence, compensation and value, health equity,

and workforce shortage solutions. These partnerships will also ensure that we are using

our collective nursing talent to provide high-quality continuing education and ongoing

professional development opportunities to our members.

Another priority will be to increase the visibility of nursing in Vermont and promote

the ANA-Vermont as our professional organization. We have started by updating

the ANA-Vermont website to best represent the nurses of Vermont and provide more

information about the organization. This is still a work in progress and so I ask you to

check back and visit the website often. You should also look for our Nurses of Vermont

social media campaign that is rolling out this month. We will use this campaign to

highlight some of the incredible nurses that are practicing across our state and the broad

continuum of specialties that our nurses represent.

As Interim Executive Director, I will bring over 15 years of diverse healthcare

experience as an accomplished nurse leader to the ANA-Vermont. I look forward to

working alongside the talented, diverse, and dedicated ANA Vermont Board of Directors

and our remarkable members to achieve the strategic priorities of the organization and

our Vermont nurses. I look forward to Nurses Month 2022 with great optimism and ask

you to join us in accomplishing our vision to "Inspire Vermont nurses to advance the

nursing profession and the health of Vermonters." If you have any questions about ANA-

Vermont, or are interested in joining the Board of Directors or a committee, please feel

free to contact me at vtnurse@ana-vermont.org.
---
May, June, July 2022 Vermont Nurse Connection • Page 5

Skin Care in COVID

Lauren Beck, BSN, RN,

WCC, SANE

Southwestern Vermont

Medical Center

The COVID-19 pandemic

challenged healthcare workers

in ways that many of us had

never before experienced.

Ever-changing policies,

protocols, and keeping up

with the influx of new and

fluctuating information seemed

like a never-ending battle.

Symptoms were constantly

Lauren Beck

evolving, and what originally seemed like a predominantly

pulmonary-dominating virus exploded into what we now

know to be a systemic illness that can impact multiple

organ systems.

My curiosity in this topic began when I transitioned

into the wound care role at my facility this past winter

during yet another one of our COVID-19 surges. As I hit

the ground running during a high acuity, high census,

and high stress time, I began to notice that I was seeing

skin manifestations that I couldn't make sense of. Consult

after consult showed low-risk COVID-19 patients with

pressure-like injuries, but with all the proper interventions

and measures in place to prevent them. Lesions, blisters,

rashes, and discolored toes appeared seemingly overnight

with no explanation and furthered my interest in the

matter. Disease severity seemed irrelevant, and nearly

asymptomatic individuals and critically ill patients alike

were demonstrating abnormal skin findings. Additional

review of our organization showed that out of the pressurelike

injuries we were seeing within our facility, the

majority we were seeing in our COVID-19 patients. Risk

assessment scales didn't seem to accurately predict who

was at risk anymore. What was going here?

COVID-19 presents differently in each patient,

and while symptoms have ranged from mild to lifethreatening,

some effects can be more subtle and difficult

to recognize. The last two years have provided an

opportunity to research these impacts, and latest evidence

has identified a lesser known but increasingly recognized

challenge facing patients diagnosed with COVID-19- and

it lies within our skin.

Studies have shown that as many as 20% of patients

diagnosed with COVID-19 have had the presentation of

dermatologic-related complications and manifestations

including (but not limited to) urticaria, chilblain-like

eruptions more recently dubbed "COVID Toes" (Burke,

McGinnis, & Petronic-Rosiv, 2021), vasculitis, and

varying types of rashes and lesions without any prior

history or substantial risk factors (Gottlieb & Long, 2020).

Both patients with asymptomatic cases, as well as those

with severe illness, have been shown to be impacted by

dermatological symptoms (Sadeghzadeh-Bazargan, Rezai,

Nobari, Mozafarpoor, & Goodarzi, 2021). Research

suggests that pressure-like injuries in patients infected

with COVID-19 may not solely be pressure related, but

a combination of effects that puts patients at higher risk

of skin breakdown due to infection (Mawhirt, Frankel,

& Diaz, 2020). These findings have complicated the

staging and wound care process for direct care providers

internationally in both implementing appropriate

interventions based on standardized risk assessment

scales, as well as correctly identifying skin breakdown and

its causes.

While the exact pathophysiology for what causes

these complications is still being studied, early research

indicates a multitude of factors that can compromise

the integumentary system during COVID-19 infection,

including complement-mediated microvascular injury,

coagulation pathway derangement, cytokine release, and

cutaneous ischemia (Gottlieb & Long, 2020).

Determining the presentation of unusual or unexplained

dermatologic symptoms in patients may be helpful in

both identifying the presence of COVID-19 as well as

assisting providers in guiding treatment plans for patients

(Sadeghzadeh-Bazargan et al. 2021). Additionally,

accurately identifying early cutaneous signs and symptoms

may be a predictor of deterioration in acutely ill patients,

and further research is ongoing in this respect (Mawhirt et

al., 2020).

As nurses it is our responsibility to continue to monitor

and apply the latest evidence-based research as more

is learned about the impacts of COVID-19 in relation

to skin. A critical element of providing comprehensive

care to COVID-19 patients is recognizing that typical

risk assessment scales may not accurately predict risk of

skin breakdown, and higher interventions may need to be

implemented in this population. The National Pressure

Injury Advisory Panel has recognized and acknowledged

the unique challenges identified within COVID-19

patients and released a position statement stating that the

unprecedented findings associated with skin may lead to

unavoidable pressure injuries, with further information

anticipated to be released with continuing evaluation of

research (Black et al., 2020).

So what does this mean for healthcare providers?

As nurses we commit ourselves to life-long education:

we assess, we learn, and we adapt. The COVID-19

pandemic has demonstrated the unyielding resilience

and resourcefulness of healthcare workers worldwide.

Knowing the latest evidence-based research and

implementing it within our practice is not only our job, but

our responsibility to our patients and our communities. It

is imperative that we strive to provide the best, most upto-date

care to improve patient outcomes during these

extraordinary times.

References

Black, J., Cuddigan, J., Capasso, V., Cox, J., Delmore, B.,

Munoz, N., & Pittman, J. on behalf of the National Pressure

Injury Advisory Panel (2020). Unavoidable Pressure Injury

during COVID-19 Crisis: A Position Paper from the National

Pressure Injury Advisory Panel. https://www.npiap.com

Burke, K., McGinnis, K., Petronic-Rosiv, V. (2021). Covid toes:

Pernio-like lesions. Clinics in Dermatology, 39(3), 380-383.

https://doi.org/10.1016/j.clindermatol.2021.01.016

Gottlieb, M & Long, B. (2020). Dermatologic Manifestations

& Complications of COVID-19. American Journal of

Emergency Medicine, 38(9), 1715-1721. https://doi.

org/10.1016/j.ajem.2020.06.011

Mawhirt, S., Frankel, D., Diaz, A. (2020). Cutaneous

Manifestations in Adults Patients with COVID-19 and

Dermatologic Conditions Related to the COVID-19 Pandemic

in Healthcare Workers. Currently Allergy and Asthma

Reports, 20(12), 75. https://doi.org/10.1007/s11882-020-

00974-w

Sadeghzadeh-Bazargan, A., Rezai, M., Nobari, N., Mozafarpoor,

S., Goodarzi, A. (2021). Skin manifestations as potential

symptoms of diffuse vascular injury in critical COVID-19

patients. Journal of Cutaneous Pathology, 48(9), 1266-1276.

https://doi.org/10.1111/cup.14059

TRIAGE NURSE

White River Family Practice is looking for an experienced RN

to fill the role of our Triage Nurse. We are a small, cohesive

practice of 8 providers and 15 clinical and administrative staff

who are dedicated to our patients and to each other. Your role

will be integral to our office and we will support you as you

adjust to your new position. Best of all, you will have the chance

to get to know many of our wonderful patients!

Candidates should be prepared to work in this role 4 days

weekly with an occasional 5th day to cover vacations.

Competitive salary and benefits.

Please submit a cover letter with resume to

lneedham@wrfpvt.com
---
Page 6 • Vermont Nurse Connection May, June, July 2022

A Farewell Message from Meredith Roberts

Meredith Roberts RN, BSN, MSN, PhD

Hello Nurse Colleagues,

Being in a pandemic so long feels like we have been

in a war, but the war keeps going on, and our deployment

continues. Those deployed in war usually get to come

home after a year, but not us. How are you? From the last

ANA survey, I know that ¾ of you are frustrated, and have

been bullied at work. Over two thirds of you are stressed

exhausted and overwhelmed and 44% are nearing burnout.

Over one third feel sad, depressed, and under-supported. I

get it, and I feel it. The horrors of the long battle. We feel

like we just keep going until we are ready to fall down.

Then we have less to give to family and feel so tired. We

worry about putting our family at risk. We have to listen to

our bodies and assess our mental health.

It's hard to believe I have been the Executive Director

for five years, and prior to that was president and vice

president, and an ANA Member for so many years before

that while working and completing my doctorate and

helping to start a BSN program. I am listening to my

body when I say it is time for me to step back and let my

colleagues, some of which were incredible students of

mine in the past I have had the privilege to mentor, take

the leading role. I took my emotional pulse, and realized

that I am tired, and need to set new boundaries in order

to manage my life. I will still be a part of a committee or

two, and support nurses, but at a less intense level, while

continuing to teach one course online that I created.

To maintain our mental health, sometimes we need to

refocus on what bring us joy. I need more time in my life

for healing the planet, creating music, and my family. I

also wish to support the amazing Sianay Chase Clifford

running for U.S. Congress. Born in Vermont, this woman

of color earned a Masters in social work, prospered

in a Washington Think Tank, as well as working with

legislators. Vermont needs her insightful perspectives.

I stayed on as Executive Director until the Board found

a qualified person to replace me. They now have. I will

be announcing who that person is on May 6th, National

Nurse Day, our legislative day Sign up for our free event

here: https://anavermont.nursingnetwork.com/nursingevents/136972-may-6-legislation-day-on-national-nursingday-free-registration#!info

If you want to work on saving the planet with me, let

me know if you want to join the ANA VT environmental

committee I will be leading at mroberts@vtc.vsc.edu.

ANA-Vermont has a great Board and the new leader will

keep it energized. I hope to see you at our next event. I

send you healing energy.

• Inpatient Medical Surgical Unit

• Charge RN- Emergency Room

• Primary Care

• Operating Room

• Maternal/Child Health

• Cardiology Office

• Discharge Advocate

• ER RN

Statement in

Response to the

Conviction of Nurse

RaDonda Vaught

SILVER SPRING, MD-Today, a jury convicted former

Vanderbilt University Medical Center nurse RaDonda

Vaught of criminally negligent homicide and impaired

adult abuse after she mistakenly administered the wrong

medication that killed a patient in 2017. The following

statement is attributable to both the American Nurses

Association (ANA). and the Tennessee Nurses Association

(TNA).:

"We are deeply distressed by this verdict and the

harmful ramifications of criminalizing the honest

reporting of mistakes.

Health care delivery is highly complex. It is inevitable

that mistakes will happen, and systems will fail. It

is completely unrealistic to think otherwise. The

criminalization of medical errors is unnerving, and this

verdict sets into motion a dangerous precedent. There are

more effective and just mechanisms to examine errors,

establish system improvements and take corrective

action. The non-intentional acts of Individual nurses like

RaDonda Vaught should not be criminalized to ensure

patient safety.

The nursing profession is already extremely shortstaffed,

strained and facing immense pressure - an

unfortunate multi-year trend that was further exacerbated

by the effects of the pandemic. This ruling will have a

long-lasting negative impact on the profession.

Like many nurses who have been monitoring this case

closely, we were hopeful for a different outcome. It is a

sad day for all of those who are involved, and the families

impacted by this tragedy."

The American Nurses Association (ANA) is the

premier organization representing the interests of the

nation's 4.3 million registered nurses. ANA advances the

profession by fostering high standards of nursing practice,

promoting a safe and ethical work environment, bolstering

the health and wellness of nurses, and advocating on

health care issues that affect nurses and the public. ANA is

at the forefront of improving the quality of health care for

all. For more information, visit www.nursingworld.org. For

high-resolution images of the ANA logo or photos of ANA

leadership, please click here.
---
May, June, July 2022 Vermont Nurse Connection • Page 7

COVID-19 Impact Assessment Survey - The Second Year

The American Nurses Foundation performed a survey of nearly 12,000 nurses

nationwide, that revealed 60% of acute care nurses are feeling burned out, and 75%

report feeling stressed, frustrated, and exhausted. For nurses under 35 the data is

alarming, for younger nurses are struggling more with mental health. Workplace violence

among nurses has increased as we enter year three of the COVID-19 pandemic. Over half

of nurses nationwide have had extremely disturbing, or traumatic experiences during the

pandemic. In Vermont it is 38%, over one out of every three nurses, with many reporting

difficulty concentrating and 28% planning to leave their position, most due to staffing

and the negative impact on well-being. In Vermont 75% are frustrated, and have been

bullied at work. Over two thirds are stressed, exhausted, and overwhelmed and 44% feel

burnout. Over one third feel sad, depressed, and under-supported. Seventy-four percent

rate their organizations staffing shortage as serious, with 94% of nurses saying their

organization has a staff shortage, but they can now access PPE without difficulty:

So see the full results of the survey, go to: https://www.nursingworld.org/practicepolicy/work-environment/health-safety/disaster-preparedness/coronavirus/whatyou-need-to-know/covid-19-impact-assessment-survey---the-second-year/

You can

individualize results by state.
---
Page 8 • Vermont Nurse Connection May, June, July 2022

Marilyn Rinker Leadership Scholarship Application

Application – 2023 deadline: March 25, 2023

Name: ______________________________________________________________

Address: _____________________________________________________________

Telephone #: _____________________ Email Address: _______________________

Vt RN Lic #______________________ VONL member since __________________

School of Nursing: _____________________________________________________

Currently in which year? 1 2 3 4 year of graduation (if applicable) ________________

Graduate school ________________________ 1st yr __________ 2nd year__________

expected date of graduation_______________

If employed in nursing, current employer ___________________________________

Currently receiving Financial Aid, Grants, Scholarships? Yes ________ No ________

If yes please list the sources_______________________________________________

Please attach to this form:

1. Résumé

2. Most recent transcript of grades demonstrating a cumulative average of 3.0 (B)

3. A brief essay (500 words or less) describing nursing leadership experience and

aspirations, community service experience, commitment to serve in Vermont,

and financial need

4. At least two (2) letters of recommendation (at least one academic and one work

related)

5. Evidence of acceptance in an accredited program leading to an advanced degree

in nursing if not yet matriculated.

I understand that if I receive an Advanced Degree Nurse Leaders

Scholarship, I commit to practice nursing in Vermont for a minimum period

of two years following graduation.

Student signature: _______________________________ Date: __________________

Return application (with attached materials) before March 25, 2023 to:

Martha Buck, VAHHS/VONL

148 Main Street, Montpelier, VT 05602

(802)223-3461/ext. 111 Martha@vahhs.org

Marilyn Rinker Memorial

Scholarship

The Marilyn Rinker Memorial Scholarship Award was established by the Vermont

Organization of Nurse Leaders in 2009 to honor Marilyn's lifelong commitment and

dedication to professional nursing practice, nursing education and leadership. Marilyn

held many leadership positions during the course of her career such as Nursing

Director for Medicine and Cardiology at Fletcher Allen Health Care (University of

Vermont Medical Center); Oncology Clinical Coordinator at the Vermont Regional

Cancer Center; Clinical Research Nurse and Educator in Vermont and Rhode Island;

and, BSN Nursing Program Director at Norwich University. Marilyn also served as

the Executive Director of the Vermont State Nurses' Association and President of the

Vermont Organization of Nurse Leaders.

This award provides scholarship support in the amount of $1000 for a qualified

registered nurse to participate in an approved course of study leading to an advanced

degree with an emphasis in nursing leadership.

Application Criteria for the Marilyn Rinker Memorial Award

1. Current member of ONL

2. Registered nurse or advanced practice registered nurse currently licensed in the

state of VT*

3. Demonstrated commitment to nursing leadership as evidenced by participation

in professional seminars, organizations, work accomplishments, project,

recommendations of peers

4. Currently enrolled or accepted in an accredited program that will lead to an

advanced degree in nursing

5. Willingness to commit to completing the program as indicated by realistic

timeframe.

6. GPA of 3.0 or the equivalent

7. Two (2) supportive professional recommendations

8. A double-spaced, short essay (500 words or less) of the reasons this nominee

should receive the award according to the criteria listed above

9. Nominee's current Curriculum Vitae

Nominations must be submitted by March 25, 2023. Annual scholarship award

announcement will be made at the member reception and awards gala at the ONL

Annual Meeting.

*Vermont RNs will receive first priority. Applicants from other states will be

considered if there are no applicants from Vermont or the scholarship criteria are not

met by applicants from Vermont.

https://survey.zohopublic.com/zs/6AbihO

Rest, Relax, Laugh: Spending Time with Yourself

Dr. Phyllis Lawrence, DNP, RN, NEA-BC

Reprinted with permission from Tennessee Nurse

February 2022 issue

Rest and Relax

How many times have you been told that you need to

get plenty of sleep for good physical health? Sleep is also

instrumental in maintaining sound mental and emotional

health. Rest is not only the act of sleeping, but you can

rest your body, mind, and tap into your spirit simply by

feeling renewed. Waking up and feeling that you have run

a marathon is a sign of significant activity during your rest

period. Either the mind continues to cycle, or you may be

suffering from a sleep disorder. In either case, you are not

at rest.

To rest the mind, you must relax. Relaxation is defined

as the state of being free from tension and anxiety (Google

dictionary, 2022). The Cambridge Dictionary defines

relaxation as a pleasant activity that makes you become

calm and less worried. This definition supports the

concept of complementary and alternative interventions

and modalities. Relaxation can really be a state of mind.

One of the most effective holistic modalities that promotes

relaxation is meditation. Meditation is reflected in many

forms, including guided imaginary, mindfulness, Zen

meditation, Mantra meditation, Transcendental meditation,

and Yoga meditation, just to name a few. Mindfulness has

become popular over the last few years. Being mindful is

the basic human ability to be fully present in the moment,

aware of your surroundings, feelings, and emotions. Try it,

sit still in a quiet place. Place your hands in your lap. Now

close your eyes. What do you hear? What do you smell?

Breathe slow and steady while maintaining the rhythm.

Continue this practice for approximately 10-15 minutes.

Notice the change in your stress level or anxiety. This

simple exercise can alleviate stress and anxiety, and if

engaged in regularly, lead to an optimistic outlook.

Laugh for a Healthier You

Have you noticed that when you laugh, you feel better?

It is harder to cry while you are laughing. Research has

found that laughing triggers the release of endorphins

(nature's feel-good chemicals). It has also been reported

that laughter decreases stress hormones and increases

immune cells. We have a natural response to infection,

which helps produce antibodies, improving our resistance

to disease and promoting our overall well-being. What

makes you laugh? Is it a funny commercial, your loved

one(s), maybe your co-workers? Laughter is the best

medicine. In an article by Robinson, Smith, & Segal (July

2021), learn to create opportunities to laugh, watch a funny

movie, TV show, or YouTube video, check out a comedy

club, read the funny pages, check out the humor section

in your bookstore, play with a pet, better yet host a game

night with friends.

I would like to share with you some of the things that

make me laugh. Watching my favorite comedy movies,

even though I know the punch line, dancing to my favorite

80's jam on YouTube, and serving with a grateful heart.

When I see someone smile, I smile! During hard times,

laughter has been a saving grace for many. Whitman

(2017) A new study reveals how laughter affects the

brain, which may be an explanation why giggles play an

important role in social bonding.

When you take time for yourself, you validate your

worthiness and value. Make it a point to celebrate your

life. Buy that neat sweater, go to the movies with your

spouse, family, or friends. Do something that you enjoy,

and that makes you feel good. How about butter pecan

ice cream? Take care of yourself so that you can take care

of others. The first step to self-care is accepting that you

are worthy of that care. The care you require may need to

come from a professional source, and that's okay. There

are services available through most healthcare facilities

and organizations. Sometimes you just might need to talk.

It may be a good time to phone a friend.

Take a moment and plan to rest, relax, and laugh. Try

to include at least one activity to cover each one of the

components. Start with resting and relaxing, then let the

laughter begin. Remember, you are worthy, valuable, and

appreciated. Self-worth can only be measured by you. So

make every moment count, and be mindful of your value. I

can sum it up in one word, priceless!!

References

L. Robinson, M. Smith & J. Segal (2021). Laughter is the Best

Medicine. https://www.helpguide.org/articles/mental-health/

laughter-is-the-best-medicine.htm

Mindful: healthy mind, healthy life (2022). https://www.mindful.

org/meditation/mindfulness-getting-started/

Whiteman, H. (2017). Laughter releases 'feel good hormones' to

promote social bonding. https://www.medicalnewstoday.com/

articles/317756
---
May, June, July 2022 Vermont Nurse Connection • Page 9

VTDigger launches

2022 Bill Tracker

The Senate meets at the Statehouse in Montpelier on Wednesday,

March 23, 2022. Photo by Glenn Russell/VTDigger

Nurses, please consider taking

the study!

"Healthcare Provider Knowledge, Attitudes, Practices Related to Medical Cannabis

Research Study."

Cannabis Center of Excellence, INC, a 501c3 cannabis research and education nonprofit,

Medicinal Genomics, a leader in cannabis testing, and UMass Dartmouth

Charlton College of Business announced the release of preliminary data and presentation

of results for the "Healthcare Provider Knowledge, Attitudes, Practices Related to

Medical Cannabis Research Study."

This study collects information from healthcare providers in the United States and

Canada about their experiences with medical cannabis in their practices, prior education

around the topic, and interest in future clinical education related to medical cannabis. No

personal identifying information is collected from healthcare providers.

https://formlink.mwater.co/#/4279a49a958844a79d29ce94edfdc4f9/e113fa26fdfc49838

3291b32ff82dedc?branding=mwater

ADN Clinical Excellence Award

"Courtney Aines came to VTC with many

years of experience as an LPN and already had

well-developed "bedside" skills. Despite being

very comfortable caring for patients, she has

continued to seek out new learning opportunities

with determination. She is open to everything and

anything and proceeds with the same enthusiasm

and curiosity no matter the setting. She speaks

up when offered a choice in patients during

clinical, and she frequently requests experience

with specific types of patients and/or settings.

She jumped on an opportunity for an intensive

clinical experience in the OR this semester. They

were so impressed with her they offered her

a position after only a few days! I have been so

gratified and happy to hear and see her joy after

every new experience. She has many strengths,

but she really stands out in her emotional

intelligence. I believe her ability to connect with

patients is exceptional. She frequently expresses

empathy for patients, taking the time to listen

to their concerns and advocating for their comfort and safety. Even as a student, she

makes a tangible impact on each patient she cares for. Whether it be in providing vital

patient teaching, addressing a safety concern, or just taking extra time and care with a

vulnerable person, she is the embodiment of superior nursing."

ADN Clinical Excellence Award

The ADN Clinical Excellence Award recognizes the associate degree nursing student

who is consistently prepared for each clinical day, has a clear understanding of the

application theory to the clinical setting, utilizes effective communication techniques

in all settings, demonstrates the art of nursing in the care that they provide, shows that

they're a self-initiator, and has shown real growth in their understanding of the role of the

associate degree-prepared registered nurse as compared to that of the licensed practical

nurse. In addition to an award certificate, the awardee receives membership to the

American Nurses Association Vermont when they're licensed.

Sarah Mearhoff

The Vermont Legislature's 2022 session is in its waning weeks, which means

that lawmakers are moving faster than ever to get key bills across the finish line.

Inevitably, some won't make the cut.

And with this year rounding off the Legislature's biennium, whatever bills don't

become law this spring will officially be dead.

To help avid Statehouse watchers keep up, VTDigger is launching its 2022 Bill

Tracker. This page will be updated daily with major developments in 65 key bills

spanning both years of the biennium.

Vermont faced longstanding, systemic issues well before the coronavirus was

detected in the state, but the pandemic has made them all the more pressing. Flush

with cash from the federal government, this was the year that lawmakers promised

to make substantial, generational change.

But will they deliver?

We're tracking bills that promise to ease Vermont's statewide housing crunch,

fix state employees' broken pension system, reform policing and criminal justice,

establish lawmakers' first-ever statewide ethics code — and more. And, of course,

we're looking closely at the state's multi-billion dollar annual budget.

Lawmakers haven't yet settled on what day they'll adjourn sine die, but the

legislative session typically ends in the first weeks of May.

Bills passed by both chambers move to Gov. Phil Scott, who has up to five

business days to sign them into law, veto them or let them become law without

his signature. Should Scott veto bills after the session concludes, lawmakers can

arrange to return to Montpelier at a predetermined date to attempt to override his

vetoes.

Read more in VTDigger's 2022 Legislative Guide.

Vermont Psychiatric Care Hospital

Where You and Your Work Matter

**SEEKING RNs I, II and III**

• Nurse:Patient Ratios Below National Averages

• Lowest Rates of Seclusion/Restraint State-Wide

• Competitive Pay and Comprehensive Benefits

• New Graduate Nurse Residency Program

• Shared Governance Nursing Model

• Professional Development Opportunities

• Relocation/Loan Repayment Opportunities

• Ask about our Sign on Bonus!

Visit https://www.thinkvermont.com/ today!

At VPCH nurses are leaders of innovation and change and are pivotal in the

delivery of cutting-edge, high quality care that not only meets, but exceeds

our industry standards. To learn more about what a career at VPCH can

offer you and how you can make a difference in the evolving landscape

of psychiatric nursing care please contact Stephanie Shaw, Chief Nursing

Executive, at stephanie.s.shaw@vermont.gov or (802)828-3059.
---
Page 10 • Vermont Nurse Connection May, June, July 2022

We're Not Heroes: Providing Nursing Care during a Pandemic

Marcia Bosek DNSc, RN

Ann Laramee MS ANP-BC ACNS CHFN ACHPN

FHFSA

Sue Murdock DNP, DNP, APRN, GNP-BC

University of Vermont Medical Center

Introduction

In March 2020, a state of emergency was declared

throughout the United States in response to escalating

incidence of the coronavirus (COVID-19). A "Stay Home-

Stay Safe" order issued for the state of Vermont closed

non-essential in-person businesses, impacting how hospital

nursing care was provided (State of Vermont, 2020). A

chief nursing officer noted, "Nurses want to tell their

stories! We need to research how COVID-19 has impacted

nurses and the care they provided during this pandemic."

Method and Design

Purpose & Design

The purpose of this descriptive phenomenology study

was to develop a broader understanding of the perceptions

and experiences of the professional nurses providing

patient care during the COVID-19 pandemic. The

specific aim was: "What was the experience of providing

nursing care at a Vermont hospital during the COVID-19

pandemic?"

The study was approved by the Research Protection

Office. All professional nurses (n=1992) (RNs & APRNs)

employed in any role at a Northeast academic medical

center were invited to participate.. Data analysis followed

Colaizzi's (1978) method. Actions were taken to increase

the trustworthiness of the findings.

Findings

Participants

173 nurses (8.7% response rate) completed the

confidential survey between May 20-June 3, 2020 (see

Table 1).

Themes

Three themes with sub-themes emerged regarding the

participants' experience of providing nursing care during

the COVID-19 pandemic (Figure 1).

Theme #1: It Was a Rollercoaster Ride

The nurses described providing care during the

pandemic as being a rollercoaster ride that they never

expected to be riding and felt they could not get off.

Nurses experienced anticipated as well as unexpected

changes, and emotional reactions, which created the

perception of contradictions between the anticipated and

the unexpected. These contradictions may be perceived as

thrilling, stressful or anxiety provoking depending upon

the nurse's personality, experiences, and resources.

• "Providing nursing care during the pandemic has

been a rollercoaster you can't seem to get off and

something I never thought I would experience in

my nursing career. This has been a frustrating,

exhausting, confusing, and anxiety provoking time."

The nurses expressed concerns related to job security,

finances, separation of family, continued potential

exposure to COVID while concurrently experiencing

increased collegiality and teamwork and recognition of

individual, organizational and community strengths.

Sub-theme #1: At First It Was Scary. Participants

initially perceived providing care as being unnerving,

scary, and stressful due to the many unknowns, social

distancing, inconsistent and/or rapidly changing standards/

protocols, and communication issues. However, caring for

patients with COVID-19, having resources/PPE available,

and learning new protocols decreased their confusion,

frustration, and anxiety over time.

• "Initially terrifying. Obviously had to work, but I

was afraid I would get sick. True panic. It took four

to five weeks to just feel like 'OK, I can do this'.

Humbling, scary."

Sub-theme #2: Things Were Unexpected and

Surreal. Unlike the traditional roller coaster ride, the

participants were forced to respond to competing and often

simultaneous stressors. Nurses perceived inconsistencies

and/or disconnects between pre and post COVID

experiences, policies, and expectations versus the current

reality being experienced. The element of risk played a

role in how the nurses interpreted these stressors. The

participants perceived these conflicts and inconsistencies

as being disrespectful to them as individuals and to

the profession. As time progressed, nurses experienced

frustration when unanticipated nursing lay-offs occurred

due to low census, especially after working through the

height of the pandemic.

• "Feeling like you are…"Choosing" to be a nurse

over mother/wife/daughter/sister to keep your family

protected."

• "We have a very restricted visitor policy now. It is

the complete opposite of our patient and family

centered care model which welcomes in families as

part of the team."

Sub-theme #3: The Fear of Unknown Continues.

When completing the survey, nurses were experiencing

exhaustion and other physical effects, due to their

workload, stress, and fears of the unknown, and a potential

second COVID-19 surge. A few nurses were beginning

to move past their fears and starting to evaluate their

experience, recognize the importance of teamwork, and

imagine their future beyond this COVID experience.

• "The uncertainty of the months ahead and the

projected increase in cases this fall has me

concerned. But the way we have handled and cared

for COVID patients has us very prepared for the

next expected outbreak."

• "And now, I'm ready to move on with life, using

good hand hygiene of course."

Sub-theme #4: I Feel Grateful. Even though the

pandemic is not over, the future uncertain, and fear and

anxiety persist, the nurses expressed gratitude that they

and their families did not get sick with the COVID virus.

The nurses were grateful that their hospital and state did

not experience the surge of COVID patients and for having

meaningful jobs at a time of high unemployment..

• "Now I feel exhausted and yet very grateful. That

we are now better and stronger and faster-we won't

be caught off guard again, anytime soon."

Theme #2: I Am Proud to Be a Nurse

Participants felt honored and proud of being a nurse.

Participants realized it is "kind of exciting to be one of the

people who could help others during such a tough time for

everyone" regardless of the specific role the nurse fulfilled

during the pandemic. Participants concluded "we are

amazing at what we do, and we go into healthcare because

we want to help people, and this has been our time to

shine." Many nurses provided a pragmatic view of their

role during the pandemic, including the idea that nurses

have always provided care during pandemics.

Sub-theme #1: We're Not Heroes, We're Just Doing

Our Job. Throughout the pandemic, the media has

portrayed nurses as being heroes however, the participants

did not accept this metaphor since they were not on "the

front lines" in a community experiencing a COVID-19

surge. Participants could not reconcile actions they

perceived as disrespectful with their ideal of how a hero

should be treated. Nurses are always prepared to provide

care during a pandemic, because "it's what we've trained

for!"

• "It was interesting to see how everyone is all about

the "Healthcare Heroes," but the community was

afraid of us in public and questioned our ability to

be clean."

• "We are not heroes; we are just doing our jobs.

Nurses in COVID affected areas are true heroes.

They deserve a praise."

Theme #3: We Adapted to Provide the Best Care

Participants reiterated their commitment to "always

provide the care you and your family deserve." Early

in the pandemic, the hospital's visitation policy was

changed, and no visitors were allowed. For some, this

change was welcomed since nursing units were quieter

and less chaotic. However, prohibiting visitors limited

communication, decision-making and family support.

The nurses became creative in identifying workarounds

to meet the needs of patients, family, and the healthcare

team. Nurses noted an increase in collaboration and

teamwork.

• "Nursing care was significantly different. Many

workers were restricted to access COVID + patient

rooms. As the nurse some days it felt like I was

a nurse, licensed nursing assistant, respiratory

therapist, environmental services and IT all in one."

Sub-Theme #1: We Would Fill in for Family.

Nurses remained committed to providing patient and

family centered care even when visitors were prohibited,

especially for patients who were dying.

• "I cared for a dying patient during the last hours.

The family was not present….I found the patient's

phone and figured out how to play music…I was

the only reminder in the room that this was a person

with a life…now facing death…alone except for

me."

Discussion

Sample

While the participants in this study did not experience

an overwhelming surge of COVID-19 patients, their

experience is still meaningful (Vermont Health

Department, 2020). There were no substantive differences

in responses to any of the survey questions between nurses

who provided direct care to COVID positive patients and

those who did not.

It Was Scary

While the scared feeling dissipated as procedures

became known, communication improved, and routines

developed, nurses remained fearful of the future. The fear

of unknown continues reflected concerns for a protracted

pandemic. The fear related to contracting COVID-19 while

working was real and realistic (Mohammed & Lelièvre,

2021). While there were no known cases of COVID-19

transmission from patients to nurses at this hospital, this

unfortunately was not the reality nationally (CDCP, 2020).

The participants' experiences were like the experiences

described in an ANA-VT on-line survey that occurred in

March-April prior to this study. The ANA-VT findings

describe nurses experiencing anxiety related to the use of

PPE and lack of evidence supporting changes in policies

and procedures, concerns about keeping patients as well as

their immediate families safe and communication issues

(Maltby & Conroy, 2020).

Pride

Participants experienced pride in their work and in

being able to serve. Being resilient and able to "ride the

rollercoaster" successfully, helped the nurse cope with the

dearth of information one day followed by an inundation

with new procedures the next. The ability to continue to

deliver high quality, evidence-based care when so much

about COVID-19 practice was unknown was another

source of pride. Adjusting practice to deliver care

differently, either from a different location (telenursing),

in a different care model (tiered staffing), or taking on a

completely new role within the health system was another

source of pride. Participants consistently recognized that

peers, managers, and other healthcare professionals united

to meet the pandemic challenges. This sense of being

together "in the trenches" was a positive outcome.

Hero

In the unique scenario of a pandemic, the definition

of heroism is not clear. Heroism can be defined as facing

one's mortality, taking significant risks, overcoming

major challenges, all while maintaining congruence with

one's principles (Kohen, 2014). While many nurses died

during the COVID-19 pandemic, sometimes because of

work-related exposures (ICN, 2020), this was not the local

experience.

In the early stages, when information on how to safely

provide care was unclear, nurses felt they were taking

significant risks with not only their own health, but the

health of those they loved. Concurrently, there were major

challenges for nurses to overcome as the hospital set up

COVID-19 care systems. Nurses described the burden of

rapidly changing practice as a major challenge to feeling

safe and prepared to do their work. Taking the time to

don PPE was a threat to many a nurse's self-image. Other

participants described promoting community compliance

with masking and social distancing as an example of

heroic work, which is congruent with Kohen's (2014)

definition of heroism.

The hero identity, however, was not universally

embraced. Several participants identified that their work

was "just doing our jobs," that responding to this crisis

is what nurses were trained to do and should not be

characterized as heroism. Since the surge in Vermont was

minimal, participants, not directly caring for COVID-19

patients, expressed unease with the hero label, noting

the term should be reserved for nurses experiencing

a COVID-19 surge. The fact that the community had

competing views of nurses during the pandemic (hero vs.

a threat to community well-being because of potential

exposure) prevented some participants from believing that

they were heroes.

Stokes-Parish et al. (2020) contend the hero and angel

terminology is detrimental to the profession of nursing

as it diminishes the value of the "high level of skill and

knowledge demonstrated by nurses during the COVID-19

pandemic" (p. 463) and implies nurses' effectiveness

is superhuman or magical in origin. Thus, the angel and

hero image might negatively impact interest in nursing
---
May, June, July 2022 Vermont Nurse Connection • Page 11

as a career, limit nursing workforce diversity, and undervalue the importance of skill

development and knowledge in the practice of nursing.

Figure 1: Schematic Representation of Themes and Sub-themes

Provided the Best Care

We adapted to provide the best care, was common among participants regardless of

their experience caring directly for patients with COVID-19. Nurses do what nurses do,

they stepped up to the challenge and adapted to provide the best care possible (Liang,

Wu, & Wu, 2021). The pandemic had a way of narrowing the nurse's focus so they could

prioritize what was truly important. Nurses did this while at the same time putting to the

back of their minds all their personal fears and worries. Through working "together as a

unified force," nurses were able to maintain hope and be reassured together they would

survive the pandemic.

At a time that could be demoralizing and lead to burnout, many nurses shared how

their morale was boosted. Nurses described how coming together as a team for the

common good of caring for patients gave them hope and lifted them up.

Strengths and Limitations

The findings are strengthened by the large sample size. Since Vermont did not

experience a COVID-19 surge; findings may not generalize to settings experiencing a

surge.

Nursing Implications

Many lessons were learned from this sample, which could inform the journey of

nurses working in future pandemics. Strategies to lessen nurse anxiety and fear include:

1) having a unified, concise and scheduled communication plan for disseminating

evolving policies and procedures, 2) developing mechanisms for nurses to share their

unique experiences and to receive peer support at times of crisis, and 3) providing easily

accessible evidence-based protocols for the use of potentially scarce personal protective

equipment.

Nurses felt conflicted and discouraged when they were not able to give the patient and

family centered care they were used to providing. Creating a pandemic visitation policy

that would include leveraging technology to improve communication with patients and

families would be a way to honor and support the nurses' patient and family centered

philosophy. Describing nurses as prepared, knowledgeable, and dedicated professionals is

more accurate than using the hero or angel image.

Research is needed to describe how nurses experience providing care during

a prolonged national pandemic and whether a specific role, level of care (acute,

ambulatory, long-term care), scope of practice, and direct care for patients with

COVID-19 impacts the nurse's experience. It is unknown whether there are short-term

and/or long-term consequences experienced by patients, family and healthcare staff

related to the implementation of a no-visitor policy.

Conclusion

Nurses want to discuss their experiences. Nurses are prepared to provide care during

a pandemic. Despite experiencing fear and anxiety, nurses are willing and committed to

providing high quality, patient and family centered care during a pandemic. Even in a

pandemic, nurses are resilient and able to experience gratitude. However, these nurses did

not view themselves as heroes.

References

Center for Disease Control and Prevention. (2020,October 30). COVID-19–associated

hospitalizations among health care personnel — COVID-NET, 13 States, March 1–May 31,

2020. Morbidity and Mortality Weekly, 69(43), 1576–1583. Retrieved from https://www.cdc.

gov/mmwr/volumes/69/wr/mm6943e3.htm#F1_down

Colaizzi, P. (1978). Psychological research as a phenomenologist views it. In: R. S. Valle & M.

King. (1978). Existential phenomenological alternatives for psychology. Open University

Press.

International Council of Nurses. (2020, October 28). ICN confirms 1,500 nurses have died from

COVID 19 in 44 countries and estimates that healthcare worker COVID 19 fatalities worldwide

could be more than 20,000. Retrieved from https://www.icn.ch/news/icn-confirms-1500-

nurses-have-died-covid-19-44-countries-and-estimates-healthcare-worker-covid

Kohen, A. (2014). Heroism and subjectivity. Retrieved from : http://kohenari.net/

post/99653156590/

Liang, H-F, Wu, Y-C., & Wu, C-Y. (2021). Nurses' experiences of providing care during the

COVID-19 pandemic in Taiwan: A qualitative study. International Journal of Mental Health

Nursing, 30, 1684–1692. https://doi: 10.1111/inm.12921

Maltby, H., & Conroy, C. (2020, July). Coalition of Vermont nurse and nurse practitioner leaders

responds to the ANA-VT survey on COVID-19: Themes and recommendations. The Vermont

Nurse Connection, 23(3), 7. Retrieved from https://assets.nursingald.com/uploads/publication/

pdf/2075/Vermont_Nurse_Connection_7_20.pdf

Mohammed, N, & Lelièvre, H. (2021). Lived experience of medicine nurses caring for COVID-19

patients: A quality improvement perspective. Journal of Nursing Care Quality, 37(1), 35–41.

State of Vermont. (2020, March 24). Governor Phil Scott issues a "Stay Home, Stay Safe" order,

directs additional closures. https://governor.vermont.gov/press-release/governor-phil-scottissues-%E2%80%9Cstay-home-stay-safe%E2%80%9D-order-directs-additional-closures

Stokes-Parish ,J., Elliot, R., Rolls, K., & Massey, D. (2020). Angels and heroes: The unintended

consequence of the hero narrative. Journal of Nursing Scholarship, 42(5), 462-466 https://doi.

org/10.1111/jnu.12591

Vermont Department of Health (2020, June26). Weekly summary of Vermont COVID-19

data reflecting cases identified between March 5 –June 24, 2020. Retrieved from https://

www.healthvermont.gov/sites/default/files/documents/pdf/COVID19-Weekly-Data-

Summary-6.26.20.pdf

Table 1: Sample Demographics

Position n (%) Nurses who had provided direct

care to COVID-19 patients n (%)

Staff Nurse 145 (84%) 47 (27%)

APRN 4 (2%) 1 (0.6%)

Other (travel nurse, nurse manager,

educator, case manager, etc.)

24 (14%) 5 (3%)

Total 173 53 (30.6%)

Join Our Team &

Make a Difference!

All people share a powerful need for the basic necessities of a

good life and a place that understands that good health starts

with a caring touch and a kind word. For over 50 years, the

Community Health Centers of Burlington (CHCB) has provided

access to high quality health care regardless of financial status or

life circumstance. We strive to improve the health of all within the

communities we serve in an environment that conveys respect,

offers support, and encourages people to be actively involved in

their own health care.

CHCB is an innovative Federally Qualified Health Center with

sites throughout Chittenden County and southern Grand

Isle County. We are an Equal Opportunity Employer and are

especially interested in candidates who can contribute to the

diversity and excellence of the organization.

CHCB is growing and so is our

nursing team!

We have opportunities for

Registered Nurses, Nurse Educators,

Clinical Nurse Supervisors,

and more!

Come join our mission-minded,

collaborative, and creative team!

Apply now on our Career Center at

CHCB.ORG/CAREERS
---
Page 12 • Vermont Nurse Connection May, June, July 2022

Providing Competent, Supportive Care for

People Who are Transgender

F. Patrick Robinson, PhD, RN, ACRN, CNE, FAAN

Sherry L Roper, PhD, RN

Reprinted with permission from

Illinois The Nursing Voice, June 2021 issue

The idea that gender is binary (male or female) and

determined at birth predominates Western cultures.

However, research evidence and lived experiences suggest

that gender exists on a spectrum with many options. Some

people identify as a gender different from their gender

determined at birth (Deutsch, 2016). Our traditional

understanding of gender, based on chromosomes and

primary (genitalia) and secondary sex characteristics, is

often called biological sex or gender (or sex) assigned at

birth. Gender identity, on the other hand, is the innermost

concept of self as male, female, a blend of both, or neither

(Lambda Legal, 2016.).

The majority of people are cisgender, which occurs when

gender assigned at birth and gender identity are the same.

However, the best available data suggest that approximately

1.4 million adults do not self-identify with their gender

assignments (e.g., someone assigned female at birth but

identifies as male) (Flores et al., 2016). Transgender is

an umbrella term for this population. A visibly growing

segment of the U.S. population does not identify with the

binary notion of gender. Nonbinary is a collective term

for this population, but individuals may use terms such as

genderqueer, gender fluid, or gender non-conforming.

There is no standard or correct way to be (or be seen

as) transgender. Some people who are transgender

choose gender-affirming hormone therapy to achieve

masculinizing or feminizing effects; others do not.

Surgery that revises genitals to conform to gender identity

is a critical part of the transition for many people who

are transgender (Deutsch et al., 2019). Others do not feel

that genital surgery is a necessary part of transition but

may opt for non-genital surgeries to produce desired

characteristics, including breast augmentation or removal

and body contouring procedures. In other words, the

importance of therapy related to the quality of life varies

by individual. Also, some people who are transgender may

want these services but do not have access to them because

they are (a) unavailable in the community; (b) not covered

by insurance (even if the individual has insurance, and

many do not), and (c) too expensive.

Remember: there is no one way to "be" transgender or

cisgender. People choose to express their gender identities

in personally satisfying ways, which may or may not

match social expectations of what it means to look and

behave as a male or female. Some transgender women

choose not to wear makeup or dresses, and some cisgender

men choose to wear their hair long and earrings.

Health Disparities in People Who are Transgender

Negative attitudes and discrimination toward the

transgender community create inequalities that prevent

the delivery of competent healthcare and elevate the

risk for various health problems (Grant et al., 2011). In

comparison to their cisgender counterparts, people who

are transgender experience higher incidences of cancer,

mental health challenges, and other health problems

(Department of Health & Human Services, n.d.). For

instance, transgender women, compared to all other

populations, are at the highest risk of injury from violence

and death by homicide. People who are transgender are

also more likely to smoke, drink alcohol, use drugs, and

engage in risk behaviors (Institute of Medicine, 2011).

Furthermore, discrimination and social stigma increase

poverty and homelessness in people who are transgender

(Safer et al., 2017). The inability to afford basic living needs

may lead to employment in underground economies, such as

survival sex work or the illegal drug trade, which place the

person who is transgender at an even higher risk for violence,

drug use, and sexually transmitted infections (Deutsch, 2016).

People who are transgender are more likely to rely

on public health insurance or be uninsured than the

general population. Even those insured report coverage

gaps caused by low-cost coverage that does not include

standard services for preventative, behavioral health, or

gender-affirming therapies, including hormones (Deutsch

et al., 2019). Lack of access to comprehensive health care

leads some people who are transgender to seek hormones

from the community and social networks without clinical

support and monitoring, putting them at additional risk for

adverse reactions and complications.

Researchers suggest that healthcare providers'

inability to deliver supportive and competent care serves

as a powerful mechanism underlying health disparities

(Fenway Institute, 2016). The experiences of people

who are transgender are often not included in healthcare

provider diversity and inclusiveness training. While

transgender-related content in health professions basic

education programs would effectively improve provider

knowledge, skills, and attitudes, transgender health has

not been prioritized in nursing education. The result is

a nursing workforce inadequately prepared to care for

people who are transgender (McDowell & Bower, 2016).

Nursing Care of People Who Are Transgender

Competent, supportive transgender care requires nurses

to recognize potential biases and understand gender that

may differ from their current beliefs and social norms.

Honest reflection on these feelings is an essential step

in providing competent transgender care. Using a lens of

cultural humility, where cisgender nurses acknowledge

that they do not adequately know about being transgender

while also being open to learning, is helpful. In this spirit,

open, transparent inquiry on the part of nurses when they

do not know something (When I speak to your children,

what name should I use to refer to you?) or how to proceed

with care (I need to place a catheter into your bladder, and

I know you have had gender-affirming surgery. Do you

want to give me any special instructions?) can build trust.

While gender-affirming care such as hormones,

androgen-blocking agents, and surgeries require specialist

care management, nurses will encounter transgender

patients in all healthcare areas. Assessing the history and

current status of gender-affirming therapies is critical to

inform safe care. For example, hormone-induced changes in
---
May, June, July 2022 Vermont Nurse Connection • Page 13

muscle and bone mass, along with menstruation or amenorrhea, can alter gender-defined

reference ranges for laboratory tests such as hemoglobin/hematocrit, alkaline phosphatase,

and creatinine (Deutsch, 2016). Nurses should consider the gender assigned at birth

(especially if it is the only gender information to which the lab has access) and genderaffirming

therapy-induced physiological changes to make valid inferences about lab values.

Nurses should also ensure that a complete history of the use of hormones and androgen

blockers (including those obtained from non-licensed providers) is taken. Nurses should

work with other providers to ensure that hormone therapy does not stop with hospitalization

unless contraindicated by current pathology or prescribed medications. Abrupt cessation of

hormone therapy can have a significant and negative impact on emotional and physiological

health.

Systems-Level Policies, Processes, and Advocacy

Professional nurses can play a crucial role by advocating for policies and processes

that promote safe, effective, and supportive care for people who are transgender.

Misgendering a patient (making an incorrect assumption about gender identity) can

cause emotional distress and erode patient-provider trust. Unfortunately, electronic health

records (EHR) often do not support competent care for people who are transgender.

For instance, healthcare providers should use a 2-step gender identification process

(Deutsch, 2016). However, many do not, and EHR systems rarely provide prompts for

the processor space for easy documentation and access to information derived from the

process. Asking about a patient's current gender identity can result in several responses.

The EHR should make checkboxes for a reasonable number of those responses, including

male, female, transgender male, transgender female, and nonbinary. A fill-in-the-blank

is needed for other identifies. The gender assigned at birth also requires options beyond

male or female; people born with external genitalia, gonads, or both that do not conform

to what is typically male or female (intersex) may have been identified incorrectly at

birth. The EHR should provide an intersex option to this question. Some people who

are transgender are uncomfortable revealing gender assigned at birth, so decline-to-state

should be another option. Note that this process should be the standard for all patients,

not just those assumed to be transgender.

People who are transgender may use names other than their legal names (Lambda

Legal, 2016). Navigating a legal name change is complicated and costly. Some people who

are transgender do not have the resources for a legal name change; for others, it may not

be safe, given current social or legal circumstances. Using a patient's chosen name and

pronouns is critical to patient-centered care. The EHR should prominently document the

patient's chosen name and pronouns, which should also be used outside the EHR, including

for appointments and prescriptions. Patients should only have to provide the information

once, decreasing the need to correct providers and improving patient-provider relationships.

EHRs should also contain an organ inventory, perhaps as part of surgical history, as

providers will need to know about the presence or absence of reproductive and gonadal

organs to inform clinical decision-making. This information must be clear, unambiguous,

and easily accessible in the EHR to inform care and prevent medical and surgical errors.

Nurses should work within governance processes to ensure that all institutional

policies support transgender patients, staff, and visitors. Nondiscrimination statements

should include gender identity. Policies about restrooms and staff changing rooms

(usually labeled in gender-binary terms) should state that a person's gender identity

rightly determines the room to be used and that that right should not require any

proof (e.g., health provider confirmation) related to gender or gender identity. Finally,

clear guidelines concerning non-private room assignments should include assigning

roommates based on gender identity rather than gender assigned at birth.

Power to Make a Difference

The ANA Code of Ethics obligates nurses to practice "compassion and respect for

the inherent dignity, worth, and unique attributes of every person" (ANA, 2015, para 1).

While some nurses may intentionally discriminate against people who are transgender, it is

more likely that a lack of knowledge and experience leads to nursing actions that result in

suboptimal care. Nurses play critical roles in transgender care by (a) providing supportive,

affirming care, (b) creating an inclusive environment, and (c) leading interprofessional

teams toward gender-affirming care. Education and a commitment to understanding the

lived experiences of people who are transgender is, therefore, essential for all nurses.

References

American Nurses Association. (2015). What is the nursing code of ethics? https://nurse.org/

education/nursing-code-of-ethics/

Department of Health and Human Services, Office of Disease Prevention and Health Promotion.

(n.d.). Healthy people. Lesbian, gay, bisexual, and transgender health. https://www.

healthypeople.gov/2020/topics-objectives/topic/lesbian-gay-bisexual-and-transgender-health

Deutsch, M.B. (2016). Guidelines for the primary and gender-affirming care of transgender and

gender nonbinary people (2nd ed.). Center of Excellence for Transgender Health, University

of California at San Francisco. https://transcare.ucsf.edu/sites/transcare.ucsf.edu/files/

Transgender-PGACG-6-17-16.pdf

Deutsch, M.B, Bowers, M.L., Radix, A., & Carmel, T.C. (2019). Transgender medical care in the

United States: A historical perspective. In J.S. Schneider, V.M.B. Silenzio, & Erikson-Schroth,

L. (Eds.). The GLMA Handbook on LGBT Health (1, 83-131). Santa Barbara, CA: Praeger.

Fenway Institute, National LGBT Health Education Center. (2016). Providing inclusive services

and care for LGBT people. https://www.lgbtqiahealtheducation.org/publication/learning-guide/

Flores, A.R., Herman, J.L., Gates, G.J., & Brown, T.N.T. (2016). How many adults identify

as transgender in the United States? UCLA School of Law, William Institute. https://

williamsinstitute.law.ucla.edu/publications/trans-adults-united-states/

Grant, J. M., Mottet, L. A., Tanis, J., Harrison, J., Herman, J. L., & Keisling, M. (2011). Injustice

at every turn: A report of the National Transgender Discrimination Survey. https://www.

transequality.org/sites/default/files/docs/resources/NTDS_Report.pdf

Institute of Medicine. (2011). The health of lesbian, gay, bisexual, and transgender people: Building

a foundation for better understanding. http://www.nationalacademies.org/hmd/Reports/2011/

The-Health-of-Lesbian-Gay-Bisexual-and-

Lambda Legal. (2016). Transgender rights toolkit. https://www.lambdalegal.org/issues/transgenderrights

McDowell, A. & Bower, K. (2016). Transgender health care for nurses: An innovative approach

to diversifying nursing curricula to address health inequalities. Journal of Nursing Education,

55(8), 476-479. DOI 10.3928/01484834-20160715-11

Safer, J. D., Coleman, E., Feldman, J., Garofal, R., Hembree, W., Radix, A., & Sevelius, S. (2017).

Barriers to health care for transgender individuals. Current Opinion in Endocrinology, Diabetes,

and Obesity, 23(2), 168-171. DOI: 10.1097/MED.0000000000000227

Singh, S., & Durso, L. E. (2017). Widespread discrimination continues to shape LGBT people's

lives in both subtle and significant ways. Center for American Progress. https://www.

americanprogress.org/issues/lgbt/news/2017/05/02/429529/widespread-discriminationcontinues-shape-lgbt-peoples-lives-subtle-significant-ways/

IS YOUR NURSING ORGANIZATION

PLANNING AN EDUCATION

PROGRAM?

CONSIDER APPLYING FOR CONTACT HOUR APPROVAL

FOR MORE INFORMATION CALL THE ANA-Vermont OFFICE

@ (802) 651-8886

The Northeast Multi-State Division, (NE-MSD) is accredited as an approver of

continuing education in nursing by the American Nurses' Credentialing Center's

Commission on Accreditation.

ANA-Vermont New Members

ASSISTANT PROFESSOR

– NURSING

LECTURER - NURSING

Assistant Professor – Nursing

(2) Full-Time Tenure Track Appointments

Experience in nursing practice, strong clinical skills, and eligibility for a Vermont nursing license is required. Preference will be given

to candidates holding a doctoral degree and with prior teaching/research. Specialties in pediatrics, mental health or medical surgical

nursing are a priority in filling these positions.

http://norwich.interviewexchange.com/jobofferdetails.jsp?JOBID=142270

Laura Lornitzo

April Bartley

Michele Lee Griffis

Margaret Oakes

Pamela Gratton

Claire Stodola

Joni J Foster-Robison

Susan Lipenski Taney

Amanda C Musser

Lecturer - Nursing

Full-Time

Experience in nursing practice, strong clinical skills, and eligibility for a valid Vermont nursing license is required. Candidates must hold

a Masters of Science in Nursing, a concentration in Nursing Education and/or CNE is desirable.

http://norwich.interviewexchange.com/jobofferdetails.jsp?JOBID=144192

Leah M Connolly

Elizabeth Keefe

www.norwich.edu
---
Page 14 • Vermont Nurse Connection May, June, July 2022

ANA Applauds Signing of Lorna Breen Health Care Provider

Protection Act by President Biden

SILVER SPRINC, MD-The American Nurses

Association (ANA) hails the signing of the Dr. Lorna

Breen Health Care Provider Protection Act (S. 610/H.R.

1667). into law by President Joseph R. Biden. This

bipartisan legislation will direct $140 million in funds

from the American Rescue Plan Act (H.R. 1319). to train

current and future health professionals on how to prevent

suicide, burnout, and substance use disorders. The bill is

named for Dr. Lorna Breen, who tragically died by suicide

after being consumed by feelings of helplessness and

despair while treating COVID-19 patients during the first

wave of the pandemic in 2020.

"Enacting this law is a critical first step towards

providing our nurses with the support they need to help

alleviate some of the extraordinary duress they have been

working under for the past two years," said ANA President

Ernest J. Grant, PhD, RN, FAAN. "I am also hopeful that

this will start to chip away at the culture of stoicism and

silence within health care that prevents many providers

from seeking help for mental health issues when they need

it. I would like to thank Senators Tim Kaine (D-VA) and

Todd Young (R-IN) and Representatives Susan Wild (D-

PA) and David McKinley (R-WV) for their leadership and

support on this issue."

The law will establish a national evidence-based

education and awareness initiative to encourage health

care professionals to seek support and care for their mental

health and substance use concerns. This measure will

also teach health care professionals how to identify and

respond to the risk factors associated with suicide, mental

health issues, and substance use disorders while reducing

the stigma associated with seeking help for them. The

law also includes a reporting mandate that requires the

Secretary of Health and Human Services to provide an

update on the progress of this initiative to the Committee

on Health, Education, Labor, and Pensions of the Senate

and the Committee on Energy and Commerce of the

House of Representatives no later than two years after the

bill is enacted.

"By signing this legislation into law. President Biden

and all the members of Congress who supported it have

shown their commitment to prioritizing the mental health

of our nursing and health care workforce," said Grant.

"Without more action like this the future of the nursing

profession, and the American health care system, will be

at stake. More nurses, including younger ones who are

just entering the workforce, are struggling with mental

health issues, feeling unsupported, and suffering from

severe burnout and post-traumatic stress because of their

sustained response to the COVID-19 pandemic."

A January survey of nearly 12,000 nurses by the

American Nurses Foundation (the Foundation) found that

close to half of nurses surveyed under age 35 said they

have sought professional mental health support since

March 2020. And 47% of nurses under 25 and 46% of

nurses between 25-35 reported being not emotionally

healthy compared to nurses over the age of 55 (79%).

These younger nurses were also more likely to have

experienced an extremely traumatic, disturbing, or

stressful event due to COVID-19. Survey respondents

under the age of 25 were also more than twice as likely

(69%) to report suffering from burnout as those older than

25 (30%).

Even before the pandemic, nurses were at greater risk

of suicide than the general population, according to a

February, 2020 study from Sigma Theta Tau International

Honor Society of Nursing, which found that female and

male nurses were more likely to experience job problems

compared to the general population. Female nurses were

7.4 times more likely to complete suicide than the general

population. Additionally, nurses who died by suicide

were also more likely to have a history of mental health

difficulties and were more likely to have left a suicide note.

These extraordinary times in health care call for all

leaders. Congress, and the Administration to continue to

examine the challenges impacting the nursing profession

and deploy short and long-term solutions. ANA is

committed to advocating for the needs of nurses and

supporting their mental health and well being. ANA's

Nurse Suicide Prevention website offers resources,

toolkits, and information to mitigate the risk of nurse

suicide. The Foundation has developed the Well-being

Initiative, a collection of resources designed to help

nurses take the necessary steps to manage the stress and

overcome the trauma caused by COVID-19.

The American Nurses Association (ANA) is the

premier organization representing the interests of the

nation's 4.3 million registered nurses. ANA advances the

profession by fostering high standards of nursing practice,

promoting a safe and ethical work environment, bolstering

the health and wellness of nurses, and advocating on

health care issues that affect nurses and the public. ANA

is at the forefront of improving the quality of health care

for all. For more information, visit www.nursingworld.org.

NURSES

Privately owned • 64 bed facility • 5 star quality rated

We hope that employment here will not be just a "job," but rather

a place where you can enjoy the fulfillment of giving to those in

need, a place to meet people and develop friendships, and a place

where you can develop yourself and your abilities.

We are medically advanced; draw blood, start IV's,

do PICC lines, wound care, etc.

110 Fairfax Road • St. Albans, VT 05478 • Phone 802-752-1600

www.franklincountyrehab.com
---
May, June, July 2022 Vermont Nurse Connection • Page 15

ANA-VT

Membership Application

Nursing continues to be the most trusted

profession as indicated in annual surveys. This

attests to the collective contributions nurses make

as they care for patients, families and communities.

Efforts of individual nurses however deserve special

recognition by colleagues, employers, patients,

families and friends. There are many reasons

to Honor a Nurse such as: to thank a mentor, to

acknowledge excellent care given by a nurse to a

patient, to celebrate a milestone such as a birthday

or retirement, or to recognize a promotion. Just

think for a moment, you will know a nurse to honor.

Celebration: The honored nurses and the persons

nominating them will be recognized at the ANA-

Vermont Convention in 2022. The honored nurses

each will receive a certificate identifying the person

recognizing her/him as well as the reason for the

honor. Submit nominations by: September 1, 2022.

All contributions are tax deductible to the full

extent allowed by law. ANA-Vermont Foundation

is a 501(c)3 organization. Nominations this year are

online.

Please go here to nominate someone:

https://www.nursingworld.org/foundation/

donate/honor-a-nurse/

The Vermont Veterans' Home, a recognized

leader in quality dementia care, palliative

care, and rehabilitation, seeks a Director of

Nursing Services who will lead the nursing

department of this 130-bed skilled nursing and

8-bed residential care facility. We are looking

for a strong candidate who will be responsible

for the day-to-day planning, administrative,

supervisory and evolution work involving the

management of all aspects of gerontological

nursing care services for the residents at the

Home, including the supervision of training

programs for nursing care personnel. Long-term

care experience essential along with knowledge

of state and federal regulations; experience

with veterans' issues desirable.

Reference job requisition #31686.

Bennington – Full-Time.

If you would like more information about this position,

please contact Melissa.Jackson@vermont.gov.

State of Vermont careers website:

https://humanresources.vermont.gov/careers

Vermont Veterans' Home website:

https://vvh.vermont.gov

The State of Vermont offers an excellent total compensation package. To apply, you must use the online job application at https://careers.

vermont.gov. For questions related to your application, please contact the Department of Human Resources Recruitment Services at (800)

640-1657 (voice) or (800) 253-0191 (TTY/Relay Service. The State of Vermont is an Equal Opportunity Employer.