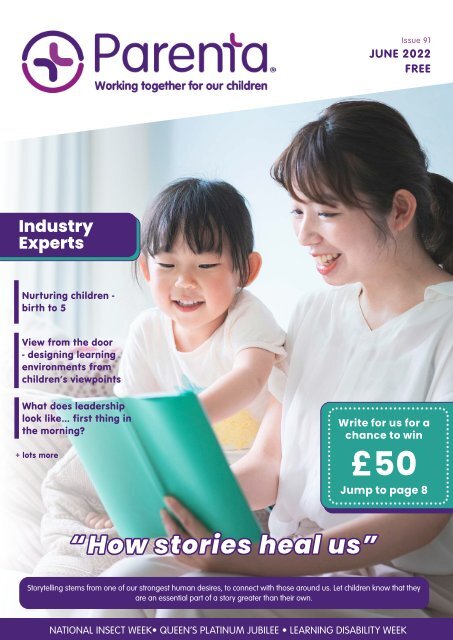 June 2022 Parenta magazine
You also want an ePaper? Increase the reach of your titles
YUMPU automatically turns print PDFs into web optimized ePapers that Google loves.
Issue 91

JUNE 2022

FREE

Industry

Experts

Nurturing children -

birth to 5

View from the door

- designing learning

environments from

children's viewpoints

What does leadership

look like… first thing in

the morning?

+ lots more

Write for us for a

chance to win

£50

Jump to page 8

"How stories heal us"

Storytelling stems from one of our strongest human desires, to connect with those around us. Let children know that they

are an essential part of a story greater than their own.

NATIONAL INSECT WEEK• QUEEN'S PLATINUM JUBILEE • LEARNING DISABILITY WEEK
---
hello

welcome to our family

Hello and welcome to the June edition of the Parenta magazine!

There are lots of reasons to celebrate this month. We welcome the Summer Solstice and the longest day of the

year on the 21st, it's World Oceans Day on the 8th, (don't forget to check out our fabulous paper plate jelly fish

craft on page 35) and of course it's the Queen's Platinum Jubilee! Turn to page 30 to find out what's in store for

the national celebrations. How will you be celebrating it in your setting? Send us your Jubilee pictures here and

we will share them on our social media pages for all to enjoy!

It's also National Insect week this month. What better time to teach the children about our nation's creepy

crawlies – get up close to some fun facts about insects that you might not know and discover how you can get involved in your setting.

If you've been following our industry experts' series of articles, you won't be disappointed this month. Helen Lumgair continues with hers

and discusses 'How stories heal us', Joanna Grace shows us that 'less is more' in part 8 of 'Egg-cellent advice' and Mona Sakr asks us

"What does leadership look like first thing in the morning". Frances Turnbull and Sandra Duncan begin a new series each, revealing some

interesting findings from recent research about early years music education training, and discussing designing learning environments

from children's viewpoints respectively. Finally, don't miss Kathryn Peckham's report on the recent Birth to Five Spring Festival where she

delivered an inspirational talk.

As always, everything you read in the magazine is all written to help you with the efficient running of your setting and to promote the

health, happiness and well-being of the children in your care.

Please feel free to share the magazine with friends, parents and colleagues – they can sign up to receive their own copy here and don't

forget to send us your Jubilee photos!

Allan

JUNE 2022 ISSUE 91

IN THIS EDITION

Regulars

8 Write for us for the chance to win £50!

34 Sheep cupcakes

35 Celebrate World Oceans Day

News

4 Childcare news and views

6 Small stories

39 Congratulations to our Parenta

learners!

Advice

20 National Insect Week

22 Encouraging male apprentices into early

years

24 International Day of the African Child

28 Child Safety Week

30 Queen Elizabeth II's Platinum Jubilee

32 Learning Disability Week

National Insect Week 20

International Day of the African Child 24

How stories

heal us

10

Storytelling stems from one of

our strongest human desires,

that is the desire to connect

with those around us...

Egg-cellent

advice:

less is more

Take a look at how playing

with one toy at a time can

actually make children

appreciate them more...

12

What does leadership

look like... first thing in

the morning?

18

Take a look at what leaders in early years

education can do to help the day run

smoothly...

Industry Experts

10 How stories heal us

12 Egg-cellent advice: less is more

14 Early years music education training: do

we need it? Part 1

18 What does leadership look like… first

thing in the morning?

26 Nurturing children - birth to 5

36 View from the door - designing learning

environments from children's viewpoints

Child Safety Week 28

Learning Disability Week 32
---
DfE releases results of wave

4 of research with childcare

providers in relation to coronavirus

(COVID-19)

The Department for Education has

released the results of the latest wave

of a series of rapid surveys which have

been specifically designed to capture

evidence throughout the coronavirus

pandemic. This survey, the 4th

(November/December 2021), was put

in place to provide a representative,

stand-alone snapshot of all early years

providers operating in England, in

2021.

At wave 4, only providers who were

open at the time of the survey or were

temporarily closed but had been open

in the past 30 days were eligible to

take part, however, during waves 1

(July 2020), 2 (September/October

2020) and 3 (November/December

2020), all providers that were open

in March 2020 (that is before the

COVID-19 pandemic) were eligible to

take part even if they had since closed.

A summary of the key findings:

Staff leaving and reasons: Groupbased

providers (GBP) reported a

higher average number of staff leaving

their setting since the start of the

pandemic compared to school-based

providers SBPs and on average, GBPs

reported an average staff turnover rate

of 28%, compared with 11% for SBPs.

Providers who had staff who left the

setting since COVID-19 were asked to

select the reasons why staff left their

setting for employment elsewhere.

Childcare news

and views

For SBPs, the three most common

reasons why staff left their setting

for employment elsewhere were: for

career progression, a better work-life

balance/less stressful job, and better

and more suitable working hours. For

the GBPs, the three most common

reasons were for better pay, better

and more suitable working hours and

again, a better work-life balance/less

stressful job.

Vacancies: At the time of the survey,

GBPs were carrying an average of one

staff vacancy whereas SBPs had no

vacancies. The majority of SBPs and

GBPs said their current staff are equally

as experienced as the staff working

in their setting before COVID-19, and

the majority of both SBPs and GBPs

said their current staff are equally as

qualified. However, around a third of

GBPs said their current staff are less

experienced and less qualified.

You can read the full results of Wave 4,

together with the other Waves, on the

official government website here.

LEYF encourages more male

practitioners into the sector

To help address the early years

industry staffing crisis, London Early

Years Foundation (LEYF) will this

summer, be encouraging more men

to work in the sector. As a social

enterprise, LEYF is run not only as

a profitable business but with a

mission to create long-term social

change. In the last few years, through

her own personal experience and

determination, June O'Sullivan has set

out to show (and succeeded) that it

was possible to run very good-quality

nurseries in areas of deprivation so

that no family would go without highquality

childcare.

"We know early years education is

really good for children," she says.

"It's particularly good in lowerincome

families, but I found those

families were least likely to get decent

nurseries and there was no model

for finding good nurseries that are

sustainable."

Good nurseries in poorer

neighbourhoods are often reliant on

grants and funding to stay afloat, which

puts them at the whims of politicians

and changing childcare policies. "I

thought, there must be a way to run

community nurseries where everyone

can attend but to develop a fee

structure to make them independent.

So that's how this came about."

Mark Deyzel, the nursery manager at

LEYF's Warwick Community Nursery in

West London, says he loves working

with groups where the demographics

are mixed. "For me it's the perfect

model, because children don't see class

they just see a peer. It's lovely to see

parents interacting who might not cross

paths outside of the nursery."

Regarding the drive to encourage male

practitioners into the sector, "Children

need to know from a young age that

men and women exist in all areas of

life," Deyzel says. "If we are teaching

them from a young age that it is a

female job to look after children, then

we are teaching them inequality." LEYF

is calling for the nursery sector to recruit

ambassadors and role models to visit

schools, colleges and career fairs, as

well as forming an advisory group to

meet twice a year to monitor progress.

You can read the full story, as reported

in the Independent newspaper, here.

Government confirms plans to relax

early years ratios

Children and families minister, Will

Quince, has confirmed that the

government is considering increasing

the number of two-year-olds per adult

in nurseries and pre-schools in England

from four to five.

Writing on Twitter, he said that "This

proposal is about giving providers

greater flexibility. Some were pushing

me to go further on ratio reform but I've

been clear from the start that I would

not compromise on safety or quality.

This consultation is just the start of the

journey. We have some of the best

early years provision in the world, and

I'll continue exploring how we can

be ambitious for working parents -

improving flexibility and reducing the

cost of childcare."

Neil Leitch, Chief Executive of the

Alliance, commented: "The government

knows full well that the sector is

opposed to this ludicrous, pointless and

potentially dangerous policy - so why

it is wasting time asking a question it

already knows the answer to?

"How often have we heard ministers

talk about the importance of quality

early education? How often have they

stressed how vital it is to close the gap

between poorer children and their

wealthier peers which already exists

by the time they reach primary school?

Today's announcement has shown

all that up for what it really is: hollow,

empty rhetoric.

"We have a sector on its knees, with

underpaid, overworked early years

professionals doing their best to care

for and educate children who, after

spending most if not all of their lives

under pandemic restrictions, need

more individual care and education

than ever before. The ignorance and

short-sightedness that would lead

anyone to suggest relaxing ratios as

a solution to the problems our sector

faces is frankly mind-boggling.

"We know that the vast majority of

providers won't change how they

operate, regardless of any rule

changes, so this policy won't even

deliver the savings to parents ministers

are claiming it will. But even a tiny

minority of providers who feel they

have no choice but to relax ratios

could put the safety and well-being

of young children at those settings at

unacceptable risk.

"There was a time when the

government told us that every child

mattered. I can't help but wonder when

that stopped being true."

Purnima Tanuku OBE, Chief Executive

of National Day Nurseries Association

said: "This is another announcement

from the Prime Minister about cutting

costs by tinkering with ratios. As the

Children's Minister has acknowledged,

this isn't a magic wand.

"This cannot be something that is

just done to the sector. Any plans to

alter childcare ratios must be done in

consultation with early years providers,

experts and practitioners.

"The Minister has reassured the public

that he will work with the sector and

won't do anything to jeopardise quality

or children's safety and we want to

see that commitment honoured. Our

childcare providers are very well placed

to know how best to educate and care

for their children.

"Additionally, any plans to extend the

funded childcare system must also be

consulted on. The current system is

pushing early years settings into debt

and forcing higher costs onto parents.

The Government must fix chronic

underfunding first before expanding

any childcare offers."

The full story, as reported by

NurseryWorld can be found here.

4 June 2022 | parenta.com

parenta.com | June 2022 5
---
A round-up of some news stories that

have caught our eye over the month

Source and image credits to:

BBC News, Day Nurseries, Nursery World,

Daily Record, EY Alliance,

Difficult to fill early years

vacancies says nursery group

Nursery offers refugee families

free childcare

Nursery group launches

£1.5m charity bond to buy less

'attractive' nurseries

Growing number of families

skipping meals as cost of living

crisis 'bites' deeper

Nurseries invited to hold a Play

Date to raise money for seriously

ill children

Woman reveals trick that puts

baby to sleep in seconds and says

it "works every time"

The manager of a group of nurseries

said it had been "incredibly difficult" to

recruit qualified early years staff.

A nursery in Cardiff is offering free

childcare places to the children of

refugees and asylum seekers.

The London Early Years Foundation plans

to offer 10,000 children across Greater

London access to affordable early years

education.

There has been a 50 percent rise in the

proportion of households cutting back

on food or missing meals altogether in

just three months.

Early years settings and schools are being

invited to host a play date during July to

raise money to support ill children being

treated at Great Ormond Street.

A woman has shown a hold that may

help get babies to sleep and claims that

it works every time.

Click here to send in

your stories to

hello@parenta.com

Rewards encourage toddlers to

try vegetables

Toddlers are more likely to eat vegetables

if they are rewarded for trying them,

according to new research presented at

the European Congress on Obesity.

Alliance launches second

National Week of Play

The Alliance has announced that it will

host its second National Week of Play,

focused on eco-sustainability, from 13 to

19 June 2022.

Welcome Nurseries forced to

close setting after failing to pay

rent on time

Welcome Nurseries has apologised

to parents and staff of its Birkenshaw

setting which has closed without notice

due to a 'serious' admin error.

6 June 2022 | parenta.com

parenta.com | June 2022 7
---
Write for us!

We're always on the lookout

for new authors to contribute

insightful articles for our

monthly magazine.

If you've got a topic you'd like to write about,

why not send an article to us and be in with a

chance of winning? Each month, we'll be giving

away Amazon vouchers to our "Guest Author of

the Month". You can find all the details here:

https://www.parenta.com/sponsored-content/

EnRich offers bespoke

coaching according to

your need. Programmes

are designed to:

Equip individual educators for

success in and out of the setting

Equip leaders in educational

settings to coach their teams

effectively

Empower individuals to

overcome challenges and achieve

their goals

Nurturing Childhoods Advert - Parenta April 22 v2 PRINT.pdf 1 26/04/2022 08:13

info@EnRich4Educators.com

07393 712 442

www.enrich4educators.com

Congratulations

to our guest author competition winner, Mona Sakr!

Congratulations to Mona Sakr, our guest author of

the month! Her article "What does leadership look

like when … professional development budgets are

limited?" looks into how high quality professional

development experiences are essential for

improving practice in the early years. Well done

Mona!

A massive thank you to all of our guest authors for

writing for us. You can find all of the past articles

from our guest authors on our website:

C

M

Y

CM

MY

CY

CMY

K

Online Courses and

Accreditations Nurturing

Children in their Early Years

Courses, talks and guides: Written for

parents and professionals. Allowing us to

work together, with the child at the centre

of all we do.

Online access: Available any time, any

where. Scheduled to meet your needs

and your time frame. Never miss a

training session again.

Designed and delivered by experts:

Both in the field of child development and

practice. Understanding the challenges

you face and how to meet them.

Supporting you: Recognising the

foundational experiences children need

and celebrating the work you are doing to

offer them.

Encourage creativity, build agency

and foster positive communication

in children's lives.

"A

powerful

tool."

"Stimulating,

poignant and

inspiring."

www.parenta.com/parentablog/guest-authors

For more information and free samples of the course

go to: www.NurturingChildhoods.co.uk/parenta

Nurturing

Childhoods

Available at www.jkp.com and book retailers

8 June 2022 | parenta.com

parenta.com | June 2022 9
---
How stories heal us

Writer Joan Didion said "We tell ourselves

stories in order to live" (Wikipedia, 2020).

We also seek out the narratives of others

in order to live more fully with both the

taking in, and the expression of stories,

facilitating healing and leading to a

greater sense of well-being.

Storytelling stems from one of our

strongest human desires, that is the desire

to connect with those around us. This

connection is essential for our wellness.

Albert Bandura maintains "identity, selfefficacy

and self-regulatory systems are all

developed by interacting with others" (1999

in Apsche & Blossom, 2013).

As we share our stories, communicating

our inner world and unique perspectives,

we establish a sense of belonging and the

understanding that we are not alone in

what we experience but that our thoughts,

feelings, and struggles resonate with

those around us.

The simple answering of the question,

"You too?" on witnessing the reactions and

identification of others as we communicate

our stories and the resulting relief from any

sense of isolation can, in itself, be healing.

The taking in of the ideas of others and

the finding of oneself in their ideas and

explanations – in their very words – excites

a feeling of 'me too'.

Another facet of belonging which the

story process supports, is the idea that

we are somehow tethered to each other

and written into a collective story: that

each person is a part of a greater whole.

This sense of fellowship acts as a buffer

against mental and physical illness.

Research shows that childhood loneliness

may be a potential risk factor for anxiety

and depression (Xerxa et al, 2021), may

affect self-esteem, and poses a risk to

overall health. Increased levels of cortisol

produced when experiencing loneliness is

linked to impaired cognitive performance,

a compromised immune system,

inflammation, and other medical issues

(Cleveland Clinic, 2018).

Psychoanalyst, Ronald Fairbairn, an

inspiration to John Bowlby, and who

played a key role in the development

of attachment theory, focused on "the

centrality of relationships in the psyche"

(Institute of Psychoanalysis, undated).

Our stories are formed through and with

others, with the quality of our lives not

determined only by our individual stories,

but also by the collective stories in which

we are involved, contribute to, and learn

from.

As agents of healing, our role as parents

and practitioners is to ensure that every

child's story is told. The educator and

writer, Bell Hooks said, "any radical

pedagogy must insist that everyone's

presence is acknowledged" and that this

must be demonstrated in practice through

a genuine valuing of individuals and

"an ongoing recognition that everyone

influences the classroom dynamic, that

everyone contributes" (Hooks, 1994). Vivian

Gussin Paley said that story is a "shared

process…the social art of language"

(Paley 1991, p.23 in Lumgair 2021, p.147).

Stories provides children not only with the

ability to use their voices but to make their

own story choices. Describing examples of

play during the pandemic, UCL's Prof John

Potter, explained that what was seen was

"'a strong desire from children to control

their own spaces, with a huge amount of

den-building. Perhaps this is unexpected

when children were already being kept

inside in limited spaces, but a den under

a blanket or a dining table can give a

greater feeling of security and power over

their own environment" (Thorpe, 2022).

Children need to have power over their

stories and their play. Relaying what

experiences, events and emotions look

like and feel like to them allows for

understanding and insight and leads to

increased personal agency.

Stories hold potential for

healing in other ways.
---
Egg-cellent

advice:

less is more

I do not know how he came to acquire the nickname Egg but ever since he came

along that's what my youngest son has been called. I run The Sensory Projects www.

TheSensoryProjects.co.uk (which should now really be called The Sensory Projects and

Sons!) My work focuses on people with profound disabilities and sensory differences, but

my son's advice will apply to your work too.

In this series of articles we are going to share his insights with you, if you are keen for

more there is an ever growing collection on my Facebook profile: come and make friends.

www.Facebook.com/JoannaGraceTSP

Joanna Grace

Joanna Grace is an international

Sensory Engagement and Inclusion

Specialist, trainer, author, TEDx speaker

and founder of The Sensory Projects.

This is article 8 out of a series of 10! To view the others click here.

I got the gadget featured in Egg's photo

second hand from Facebook marketplace.

I picked it up late at night having got

lost several times along the way (I live in

rural Cornwall, I drive a tiny car, but these

people lived at the end of a network of

roads so tiny that I could pick flowers from

the hedgerows out of my windows on both

sides).

A man opened the front door and

regarded me quizzically, (they had

probably given up on me arriving) and

then his expression changed as he

realised what I was there for. "Ah, you've

come for the circle of neglect! I can't wait

to get rid of this thing."

His wife's eyes shot daggers across the

room at him. I was paying, she did not

want to lose the sale. He recanted. "Ah,

no, it's been very good, it's just" – he

nodded in the direction of pictures of his

children on the kitchen wall – "they've all

grown out of it." And then, to his wife's

despair he added "it just takes up so much

bloody space and makes so much noise!" I

laughed and agreed.

I had borrowed one similar from the Toy

Library when my first son was young and,

although it filled our tiny living room, we

had both loved it. Him for all the things it

offered to explore, and me for the chance

to drink my coffee without risk of spilling it

on him.

The man and I somehow managed to

get it into my little car and I drove home,

getting lost several more times along the

way. A trip that the sat nav said should

take 10 minutes ended up as over an hour.

*Note this post mentions people becoming

overwhelmed by sensory experiences, if

you are struggling with behaviour in your

setting and think it might have a sensory

cause, consider studying "Exploring the

Impact of the Senses on Behaviour" with

The Sensory Projects online college www.

TheSensoryProjects.co.uk/online-college

My Mummy bought me a new toy, there

was so much to do. When I bounced it

made lots of noise, lights flashed and

music played. It was very, very exciting, but

also quite overwhelming.

Then Mummy found a way of popping off

all the gadgets, she has replaced them

with cardboard trays. Up high where the

dangly toys used to be, she has strung up

a piece of string.

Now I get different things to play with at

different times. I can concentrate on them

because there are not lots of other things

crying out for my attention. Sometimes

they are toys dangling from the string

and I have to reach up to explore them,

sometimes they are toys in the trays and I

reach out to explore them.

We do still have all the original toys, but

Mummy puts them out one at a time so I

can appreciate them fully when I play with

them.

(These words first appeared on Jo's

Facebook profile you are welcome to

send her a friend request to watch out

for more insight www.Facebook.com/

JoannaGraceTSP)

Joanna provides online and in person

training relating to sensory engagement

and sensory differences, look up www.

TheSensoryProjects.co.uk/online-college

for more information.

To view a list of her books visit www.

TheSensoryProjects.co.uk/books.

Follow Jo on social media to pick

up new sensory insights, you'll find

her at: Twitter, www.Facebook.com/

JoannaGraceTSP and www.Linkedin/In/

JoannaGraceTheSensoryProjects.

Consistently rated as "outstanding" by

Ofsted, Joanna has taught in

mainstream and special school settings,

connecting with pupils of all ages and

abilities. To inform her work, Joanna

draws on her own experience from her

private and professional life as well as

taking in all the information she can

from the research archives. Joanna's

private life includes family members

with disabilities and neurodiverse

conditions and time spent as a

registered foster carer for children with

profound disabilities.

Joanna has published four practitioner

books: "Multiple Multisensory Rooms:

Myth Busting the Magic", "Sensory

Stories for Children and Teens",

"Sensory-Being for Sensory Beings"

and "Sharing Sensory Stories and

Conversations with People with

Dementia". and two inclusive sensory

story children's books: "Voyage to

Arghan" and "Ernest and I". There is

new book coming out soon called

"The Subtle Spectrum" and her

son has recently become the UK's

youngest published author with his

book, "My Mummy is Autistic" which

was foreworded by Chris Packham.

Joanna followed with her own book

"The Subtle Spectrum" which explores

the landscape of post diagnosis adult

identified autism.

Joanna is a big fan of social media and

is always happy to connect with people

via Facebook, Twitter and LinkedIn.

12 June 2022 | parenta.com

parenta.com | June 2022 13
---
Early years music

education training: do we

Ask a teenager what they do in their spare

time, and they will often say, "listen to

music". Ask an adult what they do to relax,

and they will often say, "listen to music".

Music is so pervasive that it is hard to think

of any situation where you would not come

across it.

From shops to operating theatres, offices

to warehouses, businesses use music all

the time to help with staff motivation and

promote concentration.

At home, parents use music to calm

babies. Football and other sports use

music to unite crowds and fans. And in

the health system, music has even been

shown to reduce patient anxiety before

operations and other challenging medical

procedures. So, with so much music

around, do teachers really need to learn

how to teach music? Can't they just sing

to children? Do we really need to invest

need it? Part 1

time and money for specialist training

into music instruction for early years

educators? Research says we do.

An international study by Bautista et al

(2022) identified that music education

helps to pass on cultural heritage,

enhances learning skills and develops

a number of personal socioemotional

skills – check the study for all of the areas

included. For this reason, many countries

have included daily music in their national

curricula, with the intention of it being used

for more than the minimum standards that

some settings use it for.

Educators often use music to teach

aspects of other subjects or life skills, e.g.

ABC-song, 1-2-3-4-5 once I caught a fish

alive etc. The other way music is often

used is in classroom management, e.g.

introducing routines, used as between-

activity fillers, and as activity transitions.

While these activities are a start, and

they are valid examples of using music

holistically, the study found that pre-school

educators rarely knew the basic aspects of

music education, like rhythm, pitch, timbre,

and composition – nor did they know how

to specifically teach them as skills.

Below is a list of sample songs that

can be used to develop musical skills in

the early years, with more information

on developing the basic skills in music

education, based on the free mini e-book

"Come And Sing 1 (Turnbull, 2015)"

- https://books.apple.com/gb/book/

musicaliti/id1057514353. This includes

music notation, an audio recording of each

song, a game suggestion, and begins with

an introduction to musical concepts, and

an introduction to learning the ukulele for

group singing.

The book "Learning with Music

(Turnbull, 2017)" - https://www.

routledge.com/Learning-with-Music-

Games-and-Activities-for-the-Early-Years/

Turnbull/p/book/9781138192591 - includes

substantially more detail on different

approaches to music education, how

they fit with current pedagogy, curriculum

development, and sample lesson plans for

the different pre-school age groups (from

birth) using 90 different pre-school songs.

Level 1: Cobbler Cobbler

Cobbler, cobbler, mend my shoe

Get it done by half past two

Half past two is much too late

Get it done by half past eight

This song introduces historical language

(cobbler/shoe repair) and uses two pitches

(tune) and two rhythms (beat). This makes

it easier to find the high note (so*) and the

low note (mi*); the steady beat (crotchet/

quarter note) and the note twice as fast

(quaver/eighth note). This dichotomy is a

particularly successful way to introduce

music for both children and adults,

because it is easy to understand, easy to

copy, and easy to sing successfully.

Level 2: Pease Porridge

Pease porridge hot, pease porridge cold

Pease porridge in the pot, nine days old

Some like it hot, some like it cold

Some like it in the pot, nine days old

Also called Pease Pudding, this is a

savoury dish of stewed peas in the tin

can aisle in your local supermarket, and

can be mixed with bacon for flavour, then

spread on bread, hot or cold (I'm not sure

whether it still tastes good nine days old,

or whether that is how long it took the

peas to stew!). Musically, it introduces a

third pitch (do*) to the previous notes, mi*

and so*, and a third rhythm: the steady

beat (crotchet/quarter note), twice as fast

(quaver/eighth note) and twice as slow

(minim/half note). We use these pitches

because they are far enough apart for the

brain to identify them as different, yet close

enough that the undeveloped vocal cords/

folds of the growing child can reach them

without strain or damage.

Level 3: Let Us Chase The

Squirrel

Let us chase the squirrel

Up the hickory, down the hickory

Let us chase the squirrel

Up the hickory tree

The American hickory tree usually

produces pecan nuts, and musically, this

song introduces a fourth pitch (re*) to do*,

mi* and so*, from low to high, and the

same three rhythms as before, the steady

beat (crotchet/quarter note), twice as fast

(quaver/eighth note) and twice as slow

(minim/half note). By introducing music

notes gradually, both children and adults

are more likely to sing in tune and more

accurately. Using games allows children to

match the tune/pitch subconsciously and

learn the knowledge consciously as they

get older.

The authors of the study end their

article with a warning that as we come

out of lockdown, we run the danger

of focusing on literacy and numeracy

to the exclusion of the arts, as people

become concerned about educational

delays caused by lockdown. By reducing

music in the development and growth of

children, we run the risk of affecting their

socio-emotional development and selfregulation.

Next month, we will look at the

way new pitches and rhythms are added,

along with potential ways forward for early

years music education.

* Kodály pitch: do, re, mi, fa, so, la, ti.

(Rhythms in British and American terms.)

References:

Bautista, A., Yeung, J., Mclaren, M. L., &

Ilari, B. (2022). Music in early childhood

teacher education: Raising awareness of a

worrisome reality and proposing strategies

to move forward. Arts Education Policy

Review, 1–11. https://doi.org/10.1080/10632

913.2022.2043969

Turnbull, F. (2015). Come and Sing 1 (1st

ed.). Musicaliti Publishers.

Turnbull, F. (2017). Learning with Music:

Games and Activities for the Early Years (1

edition). Routledge.

Frances Turnbull

Musician, researcher and author,

Frances Turnbull, is a self-taught guitarist

who has played contemporary and

community music from the age of 12. She

delivers music sessions to the early years

and KS1. Trained in the music education

techniques of Kodály (specialist singing),

Dalcroze (specialist movement) and Orff

(specialist percussion instruments), she

has a Bachelor's degree in Psychology

(Open University) and a Master's degree

in Education (University of Cambridge).

She runs a local community choir, the

Bolton Warblers, and delivers the Sound

Sense initiative "A choir in every care

home" within local care and residential

homes, supporting health and wellbeing

through her community interest

company.

She has represented the early years

music community at the House of

Commons, advocating for recognition

for early years music educators, and her

table of progressive music skills for under

7s features in her curriculum books.

Frances is the author of "Learning with

Music: Games and activities for the early

years", published by Routledge, August

2017.

www.musicaliti.co.uk

14 June 2022 | parenta.com

parenta.com | June 2022 15
---
The cheapest all-in-one,

easy-to-use, cloud-based

early years software

package you can buy!

No setup fee – save a massive £2395! | No hidden costs!

All inclusive | Limited time offer | Unlimited support

For only

£3.25 per day

(paid annually)

with a MASSIVE

saving of £2395

(No setup fee)

Let us help you with your training needs - call us today

By providing training

for your staff, you will:

Improve morale

Support

children's safety

Enhance your

setting's reputation

NON-LEVY CONTRIBUTION

5%

What's included?

Cloud-based Nursery Management

Software for easy and quick invoicing,

reporting & ratios - NEW features for

2022!

User-friendly EYFS development

tracking software

Daily Diary to record activities, naps,

meals and nappies

Easy set up and user friendly parent

engagement app – maintaining social

distancing when needed•

Monthly direct debit option available on request

Book a Demo Today!

Go paperless and limit the spread of

germs

Accurately record baseline

observations

Photo Editing, Tagging & Blurring

Technology (GDPR compliant)

Easy Ofsted reporting

Unlimited phone & email support

plus videos and help files

Reduce staff

turnover

Did you know...

We have secured funding available and

are enrolling learners on to our courses

every day!

Take advantage for you or your staff!

Payment plan available for your 5%

contribution

You can now access government funding for up to 10 staff members - instead of 3

- to help get your staff qualified and keep them motivated

0800 002 9242 hello@parenta.com

0800 002 9242 hello@parenta.com
---
What does leadership

look like… first thing in

the morning?

What's a great start to the day? Across

sectors, leaders agree that the things you

do first in the morning make a difference

to how the rest of the day pans out. In this

article, we take a look at what leaders in

early years education can do to help the

day run smoothly. We look at four common

goals that leaders use to set up mornings

that make a difference:

• Finding centre

• Plan with joy

• Prepare for calm transitions

Reconnecting with Centre

A huge part of leadership is being a

port in the storm and role modelling the

culture we want to create. As Jacqueline

Lamb, CEO of Indigo Childcare Group in

Glasgow explains, everyone else looks to

you for guidance about the culture of the

organisation – particularly when the going

gets tough: "It's vital that staff see the

leader as a positive person still willing to

smile and laugh."

The capacity to remain optimistic and clear

in your vision for early years education

depends on your own sense of stability

and purpose. Feeling rushed or worried

can get in the way of that sense of

purpose and it can rub off on everyone

around you. This means that one of the

most important steps a leader can take in

the morning is to reconnect with their own

emotional centre and the values they want

to bring to their setting.

Reconnecting with your centre looks

different to everyone. Here are a few ways

that leaders do it in the morning before

starting work:

• Brewing a coffee and taking a

few minutes to drink it in silence

• Going for a run

• Enjoying the walk to work

• Reading a novel on the bus

• Listening to an audio book in the

car

• Cuddling with your children

before getting them out the door

What activities enable you

to reconnect with centre?

Leaders also need to reconnect with

the values that they really believe in for

early years education. We can use the

environments we work in to help us to

remember to do this. It might be the

posters that we put up in the setting for

example, which remind us of the key

values we want to bring to working with

children (these might be joy, play, calm,

health or so on). If you're in a pop-up

setting, you might need to be more

creative with these reminders – maybe

it's the colour of clothes you wear to work

and what you associate with those colours

(e.g. yellow for joy), or perhaps you keep

a postcard or photo in your bag to remind

you of what this day is really about.

Plan with joy

Leadership is about planning, but it's

also about finding the opportunities to be

creative and flexible in your plans so that

you can really embrace the joy of early

years education.

Mel Knight, a baby room leader at Ripe

Nursery School in Sussex, describes how

the baby room team come together and

plan the following week together:

"Everyone chips in with what activities

or toys they would like out for their key

children. Doing it together is so important

because everyone is aware of all the

children's needs, likes and dislikes. So it

can't be something that I'm doing alone. It

needs to be collaborative".

Mel also points out the importance of

being flexible with plans and keeping a

sense of space in the moments that allow

practitioners to seize the moment:

"We are very much in the moment, for

example if we have planned a morning

outside then the weather changes, we

adapt it so we can bring the outside in".

Having the time and space for this creative

and flexible planning depends on creating

routines for doing this before children

arrive. But it also very much depends on

the relationships a leader cultivates among

the team. Everyone needs to know that

their ideas are welcome and that planning

is a collaborative joyful activity rather than

a checklist that one or two people have

responsibility for. Setting up this culture

depends on interactions throughout every

single day.

Think about opportunities to remind

everyone to contribute ideas to planning.

You might notice that someone on the

team takes particular joy in an activity

during the week. You might mention to

them that you'd love to see some more

planning ideas following on from this

activity. You might encourage staff teams

to connect ideas in more informal ways,

for example, using Pinterest together. In

professional development conversations,

make a point of discussing what ideas

and how many individual team members

contribute to the collaborative planning.

You can set goals around this to help

some members of the team speak up

more often, but try to keep it feeling fun,

relaxed and open. Joyful planning and

in the moment planning depend on

relaxed engagement in a no-pressure

atmosphere.

Prepare for transitions

We all know that when we've prepared

the transitions during the day, things

run more smoothly. Leaders know that

these transitions aren't just details but the

features of the day that really make the

difference. They set the tone for the day.

Think about trying to maintain a calm

environment when things are busy and

children's needs are coming at you think

and fast. We all need as much to be in

place as possible to support us in these

moments.

Mel, speaking as a baby room leader,

describes how she pays careful attention

in the morning to these details:

"Everyday I familiarise myself with the

register, this can change daily especially

with children off sick or making up

sessions, put out their named baskets for

their lunches and make sure their slippers

are waiting for them by the door! We are

a pop-up nursery so I check that the sleep

room is ready for their individual nap

times."

The particular transitions will depend on

the features of your own room or setting.

It's a great idea to regularly reflect on the

details that seem to make the difference in

how transitions feel for everyone. Maybe

there are things you could do at the

start of the day that would really help, or

maybe there are things that you're doing

currently that actually don't make much of

a difference to the children's well-being or

learning. Leadership is about reflecting on

what to do more of and what to do less of.

Mona Sakr

Dr Mona Sakr is a Senior Lecturer in

Education and Early Childhood. As a

researcher in Early Years (EY) provision,

she has published extensively on

creative, digital and playful pedagogies

including the books "Digital Play in

Early Childhood: What's the Problem?"

(Sage) and "Creativity and Making in

Early Childhood: Challenging Practitioner

Perspectives" (Bloomsbury).

Mona's current research is an

exploration of pedagogical,

organisational and community

leadership in EY and how leadership can

be more effectively developed across

EY. Current funded research includes a

Nuffield Foundation project looking at

online leadership development across

the EY sector, a BELMAS project looking

at leadership in the baby room of

nurseries and a BERA project examining

ethnicity in the early years workforce.

Forthcoming books (include an

introduction to social leadership in early

childhood education and care (written

with June O'Sullivan, CEO of London Early

Years Foundation), and an edited volume

on EY pedagogical leadership around

the globe.

Email: m.sakr@mdx.ac.uk

Twitter: @DrMonaSakr

18 June 2022 | parenta.com

parenta.com | June 2022 19
---
National Insect Week

National Insect Week

Can you hear the buzz of excitement for

this week? Stick around, there are some

un-bee-lievable ideas!

Sorry – we just had to get a few bug puns

into this article as we are really excited to

be covering a relatively new awareness

week, at least for us, which is National

Insect Week. It is organised by the Royal

Entomological Society and supported by

a large number of partner organisations

with interests in different areas of science,

natural history and the conservation of

insects.

There are more than one million different

species of insect that have been identified

and described to date. Insects are the

most abundant group of animals in the

world and live in almost every habitat on

the planet. They have lived on the planet

for more than 350 million years, that's over

one thousand times longer than humans

and longer than dinosaurs and flowering

plants.

The important role of insects

Insects have been responsible for much

of the evolution on the planet and have

helped us in numerous ways. Including the

following:

is an essential process if flowers and

vegetables are to reproduce. Insects

are responsible for pollinating around

80% of UK plants and this includes a

large number of crops which we use

for food. Pollination is the how many

flowering plants reproduce. The pollen

from the male part of the plant (called

the anther) needs to get to the female

part of the plant (called the stigma).

Without insects, it would be difficult

to for many plants to complete this

process and therefore produce seeds,

flowers and fruit.

2. A source of food – a much as we

need them to help us eat, insects

are also the main source of food for

many birds, fish and other mammals

such as hedgehogs and have a

huge role in maintaining ecosystems

and food chains around the world.

Many people also consider insects

as human food as well, with over 2

billion people eating some kind of

insect in their diet because they are

full of protein, vitamins and minerals.

Much Asian food contains insects

such as cicadas, cockroaches and

crickets which are often deep fried

or roasted, and served with a sticky

or sweet sauce. In some countries,

insects are being considered as

a serious solution in tackling food

crises and the environmental impact

of farming. And let's not forget, that

the cast of "I'm a celebrity get me

out of here" get to taste a few insect

delicacies every year too!

3. Nature's recyclers – insects are the

perfect natural waste disposal team

as they break down and decompose

organic matter. This means they turn

dead animals and waste into healthy,

fertile soil, recycling the nutrients to

feed the next generation of plants and

animals. Without insects, it's hard to

conceive what would happen to all

the animal waste and dead animals.

We'd all be looking at huge piles of

'poop'!

4. Barometers for change – insect

populations can tell us a lot about

how we are looking after the

environment and are good indicators

of environmental changes. They can

highlight areas where pollution is

rising and where things are out of

balance, helping us humans see

when we need to make changes or

act more decisively.

5. In medicine – chemicals extracted

from insects have been used for

medicinal purposes for thousands

of years and the process is called

entomotherapy. Insects such as

surgical maggots have been used to

help clean wounds of infection; bee

venom therapy can help with arthritis

and gout; and in some cultures, ants

have been used as sutures to hold

wounds together whilst they healed.

This week aims to encourage people of

all ages to learn more about the insects

that surround them. It only runs every 2

years and in 2022, the dates are the 20th

to the 26th June. The Insect Week website

has lots of information about our insect

friends and other invertebrates for people

of all ages. They also run events related to

insects and increasing knowledge about

them.

How to get involved in your

setting

1. Organise a bug hunt or minibeast

hunt in your own backyard

or community space. Look out for

things like worms, ants, earwigs and

beetles. You can join in the Great

Bug Hunt which is an initiative to

encourage primary school children

(although others can join in) to get

involved in an outdoor classroom and

find, draw and identify these mini

creatures

2. Start a bug club to teach the children

about some of the most common

insects – see the official website to

learn about the 12 different types

of insects. You'll find everything you

need to join in with the events and

competitions during Insect Week and

lots of learning resources here

3. Raise awareness of these tiny miracle

workers by adding an image or logo

to your social media sites

4. Run a beetle drive to raise money for

yourself or another local group

5. Build a bug hotel to help our insect

friends – you can find some details of

how to do this here

6. Learn about the lifecycle of a butterfly

– you can buy butterfly life cycle kits

online which the children will love

Fun facts about insects you

might not know
---
Encouraging male

apprentices into early

years

If you have been reading this magazine

for a while now, you will know that we

occasionally revisit the problem of the

gender imbalance in the early years

workforce. Change is slow in this area

but it is happening. The Education

Policy Institute (EPI), supported by the

Nuffield Foundation have been researching

and reporting on the demographics,

characteristics, qualifications and

effectiveness of the early years workforce

in recent years. They have published their

findings to help inform government policy

and provide recommendations for

providing a high quality workforce, which

the government recognises is critical in

supporting children's outcomes in life. You

can download their latest report here.

The report found that there were a number

of key issues facing the workforce

including:

» A large proportion of childcare

workers are struggling financially, with

low pay of £8.20 in 2018 – around 40

percent less than the average female

worker, having experienced a pay cut

in real terms in recent years

» The sector faces recruitment

problems in the short and long-term

with providers frequently reporting

difficulties in hiring staff, particularly

well qualified staff that have full an

'Early Years Educator' status (Level 3

qualification)

» The sector is ageing and faces an

uncertain future (In 2018, around

90,000 workers were aged 55 or

above and 37,000 (5.1%) were EU

nationals working in childcare in

England

» The workforce has low qualifications,

which could affect the quality of

childcare provision

» The workforce remains predominantly

female

One point for celebration was that the

number of male workers in the childcare

sector has increased. When we last

reported on this issue, research showed

that the percentage of the early years

work force who were male was only 3%,

but this has now increased to 7.4%,

although this still remains very low. This

is only half the rate of other femaledominated

professions, such as

hairdressers and beauticians (13.7%) and

with nursery and primary teachers (15.8%).

Within this figure, just 1.8 per cent of

nursery nurses and assistants, and 4 per

cent of childminders, are male. So it is

clear that there is still a problem with

the gender make-up of the early years

workforce, meaning that many settings

(despite a desire to have them) do not

have any male practitioners at all and

children are entirely educated and looked

after by females in these foundational

years. As with any institution of power,

be it an early years setting or local,

national or international government,

problems can develop where certain

sectors or society are not adequately

represented.

Benefits of men in

early years

» Creating positive male role models

for all children but especially to those

who may not have a positive male

figure in their life

» It can help children who may have

had only negative experiences of

men build positive and safe, nurturing

relationships with men

» It can contribute to a more holistic

environment which is more

representative of society as a whole

» Having a male perspective within

a setting can challenge gender

stereotypes about the roles of men

and women in society

» Provide a positive attitude to learning

in young boys to help reduce the

attainment gap often seen in later

years

» Men often bring a different dynamic

to childcare and play which works to

provide a more holistic experience for

children overall

» Having male early years practitioners

may help fathers feel more

comfortable in attending these

environments

» Present a positive message to

society of the role of men in childcare

generally

Barriers to entry

for male early

years practitioners

The problem of recruiting more males

into the early years workforce has been

reported by the EPI in their latest report

such as the low pay, the qualifications, and

the status that early years workers are

sometimes perceived to have in society.

Despite inroads into society's perception

of who should provide childcare, and more

men staying at home to look after their

own children, we are not seeing this

attitude cross over into the early years

workforce. The fact that the industry is

dominated by women is also a barrier to

entry for some men who may feel a lack of

confidence in these situations.

How to improve the

gender balance in

your setting

The first thing to do if you want to attract

more males into early years is to make

a commitment in your setting to positively

and actively recruit more men. This

includes getting a buy-in from your

management team and tackling any

prejudices or unconscious biases that may

exist in your setting first.

The organisation MITEY (males in the early

years) has published a practical guide

for early years employers on how to attract

more men into their settings and

encourages settings to sign up to the

MITEY Charter. You can download the

guide free from their website (see link

below).

Some ideas for recruiting more males and

apprentices include:

» Setting a recruitment goal to recruit

more men

» Hold open days targeted at male

recruits

» Work with colleges, schools and local

job centres in your recruitment

» Visit local school and college career

fairs

» Use images and posters of male

practitioners around your settings

» Always talk professionally about the

early years to raise the profile of the

profession

» Promote any vacancies via fathers

who use your setting along with other

male network opportunities, as well

as mothers

» Replace "feminised" job titles such as

"nursery nurse" with more genderneutral

terms such as "early years

practitioner"

» Talk about and promote the

qualifications that early years

professionals can achieve, including

up to degree and post-degree level

» Look at local pay rates and offer rates

that are as competitive as possible

» Aim for diversity and inclusion at all

times

» Include images of men and male

case studies in job advertisements,

to support the assumption that male

applicants are welcome

» Promote early years and other caring

jobs to boys of all ages within your

setting

» Support any male employers you do

have and foster links with local male

networks

Apprenticeships are a good way to

encourage young people into work and

more and more school leavers are now

looking to improve their career chances

and gain qualifications via this route.

Parenta work nationally to recruit suitable

apprentices to study for Level 3 childcare

qualifications and you can contact the

training arm on trainingadvisor@parenta.

com for more information about our

training and recruitment procedures.

Further information

» Men in the Early Years (MITEY)

» The MITEY guide to recruiting men into

early years education, Davies, J. (2019)

London: Fatherhood Institute

» Fatherhood Institute

» Men in Childcare (Scotland)

» Gender Action

» Lifting Limits

References

https://epi.org.uk/publications-and

research/the-early-years-workforce-inengland/

22 June 2022 | parenta.com

parenta.com | June 2022 23
---
International

Day of the

African Child

The last few years have been difficult for

early years providers and in education

generally. The pandemic closed schools,

settings battled with staff shortages, and

our entire education system moved online

as millions sat at home with their parents/

carers working through videos and

worksheets on their laptops and electronic

devices. It was tough!

But before we launch into a tirade of how

terrible and difficult it was for us, spare a

thought for the millions of children who

experienced the pandemic in Africa, or

in any other developing country for that

matter. Yes, their schools were closed too,

but many did not have a school to go to

in the first place. Yes, there were fewer

staff, but with an unequal availability of

vaccines and healthcare, many more staff

were lost in these countries. And whilst

we were bemoaning having to watch an

online video on basic counting, spare a

thought for those who could only dream of

owning any type of online device, let alone

dreaming of having any electricity to run it

from!

Let's look at some hard

facts

In Africa, poverty is seen in its most

extreme form. Millions of people's lives are

reduced to survival mode, as they battle

each day without the essentials of food,

water, shelter or sanitation. In sub-Saharan

Africa, this is the reality for almost half of

the population.

According to the Children International

website:

Half of the African continent's

population is made up of children, up

to 20% of which are disabled and an

increasing number are growing up

stunted because of the challenges of

malnutrition

41% of the population in sub-

Saharan Africa is living on less than

$1.90/£1.55 per day

Sub-Saharan Africa has both the

highest rates of children living in

extreme poverty (just under 50%),

and the largest share of the world's

extremely poor children, (just over

50%)

An estimated 32.1 million orphans live

in Africa many orphaned by diseases

like HIV/AIDS

Malaria kills 3,000 African children per

day, that's one child every 30 seconds

Clearly, this is not a situation that can

continue unaddressed and unabated in

the 21st century.

International Day of the

African Child

In 1991, the Organisation of African Unity

initiated the first International Day of the

African Child, set up to honour those

who participated in the Soweto school

children's uprising of 1976. In that year,

thousands of black schoolchildren took

to the streets to protest about the inferior

quality of their education in South Africa

(which had an apartheid system at the

time) and a government ruling about the

language that they were to be taught in. In

the protests, many children were killed or

injured by the security forces.

Whilst these events will never be forgotten,

over the last 31 years, the aims of the day

have expanded to raise awareness of the

current plight of children in African with a

particular emphasis on their education or

the lack of it. June 16th is recognised each

year by governments, NGOs, schools and

other interested parties around the world

so that the problems can be highlighted,

discussed and solutions found.

Although officially only one day, with so

much need, there is no shortage of ways

that you can get involved in your setting

and we've listed a few ways below to give

you some ideas.

Create a wall display highlighting

some of the similarities and

differences between Africa and the

UK (this will help fulfil some of the

Understanding the World curriculum)

Invite local people of African heritage

to give a talk to your children and

share their culture

Dress up in colourful clothing to

celebrate the day. Many African

countries' traditional clothing

is brightly coloured and highly

patterned. You could also run some

art activities to copy some patterns or

design some costumes

Read some inspiring stories about

the lives of African children or African

beliefs at storytime, such as the

following best sellers that are suitable

for younger children:

"I Am You: A Book about Ubuntu"

by Refiloe Moahloli. Ubuntu is a

South African belief that we are all

connected and one community

"Emmanuel's Dream: The True Story of

Emmanuel Ofosu Yeboah" by Laurie

Ann Thompson (author) and Sean

Qualls (illustrator). This is based on

a true story of a disabled child who

overcame the odds and fulfilled his

childhood dream

"The Boy Who Harnessed the Wind"

by William Kamkwamba and Bryan

Mealer (authors), and Anna Hymas

(illustrator). This is another true story,

which has been made into a Netflix

film, about how a young boy brought

electricity to his village

Raise some money or donate to an

African charity to send a little back

and help where you can – see more

information below about how you can

help our own charity, Parenta Trust

Parenta Trust

The education situation in Africa and the

struggles faced by African children to get

a decent education is close to our heart

here at Parenta. In 2013, our CEO, Allan

Presland, set up the Parenta Trust and

his mission was to educate the youngest,

most vulnerable children in deprived areas

across Africa and the world by building

pre-schools and a child-sponsorship

programme.

The aim of the Trust is to support

disadvantaged children by providing them

with the opportunity to receive a quality

pre-school education in a safe and loving

environment, and we are proud that

91p in every pound raised by the Trust

is put towards building pre-schools for

children in need. All children attending

a Parenta Trust school benefit from a

pre-school uniform, a daily hot meal, a

gift at Christmas, school supplies and the

knowledge that they can change their lives

for the better.

The Parenta Trust has been organising

fund-raising events ever since and has

to date opened 5 pre-schools helping

over 1,000 children get a better start in

life. Each Parenta Trust pre-school can

accommodate between 140-250 orphaned

and underprivileged children.

Child sponsorship

You can also sponsor a child through

Parenta Trust and for as little as £17 per

month, where you can ensure that children

get a brighter future and really make a

difference to the lives of African children.

Another way to support the charity is to

make it your charity of choice if you shop

through Amazon using the Amazon Smile

initiative.

Find out more at: https://www.

parentatrust.com

24 June 2022 | parenta.com

parenta.com | June 2022 25
---
Nurturing children -

birth to 5

Back in March of this year I had the

absolute pleasure of speaking at the Birth

to Five Spring Festival. It was such a great

privilege to work with such esteemed

colleagues when writing the Birth to Five

framework "For you… and with you"

and this event was a great opportunity

to come together and share some of the

research that went into the writing through

a collection of some fascinating talks and

presentations.

You can access my talk in full here, but in

this month's article I would like to once

again raise awareness for something that

is very close to my heart, as I am sure it is

to many of you working with families and

young children. And that is the impact

that we are all having on children's lives,

in the short, medium and long term…

through every engagement, interaction

and experience that we share with them.

And how this is more important than any

amount of "catch up" or accomplished

learning goals.

Through my own research, I have seen first

hand the impact we have on children's

onward trajectories. Rooted, not in their

ability to pass assessments, but in their

happiness, their sense of security and the

dispositions of effective learning that we

allow to flourish. Beginning in very early

childhood and lasting a lifetime.

Working in the early years, we are

already captivated by the idea that a

child's learning is fundamentally enriched

through their own personal discoveries

and interests. Not the things we expect

them to learn. We have all seen the looks

of determination on a child desperate to

learn how to walk, the confidence of a

toddler as they announce again "Me do

it!" Or the hours a group of pre-schoolers

can spend problem solving and applying

the laws of physics to a den in the

garden. Could you imagine what would

be possible if all children could retain that

level of motivation for learning throughout

their lives?

And yet many a school child is quick to

announce that they don't like school,

that learning is somehow not for them.

What is it that seems to dampen so many

children's previously deep felt engagement

within the learning process?

With many children appearing to

disengage once they transition to

the more formal approaches of the

school classroom, I have been keen to

understand the intrinsic, as well as the

external effects on children's engagements

as the once holistic experiences of early

learning become influenced – and

governed by - school timetables, lesson

plans and the greater focus on learning

goals.

As I have looked to understand the

potential impact of formal pedagogies

on young children, I have captured

how children respond to the learning

opportunities they are given. And, when

you consider the diverse abilities of a class

of unique children, the effect this has on

what should be wide-ranging potential as

I look to raise awareness of the immense

disservice we are doing to our children.

Using a framework of features of lifelong

learning developed for a previously

published book, I looked at how

dispositional features are nurtured and

developed within an early years setting

and then by the same children once

they had transitioned into their school

classroom. Capturing a snapshot of

the styles of teaching and distractions,

locations and encouragements. The

discussions that were had, their style of

involvement, groupings and the choices

being permitted. And the effects on

children's engagements were staggering.

As opportunities to engage with one

another declined, so too did their

imagination. As their permissions to

become freely involved declined, so too

did their interest. And as whole group

teaching became the norm, children

were seen to effectively disengage. As

children's return to school classrooms have

become intrinsically linked with concerns

for what they have missed and the catch

up that needs to occur, we are having an

unprecedented impact on their well-being.

Sacrificing children's interest and aptitudes

towards learning, along with their deeperrooted

levels of happiness and security in

a scramble for discrete factual knowledge.

When we need to look to far more

reaching, long-term implications.

In the short term, as we remove a

child's ownership of their learning, they

engage with it at a far shallower and

less motivated level. Reason enough to

consider the impact we are having when

our approaches, our teaching styles or

engagements become too concerned with

the achievements of a predetermined end

goal. But what is more deeply concerning

is the long-term impact these effects

have on a child's character and their

approaches to learning. To such an extent

that when freedoms are again offered,

opportunities are no longer embraced

by children who are already displaying

outward signs of demotivated and

disengaged learning. No longer appearing

happy and secure within their abilities,

they are instead reluctant to spread their

wings, to see what they can do as they

continue within the narrow confines they

have become accustomed to.

I would suggest that if we are ever to

develop the potential of all our children

we need to begin realising the extent of

these impacts on them. We need to see

children as the complex individuals they

are, coming to us with a multitude of

experiences that are forming their bodies

and minds, making them the person they

are and establishing the person they will

become. They will have ideas, desires

and opinions of their own. And how we

respond to these, how we listen to them,

validate them and give them room to grow

is determining how they will respond the

next time. Will they persevere and engage?

Or be quick to give up? Do they see

themselves as capable individuals, or not

suited to the opportunities they are given?

The idea that core needs must be

established within a child before we can

expect them to be in a place to learn is

nothing new. And far more important

than distilling their abilities, thoughts and

potential into 17 predetermined goals. But

we can't do this alone – other influential

adults in their young lives also need to

know, to understand and be supported

to nurture The Secure Child and The

Happy Child as well as The Learning Child.

Because without this, we will always fall

short of developing every child's potential.

Bring focus back to nurturing all of

children's growth and development with

a Nurturing Childhoods Accreditation. A

new approach to CPD that is tailored to

the needs of your setting and the children

and families you work with. With its

complete set of materials and guidance,

it complements the resources available

for your parents and is underpinned by

professional standards and industry

leading research. As together we surround

children with a unified understanding of

who they are and what they need. And

really begin developing the potential of all

children in their early years.

Kathryn Peckham

As Founder of Nurturing Childhoods,

Dr Kathryn Peckham is a passionate

advocate for children's access to rich and

meaningful experiences throughout their

foundational early years. Delivering online

courses, training and seminars she

works with families and settings to identify

and celebrate the impact of effective

childhood experiences as preparation for

all of life's learning. An active campaigner

for children she consults on projects,

conducts research for government bodies

and contributes to papers launched in

parliament. Through her consultancy

and research she guides local councils,

practitioners, teachers and parents all

over the world in enhancing children's

experiences through the experiences

they offer. A highly acclaimed author and

member of parliamentary groups, Kathryn

also teaches a Masters at the Centre for

Research in Early Years.

For more information and practical

guidance on developing the features of

lifelong learning, Kathryn has published

a book: "Developing School Readiness,

Creating Lifelong Learners".

Get in contact at www.kathrynpeckham.

co.uk or email info@kathrynpeckham.

co.uk.

26 June 2022 | parenta.com

parenta.com | June 2022 27
---
Child Safety Week

Factsheet and free resources

Between the CAPT website and the RoSPA

website, there are a whole host of free and

downloadable resources to help get the

message across including:

The safety of the children in our care is

the most important thing that we are

responsible for as early years practitioners.

Yes, we are following the EYFS and of

course we are looking to enrich the lives

of our children through education and

experience, but if we don't look out for

the safety of the children, then it could

all be for nothing. Settings are required

by law to look out for their children, to

make sure their premises are safe, and to

ensure that there is adequate supervision

of children at all times. We are, or should

be, constantly training and re-training our

staff to look out for risk and to minimise

it without interfering with the natural

development of the child. We are not in

the business of eliminating risk completely,

which can put the child at greater risk

in the future if they cannot recognise or

identify risks for themselves, but we are in

the business of preventing accidents.

Child Safety Week can remind us to

keep our training up-to-date, review

safeguarding and accident policies and

to raise awareness of child safety with

our parents and carers so that they are

also informed about the latest child safety

advice.

The facts

Accidents or 'unintentional injuries' are one

of the main causes of premature death

and illness in children in the UK. In England

alone, 60 children under the age of 5, die

each year from injuries they sustain in and

around the home. These account for 1 in

12 deaths of children aged 1 – 4. Accidents

at home among under-fives also result

in 450,00 visits to A&E departments and

40,000 emergency hospital admissions in

England each year, with children from the

most disadvantaged families being more

likely to be killed or seriously injured due

to accidents. Statistically, children from

the most deprived areas have hospital

admission rates 45% higher than children

from the least deprived areas.

Perhaps unsurprisingly, most accidents

involving young children occur when

the children are at home and may not

be under the same amount of scrutiny

as when they are in your setting. Most

accidents with children occur between

late afternoon and early evening, in the

summer, during school holidays and at

weekends. The places they happen are

also important, with the largest number of

accidents happening in the living/dining

room but the most serious ones occurring

in the kitchen or on the stairs.

Why do accidents happen?

According to RoSPA (the Royal Society for

the Prevention of Accidents), and contrary

to the well-known idiom, "accidents

DON'T have to happen" but we do need

to be educated and take action to prevent

them. Since we know most accidents occur

when children are at home, we also have

a responsibility to educate the parents/

carers about how to prevent accidents too.

A number of factors have been identified

as increasing the risk of accidents,

including:
---
Queen Elizabeth II's

Platinum Jubilee

Queen Elizabeth II is the world's longest

reigning living monarch, and she has

ruled for longer than any other monarch

in British history. Only France's 17th century

leader, King Louis XIV (who ascended

the throne aged 4) and Thailand's King

Bhumibol have reigned longer.

On the 6th February 1952, King George

VI, died of lung cancer aged 56 and his

25-year-old daughter, Princess Elizabeth

became Queen Elizabeth II. She was on

holiday in Kenya with her husband, the

late Prince Philip, when she heard the

news. The trip was cut short and the new

Queen flew back to Britain to be greeted

by the then Prime Minister, Winston

Churchill before returning to Clarence

House, where the Royal Standard was

flown for the first time in her reign. On 2nd

June the following year, (1953) The Queen

was crowned in an official coronation

ceremony at Westminster Abbey.

Fast forward 70 years and on the 6th

February 2022, Queen Elizabeth officially

passed the 70-year anniversary of her

ascension to the throne, so this year

we are celebrating this remarkable

achievement and her life of service to the

country, with her Platinum Jubilee.

Those of you of a certain age may

remember the Silver Jubilee in 1977, the

Golden Jubilee in 2002, and the Diamond

Jubilee in 2012 celebrating 25, 50 and 60

years respectively.

Over the last 70 years, royalists and

reformists have applauded Her Majesty

for her sense of duty, her charitable and

community work, and her devotion to a

life of service to the people of the UK and

the Commonwealth. She has seen many

changes, including 14 Prime Ministers,

decimalisation, the Falklands War,

Concorde, 9-11, the moon landings, the

birth of mobile phones and the internet,

the London Olympics, the UK joining and

later leaving the European Union and

many other memorable events. It has

been a time of great social change and

immense technological advancement,

and Her Majesty has been the figure head

for the UK and several other countries

throughout.

The celebrations

Although there are celebrations

throughout the year, a special four-day UK

bank holiday will officially mark the Jubilee

from Thursday 2nd to Sunday 5th June.

Thursday 2nd June –

Trooping the colour

The traditional annual Queen's Birthday

Parade will be held this Jubilee year

on Thursday 2nd June 2022 starting at

11am. The colour will be trooped by the

1st Battalion, Irish Guards, and more

than 1200 officers and soldiers from the

Household Division will put on a display

of military pageantry on Horse Guards

Parade, together with hundreds of Army

musicians and around 240 horses. This

annual event has marked the official

birthday of the British Sovereign for over

260 years. A Royal Gun Salute will also be

fired in honour of The Queen and following

the pageantry, the Royal Family will

appear on Buckingham Palace balcony to

acknowledge well-wishers and watch an

impressive fly-past.

Thursday 2nd June –

Beacon chain

Traditionally a way of alerting the kingdom

of an impending attacks, beacon chains

have now become a symbol of celebration

and many royal occasions have been

marked with the lighting of beacons up

and down the country. This year, over

1500 beacons will become a focus for

celebrations in the UK, Channel Islands,

Isle of Man and UK Overseas Territories.

The principal beacon, involving the 'Tree

of Trees' (a 21m high 'tree' constructed of

350 smaller trees), will be lit in a special

ceremony at Buckingham Palace at 9pm.

See www.queensjubileebeacons.com for

more details.

Friday 3rd June –

Service of thanksgiving

This special service giving thanks for The

Queen's reign will be held at St Paul's

Cathedral in London starting at 11.30am.

It will involve the ringing 'Great Paul', the

largest church bell in the country which will

ring between 10.50am and 10.55am.

Saturday 4th June – The

Derby at Epsom Downs

The Queen's love of horse racing is well

known and she owns several race horses,

so it will come as no surprise that one of

the ways she would like to celebrate her

Jubilee is to attend the races. The Derby

is an annual flat race and The Queen

and other members of the Royal Family

will attend. In the evening, there will be

a Platinum Party at Buckingham Palace

which will air live on the BBC network

between 8.00pm and 10.30pm and will

feature a whole host of stars from the

world of entertainment to bring their own

special musical tribute to the celebrations.

Sunday 5th June – the

Big Jubilee Lunch and

Pageant

This is really an occasion that everyone

can join in, wherever you live in the country

as the celebrations will range from world

record attempts for the title of 'longest

street party' to BBQs in people's back

gardens and almost every kind of picnic

and feasting event in between. Over ten

million people across the UK are expected

to take part and will be joined by hundreds

of thousands more from around the globe

as part of Commonwealth celebrations.

You can get a free Big Jubilee Lunch pack

from thebigjubileelunch.com which is

a community-building initiative run in

conjunction with The Eden Project. You

can see where there is a street party near

you or the pack will help you get your own

street party started too.

The final celebration will be the Platinum

Jubilee Pageant involving the Gold State

Carriage and a few digitally enhanced

surprises to boot! According to the

website, "The Platinum Pageant tells the

story of The Queen's 70-year reign and

our transforming society" and will involve

"a spectacular unfolding story filled with

wonder, warmth, wit and wow-factor."

Ways to celebrate

Get involved in your setting in any number

of ways including:

Organise a street party or hold a

party in your setting – download

the Pageant Pack for ideas and

inspirations. There's a big push to

make events inclusive, sustainable,

and ecologically friendly, so consider

this in your planning

Download the Platinum Jubilee Toolkit

or other resources from the websites

at the end of this article and create

something to celebrate, be it a cake, a

crown or a colouring corgi!

Teach the children about some of the

changes that have taken

place over the last 70

years including transport,

rationing,

communications,

money, laws and

entertainment

Download a Platinum Jubilee emblem

to use on your social media – see

www.royal.uk/resources-platinumjubilee

'Plant a tree for the Jubilee' with The

Queen's Green Canopy initiative

Whatever you do, we'd love to hear your

stories, so remember to send us your

pictures and news to hello@parenta.com.

More information

https://www.royal.uk/platinumjubilee

https://www.royal.uk/

https://www.edenprojectcommunities.

com/the-big-jubilee-lunch

https://www.edenprojectcommunities.

com/stuff-you-can-do

30 June 2022 | parenta.com

parenta.com | June 2022 31
---
Learning Disability Week

This month sees the return of Learning

Disability Week, organised by Mencap,

the national charity with the aim of raising

awareness of learning disabilities and

learning difficulties, and supporting those

who have them, to live meaningful and

independent lives in the community.

In the UK, there are approximately 1.5

million people with a learning disability, of

which, 351,000 are children aged 0 – 17. A

learning disability is distinct from learning

difficulties and MENCAP uses the definition

of:

"A learning disability is a reduced

intellectual ability and difficulty with

everyday activities – for example

household tasks, socialising or managing

money – which affects someone for their

whole life." Mencap

Having a learning disability means

that people tend to take longer to learn

everyday things, and may need support

to develop new skills, understand

complicated information and interact with

other people.

This is different from having learning

difficulties such as ADHD or dyslexia which,

although can result in people taking longer

to learn some things, do not, ultimately

affect people's intellect. Many people

with learning difficulties such as dyslexia,

ADD or ADHD go on to lead productive

independent lives, but many people with

learning disabilities may need a much

higher level of personal care or support

for their entire life. But that doesn't mean

they can't be productive, have goals

and dreams and reach a degree of

independence, because many of them can

and do.

Learning Disability Week

This is Mencap's annual campaign,

running this year from the 20th – 26th

June and using the hashtag #LDWeek22.

It's all about getting people to understand

more about what life is like for people with

learning disabilities as there is still a lot

of stigma and misunderstanding which

surrounds the topic. The week is aimed at:

❤ Educating the public and raising

awareness of learning disabilities

❤ Smashing stigmas and ending

discrimination

❤ Fighting and campaigning for a fair

society

It is probably true to say that unless people

work with, or have friends/family with a

learning disability, most people do not

understand what life is like for people who

do. The theme this year is about "Living

life with a learning disability" with the aim

of showing how people are reconnecting

with friends and communities after the

pandemic, and highlighting some of the

issues that many people with learning

difficulties still face relating to feeling

isolated, lonely, anxious or having poorer

mental health. With this aim, Mencap are

appealing for people to share their stories

to help inspire and help others. They

have some truly inspiring Myth Busters'

stories already on their website showing

how people with learning disabilities are

holding down jobs, breaking boundaries

and following their dreams. They are using

the tag line "Listen. Ask. Learn."

Communication

One of the problems that many

people with learning difficulties face, is

communicating well with others, so we

thought that rather than list ways you

can get involved in the week, we would

highlight some of the ways that you can

improve communication with children with

learning disabilities in your setting instead.

And even if you don't, some of these tips

and ideas will help you communicate

better with other children who may have

communication challenges as well.

Communication is a two-way thing, so in

order to communicate with others, it's not

just about talking, but also about listening,

asking questions and really hearing what

the other person is trying to communicate.

This is the idea behind the "Listen. Ask.

Learn." Campaign.

We all communicate from the moment

we are born, regardless of the language

our parents speak and non-verbal ways

of communicating are our first port of call.

Our tone of voice, body language, facial

expression, volume, pace and gestures,

all contribute to the effectiveness of our

communication. As early years specialists,

we understand this because we are often

dealing with children who do not yet

have, or who are developing their formal

language skills.

So, when communicating with children

with a learning disability, try to:

❤ Communicate face-to-face and on a

one-to-one basis

❤ Use accessible language

❤ Avoid jargon or long words that might

be hard to understand

❤ Use a variety of different

communication tools such as images,

signs and gestures as well as speech

❤ Follow the lead of the person you're

communicating with

❤ Go at the pace of the other person

❤ Check you have understood each

other by repeating things back e.g.

"You want a drink, is that right?"

❤ Be prepared to be creative

❤ Be patient and take your time

❤ If using text, use a larger font and

break things into smaller sentences

or bullet points, but avoid too much

colour

❤ If communicating on the phone, slow

your pace, speak clearly with easy-tounderstand

language

❤ Consider using other language

systems such as Makaton, Signalong

or Widgit

Makaton

Makaton signing is a language system

that uses signs, symbols and speech,

giving a person different options when

communicating. It is unique in this respect

and supports the development of essential

communication skills such as attention

and listening, comprehension, memory,

recall and organisation of language and

expression. Makaton can be used with

a wide range of children including those

with Down's Syndrome, autism, cleft lip

and palate or developmental language

disorders. If you want to start using

Makaton in your setting, visit the website

where you will find lots of tips, ideas and

training to help get you started.

Signalong

Signalong is a key word sign-supported

communication system based on British

sign language and is used in spoken word

order. It uses speech, sign, body language,

facial expression and voice tone to

reference the link between sign and word.

The charity provides training and resources

to assist those with communication

difficulties as well as help for people with

English as an additional language (EAL).

Talking Mats

Talking Mats is a social enterprise aimed

at improving the lives of people with

communication difficulties by "increasing

their capacity to communicate effectively

about things that matter to them". They

produce innovative digital communication

tools based on extensive research and

designed by Speech and Language

Therapists.

Widgit

Widgit produce software symbols to help

people communicate with recognisable

symbols where you can create your own

resources such as visual timetables,

communication books and EAL materials.

It's a subscription site but accounts start

at £5 a month for an individual user. The

also run a website called Symbol World

that includes nursery rhymes, stories and

a monthly magazine.

If you have any questions about learning

disabilities or need help or support, the

Mencap helpline is available from 10am to

3pm, Monday to Friday on 0808 808 1111,

or you can email helpline@mencap.org.uk.

32 June 2022 | parenta.com

parenta.com | June 2022 33
---
Sheep cupcakes

Celebrate World Oceans Day

on 8th June with this fabulous Paper Plate Jellyfish craft!

What do you need?

• 150g butter, softened

• 150g caster sugar

You will need:

• 3 large eggs

• 2 tbsp milk

• 1/2 tsp vanilla extract

• 150g black sugar

paste

• 15g white sugar paste

• 100-120g white mini

marshmallows

• Paper plate

• Tissue paper

• Coloured string/wool

• Googly eyes

• Scissors

• Hole punch

• Glue

• Black marker pen

• 50g butter, softened

for frosting

Instructions:

• 100g icing sugar for

frosting

• A few drops of vanilla

extract for frosting

• 12-hole muffin tin

lined with cupcake

cases

You can find the full craft

instructions on 'Delicious

Magazine' here.

Instructions

1. Preheat the oven to

190°C/170°C fan/gas 5.

2. Put the butter, sugar, flour,

eggs, milk and vanilla

extract in a large mixing

bowl and beat until light

and fluffy.

3. Divide the mixture among

the cupcake cases in the

tin and bake for 15-18

minutes or until the cakes

have risen.

4. Remove from the oven and

transfer to a wire rack to

cool.

5. To make the sheep faces,

break off a small piece of

black sugar paste (about

10g), then knead to soften

and shape into an oval

and slightly flatten.

6. Take 2 smaller pieces of

black sugar paste and

flatten into little ovals for

the ears. Press these onto

either side of the head.

7. To make the eyes, take 2

small balls of white sugar

paste and press them

onto the head, then make

2 very tiny balls of black

sugar paste and press

onto the eyes.

8. To make the butter-cream

frosting, put the butter in a

large mixing bowl and add

the icing sugar, vanilla

extract and 1 tbsp boiling

water. Beat well until

smooth, light and fluffy.

9. Spread butter-cream over

the top of a cake and stick

on a head, then press

white mini marshmallows

around it, all over the top.

1. Tear the tissue paper into small

pieces.

2. Draw a wavy line at the bottom of the

paper plate and cut along that line.

3. Glue the tissue paper pieces on to the

paper plate.

4. Use a hole punch to make several

holes along the wavy bottom line of

the paper plate.

5. Cut wool strands of the same length.

Thread them through the holes at

the bottom of the paper plate and tie

them up.

6. Glue the googly eyes on to the paper

plate and use a black marker to draw

a mouth.
---
View from the door - designing

learning environments from

children's viewpoints

High-powered binoculars are amazing.

They let you easily see the details of an

object from a long distance. Most of us

think of using a pair of binoculars for

leisure such as bird or whale watching,

but these visual instruments are also

used as tools for safety and precaution

(i.e., fire lookout or airplane control

towers). Binoculars are interesting tools

to use because they give you a different

perspective of the world, especially

when wanting to see something from a

faraway vantage point. But, if you wanted

to examine an object close up, such as

a splinter in your finger or tiny insect, you

would probably switch tools and use a

magnifying glass. Each of these tools gives

us a different perspective of the world. The

same is true for how adults see the world

around them compared to how young

children view their environment.

Young children have a unique viewpoint of

their worlds, which is greatly determined

by their height. They are built low to the

ground so they have a magnifying glass

or close-up perspective. Conversely, adults

have a binocular view. Because they are

taller, they have a wide expanse viewpoint

and are able to see far away. Let's take a

closer look at the difference between an

adult's binocular and a child's magnifying

glass viewpoint of an early childhood

environment.

An adult's binocular

viewpoint

The bottom image was taken from the

adult's height. Look closely. What do you

see? Because of your height, you have

a birds-eye view of the classroom. With

binocular vision, you can see the various

play areas around the playroom as well

as the learning materials on the shelves.

It is easy to see up and over to the back

corners of the room—even to the door that

opens to the outside world. Take special

note of the book shelf that is located in the

foreground of this image and marked by

the white arrow.

Now closely examine the top image, which

was taken at the same spot as the adult's

only this time, the picture was taken from

a child's height. Notice the difference. What

does a child see from the magnifying glass

viewpoint? The child sees the books on the

bookcase and the baskets on the shelf.

From this limited vantage point, the child

A child's magnifying

glass viewpoint

cannot see any other play opportunities -

just what is directly in front of him.

Improving children's

viewpoints

The classroom door is one of the most

significant doors in a child's life. The early

childhood classroom entryway is where

the notion of education and learning

begins. Attitudes and ideas about school

are formed by these first experiences

children have away from their home

environment. The classroom entryway

is where motivation, encouragement,

excitement, curiosity, friendships, and

positive relationships begin. Because the

classroom door plays such an important

role in not only children's attitudes but the

process of transitioning from their outside

world to your world, it is important to

critically examine their view from the door.

How can this be done?

Begin by standing in the middle of the

entryway door. Take an adult's widelens

binocular view. Look straight ahead.

Look to your left and then to your right.

Take note of what you see. Now, crouch

down to the height of the children in your

classroom and assume a magnifying

viewpoint. Repeat the process of looking

straight ahead, to the left and then to

the right. What are the differences in a

binocular view compared to a magnifying

view? Most likely, your viewpoint as a child

is vastly different than an adult. However,

the most important question in this

process is: What exactly do you see at the

child's height?

If you see custodial objects such as

garbage cans, cubbies, cots, changing

tables, or brooms and dustpans, it's

time to change the view. If you see

uninteresting objects such as table legs,

chair legs, and more table legs, it's time to

improve children's view.

Improving children's view

with a curiosity box

The bottom line is that children need

a reason to want to come into the

classroom. When teachers design and

create enticing views from the entryway

door, children are eager to enter and

cross the classroom threshold. One idea

for improving children's views is to use a

curiosity box.

Children love boxes and they especially

enjoy lifting lids to find out what is

beneath. A curiosity box is an invitation

to come in, open the box, discover its

Novel Objects for Curiosity Box

Keys on key ring

Screw nuts and bolts

Unique buttons and elastic thread

Moss on twig and magnifying glasses

Kaleidoscope

River rocks and small pieces of

sandpaper

contents, and actively engage with what's

inside. The goal of the curiosity box is to

catch children's attention and interest

when entering the room.

Find interesting objects of beauty and

wonder and place them inside a box.

A simple cardboard box with flaps for

closing is just clamouring to be opened.

The curiosity box doesn't have to be an

ordinary cardboard box. It can be a bit

more intriguing and doesn't even have

to be in the shape of a box. It can be a

unique lidded basket or container.

The key to curiosity boxes (or baskets)

is novelty. Objects that are novel to the

children tend to consistently produce an

increased interest with young children.

The experience of holding and feeling a

door handle, for example is a good lesson

in novelty. Although most pre-school

children have touched (and actually used)

a door handle, few have experienced the

handle without the actual door attached

to it. Placing a doorknob or handle in

the curiosity box for children to explore

provides them with the opportunity to

experience something novel.

Conclusion

Children are naturally curious and always

enjoy surprises. Improve children's view

from the door by placing a curiosity

box near the entryway to help children

easily and effortlessly transition into the

classroom.

Seashells with holes & yarn for threading

Miniature flashlight and pieces of sea

glass

Fresh flowers and mortar/pestle for

pulverizing

Unique silverware pieces & mirrors

Pieces of fabric & ribbons

Small clock with cord cut off

Sandra Duncan

Sandra works to assure the miracle

and magic of childhood through indoor

and outdoor play space environments

that are intentionally designed to

connect young children to their early

learning environments, communities,

and neighbourhoods. Dr. Duncan is an

international consultant, author of seven

books focused on the environmental

design of early childhood places,

designer of two furniture collections

called Sense of Place and Sense of

Place for Wee Ones, and Adjunct

Professor at Nova Southeastern

University. Sandra has designed and

taught university courses on built early

learning environments, collaborating

with architects, interior designers,

and educators to create extraordinary

places and possibilities for children and

students of all ages. Books and articles

include:

1. Inspiring Spaces for Young Children

2. Rating Observation Scale for

Inspiring Spaces

3. Rethinking the Classroom

Landscape: Creating Environments

that Connect Young Children,

Families, and Communities

4. Through A Child's Eyes: How

Classroom Design Inspires Learning

and Wonder

5. Bringing the Outside In: Ideas for

Creating Nature-Based Classroom

Experiences for Young Children

6. The Honeycomb Hypothesis: How

Infants, Toddlers, and Two Year Olds

Learn Through Nature Play (Available

Spring, 2022)

7. Designing Inspiring Environments

for Infants, Toddlers, and Two Year

Olds: Lessons from Nature (Available

2023)

36 June 2022 | parenta.com

parenta.com | June 2022 37
---
Testimonials

"Always quick and friendly, thank you!"

Sarah Sexon

"Excellent prompt actions taken from request."

Jayne Lynch

"Excellent help and response.

Alex, Jamie and Aimee are extremely helpful. Happy to answer any simple questions

even though it I feel stupid asking some of them.

Very patient and extremely helpful."

Oasis Nursery

"The support we have received has been excellent, particularly from Amie who

updated me frequently about what appeared to have been a very challenging issue

for you all. Thank you."

Philip Culling

"Really good. I am so happy with the service I have received from start to finish.

Everyone is so friendly but professional at the same time."

Congratulations

to all our Parenta learners!

Congratulations to all our Parenta learners who completed their apprenticeship

and have now gained their qualifications.

These range from Childcare Level 2, Childcare Level 3 and Team Leading

to Level 3 and Level 5 Management – that's a huge achievement in the

current climate.

All that hard work has paid off – well done from all of us here at Parenta Training!

Did you know?... Parenta has trained over 20,000 apprentices within the early years sector!

Our Level 3 success rate overall is almost 10% higher than the national average.

That's down to great work from you, our lovely Parenta learners!

If you have a learner with us who has recently completed their apprenticeship, please send in

a picture to hello@parenta.com to be included in the magazine.

Charlotte

"As a nursery owner just starting out this is amazing.

Nothing is too much trouble, always available to help and fast response.

Couldn't live without you!"

Sarah Davies

38 June 2022 | parenta.com

parenta.com | June 2022 39
---
PARENT

PORTAL

Interested? Visit

www.parenta.com

to find out how

we can help you!

Gives your parents:

A newsfeed of their child's day

including photos and videos

Their account balance and

invoice breakdown

The ability to download invoice

and payment receipts

A calendar view of past,

present and future sessions

booked

+ much more

Our

FREE

app works hand-inhand

with our

other software

solutions!

0800 002 9242 hello@parenta.com