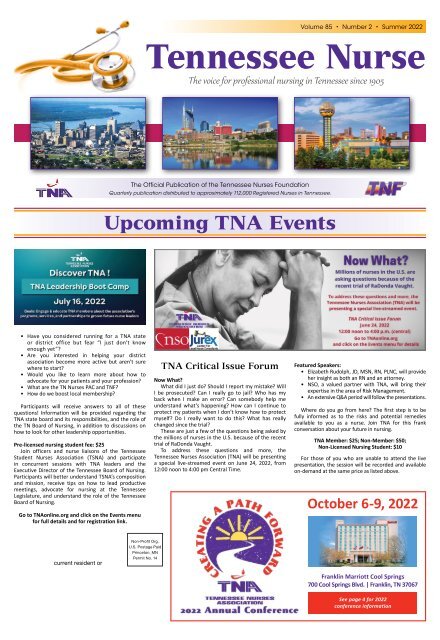 Tennessee Nurse - May 2022
Do you know the secret to free website traffic?
Use this trick to increase the number of new potential customers.
Volume 85 • Number 2 • Summer 2022

Tennessee Nurse

The voice for professional nursing in Tennessee since 1905

The Official Publication of the Tennessee Nurses Foundation

Quarterly publication distributed to approximately 112,000 Registered Nurses in Tennessee.

Upcoming TNA Events

• Have you considered running for a TNA state

or district office but fear "I just don't know

enough yet"?

• Are you interested in helping your district

association become more active but aren't sure

where to start?

• Would you like to learn more about how to

advocate for your patients and your profession?

• What are the TN Nurses PAC and TNF?

• How do we boost local membership?

Participants will receive answers to all of these

questions! Information will be provided regarding the

TNA state board and its responsibilities, and the role of

the TN Board of Nursing, in addition to discussions on

how to look for other leadership opportunities.

Pre-licensed nursing student fee: $25

Join officers and nurse liaisons of the Tennessee

Student Nurses Association (TSNA) and participate

in concurrent sessions with TNA leaders and the

Executive Director of the Tennessee Board of Nursing.

Participants will better understand TSNA's composition

and mission, receive tips on how to lead productive

meetings, advocate for nursing at the Tennessee

Legislature, and understand the role of the Tennessee

Board of Nursing.

Go to TNAonline.org and click on the Events menu

for full details and for registration link.

TNA Critical Issue Forum

Now What?

What did I just do? Should I report my mistake? Will

I be prosecuted? Can I really go to jail? Who has my

back when I make an error? Can somebody help me

understand what's happening? How can I continue to

protect my patients when I don't know how to protect

myself? Do I really want to do this? What has really

changed since the trial?

These are just a few of the questions being asked by

the millions of nurses in the U.S. because of the recent

trial of RaDonda Vaught.

To address these questions and more, the

Tennessee Nurses Association (TNA) will be presenting

a special live-streamed event on June 24, 2022, from

12:00 noon to 4:00 pm Central Time.

Featured Speakers:

• Elizabeth Rudolph, JD, MSN, RN, PLNC, will provide

her insight as both an RN and an attorney.

• NSO, a valued partner with TNA, will bring their

expertise in the area of Risk Management.

• An extensive Q&A period will follow the presentations.

Where do you go from here? The first step is to be

fully informed as to the risks and potential remedies

available to you as a nurse. Join TNA for this frank

conversation about your future in nursing.

TNA Member: $25; Non-Member: $50;

Non-Licensed Nursing Student: $10

For those of you who are unable to attend the live

presentation, the session will be recorded and available

on-demand at the same price as listed above.

October 6-9, 2022

current resident or

Non-Profit Org.

U.S. Postage Paid

Princeton, MN

Permit No. 14

Franklin Marriott Cool Springs

700 Cool Springs Blvd. | Franklin, TN 37067

See page 4 for 2022

conference information
---
Page 2 Tennessee Nurse May, June, July 2022

From the President

Julie Hamm, MSN, ACNP-BC

As I am writing this article

that will appear in the summer

issue of the TN nurse, it is the

beginning of April. I would be

remiss in addressing you, our

members, nurses, and others

in our community without

mentioning the recent guilty

verdict in the case of RaDonda

Vaught and the impact the

charges and verdict are having

on our nursing practice and Julie Hamm

profession. These past two

years have been extremely challenging for all nurses.

We work in a complex and ever-changing field that

most outside our domain never see. The pandemic and

continuation of changing variants of COVID-19 have

brought to light so many other health crises we face

in America that could be preventable to treatable with

better access to healthcare.

Amid working in this field, we move fast. We make

challenging, quick decisions about patients, the care

needed, and the numerous orders we must perform

within time-limited constraints. While going about our

daily nursing tasks, errors can happen; we are humans.

TNA and ANA followed the trial very closely over the

past years with concern, issuing our first statement

during the trial and immediately after the verdict. We are

concerned that the ruling will set a dangerous precedent

for Tennessee Nurses and nurses worldwide.

While it is unfortunate that this trial and subsequent

conviction happened in our state, I am proud to represent

all Tennessee nurses. We are over 110,000 strong!

I want you to know that I hear and share your concerns

and understand what you face daily. I, too, am a practicing

nurse. I am with you in your fear of how this will affect

the profession of nursing and all healthcare professionals

moving forward.

Self-care is always a must during difficult times.

Moving into the summer months, I hope we see some

relief from Covid 19 and its impact on our healthcare

system. As nurses, we are burned out and could use

some self-care during these troubling times. Please

take time this summer to take a vacation, staycation, or

do whatever you enjoy doing to recharge and care for

yourself.

I hope that TNA can be one of your strong support

networks as you navigate your nursing practice. We are

stronger when we are all united as one voice for the

healthcare of Tennesseans across our great state.

Please reach out to me anytime if you need to talk

about this or any other nursing matter. Sometimes listening

and having someone understand can be very cathartic. You

can always email me at President@tnaonline.org.

The Tennessee Nurse is the official publication of the

Tennessee Nurses Foundation, 545 Mainstream Drive, Suite 405,

Nashville, TN 37228-1296

Phone: 615/254-0350 • Fax: 615/254-0303

Email: tnf@tnaonline.org

Published exclusively by the

Tennessee Nurses Foundation and the

Arthur L. Davis Publishing Agency, Inc.

TNF 2021-2022 Board of Trust

Raven Wentworth, President

Alicia Frasure, Vice President

Debra Sullivan, Treasurer

Patsy Crihfield, Secretary

Cindy Borum, Brad Creekmore, Shannon Davis,

Ken Edmisson, Kristin Fitchpatric, Amy Hamlin, Julie Hamm,

Karen Hande, Kenda Harrison, Brittany Haskell,

Angela Heatherly, Heather Jackson, Bill Jolley, Kelsey Kent,

Carla Kirkland, Sharon Little, Sue MacArthur,

Jennifer Pearson, Bonnie Pilon, Dara Rogers, Nancy Stevens

TNA 2022 Board of Directors

Julie Hamm, President

Carla Kirkland, Past-President

Heather Jackson, Vice President

Nancy Stevens, Treasurer

Angela Heatherly, Secretary

Jennifer Hitt, Director – Membership

Kerry Copeland, Director – Education

Michele McCarthy, Director – Operations

Marcia Barnes, Director – Government Affairs

Monique Beale, Director – Practice

TNA 2022 District Presidents

Kristin Fitchpatric, District 1; Co-Presidents: Angela Heatherly &

Erin Morgan, District 2; Ginny Massey-Holt, District 3;

Nancy Stevens, District 4; Christine Reed, District 5;

Raven Wentworth, District 6; Shannon Johnson, District 8;

Chaundel Presley, District 9; Christy Blount, District 10;

Vacant, District 12; Marcia Barnes, District 15

Managing Editor

Kathryn A. Denton

TNA Staff

Kirk W. Lawson, CAE, Executive Director

Kathleen Murphy, Director, Government Affairs/Chief Lobbyist

Kathryn Denton, Director of Operations, Managing Editor –

Tennessee Nurse, TNF Program Director

Ask about our sign-on bonus!

Contact Cathleen Garrison today!

cgarrison@teamcenturion.com

615.200.1066 x1062

The Best Care - The Best Careers

Mountain Home VA Medical Center located in Johnson City,

Tennessee has exciting career opportunities available for

NPs, RNs, LPNs and CNAs.

We invite you to join our team, where every day

We Proudly Serve Our Nation's Heroes!

All interested NPs, RNs, LPNs, CNAs, may forward a resume to

VISN9HRSBU-MtH@va.gov for immediate consideration or apply online to any

positions posted at www.USAJobs.gov 423-979-7179 E.O.E

RN Benefit Package

• Competitive Salaries

• 26 Days Paid Vacation

(carry over up to 685 hrs)

• 13 Days Sick Leave

• 11 Paid Holidays

• Federal Retirement

Pension

• Thrift Savings Plan (401k)

• Group Life Insurance

Program

• Excellent Selection of

Health Benefits Plans

• Dental/Vision Plans

• Flexible Spending Account

• Educational Loan

Assistance

• Employee Assistance

Program

• Guaranteed Hours

The official publication of the Tennessee Nurses Foundation

shall be the Tennessee Nurse. The purpose of the publication shall

be to support the mission of the Tennessee Nurses Foundation

and Tennessee Nurses Association through the communication

of nursing issues, continuing education and significant events of

interest. The statements and opinions expressed herein are those

of the individual authors and do not necessarily represent the

views of the association, its staff, its Board of Directors, or editors

of the Tennessee Nurse.

Article Submissions: The Tennessee Nurses Foundation

encourages submissions of articles and photos for publication

in the Tennessee Nurse. Any topic related to nursing will be

considered for publication. Although authors are not required

to be members of the Tennessee Nurses Association, when

space is limited, preference will be given to TNA members.

Articles and photos should be submitted by email to Kathryn.

Denton@tnaonline.org or mailed to Managing Editor, Tennessee

Nurses Foundation, 545 Mainstream Drive, Suite 405, Nashville,

TN 37228-1296. All articles should be typed in Word. Please

include two to three sentences of information about the author

at the end of the article and list all references. Preferred article

length is 750-1,000 words. Photos are welcomed as hard copies

or digital files at a high resolution of 300 DPI. The Tennessee

Nurses Foundation assumes no responsibility for lost or damaged

articles or photos. TNF is not responsible for unsolicited freelance

manuscripts or photographs. Contact the Managing Editor for

additional contribution information.

Reprints: Tennessee Nurse allows reprinting of material.

Permission requests should be directed to Tennessee Nurses

Foundation at Kathryn.Denton@tnaonline.org.

For advertising rates and information, please contact Arthur

L. Davis Publishing Agency, Inc., PO Box 216, Cedar Falls, Iowa

50613, (800) 626-4081, sales@aldpub.com. TNF and the Arthur

L. Davis Publishing Agency, Inc. reserve the right to reject any

advertisement. Responsibility for errors in advertising is limited to

corrections in the next issue or refund of price of advertisement.

Acceptance of advertising does not imply endorsement

or approval by the Tennessee Nurses Foundation of products

advertised, the advertiser, or the claims made. Rejection of an

advertisement does not imply a product offered for advertising

is without merit, or that the manufacturer lacks integrity, or

that this Foundation disapproves of the product or its use. TNF

and Arthur L. Davis Publishing Agency, Inc. shall not be held

liable for any consequences resulting from purchase or use of an

advertiser's product. Articles appearing in this publication express

the opinion of the authors; they do not necessarily reflect views

of the staff, Board or membership of TNA and TNF or those of the

national or local associations.

Copyright©2022 by the Tennessee Nurses Foundation. The

Tennessee Nurse is published quarterly in February, May, August

and November. Published free for TNA members and emailed to

registered nurses licensed in Tennessee. Others may request a

subscription to the Tennessee Nurse for $30 per year by contacting

Kathryn.Denton@tnaonline.org.
---
May, June, July 2022 Tennessee Nurse Page 3

From the Executive Director

Kirk W. Lawson, CAE

Having just completed my first six months on the

job, it is hard for me to believe just how much we have

accomplished together and how fast things move here in

Tennessee.

I am pleased to report that TNA has a dedicated staff

that has taken on many challenges and new responsibilities

to keep the organization moving smoothly, and I don't

believe there is a better or more committed volunteer

Board and/or elected Officers to help guide us.

I am sure that the articles provided in today's

publication by TNA President, Julie Hamm, and Chief

Lobbyist, Kathleen Murphy, will do an excellent job of Kirk W. Lawson

bringing you up to date on what has transpired over the

past few months, so I'll point out a couple of events that you can look forward to in

the coming months.

The TNA Leadership Academy will be a revamped offering that will take place on

Saturday, July 16, in Nashville. Through this program, the goal will be to engage and

educate TNA members about the association's programs, products, and services,

along with the many leadership opportunities available to groom future nurse

leaders. In addition, a half-day parallel program is planned for pre-licensed nursing

students who are considering membership, volunteering, or leadership in the TSNA.

As you are aware, the past two TNA conferences became "virtual" due to the

seemingly never-ending pandemic. This year we are planning a hybrid conference

with the on-site component taking place at the Franklin Marriott Cool Springs

beginning on Thursday, October 6 and concluding on Sunday, October 9. The virtual

program will take place simultaneously and provide similar content as the in person

event, along with a few virtual only options as well. I hope to be able to upgrade

the virtual platform that we have used in the past with an eye on creating a more

satisfying virtual experience for those who cannot attend in person due to financial,

timing, or travel concerns.

For the first time since 2019, we also plan to welcome back the Tennessee

Student Nurses Association (TSNA) to our conference. The student's pathway

will feature programming specific to their needs while also offering time for the

students to interact with our professional nurse attendees.

This year's theme is "Creating a Path Forward." The program will be divided

into four specific pathways: Bedside Nursing, Advanced Practice Nursing, Nursing

Educators, and Nursing Students.

The Conference Planning Committee began its work in March and is working

hard to develop a variety of relevant, compelling, and entertaining sessions within

each of these pathways.

Now, more than ever, we recognize the importance of coming together in ways

that honor the diversity of ideas and experiences that each of us bring to the table,

and we look forward to harnessing the inherent power in all nurses throughout

Tennessee to build a more inclusive, exciting, and meaningful association.

Through many arduous challenges, we have learned how to connect to each

other in new and innovative ways. We hope to capitalize on what we have learned

to further reach out to all nurses in Tennessee.

While it is true that we have not accomplished everything that we had hoped

over the past couple of years, I feel encouraged by what I have seen and have hope

that the best is yet to come.

I see the dedication of our volunteers, board, and staff, and know that, along

with our members, we will continue to push forward, learn, adapt, and grow into

one of the premier state nurses' associations.

I want to thank each of you for your help and support of the Tennessee Nurses

Association (TNA), the Tennessee Nurses Foundation (TNF), and the Tennessee

Nurses Political Action Committee (TNPAC).

I Am TNA

Georgita Tolbert Washington, PhD, RN,

NPD-BC, MACM

I learned of the importance of membership in one's

professional organization from of all people, my mother, the

teacher. After graduation and starting in my first nursing

position, she said two things were going to happen; I would

be starting an annuity to prepare financially for retirement,

and I would be joining my professional organization. Mom

had been an active member of her education association,

and I would be a member of the nursing association.

After graduation in 1980 from Clemson University, I

became a member of the South Carolina Nurses Association

(SCNA). As a young, single nurse, I had time and energy to

be an active member. The experiences of attending forums,

educational offerings, legislative meetings, and networking

with colleagues from other areas of the state were not only

Georgita Tolbert

Washington

invaluable, but also fun. I was able to meet many new people and have conversations

I would not have had otherwise.

After marrying, I moved to Tennessee in 1988 and became a member of the

Tennessee Nurses Association (TNA). With relocation and a new position, soon came

children, home ownership responsibilities and surprises, returning to school to earn

three additional graduate degrees, church activities, and surviving breast cancer. Add

position changes, changing organizations, increasing levels of responsibility and some

management; time became quite a precious commodity making consistent meeting

attendance a challenge. Several times during these different seasons of life, I thought,

"sleep is highly overrated!"

The value of TNA was never a question. I found other ways to support my

professional organization. As a result of my TNA membership, I was able to

become a member of the Continuing Nurse Education (CNE) Review Committee.

Not only was the process itself an education, but I also learned by reviewing the

proposed CNE offerings in nursing that were not in my areas of practice. As a

member of this CNE review committee, I wrote the first application document for

my organization to become a CNE provider unit and became its first Lead Nurse

Planner. This made CNE contact hours more readily available to local nurses. So

even when I could not always actively participate in the meetings, forums, and

other gatherings, I found other ways to be involved. The access to the journals

and newsletters filled the gap and was enough for me to want to remain a

financial member at the very least. Besides, the Association could always use

my membership dues to do its work of advocating for the healthcare consumer,

nurses, and nursing.

Membership in TNA also helped me learn about professionalism. I was able to

witness how the nursing profession lives out its mission, clinically, educationally,

and politically. I was able to see how the association impacts healthcare access,

delivery, practice, and policy. I was encouraged to write letters to the editor

and send messages to legislators regarding those issues. I could write letters

encouraging legislators to accept federal monies that would expand access to

health care to more Tennesseans that need such assistance. I could send emails

stating how Nurse Practitioners are a safe, cost-effective, and efficient way of

providing care to those who need it, and with very positive outcomes.

The most beneficial is the gathering venues that allowed me to network with

other colleagues from different areas of the state. It was great to hear about the

experiences of other nurses and that challenges are the same no matter where we

practice. It was also great to hear new ideas and solutions to similar problems that

had been successful in other areas. Membership led me to submit abstracts for

consideration, leading to presenting several educational offerings at TNA conventions,

giving me even more opportunities for networking.

Membership in TNA led to a desire to seek and obtain certification in almost every

specialty area in which I have practiced, including being one of the first to be certified

as a Critical Care Clinical Nurse Specialist (CCNS).

Now retired, I can reflect on a nursing career that has only been enhanced by

membership in TNA. It has also given me many opportunities to support the work of

my professional organization. I would not have missed this ride for anything!
---
Page 4 Tennessee Nurse May, June, July 2022

TENNESSEE NURSES ASSOCIATION PRESENTS THE 2022

ANNUAL CONFERENCE

CREATING A PATH FORWARD

IMPORTANT DEADLINES

October 6-9, 2022

Franklin Marriott Cool Springs

700 Cool Springs Blvd.

Franklin, TN 37067

2022 TNA & TSNA Conference Registration Fees. Register NOW and Save While

Early-Bird Pricing is Available! Visit: TNAonline.org/Events to register.

Registration Early Bird Deadline Ends August 22

Registration Onsite After September 18

Registration Cancellation/Refund Deadline September 18

Hotel Reservation Deadline September 15

On March 11, 2020, the World Health Organization

acknowledged that the Covid-19 pandemic was

occurring. Since then, even the most skilled,

experienced clinicians have been challenged,

sometimes to the brink of mental and physical

exhaustion. Nurses are referred to as the "front line"

– a phrase commonly associated with soldiers in war.

Because national Covid-19 numbers are declining in

most areas of the country, many are looking at picking

up the pieces and gathering thoughts on how to move

onward.

Following any mental challenge, the debriefing

phase is essential for mental health support. This stage

is a time for reflection, acceptance, and recovery. This

year, the Tennessee Nurses Association conference

will examine the issues nurses have experienced, the

effects of nursing-related outcomes and ways to best

create and extend a path forward. In so doing, we will

revisit our historical roots of conquering hardships and

obstacles that have so often plagued our profession

and reinforce our unifying voice to positively influence

healthcare.

TNA & TSNA REGISTRATION INFORMATION

Pre-Conference

Full Registration

Full Virtual

Registration

TSNA Conference

Advocacy—included in Full TNA Conference Registration or as a stand alone purchase

Includes pre-conference on Thursday, lunch on Friday, Friday's Welcome Event featuring exhibits, food, music, silent auction opening,

and networking opportunities; attendance to all educational activities; entrance to Saturday Awards Reception; Exhibit Hall; Saturday

luncheon; all breaks and Membership Assembly

Virtual attendance only. Includes pre-conference on Thursday, virtual attendance to all educational activities, and Membership Assembly

Includes lunch on Friday, Friday's Welcome Event featuring exhibits, food, music, silent auction opening, and networking opportunities;

attendance to all TSNA educational activities; (including an NCLEX Review) entrance to Saturday Awards Reception; Exhibit Hall; Saturday

luncheon; all breaks and TSNA Membership Assembly.

TNA & TSNA CONFERENCE REGISTRATION FEES

NOTE: Only paid registrants displaying an official TNA conference name badge will be allowed entrance to conference program events.

Full TNA Conference Registration -

Includes Thursday, Friday and Saturday

Thursday Only

TSNA Pre-Licensure Students

Early Bird!

Thru Aug 22

Regular

8/23 – 9/18

On-Site

After 9/18

– –

TNA Member $320 $370 $400 $120 –

Non-Member $420 $470 $500 $120 –

Virtual Member $220 $270 $300 $120 –

Virtual Non Member $320 $370 $400 $120 –

TSNA Conference N/A N/A N/A N/A $95
---
May, June, July 2022 Tennessee Nurse Page 5

TENNESSEE NURSES ASSOCIATION PRESENTS THE 2022

ANNUAL CONFERENCE

Advocacy

Thursday, October 6

Pre-Conference

Price will be included in the TNA Full Conference

Registration fee. However, Thursday only pricing is

available if you do not plan to attend the conference.

Check TNAonline.org and click on events for details as

they become available.

Membership Assembly

All TNA members who attend this Annual

Conference will be eligible to vote on all issues,

positions, resolutions, and policies brought before the

assembly. Don't miss this chance to let YOUR voice be

heard!

Let's Vote!

TNA members will vote for Board officers and

Directors on Sunday. Election results will be announced

during the closing of the Membership Assembly. The

slate of candidates will be at TNAonline.org as soon as it

is available. If you are unable to attend the conference,

Absentee Ballots are available. Information on

requesting an Absentee Ballot is available in this issue of

the Tennessee Nurse.

If you are interested in serving on the TNA Board of

Directors or as a Nominating Committee member, the

Call for Candidates information is available in this issue

on page 6.

TNF Silent Auction

TN Nurses PAC Live

and Silent Auctions

TN Nurses PAC will hold both a live and silent

auction. If you are interested in donating items

to either of the PAC auctions, please email

Kathleen.Murphy@tnaonline.org for more information

and a donation sheet.

TNA Achievement Awards

Reception

The TNA Achievement Awards Reception, held on

Saturday evening, October 8, offers an opportunity to

honor nurses and other individuals by acknowledging

their exceptional dedication, commitment, and

professionalism to the profession of nursing. The

Ceremony will be followed by the Awards Reception.

We ask all TNA members to consider nominating

someone. We have all crossed paths with outstanding

nurses. Don't put off sending in your nomination.

Hotel Information

The cut-off date for TNA's discounted room rate

is Thursday, September 15, or until the group block

is filled! After this date, reservations will be accepted

at the hotel's prevailing rate, based on room type

availability.

TNA's special room rate: $149 (single/double). The

direct booking link is https://www.marriott.com/

event-reservations/reservation-link.mi?id=164753393

4118&key=GRP&app=resvlink

Online reservations are preferred to ensure you

receive TNA's group rate.

Join TNA in Franklin, TN, from

October 6-9, 2022, to experience

a conference jam-packed

with opportunities to engage and

network with colleagues and pursue

professional development, all while

earning contact hours. With four days

of sessions and hundreds of nurses, you

don't want to miss this event!

The Tennessee Nurses Foundation will hold its

Annual TNF Silent Auction and will offer a unique

assortment of items, with proceeds going to

support nurses through TNF's programs, as well as

opportunities to support fellow colleagues. The TNF

Silent Auction — your shopping extravaganza—

begins Friday and ends Saturday at 4:30 p.m.

Donations are being accepted through 11:00 a.m.

on Saturday, October 8, the last day of the auction.

An intent to donate form is available at this link

https://form.jotform.com/221034939173152

Edna Mason Memorial TNA

Conference Scholarship

The Tennessee Nurses Foundation is pleased to offer

a scholarship to attend the TNA Annual Conference.

This scholarship is only available to Registered Nurses

in direct care, and you must be a first-time attendee

to the TNA Annual Conference. Previous conference

attendees will not be eligible.

TNF will award one (1) scholarship in 2022 to cover the

TNA Annual Conference registration fee. This scholarship

does not include lodging or travel. Transportation to and

from the conference, hotel, additional meals, incidentals,

etc., is the responsibility of the scholarship winner.

Submission Deadline: Thursday, August 25, 2022

Apply today at: https://www.jotform.com/

form/212564757451157

NursingALD.com can point you

right to that perfect NURSING JOB!

Let us care for your career.

Sign on bonus & incentives available!

Lincoln Health System is looking for

exceptional RNs and LPNs to help

us care for our community.

NursingALD.com

Free to Nurses

Privacy Assured

Easy to Use

E-mailed Job Leads

Call (931) 438-7380 or visit

LincolnHealthSystem.com to apply.
---
Page 6 Tennessee Nurse May, June, July 2022

CALL FOR CANDIDATES

TNA Members – Help Lead and Shape TNA Policy

Self-Nominations Accepted Now for Several

Elected Positions

The Tennessee Nurses Association Nominating

Committee is actively seeking nominations for

several positions that will be open for election

on the TNA ballot at Membership Assembly on

October 9. A nomination to one of the Board of

Directors' positions allows you to lead and make a

difference in your state professional association.

YOU are the Voice of TNA!

Positions Available:

• President Elect – 1 to be elected

• Vice President – 1 to be elected

• Treasurer – 1 to be elected

• Director, Education – 1 to be elected

• Director, Membership – 1 to be elected

• Nominating Committee – 2 to be elected

Go to TNAonline.org and click on Call for

Candidates under the Events menu for full

details and position descriptions.

TNA encourages ALL TNA members who are

interested in serving on the Board of Directors

to submit the online Call for Candidates selfnomination

form, available at https://form.

jotform.com/221084186191151

The submission deadline date is midnight

July 18, 2022.

No handwritten, faxed, or mailed Call for

Candidates Applications will be accepted. All

Call for Candidates applications will be reviewed

and selections made by the TNA Nominating

Committee. Thank you in advance for your

willingness to serve.

Several members have

asked how resolutions

are formatted for

consideration by the TNA

Membership Assembly. I

hope that this brief article

provides you with some

guidance on how to write a

resolution. The information

below is garnered from

Robert's Rules of Order

Newly Revised, 11th Edition

and the TNA Policy and

Procedure Manual.

A resolution or a long or

complicated motion should

be prepared in advance

How to Write a Resolution

of the meeting and should be put into writing before it is

offered. The deadline for submission of resolutions this

year is August 13, however, TNA policies and procedures

allow for resolutions to be submitted to TNA no later than

30 days prior to the Membership Assembly. Resolutions

shall then be referred to the Reference Committee for

appropriate review. Resolutions cannot be submitted from

the floor of the Issues or Bylaws Forums, or Membership

Assembly except by affirmative vote of two-thirds (2/3)

of the members of the Membership Assembly present

and voting. Any resolution submitted from the floor and

accepted for presentation must be submitted in written

form.

Resolutions must be submitted adhering to the

following guidelines:

• The Resolution shall deal with a single topic.

• The Resolution shall be accompanied by an action

plan in sufficient detail to allow a financial impact

statement to be delivered.

• The Resolution and accompanying action plan

shall be concise and clear.

CALL FOR RESOLUTIONS

The Tennessee Nurses Association is issuing

a formal Call for Resolutions for the 2022 TNA

Membership Assembly to be held during the TNA

Annual Conference on October 6 – 9, 2022, at

Franklin Marriott Cool Springs, Franklin, TN.

Resolutions can be submitted by any TNA

member.

If you wish to submit a Resolution,

please submit by email to Kathryn Denton,

kathryn.denton@tnaonline.org,

no later than August 5, 2022.

• The Resolution shall

have relevance to the

Tennessee Nurses

Association and/or

citizens of the state of

Tennessee.

• The Resolution shall

not duplicate existing

Association policy or

Bylaws or be redundant.

TNA resolutions

include a preamble,

a preamble consists

of brief statements of

background and reasons

for the resolution. A

preamble consists of one or more clauses beginning with

"Whereas,…" To avoid detracting from the force of the

resolution itself, a preamble generally should contain no

more clauses than are strictly necessary. The last paragraph

of the preamble should close with a semicolon, after which

a connecting expression such as "therefore" or "therefore,

be it" is noted. The preamble is then followed by the

actions being requested of the Membership Assembly.

These actions are written as "Resolved" clauses, the

resolved is generally in italics, followed by action clauses,

not in italics. If there are more than one resolving clause,

each of them should be a separate paragraph.

The resolution format therefore is as follows:

Whereas, The (text of preamble),

Whereas, Text of additional background/reason….; now,

therefore be it

Resolved, That (text of action). Additional actions should

be in additional resolved statements.

Article reprint permission – Tina Gerardi, MS, RN, CAE

TNA resolutions, therefore, should be submitted using the following template.

TENNESSEE NURSES

ASSOCIATION MEMBERS

ONLY REQUEST FOR

ABSENTEE BALLOT - 2022

TNA Member Agreement: I understand that

mailing the TNA ballot to me in the manner and

form that has been approved, discharges TNA's

responsibility to me in the matter of absentee

voting. I further understand that requesting an

absentee ballot removes my name from the list

of eligible voters at the TNA Annual Conference.

Absentee ballot requests must be submitted

online through the TNA Request for Absentee

Ballot JotForm at https://form.jotform.

com/221226744261147. The submission

deadline is September 9.

The absentee ballot with return instructions

will be mailed to you by September 14. Your

completed ballot must be received at TNA

headquarters by the close of business on

September 30, 2022.

If you have questions, please contact Kathryn

Denton at Kathryn. Denton@TNAonline.org or call

615-254-0350 ext. 3.

We invite you to submit an

abstract to be considered for

oral or poster presentation

at the 2022 TNA Annual

Conference, Creating a

Path Forward in Franklin,

Tennessee. Poster abstracts

may be on any topic. The

focus/content of your oral

abstract should relate to one

of the following paths:

• Education

• General Nursing Practice

• Bedside Nursing

• Advanced Practice

• Undergraduate Nursing

CALL FOR ABSTRACTS

TNA Annual Conference

Creating a Path Forward

October 6 – 9, 2022

Franklin Cool Springs Marriott

Franklin, TN

(Office Use Only) Resolution ________________

MA Disposition _________________________

INSERT NAME OF RESOLUTION HERE

WHEREAS, Insert Resolution Information, and

Continue using WHEREAS until you have covered all background/reasons; and now, therefore be it

RESOLVED, Insert Resolved Information, and

Continue using RESOLVED until you have covered all action issues.

Submitted By,

Insert Name(s)

Insert Submitter's email address

*Resolutions requiring resources must include a financial impact statement

ABSTRACT

SUBMISSION DEADLINE:

Abstract submissions must

be received by 4:30 p.m. CST,

on June 17, 2022.

SUBMISSION ACCESS LINK

Submit abstracts at:

https://form.jotform.

com/220945117735154 or visit

TNAonline.org and click on Call for Abstracts under

the Events menu. Important note: a completed

Educational Planning Table and a Financial Disclosure

Form (available at TNAonline.org, Events menu, Call

for Abstracts) must be completed and submitted as

part of your application.

If you have an innovative project or topic that

does not quite fit into any of these categories,

please submit, as a few innovative presentations

outside those boundaries will be considered.

If you have questions, please

email TNA@TNAonline.org.
---
May, June, July 2022 Tennessee Nurse Page 7

The Societal Benefits Gained from Associations

Jack Frazee, JD

Consider the fact that in our representative democracy, elected officials are

selected from all walks of life. Your representative or senator, prior to their election,

may have been an exterminator, a public school teacher, a lawyer —all professions

with little or no training in evidence-based health care. These same people are then

asked to consider complex questions about how we ought to design our public health

systems and policies. That is a significant task, and in the democratic system we foist

it upon people with skills that sometimes do not match the assignment. To make

informed decisions about these issues, elected officials rely on input from people with

specialized knowledge.

Specialized knowledge is difficult and time consuming to obtain. We invest time,

money, and our professional reputations in the pursuit of it. And for our system of

government to work, we must find ways of consistently sharing this knowledge with

elected officials when they are considering specialized issues.

This is the power of professional associations like TNA. Through association,

members create an institution that can present their collective knowledge to

elected officials when elected officials need it most.

When associations share knowledge with elected officials, there is no benefit

to being rude, aggressive, or hostile. The association therefore serves a moderating

function in an otherwise combative political dialogue. For people who find the

political system too coarse, meanspirited, and vindictive, their professional

association is a means of engaging in more reasoned discourse. Moreover, there is

an inherent benefit to the public when we create institutions that share high quality

information on specialized issues with elected officials, because otherwise, elected

officials would lack the resources necessary to make informed decisions.

Elected officials don't have to be stupid to make poor choices; even intelligent

people can be ill informed. There's simply not enough time to become an expert in

everything, and so we all rely on one another to make better choices as a collective.

The association serves another important function: Much like elected officials

may lack knowledge of nursing and evidence-based medicine, nurses may lack

knowledge of the political and legal systems. These systems, like the practice

of medicine, require study, experience, and the accumulation of knowledge to

navigate effectively. The association provides expertise that promote its members'

ability to engage elected officials, seek relief from societal problems, and

participate in the political process.

The freedom to associate and participate in government is rooted in the First

Amendment of the Constitution of the United States of America, which protects

"the right of the people peaceably to assemble, and to petition the Government

for a redress of grievances." By exercising this right, Tennessee nurses promote

good government and the public's interest in an effective healthcare system.

Reprinted with permission from Texas Nursing Magazine, Issue 2, 2022.

TN Nurses PAC

National Nurses

Week Celebrations

2022 Scholarly Writing Contest

The Tennessee Nurses Foundation (TNF) announces Afrodita Aguilar, RN, BSN

as the 2022 TNF Scholarly Writing Contest winner. The contest is held yearly in

celebration of National Nurses Week.

It gives us great pleasure to award Afrodita Aguilar with a check for $1,000,

plus a free registration to the TNA Annual Conference, held October 6-9, 2022, at

Franklin Marriott Cool Springs, Franklin, TN.

Afrodita Aguilar, "Thank you to the Tennessee Nurses

Foundation for selecting my essay for the 2022 Scholarly

Writing Contest! The Tennessee Nurses Foundation has

been a great source of information and support for nurses

navigating the professional realm of nursing. As a young

nurse aspiring to be a leader at Parkridge Valley Hospital in

Chattanooga, TN, I look up to many nurse leaders to guide

my growth in this beautiful field. Thank you so much to the

TNF for allowing me to attend the Annual Conference, where

I will meet many great nurse leaders and advocates for a

greater future."

Afrodita Aguilar's paper, Leadership in Nursing, is

available under the Tennessee Nurses Foundation (TNF)

menu at TNAonline.org.

Afrodita Aguilar,

RN, BSN
---
Page 8 Tennessee Nurse May, June, July 2022

Nurses Well-Being

Sleep and Your Health

Cynthia Meyer, MSN, RN, CHSE

Debra Rose Wilson, PhD, MSN, RN, IBCLC, AHN-BC, CHT

To sleep, perchance to dream. – Shakespeare

One in three adults do not get the uninterrupted sleep that

is recommended, and inadequate sleep has a direct effect

on the functioning of the immune system. Nurses and other

health care workers are part of the 18 to 20% of Americans

who work alternating shift schedules. Sleep is essential, not

only as restorative but because of its role in the regulation

of immune response. There has been some interesting

research in the last 20 years that explored the connections

between sleep, inflammation, and immune function. With

this information at hand, a nurse can improve self-care and Cynthia Meyer

appreciate the importance of teaching sleep hygiene as part

of holistic patient health care system.

The sleep-wake cycle balances biological health,

mental well-being, and helps the immune system adapt as

needed. The sleep-wake is based on the 24-hour circadian

clock that regulates complex bodily functions, including

the cardiovascular system, inflammation, and immune

response. Cytokines are messenger proteins that can be proinflammatory

or anti-inflammatory, triggering a response

to infection or injury. People with chronic inflammatory

disease, sleep problems, and depression have higher levels of

circulating pro-inflammatory cytokines.

While the body is awake, the immune system is protecting

the body against foreign pathogens. Anti-inflammatory Debra Rose Wilson

cytokines (IL-4, IL-10, IL-13, and TGF-β) are active. Natural

killer (NK) cells act by stopping the growth of mutating cells such as cancer, and increase

production during the wakeful state. These immune cells are very responsive to stress and

lower or discontinue production when the sympathetic nervous system spills the stress

hormones. The longer you are stressed during wakeful periods, the less opportunity NK

cells have to increase in numbers and the greater the chance that rogue cells will continue

to mutate. The body can't do maintenance work on immune function when the resources

are being transferred to first aid and alarm response systems when stressed. For those

who experience a great deal of stress, sleep is even more important. Once asleep, the

body is put back into balance as CD4+ T cells and Th1 and Th2 respond, and production is

higher. Natural killer cells, melatonin, and stress hormones can replenish themselves.

Sleep Deprivation

Both short-term and long-term sleep deprivation disrupts the 24-hour circadian

clock and immunological functions. Sleep deprivation increases inflammation, so

those with a pre-existing inflammatory disease (such as RA, depression, or bowel

disease) need consistent sleep even more than others. With increased inflammation

and decreased melatonin risk for CVD, breast cancer, and other inflammatory diseases

rise. Thermoregulation, insulin levels, vaccine response, and cognitive flexibility are

impaired with inadequate sleep. Those with sleep apnea are at higher risk for diabetes,

hypertension, coronary issues related to the increased inflammation. For those who

are significantly stressed, quality sleep is difficult to achieve. The sleep-wake cycle

is disrupted when pro-inflammatory cytokines and stress hormones (e.g., cortisol,

epinephrine, and norepinephrine) are released.

Shift work

Current estimates are that about 20% or one-fifth of the workforce currently

participate in shift work. Of those working in the healthcare sector, 52% report short

sleep duration. Studies also showed that those working the night shift reported poorer

quality sleep and sleep deprivation. The general recommendation is for individuals to

get between seven to nine hours of sleep, but shift workers get less than six hours daily

or one to four hours less per week. Those working the night shift may not be able to

make up for lost sleep which is needed for relaxation and physical restoration.

Shift work is essential for healthcare. Nurses must work hours that may not be

conducive to sleep to provide round-the-clock care for patients. These hours may cause

a disruption in sleep. Circadian rhythms are what regulate the sleep-wake cycle, and

these cycles rely on light to direct the cycle. Daylight causes us to become more alert

and awake, while darkness leads to melatonin production, which prepares the body for

sleep. Shift work disrupts the natural sleep-wake cycle, and research has shown that

over time the physical and mental health of those who participate in shift work may be

impacted by the disruption in sleep.

Shift work has been shown to have a negative impact on the psychological and

social health of the individuals working those hours. Shift work sleep disorder (SWSD)

occurs when work schedules disrupt the natural circadian rhythms, and the disruptions

cause excessive sleepiness, fatigue, or insomnia. Eventually, these symptoms may result

in distress or impairment in mental, physical, and social functioning. Furthermore,

sleep deprivation can lead to increased stress which in turn can lead to decreased job

satisfaction for nurses. Studies showed that health professionals who worked night

shifts had higher levels of psychological and mental health problems than their day

shift counterparts. This included higher levels of depression, irritability, stress, OCD, and

mood disorders. Shift workers also exhibited negative feelings, isolation, and difficulty in

relationships.

Continued on next page
---
May, June, July 2022 Tennessee Nurse Page 9

Nurses Well-Being

Sleep allows the body to heal itself, and it helps

boost immune function. Nurses who do shift

work are not exempt from the negative effects of

inadequate sleep. Obesity is more common in shift

workers, and there is an increased risk of metabolic

syndrome and diabetes. Shift work compromises

immune function and places individuals at an

increased risk for breast and colorectal cancer.

When compared to day shift workers, those

doing shift work have an increased risk of

cardiovascular disease. Continued alterations in

the circadian rhythms have also been linked to

gastrointestinal issues such as gastritis, indigestion,

appetite disorders, irregular bowel movements,

constipation, heartburn, and pain. Since nursing

is predominantly a female profession, it is worth

noting the correlation between shift work and

reproductive issues such as decreased fertility,

altered menstrual cycles, and other reproductive

issues.

Tips

Shift work can have negative effects on health;

however, these crazy hours are necessary for the

nursing profession. There are things workers can do

to improve sleep and maintain adequate rest. The

following tips are included for surviving shift work:

• Maintain a consistent sleep schedule

o Keep the same sleep-wake cycle on days off

o Sleep directly after a shift or adopt a split-nap

schedule

o Take a short nap prior to shift on workdays but

avoid naps longer than 30 minutes

• Maintain an ideal sleep environment

o Cool environment between 68-72 degrees

Fahrenheit

o Limit noise using white noise or earplugs

o Limit light using an eye mask or blackout

curtains

o Stay away from electronic devices such as a

computer screen or cell phone in the two hours

prior to sleep.

• Promote sleep

o Take a hot shower, go for a walk, or use

meditation for relaxation

o Limit strenuous exercise

o Limit caffeine, alcohol, nicotine three to four

hours before bed

o Maintain a healthy diet and avoid fatty, spicy

foods before bed

o If you tend to be cold, wear socks to bed

• Things to do at work

o Eat healthy

o Use caffeine in moderation and avoid 4 to 6

hours before sleep

o Take short, frequent breaks

o Keep the work environment well lit

o Schedule wisely with no more than three

consecutive 12-hour shifts and have 11 hours

off to ensure adequate rest time

o Nap before driving home if needed

o Get out into the sunshine on your breaks when

possible

o Give yourself stress management breaks where

you rest, meditate, or practice breath work.

Conclusion

Shift work is part of our profession, but changes in

sleep rhythms have a negative impact. Lack of sleep

in nurses not only increases the chance of error but

leads to health issues. This is a global issue for nurses.

Assess your own sleep. The National Sleep Foundation

(NSF; sleepfoundation.org) has a Sleepiness Test that

examines sleep patterns over the past 2 weeks. There

is the Epworth Sleepiness Scale that assesses daytime

sleepiness and STOP BANG screening questions for sleep

apnea. If you aren't sure about your sleeping habits, try

a sleep diary. The NSF can guide you through keeping a

week of journaling with quality of sleep, caffeine intake,

bedroom environment, and sleep hygiene. What are you

going to do to improve your quality of sleep?

References Available Upon Request

Cynthia Meyer, MSN, RN, CHSE – Cindy is an Assistant

Professor and the Simulation Lab Coordinator at Austin

Peay State University, currently working on her PhD at

East Tennessee State University.

Debra Rose Wilson, PhD, MSN, RN, IBCLC, AHN-

BC, CHT – Dr. Wilson is a Health Psychologist and a

Professor of Nursing at Austin Peay State University

and was the 2017-18 American Holistic Nurse of the

year. She has been educating nurses in Tennessee for

over 20 years, and has a private hypnosis practice in

the Nashville area, and teaches hypnosis to nurses and

psychologists.

HANDS ON. ONLINE.

ON TARGET.

MSN . DNP . POST-MASTER'S . PhD

Top-ranked nursing programs

14 specialties, 11 Post-Master's programs,

2 DNP tracks & personalized PhD program

Distance and hybrid learning

Supportive, diverse and inclusive culture

NURSING.VANDERBILT.EDU

Vanderbilt is an equal opportunity affirmative action university.
---
Page 10 Tennessee Nurse May, June, July 2022

Government Affairs

Advocacy and Legislative Session Update

Kathleen Murphy

TNA Director of Government Affairs and Lobbyist

As I write this update for you, the Legislature is still

in Session, although they are closing committees for the

year and the Governor's budget had been announced.

Both of those activities are signs that the end is near, or

the official adjournment motion is "sine die." Sine die

means with no appointed date for resumption. This is

the second year of the two-year General Assembly. The

next General Assembly will return the second Tuesday in

January 2023.

We will be emailing out and posting on our website

a more comprehensive update of legislation of interest

shortly after they adjourn. Until then, I feel it is

important to update you on two pieces of legislation Kathleen Murphy

impacting the nursing profession.

First is the Transition to Prescribing legislation sponsored by Sen. Jon

Lundberg and Rep. Bob Ramsey supported by TNA and the Access to Care

Coalition. After several weeks of being rolled to the next calendar in the Senate

Commerce Committee in an effort to work out amendments with other Senators,

the legislation SB176/HB184 was sent to a summer taskforce. Senator Lundberg

informed the committee how talks and negotiations between the Tennessee

Medical Association/Coalition for Collaborative Care and the nursing community

coalition, TNA and the Access to Care Coalition had not happened because the

physician community would not come to the table in a meaningful way.

Senator Lundberg did an outstanding job this session for this legislation.

His commitment to working with other legislators to work out areas of

disagreement should be commended. He is a true supporter of nurses. We

cannot thank him enough for his efforts alongside the House Sponsor, Rep. Bob

Ramsey.

While we did not make it through committee, crucial contacts and

connections were made with legislators. The committee made real

commitments to hold a task force before next legislative session that will bring

the medical community and stakeholders together to work through areas

of disagreement. While this is not the progress we wanted this year, it is still

progress. To quote one Senator, "APRN Full Practice Authority is coming, we

must pass some legislation."

The other piece of legislation I wanted to tell you about is a big victory for

the nursing profession. SB2401/HB2148 establishes the Tennessee Center for

Nursing Advancement within East Tennessee State University and passed the

House and Senate without any negative votes! The funding for this center has

been provided in the Governor's budget in addition to other funding sources to

provide for the center.

The Center will: Develop a strategic statewide plan for nursing manpower

based on a detail analysis of workforce needs; Establish and maintain a

database on nursing workforce needs; Routinely convene representatives of

nursing professionals, healthcare; professional organizations, business and

industry leaders, and other stakeholders to solicit: (A) Reviews and comments

on data analysis provided by the center; and (B) Recommendations for

systematic changes and strategies to implement the recommended changes;

and Enhance and promote activities for nurses in this state to be recognized,

rewarded, and renewed.

We know first-hand that the demand for nurses will only increase in the

decades ahead due to the health needs of the aging Tennesseans, increases in

behavioral and mental health conditions, increases in lack of access to primary

health care, high maternal mortality rates, and other sociodemographic factors

and health workforce imbalances.

This Center will do important work gathering information so that legislators,

educators, employers, and nurses can make decisions to improve the nursing

profession and understand our workforce needs. TNA has already been assisting

and contributing information in shaping the future of this center and look

forward to continuing and supporting the work it will do.

TNA is committed to fighting for access to health care for all Tennesseans.

We serve as the voice for every Tennessee nursing professional, and that is a

responsibility we take seriously. Tennessee is home to incredible health care

professionals, and we are grateful for the progress made. We will keep you

updated on the timeline of the task force and how you can help keep the

momentum growing.

TNA Member

Benefit Focus

Member Options is here

to help you find the most

auto, home, pet and more!

Multiple Auto Insurance Quotes Save Time & Money

You can get multiple quotes from up to five top-rated carriers in a matter of minutes.

Save hundreds of dollars per year on auto, home, pet and more.

Switch Carriers Anytime

We help make switching carriers mid-policy simple and fast.

We Make It Easy

There are countless options for auto insurance. One quick call with a licensed

insurance agent is all that stands between you and your new insurance policy.

Call 833.378.8224 for your FREE

no-obligation quote today!

Or go online at member-options.com/tna
---
May, June, July 2022 Tennessee Nurse Page 11

Spotlight on Practice

Older Adult Mental Health

Megan Simmons, DNP, PMHNP-BC

Assistant Professor, PMHNP Program Vanderbilt University School of Nursing

Practicing at Vanderbilt University Medical Center's

Outpatient Geriatric Psychiatry Clinic

Suicide awareness and prevention is an important topic

for any age group, yet the older adult population is often

overlooked when assessing for and addressing mental

health issues. Getting older does not mean your mental

health should suffer, and depression is not part of normal

aging. Mental health issues have been linked to negative

outcomes in older adults, such as cognitive impairment,

mortality, hospitalization, and nursing home placement

(1). As healthcare providers, it is important to be aware of

and educate our patients on the prevalence, risk factors,

signs and symptoms, and resources available for those with

mental health concerns. As the older adult population Megan Simmons

rises across the world and the United States, the mental

well-being of this population should be at the forefront for healthcare providers and

society.

Older Adult Population Trends

It is estimated that between 2015 and 2050, the global population of those over

60 years old will nearly double from 12% to 22%, and approximately 15% of those

older adults suffer from a mental disorder (2). According to the 2020 U.S. Census,

those age 65 and older account for 16.5% of the nation's population, and this

number is projected to rise to approximately 20% of the overall population by 2050

(3). In Tennessee, approximately 17.1% of the state's population were 65 and older

in 2020 (4).

Prevalence of Mental Health Issues in Older Adults

In 2019, 8.1% of those 65 and older in the United States reported frequent

mental distress and 14.7% of older adults in the United States reported that a

health professional told them that they have depression (5). In Tennessee,

10.3% of older adults reported frequent mental distress, and 18.9% reported

a health professional told them that they have depression (5). These numbers

show that older adults are more likely to have a healthcare professional tell

them that they have depression than to self-report mental distress, which

highlights that mental health issues are under-reported by older adults.

Furthermore, there was an 11% increase in reported frequent mental health

distress by older adults in the United States between 2016 and 2019, and a 3%

increase in deaths due to intentional self-harm per 100,00 adults age 65 and

older in the United States (6). Among all adults, young adults have the highest

prevalence of suicide attempts, but men age 75 and older have the highest

suicide rate (6). Among adults age 50 and older in 2020, 2.7% had serious

thoughts of suicide in the past 12 months, 0.4% made a suicide plan, and 0.1%

attempted suicide (7). Under-reporting and rising prevalence of mental health

issues among a continued growing population is a grave concern that requires

attention and education.

Risk Factors

Due to lack of psychoeducation and stigma, older adults are less likely to report mental

health issues, and healthcare providers perpetuate this further with under-diagnosing and

treating mental disorders. Older adults tend to report depressive symptoms differently,

such as in the form of physical symptoms, which may be one reason for under-diagnosis.

In addition to stressors that are common in all age groups, older adults may have

more population-unique stressors related to physical health issues, decreased functional

abilities, cognitive impairment, bereavement, change in socioeconomic status due to

retirement, relocating, lack of social support, and isolation. Social isolation is a risk factor

that the COVID-19 pandemic magnified. We all need social connection to thrive, yet older

adults often spend more time alone especially when isolating in a pandemic.

What You Can Do

Unfortunately, there is a shortage of mental health providers in the workforce and even

more so for those who specialize in the care of older adults. With the increasing older

adult population, the shortage of mental health providers is projected to increase and thus

create more barriers to care for this vulnerable population. The Institute of Medicine and

others have proposed strategies to address the capacity of the geriatric mental healthcare

force. In the meantime, primary care remains the most likely place to capture this

population (1).

The power of mental health and suicide awareness is frequently underestimated.

Don't be afraid to start the conversation about mental health, or to ask patients if they

are having thoughts of wanting to harm themselves. Although it seems like an awkward

topic of conversation, you can normalize it just by asking the question. Screening tools are

an especially helpful way to initiate that conversation and measure symptomology. Older

adults will often express symptoms of depression as physical symptoms such as feeling

tired, having pain that changes locations in their body, or feeling weak. Educate yourself

and your patients on the prevalence and presentation of mental disorders and know what

local resources you can suggest or provide for your patients.

References

1. Kunik, M.E., Mills, W.L., Amspoker, A.B., Cully, J.A., Kraus-Schuman, C., Stanley, M., and Wilson,

N.L. (2017). Expanding the geriatric mental health workforce through utilization of non-licenses

providers. Aging Mental Health. Retrieved from https://www.ncbi.nlm.nih.gov/pmc/articles/

PMC5568805/ Accessed May 13, 2022.

2. World Health Organization. (2017). Mental health of older adults. Retrieved from https://www.

who.int/news-room/fact-sheets/detail/mental-health-of-older-adults Accessed May 13, 2022.

3. United States Census Bureau. (2020). Population 65 and older in the United States. Retrieved from

https://data.census.gov/cedsci/table?q=s0103 Accessed May 13, 2022.

4. Kilduff, L. (2021). Which U.S. states have the oldest population? Retrieved from https://www.prb.

org/resources/which-us-states-are-the-oldest/ Accessed May 13, 2022.

5. United Health Foundation. (2021). America's Health Rankings Analysis of CDC, Behavioral Risk

Factor Surveillance System. Retrieved from https://www.americashealthrankings.org/ Accessed

May 13, 2022.

6. National Institute of Mental Health. Suicide. Retrieved from https://www.nimh.nih.gov/health/

statistics/suicide Accessed May 13, 2022.

7. Substance Abuse and Mental Health Services Administration. (October 2021). Key Substance

Use and Mental Health Indicators: Results from the 2020 National Survey on Drug use and Health.

Retrieved from https//www.samhsa.gov. Accessed May 13, 2022.
---
Page 12 Tennessee Nurse May, June, July 2022

District News

District 1

President: Kristin Fitchpatric

Artangela Henry, DNP, AGACNP-

BC, NP-C (TNA District 1

member) has been named a 2022

American Heart Association

Woman of Impact. This is an

initiative through the Go Red for

Women campaign to fundraise

for ongoing education and

research involving the risk of

cardiovascular disease and stroke

in women. Cardiovascular

Kristin Fitchpatric disease is responsible for one in

three deaths among women. The

campaign runs from February 4th through April 7th.

Dr. Henry is a nurse practitioner and assistant

professor. She is a subject matter expert in sickle cell

disease and advocates for underserved and overlooked

patient populations.

On March 24, 2022, The University of Tennessee Health

Science Center (UTHSC) College of Nursing hosted the

Inaugural Kaleidoscope Story Slam. Christie Manasco,

PhD, RN, and Lisa D. Beasley, DNP, APRN, NP-C, did a

wonderful job planning this event.

UTHSC states: "Sharing our stories illustrates how

we, individually and professionally, value the distinctive

contribution and worth of all persons and imparts our

commitment to diversity, equity, and inclusion for all."

Several of our District 1 members participated in

2 dynamic, master-storytelling workshops led by the

Creative Director, Josh Campbell of Spillit Memphis. These

workshops were designed to teach participants how to

Artangela Henry

craft their personal stories in preparation for this event.

Thank you to the UTHSC Office of Inclusion, Equity, and

Diversity for funding the Diversity and Inclusion Mini-

Grant that made this possible!

District 1 elections will be held soon for multiple

officer positions. The call for nominations will be sent

via email. Thank you to all the District 1 nurses for their

hard work and dedication to the profession!

Ginny

Massey-Holt

District 3

President: Ginny Massey-Holt

April Membership Meeting

The District met at Belmont

University on Thursday, April

21, 2022. Our gratitude to

Doctor of Nursing Practice

Candidate and Adjunct

Instructor Carolyn Howard,

who presented 'Nurses'

Implicit Attitudes Regarding

LGBTQ Population.' A 1.0

hour continuing nurse

education credit was provided

to attendees; thank you

to Dr. Cathy Lovelace for

coordinating the continuing education. Our guests

enjoyed a taco bar from Flavours (Belmont's

Sodexo). We had door prizes, including TNFfundraising

T-shirts, coffee mugs, and canvas bags.

The grand prize of two general admission tickets to

WonderWorks Tennessee in Pigeon Forge was won

by Dr. Loretta Bond!

This District is sincerely thankful to Dr. Loretta

Bond, Associate Professor at Belmont and District
---
May, June, July 2022 Tennessee Nurse Page 13

District News

Director, for spearheading this membership

meeting event! Thank you to Belmont University

for sharing their beautiful campus.

Upcoming July Membership Meeting

Please mark your calendars for the July District

Membership Meeting on Thursday, July 21, 2022,

from 6:00 p.m. to 7:30 p.m. Our speakers will be

Tammy Stokes, MSN, CHPN, RN-BC, Director of

Palliative Care at Maury Regional Medical Center,

and Dr. Chris Turner, MD, Hospital Medicine. The

topic is 'Resiliency and Gratitude.' The location:

Maury Regional Medical Center in the Auxiliary

Conference Room. The address is 1224 Trotwood

Avenue, Columbia, TN. 38401.

District Elections

District elections will be held during the July

21 meeting for President-Elect (this is a threeyear

commitment, one year as President-Elect to

learn the role, and two years as President); Vice

President; Secretary; and three Board of Director

positions. Please contact one of the current

officers if you have questions about the roles and

responsibilities, and submit your name via email to

Ginny Massey-Holt at vholt5@Columbiastate.edu

by July 15.

District 5

President: Christine Reed

District 5 held a special meeting on

February 15. Members attended a

panel discussion centered on Role

Conflict, a topic that was

recommended by nursing students

at a prior general district meeting.

The expert panel was comprised of

nurse leaders in higher education,

hospital administration, clinical

education, and nurse residency

program management. Members

Christine Reed praised the presentation format,

and District 5 is considering

holding additional panel discussions in the future.

On April 19, Melanie Stanton, BSN, MBA, RN, NEA-

BC, presented "Implementing a Nurse Leader Residency

Program to Improve Leadership Competency." Ms. Stanton

is the CEO of Franklin Woods Community Hospital and a

member of TNA District 5.

District 5 continues to support the community, including

plans to donate funds to two local nonprofits in 2022.

Branch House Family Justice Center will receive its donation

in April 2022. Branch House is in Sullivan County and exists

to serve survivors of abuse through unified community

engagement, education, and collaboration. Family Promise,

which will receive its donation later in 2022, addresses

family homelessness, providing homelessness prevention,

emergency shelter, workforce development, education,

financial capability, health, and wellness. District 5 is proud

to support both organizations.

To celebrate Nurses' Week, District 5 honored one of

its members as Nurse of the Year. The District 5 Nurse of

the Year Award was designed to honor an outstanding

nurse who embodies excellence in the nursing profession.

Nurses were nominated by their peers for a variety of

reasons, including nurses in the following roles: Clinical,

Administrative, Education, Non-Traditional Role, APRN.

The Nurse of the Year is someone who represents nursing

values such as compassion, kindness, knowledge, ethics,

and innovation.

District 5 is pleased to announce Dr. Gail Broyles

as District 5's first recipient of the Nurse of the Year

Award 2022. Visit District 5's webpage at https://tna.

nursingnetwork.com/page/94134-district-5

Raven Wentworth

District 6

President: Raven Wentworth

District 6 hosted a revitalization

meeting on April 21 at White Hall

on Union University's campus.

Thank you to Dr. Harden and

Union University for supporting

District 6 nurses. Kirk Lawson,

TNA Executive Director; Julie

Hamm, TNA President; and

TNA's Past-President, Carla

Kirkland, attended to show

support and encourage TNA

members and non-members.

District News continued on page 14
---
Page 14 Tennessee Nurse May, June, July 2022

District News

District News continued from page 13

General updates were provided as well as a

brainstorming session on how to increase engagement

and support nurses within the District. A treasurer's

report was provided, and the District is in good

financial standing.

New officers were elected as follows: Christie

Manasco Doris, President; Julie Cupples, Vice

President; Celecia Osborne, Secretary; and Tiffany

Elliott, Treasurer. Thank you for serving and providing

leadership.

If you are not a member, we invite you to join at

TNAonline.org and select the red Join TNA tab in the

white area under the menus. Joint membership in TNA

and ANA is only $15/month or $174/year. Joining TNA

and ANA is a smart choice to achieve quality patient

care, advance your career and elevate our profession.

Save the date for TNA's Annual Conference in

Franklin, TN, October 6-9, 2022. Information on this

and all TNA events can be found under the Events

menu at TNAonline.org.

District 15

President: Marcia Barnes

Greetings from District 15!

Welcome to all our new

District 15 members! Always

good to see that monthly list of

new members. We appreciate

each and every one of our

members.

Well, spring has sprung, and it

is such a welcoming sight. Things

are budding, and color is starting

to appear. Hope you are ready to

Marcia Barnes get outside, feel some sunshine,

and enjoy warmer weather.

District 15 held its last quarterly meeting via

zoom on April 4. Dr. Kristie Peggins delivered the

presentation on Medical Cannabis 101. Dr. Peggins is a

family nurse and adult-gerontology nurse practitioner

at Baptist Health Sciences University in Memphis. She

holds a Doctorate of Nursing Practice from University

of Tennessee Health Science Center. She is currently

an assistant professor and clinical coordinator in the

doctoral program at Baptist Health Sciences University.

She will complete a Masters degree from the

University of Maryland Baltimore in Medical Cannabis

Science and Therapeutics this May. This was a very

informative and interactive presentation.

Dr. Kim Holden and Janice Brothers, RN, hosted the

American Holistic Nurses Association Nashville (AHNA)

Chapter meeting on April 11th via zoom. Special guests

included Dr. Deborah Wilson.

Debbie Sullivan and colleagues have an abstract that

was accepted by the NLN Research Conference in Las

Vegas called "A 3 Phase Project looking at the Nurse

and Student Nurse Mental Health and Burnout during

COVID-19 Pandemic.

District 15 voted to select Doors of Hope as our Project

Help for Nurses Week. Doors of Hope has been serving as

a reentry initiative for the incarcerated and those being

released from incarceration in Rutherford County and

50+ counties across Tennessee since 2011. They empower

women to break the cycle of addiction, homelessness,

and incarceration through education, intervention,

mentoring, and case management in a safe and

supportive recovery-based environment. We are honored

to support this organization and will be making a cash

donation to provide much needed feminine products.

Congratulations to Kayla Cross for being the winner of

two tickets to the Island in Pigeon Forge, TN compliments

of the Tennessee Nurses Foundation.

As of this publication's mailing date, District 15 had a

Meet and Greet Social on Monday, May 9. This was an inperson

event, our first since the Pandemic.

The next District 15 quarterly meeting will be Monday,

August 1, at 6:00 pm at a location TBD in Lebanon.

It is trying times to be a nurse, as many would agree

but, nonetheless, nurses we are. So, it is with pleasure to

be amongst this group of nurses. I hope that all of you had

a Happy Nurses Week!
---
May, June, July 2022 Tennessee Nurse Page 15

New and Returning Members

District 1

Megan Alexander, Clare Anderson, Shekinah Andrews,

Sofia Andujo, Jo Bissler, Charlene Bonner, Cheryl Burnett,

Kendra Butler, Sherry Chapoell, Netasha Conrad,

April Diaconescu, Patrick Drummond, Shakila Erby, Liz

Escoffery, Christina Hillhouse, Meta Holliday, Zehra Jaffer,

April Johnson, Paula Jones, Twanna Jones, Amy Koehn,

Alexander Labrador, Rebecca Lyons, Ayanna Miller, Sarah

Miller, April Mohundro, Linda Mosby, Erin Newman, Page

Oetzel, Demetric Osborn, Shkendie Papraniku, Adrian Rolle,

Kasanga Saddler, Michelle Schivers, Madison Smallwood,

Amanda Taylor, Aurelia Taylor, Tiffany Tenort, Charmin

Thomas, Wendy Weaver, Dynisha Wigginson, Angela

Williams, Loretta Williams, Tina Williams, Alicia Wright,

Fariborz Yaghini

District 2

Kathleen Appleby, Chassidy Ballard, Christy Beard, Angel

Behne, Shaunda Brooks, Hannah Campbell, Christina

Cutcher, Ellen Dooley, Caroline Dougherty, Hannah

Fruechtl, Latanya Gallow, Dee Hall, Kayla Holt, Ronald

Larrieu, Teresa Malone, Kimberly McCready, Christy

Moyers, Brittany Munford, Jalisa Nance, Amanda Partin,

Elizabeth Pettit, Allison Pickrell, Matthew Price, Michelle

Rhodes, Chenoa Shenandoah, Nicole Simmons, Daniel

Tabor, Sadie Thompson, Julie Thurmer, Mary Walker,

Michael Wilcoxson, Betty Winstead, Sara Zoladz

District 3

Shelley Atkinson, Catherine Badger-Rodriguez, Amy

Marie Baldwin, Madora Bevis, Shanda Brown, Hannah

Bruce, Samuel Burress, Elizabeth Burton, Kimberly

Chipman, Aurea Cuevas, Kandace Dalton, Jessica Darnell,

Lindsey Davis, Lori Dickson, Jerlliyah Dotson, Bethany

Ezell, Stephanie Ferguson, Genet Fikremariam, Amanda

Fitzgerald, Michelle Foreman, Rachel Fox, Sarah Franklin,

Barton Galloway, Alma Garcia, Sylvia Hagberg-Fitch, Danna

Hammers, Courtney Harris, Queen Henry-Okafor, Kathryn

Hinds, Geraldine Holden, Abbey Holthaus, Miriam Jackson,

Victoria Jackson, Carey James, Jennifer Jones, Beverly Lee,

Jennifer Leigh, Jessica Lindsey, Melanie Lowe, Lorianne

Marsh, Sheree McBurney, Amanda McDaniel, Heather

Miles, Brooke Miller, Mark Miller, Monica Millett, Kelly

Mooneyham, Carol Moore, Nancy Muldowney, Lynise

Nelson, Teri Nine, Sarah Ohm, Jennifer Owens, Brianne

Page, Elizabeth Paschall, Nipa Patel, John Perez, Rhonda

Pinkerman, Marianne Raynes, Ronald Reed, Sarah Reeder,

Michele Reynolds, Brandon Richardson, Chelsea Ridley,

Brooke Roberson, Sylvia Robinson-Nichols, Meghan

Schicker, Jessica Searcy, Machell Simms, Melan Smith-

Francis, Shirleta Soden, Deborah Taber, Claire Thompson,

Bridget Timoney, Caroline Turk, Beverly Turner, Susan

Underwood, Dina Velocci, Stephanie Veneklase, Brandi

Weber, Marlayna Witham, Xiaoxiao Zhang

District 4

Amber Anderson, Melody Baldwin, Kallen Blankenburg,

Dana Broadhurst, Tonya Freeman, Rebecca Higgins, Paige

Hill, Mendy Howard, Raymond Howard, Shila Kimpson,

John King, Anna Machado, Chanda Okyere, Karen Olsen,

Elizabeth Pope, Abbey Roe, Ann Schide, Emily Smith,

Michelle Sotelo, Kimberley Stollenmaier, Julia Tucker,

Angela Weaver

District 5

Rebecca Barrows, Ashley Bennett, Kaylee Birchfield, Holly

Broadwater, Sharon Charmaine Bucu, Emily Churchwell,

Kelley Coffey, Millicent Combs, Virginia Copas, Deborah

Daugherty, Natasha Flick, Robin Freyling, Lauren Griffith,

Brittany Grimes, Lori Hernandez, Jessica Hughes, Wanda

Jarrett, Jennifer Johnson, Mary Johnson, Cindy Jones, Laura

Jones, Heather Leonard, Heather Linton, Sharon McAnear,

Jamie McNutt, Angela Milligan, April Morelock, Heather

Mullikin, Taylor Nunn, Kaitlin Rodrigues, Halie Salyers,

Teresa Sellstrom, April Steele, Norma Stevens, Emily Street,

Kortney Stump, Hazel Taylor, Karen Valk, Shelby Wallace,

Brittany Walters, Jeremy Whited, Sydney Williams, Cathy

Worley

District 6

Emily Altom, Daniel Carroll, Cynthia Cole, Alexandria Hays,

Desiree Holland, Erica Johnson Lockett, Amy Luckey, Tereva

Moore, Renee Morris, Sharon Page, Dujuana Phelps Naylor,

Karmen Sparks, Lindsay Voda

District 8

Chelsea Bass, Graylin Benusches, Erica Edwards, Janice

Niblett, Marguerite Record, Rachelle Schilling

District 9

Daniela Acuña, Angela Best, Donna Buttrum, Florence

Fontana, Tari Garrett, Casey Gregory, Katherine Pendleton-

Romig, Colleen Price, Deborah Redmond

District 10

Brittney Steele

District 12

Vivian Bridges, Leticia Harris, Laura Morrison, Rita Nolen

District 15

Ana Atherton, Gail Boylan, Latoya Byrd, Jimmy Edington,

Jessica Hall, Kristi Hamil, Mendy Hicks, Paul Jackson,

Dana Kizer-Shands, Carolyn Lowery, Mindy McMeans,

Richard Meeks, Tamara Moss, Christy O'Connell,

Jacqueline Odom, Jasmine Scott, Niesha Scott, Susan

Seal, Kaythi Soe, Raina Tomlinson, Jacey Walker, Brigitte

Williams, Elizabeth Yorks

MAKE A DIFFERENCE

Serve those who have served.

The Best Care - The Best Careers

The VA Tennessee Valley Healthcare System has

exciting career opportunities for ALL NURSING staff,

Medical Assistants & Lab Technicians.

RN Benefit Package:

• Competitive Salaries

• 26 Days Paid Vacation

(carry over up to 685 hrs)

• 13 Days Sick Leave

• 11 Paid Holidays

• Federal Retirement Pension

• Thrift Savings Plan (401k)

• Group Life Insurance Program

• Excellent Selection of

Health Benefits Plans

• Dental/Vision Plans

• Flexible Spending Account

• Educational Loan Assistance

• Employee Assistance Program

• Guaranteed Hours

All interested RNs, LPNs and Nursing

Assistants may forward a resume to

TVHS-CAREERS@VA.GOV for immediate

consideration or apply online to any

positions posted at www.USAJobs.gov.

We invite you to join our team, where every day

We Proudly Serve Our Nation's Heroes!

Memphis VA Medical Center has exciting career opportunities

available for

REGISTERED NURSES – ACUTE CARE

NURSING ASSISTANTS

Sign on Bonus Available for RNs and NAs

RN Benefit Package includes:

Competitive Salaries • 26 Days Paid Vacation (carry over up to 685 hrs)

• 13 Days Sick Leave • 11 Paid Holidays • Federal Retirement Pension •

Thrift Savings Plan (401k) • Group Life Insurance Program •

Excellent Selection of Health Benefits Plans • Dental/Vision Plans

• Flexible Spending Account • Educational Loan Assistance • Employee Assistance Program

All Nurses interested in Acute Care can send resumes' to

memphishrjobfair@va.gov or apply online through the

usajobs.gov website.

Call us at 901-523-8990 ext. 5928.

1030 Jefferson Ave., Memphis, TN 38104 E.O.E
---
Page 16 Tennessee Nurse May, June, July 2022

Membership

Jennifer Hitt, PhD, RN, CNE

TNA Director - Membership

Nurses historically have been good at advocating. We

advocate for our patients during times of distress. We listen and

advocate for families when their voices are not being heard.

However, we often fail to advocate for an important group of

people-ourselves. In the past, nurses have failed to advocate for

things such as representation, salary, employment standards,

and safe working environments. We have not seen our own

promotion and value as worth advocating. However, times are

changing. Whether due to the pandemic or recent court issues,

nurses are starting to find their voices.

Advocacy has been seen through our work in legislation,

both at the local and national level. These organized efforts are Jennifer Hitt

our first line of advocacy, as it demonstrates our shared unity in

establishing best practices for nursing. Our advocacy has extended to grassroots efforts,

such as the recent Nurses Day marches and social media campaigns. These efforts are

important as they target a new way of advocating and sharing our experiences with the

public. Both the Tennessee Nurses Association and American Nurses Association have

shown support for nurses who chose to participate in these activities to bring awareness

and expertise, as the lack of public understanding of our profession is a barrier to

advancing nursing care.

Most nurses see advocacy as a job for a select few, namely those in distinguished

leadership positions. However, I argue that any nurse can and should be an advocate for

the profession. Bedside nurses are needed to share their experiences and expertise to

show the public just why change is needed. Issues such as safe staffing ratios and patient

quality cannot be advocated for without input from the bedside nurse. Ways to advocate

can include involvement in organized associations, such as TNA, but can also occur at the

grassroots level. Use social media to share your experiences. Advocate for nurses that

need help. Help others understand the complex work of the nurse. Take any opportunity

to speak up for nurses. Attend local meetings and seek appointments to serve on boards

and committees. These are steps we can all take to advocate for our profession and show

the public we have one voice.

We aren't simply advocating for ourselves. We are advocating for our profession, our

patients, and our communities. The age of professional advocacy is here in nursing. It is

time to put our needs first.

Tennessee Nurses

Foundation

Funding Available for

Leadership Development and

Nursing Research Grants

Leadership and Grant Applications are reviewed twice each year.

Submission deadline dates are the last day of February and August.

Leadership Nursing Program – The Tennessee Nurses Foundation provides

scholarship opportunities for members of the Tennessee Nurses Association to

participate in a variety of leadership development programs to prepare nurses for

an enhanced role in nursing and community involvement.

Criteria and Application: https://tinyurl.com/p45pf27x

Nursing Research Grants – The Tennessee Nurses Foundation provides grants to

nurses who are members of the Tennessee Nurses Association engaging in scientific

and other research projects focusing on nursing practice.

Criteria and Application: https://tinyurl.com/2p8acpmu
---
May, June, July 2022 Tennessee Nurse Page 17

Tennessee Nurses Foundation

Honor A Nurse From the TNF Board

Nursing is a calling, a way of life. Nurses rely on each

other for the synergistic effect of teamwork in our

efforts of care giving. It is appropriate that we honor

those colleagues that have made an impact in our lives

and the lives of others.

We honor you…

Cynthia R. Martin, RN

Ms. Martin has a long, and varied career. In private

psychiatric practice for over 25 years. Always putting

her patients first.

Visit www.tnaonline.org for complete information on

the Honorees and the Honor A Nurse program.

Raven Wentworth, DNP, RN, APRN, AGPCNP-BC,

FNP-BC | TNF President

The Tennessee Nurses

Foundation (TNF) established

the Disaster Relief Fund to assist

actively licensed Registered

Nurses in Tennessee that

might be facing hardship after

a natural disaster. A natural

disaster is out of the control of

humans and can result in the

loss of life and/or property as

well as damage to property.

Since the fund was established, Raven Wentworth

natural disasters such as high

winds, flooding, tornadoes, and fires have occurred in

our state. The TNF Board of Trust feels that by assisting

registered nurses monetarily after a natural disaster not

only benefits the individual, but the community as well. If

you have faced hardship due to a disaster, please complete

an application. You may find an application by going to

https://tna.nursingnetwork.com locating the purple tab

TNF – Scholarships & Grants, and scrolling down to TNF

Disaster Relief Fund. Please share this opportunity with

your Registered Nurse colleagues, friends, and family. You

may also make a tax-deductible donation to the fund at this

website.

The TNF supports nursing education by offering

scholarships to individuals that are in an entry-level nursing

program in an accredited institution of higher education as

well as pursuing a higher degree in nursing. The TNF Board

of Trust recently awarded $30,000 in scholarships.

• The TNF supports the education of Licensed Practical

Nurses by providing scholarships for those nurses

seeking higher education through an accredited

LPN to RN nursing program and awards $5,000 to

the recipient. This year there were two recipients,

Monete Gardner and Nickole Beaman.

• The Regional Educational Scholarship is awarded to

a recipient that is enrolled in an entry-level nursing

program in an accredited institution of higher

education. Airiana Paris, Alyssa Leming, Davis (Seth)

Hair were awarded $5,000 each for the Regional

Educational Scholarship.

• The Maureen Nalle Memorial Graduate Nursing

Scholarship Program awards $5,000 to a registered

nurse enrolled in a program of study in an accredited

institution of higher education that would enable

the nurse to make a greater contribution to nursing.

Ashley Carter was awarded this scholarship.

Thank you to everyone that applied. There were many

accomplished applicants.

The Tennessee Nurses Foundation also sponsors a

scholarly writing contest for all Registered Nurses (within

all specialties of nursing) in Tennessee. This year's recipient

is Afrodita Aguilar, RN, BSN. As part of the celebration of

Nurses Week 2022, the winner will receive a $1,000 award

and a free registration to TNA's Annual Conference at the

Franklin Marriott Cool Springs in Franklin, TN.

Please consider making a tax-deductible donation

to TNF today. Your support enables the Foundation to

continue to promote excellence in nursing by providing

scholarships, grants, leadership opportunities, and disaster

relief to the registered nurses in our state.

MSN Concentrations:

■ Psychiatric Mental Health Nurse

Practitioner,

■ Family Nurse Practitioner &

■ Nurse Educator

• High-value/low-cost tuition

• Nationally accredited

• Online classes

• Low Student-Faculty ratios

• Preceptor compensation:

Promotes clinical placements

• Interactive, hands-on learning

opportunities

Visit nursingALD.com today!

Search job listings

in all 50 states, and filter by location and credentials.

Browse our online database of articles and content.

Find events for nursing professionals in your area.

Your always-on resource for nursing jobs, research, and events.

apsu.edu/nursing/msn

graduatenursing@apsu.edu

931-221-7737

JI f AUStln Peay

61 State University
---
Page 18 Tennessee Nurse May, June, July 2022

Congratulations to Tennessee's 2022 Rising Star Nurse Leaders!

Together with the Tennessee Nurses

Association and the Tennessee Hospital

Association, the Tennessee Action Coalition

acknowledges these young nurse leaders:

• Andrea Poynter, Belmont University

• Andrea Sebastian, University of Tennessee Health

Science Center College of Nursing

• Ashley Carter, Nashville State Community College

• Ashley Marston, St. Jude Children's Research

Hospital

• Astrid Banegas, CHI Memorial

• Brandi Pruitt, University of Memphis

• Brittan Kilpatrick, Tennessee Department of

Health – Hickman County Health Department

• Candice Short, East Tennessee State University

• Charlotte Isabel, St Jude Children's Research

Hospital

• Chelcie Oseni, Methodist Le Bonheur Community

Outreach

• Chelsia Harris, Lipscomb University

• Chelsie Caperton, Southern Tennessee Regional

Health System-Lawrenceburg

• Christian Williams, Metro Nashville Public Health

Department

• Ernest Maupin, East Tennessee State University

• Gabrielle Jackson, Alma Wellness Associates

• Jacquelyn Dean, Vanderbilt Bedford County

Hospital

• Jazmine A. Rankin, Methodist University Hospital

• Jerlliyah (Jay) Dotson, Vanderbilt Medical Center

• Josh Hawkins, The University of Tennessee

Medical Center

• Julia Steed, Vanderbilt University School of

Nursing

• Kaleb (Tanner) Henry, The University of Tennessee

Medical Center

• Kathryn Dambrino, Belmont University

• Lauren Moss, Belmont University/Elite Healthcare

Alliance

• Marisa Schultz, The University of Tennessee Medical

Center

• Mary Leigh Joiner, Regional One Health

• Rachael Wyatt Hodges, University of Tennessee,

Knoxville, College of Nursing

• Rebecca R. Kojak, Cookeville Regional Medical Center

• Richelle Graham, Vanderbilt University Medical

Center

• Shelley Lawson, West Tennessee Healthcare –

Pathways

• Whitney Owen, The University of Tennessee Medical

Center

• Zacnite Vargas, Metro Public Health Department

100% Online

APSU Program Advantages:

• 100% online coursework

• Five start dates each year

• Complete in as few as 12 months

• Accelerated, seven-week courses

FOR MORE INFORMATION:

Visit: www.apsu.edu/nursing/bachelornursing/rn-to-bsn/

Email: RNtoBSN@apsu.edu

Austin Peay State University does not discriminate on the basis of race, color, religion, creed, national origin, sex, sexual orientation,

gender identity/expression, disability, age, status as a protected veteran, genetic information, or any other legally protected class with

respect to all employment, programs and activities sponsored by APSU. https://www.apsu.edu/policy. Policy 6:003 Pub# AP69/11-20/1

These individuals are part of an elite group of young

Tennessee nurse leaders representing the Three Grand

Regions of Tennessee, a variety of racial and ethnic

backgrounds, frontline clinicians, academicians, and

managers.

Selection was based on criteria determined by leaders

from the Tennessee Action Coalition, Tennessee Nurses

Association, and Tennessee Hospital Association; and

includes leadership among peers and others, professional

growth and development, contribution to building a

culture of health in the community, and commitment as a

role model for health.

The aim of the Tennessee Rising Star Nurse Leader

program is to engage and empower young nurses to

lead the nursing profession in improving the health of

Tennesseans.
---
May, June, July 2022 Tennessee Nurse Page 19

TN Board of Nursing Update

Nurse Licensure Compact

Sherry Richardson, MSN, RN

Executive Director, TN Board of Nursing

The Nurse Licensure

Compact (NLC) provides

increased access to care while

maintaining public protection

at the state level. States that

are members of the NLC issue

multistate licenses (MSL) that

allow an RN or LPN to practice

physically, electronically and/

or telephonically across a state

border to patients located in

other compact states.

Sherry Richardson

A nurse practicing in other

states on the multistate licensure privilege must

adhere to the laws and rules of the state where the

patient is located. If a nurse needs to practice in a state

that is not a member of the NLC, the nurse must obtain

a single state license issued from that state regardless

of where the nurse holds a MSL.

Currently, 39 jurisdictions have joined the NLC, and

member states will change as states pass laws to enact

the NLC. To view the latest map detailing NLC states,

please visit www.nlc.gov.

Licensure Requirements

New Tennessee licensees and those moving to another

NLC state must meet uniform licensure requirements

(ULRs) to be eligible for a MSL. ULRs include:

1. Meets the requirements for licensure in the home

state (state of residency);

a. Has graduated from a board-approved RN or LPN

prelicensure program; or

b. Has graduated from an international prelicensure

program approved by the accrediting body

in the country and that has been verified by

an independent credential review agency as

comparable to a US board-approved program;

2. Has passed an English proficiency exam if

prelicensure program was not taught in English or if

English is not the individual's native language;

3. Has passed an NCLEX-RN® or NCLEX-PN®

Examination or predecessor exam (State Board Test

Pool Exam);

4. Is eligible for or holds an active, unencumbered

license (i.e., without discipline);

5. Has submitted to state and federal fingerprintbased

criminal background checks (CBC);

6. Has no state or federal felony convictions (absolute

bar to MSL);

7. Has no misdemeanor convictions related to the

practice of nursing (determined on a case-by-case

basis);

8. Is required to self-disclose participation in an

alternative program, e.g. Tennessee Professional

Assistance Program; and

9. Has a valid United States Social Security Number.

What is the impact on nurses practicing in Tennessee on

the multistate privilege?

A nurse holding a MSL in another compact state may

practice in Tennessee on the multistate privilege and must

adhere to the laws and rules of Tennessee while caring for

Tennessee residents.

NLC impact on APRNs

APRNs practicing in Tennessee must hold a Tennessee

RN license (single or multistate) or multistate license

from an NLC party state in addition to a Tennessee APRN

certificate.

What does an employer need to know?

Employers that have nurse employees practicing in

Tennessee on the multistate privilege from a state must

ensure that the nurse is eligible to practice in Tennessee. Use

Nursys Quick Confirm lookup at https://www.nursys.com/.

The Board of Nursing recommends employers register its

nurses in E-Notify, also found at https://www.nursys.com/.

Follow the NLC at

https://nursecompact.com/about.htm.

Precepting: The Joy of Giving Back

April A. Reyes DNP, PMHNP-BC, FNP-BC

Director of Behavioral Health

Hope Family Health

Westmoreland TN

What brings us joy?

According to Webster, joy is

defined as "A strong feeling

of great happiness; delight."

If we consider joy in our

work, what comes to mind?

Many aspects of our work

can create joy; a patient that

expresses appreciation for

our care, coming to the aid

of a coworker or receiving

a promotion. One central April A. Reyes

theme of our profession is

giving back. The reward of giving back can result in

the same joyous feeling. One way to give back is by

serving as a preceptor for up-and-coming nurses

and nurse practitioners. Have you considered this

as an option? When we give back, there is a sense

of joy inside, and that same feeling happens when

we offer to help train and mold those who may

follow in our footsteps. If you have not served as a

preceptor, I urge you to consider the possibility.

I remember the stress of finding a preceptor

during both my FNP and PMHNP time as a student.

I was fortunate to find great preceptors, but it did

not come easy. I spent countless hours making

phone calls, sending emails, making office visits,

and networking with contacts to secure a preceptor.

There is no shame in contacting a previous coworker

or acquaintance when it comes to finding a

preceptor. Once I found a willing preceptor, secured

a contract, submitted all the paperwork, and

received site approval, it was true joy and relief!

After graduation and completion of the board

exam, the entry into clinical practice begins

with immense joy and sometimes trepidation.

We utilize the skills learned during our student

clinical rotations, which serve as a guide in our

practice. It is not possible to learn everything

during the student rotation but having a wellrounded

experience is helpful. The clinical rotation

was different from my experience with the

PMHNP role versus the FNP role. As I journeyed

through my clinical rotation for the PMHNP, I

took a mental note of those things that I felt were

missing or aspects that I would change or improve.

Throughout clinical practice, you will continue to

discover tips, tricks, and skills that you wish you

would have seen, learned or experienced during

the student rotation. Take note, and even though

you cannot go back, you can pass this along.

I build my clinical rotation for students by taking

note of the missed opportunities and passing it

forward. I couple this with the skills that I use

daily to build a student clinical that will hopefully

result in a successful and positive experience

for the students. This includes working with our

medical assistant to become comfortable triaging

patients, observing and then performing an

AIMS assessment, and completing screenings for

anxiety, bipolar, depression, ADHD, etc. As the

student works with our medical assistant, who is

a certified mental health technician, they will see

that our workflow runs like a well-oiled machine

on most days. This rotation also helps reinforce

what the students learn during the didactic course

regarding medications and appropriate or required

monitoring. One of our quality measures this year

is performing a sleep apnea screen on all patients

diagnosed with depression, as there is a known link

between depression and untreated sleep apnea.

The students will also become familiar with the

Stop-Bang screening tool during rotation (Hobzova,

et al., 2017). Lipids are checked on 100% of the

patients that are on an antipsychotic medication as

well. I know that not every practice setting is the

same. I base my office set up on my previous work

as an FNP; therefore, I have found that utilizing a

well-trained medical assistant is essential to our

practice. It brings me great joy to pass along what

I have learned to the students that I precept.

Serving as a preceptor helps me grow and is always

a learning opportunity; therefore, the student's

rotation may change depending on their feedback

and what I think works or may need adjusting.

Being a preceptor for PMHNP students is

rewarding. Finding PMHNP preceptors is difficult.

Just ask any current student, and it should not be

this way. As clinicians, we should be willing to give

our time to students who are our future clinicians

and coworkers to help ensure that they are well

prepared. What we learn during our student

rotation provides a basis for our practice. I may

have a unique way of thinking, but as difficult as

it was for me to find a clinical rotation in northern

middle TN, I find it my duty to give back. I hope

that you will consider serving as a preceptor. Joy!

Bring it on!

Reference

Hobzova, M., Prasko, J., Vanek, J., Ociskova, M., Genzor, S.,

Holubova, M., . . . Latalova, K. (2017). Depression and

obstructive sleep apnea. Neuroendocrinology Letters,

38(5), 343-352.
---
Page 20 Tennessee Nurse May, June, July 2022

Concept Analysis of Hospice Care

Amanda Camden is a BSN-prepared RN caring for hospice patients in

southwest Virginia. She is also a graduate nursing student at the University

of Tennessee Knoxville with a focused interest in hospice nursing.

Abstract

Purpose: The purpose of this concept analysis is to

investigate the concept of hospice care using Rodgers'

Evolutionary Method. A pre-analysis of hospice care is

included, and the definition is updated throughout the

concept analysis process.

Methods: Rodgers' Evolutionary Method was utilized as

a framework for this concept analysis. Data was retrieved

from the CINAHL database searching for the keywords

"hospice care". The search was further refined by literature

that is written in the English language, published between

2012 and 2021, has full-text availability, and the first author

of each publication is a nurse.

Amanda Camden

Findings: The concept of hospice care is evolving and

multifaceted. Further, the context can affect the definition of hospice care. Four

attributes of hospice care were identified during this concept analysis process: 1)

palliative care, 2) comfort, 3) collaboration and interdisciplinary teamwork, and 4)

patient education. The results of this analysis reveal the complex nature of hospice

care.

Conclusions: The scale and necessity of hospice care have developed since its

American conception in 1965. Hospice care includes the promotion of comfort,

the collaboration of the interdisciplinary team with the patient and family, the

ever-changing concept of patient education, and aspects of palliative care. The

integration of palliative care is controversial and the lines between the two

concepts are still evolving and somewhat ambiguous. Further research is needed to

investigate the facilitation of hospice services to underrepresented populations.

Keywords: hospice care, end-of-life, nursing,

concept analysis

Introduction and Concept Analysis Method

Hospice care is a multi-disciplinary approach to comfort care that can be

provided in a variety of settings. Because of the complexities of providing end-oflife

care; hospice care can be difficult to describe; however, it is generally agreed

upon that hospice provides comfort-focused care at the end of life. Hoffman

(2005) explains that the paradigm shift from curative treatment to comfort

treatment enables hospice patients to obtain a higher quality of life. The need

for quality hospice care will rise in the coming decades as will the complexity of

hospice patient needs. All persons have the right to determine the direction of

their care when facing a life-threatening illness. This highlights the critical need for

hospice care services. Hospice care prepares patients and their families for death;

this makes hospice care unique when compared to other health disciplines. In

addition, hospice services are underutilized by urban Hispanic/Latino patients,

African-American patients, and low-income patients; this problem requires creative

solutions providing these patients the option of hospice services. Finally, hospice

care is underutilized in the adolescent patient population. The majority of these

patients die in acute care settings without comprehensive palliative or hospice care

services.

This concept was analyzed using Rodgers' Evolutionary Method; noting the

common characteristics of the concept and the influence of social context within

the concept. Identifying the interconnectedness of concepts and their social context

is paramount in concept. Further, developing the concept of hospice care will assist

in identifying the strengths and weaknesses of the concept and reveal opportunities

for further research. Identifying the essence of hospice care can help create a

foundation for clear communication about end-of-life care and reveal opportunities

for nurses to facilitate dignified dying within the context of hospice care

Pre-analysis of Hospice Care

Merriam-Webster defines hospice as "a program designed to provide palliative

care and emotional support to the terminally ill in a home or homelike setting so

that quality of life is maintained and family members may be active participants in

care." This author defines hospice care as a collaborative approach to comfort and

Appendix A
---
May, June, July 2022 Tennessee Nurse Page 21

symptom control for patients with a terminal illness.

Hospice does not focus efforts on curative treatment;

rather, energy is diverted to nursing, psychosocial, and

spiritual support to facilitate a collaborative approach.

While many areas of healthcare strive for a multidisciplinary

team approach hospice accomplishes this

via a system built upon collaboration. Incorporating

spiritual care, medical social workers, massage, pet

therapy, trained volunteer support, and bereavement

services provide a rich support network for patients

and families. Further, hospice regards patients and

their families as a unit; and focuses care efforts on

both entities. The ANA highlights the importance of

inter-disciplinary collaboration and establishing patient

trust via nurse advocacy. Hospice care serves as a

viable model for this assignment.

Concept Development Process

The CINAHL database was queried for "hospice

care"; the search was further refined by literature

that is written in the English language, published from

2012 to 2021, and the results had to have full-text

availability. Finally, in keeping with the purpose of this

analysis, the first author of each publication must be a

nurse. A total of 215 articles were retrieved utilizing this

search criterion. Ten articles were selected at random

representing a variety of contexts, including hospice

education and practice, pediatric hospice and palliative

care, nurse practitioner documentation, hospice patient

education, end-of-life care in the inpatient setting, and

cultural constructs of death. Each selected manuscript

has the word "hospice" within the text.

Attributes of Hospice Care

Clarification of the concept of hospice care

revealed a common thread of comfort, palliative care,

collaboration, and patient education within care. These

themes divulge the special and meaningful nature of

hospice interactions. The term palliative was recognized

as a recurring attribute of hospice care; this theme is

somewhat confusing, as the two terms sometimes are

used interchangeably, but they aren't identical in nature.

This provides an opportunity for further research to

distinguish between the two concepts. Comfort was

identified as an attribute of hospice care. The attribute

of comfort aligns with NIH guidance regarding endof-life

care. Comfort is a cornerstone of hospice care

and is at the forefront of hospice nursing. Another

recurring characteristic is the collaborative approach

to care. Again this is a foundational concept of the

hospice movement, and it utilizes multidisciplinary

professionals to provide a team approach to hospice

care. The final attribute noted was the importance

of patient and family education. This illuminates the

complex nature of hospice care; especially within the

home setting. Hospice nurses have complex roles that

include extensive patient and family education during

high-stress situations. The occurrence of this theme

To access electronic copies of the

Tennessee Nurse, please visit

http://www.NursingALD.com/publications

within the literature reinforces this essential attribute

and highlights the importance of effective patient and

family education.

Through literature review and reflection on

the concept of hospice care, this paper has added

additional depth to the concept of hospice care.

The NINR lists "relieving symptoms and suffering"

and "understanding decision-making by patients,

caregivers, and health care providers" as prominent

research goals, and this concept analysis of hospice

care aligns with said goals. This additional information

can benefit current and future hospice patients and

nursing professionals caring for hospice patients. By

embracing the fluid nature of hospice care one can

have a better understanding of the concept. Utilizing

this new information will assist with progression and

reveal relevant research paths.

Antecedents of Hospice Care

The most common antecedents were end-oflife

and 6 months or less life expectancy. These are

unsurprising as hospice care is end-of-life care. One

can argue that these are different words to describe

the same thing, however, there are small variations

within each, and both shed light on the concept of

hospice care. Acknowledgment of these similar terms

can facilitate improved nursing communication with

hospice patients and families. Healthcare professionals

often use technical and possibly confusing language

when interacting with their patients and families. The

realization of these antecedents can be employed

with the help of therapeutic communication to

clearly articulate common goals and expected patient

prognosis.

Conclusion

This concept analysis has revealed the

multidimensional nature of hospice care. Further,

through the systematic process of redefinition, the

importance of the educational component of hospice

has been realized and expanded upon. Birth and death

are certainties for all persons; dying with support

enables a good death and a meaningful experience for

BECOME A

CAREGIVING

PARTNER

MAKE A DIFFERENCE. FOR PATIENTS.

FOR YOURSELF.

the patient and family. Building upon the information

learned from this concept analysis of hospice care

adds additional information to the pre-analysis

definition. Initiating hospice care early facilitates

therapeutic communication and builds trust within

the nurse-patient relationship. Hospice represents the

humanization of healthcare; it seeks to alleviate the

unpleasant aspects of death and highlight the intimate

nature of the process.

Appendix B

Join the Fresenius Medical Care team and help people with kidney

disease live longer, healthier, better lives. Plus, as a global healthcare

leader, we will help you build the career you want.

NOW HIRING:

Outpatient RNs

Acute Dialysis RNs

Home Therapy RNs

Charge RNs

Patient Care Technicians

Call or text our TN recruiters

today to learn more about our

nursing roles:

Central TN (including Nashville):

Stephanie Cruz

Stephanie.cruz@fmc-na.com

917-528-1042

Western TN (including Memphis):

Seanna Harris

Seanna.harris@fmc-na.com

609-285-8798

Eastern TN:

Suzie Stephens

Suzanna.Stephens@fmc-na.com

203-665-8388
---
Page 22 Tennessee Nurse May, June, July 2022

Career Building for the New Professional Nurse

Kathryn C. Hansen, RN, BSN, STTI

Co-Author:

Cynthia Borum, DNP, APRN, FNP-C, NE-BC

Introduction

Nursing is a career

filled with an abundance

of opportunities that is

exciting at the same time is

overwhelming and stressful.

The new professional nurse

must consider their purpose

as they grow into their

nursing career. The new

professional nurse is defined

as an individual that is in the

initial stages of launching

Kathryn C. Hansen

and flourishing within

their nursing career. The

personality of professional

nurses assumes the basic

characteristics of compassion

and human caring. Finding the

right job involves an in-depth

appraisal of the organization

along with the nursing

environment. The professional

nurse looks at the organization

as a whole and assesses if

they align with the mission,

Cynthia Borum

values, vision, and beliefs. Additionally, they examine

the necessary factors of the nursing environment, such

as socialization and teamwork amongst coworkers,

nursing care provided to patients, and the image of

Please share with new grads!

The Board of Nursing receives thousands of

Initial Licensure by Exam applications each

year. Incomplete applications can result in

delays in applicants receiving eligibility for

the NCLEX. Submit complete applications on

time to secure the Authorization to Test (ATT).

Full instructions with links to all required

documents are available at: https://

www.tn.gov/content/dam/tn/health/

healthprofboards/nursing/applications/

Exam%20App%20Instructions%20for%20

Students.pdf.

nursing. Mentorship and gaining knowledge about the

vast amount of specialty nursing careers will lead them

to establishing their career and ultimately their niche.

Mentorship

Success of the new professional nurse developing

their career and landing the right job involves a few

essential components, with mentorship being at

the center. The significance of mentorship within

the field of nursing has and continues to positively

impact nurses in their personal and professional

growth. When a mentor and a mentee form a

relationship, it is important to recognize that both the

mentor and the mentee learn from each other and

ultimately influence their career (Marshall, 2021). A

well-matched mentorship helps a new professional

nurse who is passionate about making a difference

in their career lead them in their journey of career

development to accomplish their goals. In the article,

Mentorship In Nursing: An Interview With Connie

Vance (Nickitas, 2014), she addressed the individuals

in the field of nursing, "that we can't and don't

achieve alone; mentors are absolutely essential to

our individual and collective success." (p.68). A new

professional nurse experiences a very challenging and

rigorous first year out in the field and therefore it is

essential that there is support and resources available

to help them gain confidence and achieve success in

their patient care and overall understanding of their

job (Innes & Calleja, 2018). This will in turn affect the

overall job satisfaction and decrease the chances of

losing outstanding nurses to other professions (Innes

& Calleja, 2018).

It takes time and effort to find the right individual to

create a well-matched mentorship; however, putting

in the work and building connections can only benefit

a new professional nurse to grow and develop their

career. By doing so, the mentorship has the capacity

to be lifelong and create a lasting impact on the new

professional nurse to keep striving for excellence

within the nursing profession. Ultimately, the

mentorship that is formed is significant and creates a

lifelong commitment to mentoring and nurturing other

professional nurses in the profession.

Looking for a Mentor?

Finding a mentor can be as easy as checking

mentor programs within your organization, a trusted

and admired personal friend, a professor, teacher or

even professional organizations such as the American

Nurses Association (https://community.ana.org/

pages/mentorprogram?ssopc=1).

Table 1:

Checklist to Identify a Good Mentor

• Admired, trusted, with shared interests and

values

• Dyadic Relationship

o Sets goals and mutual expectations

o Invites questions, interactions, ongoing

communication

o Advises with active listening and honest

feedback

o Inspires confidence

o Encourages professional development

and advancement

• Accessible, available, flexible, and

responsive

• Willing to share resources, time, and

knowledge

• Compatible culture and background

Nursing Specialty and Career Building

The customary approach for new nurses

seeking employment was in a general medical

surgical nursing unit to gain experience with

time management and organizational skills and

sharpen patient care and nursing skills (Innes &

Calleja, 2018). Conversely, today, new professional

nurses are taking the non-traditional pathway

and pursuing nursing specialty jobs early in their

careers. According to Baldwin, Sleutel, Urban,

Wells, J. N., et. al., (2021) greater numbers of new

professional nurses are being hired directly into

nursing specialty areas. Professional nurses are

selecting specialized nursing units for a variety of

reasons. New professional nurses are being driven

to specialized nursing units to fill the greatest need

for staff because of the nursing shortage (Baldwin,

et.al., 2021 and Innes & Calleja, 2018). On the

other hand, new professional nurses are pursuing

specialty nursing jobs to gain respect and earn the

badge of honor as a professional nurse. There is a

perception that a nurse must work in critical care

to be a professional nurse. Professional nursing
---
May, June, July 2022 Tennessee Nurse Page 23

can be found in many settings such as ambulatory

environments, surgery centers, hospitals, and

even manufacturing and schools. Moreover,

professional nurses are involved in MANY patient

populations that span across the human life cycle

from birth to death. Professional nurses take care

of infant and pediatrics patients, women's health

needs, adolescents, and geriatrics populations.

Consequently, nurses that are competent and have

mastered skills for independent nursing practice

are professional nurses, regardless of their nursing

specialty. Building and strengthening one's nursing

career takes into account the professional nurse's

passion for human caring coupled with choosing the

right nursing specialty.

Conclusion

Nursing is a special calling and a career for

life where professional nurses exemplify the gift

of healing and compassion for human caring. A

new professional nurse may find themselves in a

situation where the job is not a good fit. However,

the nurse cannot leave the profession of nursing,

rather they must explore other opportunities and

areas within the nursing field. With the ability to

build your career through mentoring and the vast

amount of nursing specialty opportunities available,

the professional nurse MUST remain optimistic,

and hopeful in successfully landing the right job.

Securing the right job will help to avoid the tragedy

of losing a new professional nurse to a career

outside of nursing.

Although it can be challenging to find the right

job, taking the necessary time to explore and gain

more knowledge about all the wonderful and

rewarding careers within the field of nursing is

crucial for the new professional nurse. No matter

your environment or specialty, the slow or fast work

pace, patient acuity, or patient population, you

are a professional nurse. You have developed the

characteristics that make you qualified for the job.

Thus, the new professional nurse must understand

that its not, "are you fit for the job," but "is the job

the right fit for you?"

References

Baldwin, K. M., Sleutel, M., Urban, R. W., Wells, J. N., Behan,

D., Walsh, J., & Newcomb, P. (2021). An exploration of new

graduate nurses transition to specialty practice. Journal

for Nurses in Professional Development (37)2, 93-100. DOI:

10.1097/NND.0000000000000695

Innes, T., & Calleja, P. (2018). Transition support for new

graduate and novice nurses in critical care settings: An

integrative review of the literature. Nurse Education in

Practice, 30, 62-72.

Marshall, L. S. (2021). Take Charge of Your Nursing Career. Sigma

Theta Tau.

Nickitas, D. M. (2014). Mentorship in nursing: An interview with

Connie Vance. Nursing Economics, 32(2), 65-69.

Not the Right Job, What's Next?

Starting to lose sleep, feeling constantly

on edge, and arriving way in advance before

my shifts to look up my patients was what

consumed me throughout my first job as

a new professional nurse. Although I felt

supported, I was not happy and could no

longer enjoy my life outside of work. It

was when I started to have panic attacks

that I knew I needed to make a switch to

another unit. It wasn't an easy decision—it

was tough. I had worked so hard to achieve

what I thought was my "dream" job, but my

intuition and the physical and emotional

toll just wasn't right. I felt like a failure, and

I wanted it to work out so badly. Luckily,

through discussions with mentors, I was

inspired with confidence, and empowered

to search for an area in nursing where I was

meant to be. Taking care of yourself is very

important and with there being so many

opportunities as a nurse, it is okay to not feel

okay, however at the same time I realized

I can continue mastering skills, sharing my

strengths, and ultimately fulfilling my passion

and dream as a new professional nurse.

RN to BSN 14 months

100% Online for busy working RNs

100% Online for busy working RNs

■ New cohorts • New accepted cohorts each accepted January each and January August and August

■ Full-time • technology Full-time technology support support

■ See www.utc.edu/gateway • See for more for information more information

www.utc.edu/gateway

The The University of of Tennessee at at Chattanooga is an is an equal equal employment opportunity/affirmative action/Title

VI/ opportunity/affirmative Title IX/Section 504/ADA/ADEA action/Title institution. VI/Title IX/Section 504/ADA/ADEA institution.