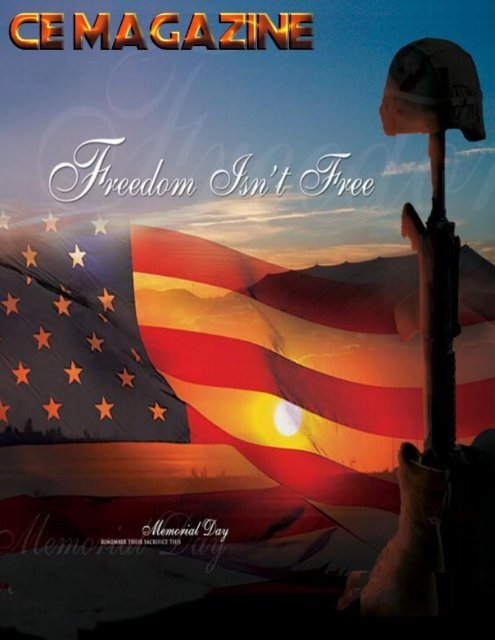 You also want an ePaper? Increase the reach of your titles
YUMPU automatically turns print PDFs into web optimized ePapers that Google loves.
1
---
Thanks to all who contributed to CE

Magazine. Have an article you would like

contribute? You can mail it to:

CE, P.O. Box 8619

Michigan City In 46360

Or E-Mail it to

computerease@juno.com

Founder & Chief Editor

Peter Nadal

Editor

Pamela Kennoy

Art & Design

Peter Nadal

Our Writers

Rodrigo Esperanza : Nomar Shaw

Diane G : Big Poppa

Outside Sources On This Month issue

Sparklight / Nine Line News Team

Almanac

In our Vol 4 May 2022 Issue 5

6 Hey Pete beautiful clip art

10 CE MAGAZINE LINKS TABLET

11 Biz Cards Board

12 Memorial Day Facts,

Traditions, Meaning, and

More

21 What many Americans forget

about Memorial Day

25 Simple but Effective Memorial

Day Marketing Ideas for Your

Small Business

28 Posters

30 BEWARE OF SCAMMERS

31 End Poster

CE Magazine® is part of OtherSide Ministries © all rights reserved

Michigan City Indiana Vol 4 May 2022 issue 5

Front Cover done by P N

Fonts by Peter Nadal

Original Computer-Ease logo ©

2
---
3
---
Welcome and we thank you for reading CE magazine;

As you can see my Navy picture taken in the early 70's, I broke it out for Memorial

Day, the 30 th of May and may I say this picture was taken a loooong time ago. So,

in this issue everything is geared for Memorial Day. After the year we had (2022)

Celebrate and please remember all those who laid down their lives for us!

Got a business card, post it on our Biz Card Board, it's free and if you have it on

your computer send us a copy to computerease@juno.com . If you had it made by

outside source put it in an envelope and send it to Computer-Ease, Po Box 8619,

Michigan City In 46360, we will scan it and put it on the board.

Any comments or questions we will gladly answer them and will put it on our next

issue for our readers if they should have the same question.

Peter Nadal

In remembrance

4
---
Courtesy of CE Magazine

5
---
In Honor of all my brothers and sisters who fell

in all the wars, here is some beautiful clip art in

their honor, Semper Fi!

6
---
7
---
We will never we forget!

Memorial Day 2022

8
---
On May 30, in honor of so many who gave it all and when you start your

BBQ remember to set up a plate, some salt, a glass and a napkin in honor

of our falling heroes. Thank You from a veteran!

9
---
CE MAGAZINE LINKS TABLET

By Nomar Shaw

Memorial Day: Facts, History, and More!

Memorial Day

Memorial Day Activities for kids

The Overlooked Black History of

Memorial Day

10
---
11
---
almanac.com/content/when-memorial-day

Memorial Day Facts, Traditions, Meaning, and More

By The Editors

January 14, 2021

Memorial Day is Monday, May 30! Learn all about Memorial Day,

including the true meaning of this day, how it differs from Veterans Day,

and why the red poppy is a traditional symbol—with unexpected origins.

When Is Memorial Day 2022?

This U.S. federal holiday is observed on the last Monday of May to

honor the men and women who have died while serving in the military.

In 2022, Memorial Day will be observed on Monday, May 30.

12
---
Memorial Day Dates

Year Memorial Day

2021 Monday, May 31

2022 Monday, May 30

2023 Monday, May 29

2024 Monday, May 27

What's the Difference between Memorial Day and Veterans Day?

On both Memorial Day and Veterans Day, it's customary to spend time

remembering and honoring the countless veterans who have served the

United States throughout the country's history. However, there is a

distinction between the two holidays:

Memorial Day commemorates the men and women who died while

in the military service of their country, particularly those who died in

battle or as a result of wounds sustained in battle. In other words, the

purpose of Memorial Day is to memorialize the veterans who made

the ultimate sacrifice for their country. We spend time remembering

those who lost their lives and could not come home, reflecting on

their service and why we have the luxury and freedom that we enjoy

today. We might consider how we can support and safeguard their

grieving families and loved ones who are left behind.

Veterans Day is the day set aside to thank and honor ALL who

served—in wartime or peacetime—regardless of whether they died or

survived. Veterans Day is always observed officially on November

11, regardless of the day of the week on which it falls. Read more

about Veterans Day.

13
---
Remember: Raise the flag with honor and respect! See guidelines for

flying the American Flag.

Memorial Day Facts and History

Traditionally, on Memorial Day (U.S.), people visit cemeteries and

memorials, and volunteers often place American flags on each grave site

at national cemeteries. A national moment of remembrance takes place at

3:00 p.m. local time.

The custom of honoring ancestors by cleaning cemeteries and decorating

graves is an ancient and worldwide tradition, but the specific origin of

Memorial Day—or Decoration Day, as it was first known—is unclear.

In early rural America, this duty was usually performed in late summer

and was an occasion for family reunions and picnics. After the Civil War,

America's need for a secular, patriotic ceremony to honor its military dead

became prominent, as monuments to fallen soldiers were erected and

14
---
dedicated, and ceremonies centering on the decoration of soldiers' graves

were held in towns and cities throughout the nation.

After World War I, the day expanded to honor those who have died in all

American wars.

A Lasting Legacy

No less than 25 places have been named in connection with the origin of

Memorial Day, and states observed the holiday on different dates. In 1971,

Memorial Day became a national holiday by an act of Congress; it is now

celebrated annually on the last Monday in May.

Since it all started with the Civil War, you might want to brush up on your

knowledge of this event by visiting the Library of Congress Civil War

collection, which includes more than a thousand photographs from

the time.

15
---
Why Is The Poppy A Symbol of Memorial Day?

In the war-torn battlefields of Europe, the common red field poppy

(Papaver rhoeas) was one of the first plants to reappear. Its seeds

scattered in the wind and sat dormant in the ground, only

germinating when the ground was disturbed—as it was by the very brutal

fighting of World War 1.

John McCrae, a Canadian soldier and physician, witnessed the war first

hand and was inspired to write the now-famous poem ―In Flanders Fields‖

in 1915. (See below for the poem.) He saw the poppies scattered

throughout the battlefield surrounding his artillery position in Belgium.

The Poppy Lady

In November 1918, days before the official end of the war, an American

professor named Moina Michael wrote her own poem, ―We Shall Keep the

Faith,‖ which was inspired by McCrae's ―In Flanders Fields.‖ In her poem

(also shown below), she mentioned wearing the ―poppy red‖ to honor the

dead, and with that, the tradition of adorning one's clothing with a single

red poppy in remembrance of those killed in the Great War was born.

Moina herself came to be known—and honored—as ―The Poppy Lady.‖

The Symbol Spreads Abroad

The wearing of the poppy was traditionally done on Memorial Day in the

United States, but the symbolism has evolved to encompass all veterans

living and deceased, so poppies may be worn on Veterans Day as well.

Not long after the custom began, it was adopted by other Allied nations,

including Canada, Australia, New Zealand, and the United Kingdom,

where it is still popular today. In these countries, the poppy is worn on

Remembrance Day (November 11).

Today, poppies are not only a symbol of loss of life, but also of recovery

and new life, especially in support of the servicemen who survived the war

but suffered from physical and psychological injuries long after it ended.

16
---
Read the text of both poems below, and learn more about the inspiration

for the poppy here.

"In Flanders Fields"

by John McCrae, May 1915

In Flanders fields the poppies blow

Between the crosses, row on row,

That mark our place; and in the sky

The larks, still bravely singing, fly

Scarce heard amid the guns below.

We are the Dead. Short days ago

We lived, felt dawn, saw sunset glow,

Loved and were loved, and now we lie

In Flanders fields.

Take up our quarrel with the foe:

To you from failing hands we throw

The torch; be yours to hold it high.

If ye break faith with us who die

We shall not sleep, though poppies grow

In Flanders fields.

"We Shall Keep the Faith"

by Moina Michael, November 1918

Oh! you who sleep in Flanders Fields,

Sleep sweet – to rise anew!

We caught the torch you threw

And holding high, we keep the Faith

With All who died.

17
---
We cherish, too, the poppy red

That grows on fields where valor led;

It seems to signal to the skies

That blood of heroes never dies,

But lends a luster to the red

Of the flower that blooms above the dead

In Flanders Fields.

And now the Torch and Poppy Red

We wear in honor of our dead.

Fear not that ye have died for naught;

We'll teach the lesson that ye wrought

In Flanders Fields.

Memorial Day Weekend: The Unofficial Start of Summer

Memorial Day tends to mark the unofficial start of summer for many

Americans (though the season really begins with the Summer Solstice in

June).

18
---
The Best Times to Travel

According to AAA, nearly 43 million Americans are expected to hit the

road this Memorial Day weekend for their first vacation of season—about

1.5 million more travelers than last year and the highest amount

since 2005.

If you're looking to get outdoors this weekend, AAA suggests the worst

time to travel is late afternoons of both Thursday and Friday (4:45-

6:00 PM). Commuters and vacationers will be getting a head start on the

three-day holiday weekend.

In metropolitan areas such as New York, Boston, Atlanta, and the nation's

capital, expect congestion to be two to three times greater than usual at

peak times during the weekend.

Overall, the best time to travel will be just after the morning commute

or after the evening commute, when most people will either be at work

or already settled at their destination. So, plan accordingly!

Super Summer Burger. Photo by Becky Luigart-Stayner.

19
---
Memorial Day Recipes

On Memorial Day weekend, we also enjoy the extra time spent with

family and friends, sharing a meal.

If you're planning a backyard barbecue or a picnic, here are some of our

favorite meals to feed a crowd:

Make Picnic Scalloped Potatoes ahead and bring along to the picnic.

Super Summer Burgers are always a hit!

If you want something with a kick, try easy-to-prepare Spicy Grilled

Beef and Black-Bean Salsa.

Everyone will love our favorite summer salad.

Lemon Sugar Cookies are easy to transport and the perfect ending to

a picnic.

Find more recipes on our Picnic Food Recipes and Easy Grilling Recipes

pages.

Thank You to the Fallen.

From everyone here at The Old Farmer's Almanac, we would like say

thank you to those men and women who paid the ultimate price. We will

always remember the sacrifices of our nation's heroes. We are

deeply grateful.

In remembering the fallen, we also honor their loved ones: spouses,

fathers, mothers, sons, daughters, sisters, brothers, friends. There really

aren't proper words, but we do live in gratitude each and every day for the

precious gift that they have given to us.

How do you honor the memory of veterans on Memorial Day? Tell us

your traditions in the comments below.

20
---
What many Americans forget about Memorial Day

Nine Line News Team

May 18, 2020

In The Press, Nine Line News, Relentlessly Patriotic, Veteran Inspired 1

This year's observance of Memorial Day will be especially bittersweet.

The typical large gatherings of friends and family aren't allowed in most

states because of current ―social distancing‖ restrictions. Cities aren't

planning any parades or other commemorative activities.

But the solemn act of honoring those who have fallen in the line of duty

will continue.

21
---
It was in 1868 that General John Logan proclaimed May 5th as Memorial

Day, originally called ―Decoration Day,‖ for ―cherishing tenderly the

memory of our heroic dead, who made their breasts a barricade between

our country and its foes.‖

One hundred years later, in 1968, the Uniform Holidays Bill was passed as

part of a move to use federal holidays to create three-day weekends. As a

result, from 1971 onwards, the Memorial Day holiday was officially

observed on the last Monday in May, and became the unofficial start of

the summer.

In 2000, President Clinton passed a resolution asking all Americans to

observe a ―National Moment of Remembrance‖ to ―remember and reflect

on the sacrifices made by so many to provide freedom for all.‖ It's

supposed to happen at 3:00 pm on each Memorial Day.

While the nation as a whole may pause to honor the service and sacrifice

of the fallen for one moment, on one day of the year, we must remember

that the children of the fallen must live with the memory of their loss

every single day.

In 2012, Joe Lewis, a retired Lt. Col with 25 years of service as an

enlisted Army field artillery canon crewman, a Marine Corps fighter pilot,

and an Air Force Reconnaissance pilot founded Angels of America's

Fallen, because he saw a gap in support for the children of his fallen

friends in all branches of the military and among first responders.

Lewis noticed there was no program providing opportunities for the

children to be engaged in healthy activities throughout their childhood and

into their young adulthood. So he created one.

Angels of America's Fallen was designed to provide long term support

during every year of childhood, from initial grief counseling to

scholarships.

22
---
The organization encourages children to participate in healing

developmental activities such as sports, music, and other arts as positive

outlets for their grief. Coaches and instructors in their communities

provide positive mentoring for children who are missing the guidance and

support of their fallen hero.

Children are encouraged to try as many activities as needed until they find

a passion that fits them at their current stage of development, and change

their activity if their interests change as they grow.

Angels of America's Fallen supports the children through a long-term

commitment, funding their activities and staying engaged all the way to

their eighteenth birthday, to help them develop their own personal identity,

increase self-confidence, and write their own story of success rather than

growing up in the shadow of a hero.

Growing up without the guidance and support of their fallen hero, these

children are at higher risk of anxiety, depression, substance abuse,

dropping out of school, and even suicide. Healthy activities with a coach

or instructor who provides guidance and mentoring can help them avoid

those risks.

We are proud to partner with Angels of America's Fallen on a limited

edition Nine Line design, with a portion of sales going to the

organization.

This Memorial Day we hope Americans from coast to coast will honor

the fallen, but never forget to serve their children.

23
---
NOTE:

Go to the website of this page by clicking HONOR

Military Flag Holders at the Cemetery

24
---
Tactics & Strategy

Simple but Effective Memorial Day Marketing

Ideas for Your Small Business

For many consumers, the Memorial Day holiday is a perfect time to shop –

lured by sales, a long weekend, and excitement that comes with the unofficial

kick-off of summertime.

This can be good news for small business owners because the increased sales

activity has been known to also generate a significant revenue boost for some

local businesses.

The week leading up to Memorial Day is the fourth-best week of the year for

revenues at local bars and lounges, gardens and nurseries, and landscaping and

gardening services, according to data compiled by Womply, a commerce

platform that provides apps, APIs, marketing, and financial tools.

This year's holiday will mark a welcomed change for both customers and

businesses -- compared to last year's Memorial Day weekend, when the

pandemic was in its early months and face-to-face activities, including

shopping, was limited.

That's why marketing experts say this is a great time for small businesses to

take advantage of a more-open Memorial Day holiday to promote their

products and services – a chance to provide a lift to brand awareness and

potentially sales. Here's how:

25
---
Go With an Outside, Summer's Here Theme

Welcome the season's pleasant weather and customers to your business with a

summer-themed promotion.

See if your business can participate in a local barbeque or other organized

outdoor activity in your community. Consider hosting or sponsoring an event

of your own or get involved in a local organization's such as the Chamber of

Commerce.

Do a sidewalk sale to bring attention to your products and store. If you don't

have a physical location but have products to sell, find a venue to set up a popup

shop. Perhaps there's a Memorial Day weekend event in your community

that you could join, alongside a parade or other celebration.

Offer Discounts To Active Military, Veterans And Families

―Sometimes the simplest campaigns are the most effective,‖ says Micah Pratt,

online marketing manager for Business.org.

Memorial Day is the perfect time to honor a veteran, active military member,

or their family with an exclusive offer.

―Creating an offer especially for service members and their family goes a long

way to making them feel appreciated,‖ Pratt writes in a Business.org post.

Offer a Twitter Coupon

Whether it's by percentage coupons, buy one get one free or QR code,

consider creating a Memorial Day coupon that is exclusive to Twitter

followers.

The coupon not only has the power to generate some business, it could expand

your company's exposure and lead to new Twitter followers – and customers.

26
---
Personalize Your Memorial Day Promotion

Come up with a new or special product with a Memorial Day spin or host an

onsite event to draw attention to your business and brand.

For example, if you run a coffee shop, bakery or other food business you could

prepare and sell pastries, special dishes or drinks with Memorial Day themes,

i.e., using the colors red, white and blue or a flag.

Or incorporate symbols associated with popular summer activities, like

campouts, the beach, swimming, etc., into your Memorial Day items.

―Not all retailers sell merchandise that can be deemed seasonal, but there are

ways to make it relate at least tangentially,‖ writes Michael Chalberg in a post

for POS software company KORONA.

You could also create branded swag to hand out at an event or to shoppers who

stop by your store or as a bonus with a purchase. Examples include sunglasses

or water bottles.

If it's not feasible to create a product with a Memorial Day twist but you have

a physical location, be sure to add bright holiday decor inside and out, i.e.,

signage, balloons, streamers, flowers, etc. In addition to the attention it brings

to your business, the decor will serve as a colorful invite to local shoppers.

Acknowledge The Holiday On Social Media

Seems like a given but don't let your Memorial Day promotions and sales

messages take up all your social media presence during the holiday weekend.

Because it's important for your small business to acknowledge the meaning

and purpose behind Memorial Day, which was first begun after the Civil War.

Create social media posts with quotes or images that show that your

business honors those who died while serving in the U.S. military.

27
---
For more information on this article click Here and for more of

articles from this site click Sparklight

28
---
29
---
Click on ―BEWARE OF SCAMMERS‖ image

and it will take you to ‗Beware of scammers

Facebook site' (safe site) or click HERE in case

the poster link don't work.

A lot of information from folks on the subject!

Courtesy of Computer-Ease ® and of OtherSide Ministries ®

30
---
31