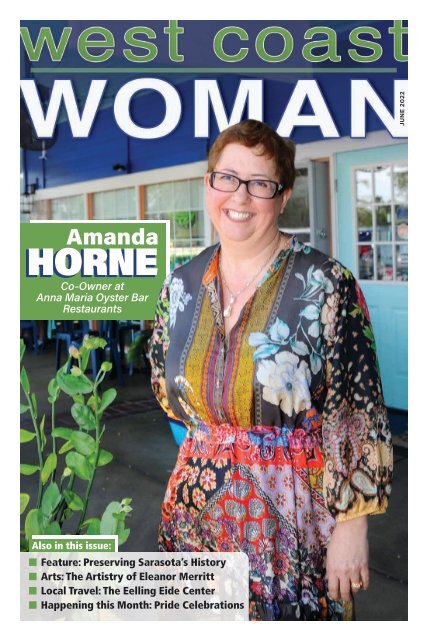 wcw JUNE 2022
Get to know Amanda Horne and her career as co-owner of the popular Anna Maria Oyster Bar family of restaurants. You'' see how she does her work there as well as an extensive array of volunteer and charitable commitments. And, also...they now own Café L'Europe . Also, the Sarasota Film Festival runs April 1-10 and we have a look at what's coming up there as well. For travel closer to home, explore the Elling Eide Center in Sarasota. Or maybe head to the Circus at the Asolo or maybe attend June's monthlong Pride events Check out our calendars and features this month - we have a lot!
Get to know Amanda Horne and her career as co-owner of the popular Anna Maria Oyster Bar family of restaurants. You'' see how she does her work there as well as an extensive array of volunteer and charitable commitments. And, also...they now own Café L'Europe . Also, the Sarasota Film Festival runs April 1-10 and we have a look at what's coming up there as well. For travel closer to home, explore the Elling Eide Center in Sarasota. Or maybe head to the Circus at the Asolo or maybe attend June's monthlong Pride events
Check out our calendars and features this month - we have a lot!


SHOW MORE
SHOW LESS
You also want an ePaper? Increase the reach of your titles
YUMPU automatically turns print PDFs into web optimized ePapers that Google loves.
JUNE 2022

Amanda

HORNE

Co-Owner at

Anna Maria Oyster Bar

Restaurants

Also in this issue:

■ Feature: Preserving Sarasota's History

■ Arts: The Artistry of Eleanor Merritt

■ Local Travel: The Eelling Eide Center

■ Happening this Month: Pride Celebrations
---
Tummy Tucks — Breast Lift —

Breast Augmentation — Liposuction

OPTIMIZE

YOUR

RESULTS

Arm & Thigh Lifts — Fat Grafting —

Coolsculpting — Body Sculpting

Sovereign Plastic Surgery

Alissa M. Shulman, M.D., F.A.C.S.

Board Certified Plastic Surgeon

1950 Arlington Street • Suite 112 • Sarasota

941- 366-LIPO (5476)

www.sovereignps.com

2 WEST COAST WOMAN JUNE 2022
---
JUNE 2022

contents

Editor and Publisher

Louise M. Bruderle

Email: westcoastwoman@comcast.net

Contributing Writer

Carol Darling

Contributing Photographer

Evelyn England

Art Director/Graphic Designer

Kimberly Carmell

Assistant to the Publisher

Mimi Gato

West Coast Woman is published

monthly (12 times annually) by

LMB Media, Inc., Louise Bruderle,

President. All contents of this

publication are copyrighted and

may not be reproduced. No part

may be reproduced without the

written permission of the publisher.

Unsolicited manuscripts, photographs

and artwork are welcome, but return

cannot be guaranteed.

HOW TO REACH US:

Email: westcoastwoman@comcast.net

Here are our columns:

n Out & About: includes

fundraisers, concerts, art exhibits,

lectures, dance, poetry, shows &

performances, theatre, film,

seasonal events and more.

n You're News: job announcements,

appointments and promotions,

board news, business news and

real estate news.

FOLLOW US AT:

Facebook: https://www.facebook.com/

WCWmedia

travel close to home

The Elling Eide Center in Sarasota offers tours at their

72-acre, waterfront estate. It's a pleasant, easy and

fascinating walk and tour. Read our report on

Summer heats up with Summer Circus Spectacular running

June 10 - August 13. Beat the heat at the Historic Asolo

Theater on the grounds of The Ringling. Read more on

p22

p20

happening this month:

the Circus!

dining in

Easy to be Vegan? Yep, if you read our feature

this month and discover recipes that a PBS chef

created. We have excerpt from her new book,

Easy Vegan Home Cooking, by Laura Theodore.

p28

WCW

34

YEARS

WCW Mailing Address:

P.O. Box 819

Sarasota, FL 34230

email:

westcoastwoman@comcast.net

website:

www.westcoastwoman.com

west coast

WOMAN

departments

4 editor's letter

7 Out & About: listings for things

to do live and/or online

9 healthier you: Nicotine's effect on the

brain

11 women's health: Meet the team at the

Visionary Centre

feature:

preserving Sarasota's history

The Sarasota Alliance for Historic Preservation has

released its 2022 "Six to Save" report that lists places

and buildings that are in danger of being demolished.

p30

12 news about arts: round up of arts news,

events and more

15 happening this month: Pride Month

16 west coast woman: Amanda Horne,

co-owner of the Anna Maria Oyster

Bar Restaurants

18 Travel news and tips

20 Travel close to home:

The Selling Eide Centers

21 health feature: Craniosacral Therapy

22 focus on the arts: The Circus is on!

23 travel advice: Mastering the Art

off the Carry-on

24 focus on the arts: Eleanor Merritt

26 you're news

28 dining out: better a better vegan cook

30 feature: Preserving Sarasota's past

■ on the cover: Photo of West Coast Woman Amanda Horne, co-owner of the Anna Maria Oyster Bar Restaurants shot in Bradenton. ■ Photo by Evelyn England.

JUNE 2022 WEST COAST WOMAN 3
---
just some

thoughts

Louise Bruderle

Editor and Publisher

West Coast Woman Amanda Horne

Amanda Horne

Photo by Evelyn England

Most of us love seafood restaurants - especially

those places with the wooden tables, paper

placemats, fishing/shell/nets motifs, affordable

prices and great, unfussy, traditional seafood.

Anna Maria Oyster Bar, with four locations in

Manatee County, is quintessential Florida seafood

cuisine and "architecture."

So I was surprised to read that Café L'Europe

was acquired by John and Amanda Horne, the

owners of the Anna Maria Oyster Bar restaurants.

It seemed like an unusual match to

go from paper placemats to linen, peel 'n eat

shrimp to Chateaubriand and Dover sole, but as

you'll read in this month's profile on Amanda, it was a perfect next step

for their business.

You'll also read how much this couple invests not just in their employees,

but in the community. I need to head back to Café L'Europe - I

attended events there and also had more than a few wonderful lunches

and dinners as well.

New column this month - Arts News

WCW has always had lots

of arts content so it seemed

natural to run even more

and in the off-season. We

get so much news about the

arts - hires, promotions,

new buildings, expanded

programming, etc., etc., that

it seemed wrong to share it

all only in season. We'll run

this column on and off in

the months ahead leading

Patti Smith and Jennifer Rominiecki at Selby Gardens.

up to season and our expanded

arts coverage starting in November.

WCW Honored with U.S. stamp

Hopefully you can still get these stamps with marine biologist Eugenie

Clark on them. Clark, a pioneering marine biologist who spent her career

working to change public perception about sharks — as well as to

preserve marine environments around the world — was immortalized

in May on a Forever stamp.

The dedication took

place at the Mote Marine

Laboratory & Aquarium,

which Clark helped

found as the Cape Haze

Marine Laboratory in

1955. A prolific scientist

animated by an unyielding

sense of curiosity,

Clark (1922-2015) carried

out groundbreaking

experiments and more

than 200 expeditions

across the globe.

She demonstrated

that lemon sharks could

be trained to do complex tasks, disproved the notion that some shark

species must keep swimming in order to survive, and debunked myths

about sharks as vicious, fearsome creatures.

Clark was a pioneer in the era when scuba emerged as a research tool

and later took more than 70 trips in high-tech submersibles, sometimes

as deep as 12,000 feet beneath the ocean surface — something that has

still been done by only a small number of other marine biologists.

In addition to the honor of being on a US stamp, Clark received the

Franklin L. Burr Award from the National Geographic Society, the Explorers

Club Medal, and the Medal of Excellence from the American Society

of Oceanographers, among numerous other recognitions. In 2015,

she was honored posthumously by the U.S. Congress. In 2018, a newly

discovered species of dogfish shark found in the Gulf of Mexico was

named Squalus clarkae in her honor. And we had the honor of featuring

Dr. Clark in West Coast Woman.

The stamp art features a digital collage created by multidisciplinary

artist Amanda Phingbodhipakkiya. Her design includes a photograph

of Clark taken by David Doubilet, as well as a photograph of a lemon

shark taken by Reinhard Dirscherl. Wavy blue elements in the stamp's

background evoke an undersea scene.

Purchase the stamps at usps.com/shopstamps.

How well do you know Elling Eide?

I love discovering new places in our community and

was delighted to find and experience the Elling Eide

Center in south Sarasota. That name might draw a

blank, but those of us who have lived here for more

than a few decades may recall Mr. Eide for his brief

foray into county politics when he was frustrated over

limits placed on his selling off some of this property.

While Mr. Eide is gone, his legacy is now a research

center for the study of Chinese literature and culture.

During the pandemic they offered fascinating lectures

online. But what really got me there was the tour of the

grounds and the building that holds some of his vast

collection of art objects while offering a look into the

history of the property and his own fascinating life.

Elling Eide

The grounds are quite a study in contrast - a beautiful modern building

where the researchers and academics work out of and the grounds

that, in part, look untouched from the 1920s. By all means go there if

you want a new experience. More info at https://ellingoeide.org/

A Nonprofit Goes Green

Thanks to a generous $40,000 grant from the Selby Foundation, Mothers

Helping Mothers, Inc. (MHM) is finally able to go completely green

and went officially go off the grid this past April.

This all-volunteer 501(C)

(3) nonprofit organization

serves thousands of needy

families each year in the

greater Sarasota-Manatee

region. Cheri DeVries,

MHM Executive Director,

expressed her gratitude

to the William G. & Marie

Selby Foundation, Partners

for Green Places, Brilliant

Harvest, and their numerous

donors for helping them

raise awareness and funds

to eliminate their electric bill to the tune of nearly $5000 a year.

MHM will redirect the money saved by going green into programs to

support and educate families. Although the cost for going fully solar is

almost $80,000, it will enable them to permanently eliminate their largest

overhead expense. This means that becoming energy independent,

allows every dollar saved to go directly back into the community to

provide families in need with basic necessities, from clothing to baby

equipment and diapers, services, and resources, free of charge.

To date, MHM has helped over 120,000 of the neediest families in our

community, representing over 360,000 children, and more than 65% of

their clients are single mothers. According to Cheri DeVries, "Teaching

kids and families that come to MHM about the importance of going solar

is a priority and we look forward to helping them learn about energy

conservation while being in our new fully green space! For more information

about how Mothers Helping Mothers helps families in need,

please visit www.mhmsarasota.com

Louise Bruderle | Editor and Publisher |

westcoastwoman@comcast.net

We welcome your thoughts and comments on this column and on other columns and features in this issue.

You can reach us at westcoastwoman@comcast.net. We're on the web at www.WestCoastWoman.com.

4 WEST COAST WOMAN JUNE 2022
---
941-373-6300

Sarasota Downtown

1727 2nd Street, Suite 1,

Sarasota

941-739-2400

Lakewood Ranch

8614 St. Rd 70E, Suite 102,

Bradenton

TimeSaverFitness.com

Offering a super-slow high intensity

strength training program twice a week,

20 minutes, amazing results!

Schedule your Complimentary

Introduction Session TODAY!

KEEP YOUR BODY FIT & STRONG

Eunice Okun

"93 Years Young and Feeling My Best"

"Within a few months of starting my two weekly twenty-minute

workouts, I could feel the difference. Each session gave me

a sense of true accomplishment. And, my trainers are always

encouraging, answering my questions and addressing areas of

concern. After three years at Time Saver Fitness, I've regained

strength, increased my coordination and am more toned than

I have been in years. And, now, at the age of 93, I'm enjoying a

healthy, active, independent lifestyle!"

— Eunice Okun

Cosmetic • Regenerative

Cosmetic Regenerative

& Restorative Gynecology

Restorative Gynecology

Painless In-Office Labiaplasty

BioTe® Painless Hormone In-Office Pellet Labiaplasty Therapy

BioTe® O-Shot® Hormone & Ouchless Pellet Therapy PRP

Laser O-Shot® Vaginal & Ouchless Rejuvenation® PRP

Laser Clitoral Vaginal Hood Rejuvenation®

Reduction

Clitoral Majora Hood Lift | Mons Reduction Lipo

ThermiVa® Majora (non-surgical Lift | Mons rejuvenation) Lipo

ThermiVa® (non-surgical rejuvenation)

Effective treatments for:

Effective Low treatments Libido for:

Menopause Low Libido Symptoms

Menopause Lichen Sclerosus Symptoms

Urinary Lichen Incontinence

Sclerosus

Urinary Incontinence

Personalized GYN Care

Personalized GYN Care

Treat YOUR Flower to Special Care

Treat YOUR Flower to Special Care

See Our Transformation Gallery at VisionaryCentreForWomen.com

See Our Transformation Gallery at VisionaryCentreForWomen.com

Dr. Jennifer S. Hayes, DO, FACOOG

Dr. Board Jennifer Certified S. | Hayes, Specializing DO, FACOOG in Cosmetic Gynecology

25+ Board years Certified vaginal | Specializing surgery in experience

Cosmetic Gynecology

25+ Beverly years Hills vaginal trademarked surgery experience

techniques

Beverly Hills trademarked techniques

727.403.0573

727.403.0573

info@drjenniferhayes.com

info@drjenniferhayes.com

JUNE 2022 WEST COAST WOMAN 5
---
6 WEST COAST WOMAN JUNE 2022
---
out &about

Special Events

St. Armands Circle's Sunset Yoga

is is on the inner circle, and will run

through the end of September. Yoga

enthusiasts can relax, stretch, and

gaze at a sunset while enjoying a nice

workout. Attendees should bring

their own yoga mat and block.

The class will be led by Liana Sheintal

Bryant. Breathe: A Sunset Yoga

Series will be held on June 26, July 24,

August 28, and September 25 from

5 to 6 p.m. and is free for the public.

For directions, more information,

and to RSVP, visit the Facebook event

page, https://www.facebook.com.

t

Project Pride SRQ has Pride

Month, June 1-30. The local LGBTQ+

organization celebrates Pride Month

with a full roster of events including

"The Grand Carnival" on June 4, a

downtown Sarasota car parade June

11, pet parade at Bayfront Park on June

18 and Taste of Pride with local businesses

offering specials throughout

the month. Info: projectpridesrq.org.

t

As part of Pride Month, there will

be Big Gay Weekend, June 10-12.

Local LGBTQ+ and SarasotaOUT.

com will celebrate with a variety of

festivities including a Big Gay Beach

Day on North Lido Beach, a Pride

Booze Cruise, and numerous events

at Golden Host Resort. Info: biggayweekend.com.

t

Suncoast Summer Fest runs

June 24-July 10. The second annual

festival features a variety of events

including 4th of July bayfront fireworks

in downtown Sarasota, a

"Waves & Wheels" summer party,

"Blast On The Bay" boat fun run and

more. All proceeds benefit Suncoast

Charities for Children. Info: suncoastsummerfest.org.

t

Sarasota Opera is set to host the

finals for Schmidt Vocal Arts (SVA)

national Schmidt Vocal Competition

at Sarasota Opera House June

3-5. The top three winners from each

of 13 regional competitions will compete

for the first national prize in the

competition's 25-year history. Seven

Floridians have qualified after competing

in four different regional locations.

Judges for this competition are

bass-baritone Eric Owens, Sarasota

Opera General Director Richard Russell,

and soprano Tamara Wilson.

There will also be an alumni concert

on June 4 that will feature SVA alumni

Virginia Mims (from West Palm

Beach) and Aaron Crouch with pianist

Brent Funderburk.

Tickets at SarasotaOpera.org or

call (941) 328-1300.

t

At OLLI

t

Join them for the Taste of OLLI

series featuring John Dangaran's

presentations on Beer and Wine at

the Bistro at the Sarasota Art Museum.

Guests will sample beers and

or wines paired with light bites prepared

by Chef Kaytlin Dangaran.

• Session 1: Beer • Monday, June 6,

5-6 pm. This session will include a

brief history on the different methods

and styles of beer that are still brewed

and enjoyed today.

• Session 2: Wine • Wednesday,

June 8, 5-6 pm. Wine is the focus of

this lecture and will include a brief

overview of the wine-making process.

We will discuss Old World vs.

New World, wine laws, terroir, and

proper tasting techniques. Cost: $49

per lecture/per person.

For more information or to register,

please call us at 941-309-5111.

Interested in

Genealogy?

The Manatee Genealogical Society

will host a virtual meeting and

program on June 7, 10am–noon.

The speaker, Cyndi Ingle, will present

"Timelines: The Straight Line

Between You and Your Ancestor".

Cyndy, a genealogist for more than

41 years, is the creator and innovator

behind the award-winning and globally

recognized CyndisList.com.

She is an expert in using technology

for genealogy research and bringing

together traditional methodology

with organization, computers, software,

and the Internet. Cyndi will

introduce timelines, which can help

you see gaps in certain time periods

or patterns in time periods and

places. Timelines can also provide

an overview of your ancestor's life to

show migration patterns as he or she

moved from one location to another.

Members of the public are welcome

to attend. Guests must register at least

one day in advance by emailing info@

mgsfl.org. For more information, visit

our website at https://mgsfl.org/

t

At The Hermitage

The Hermitage Artist Retreat has

a new Ruby E. Crosby Alumni Music

Series. The premiere event, "Soulful

Strings: An Evening of Harp Music,"

is on June 7 at 8pm at Marie Selby

Botanical Gardens, featuring harpist

and returning Hermitage Fellow Ashley

Jackson. The outdoor event is free

and open to the public with a $5/person

registration fee.

The Ruby E. Crosby Alumni Music

Series at the Hermitage offers the opportunity

for a distinguished Hermitage

alumni composer or musician to

return for additional residency time

and a special community concert. Info:

https://hermitageartistretreat.org/

t

At The Bishop

On exhibit: Illumination: Seeing

Beyond the Shell. A shell can be

t

Choral Artists has American Fanfare on July 4. Celebrate America with choral fireworks, rousing marches and patriotic

fervor at the Sarasota Opera House at 4 p.m. Info: www.ChoralArtistsSarasota.org.

many things: a mollusk's protection

against a predator, a piece of jewelry,

a makeshift spoon—it can even be a

calcium supplement or an alternative

to limestone mining to help fight

climate change. But what happens

when you take a closer look?

With Illumination: Seeing Beyond

the Shell, The Bishop continues the

celebration of its 75th Anniversary

Year of Light with the photography

of Scott Odell who is not only a local

photographer, but also a member of

the Museum's Staff.

This exhibition of macro photography

literally takes a closer look at the

shells in The Bishop's permanent collection,

showing what happens when

you take an object and view it in a

completely different way.

These images are the fortuitous

result of the Museum's temporary

closure during the Covid-19 pandemic.

Odell originally began his work

with the idea of having an online

exhibition where visitors to The Bishop's

website could continue to view

items from the permanent collection

The Bishop Museum of Science

and Nature, 201 10th St. West,

Bradenton. www.BishopScience.org.

UF/IFAS Extension

Sarasota County

Lectures

June 7 and 9—Disaster Preparedness

(webinar). What would you do

if basic services were cut off, like

electricity or water, or if you had to

suddenly leave your home? This class

will offer tips and ways to prepare for

unexpected disasters, such as hurricanes.

Learn how to assemble an

emergency supply kit and other ways

to prepare for emergencies.

Register for this event only at ufsarasotaext.eventbrite.com

rather than any

third party websites, as they are not affiliated

with our classes and events.

Instructor: Dr. Maria Portelos-Rometo,

UF/IFAS Extension Sarasota County

family and consumer sciences agent.

For questions, call 941-861-5000 or

email sarasota@ifas.ufl.edu.

June 13—Wild Sarasota: Other

Wading Birds of Florida (webinar).

Take a virtual walk on the wild side

of Sarasota, with Dr. Katherine Clements,

ecology and natural resources

educator. She'll focus on local wading

t

birds and their unique adaptations.

Register: https://www.eventbrite.

com/e/259814150117/. For questions,

call 941-861-5000.

Sea Turtle Nesting

Season is Here

Sea turtle nesting season takes

place through Oct. 31 on Southwest

Florida beaches. Mote Marine coordinates

with county, state and federal

efforts to conserve sea turtles — particularly

loggerheads, since Sarasota

County hosts the highest density of

loggerhead nests in the Gulf of Mexico.

Data show that nesting by loggerhead

turtles declined and then rebounded

in recent years, while green

turtle nesting — although very low in

numbers — has increased.

On nesting beaches, light from

waterfront properties can disorient

nesting female turtles and their

young, which emerge at night and

use dim natural light to find the sea.

Also, beach furniture, trash and other

obstacles can impede sea turtles and

their young. While Mote documents

turtle nests, the best thing you can

do to help is to refrain from using artificial

light while on the beach.Here

are some "do and don't" tips to keep

beaches turtle-friendly:

• DO stay away from sea turtle nests

marked with yellow stakes and tape,

and seabird nesting zones that are

bounded by ropes.

• DO remain quiet and observe from

a distance if you encounter a nesting

sea turtle or hatchlings.

• DO shield or turn off outdoor lights

that are visible on the beach from

May through October.

• DO close drapes after dark and

stack beach furniture at the dune line

or, ideally, remove it from the beach

• DO fill in holes that may entrap

hatchlings on their way to the water.

• DON'T approach nesting turtles

or hatchlings, make noise, or shine

lights at turtles.

• DON'T use flashlights, head lamps

or fishing lamps on the beach.

• DON'T encourage a turtle to move

while nesting or pick up hatchlings

that have emerged and are heading

for the water.

• DON'T use fireworks on the beach.

• DON'T walk dogs on any Sarasota

County beach other than Brohard

t

Paw Park in Venice. There, dogs must

be leashed or under voice control, according

to county ordinances.

Report stranded sea turtles and

marine mammals. Mote Marine

Laboratory's Stranding Investigations

Program responds 24 hours a

day seven days a week to reports of

sick, injured and dead marine mammals

and sea turtles for animals in

Sarasota and Manatee County waters.

Live animals are brought back to

Mote's Dolphin and Whale Hospital

or Sea Turtle Rehabilitation Hospital

for treatment and the deceased animals

undergo a detailed post-mortem

examination so that we may learn

more about the natural history of

these animals and evaluate longterm

trends in mortality.

Within Sarasota or Manatee County

waters, if you see a stranded or

dead dolphin, whale or sea turtle, call

Mote's Stranding Investigations Program,

a 24-hour response service, at

888-345-2335.

If you see a stranded or dead manatee

anywhere in state waters or a

stranded or dead dolphin, whale or

sea turtle outside of Sarasota or Manatee

counties, call the FWC Wildlife

Alert hotline at 1-(888) 404-3922.

Elling Eide Center

Arboretum Tours

and Lectures

Join docent Norman Burr on a

90-minute trek through their historic

grounds. Walk through the arboretum

and learn about rare, interesting,

and exotic plants. Norman will discuss

the geologic history of Florida

and how plant life evolved. He will

also share the history of the inhabitants

of the Elling Eide Center from

pre-history to today.

Then, venture inside and see Elling

Eide's personal collection of Asian

art and artifacts. Arboretum Tours

are held every Tuesday/Thursday

of every week. Register at www.ellingoeide.org

for the Arboretum Tour

and their other events. Elling Eide

Center, 8000 South Tamiami Trail,

Sarasota. Admission: $5. Tour is 2

hours with 60 minutes of the tour is

outside and 30 minutes of the tour is

of the inside of the Eide Center.

The Eide Center will also be offering

a Summer Lecture Series. Beat

the heat this summer & join Dr. Matthew

Wells, the Elling Eide Center's

Research Director, for a limited summer

lecture and discussion series that

explores different aspects of Chinese

culture and history.

This five-part series is designed for

people who have little or no background

in Chinese history, language,

and culture. Come listen and enjoy

a delicious cup of roasted coffee and

pastries at our new summer lecture

series, "Coffee & Confucius."

• Start Time: 9:30-10:00 am: Coffee

and pastries served; 10:00am -

11:00am: Lecture program

• Cost of Program: $15 per lecture or

$50 for all 5 (five) lectures

• Registration: Register at www.ellingoeide.org

or on Eventbrite

• Schedule: June: 8, 15 and 29, July:

6 and 13

Program Focus:

1) June 8: Chinese Writing and Language:

An Introduction

2) June 15: Chinese History: Issues,

Problems, and Approaches

3) June 29: Sages, immortals, and

t

continued on page 8

JUNE 2022 WEST COAST WOMAN 7
---
out and about continued

Buddhas: Chinese religion and

philosophy

4) July 6: From poetry to ghost stories:

An overview of early Chinese

literature

5) July 13: One Belt One Road: China's

20th century and beyond

Summer Art Camps

Art Center Sarasota offers Summer

Art Camp through August 5.

Each week campers will explore their

creativity, learn about art, and make

original masterpieces that will be

"exhibited" on Friday afternoons for

friends and family. Instructors provide

age appropriate activities for

campers in two groups: Creative Kids

for ages 6-10 and Emerging Artists for

ages 11-15.

Camp runs M-F, 9:30am-3pm.

Before and after care available. Info:

https://www.artsarasota.org/

summer-camp.

t

The Island Players on Anna

Maria plan to offer its Children's

Drama Camp, in partnership with

the AMI Center, led by actress Pam

Hopkins, with two public performances

planned for July 23. Evening

performances will be at 7:30 p.m. in

the new season. Auditions will be

held at 7:30 p.m. on August 1. For

information, call 941-778-5755 or

visit theislandplayers.org.

t

ArtCenter Manatee offers sprouting

artists, ages 4 to 6, an opportunity

to express their creativity. In Marvelous

Mondays, children ages 6-10 will

make drawings, paintings and prints.

In Thrilling Thursdays children will

have fun playing in clay. If they want

more, this age group can attend oneweek

KidsArt Camps from 9-3 Monday

through Friday.

Every week has a different theme,

from animals and aliens to artists

and super heroes. Emerging Artists,

ages 11-15, are challenged in

weekly half-day camps where they

can make clay sculptures and learn

on the potter's wheel, learn mosaics,

painting, drawing, fiber, collage and

more. Scholarships available. Camps

begin May 31. Location: 209 9th St

W, Bradenton. Info: 941-746-2862

https://artcentermanatee.org/kidsart-overview/.

t

Selby Gardens has a summer

camp that offers six one-week sessions

(Monday-Friday) from June 6 - July 15.

The first three weeks are at the Downtown

Sarasota campus, while the final

three take place at the Historic Spanish

Point campus. Sign up for individual

weeks of your choice.

t

At Mote Marine

Mote Aquarium has a new exhibit

from National Geographic. SHARKS:

On Assignment with Brian Skerry

includes large-scale images that

highlight the work of National Geographic

Explorer and award-winning

photojournalist, Brian Skerry.

The exhibit runs through Aug. 7,

2022. The exhibition strives to raise

awareness about the status of sharks

around the world. Visitors can dive

into the ocean depths to swim alongside

tiger sharks, great whites, oceanic

whitetips and shortfin makos while

learning about each species' habitat

and threats they face. Additionally,

they'll get a glimpse into National Geographic's

ocean conservation efforts.

t

National Geographic

Explorer

and award-winning

photojournalist

Skerry has

spent more than

10,000 hours underwater

exploring

the world's

oceans with a

camera to show

why sharks need

to be protected

and appreciated

as integral species

within the ecosystem.

The exhibition

will include

large-scale images

and videos—all

highlighting Skerry's

passion, skill

and life-long commitment

to conservation

of the

world's oceans.

■ Join Mote for

some fun outdoor

exploration.

Participants will

use dip nets to

explore the nearshore

seagrass

beds and learn about the plants and

animals that call the Bay home. All

ages. Fee: $15. Held 11:30 a.m.-12:30

p.m. Next date: June 18.

Pre-registration (including parents/

guardians) is required. This is an outdoor

program and participants will

wade in water up to waist deep. Details

here: https://mote.org/experiences/details/kayaking-with-mote

■ Seashore SEAfari allows you to

explore a mangrove forest. Put on

your adventure hat and come along

as you tour a mangrove boardwalk,

use science tools to test water quality

and complete a seashore scavenger

hunt with one of the best views in

Sarasota. All ages. Fee: $15. Held 10

a.m.-11a.m. June 18. re-registration

(including parents/guardians) is required.

This is an outdoor program (not

water-based) that involves walking.

Details here: https://mote.org/experiences/details/kayaking-with-mote.

Choral Artists

Next up: American Fanfare on

July 4. Celebrate America with choral

fireworks, rousing marches and patriotic

fervor. Old Glory and Uncle Sam

are feted in this annual performance

featuring the Lakewood Ranch

Wind Ensemble and Choral Artists of

Sarasota. Musical fireworks abound

in this annual salute to America at

the Sarasota Opera House at 4 p.m.

For more information, visit www.

ChoralArtistsSarasota.org.

t

Lots of Fun

Outdoor Events

The Palm Avenue First Friday

Walks in downtown Sarasota gives

art lovers a backdoor peek without

the hustle and bustle of the crowds

but with the cool breeze and moonlight

sky the evening brings. The

event is held the first Friday of every

month, running 6-9 p.m. The next

ones are on June 3 and July 1. Info:

https://palmave.com/

t

t

Women Contemporary Artists Annual Art Exhibit 2022 - Gail White - "Mucho Mango"

Women Contemporary Artists present the WCA Annual Art Exhibit at the

Lois and David Stuhlberg Gallery of the Ringling College of Art and Design,

2363 Bradenton Rd., Sarasota. Runs June 3-24.

Start your Saturday with a sunrise

stretch at The Sarasota Farmers

Market. They've partnered with

Pineapple Yoga Studio to bring free,

weekly sunrise yoga to downtown

Sarasota. Participants meet at the

Mermaid Fountain in Paul Thorpe

Park, near the Intersection of Pineapple

and Lemon Avenues. Enjoy Artful

Movement with Bianca, a 45-minute

guided practice accompanied by a

playlist to match the intention.

Starting at 7 a.m., participants

will enjoy a gentle yoga flow suitable

for all ages and levels. The weekly

45-minute yoga practice will focus

on movements that foster inner and

outer balance.

For information, call 941-225-9256 or

visit sarasotafarmersmarket.org/yoga

Marie Selby

Botanical Gardens

Robert Mapplethorpe and

Patti Smith: Flowers, Poetry, and

Light presents the creative work

of two contemporary icons in dialogue

with nature throughout Selby

Gardens' Downtown Sarasota campus.

The immersive, multi-sensory

exhibition includes original photographs

of flowers by Mapplethorpe,

excerpts of poetry, lyrics, and music

by Smith, and new horticultural displays

inspired by their work. It marks

the sixth annual Goldstein Exhibition,

which examines major artists

through the lens of their connection

to nature. The exhibit runs to June

26 at Marie Selby Botanical Gardens,

1534 Mound Street, Sarasota.

Marie Selby Botanical Gardens

is one of 12 participating gardens

across 6 countries offering "Seeing

the Invisible" which features works

by more than a dozen international

artists such as Ai Weiwei, Refik

Anadol, El Anatsui, Isaac Julien CBE,

Mohammed Kazem, Sigalit Landau,

Sarah Meyohas, Pamela Rosenkranz,

and Timur Si-Qin—including several

artists' first work in AR.

Visitors will engage with "Seeing

the Invisible" via an app designed

for the exhibition downloadable to

smartphones and tablets. The exhibition

fosters collaboration between

t

institutions, artists,

and audiences,

highlighting

the power of art

to connect people

around the

world. "Seeing

the Invisible"

runs to August

31 at the Historic

Spanish Point

campus. Information:

www.

selby.org.

Live

Music

Aviva Senior

Living has its

Amicus Classical

Concert Series

in June. The concerts

are free and

open to the public

as well as residents

of Aviva.

On June 14 at

1:30 p.m., the series

will conclude

with a concert by

Catherine Lan

and Tao Lin, otherwise

known as Duo Beaux Arts.

The duo has performed all over the

world to critical acclaim. La Belle

Epoque is a program of romantic

and virtuosic French music for piano

solo and duet including Faure's Dolly

Suite and the always popular Clair

de Lune.

The concert is free and held at Aviva's

Kretzmer Center, 1951 N. Honore

Ave., Sarasota. To RSVP, call Melinda

at 941-702-2597 or at mhaney@avivaseniorlife.org.

t

Art Exhibits

Creative Liberties has its first

open exhibition, "Here Comes the

Sun," running June 9-30. Opening

reception is on June 9, 5-8 p.m. Creative

Liberties Artist Studios is located

at 901-B Apricot Avenue, Sarasota,

in the Limelight District. For more

information, visit www.creativeliberties.net

or call 941-799-6634.

Creative Liberties was founded

in November 2021 by Barbara Gerdeman

and Elizabeth Goodwill,

two artists and art educators. They

launched this venture to empower

regional artists with a variety of business

services and studio and exhibition

opportunities. The Creative

Liberties Artist Studios is a collective,

communal space that provides work

and display space for local artists.

There are also display walls available

for non-studio artists to rent. Monthly

artist markets provide an opportunity

for local artists to sell their work.

Nine artists have made the Creative

Liberties Artist Studios their artistic

workspace. These include: Jenny

Berry (oil painting); Elizabeth Goodwill

(book art, fiber art and mixed

media); Barbara Gerdeman (photography,

acrylic painting, and mixed

media); Donna Bergman (collage and

mixed media); Lisa DiFranza (acrylic

painting, gouache, and mixed media);

Traci Kegerreis (acrylic painting,

collage and mosaics); Sandy Koolkin

(acrylic fluid painting, watercolor and

fiber art); Jay Li (pastel portraiture)

and Judy Levine (jewelry design, collage

and photography).

■ For information about Creative

t

Liberties, visit www.creativeliberties.net

or call 941-799-6634. The

studios are open to the public Thursday

through Monday, 10 a.m.-4 p.m.,

and on Tuesdays and Wednesdays by

appointment.

Sarasota Art Museum has Daniel

Lind-Ramos' Las Tres Marías runs

through August 7, 2022. Las Tres

Marías is comprised of two new

assemblage sculptures created

specifically by Lind-Ramos for

the Museum's exhibition, Baño de

María and María Guabancex, in

addition to his previously-made

work, María de los Sustentos.

Daniel Lind-Ramos (b. 1953, Puerto

Rico) creates assemblages from found

and reclaimed objects, many of which

were collected in the aftermath of

Hurricane Maria. Through the combination

of natural and manufactured

materials, Lind-Ramos' sculptural

assemblages recall the experiential

elements of the hurricane—wind,

rain, thunder, and lightning—as well

as cultural signifiers of Puerto Rico,

specifically, the city of Loíza, where

the artist was born and still resides.

The devastating impact of Hurricane

Maria (2017) in Puerto Rico is still visible

in the physical destruction, and

felt in the memories and collective

consciousness of Puerto Ricans, but

Lind-Ramos' Las Tres Marías serves

as a testament to the resilience of the

people and community.

Las Tres Marías will be exhibited

in the 3rd Floor's Tom & Sherry Koski

Gallery and Lois & David Stulberg

Gallery to August 7, 2022.

Sarasota Art Museum also presents

I M(O)ther: Threads of the

Maternal Figure, the first U.S. solo

museum exhibition of Jamaica-based

textile and fiber artist Katrina

Coombs, through October 2,

2022. This exhibition will feature 12

fiber artworks including large-scale

installations and intimate sculptures

that reference the artist's personal

experiences, as well as experiences of

other maternal figures in her life.

On view in the Museum's John &

Charlotte Suhler Gallery, I M(O)ther:

Threads of the Maternal Figure illuminates

the range of fiber arts techniques

Coombs uses in her practice,

including the laborious technique of

finger-knitting the works with various

fiber materials. Coombs' works

are inspired and guided by a quest to

deepen the spiritual, emotional, and

psychological understanding of the

numerous conflicting roles that have

been attributed to women in contemporary

society

While the use of fiber is central to her

work, Coombs skillfully weaves and

stitches cowrie shells, amethyst stone,

mirror, and beads into tactile and

large-scale forms. These non-fiber elements

are used to communicate conceptual

ideas of identity, the maternal

figure, wealth, ancestry, and security.

The works in this exhibition span

over a range of time (2015-2020), referencing

a number of the artist's personal

experiences, as well as experiences

of other maternal figures in her

life. Coombs' work communicates a

range of ideas in pieces that are intended

to physically envelope the viewer in

some instances, and in other instances

keep the viewer at a distance.

There will be a Curator Talk with

Emory Conetta on Thursday, June 9,

6 pm. Free for members, $20 not-yet

members. Location: Sarasota High

t

continued on page 10

8 WEST COAST WOMAN JUNE 2022
---
healthier you

QUIT TOBACCO

with GROUP QUIT

There's never been a more important time to quit.

Free expert-led sessions to help you quit all forms of tobacco.

2 . 6 LO G O LOCKUP S

Nicotine's Effect

on the Brain

1 .

2 .

X

TFF.COM / FDOH LOCKUP

Virtual Group Sessions -OR- In-Person Group Sessions

Develop your

personalized

quit plan.

FREE nicotine

replacement patches,

gum, or lozenges. *

The logo lockups were designed to contain both logos,

separated by a bar that is the same thickness as our

of our logo. We will maintain the clear space

established on page 6 between the bar and both logos.

Depending on the type of materials, we could use one

of the following lockups.

1. Full color Logo Lockup

More than

DOUBLES your

chances of success!

preferred, but it can ONLY be used in full color and

only against a white background. It cannot be placed

in a white box.

*(If medically 3 . appropriate for those 18 years of age or older)

Pre-registration is required.

CALL TODAY:

4 .

2. One-Color Logotype Lockup

The One-Color Logotype Lockup is the most commonly

used version. It can only be used against a white

background or as a Reverse White Logotype.

Sponsored by:

866-534-7909 AHEC

GULFCOAST SOUTH

AREA HEALTH

EDUCATION CENTER

3. Black and White Logotype Lockup

4. Reversed Logotype Lockup

The reversed logotype lockup can be used against a

black bacground or against the NEW TFF ADA BLUE

(HEX: #1074BB)

M

ark Twain once said

"quitting smoking

is easy. I should

know, I have done it

a thousand times."

Many tobacco users may be able to relate

to this statement as it often requires multiple

attempts to kick the habit for good.

There are several reasons quitting

smoking is challenging. First, it is legal

for adults to use tobacco products; therefore,

there is less legal risk with tobacco

than with other illegal substances. Second,

nicotine is available for purchase at

many convenient locations. The third

and most significant reason is due to

nicotine's effect on the brain. In fact,

research has shown that nicotine is as

addictive as alcohol, heroin, and cocaine

and is often more difficult to quit. 1

When an individual smokes a cigarette,

nicotine is delivered to the brain within

seven seconds. Once in the brain, nicotine

activates seven different neurotransmitters

– many of which are responsible

for pleasure, appetite suppression, reduction

of tension and anxiety and increased

focus. These outcomes can be perceived

as positive and rewarding which strengthens

the addiction to nicotine. It is important

that individuals find other ways to get

these same benefits without the tobacco

products when quitting. Quitting tobacco

involves "retraining" the brain's reward

pathway as nicotine levels are reduced

during the quit process.

The addiction to nicotine itself accounts

for the biological component of

addiction; however, addiction can happen

on the psychological and cultural

level as well. Tobacco can be used as a

coping mechanism during challenging

situations and as self-medication. Developing

a dependence on tobacco during

the tough times can make quitting even

harder. Tobacco may also be promoted as

part of social activities and norms.

Although quitting tobacco can be

challenging, it can be done! According

to the Center for Disease Control and

Prevention, more than three out of five

adults who have ever smoked cigarettes

have quit. It is important to seek out

support when quitting tobacco as those

that attempt to quit on their own have

a success rate of about 5-7%. Group sessions

through Gulfcoast South AHEC

and Tobacco Free Florida address all aspects

of nicotine addiction, in addition

to helping you develop a quit plan and

identify your quit date. Studies have

shown that group sessions plus the use

of Nicotine Replacement Therapy can

more than double your chances of quitting

and staying quit. 2

Quitting tobacco for good comes with

many benefits to your physical and psychological

health. These benefits are

numerous and will greatly improve the

quality of life for individuals who quit

for many years to come.

Help quitting tobacco is free! Gulfcoast

South Area Health Education

Center (GSAHEC), as part of the Group

Quit option of Tobacco Free Florida's

Quit Your Way program—offers free

group quit sessions to help someone

quit all forms of tobacco. These group

sessions held virtually and in-person,

provide information about the benefits

of quitting, managing stress and triggers,

and will assist you with developing your

own customized quit plan. Free nicotine

replacement therapy in the form of

patches, gum, or lozenges (if medically

appropriate and while supplies last) is

provided with the session. Attendees

will also receive a participant workbook,

quit kit materials, and follow up support

from a trained tobacco treatment specialist.

Contact us today at 866-534-7909

or visit www.tobacco freeflorida.

com/groupquitcalendar to schedule

a class or learn more about the program!

Reference:

1 https://www.cdc.gov/tobacco/data_statistics/fact_

sheets/cessation/smoking-cessation-fast-facts/index.html

2 Tools to Quit: Area Health Education Center

(AHEC) Cessation Program Participant Toolkit.

Area Health Education Centers. 2018.

Learn more about all of Tobacco Free Florida's tools and services at

T F F

BRAND G U I D E

PAID ADVERTORIAL

JUNE 2022 WEST COAST WOMAN 9
---
out and about continued

School Alumni Auditorium. Get an introduction

to Sarasota Art Museum's

newest exhibitions, Daniel Lind-Ramos:

Las Tres Marías and I M(O)ther:-

Threads of the Maternal Figure from

Assistant Curator Emory Conetta.

■ Sarasota Art Museum is at the

Ringling College Museum Campus,

1001 South Tamiami Trail, Sarasota.

https://www.sarasotaartmuseum.

org/visit/

Next up at Art Uptown Gallery is

"Collection of Small Works" by Art

Uptown Gallery Artists. The exhibit

will include original paintings,

sculpture, glass, jewelry, pottery and

photography by some of the gallery's

25 artists.

The exhibit runs through June 24,

and the public is invited to a First

Friday public reception on June 3

from 6-9 p.m.

In July, Art Uptown Gallery will

exhibit "MOXIE by Rita Rust," watercolors

by a longtime gallery artist. In a

pivot from Rita's usual subject matter,

these "action portraits" serve to illuminate

the capacity to find joy even

in the darkest times. These paintings

embody the exuberant spirit, determination

and courage the girls in this

series display—their "moxie."

"MOXIE by Rita Rust" opens on

June 25 and runs through July 30. The

public is also invited to a reception on

First Friday, July 1, from 6-9 p.m

■ Art Uptown Gallery is located at

1367 Main Street, Sarasota. Also view

art works by 28 local artists. Call 941-

955-5409 or visit www.artuptown.com.

t

SPAACES Foundation has "Ah

Who Run Dis," A Solo Exhibit by

Krystle Lemonias runs through June

11. By appointment only.

The SPAACES Foundation is a notfor-profit,

with an evening of food,

music, art and more. The Princeton

street corridor is a growing community

of warehouses converted to working

art studios. Anchored by the SPAACES

foundation, this little neighborhood

has evolved into a premier location for

contemporary and conceptual artists.

■ If you have any questions contact

marianne@spaaces.art or at 941-

374-3492.

t

Art Ovation Hotel has an ongoing

series of art displays by six international

artists and organizations

that will run through September 6,

2022. The six new exhibits include

Tribute to Andrés Valerio; Ana

Albertina Delgado: The Human

Mysteries and the Indifference of

the Universe; Alexander Solotzew:

Life in Colors; Peter Jacob Christ:

Disappearing Signs of Life; and The

Rainer Hildebrandt Collection:

Original Painted Slabs from the

Berlin Wall, as well as The Florida

Watercolor Society (FWS)'s 2021-

2022 Traveling Exhibition.

Visitors are invited to enjoy the

works at their own leisure or can request

a guided tour for a deeper understanding

of the artists and their works.

■ Located at 1255 North Palm

Avenue, Sarasota.

t

Women Contemporary Artists

present the WCA Annual Art Exhibit

at the Lois and David Stuhlberg Gallery

of the Ringling College of Art and

Design, 2363 Bradenton Rd., Sarasota.

The exhibit is on display from June

3-24. The public is invited to the

opening reception to meet the artists

t

on June 3, from 5-8 pm.

There will be scheduled

docent tours given during

the dates of the exhibition.

There is no fee for

this event.

The event will showcase

the work of the WCA

whose membership

includes painters, photographers,

sculptors,

ceramicists, printmakers,

mixed media artists, fabric

artists and more. As

Curator of Exhibits at the

Morean Arts Center in St.

Petersburg, Amanda Cooper,

the juror, is knowledgeable

in a broad range

of media from established

and emerging artists.

■ Info: 941-359-7563 or

visit www.ringling.edu/

galleries. Information

on WCA is at: www.

womencontemporaryartists.com.

Artist Series

Concerts of

Sarasota

Here's what's coming up:

• May 4, 4 pm at Sarasota

Opera House. Lin Ye, piano with

Daniel Jordan and Samantha

Bennett, violin; Rachel Halvorson,

viola; Natalie Helm, cello; John

Miller, double bass. Artist Series

Concerts welcomes the return of

pianist Lin Ye, a former winner of

the organization's 2017 National

Piano Competition. Ye performs

piano concerti by Bach, Mozart and

Chopin with principal string players

from the Sarasota Orchestra. Ye's

performance is part of State College

of Florida's Pianopalooza festival,

taking place through May 8.

For more information, visit www.

ArtistSeriesConcerts.org

At The Ringling

t

Hermitage Fellow and Harpist Ashley Jackson (Photo Credit: Julia Comita)

The Hermitage Artist Retreat's "Soulful Strings: An Evening

of Harp Music," is on June 7 at 8pm at Marie Selby

Botanical Gardens, featuring harpist and returning Hermitage

Fellow Ashley Jackson.

On exhibit is "As long as there is

sun, as long as there is light." Selections

from the Bring Gift and The

Ringling Collection of Modern and

Contemporary Art. The exhibition

runs through Aug. 13, 2023, in the

museum's Searing Wing.

Highlights include minimalist

work by Anne Truitt and a monumental

work on canvas by Gene

Davis, both artists affiliated with

the Washington Color School, an art

movement during the 1950s to 1970s

in Washington D.C., made up of abstract

expressionist artists.

Additional work represent a generation

of prominent artists who

work, or have worked, in abstraction,

including Clement Meadmore, Jules

Olitski, Beverly Pepper, Rebecca Salter,

Kenneth Snelson, and Yuriko Yamaguchi,

among others. Also on view

are sculptures and paintings by African

American and Latin American

artists from The Ringling collection,

including William Edmondson, Eduardo

Mac Entyre, Omar Rayo, Baruj

Salinas, and Joyce de Guatemala.

The Ringling has Haitian-Canadian

artist Rhodnie Désir for the world

premiere of her first gallery installation,

Rhodnie Désir: Conversations

in the Ringling's Monda Gallery. In

her multidimensional choreographic

career, dancer/choreographer Rhodnie

Désir created BOW'T TRAIL, a

choreographic-documentary journey

in which she has conducted research

throughout the Americas since 2015.

Her work included visits to countries

such as Martinique, Brazil, Haïti,

Canada, Mexico, and the United

States to immerse herself within the

African and afro descendant cultures

and rhythms generated from

the ingenuity of her ancestors since

the Slave Trade.

The Ringling also has Eleanor

Merritt: Remembrance, running

through Aug. 21. The exhibition celebrates

the life and artwork of Merritt

who was a volunteer at The Ringling

for many years as a docent and board

member. She also served as president

of the Venice Art Center and was

active in other arts organizations as

well. Eleanor died in 2019 leaving a

legacy of art and public service.

This exhibition is dedicated to her

spirit and creativity and represents a

small sample of a significant body of

work the artist created over her long career.

The exhibition highlights her creative

use of materials, movement between

figuration and abstraction, and

her commitment to women's rights.

Arriving in Sarasota in the 1980s,

Eleanor exhibited widely in Florida.

Her final exhibition in 2017 at the

Arts & Cultural Alliance celebrated

her 60 years of painting. In 2013, she

received national recognition with

an exhibition at the Houston Museum

of African American Culture.

And there's Ballroom Florida:

Deco & Desire in Japan's Jazz Age

on view to September 25. This exhibition

celebrates a recent gift of

six paintings from Mary and Robert

Levenson by Enomoto Chikatoshi

(1898–1973) and a photograph by Hamaya

Hiroshi (1915–1999) depicting

the women of the Florida and its chic

décor. The exhibition is augmented

with loans that elaborate on themes

that define this group of artworks:

Art Deco design, the exotic, and elegant

pleasures.

Metadata: Rethinking Photography

from the 21st Century is on

view until August 28.

This exhibition explores

new paradigms for understanding

the ecology

of the photographic image.

The term "metadata"

is used to describe the

information that travels

with a digital image file

but is unseen within the

image itself.

The John and Mable

Ringling Museum of

Art, 5401 Bay Shore Rd.,

Sarasota. Info: www.

ringling.org.

Theatre

Asolo Rep has EUREKA

DAY (to June 4), by New

College alum Jonathan

Spector and directed

by Bianca LaVerne

Jones in the Cook Theatre.

An explosive comedy

that skewers sanctimony

and the nature

of our politics, EUREKA

DAY asks: when does

"us" become "them?".

The season concludes

with another new musical,

HOOD (June 3-26),

featuring music and

lyrics by Lewis Flinn (Lysistrata

Jones), a book by five-time Tony-nominated

playwright Douglas

Carter Beane (Rodgers & Hammerstein's

Cinderella, Lysistrata Jones,

Sister Act, Xanadu) and helmed

by Mark Brokaw (Heisenberg, Rodgers

& Hammerstein's Cinderella,

After Miss Julie). Rediscover Robin

Hood, the renegade crusader, his

Merry Band and a Maid Marian

who definitely does not need saving

in this madcap musical.

Tickets: asolorep.org or call the Box

Office at 941-351-8000.

t

t

At Urbanite Theatre: ATHENA

by Gracie Gardner; directed by Summer

Wallace. Runs June 10 – July 10.

Mary Wallace and Athena are brave

young fencers training for the Junior

Olympics. They practice together,

they compete against each other,

they spend their lives together. They

just wish they were friends.

Urbanite is located at 1487 2nd

Street, Sarasota. Tickets: (941) 321-

1397 or visit https://www.urbanitetheatre.com/season.

FST's final Cabaret of the season,

Laughing Matters (Variant 6):

Paranoia on Parade, is playing in

FST's Court Cabaret. This edition

of FST's musical sketch comedy

revue is inspired by today's culture

and politics.

Featuring parodies of popular songs

and musical theatre classics interspersed

with original comedic sketches,

Laughing Matters pokes fun at

everything—from the impact of social

media and the steep rise of inflation

to Sarasota's rapid development and

the seemingly endless COVID-19

pandemic. Runs to June 19.

Tickets: FloridaStudioTheatre.org or

call the Box Office at (941) 366-9000.

t

Farmer's Markets

The Sarasota Farmers Market

is open on Saturdays with normal

hours of 7 am-1 pm, rain or shine.

http://www.sarasotafarmersmarket.

org/ (941) 225-9256

t

Venice Farmers Market has more

than 40 vendors on Saturdays, many

based during the week in Venice,

Englewood and other areas of Sarasota

County. Held at Venice City Hall, 401

W. Venice Avenue, Venice. Call (941)

445-9209 or visit https://www.thevenicefarmersmarket.org/site/

t

The Newtown Farmer's Market is

open from 10 a.m. to 5 p.m. every Friday

and Saturday. The market is located

at Dr. Martin Luther King Jr. Park,

at the corner of Cocoanut Avenue and

Dr. Martin Luther King Jr. Way.

t

The Farmers Market at Lakewood

Ranch is now at Waterside

Place. Their Farmers Market currently

has about 60 vendors and went this

past summer from a seasonal market

to a year-round event.When the

market transfers to Waterside Place,

taking up space all along Lakefront

Boulevard and Kingfisher Lake, more

than 80 vendors will line the street.

The Farmers Market will stick to a 10

a.m. to 2 p.m. time slot on Sundays.

t

At Benderson

International Dragon Boat

Federation 13th Club Crew World

Championships is on July 18-24,

2022. More about IDBF at https://

www.dragonboat.sport/

The Ronald A. Balducci Playground

is open during regular park

hours (6 a.m.-8 p.m.), but hour-long

closures at 8 a.m., noon and 4 p.m.

allow crews to clean playground

equipment.

Only electric boat motors are authorized;

gas motors must be raised

to indicate they aren't in use. (This is

in accordance with Sarasota County

ordinances.)

Operating hours are 6 a.m.-8 p.m.

through Halloween, then 6 a.m.-6

p.m. through March 30, and variances

on closing time (such as for NBP's July

3 fireworks) are by permit. Follow the

park at NathanBendersonPark.org.

t

Note:

Be sure to send season

schedules for 2022 to

westcoastwoman@comcast.net

t

West Coast Woman in

Sarasota is a monthly

publication on the west

coast of Florida. We have been

publishing since 1989. We are

ad-supported so that means our

publication is FREE and is located

at over 600 quality locations from

doctor's offices to fitness centers

to health food stores. In addition,

we are in newspaper boxes in

prime locations such as post

offices and busy streets.

Interested in Advertising?

CONTACT US:

email: westcoastwoman@

comcast.net

online:

WestCoastWoman.com

10 WEST COAST WOMAN JUNE 2022
---
women's health

just

schmoozing!

LIVE

Visionary Centre

welcomes

new team members

Come and meet fellow tribe members

for fun and laughs. Cash bar and

complimentary light nosh.

TUESDAY

JUNE 7, 2022

4:00PM – 6:00PM

Made possible by

the Arthur and Beatrice

Michaels Endowment

Fund for Adult Senior

Programs and Services.

Mandeville Beer Garden

428 N Lemon Avenue

Sarasota

MICHAEL SAUNDERS & COMPANY

SPONSORED BY

REALTOR 941.951.6660

LICENSED REAL ESTATE BROKER

QUESTIONS? Contact Jeremy at

JeremyL@jfedsrq.org or 941.343.2113

(l-r) Zee Orbegozo, APRN, Dr. Stacy Chase,

Jennifer S. Hayes, DO, FACOOG, and Tammara Taylor, APRN CNM

T

he Visionary Centre welcomed

three health care professionals

to their practice. They are Dr.

Stacy Chase, Zee Orbegozo,

APRN, and Tammara Taylor,

APRN CNM.

• Dr Chase graduated medical school

from Des Moines University — Osteopathic

Medical Center in Des Moines Iowa, and

later completed her Family Medicine and

OMT residency at Suncoast Hospital, Largo

Florida. She is licensed and board certified

in Family Medicine and Osteopathic

Manipulative Treatment (OMT) physician

with certifications by Allergan in Botox

and dermal fillers. She has over 15 years'

experience serving our community in Primary

Care, OMT and Facial Aesthetics.

She has a focus on BHRT Biote pellet hormone

therapy, THERMIva (non-surgical rejuvenation

treatments), O & G shots / PRP

therapy, and Facial Aesthetics. She serves

on the American Osteopathic Board of

Family Physicians as a full board member.

She also serves her community as the current

Vice President Elect for Pinellas County

Osteopathic Medical Society.

• Tammara Taylor earned her Bachelor

of Science in Nursing at the University

of Oklahoma Health Sciences Center,

and then went on to earn her Masters of

Science in Midwifery at Frontier Nursing

University. In March, 2020, Tammara became

a certified Creighton Model Fertility

Care Practitioner and Medical Consultant

at Creighton University, Pope Paul VI Institute.

She is an Advanced Practice Registered

Nurse and Certified Nurse-Midwife with

over 20 years of experience in the fields of

labor and delivery, gynecology, and surgical

nursing.

Tammara is also a certified practitioner

of BioTe bioidentical hormone replacement

therapy for men and women. She

currently belongs to several professional

memberships and organizations including

the American College of Nurse-Midwives,

the Association of Women's Health, Obstetric

and Neonatal Nurses, the American

College of Obstetricians and Gynecologists,

Frontier Nursing University Honor Society,

and Sigma Theta Tau.

• Zee Orbegozo is a board-certified

nurse practitioner who specializes in aesthetics

and hormone optimization. She has

trained with leaders in the field, including

Dr. Jennifer Hayes.

Zee is a certified provider of BioTe bioidentical

hormone therapy and is certified

by AMET and AAFE for neurotoxins and

dermal fillers. She received her advanced

dermal filler certificate at the Shino Bay Dermatology

Master Class, led by Dr. Shino Bay

Aguilera. Zee is honored to practice as part

of the team at Visionary Centre for Women!

• Dr. Jennifer S. Hayes offers more

than 20 years vaginal surgery experience

and is a licensed, board-certified gynecologist

& gynecologic surgeon. She is

considered to be one of the top cosmetic

vaginal surgeons in the United States

for Vaginoplasty/Laser Vaginal Rejuvenation,

Vaginal Tightening, Labiaplasty

and Majoraplasty, Clitoral Hood

Reduction and Laser Perineoplasty/Perineorrhphy.

With a focus on minimally

invasive techniques and procedures, Dr.

Hayes offers THERMIva, non-surgical rejuvenation

treatments, BHRT Biote pellet

hormone therapy, O-Shot / PRP therapy,

and Mons Lipo (removes puffy bulge of fat

from the mons).

Dr. Hayes and her expert team provide a

comfy, discreet and relaxed place to share

concerns and desires with a female doctor

who has treated thousands of women from

around the world. Dr. Jennifer Hayes works

with you to design a personalized treatment,

based on your unique achievable

desires. You can rest assured that you have

picked an excellent 5-star surgeon that is as

passionate about your outcomes as you are.

If you feel you've lost some of your confidence

and sexual self-esteem after childbirth,

during the aging process, or even after

a divorce, Dr. Jennifer S. Hayes and her

highly trained team at Visionary Centre for

Women and the Laser Vaginal Rejuvenation

® Institute of Tampa Bay and Sarasota,

can help you get yours back!

Learn more at

https://visionarycentreforwomen.com/

2695 Ulmerton Road, Clearwater, FL 33762

(727) 540-0414

To register, go to JFEDSRQ.ORG/SCHMOOZING

PAID ADVERTORIAL

JUNE 2022 WEST COAST WOMAN 11
---
arts news

Editor's Note:

Here's a new column WCW will

publish periodically about local and

regional arts news. We received

so many news items over the past

few months that we decided to

include them here — in case you

might have missed them!

2

Patti Smith Becomes

Selby Gardens' First

"Artist In Residence"

Poet, singer-songwriter, author, and visual

artist Patti Smith has been named Marie

Selby Botanical Gardens' inaugural Artist

in Residence.

Smith's artistic residency will include

two return visits to Selby Gardens—one

in 2023 and one in 2024—where she will

combine public activities such as readings

and performances with private time

drawing creative inspiration from the

organization's two bayfront campuses and

collections.

Smith's relationship with Selby Gardens

stems from the Gardens' Jean & Alfred

Goldstein Exhibition, "Robert Mapplethorpe

and Patti Smith: Flowers, Poetry, and

Light." The show, which runs through

June 26, explores Mapplethorpe's flower

photography and Smith's lyrics and poetry

Patti Smith with Selby Gardens President & CEO Jennifer O.

Rominiecki in the Gardens

about flowers and nature, in dialogue with

original horticultural installations inspired

by their art.

Smith first visited Selby Gardens in

February to tour "Flowers, Poetry, and

Light" and perform songs and readings

she selected to complement the exhibition.

She called the interdisciplinary show "a

beguiling exhibition" and said she "was

very moved to be asked to be a part of it."

Smith returned in April for a second live

performance, at which the new residency

was announced.

2

ArtCenter Manatee's

New Building Gets

a Boost

ArtCenter Manatee has announced a

two-million-dollar gift to the Center's Building

Campaign from the Steve and Natalee

Herrig Family Foundation.

Upon completion, the new 2-story,

28,000 SF facility, will be renamed the

Herrig Center for the Arts.

Architects rendering of view from 9th St W

The ArtCenter's goal is to break ground

in late 2022. Once the new facility is complete,

the current building will be razed and

the property developed into a community

park and sculpture garden to benefit of

the entire community. The new Center and

park will be at the intersection of 9th Street

West and the Avenue of the Arts (formerly

3rd Avenue).

2

Sarasota Orchestra

Identifies Location

for New Home

Sarasota Orchestra has entered into a

purchase agreement for the land where it

plans to build its new home. Located at

5701 Fruitville Road, between Honore Avenue

and Cattlemen Road, the 32-acre site

will be anchored

by an artistic

asset currently

not available from

Tampa to Naples:

a state-of-the-art

acoustical concert

hall. The site will

also house new

and increased

performance, education,

event, and

outdoor space for

the community.

The announcement

fulfills a

longtime need for

the organization's

continued artistic

growth. Orchestra leaders will engage in

listening sessions with nearby neighborhoods,

diverse communities, civic leaders,

and local arts organizations seeking input

to develop a masterplan for the full 32-acre

site. The land, which is currently undeveloped,

will be purchased through private

philanthropy that has already been fully

raised by Sarasota Orchestra.

Additional performance, rehearsal,

practice, and music education space is

Sarasota Orchestra's new home location

acutely

needed to

serve local

organizations,

the

region's

larger

population

and offer an

array of experiences.

In addition,

the site's

proximity to

I-75 increases accessibility to arts and cultural

experiences for residents across the

region and visitors from around the world.

An estimated seven acres of the 32-acre

site will be dedicated to a permanent home

for the Sarasota Orchestra's professional

orchestra, extensive educational programs,

and the Sarasota Music Festival.

Along with an 1,800-seat concert hall,

the facility will include

a 700-seat recital hall

for chamber music

and other flexible

uses. Increased space

will also support the

Orchestra's diverse

education programs,

expanding opportunities

to partner more

with area schools and

in reaching young people

who are interested

in exploring music.

The location provides

ample space to

serve more than just

Sarasota Orchestra's

needs for a permanent home and primary

performance space. Other community

music and cultural organizations will be

engaged to assess their needs to support

a wide range of musical genres and

cultural activities.

The vision for the full 32-acre site is

still being formulated based on extensive

community input over the coming months.

Sarasota Orchestra anticipates the site

may include walking trails, playgrounds,

and water features. The upcoming insight

gathering process will be the basis upon

which the masterplan for the site will be

developed.

For further information, visit www.SarasotaOrchestra.org.

2

Florida Studio

Theatre Unveils Plans

for New Arts Plaza

The Mulva Arts Plaza

FST has unveiled its plan for the largest

expansion project in its 49-year

history: The Mulva Arts Plaza. This

new, eleven-story building will

enable FST to meet its growing

needs.

Named after Patrick and Mary

Mulva, who made the leading gift

to the theatre's project, The Mulva

Arts Plaza will be adjacent to the

theatre's existing Hegner Theatre

Wing. FST will break ground on

this project December of 2022.

The Mulva Arts Plaza will include:

• A new Mainstage Theatre to

allow for expansion of FST's

Mainstage and Stage III Series

• Two new Cabaret Theatres to accommodate

audience demand for FST's

most popular programming

• 55 extended stay studio apartments for

FST guest artists

• 30 units of affordable housing (each unit

is a two-bedroom, two-bathroom apartment)

for year-round, local arts workers

in Sarasota

• About 200 secure and convenient parking

spaces

FST has received leadership gifts

from Ed and Susan Maier, Dennis and

Graci McGillicuddy, Jack and Priscilla

Schlegel, as well as an anonymous

donor. In recognition of their gifts, The

Mulva Arts Plaza will include the Maier

Cabaret, the McGillicuddy Residences,

and the Schlegel Cabaret.

FST will continue its campaign to

raise the rest of the funds needed for

the 28.5-million-dollar capital project.

To date, just over $17.2 million has been

raised. For more information about the

Mulva Arts Plaza Campaign, visit Florida-

StudioTheatre.org.

2

The Arts Give Back

The Ringling College Library Association

(RCLA) presented a gift of $600,000

to Ringling College President Dr. Larry

Thompson. RCLA President Emily Walsh

and the board of directors presented

Dr. Thompson with a check at their May

meeting. The funds are part of RCLA's

most recent gift commitment of $3 million

supporting the Alfred R. Goldstein Library

and student scholarships.

The often sold-out series had disruptions

and delays like all other large

gathering events since March of 2020, but

was able to reset and present the series

with speakers beginning in November

until wrapping the season in March. All

proceeds from the TOWN HALL Lecture

Series support the associations giving to

Ringling College.

RCLA recently announced the TOWN

HALL 2023 line up featuring; Maria Ressa,

Michael Phelps, Admiral James Stavridis,

Jose Andres and Thomas Friedman. To

learn more about RCLA and the TOWN

HALL series visit RCLAssociation.org.

2

Agami has announced its $1000 scholarship

winners. The award will go towards

supporting these young artists' college

expenses. The winners are:

Jamhyla Johnson Graduate of 2022

When Jamhyla was contacted she commented:

"I am very passionate about art

continued on next page

12 WEST COAST WOMAN JUNE 2022
---
arts news continued

The Ringling College Library Association (RCLA) board of directors

Jamhyla Johnson

as I've been creating

since I was very

young and plan to

take my passion

further by being

educated in the fine

arts as well as in art

history. My goal

going to school is

to get my associate

degree in fine art and transfer to university

soon after. In terms of a career in art,

I want to be able to expand my artistic

ability and share my art further, open my

first solo exhibition, and hopefully be able

to eventually provide a platform for other

young artists like myself. I'm truly honored

to have this opportunity." Jamhyla will

be attending State College of Florida in

Lakewood Ranch.

Cecelia Marty Graduate of 2022

When Cecelia was

contacted, she

commented "I will be

attending Ringling

College of Art and

Design for the Fall

2022 semester. I will

be majoring in Photography

and Imaging

Cecelia Marty

in the hopes of one

day being a Director

of Photography for movies. Ringling is my

dream school and I am so excited to begin

my studies in the arts there!" Cecelia

will be attending Ringling College of Art

and Design for the Fall 2022 semester.

The Artists' Guild of Anna Maria

Island, an all-volunteer, 501(c)3 non

profit organization, was formed in 1989 to

promote and support creative processes

by bringing together all Artists to share

experiences, expertise and work together

to develop and promote the artistic community.

The AGAMI Gallery is located at

5414 Marina Drive, Holmes Beach and

displays member artwork.

2

Arts Advocates

Awards $20,000 in

Scholarships to Local

Students

Arts Advocates has announced that 10

Sarasota and Manatee County students

have been awarded scholarships totaling

$20,000 for the 2022-2023 school year.

Since 1969, the scholarship program has

awarded over $1.1 million to students

whose studies include visual and related

arts, dance, writing, music, theater and

architecture. Scholarship monies are generated

through Arts Advocates activities

and donations.

Sophia Coscia is finishing her first year

at Carnegie Mellon University where she is

pursuing a B.F.A. in theatrical production

and design. She plans to be a projection

designer for theater and other spaces such

as exhibitions, installations, and immersive

experiences. Coscia is a second year Arts

Advocates scholarship winner.

Thaleia Dasberg is a student at

Barnard College of Columbia University

and a third year Arts Advocates winner.

Dasberg's dream is to create and take part

in interdisciplinary movement and poetry-based

performance, exploring the ways

in which each distinct form can become

one onstage.

Lillian Fox is a senior at the Manatee

School for the Arts who will attend the

University of South Florida. She is a ballet

dancer and a gifted visual artist with a

keen eye for detail and design.

Pablo Gonzalez is a student at Parson's/The

New School in New York City

and 2022 is the fourth year he has received

an Arts Advocates scholarship. Gonzalez

wants to combine his multiple artistic

pursuits into producing experiential work,

such as audio-visual installations.

Azure Heck is a senior at North Port

High School who will attend Ringling College

of Art and Design majoring in game

art. She hopes to work as places such as

Disney or Pixar; her dream job is to work

for Nintendo in Japan.

Colin Leonard studies at Oberlin Conservatory

of Music. This is his second year

as an Arts Advocates scholarship awardee.

He is a saxophone major studying jazz, but

he plays in many different genres on various

instruments including flute, clarinet,

voice, piano, guitar, and percussion.

Emma Pritchett is a student at the

University of South Florida working toward

earning a dual degree in architecture and

urban design. She was an Arts Advocates

scholarship awardee in 2020.

John Quigley is a non-traditional

student at Ringling College of Art and

Design majoring in illustration with a goal

of a career as a storyboard artist. He

served in the U.S. Army for eight years

with two deployments and an honorable

discharge. He continued to work overseas

as a private security contractor for the U.S.

Department of State for another five years.

Quigley stated that it was not until the end

of his military career that he realized he

could finally consider following his dream

of becoming a storyboard artist and concept

designer for a major studio.

Luca Stine is a student at the University

of Miami Frost School of Music where

he is majoring in jazz trumpet performance

and minoring in classical composition. This

is his third Arts Advocates scholarship.

Stine was named a National Young Arts

winner in jazz composition and has performed

at the Newport Jazz Festival.

Katherina Zdravkov will be a fifthyear

student at the University of Notre

Dame School of Architecture. Upon

graduation, she would like to design

with a firm in an older American city like

Boston, then return to Sarasota to design

in a way that expresses the character

of her hometown and communicates its

traditions and history.

Deb Altshul-Stark and Tonya Eubank

were the Arts Advocates scholarship team

co-chairs. To learn more about Arts Advocates,

visit artsadvocates.org.

2

The Exchange Awards

$310,500 to Local Arts

Groups and Students

The Exchange (formerly the Woman's

Exchange) announced that it will award

$310,500 to 18 regionally based arts and

cultural organizations and 15 students.

The awards will be given at an invitation-only

event at The Exchange on June

9. The largest award is for $60,000 and is

being given to the Asolo Rep in memory

of Elizabeth ("Liz") Lindsay, who was the

co-founder of The Exchange and served

on its board for 60 years. Lindsay, a longtime

pillar in Sarasota's art community,

died in January.

The organizational grants are for specific

projects and outreach programs, including

performances, exhibitions, education initiatives

and special series. The Exchange's

board bases its granting decisions on the

long-term stability and financial health of

the organizations, the program's overall

appeal to the public and the educational

impact these programs will have on area

students. Individual scholarships are

The Exchange_Grants and Scholarship Awards

awarded based on grade point average,

the individual's artistic goals and achievements,

and letters of recommendation.

Monies used for these grants and

scholarships were earned through the

organization's 15,000-square-foot consignment

boutique in downtown Sarasota.

In November 2021, The Exchange retroactively

awarded a total of $257,000 for

the 2021-2022 fiscal year. Since 1962,

The Exchange has awarded more than $9

million in grants to local non-profits and

high school and college students pursuing

a higher education in the arts.

The grant recipients for the 2022-2023

fiscal year are:

• Asolo Repertory Theatre: Season

Presenter

• Arts and Cultural Alliance: Inspire

Sarasota

• Artists Series Concerts: Dover Quartet

Concert

• Choral Artists of Sarasota: The March

of the Children

• Circus Arts Conservatory: Sailor Circus

Academy Holiday Show 2022

• Florida Studio Theatre: Florida Studio

Theatre 2022-2023 Cabaret Season

• The Hermitage: Hermitage @ The Bay

Series

• Key Choral: Mystics and Kings

• LaMusica di Asolo: 2023 Audience

Development

• Manatee Concert Band: 2022-2023

Neel Concerts

• Perlman Music Program: Perlman

2022/2023 Outreach Program

• The Players: Elf The Musical and the

93rd Season

• Ringling College: 2022/2023 Galleries

Season

• Sarasota Opera: Sarasota Youth Opera

"The Secret World of Og"

• Sarasota Orchestra: Young Person's

Concerts 2022-2023

• Sarasota Ballet: 2022/2023 Season

Sponsor

• Sarasota Pops Orchestra: An Iconic

47th Season

• Westcoast Black Theatre Troupe:

2022-2023 Main Stage Season

The scholarship recipients for the 2022-

2023 fiscal year are:

• High School: Joseph Crowell, Abigail

Holdway, Ella (Elijah) Mirman, Ashley

Spadafora.

• College: Kenna Bartlett, Katherine

Burcal-Terres, Jack Beatenhead, Danny

Bo DeLongaig, Colin Leonard, Lindsay

McKenna, Tay Peterson, Taylor Reister,

Katey

Stare,

Luca Stine,

Katherina

Zdravkov.

The Exchange

is

located at

539 S. Orange

Ave.

in Sarasota.

For more

information,

call 941-

955-7859

or visit

www.sarasotawex.

com.us

JUNE 2022 WEST COAST WOMAN 13
---
The suncoast's ONLY

BBQ restaurant with

CATERING in our DNA.

Lori Sax Photography

F

Olks stIll ask, "Do you cater?"

that's how I launched Nancy's

Bar-B-Q in 2004. today, we are

the number one independent BBQ

caterer across the suncoast.

Our menu showcases fresh smoked meats and fillet of salmon,

plus many vegetarian, gluten friendly and vegan choices to

accommodate all your guests.

From an intimate dinner for twelve to a church picnic for 700:

Our 18 years of experience assures your peace of mind and

a delicious and memorable occasion. In short, we are the

catering choice requiring no explanation.

YOU WIll RECEIVE MY PERsONal attENtION from initial

contact through pick up or delivery. It will be my pleasure

to talk with you! Call me at 941-955-3400, or email me at

NancysBarBQ@verizon.net.

nancy's

BAR-B-QTM

#1 Local Genuine BBQ since 2004

SM

Lakewood Ranch at Lorraine Corners

14475 SR 70 E at Lorraine Rd 34202

4 miles east of I-75 exit 217

941-999-2390

FULL BAR HAPPY HOUR 11AM-7PM MON-FRI

LIVE MUSIC FRI-SAT 6:30-9:30PM + 1st & 3rd SUNDAYS 3PM-7PM

OPEN 11AM 7 DAYS

CLOSE 9PM MON-THURS 10PM FRI-SAT 8PM SUN

LUNCH • DINNER • TAkE OUT • CURBSIDE PICk UP • CATERING

Go to NancysBarBQ.com for CATERING & DINING MENUS

Voted

BEST BBQ

10th

Consecutive

Year

14 WEST COAST WOMAN JUNE 2022
---
happening this month

TRY A THERAPY

THAT WORKS!

June Pride Month

Events with

PROJECT

PRIDE SRQ

PROJECT PRIDE SRQ

INC., the Suncoast's

premier LGBTQ+

organization's mission

is to expand

awareness and understanding

of the LGBTQ+ community by

creating partnerships with

local organizations, businesses,

and governments

towards a shared goal has several

upcoming events.

LGBTQ+ Pride Month is coming to

Sarasota in June, courtesy of Project

PRIDE SRQ.There is something for everyone

during this year's Pride Month.

All Project PRIDE SRQ's June 2022 Pride

events are open to the public and all are

invited and encouraged to participate.

June 1-30: Taste of PRIDE.

Taste the diverse flavors Sarasota has to

offer while supporting LGBTQ+ friendly

businesses with the second annual Taste

of Pride taking place the entire month

of June. Participating businesses are

offering special discounts to customers

who mention Taste of Pride.Visit www.

ppsrq.org/taste-of-pride-2022 for a list of

participating restaurants and business or

to learn more.

June 1– 30: Light Up with

PRIDE. Show your pride and light up

Sarasota in rainbow colors. From a simple

strand of lights to full light shows. The

LGBTQ+ community and its supporters

are encouraged to support participating

businesses. Residents can participate, too.

June 2, 7 PM: Drag Bingo with

Beneva Fruitville. Enjoy Bingo hosted

by local celebrity Beneva Fruitville at

"On the Green" at UTC.

June 4, 7 – 10 PM: The Grand

Carnival – an ICONic Evening. This

untraditional evening will knock you off

your feet with exciting performances,

visuals and LGBTQ+ history. Featuring

RuPaul's Drag Race All Stars Season 4

winner and current All Stars Season 7

competitor Trinity The Tuck Taylor.

Also, incredible tributes to Cher, Tina

Turner, Britney Spears, and Lady Gaga.

$50 Ticket includes open bar, food, dancing,

performances, Dj Brianna Lee, and

more. Tickets are on sale now at hhps://

the-grand-carnival.Vcketleap.com

June 8 at 5:30 PM: Zumba Pride

Party. Come enjoy Zumba at "On the

Green" at UTC.

June 9 at 8 PM: Loud & Proud

Dance Party with DJ Brianna

Lee. An evening everyone can get down

with. Come let loose with your family and

friends from 8-10 PM "On the Green" at UTC.

June 11 at 11 AM: PRIDE Car Parade.

Ride in style down Main Street for

the second annual Pride Car Parade. Prizes

for best decorated vehicles and more.

Come and show your pride colors. Free

to register.

June 16, 5PM: UTC Night Market

with Moxy Stardust Band.

Join in for UTC Night Market, a monthly

outdoor market even featuring live music

and a great mix of local farmers and makers

selling handmade goods, jewelry, art,

gifts and more. Shop, sip and stroll under

the stars from 5-9 pm in the West District

at UTC.

June 18, 9 AM: PRIDE Pet Parade.

Join Project PRIDE SRQ for the

second annual Pride Pet Parade at Bayfront

Park. Come dressed to impress as

Project PRIDE SRQ will be handing out

prizes for those who are best dressed.

June 25, 7:30 PM Grand Flag

March. Join Project PRIDE SRQ at

Hart's Landing as they unfurl the largest

inclusive Pride Flag in the world at a

record breaking 700 feet and march it

across the John Ringling Bridge.

June 30, 6 PM: PRIDE Picnic.

Celebrate with UTC and Project PRIDE

as they close out PRIDE Month 2022 with

a PRIDE Picnic. Enjoy live music, food

and family fun from 6-8 PM at "On the

Green" at UTC.

Project PRIDE SRQ organizes safe,

quality events that are open to everyone.

Additionally, Project Pride SRQ produces

educational, cultural and entertainment

events and activities throughout the year

to create celebratory experience for the

whole community.

ABOUT

Project PRIDE SRQ Inc.

Project PRIDE SRQ is a registered

501(c)(3) non-profit organization.

Project Pride SRQ's mission is to expand

awareness and understanding of the

LGBTQ+ community by creating strategic

partnerships with local organizations,

businesses, and governments towards a

shared goal. Our vision is an all-inclusive

community where everyone is equally

united, supported and celebrated.

For more information, contact

Project PRIDE SRQ,

at admin@PPSRQ.org

or visit www.PPSRQ.org

Immediate Relief Beginning

with the First Session:

Chronic Pain: Sciatic, Back, Neck and TMJ

Migraines, Foggy Brain and

Lack of Concentration

Sight and Eye Problems

Asthma, Bronchitis, COPD, Shallow Breathing

Digestive and Constipation Issues

Leaky gut and Autoimmune problems

Chronic Fatigue, Fibromyalgia and Depression

Concussions, Brain and Spinal Cord Health

Mobility and Energy Issues for Seniors

T. Grywinski specializes in difficult issues with great success

How Craniosacral Therapy Can Be Life Changing

"Doctors, physical therapists, massage therapists and chiros

gave me little relief. Terry relieved my pain, after all these years!

He has also helped four of my other friends. The man is an angel,

with a gift from God....thank you Terry!!"

"After 3 sessions, I had more range of motion and mobility in my

neck, shoulders and hips. I was getting to the point where walking

and moving was difficult. It feels like a weight has been lifted off my

shoulders, my voice is stronger and my energy is greatly increased.

I feel much calmer and more grounded!!"

"I no longer feel physically sick each morning. No gastroenterologist

or physician has ever properly diagnosed my mucus build up until

now. As well as bringing about healing in my gut, he released an

incredible amount of tension in my upper body."

"The question is where has he been all my life? Terry is a true healer

and if you are serious about being well, you are in luck.

He is effective and lovely."

advanced craniosacral therapy

Terrence B. Grywinski

B.A., B.Ed., LMT MA6049

25 Years of Experience

advcst.com

See full page explanation of Craniosacral Therapy and

how it can help you in another section of this issue

Downtown Sarasota • 941-321-8757

Google "Advanced Craniosacral Therapy Sarasota" for more info

JUNE 2022 WEST COAST WOMAN 15
---
Amanda

HORNE

Along with

her husband

John, they're

the owners of the

Anna Maria Oyster

Bar group of

restaurants. This

past February, they

took over operations

at Café L'Europe on

St. Armands Circle

which they had

purchased.

The Hornes' and

their 358 co-workers

have received many

accolades over the

years including

Small Business of

the Year awards

from Manatee,

Longboat Key,

and Sarasota

Chambers, more

than 70 People's

Choice Favorites as

well as numerous

philanthropic,

hospitality, and

tourism awards.

16 WEST COAST WOMAN JUNE 2022
---
manda and John

Horne own and

operate four

well-loved (and

well-populated)

seafood

restaurants for

the casual diner who likes fish, shellfish, a

cold beer and fries in a casual atmosphere.

They have four locations: Cortez, Ellenton,

at the Bridge Street Pier and on US 41 north

of Sarasota.

This past February, they added another

restaurant, but this one was an established,

traditional restaurant known more for its

Chateaubriand and Dover Sole: Café L'Europe

on St. Armands Circle.

It seems like an unusual choice for a

business super experienced catering to the

peel 'n eat shrimp, burgers and fries crowd.

But to the Hornes, it was too good of an

offer not to take. We're meeting at the Anna

Maria Oyster Bar location in Cortez (6696

Cortez Rd W, Bradenton) which is also

where much of the Anna Maria Oyster Bar

operations take place.

First question seems the obvious: why

Café L'Europe? They weren't seeking the

restaurant, more like it came to them.

Ron and Julie Milton, who had owned the

restaurant and knew the Hornes, would call

on occasion for advice. One day a call came

in asking if they'd like to buy it and they did.

"It's a great restaurant and the history

is phenomenal," Amanda explains. The

Café, which will be 50 next January, is different,

she acknowledges, "But the basic

tenets are there. We've kept all the staff

— and some servers have been there 13

years." Amanda spends more and more of

her time there, overseeing operations. The

restaurant will undergo a "refresh" in late

summer and she's currently working on

increasing the wine list.

Fans of the restaurant will be happy to

know the menu still serves Chateaubriand

served tableside, lobster bisque and Dover

sole. (The St. Armands landmark open in

1973, started by Titus Letschert and Norbert

Goldner. Some years prior to that, it was

the real estate office of John Ringling. Local

chefs-turned-restaurateurs have worked in

its kitchen, including Ray Arpke, J.P. Knaggs

and Harry Christensen).

The follow-up question is how do you

both manage it all? John has been in the

restaurant business for 40 years. In 1995,

he opened his first restaurant, Anna Maria

Oyster Bar, on the City Pier in Anna Maria.

Amanda oversees marketing and community

relations. She describes herself as a "do

it now person" whereas John can procrastinate,

but he's detail-oriented and looks at

the P&L sheet every day.

But more to the question, she explains,

"We have great managers," and their restaurants

are not too far apart, driving-wise.

That has changed with the Café. She spends

four days a week in two of the restaurants

and is at the Café working 9:30 a.m. to 10

p.m. most days. "I've lost 20 pounds since

we bought it — we've both lost weight." But

there is no frown or sign of exhaustion. They

both may have different work styles, but

both possess a common joy for what they do

and, for life in general.

The couple met at the Anna Maria Community

Center where John was on the board

and Amanda was a donor. Amanda, knowing

he was single, introduced him to some

of her single girl friends. Well, that didn't

work out (for her friends anyway) and the

couple have been married 16 years.

Amanda's been a resident of Bradenton

for the past 23 years, but was born and adopted

in Zimbabwe. A civil war relocated

her family to England, where she completed

her education and joined the hospitality

industry. She came to the U.S. with her

then-husband who was the musician,

Graeme Edge, co-founder and drummer of

the mega popular Moody Blues (he passed

away in 2021 in Bradenton).

If all those restaurants weren't enough to

keep anyone busy, Amanda has a mile-long

resume of volunteer and philanthropic commitments

past and present. One of her many

passions is education. From their website it

says, "…she has spent her career championing

for access to educational opportunities,

including her years spent as Communications

Coordinator at The Women's Resource

Center, which strives to educate and empower

women of all generations."

Amanda is the co-founder of Dive Into

Reading, a national award-winning summer

reading program that is a collaboration

among the Anna Maria Oyster Bars, School

District of Manatee County, Suncoast Campaign

for Grade Level Reading and Manatee

County Libraries. In 2019 it won the Leadership

Florida Impact Award. They've been

committed to the program for the past five

summers which helps struggling students

from Title I schools with social/emotional

and reading skills.

Women and girls are another of Amanda's

passions. She has served on the board

of Manatee's PACE Center for Girls for years.

Along with John she also helped pioneer

a scholarship fund for adults returning to

higher education at State College of Florida,

USF Sarasota-Bradenton and Manatee Technical

College through the Horne & Moon

Scholarship Social. So far, that work has

funded nearly $600,000 for scholarships.

The couple has won many honors for

their charitable work including the Manatee

Chamber of Commerce Robert P. Bartz

Award for Outstanding Leadership, Tampa

Bay Business Journal One Tampa Bay Corporate

Philanthropy Honoree and Longboat

Key Chamber Ed and Marge Moran

Memorial Award for Community Service.

(Listing all their awards would take this

entire article.)

As for their restaurants, the Hornes' and

their 358 co-workers have received many

accolades over the years including Small

Business of the Year awards from Manatee,

Longboat Key, and Sarasota Chambers,

more than 70 People's Choice Favorites as

well as numerous philanthropic, hospitality,

and tourism awards.

Amanda calls her staff "family" and

thus other philanthropic efforts focus on

things such as sponsorships of youth sports.

Every October, they also support Making

Strides Against Breast Cancer and My Breast

Friends 941 with a "pink drink" fundraiser.

Employees who have notched three years

can join in company outings to Bucs' or

Rays' games or a visit to Busch Gardens "for

team building and to have fun," she adds.

There is life outside the restaurant as

well. John and Amanda enjoy traveling anywhere,

but usually, there's a cooking class

with wine along the way. The couple, when

not working or indulging in travel can be

found at their home by the fire pit, sipping

wine surrounded by their pet cats.

Well into our interview, Amanda states

the couple has signed a lease for a sixth

restaurant - this one will be their first in

Sarasota County and will be on University

Parkway, just before the UTC Mall and

hopes to open late fall.

STORY:

IMAGES:

Louise Bruderle

Evelyn England

AccessAdvisorsLLC.com 941 914-1560 Astiff@AccessAdvisorsLLC.com

1800 Second Street Suite 895 Sarasota, FL 34236 1305 Langhorne Road Lynchburg, VA 24503

Securities are offered through Level Four Financial, LLC a registered broker dealer and member of FINRA/SIPC. Advisory Services are offered

through Level Four Advisory Services, LLC, an SEC-registered investment advisor. Level Four Financial, LLC, Level Four Advisory Services, LLC

and Access Advisors, LLC are independent entities. Neither Level Four Financial, LLC, Level Four Advisory Services, LLC nor Access Advisors,

LLC offer tax or legal advice.

FREE LIVING WILL

WITH EVERY ESTATE PLAN

Simple Will ................................... $ 110

Revocable Living Trust:

Single ....................... $ 595

Married ................. $ 1,050

Power of Attorney ........................ $ 95

Health Care Surrogate .................. $ 85

No additional costs required other than filing fees if applicable.

www.gerlinglawgroup.com

Are you among the 62% who

feel you aren't getting holistic

financial advice?

According to WalletHub's new 2022 Financial Health Survey

young people are seeking a more in-depth financial advisor.

Get started today on a complete look at your

financial health: credit score, retirement plans,

emergency preparedness, and more.

Call Amanda Stiff, Financial Advisor

at 941-914-1560 to set-up a

consultation.

Find Your New Best Friend!

Open Daily | 2542 17th St, Sarasota, FL 34234 | (941) 366-2404 | www.catdepot.org

Dana Laganella

Gerling, Esq.

Offices: Bradenton/

Lakewood Ranch

756-6600

The hiring of a lawyer is an important decision that should not be based solely upon advertisements. Before you decide,

ask us to send you free written information about our qualifications and experience.

JUNE 2022 WEST COAST WOMAN 17
---
travel news

Last-Minute Summer Getaways

Destination: Richmond, VA

For travelers interested in exploring

Black history, Richmond, Virginia

should be considered a major destination

for Juneteenth, our country's second

independence day. The historic day is now

recognized as a national holiday, and with

many people having the day off there is

ample to do to celebrate in Richmond.

Why June: On Saturday, June 18, join

Henrico Recreation & Parks at Dorey Park

for a free and open to the public vendor fair,

kids' zone, food trucks, and entertainment

including fireworks. While in town, check

out the Mending Walls murals around

town, Richmond's collaborative public art

project from artists of diverse backgrounds,

or dine at one of Richmond's black owned

restaurants like Lillie Pearl or Ms. Girlee's

Kitchen. For a deeper dive into the black

experience, head to BLK RVA for travel

itineraries, events, dining, and more.

Website: www.visitrichmondva.com

Destination: Westchester, NY

For the second time in its history, the Westminster

Kennel Club Dog Show will be

held outdoors at the Lyndhurst Mansion.

Spectators will be able to pre-purchase online

daytime tickets for the Saturday, June

18, Masters Agility Championship, and the

full event held Monday, June 20- Wednesday,

June 22.

Where to Stay: Mansion, The Opus offers

guests and exhibitors of the Westminster

Kennel Club Dog Show dog-friendly

amenities like complimentary dog bowls,

beds, and toys upon request and a luxe

residential flair.

The hotel features 146 guest rooms including

38 luxury suites, the rooftop Kanopi

restaurant with floor-to-ceiling windows

and sweeping views of the Manhattan

skyline, Long Island Sound, and Hudson

Valley, a lobby bar, an indoor rooftop pool,

and a spa opening this summer.

Website: www.theopuswestchester.com

Frontier Airlines add Flights from Tampa

to the Dominican Republic and Jamaica

Frontier Airlines will launch the first

nonstop service from Tampa International

Airport (TPA) to Punta Cana (PUJ) and

Santo Domingo (SDQ) in the Dominican Republic

as well as Montego Bay, Jamaica (MBJ).

AAA's Environmentally-Friendly Travel Tips

The Auto Club Group offers these tips

to be an environmentally-friendly

traveler:

Reduce carbon footprint by bringing

reusable water and toiletry bottles, and

having travel documents sent electronically

instead of printed.

Be mindful of energy and water usage

by taking shorter showers, reusing bath

towels, and keeping heat/air conditioning

at moderate temperatures.

Travel during the off-season or to less

popular areas to limit infrastructure challenges

created by over-tourism.

Additionally, the airline will begin offering

daily nonstop service to San Juan, Puerto Rico

(SJU). Each of these new routes, plus previously

announced nonstop service to Cancun,

Mexico (CUN), will begin this summer.

Frontier Airlines will now offer more

nonstop flights from Tampa to destinations

in Latin America than any other carrier. The

new service to San Juan will provide more

options for those heading to Puerto Rico to

visit friends and family or to enjoy the island's

beaches. More info at FlyFrontier.com

Shop and eat locally to support the community.

Purchase locally made souvenirs (preferably

handmade) and pay a fair price.

All these activities are examples of

sustainable travel, a concept that focuses on

how to maintain travel and tourism without

hurting or exploiting natural or cultural

environments in the process. This includes

using the revenue generated by travelers to

benefit destinations and the people that live

there. It also means being conscientious of

the resources you use and how your behavior

can impact the places you visit.

Plan-ahead Summer Getaways

Destination: Paradise Island,

The Bahamas

Atlantis Paradise Island is home to

Aquaventure which is a 141-acre waterscape

of slides and river rides, eleven pools, and

five miles of white sand beaches as well the

largest open-air marine habitat in the world.

From the 60-foot drop on the thrilling Leap

of Faith waterslide, to the Serpent Slide

where guests can experience marine life up

close as they float through an acrylic tube, to

a relaxing and scenic lazy river, Atlantis Paradise

Island is a perfect spot for a summer

family vacation.

Why July?: Celebrate National Waterpark

Day on July 28.

Website: www.atlantisbahamas.com

Destination: Boone, North Carolina

Atop North Carolina's majestic Blue Ridge

mountain range, the Art of Living Retreat

Center is a home and community for yoga and

meditation enthusiasts. The retreat center

offers a serene and rejuvenating wellness experience

surrounded by nature, where guests

can relax, renew, and discover inner peace.

Why August: As the world celebrates National

Wellness Month, those looking to embark

on a mindful journey can visit the Art of

Living Retreat Center and enjoy its newly

introduced All-Inclusive Wellness Escapes

offering yoga, workshops, meditation, hikes,

art classes, spa treatments and more.

Website: www.artoflivingretreatcenter.org

Destination: Aruba

Located on 12 acres of beachfront property

on Aruba's world-renowned Palm Beach,

Hyatt Regency Aruba Resort Spa & Casino

is a year-round resort that recently finished

a multimillion-dollar renovation that included

a new adults-only pool, Trankilo, and

transformed ZoiA Spa.

The new wellness program "Rise and Shine"

consists of various daily classes including

aerial yoga, and meditation. There are also

full moon yoga classes every month at the Big

Palapa that will help guests restore energy

and celebrate the beauty of the full moon. The

resort is now also offering a new Master Mixology

class and a Cooking with Chef series.

Why August: The Aruba Summer Music

Festival 2022 takes place from August 14-17 at

the Harbor Arena in Oranjestad, Aruba where

travelers can enjoy listening to quality concerts

performed by leading bands and artists.

Website: www.hotelsbarriere.com/en/saintbarth/le-carl-gustaf.html

Destination: Saint Barths

Hôtel Barrière Le Carl Gustaf opened in St.

Barth in October 2020 and is set amid tropical

elegance that creates an ambience of wellbeing

and relaxation. The five-star hotel features 21

luxurious rooms, suites and bungalows.

Le Carl Gustaf features renowned Fouquet's

restaurant and bar, Shellona Restaurant

located on the idyllic Shell Beach, Spa

Diane Barrière featuring products from

Biologique Recherche as well as various activities

such as aquabiking, pilates and yoga.

Why August: St Barts Tennis Open is taking

place on August 15.

Website: www.hotelsbarriere.com/en/saintbarth/le-carl-gustaf.html

Destination: West Hollywood, California

Andaz West Hollywood is Los Angeles' iconic

rock 'n' roll hotel located on the famous

Sunset Strip in West Hollywood, CA, where

musical history, celebrity, and style come together.

The hotel features the highest rooftop

pool in Los Angeles and the acclaimed Riot

House restaurant.

Why June: West Hollywood is celebrating

Pride from June 3-5 with an LGBTQ+ street

fair, music festival and parade. Los Angeles

will host their annual Pride festival from

June 10-12 with a variety of events during the

day and in the evenings including parties at

the most iconic bars and clubs in L.A.'s most

LGBTQ neighborhood, West Hollywood.

Website: www.hyatt.com/en-US/hotel/california/andaz-west-hollywood/laxss

Destination: Buckhead, Atlanta

Hyatt Centric Buckhead Atlanta, opened

in December 2021, it's an upscale, stylish

boutique hotel located along the edge of Lenox

Square Shopping Center in the heart of

Atlanta's Buckhead neighborhood. The property

was designed to reflect the history of its

location, drawing inspiration from Georgia's

ancient pottery heritage and Buckhead's

evolution as a fashion destination.

Why June: Celebrate Juneteenth in Atlanta

at Centennial Olympic Park with a music

festival and parade from June 17-19.

Website: www.hyatt.com/en-US/hotel/georgia/hyatt-centric-buckhead-atlanta/atlct

Destination: Hawaii

Pacific Whale Foundation is a nonprofit organization

that conducts research, education

and conservation programs. Founded in

1980, the nonprofit organization is dedicated

to saving the world's whales and other marine

life from extinction.

Hyatt Regency Maui Resort & Spa offers an

authentic Hawaiian experience in a setting

of tropical paradise and recently underwent

a multimillion-dollar guestroom renovation.

Inspired by the rich heritage and authentic

spirit of the famed Ka'anapali Beach, guests

will enjoy a fresh experience at the resort.

Why June/July: Pacific Whale Foundation

is having their annual World Whale Film

Festival in celebration of World Ocean Day on

June 8. Ocean Vodka Organic Farm and Distillery

in Upcountry Maui featuring dinner,

drinks and a screening of official selections.

General event tickets are $135 and VIP tickets

are $225. For more information visit www.

pacificwhale.org/filmfest/.

While on the island, guests can treat

themselves to Recharge and Restore at Hyatt

Regency Maui which is a new wellness package

offering three nights in the Palace Suite,

a garden tour at Huamomona Farms with

transportation, an outdoor cooking class with

Chef with dinner for two on the suite's secluded

lanai, an immersive cultural experience

restoring an ahupua'a at Kipuka Olowalu with

transportation, plus lunch, an authentic Lomi

Lomi massage for two and a flower bath with

Hawaiian salts to unwind, a yoga and meditation

session, a one-hour personal training

session, live streaming stationary bike, yoga

mat, weights and yoga blocks in the room, a

mocktail mixology class, a daily oceanside

cabana (ocean hale), an exclusive VIP table for

two at Drums of the Pacific Lu'au, two tickets

to the Tour of the Stars, led by NASA ambassador,

private hula lesson for two, and private

lei making lesson for two.

This experience can be booked by calling

+1 808-667-4932 and starts at $23,000.

For guests traveling in July, Hyatt Maui is

offering a variety of activities to celebrate

Independence Day on July 4 including lawn

games at Halona Kai, an educational Penguin

and Koi Fish presentation, Hula lessons,

a scavenger hunt on property, a watermelon

eating contest, a pool float race and more.

Destination: Maui, Hawaii.

Website: www.pacificwhale.org/ and www.

hyattregencymaui.com

18 WEST COAST WOMAN JUNE 2022
---
Veronica Brandon Miller

Exceeding Your Expectations

941.807.7321

veronica@yourfloridahometeam.com

www.yourfloridahometeam.com

For Your Skin.

For Your Well-Being.

THE CIRCUS ARTS CONSERVATORY & THE RINGLING

present

COLLAGEN INDUCTION

HELPS IMPROVE. . .

Fine lines

Scars

Skin Tone

Large pores

TM

Tricia Avery, LE

Licensed Certified

Medical Esthetician

MICRONEEDLING: 3 TREATMENTS $ 900

(limited time pricing)

Dermatology of Coastal Sarasota

5310 Clark Rd., Suite 201, Sarasota

941.925.3627

DOCSofSarasota.com

Incredible

Family Entertainment

The Ringling

5401 Bay Shore Rd

AT THE RINGLING

FRI JUNE 10 – SAT AUG 13

TICKETS: ringling.org

941.360.7399

TUE – FRI 11 AM & 2 PM

SAT 2 PM & 5 PM

$

18

ADULT

$

12

CHILD

12 & UNDER

JUNE 2022 WEST COAST WOMAN 19
---
travel close to home

The

I

guarantee that afterwards

you're going to

say to yourself, "How

come I didn't know about

this place sooner?" The

reason is, in part, because

tours at the Elling Eide Center

are a relatively new offering at

their 72-acre, waterfront estate.

Are you saying, "The what center?"

Most people I've told about

it have indeed had that reaction.

But you've probably passed it

many times if you were heading

south on Tamiami Trail near

Sarasota Square Mall. I headed

south on 41 just ahead of Vamo

Road and drove right past it even

though I was poking along in the

right lane and only saw a sign for

a church where Google said the

Center was.

So I circled back and this time

made a left. The signage is indeed

small, but then, this isn't Jungle

Gardens. After driving on a crowded,

four-lane road of cars going 45

to whatever, you slip off the road

and are immediately immersed

in old Florida. That's the Florida

with native plants, gravel roads

and not a high-rise, Starbuck's,

Walgreen's or strip mall in sight.

But all is not bucolic. You park

near a stunning low-rise structure

in gleaming white with dark trim.

If you know a bit about Sarasota

contemporary architecture, you

might guess Guy Peterson was the

architect and you'd be right.

But on this visit, my experience

will start by being outdoors and

discovering the grounds. A wonderful

tour is offered by docent

Norman Burr. He's extremely

knowledgeable about the plants

that you'll see that are native

along with those from around

the world. Norman has advanced

degrees in geology and geophysics,

over 20 years experience as a

docent at botanical gardens, and

as a college botany instructor.

He gives a fascinating summary

of the area which all sounds

amazing for a 90-minute tour, yet

he does it easily.

But first, who is Elling Eide

and what is the Center all about?

From their website it says,

"The Elling O. Eide Center is a

research library and nature preserve

overlooking Little Sarasota

Bay in Sarasota. Dedicated to

the study of classical Chinese

literature and art…Bequeathed

by Sarasota resident Elling Eide

(1935–2012), the 72-acre waterfront

preserve brings together

Old Florida and modern architecture.

Sarasota architect Guy

Peterson designed the Center's

research library…The Center's

collection amassed by Eide over

six decades contains comprehen-

Elling Eide Center in Sarasota

Tours are being offering at their 72-acre, waterfront estate

After driving on a crowded, four-lane road of cars, you slip off the

road and are immediately immersed in old Florida

Eide's

maternal

grandfather

bought the

property in

1935 and

Eide's parents

moved from

Chicago to look

after him. Eide

was born there

that year

sive library holdings and special

collections of rare books, manuscripts,

and artwork…"

The Elling Eide Center

Research Library and Preserve

opened in 2016. The Center provides

scholars and students with

opportunities to research Chinese

and East Asian culture, history,

and art. The Center also hosts

conferences, special lectures, and

tours like this one. Though he

was an Asian scholar, Eide also

loved horticulture.

So when you embark on your

tour, you'll see a few humble small

structures plus there's the house

that Eide's family lived in — but

aren't open to the public. Eide

was an inveterate collector — if

he saw something he liked, he just

had to have it and that included

plants from around the world

such as the ylang ylang tree and

the sinister-looking silk floss

tree that is literally painful to the

touch and hails from the tropical

and subtropical forests of South

America. Then there's the weeping

boer-bean, that's native to Africa

south of the Zambezi River, or the

Bodhi tree, also called Bo tree, according

to Buddhist tradition, under

which the Buddha sat when he

attained Enlightenment (Bodhi) at

Bodh Gaya in Bihar, India.

It's a pleasant, easy walk and

many in my group brought cameras

to shoot the variety of birds

that inhabit or visit the area. After

the outside tour, you head inside

The menacing silk floss tree,

native to the tropical and subtropical

forests of South America, is

one of many exotic plants on the

property. But don't touch

The interior of the Elling Eide Center which displays Eide's collection of

Asian art while exploring his life and career

The Elling O. Eide Research Library

Tours of the grounds and part of the

Center are offered every Wednesday

and led by expert guide and docent

Norman Burr

to the Center and learn about

Elling's Eide's career and his other

passions: Chinese poetry and his

collections of Asian objects. The

Harvard-educated Eide was a researcher

and translator of Chinese

poetry who served in East Asia

with the U.S. Marines. He studied

in Taiwan and began collecting

Chinese literature and art which

all inspired him to create a research

library and nature preserve

that would attract Asian Studies

scholars from across the world.

It's a beautiful pace and his cherished

possessions are carefully

curated and displayed. He was an

eclectic fellow to say the least.

As for the tour, ask Norm a

question and most likely he'll have

the answer he's that knowledgeable.

And be sure to bring your

camera to photograph plants and

the many bird that are in the trees.

About the Tours:

They're offered year round

on Wednesdays. They're

growing in popularity, so don't

wait until the last minute. Concerned

about the heat? Wear

a hat and loose clothing, but

the majority of the walk is in

shade and at the end you're in

air-conditioned comfort.

Cost: $5. Figure on 90 minutes

with 60 minutes of the tour

outside and 30 minutes inside

the Eide Center.

My Eide in Taiwan

8000 South Tamiami Trail,

Sarasota

(941) 921-4304

www.ellingoeide.org

20 WEST COAST WOMAN JUNE 2022
---
your healthier health you

Craniosacral Therapy Can Be Life Changing

CST treats the whole body physically, physiologically, mentally, emotionally and energetically

Clients come to me because they are in physical

pain such as neck, back, pain and TMJ as well as

for chronic headaches and migraines.

Pain and stress caused by

shortened Fascia

Fascia (strong connective tissue) encases all

our muscles, organs, brain and spinal cord.

Whenever fascia shortens any place in the

body, the entire network of fascia creates an

increased tension affecting the functioning

of our physical body as well as our organs,

our brain and spinal cord.

Our body is the history of every major

trauma we have experienced physically and

emotionally beginning with birth issues, falls,

head trauma, car accidents, childhood abuse

issues, death, divorce and other emotional

issues. Our body tries to minimize each trauma

by shortening fascia to isolate the energy

coming into the body from that trauma.

Shortened fascia results in pain, loss of mobility

and range of motion, organs becoming

less efficient and with parts of the brain and

spinal cord becoming stressed.

To keep the brain functioning, the body

transfers some of your functional work play

energy (7:00 AM-10:00 PM) to the brain resulting

in less energy to make it through each

day. As we age, the accumulation of all the

tightened fascia, from every major trauma

in life, begins to restrict every aspect of our

body's functions resulting in pain, loss of mobility,

mis-functioning organs, loss of energy,

as well as our brain losing some its sharpness.

How Craniosacral

Therapy Works

The Craniosacral Therapist creates a safe

place, with gentle holding techniques, that

engages your body's ability to self correct,

reorganize and heal itself with the release

of some of that tightened fascia during

each session. As the Craniosacral Therapist

engages your body, you will feel fascia releasing.

As the fascia releases, pain begins to

decrease, range of motion and mobility improve,

organs begin functioning better and

with less stress on the brain feels, it returns

the energy it borrowed at the time of each

trauma resulting in an immediate increase in

your energy levels. Rarely does anyone leave

from my first session not feeling better.

Short Leg Syndrome

Eighty-five percent of my clients have one

of their legs pulled up 1/2 to 1 by shortened

fascia. The tension from short leg syndrome

on the sacrum (5 fused vertebrae at bottom

of the spine) is transferred up the dural tube

that encases the spinal cord into the lower

and upper back, the neck, the cranium and

The physical stress in bodies caused by shortened

fascia (connective tissue) shuts down

energy flows to certain organs. Short leg syndrome

by ½ to 1 in (where one leg is pulled up

by shortened fascia) shuts down energy flow to

the spleen (an important part of your immune

system) and the small and large intestine. With

the release of that shortened fascia, energy returns

to these organs.

the brain. Headaches, migraines, TMJ and

neck problems can originate from the fascial

stress in the sacrum.

Releasing this sacral stress increases energy

in the bladder, sex organs, kidneys and

the chakras as well as releasing major stress

in the upper part of the body.

Cause of Shallow Breathing

A great majority of the clients who come to

me for various problems are also shallow

breathers. Fascial stress in the diaphragm

restricts the depth of breathing by restricting

energy flow to the lungs, the pericardium

and the heart. With the release of fascial diaphragm

restriction, the client immediately

starts breathing deeply and energy is restored

to the pericardium and the heart.

Shoulder blades that are cemented to the

body also restricts how much the rib cage can

open and thereby also restricting depth of

breath. Without proper breathing, your cells

do not get enough oxygen. Everyone, especially

people suffering from bronchitis, asthma

and COPD as well as shallow breathing can

benefit when the fascial stress is released.

Specialized Training

to work with Brain

Dysfunctions

Just as the body physically gets stressed from

physical and emotional trauma, the functioning

of the brain is also affected by fascial stress. For

our brains to remain healthy, we need dynamic

production of craniosacral fluid which performs

the important function of bringing nourishment

to all the cells in the brain and spinal

cord as well as cleansing all the metabolic

wastes given off by those same cells.

Once the craniosacral fluid cleanses these

metabolic wastes, efficient drainage of these

metabolic wastes into the lymph system is

absolutely necessary. Research has shown,

that at night, craniosacral fluid cleanses amyloid

plaques from the brain. If the drainage

is inefficient, then the brain is being bathed

in a toxic slurry. How does 15 or 20 years of

your brain being bathed in a toxic slurry

affect you: senile dementia, Parkinson's,

Alzheimer's and other brain dysfunctions?

A Craniosacral Therapist, who has received

training in working with the brain, can reverse

that stress on the brain that eventually can

result in those brain dysfunctions. As we all

know, the proper functioning of the body is

dependent on a healthy functioning brain.

Babies and Children can benefit

■ Our little boy Leo, four years of age, had a

difficult birth and at 7 months was put on antibiotics

for an ear infection and as a result developed

c-diff. His development came to a stop.

At 3 years, with the help of an OT, he started

to walk and talk. In spite of the improvements,

he was unable to answer questions and his

communication skills were very poor. Leo

had very poor muscle tone, a lot of stress in

his body and physical activities such walking,

jumping and climbing were difficult for him.

Beginning with the first session with Terry,

he began showing improvement and with each

following session. Everyone from his teachers

to his grandparents noticed an increase in his

■ "I was in awful pain and the

MRI showed 2 pinched nerves

and stenosis. I scheduled surgery.

My daughter suggested Craniosacral therapy.

After only 2 visits the pain was reduced to

advanced craniosacral about 80% and therapy I canceled the surgery. I went

for a 3rd visit and I am about 90% better."

■ "Simply Amazing! One visit was all it took for

Terry to relieve 85% of my year long, nagging

(sometimes severe) neck/shoulder tightness/

pain!! My breathing improved tremendously."

physical strength, as well as improvements in

comprehension, speech and communication

skills. For the first time, he started participating

in class lessons and interacting with his

classmates. Terry has made a huge impact on

getting Leo to a place a little boy should be at

age four. We cannot thank Terry enough.

■ Terry's treatment helped our 6 week old

baby boy from recent hospitalization into

the first series of healthy bowel movements

when seemingly nothing could help. Our son

was able to latch onto the breast and for the

first time completed his feeding. He was much

calmer after working with Terry.

■ "He was able to relieve tension that I have

been carrying around for 15 years or more.

I left his office table with more energy than I

have had in years."

■ "I began working with him because I was

dealing with anxieties, depression and lots of

emotional pain inside and out. You don't realized

how much stress can cause damage to

your body, mind and soul. I can say Terry was

a big help."

Terrence Grywinski

of Advanced

Craniosacral Therapy,

B.A., B.ED., LMT #MA 6049

Testimonials from Clients

SOURCE:

■ Terrence Grywinski of Advanced Craniosacral Therapy,

B.A., B.ED., LMT #MA 6049. Terry has specialized in Craniosacral

Therapy since 1994 when he began his training at the Upledger

Institute. Described by his teachers, clients and colleagues

as a "gifted healer", Terry's intuitive sense and healing energy

provides immediate and lasting relief from injury, pain, mobility

issues as well as dysfunctions of the body and the brain. Part

of Terry's ongoing education, he has completed 4 craniosacral

brain and peripheral nervous system classes which enables him

to work at a cellular

level and with brain

dysfunctions.

Call 941-321-8757

for more information,

Google Advanced

Craniosacral

Therapy.

■ "On a recent vacation to Siesta Key, I re-injured

my back. I found Terry online. I can say

with complete joy that was the best decision

I made in the history of my back pain. I have

sought many modalities and visit a CST regularly

and never have I had such a healing in

my entire body.

After 3 sessions, I made a 16-hour drive

home with no pain or discomfort in my entire

body. Unbelievable. My body has a sense of

moving freely and that is completely new. I'm

advanced craniosacral therapy

so grateful to Terry for his knowledge, for his

sensitivity to my needs and his kind generosity

in healing my body. I will see him when I return

next year."

■ "I am a snowbird who spends 7 months

in Sarasota. I have had back problems for 25

years. Terry's techniques have led to a great

deal of release and relief in areas that have

been problematic. I have been seeing him over

the years when my body says "it's time". Usually

after a few sessions, I can tell a huge difference."

PAID ADVERTORIAL

JUNE 2022 WEST COAST WOMAN 21
---
focus on the arts

Summer

hanks to the

continued partnership

of the Circus Arts

Conservatory and The

Ringling, audiences

can enjoy world-class entertainment,

once again, during the 2022 Summer

Circus Spectacular.

Circus fans of all ages, from near

and far, can beat the heat at reasonable

prices while experiencing the best of

the circus arts at the Historic Asolo

Theater on the grounds of The Ringling.

Some of the circus world's most exciting

acts have signed on for the annual

show, with performances presented

for nine weeks this summer. The show

runs from June 10 - August 13, 2022.

This celebrated summertime event

has become a seasonal highlight for

locals, visitors, families and groups.

To complete their circus experience,

Summer Circus Spectacular patrons can

enjoy access to the Circus Museum on

the day they attend a show for just an

additional $5 – an incredible value for

a full day's entertainment.

"Each year we are thrilled to partner

with the Ringling to present the Summer

Circus Spectacular," said CAC Executive

Vice President Jennifer Mitchell. "This

show not only offers an affordable entertainment

option for all ages but is also

the perfect summer family-friendly activity.

With nine full weeks of shows, and

afternoon and evening options, there will

always be a convenient time to come and

enjoy the magic of the circus arts!"

The lineup

for the Summer

Circus Spectacular

includes:

Heidi Herriott, Master

of Ceremonies: Herriott

is proud of her heritage as a third-generation

American circus artist. She has

traveled North America performing as

an aerialist, equestrian and Ringmaster.

Career highlights include appearing on

"America's Got Talent" and with Studio

54 Nightclub, Animal Planet, Walt Disney

World, Ringling Bros. Circus, Circus

Sarasota, Big Apple Circus, Excalibur/

Las Vegas and more.

Chris Allison, Comedy:

Allison was 12 years old when he

took a school field trip to the Ringling

Bros. and Barnum & Bailey (RBBB)

Circus that left him determined that he

would grow up and become a clown

with the Greatest Show On Earth ® .

After graduating from the RBBB Clown

College with a major in pie throwing

SUMMER HEATS UP WITH

and a minor in pratfalls, he spent the

next 11 years touring with the circus,

the final three years as the Boss Clown.

Since leaving the show, he has toured

all across the U.S. as well as internationally.

He has been seen on MTV's "Road

Rules," MTV'S "ODDVILLE," Natalie

Merchant's music video for her hit song

"Kind and Generous," "The Oprah Winfrey

Show," "The Today Show," "Emeril

Live," Comedy Central's "Strangers with

Candy," "The Late Show with David

Letterman," and he was a semi-finalist

on "America's Got Talent."

Olga Coronas and

Holly Legare, Duo

Lyra: This aerial dream team is

honored to bring their aesthetically-pleasing

artistic fusion of dance and

aerial acrobatics to Sarasota. Coronas,

an accomplished, professional aerialist,

and Legare, an award-winning dancer,

have joined forces to create a beautiful,

captivating performance that's sure to

inspire audiences.

Spectacular

Runs June 10- Aug. 13 at the Historic Asolo Theatre

Hand

balance

contortion

artist

Ricardo

Sosa

Chris Allison

will keep

circus

patrons

laughing

with his

clowning/

comedy

act

Rolla

bolla

artist

Abreham

Mola

Olga Coronas

and Holly Legare

will perform on

the duo lyra

Dust In the Wind, Hand

Balance Adagio: Seida Maite

Ramírez Lobaina and Julio Fajardo Arjona

are artistic partners who have taken

their act to the next level. Their hand-tohand

balancing and adagio act has taken

them all over the world and seen them

earn many prestigious awards. Among

their many accolades, they have been

invited to the elite Monte Carlo International

Circus Festival in 2023.

Abrehem Mola, Rolla

Bolla: As an agile and athletic youth

born and raised in Ethiopia, Mola was

destined for his art. At the age of 12, he

joined the first of many circuses, performing

as an acrobat and juggler before perfecting

his rolla bolla routine. Since then,

he has been a sought-after artist, thrilling

audiences while performing all over the

world in circuses and festivals. He came

to the United States to perform in 2016

and has since made the U.S. his home.

Ricardo Sosa, Hand

Balance Contortion: Sosa

hails from Havana, Cuba; he began

studying ballet at the age of 6. He went

on to train in the state-sanctioned circus

school in Cuba. Three years into

his professional career, he became a

highly-regarded teacher and mentor:

his students have gone on to win many

national competitions. Offered his first

U.S. contract with an American circus

in 1999, he has since performed in

circuses all over the U.S. and Europe

as well as Las Vegas nightclubs and

hotels. He now resides permanently in

Miami, Fla. but still performs all over

the world.

"It is such a pleasure and an honor

to bring a live, professional circus

show to the beautiful Historic Asolo

Theater at The Ringling, which works

to preserve the history and legacy of

the circus," said CAC founder and

president/CEO Pedro Reis. "Our missions

are so closely aligned – we both

strive to inspire, educate and entertain;

our collaboration has been such

an organic and fulfilling effort."

The show, which will take place

at the Historic Asolo Theatre at

The Ringling (5401 Bay Shore Rd.,

Sarasota), runs Friday, June 10 – Saturday,

August 13, 2021. Show times

are 11 a.m. and 2 p.m. Tuesdays

through Fridays, and 2 p.m. and 5 p.m.

on Saturdays. Tickets are $18/adults,

$12/children 12 and under. To complete

their circus experience, Summer

Circus Spectacular patrons can enjoy

access to the Circus Museum on the

day they attend a show for an additional

$5. Go to ringling.org or call the

Box Office at (941) 360-7399.

About Circus Arts

Conservatory

The mission of the Circus Arts

Conservatory is to engage and

educate students using unique and

innovative learning programs; to

measurably improve the quality of life

for individuals in care facilities; and

to advance the extraordinary legacy

and heritage of the circus. The CAC

is home to world-class performances,

excellence in training the circus arts,

and community-based education and

humor therapy outreach programs. Visit

CircusArts.org or call (941) 355-9335.

22 WEST COAST WOMAN JUNE 2022

PAID ADVERTORIAL
---
in May, these 45-Minute classes run

Starting

Monday, Tuesday, Wednesday &

every

travel advice

Mastering

Carry-On Travel

Be ready for spring with a beautiful new dress and handbag.

We have a delightful collection of flowing dresses and breezy resort

wear that is perfect for warmer weather. Shop now to view our new

and consigned fashions for spring.

C

arry-on travel is one of the

best ways to save while you're

globetrotting. Save money on

checked baggage fees, save

time waiting for baggage to arrive, and

save yourself from potential headaches

knowing your belongings aren't going

to end up lost in transit. The art form

doesn't come naturally to all, here's

where to start.

Get the right luggage

Let's start from

the beginning,

you need luggage

that will help you

make the most

out of the limited

space you have.

Find luggage

with pockets

and the ability

to section space

off, this will

help keep you

organized. Better yet keep your closet

with you with luggage like the Solgaard

Carry-On Closet suitcase.

It's quite literally as it sounds, a closet

in a suitcase with the ability to section

off all of your clothing and unpack in

seconds. Another perk of this bag is the

charging port for those long stretches

without a wall port. Simply plug in

your Juicepack from the inside, close it

up and you have easy access to a charger

without digging through bags. Luggage

with an internal organization feature

will save you worlds of trouble when it

comes to carry-on travel.

Be reasonable with packing

Pack things you actually wear and do

not pack more outfits than days you are

traveling. Why? You can and should wear

items two or three times by mixing and

matching basics. If in desperate need, you

can find a washer in your destination.

The most important rule here is comfort

over anything. You don't want to be in a

foreign place with nothing to wear because

you unreasonably packed like you

were headed to New York Fashion Week.

Build your wardrobe around

these items

These will be your staples. Pack for your

climate. If you're headed to Japan in the

winter, pack one winter coat you can

wear the entire time, etc.

• A solid pair of comfortable jeans

• A jacket you can wear with anything

• Neutral colored t-shirts of your liking

• One completely versatile day bag (purse,

foldable backpack or beach bag, etc.)

• One pair of shoes meant for long wear,

most likely a tennis shoe

• ONE outfit you could wear to a nice

outing, for girls this could be the

addition of a dressy sandal to pair with

your jeans, for guys add an easily packable

colored shirt or sweater

• At least one multi-use item, for example,

a headscarf that can be worn as

a top or comfortable yoga shorts that

double as swim trunks

• An outfit for your travel days, things

like sweats, leggings, etc, remember,

comfort over anything

Become an environmentally-conscious

traveler. Invest in reusable travel-sized

toiletry containers that will last

you years and help lessen the footprint

of products harmful to the planet. It's

fully possible to bring everything you

need in a travel-sized reusable container.

Better yet, try Ethique eco-friendly soaps

and shampoos. They come in bar form,

therefore less hassle of having liquids in

your bags and less plastic use.

Wear your bulkiest items

to the airport

Keeping your bag as small and light as

possible means keeping bulky items out

of your bag. Headed to colder climes?

Wear your coat to the airport and take

it off once you're on the plane. The best

part about this is that it doubles as an

extra blanket or cushion when you need

it. When it comes to coats, in particular,

there are several down options that roll

up to fit in travel bags.

Shoes are another item that takes up a

lot of room in our bags. Wear your bulkiest

pair of shoes on your travel days.

Know the details in your

airline's carry-on policy well

in advance

Carry-on policies for each airline are

not universal and it'll serve you well by

knowing what you're getting into. For

example, all U.S. airlines accept 22-inch

carry-ons, but some European budget

airlines won't accept carry-ons bigger

than 20 inches.

For the most part, you'll probably get

away with using the standard-sized carry-on

bag accepted by U.S. airlines, but

it could be a rough start to a trip if you

choose to risk it and end up with a big

baggage fee at check-in.

Some airlines allow you a carry-on for

the overhead bins plus one small bag

to go under the seat in front of you, but

some budget airlines charge for both.

Carry-on travel is doable for everybody,

it just takes a little bit of conscious

effort. There's something sweet and

freeing about experiencing minimalism

while traveling.

SOURCE: https://solgaard.co/

DESIGNING WOMEN

BOUTIQUE

SCAN TO LEARN MORE

TheBaySarasota.org

DesigningWomenSRQ.org

1226 North Tamiami Trail, Sarasota • 941.366.5293

A 501c3 Benefiting Local Arts & Human Services Organizations

Thursday at 8:00am.

All skill levels invited, registration requested. For more

details and event dates, scan the QR code.

@TheBaySarasota

JUNE 2022 WEST COAST WOMAN 23
---
focus on the arts

AT THE RINGLING MUSEUM:

Eleanor Merritt: Remembrance

The exhibit celebrates her life and art created over her long career

T

he

Sarasota John

& Mabel Ringling

Museum continues

with its exhibition

Eleanor Merritt:

Remembrance, which celebrates

the life and art of Eleanor Merritt

(1933 -2019.). This exhibition is

dedicated to her indomitable spirit

and creativity and represents a

small sample of a significant body

of work the artist created over

her long career and runs through

August 21, 2022.

Beginning with early work from

the 1950s and concluding

with her last painting Blue

Embrace of 2018, the exhibition

highlights her creative

use of materials, movement

between figuration and abstraction,

and her commitment

to women's rights.

Born in Harlem in 1933,

Eleanor's talent in drawing

and painting led to her

acceptance to the prestigious

High School for Music and Art

in New York. She excelled as a student

receiving the school's top

art award, the St. Gaudens

Medal. She then attended

Brooklyn College for

undergraduate and graduate

studies, where she

studied with some of the

most influential artists of

the time, including Mark

Rothko, Ad Rhinehart,

Kurt Seligmann, Burgoyne

Diller, and Jimmy Ernst.

She absorbed the energy

and physicality of her

teacher's work into her

interests in figuration

and symbolism.

Merritt's expansive

body of work explored

the interrelatedness of

society, spirituality, and

gender, employing the

figure rendered in a range

of styles derived from a

vast cultural matrix inclusive

of her African and

Caribbean roots and the

Abstract Expressionist

education she received at

Brooklyn College in the

Editor's Note: Eleanor

Merritt was profiled in West

Coast Woman back in 1996.

Here Comes The Sun

1950s. Her mixed media

practice alternated between

oils, acrylics, inks,

and black paper as a platform

to describe narratives

of strength, agency,

and empowerment.

Merritt's commitment

to the relevancy of her

context as a woman

of color allowed her

to evolve in style and

expression over her sixdecade

career. Her work

was displayed nationally

in galleries and museums

in Florida, California,

Colorado, Texas, and

internationally to

Shimoneski, Japan.

Arriving in Sarasota

in the 1980s, Eleanor exhibited

widely in Florida.

In addition to Merritt's

art practice, she was an

essential early advocate

within national and regional

art organizations,

such as her role as the

program manager for

the Women's Caucus for

Arts' Women of Color

(WOCA) Slide Project

influencing the careers

and more equitable

opportunities of other

women artists of color

on a national level.

Within the Sarasota

arts community, Merritt

was the Ringling

Museum's first African

American female Board

Member and wellrecognized

leader in the

local arts community,

including chairing the

Art in Public Places

Committee serving on

various Arts boards.

She was named "Artist

of the Year" in 1994 by

the Sarasota Visual Arts

Center and received the

Women's Caucus for Art

Lifetime Achievement

Award in 2005. In 2013,

she received national

recognition with an

exhibition at the Houston Museum of

African American Culture. Her final

exhibition in 2017 at the Arts & Cultural

Alliance celebrated her 60 years of

painting. We are pleased to announce,

along with this exhibition, the acquisition

of three works into the permanent

collection of The Ringling.

The works in the exhibition come

from the artist's estate and a few prestigious

private collections. The artist's

daughter, Dr. Lisa Merritt, and artist

Mike Solomon were critical guides in

the development of this exhibition.

Blue Embrace

Fast Facts

The Ringling

5401 Bay Shore Road,

Sarasota

941-359-5700

https://www.RINGLING.org

24 WEST COAST WOMAN JUNE 2022
---
DENTAL

INSURANCE

Get the dental care you deserve.

If you've put off dental care, it's easy to get back on track. Call

Physicians Mutual Insurance Company now for inexpensive

dental insurance. Get help paying for the dental care you need.

Don't wait.

Helps cover

over 350

procedures

Preventive

care benefits

right away

Go to any

dentist, but save

more with one in

our network

No deductible,

no annual

maximum

Getting back to the dentist couldn't be easier!

CALL TODAY

1-855-637-6404

Dental50Plus.com/westcoast

Get your

FREE

Information Kit

Product not available in all states. Includes the Participating (in GA: Designated) Providers and Preventive Benefits Rider. Acceptance guaranteed for one

insurance policy/certificate of this type. Contact us for complete details about this insurance solicitation. This specific offer is not available in CO, NY; call

1-800-969-4781 or respond for similar offer. Certificate C250A (ID: C250E; PA: C250Q); Insurance Policy P150 (GA: P150GA; NY: P150NY; OK: P150OK; TN: P150TN).

Rider kinds: B438, B439 (GA: B439B).

6208-0721

Visit our

WCW Travel Page

on Facebook at

https://

www.facebook.com/

WCW-Womens-Travel.

Follow us

and you'll find

travel news, offers

and deals

carefully selected

for you!

JUNE 2022 WEST COAST WOMAN 25
---
you're news

Appointments

■ Omeza selected Suzanne

Bakewell, Ph.D., as Vice President of

Research and

Development

and Chief

Scientific

Officer for

Omeza. A

principal

scientist and

leader with

expertise in

early stage

drug and

medical

Suzanne Bakewell

device development, cancer biology,

and nanotechnology, she leads research

and development and clinical

trials development for Omeza. She is

also responsible for regulatory affairs

and intellectual property rights for

Omeza's line of products.

Prior to joining Omeza, Suzanne

was responsible for leading early

stage drug development and designing

translational studies for clinical

trials in both industry and academia.

Trained as a physiologist, her doctoral

research at Washington University

focused on cancer metastasis to

bone and the tumor microenvironment.

As a Susan G. Komen Fellow

in the Dr. Lewis Chodosh lab at the

University of Pennsylvania, Suzanne

studied cancer cell dormancy and

disease recurrence.

Suzanne's industry experience

as a principal investigator includes

nanotechnology, drug delivery

platforms and chemoresistance. As

the Vice President of Preclinical Development

at Intezyne Technologies,

Suzanne was instrumental in taking

IND drugs from synthesis into Phase

I clinical trials.

Omeza Omeza (www.omezapro.

com) is a skin science company

pursuing access to better wound

care outcomes for patients at all

sites of care. The company is based

in Sarasota.

■ The Climate Adaptation Center

(CAC), the only non-profit organization

in Southwest Florida

dedicated to battling the effects of

climate change, has announced Amy

Grossman has joined the team as

chief operating officer. She will be

responsible for day-to-day operations

including communications,

media relations, donor relations and

development.

The CAC educates the public

about the serious impacts of

climate-related incidents and works

with government, academia, and

private sectors to help advise and

develop solutions for mitigating risks

to the area caused by hurricanes,

flooding, red tide and more. It is

making an impact by predicting

and preparing the area for hurricanes,

identifying potential areas

of risk, working with engineers to

stabilize eroding beaches, holding

educational seminars, and raising

awareness about the new climate

economy on television and in print

media throughout the region.

Prior to the Climate Adaptation

Center, Amy has been a principal

at Grossman Public Relations

Counselors where she has represented

a wide variety of clients in the

non-profit, environmental, business

and healthcare sectors. She has also

worked for major communications

firms in Philadelphia and Sarasota.

The Climate Adaptation Center,

Inc. (CAC), founded in 2019, is an

independent, non-profit 501(c)

(3) organization headquartered in

Sarasota. Its mission is to bridge

the gap between the latest scientific

research and the public's understanding

of the changing climate and

how it impacts where we live.

■ After a few years with the hospitality

management firm, Danika

Smith-Josiah is the new regional vice

president of operations at Scarlett

Hotel Group (SHG). In her position,

she will provide the support, training

and guidance

necessary for

hotel general

managers within

SHG, which

has offices in

Chicago and

Nashville as

well as operates

hotels across

the U.S.

"Danika's

Danika Smith-Josiah perseverance

and leadership defied the immense

challenges put before her over the

course of three years at the Hampton

Inn Sarasota Airport." says Rob Sadoff,

principal and co-founder of SHG,

in a statement.

Smith-Josiah gained nearly 10

years of experience in the industry

working at InterContinental Hotels

Group as a corporate trainer and

general manager before finding her

way to SHG in 2018. She started off as

a general manager before moving up

the ranks to director of learning and

development.

■ BRIDGE Angel Investors appointed

Kim Miele as their new Executive

Director of the private investment

group. Miele's

focus is

growing the

membership

and increasing

the flow of

potential deals,

while collaborating

with local

community

and investment

partners in

Sarasota and

Kim Miele

Manatee counties.

Miele's seven years as Executive

Director of the Gulf Coast CEO

Forum afforded a natural source

of relationship-building and local

connections, enabling her to connect

seven new member investors to

BRIDGE since January.

Simultaneously building partnerships

with business incubators such

as 26 West Center at State College

of Florida, and local economic development

organizations like EDC

of Sarasota County, Miele will also

cultivate BRIDGE's current connection

with leAD Sports & Health Tech

Partners and its parent company

Adi Dassler International Family

Office (ADIFO).

BRIDGE Angel Investors is a group

of private, accredited investors located

in Sarasota who provide capital

and mentoring to assist early stage

businesses. BRIDGE investments

may be augmented with individual

member investments and through

a network of other fund and angel

investor group syndicates. Through

such networks, Bridge has contributed

more than 1.6M in capital, in

primarily Florida-based companies.

Accolades

■ Leadership Sarasota, a program

of the Greater Sarasota

Chamber of Commerce, awarded

three leaders and legacy makers at

the annual Celebrate Outstanding

Leadership Awards.

This event was on May 25 and

honored exceptional graduates of

the Leadership Sarasota program

in three categories: Lifetime of

Leadership- recognizing body

of work in career, community,

and beyond, Impact in Actionrecognizing

a current community

leadership endeavor and Leadership

Sarasota Dedication- recognizing

commitment to the Leadership

Sarasota program.

• Joy Mahler, of Big Brothers Big

Sisters of the

Sun Coast, Inc.,

Leadership

Class of 1991,

was honored

with the

Lifetime of

Leadership

Award.

• Deputy City

Manager

Patrick

Robinson,

Joy Mahler

of the City of Sarasota, Leadership

Class of 2017, was honored with the

Impact in Action Award.

• Susan Flynn, of Bon Eau

Enterprises, LLC, Leadership Class

of 2007, was honored with the

Leadership Sarasota Dedication

Award.

These recipients were selected

by a panel of judges made up of

Sarasota Chamber Board members,

Leadership Sarasota Council

members, and past Celebrate

Outstanding Leadership Awardees.

■ Gulf Coast Community Foundation

has selected 24 participants

from across the region for its 2022

Gulf Coast Leadership Institute.

Through this annual initiative, the

foundation provides intensive leadership

training designed to identify,

develop, and connect a diverse and

growing group of aspiring community

leaders.

Class members will take part in

seven training sessions through June

conducted by the Leadership Development

Institute of Eckerd College.

Gulf Coast provides all training and

resources at no cost to participants

in exchange for their commitment

to use their new skills to benefit the

community.

The 24 participants selected for

the 2022 Gulf Coast Leadership

Institute are:

• Sara Brunow, Muriel O'Neil Education

& Engagement Director, Asolo

Repertory Theatre

• Jennifer Bushinger-Ortiz, Chief

Philanthropy Officer, Loveland

Center, Inc.

• Shelley Cairo, Financial Advisor-

Private Client Group, Truist Investment

Services, Inc.

• Robyn Citrin, Board Trustee/President,

Hermitage Artist Retreat

• Kelly M. Defebo, CMP, Director of

Sales, Visit Sarasota County

• Esther Dickmann, Client and

Clinical Services Manager, Samaritan

Counseling Services of the

Gulf Coast

• Kelly Duyn, Assistant Director of

Education & Community Engagement,

Venice Theatre

• Cintia Elenstar, Program Director,

UnidosNow

• Jonathan Evans, Executive Director,

Healthy Teens Coalition of

Manatee Co., Inc.

• Debbie Frank, Program Director,

Friends of Boca Grande Community

Center

• Michelle Frau, Events and Membership

Administrator, Ringling

College Library Association

• Jill Gomes, Director of Quality, Risk

& Compliance, CenterPlace Health

• Amy Helms, Human Resources

Manager, Senior Friendship Centers

• Scott Hinckley, CFRE, Account

Director, Allegiance Group

• Ben Jewell-Plocher, Education Director,

Embracing Our Differences

• Ashley Klearman, VP of Development,

Hunters Point Pearl Homes

and Marina

• Heather Koester, President/Business

Consulting Strategist, Koester

Consulting Group

• Michael (Mike) McLaughlin, Senior

Vice President for Horticulture,

Marie Selby Botanical Gardens

• Laura Randall, CFRE, Senior

Director of Development, Visible

Men Academy

• Travis Ray, Associate Managing

Director, Westcoast Black Theatre

Troupe

• Clara Reynardus de Villanueva,

Director of Development Sarasota-Manatee

Campus and Latino

Scholarship Program, University of

South Florida

• Mary Smedley, Managing Broker,

Michael Saunders & Co. Englewood/Boca

Grande offices

• Amanda Sweet, Event Coordinator,

Nathan Benderson Park

Conservancy

• Kayden Jeanne Stephen Taylor,

HOPWA Housing Coordinator, CAN

Community Health

For more information on the program,

visit https://www.gulfcoastcf.

org/gcli.

■ The Central

West Coast

Chapter of the

Florida Public

Relations

Association

(CWC-FPRA)

recognized

the area's best

work in public

relations,

marketing and

communications

during its

"2022 Image Awards: Modern PR"

event back on April 28. The local

Image Awards competition is conducted

annually to recognize outstanding

public relations programs

and to encourage and promote the

development of the public relations

profession in our area.

The competition recognizes work

in three divisions: Public Relations

Programs, Collateral of Public

Relations, and Digital Tools of Public

Relations. The chapter also named

this year's Joe Curley Rising Leader,

who will join a class of Rising Leaders

from chapters across the state.

Awards were presented by chapter

president, Melanie Reda, APR,

CPRC, and Image Awards director,

Laitin Sterling, APR, and were

sponsored by Premier Sotheby's

International Realty and Next-Mark.

Andrea Knies and Mimi Cirbusova

of Compass Rose History Experiences

served as emcees.

Two organizations earned

top honors. North Port Parks &

Recreation's "Experience Vintage

Florida" Warm Mineral Springs Park

Campaign was the top winner with a

Grand All Image Award, and the Barancik

Foundation's "2021 Year in

Review" Annual Report took home a

Grand Image Award.

Earning Image Awards were:

City of North Port's "Water Safety

Campaign" and "Experience

Vintage Florida" Warm Mineral

Springs Park Campaign; and Barancik

Foundation's "2021 Year in

Review" Annual Report.

Earning Awards of Distinction

were: KSC, Inc. and Sarasota

Orchestra's 2022 Sarasota Music

Festival "Fellow Recruitment

Campaign"; WordSlinger Marketing

& PR and Safe Children Coalition's

"Adult Adoption Story";

and Hamlet's Eatery's "To Meat or

Not to Meat" audience engagement

campaign.

Earning Judges Awards for return

on investment were: North Port

Parks & Recreation's "Experience

Vintage Florida" Warm Mineral

Springs Park Campaign; KSC, Inc.

and Sarasota Orchestra's 2022

Sarasota Music Festival "Fellow Recruitment

Campaign"; the Barancik

Foundation's "2021 Year in Review"

Annual Report; and WordSlinger

Marketing & PR and Safe Children

Coalition's "Adult Adoption Story."

Hunter Carpenter, public relations

manager at First Watch Restaurants,

was named the chapter's 2022

Joe Curley Rising Leader. Carpenter

serves on CWC-FPRA's board as

co-director of events, planning and

securing speakers for the chapter's

professional development events.

CWC-FPRA meets monthly for

professional development luncheons

and networking. More information

can be found online at cwcfpra.com.

2022 Image Award Winners

Send us your news!

Send to: westcoastwoman@

comcast.net. You will also find

more You're News on our Facebook

page West Coast Woman.

You're News will be posted on

Facebook in June so be on the

lookout to see if your name is

there! We also publish this page

on our website (westcoastwoman.

com) and in our monthly e-blast.

Want to subscribe

to our e-blast?

Send us your email address.

Send to westcoastwoman@

comcast.net.

26 WEST COAST WOMAN JUNE 2022
---
Is independence in your own home your goal?

Choose a trusted, professional nursing team to ensure the years ahead and your health

care path align with your wishes.

Take Care provides all levels of care—from

skilled nursing to helping with groceries

and companionship—for clients in any

home setting. We remain dedicated to

helping you and your loved ones.

Take Care is locally nurse and familyowned

with 27 years of experience meeting

your health care needs, from one hour of

care as needed up to around-the-clock

support, 24 hours a day, 7 days a week.

Personalized care in your own home has

never been more important.

Our Registered Nurse New Services team

is ready for your call.

Erika Wise Borland, MA, Vice President

Susanne S. Wise, RN, MBA, CEO & Owner

Courtney Wise Snyder, MSG, CMC, President

Celebrating Years of Caring

www.TakeCareHomeHealth.com

(941) 927-2292

info@takecarehomehealth.com

Lic. # HHA 21657096 | 299991405

27

Community Voted Best Home Health since 2012

JUNE 2022 WEST COAST WOMAN 27
---
dining in

PBS chef shows you how in her new book

Whether you're an accomplished vegan chef or just learning to make

pleasing plant-based meals for your family, you need recipes that are

delicious and easy to prepare.

F Chickpea & Artichoke Salad

Chickpea & Artichoke Salad T

1 can (14 to

15 ounces)

chickpeas, drained

and rinsed

2 to 3 ounces baby

spinach, finely

chopped

6 sweet mini

peppers (or 1

medium sweet

red or orange bell

pepper), seeded

and thinly sliced

1 can (14 to 15

ounces) waterpacked

baby

artichoke hearts,

drained and

chopped

2 tablespoons extra-virgin olive oil 1/8 teaspoon smoked paprika (optional)

2 tablespoons maple syrup

1/8 teaspoon garlic powder salt, to taste

2 tablespoons good-quality balsamic Freshly ground black pepper, to taste

vinegar or freshly squeezed lemon juice

Put the chickpeas, spinach, mini pepper slices, artichoke hearts, olive oil, maple syrup,

vinegar (or lemon juice), optional paprika, and garlic powder into a large bowl. Gently

stir together with a large spoon to thoroughly combine. Taste, and add salt and pepper,

as desired.

Cover and refrigerate for 2 to 3 hours to allow the flavors to develop. Divide between

four to six bowls and serve.

Makes 4 to 6 servings. Prep Time: 20 minutes / Refrigeration Time: 2 to 3 hours

F Cream of Asparagus Soup

1 heaping

tablespoon

vegan buttery

spread,

plus more

for coating

ramekins

2 medium/large

red apples,

cored and

thinly sliced

(do not peel)

3 heaping

tablespoons

vegan dark

brown sugar,

or your

favorite dry sweetener, divided

2 tablespoons plus

1 teaspoon maple syrup, divided

1/2 teaspoon ground cinnamon

Cream of Asparagus Soup T

Preheat the oven to 400°. Lightly coat four 6-ounce (or similarly sized) oven-safe

ramekins with vegan buttery spread.

Put the apples, 1 heaping tablespoon sugar, 1 tablespoon maple syrup, and cinnamon,

into a medium-sized bowl. Stir with a large spoon until combined. Divide the apple

mixture evenly among the prepared ramekins.

Put the oats, coconut, 1 heaping tablespoon vegan buttery spread, and 2 heaping

tablespoons sugar in the same medium-sized bowl. Mix together using your hands or a

dough blender until thoroughly incorporated. Sprinkle one-quarter of the oat mixture

evenly over the apples in each ramekin.

Put the ramekins in an 8- x 8-inch (or similarly sized) rimmed baking pan. Tent with foil

and bake for 30 minutes. Remove the foil and bake for an additional 5 minutes or until

the tops are crispy and slightly golden.

Put the pan on a wire rack and let the ramekins cool for 15 to 20 minutes. Drizzle the

top of each ramekin with 1 teaspoon maple syrup while they are still warm. Serve warm,

or cover and refrigerate, and serve cold. Covered tightly and stored in the refrigerator,

leftover apple ramekins will keep for about 2 days.

Makes 4 servings. Prep Time: 20 minutes / Bake Time: 35 minutes

Easy to be Vegan

1/2 cup gluten-free, quick cooking or

old fashioned rolled oats

3 tablespoons unsweetened shredded

dried coconut

In her book, Easy Vegan Home Cooking, PBS celebrity chef Laura Theodore's has a

selection of her favorite plant-based recipes.

Theodore is a recognized public television personality, vegan PBS celebrity chef,

nationally renowned jazz singer and award-winning cookbook author. She is cocreator

of the highly successful Jazzy Vegetarian vegan cooking series on national

public television.

Theodore is author of six vegan cookbooks, including Jazzy Vegetarian, Jazzy

Vegetarian Classics, Laura Theodore's Vegan-Ease, Deliciously Vegan (which won

silver medals at the IBPA Benjamin Franklin Awards, Midwest Book Awards and

the Living Now Book Awards) and her double-bronze award-winning cookbook,

Vegan for Everyone. Her newest release – Easy Vegan Home Cooking takes the

guesswork out of eating healthier by sharing shopping lists, pantry "must-haves,"

quick cooking tips, flavor enhancers, and plant-based substitutions.

F Chili Roasted Cauliflower Steaks T

with Crispy Mushrooms

CAULIFLOWER STEAKS:

2 small heads cauliflower

1 tablespoon extra-virgin

olive oil

1 tablespoon plus 1 teaspoon

chili pepper infused extravirgin

olive oil

¼ teaspoon garlic powder

¼ teaspoon smoked paprika

¼ teaspoon salt

CRISPY MUSHROOMS:

12 ounces sliced cremini or

white button mushrooms

1 tablespoon extra-virgin

olive oil

1 teaspoon Italian seasoning

blend

½ teaspoon garlic powder

¼ teaspoon salt

1 cup crushed gluten-free

cornflakes

Water, if needed

Preheat the oven to 400°. Line a medium-sized, rimmed baking pan with unbleached

parchment paper.

CAULIFLOWER STEAKS: Trim about 2 inches off the two opposite sides of each

cauliflower head and set aside for another use. Carefully cut each cauliflower head into

two ¾- to 1-inch thick "steaks," as if slicing a loaf of bread. Arrange the 4 cauliflower

steaks in a single layer on the prepared baking sheet.

Coat the parchment paper with 1 tablespoon olive oil. Arrange the cauliflower steaks

in a single layer on the parchment paper. Brush each steak with 1 teaspoon of the chili

infused oil (see Chef's Note). Evenly sprinkle ¼ teaspoon garlic powder, ¼ teaspoon

smoked paprika, and ¼ teaspoon salt over the 4 cauliflower steaks.

Tent with foil and bake for 30 minutes or until the cauliflower begins to soften. Carefully

remove the foil and bake for 20 to 30 minutes more, or until the edges of the cauliflower

steaks are golden. Transfer the pan to a wire rack and let cool 5 minutes.

CRISPY MUSHROOMS: While the cauliflower steaks bake, make the crispy mushrooms.

Put the mushrooms, 1 tablespoon oil, Italian seasoning, ½ teaspoon garlic powder,

and ¼ teaspoon salt in a sauté pan. Cover and cook, stirring occasionally, for 10 to

12 minutes, or until the mushrooms are soft and starting to brown around the edges.

Remove the cover and sprinkle the mushrooms with the crushed cornflakes. Cook for 1

to 2 minutes, stirring often, adding a tiny bit of water or oil if pan becomes dry.

Serve 1 cauliflower steak per person, with one-quarter of the crispy mushrooms spooned

over the top.

CHEF'S NOTE: If preferred, you may use plain extra-virgin olive oil in place of the chiliinfused

variety to coat the cauliflower steaks. Then, sprinkle 1/8 teaspoon chili powder

over each cauliflower steak before baking. Proceed with recipe as directed

Makes 4 servings. Prep Time: 30 minutes /

Bake Time: 50 to 60 minutes /Stove Top: 12 to 14 minutes

ABOUT THE BOOK ——————————————————————

Easy Vegan Home Cooking Written by Laura Theodore.

Hardcover $25; e-book $12.99. ISBN 9781578269259

Published by Hatherleigh Press. Distributed through

Penguin Random House. www.hatherleighpress.com

28 WEST COAST WOMAN JUNE 2022
---
Helping Children Diagnosed With Epilepsy

ARE YOU PLANNING TO

DOWNSIZE OR REDECORATE?

Designing Women Boutique is

happy to accept like-new home

furnishing and accessories on

consignment. We also offer

full concierge services for

estate sales. DWB turns your

consigned goods into grants

that support the arts and

human services organizations

in our community.

Since 2002, we have gifted more than $8 million to local non-profits.

Thank you for assisting us in helping others. Please call for more information.

Epilepsy is a neurological disorder that can strike

ANYONE, ANYTIME, ANYWHERE. In fact, 1 in

26 people will have a seizure during their lifetime.

The stigma and social isolation; the uncertainty of

when the next seizure might occur; and the fear of

SUDEP (sudden unexpected death in epilepsy) are the

frightening realities for many families in our community.

JoshProvides pulls back the curtain on epilepsy, through

community awareness, education, offering a monthly

Epilepsy Support Group, and providing seizure

detection & alert devices, transportation assistance and

assistance with medical services. Our families are NOT

defined by their disorder…they are warriors who will

overcome these obstacles thanks to your support!

Online Shopping: DesigningWomenSRQ.org

DESIGNING WOMEN BOUTIQUE

Upscale Resale & Estate Liquidation

Where Fashion Meets Philanthropy

1226 North Tamiami Trail, Sarasota

941.366.5293

A 501c3 Benefiting Local Arts

& Human Services Organizations

Mission: To improve the quality of life for those

living with epilepsy or other seizure disorders.

(800) 706-2740 | JoshProvides.org

JUNE 2022 WEST COAST WOMAN 29
---
feature

Preserving Sarasota's Past

Sarasota Alliance for Historic Preservation's 2022 "Six to Save"

S

arasota Alliance for

Historic Preservation

has released its

2022 "Six to Save"

list of properties in

Sarasota. The list is made up of

historic properties, archaeological

sites, and cultural resources

in Sarasota County that are

under threat.

Entering into its third year,

this important initiative by the

Sarasota Alliance for Historic

Preservation highlights the

urgent need to save historic

resources throughout Sarasota

County from demolition. This list

is the springboard for an education

and advocacy effort designed

to raise public awareness of the

uncertain future for these historic

resources, and invite residents

and community leaders to be part

of a collaborative effort to find

alternatives to demolition.

The program was started by

the History and Preservation Coalition

of Sarasota County. This

year, in collaboration with the

HPCSC, the Sarasota Alliance for

Historic Preservation is spearheading

the Program and the

effort to educate and advocate.

Here's the list:

• LINDH BUILDING

Designed by structural engineer

William Lyndh and architect Cyril

Tucker as their office, the 1959

midcentury building features a

unique folding plate roof. The

unusual fiberglass front facade is

offset by darkly painted repeating

vertical timbers which call to

mind a Japanese shoji screen. Significant

not only for its architecture

and material selection, Lindh

and Tucker are also the engineer/

architect behind the famous

hyperbolic paraboloid of the 1964

Venice Beach Pavilion. The Lindh

building is suffering from demolition

by neglect and the City of Venice

currently offers no protection

to its mid century resources.

• THE CUNEO ESTATE

A wide parcel of bay front land,

situated in the Indian Beach

Subdivision, and home to 4

historic properties with multiple

historic buildings, many of

which are locally and nationally

designated, is currently on the

market for $22 million. Assembled

as the estate of John Cuneo

Jr., on land that was originally

owned in 1890 by Dr. Frederick

K. Williams of Bristol, CT, and

later parceled out with a group of

investors as the ideal location for

a winter home during boom time

development. Located just north

of the Ringling Museum and the

Ca D'Zan, this pristine parcel is

threatened by potential

development and

demolition.

• SNOOK HAVEN

The Snook Haven house dates

back to c. 1920 when the property

was used as a fish camp called the

Myakka Lodge. Owned by a Dan

Evans in 1938, the property was

renowned for its abundant variety

of fish and tropical beauty. In 1952

the fish camp finally donned the

moniker Snook Haven. Currently

owned by Sarasota County Parks

Department, with one structure

leased to a popular restaurant, a

master plan was drawn up which

failed to include the house structure,

putting it in severe risk of

demolition. The fish camp currently

holds no historical designation

or protections.

• THE MEL-O-DEE

This iconic diner known as much

for its food as a gathering place for

civic organizations throughout the

city was opened in 1955 and run by

owners Daniel and Betty Pischer

until their retirement in 1973, the

LINDH BUILDING

CUNEO ESTATE

SNOOK HAVEN

THE MEL-O-DEE

DR. ALBEE'S

VAN WEZEL

restaurant closed in 2003, and

the building has sat secured but

vacant for the last 19 years. The

Mel-O-Dee retains its midcentury

modern details with a Polynesian

influence. The interior has been

gutted and the original neon sign

adjacent to 41 was destroyed by a

vehicle in 2021. The current owner

has the property listed on the

market for $1mil. and has sold the

adjacent vacant lots to developers.

The high price tag has presented

an as yet insurmountable obstacle

to its preservation.

• DR. ALBEE'S POINT

OF PALMS

Built in 1923 by Dr. Fred Albee and

his wife Louella as their home on

Dona Bay in Nokomis, this Mediterranean

Revival beauty retains

its multiple arched openings and

a porte-cochere. Dr. Albee is best

known for having purchased and

established both Nokomis and

Venice following a brief visit in

1917. He hired fellow

Harvard graduate John

Nolen to create the

enchanting plan for the

City of Venice and then brought in

the Brotherhood of Locomotive

Engineers to build it. The list of

significant contributions of the

Albee family is long and varied.

The home is privately owned and

is suffering from neglect. Given

the desirable waterfront location

and lack of designation, this puts it

at high risk of demolition.

• VAN WEZEL PERFORM-

ING ARTS HALL

Built in 1968 with funds from a city

bond referendum and a bequest

from philanthropists Lewis and

Eugenia Van Wezel, the Van Wezel

Performing Arts Hall opened its

doors in 1970. The Frank Lloyd

Wright Foundation (in association

with Taliesan Associated Architects)

design actually came from

two seashells from the Sea of

Japan which are permanently on

display in the Hall. The lavender

and purple color scheme, selected

by Frank Lloyd Wright's widow,

Olgivanna Lloyd Wright, has

helped make the iconic structure

memorable and in fact is

featured in the Macy's Sarasota

Snow Globe. Though currently

still in use, planned obsolescence

of building as part of The

Bay's master plan for the new

bay front park create a clear

danger of demolition

For more information, visit

http://historicpreservationsarasota.com.

There's a great

database of images in their

online collections database at

https://loom.ly/upyR-Ko with

new collections are added

every month.

—————————————

• Sarasota Alliance for

Historic Preservation 2022

awards were presented at

the 2022 Heritage Awards

Luncheon, held on April 30.

Honors wen to:

Gregory A. and Eleana Najmy

Hall Historic Structure

Preservation Award

• Cunliff Residence, Brian and

Katherine Leaver, 2525 Pleasant

Place, Sarasota

• Cottage at Point of Rocks,

Donald and Terri Liebentritt,

7208 Point of Rock Road,

Siesta Key

• The Golden Host Resort and

Bahi Tiki Hut, Bob Brown, 4674

North Tamiami Trail, Sarasota

• Paul Rudolph's Umbrella

House, Anne and Robert

Essner, 1300 Westway Drive,

Lido Key

Special Citation for Project

of Merit

• Vamo Drive Park, Sarasota

County Parks, Recreation and

Natural Resources Department

Public Leadership Award

• Dr. Renee DiPilato, Director

of Libraries and Historical

Resources for Sarasota County

Historical Research Award

• Larry R. Humes, Venice

Gondolier newspaper

Organizational Achievement

Award

• The Sarasota County Centennial

2021 Steering Committee

Historical Collections

Preservation Award

• Alexandra Vargas-Minor,

Archivist, Ringling College of

Art and Design

The Lillian Burns Award for

Individual Achievement

• Harry Klinkhamer, Historical

Resources Manager,

City of Venice

30 WEST COAST WOMAN JUNE 2022
---
Windows and Patio Doors!

BUY ONE, GET ONE

40 % OFF1

AND

$

0 Money Down

$

0 Interest

$ 0 Monthly Payments

for 12 months 1

Interest accrues from the date of purchase but is waived if paid in full within 12 months. Minimum purchase of 4.

4.7 OUT OF 5 BASED ON 95,000+ REVIEWS

" My overall experience was great. I love the window, and from sales to scheduling, the experience was very good. The installers are highly skilled

professionals and I would recommend Renewal by Andersen to all my contacts." – LYNN F. | RENEWAL BY ANDERSEN CUSTOMER

KEEP THE HEAT IN AND THE COLD AIR OUT!

Solving your window problems and having a comfortable home is easy and enjoyable

when you choose Renewal by Andersen. With this great offer, you save money on your

window project – and you'll also save on high energy bills for years to come!

Call by May 31

for your FREE consultation.

877-710-0048

49%

MORE EFFICIENT 2

Keep the

heat in and

the cold out.

1

DETAILS OF OFFER: Offer expires 5/31/2022. Not valid with other offers or prior purchases. Buy one (1) window or entry/patio door, get one (1) window or entry/patio door 40% off, and 12 months $0 money down, $0 monthly payments, 0% interest when you purchase four (4) or more windows or entry/patio doors between 1/1/2022 and 5/31/2022. 40% off windows and entry/patio doors are

less than or equal to lowest cost window or entry/patio door in the order. Subject to credit approval. Interest is billed during the promotional period, but all interest is waived if the purchase amount is paid before the expiration of the promotional period. Financing for GreenSky® consumer loan programs is provided by federally insured, federal and state chartered financial institutions without

regard to age, race, color, religion, national origin, gender, or familial status. Savings comparison based on purchase of a single unit at list price. Available at participating locations and offer applies throughout the service area. See your local Renewal by Andersen location for details. License number available upon request. Some Renewal by Andersen locations are independently owned and

operated. 2Values are based on comparison of Renewal by Andersen® double-hung window U-Factor to the U-Factor for clear dual-pane glass non-metal frame default values from the 2006, 2009, 2012, 2015, and 2018 International Energy Conservation Code "Glazed Fenestration" Default Tables. "Renewal by Andersen" and all other marks where denoted are trademarks of Andersen Corporation.

© 2022 Andersen Corporation. All rights reserved. RBA12848 *Using U.S. and imported parts.

ADVERTISEMENT

Why you need dental insurance in retirement.

Many Americans are fortunate to have dental coverage for their entire working life, through employer-provided benefits. When those benefits end with retirement, paying dental bills

out-of-pocket can come as a shock, leading people to put off or even go without care.

Simply put — without dental insurance, there may be an important gap in your healthcare coverage.

When you're comparing plans...

Look for coverage that helps pay for major services.

Some plans may limit the number of procedures — or pay

for preventive care only.

Look for coverage with no deductibles. Some plans

may require you to pay hundreds out of pocket before

benefits are paid.

Shop for coverage with no annual maximum on cash

benefits. Some plans have annual maximums of $1,000.

Medicare doesn't pay for dental care. 1

That's right. As good as Medicare is, it was never meant to cover

everything. That means if you want protection, you need to

purchase individual insurance.

Early detection can prevent small problems

from becoming expensive ones.

The best way to prevent large dental bills is preventive care. The

American Dental Association recommends checkups twice a year.

Previous dental work can wear out.

Even if you've had quality dental work in the past, you shouldn't take

your dental health for granted. In fact, your odds of having a dental

problem only go up as you age. 2

Treatment is expensive — especially the services

people over 50 often need.

Consider these national average costs of treatment ... $217 for a

checkup ... $189 for a filling ... $1,219 for a crown. 3 Unexpected bills

like this can be a real burden, especially if you're on a fixed income.

1 "Medicare & You," Centers for Medicare & Medicaid Services, 2021. 2 "How might my oral and dental health change as I age?", www. usnews.com, 11/30/2018. 3 American Dental Association, Health Policy Institute, 2018 Survey of Dental Fees, Copyright 2018, American Dental Association.

DENTAL Insurance

from Physicians Mutual Insurance Company

Helps keep more money in your pocket!

Call for a FREE Information Kit!

1-833-967-0752

Dental50Plus.health/Wcw

Get Info Now

Go to any dentist you want

Helps pay for over 350 procedures

No deductible, no annual

maximum on cash benefits

"I don't worry"

"Now that I have your dental policy, I

don't worry about going to the dentist. I

love your plan — you pay what you say!"

Colleen W., MO

Includes the Participating (GA: Designated) Providers and Preventive Benefits Rider. Product not available in all states. Acceptance guaranteed for one insurance policy/certificate of this type. Contact us for complete details about this insurance solicitation.

This specific offer is not available in CO, LA, NY; call 1-800-969-4781 or respond for similar offer. Certificate C250A (ID: C250E; PA: C250Q); Insurance Policy P150 (GA: P150GA; NY: P150NY; OK: P150OK; TN: P150TN). Rider kinds B438, B439 (GA: B439B).

6247-0121

JUNE 2022 WEST COAST WOMAN 31
---
Looking for Balance?

(Synonyms: steady, stabilize, poise, level)

"At The Renewal Point, we believe you can spend the rest of your life discovering

new levels of vitality and vigor – not simply trying to rescue what's left."

At The Renewal Point we offer a

Bio-identical Hormone Balancing Program

Reasons People Participate:

Dan Watts, MD, ND, MSMN

Board Certification:

American Board of Integrative Medicine

American College of Obstetrics and Gynecology

Post-doctoral Certification in Metabolic

Endocrinology

Post-doctoral Master's in Nutritional and

Metabolic Medicine

Fellowship: American Academy of Anti-Aging

Medicine: Anti-Aging, Regenerative, and

Functional Medicine

Fellowship: American College of Surgeons

• Restoring mental and physical balance

• Enhancing athletic performance

• Gaining control over emotions

• Reducing anxiety and depression

• Improving relationships

• Losing and managing weight

• Normalizing sleep/wake cycles

• Increasing energy and focus

• Boosting intimacy and sexuality

• Improving bone strength and joint health

Lynne Streitmatter, APRN, MS, NP-C

Board Certified Advanced Registered Nurse Practitioner

Specialties Include:

Gynecology

Bio-identical Hormone Balancing

Weight Loss

IV Therapy

Family Medicine

Call today 941.926.4905

Age Management | Men's Health | Gynecology | Bio-identical Hormone Balancing | Strength and Conditioning

Weight Loss | IV Therapy | Brain Health | Toxin Elimination | Digestive Health | Heart Health

4905 Clark Road, Sarasota, FL 34233 | 941.926.4905 | www.TheRenewalPoint.com

32 WEST COAST WOMAN JUNE 2022