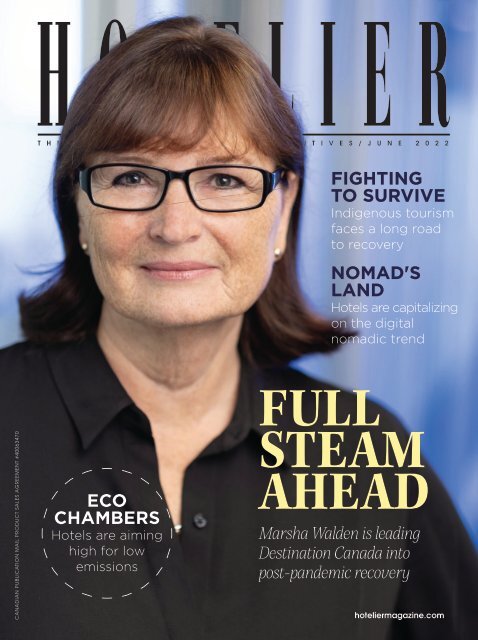 You also want an ePaper? Increase the reach of your titles
YUMPU automatically turns print PDFs into web optimized ePapers that Google loves.
T H E M A G A Z I N E F O R H O T E L E X E C U T I V E S / J U N E 2 0 2 2

FIGHTING

TO SURVIVE

Indigenous tourism

faces a long road

to recovery

NOMAD'S

LAND

Hotels are capitalizing

on the digital

nomadic trend

CANADIAN PUBLICATION MAIL PRODUCT SALES AGREEMENT #40063470

ECO

CHAMBERS

Hotels are aiming

high for low

emissions

FULL

STEAM

AHEAD

Marsha Walden is leading

Destination Canada into

post-pandemic recovery

hoteliermagazine.com
---
INTUITIVE. IMMERSIVE. ICONIC.

The Statement showering collection with Anthem

controls and valves feature unexpected designs, indulgent

spray options, and a range of universal forms. The versatile

portfolios are meticulously crafted to fit all global plumbing

standards, opening the door to truly seamless specification

and unfettered creativity. Visit our website to explore the

possibilities and unleash your imagination.

KOHLER.ca
---
CONTENTS

VOLUME 34, NO. 4 | JUNE 2022

18

38

42

FEATURES

9 HIGHER LEARNING

KML webcast examines the future

of hospitality education

11 IN IT TO WIN IT

HAC advocacy efforts result in

significant industry wins

12 BETTER UNDERSTANDING

Firecircle is helping emphasize

Indigenous hotelier education

13 INSPIRING LOYALTY

The key to employee retention lies

in building loyalty

14 POISED FOR RECOVERY

Marsha Walden is laser-focused on

building back the tourism industry

18 ECO CHAMBERS

Hoteliers are aiming high to lower

emissions and reduce carbon footprints

22 THE ORIGINAL ORIGINAL

Keith Henry talks about promoting

Indigenous-owned businesses

27 FIGHTING TO SURVIVE

Canada's Indigenous-tourism

industry faces an uphill battle

29 BLURRED LINES

Hotels are capitalizing on the

digital nomadic trend

31 BREAKING DOWN WALLS

Hotels are expanding loyalty

experiences into the outside world

33 INTO THE METAVERSE

Operators are mining for data in

the metaverse

35 TOP TECH

A roundup of tech trends shaping

the hospitality industry

38 HUNGER GAMES

Guests are making up for lost

time when it comes to F&B

40 GOING PUBLIC

Community spirit is at the

heart of today's public spaces

DEPARTMENTS

2 EDITOR'S PAGE

5 CHECKING IN

42 HOTELIER

Eric Quesnel, Queen

Hotel & Spa, Niagara-onthe-Lake,

Ont.

hoteliermagazine.com JUNE 2022 | 1
---
EDITORIAL

THE SUMMER

OF DISCONTENT?

Will the summer of 2022 live up to its billing as

"the summer of revenge travel?" After two years

of travel restrictions brought on by the pandemic,

consumers are eager, willing and ready to travel.

But is travel ready for consumers? That's the burning question

as countries try to re-ignite travel and tourism amidst continuing

travel delays and hassles, causing endless frustrations for

consumers who once again want to journey forward but who are

caught in a quagmire of staff cuts and processing restrictions.

Making matters more complicated, U.S.-bound travellers

are impacted both by CATSA and U.S. Customs and Border

Protection (USCB) staffing shortages. Additionally, international

arrivals are facing their own frustrations with lengthy

delays in border processing brought on by changing requirements

in response to COVID-19. The delays are so severe

airport and airline staff are being forced to hold passengers on

planes and deliberately restrict the flow of arriving travellers into

the custom hall for processing.

The problems are exacerbated by a lack of investment in the

sector, critical projects that had to be deferred, layoffs of specialized

labour and the resulting labour shortage, as well as the financial

challenges still faced as a result of the pandemic.

It's a no-win situation for all involved. On the one hand,

governments need to be mindful of safe practises to keep

Canadians healthy and to ensure further transmission of COVID-

19 is stemmed. On the other hand, the rules and regulations are

causing bottlenecks, frustration, and confusion amongst travellers —

many who don't always fully understand the various layers of rules for travelling through

a pandemic — all of which is stifling the free flow of travel, which is so vital for the

global recovery of the economy.

Canada's largest airport, the Greater Toronto Airport Authority (GTAA) recently

issued a press release calling on governments to solve the issues and streamline or eliminate

inbound legacy public health requirements at Canada's airports, and in doing so,

help to alleviate bottlenecks for international arriving, among other asks.

Others like the national president of the Customs and Immigration Union (CIU)

are calling on the Minister of Public Safety and the Canada Border Services Agency

(CBSA) to increase the number of border services officers assigned to passenger operations

in Canadian airports and alleviate the pressure on both airport personnel and

travellers, citing that many of these staff shortages predate the pandemic.

Clearly, much work remains to be done on this front

and will require a steadfast commitment from government

to move quickly to make the necessary improvements

in order to streamline the travel process. Too much

time has already been lost in the past two years — the

industry just can't afford any more.◆

ROSANNA CAIRA

CONNECT

WITH US

HotelierMagazine

@RCaira_Kostuch

@rosannacaira

PHOTO BY NICK WONG

2 | JUNE 2022

hoteliermagazine.com
---
LETTERS TO THE EDITOR

ROSANNA CAIRA

Editor & Publisher

AMY BOSTOCK

Managing Editor

NICOLE DI TOMASSO

Assistant Editor

COURTNEY JENKINS

Art Director

JENNIFER O'NEILL

Design Assistant

WENDY GILCHRIST

Director of Business Development

ELEANOR SANTOS

Account Manager

KIMONE CLUNIS

Sales & Marketing Assistant/

Events Co-ordinator

DANNA SMITH

Administrative Assistant

DANIELA PRICOIU

Accounting Services

CIRCULATION PUBLICATION PARTNERS

kml@publicationpartners.com

ADVISORY BOARD

Andrew Weir, Destination Toronto; Anne Larcade, Sequel

Hotels & Resorts; Anthony Cohen, Cresent Hotels — Global

Edge Investments; Bonnie Strome, Hyatt Hotels; Christiane

Germain, Germain Hotels; David McMillan, Axis Hospitality

International; Don Cleary, Marriott Hotels; Geoffrey Allan,

Project Capital Management Hotels; Hani Roustom, Friday

Harbour Resort; Heather McCrory, Accor; Laura Baxter, Co-Star

Reetu Gupta, Easton's Hotels; Ryan Killeen, The Annex Hotel

Ryan Murray, The Pillar + Post Hotel; Stephen Renard, Renard

International Hospitality & Search Consultants

HOTELIER is published eight times a year by Kostuch Media

Ltd., Mailing Address: 14 – 3650 Langstaff Rd. Ste. 33,

Woodbridge, ON L4L 9A8, (416) 447-0888. Subscription rates:

Canada: $25 per year, single issue $4, U.S.A.: $30 per year;

all other countries $40 per year. Canadian

Publication Mail Product Sales Agreement #40063470. Member

of Canadian Circulations Audit Board and Magazines Canada.

Printed in Canada on recycled stock.

All rights reserved. The use of any part of this magazine, reproduced,

transmitted in any form or means, or stored in a retrieval

system, without the written consent of the publisher is expressly

prohibited and is an infringement of copyright law.

Copyright, Hotelier 2022 ©

Return mail to: Publication Partners 1025 Rouge Valley Dr.,

Pickering, Ontario L1V 4N8

The following letters reference the

editorial in the April/May issue called

Investing in Human Capital

The issue of labour shortages in our industry is not

something we can turn around quickly and the root

problem comes down to an overarching lack of "infrastructure."

By this I'm speaking of infrastructure in a broader context. Yes,

transportation infrastructure is a huge problem and has been for

many years. If we can't provide a reasonable manner for people

to get to work, we'll be constrained forever. The last thing we

need are a multitude of government employees trying to

re-invent the wheel and listening to the cry of NIMBY-ism as it

relates to development. We need look no further than how long

it has taken to get the Eglinton Line in place. Major cities in

Europe have dealt with this a long time ago. Money into efficient

transportation infrastructure is an investment.

But housing is also an issue of infrastructure. You can't attract

employees to work in our industry in the core or almost anywhere

else in the GTA unless they can find housing. When they lost their

jobs at the outset of the pandemic, they also lost their housing

and now they can't get back in. Then ask the developers how long

it takes to get approvals in place to develop new residential. The

timelines from the people that I have spoken to would suggest this

a long-term issue. Compensation structures have to change, but

realistic solutions to create places that industry people can live

and a means to realistically get to work are as big an issue.

~ DAVID LARONE,Special advisor, Valuation & Advisory

Services, CBRE Hotels | CBRE Limited

In 2005, as CEO of the IH&RA (International Hotel and

Restaurant Association), we identified the shortage of 12

to 15 million workers in our industry and formed a committee to

tackle the issue with six major Geneva-based international

organizations. We assembled labour unions, employers,

immigration, tourism, educators, hotel chains, restaurant groups

and developed a plan. Since then the industry has ceased to

interact globally. That is irresponsible and unsustainable.

~ DAVID MCMILLAN, Axis Hospitality

[Labour shortages] will be the issue for the foreseeable

future and returning customer demand will only serve to

bring this into focus. I predict that wise, forward-thinking

investors will see an absolute need to bring investment dollars to

both the physical assets and talent resources in order to secure

a more competitive position in operational performance. It

would not surprise me to see clever investors including talent

within their PIPs, investments that could competitively improve

operational performance of an asset for years. Smart management

teams will also continue to dig hard into key antecedents

of talent attraction and retention efforts. There are definitely

huge opportunities for industry / academic partnerships here.

The actions that brought us to this labour shortage, not caused

but compounded by the pandemic, will not be useful tools in

moving us out of it.

~ WILLIAM MURRAY, Assistant Professor, School of

Hospitality, Food & Tourism Management, University of Guelph

hoteliermagazine.com JUNE 2022 | 3
---
Congratulations to our all-star team.

We're very proud to celebrate our 2022 Platinum Guest Satisfaction Award recipients.

These amazing hotels went above and beyond to exceed the expectations of their

guests, and based on their stellar guest reviews, their efforts didn't go unnoticed.

The Parlour Inn, Ascend Hotel Collection, Stratford, ON

Quality Inn & Suites, Lévis, QC

Quality Inn & Suites Amsterdam, Fredericton, NB

Quality Suites, Drummondville, QC

Comfort Inn, Sturgeon Falls, ON

Quality Inn & Suites, Matane, QC

Comfort Inn & Suites, Edson, AB

Comfort Hotel Bayer's Lake, Halifax, NS

Quality Hotel, Clarenville, NL

Econo Lodge, Forestville, QC

Econo Lodge Inn & Suites, St. Apollinaire, QC

Econo Lodge, Taber, AB

Congratulations to these outstanding hotels for their hard work, dedication and exemplary service.

©2022 Choice Hotels Canada Inc. All Rights Reserved.
---
CHECKING IN

THE LATEST INDUSTRY NEWS FOR HOTEL EXECUTIVES FROM CANADA AND AROUND THE WORLD

SHATTERING

THE CEILING

HAC appoints first-ever female Chair

of the Board BY AMY BOSTOCK

Glenn succeeds

Jonathan

Lund, regional

vice-president,

Hotel Operations,

InterContinental

Hotels Group

(IHG). "I would

like to thank

Jonathan for

his exceptional

leadership and

service as Chair

throughout

the COVID-19

pandemic," says

Grynol. "His

guidance and

support were key

to HAC's success

over the past

two years."

In April, the Hotel Association of Canada (HAC)

appointed Sara Glenn, COO, Canada, Caribbean,

Mexico and Central America, Accor North America

as Chairwoman of the Board – the first-ever female

chair of HAC.

"I'm walking on broken glass up here because Sara just

shattered the 100-year ceiling we've had at this association,"

said Susie Grynol, president and CEO of HAC at the

association's recent conference in Toronto. "I remember

walking into my first board meeting, and I was the only

woman. I took my seat and looked out at this sea of 22

men and thought 'wow this is going to be a wild ride and we have a long way to go.' And to their

credit, they wanted to change and were deeply committed to diversity. We set some targets at that

time, and we've met them, we've exceeded them and will continue to build on them."

Glenn will work alongside the board for the next two years as it carves out HAC's next evolution

in the development of a new strategic plan and takes on the pressing challenges that face the

hotel industry.

"I'm struck by the moment of being the first female chair," said Glenn at the HAC annual

conference. "This is a milestone and I'm truly honoured to be part of such a momentous shift. It

was not that many years ago when there were no women on the board of the Hotel Association

of Canada. So, this really is a momentous shift. And although I am honoured by that, I'm also

impatient. It's great that we have 30 per cent female representation on the board today – but

that's not good enough. In our definition of diversity, we have not gone far enough, deep enough,

broad enough. And so, I'm really looking forward, over the next several years, to moving the

association significantly forward in that regard."

"Sara is a global leader in hospitality and will be a tremendous asset to our association as we turn

our focus to post-pandemic recovery," said Grynol. "I am also thrilled to welcome our first female

Chairwoman. Long overdue, this is an incredible moment for our association and our industry."

"IT TAKES A VILLAGE TO RUN A HOTEL, AND IT TAKES

A VILLAGE TO STEER AN INDUSTRY. SO, THANK YOU"

~ SARA GLENN

hoteliermagazine.com JUNE 2022 | 5
---
ROSES

COCINA

Chef Adrian Niman,

Brandon Marek and

Michael Kimel of

Harlo Entertainment

have opened their

newest venture, Roses

Cocina, located inside

Hotel X Toronto on the

second floor.

Roses Cocina offers

breakfast, lunch, dinner

and cocktails. Chef Niman,

chef de cuisine Sean

Usher and executive

pastry chef Jeroen van

Helvoirt have curated

a menu paying homage

to Tex Mex. Menu items

include Hamachi Tostado,

Queso Croquettes and

Wagyu Fajitas.

"Our mission is to

ensure the menu provides

every guest with a

genuine and delicious

dining experience that

will suit their needs," says

chef Niman. "Everyone

enjoys eating quintessential

comfort food, and

with everything from

our sauces to our bread

made in-house, Roses will

satisfy every craving by

serving refined classics."

HILTON QUEBEC

WELCOMES NEW

EXECUTIVE CHEF

Marie-Chantal Lepage is the new executive chef

at Hilton Quebec's CABU boire et manger restaurant.

Lepage brings 35 years of experience to her

new role. Previously, she worked at the Quebec

National Museum of Fine Arts signature restaurant,

Signé MC Lepage, and the Le Bonne Entente hotel.

Lepage has also made her mark in the kitchens of her

own restaurant, Espace MC Chef.

"It is with great pride and great enthusiasm that

I accepted the position of executive chef at Hilton

Quebec," says Lepage. "I look forward to working

with the team in place and have butterflies just

thinking about the great culinary achievements we

can accomplish together. I will have the privilege

of introducing and highlighting Quebec producers

through CABU and its new decor."

SUSTAINABLE

DISCOVERY

The Nisga'a Lisims government and the four

Nisga'a Village governments, in collaboration with

Discover Nisga'a tourism partners, have launched

Discover Nisga'a, a new consumer-facing brand

for Tourism Nisga'a, including a new website and

social-media platforms to re-define sustainable Indigenous

tourism in northwest B.C. as the pandemic subsides.

The destination showcases a primeval landscape of vast

lava beds, pristine alpine meadows, lush temperate rainforests,

natural hot springs, one of North America's richest salmon rivers

and Hli Goothl Wilp-Adoshl Nisga'a/the Nisga'a Museum.

"We Nisga'a are known for our hospitality and we are proud

to invite the world," says Nisga'a president Eva Clayton.

PASSING THE TORCH

Reetu Gupta has been named Chairwoman and Ambassadress

of The Gupta Group, taking the helm of the divisions. She will also work towards bolstering the

and philanthropic initiatives across all of the company's

privately owned family business with more than $1 Canadian economy by creating new jobs, leveraging her

billion in assets and more than 3,000 employees across network to improve international trade relations, funding

the company's holdings in real-estate development, innovative startups and further developing residential,

hospitality, venture capital and mining. She will be commercial and hospitality infrastructure.

succeeding her father, Dr. Steve Gupta, who she has Additionally, Gupta will guide acquisitions, partner

worked closely with for more than two decades. Dr. relations and overall strategy for The Gupta Group

Gupta will hold the position of Executive Chairman. Developments, Rogue Insight Capital and Easton's

In her new role, Gupta will lead strategic planning Group of Hotels.

PIERRE PELLETIER [MARIE-CHANTAL LEPAGE]

6 | JUNE 2022

hoteliermagazine.com
---
LIFE HOUSE TO

MANAGE BELDI

ROBUST

RENOVATIONS

Tech-enabled hotel operator Life House has signed

a long-term agreement to manage Beldi, a 48-key

new-build in Squamish, B.C., marking the first Canadian

property in its portfolio of nearly 60 hotels across the

U.S., Mexico and Puerto Rico.

Rodney Wilson of Hang Eleven Properties is

developing the hotel while HunterOffice Architecture

and Ste. Marie Studio will be leading design and

branding. The boutique hotel will have a ground-floor

restaurant and rooftop lounge that will serve as both a

co-working space by day and cocktail bar by night. Life

House will oversee all hotel and food and beverage

operations with its in-house built software.

This partnership between Hang Eleven and Life

House is expected to expand with new projects in B.C.,

including Vancouver, Victoria, Whistler, Sooke and

Tofino. By the end of 2022, Life House plans to have

five hotels open or under development.

EJ

room Master

ALL THE TOOLS TO MANAGE YOUR

HOTEL BUSINESS

IN ONE EASY-TO-USE SYSTEM

A.·:

.

1nnQuest

CANADA

Intelligent hospitality industry

solutions, systems and services.

Call 1-888-477-0344 to

schedule a demo today!

www.innquestcanada.ca

Sheraton Hotels & Resorts has unveiled its new modernized

look with extensive renovations at three flagship

properties in Canada: Sheraton Gateway Hotel in Toronto

International Airport, Sheraton Centre Toronto Hotel and

Le Centre Sheraton Montreal Hotel.

First, the 484-room Sheraton Gateway Hotel in Toronto

International Airport has undergone a $30-million transformation.

As the only property directly connected to the

airport, the lobby features brand signatures such as the

Community Table, The Studios, sound-proof Booths and

&More by Sheraton, the brand's signature bar, coffee and

market concept. Additional amenities include a Sheraton

Club lounge, swimming pool and whirlpool, 24-hour fitness

room and Peloton studio, updated meeting spaces and

re-modelled guestrooms and suites.

Second, the Sheraton Centre Toronto Hotel has been

re-imagined, marking its most extensive renovation in

the hotel's 50-year history. Additional enhancements will

continue to roll out throughout 2022.

The first phase of renovations included changes to the

Sheraton Club on the 43rd floor, where guests can now find

updated food-and-beverage offerings, premium amenities,

enhanced connectivity and 24-hour access. The second

phase saw the introduction of two new food-and-beverage

outlets, including the recently opened Dual Citizen, a

coffeehouse style grab-and-go, which transitions into

a lobby bar in the evening. The final phase will reveal

updated public spaces and amenities.

Finally, Le Centre Sheraton Montreal Hotel has undergone

renovations to its 825 guestrooms and suites. The

Sheraton Club, located on the 37th floor, is expected to

re-open in May 2022 with a new look. In total, Sheraton

has nearly 20 hotels in the country, with six slated for

transformation completion by the end of 2023.

8 | JUNE 2022

hoteliermagazine.com
---
EDUCATION

Higher

Learning

KML webcast examines the

future of hospitality education

BY AMY BOSTOCK

On April 22nd, KML assembled

a group of highly esteemed

educators to discuss the state

of hospitality education and

examine how tomorrow's schools will

need to change, how these changes will

impact students and how schools can

truly contribute to solving the labour

challenges plaguing this industry.

The webcast, Higher Learning: A

Webcast Discussion on the State of

Hospitality Education — moderated by

KML's editor/publisher Rosanna Caira,

and sponsored by Tourism HR Canada —

included Lorraine Trotter, dean, Centre

of Hospitality & Culinary Arts, George

Brown College, Toronto; Statia Elliott,

director, School of Hospitality, Food

and Tourism Management, Gordon S.

Lang School of Business and Economics,

University of Guelph, Ontario; Marie-

Claire Louillet, professor, l'institut de

Tourisme et d'Hôtellerie du Quebec,

Montreal; and Carl Everitt, chair, Hospitality

Management Program, Camosun

College, Victoria, B.C.

"As we know, over the past few years,

the education sector has been hugely

impacted by the lingering COVID-19

pandemic and like every sector in this

industry, it's had to pivot to find its

footing. Today we will be exploring

issues facing the education sector to find

out what the future looks like for hospitality

education in Canada," said Caira.

The discussion began with a look

at how universities and colleges differ

today from pre-pandemic, as well as how

online learning has changed the delivery

model for education moving forward.

"We've all adopted online delivery

models and tools far, far faster than any

of us would have predicted two years

ago," said Trotter, adding that is both a

blessing and a curse, "because we've had

to move up the learning curve pretty

quickly. But on the other hand, we're so

much more flexible and creative in the

way we use those online tools."

She added that online education

has "blown apart" the traditional view

of where the students are. "So, the

regional focus that we might have

taken in the past is no more. While

traditionally we would have looked at

just the Toronto Region, now we have

continuing-education students from

India and Austria; we've got baking

students in Japan and the Middle East."

For a program known for handson

applied learning, Everitt said the

pandemic caused a shift in thinking.

"The infrastructure for online learning

has changed and improved drastically.

We were never known as an

online-learning institution, but one of

the positive outcomes [of the shift to

online learning] is accessibility for the

students. I'm finding they're now taking

their courses in a hybrid mode, where

they'll come in and perhaps take some

of their academic classes, but they don't

need to be in that facility the entire

time, which offers a great deal of

flexibility for them."

Louillet said at l'institut de Tourisme

et d'Hôtellerie du Quebec, classes went

online immediately at the beginning

of the pandemic and remained online

for a long time. And while in-person

classes are running again, the school

still offers about 20 to 30 per cent of its

classes online as well.

"This shift has changed the way we

teach," she said. "During the first round

of the pandemic, students needed more

empathy and support, so we've grown

into a more personalized coaching role,

as opposed to traditional teaching role.

We dedicated more time in class time

for discussion, presentations, interactive

teamwork and coaching. [COVID] has

profoundly, and permanently, changed

the way we work"

"In March 2020, the future arrived

ahead of schedule," said Elliott, adding

it "pushed us to innovate and invest in

technology and in training of faculty —

and that investment continues. So,

looking ahead, I see hybrid being

something that we continue to offer."

She said she sees online learning as

possibly replacing a large lecture hall

of hundreds of students, which will

provide more opportunity to engage

with students and offer them access to

asynchronous material that perhaps

they didn't have in such a flexible way

before. "And then we reserve those

face-to-face times for smaller groups

where there's greater engagement in

experiential activities, such as cases,

industry projects and simulations and

hands-on labs. So, we end up with

this fusion of campus and augmented

campus experiences that are going to

continue to push us to be even more

innovative and engage students." ◆

Click here to watch the entire

Higher Learning webcast

hoteliermagazine.com JUNE 2022 | 9
---
ADVOCACY

WINNING

WAYS

HAC advocacy

efforts result in

significant wins

for the industry

BY SUSIE GRYNOL

OFFICE OF THE PRIME MINISTER

The last time you

heard from me, The

Hotel Association

of Canada (HAC)

was pushing hard for

important policy changes to

help launch our industry's

recovery. I am happy to share

our advocacy has resulted in

some significant wins.

Chief among our asks

was to lift all border restrictions,

testing and quarantine

requirements and to make

a commitment to keep the

border open in future waves.

This predictability was desperately

needed to prepare for a

strong summer and salvage

the spring. We achieved this

objective with sequential

wins from February to April.

Today, all restrictions are

lifted, pre-departure testing

is removed, and all spending

associated with future testing

and quarantines has been

cut. These policy changes

were critical to our industry's

survival and recovery.

Second, the federal budget

announced a new Federal

Tourism Growth Strategy.

The purpose of this strategy

is to identify key investments

needed to build the

sector back, whether that be

immigration, debt forgiveness,

marketing, destination development,

or travel incentives;

the government is committed

to supporting our recovery and

growth. Consultations will be

launched shortly and HAC

will be front and centre, ensuring

it's designed to meet the needs

of our sector, especially as it

pertains to labour. Stay tuned

for more details on this.

Labour remains our top

focus and I'm delighted to

report we've made significant

gains here as well. The

budget included important

changes to the Temporary

Foreign Worker (TFW)

Program that will expedite

processing and increase caps

for accommodation employers.

Commitments were also

made to ensure Canada's

immigration system values

the skills most needed by

industries such as tourism.

These were among our key

asks leading into the budget.

We also recently saw our

international-student recommendation

come to life.

Effective summer 2022, international

students will be able

to stay and work in Canada

for an additional 18 months

if they are applying for

permanent residency in 2022.

The budget also announced

investments into affordable

housing – including rental

housing – which is in short

supply for hotel workers.

In other good news, for the

first time in two years, we were

all able to gather and celebrate

our resiliency as an industry

at HAC's annual conference

on May 3rd. I was overjoyed

to see all the survivors in the

audience and to re-connect

with the heart and soul of

our industry. I would like to

extend a special thank you to

Hotelier magazine for being

our media partner.

As we gear up for a summer

of recovery, we'll be focused

on making sure the TFW

changes are working, we will

continue to press for government's

return to business

travel and securing its

support to deploy a positive

travel narrative. We'll also

focus on some important

regulatory battles against

short-term rental providers

that continue to consume

affordable housing for our

workers and oversupply our

major cities.

We are excited to roll up

our sleeves and build on

this momentum. ◆

Susie Grynol is the president of the

Hotel Association of Canada.

hoteliermagazine.com JUNE 2022 | 11
---
INDIGENOUS TOURISM

Broader

Understanding

Firecircle is helping to emphasize

Indigenous hotelier education

BY LARRY AND ADAM MOGELONSKY

Larry and Adam Mogelonsky

are partners of Hotel Mogel

Consulting Limited. You

can reach Larry at

larry@hotelmogel.com or

Adam at adam@hotelmogel.com

Indigenous tourism

is a burgeoning pillar within

Canadian travel, growing

at four times the pace of

other tourism sectors and

contributing more than $1.7

billion to the GDP from over

1,875 businesses (prior to

the pandemic). And despite

the crushing impact of the

past two years, there is more

interest than ever from Indigenous

entrepreneurs to take

their place in the Canadian

hospitality industry.

Indigenous hotel businesses

often start out from a place

of passion and not necessarily

from one of formal

hospitality experience. The

drive is there, but the deep

business knowledge is often

not, and this is hampering

Indigenous participation in

the hotel industry as well

as the sustainable growth of

Canadian tourism.

To get a sense of the scope

of this challenge and how to

overcome it, we connected

with Deneen Allen, founder

and CEO of Firecircle,

a membership-based

platform for workshops and

masterclasses coupled with

personalized coaching and

mentorship, all purpose-built

to uplevel rural Canadian

tourism and hospitality

operators. Allen has been

consulting Indigenous and

non-Indigenous clients across

Canada since 2008, with this

latest educational vehicle

working to address the

constant knowledge gap she

and her team see regularly,

along with its impact on the

wider travel infrastructure.

Allen is quick to point out

that the lack of industry knowledge

in rural and remote

tourism is by no means exclusive

to Indigenous entrepreneurs.

Quite the contrary: it's

the lack of available 'points of

reference' in these communities

that act as a dominant

barrier to hospitality ownership

and growth.

There are sometimes few

to no comparative examples

of businesses available

to inspire country-based

hoteliers. For the same

reason, some basic economic

concepts may also be absent

from their environment.

"At this point, someone

may ask, 'Why wouldn't a

rural hotelier or restaurateur

just travel to seek out these

inspirations or simply go on

the internet?'" Allen says.

"The truth is that this innate

level of curiosity must be

initiated through education.

If a person does not know

what they don't know, they

also do not know to seek out

information they are missing."

While the Internet may be

a treasure trove of resources

to help any self-starter direct

their operations, Firecircle

emphasizes beginning with

the operator's motivations for

wanting to work in tourism

in the first place. At the very

root of every entrepreneur's

vision is their 'big why.'

To this end, Firecircle's

focus on education

also ensures that wouldbe

hoteliers are better

positioned to invest their

own capital or to accept

outside capital on more equal

terms. Presently, many Indigenous

communities are being

approached for joint ventures

and other investment

opportunities, but without

a firm understanding of five

key areas of knowledge (see

sidebar), the chances of a

successful partnership are

greatly diminished.

Getting more sustainable

capital into these areas will

inevitably act as a virtuous

circle for the entire

Canadian travel economy.

The first successful project

in a remote region attracts

more travellers and more

capital, then more hotel

developments provide space

for brand expansions, new

management company

contracts and third-party

suppliers. On the labour

side, more jobs in the industry

will mean a greater talent

pool of experienced hoteliers

for existing properties to

draw from.

For all these reasons,

nurturing aspiring Indigenous

hoteliers who will bring new

hospitality markets to the

forefront is a task we should

all support.◆

1

2

3

4

5

Firecircle's 5x5 Method

that sequentially focuses

on these key areas of

knowledge:

Understanding basic

economics such as supply

and demand, free market

concepts such as competition,

and marketing concepts such

as target audiences, pricing

and distribution

Gaining deeper knowledge

about the tourism industry

and running a hotel as well as

the role that a hotelier plays

in their local, provincial, domestic

and international tourism

infrastructure

Transforming market-tested

tourism ideas into functional,

rewarding and sustainable

operations

Grasping how critical good

physical design is to the current

and future success of a hotel or

other tourism provider

Learning about income statements,

capital expenditures

and cash flow as well as how

to manage money for financial

sustainability

12 | JUNE 2022

hoteliermagazine.com
---
EMPLOYEE RETENTION

Inspiring

Loyalty

Key to employee retention is

capturing employee loyalty

BY CAYLEY DOW

ISTOCK.COM/UNIQUEPIXEL

Experts are now confirming

a pandemic-induced

decrease in loyalty to

an organization. Many

workers have experienced

some form of loss, whether it be of loved

ones, freedom, or career, causing a phase

of mass individual reflection, transformation

and re-prioritization. For the first

time, during the pandemic many people

spent more time with their families

than at work, shifting allegiances and

mindsets away from defining themselves

as much through their work.

Our industry's survival now relies

on shifting attention toward a critical

issue – employee retention. We need

to inspire the loyalty of our employees

with the same strategic vigour as we do

for our guests so they stay, and we have

a workforce that will sustain our industry

into the future.

A loyalty crossroads

The Great Resignation, where millions

have left their jobs, has fundamentally

shifted the power dynamics away from

employers and toward workers. Recent

events have sent many on a quest to

prioritize purpose and meaning in their

work. Across industries, people want

work that resonates and allows flexibility

for all parts of life. This is good news for

our deeply purposeful industry, where

meaning is uniquely found in the delivery

of transformational experiences and

lasting connections. Success in inspiring

loyalty lies in highlighting purpose as a

cornerstone of culture and reinforcing it

though the employee experience.

Show loyalty first

Loyalty is connection. It takes time to

build because it happens only once trust

is established. It's important for leaders

to realize that the key to building loyalty

is to show loyalty first – show your

employees you will support them and

help them be their best. I recently heard

the stories of two friends who worked at

different companies. Both had missed a

day of work for illness and posted their

employer's reactions on social media.

One employee received a ranting email

from their boss for the absence. The

other received a get-well-soon card from

the team. This exemplifies that with

each interaction, leaders have an opportunity

to either grow or break loyalty.

Notice Waning Loyalty

Have you ever heard the saying

"employees don't leave bad jobs, they

leave bad bosses?" A Gallup poll of

more than one million U.S. workers

proved it to be true. The number-1

reason people quit is a bad boss. Great

leaders inspire loyalty by making certain

their employees feel heard. They

prioritize listening, responding and

actioning feedback as the most critical

part of their job. When employees are

frustrated or they don't have the same

spark for their work, these leaders seek

to understand by asking two powerful

loyalty-building questions – "is everything

okay" and "how can I help you."

Money isn't everything

Although competitive base wages are

a gatekeeper of retention, a recent

PwC survey found that employees

increasingly want to be compensated

for their work, not just with money, but

with flexibility. Younger workers are

more likely than older employees to

accept smaller pay increases in place of

non-monetary benefits such as mentalhealth

benefits, unlimited sick time and

flexible hours.

Inspiring loyalty requires leadership to

remain progressive, providing a creative

mix of offerings that are meaningful

and meet a diverse and changing set of

employee expectations.◆

Cayley Dow is the founder and CEO

of Thrivity Inc., a human-resources

consulting and coaching firm that

helps service-oriented businesses

to thrive in the ever-evolving

world of work.

hoteliermagazine.com JUNE 2022 | 13
---
PROFILE

POISED

for

Recovery

MARSHA WALDEN IS LOOKING FORWARD AS

SHE GUIDES HER TEAM AT DESTINATION CANADA

BY AMY BOSTOCK

When Marsha Walden

stepped into the role of

president and CEO of

Ottawa-based Destination

Canada (DC) in August

2020, the pandemic was

already dramatically altering

the landscape of the country's

tourism industry. But the

former CEO of Destination

British Columbia already had

six months of pandemicimmersed

experience to bring

to her new role and was fully

versed in the crisis.

"Professionally, there were

almost no reference points

for an economic disruption

of this magnitude," says

Walden. "As we heard many

times, the world was living in

'unprecedented times.' There

were no roadmaps, and no

best practices to follow. So,

we turned to each other, our

partners across our industry,

to leverage our collective

intelligence, form plans

together, and co-create a

response. Deep collaboration

has been key to finding our

way through the pandemic."

Now, two years into the

pandemic, Walden — a

veteran tourism worker — says

the roller-coaster plunge the

industry endured has levelled

out and it's clawing its way back.

"COVID has been devastating

on so many fronts —

whether that's lost revenues,

diminished labour pools, gaps

in product supply chains,

cancelled airline routes,

or closed businesses (and

the list goes on)," she says.

"However, working through

this has strengthened our

agility, creativity and resiliency

as businesses. Now is the

time for purposeful choices

about the future of our industry

— choices about who we

invite as guests and how we

host them — and it's promising

to see communities strive

for a more sustainable future."

She says if there's any

silver lining within the last

two years, it's that Canadians

have come to realize how

much they value travel and

how much tourism contributes

to their communities' wealth

and wellbeing.

Walden made the move to

Destination Canada because,

she says, "others felt I could

make a difference to sector

recovery. In many ways, I've

built a career on leading

transformative change. So, as

much as the timing of my start

had its challenges, it felt right

taking on this new role just

as the tourism sector needs

to re-imagine travel today,

plan for future resilience, and

consider what the hosting

economy means for a broader

range of stakeholders."

COVID has impacted

people's perceptions of

tourism and its direct link to

14 | JUNE 2022

hoteliermagazine.com
---
our collective quality of life.

"When visitors disappear, it

can affect the wellbeing of the

entire community — socially,

culturally and economically,"

says Walden, adding people

now understand that travel

is so much more than sightseeing,

and that tourism is

critical to supporting many of

the community amenities that

locals enjoy, too.

"We need to help communities

in Canada value and welcome

tourism for its contribution to

their residents' quality of life"

LASER FOCUSED

With border measures recently

eased, the team at DC

is laser focused on revenue

recovery — driving income

back into tourism businesses

and employee wallets in every

corner of the country.

"We have high-impact

sales and marketing programs

well underway in the U.S.

and Europe, for both leisure

travel and business events,"

explains Walden. "We're also

working with Canada's major

airports to help re-establish

air routes by marketing

collaboratively with both

global and domestic airlines."

DC expects U.S. visitors

to Canada, by far its largest

international market, will

lead recovery from international

markets and earlier this

spring, launched its largestever

U.S. marketing campaign

thanks to a significant

increase in federal funding.

The association is also

forecasting strong visitation

from Europe in 2022, while

indicators show other

markets will bolster the

recovery over time. "Mexico,

Australia, and our Asian

markets are showing solid

demand for the safe, stunning,

wide-open spaces and lively

cities Canada offers," says

Walden. "We have the

tourism experiences that

the world is craving, but are

competing with hundreds of

other compelling destinations

hoteliermagazine.com JUNE 2022 | 15
---
LESSONS

Learned

Knowing the tourism

industry helped Marsha

Walden with the transition

to her role of president and

CEO of Destination Canada.

She was able to bring her

experience in leading

transformative strategy

to drive the work the

association does now and

in the future. "We have a

new aspiration for our sector

and a new direction our

organization that

will support greater

industry vitality and

business profitability,"

says Walden.

eager to restore their hosting

economies. What's more, we

must show travellers that it is

easy to come here, and easy

to travel within Canada."

Central to a full recovery,

she insists, is restoring

business travel. To that end,

DC's Business Events team

is working with city DMOs

across the country to ensure

Canada has a dominant

presence in global trade

shows for business-event

planners. In addition, DC

has a targeted sales-andmarketing

program to lure

meetings and incentive

business through C-suite

decision-makers in six of

Canada's key growth sectors.

CHANGE MAKERS

"Our team is incredibly

dedicated to our work and

our industry, so they were

acutely aware of the severe

challenges facing our partners

and the tourism businesses,"

says Walden. "I feel our team

members stayed very focused

on the work they needed to do

to support our industry, rather

than the changing landscape

of our office culture."

Externally, she says her

team worked "exceedingly

hard" to freely share information

with partners, engage

in regular industry-wide

dialogue as events unfolded,

plan and re-plan together,

and worry together.

"The breadth of our team's

industry experience and

the depth of personal ties

between our team and our

sector partners has been vital

to getting through this."

Internally, DC quickly

launched a Business Resilience

Team to work with human

resources to ensure its employees

immediately had the tools

they needed to work effectively

from home and, over time,

had the physical and emotional

supports and programs they

needed to stay healthy.

"Personally, as a leader who

was new to the organization,

I focused on connecting with

people and ensuring there

was clarity in our direction,

culture and strategy," reflects

Walden, adding while online

meetings worked quite well,

she was eager to finally meet

more people in person.

LOOKING FORWARD

"While the last two years

have been unimaginably

difficult for the industry, it's

also given us an opportunity

as an industry to reflect

on what we want for the

sector, for tourism businesses

and employees, and for

Canadians, in the future,"

says Walden, "Like all

destinations, we know that

challenges remain. We're still

faced with some significant

hurdles to overcome as we

re-build — including labour

shortages, air and ground

transportation, and rising

costs, to name a few."

DC's goal is to re-build

Canada's tourism sector in a

way that is more profitable

and more resilient. Walden

says that means making our

destinations more attractive

to both visitors and investors.

"We also need to attract

talented people to our sector

and build their careers

in tourism."

Over the longer-term, the

association is striving for

tourism growth that generates

wealth and wellbeing for

Canadians while enriching

the lives of guests — increasing

business prosperity,

strengthening socio-cultural

vibrancy, and lifting environmental

sustainability.

DC has already scored a

number of major wins over

the past year.

"For starters, we became

much more agile as an organization

and were able to quickly

shift our marketing efforts to

wherever the best opportunity

for industry ROI surfaced,"

says Walden. "Initially,

this meant making a major

marketing shift to a domestic

audience, which had been the

purview of only provincial and

city DMOs in the past, but

which was critical to industry

survival in 2020 and 2021. We

were asked to step in. Domestic

travel has been the saving

grace for a large proportion of

tourism operators, both here

in Canada and in every part

of the world. Looking ahead,

maintaining the desire of

Canadians to spend on domestic

travel will be important to

long-term industry resilience."

Another key achievement

for DC was the manner

in which the association

strengthened its partnerships.

"We're strong believers in the

power of collaboration as a

competitive advantage. As a

nation, our tourism ecosystem

is more integrated than

ever. We now have deeper

relationships with destination-marketing

organizations

across the country, with our

airports, with global airlines,

and with Canadian government

agencies around the

world. We worked hard to

supply our sales and marketing

partners — in travel

trade, travel media, business

events and incentive travel

— with insightful market

data, new tools, cross-Canada

product knowledge,

and innovative approaches

designed for a new travel

mind-set and a changed

travel marketplace. We have

also had good success in

aligning partners with our

focus on high-value guests

— those travellers who have

the capacity to spend more

time and money when they

visit and whose values align

with our Canada brand,

having a deeper interest in

truly knowing a place and its

people."

Finally, she says her team

set a higher aspiration for the

industry's future and re-defined

the association's long-term

yardstick for success. While

economic measures remain

important to gauge the vitality

of our industry, Walden

says DC is incorporating

holistic measures of the net

benefits that tourism brings to

Canadian communities, such

as socio-culturally, environmentally,

and economically, to

secure a more resilient future

for the sector by building a

regenerative hosting economy.

"While we know that

uncertainty and challenges

lie ahead, we are poised for

recovery. Canada has what

the world wants — lively

cities wrapped in nature,

spectacular wilderness and

coastlines, a unique mosaic

of Indigenous and global

cultures, and welcoming

people ready to host our

guests with open hearts."◆

16 | JUNE 2022

hoteliermagazine.com
---
®

COOL. EDGY. CHIC.

inspired transformation.

superior performance.

Aiden® by Best Western is a trendy new collection of modern, boutique

hotels with a cool, laid-back personality. No two hotels are alike.

Aiden embodies the personality of the neighborhood and the spirit of

the owner/developer.

To learn more visit aiden.bwhhg-dev.com

Brad Leblanc, SVP, Chief Development Officer brad.leblanc@bwhhotelgroup.com

*Numbers are approximate and can fluctuate. ©2022 Best Western International, Inc. All rights reserved. Each Best Western ® branded hotel is independently owned and operated.
---
SUSTAINABLITY

Eco

Chambers

Hotels aim high for low emissions to reduce

their carbon footprint and attract

eco-conscious travellers

BY ROBIN ROBERTS

ISTOCK.COM/URFINGUSS

It's not like we haven't

been warned: reports

of climate change and the

portent of its devastating

effects have emerged

regularly for decades.

The latest, released

in February, details the dire

forecast yet.

18 | JUNE 2022

hoteliermagazine.com
---
Any eco-conscious

traveller wants to leave

as light an environmental

footprint as possible. Any

responsible organization

strives to reduce or eliminate

its carbon emissions

to attract that traveller

and, more importantly,

to protect the planet for

generations to come.

Hoteliers are no exception.

Reduce, Re-use,

Re-vamp

Just a few examples of the

commitments properties

have made include: Accor's

Planet 21 initiative, which

has commissioned ecodesigned

beds made from

wood sourced from sustainably

managed forests for

its Novotel brand; Northland

Properties' Go Green

program, which includes

recycling and waste-management

practices for its

Sandman Hotels; IHG's

Journey to Tomorrow,

which aims to eliminate

single-use items, and reduce

water and food waste; and

Hilton's LightStay system,

which set targets to reduce

greenhouse-gas emissions

in line with the Paris

Agreement.

"LightStay has produced

well over US$1 billion

in cumulative energy

savings for our hotels and

our owners," says Jean

Garris Hand, Hilton's

vice-president, Global

Environmental, Social

and Governance. "We are

continuously implementing

upgrades and improvements

to LightStay

every year to make

it easier and more

useful for our

hotel leadership

to track and analyze the

metrics that matter."

She cites as one example

the LightStay Meeting

Calculator, which provides

customers with an estimate

of the environmental effect

of their meetings or events,

leveraging the specific

hotel's consumption data.

"The hotel and customer can

then use this information to

take actions that will reduce

the environmental impact

of their meeting."

Another Hilton initiative

is the use of solar panels,

installed at properties such

as the Grand Wailea, a

Waldorf Astoria Resort in

Maui, and the all-electric

Hotel Marcel New Haven,

Tapestry Collection, set

to open this spring, which

is estimated to be the first

net-zero carbon emissions

hotel in the U.S.

Hand says the pandemic

put up some roadblocks

initially for some

programs, which caused

a temporary increase in

single-use plastics. But

that didn't dampen the

commitment to its Travel

with Purpose 2030 goals,

which inspired its Hilton

Global Foundation, a

philanthropic program that

pledged nearly $2 million

to organizations supporting

groups disproportionately

impacted by the pandemic

and climate change

worldwide.

"The success of our

business relies on our ability

to operate sustainably and

effectively engage our

hoteliermagazine.com

JUNE 2022 | 19
---
Green Key's

research

shows the

majority of

travellers —

roughly

70 %

— base their

accommodation

decisions

on a property's

environmental

initiatives

local communities," says Hand.

"By taking steps to reduce the

environmental impact of our

business and invest in the

resilience of our communities,

we can ensure the beautiful

destinations where we operate

remain vibrant for the next

generation of travellers."

Eco-Conscious

Travellers

Without travellers there would

be no hotels, and without

sustainability efforts, there will

be no travellers. Green Key

Global, the only international

environmental certification

body specifically designed for

hotels, works with properties

to manage and improve their

environmental impact — and,

importantly, to communicate

those efforts to their guests.

"It's wonderful that you do

all these things, but if you don't

tell your guests why you're

doing them they're not going

to appreciate it," says Rebecca

Bartlett-Jones, manager, business

development for Green Key

Global. "If you just change their

towels once every three days,

they're going to wonder why.

But if you had information about

why you're doing it, how much

energy you're saving, and how

that's improving the environment

for generations to come, then

they understand."

And Green Key's research

shows the majority of travellers

— roughly 70 per cent — base

their accommodation decisions

on a property's environmental

initiatives. "That's what's on

everybody's minds. [Also]

corporate and social responsibility.

They're also looking,

for instance, [whether not] if

a hotel has connected with

an organization like Soaps

for Hope; [and asking] are

they using local suppliers; are

the supplies sustainable; are

they hiring from the local

community; what are they

doing with old linens; are they

recycling properly; do they have

energy-saving measures, such

as temperature regulating,

in place?"

Bartlett-Jones says investing

in a membership with Green

Key, which costs $450 in

Canada and $650 in the U.S.,

is especially worth it now that

booking sites are flagging green

hotels. "A number of listings

agents, including Expedia,

Hotels.com, and Google, are

all driving the environmental

traveller through their websites

to the hotels in the program. So,

when you're a member of Green

Key, it's almost a guarantee that

your $450 is going to pay off on

energy savings and increased

bookings."

Stephanie Bertels, VanDusen

professor of Sustainability

at SFU's Beedie School of

Business, as well as director,

Centre for Corporate Governance

and Sustainability, and

founder and lead researcher

at The Embedding Project,

which helps companies embed

social and environmental

factors within their operations,

says she's encouraged by the

progress made throughout the

industry but there's much more

to be done.

"While small changes

certainly help to build momentum,

we are in an urgent crisis

and we are in the last decade of

action to save our planet and

our economy," she says. "The

reality is that hoteliers, like

every other business, will need

to make considerable changes

that include much greater

energy efficiency, including for

heating and cooling; reducing

waste from single-use items,

food waste and construction

and renovations; reducing water

consumption; and ensuring

decent working conditions for

staff and contractors."

Bertels says prior to the

pandemic, over-tourism was

impacting the environment,

wildlife and vulnerable communities

around the world. On

the bright side, COVID shone

a light on the precariousness

of the situation, as well as on

essential workers. "As we see a

return to international travel,

we need to ensure that we

address those impacts. Some

key things that hoteliers can do

include ensuring that they are

providing decent work and fair

compensation to employees;

collaborating with local communities

to deliver more enriching

local experiences; and continuing

to help their guests to make

choices that reduce the impact

of their stay."

Bertels says there are free

resources on the Embedding

Project's site to help companies

do more.

20 | JUNE 2022
---
Food Stuff

Christine Couvelier,

founder and global culinary

trendologist at Culinary

Concierge, as well as chief

culinary innovative officer

for Trendi, which helps

the food industry upcycle

organic food waste, says,

"Any restaurateur/hotelier

right now is concerned

about food waste and

looking for solutions.

Because it's not a trend or

a fad; it's something that's

part of our life and we have

to pay attention to it better

now than we have in

the past."

According to Trendi,

1.3 billion tonnes of food

is wasted around the world

annually, while at the same

time 800 million people

don't have enough to eat. Its

mission is to rescue imperfect

fruits and vegetables,

cuttings from processors,

and waste from retailers and

convert them into nutrients

such as bioflakes for animal

feed or smoothie mixes.

Couvelier advises the

chefs and companies she

works with to build stronger

relationships with farmers

about what they need to

create their menus. "We've

had examples of wonderful

chefs and hotels that

rescue and repurpose excess

food, so that's certainly not

something that's new but

it's even more important to

think local now. This is one

of the prime things in chefs'

minds right now. It's also

utmost in the minds of the

next generation of culinary

professionals."

She says culinary tourism

provides a perfect opportunity

to share some of these

solutions with travellers.

"They're already

thinking about

the hotels and

restaurants

they're going to

visit, so this topic

of food waste and

foods that could

have been repurposed

and upcycled from

otherwise wasted fruits

and vegetables is a story

that hotels and chefs can

tell on their menus."

Bartlett-Jones says many

hotels (and restaurants)

still recovering from the

effects of COVID, however,

have precious few dollars to

spend on any extra innovations,

but her hope is that

sustainability makes its way

back to top of mind soon.

"We're making wamazing

strides. Every single sustainability

program is a great

step forward." ◆

Your guests want quality.

Everybody wins when you buy a Milnor.

That's because Milnor knows industrial

laundry better than anyone. Smaller facilities

get superior wash quality and a low price

from Milnor's compact VRJ washer-extractor.

Larger facilities enjoy washing 100, 140 or

even 160 lb. at a time in our larger models.

They are built with RinSave ® water saving

technology to save water and time.

Contact an authorized

Milnor distributor or call

504-712-7656 to find out more

about washing more linen with

less water than ever before.

You want savings.

WIN/ WIN

www.milnor.com
---
EDITORIAL

22 | JUNE 2022

hoteliermagazine.com
---
PODCAST

THE

INTERVIEW BY

ROSANNA CAIRA

ORIGINAL

ORIGINAL

Keith Henry, president and CEO of the Indigenous Tourism

Association of Canada, talks about promoting Indigenousowned

and operated tourism businesses

Rosanna Caira: Tell us about

the association and what your

objectives are as its president

and CEO.

Keith Henry: We're a national

non-profit, indigenous-led tourismsector

organization — the third or

fourth iteration of a national body.

Indigenous tourism in this country has

had some challenges trying to organize

ourselves as an industry. We've got a

diversity of many nations, whether it's

First Nation, Métis, or Inuit, and that's

something we try and promote as part of

the cultural experiences of this country.

Essentially what we do is try and

help develop Indigenous tourism

businesses with a network of partners

throughout the country. We have a

series of programs and initiatives to

help our Indigenous world, regardless

of where they reside, understand what

it means to truly be market and export

ready. and help with the mechanics

of that from an entrepreneurial or

a community-owned business angle.

On the marketing side, we work closely

with many layers of marketing partners,

from larger city marketing organizations

to provincial or territorial marketing

organizations, and ultimately, with

Destination Canada. Pre-COVID,

that was such an effective relationship,

where we were helping create and

curate Indigenous content — what

we'd call authentic content — to

support international marketing work,

because we don't have the resources

hoteliermagazine.com JUNE 2022 | 23
---
to do on our own. We have a series of

tactics around marketing development,

and then we have a number of initiatives

around what we call the 'leadership

and partnership pillars' and sign a lot

of different relationship agreements

with partners that will help support

Indigenous tourism.

RC: What types of businesses

are part of your membership

in terms of hotels/motels?

KH: [The business] has to be at least

51 per cent Indigenous-owned and

operated. We have different categories

— such as cultural tourism or Indigenous-owned

tourism businesses — so it

might be a hotel that isn't providing a

cultural experience. Within our 1,900

members businesses, there's about 100,

what we would call accommodation,

and some of those are small, boutiquestyle,

B&Bs, while others are very large

hotels with 200 staff — it's quite a wide

range. So, our challenge in helping

market, promote and sustain those

businesses is you can't market that all

in one way. For example, you're not

going to send a large tour group to small

B&B that has three rooms. So, the

accommodation sector is a fairly large

piece of our 1,900 businesses, then we

have a series of cultural centres across

the country, some restaurants and

some Indigenous chefs that do a lot of

catering. There's quite a wide range

of business but the key is they have to

be Indigenous owned and operated by

the community or the entrepreneur

that lives in the community or are

connected with their nation. It's really

important to us that it's authentic, and

it's owned by our people so that the

benefits go back to our communities.

RC: As a member, what type

of help can members expect

from a marketing and/or

advocacy respect?

KH: We're kind of a hybrid, and that's

what makes us quite different than

non-Indigenous sector. Some people

think we're the Indigenous version of

the Tourism Industry Association of

Canada for advocacy, because we do

"

I WANT TO

ACKNOWLEDGE

THAT I'M

JOINING YOU HERE

TODAY FROM

VANCOUVER ON

THE TERRITORY OF

THE SQUAMISH,

THE MUSQUEAM,

AND THE TSLEIL-

WAUTUTH

PEOPLE

KEITH HENRY

PRESIDENT & CEO,

INDIGENOUS TOURISM

ASSOCIATION OF CANADA

"

advocate with the federal government

on federal policy. But that's not all we

do. We also do very specific development

work. For example, we've got a

series of programs where our process is

to help businesses become more market

and export ready. One of our biggest

challenges is that we just don't have

enough businesses that understand

those sales channels, how to work with

tour operators and other countries —

and yes, COVID-19 has gutted a lot of

those sales channels — but that's still

going to return one day, we know that

and that's we're working towards. We've

implemented a new system called

Project Rise, and we do an assessment

to help those businesses understand and

identify do they have to address their

digitization, their online presence, their

sales pieces — do they have the right

systems in place to do that. We believe

strongly that tourism is going to return

quite aggressively into the next few

years, so we can help those businesses

by investing in them — we have a set

amount of resources, but we prioritize

right and we prioritize by who's really

ready to buy into the systems and help

understand that.

And then finally, on the marketing

side, we would help those businesses

market into many different sales

channels through our platform,

Destination Indigenous. When you

are a member, and you qualify and are

market ready, you get your information

on our platform (destinationindigenous.

ca), which offers a specific direct-toconsumer

sales process where people can

purchase packaging, buy their business,

their experience right there.

RC: What kind of impact have

you seen specifically from

COVID? Have a lot of your

membership closed their

doors during this precarious

time?

KH: It's been awful. In 2019, which

was our best year ever, our industry was

growing about 20 per cent a year across

the country and we were outpacing

non-Indigenous businesses by quite

a lot when you average them across

country — the demand was there.

The all of a sudden, everything shut

when COVID hit us in March of 2020.

Literally, everything stopped. I hear the

tourism industry talk about the hardest

hit, I would argue Indigenous tourism

was the hardest of the hardest hit. And

I say that because we have businesses

that did 99 per cent of their sales to

foreign markets. The interesting thing

is of those 1,900 businesses, not a lot

of them recorded bankruptcies because

that's not the way we work. Many of our

businesses are on reserves, they don't go

to the courts to file bankruptcy, close

their doors, so a lot of them are hibernating

but we don't know if we can

convince those businesses to re-start.

In terms of economics, we went from

a roughly just about $2 billion in direct

GDP with sales and employees down

24 | JUNE 2022

hoteliermagazine.com
---
to just about $500 million overnight

— we lost massive amounts of money.

We saw a slight re-bound in 2021, up

to about roughly $715 million. We

saw a bit of re-growth, but we're so far

from where we need to be. And we've

been trying so hard. That's why we've

been creating programs to supplement

businesses and help them — we don't

want them to give up, because then

once they're gone, we're not just losing

a business, we're losing cultural ambassadors,

people and elders. The people

that have bought into the industry are

now saying, 'forget it,' they're selling

out or they just close their doors and

don't come back. It's been devastating.

On the flip side, now, there is almost a

sense of optimism and we're going to

hold on to that as hard as we can, and

just run with it.

RC: How big is the international

picture compared to

the domestic picture.?

KH: As of December 2019, 55 per cent

of our paying customers were Canadian,

so they were the largest group. And

the demand at that time was about one

in one in five, one in six Canadians

really wanting to explore Indigenous

tourism. The demand is there, but they

don't spend as much. It's a market we

knew was important, and we did some

domestic work, we depended on our

network of partners to really focus more

locally and domestically. By comparison

though, the international piece was

45 per cent of our customer base, but

it was 70 per cent of our economics

overall. U.S. support was significant

and we saw massive support from the

Chinese market — it grew out so fast

for us it was a crazy and they were

spending so much money on our arts

and our work and just so much on the

consumable things. France, UK and

Germany were all very good markets

for us and Japan has always been there.

Those six particular foreign countries

were spending a lot of money per visit,

staying longer, et cetera.

Back Better. What are the

main goals of that plan?

KH: We want to get back to 2019

levels in three years. We know the

roadmap — it's an Indigenous-led

approach. We've been saying to the

government, all these relief programs

have helped a little bit, but they've not

been very effective. We're not here to

bash those programs, but we believe an

Indigenous-led strategy will recover us

three years faster than then a non-

Indigenous led one. According to our

economic analysis, if we carry on doing

what we're doing right now, with no

more specific Indigenous marketing,

development, leadership and partnership

investments, we won't see a return

to 2019 levels until at least 2028. We're

seeing ongoing headwinds against us

— just when we think international

travel is going to open up, Omicron

hit us — so we've focused on how do

we enhance the domestic market? And

then how do we naturally transition

to the international space in the next

two years? It's basically a $65-million

plan over three years, about $21

million a year — half of that would be

marketing, another almost 25 per cent

of that annual investment would be in

specific development activities. And

then there's some specific activities

around leadership and partnerships.

"

We've been trying to re-start our International

Indigenous Tourism Conference

and hope to be able to do that in

2023.

We want to make Canada known

as the best destination for Indigenous

experiences in the world.

RC: How are you leveraging

partnership opportunities

within that plan and who

are you looking at as key

partners?

KH: We work with Tourism HR

Canada on implementing Project RISE,

for example, and with Tourism Industry

Association of Canada. We also do a

number of things with TIAC to help

expand our industry and bring our Indigenous

voice forward on the policies

and issues that affect our industry.

Working with Destination Canada, our

marketing partners, we want to take

the federal money and leverage more

investment to re-building international

networks. Finally, we're working with

a series of provincial and territorial

partners such as Travel Manitoba and

Travel Alberta and with Parks Canada,

along with so many others that want to

contribute to the space. We're trying

to sort of triage our strategy and to be

honest, that $65 million will probably

be leveraged almost double over those

I HONESTLY BELIEVE INDIGENOUS

TOURISM IS THE SINGLE STRONGEST

TOOL IN THE TOOLKIT FOR CANADIANS

TO SUPPORT RECONCILIATION BY

COMING OUT, LEARNING, ENJOYING

AND HAVING EXPERIENCES

RC: You recently released, as

a group, your 2022 to 2025

strategic plan, titled Building

hoteliermagazine.com JUNE 2022 | 25
---
three years between the

partners, because then we

can leverage those resources

into creating even a more

robust campaign.

RC: ITAC recently

received $2

million in funding

from Destination

Canada. How will

those funds be used?

KH: We re-launched the

original campaign, but more

focusing on the domestic

market this year. We did

commercials, enhanced

our online presence with

Destination Indigenous and

the platform there, we curated

new video content, some

of which hasn't been released

yet. So, we've been doing

specific tactical things to

enhance the campaigns we're

doing domestically. The

theory is, in reality, most

of our businesses, because

they haven't had sales, don't

have any marketing dollars.

So, we're trying to fill that

vacuum with Indigenous

content to promote and

get as many of them on

Destination Indigenous

as possible.

RC: In recent months,

Canadians have been

mourning the children

lost to residential

schools and we've

heard a great deal

about finding a way to

support reconciliation.

What role does Indigenous

tourism plays in

educating and sharing

that culture?

KH: Tourism is

absolutely critical for

Canadians to address some

of those challenges. I don't

know how much your

colleagues and your viewers

will realize, but a lot of our

businesses are built on the

grounds where residential

schools were. Now the

communities have taken

the negative situation and

turned it into an experience

or resort, and are proud that

they've turned those stories

around. I don't think a lot

of Canadians realize the

breadth and depth of that.

Indigenous tourism is the

strongest tool they have —

if they want to learn, come

spend some time.

I'm an indigenous leader,

too. I'm an elected Métis

leader outside of my tourism

work. I understand the pain,

the suffering, and there's a

number of us trying to say,

'let's turn this into something

as a learning opportunity'

and I think Indigenous

tourism is critical in that

regard. We want Canadians

to come experience our

communities and our tourism

companies, because that's

the best way, right now, I feel

that they can offer support.

RC: What additional

support would you

like to see from

government to help

the association's

goals?

KH: What we need from

government — it doesn't

matter which party, this is

a non-partisan statement

— is stabilization. I'm going

be really candid about

this: when it's Destination

Canada going for money,

the government doesn't

think anything about just

stabilizing, they know they

need multi-year funding

multi-year this, but for us,

we're in between everyone

— we're Indigenous Services

Canada with funding on

this; then we might deal

with the tourism division,

or innovation, science,

economic development;

and then we might be a

hybrid between all of these

different ministries. What we

need is an Indigenous-led

strategy that is multi-year

in approach and is predictable.

And we're not asking

anywhere near what Destination

Canada is, that's never what

we've recommended to this

federal government. But if

we're going to be partners,

and are committed to Indigenous

tourism, we need to

stabilize so we can predict

marketing strategy, we can

predict development, investment

plans and implement

those plans on a consistent

basis year over year. That's

our biggest challenge — we

need stable, predictable

relationships and long-term

vision behind how we're

going to stabilize the sector.

RC: What's been

the biggest lesson

for you through this

challenging time?

KH: There are a couple of

key points. First, as we get

back to whatever the new

norm is, the lesson is that

there'll be a new norm and

we're going to have to adjust.

Second, we need to make

sure we're not limiting our

marketing to just certain

markets that seem the most

lucrative — we need to have

an ongoing robust approach

to stabilizing Indigenous

tourism. Third, we can't take

for granted that the communities

and entrepreneurs will

just want to come back. We

have to create a positive

sentiment. The challenge is

really so significant and we

underestimate the power of

that right now. Someone in

the non-Indigenous chair

would say the same — just

because tourism might come

back, I don't know if it

will come back the way we

wanted with infrastructure,

and people wanting to work

in our sector, because of the

hard knocks we've seen for

going on three years.

On a personal level, what

I've learned is that you have

to be patient, because it's

been an emotional roller

coaster. I've had entrepreneurs

call me, just bawling

because they can't figure out

how to make ends meet. On

the other hand, we have

nations still carrying on

major projects, because they

have the resources internally

to maintain those projects,

but the entrepreneurs don't.

We have to find a balance,

even in the Indigenous

world and I'm finding a

way to better manage that

in a positive way, because

it really dragged me down

a lot. It really wore on me

over the last three years. So,

I'm happy to see it's kind of

moving forward, because I

feel like [the industry] turned

over a new leaf.◆

Click here

to listen to

the entire

podcast.

26 | JUNE 2022

hoteliermagazine.com
---
EDITORIAL

TRENDS

Talking Rock Tours

shares some of the natural

and cultural history

of the geological wonders

of Alberta through an

indigenous lens

FIGHTING TO SURVIVE

Canada's Indigenous-tourism industry faces a steep climb to recovery

BY DANIELLE SCHALK

In 2019, Canadian tourism had its

best year on record — so did Canada's

Indigenous-tourism sector, which,

according to Tourism Industry

Association of Canada (TIAC) data,

was outpacing Canadian tourism activity

overall. Of course, the years since have

seen drastically different results.

As The Impact of COVID-19 on

Canada's Indigenous Tourism Sector: 2021

Update indicates, "It appears that drastic

losses in direct employment and GDP

have resulted from COVID-19's impact

on the Indigenous-tourism sector."

The impact assessment, commissioned

by TIAC and conducted by the

Conference Board of Canada (CBOC),

projected a 57-per-cent decline in direct

GDP (down from $1.78 billion) and

a 51-per-cent decline in employment

(down from approximately 37,000)

2019 and 2021, which represented a

modest recovery from 2020 results.

The report also indicated that 647

businesses — just over a third of the

sector's total — remained at risk of

permanent closure in 2021-2022

due to continued pandemic impacts.

This includes 229 Arts & Heritage

businesses, 142 in accommodations

and 102 Recreation & Outdoor

Activities businesses.

Because this sector has historically

relied on international travel for more

than 45 per cent of its business, with

many businesses designed specifically to

cater to international markets, recovery

has been slow. This, explains Keith

Henry, president & CEO of ITAC, also

means that the Indigenous-tourism

sector has had to make major shifts and

implement new strategies in order to

survive and recover from the collapse of

international tourism.

In many cases, Henry notes,

previously established international

In Alberta, a first-of-its-kind

labour-market research

study is taking place. The

Indigenous Tourism Labour

Market Project, is funded by

the Government of Alberta

and represents a partnership

of Indigenous Tourism Alberta,

the Indigenous Tourism

Association of Canada, and

Tourism HR Canada. Its goal is to

identify existing gaps and "make

defensible recommendations

for investments for human capital

development." The research is

intended to inform Indigenous

tourism development strategies at

all levels within the province, from

individual businesses to communities

and associations.

sales channels have not re-opened yet

and may even need to be re-established

and relationships re-built following the

significant disruption that occurred.

"[The CBOC impact analysis] showed

us that we were the hardest of the hard

hit," shares Henry. And the information

outlined in the report has played a

significant role in shaping ITAC's new

national strategy 'Building Back Better'

— the main goal of which is to return

the sector to pre-COVID levels of GDP

contribution, employment and number

of businesses by 2025.

"There are a few exceptions to this,

but by and large, [Indigenous-tourism

businesses] have seen a massive decline

in revenues," says Henry. "[As a result,]

we've had to take over facilitating

a massive marketing campaign over

the last two summers." This, he adds,

was especially pertinent because

the marketing had to shift to target

domestic travellers.

To this end, Henry shares: "We

created the Destination Indigenous

platform, we created new packages and

we generated roughly 215,000 sales

leads last summer — and many of those

were executed to a full sale."

Marketing efforts are key because

"the reality is, most people don't know

where to find it," says Shae Bird, CEO

of Indigenous Tourism Alberta (ITA).

hoteliermagazine.com

JUNE 2022 | 27
---
"We know there's incredible demand

for indigenous tourism," he explains,

but as it stands, if travellers aren't

specifically searching for Indigenoustourism

experiences during the idea

phase of their planning, it's very

unlikely they will be presented with

these products. This makes marketing

support crucial in facilitating recovery

and survival — especially given that we

are entering what Bird deems "the most

critical summer our industry [has] seen

in a very long time."

This calls into focus a key issue Bird

identifies within the current support

systems (especially federally), which

have a heavy focus on investing in

product development. The issue, he

explains, is "there's no [support] dollars

to actually market that product…

Regardless of how many great products

you develop, if our potential clientele

doesn't know about them, then they're

going to ultimately fail."

"[ITA's] priority right now is pushing

a very dynamic and efficient digitalmarketing

campaign this summer," Bird

adds. "That's the most important piece

for us moving into the summer and, in

my opinion, that's how we should all be

thinking right now."

On this front, industry partnerships are

a fundamental avenue of support for the

sector. Bird points to partnerships with

DMOs such as Explore Edmonton and

Travel Alberta as being "so monumental

in providing the support [ITA's] needed,

from a customer perspective."

However, attracting guests is only one

facet of the challenges that lay ahead

of Indigenous tourism. Through the

course of the pandemic, the concepts

of market and export readiness have

shifted as digitization accelerated and

expectations around digital presence

have changed.

As Henry notes, these kinds of shifts

are expected to have lasting impact

"and a lot of our businesses are going

to have to rely more heavily on online

sales tools." This poses a challenge,

he explains, "[because] the truth is, of

our 1,900 businesses, there are several

hundred that have not built an effective

strategy for digital presence."

To address this gap, ITAC has

been implementing the Project RISE

EDITORIAL

With a few exceptions, Indigenous-tourism businesses

have seen a massive decline in revenues in the past

two years

accreditation program (in partnership

with Ottawa-based Tourism HR

Canada) to help Indigenous-tourism

businesses achieve market and export

readiness. This solution both identifies

gaps in businesses' existing strategies and

aligns supports to address these gaps.

But the greatest hurdle to market

readiness is having the staff in place

to effectively operate businesses and

facilitate experiences.

"We need to replace 21,000 jobs and

it's not that there's not people that

could work in them," states Henry.

The problem, he explains, is that the

tourism industry has suffered a blow

to its reputation as a stable employer

and economic-development venture.

"What's scary about that is, if we don't

find the qualified, effective Indigenous

staff, we can't sell authentic Indigenous

experiences," he stresses.

While the labour-force challenge is

felt across the industry, Bird explains

that increased barriers to recovery

supports, combined with ongoing

uncertainty has amplified the challenge

for ITA members — and Indigenous

tourism businesses overall. And, he

notes, this challenge is one of financial

constraints, as well as human capital.

"The number-1 challenge we're hearing

from our businesses and membership, is

that they just don't have dollars to pay

their staff," says Bird.

Operators are also having to weigh

the risk of staffing up while it remains

uncertain what travel and visitation

will look like this year. "There are a lot

of variables and unknowns out there

and our businesses are having a really

hard time adjusting their business to

ensure that they're able to provide a

quality experience and have the staff

capacity to manage expectations while

not knowing if we're going to have full

visitation this summer," Bird explains.

And, as Bird passionately points

out, ensuring the recovery of Canada's

Indigenous tourism sector is about far

more than supporting local businesses.

"We often talk about the economics,

the demand and the opportunities,

but there's also a social responsibility

that we have in terms of supporting

Indigenous tourism, Indigenous

businesses, economic and cultural

sovereignty and [understanding]

how we do that in an authentic and

appropriate way," he stresses. "[There

are great] social benefits of Indigenous

tourism: cultural revitalization, language

revitalization, providing community and

culture to communities that haven't

had that opportunity — you can't even

quantify the power of this. Indigenous

tourism is the number-1 tool towards

reconciliation." ◆

MOVING FORWARD

TOGETHER

"As Canada is going through a significant period of reflection towards reconciliation…we've

been really trying to help Canadians realize that Indigenous tourism is such a key support

[in this process]," says Keith Henry, president & CEO, Indigenous Tourism Association of

Canada (ITAC). As part of these efforts, he shares, "we are launching a significant new

initiative called 'Reconciliation and Action.'" The goal of this marketing campaign, hosted

on the Destination Indigenous platform, is to encourage Canadians to explore Indigenous

experiences. "Some of those will be about history and understanding, others will be just

about enjoying Indigenous opportunities that are in our backyards."

28 | JUNE 2022

hoteliermagazine.com
---
EDITORIAL

TRENDS

BLURRED LINES

Hotels are capitalizing on digital nomadic living

BY NICOLE DI TOMASSO

The Canvas Moncton, Tapestry

Collection by Hilton - Two Queen

Guestroom

Within 10 days of

the World Health

Organization

(WHO) declaring

a global pandemic on March 11, 2020,

4.7 million Canadians had made the

shift to working from home, according

to Statistics Canada. Today, we're

seeing a shift from work from home

to work from anywhere. In response

to a growing legion of digital nomads,

hoteliers are tailoring their offerings to

emphasize technology, well-designed

guestrooms and communal spaces and

community-led initiatives.

Premium Wi-Fi is the most

important amenity for digital nomads.

Toronto's Kimpton Saint George for

example, owned by InterContinental

Hotels Group (IHG), has taken its

technological infrastructure to new

heights by setting up routers in each

guestroom instead of having designated

router locations on each floor to

provide secure Wi-Fi and Ethernet

access. Additionally, Kimpton's TVs

are Chromecast-enabled, which is

suitable for streaming, work-related

presentations and meetings.

"At Kimpton, our job has never been

to change people's travel behaviours

but rather adapt to the ever-changing

landscape of the travel industry and stay

ahead of trends," says Nabeel Toubayly,

general manager, Kimpton Saint

George. "That said, we have a strong

focus on investing in the technological

infrastructure of our properties."

Workspaces by Hilton are available

at roughly 25 properties in Canada,

including Hilton Garden Inn

Toronto Burlington, Homewood

Suites by Hilton Montreal Midtown,

Hampton Inn by Hilton Port Hope

DANIEL ST LOUIS [THE CANVAS MONCTON]

hoteliermagazine.com JUNE 2022 | 29
---
The Canvas Moncton,

Tapestry Collection by Hilton

- The Living Room

Kimpton Saint George

Kimpton Saint George - fitness

EDITORIAL

and Canvas Moncton, Tapestry

Collection by Hilton. A remote office

with Workspaces by Hilton includes

a private guestroom, complimentary

standard Wi-Fi, sufficient desk space, a

comfortable chair and a selection of tea

or coffee. The company also launched

a Hilton Honors offer, allowing loyalty

members to earn 10,000 bonus points

after their first Workspaces by Hilton

stay. Other Hilton Honors perks include

the ability to earn a stay credit, premium

Wi-Fi and executive lounge access.

"[Since] digital nomads [enjoy]

mixing business with pleasure, Canvas

Moncton's urban location is ideal,"

says Perry Vashee, president of Opal

Hospitality, who entered into a

joint venture with FiveFive Queen

Developments to co-own and manage

Canvas Moncton, Tapestry Collection

by Hilton. "The hotel is communityfocused

and makes conducting business

easy while providing a launching point

for exploration."

The lobby design concepts, also

known as The Living Room, at both

Kimpton Saint George and Canvas

Moncton function as vibrant social hubs and

have proven to be attractive selling points

for digital nomads. Kimpton hosts morning

kick-starts and evening social hours daily while

Canvas Moncton offers a coffee-to-cocktail bar

to establish inclusive environments.

"The idea behind our morning kick-start

and evening social hour is to provide guests

with an opportunity to mingle with other

guests, allowing them to feel a part of the

larger travel community," says Toubayly.

"While remote work keeps people travelling,

this is a great way to maintain face-to-face

connections."

Other work-from-anywhere programs

include Work Anywhere with Marriott

Bonvoy, which has three options: the

Day Pass, the Stay Pass and the Play

Pass. Furthermore, Sheraton Gateway

Hotel in Toronto International Airport,

Sheraton Centre Toronto Hotel and Le

Centre Sheraton Montreal Hotel, under

Marriott Bonvoy's brands, recently unveiled

extensive renovations. Specific upgrades

catering to digital nomads include the

introduction of community tables, soundproof

booths and Sheraton Club lounges, in

addition to other shared spaces.

Additionally, the Work from Hyatt

programs have been around for a while at

properties across the U.S., Canada, Mexico,

the Caribbean and more. Packages include

Office for the Day, Extended Stays, The

Great Re-locate and, most recently, Offsite.

Launched in March 2022, Work from Hyatt:

Offsite is a corporate retreat concept for

groups of all sizes and offers meeting spaces,

personalized food and beverage menus

and team-building experiences through

collaborations with local attractions,

restaurants, fitness studios and more.

Toubayly says "this trend is here to stay and

we'll likely see more variations of it." Hotels

looking to capitalize on this opportunity

should consider updated technology,

workspaces and community initiatives as

essential ingredients to ultimately position

themselves for success. ◆

COMING

SOON

Ottawa businessman Matt Damour has purchased

the land located directly behind the main lodge

at Mont Ste. Marie ski resort in Quebec for the

construction of The Sainte Marie Hills, a new

building that will offer short-term rentals and

much-needed amenities.

Designed by Linebox Studio, the $4.5-million

investment will offer 15 ski-in, ski-out units,

an après-ski lounge/restaurant, private work/

meeting spaces and a rooftop patio with a hot tubs.

Construction is slated to begin this August, with

the building to be completed by next spring.

NAOMI FINLAY [KIMPTON SAINT GEORE]

30 | JUNE 2022

hoteliermagazine.com
---
OPERATIONS

Breaking

Down

Walls

Hotels are extending the loyalty

program experience to the

outside world

BY DENISE DEVEAU

oyalty programs have been an integral marketing tool

for hotel operators for decades. But a lot has changed

from the days of collecting points for free rooms or

airfares. Today's operators are learning how to be

all things to all people, partnering with credit card

payment processors, airlines, retailers and entertainment

venues among others, to offer a wide array of

lifestyle benefits to suit individual guests' needs.

Loyalty programs started out very transactional

in hospitality, says Matt Vaccarella, senior director,

Loyalty Strategy and Customer Engagement, Radisson

Hotel Group Americas in Seattle. "If you stayed

at our hotel or flew on our airline, you would get this

many points or air miles to redeem for a hotel stay or

flight. The nice thing was it was easy to understand.

The shortcoming was it wasn't very personal and too

one dimensional."

Fast forward to today and loyalty programs have

evolved considerably. Now, hotels have established

partnerships with many other verticals to offer multiple

ways to collect (such as co-branded payment

cards) and redeem points for upgrades, food-and-beverage

services, gift cards, car rentals, retail purchases,

airline miles and more. "That has really expanded

the value proposition," says Vaccarella.

Hilton, for example, has partnered with rideshare

partner Lyft, as well as car-rental services Alamo,

National and Enterprise. "We also have a unique

partnership with Live Nation so Hilton Honors

members can use their points on Ticketmaster.com

and LiveNation.com to access thousands of entertainment

events," says Jenn Chick, senior vice-president

and global head, Hilton Honors and Customer

Engagement in Arlington, Va.

"How customers engage with brands is changing,

so a successful loyalty program has to constantly

adapt to customers' changing expectations," says

Sabrina Lillew, Accor's vice-president, Loyalty

Programs, North and Central America in Toronto.

"Our research showed that 51 per cent of our

members were most passionate about dining,

followed by entertainment and sports at 40 per cent

hoteliermagazine.com JUNE 2022 | 31
---
"People who couldn't

travel came to appreciate

the ability to

earn reward points in

restaurants and bars

without having to be a

guest in the hotel. They

recognized loyalty

goes beyond the stay.

ALL has broken down

the hotel walls and

made our rewards part

of their day to day lives

"

each." Accor's ALL- Accor Live Limitless lifestyle

loyalty program spans more than 4,100 hotels and

37 brands across 110 countries and has more than

68 million members.

In April of this year, IHG launched its new IHG

One Rewards, a customer-focused global loyalty

program that covers 6,000 hotels in more than

100 countries. "As the world evolved, so did we,"

says Heather Balsley, senior vice-president, Global

Loyalty and Partnerships, IHG Hotels & Resorts

in Atlanta, Ga. "The last few years have brought

about tremendous change, particularly across the

travel and hospitality industries. We felt it was an

opportune time to dig deeper and uncover what

guests truly want from a loyalty program."

One of the key takeaways from IHG's research

was that the most sought-after perks are room

upgrades and free breakfast, followed by member

discounts, flex and bonus

points, food and beverage

credits, and lounge

access. "We also learned

how important it is to offer

convenience and accessibility

throughout the process,

so we rolled out our mobile

app that allows guests to stay

informed, check in faster, and

connect to our hotels and

travel with greater flexibility."

The Hilton Honors app,

which allows members to

check in, select their room,

and access their rooms using

Digital Key, now includes

a Digital Key Share feature

that allows more than one

guest access to their room, as well as automated

complimentary room upgrades.

Vaccarella stresses that a diverse and multi-brand

loyalty program serves as a powerful marketing tool.

"Programs today are so personalized we are able to

communicate offers that make the most sense to the

individual. It's not just about knowing their name

and the last time they stayed. We know how they

earn and redeem points, where they like to travel,

and what they spend. With that, we can tailor

benefits and rewards that meet their wants and

desires. If I can spend my marketing dollars precisely

on individuals that have engaged or fit the profile

but haven't yet, we know how to talk to them."

Diverse programs also served the industry well

during the pandemic. In many cases, hotels adapted

their loyalty programs to ensure member loyalty,

extending expiration deadlines on points, among

other concessions. Hilton for example, expanded

eligible spending for co-brand credit card members,

and allowed members to automatically roll over

nights to count towards their future tier-status

qualification, says Chick.

Vaccarella says customers were happy to continue

to collect and redeem points in the form of gift cards,

restaurant meals and retail purchases. "Non-travel

redemption options became especially popular

during the pandemic. They helped to keep our

members engaged with the program at a time

where they weren't travelling. The past two years

really showcased the value of the program for us

and our members and helped us continue with

our business."

"People who couldn't travel came to appreciate

the ability to earn reward points in restaurants and

bars without having to be a guest in the hotel,"

says Lillew. "They recognized loyalty goes beyond

the stay. ALL has broken down the hotel walls and

made our rewards part of their day to day lives."◆

Hilton Honors

Mobile App

32 | JUNE 2022

hoteliermagazine.com
---
TECHNOLOGY

INTO THE

Hotels are mining

for opportunities

in the metaverse

BY MICHAEL MASCIONI

igh hopes have been

raised for the

transformational

value of the metaverse

(a virtual-reality

space in which users

can interact with a

computer-generated

environment and other

users) for hotels, but

fully capitalizing on

that promise involves

several technical and

business challenges.

Presently, the use

of the metaverse in

hotels is in its infancy.

hoteliermagazine.com JUNE 2022 | 33
---
Tommy Farr, CEO of Meta Hospitality

Consulting Group, believes "the

metaverse technology has a way to go,

though it's getting closer" to taking off.

He explains that current metaverses are

more "pixellated." As the technology

develops, images in the metaverse

will become more realistic, he notes.

Another issue is that not many people

are currently in the metaverse. Farr

feels only a small number of guests are

using the metaverse in hotels, and those

people are primarily "tech people that

are very familiar with Web3 technology

and are immersed in crypto currencies."

Unsurprisingly, enhancing brand

marketing has been a key aim of current

hotel company metaverse projects. In

fact, Nicolette Harper, VP of Global

Marketing and Media for Marriott,

Inc., characterizes "brand awareness

campaigns as an entry point" for hotels

in the metaverse.

Marriott claims to be the first hotel

company to introduce a metaverse

experience with its launch of NFTs

(Non Fungible Token) last year.

That project was an element of the

company's three-year metaverse

strategy, which kicked off in 2020 as

part of an overall effort "to re-build our

entire marketing strategy, targeting a

new breed of travellers that were beginning

to see travel through a different

lens," reports Harper. Through extensive

research, Marriott found these travellers

"spent a great amount of time in the

gaming space and were communicating

more frequently through video games to

stay connected with friends," she says.

Due to the pandemic, greater

interest in "remote inspirational travel"

emerged. As a result, the company

decided to develop "authentic

metaverse experiences that weren't

flashy" and contrived. From June to

December, 2021, Marriott Bonvoy

Hotels created its own NFT metaverse

experiences about global travel that

mashed up culture, art, and music. The

brand enlisted three artists to create

NFTs based on their interpretation of

travel from their own unique experiences,

as part of Marriott's 'Power of Travel'

campaign. On Dec. 4, 2021, three

attendees at Art Basel Miami Beach

won one of the NFTs and 200,000

Marriott Bonvoy points, when a countdown

clock revealed the NFTCODE.

Those attendees could retain or sell

the NFTs. Marriott plans to launch

additional metaverse experiences

in the late summer, with the aim of

maintaining a "persistent presence in

the metaverse," adds Harper. "As the

metaverse evolves, we would love to

have our guests experience the uniqueness

of all our brands in the metaverse."

For example, guests could eventually

experience virtually the AC Hotel's

famous gin and tonic and the Westin

Hotel's wellness programs.

In her view, "monetization for the

metaverse isn't there yet, and new

technology integrations and more

secure digital wallets are needed" to

make that happen.

Robin Chadha, citizenM's CMO,

reports that "the company will

bring art to the forefront of our

guests' experience, and we will

collaborate with a roster of digital

artists and growing talent to create and

sell NFTs that will be showcased and

purchased in the digital space. Each of

the 2000 NFTs will be priced equally.

However, purchasers will be assigned,

at random, one of three levels: 1500

'regular' citizens, 450 'special" citizens,'

and 50 'legendary' citizens. The utilities

will take the form of discounts, free

drinks and more with the specifics of

the rewards being determined by the

level of NFT assigned to the purchaser.

The rewards will be redeemable at any

of citizenM's growing portfolio of hotels

in the real world."

He adds the company plans to

ultimately build a virtual hotel, which

will "be a location for avatars visiting

The Sandbox (a virtual metaverse

where players can play, build, own, and

monetize their virtual experiences)

to work, sleep and play," though he

acknowledges "that could take years."

Chadha further notes that "once

the LAND (for the virtual hotel) is

purchased, citizenM aims to finance

the build of a hotel in the virtual world

through the sale of an exclusive collection

of NFTs with real-world rewards

(utilities) attached."

Chadha explains that the company's

move into the metaverse is natural. "We

are a brand that has always pushed the

boundaries and challenged traditional

models, and, as the first hospitality

company in The Sandbox, the venture

fits not only with our brand strategy but

also the commitment we have to the

creative community and to our guests

both online and in the real world.

"From our point of view, building

in the metaverse is a good idea because

digital engagement isn't a novelty — it's

just how we live our lives now. The

metaverse is simply a further acceleration

of a dynamic that's been emerging for

years, in which our digital and real lives

blur, and in which online and in-person

are completely overlapped. This is a

dynamic that we believe the traditional

hotel industry doesn't adequately address.

It's our responsibility to meet our guests

where they are."

One of the key metaverse providers

to hotel and corporate event spaces is

RendezVerse. The company offers a

metaverse-as-a-service platform, allowing

buyers of hotel rooms and spaces to view

and meet the suppliers of those services in

interactive digital environments."

"We also have RendezVerse Studios,

which specializes in building digital

twins of events spaces and hotels

environments, in complete VR,"

explains Peter Gould, the firm's CEO.

"RendezVerse can make the research

phase of venue finding much more

streamlined and allows hoteliers and

events planners to meet in these

virtual spaces."

The Intercontinental Grand Hotel in

Paris is journeying into the metaverse

through RendezVerse. According to

Gould, "we're currently building spaces

for Marriott, Hilton, Hyatt, Atlantis

Palm and IHG, all at varying stages of

development. The first Marriott Hotels

space launched at the m&i Forum in

Seville last month and the IHG hotel

will be ready in June or July."

34 | JUNE 2022

hoteliermagazine.com
---
Gould highlights further some of the

key benefits of the metaverse for hotels.

"Experiencing a space in the metaverse

means prospective clients get a feel for

what it's really like to be there and can

view different venue layouts in seconds.

Virtual spaces can be customized with a

brand's identity at the touch of a button

and can offer bespoke VIP areas with

networking tech to match guests with

their prime prospects. For events, capacity

limits will become a thing of the past;

with the support of a metaverse venue,

once the 'in-person' tickets are sold out,

there's scope for extra revenue with

metaverse-ready tickets."

Roomza, a full-stack service provider

of immersive mixed-reality experiences

for the hospitality market, is currently

developing its own metaverse called

'The Roomzaverse,' which will allow

consumers to explore, book, and customize

their upcoming hotel stays. According

to Curtis Crimmins, the firm's CEO,

"there are plans to eventually expand its

focus to other leisure markets that would

benefit from pre-arrival personalization,

such as cruise lines."

He contends his company's "Roomzaverse

option affords higher levels of guest

interaction with more employee inclusiveness,

allowing those that are 'socially

isolated,' including people with disabilities,

to perform 'front-desk tasks' and offers

employees better pay than usual."

He warns against the dangers of the

metaverse becoming a novelty and

stresses his company harnesses the

metaverse to "drive values for guests

and revenue for hotel owners. He feels

many hotel brands use the metaverse

simply "as an extension of marketing

and an interactive billboard."

Although he claims Roomza appeals

to every demographic that consumes

upscale branded hotel products, he

sees the highest engagement with

the platform coming from 25 to

42-year-olds who stay in hotels at least

four times a year.

Crimmins sees great opportunities

for other immersive experiences with

its platform, including immersive retail

Tommy Farr, CEO of

Meta Hospitality

Consulting Group,

breaks down the

development of

the metaverse in

the hospitality market in three

stages. In the first phase, the

metaverse is being essentially

employed as a "concierge

experience," allowing guests to

inspect a hotel property before

visiting it.

In the second phase, the

metaverse will be used more

often "for business conferences

and work meetings, enabling the

creation of conference rooms in

virtual hotels."

In the third phase, the

metaverse will become "a

complete immersive experience"

in the hospitality market, and

entire hotels will be replicated

in the metaverse.

experiences. The platform will also

allow guests to order ancillary services

in 3D and owners to rent empty hotel

space for other purposes, such as

co-working areas.

The company's metaverse platform

will allow customers to access a floor

plan in their own metaverse through

mobile phones or through VR or AR

devices with headsets.

The Meta Hospitality Group is

developing three distinct hotels in

two different metaverses as part of its

genesis collection, reports Farr. The first

one, Hotel Euphoria in the Sandbox

metaverse, is designed to create a party

atmosphere with DJs and games, geared

to an active audience similar to that for

W Hotels. The second one, NFT House

in the Sandbox metaverse, will be geared

more to "a business audience and special

events, such as business conferences and

weddings. This audience would be more

akin to that for hotels such as the St.

Regis hotel. The third hotel, Worlds

Resort and Spa in the NFT Worlds

metaverse, will be a resort destination,

encompassing a conference area, a golf

course, a swimming pool, and a tennis

court. Each hotel will offer utility that

translates to both the real world and

metaverse. For example, if you hold an

NFT from Meta Hospitality's genesis

collection, you'll have an opportunity

to win weekend giveaways at

elite destinations.

One of the great advantages of these

kinds of metaverses is that they will

allow guests to examine possible hotel

destinations before visiting them,

saving them time and money, according

to Farr. Gould notes that "performing

venue site visits via VR and AR will

lead to reduced time and cost spent on

in-person site visits, as event spaces will

not need to be lit and air-conditioned

for every site inspection."

A key benefit of the metaverse for

hotels is its use as a more cost-effective

training tool, he stresses. He feels that

prospective hotel staff will increasingly

prefer metaverse training, especially

emerging from the pandemic.

Farr emphasizes a "slow and steady

approach" to incorporating the

metaverse in hotel plans. He emphasizes

the need for hotel personnel and

guests to learn about "the opportunities

afforded by the metaverse" before the

metaverse will become widespread in

the hospitality market.

Harper predicts that "over the next

three to five years, the metaverse

will bifurcate into centralized walled

gardens and decentralized Web3

gateways. She projects we'll see "the

first fully functional digital hotels in

metaverses such as Decentraland which

will allow you to fully immerse yourself

in virtual online worlds, where everything

is possible."

In any case, the long-term future

for hotel metaverse experiences looks

bright. Indeed, Gould predicts that "the

metaverse, or more accurately Web3

applications, will be the next iteration

of hotel marketing."◆

hoteliermagazine.com JUNE 2022 | 35
---
TECHNOLOGY

Top

Tech

HOTELIER FEATURES A ROUNDUP OF

TECHNOLOGY INNOVATIONS SHAPING

THE HOSPITALITY INDUSTRY

BY NICOLE DI TOMASSO

The pandemic has completely

transformed the hotel experience

for guests, managers and employees

alike. As the new normal unfolds,

hotel companies are adjusting

accordingly with new technology

products and processes for competitive

advantage. Here, Hotelier

explores the latest technology

hotels can put into action in

different departments.

Food and Beverage

U.S.-based GoTab, Inc. recently expanded into Canada

to offer hospitality operators a restaurant commerce

platform (RCP). The cloud-based solution provides

contactless ordering and payment technology to

"optimize their dining operations, reduce operating

costs and drive incremental F&B revenues," says Tim

McLaughlin, CEO, GoTab. GoTab can be an integrated

or stand-alone service, requiring minimal set up and

a nominal pre-transaction fee. Since March 2020,

GoTab has experienced a 7,000 per cent increase in

transaction volume, according to its website.

Hotel guests can use GoTab on their mobile device for

in-room service and onsite dining at coffee shops, bars,

rooftop restaurants and more. This solution eliminates the

cost for traditional menus, boosts sales with product

recommendations and permits customers to track

order status and communicate directly with staff.

So far, GoTab has partnered with Hilton, Hyatt,

Marriott and Pacifica Hotels brand locations in the

U.S., with Canadian operators slated to come onboard

in the upcoming weeks and months.

Security

React Mobile supplies its hospitality partners with panic-button apps

and devices to maximize safety and security in the workplace. React

Mobile offers Cellular LTE Panic Buttons, which are wearable devices;

Bluetooth Panic Buttons, which can be paired with mobile devices;

React Beacons for immediate reporting of room number; and the

React Mobile app, which is used in combination with the Bluetooth

panic button. Additionally, the cloud-based client portal can be

accessed to configure alerts and hardware in any web browser. In

Canada, Fairmont Pacific Rim Vancouver and Fairmont Chateau

Lake Louise have adopted React Mobile's safety solution.

Sales and

Marketing

UpStay is a fully automated upselling solution

for the post-booking stage that sends targeted

offers to guests, allowing them to place bids

on additional purchases. Using artificial intelligence

(AI) algorithms, UpStay pushes up to

20 per cent of guests to buy room upgrades

and other products and services, generating

additional revenue.

"Previously, optimization goals for hotels

[often] included email-marketing products,

which are not automated or data driven, and they

don't adapt automatically to the hotel's needs. It

required attention and maintenance from hotel

teams," says Tzafrir Blonder, CEO of UpStay.

"UpStay combines elements from science

data, economic behaviour, dynamic pricing and

automation to create a fully adaptive system that

optimizes inventory for hotels."

Compatible with commonly-used property

management systems (PMS) and central

reservation systems (CRS), UpStay charges

hotels a percentage of new revenue generated,

depending on the department. However,

UpStay allows hotels to recuperate its investment

in third-party connectivity before it

starts to charge the hotel.

Choice Hotels International rolled out

ChoiceMAX across its global enterprise, in

partnership with IDeaS. This mobile revenue

solution adapts to changes in the market

through re-pricing. Additionally, ChoiceMAX

has helped franchisees ease the burden of

staffing shortages.

"When we planned for this investment

in innovation, we required every dollar spent

on technology to have an equal dollar spent

on support and activation to ensure a high

adoption rate while our franchisees were

going through significant operational changes

on a daily basis throughout the pandemic,"

says Douglas Lisi, VP of Revenue Management,

Choice Hotels. "Labour continues to

be a challenge, so we needed a way to bring

staff out from behind the desk and put a

revenue-management solution in their pocket."

36 | JUNE 2022

hoteliermagazine.com
---
Human

Resources

Rodd Hotels & Resorts has

adopted the full Optii Solutions

technology package, including

housekeeping features, across

all seven properties throughout

P.E.I., Nova Scotia and New

Brunswick. Specifically, Optii

Service allows Rodd Hotels

to optimize labour while Optii

Chat enables team communication

across departments

and properties.

"With Optii Solutions, [we

like the] 360-degree visibility

of our operations so we can see

where we need to improve,"

says Bobbi Lawlor-White,

CFO, Rodd Hotels & Resorts.

Our team will also benefit from

"the ability to update our teams'

skills with the Optii training

capabilities, which will be a real

benefit as we head towards the

busier summer season."

Busy

Bots

According to

the Hospitality

Robots Market by

Type and end user

Sales Channel:

Global Opportunity

Analysis and

Industry Forecast

2021-2030:

The hospitality robots

market was valued

at $295.5 million in

2020, and is estimated

to reach $3,083

million by 2030.

Major players

operating in the

market include

Savioke, which

has been recently

acquired by Relay

Robotics, Connected

Robotics, BotsandUS,

Travelmate

Robotics and more.

Most recently,

Seaview Investors

LLC added Relay

Service+ Robots to

each of its seven

hotel properties in

the U.S.

Engineering

and Maintenance

A lack of hot water is a common

complaint from hotel guests. To

minimize guest dissatisfaction and

reduce compensation, Symmons

Industries launched Symmons

Evolution, an app-based buildingmanagement

system to detect leaks,

dramatic temperature changes or loss

of hot water.

Symmons Evolution offers three

different packages that can be selfinstalled

in less than two hours, avoiding

installation costs for operators. Its

entry-level offering, Evolution Essential,

contains a communications gateway,

an AC power adapter, three gateway

antennas, four green sensor control

modules and four sensors, which can be

any combination of leak or temperature

sensors, as well as other accessories

needed for installation.

"We believe products should do more

for you than you do for them," says Tim

O'Keeffe, CEO, Symmons Industries.

"An expensive piece of equipment

is not intelligent, but when you add

intelligence like Symmons Evolution

Accounting

National Payments is the

only merchant service

provider in Canada that

specializes in hotels,

supplying brands with

a more secure way of

processing credit cards. In

2020, credit-card fraud

was $31 billion, with half

of this amount occurring

in Canada and the U.S.,

according to National

Payments' website.

Additionally, 55 per cent

of all chargebacks are

happening in the hospitality

industry alone.

To prevent chargebacks,

reduce risk and lower

processing fees, National

Payments offers solutions

using EMV Chip & Pin

for card-present transactions

and Converge

3DS2 technology for

card-not-present transactions,

which can be

integrated with hotel PMS.

Hotels that continue to

process credit cards using

mag-stripe authentication

are paying 30 Basis Points

more than hotels processing

with EMV Chip & Pin.

Hotels processing manually-entered

transactions are

paying even more. Also,

merchants will be liable

for fraudulent chargeback

losses.

"Since 2011, the Visa,

MasterCard and American

Express chargeback rules

in Canada state that if a

credit card with a chip is

processed in a non-chip

way — swiped through a

PMS or typed in by hand

to your equipment, you're lighting up

information that otherwise would've been

kept in the dark. When you have to guess

what's happening, it's costing thousands

of dollars from the team trying to resolve

the issue locally, as well as reliance on

third-parties."

While U.S. hotels are still the majority

of its customer base, Symmons is looking to

scale-up in Canada. Currently, the supplier

is working on a pilot at a Holiday Inn north

of Toronto. To date, more than 2,500

sensors have been installed at more than

50 properties. Hotel merchants include

The Godfrey, XSS Hotels, Buffalo Lodging,

Residence Inn by Marriott and more.

— the hotel will not be able

to refute a chargeback if it

turns out to be fraudulent

or the cardholder claims

it's fraudulent, resulting in

loss," says Michael Strong,

COO, National Payments.

To date, National

Payments has carried out

more than 700 on-site

implementations and

12,300 chargebacks have

been saved.

"It's all hands on deck

for the hotel industry as

business starts to ramp up

again," says Strong.

hoteliermagazine.com JUNE 2022 | 37
---
F&B

hungry for

excitement

When it comes to food and beverage, post-COVID

travellers want to make up for lost time

BY SARAH B. HOOD

The Drake Hotel in Toronto is

catering to the trends of shared

plates such as the Steak Tartare

(above)

You'd think the

past two years

might have left

travellers feeling

timid and reluctant

to dive back into crowded

dining-rooms and buffet

lineups, but that's not the case,

according to hotel operators

across North America. Most

are reporting that the pandemic

has only intensified enthusiasm

for trends that were already

developing before it struck.

Complex and spicy international

cuisines; local and

authentic ingredients with a

story; and menus that nurture

the planet as well as the palate

are all enticing hotel guests

back into dining-rooms – along

with a longing to socialize

again, and to taste drinks

and dishes that aren't easy

to replicate at home.

LA-based hospitality entrepreneurs

Noble 33 are among

those banking on diners'

hunger for the experiences

they've been missing. In

April it opened Canada's first

Casa Madera, adjacent to 1

Hotel Toronto. Its kitchen

specializes in creative takes on

traditional Mexican cuisine,

crafted with local, house-made

and sustainable ingredients

that accommodate special

dietary requirements (vegan,

gluten-free, keto). The diningroom

is designed for full-on

post-COVID indoor seating,

and some dishes will be dramatically

finished tableside.

LESS COMFORT,

MORE FUN

"While many countries were

locked down, people found

comfort in tasting the world

from home, and, as people are

beginning to travel again, we're

seeing an increased demand for

unique culinary experiences

and trips," says Adam Crocini,

senior vice-president and

global head, Food and Beverage

Brands with Hilton. "Our guests

are interested in immersive

culinary experiences, and

38 | JUNE 2022

hoteliermagazine.com
---
The rooftop bar at the Conrad Washington (left),

La Spesa at Sheraton Laval

EDITORIAL

travellers are booking trips

based on these types

of programs."

A recent Hilton survey

shows that health and

sustainability awareness

are leading travellers

to pay more attention

to ingredients, preparation

and food sourcing, and that

they crave "unique culinary

experiences beyond the

traditional white-tablecloth

dining room," says Crocini.

Drinks from local breweries,

wineries and distilleries;

rooftop gardens; solar ovens,

and rainwater harvesting are

hallmarks of this approach.

"We're seeing a very real

pent-up demand for dining

from guests and local customers,"

says Rob Hood, corporate

Food and Beverage manager

for Atlific Hotels. He says that

buffets, communal breaks and

bar service are all returning to

normal, but with a "demand

for innovative and more

exciting food experiences."

Likewise at Toronto's

Drake Hotel, "people want

to enjoy shared plates and

shared tables," says assistant

general manager Aileen

Hetherington. "People have

really missed the opportunity

to go into a restaurant, and

they're ready to enjoy a

convivial evening."

Therefore, the Drake is

"offering more elevated,

curated, chef-focused menu

offerings" such as steak

tartare, sushi, sous-vide

cooking or baking in salt,

and luxe cocktails such as

the Queen Street Dawa

(Kenyan honey and scented tea)

or Rust and Bone (cedar-infused

bourbon). For guests

who may still be avoiding

indoor spaces, fortuitously,

the hotel's rooftop Sky Yard

offers an enclosed section

and an outdoor walkout, "so

it's kind of the best of both

worlds," Hetherington says.

LUNCH IN THE LOBBY

Outside of the dining-rooms

and bars, there have been

changes. "The products

sold within lobby and

mini-markets have undergone

the most radical and

accelerated innovation

process over the last two

years, with retail products

crossing over into the

hospitality world like never

before," says Hood.

Although it was planned

pre-pandemic, Groupe

Hôtelier Grand Château's

brand-new Comptoir

Gourmand La Spesa in the

Sheraton Laval – part café,

part grab-and-go – is perfectly

poised for the current mood.

Linking the lobby and the

Convention Centre, it

accommodates both hotel

guests and convention coffee

breaks around the clock.

Event organizers can use the

dining space and customize

the available offerings. La

Spesa also carries retail food

products for purchase as gifts

and souvenirs.

HALLWAY HOSPITALITY

Room service is another

area that has been changed

by COVID. "At our brands

Signia by Hilton, Curio

Collection by Hilton,

DoubleTree by Hilton and

Tapestry Collection by

Hilton, we have adjusted

the delivery system for room

service with the goal of

minimizing physical contact

while maintaining efficiency

and ensuring freshness,"

says Crocini.

"Traditional room service

is becoming a more experiential,

multi-choice food

option," says Hood. QR-code

ordering, eco-friendly

packaging and "knock and

drop" service are among

COVID innovations that

will continue be part of the

room-service roster.

"Guests want unique

food-and-beverage service

experiences every time; they

want to record, capture,

remember and create

memories and form that

emotional fragment of time

with those they choose to

share it with," he says. "In

the hotel world, post-pandemic,

our challenge as food

and beverage purveyors is to

provide a guest experience

that enables diners to

get there."◆

hoteliermagazine.com JUNE 2022 | 39
---
DECOR & DEISGN

GOING

PUBLIC

Public spaces are being designed to

capture community spirit

BY DENISE DEVEAU

BRANDON BARRÉ [THE DRAKE HOTEL]

he dramatic changes in the hospitality

industry over the past two years

have added a new perspective on

the design of public spaces. As

guests begin to return to the fold,

designers are inspired to integrate

different facets of socializing in a community

setting, for work, relaxation, or play.

Sheraton Gateway Toronto located in the

heart of Pearson Airport, recently completed a

$30-million transformation project. A veritable

mecca for travellers, the public areas designed

by Toronto-based Moncur Design Associates

showcase the Toronto scene. "This is the first new

Sheraton brand concept to launch in in Canada,

and only one of a small handful globally," says

general manager Douglas Brennan.

The contemporary design reflects a traditional

public-square concept, where communities can

mingle, dine, conduct business, and relax in a

shared space. The grey and taupe colour palette

provides the ideal backdrop for the geometric

accents, soaring ceilings, and multiple seating

areas for mingling.

The restaurant and bar take centre stage,

surrounded by banks of studios, meeting rooms

and soundproof booths. Meeting rooms range

in size from accommodating four up to 20

occupants – all within a few short steps of the

restaurant and the Starbucks coffee corner.

The Club Lounge provides a well-appointed

oasis for its members, complete with cocoonlike

chairs adding to a sense of privacy and

ample technology connection points and task

lighting. Guests can enjoy 24/7 access – an

important bonus for travellers who can't

sleep or need to conduct business in

their own time zone.

Images from local artists

highlighting famous Toronto

landmarks and iconic trademarks

are placed strategically throughout

the area. "Many travellers

who come here may not have

time to visit the city, but they

can at least get a sense of the

Toronto scene," says Brennan.

Hotel Escad Quartier

DIX30 on Boulevard

Leduc in Montreal offers its

own refreshing take on the

local scene. General manager

Jean Philip Dupré describes

the property as "very much a lifestyle

boutique hotel that caters to the local

experience. We partnered with local

artists to expose their work in meeting spaces,

lobbies and on every floor to reinforce the local

creativeness and uniqueness of the experience."

The hotel, designed in collaboration with

Quebec firm Lemay Michaud, features an

ultra-contemporary decor with a simple blackand-white

background palette, as well as wood

and grass cloth accents

40 | JUNE 2022

hoteliermagazine.com
---
(left) Hotel Escad

Quarter DIX30 in

Montreal, the Sheraton

Gateway Hotel at

Pearson International

Airport in Toronto

The lobby at the newly

designed Drake Modern

Wing in Toronto (left),

the bar at the Sheraton

Gateway Hotel

While the square footage is

relatively small, the main floor

presents as a very open space with a

mezzanine. "The mezzanine and the floor

to ceiling windows gives the space a much

bigger feel," says Dupré. "There is so much light,

it makes the space feel amazing." The mezzanine

is also home to three booths that guest can use

for private meetings.

A showstopping wall panel behind the

front desk showing cutaway images of foliage

represents a nod to the fact that the area

was once a field in the country before it

was developed, he explains. The lobby also

features a brightly coloured Mah Jong lounge sofa

beneath the staircase designed by Hans Hopfer.

For The Drake Hotel in Toronto, planning the

new modern-wing lobby was all about presenting

a welcoming community space, says Ana Yuristy,

chief services officer, Drake Hotel Properties.

"The bigger piece of the design discussion was

creating a hub for mixed use where guests would

feel comfortable having coffee, eating a meal,

taking a meeting, joining friends for cocktails, or

checking out one of our shows."

Design partners for the renovation were Torontobased

Diamond Schmitt Architects and DesignAgency.

True to the Drake brand, vintage furnishings

and bright, rich, eclectic colours abound, from

mustard and coral to deep green and rust accents.

"We have always been a colourful brand," says

Joyce Lo, creative director. "When the world was

going through the minimal grey phase, we never

went that way."

Many of the furnishings sourced from antique

markets, help to create an intimate, welcoming

setting, while works from local artists such as

Malik McCoy and Stephanie Temma Hier are a

visual reminder of the city's creative spirit.

Unique touches include the striking Corian

reception desk designed by Toronto-based studio

Odami, a cozy eight-seat lobby bar, and a private

meeting space behind a semi-opaque sliding

panel that can open to expand the entire lobby

area when not in use.

The layout is more of a living room effect with

different seating zones, explains Lo. The anchor

pieces is a large '70s-style vintage sofa with

integrated custom lighting. "The pattern mixes

beautifully with the custom rug we designed,"

says Lo. "It's a lot for your senses and eyes, but

somehow it all works together." ◆

GILLIAN JACKSON [SHERATON GATEWAY HOTEL]

hoteliermagazine.com

JUNE 2022 | 41
---
HOTELIER

A

FAMILY

MAN

Eric Quesnel's approach to

hospitality is all about providing

a sense of family

BY ROSANNA CAIRA

It was the family-style approach to hospitality

during his first hotel job at Montreal's Hotel

Auberge Universel that left a lasting impression

on Eric Quesnel. "I was able to perform different

tasks — from busboy, helping in the kitchen and

serving customers."

The Montreal native attended LaSalle College in

Montreal and University of Quebec in Montreal's

Hotel Management Program. After stints at

Fairmont Hotels & Resorts and Hilton Hotels and

Loews Hotels, Quesnel, recently landed in Niagaraon

the Lake to helm the 124 on Queen Hotel and

Spa in the heart of Niagara-on-the-Lake, Ont.

The married father of three (aged 10, 12 and

14) has been enjoying the past year at the quaint

hotel despite the vagaries of the lingering pandemic. "We've added 39 luxurious guestrooms

and suites to the existing 33. The existing part is located on the second floor of a historical

building that has been well kept. The new guestrooms are spacious with amazing features

to ensure our guests' comfort." The hotel also boasts a brand new 11,000 sq ft. state-of-theart

spa, which features 10 treatment rooms, a mani-pedi area and a hydrotherapy circuit.

"The wellness trend and the addition of our hydrotherapy circuit will be key," says Quesnel,

adding that "weddings, incentive groups and special events will be our main focus for the

upcoming years."

On the F&B side, the hotel houses the eminently popular Treadwell Farm to Table Restaurant;

a new lobby bar and lounge is set to open soon; and a pop-up concept comes to life

whenever there are no weddings or events.

"As part of our team and family, we place high expectations on all the people that contribute.

We know with the right combination we can continue to grow and provide our guests with

exceptional value during their stay." The hotelier is a big believer that you "Never say no

without an alternative and do it with a smile and have fun doing it."

To keep the team motivated and ensure they remain safe, Quesnel promotes a philosophy of

"Stay close to your team and take care of them, keep communication top of mind as always,

even with the people not working at the hotel." He says it's important to ensure that Total

Revenue Management is always top of mind. "It's been a bumpy two years and now we are in

recovery mode with hopefully no more lockdowns and travel restrictions." ◆

QUICK

QUIPS

What keeps you

up at night?

"Thinking about ideas

and improvements."

Advice for aspiring

hoteliers:

Have fun doing what you

do, challenge yourself and

stay positive. Find the best

in every situation — even

the most challenging one."

Biggest success?

"Mentoring and seeing

younger colleagues grow

and be successful."

42 | JUNE 2022

hoteliermagazine.com
---
HOSTED BY ROSANNA CAIRA

Check out the Checking In podcast to

listen to conversations between editor

and publisher Rosanna Caira and hotel

industry leaders speaking about the issues

impacting the dynamic hotel industry.

TIM TERCEIRA

ST. REGIS

EDWIN FRIZZELL

FAIRMONT ROYAL YORK

BORIS MATHIAS

CHAPI CHAPO

TATIANA SHEVELEVA

CHAPI CHAPO

LORIS OGNIBENE

CHAPI CHAPO

DOROTHY DOWLING

BEST WESTERN HOTELS

JAMES LOCKHART

GROUP LOCKHART

BONNIE STROME

PARK HYATT

JAMES HAGUE

BAKER CREEK MOUNTAIN RESORT

PHILLIP HALLER

ROCCO FORTE HOTELS

KEITH HENRY

INDIGENOUS TOURISM

ASSOCIATION OF CANADA

CHRISTOPHER BLOORE

TOURISM INDUSTRY ASSOCIATION

OF ONTARIO

JONATHAN LUND

IHG HOTELS AND RESORTS

DAVID GOLDSTEIN

TRAVEL ALBERTA

Rosanna Caira

CHECKING IN podcast episodes are available at

https://www.hoteliermagazine.com/category/media/podcast/

or find them on

and
---
5Reasons

to visit

hoteliermagazine.com

1

2

News from across

the industry

Exclusive Content

3

Videos and podcasts

4

5

Calendar to

coming events

Polls on important

topics

Visit today.

https://www.hoteliermagazine.com/