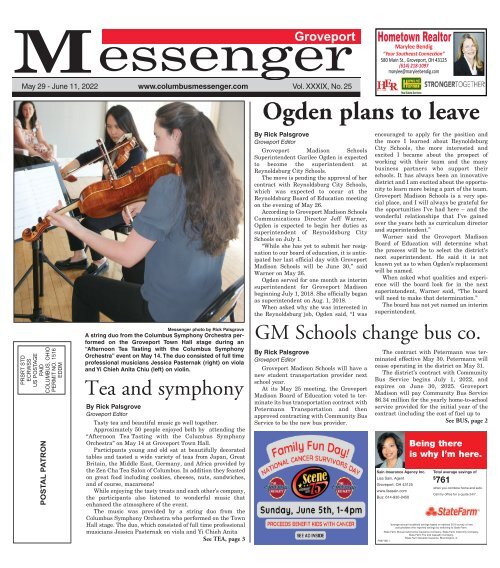 Groveport Messenger - May 29th, 2022
Create successful ePaper yourself
Turn your PDF publications into a flip-book with our unique Google optimized e-Paper software.
Messenger

Groveport

May 29 - June 11, 2022 www.columbusmessenger.com Vol. XXXIX, No. 25

Hometown Realtor

Marylee Bendig

580 Main St., Groveport, OH 43125

(614) 218-1097

marylee@maryleebendig.com

Ogden plans to leave

PRSRT STD

ECRWSS

US POSTAGE

PAID

COLUMBUS, OHIO

PERMIT NO. 1516

EDDM

POSTAL PATRON

Messenger photo by Rick Palsgrove

A string duo from the Columbus Symphony Orchestra performed

on the Groveport Town Hall stage during an

"Afternoon Tea Tasting with the Columbus Symphony

Orchestra" event on May 14. The duo consisted of full time

professional musicians Jessica Pasternak (right) on viola

and Yi Chieh Anita Chiu (left) on violin.

Tea and symphony

By Rick Palsgrove

Groveport Editor

Tasty tea and beautiful music go well together.

Approximately 50 people enjoyed both by attending the

"Afternoon Tea Tasting with the Columbus Symphony

Orchestra" on May 14 at Groveport Town Hall.

Participants young and old sat at beautifully decorated

tables and tasted a wide variety of teas from Japan, Great

Britain, the Middle East, Germany, and Africa provided by

the Zen Cha Tea Salon of Columbus. In addition they feasted

on great food including cookies, cheeses, nuts, sandwiches,

and of course, macaroons!

While enjoying the tasty treats and each other's company,

the participants also listened to wonderful music that

enhanced the atmosphere of the event.

The music was provided by a string duo from the

Columbus Symphony Orchestra who performed on the Town

Hall stage. The duo, which consisted of full time professional

musicians Jessica Pasternak on viola and Yi Chieh Anita

See TEA, page 3

By Rick Palsgrove

Groveport Editor

Groveport Madison Schools

Superintendent Garilee Ogden is expected

to become the superintendent at

Reynoldsburg City Schools.

The move is pending the approval of her

contract with Reynoldsburg City Schools,

which was expected to occur at the

Reynoldsburg Board of Education meeting

on the evening of May 26.

According to Groveport Madison Schools

Communications Director Jeff Warner,

Ogden is expected to begin her duties as

superintendent of Reynoldsburg City

Schools on July 1.

"While she has yet to submit her resignation

to our board of education, it is anticipated

her last official day with Groveport

Madison Schools will be June 30," said

Warner on May 26.

Ogden served for one month as interim

superintendent for Groveport Madison

beginning July 1, 2018. She officially began

as superintendent on Aug. 1, 2018.

When asked why she was interested in

the Reynoldsburg job, Ogden said, "I was

encouraged to apply for the position and

the more I learned about Reynoldsburg

City Schools, the more interested and

excited I became about the prospect of

working with their team and the many

business partners who support their

schools. It has always been an innovative

district and I am excited about the opportunity

to learn more being a part of the team.

Groveport Madison Schools is a very special

place, and I will always be grateful for

the opportunities I've had here — and the

wonderful relationships that I've gained

over the years both as curriculum director

and superintendent."

Warner said the Groveport Madison

Board of Education will determine what

the process will be to select the district's

next superintendent. He said it is not

known yet as to when Ogden's replacement

will be named.

When asked what qualities and experience

will the board look for in the next

superintendent, Warner said, "The board

will need to make that determination."

The board has not yet named an interim

superintendent.

GM Schools change bus co.

By Rick Palsgrove

Groveport Editor

Groveport Madison Schools will have a

new student transportation provider next

school year.

At its May 25 meeting, the Groveport

Madison Board of Education voted to terminate

its bus transportation contract with

Petermann Transportation and then

approved contracting with Community Bus

Service to be the new bus provider.

The contract with Petermann was terminated

effective May 30. Petermann will

cease operating in the district on May 31.

The district's contract with Community

Bus Service begins July 1, 2022, and

expires on June 30, 2025. Groveport

Madison will pay Community Bus Service

$6.34 million for the yearly home-to-school

service provided for the initial year of the

contract (including the cost of fuel up to

See BUS, page 2

Sain Insurance Agency Inc.

Lisa Sain, Agent

Groveport, OH 43125

www.lisasain.com

Bus: 614-830-0450

Being there

is why I'm here.

Total average savings of

$

761

when you combine home and auto.

Call my office for a quote 24/7.

*average annual household savings based on national 2015 survey of new

policyholders who reported savings by switching to State Farm.

State Farm Murual Automotive Insurance Company, State Farm Indemnity Company,

State Farm Fire and Casualty Company,

State Farm General Insurance, Bloomington, IL

P097136.1
---
PAGE 2 - GROVEPORT MESSENGER - May 29, 2022

Guns vs. Hoses softball

The Groveport Recreation Department will host a charity slow

pitch softball game between the Groveport Police, Madison

Township Police, and the Madison Township Fire Department.

The Groveport Guns and Hoses Softball Game will be held on

Field 5 at the Groveport Park, 7370 Groveport Road on June 4 at

3 p.m. Admission is free and the police officers and firefighters are

asking everyone to bring a non-perishable food item that will go

to the Groveport Food Pantry. The police officers and firefighters

hope this will be a fun event for the community that can become

an annual occurrence.

Groveport Police statistics

April crime statistics, according to the Groveport

Police: 14 arrests, 15 accidents, 4 assaults, 1 burglary,

3 domestic disputes, 1 domestic violence, 1 OVI and

alcohol, 14 thefts/robberies, 3 stolen/unauthorized use,

1 missing persons, 2 weapon related calls, 5 narcotic

related offense, 28 parking, 5 threats, 1 vandalism, 2

juvenile complaints, 46 traffic citations, 2 sex related

crimes, 8 Groveport Madison School District criminal

reports, 3 Groveport Madison School District noncriminal

reports, 0 suicide attempts.

Income tax revenue

The city of Groveport's income tax revenue year-todate

as of April 30 was $6.8 million, which is 18 percent

higher than the same time in 2021, according to

BUS

Continued from page 1

predetermined thresholds). Additional expenses will

also be incurred to handle field trips and activities and

other trips outside the normal daily bussing services

and providing attendants (bus aides) for special education

routes).

"The company will immediately begin its recruiting

efforts," said Groveport Madison Communications

Director Jeff Warner. "Drivers' starting pay will be $27

per hour. Health insurance, including major medical,

dental, and vision plans will be available, as will a

retirement program and company-paid life insurance."

When asked about the status of the current bus

drivers, Warner said, "Petermann Transportation

employs all current bus drivers and aides, not

Groveport Madison Schools. Community Bus Service

will immediately begin recruiting bus drivers and

aides. Many of the bus drivers from Petermann may

wish to remain as drivers on Groveport Madison

routes. CBS strongly encourages any such people to

apply for open positions with their company."

Bus drivers question action

The change of bus transportation providers at

Groveport Madison Schools raised concerns among the

bus drivers and monitors.

Several bus drivers and monitors spoke at the

Groveport Madison Board of Education's May 11 meeting

about the district's plans to change bus companies.

They said they feel like they are "in limbo" and are

experiencing stress and anxiety because of the

unknowns related to the bus company change. Among

the concerns they mentioned are the status of their:

wages, job security, life insurance, personal time off,

health insurance, paid holidays, snow days, union representation,

seniority, safety, lack of communication

between district officials and bus drivers, what would

the proposed new bus company offer them, and if the

drivers will be hired by the proposed new transportation

provider.

Shirley Whightsel, a 41-year bus driver, said, "We

are all members of Teamsters Local 284 and we negotiated

a contract with Petermann Transportation. We

hope Community Bus Service will recognize our local

to ensure a continuous working relationship. The drivers

and monitors care about our jobs. We care about

our kids. We haul precious cargo every day."

Frances Braswell, a monitor, expressed concern

about the lack of communication from district officials

about the proposed bus service change.

"It was told to us you would come talk to us. That

we are part of the team. Well, we certainly don't feel

like part of the team," said Braswell.

Regarding the proposed bus service change from

Petermann Transportation to Community Bus

Service, Braswell added, "Better the devil you know

www.columbusmessenger.com

Groveport Finance Director Jason Carr. Carr noted

the general fund balance was $5.3 million as of April

30 or $2 million higher than the same time last year.

Income tax revenues year-to-date comprise 52 percent

of all city revenues, the largest part of all the city's revenues.

Baker Creative honored

Baker Creative, 386 Main St., Groveport, was

selected by the Academy of Interactive & Visual Arts

to receive a Communicator Award of Distinction in the

28th Annual Communicator Awards for exceeding

industry standards in quality and achievement.

The firm earned the honor in the digital websites

for health care services category for its website developed

for the launch of the Fibromyalgia Wellness

Center.

than the devil you don't know."

District's response

Warner said the board and the district administration

believe providing reliable, on-time student transportation

service and real-time communications with

the school district and building-level leadership as

non-negotiable performance measures that must be

met.

"Once full-time classes resumed this school year,

the district experienced repeated significant problems

with student transportation, including unexpected

route cancellations, missed or excessively late student

pick-ups/drop-offs, unacceptable follow-up regarding

parent and administrator concerns, and poor communication

concerning bus accidents and other operational

issues," said Warner. "Throughout the school

year, the district diligently worked to assist

Petermann in fulfilling its obligations. As time went

on, it became more evident that Petermann was struggling

with issues beyond just staffing its bus routes.

There were organizational inefficiencies in how routes

had been planned and insufficient office staff to

respond to parent and district concerns."

Warner said, to assist temporarily, the district

brought in two former school district operations directors

to assess the operation and offer recommendations

for improvement. He said most of the recommendations

were never implemented by Petermann.

"With cancellations and delays continuing into

December, it was agreed the district would take the

unprecedented step of moving our preschool students

and 6-12 students to a remote online learning model

for the week before winter break," said Warner. "This

was done to give Petermann more time to combine and

reassign bus routes, complete the training and

onboarding of new drivers, and address other operational

needs. Even given this additional time, the district

continued to experience widespread bus route

cancellations and delays getting students to and from

school each day."

He said, with no real solutions coming from

Petermann Transportation, "the district determined it

was necessary to pursue legal remedies and request

transportation services proposals from other

providers."

In a response in early May, Edward Flavin, vice

president of external communications for Petermann,

stated, "We have had the opportunity to serve

Groveport Madison Schools for over a decade and

value our partnership in serving that community. It is

our policy not to comment further at this time, other

than to say that we look forward to continuing to serve

the students of the Groveport Madison community."
---
www.columbusmessenger.com

May 29, 2022 - GROVEPORT MESSENGER - PAGE 3

Groveport plans to restrict personal fireworks use

Action is in response to the

state's new fireworks law

By Rick Palsgrove

Groveport Editor

Get ready for a bigger bang in the neighborhoods

this Fourth of July.

According to Groveport Police Chief

Casey Adams, a new Ohio, law that goes

into effect July 1, allows individuals to possess

consumer grade fireworks in Ohio,

eliminating a requirement that purchasers

transport consumer grade fireworks out of

the state within 48 hours of purchase.

It also allows any person authorized to

possess consumer grade fireworks to discharge

them on their own property or on

another person's property with permission

on the following days: New Year's Day;

Chinese New Year; Cinco de Mayo;

Memorial Day weekend; Juneteenth; July

3, 4, and 5 and the Fridays, Saturdays, and

Sundays preceding and following; Labor

Day weekend; Diwali; and New Year's Eve.

According to a statement from Governor

Mike DeWine, "The bill I signed limits the

discharge of fireworks to the more traditional

holidays that Ohioans celebrate,

while recognizing our numerous culturally

diverse holidays."

However, the law does permit local governments

to restrict the dates and times

when individuals may discharge consumer

grade fireworks or to impose a complete

ban on the use of consumer grade fireworks.

At the May 23 Groveport City Council

meeting, Groveport Mayor Lance

Westcamp recommended to council that

the city restrict the personal use of consumer

grade fireworks to only on the

Fourth of July.

TEA

Continued from page 1

Chiu on violin, played a mixture of pop

tunes (including lilting version of the

Beatles' "Across the Universe") and classical

music.

"Anything they play sounds beautiful,"

said Savannah Gonsoulin, community

engagement and operations manager for

the Columbus Symphony Orchestra, of the

musicians.

Gonsoulin added that Groveport Town

Hall, which was built in 1876, is a fine

venue for acoustic string music.

"This ballroom is very acoustic friendly,"

said Gonsoulin. "It was built for this."

Gonsoulin said the Columbus

Symphony Orchestra likes to bring small

ensembles out to communities to share the

joy of music.

"We like to share music with people who

may not have the access, the finances, or

who live too far away to attend Columbus

Symphony Orchestra performances," said

Gonsoulin. "It's part of our larger outreach

efforts."

Council will discuss legislation to take

this step at its June 13 meeting and June

20 committee meeting and then possibly

take emergency action on it on June 27.

More about the fireworks law

The law also:

•requires licensed retailers, manufacturers,

and wholesalers selling consumer

grade fireworks to offer safety glasses for

free or for a nominal fee and to provide purchasers

with a safety pamphlet;

•prohibits discharging fireworks while

in possession of or under the influence of

alcohol or a controlled substance or on

someone's property without permission;

•allows the State Fire Marshal to suspend

a fireworks manufacturer or wholesaler

if they have violated the fireworks

law or State Fire Marshal rules; prohibits

the State Fire Marshal from unreasonably

withholding a variance to allow hobbyists

to manufacture, possess, and use individual

display grade and consumer grade fireworks

and requires cause for revocation of

a hobbyist variance; and

•requires hobbyists seeking variances

to demonstrate they can engage in the

hobby safely and legally and limits hobbyists

to possession of five pounds of raw

materials and finished fireworks produced

through the hobby.

Reaction from Groveport Police

Adams said individuals must be responsible

when using personal consumer grade

fireworks.

"Fireworks are not toys and there is

always potential for someone being

injured," said Adams. "There's also the

danger that neighbors' properties in close

proximity could be damaged by fireworks

or for fires if the grass is dry."

Adams said the new law changes police

enforcement.

"It's now a different type of enforcement

To hear more music from the Columbus

Symphony Orchestra, Gonsoulin encourages

people to attend the orchestra's

upcoming events such as the Nationwide

Picnic With the Pops in Columbus from

June 18 to July 31; the Nationwide

Popcorn Pops on June 24 and July 22; the

Summer Concert Series; and more. For

information on upcoming Columbus

Symphony Orchestra performances visit

columbussymphony.com.

Though it is the 21st century - as the tea

was poured, the cookies munched, and the

music played - the "Afternoon Tea Tasting

with the Columbus Symphony Orchestra"

was also reminiscent of similar events that

were held at Town Hall in the 19th and

early 20th centuries. The event was a nice

link between the past and the present.

Most of all, it was a good time, as

expressed by a participant who was overheard

stating, "What a nice way to spend a

Saturday afternoon!"

"Fireworks are not toys and there is

always potential for someone being

injured."

- Casey Adams

Groveport Police Chief

from banning and confiscating as was done

in the past," said Adams. "Now the enforcement

concentration will be on scrutinizing

individuals to make sure they are using the

fireworks responsibly."

He said people must ensure everyone in

and around a launch is safe and the fireworks

are launched away from others and

structures that could sustain injury or

damage when the fireworks explode and

fall to the ground. He said the negligent

use of fireworks without proper precautions

could lead to criminal charges being

filed against those responsible for the fireworks.

"I do not want to see anyone injured due

to irresponsible use or have any property

damage loss," said Adams. "Those individuals

must take into account their neighbors,

surrounding environment, and time

of day before lighting the fuse. Yes, fireworks

are fun to watch when handled properly,

but they can also become a weapon of

pain and destruction if handled improperly.

Know that if you conduct yourself irresponsibly,

then your actions could lead to

civil and criminal sanctions."

Greatness just

got even closer.

Stylist

opportunities at talent.rlo

inc.net

GROVEPORT • Grovepor

rt Plaza

6021 Groveport Rd • (Near Kroger)

614-350-8280

Open 7 days/week

$7 99

ANY HAIRCUT

OFFER EXPIRES: 7/14/22

Fireworks and pets

Adams added pet owners must prepare

to protect their pets from fireworks noise.

"Fireworks have other effects on our

society," said Adams. "Pets become frightened

from the loud bangs from the fireworks

exploding, which causes pets to run

away from home to avoid the loud noises."

Adams has already received a citizen

complaint about the new fireworks law.

"The citizen said how fireworks took an

emotional toll on his family and created a

large financial expenditure from the vet

clinic that he was not planning on," said

Adams. "He asked that individuals who

want to launch fireworks to celebrate the

holidays communicate with their neighbors

if you plan to use fireworks close to homes

with pets."

AUTO HOME

Beplerinsurance.com

614.837.4379

staff@beplerinsurance.com

3246 Noe Bixby Rd., Columbus, Ohio 43232

Not valid with any other offers. Limit one coupon

per customer. No copies. Taxes may apply.

Valid at Groveport Plaza. Masks may be required.

All Great Clips® salons are independently owned and operated by third party franchisees. Franchisees, not Great Clips, Inc. are responsible for all hiring and personnel matters at their individual salons.
---
PAGE 4 - GROVEPORT MESSENGER - May 29, 2022

columbusmessenger.com

Letters policy

The Groveport Messenger welcomes

letters to the editor. Letters cannot be

libelous. Letters that do not have a signature,

address, and telephone number, or

are signed with a pseudonym, will be

rejected.

The Messenger reserves the right to

edit or refuse publication of any letter for

any reason. Opinions expressed in the letters

are not necessarily the views of the

Messenger.

Mail letters to: Groveport Messenger,

3500 Sullivant Avenue, Columbus, OH

43204; or by email to southeast@columbusmessenger.com.

southeast

Messenger

(Distribution: 8,000)

Rick Palsgrove ...................................Groveport Editor

southeast@columbusmessenger.com

Published every other Sunday by

The Columbus Messenger Co.

3500 Sullivant Ave., Columbus, Ohio 43204-1887

(614) 272-5422

The Columbus Messenger Co. reserves the right to edit, reject or cancel

any advertisement or editorial copy at any time. The company is not

responsible for checking accuracy of items submitted for publication.

Errors in advertising copy must be called to the attention of the company

after first insertion and prior to a second insertion of the same advertising

copy.

Keep tabs on the latest news in

Groveport & Madison Township

Look for Groveport Messenger on

Become a fan!

BIRTHDAY • ENGAGEMENT • WEDDING • ANNIVERSARY

• GRADUATION • RETIREMENT

IN MEMORIUM • ARMED FORCES

Say it with an announcement ad in

the Messenger and spread the word.

You can download the appropriate form from

our Web site or stop by our office

Monday-Thursday, 8:30 a.m.-5 p.m.

Friday, 8:30 a.m.-2 p.m.

Columbus Messenger

3500 Sullivant Ave.

614-272-5422

www.columbusmessenger.com

www.columbusmessenger.com

Theaters have thrived in Groveport

The performing arts have long had several homes in Groveport.

In the 19th century, one way a frontier town could show the

world it was "civilized" was through the construction of public

buildings and theaters.

Groveport and Madison Township achieved this in 1876 with

the construction of Groveport Town Hall, which includes a fine

auditorium stage on its

second floor. It was the

Editor's Notebook first of what would be several

performance

stages/auditoriums that

were built in town over the next 140 years.

These include auditoriums in Groveport

School (1923), Groveport Madison High

School (now Middle School Central) (1952),

and the current new high school (2018).

(Gone, but not forgotten, is the old Groveport Madison High

Rick

Palsgrove

School auditorium built in 1975 that was demolished in 2018

when that school was torn down to make way for the new high

school.)

Groveport first embraced the arts and culture in the 19th century

and continues to do so in the 21st century.

Groveport Town Hall

The stage and auditorium in Groveport Town Hall is small, but

the performance space and audience area makes for an intimate

setting. You can see and hear everything that takes place on

stage, right down to a guitarist's fingers racing up and down the

fretboard or the smallest twitchy expression on an actor's face.

The many windows bathe the room in natural light. At night it

glows with a sense of history.

Over its 146 year life, this versatile auditorium has hosted

plays, concerts (ranging from symphonies to folk to rock to country

to choral), lectures, debates, art exhibits, parties, Santa Claus

visits, weddings, and much more including Groveport Madison

High School basketball games in the early 20th century.

This auditorium was home to a theatre troupe of community

members called the Town Hall Players, which performed there

from 1982-85 and from 1986-92.

Groveport resident Brenda Watts was a member of the Town Hall

Players and she said performing in the 19th century era Town Hall

auditorium presented some challenges.

"Well, the pole in the middle of the floor was a problem," said

Watts. "We had to arrange audience seats so the pole wouldn't block

sight lines. But we also used the pole. When we did 'You're a Good

Man Charlie Brown,' we built Snoopy's house around the pole and

made it a theatre-in-the-round for that performance."

Watts said for the performance of "Once Upon a Mattress" the

group turned the pole into a tree with tissue paper leaves. She said

the group also adapted to their surroundings by temporarily expanding

the stage by extending its apron at the front and sides. The stage

steps and the space in front of the stage were incorporated into some

shows.

The Groveport Town Hall auditorium is still a lively place.

Groveport School

When built in 1923, Groveport School (now Groveport

Elementary) was unique for schools of that era because it had a

separate gym and auditorium. Often in those days schools combined

their gyms and auditoriums and built their basketball court

right on the stage of their auditorium. The architects who

designed Groveport School took a modern approach in separated

them to give each its chance to shine.

The result was a classic auditorium complete with a wrap

around balcony, a splendid stage, and rows of wooden audience

seats with nice sight lines to the stage.

The Groveport School auditorium has an intimate feel with

fine acoustics. It is a classy place and I can remember the elegant,

velvety stage curtain emblazoned with a "G" that once hung

above the stage. A nod to history is that the framed class composite

photos of every graduating class from this school are hung on

the walls.

See THEATERS, page 5

Photos courtesy of the Groveport Heritage Museum

This is a view from 1996 of the Groveport Town Hall auditorium,

648 Main St., prior to it being repainted and having its floor

restored.

Groveport School auditorium after its restoration in 2002.

The old Groveport Madison High School (now Middle School

Central) stage as it looked in 1968.
---
www.columbusmessenger.com

THEATERS

Continued from page 4

Groveport city council

Groveport City Council holds its regular

meetings at 6:30 p.m. on the second and

fourth Mondays of the month. Council

holds its committee of the whole meeting

on the third Monday each month at 5:30

p.m. Meetings are held in the municipal

building, 655 Blacklick St., Groveport.

May 29, 2022 - GROVEPORT MESSENGER - PAGE 5

School board meetings

The Groveport Madison Board of

Education meets the second and fourth

Wednesday of the month at 7 p.m. at the

District Service Center, 4400 Marketing

Place, Suite B, Groveport.

The board may also schedule special

meetings, as needed.

Photo courtesy of Brenda Watts

In a photo from 2018, Addie Peelle sits alone on the stage in the former high school's

(now demolished) auditorium. The auditorium was demolished in 2018 along with the

rest of the old South Hamilton Road high school to make way for the new high school.

It has hosted concerts, plays, Christmas

events, animal exhibitions (as a kid that's

where I first learned what a coatimundi

is!), farmers' lyceums, and more. The

Groveport School auditorium is a fine

space for live performances and held in

such high regard that Groveport Madison

High School theatre department plays

were held there periodically until 1975

even though the school was no longer a

high school. I recall watching a stellar high

school performance of "Bye Bye Birdie"

there in 1974.

The auditorium also once functioned as

a movie theater as there is a projection

room in the rear balcony.

The Groveport School auditorium was

refurbished in 2002 and it is still in use by

the school.

Old high school/MS Central

As the Groveport Madison school district

grew in the post World War II years,

it was determined a new high school was

needed to serve the booming student population.

A new high school was built in three

phases during the 1950s beside Groveport

School.

The first phase was the construction of

a combined gym and auditorium. The gym

was the largest high school gym in

Franklin County when it was built and

included a massive theater stage at its

southern end. An interesting feature of the

stage is that beneath its floorboards is a

compartment that stored metal folding

chairs on racks that could be pulled out

and set up on the basketball floor to serve

as the audience seating area for the stage.

The current state-of-the-art

Groveport Madison High

School auditorium, located

at 4475 S. Hamilton Road. It

is home to the Cruiser

Theatre Company. For information

about the Cruiser

Theatre Company and their

upcoming performances,

visit their Facebook page.

While impressive in size, this stage suffers

from poor acoustics because of the cavernous,

echoing nature of the gym.

However, this large stage has had its

share of exciting performances including

music concerts (I remember my sister performing

there in Groveport Madison

Cruiser band concerts), some stage plays,

award presentations (my kindergarten

graduation ceremony was held there!), and

as seating for basketball games.

The stage is still in use at Middle School

Central and its rear wall is adorned with a

painting of John S. Rarey and Cruiser that

once hung in the now demolished South

Hamilton Road high school.

New high school

The current Groveport Madison High

School auditorium was built in 2018. It is a

state of the art facility, with wonderful

sight lines and fine acoustics. It is large,

but still has an intimate feel for the audience

and performers. It also embraces all of

the modern technological advancements

that enhance performances.

The 600 seat auditorium has an orchestra

pit with wheelchair lift; acoustic panels

and baffles to enhance sound performance;

sound, lighting, and projection control center;

scene shop, dressing rooms, and drama

classroom; and a catwalk to access theatrical

lighting and rigging.

It is a performance venue with a long,

rich life ahead of it and it joins the list of

fine auditoriums that have thrived in

Groveport for 146 years.

Rick Palsgrove is editor of the Groveport

Messenger.

Hometown Realtor - Marylee Bendig

580 Main St., Groveport, OH 43125

(614) 218-1097

marylee@maryleebendig.com

Same Location, Same Great Service!

Proud to serve Groveport and all of Franklin County

Thank you for your continued support and business.

Marylee, Diane, Dennis and Heather!
---
PAGE 6 - GROVEPORT MESSENGER - May 29, 2022

www.columbusmessenger.com

PAID ADVERTISING

The American Pie Party

hosts Family Fun Day

The American Pie Party is excited to announce

their first ever FAMILY FUN DAY celebrating

National Cancer Survivors Day sponsored by

Scene75 Columbus! Ticket price is $25 per person.

Each ticket includes entry into the party

where you will receive pizza, soft drinks, cake, a

$20 game card and more!

This is a family-friendly event with music,

fun, food, and laughter. Tickets can be purchased

at Eventbrite: https://www.eventbrite.com/e/family-fun-day-at-scene75-

columbus-fornationalcancersurvivors-day-tickets-326734791557

or on

our event page at https://www.theamericanpieparty.org/

About The American Pie Party: The American

Pie Party is a 501C3 non-profit organization,

located in Central Ohio, that supports families

with children in active cancer treatment. They

provide financial support for expenses not covered

by insurance, such as, wheelchair ramps,

home modifications, home set-up needs, car seats,

car modifications, strollers, wigs, hearing aids,

shoes, glasses, braces, and back bags for feeding

pumps. The American Pie Party uses pie-in-theface

humor to raise money for families battling

childhood cancer. For further information please

visit our website at

www.theamericanpieparty.org.

Lithopolis Honeyfest

The Lithopolis Honeyfest will be held

Sept. 9 from 3-7 p.m. and Sept. 10 from 10

a.m. to 7 p.m. in downtown Lithopolis. Free

admission, parking, and shuttle service.

For information call 614-769-3824 or visit

lithopolishoneyfest.com.

Metro Parks wildlife advice

Spring is here and its the season for

calls about orphaned and abandoned animals.

Metro Parks is unable to rehabilitate

wildlife, but there are some steps you can

take.According to Metro Parks officials, if

PAID ADVERTISING

Groveport to celebrate its

175th anniversary

Mark your calendars and join us for

Groveport's 175th Anniversary Celebration on

Saturday, June 11 from 10 a.m. to 1 p.m.!

Stop at all six locations (in no particular order)

on the self-guided tour, collect all six postcards,

you find an animal in a park that is

orphaned, abandoned, or injured, leave it

alone and call the ranger cell number, posted

on bulletin boards and around the park.

Sometimes, babies are left alone while

mom is looking for food, and will return to

the nest, other times they will require care

or monitoring. Do not take them out of the

park.

If you find an animal in your yard, leave

it be.

Call the Ohio Wildlife Center 614-793-

9453 and leave a message, or visit their

website at ohiowildlifecenter.org for information

on how to help.

and receive a FREE 175th Anniversary t-shirt!

Starting at 1 p.m. join us for a reception with past

and present Council Members and City

Administrators at Groveport Town Hall, 2nd floor

ballroom, 648 Main St., 43125.
---
www.columbusmessenger.com

May 29, 2022 - GROVEPORT MESSENGER - PAGE 7

Enjoy

summer!

ing and household items, and TDR LLC who

accepts used electronics. This is truly a community

service day.

Community Shred Day has grown each year,

starting out with about 300 vehicles dropping off

recyclable paper and other reusable items in the

first year to over 900 vehicles in 2021. Since the

beginning of Community Shred Day, Dwayne R.

Spence Funeral Home has been fortunate to have

the continued service of Boy Scouts Troop 256.

The Scouts and their leaders show up in force to

help unload the boxes of paper and documents

from vehicles and place them in the shredding

containers. This makes it very convenient so participants

do not need to get out of their vehicle or

PAID ADVERTISING

Shred Day

lift heavy boxes. The Scouts are able to use their

service on Community Shred Day towards earning

the "Pulp and Paper" merit badge.

Dwayne R. Spence Funeral Home is pleased

that the citizens of Pickerington choose them and

their shred company, Royal Document

Destruction, to eliminate old and outdated paperwork.

Royal Document Destruction was chosen to

shred documents because of their reputation and

their security measures in dealing with vulnerable

documentation.

Dwayne R. Spence Funeral Home invites the

community to their 13th Annual Community

Shred Day event at the Pickerington location on

Saturday June 11, from 9 a.m. - 1 p.m.

Concert in the Park

The city of Groveport's Concert in the

Park summer music series will be held the

last Saturday of the month in June, July,

and August in Heritage Park, 551 Wirt

Road. Bring a picnic dinner, a blanket or

lawn chair, and invite your friends and

family to this free concert series. Food

Trucks will be available to purchase food

and non-alcoholic beverages from 5:30-8

p.m. Bands play from 6-8 p.m. Scheduled

bands are: June 25 - Mama Drama; July 30

- Rob Adam; and Aug. 27 - Willie Nelson

Mandela. For information call 614-836-

3333.

Groveport Garden Club

The Groveport Garden Club meets the

first Tuesday each month (unless otherwise

announced) at Groveport Zion

PAID ADVERTISING

Fun at First Thursday

Mark your calendars for Thursday, June 2,

from 4:30-7:30 p.m.! We're less than a month

away from FIRST THURSDAY!

FIRST THURSDAY is a free summer festival

series featuring live music, 40+ vendors, food

Lutheran Church, 6014 Groveport Road.

Call Marylee Bendig at (614) 218-1097.

First ursday

The city of Groveport's First Thursday

summer festival series will be held the first

Thursday of the month in June, July, and

August from 4:30-7:30 p.m. in Cruiser

Park, 4677 Bixby Road. The event features

food trucks, more than 40 vendors, a petting

zoo, kids' craft tent and bounce house,

a dog show in August, and live music. The

music schedule is: June 2 - Lee Gantt; July

7 - Jack Middleton; and Aug. 4 - The

Morning Lumber Co. There will be giveaways

to the first 200 attendees each date.

Giveaways are: June 2 - Groveport tote

bag; July 7 - hand sanitizer; and Aug. 4 -

travel bowl. For information call 614-836-

3333.

trucks, kids craft tent, bounce house, giant slide,

petting zoo, and a face painter!

Come join the FUN at Cruiser Park located at

4677 Bixby Road in Groveport! The first 200

attendees receive a Groveport summer tote bag!
---
PAGE 8 - GROVEPORT MESSENGER - May 29, 2022

We are the BEST community newspaper! Need advertising?

Call 614-272-5422 today.

www.columbusmessenger.com

PAID ADVERTISING

Mike Albert ready to

perform at Villa Milano

Mike Albert is looking forward to getting back

to what he loves - entertaining audiences and putting

smiles on their faces and joy in their hearts.

"The King's" music lives on in the heart and

soul of admirers such as Elvis entertainer Mike

Albert, who will perform at this year's Summer

Blast 2022.

Now you can see one of the best "Elvis" shows

in the country as Albert, with his "The Ultimate

Tribute" show and the Big "E" Band, brings the

memory of the king of rock and roll back to gyrating

life for the 22nd year on the stage of the Villa

Milano June 11 during Summer Blast 2022.

Doors open at 5:30 p.m., dinner is served at

6:30 p.m. and the show kicks off at 7:30 p.m. with

Albert and his band.

Mike Albert is the complete package with his

wardrobe, charisma, and voice. Along with the

six piece Big E Band, it makes for a Las Vegas

style performance. First timers at Mike Albert's

show are absolutely amazed.

Albert covers Presley's career from the rockabilly

'50's to the Vegas '70's, including love songs

and gospel numbers, and has performed concerts

in Europe, Australia, New Zealand and throughout

America.

Tickets for the dinner and show are $58. Call

792-3135 for information or to order tickets. Villa

Milano is located at 1630 Schrock Road in

Columbus and there is ample parking.

Cruisers set record

Photo courtesy of Groveport Madison Schools

The Groveport Madison High School varsity men's track 4x100 meter relay team

set a new school record with a time of 42.64 seconds at the recent district track

meet. They also qualified to compete at the regionals. The 4x100 meter relay team

members are Raishad King, Thomas Andrews, Sean Callahan, and Mike Robinson.

SUMMER

~ BLAST ~

Saturday, June 11, 2022

Mike Albert

and the

Big E Band

Dinner/Show

$

58.00

CONGRATULATIONS

CLASS OF 2022

Villa Milano - 1630 Schrock Rd.

Doors Open 5:30 Dinner 6:30 Show 7:30

Tickets by phone 614-792-3135

Visa Mastercard Discover
---
www.columbusmessenger.com

May 29, 2022 - GROVEPORT MESSENGER - PAGE 9

GROVEPORT MADISON

HIGH SCHOOL

MADISON CHRISTIAN

HIGH SCHOOL

Congratulations & Best Wishes to the

Class of 2022

HARVEST PREP

HIGH SCHOOL

Congrats to all of this year's hardworking graduates!

Your commitment and dedication have paid off, and today we celebrate your academic achievement. We know you'll continue to

work hard and accomplish great things, and we hope the future holds success, happiness, good health and good fortune for you. As

you continue this milestone achievement, please be smart and enjoy the party without drugs or alcohol.

We care about your safety!

The Elected Officials and

Employees of Madison Township

Wish You The Best

CLASS OF 2022

Congratulations Class of 2022

5075 S. Hamilton Rd., Groveport, OH 43125

614-836-1500

I love

this town.

Sain Insurance Agency Inc

Lisa Sain, Agent

Groveport, OH 43125

Bus: 614-830-0450

www.lisasain.com

Best Wishes to the

Class of 2022

From a former Groveport Alumni

DEBBIE CLONCH

614-324-4314 or

Debbie.Clonch@CBRealty.com

Moving forward for 116 years.

Congratulations

Class of 2022!

230 Main St., Groveport

Congratulations

Thanks, Groveport-Madison.

I love Groveport being here to help Madison life go right

in a community where people are

Class

making of

a difference 2022!

every

2021!

day.

Thank you for all you do.

Best wishes!!

1601480 State State Farm, Farm, Bloomington, Bloomington, IL IL

TM

"CONGRATULATIONS

CLASS OF 2022"

Much success in all your future

endeavors! Go Cruisers!

Make us proud!!

Marylee Bendig

580 Main St. Groveport, OH 43125

(614) 218-1097

A name you KNOW,

the name you TRUST

Hats off to you,

GRADS!

telhio.org

From the Mayor,City Council

and Staff to the Students of

Groveport Madison

Congratulations

Class of 2022

Congratulations & Best Wishes

to the Class of 2022

Messenger

Groveport
---
PAGE 10 - GROVEPORT MESSENGER - May 29, 2022

www.columbusmessenger.com

"Bee"-utiful art

Messenger photo by Linda Dillman

Sage Taft's bees are ones made to cuddle. The Groveport resident crafts creatures

out of yarn and offered her handiwork outside the doors of Cornersmiths during

the Art on the Canal Art Stroll in Canal Winchester, sponsored by Destination:

Canal Winchester, on May 21.

THURSDAY,

JUNE 16TH @ 12:05 PM

CLIPPERS VS. ST. PAUL SAINTS

Tickets are $6 RESERVED and $5 BLEACHER SEATING

LUNCH PROVIDED FOR FANS 60 AND OVER WITH TICKET PURCHASE

Make checks/money orders payable to Columbus Clippers and mail to:

Columbus Clippers Aenon: Spencer Harrison

330 Hunngton Park Lane, Columbus, OH 43215

For cket quesons, call (614) 462­5250

Ticket orders must be received by the Clippers before June 9th, 2022

www.clippersbaseball.com
---
www.columbusmessenger.com

Mock rifle taken to high

school leads to an arrest

By Rick Palsgrove

Groveport Editor

Groveport Police responded on May 22

after social media reports of a suspicious

gun at Groveport Madison High School

"I received a message from a Groveport

Madison High School vice principal containing

a social media screenshot of a

known male student holding a firearm in

one of the school's restrooms," said

Groveport Police Lt. Josh Short.

He said the photo had been sent to

another staff member, from a student, who

then sent it to the principal. Groveport

Police Detective Josh Gilbert obtained the

social media account information and was

able to determine that it was associated

with the same student in the picture.

"Officers then met with the student and

his mother and impounded the gun, which

is an Orbeez brand toy gun that fires hard

gel water pellets," said Short. "The student

did admit to taking the picture with the

gun in the school sometime in April."

Short said the student will be charged

with illegal conveyance of an object indistinguishable

from a firearm into a school

safety zone, which is a first degree misdemeanor.

"Prompt action by the Groveport

Madison High School staff and their great

communication and teamwork with the

Groveport Police allowed us to get this

issue figured out and resolved within

hours," said Short. "Too many people,

including students, think that they can

stay anonymous on social media. Any time

Photo courtesy of the Groveport Police

The Orbeez brand toy gun that fires hard

gel water pellets that Groveport Police

impounded after a student brought it to

Groveport Madison High School.

there is a legitimate threat or safety concern

on a post, the social media companies

will work with law enforcement to obtain

user information and help us discover who

posted the content."

Short said this is not the first incident

Groveport Police have had with an Orbeez

or other toy guns at schools this year.

"The Orbeez fad is very hot right now

and a lot of students feel the urge to bring

them to school to play against other students

or as pranks," said Short. "We cannot

stress enough how foolish it is for a student

to bring any type of firearm onto school

property. This toy gun is nearly indistinguishable

from a real weapon. Any incident

involving a student with a firearm on

school property, toy or real, is most likely

going to end negatively."

Police calls increasing

Groveport Police Sgt. Josh Guiler

reported that, as warm weather has

arrived, calls for police in Groveport have

increased at night.

"Thefts seem to be the biggest issue,"

said Guiler. "We are increasing patrols in

neighborhoods and businesses not only in

cruisers but also on foot."

Guiler noted one incident about a burglary

in progress that occurred April 28

when officers found an open garage door at

a residence on Kessler Street.

"After the garage was searched we

patrolled the city looking for a truck that

was observed leaving the scene prior to

officers' arrival."

May 29, 2022 - GROVEPORT MESSENGER - PAGE 11

He said Officer Kyle Smith found a

truck in a church parking lot that

appeared to have stolen items in it along

with "lots of drug paraphernalia." No suspects

were found with the truck but a

potential suspect was detained in a parking

lot of a nearby fast food restaurant.

"Officers did a great job of being aware

and locating both the truck and the possible

suspect," said Guiler.

The case remains under investigation.

Southeast Library

The Southeast Branch of the Columbus

Metropolitan Library is located at 3980 S.

Hamilton Road, Groveport. For information

visit www.columbuslibrary.org or call

614-645-2275.

Website:Expert-hvac.com

Phone:614-946-8461

Experthvacllc@gmail.com

FREE ESTIMATES

on system installs

$100 Preventative Maintenance (tune up)

Expert service - affordable prices - Locally owned from Groveport

Mention this ad and get $20 off a $110 service call.

Photo courtesy of the Groveport Heritage

Museum

Three soldiers

On this Memorial Day weekend here

is a look at three soldiers who

posed for a photo at the corner of

Main Street and Crooked Alley in

downtown Groveport in the early

20th century. They are believed to

be, from left to right, Forest "Finn"

Jordan, Merle Howison, and Alva

"Boots" Carr. The Memorial Day

ceremony in Groveport will be held

May 30 with the traditional parade

at 1:30 p.m. and a ceremony directly

after parade in the Groveport

Cemetery, located on Wirt Road in

Groveport near Heritage Park. The

parade begins at Groveport Town

Hall, 648 Main St., and proceed

west down Main Street to College

Street, then south on College Street

to the Groveport Cemetery.

Our Pictorial Past

by Rick Palsgrove

DestinationOutlets.com

800-213-9083

8000 Factory Shops Blvd.

Jeffersonville, OH 43128

DOWNLOAD OUR

MEMBERSHIP APP
---
PAGE 12 - GROVEPORT MESSENGER - May 29, 2022

Everything's ducky

Messenger photo by Rick Palsgrove

This mother duck keeps a close watch on her two fuzzy ducklings in the barnyard

of Slate Run Living Historical Farm, 1375 State Route 674 North, Canal Winchester.

For information about the farm and other Metro Parks, visit metroparks.net.

Messenger

Groveport

BEST COMMUNITY NEWSPAPER in Groveport

Pick-Up At These

Locations:

Groveport Senior Village - 5124 Hendron

Madison Township Office - 4575 Madison Lane

Paddock Pub/Groveport Golf Ctr. - 1005 Richardson Rd.

Southeast Library - 3980 S. Hamilton Rd.

Asbury Methodist Church - 4760 Winchester Pike

Groveport Municipal Building - 655 Blacklick St.

Groveport Town Hall - 648 Main St.

Flyers PIzza/Groveport - 296 Main St.

Ace Hardware - 726 Main St.

Little Italy Pizza - 619 Main St.

Huntington Bank/Groveport - 556 Main St.

Groveport Recreation Center - 7370 Groveport Rd.

READ US ONLINE: www.columbusmessenger.com

www.columbusmessenger.com

Road

projects

•In Lockbourne,

$382,165 in road

improvements and

truck turn around

construction for

Commerce Street,

Vause Road, and

Canal Road until

October. A 42 day

detour closure.

•In Hamilton

Township, $1.8

million roundabout

construction,

drainage, and

street lighting

improvements at

Lockbourne Road

at London-

Groveport Road

from July until

October. A 60 day

detour closure.

•In Madison

Township/city of

Columbus, $1.2

million for bridge

replacement on

Winchester Pike

over Georges

Creek from July to

October. Includes

110 day detour closure

Golden

Cruiser

Club

Groveport Madison

Schools invites

senior residents of

the district to

attend athletic and

performing arts

programs showcasing

the talents of

its students. The

Golden Cruiser

Club is a free program

for residents

of the Groveport

Madison School

District who are

age 60 and older.

Club membership

provides free

access to all school

and district sponsored

athletic contests,

plays, concerts,

and other

events. To become

a member of the

Golden Cruiser

Club, obtain an

application at

gocruisers.org, or

call (614) 492-

2520.
---
www.columbusmessenger.com

May 29, 2022 - GROVEPORT MESSENGER - PAGE 13

www.columbusmessenger.com

Groveport celebrates 175th

Groveport will celebrate the 175th

anniversary of its founding with special

events on June 11 from 10 a.m. to 1:30 p.m.

"There will be a self-guided tour starting

at 10 a.m. featuring six different stops,"

said Groveport Community Affairs

Director Jessica Wyke. "At each stop participants

will collect a postcard with historical

information about that tour site.

Collect all six postcards and get a free

175th anniversary t-shirt."

The self-guided tour sites are: Ohio and

Erie Canal Lock 22, located in Groveport

Park 7370 Groveport Road; Historic School

complex, located at 715 and 751 Main

Street; the Log House, located in Heritage

Park, 551 Wirt Road; Groveport Cemetery,

located along Wirt Road by Heritage Park;

Sharp's Landing, located across from the

Groveport Cemetery at 536 Wirt Road; and

Groveport Town Hall, 648 Main St. Visitors

can begin the self-guided tour at any of

these sites.

Wyke said two of the stops will have a

special treat.

"The Groveport Police Department will

be grilling hotdogs at the Log House and

Groveport Town Hall will be having an ice

cream social," said Wyke. "This is a completely

free event, including the hotdogs

and the ice cream social."

Groveport Town Hall will also host a

reception starting at 1 p.m. in the second

floor ballroom where Mayor Lance Westcamp

will recognize past and present city administrators

and city council members.

"Members of the Groveport Madison

Area Community Choir will kick off the

reception with a skit highlighting the early

history of Groveport," said Wyke.

Wyke said recognizing Groveport's

175th anniversary is important because it

is an opportunity for the community to

learn more about "Groveport's rich history

and proud heritage."

It's a chance to celebrate our city, where

we've been, where we are now, and where

we're heading," said Wyke.

Pre-Engineering earns

$20,000 scholarship

Thanks to The Gene Haas Foundation,

the Pre-Engineering program at Eastland

Career Center will be able to outfit students

with basic tooling needs next fall.

The $20,000 scholarship will be used to

benefit the classes of 2022, 2023, and 2024.

The Gene Haas Foundation was established

in 1999 by Gene Haas, founder and

owner of Haas Automation, Inc., to support

the needs of the local community.

Program instructor, Ken Miller, said the

scholarship provided by the foundation is

meant to support students interested in a

manufacturing-based career and must be

used toward individual students, not the

program itself. With the gift that the program

has received, each of the 52 Pre-

Engineering students will receive two

pieces of standing measuring equipment

and a machinist reference book, which

Miller states are useful for anyone getting

May 29, 2022 - GROVEPORT MESSENGER - PAGE 13

started in a manufacturing and engineering

career path.

Miller said that these tools and books

will be provided to incoming juniors and

returning seniors of the program next fall

and that any student that completes the

Pre-Engineering program is welcome to

keep these items.

Students from the Class of 2022 may

benefit, as well. Miller said that all remaining

funds will be repacked in smaller scholarships

and that any Eastland-Fairfield

Pre-Engineering graduate that attends college

and completes their first semester of

school with a 3.25 grade-point average or

better may apply for a scholarship to be

used toward their schooling. Mr. Miller

said that 21 of his graduating seniors may

be eligible for this opportunity.

This is the first time the Pre-

Engineering program has received a scholarship

opportunity from The Gene Haas

Foundation, but with the impact that it

will make on its students,

CLASSIFIED ADS

Deadlines: Groveport and West editions, Wednesdays at 5 p.m., • South/Canal Winchester, Grove City, Madison editions, Tuesdays at 5 p.m.

All editions by phone, Tuesdays at 5 p.m. • Service Directory, Tuesdays at 5 p.m.

xPublic Notice

NOTICE OF PUBLIC HEARING

You are hereby notified that the City of

Groveport will be holding a Public

Hearing on Monday, June 13, 2022 at

6:15 p.m. in the Council Chambers of the

Groveport Municipal Building, 655

Blacklick Street, Groveport, Ohio for:

Ord. 2022-020 - AN ORDINANCE APPROVING THE

FINAL PLAT FOR 325 MAIN STREET, AARON CARROLL,

APPLICANT, PARCEL NUMBER 185-000443

All regular and special meetings of Council are open to

the public. The application for this zoning request is on

file in the office of the Clerk of Council for review.

Ruthanne Sargus Ross, CMC

Clerk of Council

Public Notice

ASSOCIATION ADS

LONG DISTANCE MOVING:

Call Today for a FREE

QUOTE from America's Most

Trusted Interstate Movers.

Let us take the stress out of

moving! Call now to speak to

one of our Quality Relocation

Specialists: 877-541-6320

Become a Published

Author. We want to Read

Your Book! Dorrance

Publishing Trusted Since

1920 Consultation,

Production, Promotion &

Distribution. Call for Free

Author's Guide 1-877-729-

4998 or visit

dorranceinfo.com/ads

Dental Insurance -

Physicians Mutual Insurance

Comopany. Covers 350

procedures/ Real insurance -

not a discount plan. Get your

free dental info kit! 1-855-

.526-1060 www/dental50

plus.com/ads #6258

Replace your roof with the

best lookng and longest

lasting material -- Steel

from Erie Metal Roofs!

Three styles and multiple

colors available.

Guaranteed to last a

lifetime! Limited Time

Offer - $500 Discount +

Additional 10% off install

(for military, health

workers & 1st responders)

Call Erie Metal Roofs: 1-

855-338-4807

Long Distance moving.

Call for a free quote from

America's Most Trusted

Interstate Movers. Let us

take the stress out of

moving! Speak to a

relocation specialist! Call:

888-721-2194

ASSOCIATION ADS

Vivint Smart Security.

Professionally installed. 1

connected system for total

peace of mind. Free

professional installation! 4

free months of moniitoring!

Call to customize your

system. 1-833-841-0737

Paying top cash for men's

sportwatches! Rolex,

Breitling, Omega, Patek

Pillippe, Heuer, Daytona,

GMT, Submariner and

Speedmaster. Call 833-

603-3236

Put on your TVEars &

hear TV w/unmatched

clarity. TVEars Originaloriginally

$129.95 - now

w/this special offer only

$59.95 w/code MCB59! 1-

888-805-0840

Aloe Care Health medical

alert system. The most

advanced medical alert

product on the market.

Voice-activated! No wi-fi

needed! Special offer

w/code CARE20 for $20

off Mobile Companion. 1-

855-341-5862

Update your home with

beautiful new blinds &

shades. Free in-home

estimates make it

convenient to shop from

home. Professional

installation. Top quality -

Made in the USA. Free

consultation: 877-212-

7578. Ask about our

specials!

ASSOCIATION ADS

Wesley Financial Group,

LLC Timeshare Cancellation

Experts Over

$50,000,000 in timeshare

debt & fees cancelled in

2019. Get a free

informational package &

learn how to get rid of

your timeshare! Free

consultations. Over 450

positive reviews. 888-965-

0363

DENTAL INSURANCE

from Physicians Mutual

Insurance Company.

Coverage for 350 plus

procedures. Real dental

insurance - NOT just a

discount plan. Do not wait!

Call now! Get your FREE

Dental Information Kit with

all the details! 1-877-553-

1891

www.dental50plus.com/

macnet#6258

Internet &WIFI Starts at

$49 Call us Today to Get

Started. Find High-Speed

Internet with Fiber Optic

Technology No Credit

Check, No SSN Required.

Call us Today 866-396-

0515

!!OLD GUITARS WANT-

ED!! GIBSON, FENDER,

MARTIN, Etc. 1930's to

1980's. TOP DOLLAR

PAID. CALL TOLL FREE

1-866-433-8277

Don't let the stairs limit

your mobility! Discover

the ideal solution for

anyone who struggles on

the stairs, is concerned

about a fall or wants to

regain access to their

entire home. Call

AmeriGlide today! 1-844-

317-5246

ASSOCIATION ADS

Hero takes stress out of

managing medications.

Hero sorts & dispenses

meds, sends alerts at

dose times & handles

prescription refill &

delivery for you. Starting

at $24.99/month. No

initiation fee. 90-day riskfree

trial! 1-855-993-3217

Train online to do medical

biling! Become a Medical

Office Professional at CTI!

Get trained & certified to

work in months! 888-572-

6790. The Mission,

Program Information and

Tuition is located at

CareerTechnical.edu/cons

umer-information. (M-F 8-

6 ET.

Become a Published

Author. We want to Read

Your Book! Dorrance

Publishing-Trusted by

Authors Since 1920

Book manuscript submissions

currently being reviewed.

Comprehensive Services:

Consultation, Production,

Promotion and Distribution. Call

for Your Free Author's Guide 1-

866-482-1576 or visit

http://dorranceinfo.com/macnet

AMERICAN & FOREIGN

CLASSIC CARS AND

MOTORCYCLES

WANTED. $$PAYING

CA$H$$ Corvettes,

Mustangs, Jaguars, Austin

Healeys, Broncos,

Blazers, Ram Chargers,

AMX, and Triumphs

KRMiller1965@yahoo.com

717-577-8206

xDated Sales

Groveport Zion Lutheran Church

Rummage Sale

Fri. June 3rd, 9 am-4 pm

Sat. June 4th, 9 am-3 pm

Baked Goods & Lunch Available

6014 Groveport Rd.

Dated Sales

ASSOCIATION ADS

HughesNet - Finally, superfast

internet no matter

where you live. 25 Mbps

just $59.99/mo! Unlimited

Data is Here. Stream

Video. Bundle TV &

Internet. Free Installation.

Call 866-499-0141

ASSOCIATION ADS

The bathroom of your

dreams for as little as

$149/month! BCI Bath &

Shower. Many options

available. Quality

materials & professional

installation. Senior &

Military Discounts

Available. Limited Time

Offer - FREE virtual inhome

consultation now

and SAVE 15%! Call

Today! 1-877-540-2780
---
PAGE 14 - GROVEPORT MESSENGER - May 29, 2022

www.columbusmessenger.com

CLASSIFIED ADS

Deadlines: Groveport and West editions, Wednesdays at 5 p.m., • South/Canal Winchester, Grove City, Madison editions, Tuesdays at 5 p.m.

All editions by phone, Tuesdays at 5 p.m. • Service Directory, Tuesdays at 5 p.m.

xEmployment

NOW HIRING BUS DRIVERS

$19.00 an Hour

CDL Drivers get $2,000 Sign On Bonus

Non-CDL $1,000 Sign On Bonus

Paid Training

Apply @ 4400 Marketing Pl., Groveport (Door 16) or http://careers.nellc.com/

614-836-4962

xInformation

Information

ASSOCIATION ADS

WANTED!

MOTORCYCLES!

ANTIQUE AND CLASSIC.

Honda, Kawasaki, Suzuki,

Yamaha, Triumph, BSA

and other foreign models.

$$PAYING CA$H$$

717-577-8206

KRMiller1965@yahoo.com

The Generac PWRcell

solar plus battery storage

system. Save money,

reduce reliance on

grid, prepare for outages

& power your home. Full

installation services. $0

down financing option.

Request free no obligation

quote. Call 1-877-

539-0299

Donate your car to kids!

Fast free pickup running

or not - 24 hour response.

Maximum tax

donation. Help find missing

kids! 877-831-1448

Attention Viagra users:

Generic 100 mg blue pills

or generic 20 mg yellow

pills. Get 45 plus 5 free

$99 + S/H. Call Today 1-

877-707-8391

Stroke & Cardiovascular

disease are leading

causes of death according

the American Heart

Association. Screenings

can provide peace of mind

or early detection! Call

Life Line Screening to

schedule your screening.

Special offer - 5

screenings for $149. 1-

866-518-8391

ASSOCIATION ADS

Looking for assisted living,

memory care, or

independent living? A

Place for Mom simplifies

the process of finding

senior living at no cost to

your family. Call 1-833-

910-1576 today!

Directv Stream - The Best

of Live &On-Demand On

All Your Favorite Screens.

CHOICE Package,

$84.99/mo for 12 months.

Stream on 20 devices at

once in your home. HBO

Max FREE for 1 yr

(w/CHOICE Package or

higher.) Call for more

details today! (some

restrictions apply) Call IVS

1-866-629-6086

BUYING CLASSIC CARS,

TRUCKS, SUVs

**American and Foreign**

Any Condition. Buying

entire car collections.

$$PAYING CA$H$$

717-577-8206

KRMiller1965@yahoo.com

VIAGRA and CIALIS

USERS! 50 Generic pills

SPECIAL $99.00. 100%

guaranteed. 24/7 CALL

NOW! 888-445-5928

Hablamos Espanol

Aloe Care Health, medical

alert system. The most

advanced medical alert

product on the market.

Voice-activated! No wi-fi is

needed! Special offer-call

and mention offer code

CARE20 to get $20 off

Mobile Companion. Call

today-1-877-728-4065

Attention oxygen therapy

users! Inogen One G4 is

capable of full 24/7 oxygen

delivery. Only 2.8

pounds. Free info kit.

Call 877-929-9587

ASSOCIATION ADS

Donate Your Car To

Veterans Today! Help and

Support our Veterans.

Fast - FREE pick up.

100% tax deductible. Call

1-800-245-0398

DISH TV $64.99 for 190

Channels + $14.95 high

speed internet. FREE installation,

Smart HD DVR

included. Free Voice Remote.

Some Restrictions

apply. Promo Expires

1/21/23. 1-866-590-5561

SELL YOUR ANTIQUE

OR CLASSIC CAR.

Advertise with us. You

choose where you want

to advertise. 800-450-

6631 visit macnetonline.

com for details.

Looking for auto insurance?

Find great deals

on the right auto insurance

to suit your needs.

Call today for a free

quote! 866-924-2397

Elminate gutter cleaning

forever! LeafFilter, the most

advanced debris-blockiing

gutter protection. Schedule

Free LeafFilter Estimate

today. 15% off Entire

Purchase. 10% Senior &

Military Discounts. Call 1-

833-610-1936

Attention: If you or aloved

one worked around the

pesticide Roundup

(glyphosate) for at least 2

years and has been diagnosed

with non-Hodgkin's

lymphoma, you may be

entitled to compensation.

855-341-5793

Employment

ASSOCIATION ADS

Eliminate gutter cleaning

forever! LeafFilter, the

most advanced debrisblocking

gutter protection.

Schedule a FREE LeafFilter

estimate today. 15% off

Entire Purchase. 10% Senior

& Military Discounts.

Call 1-855-791-1626

READER

ADVISORY

The National Trade Association

we belong to has

purchased the following

classifieds. Determining

the value of their service

or product is advised by

this publication. In order

to avoid misunderstandings,

some advertisers do

not offer "employment"

but rather supply the

readers with manuals, directories

and other materials

designed to help

their clients establish mail

order selling and other

businesses at home. Under

NO circumstance

should you send any

money in advance or give

the client your checking,

license ID or credit card

numbers. Also beware of

ads that claim to guarantee

loans regardless of

credit and note that if a

credit repair company

does business only over

the phone it's illegal to request

any money before

delivering its service. All

funds are based in US

dollars. Toll Free numbers

may or may not

reach Canada. Please

check with the Better

Business Bureau 614-

486-6336 or the Ohio Attorney

General's Consumer

Protection Section

614-466-4986 for more

information on the company

you are seeking to

do business with.

DO YOU NEED

SEASONAL EMPLOYEES?

Call KATHY to ADVERTISE

and reach over 35,000 homes in the

South/Canal Winchester & Groveport Messengers

614-272-5422

kathy@columbusmessenger.com

ASSOCIATION ADS

The Generac PWRcell, a

solar plus battery storage

system. SAVE money,

reduce your reliance on

the grid, prepare for power

outages and power

your home. Full installation

services available. $0

Down Financing Option.

Request a FREE, no obligation,

quote today. Call

1-866-783-0292

READY TO BUY, SELL

OR RENT YOUR

VACATION HOME OR

HUNTING CAMP?

Advertise it here and in

neighboring publications.

We can help you. Contact

MACnet MEDIA @

800-450-6631 or visit our

site at MACnetOnline.

com

Life Alert. One press of a

button sends help fast

24/7! At home and on

the go. Mobile Pendant

with GPS. Free first aid

kit (with subscription).

877-537-8817 Free brochure

IMPORTANT

NOTICE

The following states: CA,

CT, FL, IA, IL, IN, KY,

LA, MD, ME, MI, MN,

NE, NC, NH, OH, OK,

SC, SD, TX, VT and WA

requires seller of certain

business opportunities to

register with each state

before selling. Call to

verify lawful registration

before you buy.

ASSOCIATION ADS

AT&T Internet. Starting at

$40/month w/12-mo agmt.

1 TB of data/mo. Ask how

to bundle & SAVE! Geo &

svc restrictions apply. 1-

855-364-3948

NEED IRS RELIEF

$10K-$125K+ Get Fresh

Start or Forgiveness.

Call 1-844-431-4716

Monday through Friday

7am-5pm PST

BATH & SHOWER UP-

DATES in as little as

ONE DAY! Affordable

prices - No payments for

18 months! Lifetime warranty

& professional installs.

Senior & Military

Discounts available. Call

855-761-1725

Want Faster & Affordable

Internet? Get internet

service today with

Earthlink. Best internet &

WiFi Plans. Call us Today

to Get Started. Ask

about our specials! 866-

396-0515

Looking for assisted living,

memory care, or

independent living? A

Place for Mom simplifies

the process of finding

senior living at no cost to

your family. Call 1-844-

428-0445 today!
---
www.columbusmessenger.com

xCome & Get It!

COME AND GET IT!

Need to Get Rid of Something Fast - Advertise It Here For FREE!

Deadlines are Mondays by 5 pm.

Call For Publication Schedule 614-272-5422

FREE Garden Straw for gardens or bedding. Call for appointment for pickup.

Circle S Farms, 9015 London-Groveport Road, Grove City, 43123

Grove City - 614-878-7980

.FREE - Downed Tree, needs cut into sections. Free for anyone that wants it.

CC - Obetz - 614-632-1013

. Come and Get It! is a bi-weekly column that offers readers an opportunity to pass

along surplus building materials, furniture, electronic equipment, crafts, supplies,

appliances, plants or household goods to anybody who will come and get them - as

long as they're FREE. NO PETS! Just send us a brief note describing what you want to

get rid of, along with your name, address and phone number. Nonprofit organizations

are welcome to submit requests for donations of items.

Send information to The Columbus Messenger, Attention: Come and Get It, 3500

Sullivant Ave., Columbus, OH43204. Deadline is Tuesdays by 5 pm for following

Mondays publication. Messenger Newspapers is not responsible for any

complications that may occur. Please contact us when items are gone. 272-5422

ASSOCIATION ADS

Attention Viagra users:

Generic 100 mg blue pills

or generic 20 mg yellow

pills. Get 45 plus 5 free +

S/H. Call Today 1-877-

707-5518

Prepare for power

outages today with a

GENERAC home standby

generator. $0 Down + Low

Monthly Pmt. Request a

free Quote. Call before the

next power outage: 1-855-

948-6176

DENTAL INSURANCE-

Physicians Mutual Insurance

Company. Covers

350 procedures. Real

insurance - not a discount

plan. Get your free

dental Info kit! 1-888-

623-3036 . www.dental50plus.com/58

#6258

Prepare for power outages

today with a GENERAC

home standby generator.

$0 Money Down + Low

Monthly Payment Options.

Request a FREEQuote--

Call now before the next

power outage. 1-855-465-

7624

DISH TV $64.99 FOR 190

Channels + $14.95 High

Speed Internet. Free Installation,

Smart HD DVR

Included, Free Voice Remote.

Some restrictions

apply. Promo expires

1/21/23. 1-866-479-1516

Protect your home w/home

security monitored by

ADT. Starting at $27.99/

mo. Get free equipment

bundle including keypad,

motion sensor, wireless

door & windows sensors.

833-719-1073

Come & Get It!

ASSOCIATION ADS

New authors wanted!

Page Publishing will help

self-publish your book.

Free author submission

kit! Limited offer! 866-

951-7214

Wants to purchase minerals

and other oil and gas

interests. Send details to

P.O. Box 13557, Denver,

CO. 80201

Thinking about installing

a new shower? American

Standard makes it

easy. FREE design consulation.

Enjoy your

shower again! Call 1-

833-769-0995 today to

see how you can save

$1,000 on installation, or

visit www.newshowerdeal.com/mac

Directv Now. No Satellite.

$40/mo 65 Channels.

Stream news, live

events, sports & on demand

titles. No contract/

commitment. 1-866-825-

6523

HELP WANTED

Looking for a New

Opportunity? Come join

the FriendShip Family!

Open interviews Tues,

May 31st - Fri June 3rd.

Located at 5900 Gender

Rd., Canal Winchester.

Tuesday & Wednesday

10am-6pm, Thursday &

Friday 8am-4pm.

Concrete finishers &

Laborers needed. Must

have own transp. & be

dependable. Exp needed.

Competitive wages. 614-

871-3834 btwn 6 & 9 pm.

NOW HIRING!

KIDDY GROVE DAY CARE

With SIGN-UP BONUS!

614-402-8937

PT Helper Needed

for Lawn Care Service

3-4 Days a Week

Call 614-935-1466

WANT TO BUY

ANTIQUES

WANTED

Victrolas, Watches,

Clocks, Bookcases

Antiques, Furn.

Jeff 614-262-0676

or 614-783-2629

We Buy Cars & Trucks

$300-$3000.614-308-2626

BUYING VINYL RECORDS.

LPs and 45s - 1950-80s

Rock, Pop, Jazz, Soul.

614-831-0383

WE BUY JUNK CARS

Call anytime 614-774-6797

We Buy Junk Cars &

Trucks. Highest Prices

Paid. 614-395-8775

MISC.

FOR SALE

Electric Wheelchair = If

interested, call 614-928-2352

USED VEHICLES

WEST HALF DOUBLE

2BR, Rent $850 dep. $850

3BR, Rent $950, dep $950

Realtor 614-226-6767

RENTALS

2007 Cavalier-$3900 obo

614-274-4210

cll btwn 7pm-10pm

88 Ford Mustang

Convertible, Southern car,

5.0 engine, 5 spd trans,

marooon, 2nd owner, very

clean $7900. 614-440-6681

2010 Dodge Grand

Caravan, 41,000 miles,

Handicap Vehicle, 10" floor

access for 2 wheelchairs,

front passenger elec. side

ramp. $25,000 obo

614-395-5339

May 29, 2022 - GROVEPORT MESSENGER - PAGE 15

xClassified Services

AIR CONDITIONING

AIR CONDITIONING

Complete System

Clean & Check

$49.95

Free Electronic Leak Testing

All Makes • All Models

46 Yrs. Exp. • Senior Discount

614-351-9025

BLACKTOP

SANTIAGO'S

Sealcoating & Services LLC

Quality Materials Used

SPRING IS HERE!

Driveway Seal & Repair!

Top Seal Cracks!

Residential & Commercial

Mulching, Edging & Clean-ups

"Ask for whatever you need."

BBB Accredited-Fully Insured

Call or text for Free Est.

614-649-1200

AGM OHIO

ROOFING &

SEALCOATING

Free Estimates

Cell 614-512-1699

CARPET SALES

CARPET

Gray Saxony

270 sq.ft. w/6 lb Pad

$398.00

Other Carpet AvailableA

Phone or text Ray

740-927-3504

Delivery & Inst. avail.

INFORMATION

6/5 A

BLACKTOP SEALING

Driveways & Parking Lots

614-875-7588

CLEANING

6/19

A/M

Looking for Mrs. Clean?

For excellent cleaning serv

at reas. rates w/great refs,

dependable. 10% Seniorr

Disc. Free Est. Also runs

Errands - Gwen 614-226-5229

6/5 e/se

CONCRETE

AJ's Concrete,

Masonry

Good Work - Fair Prices

Block Foundations

Driveways • Sidewalks

Epoxy/Overlay Floors

Bonded-Ins. • Free Ests.

614-419-9932

ALL-CITY CUSTOM

CONCRETE

All Types Concrete Work

New or Tear Out-Replace

40 Yrs. Exp.

(614) 207-5430

Owner is On The Job!

www.hastingsnsons.com

Driveways & Extensions

Patio & Walkways,

Porches & Steps,

Garage/Basement Floors

Hot Tub/Shed Pads,

Stamped/colored concrete

Sealing of new &

existing concrete.

FREE ESTIMATES

Contact Adam

614-756-1754

hastingsandsons.

columbus@gmail.com

EDDIE MOORE

CONSTRUCTION

Quality Concrete Work

Lt. Hauling & Room Add.,

Block Work & Excavation

Stamp Patios,

Bsmt. Wall Restoration

35 Yrs Exp - Lic & Ins.

Free Ests. 614-871-3834

INFORMATION

ONLY

$50.00

For This Ad In Our

South/Canal Winchester

& Groveport

For Info Call

614-272-5422

INFORMATION

LOOK TO

THE PROFESSIONALS

IN OUR

SERVICE DIRECTORY

For Service

"That Is Out Of This World"

6/5 A

GUTTERS

Bates & Sons

GUTTER CLEANING

5 ★ Google Reviews

614-586-3417

HOME

IMPROVEMENTS

SINCE 1973

Phil Bolon Contr.

Windows & Siding

Decks, Kitchens, Baths

Room Additions,

Flooring, Roofing

Bsmt Waterproofing

Deal With Small Non-Pressure Co.

47 Yrs. Exp. - Refs. Avail.

Lic.-Bond-Ins.

Free Est. - Financing Avail.

Member BBB Of Cent. OH

O.C.I.E.B. ID #24273

614-419-3977

or 614-863-9912

Classified Services

6/5

A/M

C&JHandyman

Services LLC

Minor Plumbing

& Electric

Install Hot Water Tanks,

Dishwashers & Disposals

Also Fencing &

Interior/Exterior Painting

Free Est. ~ 18 Yrs. Exp.

CDC/EPA Approved Guidelines

614-284-2100

KLAUSMAN HOME

IMPROVEMENT

Siding-Windows-

Doors-Roofing-Soffit-

Fascia-Gutters-Trim

Earn FREE Seamless

Gutters with Siding Over

1000 Sq. Ft.

FREE Shutters with

Soffit & Trim

EPA Certified

Member of BBB

Financing Available

Over 20 yrs exp. • Free Est.

Licensed-Bonded-Insured

Owner & Operator

James 614-419-7500

HOME

MAINTENANCE

SMALL HOME REPAIRS?

Call Sonny

380-209-3646-local #

HOME

REMODELING

MultiCraft Const.

& Handyman Services

All Types Handyman Services:

Decks, Fences

Kitchen/Baths

Window/doors installed

Interior Painting

Drywall Repairs

All Types of Flooring

Call/Text 614-774-2923

multicraftconstruction@gmail.com

6/19 A

6/19 A

6/5A

PEST

CONTROL

TERMITE &

PEST CONTROL

614-367-9000

TORCO®

TERMINATES

TERMITES

Locally Owned & Operated. Any Pest. Anytime.

$

50 00 OFF Service

Free Termite Inspection

LAWN CARE

The Lawn Barber

Cut, Trim, Blow away

Hedge Trimming, Edging

614-935-1466

LET US MAINTAIN

YOUR LAWN & GARDEN

FOR YOU

Summer, Spring,

Winter or Fall

WE DO IT ALL!!!!

Lawn Cuts, Edging,

Trees & Shrubs, Garden,

Mulching, Hauling,

Garden Pond &

Home Maint.

Free Ests. Low Rates

$20 & Up

Kevin - 614-905-3117

MOWER REPAIR

LAWN MOWER DR.

"House Calls Only"

Overall Checkups

Oil Change & Filter,

Spark Plug &

Blades Sharpened

MINOR REPAIR

John

614-395-7909

johnellis0333@sbcglobal.net

PAINTING

A Job Well Done Again

A lic. General Contractor

Some Skilled Services

Incl: Painting • Stucco,

Repair•Carpentry•Exterior

Drainage & Home Maint.

Call Today! 614-235-1819

Painter Over 30 Yrs. Exp.

Free Est. Reas. Rates

Daniel - 614-226-4221

PLASTERING

6/12 A

DRYW

YWALL &

PLASTER

6/4

A&M

REPAIR

Textured Ceilings

614-551-6963

Residential/Commercial

BIA

PEST

CONTROL

PLUMBING

All About Drains & Plumb.

Will snake any sm drain

$145. 614-778-2584

CHRIS'

PLUMBING

"Plumbing & Drain Professional

That You Can Count On"

24 Hrs., 7 Days/Week

No Overtime Charges

24 Yrs. Exp. in Plumbing &

Drain Cleaning Field

Call For A Free Phone Estimate

$100.00 For Any Small Drain

614-622-4482

30% OFF with AD

POWERWASHING

POWERWASHING

at Reasonable Rates

Gwen 614-226-5229

MRS. POWERWASH

Any house wash $149+tax

Single deck $69+tax

2 Tier deck $99+tax

Best Wash in Town

Over 45,000 washes

Ashley 614-771-3892

Bates & Sons

Soft Wash & Powerwash

5 ★ Google Reviews

614-586-3417

SEWING MACHINE

REPAIR

REPAIR all makes 24 hr.

service. Clean, oil, adjust

in your home. $49.95 all

work gtd. 614-890-5296

TREE SERVICES

Brewer & Sons Tree Service

• Tree Removal

• Tree Trimming 6/19

A&M

• Stump Grinding

• Bucket Truck Services

Best Prices • Same Day Service

614-878-2568

BURNS TREE SERVICE

Trimming, Removal &

Stump Grinding.

614-584-2164

6/5 A&M

6/19 A
---
PAGE 16 - GROVEPORT MESSENGER - May 29, 2022

Groveport history films

Documentary films on Groveport history,

produced by the Groveport Heritage

Society and Midnet Media, are available

online on YouTube. The films are:

"Groveport: A Town and Its People" and

"The Story of John S. Rarey and Cruiser."

Groveport Heritage Museum

The Groveport Heritage Museum contains

photographs, artifacts, and documents

about Groveport's history. It is

located in Groveport Town Hall, 648 Main

St., and is open during Groveport Town

Hall's operating hours. Call 614-836-3333.

www.columbusmessenger.com

Hann Farm's Market

STORE HOURS:

Monday-Saturday

10 a.m. - 6 p.m.

and

Sunday

12 p.m. - 5 p.m.

4600 Lockbourne Road, Columbus, Ohio

(614)-491-0812

hannfarmsmarket.com

Hann-Farm-Market-LLC

At the hop

Photo courtesy of the Groveport Senior Center

The Groveport Senior Center, 7370 Groveport Road, recently held a 1950s style

sock hop complete with decorations, costumes, a DJ, a root beer float station, and

lots of food. Thirty members of the Senior Center attended the event sponsored

by Brookdale Lakeview Senior Living, Southeastern Franklin County Chamber of

Commerce, and Honor Home Health. Pictured here hanging out with Elvis Presley

at the sock hop are, from left to right, Diane Schlicher, Lois Thum, and Tess Phelps.

ASBURY

SOUTH UMC

4760 Winchester Pike

Columbus, Ohio 43232

Telephone: 614-837-4601

Rev. Sherri Upchurch Blackwell

Sunday Worship 10 a.m.

Inside and Parking Lot

Sunday School 9 a.m.

Be a Part of Our Local Worship Guide

Our Worship Guide is geared toward celebrating faith and helping readers

connect with religious resources in our community. Make sure these readers

know how you can help with a presence in this very special section distributed to

more than 19,000 households in the Groveport area.

Contact us today to secure your spot in our Worship Guide.

614.272.5422 • kathy@columbusmessenger.com

Messenger

South

CONGRATULATIONS

CAROLINE RICHARDS

Class of 2022

Grove City High School

SAMPLE

Good Luck at Miami

ATTENTION:

Class of

2022

Parents

Congratulate

your Senior

with this Special Ad!

COST: $27.00

To Reserve Space

Call Kathy

614-272-5422 or email

kathy@columbusmessenger.com

Deadline:

Friday, June 3rd

Publication: June 12th