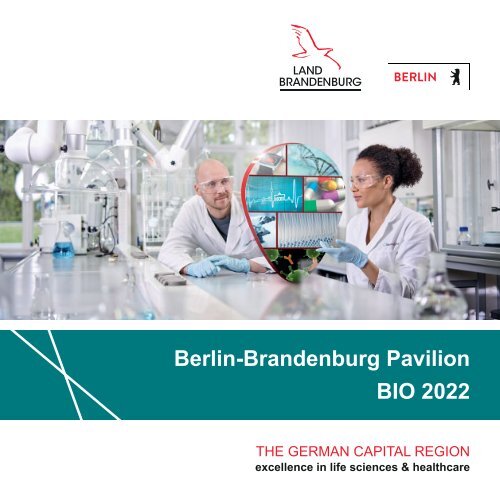 Berlin-Brandenburg at BIO 2022
Create successful ePaper yourself
Turn your PDF publications into a flip-book with our unique Google optimized e-Paper software.
THE GERMAN CAPITAL REGION

excellence in life sciences & healthcare

Berlin-Brandenburg Pavilion

BIO 2022

THE GERMAN CAPITAL REGION

excellence in life sciences & healthcare
---
Berlin-Brandenburg@BIO 2022 | List of Exhibitors

Berlin Partner for Business and Technology

biotechrabbit GmbH

Campus Berlin-Buch GmbH

Economic Development Agency Brandenburg (WFBB)

FyoniBio GmbH

Glycotope GmbH

HealthCapital Berlin-Brandenburg

IGES Institut GmbH

pharmatrace klinische Entwicklung GmbH

Booth

#4617
---
HealthCapital Berlin-Brandenburg

The Healthcare Industries Cluster

Berlin-Brandenburg – HealthCapital

– is one of the leading life sciences

and healthcare centers in the world.

The unique research and clinic

landscape, which is the region's

major strength, is supported by

a close network of key players

from industry, start-ups, finance,

academia, clinics and politics.

Here, numerous technology

parks and networks in different

fields, above all biotechnology

and medical technology, create

an excellent infrastructure for

transforming the latest scientific

findings into innovative products

and services for the healthcare

sector. The German Capital

Region is also a leading center of

the IT industry. That combination

offers optimal conditions for the

development of innovative digital

health solutions for the regional

and global market. Berlin Partner

for Business and Technology is

responsible for managing the

cluster in cooperation with the

Economic Development Agency

Brandenburg (WFBB).

HealthCapital Berlin-Brandenburg

c/o Berlin Partner für Wirtschaft

und Technologie GmbH

Fasanenstr. 85

10623 Berlin | Germany

Dr. Kai Uwe Bindseil

Tel +49 30 463 02 - 548

info@healthcapital.de

www.healthcapital.de
---
iotechrabbit GmbH

biotechrabbit is a leading molecular

biology enzyme and protein

production company based in

Berlin, Germany. We innovate,

develop and manufacture products

with superior performance for

diagnostics, life sciences research

and applied markets in accordance

with ISO 13485:2016 and ISO

9001:2015 certification. We use

high density prokaryotic and

eukaryotic fermentation followed

by several fine-tuned purification

steps. Extensive quality control

analyses after each key production

step secure the high product

performance.

biotechrabbit GmbH

Volmerstr. 9

12489 Berlin | Germany

Dr. Bernd Haase, CEO

Tel +49 30 5557 8210

info@biotechrabbit.com

www.biotechrabbit.com
---
Campus Berlin-Buch GmbH

Interaction of Research, Clinics

and Companies

Berlin-Buch is the location of one

of the largest biotechnology parks

in Germany, with 31,000 square

meters of scalable lab and office

space for start-ups and companies.

Situated to the northeast of the city,

the Berlin-Buch Campus is currently

home to 74 companies, 53 of which

are biotech companies; the rest

provides support services. Part of

the Campus community are the

Max Delbrück Center for Molecular

Medicine, the Leibniz Institute for

Molecular Pharmacology, as well

as clinical groups from the Charité

University Medicine Berlin and the

Berlin Institute of Health.

dedicated to health

Campus Berlin-Buch GmbH

Robert-Rössle-Str. 10

13125 Berlin | Germany

Dr. Christina Quensel, CEO

Tel +49 30 9489 2511

info@campusberlinbuch.de

www.campusberlinbuch.de
---
Economic Development Agency Brandenburg (WFBB)

The Economic Development

Agency Brandenburg (WFBB)

is the central point of contact for

investors, companies based in

the state of Brandenburg and

technology-oriented start-ups.

WFBB offers a broad array of

services for economic development

and the promotion of employment:

From supporting a company's

establishment and its expansion

to promoting innovations,

internationalization and networking

as well as the acquisition and

qualification of a skilled workforce.

As Brandenburg's Energy Agency,

WFBB is also closely linked to

the implementation of the state's

energy strategy. Furthermore,

we support the development of

sector-specific innovation clusters

in the state of Brandenburg and the

German Capital Region.

Wirtschaftsförderung Land

Brandenburg GmbH (WFBB)

Babelsberger Str. 21

14473 Potsdam | Germany

Mr. Stefan Bauer

Tel +49 331 730 61 - 251

stefan.bauer@wfbb.de

www.wfbb.de
---
FyoniBio GmbH

FyoniBio provides ISO-9001

compliant contract development

services solutions for supporting

the customers in their biopharma

development program.

Our offerings include:

• Cell line development in

human GlycoExpress® and

CHOnamite®

• USP Development, DSP

development, analytical

development

• In depth PTM and protein

analytics (N- and O-glycoprofiling,

further PTM, sequence

confirmation and identification)

• Bioassay development services

for different stages of drug

development (Cell Viability &

Cytotoxicity, Immuno-Oncology)

• Clinical Bioassay service

(Immunogenicity Assays, PK/PD

Assessment, under GCLP)

FyoniBio GmbH

Robert-Rössle-Str. 10

13125 Berlin | Germany

Dr. Lars Stöckl

Tel +49 30 9489 2500

lars.stoeckl@fyonibio.com

www.fyonibio.com
---
Glycotope GmbH

Glycotope is a biotechnology

company utilizing a proprietary

technology platform to develop

uniquely tumor-specific monoclonal

antibodies. We combine expertise

in glycobiology and antibody

development to advance first-inclass

therapeutics for oncology.

A set of our highly innovative

pre-clinical projects with focus on

(immuno-)oncology are available

for partnering.

Glycotope GmbH

Robert-Rössle-Str. 10

13125 Berlin | Germany

Mr. Patrik Kehler

Tel +49 30 9489 2600

contact@glycotope.com

www.glycotope.com
---
IGES Institut GmbH

The specialists at IGES support

you in all matters relating to market

access and reimbursement for

digital health products. Our focus is

on Germany, but we also provide

these services for France and the

UK through our subsidiaries there.

IGES helps to strategically develop

the German market and other

European markets. Our experts

assess the market potential, analyze

the competitive environment

and evaluate the respective

reimbursement requirements. We

also conduct the necessary clinical

trials. This enables a seamless

market entry.

We take an analytical approach

to commercialization and help

digital health providers leverage

the latest tools, techniques and

in-depth healthcare knowledge to

enter European markets. The result:

solutions focused on quantifiable

resources, highly accurate evidence,

and actionable ideas.

IGES Institut GmbH

Friedrichstr. 180

10117 Berlin | Germany

Mr. Tilo Mandry

Tel +49 30 230 809 0

international@iges.com

www.iges.com
---
pharmtrace klinische Entwicklung GmbH

pharmtrace is a specialist provider

of comprehensive medical support

for clinical trials with imaging

endpoints. ERICA, our proprietary

GCP-compliant total image

management platform, supports

all imaging-related processes &

work flows as required by current

GCP guidelines and provides a

convenient and flexible interface

for sponsors, study sites and

independent readers that is fully

GDPR- and HIPAA-compliant.

ERICA enables the collection,

storage & centralization of clinical

trial images, has been validated

in multiple studies & multiple

modalities in thousands of patients.

ERICA gives you the option to

manage your clinical trial images

directly and to take full control of all

imaging-related workflows.

pharmtrace klinische

Entwicklung GmbH

Wolframstr. 93 - 94

12105 Berlin | Germany

Wolf-Stefan Richter, CEO

Bernard Ayton, Business Dev.

Tel +49 30 6322 2700

info@pharmtrace.com

www.pharmtrace.com
---
Berlin Partner for Business and Technology

First choice: Berlin Partner for

Business and Technology

Business and technology support

for companies, investors and

scientific institutions in Berlin – this

is the Berlin Partner für Wirtschaft

und Technologie GmbH mission.

With customized services and an

excellent science and research

network, our many experts provide

an outstanding range of programs

to help companies launch,

innovate, expand and secure their

economic future in Berlin.

A unique public-private partnership,

Berlin Partner for Business and

Technology collaborates with the

Berlin State Senate and more

than 230 companies dedicated to

promoting their city. Berlin Partner

is also responsible for marketing

the German capital to the world.

Berlin Partner für Wirtschaft

und Technologie GmbH

Fasanenstr. 85

10623 Berlin | Germany

Ms. Carolin Clement

Tel +49 30 463 02 - 430

carolin.clement

@berlin-partner.de

www.berlin-partner.de
---
The joint presentation of Germany's Capital Region is hosted by the

local economic authorities of the states of Berlin and Brandenburg:

Senate Department for Economics,

Energy and Public Enterprises

managed by:

Ministry for Economic Affairs,

Labour and Energy

supported by:

Berlin Partner for Business and

Technology

Fasanenstr. 85 | 10623 Berlin

Ms. Marina Mertsching

Tel +49 30 463 02 - 453

marina.mertsching@berlin-partner.de