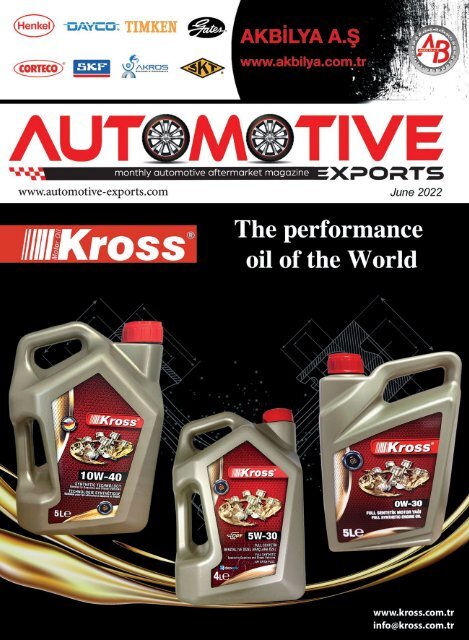 Automotive Exports June 2022
Automotive Exports June 2022
Automotive Exports June 2022
SHOW MORE
SHOW LESS
You also want an ePaper? Increase the reach of your titles
YUMPU automatically turns print PDFs into web optimized ePapers that Google loves.
1
---
Monthly automotive aftermarket magazine

GROUP CHAIRMAN

H. FERRUH ISIK

PUBLISHER:

İstmag Magazin Gazetecilik

İç ve Dış Ticaret Ltd. Şti.

Managing Editor (Responsible)

Mehmet Söztutan

mehmet.soztutan@img.com.tr

Editor

Ali Erdem

ali.erdem@img.com.tr

EDİToR

Mehmet Soztutan, Editor-in-Chief

mehmet.soztutan@img.com.tr

Advertising Managers

Adem Saçın

+90 505 577 36 42

adem.sacin@img.com.tr

Enes Karadayı

enes.karadayi@img.com.tr

International Marketing Coordinator

Ayca Sarioglu

ayca.sarioglu@img.com.tr

Editor

Yusuf Okçu

yusuf.okcu@img.com.tr

Finance Manager

Cuma Karaman

cuma.karaman@img.com.tr

Digital Assets Manager

Emre Yener

emre.yener@img.com.tr

Technical Manager

Tayfun Aydın

tayfun.aydin@img.com.tr

Design & Graphics

Sami aktaş

sami.aktas@img.com.tr

Accountant

Yusuf Demirkazık

yusuf.demirkazik@img.com.tr

Subsciption

İsmail Özçelik

ismail.ozcelik@img.com.tr

HEAD OFFICE:

İstmag Magazin Gazetecilik

İç ve Dış Ticaret Ltd. Şti.

Ihlas Media Center

Merkez Mah. 29 Ekim Caddesi No: 11B / 21

Yenibosna Bahcelievler, Istanbul / TURKEY

Tel: +90 212 454 22 22

www.img.com.tr sales@img.com.tr

KONYA:

Metin Demir

Hazım Uluşahin İş Merkezi C Blok

Kat: 6 No: 603-604-605 KONYA

Tel: (90.332)238 10 71 Fax: (90.332)238 01 74

Tlhe industry gears up with Automechanika

As a matter of fact, Automechanika Istanbul has turned out to be Turkey's major International

Trade Fair for the Automotive Industry. It is evident that the brand name Automechanika stands

for successful fairs for the automotive original equipment manufacturing and aftermarket

industries around the world. Whether in Europe, Asia or the Americas, Automechanika

aims at providing the ideal trading and information platform for international automotive

professionals.

Messe Frankfurt's international expertise in the field of trade fair organization and in-depth

knowledge of the most dynamic markets constitutes the base for each Automechanika Fair.

The major product groups to be displayed include: Parts & Components, EV charging

systems, Electronics & Systems,Accessories & Tuning, Repair & Maintenance, IT &

Management, Service Station & Car Wash.

The automotive industry is one of the remarkable "locomotives" of the Turkish economy. It

assembles some of the country's largest exporters and represents one of the leading investor

industries. A multitude of enterprises engage themselves in both production and trading,

adding enormous value to the already dynamism of the automotive industry.

Turkey's autoparts industry exports are increasing steadily year by year.

It is the only country within the surrounding geographical area to have established a welladvanced

automotive industry. Therefore, the automotive industry is strategically important

both for Turkey and for firms that invest in Turkey.

The Turkish automotive supplier industry produces almost all types of parts, components

and spare parts such as engines and engine parts, power train parts and components,

brake and clutch parts and components, hydraulic and pneumatic systems, suspension

systems, security systems, rubber and plastic parts, chassis, frames and parts, casting and

forging, electrical equipment and parts, lighting systems, accumulator batteries, seats etc.

The structure of the automotive industry is changing dynamically, making Turkey an

alternative suppliers center for global manufacturers.

This month, we are at Automechanika Istanbul, 2022 to convey the messages of Turkish

auto parts industrialists and exporters.

Our publications remain at the service of those business people seeking to increase their

share in the increasingly competitive automotive markets.

We wish Turkish automotive exporters and their trading business people lucrative business.

PRINTED BY:

İHLAS GAZETECİLİK A.Ş.

Merkez Mahallesi 29 Ekim Caddesi İhlas Plaza

No:11 A/41 Yenibosna–Bahçelievler/ İSTANBUL

Tel: 0212 454 30 00

www.ihlasmatbaacilik.com

automotiveexport

automotiveexports
---
Ford JV starts

production of

all-electric

Transit model in

Turkey

Ford Otosan, a joint venture of the U.S.

automaker and Turkey's Koç Holding, has

begun mass production of its all-electric

Transit model via a 2 billion euro ($2.2

billion) investment to increase capacity.

The first E-Transit, which the carmaker

says is Europe's strongest and Turkey's

first all-electric commercial vehicle, rolled

off the assembly line in a ceremony

at Ford Otosan's Gölcük plant in the

northwestern province of Kocaeli.

Ford Otosan thus became the first major

automotive company to produce an allelectric

vehicle in Turkey in large volume,

with the E-Transit model to be sold in

Europe and produced at the company's

Gölcük plant.

Ford Otosan will raise the factory's annual

vehicle capacity to 650,000 from 455,000

under the 2 billion euro investment

announced in 2020.

An assembly line will be established to

produce at least 130,000 batteries in the

factory.

"We are at the first stage of Ford Otosan's

2 billion euro investment announced last

year and its 10-year vision," said Industry

and Technology Minister Mustafa Varank.

"Today, we are talking about a rapid

transformation in the automotive

industry. In 2030, 30% of the world's

vehicles will be electric and connected

vehicles," he said at the ceremony.

Varank also said Turkey is among the

14 manufacturers globally with its

production power in the automotive

industry.

"Our country aspires to take the lion's

share of the electric vehicle market."

The carmaker said it is now shipping the

first production units of the E-Transit van

to customers across Europe from the

Ford Otosan factory. Following strong

early demand for E-Transit from European

businesses, Ford Otosan said it is now

moving to full mass production.

Ford officials said more than 5,000 orders

had been received for the fully electric

vehicle, now being sold in Europe. Sales

of the vehicle in the domestic market will

also begin this year.

"Ford Otosan's Kocaeli plant is the heart

of Transit production in Europe, and this

celebration of E-Transit manufacturing

starts the electrified next chapter in

our already strong partnership," said

Hans Schep, general manager of Ford

Pro Europe. Schep said this is the first

step in transforming the Kocaeli site,

which he said will see it become a major

center for electric commercial vehicle

manufacturing in Europe.

Also addressing the ceremony, Ali Koç,

deputy chair of Koç Holding's board of

directors and Ford Otosan's chairperson,

said the production of Ford Europe's first

electric commercial model E-Transit in

Turkey by Turkish engineers and workers

"is the result of industrialization moves

that have been growing step by step since

the first years of the Republic of Turkey."

Koç said Ford Otosan's recent investments

have a common purpose, which is to

further increase the competitiveness of

Turkey on a global scale today and in the

future.

"In this direction, we plan to make our

automotive industry one of the most

important and indispensable players in

the global production network together

with our ever-developing subsidiary

industry ecosystem."

E-Transit is the all-electric version of

the world's best-selling cargo van and

the new vehicle spearheads Ford Pro's

launch to European customers with an

integrated offering of vehicles, software

and connected services.

For his part, Güven Özyurt, general

manager of Ford Otosan, said production

of E-Transit in their Kocaeli plant, where

the electricity is supplied with 100%

renewable energy, "is a source of pride

for us and another turning point in our

increasing role in Ford's electrification

strategy."

"We believe that electrification of the

legendary Transit model is a major

development and an important step for

making Ford Otosan the production base

of Ford electrified commercial vehicles."

To meet the demand for future electrified

Ford models, Ford Otosan is investing 2

billion euros and expanding employment

by around 3,000 to increase vehicle

production capacity, including the nextgeneration

Transit Custom model.

Ford's move to an all-electric future in

Europe was also highlighted by the recent

announcement that Ford, Korean battery

maker SK On and Koç Holding have

signed a nonbinding memorandum of

understanding (MoU) for a new, industryleading

joint venture in Turkey.

Subject to a final agreement, the three

partners plan to produce one of the

largest electric vehicle battery facilities in

the wider European region. Production is

intended to start as early as mid-decade,

with an annual capacity likely to be

around 30 gigawatt-hours to 45 gigawatthours.

June 2022 8
---
Stellantis halts

production at

Russia car plant

American-European automaker Stellantis

announced the suspension of production

at its factory in Russia, citing a lack of parts

and sanctions against Moscow over the

Ukraine war.

The group, which was formed in January

last year when Fiat-Chrysler and PSA

merged, had already announced in March

that it was halting imports and exports to

and from Russia.

Production for the local market at the

Kaluga factory southwest of Moscow

also slowed down, and the company had

warned that it would have to suspend work

due to shortages of components.

The factory was meant to produce Peugeot,

Citroen and Opel vans for the European

market.

However, Russia's invasion of Ukraine

prompted it to transfer that production to

Hordain, in France, and Luton, in England.

"Given the rapid daily increase in cross

sanctions and logistical difficulties,

Stellantis has suspended its manufacturing

operations in Kaluga to ensure full

compliance with all cross sanctions and to

protect its employees," the company said

in a statement.

The factory's 2,700 employees have

been temporarily laid off or placed on

holiday until June. Most automakers have

suspended their production in Russia since

Moscow invaded Ukraine on Feb. 24.

Hundreds of foreign companies, ranging

from retailers to banks, have also halted

operations there since the war broke out.

Incentives issued for some 41 bln

Turkish Liras of investments

Incentive certificates for investments worth

a total of 40.7 billion Turkish liras ($2.6

billion) were issued in March, Industry and

Technology Minister Mustafa Varank has

said.

"The private sector's appetite for

investment continues. Those investments

will produce jobs for 27,200 people,"

Varank tweeted.

Two-thirds of those investments for which

incentives were issued will be made in the

manufacturing sector, while the shares of

the energy and services sectors are 4.8

percent and 32.3 percent, respectively,

according to information the minister

provided.

Some 1.4 of the investments will go to

the agriculture industry and another 1.1

percent to the mining industry.

According to the minister, 39 percent of

those investments are expansion, while 54

percent are new investments.

The Industry and Technology Minister

granted a total of 7,070 investment

incentive certificates in January this year

for projects worth some 21 billion liras,

which foresee the employment for nearly

24,000 people.

In February, 617 intensives were issued

for planned investments worth 17.7 billion

liras with the potential to produce more

than 20,000 jobs.

May 2022 10
---
Karsan Expands

Its Electric

Vehicle Network

In Romania!

Karsan, one of the leading companies in

the Turkish automotive industry, continues

to take important steps towards growth,

led by its "One Step Ahead in the Future

of Mobility" vision. Having previously

delivered its electric vehicles to many

cities in Romania and signed high volume

contracts, Karsan signed a new contract

to deliver its electric vehicles to the city of

Focsani, which follows in the footsteps of

the city of Deva. Under the agreement with

Focsani, 7 e-JEST and 9 e-ATAK deliveries

will be made. Having already a fleet of 76

electric vehicles in Romania, Karsan has

already received orders for 104 electric

vehicles to be delivered in 2022, with

the Focsani tender. When all deliveries

are completed this year, Karsan's electric

vehicle fleet in Romania will reach 180

units.

Okan Baş, Karsan CEO: "We intend to

position the Karsan brand among the top

five players in Europe with our electric

development vision, e-Volution. Along with

France, Romania is one of Karsan's most

important target countries in the electric

vehicle market. In that vein, it will be one

of those countries that will play a key role

in our double growth target that we have

set for this year."

The zero-emission, high-range electric

vehicles from Karsan, helping to shape

public transport in cities across many

countries with its range of commercial

vehicles, are achieving success one after

another. Driven by the goal of rounding

off 2022 with a doubling of turnover,

profitability, exports, employment and R&D

capacity, Karsan continues to accelerate

its efforts to export more of its vehicles to

Romania. Karsan is to deliver 7 e-JEST and 9

e-ATAK buses pursuant to a contract for the

sales of electric buses to the city of Focsani,

pushing forward with its growth strategy in

Romania.

Karsan, which recently signed an

agreement for delivery of 56 units of

18 meter-long e-Ata buses with the

municipalities of Timișoara and Braşov,

added a new one to its list of awarded

electric vehicle contracts, in a tender

for e-JEST and e-ATAK models with its

Romanian distributor Anadolu Automobil

Rom in the cities of Deva, Gura, and

Segarcea. Finally, Karsan, which won

the tender for 16 electric vehicles to be

delivered to the municipality of Focsani,

continues to write new success stories in

Romania. Karsan, having already received

orders for 104 electric vehicles in Romania

for delivery in 2022, plans to expand its

existing fleet of electric vehicles to 180 by

the end of the year.

Okan Baş, CEO of Karsan, emphasized

that they had achieved significant growth

with the agreements signed in 2021 and

the expansion of export markets, and

stated that Romania would contribute

to Karsan's growth targets in 2022,

saying, "We entered 2022 with the goal

of doubling growth across all areas. The

most important component of our growth

target is, of course, exports. With our

electric development vision e-Volution, we

are positioning the Karsan brand among

the top 5 players in Europe. Along with

France, Romania is one of Karsan's most

important target countries in the electric

vehicle market. In that vein, it will be one

of those countries that will play a key role

in our double growth target that we have

set for this year. With the new contracts

for electric vehicles we have signed in

Romania, we are reaffirming our vision,

June 2022 12
---
"One Step Ahead in the Future of Mobility".

A proven performer which comes with high

maneuverability and unmatched passenger

comfort, e-JEST is equipped with a BMW

electric motor capable of 170 HP power

and 290 Nm torque with optional 44 or 88

kWh batteries, also made by BMW. Offering

the best performance in the six-meter small

bus class with a range of up to 210 km,

e-JEST also boasts a regenerative braking

system which provides energy recovery by

enabling the batteries to self-recharge at a

rate of 25 percent. Decorated with a 10.1-

inch multimedia touchscreen, fully digital

dashboard, keyless ignition, and USB ports

as well as an optional WiFi compatible

infrastructure, e-JEST does not come short

in terms of comfort compared to passenger

cars thanks to its four-wheel independent

suspension system.

e-ATAK comes with dynamic front and rear

lines, and provides a striking look with its

LED daytime running lamps. The electric

motor at the heart of e-ATAK generates 230

kW engine power and 2.500 Nm torque,

providing users with a high performance

driving experience. Running on a total 220

kWh capacity with five 44-kWh batteries

developed by BMW, the 8-meter e-ATAK

boasts a unique 300 km range to outpace

its rivals. Moreover, the vehicle's batteries

can be charged in 5 hours with AC charging,

and in 3 hours with fast-charging units. A

regenerative braking system also recycles

power which enables the batteries to selfrecharge

up to 25%. The model comes with

two seating layout options, for a capacity of

52 passengers.

June 2022 14
---
Volvo Cars recognized for Its

leadership in climate action

Volvo Cars has been recognized for

its sustainability strategy by global

environmental non-profit CDP, securing

an A-score for its actions aimed at cutting

emissions, mitigating climate risks and

becoming a climate-neutral company.

This places Volvo Cars in the highest tier of

CDP's climate change list, together with only

a smaller number of companies. More than

13,000 companies participated by disclosing

data on their environmental impacts, risks

and opportunities, and Volvo Cars' high

score reflects its position as a leader in

environmental ambition and climate action.

"We are very proud to see that our hard

work to cut emissions and becoming

climate neutral is being recognized by

CDP," says Anders Kärrberg, head of global

sustainability at Volvo Cars. "Receiving the

prestigious A-score shows that we are on

the right track, and hopefully we can inspire

other companies to do even more."

Volvo Cars aims to become a fully electric

car maker by 2030 and plans to roll out a

whole new family of pure electric cars in

coming years, one of the auto industry's

most ambitious electrification plans. This

is part of its ambition to become a climate

neutral company by 2040, as it works to

consistently cut carbon emissions across

its business. The company seeks to reduce

the lifecycle carbon footprint per average

car by 40 per cent between 2018 and

2025, including through reducing carbon

emissions in its supply chain by 25 per cent

by 2025. Volvo Cars is taking active steps to

address these emissions, including through

planned collaborations with Swedish steel

maker SSAB to develop fossil free steel and

with Swedish battery company Northvolt

to develop and manufacture the next

generation of sustainable battery cells.

In conjunction with signing the zeroemission

road transport declaration at the

UN climate change conference COP26 in

November, Volvo Cars also introduced an

internal carbon price of 1,000 SEK for every

tonne of carbon emissions from across

its entire business, becoming the first car

maker to implement such a carbon pricing

mechanism across its complete operations.

June 2022 16
---
Turkey, EU can put clean transition

strategy to reduce gas imports

Acommon strategy for the energy

transition and an increase in cross-border

electricity trade capacity between the

European Union and Turkey is advisable

given the urgency in reducing dependency

on Russian gas with the ongoing crisis in

Ukraine, Julian Popov, the chairperson of

the Buildings Performance Institute Europe

(BPIE) told Anadolu Agency in an exclusive

interview.

As the EU accelerates plans to reduce

reliance on natural gas imports from

Russia, Popov, also the former minister

of Environment of Bulgaria, suggests that

Turkey could play a significant role to this

end.

The EU's plan announced to cut Russian

gas imports by two-thirds in a year includes

increasing liquefied natural gas (LNG)

capacity, rapidly boosting renewable

energy generation and cutting demand

with energy efficiency measures.

"Turkey is a very important country, in

my view, which is very often ignored just

because of political reasons and as it is not

part of the EU. But I think that is a very

serious mistake because the Turkish energy

system and European energy systems are

partially integrated, and what is happening

in Turkey could impact Europe," Popov said.

He envisages that a rapid increase in

alternative supplies in the short and

medium term for energy efficiency and the

reduction of consumption would be very

important not only for Turkey but also for

Europe, especially Southeast Europe.

Popov advocated for going ahead and

holding energy platforms and negotiations

that are not linked to the energy chapter of

the Turkish application for EU membership

because this petition has been delayed for

political reasons.

According to Popov, it has become very

important that Turkey and the EU form a

common strategy for the energy transition,

which has become more acute and urgent

with the crisis in Ukraine.

He recommended setting up an urgent

working group or task force between the

European Commission and European

countries like Bulgaria, Romania, Greece

and Turkey to assess joint action for

development. He also stressed the

importance of developing a partnership

between Turkey and the EU in resolving

many energy security issues.

He suggested that a reduction in energy

consumption is an area to tackle as well

as expanding cross-border electricity grid

capacity to allow more electricity trade

between Turkey and the EU.

"Ultimately, that will help with the

integration of more renewables, wind and

solar, mostly because they are intermittent

renewables and they need wider areas

for connection because, in that way, they

balance better," he said.

Defining Turkey as "an absolute heaven for

development and renewables and doing

so at a low cost," Popov acknowledged

the massive renewables potential in the

country that is similarly very advanced in

hydro and geothermal power.

He cited Turkey's experience in solar

heating, which is ignored in Europe. He

said this simple technology could have

a massive impact on heating in Europe,

which is heavily dependent on gas.

Energy efficiency, demand-side

management, digitalization, batteries,

green hydrogen are all technologies that

can rapidly reduce coal and gas use to

help achieve both climate targets and cut

dependency on other countries, he said.

The crisis in Ukraine set off alarm bells for

energy security, Popov said.

Given the recent global commodity price

shocks that have surged to record highs,

he said the nature of energy security

is changing, with energy security being

something much wider than access to gas.

"It is not only about gas or oil but there are

a lot of issues and bottlenecks in the supply

chain of renewables like critical minerals

that are needed for batteries for solar

panels or wind generators," he said.

Gas should only be used where there is no

other alternative available amid the energy

transition, as this fuel will be phased out in

10 to 20 years.

Instead, he said that financial markets are

ready to facilitate the rapid development

of renewables and new clean technologies

to reduce carbon emissions and tackle the

global issue of energy security.

June 2022 18
---
Turkey's BMC

exports 170

more buses to

Azerbaijan

Turkish vehicle maker BMC, one of the

country's largest commercial and military

vehicle manufacturers, has sold 170 more

buses to Azerbaijan, according to Anadolu

Agency.

The company continues to increase its

exports with the new generation, high-tech

and environmentally friendly buses, thanks

to its research and development (R&D)

investments in recent years, the report

said.

BMC, which, aside from European

countries, has signed many projects in the

Balkans and Turkic republics and with the

tenders it won in Azerbaijan, the company

exported a total of 510 Procity 12-meter

(40-foot) buses, 20 Procity 18-meter

buses and 35 Neocity 9-meter buses with

compressed natural gas (CNG) engines.

With the latest acceptance procedures, the

delivery of 170 Neocity 9-meter CNG buses

has been completed. Thus, the number of

BMC buses serving in Azerbaijan's capital

Baku increased to 735.

Having produced the first natural gas and

fully low-floor city bus in Turkey, BMC

buses stand out with their high comfort

and technological features. BMC's buses

produce special solutions for preventing

air pollution, which is the most important

problem of big cities, with their lowemission

and environmentally friendly

engines.

BMC, Turkey's first commercial vehicle

manufacturer to export to Europe, provides

a significant amount of foreign currency

inflow to the country with its sales to

more than 80 countries in its deep-rooted

history of half a century. Winning the

"Best Design Award" at Busworld Europe,

Neocity is BMC's new generation bus

series. Neocity buses, which are produced

in 8.5, 9 and 10-meter lengths with electric,

diesel and CNG, offer special solutions

for the different needs of cities. Neocity,

which has the lowest turning radius in its

class thanks to its independent front axle,

provides superior driving comfort with its

high maneuverability and high traction,

even in the narrowest streets of the city.

Neocity 8.5 and 9-meter buses offer the

opportunity for up to 72 people to travel

comfortably and the 10-meter versions

allow for up to 88 passengers.

June 2022 22
---
Hyundai

announces its

plans to build

first electric car

factory in US

Korean carmaker company Hyundai has

announced a plan to build its first fully

electric vehicle plant in the U.S. state

of Georgia. The new plant in Georgia

represents an investment of approximately

$5.54 billion. E-car batteries are also to

be manufactured at the site, Hyundai said

in a statement. Construction is scheduled

to start in January 2023 and commercial

production is expected to begin in the

first half of 2025, with a reported annual

production capacity of 300,000 vehicles.

The planned investments should produce

more than 8,000 jobs, the carmaker said.

"We decided to build our first dedicated EV

(electric vehicle) plant in the U.S. because

America embraces change and drives

innovation," said Hyundai Motor President

and Chief Executive Officer (CEO) Jaehoon

Chang.

"This new EV plant is the future of our

business, and it will help us meet the

growing demands of our U.S. customers

who want leading-edge design, safe, zeroemissions

vehicles now and in the future,"

he added. Hyundai's announcement

coincided with U.S. President Joe Biden's

visit to South Korea. With additional

production capacities for e-vehicles and

batteries, the group aims to become one

of the three largest suppliers of batterypowered

electric cars in the U.S. by 2026.

Hyundai already has two plants in the

U.S., one operated by Hyundai Motor in

Alabama, and the other by its mobility

brand Kia in Georgia.

June 2022 24
---
The world returns to Automechanika Frankfurt:

Over 80 percent of the exhibitors come from abroad

The international automotive aftermarket

is getting back together in Frankfurt: from

13 to 17 September 2022 and then in

even-numbered years. Numerous leading

companies from over 60 countries have

already confirmed their participation.

Recent statements by major industry

players have underscored Automechanika's

significance as the sector's most

important international meeting place.

The Automechanika Innovation Awards

have received a record number of

submissions. And in-person networking is

more important than ever, with additional

networking lounges now available. Other

areas of focus: automotive logistics,

sustainability, training, professional

development and recruiting.

Be it electromobility, connectivity,

autonomous driving or digital solutions

for workshops and car dealerships,

manufacturers and suppliers in the

automotive aftermarket have a wealth of

new products and innovations on tap for

the upcoming Automechanika Frankfurt.

Olaf Mußhoff, Director of Automechanika

Frankfurt, is delighted with the positive

feedback from the sector: "I look forward

to seeing numerous international key

June 2022 26
---
players and trade visitors from all over

the world back here in Frankfurt. It is a

long-awaited opportunity to do business in

person and enjoy an up-close experience

of new products and live presentations. We

have created new formats for the occasion

and put important trend topics on the

agenda."

No other trade fair covers the entire value

chain of the automotive aftermarket

like Automechanika Frankfurt. An

international Who's Who of the industry

gets together at the Frankfurt exhibition

grounds. Companies such as Modula, G3,

Peruzzo, Fabbri, Koni, Mc Guard, Edco, MF

Transportsysteme, Climair, EAL, Tradekar,

Gianso, Oto Konak and Gleddring will be

showcasing product innovations in the

Accessories & Customizing category. In the

Body & Paint area in Hall 11, companies

including BASF Coatings, Chemicar Europe,

Mipa, SATA and ZKF (German Association

for Bodywork and Vehicle Technology) will

be presenting their products and services.

Exhibitors in the Car Wash & Care area

include Otto Christ, Alfred Kärcher,

Colourlock, AVW equipment, Interpump,

Lavorwash, Comet, Innovative Chemicals,

Koch Chemie, Washalia, MaFra and

Soft99. The Diagnostics & Repair category

features numerous companies showcasing

their newest solutions, including MAHA,

Snap-on, Blitz Rotary, Texa, Nexion Corghi

Group, Hunter, Abrites, Hella, Robert

Bosch, Mahle, ZDK (German Federation for

Motor Trades and Repairs), Rhinomotive,

Dometic Waeco, Autocom, Carbon Zapp,

Autel Intelligent (CN), Würth, DAT, Celette

France, Solera, Carbon, Prodyver, CTP

GmbH, LiquiMoly, ROWE and RAVENOL.

HaynesPro, GTÜ, soft-nrg and other wellknown

companies from Germany and

abroad will be presenting new solutions for

Dealer & Workshop Management at the

trade fair.

The entire spectrum of Parts &

Components for cars, motorcycles and

commercial vehicles will be presented

by companies such as BPW Bergische

Achsen, Jost-Werke, A.B.S. All Brakes

Systems, Meyle, ElringKlinger, NTN-SNR,

MS Motorservice, Heinrich Eibach, DVSE-

Topmotive, Schaeffler and Continental

Aftermarket. Osram, Clarios and Lumileds

are among the companies showing off their

latest developments in the Electronics &

Connectivity area.

Recent statements by major industry

players have underscored Automechanika's

importance as the sector's international

meeting place. Peter Wagner, Managing

Director Continental Aftermarket &

Services GmbH, explained: "There is no

doubt that Automechanika is the industry's

leading trade fair. This is where strategic

discussions are held at the highest level

– something that is finally possible again.

That's important, because the aftermarket

is changing faster than ever. Whether it's

connectivity, data access, e-mobility or

sustainability – there is a lot to talk about!"

There will also be new players at this year's

event. Oliver Klinck, Managing Director,

CEO eBay Germany: "As the leading online

marketplace for car parts and accessories,

eBay is delighted to be presenting the

E-Commerce Lounge at Automechanika

for the first time this year." More industry

insights and exhibitor statements can be

found at automechanika.com/statements.

Today more than ever, the focus is on

innovations and trends, and it's not just

the exhibitors' stands where these can

be found. The 'Innovation4Mobility'

showcase presents pioneering solutions

for connected vehicles and climateneutral

mobility. Another highlight: the

products honoured by the Automechanika

Innovation Awards. More products have

been nominated this year than ever

before. Show Director Olaf Mußhoff: "This

sends a strong signal and shows just how

innovative the industry is – something that

is especially important with the current

situation." Mußhoff is also planning a

forum focusing on automotive supply chain

management, an area in which the industry

urgently needs greater dialogue and new

ideas.

Attracting young people and talents of

all ages to the automotive aftermarket

is another area where action is needed.

That is why the fair's management has

put training, professional development

and recruiting at the top of the agenda.

Special events for pupils and newcomers

are planned, as are accident repair

management workshops and training

for professionals. The industry's new

'Talents4AA' initiative will be shining a

spotlight on employment and career

opportunities at the fair.

Sustainability is another area of focus. This

is the second time that Automechanika

will be hosting 'Remanufacturing Day'.

The event, which is held in collaboration

with the international Automotive Parts

Remanufacturers Association (APRA),

takes place on 14 September and features

experts presenting the latest developments

in remanufacturing and the circular

economy. The topic will also be present in

the exhibition halls, with a special green

remanufacturing logo identifying those

exhibitors offering products and services in

this area.

At the FIA Smart Driving Challenge subevent

sponsored by Automechanika that

takes place in advance of the trade fair, the

focus is on driving in the most sustainable

and resource-conserving manner possible.

Anyone who drives and also owns a

smartphone is free to participate. The goal

is to collect as many points as possible

through intelligent and environmentally

friendly driving – the winner will be

honoured at Automechanika Frankfurt.

There will be nine Automechanika trade

fairs in all this year, with four in June alone.

June 2022 28
---
Auto industry

racing to

10-minute

electric charging

times

Electric vehicles (EVs) are simply not

convenient enough for mass-market

acceptance because they take excessive

amounts of time to charge and consumers

fear running out of juice before the next

station, according to the auto industry.

Automakers have sought to quell those

concerns by developing EVs that go farther

per charge and fill up faster. Problem is,

most public charging stations now fill cars

much too slowly, requiring hours – not

minutes – to provide enough electricity for

an extended trip.

Concerned that such prolonged waits

could turn away potential EV buyers and

keep them stuck on gas-burning vehicles,

automakers are trying to cut charging

times to something close to the five or 10

minutes of a conventional gasoline fill-up.

"It's absolutely the target to get faster

and faster," said Brett Smith, technology

director at the Center for Automotive

Research, an industry think tank. "It's

not there yet, but it's one of those things

that moves the needle more toward a

competitive vehicle for a lot of people, this

ability to fast charge."

The latest generation of EVs, many with

ranges around 300 miles per charge, can

accept electricity at a much faster rate

than previous models could. So fast, in

fact, that most charging stations cannot

yet accommodate the vehicles' advanced

technology.

It can now require hours to fully charge

an electric vehicle because most stations

operate on a home-like alternating current.

Direct-current fast-charging stations, by

contrast, are hours faster. But they can cost

tens of thousands of dollars more.

U.S. President Joe Biden delivers remarks

after touring the Ford Rouge Electric

Vehicle Center in Dearborn, Michigan, U.S.,

May 18, 2021. (Reuters Photo)

The high cost is something the Biden

administration will have to consider

as it develops incentives to encourage

companies and governments to build

500,000 charging stations nationwide

by 2030. Among the possibilities being

discussed are grants, with $15 billion

in spending over five years to build the

network, including fast chargers along

highways and in communities. Details are

being worked out as the administration

negotiates its infrastructure plan with key

members of Congress.

Of the roughly 42,000 public charging

stations in the United States, only about

5,000 are considered direct-current fast

chargers, according to the Department of

Energy. The rest are like home chargers and

they require roughly eight hours to fully

charge longer-range batteries, longer than

anyone wants to wait to charge a vehicle

on a road trip.

And most fast chargers can pump out only

about 50 kilowatts per hour – requiring

roughly an hour to charge an average EV to

80% – even though newer EVs are capable

of being charged must faster than that.

"It's one of the big barriers for someone

who is not living with a battery-electric

vehicle yet," said Alex Tripi, who head's

Volvo's electric vehicle marketing. "It will

continue to be for a while."

Limited by technology, early electric

vehicles charged at ridiculously low speeds

when compared with recent models. When

Nissan's Leaf first went on sale more than

a decade ago, for example, it could take

in only 50 kilowatts per hour from a fast

charger. That meant it took a half hour to

charge it to 80% of its small battery, just 58

miles.

A new long-range version released in

2019 nearly tripled the range per charge.

Because it can take 100 kilowatts at a fast

charger, it can get to 80% – 181 miles – in

45 minutes.

June 2022 30
---
Newer EVs can be charged even faster.

But they far exceed the capacity of most

fast chargers. Ford's Mustang Mach-E and

F-150 Lightning can take in 150 kilowatts

per hour. Hyundai's Ioniq 5 and Porsche's

Taycan are over 200 kilowatts.

The Hyundai, with 300 miles of range, can

go from a 10% charge to 80% in just 18

minutes, much closer to gasoline fill-up

times. Hyundai knows there aren't many

chargers now that can fill the Ioniq that

fast. But it says it's ready for a future when

more quick chargers are more widely

available.

Automakers tend to quote charging times

to 80% of battery capacity because it takes

much longer to go from 80% to 100%; the

final 20% is often slowed down to prolong

battery life.

"Hopefully the infrastructure will improve

across the U.S. for this to be a whole

lot more viable," said John Shon, senior

manager of product planning.

Tesla, which has its own private charging

network of 25,000 plugs worldwide, leads

in nearly every measurable category and

just posted its seventh straight profitable

quarter. Its newer chargers can crank out

up to 250 kilowatts and 175 miles of range

in about 15 minutes.

Electrify America, a charging network

funded with money paid by Volkswagen

as punishment for its emissions cheating

scandal, says it's ready for the newer EVs.

Having installed fast chargers since 2018,

it runs more than 600 stations with 2,600

plugs nationwide. All can pump out 150

kilowatts. That means they can charge a

typical EV with 300 miles of range to 80%

of battery capacity (240 miles) in roughly

45 minutes. Electrify America is adding

350-kilowatt stations, which can charge

twice as fast.

A fast-charge fill-up to 80% of battery

capacity varies by state but typically costs

around $16.

Even Tesla owners, who can access the

nation's biggest fast-charging charging

network, risk running out of juice on road

trips, especially in rural areas. One such

driver, Dan Nelson, said he had to stop at

a Tesla station near Ann Arbor, Michigan,

for more than 20 minutes to make sure his

Model 3 had enough charge to reach his

rural home 25 miles away.

A China-made Tesla Model 3 electric

vehicle shines on display at the Guangzhou

auto show in Guangzhou, Guangdong

province, China, Nov. 21, 2019. (Reuters

Photo)

"There's definitely improvements that can

be made," said Nelson, who charges at

home most of the time.

Bruce Westlake, president of the East

Michigan Electric Auto Association,

suggested that such anxiety tends to ease

as people gain more experience with EVs.

He said he is now comfortable running his

two Teslas as low as 5% of battery capacity

to go farther between charges on trips.

Research by J.D. Power and Associates

shows that most people think charging

stations are needed at locations where gas

stations are now. But in fact, according to

the Energy Department, most EV owners

charge at home more than 80% of the time.

That means super-fast chargers, which can

cost close to $100,000, should be built

mainly along highways where people are

traveling long distances and need to charge

quickly, experts say. They also may be

needed in urban areas where people live

in apartments with no access to a home

charger.

A journalist takes photographs of an Ultra

Fast EV Charger next to a Kia EV6 GT during

a photo opportunity in Seoul, South Korea,

June 1, 2021. (Reuters Photo)

It's far from clear that the automakers can

depend on a proliferation of fast chargers

across the country to build customer

confidence and propel EV sales in the years

ahead. The high cost and heavy load on

utility grids likely will limit the number

of fast chargers to areas where they're

needed for quick fill-ups, said Jessika

Trancik, an associate professor at the

Massachusetts Institute of Technology who

studies EV charging.

"As we're approaching this transition," she

said. "It's important to be more strategic

than just putting them everywhere."

Charging companies have time to figure

out where to build fast chargers because

it would take more than 17 years to

convert the entire U.S. fleet of 279 million

passenger vehicles from petroleum to

electricity – even if every motorist were

willing to make the switch, said Pasquale

Romano, CEO of ChargePoint, a charging

station company.

But the chargers can't come fast enough

for automakers, who want more people to

buy their EVs to spread development costs

over more vehicles. In 2020, global electric

car sales jumped 41% despite pandemic

restrictions.

Romano says fast chargers will be needed

about every 75 miles on roads that connect

metro areas, and that the United States

should get there in about two years. As

more EVs are sold, he said, more stations

will be built.

"You don't want to put all the

infrastructure in for 20 years starting with

vehicle zero," Pasquale said. "This is about

the natural organic growth."

EVs are getting ahead of the public charging

network, which isn't ready to handle the

higher kilowatts that the parade of new

vehicles can handle. Adding to the urgency

– EVs will be cheaper to produce than fossil

fuel cars by 2027. Experts, however, say

there's time for the chargers to catch up as

long as EV sales don't take off too fast, and

if charging networks are willing to invest in

faster systems.

June

2022

32
---
Turkish manufacturers, exporters

see huge opportunities in Africa

African Trade Centers help Turkish

companies expand their footprint in Africa,

the founder of the centers said, adding that

they aim to make Turkey one of the main

contributors in Africa's industrialization

journey.

Around 280 manufacturers and exporters

from Turkey came together with nearly

1,000 businesspeople from Africa, drawing

attention to its 1.5 billion population

and annual import potential of over $1

trillion, at the sixth World Intersectoral

Cooperation Forum held in the capital

Ankara.

African representatives of 741 companies

from 41 countries, which make up 82%

of the country's population, attended the

event, African Trade Centers founder Utku

Bengisu told Anadolu Agency (AA).

"There are more than 300 organized

industrial zones in Turkey. The point

our industry has reached in the last 20

years is indisputable. We have made

great strides. We also produce high-tech

products. We want to be the country that

makes the main contribution to Africa's

industrialization journey by sharing this

experience with them," he said.

Underlining that the population of Nigeria

is 220 million and that it will reach 840

million by 2100, Bengisu added Turkey

wants to be a part of the industrial

transformation where it will also produce

and develop regional trade with a strategic

mind and vision for the future.

Expressing that the organization's main aim

is to understand the "African policy" that

President Recep Tayyip Erdoğan frequently

emphasizes and to make Turkish companies

turn their route to Africa with the same

motivation, Bengisu said, "We want to

provide new networks for this."

"When we look at the imports of Africa, we

see that China, the United Arab Emirates

(UAE), India, South Africa and the European

Union countries have a very large share.

The reason for this share is the motivation

of the rising new generation economic

class of Africa, namely the traders, to

constantly sell those goods in the market,"

said Bengisu, pointing out that they invite

African businesspeople to have Turkish

goods as a new option on the table.

Referring to the organization's history and

its contribution to the companies, Bengisu

said that they held the first event in 2017

in southern Antalya province. Stating that

they aimed to attract producers who had

never worked with each other in Turkey

and Africa to produce a framework for

the future at that time, Bengisu said: "Our

first delegation came from Sierra Leone. At

that time, our trade volume was close to

zero. Every year, we made progress, even

during the COVID-19 pandemic. One of our

companies from Izmir sold 62 containers of

goods to Sierra Leone."

"Currently, Turkey ranks sixth in this

country's imports with a share of 6.5%.

This is the benefit of this forum: Bringing

Turkish companies that have never been

to Africa together with it and producing a

Turkish product horizon for African traders

who have never bought Turkish goods," he

added. Explaining that a furniture company

participating in the forum first opened an

office abroad in Ethiopia and increased the

number of its offices to six over the years,

Bengisu said that the company transported

its machines from Turkey to Ethiopia to

manufacture furniture.

Stating that many businesspeople want

to invest in Africa, Bengisu said: "Africa's

population is increasing. You cannot feed

this population just by purchasing."

June 2022 36
---
African expansion in defense

Meanwhile, Turkey's defense exports to

African countries in the first two months

of this year jumped by 608% compared

to the same period of the previous year,

contributing to the total defense exports

of the record $138.6 million in the said

period. The sector, which reshapes export

markets with global developments and

fairs, also continues to deepen its relations

through defense industry cooperation

agreements signed with more than 25

African countries, including Niger, Rwanda,

Senegal, Congo, Mali and Nigeria.

While African countries were the fifthlargest

market in exports in the first 11

months of 2021, they rose to rank second

after North America, which exported $141

million in the first two months of this year.

Global developments and fairs pave the

way for exports in defense. The sector aims

to further strengthen its export network in

the surrounding countries by participating

in the African Aerospace and Defense Fair

in South Africa on Sept. 21-25.

The great interest of African companies in

the fairs in 2021 and 2022 brings with it the

expectation of an increase in exports.

Burkina Faso is one of the countries that

has drawn attention with its increase in

exports, with $386,000 in the first two

months of last year becoming $83.2 million

in the same period this year.

June

2022

38
---
Moscow acquires

Russian assets of

France's Renault

French carmaker Renault has sold its

Russian assets to the Russian government,

both parties announced , as foreign

companies leave the country amid

Moscow's military campaign in Ukraine.

Renault controlled 68% of AvtoVAZ,

the largest carmaker in Russia with the

country's top brand Lada, but was under

pressure to pull out of the country since

Russia's military intervention in Ukraine.

Thanks to AvtoVAZ, Russia was Renault

Group's second-largest market behind

Europe last year, with around half a million

vehicles sold.

"Agreements were signed on the transfer

of Russian assets of the Renault Group

to the Russian Federation and the

government of Moscow," the ministry said

in a statement.

Under the agreement Renault will retain

a six-year option to buy back the stake in

AvtoVAZ.

The deal also included Renault's Moscow

plant.

No financial details were provided but

Russian Industry and Trade Minister

Denis Manturov said in April that Renault

planned to sell its Russian assets for "one

symbolic ruble."

"Today, we have taken a difficult but

necessary decision; and we are making

a responsible choice towards our 45,000

employees in Russia, while preserving the

Group's performance and our ability to

return to the country in the future, in a

different context," Renault Chief Executive

Luca de Meo said in a statement.

Moscow Mayor Sergei Sobyanin for his

part said that Renault decided to close its

plant in the capital.

"This is its right, but we cannot allow

thousands of workers to be left without

work," Sobyanin said in a statement,

adding he decided to resume production

of passenger cars under the Soviet-era

Moskvich brand.

"In 2022, we will open a new page in the

history of Moskvich," he added.

"We will try to keep most of the team

directly working at the plant and with its

subcontractors."

Since President Vladimir Putin sent troops

into Ukraine on Feb. 24, Renault has had

difficulty keeping its operations going due

to a lack of components following the

imposition of Western sanctions.

Ukrainian authorities have also put

pressure on Renault, calling for a boycott

of its vehicles until it pulls out of Russia.

June 2022 40
---
Turkey's car

brand Togg tests

robot assembly

as rollout nears

The 208 robots installed at the facility in

Gemlik, northwestern Bursa where Turkey's

first domestic, fully electric car is being

developed have begun partial trials after

completing testing without parts.

The news was shared in a statement

released by Turkey's Automobile Joint

Venture Group (Togg), the consortium

developing the car. The construction work

at the Gemlik facility, which is at the core

of Togg's "Journey to Innovation" target, is

rapidly approaching conclusion in line with

plans.

"The 208 robots in the body building, of

which 97% have been completed, have

started partial trials on a cell basis after

the trials without parts. This stage will be

followed by trial productions by combining

cells. After this process is completed, it will

be ready for mass production in the last

quarter of the year," the company said.

As of May, 99% of the paint facility and

95% of the assembly facility have been

completed at the Gemlik site, it added.

At the paint facility, where 83,935 meters

(275,377 feet) of electrical wiring and

36,770 meters of pipeline have been laid,

tanks have begun undergoing water tests.

In the assembly facility, 99,210 meters

of electrical wiring and 58,330 meters of

pipeline have been laid.

The construction of the Togg Gemlik facility,

which is built on a total open area of 1.2

million square meters (12.9 million square

feet), will be completed at the end of June.

The Togg will be ready for mass production

in the last quarter of 2022. After the

completion of homologation tests, the SUV,

the first vehicle in the C-segment, will be

launched at the end of the first quarter of

2023.

Later, Sedan and Hatchback models in the

C-segment will enter the production line.

In the following years, with the addition

of the B-SUV and C-MPV to the family, the

product range consisting of five models

carrying the same DNA will be complete.

Togg plans to produce a million vehicles

by 2030, producing five different models

based on a single platform.

June 2022 44
---
Turkish industrial output beats

forecasts to expand by 9.6%

Turkey's industrial production exceeded

forecasts by expanding 9.6% year-over-year

in March, official data showed, rising for a

21st consecutive month as factory activity

remains strong despite high inflation.

Year-over-year growth has remained

positive and sustained a solid trend in

economic activity since the lifting of

measures to combat the coronavirus

pandemic in 2020.

On a monthly basis, the index shrank 2.4%

in January due to electricity and natural gas

cuts at industrial facilities stemming from a

technical failure in Iran.

Month-on-month, industrial output shrank

1.8% in March on a calendar and seasonally

adjusted basis, the Turkish Statistical

Institute (TurkStat) said.

Economists expect the pace of growth in

the index to slow in the coming months

and approach a neutral level around

summer. A potential drop in external

demand or a supply chain disruption due

to Russia's invasion of Ukraine could also

impact industrial production.

In April of 2020, output dropped more than

30% in the face of the initial coronavirus

wave. It has since made a strong recovery

because subsequent measures largely

skirted the manufacturing sector and most

remaining restrictions were lifted in July

of last year. Turkey's economy grew 11%

last year, up sharply from a year earlier,

but a sharp decline in the lira in December

affected the company and household

budgets and increased inflation via import

prices. The coronavirus pandemic, the

late-2021 currency drop, which has now

been taken under control, and the resulting

jump to almost 70% inflation, as well as the

fallout from Russia's invasion of Ukraine,

are expected to hamper growth in 2022.

The government and the central bank

expect around 7% growth in the first

quarter of 2022.

June 2022 46
---
Morgan,

Sennheiser and

Continental

celebrate quality

of sound with

technology

partnership

Morgan Motor Company is excited to

announce it has entered into a technology

partnership with audio specialist,

Sennheiser. Working jointly with the

support of Continental Engineering

Service's Ac2ated Sound System, the

long-term project will transform the

sound experience of future generations of

Morgan sports cars.

Both companies have extensive

experience in their field as well a legacy

of craftsmanship, heritage and attention

to detail, their expertise, jointly with

Continental's, will help to establish an

innovative level of audio quality for

lightweight Morgan sports cars.

The partnership with Sennheiser continues

Morgan's philosophy of combining

traditional craftsmanship with innovation

and the latest technology. This approach to

21st Century coachbuilding is celebrated

throughout Morgan's current model range

which comprises Plus Four, Plus Six and the

recently launched Super 3.

In the past, Morgan cars have presented

challenges for audio systems due to

limited space, low weight requirements

and the nature of an open top sports car

when optimising sound quality. With the

combination of Continental's hardware and

Sennheiser's software, these challenges

will be overcome, presenting an all-new

proposition to new and existing Morgan

customers.

Sennheiser – the iconic audio expert – is

entering the automotive industry with

its award-winning software technology

and sound tuning know-how, aiming

to revolutionise the way driver and

passengers experience sound. Thanks to

Sennheiser's end-to-end expertise of sound

capture and reproduction, Morgan will be

the first automotive OEM to unlock the

development of a new generation of sound

experiences for enhanced in-car music

enjoyment. The two companies share a

long-term development vision sealed by

this partnership.

Continental's innovative system abandons

conventional speaker technology

triggering selected surfaces in the vehicle

interior to produce sound. The result

is an extremely natural and enveloping

sound experience for the occupants, who

feel as if they are sitting in a concert hall

surrounded by sound. In comparison to

conventional audio systems, Ac2ated

Sound not only produces high audio

quality but also enables a reduction of the

weight and space taken up by up to 90

percent.

Graham Chapman, Chief Operations

Officer, Morgan Motor Company, said:

"We are delighted to be entering into a

technical partnership with Sennheiser,

supported by Continental. Sennheiser is

a pioneer in its field, with a long tradition

of developing ground-breaking new

technology. As a small, lightweight sports

car, a Morgan traditionally presents a

packaging and weight saving challenge

when identifying audio solutions. During

our early discussions with Sennheiser

and Continental it was clear that their

technology provides a solution to these

challenges, we are excited to announce

more and introduce this new technology

to our customers soon."

Veronique Larcher, Head of Mobility at

Sennheiser, said: "It is a privilege to bring

our audio software expertise to one of the

world's longest established automotive

manufacturers, one with a commitment

to quality, craftsmanship and performance

– values very close to our heart at

Sennheiser. Morgan Motor sports cars are

born from industry leading technologies

implemented into the vehicles themselves

as well as the production and design

processes, and we are proud to be a part

of this completely unique and fresh vision

of 21st-century coachbuilding."

Christoph Falk-Gierlinger, Managing

Director Continental Engineering Services,

said: "With the cooperation of Morgan,

Sennheiser and Continental experts,

we have brought together the highest

level of expertise in the areas of vehicle

design, acoustics and user experience.

By overcoming the challenges of weight

and space, we can soon offer Morgan

customers a premium sound experience."

June 2022 48
---
Streamline

by Fablink to

provide low

to medium

volume vehicle

manufacturing

Leading British Tier 1 supplier, Fablink

Group, announced the establishment of

Streamline Automotive. The new division

has been created to meet the rapidly

growing demand for low to medium

volume manufacturing and clean build

assembly services from premium OEMs,

specialist brands and e-mobility start-ups.

Streamline Automotive is founded on the

success and continuous growth of Fablink

Group over more than 15 years and draws

on the unique manufacturing and technical

expertise within the Group. Streamline

Automotive provides cost-effective and

complete clean build vehicle assembly

capabilities within state-of-the-art facilities.

This service is enhanced by the foundations

set by Fablink Group's comprehensive

manufacturing base and strong supply

chain management capability.

Customers of the new division will also

benefit from Fablink Technologies – the

advanced engineering hub at the heart

of the Group – providing full backing to

customer engineering teams from first

concept study to full-scale manufacture,

including product development,

prototyping, tooling and Design for

Manufacture (DFM) support.

Streamline Automotive will feature the

sub-brand: Streamline E-Mobility. Rapidly

scaling for the mass shift to electrification

in the automotive and commercial vehicle

sectors, Streamline E-Mobility is primed

to accommodate increasing demand. The

sub-brand will provide EV companies,

start-ups, and e-mobility companies

a competitive turnkey manufacturing

solution for mixed material architecture

including body panels, lightweight chassis

and bonded structures as well as complete

vehicle assembly. These core technical

competencies of Streamline Automotive

and Fablink Group are highly applicable

to electrically powered vehicles, where

lightweight components are of vital

importance to battery range, vehicle

performance and environmental impact.

Streamline Automotive will also provide

customers with fundamental support

through purchasing and the supply

chain including Bill of Materials (BOM)

establishment and sourcing strategies

across a range of relevant commodities,

including EV powertrain systems and

batteries.

Drawing upon the Group's extensive

manufacturing and engineering capability,

Streamline Automotive is now formally

introduced to the marketplace. The

new division is set to forge new longterm

strategic relationships with fellow

industry-leading automotive and e-mobility

businesses. The name 'Streamline' has

strong heritage within Fablink Group.

Alan Westley, the grandfather of Fablink

Group's Founder and CEO, Richard Westley,

gave the name 'Streamline' to his sheet

metal business, which he founded with

his brother, George, in 1941. Streamline

supplied panels, bodies and structures to

the aviation and automotive sectors.

Richard Westley, Founder and CEO of

Fablink Group, explains: "We are delighted

to launch Streamline Automotive – a new

division of Fablink Group which is dedicated

to specialist low to medium volume contract

vehicle manufacturing and assembly.

The launch of Streamline Automotive is a

logical step for Fablink Group following a

decade and a half of continuous growth

and the development of our engineering

and manufacturing capability and OEM

customer base. We are seeing rapidly

growing demand in the market, including

new business enquiries from specialist car

companies and EV and e-mobility start-ups

who, in the absence of a manufacturing

base of their own, increasingly require

lightweight, energy-efficient, costeffective

and cutting-edge manufacturing

and clean build solutions for their new

vehicles and products. With the support

of Fablink's engineering, development

and manufacturing resources, Streamline

Automotive will provide customer

engineering teams with comprehensive

support from initial concept to full-scale

manufacture, making us uniquely positioned

to provide a turnkey solution with the

breadth of our unmatched in-house

expertise and capabilities."

June 2022 50
---
Türk Eximbank, UAE's export support agency

ECI ink cooperation deal

Acooperation agreement was signed

between Türk Eximbank and Etihad

Credit Insurance (ECI), the official export

support agency of the United Arab

Emirates (UAE).

The signing of the deal occurred amid

the 2022 spring meeting in Istanbul of

the International Association of Export

Credits and Investment Insurers, also

known as Berne Union, of

which Türk Eximbank

became a member in

1994.

During the fourday

meeting, new

trends in the world

of export credit and

credit insurance were

discussed.

Türk Eximbank General Manager

Ali Güney met with other leading

companies in the sector to improve

the existing cooperation between

Türk Eximbank and to evaluate new

opportunities.

The said agreement aims to provide

co-financing for projects involved in the

export of goods and services in both

countries, as well as sharing information

between institutions.

It also covers cooperation in insurance

services, co-insurance and

reinsurance areas.

At the meeting, it was

reported that Turk

Eximbank continues to

follow the developments

in the world closely and

continues its efforts

to serve Turkey's exports

with a more inclusive and diversified

product range by improving its

existing cooperation network at every

opportunity.

June 2022 54
---
Turkey set to

mass-produce

electric cargo

unmanned

ground vehicle

An electronics company from central

Turkey is set to begin mass production of

its electric cargo unmanned ground vehicle

(UGV), an executive said.

Named AKIBA, the vehicle is a product

of a six-year design and research and

development (R&D) work by Elfatek

Elektronik from the central province of

Konya that employs 30 engineers.

Able to handle up to 500 kilograms

(1,102 pounds) of load, AKIBA can be run

autonomously or through remote control.

It can work for 12 hours after a two-hour

fast charge.

AKIBA's two models with a payload capacity

of 100 kilograms and 500 kilograms were

unveiled at this month's machinery tech

fair in Konya, Elfatek Chairperson Bahattin

Düzgün said.

"Our robot was designed to work by

scanning the area in three dimensions,

interactively and without causing any

accidents. In addition, manual and remote

control options are also available. With

its design and software, it is a Turkish

engineering product," Düzgün told Anadolu

Agency (AA).

The cargo UGV has started to be actively

used, as its tests have been completed,

he noted, stressing aims for the vehicle to

reach international markets in the period

ahead.

"It will ensure that the transportation of

cargo is carried out in an unmanned and

safe way, especially in the industrial sector.

It will minimize cost and work accidents,

and also increase productivity," said

Düzgün.

AKIBA scans and draws a 3D map of the

area where it will operate, according to

Düzgün.

"It calculates the shortest path and reaches

the destination by calculating the moving

and stationary obstacle around it very

quickly. If people are moving around, it can

make a quick evasive maneuver. If there is

no place for it to go, the automatic system

protects itself and stops," he explained.

AKIBA will for now be used for freight

transportation, and Düzgün said they are

also considering marketing its motherboard

to different sectors.

"Our goal is to market it to the world.

Thereafter, we will gradually mass-produce

it. We will be across Turkey in a maximum

of six months and one year," he added.

June 2022 56
---
Treasury and Finance Minister Nureddin Nebati

Turkey's

inflation to ease

when global

tensions abate

Inflation in Turkey will begin to decline in

the summer, Treasury and Finance Minister

Nureddin Nebati said, predicting that global

tensions will ease.

Inflation soared to 54% in February, mainly

due to a surge in global commodity prices

driven by the Russia-Ukraine war and last

year's decline in the Turkish lira.

Russia's invasion of Ukraine that began

at the end of February is adding to

inflationary pressure in Turkey and could

widen the current account deficit.

Economists see inflation rising further in

the coming months, but Nebati struck a

more optimistic note when he spoke to

investors in Cannes, France.

"The tensions in the world will not

continue. As of summer months, especially

as of the end of the year, we're going to

see the fall (in inflation) and the quick

normalization altogether," he said.

Nebati said Turkey is determined to

lower inflation to single digits by the time

elections scheduled for June 2023 take

place.

The lira declined 44% against the United

States dollar last year and followed an

easing cycle that saw the central bank cut

its policy rate by 500 basis points to 14%.

The cuts came as the government endorsed

a new economic program that prioritizes

exports, credit, growth and employment.

Ankara was able to stem the lira's decline in

December through the government-backed

scheme that protects lira deposits against

forex depreciation.

Nebati said that the scheme helps to

keep the exchange rate at a "stable and

foreseeable" level.

Noting that Turkey closed 2021 with

balanced and strong growth, Nebati added

that despite the problems in logistics and

the tensions in the Black Sea, Turkey's

trade continues at a great pace, beyond

expectations.

"The wheels are turning," he said.

The government has been monitoring

possible risks to the Turkish economy from

its Black Sea neighbors, Russia and Ukraine.

June 2022 58
---
£1.8m to small

businesses set to

revolutionize the

electric vehicle

market

Small to medium businesses (SMEs)

specializing in clean, green technology have

won a share of £1.8m from the Advanced

Propulsion Centre (APC) to help the global

race to decarbonise transport.

The 13 innovative businesses will each

receive £135,000 support through APC's

Technology Developer Acceleration

Programme (TDAP), to drive the marketreadiness

of their next-generation

technology, as the UK's ban on the sale of

new petrol and diesel engines grows closer.

From magneto-electrochemical systems

that enable batteries to be charged fourtimes

faster than current averages, to

creating green hydrogen from ammonia,

from dramatically redesigning commercial

vehicles so they can carry more stock for

longer periods, to technology that stops

harmful tyre particles from polluting the

world's oceans, the range of bleeding-edge

technology being supported is immense.

Josh Denne, APC's Head of SME

programmes, said: "Some of the

technology being developed by these

companies is so 'next-generation' it

almost feels like something out of a scifi

movie. However, these are credible,

tangible technology concepts, some of

which are already attracting the attention

of household names in the automotive

industry.

"Applications for this cohort of our SME

accelerator programme have been the

highest we have ever received, reflecting

the opportunity within the automotive

sector and the appetite for this type of

support.

"We have a huge challenge to overcome

to make the movement of people and

goods sustainable, and it's no surprise that

we've seen a larger than usual spread of

technology focussed on HGVs, perhaps

reflecting that this difficult to decarbonise

transport is fast becoming in urgent need

of solutions to lower emissions."

TDAP isn't just about grant funding, the

programme also supports companies to

build a robust business plan, protect their

intellectual property and understand the

investor landscape. Previous TDAP alumni

say this, together with the networking and

collaboration opportunity, is where the real

value of the programme lies.

And the results are there to see. APC

analysis shows that in total, since

completing the programme, TDAP alumni

have raised over £127m of private

investment, 61% of that coming in 2021

– demonstrating the significant growth in

green investment over the past 18 months.

Examples include Romsey-based Ilika, from

last year's TDAP scheme, who are now

partnering with Comau (a subsidiary of cargiant

Stellantis who also own names like

Alfa Romeo, Chrysler, Citroën, Fiat, Jeep,

Peugeot and Vauxhall) to industrialise their

solid-state battery production.

Josh added: "Our ambition for TDAP is

to see these great ideas grow into nextgeneration

products, ultimately leading to

more to CO2 savings, more jobs created

and contributing to the push towards net

zero as the UK cements itself as a leader in

innovative propulsion technology."

June 2022 62
---
WTO rules in favor of Turkey in

steel import curbs case against EU

Apanel of the World Trade Organization

(WTO) has supported Turkey's complaints

and ruled that measures by the European

Union designed to curb imports of steel

are contrary to international trade rules,

Turkey's Trade Ministry said.

The safeguard measures were implemented

in 2018 and were due to last three years up

to the end of June 2021 with quota limits

increasing 5% each year.

But Turkey complained that the increases

were less than 5% each year. The measures

have also been extended until 2024.

In a statement, the Trade Ministry said the

panel report, which has not been challenged

or appealed by the EU, will be adopted at

the WTO's dispute settlement body.

In the report shared with all WTO members

on April 29, it was ruled that the EU should

make its measures compatible with the

agreement on safeguards, the statement

read.

"After this decision, Turkey has

demonstrated its rightness by staying

within the mechanisms of the WTO, of

which it is a founding member, at a time

when protectionist and international

practices contrary to international rules

are increasing, and has contributed to the

June 2022 64
---
formation of a case law," the ministry said.

"The outcome of the case is an important

achievement for our country."

The European Commission, which oversees

EU trade polic acknowledged that the panel

was in favor of Turkey on three points and

said it would implement the ruling after

its official adoption by the WTO, Reuters

reported.

The commission said the verdict was

satisfactory overall as the most important

issues were resolved in its favor and the

WTO panel had confirmed safeguards could

be used to protect domestic industry.

The EU had said the safeguards were

needed to stave off a flood of imports

after metal tariffs imposed by former U.S.

President Donald Trump effectively closed

the U.S. market.

Under President Joe Biden, the United

States has suspended tariffs for some

exporting nations, including the 27

European Union members.

Turkey, which is a major steel exporter to

the EU, complained that the EU's measures

breached the bloc's commitments to the

WTO.

Under WTO rules, members are allowed

to impose safeguards under specific

conditions, including that imports have

risen to the point where they are damaging

domestic industry and that this should be

the result of "unforeseen developments."

The three-person WTO panel accepted

Turkey's view that the European

Commission had failed to show that steel

imports rose because of unforeseen

developments and that the EU industry was

threatened with a serious injury.

The report will be final and binding on the

EU, and many steel exporting countries,

especially Turkey, affected by the measure,

will be able to start compensating for

their losses in the EU market with the full

implementation of the decision, the Trade

Ministry said.

It stressed that the outcome of the case

"contains important messages in terms of

preventing member states from not fully

implementing the WTO Agreements, acting

for purely and arbitrarily protectionist

purposes when taking measures, and using

the flexible provisions of the Agreements

for other purposes."

At the next stage, the ministry said

necessary follow-up will be carried out

before the WTO and within the framework

of bilateral relations with the EU in the

direction of the full implementation of the

panel decision.

"It is also important in this sense that the

decision was made before July, when the

EU will review its measures. The EU needs

to make compatible its existing measures

after this decision."

65 June 2022
---
EU mulls mandatory recycling targets for

automotive, construction, and packaging

By Mark Victory Senior Recycling Editor at ICIS

"[With rules that are] more precise and detailed, but sometime also

they will be perceived as more restrictive." Shortages of sufficient

collection and sorting capacity to meet demand for ambitious

sustainability targets – particularly from the packaging sector –

are regularly cited by market players as the biggest bottleneck for

recycled polymers.

Feedstock waste bale availability is currently limited across all three

of the major recycled polymers: R-PET, recycled polyethylene (R-

PE), and recycled polypropylene (R-PP).

Along with energy and transport costs, shortages and high prices of

waste bales have driven recycled polyolefin values to record highs

in Europe.

LONDON (ICIS)–The European Commission is considering extending

mandatory recycled content targets to the construction and

automotive sectors as well as the packaging sector, a representative

for the EU's executive body confirmed this week.

"The Commission will come with proposals for mandatory recycled

content in the areas of packaging, vehicles, and construction

products. This will provide further demand and stimulation for the

market of recycled plastics," said Aurel Ciobanu-Dordea, director

general for environment at the Commission.

He was speaking at the ICIS Global Plastics Recycling Policy summit,

which runs on 23-25 May.

These measures would be in addition to the Commission's existing

requirements that polyethylene terephthalate (PET) beverage

bottles contain a minimum of 25% recycled PET (R-PET) by 2025,

and that all beverage bottles contain a minimum of 30% recycled

content by 2030.

This has led to a growing disconnect between virgin and recycled

polyolefin prices, a disconnect which has existed in the R-PET foodgrade

pellet market for more than a decade.

"In the presentation, the EU commission highlighted the key

failure in recycling is the fragmentation of collection practices and

infrastructure, highlighting any actions that drive harmonisation in

the recycling sector can only aid the progress in plastics circularity,"

said Helen McGeough, Senior Analyst for Plastic Recycling at ICIS.

"With the ICIS Mechanical Recycling Supply Tracker recording

output of total R-PET, R-PP and R-PE in Europe running at 58% of

installed capacity, improved feedstock quantities and qualities are

essential to not only improve the efficiency of existing recycling but

drive investment for new capacities," she added.

Waste bale shortages and high prices of recycled polymer flakes

and pellets have led waste managers and recyclers to explore

The Commission will not focus on building infrastructure but rather

in tightening rules and restrictions to make better use of current

infrastructure, Ciobanu-Dordea said during the question and

answer (Q&A) session of his presentation.

"We will create the conditions through more detailed

harmonisation for the member states … Probably some technology

innovations will be necessary, but we are not betting necessarily

on building up more infrastructure, scaling up significantly the

infrastructure, but using more effectively the infrastructure that

exists currently," he said.

June 2022 68
---
the use of mixed plastic waste to make up shortfalls,

particularly for non-packaging applications such as

construction.

Many non-packaging applications can handle lower

quality grades than packaging, and are widening the types

of grades they use as the packaging sector increasingly

captures share of mono-material grades.

Historically due to higher wastage loss than monosorted

material, and the higher difficulty/cost of sorting mixed

plastic waste, using mixed plastic waste (particularly

mixed polyolefins) was not previously economically

viable, but this has now changed.

As a result, more and more waste managers have been

using mixed polyolefin grades captively, and sorting

material, leaving less available on the merchant market.

As chemical recycling capacity scales, mixed plastic waste

is expected to further tighten, as the pyrolysis process

– the dominant form of chemical recycling in Europe –

typically uses mixed plastic waste grades as feedstock.

DRS FOR ALL

Despite not planning to significantly scale current

infrastructure, the European Commission is considering

mandating all EU countries to introduce deposit return

schemes (DRS).

Under DRS systems, buyers pay a deposit on their

packaging at the point of collection. The buyers later

drops off the packaging at a deposit return point – where

it is typically sorted at the point of entry into the system –

and are then given their deposit back.

The advantages of DRS systems are that they typically

result in higher collection rates, because they incentivise

the consumer, and typically result in lower contamination

because material is typically sorted at point of entry.

Nevertheless, DRS systems rely on the deposit fee being

high enough to incentivise the customer and have the

potential to disrupt well-functioning kerbside collection

schemes, and in which some countries and companies

have invested heavily.
---
Welcome to

Automechanika

Istanbul 2022

Automechanika Istanbul-

Where You Should Take Part!

World's leading trade fair brand for

the automotive aftermarket industry,

Automechanika's one and only event in

Turkey, Automechanika Istanbul will take

place on June 2-5, 2022, in Istanbul TUYAP

Fair and Congress Center.

•Industry meeting point: Automechanika

Istanbul brings industry, retail and seminars

together in one place. Despite the

pandemic, the latest edition in November

2021 drew a total of 60.634 professional

visitors physically and digitally combined.

•At the heart of the action: Istanbul's

location is literally a bridge between

Europe, the Middle East, North Africa and

CIS regions.

•Large yet accessible: Each year, hundreds

of exhibitors come here to showcase

their latest developments. Thanks to the

exhibition grounds' clear structure and

visitor guidance systems, you'll have no

trouble finding what you're looking for.

•Globally networked: 40.000+ buyers

build relationships with suppliers from all

over the world. You should get connected

with the future of the automotive service

industry at the Turkey's leading trade fair

Automechanika Istanbul. As a meeting

place for the industry, dealership trade

and maintenance and repair segment, it

provides a major platform for business and

technological knowledge transfer.

June 2022 70
---
16th GiPA Italia Excellence Awards 11 Awards for

aftermarket excellence in a turbulent two-year period

The Autopromotec 2022 edition hosted the awards that recognise the contribution of people,

companies and projects to the growth of automotive aftermarket in Italy.

The opening day of Autopromotec 2022

ended, as is now tradition, with the

GiPA Excellence Awards, organised by

GiPA Italia and one of the most eagerly

awaited events at FUTURMOTIVE Talks,

the packed programme of international

conferences and workshops of this edition

of the exhibition. The GiPA Excellence

Awards, now in their 16th edition, reflect

the company's extensive knowledge of

the aftermarket in Italy and all its players,

acquired from more than 30 years of

analysing the sector dynamics.

GiPA has particularly excelled over the

last two years by supporting companies

with detailed and constantly updated

information on the pandemic's impact

on after-sales activities, promptly sharing

its reports with the entire supply chain.

The 11 awards handed out by GiPA in

2022 reflect the change that has taken

place and is still ongoing, and above all

recognise the companies and people that

have succeeded in changing business

paradigms, seeking to support the supply

chain with innovative activities and tools.

As in the past, winners of the 11 awards

were decided in various ways, with faceto-face

interviews, telephone interviews,

CAWI surveys (web-based questionnaires),

voting by the GiPA committee and trade

magazines.

GiPA Awards 2022: Categories, Awards

and Reasons

The award for the "AM Development

Strategy - A New Model" category went

to spare parts distributor S.D.R for having

built a company that profitably merges the

spare parts turnover of many dealerships,

expanding the distribution of spare parts

from the initial brands of the Stellantis

Group to those of other original equipment

manufacturers, targeting not only the

official networks but also the independent

market. For the category "AM Development

Strategy - Unity is Strength", the award

went to AsConAuto - Associazione Consorzi

Concessionari Autoveicoli (Car Dealers

Association) in recognition for: "Inventing,

reinventing, adapting a model that allowed

manufacturers' spare parts to follow the

course of the ageing fleet". For the "IAM

Communication Strategy - Distribution"

category, it was the Assoricambi

Consortium that won the award, judged

best able, from March 2020, to interpret

the digital world "mantra", with the strong

belief that "Those who help influence,

influence sales".

The "IAM Development Strategy -

National Distribution" category saw the

award-winning organisation Autodis

Italia recognised for its "pragmatic and

consistent creation of a new environment

based on economically sustainable

companies in the world of IAM distribution,

successfully weathering the storm". For

the "Leading workshop modernisation"

June 2022 74
---
category, the award was given to ARVAL for

"Breaking the mould, shifting the paradigm

and inventing a new way where privilege

is not reserved for the few. And when this

design leads to a modernised workshop, it

becomes a model for other markets, with

entire aftermarket benefits. ARVAL did not

invent multi-service, but they made it their

own. "

In the "OES Network Satisfaction" category,

Italian motorists interviewed by GiPA Italia

gave the award for Generalist Networks to

Renault Italy, and for Premium Networks to

Volvo Italy.

For "IAM System Strategy - Distribution",

it was the Telos Group company that took

the award, "for taking building a large

and successful spare parts team to an

extremely high level, offering an excellent

level of service to garages." Groupauto

Italia and its ProMeK management

software were awarded in the "IAM

Development Strategy - Workshops"

category in recognition that: "ProMeK

is the tool that enabled the evolution

from workshop network to aftermarket

community. A powerful tool to bring the

supply chain into the workshop 4.0 era."

The "Coup de Coeur", awarded by the GiPA

committee to aftermarket professionals

who stand out for their winning choices

and contribution to the growth of this

industry, was given to Nicola Giardino,

for his "extraordinary, unblemished and

incredibly successful career".

The "Press Award", awarded by journalists

from leading trade publications, closed

the evening event. They recognised Paolo

Scudieri, an entrepreneur who turned the

family business around and also managed

to devote time and energy to a prestigious

association such as ANFIA - Associazione

Nazionale Filiera Industria Automobilistica

(National Association of the Automotive

Industry).

76 June 2022
---
Lotus launches Emira GT4 race car with hot laps at Hethel

Lotus has unveiled the all-new Emira

GT4 race car on the iconic Hethel test

track, with a dynamic demonstration of

its thrilling performance. At an exclusive

event, VIP guests were treated to

passenger laps of the legendary 2.2-mile

circuit with Gavan Kershaw, Director of

Vehicle Attributes at Lotus and a former

British GT Championship winner, at the

wheel.

The culmination of more than 70 years of

innovation on the road and track, the Emira

GT4 marks the start of an exciting new era

in performance GT racing for Lotus. It is

the first new model from Lotus Advanced

Performance, the bespoke vehicle and

experiential division of the business

launched earlier this year. The return to

world motorsport is a key pillar of the

company's transformation from a UK sports

car company to a global performance car

business and brand.

Recent event follows last September's

announcement that Lotus would develop a

GT version of the critically acclaimed Emira

road car. Order books for the Emira GT4

opened at the time and the car has sold

out for the first year of production.

Gavan Kershaw, who has been heavily

involved in the development, commented:

"We knew we had an excellent starting

point for the Emira GT4 because of all the

work done to make the road car such a

great performer. Showing off the GT4's

dynamic capabilities on the Hethel test

track – which has shaped countless race

cars and their drivers since Lotus moved to

the site in 1966 – is a very special moment

for me and all the team involved."

Almost all modern Lotus road cars have

had race-ready siblings and the Emira is

no exception. Each Emira GT4 customer

will receive a homologated performance

machine, hand-built with lightweight

motorsport components and equipment

to meet the latest safety regulations. The

project has been a collaboration with

Lotus and RML Group. The advanced

composite bodywork makes the car

exceptionally lightweight, and is coupled

with Toyota's race-proven 3.5-litre V6

engine and optimised GT4 aerodynamics

derived from the road-going Emira's

advanced exterior design. Since last

September's announcement, the Hethelbased

development team has focused

on precision engineering to deliver

outstanding dynamics and high-speed

stability. Many hundreds of hours of

validation work have taken place on the

test track, and over the winter the Emira

GT4 also headed to Portimão in Portugal

for a week. In addition to the better

weather, it's one of the most challenging

circuits in Europe, making it the perfect

destination to validate aero performance

and component reliability.

Richard Selwin, Race Programme Manager,

Lotus, commented: "We're delighted

with how the Emira GT4 programme has

progressed. We have an appealing spec and

a level of performance that's going to thrill

both customers and spectators around

the world. I believe in the Emira GT4 we

have a car that promises to be more than

competitive." Simon Lane, Director, Lotus

Advanced Performance, added: "Lotus'

commitment to motorsport is worldrenowned

and is one of the key elements

of enhanced customer engagement within

this recently launched division of the

business. We have exciting plans for Lotus

Advanced Performance – there is much

more to come."

Also at Hethel for the Emira GT4 launch

event was a Lotus Type 30 sports racer.

This white 1965 GT is powered by a Ford

4.7-litre V8, is privately owned and won the

Whitsun Trophy at last year's Goodwood

Revival. Only 33 examples of the Type 30

were built and achieved numerous wins

in the hands of Lotus legend Jim Clark and

others.Lotus has been synonymous with

racing success ever since the Mark I, a trials

car hand-built by founder Colin Chapman

in 1948, and the company has pioneered

many of the technical innovations which

make racing the thrilling sport it is today.

Lotus' impressive roll-call of honours

includes seven Formula 1 Constructors'

titles, six Drivers' Championships and

victory in the legendary Indianapolis 500.

Most recently Lotus has been racing with

the Evora GT4, which won prestigious races

and championships including in British GT,

Dubai 24hrs, Barcelona 24hrs, European

GT, Sepang 12hrs and the Pirelli World

Challenge.

June 2022 78
---
They're here! Electric vehicles hit the roads

BY MEHMET EMIN BIRPINAR

Deputy Minister of the Republic of Turkey's Ministry of Environment and

Urbanization, Chief Climate Change Envoy

In recent years, there has been a great

change in the vehicles we see on the roads,

especially when it comes to automobiles.

On a global scale, 12 million passenger

vehicles currently on the road are electric

cars. The rise of this trend in other areas

of road transport is an inevitability that

awaits us in the future. More than a

million commercial electric vehicles are

currently on the road, including buses,

vans and trucks. In addition, when we take

into account the more than 260 million

electric scooters, motorcycles and threewheeled

vehicles, it is easy to see the great

transformation underway on highways

around the world.

The decrease in battery costs and the net

zero-emission policies of many countries

serve as indications that the number

of electric vehicles in the markets will

increase. However, despite all the steps

taken, it seems the transportation sector

has a difficult road ahead if it is going to

reach net-zero emissions by 2050, which

is of great importance in the fight against

climate change. The transportation sector

is responsible for 21% of total global

emissions, and of that, almost threequarters

stem from roads. Therefore, the

spread of electric vehicles is of immense

importance in reducing emissions

and achieving the targets of the Paris

Agreement. In this article, we will discuss

the current developments regarding

electric vehicles, which are increasingly

coming to the fore within the scope of

climate targets, and the policies and

actions that will guide the future process.

Growing demand

While 2020 was a very difficult year for

the automotive industry, it was a year

in which the strong demand for electric

vehicles became more pronounced. In a

conjuncture, global automobile sales fell

by 16% due to the coronavirus pandemic

in 2020, while the rate of electric cars

registered in traffic increased by 41%

compared to the previous year. Around 3

million electric cars were sold worldwide.

This figure shows us that almost 5% of total

sales were electric cars. The markets where

the demand for electric vehicles increased

the most were China and Europe. In 2020,

approximately 1.3 million electric vehicles

were sold in both China and Europe. This

figure is four times as great as the total

electric vehicle sales in the U.S.

Especially in Europe, the increase was

remarkable. Europe surpassed China to

become the world's largest electric vehicle

market for the first time. Electric bus and

truck registrations also expanded in major

markets, reaching global stocks of 600,000

and 31,000, respectively. Automakers also

announced more ambitious electrification

plans during this time. Eighteen of the

world's top 20 vehicle manufacturers,

accounting for nearly 90% of new car

registrations in 2020, have announced

plans to expand their model portfolios and

rapidly expand the production of electric

light-duty vehicles.

Opportunities ahead

Global electric car sales in the first quarter

of 2021 were up nearly 140% compared

to the same period in 2020, led by sales

in China and Europe. Sales in the United

States also nearly doubled compared to

the previous year. In this context, the

strong growth in the sector is based on the

legal regulations prohibiting the sale of

conventional vehicles by the International

Energy Agency (IEA), incentives for electric

vehicles and the decrease in battery costs

with the increasing number of electric

vehicles.

Although the sales of electric vehicles in

the minibus and truck market have lagged

behind passenger vehicles, this segment is

expected to shift gears and steer towards

electrification within the next few years on

the back of technological developments,

corporate fleet targets, increasing concerns

about air quality in cities and the increasing

determination of countries to reach their

climate targets. In this context, fleet

managers also have positive expectations

regarding the share of electric vehicles

in their fleet compositions in the coming

years. Surveys show that currently, around

two-thirds of fleet managers intend to

purchase electric vehicles.

Evaluations indicate that conventional

passenger motor vehicles' days in the sun

are over given the gradual decline in the

automobile industry during the pandemic

and the increase in demand for electric

vehicles. Experts agree that since the peak

witnessed in 2017, conventional vehicles

have been on a permanent decline.

The outlook is not expected to change in

the medium term. It is estimated that the

12 million electric passenger cars currently

on the road will increase to 54 million by

2025. With the commitments made by

automobile manufacturers, the expansion

of electric charging stations and the cost

reductions that will accompany increases

in battery capacity, the annual sales of

electric passenger vehicles, which stood at

3.1 million in 2020, is expected to rise to

14 million in 2025. This figure means that

around 16% of passenger car sales will be

electric in 2025. Reports indicate that China

and Europe will lead the way in electric

vehicle sales in this period. The European

Union's regulations for vehicle emissions

and China's credit incentives for electric

vehicles are expected to be very effective

June 2022 82
---
in this regard. For example, reports by

different institutions state that electric

cars are expected to make up 40% of total

vehicle sales in Germany by 2025, and 25%

in China, the world's largest automobile

market.

Problems

When it comes to climate change, the

situation is a bit different. In order to

achieve the targets set by the Paris

Agreement, many different investments

are needed. Globally, market incentives are

still not adequate enough to make zeroemission

technologies feasible and costeffective

in medium and heavy commercial

and utility vehicles, along with fast and

widespread charging infrastructures.

In particular, issues such as insufficient

financial support, variable operating

costs and deficiencies in operational

infrastructures are cited as obstacles to

large fleets fully renewing their vehicle

portfolios.

Another problem is the fragmented

structure of the global automobile market.

Automakers are unable to fully transform

their portfolios, as other small and

medium-sized markets cannot adequately

accompany the transformation for

electric vehicles, led by China and Europe.

Insufficient charging infrastructures

in these markets is another issue that

challenges automobile manufacturers.

In addition, for electric vehicles to reach

their full potential to reduce carbon

emissions, significant global progress

is needed to decarbonize electricity

generation, integrate electric vehicles

into power systems, produce charging

infrastructures accordingly and develop

sustainable battery production and

recycling. Therefore, it seems it would be

very difficult for the automotive industry

to enact the global movement required by

climate change in a short time.

Turkey at forefront

It is a certainty that electric cars will

dominate the roads in the next decade.

The change in the transportation sector

undoubtedly offers great opportunities for

countries that adopt green development

policies. The declaration announced

within the scope of the 2021 United

Nations Climate Change Conference,

also known as COP26, shows that the

relevant stakeholders are determined to

make efforts for passenger cars and light

commercial vehicles to be completely

emission-free by 2040 on a global

scale. In particular, the financial sector

and multilateral development banks'

offering incentives for battery technology

and charging stations, as well as for

producers and consumers, are among the

developments we expect in the coming

period. In addition to financial institutions,

governments also play a major role.

Because, unless all countries support this

transformation, automobile manufacturers

have to continue to produce conventional

motor vehicles in order not to withdraw

from these markets. In order for this to be

reversed and for a global shift to zeroemission

vehicles to happen, governments

must support these policies at the highest

level. Aware of the importance of the

global shift to electric vehicles in the

fight against climate change as well as

the economic and social opportunities it

will produce, Turkey is at the forefront of

this global transformation. The country's

climate-friendly, zero-emission domestic

vehicle Togg, which has won the admiration

of all, shows the whole world how assertive

it is in this transformation. The domestic

car, which was successfully produced

thanks to the support of President Recep

Tayyip Erdoğan, who started the Green

Development Revolution, should set an

example for other countries. It should not

be forgotten that it is near impossible to

achieve success in the climate crisis by

leaving the transportation sector behind.

Turkey is driving this transformation.

83 June 2022
---
StoreDot, the

extreme fast

charging battery

pioneer, joins

forces with

Polestar

Polestar forms partnership

with StoreDot with a strategic

investment to explore

using extreme fast charging

technologies for future models

StoreDot, the pioneer of extreme fast

charging technologies for electric vehicles,

has entered a strategic partnership with

Polestar, following an investment from the

all-electric premium performance brand.

As part of this new partnership and

investment agreement, Polestar will

investigate utilizing StoreDot's extreme

fast charging silicon-dominant batteries

for future Polestar cars. StoreDot is on

track to begin mass producing its '100in5'

technology as early as 2024, achieving

100 miles of range in just five minutes of

charging. Meir Halberstam, StoreDot CFO

"This is yet another significant vote of

confidence in StoreDot and our marketleading

extreme fast charging battery. This

investment from one of the pioneering

electric vehicle brands is an important

step in our commercialization process.

It will not only enable us to bring the

ground-breaking '100in5' batteries to

market quicker, but also boost our R&D

capabilities. We are rapidly moving towards

even more game-changing technology and

are laser-focused on offering 100 miles

of range in just two minutes of charging,

within a decade."

Thomas Ingenlath, Polestar CEO "Charging

and range anxiety are common concerns

holding owners of combustion engine

cars back from making the switch to EVs.

StoreDot's advanced battery technology

potentially provides real solutions to these

obstacles. If our current pilot projects with

StoreDot are successful, we could see these

solutions being implemented in Polestar

cars by 2026," continues Thomas Ingenlath.

Dr Doron Myersdorf, StoreDot CEO "We are

thrilled to be entering into an agreement

with Polestar. Like us, Polestar is an

ambitious brand which is already proving to

be pivotal in the mass adoption of electric

vehicles, helping the global transition

to a cleaner, zero-emissions world. We

are looking forward to working together

and we know that our technologies will

prove to be greatly beneficial, helping to

eradicate EV drivers' range and charging

anxieties."

The new funding comes as part of

StoreDot's Series D investment round.

Polestar is joining an impressive list of the

company's global investors and partners,

including Daimler, BP, VinFast, Volvo, Ola

Electric, Samsung, TDK and EVE Energy.

StoreDot is currently working with several

global automotive manufacturers, to power

next generation electric vehicles. It is

shipping advanced '100in5' cells for them

to undertake real-world testing.

June 2022 86