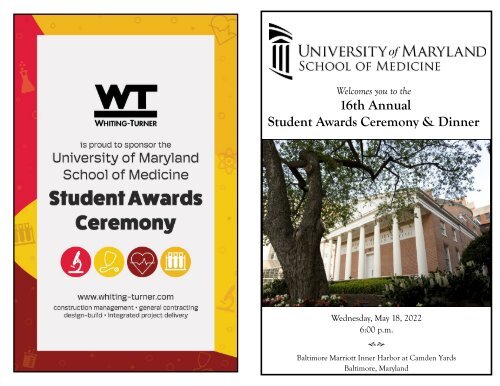 Final Student Awards 2022 Program_REVISED
Create successful ePaper yourself
Turn your PDF publications into a flip-book with our unique Google optimized e-Paper software.
Welcomes you to the

16th Annual

Student Awards Ceremony & Dinner

Wednesday, May 18, 2022

6:00 p.m.

Baltimore Marriott Inner Harbor at Camden Yards

Baltimore, Maryland
---
Program

Welcome

Kerri A. Thom, MD, M.S.

Associate Dean for Student Affairs

Professor, Epidemiology & Public Health and Medicine

Mistress of Ceremonies

Dinner Service

Remarks

E. Albert Reece, MD, PhD, MBA

Executive Vice President for Medical Affairs, UM Baltimore

John Z. and Akiko K. Bowers Distinguished Professor and

Dean, University of Maryland School of Medicine

The Balder Scholarship Award for Outstanding

Academic Achievement

Kelly M. Bridgham

Medical Student, Class of 2022

The Academy of Educational Excellence Fellows

Established by Carolyn J. Pass, MD '66 and Richard M. Susel, MD '66

E. Albert Reece, MD, PhD, MBA

Donna L. Parker, MD, FACP '86

Senior Associate Dean for Undergraduate Medical Education

Professor of Medicine

Recognition of Course Directors and Clerkship Directors

Kerri A. Thom, MD, MS

Presentation of Awards

Medical Education Advisory Committee

Coffee and Dessert
---
Thank You to Our Donors!

We are grateful to the many alumni,

faculty, and friends who have

generously contributed to scholarships

and awards at the

University of Maryland School of

Medicine. Your generosity opens the

doors of possibility for the most

capable students who represent the

diversity of our state and nation, and

gives them the opportunity to pursue

careers in all fields of medicine that will

benefit humankind.

Dinner Menu

First Course

Tossed Field Greens Salad

with Raspberries and Crumbled Goat Cheese

served with a Red Wine Vinaigrette

Entrée Course

Olive Oil and Herb Marinated Grilled Chicken Breast

with Roasted Potatoes, Carrots and French-Styled Green Beans

served with Lemon Herb Sauce

Dessert Course

*Served in the foyer, following the program

Assorted Miniature French Pastries

Petit Fours, Chocolate Truffles, Miniature Éclairs

Chocolate Covered Fruit & Fruit Tarts

Freshly Brewed Coffee & Assorted Teas

Please inform your server of any dietary needs you may have
---
Dear Alumni, Friends, Medical Students, and

Faculty Members,

It is with distinct pleasure that I welcome you to the

2022 Student Awards Ceremony and Dinner. I want

to personally congratulate our outstanding students,

who have excelled academically and have exhibited

extraordinary humanism, compassion, and integrity. I

also want to express my deepest appreciation for our

generous donors, who make these particular student

accolades possible.

The costs associated with pursuing a medical

education are considerable, placing a tremendous financial burden upon our medical

students. We are extremely grateful to our many donors who recognize the magnitude of

the financial burdens faced by our students and have chosen to support them with an

award or prize.

These young men and women who are the proud award recipients have displayed

superior academic performance and achievement. They have met and exceeded their

goals in education and community service. These accomplished students are the

physicians and scientists of tomorrow.

The University of Maryland School of Medicine is a dynamic community of scholars,

physicians, and scientists, who take their charge very seriously. We recognize that our

students will be responsible for changing patients' lives, shaping communities, and

influencing the world in which we live. Mentoring and encouraging our students is a

professional and personal joy that we value at this medical school. It is my honor and

pleasure to recognize the outstanding academic achievements of the class of 2022 before

stepping down as Dean of the School of Medicine.

Over the course of the past four years of medical school, your family member had the

opportunity to interact with hundreds of faculty members. Our faculty have served as

very effective teachers, provided critical career advice and guidance, and served as

exemplary role models. Please take a moment to seek them out and get acquainted with

those faculty members who are here tonight to celebrate with you and your family.

Congratulations and my very best regards.

Sincerely Yours,

DEPARTMENT OF OTORHINOLARYNGOLOGY-HEAD &

NECK SURGERY

(founded in 2005)

Represented by Elizabeth A. Guardiani, MD

Associate Professor, Department of Otorhinolaryngology-Head and Neck Surgery

William C. Gray, MD Award in Otorhinolaryngology-

Head and Neck Surgery

Kelly M. Bridgham

· · ·

DEPARTMENT OF EMERGENCY MEDICINE

(founded in 2006)

Represented by Ryan Spangler, MD

Assistant Director, Undergraduate Medical Education

Assistant Professor, Department of Emergency Medicine

American College of Emergency Physicians

Medical Student Professionalism and Leadership Award

Alexa Van Besien

The Society for Academic Emergency Medicine Award

for Excellence in Emergency Medicine

Saskia van Terheyden

E. Albert Reece, MD, PhD, MBA

Executive Vice President for Medical Affairs, UM Baltimore

John Z. and Akiko K. Bowers Distinguished Professor and

Dean, University of Maryland School of Medicine

Special thanks to the

Medical Alumni Association of the University of Maryland, Inc.

for providing the award certificate frames for this evening.
---
DEPARTMENT OF FAMILY AND COMMUNITY MEDICINE

(founded in 1972)

Represented by Katherine Jacobson, MD, FAAFP

Assistant Professor and Director of Medical Student Education,

Department of Family and Community Medicine

Edward J. Kowalewski Award for Excellence in

Education and Training in Family Medicine

Alexandra Berthiaume

Drs. Harry and George Knipp Award in Family Medicine

Yasmin Lachir

· · ·

DEPARTMENT OF DERMATOLOGY

(founded in 1992)

Represented by Thomas J. Hornyak, MD, PhD

Dr. Joseph Warren Burnett Professor and Chairman, Department of Dermatology

Eugene Sydney Bereston Award for Excellence in Dermatology

Albert E. Zhou

· · ·

DEPARTMENT OF NEUROSURGERY

(founded in 1996)

Represented by Charles A. Sansur, MD '02

Professor, Department of Neurosurgery

William H. Mosberg, Jr., MD Award for Neurosurgery

Kevin T. Kim

· · ·

DEPARTMENT OF ORTHOPAEDICS

(founded in 2004)

Represented by R. Frank Henn III, MD

Professor and Residency Program Director, Department of Orthopaedics

Interim Director of the Program in Sports Medicine

The Academy of Educational Excellence Fellows

Established by Carolyn J. Pass, MD '66 and

Richard M. Susel, MD '66

Presented by

E. Albert Reece, MD, PhD, MBA

Executive Vice President for Medical Affairs, UM Baltimore

John Z. and Akiko K. Bowers Distinguished Professor and

Dean, University of Maryland School of Medicine

and

Donna L. Parker, MD, FACP '86

Senior Associate Dean for Undergraduate Medical Education

Professor of Medicine

Carolyn J. Pass, MD '66 and Richard M. Susel, MD '66

Academy Student Teaching Fellows Award

Gaia Cicerchia

· · ·

Richard M. Susel, MD '66 Award for Outstanding Clinical

Performance in Ophthalmology

Jennifer Drechsler

Carolyn J. Pass, MD '66 Award for Outstanding

Clinical Performance in Dermatology

Madison Hill

Thomas E. Gillespie Award for Excellence in Orthopaedics

Serge Mbianda Tzeuton
---
Humanism Awards

Presented by Nidhi Goel, MD, MHS '06

Assistant Professor, Department of Medicine and Pediatrics

and

Moran Roni Levin, MD

Assistant Professor, Department of Ophthalmology and Visual Sciences

and Pediatrics

The Leonard Tow Humanism in Medicine Award

Presented by the Arnold P. Gold Foundation

Jennifer Drechsler

Kerri Thom, MD, MS

Joanne M. Hatem, MD Memorial Prize for Caring and

Compassion Toward Patients

Claire Morton

William D. Kaplan, MD Award for Humanism

in the Practice of Medicine

Leslie Gailloud

Robert R. R. Roberts, MD Memorial Prize in Medicine

Alexa Van Besien

The Robert S. Katz, MD '70 Endowed Award for Compassion

Demonstrated by Medical Students

Malina Howard

DEPARTMENT OF PSYCHIATRY

(founded in 1952)

Represented by Marissa A. Flaherty, MD

Assistant Professor, Department of Psychiatry

Dr. Jacob E. Finesinger Memorial Award for Excellence in Psychiatry

Ian Qian

Dr. Eugene B. Brody Award for Excellence in Psychotherapy

Cassie Wicken

Kenneth L. Malinow, MD Memorial Prize for Excellence in Psychiatry

Amna Zehra

· · ·

DEPARTMENT OF ANESTHESIOLOGY

(founded in 1956)

Represented by Peter Rock, MD

Dr. Martin Helrich Chair, Department of Anesthesiology

Professor, Department of Anesthesiology

Martin Helrich Prize for Excellence in Anesthesiology

Taechawidd Nantawisarakul

Dr. Jeremy Hallisey Prize for Compassion and

Humanistic Qualities in Anesthesiology

Connor Brady Kilpatrick

· · ·

DEPARTMENT OF NEUROLOGY

(founded in 1963)

Represented by Melissa Motta, MD, MPH

Associate Professor, Neurology

William Alexander Hammond Award for Excellence in Neurology

Amanda Cohen

American Academy of Neurology Medical Student Prize

for Excellence in Neurology

Arlinda Deng
---
DEPARTMENT OF PATHOLOGY

(founded in 1915)

Represented by Olga B. Ioffe, MD

Professor, Department of Pathology

Dr. Francis Donaldson Prize for Excellence in Pathology

Kristen Brao

· · ·

DEPARTMENT OF MICROBIOLOGY AND

IMMUNOLOGY

(founded in 1919)

Represented by James B. Kaper, PhD

James and Carolyn Frenkil Distinguished Dean's Professor

Vice Dean for Academic Affairs

Chair, Department of Microbiology & Immunology

Jan Cerny, MD, PhD Award For Excellence in

Microbiology and Immunology

Kristen Brao

· · ·

DEPARTMENT OF PEDIATRICS

(founded in 1949)

Represented by Regina A. Macatangay, MD

Assistant Professor, Department of Pediatrics

J. Edmund and Kathryn S. Bradley Award for Excellence in Pediatrics

Michael Sutherland Lee

Sarah Lake

Murray M. Kappelman Award for Excellence in Ambulatory Pediatrics

Adam Ketchum

Gaia Cicerchia

Presenters

John C. Allen, MD '14

Assistant Dean for Student Affairs

Assistant Professor, Department of Medicine

· · ·

Gregory B. Carey, PhD

Assistant Dean for Student Research & Education

Executive Director of Student Research and Community Outreach

Associate Professor, Department of Microbiology & Immunology

· · ·

Marissa A. Flaherty, MD '14

Director of Student Affairs

Assistant Professor, Department of Psychiatry

· · ·

Constance N. Lacap, DO

Assistant Dean for Assessment

Assistant Professor, Department of Psychiatry

· · ·

Elizabeth M. Lamos, MD '07

Assistant Dean for Student Affairs

Associate Professor, Department of Medicine
---
Presenters Continued

Joseph P. Martinez, MD '98

Associate Dean for Medical Education and Student Experience

Associate Professor, Department of Emergency Medicine

· · ·

Devang Patel, MD

Director of Pre-Clerkship Curriculum

Associate Professor, Department of Medicine

· · ·

Sandra M. Quezada, MD, MS '06

Associate Dean for Medical School Admissions

Assistant Dean for Faculty Diversity and Inclusion

Associate Professor of Medicine

DEPARTMENT OF EPIDEMIOLOGY AND

PUBLIC HEALTH

(founded in 1833)

Represented by Anthony Harris, MD, MPH

Professor, Department of Epidemiology and Public Health and Medicine

Robley Dunglison Award for Excellence in Preventive Medicine

Cassie Wicken

Abraham Lilienfeld Award for Excellence

in Epidemiology and Biostatistics

Marie Ezran

· · ·

DEPARTMENT OF OPHTHALMOLOGY AND

VISUAL SCIENCES

(founded in 1873)

Represented by Bennie H. Jeng, MD

Professor and Chair, Department of Ophthalmology and Visual Sciences

and Pediatrics

George Frick, MD Award for Outstanding Research

in Ophthalmology

Christopher Le

· · ·

DEPARTMENT OF DIAGNOSTIC RADIOLOGY

AND NUCLEAR MEDICINE

(founded in 1900 as the Department of Roentgenology)

Represented by Rydhwana Hossain, MD

Director, Medical Student Education for Radiology

Assistant Director, Diagnostic Radiology Residency Program

Assistant Professor, Department of Diagnostic Radiology and Nuclear Medicine

Joseph E. Whitley Memorial Award for

Academic Excellence in Radiology

Theresa J. Yu
---
DEPARTMENT OF PHYSIOLOGY

(founded in 1807 as the Department of Anatomy & Physiology)

Represented by Donald R. Matteson, PhD

Associate Dean fir Student Research Education and Dual Degree Programs

Associate Professor of Physiology

Sheldon E. Greisman, MD Prize in Medical Physiology

Aidan Kennedy

· · ·

DEPARTMENT OF SURGERY

(founded in 1807)

Represented by Kimberly M. Lumpkins, MD, MBA, FACS, FRCS

Vice Chief, Division of Pediatric Surgery and Urology

Associate Professor, Department of Surgery

Wayne W. Babcock Award for Excellence in Surgery

Ashling Zhang

Dr. Hans R. Wilhelmsen Award for Excellence in Surgery

Kenneth Rosenberg

Dr. A. Bradley Gaither Memorial Prize

for Excellence in Genitourinary Surgery

Aidan Kennedy

William I. Wolff, MD Humanism Prize in Surgery

Claire Morton

Nelson H. Goldberg, MD Prize in Plastic & Reconstructive Surgery

Katie Lynn McGlone

Brooks Knighton

· · ·

DEPARTMENT OF OBSTETRICS, GYNECOLOGY AND

REPRODUCTIVE SCIENCES

(founded in 1807)

Represented by Christopher Harman, MD

Professor and Chair, Department of Obstetrics, Gynecology and Reproductive Sciences

Louis Harriman Douglass Award for Excellence in

Obstetrics and Gynecology

Sarah Heaps

Student Awards

Harry C. Knipp, MD '76 Award for Graduating Seniors

Represented by Kerri Thom, MD, MS

Associate Dean for Student Affairs

Professor, Epidemiology & Public Health and Medicine

Kayla Paulosky

· · ·

Dr. James and Carolyn Frenkil Award

Represented by Kerri Thom, MD, MS

Associate Dean for Student Affairs

Professor, Epidemiology & Public Health and Medicine

Sarah Baumer

· · ·

Student National Medical Association Service Award

Represented by Kristin Reavis, MD

Assistant Professor, Department of Family & Community Medicine

Yasmin Lachir

· · ·

Dean's Award for Excellence in Clinical

and Applied Research

Represented by Gregory B. Carey, PhD

Assistant Dean, Student Research and Education

Associate Professor, Department of Microbiology & Immunology

Executive Director, Student Research and Community Outreach

Brooks Knighton

Christopher Le
---
Department Awards

DEPARTMENT OF ANATOMY AND NEUROBIOLOGY

(founded in 1807 as the Department of Anatomy & Physiology)

Represented by Adam C. Puche PhD

Professor and Vice-Chair, Department of Anatomy and Neurobiology

Uhlenhuth Award for Excellence in the Anatomical Sciences

Darius P. Hunt

Anderson Award for Excellence in Applied Anatomy

Nicolas Gonzales

Marshall L. Rennels Award for Excellence in Neuroscience

Kelly M. Bridgham

· · ·

DEPARTMENT OF BIOCHEMISTRY AND

MOLECULAR BIOLOGY

(founded in 1807 as the Department of Chemistry)

Represented by Richard B. Thompson, PhD

Associate Professor, Department of Biochemistry and Molecular Biology

Giuseppe Inesi, MD Prize in Cell and Molecular Biology

Meghana Patel

Elijah Adams Award for Excellence in Biological Chemistry

Ashling Zhang

Cristiana Salvatori

DEPARTMENT OF MEDICINE

(founded in 1807 as the Department of the Theory and Practice of Medicine)

Represented by Stephen N. Davis, MBBS

Dr. Theodore E. Woodward Professor and Chair and Professor,

Department of Medicine

Milton S. Sacks Award in Hematology

Elizabeth Corley

Theodore E. Woodward Prize in Internal Medicine

Roger Lin

Louis, Ida, and Samuel Cohen Award for Personal Attributes of

Scholarship, Ability, and Compassion for Patients

Rami Yanes

Theodore E. Woodward Award in Physical Diagnosis

Rebecca Cox

I. Earl Pass Memorial Award for Exceptional Proficiency

in Internal Medicine

Meghana Patel

Leonard M. Hummel Memorial Award for

Excellence in Internal Medicine

Cristiana Salvatori

Milford M. Foxwell, Jr., MD Award in Internal Medicine

MaryJoe Rice

· · ·

DEPARTMENT OF PHARMACOLOGY

(founded in 1807 as the Department of Materia Medical)

Represented by Margaret M. McCarthy, PhD

James & Carolyn Frenkil Dean's Professor and Chair,

Department of Pharmacology

C. Jelleff Carr Award for Excellence in Pharmacology

Kevin T. Kim