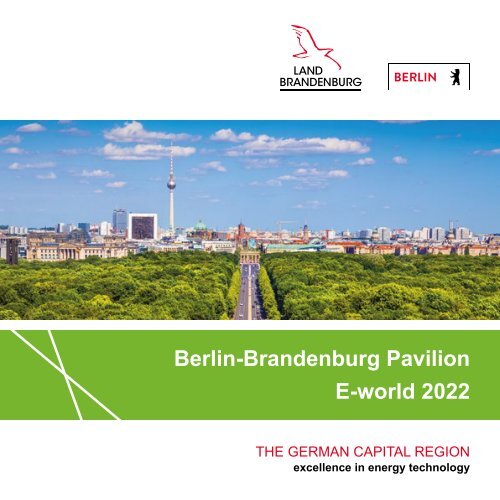 Berlin-Brandenburg at E-world 2022
Create successful ePaper yourself
Turn your PDF publications into a flip-book with our unique Google optimized e-Paper software.
Berlin-Brandenburg Pavilion

E-world 2022

THE GERMAN CAPITAL REGION

excellence in energy technology
---
Berlin-Brandenburg Pavilion | List of Exhibitors

4 5 6

7

Information .................................... i

3

2 1

Halle 4

4-512

i

8

9

10

Alliander AG ................................. 8

Aurora Energy Research GmbH .. 7

Berlin Partner for Business and

Technology ................................ i

Deutsche Energie-Agentur

GmbH (dena) ........................... 6

DSC ............................................. 5

ELMATIC ...................................... 5

Energenious GmbH ...................... 9

Future Energy Lab ........................ 6

GEFTA .......................................... 5

GFaI e.V. ...................................... 2

green with IT e.V. .......................... 5

inno2grid GmbH ........................... 4

InnoEnergy GmbH ........................ 3

Innotas .......................................... 5

metr Building Management

Systems GmbH ...................... 10

SET Hub ....................................... 6

Smart Wires .................................. 1
---
Energy Technology Cluster Berlin-Brandenburg

The capital region is full of energy.

In Berlin and Brandenburg approx.

6,500 companies with more than

57,000 employees generate

revenue of over 28 billion euros.

Numerous research facilities,

universities and institutions of

higher education provide first-class

research and teaching in all areas

of energy technology.

Since 2011, the two federal states

promote the energy technology

industry and support transnational

innovation potential in the fields

of renewable energy, energy

efficiency, energy grids and storage

systems as well as turbomachinery

and power plant engineering.

Through the networking of energy

technology companies with

research facilities within the capital

region, sales of new products

and services are substantially

increased.

THE GERMAN CAPITAL REGION

excellence in energy technology

Energy Technology Cluster

Berlin-Brandenburg

energietechnik-bb.de

Berlin Partner für Wirtschaft

und Technologie GmbH

Wirtschaftsförderung Land

Brandenburg GmbH (WFBB)
---
Alliander AG

Alliander is an innovation leader

in the field of digital energy

infrastructure and solutions. With

its energy platform ENTRNCE it

enables a reliable, transparent and

future-proof energy supply. As a

partner to utilities, municipalities

and energy providers it offers

solutions to utilize regional

renewable energy from local

energy providers. It helps its

customers to realise PPA's and

green energy exchange with

maximum transparency. By

offering innovative and sustainable

solutions and services, Alliander's

aim is to contribute to the grand

transformation of the energy

system.

Alliander AG

Rudower Chaussee 13

12489 Berlin | Germany

Mr. Sven Neldner

Tel +49 151 1621 2437

sven.neldner@entrnce.de

www.alliander.de

www.entrnce.com
---
Aurora Energy Research GmbH

From its academic roots, Aurora

Energy Research has grown to

become the largest dedicated

power market analytics company

in Europe, providing data-driven

intelligence for strategic decisions

in the global energy transformation.

We are a diverse team of more

than 200 experts with vast

energy, financial and consulting

backgrounds, covering power,

hydrogen, carbon and fossil

commodities.

We are active in Europe, Australia

and the US, working with worldleading

organisations to provide

comprehensive market intelligence,

bespoke analytic and advisory

services, and cutting-edge

software.

Aurora Energy Research

GmbH

Kottbusser Damm 25 - 26

10967 Berlin | Germany

Ms. Antonia Kilavuz

Tel +49 30 16639184

antonia.kilavuz@auroraer.com

www.auroraer.com
---
Berlin Partner for Business and Technology

First choice: Berlin Partner for

Business and Technology

Business and technology support

for companies, investors and

scientific institutions in Berlin – this

is the Berlin Partner für Wirtschaft

und Technologie GmbH mission.

With customized services and an

excellent science and research

network, our many experts provide

an outstanding range of programs

to help companies launch,

innovate, expand and secure their

economic future in Berlin.

A unique public-private partnership,

Berlin Partner for Business and

Technology collaborates with the

Berlin State Senate and more

than 230 companies dedicated to

promoting their city. Berlin Partner

is also responsible for marketing

the German capital to the world.

Berlin Partner für Wirtschaft

und Technologie GmbH

Fasanenstr. 85

10623 Berlin | Germany

Ms. Bettina Deckart

Tel +49 30 463 02 - 401

bettina.deckart

@berlin-partner.de

www.berlin-partner.de
---
DSC Dietmar Schickel Consulting GmbH & Co. KG

Practice-oriented consulting and

comprehensive know-how for your

success!

The real estate industry and its

consulting on topics of energyefficient

neighborhoods are among

the focal points of our activities.

Municipal utilities, suppliers and

alternative network operators are

among our clients as well as cities,

municipalities and counties.

We also provide consulting services

in the areas of metering services,

energy and e-mobility. The team,

strengthened by experts from the

finance and project management,

we also successfully implement

media supply projects and M&A

processes or accompany them with

supporting measures.

Our remuneration models are

mostly success-oriented, numerous

references speak for themselves.

On our DSC website you will find

reports from meanwhile more than

30 years of corporate experience of

our partners and further

interesting information

and references on our

activities.

DSC Dietmar Schickel

Consulting GmbH & Co. KG

Emser Str. 9

10719 Berlin | Germany

Mr. Dietmar Schickel

Tel +49 30 5557 4799 - 0

schickel@schickel.de

www.schickel.de
---
ELMATIC GmbH Gebäudemanagement

With XENON, we offer an

experienced and competent service

provider in all areas of building

management, a software solution

that is individually tailored to your

district.

For all aspects of energy and

technical systems. The innovative

XENON Dashboard plays a central

role as an all-in-one solution from

submetering to system control:

Easy to use, in real time and

with maximum data security. The

cloud-based solution is individually

adapted to your district. It enables

cost-efficient, secure and flexible

plant monitoring as well as plant

and energy management without

large investments - neither

financially nor in terms of

personnel or time.

ELMATIC GmbH

Gebäudemanagement

Niederlassung Berlin

Gradestr. 50

12347 Berlin | Germany

Mr. Martin Kuhl

Tel +49 40 229 21 - 605

m.kuhl@elmatic.de

www.elmatic.de
---
Energenious GmbH

Plan across sectors, operate in a

resource-optimal way

The GreenTech startup

Energenious develops the

cloud platform MicrogridCreator,

providing digital support to

planners and operators of sectorcoupled,

decentralized energy

systems. The software calculates

optimal system configurations and

operating strategies for multimodal

infrastructure projects and industrial

applications with high ROI and low

emissions.

The powerful analytics can be

integrated into existing, webbased

IoT platforms and EMS.

Energenious distributes SDKs that

3rd party developers use to interact

with the web API and create

innovative dashboards for data

visualization and analysis.

Energenious GmbH

Hönower Str. 35

10318 Berlin | Germany

Christian Wiezorek

Tel +49 177 2958 929

innovation@energenious.eu

www.energenious.eu
---
Future Energy Lab

What will the energy industry

of the future look like? In the

Future Energy Lab, we address

the question of how innovative

technologies such as AI and

blockchain can be efficiently

applied in the energy sector.

As an innovation space, our Lab

promotes projects to develop new

ideas, build a network community

and test pilots. Here, solutions

are created for a flexible and agile

energy market in the spirit of the

energy transition.

Powered by

Powered by

Future Energy Lab

Wegelystr. 1

10623 Berlin | Germany

Benedikt Pulvermüller

Tel +49 30 66 777 - 180

futureenergylab@dena.de

www.future-energy-lab.de
---
GEFTA Gesellschaft für Telearbeit mbH

Do you want to connect employees

in your home office? We will gladly

advise you and take care of the

secure connection. We have

specialized in helping companies

to make their work organization

more flexible. And in doing so – in

the operational implementation –

employees within the company,

as well as external employees

and specialists according to their

suitability for home offices.

GEFTA Gesellschaft für

Telearbeit mbH

Charlottenstr. 16

10117 Berlin | Germany

Mr. Thomas Dehler

Tel +49 30 408 171 010

tdehler@gefta.eu

www.gefta.eu
---
GFaI e.V.

TOP-Energy® – The Tool of

choice for energy concepts.

The intuitive simulation software

enables you to model supply

structures of electricity, heat,

cold, steam, and compressed air.

You easily interconnect energy

generators, storage units, and

consumers from different sectors.

Dynamic simulations allow

economic, ecological, and

energetic analysis for various

scenarios.

Whether for an initial analysis,

concept development, feasibility

study, profitability analysis,

efficiency increase or plant

optimization, power plant

deployment planning, or simply for

brainstorming: TOP-Energy® helps

you in all project phases.

TOPENERGY ®

GFaI – Gesellschaft zur

Förderung angewandter

Informatik e.V.

Volmerstr. 3

12489 Berlin | Germany

Mr. Tim Meyer,

Mr. Jan Kurowski

Tel +49 30 814 563 741

info@top-energy.de

www.top-energy.de
---
green with IT e.V.

green with IT e. V. is an interestand

research network representing

22 members consisting of SMEs,

scientific institutions as well

as application partners from

the property sector, founded in

2010. We provide save concepts

for the digitalization of quarter

management which deliver low

invest energy-efficient IT-solutions

like e.g. intelligent and self-learning

heating management, EMS,

monitoring etc. We apply disruptive

solutions to improve energy

efficiency sustainably and create

new value chains. Disruptively

means here: Those who rely on

old, proprietary protocols and offer

weak data security are no future

partners. We provide hardware and

software solutions, which create

transparency and increase the

energy efficiency of multi-tenant

buildings and a web-platform with

additional modules.

green with IT e.V.

Charlottenstr. 16

10117 Berlin | Germany

Mr. Jörg Lorenz

Tel +49 179 4549780

kommunikation

@green-with-it.de

www.green-with-it.de
---
inno2grid GmbH

inno2grid is a joint venture that,

together with its shareholders DB

E.C.O. and Schneider Electric, is

driving the energy and mobility

transition for a sustainable, viable

and liveable tomorrow. To do so,

inno2grid offers consulting services

that enable the individual energy

and transport transformation of

cities & regions, neighbourhoods &

companies. As a business model

and software developer, inno2grid

empowers providers of energy and

mobility solutions with new endto-end

business fields to become

the digital and infrastructural

backbone of tomorrow's cities,

neighbourhoods and fleets. In this

way inno2grid develops new endto-end

solutions for the market,

such as the FleetVenture inno2fleet

together with Schneider Electric.

inno2grid GmbH

EUREF-Campus Haus 13

Torgauer Str. 12 - 15

10829 Berlin | Germany

Mr. Timo Gierschke

Tel +49 151 5885 7917

timo.gierschke@inno2grid.com

www.inno2grid.com
---
InnoEnergy GmbH

EIT InnoEnergy operates at the

centre of the energy transition and

is the leading innovation engine

in sustainable energy, bringing

together technologies and skills

required to accelerate Europe's

decarbonisation goals. Recognised

globally as one of the largest

climate and renewable energy tech

investors 2020, EIT InnoEnergy

backs innovation across a range

of areas including storage,

transport and mobility, renewables

and sustainable buildings and

cities - leveraging its trusted

ecosystem of 500+ partners and

29 shareholders. It is the driving

force behind strategic European

initiatives: the European Battery

Alliance, the European Green

Hydrogen Acceleration Centre and

the European Solar Initiative. EIT

InnoEnergy is supported by the

European Institute of Innovation

and Technology (EIT).

InnoEnergy GmbH

EUREF Campus Haus 12

Torgauer Str. 12 - 15

10829 Berlin | Germany

Mr. Soenke Moosmann

Tel +49 152 5546 0321

soenke.moosmann

@innoenergy.com

www.innoenergy.com
---
Innotas Produktions GmbH

We see ourselves as an electronics

service company for the real estate

industry. Besides the production

and distribution of our own OMS

products in the field of metering

and telecontrol technology, we

primarily offer the development

and manufacture of electronic

assemblies and devices according

to customer requirements.

Our greatest strengths lie in the

flexible engineering support, the

flexible manufacturing of medium

and large series as well as in the

prototype and test equipment

construction.

Innotas Produktions GmbH

Standort Wildau

Friedrich-Engels-Str. 46

15745 Wildau | Germany

Mr. Wolfram Klingele

Tel +49 3375 529 649 - 13

wolfram.klingele

@innotas-service.de

www.innotas.de
---
metr Building Management Systems GmbH

metr aims to accelerate the

reduction of global CO 2

emissions

and make buildings more energyefficient

and sustainable. To

achieve this, metr develops datadriven

solutions for the housing

industry and networks them on

a digital platform for technical

building equipment. In this way,

metr ensures efficient, safe and

sustainable building management.

Currently, metr offers four own

solutions for remote monitoring

of heating systems & drinking

water installations as well as for

smart submetering and metering.

The portfolio is complemented

by various partner solutions and

services.

metr Building Management

Systems GmbH

Erkelenzdamm 11, 13

10999 Berlin | Germany

Mr. Dénes Honus

Tel +49 176 6132 9850

denes.honus@metr.systems

www.metr.systems
---
SET Hub

The Start Up Energy Transition

(SET) Hub offers start-ups support

in developing innovative business

models and solutions for the energy

transition. The SET Academy

provides information on the

regulatory framework in the energy

sector. SET Mentoring offers expert

advice for start-ups and participants

get access to a broad innovation

network, the SET Network.

Within the framework of pilot

projects (SET Pilots), impulses for

innovative projects from start-ups

and tech scene are brought to the

attention of the BMWK.

Powered by

SET Hub

Deutsche Energie-Agentur

GmbH

Chausseestr. 128a

10115 Berlin | Germany

René Böhm

Tel +49 30 66 777 - 811

kontakt@set-hub.de

www.set-hub.de

Powered by
---
Smart Wires

Smart Wires is a global power

technology company advancing

the delivery of affordable, clean

electricity worldwide. With our

innovative technology and

advanced analytics we maximize

the grid's capacity. This means

more renewables, at a lower

cost and with less disruption to

communities and the environment.

Smart Wires is headquartered in

North Carolina, with European

headquarters in Dublin, Ireland,

and a global workforce of 200

professionals spread across four

continents. Our team collaborates

with our customers to achieve their

strategic objectives and help them

face an uncertain energy future with

flexible, high-impact solutions.

Learn more about how we are

reimagining the grid for a better

future: www.smartwires.com

Smart Wires

Design Offices

EUREF-Campus 22

Torgauer Str. 12 - 15

10829 Berlin | Germany

Dr. Susanne Nies

Tel +49 159 0134 6944

susanne.nies@smartwires.com

www.smartwires.com
---
The joint presentation of Germany's Capital Region is hosted by the

local economic authorities of the states of Berlin and Brandenburg:

Senate Department for Economics,

Energy and Public Enterprises

managed by:

Ministry for Economic Affairs,

Labour and Energy

supported by:

Berlin Partner for Business and

Technology

Fasanenstr. 85 | 10623 Berlin

Mr. Mathias Nix

Tel +49 30 463 02 - 451

mathias.nix@berlin-partner.de