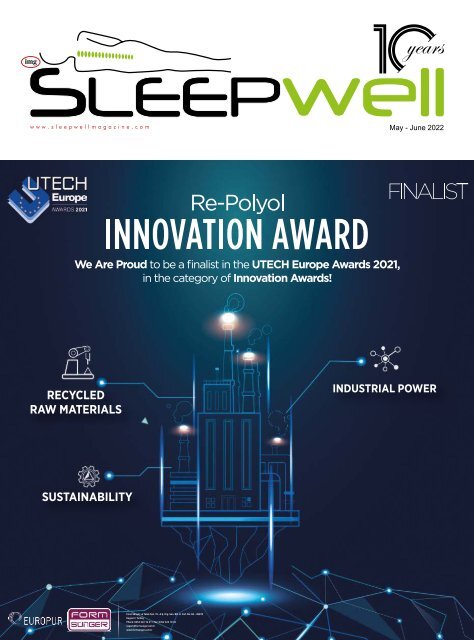 Sleep Well May - June 2022
Sleep Well May - June 2022
Sleep Well May - June 2022
SHOW MORE
SHOW LESS
Create successful ePaper yourself
Turn your PDF publications into a flip-book with our unique Google optimized e-Paper software.
May - June 2022
---
CONTENTS

Furniture industry started 2022 with record exports

SLEEPWELL | CONTENTS 8

10

12

16

22

26

32

36

42

46

48

49

54

56

58

The sector has woken up!

Sleeping with love: "Visko Love"

Start Your Day Stress-Free and Fit with Carbon Mattress

Berfa Group & Fanuva Global: We have a strong organization

for export

Happy living space: arnoYATAK

Three textile fairs open with big hopes in Frankfurt

Lova Yatak started exporting in 2022

Lima Logistics is among Turkey's Best Employers

Pillow Cube expands innovative portfolio with cooling

tech and bedding accessories

Salone del Mobile confirms move to June for 2022 edition

It is so natural to find the sleep you are looking for in

İstikbal!

Everything is renewed with doqu

The link between migraines and sleep

62

64

74

78

82

86

92

94

98

100

102

104

With bellona beds "wellness & comfort" to all turkey

The world mattress industry meets in Istanbul: IBIA

EXPO 2022

Comfortable sleep with the line series

Yatcop: We are trying to catch the rapid change in the

world

Special Collection for Babies by Yataş Babies Will Now

Grow With Yataş Mini

How daily stress affects teeth grinding

Bambi Yatak opened its 600th store in MODOKO

Inegöl's Furniture Export Record comes again from

Weltew Home

BEDGEAR's two new 'Dual' performance ® pillows are all

about curves

First in the world, Sloth Bedding's Air Clean Technology!

The first prize to İşbir yatak from A.C.E. Awards 102

Choosing the best hospital bed mattresses and toppers:

8 options

INDEX ADS

Form Sünger..................................................................Front cover

Ruum Store.......................................................................Back cover

Bed&More...............................................................Front cover ear

Yatsan....................................................................Inside back cover

Kilim Mobilya...................................................Inside front cover

Feyza Baza........................................................................................2-3

Ashly....................................................................................................4-5

InnovaBedding...............................................................................8-9

ViscoMavi........................................................................................... 11

ViskoLove.....................................................................................14-15

Seral Tekstil............................................................................... 20-21

ZMattress.................................................................................... 24-25

Berfa/Fanuva............................................................................ 30-31

MyVisco........................................................................................ 34-35

Heimtextil...........................................................................................41

Wii/Wellmatt............................................................................44-45

Lima.......................................................................................................47

Furnita.......................................................................................... 52-53

Boyteks................................................................................................ 57

IBIA EXPO....................................................................................72-73
---
Publisher

ISTMAG

Magazin Gazetecilik Yayıncılık

İç ve Dış Ticaret Ltd. Şti.

Adına sahibi

H. Ferruh IŞIK

Managing Editor

(Responsible)

Mehmet SOZTUTAN

(mehmet.soztutan@img.com.tr)

Editorial Consultants

Assoc. Prof. Mehmet Ali OZBUDUN

Recep SAHIN

Omer Faruk GORUN

Furkan AKAR

Advertising Sales Manager

Omer Faruk GORUN

(omer.gorun@img.com.tr)

T: +90 224 211 44 50-51

M: +90 505 299 62 65

Foreign Relations Manager.

Ayca SARIOGLU

(ayca.sarioglu@img.com.tr)

Art Director

Tolga CAKMAKLI

(tolga.cakmakli@img.com.tr)

Technical Manager

Tayfun AYDIN

(tayfun.aydin@img.com.tr)

Web Developer

Emre YENER

(emre.yener@img.com.tr)

Finance Manager

Yusuf DEMIRKAZIK

(yusuf.demirkazik@img.com.tr)

Subscription

İsmail OZCELIK

(ismail.ozcelik@img.com.tr)

HEAD OFFICE

İHLAS MEDIA CENTER

Merkez Mah. 29 Ekim Cad. No:11 Medya

Blok Kat:1 34197 Yenibosna

İstanbul / Turkey

Tel: +90 212 454 22 22

Faks: +90 212 454 22 93

LIAISON OFFICE: BURSA

Buttim Plaza A. Blok Kat:4 No:1038

Osmangazi / Bursa

Tel: +90 224 211 44 50-51

Fax: +90 224 211 44 81

PRINTED BY

IHLAS GAZETECILIK A.Ş.

Merkez Mahallesi 29 Ekim Caddesi İhlas

Plaza No:11 A/41

Yenibosna-Bahçelievler/ISTANBUL

Tel: 0212 454 30 00
---
SLEEPWELL | EDITOR 12

Editor

Mehmet SÖZTUTAN

mehmet.soztutan@img.com.tr

The sector has woken

up!

It has been a long time since we last attended a trade show in the sleep products industry. Fortunately,

we had ISPA Expo held in Orlando in March. It was really a tremendous show after such a long break for

the industry.

After attending Hometex Istanbul, we are en route to Frankfurt for attending Heimtextil Summer Special

which will offer Sleep and Sustainability Trends. There will be, amongst other things, a concern for a

sense of well-being – specifically in relation to a comfortable sleeping environment. The aim is to be able

to meet the wishes and requirements of the consumer in specific detail. By this, experts mean innovative

textiles that are tailored to the needs of children's skin, to especially sensitive skin and to that of people

with care needs. When it comes to sleep, it is not only sustainability issues and personal feelings of

well-being that play a major role; there are even therapeutic effects that are important too.

We will also attend Mattress Tech India and Sleep Well Middle East to represent the Turkish sleep products

industry as we do for almost two decades.

The good news is that we were honored being a media partner of Las Vegas Market. With our next issue,

we will take our place at Building B of Las Vegas Market to distribute free copies. Both, the weather and

the trade will be hot!

Sektör uyandı!

Uyku ürünleri endüstrisinde en son bir ticaret fuarına katılmamızın üzerinden uzun zaman geçti. Neyse ki Mart

ayında Orlando'da düzenlenen ISPA Expo fuarı yapıldı. Sektör için bu kadar uzun bir aradan sonra gerçekten

muazzam bir fuardı.

Hometex İstanbul'a katıldıktan sonra, Uyku ve Sürdürülebilirlik Trendlerini sunacak olan Heimtextil Summer

Special'e katılmak için Frankfurt'a doğru yola çıkıyoruz. Diğer şeylerin yanı sıra, özellikle rahat bir uyku

ortamıyla ilgili olarak, bir refah duygusu ön planda olacaktır. Amaç, tüketicinin istek ve gereksinimlerini belirli

detaylarda karşılayabilmek. Bununla uzmanlar, çocukların cildinin, özellikle hassas ciltlerin ve bakıma ihtiyacı

olan kişilerin ihtiyaçlarına göre uyarlanmış yenilikçi tekstilleri kast ediyorlar. Uyku söz konusu olduğunda,

önemli bir rol oynayan sadece sürdürülebilirlik sorunları ve kişisel esenlik duyguları değildir; hatta daha önemli

olan terapötik etkiler de vardır.

Yaklaşık yirmi yıldır yaptığımız gibi Türkiye uyku ürünleri sektörünü temsil etmek için Mattress Tech India ve

Sleep Well Middle East'e de katılacağız.

İyi haber şu ki, Las Vegas Market'in medya ortağı olmaktan onur duyduk. Bir sonraki sayımızda ücretsiz dağıtmak

için Las Vegas Market'in B Binasında yerimizi alacağız. Hem havalar hem de ticaret sıcak olacak!
---
SLEEPWELL | PROFILE 14

Furniture

industry started

2022 with

record exports

Mobilya sektörü 2022'ye

rekor ihracatla başladı

According to the information

obtained from the Istanbul

Furniture, Paper and Forest

Products Exporters' Association,

the furniture exports, reached an

all-time high of $4.3 billion last year,

started the new year with a record.

The sector increased its furniture

exports by 14 percent in January

compared to the same period of the

previous year, reaching 325.5 billion

dollars, and achieved the highest

January export of all time.

The sector, exported the most to the

USA, Germany, England, Iraq and

Libya last month, had the highest increase

in this field, with 90 percent,

to Qatar. In this period, the most

exported items were mattresses,

bases, beds and cradles for children,

sitting groups, wooden furniture

for dining and living rooms, and

metal furniture. The exports of the

furniture, paper and forestry products

sector, which closed last year

with exports approaching 7 billion

dollars, increased by 23 percent in

January and rose to 558.1 million

dollars.

İstanbul Mobilya, Kağıt ve Orman

Ürünleri İhracatçıları Birliği'nden

edinilen bilgilere göre, geçen yıl 4,3

milyar dolarla tüm zamanların en

yüksek rakamına ulaşılan mobilya

ihracatı yeni yıla da rekorla başladı.

Sektör, Ocak ayında mobilya ihracatını

geçen yılın aynı dönemine göre

yüzde 14 artırarak 325,5 milyar dolara

ulaştırdı ve tüm zamanların en

yüksek Ocak ayı ihracatına imza attı.

Geçen ay en çok ABD, Almanya, İngiltere,

Irak ve Libya'ya ihracat yapan

sektörün, bu alanda en yüksek artışı

ise yüzde 90 ile Katar'a gerçekleşti.

Bu dönemde en çok ihraç edilen kalemler

ise yatak, baza, çocuklar için

karyola ve beşikler, oturma grupları,

yemek ve oturma odaları için ahşap

mobilyalar ve metal mobilyalar oldu.

Geçen yılı 7 milyar dolara yaklaşan

ihracatla kapatan mobilya, kağıt ve

orman ürünleri sektörünün ihracatı

ise Ocakta yüzde 23 artarak 558,1

milyon dolara yükseldi.

"OCAK AYI RAKAMLARI YENI

REKORLAR KIRACAĞIMIZ

GÖSTERIYOR"

İstanbul Mobilya Kağıt ve Orman
---
In the first month of

2022, the Turkish

furniture industry

increased its exports by

14 percent compared

to the same period

of the previous year,

reaching 325.5 million

dollars, and broke the

record by making the

highest January export

of all time.

"JANUARY FIGURES SHOW THAT

WE WILL BREAK NEW RE-

CORDS"

Ahmet Güleç, Chairman of the

Istanbul Furniture Paper and Forest

Products Exporters' Association, in

his evaluation about the data, stated

that they started the new year

with a very good momentum, that

the Istanbul Furniture Fair held in

January was highly effective in these

export figures, and that as the furniture

sector, they held the furniture

fair, the largest in Europe in its field.

Güleç stating that as Turkish furniture

manufacturers, they hosted

purchasing delegations from 80

countries and more than 120 thousand

visitors from 138 countries

at the Istanbul Furniture Fair said

that furniture manufacturers have

signed hundreds of collaborations.

Noting that they laid the foundations

of a business connection of 3

billion dollars as an industry, Güleç

said "The motivation we get from

this fair, our business connections,

the ongoing investments of our furniture

manufacturers and the export

figures we realized in January show

us that we will break new records at

the end of the year."

Ürünleri İhracatçıları Birliği Başkanı

Ahmet Güleç, verilere ilişkin yaptığı

değerlendirmede, yeni yıla çok iyi

bir ivmeyle başladıklarını, Ocak

ayında düzenlenen İstanbul Mobilya

Fuarının bu ihracat rakamlarında

hayli etkili olduğunu ve mobilya sektörü

olarak alanında Avrupa'nın en

büyüğü olma özelliği taşıyan mobilya

fuarını gerçekleştirdiklerini söyledi.

İstanbul Mobilya Fuarında, Türk

mobilya üreticileri olarak 80 ülkeden

alım heyetini, 138 ülkeden 120 bini

aşkın ziyaretçiyi ağırladıklarını dile

getiren Güleç, mobilyacıların yüzlerce

iş birliğine imza attığını anlattı.

Güleç, sektör olarak 3 milyar dolarlık

iş bağlantısının temellerini attıklarını

kaydederek, "Bu fuardan aldığımız

motivasyon, gerçekleştirdiğimiz iş

bağlantılarımız, mobilyacılarımızın

devam eden yatırımları ve ocakta

gerçekleştirdiğimiz ihracat rakamları

bize yıl sonunda yeni rekorlar

kıracağımızı gösteriyor." dedi.

Türk mobilya sektörü,

2022'nin ilk ayında

geçen yılın aynı

dönemine göre

ihracatını yüzde

14 artırarak 325,5

milyon dolara ulaştı

ve tüm zamanların

en yüksek Ocak ayı

ihracatını yaparak

rekora imza attı.
---
SLEEPWELL | PROFILE 18

Sleeping

with love:

"Visko Love"

Uykunun Kalbi": "Visko Love"

Emirhan Yeterler, official

of Visco Love, which is

exporting to more than

40 countries and conducting

R&D based operations, said,

"I consider change as the

biggest problem of the sector.

Manufacturers should develop

new products but this is

not sufficient. The consumer

should get right products for

healthy and comfortable sleep,"

in the interview stressing

that the companies have to

40'dan fazla ülkeye ihracat yapan

ve AR-GE temelli çalışmalar yürüten

Visko Love Firma Yetkilisi

Emirhan Yeterler, röportajımızda

"Değişim ve gelişimi sektörün en

büyük sorunu olarak görüyorum.

Üreticiler yeni ürünler geliştirmeli,

ancak bu tek başına yeterli değil.

Tüketicilerin sağlıklı ve rahat uyuması

için doğru ürünle buluşması

gerekli," diyerek firmaların sektörde

iz bırakması ve yerini koruması

için gelişime açık olmaları gerektiklerini

vurguluyor.

Visco Love'in sektöre giriş

serüvenini aktarır mısınız?

Yatak sektöründe en köklü firmalardan

biriyiz. 1996 yılında kurulan

firmamız Ural Medikal Türkiye'nin

ilk visko elastik hafızali sünger üreticisi

firmadır. Babam Altan Yeterler

tarafından kurulan ve bugüne

getirilen firmamızın 2. jenerasyonu

olarak liderliğimizi daha da ileriye

taşımak en büyük hayalimdir.
---
Visko Love, the first

viscoelastic memory

foam manufacturer of

Turkey, has the largest

variety of pillows at the

same time. Developing

products in the mattress,

pillow and bed pads

continually, Visko Love

is a firm dedicated itself

to sleep products. It is

an indispensable brand

of hotel, hospital and

dormitory projects.

be open to change to leave

a mark in the sector and to

maintain their positions.

Let's start with the story

of Visco Love. How was the

beginning of your journey?

We are one of the most established

companies in the mattress

industry. Founded in 1996 our

company Ural Medical is Turkey's

first memory foam manufacturer.

As the 2nd generation

of our company, which was

founded by my father Altan

Yeterler, it is my biggest dream

to carry our leadership even

further.

Could you brief us your product

range and production capacity?

Our products are divided into

3 parts as bed, pillow and pad.

When we look around the world,

we see that we are the company

that has the most pillow types.

While taking pride of this, we

are continuing to develop our

products. All of our bed pillows

are special mold production and

our production is MDI based -

water based production.

Emirhan Yeterler

Türkiye'nin ilk visko elastik hafızalı sünger üretici firması

Visko Love aynı zamanda dünyanın en çok yastık çeşidine

sahip firması. Yatak, yastık ve yatak pedleri alanında

durmaksızın ürün geliştiren Visko Love uyku ürünlerine

kendisini adamış bir firma. Visko Love, otel, hastane ve yurt

gibi projelerin de vazgeçilmezi.

Ürünleriniz ve ürün gruplarınız hakkında bilgi

verir misiniz?

Ürünlerimiz, yatak, yastık ve ped olarak 3'e ayrılıyor. Dünya

çapında baktığımızda en çok yastık çeşidine sahip firma

olduğumuzu görüyoruz. Bunun gururunu yasarken ürün

geliştirmeyi durmaksızın sürdürüyoruz. Tüm yatak yastıklarımız

özel kalıp üretim olup, üretimimiz MDI based su bazlı

üretimdir.
---
SLEEPWELL | PROFILE 20

What would you say about

your sales points and which

countries do you export to?

We aim to strength our sales

points this year. Visko Love is

sold in many countries besides

Turkey.

Bed and sleep products

online sales increase in the

world. How do you evaluate

this trend and what do you

do to make your company

open to the online sales

market?

It obviously showed its effect

Satış noktalarınız ve ihracat

çalışmalarınız hakkında

neler söylersiniz?

Satış noktalarımızı bu sene itibari

ile geliştirip güçlendirmek hedefimiz.

Visko Love markamız Türkiye

haricinde birçok ülkede satılmaktadır.

Tasarım ve AR-GE

ekiplerinizin çalışmaları

hakkında neler

söyleyebilirsiniz?

Visko akıllı sünger yatak ve yastıklarımız

Ar-Ge ekibimiz tarafından

tüketicilerin değişken uyku alışkanlıkları

ve vücut yapıları düşünülerek

tasarlanıyor. Yeni modellerimizi

daha iyi uyku için geliştirilen teknolojiler

ile birleştirerek üretiyoruz.

Bugün dünyada en fazla visko

yastık çeşidine sahip olmamız Ar-

Ge'ye verdiğimiz önemin en büyük

göstergesidir.

Dünyada online olarak

yatak ve uyku ürünleri satışı

artış gösteriyor. Bu eğilimi

nasıl değerlendiriyorsunuz

ve firmanızın online satış

pazarına açık olması için

neler yapıyorsunuz?

Bariz bir şekilde online satış, retail

ve daha bir çok sektörde etkisini
---
in online sales, retail and many

other sectors. Growing online

sales are not a large percentage

of the market, although they

have been active in the mattress

industry for the past 5-6 years.

The reason for this is the desire

and willingness of people to

go and try a product that they

will use for many years. For this

reason, retailing is still the most

important factor in the bedding

industry.

Which fairs will you attend in

2022?

We attend to all of sectoral

events as an exhibitor and visitor.

We pay attention to discover

new markets, follow developments

in the sector and increase

our export volume.

göstermiştir. Gittikçe büyüyen online satış,

son 5-6 yıldır yatak sektöründe de aktif

hale gelmesine rağmen pazarın büyük bir

yüzdesi değildir. Bunun nedeni de insanların

uzun yıllar kullanacağı bir urunu

hala gidip mağazalarda deneme arzusu

ve isteğidir. Bu sebeple mağazacılık yatak

sektöründe hala en önemli unsurdur.

2022 yılında hangi fuarlara

katılacaksınız?

Katılımcı ve ziyaretçi olarak dünya genelindeki

sektörel fuarlarda bulunuyoruz. Yeni

pazarları keşfetmek, bulunduğumuz yerlerde

pazar payımızı arttırmak ve gelişmeleri

takip etmek için fuarları çok önemsiyoruz.
---
SLEEPWELL | PROFILE 24

Start Your Day

Stress-Free and

Fit with Carbon

Mattress

Carbon Yatak ile

Güne Stressiz ve

Zinde Başlayın

Armis, the architect of uninterrupted

sleep and unique

dreams, makes it possible

to start a happy day and stay fit

throughout the day with its wide

product range. With its antistatic

fabric feature, Carbon mattress

of Armis, which allows the static

electricity accumulated in the

body all day to be discharged

during sleep, eliminates all sleep

problems with moisture management,

air circulation and spine

support. In addition, the detachable

zippered topper on the Carbon

mattress can be used as a separate

mattress. The Armis Carbon

mattress, providing spine support

with its package spring system

and increasing sleep comfort because

the couples do not feel each

other's movements in the bed,

allows you to enjoy a sound sleep

all night. The choice of mattress,

Kesintisiz uykunun ve eşsiz düşlerin

mimarı Armis, sunduğu geniş ürün

gamıyla mutlu bir güne başlangıç

yapmayı ve gün boyu zinde kalmayı

mümkün hale getiriyor. Antistatik

kumaş özelliği ile tüm gün vücutta

biriken statik elektriğin uyku esnasında

atılmasını sağlayan Armis'in

Carbon yatağı, nem yönetimi, hava

sirkülasyonu ve omurga desteği ile

tüm uyku problemlerini ortadan

kaldırıyor. Ayrıca Carbon yatakta

bulunan ayrılabilir fermuarlı topper,

ayrı bir yatak olarak kullanılabiliyor.

Paket yay sistemi ile hem

omurga desteği sağlayan, hem de
---
Carbon Mattress

Model with

Antistatic Feature is

at Armis

which is the first formula of waking

up to a happy day and staying

fit all day, is no longer a big problem

with Armis. Armis providing

a more energetic day with the

right mattress selection, supports

the harmony with the busy city

tempo and makes you feel calm

and peaceful. Armis, having a wide

range of products for a healthy

and comfortable sleep, helps you

fall asleep faster because of the

antistatic feature of the Carbon

mattress model. Armis's Carbon

mattress, which prevents couples

from being affected by movement

with its independently operating

package spring system, is offering

the formula of comfortable and

happy sleep. The Armis Carbon

mattress providing the regional

support needed by the body is

preferred because it lasts 2 times

longer than the classical spring

system. The Armis Carbon mattress

eliminating muscle and joint

pain with its spine support, offers

a pleasant sleep experience where

you can relieve the tiredness and

stress of the day.

The Carbon Mattress set allows

you to remake your bedroom with

its modern style base, headboard,

pouf and nightstand options

designed in the same color and

fabric.

çiftlerin yatakta birbirlerinin hareketlerini

hissetmemeleri sayesinde

uyku konforunu arttıran Armis

Carbon yatak, tüm gece deliksiz bir

uykunun keyfine varmanıza olanak

tanıyor.

Mutlu güne uyanmanın ve gün

boyu zinde kalmanın ilk formülü

olan yatak seçimi Armis ile büyük

bir problem olmaktan çıkıyor.

Doğru yatak seçimi ile günün daha

enerjik geçmesini sağlayan Armis,

yoğun şehir temposuna uyumu

destekleyerek, sakin ve huzurlu

hissettiriyor.

Sağlıklı ve rahat bir uyku için geniş

ürün yelpazesi bulunan Armis,

Carbon yatak modelinin antistatik

özelliği ile daha hızlı uykuya dalmanıza

yardımcı oluyor. Bağımsız

çalışan paket yay sistemi ile

çiftlerin hareketten etkilenmesini

engelleyen Armis'in Carbon yatağı

rahat ve mutlu uykunun formülünü

sunuyor. Vücudun ihtiyaç duyduğu

Antistatik Özellikli

Carbon Yatak Modeli

Armis'te

bölgesel desteği sağlayan Armis

Carbon yatak klasik yay sistemine

göre 2 kat daha uzun ömürlü olmasıyla

tercih sebebi oluyor. Sunduğu

omurga desteği ile kas ve eklem

ağrılarını ortadan kaldıran Armis

Carbon yatak, günün yorgunluğunu

ve stresini atabileceğiniz keyifli

uyku deneyimi sunuyor.

Carbon Yatak seti aynı renkte ve

kumaşta tasarlanan modern tarzdaki

baza, başlık, puf ve komidin

seçenekleriyle yatak odanızı baştan

yaratmanıza imkan veriyor.
---
SLEEPWELL | PROFILE 28

Berfa Group & Fanuva

Global: We have a strong

organization for export

Berfa Grup & Fanuva Global: İhracata

yönelik güçlü bir organizasyonumuz var

Company partners Fatih Mutlu

and Nuri Körahmetoğlu,

achieved to take a place in the

market with their 20 years of experience

in the sector, made statements

to our editor, Furkan Akar. Mr. Fatih

and Mr. Nuri stating that they already

made their presence felt in the European

market and that they planned

to expand this presence declared that

they also have awareness in the African

and Middle East market and they

want to take this situation forward

according to their market research,.

Mutlu and Körahmetoğlu emphasized

that they use e-commerce efficiently

in the sense of business to business,

said that they receive intense dealership

requests from abroad and that

Nuri Körahmetoğlu and Fatih Mutlu

Sektördeki 20 yıllık tecrübeleriyle pazarda

kendilerine yer edinmeyi başaran

firma ortakları Fatih Mutlu ve Nuri Körahmetoğlu,

konuya ilişkin editörümüz

Furkan Akar'a açıklamalarda bulundu.

Avrupa'da pazarında hâlihazırda varlık

gösterdiklerini ve bu varlıklarını büyütmeyi

planladıklarını belirten Fatih Bey

ve Nuri Bey, yaptıkları pazar araştırması

doğrultusunda, Afrika ve Orta

Doğu pazarında da bilinirliklerinin

olduğunu ve bu durumu ileri taşımak

istediklerini ifade ettiler. Business to

business anlamında e-ticareti verimli

kullandıklarının altını çizen Mutlu ve

Körahmetoğlu, yurtdışından yoğun şekilde

bayilik talebi aldıklarını ve 2023

yılı itibariyle bu talepleri değerlendireceklerini

söyledi.

FATIH BEY & NURI BEY, BERFA

GROUP / FANUVA GLOBAL

ORTAKLIĞI BÜNYESINDE YATAK

VE UYKU ÜRÜNLERI PAZARINA

GIRMIŞ BULUNUYORSUNUZ.

UZUN SÜREDIR YATAK

BILEŞENLERI ÜZERINE HIZMET

VEREN BIR FIRMA OLARAK BU

GIRIŞIMINIZIN KISA HIKÂYESINI

VE MARKA/ÜRÜN DETAYLARINI

DINLEYEBILIR MIYIZ?

Firma ortakları Fatih Mutlu ve Nuri

Körahmetoğlu olarak yatak ve uyku

sektöründe 20 yılı aşkın tecrübeye sahibiz.

Özellikle üretim ve pazarlamaya

yönelik birçok projenin içerisinde yer

aldık ve sektörde uzun yıllara dayanan

tecrübeler edindik ve dostluklar

kazandık.

Bu temeller üzerine kurduğumuz şirketimizde

uyku sektörüne yönelik hem

hammadde hem de hazır uyku ürünleri

ihracatı gerçekleştiriyoruz. Özellikle yatak

malzemeleri olarak; yatak kumaşı,
---
The partnership of

Berfa Group / Fanuva

Global, which has been

contributing to the sector

in mattress components

for a long time, decided

to accelerate its

investments in the field

of mattress and sleep

products.

they will evaluate these demands by

2023.

YOU, MR. FATIH & MR. NURI,

ENTERED THE MATTRESS AND

SLEEP PRODUCTS MARKET AS

A PART OF THE PARTNERSHIP

OF BERFA GROUP / FANUVA

GLOBAL. AS A COMPANY THAT

HAS BEEN SERVING ON MAT-

TRESS COMPONENTS FOR A

LONG TIME, CAN WE LISTEN TO

THE SHORT STORY OF YOUR

INITIATIVE AND THE DETAILS

OF BRAND/PRODUCT?

As the partners of the company, Fatih

Mutlu and Nuri Körahmetoğlu, we

have more than 20 years of experience

in the mattress and sleep sector.

We have been involved in many

projects, especially for production

and marketing, and we have gained

experience of many years and friendships

in the sector. In our company,

we established on these basics, we

are exporting both raw materials

and ready-made sleep products for

the sleep sector. We are exporting

especially mattress fabric, spring, felt,

interlining, foam, label, mattress edge

rib, ready-made mattress cover etc

as mattress materials. We also have a

strong sales organization in all kinds

of sleep products and we are exporting

to more than 50 countries.

CAN YOU MENTION THE NAME

STORY OF THE FANUVA BRAND?

Nowadays, you should make the

detailed research in many ways while

Yatak bileşenleri konusunda uzun süredir sektöre katkıda

bulunan Berfa Grup / Fanuva Global ortaklığı, yatak ve

uyku ürünleri alanındaki yatırımlarını hızlandırma kararı

aldı.

yay, keçe, tela, sünger, etiket, yatak

kenar fitili, hazır yatak kılıfı vs. ihracatı

yapıyoruz. Her türlü uyku ürünlerinde

de güçlü bir satış organizasyonumuz

var ve 50'nin üzerinde ülkeye ihracat

gerçekleştiriyoruz.

FANUVA MARKASININ ISIM

ÖYKÜSÜNDEN BAHSEDER

MISINIZ?

Günümüzde marka belirlerken pek çok

yönden detaylı araştırma yapmanız gerekiyor.

Oluşturacağınız markanın web

sitesi müsait mi, herhangi bir marka

tescili var mı? Tabi bunlara uyacak şekilde

akılda kalacak, söylenmesi kolay

en iyi markayı seçmeye çalışıyorsunuz.

Firma ortakları olarak farklı alternatifler

arasında isimlerimizi de çağrıştıracak

şekilde bir marka oluşturduk

ve altını doldurmak, sektörde bilinir

hale getirmek üzere çalışmalara devam

ediyoruz.

YENI YATIRIMINIZDA E-TICARETI

ETKIN ŞEKILDE KULLANACAK

MISINIZ?

Firma olarak direk tüketiciye yönelik

herhangi bir satışımız bulunmuyor.

2023 yılından itibaren kendi markalarımızda

çalışmalar yapmayı planlamaktayız.

Şuan tamamen B2B olarak

çalışıyoruz. B2B olarak e-ticareti en iyi

kullanan firmalardan biri olduğumuzu
---
SLEEPWELL | PROFILE 30

determining a brand. Is the website

of the brand you will make available?

Does it have any trademark registration?

Of course, you are trying to

choose the best brand that will be

memorable to fit them, easy to say. As

firm partners, we have made a brand

that will evoke our names among

different alternatives, and we continue

to establish it and make it known in

the sector.

WILL YOU USE E-COMMERCE

EFFECTIVELY IN YOUR NEW

INVESTMENT?

As firm, we do not have any direct

sales to consumer. We are planning

to work on our own brands starting

from 2023. We are currently working

completely as B2B. We can say that

we are one of the companies that

use e-commerce best as B2B. We are

making sound investments in this

direction every year. We are making

a strong bridge in particular between

our manufacturing partners and our

customers.

WHAT KIND OF ADVERTISING

AND MARKETING STRATEGY

DO YOU WANT TO FOLLOW FOR

MATTRESS AND SLEEP PROD-

UCTS?

We established the infrastructure

so as to serve in order to meet the

coming all kinds of purchase demands

from abroad about sector due to the

work we did, and we are continuing to

work to strengthen it even more.

WILL YOU HAVE AN ATTEMPT

TO GO RETAIL IN TURKEY OR

ABROAD?

We do not have such a plan for 2022,

but we have been receiving a lot of requests

from abroad regarding the use

of our name rights and dealerships.

We will consider these requests in the

upcoming progress.

IN WHICH FAIRS WILL YOUR

MATTRESS AND SLEEP PROD-

UCTS APPEAR AT HOME AND

ABROAD? CAN YOU MENTION?

söyleyebiliriz. Her yıl bu yönde sağlam

yatırımlar yapıyoruz. Özellikle üretici

ortaklarımızla, müşterilerimiz arasında

güçlü bir köprü oluşturuyoruz.

YATAK VE UYKU ÜRÜNLERI

KONUSUNDA NASIL BIR REKLAM

VE PAZARLAMA STRATEJISI

IZLEMEYI DÜŞÜNÜYORSUNUZ?

Yapmış olduğumuz çalışmalarla,

sektörle alakalı yurt dışından gelecek

her türlü alım talebinin tarafımıza ulaşacağı

ve bu gelen talepleri karşılamak

üzere hizmet verecek şekilde alt yapıyı

oluşturduk ve daha da güçlendirmek

için çalışmalara devam ediyoruz.

TÜRKIYE GENELINDE YA DA

YURT DIŞINDA MAĞAZALAŞMA

GIRIŞIMINIZ OLACAK MI?

2022 yılı için öyle bir düşüncemiz yok

fakat isim haklarımızın kullanımı ve

bayilikler ile ilgili yurtdışından çok

talep almaktayız. İlerleyen süreçte bu

talepleri değerlendireceğiz.

YATAK VE UYKU ÜRÜNLERINIZ

YURTIÇINDE VE YURT DIŞINDA

HANGI FUARLARDA BOY

GÖSTERECEK? BAHSEDER

MISINIZ?

2022 yılı Mart ayında ISPA fuarına

katıldık. IBIA fuarına katılacağız.

Özellikle IBIA fuarının bundan sonra

ki süreçte sektörün belirleyici fuarlarından

birisi olacağını düşünmekteyiz.

Gelecek yıl Interzum fuarına katılmayı

planlıyoruz.
---
We attended the ISPA fair in March

2022. We will attend the IBIA fair. We

think that especially the IBIA fair will

be one of the determining fairs of the

sector in the next progress. We are

planning to attend Interzum fair next

year.

WHICH MARKETS ABROAD DO

YOU THINK TO ENTER? CAN

YOU SHARE WITH US YOUR

MARKET RESEARCH ON MAT-

TRESS AND SLEEP PRODUCTS?

We believe that our growth in the

European market will continue. Here

especially Germany, Italy, France,

England, Spain markets will be the

determining countries. We want to be

stronger in the American market. We

are also a well-known brand in the African

and Middle Eastern markets and

we want to take this even further.

WILL YOU PROVIDE TRIAL USE

AND RETURN GUARANTEE TO

PRODUCT USERS?

We currently do not have any activities

for retail, but we have guarantees

in our wholesale exports.

FINALLY, MR. FATIH AND MR.

NURI, WHAT CHARACTERISTICS,

DISTINGUISHING YOUR COM-

PANY FROM OTHER MATTRESS

COMPANIES, WILL YOU HAVE?

We have a strong export-oriented

marketing organization and we are

delivering the right products to the

right companies abroad quickly. We

are continuing to work in order to

make this structure stronger.

YURTDIŞINDA HANGI

PAZARLARA GIRMEYI

DÜŞÜNÜYORSUNUZ? YATAK VE

UYKU ÜRÜNLERI KONUSUNDA

YAPMIŞ OLDUĞUNUZ PAZAR

ARAŞTIRMASINI BIZIMLE

PAYLAŞIR MISINIZ?

Avrupa pazarında büyümemizin devam

edeceğini düşünüyoruz. Özellikle

Almanya, İtalya, Fransa, İngiltere,

İspanya pazarları burada belirleyici

ülkeler olacak. Amerika pazarında

daha da kuvvetlenmek istiyoruz. Ayrıca

Afrika ve Ortadoğu pazarından bilinen

bir markayız ve bunu daha da ileri

taşımak istiyoruz.

ÜRÜN KULLANICILARINA

DENEME KULLANIMI VE IADE

GARANTISINDE BULUNACAK

MISINIZ?

Şu an için perakendeye yönelik herhangi

bir faaliyetimiz bulunmamaktadır

fakat toptan ihracatlarımızda garantilerimiz

bulunmaktadır.

SON OLARAK FATIH BEY VE

NURI BEY, FIRMANIZI DIĞER

YATAK FIRMALARINDAN AYIRAN

NE GIBI ÖZELLIKLERE SAHIP

OLACAKSINIZ?

İhracata yönelik güçlü bir pazarlama

organizasyonumuz var ve doğru ürünleri

hızlı bir şekilde yurt dışında doğru

firmalara ulaştırıyoruz. Bu yapıyı

daha da güçlendirmek için çalışmalara

devam ediyoruz.
---
SLEEPWELL | PROFILE 34

Happy living

space:

arnoYATAK

Mutlu Yaşam Alanı:

arnoYATAK

arnoYATAK is the brand which

is of Şemsioğlu Mobilya co.

ltd. founded in 1981, and

which has grown with the effort

and vision of three generations

and focused on sleeping group

products. Our company today has

three registered brands; arno-

HOME, arnoGO and arnoYATAK,

arnoYATAK, 1981 yılında kurulan

Şemsioğlu Mobilya Ltd. Şti.'nin,

üç kuşağın emeği ve vizyonuyla

büyüyen, uyku grubu ürünlerine

odaklanmış markasıdır. Şirketimiz

bugün üç tescilli markası; arno-

HOME, arnoGO ve arnoYATAK ile

Türkiye çapında yaklaşık 60 ilde

bulunan 300 satış noktasında ürünlerini

beğeniye sunmaktadır.

2007 yılından bu yana İzmir, Torbalı'da

bulunan 33.000 m2 kapalı

alana sahip üretim tesisimizde son

teknolojik gelişmelerle donattığımız

makine parkurumuzla üretime

devam etmekteyiz. Kurulduğumuz
---
and offers its products at 300

sales points in 60 provinces across

Turkey.

Since 2007, we have been continuing

production with our machine

park equipped with the latest

technological developments in our

production facility with a closed

area of 33.000 m2 in Torbalı,

İzmir. Since the day we were

founded, we have been following

current developments by owning

our values and working to make

products with original designs.

Considering the demands and

expectations of our customers

with our products and services;

we adopt contributing to our society

and country as fundamental

principle of us. We aim to be both

reputable and respectful, set an

example with our work discipline

and continuous improvement.

Despite the negative conditions in

the world and in our country, we

are getting closer to the targets

we have set for 2022, step by step.

Our primary goal for this year is

to increase our export capacity by

80% and to take our place in new

markets.

While we are making a permanent

and strong brand with our

marketing and sales strategies, we

take an active role in the growth

of the Turkish mattress sector not

only with our products, but also

with our rapid adaptation to technology

and our service quality.

günden beri değerlerimize sadık

kalarak güncel gelişmeleri takip

ediyor ve özgün tasarımlara sahip

ürünler ortaya çıkarmak için çalışıyoruz.

Ürünlerimiz ve hizmetimizle müşterilerimizin

talep ve beklentilerini

göz önünde tutarak; topluma ve

ülkemize katkı sağlamayı temel

prensiplerimiz olarak benimsiyoruz.

Hem saygın hem saygılı olmayı,

çalışma disiplinimizle ve sürekli

kendimizi geliştirmemizle örnek

olmayı hedefliyoruz.

Dünyada ve ülkemizde yaşanan

olumsuz koşullara rağmen, 2022

yılı için belirlediğimiz hedeflere

adım adım yaklaşıyoruz. Bu yıl için

öncelikli hedefimiz, ihracat kapasitemizi

%80 artırırken yeni pazarlarda

da yerimizi almak.

Pazarlama ve satış stratejilerimizle

kalıcı ve güçlü bir marka yaratırken,

sadece ürünlerimizle değil,

teknolojiye hızlı adaptasyonumuz

ve hizmet kalitemizle, Türkiye yatak

sektörünün büyümesinde aktif

rol alıyoruz.
---
SLEEPWELL | FAIR 38

Three textile fairs

open with big hopes in

Frankfurt

Üç tekstil fuarı Frankfurt'ta

büyük umutlarla açılıyor

Techtextil, Texprocess

and the Heimtextil

Summer Special open

their doors in Frankfurt am

Main from 21 to 24 June. After

the Corona-related break,

exhibitors and visitors are

looking forward to personal

interaction. Numerous innovations

and further developments

await the global trade

public. The trade fairs taking

place in parallel cover textile

value chains from textile

Techtextil, Texprocess ve Heimtextil

Summer Special fuarları 21-24

Haziran tarihleri arasında kapılarını

açıyor. Korona sonrası verilen

aranın ardından, katılımcılar ve

ziyaretçiler kişisel yüz yüze görüşmeleri

dört gözle bekliyor. Küresel

ticari arenayı çok sayıda yenilik ve

daha fazla gelişme bekliyor. Paralel

olarak gerçekleşen ticaret fuarları,

tekstil elyaflarından ve işlenmesinden

son ürüne kadar tekstil değer

zincirlerini kapsıyor.

Pandemi döneminde verilen 2

yıl aradan sonra ilham veren iş

ortamı, yüz yüze görüşmeler ve

etkili market araştırmaları yeniden

Messe Frankfurt'ta yeniden bir arada

olacak. Eş zamanlı düzenlenecek

fuarlar, tek bir lokasyonda eşsiz bir

sinerji oluşturacak.

Mevcut korona önlemleriyle ilgili

olarak, etkinlikler kapasite ve kabul

kısıtlamaları olmadan ve dolayısıyla

aşı kanıtı olmadan gerçekleşecek.

Online biletleme, temiz hava temini,

geniş salon planlaması ve yoğun

temizlik süreçleri gibi hijyen ön-
---
Heimtextil Summer

Special, Techtextil and

Texprocess have come

together for offering

textile value chains

together at Messe

Frankfurt Exhibition

Center, 21-24 June 2022

fibers and processing to the

end product.

With Techtextil, Texprocess

and the Heimtextil Summer

Special, Messe Frankfurt

brings textile value chains

together at its exhibition

center. After two years of the

pandemic, they are finally

able again to look forward

to new international face-to-face

contacts, inspiring

business encounters and a

holistic, bundled and efficient

market overview. In parallel,

the D2C Neonyt Lab (24 -

26.6.2022) of Messe Frankfurt

and numerous public

events of Frankfurt Fashion

Week, organized by the City

of Frankfurt, are planned to

take place in the city itself.

This offers unique synergies

all at one location. Exhibitors

benefit from cross-selling

opportunities and can establish

business relationships in

entirely new constellations.

In one place, visitors will

find global trends, products

and innovations along textile

value chains. The range spans

from yarns and fibers to functional

textiles, textile technologies

and finishing processes

to end products for textile

furnishings, performance

textiles, functional clothing

and fashion. In the context of

Heimtextil Summer Special, Techtextil ve Texprocess, 21-

24 Haziran 2022 tarihleri arasında Messe Frankfurt Fuar

Merkezi'nde tekstil değer zincirlerini bir araya getirmek için

bir araya geliyor

lemleri fuar boyunca uygulanmaya

devam edecek.

HEIMTEXTIL SUMMER SPECIAL:

KÜRESEL BAĞLILIK VE KIŞISEL IŞ

Heimtextil, 800 belirlenmiş katılımcı

ve 47 ülkeden yüksek düzeyde

uluslararası katılımla bir defaya

mahsus bu Yaza Özel olarak Haziran

ayında gerçekleştirilecek. Hem

uluslararası yüksek hacimli iş hem

de perakende ticaret, fuarın yaz

özel organizasyonunun ana konularıdır.

Kontrat tekstilleri alanında

yenilikçi tekstil çözümlerine sahip

katılımcılar, yaz aylarında da yeni
---
SLEEPWELL | FAIR 40

the increasing awareness of a

sustainable circular economy,

modern recycling processes

will also be presented.

With regard to the current

Corona measures, the events

can take place without capacity

and admission restrictions

and thus without proof of

vaccination. Hygiene measures

such as online ticketing,

fresh air supply, generous hall

planning and intensive cleaning

processes will continue

to be implemented.

HEIMTEXTIL SUMMER SPECIAL:

GLOBAL COMMITMENT AND

PERSONAL BUSINESS

Heimtextil will be held in

June as a one-time Summer

Special with 800 announced

exhibitors and a high level of

international participation

from 47 countries. Both the

international high-volume

business and the retail trade

are focus topics of the summer

edition. Retailer-oriented

ürünlerini sergileyecekler.

Salon 3.0'daki "Heimtextil Konferansı

Sleep & More", yatak ticaretinin

temsilcilerine, çevreye duyarlı

perakendecilere ve otel endüstrisindeki

karar vericilere ve bunların

yanı sıra uyku araştırmalarındaki

en son bulguları içeren birinci sınıf

bir konuşmacı yelpazesi sunuyor.

Diğer bir önemli nokta ise, yeşil

segmentteki en son gelişmeler hakkında

bir fikir alışverişi ile seçilen

katılımcılara bağımsız bir danışman

ile bir saatlik Yeşil Turlar. Salon

3.0'daki Yeşil Köyde. Blue Angel

veya Green Button dahil olmak

üzere sürdürülebilir tekstil sertifikasyonu

uzmanları sergilenecek.

Sürdürülebilir ürünlere sahip katılımcılar,

arama yoluyla çevrimiçi

olarak bulunabilir. Sitede, stantları

bir yaprak ile işaretlenmiştir.

Uluslararası ortaklarla işbirliğinin

ortak hedefi, Heimtextil'de SKH'lerin

görünürlüğünü artırmaktır.

TECHTEXTIL VE TEXPROCESS

YENILIKLERLE BEKLENIYOR

21-24 Haziran 2022 tarihleri

arasında katılımcılar, önde gelen

uluslararası ticaret fuarları

Techtextil ve Texprocess'te teknik

tekstiller ve dokunmamış kumaşlar
---
The "Heimtextil

Conference Sleep

& More" in Hall 3.0

offers representatives

of the bedding trade,

environmentally

conscious retailers and

decision-makers from

the hotel industry a firstclass

line-up of speakers

with, among other

things, the latest findings

in sleep research,

tracking technology and

sustainability in the hotel

industry.

suppliers can be found specifically

in advance via the exhibitor

search. Exhibitors with

innovative textile solutions in

the field of contract textiles

will also be showing their

new products in the summer.

Beginning on June 21, the "Interior.Architecture.Hospitality

TOURS" will be held - curated

by AIT magazine, the bdia

association of interior designers

and the World-Architects

network.

This summer's Heimtextil

Trends "Next Horizons" has

a clear focus on sustainability

and resource conservation

– located at the center

of the exhibition grounds in

Hall 4.0. The layout of the

area is based on the Material

Manifesto: local resources,

environmentally friendly or

loaned materials will be used

for the stand design. Visitors

can expect inspiring staging

of colors, materials, curated

exhibitor exhibits, lectures

and DIY activities. In the la-

Salon 3.0'daki "Heimtextil Konferansı Sleep & More", yatak

ticaretinin temsilcilerine, çevreye duyarlı perakendecilere

ve otel endüstrisindeki karar vericilere ve bunların yanı sıra

uyku araştırmalarındaki en son bulguları içeren birinci sınıf

bir konuşmacı yelpazesi sunuyor

ile tekstil ve esnek malzemelerin

işlenmesi alanındaki yeniliklerini

sunacaklar. 45 ülkeden 1.100'den

fazla katılımcı, çok sayıda ortak

stant katılımcısı ve 13 uluslararası

pavyon, ürünlerini uluslararası bir

ticaret kitlesine sunmayı dört gözle

bekliyor. Techtextil ve Texprocess,

sürdürülebilirlik bakış açısıyla yenilikleri,

yeni süreçleri ve gelişmeleri

ve ilerici yaklaşımları öne çıkarıyor.

Bunlara yeni üretim süreçleri, malzemeler

ve makineler dahildir. Son

üç yılda araştırma ve geliştirmeye

yapılan yüksek yatırımlar, yüksek

yenilikçilik gücü vaat ediyor.
---
SLEEPWELL | FAIR 42

test episode of the Heimtextil

podcast, curator Anja Bisgard

Gaede also looks at the trends

from a very special angle and

gives retailers practical preparation

basics for their visit

to the trend area.

The "Heimtextil Conference

Sleep & More" in Hall 3.0

offers representatives of the

bedding trade, environmentally

conscious retailers and

decision-makers from the

hotel industry a first-class

line-up of speakers with,

among other things, the latest

findings in sleep research,

tracking technology and

sustainability in the hotel

industry.

Another highlight are the

one-hour Green Tours with

an independent consultant

to selected exhibitors with

an exchange on the latest

developments in the green

segment. In the Green Village

in Hall 3.0. experts for sustainable

textile certification

will be exhibiting, including

the Blue Angel or the Green

Button. Exhibitors with

sustainable products can be

found online via search. On

site, their stands are marked

with a leaf. The common goal

of the cooperation with international

partners is an increasing

visibility of the SDGs at

Heimtextil.

TECHTEXTIL AND TEXPROCESS

AWAIT WITH INNOVATIONS

From June 21 to 24, 2022,

exhibitors will present their

innovations in the field of

technical textiles and nonwovens

as well as the processing

of textile and flexible materials

at the leading international

trade fairs Techtextil and

Texprocess. More than 1,100

exhibitors from 45 countries,

numerous joint stand

participants and 13 international

pavilions are looking

forward to presenting their

products to an international

trade audience. Techtextil and

Texprocess highlight innovations,

new processes and

developments and progressive

approaches with a view to

sustainability. These include

new production processes,

materials and machinery.

High investments in research

and development over the

past three years promise high

innovative strength.
---
LIVE IN

FRANKFURT

21. – 24. 6. 2022

At the leading trade fair for

home and contract textiles.

SUMMER

SPECIAL

Parallel with:

Techtextil & Texprocess

All aspects of yarns, technical textiles, nonwovens,

manufacturing + processing technologies

info@turkey.messefrankfurt.com, Tel.: +90-216-384 50 50

www.heimtextil.messefrankfurt.com
---
SLEEPWELL | PROFILE 44

Lova Yatak started

exporting in 2022

Lova Yatak 2022'de ihracat

atağına geçti

While Lova Yatak, the comfortable

sleep brand, is

continuing its domestic

investments, it also accelerates its

global branding and retailing efforts.

In this direction, Lova Yatak continues

on its way with firm steps with the

target of nearly 500 sales points in

total in domestic and international

markets.

Lova Yatak, bringing its customers a

comfortable sleep at every point with

46 exclusive and 339 corner stores in

Turkey and 1 exclusive and 47 corner

stores abroad, has determined its

priority markets as Europe, Central

Asia and America while continuing its

growth abroad.

The brand, which will bring the

comfort of Lova Yatak to its global

customers with its concept and corner

stores, opened its first store in Iraq in

this context. Lova Yatak, which is preparing

to open stores in Azerbaijan,

Turkmenistan, Tajikistan, Kyrgyzstan

and Germany in the short term, continues

to progress towards becoming

a world brand.

Furthermore, the brand, continuing to

grow by developing its product port-

Rahat uyku markası Lova Yatak,

yurt içi yatırımlarına devam ederken,

aynı zamanda globale uzanan

markalaşma ve mağazalaşma çalışmalarını

da hızlandırıyor. Lova Yatak,

bu doğrultuda yurt içi ve yurt

dışı pazarlarda toplamda 500'e

yakın satış noktası hedefiyle yoluna

emin adımlarla devam ediyor.

Yurt içinde 46 münhasır ve 339

corner, yurt dışında da 1 münhasır

ve 47 corner mağazayla müşterilerini

her noktada rahat uykuyla

buluştıran Lova Yatak, yurt dışı

büyümesini sürdürürken öncelikli

pazarlarını Avrupa, Orta Asya ve

Amerika olarak belirledi.

Konsept ve corner mağazalarıyla,

Lova Yatak rahatlığını globaldeki

müşterileriyle de buluşturacak olan

marka, bu bağlamda ilk mağazasını

Irak'ta açtı. Kısa vadede Azerbaycan,

Türkmenistan, Tacikistan,

Kırgızistan ve Almanya'da da

mağaza açmaya hazırlanan Lova

Yatak dünya markası olma yolunda

ilerlemeye devam ediyor.

Bunun yanı sıra, rahat uykuyu

vadeden ürün portföyü ve hizmetlerini

geliştirerek büyümeye devam
---
folio and services that promise comfortable

sleep, has recently launched

its project, which is a first in the

world, which it realized in cooperation

with the Turkish Physiotherapists

Association.

With this project, Lova Yatak will not

only carry out product design and

development studies on a scientific

level, but also enable its customers to

choose the right mattress and pillow

for them through expert physiotherapists

who will work in Lova Yatak

stores.

DOĞANLAR MOBILYA GRUBU

CEO İSMAIL DOĞAN: OUR GOAL

IS BIG FOR LOVA YATAK.

İsmail Doğan made a statement

regarding overseas store investments

and said "We have achieved a 100%

growth trend with Lova Yatak in 2021.

In 2022, we set high growth targets

in terms of number of stores and

turnover. We have also completed the

necessary infrastructure and operational

process preparations to achieve

the target. Lova Yatak is the apple of

the eye of our furniture group and we

have high expectations. We made our

plans accordingly. 2022 will be the

year of shine for Lova Yatak, this is our

prediction."

Lova Yatak, the comfortable sleep brand, is getting

ready to meet its customers in different parts of the

world by starting an export attack in 2022.

Rahat uyku markası Lova Yatak, 2022 yılında ihracat

atağına geçerek, dünyanın farklı noktalarında

müşterileriyle buluşmaya hazırlanıyor.

eden marka, kısa süre önce Türkiye

Fizyoterapistler Derneği'yle

iş birliği halinde gerçekleştirdiği

ve dünyada bir ilk olan projesinin

lansmanını yapmıştı.

Bu projeyle birlikte Lova Yatak,

hem ürün tasarım ve geliştirme

çalışmalarını bilimsel bir düzlemde

yapacak hem de Lova Yatak mağazalarında

görev alacak uzman fizyoterapistler

aracılığıyla müşterilerinin,

kendileri için en doğru yatak

ve yastık seçimini yapabilmelerini

sağlayacak.

DOĞANLAR MOBILYA GRUBU

CEO'SU İSMAIL DOĞAN: LOVA

YATAK IÇIN HEDEFIMIZ BÜYÜK.

İsmail Doğan, yurt dışı mağaza

yatırımları ile ilgili yaptığı açıklamada,

"2021 yılında Lova Yatak

ile %100'lük bir büyüme trendi

yakaladık. 2022 yılında da mağaza

sayısı ve ciro olarak yine yüksek

büyüme hedefleri belirledik. Hedefi

gerçekleştirmek için gerekli alt yapı

ve operasyonel süreç hazırlıklarımızı

da tamamladık. Lova Yatak,

mobilya grubumuzun gözbebeği

markası ve beklentilerimiz yüksek.

Planlamalarımızı da bu doğrultuda

gerçekleştirdik. 2022 yılı Lova

Yatak için parlama yılı olacak, öngörümüz

budur." şeklinde konuştu.
---
SLEEPWELL | PROFILE 48

Lima Logistics is among

Turkey's Best Employers

Lima Lojistik Türkiye'nin en iyi

işverenleri arasında

Established in Bursa, Lima Logistics became one

of the companies that left its mark on the logistics

sector in 2021 with a rising momentum, by

reaching the position of providing services in many

countries of the world in 9 years.

Today, where globalization and developments in

technology increase the importance of commercial

competition in the world, and therefore logistics,

Lima Logistics aims to ensure sustainable customer

and employee satisfaction.

'AMONG TURKEY'S BEST EMPLOYERS'

"According to the announced results of the 'Bursa

Top 250 Large Firms Research-2020', carried

out under the leadership of Bursa Chamber of

Commerce and Industry (BTSO) and shedding light

on the city economy, Lima Logistics is on the list of

the first 250 companies of BTSO, as well as being

proud of the work done. As a result of the surveys

in which many values such as team spirit, respect

and reliability were voted, it became one of the

best employers in Türkiye by being awarded the

"Great Place To Work" certification.

"VERY ALTERNATIVE SOLUTIONS IN

LOGISTICS"

Established in Bursa in 2013 and started to serve

in the field of international logistics, Lima Logistics,

in addition to its successful operations in the textile

and automotive sectors, provides fast, safe and economical

solutions in the fields of sea, road, railway,

intermodal, international express courier, fair and

event transportation, as well as airlines. produces.

"TARGET EVERY REGION OF TÜRKIYE"

Bursa-based Lima Logistics, serving in the cities

of Istanbul (2), Balikesir, Izmir, Eskisehir, Ankara,

Denizli and Adana, as well as in Bucharest and

Milan, plans to increase the number of offices in

the provinces that contain the most important

industrial zones of Türkiye in 2022.

On the other hand, Lima Logistics, which has the

33rd prize in the HİB Service Exports Champions

of the Year 2020, Freight Transport and Logistics

Services Category, also draws attention with the

value it adds to the economy.

Bursa merkezli kurulan Lima Lojistik,

9 yılda dünyanın birçok ülkesinde

hizmet sunar pozisyona gelerek, yükselen

bir ivmeyle 2021 yılında lojistik

sektörüne damga vuran şirketleri

arasında yer aldı. Küreselleşme ve

teknolojideki gelişmelerin dünyadaki

ticari rekabetin, dolayısıyla lojistiğin

önemini artırdığını günümüzde Lima

Lojistik, müşteri ve çalışan memnuniyetinin

sürdürülebilir olmasını

hedefliyor.

'TÜRKIYE'NIN EN IYI

IŞVERENLERI ARASINDA'

"Bursa Ticaret ve Sanayi Odası

(BTSO) öncülüğünde gerçekleştirilen

ve şehir ekonomisine ışık tutan 'Bursa

İlk 250 Büyük Firma Araştırması-2020'nın

açıklanan sonuçlarına

göre Lima Lojistik, BTSO'nun ilk 250

büyük firması listesinde yer almasının

yanı sıra, yapılan işle gurur

duyma, takım ruhu, saygı, güvenilirlik

gibi ekip içindeki pek çok değerin

oylandığı anketler sonucunda "Great

Place To Work" sertifikasyonu almaya

hak kazanarak Türkiye'nin en iyi

iş verenleri arasına adını yazdırdı.

''LOJISTIKTE ÇOK

ALTERNATIFLI ÇÖZÜMLER''

2013 yılında Bursa'da kurularak

uluslararası lojistik alanında hizmet

vermeye başlayan Lima Lojistik,

tekstil ve otomotiv sektörlerindeki

başarılı operasyonlarının yanısıra,

başta havayolu olmak üzere denizyolu,

karayolu, demiryolu, intermodal,

uluslararası ekspres kurye, fuar ve

etkinlik taşımacılığı alanlarında

hızlı, güvenli ve ekonomik çözümler

üretiyor.

'HEDEF TÜRKIYE'NIN HER

BÖLGESI'

İstanbul (2), Balıkesir, İzmir, Eskişehir,

Ankara, Denizli ile Adana illerinin

yanısıra Bükreş ve Milano ofislerinde

hizmet veren Bursa merkezli Lima

Lojistik, 2022 yılı içinde Türkiye'nin

en önemli sanayi bölgelerini içinde

barındıran illerde ofis sayısını arttırmayı

planlıyor. Öte yandan HİB 2020

Yılı Hizmet İhracatları Şampiyonları

Yük Taşımacılığı ve Lojistik Hizmetleri

Kategorisi"nde 33.'lük ödülüne

sahip Lima Lojistik, ekonomiye

kattığı değerle de dikkat çekiyor.
---
SLEEPWELL | PROFILE 50

Pillow Cube expands

innovative portfolio with

cooling tech and bedding

accessories

Pillow Cube, soğutma teknolojisi ve yatak

aksesuarlarıyla yenilikçi portföyünü genişletiyor

Pillow Cube, developer of

the number one pillow for

side sleepers, has recently

announced the expansion of its

existing product line with the

launch of several new innovations

across the bedding space. Joining

hero SKUs, Pillow Cube Classic and

Pro, as well as a line of pillowcases

and the recently released Pillow

Cubs, the brand welcomes The Ice

Cube Pillow, Cubit Comforter, Zip

Fit Sheets and the Zip Fit Cooling

Cover.

As a pioneer of the side-sleeping

experience, Pillow Cube now sets

its sights on additional accessories,

putting its signature spin on bedding

essentials to make sleep more

seamless for all. Following the incredible

success of its cube-shaped

pillow offerings, the brand is growing

its footprint across the bedding

category and enhancing its lineup

with new cooling technology.

Yan uyuyanlar için 1 numaralı yastığın

üreticisi Pillow Cube, yakın tarihte

yatak alanında birkaç yeni inovasyonun

piyasaya sürülmesiyle mevcut

ürün yelpazesini genişlettiğini duyurdu.

Hero SKU'ları, Pillow Cube Classic ve

Pro'nun yanı sıra bir dizi yastık kılıfı ve

yakın zamanda piyasaya sürülen Pillow

Cubs'a ekleyen marka, The Ice Cube Pillow,

Cubit Yorgan, Zip Fit Sheets ve Zip

Fit Cooling Cover'ı keyifle karşılıyor.

Yan yatma deneyiminin öncüsü olarak,

Pillow Cube şimdi de gözlerini ek aksesuarlara

dikti ve uykuyu herkes için

daha sorunsuz hale getirmek için temel

dönüşünü yatak takımına ekledi. Küp

şeklindeki yastık tekliflerinin inanılmaz

başarısının ardından marka, yatak

kategorisindeki etkisini büyütüyor ve

ürün yelpazesini yeni soğutma teknolojisiyle

zenginleştiriyor.
---
Salone del Mobile

confirms move to

June for 2022 edition

Salone del Mobile fuarı

Haziran 2022'de yapılacak

The 60th edition of Salone del

Mobile, the world's largest

and most important furniture

fair, will now be held at the

Fiera Milano fairground in early

June.

JUNE ANNIVERSARY EDITION

TO FOCUS ON SUSTAINABILITY

According to the fair, which was

cancelled in 2020 and postponed

in 2021, the decision to move this

year's edition was due to safety

concerns related to the coronavirus

pandemic.

"The decision to postpone the

event will enable exhibitors,

Dünyanın en büyük ve en önemli

mobilya fuarı olan Salone del Mobile'ın

60.'sı Haziran başında Fiera

Milano fuar alanında yapılacak.

SÜRDÜRÜLEBILIRLIĞE

ODAKLANMAK IÇIN HAZIRAN

YILDÖNÜMÜ EDISYONU

2020'de iptal edilen ve 2021'de

ertelenen fuara göre, bu yılki

organizasyonun ileri tarihe alınma

kararı, korona virüs pandemisi

ile ilgili güvenlik endişelerinden

kaynaklandı.

Salone del Mobile başkanı Maria

Porro "Etkinliği erteleme kararı,

katılımcıların, ziyaretçilerin,

gazetecilerin ve tüm uluslararası

mobilya ve tasarım topluluğunun,

yeni şeylerle dolu olmayı vaat eden

bir etkinlikten tam bir güvenlik

içinde en iyi şekilde yararlanmalarını

sağlayacak" dedi.

"Büyük bir yıldönümünü kutlamanın

yanı sıra, etkinlik, kreatifler,

tasarımcılar ve şirketler tarafından

bu konuda kaydedilen ilerleme için

bir vitrin görevi görerek sürdürülebilirlik

temasına odaklanacak."

Salone del Mobile, fuarı yaza

taşıyarak daha fazla uluslararası

katılımcı çekmeyi umuyor. Porro

"Etkinliği Haziran'a taşımak, Salo-
---
SLEEPWELL | FAIR 52

Milan's Salone del

Mobile furniture fair

has confirmed that

its 60th-anniversary

edition will be

postponed until 7 to

12 June "to ensure

a strong presence of

foreign exhibitors

and professionals". As

predicted by Dezeen

last week, the fair

announced today that

the fair will be moved

from April due to the

latest Covid-19 wave. Milano'daki Salone del Mobile mobilya fuarı, 60.

yıl dönümü edisyonunun "yabancı katılımcıların ve

profesyonellerin güçlü bir şekilde var olmasını sağlamak

için" 7 ila 12 Haziran'a erteleneceğini doğruladı. Geçen

hafta Dezeen tarafından tahmin edildiği üzere fuar idaresi

son Covid-19 dalgası yüzünden fuarın Nisan ayından

alındığını duyurdu.

visitors, journalists and the entire

international furnishing and design

community to make the very

most of an event that promises to

be packed with new things, in total

safety," said Salone del Mobile

president Maria Porro.

"As well as celebrating a major anniversary,

the event will focus on

the theme of sustainability, acting

as a showcase for the progress

made in this regard by creatives,

designers and companies."

By moving the fair to the summer,

Salone del Mobile hopes to attract

more international attendees.

"Moving the event to June will

ensure a strong presence of

foreign exhibitors and professionals,

which has always been

one of the Salone's strong points,

ne'un her zaman güçlü noktalarından

biri olan yabancı katılımcı ve

profesyonellerin güçlü bir şekilde

mevcudiyetini sağlayacak ve aynı

zamanda katılımcı firmalara fuardaki

varlıklarını mümkün olduğunca

kapsamlı bir şekilde planlamak

için zaman tanıyacak. Bildiğimiz

gibi, konseptten nihai kuruluma

geçiş aylarca süren bir hazırlık

gerektiriyor" dedi.

"Salone arzusu giderek artıyor, bu

yüzden herkese benzersiz, somut ve

heyecan verici bir deneyim yaşama

fırsatı verecek bir etkinlik için

çalışıyoruz. Hepimiz bir Salone için

gerçekten can atıyoruz."

İptal edilen veya ertelenen etkinliklerde

Salone del Mobile'da son

durum Geçen yıl, pandemi sebebiyle

fuarın geleneksel Nisan ayından

Eylül ayına taşındığı görüldü.
---
and it will also give the participating

companies time to plan their

presence at the fair as thoroughly

as possible given that, as we know,

the progression from concept to

final installation takes months of

preparation," Porro said.

"The desire for a Salone is increasingly

strong, which is why we are

working towards an event that

will give everyone an opportunity

to enjoy a unique, concrete and exciting

experience. We are all really

longing for a Salone."

Salone del Mobile latest in line of

cancelled or postponed events

Last year saw the trade show

move to September from its traditional

April slot, also due to the

pandemic.

It was held in a more scaled-down

version called Supersalone and a

number of visitors to Milan design

week, which runs in tandem with

the trade show, told Dezeen the

event showed that "less is better."

Several other Milan trade fairs

have also moved their dates due to

the pandemic, including transport

fair Transpotec, eyewear show

Mido and travel exhibition Bit.

Globally, design events that have

been cancelled or postponed as a

result of the ongoing health crisis

include Germany's IMM Cologne,

France's Maison&Objet and the

Stockholm Furniture & Light Fair

in Sweden.

Supersalone adı verilen daha küçültülmüş

bir versiyonda gerçekleştirildi

ve ticaret fuarı ile birlikte

çalışan Milano tasarım haftasını

ziyaret eden birkaç ziyaretçi, Dezeen'e

etkinliğin 'daha azının daha iyi

olduğunu' gösterdiğini söyledi.

Ulaşım fuarı Transpotec, gözlük

fuarı Mido ve seyahat sergisi Bit

de dahil olmak üzere diğer birçok

Milano ticaret fuarı da pandemi

yüzünden tarihlerini değiştirdi.

Küresel olarak, devam eden sağlık

krizinin bir sonucu olarak iptal edilen

veya ertelenen tasarım etkinlikleri

arasında Almanya'nın IMM

Köln'ü, Fransa'nın Maison&Objet'i

ve İsveç'teki Stockholm Furniture &

Light Fuarı yer alıyor.
---
SLEEPWELL | PROFILE 56

It is so natural

to find the sleep

you are looking

for in İstikbal!

Aradığın uykuyu İstikbal'de

bulman çok doğal!

The way to a quality and

healthy life is to sleep well.

The definition of good sleep is

different for everyone, but choosing

the right bed is considered as a

necessity for a good sleep.

With its experience and expertise,

İstikbal is developing different options

for every need in order to offer

a more comfortable and quality

sleep.

The brand always aims to take the

sleep quality one step further, with

the supportive springs and innovative

fabrics it has developed, especially

for mattress technology.

With its product, which were developed

using advanced spring systems,

foam technologies and innovative

mattress fabrics İstikbal, known

as "Sleep Architect", is targeting to

bring solutions for changing needs.

The brand aims to offer options that

will provide everyone with a good

sleep experience.

The brand also released its new

advertising movie with the slogan

"It is so natural to find the sleep you

Kaliteli ve sağlıklı bir yaşamın yolu iyi uyumaktan

geçiyor. İyi uyku tanımı herkes için farklı

ancak doğru yatağı seçmek iyi uykunun ön şartı

kabul ediliyor.

İstikbal, daha konforlu ve kaliteli bir uyku

deneyimi sunmak için her ihtiyaca yönelik farklı

seçenekler geliştirirken yılların getirdiği uzmanlık

ve birikimini kullanıyor.

Özellikle yatak teknolojisi için geliştirdiği destekleyici

yay ve yenilikçi kumaşlarıyla uyku kalitesini

hep bir adım öteye taşımayı hedefliyor.
---
are looking for in İstikbal, with the technology

we have developed and the millions of

mattresses we produced." The brand is now

presenting its "İstikbal Bedding" products to

the consumers.

It seems that the movie prepared by the

brand for bedding products for this purpose

will be very popular.

'Uyku Mimarı' İstikbal gelişmiş yay sistemlerini,

sünger teknolojilerini ve inovatif yatak

kumaşlarını kullanarak geliştirdiği ürünleriyle

değişen ihtiyaçlara göre çözüm getirmeyi

hedefliyor. İstikbal, herkese iyi bir uyku deneyimi

yaşatacak seçenekler sunmayı amaçlıyor.

"Geliştirdiğimiz teknoloji ve ürettiğimiz milyonlarca

yatakla aradığın uykuyu İstikbal'de

bulman çok doğal" sloganıyla yeni lansman

filmini de yayınlayan marka,"İstikbal Yatak"

ürünleriyle tüketicilerin karşısına çıkıyor.

Markanın bu amaçla yatak ürünlerine özel

hazırladığı reklam filmi çok ses getirecek gibi

görünüyor.
---
SLEEPWELL | PROFILE 58

Everything is

renewed with doqu

Bir doqu'nuşla

yenilenir her şey

Doqu Home, the brand of the

home textile industry known

for its quality and elegance,

held a meeting of international

dealers with its concept called

"Everything is Renews with Doqu"

and its new collections that will

mark the year 2022.

Doqu Home General Manager

Erdem Gündüz, at the organization

where more than 700 Doqu Home

dealers from Turkey and abroad

participated; explained that the

brand, which has gained great

acclaim with its color, texture, style

and trend products, has left behind

a very productive year and that

they aim to become a brand that

dominates the home textile industry

in 2022.

In memory of the meeting with

Doqu Home dealers, a commemorative

forest will be made in Fethiye

Üzümlü by planting 10 thousand

saplings.

Ev tekstili sektörünün kalite ve şıklığı

ile tanınan markası Doqu Home «Bir

Doqu'nuşla Yenilenir Her Şey» adını

verdiği konsepti ve 2022 yılına damga

vuracak yeni koleksiyonlarıyla uluslararası

bayiler buluşmasını gerçekleştirdi.

Doqu Home Genel Müdürü Erdem

Gündüz yurtiçi ve yurtdışından 700'ü

aşkın Doqu Home bayisinin katıldığı

organizasyonda; renk, doku, stil ve

trend ürünleriyle büyük beğeni toplayan

markanın çok verimli bir yılı geride

bıraktığını ve 2022 yılında ev tekstili

sektörünü domine eden bir marka

olmayı hedeflediklerini açıkladı.

Doqu Home bayileriyle gerçekleştirdiği

buluşmanın anısına 10 bin adet fidan

dikimi gerçekleştirerek Fethiye Üzümlü'de

bir hatıra ormanı oluşturulacak.
---
Vegan mattress ticking has been

developed with natural threads.

Whole process accomplished completely

away from animals, with using

plant-based fibers.

Cruelty

Hometex

17-21 MAY 2022

Hall: 1 Stand: 1-D02

ISTANBUL/TURKEY

India Mattresstech

Expo

02-05 JUNE 2022

Hall: 1 Booth: B200

BANGALURU/INDIA

Sleep Expo ME

07-09 JUNE 2022

Hall: 1 Booth: B50

UAE/DUBAI

Salone del Mobile

07-12 JUNE 2022

Hall: 18 Booth: E14

MILANO/ITALY

Heimtextil

21-24 JUNE 2022

Hall: 3 Booth: A11

FRANKFURT/GERMANY

ForMóbile

05-08 JULY 2022

Hall: 1 Stand: D030

SÃO PAULO/BRASIL

BOYTEKS TEKSTİL SANAYİ VE TİCARET A.Ş.

1. O.S.B. 8. Cad. N: 60 38070 Kayseri/TURKEY P. +90 352 322 0588 F. +90 352 322 0589
---
SLEEPWELL | NEWS 60

The link between

migraines and sleep

Migren ve uyku

arasındaki ilişki

Migraines and poor sleep quality

have significant effects on

physical health and cognitive

function. So, how do you know which

one to address first? To manage

migraine symptoms and improve

sleep patterns, learn more about how

the two are related and what you can

do about it. ASA, American Sleep Association

has recently posted the below

article:

Sleep and migraines are linked and

controlled by the same parts of your

brain, so it might be time to look at

your sleep quality if you're experiencing

migraines. Migraines, poor sleep

quality and sleep deprivation have

significant effects on physical health

and cognitive function. To manage

migraine symptoms and improve your

sleep patterns, learn how the two are

related.

WHAT ARE MIGRAINES?

Migraines are neurological disorders

characterized by the presence

of intense or throbbing headaches.

The International Headache Society

diagnoses migraines by the severity

of pain and lasting from four to 72

hours. Affecting approximately 12% of

Americans, migraines rank among the

world's most debilitating illnesses. In

addition, they are the most prevalent

neurological condition, negatively

impacting quality of life, social and

family life and work abilities.

Migraines often begin with prodrome

and aura symptoms, with early signs

like mood changes, food cravings

Migren ve kalitesiz uyku, fiziksel sağlık

ve bilişsel işlev üzerinde önemli etkilere

sahiptir. Peki, hangisine önce hitap

edeceğinizi nasıl bileceksiniz? Migren

semptomlarını yönetmek ve uyku

düzenini iyileştirmek için ikisinin nasıl

ilişkili olduğu ve bu konuda neler yapabileceğiniz

hakkında daha fazla bilgi

edinin. Amerikan Uyku Derneği (ASA)

kısa süre önce aşağıdaki makaleyi

yayınladı:

Uyku ve migren, beyninizin aynı bölümleri

tarafından birbirine bağlıdır

ve kontrol edilir, bu nedenle migren

yaşıyorsanız uyku kalitenize bakmanın

zamanı gelmiş olabilir. Migren, kalitesiz

uyku ve uyku yoksunluğu, fiziksel sağlık

ve bilişsel işlev üzerinde önemli etkilere

sahiptir. Migren semptomlarını yönetmek

ve uyku düzeninizi iyileştirmek için

ikisinin nasıl ilişkili olduğunu öğrenin.

MIGREN NEDIR?

Migrenler, yoğun veya zonklayıcı baş

ağrılarının varlığı ile karakterize

nörolojik bozukluklardır. Uluslararası

Baş Ağrısı Derneği, migrenleri ağrının

şiddetine göre teşhis eder ve dört ila

72 saat sürer. Amerikalıların yaklaşık

%12'sini etkileyen migren, dünyanın

en zayıflatıcı hastalıkları arasında yer

alıyor. Ayrıca, yaşam kalitesini, sosyal

ve aile yaşamını ve iş becerilerini olumsuz

yönde etkileyen en yaygın nörolojik

durumdur.

Migrenler genellikle ruh hali değişiklikleri,

aşerme ve görme bozuklukları

gibi erken belirtilerle birlikte prodrom

ve aura semptomlarıyla başlar. Migren

bir kez başladığında, giderek daha

şiddetli hale gelir ve artan duyusal hassasiyet,

mide bulantısı ve kusma gibi
---
Did you know that

sleep and migraines are

controlled by the same

parts of your brain?

Studies suggest that

migraines and sleep

have a bidirectional

relationship, meaning

poor sleep can

cause migraines and

migraines can cause

poor sleep.

and vision impairments. Once the

migraine sets in, it becomes progressively

more severe and may trigger

other symptoms like increased sensory

sensitivity, nausea and vomiting.

Some people also experience muscle

weakness or tingling and numbness

in their extremities. They often occur

at the beginning of the day.

WHAT CAUSES MIGRAINES?

While migraines were thought to have

been caused by constricted blood vessels,

studies now show that genetics

and various other factors cause them.

Women are three times more likely

to experience migraines than men,

and those with a family history of migraines

may be more likely to have genetically-caused

migraines. Migraines

are also often comorbid with medical

conditions like mood disorders,

epilepsy and sleep disorders. Other

causes may include:

Stress

Head injuries

Bright or flashing lights

Hormonal changes

Skipped meals

Insufficient sleep

Food triggers

Sudden or extreme weather changes

Caffeine

Tobacco

Medication

Uyku ve migrenin beyninizin aynı bölümleri tarafından

kontrol edildiğini biliyor muydunuz? Araştırmalar, migren

ve uykunun çift yönlü bir ilişkiye sahip olduğunu, yani

kötü uykunun migrene, migrenin ise zayıf uykuya neden

olabileceğini gösteriyor.

Migraines have no cure, but midiğer

semptomları tetikleyebilir. Bazı

insanlar ayrıca kol ve bacaklarında kas

zayıflığı veya karıncalanma ve uyuşma

yaşarlar. Genellikle günün başında

ortaya çıkarlar.

MIGRENE NE SEBEP OLUR?

Migrenin daralmış kan damarlarının

neden olduğu düşünülürken, araştırmalar

artık genetik ve diğer çeşitli faktörlerin

ana nedenler olduğunu gösteriyor.

Kadınların migren geçirme olasılığı

erkeklere göre üç kat daha fazladır

ve ailesinde migren öyküsü olanlarda

genetik kaynaklı migren olma olasılığı

daha yüksek olabilir. Migren ayrıca

sıklıkla mizaç bozuklukları, epilepsi ve

uyku bozuklukları gibi tıbbi durumlarla

birlikte de görülür. Aşağıdaki nedenlerden

dolayı da olabilir:

Stres

Kafa yaralanmaları

Parlak veya yanıp sönen ışıklar

Hormonal değişiklikler

Atlanan öğünler

Yetersiz uyku

Gıda tetikleyicileri

Ani veya aşırı hava değişiklikleri

Kafein

Tütün

İlaç tedavisi

Migrenlerin tedavisi yoktur, ancak ilaç

kullanımı ve davranış değişiklikleri ile

migren semptomları hafifletilebilir.

ABD Gıda ve İlaç Dairesi (FDA) şu anda

migren semptomlarını hafifletmek için

çeşitli ilaçların kullanımını onaylamaktadır.

MIGREN VE UYKU NASIL

ILIŞKILIDIR?

Araştırmalar migren ve uykunun

çift yönlü bir ilişkiye sahip olduğunu

gösteriyor. Başka bir deyişle, kötü

uyku düzenleri migrene neden olabilir

ve bunun tersi de olabilir. Uyku ve

migren, beyin sapı, korteks, hipotalamus

ve supraoptik çekirdekte beynin

ortak anatomik alanlarını paylaşır. Bu

anatomik yapılar serotonin, melatonin,

orexin ve dopamin gibi nörotransmitterleri

düzenler.

Uykuda bu alanlar sirkadiyen ritmi düzenler

ve uyanıklık seviyelerini kontrol

eder. Migren için bu yapılar ağrıyı işler,

modüle eder ve iletir. Bu mekanizmalar

üzerine yapılan araştırmalar, migrenin
---
SLEEPWELL | NEWS 62

graine symptoms may be alleviated

with medication use and behavioral

changes. The U.S. Food and Drug Administration

(FDA) currently approves

the use of several drugs to relieve

migraine symptoms.

HOW ARE MIGRAINES AND

SLEEP RELATED?

Studies suggest that migraines and

sleep have a bidirectional relationship.

In other words, poor sleep patterns

can cause migraines and vice versa.

Sleep and migraines share common

anatomical areas of the brain within

the brain stem, cortex, hypothalamus

and supraoptic nucleus. These anatomical

structures regulate neurotransmitters

like serotonin, melatonin,

orexin and dopamine.

In sleep, these areas regulate the

circadian rhythm and control wakefulness

levels. For migraines, these structures

process, modulate and transmit

pain. Research into these mechanisms

suggests the bidirectional relationship

between sleep and migraines, such

as when melatonin levels decrease

during the onset of a migraine.

Both migraines and poor sleep have

significant associated health risks. Of

migraine patients, 30% to 50% experience

disturbed sleep. Studies show

strong comorbidity between migraine

attacks, disturbed sleep and psychiatric

conditions like depression and

anxiety. Migraine patients are also at

higher risk for stroke and heart attack.

Other complications include:

Reduced cognitive function

Chronic pain-related stress

Mood disorders

Obesity

Increased accident or injury risk

Diabetes

Reduced productivity

başlangıcında melatonin düzeylerinin

düşmesi gibi uyku ve migren arasındaki

çift yönlü ilişkiyi ortaya koymaktadır.

Hem migren hem de kötü uyku, önemli

sağlık risklerine sahiptir. Migren hastalarının

%30 ila %50'si uyku bozukluğu

yaşar. Çalışmalar migren atakları, uyku

bozukluğu ve depresyon ve anksiyete

gibi psikiyatrik durumlar arasında

güçlü bir komorbidite olduğunu göstermektedir.

Migren hastaları ayrıca

inme ve kalp krizi için daha yüksek

risk altındadır. Diğer komplikasyonlar

şunları içerir:

Azaltılmış bilişsel işlev

Kronik ağrıya bağlı stres

Mizaç bozuklukları

Obezite

Artan kaza veya yaralanma riski

Diyabet

Azaltılmış üretkenlik

MIGREN VE UYKU

BOZUKLUKLARI ARASINDAKI

NÖROLOJIK ILIŞKI

Migren hastaları en sık uykusuzluk,

gündüz uyku hali, uyku apnesi ve

parasomni olmak üzere çeşitli uyku

sorunları ve rahatsızlıkları yaşarlar.

Uyuyamama veya tam uykusuzluk

olarak tanımlanan uykusuzluk, migreni

olan hastalarda, olmayanlara göre

daha yaygındır. Bu hastalar arasında

migrenler artan bir ağrı ve sıklıkta

ortaya çıkar. Araştırmalar, hipotalamus

ve beyin sapının her ikisinin de

uyku-uyanıklık fizyolojik ve ağrı modülasyonunda

yer aldığından hem migren

hem de uykusuzluk için ilişkili mekanizmalar

olabileceğini tahmin ediyor.

Solunum sorunlarına ve uyku bozukluklarına

neden olan uyku apnesinin

sabah baş ağrılarına neden olduğu

gösterilmiştir. Ancak migren, uyku

apnesi hastaları ve genel popülasyon

arasında benzer oranlarda meydana

geldi. Huzursuz bacak sendromu,

migren hastalarında önemli ölçüde

daha yaygındır ve deneklerin %39'unu

etkiler. Çalışmalar, bunun hipotalamus

ve dopamin sistemi içindeki ortak bir

işlev bozukluğundan kaynaklandığını

düşündürmektedir. Koşulların mutlaka

birbirini etkilemediğini, ancak aynı

nörolojik kök nedene sahip olduğunu

teorileştirirler.

Parasomniler, uyurgezerlik veya

kabuslar gibi geniş ve istenmeyen uyku

anormallikleridir ve migren ile ilişkilidir.

Uyku-uyanıklık döngülerinden ve

migren patogenezinden sorumlu olan

serotonin işlev bozukluğu ile karşılıklı

olarak bağlantılı olabilirler. Bruksizm

eklem disfonksiyonu ile ilişkilidir ve

her ikisi de sinir aktivasyonu yoluyla

migreni tetikleyebilir. Çalışmalar ayrıca

migren hastalarının ağrı duyarlılığının

artmış olabileceğini düşündürmektedir.

MIGREN UYKU DÜZENINI NASIL

ETKILER?

Migren ve kötü uyku döngüsel bir ilişkiye

sahiptir. Uyku bozuklukları arttıkça

migren başlangıcı ile ilişkili riskler

artar. Ağrı toleransı düşebilir, migren

şiddetini artırabilir ve uyku başlangıcını

önleyebilir. Migren sizi sürekli ve

sabah erkenden uyandırabilir.

Migrenin başlaması uyku-uyanıklık

düzeniyle ilişkili olduğundan, çok fazla

uyku da migrene neden olabilir.

MIGREN SEMPTOMLARINI VE

UYKU SAĞLIĞINI IYILEŞTIRMEK

IÇIN IPUÇLARI

Migrenin tedavisi olmasa da bazı

ilaçlar ve davranış değişiklikleri uyku

ve migren semptomlarını iyileştirebilir.

Cefaly'nin sunduğu giyilebilir bir cihazla

migreni yönetmek için ilaçsız yeni bir

alternatif de var. Uykuyu iyileştirmenin

ve migreni yönetmenin birkaç yolu:

* Uyuyun ve tutarlı zamanlarda uyanın
---
NEUROLOGICAL RELATIONSHIP

BETWEEN MIGRAINES AND

SLEEP DISORDERS

Migraine patients experience various

sleep problems and disorders,

the most common being insomnia,

daytime sleepiness, sleep apnea and

parasomnia.

Insomnia, defined as the inability to

sleep or total lack of sleep, is more

prevalent in patients with migraines

than those without them. Among

those patients, migraines occur at

an increased pain and frequency.

Research speculates that since the

hypothalamus and brainstem are both

involved in sleep-wake physiological

and pain modulation, they may be related

mechanisms for both migraines

and insomnia.

Sleep apnea, which causes breathing

problems and sleep disturbances, is

shown to cause morning headaches.

Migraines, however, occurred at similar

rates among sleep apnea patients

and the general population. Restless

leg syndrome is substantially more

common among migraine patients,

affecting up to 39% of subjects. Studies

suggest that this is due to a shared

dysfunction within the hypothalamus

and the dopamine system. They theorize

that the conditions don't necessarily

affect each other, but have the

same neurological root cause.

Parasomnias are broad and undesired

sleep abnormalities like sleepwalking

or nightmares and are associated

with migraines. They may be mutually

linked to serotonin dysfunction, which

is otherwise responsible for sleepwake

cycles and migraine pathogenesis.

Bruxism is associated with joint

dysfunction, and both may trigger

migraines through nerve activation.

Studies also suggest that migraine

patients may have increased pain

susceptibility.

HOW DO MIGRAINES AFFECT

SLEEP PATTERNS?

Migraines and poor sleep have a

cyclical relationship. As sleep disturbances

increase, risks associated with

migraine onset increase. Pain tolerance

may lower, increasing migraine

severity and preventing sleep onset.

Migraines may wake you up consistently

and early in the morning.

Since migraine onset is related to

sleep-wake patterns, too much sleep

can also cause migraines.

TIPS FOR IMPROVING MI-

GRAINE SYMPTOMS AND SLEEP

HEALTH

While migraines don't have a cure,

some medications and behavioral

changes may improve sleep and

migraine symptoms. There is also a

new drug free alternative to managing

migraines through a wearable device

that Cefaly offers. Here are a few

ways to improve sleep and manage

migraines:

Go to sleep and wake up at consistent

times

Avoid under-sleeping or oversleeping,

aiming for about eight hours

Avoid stimulants, especially before

sleep

Track migraine symptoms to identify

causes and triggers

Engage in relaxing activities like meditating

before bed

If your symptoms persist and negatively

impact your quality of life,

it might be time to seek a medical

opinion. Doctors can diagnose sleep

disorders and migraines and provide

prescriptive treatments like medications,

diet changes and therapy.

* Az uyumaktan veya fazla uyumaktan

kaçının, yaklaşık sekiz saat hedefleyin

* Özellikle uykudan önce uyarıcılardan

kaçının

* Nedenleri ve tetikleyicileri belirlemek

için migren semptomlarını izleyin

* Yatmadan önce meditasyon yapmak

gibi rahatlatıcı aktivitelere katılın

Belirtileriniz devam ederse ve yaşam

kalitenizi olumsuz etkiliyorsa, tıbbi bir

görüş almanın zamanı gelmiş olabilir.

Doktorlar uyku bozukluklarını ve

migreni teşhis edebilir ve ilaçlar, diyet

değişiklikleri ve terapi gibi reçeteli

tedaviler sağlayabilir.
---
SLEEPWELL | PROFILE 64

With bellona beds

"wellness & comfort"

to all turkey

Bellona yatak ile tüm Türkiye'ye

Bi'zindelik bi'rahatlık

Bellona, which always offers

tasteful alternatives to its

consumers with its different

designs, variety and functionality

in home fashion, offers to consumers

at Bellona and Bellona

mattress stores "B Sleep" sleep

technologies, which prioritizes

sleep health and sleep quality.

While each day passes with a

ifferent rush and different busyness,

sometimes we return to bed

tired at the end of the day, even if

we have enough energy. When the

stress of the day is added to this, a

good sleep becomes more important.

Turkey's well known brand

Bellona also targets the best in the

sleep category.

The brand comes before the

consumers with "B Sleep" sleep

technologies and its strong R&D

structure with its recent investments

in sleep, which also affects

our quality of life.

Ev modasında farklı tasarımları,

çeşitliliği ve fonksiyonelliği ile tüketicilerine

her zaman zevkli alternatifler

sunan Bellona, uyku sağlığı ve

uyku kalitesini ön planda tuttuğu B

Sleep Uyku teknolojilerini Bellona

ve Bellona yatak mağazalarında

tüketicilerin beğenisine sunuyor.

Her günümüz farklı bir telaş ve

farklı uğraşlarla geçerken, kimi

zaman enerjimiz yetse de günün so-
---
Deepening its innovative work,

Bellona develops mattress models

and alternative models on different

R&D technologies, from Sleep

tide spring technology to hybrid

sponge and biorhythmic finishing,

in order to meet the needs of its

consumers at different mattress

comfort levels for a quality sleep.

These innovations and technologies

that put into practice are

proven by laboratory results obtained

from international universities

and accredited institutions

and are supported by scientific

studies and presented to consumers.

New generation "B Sleep" sleep

technologies are waiting for you

at Bellona and Bellona Bedding

stores.

nunda yatağımıza yorgun dönüyoruz

Buna günün stresi de eklenince

iyi bir uyku daha çok önem kazanıyor

Türkiye'nin tanınmış markası

Bellona da uyku kategorisinde de

en iyiyi hedefliyor. Marka hayat kalitemizi

de etkileyen uykuya yönelik

son dönemde yaptığı yatırımlar ve

güçlü Ar ge yapısı ile B Sleep uyku

teknolojileriyle tüketicilerin karşısına

çıkıyor İnovatif çalışmalarını derinleştirerek

tüketicilerinin kaliteli

bir uyku için farklı yatak konfor

seviyesine duydukları ihtiyaçlarını

karşılamak üzere yatak modelleri

ve Sleep tide yay teknolojisinden,

hybrid süngere, biorytmic apreye

kadar farklı arge teknolojileri

üzerinde de alternatif modelleri

geliştiriyor.

Uygulamaya alınan bu yenilik ve

teknolojiler uluslararası üniversiteler

ve akredite kuruluşlardan

alınan labaratuvar sonuçları ile

kanıtlanmış ve bilimsel çalışmalarla

desteklenerek tüketicilerine

sunuyor.Yeni nesil B Sleep uyku teknolojileri

Bellona ve Bellona Yatak

mağazalarında sizleri bekliyor.
---
SLEEPWELL | PROFILE 66

The world

mattress industry

meets in Istanbul:

IBIA EXPO 2022

Dünya yatak sanayi İstanbul'da

buluşuyor: IBIA EXPO 2022

Turkey's and the

world's leading

mattress supply

industry and

technology companies

will come together

at the IBIA EXPO Fair,

which is planned to

be held at the Istanbul

Expo Center on 6-9

October 2022.

IBIA EXPO 2022, which will host

over 200 leading companies and

manufacturers, plans to open its

doors to industry professionals with

thousands of visitors from target

buyer countries.

Bringing together thousands of

innovative products and technologies

that make up the components

of the mattress industry under the

same roof, IBIA EXPO aims to host

nearly 20 thousand domestic and

foreign buyers from 14 countries at

the Istanbul and to create a business

network between buyers and manu-

200'ün üzerinde lider firma ve üreticiyi

ağırlayacak olan IBIA EXPO 2022

Fuarı, hedef alıcı ülkelerden gelecek

binlerce ziyaretçiyle birlikte sektör

profesyonellerine kapılarını açmayı

planlıyor.

Yatak sektörünün bileşenlerini oluşturan

binlerce inovatif ürün ve teknolojileri

aynı çatı altında buluşturan IBIA

EXPO, İstanbul fuarında 14 ülkeden 20

bine yakın yerli ve yabancı alıcıyı ağırlamayı

ve alıcılar ve üretici firmalar

arasında iş ağı oluşturmayı hedefliyor.

Türkiye'nin yatak teknolojileri üzerine

düzenlenen tek fuarı olma özelliğini

taşıyan IBIA EXPO; yatak yan sanayi,

makine ve donanım üreticilerini bir

araya getirmesinin yanı sıra en son

teknolojileri ve inovatif ürünleri de

sergileyen ihracat platformu olma

özelliğini elinde bulunduruyor.

İNOVASYON

Her türlü inovatif değişim ve dönüşümle

şu anda en modern halini yatak

endüstrisi, yatak bileşenlerindeki son

teknolojilerle daha da büyük bir hız ve
---
facturers.

IBIA EXPO, which has the distinction

of being the only fair organized

on mattress technologies in Turkey;

In addition to bringing together

mattress supply industry, machinery

and hardware manufacturers,

it also has the feature of being an

export platform that exhibits the

latest technologies and innovative

products.

INNOVATION

With all kinds of innovative changes

and transformations, the mattress

industry, in its most modern form,

is gaining even greater speed and

momentum with the latest technologies

in mattress components. The

industry will be following all these

newly developed products and

more at IBIA EXPO.

TECHNOLOGY

With the increase in the need for

mass production of mattresses

thanks to the supply-demand situation

and technology in the mattress

industry, the needs of potential

buyers are fully met with these high-tech

machines, thanks to the fact

that IBIA EXPO brings together all

Türkiye'nin ve dünyanın önde gelen yatak yan sanayi

ve teknoloji firmaları 6-9 Ekim 2022'de İstanbul

Fuar Merkezi'nde düzenlenmesi planlanan IBIA EXPO

Fuarı'nda bir araya gelecek.

ivme kazanıyor. Sektör bu yeni geliştirilen

tüm ürünleri ve daha fazlasını, IBIA

EXPO EXPO'da takip ediyor olacak.

TEKNOLOJI

Yatak endüstrisindeki arz-talep durumu

ve yatakların teknoloji vasıtası ile

seri üretim ihtiyacının her geçen gün

artmasıyla IBIA EXPO'nun her türlü

yüksek teknoloji yatak üretim makinaları

üreticisinin bir araya getirmesi

sayesinde yüksek teknoloji ürünü olan

bu makinalar ile potansiyel alıcıların

ihtiyaçları eksiksiz karşılanıyor.

TASARIM

Yeni tasarım ile kapasitesi arttırılmış

bir kapitone makinası hızlı üretime,

tasarımı yenilenmiş havalandırma

kapsülü ile yatağınızın daha hızlı havalanmasına

katkı sunabilirken cazibeli
---
SLEEPWELL | PROFILE 68

kinds of high quality and machine

manufacturers.

DESIGN

While a quilting machine with an

increased capacity with a new

design can contribute to faster

production and your mattress to be

ventilated faster with its newly designed

ventilation capsule, a mattress

with an attractive design may

be in high demand. At IBIA EXPO,

there are new design products in

the field of machinery, equipment,

or complementary pillows and

sleep products.

tasarımı olan bir yatak ise çok talep

görebiliyor. IBIA EXPO'da ister makine,

ister donanım, ister de tamamlayıcı

yastık ve uyku ürünleri alanında yeni

tasarım mamulleri yer alıyor.

KIMLER KATILABILIYOR?

Yatak Üretim Makineleri: Yatak Kenar

Kapama Makineleri, Tek Kafa, Çift Kafa

ve Çok İğneli Kapitone Makineleri,

Yatak Ambalaj Makineleri, Otomatik

Roll Pack Makineleri, Yan Bordür Makineleri,

Dikiş Makineleri, Yay Çekme

Makineleri, Elyaf Hazırlama Ve Karışım

Makineleri, Nonwoven - Elyaf Hazırlama

Makinaları, Elyaf Geri Kazanım

Makineleri, Yastık Dolum Makineleri,

Yorgan Makineleri, Otomatik Tutkal

Hattı, Yastık Pres Makineleri, Otomatik

Yatak Kılıfı Fermuar Dikiş Makineleri.

Yatak Kumaşları: Dokuma, Örgü Yatak

Kumaşları, Yan Bordür Kumaşları, Baza

Kumaşı, Döşemelik Kumaşlar, Başlık

Kumaşları ve Suni Deriler.

Yay ve Yay Üretim Makineleri: Boney

Yaylar, Paket Yay, Mikro Yaylar, Tel

Çekme Makineleri, Otomatik Paket Yay

Helezon Makineleri, Tam Otomatik

Paket Yay Dizgi Makineleri, Paket Yay

Dizgi Makineleri, Bonel Yay Helezon ve

Dizgi Makineleri, Yay Sarım Makineleri.

Süngerler: Sünger, Visko, Latex ve Jel

Teknolojileri.

Tutkal Ve Ambalaj Malzemeleri: Solvent

Bazlı, Su Bazlı Tutkallar, Hotmelt

Tabancaları.

Yatak Aksesuarları: Yatak Fitilleri, Kulp,

Baza Ayakları, Hava Kapsülleri, Kumaş

ve Deri Yatak Etiketleri, Metal Aksesuarlar,

Fermuarlar.
---
WHO CAN PARTICIPATE?

Mattress production machines;

mattress edge closing machines,

single head, double head and multi-needle

quilting machines, mattress

packaging machines, automatic

roll pack machines, side border

machines, sewing machines, spring

pulling machines, fiber preparation

and mixing machines, nonwoven -

fiber preparation machines, fiber

back recovery machines, pillow

filling machines, quilt machines,

automatic glue line, pillow press

machines, automatic mattress cover

zipper sewing machines.

Bedding fabrics; Woven, knitted

bedding fabrics, side border fabrics,

plinth fabric, upholstery fabrics,

headboard fabrics and artificial

leathers.

Spring and spring production

machines; Boney springs, bundle

spring, micro springs, wire drawing

machines, automatic bundle spring

coil machines, fully automatic

bundle spring typesetting machines,

bundle spring typesetting machines,

Keçe-Elyaf-Nanwoven: Keçeler, Doğal

Keçeler, Sentetik ve Doğal Elyaflar,

Nanwoven Kumaşlar.

Üretim Malzemeleri: Kapitone İpliği,

Yatak Yüzü Kumaşı İpliği, Amortisörler,

Yatak Kılıfları, Hareketli Mekanizmalar,

Baza İskeletleri.

Tamamlayıcı Ürünler: Yastıklar, Yorganlar,

Ev Tekstili Ürünleri, Alezler, Bazalar,

Yatak Başlıkları ve Karyolalar…

Yatak imalatçıları, yastık imalatçıları,

yorgan imalatçıları, uyku ürünleri

imalatçıları, kompanent ihracatçıları,

prive label uyku ürün imalatçıları,

yatak malzeme imalatçıları, ev tekstili

üreticileri, malzeme firmaları, distribütörler,

acenteler, distribütörlük almak
---
SLEEPWELL | PROFILE 70

bonnel spring coil and typesetting

machines, spring winding

machines.

Sponges; sponge, visco, latex and

gel Technologies

Glue and Packaging materials:

solvent-based, water-based glues,

hotmelt guns.

Bed accessories; bed wicks,

handles, plinth feet, air capsules,

fabric and leather mattress

labels, metal accessories, zippers

Felt-fiber-Nanwoven; felts, natural

felts, synthetic and natural

fibers, nonwoven fabrics

Production materials; quilting

yarn, bed cover fabric yarn, shock

absorbers, mattress covers, movable

mechanisms, plinth frames

Complementary products;

pillows, duvets, home textile

products, mattresses, bed bases,

isteyen firmalar, profesyonel ithalat

ve ihracat firmaları, tasarımcılar, özel

sektörün uzmanları, yatak sanayi

satın alma yetkilileri, ticaret odaları ve

sektör kurumlarının ziyaretçi olarak

teşrif edebileceği IBIA EXPO 2022

İstanbul, 6-7-8-9 Ekim tarihlerinde

saat 10:00-19:00 arası boyunca kapılarını

ziyaretçilere açacak. Fuara Orta

Doğu, Avrupa, ABD, Çin, Rusya, Afrika,

Balkanlar ve Türki Cumhuriyetlerden

çok sayıda katılımcının yer alması

bekleniyor.
---
headboards and bedsteads

IBIA EXPO 2022 Istanbul, where

private sector experts, bedding

industry purchasing authorities,

mattress manufacturers, pillow

manufacturers, quilt manufacturers,

sleep products manufacturers,

component exporters,

prive label sleep product manufacturers,

bedding material

manufacturers, home textile

manufacturers, material companies,

distributors, agencies,

companies that want to get distributorship,

professional import

and export companies, designers,

chambers of commerce and

sector institutions can come as

visitors, will open its doors to

visitors between 10:00-19:00 on

6-7-8-9 October. It is expected

that many participants from the

Middle East, Europe, USA, China,

Russia, Africa, the Balkans and

Turkic Republics will take part in

the fair.
---
SLEEPWELL | PROFILE 76

Comfortable

sleep with the

line series

Line serisi ile

konforlu uykular

Line Series, in which Konfor

Yatak uses the latest technologies

it developed and produces

sustainable solutions for a cleaner

world, will add style and comfort to

your home. Konfor Yatak, combining

design with ease by using bamboo

knitted fabrics, recycled materials

and 7-zone package spring systems

keeping its form for many years is

offering design and comfort together

with the new Line Series. As the

headboard, base and bed border are

produced from the same color and

pattern fabric, it adds elegance to

the bedroom. The Comfort Line Series,

offering the most stylish form

of comfort, includes five different

product sets such as Lukka Line,

Livia Line, Glenda Line, Estela Line

and Bria Line, which are suitable for

your decoration and body structure.

THE KEY TO HEALTHY SLEEP:

LUKKA LINE

Lukka Line Series is promising

a healthy and comfortable sleep

with knitted fabric, bonnell spring

technology and double-sided usage.

Lukka Line Mattress, increasing the

support provided by the steel spring

system to the body thanks to its extra

comfort layer, protects the spine

health. The non-slip bottom surface

of the Lukka Line Mattress prevents

Konfor Yatak'ın geliştirdiği en yeni

teknolojileri kullandığı ve daha

temiz bir dünya adına sürdürülebilir

çözümler ürettiği Line Serisi, evinize

tarz ve konfor katacak. Bambu

örme kumaşlar, geri dönüştürülmüş

malzemeler ve uzun yıllar formunu

koruyan 7 bölgeli paket yay sistemleri

kullanarak tasarımı rahatlıkla

birleştiren Konfor Yatak; yeni Line

Serisi ile tasarım ve konforu bir arada

sunuyor.

Başlık, baza ve yatak bordrünün aynı

renk ve desen kumaştan üretilmesiyle

de yatak odasına şıklık katıyor. Rahatlığın

en tarz halini sunan Konfor

Line Serisi'nde Lukka Line, Livia Line,

Glenda Line, Estela Line ve Bria Line

olmak üzere dekorasyonunuza ve

vücut yapınıza uygun beş farklı ürün

seti bulunuyor.

SAĞLIKLI UYKUNUN ANAHTARI:

LUKKA LINE

Lukka Line Serisi örme kumaş, bonel

yay teknolojisi, çift taraflı kullanımıyla

sağlıklı ve rahat bir uyku

vaat ediyor. Ekstra konfor katmanı

sayesinde çelik yay sisteminin vücuda

sağladığı desteği artıran Lukka Line

Yatak, omurga sağlığını korur. Lukka

Line Yatak'taki kaydırmaz alt yüzey

uykunuzun bölünmesini engeller ve

çifte ısıl işlem uygulanmış çelik yay
---
your sleep from being interrupted,

and the double heat-treated steel

spring system preserves its form

for many years. Lukka Line brings

elegance and functionality to your

bedroom with its large storage base

and headboard with elegant quilted

stitching details. Mattress Firmness

Degree: Medium hard

BAMBOO COMFORT: LIVIA LINE

Livia Line Series offers comfortable

sleep with its breathable and nonslip

bottom surface. Livia Line Mattress,

having knitted bamboo fabric

that adds comfort to your sleep by

absorbing the moisture caused by

perspiration, and 7-zone package

spring system that supports the

spine, offers soft sleep with its double

layer comfort layer and sleeping

pad. Livia Line combines its modern

lines and gold colored details with

the extra storage space of its bed

base to add a sparkling atmosphere

to your bedroom. Mattress Firmness

Degree: Medium

COMFORT SOFTNESS OF DOWN:

GLENDA LINE

Glenda Line Series having bamboo

knitted fabric minimizes the pressure

on the body caused by lying on

side thanks to its high-design euro

pad and keeps its form for many

years without the need to turn the

mattress. It offers down comfort

softness thanks to its package

spring technology and non-slip

bottom surface. While Glenda Line's

large bed base will make your daily

life easier, its asymmetric quilting

patterns will add modernity to your

aesthetic sense. Mattress Firmness

Degree: Soft

PERSONAL COMFORT: ESTALA

LINE

Estela Line Mattress, providing

optimum support to the spine for

different body types with its new

generation package spring design

developed by Konfor Yatak, supports

the ideal posture of the body

during sleep and offers personalized

comfort by preventing the spouses

from being affected by each other's

sistemi uzun yıllar formunu korur.

Lukka Line, geniş depolama alanlı

bazası ve zarif kapitone dikiş detaylı

başlığıyla yatak odanıza zarafet ve

işlevsellik getirir. Yatak Sertlik Derecesi:

Orta sert

BAMBU KONFORU: LIVIA LINE

Livia Line Serisi nefes alabilmesi ve

kaydırmaz alt yüzeyi ile konforlu

uykular sunuyor. Terlemelerden

kaynaklı nemi emerek uykunuza

konfor katan örme bambu kumaşı ve

omurgayı destekleyen 7 bölgeli paket

yay sistemi ile Livia Line Yatak; çift

katlı konfor katmanı ve uyku pedi ile

yumuşacık uykular sunar. Livia Line,

yatak odanıza ışıltılı bir hava katmak

için modern çizgilerini ve altın rengi

detaylarını, bazasının ekstra depolama

alanı ile birleştiriyor. Yatak

Sertlik Derecesi: Orta

Kuş tüyü konfor yumuşaklığı: Glenda

Line

Bambu örme kumaşa sahip Glenda

Line Serisi yüksek tasarımlı euro pedi

sayesinde vücutta yan yatmadan

kaynaklanan basıncı en aza indirir

ve yatağı çevirmeye gerek kalmadan

uzun yıllar formunu korur. Paket yay

teknolojisi ve kaydırmaz alt yüzeyi

sayesinde kuş tüyü konfor yumuşaklığı

sunar. Glenda Line'ın geniş iç

hacimli bazası gündelik hayatınızı

kolaylaştırırken asimetrik kapitone

desenleri estetik anlayışınıza modernlik

katacak. Yatak Sertlik Derecesi:

Yumuşak

KIŞIYE ÖZEL KONFOR: ESTALA

LINE

Konfor Yatak tarafından geliştirilen

yeni nesil paket yay tasarımı ile

farklı vücut tipleri için omurgaya

optimum destek sağlayan Estela

Line Yatak, uyku esnasında vücudun

ideal duruşunu destekler ve eşlerin

birbirlerinin dönüşlerinden etkilenmelerini

engelleyerek kişiye özel

konfor sunar. Kaydırmaz alt yüzeyi

ile uykunuz hiç bölünmez. Çizgili

kapitone desenleriyle yalın tasarımın

en şık temsilcilerinden Estela Line, 12

cm ayak yüksekliği sayesinde temizliği

kolaylaştırıyor. Geniş depolama

alanı sunan bazası sayesinde ise

yatak odanızda fark yaratacak. Yatak

Sertlik Derecesi: Sert

GELECEĞIN KONFORU: BRIA LINE

Sürdürülebilirlik ve doğayı korumak

için geri dönüştürülmüş çevre dostu

kumaştan üretilen Bria Line Yatak,

doğayı ve kaynakları korumanın en

konforlu yolu. Kaydırmaz alt yüzeyi

ile uykunuzu bölmeyen Bria Line

Yatak, özel uyku pedi ve 7 bölgeli

paket yay teknolojisi ile maksimum

uyku konforu sunar. Geniş iç hacmiyle
---
SLEEPWELL | PROFILE 78

turns. Your sleep will never be interrupted

due to its non-slip bottom

surface. Estela Line, one of the most

elegant representatives of simple

design with its striped quilting

patterns, facilitates cleaning thanks

to its 12 cm foot height. It will make

a difference in your bedroom thanks

to its base offering large storage

space. Mattress Firmness Degree:

Hard

COMFORT OF THE FUTURE:

BRIA LINE

Bria Line Mattress, produced from

recycled environmentally friendly

fabric for sustainability and protecting

nature, is the most comfortable

way to protect nature and resources.

Bria Line Mattress, which does not

interrupt your sleep with its nonslip

bottom surface, offers maximum

sleeping comfort with its special

sleeping pad and 7-zone package

spring technology. Bria Line bed

base, which offers storage space

with its large interior volume, will

bring a modern aesthetic approach

to your bedroom with its geometric

patterns. Mattress Firmness Degree:

Medium Hard

OPPORTUNITY TO TRY 150

DAYS

The key to starting the day fit and

having an energetic day is a comfortable

sleep. Konfor Yatak products

aim to maximize your sleep

quality by being equipped with the

latest technologies such as new generation

spring technologies, latex

layer, and active support technology

and memory visco foam.

In order to find the most suitable

mattress for your body type and

sleeping habits, you can easily reach

comfortable sleep by taking into

account the recommendations of the

Konfor Sleep Specialist Test Robot.

You can try the mattress for 150

days and observe your sleep experience

with the opportunity provided

only by Konfor in Turkey. If you are

not satisfied with the bed during

this period, you have the right to

return it.

ABOUT KONFOR GROUP

Torfod Mobilya, established in Izmir

in 1978, has become a rapidly growing

brand over the years, exporting

its innovative and trendy designs to

many parts of the world. The group,

having exclusive stores with the

Konfor and Çetmen brands, began to

go into stores in the mattress sector

with the concept Konfor Yatak

stores in 2017. While the group,

united the Konfor Mobilya, Konfor

Yatak and Çetmen brands under the

Konfor Group roof in 2020, has a total

of 108 stores throughout Turkey,

it is among the leading companies of

the sector with exports to 33 countries

abroad.

depolama alanı sunan Bria Line bazası

ise geometrik desenleriyle yatak

odanıza modern bir estetik anlayışı

getirecek. Yatak Sertlik Derecesi:

Orta Sert

150 GÜN DENEME İMKÂNI

Güne zinde başlamanın ve o günü

enerjik geçirmenin anahtarı, konforlu

bir uykudan geçer. Konfor Yatak

ürünleri; yeni nesil yay teknolojileri,

latex katmanı, active support teknolojisi

ve hafızalı visco sünger gibi

son teknolojilerle donatılarak uyku

kalitenizi en üst seviyeye çıkarmayı

amaçlar.

Vücut tipinize ve uyku alışkanlıklarınıza

en uygun yatağı bulmak için

Konfor Uyku Uzmanı Test Robotu'nun

tavsiyelerini de göz önünde bulundurarak,

konforlu uykulara rahatlıkla

ulaşabilirsiniz. Türkiye'de sadece

Konfor'un sağladığı imkân ile yatağı

150 gün boyunca deneyip uyku deneyiminizi

gözlemleyebilirsiniz. Eğer

bu süre zarfında yataktan memnun

kalmazsanız iade etme hakkınız

bulunuyor.

KONFOR GRUP HAKKINDA

1978 yılında İzmir'de kurulan

Konfor Mobilya yıllar içerisinde hızla

büyüyen, yenilikçi ve trend tasarımlarını

dünyanın birçok noktasına

ihraç eden bir marka haline geldi.

Konfor ve Çetmen markaları ile

münhasır mağazaları bulunan grup,

2017 yılında konsept Konfor Yatak

mağazaları ile yatak sektöründe

de mağazalaşmaya başladı. 2020

yılında Konfor Mobilya, Konfor Yatak

ve Çetmen markalarını Konfor Grup

çatısı altında birleştiren grubun Türkiye

çapında toplam 108 mağazası

bulunurken yurt dışında ise 33 ülkeye

yapılan ihracat ile sektörün lider

kuruluşları arasında yer alıyor.
---
I LOVE

LAS VEGAS

MARKET

" We meet companies that give us

opportunities that we never even

thought about—the face-to-face

communications mean everything.

It's easy to walk around the

buildings, see showroom after

showroom and product categories,

discover new things."

— Loren Pleet, President,

Best Brand Furniture

Furniture, Décor, Gift,

Housewares, and Rugs buyer

Business-to-business is still person-to-person,

and Las Vegas Market is where partnerships

between buyers and sellers are formed and

nurtured, all against the backdrop of a

world-class West Coast destination.

Join us and see why thousands of furniture,

gift, and home décor products are only part

of the story at Las Vegas Market!

Register Now: July 24–28, 2022

LasVegasMarket.com | @lasvegasmarket

©2022 International Market Centers, LLC
---
SLEEPWELL | PROFILE 80

Yatcop: We are

trying to catch the

rapid change in

the world

Yatcop: Dünya'daki hızlı

değişimi yakalamaya çalışıyoruz

Altunbaş, in his speech, emphasized

innovation and cutting-edge

technology while

talking about his future goals as a

firm, said "We are trying to bring

CMR software systems keeping pace

with the new world to the fore. We

are going to a world where there

will be systematic cash flow systems

and measurable companies. We are

trying to catch this change."

YOU HAVE INCORPORATED THE

BRAND OF MEKAN YATAK, HAV-

ING A HISTORY OF 47 YEARS,

INTO YOUR COMPANY. CAN

YOU MENTION THIS PROCESS

AND THE MOTIVATION THAT

PUSHED YOU TO TAKE OVER

THIS BRAND?

As you mentioned, Mekan Yatak

brand is the oldest firm in the sector.

There were times when we also had

local brand needs. In order to meet

this need, we have established such

a partnership with Mekan Yatak.

Altunbaş, firma olarak gelecek hedeflerinden

bahsederken inovasyon

ve son teknoloji üzerinde durduğu

konuşmasında, "Yeni dünyaya ayak

uyduran CMR yazılım sistemlerini ön

plana çıkarmaya çalışıyoruz. Sistematik

nakit akış sistemleri, ölçülebilir

şirketlerin olacağı bir dünyaya gidiyoruz.

Biz de bu değişimi yakalamaya

çalışıyoruz." dedi.

47 YILLIK GEÇMIŞI OLAN

MEKAN YATAK MARKASINI

FIRMANIZIN BÜNYESINE

KATTINIZ. BU SÜREÇTEN VE SIZI

BU MARKAYI DEVRALMAYA ITEN

MOTIVASYONDAN BAHSEDER

MISINIZ?

Sizin de belirttiğiniz üzere Mekan

Yatak markası sektörün en eski

firması olma özelliğine sahip. Bizim
---
Davut Altunbaş, CEO of

Yatcop, incorporating

Lamborghini, Magniflex

and Mekan Yatak

brands, conveyed the

wondered about his

firm, the investment he

did in Mekan Yatak and

the future expectations

as firm to our magazine

editor Furkan Akar in

his interview.

WHAT KIND OF R&D STUDIES

AND INNOVATIVE PRODUCTS

WILL WE SEE IN THE NEW ERA

OF MEKAN YATAK?

The world is developing incredibly

fast, Mr. Furkan. The world has produced

more information than it has

ever produced in the last 20 years.

However, while doing this, it used

natural resources and human health

remained in the background. I think

the next change process will be on

products supporting human health

and hygiene. We focused our R&D

studies on these. Of course, besides

health, comfort is of course the most

important element.

AS LAMBORGHINI & MAGNI-

FLEX, WILL WE BE ABLE TO SEE

YOUR NEW INVESTMENTS IN

THE NEW PERIOD?

In the Lamborghini & Magniflex

group, we are also growing in

parallel with their development.

Currently, we are hearing about new

developments in our international

sales regions and opening new markets.

In this sense, our innovations

in the product group are continuing.

CAN YOU MENTION YOUR IN-

TERNATIONAL COMMERCIAL

NETWORK AND YOUR PLACE IN

THE FOREIGN MARKET?

de yerel marka ihtiyaçlarımızın olduğu

dönemler olmuştu. Bu ihtiyacı karşılamak

adına Mekan Yatak'la böyle bir

birlikteliği sağlamış olduk.

MEKAN YATAK ILE ILGILI YENI

DÖNEMDE NE GIBI AR-GE

ÇALIŞMALARI VE INOVATIF

ÜRÜNLER GÖREBILECEĞIZ?

Dünya inanılmaz derecede hızlı gelişim

gösteriyor Furkan Bey. Dünya, son 20

yılda hiç üretmediği kadar bilgi üretti.

Lakin bunu yaparken doğal kaynakları

kullandı ve insan sağlığı biraz

daha geri planda kaldı. Bence bundan

sonraki değişim süreci insan sağlığını

destekleyen ürünler ve hijyen üzerine

olacak. Biz de ARGE çalışmalarımızı

bunların üzerine yoğunlaştırdık. Tabi

sağlığın yanında elbette ki konfor da

en önemli unsur olarak yer alıyor.

LAMBORGHINI & MAGNIFLEX

OLARAK YENI DÖNEMDE YENI

YATIRIMLARINIZI GÖREBILECEK

MIYIZ?

Lamborghini,

Magniflex ve Mekan

Yatak markalarını

bünyesinde

bulunduran

Yatcop'un CEO'su

Davut Altunbaş,

dergi editörümüz

Furkan Akar'a verdiği

röportajda firması

hakkında merak

edilenleri, Mekan

Yatak'a yaptığı

yatırımı ve firma

olarak gelecek

beklentilerini aktardı.
---
SLEEPWELL | PROFILE 82

Until this time, as Lamborghini

& Magniflex, our route had been

the Turkic republics and the Gulf

countries… As of this year, a part

of Europe the African and Baltic

countries have been included in TR,

so the growth is continuing, we are

working mainly on Europe in Mekan,

we have just started exporting,

we are selling mattress to the center

of furniture for example to Italy.

IF YOU WERE TO EVALUATE THE

AREA AND LOCATION OF YOUR

COMPANY IN THE TURKISH

MATTRESS INDUSTRY, WHAT

WOULD YOU LIKE TO SAY?

Our firm is a firm that serves its

sector, tries to expand the field of its

sector, is open to innovation, cares

about business development, and

shares innovations with other actors

of the sector.

CAN WE LEARN ABOUT YOUR

GOALS AND EXPECTATIONS IN

THE NEW YEAR?

Due to the conditions brought by

the pandemic, we expect great

changes in the world. We think

that the Ukraine-Russia war will

hit the energy raw material sectors

deeply, and hyperinflation will spiral

around the world. We are trying to

highlight the CMR software systems

that keep up with this new world

in terms of our companies. We are

going to a world where there will be

systematic cash flow systems, measurable

companies. We are trying to

catch this change.

Lamborghini & Magniflex grubunda

onların gelişimlerine paralel olarak

bizlerde büyüme kaydediyoruz. Şu

anda da uluslararası satış bölgelerimizde

yeni gelişmeler olduğuna dair

duyumlar alıyor ve yeni pazarlar

açıyoruz. Bu anlamda ürün grubunda

yeniliklerimiz devam ediyor.

ULUSLARARASI TICARI

AĞINIZDAN VE DIŞ PAZARDAKI

YERINIZDEN BAHSEDEBILIR

MISINIZ?

Bu zamana kadar Lamborghini &

Magniflex olarak bizim rotamızda

Türki cumhuriyetler ve Körfez

ülkeleri vardı… Bu yıldan itibaren

Avrupa'nın bir kısmı Afrika Baltık

ülkeleri TR'nin bünyesine dâhil oldu,

bu sebeple büyüme devam ediyor,

mekân da Avrupa ağırlıklı çalışıyoruz

yeni başladık ihracatına, mobilyanın

merkezine yatak satıyoruz İtalya ya

mesela.

FIRMANIZIN TÜRKIYE YATAK

SANAYISINDE KAPLADIĞI ALAN

VE BULUNDUĞU KONUMU

DEĞERLENDIRECEK OLSANIZ

NELER SÖYLEMEK ISTERSINIZ?

Firmamız sektörüne hizmet eden,

sektörünün alanını genişletmeye

çalışan, yeniliğe açık, iş gelişimini

önemseyen, yenilikleri de sektörün

diğer aktörleri paylaşan bir firma

konumundadır.

YENI YIL HEDEFLERINIZI

VE BEKLENTILERINIZI

ÖĞRENEBILIR MIYIZ?

Pandeminin getirdiği şartlar gereğince

dünyada büyük değişimler bekliyoruz.

Ukrayna-Rusya savaşının enerji

hammadde sektörlerini derinden

vuracağını, hiper enflasyonun dünyanın

sarmalı olacağını düşünüyoruz.

Firmalarımız konusunda da bu yeni

dünyaya ayak uyduran CMR yazılım

sistemlerini ön plana çıkarmaya çalışıyoruz.

Sistematik nakit

akış sistemleri, ölçülebilir

şirketlerin olacağı bir

dünyaya gidiyoruz. Biz de

bu değişimi yakalamaya

çalışıyoruz.
---
SLEEPWELL | PROFILE 84

Special Collection for Babies by Yataş

Babies Will Now Grow

With Yataş Mini

Yataş'tan Bebeklere Özel Koleksiyon

Bebekler Artık Yataş Mini ile Büyüyecek

Turkey's innovative brand

Yataş Bedding introduced

its baby collection Yataş

Mini, which was prepared with

Yataş expertise in sleep, with a

press conference. At the meeting

hosted by Yataş Bedding Marketing

Director Selmin Gündoğdu,

Yataş Sleep Board experts, 0-4 Age

Sleep Consultant Pınar Sibirsky

and Specialist Clinical Psychologist

Fundem Ece and Dr. Dietitian

Çağatay Demir, also gave important

information about sleep, health

and nutrition. Commercial films

prepared for Yataş Mini were also

shown at the meeting.

"THIS TIME WE USED OUR EX-

PERTISE IN QUALITY SLEEP IN

YATAŞ MINI"

Yataş Bedding Marketing Director

Selmin Gündoğdu, who drew

attention to the importance of

sleep for babies and children in her

speech at the meeting, said: "Both

physical and mental development

of children who sleep regularly

and soundly progress in a healthier

way. Their memory is getting

stronger. However, a good sleep

environment is also necessary

for a good sleep. As Yataş, we are

experts in quality sleep! This time,

we used this expertise in a collection

that will meet the sleep needs

Türkiye'nin yenilikçi markası Yataş

Bedding, uyku alanındaki uzmanlığıyla

hazırladığı bebek koleksiyonu Yataş

Mini'yi düzenlediği bir basın toplantısıyla

tanıttı. Yataş Bedding Pazarlama

Direktörü Selmin Gündoğdu ev sahipliğinde

düzenlenen toplantıda Yataş

Uyku Kurulu uzmanları 0-4 Yaş Uyku

Danışmanı Pınar Sibirsky ve Uzman

Klinik Psikolog Fundem Ece ve Dr. Diyetisyen

Çağatay Demir de uyku, sağlık ve

beslenme konularında önemli bilgiler

verdi. Toplantıda Yataş Mini için hazırlanan

reklam filmleri de gösterildi.

"KALITELI UYKU KONUSUNDAKI

UZMANLIĞIMIZI BU KEZ YATAŞ

MINI'DE KULLANDIK"

Toplantıda yaptığı konuşmasında uykunun

bebek ve çocuklar için önemine

dikkat çeken Yataş Bedding Pazarlama

Direktörü Selmin Gündoğdu, şunları

söyledi: "Düzenli ve sağlıklı bir uyku

uyuyan çocukların hem bedensel hem

zihinsel gelişimi daha sağlıklı bir şekilde

ilerliyor. Hafızaları daha kuvvetli

oluyor. Ancak iyi bir uyku için iyi bir

uyku ortamı da gerekiyor. Biz de Yataş

olarak kaliteli bir uyku konusunda

uzmanız! İşte bu uzmanlığımızı bu kez

bebekler ve çocukların uyku ihtiyaçlarını

karşılayacak bir koleksiyonda, Yataş

Mini'de, kullandık. Yataş Mini – Bebek

Yatakları, miniklere güven verici bir

ortam sağlarken hassas cilt yapılarına

uygun kumaşlarıyla da huzurlu bir

uyku sağlıyor. Omurgayı ve fiziksel

gelişimi doğru bir şekilde destekliyor.

Üstelik yataklarımız sadece yüksek gü-
---
Yataş Bedding, Turkey's

first brand that comes

to mind when it comes

to quality, comfort and

innovation in bedding,

introduced its new

collection Yataş Mini,

which supports the

spine development of

babies and is produced

with quality materials

suitable for their

sensitive skin.

of babies and children. While Yataş

Mini's Baby Mattresses provide

a reassuring environment for the

little ones, they also provide a

peaceful sleep with fabrics suitable

for sensitive skin structures. It

properly supports the spine and

physical development. Moreover,

our mattresses also have LGA

certificate, which is given only to

products that meet high safety and

quality standards… German LGA

certificate is given as a result of

tests carried out for safety and all

possible risks against baby health.

In addition, all our textile products

are 100% cotton… Moreover,

patterned as joyful and colorful like

the world of children… Yataş Mini

collection also includes different

products such as breastfeeding pillows,

changing mats, liquid-proof

mattresses and swaddles that will

meet the needs of both mothers

and babies."

BABIES DON'T SLEEP "LIKE A

BABY"!

One of the Yataş Sleep Board

experts, 0-4 Age Sleep Consultant

Pınar Sibirsky drew attention to

the sleep problems experienced

by babies at the meeting. Emphasizing

that babies unfortunately

do not sleep "like babies" in real

Türkiye'nin yatakta kalite, konfor ve yenilik denince ilk akla

gelen markası Yataş Bedding, bebeklerin omurga gelişimini

destekleyen, hassas ciltlerine uygun, kaliteli malzemelerle

hazırlanan yeni koleksiyonu Yataş Mini'yi tanıttı.

venlik ve kalite standartlarını karşılayan

ürünlere verilen LGA sertifikasına

da sahip… Alman LGA sertifikası bebek

sağlığı, güvenliği ve oluşabilecek tüm

risklere karşı yapılan testler sonucunda

veriliyor. Bunun yanı sıra tüm tekstil

ürünlerimiz 100% pamuk… Üstelik

çocukların dünyası gibi rengarenk,

desen desen… Yataş Mini koleksiyonunda

anne ve bebek ihtiyaçlarını karşılayacak

emzirme yastığı, alt değiştirme

minderi, sıvı geçirmez alez, kundak gibi

farklı ürünler de yer alıyor."

BEBEKLER "BEBEK GIBI"

UYUMUYOR!

Yataş Uyku Kurulu uzmanlarından 0-4

Yaş Uyku Danışmanı Pınar Sibirsky,

toplantıda bebeklerin yaşadıkları uyku

sorunlarına dikkat çekti. Gerçek hayatta

bebeklerin maalesef "bebek gibi"

uyumadığını, hem çok zor uykuya dalıp

hem de gece boyu defalarca uyandıklarının

altını çizen Sibirsky, hatalı uyku

ilişkilendirmelerinin, aşırı yorgun ya

da geç saatlerde yatışın, bebeğin bir

uyku rutinine sahip olmamasının uyku

sorunlarına yol açtığına dikkat çekti:

"Bebeğiniz destekli bir şekilde uykuya

uykuya dalıyorsa, gece uyanmalarında

da aynı desteklere ihtiyaç duyması normaldir.

Yani eğer bebeğinizi sallayarak

uyutuyorsanız, bebeğiniz sallanma

ile uykuyu ilişkilendirmiş demektir ve

uyuyabilmek için sallanmaya ihtiyacı

vardır. Hatalı uyku ilişkilendirmeleri,

bebeklerde uyku sorunu yaşanmasının

en önemli nedenidir. "Ne kadar çok yorulursa

o kadar iyi uyur" veya "Akşam

geç yatır ki sabah geç kalksın" gibi

düşünceler doğru bilinen bir yanlıştır.

Bebek kaldırabileceğinden daha uzun

saatler uyanık kalırsa vücudu stres

hormonu salgılar ve bu hormonun da

etkisiyle hem uykuya çok zor geçer hem

de gece boyunca çok sık uyanır. 0-4 yaş

arasındaki bebek ve küçük çocukların

genel olarak sabah 7-8 civarlarında

uyanması, yaşlarına uygun adette

gündüz uykusu yaptıktan sonra akşam

da 19-20 civarlarında akşam uykusuna

yatmaları uygun olacaktır. Her uykudan

önce bebeğimizin yaşına uygun

rutinler uygulayarak rahatlatırsanız

uykuya geçişi çok daha kolay olacaktır.

Uyku öncesinde müzik açmak, camdan

bakarak dışarıdaki hayvanlara ve

güneşe/aya iyi uykular dilemek, perde

kapatmak, kitap okumak ve yatağa

yatmadan önce hafif bir dans uyku
---
SLEEPWELL | PROFILE 86

life, actually they fall asleep very

hard and wake up many times

throughout the night. Sibirsky

also pointed out that faulty sleep

associations, excessive tiredness

or going to bed late, and the baby's

lack of a sleep routine cause sleep

problems: "If your baby is going

to sleep with support, it is normal

for them to need the same support

at night when they wakes up. So

if you are swinging your baby to

sleep, it means that your baby has

associated swinging with sleep

and needs to be swung to sleep.

Incorrect sleep associations are

the most important cause of sleep

problems in babies. Thoughts such

as "the more they get tired, the

better they sleep" or "go to bed late

in the evening so they get up late

in the morning" are a well-known

mistake. If the baby stays awake

for longer hours than they can

bear, teir body secretes the stress

hormone, and with the effect of

this hormone, it is very difficult

for them to fall asleep and wakes

up very often during the night. It

would be appropriate for babies

and small children aged 0-4 to

wake up around 7-8 in the morning

and go to sleep at around 19-20

in the evening after having the appropriate

amount of daytime naps

for their age. If you relax your baby

by applying routines suitable for

their age before each sleep, their

transition to sleep will be much

easier. Turning on music before

bed, looking out the window to

wish good sleep to the animals and

the sun/moon outside, closing the

curtains, reading a book and a light

dance before going to bed can be a

good pre-sleep routine."

Pointing out the importance of

mattress selection for babies, Sibirsky

gave the following information:

"When choosing a baby mattress,

a firm or medium-hard mattress

made of natural materials should

be preferred, in which no chemicals

which are used may adversely

öncesi için güzel bir rutin olabilir."-

Bebeklerde yatak seçiminin önemine

de değinen Sibirsky, şu bilgileri verdi:

"Bebek yatağı seçerken bebeğin sağlığına

olumsuz etkide bulunabilecek

hiçbir kimyasal maddenin kullanılmadığı,

doğal materyallerden üretilmiş

sert veya orta sertlikte bir yatak tercih

edilmeli. Yumuşak yataklar bebeğin

başının gömülmesine neden olarak

risk yaratabilir. Ayrıca yine sağlık riski

oluşturabileceğinden, bu yaş grubunda

yastık kullanmanızı önermiyorum."

"ÇOCUKLARDA EN GEÇ 2-3

YAŞINDA YATAKLAR AYRILMALI!"

Toplantıda uykunun kişinin psikolojisi

üzerine etkilerine değinen Yataş Uyku

Kurulu uzmanlarından Uzm. Klnk. Psk.

Fundem Ece, çocukların özerkleşme

dönemine dair önemli bilgiler paylaştı.

Doğumdan 1.5 yaşına kadarki süreci

doldurana kadar çocuklar tamamen

anne-babaya bağımlı olduğunu

hatırlatan Ece, çocuğun 2 yaşına

girmesiyle başlayan özerk dönemin

bağımsızlaşma anlamına geldiğinin

altını çizdi: "Bu dönemde ebeveynler

çocuk gelişiminde daha çok zorlanırlar

ve yorulurlar. Çünkü çocuk bağımsız

olarak hareket etmeye başlar, kendini

ve sınırlarını keşfetmeye çalışır. Aslında

yapmaya çalıştığı şey kendi kimliğini

oluşturmaktır. Bu dönemde çocukta görülen

inatçı davranışların bir karakter

özelliği değil, yaşın vermiş olduğu bir

geçiş süreci olduğu unutulmamalıdır."
---
affect the health of the baby. Soft

mattress can pose a risk by causing

the baby's head to be buried. In addition,

I do not recommend using a

pillow in this age group, as it may

pose a health risk."

BEDS SHOULD BE SEPARATED

AT THE LATEST WHEN THEY

ARE 2-3 YEARS OLD!

Mentioning the effects of sleep on a

person's psychology at the meeting,

one of the experts of Yataş Sleep

Board, Clinical Psychology Specialist

Fundem Ece shared important

information about the autonomy

period of children. Reminding that

children are completely dependent

on their parents from birth to 1.5

years of age, Ece underlined that

the autonomous period that begins

when the child turns 2 years old

means independence: "In this period,

parents have more difficulty

in child development and get tired.

Because the child begins to act

independently, trying to discover

themselves and their limits. What

they are actually trying to do is

create their own identity. It should

not be forgotten that the stubborn

behaviors seen in the child during

this period are not a character trait,

but a transitional period given by

age.

Clinical Psychology Specialist

Fundem Ece also drew attention

to the fact that the beds should be

separated at the latest when they

are two to three years of age and a

routine to sleep in their own beds

should be established. Stating that

the bed separation process is difficult,

Ece said, "The ideal solution

to help you in this process would

be to spend time with your child. If

you spend half an hour of quality

time together after coming home

from work, it will be much easier to

separate the beds.''

Uzm. Klnk. Psk. Fundem Ece, çocuklarda

en geç iki - üç yaşlarında yatakların

ayrılması ve kendi yataklarında uyuma

rutininin oluşturulması gerektiğini de

dikkat çekti. Yatak ayırma sürecinin

zor olduğunu belirten Ece, Bu süreçte

size yardımcı olabilecek en ideal

çözüm; çocuğunuzla vakit geçirmeniz

olacaktır. İşten geldikten sonra yarım

saat birlikte kaliteli zaman geçirdiğiniz

takdirde yatak ayırmanız çok daha

kolay olacaktır" dedi.

SAĞLIKLI KILODA OLMAK IÇIN

UYKU DÜZENINIZ DE OLMALI

Yataş Uyku Kurulu uzmanlarından

Dr. Dyt. Çağatay Demir ise toplantıda

obezite ve uyku ilişkisine dair önemli

bilgiler verdi. Son dönemde çocukluk

obezitesi giderek arttığını hatırlatan

Demir, son 10 yılda yapılan çalışmalarda

uyku süresinin azalmasının

obezite ve kilo alma riskini artırabileceğini

gösterdiğini söyledi. "Obeziteye

eşlik eden sağlık sorunları arasında

uykuda solunum bozukluğu, metabolik

sendrom ve pre-diyabetik durumlar

sayılabilir" diyen Demir, uyku süresinin

azalması ile obezite arasında ilişki

bulunduğunu belirtti.

Ebeveynleriyle aynı odada ve yüzüstü

pozisyonda uyuyan, gece uykudan uyanan,

gün içinde huzursuzluk ve dikkat

eksikliği yaşayan, geniz eti, horlaması

ve gece terlemesi olan çocukların daha

fazla yüksek kilolarda olduklarını

belirten Demir, çocukluk çağı obezitesi

önlemek için şu önerilerde bulundu:

"Kaliteli uyku uyumaya özen gösterin.

Uyku düzeni sağlayın. Çocukların en az

10, ergenlerin en az 9 ve yetişkinlerin

ise en az 7 saat uyuması gerekmektedir.

Bir uyku düzenine sahip olmak

sağlıklı kiloda olmak için çok önemlidir.

Çocuklara tam tahıllar, meyveler ve

sebzeler, süt ürünleri, baklagiller ve az

yağlı etler gibi besin açısından zengin

çeşitli öğelerle dengeli yemek yemenin

önemini öğretin. Sağlıklı bir rol model

olun ve kalori açısından zengin, şekerli

veya tuzlu atıştırmalıklar gibi sağlıksız

seçenekleri satın almayın. Sağlıklı beslenmeyi

çocuğunuzdan önce siz hayat

tarzı haline getirin. Harvard Üniversitesindeki

uzmanlara göre, çocuklar

yemek yerken televizyon izlerlerse daha

fazla yiyor. Ayrıca yatak odalarında

televizyon bulunan çocukların fazla

kilolu olma ihtimalinin televizyonsuz

odaları olan çocuklara göre daha

yüksek olduğunu da belirtiyor. Yemek

yerken ekrana bakma alışkanlığını; çocuğunuzla

beraber aynı sofrada vakit

geçirerek değiştirebilirsiniz"

"Bebekler uyusun da büyüsün" diye

mottosuyla sunulan Yataş Mini, koleksiyonda

yaşa göre omurga desteği

sağlayan yataklardan yeni doğan ve

taşınabilir bebek yataklarına, müslin

örtülerden %100 pamuk nevresim

takımlarına her detayı bebekler için

incelikle düşünülmüş ürünler yer alıyor.

Yataş Mini koleksiyonunda yer alan

yüksek güvenlik ve ergonomi sertifikası

olan, LGA® sertifikalı yataklar bebek

anatomisine en uygun şekilde üretiliyor,

gün içinde uzun saatlerini yatakta

geçiren bebeklerin omurga gelişimi

destekliyor. Yataş Mini koleksiyonuna

Yataş Bedding ve Enza Home mağazalarının

yanı sıra www.yatasbedding.

com.tr adresinden de ulaşılabiliyor.
---
SLEEPWELL | NEWS 88

How daily stress

affects teeth

grinding

Günün stresi diş

gıcırdatmayı nasıl etkiliyor

Many people grind their teeth

occasionally when under

stress, but this can become

a problem and lead to health consequences

if teeth grinding becomes

chronic. You may not even realize it,

but you could have bruxism if you're

grinding your teeth whether you're

awake or asleep. In this article, we'll

discuss the characteristics and symptoms

of bruxism, how stress affects

teeth grinding and tips on how to

reduce grinding.

WHAT IS BRUXISM?

Bruxism is a medical condition where

the individual slides their teeth back

and forth in grinding, gnashing or

clenching motions. This can occur

both when you're conscious or asleep,

but sleep bruxism is considered a

more consequential sleep-related

disorder since it's often undetected

and therefore untreated. Since you're

unaware of bruxism while asleep, you

may grind your teeth consistently

throughout the night and with much

greater force than you would while

awake.

Pek çok insan stres altındayken ara

sıra dişlerini gıcırdatabilir, ancak diş

gıcırdatma kronik hale gelirse bu bir

sorun teşkil edebilir ve sağlıkla ilgili

sonuçlara yol açabilir. Farkında bile

olmayabilirsiniz, ancak uyanıkken veya

uykudayken dişlerinizi gıcırdatıyorsanız,

bruksizminiz olabilir. Bu yazıda,

bruksizmin özelliklerini ve semptomlarını,

stresin diş gıcırdatmayı nasıl

etkilediği ve gıcırdatmayı nasıl azaltabileceğinize

dair ipuçları sunuluyor.

BRUKSIZM NEDIR?

Bruksizm, bireyin dişlerini gıcırdatma

veya sıkma hareketleriyle ileri geri

kaydırdığı tıbbi bir durumdur. Bu,

hem bilinçliyken hem de uykudayken

ortaya çıkabilir, ancak uyku bruksizmi,

genellikle fark edilmediği ve bu nedenle

tedavi edilmediği için uykuyla ilgili

daha önemli bir bozukluk olarak kabul

edilir. Uyurken bruksizmin farkında olmadığınız

için, dişlerinizi gece boyunca
---
Making professional

activities to improve

public health by

increasing awareness

about the importance

of sleep and the

dangers of sleep

disorders

American Sleep

Association (ASA) has

recently published a

study on teeth grinding.

SYMPTOMS

Although some people don't experience

pain or other symptoms from

bruxism, it often presents with the

following symptoms:

• Flattened, fractured, chipped or

loose teeth

• Increased tooth pain or sensitivity

• Sleep disruption

• Worn tooth enamel

• Broken fillings

• Headaches

• Sore or painful jaw, neck or face

• Muscle tenderness

• Earaches

• Disrupting partner's sleep

HEALTH COMPLICATIONS

In addition to acute symptoms, bruxism

can lead to other negative health

consequences and complications.

These include:

• Lasting damage to oral health including

teeth, jaw and crowns

• Temporomandibular joint (TMJ)

disorders which cause ongoing pain

• Tension headaches

• Severe facial or jaw pain

• Changes in facial appearance

• Insomnia and other sleep disorders

Uykunun önemi ve uyku bozukluklarının tehlikeleri

konusunda farkındalığı artırarak halk sağlığını geliştirmeye

yönelik mesleki faaliyetlerde bulunan Amerikan Uyku

Derneği (ASA) yakın zamanda diş gıcırdatma üzerine bir

araştırma yayınladı.

sürekli olarak ve uyanıkken yapacağınızdan

çok daha şiddetli bir şekilde

gıcırdatabilirsiniz.

BELIRTILER

Bazı insanlar bruksizmden dolayı ağrı

veya başka semptomlar yaşamasa da

genellikle aşağıdaki semptomlarla

kendini gösterir:

• Düzleşmiş, kırılmış, yontulmuş veya

gevşemiş dişler

• Artan diş ağrısı veya hassasiyeti

• Uyku kesintisi

• Aşınmış diş minesi

• Kırık dolgular

• Baş ağrısı

• Ağrılı veya sancılı çene, boyun veya

yüz

• Kas hassasiyeti

• Kulak ağrıları

• Partnerin uykusunu bölmek

SAĞLIK KOMPLIKASYONLARI

Akut semptomlara ek olarak, bruksizm

diğer olumsuz sağlık sonuçlarına ve

komplikasyonlara yol açabilir. Bunlar

aşağıdaki başlıkları içerir:

• Dişler, çeneler ve kronlar dahil ağız

sağlığına kalıcı hasar

• Devam eden ağrıya neden olan

temporomandibular eklem (TME)

bozuklukları

• Gerilim baş ağrıları

• Şiddetli yüz veya çene ağrısı

• Yüz görünümündeki değişiklikler

• Uykusuzluk ve diğer uyku bozuklukları

• Depresyon ve diğer duygu durum

bozuklukları

• Yeme bozuklukları

BAŞLICA SEBEPLER

Birçok faktör bruksizmin başlangıcını

ve varlığını etkileyebilir. Çocukların

yaklaşık %15'i bruksizm yaşar, ancak

genellikle yetişkinlik döneminde

bundan kurtulur. Ailenizde bruksizm

öyküsü varsa genetikle de ilgili olabilir

veya demans, uyku bozuklukları veya

epilepsi gibi diğer tıbbi durumlarla

ilişkili olabilir. Bozuk hizalanmış dişler

ve ısırıklar da bir risk faktörüdür. Stres

ve buna bağlı ruh hali sorunları da

bruksizm riskini artırabilir.

STRES DIŞ GICIRDATMAYI NASIL

ETKILER?

Bruksizm genellikle stres, kaygı ve

diğer ruh hali sorunlarıyla bağlantı-
---
SLEEPWELL | NEWS 90

• Depression and other mood disorders

• Eating disorders

CAUSES

Many factors may influence the onset

and presence of bruxism. About 15%

of children experience bruxism but

usually grow out of it by adulthood. It

may also be related to genetics if your

family has a history of bruxism, or it

could be associated with other medical

conditions such as dementia, sleep

disorders or epilepsy. Misaligned teeth

and bites are a risk factor too. Stress

and related mood issues may also

increase the risk of bruxism.

HOW DOES STRESS AFFECT

TEETH GRINDING?

Bruxism is often linked to stress, anxiety

and other mood issues. Stressis

defined as an individual's feeling in

response to emotional or physical demands

that they feel exceed their capacities

or resources. This response is

typically expressed through physiological

functions, behavior, performance

and other subjective symptoms. Other

forms of stress may include emotional,

psychological or psychosocial stress.

Emotional or psychological stress

may be triggered by underlying traits

or acute life events, while socially

threatening situations may trigger

psychosocial stress. Causes of stress

may include:

• Anxiety

• Depression

• Financial problems

• Occupational or job problems

• Family issues

• Sleep deficiency

• Social exclusion

• Goal or evaluation-related fear

In studies with subjects experiencing

stress, anxiety or neuroticism,

patients reported increased degrees

of oral health complaints. Individuals

with anxiety reported oral wear, as

well as difficulties with dry mouth

and eating. Although patients with

neuroticism showed less or no oral

wear, they did experience higher oral

inflammation markers. Whether as a

lıdır. Stres, bireyin kapasitelerini veya

kaynaklarını aştığını hissettiği duygusal

veya fiziksel taleplere yanıt olarak

hissetmesi olarak tanımlanır. Bu yanıt

tipik olarak fizyolojik işlevler, davranış,

performans ve diğer öznel semptomlar

yoluyla ifade edilir. Diğer stres türleri

arasında duygusal, psikolojik veya

psikososyal stres yer alabilir. Duygusal

veya psikolojik stres, altta yatan özellikler

veya akut yaşam olayları tarafından

tetiklenebilirken, sosyal olarak

tehdit edici durumlar psikososyal stresi

tetikleyebilir. Stres nedenleri arasında

şunlar olabilir:

• Endişe

• Depresyon

• Finansal problemler

• Mesleki veya iş sorunları

• Aile sorunları

• Uyku eksikliği

• Toplumdan dışlanma

• Hedef veya değerlendirmeyle ilgili

korku

Stres, kaygı veya nevrotiklik yaşayan

deneklerle yapılan çalışmalarda, hastalar

ağız sağlığı şikayetlerinde artış

bildirmiştir. Anksiyetesi olan bireyler,

ağızda aşınmanın yanı sıra ağız kuruluğu

ve yemek yeme ile ilgili zorluklar

bildirdiler. Nevrotizmli hastalar daha

az oral aşınma göstermelerine veya

hiç kullanmamalarına rağmen, daha

yüksek oral inflamasyon belirteçleri

yaşadılar. İster genel kişilik özellikleri,

isterse akut stresli yaşam olaylarının

bir sonucu olsun, bireyler tepkilerini

yönetmek için başa çıkma mekanizmalarına

da yönelebilirler. Bu, alkol,

tütün veya diğer maddelerin yanı sıra

sağlıksız beslenme alışkanlıklarını ve

şeker oranı yüksek yiyecekleri içerebilir.

Bu başa çıkma tepkilerinin her birinin

olumsuz ağız sağlığı sonuçları vardır.
---
esult of general personality traits or

acutely stressful life events, individuals

may also turn to coping mechanismsto

manage their responses. This

can include alcohol, tobacco or other

substances, as well as unhealthy diet

habits and food high in sugar. Each of

these coping responses have negative

oral health consequences.

TIPS TO RELIEVE STRESS AND

IMPROVE BRUXISM SYMPTOMS

There are many treatments and

methods to address both bruxism and

stress symptoms and causes. These

include:

MEDICAL TREATMENT

Your doctor can consider information

like your age, medical history and personal

preferences to develop a treatment

plan. This may include therapy

to teach you how to relax your teeth,

tongue and lips to avoid grinding or

STRESI AZALTMAK VE BRUKSIZM

SEMPTOMLARINI IYILEŞTIRMEK

IÇIN IPUÇLARI

Hem bruksizm hem de stres belirtileri

ve nedenlerini ele almak için birçok

tedavi ve yöntem vardır. Bunlar şunları

içerir:

TIBBI TEDAVI

Doktorunuz bir tedavi planı geliştirmek

için yaşınız, tıbbi geçmişiniz ve kişisel

tercihleriniz gibi bilgileri dikkate alabilir.

Bu, dişlerinizi gıcırdatmaktan veya

sıkmaktan kaçınmak için dişlerinizi, dilinizi

ve dudaklarınızı nasıl gevşeteceğinizi

öğretmek için terapiyi içerebilir.

Dişlerinizi geceleri gıcırdatıyorsanız,

doktorunuz ağız hasarını önlemek için

bir ağız koruyucu da reçete edebilir.

Bazı ilaçlar da bruksizm semptomlarını

hafifletebilir.

STRES VE DUYGU DURUM

BOZUKLUĞU TEDAVISI

Ağız sağlığı tedavisine ek olarak, stres

veya diğer psikolojik tepkiler için özel

bir tedavi de arayabilirsiniz. Sağlık

uzmanları stres kaynaklarını belirleyebilir

ve stresi daha iyi yönetmenize

yardımcı olmak için tedavi ve terapi

sağlayabilir.

GEVŞEME ALIŞTIRMASI YAPIN

Terapiye ek olarak, kendi başınıza

stres giderme uygulayabilirsiniz. Bu,

meditasyon veya rehberli nefes alma

yoluyla farkındalık uygulamalarını

içerebilir. Egzersiz ayrıca enerjinizi ve

ruh halinizi artırabilir ve stres seviyelerini

azaltabilir. Sanat, kitap okumak

veya dışarıda vakit geçirmek gibi stresi

azaltmak için enerji ve tatmin sağlayan

diğer aktiviteleri deneyin.

BESLENME

Stresliyken şekerli yiyecekler aramak

yerine, daha sağlıklı çözümler seçmeyi

deneyin. Bu meyveler, sebzeler, tam

tahıllar ve protein içerebilir. Öğün atlamak

veya optimal olmayan yiyecekleri

seçmek strese katkıda bulunabilirken,

dengeli bir diyet fizyolojinizi düzenlemenize

ve enerji ve ruh hali seviyenizi

tutarlı tutmanıza yardımcı olabilir.

STRESINIZI IFADE EDIN

Stres kaynağını ortadan kaldıramasanız

bile arkadaşlarınızdan ve ailenizden

destek almak yardımcı olabilir.

Bazen faydalı bakış açıları sunabilirler,

ancak stresinizi ifade etmek ve başka

birine emanet etmek, onu yönetmenize

yardımcı olabilir. Stresi başkalarıyla

tartışmaya hazır değilseniz, düşüncelerinizi

yazmayı deneyin.

Amerikan Uyku Derneği (American

Sleep Association-ASA), 2002 yılında

uyku uzmanları tarafından üye odaklı

bir kamuoyu bilinçlendirme çalışması

olarak kuruldu. ASA, topluluğun her

üyesinin (doktor, bilim insanı, yardımcı

sağlık hizmetleri, teknoloji uzmanı,

hasta, aile üyesi ve kurumsal ortak) bu

çabada olumlu bir etki oluşturabileceğini

ifade ediyor.
---
SLEEPWELL | PROFILE 92

clenching teeth. If you grind your

teeth at night, your doctor may also

prescribe a mouthguard to prevent

oral damage. Some medications can

also alleviate bruxism symptoms.

STRESS AND MOOD DISORDER

TREATMENT

In addition to oral health treatment,

you may also seek out a specific treatment

for stress or other psychological

responses. Health professionals can

identify sources of stress and provide

treatment and therapy to help you

better manage stress.

PRACTICE RELAXATION

In addition to therapy, you can practice

stress relief on your own. This

may include mindfulness practices

through meditation or guided breathing.

Exercise can also boost your

energy and mood and reduce stress

levels. Try other activities that provide

energy and fulfillment to mitigate

stress, such as art, reading or spending

time outside.

NUTRITION

Rather than seeking out sugary foods

when stressed, try opting for healthier

solutions. This can include fruits,

vegetables, whole grains and protein.

While skipping meals or choosing

suboptimal foods can add to stress, a

balanced diet can help regulate your

physiology and keep your energy and

mood levels consistent.

EXPRESS YOUR STRESS

Even if you can't remove the source

of stress, getting support from

friends and family can help. They can

sometimes offer helpful perspectives

but expressing and entrusting your

stress to somebody else can help you

to manage it. If you're not ready to

discuss stress with others, try writing

your thoughts down.

ASA was founded in 2002 by sleep

professionals as a member-driven

public awareness effort. ASA believes

that every member of the community

(physician, scientist, allied health care,

technologist, patient, family member,

and corporate partner) can make a

positive impact in this effort.
---
SLEEPWELL | PROFILE 94

Bambi Yatak

opened its 600th

store in MODOKO

Bambi Yatak, 600. mağazasını

MODOKO'da açtı

Growing at 40 percent in 2021,

Bambi Yatak maintains its attacks

for investments in stores

in Turkey. The company opened its

600th stores in MODOKO in the first

quarter of the year and now plans to

accelerate its investments in stores

to operate in the abroad. Targeting a

40-percent growth in 2022 and focusing

on investments in new products

and stores in line with this growth

target, the company will increase its

investments especially in the Central

Anatolia, Southeastern Anatolia and

Eastern Anatolia Regions in Turkey.

The company foresees to close the

year 2022 with 700 stores and aims

to increase the number of its domestic

stores to 800 and international stores

to 300 in 2023.

"WE HAVE REACHED A FUR-

THER MILESTONE FOR OUR

FUTURE TARGETS"

Emre Gökmen, Member of the Board

of Directors of Bambi Yatak spoke

about their investments in new stores

and said: "We closed the year 2021

with a 40-percent growth and laid

the foundations of our 600th store

thanks to the success we achieved

in 2021. We increased our human

resources from 420 to 1000. We

2021 yılında yüzde 40 büyüyen

Bambi Yatak, Türkiye'deki mağaza

yatırım atağına devam ediyor. Yılın

ilk çeyreğinde 600. mağazasını

MODOKO'da açan şirket, yurt içi

ve yurt dışı mağaza yatırımlarını

hızlandırmayı planlıyor. 2022 yılında

yüzde 40 büyüme hedefleyen ve

bu büyüme hedefi doğrultusunda

yeni ürün ve mağaza yatırımlarına

odaklanan şirket, Türkiye'de

özellikle İç Anadolu, Güneydoğu

Anadolu ve Doğu Anadolu bölgelerindeki

mağaza yatırımlarını

artıracak. 2022'yi 700 mağaza ile

kapatmayı öngören şirket, 2023'te

yurt içi mağaza sayısını 800'e, yurt

dışı mağaza sayısını da 300'e ulaştırmayı

amaçlıyor.

"GELECEK HEDEFLERIMIZ ADINA

DA AYRI BIR DÖNÜM NOKTASI

OLDU"

Yeni mağaza yatırımı hakkında

açıklamalarda bulunan Bambi

Yatak Yönetim Kurulu Üyesi Emre

Gökmen, "2021 yılını yüzde 40

büyüme ile kapattık ve 600. mağazamızın

temellerini 2021 yılında

yakaladığımız başarıyla attık.
---
opened 10 regional storages across

Turkey. We maintained our R&D and

P&D investments. We brought many

new products which have stories to

the sector. Our 600th store has been

another milestone for our future

targets of 2022 end-year and 2023.

Our store has guided us to new targets

to maintain this acceleration. We determined

our 2022 and 2023 targets

in line with this. We revised our target

for 2022 end-year domestic stores

to be 700 and 2023 end-year stores

to be 800. Our 600th stores will also

be an important milestone not only

for our national, but also international

construction. We are providing

services with 200 stores at 20 points

of the world. We will use the power

and knowledge that we get from our

stores that are located in our country

to empower our store construction in

the abroad and increase the number

of our stores in the abroad to 300 by

2023".

"WE ALSO DRIVE COMPETITION

IN TERMS OF RETAILING IN THE

SECTOR"

Mr. Gökmen completed his words:

"Number of stores we have is far beyond

a number for us. We give people

the opportunity to reach and select

high-quality products that have story

with our stores that are located in 81

provinces of Turkey and in the abroad.

We contribute to employment in our

country. Today, we employ about 3

thousand persons with our factories

and stores. Similarly, we also contribute

to export which is the most important

foreign exchange input item.

As Bambi, we are among top three

companies in our sector with our

manufacturing and export operations.

We export 15 percent of our manufacturing

and sell 85 percent thereof

in the domestic market. We drive

competition in terms of retailing in

the sector with our investments, R&D,

P&D and our experience and number

of points we have reached so far. This

also move the sector forward both in

terms of product and user experience.

In 2022, we especially will focus on

Central Anatolia, Southeastern Anatolia

and Eastern Anatolia Regions and

offer users a different experience in

these regions".

İnsan kaynağımızı 420'den bine

taşıdık. Türkiye genelinde 10 adet

bölge deposu açtık. Ar-Ge ve Ür-Ge

yatırımlarımıza devam ettik. Hikayesi

olan birçok yeni ürünü sektöre

kazandırdık. 600. mağazamız,

2022 yıl sonu ve 2023'ün yanı sıra

gelecek hedeflerimiz adına da ayrı

bir dönüm noktası oldu. Mağazamız,

yakaladığımız ivmeyi koruma

adına bizi yeni hedeflere yöneltti.

Biz de bu doğrultuda 2022 ve 2023

hedeflerimizi yeniden belirledik.

2022 yıl sonu yurt içi mağaza

hedefimizi 700, 2023 yılı hedefimizi

de 800 olacak şekilde revize ettik.

600. mağazamız sadece yurt içi

değil yurt dışı yapılanmamız adına

da önemli bir kilometre taşı olacak.

Bugün dünyanın 20 noktasında 200

mağazamız ile hizmet veriyoruz.

Ülkemizde bulunan mağazalarımızdan

aldığımız gücü ve bilgi

birikimini yurt dışındaki mağaza

yapılanmamızı güçlendirmek için

kullanacağız ve 2023 yılında yurt

dışındaki mağaza sayımızı 300'e

taşıyacağız" dedi.

"SEKTÖRDE MAĞAZALAŞMA

ANLAMINDA DA REKABETI

TETIKLIYORUZ"

Gökmen sözlerini şöyle tamamladı:

"Ulaştığımız mağaza sayısı bizim

için bir rakamdan çok öte anlamlar

taşıyor. Türkiye'nin 81 ilindeki ve

yurt dışındaki mağazalarımız ile

insanlara kaliteli ve hikayesi olan

ürünlere ulaşma ve bu ürünleri

seçme imkanı veriyoruz. Ülkemizin

istihdamına katkıda bulunuyoruz.

Bugün fabrikamız ve mağazalarımızla

birlikte yaklaşık 3 bin

kişiye istihdam sağlıyoruz. Aynı

şekilde, ülkemizin en önemli döviz

girdi kalemi olan ihracata katkıda

bulunuyoruz. Bambi olarak bugün

üretimde ve ihracata sektörümüzde

ilk üç arasında yer alıyoruz. Üretimimizin

yüzde 15'ini ihraç ediyor,

yüzde 85'ini iç pazarda satıyoruz.

Yatırımlarımız, Ar-Ge, Ür-Ge, sektördeki

deneyimimiz ve ulaştığımız

nokta sayısıyla da ayrıca sektörde

mağazalaşma anlamında da rekabeti

tetikliyoruz. Bu da yine sektörü

hem ürün hem kullanıcı deneyimi

açısından ileri taşıyor. 2022'de

özellikle İç Anadolu, Güneydoğu

Anadolu ve Doğu Anadolu bölgelerine

fokuslanarak bu bölgelerde

kullanıcılara farklı bir deneyim

sunacağız"
---
SLEEPWELL | PROFILE 96

Inegöl's Furniture

Export Record comes

again from Weltew

Home

İnegöl'ün Mobilyada İhracat Rekoru Yine

Weltew Home'dan

İnegöl's Foreign Trade Statistics for

2021 were shared with the public

by İnegöl Chamber of Commerce

and Industry (İTSO). Accordingly,

with its export of 22.2 million dollars,

Weltew Home broke its own record as

it did last year and became the export

star in the furniture field of İnegöl.

Mustafa Balcı, Chairman of the Board

of Directors of the export champion

company, said: "First of all, rather

than the leadership of our company in

the ranking, we are extremely happy

and proud that the furniture sector

has the highest rate among the export

figures in İnegöl. As we grow with our

own brand, we continue to work with

a very strong motivation for the development

of our city and our country to

gain a much more place in the world

area. "

Attributing the secret of this success

of Weltew Home, which has achieved

İnegöl Ticaret ve Sanayi Odası (İTSO)

tarafından, İnegöl'ün 2021 yılı Dış Ticaret

İstatistikleri kamuoyu ile paylaşıldı.

Buna göre 22,2 milyon dolarlık ihracatı

ile Weltew Home, geçtiğimiz yıl olduğu

gibi kendi hem rekorunu kırarken, hem

de İnegöl'ün mobilya alanında ihracat

yıldızı oldu.

İhracat şampiyonu firmanın Yönetim

Kurulu Başkanı Mustafa Balcı, "Öncelikle

firmamızın sıralamadaki liderliğinden

ziyade, İnegöl'ümüzde ihracat

rakamları içerisinde en yüksek orana

mobilya sektörü sahip olmasından

ötürü son derece mutlu ve gururluyuz.

Biz kendi markamızla büyürken aynı

zamanda kentimizin de kalkınmasına

ve ülkemizin dünya arenasında çok
---
Weltew Home ranked

as the most furniture

exporting brand of

İnegöl in 2021 on a

sector basis with its

export of 22.2 million

dollars.

a great momentum in exports in the

last 3 years, to completely branding

and the right showroom investments,

Mustafa Balcı said, "Our brand, Weltew

Home, has managed to become

a Turquality brand in 2017 and has

determined the promotion of Turkish

furniture to the world as a strategic

goal for itself."

Mustafa Balcı, Chairman of the Board

of Directors of Weltew Home, said:

"Another secret of Weltew Home is

that we support teamwork with the

idea that cooperation and dedication

are the basis of success. We believe in

the power of synergy and care about

team performance as well as individual

performance. In this direction, we

are a very large family that runs to the

same goal with its employees. "

"WE INVESTED NOT ONLY IN

GOOD TIMES BUT ALSO IN BAD

TIMES, WE OPENED SHOW-

ROOMS, WE BELIEVED IN OUR-

SELVES!"

"While we were the export champion

of the year among İnegöl's furniture

producers in 2020, we also worked

with great devotion against the challenging

pandemic conditions in the

last three years and in this direction,

we are taking firm steps towards our

goals with the growth we have shown

both in the domestic and foreign markets.

Despite the raw material supply

problem faced by our industry with

the pandemic, we have not hesitated

to invest in our brand, to open showroom

at domestic and foreign market,

despite a period of ups and downs,

daha fazla yer edinmesi adına da çok

güçlü bir motivasyon ile çalışmalarımıza

devam ediyoruz" dedi.

İhracatta son 3 yılda müthiş bir ivme

yakalayan Weltew Home'un bu başarısındaki

sırrı tamamen markalaşmaya

ve doğru mağazalaşma yatırımlarına

bağlayan Mustafa Balcı, "Markamız

Weltew Home, 2017 yılında Turquality

markası olmayı başarmış, dünya genelinde

mağazalaşarak Türk mobilyasını

tüm dünyaya tanıtmayı kendisine

stratejik hedef olarak belirlemiştir"

diye ifade etti.

Weltew Home Yönetim Kurulu Başkanı

Mustafa Balcı, "Diğer bir sırrımız ise;

işbirliği ve özverinin başarının temeli

olduğu düşüncesiyle ekip çalışmasını

destekliyor oluşumuzdan kaynaklanıyor.

Sinerjinin gücüne inanıyoruz

ve bireysel performans kadar ekip

performansını da önemsiyoruz. Bu

doğrultuda biz, aynı hedefe çalışanları

ile birlikte koşan çok büyük bir aileyiz"

dedi.

"SADECE IYI GÜNDE DEĞIL KÖTÜ

GÜNDE DE YATIRIM YAPTIK,

MAĞAZA AÇTIK, KENDIMIZE

INANDIK!"

"Biz 2020 yılında da İnegöl'ün mobilya

üreticileri arasında yılın ihracat

şampiyonu olurken, son üç yıldaki

zorlu pandemi koşullarına karşı da

büyük bir özveriyle çalıştık" diye ifade

eden Mustafa Balcı, "Bu doğrultuda

hem iç pazarda hem de dış pazarda

gösterdiğimiz büyüme ile hedeflerimize

emin adımlarla ilerliyoruz. Pandemiyle

birlikte ortaya çıkan sektörümüzün

yaşadığı hammadde tedarik sorununa

rağmen, aynı zamanda küresel çapta

ticari ilişkilerin boyut değiştirdiği ve

ekonomik göstergelerinin seyrinin

değiştiği, inişli – çıkışlı bir döneme rağmen

biz markamıza yatırım yapmak-

Weltew Home 22,2

milyon dolarlık ihracatı

ile sektör bazında

İnegöl'ün 2021 yılında

en çok mobilya ihraç

eden markası olarak

birinci sırada yer aldı.

İnegöl
---
SLEEPWELL | PROFILE 98

where global commercial relations

have changed in size and the course

of economic indicators have changed.

We laid the foundations of our new

factory investment in these periods.

At the beginning of 2022, we launched

our Weltew Bedding brand. In this

direction, we set out with the goal of

getting a 35% share from the sector."

Mustafa Balcı stated.

"WE HAVE CONDUCTED OUR

MARKET ANALYSES CORRECT-

LY; WE HAVE DETERMINED

ON-TARGET ROUTES RATHER

THAN AGGRESSIVE GROWTH

ABROAD"

Mustafa Balcı pointed out that "It

ensures that your company is represented

correctly abroad as long as you

have a quality brand perception based

on solid foundations at domestic

market and in this direction, we have

conducted our market analyses correctly,

we have determined on-target

routes rather than aggressive growth

abroad. We primarily exported the

products we produced to geographies

close to our own culture. After that,

we entered the countries in our target

market, especially the European countries,

where we analyzed the furniture

habits. The dealers, who initially

bought a container of furniture from

us, then joined with us to open their

own Weltew Home showrooms. Thus,

instead of a container product, tons

of our products started to meet our

users in abroad showrooms. And we

managed to create a brand loyalty

abroad as well as domestically. At this

point, I would like to express that we

are also proud of the power of Turkish

furniture."

tan, yurt içinde ve yurt dışında mağaza

açmaktan çekinmedik. Yeni fabrika

yatırımımızın temellerini yine bu

dönemlerde attık. 2022 yılının başında

Weltew Yatak markamızın lansmanını

gerçekleştirdik. Bu doğrultuda sektörden

yüzde 35'lik pay alma hedefiyle

yola çıktık" dedi.

"PAZAR ANALIZLERIMIZI DOĞRU

YAPTIK, YURT DIŞINDA AGRESIF

BIR BÜYÜMEDEN ZIYADE, NOKTA

ATIŞI ROTALAR BELIRLEDIK"

"Yurt içinde ne kadar sağlam temellere

dayalı, kaliteli bir marka algınız olursa

bu sizin firmanızın yurt dışında da

doğru temsil edilmesini sağlar" diye

belirten Mustafa Balcı, "Biz bu doğrultuda

pazar analizlerimizi doğru yaptık,

yurt dışında agresif bir büyümeden

ziyade nokta atışı rotalar belirledik.

Ürettiğimiz ürünleri öncelikli olarak

kendi kültürümüze yakın coğrafyalara

ihraç ettik. Sonrasında ise bu

sefer mobilya alışkanlıklarını analiz

ettiğimiz ve başta Avrupa ülkeleri

olmak üzere, hedef pazarımızda olan

ülkelere giriş yaptık. İlk başlarda bizden

bir konteyner mobilya alan bayiler

daha sonrasında kendi Weltew Home

mağazalarını açmak için bizimle yol

arkadaşlığına girdiler. Böylece bir konteyner

ürün yerine tonlarca ürünümüz

yurt dışındaki mağazalarda kullanıcılarımızla

buluşmaya başladı. Ve yurt

içinde olduğu gibi yurt dışında da bir

marka sadakati oluşturmayı başardık.

Bu noktada Türk mobilyasının gücüyle

de ayrıca gurur duyduğumuzu ifade

etmek isterim" dedi.
---
SLEEPWELL | PROFILE 100

BEDGEAR's two new

'Dual' performance ®

pillows are all about

curves

BEDGEAR'ın iki yeni 'Çift'

performans ® yastığı tamamen

kıvrımlara uyumlu

BEDGEAR ® , the brand of

Performance ® that provides

innovative bedding

by focusing on an active lifestyle

and well-being, today introduces

the Flow Cuddle Curve pillow and

The Body Pillow that both include

unique curvature designs to support

specific sleep needs. These

Performance pillows feature

BEDGEAR's patented Air-X ® and/

or Ver-Tex ® fabric technologies

that provide maximum airflow

and reduce overheating.

Featuring a dual-sided firmness

feel that is soft on one side and

firm on the other, Flow Cuddle

Curve was developed following

the success of BEDGEAR's Flow

pillow with Air-X technology that

increases airflow. A first of its kind

from BEDGEAR, 'The Body Pillow'

has a dual-sided cover featuring

Ver-Tex instant-cooling fabric on

one side and Air-X fabric on the

other for maximum breathability.

Performance ® 'ın aktif bir yaşam

tarzı ve zindeliğe odaklanarak

yenilikçi yatak konfigürasyonu sağlayan

markası BEDGEAR ® , bugün

her ikisi de belirli uyku ihtiyaçlarını

desteklemek için benzersiz kıvrım

tasarımları içeren Flow Cuddle

Curve yastığı ve The Body Pillow'u

tanıtıyor. Bu Performans yastıkları,

BEDGEAR'ın maksimum hava akışı

sağlayan ve aşırı ısınmayı azaltan

patentli Air-X ® ve/veya Ver-Tex ®

kumaş teknolojilerine sahip.

Bir tarafı yumuşak diğer tarafı

sert olan çift taraflı sıkılık hissine

sahip Flow Cuddle Curve, BEDGE-

AR'ın hava akışını artıran Air-X

teknolojisine sahip Flow yastığının

başarısını takiben oluşturuldu. BE-

DGEAR'dan türünün ilk örneği olan

'The Body Pillow', maksimum nefes

alabilirlik için bir tarafında Ver-Tex

anında soğuyan kumaş ve diğer

tarafında Air-X kumaş içeren çift

taraflı bir kaplamaya sahip. "Vücut

Yastığı", hamile ve doğum sonrası

kadınlar, erkek ve kadın sporcular

ve hafta sonu savaşçıları da dahil

olmak üzere her tür insanın daha

rahat uyumasına yardımcı olan

basınç tahliyesi sağlamak üzere

tasarlanmış. Hem Flow Cuddle Curve

yastık hem de The Body Pillow,

fermuarlı çıkarılabilir ve yüksek

verimli yıkanabilir kılıfları sayesinde

temiz bir uyku ortamı sağlıyor.

BEDGEAR CEO'su ve kurucusu

Eugene Alletto, "BEDGEAR'ın yeni

Performance ® yastıkları tüm doğru
---
A first of its kind from BEDGEAR, 'The Body

Pillow' has a dual-sided cover featuring Ver-Tex

instant-cooling fabric on one side and Air-X

fabric on the other for maximum breathability.

'The Body Pillow' is engineered

to provide pressure relief that

helps all types of people, including

pregnant and post-partum

women, male and female athletes

and weekend warriors, to sleep

more comfortably. Both the Flow

Cuddle Curve pillow and The

Body Pillow provide a clean sleep

environment because of their zipoff

removable and high-efficiency

washable covers. "BEDGEAR's new

Performance ® pillows have all

the right curves," said BEDGEAR

CEO and founder Eugene Alletto.

"BEDGEAR's cuddle curve pillows

like the new Flow Cuddle Curve

contour to the shape of the head,

neck and shoulders for extra comfort

and support. We applied this

same concept to 'The Body Pillow'.

As a result, 'The Body Pillow' has

multiple uses and is specifically

developed to give side sleepers

of all genders and pregnant and

post-partum women support for

their head, neck and stomach as

well as relieve pressure on their

hips and back."

kıvrımlara sahip" dedi ve ekledi:

"BEDGEAR'ın kucaklama kıvrımlı

yastıkları, yeni Flow Cuddle Curve

gibi ekstra konfor ve destek için

başın, boynun ve omuzların şeklini

alıyor. Aynı konsepti "The Body Pillow"a

da uyguladık. Sonuç olarak,

'Vücut Yastığı' birden fazla kullanıma

sahip ve özellikle her cinsiyetten

yan uyuyanlara ve hamile ve

doğum sonrası kadınlara baş, boyun

ve karınlarını desteklemek ve

ayrıca kalça ve sırtlarındaki baskıyı

azaltmak için geliştirilmiştir."

BEDGEAR'dan

türünün ilk örneği

olan 'The Body

Pillow', maksimum

nefes alabilirlik için

bir tarafında Ver-Tex

anında soğuyan kumaş

ve diğer tarafında Air-X

kumaş içeren çift taraflı

bir kaplamaya sahip
---
SLEEPWELL | PROFILE 102

First in the world,

Sloth Bedding's Air Clean

Technology!

Sloth Bedding'in dünyada bir ilk:

Air Clean Teknolojisi!

So what is this Air Clean Technology?

There are air ducts inside

each SlothBedding mattress.

When the covers of the air duct inlets

that are placed outside the bed are

opened, the fresh air comes in the

bed and it is ensured that it always

remains hygienic. Technology comes

into play here. When the Air Cleaner

Mattress Cleaning Generator, which is

given as a gift with each bed, is connected

to the air inlets next to the bed,

the oxygen in the room is converted

into ozone, the world's most powerful

and natural disinfectant, inside the

machine, and sprayed into the bed.

Ozone is dispersed all over the bed by

passing through the air channels and

reaching every corner of the bed, purifies

the bed from living things such as

bacteria, viruses, fungi and molds that

may occur in the bed, and provides

ultra-cleanliness. All you have to do

is sleep soundly in your bed, which is

always clean. You and your sleep will

be comfortable.

EC TECHNOLOGY: THE MOST

ACCURATE COEFFICIENT OF

ELASTICITY FOR EVERYONE!

EC Technology developed with

Slothtech technology provides solu-

Peki nedir bu Air Clean Teknolojisi?

Her bir SlothBedding yatağın içerisinde

hava kanalları bulunuyor.

Yatağın dışına yerleştirilen hava

kanalı girişlerinin kapakları açıldığında

yatağın içerisine temiz hava

giriyor ve daima hijyenik kalması

sağlanıyor. Teknoloji burada devreye

giriyor. Her bir yatağın yanında

hediye edilen Air Cleaner Yatak

Temizleme Jeneratörü, yatağın

yanındaki hava girişlerine bağlandığında

odada bulunan oksijen

makinenin içerisinde dünyanın en

güçlü ve doğal dezenfektanı olan

ozona dönüştürülüyor ve yatağın

içerisine püskürtülüyor. Ozon hava

kanallarından geçerek yatağın

dört bir yanına dağılıyor ve her bir

köşesine ulaşarak yatağın içerisinde

oluşması muhtemelen olan

bakteri, virüs, mantar ve küf gibi

canlılardan yatağı arındırıyor, ultra

temizlik sağlıyor. Size de daima

temiz kalan yatağınızda mışıl mışıl

uyumak kalıyor. İçiniz de uykunuz

da rahat oluyor.

EC TEKNOLOJISI: HERKES IÇIN EN

DOĞRU ELASTISITE KATSAYISI!

Slothtech teknolojisiyle geliştirilen

EC Teknolojisi farklı vücut tiple-
---
The brand of new sleep

products, Sloth Bedding

is offering a wide range

of products and services

from baby and adult

bedding to pillows,

bed covers and quilts.

Under the umbrella of

Slothtech, having the

R&D department where

it designs technological

products, it produces Air

Clean Technology, which

no one in the world has

used yet.

Yepyeni uyku ürünleri markası Sloth Bedding bebek ve

yetişkin yataklarından yastıklara, yatak kılıflarından

yorganlara çok geniş bir yelpazede ürün ve hizmet

sunuyor. Teknolojik ürünleri tasarladığı Ar-Ge bölümü

olan Slothtech çatısı altındaysa dünyada henüz kimsenin

kullanmadığı Air Clean Teknolojisini üretiyor.

rinin kişisel konfor ihtiyaçlarına

çözüm getiriyor. Yenilikçi bakış

açısı sunan EC, kişiye özel mükemmel

bir uyku deneyimi sunarken siz

uyurken yatağınıza uyguladığınız

ağırlık basıncına en iyi cevabı veriyor

ve omurganıza destek sağlıyor.

İsmini günde 20 saatten fazla

uyuyarak "dünyanın en uykucu

hayvanı" unvanını alan tembel

hayvandan alan Sloth Bedding,

uyku alanındaki yenilikçi ve farklı

yaklaşımıyla büyük fark yaratmaya

geliyor.

tions to the personal comfort needs

of different body types. While EC,

offering an innovative perspective, is

presenting a personalized and perfect

sleep experience, it is giving the best

response to the weight pressure you

apply to your bed while you sleep,

and provides support to your spine.

Sloth Bedding, which takes its name

from the lazy animal, sloth, which is

the 'world's sleepiest animal' sleeping

more than 20 hours a day, is coming

to make a big difference with its

innovative and different approach to

sleep.
---
SLEEPWELL | PROFILE 104

The first prize to İşbir yatak

from A.C.E. Awards

A.C.E. Awards'tan İşbir yatak'a

birincilik ödülü

İşbir Yatak, which has recently,

reduced its customer response

rate to less than 14 minutes with

a performance of more than 100

percent, has become the company

that provides the fastest return in

the mattress sector. In this way, the

brand became 4.1 starred in the rating

evaluated out of 5.0 on the Şikayet Var

platform.

WE ALWAYS KEPT CUSTOMER

EXPECTATIONS FIRST

İşbir Holding CEO Metin Gültepe,

emphasizing that they are a brand

that always tries to keep customer

satisfaction at the highest level, said

"With the change in customers' preferences,

especially during and after

the pandemic process, companies

have made many changes within their

own bodies. In this process, while

consumers turn to hygienic products,

they want to receive reliable information

about the products and to have

information about every detail of the

delivery stages of the products. At this

point, we, as a brand, worked even

harder with the pandemic process. We

have always kept the expectations of

our consumers first. We are receiving

this award together with our business

partners and employees who supported

us in getting our customer satisfaction,

and we would like to thank all

our colleagues who contributed"

Son dönemlerde, müşteriye geri

dönüş hızını yüzde 100'ün üstünde

bir performansla 14 dakikanın

altına düşüren İşbir Yatak, yatak

sektöründe en hızlı dönüş sağlayan

firma oldu. Bu sayede, marka

ŞikayetVar platformunda 5.0 yıldız

üzerinden değerlendirilen puanlamada

4.1 yıldız oldu.

MÜŞTERİ BEKLENTİLERİNİ

HER ZAMAN BİRİNCİ PLANDA

TUTTUK

Her daim müşteri memnuniyetini

en üst düzeyde tutmak için çalışan

bir marka olduklarına dikkat çeken

İşbir Holding CEO'su Metin Gültepe,

"Özellikle pandemi süreci ve sonrasında

müşterilerin tercihlerinde

yaşanan değişimle birlikte şirketler

de kendi bünyelerinde pek çok değişikliğe

gitti. Tüketiciler bu süreçte,

hijyenik ürünlere yönelirken, ürünler

hakkında güvenilir bilgi almak

ve ürünlerin teslim aşamalarının

her detayı hakkında bilgi sahibi

olmak istiyor. Bu noktada, biz de

marka olarak pandemi süreciyle

birlikte çalışmalarımızı daha da

sıkı tutarak çalıştık. Tüketicilerimizin

beklentilerini her zaman birinci

planda tuttuk. Bu ödülü almamızda

bize destek olan, müşteri memnuniyetimizi

bir üste taşımak için

çalışan iş ortaklarımız ve çalışanlarımız

ile birlikte alıyor ve emeği

geçen tüm çalışma arkadaşlarımıza

teşekkür ediyoruz" dedi.
---
WE ARE EXTREMELY HAPPY TO

RECEIVE THE FIRST PRIZE TWO

YEARS IN A ROW

Gültepe said "We have been working

with our expert identity for many

years within the scope of our environmental

and customer-oriented

approaches. At this point, we are

among the first brands to implement

many innovations in the sector. One

of them is the Customer Experience

Team, which we have established to

maximize customer experience and

satisfaction with the rapid actions we

take. We are very happy to be deemed

worthy of the Dimond first prize two

years in a row, thanks to the rapid

actions and feedback received by the

team we formed. In this context, we

will work to increase the customer

experience day by day by adding new

ones to the work we have done."

IT DETERMINES CUSTOMER

SATISFACTION WITH MORE

THAN 1 MILLION SURVEYS A

YEAR

At the A.C.E Awards, brands carried

out and complaint management took

as a base, Şikayetvar lames more than

1 million surveys per year aimed at

real consumers. Within the scope

of this survey, the 'Customer Experience

Index' is formed and brands

are measured based on the 'Customer

Experience Index' at the A.C.E

Awards. In the index, complaint share,

satisfaction level and brand loyalty

compared to market share are also

used as basic parameters.

The number of categories increased

in the A.C.E Awards, where the

end-to-end complaint management

skills of brands are rewarded. In the

ceremony where 91 national and

international brands were awarded

in 48 different sectors last year, 96

brands that best manage customer

experience in 57 sectors won their

awards this year.

İKİ YIL ÜST ÜSTE BİRİNCİLİK

ÖDÜLÜ ALMAKTAN SON DERECE

MUTLUYUZ

Gültepe, "Çevreci ve müşteri odaklı

yaklaşımlarımız kapsamında uzun

yıllardır uzman kimliğimiz ile

çalışmalar yapıyoruz. Bu noktada,

sektöre ilişkin pek çok yeniliği

ilk uygulayan markalar arasında

yer alıyoruz. Bunlardan biri de

aldığımız hızlı aksiyonlar ile müşteri

deneyimini ve memnuniyetini

maksimum seviyeye çıkarmak için

kurmuş olduğumuz Müşteri Deneyimi

Takımı. Kurduğumuz takımın

aldığı hızlı aksiyonlar ve geri

dönüşler sayesinde iki yıl üst

üste Dimond birincilik ödülüne

layık görülmekten

dolayı oldukça mutluyuz.

Bu kapsamda, yapmış

olduğumuz çalışmalara

yenilerini ekleyerek

müşteri deneyimini her

geçen gün artırmak için

çalışacağız" diye konuştu.

YILDA 1 MİLYONDAN

FAZLA ANKETLE

MÜŞTERİ

MEMNUNİYETİNİ

BELİRLİYOR

Markaların gerçekleştirdiği

ve şikayet yönetiminin temel

alındığı A.C.E Awards'ta Şikayetvar,

gerçek tüketicilere yönelik

yılda 1 milyonun üzerinde anket

gerçekleştiriyor. Bu anket kapsamında,

"Müşteri Deneyimi Endeksi"

oluşturuluyor ve markalar A.C.E

Awards'ta "Müşteri Deneyim

Endeksi" baz alınarak ölçümleniyor.

Endekste, temel parametreler

olarak pazar payına oranla şikayet

payı, memnuniyet düzeyi ve marka

sa- dakati de kullanılıyor.

Markaların uçtan

uca şikayet yönetim

becerisinin ödüllendirildiği

A.C.E Awards'da

kategori sayısı arttı.

Geçen yıl 48 farklı

sektörde 91 ulusal ve

uluslararası markanın

ödüllendirildiği

törende, bu yıl 57

sektörde müşteri

deneyimini en

iyi yöneten 96

marka ödüllerine

kavuştu.
---
SLEEPWELL | EXPERT TIPS 106

Choosing the

best hospital bed

mattresses and

toppers: 8 options

En iyi hastane yatak ve

şiltelerini seçmekte 8 tercih

People who need a hospital bed

mattress are at risk of developing

pressure ulcers. An appropriate

mattress distributes weight evenly,

preventing and treating pressure

ulcers.

In this article, we look at benefits

and risks of hospital bed mattresses

and provide a list of some of the best

hospital bed mattresses and toppers

available online.

WHAT IS A HOSPITAL BED MAT-

TRESS?

A hospital bed mattress is a mattress

used in a hospital bed or at home.

Some people require this type of mattress

at home if they are sick or if their

mobility is reduced or impaired.

A traditional mattress may not be

suitable for certain medical conditions.

Additionally, it may aggravate or

cause pressure ulcers, also known as

bedsores.

Pressure ulcers occurTrusted Source

due to a combination of factors. Prolonged

external pressure on tissues

Hastane yatağı şiltesine ihtiyaç duyan

kişilerde basınç ülseri gelişme riski vardır.

Uygun bir yatak, ağırlığı eşit olarak

dağıtarak basınç ülserlerini önler ve

tedavi eder.

Bu yazıda, hastane yatağı şiltelerinin

faydalarına ve risklerine bakıyoruz

ve çevrimiçi olarak mevcut olan en iyi

hastane şilteleri ve yatak örtülerinin

bir listesini sunuyoruz.

HASTANE YATAĞI NEDIR?

Hastane yatağı şiltesi, hastane yatağında

veya evde kullanılan bir şiltedir.

Bazı insanlar hasta olduklarında veya

hareket kabiliyetleri azalmış veya

bozulmuşsa evde bu tip şilteye ihtiyaç

duyarlar.

Geleneksel bir yatak, belirli tıbbi

durumlar için uygun olmayabilir. Ek

olarak, yatak yaraları olarak da bilinen

basınç ülserlerini şiddetlendirebilir

veya sebep olabilir.

Basınç ülserleri, faktörlerin bir kombinasyonu

sebebiyle oluşur. Dokular üzerindeki

uzun süreli dış basınç, etkilenen

bölgeye kan akışının olmamasına sebep
---
Hospital bed

mattresses, also

known as medical or

therapeutic mattresses,

may provide comfort

and prevent side

effects when people

remain immobile for

long periods.

causes a lack of blood flow to the

affected area. Impaired drainage from

the lymphatic system may contribute

to the development of sores as well.

Compared with traditional mattresses,

hospital bed mattresses prevent and

relieve pain from pressure sores.

Hospital bed mattress manufacturers

use different materials in their products.

These materials are similar to

those found in traditional mattresses

and include:

• foam • innerspring • air • gel

Hospital bed mattresses also need to

be waterproof, antimicrobial, and easy

to clean. These features ensure the

mattress stands up to medical grade

sanitation standards.

The head, leg, and overall bed height

can be lowered or raised. Side rails on

hospital beds also prevent falls and

injuries. Mattresses for hospital beds

can also bend with the adjustment of

the head and legs.

TRY THE PILLOW THAT WORKS

IN PERFECT HARMONY

Self-dubbed "the greatest pillow ever

invented," the Purple Harmony Pillow

is designed to cradle your neck, keep

you cool and help you drift off to

dreamland in no time.

BENEFITS AND RISKS

For individuals who must remain in

bed, a hospital bed with an appropriate

mattress is safer and more comfortable

than a traditional mattress.

However, it may not suit more mobile

people.

Tıbbi veya tedavi edici yatak olarak da bilinen hastane

yatakları, insanlar uzun süre hareketsiz kaldıklarında

rahatlık sağlayabilir ve yan etkileri önleyebilir.

olur. Lenfatik sistemden bozulmuş

drenaj da yaraların gelişimine katkıda

bulunabilir.

Geleneksel şiltelerle karşılaştırıldığında,

hastane yatağı şilteleri bası

yaralarından kaynaklanan ağrıyı önler

ve rahatlatır.

Hastane yatağı üreticileri ürünlerinde

farklı malzemeler kullanırlar. Bu malzemeler

geleneksel şiltelerde bulunanlara

benzer ve şunları içerir:

• Köpük • İç Yay • Hava • Jel

Hastane yatak şiltelerinin ayrıca su

geçirmez, antimikrobiyal ve temizlenmesi

kolay olması gerekir. Bu özellikler,

yatağın tıbbi sınıf sanitasyon standartlarına

uygun olmasını sağlar.

Baş, bacak ve genel yatak yüksekliği alçaltılabilir

veya yükseltilebilir. Hastane

yataklarındaki yan korkuluklar da düşmeleri

ve yaralanmaları önler. Hastane

yatakları için olan şilteler de baş ve

bacak ayarı ile bükülebilmektedir.

MÜKEMMEL UYUM İÇINDE

ÇALIŞAN YASTIĞI DENEYIN

Kendinden "şimdiye kadar keşfedilen

en büyük yastık" olarak adlandırılan

Purple Harmony Yastık, boynunuzu

kucaklamak, sizi serin tutmak ve kısa

sürede hayaller diyarına sürüklenmenize

yardımcı olmak için tasarlanmıştır.

Faydaları ve riskleri

Yatakta kalması gereken kişiler için

uygun şilteli bir hastane yatağı, geleneksel

bir yatağa göre daha güvenli ve

rahattır. Ancak, daha fazla hareketli

insan için uygun olmayabilir.

FAYDALARI

Bir çalışma, hastane şiltelerinin büyük

ölçekli olarak değiştirilmesinin hastane

kaynaklı basınç yaralarında azalmaya

yol açtığını gösterdi. Bu, evre 3 ve 4

bası ülserlerinde %66,6, yatak konforu

şikayetlerinde %50 azalma ile sonuçlandı.

Bazı uzmanlar, basınç ülseri önlemede

üstün oldukları için ipek bazlı kumaşların

kullanılmasını önermektedir.

Pamuklu kumaşlar sürtünme kuvvetlerinin

artmasına ve cilde zarar verebilir.

RISKLERI

Yatak yarası geliştirme riski olmayan,

hareket kabiliyeti kısıtlı olmayan ve yatarak

kalması gerekmeyen kişiler için
---
SLEEPWELL | EXPERT TIPS 108

BENEFITS

One studyTrusted Source demonstrated

that a large-scale switch-out of

hospital mattresses led to a reduction

in hospital acquired pressure sores.

This resulted in a 66.6% decrease in

stage 3 and 4 pressure ulcers and a

50% reduction in mattress comfort

complaints.

Some experts suggestTrusted Source

using silk-based fabrics, since they are

superior in pressure ulcer prevention.

Cotton-based fabrics may cause

increased friction forces and damage

to the skin.

RISKS

For people who are not at risk of developing

bedsores, those who do not

have reduced mobility, and those who

do not need to remain lying down,

a hospital bed mattress may not be

suitable. One of the risks of choosing

a hospital bed mattress is that if a

person must remain in bed at home,

they may not be able to try a mattress

before making a purchase. Relying on

mattress labels may be misleading.

A mattress labeled firm may be too

firm for some or not firm enough for

another person's needs.

hastane yatağı uygun olmayabilir. Bir

hastane yatağı seçmenin risklerinden

biri, eğer şahsın evde yatakta kalması

gerekiyorsa, satın almadan önce bir

yatağı deneyemeyebilecek olmasıdır.

Yatak etiketlerine güvenmek yanıltıcı

olabilir. Firma etiketli bir şilte, bazıları

için çok sert olabilir veya başka birinin

ihtiyaçları için yeterince sağlam olmayabilir.

EN IYI HASTANE YATAĞI

ŞILTELERININ LISTESI

Tıpkı geleneksel bir yatak gibi, iyi bir

hastane yatak şiltesi de uygun desteği

ve konforu sağlamalıdır. Vücudu her

noktada sürekli olarak desteklemelidir.

Bir yatağın birisi için uygun olup olmadığını

bilmenin tek yolu, mümkünse

onu test etmektir.

Aşağıda en iyi hastane yatağı şiltesi

seçeneklerinden bazıları verilmiştir.

Lütfen bu makalenin yazarının bu

ürünleri denemediğini unutmayın.

Sunulan tüm bilgiler tamamen araştırmaya

dayalıdır.

DRIVE MEDICAL TERAPÖTIK 5

BÖLGE DESTEK YATAĞI

Bu yatak, bir kişinin ağırlığını beş

bölgeye eşit olarak dağıtır. Su geçirmez

ve alev geciktiricidir. Kıvrımlı üst katman,

vücudun şilteye daha fazla baskı

yapma riski altında olabilecek kemikli

kısımları üzerindeki baskıyı azaltır.

Köpük malzeme, karın ve sırt üstü

yatanlar için uygundur ancak yan

yatanlar için uygun değildir.

INVACARE SOLACE TERAPÖTIK

ÖNLEYICI KÖPÜK YATAK

Bu şilte, orta veya yüksek basınç ülseri

geliştirme riski taşıyan kişiler için rahatlama

sağlamaya yardımcı olur.

Bu köpük şilte, yara geliştirme riski

taşıyan vücut kısımlarındaki baskıyı

hafifletmek için birkaç daha yüksek

yoğunluklu alana sahiptir.

Üreticiler bu yatağın dayanıklı ve

temizlenmesi kolay olduğunu iddia

ediyor.

Marathon Advanced Care Genel Hasta

ve YBÜ/CCU Hastane Yatağı Hafızalı

Köpük Yatak

Bu yatak çok katmanlıdır. Rahatlığı ve

postüral desteği sağlamak için daha

yüksek veya daha düşük yoğunluğa

sahip farklı bölgelere sahiptir. Çıkarılabilir

kılıf lateks içermez, antibakteriyel,

antifungaldir ve alerjen içermez.

Yatak, CertiPUR-US sertifikalı köpük
---
LIST OF BEST HOSPITAL BED

MATTRESSES

Just like a traditional mattress, a good

hospital bed mattress should provide

appropriate support and comfort. It

should continuously support the body

at all points.

The only way to know whether a mattress

is suitable for someone is to test

it, where possible.

Below are some of the best hospital

bed mattress options.

Please note that the writer of this

article has not tried these products.

All information presented is purely

research-based.

DRIVE MEDICAL THERAPEUTIC

5 ZONE SUPPORT MATTRESS

This mattress distributes a person's

weight evenly across five zones. It is

waterproof and flame retardant.

The convoluted top layer reduces

pressure on bony parts of the body

that may be more at risk of compression

against the mattress.

The foam material is appropriate for

stomach and back sleepers but not for

side sleepers.

INVACARE SOLACE PREVENTION

THERAPEUTIC FOAM MATTRESS

This mattress helps provide relief for

people who are at medium or high

risk of developing pressure ulcers.

This foam mattress has several higher

density areas to relieve pressure on

body parts at risk of developing sores.

The manufacturers claim that this

mattress is durable and easy to clean.

MARATHON ADVANCED CARE

GENERAL PATIENT AND ICU/

CCU HOSPITAL BED MEMORY

FOAM MATTRESS

This mattress is multilayered. It has

different zones with a higher or lower

density to promote comfort and postural

support. The removable cover

is latex-free, antibacterial, antifungal,

and free of allergens.

The mattress contains CertiPUR-US

certified foam and comes with a

12-month standard warranty.

içerir ve 12 aylık standart garanti ile

gelir.

MEDACURE BASINÇ DAĞITIM

KÖPÜĞÜ HASTANE YATAK ŞILTESI

Bu yatak, bir kişinin ağırlığını yüzeye

eşit olarak yeniden dağıtarak rahatlık

sağlar. Yatak beş ebatta mevcuttur ve

su geçirmez bir yatak örtüsü içerir.

Şirket, bu yatağın evde kullanım, yaşlı

yetişkinlerin bakımı ve aşırı kilolu veya

obezitesi olan kişiler için uygun olduğunu

iddia ediyor.

INVACARE SOFTFORM PREMIER

SIVIYA DAYANIKLI EVDE BAKIM

YATAĞI

Bu sıvıya dayanıklı şilte, benzersiz bir

konturlu köpük ara parçasına sahiptir.

Köpük tabakası bireysel konfor sağlar

ve basınç düşüşünü optimize eder.

Köpük tabakası, gerilimi kesen ve kişinin

köpüğün içine dalmış hissetmesini

sağlayan ayrı hücreler içerir.

Bu ürün, insanların yatağa girip

çıkmasını kolaylaştırmak için gelişmiş

kenar desteğine sahiptir. Ek olarak,

şilte çıkarılabilir ve yıkanabilir bir kılıf

ile birlikte gelir

DRIVE MEDICAL GRAVITY 7 UZUN

SÜRELI BAKIM BASINÇ DAĞITIM

YATAĞI

Bu şilte 300 pound'a (lb) kadar ağırlığı

destekleyebilir ve özel bir topuk bölümüne

sahiptir.

Üst köpük tabakası, basınç ülserlerinin

önlenmesine yardımcı olmak için

farklı basınç yeniden dağılımına sahip

alanlardan oluşur. Alt tabaka, yatağın

dayanıklılığını artıran tam boy

yatay kesimlere sahiptir. Bilgi Güçtür.

Ücretsiz günlük bültenimizi alın. En

çok önem verdiğiniz sağlık konularını

derinlemesine inceleyin. Bugün gerçekler-ilk

haber bültenimize abone olun.

HASTANE YATAĞI ŞILTE

ÖRTÜLERI

Yeni bir medikal yatağa ihtiyaç

duymayanlar için mevcut yatağa ped

eklenmesi bir alternatif olabilir.

İşte en iyi hastane yatağı şilte örtülerinden

bazıları

VIVE HEALTH ALTERNATIF

BASINÇ PEDI

Bu ürün hastane yataklarının üstüne

sığar. Yatakta geçirilen zamanın artması

sebebiyle bası yaraları olan veya
---
SLEEPWELL | EXPERT TIPS 110

MEDACURE PRESSURE REDIS-

TRIBUTION FOAM HOSPITAL

BED MATTRESS

This mattress provides comfort by redistributing

a person's weight evenly

across the surface.

The mattress is available in five sizes

and includes a waterproof mattress

cover.

The company claim that this mattress

is appropriate for at-home use, care

for older adults, and for people with

overweight or obesity.

INVACARE SOFTFORM PREMIER

FLUID-RESISTANT HOMECARE

BED MATTRESS

This fluid-resistant mattress features

a unique contoured foam insert. The

foam layer provides individual comfort

and optimizes pressure reduction.

The foam layer contains individual

cells that interrupt the tension, allowing

the person to feel immersed in the

foam.

This product has enhanced edge support

to make it easier for people to get

onto and off the mattress. Additionally,

the mattress comes with a removable

and washable cover.

Drive Medical Gravity 7 Long Term

Care Pressure Redistribution Mattress

This mattress can support up to 300

pounds (lb) of weight and has a dedicated

heel section.

The top foam layer consists of areas

with different pressure redistribution

to help prevent pressure ulcers.

The bottom layer has full-length horizontal

cuts that extend the durability

bunları geliştirme riski taşıyan kişiler

bu koruyucu pedden yararlanabilir.

Üreticiler, 300 lb ağırlığa dayanabilen

dayanıklı destek sağlamak için pedi

ayrı ayrı kapatılmış 130 hava kabarcığıyla

donattı.

Hava kabarcıkları içindeki basıncı

kontrol eden değişken basınç pompası,

farklı basınç seviyeleri arasında döngü

yaparak aşağıdakileri gerçekleştirir:

• kişinin ağırlığını eşit olarak dağıtır

• kan dolaşımını artırır

• vücut üzerindeki baskıyı azaltır

• cilt kırışıklığını önler

• basınç yaralarından ağrıyı giderir

DRIVE MEDICAL PREMIUM

GUARD JEL YATAK ÖRTÜSÜ

Bu şilte kaplaması, 500 lb ağırlığa

kadar dayanabilir ve vücudun şilte ile

temas eden tüm alanını kaplayan 15 jel

kesecik içerir. Jel şilte kaplaması ayrıca

basınç ülserlerini önleyebilir ve tedavi

edebilir. Taban su geçirmez ve leke

tutmaz.

ÖZET

Doktorlar, uzun süre yatakta kalması

gereken ve yatak yarası geliştirme

riski taşıyan kişiler için hastane yatak

şiltelerini önermektedir. Geleneksel

şilteler, hareket kabiliyeti kısıtlı kişiler

için yeterli desteği sağlamayabilir.

Hastane yatağı şilteleri, basınç ülserlerini

önlemek ve tedavi etmek için

bir kişinin ağırlığını yüzeye yeniden

dağıtmaya yardımcı olan köpük, jel, iç

yaylı ve havalı şilteleri içerir. Alternatif

olarak, insanlar basınç ülserinin önlenmesi

ve tedavisi için mevcut yataklarına

özel bir kaban yerleştirebilir.
---
of the mattress. Knowledge is power.

Get our free daily newsletter.

Dig deeper into the health topics you

care about most. Subscribe to our

facts-first newsletter today.

HOSPITAL BED MATTRESS TOP-

PERS

For those who may not require a

new medical mattress, an alternative

may be adding a pad to the existing

mattress.

Here are some of the top hospital bed

mattress toppers.

VIVE HEALTH ALTERNATIVE

PRESSURE PAD

This product fits on top of hospital

beds. People who have pressure sores

or are at risk of developing those

because of increased time spent in bed

may benefit from this topper pad.

The manufacturers have equipped the

pad with 130 individually sealed air

bubbles to provide durable support

that can withstand up to 300 lb of

weight.

The variable pressure pump that

controls the pressure within the air

bubbles cycles through different levels

of pressure to:

• distribute the person's weight evenly

• increase blood circulation

• reduce pressure on the body

• prevent skin breakage

• relieve pain from pressure sores

DRIVE MEDICAL PREMIUM

GUARD GEL MATTRESS OVER-

LAY

This mattress overlay can sustain up

to 500 lb of weight and contains 15

gel bladders covering the entire area

of the body that is in contact with the

mattress.

The gel mattress overlay can also prevent

and treat pressure ulcers.

The base is waterproof and stain-resistant.

SUMMARY

Doctors recommend hospital bed mattresses

for people who must remain in

bed for extended periods of time and

those at risk of developing bedsores.

Traditional mattresses may not provide

enough support for people with

reduced mobility.

Hospital bed mattresses include foam,

gel, innerspring, and air mattresses

that help redistribute a person's

weight across the surface to prevent

and treat pressure ulcers.

Alternatively, people can place a

specialized topper on their current

mattress for pressure ulcer prevention

and treatment.
---
SLEEPWELL | PROFILE 112

Layla launches new

down alternative

comforter

Layla yeni kuş tüyü alternatif

yorganı piyasaya sürdü

Layla, which is well-known for

its mattresses, introduced

its first-ever comforter to

its lineup of bedding essentials.

Before the launch, the brand's

bedding included sheets, pillows

and a weighted blanket. Unlike a

duvet, a comforter usually comes

with a quilted cover, as one expert

previously explained to us, though

Layla's new comforter also features

corner loops for those who prefer

to use a standard duvet cover.

The comforter is made from down

alternative, which is meant to

mimic the down feathers you'll

find in duvets. There are three

sizes — Twin/Twin XL, Full/Queen

and King/California King — and

two colors — White and Gray —

to choose from. It's designed for

all-season comfort.

Yataklarıyla adından söz ettiren Layla,

nevresim takımının olmazsa olmazları

arasına ilk kez yorganını (konforter)

da ekledi. Lansmandan önce markanın

nevresimleri çarşaf, yastık ve ağırlıklı

bir battaniye içeriyordu. Geleneksel bir

yorganın aksine, konforter yorgan genellikle

kapitone bir kılıfla gelir, ancak

Layla'nın yeni yorganında standart bir

nevresim kullanmayı tercih edenler için

köşe halkaları da bulunur. Conforter

yorgan, geleneksel yorganlarda bulacağınız

kuş tüylerini taklit etmesi gereken

kuştüyü alternatifinden yapılmıştır. Üç

boyut – Twin/Twin XL, Full/Queen ve

King/California King – ve iki renk – Beyaz

ve Gri – arasından seçim yapabilirsiniz.

Bu yorganlar her mevsim konfor

için tasarlanmış.