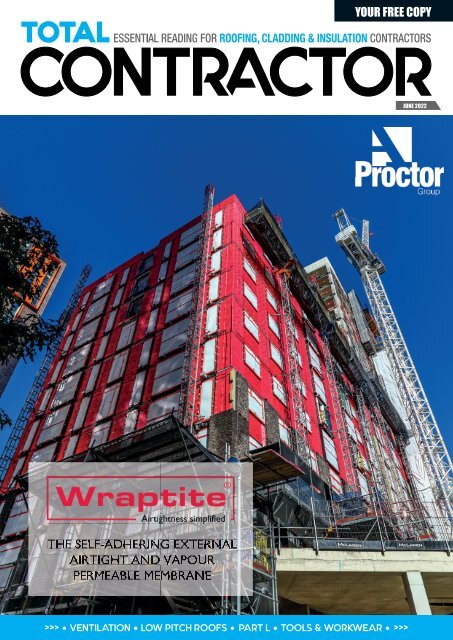 You also want an ePaper? Increase the reach of your titles
YUMPU automatically turns print PDFs into web optimized ePapers that Google loves.
JUNE 2022

>>> • VENTILATION • LOW PITCH ROOFS • PART L • TOOLS & WORKWEAR • >>>

TC Frontcover Wraptite project indd 1 17/05/2022 09:27:55
---
WWW.FALLARREST.COM

Fall Arrest is a website designed to

provide information appertaining to fall

protection and prevention. The site will

aid clients, architects, surveyors alike with

information and provide solutions that

we can offer. These offerings include full

design under CDM. Fall Arrest partners

with leading and trusted suppliers &

manufacturers within the industry.

We can assist you in the design, supply,

installation & recertification of fall protection

equipment as well as the supply of highly

engineered personal fall protective equipment

through our partners www.harnesses.co.uk.

info@fallarrest.com • www.fallarrest.com
---
Editor's Comment

MATT DOWNS

EDITORIAL DIRECTOR

MATTDOWNS@MEDIA-NOW.CO.UK

07963 330774

This month sees the updated version of Part L of the Building

Regulations come into force, and as the focus on energy efficiency in

buildings increases, the changes are expected to prompt an increase

in interest in solar PV from homeowners and housebuilders.

With this mind, Marley has put together a handy guide explaining how to

make solar work for you and your business. Free with this issue, the useful

guide is packed with content to help you and your team upskill to make the

most of the sector's push for sustainability and increased demand for solar

PV installations, including the low-down on the changes to Part L, all you

need to know about MCS accreditation and training, as well as a real-life

case study with one of the contractors Marley has supported and helped to

diversify their offering and make the profitable move into solar.

Kingspan Insulation has also taken steps to support operatives with the

changes to Part L, as the manufacturer has announced its ToolBox Talks

onsite training service which helps customers ensure their work meets the

new requirements. Jonathan Ducker, Head of Regulatory Affairs, discusses

how the changes will impact project teams and goes into more detail about

the benefits of the Toolbox Talks support service on page 48.

Elsewhere in this issue, we get a roofing contractor's perspective on the

current challenges and opportunities within the sector as we put the

questions to Old Plean Roofing on page 12; James Talman of the NFRC

looks back on a tricky first half of 2022 for the roofing sector (page 14); and

John Mercer discusses the key considerations when installing low pitch

roofs on page 18. So read on for all this and much more!

Matt

Front cover courtesy of the A. Proctor Group. Read

the company's latest Ask the A. Proctor Group feature on

page 38. www.proctorgroup.com

FOLLOW US @TOTCONTRACTORUK

SIGN UP FOR YOUR E-NEWSLETTER AT

WWW.TOTAL-CONTRACTOR.CO.UK

Advertising:

Publishing Director: Andy Dunn

DD: 01892 732 047

Mob: 07963 330777

Email: andydunn@media-now.co.uk

Registered office: 1 Forstal Road, Aylesford, Kent, ME20 7AU

Commercial Manager: Jake Roxborough

DD: 01892 732 047

Mob: 07956 133314

Email: jakeroxborough@media-now.co.uk

The content of Total Contractor magazine (and website) does not necessarily reflect the views of the editor or publishers and are

the views of its contributors and advertisers. The digital edition may include hyperlinks to third-party content, advertising, or

websites, provided for the sake of convenience and interest. The publishers accept no legal responsibility for loss arising from

information in this publication and do not endorse any advertising or products available from external sources. No part of this

publication may be reproduced or stored in a retrieval system without the written consent of the publishers. All rights reserved.

Supported by:

T CK

01

*Discount applies to all trade customers and applied to the

first, single item purc

chase only of the Korniche Bifolding Door

b i-folding

doors

Delivering the

b est products,

with the best service,

at the best price

C

f

q y

madefortrade.co

sales@madefortrade.co

01642 610799

ARTICULATED

FU ULL BEARING

ROLLERS

A SMOOTH

GLIDE

EVERY TIME
---
Contents

3 KEY FEATURES

48

12 TOTAL TALK

Mark and Fiona Thornton of Old Plean Roofing

answer our questions and give their

perspective on sector challenges and

opportunities, plus explain why roofers should

be better regulated...

16 THE NATURAL CHOICE

SIG UK's Ged Ferris looks at the benefits of

natural slate when it comes to roofing, and

explains why he feels this ancient building

material has such a bright future

48 IT'S GOOD TO TALK

Jonathan Ducker of Kingspan Insulation explains

how the manufacturer's new Toolbox Talks

service can help operatives meet the new Part L

requirements for projects

16

FURTHER READING

20 DON'T COMPROMISE

Rob Cookson of Marley explains why the cheaper option

is never the better option when it comes to battens

26

22 ROOF STRUCTURES

Charlie Cannon of Beesley & Fildes advises on selecting

the most appropriate timbers for roofing projects

24 BACK TO BASICS

Paul Lambert looks at the ventilation requirements for

cold and warm pitched roofs

26 SAFETY AT HEIGHT

Gurjeev Bola of Werner answers the key questions for

contractors when it comes to working at height

38 ASK THE A. PROCTOR GROUP

Do you need MVHR to achieve good airtightness in

buildings? the experts at A. Proctor Group discuss...

60 POWERED UP

Makita UK's Kevin Brannigan looks at the tools that can

help roofers increase efficiency and work more safely

4 TC JUNE 2022
---
REGULARS

14 NFRC ROOFING FOCUS

James Talman looks back on the first half of 2022

and explains how NFRC is working to help ease

the pressure on roofers

18 PERFECTLY PITCHED

In his latest column, pitched roofing consultant

John Mercer looks at the key considerations for

roofers when constructing low pitch roofs

44 KNAUF INSULATION

TECH TALK

Bradley Hirst provides his top tips for insulating

suspended timber floors

49 QI BY QI

The experts at QI look at the factors currently

influencing market pricing

INDUSTRY NEWS

06 Q1 2022 SURVEY RESULTS

NFRC's latest sector survey shows contractors have had

to raise their tender prices, but workloads are strong

08 THE EXTENT OF TOOL THEFT

A tool has been stolen every 17 minutes since March 2021

according to Direct Line business insurance

SECTIONS:

TOTAL

ROOFING

16

TOTAL

CLADDING

36

TOTAL

INSULATION

44

Pictured: Gavin Crane has been

appointed the first CEO of Band

of Builders, the fast-growing

construction sector charity

VEHICLES, TOOLS

& WORKWEAR

10

60

JUNE 2022 TC 5
---
Industry News

More news, updates and interviews at www.total-contractor.co.uk

IOR STUDENT OF THE

YEAR ANNOUNCED

The Institute of Roofing

(IoR) has named Ruth

Evans as its Student

of the Year.

Ruth (pictured left with

Kay Rose, right, CEO of the

IoR) is an Internal Sales Manager for Polyroof

and was presented with the award for achieving

a distinction in the IoR's Associate Course.

Accredited by the Awarding Body of the Built

Environment (ABBE), the IoR says its Associate

Course is designed to help people progress in

the roofing industry, especially those aiming to

step up into supervisory or managerial roles.

Participants gain knowledge on a range of

areas, including project management, law,

surveying and estimating, tendering and

procurement, roof safety, and sustainability.

Speaking about her achievement, Ruth said:

"I am very surprised and happy to receive this

award as there were many other welldeserving

candidates. When I joined Polyroof

seven years ago, I had no roofing experience. I

had been working in a technical role in the

chemicals sector for 12 years and decided to

have a complete career change after time

away with a young family. Although I had

transferable skills and qualifications, these

were not directly associated with the roofing

industry. Taking part in the Associate Course

has enabled me to gain a recognised

qualification in roofing, helping me to further

develop my career and providing existing and

potential clients with confidence in my

expertise. I have gained a lot of valuable

knowledge, including a much broader

overview of the roofing industry and an

appreciation of applications that I am not

directly involved in day to day."

For further info on the Associate Course,

email: admin@instituteofroofing.org

RISING COSTS PROMPT TENDER PRICE INCREASES

The latest State of the Roofing Industry survey

from NFRC (National Federation of Roofing

Contractors) and Glenigan has revealed that a

balance of 73 per cent of roofing and cladding

contractors raised their tender prices in Q1 of

2022. This is said to be an increase on a

balance of 61 per cent in Q4 of 2021.

Consequently, NFRC says clients seeking to have

roof work done will be faced with higher prices,

as contractors compensate for their costs rising.

The survey of NFRC members also revealed that a

balance of 90 per cent of respondents said that

material prices had risen compared to Q4 of 2021.

This is alongside a balance of 61 per cent of firms

reporting that labour costs had increased.

NFRC has also stated that responses related to

the impact of the Russian invasion of Ukraine

also indicated that energy costs are placing a

burden on contractors, with 18 per cent noting an

impact, whilst increased fuel prices were also

noted.

Despite these challenges, the survey shows

roofers and cladders remained in demand. The

survey points to increased enquiries for

contractors across the UK, and shows workloads

grew for the sixth consecutive quarter since the

survey began, in late 2020. NFRC says this

continued, steady pipeline of work meant that on

balance contractors felt optimistic about the next

twelve months.

However, the survey also indicated that shortages

of both materials and labour are still affecting

many contractors, with NFRC saying this is

possibly exacerbating price inflation as demand

outstrips supply.

The survey shows material shortages eased

slightly from Q4 of 2021 but remained a

significant challenge, as 29 per cent had difficulty

in securing concrete roof tiles, and 26 per cent

experienced the same with clay roof tiles. In a

period of fresh government incentivisation of

energy efficiency measures, the survey shows

The Q1 2022 survey shows that whilst challenges remain

around pricing and lead times on materials, contractors are

optimistic regarding workloads for the next 12 months.

that one in five (20 per cent) reported that

insulation was difficult to obtain – indicating no

improvement on Q4.

As skills shortages remain rife across the

industry, with the Q1 survey seeing a balance of

59 per cent of contractors reporting a worsened

landscape when they sought suitable labour, the

survey shows over a third (36 per cent) reported

difficulty recruiting slaters and tilers, whilst

22 per cent struggled to bring on built-up felt

roofers, and 15 per cent said the same regarding

cladders.

James Talman, NFRC CEO, said: "With cost

pressures weighing heavily on contractors, it is

unsurprising that so many must raise their prices.

Clients will need to be aware that work on their

roofs will cost more. It is essential that there is

close collaboration between suppliers,

contractors and clients to ensure the burden of

this inflation is fairly shared."

He added: "Despite these challenges, demand for

work has remained strong, meaning contractors

are right to remain hopeful in 2022, and

accordingly gain confidence to invest in skills."

Allan Wilén, Economics Director at Glenigan,

commented on the results of the survey: "Roofing

contractors' workload grew firmly during the first

quarter. New enquiries also improved, and firms

expect a further strengthening in workload over

the next 12 months. The rise in workload and

expectations is despite disruption and cost

pressures from labour and material shortages."

www.nfrc.co.uk

6 TC JUNE 2022
---
TAKE YOUR

ROOFING BUSINESS

TO THE NEXT LEVEL WITH NFRC

Technical advice, the industry quality stamp and fantastic

profile-raising opportunities—for all roofing disciplines

NFRC sets the highest

standards for work across

all roofing and cladding

disciplines. But we're much

more than the industry's quality

assurance stamp. Membership

of the trade association offers

contractors and suppliers a

range of powerful technical

and commercial advantages.

These include a profile on our website

and directory listing, making your

business easier for clients to find. Plus

exclusive access to technical support and

updates, an exclusive health and safety

app, and advice on training provision.

For suppliers, key benefits include

numerous opportunities to engage with

roofing contractors all over the country.

And as the voice of the roofing sector,

NFRC makes our members' views

heard where it matters most. We work

with government, standards bodies

and training providers to promote the

interests of the industry, and of the

construction market as a whole.

3 | Working Towards Zero Avoidable Waste in the Roofing Sector

NFRC trade

membership benefits

WHAT BEING AN NFRC MEMBER MEANS FOR YOU

3 | Working Towards Zero Avoidable Waste in the Roofing Sector

NFRC supplier

membership benefits

EXCLUSIVE ACCESS TO OUR ROOFING

CONTRACTOR MEMBERS

Call 020 7638 7663 or visit

nfrc.co.uk/TCbenefits to request our

benefits brochure—and find out more

about what NFRC membership can do

for your business.

NFRC GROUP ALSO INCLUDES

Competent Person Scheme:

self-certify roof refurbishment

to Building Regs

Roofing operatives

competency accreditation

Promoting roofing as a

skilled profession and

offering career advice

UK's premier event for the

roofing industry

Recognising best roofing

training standards

Supporting hardship, training/

upskilling, volunteering

and environment

Contractors with knowledge,

skills and experience of

heritage roofing systems
---
Industry News

More news, updates and interviews at www.total-contractor.co.uk

TOOLS STOLEN EVERY

17 MINUTES The A. Proctor Group, synonymous with

FURTHER LEARNING WITH PROCTOR GROUP

A tool has been stolen from a

tradesperson every 17 minutes in

England, Wales and Northern Ireland

since March 2021, according to new

analysis of police force data from Direct

Line business insurance.

In total, the analysis shows 31,161 tools

were stolen, the majority of which (17,370)

were taken by thieves breaking into vehicles.

technically advanced thermal, acoustic and

membrane solutions for the construction

industry, has introduced a RIBA-Approved

CPD seminar titled "Building Refurbishment,

Systems for Retrofit & Conservation."

Aimed at architects, specifiers and contractors,

attendees will receive technical advice from A.

Proctor Group technical experts, providing the

latest guidance on British and European

Standards, compliance with Building

Direct Line business insurance points out this

Regulations, and learning on how to maximise • Introduction to PAS 2035 design framework

growing problem is unsurprisingly hitting

performance and avoid potential failures.

tradespeople hard financially, as with the

• Reducing condensation risks in pitched roof

average value of a stolen tool costing £3,852,

there has been £80 million worth of

equipment taken over the last year,

compounding the issues for tradespeople

trying to bounce back from the pandemic.

Building Refurbishment, Systems for Retrofit &

Conservation Iain Fairnington, Technical

Director, commented: "This session provides an

overview of the factors to consider in

refurbishment and conservation projects,

refurbishment.

The CPD serves the following RIBA Core

Curriculum areas:

• Design, construction, and technology

including the basics of building physics as

Alison Traboulsi, Product Manager at Direct

• Legal, regulatory, and statutory compliance

related to hygrothermal design. It also provides

Line business insurance, commented: "At a

an overview of the standards, regulations and • Knowledge level: General Awareness.

time when people are facing serious cost of

frameworks involved in designing for retrofit

living challenges, heartless criminals are

Iain Fairnington concluded: "Our CPDs have

and conservation."

taking away the livelihoods of hardworking

proved invaluable to professionals involved in

tradespeople. It is not just the value of the

tools stolen, theft can cause big delays on site,

By the end of the session, Iain says attendees

will have gained a greater understanding of:

the design and construction of buildings.

Through the CPD series, we aim to provide

causing huge additional costs and causing

technically accurate learning based on best

• The retrofit and conservation considerations

serious scheduling headaches. We urge those

practices, innovation, and project examples to

considering purchasing second-hand tools to

question the provenance to limit opportunities

• Knowledge of hygrothermal material

properties and good design practice

help individuals make informed choices when

specifying product solutions for their projects."

for criminals to dispose of stolen goods."

• Introduction to hygrothermal assessment Book a CPD at www.ribacpd.com

www.directlineforbusiness.co.uk/smallbusiness-insurance/tradesman

standards

www.proctorgroup.com

MCRMA EXPANDS CPD OFFERING WITH CAVITY BARRIER FOCUS

The Metal Cladding & Roofing Manufacturers

Association (MCRMA) has added a new CPD

module to its online CPD programme.

stop and a cavity barrier; the regulations that

apply to the different countries of the UK and the

types of cavity barriers used in ventilated

anticipated 60-120 minutes of professional

development, and following successful completion

of the CPD, a certificate is available for immediate

rainscreen facades.

download. All modules have been accredited by the

The CPD module, 'Cavity barriers for ventilated

CPD Certification Service. The CPDs are available to

rainscreen façades', sets out to consider the key There are now 16 approved CPDs available on the

anyone seeking to develop their knowledge and

questions about cavity barriers and offers MCRMA website. The course material is studied

skills within the metal building envelope sector.

guidance for their correct specification, including offline with an online assessment component to

an understanding of the difference between a fire verify knowledge. The modules represent an Find out more: www.mcrma.co.uk/online-cpds/

8 TC JUNE 2022
---
oof

lantern

10%

NEW TRADE

CUSTOMER

DISCOUNT

QUOTE CODE:

TCK01

glazed in

seconds

faster

to fit

Supply & install the multi-award-winning aluminium Korniche Roof Lantern.

Fitted in minutes, glazed in seconds. The strongest lantern in class, available

up to 3x2.5m in four glass panels and a maximum size of 6x4m

Delivering the best products, with the best

service, at the best price

Contact Made for Trade for a Kwikquote today

madefortrade.co | sales@madefortrade.co | 01642 610799

*Discount applies to all trade customers and applied to the first, single item purchase only of the Korniche Roof Lantern
---
Industry News

More news, updates and interviews at www.total-contractor.co.uk

VISIBLE BENEFITS

WITH SNICKERS!

Whether its dusk,

dawn or dark,

Snickers

Workwear has a

superior range of

Hi-Vis protective

wear for both

men and women

to ensure comfort, safety and certified

protection.

The latest additions to the Hi-Vis range are

the new Stretch Work Trousers made from

the innovative Sorona sustainable

performance fibre.

Sorona delivers both environmental benefits

and great performance. This recyclable, biobased

fibre offers exceptional softness for

maximum comfort, as well as excellent

durability to help extend the lifetime of a

garment.

The new Hi-Vis Work Trousers with Sorona

also offer long-lasting elasticity for ease of

movement. Snickers Workwear says Sorona

is also quick-drying, breathable and soft to

the touch for optimal comfort and workday

performance.

With advanced designs, high-tech fabrics

and performance reflection features, all

Snickers Workwear Hi-Vis protective wear

has durable colour-fast protection that it

says will last through wash after wash,

retaining shape, comfort and protection

levels throughout the life of the garments.

Added to which, Snickers Workwear High-

Vis garments can be custom-profiled to

ensure 'stand out' coverage for your

corporate brand.

www.snickersworkwear.co.uk

More on workwear and tools from page 60

Band of Builders has appointed its first Chief Executive Officer (CEO)

as part of ambitious plans to significantly increase the registered

charity's ability to help members of the UK construction industry

who are battling illness or injury.

The charity says it has appointed Gavin Crane, its former Chair of

the Board of Trustees, into the newly created role as it looks to build

on its solid foundations to expand its scope, reach and influence

within the construction industry.

Mr Crane explained that his first challenge is to map out the strategy and direction of the charity

for the next 5–10 years as it looks to build on its three cornerstones of providing practical support

by completing projects, offering financial help to tradespeople facing hardship, and making

wellbeing services readily accessible to anyone in the construction industry who is in crisis.

"In its simplest form, the new CEO role will mean ensuring that more people support Band of

Builders, so we can help more people," said Mr Crane.

"It's a very exciting time to be part of Band of Builders because the charity is gaining huge

momentum, which is all down to the commitment of so many of our base of volunteers, who give

their time generously to support the charity and its activities. It's also down to the benefactors

and sponsors who have given us significant financial support – in many cases making us their

official charity partner. The board of trustees has ambitious plans for the growth of the charity,

and the creation of this role is a huge statement of intent. I'm looking forward to being at the

heart of taking Band of Builders to the next level."

As well as being tasked with building more strategic partnerships and developing more

fundraising opportunities, Mr Crane also has a wider-reaching ambition to be a positive voice

on issues affecting the construction industry, such as apprenticeships, the skills gap, inclusion

and gender discrimination.

www.bandofbuilders.org

MGMA CONTINES TO GROW

The Metal Gutter Manufacturers Association

(MGMA) has welcomed two new member

companies to the Association: Weatherfast

Limited and JPM Pressbrake Sections

Limited.

Weatherfast Limited, based in Great Barr,

Birmingham, produce the WeatherFOLD gutter

liner system which has been developed to fold

with ease into any existing gutter, and once

welded the system becomes seamless allowing

water to flow freely towards outlets, whilst the

steel base enables the liner to be easily

maintained by simply brushing out.

JPM Pressbrake Sections Limited, based in

Dudley, is one of the largest fabricators of single

skin and insulated composite gutters. The

company also produces fascia gutters and all

ancillary items such as stop ends, outlets,

corners, weirs and rainwater pipes.

The MGMA currently has 16 members and says

membership is open to all companies who

manufacture and market metal rainwater

systems, and to those companies who provide a

range of professional support services to the

metal rainwater systems industry.

www.mgma.co.uk

Above: Gavin Crane has been

appointed the first CEO of Band

of Builders.

10 TC JUNE 2022
---
i-folding

door

15%

GLAZED IN

SECONDS

INTRODUCTORY

DISCOUNT *

DISCOUNT CODE

TCK02

FIT FASTER

CLIP BEAD

Patented clip bead delivering the fastest glazing time.

Trickle vents positioned in frame - no need for extenders! Full bearings and

stainless steel hardware for the smoothest glide every time. All with a 10 year

manufacturer's warranty.

Delivering the best products, with the best

service, at the best price

Contact Made for Trade for a Kwikquote today

madefortrade.co | sales@madefortrade.co | 01642 610799

*

Discount applies to all trade customers and applied to the first, single item purchase only of the Korniche Bifolding Door | *Korniche Bi-folding

door price is based on 5-5-0 configuration 3750 x 2000 , stock colour, delivered. Unglazed. Price is correct at point of publishing. Delivery

restrictions apply. Product specification and prices may be subject to change without prior notice.
---
Total Talk: Old Plean Roofing

"ROOFERS SHOULD BE BETTER

REGULATED & HELD ACCOUNTABLE"

We put the questions to Mark and Fiona Thornton who run Old Plean Roofing, a family

firm based in Stirling, discussing current market trends, challenges and opportunities,

the perennial problem of recruiting skilled workers, why roofers should be better

regulated and held accountable for their actions, and so much more…

Can you tell us a bit about Old

Plean Roofing and the types of

projects you get involved with…

Old Plean Roofing is a family firm –

we're based in Stirling and are proud to

be members of NFRC, the Guild of

Master Craftsmen and the trading

standards Buy with Confidence scheme.

Currently we employ a team of five

office-based staff and eight on-site

operatives. We specialise in flat and

pitched roofing and take on a whole

range of projects including roof rebuilds

and repairs and maintenance contracts.

What was your path into construction and

to your current position?

Mark – I began treading my path in 1986 starting

as a labourer in a large roofing firm and

progressing slowly through the ranks to

Construction Manager. In the mid-2000s, I

decided to follow a different path and worked for

a couple of well-known construction companies

in technical roles, however, I kept returning to

roofing. Starting Old Plean Roofing was therefore

a natural progression. I am passionate about

raising standards in roofing and seeing roofers

trained and upskilled.

Fiona – My background is in counselling which

is a bit different to roofing! I now manage all the

office based activities; a normal day can include

sorting out PPE, chatting to clients or filling out

tender documents. Every day is different and

though it can be a bit stressful, work is never

dull.

Mark Thornton (front row, right) with the Old Plean Roofing team.

"How do we move

forward? Incentivise

and train"

You must have worked on some difficult

projects over the years; does one in

particular stand out?

Plenty of projects spring to mind – particularly

those which throw you a curve ball! However, one

that is high up on the list is a local project where

we were replacing the flat roof only to discover

that it was not only the roof which needed to be

replaced but so did most of the timbers. For years

the void had not been insulated resulting in

condensation build-up. We tackled this one

professionally though, as always, and ensured

the building remained fully water-tight at all

times.

What about difficult customers – do you

get many of these and how do you deal

with them?

We work very closely with all our clients

and usually get the job over the line

without much difficulty. However, as we

all know, issues out of our control will

arise whether it be disruption due to

weather or difficulty in getting materials

to site. Communication is therefore key

to the relationship and we strive to keep

our clients informed throughout the quote

and project process.

Tell us about a current project

you're working on…

At the moment we have several projects

on the go across the Central Scotland area. In

particular we have recently just started a large

re-roof outside Falkirk for a domestic customer

which includes replacing the fascia, soffit and

gutters around the property. We are also carrying

out repairs and maintenance at a large

commercial property in Stirling.

You seem like a company who won't cut

corners and feel strongly about how the

sector is perceived by homeowners and

customers. Unfortunately we still hear a

lot about rogue roofers – do you feel more

can be done to target individuals and

companies who rip customers off? and if

so, should it be coming from the industry

or Government?

We have always felt that roofers should be better

regulated so they can be held accountable for

their actions, and we have had to follow up on so

many jobs where rogue roofers have left carnage

in their wake. Government needs to do more to

combat this.

12 TC JUNE 2022
---
With this in mind, the NFRC has launched

the RoofCERT accreditation scheme which

longer-term will hopefully promote

roofers who have best practice and the

customers' interests at heart – are you

aware of the RoofCERT scheme and is it

something you will adopt for your

business and team?

Mark – I am a huge advocate of RoofCERT and

was involved early on during my time as Roof

Training Manager for the Single Ply Roofing

Association. It is a fantastic scheme which needs

to be utilised more – particularly here in

Scotland.

Moving on from this – the skills issue and

attracting new entrants to the sector is a

perennial problem which appears to be getting

worse rather than better. How are you finding

things with regards to recruiting workers, and

what more do you think needs to be done to

attract new entrants to roofing and the wider

construction industry?

It is extremely difficult to attract and recruit

suitable workers. The industry as a whole is

experiencing this. How do we move forward?

Incentivise and train. Pump more money into roof

training groups to allow them to offer more

substantial training at a cost that is more

affordable. We should also enforce small

businesses and one-man bands to train and

achieve qualifications in their roofing discipline.

Issues around supply of materials such as

roof tiles and timber are well

documented, often leading to longer lead

times and some price rises – has this

been your experience and if so, how have

you adapted to ensure projects run

smoothly?

The issue of long lead times has hit the

construction industry hard. Projects are being

pushed back or even put on the back burner. I'm

quite hopeful this will change in time, however,

it'll likely be 18 months before any change will be

recognised.

"I am a huge advocate of RoofCERT – It is a

fantastic scheme which needs to be utilised

more – particularly here in Scotland"

What have you learned about your

business from working throughout the

pandemic – has it impacted the way

you'll approach work, the supply chain

and the types of projects you might get

involved with going forward?

Everyone needs a roofer, pandemic or not. We

approach each and every client with empathy and

work hard to ensure we deliver on our promise,

whatever that may be.

Online reviews appear to play a much

bigger part in a homeowner / customer's

decision making process these days; what

is your opinion of online reviews – are

they a blessing or a curse for roofers?

They certainly have a place but we find that word

of mouth referrals are still the main source of the

majority of our enquiries.

"Price is a big driver in

today's market,

especially now as the

cost of living is rising"

Is price the main driver for projects in

today's market?

Price is a big driver in today's market, especially

now as the cost of living is rising. However, we

have found that an honest and systematic

approach to each of our clients means that cost

usually takes a back seat.

What's the most satisfying thing about

your job?

The lovely people we get to meet on a daily

basis. Each one has a different story to tell and

we are proud to add our little chunk of life to

theirs.

And the most frustrating?

Having to let people down because of situations

out of our control – the biggest one being the

weather!

What's your most important tool, either in

the office or on site?

Our operatives on site. They are continually

complimented for their knowledge, expertise and

for being extremely polite and quiet!

Following what has been a challenging

period for roofing and the wider

construction industry, are there reasons

to be optimistic going forward?

Yes, definitely. People continue to need roofers

and contractors and we're getting lots of

enquiries and are extremely busy. We know we

will face future challenges – particularly in the

labour market and that's something we aim to

combat by investing in training our staff.

It's also likely we will hit a recession in the

coming months which could be a cause for

concern but generally we are optimistic about the

future.

What can we expect from Old Plean

Roofing in the coming years?

We will continue to offer the same reliable and

transparent service as we have always done as

we strive to become the roofing builder and

maintenance contractor of choice in Central

Scotland. We also plan to expand our

maintenance and repairs division and offer new

services.

Contact Old Plean Roofing:

01786 811 033

www.oldpleanroofing.co.uk

@oldpleanroofing

JUNE 2022 TC 13
---
NFRC Roofing Talk

CHALLENGES PERSIST BUT NFRC IS

WORKING TO EASE THE PRESSURE

James Talman, NFRC's CEO, takes a look back at the first half of 2022, which has

presented a number of obstacles for roofers and the wider industry to contend with,

and outlines some of the work NFRC has been been putting in to support the sector...

As we pass the halfway point of 2022, it's

useful to reflect on the progress we've made

in the year so far. In the first six months of

the year – which many hoped would bring relief

from the continued consequences of the Covid-19

pandemic – contractors have faced a number of

challenges to contend with, including rapid cost

inflation, ongoing poor material availability and

labour shortages, new regulation and an end to

the red diesel rebate, to name just a few. NFRC is

intent on supporting members and the wider

industry to weather the storm, and below I have

outlined a small selection of the work we have

kickstarted in the first half of 2022, responding to

both longstanding and emerging challenges.

Meeting the skills challenge

It will not be news to anyone that roofing,

cladding and the wider construction industry face

a skills challenge. As an industry we struggle to

find the people with the right skills to do the job,

and NFRC's quarterly State of the Roofing Industry

survey, which we have compiled since late 2020,

has consistently confirmed this, with firms

struggling to recruit in roles from slaters and

tilers, to built-up felt roofers to estimators. CITB

estimated in 2021 that the industry needed

217,000 new workers over the following five years

to plug the gap. As demand persists, we run the

risk of cowboys taking on work that should be

done by someone with the appropriate skills.

2022 began with a key move from NFRC on this

front, with the launch of the NFRC Careers

Service, a resource available to anyone online at

nfrc.co.uk/careers, targeted at those seeking to

enter the industry and employers looking to

attract, recruit and retain new talent.

NFRC members also have access to our

Head of Careers – Ruth Scarrott, who

can aid firms in improving their offer

to candidates, help demystify the

processes of recruiting new people,

and support the development of training

and upskilling provision.

In recent weeks, the NFRC Charitable Trust has

also made available a dedicated Inclusion Fund,

with funding available for member companies to

provide insight and improve diversity in the

sector through insight days, site visits and online

activities. This is to engage people from diverse

backgrounds in learning about careers and

opportunities in roofing, raising the profile of the

industry as a career choice. NFRC members can

express their interest via the NFRC website. This

initiative will contribute further to our efforts to

make the industry more accessible, so that we

can attract as much talent as possible.

Helping the industry find its feet on

sustainability

The end of 2021 saw the release of Future (P)roof,

a report commissioned by the NFRC Charitable

Trust and conducted by the University of

Southampton, to explore the role of our rooftops in

fighting the effects of climate change and helping

to ensure our buildings can stand up to warmer,

wetter weather. We have followed this up in 2022

with a number of new and continued initiatives.

One new initiative is the NFRC Sustainability

Group, made up of knowledgeable and

enthusiastic individuals from both NFRC trade

and supplier member organisations, aiming to

tackle key challenges that businesses face in

James Talman, CEO of NFRC.

terms of sustainability and their

environmental impact, currently

emphasising the issue of waste.

NFRC has also recently gained

representation on the City of London's

Skills for a Sustainable Skyline Taskforce, and will

be contributing to work on meeting the need for

green skills in the capital.

Facing mounting pressures is easier when

there's help on hand

Numerous challenges from inflation, to heavy

workloads and not enough workers, to a wave of

new regulations, can take their toll on firms, and

many individuals have felt considerably under

pressure, whether that's physically, mentally or

financially.

NFRC saw the need to help, and in March

launched a partnership with ARAG, offering

members a free legal, tax and HR helpline. From

contract disputes to corporation tax, they are on

hand to assist. There is also a counselling

helpline for member companies and their

employees – an important part of the service, as

Mates in Mind reported in February this year that

a third of construction workers say they

experience an elevated level of anxiety every day.

As an industry we find ourselves still facing a host

of challenges, but NFRC is doing everything it can

to make sure that businesses and individuals in

roofing are well equipped to face them.

Contact NFRC

www.nfrc.co.uk

@TheNFRC

14 TC JUNE 2022
---
Handrails:- EasyGuard

free-standing Guardrails

*CurveyGuard – an aesthetically pleasing curved rail.

*EasyGuard – raked or straight legs dependant on

application. *FoldGuard – folding handrail.

Trip hazard reduction – long thin base-plates with

Counterweights used on un-secured ends only. Placed at 2m

centres maximum to enable use for leading edge protection.

Galvanised or powder coated finish. Protective mats 5mm

bonded to the base plates.

Standards – Exceeds Class A EN13374- Class A; For

leading edge protection HSE/SR 15, September 1988.

Nationwide delivery or contract installation. – Free material

quantifying service – info@safetyworksandsolutions.co.uk

Ladders:- Easy Fit

Compliant to both BS/EN 5395 and 14122 –

To comply with the standards for

permanent ladders all mild steel then hot

dipped galvanised to BS/EN 1461.

All typical ladders bespoke – email

info@safetyworksandsolutions.co.uk for a

survey check sheet.

Easy Fit, all ladder components are Easy

to assembly; in manageable parts Easy to

handle and install.

Rest Platforms and ladders with special

fixing requirements; solutions provided by

Safetyworks in house.

(All components for British Standard

compliant ladders require steel components

with timber and aluminium recommended

for temporary use only)

HANDRAILS

-

LIFELINES

-

WALKWAYS

-

FALL GUARDS

-

FLEXIDECK

-

DEMARKATION

-

LADDERS

-

STEELWORK

-

Tel: 01487 841400

www.safetyworksandsolutions.co.uk
---
Natural Slate

ANCIENT SLATE: A MATERIAL

FOR THE FUTURE

Ged Ferris, Category Manager at SIG UK, sees a buoyant future for that most ancient

building material – natural slate.

Natural slate is a metamorphic rock formed

from layers of clays or volcanic ash,

transformed over millenia by heat and

pressure. It's first confirmed use as a roofing

material dates back to the Roman era. Now this

most ancient material is set for a major revival as

it is a perfect fit for an industry that is rapidly

adopting more sustainable building practices.

In just about every sector from food to fashion we

are waking up to an understanding that

the most sustainable products are

likely to be those that take the

least processing. In the

building sector, the

immediate challenge is to

move the whole construction

process towards net zero –

reducing the embodied carbon of

building materials as much as possible.

Slate takes very little energy to produce. It's a

mined product and the majority of its carbon

footprint comes from its transport, rather than its

production. The Inventory of Carbon and Energy,

an independent database at the University of

Bath, has compared natural slate with other tiling

options and concluded that while there is a large

variation in the embodied carbon of natural

roofing slates, it will be approximately 16% that

of other roofing materials.

Many of the major housebuilders have stated

their intention to be zero carbon by 2050 and are

already putting pressure on their supply chains to

make a positive contribution. While energy

intensive product manufacturers work on

reducing the impact of their processes, slate

already ticks this particular box.

Equally significant is a growing focus on the

Above: Summer Lake Development, The Cotswolds – credit Fosse Specialist Roofing.

Left: Windsor Court Care Home in Malvern – credit Lawrence Baker. Both images feature SIGA Slate.

principle of circularity in

construction. Advocates point

out that natural resources are

finite and that single-use materials

are simply not sustainable. In the most

extreme model, buildings are viewed as active

warehouses for products. When the building has

had its time, the products are dismantled and

used to create the next structure.

It's a vision for the future and we are a way off

yet, but natural slate turns out to be ahead of its

time. The material itself has excellent resistance

to weather, with the best quality slates lasting

hundreds of years. When a slate roof needs

replacing it is often the fixings or felt that are

causing the problem. Slates can easily be

reclaimed and used again. There is already a

market for reclaimed slates and some

commentators estimate that as much as 5% of

roofing slate in use today may have come from

another roof.

And finally, there is the combination with solar

technology. As we move towards the extreme

"When a slate roof

needs replacing it is

often the fixings or felt

that are causing the

problem"

energy efficiency requirements of the Future

Homes Standard, new homes will effectively need

to include renewable technology to meet the

emissions performance targets. Solar PV panels

will undoubtedly be a big part of the mix and

integrating the panels into a roof finished with

dark grey tiles provides a consistent appearance.

For all these reasons, we are expecting to see

sales of natural slate performing strongly. SIG

Roofing has a number of options with our various

ranges of natural slate coming from quarries in

the UK, Spain, Canada and Brazil.

Contact SIG Roofing

www.sigroofing.co.uk

@SIGRoofing

16 TC JUNE 2022
---
UK DISTRIBUTOR OF

Superior, long-lasting waterproofing membranes

FOR THE BEST IN SINGLE PLY MEMBRANES

- WE'VE LITERALLY GOT IT COVERED.

Discover more at www.alwitra.co.uk

01202 785200 sales@alwitra.co.uk www.alwitra.co.uk

UK Head Office Unit 9-11 Fleets Industrial Estate, Willis Way, Poole, Dorset BH15 3SU
---
Perfectly Pitched

LOW PITCH ROOFS

Pitched Roofing Consultant John Mercer discusses the

key considerations when constructing low pitch roofs.

Of the many enquiries I receive, one of the

most popular topics relates to low pitch

roof construction. Experience has taught

us that the ideal range of roof pitches for roof tiles

and slates is anywhere between 30 to 50º. During

rainfall or wind-driven rain spells, water is shed

from one double lapped tile or slate course to the

next one below, the tiles and slates having sufficient

lap and pitch to prevent any sideways or upwards

'creep' of the water through capillary action from

penetrating the roof covering. Single lapped tiles

perform the same function by virtue of their lap

over the course below and side laps which can be

either simple overlaps or more sophisticated

interlocks with water bars and troughs.

Although the trend in recent years is to build

homes with steeper pitch roofs to provide living

spaces within the roof, there are many tiles and

slated roofs constructed at low pitches to reduce

construction costs, for example, or reduce a

building's impact on the horizon, or very

commonly, to enable the building of a home

extension to fit below the upstairs windows.

Roof tile manufacturers have developed and

continue to develop roof tiles and associated

systems that are suitable for use at low pitches.

However, under certain weather conditions, water

may be driven through the slating or tiling and must

be captured by the underlay system and drained

away to the gutter. Certainly, at low roof pitches,

the risk of water ingress increases through or

around the tiling, simply because everything is

working closer to its limits. For example, though

the individual components have been

thoroughly tested and perform fine at the

stated minimum roof pitch, constructing

the roof with the same accuracy as

that used under test conditions can

be difficult. It only takes a small

gap or two in the tiling where it

passes over a flashing and the risk of water

ingress is increased.

BS 5534 states that the underlay layer should

provide a continuous under-roof barrier to water,

snow, and dust, and should be capable of

draining any moisture that might be deposited

onto the surface of the underlay to the roof

drainage system. Although BS 5534 does not

provide specific design details on how to

construct a waterproof underlay system, it does

recommend that consideration be given to sealing

any penetrations through the underlay, such as

nail holes, with suitable tapes or sealants.

The design recommendations provided in

BS 5534 are an acknowledgement that there will

be occasions when rainwater finds its way

through the tiling and onto the underlay, so the

roof should be regarded as a system, rather than

simply a collection of individual components.

It is important to follow the installation

recommendations given in BS 5534 and BS 8000-6

for the underlay. Underlay laid unsupported, directly

over the rafters or counterbattens, must be laid with

a sufficient drape to enable water to run freely into

the underlay troughs and under the tile battens

towards the gutters. If the underlay is laid too tight,

without a drape, water on the underlay will be

trapped behind the tile battens and will eventually

find its way through the batten nail holes in the

underlay and leak into the roof structure.

On low pitched roofs, rainwater is more likely to

be driven through the tiling during heavy winddriven

rain events, though roof design

battens

Counterbattens

should consider other factors

too. For example,

manufacturers usually

set a maximum rafter

length for their tiles when

used at the minimum

recommended roof pitch. It is

Nail tape

Tile

Summary

• Observe the tile manufacturer's

recommendations on minimum roof pitch

and maximum rafter length.

• Avoid draining water from higher roof

slopes onto a low-pitched extension roof.

• Ensure the underlay is detailed correctly at

junctions such as abutments and properly

sealed around penetrations such as pipes and

roof windows. Use adhesive tapes where

necessary.

• Consider the use of counterbattens with nail

tape between the counterbattens and underlay

to seal the nail holes through the underlay.

important to observe any such restrictions by, for

example, raising the roof pitch if possible, or

dividing the roof into shorter sections with a

gutter part way down the slope. On single storey

extensions, care should be taken to avoid

draining a higher roof onto the low pitch extension

roof via a valley or through a gutter downpipe.

Even dormer windows can pose a risk if the

rainwater from the dormer roof is drained directly

onto the low pitch roof.

It is equally important to detail all junctions

correctly when installing the underlay, with the

correct turn ups at abutments and suitably

sealed around penetrations such as pipes and

roof windows.

There are no special measures or variations to

sub-roof designs that relate to roof pitch in

BS 5534. However, there are methods that can be

adopted to ensure the underlay is watertight. For

example, consider using counterbattens between

the underlay and tile battens, with a bituminous

nail tape fitted between each counterbatten and

the underlay (see image left). The counterbattens

will ensure that there is a path for water to reach

the gutters without the need for a drape, and the

nail tape will seal the batten and counterbatten

nail holes through the underlay.

Contact John Mercer

www.johnmercerconsultant.co.uk

18 TC JUNE 2022
---
THE TOTAL PACKAGE

Leading building materials manufacturer, well as minimizing condensation risk by

Glidevale Protect, has provided a full range of introducing natural ventilation into each building

roofing, ventilation and construction products to help create healthy homes.

as part of a major new social housing development

Products supplied and installed on this

in Belfast, which is taking a fabric first approach to

development included the Protect VP300 vapour

building healthy, sustainable homes.

permeable pitched roofing underlay which was

One of the largest mixed tenure developments to teamed with Protect Fulmetal RediRoll, a universal

be constructed in Northern Ireland to date, the dry fix ventilated ridge and hip system, alongside

new scheme for a leading social housing provider tile vents for the roof. Glidevale Protect also

includes 244 homes, which are a mix of social supplied Protect TF200 Thermo for the external

and affordable housing, a community facility, a timber frame walls – a low emissivity, insulating

linear park and a children's play park.

reflective membrane and the non-reflective

external breather membrane, Protect TF200, was

Working with main contractor Kevin Watson

used on spandrel panels. These provided weather

Group, established Belfast-based roofing

protection during the construction, as well as

subcontractor Prentice Roofing and offsite

helping to avoid interstitial condensation risk

manufacturers and installers of the timber frame

within the wall construction. Cavity trays,

panels Leadon Timber Frame, Glidevale Protect

airbricks and loft access hatches from Glidevale

delivered a complete solution of products to

Protect completed the project.

improve thermal efficiency and airtightness, as

Belfast project: The Protect VP300 underlay installation.

Cornelius Ward, Director at Kevin Watson Group,

said: "In order to deliver the highest quality

standards to meet the client's expectations, we

like to collaborate with supply chain partners who

can ensure our sub-contractors are provided with

top performing building materials using a fabric

first approach. Glidevale Protect's wide breadth

of solutions used on this development meant full

peace of mind during the construction process,

helping to create energy efficient and healthy

homes."

Contact Glidevale Protect

www.glidevaleprotect.com

Email: info@glidevaleprotect.com

For further r

inform

ation

or a hire quotation call

01858 412 100

Email: sales@cookerhire.com

www.cookerhire.com
---
Battens

DON'T COMPROMISE ON QUALITY

An essential component of a roof, battens are structurally important, so Rob Cookson,

National Business Development Manager at Marley, says it makes sense to use the

best. However, as he points out, current supply issues have meant that inferior – and

crucially less safe – battens could have entered the market, so whilst some roofing

battens may be slightly cheaper, Rob says they could cause problems down the line...

As Rob Cookson, National Business

Development Manager at Marley, points

out: "When it comes to battens, it's

important that roofers understand what they're

buying – not all battens are the same. Cheaper

and often inferior battens may carry

imperfections that can cause breakages and lead

to accidents on site, especially since being weight

bearing, as battens are used as a step ladder

whilst a contractor is working on the roof.

"With site safety being of paramount importance,

and the safety of the team being the ultimate

responsibility of the contractor, choosing to

compromise on the quality of a safety-critical

product on a roof, such as battens, could well be

a costly – and avoidable – mistake.'

Rely on Red

Critically, only battens that have been pre- or

factory graded to BS 5534 can be called or used

as 'roofing battens', such as Marley's JB Red, a

high-quality roofing batten. Marley also says it's

the only UK factory-graded batten available to the

roofing industry with BBA certification.

Marley says it sets the standard for graded

roofing battens, and with its wealth of experience,

expertise and knowledge of the roofing and timber

markets, Marley says it sources the timber for its

JB Red battens from its extensive network of

Scandinavian saw mills.

Rob continued: "Selecting the correct timber to

use for roofing battens is of paramount

importance. We only source slow-grown timber

which ensures strength and durability, whilst our

battens are cut from kiln-dried sideboards to

provide maximum strength and stability, plus they

Above: Marley's Goldeneye scanner. Right: JB Red batten.

are less likely to distort."

Produced at its specialist manufacturing site in

Gainsborough, Marley says JB Red battens are

stringently tested and graded using its state-ofthe-art,

dedicated roof batten scanning line –

Goldeneye.

Scanning each timber batten intricately to the

millimetre, Marley says Goldeneye's computercontrolled,

dedicated laser and camera grading

line produces battens graded to the performance

regulations of BS 5534 both quickly and

accurately. The manufacturer says it is important

to note that currently, many other suppliers within

the UK batten market rely on visual grading only.

In addition, MicroPro, a preservative treatment

that protects against wood rotting, fungi and

insects – and gives a 60-year desired service life

– vacuums a preserving red pigment into the

timber ensuring that the resulting battens are

both completely protected, and also transformed

to give their distinctive and easily identifiable red

colour.

Visibly exceeding standards

Marley points out whilst JB Red completely meets

the NHBC requirements for fully graded roofing

battens, the red colour means that they are highly

visible on site, making it easy for Local Authority

Building Control, NHBC, and other inspectors to

see that high-quality, pre-graded and compliant

battens have been used.

An easy choice

Rob continued: "Our JB Red battens help to make

your life on site both easier and safer. Being pregraded,

no further grading on site is required,

saving you time. Being red in colour, means that

they are easily identifiable, making any

inspector's – as well as your – job easier.

"Finally, the exceptionally high quality of

manufacture at every stage – from integral

strength and consistency of size to thoroughly

protective treatments giving real peace of mind –

makes JB Red battens an easy choice for any

roofing contractor to make."

Contact Marley / JB Red

www.marley.co.uk/roofing-batten/

jb-red-batten

01283 722222

20 TC JUNE 2022
---
Roofing underlays

Ventilation solutions

Expert technical support

Ventilation

Condensation

Control

Choiceiseverything

With one of the most comprehensive

ranges of roof underlays and ventilation

solutions available in the UK and Ireland,

Glidevale Protect offers tried and trusted

performance for any project. When you're

creating better buildings and healthy

homes, choice really is everything.

Glidevale Protect is a specialist UK producer, offering

ventilation solutions, condensation control and energy

efficiency across the built environment.

For technical guidance or to book a presentation,

contact us on +44 (0)161 905 5700, email

info@glidevaleprotect.com or visit

www.glidevaleprotect.com/choice
---
Roof Structure

I-BEAMS VS POSI-JOISTS: SELECTING

THE RIGHT SOLUTION

Charlie Cannon, Design Manager at Beesley & Fildes' engineered timber department,

advises on selecting the most appropriate timbers for roofing projects.

Most roofing contractors who come to

Beesley & Fildes for roofing timbers

already have a clear idea of what they

need, based on their own experience and an

architect's drawing. But, as a service-oriented

builder's merchant, it's not our job to simply give

them what they've asked for; we also provide

advice to help them make informed decisions

that could enable them to reduce costs, simplify

the installation and achieve an improved

outcome for their project.

Making the right choices

To a degree, the choice between i-beams and

posi-joists is often based on personal preference

and experience but, as trends in house design

evolve, it's important to understand the different

advantages and limitations of each type of

timber. Our design software enables us to create

an optimised design that takes into account the

structural loading, required spans and roof design

so that we can present contractors with the most

appropriate and cost effective solution.

In basic terms, i-beams may be less expensive but

the width and/or number of i-beams required to

achieve larger spans can often lead to increased

design and installation complexity, higher

installation costs and extended programme length.

The enhanced load bearing and structural

strength provided by posi-joists makes them the

ideal choice for larger roofs and, in particular, for

roofs that feature larger spans. Increasingly, we

are finding that loft spaces are being used as

open plan accommodation and posi-joists enable

the required spans to be achieved with smaller

timber widths, working within the loading limits of

the structure and avoiding any compromise to

ceiling heights in the loft space or the floor below.

The open structure of posi-joists also

means that wiring can easily be

fed through the joists, aiding

speed of installation as

compared to i-beams, where

holes need to be drilled in the

correct locations. Not only is

creating apertures for building

services a time-consuming addition

to the programme, but it can also affect the

integrity of the i-beam, which is another key

consideration when selecting the best approach

for their project.

Reducing risk

Our design service makes it easy for our

customers to see how the design will be installed.

And, because we supply a complete solution with

all fixings and accessories included in the

drawings and 3D render, (see above) it's easy to

appreciate the installation advantages that could

result in time and labour cost savings.

Importantly, a simplified, easier to install design

with all components provided as a complete

package not only offers cost advantages, it also

de-risks the project. Simplification means fewer

opportunities for error and detailed drawings

provide a fully itemised plan for the installation,

aligned to every item of timber and metalwork

supplied. Moreover, because everything is

supplied by Beesley & Fildes using dimensions

supplied by the contractor, we offer complete

Above left and right: Attic render by Beesley &

Fildes; Left: Charlie Cannon, Design

Manager at Beesley & Fildes.

accountability for both the

design and the delivered roof

components, including any

trusses included in the design

and supplied by us.

One of the challenges we sometimes face

is customers who modify timbers for the roofing

installation to make them fit as the installation

evolves on site, as opposed to faithfully following

the CAD drawings for the design. Our team is

available for troubleshooting advice throughout

the project and we always encourage contractors

to call us before they modify anything, so that we

can help them to install the roof according to the

design. This is what we mean by an end-to-end

service, from design through to finished

installation.

Genuine added value

The term 'added value' is often over-used, but

when it comes to helping contractors decide where

to use i-beams or posi-joists, our knowledge and

design service can help roofing contractors to

manage costs and reduce risks, providing a

tailored approach to meet the challenges and

requirements of each specific project.

Contact Beesley & Fildes

www.beesleyandfildes.co.uk

22 TC JUNE 2022
---
Technical support

Roofing experts on-hand to offer help and advice

Assured standards

Meets all British Standards and regulations

High-quality components

Tested for maximum performance, meaning no call backs

Estimates & fixing specs on demand

We'll help you create them on site and on the go

Comprehensive roof solution

Easy installation with tried and tested compatible components

Need a complete

roof system?

We've got you covered.

With all elements brought together from a single

source, you can be confident that everything

will work together perfectly – and that high

performance is all backed up with a 15-year

system guarantee. Find your peace of mind.

marley.co.uk/roofsystem
---
Back to Basics

VENTILATION REQUIREMENTS FOR

COLD & WARM PITCHED ROOFS

In the latest Back to Basics column from Hambleside Danelaw, Paul Lambert discusses

the ventilation requirements for cold and warm pitched roofs.

Stopping condensation and moisture from

developing in pitched roofing is imperative

when seeking to prevent mould and damp.

Approved Document C2 states that "Roofing can

be designed to protect a building from

precipitation either by holding the precipitation at

the face of the roof or by stopping it from

penetrating the back of the roofing system" (6.3).

This means that the building must be designed

using appropriate overlapping barriers such as

tiles and tile underlay.

Approved Document C2 also requires that roofs

be designed and built so that their thermal and

structural performance are not negatively

affected by interstitial condensation.

Condensation can be formed through

improper ventilation and insulation.

Insulation is installed in buildings

to prevent undue heat loss.

Depending on where insulation is

installed, the building could have a

warm or cold roof. Insulation positioned

closely above, between or below the rafters forms

a 'warm' or 'hybrid' roof, whereas insulation

installed horizontally at ceiling level will create a

cold roof.

The modern building is designed to keep warm air

in, with standard features such as double glazing

and thicker insulation meaning that heat retention

and energy efficiency are prioritised. This results

in a variance of air temperatures and pressures.

Tumble-dryers, kettles – even breathing – adds

to the water vapour in the air, also increasing the

vapour pressure. The warmer the air, the greater

capacity there is to contain moisture. Gaps

leading to the loft space, whether in the form of

light fittings or hatches allow this warm air to

Left: Paul Lambert, Field Support Technician at Hambleside Danelaw, provides a Danelaw Talk session

to students. Above: Hambleside Danelaw's LR 120 Underlay.

reach the cold surface under

the roof, resulting in condensation.

Condensation can damage timber rafters

and cause damp and mould to develop.

Cold roof insulation requirements

In a cold roof design, generally internal roof

moisture needs to be allowed to exit the building,

otherwise it would condense in the roof space.

This can be done through ventilation openings

located at the eaves over a fascia, through a

soffit or at a brick corbel, at low or high level

through the roof surface using slate or tile

ventilators, or at high level using a mechanically

fixed dry ridge and hip systems such as

Hambleside Danelaw's CON6+.

A combination of solutions to meet requirements

specified will ensure that moisture has a way to

exit the building. All of Hambleside Danelaw's

vents are designed to keep large insects and birds

out, while maintaining airflow in the roof space.

Hambleside Danelaw produces a wide range of roof

surface ventilators for slates and tiles that match

most common tile profiles, all listed in our

compatibility chart for roofing accessories. Our

vents are acid rain resistant, come with UV

stabilisation for durability, and are thermally stable.

They can also be connected to pipework or

ductwork and used as terminals for soil pipe

ventilation and mechanical extraction delivering a

very discreet solution.

Warm roof insulation requirements

A warm roof is designed to prevent any moisture

from forming on cold surfaces in the roof

construction. This means that warm roofs do not

generally require ventilation, but there should be

24 TC JUNE 2022
---
an Air & Vapour Control Layer (AVCL) or vapour

barrier on the warm side of the insulation

depending upon the detailing. This prevents the

passage of warm, moisture-laden air to the

colder uninsulated parts of the roof.

A warm roof can also be formed incorporating a

ventilated gap between the roof tile underlay and

insulation layer.

Underlays

Ventilation can also be provided by using an

underlay, which can be installed with other

methods of ventilation. Underlay use needs to be

considered in the tile-fixing specification as there

may be increased wind loading on the tiles when

using air permeable types

Underlays are fixed underneath the roof tiles and

can be classed as either HR (High Resistance) or

LR (Low Resistance), their classification depends

on the level of vapour resistance. When using HR

underlays pitched roofs should have ventilation

Above: The modern building is designed to keep warm air in

with standard features such as double glazing and thicker

insulation meaning that heat retention and energy efficiency

are prioritised.

openings at eaves level equal to a 10mm wide

opening and running the full length of the eaves

to promote cross ventilation. For pitches above

35º or roof spans in excess of 10 metres, a 5mm

continuous opening should be provided at the

ridge. Increased ventilation openings are needed

if the insulation follows the pitch of the roof for

part or all of the rafter length.

LR underlays, in accordance with BS 5250, will

allow for a reduction in the area of the eaves

ventilation openings. This is dependent upon how

well sealed the ceiling is, and on the airopenness

of the type of roof covering above the

underlay. When using a Low Resistance underlay

as well as AVCL on the warm side of the

insulation, it may be that no ventilation will be

needed to be used in the roof construction.

When using either HR or LR underlays the

ventilation requirements for the roof space should

be considered for the best solution for the

building design.

The actual ventilation requirements will always

depend on a combination of other factors

including the pitch and span of the roof.

If you want to hear more about Danelaw's roofing

ventilation range or arrange a CPD seminar about

ventilation designs and solutions for pitched

roofs, get in touch with the team at

marketing@hambleside-danelaw.co.uk.

Contact Hambleside Danelaw

www.hambleside-danelaw.co.uk

@HambDane

EXPECT

MORE

PROTECTION*

PROTECT ANY ROOF FROM THE HARSHEST

WEATHER WITH DANELAW UNDERLAYS

The British climate demands that roofs are built to withstand the many

different conditions that can cause damage. Our underlays provide an

effective solution to protect any building from the harmful effects of

condensation and weather conditions including wind, snow and rain.

Hambleside Danelaw underlays can be used for warm and cold roof

applications, unsupported, draped over timber rafters or counter battens,

or fully supported over timber sarking and rigid insulation. They have

been independently tested by the BRE for wind zone suitability, and

have BBA approval.

* THAT'S THE DANELAW DIFFERENCE

call us: 01327 701 910

email: sales@hambleside-danelaw.co.uk

www.hambleside-danelaw.co.uk

45+ YEARS OF ROOFING INNOVATION
---
Safety at Height

HOW TO AVOID, SLIPS, TRIPS & INJURY

In order to avoid serious injury or falls when working at height, adequate training and

knowledge of height safety remain critical. Below, Gurjeev Bola, Product Manager at

Werner, answers the questions that contractors need to know when it comes to

working at height.

Q: Falls from height still remain the

biggest cause of workplace accidents and

fatalities, so what can installers do in the

fight against preventing falls from height?

A: What we need to remember is that these

accidents occur across the whole range of

working at height projects, from the simplest

repairs to large-scale construction jobs.

More than half of the fall-from-height deaths in

the construction industry are roof-work related.

With this in mind, contractors have to ensure that

the proper measures are in place to protect not

only workers themselves, but also members of

the public.

Before using any working at height equipment, a

risk assessment must be carried out, and this

will highlight any risks and ensure that the

relevant measures to mitigate these are in

place. An adequate risk assessment should

include:

• Looking at the site for any potential hazards

associated with falling from height

• Deciding how certain hazards will affect the

user and surrounding people

• Considering the risks, are there measures in

place to deal with these risks?

• Record the findings and regularly review

them. If any changes occur, ensure you have

the precautions in place to deal with these

risks.

Q: What is the importance of planning

when working at height and what needs to

be done?

A: Planning is vital to ensure safety in any

working at height scenario, from short-duration

minor work to major projects. Employers and

those in control of any work at height activity

must make sure work is properly planned,

supervised and carried out by competent people.

This includes using the right type of equipment for

working at height.

As part of this planning process, you must follow

the hierarchy set out in the Work at Height

Regulations 2005 to make sure that risks are

controlled so far as is reasonably practicable.

This hierarchy of measures must be followed

systematically and only when one level is not

reasonably practicable may the next level down

be considered.

Those planning work at height must:

• Avoid work at height where they can;

• Use equipment or other measures to prevent

falls where they cannot avoid working at height;

and

• Where they cannot eliminate the risk of a fall,

use work equipment or other measures to

minimise the distances and consequences of a

fall should one occur.

Continued on page 28

26 TC JUNE 2022
---
GUARANTEE

CREST NELSKAMP

CREATIVE ROOFSCAPING

ROOFING TILES

Crest Planum Duo

in Onyx Black and

Slate Grey were

the preferred choice

for the project.

SEE FULL RANGE AT

crest-bst.co.uk

TROUTBECK CRESCENT AFFORDABLE HOUSING PROJECT BLACKPOOL

Architects: Cassidy + Ashton > Building Contractor: R P Tyson Construction Ltd > Roofing Contractor: Pears Roofing North West Ltd

Crest's growing reputation for delivering high-quality building products are

now becoming the preferred choice for architects, housing associations and

local councils on affordable sustainable housing projects.

Whether looking to replace your existing roof tiles or in search of a beautiful

option for a new build, our range is certain to offer you the perfect solution,

with each tile carefully crafted to match various building types and

environments.

For more information on our roofing tiles or to order a FREE tile

sample contact the Crest team today.

01430 432667 info@crest-bst.co.uk www.crest-bst.co.uk

TECHNICAL

S U P P O R T

30

Y E A R

Crest Covering the UK

in Hi-Quality Roof Tiles
---
Safety at Height

Continued from page 26

Q: What do you need to consider when

planning work at height?

There are requirements that you must consider

when planning and undertaking work at height.

You need to:

• Take account of weather conditions

• Check that the place where work at height is to

be undertaken is safe, this needs to be done prior

to every use

• Stop materials or objects from falling or take

suitable and sufficient measures to make sure no

one can be injured

• Store materials and objects safely so they

won't cause injury if they are disturbed or

collapse

• Plan for emergencies and rescue; agree a set

procedure for evacuation.

Q: How do you decide what safe access

equipment to use?

A: A sensible and pragmatic approach should be

taken when considering safe access equipment

for work at height. Factors to weigh up include:

the height of the task; the duration and

frequency; the condition of the surface being

worked on; will there be the need to use tools;

what are the ground conditions like; are there any

obstructions and how much space is available to

work? All of these considerations will factor in to

what equipment is right for each individual job.

Q: What part do education and awareness

have to play when it comes to trying to

reduce falls from height?

A: It is vital that installers and contractors have

up-to-date knowledge, experience and training

when it comes to working at height. Experience

also has a part to play, but if it is based on poor

or inadequate initial training or out-of-date

knowledge it can be worthless. People must

understand the reasons why safe working

practices are necessary.

Undertaking regular training when working from

Werner provides a whole host of access products and can provide advice and guidance for working safely at height.

"People must

understand the

reasons why safe

working practices are

necessary"

height is essential in maintaining safe practice at

work and reducing the risk of serious injury or

falls from height. This should include fall

protection training, which equips workers with the

ability to identify hazards in the workplace, carry

out prevention measures and know how to act in

an emergency, as well as understand HSE laws

and the legal responsibilities both workers and

employers hold.

A contractor should be able to demonstrate:

• sufficient knowledge of the particular type of

work they are being asked to carry out and the

risks it will entail; and

• current and sufficient experience of the latest

techniques, standards and materials to enable

them to carry the work out safely, including any

relevant training or qualifications. This training

should cover safe working practices and, if

required, the selection, pre-use inspection and

use of personal fall-protection equipment.

Q: Why are checks on equipment

important?

A: It is essential that frequent inspections are

carried out on equipment to ensure it is safe to

use, as it can be easy to overlook general wear

and tear when equipment is used on a regular

basis. The need for inspection and how frequently

these should occur should be determined through

risk assessment, and inspections should be

undertaken by a competent professional who can

identify potential defects early on.

Contact Werner

www.wernerco.co.uk

@WernerLadderUK

28 TC JUNE 2022
---
SL ALUMINIUM

Whatever the project

we have a rainwater system to suit

your plans and your budget

SL ALUMINIUM

XL ALUMINIUM

GRP

CAST IRON

XL ALUMINIUM

COPPER

Traditional and modern gutters,

pipes and hoppers come in a

comprehensive range of aesthetic

styles, materials and colours to

suit all buildings and budgets.

For more information please

call 0113 279 5854 or email

info@rainguard.co.uk

w w w . r a i n g u a r d . c o . u k

Squareline

ALUMINIUM FASCIA & SOFFITS
---
Solar Systems

CAPITALISING ON THE SOLAR SURGE

Millions of households across the UK could be paying around £700 a year more for

electricity and gas following the price rises in April. With this in mind, the experts at

Roof Giant assess what role rooftop solar PV has in the current energy crisis, as well

as the potential opportunities for installers…

Is solar a viable solution for households

and businesses?

Arecent report compiled by Solar Energy UK in

partnership with the University of Cambridge

analysed more than five million property

transactions. The report suggests that solar power

is a powerful way to lower running costs, increase

property value and reduce the carbon footprint.

Tried and trusted technology

One of the significant benefits of solar is that it is

one of the fastest renewable energy technologies

to deploy. A domestic rooftop system can be

designed and installed in days, and a large

commercial rooftop system can be designed and

installed in less than 12 months. In addition, it is

easier to scale up an industry that is already in

place than go from a standing start – an

important factor due to the speed with which the

UK needs to address the energy crisis.

Costs: Initial cost outlay

Figures show the cost of Rooftop solar has declined

by as much as 60% since 2010. The average

domestic solar PV system is 4.2kWp and costs

around £6,500. Solar panels on top of the roof are

the cheapest option, while solar tiles are the most

expensive but can provide a better aesthetic.

• Photovoltaic diverters are an add-on to a PV

system. Diverters can increase the efficiency of a

system by providing power to an immersion

heater and/or an electric heater. A PV diverter

switch installation could add around £800.

• Adding batteries to the system can provide stored

energy that can be used later. Battery technology

has made leaps and bounds in recent years, and

system costs range between £1,200 and £6,000.

• Solar technology may have reduced in price,

but installation remains a large part of the total

cost. Homeowners can buy DIY kits, but there are

obvious pitfalls for gaps in skills and knowledge.

Not all systems are eligible for Feed-in Tariffs,

and certification must be carried out by an

accredited engineer.

Making money back

Under the Smart Export Guarantee (SEG),

households can get paid for electricity that they do

not use and export it back to the grid. Rooftop solar

can save individual households well over £300 per

year in energy costs while increasing property

values at the same time. Homes with solar panels

can increase in value by £1,800 or higher.

The initial cost can typically be offset within 12-

18 years, with some studies calculating payback

times as short as 8 -11 years. With the proper

maintenance, solar panel installations should last

between 20 to 25 years or more.

Building Regulations

The changes to the Part L Building Regulations in

June 2022 will mean many new homes built in

England will include solar, presenting a great

opportunities for those roofers and installers who

upskill and diversify their offering. Housebuilders

will have to design and plan to meet the 'Uplift to

Energy Efficiency' requirements in new homes

from 1st June 2022. This is already in place in

Scotland. The 'Uplift to Energy Efficiency' aims to

deliver a 31% improvement on current Part L

sustainability and energy efficiency standards.

Solar panels aren't the only option available, but

they are acknowledged as an efficient way to

comply with the new Part L Uplift and the

forthcoming Future Homes Standard.

What are the drawbacks?

Is the property suitable? The ideal roof for solar

panels is south-facing. East or west-facing roofs

yield up to 20% less energy, and North-facing roofs

are the least productive. For a 3.5kW system, room

for 15 to 20 sq. metres of panels is required. The

best results are achieved from a 30º roof.

Solar panels are classed as permitted

developments, so planning permission is not

required in most cases. However, there may be

restrictions for listed buildings or properties in a

conservation area.

Retrofitting: More and more households are

investing in onsite solar to reduce their energy bills,

and banks are starting to offer green mortgages to

finance these home improvements. However, many

people do not have access to such finance, so

there is a role for the National Infrastructure Bank

to provide finance for all green retrofitting.

Summary

Solar PV seems to be a viable option for many

households in the UK and is a proven and durable

technology. Of course, not all properties are suitable

and can take full advantage of solar technology.

However, PV systems are flexible and scalable in

design and can integrate with other renewable

technologies. The high initial investment has always

been a barrier to solar installation. Organisations

like Solar Energy UK are pushing the Government to

introduce long-term funding support for residential

retrofits and tax incentives for onsite energy

generation, further opening up the market for those

installers with the skills and accreditations to

capitalize on the increased demand.

Contact Roof Giant

www.roofgiant.com

30 TC JUNE 2022
---
Lead? ?? Use Ubiflex instead!

Another

smart, sustainable solution from

08/4577

Ubiflex non- lead flashings

25 year guarantee, BRE tested, BBA certified

Up to 50% quicker to install than lead

80% lighter

than lead – less risk of injury

No scrap value, so no risk of theft

Environmentally

friendly, recyclable, non-toxic

Available as a system, complete with adhesives,

clips

and accessories

U bbink UK Ltd •

01604 433000 • info@ubbink nfo@ubbink.co.uk

uk •

www.ubbink.co.u

uk
---
Roofing Updates

For further info on all these updates and more, visit www.total-contractor.co.uk

QUARRY EXTENSION SOUGHT

To help meet the ongoing demand for its

natural slate construction, architectural and

hard landscaping products, Welsh Slate has

applied to extend its largest quarry.

The company is asking Gwynedd Council for a

2.3-hectare extension to its 318-hectare Penrhyn

Quarry site in Bethesda, near Bangor, where its

popular roofing slates and architectural products

such as cladding, flooring, paving, walling and

hard landscaping products are produced.

Although the application site is 2.3 hectares,

Welsh Slate says only 1.6 hectares would be

quarried, but this would increase the amount of

slate permitted to be quarried by 250,000 tonnes

or 3.6 million tonnes overall. the company says it

would also increase the life of Penrhyn Quarry by

12 years, from the end of 2023 to the end of 2035.

Amendments to the original planning application

following a period of public consultation include

halving the area of the proposed extension (from

4.3 hectares) and reassessing the need to

dispose of slate waste as the company says the

site will generate less waste, and the reduced

amount of waste can be accommodated within

the existing quarry void without impacting on

views beyond the quarry. Welsh Slate says its

plans for Penrhyn will help secure the jobs of

more than 100 people. The company will also be

applying to extend operations by four to five

years at its site in Blaenau Ffestiniog, which

produces minerals for manufacturers of such

products as roofing felt, and says this would

secure the jobs of eight people.

Find out more:

https://www.welshslate.com/news/2022/04/13

/penrhyn-quarry-planning-applications/

BRETT MARTIN SHINES AGAIN

Brett Martin Daylight Systems (BMDS) has provided its Energysaver factory-assembled GRP rooflights

for a new purpose-built production facility in Bedfordshire, creating a light, energy efficient

environment which enhances the workplace for employees.

Designed by architects Woods Hardwick, the new Jewers Doors facility comprises 45,700 sq ft of factory and

12,000 sq ft of office space. Built by Parkway Construction, the new highly insulated building features energy efficient heating and cooling systems. Its

composite panel roof incorporates a rooflight system from Brett Martin that maximises daylight and thermal performance, as well as offering the most costeffective

solution. The specification for the 80mm-thick composite panel roof included 650m² of Brett Martin GRP Trilite 3.0 Energysaver rooflights to provide

an even spread of diffused daylight into the building. Offering quality and robustness, these triple-skin factory-assembled insulating rooflights (FAIRs) are

designed to the same depth as the composite roofing system so that the flat liner panel sits flush with surrounding metal panels for excellent aesthetics and

a neater, trim internal appearance. Jonathan Jewers, Director at Jewers Doors, said: "As a long-standing customer of Brett Martin, we are pleased that the

Brett Martin Energysaver FAIRS were specified on our new premises. The technical expertise, product quality and customer service from Brett Martin made

the process of supply and installation as seamless as possible and we are very pleased with the final result of our new building." www.brettmartin.com

AERO PITCH SKYLIGHT IS PITCHED ROOF PERFECT

Sunsquare has launched Aero Pitch – describing it as 'the world's most advanced and thermally

efficient skylight for 20-60° tiled roofs'.

The company says Aero Pitch is not only fully automated, it's condensation free, holds a BSI Kitemark for its

safety and quality and is incredibly easy to install, with one universal flashing kit to fit any roof.

"We've been flat-roof skylight specialists for 18 years and this is our very first model specifically designed for 20-

60° roofs," explained Justin Seldis, MD at Sunsquare. "Using our pioneering design experience, we wanted to

address all the common issues people face with pitched roof skylights, such as thermal performance,

condensation, safety and usability, and we've ended up with the most advanced skylight out there. But that wasn't our only focus, we wanted to make it

as straight forward as possible for installers too. That's why we developed a universal flashing kit that will suit any tiled roof, from 20-60°. Our kit has

everything you'll ever need with no hidden extras needed, even for bespoke sizes. In fact, the skylight, flashing kit and upstand all come as part of the

package, so installers always have everything they need to get the job done easily." www.sunsquare.co.uk

32 TC JUNE 2022
---
www.britmet.co.uk | 01295 250998 | sales@britmet.co.uk

Available

Today!

Liteslate Accessory Range

Check out our full range of accessories www.britmet.co.uk/liteslate

Liteslate Ridge End

Cap

New

Improved

Design!

Liteslate Tile Vent

Liteslate End Cap 90

Liteslate 3-way End Cap

Liteslate Tile Vent

Liteslate End Cap 135

RAISING THE STANDARDS IN LIGHTWEIGHT ROOFING
---
Roofing Updates

For further info on all these updates and more, visit www.total-contractor.co.uk

PERMAROOF UK EXPANDS ITS OFFERING

PermaRoof UK has announced it is further increasing its range to include the RubberGutter EPDM SA system.

The company says the time saving, self-adhered rubber waterproofing membrane is designed for guttering and valleys, and it has been

launched in response to merchant demand for quicker to install, longer lasting solutions that can be offered at the trade counter.

Understanding that applying adhesive on site can be time consuming, often needing additional specialist tools, and will not always leave

the best aesthetic finish – PermaRoof UK has invested in supplying the RubberGutter EPDM to answer these concerns. To do this, the

synthetic EPDM rubber waterproofing membrane features unique secure bond technology that ensures an edge to edge clean, uniform and strong adhesion.

When applied in conjunction with guttering products to buildings, the company says it is proven to improve the longevity of the system as its high elasticity

allows for expansions and contractions of metal gutters and concrete. The membrane is also designed to ensure no cracking or splitting takes place over time

and has excellent resistance to UV exposure and extreme weather conditions. Sunny Lotay, National Commercial Manager at PermaRoof Commercial, said:

"We're pleased to be able to bring the RubberGutter EPDM to the market for our customers. One of the many benefits of the new system is that it is quick and

easy to install. It has been developed to not require any special tools, making it an efficient system to work with for roofing installers. Additionally, it can be

applied at any time of the year, even when conditions are below freezing, furthering its convenience to contractors on site." www.permaroof.co.uk/

WELSH SLATE'S HISTORIC PROJECT

One of London's most unique buildings is

enjoying a new lease of life, thanks to Welsh

Slate.

The Great Hall and Library Buildings of The

Honourable Society of Lincoln's Inn, an

association of students, barristers and judges

and one of the four Inns of Court, have over the

past two years undergone an extensive

programme of external conservation carried out

by expert stone masons Capital Stone.

The programme of work includes replacement of

the Great Hall's slate roof covering. Work is still

ongoing, but the work to the Great Hall roof is

complete, as is the striking of the temporary roof

covering which brings the new roof into view.

The Great Hall and Library Buildings were

constructed from 1843 to 1845. The Great Hall

roof was originally covered with lead but was

recovered in 1868 with slate. From 1871 to

1873 the Library was extended eastwards by

three bays. The building is an important

example of 19th Century Gothic Revival

architecture and has been listed Grade II*

since 1951.

After 154 years, the slates on the roof of the

Great Hall required replacing to protect the

interior, including a striking fresco and

beautifully worked oak. The slates were

suffering from surface delamination and a large

proportion had slipped due to nail rot, requiring

tingles to hold them in place.

The existing slates were found to originate from

both the Ordovician and Cambrian deposits of

North Wales – the former predominately on the

eastern elevation and the latter on the western.

The large Ordovician slates, typically 850mm

long and between 350mm and 500mm wide

(and laid to a fixed gauge of approximately

350mm which equates to a head lap of

approximately 100mm), originated from what is

now Welsh Slate's Ffestiniog quarry, which is

currently mothballed, while the other quarries

producing these no longer operate.

The Cambrian slates from the Llanberis region, as

well as Bethesda where Welsh Slate's main

quarry is based, were even larger, at 850mm long

and wider than 450mm, laid to the same gauge.

Both slate types were fixed to timber battens on

open timber rafters, with the underside torched

Image courtesy of Casey Wickers, trainee quantity

surveyor with Capital Stone Renovation.

with horsehair and lime plaster.

These were replaced for the closest Welsh slate

match – Welsh Slate's County-grade Penrhyn

Heather Blues, at 800mm long, widths of

between 400mm and 550mm, and a 350mm

gauge and 100mm head lap. These are

guaranteed for 100 years, with a useful life of

150 years.

While the roof is generally simple in form, with

two large slopes, its substantial size at circa

800m² meant the work took considerable time to

complete. To allow for more than a dozen dormers

the Welsh Slate had to be cut and fitted to size

with double copper clout nails. The thickest slates

were used on the eaves, diminishing towards the

ridge to maintain the original visual finish. They

were also holed from the rear to provide a slight

countersink to the face.

www.welshslate.com

34 TC JUNE 2022
---
Kytun

Aluminium

Dry

Roofing

Solutions

• Will Not Discolour

• Will Not Crack

• Maintenance Free

• 20 Year Guarantee

• Fully Recyclable

Dry Valle alley Trough

Continuous Slate Dry Verge

ALU

RANGE

WARRANTY

30 YEAR

A

DUR LUMINIUM

ABILITY

WARRANTY

20 YEAR

A L

W

CUMINIUM

ARRANT

OLOUR

Y

WILL NOT

WARP

WILL NOT

DISCOLOUR

BS 8612

BS 5534

www.kytun.com

Continuous Tile Dry Verge
---
Project Focus

THE RIGHT FORMULA

Total Contractor hears how Proteus Facades' Proteus GL glass cladding panels, in

combination with the company's digital screen printing facilities, were utilised to create

a striking facade for the new maths facility at St Albans School in Hertfordshire.

Proteus Facades has created

an aesthetic like no other

on the external façade of a

new-build mathematics facility at

St Albans School in Hertfordshire,

through clever use of the

manufacturer's Proteus GL glass

cladding panels and digital screen

printing facilities.

In recent years the school has

experienced a consistently

increasing take-up of science, technology,

engineering and mathematics (STEM) related

subjects by pupils. However, it was found that

there was a lack of existing, fit-for-purpose space

to house and support the growth and teaching of

these subjects at the school.

The new Corfield Building at St Albans School

replaces a now demolished wooden cabin-like

structure to address this need. Designed by PHP

Architects and developed by Borras

Construction, it includes a bespoke two storey

maths facility on the upper ground and first

floors, along with a Combined Cadet Force (CCF)

shooting range and office space within the lower

ground floor.

A facade to match the facilities

A key requirement for the design of the new

structure was to ensure that the outside

aesthetics showcased the state-of-the-art

facilities within and the leading reputation that

the school has for its STEM programme.

To achieve the required aesthetic and taking

inspiration from the old black boards and white

chalk used in schools many years ago, PHP

Architects specified bespoke Proteus GL 4mm

back-painted glass cladding panels with a

unique, screen-printed monochrome

mathematical design.

Using state-of-the-art glass processing

facilities, the glass was fabricated with a

two layer digital screen-print effect. An initial

white application was applied, and CNC control

printed with the mathematical symbols. A solid

secondary black back-painted layer was then

added to create the black board effect. The

featured arrangement of mathematical and

geometrical symbols, shapes and equations

represent those used within theories and

formulas covered as part of the core subject.

While the principal of designing a black board for

the external elevation sounds simple, it creates a

number of challenges. The most prudent being

developing a product that can both achieve the

required aesthetics and have the strength and

durability to withstand external environmental

conditions such as harsh weather.

As glass is a completely inert material, Proteus

GL was the ideal choice as it provides a virtually

unlimited lifespan because it is rust and

corrosion free. In addition, as the system is

available in almost any RAL colour or bespoke

digitally screen printed options, the material

offers architects a wealth of design options, while

providing a product that is

colourfast, resistant to UV rays

and fully tested and compliant

with CWCT Standards.

Proteus GL is an integrated

modular rainscreen cladding

system with an aluminium

honeycomb core structurally

bonded between a

toughened back

painted glass face

and a lightweight

metal rear skin. The

system has been

tested to EN13501 and

achieves an A2 fire rating. It

is also lightweight, being up to 33 per cent lighter

than the closest glass rainscreen system.

Each panel, installed by Craft Interiors, is

supported by the unique Proteus system of

aluminium carriers and ancillary components,

which can be installed on to any type of wall

construction with no visible fixings, creating a

sheer, smooth façade.

Outstanding results

Commenting on the design and development of

the new structure at St Albans School, (which

received full funding from Nick Corfield OA), a

representative of the School said: "As well as

significantly improving the home of our everpopular

CCF unit, this development provides our

Maths Department with a new building worthy

inside and out of its outstanding results."

Contact Proteus Facades

www.proteusfacades.com

0151 545 5075

36 TC JUNE 2022
---
For work you'll take your hat off to

If a job's worth doing, it's worth doing well.

Get the latest guidance on fixing and tooling to help you maintain your high standards.

So you can take pride in a job well done.

W: fixfast.com l T: +44 1732 882387 l E: sales@fixfast.com
---
Air Tightness

ASK THE A. PROCTOR GROUP

"Is it true that to achieve good airtightness levels, you will need MVHR?" The experts at

the A. Proctor Group tackle this question in their latest column, which addresses some

of the commonly held myths from the contracting world...

In this series, we look at some commonly held

myths surrounding the contracting world

concerning thermal and acoustic insulation,

condensation control, and fire protection.

In this article, we tackle the question: is it true

that to achieve good airtightness levels, you will

need MVHR? When considering whether MVHR

(Mechanical Ventilation with Heat Recovery) is

required to achieve an airtight building, the short

answer is no. However, it can be advantageous,

or to use a technical phrase, 'it depends'!

The required levels of airtightness in UK

construction regulations are constantly being

lowered, one could argue, albeit too slowly. In

addition, many contractors and professionals in

the construction sector now understand that

achieving excellent levels of airtightness is an

important thermal improvement method, but are

there knock-on effects?

Our own Iain Fairnington, Technical Director at the

A. Proctor Group, sits on the BS 5250 committee,

which deals with Moisture Management, and he

explains that the committee generally agree that

the easiest way to avoid moisture build-up is to

put the heating up and open the windows.

Adopting this approach allows any moisture to

escape and avoids cold spots. Simple, but not

environmentally friendly. So, a better method is to

look at how we manage the balance of Heat, Air

and Moisture Movement.

When an installation results in high levels of

airtightness, this could lead to stale moist air

trapped inside a building.

If the heating is not controlled in this scenario,

the stale moist air could almost reach "sweat"

levels. To counter this, introducing ventilation

moves the air out and replaces it with fresh air.

Yet this approach to ventilation is like throwing
---
the baby out with the bathwater given the

increasing costs of heating that air and then

letting that warm air escape, while bringing in

cooler air that needs to be heated up.

There are various methods to tackle this,

including the following:

• No ventilation system – Here, the airtightness

is above 3 generally, and the only reliance is on

trickle passive ventilation and mechanical

ventilation in kitchens and bathrooms

• MEV: Mechanical Extract Ventilation – In this

case, the ventilation system extracts moisture

from areas such as kitchens, bathrooms, shower

rooms etc., to the outside

• MVHR: Mechanical Ventilation with Heat

Recovery – Using MVHR, the air is extracted and

any heat from this air is recovered

All the above options have pros and cons, and the

ultimate decision will depend on several factors,

such as the need to filter air/reduce energy

consumption or budget.

The phrase "Build tight/ventilate right" conveys

the importance of the balance of getting this right.

For example, a self-build project may prefer an

MVHR system, and the owners may be happy to

change the filters every six months. However, a

developer may not want to put this extra

responsibility on the owner so that they may

choose an MEV system. The MEV can be quieter

and runs at low pressure. The MEV can also be

cheaper to install as less pipework is required.

Whichever system is chosen by the architect,

developer or homeowner, there is no reason for

concern that the airtightness levels may be too

low. There are solutions to ensure the building is

healthy and efficient.

At the A. Proctor Group we fully support the fabric

first philosophy. We offer many solutions to buildin

energy efficiency and moisture management.

Examples of this can be seen in the range of

reflective membranes, external (Reflectashield

TF) and internal (Reflectatherm), and Wraptite,

an airtight vapour permeable externally applied

self-adhered membrane for walls and roofs.

We supply high-performance thin insulation

systems for walls, floors, and roofs, which can

also reduce cold bridging in critical areas. As with

all decisions in life, it is all a question of getting

the balance right.

Contact the A. Proctor Group

www.proctorgroup.com

@proctorgroup

JUNE 2022 TC 39
---
Updates

For further info on all these updates and more, visit www.total-contractor.co.uk

FREEFOAM CLADDING TRANSFORMS GARDEN ROOMS

Freefoam cladding is an easy way to

modernise and refresh many different

buildings, as one Swansea-based installer

found out after installing it on two garden

rooms.

C J Davies & Sons Property Maintenance has

been trading for the past eight years and offers

full property maintenance. A Freefoam Registered

Installer, owner Chris Davies has seen the

cladding side of his business develop over the

past few years. He uses Freefoam stockists

Atlantic Cladding and Roofbase Swansea for all

his cladding supplies.

Chris and his team recently transformed two

different garden rooms with the help of Freefoam

cladding. For one customer, the company

installed Fortex cladding in Storm Grey to revamp

a stand-alone garden building. The second

involved the creation of a new garden room using

Pale Gold Fortex cladding installed as part of the

customer's reconfiguration of living and office

space. On both projects,

"We don't get a big call for

Chris also fitted black

cladding in Swansea on

fascias, soffits and half

houses, more for gardenroom

type projects. But in

round guttering from

Freefoam.

nearby Mumbles, which is

a seaside resort, cladding

Chris said: "We prefer to

has grown in popularity

fit Freefoam cladding. It's

and there are more

very durable, has a great

properties with cladding

range of colours and the

on the front of them.

guarantee that comes with

it from Freefoam is a real

"Colour has become very

benefit too.

important to customers,

and it's great to see

"But, importantly, both

Freefoam improve in this

customers preferred

area over the years. The

Freefoam's Fortex cladding

Above: C J Davies's work on the garden room during (top) range of colours tend to be

as well. They were both

and with the Freefoam Fortex cladding installed. available now in both

ecstatic with how it all

Weatherboard and Double

turned out – we have even gone on to do other

Shiplap cladding, which is great for our

work for one customer, as he was so pleased

customers."

with the job we did.

www.freefoam.com

SHACKERLEY'S BRICKCLAD SECURES BBA CERTIFICATE

Shackerley has secured a BBA Agrément

Certificate for the company's BrickClad

mechanically fixed brick cladding system.

Launched last year to enable specifiers to

select a robust A1 rated façade system that

combines high-quality, kiln-fired brick, with

high-grade stainless steel or Magnelis-coated

brick cassette profiles, the BrickClad system

has achieved BBA certification 22/5998. The

new BBA certificate adds to a portfolio of BBA

certified products in the Shackerley range,

which includes the company's SureClad

Ceramic Granite system (BBA Certificate

14/5130), and its SureClad Engineered Stone

system (Product Sheet 1, and BBA Certificate

14/5130, Product Sheet 2).

Brian G Newell MBE, Founder and Chief

Executive of Shackerley, explained: "Providing

BBA certified cladding systems

is very important for us

because it demonstrates that

our façade systems have

undergone rigorous testing to

meet the standards required by

building regulations and the

quality architects need for a

robust and hardwearing facade

installation.

"Not only are we now able to

offer BBA certification for our façade systems, we

have also been successful in including our extralarge

format SureClad Ceramic Granite panels up

to 3200 x 1600mm under BBA Certificate

14/5130, Product Sheet 1, enabling architects to

specify seamless slab-to-slab spans."

The latest cladding system to join Shackerley's

portfolio, which also includes

the company's SureClad

Natural Stone and Terracotta

ranges, BrickClad is an

innovative brick façade

system that has been

developed in-house by

Shackerley's Queen's Awardwinning

technical team. The

system's brick cassette

profiles are made at

Shackerley's ISO 9001 Lancashire factories,

utilising the company's bespoke roll-forming

production machinery and 0.5mm thick

Magnelis-coated steel or stainless steel, which

is 40% thicker than other systems, providing

improved strength, performance and corrosion

resistance.

www.shackerley.com

40 TC JUNE 2022
---
The Complete

Supply Chain

MCRMA members provide the

complete supply chain for

sustainable metal-clad building

solutions in the industrial and

commercial sectors.

Our members encompass

• Systems manufacturers

• Component manufacturers

• Systems installers

• Stockholders

• Independent roofing and

cladding inspectors

• Industry support services

providers

Visit www.mcrma.co.uk

to find out more about the MCRMA and its members.

The 'MCRMA The Building Envelope Authority' is a registered Collective Trademark of the Metal Cladding and Roofing Manufacturers Association Limited.
---
Updates

NEW BBA CERTIFICATE FOR STO

The StoVentec Glass A system from Sto has

been awarded with a new BBA certificate,

underlining the quality and performance of

the rainscreen cladding system.

The certificate provides independent assessment

that the system can be used on buildings above

18m in height, with a reaction to fire

classification of A2-s1, d0.

The StoVentec Glass A system can be used as a

protective or decorative façade cladding over the

external walls of new or existing buildings, or

alternatively as an internal wall lining. Greg Astill,

Sto's Head of Product Management, explained:

"The system is extremely versatile, so it's great

news that we've got this new BBA certification as it

provides architects with all the reassurance they

need to use StoVentec Glass A on their projects.

The certification covers many different areas, such

as compliance with applicable Building

Regulations, structural performance, behaviour in

relation to fire, and durability, and we can support

this reassurance by providing our customers with

full technical guidance, right from initial design

considerations through to installation, and with

project references."

The new certificate looks set to increase the

popularity of the StoVentec Glass A system,

which has already been used on a wide variety of

projects, ranging from educational, residential

and commercial buildings through to airport and

rail transport hubs, as a result of further testing

against impact, smoke emission and bomb blast.

"The independent nature of the BBA certification

is an important point in emphasizing the

performance and reliability of the system,"

added Greg. "We undertook a lengthy and

ongoing process of testing and development for

StoVentec Glass A, and in the process, we

acquired a wealth of data which confirms the

product quality. To have that data assessed and

certified by the BBA means that architects can

specify the system in complete confidence."

Hardy Giesler (left), CEO for the British Board of Agrément,

presents the certificate to Greg Astill, Head of Product

Management, and Kevin Davies, Head of Technical for Sto.

The glass panels have a technically superior

composite construction on an inert, unique

backer panel. Available in any RAL colour as

standard, or screen printed in custom colours

and with individual designs, the glass can be

manufactured in bespoke sizes and shapes to

satisfy specific project requirements, and so

allows architects to give free reign to their design

skills. An adjustable sub-construction enables it

to accommodate uneven substrates, and when

used externally it creates a ventilated cavity

which keeps the wall dry and allows it to

breathe, as well as providing effective thermal

insulation.

www.sto.co.uk

RUUKKI ANNOUNCES COLLABORATION WITH M4C

Ruukki Construction and M4C, the

Northumberland-based sales and

business consultancy, have announced a

strategic collaboration to develop the UK

market for Ruukki's range of high-quality

steel-based composite products for walls

and roofs of both commercial and

residential buildings.

M4C was founded in 2018 by Managing

Director Matthew Curtis and has been

providing strategic consultancy and business

support to the Construction, Engineering &

Chemical Sectors.

Prior to M4C, Matthew was Managing Director

of Trimo (UK), a similar business to Ruukki that

was involved in the supply of building envelope

materials to projects such as the Manchester

Airport Terminal 2 transformation, and

Above: Matthew Curtis is Managing Director of M4C.

Aberdeen Exhibition & Conference Centre.

Matthew knows the sector well, and over the

past 20 years he has worked for organisations

such as Saint Gobain, Hilti, Akzo Nobel and

Syntha Pulvin.

Matthew commented: "I am delighted to be

able to partner with Ruukki and to assist them

to grow their UK market share. I believe the

market is open to working with suppliers that

are pro-active and reliable."

M4C has been granted permission to trade in

the UK as Ruukki UK on behalf of Ruukki Polska

Sp Z o o.

Ruukki Construction is a supplier of steelbased

building products and services for roofs

and walls for sustainable buildings. The

company employs around 1,500 people and

has 11 specialized manufacturing sites. The

company says its strong presence in 10

European countries enables it to serve

customers locally with its main brands Ruukki

and Plannja.

www.ruukki.com

42 TC JUNE 2022
---
The Ultimate Mineral

HybriQ ® Surface

Introducing the new Silestone ®

with HybriQ+ technology ®

HybriQ+® and HybriQ Technology® are registered trademarks owned by Cosentino Global SLU

HybriQ and HybriQ+® incorporate patented or patent-pending technologies.

COSENTINO UK - CENTRAL OFFICES

Unit 10 Bartley Point / Osborn WayHook Hampshire RG27 9GX

HQ: info.uk@cosentino.com / Follow Us: F T

Find out more

on YouTube
---
Knauf Insulation Tech Talk

TAKE THE FLOOR

When homeowners upgrade their insulation, they tend to focus on the loft, but older

properties may be losing heat through the ground floor. This month Bradley Hirst,

Technical Services Manager at Knauf Insulation, provides his top tips for insulating a

suspended timber floor.

Comply with building regulations

Approved Document L of the building

regulations was updated in June 2022.

There's a one year transition period, which

means that projects granted planning permission

before that date can still be built to the existing

standard providing work starts before 15th June

23. After this date all projects must meet the new

minimum thermal performance standards. This

means if you are installing insulation into an

existing floor, then you will need to achieve a

U-value of 0.25 W/m²K. This is typically achieved

using 150mm of insulation between joists,

but check with the manufacturer's

technical team to ensure the

correct specification for your

project.

Use Mineral Wool insulation

As well as providing thermal

performance, Mineral Wool insulation for

suspended timber floors is non-combustible.

This means you can reassure your customers

that it will not add to the development or

spread of fire should it occur.

Left: Bradley Hirst, Technical Services Manager. Above: Knauf Insulation suspended timber floor cutaway.

Below: Knauf Insulation OmniFit Slab is ideal for insulating suspended timber floors from below.

"If you are

installing insulation

into an existing floor,

then you will need to

achieve a U-value of

0.25 W/m²K"

Choose a slab or roll based on the

installation method

There are two methods for insulating a

suspended timber floor: from above by

removing the floorboards, or from below if

there's a crawl space. When installing

insulation from above, use a Glass Mineral

Wool roll, such as Knauf Insulation's OmniFit

Roll 40, because it's quicker. But when working

below the floor, use a Glass or Rock Mineral

Wool slab, such as Knauf Insulation's OmniFit

Slab 35 or Rocksilk Flexible Slab, because

slabs are easier to manoeuvre in a confined

space.

Use netting

Always support Mineral Wool insulation with

netting stapled to the joists to stop it from

becoming loose, due to vibration from people

walking across the floor above over time.

Ensure the quality of installation

Unlike rigid board insulation, Mineral Wool is

This image: Knauf Insulation OmniFit Roll 40.

flexible, so it is easier to install correctly. It

friction fits between the joists and knits together

at joints, preventing gaps that can reduce thermal

performance and fire safety.

Contact Knauf Insulation

www.knaufinsulation.co.uk

@KnaufUK

44 TC JUNE 2022
---
A2

Insulation

solutions

for flat roofs

Recticel Insulation is an experienced flat

roofing partner, providing innovative and

reliable insulation solutions for flat roof

applications.

Discover the ideal solution for your flat roof

project at recticelinsulation.co.uk
---
Combating Climate Change

'NOW OR NEVER'–BUT WHAT'S

HAPPENED SINCE COP 26?

By Simon Storer, Chief Executive of the Insulation Manufacturers Association (IMA).

Eclipsed by the war in Ukraine and rising

energy prices, the COP26 climate

conference last November seems largely

forgotten, but with the latest UN

Intergovernmental Panel on Climate Change

(IPCC) report saying urgent action is needed to

combat climate change, it begs the question as to

why we are still breaking our climate promises.

The lack of coherent action since the conference

is a sad indictment of how serious the

government is in helping everyone from big

businesses to householders to reduce their

carbon footprint.

In March, startling heatwaves at both of the

Earth's poles were yet another stark warning of

the disruption in the Earth's climate systems with

many scientists warning that the events unfolding

were 'historic', 'unprecedented' and 'dramatic'.

These ice caps will continue to melt, but there is

still time to push for positive change. While

COP26 in Glasgow put the UK on the global stage

as potential climate change pioneers, it was all

about the headlines with little substance. The

problem hasn't gone away, but the coverage has.

Just 12 months ago, government enshrined into

UK law an ambitious target to reduce emissions

by 78% by 2036 on 1990 levels. Where does this

leave the built environment, a sector which is

responsible for almost 50 per cent of carbon

emissions?

Change takes time

We can't make change overnight, we need to put in

place programmes that can develop over time. But

that seems to be a complete anathema to the way

the government works. Balancing aspiration with

reality is always an enormous challenge when

dealing with political initiatives; we only have to

look at the failed Green Homes Grant retrofit

scheme to see how it can go perilously wrong.

Combine this with households across the UK

facing rocketing energy bill rises of 54% since

April and many millions of households facing fuel

poverty, and it's clear government must ramp up

their investment in energy saving measures to

combat the crisis.

The crucial role of insulation

It is well accepted that insulation is the single

most important aspect of the specification of

energy efficiency measures into a building and

can help the UK's housing stock adapt to the

impacts of a changing climate.

If homes and buildings are to become more

energy efficient, good insulation is fundamental to

offsetting increasing energy costs. With a clear

emphasis on the design of a building's envelope,

the versatility and benefits of PIR and PUR

insulation come into their own when

professionally and correctly installed, whether

that be for new buildings or refurbishment

projects. Once installed the product will continue

to perform across the lifetime of the building.

The government must find a way that is both

persuasive and attractive for the refurbishment of

the existing housing stock to happen, and with a

financial model that ensures this commitment

becomes a reality. Too many ideas have failed in

the past because the investment models could

not be made to work.

Committed to change

Despite the challenges we face due to global

uncertainty, many insulation manufacturers, from

individual companies to trade bodies, are fully

committed to adopting sustainable design and

installation methods to help deliver betterperforming

buildings and help the UK achieve the

ambitions of our net-zero climate change targets.

UN experts warn it may be 'now or never' to make

the change. Construction has an important role to

play, but who will make it happen?

Contact IMA

www.insulationmanufacturers.org.uk

@IMA_Org

46 TC JUNE 2022
---
Part L Support

BRINGING TRAINING TO SITE

With changes to Part L coming into force on 15th June, Jonathan Ducker, Head of

Regulatory Affairs at Kingspan Insulation, discusses the new Toolbox Talks on-site

training service the manufacturer now offers to ensure your work meets the new

requirements.

Big changes are on the way on 15th June

with the updated version of Part L of the

Building Regulations coming into force for

new build and refurbishment projects in England.

This document sets the energy efficiency

requirements for buildings and, in many cases,

will mean that project teams will need to target

better U-values to reach compliance. The update

also introduces new compliance reports, requiring

installers to provide photographic evidence to

Building Control that insulation measures have

been correctly installed. To help contractors to

meet these requirements, at Kingspan Insulation

we have now launched a Toolbox Talks service,

providing on-site training to ensure your work

meets all of the new requirements.

Compliance Reports

Since I talked about compliance reports in the

November issue of Total Contractor, more details

have been published about how these will work in

practice. The report is split into two stages –

Design Stage and As Built.

The Design Stage report is completed by the SAP

assessor and includes the specification for the

property and the heat loss values (Psi-values) at

key junctions such as around windows and doors

and where the different building elements meet.

These junctions can act as key sources of heat

loss in a building due to thermal bridging, where

materials which conduct heat better than the

insulation layer are allowed to form a 'bridge'

between the inside of the property and the

outside. To prevent this, the position and type of

materials used, including insulation measures,

should be carefully pre-planned in details. Project

teams can either create these details bespoke for

the property or use one of a wide range of predesigned

details available from manufacturers.

The As-Built report is again filled in by the SAP

assessor and should highlight any changes which

have been made within the actual property. This

includes where specified insulation materials

have been substituted or where other changes

have been made to the details at key junctions.

As part of the As-Built report for new homes,

installers will need to provide photographs of the
---
"The new Toolbox Talks are a great

way to ensure all of your team are

fully up-to-speed on best practice"

insulation measures fitted at these junctions before they're covered up.

These pictures need to clearly show that the insulation materials which

have been fitted match the specification and that they have been

correctly installed in line with the details, with no gaps or defects.

Pictures need to be taken of these junctions in every unit and, where

available, geolocation settings should be turned on on your phone or

camera to help prove this.

The pictures should then be sent on to the SAP assessor and developer

who will need to sign off the As-Built report before sending it on to

Building Control for review. This new process means that if any issues are

picked up by the SAP assessor, developer or Building Control, it may be

necessary for installers to carry out costly and time-consuming remedial

works to bring the building up to standard.

Toolbox Talks

To help installers to avoid these issues, and ensure the finished buildings

perform as expected, Kingspan Insulation has now launched dedicated

Toolbox Talks as part of our technical advice service. These talks are

carried out by our expert Product Technicians and can be booked for any

site across the country.

The Toolbox Talks cover a wide range of topics including how to identify

the correct product and thickness for a particular application, advice on

handling, storing and installing the products and support on how best to

carry out detailing at tricky junctions. Our technicians can carry out live

demonstrations, walking you through some of these key steps, and

there's also plenty of opportunity to ask questions or get advice on any

issues you're having.

With the help of our new field service mobile app, the technicians can

also take pictures of any of the measures you've already fitted. These

images will be sent to our inhouse technical support team who'll review

them and produce a clear report highlighting any potential issues so you

can easily address them for complete peace of mind.

The new Toolbox Talks are a great way to ensure all of your team are fully

up-to-speed on best practice and to avoid any potential problems as the

new compliance reports become a standard requirement.

Contact Kingspan Insulation

www.kingspaninsulation.co.uk

@KingspanIns_UK

To book a talk email: technicaladviceservice@kingspaninsulation.co.uk

JUNE 2022 TC 49
---
Sustainability & Construction

'PLASTIC DOESN'T HAVE TO BE THE

VILLAIN ON THE ROAD TO NET ZERO'

By Joan Ferrer, Commercial Director, UK & Ireland at Ravago Building Solutions.

Acentury ago, "the material of a thousand

uses" was a vision for the future of plastic.

Invented in 1907, the first fully synthetic

plastic was – with remarkable clairvoyance –

marketed as almost infinite in its applications,

promising to revolutionise our daily lives.

And so it did. In the past 20 years alone, annual

global production of all plastics has near enough

doubled, yet unfortunately more than half of the

nine billion tonnes manufactured since the 1950s

has ended up as waste – causing such havoc

that it has recently united 175 countries in an

agreement to develop a world-first treaty

towards ending plastic pollution.

To many people, plastic is now a

dirty word – but to those of us in

construction, it's synonymous

with words like strength, versatility

and durability. While we must be

conscious of the environmental footprint of this

material, we couldn't do without it; from safetycritical

PPE, to basic tools, to robust building

products, plastic has quite literally helped to build

the modern world, and used responsibly, it has a

role to play in building a greener world.

As demand for ecological construction rises as

the world treads the road to net-zero, plasticderived

products increasingly seem to elicit a

reflexive sheepishness amongst specifiers. This is

particularly noticeable when it comes to

insulation.

Perception seems to have a lot to do with it; one

recent study points toward our subconscious

drive to favour "natural" construction materials

over synthetic, whilst another highlights a

significant gap in European construction

professionals' understanding of the

environmental burden associated with thermal

Left: Joan Ferrer, Commercial Director UK & Ireland at Ravago Building Solutions.

"While we must

be conscious of

the environmental

footprint of this

material (plastic), we

couldn't do without it"

insulation materials, perhaps exacerbated by the

inconsistent quality of environmental product

declarations (EPD) for building products.

Of course, when faced with progressively more

rigorous standards for sustainable building,

perception is surpassed by the proven thermal

performance of plastic materials such as

extruded polystyrene (XPS) insulation.

One of the simplest methods of improving overall

building performance is to address heat loss,

especially via the specification of highperformance

XPS roof insulation. Double or triple

layering a lesser-performing alternative is an

option – but not a logical one, when you factor in

the increased financial and environmental costs

of product, transport, and labour. A single layer of

next-generation XPS insulation can hit U-value

targets as stringent as 0.10 W/m²k.

Its low thermal conductivity, high compressive

strength, and superior thermal resistance also

ensure a longer lifespan for the roof, reducing the

environmental payback period – one area in

which plastic's longevity is a blessing. In one

study, XPS installed under freezing, high-traffic

Alaskan roads and airport runways far

outperformed expanded polystyrene (EPS), which

needs to be 1.5 to 2 times thicker than XPS to

deliver the same in-service R-value.

The same is true even in much warmer, more

volatile climates; when, after 17 years,

Dallas/Fort Worth International Airport was reroofed

in 2003, scientists found that the original

XPS insulation had survived everything from

tornadoes, to extreme heatwaves, to one of the

most destructive hailstorms in history, with

Continued on page 52

50 TC JUNE 2022
---
Sustainability & Construction

Continued from page 50

minimal changes to the R-value, compressive

strength, and moisture uptake. Over 90% of this

existing XPS was able to be reused. Alongside a

crucial reduction in waste and emissions, this

enabled six-figure savings on the costs of labour,

product, haulage and disposal, and minimal

operational disruption for the client and building

occupants.

Clearly, ambition needn't stop at the first

application – or indeed the second. 'Reduce'

comes first in the waste management hierarchy,

but recycling is also key to conserving energy and

resources in the production of building materials.

Materials are known to contribute around 70% to

the construction sector's carbon footprint (plastic

and rubber account for 13% of CO ²

equivalent

emissions caused by material production).

Consequently, it's understandable that the latest

report by the International Panel on Climate

Change (IPCC) reaffirms that greater

commitment to achieving circularity

and efficiency of carbon-intensive

materials will be key to our net-zero

ambitions.

Fortunately, XPS insulation is

composed of recyclable polystyrene –

a thermoplastic that theoretically can be

remoulded and reused without limit – unlike

irreversibly rigid thermoset plastics, such as the

polyisocyanurate used for PIR insulation.

This year, a substantial investment into a new

plastic pelletiser at our King's Lynn plant has

enabled us to take another important step in our

earnest pursuit of a circular economy for

Ravatherm XPS X products. We have always

recycled rejected boards – the product that

doesn't meet our high standards – but this new

equipment opens the door for greater possibilities

in sourcing waste thermoplastics to reform into

pellets that are almost indistinguishable from

their virgin counterparts.

The new equipment has significantly increased

our recycling capacity, enabling our customers to

be part of Ravago's sustainability journey.

Inevitably,

XPS

installation

generates

waste, but

several of our

customers are now

able to return their offcuts to

us for recycling. In theory, this could extend to the

end of life – if processing and transport

considerations allow, insulation removed from

buildings could be recycled too.

Of course, there are challenges around taking

material from mixed sources; all boards are

polystyrene, but not all polystyrene is exactly the

same. Recycled pellets can have inconsistent

chemical qualities which makes it difficult to

account for in production equipment – for

example, the resulting gel used to manufacture

boards can act differently due to varying

elasticity. At the moment, we are able to include

up to 40% recycled material in Ravatherm XPS X

boards, but there is significant potential for

growth. Large-scale recyclers, like ISOPOR in

"At the moment, we are able to include up to 40% recycled material in Ravatherm

XPS X boards, but there is significant potential for growth"

Germany, can potentially provide the consistent

quality needed for 100% recycled materials

products given the size of their operations. For

Ravago, there is hope and scope for technology to

bridge the gap in the near future and eliminate

reliance on virgin plastics.

Partnering with Neste, the world's leading

producer of drop-in renewable feedstocks and

solutions for the polymers & chemicals industry,

the Ravago Group last year announced plans to

establish a joint venture to build an industrial

facility for chemical recycling in North Sea Port in

Vlissingen, the Netherlands. Ushering in a

collaborative approach to advanced recycling,

which turns hard to recycle plastics into raw

materials, the agreement has unlocked a new,

more environmentally conscious meaning to "the

material of a thousand uses".

Contact Ravago Building Solutions

Email: technical.uk.rbs@ravago.com

ravagobuildingsolutions.com/uk/en/

@RInsulationUK

52 TC JUNE 2022
---
Mineral Wool

ROCK MINERAL WOOL & GLASS

MINERAL WOOL: THE DIFFERENCES

Mineral wool is an all-encompassing term that is used to describe both glass mineral

wool and rock mineral wool. However, as George Danzey-Smith, Commercial Manager at

ARC Building Solutions, points out, whilst they are inherently similar, the two materials

are different and as such, he says it is vital that the industry understands the difference

between them both. Below, he discusses the benefits and the differences of each

material – particularly when it comes to fire safety.

So, what are the differences between rock

mineral wool and glass mineral wool when

it comes to their production and

performance? Firstly, rock mineral wool is

manufactured using rock, alongside blast furnace

or steel slags, which normally accounts for

around 97% of the material. A further 2-3% is

then made from organic content in the product,

as well as an adhesive and a very small amount

of oil. These materials are combined using

intense heat within a furnace and are then spun

together to create a fibre-like structure.

Glass mineral wool.

Rock mineral wool.

"Whilst both materials offer strong performance,

rock mineral wool delivers far more effective

performance regarding fire resistance"

Performance-wise, rock mineral wool offers

fantastic thermal and acoustic properties, attaining

R-values of around 2.7 to 3.3. Additionally, as a

dense material, rock mineral wool provides

incredible protection against noise and can be used

to insulate properties very effectively.

Similar to rock mineral wool, glass mineral wool

is also produced using incredibly high

temperatures inside furnaces, and most of the

time it is manufactured from silica sand, recycled

sand, soda ash and sandstone. Solutions

manufactured from glass mineral wool offer solid

thermal and acoustic properties. In terms of heat

loss, glass mineral wool can achieve R-values of

around 2.0 to 2.9, which is effective, but not as

good as the values of rock mineral wool.

In addition to their thermal and acoustic

properties, both materials are also cited as noncombustible.

However, despite this, the actual fire

resistance of each product varies – and it's

important to understand these differences in

order to make an informed decision.

It has been well documented that glass mineral

wool fibres can withstand temperatures of around

400ºC. Although glass mineral wool can be

incorporated within a fire-stopping system,

helping to meet increasingly stringent fire-related

regulations – it doesn't match rock mineral wool

insulation in terms of fire-resistant performance.

According to several mineral wool insulation

manufacturers, rock mineral wool has a melting

temperature of over 1000°C. As such, as a

naturally non-combustible material, rock mineral

wool lends itself for use in insulation solutions, but

most notably in passive fire protection schemes.

Due to rock mineral wool's high melting point, this

exceptional performance dramatically mitigates the

risk of fire spreading within building structures.

What's more, as rock mineral wool is highly fire

resistant it can be relied on to prevent the passage

of heat from one part of a building to another.

Both glass mineral wool and rock mineral wool are

effective insulation materials that can be used to

great effect within the construction sector. Through

their usage, the industry can help to make the

UK's building stock more energy efficient and fire

safe, while delivering more comfortable internal

environments for occupants. However, it's clear

that the term 'mineral wool' should not be used

loosely when considering what to choose.

Whilst both materials offer strong performance, rock

mineral wool delivers far more effective

performance regarding fire resistance. That's why

at ARC, we use the material across our range of

cavity fire barrier and cavity closer solutions. As

demonstrated, solutions manufactured from rock

mineral wool can deliver exceptional fire-resistant

performance across a wide range of applications.

Contact ARC Building Solutions

www.arcbuildingsolutions.co.uk

54 TC JUNE 2022
---
helping people

embrace light,

air and space.

rooflights.com is a proud UK manufacturer and supplier of architectural quality

rooflights and roof windows. With 25 years worth of knowledge, rooflights.com

can offer you a selection of high quality products at online prices.

Flat & Pitched Rooflights

Free UK Nationwide Delivery

BBA Approved

Secured by Design

LPS 2081: Issue 2

Cert/LPCB ref: 1347a

CALL US: 0333 016 4273

EMAIL: info@rooflights.com
---
Vacuum Insulation Panels

ULTRA-THIN VIP PANELS TO MEET

THRESHOLD CHALLENGE

Meeting thermal requirements in spatially-challenged applications is becoming more of

an industry issue as property owners find increasingly inventive ways to optimise living

space, writes Paul Griffiths, Business Development Director at Recticel Insulation.

It's a trend that has led to roof terracing being embraced as a practical, attractive way to enliven

otherwise dormant areas and add real value to a building. However, insulating such spaces

introduces a number of challenges. The following guide provides some useful tips on overcoming a

key hurdle to the successful insulation of terraces and flat roofs, namely maintaining compliant

thresholds through the innovation of ultra-thin insulation. This has gained greater traction with the

development of VIPs (vacuum insulation panels); a super-slim solution which provides maximum

performance but at a much-reduced product thickness, thus helping to overcome threshold issues:

Deck-VQ installation.

1Prevention is better than cure, a saying

that is particulary pertinent to house

building and renovation. In the case of roof

terrace insulation, it means providing answers for

some initial key questions, such as how can

specified U-values be achieved whilst working

within limited thresholds? This is where standard

PIR products often struggle in terms of terrace

installation performance, as it generally means

either compromising on U-value outcomes or

compromising on drainage by installing channels

or raising the low thresholds. VIP solutions are

ideal for terraces and flat roofs as they deliver a

high thermal performance without the need for

structural alterations. Working with a specialist

roofing design team such as Recticel's tapered

roof insulation division, Gradient, will ensure the

specified VIPs meet a project's design, optimising

performance, materials and cost.

2Conduct a site survey. In many instances,

the initial take-off drawing/specification of

a project will differ from what is the

'reality' on-site. Therefore, it is always

recommended to have a site survey carried out

prior to ordering a VIP solution. Given that VIPs

cannot be cut or altered on site, it is vital that

dimensions are correct prior to order. This should

also take into account potential obstructions or

openings such as rooflight and drainage outlets,

which would affect the layout of a vacuum

insulation panel scheme.

3Use a protected VIP, as vacuum insulation

panels are vulnerable to puncture. If this

happens the VIP's insulation value will

degrade to roughly that of a conventional PIR

material. A construction site could therefore pose

problems for VIPs during their handling and

installation. The best solution is to utilise a

product such as Recticel's Deck-VQ, as the VIP is

fully-encapsulated within a high density PIR

protective shell. This provides reassurance that

the product can be easily installed by the

contractor, with the knowledge that the VIP's

excellent thermal insulation value will be

maintained.

4Ensure the contractor is aware of the

insulation technology being used in a roof

terrace scheme, particularly in relation to

VIPs. They need to be aware that VIPs cannot be

cut or modified on-site, which is a complete shift

of mind-set from when they use conventional

insulation products.

5Always use the design layout provided. By

working with Gradient, a full project design

package and survey is supplied. This will

create a scheme layout in conjunction with the

product delivery and ensure the quantity of

material delivered is optimised to eliminate or

reduce site waste. It is therefore vital that the

design scheme is followed exactly, in order to

avoid installation difficulties and product

shortfall.

High thermal performance where build-up

thickness is an issue

The aforementioned VIP solution Deck-VQ has been

specifically developed by Recticel Insulation to

deliver high thermal performance for applications

such as terraces where insulation build-up

thickness is an issue. Its superior thermal

credentials – it has a lambda value of the core of

0.006 W/mK – come to the fore in enabling even

the most complex terrace projects to be carried out

without the need for structural changes, thus

reducing on-site working times and materials.

Thanks to Recticel's Deck-VQ panels, flat roofs

can be put to more imaginative use whilst fulfilling

their primary function in keeping the building

beneath warm and dry. In performance terms,

their ultra-thin composition is their greatest

strength, making them a popular PIR choice with

designers, installers and end users alike.

Contact Recticel Insulation

www.recticelinsulation.com/en-gb/home

@RecticelInsulUK

56 TC JUNE 2022
---
KEMPEROL ®

Liquid Roofing &

Waterproofing

KEMPEROL ®

The first choice

for liquid membranes

Long term protection for flat roofs, buildings

and critical structures

Warm roofs, inverted roofs, green roofs, podium

Whatever your requirements,

we have a certified and proven

solution to meet your needs.

Contact us to discuss

Kemperol Liquid Waterproofing

With over 60 years' experience, there's not many challenges we

haven't faced, confronted and overcome.

Whether it's a school, hospital, hotel, car park, balcony, the list is endless,

KEMPEROL ® has a range of cold applied products to suit every application.

visit www.kemperol.co.uk

To find out more about the KEMPEROL ® range of products

Tel: 01925 445532

Email: enquiries@kempersystem.co.uk

06/4388

95/3139
---
Insulation Updates

For further info on all these updates and more, visit www.total-contractor.co.uk

ADDITIONAL BBA FOR ROCKSILK

Knauf Insulation has earned an additional BBA

certificate for its Rocksilk RainScreen Slab

range – a new solution for partially filled

masonry cavities.

thicknesses of any rainscreen solution on the

market," explained Luke Davies, Rock Mineral

Wool Product Manager at Knauf Insulation. "This

latest addition to the range means that architects

possible Euroclass A1 reaction to fire

classification. This means it complies with

building regulations that ban the use of

combustible insulation on buildings over 18m tall

and specifiers benefit from the in England and Wales, and restrict their use on

Rocksilk RainScreen Slab is

simplicity of using just one most buildings over 11m in Scotland.

now certified for use in

product, even if there are

masonry cavities in both highrise

rainscreen façades and

Rocksilk RainScreen Slab at 455mm is available

With a thermal conductivity of 0.034W/mK,

different build-ups within the

project".

domestic low-rise buildings

in thicknesses between 50mm and 220mm. The

situated in very severe exposure zones. The BBA

certificate means that it complies with building

regulations that state that insulation used in

partially filled masonry cavities must have thirdparty

accreditation.

"Our Rocksilk RainScreen Slab is already BBA

certified for the broadest range of build-ups and

The product is suitable for use with

all types of masonry cavities

including blockwork or

reinforced concrete substrates

with brick, blockwork or natural

stone façades.

It is also non-combustible with the best

slabs are designed to interlock to prevent

unintended gaps that lead to air leakage

and lower thermal performance.

www.knaufinsulation.co.uk/insulationfor-partially-filled-cavities

FRAMEPRO W1 EXCELS ON PASSIVHAUS PLUS PROJECT

The FramePro W1 air barrier system from the A. Proctor Group has

been chosen for a new modular Passivhaus Plus housing project in

Cardiff.

This innovative project will provide essential housing for Cardiff's

homeless population. It is designed by Beattie Passive using its awardwinning,

patented design and build system, which the company says is

the UK's first certified Passivhaus Complete Build System.

A. Proctor Group's FramePro W1 air barrier system was used at a new project for Cardiff's homeless

population which is said to be the UK's first certified Passivhaus Complete Build System.

The development consists of 48 one, two and three-bed apartments with two ancillary office buildings. Manufactured offsite in the Beattie Passive factory

in Norwich, the buildings were transported and assembled on-site in Cardiff. The three modular housing blocks provide complete flexibility. Satisfying

Cardiff's immediate requirement to provide housing for people and families in temporary accommodation, in later years the modules can be dismantled,

reconfigured and assembled to suit the demographic needs of the city at that time. The FramePro W1 system was chosen as an external air barrier. The

system comprises FramePro W1, a low-resistance vapour permeable air barrier for walls, plus Wraptite Tape. Ron Beattie, Managing Director at Beattie

Passive, explained: "FramePro W1 is an excellent barrier system that provides complete protection from "windwashing" and the effects of wind

penetration and moisture management in buildings. In addition, the system is easy to use and apply, easy to joint, and won't tear."

Another benefit of the FramePro W1 system is that applying it externally simplifies the process, maintaining the building's integrity, as there are fewer

building services and structural penetrations to be sealed. By reducing the likelihood of potential failures to meet designed airtightness levels, the

FramePro W1 System helps ensure "as-designed" performance, narrowing the performance gap between as-designed and actual energy performance.

This challenge is highlighted in the latest revision of BS5250 - Management and Moisture in Buildings (Revised: July 2021), which includes reference to

'as designed in theory' (ADT) and 'as-built in service' (ABS). Isabel Beattie, Director at Beattie Passive, commented: "the buildings are designed to

achieve Passivhaus Plus standards and zero carbon. To achieve these high standards, we undertake rigorous testing on the materials used in our

buildings." www.proctorgroup.com

58 TC JUNE 2022
---
WITH ENGINEERING

ON THIS LEVEL,

ONLY THE SKY'S THE LIMIT.

Our engineering know-how not only delivers one of the slimmest sightlines

in a roof lantern – but also unmatched performance and durability.

Each lantern is tested for ultimate security, watertightness, thermal efficiency,

and strength. And roofs have been engineered to make installation quick and easy.

• 40mm internal ridge, rafter & hip

• No boss or Y cover

• Hidden tie bar

• Variable dual roof pitch – 17 degrees to 35 degrees

• Equally proportioned

• Stronger construction

Lantern Flat Rooflight Skyroom Conservatories Verandas Lean-tos

To see more, contact our Technical Team at 0283 832 7741

or visit atlasroofsolutions.co.uk/engineering
---
Article

Tools

POWERED UP!

Kevin Brannigan, Marketing Manager at Makita, says

having the right tools to hand can make a huge difference

to a tradesperson's on-site efficiency and safety...

For any tradesperson, having a range of high

power, durable and reliable equipment

available in the toolbox is the key to ensuring

on site productivity. Although mains-powered

machines offer a number of benefits, there are

certain disadvantages, including restrictions to

movement and trip hazards due to power cables.

To minimise risk and maximise efficiency,

consider how cordless products can benefit you.

Thanks to advances in battery technology, the

leading cordless power tools on the market today

offer output that is equivalent to – or sometimes

even higher than – corded alternatives, as well

as a wide range of additional benefits.

Cordless is king

As there is no power lead, users have maximum

flexibility to move around site. This offers a huge

benefit, particularly for those working at height or

in restricted spaces. In addition to the power lead

itself, there are also no restrictions caused by the

location of power sources.

Operators also do not have to worry about trailing

cables or transformers creating a trip hazard and

set up time can be kept to a minimum, as there is

no need to plan for the safe placement of cables

around site.

A better power source

The majority of cordless machines available on

the market today will be powered using lithiumion

batteries. Unlike alternatives, these batteries

will hold high levels of energy and have minimal

self-discharge, allowing them to be stored for

long periods while keeping their charge. Because

of their energy density capacity, lithium-ion

batteries offer high output and can work for long

periods of time between charges, so users can

rely on this power to tackle projects with ease.

What's more, lithium-ion

batteries have no memory

effect – meaning they do not

have to be drained down

completely before charging, so

users can charge at any time and

easily ensure their batteries are fully

charged at the start of the workday.

When purchasing products, consider whether the

battery charging process has been optimised. For

instance, Makita has designed its batteries to

communicate with the charger and this allows the

charger to identify any issues with the battery

such as over discharge or overheating. The

charger will then work to rectify any issues – for

example, by cooling the battery down before

charging commences to ensure no damage is

caused to the battery – and make the charging

process faster and more efficient.

As a result of this process, Makita's 18V LXT

lithium-ion batteries can be charged in as little as

22 minutes (for 3.0Ah batteries) up to 55 minutes

(for 6.0Ah batteries). In addition, a 2.5Ah XGT

40VMax battery will charge in just 28 minutes

and a 4.0Ah battery in just 45 minutes.

A tool for every job

When purchasing power tools, consider selecting

products that share the same operating battery

system. This means the same battery can be

used to power all of a tradesperson's kit and, as

such, allows them to effortlessly switch between

tools and tasks throughout the day. For example,

Makita's 18V LXT batteries can be used to power

over 270 products – and its XGT 40VMax

batteries can power over 50 products, with more

being regularly added to these ranges.

Makita also offers 36V machines that are

powered using two 18V LXT batteries – and 80V

machines powered by two XGT

40VMax batteries – for

professionals in need of additional

power all within the same battery

platform.

Brushless all the way

Another factor to consider is the type of motor

used. Although brushed motors are effective,

brushless alternatives are generally lower in

maintenance. This is because there are no brushes

within the motor causing friction. When friction

occurs, it can result in wear and tear and the need

for replacement parts, which incurs additional

costs throughout the lifecycle of the machine.

As there is less friction, brushless machines are

also more energy efficient as less energy is lost

through heat production. In turn, this can lead to

extended run times of between 30% and 50% on

each battery charge, keeping users working

disruption free for longer.

What's more, brushless motors are smaller than

alternatives, which means that many tools are

more compact and lighter – but will still deliver

the power needed for professional use.

Cordless tools with brushless motors offer users

a wide range of benefits including flexibility of

working and manoeuvring around site, improved

safety, long battery life and fast charge times.

When selecting which models to add to your

armoury, also consider how investing in a single

battery system will help to make work easier and

more efficient, by allowing you to switch between

tools and tasks effortlessly.

Contact Makita

www.makitauk.com

@MakitaUK

60 TC JUNE 2022
---
PURPLEXED

ABOUT YOUR

MARKETING?

In a world where marketing and customer behaviour is constantly

changing, you could be forgiven for being in a state of confusion

when it comes to your own marketing.

As a fully integrated marketing agency, Purplex is powered to

alleviate this stress and help ambitious companies like yours build

their reputation, business, and future.

With more than 35 years industry experience our specialist teams

build campaigns that cut-through the noise and create integrated,

consistent, and clear messages across all platforms to build brand

awareness and drive your business to greater heights.

SPEAK TO THE EXPERTS IN:

MARKETING

CONSULTANCY

PR & MEDIA

RELATIONS

VIDEO PRODUCTION

& EDITING

BRANDING &

CREATIVE

WEB & E-COMMERCE

DESIGN

SOCIAL MEDIA

MARKETING

SEARCH ENGINE

OPTIMISATION

PAY-PER

CLICK

IF YOU'RE PURPLEXED ABOUT YOUR MARKETING, SPEAK TO THE EXPERTS

T: 020 3137 9319

E: grow@purplexmarketing.com | W: www.purplexmarketing.com

HQ: 200 Worle Park Way, Weston-super-Mare, BS22 6WA
---
Article

Clothing

GET IN THE COMFORT ZONE

THIS SUMMER

Peter Dumigan, Managing Director of the Hultafors Group UK, which owns Snickers

Workwear, Hultafors Tools, Solid Gear and Toe Guard safety footwear, as well as Hellberg

Safety PPE, explains how Snickers Workwear offers comfort and wellbeing and

contributes to improved performance for tradespeople on site, plus comes with the added

benefit of being the sustainable choice for workwear...

For nearly 50 years, Snickers Workwear has

been building a workwear trend that now

delivers eco-friendly, technically advanced,

innovative and high-quality working clothes that

are built to last and look good, at both work and

at play. In essence, it's sustainable workwear

that can be used on site and for leisure activities

too.

In today's climate of carbon footprints and

wastefulness, environmental considerations are

more important than ever for Workwear brands.

At Snickers Workwear, we develop long-lasting,

functional garments. We know that our customers

demand durable products that can sustain long

hours of hard work, and this is also the

cornerstone behind our sustainability work. Every

product we make has an impact on the planet.

The longer our workwear lasts, the less our

environmental impact.

Snickers Workwear clothing is trialled and tested

from the arctic circle to the southern

Mediterranean, and in extreme environmental

conditions – cold, heat, wind and rain. But not

only are these working clothes tested for

performance, they're now tested for

'Environmental Sustainability'. What makes these

garments so appealing to forward-thinking

individuals and corporations alike is not only the

comfort, functionality and ergonomic body

mapping designs, but also the 21st century

fabrics found in the latest sustainable, organic

and sports fabric technologies.

Snickers Workwear's product design and

development has always been driven by a

continual investigation of user needs and

experiences in as wide a range of working

environments and weather conditions as

possible. But nowadays, recyclability and carbon

footprint impact is a key part of that evaluation.

So, it's not just workwear functionality and

physical demands on the body that's researched,

it's also the physical demands that product

manufacturing and waste disposal place on the

world around us that matters too.

Combining market-leading fabric

technology with Verifiable Sustainability

But if you want to be more than just cool and

comfortable at work this summer – and do your

for bit for saving the planet – the 'Verifiable

Sustainability' in Snickers Workwear's new T-

and Polo-shirts will suit you down to the ground.

The brand aims to be at the forefront of

sustainability in Workwear which is why the new

lightweight Polo and T-shirts are made of 100%

recycled polyester with a bio-based, anti-odour

finish, plus a smooth texture and efficient

moisture transport for great working comfort.

If your focus is on being kind to animals, the

Sustainable Merino Wool mid- and base-layer

clothes are 'Mulesing-Free', which will help you

stay warm or cool because of the nature of its

100% all-natural Merino Wool fabric, that

delivers optimal comfort for all kinds of working

environments and leisure activities. 'Designed' by

nature for excellent ventilation and insulation,

Merino wool is extremely soft and naturally

odour-preventive for an all-day fresh feel. It's

also temperature-regulating, repels water and dirt

Continued on page 64

62 TC JUNE 2022
---
GREENSCAPE

MAGAZINE

In collaboration with

the Green Roof

Organisation.

If you supply green

roofing products to

the green roof market,

Greenscape is the

magazine for you!

Get your marketing

message in front of over

5,000 professionals who

specify/purchase green

roofing products

GREENSCAPE

Ensuring Best Practice for Green Roof & Solar PV Projects

Updated GRO Code

MAGAZINE

SPRING 2021

Green Roof Myths

For advertising

opportunities contact

Andy Dunn

07963 330777

Jake Roxborough

07956 133314

Green Talk Q&A

#WGRD2021: Get involved!

News, views and projects

In collaboration with the Green Roof Organisation

01_GS0421 1 16/04/2021 17:07

From the publishers of
---
Clothing

Continued from page 62

particles. It's anti-static and Snickers Workwear

ensures that the wool it uses is produced in kindto-animals,

'Mulesing-Free' environments.

If recyclability is your particular focus in ecofriendly

priorities, then the AllroundWork Hoodies

and Gilets could be your 'Sustainable Choice'.

Made from 100% recycled polyester, the clothes

are comfortable and lightweight with great

freedom of movement. They'll also deliver just the

right warmth and comfort to keep your body warm

in chilly early mornings or comfortably cool in the

warmer evenings.

Making the right workwear

choices in summer

For you to stay cool and comfortable in warmer

weather, workwear choices matter a lot. For

optimum performance your workwear needs to

deliver great ventilation, have a fabric that dries

fast while still offering the protection you need;

make the right choices and you'll be well

prepared for a hot day's at work.

Dress for the heat

The sun's warmth burns, you need to stay cool and

turn down the heat. So here are three key facts to

keep in mind when dressing for warm weather.

• Ventilation

When temperatures are on the up, ventilation is

crucial. It can be achieved in different ways,

either by how the workwear is designed or the

functionality it delivers. Two of the main features

Snickers workwear integrates into its workwear to

offer great breathability are the 37.5 technology

for cooling comfort and Mechanical Air Flow.

• Fabric technology and working comfort

The fabric in your workwear definitely affects how

comfortable you'll be throughout the workday.

Cheap workwear that uses poor quality fabrics

might be easy on the wallet, but they wear easily,

cause discomfort and chafing, affecting your

mood and wellbeing. Good quality lighter fabrics

– especially those with good stretchability and

those that offer UV protection – offer more

ventilation and they dry quickly. While cheaper

cotton-based fabrics absorb moisture and dry

slowly. Snickers Workwear's LiteWork collection is

specially developed for warm days at work, giving

you good-looking, quality clothes made in lighter

fabrics to ensure great ventilation and comfort.

• LiteWork, quick-drying workwear for

improved performance

The LiteWork collection is specially developed for

warmer weather. It features the revolutionary 37.5

technology and stretch fabrics for the best in

mobility, moisture transport and ventilation. What's

more, advanced functionality and great fabric

technology will ensure cool and dry working comfort,

no matter what the weather conditions are.

So, if you're thinking about what's most practical

– and beneficial – to wear this summer for work

or leisure, many of the Snickers Workwear styles

are dual purpose and work hard at reducing our

collective carbon footprints.

If it's performance you need, check out the

upgraded lightweight and breathable 37.5 fabric

technology in Snicker's Workwear's shirts and

base-layer clothes. With superb cooling

technology, they're great for demanding tasks on

site as well as high intensity gym work, circuit

training, jogging, hill walking and mountain biking.

Look out for styles made from the highly

functional 37.5 fabric for optimal ventilation,

cooling and moisture transport to keep you feeling

fresh for longer.

37.5 fabric technology: an altogether

cooler experience

On a hot day you really need a garment made

from a fabric that has the ultimate capacity

for ventilation and moisture transport. That is

why Snickers Workwear uses 37.5 fabric

technology to provide hardworking craftsmen

and women with the coolest experience.

5 Cool facts About 37.5 Technology

• The active particles used in 37.5®

technology are derived from natural sources

such as coconut shells and volcanic minerals.

• Fabrics with 37.5 technology dry up to five

times faster than performance fabrics

without.

• The hotter a user gets, the stronger the

drive force removing moisture becomes.

• 37.5 works to the level of 37.5 degrees,

both when it comes to humidity percentage

and temperature.

• Active particles are permanently embedded

into the yarn and will never wash out or

degrade.

And finally…

While style, comfort and functionality have been

key drivers in Snickers Workwear clothing

development over the last 50 years, fabric

technology, performance and sustainability is now

central to the technical design of the brand's

clothing, just as it is in performance sports and

leisurewear. The result is environmentally friendly,

ergonomically designed dual-purpose working

clothes that are not only designed to meet the

physical demands that tradesmen and women

face at work, but are also ideal for some sports

and leisure activities. Most important in today's

climate, they'll help reduce your carbon footprint

too!

Contact Snickers Workwear

www.snickersworkwear.co.uk

Email: sales@hultaforsgroup.co.uk

64 TC JUNE 2022
---
EE 4G+

Janis Windows & Doors Ltd

48 Appleton Place, Appleton Industrial Estate,

Southern Road, Aylesbury, HP19 9EW

Tel: 0831 6090 476

Email: info@janis.co.uk

Web: http://www.janis.co.uk

17:02 56%

Business Details

YOUR

FUTURE

IN YOUR

HANDS

Credit Rating: 73

Key Contact: Alexia Kalila, Managing Director

Direct Tel: 07968 342 115

Direct Email: alexia.kalila@janis.co.uk

Products

PVCu Windows and Doors

Windows/Doors, Buy in, Spectus

Vertical Sliders, Buy in, Veka

Bi-fold Doors, Buy in, Kommerling

Composite Doors, Buy in, Solidor, 10 PW

Insight Data puts 80,000 potential

customers at your fingertips

Aluminium Windows and Doors

Windows/Doors, Buy in, Techal

Windows/Doors, Buy in, Senior

Bi-fold Doors, Buy in, Technal

50-75 Frames per week

The Insight Database helps your sales and marketing team get better results faster. Updated live

in real-time with in-depth information, not available anywhere else, you get the inside track on

fabricators and installers, builders, architects, merchants, construction firms and house-builders.

01934 808 293

hello@insightdata.co.uk

www.insightdata.co.uk

502 Worle Park Way, Weston-super-Mare, BS22 6WA

@insightdata
---
Updates

For further info on all these updates and more, visit www.total-contractor.co.uk

THE LONG AND SHORT OF IT!

Great for summer working on site, these

lightweight Work Shorts have a street-smart

fit with a cool working comfort in warm

conditions. They're made of quick-drying 37.5

technology fabric that delivers efficient

moisture transport, ventilation and UPF40

sun protection in sunny weather.

They have a functional design and come with or

without extra robust holster pockets. There's also

a 4-way stretch panel at the crotch and

reinforcement at critical areas for extra

durability.

They're packed with comfort and functionality

and specially designed for the fast-paced

professional who's always on the go and always

delivering top class work on site. For

professionals who

rely on their gear

in demanding

environments,

they're a must

for everyone who wants the

ultimate in cool comfort this summer.

www.snickersworkwear.co.uk

REACH NEW HEIGHTS WITH TELEGUARDPLUS

WernerCo has announced a new addition to its successful telescopic ladder family with the launch of the BoSS

TeleguardPLUS, providing users with exceptional height and ultimate safety when working at height.

The BoSS TeleguardPLUS is a telescopic platform ladder which offers a versatile and safe solution to working at height. Its ergonomic

design, in accordance with the latest EN131-7 specification, boasts a range of features designed for both ultimate user safety and

efficiency. Available in 4 sizes, not only can the ladder reach an unbeatable safe working height of 5.15m, it also offers a multipurpose

solution to enable work at height, with the ability to be used in flat slab mode and on stairways, which is proof alone of its multiple

functionality. The spacious platform and guard rail allow for free hands and plenty of room to manoeuvre while working, while the chain provides users

with 360° protection. In addition, the built-in tool tray helps to maintain a safe and clear working space while on the platform, enabling users to save

time transporting tools up and down, therefore minimising the risk of slipping. www.bossaccesstowers.com

A CUT ABOVE THE REST

Makita UK has launched its first XGT 80VMax Disc Cutter, to offer professionals a powerful cordless solution that

delivers output equivalent to traditional 2-stroke alternatives – with the added safety and improved usability

benefits of cordless.

The CE001G XGT 80VMax 355mm Disc Cutter is powered using two XGT 40VMax batteries and delivers an impressive

maximum output of 3,600W and no-load speed of 5,300rpm, making light work of any high-demand application. In addition,

this machine has a large wheel diameter of 355mm and offers a maximum cutting capacity of 127mm, so it is suitable for use on larger workpieces.

The disc cutter is equipped with numerous safety features including Active Feedback Sensing Technology that automatically shuts down the power to protect the

operator and the machine if the rotation speed suddenly slows down in the event of the blade jamming in the cut or if kickback occurs. To improve user safety

further, the CE001G features an anti-restart function that prevents accidental start-up and operators can also choose to connect a water supply to the machine

to aid dust suppression. The CE001G has also been designed with an anti-vibration housing, to prevent user fatigue. Vibration is absorbed thanks to a built-in

dampening spring, resulting in vibration levels of just 2.0 m/s2 at the front handle. This machine is available as a body only model (CE001GZ) for contractors

who have already invested in the XGT battery platform, or as a complete option (CE001GT201) supplied with two 5Ah batteries and twin-port charger.

Kevin Brannigan, Marketing Manager at Makita, said: "We are excited to launch the CE001G. Thanks to our XGT cordless technology, the CE001G offers

increased depth of cut and the output needed to tackle high-demand applications without compromising on battery run time, keeping professionals

working disruption free for longer. With Makita's XGT 40VMax platform, professionals can also use the same batteries to power over 50 XGT models –

making it easy to swap between tools and tasks across the workday." https://makitauk.com/products/xgt-machines

The CE001GT201 also qualifies for Makita's latest XGT redemption promotion - which is running until the 30th September 2022 - where customers can claim the MR002GZ01 Bluetooth Job

Site Radio, or MP001GZ XGT 40VMax Inflator, or ML003G XGT 40VMax Worklight with the purchase and registration of selected XGT 40VMax machines.

66 TC JUNE 2022
---
VISOGLIDE PLUS

SLIDING DOORS

10%

FIRST ORDER

INTRODUCTORY

DISCOUNT

QUOTE CODE

TC-VG01

INDUSTRY LEADING CUSTOMER SERVICE

Comprehensive install guide & support

THERMALLY BROKEN ALUMINIUM

Slim profile, Lipped outer frame, Sobinco locks

TRIPLE

TRACK

AVAILABLE

NOW!

LARGE SASH WIDTHS

Up to 6.4m wide in 2 panes. 2-4 panes available

STOCK COLOUR CHOICE

White, Anthracite Grey & Black, Dual Colour

FROM

2 WEEK LEAD TIMES

Reliable safe site delivery

www.madefortrade.co | Tel: 01642 610799

* Discount applies to new trade customers and first, single item purchase only of the Smart Visoglide Plus Sliding Doors | Image for representation only

* Per leaf price is unglazed and may vary depending on size and specification of the door. Lead time is based on a standard colour. Postcode restrictions apply
---
SPEED AND

SIMPLICITY,

BY DESIGN.

Introducing the new Siderise CT

Cavity Tray.

A unique trilateral design that's flush-fitting, fully aluminium

wrapped and pre-filled with non-combustible stonewool, making

it incredibly quick and easy to install as well as A2-s1,d0 rated.

Its exclusive design* is engineered for use with Steel Framing

Systems and blockwork inner leaves without hot works, screwing

or chamfering, whilst corners are easily cut on-site. Backed by

forty-five years of cavity barrier innovation, full site support

services and our market leading inspection app, Siderise CT

Cavity Tray is another innovation to help make projects easier.

Your Workmanship. Our Ingenuity. Swift Installation.

Discover more at Siderise.com

CERTIFICATE 21/5978

*Patent pending