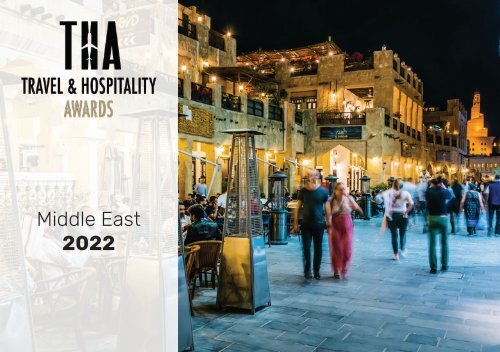 You also want an ePaper? Increase the reach of your titles
YUMPU automatically turns print PDFs into web optimized ePapers that Google loves.
Middle East

2022
---
TRAVEL & HOSPITALITY

AWARD WINNER

2022
---
Team

Contents

CEO

Robert Bruce

Editor-In-Chief

Katherine Lozell

Art Director

Marcs Bacera

Awards Director

Brian Anson

Editorial Liaison Manager

David Hyde

Criteria 6

Qatar10

FIFA World Cup Our Guide to Visiting Qatar12

Qatar 3 Unmissable Attractions16

Fraser Suites West Bay Doha18

Ezdan Palace Hotel20

Saudi Arabia 22

Riyadh The Beautiful

Desert Oasis 24

The Do's and Don'ts in

Saudi Arabia 26

Radisson Blu Hotel &

Residence, Riyadh

Diplomatic Quarter 28

UAE30

Dubai The City of

the Future 32

Shopping in Dubai 34

Adventure in Dubai 38

Emirates Stars Hotel

Apartments Dubai 40

Hydro Sports Yachts and

Boats Rental LLC 42

Bahrain44

Bahrain 46

The Top 5 Things To Do48

Dragon Hotel And Resort 50

Director Of Marketing

Azim Aftab

Social Media Manager

Apple Gatus

Senior Writers

Tasmai Dave & Zavier Zulfqar

Senior Designers

Maria Fernandes & Ashwin Ramesh

Awards Managers

Adam Cole, Alice Smith, & Stanley Lucas

Research Managers

Peter Clement & Mukul

Contributing Writers

Joseph Malabanan, & Michael Popoola
---
Criteria

Service

Excellence in Service is an important

category, as customer service can often

be responsible for having guests return

year after year. We look for the hotels

and tour operators that go out of their

way to please their guests, those that

provide a personal level of service and

take the time to get to know each visitor

so that they might anticipate their every

need. This can be something as simple

as a 24-hour concierge desk, a hotel

manager who offers a personal greeting

or a tour guide who is happy to create

bespoke private tours – but whatever

it is, we are always pleased when we

encounter staff that have been trained

in the art of customer satisfaction.

Style & Design

It is no question that style and design

plays a big part in selecting our awards

shortlist. A guest will form an opinion

about a hotel as soon as they arrive

so it is important to us that all our

winners make those first impressions

count. We're certainly not partial to a

particular period of architecture – but

whether we're judging a gothic castle or

an environmentally friendly lodge, the

criteria remains the same. We consider

factors such as architectural features,

use of materials, creation of spaces,

décor and the overall feel. We love it

when we find a hotel that tells a story

though its design and construction, or

offers a design that is sympathetic to

the natural surroundings of its location.

Local Knowledge

Knowledge of the local area is essential

for any organization, be it a hotel or a

tour operator. The quality of services

takes a great hit when the quality of this

element is not up to the mark. Quite a

few of our winners in this category are

because they have displayed excellent

knowledge about the surrounding

areas. The criteria for a hotel is slightly

lenient compared to a tour operator, as

the latter is expected to have thorough

knowledge of the area in order to

provide good services.

Facilities

Award-winning guest rooms come in all

shapes and sizes, but they all have one

thing in common – a home-away-fromhome

feel. The comfort of the facilities

on offer are of vital importance; we look

for luxurious linens, stylish bathrooms

and a coordinated colour scheme that

work together to create a cohesive

sense of relaxation. Additional touches,

such as complimentary toiletries, free

wi-fi or tea and coffee making facilities

are always a bonus in making us feel

welcome. We're always impressed to find

hotel rooms that embrace technology

and offer amenities like tablets or smart

thermostat systems, but this does not

always necessarily trump the traditional

– four poster beds, ornate fireplaces or

antique furniture can add a touch of

decadence to a hotel stay.

Marketing

In today's modern age, a hotel or tour

operator cannot rely on word of mouth

to get their message out into the world.

As social media has become a vital

part of everyday life, we like to see

companies that go the extra mile to

engage with their guests, both past

and future. Attractive and informative

websites and engaging and honest

content are what we look for when

judging a company's use of marketing;

how well they display their services, how

up-to-date their content is, how well

they get their brand message across,

and, most importantly, how well their

marketing can tempt us to go and see

what they have to offer for ourselves.

6

7
---
Criteria

Diversity

Diversity is one important aspect that

needs to be taken into consideration

when in the travel and hospitality

industry. It is essential to have staff

that has varying diversity to ensure that

the organization can properly connect

with their guests. Diversity is taken into

account in terms of gender, nationality

as well as languages spoken among

other factors. Not only do we take the

diversity of the staff into account but

even that of the facilities and services

offered; a hotel or tour operator

providing a better range of services is

preferred over those that do not.

Customer Reviews

What better way is there to know about

an organization than by getting first

hand reviews? Customers are the best

judges of any service as they are the

ones who experience them and can

assess whether they were up to the

mark or not. Considering reviews from

hundreds of customers gives us a fair

idea about the general pros and cons

of any organization and also gives us

valuable inputs for the other criteria

as well.

Industry Knowledge

It is of prime importance that an

organization has thorough industry

knowledge. Without knowing the nit-bits

of the industry, it is difficult to flourish

and provide services which are a class

apart. Before any organization ventures

into the industry, it is essential that

they know how the industry is moving

and how they should make changes to

their methodologies in order to remain

relevant and also be a top-performing

organization.

Location

Location is one of the most important factors, but also one of the most subjective,

as the 'ideal' is very much determined by the type of visitor and the type of

hotel itself. However, there are a few factors we take into consideration when

determining the winners of location-based awards. The first is convenience; that

is, hotels that are easy to travel to. Many of our winners in this category are in

convenient locations, such as adjacent to airports, close to beaches or found in

the heart of easy-to-navigate cities. We are always impressed when hotels go the

extra mile to take the hassle out of traveling and offer such additional services as

airport shuttles or car hire services. However, we're always excited to come across

a hotel that is, to use a familiar phrase, off-the-beaten-track. A hotel that can

offer something a little different, in terms of natural surroundings, can make the

difference between a good holiday and an incredible one.

8

9
---
Aerial view of the Pearl-Qatar

Qatar

10

11
---
The FIFA world cup is set to take place in Qatar, a first for such a small nation, and the first time it's taking

place at the end of the year. Naturally there will be a lot of questions about visiting Qatar and there is a lot

of misinformation going around. So to help we've put together a short guide for anyone planning to visit.

FIFA WORLD CUP

OUR GUIDE TO

VISITING QATAR

Hay'Ya Card (Fan ID)

For any visitor the first item on the to-do list must be to obtain

a Hayya Card. Hayya Card is a fan ID, stadium pass (along

with match ticket), public transport card, and entry permit if

you're planning to visit between November 1st and the 23rd

of January. All international travellers, regardless of whether

you plan on attending a match or not, must obtain a Hayya

Card beforehand, locals on the other hand will only need it to

attend matches or use public transport for free. Once tickets

are purchased and accommodation booked you can apply for

a Hayya Card, online via https://www.qatar2022.qa/

Getting In & Getting Around

The main way into Qatar is by flying into Hamad international

Airport. The airport is the home base of Qatar Airways, which

is one the best-connected airlines in the world. You shouldn't

have too much difficulty getting into the country.

If you live in neighbouring Saudi Arabia, then you may want

consider driving in. Saudi Arabia is Qatar's only land border

and is connected by a single highway, the Qatar-UAE Road.

Getting around Qatar is really simply, the country is one of

the smallest in the world and most matches will take place in

it's capital Doha. The metro and bus services in the country

are efficient and well run. With your Hayya Card you'll get

free access. You can choose to go via taxi or ride hailing app,

if you prefer this then we advise getting set up on Uber or

Careem beforehand.

12 13
---
Fan Zones

Much has been made of the general prohibition of alcohol in

Qatar as it's only really available at a few high-end hotels or

private clubs. For those fans who like to revel in a drink during

games organisers have set up designated fan zones, where

alcohol consumption is permitted. Fan zones will be made

easily accessible and set up to include food stalls, football

themed activities, VIP tents, and giant screens. Full list of fan

zones has yet to be released so keep an eye out.

The Sites

While football is the main attraction during the World Cup,

there are plenty of sites worth visiting. The Museum of

Islamic Art is a lovely way to spend a morning, if you want

to shop the city boasts plenty of shopping malls, for a more

traditional shopping experience we recommend the vibrant

Souq Waqif, and for cultural immersion why not check out the

wonder Katara Cultural Village. All this and many more sites

will be a short trip away while you're in Doha. Some of these

could get very busy so if you want to avoid crowds it may be

a smart idea to go toward the end of the tournament when

some fans have left.

Consider the UAE?

One option that has been floated around is the idea of staying

in the UAE and visiting Qatar on matchdays. With both Abu

Dhabi and Dubai only a short flight or a 5-6 hour car journey

(via Saudi Arabia) away, it's something worth thinking about.

For one accommodation will be cheaper in either of these

cities, and neither will be as busy as Doha, ideal if you want

to avoid all the frenzy.

General Tips

As covered earlier alcohol is banned so taking your drinks

out of fan zones isn't allowed nor should you be drunk in

public. Public displays of affection, of any kind can get you

into trouble although you may get away with hand holding or

linking arms.

Dress modestly, make sure knees and elbows are covered,

especially away from the beach or fan zones.

14

15
---
QATAR

3 UNMISSABLE

ATTRACTIONS

Souq Waqif

Doha, the Capital of Qatar,

is a modern marvel and the

epitome of cosmopolitan

city. So, for a glimpse into

it's past, before oil was

found in 1940, we suggest

spending some time at

Souq Waqif. It's essentially

a traditional Qatari market

with vibrant vendors selling

handicrafts, souvenirs,

jewellery, spices, and

clothes. It's also home

to quite a few traditional

Qatari restaurants and food

stalls which tends to give

the whole place a nice buzz

especially in the evenings.

Keep in mind that it's

closed between 12.30 and

3.30 everyday and open

from 12.30pm to 10pm on

Fridays.

The National Museum of Qatar

Set within one of Qatar's most iconic buildings, the National

Museum is the perfect place to learn about the history and

culture of this unique country. The museum shows Qatar's

history in 3 parts – the beginning, the present, and the modern.

There are total of 11 galleries to explore, few restaurants and

cafés, and a beautiful park to enjoy.

It's open from 9am to 7pm everyday except on Friday when it's

open from 1.30pm to 7pm. It costs 50 Qatari Riyal to enter, unless

you're a Qatari citizen, then it's free.

Katara Cultural Village

Qatar has positioned itself as one of the cultural centres of

the Middle East, and no other place reflect this better than

the wonderful Katara Cultural Village. This stunning attraction

houses an amphitheatre, a garden, two distinctively designed

mosques, several restaurants, art galleries, and a convention

centre.

It's played host to several film festivals, TEDx talks, religious

celebrations, art workshops, concerts, and lectures. It's open

24/7 and definitely worth checking out both during the day and

in the evenings.

16 17
---
18

Fraser Suites

West Bay Doha

Qatar | Luxury Hotel

Tucked away in the upmarket region of West Bay, the newly established

five star Fraser Suites West Bay Doha has over 396 rooms up for

grabs. The location of the luxury hotel is such that it is close to all

the important landmarks of the city, including the Corniche, popular

shopping malls, and the Doha Exhibition and Convention Center

(DECC).

Choose between the deluxe, one, two or three bedroom

suites based on the level of luxury you wish to have.

All the rooms are fully-serviced and are spread out

across 46 floors of the hotel. Each floor houses

custom-made furniture and fixtures, created by

high-end designers from Italy. All the rooms

are well-appointed with distinguished

and spacious living and dining areas.

The rooms also come 'with' a fullyequipped

kitchen so that you can

cook whenever you wish to.

Apart from this, the units further include complimentary

unlimited Wi-Fi access. The 24/7 reception caters to

any urgent or general requirements of the guests. The

hotel also prides itself in offering concierge services

to its guests. Other recreational facilities including a

fully-equipped health club, kids room, a game room,

and conference halls are readily available too.

The hotel also features a helipad from where you can

get some fantastic views of Doha. You can choose to

dine here at night or even indulge in some refreshing

Yoga sessions in the evenings with the view of the

city.

Another primary highlight of the hotel is its signature

restaurant called The Social. The restaurant features

an indoor and outdoor dining concept and brings

the best of authentic West, East, and Middle Eastern

cuisine to your plate. A unique breakfast buffet spread

is available every morning as well for your indulgence.

All in all, Fraser Suites West Bay Doha ensures that

your stay in Doha is far from ordinary.

GET IN TOUCH

5863 Al Intisar St, Doha, Qatar

Tel +974 4495 5000

westbay-doha.frasershospitality.com

19
---
Ezdan Palace Hotel

Qatar | Elegant Hotel

Located in the heart of Doha, and in close proximity to the biggest

shopping malls in Qatar, five-star Ezdan Palace Hotel raises the bar

in service, style, and sheer indulgence. Opened in May 2018, the Hotel

features refined Andalusian architectural design and unique service

which blends true Middle Eastern hospitality with international

standards. The 195 lavishly appointed rooms and suites have

been carefully designed by a renowned architect to ensure

comfort for all guests. Three superb restaurants offer an

exquisite culinary experience serving International,

Italian and Thai cuisine. Nestled between old and

new Doha, the hotel offers easy access to Hamad

International Airport, as well as to Doha's main

business and entertainment districts, making

it the prime location to discover the evergrowing

city of Doha, the capital of Qatar

GET IN TOUCH

Al Shamal Road, P.O Box: 30503,

Doha, State of Qatar

Tel + 0097440071130

20

21
---
Saudi Arabia

Ushaiqer Heritage Village, Saudi Arabia

22

23
---
The Capital of Saudi Arabia is oftentimes misunderstood as a purely business or a tediously political

city but in truth Riyadh has much to offer and is becoming an increasingly popular destination for those

interested in architecture, culture, history, and shopping.

RIYADH

THE BEAUTIFUL

DESERT OASIS

Getting In & Around

The direct route into Riyadh is by flying into the cities

magnificent King Khaled Airport, there are direct flights

available from several European, Middle Eastern and Asian

cities. The bus is another option especially from key cities

within Saudi Arabia and neighboring countries such as

Bahrain, Kuwait, Jordan, and the UAE.

Riyadh is spaciously built meaning driving is the most efficient

way to get around regardless of whether it's by yourself, with

a personal driver, or private taxi. The public transport

Things To Do & See

Riyadh is home to some fascinating sites. The Masmask

Fortress is a renovated site that played a key role in the

founding of Saud Dynasty. The Murabba Palace is an

intimidating structure that's certainly worth a visit. While the

National Museum will give you everything you could want to

learn about the history of the kingdom.

There are several world class golf courses located in and

around Riyadh, should you fancy a go. Football is extremely

popular so if you're fan you should try to catch a game at

the stunning King Farhad Stadium. Or why not go on an

adventure in to the desert for a sport of dune-bashing.

Dining

Riyadh has a wide range of eating spots from cheap Pakistani

and Indian restaurants right the way up to luxurious fine

dining establishments. What the city lacks in a culinary

identity it makes up for in quality and variety. Foods from all

over the world can be found here.

Accommodation

We recommend checking in to the Radisson Blu Hotel &

Residence located in the Diplomatic Quarter. For an in depth

piece on this award winning property turn to page .

24 25
---
Saudi Arabia hasn't always been popular when it comes to leisure tourism. However, with current plans

to offer more tourist visas, lax certain hospitality laws, and stage more entertainment events, it's fair to

say more and more visitors are expected.

Society on the whole however is still fairly conservative and strict so it helps to know some of the do's

and don'ts if you plan on visiting.

THE DO'S AND

DON'TS IN

SAUDI ARABIA

Do's

– Dress Modestly. Make sure knees and elbows are

covered, choose light breezy clothing.

– Respect religious beliefs especially during Ramadan

when it's considered impolite to eat or drink during the

day.

– Research on any forbidden substances. Consumption

of everyday items such as alcohol and pork are

prohibited, so it's smart to know beforehand.

– Tipping is expected and should be around 10 to 15

percent unless a service charge is already added to

your bill.

Don'ts

– Engage in any sort of PDA unless married and even

then we wouldn't recommend going any further than

holding. Public Displays of Affection is punishable

offence under Saudi Law.

– Assume that all restaurants are mixed gender. Despite

gender segregation ending in 2019, a lot of restaurants

still adopt this policy and may have separate rooms for

families. Check for signs before you enter.

– Discuss topics such as politics and religion with locals.

Saudis are extremely proud and won't handle any sort

of criticism well, it's better to avoid both subjects.

– Photograph any government buildings, palaces,

military installations, airport facilities, or people in

general without permission.

26 27
---
Radisson Blu Hotel & Residence,

Riyadh Diplomatic Quarter

Saudi Arabia | Design Hotel

Set in Riyadh's elegant and upscale Diplomatic District, the

Radisson Blue Hotel & Residence is indeed a hotel fit for a

king. The property is modern, stylishly furnished, spacious, and

boasts a variety of fantastic services and facilities.

There are 110 rooms and suites on offer. These include

everything from a quaint standard room right up to

a stunning two-bedroom Presidential Suite that

includes lounge access. As a standard all rooms

come with a kitchen area, the finest toiletries,

a work desk, flat screen TV, air conditioning,

coffee machine, washing machine, free WI-

FI, and minibar with some of the larger

suites offering a terrace or balcony,

outdoor furniture, and a separate

living area.

In terms of on-site services and facilities there is much

on offer. Lounge access with specific room types if a

huge bonus especially if you're business traveller or if

you're short on time, the lounge is ideal if you want to

relax, catch up on a bit of work or pick up a quick bite

to eat. Or if you're planning a conference or business

meeting than the state-of-the-art meeting and event

rooms will more than likely meet your demand.

The sophisticated Larder Restaurant and Lounge is

the perfect setting for your complimentary breakfast. A

buffet is served every morning that include both Middle

Eastern and International dishes. The setting is vibrant,

artistic, and exudes a Middle Eastern flair, that makes

the restaurant perfect for a relaxed lunch or dinner. The

is an exquisite an ala carte menu available.

If you're planning on heading out for the day, then you'll

be glad to know the hotel is perfectly situated to explore

the majestic city of Riyadh. Restaurants, attractions,

shopping centres, and cultural experiences are easily

accessible.

GET IN TOUCH

7826 Umro Adhamry Street

Al Safarat, Riyadh 12512

Saudi Arabia

Tel +966 11 297 9400

28

29
---
Downtown Dubai and Burj Khalifa

UAE

30

31
---
Dazzling Dubai is a bustling modern metropolis and one of the most visited places in the world. You'll

find beautiful beaches, stunning architecture, a unique culture, world-class dining, superb hotels, and

loads to do.

DUBAI

THE CITY OF

THE FUTURE

Getting In & Around

The most likely way you'll enter is via flight into the city's Dubai

International Airport. The airport is a thriving hub that's home

the Emirates airline, one of the world's leading airlines with

extensive links all over the world. Another option is to fly into on

of the other airport in the UAE and travel into to Dubai via car,

bus, or public transport. The other must lesser used option is to

drive in via Oman, Dubai's only international border.

Dubai is an ultra-modern city and as you'd expect has an

extremely efficient public transport system. It's easy to navigate

and options include tram, bus, metro, and monorail. Another

good option is a a metered taxi is or ride hailing apps such as

Uber and Careem.

Dining

Dining in Dubai is a treat for all. The city's position as a global

hub means food from all corners of the world can be found

including pork which is usually rare in Muslim countries. To get

a feel of traditional local cuisine we suggest trying Shawarma,

Falafel, Mandi, and Luqaimat.

Things To Do & See

There is so much to see and do in Dubai that we've dedicated

a whole piece to shopping in the city, on page , and adventure

activities, on page .

Aside from the shopping and adventure activities there several

cultural attractions that are worth a visit. The Hatta Heritage

Village, Sheikh Saeed Al Maktoum House, the Dubai Old Town,

and Al Seef, all offer a unique glimpse into the history of Dubai.

The Grand Bur Dubai Masjid and Jumeirah Mosque are both

wonderful architectural gems.

For more modern attractions see the iconic Burj Khalifa,

beautiful Burj Al Arab, and the stunning Dubai fountain.

Accommodation

Some of the best hotels in the world can be found in Dubai.

The Palm Atlantis, W Dubai, Armani Hotel, Jumeirah Beach

Hotel, and many more await discerning travelers. There are

some fantastic mid-range and self-catering options available,

our recommendation is the Emirates Stars Hotel Apartments,

profiled on page .

32 33
---
Dubai is one of the greatest cities of the modern world. It is jam packed with stunning hotels, amazing

restaurants, grand attractions and a shopping scene to rival the best. Dubai is the dream break for a

shopaholic, the city is home to several malls, souks, boutiques and even a shopping festival.

SHOPPING

IN DUBAI

Dubai Malls

Dubai has a reputation as home to some of the grandest

shopping malls in the world. There are too many to list here

but we've picked out three we love, the Dubai Mall, Ibn Battuta

Mall and the Mercato shopping mall.

The Dubai Mall is the largest in the world. With a great location

near the Burj Khalifa the mall contains over 1200 luxury

premium and brand stores, an aquarium, cinema, theme

park and several restaurants. This is without doubt one mall

you wouldn't want to miss, even if you're not interested in

shopping this is an attraction unto itself.

The Ibn Battuta mall is a unique themed mall named after

the legendary Moroccan explorer. This mall is divided into

six unique sections – India, China, Tunisia, Egypt, Persia and

Andalucia. Each section represents an area visited by Ibn

Battuta and is designed to reflect each of these places.

The Mercato Shopping Mall is designed to feel like

Mediterranean Italian town. The mall has over 100 retailers

and some great restaurants. With cobbled streets, gorgeous

streetlights and piazzas you'll feel like you've been transported

to Italy.

34 35
---
Souqs

No Middle Eastern city is complete without its own Souq. Dubai has a fair

few with some dedicated to specific experiences and products such as gold,

spice, perfume and textiles. Our recommendation is the Souq Madinat.

The Souq Madinat is part of the Madinat Jumeirah resort and delivers the

feel and charm of a bygone era with its narrow streets, Arabic design and

bustling vendors. Here you will find many traditional aspects of a Souq along

with galleries, boutiques and entertainment. Be sure to visit at night when

the Souq comes alive with music and vibrant activity.

Dubai Flea Market

If you're concerned you may be priced out of

shopping at Dubai's luxury malls, then worry

not. The flea market, hosted in Zabeel park, is a

great place to pick up a bargain. You can buy or

sell second-hand products including furniture,

handicraft items, toys, books, appliances and

gadgets.

Dragon Mart

This is the place to go for an alternative shopping

experience. Dragon mart provides products made

in China for the Middle Eastern and North African

trading markets. You can buy in bulk and you're

certain to find a bargain as traders are open to

haggling.

Shopping Festival

Given its expansive shopping scene it is perhaps

no surprise that Dubai has its own shopping

festival. This is an annual month-long event where

shops offer discounts on their merchandise, there

are daily car raffles, family friendly activities and

a fireworks display. The festival is normally held

from the end of December and runs into January.

The last one was the biggest yet running for a

total of 5 weeks.

36 37
---
Dubai is renowned for its stunning beaches, shopping scene, wellness, luxury hotels and fine dining.

However, in recent times it's developed a reputation for its excellent adventure tourism scene. It's a not

a surprise given the city's coastal location, desert landscape, and penchant for excitement. Here is out

guide to some of those adventure experiences that await.

ADVENTURE

IN DUBAI

Water Sports

Dubai's warm weather and calm waters make for the ideal

water sports setting. Flyboarding, parasailing, jet skiing, and

snorkelling are just some of the great activities you can do.

If you're not sure what to do then head on over to the next

page to see our feature profile on Hydro Water Sports, a Travel

and Hospitality Award Winner.

Desert Safari

This one is a bit more obvious given that Dubai is one side

surrounded by dry desert. This beautiful landscape makes for

the perfect outdoor adventure setting. Dune bashing, camel

riding, or a desert camping. Do one or do all, it's your choice.

Urban Adventure

Dubai's skyscrapers are special, so much so that they've

become thrill seekers paradise. You can choose to zipline at

80km per hour from the Amwaj Towers to the Dubai Marina

Mall. Or abseil and edge walk at the Address Sky View Hotel.

Hot Air Balloon

Take to the skies and admire the beauty of Dubai and beautiful

surroundings from a truly memorable perspective. You have

to be up early but it's worth it for the views and sunrise alone.

Skiing & Snowboarding

Not one you'd expect on

this list but if you fancy

something different

then you do have the

unique option to ski or

snowboard. Located

in the Mall of the

Emirates, the artificial

slope at Ski Dubai is

ideal for families and

beginners.

38 39
---
Emirates Stars Hotel

Apartments Dubai

United Arab Emirates | Apartments

Opened in 2007, under the chairmanship of His Excellency

Sheikh Abdul Rahman Bin Nasser Al Thani, and it's CEO,

Mr. Ali Muhiddien Zaghmout, the Emirates Stars Hotel

Apartments Dubai is popular amongst corporate and leisure

travellers alike.

Operated as an elegant ApartHotel the Emirates

Stars boasts 156 tastefully decorated suites that

have been designed and furnished with the

ultimate guest experience in mind. All rooms

are spacious and come with a full range of

amenities, high speed wi-fi, and either

landmark or city view.

Guests have three distinct options to choose from. First

is the Deluxe Suite, perfect for two people. Second is the

Luxury One Bedroom Apartment ideal for longer stays and

independence. Here, guests have the added bonus of a

fully equipped kitchen, comfortable dining area, separate

living room and bathrooms. For bigger groups there is the

third option a Luxury Two Bedroom Apartments that can

accommodate up to four adults and two children.

For a relaxed session at the property there is much on

offer. Facilities includes a temperature controlled outdoor

swimming pool, Jacuzzi, children's pool, steam room, sauna,

and state-of-the-art gym. Latest on its attraction is the

recently opened Stars Shisha Cafe on the pool side that is fit

to unwind.

Although the property is well located in terms of proximity to

restaurants, malls, and cafes, there is in fact a café on site.

The Stars Café serves a daily buffet breakfast, light snacks,

fresh juices, tea & coffee throughout the day. For lunch and

dinner guests can have a high quality a la carte menu with

sumptuous international cuisine.

GET IN TOUCH

Amman Street, Al Qusais 1

Dubai, United Arab Emirates

Tel +97142589888;

+97165635555

40

41
---
Hydro Sports Yachts

and Boats Rental LLC

UAE | Watersports Company

Dubai is without a doubt, one of the finest holiday cities in the

world. It's a stunning modern metropolis, situated by the

sea, and jam packed full of unmissable restaurants, bars, tours,

experiences, and attractions. One such experience is that of

water sports, and for this there's no one better than Hydro

Water Sports!

Hydro Water Sports, part of the international Hydro

Sports Yachts & Boats Group, operating not just in

Dubai but also in the Bahamas and Dominican

Republic and SOON in Montenegro, where they're

renowned for safety and high-quality standards,

as well as a guest-centric approach.

Within Dubai, Hydro Water Sports is partnered with

and is a trusted service provider to many of the big

luxury hospitality brands such as the Jumeirah Group,

Anantara Hotels, the One & Only, and the Mandarin

oriental. So, you know you're in good hands.

In terms of activities there is a wide variety on offer

that's suited to all types of guests. For a high-octane

experience there's flyboarding, jetpacking, jet skiing,

hoverboarding, and jet surfing. For families with

children, we recommend knee boarding, a WOW ride,

donut ride, pedalo boat, or a unique giant water bike.

Or if you're interested in a more relaxing and leisurely

pursuit on the water then why not take up a bit of

kayaking, or a trip on an electric boat?

Beyond this Hydro Water Sports offer private yacht

trips on board some of the most luxurious vessels in

Dubai. If you're interested in a private cruise for a few

hours or a whole day, then Hydro Water Sports have

you covered.

GET IN TOUCH

Tel +971 545985353

42

43
---
Skyline of Manama dominated by the

World trade Center building, Bahrain.

Bahrain

44

45
---
The Kingdom of Bahrain, despite is relatively small size, packs a big punch when it comes to tourism. This

archipelago nation displays a much more cosmopolitan and socially liberal way of life when compared

to its much stricter neighbours. This in turn has meant a large part of the tourism is uniquely made up of

travellers from surrounding countries.

BAHRAIN

Getting in and Getting Around

If you're not driving or getting the bus from Saudi Arabia via

the King Fahd Causeway, then you're going to be flying in.

Bahrain International Airport, the home-base of Gulf Air, is

modern, efficiently run, and globally well connected.

Bahrain is fairly small so getting around isn't too bad. The

best way is through a taxi or ride hailing app, you can also opt

for a private driver. Or if you prefer the buses are well-run in

most major cities.

Things to Do and See

The recently restored Bahrain Fort and its neighbouring

museum is a great way to spend a morning. The Dilmun

Burial grounds are an ancient wonder and a UNESCO world

heritage site. Another unique attraction is the tree of life, a

400-year-old tree that has somehow remarkably survived in

the harsh desert.

For a more modern experience be sure to visit one of the

many shopping centres spread across the country, there's

also a few water parks and beach clubs, as well as worldclass

golf course.

Turn over to the next page to see our list of top 5 things to do

in Bahrain.

Dining

Like a lot of modern Middle Eastern hubs, Bahrain's food scene

is made up of a variety of international cuisine. Food from all

over the world are available as are many brand name eateries.

If you're in the market to try a local dish then we recommend

Machboos, a spiced rice dish usually served with meet.

Accommodation

Our pick here is the wonderful Dragon Hotel and Resort, a

Travel and Hospitality Award winner, profiled on page .

46 47
---
THE TOP 5

THINGS

TO DO

Shop at Manama Souq

While shopping in one of Bahrain's

modern malls is a treat, for a more

authentic experience we advise

you to visit Manama Souq. Packed

with bustling vendors selling a wide

variety of goods, the Souq is a great

place to pick up a bargain, haggle,

or simply take in the energy. It's also

home to a number of food stalls,

making it ideal for great food on the

cheap.

Take Up Water Sports

Being located on an archipelago

means direct access to the sea and

with that comes the opportunity

to enjoy a number of water sports.

Stand up paddleboarding, kayaking,

jet skiing, sailing, fishing, snorkelling,

surfing, and parasailing are just

some of the activities available. You

can even Water Jetpack or go on a

Jetovator.

Go Diving

Bahrain is the home of the world

largest underwater theme park

and it's certainly a sight to behold.

Accessible only via a certified diving

company, Dive Bahrain offers up an

artificial reef, dive sites, and marine

life. The top draw is without a doubt

a submerged Boeing 747, a world first.

Educate yourself at a

Originally built by the Portuguese

Bahrain Fort is a key cultural and

historical centre. It was once the site

of the capital of the Dilmun Empire,

and today in its restored state offers a

unique learning opportunity.

Spend a night by the Tree of Life

The Tree of Life is a truly unique

attraction in Bahrain. Its continued

survival in harsh desert is absolutely

remarkable. The tree is over 400

years old and to this day it remains

a mystery as to how it continues to

survive. Simply visiting the tree will

lead to a relatively short trip so we

suggest camping nearby and making

a night of it.

48 49
---
50

Dragon Hotel And Resort

Bahrain | Resort

Overlooking the magnificent Arabian Sea, the Dragon Hotel and Resort

is wonderful on the inside as it is on the outside. Excellent facilities,

great service, a family friendly outlook, fine dining, and a plethora of

accommodation options await all those fortunate enough to stay in this

world class resort.

Rooms at the resort come in a variety of forms, perfectly set up

to cater for all sorts of guests, from singles to much bigger

groups. The suites are luxurious and elegantly designed,

they're available with one, two, and three bedrooms. For

a bit more privacy you can opt for one of the duplex

chalets overlooking the pool. All rooms are equipped

with a kitchen area, lounge, luxurious amenities,

and wonderful sea views.

However, if you're part of a large group then why

not book one of the private villas? The fourbedroom,

3 storeys, villas come with their

own private pool, living lounge, terrace,

dining room, kitchen, dedicated staff,

and elevators to reach the upper level.

In terms of facilities and services there is much on offer,

so much so you needn't not ever leave the resort. You

have available room service 24/7, high speed internet

throughout the property, a splendid pool area, access to

a private beach, a salon & spa on site, and one of the best

water sports centres in Bahrain. The Dragon Hotel and

Resorts unique location means it's ideally equipped to offer

a whole host of water sports activities.

On-site are three distinct dining options. First there's the

contemporary Muju Restaurant & Lounge, boasting sea

vies and an exquisite international menu for lunch and

dinner. Then there's Yamin Jana Mediterranean Seafront

Restaurant centred around a Mediterranean and Middle

Eastern Menu. Finally, for something a little different there's

corners, the first every pub to open in Bahrain, expect a

sleek interior, pub food, and live sports.

If you're looking for a complete holiday experience in

Bahrain, then look no further, we have the answer and it's

the Dragon Hotel and Resort.

P.O Box 15572

Amwaj Island

Kingdom of Bahrain

Tel +973 1603 1111

dragonresorthotel.com

fo@ dragonresorthotel.com

GET IN TOUCH

51
---
TRAVEL & HOSPITALITY

AWARD WINNER

2022

52

53
---
54

thawards.com