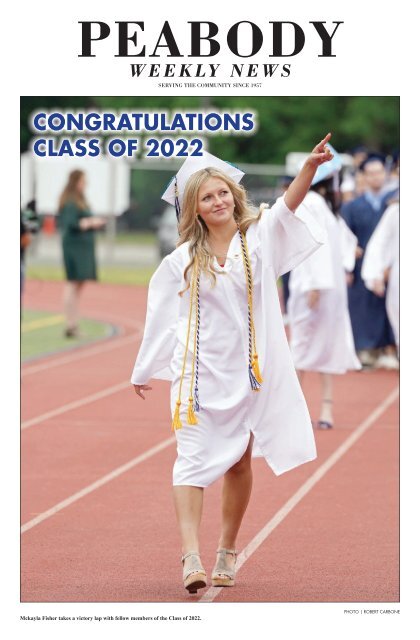 You also want an ePaper? Increase the reach of your titles
YUMPU automatically turns print PDFs into web optimized ePapers that Google loves.
PEABODY

WEEKLY NEWS

SERVING THE COMMUNITY SINCE 1957

CONGRATULATIONS

CLASS OF 2022

Mckayla Fisher takes a victory lap with fellow members of the Class of 2022.

PHOTO | ROBERT CARBONE
---
G2

WEEKLYNEWS.NET - 978-532-5880 JUNE 9, 2022

The Class of 2022

Class Officers

Co-President

Benjamin

McKierran

Co-President

Michael

Saraceni

Treasurer

Janie Wilson

Congratulations to the Class of 2022!

"Graduation is an exciting time. It marks both an ending

and a beginning; warm memories from the past

Maria Salzillo

Vice President, Realtor®

and BIG dreams for the future."

May all your dreams come true!

508.527.6910 | mrsreagent@gmail.com| MrsRealtorAgent.com

Secretary

Erick

Carredano
---
JUNE 9, 2022

WEEKLYNEWS.NET - 978-532-5880

Academic and

achievement awards

HIGHEST HONORS

George Peabody medals

(top eight student scholars)

Summa cum laude

Benjamin Altfeld

Sofia Valencia

Magna cum laude

John Howland

Meg Price

Jacob Palhares

Santina Marzino

Adam Abdulghani

Alexandria Crowe

HONORABLE MENTION

Cum laude

Madeline Talbot

Marissa Bell

Benjamin McKiernan

Madeleine Scacchi

Samantha Simmons

Ella Kritikos

Matthew O'Connor

Sarah Broughton

Olivia Dragani

Scott Turner

Spencer Raimo

Ketsia Kabeya

OUTSTANDING

ACHIEVEMENT AWARDS

Business Technology

Nicholas Connolly

Community School

Marina D'India

Cosmetology

Luisanny Canela

Culinary Arts

Nicolas Amero

Early Childhood Education

Kaylee Pacheco-Moux

Electronics Technology

Vedant Patel

English

Sofia Valencia

Mathematics

John Howland

Medical Assisting

Mckayla Fisher

Performing Arts ~ Drama

Nelssy Escobar

Performing Arts ~ Instrumental/Music

John Howland

Performing Arts ~ Vocal Music

Alana Panneton

Protective Services

Julia Hunt

Science

John Howland

Social Studies

Benjamin McKiernan

Visual Arts

Lilly Dame

World Language ~ French

Adam Abdulghani

World Language ~ Italian

Leah O'Neill

World Language ~ Portuguese

Johnny Oliveira

World Language ~ Spanish

Sarah Trottier

Peabody P.R.E.P.s

first graduates

By Anthony CAmmAlleri

The Peabody Personalized Remote

Education Program (P.R.E.P.) handed

out eight diplomas to its first-ever graduating

class May 31 at Peabody's Black

Box Theater.

While families of the graduates sat

down in the small, dark theater, a projector

shined a slide of each graduating

student onto the screen. While some

slides had standard yearbook-style captions,

others were unique to an online

high school. The photo of graduate

Mustafa Sewid, for example, was captioned

"In Egypt most of the year."

When Executive Director Dr. Chris

Lord approached the podium to welcome

people, he invited the crowd to

repeat P.R.E.P.'s motto. "Excellent

Attendance, Excellent Engagement,

Excellent Achievement. This is a motto

for life," Lord said. "If you are present,

and you are engaged, you are going to

be successful.

"Present not only physically, but mentally,"

Lord said. "Whether you have a

job, whether you go to school, or in a

relationship, if you are present, and engaged

in what you're doing at that time,

you'll be successful."

After Lord's introduction, School

Superintendent Josh Vadala took the

microphone and told the story of Steve

Jobs. Vadala said that what made Jobs

an outlier was his ability to think differently

than everyone else, and he equated

that quality to the graduates.

"Dr. Lord and I were trying to think

differently, about how we could do

school, about how we could reimagine

education, how we could provide you

with an opportunity that works for you.

And so many (times) we were sitting

G3

together and I just have to say that Dr.

Lord and his teachers have done an

amazing job, and they've given you the

opportunity to be who you are."

Valedictorian Karla Galdamez will be

pursuing a degree in biology at Suffolk

University next fall. When she approached

the podium, she spoke about

refusing to give up hope.

"I was born prematurely, at five

months to be exact. I had three seizures

the day I was born and had to get liquid

removed from my brain. No one but the

doctors and my mother had hope.

"Now," she said, "here I am, 18 years

later, speaking at my graduation. The

administration and the teachers were

hopeful for a remote school. Now here

we are one successful year later. Both

scenarios have one thing in common,

they never gave up hope."

Lord concluded the ceremony by presenting

the Student of the Year Award to

Christopher Noseworthy, who has dedicated

himself to computer science, and

will continue to take classes after graduation.

Lord presented Noseworthy with

a box of rare 2004 quarters from Lord's

coin collection.

Galdamez also thanked the school for

giving her the opportunity to study remotely,

and get one step closer to her

dream of becoming a cardiac surgeon.

"I want to thank the administration and

the teachers for never giving up hope on

the remote school and us, you gave us an

opportunity that we never imagined was

possible. I want to thank my classmates

because you never gave up hope on yourself

and on each other, because of you this

remote learning is possible. I also want

to thank all the parents and families for

always having to hope for us and never

giving up on us," Galdamez said.

Hats off to the

Class of 2022

NO MATTER WHERE YOUR JOURNEY TAKES YOU

NEXT, YOU'LL ALWAYS BE PART OF OUR COMMUNITY.

419 BROADWAY, EVERETT MA 02149

617-387-1110

771 SALEM ST, LYNNFIELD MA 01940

781-776-4444

WWW.EVERETTBANK.COM

Member FDIC

Member DIF
---
G4

WEEKLYNEWS.NET - 978-532-5880 JUNE 9, 2022

The Graduates

Abigail Leonard*

Abby Minton

Abrianna Ouellette

Adam Abdulghani*

Adam Cunha

Adam Lantych

Aishah Rojas

Akkelin Halo

Alaina Panneton

Alexa MaGown

Alexandra Tatosky

Alexandria Crowe*

Alexis Annese

Alexis Silva

Allen Zammer

gravoc.com 978-538-9055

One Company, Many Solutions

Congratulations

Class of 2022!

Creative Technology | Information Security | Information Technology | Software Solutions

CONGRATULATIONS 2022 GRADUATES!

Best Wishes for all of your future dreams!

& COM PA N Y

Maria N. Miara 978.317.4362

maria.miara@jbarrettrealty.com
---
JUNE 9, 2022

WEEKLYNEWS.NET - 978-532-5880

G5

The Graduates

Alxa Demakis

Alyssa Lepore

Ana Dasilva

Andrew Sousa

Anel Abreu

Angel Medrano

Angelo Deronnette

Anthony Zuppio

Arielle Eon

Ashley Ambrose*

Ashley Lepore

Audrey Ouellette

Ava Dambrosio

Benjamin Altfeld*

Benjamin McKiernan*

Peabody High School

Class of 2022

Be bold, be courageous, be your best.

Let your Tanners' Pride shine through!

Massachusetts State House, Rm 124

Boston, MA 02133

617.722.2100 • Bradley.Jones@MAHouse.gov • repbradjones@comcast.net
---
G6

WEEKLYNEWS.NET - 978-532-5880 JUNE 9, 2022

Beyonce Santos Mendes

Brady Rios

Brajan Jakic

Branden Waite

Brendan Smith

Brian Silveira

Bronson Petrillo

Brunna Jaqueyria Meirelles

Cameron Collins

Camila Marte

Casey Cummings

Cecilia Martinez

Chantal Sepulveda

Christopher Corriveau

Christopher Mirabello

Old Towne Market

"Your Neighborhood Grocers"

8 Post Office Square

Lynnfield MA 01940

781 477 0725
---
JUNE 9, 2022

WEEKLYNEWS.NET - 978-532-5880

G7

Christian Encarnacion

Christiana Leahy

Colin Berube

Conner Croughwell

Cynthia Williams

Danyelis Heredia

Derek Patturelli

Derek Stark

Destiny Jimenez

Ditchneylove Bien-Aime*

Dominion Oyebanjo

Dyani Torres

Dylan Jalbert

Dylan Preira

Dylan Seaver

"Follow your passion. It will lead you to your purpose." — Oprah Winfrey

Congratulations

Class of 2022!

Wishing you joyful days and a rewarding future

37 Tremont St. and 79 Lynnfield St.

Peabody • 978-531-5767

Luso-American.com
---
G8

WEEKLYNEWS.NET - 978-532-5880 JUNE 9, 2022

Dylon Sheldon Milonopoulos

Edwardo Pereira

Elayna Capone

Ella Kritikos*

Emily Lima

Emily McDonough*

Emily Surett

Emma Bloom*

Emma Fitzgerald

Emma McGrath

Erick Carredano

Ester Trashi

Gabriel Claro

Gabriel De La Cruz

Gabriel DeFreitas

LORI

KRAMICH

Realtor®

508-269-6317

Congratulations to the Class of 2022! Wishing

you all great success with your future plans!

Certified Buyer Representative, Senior Real Estate Specialist, Green

Lori.Kramich@commonmoves.com

Congratulations and Continued

Success to the Class of 2022

Call for your graduation reservations and take-out

637 Lowell Street (Big Y Plaza), West Peabody 978-536-2860 • www.asiatastecafe.com
---
JUNE 9, 2022

WEEKLYNEWS.NET - 978-532-5880

G9

Gabriel Gitonga

Gabrielle DaSilva

Gabrielle Drinkwater

Garcia Linnet Rojas

George Griffen

Gianna Bell

Gianna Boyd

Gianna Herbert

Gianna Nicolo*

Gina Terrazzano

Hailey Malvitch*

Hannah Kelley

Isabella Abreus

Isabella Brooks

Isabella Decicco*

Congratulations!

Class of

2022!

Robin Murphy

978-979-5098

robinmurphy@verizon.net

Congratulations

and Continued

success

Class of 2022

Serving

Peabody & Lynnfield

for over 30 years!

Anita Horowitz

617-240-3606

www.northshorehomeinfo.com

515 Lowell Street, Peabody Ma.

Congratulations!

Class of

2022!

Ronna Tuttle

978-821-0638

ronnatuttle@comcast.net

Mark Murphy

978-888-7012

mark@homesofma.com

Congratulations!

Class of

2022!

Congratulations

to the 2022

Graduates!

Bob Trodden

978-821-5173

bobtrodden@comcast.net

Regina Paratore

781-608-8040

www.reginaparatore.com

CONGRATULATIONS

TO THE CLASS OF 2022

BEST OF LUCK

"Working Above

& Beyond"

Jeri Moffie

978-590-3628

jeri.moffie@gmail.com

Congratulations

Class of 2022

May all your

dreams come true

Here's To Your

Continued Success

Class of 2022

"Allow Me To

Earn Your Business"

Mitchell Rosenwald

617-974-1230

www.rosenwaldrealestate.com
---
G10

WEEKLYNEWS.NET - 978-532-5880 JUNE 9, 2022

Issac Duarte

Issac Rodriguez

Jacie Bernard

Jack Branciforte

Jack Rigol

Jacob Palhares*

Jacob Rathbun

Jacqualine Gardikis

Jacqueline Scopa*

Jaden Marter

Jaiden Snelders

Jaisha Pena

Jake Kolsrud

James Bettencourt

James Straticos

CONGRATULATIONS TO THE CLASS OF 2022

Best wishes as you step forward towards new challenges in life.

SALON FIVE 3 FIVE

535 LOWELL ST • PEABODY • 978-587-3824

INSTAGRAM: @SALON_FIVETHREEFIVE

CONGRATULATIONS

TO ALL THE 2022 GRADUATES
---
JUNE 9, 2022

WEEKLYNEWS.NET - 978-532-5880

G11

Janelle Baetzel

Janelle Mendoza*

Janie Wilson

Jared Campbell

Jared McGrath

Jasmi Dominguez

Jason Martarano

Jada Martinez

Jayde Mastrangelo

Jenelle Wronkowski*

Peabody Veterans

Memorial High

School seniors

send their caps

into the air as

they celebrate

graduating last

Friday.

PHOTO |

ROBERT CARBONE

Keith Littlefield

781-389-0791

littlefieldre@gmail.com

Penny

Mckenzie-Venuto

781-929-7237

pgmckenzie@adl.com

Justin Kloack

978-815-2610

kloack.re@gmail.com

Victoria Scaramuzzo

617-529-2513

v.scaramuzzo77@gmail.com

Congratulations to the

Senior class of 2022

May you always strive

to do great things with your life

624 SALEM STREET, LYNNFIELD

339-440-5241

LITTLEFIELDRE.COM

Debbie Miller

617-678-9710

miller.deborah@verizon.net

Danielle Ventre

978-987-9535

dventre427@gmail.com

John Dobbyn

617-285-7117

jdobbynre@gmail.com
---
G12

WEEKLYNEWS.NET - 978-532-5880 JUNE 9, 2022

Jenna Espinola*

Jessica MacDonald

Jeweliana Carenza*

Joanna Qirjazi

Joao Guedes

Joaquin Colon

Jocsan Espinosa

Jodie Ailuogwemhe

John Howland*

Johnny Oliveira

Johny Corning

Jordan Tompkins

Jordan Yensz

Jose Maria Neto

Joseph Ranieri

We deliver!

781 334 9905

9980

FAX 781 334 4052

Congratulations to

the Class of 2022

"Go confidently in the direction of your dreams"

Marjorie Youngren Team Lead Broker Associate, SRES, SRS, GRI

www.marjoriesells.com • 781-580-9357
---
JUNE 9, 2022

WEEKLYNEWS.NET - 978-532-5880

G13

Joseph Raymond

Joseph Tobin

Jovante Dailey

Julia Hunt

Julia Malionek*

Juliana Bouffard

Justin Powers

Kaitlyn Iitalien

Kara Iozza

Katherine Aguiar

Katherine Taveras*

Kathleen McGrath

Kaylee Pacheco

Kaylie Silva

Kellan Gehan

CLASS OF 2022!

978-462-3106 • institutionforsavings.com

Member FDIC

Member DIF
---
G14

WEEKLYNEWS.NET - 978-532-5880 JUNE 9, 2022

Kendrik Hernandez

Ketsia Kabeya

Kloira Sharka*

Kostandin Theodhori

Kristfore Keka

Kristina Cardello*

Kylee Barrett

Laura Espinal*

Lauren Leggett

Leah O'Neill

Leanna Mam

Leila Shahin

Lianna Nolan

Liliana Hamze

Lilly Dame

Congratulations and continued

success to the Class of 2022

HELEN CLANCY BOLINO

617-797-2222

Award Winning Realtor ® Helen.Bolino@commonmoves.com

Congratulations to all the

College Grads of the Class of 2022

Cherish fond memories from your past and dream

exciting visions of your future

KERNWOOD WINE & SPIRITS

12 SALEM ST •LYNNFIELD•781-246-8883
---
JUNE 9, 2022

WEEKLYNEWS.NET - 978-532-5880

G15

Lindsay Josselyn

Lisbeth Pena-Ramirez

Logan Titus

Luis Jardim

Luisanny Canela

Luke Roan

Madeleine Scacchi*

Madeline Talbot

Maranda Deleidi

Marc Ortiz

Marco DeSimone

Maria Aguilar-Duarte

Mariana Vasquez Cornejo

Marissa Bell

Maryann Allen

Congratulations

to the Class of 2022!

Best wishes on your future achievements

415 Main St • Wakefield • (781)245-9797 • thefarmland.com

EDUCATION

COMMUNITY

Peabody

Education

Foundation

BUSINESS

peabodyedfoundation.org

Congratulations

2022 Graduates!

Best wishes for a

bright future!
---
G16

WEEKLYNEWS.NET - 978-532-5880 JUNE 9, 2022

Mason Bouffard

Mathew Ryan

Matthew Calver

Matthew O'Connor*

Matthew Spinelli

McKayla Fisher*

Meg Price

Meghan Billingsley

Melody Jimenez Fortuno

Merelyn Cespedes Sanchez

Mia Capozzi

Michael Balke

Michael Coviello

Michael Krouse

Michael Ward

Best wishes to all the graduates for a safe, happy, and healthy future

DRS. ZICHERMAN, LAGO & ASSOCIATES

PEDIATRIC DENTISTRY, ADULT DENTISTRY

& ORTHODONTICS SINCE 1975

www . mzldent al.co m

One Roosevelt Ave Peabody MA • 978-535-2500

Congratulations to

the Senior Class of 2022

Maureen Rossi-DiMella

Realtor®

617-285-2057

Wishing you all the best for the future and all

it's challenges and opportunities

Maureen.DiMella@commonmoves.com

www.maureenrossi.com
---
JUNE 9, 2022

WEEKLYNEWS.NET - 978-532-5880

G17

Michael Perez

Michael Saraceni

Mohamed Menkari

Molly Roberge

Mykayla Mastrocola

Nathan Poirier

Neve Pelland

Nicholas Soper*

Nicholy Severino

Nick Connolly

Nicolas Amero

Nicolas Bernidakis

Nicole Panzini

Noah Despres

Odin Machado

Congratulations fellow

LHS graduates!

JOHN KOZLAUSKA,

D.M.D.

781-334-2520

All phases of general dentistry with emphasis on prevention

Lynnfield High • Tufts Dental

700 SUMMER STREET - LYNNFIELD

Congratulations to the Class of 2022!

Wishing you the best of luck!

Kate Fabrizio | 978.314.0196 | kate@katefabrizio.com
---
G18

WEEKLYNEWS.NET - 978-532-5880 JUNE 9, 2022

Olivia Cook

Olivia Dragani*

Olivia Fitzgerald

Olivia Jacques

Olivia Moreschi

Olivia Zezze

Paige Ritchie*

Patrick DeLillo

Patrick Murphy

Payton Cuzzi

Peter Gardikas

Peyton Barooshian

Rachel MacArthur

Raegan Giacalone

Rafael Casiano

CONGRATULATIONS TO ALL 2022 GRADUATES!

Sports Rehabilitation Unlimited Essex Sports Center

15 Manning Avenue, Middleton, MA 01949 978.624.7966

info@sportsrehabu.com sportsrehabu.com @sportsrehabu

PUTTING YOU FIRST

Now

place your

order online!

CONGRATULATIONS

TO ALL THE 2022 GRADUATES

18 POST OFFICE SQUARE, LYNNFIELD

lynnfieldhouseofpizza.com • 781-593-0818
---
JUNE 9, 2022

WEEKLYNEWS.NET - 978-532-5880

G19

Riley Gilbert

Rocco Pina

Roxana Tafini

Ryan Charest

Ryan Rice

Salma Dehbi*

Samantha Powers

Samantha Rowe*

Samantha Simmons*

Santina Marzino*

Sarah Broughton*

Sarah Serino

Sarah Trottier

Scott Hurley

Scott Turner*

From a former 1984 graduate,

CONGRATULATIONS CLASS OF 2022!

Nikki Martin

nikki.martin@compass.com • 781.710.1440

nikkimartinsells.com

Congratulations Class of 2022

From the offices of

R. A. IOCCO, D.M.D.

40 Salem St. • Lynnfield • 781-245-7986 • www.ioccodental.com
---
G20

WEEKLYNEWS.NET - 978-532-5880 JUNE 9, 2022

Serena Bettencourt

Sofia Valencia*

Spencer Raimo*

Taryn Moquin*

Taylor Almeida

Taylor DaSilva

Theodhor Gjikuria

Theola Ofurie

Thomas Davidson

Tidus Bun

Tim Collins

Tyler Awrach

Tyler Fawcett

Tyler Kalloo

Tyler Smith*

CONGRATULATIONS GRADUATES!

from your friends at Michaud Mitsubishi

978 774 4040

80 Andover Street, Danvers MA

Michaudmitsubishhi.com
---
JUNE 9, 2022

WEEKLYNEWS.NET - 978-532-5880

G21

Vedant Patel

Venice Araya

Victoria Cheffro*

William Plourde

William Raimo

Yalexa Acevedo

Yefry Ortiz

Zachary Brooks

Zen Garcia

Caitlyn Arsenault Emily DiCologiro PJ LeBlanc

Lynnfield Fuel

Post Office Square

www.lynnfieldmobil.com

General Repairs, MA State Inspection

Congratulations Class of 2022!

Jay Halabi

Manager

lynnfieldfuel@gmail.com

596 Salem Street • Lynnfield, MA 01940 • Main: (781) 596-1885 • Service (781) 596-3293

*National Honor Society

We are very proud of

you and wish you well

with future pursuits

Lynnfield Teachers Association

Congratulations

to the Class

of 2022
---
G22

WEEKLYNEWS.NET - 978-532-5880 JUNE 9, 2022

Stepping out in style

PHOTOS | JAKOB MENENDEZ

Students exit a limousine as they walk up the stairs to the Blue Ocean Event Center in Salisbury for

the Peabody Veterans Memorial High School prom.

Dante Chhim wore a headdress adorned with flowers.

From left, Patrick DeLillo, Casey Cummings, Drea Kulakowski, Payton Cuzzi, Alli Tatosky, and Lanah Rosenwald sit together at a table .

Congratulations and Best of Luck to the Class of 2022!

"Best wishes for a happy and healthy future"

CITY OF PEABODY EDWARD A. BETTENCOURT, JR., MAYOR

edward.bettencourt@peabody-ma.gov
---
JUNE 9, 2022

WEEKLYNEWS.NET - 978-532-5880

A night to remember

G23

From left, Jayson Martarano, Kaylee Pacheco, Jacob Palhares, Santina Marzino,

Mohamed Menkari, and Beyonce Santos stand outside the Blue Ocean Event Center in

Salisbury before the prom.

Angelo Deronnette and Liliana Hamze color coordinated their

prom outfits, going for an all-red look.

Tommy Davidson takes a photo of his friends, Derek Stark, Zach Wilson, and Brian Silverira.

Rafael Casiano and Charlotte Meixsell stand outside

together before walking in to the prom.

Lynnfield Healing Massage Therapy

CONGRATULATIONS CLASS OF 2022!

10 Post Office Square, Suite 7, Lynnfield, MA 339-440-5135 Lynnfieldmassage.com

REEDY MEADOW

KING RAIL

195 Summer St. Lynnfield 1 King Rail Drive, Lynnfield

781-334-9877 781-334-9877
---
G24

WEEKLYNEWS.NET - 978-532-5880 JUNE 9, 2022

Sunny sendoff for the Class of 2022

"Don't worry about how

long it will take you

because time will pass

regardless of whether you

start or not, and when

that time passes, you do

not want to worry that

you should have

started sooner."

Valedictorian

Benjamin Altfeld

Ester Trashi is going to Endicott College for nursing.

"Life is what you

make it. Even on

a cloudy day the

sun is still there,

still rising even if

you can't see it."

Salutatorian

Sofia Valencia

Peabody graduate

Gina Terrazzano

is all smiles as

she receives her

diploma on Friday.

PHOTOS |

ROBERT CARBONE

Congratulations and Best of Luck

to the Class of 2022!

a

Peabody City Council

2022

"Best wishes for a happy & healthy future"

Faithfully serving our community, practicing a tradition

of TRUST, CARING and PROFESSIONAL SERVICE.

Congratulations

and continued success

to the class of 2022

19 Yale Ave., Wakefield, MA • Conveniently Located off Exit 39 (North Ave) Rt. 128 • 781-245-3550 • 781-334-9966
---
JUNE 9, 2022

WEEKLYNEWS.NET - 978-532-5880

G25

"Sometimes you have

to take a leap of faith.

Sometimes you need

to try something new

and trust yourself to get

through it."

Class Essayist

John Howland

From left, Sarah Serino, Alexandria Tatosky, Gina Terrazzano, Jayde Masterangelo and

Ariell Eon share a hug prior to commencement.

"Spend your time

wisely, make

good decisions

and live your

best life."

Class President

Benjamin McKiernan

Peabody Veterans Memorial High School National Honor Society and five George Peabody

Awards recipients, from left, Alexandria Crowe, Adam Abdulghani, Santina Marzino, Jacob

Palhares, and Meg Price show off their diplomas during graduation.

COMPANIES

Construction Management and Development Advisory

Congratulations to

all the 2022 Graduates

Best Wishes for a Happy and Healthy Future

35 Village Road • Suite 702 Middleton, MA • (781) 233-3190 • www.procopiocompanies.com

upino Insurance

AUTO | HOME | BUSINESS | LIFE

550 Summer St. @ Pillings Pond

Lynnfield

781-334-4888

EMAIL: info@supinoinsurance.com

1012 Eastern Ave.

Malden

Follow your dreams

Drive Safely!

Class of 2022!
---
G26

WEEKLYNEWS.NET - 978-532-5880 JUNE 9, 2022

Bishop Fenwick High School 2022

Peabody residents

Alex Amaral

Isabell Anaya

Brigid Barry

Steven Bua

Nicholas Caputo

Zachary Deschenes

Marcelo Enes

Chris Faraca

Aidan Ferguson

Carlos Garcia

Eric Gendreau

Danielle Getchell

Robert Greener

Danielle Gubitose

Molly Jenkins

Find your place

at Fenwick

Arts Academics Athletics

99 Margin Street Peabody, MA www.fenwick.org

Service
---
JUNE 9, 2022

WEEKLYNEWS.NET - 978-532-5880

G27

Julia Loescher

Ava Manganiello

Shawna Moore

Ryan Noci

Jason Romans

Taylor Ross

Andre Santos

Kailey Silva

Ethan Tran

Pano Vlismas

Nicholas Wesley

Jake Westin

May all your accomplishments be Fruitful

Congratulations Class of 2022!

Peabody, MA | 637 Lowell Street (Big Y Plaza)

978-536-7010

Lynn, MA | 919 Lynnfield Street (Goodwin Circle)

781-593-1888

Beverly, MA | 45 Enon Street

978-927-3120

gifts and treats

Congratulations To

The Class of 2022!

-Best Wishes For a Happy & Healthy Future

holdenoil.com

978-531-2984 Peabody, MA
---
G28

WEEKLYNEWS.NET - 978-532-5880 JUNE 9, 2022

Bishop Fenwick graduates toss their caps in the air at the conclusion of their commencement ceremony. A Fenwick tradition holds that the

sunflower is symbolic for each student's ability to turn toward God, just as the sunflower turns toward light.

COURTESY PHOTO

Caps off to Fenwick grads

Bishop Fenwick High

School presented 129 diplomas

and sunflowers to the graduating

class of 2022 at their

60th Annual Commencement

Thursday, May 26.

As the Fenwick Band performed

a rendition of Elton

John's "I'm Still Standing," the

graduating class, many holding

their caps down to keep the

wind from blowing them away,

formed a line at the field. Friends

and family members rushed to

take photos of the graduates' excited

and nervous faces.

After the winner of the John

J. Meehan Service award,

Administrative Assistant

Patricia Lafleur, was announced

by Salutatorian Patrick O'Neil,

Valedictorian Ethan Troy

Henshaw delivered a bittersweet

speech in which he contemplated

his regret for having

spent his high school years

studying and rarely socializing.

"Younger me came here with

a rather warped view of reality

and life [...] I had to get perfect

grades and take the hardest

classes, and my time here would

only be so enjoyable. I didn't

mind that, I wanted to take the

path less traveled. I can assure

you it's less traveled for a damn

good reason," Henshaw said.

"When your mind becomes

trapped in the future, you forget

to live in the present."

Henshaw went on to advise

his former classmates to use

their regrets from high school

to pave their lives in college.

"I stand here unsure of

whether to be proud of my accomplishments

or angry at myself

for wasting so much time

[...] As painful as it may feel

to hold the regrets that I do,

they're more tools I can use to

better myself," Henshaw said.

"Contemplate those regrets and

the lesson they give you. Do not

try to forget them and do not try

to bury them."

As President Thomas Nunan

and Assistant Dean of Students

Christopher Canniff handed

diplomas to the graduates, the

crowd, who had been instructed

to hold their applause, honked

and cheered for their family

members and friends.

Following the changing of the

tassel, Nunan delivered a charge

to the graduates in which he

quoted Martin Heidegger, Bob

Dylan, Ed Sheeran, and Jesus

Christ. He reminded students that

they were each other's "Shelter

From the Storm" throughout

the pandemic, and promised the

graduating class that each one of

them could call Bishop Fenwick

home at any time.

"Be that light. Think of yourself

as a high beam flashlight

and bring light into the world

that desperately needs it,"

Nunan said. "Believe, hope,

even in times of transition you

will be fine. I pray that each of

you have found love and felt

love here, right where you are

now. In struggle and success,

in tragedy and triumph, in bad

times and good, come back to

Fenwick. This is your school,

this is your home, this is your

family. We will be here for you

always, we will be light, and

warmth, and joy, and shelter,

and love, and forever, you will

be family."

Congratulations to the Class of 2022!

Wishing you a bright future and great success!

Allow us to make your next special event

Worry free and delicious!

dorsisbakeryanddeli.com • 197 Washington Street • Peabody • 978-532-0102

All of us here at A. James Lynch Real Estate

congratulate the class of 2022. Caps off to you.

Maura P. Lynch

President

maura297@gmail.com

Michael Feinburg

Broker

mkfeinberg@comcast.net

297 Broadway Lynn, MA 01904

Call us today 781-599-1500

Visit us at ajameslynch.com

Sal Tavernese

Sales Associate

stavernesejr@gmail.com

Pamela E. Adams

VP Operations

padams1978@gmail.com
---
JUNE 9, 2022

WEEKLYNEWS.NET - 978-532-5880

G29

St. John's Prep

Members of the senior class gather for a group photo during the Prep's senior week festivities.

PHOTO | ST. JOHN'S PREP

'You are hope:' St. John's Prep commencement

speakers urge graduates to make a difference

By Charlie MCKenna

DANVERS — At the St.

John's Preparatory School's

commencement ceremony May

21, the Class of 2022 was told

to use the knowledge and skills

they learned over their four

years at the school to "be extraordinary"

and make a difference

in the world.

"Over the past five years or

so, your extraordinary abilities

have been crushed into an ordinary

high school student. What

cannot be crushed, though, is

your potential," Evan Korol, a

math teacher chosen by the class

to deliver the commencement

address, told the crowd of students,

decked in navy blue caps

and gowns. "You can choose

to reclaim what it means to be

extraordinary. Right now, none

of you is smart enough to solve

the world's problems. But you

could be; you can choose to do

something with the knowledge,

the experiences and the observations

that you've made and have

been given. You can choose to

make a difference in the world."

The ceremony, which ran

for roughly two hours, also

featured speeches from Marc

Gaudin, selected by his peers

to speak on behalf of the class

of 2022, and Charles Kirby, the

class valedictorian, who did not

attend the in-person ceremony,

instead delivering a pre-recorded

video speech.

Gaudin reflected on the

rocky path his class has faced,

having to navigate much of

their high school experience

amid the COVID-19 pandemic,

and praised his classmates for

making it to the other side.

"It's hard to reflect on these

past four years without noting

2020 – this unknown and unprecedented

period. At some point

I'm sure we all felt frightened,

confused, and longed for the

future, for better," said Gaudin.

"But here we are in 2022, having

made it out — together. The

brotherhood that is the class of

2022 faced this pandemic head

on and suffered through countless

hours of Zoom and masked

classrooms. And now we sit here

under this tent without masks,

without Zoom rooms, and with

each other."

Gaudin described the 268

graduates as a group of people

who "experience" — and live

— life to the fullest.

"The Class of 2022 is a class

of people who … step outside of

their comfort zone because discomfort

is growth. Experience,

experience, experience. A life

with voluntary limits is a life

without living," he said.

Similarly, Kirby, the valedictorian,

said in his pre-recorded

remarks that his class was one

that "moved as one" over the

course of their time at St. John's.

"Over the past four years, we've

learned a lot about ourselves and

I have learned a valuable lesson

on how best to approach challenging

situations," he said. "I've

learned that changing one's scope

and perspective can bring clarity

and solutions."

Kirby, a Marblehead resident,

will be attending Duke

University in the fall.

The ceremony concluded

with remarks from the Danversbased

school's headmaster,

Edward P. Hardiman, who challenged

the graduates to be a

source of hope in a world that

often feels hopeless.

"Class of 2022, it has been an

honor and a privilege to come to

know you, value you and love

you," Hardiman said. "Remind

yourself always you are not just

graduates of St John's Prep. You

are hope, you are inspiration.

You are prophetic messages

that faith, hope, and love, and

the greatest of these being love,

are ever present in our world

and will always overcome the

challenges we face."

No one ever said it would be easy.

CONGRATULATIONS,CLASS OF 2022!

BEVERLY | NORTH READING| PLAISTOW, N.H.

MOYNIHANLUMBER.COM
---
G30

WEEKLYNEWS.NET - 978-532-5880 JUNE 9, 2022

PHOTOS | JAKOB MENENDEZ

St. John's Prep graduates hug after the cap-tossing ceremony at their

commencement.

During the May 21st commencement ceremony, St. John's Prep Student Body

President Charlie M. Wilmot flexed the three championship rings he earned

while playing on various teams for the school.

The Eagles' hockey team celebrate after winning the MIAA Division 1 State Championship.

CONGRATULATINS TO THE SENIOR CLASS OF 2022

Wishing you continued success and good health

Century house

Route 114 • Peabody

978-531-1410

Epicurean shoppe

Route 114 • Peabody

978-531-1638

www.centuryhousepeabody.com

Congratulations to

the class of 2022

"The Future is Yours"

Ron Supino

Realtor®

BERKSHIRE

HATHAWAY

HomeServices

26 Main St. Lynnfield MA

978-590-1628
---
JUNE 9, 2022

WEEKLYNEWS.NET - 978-532-5880

G31

PHOTO | JAKOB MENENDEZ

Seniors at St. John's Preparatory School in Danvers throw their caps sky high after receiving their diplomas at the May 21 commencement ceremony.

Peabody's Prep graduates

Joshua Cimito

Andrew Connolly

Jacob Cuddire

Stephen Ditchfield Marioabel Hernandez Shane Isaac

Mark Patturelli

Liam Rivera

Robert Shea

Thomas Tilas Dimitrios Vamvouklis Spiro Vasilopoulos Ryan Yuu

Congratulations and Best Wishes

to all the 2022 Graduates

MODERN COMFORT FOOD & HANDCRAFTED COCKTAILS

LIVE COUNTRY MUSIC EVERY FRIDAY & SATURDAY NIGHT

• www.stanzys.com • facebook.com/stanzysranch

• instagram.com/stanzysranch • tiktok.com/@stanzysranch

Congratulations to the Class of 2022

from all of us at

LAW OFFICE OF COLONNA, DOYLE & SIMEOLA

&

26 Main Street, Third Floor • Lynnfield, MA 01940 • Telephone: 781-245-1127

www.colonna-doyle.com
---
G32

WEEKLYNEWS.NET - 978-532-5880 JUNE 9, 2022

Congratulations Class of 2022!

From Your Friends at Coldwell Banker Realty

Louise Bova Touchette

617-605-0555

Louise.Touchette@NEMoves.com

Congratulations 2022

Graduates! Best of Luck!

Evelyn Limberakis Rockas

617-256-8500

Evelyn.Rockas@NEMoves.com

Joyce Cucchiara

978-808-1597

Joyce.Cuchiara@NEMoves.com

Class of '70

"Believe you can and

you're halfway there"

Achieve Your Dreams!

- Theodore Roosevelt Congratulations

Congratulations Class of 2022!

Class of 2022

Debbie Caniff

617-771-2827

Deborah.Caniff@NEMoves.com

Congratulations

Class of 2022!

Denise Moynihan

781-872-1200

Denise.Moynihan@NEMoves.com

Congratulations Class of 2022 and

best wishes for your next adventure!

Steve Macdonald

508-982-5005

Steve.Macdonald@NEMoves.com

Congratulations

Class of 2022!

Karen Johnson

781-367-8482

Karen.Johnson@NEMoves.com

Congratulations

Class of 2022!

Elaine Figliola

781-910-6454

Elaine.Figiola@NEMoves.com

Congratulations

Class of 2022! Now you can

reach for the stars!

Congratulations 2022 Graduates!

Carol Diciaccio

781-820-3517

Carol.Diciaccio@NEMoves.com

Congratulations Graduates!

Follow your dreams to success!

Gale Rawding

617-784-9995

Gale.Rawding@NEMoves.com

Congrats! It's your time

to shine!!!

Martha Poti

781-718-4460

marthapoti@gmail.com

Frank Rossetti

781-718-4462

frank@myCBagents.com

More Buyers and Sellers Choose

Coldwell Banker Realty

Lara Chankhour

781-854-1754

Lara.Chankhour@NEMoves.com

Congratulations

Class of 2022!

Call us for all your real estate needs

#1 Real Estate Brokerage in Peabody*

781.334.5700 | 1085 Summer Street | Lynnfield, MA 01940

ColdwellBankerHomes.com

*January 1st - December 31st, 2021