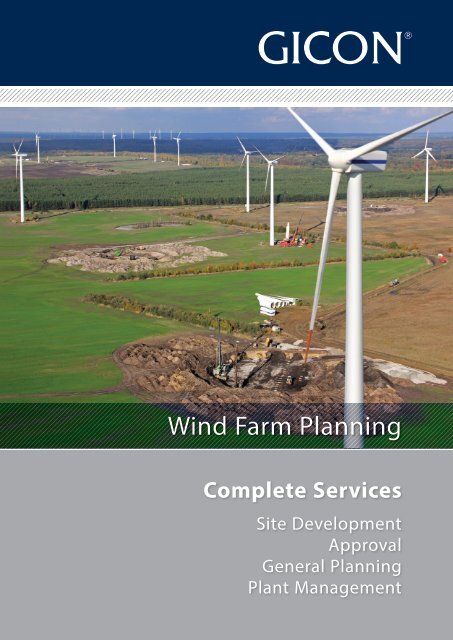 Brochure - Wind Farm Planning
GICON has long-term experience and comprehensive know-how in the area of wind energy. From the exploration and planning phase to building supervision, the corporation can implement economic complete and special solutions for the investor in an expert and routined manner.
GICON has long-term experience and comprehensive know-how in the area of wind energy. From the exploration and planning phase to building supervision, the corporation can implement economic complete and special solutions for the investor in an expert and routined manner.
SHOW MORE
SHOW LESS
Create successful ePaper yourself
Turn your PDF publications into a flip-book with our unique Google optimized e-Paper software.
Bioenergie GmbH

Wind Farm Planning

Complete Services

Site Development

Approval

General Planning

Plant Management
---
GICON Großmann Ingenieur Consult GmbH was founded

1994 as a private and independent company. The corporation

is the founding company of the internationally operating

GICON group of companies, an association of independent

engineering and consulting companies. The

group of companies employs 350 permanent and 150

freelance staff members. Subsidiaries all over Germany

ensure customer proximity. Moreover, GICON also is represented

in several countries in Europe, Asia and North and

South America.

Depending on the task, staff members from the group of

companies join forces in interdisciplinary teams. In cooperation

with research facilities, GICON provides research

services in order to guarantee the level of innovation the

customer needs and to participate in determining the

state of the art. Research partners for the onshore and

offshore area in particular are the Freiberg University of

Mining and Technology, Rostock University, Wismar

University of Applied Sciences and Fraunhofer Institute for

Wind Energy and Energy System Technology (IWES).

GICON has long-term experience and comprehensive

know-how in the area of wind energy. From the exploration

and planning phase to building supervision, the corporation

can implement economic complete and special solutions

for the investor in an expert and routined manner.

Experience gained in

the planning

of 30,000 megawatts

GICON has ample experience from the most diverse planning

projects for onshore and offshore wind farms with

a total output of 30,000 megawatts.

For the provision of services, the corporation has at its

disposal experts from the following areas:

ä Publicly appointed and sworn experts for immission

control approval procedures

ä Experts in geotechnology

approved by the Highest Saxonian Mining Authority

ä Experts for slopes and embankments

ä Experts for the execution of environmental impact

assessments according to article 5 section 2 SächsUVPG

(Saxonian Environmental Impact Analysis Act)

ä Experts for preventive fire protection

ä Health and safety coordinator according to the

German Construction Site Ordinance

(Baustellenverordnung) RAB 30 (SiGeKo)

ä Experts for the assessment of value and

construction cost planning

ä Experts for the execution of certain safety-related

testing and the examination of safety-related

documentation on behalf of the authority

ä Immission control officer – Specialist Knowledge in

compliance with article 53 of the Federal Pollution

Control Act (BImSchG)

ä Experts for building site surveys, assessment and safety

Services of the GICON group

of companies in the area

of wind energy

Site development and approval planning ... Page 3

General and specialist planning ................... Page 4

Owner's Engineer (OE) ................................. Page 5

Foundation consultancy and planning ........ Page 6-7

Planning of structural framing ..................... Page 8

Structure dynamical simulation ................... Page 9

Innovative customised solutions ................. Page 10-11

Ecological expert opinions and mappings... Page 12

Repowering .................................................. Page 13

Plant management ....................................... Page 14-15

2
---
SITE DEVELOPMENT

AND APPROVAL PLANNING

From the idea to the

wind farm concept

Based on GICON's extensive experience in the development

of wind farm sites in the onshore and offshore area,

sites are selected in a target-oriented manner based on

currently valid spatial-planning, regional and environmental

planning framework conditions. These include the following

steps:

ä Surface measurement by means of screening

methods: Determination of suitable areas, taking into

account exclusion and taboo zones

ä Determination of potential suitability of the area

in a site-specific case-by-case assessment

ä Estimation of output situation based on

wind statistics data

ä Preliminary examination of environment-planning

and approval-relevant aspects regarding the area

(amongst others, spatial position, shadowing, noise

immissions, appearance of the landscape)

ä Summary and assessment of the results

from the preliminary examination as decision basis for

the responsible regional planners

ä Draft of wind farm layout

ä Preparation of documents for the formally required

regional planning procedure in coordination with

the competent authorities and the owner of the site

ä Determination of repowering potential

Based on wind farm concepts that are approvable and

optimally adapted to the specific site, GICON draws up the

documentation for the required approval procedure. These

are – amongst others – the following:

ä Description of the project

ä Presentation of environmental impact

ä Planning and implementation of compensation and

development measures

ä Maintaining an eco account

ä Building application and object planning

ä Development concept

If required, GICON will support its clients with expert

know-how during each planning and execution step.

ä Clarification of planning and approval-specific legal

issues

ä Creation of the planning and approval basis (regional

planning procedure)

ä Preliminary draft or optimisation of the wind farm

concept (flow modelling)

ä Assessment of economic efficiency at the site

ä Identification of possible issues under private law

ä Development planning

(media and access routing, foundation)

ä Preparation of an immission-specific approval

application with overview map and site plans

ä Support in presenting the project to the public

3
---
GENERAL PLANNING / EXPERT PLANNING

GICON offers competent, independent and individual planning

of wind farm projects. This ranges from individual

plants to whole wind farms and comprises partial planning

as well as general planning activities.

General planning –

complete and from one

hand

As an experienced general planner, GICON takes over the

entire planning as well as the construction supervision and

start-up supervision for wind farm projects. GICON's sufficiently

large employee base with its competent experts

will perform these services complete from one hand. This

minimises interfaces and reduces the planning risk.

Creation of a crane erection site

Special planning –

independent and

competent

GICON offers the following technical expert planning:

ä Building site surveys, expert building site opinions

ä Foundation base planning, verifications of stability

ä Foundation planning

ä Structural framing

ä Planning of access roads and crane sites

ä Electrical planning

(cable ducts, transformer stations)

ä Compensation methods

ä Special expert opinions (noise opinions, expert

opinions regarding issues under nature and species

protection law, appearance of the landscape)

Connection of a transformer station

GICON provides all services as an independent technical

service provider and is partner for project developers,

investors and plant engineers.

Road construction – flattening out the entry into a depression

4
---
Owner's Engineer (OE)

As an Owner´s Engineer, GICON operates on one of Europe's largest wind farm construction sites in Klettwitz

Wind farm projects are extremely complex and risky. For

wind farm project management, clients need an extensive

team of experts – often only for a limited period of time.

As an Owner's Engineer, GICON assumes the independent

and comprehensive coordination and control of the project

for the client – from the planning and approval up to

construction. The targets are to ensure project execution is

in line with schedule, cost and approval requirements.

Specifically, the Owner's Engineers tasks are:

ä Superordinate coordination and control of all

construction services

ä Contract monitoring and risk management

ä Information of and communication with the principal

and all parties involved in the project

(reporting system, information platform)

ä Cost monitoring, follow-up management

ä Ensuring realisation in due time

(tracking, management and control of schedules)

ä Process management

(building capacities and logistics)

GICON offers services as Owner´s Engineer in various and

project-specific ways:

ä Delegation of specialists in different areas of expertise

ä Delegation of experts to support the

client's project teams

ä Delegation of a complete OE team, which assumes

certain areas or overall project management

GICON's extensive pool of employees ranges from the

experienced project manager and expert planner for all

trades to specialists for the most diverse disciplines and

thus always ensures the optimal team composition for the

specific task at hand.

All stated services can be performed in the context of a

service agreement or by way of personnel leasing.

5
---
FOUNDATION CONSULTANCY AND PLANNING

From exploration to building supervision

Exploration

As standard, a combination of cone penetration test/dynamic

probing and core drilling is used for a building site

survey. In case of difficult building site conditions, seismic

measurements are carried out in order to determine dynamic

rigidity in situ. Normally, these can be used to demonstrate

higher dynamic rigidities, which subsequently results

in economic optimisation of foundations.

Foundation

In General, building sites with low load-bearing capacity

should be reinforced, so that the standard foundation

established by means of type statics can be used for surface

foundation. If this is not possible, additional measures

(starting with application of a foundation pad) for the

improvement of load-bearing capacity are developed.

Increasing demands on

building grounds

Depending on the type of explored building ground and

ground water situation, a deep foundation with piles (e.g.

driven piles or cast-in-place piles) might be required. If

necessary, the advantages or disadvantages of technical

solutions are already discussed and assessed during the

foundation consultancy phase with regard to risks and

costs.

Stable natural building ground:

The ever increasing size of wind turbines also places increasing

demands on the building ground. If requirements

from type statics cannot be met for larger plant types,

additional and specific measures are necessary in order to

improve the building site so that it meets specifications.

ä Conventional exploration

ä Surface foundation with standard foundation,

if necessary foundation pad

Building ground with low load-bearing capacity:

In the field of foundation consultancy and planning,

GICON possesses many years of experience. From exploration

to building supervision, we are able to implement

economic complete and special solutions.

ä Conventional exploration and seismic

measurements for foundation optimisation

ä Deep building ground improvements

ä Surface foundation in conjunction with foundation pad

ä Deep foundation for standard foundation

6
---
Installation of foundation reinforcement at the wind farm building site in Klettwitz

ä Larger special-purpose foundation

ä Site-specific foundation solutions such as

combined pile raft foundations

Building site survey and

optimised site-specific

foundation consultancy

User interface of the in-house

SCMS data base

Refills, dumps, underground

mining areas and landfill

sites

ä Conventional exploration and geophysical

measurements

ä Deep building ground improvements amongst

others against liquefaction of loosely dumped,

water-saturated and rolling dump soils

ä Special seismic building site surveys

ä Planning of special solutions up to the

implementation phase

ä Preparation of the tender documents

ä Site management and building supervision

ä Geotechnical construction management

ä Evaluation of inventory data on deep compaction

with in-house database (SCMS – Soil Compaction

Management System) as a tool for performance

monitoring

ä Proof of compaction

ä Inventory documentation

7
---
PLANNING OF STRUCTURAL FRAMING

Statics and construction

Constructive formation

Loads and deformations

Serviceability limit state

- Displacements

- Rotations

Building ground model

Solutions for special

building ground conditions

In limit condition considerations, GICONs qualified engineers

define material use, dimensioning and constructive

formation of structural components.

Sufficient stability of the wind power plant is not always

achieved through comprehensive subsoil improvement

measures. A special solution for the foundation is required

in these cases. GICON has extensive experience in the

development of innovative structural framing solutions for

onshore and offshore wind power plants.

Based on design-relevant load case combinations, typical

time-dependent load scenarios for structural framing and

foundation structures are determined under dynamical

load changes by means of multiphysical numerical verification

models.

Statics and construction

ä Towers in skeleton, reinforced-concrete and in

prestressed concrete construction

ä Site-specific foundation solutions

ä Special foundations on difficult building ground

(dumps)

ä Monopile, tripod, jacket and gravitation foundations

for offshore wind power plants

ä Structural framing concepts and planning for floating

foundations

8
---
STRUCTURE DYNAMICAL SIMULATION

Simple, economical and secure

Model trials in wind and wave tunnel

3D finite element calculation model

In cooperation with its partners WPC Wind Power

Construction GmbH, the Freiberg University of Mining and

Technology and Rostock University, GICON develops innovative

solutions for the foundations of wind power plants.

Through specialist surveys, analyses and modelling, GICON

contributes to the development of new and sometimes

unused sites such as landfill sites, waste dumps, postmining

landscapes and forests and to the development of

the offshore field.

Simulation and design

ä Wind load under operating conditions and extreme

wind conditions

ä Application of site-specific and plant-specific

characteristics

ä Parametrised multiple body simulation models

ä Dimensioning of aerodynamically and hydrodynamically

loaded support structures

ä Analysis of structural framing vibrations and

resonance behaviour

The following simulation programs are used:

Research and Development

ä Cooperation with Freiberg University of Mining and

Technology and Rostock University

ä Development of numerical calculation models

ä Complex simulations of aerodynamical and hydrodynamical

load scenarios

ä Development of floating foundation solutions

ä Planning and execution of true-to-scale wind and

wave trials in cooperation with recognised research

institutes

ä Calculation model validation based on measurement

results

ä Development of guidelines for draft and

dimensioning of floating foundations for wind power

plants

ä Development of new and still unused sites for wind

power plants (forests, post-mining landscapes etc.)

ä Site-specific static-constructive development and

optimisation of pile and raft foundations for wind

power plants

ä Development of a requirements catalogue for wind

power plant foundations on problematic building

grounds

ä ANSYS ä ALASKA ä ABAQUS

9
---
INNOVATIVE CUSTOM SOLUTIONS

Foundations on landfill sites, waste dumps and post-mining

landscapes

Combined pile and raft foundation

Installed driven piles at the wind farm in Cottbus Nord

GICON innovation: Combined

Pile Raft Foundation

Stress distributions

Wind power plants on

problematic subsoil

Usually, landfill sites, industrial wasteland and post-mining

landscapes are sites that can be purchased at low cost and

are often in exposed areas suited for the development for

wind power plants. However, the subsoil of these sites

often has a low load-bearing capacity even at greater

depths. Therefore, the development of these sites requires

innovative foundation planning solutions.

An innovative special solution is the combined pile and

raft foundation (PRF). This foundation type was further

developed by GICON by means of adaptation to various

subsoil conditions. In this context, it might be required to

improve the subsoil through vibro compaction. This prevents

liquefaction of loosely dumped, water-saturated and

rolling dump soils. For the PRF, piles are arranged below

the foundation slab, which serves to transfer loads.

The piles only serve to limit settling and are included in the

planning with regard to their ultimate bearing capacity.

This eliminates the need for taking additional safety coefficients,

which would result in a higher number of piles or

longer piles.

Advantages of PRF

ä Higher rigidity against canting

through integration of the piles in the foundation slab

ä Foundation slab can be relatively small

ä Ensuring permanent stability and serviceability of the

wind power plant

ä Better economic efficiency, as a PRF – in comparison to

a conventional pile foundation – is measured in the

limit state

10
---
INNOVATIVE CUSTOMISED SOLUTIONS

Wind turbines in the forest

Photo: Herbert Grabe/Ostwind

First forest wind farm in Bavaria, built with expert support from GICON

First forest wind farm in

Bavaria, built with support

from GICON

The installation of offshore wind turbines in the German

North Sea and Baltic Sea is delayed and open land areas

are only available in limited numbers. In the context of

expanding the generation of renewable energy, there is

growing interest in building wind farms in forest areas.

As an example project, the company Ostwind Gewerbe

Bau GmbH with the support of GICON specialists erected

the first forest wind farm in Bavaria in 2011. Since then, five

wind power plants of the Enercon Type are operating near

the city of Hof, each with 138 metres of hub height and

2.0 megawatts of output.

Example schedule of

specialised consultancy

for the erection of a forest

wind farm

ä Site Determination in the context of regional

planning

ä Approval management, creation of technical and eco

logical expert opinions

ä Building ground examinations

ä Foundation consultancy

ä Presentation of site alternatives and foundation

variants

ä Construction management, particularly

geotechnically specialised site management

ä Optimisation of foundation expenditures

11
---
ECOLOGICAL EXPERT OPINIONS

AND MAPPINGS

Installation of the GICON/IfAOE radar system for the

observation of bird migration

ä Specific species protection law assessments and

expertises on species protection

(AFB = Artenschutz-Fachbeitrag)

ä Environmental controlling and construction supervision

With regard to nature conservation, we develop expert

statements on specific issues or special opinions on certain

groups of species. The special mapping of species according

to the EU Habitats Directive, appendices II and IV, also

are part of our task spectrum.

With its special knowledge, GICON supports wind farm projects

in terms of environmental planning and nature conservation.

For onshore and offshore wind farms, our employees

prepare the following environmental documents:

ä Environmental compatibility studies

(preliminary examination of individual cases,

environmental impact study)

ä Compatibility studies in the context of the EU Habitats

Directive (FFH-VU, FFH-VS)

ä Landscape Envelope Plans

(LBP = Landschaftspflegerische Begleitpläne)

ä Landscaping execution plans

(LAP = Landschaftspflegerische Ausführungspläne)

ä Assessment of habitat protection rights

(BRP = Biotopschutzrechtliche Prüfungen)

For sampling, GICON uses its own high-tech equipment:

ä Underwater robot (ROV) and underwater video

equipment

ä High-resolution camera systems for the

documentation of birds in flight or at rest

ä Radar systems for quantification of bird migration rates

ä Ultrasonic detectors for the recording of bat calls

GICON prepares ecological opinions in varied fields of

expertise: Amphibians and reptiles, ichthyology (fish/

fishing sector), benthic organisms and habitats, marine

mammals, resting, flying, breeding birds and birds of prey,

bats, ground beetles, flora, vegetation and habitats as well

as forest conversion. In addition, GICON provides opinions

on bat population and migration.

12
---
epowering

Inventory check for more productive plants

In-depth regulatory

approval assessment and

repowering

Opinions for example comprise contractual agreements

(contractual terms, transferabilities), application and

approval related documents, administrative decisions and

operating logs.

We also carry out intensive visual inspections to determine,

whether the technical condition corresponds with the

operational phases and maintenance intervals. If required,

the findings thus obtained can be used in the contract

negotiations.

For wind farm owners, GICON develops concepts for

modernisation of their plants on the basis of current planning

guidelines. These concepts comply with all requirements

relevant in terms of licensing aspects, environment

and regional planning and can directly be applied in the

approval procedure.

Assessment of existing

plants

Onshore wind farms, which were erected before the 21th

century, cannot achieve the performance levels of modern

wind power plants. At the latest by the time the technical

lifespan of a plant is exceeded, keeping it in operation is

not economically viable any more. Prior to reaching the

age limit, existing wind farms are often offered for sale.

These are profitable long-term investments for e.g. power

supply companies.

Prior to conclusion of contracts and agreements, the qualified

GICON employees can support investors by means of

technical and approval-related in-depth assessments of

the wind farm.

In close collaboration with long-term cooperation partners,

GICON provides the following services:

ä Technical management

ä Analysis of operating data

ä Determination of site-related yield potential for

repowering

ä Clarification of planning and approval-related

reliability

ä Creation of a wind farm concept

ä Economical, technical and approval-related

assessment of existing plants and wind farms

ä Data logging and processing for technical due

diligence and legal due diligence assessments

required for sales negotiations

13
---
PLANT MANAGEMENT

Special conditions for wind power plants

Wind power plant efficiency is largely determined by its

technical condition. Therefore, predictive maintenance,

future-oriented and efficiently planned maintenance and

repair is of particular importance. Down-times require

meticulous documentation, analysis and cause studies. For

effective plant management, GICON has developed special

software solutions.

Challenges of wind energy

ä Maintenance and repair in the offshore area is highly

dependent on the weather and availability of ships

ä Large number of plants jointly operating in wind

farms

ä Often with different owners, who have to be provided

with information

ä Increasing number of plant types and increasing

degree of automation

ä Extended operating time

ä Centralised management by operational

management companies

System for operational

management, technical

supervision and

documentation

CoCheck – ComplianceCheck is a highly flexible plant

management software that works for every market segment.

It is ideally suited for centralised management of the

most diverse types of wind power plants at one or at multiple

sites.

Functions of CoCheck – ComplianceCheck

14
---
CO-CHECK COMPLIANCE CHECK

Software for production management, monitoring and

documentation

CoCheck functions

for wind power plants

Currently, CoCheck is used for operational management of

about 80 wind farms.

The system is of particularly advantage regarding the following

functions:

ä Comprehensive knowledge base on asset investment

(if required, RDS-PP compatible), mapped in a freely

definable hierarchical object structure, which can be

expanded in a flexible step-by-step manner with the

CoCheck – Object type designer tool.

ä Activity management and documentation complete

with responsibilities, schedule planning with reminder

function, error pattern and error cause management

and auditing of accounts on behalf of the plant owner

ä Monthly reporting to plant owners based on the

data gathered from real-time monitoring systems

connected via interfaces.

Input screen for technical details of

a wind power plant

For further details on the plant management system

CoCheck, please visit www.cocheck.de or request information

from the following email address: info@gicon.de.

15
---
Großmann Ingenieur Consult GmbH

GICON Group

Tiergartenstrasse 48 I 01219 Dresden, Germany I T +49 351 47878-0 I F +49 351 47878-78 I info@gicon.de

www.gicon.com