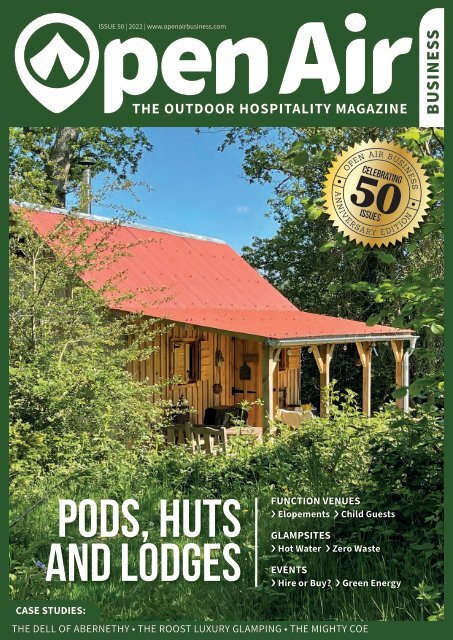 Issue 50
The UK's outdoor hospitality business magazine for function venues, glamping, festivals and outdoor events
The UK's outdoor hospitality business magazine for function venues, glamping, festivals and outdoor events
SHOW MORE
SHOW LESS
Create successful ePaper yourself
Turn your PDF publications into a flip-book with our unique Google optimized e-Paper software.
ISSUE 50 | 2022 | www.openairbusiness.com

BUSINESS

PODS, HUTS

AND LODGES

FUNCTION VENUES

› Elopements › Child Guests

GLAMPSITES

› Hot Water › Zero Waste

EVENTS

› Hire or Buy? › Green Energy

CASE STUDIES:

THE DELL OF ABERNETHY • THE ROOST LUXURY GLAMPING • THE MIGHTY COE
---
Our trade clients say Excellent

23rd - 24th july 2022

Dulwich, London

• UNIQUE AIRBEAM DESIGN •

book your

free

tickets!

3m, 4m & 5m

Based on 4.5k+ reviews

www.boutiquecamping.com | 020 3319 1315
---
ISSUE 50 | 2022 | www.openairbusiness.com

WELCOME

DID SOMEONE say special anniversary celebration, bring

on the street parties and fling up the bunting?! Move over

Queen, it's Open Air Business's sixth year, 50th issue knees up!

Well, metaphorically speaking, although we'll be toasting the

printing of this one in-house…

I was thinking I should really be dedicating pages to a

big industry recap, but let's face it, you're all in it daily and

there's little insight I'm likely to add and we'd be a pretty

poor industry magazine if we hadn't told you all about it as it

happened. Here's my take in a nutshell...

In the last six years glamping's gone bang and it's time to hone offerings (although

this year might be a little slow as people get the desire to travel out of their systems).

Outdoor weddings are more popular than ever thanks to Millennials leading the

charge on individualistic and back to nature celebrations (and yes, we'll take that nice

new wedding law change earlier in the year). With public facing events, it's another

story. While appetite is there, the industry has been hit particularly hard in the past

two years. I can't make any flippant remarks as people have lost livelihoods and the

industry, skilled professionals. Cost of living is making ticket sales hard but I think

people will prioritise getting together, even if it is a last minute decision.

Looking forwards (and not mentioning European conflict, energy prices and other

doom and gloom), I think we have all picked the right place to do business. The

collective conscience seems to be moving towards outdoors, nature, sustainability,

'local', celebration and togetherness – everything we champion. So, here's to us,

here's to you and here's to the next 50 issues of Open Air Business showcasing a

booming open air hospitality movement.

Tally Rix

Editor / Publisher

PUBLISHERS

Steve Rix - steve@openairbusiness.com

Tally Rix - tally@openairbusiness.com

EDITOR

Tally Rix - tally@openairbusiness.com

ADVERTISING SALES

Marney Whyte - 01892 677743

marney@openairbusiness.com

David Hobden - 01892 677741

david@openairbusiness.com

ADMINISTRATOR

Kirsty Farrow – 01892 677740

kirsty@openairbusiness.com

DESIGN

James English -

www.jamesenglishdesign.co.uk

PUBLISHED BY

Coffee Shop Media Ltd

www.coffeeshopmedia.com

Milroy House, Sayers Lane,

Tenterden, TN30 6BW

01580 848555

Contents ISSUE 50 – 2022

UP FRONT

4 News

6 Product News

9 Entrepreneur's Chat

– Charles Hooper and

Lisa Aitken, Forest

Garden Shovelstrode

FUNCTION VENUES

14 The Dell of

Abernethy – a multifunctional

tipi space

in the Cairngorms

18 Elopement Weddings

– monetising the

small but beautiful

celebration

21 Curating Creativity

– evolving the

traditional event

model

22 Family Friendly

Events – catering for

child guests

25 Get to Know… the

people behind the

products

27 Marquees and

Structures – products

in action

GLAMPSITES

31 The Roost Luxury

Glamping – bespoke

cabins in rewilded

countryside

36 Zero Waste – start

your journey here

38 Hot Water – specifying

water heaters

43 Get to Know… the

people behind the

products

47 Pods, Huts and

Lodges – products in

action

EVENTS

50 The Mighty Coe – the

UK's first on-snow

festival

54 Green Energy –

decarbonise your

event with these

options

56 Hire or Buy? – when

hiring crowd barriers

makes sense

58 Get to Know… the

people behind the

products

60 Flooring and Ground

Protection – products

in action

62 Spotlight

63 Classifieds

65 Behind the Scenes –

Harry Londsale, Cube

Management

OPEN AIR BUSINESS IS

NO LONGER FREE

To start a paid subscription, please visit

www.openairbusiness.com/subscribe

Find more expert advice online:

www.openairbusiness.com

SUBSCRIBE

ONLINE

PODS, HUTS

AND LODGES

FUNCTION VENUES

› Elopements › Child Guests

GLAMPSITES

› Hot Water › Zero Waste

EVENTS

› Hire or Buy? › Green Energy

CASE STUDIES:

THE DELL OF ABERNETHY • THE ROOST LUXURY GLAMPING • THE MIGHTY COE

COVER PHOTO

The Anderida Cabin at Forest Garden Shovelstrode. Read

more in Entrepreneur's Chat with Charles Hooper and Lisa

Aitken on pages 9-12.

WWW.OPENAIRBUSINESS.COM 3

BUSINESS
---
Petitioning for 56 Days

50 Sites for Irish

Waterways?

WATERWAYS IRELAND is exploring the possibility

of developing up to 50 sites at key locations across

both Northern Ireland and the Republic that will

provide facilities for glamping and motorhomes,

reports the Irish Examiner:

'The sites would be across the navigation systems

operated by the cross-border body, including the

Lower Bann, the Erne System, the Shannon-Erne

Waterway, the Royal and Grand Canals, the Barrow

and the Shannon.

Waterways Ireland said: "The provision of

glamping and motorhome infrastructure along the

inland waterways offers the potential to attract

increased and diverse users to the waterways

environment to experience both on-water and offwater

recreational activities including walking and

cycling along our greenway and blueway routes.

"For the visitor, waterside locations are

compelling and unique since they offer immersive

dark sky vistas, breathtaking scenery and tranquillity

amidst the beauty of rare flora and fauna."

The organisation has issued a tender for the

feasibility study, which could cost up to €150,000.

This will inform Waterways Ireland's future decisions

on investing in infrastructure to facilitate such types

of tourists and their accommodation needs'.

WATERWAYS IRELAND

THE TEAM at pop-up glamping

site Eweleaze Farm, Dorset,

is on a mission to ask the

government to review the

current law surrounding

pop-up campsites. The last

two camping seasons have

seen pop-up sites across the

UK able to open for 56 days,

creating many opportunities

and increasing economic

benefit for farmers up and

down the country. The law

has now been reverted back

to 28 days.

A petition has been

formed asking the

government to review this

law and change it so all

pop-up campsites can

open for 56 days a year.

A target 100,000 signatures is needed by 22 October in

order for the petition to be discussed in parliament. To sign,

visit petition.parliament.uk/petitions/615270

EWELEAZE FARM

Cool Camping sells to Hipcamp

BRINGING AN Airbnb-style business model to outdoor stays, US

platform Hipcamp has bought British brand Cool Camping.

Cool Camping's 25,000 listings will now appear on the Americanowned

website in what is its first European acquisition. Hipcamp,

which has raised tens of millions of dollars including investment from

the musician Jay Z's venture capital firm Marcy Venture Partners,

already has half a million listings in the US, Canada and Australia.

Listings on the website are free, but Hipcamp takes 15% from

each booking. Only those in rural locations with an acre or more of

available space can sign up and will also be eligible for Hipcamp's

liability insurance, which protects them for up to £1m.

Alyssa Ravasio, who founded Hipcamp in 2013, said: "I realised

that given how crowded our public campgrounds are, the only way

to achieve our mission was to create new places, which we started

doing on private land. We leverage data to understand what specific

destinations are likely to book out months ahead, then reach out to

landowners in that area."

Jonathan Knight, founder and former managing director of Cool

Camping, said that he hadn't been looking to sell when approached

by Hipcamp, but was "struck by the similarities between the two

brands. Not only the types of places we feature – small, independent

campsites and glamping sites with something a bit special about

them – but also our philosophies. It feels natural to combine

everything."

Jonathan will stay on as Hipcamp's UK manager.

4 WWW.OPENAIRBUSINESS.COM
---
Half of Brits

Welcome

Hospitality

Tech

NEW RESEARCH from

Oracle Hospitality and

Skift suggests that over

half (57%) of Brits are

interested in using

metaverse/VR to explore

accommodation virtually

before they book.

Mainstream hospitality

is listening, says the

report, with nearly half

(45%) of UK hoteliers

already developing

VR maps of their

accommodation, or are

planning to do so in the

next year.

The research also

Get Your

Free Tickets

REMEMBER TO get your free tickets for

Clear Sky's Friends at the Farm event on

30 June to 1 July in Kent. An informal,

friendly event where you can look round

glamping structures and chat to industry

suppliers.

Bring a picnic rug and enjoy an

informal day without a clipboard in

sight! Oh and there's a cracking coffee

and refreshments van too. Sign up at

www.trybooking.co.uk/BNBN

found high demand for

'unbundled' experiences.

UK travellers want their

journey personalised

even more by picking

their exact room (36%)

and paying for only

the amenities they

want (37%). 84% of UK

the hotel executives

surveyed agree this will

likely be the future.

Other findings

showed that nearly

three-quarters (71%) of

travellers want to use

their mobile device to

manage their experience,

e.g. checking in and out,

paying, ordering food,

and more. 64% of Brits

are also comfortable

with providers using

data and AI to better

tailor services and offers,

e.g. room pricing or

food suggestions and

discounts.

Rebranded Coalition

Championing Events

ONE INDUSTRY One Voice (OIOV), the UK

coalition of associations and businesses created

to champion the country's events industry

during the pandemic, has been expanded and

rebranded to The Power of Events (UK).

OIOV and The Power Of Events founder Rick

Stainton said the newly rebranded initiative will

provide a dynamic, formalised and appropriately

financed structure, developed in partnership

with the core sectors' main associations and 10

of the leading university event faculties across

the UK.

Stainton said the priorities were to deliver

a comprehensive online communications

hub alongside an industry research app and

evaluation platform: "It will demonstrate the

broad range of skillsets and career opportunities

to attract a more diverse and inclusive talent mix,

alongside an industry map clarifying the breadth

and variety of these live experiences with the

wide range of supply chain expertise needed to

deliver them."

He said the website would support existing

trade associations and organisations by

signposting to their information, resources,

and campaigns, while The Power of Events will

also research and communicate the social and

economic impact of events across the UK.

The Power of Events consists of a taskforce

made up of around 25 representatives from

across the seven core event industry sectors,

including BVEP (business), LIVE and NTIA

(music), EIF (outdoor/festivals), and the PSA and

PLASA (production). Visit for

www.thepowerofevents.org more.

MAC CABINS LIMITED

Modular • Artisan • Contemporary

Glamping Sites, Leisure Parks, Holiday Rentals,

Bed & Breakfasts (B&B), Hotels & Resorts, Golf Clubs,

Camp Sites, Holiday Retreats, AirBnB and Land/

Garden Owners.

Whether you are looking to start,

expand or diversify your own

existing holiday rental business,

MAC Cabins brings you the

perfect selection of the best

Timber Log Cabins, Glamping

Pods, Timber Lodges and Small

Homes Tiny Houses, collectively,

for you to choose from.

MAC Cabins actively supports and promotes the sustainable tourist industry.

0800 999 1564

maccabins.co.uk

WWW.OPENAIRBUSINESS.COM 5
---
PRODUCT

Fire Cages and Tables

SAVAGE BBQ has come a long way since it's

humble 'lockdown idea' beginnings. The family

business of husband and wife team Eddy and

Rachel Brown began with the now well-known

Fire Cage – or 'The Beast' as they fondly call it. A

way to fire cook without limitation.

Designed for use indoors or outdoors, in

restaurant kitchens, wedding venues, pub

gardens, pop ups and, as it began, in your

home's outdoor space. This year already, Savage

BBQ has added three more amazing products

to its arsenal – The Fire Cage Pro Plus, a hybrid

of the original cage and the Pro – perfect for

professional kitchens, plus the Antikristo – Greek

style slow cooking by flame – and the brand

new Fire Table. This combination of BBQ, fire

pit and outdoor dining table is popular within

the hospitality industry as well as at outdoor

venues, festivals and glamping sites.

There is no end to the vision of Savage BBQ

and the team loves to work with customers

to create bespoke products just for them.

All products are handmade to order from a

workshop in a Nottinghamshire village.

0115 8990323, ed@savagebbq.co.uk,

www.savagebbq.co.uk

Billy-Joe Double Bell

AUTENTIC HAS launched the Billy-Joe Double Bell, a unique twin bell tent

measuring 7.2m x 5.5m, with a height of 3.25m. The most inspiring canvas

glamping tent in the Autentic bell tent range, it is made of 100% cotton canvas

and features wide door openings on both sides and an insulating double roof .

It is available in four colours (turmeric, pumpkin, desert and moss).

With optional air cushion isolation and dividers, it can be set up in a variety

of ways: as a family glamping tent, with two sleeping areas and a common

living space, or as a luxury couple's suite with lounge and dining area.

+32 55 501 764, info@autentic.world, www.autentic.world

New Prefabricated

Glamping Units

LOGSPAN HAS launched a new range of prefabricated glamping

units. There are six different models from the M10 Glamping

Room to the two bedroom M54 Maxi Glamping Lodge.

All units benefit from quality, modern fixtures and fittings.

These include a walk in shower, triple glazed PVC windows and

doors, and plug-and-play electricity and plumbing. Optional

extras include underfloor heating and air conditioning.

The M24 Glamping Chalet contains a 5m2 terrace, kitchen,

living room area and bedroom with en-suite, all in a compact area

of 24m2.

Logspan will be displaying the chalet this year at a number

of national exhibitions – get in touch for details. When not at an

exhibition the show model will be on display at the company's

site in Glasgow.

01389 734572, info@logspan.com, www.logspan.com

6 WWW.OPENAIRBUSINESS.COM
---
Event Operations and

Staffing Services

AS BUSINESS grows so too does the

team at Festivall Services. While the

name may be new to you, having

only formed in November 2021,

the company has been built on

the foundations of Josh Heyburn's

first event business, Kent Event

Services (2017-2021), to deliver a

high standard of event operations

and staffing services to clients

nationwide.

Josh, managing director, and

Evan Morgan, office coordinator,

advertised to expand the team

recently to ensure consistency

for their staff and clients. While

the pair are based across Kent,

South Yorkshire and South Wales,

applications from across the UK

were welcome for a remote working

role.

When conducting remote

interviews, it was clear to the pair

that there was a need for a second

stage in-person interview. Festivall

Services connects people, and

how could such a connection be

established over a video call? The

pair took the progressive approach

to conduct second stage interviews

in the candidates' home towns or

cities, where they could present

a brief tour before conducting a

follow up interview in an informal

setting. The candidates praised the

approach, which eliminated a need

for them to travel and put them in

an environment in which they were

comfortable and familiar.

As a result of the interviews,

Festivall Services is delighted to

welcome Jessica Wainwright to the

team as their new event staffing

coordinator.

01144 055 044, hello@festivall.

services, www.festivall.services

Hirer Package

Deals From £1,583

LIKE MANY event and hospitality suppliers,

Rotherham-based Gala Tent is braced for a busy

peak season as the UK returns to its first summer

with no Covid-related restrictions in three years.

Add the thousands of delayed weddings that will be

taking place up and down the country to the mix,

and it promises to be a very lucrative time of the year

for professional and part time event planners and

marquee hirers, who are booking up well into the

autumn and beyond.

With this in mind, Gala Tent has relaunched its

exclusive hirer package deals, with prices from as little

as £1,583 ex VAT for two size options, luxury linings,

heating, lighting and heavy duty anchors. There are

different packages to accommodate new and existing

businesses, regardless of the size or type of event

they're catering for.

The company has also launched an exclusive

digital marketing service alongside sister brand Gala

Education & Marketing, which aims to equip new and

existing event planners with the tools they need to find

the people that need their services, and maintain a

solid booking calendar for years to come

01709 242454, www.galatent.co.uk

10% off all Stoves with Code 'OPENAIR10'

AN EXCLUSIVE patented design delivering unparalleled nostalgic ambiances and

creative cook-offs, the Pizza Oven Plus effortlessly reaches a soaring 300+°C, boasting

a welcoming and warming 9.4kW heat output.

Fuelled by wood, the oven is ideal for any in-tent or outdoor environment and has

several unique features to elevate guests' outdoor escapades; a cordierite baking

stone, ceramic viewing windows, fire-box grill rack, extendable flu, temperature

gauge, ergonomic-hold side grills, plus fittings for an attachable water heater! The

five-in-one appliance allows guests to fry and boil, grill, stone bake, warm and fire

roast.

Recognised through its success on crowdfunding platform Kickstarter, the Pizza

Oven Plus has been created to provide glamping guests with toasty nights and

enjoyable and creative self-catering amenities – attributes certain to boost the

reputation of your outdoor business.

0203 319 1315, info@boutiquecamping.com, www.boutiquecamping.com

WWW.OPENAIRBUSINESS.COM 7
---
Bespoke Hand Built Shepherds

Huts, A-Frames and Pods

Available in various sizes to suit your own requirements

•The Perfect Business Opportunity • Additional Living Space

• Catering/Bar Huts • Office/Studio

CONTACT US FOR FURTHER DETAILS

01524 792633, logcabinworld@btinternet.com,

www.logcabinworld.co.uk

Part of the

Group

8 WWW.OPENAIRBUSINESS.COM
---
PEOPLE

ENTREPRENEUR'S CHAT

CHARLES HOOPER

AND LISA AITKEN

A chance TV encounter led to the development of an eco-tourism

business, but this couple has faced some huge challenges

including losing many hundreds of trees and almost half a hand…

usband and wife Charles Hooper and Lisa

Aitken grew up two miles from each other in

West Sussex, but having run parallel lives in

Paris then Sydney in the '80s and '90s, they

finally met in London almost 20 years ago.

Lisa inherited her family home in 2008 and

they set about thinking of ways they could

derive an income from a six acre plot of

land including three and half acres of an old

coppiced ash woodland.

In 2009 Charles, a TV commercials producer

turned landscape designer, was a participant

in the green woodworking episode of BBC

show 'Mastercrafts'. "It was a life changing

experience," says Charles, "and green

woodworking has since become a passion, which I have been

teaching for the last decade. Lisa and I had similar interests in

horticulture and Lisa developed a keen interest in permaculture

and specifically forest gardening. We combined our knowledge

and skills and launched Forest Garden Shovelstrode in 2010".

The property near East Grinstead has been in Lisa's family for

over 50 years and comprises a paddock where Lisa used to keep

her pony, woodland and a small copse which is home to half

a dozen chickens. "The question quickly became: how can we

sustain a living from such a small piece of land?" We decided to

teach people different ways of living more self-sufficiently through

a variety of woodland craft course. We began by running courses

in bee keeping, green woodworking, clay oven building, hurdle

making, willow weaving and bronze casting. Our first yurt was

initially used for coffee breaks, and then we turned it into overnight

accommodation. It proved to be so popular, we soon built

another yurt.

"This was pre the 'glamping revolution' of 2010, and in 2015 we

created a beautiful log cabin. We built the cabin ourselves from

western red cedar. When the local planning officer was inevitably

notified, we explained it was built by ourselves and our course

students, and he was impressed with the level of craftsmanship.

He advised us to apply for retrospective planning, which we did.

We were then later able to apply for full permission to use the

cabin as guest accommodation".

Charles points out that it is well worth thinking ahead when

undergoing any planning application, and to apply for any additional

structures and expansion plans all in one go, even if it takes many

years to reach that stage in the actual development of the business.

WWW.OPENAIRBUSINESS.COM 9
---
PEOPLE

"Our first big planning application was very time consuming, and

also hinged on us getting an EU grant to complete the works. We

were turned down for the grant initially, but we produced a short

film garnering local industry support, and finally won them over!

The second retro application for the cabin was surprisingly easy,

apart from the one annoying neighbour who objects to absolutely

everything and sits on both the parish and district council! However

our third application in 2017 to build three more cabins was even

harder and much more expensive. We met every council objection,

but then had to pay a hefty CIL (community infrastructure levy) for

each cabin, which completely negated the impact of a second EU

grant we had been awarded".

"IT WAS

A LIFE

CHANGING

EXPERIENCE,

GREEN

WOOD

WORKING

HAS SINCE

BECOME A

PASSION"

ASH DIEBACK

Having secured the final part of their planning in 2018, the couple

faced a disaster in 2019 when the Forestry Commission confirmed

their worst fears, that the woodland was badly infected with Chalara,

ash dieback disease. "Most of our woodland at that time was

coppiced ash (about 85%), which had originally been grown as fuel

for the Wealden iron industry. We had built our business within the

woodland, and the yurt decks were cut around the trees. Thankfully

we hadn't opted for treehouses!"

Over the next 15 months trees were removed, in the first phase

by hand felling, and in the final phase with the help of a 23 tonne

excavator with tree shears, which was much more efficient. "We had

initially hoped we might be able to save some of the healthier looking

trees, but the level of disease was rife and so we bit the bullet and

went all in. The first phase was completed just in time to open for the

first lockdown! We finally re-opened for business in summer 2020, but

we closed down again in the autumn to complete the final phase of

forestry and replanting".

It was never Lisa and Charles' intention to add 'woodland

management' to their job roles. "We haven't had any financial

assistance with the project and we have had to take out a very large

loan at just the wrong time. We are now very busy managing a

regenerating woodland! Despite my training as a landscape designer,

I have little previous experience in designing a woodland, but it has

been an incredible process.

"Very soon after the trees were removed and the hazel understory

was cut to the ground, by the spring of 2021 the dormant seedbank

exploded in riot of colour. Many wildflowers appeared including red

campion, ragged robin, foxgloves, bluebells, woodspurge, orchids,

dog rose and columbine to name a few. There are many new saplings,

and we have planted more than 1,000 mixed native and non-native

trees. The hazel has shot up more than two metres in the first year

with all the available light, and now instead of a closed canopy of

magnificent ash trees, we have a horizontal view of a wall of vibrant

greens, with big blue skies ahead as you wander through.

"We now have a wide variety of trees to create a diverse woodland

that is more resistant to future threats of disease and climate change.

It has been an unexpected privilege to design, and is a legacy for

future generations to enjoy".

The Forest Garden and wildlife pond was created 12 years ago in

Lisa's old paddock. "During its infancy it was cradled and nurtured

by the ancient ash woodland behind it. Now with the large trees

removed, the support roles have been reversed as the established

forest garden looks out over an emerging woodland," says Charles.

"The forest garden is based around growing a wide variety of useful

and mostly edible plants, within the seven canopy layers, from root

zone to upper canopy. It is like three dimensional perennial vegetable

gardening!

"And of course, there is the wildlife that the process of opening

up woodland glades has encouraged. The site is now teaming with

woodpeckers, mice, owls, rabbits, deer, sparrowhawks and buzzards".

10 WWW.OPENAIRBUSINESS.COM
---
PEOPLE

NOT REALLY 'GLAMPING'

Being totally immersed in nature is one of the main attractions to

guests at Forest Garden Shovelstrode. The accommodations are

off-grid, and are comfortably and tastefully appointed with many

handcrafted items and furniture. "There is no Wi-Fi in the woods!

Although there is a good 4G signal for any digital nomads," Charles

admits. "We don't offer hot tubs, flat screen TVs or Nespresso

machines either! We offer 'back to basics' luxury camping in secluded

and tranquil surroundings, for discerning eco tourists and green

travellers.

"There is a great deal of variety of accommodation in a now very

heavily saturated market. We are clear about what we offer and

we are very experienced in dealing with all types of enquiries. In

managing people's expectations, we may sometimes recommend a

more appropriate site".

The yurts are shut from November to February but the cabins

are open all year round. "The yurts are remarkably resilient," says

Charles. "We've had them up for more than 10 years continually,

although now with many trees removed they are much more

exposed, and when storm Eunice hit us, we were both holding a yurt

down and having to lash it to the deck in 90mph winds!"

Guests enjoy hot showers and flushing toilets in the converted

old generator house. "Rather than trying to educate guests on the

theory and proper use of composting loos, we decided to completely

overhaul the old sewage treatment plant that was on the property.

We found the original plans that were over 100 years old in the family

records, and had all new components manufactured in stainless steel.

The upgraded system now runs brilliantly and should last at least

another 100 years!"

The on-site café and shop sells produce made on the site including

Forest Garden honey, homemade jams and chutneys, Charles'

greenwood crafts and their own apple juice.

ON THE TELLY

Forest Garden Shovelstrode has enjoyed some great TV exposure on

both Made in Chelsea and Four in a Bed. "We came a resounding last,"

says Charles. "Not surprisingly, as producers do like to put apples

with oranges to make good TV. The competition is also very much

based on breakfast and neither of us had poached an egg before so

we were looking up Jamie Oliver's 'perfect poached egg method'

while trying to cook breakfast! We have had some great PR from

the TV appearances, with 4IB being frequently repeated on various

channels around the globe at which time our analytics go through the

roof! It has had a very positive effect on our bookings over the years".

The business also does a lot of location work. "About 10% of our

turnover comes from film, TV and photoshoots and producers seem

to really like us. They choose our location because of the many

photographic options that we have. However once for a fashion

shoot the agency booked the entire site and then just photographed

a couple of kids on a log pile and cleared off! They could do that

anywhere, but here there are many different shots and lots of great

props available to them, and being just 55 mins from London Victoria

makes it an easy choice. We also have the on-site café, production

office and facilities which is preferable to shooting out in the sticks".

It helps too that Charles started off his career as a film location

manager!

EVENTS

The site is the perfect space for intimate boutique weddings. "We

only host small weddings. 50-80 people works perfectly, although

we've had a wedding for 120 people before. We can sleep 24 in shared

beds, and have several additional camping pitches in woodland

glades for bell tents etc. There's also room in the car park for a couple

of camper vans.

"We have many hen weekends, and we do generally attract the

right kind of hens who enjoy being in nature and not those who'd

rather be on a Brighton pub crawl. However one bonkers group

covered themselves in fluorescent sun screen war paint, and lined

up multiple vodka shots on a fallen tree before getting dressed up

as giant teddy bears for a game of hide and seek in the woods! They

were spotted darting from tree to tree by guests attending one of our

chair making courses".

Since Covid, the business has also been looking at the corporate

retreat market and promoting team building and wellness days.

"We had a couple of yoga retreats last year with one donated to

NHS employees. We have more planned for 2022 and a women's

menopause retreat planned for September".

Build Your Own

Shepherd Huts

With Tithe Barn Shepherd Huts original parts.

Call 01262 470475 or

Visit www.shepherd-huts.com

and click on the 'self build' page

WWW.OPENAIRBUSINESS.COM 11
---
PEOPLE

PROMOTION

The site is promoted via its website, social media and though Canopy

and Stars for its overnight accommodation. "Long gone are the days

when you could create a website with some keywords and expect to

be rewarded by Google search. Unless you pay, you're going to end

up on page 15, whatever you write. We advertise on various platforms

including social media which reaches people who have expressed an

interest in what we're doing, rather than from a specific search. The

whole advertising landscape has dramatically changed since my day

and it's hard keeping up!"

Charles is not alone in reporting a lull in this year's bookings. "It has

been slow to gain traction this year. People seem to genuinely have a

desire to travel overseas again, and there is now a huge over supply

of people with a field and some tents, whose interest was piqued last

year with a captive market and the 56 day rule. Add to that spiralling

inflation and the threat of World War III and it's understandable why

many operators are hoping for last minute bookings.

"This is our twelfth year and we are well established in what we do,

and experienced at holding our nerve in difficult times. As the whole

industry has grown exponentially in the last couple of years, it's

important that we crystallize our own unique offering, and accurately

target our segment of the market. Glamping is no longer a label that

accurately describes what we offer. We are not for everyone, and

vice versa! Our plans to build a wood-fired sauna and complete the

natural swimming pond will soon resume as we continue to grow and

develop our eco-tourism business."

FAB TEAM

Operations are managed by Charles, Lisa, two housekeepers, Sarah

and Silke, and 'Saturday lad' Alfie (Sarah's son). "I really look forward

to seeing Alfie," says Charles. "I have sustained a lot of injuries

developing this business and leave all my big heavy jobs for him. He

started when he was 14 and is now a strapping 6'4" 18 year old".

Among these injuries is a broken back, a shoulder the requires

completely replacing and a reattached hand, an incident that

traumatised for life an unsuspecting WWOOF'er (World Wide

Opportunities on Organic Farms).

"I was showing Sarah, our new WWOOFER how to use a carving axe

and misjudged my strike. A momentary lapse in concentration. I cut

my hand in half so it was attached by not very much at all. Lisa wasn't

answering her phone and when I realised this girl couldn't drive, I

uttered something like: 'Great – I'm just two miles from a hospital but

I'm going to bleed out in the woods!' Fortunately I was rescued by

Lisa who came running down to the woods, but poor Sarah fled that

night while I was still in hospital and left a note saying she couldn't

cope!"

The story doesn't end there though… Following an operation

to reattach everything, Charles snapped a tendon while doing his

physio, underwent another operation in which the anaesthetic wore

off and had an allergic reaction to the penicillin. Then drugged up on

steroids and heavy duty painkillers it was his and Lisa's wedding the

next morning. "The only memories I have of that day are from the

photographs!"

Charles still has the axe, safely in its leather sheath in a cupboard.

"It has my DNA on it and I am keeping it there so that one day I may

be able to create a clone and hand everything over to my younger,

more energetic self!"

DETAILS

Forest Garden Shovelstrode, Shovelstrode Lane

East Grinstead, West Sussex RH19 3PH

www.forestgarden.info

12 WWW.OPENAIRBUSINESS.COM
---
Raising the Game in outdoor Hospitality

British design and manufacture of

Safari Tents & Bespoke Canvas Structures

With hospitality at the heart of any event or experience, our safari tents and bespoke canvas structures offer the perfect blend of

warm ambience and distinctive style for your location. At Bond we have been creating unique permanent structures for the outdoor

hospitality industry and glamping market for over 30 years from our Gloucestershire factory. We have a skilled, high-tech approach

to each project, balanced alongside the values of traditional British manufacturing and craftsmanship.

All structures are designed and made to order allowing customisation and client-led detailing. We offer a CAD supported bespoke

design service for exclusive hospitality venues requiring larger structures. As respected leaders in our field we provide exceptional

quality and a highly professional service to create the vision and identity required for each location.

enquiries@bondfabrications.co.uk 01453 767171 www.bondfabrications.co.uk
---
FUNCTION VENUES

CASE STUDY

The Dell of Abernethy

Events, workshops and holidays in a multi-functional tipi

space right on the edge of a Cairngorm forest

We talk to owner Polly

Cameron about the

importance of looking after

your team and providing a

"relaxed, natural, authentic

experience".

When did you start your venue

business and what is its history?

My husband Ross and I came to

the Dell 11 years ago and took over

from my Uncle John. The Dell had

been bought and restored by my

grandparents in the 1960s. They

converted the building into separate

cottages and started one of the

first self-catering businesses in the

Cairngorms.

Tell us about your location

and site

The Dell sits on four acres right on

the edge of the Abernethy Forest,

a mile from the centre of Nethy

Bridge. We have endless woodland

trails on the doorstep and a thriving,

friendly community around us.

"THE SITE IS

SURROUNDED

BY DECIDU-

OUS TREES AS

OLD AS THE

HOUSE AS

THEY WERE

PLANTED BY

THE HEAD

FORESTER

FOR WHOM

THE DELL

WAS BUILT"

The site is surrounded by

deciduous trees as old as the house

as they were planted by the head

forester for whom the Dell was built.

The gardens are wild and abundant

with flowers, fruit trees and our

organic vegetable garden with hens.

On the edge as we move towards

the forest we have an area of tall

granny pines which is our more

public event space.

What facilities for outdoor

functions do you offer?

In our event space we have our own

Tentipi Stratus structure which sits

permanently on a larch deck and

is winterised with oak doors and

a heating system along with the

trademark central open fireplace.

14 WWW.OPENAIRBUSINESS.COM
---
FUNCTION VENUES

In the summer we pop up the sides

and open it to the woodland where

we swing hammocks in the trees

and gather around our huge stone

firepit.

We can accommodate up to

30 guests on site which lends

itself perfectly to small woodland

weddings, wellness retreats and

workshops and we also open the

space to the public for pizza nights

and music events.

What services do you offer?

We have recently brought together

a fantastic new team here at the

Dell, all hospitality focussed and

very passionate about their field.

Between us we can look after

the planning process, hosting

throughout and catering. We are

well connected with all of the

creative industries and work closely

with some fantastic local suppliers

to produce small scale events that fit

well with the relaxed vibe of the Dell.

only host a handful of weddings

each year as we really want to

focus on each of them individually

rather than churning one out each

weekend.

The same goes for our retreat

market, each one has slightly

different requisites and hopes for

the time attendees are with us and

we like to allow space between

them so as not to compromise the

planning process.

How do you publicise yourself?

We have an active and engaged

social media presence along with

some strategic accommodation

placements, namely Kip Hideaways,

I-escape and Airbnb, but the

majority of interest does come

directly through our own website.

For our wedding content we work

with The Wedding Collective and

have a really supportive network

Describe how you researched and

sourced your structures

For years we hired the Tentipi

structures, generally as part of a

configuration of three for when we

hosted the larger scale weddings.

They provide a beautiful internal

space within a very structurally

sound piece of kit so when the hire

company was selling off old rental

stock we jumped at the opportunity.

How do you work with your

customers to make their event

unique?

Dawn has recently joined our team

as events manager and is very

passionate about making each

event have its own stamp. We
---
FUNCTION VENUES

of suppliers who each shout about

each other.

How would you describe your

style or unique selling point?

I think our location is incredibly

special and has largely influenced

how we put everything else

together. I think folk come to us

looking for a relaxed, natural,

authentic experience which is

close to nature and produced in a

way that's totally in tune with the

individual.

What challenges have you faced

historically?

Cash flow has always been the

biggest challenge here as we are

constantly in a development phase

of some kind; it's very easy to tip the

balance. We have always had to cut

the cloth as we have it and at times

be patient, which we can find really

difficult!

How did you manage through the

pandemic?

As with everyone in the industry

this has been an incredibly difficult

time to navigate, particularly as

the events side of our business

now forms such a large part of the

"NEXT YEAR

WE WANT TO

CREATE A BIT

MORE SPACE

TO ALLOW

US TO HOST

OUR OWN

EVENTS –

SUPPER

CLUBS, GIGS,

A CRAFT

MARKET AND

LOTS OF

MUSIC"

equation. We very much scraped

through, literally with our money

running out right as we were able to

take more deposits.

We had very little financial

support as we were deemed to

be one self-catering unit at one

address. But the 'roaring 20s' came

after the last great plague so it does

really feel like the level of enjoyment

and pleasure from gathering in any

form is so much higher and more

valued than before, so we are just

looking forwards.

How large is your team – any

special people you'd like to

mention?

We are a team of six. Myself and

husband Ross look after the

management and development of

the business, and in November 2021

we took on a completely new team

which has been a very energising

process.

We have a series of heads of

departments now after many

configurations, and this seems

to be the best way forward. Each

individual has ownership of their

role and we are at the final stages

of just letting them run with it. We

have Dawn Fraser, our resident

events manager, Tom Kaye, resident

caretaker, chef Lindsay Douglas and

head of housekeeping/aesthetics/

gardens, Lucka Poyner.

As with all small teams, we come

together on big housekeeping days

or cottage renovations. We share

meals together and regularly engage

in 'inspire me' days. A big focus for

us has been team mental health

and development so we really strive

to get this right for all members

individually. We have recently

connected up with Kelly's Cause

which is a mental health first aid

trainer and we're hosting a session

with them along with a number of

local independent businesses later

in the year.

Have you worked with any

industry bodies or consultants?

We engaged with a financial

consultant pre-pandemic and it was

massively useful to hear an outside

perspective on our place. We will

continue with this and have also

sourced some personal mentors

who are working within the industry

which we find hugely inspirational.

16 WWW.OPENAIRBUSINESS.COM
---
FUNCTION VENUES

and it morphs easily from one

thing to another now with great

ease. It can be a retreat space for

yoga or meditation and then a

beautiful space for a family dinner

gathering. It can host a small

intimate gig of 100 or a day time

social with pizzas flying out from

the bar. It has also been used for

many community focussed events

such as our kids Wild Club and

small team building groups.

What are you most proud of?

I think we feel most proud when

we see our guests having a very

real moment of enjoyment in their

surroundings, whether they tell

us or, for example, on a retreat

when there is a shift and people

leave with their shoulders a bit

lower. We feel proud that we have

created the environment for them

to relax.

What are your plans for next

season?

We have mapped out the events

for next year and have purposefully

reduced the number of retreats and

weddings and placed them carefully

within the year. This season feels

a little over stretched as we realise

that we have just said yes to

everything during lockdown in the

attempt to get back on our feet.

Next year we want to create a bit

more space to allow us to host our

own events – supper clubs, gigs, a

craft market and lots of music. We

are also hoping to develop our onsite

grocer which was set up through

Covid times but now forms a really

important part of the business. We

make meals on site from our own

produce and local ingredients for

guests to pre-order to have in their

accommodation on arrival, together

with carefully matched wines, some

local organic beer and other holiday

treats.

We are hoping to build a physical

premises for this where we'll have a

coffee machine for morning coffee

and hot cinnamon buns along with

gifts to accelerate the shift into

holiday mode; books, kites, bows

and arrows, drawing books, bath

salts and candles.

"AS WITH ALL

SMALL TEAMS,

WE COME

TOGETHER ON

BIG HOUSE-

KEEPING DAYS

OR COTTAGE

RENOVA-

TIONS. WE

SHARE

MEALS

TOGETHER

AND REGU-

LARLY ENGAGE

IN 'INSPIRE

ME' DAYS"

Describe your average day

mid-season

There is no average day! Each day

can be completely different, from

huge changeover days where we

all muck in, to setting up the tipi

for a firelit public yoga class, to

tending the garden, cooking up

a storm or hosting a gig… and

everything in between!

We have two little boys so our

priorities always begin from there.

What do you enjoy about the

business?

I love the variety and opportunity

surrounding us. We have an

incredible local community on

the doorstep and are constantly

being approached to host really

interesting events. Last week

we had Charlie Gladstone host a

workshop on 'gentle leadership'

based on his incredible book Do

Team (a must read). We had 30

local hospitality businesses who

we work closely with throughout

the year in the tipi and it was

buzzing!

What other outdoor hospitality

sectors do you operate in?

The tipi has provided us with

a real multi-functional space

What advice could you give

to someone coming into the

industry?

If you create a space that can

be easily multi-functional, then

dip your toe into lots of different

events and see what feels good.

We're now at the point where we

know what is a good fit for us but

it's taken some time. Variety is the

spice of life!

ADDRESS BOOK

TIPI

Tentipi www.tentipi.com

LIGHTING

Limelights www.limelights.co.uk

DIRECTORIES

I-escape www.i-escape.com

Kip Hideaways

www.kiphideaways.com

Wedding Collective

www.theweddingcollective.co.uk

CONSULTANCY

Bright Chilli www.brightchilli.com

INSURANCE

Allianz www.allianz.com

DETAILS

The Dell of Abernethy

Dell Road

Nethy Bridge

Inverness-shire PH25 3DL

01479 821643

www.thedellofabernethy.co.uk

WWW.OPENAIRBUSINESS.COM 17
---
FUNCTION VENUES

OFTEN WHEN we think of

weddings we imagine large, formal

celebrations with extended family

and friends gathering to witness

the union of their loved ones and a

fabulous party afterwards. However

for some couples the thought of

this can be overwhelming or might

just not feel right.

To alleviate stress and avoid

their wedding becoming a

drama, couples are increasingly

considering the option of

elopement. Elopement can bring

connotations of young couples

running away for a shotgun

wedding at the local registry

office, Elvis officiating a rock 'n'

roll style nuptial event in Las Vegas

or an 'Anvil Wedding' at Gretna

Green. But times and weddings

have changed and couples are

becoming ever more mindful of

their own wellbeing and personal

preferences.

Couples are investing more

time and thought into planning a

meaningful wedding day that is

intimate, romantic, sustainable

and authentic to them rather

than a wedding simply based on

tradition or their family and friends'

expectations.

Elopement

Weddings

Opportunities for venues to cater for small but

beautiful wedding celebrations

GETTY IMAGES

SMALL IS BEAUTIFUL

This trend for more intimate and

personal weddings has created

some amazing opportunities for

venues with smaller spaces to offer

elopement packages. Couples

looking to elope are looking

for something extraordinary; a

romantic, meaningful location that

offers privacy and intimacy.

Elopement doesn't have to mean

cheap. This is still a very special

day and couples are willing to

invest to make their wedding day

memorable. They are looking for

attention to detail and want to be

delighted for the whole day. Venues

that can offer something unique

and extraordinary are particularly

attractive to eloping couples. An

unusual space or a surprising

place which evokes romance and

adventure.

PLANNING AN ELOPEMENT

There is still plenty to think about

when planning an elopement. Most

of the usual elements still apply

– what to wear, rings to buy, food

to eat, drinks to toast, a ceremony

and a venue. All that has changed

18 WWW.OPENAIRBUSINESS.COM
---
FUNCTION VENUES

is that the couples will be choosing

for themselves rather than thinking

of looking after their guests. Couples

planning to elope will often still

have significant budgets. This is

an important day and they want it

to be memorable. What they save

on catering for a large crowd they

may choose to spend on making

their elopement an extra special

experience just for them.

For seasoned wedding planners,

elopements delight us. Keeping

a small group of guests very

happy is far easier than managing

the experience of a large group.

You become more of a personal

butler rather than a maître d'.

Your attention will be absolutely

focused on the couple's needs

without the distraction of their

family and friends. Time becomes

less pressured. Less guests means

more time for degustation, time for

a memorable experience, time for

the photographer to capture those

intimate moments, time with each

other. Small weddings also mean

no unruly partygoers at the end of

the evening reluctant to go home to

their beds.

ELOPEMENT DESTINATIONS

Elopements may mean travel

further afield. Couples will likely

be looking for destination venues

that can offer escapism away from

their everyday lives, where they

can extend their wedding into a

minimoon. Intimate venues that

can offer accommodation for an

extended stay in a destination which

offers other nearby attractions

are popular with eloping couples.

This also creates an opportunity

for repeat business for venues as

couples are more likely to revisit

their elopement destination on

their anniversary to remember their

wedding day.

OPPORTUNITIES FOR VENUES

I have spoken to venue owners who

view elopements as less financially

rewarding. Of course they do

need a different pricing strategy

to larger weddings however there

are still financial opportunities for

venues that can attract elopement

weddings.

Elopements are more likely

to happen on weekdays and

in low season, which are often

times harder to sell for larger

weddings. They are also likely to

GETTY IMAGES

have shorter lead times. With less

financial pressure, less guests to

accommodate and less to plan,

couples can be more spontaneous.

With less time to plan, couples

may be looking for exciting venue

elopement packages that offer all

the essential elements needed for

their wedding but perhaps with

the flexibility to add a few of their

own personal touches. An outdoor

wedding ceremony followed by a

fine dining experience in a dramatic

setting. A photographer on hand to

capture all those intimate moments,

a stunning bouquet and buttonhole

to complement the couple's outfits,

flowers for the dining table, live

music for the first dance and a cake

to cut. Work with hand-picked

suppliers who you know and trust

to pull out all the stops to make the

experience extra special.

Upsell additional adventurous

experiences that add value to the

elopement and revenue for you.

A morning surf, a mountain walk,

a river swim or a moorland horse

ride. Animal lovers love a furry or

feathery encounter. Foodies might

like to watch their banquet being

prepared by a top-class chef. Drink

connoisseurs might enjoy a cocktail

masterclass. On-site or nearby

overnight accommodation for the

happy couple is also ideal. Think a

well-appointed honeymoon suite

with breakfast in bed, an exceptional

"UPSELL ADDITIONAL ADVENTUROUS

EXPERIENCES THAT ADD VALUE TO THE

ELOPEMENT AND REVENUE FOR YOU. A

MORNING SURF, A MOUNTAIN WALK, A

RIVER SWIM OR A MOORLAND

HORSE RIDE"

glamping experience or luxury

transport to a local boutique hotel.

SUSTAINABLE ELOPEMENTS

Of course smaller means greener

too. Less consumption of food,

energy and materials makes for

a much more affordable and

sustainable wedding and something

which educated couples are

becoming increasingly mindful

of when planning. Elopement

weddings are therefore definitely

something to be considered by all

venue owners when planning their

future business strategy.

ABOUT THE AUTHOR

Charlotte Winship has over 20 years' experience

transforming good wedding and events venues

into great ones. She is an expert in helping

venues reach their ideal customers, maximise

sales opportunities, increase profitability,

establish effective teams and streamline

venue operations. 07493 350303 / charlotte@

charlottewinship.com / www.charlottewinship.com

WWW.OPENAIRBUSINESS.COM 19
---
S2T GRASS

REINFORCEMENT

PERFO

interlocking tiles - effective

protection for soft ground

Ideal for the reinforcement of

parking areas, access tracks,

pitches etc. at:

- camping & glamping sites

- open air event venues

- country & leisure parks

Tel. 01992 522797

www.perfo.co.uk

C RE®

EVENT-STRUCTURES

UNIQUE OUTDOOR

MULTI-LEVEL STRUCTURES

SOUNDPROOF STUDIOS STRUCTURES

ACOUSTIC

LININGS

HIGHLY

DIRECTIONAL

SPEAKERS

THERMAL

LININGS

MANUFACTURED FOR PERMANENT &TEMPORARY

MARQUEES

CALL NOW FOR A FREE QUOTE

T: 0845 299 6499 - E: sales@core-eventstructures.com

www.core-eventstructures.com

directacousticsolutions.com

+44 (0)1403 820846

20 WWW.OPENAIRBUSINESS.COM

ADVERT-EVENT-STRUCTURES.indd 1 27/01/2022 12:07:22
---
FUNCTION VENUES

INDUSTRY COMMENT

Business Events

Curating

Creativity

Andrew White on how changing workplace culture is evolving the traditional event model

THE WHO, what and whys of business

events has changed and there's little point

in holding on to the tried and tested event

formulas of 'day delegate' or '24-hour

rates'. Corporates are still struggling to

get their people back to the workplace as

hybrid working continues and the notion

that employees are TWaTs (Tuesdays,

Wednesdays and Thursdays) has a whole

new connotation.

We are dealing with new workplace

cultures and there are significant

ramifications on the traditional event model:

• The workplace is no longer recognised as

the place where tasks and actions have

to take place, instead the workplace is

the hub for interaction and creativity and

brings company cultures to life

• Digitisation of the workplace has proved

that some parts of the job, and some

types of events, are just as adequately

accomplished in a digital format

• The pressure of working from home also

brought employee wellbeing to the fore

and has led to a new set of considerations

for event planners.

The tradition of a full day conference

packed with speakers and content is

diminishing as corporates look for ways to

bring their teams together, to re-engage, to

communicate and to prove their worth as an

employer. As Kate Morgan's piece points out

'every minute of our time is precious. If our

bosses want it, they've got to use it wisely'.

Events are being curated in an entirely

new format away from the traditional

confines of four walls. We are quite literally

stepping outside, drawing air, and using

the outdoors for inspiration because it is

good for our mental health. Steven Bartlett,

super nova of social media and the youngest

Dragon on Dragons' Den, is one of the

headliners at Ideas Fest, a celebration of

business disruptors, creatives and change

makers in a field in rural Hampshire. It

is two days of conversations, ideas and

engagement with likeminded people which

"THE PANDEMIC PUT AN END TO REQUIRED BIRTHDAY

CUPCAKES, TEAM HAPPY HOURS AND FORCED 'FUN'

ACTIVITIES. MANY WORKERS ARE DEEPLY RELIEVED".

KATE MORGAN, BBC WORKLIFE.

could easily have been activated in a drab

purpose-built event venue with the only

draw being a trip on the new Elizabeth Line.

Hotel and venue group Exclusive

Collection is again leading the charge

and have acknowledged changing event

formats along with the need to consider

their guests' and delegates' wellbeing. They

understand that it's all about the experience

and bringing about an atmosphere that

encourages engagement (and using time

preciously). They have just launched a

series of experiences to heighten delegates'

learning and bolster personal wellbeing.

We all remember scenarios and situations

for positive reasons, we rarely choose to

remember dull walls and being talked at for

hours! Time is precious – use it wisely. And

in doing so see how engaged and enthused

your delegates become; you never know you

may even encourage them away from being

TWaTs.

ABOUT THE AUTHOR

Andrew White is

MD of Triggerfish

Communications, a

specialist in helping heritage

venues and leisure attractions

build awareness and market share

in the business of events.

www.triggerfish.co.uk

WWW.OPENAIRBUSINESS.COM 21
---
FUNCTION VENUES

Family

Friendly

Events

Stephanie Wallis asks if your venue is

missing a trick or two when it comes

to child guests

NOW THAT the world of hospitality has

opened up there is an increased focus on

family-friendly events. Whether it be a

wedding, corporate away day, conference,

training day or big party, events are

more often than not a family affair. The

importance and value of time with the

family, be that the immediate or extended,

is most definitely here to stay, and post

pandemic, venues should be reassessing

and updating their offering to families.

Here is a list of five things every outdoor

(and indoor) venue should consider when it

comes to being family friendly. Sometimes

it's the simplest of things that can often

have the most impact, and to be a

serious contender in the event

market, you need to be allinclusive.

1

SOMETHING

FOR EVERYONE

Families come in

all shapes and sizes,

so make sure you have

every age bracket covered,

and we don't just mean the

children – adults are big kids too!

Ensure there are activities for everyone

with some for all the family together

and some individual activities and

spaces.

Shared experiences create memories.

Are your clients local, national,

international or all three? This will have

an impact when creating a calendar of

public facing events (such as a seasonal

experience) for your venue or for

specific private events.

2

TAILOR-MADE ACTIVITIES

If you're hosting a relatively small event or just one or two families,

a unique approach is to create something specifically for them. We

often tailor activities to suit families based on their loves, likes or hobbies.

When considering this option, it needs to be bespoke to each family and/

or family member attending, and don't forget to consider the dynamics of

that specific family. Really get to know your individual clients.

Gone are the days when children can be 'lumped' together as one unit.

There is an obvious difference between a baby of six months and a five

year old, and neither does a 14 year old wish to participate in the same

activities as an eight year old. So, within an experience created for the

family, the specific requirements of each individual should be assessed

and considered.

3

ADULTS NOT ALLOWED

Time for the grown-ups to disappear so the younger ones can have

some fun… When a venue has a host of supervised adventures

and activities up its sleeve to keep children entertained (all planned and

executed with meticulous expertise) then the adults get to enjoy their

own leisure time.

As parents we often feel guilty about time spent apart from our families

so create a setting where families can be together but can also spend time

individually.

4

THEMED ACTIVITIES

Obviously there are the many seasonal

activities which can be created for all

year round fun. Make these bespoke to your

venue using your grounds and the particular

spaces available. When planning public-facing

events, ensure that the offering is not the

same every year, to encourage families to

return. Look at all of the academic holiday

dates and any other specific national and

international dates in the calendar and plan

for the year while allowing for change as you

move through the seasons. The pandemic has

definitely illustrated how we all need to have

flexibility in our programmes!

5

JOIN THE CLUB

If you open your venue

throughout the year for nonexclusive

events, consider setting up

a private members' club. As family

members grow and mature, their

membership can change to reflect

this through the years and eventually

the generations. This would ensure a

retention of members. Again, are your

clients local, national or international?

Consider if you should you have a

particular membership for each and

how this will affect what is offered.

22 WWW.OPENAIRBUSINESS.COM
---
FUNCTION VENUES

Family-friendly Spaces

You can't beat the great outdoors, and most

children love being outside. Not only does it

benefit their physical health and emotional

wellbeing but it can develop the family

dynamic. Some children like to be super active

while others not but this doesn't mean there

isn't an activity for those less physically active

or able, quite the opposite in fact!

DENS

Create some outside rooms better known

as 'dens' – great for teenagers and the less

physically adventurous – where children

can 'hang out' together, play games, make a

sandwich, watch a movie, chat or simply curl

up with a good book and their imagination!

WHATEVER THE WEATHER

Create covered or part-covered areas that can

be used all year round, whatever the weather.

An open fire or fire pits and cosy blankets may

be needed in the cooler months, for both day

and night adventures.

COOKING UP A STORM

Cooking outside is a fun family activity and

can be done all year round. A simple pizza

oven, BBQ, open fire or a Kelly Kettle are all

great for outdoor cooking and if produce is

grown on site it gives children the opportunity

to learn about, create and eat it! This is one

up on the food brought home from school in

a plastic box. It's equally as much fun if you

go for the classic outdoor cooking activity –

toasting marshmallows, a must do activity for

everyone!

Get the experts in to assist and guide with

each stage, from the garden to the kitchen to

choosing the crockery, arranging the seating

plan, designing the menus to the hosting.

IF YOU GO DOWN TO THE WOODS

If you have wooded areas in your outdoor

space you could create permanent structures

such as dens and treehouses – who doesn't

love a treehouse? Alternatively offer den

adventure kits, let families build their own and

watch imaginations run wild!

FARM EXPERIENCE

If you have animals, look at ways of involving

children through interactive, educational fun

activities. Create something which is bespoke

to that family and offers a completely different

experience to one they could enjoy elsewhere.

Involve an expert in this field to make this

experience truly interactive.

UNDER THE STARS

Chaperoned 'sleepovers' under the stars

are always a winner – think about hiring a

professional childcare team to provide the

care and create the adventure. Campfires

followed by midnight feasts and for

older children make it more

adventurous and test their

skills with a whole raft of

wonderful experiences.

We love an outdoor children's cinema with

a mock-tail bar and homemade burgers, hot

dogs or popcorn. Another firm favourite is

stories around a bonfire with snacks and

actors to bring the adventure to life. You can't

beat a silent disco too – boogieing the night

away under the stars is great fun for all the

family.

ON THE BEACH

You don't need to go to the seaside to

experience some beach fun; create a

manmade beach with sand and provide

buckets, spades, deckchairs, parasols, an icecream

van and picnic hampers. The only thing

you can't control is the sunshine, but there is

no reason you can't move the beach indoors if

the weather isn't great. If you have water then

this is another whole area for fun and games.

TREASURE HUNT

Bespoke, super interactive treasure hunts,

where families follow a series of cryptic clues

to find an item, or a fun scavenger hunt where

they are tasked to find a range of objects, offer

huge scope. They can be created for individual

families or age ranges and written specifically

for your venue and time of the year.

Keeping children

safe and sound

If children are attending an event

at your outdoor (or indoor) venue

you need to ensure their safety.

Unfortunately accidents can happen

and keeping them safe and sound

will take some careful and proper

planning.

Here are just few considerations to

keep your younger guests safe:

• Doors and gates – ensure hinges

are covered and check the height

of door handles (avoid head height

to ensure the safety of little ones)

• Tables – check the levels and be

aware of corners. If children are

running around they can very

easily hurt themselves on sharp

edges, especially if they are at their

height

• Floor surfaces – check the

positioning of rugs and any

slippery polished wooden flooring

• Highchairs – ensure they are

suitable for younger children.

Booster seats work well as they

allow the child to be seated the

same way as an adult. Long-legged

chairs are also an alternative for

older children that have outgrown

a high chair so they reach the table

comfortably and feel part of the

meal.

• Are you providing the most

appropriate cutlery and crockery

for the different age groups and is

it of the standard you are providing

for the adults?

• Make sure you have qualified

professionals on site when offering

certain activities – and not just

the obvious ones such as archery,

axe throwing, abseiling or rock

climbing! Knowledge from being a

parent is not enough

• Have correct procedures in place

in case of a problem or accident

• Ensure adequate supervision for

everything you are providing to

ensure a high level of service. Keep

adult to child ratios well above the

legal minimum.

ABOUT THE AUTHOR

Stephanie Wallis is the founder and director of Safe & Sound Events, an event

childcare company. She and her team not only consult with venues to enable

them to offer a higher standard of service but remove logistical issues when

inviting children to events. This bespoke service takes away stress for both clients

and venues to create truly wonderful experiences.

For more information on event childcare and Safe & Sound Events, contact Stephanie

at stephanie@safeandsoundevents.com / www.safeandsoundevents.com

WWW.OPENAIRBUSINESS.COM 23
---
Hire, Sales and Service of voice and data radio

communication systems, bodycams and applications

By Appointment to

Her Majesty The Queen

Supplier of Two-Way Radio

Communications and Paging Systems

Direct Communications Radio Services Ltd

St Ives

TWO-WAY RADIO HIRE, SALES AND SERVICE

SPECIAL RATES FOR 2021/22.

Book with confidence as we offer

a no cost cancellation policy.

Terms Apply.

A simple solution for those who need

temporary communications. This solution

has proven to be invaluable for such sectors

as; event organisers, council teams, TV and

film crews, security and parking to name

but a few, with both short and long term

contracts available.

Organising any event or general on-site

communication requires total dedicated

support and at DCRS, there is always a

team on-call or on-site ready to assist you.

Call FREE: 0800 043 2688

email: sales@dcrs.co.uk

www.dcrs.co.uk

WE BOAST A COMPLETE HIRE

SERVICE INCLUDING:

Bespoke radio solutions for large,

wide area events

Motorola digital and analogue radios,

mobiles and repeaters

Wide area Nationwide coverage

WAVE and ICOM hand portables

A full range of audio accessories,

radio allocation systems and

voice recording available

Free radio licence or free programming

to your own frequencies

Delivery and collection to your

specified addresses

On-site support and out of hours

call-out, 24/7 if required

DCRS Open Air Business Magazine Advert-90x132mm.indd 1 24/05/2021 18:05

NorthStar Leisure

The Wood Fired Hot Tub Specialists

TOPCAT

BIGTOPS

T E N TS & MA R Q U E E S

TOP CAT BIG TOPS manufacture & hire

out colourful Big Big Top Top style style Marquees.

Staffed by a crew of highly experienced

personnel with many years of in experience the

festival, in the festival, local authority, local authority, educational educational &

corporate & corporate fields. fields. We We can can supply supply small small

to

to

large

large

colourful structures built

built

by

by

our

own craftsmen, that can withstand

our own craftsmen, that can withstand

extreme UK weather conditions.

extreme UK weather conditions.

01654 700030/07599 882654 Email: info@topcatbigtops.co.uk Web: www.topcatbigtops.co.uk

t: 01654 700030

07956 878157

e: info@topcatbigtops.co.uk

w: www.topcatbigtops.co.uk

We offer great prices and exceptional customer service

All Inclusive pricing includes express delivery & set-up

northstarleisure.com

24 WWW.OPENAIRBUSINESS.COM
---
FUNCTION VENUES

MEET THE SUPPLIER

Get to Know…

Time to make some professional friendships – get to know the people behind the products!

Charlotte Winship

Eddy Brown

Director, Savage BBQ

0115 8990323

ed@savagebbq.co.uk,

www.savagebbq.co.uk

What does your Company do?

Manufacture and supply of bespoke

BBQ products to hospitality and homes.

What makes your company's service

special?

We offer a made to order, bespoke

service. Passionate, family run business,

living the BBQ life.

Describe yourself in 10 words

Family man, whose passion is being

outdoors with family, friends, BBQ and

beer.

How would your co-workers describe

you?

Better ask them! Hopefully fair and likes

to get stuck in.

Craziest thing you have done

Starting a new business in the middle of

a pandemic! Oh, and I've jumped out of

an aeroplane.

We're in a bar – what do you order?

A hoppy IPA.

Favourite animal and why?

Dogs. Herbie our vizsla/pointer cross is

my best mate.

Favourite current telly / film?

Favourite film ever is True Romance.

Gary Oldman is a genius. Can I say

rugby highlights for favourite telly?

Director, Charlotte Winship

Consulting

charlotte@charlottewinship.com

www.charlottewinship.com

What does your company do?

Venue business consultancy services

offering expert advice, guidance and

solutions.

What makes your company's services

special?

My 20+ year career as a venue and

events manager for some of the most

extraordinary places on some incredible

events has given me a unique insight.

Describe yourself in 10 words

Ambitious, determined, enthusiastic,

open minded control freak with a plan.

How would your co-workers describe

you?

Set her a challenge and she will deliver

with integrity.

Craziest thing you have done

Pursued a career in events! Probably

jumping out of an aeroplane in Australia

(with a parachute)!

We're in a bar – what do you order?

Gin and tonic, plain and simple with ice

and a slice in a straight glass.

Favourite animal and why?

Horses. The most honest and

emotionally intelligent beings. Taught

me an early life lesson on working as a

team and building great relationships.

Favourite TV show?

Derry Girls for my laughter injection,

Better Call Saul & Start Up for giving me

a hit of adrenaline filled suspense.

Warwick Royden

Director, Skylight

Cinemas

01872 303737,

info@skylightcinema.co.uk,

www.skylightcinema.co.uk

What does your Company do?

Hire of outdoor cinema equipment.

What makes your company's services

special?

Our customer service and level of

expertise.

Describe yourself in 10 words

Hard working, customer- led,

passionate about what we do.

How would your co-workers

describe you?

Non-stop working, fair.

Craziest thing you have done?

Bought a business off a bloke in a bar!

We're in a bar – what do you order?

Gin and tonic.

Favourite animal and why?

Dogs because they usually have better

manners than people.

Favourite TV show?

Lincoln Lawyer.

WWW.OPENAIRBUSINESS.COM 25
---
CWC Advert (Open Air Magazine).pdf 1 23/02/2021 12:04:51

Expert

advice to help you

achieve the most

from your venue

business.

C

M

Y

CM

MY

CY

CMY

K

• Increase

profitability

• Reach your ideal

customers

• Maximise sales

opportunities

• Streamline your

processes

www.charlottewinship.com

07493 350303 / charlotte@charlottewinship.com

FOR EVERY

SOIL TYPE

W

Specialists in sustainable foundations

for luxury accommodations

Galvanized in accordance

with DIN EN ISO 1461

High load-bearing capacity

Suitable for all ground conditions

Cost efficient installation

in minutes

Reusable foundation

Minimal disruption of

the soil environment

Contact us today: +44 154 885 9879 • info@firstbasegroundscrews.co.uk

26 WWW.OPENAIRBUSINESS.COM
---
FUNCTION VENUES

PRODUCT IN FOCUS

Marquees &

Structures

Wilde Lodge, Powys

Product: Bespoke large safari-style canvas

marquee

Supplier: Bond Fabrications, 01453

767171, enquiries@bondfabrications.co.uk,

www.bondfabrications.co.uk

Details: Wilde Lodge is a magical location

perched above a river in Powys and

centred around a beautifully

restored 19th-century lodge.

Along with accommodation

in the lodge itself, the

sprawling rural site

offers a range of unique

and magical areas for

entertaining and dining,

and is an idyllic location

for exclusive weddings or

intimate gatherings.

Wilde Lodge owners, Jemma

and Kevin Willis, approached Bond to talk

about adding a structure that would give

them a unique space for guests at their

stunning venue – a big white marquee

would not work! The structure needed

to fit into a quirky space between old

characterful barns and blend into the

charming surroundings.

Bond created CAD visualisations to help

Jemma and Kevin see how the structure

would fit in the space. The solution was

a bespoke safari style structure with

traditional features yet with the structural

integrity of a permanent installation.

Natural wood poles and panoramic

windows in olive green canvas gives

it a subtle, welcoming façade that sits

pleasantly alongside the barns.

Bond loves a challenge and has over 30

years' experience, technical know-how

and a skilled team. With CAD capabilities

it offers a full design and manufacture

service using robust frames and

the quality fabrics. As a true

British manufacturer, it

prides itself on the quality

of its structures, attention

to detail and a personal

service with ongoing

support.

Customer feedback:

Jemma and Kevin said:

"We contacted Bond and were

immediately impressed with their

customer service. They came out to visit

our site and listened to our business and

ideas. We worked with them to create a

stunning tent that is now nestled between

the old barn walls. We host various events

at the lodge from small family gatherings

to large scale weddings and every time

someone walks into the tent, their reaction

is always the same, 'this is magical'. The

tent is the best asset to grow and develop

as a business. We are absolutely thrilled

with it!"

Sunnybrae Estate,

Adelaide, Australia

Product: Röder HTS Premium Large

Marquee 20m x 30m with a curved roof

Supplier: HTS TENTIQ, 01276 462600,

salesUK@hts-tentiq.com,

www.hts-tentiq.com

Details: HTS TENTIQ was approached

by the Sunnybrae Estate, just outside

of Adelaide, Australia. The venue had

previously hired numerous marquees

for its attractive garden estate and

decided to invest in one of its own.

Sunnybrae opted for a Röder HTS

Premium Large Marquee with fixed

glass walling which gives the structure

an elegant appearance. The client

purchased both white opaque and

transparent roof covers in order to

maintain a comfortable temperature,

even during the hot summer months.

Transparent roof covers also showcase

the striking white powder-coated

frame.

The 20m x 30m marquee was

installed on a large, paved area and

features a white curved roof with

herringbone flooring and comfortably

accommodates up to 480 guests. It

stands proud amongst the other more

traditional buildings on the estate

and provides the perfect setting for

weddings and events.

WWW.OPENAIRBUSINESS.COM 27
---
FUNCTION VENUES

Stanbrook Abbey,

Worcestershire

Product: Marquee acoustic linings and

zone array highly directional speaker

system

Supplier: Direct Acoustic

Solutions, 01403 820846, info@

directacousticsolutions.com,

www.directacousticsolutions.com

Details: Stanbrook Abbey Hotel is a

former Grade II listed monastery, and

retains many of its original features

making it a charming setting for a

wedding. It hosts over 100 events every

year and its management was keen

to install a permanent marquee in the

grounds to cater for larger receptions.

This was Direct Acoustic's second

installation for the Handpicked Hotel

Group. The abbey's closest neighbours

are just 91 metres away, and to obtain

planning permission for the marquee, a

noise impact and feasibility assessment

had to be submitted to the council.

To achieve planning permission, Direct

Acoustic's engineers initially obtained

underlying background levels without an

event in operation (the lowest measured

at Stanbrook was 25.2dB LA90). From

there the team ascertained the level of

acoustic mitigation required by running

a set of propagation over distance

calculations with music operating at

viable volume levels.

Direct Acoustic always starts its

acoustic modelling at 95dB which it

considers to be the magic number for

a marquee wedding venue to satisfy its

clients. Below this level, the dance floor

starts to lack the punch needed to get

guests up and dancing!

"DIRECT ACOUSTIC

ALWAYS STARTS ITS

ACOUSTIC MODELLING AT

95DB WHICH IT CONSIDERS

TO BE THE MAGIC NUMBER

FOR A MARQUEE WEDDING

VENUE TO SATISFY ITS

CLIENTS."

At this operational level through a

standard point source speaker system it

was predicted that the correlating level

at the nearest receptor would be 55dBA.

Considerably higher than the 25dB LA90

background level the team needed to hit.

Using real world propagation over

distance data gathered with a zone array

highly directional speaker system, the

music noise level was reduced to 41dB,

a significant improvement but still 16dB

above the required 25dB target level.

Fortunately Direct Acoustic's MAL16

acoustic lining in conjunction with the

zone array provided suitable attenuation

upon the overall level and across the

frequency spectrum to ensure the 25dB

background level was not exceeded

when events were taking place.

Planning permission was successfully

granted with no appeals. The marquee

has been operational for over three years

now, all without complaint.

Customer feedback: Jonathan West,

regional property and maintenance

manager, said: "We have worked with

Direct Acoustic on several projects; they

have always been very supportive and

professional with every aspect of our

requirements. They have always supplied

us with a superior product that works!"

28 WWW.OPENAIRBUSINESS.COM
---
FUNCTION VENUES

Fairway Inn, South Yorkshire

Product: 9m x 9m Fusion modular marquee

Supplier: Gala Tent, 01709 242454,

info@galatent.co.uk, www.galatent.co.uk

Details: Fairway Inn is a multipurpose venue

which is as at home catering for everyday patrons

in the bar and restaurant, as it is providing

a venue for wedding breakfasts, corporate

functions, live music, entertainment, and

children's soft play. With an on-site hotel, it really

is a venue that ticks all the boxes.

During the slow transition from full nationwide

lockdown to outdoor catering only, there was a

national shortage of marquees, party tents and

pop-up gazebos. The owners of Fairway Inn hotel,

restaurant and pub were at a loss as to how they

were going to cover their paying customers in

adverse weather. Gala Tent was able to not only

source the components for, but also get a team

together to erect a 9m x 9m modular marquee

on site, which enabled the business owners to

continue trading and protecting their revenues

during uncertain times.

Customer feedback: Owner Christian England

said: "Gala Tent couldn't do enough to help us

in tricky times. There was a massive shortage of

outdoor structures, especially of good quality

ones, which we didn't see coming. They were

able to supply a super strong modular marquee

with PVC covers, and also erected it on site for us,

which was a massive help. Honestly, for outdoor

hospitality and events, I can't recommend Gala

Tent enough".

PRODUCT SNAPSHOT

Bell Tents Inspired

by Nature

Autentic

+32 55 50 17 64

info@autentic.world

www.autentic.world

Autentic bell tents are crafted

in five different sizes – from 7

to 35 sqm – and are designed

to help guests reconnect with

the great outdoors.

Made of sturdy 100% cotton

canvas and available in five

colours inspired by nature,

they are designed with high

walls and an enlarged front

opening for increased comfort,

views and functionality.

WWW.OPENAIRBUSINESS.COM 29
---
Quality Glamping

Cabins and BBQ Huts

Beautifully Designed Holiday Accommodation

INTRODUCING THE ECO BOX - Available as a 25m 2 , 35m 2 or 52m 2 structure,

Smart Eco Living unique one bedroom Eco Box is superbly designed for

glamping sites, fishing lakes, hotels and other accommodation venues

requiring added luxury space.

01430 644 449 / 07572 999 979 / sales@smartecoliving.co.uk

www.smartecoliving.co.uk

Finman

Sleeper Cabin

For all year round bookings, upgrade your bell tent or

yurt to a Finman Sleeper cabin. Available in 4m, 5m and

6m diameters. They are assembled on site so perfect

for hard to reach locations.

EN-SUITE AVAILABLE • OFF-GRID OR ECO OPTIONS

BESPOKE SOLUTIONS • FULLY INSULATED AND HEATING OPTIONS

01389 887205 info@logspan.com www.logspan.com

30 WWW.OPENAIRBUSINESS.COM
---
GLAMPSITES

CASE STUDY

The Roost Luxury

Glamping

Two

bespoke cabins welcoming couples

to a rewilded piece of Gloucestershire

With a quest to increase

biodiversity on her land,

Lorraine Robinson counts the

arrival of frogspawn on her

previously dilapidated site as

one of her proudest moments

in her enterprise's development

so far. We talk to Lorraine about

horseshoe bats, sorting rubbish

and doing things solo.

What's your back story – your life before

glamping?

Tourism is in my blood! I opened a holiday

cottage in 2006 and a camping and caravan

park in 2007. After a divorce I found myself

with a 2.5 acre meadow, a wealth of ideas

and a drive to do something new.

What made you decide to start offering

glamping accommodation?

At the touring park we had become aware

of a new trend called glamping in 2011

and set about designing and building our

own pods. By the time I was ready to start

my new venture the glamping market

had grown and evolved in a big way and I

decided I wanted to create some unique,

luxurious timber cabins to tap into the

luxury end of glamping.

The process was a fairly long one with

my first planning meeting in September

2016. I didn't open to guests until

December 2019.

How did you research your business

before entering it?

I really enjoyed the research stage – I

visited other glamping businesses,

attended trade shows and spoke to some

very knowledgeable people.

Tell us about your location and site

The Roost is a 2.5 acre meadow flanked

by ancient woodland with direct access

to many beautiful walks, including

the Gloucestershire Way, and some

great tracks for bike riding. I knew the

site was just perfect for glamping. The

development of the site had to be handled

very sensitively due to our being located

within an SSAC for the rare horseshoe bat.

Strict controls are in place to control any

night time light spill from the cabins.

How did you tackle getting planning?

Planning permission is usually the most

difficult and challenging part of any

glamping development. I first met with

planners, who were very enthusiastic and

supportive of my plans, in September 2016

but, once planning was submitted, it got

quite difficult to meet all the biodiversity

and sustainability criteria.

Because we are near a major European

maternity roost for horseshoe bats, I had

to designate half the meadow into a 'bat

mitigation area'. This area was where I

originally planned to put the cabins so

I had to re-plan the site and bring the

cabins into a different part of the meadow.

WWW.OPENAIRBUSINESS.COM 31
---
GLAMPSITES

How did you finance the project?

I was incredibly lucky to secure a

grant from the Rural Development

Fund. I raised the rest of my

finance with a business bank loan

plus all of my personal savings.

What glamping accommodation

do you offer?

I had originally decided to erect

several safari tents but quickly

realised that, as a solo female, I

would really struggle with winter

storage and ongoing maintenance

and repairs.

After visiting the Glamping

Show I became convinced that

32 WWW.OPENAIRBUSINESS.COM
---
GLAMPSITES

"I BECAME A BIT OBSESSED! I USED

A LOCAL FEMALE CARPENTER TO

MAKE MUCH OF THE FURNITURE

USING LOCALLY SOURCED CEDAR AND

RECLAIMED SCAFFOLD PLANKS"

timber buildings would best suit

my circumstances and allow me to

become an 'all year' business.

What occupancy levels and price

per night do you achieve?

The cabins have been very popular

– we have been enjoying 95%

occupancy levels. Our prices range

from £139 up to £200 a night.

How did you work out your

brand and how do you publicise

yourself?

I really wanted to offer something

unique, luxurious and designed

around couples. I have had some

great, great help with publicity

from a marketing friend. She

designed my website and I've had

lots of training on Instagram and

other social media platforms – it

helps me to reach my target guests

really well.

How would you describe your

unique selling point?

Sustainability and biodiversity.

They are so important – my quest

to enhance biodiversity on site is

equally as important to me as the

glamping business itself.

How did you choose your

interior decoration?

I designed every element of

the cabins myself. My source

of inspiration was Pinterest – I

became a bit obsessed! I used a

local female carpenter to make

much of the furniture using locally

sourced cedar and reclaimed

scaffold planks.

What challenges have you faced?

I faced some limited but very

strong local objections during the

planning process and, while the

district council was supportive,

• Super hygienic LDPE interior lining for quick handovers.

• Durable and classic Thermowood

exterior complements the glamping setting.

• Choice of Internal or External wood fired heaters.

• Two sizes available 4 person / 8 person.

Snowford Hill, Southam CV47 9QE t 01926 504067

e sales@glamptubs.com www.glamptubs.com

WWW.OPENAIRBUSINESS.COM 33
---
GLAMPSITES

the parish council was not. I was

undertaking the whole process on

my own and sometimes it seemed

daunting and quite overwhelming.

What are your plans for next

season?

I am really excited to be building

a second, larger wildlife pond

in the bat mitigation area plus I

will be enhancing our outdoor

fire pit areas. I've gained some

real inspiration from Pinterest

again and am looking forward

to creating some seriously

'Instagrammable' outside cooking

areas.

Describe your average day midseason

I'm usually at my desk first thing in

the morning sorting out overnight

emails and bookings. I then drive

the 10 minutes to site, stopping

off at local suppliers if guests have

ordered welcome packs.

Once on site, I start checking the

cabins. It's always a real rush to

clean fire pits and wood burners,

replenish the wood and clean the

windows. Fortunately, I have a

great cleaning team who do the

bulk of the actual cleaning of the

cabins. Once they are cleaned and

ready for the new guests it's time

for grounds maintenance – this is

a never-ending cycle once spring

has sprung.

I then start sorting through

the rubbish and hand sort all the

recycling – I'm determined to

minimise waste going into landfill.

Then its home again for a quick

cuppa and back in the office to

deal with the day's admin!

IT FEELS

AMAZING,

ESPECIALLY

WHEN I

LOOK BACK

AT WHAT

WAS HERE

BEFORE I

CREATED

THE ROOST

– IT WAS

A FIELD

FULL OF

PERENNIAL

WEEDS AND

BUILDERS'

RUBBISH!

Do you enjoy the business?

I absolutely love it! The business

has done so well and we get such

great guest reviews. What's more,

I've won a few industry awards

since opening and this year have

been named as The Best Rural

Tourism Business in the UK. It

feels amazing, especially when I

look back at what was here before

I created The Roost – it was a

field full of perennial weeds and

builders' rubbish!

What are you most proud of?

You will think I'm a bit strange but

it was the first spring after opening

and the new nature pond was full of

frogspawn – I was so delighted that

life was returning to the site in such

a short space of time. It was such a

high for me!

DETAILS

SOAK TUB

Essential Bathing

www.essentialbathing.co.uk

BOOKINGS

Glampmanager

www.glampmanager.com

BRANDING & PR

Orchard Marketing Associates

www.orchardmarketingassociates.co.uk

INSURANCE

Friar Best Insurance Services

www.friarbest.co.uk

DETAILS

The Roost Luxury Glamping

Jubilee Road

Mitcheldean

Gloucestershire GL17 0EE

www.theroostglamping.co.uk

34 WWW.OPENAIRBUSINESS.COM
---
Covers arranged

on all types of

accommodation

structures, site

facilities, and loss of

income in the event

of an insured

property damage

claim.

HOME OF THE FIRE CAGE

Wow your guests with Live Fire

Cooking at your events or venue.

Fire Cages - Fire Grills - Fire Tables

Perfect for weddings, restaurants,

festivals & Glamping sites.

Available in multiple sizes & bespoke options.

All made to order in Nottinghamshire.

Savage BBQ

savage_bbq

Savage BBQ

@savage_bbq

0115 8990323 sAvAGEbbq.CO.uk

START SOMETHING

AMAZING

WE CREATE LONG LASTING LUXURY

GLAMPING PARTNERSHIPS WITH

LANDOWNERS, FARMERS AND ESTATES

HELPING THEM TO DIVERSIFY INTO

MICRO-TOURISM WHICH REGENERATES

THEIR INVESTMENT IN THEIR LAND

AS WELL AS SUPPORTING THE LOCAL

COMMUNITY.

WE WORK WITH OUR PARTNERS EVERY STEP OF

THE WAY AND WILL INVEST IN YOUR JOURNEY

AND PROVIDE YOU WITH THE TOOLS NEEDED

FOR SUSTAINABLE SUCCESS WHICH MEANS

THAT OUR PARTNERS:

— Require lower start-up capital

— Lower financial risk

— Access expert advice on planning

— Require less time to run their sites

FOR MORE INFORMATION:

PARTNERS@FURTHER.SPACE

WWW.FURTHER.SPACE/PARTNERS
---
GLAMPSITES

Start your journey to zero waste with advice from the European

Commission's 'Take a Green Step' programme

GETTY IMAGES

A MILESTONE achievement for any

environmental plan, moving to zero

waste will show your guests you not

only care about the impact of your

glampsite, but you are also acting

on it. It will also put you in the lead

for environmental achievements – a

great way to stand out from your

competition. It sounds big and it

sounds scary, but you can do it in

baby steps and over time, rather

than through a big cultural shift in

your business.

WHAT IS ZERO WASTE?

Zero waste is about developing

strategies and tools to not just

manage waste, but avoid generating

waste in the first place as much

as possible. The most significant

impact will be achieved by reducing

the amount you send to landfill,

with the ultimate goal to have none

left. But every single step in that

direction has a positive impact. By

creating a circular economy around

resources, rather than a linear one,

we can all benefit from improved

environmental outcomes.

"THE MOST

SIGNIFICANT

IMPACT WILL

BE ACHIEVED

BY REDUCING

THE AMOUNT

YOU SEND TO

LANDFILL, WITH

THE ULTIMATE

GOAL TO HAVE

NONE LEFT. BUT

EVERY SINGLE

STEP IN THAT

DIRECTION

HAS A POSITIVE

IMPACT"

DEVELOP A WASTE INVENTORY

The best place to start is to

develop an inventory of waste

across all areas of your operation.

Common areas are housekeeping,

catering, office, maintenance

and facilities. Most waste in guest

accommodation is generated in

housekeeping and catering.

A thorough inventory will reveal

all waste, particularly things you

may not immediately think of, like

the packaging on linen deliveries.

It also makes sense to distinguish

separately collected waste that

will enter recycling streams and

unsorted waste whose final fate

will be disposal by incineration or

landfill.

START SMALL

Once you have your inventory,

you can start to look at ways you

can reduce the amount of waste

you create. It doesn't need to be

all at once – pick an area to begin

with, like detergent packaging,

and use your measurements for

motivation. Your inventory will be

your starting point for measuring

changes to your waste – you need

to know where you started to

see how far you've come. Once

you start seeing positive change,

it's easy to use the motivation

from your success to build bigger

successes.

Accommodation waste

is usually varied, similar to

household waste, with organic

matter, glass, paper and

cardboard, plastics and metals

making up the bulk. An efficient

waste management strategy,

developed from your inventory,

can reduce waste by over 50%.

Imagine… less waste means

lower waste collection costs and

a happier environment. Everyone

wins! Moreover, this new focus on

measuring your results can lead to

better choices in purchasing. Pay

attention to what you throw away

– maybe you buy too much food

and it goes off before it is eaten?

Buying smaller amounts will also

mean cost savings and will make

achieving zero waste easier!

36 WWW.OPENAIRBUSINESS.COM
---
MAINSTREAM INSPIRATION

More and more hotels in mainstream

hospitality of all sizes throughout

Europe are working towards or within

the goal of zero waste. The Conca

Park is a 205 room hotel in Sorrento,

Italy, which proudly advertises its zero

waste achievement across its website.

The management undertook a

number of initiatives to reduce waste

including replacing all single portion

and disposable items, introducing

water dispensers to reduce the use of

bottled water and replacing a number

of plastic items with recyclable

or compostable materials. It has

achieved over 80% recycled waste.

At a smaller scale, a 14 room hotel

and restaurant in the UK, Strattons

Hotel, recycles or reuses 98% of waste.

In addition to the environmental and

social benefits, this saves the business

more than £1,000 each year in waste

disposal costs.

Zero waste can seem like a

daunting, even impossible task, so

don't let it discourage you. To help

you get started on your journey,

measuring yourself against others in

the industry and try to achieve levels

that the best performers are already

reaching. The European Commission's

Best Environmental Management

Practice in Tourism report (2013)

offers a number of 'benchmarks

for excellence' in relation to

efficient waste management. These

Benchmarks include:

› At least 84% of waste, by weight,

recycled

› Unsorted waste sent for disposal

less than 0.16kg per guest per night

› Total waste (sorted and unsorted)

less than 0.6kg per guest per night.

GETTY IMAGES

Reduce, reuse,

sort, recycle

Reducing waste is easiest done by not

creating it in the first place. Some easy

strategies include:

› Look at replacing single serve toiletries

and food packaging with refillable

dispensers

› Monitor stock levels on perishable items

to prevent over-ordering.

› Select suppliers who don't use

unnecessary packaging, or who provide

a return service on packaging

› Replace plastic water bottles with

refillable glass and tap or filtered water

› Reuse items within your business or

forward them on for other uses

› Use refillable glass bottles for guest

water.

Develop a process to sort all waste for

collection, including paper and cardboard,

aluminium cans, plastic packaging and

glass bottles. Find out what other types

of waste can be recycled in your region. If

you have a restaurant, cooking oils may

be recycled for producing biofuel. If food

waste is not collected separately in your

area, you can start composting it on site or

find local partners who are already doing

this and that may take your food waste

too.

MAKING THE CHANGE

Looking at the end results before you get there can

make achieving zero waste appear a much bigger

and more unmanageable process than it needs to

be. Undertake an inventory, discover where the

changes can be made, and work from there. You

don't need to do it all at once.

When you have your baseline waste inventory,

make one easy change, such as replacing bottled

water in disposable bottles by returnable bottles

or tap water in reusable bottles. Monitor the

changes to your waste patterns as they happen.

Keep your staff informed and engaged with the

process and the progress of the program. Then

move to the next change. Perhaps replacing bins

in accommodation with sorting bins. Then move

to the next change…

Before you realise it, you'll be knocking on the

door of achieving zero waste and all the benefits

this brings.

ABOUT THE AUTHOR

Take A Green Step is brought to you by

the European Commission's directorate

general for the environment, supported by

the European Commission's Joint Research

Centre. For more advice, best practise

and case studies, visit www.ec.europa.eu/

environment/emas/takeagreenstep

WWW.OPENAIRBUSINESS.COM 37
---
GLAMPSITES

TRADE SECRETS

Hot Water

GETTY IMAGES

How to specify a water heating option that works for your site

WATER HEATERS have evolved dramatically

in terms of technology, energy efficiency

and cost, so it can be overwhelming when it

comes to choosing the right water heater for

your glampsite or holiday park. So, what are

the water heating options?

STORAGE WATER TANKS

This system stores water in a tank, heated

to a pre-determined temperature and held

until it is used. The size of the tank decides

how much water it can hold. The stored

hot water is forced through a pipe at the

top of the tank and delivered to where it is

required.

While storage tanks powered by natural

gas are three to four times cheaper to run

than those that use electricity, constantly

heating and storing water in a tank 'just in

case' demand increases will result in much

higher energy costs than if you use tankless/

instantaneous gas water heaters.

TANKLESS WATER HEATERS

Also known as 'instantaneous water heaters',

these only supply hot water on demand as

and when needed. As they don't require a

tank to store hot water, they don't produce

the standby energy losses associated with

"HEAT PUMPS EFFECTIVELY

WORK LIKE A REFRIGERATOR

IN REVERSE, MOVING THE

HEAT FROM ONE PLACE

TO ANOTHER INSTEAD

OF GENERATING HEAT

DIRECTLY"

storage water heaters, which will reduce

energy costs significantly.

While an instantaneous water heating

appliance itself can be more expensive

to purchase they more than compensate

for the upfront costs by maximising the

efficiency of the system and reducing

running costs.

There are two types of instantaneous

gas water heaters – non-condensing and

condensing. Condensing heaters are more

efficient than non-condensing appliances

but either option will be more efficient and

cost-effective than an electric appliance.

As a by-product of the gas, water heaters

produce steam which cools and condenses

on a surface. This condensation is acidic

and will corrode many materials. A noncondensing

appliance will vent the steam

directly, whereas a condensing appliance

will recycle the extra heat generated from

exhaust gases to increase efficiencies.

As stated above, while condensing water

heaters are expensive upfront, these costs

more than balance out with long-term

savings on the energy used.

HEAT PUMPS

A heat pump can be used as a stand-alone

water heating system, or as combination

water heating and warm air system. This is

an energy saver choice as it uses the heat

of the air and the ground to heat the water,

instead of electricity.

Heat pumps effectively work like a

refrigerator in reverse, moving the heat from

one place to another instead of generating

heat directly. Heat pump water heating

systems are more expensive to buy than

conventional storage water heaters but, as

with instantaneous water heaters, they have

lower operating costs. Heat pump water

heaters will not operate efficiently in a cold

area as they will cool the area they are in, so

their efficiency is dependent on them being

installed in an area with excess heat, such as

a boiler room.

38 WWW.OPENAIRBUSINESS.COM
---
GLAMPSITES

SOLAR POWERED SYSTEMS

These systems harness the energy from

the sun to heat water for storage in a

cylinder, and while they can be designed

to supply some heating as well, most solar

hot water systems are just designed to

supply your hot water needs. While solar

powered systems are ideal for energy

conservation, they are dependent on the

weather, so as the available solar energy

varies throughout the year in the UK,

they may also require the installation of

a conventional water heater to top up the

shortfall.

RECOMMENDED HOT WATER

SOLUTION

Taking all factors into account, the

current recommended choice of water

heater for glamping sites and caravan

parks would be tankless/instantaneous

gas water heaters as they offer the

following benefits:

› Instant hot water on demand

› Hot water at a safe, pre-determined

temperature

› Endless supply

› Reduced running costs

› High efficiencies

› Hydrogen-blend ready, supporting

the UK's de-carbonisation strategy.

VENTILATION OF GAS APPLIANCES

While water heater technology has

changed in recent years, combustion water

heaters remain the most common and

will burn fuel, whether it is natural gas or

propane, which releases by-products such

as carbon monoxide. Internally mounted

instantaneous gas water heaters will need

to be vented to the outside atmosphere to

avoid exposure to noxious gases created

by the combustion process.

Externally mounted water heaters are

also available which are installed on an

outside wall, so the combustion gases are

released directly into the atmosphere.

There is no requirement for flues to be

fitted on externally mounted models.

FROST PROTECTION

As externally mounted water heaters will

be exposed to outside temperatures, they

are fitted with a frost protection feature

that includes electric heating elements. So

as long as the water heater is connected

to the electric power supply, it will be

protected down to temperatures as cold as

-4°F (-20°C).

If the water heater is not to be used for

some time, such as out of season, and

the power has been either switched off

purposely, or there has been a power

failure, the water heater will need to be

drained of all water to prevent damage at

temperatures below freezing.

SIZING YOUR SYSTEM

It is vital that the initial system sizing is

correct by calculating peak hour demand

for hot water which will ensure the correct

water heater is specified to meet even the

busiest time at your site.

If you underestimate how much hot

water you need to meet demand, you

risk running out and upsetting guests.

An undersized system is also likely to

be overworked and may need repair or

replacement earlier. Conversely, if you

overestimate the capacity required to

meet demand, your initial outlay will be

higher as well as your ongoing energy

costs.

It may be best to seek advice from a Gas

Safe Registered engineer as to the specific

output you require to meet the demands

of your site, so that you can then decide

which system will best suit your demand.

MODULAR SOLUTIONS

Where more than one appliance is

required to meet the demands of your

shower block or kitchen facilities,

modular hot water solutions guarantee

considerable cost savings over other forms

of hot water generation. The relatively

compact footprint of these systems means

they can optimise plant room space and

safeguard accessibility for maintenance

and servicing.

The systems we supply at Factory

Heaters incorporate two or three water

heaters, with flues for internal models, to

be mounted in a pre-fabricated cascade

frame fitted with cable trays, pipe work

and electrical connections – providing

a complete turnkey solution. All that

is needed are the final connections to

the associated services, so downtime is

reduced dramatically. Where plant room

space is limited, externally mounted

versions are available which can even be

mounted on a suitable roof space.

These modular systems have been

developed to guarantee the maximum

amount of affordable, ecologically friendly,

safe temperature controlled hot water

required at any one time by even the most

WWW.OPENAIRBUSINESS.COM 39
---
GLAMPSITES

"FOR OFF-GRID SITES,

LPG HAS A NUMBER OF

ADVANTAGES OVER OTHER

ENERGY SOURCES SUCH

AS OIL, COAL OR ELECTRIC

HEATING SYSTEMS"

demanding site.

NATURAL GAS OR LPG?

With energy prices increasing at the

moment, gas is still a significantly cheaper

option than electricity. To buy one unit

of natural gas (measured in kWh) will

currently cost around 7p/kWh, whereas

one unit of electricity from the mains (also

measured in kWh) will cost around 31p/

kWh.

If your site is connected to the natural

gas network, this has many advantages

over LPG (liquefied petroleum gas)

including much higher efficiency, cleaner

burning and greater affordability. If

however your site is not connected, you

can still utilise gas rather than a more

expensive electric option as instantaneous

water heaters can be available to support

an LPG supply. This would then require

either an LPG storage tank or LPG gas

bottles to be available which can be piped

to the appliances.

For off-grid sites, LPG has a number of

advantages over other energy sources

such as oil, coal or electric heating

systems. For example, while LPG usually

costs more than heating oil, it offers a

much greater energy return due to its high

efficiency, with reduced costs in the long

term. LPG also produces a lot less carbon

when burnt, helping towards a cleaner

environment.

GAS SAFE REGISTERED INSTALLATION

Having sized your appliance correctly

and made your gas water heater

purchase, you have a legal obligation

to have your appliances installed by a

Gas Safe Registered engineer, so that

the installation is in accordance with

Which water heater?

For a small pod, a 17L instantaneous water heater

has proven to be popular. The external model in

particular will save space as it can be fitted on the

external wall of the pod. Available in LPG, off-grid

sites have taken advantage of this water heater to

meet all the hot water demands of smaller pods.

For larger

structures, or

to feed shower

blocks and kitchen

facilities, a 26L or

32L instantaneous

gas water heater will

be more suitable.

They can be installed

within the block or external versions can be mounted on

an external wall or suitable roof space.

Where more than one water heater is required, a

modular solution will guarantee considerable cost

savings over other forms of hot water generation. The

relatively compact footprint of our systems can optimise

plant room space and safeguard accessibility for

maintenance and servicing.

manufacturer's recommendations, as well

as in compliance of current legislation.

Failure to comply with these requirements

is both illegal and potentially dangerous

and will also invalidate any warranty.

Installations will also need an annual

Gas Safety Certification to maintain the

integrity of the manufacturer's warranty

FUTURE-PROOFED SYSTEMS

The UK government has set a target of

net zero carbon emissions by 2050 and

it's likely that hydrogen will play a major

part in this strategy. Green hydrogen is the

ultimate aim as this will be produced from

renewable energy sources and produce

the least CO2 emissions. However, it will

be necessary to transition towards green

energy utilising current technologies and

it is likely that hydrogen-blend appliances

will form a major part of this transition.

Hydrogen-blend appliances will support

a blend of 20% hydrogen with 80% natural

gas. This will make use of the existing

network to deliver greener gases, keeping

customers warm and with a constant

supply of hot water, while still being able

to enjoy the flexibility of gas.

ABOUT THE AUTHOR

With more than 25 years' experience

installing hot water systems in the

hospitality sector, Winrow Building

Services' developed Factory Heaters is

an online store offering high-efficiency

and cost-effective hydrogen-blend water

heaters to ensure caravan parks and

glamping sites are future-proofed to

support the government's transitional

hydrogen strategy.

For further advice or to make use Factory

Heaters' installation service, get in touch

with the team at www.factoryheaters.co.uk

40 WWW.OPENAIRBUSINESS.COM
---
The Biggest and the Best

- NATIONWIDE -

Specialists in the hire of outdoor cinema

equipment. Packages from £795+vat

07739 710272 | info@skylightcinema.co.uk

www.skylightcinema.co.uk
---
GLAMPSITES

MEET THE SUPPLIER

Get to Know…

Time to make some professional friendships – get to know the people behind the products!

Mike and Michelle

Halliwell

Owners, Bond Fabrications

01453 767171,

enquiries@bondfabrications.co.uk,

www.bondfabrications.co.uk

What does your company do?

British manufacturer of luxury safari

tents and bespoke canvas structures.

What makes your company's

services special?

Family owned business championing

traditional British design and

manufacture... for over 30 years!

Describe yourself in 10 words

Family centred, love the Cotswolds

and passionate about our business.

How would your co-workers

describe you?

Hard working but fun and fair... we

hope!

Craziest thing you have done

We moved to the USA a week after we

married and stayed for eight years!

We're in a bar – what do you order?

Mike: craft beer, Michelle: G&T.

Favourite animal and why?

Mike: dogs (why wouldn't you love

them?), Michelle: horses (always been

in my life).

Favourite TV show?

Ozark... We visited the Ozarks a lot

while living in Kansas so it feels

familiar, apart from the mob and

murder elements of course!

Simon Fisher

Business development

manager, Further Space

info@further.space,

www.further.space

What does your company do?

Partners with landowners to make

glamping more accessible for them.

What makes your company's

services special?

We work with landowners, invest

in sites, look after advertising,

reservations and customer service, so

landowners can run the rest of their

business.

Describe yourself in 10 words

Someone completely unable to

answer this question in 10 words!

How would your co-workers

describe you?

Helpful and approachable, a mine of

useful and useless information.

Craziest thing you have done

Mountaineering across the world

including a very remote 6000m peak

in the Andes.

We're in a bar - what do you order?

Gin and Fever Tree tonic.

Favourite animal and why?

Our dogs... all three of them. In fact,

any dog.

Favourite current telly?

Formula 1 – I'm enjoying the changes

this season has brought about.

Peter Brooke-

Houghton

Operations manager,

FIRST BASE Ground Screws UK

01548 859879,

info@firstbasegroundscrews.co.uk,

www.firstbasegroundscrews.co.uk

What does your company do?

We supply high quality ground screw

foundations and project support.

What makes your company's services

special?

We look after our customers! From

garden rooms to eco-hotels, we help

people looking to quickly install

low-impact, high-stability screw

foundations.

Describe yourself in 10 words

Committed and hard-working, but

enjoy my family time.

How would your co-workers describe

you?

Conscientious, slightly obsessive about

the details(!), goes the extra mile.

Craziest thing you have done?

I have sailed across the Atlantic... twice!

We're in a bar – what do you order?

Pint of Tribute or Doom Bar

Favourite animal and why?

My daughters have told me to write

unicorns...

Favourite film and why?

Snatch – mainly for the one-liners. I get

made to watch lots of Disney too...

42 WWW.OPENAIRBUSINESS.COM
---
GLAMPSITES

Jonathan Trelfa

General manager,

Glampsan – a division of

Plastic Solutions (Aldridge)

0800 999 6010,

info@glampsan.com,

www.glampsan.com

What does your company do?

Off-grid waste control solutions for

glamping sites.

What makes your company's

services special?

Professionalism. Commitment to

customer service. Expansive range.

Describe yourself in 10 words

Committed. Attention to detail.

Customer-focused. Persuasive. Not

pushy. Relaxed.

How would your co-workers

describe you?

The one who's been in the toilet

industry for 30 years.

Craziest thing you have done

I once did a TV interview in German

with a Japanese interviewer. I'm still

not entirely sure if he knew what I was

saying.

We're in a bar – what do you order?

A hoppy IPA.

Favourite animal and why?

Tiger – majestic.

Favourite film

How To Train Your Dragon – quirky.

The underdog wins.

Adrian Beaumont

Sales manager,

Glamptubs

01926 504067,

sales@glamptubs.com,

www.glamptubs.com

What does your company do?

We supply wood-fired hot tubs to the

glamping industry.

What makes your company's services

special?

We use the products on our own

glampsite, and have over 10 years'

experience of using the product in a

glamping setting.

Describe yourself in 10 words

Farm boy passionate about

countryside, my Labradors and

playing guitar.

How would your co-workers describe

you?

Fun, energetic, dedicated,

knowledgeable, loyal.

Something nobody would know

about you?

I am the world's leading accidental

George Formby impersonator – I

ended up on one of his albums by

mistake!

We're in a bar – what do you order?

Pint of good cider, or a nice IPA.

Followed by a single malt.

Favourite animal and why?

Labrador – loyal, gentle, fun to be

with.

Favourite film?

This is Spinal Tap – my life in a

nutshell!

Austin Newberry

Director, Logspan

01389 734572,

info@logspan.com,

www.logspan.com

What does your company do?

Helping overworked individuals move

into their perfect glamping lifestyle

business.

What makes your company's services

special?

We provide unique, bespoke, quality

structures at great prices.

Describe yourself in 10 words

Hardworking family man who wants

to create a lifestyle business legacy.

How would your co-workers describe

you?

The business owner who wants every

customer to be happy.

Craziest thing you have done

Ran from Fort William to Inverness

along the Great Glen Way.

We're in a bar – what do you order?

Pint of ale.

Favourite animal and why?

Rottweiler, great memories of the

family dog.

Favourite TV show?

Formula 1: Drive to Survive.

WWW.OPENAIRBUSINESS.COM 43
---
GLAMPSITES

MEET THE SUPPLIER

Get to Know…

Time to make some professional friendships – get to know the people behind the products!

Mike Denys

Business development

manager, Autentic

+32 55 50 17 64,

info@autentic.world,

www.autentic.world

What does your company do?

We create, produce and supply

premium glamping tents.

What makes your company's

services special?

We added colour and 'premiumness'

to glamping tents.

Describe yourself in 10 words

I'm a young explorer, ready for some

Autentic experiences.

How would your co-workers

describe you?

Enthusiastic, driven and ready to kick

some arse :)

Craziest thing you have done?

I'm afraid to get fired if I tell you…

We're in a bar – what do you order?

Gin and tonic, for sure.

Favourite animal and why?

A cat, don't ask why.

Favourite film and why?

Avengers: Infinity War. The day I stop

doing business development for

Autentic, being a superhero is my next

professional stop.

Sue Winchester

Partner,

Rural Accommodations

01524 792633,

logcabinworld@btinternet.com,

www.logcabinworld.co.uk

What does your company do?

Authentic log cabins, shepherd huts,

garden rooms and pods.

What makes your company's

services special?

We offer a personal service with

attention to detail.

Describe yourself in 10 words

An outgoing, friendly, loyal, honest

and fair person.

How would your co-workers

describe you?

Hardworking, attentive, organised

with a positive attitude.

Craziest thing you have done

Ridden a camel through sand dunes in

Dubai – magic.

We're in a bar – what do you order?

Prosecco.

Favourite animal and why?

Giraffe because they are so serene,

calm and beautiful.

Favourite TV show?

Peaky Blinders – I just love it!

Paul Doughty

Technical sales,

CampPlus

07587427610,

paul@campplus.co.uk,

www.campplus.co.uk

What does your company do?

Campplus manufactures double and

single plug and play bathroom pods.

What makes your company's service

special?

Long established with over 350

pods already manufactured. Quality

commercially proven bathroom pods

at a very reasonable price.

Describe yourself in 10 words

Too honest. Strive to be efficient.

Laugh at own jokes.

How would your co-workers

describe you?

Ethical. Customer and team focussed

(asked the last person that worked for

me).

Craziest thing you've done

Hmm! Nothing I can think of that I

would like to admit to at least!

We're in a bar – what do you order?

Real ale or red wine.

Favourite animal and why

Got to be a dog (terrier), all dogs are

ever faithful.

Favourite TV show?

Sex Education.

44 WWW.OPENAIRBUSINESS.COM
---
Free next working day delivery* on

beds & mattresses. No minimum order.

We've made sure our trade mattress range caters to

all budgets, and types of accommodation. Check out our

Landlord, Leisure, and Hotel Pocket ranges, exclusively

available through Mattressman and then, whether you

need one mattress or one hundred, get in touch with

our Trade team for the very best deals!

Call: 0800 5677625

Visit: mattressman.co.uk/contract

Source 5 fire regulation products available. Standard and special sizes. Fast, free national delivery, installations, assembly and disposal services available.

* Thousands of domestic mattresses and frames in stock. Terms and conditions apply.
---
glamping pods

perfect for even

the most remote locations

free design plans

bespoke build

off-grid solutions

low maintenance

fast return on investment

Beautiful bell tents, Touareg tents and

Emperor tents available in 320gsm and

360gsm 100% cotton canvas.

Accessories and "Fire Pig" wood

burning stoves in stock now!

Visit us at www.thebelltentshop.co.uk

or call 07834768348

contact us for a free no-obligation quote

premium quality amazing value

www.podzrus.com

07767733044

46 WWW.OPENAIRBUSINESS.COM
---
GLAMPSITES

PRODUCT IN FOCUS

Pods, Huts and Lodges

Bizzyberry Lodge, South

Lanarkshire

Product: Log home kit

Supplier: Scandinavian Homes,

0845 299 6337, homes@

scandinavianhomes.com,

www.scandinavianhomes.com

Details: Bizzyberry Lodge is a luxury

modern log cabin, complete with hot

tub set in its own private woodland

garden with stunning views of

Tinto Hill, near Biggar in South

Lanarkshire.

Rosie and Jim have built a log

holiday home with a contemporary

yet cosy and welcoming vibe. They

chose a customised version of

the Soina log home kit from the

Scandinavian Homes range. A key

feature of this design is the full

height living area with mezzanine,

which is open to the roof inside. The

log cabin is set in its own wooded

grounds with a private entrance, next

to Jim and Rosie's farm.

Jim built the cabin himself,

with help from an experienced

builder. Once the shell was up

and watertight, Jim finished it

off inside. His attention to detail

really shows! Luxury features

include a contemporary log

burner and a hot tub. Step free

access allows the holiday home

to be used by all.

The highly insulated log building

kit came complete with double

glazed windows, so running costs

are low. To help minimise the

carbon footprint, a wind turbine and

ground source heat pump were also

installed.

Rosie focused on the interior

design and furnishing, with the

end result being a beautifully

comfortable log cabin. Guests

certainly love it, and have given it

five star reviews. Available via AirBnB

you can stay there to see just how

beautiful a log cabin holiday home

can be.

Customer feedback: Owner Rosie

Wallace said: "The log home kit was

of excellent quality, and we would

thoroughly recommend it. Clients

love the cosy, well thought-out and

personal build."

The Nest, Argyll and Bute

Product: Finman Retreat with porch

Supplier: Logspan, 01389 734572,

info@logspan.com, www.logspan.com

Details: Located in the grounds of Ardteatle, the

Nest allows guests to relax, get back to nature,

enjoy beautiful views and, at the end of the day,

enjoy a very comfortable warm double bed and ensuite

bathroom.

Logspan was asked to provide a glamping

structure that worked with the landscape, provided

a cosy environment for guests and was a welcome

retreat after a hard day hiking, or just relaxing!

The building had to be constructed entirely on

location as the site was down a single track drop

with limited access.

Customer feedback: Sonja, CEO, said: "We love the

Retreat, as do our customers. The customer reviews

are fantastic and it's rented out all the time."

WWW.OPENAIRBUSINESS.COM 47
---
GLAMPSITES

Copse House, Berkshire

Product: Log cabin and zip-wire

Supplier: Castles Carey, 01963

364226, sales@castles-carey.co.uk,

www.castles-carey.co.uk

Details: Castles Carey created a

log cabin for guest stays at this

Berkshire site. The location was on

the west-facing edge of a private

wood and the build was orientated

to look out over fields and benefit

from the setting sun. Grass carts

make use of the track off the wood

and the team also installed a zipwire,

enabling very speedy travel to

the other side of the trees!

Designed to be cosy, comfortable,

sustainable and to blend in with

the environment, the cabin has

been situated in a relatively sunny

spot. A veranda provides cover and

shade and is a good place to leave

boots and coats. There's a fully

fitted kitchen and a compost loo to

minimise the use of water. The back

of the cabin looks out into the wood

and is not visible to anyone else. The

whole cabin is fully insulated and

raised slightly off the ground, which

also creates a dry area for storing

wood. Oak is used for the main

structure and roof beams, softwood

cladding for internal walls, cedar

shingles for the roof tiles and ground

screws at the base to ensure no

damage is done to tree roots.

A clearing on the west side of the

wood is an ideal area for daytime

activities, eating outside and

evenings with the BBQ and drinks

around the camp fire.

Feedback: So many people have

found the log cabin a wonderful

surprise because from the road in

the village it's hard to imagine such

a beautiful place hidden away from

sight.

Gumboots & Wellingtons,

North Yorkshire

Product: Self-build shepherd hut kit – plans, guide, cast

iron wheels, bespoke timber roof, doors, windows and

bespoke roof sheets

Supplier: Tithe Barn Shepherd Huts, 01262 470475,

info@shepherd-huts.com, www.shepherd-huts.com

Details: Tithe Barn Shepherd Huts worked closely

with Andrew and Lesley over several months as they

considered the size and design of the first shepherd hut

they would offer at their glamping site.

The small operation based in North Yorkshire caters

for cyclists and hikers among others and, as with many of

Tithe Barn's customers, the large 6m x 2.8m hut chosen

required several bespoke items. The team at Tithe Barn

also offered ongoing support during the build.

Customer feedback: Andrew Beale, owner at Gumboots

& Wellingtons, said: "I found Tithe Barn Shepherds Huts

while researching for our glamping business. They gave

me the confidence to self-build, as their bespoke parts

packages and advice made anything possible! I'm a

novice builder, so their step-by-step guide has proved

invaluable, with photographs for each stage of the build.

I honestly couldn't have done it without this guidance,

and also my father-in-law who helped me build what is

essentially a tiny house!

"I highly recommend Tithe Barn Shepherds Huts and

will be placing another order very soon!"

48 WWW.OPENAIRBUSINESS.COM
---
GLAMPSITES

Stouslie Snugs,

Scottish Borders

Product: Glass-fronted Munro

glamping pods

Supplier: Podz R Us, 07767 733044,

sales@podzrus.com, www.podzrus.com

Details: Stouslie Snugs Luxury Farm

Glamping is nestled in the rolling hills of the

beautiful Scottish Borders. Customers

can relax and unwind in the wood-fired

hot tub while enjoying the magnificent view

across the Teviotdale valley and beyond.

When owners Carly and Stewart started

their journey to open a glamping site, Podz

R Us was delighted to be chosen as designer

and manufacturer. The company worked

with Stouslie Snugs on a number of design

revisions to create a pod that met every

requirement.

The new pod is called The Munro and

features a full en-suite, kitchen, double

bed and seating area with sofa-bed. The

end result is stunning, glass-fronted

glamping pods that make the

most of Stouslie's landscaped

environment and incredible

views across the rolling

Border hills.

Stouslie Snugs is now entering its second

season, and has been so successful that

Podz R Us has provided a third Munro to

completing the luxury glamping site.

Customer feedback: Carly Anderson,

from Stouslie Snugs, said: "Starting up any

glamping site is a huge investment but for

us it was important to secure our farm's

future through diversification. Working with

Andrew from Podz R Us was our pleasure and

he helped make this journey that little bit

easier. He was open to our ideas and always

found a way to make them happen. The end

result speaks for itself – a

beautifully-crafted,

luxurious timber

glamping pod".

PRODUCT SNAPSHOT

Cabins and Consultancy

MAC Cabins

0800 999 1564

help@maccabins.co.uk

www.maccabins.co.uk/leisure

Whether you are looking to start,

expand, or diversify a holiday rental

business, MAC Cabins has created a

comprehensive selection of timber

log cabins, glamping pods, timber

lodges and tiny homes to choose

from.

Its team can also assist in all

the main aspects of setting up

and running a successful holiday

rental business including design

and planning, accountancy and

business planning, start-up/set

up, tax benefits, approved finance,

website design and hosting, online

booking and social media.

Bespoke 'A' Frame Lodges

Rural Accommodations

01524 792633

logcabinworld@btinternet.com

www.logcabinworld.co.uk

Bespoke A-frame lodges can be designed and manufactured

to your individual requirements. Lodges are available in

various sizes and come fully insulated, painted and decorated

throughout in a colour of your choice, all ready to furnish.

With 240v electrics and consumer unit installed, simply

connect the power to an easy hook up point.

Our lodges are built to the highest standard and are perfect

for that glamping business opportunity to bring in an extra

income throughout the year. Contact us for further details.

WWW.OPENAIRBUSINESS.COM 49
---
EVENTS

CASE STUDY

The Mighty Coe

An on-snow ski and snowboarding festival for

backcountry exploration fans

Held at the Glencoe

Mountain Resort, The

Mighty Coe's format was

a UK first. We talk to

organiser Neil Dalgleish

(experienced mountain

bike festival organiser

from Hillside Outside) and

production partner Jamie

Fallen (Event Production

Group) about creating a

start-up event in the snow.

50 WWW.OPENAIRBUSINESS.COM
---
EVENTS

Describe your event and how

many people it attracts?

Neil: The Mighty Coe is the UK's

first on-snow ski and snowboard

festival. It offers participants the

opportunity to try new kit, see

next year's gear and learn new

skills. It has a focus on backcountry

exploration, which took off during

lockdown, giving people an insight

into what's involved to make the

most of Scotland's amazing winter

mountains.

The venue limits are around 1,000

per day, plus 250 on film/party

night.

Explain a bit about your venue

Neil: Glencoe Mountain Resort is

Scotland's oldest ski centre (1954).

I am a part time resident in Glencoe

and have loved the whole area for

a long time. The ski area has the

most exciting lift-served terrain in

Scotland.

What made you decide to run the

festival?

Neil: This was the first year. We had

the idea while on backcountry ski

mission during lockdown. We at

Hillside Outside already run one of

the UK's biggest mountain bike and

cycling festivals, and realised there

was nothing similar for snowsports.

We did some research and realised

there was enthusiasm in the

industry and among the public for

something like this.

How does the relationship work

with the venue you hold the

event at?

Neil: This event was always going

to have to be a partnership as its

success is totally dependent on the

co-operation of the venue, for use of

its facilities and operational staff.

Jamie: Working with the Glencoe

Mountain team had to be hugely

collaborative; we had no idea how

snow over winter would change the

natural shape and layout of the site

and they very much did! There was

no way we could get the required

level of equipment to the top of

the mountain if we didn't work

together.

How is your relationship with the

local authority and community?

Neil: The local authority signed off

safety and licencing permissions

etc. and we had a series of

meetings with its events group

"THERE WAS

NO WAY WE

COULD GET

THE REQUIRED

LEVEL OF

EQUIPMENT

TO THE TOP OF

THE MOUNTAIN

IF WE DIDN'T

WORK

TOGETHER"

and safety advisory group. The

local community is largely tourismcentric

and we provided a welcome

visitor and publicity boost in the

winter season.

What entertainment did you

offer?

Neil: We offered films, DJs and an

afterparty. We sourced everything

through snow industry partners and

our own contacts.

Jamie: The in-house DJ looked after

the entertainment for the weekend

but we had to ensure that we could

handle all of the possible technical

requirements while still packing

extremely light.

How did you publicise the event?

Neil: Mostly through social media –

it's a fairly specialist market for this

event. Authenticity is everything as

we're marketing to and providing

an event for a tribe who love their

particular sport, its values and style.

Did you make any money?

Neil: Year one – no profit expected

nor delivered! But it worked very

well; we've learned a great deal

about venue choice, programming

and partnerships. Next year will be a

little different, but it should also be

bigger and more profitable.

How did you plan the layout and

what structures did you use?

Jamie: We began by meeting on

the mountain last autumn to plan

a site layout and to see what was

physically possible to build in such

a remote location.

We planned the site with what

we all agreed was the best guess

at how deep the snow would be.

WWW.OPENAIRBUSINESS.COM 51
---
EVENTS

Ironically, the more snow we had

the more space would be available

(once it was shaped and groomed).

We used in-house rental assets to

create a stage as a focal point and a

bar/merch structure was also used

as the base of operations. We clad

the front of the bar structure with

scrap cladding sourced locally to

Glencoe to reduce transport. The

cladding has since been recycled

by community groups based near

our HQ.

Lastly, we used recycled printed

air mesh to brand a pyramid

structure, which made for a great

Instagram moment over the

weekend.

How did you work with creatives

to make these spaces work?

Jamie: We worked with Hillside

Agency to design the branding for

the pyramid and the DJ stage. All

the branding can either be recycled

or re-wrapped for a future event,

nothing needs to go to landfill.

"WE TIED

THREE PA

SYSTEMS

TOGETHER

SO WE HAD

SITE WIDE

CONTROL

FROM A

CENTRAL

POINT BUT

COULD ALSO

RUN THEM

AS SEPARATE

SYSTEMS

WHEN

REQUIRED"

How did you manage the festival

infrastructure?

Jamie: We knew anything that went

up the mountain would need to be

small enough to go on the chairlift

if the snow prevented vehicles

making it to the top, therefore

nothing went that wasn't absolutely

required. We made use of battery

equipment which we could charge

overnight at the main festival site

and used ground anchors to secure

structures where we might usually

use water or concrete.

We worked with sponsors

Salomon and The North Face to

ensure we made provision for the

structures they brought.

What provisions did you make for

power, lights and sound?

Jamie: We wanted to avoid the

environmental impact of using

generators so worked with Glencoe

Mountain Resort to have a three

phase power supply installed close

to the main site. Being able to easily

bury cables in the snow was a great

alternative to cable ramp.

We tied three PA systems

together so we had site wide control

from a central point but could also

run them as separate systems when

required.

How did you manage admissions?

Jamie: Admission was included in

the price of a lift pass so we could

run a totally open layout with no

restrictions on accessing the main

festival area.

Tell us about any logistical

challenges

Jamie: The access road to the top

of the main chairlift was slightly

more challenging than we had

experienced before winter. We had

two 4x4s on standby to tow trailers

loaded with vendors' equipment

and tow out any stuck vehicles.

Being split over multiple sites on

the mountain meant we could

pack for each site individually then

use smaller vehicles to deliver the

equipment directly.
---
EVENTS

ADDRESS BOOK

Any special team members you'd

like to mention?

Jamie: I'd love to mention Ross who

built all the cladding for the bar

onsite, as well as being our medical

cover for the build and break.

What are the plans for next year?

Neil: To build on this year and find

ways to make the event more

commercial – the social side is

probably most important for this.

We'll also obviously make sure the

venue is prepped and ready for any

changes we make.

Jamie: We would love to help

Hillside Outside build on the

success of the last event. The

style of The Mighty Coe has huge

potential!

ORGANISER

Hillside Outside

www.hillsideoutside.com

PRODUCTION

Event Production Group

jamie@eventpg.co.uk

BRANDING

Hillside Agency

www.hillside.agency

DETAILS

The Mighty Coe

Glencoe Mountain Resort

Glencoe

Argyll PH49 4HZ

www.themightycoe.com

Create a Greener Event

Branded Reusable Cups | Plates | Bowls

• Sales • Serviced • Rental Solutions

01278 238 390 info@green-goblet.com www.green-goblet.com

WWW.OPENAIRBUSINESS.COM 53
---
EVENTS

Green Energy

Myth Buster

Common questions about greener energy management at

events, with answers from Powerful Thinking

Are biofuels bad for the environment

Q Biofuels, especially palm oil and

jatropha, are often cultivated on

deforested land, displacing agriculture and

indigenous people. The emissions from

cutting down the original forest can exceed

the emissions saved by displacing the use

of a fossil fuel. It's a complex issue and one

of trade-offs, but 100% waste vegetable oil

(WVO) or 100% domestic biodiesel such as

oilseed rape are widely considered to be

'green' fuels.

WVO is used cooking oil which has

been prepared for use in generators and

it is generally sourced locally. Using it for

power keeps it out of the waste stream

(including sewers where it can cause

blockages) and has far less associated

emissions when compared to diesel. As

a rule of thumb, biofuels are preferable

to fossil fuels, especially when sourced

locally.

Isn't renewable power unreliable?

Q No. Most newer systems have battery

back-ups storing energy and continue to

produce power in overcast conditions.

Many providers come with a reserve in

place. Some also say that as there are no

moving parts it is actually more reliable.

However, it should be noted that there

is more of a need to work out power

requirements in advance and in detail

to match supply and demand.

Do renewable solutions cost more?

Q Sometimes they do, but sometimes

they don't, just like any other power

company decision. In many cases where

a large amount of power is required

(for example above 45kVA), there may

not be a viable solution or costs may be

prohibitive. But for smaller requirements,

you may be able to reduce the amount

you need to power in the first place by

working efficiently, and use cost-effective

renewable solutions.

Feedback from festivals suggests that

it is often forgotten that there are no fuel

bills post-event for solar and wind systems.

There are many examples at small to

medium scale events of renewable and

hybrid approaches which can deliver

cost savings. Savings will be dictated

by circumstance, so it is very important

to maximise planning and explore all

available options.

Isn't it the case that we always need

Q a margin of error in the capacity of

generators for the unexpected?

Yes, but the Powerful Thinking research

this summer suggests that current margins

are often excessive.

Can you power entire events on

Q renewable and low carbon solutions?

There are many examples of small to

medium festivals (under a capacity of

20,000 people) being entirely powered by

renewable and WVO solutions. Examples

include Croissant Neuf, London Green

Fair, Shambala, The Green Gathering

and Sunrise Celebration. Renewable

technologies are generally considered

not yet capable of wholly powering larger

events and stages for very large audiences

but a hybrid approach is still both easy and

widely in use.

Does festoon lighting need to remain

Q on during the day to manage loads on

generators?

Only if those generators are also supplying

other requirements, or if a load needs to be

maintained on the generator. If a generator

is dedicated to festoon lighting it can be

switched off. Some companies now have

automatic sensors which switch off site

lighting, festoon runs and tower lights

when daylight emerges.

Do amps and stage lights need to

Q remain on overnight?

Some companies say this is necessary

in order to keep equipment warm and

avoid condensation, but others say

their equipment does not require this.

It can depend on the equipment. Either

way, it's worth considering a secondary

power source so a main generator can be

switched off.

FACTS & FIGURES

CARBON EMISSIONS BY POWER TYPE

› 100% mineral diesel - 2.676 kg CO2e per litre

› LPG - 1.5 kg CO2e per litre

› Mains electricity (UK average) - 0.412 kg

CO2e per kWh

› Mains electricity (EU average) - 0.350 kg CO2

per kWh

› WVO biodiesel - 0.019 kg CO2e per litre

› Wind and solar - Zero-rated

54 WWW.OPENAIRBUSINESS.COM
---
EVENTS

CASE STUDIES

SOLAR PV AT BOOM FESTIVAL

Boom Festival (Portugal, capacity 33,333)

is powered by a mix of off-grid photovoltaic

panels, diesel generators and a 100kW

waste vegetable oil (WVO) generator. The

festival site, known as Boomland, is home to

around 12 long-term residents and the onsite

renewable technology is a permanent feature

in the community. The residents spend the

months between festivals living entirely on

renewables, and creating an energy surplus

for the next festival. Boom uses 40kWh of

solar energy, which is produced onsite, and

is in the process of transitioning from diesel

to even more off-grid photovoltaic energy.

Their largest photovoltaic array comprises of

18 panels, all following the tilt of the sun and

producing 13kW per hour per day.

BOOM FESTIVAL

HYBRID POWER AT

SECRET GARDEN

PARTY

Secret Garden

Party (UK, capacity

30,000) saved 3,826

hours of diesel

generator runtime

by using hybrid

systems – which

was around 50% of

the total runtime.

This use of hybrid

technology reduced diesel dependency by 10,285 litres. On top of that, the

new system saved Secret Garden Party £7,713, and reduced overall carbon

emissions for the festival by a staggering 24 tonnes.

BIODIESEL AT LATITUDE, LEEDS AND READING FESTIVALS

Festival Republic's (Event Promoter/Producer of 19 UK/EU Festivals)

sustainability policy includes using waste vegetable oil (WVO) biodiesel to

power some of the generators

at Latitude, Reading and Leeds

festivals.

This commitment continues

despite there being a limited

supply of WVO biodiesel in parts

of the country, unpredictable

price fluctuations, and a higher

cost for sustainable biodiesel in

comparison to regular diesel.

They now aim for biofuel to

make up 15% of the total fuel

burned onsite, in line with the

Julie's Bicycle benchmark, and

are investigating efficiency

measures to reduce the amount

of fuel they use in the first

instance.

SECRET GARDEN PARTY

FESTIVAL REPUBLIC

PEDAL POWER BY REACTION

SOUND SYSTEM

Reaction Sound System (RSS) uses audience

participation to power small to medium-sized

stages with specially designed bike generators.

The audience can see how much power the

pedalled bikes have created through responsive

meters that show the energy available in the

storage system. The energy from six cyclists can

provide quality sound for audiences of up to

2,000, in tents as long as 60 meters. With three

adults pedalling hard the speakers can provide

enough good quality sound to cater for around

200 people.

ABOUT THE AUTHOR

Powerful Thinking supports smarter practice and

innovation in energy management for the outdoor

events and music industry. It publishes guidance,

tools, provides news and advice, and connects people

and companies with good ideas and each other.

If there is anything you don't understand or if you

have any other questions, visit www.powerful-thinking.

org.uk

Join over 100 other events in signing up to Vision:

2025 – a shared vision for a sustainable outdoor events

industry. Sign the pledge and download the latest

Show Must Go On report at www.vision2025.org.uk

REACTION SOUND SYSTEM

WWW.OPENAIRBUSINESS.COM 55
---
EVENTS

GETTY IMAGES

Hire or Buy?

SafeSite Facilities' Greig McGarva on when hiring crowd barriers makes sense

AFTER SEVERAL uncertain summers of

cancelled, postponed and scaled-back

events, this year's alfresco events scene

looks set to be a great one. For many event

management companies, income has

unsurprisingly been negatively impacted,

so you'll likely be looking at this year as

a chance to recoup and make up for lost

revenue.

One thing that can carry significant cost –

but has always been a vital requirement – is

the need for physical security at events, to

manage and guide crowd behaviour, stop

over-crowding and keep people safe. So,

with budgets more front of mind than ever,

but security and visitor safety being critical

areas you can't scrimp on, is now the time

to reconsider your event security buying

pattern? If you've previously always bought

temporary event fencing, hoarding panels

and crowd control barriers with long term

reuse value in mind, could changing this

habit bring not just event safety but also

cashflow benefits?

AVAILABLE CAPITAL BUDGET

Buying site safety, such as temporary

fencing and barriers, has its benefits –

such as lower overall lifetime cost due to

reuse opportunities. But, for smaller event

management companies and those wanting

to limit the funds they have tied up in assets,

so too does hiring this kind of equipment.

When you buy, there is an upfront cost

which can be quite large, depending on

what's required. If you have capital to play

with, great. But, if your budget is insufficient

for this level of investment, hiring is a great

option as it carries a lower initial cost,

spread out in regular instalments for the

duration of the hire – which tends to be quite

short for events. This means a smaller, more

manageable impact on your cashflow. And,

you're not responsible for the maintenance

of the equipment, so you don't have to

factor in ongoing costs when the equipment

is not in use.

Ask your chosen lease company about

their rental terms. Usually, fencing and

barriers are subject to a minimum hire

period – 14 days, for example. But, as events

can often be for just one day or over a

weekend, your lease company may instead

offer equipment hire at a set charge, rather

than sticking to the minimum hire period,

which may bring savings.

Yes, in the long run hiring may be more

expensive, so if you're a large events

company with a busy calendar of events

which require the same security measures,

then buying may be the best route for you.

But there are other aspects you should

consider alongside the money – such as

convenience and flexibility – which provide

other non-monetary benefits.

CONVENIENCE IS KING

Event planning is known for being one of the

most stressful jobs. With so many elements

to consider, a well-organised event might

look seamless on the surface, but that's

down to weeks, months, sometimes years of

planning.

Working with a reliable site safety

company offering equipment hire can

56 WWW.OPENAIRBUSINESS.COM
---
EVENTS

eradicate a great deal of stress and work for

event managers, in a really key area. The

required equipment will be delivered on the

agreed day, installed by experts and then

removed from site after the event. Simple.

Should your requirements change –

maybe you need to increase the number

of crowd control barriers last minute, or

upgrade/downgrade the barriers, or your

event is cancelled due to a situation outside

of your control (a global pandemic, perhaps)

– a reliable supplier should be flexible and

accommodate your needs, with zero hassle.

No need for you to hold different stock

for different uses, or be left with a storage

facility full of unrequired equipment.

STORAGE, TRANSPORT AND LOGISTICS

On the topic of storage, if you're a large,

national events company, you

may have a storage facility to

house any purchased equipment,

a fleet of vehicles to transport

it to the required locations, and

an in-house team to manage the

installation. But, this is unlikely if

you're a smaller company. Hiring

equipment removes this need

entirely, with all logistics and onsite

installation taken care of by your

supplier.

THE OUTLOOK FOR EQUIPMENT

SUPPLY IN 2022

This year sees the full return of event

season after Covid, and it has affected stock

availability on core products – event barriers,

crowd barriers and temporary fencing. It

is important to pre-book and confirm in

advance to avoid disappointment.

As a business we get a few last-minute

calls from desperate clients who have been

let down, and the most common reason is

stock. We have seen steel shortages creating

longer lead times on the raw materials

since the pandemic, and this means we

must forward plan three to four months

in advance and manage our stock levels

to meet and predict the demand of our

equipment; it can be a challenge to get the

balance right.

We generally work on a lead time of one

to two weeks from order confirmation,

although longer lead times are preferred

as it allows us to manage our stock levels

and avoid any disappointment for required

delivery dates. For larger events, we work on

long lead times for procurement, usually two

to three months in advance.

WHEN BUYING MAKE SENSE

› Excess capital to invest

› Events calendar allows multiple

uses of the equipment

› Access to storage space and

transport

› Inhouse installation team

› Budget to maintain/service

equipment

› A plan to responsibly dispose of

retired equipment.

MORE INFORMATION

If you're still on the fence about the best

approach for you, the SafeSite Facilities

team is happy to share their expertise. Get

in touch or visit www.safesitefacilities.co.uk

for more information.

WWW.OPENAIRBUSINESS.COM 57
---
EVENTS

MEET THE SUPPLIER

Get to Know…

Time to make some professional friendships – get to know the people behind the products!

Paula Hopkinson

Steve Luscombe

Managing director,

DCRS

0800 043 2688,

sales@dcrs.co.uk,

www.dcrs.co.uk

What does your company do?

Hire, sales and service of two way

radio, body cams and applications.

What makes your company's

services special?

Impartial advice and competitive

prices with an excellent after sales

service.

Describe yourself in 10 words

Dedicated, professional, caring

business and family man.

How would your co-workers

describe you?

One of us!

Something no one knows about you

My favourite food is chick peas.

We're in a bar – what do you order?

Pint of lager.

Favourite animal and why?

My dog Jasper – if you met him you'd

know why!

Favourite TV show?

Brassic always puts a smile on my

face!

Sustainability manager,

Green Goblet

01278 238390,

info@green-goblet.com,

www.green-goblet.com

What does your company do?

Suppliers of reusable cups and

tableware.

What makes your company's

services special?

We have made it our mission to help

eradicate single-use plastic cups and

takeaway packaging at festivals and

events across the UK.

Describe yourself in 10 words

Adventurous, no fear, loves life,

glass always full (with beer!), driven,

passionate.

How would your co-workers

describe you?

Fun loving, empathetic, kind, full of life,

energetic, fearless, loyal.

Craziest thing you have done

Having five daughters – never a dull

moment but love it!

We're in a bar – what do you order?

A pint of lager or two half lagers if I have

a dress on – in a reusable cup of course!

Favourite animal and why?

An eagle because they are the symbol of

beauty, bravery, courage, honour, pride,

determination and grace.

Favourite TV show?

SAS Who Dares Wins – it's about having

the courage and audacity to take risks

and believing in yourself.

Clem (Steve

Clements)

Manging director, We are CORE UK

0845 299 6499,

sales@core-barandeventhire.com,

www.core-barandeventhire.com

In 10 words – what does your

company do?

Outdoor multi-level structures, bar

rental services and much more.

What makes your company's

services special?

We have a range of related services that

solve a number of client needs from

outdoor structures to bar rental services

to signage and display graphics.

Describe yourself in 10 words

Humble, honest, hard-working and

good-humoured.

How would your co-workers

describe you?

I dread to think! Hopefully 'a nice guy to

work for'.

Craziest thing you have done?

Starting a business was pretty crazy but

hey, you only live once right?

We're in a bar – what do you order?

I have a taste for cocktails so on a warm

day it has to be a mojito.

Favourite animal and why?

My cat Frank. He thinks he's a dog and

he loves me to bits.

Favourite film?

Memento or Deadpool are two films I

could watch a thousand times. Classics.

58 WWW.OPENAIRBUSINESS.COM
---
First Class Cleaning

for Your Event

Site Cleaning | Recycling

Toilet Hire & Servicing

Compostable Food Packaging

01443 844492

07841 120411

info@eventclean.co.uk

www.eventclean.co.uk

Innovative products

for Temporary Structure installations

• Structure Support and Levelling

• Modular Steps & Ramps

• Balustrades

• Cassette Floors

• Bespoke Engineering

+44 121 526 6060

info@regenteng.com

www.floorstak.com

WWW.OPENAIRBUSINESS.COM 59
---
EVENTS

PRODUCT IN FOCUS

Flooring & Ground

Protection

Private Party, Hampshire

PRODUCT

SNAPSHOT

Product: FloorStak tailored cassette floor

system plus structure support

and levelling equipment

Supplier: FloorStak, 07841 069627,

alan@regenteng.com,

www.floorstak.com

Details: Joseph Benjamin Marquees

(www.josephbenjaminmarquees.co.uk)

near Aylesbury recently completed the

first installation of its beautiful brand new

Sperry pole tent for a private party event in

Hampshire. Because of the steep slope of

the chosen site, it was decided that cassette

flooring would be installed and would need

to be levelled using the FloorStak system.

The radiused ends of the 14m x 32m tent

were accommodated by two special floor

sections, purpose-made for use with this

type of pole tent. While erecting the tent on

a rectangular floor would have been quite

possible (and it's commonly done this way),

the company decided to entrust FloorStak

with the manufacture of the special

"tailored" end units which follow the shape

of the tent and eliminated the risk of water

ingress from exposed corners of the floor.

The resulting installation, which also

incorporated a lower level seating area

for viewing the entertainment stage,

looked very professional. The design and

production concept behind the FloorStak

cassette floor system help to make it highly

configurable and therefore versatile. It

is proving invaluable to event installers,

and is also now being used in military and

emergency aid applications worldwide.

Customer feedback: Joe Goode, director

of Joseph Benjamin Marquees, said that

the levelling system, flooring, and pole tent

were all erected from scratch in the first two

days of the build, which he felt was quite

remarkable since much of the equipment

used was completely new to his team.

Market Leading Matting

Marquee Floors

01787 372988

info@marqueefloors.co.uk

www.marqueefloors.co.uk

Marquee Floors is a market leader

in high quality matting and flooring

for the marquee and glamping

industries. Its DandyDura product

has a long-standing reputation as

the UK's bestselling polypropylene

matting for the marquee, tent

and tipi hire sectors. Very easy

to maintain, extremely durable,

fully reversible, lightweight and

weatherproof, it is also very

aesthetically pleasing for all sorts of

events.

With a range of colours,

DandyDura is available as a fully

bespoke purchase with all shapes

and sizes considered. Bound edges

and eyelets are also available on

request.

60 WWW.OPENAIRBUSINESS.COM
---
EVENTS

Underneath the Stars Festival,

South Yorkshire

Product: 100-340 Tufftrack panels

Supplier: All Weather Access, 01371 700510,

info@all-weatheraccess.co.uk,

www.all-weatheraccess.co.uk

Details: For the past four years, All Weather Access

has supplied Underneath the Stars Festival with

trackway.

The quirky annual festival celebrating music, arts

and culture always promises a fantastic weekend for

visitors. Unfortunately, due to a rainy week in 2019,

the area the festival is held in suffered tremendous

ground damage, causing many logistical problems.

As the festival relied on a one-way access route

throughout the grounds, organisers were in

desperate need of a temporary roadway to ensure

that vehicles were not getting stuck in the mud!

After a site visit, it was established that the event

would need a heavy form of ground protection,

known as Tufftrak. This heavy-duty ground

protection is not only a strong durable product, with

a loading capacity of 150 tonnes per square meter,

but is also designed for temporary roadways and

working areas, ideal for heavy plant and machinery.

The 100 panels of Tufftrak were then installed by All

Weather Access's expert team.

The panels would turn out to be key in allowing

all vehicles to successfully flow through the track,

ensuring the roadway system worked properly with

no stuck vehicles. Not only did this solve the festival

organiser's problem, but the client loved the service

so much the team has been invited back each year,

and this year is supplying 340 panels.

PRODUCT SNAPSHOT

Event Infrastructure Foundations

FIRST BASE Ground Screws UK

01548 859879

info@firstbasegroundscrews.co.uk

www.firstbasegroundscrews.co.uk

How can you create a secure foundation

for your modular building, staging/

decking, cabin or pod without the time,

cost and disruption of using concrete?

Simple: use ground screws!

Modern, high load-bearing ground

screws can be installed using electric or

hydraulic drivers in minutes, providing

an instantly-loadable, more sustainable

foundation without vibration and

upheaval to soil and root structure.

And if your buildings ever needs to be

moved, the screw piles can simply be

unscrewed and re-used!

FIRST BASE Ground Screws UK

provides a friendly, professional service

from advice, initial site assessment

and geotechnical testing to tailoring a

package to suit each customer's needs,

working in conjunction with their

trusted installation partners nationwide.

The range includes fixed-flange

screws for all soil types and slopes, plus

the latest PRO-V extendable models for

poor ground conditions. The G3 Series

and RIM models are designed for posts

and poles – perfect for awnings, sail

shades, tents and fences.

WWW.OPENAIRBUSINESS.COM 61
---
Spot light

A roundup of products for the outdoor hospitality industry

ALL YOU NEED FOR OUTDOOR

CINEMA

Skylight Cinema

01872 303737

info@skylightcinema.co.uk

www.skylightcinema.co.uk

As one of the leading providers of

outdoor cinema, Skylight supplied

equipment for over 250 events last

year alone. Providing everything

needed to put on a hassle free

outdoor cinema event, turnkey

packages include: a 10m wide

inflatable screen, a powerful 10K

projector, Bluetooth speakers

for each vehicle (saving a lot of

time and money!), a projectionist

and technician, and support and

advice. The price for a mid-week

event is £1,495, and £1,895 at

weekends.

You organise the event and sell

the tickets, then Skylight turns up

with the screen, projector, sound

system and technician to operate

everything.

BRING THE BEAUTY OF

NATURE INSIDE

Scandinavian Homes

0845 299 6337

homes@scandinavianhomes.com

www.scandinavianhomes.com

A Scandinavian Homes log

cabin gives you top quality

accommodation for your guests,

suitable for use year round –

whatever the weather! Cool in

summer and warm in winter, a log

holiday home brings the beauty of

nature inside. Easily customised,

our wide range of models can be

designed specifically to suit your

target market. Log buildings are

great for other uses too, such as

cafes and event spaces. Contact

us today to discuss your holiday

lodge, mobile home, or other log

building plans.

PERFO GROUND REINFORCEMENT

SYSTEM

S2T Group

01992 522797

www.perfo.co.uk

S2T Group's PERFO range of ground

protection products comprises

a system of interlocking, selfanchoring

permeable plastic

tiles which are embedded into an

existing surface, eg. a mature grass

area or prepared base consisting of

a layer of crushed stone chippings,

depending on the application.

A number of light to heavy duty

solutions are available to suit

varied ground conditions, traffic

profiles and loading requirements.

Unlike other geogrid systems,

PERFO tiles are usually installed

without the need for excavation,

being compacted directly into the

existing surface using rollers or

compactor plates. Installation is

therefore rapid and planning issues

less problematic.

BESPOKE OFF-GRID CABIN

Wild Hart

07971 869058

info@wild-hart.co.uk

www.wild-hart.co.uk

This pre-fabricated, modular off-grid

cabin is the latest creation by Wild

Hart. Working collaboratively with

the client to realise their vision,

Nick Sneller and his team created a

double storey cabin with a locally

and sustainably sourced larch

sub frame.

The pre-fabricated, modular

structure was transported to the

remote site by tractor and ground

screws drilled into the bank formed

an easy foundation system.

A solar system powers the electrics,

a borehole provides water and a

septic tank handles waste. The cabin

adheres to building control and is a

very efficient eco build with many

unique handcrafted features.

62 WWW.OPENAIRBUSINESS.COM
---
Classified Directory

TWO-WAY RADIO

SUPPORTING

YOUR EVENTS

Call FREE:

0800 043 2688

sales@dcrs.co.uk

www.dcrs.co.uk

DCRS Open Air Magazine Classified Advert.indd 1 06/12/2018 09:36

Finman

Glamping

Cabins and

BBQ Huts

From

£4,992

UNIQUE • QUALITY • CUSTOMISABLE

01389 887205 www.logspan.com

01654 700030

07956 878157

www.topcatbigtops.co.uk

Colourful

BIG TOP STYLE MARQUEES

MANUFACTURE

FOR SALE OR TO HIRE

WWW.OPENAIRBUSINESS.COM 63
---
Classified Directory

Innovative products

for Temporary Structure installations

• Structure Support and Levelling

• Modular Steps & Ramps

• Balustrades

• Cassette Floors

• Bespoke Engineering

+44 121 526 6060

info@regenteng.com

www.floorstak.com

NorthStar Leisure

The Wood Fired Hot Tub Specialists

NORTHSTARLEISURE.COM

C RE®

BAR& EVENTHIRE

Your Own

herd Huts

STYLISH CUSTOMISABLE BAR RENTAL

01453 767171

www.bondfabrications.co.uk

enquiries@bondfabrications.co.uk

DRY HIRE OR FULL SERVICE

T: 0845 299 6499 - E: sales@core-barandeventhire.com

www.core-barandeventhire.com

Call 01262 470475 or visit

www.shepherd-huts.com

Advert - small.indd 1 16/04/2021 16:04:43

64 WWW.OPENAIRBUSINESS.COM
---
PEOPLE

Behind the Scenes with…

Harry

Lonsdale

Cube Management's project coordinator gives an

insight into building the Formula E TV compound in

four days in iconic Monaco

MY CURRENT role is project coordinator and

I have been working at Cube Management

for seven months. I love the variety of my

job from running sport events like our

cycling sportive brand MadHare to sport

infrastructure projects and bespoke builds.

I studied sport business management at the

University of Worcester for four years which

I thoroughly enjoyed and feel very fortunate

to have joined Cube where I can apply my

studies in this great environment. With

projects such as the Commonwealth Games

and the Rugby League World Cup to come,

we have a very exciting year ahead!

MONACO'S E-PRIX

The Monaco Grand Prix circuit is legendary:

over 3km of winding street racing around

the waterfront and the famous Casino

Square, taking in the Grand Hotel hairpin,

the Monaco tunnel and the harbourfront

chicane. Cube had already worked with

Formula E, the increasingly popular

electric car series that has sustainability

values at its core, to deliver the entire race

accommodation infrastructure at London's

Excel last summer. This year, in addition, we

were engaged to provide an even bigger two

storey temporary structure at the E-Prix in

Monaco to house the main TV compound,

plus various ancillary buildings.

Cube's Continest units are ideal for this

type of project where access is challenging

and space is at a premium. They fold down

and stack for transport, taking up just a

fifth of the space of traditional fixed framed

buildings, meaning that all 65 units could be

transported on just nine lorries – including

all the air conditioning units and staging for

the walkways and staircases. Fewer lorries

equal reduced transport emissions: the

saving from transporting foldable buildings

for this project amounted to 24 lorries each

way. This translates to a whopping 620,884kg

of carbon emissions saved, more than the

equivalent of a long-haul plane chartered to

the USA.

PREPARATION AND PLANNING

For us, the pre-work on this project was key.

We knew that if we could prepare all the units

in our warehouse the week before, we could

keep to the tight timeline on site. All the units

had aircon holes cut and walls removed to

join some together to accommodate the

requirements of the TV control compound.

We gave each unit a number and each truck a

number so logistically we could be sure what

arrived on site when we got there.

Plant hire is always a tricky one when

working overseas; fortunately, we were able

to source a local company in Nice, France,

that could deliver on site first thing when

we arrived. In hindsight maybe having plant

delivered the day before would have been a

good idea.

I co-ordinated our project team on site,

which consisted of six people. Four crew

drove there in two vans which took two days

WWW.OPENAIRBUSINESS.COM 65
---
PEOPLE

but having the vans on site was critical as

it meant we could take all our tools with

us and go out to get parts if needed, plus

escort the trucks to site, which turned

out to be vital due to Monaco's very tight

streets.

DAY ONE – ADAPTING OUR PLANS

We arrived on site at 8am to mark out

the area and meet our site contact from

Formula E. We created a schedule of works

to keep on top of the project and luckily

were given access to site from 8am to 9pm

every day.

The first day we had to smooth out the

inevitable logistical curveballs that no

amount of planning can eliminate. The first

issue we came across was with the hired

forklift which came with a flat battery.

Then four of the trucks all arrived at once

rather than at the planned two-hour

intervals, creating difficulties with waiting

and access. Little things like this can be

really off-putting but my role is all about

adapting plans when we need to.

Once the units were offloaded, we

worked in two teams, one putting the

units up and the other moving them

into position, which enabled us to work

efficiently. At the end of the first day, we

had 17 units in place and had started to

build the stairs and walk-way.

GETTING AHEAD, DAYS TWO TO FOUR

Days two and three were a lot easier due to

having all the plant and units on site. We

were lucky to be the first people on site but

at the end of day three more contractors

were arriving to install different things.

Ensuring we were the only contractor on

site for at least the first day of the build was

great as we could have our units placed in

a holding area. Once the first 20 units were

"THE ATMOSPHERE IN

MONACO DURING RACE

WEEK WAS INCREDIBLE.

THE WATERFRONT WITH

ITS GLAMOROUS YACHTS

AND THE NARROW,

WINDING STREETS DOTTED

WITH ICONIC BUILDINGS

MAKE FOR A STUNNING

BACKDROP"

up, we started to fit them with aircon units.

We were able to have all 65 units in place

by 10am on day four, which was ahead of

schedule. This then allowed us to check all

the stairs and walkway with safety tape.

By day four the team was tired as we had

worked three back-to-back 13-hour days,

but we felt a great sense of achievement

finishing the installation. We were happy

to sign off the project at 3pm on day four

of the install with Formula E and the TV

company arriving the next day.

I think the biggest learn for us on this

project was making sure plant hire and

transport is sorted well in advance.

POLE POSITION: WATCHING THE E-PRIX

We kept a team member out there for the

whole of race week to tackle any issues

and to check the units each morning. This

happy task fell to me for the majority of

this period. The most taxing work I had to

undertake was moving our tensile barriers

to different positions according to each

day's requirements. The rest of the time I

was free to watch the action.

The atmosphere in Monaco during race

week was incredible. The waterfront with

its glamorous yachts and the narrow,

winding streets dotted with iconic

buildings make for a stunning backdrop.

It was a real thrill to mingle amongst the

crowds at the sides of the racetrack and

see the electric cars close up as they sped

past.

The next Formula E project will be back

in London, but who knows where it will

take us next year. I'm looking forward to it

already.

ABOUT CUBE MANAGEMENT

Cube Management, part of the Cube

International group, is an established, awardwinning,

event services and infrastructure

business with an industry reputation for

operational expertise, client satisfaction and

outstanding compliance proficiency. The

company is globally recognised, trusted and

has many years of experience in supporting

well-known brands, global venues and

international events.

www.cubemanagement.co.uk

66 WWW.OPENAIRBUSINESS.COM
---
ISSUE 38 | October/November 2020 | www.openairbusiness.com

ISSUE 35 | March 2020 | www.openairbusiness.com

BUSINESS

BUSINESS

ISSUE 39 | January 2021 | www.openairbusiness.com

ISSUE 33 | January 2020 | www.openairbusiness.com

FUNCTION VENUES

BUSINESS

/ /

GLAMPSITES

EVENTS

> Legalities

> Biophilic Design

> Seasonal USPs

> Bespoke Structures

> Wedding Insights

> Professional Services

CASE STUDIES: HEATON HOUSE FARM • BROOK MEADOW • DOGFEST

FUNCTION VENUES

OAB Gathering 2020 – Don't miss our very own conference this March!

Alfresco Dining

› Promoting Events

› Market Research › Testing Times

› Contingency Plans › Booking Channels › Necessary Change

CASE STUDIES:

SKIPBRIDGE COUNTRY WEDDINGS • TRECOMBE LAKES • WEEKEND AT THE ASYLUM

> Events Report

> Changing Diets

> Marquees

/ /

GLAMPSITES

CASE STUDIES:

FUNCTION VENUES

› Venue Searches

› Customer Excellence

EVENTS

STAYCATION

INVESTMENT

GLAMPSITES

› Tree Advice

/ /

› Glamping Show

CASE STUDIES:

FUNCTION VENUES

› Changing Habits

› Industry Taskforce

CHILLI BARN • MAD DOGS & VINTAGE VANS • HEVER CRAFT AND DESIGN FAIR

EVENTS

› Event Glamping

› Coping with Covid

/ /

GLAMPSITES

› Casual Excellence

› Planning Exemptions

EVENTS

THE ORCHARD AT MUNSLEY • HOLLY WATER HOLIDAYS • LANTERNS AT CHESTER ZOO

Customer

First

› 2021 Predictions

› Marketing Post-Covid

FUNCTION VENUES

› Delegation

› Instagram 1

› Start-up Venues › Small Space Design

CASE STUDIES:

HOUCHINS • THE PADDOCK RAMSBOTTOM • FRINGE BY THE SEA

/ /

GLAMPSITES

BUSINESS

EVENTS

› Placemaking

› Covid Insurance

ISSUE 40 | February 2021 | www.openairbusiness.com

SUPPLIER

SHOWCASE

BUSINESS

Spread the Word

Open Air Business is now £20 per year

If you know someone who would benefit

from a print subscription, please let them know!

With big thanks,

The Open Air Business Team

www.openairbusiness.com/subscribe
---
Take advantage of the growth in staycations and construct a luxury log holiday home.

Spacious, warm, welcoming and beautiful, a genuine log holiday home will generate year round income.

You'll be able to provide holidays that your customers will remember, and book again and again.

0845 299 6337 / INFO@SCANDINAVIANHOMES.COM

WWW.SCANDINAVIANHOMES.COM/SELF-BUILD-HOLIDAY-HOMES