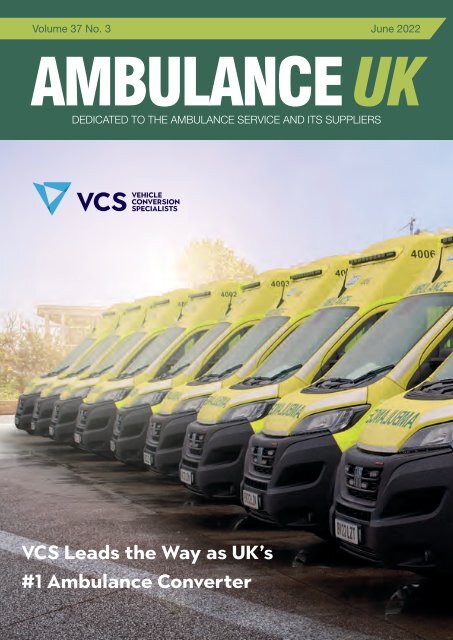 Ambulance UK June 2022
Ambulance UK June 2022
Ambulance UK June 2022
SHOW MORE
SHOW LESS
You also want an ePaper? Increase the reach of your titles
YUMPU automatically turns print PDFs into web optimized ePapers that Google loves.
Volume 37 No. 3

June 2022

DEDICATED TO THE AMBULANCE SERVICE AND ITS SUPPLIERS

VCS Leads the Way as UK's

#1 Ambulance Converter
---
corpuls now connects with iOS via Bluetooth

Ensuring patients get the most suitable treatment as quickly as possible.

Connect corpuls devices to Apple products via Low Energy Bluetooth to transmit all relevant

patient data in a bi-directional manner, as well as vital parameters and D-ECGs.

The Monitoring Unit The Patient Box The Defibrillator

Paramedics in England will benefit from the roll out of 30,000 Apple iPads aimed at increasing patient

care by faster and more accurate transfer of data, access to patient records, and virtual collaboration

with other relevant clinicians whilst on scene.

With iOS integration, EPR systems can now push patient data direct to the corpuls devices,

so the paramedics don't have to.

All D-ECGs, vital parameters and events can be sent automatically to the electronic patient

record allowing for smoother and more accurate handover of patients to receiving hospitals.

When connected via GSM or WLAN, live transmission of all mission data can be sent to

hospitals or specialist clinicians to help provide immediate support where required or

make decisions on where to take patients for further treatment.

Learn more by visiting our website: www.theortusgroup.com

Official UK supplier of corpuls

devices and software.

E: hello@ortus.co.uk

T: +44 (0)845 459 4705

W: www.theortusgroup.com
---
CONTENTS

CONTENTS

Ambulance UK

68 EDITOR'S COMMENT

70 FEATURES

After choosing Apex's Patient Transport Software, Patient

Transport UK haven't looked back

72 NEWSLINE

92 IN PERSON

94 COMPANY NEWS

This issue edited by:

Sam English

c/o Media Publishing Company

Greenoaks, Lockhill

Upper Sapey, Worcester, WR6 6XR

ADVERTISING:

Terry Gardner, Samantha Marsh

CIRCULATION:

Media Publishing Company

Greenoaks, Lockhill

Upper Sapey, Worcester, WR6 6XR

Tel: 01886 853715

E: info@mediapublishingcompany.com

www.ambulanceukonline.com

COVER STORY

PUBLISHED BI-MONTHLY:

February, April, June, August,

October, December

VCS, the UK's leading ambulance conversion specialist, has

experienced remarkable growth over recent months. January saw the

company score highest in the new NHS Collaborative Procurement

Hub Framework Agreement for Ambulance and Specialist Vehicle

Conversions, an initiative that aims to bring the specification of all

ambulances in the UK under a single standard.

The NHS framework assesses its bidders on their technical ability, their quality, and the

financial packages on offer. Achieving the highest score is a clear indication of VCS's

excellent quality, innovation, and value for money, confirming the company's position as the

leading ambulance conversion specialist in the UK.

Being accepted onto this framework allows VCS to undertake conversions of the Fiat

Ducato Dual Crewed Ambulance for NHS ambulance services across the UK, ensuring that

NHS fleets across the country have access to the most innovative, advanced, and efficient

vehicles. The company has wasted no time in getting the ball rolling, with the first batch of

the vehicles that have been produced as part of the initiative already being delivered.

This is a significant achievement for VCS, and it has pleased its ambulance fleet service

customers, who have been delighted to be able to continue their working relationship with

the company as part of the initiative.

The VCS's top spot on the framework has provided it with an excellent platform from which

to grow. This growth has been reflected in the flurry of recruitment that has been seen

across the business of late, with the company working to boost its workforce in a strategic

manner. Recent hires have come in with the aim of, for example, strengthening the

business' product development, supply chain management and manufacturing efficiency.

This, combined with the framework achievement, has seen VCS take the business to new

heights.

COPYRIGHT:

Media Publishing Company

Greenoaks

Lockhill

Upper Sapey, Worcester, WR6 6XR

PUBLISHERS STATEMENT:

The views and opinions expressed in

this issue are not necessarily those of

the Publisher, the Editors or Media

Publishing Company.

Next Issue August 2022

Subscription Information – June 2022

Ambulance UK is available through

a personal, company or institutional

subscription in both the UK and overseas.

UK:

Individuals - £24.00 (inc postage)

Companies - £60.00 (inc postage)

Rest of the World:

£60.00 (inc. surface postage)

£84.00 (airmail)

We are also able to process your

subscriptions via most major credit

cards. Please ask for details.

Cheques should be made

payable to MEDIA PUBLISHING.

AMBULANCE UK - JUNE

Designed in the UK by me&you creative

Do you have anything you would like to add or include? Please contact us and let us know.

67
---
EDITOR'S COMMENT

EDITOR'S COMMENT

Welcome to this issue of AUK

It seems both pertinent and appropriate to begin this litany with a proud nod to the Ambulance Trusts and

individual colleagues who have contributed to the ongoing humanitarian effort in the Ukraine and to extend

a UK welcome to those so sadly affected by a war they did not want. Our thoughts are with you.

AMBULANCE UK - JUNE

"I think it's just

important to

remember that,

in the quest

for efficiency,

we don't lose

sight of the

things that

make us who

we are, the

compassion

to manage

whatever we

are faced with

and the skill

to provide that

reassurance

in the worst of

times that help

is at hand."

On a similar vane, it's now 5 years since the Manchester Arena atrocity. The scars will never leave families,

friends and ambulance colleagues who were involved. It is also a sobering reminder of the way time seems

to fly by and how things have changed in a relatively short time. The pressure on today's ambulance service

has not returned to pre-covid rates and there are other changes on the horizon including GP opening

hours which may further stretch already stressed service provision. It is perhaps a good time to think

about alternatives and there are some novel solutions out there including the jetpac medic. I wonder where

science fiction becomes science fact, having said that, up here in the North we're already investing in

drones and robotic process, along with 'smart' stations and vehicles… a brave new world! I'm not sure it

will ever replace the 'human' touch but every minute shaved off the cycle times is more resource available.

I think it's just important to remember that, in the quest for efficiency, we don't lose sight of the things that

make us who we are, the compassion to manage whatever we are faced with and the skill to provide that

reassurance in the worst of times that help is at hand.

Its turning out to be a busy month with the upcoming Jubilee celebrations which will no doubt be both

a great party and at the same time a massive planning exercise, we will no doubt see a huge increase in

demand over the extended bank holiday weekend but hopefully everyone will get a chance to join in at

some point and enjoy being part of such a hugely important historical moment. Hopefully the Jubilee and

the rest of the summer will give you something back for the hardships of the last couple of years and I hope

you enjoy the family time when you have a chance.

Sam English, Co-Editor Ambulance UK

68

For more news visit: www.ambulanceukonline.com
---
We're Hiring

FREC Instructors, Medical

Instructors and Deployed Medics

We have ongoing opportunities with various roles

available. If you're interested in joining us but are

unsure if your current certifications fit the bill,

please get in touch to discuss your experience and

qualifications.

Please send us your CV and cover letter to:

recruitmentops@safeguardmedical.com

PART OF

www.prometheusmedical.co.uk
---
ADVERTORIAL FEATURE

AFTER CHOOSING APEX'S PATIENT

TRANSPORT SOFTWARE, PATIENT

TRANSPORT UK HAVEN'T LOOKED BACK

With over 15 years' experience in the industry, Bradley Woods from

Patient Transport UK Ltd has witnessed a huge evolution in how jobs

are organised. "They used to be phoned through and written down,"

he explains. "We had ledgers, folders and paperwork everywhere.

Then we moved to spreadsheets. Now with Apex PTS everything is

done within one system, managed and linked to PDAs."

CQC audit

Operations Managers are skilled at juggling many factors, but an increase

in workflow meant that Patient Transport UK had to step up a gear. "We

needed a way to streamline everything between booking and dispatch,"

says Bradley. "The requirements of the CQC were also instrumental."

Today Apex PTS enables him to have "all the ducks in a row" and the

ability to pinpoint vital information for auditing. "As our governing body,

the CQC needed essential information," Bradley explains. "We had to

time stamp and audit everything, such as the use of restraint in our

mental health work. We document it all with Apex, plus vehicle locations,

speed, journey information and audit review."

During their latest audit, they achieved a CQC rating of good. The CQC

overviewed the entire system and auditing processes; Bradley showed

evidence of secure elements of booking, and features such as Fleet

Management and Vehicle Checks. "We were able to demonstrate the

things Apex were able to provide," he says.

Customer benefits

Bradley's customers can now use the booking portal to book directly

into their system. They can also monitor the exact point of a journey.

This increases clarity when vulnerable people are being dropped off and

picked up. Bradley believes the process is now smoother and easier

for the crews because they turn up with all information already on their

screen, eliminating any confusion. "Especially," he says, "if there are

three or four bookings on the same site."

Bradley says. "Any time a defect is highlighted, I receive a report so I can

deal with that straightaway."

Fleet Manager keeps on top of MOT and licence details, and

reminders are sent through the system, a fact that Bradley

appreciates: "It's an extra layer of protections, ensuring we don't

miss anything. That's definitely a good feature."

Tracking of vehicles is now easy. Bradley doesn't need to be 'glued'

to this function, but it gives him confidence that if an investigation

was necessary, a clear and accurate picture of exact time stamps

and journey references would be available. "If we ever have to look

retrospectively," he says, "we can see what has been done and why,

and also where it happened."

Surprise benefits

Apex PTS Software is packed with features, but a crew's ability to report

delays has been an unexpected benefit. In addition, the system allows

Bradley to narrow down the fields of the reports: "Being able to create

a custom report for a customer means we are able to tailor these

reports easily and meet their specific needs. As the one who has to deal

with reports, that's a nice surprise and helpful!"

Of all the benefits, Bradley now couldn't be without the PDAs. "As long

as these guys have their devices, we can still allocate their journeys,"

he says. "That point when a journey comes in and it is allocated to

a crew, that's the essential bit. But we'll take all that's in the software,"

he adds, "as it's there!".

AMBULANCE UK - JUNE

Getting on with work

With 60 road staff and a growing customer base, a positive impact has

been the organisation of crews to cover patients with ranging needs.

In addition to work with hospitals and mental health secure transport,

Patient Transport UK offers renal and event management. The software

helps manage journeys, and Bradley can colour code what type of

journey is allocated to which vehicle, and which crew will be needed for

'x' amount of time. Today customers make bookings on the booking

portal and the new system is absolutely the norm with the crews.

"Some were a bit 'technophobic' at first," Bradley admits. "But now they

couldn't work without their PDA."

Fleet Manager and Tracking

Apex Fleet Manager allows an overview of vehicles and gives additional

reassurance through the vehicle checks a crew must carry out before

their shift. "We know that every day, every vehicle has been checked,"

70

For further recruitment vacancies visit: www.ambulanceukonline.com
---
trimbio

New & Reconditioned Emergency Response Equipment

Medical Supplies

FEATURE

Service and Repair

Reconditioned AEDs

All of our Reconditioned AEDs are professionally serviced and set up to

comply with the latest Resuscitation Council Guidelines.

Supplied with a 1 year warranty, many are also supplied with a new

battery and all come with a pack of brand new electrodes.

HeartStart FR2+

The FR2+ is extremely easy to use and very

portable, combining natural sounding voice

instructions that are loud and clear, with text

prompts on a large, bright back-lit display.

Powerheart G3

Powerheart G3s also deliver simple, clear and instructive

voice prompts and feature a text display.

Reconditioned Defibrillators

A range of Defibrillators that are designed for advanced life support in

professional emergency healthcare environments.

Lifepak ® 12

The LIFEPAK ® 12 Defibrillator/Monitor is a multi-parameter

device that combines semi-automated and manual

defibrillation with capnography, external pacing, 12-lead

electrocardiography and other monitoring functions.

Lifepak ® 20

The LIFEPAK ® 20 defibrillator/monitor is highly intuitive for

first responders, and also skillfully combines AED function

with manual capability so that ACLS-trained clinicians can

quickly and easily deliver advanced therapeutic care. The

addition of waveform capnography and wireless connectivity

enhances the ability to effectively manage resuscitation.

The Rescue Ready defibrillator technology self-tests all

main components (battery, hardware, software, and pads)

daily and will notify you if anything has failed and needs

attention.

Our range of reconditioned

defibrillators is constantly

refreshing so please check our

website to see the latest

available stock.

£250 + VAT

HeartStart MRx

Rugged, reliable, and easy-to-use, the HeartStart MRx with

the DXL 12-Lead ECG algorithm, provides industry-leading

patient monitoring capabilities, exceptional diagnostic

measurements, proven resuscitation therapies, and CPR

guidance.

£275 + VAT

Cabinets & Signage

Protecting your defibrillator is extremely important, you must make sure that you

have taken adequate precautions to keep it safe during the colder months as this

could have an impact on the efficacy of an AED in an emergency situation.

£499 + VAT

Stainless Steel Cabinet

Available either unlocked or with a fitted keypad-lock, our range

of heated cabinets are a great solution for keeping your defib

secure and warm in tough condtitions.

Vinyl/Plastic AED Signs

In the event of an emergency, clear and obvious

signage pointing towards a defibrillator will ensure

treatment can be administered as swiftly as possible.

£3.25 + VAT

Reconditioned Suction Units

We recondition several brands/types of suction units, used for the sterile removal of

any obstructions from a patients airway in the event of an emergency.

Laerdal (LSU) with Patient Canister

The Laerdal Suction Unit (LSU) is a portable, powerful and

highly reliable suction unit designed for optimal preparation in

emergency situations.

Oxylitre Petite Elite with Serres Canister

A portable suction unit offering high suction and flow rate

with a disposable 1 litre collection jar and an easy to use

luminous control panel.

£150 + VAT

Replacement AED Batteries

We stock a wide range of batteries for all of the leading manufacturers of AEDs.

BAT054

BAT070

BAT049

BAT051

BAT031

£139.95 + VAT

Service & Repair

With over 40 years experience of working with a variety of medical and rehabilitation

devices, we believe we are able to offer the best level of service in the market. With all

the latest test equipment and using up to date service standards, we can ensure your

devices are operating effectively and efficiently.

We have a team of dedicated engineers who can either come to you, or you can send

in your device to our purpose built service center located in Horsham, West Sussex.

Fill out our online form to

recieve a totally free,

no-obligation quote.

AMBULANCE UK - JUNE

www.trimbio.co.uk

Do you have anything you would like to add or include in Features? Please contact us and let us know.

T: 01403 597 597 E: sales@trimbio.co.uk

71
---
NEWSLINE

SCAS

Ambulance service

supplies vital

medical equipment

to Ukrainian field

hospitals

South Central Ambulance

Service NHS Foundation Trust

(SCAS) has sent enough vital

medical equipment to maintain

a Ukrainian field hospital for

up to two weeks – potentially

helping to save hundreds, even

thousands, of military and

civilian lives in the country.

A team of staff have volunteered

their free time over to co-ordinate

a collection of decommissioned

supplies and equipment from

across bases in Hampshire,

Oxfordshire, Buckinghamshire,

Berkshire, Surrey and Sussex.

The equipment includes

traction splints, neck collars,

back boards, tourniquets,

stretchers, blankets, blast and

field dressings, decompression

needles, chest seals, bandages,

haemostatic agents to stop

bleeding, extrication devices

(used to remove victims of traffic

collisions) and cannulas for types

of intravenous access.

The supplies filled one full lorry

going directly to field hospitals to

enable some of the most severely

injured soldiers and civilians to be

kept alive for up to 24 hours while

they await emergency surgery in

hospital.

As of 31 March, the Office of

the UN High Commissioner for

Human Rights (OHCHR) had

recorded 3,167 civilian casualties

since the launch of Russian

invasion on 24 February – 1,232

killed and 1,935 injured – with

the actual figures likely to be

considerably higher.

Kate Ellis, a Paramedic Team

Leader in Oxfordshire who has

been helping to coordinate

the SCAS response, said:

"The response we have seen

throughout the organisation has

been incredible from the very

start and we have now ramped

it up further with the donation of

medical supplies and equipment

which we know are so desperately

needed in the conflict zones.

"This will help to ensure people

can receive care for up to 24

hours while they await emergency

surgery in hospital, meaning

there is the potential for this work

to help save hundreds, if not

thousands, of lives.

"We estimate our volume of

supplies will be able to supply one

field hospital for up to two weeks

and some of the equipment – such

as the long boards and extrication

devices – is of course reusable."

In addition, another two lorries are

set to be loaded with additional

donations from staff, members of

the public, community groups and

businesses from across the south

and forms part of a large-scale

donation effort coordinated from

Didcot, Oxfordshire.

This has already seen seven

heavy goods vehicles packed with

clothing, food and drinks, blankets,

toiletries, baby products, first aid

equipment and medicines reach

Ukraine, with the next three loads

leaving Boundary Park sports facility

in Didcot.after a final collections on

Friday 1 April and 2 April.

Along with the medical

supplies, the team has been

inundated with first aid supplies

(bandages, plasters, dressings),

over-the-counter medicines,

food, refreshments, camping

equipment, baby and child

clothing and baby items including

nappies, wipes, formula and

bottles.

Will Hancock, Chief Executive of

SCAS, said: "We are all extremely

proud of this work to support

those most in need. The resolve

everyone has shown to not only

keep delivering in the day job after

such a tough time of late but also

drive forward with this outstanding

voluntary programme is truly

amazing."

The lorries will be driven by

Ukrainian nationals who will leave

Didcot for their final destination of

a depot in Lviv in Eastern Ukraine

where they will be unloaded and

the supplies taken further into the

country by humanitarian groups.

SAS

New boost for

SAS's mental health

provision

AMBULANCE UK - JUNE

The Service has been provided

with £1.6 million by the Scottish

Government over the last three

years as part of their Mental

Health Strategy. The funding

has supported mental health

care initiatives, including

establishing and staffing mental

health triage cars, and boosting

the care and support offered to

individuals and communities.

This investment supports the

recruitment of 21 new mental

health staff, including thirteen

mental health paramedics and

a manager, four mental health

72

For more news visit: www.ambulanceukonline.com
---
NEWSLINE

dispatchers and three clinical

effectiveness leads. These leads

offer support across a range

of work streams, with a focus

on education, mental health

pathways and connecting with

key partners.

The funding is also assisting with

the continuation of the Service's

Mental Health Triage cars,

which provide specialist care to

people who are experiencing

mental health challenges and

have contacted the Scottish

Ambulance Service for help.

These Mental Health Triage

cars offer an adaptive and

approachable way of responding

to people experiencing mental

health distress, with a joint

response from a mental health

practitioner and a paramedic,

to meet the patient's immediate

needs. There are three mental

health cars available for the east,

west and the north, and are

based in Dundee, Glasgow and

Inverness.

The Service has a further range

of support services in place for

people calling 999 to report

mental health distress. SAS has

partnered with NHS 24 and

Police Scotland as part of the

Enhanced Mental Health Pathway

to continue the development of

a Mental Health Hub which is

hosted within NHS 24. Accessible

for patients 24 hours a day, the

Hub is staffed by psychological

wellbeing practitioners, mental

health nurse practitioners and

mental health senior charge

nurses. In support of the Distress

Brief Intervention (DBI) national

roll-out, SAS continues to connect

people in distress through this

initiative, offering a response to

people who have called 999.

The Scottish Ambulance Service's

Regional Director for the East

region, Kenny Freeburn, said:

"This funding continues to support

the expansion of our initiatives to

help in how we care for people

experiencing mental health distress.

"It's estimated that at least one

in four people a year in the UK

will experience mental health

challenges, and the number of

people contacting the emergency

services about mental health

concerns is also increasing.

"Our clinicians are often the first

responders to have contact with a

person experiencing mental health

distress. Our ambition across all

our initiatives is to connect people

to the most appropriate care to

meet their needs in as timely a

manner as possible."

Mental Wellbeing Minister Kevin

Stewart said:

"Mental wellbeing is more

important than ever right now and

I am pleased to see this initiative

being established as part of the

Scottish Government's mental

health strategy. With these three

triage cars and over 20 dedicated

roles within this service, it means

people in need of mental health

support will get it quicker and that

can only be a good thing."

Your first choice in

infection control

Our range of single use

respiratory products may be

used to help reduce the risk of

cross contamination between

patients and health care workers

in the pre-hospital and clinical

environment.

• i-view video laryngoscope

• High efficiency breathing filters

and HMEFs

• i-gel ® supraglottic airway and

i-gel O2 Resus Pack

• FiltaMask medium

concentration oxygen mask

• Bag-Valve-Mask (BVMs)

Helping to reduce the risk

of cross contamination

View our full product range

www.intersurgical.co.uk/info/InfectionControl

Quality, innovation and choice

AMBULANCE UK - JUNE

lnteract with us

www.intersurgical.co.uk

73
---
NEWSLINE

Rhondda Cynon Taf

ambulance worker

is tackling Mount

Kilimanjaro to raise

money for The

Ambulance Staff

Charity (TASC)

Darren Panniers, Welsh

Ambulance's Head of Service

for the South East Region, will

be taking on the gruelling climb

to Africa's highest point later

this year to raise vital funds

for the national charity that's

dedicated to supporting his

ambulance colleagues in their

time of need.

Just eight weeks after his 50th

birthday, Darren will be setting

off on his journey to Tanzania to

begin his bucket-list challenge. He

will leave Kilimanjaro basecamp

on the 17th June 2022 and over

the following seven days Darren

will face a steep 6km climb to

the mountain's summit and back

which will take him through

tropical rainforest and snowcapped

peaks.

At 5,895 meters (19,341 feet)

Mount Kilimanjaro is the highest

mountain in Africa and the tallest

freestanding mountain in the

world. According to Tanzania

National Parks, Kilimanjaro

attracts 50,000 climbers a year,

about 50 times the number

attempting either Everest. Darren's

love of walking and hill climbing

first started during his career as a

Royal Marine. Darren says:

"I love the outdoors and to climb

one of the highest peaks in the

world has always been on my

bucket list. I'm really excited to

get started and have been doing

lots of training and hill practice.

My only slight worry is how I'll

handle the altitude challenges, as

it's almost impossible to prepare

for, but I'm not letting it stop me."

An Cwmaman-native, Darren has

spent over 20 years in the Welsh

Ambulance Service and has

performed many roles throughout

his career. Originally joining the

service in 1999 as an Emergency

Medical Technician, Darren has

also served as a Paramedic,

Clinical Team Leader, and

Operations Manager. Darren is

currently the Head of Operations

for the South East Region which

includes Caerphilly, Blaenau

Gwent, Monmouthshire, Torfaen,

Newport, Cardiff and the Vale of

Glamorgan.

Darren is taking on this oncein-a-lifetime

challenge to raise

money for TASC, The Ambulance

Staff Charity. Launched in 2015,

TASC is the national charity

dedicated to caring for the

mental, physical and financial

wellbeing of the UK's ambulance

community including serving

and retired staff, their family

members, ambulance service

volunteers and paramedic

science students. Speaking

about why he's supporting TASC,

Darren said:

to reach £5,000 by the time he

starts his climb, which could

help TASC pay for 112 mental

health support sessions or

139 hours of physiotherapy

for ambulance staff injured

in the line of duty. Darren is

raising funds through an online

JustGiving page:

https://www.justgiving.com/

fundraising/darren-panniers

Karl Demian, TASC's Chief

Executive Officer, said:

"We're very grateful that Darren

has chosen to fundraise for

TASC to help his colleagues.

Demand for TASC's services

is growing rapidly, and we're

seeing a 400% increase in

people contacting us when

compared to 2017/18.

Ambulance staff have one of

the most stressful jobs in the

UK and the long-term impacts

of Coronavirus are making their

job that much harder. Right now,

ambulance staff need TASC

more than ever, and we need

the support of the general public

"I have seen first-hand the great

work ambulance staff do to

support their patients; however,

the job can take a real toll on

staff, and sometimes they need

to ensure TASC can continue

being an independent source of

support for the UK's ambulance

community in their time of need."

a bit of extra help to get back

on top. From my experience as

a paramedic and as a manager,

I've seen the difference TASC has

Jason Killens, Chief Executive

of the Welsh Ambulance Service

said:

AMBULANCE UK - JUNE

been making to my colleagues,

not just with their mental health,

but their physical health and

finances too. The work TASC

has done for Welsh Ambulance

staff is fantastic but we're just a

small part of the UK's ambulance

service. I'm doing this climb for

TASC because I want to give

back to the charity so that they

can continue providing their vital

support to my colleagues across

the UK."

So far, Darren has raised over

£3,600 for TASC and is aiming

"After a long delay due the

pandemic travel restrictions,

the moment has finally arrived

for Darren, and we couldn't be

prouder of him for choosing to

support TASC.

Ambulance staff across the UK

have faced what may prove to

be the most challenging period

of their career of late, and the

wellbeing services that TASC

provide free of charge are

proving vital. Good luck, Darren.

We'll all be rooting for you back

in Wales."

74

For further recruitment vacancies visit: www.ambulanceukonline.com
---
NEWSLINE

ONE OF THE MOST TECHNICALLY

CAPABLE & ADVANCED SPECIALIST

VEHICLE CONVERTORS IN EUROPE

Superb quality, innovation and value for money

lead VCS to be the convertor of choice on the

NHSi Framework for the Duel Crewed Ambulance.

Lightest DCA on the market

Class leading fuel consumption

Lowest CO2 and NOx emissions

CEN compliant and Type Approved

For the latest Ambulance Service News visit: www.ambulancenewsdesk.com

0800 304 7958

www.vcs-limited.com

AMBULANCE UK - JUNE

75
---
NEWSLINE

WAS

Welsh Ambulance

Service commends

military's

contribution to

Covid-19 effort

The Chief Executive and Director

of Operations presented a

commemorative plaque to

colleagues at Cardiff's Maindy

Barracks as a token of its

appreciation.

29 March 2022 marked the

military's last shift with the service.

"We've enjoyed a long and fruitful

relationship with the military, which

has been further strengthened as

a result of their support through

Covid-19.

"We were thrilled to present

colleagues with a token of our

appreciation today."

order to lessen the impact on

patients, which has included the

recruitment of 100 Emergency

Medical Technicians who will

become operational in May.

"This will bring the total growth in

new frontline posts to over 260 in

the last 24 months.

The Welsh Ambulance Service

has extended thanks to the

Armed Forces once again

for its support through the

coronavirus pandemic.

Ahead of winter and the

emergence of the Omicron

variant, the Trust secured military

assistance to increase emergency

ambulance capacity across Wales.

At peak were 235 Armed Forces

personnel from the British Army,

Royal Navy and Royal Air Force

who joined the service in October,

which was the third occasion the

Trust had enlisted military support.

Director of Operations Lee Brooks

said: "The pandemic has been

one of the toughest chapters in

our history but having the military

on board was a huge help in the

collective effort against Covid-19.

"Since re-joining us in mid-October,

military colleagues have put in more

than 11,500 shifts – or 121,395

hours – to bolster our capacity and

help us deliver the best service we

can in the face of extreme pressures.

"We also thank our staff who have

worked differently to maximise

benefits for as many patients as

possible.

Chief Executive Jason Killens

added: "This was the third

occasion that we had enlisted

military support through the

pandemic, in what was always a

time-limited agreement to bolster

our capacity during the busy

winter period.

"We're extremely proud and grateful

for military support, but long-term

it is not the role of the military to

compensate for the complex and

long-standing issues in the NHS.

"We've been making preparations

over many months for the

withdrawal of the military in

"We're also doubling the size of

the control room's Clinical Support

Desk, which means that we can

assess more patients – up to 15%

– over the phone, which negates

the need to send an ambulance.

"Despite the growth in our

workforce, the reality is that some

patients will still wait longer than

we would like in the coming

weeks while pressures remain

across the wider NHS urgent

and emergency care system that

inhibit our ability to respond.

"The public can play their

part by making use of the full

AMBULANCE UK - JUNE

76

AVS STEPS_Ambulance UK Half Page Advert_June 2021_FINAL.indd 1 01/07/2021 18:04

For more news visit: www.ambulanceukonline.com
---
NEWSLINE

range of options available to

them, including the NHS 111

Wales website for advice and

information, Minor Injury Units,

pharmacists, opticians and GPs."

Jason added: "Military support

has not only strengthened our

existing relationships with the

Armed Forces community but has

opened up new opportunities for

collaboration in future.

"We hope that their glimpse into the

world of the ambulance service has

been as rewarding an experience

for them as it has been for us."

More than 20,000 military

personnel were tasked with

supporting public services across

the UK during the pandemic as

part of a 'Covid Support Force'.

Also among the ambulance

services supported by the military

were East Midlands Ambulance

Service, South Central Ambulance

Service and North West

Ambulance Service.

Military support of the Welsh

Ambulance Service, under what

is known as Military Aid to the

Civil Authorities (MACA), has now

drawn to a close.

Brigadier Andrew Dawes CBE, the

Military Commander for Wales, said:

"We are humbled to receive this

commemorative plaque from the

Welsh Ambulance Service today.

"It represents the culmination of a

great collaboration during the past

two years.

"It has been an extraordinary time

for everyone during the pandemic.

"The military support we have

provided since March 2020 –

known as Operation Rescript

– has seen service personnel

involved in a wide variety of tasks

in support of the civil authorities.

"In that time, we have learned a

huge amount and made many

new friends across the length and

breadth of Wales.

"As we conclude our support to

the Welsh Ambulances Service

today, the soldiers, sailors and

airmen, drawn from dozens of

units across the UK, can be rightly

proud of their contribution.

"It has been an utter privilege to

support the ambulance crews on

many thousands of callouts.

"We now return to our normal

duties, but we depart with renewed

respect for our emergency services

who do such a fantastic job for us

all day in, day out.

"Thank you for allowing us to be a

small part of your amazing team."

NWAS

Ambulance trust

scoop a string of

environmental

awards marking its

efforts to reach zeronet

carbon emissions

North West Ambulance Service

(NWAS) has been honoured

with the highest number of

awards of any health trust in

Europe following a programme

of initiatives to produce more

eco-friendly energy by 2040.

Taking home gold for Greenhouse

Gas Reduction and Climate

Leadership and silver for Climate

Resilience and Renewable Energy,

the accolades – awarded by

Health Care Without Harm - are

in recognition of the trust's Green

Plan response to the wider NHS'

commitment to climate change.

As part of the plan, NWAS has

committed to:

• 51% reduction in carbon by

2025 (1990 baseline).

• Net Zero Carbon by 2050.

• Cut business mileages and fleet vehicles will be fully electric within

air pollutant emissions by 20% the next few years, so we'll

by 2023/24.

see more charging points and

• Ensuring at least 90% of infrastructure to support them on

the fleet uses low-emissions our sites.

engines (including 25% ultralow

emission) by 2028.

"Estuary Point, our office and

• Phasing out primary heating contact centre site in Merseyside,

from coal and oil fuel in NHS has had 65 solar panels installed

sites.

following a string of initiatives

to reduce fossil fuel use and

Environmental leads and

decrease carbon emissions at the

executives across the trust site. The solar panels will provide

have made significant headway an eighth of Estuary Point's

in reducing its overall carbon electricity consumption, around

footprint including the introduction 60,000 kWh – that's equivalent to

of electric-powered logistic fleets, boiling a kettle 600,000 times!"

becoming 100% LED compliant

and solar panelled energy at its Later this month, the trust

office and contact centre bases. anticipates the arrival of three

zero-emission vehicles to join the

Chief Executive at NWAS, Daren emergency fleet as part of an NHS

Mochrie said: "We are very England funded pilot to test and

passionate about reducing our evaluate the effectiveness of such

carbon emissions and working vehicles in the emergency service.

more sustainable to ensure we One will be based in a rural location

meet our targets to better our own and the other in an urban city.

health, that of our communities

and the health of the planet." Commenting on the award wins,

Assistant Director of Estates

"Earlier this year, the transport and and Fleet Neil Maher said: "I am

logistics department acquired two very pleased about receiving

fully electric-powered vans for its these awards in recognition of

Preston base. The department is our commitment and excellent

in charge of transporting, amongst achievements to date in a broad

other things, mail, bloods, PPE range of activities and at all levels.

and specimens for NWAS and

other NHS partners and we "It's also a recognition of the

are now seeing around 10% of passion and commitment shown

the team's mileage delivered by individuals and teams within

by electric vehicles and this the organisation. This isn't the end

continues to grow each month. of our journey, but the start and I

The team's fleet of 15 logistics look forward to continuing it."

NWAS Transport Supervisor with electric logistic van

AMBULANCE UK - JUNE

For the latest Ambulance Service News visit: www.ambulancenewsdesk.com

77
---
NEWSLINE

As allergies rise

32%, are climate

change measures

adding to the

problem?

NHS data says 1 in 4 people

have allergies, but the latest

results from London Medical

Laboratory show it is likely to

be as high as 1 in 3. It says

climate change is exposing us

to new allergens, but cautions

some measures aimed at

halting global warming could

actually put us at a higher risk

of asthma or anaphylaxis.

There has been a significant

increase in the amount of people

developing reactions to allergens

such as pollen and insect venom.

The National Health Service

traditionally states that around

one in four Brits will be affected

by allergies at some point in

their lives. However, new data

from London Medical Laboratory

reveals one in three people are

now showing potentially severe

allergies – 32% more than

previous estimates.

The leading testing expert, Dr

Quinton Fivelman PhD, Chief

Scientific Officer at London

Medical Laboratory, says:

'Looking at the results of our

allergy tests, there have been

a considerable jump in the

number of people showing high

sensitisation to allergens. With

most allergies, the first exposure

sensitises our body to a particular

allergen, so that the second

time we come into contact with

particular pollens or are stung, for

example, the reaction could be far

worse.'

'It's highly likely that climate

change is one of the key reasons

for this rise. The warmer weather

means non-native plants and

insects are becoming established

in the UK, and the pollen season

is getting longer.

'New University of Michigan

research reveals that, by the

end of this century, global pollen

emissions could begin 40 days

earlier in the spring compared to

1995. Allergy sufferers could see

that season last an additional 19

days before high pollen counts

subside.

'As the average UK temperature

rises, new species of plants,

grasses and trees are taking

root here. These bring with them

new pollens. Brits will have to

get used to a wider varieties of

insects in the future as well. For

example, the first colony of paper

wasps was found in Warwickshire

in 2019. These usually live in

southern Europe, where it is far

warmer. The venom in their sting

is a known trigger of allergic

reactions.

'Ironically, some measures being

introduced to counteract global

warming could also be increasing

our exposure to potential

allergens. To help meet the

UK's target of offsetting carbon

emissions, the Government plans

to increase woodland cover in the

UK from 13% to 19% by 2050.

Fast-growing, non-native conifers

are being recommended by

some scientists. These trees will

expose us to new pollens. London

Medical Laboratory's allergy test

looks at pollens from coniferous

trees as diverse as Arizona

cypress and mountain cedar, the

latter being a notorious trigger for

"cedar fever" allergy in parts of

America.

'As the world tries to grow

greener, there will also be an

increased emphasis on easting

less meat. Cattle produce

methane, a greenhouse gas with

a warming potential more than

28 times that of carbon dioxide

(Co2). To increase grazing land,

forests around the globe are

A WORLD OF COMFORT

CLIMATE

CONTROLLED

HEALTHCARE

AMBULANCE UK - JUNE

Simple to use, effective in performance and reliable in

operation. The Eberspächer climate control system.

On the move comfort for patient and healthcare

professionals.

See us at THE EMERGENCY FLEET EXH. Stand 42

| WWW.EBERSPACHER. COM

TEL: 01425 480151

78

For further recruitment vacancies visit: www.ambulanceukonline.com
---
NEWSLINE

being destroyed. Food scientists

are increasingly investigating a

far more compact, protein-rich

source of food – insects. For

example, crickets are superfoods

of the near future, containing 12

times more protein than beef.

'Unfortunately, insects are also

potential allergens. Crickets and

mealworms may be staple foods

of the future, but our tests are

detecting quite high sensitisation

levels among people who have

tried them once. They may be

similar to shellfish as a potential

cause of allergic reactions.

'Despite these issues, something

clearly must be done to reduce

pollution. Co2 levels are now

known to directly increase

the quantity of pollen in the

atmosphere. A recent study in the

European medical journal "Allergy"

revealed that plants produce

more pollen as a response to

high atmospheric levels of carbon

dioxide.

'Allergy tests typically grade

people's reactions to many

common and less familiar

potential allergens from 0 to 4.

A level 4 result indicates high

sensitisation has taken place,

which could prompt a reaction

such as an asthma attack or

anaphylactic shock if they are

exposed to the substance again.

'Overall, we are seeing a higher

number of level 4 results than

previous official figures would

lead us to expect. Our latest data

aligns with recent findings from

the Natasha Allergy Research

Foundation, which shows the

number of people living with

allergies in the UK is rising by 5%

every year.

'That's why we need to be testing

for more potential allergens, as

the UK's climate changes. London

Medical Laboratory's new Allergy

Complete blood test is the UK's

most comprehensive allergy

test, analysing 295 allergens,

from paper wasp venom to

mealworms, as well as all the

traditional British allergens from

dust mites to bee stings.

'For anyone concerned about

their future reaction to a sting,

certain foods or pollens, London

Medical Laboratory's Allergy

Complete is highly accurate, quick

and simple to carry out, either

at home through the post, or at

one of the many drop-in clinics

that offer this test across London,

the southeast and selected

pharmacies and health stores.

For full details, see: https://www.

londonmedicallaboratory.com/

product/allergy-complete

New helipad opens

at Scarborough

Hospital

A new, lifesaving helipad is now

open at Scarborough Hospital

that will enable seriously ill

and injured patients to have

immediate access to the

Emergency Department after

landing by helicopter.

Thanks to a £500,000 donation

by the HELP Appeal, the only

charity in the country dedicated

to funding hospital helipads, work

began in December on the new

31 square metre helipad, destined

to help to save the lives of people

living, working and visiting in the

region.

The new larger helipad means

that as well as landing the air

ambulance, the much larger

search and rescue helicopter

will also be able to land near the

hospital, making a huge difference

for incidents out to sea.

By significantly reducing transfer

times, patients with serious

injuries, such as those caused

by road accidents can be

transported by air from rural

locations.

State of the art lighting will be

installed to enable landings

during darkness hours, meaning

that patients can be taken by

air to Scarborough Hospital 24

hours a day for the first time.

Patients at risk can also be swiftly

transported to major centres of

clinical expertise for specialist

treatment.

The helipad has been relocated

to free up space for the muchanticipated

new Urgent and

Emergency Care and Critical Care

Departments at Scarborough

Hospital.

Simon Morritt, Chief Executive,

York and Scarborough Teaching

Hospital NHS Trust, said: "Thank

you to the HELP Appeal for this

generous donation – without

doubt we could not have

achieved this without their help.

As a coastal town Scarborough

faces unique challenges with

its rural location and the sea on

one side. The new helipad will

make an enormous difference

at Scarborough Hospital and

will benefit residents and the

countless visitors to the town for

many years to come."

The hospital's Deputy Medical

Director, Ed Smith, said: "It is

really going to transform our ability

to manage transport in and out

by air. "It gives us the ability to

receive all types of helicopters

and enables 24/7 access and

night landings that we didn't have

before. It is clinically critical we

have this access for patients and

it enables us to bring patients

from all over the region for

emergency medical care."

Robert Bertram, Chief Executive

of the HELP Appeal, said: "It is

always great to see our projects

coming together. Many people

may just see a piece of concrete,

but helipads are lifesavers in their

own right and just as important as

hospitals and air ambulances in

giving a patient the best possible

chance. We are delighted that

construction has run smoothly

and the helipad is up and running

and saving lives."

Abby Barmby, Director of

Marketing & Communications for

Yorkshire Air Ambulance said:

"We were absolutely delighted

to attend the official opening of

the new Scarborough Hospital

Helipad today, even if our

helicopter was unfortunately

required elsewhere. Provision

of a primary landing site at any

hospital for the YAA helicopters

land is key to our operations.

The swift transfer of the patient

from our helicopter straight into

the hospital is crucial, and having

an appropriate landing site that

can facilitate this is vital. The

investment that has been made in

the new helipad at Scarborough

will only enhance patient care,

delivery and safety."

AMBULANCE UK - JUNE

Do you have anything you would like to add or include in Newsline? Please contact us and let us know.

79
---
NEWSLINE

Finnish hospitals up

preparedness with

new technology

All five University Hospitals

in Finland come together to

implement the new isolation

and transport system. With

EpiShuttles at all hospitals,

Finland stands better prepared

facing new pandemics or

chemical and nuclear threats.

As one of the actions to increase

Finland's preparedness, the

five university hospital districts

jointly procured the so-called

EpiShuttles, a Norwegian

invention that isolates a

contagious patient while being

treated.

- We are implementing a highly

efficient tool to transport patients

with highly contagious disease,

or chemical, biological or other

contamination necessitating

isolation. The single patient

isolation and transport unit is

designed to provide maximum

public safety while allowing

critical care and treatment to be

performed on the contaminated

patient inside. The unit can be

used for patient transport through

air, land and sea in collaboration

with the Finnish Border Guard

and Defence Force units when

needed, keeping society safe,

Tom Silfvast, Chief Medical Officer

at the Preparedness Unit at

Helsinki University Hospital, said.

The procurement of the nine

EpiShuttles are financed by the

Government and steered by the

Ministry of Social Affairs and

Health. The new equipment will be

used in all the areas that the five

University Hospitals covers.

IPRS Aeromed are now recruiting Paramedics & Nurses

What sets us apart is the

experience and skills of our

valued clinicians who are

well-versed in managing

patients from around the

world in a wide variety of

settings.

Primarily established to work in

the world of international

medical repatriation, the

business has evolved to provide

expert clinical solutions across

a variety of specialist sectors

and services.

Ready for the next pandemic

Back in 2018, the WHO made a list

of 10 diseases with the potential to

cause a public health emergency.

On that list was Disease X, a

pathogen currently unknown. As

it turns out, Disease X was the

coronavirus. However, the threat

of yet another new pathogen

emerging, has never been greater.

- With this new technology we

stand better prepared for a new

pandemic. Contagious patient

logistics are complicated. Finland

has a lot of remote areas, and

transporting contagious patients

fast over long distances, into

hospitals for treatment is a severe

challenge. Time consuming

disinfection procedures of

helicopters, aircraft and

ambulances after each transport

threaten capacity. Not knowing

what comes next, the EpiShuttle

is our best option. We now stand

ready to deploy if needed, Sanna

Hoppu, Associate Professor

and Chief Physician at Tampere

University Hospital, said.

AMBULANCE UK - JUNE

Join a team that's really going places!

https://iprsaeromed.com/jobs/ or email IPRS Aeromed

Recruitment aeromed.recruitment@iprsgroup.com

Safe transport of contagious

patients is essential when

handling the epidemic. The

Johns Hopkins Center for Health

Security in partnership with

the World Economic Forum

and the Bill and Melinda Gates

Foundation recommend such

medical countermeasures as the

EpiShuttle represent at a "Disease

80

For more news visit: www.ambulanceukonline.com
---
NEWSLINE

X dummy run", the so-called

Event 201.

- Patient transport to where ICU

capacity is available has proven

to be a crucial piece of the puzzle

when handling a pandemic. Only

when safe transport is in place

can we utilize the full capacity of

the entire health care system and

ensure treatment for everyone,

Ellen Cathrine Andersen, CEO at

EpiGuard said.

The WHO R&D Blueprint Special

Advisory Group said, "History

tells us that it is likely the next

big outbreak will be something

we have not seen before." This

still goes, and a Disease Y can

surface at any time.

The UN Humanitarian Response

Depot (UNHRD) holds six

EpiShuttles, for safe transport of

contagious patients. Congo was

the first place they dispatched,

during the Ebola outbreak. UNHRD

offers storage at no cost at six

strategically located locations near

major ports and airports.

EpiShuttles are used by WHO

as well as first responders in

Germany, Belgium, Denmark,

Peru, Ireland, Greece, Norway,

and the UK. Also, national air

forces like the British, Australian,

Canadian, Danish, Norwegian

and others are equipped with

EpiShuttles. In the private sector,

EpiShuttles are a common sight

amongst companies like FAI air

ambulance, Air Alliance Medflight,

DRF Luftrettung, Keewatin Air,

Luxembourg Air Rescue, Loganair

and others.

North East Ambulance Service

(NEAS) opened its third base

at Wynyard Business Park in

Billingham in October 2018 in

order to house additional clinicians

for its Clinical Assessment Service

(CAS), which was expanded as

part of the five-year Integrated

Urgent Care Service contract,

worth £55 million, won by the

Trust earlier that year.

Now, after gaining additional

funding for more health advisors,

the Trust is now in a position to

begin using the base as a third

Emergency Operations Centre,

complementing the bases in

Newcastle and Hebburn.

The new team of 44 health

advisors (consisting of existing

staff transferring and new health

advisors), together with a new

section manager, and six team

leaders moved in on Monday 9

May.

The building is named Winter

House in memory of the Trust's

former chairman, Ashley Winter,

who passed away in April 2018.

Stephen Segasby, chief operating

officer at NEAS, said: "Our

Clinical Assessment Service has

been running successfully from

Winter House since 2018, and it's

fantastic to be able to make more

use of the building by securing

additional investment from our

commissioners to expand our call

handling capability amid rising 999

and NHS111 calls.

"Having a third base for call

handling allows us to provide

additional resilience for our call

handling capability across the

North East, and has also allowed

us to recruit from a larger pool of

candidates in a very competitive

local job market by being able to

offer a location in the Teesside

area, as geography had previously

prevented people from being

able to apply to work within our

Emergency Operations Centre."

Chris Dawson, deputy

chief operating officer for

the Emergency Operations

Centre, added: "We received

an overwhelming number of

applications for the new roles,

which shows us how welcome a

third base has been in the local

community.

"What's particularly pleasing to see

though is that the management

team established at Winter House

has been recruited primarily through

internal promotion; one of our

current team leaders has been

promoted as our new section

manager, three new team leaders

have progressed from roles within

the senior health advisor team

and two new team leaders have

progressed from the health advisor

role. Progression on this scale

has only been possible through

the expansion of our Emergency

Operation Centre sites and presents

an exciting new start for them all.

Judith Grieves has taken on the

role of section manager, having

originally joined NEAS as a health

advisor in May 2013, before

progressing to team leader in

October 2015.

She said: "There is already a

significant clinician base at Winter

House, and it is my aim to mirror

the close working relationships

we have within the two current

Emergency Operations Centres.

We will operate as a cohesive

team ensuring the health advisors

have full on-site support from the

clinician team".

"I'm really looking forward to

welcoming a substantial number

of new staff to the health advisor

team as well as enabling existing

health advisors to transfer and

work closer to home."

One of the new team leaders

is Jonathan Tones, who joined

NEAS as a NHS111 health advisor

in June 2015, before progressing

to 999, a coach and then a senior

health advisor.

"I'm really excited to be part of the

new site," he said. "I'm looking

forward to helping develop and

grow our new health advisors and

doing the best for our patients."

NEAS

New ambulance

call centre opens in

Teesside

A brand-new team of health

advisors is ready to take the

region's 999 and 111 calls from

Teesside.

AMBULANCE UK - JUNE

For the latest Ambulance Service News visit: www.ambulancenewsdesk.com

81
---
TESTED

• More than two thirds (67%)

AMBULANCE UK - JUNE

ADVANCED

AMBULANCE SEATING

M1 SEATS APPROVED TO LATEST

R44.04 CHILD SEAT STANDARDS

Contact us for further

information and brochures

More than half of

Brits unaware that

stroke is one of the

biggest killers in

the UK, according to

Stroke Association

study

More than half of Brits don't

know that stroke is the fourth

biggest killer in the UK,

according to new research by

the Stroke Association 1 . The

charity has released the survey

findings as it calls for vital

support to fund more research

into the devastating condition.

A stroke happens when the

blood supply to part of the brain

is cut off, killing brain cells. The

charity's latest study asked the

general public to rank health

conditions in order of the leading

causes of death. 51% of people

who ranked stroke placed it

below its actual position as the

fourth biggest killer 2 .

The research also revealed that

almost a fifth of people (18%)

underestimate the impact of

stroke, believing that stroke

ranks lower than its actual

position as the fifth leading

cause of disability (and death

combined) in the UK 3 . In fact,

two thirds of people who survive

a stroke find themselves living

with a disability.

There are 1.3 million stroke

survivors living in the UK, with

over 50% of all stroke survivors

dependent on others for

everyday activities. However,

the Stroke Association's survey

also found that people don't

understand the true long term

damage a stroke can cause:

• More than two-thirds (67%) of

people are unaware that fatigue

is a common hidden effect of

stroke

don't realise that stroke can

cause depression and anxiety

• Around a third of people (32%)

don't know that communication

difficulties are common after

stroke

• Almost three quarters of people

(74%) don't know that stroke

can affect hearing

• Two thirds (66%) are unaware

that stroke survivors can

experience vision problems.

Despite the devastating impact

of stroke, stroke research is

chronically underfunded and

receives far less funding than

other health conditions that have

similar life-long effects. In the UK

far less is spent per survivor on

research into stroke than research

into any other health condition.

Data shows that annually, only

1.2% of research budgets

(approx. £30m) are spent on

stroke, compared with 14.8%

(approx. £400m) on cancer 4 , while

there are 1.3m people living with

the effects of stroke in the UK and

2.5m living with cancer. However,

the survey reveals many Brits

believe more research funding

is spent on stroke than other

conditions including prostate

cancer, dementia and chronic

lower respiratory diseases.

The study also found that almost

half of people (46%) think that

the number of deaths from stroke

has increased in the last 10 years.

However, despite stroke being the

UK's fourth biggest killer, the rate

of deaths has actually decreased

by more than half in the last three

decades thanks in part to life

saving research 5 , demonstrating

the crucial need for continued

investment in stroke research.

Sam Webb, DPhil student at

the University of Oxford, said:

"Problems with memory and

82

For further recruitment vacancies visit: www.ambulanceukonline.com
---
NEWSLINE

thinking are very common after a

stroke and have a huge impact

on a stroke survivor's ability to do

everyday tasks such as going to

the supermarket or using money.

"It's vital that these problems

are detected early on. However,

current methods to assess

thinking problems after a stroke

do not replicate a stroke survivor's

real-life experience. With the

support of the Stroke Association,

I'm working on a promising new

test – OxMET – that replicates

a real-life shopping experience

on a computer tablet and will

accurately assess a stroke

survivor's ability to do complex

thinking tasks. The test is easy

to use for stroke survivors with

movement and communication

problems and is simple to roll

out in hospitals. OxMET is a

cornerstone of advancing stroke

research and care and will enable

us to understand the thinking

problems stroke survivors struggle

with daily, so we can develop

new tailored treatments that allow

stroke survivors to live their best

possible lives after a stroke"

Glen Eastick also wants people

to realise that stroke can affect

people who are young and fit –

he was just 33 when he had his

stroke in July 2020.

Glen's symptoms started while he

was preparing his lunch. "I briefly

lost the use of my arm for about ten

seconds and dribbled a bit but then

continued making lunch," said Glen.

"Then when I went into my next

online session I realised I couldn't

talk. Nothing was coming out

except the odd word. My client

was saying are you ok?

"My girlfriend Bex was out on a

walk with our six-week-old baby

Evie and as soon as she came

back she realised something was

wrong as I was struggling to talk.

She called the ambulance and I

was rushed into hospital."

Ironically, the stroke specialty

doctor waiting to treat Glen at

the Queen Alexandra Hospital in

Portsmouth, was James Beckett

who is also one of his personal

fitness clients.

A scan confirmed that Glen

had had a stroke and he was

thrombolysed – given special

drugs to dissolve the clot which

was blocking the blood supply

and killing cells in his brain.

"Despite stroke

still being the

fourth biggest

killer in the UK,

research has

helped to more

than halve the

rate of deaths

from stroke over

the last three

decades. It's

absolutely crucial

that we continue

this progress,

but we can't do

this without vital

funding."

Thanks to the prompt action by

Bex who spotted the "FAST"

stroke symptoms, the skills

of hospital staff and his own

determination, Glen has made a

good recovery.

Doctors found that his stroke

was caused by a PFO 'hole in the

heart' which allowed clots to travel

between the chambers of his

heart and up to his brain. In July

2021 he had an operation to close

this hole at the John Radcliffe

Hospital in Oxford.

Now Glen is backing the Stroke

Association's call for more research

into stroke. Despite the devastating

impact of stroke, stroke research

is chronically underfunded and

receives far less funding than other

health conditions that have similar

life-long effects

Juliet Bouverie OBE, Chief

Executive of the Stroke

Association, said: "Stroke strikes

every five minutes in the UK and

while it changes lives in an instant,

the brain can adapt and rebuild

after stroke. That's why research

means everything to our nation's

1.3 million stroke survivors and

their families, because of the

life-changing impact it could have

on their future. Our pioneering

research has been at the centre

of major breakthroughs that have

saved lives and sparked innovation

in stroke care and treatment. From

laying the foundations for the Act

FAST campaign, one of the most

successful public health awareness

campaigns in England, to funding

early research into the emergency

stroke treatment thrombectomy

(the manual removal of strokecausing

blood clots), many

patients have been spared the

most devastating effects of stroke

as a result of our research.

"Despite stroke still being the

fourth biggest killer in the UK,

research has helped to more

than halve the rate of deaths from

stroke over the last three decades.

It's absolutely crucial that we

continue this progress, but we

can't do this without vital funding.

Far less is spent 'per survivor'

on research into stroke than on

research into any other health

condition. We would never want to

take researchers or money away

from other conditions such as

cancer, but we do want to replicate

the success that cancer research

has had, so that we can continue

to make breakthroughs in stroke

treatment and care.

"Now our focus is on improving

life, after stroke strikes. The

Stroke Association is the only

organisation dedicated to

funding research into ongoing

rehabilitation for stroke survivors.

Our research means everything to

stroke survivors and their families.

It gives hope for a better recovery,

living more independently, a

future. We're calling on people to

donate where they can to support

our research and help give stroke

survivors and their families the

progress they deserve."

Donate to help fund the research

that could mean everything

to stroke survivors and their

loved ones. Funds raised will go

towards vital services for stroke

survivors across the UK, including

support and pioneering research.

Visit www.stroke.org.uk/

supportresearch

References

1. Research conducted by 4Media

Relations on behalf of the

Stroke Association, April 2022

2. Leading causes of death UK

(Nomis [England & Wales],

National Records of Scotland

[Scotland], NISRA [Northern

Ireland]). This excludes deaths

from external causes of

mortality – e.g. accidental falls

or accidental poisoning – and

deaths from "symptoms, signs

and ill-defined conditions".

3. Causes of death and disability

for the UK taken from the

Global Burden of Disease 2019

4. UK Health Research Analysis

2018 (UK Clinical Research

Collaboration , 2020) ISBN

978-0-903730-29-7. https://

hrcsonline.net/reports/analysisreports/uk-health-researchanalysis-2018/

5. Global Burden of Disease 2019

https://vizhub.healthdata.org/

gbd-compare/

AMBULANCE UK - JUNE

Do you have anything you would like to add or include in Newsline? Please contact us and let us know.

83
---
NEWSLINE

SECAMB

SECAmb and IC24

celebrated at

the Healthwatch

Recognition Awards

South East Coast Ambulance

Service NHS Foundation Trust

(SECAmb), along with delivery

partner Integrated Care 24

(IC24), have been recognised at

a prestigious award ceremony

for their work to involve

patients and the public in

the design, procurement and

implementation of the new

enhanced NHS 111 service for

Kent, Medway and Sussex.

SECAmb and IC24 were

recognised in the 'Involving

People in the Commissioning

& Delivery of Services'

category in the Healthwatch

Recognition Awards, organised

by both Healthwatch Kent and

Healthwatch Medway.

The event – in its first year –

celebrated the best in health and

social care in Kent and Medway.

Some 200 guests came together

at the ceremony, which took place

on 30 March 2022 at Revelation

Ashford, to recognise the

achievements and hear ideas that

they can use in their own work.

SECAmb and IC24 were

commended by Healthwatch for

'showing a real commitment to

actively involving and listening to

local people' during development

and launch of their five-year

contract to provide the NHS 111

service for Kent, Medway and

Sussex.

Healthwatch representatives

and other lay members were

closely consulted via a range of

programme boards and working

groups, shifting this engagement

online during the pandemic to

support development of the Direct

Access Booking service and NHS

111 First – a national initiative

rolled out at pace to reduce the

number of people in emergency

departments and shorten queues

by offering ED and onward care

appointments, thereby helping to

prevent the spread of COVID-19.

Healthwatch volunteers Lyn

and John Gallimore, said,

"We have been involved at

all stages from helping to

develop the specification,

through to the evaluation of the

bidders' responses, to the final

procurement and the launch

communication and engagement

activity. It has been a remarkably

interesting and rewarding

experience. As we became more

deeply involved our comments

became integral to the whole

process, which raised our

confidence even more in offering

the 'patient voice'."

SECAmb's Associate Director

for Integrated Care (999 & 111),

John J O'Sullivan, said: "We are

delighted the 111 service has

been recognised this way, and

it reflects really positively on the

hard work and commitment of

our people, especially during

the sustained demands and

challenges that the COVID

pandemic has presented. Great

patient care is at the heart of

what this service and SECAmb

aspires to deliver and we regard

the views of patients and the

public as integral to programme

and service design, and we will

continue to explore new ways to

involve and engage local people

as our 111 service evolves and

improves."

Katherine Pitts, Chief Strategy

and Transformation Officer at

IC24, said: "We're very proud to

receive this recognition and are

even more proud of the way that

our people and the patients who

supported this work responded

to the challenges presented by

COVID-19, which really took hold

as we prepared to implement

the new service. As a social

enterprise it is really important to

us that we bring the patient voice

closer to the design and delivery

of services and have recently

launched a patient network to

support us with this."

Healthwatch Kent's Manager,

Robbie Goatham, added:

"Healthwatch Kent and

Healthwatch Medway work with

every single health and social

care organisation across the

patch to ensure that they are

hearing the public's stories and

using personal experiences

to improve their services. This

bird's eye view means that we

see what's working well and

what needs improving. Our

Healthwatch Recognition Awards

have given us the opportunity to

take a moment to recognise and

celebrate the best of health and

social care in Kent and Medway.

Congratulations to everyone who

has been recognised."

UK medical charities

join together to

provide training

videos for Ukraine

war injuries,

empowering citizens

to potentially save

the lives of others

AMBULANCE UK - JUNE

A series of training videos

have been released today

by a coalition of UK medical

charities and senior trauma

doctors to help civilians save

lives in the war in Ukraine.

London's Air Ambulance

Charity, StreetDoctors and

84

For more news visit: www.ambulanceukonline.com
---
NEWSLINE

citizenAID have provided advice

and support to create the

videos in partnership, alongside

a group of senior doctors and

emergency trauma specialists

including Prof David Lockey, Sir

Keith Porter, Dr Phil Ward and

Dr David McAroe.

The videos are narrated by

Ukrainian TV presenter and

activist Timur Miroshnychenko.

They have been translated

into Ukrainian and Russian.

An English version has been

narrated by the British TV

presenter and historian Dan

Snow.

The videos, produced by film

and production company

Objekt, were filmed at London's

Air Ambulance helipad base,

and show doctors and

paramedics demonstrating

techniques to instantly treat

injuries of the kind that will be

found on the streets of Ukraine.

The series of videos

demonstrate simple lifesaving

first aid skills that will allow

civilians in Ukraine to potentially

save the life of their fellow

citizens.

Using simple techniques and

readily available materials, the

videos will show what to do if

someone is bleeding from a

gunshot or sharp object such

as shrapnel, what to do if

someone has lost a limb, has

sustained a burn, eye injury.

There are also videos on how

to stop serious bleeding by

creating a tourniquet and how

to put someone in the recovery

Also available via Facebook:

Civilian First Aid, Instagram:

@civilian.firstaid, Twitter:

@civ_firstaid, YouTube:

Civilian First Aid and Telegram:

@civilian_First_Aid

Doctors Simon Jackson, Nick

Rhead and Tom Kirschen who

came up with the idea and

organized its grassroots said:

"The charities and doctors

involved in this partnership

are changing the way first aid

training is delivered in conflicts.

As we're seeing in Ukraine,

civilians are on the frontline,

and this format means people

without prior training will be

able to equip themselves with

simple life-saving skills. By

harnessing the immediacy and

shareability of social media, we

hope this information will reach

the greatest number of people

and save lives. These videos

can be stored, shared and used

as a resource at the point of

care, which understandably is

something traditional first aid

teaching cannot achieve."

SWAST

South Western

Ambulances donated

to Ukraine

Three decommissioned

ambulances have been

donated to the Government

of Ukraine, by the South

Western Ambulance Service

NHS Foundation Trust

(SWASFT), as part of the UK's

package of NHS ambulance

donations.

to those injured by Russian

bombardments.

Will Warrender, Chief Executive

of SWASFT, said: "Like so many

people around the world, we

have watched on with great

sadness at the ongoing conflict

in Ukraine.

"Along with other ambulance

trusts around the country, we

are humbled to be able to

provide these ambulances to

the Government of Ukraine and

its people.

"We hope that this small gesture

goes some way to helping

provide immediate frontline

healthcare support to the many

people who so desperately

need it."

The donation will help replace

Ukrainian ambulances lost to

Russian attacks, bolstering the

existing fleet's resilience as the

war continues.

Mr Warrender, added: "The

thoughts of everybody at

SWASFT remain with the

Ukrainian people and with our

colleagues in the emergency

services, who are carrying out

lifesaving work in such difficult

circumstances. They have our

utmost respect."

Elizabeth O'Mahony, NHS

England and NHS Improvement

South West Regional Director,

said: "The scale of the

humanitarian crisis grows by

the day and the NHS continues

to provide support to Ukraine

through aid donations. Through

our co-ordinated work with

DHSC, the UK has already

provided more than 5.29 million

items of medical supplies such

as wound packs, doses of

morphine, and intensive care

equipment, and deploying

a humanitarian team to the

region.

"I would like to thank

SWASFT for donating the

decommissioned ambulances

to help Ukrainians continue to

receive lifesaving care during

this terrible conflict."

The ambulances were driven

to a nearby Government air

field by lead paramedic, Kathy,

paramedics Howard and Trudy,

and event manager, Des. From

there, they will be transported

to Poland's border with Ukraine.

The NHS's national ambulance

service fleet strategy requires

the replacement of ambulance

vehicles every five years.

After this time, vehicles are

decommissioned and either

kept back for resilience, given

to approved charities or sent

to auction. All vehicles and

medical supplies are checked

before being sent to ensure they

meet the standards required.

position if they are unconscious.

It is hoped that by knowing

what to do, citizens will be

empowered to provide key prehospital

care and reduce the

number of casualties.

The ambulances recently left

Bristol Ambulance Station to

start their 1,200-mile journey to

Poland's border with Ukraine.

Each ambulance contains a

stretcher, scoop stretcher, long

board and carry chair.

AMBULANCE UK - JUNE

All videos can be downloaded

at civilianfirstaid.org

The ambulances will provide

urgent and immediate care

For the latest Ambulance Service News visit: www.ambulancenewsdesk.com

85
---
NEWSLINE

AMBULANCE UK - JUNE

SECAMB

SECAmb's tenth

Make Ready Centre

to open

Ambulance crews and staff will

begin moving into a brand-new

ambulance centre in Surrey.

The Make Ready Centre in The

Horseshoe, Banstead, is on

the site of the Trust's former

headquarters and is South East

Coast Ambulance Service's

(SECAmb's) first new-build Make

Ready Centre in the county.

The development boasts a fleet

workshop and the Trust's Make

Ready vehicle preparation system

along with modern office space

and rest and wellbeing facilities

for staff.

SECAmb's Make Ready Centres

involve specialist teams of

staff cleaning, restocking and

maintaining the Trust's fleet.

SECAmb currently operates nine

Make Ready Centres across its

region with the Banstead centre

following on from the opening

of Brighton Make Ready Centre

which became operational at the

end of 2020.

Ambulance crews currently

starting and ending their shifts

at Epsom, Leatherhead, Redhill,

Dorking and Godstone ambulance

stations will instead start and

finish at the new centre.

Service to the surrounding area

is protected with the new centre

supported by a network of

Ambulance Community Response

Posts (ACRP) at both existing

ambulance stations and additional

sites. The move brings the area

in line with the system SECAmb

already operated across much of

its region.

The response posts have suitable

rest facilities for crews between

calls and when on a break.

As previously outlined, SECAmb

has sold or is in the process of

selling its Leatherhead, Redhill,

Dorking and Godstone sites for

redevelopment with response

posts either retained on the

current sites or moved to nearby

locations in the towns.

Many of the Trust's older

ambulance stations are outdated

and not always in the best

location for current patient need.

Redhill ambulance station has

been sold but will be retained

as a response post until 2023

unless a suitable alternative is

found in the town before next

year. Leatherhead ambulance

station has been sold and crews

will move to a new response post,

also in Kingston Road, later this

summer. Godstone ambulance

station has also been sold,

subject to contract and planning

permission. Crews will continue

to use Godstone fire station as a

response post while a search for

a larger site continues and crews

are due to begin using a further

ACPR at Oxted fire station from

the autumn.

Epsom and Dorking ambulance

stations remain as response

posts. The Trust also has a

response post at Surrey Fire and

Rescue Headquarters in Reigate.

Staff from Redhill Ambulance

Station will move into the new

centre on Monday (16 May) with

their colleagues joining them in

staggered moves throughout the

week.

SECAmb Operating Unit Manager

for Gatwick & Redhill, Paul

Fisher said: "It's great that the

new centre is becoming fully

operational. The new premises

will provide staff with a modern

building and bring this part of

Surrey in line with the way in

which we operate across the

majority of our region including the

neighbouring Gatwick area.

"The public should be reassured

that we are protecting the service

we provide to the surrounding

towns by operating from response

posts at existing and new sites.

I would like to thank everyone

involved in this exciting project

which will improve the way we

operate and I look forward to

seeing staff make it their home

over the coming weeks."

What is Make Ready?

Make Ready Centres house

specialist teams of staff employed

to clean, restock and maintain the

Trust's fleet.

• The Make Ready initiative

significantly enhances and

improves the service SECAmb

provides to the community.

• It minimises the risk of crossinfection,

frees up front-line

staff – who traditionally cleaned

and re-stocked ambulances

– to spend more time treating

patients, and keeps vehicles on

the road for longer.

• The system ensures that

specially-trained operatives

regularly deep-clean, restock

and check vehicles for

mechanical faults.

• Make Ready Centres are

supported by a network

of Ambulance Community

Responses Posts (ACRPs)

across the area.

• During shifts, staff will respond

from the ACRPs which will

provide facilities for staff. These

are located based on patient

demand.

• Crews are expected to continue

to respond from the same

towns under the system but

begin and end their shifts at

staggered times with a vehicle

that is fully prepared for them.

• The system ensures crews have

access to improved training

facilities and opportunities

and increased support from

managers.

Midlands Air

Ambulance Charity

extends operational

hours

Patients in Gloucestershire,

Herefordshire and

Worcestershire are already

benefitting as Midlands Air

Ambulance Charity's southern

critical care car is now

operating into the night to meet

increasing demand.

The charity has changed its

operational hours so that its

vital lifesaving car will now run

until 2am, allowing the team to

attend a greater number of critical

emergencies. In the first month of

operation, the advanced clinical

team has responded to almost 30

medical and traumatic incidents

86

For further recruitment vacancies visit: www.ambulanceukonline.com
---
NEWSLINE

between the extended operating

hours of 8pm and 2am. Seven

of these call outs were to serious

incidents, demonstrating the

direct need for the expertise of

Midlands Air Ambulance Charity's

two critical care paramedics onboard.

The car was dispatched

to a variety of incident types

including road traffic collisions,

accidental injuries, assaults and

medical conditions.

Previously the rapid response

vehicle, based at the charity's

Strensham airbase in

Worcestershire, ran between

8am and 8pm with one specialist

critical care paramedic on-board.

Following analysis of the times of

calls where patients are in critical

condition and could benefit from

the advanced treatment, surgical

skills, medicines and hospital-level

equipment rapidly brought to

scene, the service now operates

its southern critical care car

between 2pm and 2am with two

critical care paramedics.

Ian Jones, clinical operations

director for Midlands Air

Ambulance Charity, said: "We

are committed to continuous

improvement and delivering

advanced patient care, which

is why we constantly review

patient data to ensure we

provide the very best care to

those who need it. When the

research demonstrated that

patients across Gloucestershire,

Herefordshire and Worcestershire

would potentially benefit from our

expertise outside of our current

operational hours, we knew we

needed to adapt. This change

of operating model has enabled

us to attend those critically ill or

injured via our southern critical

care car beyond the times our air

ambulance helicopters can fly."

Since April, the charity operates

its lifesaving service 19 hours

per day, rapidly bringing parts

of the hospital to the patient in

an average of just ten minutes.

The operational day starts at

7am via helicopter from RAF

Cosford in Shropshire and the

central critical care car (covering

Birmingham and the Black

Country, at 8am via helicopters

at the charity's Strensham

airbase in Worcestershire and

Tatenhill airbase in Staffordshire,

from 10am via the northern

critical care car (which covers

Staffordshire and Shropshire)

and at 2pm for the southern

critical care car, covering

Gloucestershire, Herefordshire

and Worcestershire, which is also

based at Strensham.

The critical care cars carry

the same advanced lifesaving

equipment as the helicopters,

such as hospital grade ventilators

and a mechanical CPR machine,

known as the Lucas device and

Two of Midlands Air Ambulance Charity's critical care paramedics,

Mike Andrews (L) and Steven 'Mitch' Mitchell (R)

advanced analgesic and sedative

drugs not carried on NHS

ambulances.

Ian continues: "The way our

clinical team provides patient care

continually evolves. Thirty years

ago, when we were first founded,

our aim was to take the patient

to the most appropriate hospital

as swiftly as possible with timely

interventions to preserve life. Fast

forward to today and we aim to

bring critical care rapidly to the

patient, giving them the best

possible chance of survival and

good recovery before we leave the

incident scene.

"We can deliver this exceptional

care via helicopter or critical care

car and we are proud to extend

our availability into the night,

which is already proving to be

an effective service within the

southern counties we cover."

Find out more about Midlands Air

Ambulance Charity and its fleet of

three air ambulance helicopters

and three critical care cars via

www.midlandsairambulance.

com/missions and follow the

organisation on social media.

NWAS

NHS 111 service

launches pilot text

support service for

patients

An SMS pilot offering quick and

easy access to health advice

following a call is currently

being trialled by NHS 111 in the

North West.

Helpful care advice, which is

usually read to the caller following

an assessment by NHS 111, will

now be sent in a text message,

making it easier for people to

digest and refer back to. This will

also reduce the length of the call,

allowing NHS 111 to answer even

more requests for urgent care

advice from the public.

When people call 111, if they are

considered suitable for the text

service, the health advisor will

check they have access to receive

SMS messages and give them the

option to receive the appropriate

care advice via SMS rather than

listen to it being read aloud over

the phone.

When healthcare advice is

given verbally, it raises the

possibility that the caller may

only remember or act on part of

the advice given. This can mean

people need to call back or seek

further support from other NHS

services. Having the information

available to read again on

their mobile phone will help to

improve patient understanding

of the advice, helping to reduce

avoidable future contact with

NHS services.

111 Senior Service Delivery

Manager Sally Rose said: "We

handle over 30,000 calls per week

in 111 and are always looking to

make improvements that benefit

overall patient care.

"The pilot has been running for

just over a month and we have

already had feedback from our

patients who have said they find

it helpful.

"It is enabling patients to properly

receive all the advice, giving them

time to digest the information at

their own pace, whilst allowing

them to refer back to the care

advice following the call.

"It is no secret how busy NHS 111

has been and continues to be,

and an added benefit of this pilot

is the time it saves on each call,

which allows our health advisors

to assist the next patient more

quickly."

The NHS 111 service is available

24 hours a day by visiting 111.

nhs.uk or dialling 111. This pilot

is currently optional for people

calling NHS 111.

AMBULANCE UK - JUNE

Do you have anything you would like to add or include in Newsline? Please contact us and let us know.

87
---
NEWSLINE

WAS

Modern new

station for Cardiff

ambulance crews

The Welsh Ambulance Service

has unveiled a state-of-the-art

new station in Cardiff.

The £8 million Welsh Governmentfunded

facility on the Avenue

Industrial Estate in Pontprennau is

the new home of emergency and

non-emergency crews previously

based at the ageing Blackweir

station.

The Trust's Cycle Response Unit

is also based in the new facility,

which boasts a Wellbeing Suite for

staff and a 'Make Ready Depot'

where dedicated Fleet Assistants

clean and re-stock vehicles,

enabling clinicians to spend more

time with patients.

Rob Brunnock, the Welsh

Ambulance Service's Locality

Manager for Cardiff, said: "This

project has been many years in

the pipeline so we're thrilled that

it's now complete.

"We have fond memories of our

time at Blackweir station, but the

building was of its time and no

longer fit-for-purpose.

"This is a 21st century ambulance

station to be proud of, and it

means that crews finally get the

facilities they deserve, which

ultimately means a better service

for people in Cardiff.

"The Make Ready Depot in

particular is a huge advance and

not only frees up crews to spend

more time in the community but

also improves infection control,

which has been more important

than ever through the Covid-19

pandemic."

Welsh Government has invested

£8 million into the project, which

began in July 2020 with the

remodelling of the former Merton

House.

The opening is part of a broader

programme of work to modernise

the Trust's estate, which last

month saw the unveiling of a new

station in Aberaeron for crews

previously based in a Portakabin.

Richard Davies, Assistant

Director of Capital and Estates,

said: "One of our key priorities

as an organisation is to ensure

our people have access to

facilities that are safe, well

maintained and fit-for-purpose

and which allow them to serve

communities to the best of their

ability.

"We're grateful to Welsh

Government for their investment in

this project."

Eluned Morgan, Minister for

Health and Social Services,

added: "I am delighted this new

ambulance station has opened in

Cardiff.

"These state-of-the art facilities

will benefit local communities

by increasing the time crews

can spend with sick and injured

people; ensure greater infection

control of vehicles and equipment

and help to maintain and develop

ambulance staff skills.

"I look forward to seeing the new

facilities in action soon."

London's Air

Ambulance Charity

announces most

successful Gala in

its history, raising a

record £944,000

London's Air Ambulance

Charity, the service that delivers

rapid response and cuttingedge

medical care to help save

lives in the city has announced

the total raised at their Gala

dinner was a record £944,000.

This is the equivalent of over 400

potentially life-saving missions,

helping the capital's only

helicopter emergency service to

continue to provide immediate

hospital level care to the 10 million

people who live, work and travel in

the capital. The need for support

is particularly great as the Charity

must raise an additional £15million

by 2024 to replace their current

helicopter fleet.

The Gala was attended by the

Charity's Patron, His Royal

Highness The Duke of Cambridge.

The Duke met with some of the

heroic medical and operational

crew to thank them for their

service, as well as meeting an

inspirational patient of the service,

Bruno, whose life was saved by

the London's Air Ambulance team

when he was just 11. Bruno and

his father, Daniel Machado, later

gave a powerful speech to the

assembled guests.

The Duke also delivered a moving

speech in support of the charity

and its appeal for two new

helicopters. As an air ambulance

pilot himself, the Duke has

witnessed the positive impact

of rapid response trauma work

first-hand.

His Royal Highness The Duke of

Cambridge said:

What struck me when working

as an air ambulance pilot was

how serious injury does not

discriminate. It can happen

to anyone. At any time. In any

place. Just one moment can turn

a life upside down. Earlier this

evening, I had the great privilege

to meet a young man named

Bruno, and his father Daniel.

At age 11, Bruno was knocked

AMBULANCE UK - JUNE

88

For more news visit: www.ambulanceukonline.com
---
NEWSLINE

off his scooter by a vehicle and

suffered a serious brain injury.

London's Air Ambulance flew to

him immediately, arriving within

minutes to bring the hospital to

his side and saving his life. As a

charity, London's Air Ambulance is

reliant on support from the public.

Tonight, your generosity will go

towards this ambitious plan and

will enable the charity to do even

more in the future to deliver first

class care when Londoners need

it most.

The event, held at The Londoner

Hotel in Leicester Square, was

also attended by a number of

VIP guests, including Tamara

Beckwith and her husband

Giorgio Veroni. Sotheby's

Chairman Sir Harry Dalmeny was

the auctioneer for the evening

and the event was hosted by

presenter and comedian Sindhu

Vee. Entertainment was provided

by Alessandro Ristori and the

Portofinos, and Saloon Star.

Jonathan Jenkins, CEO of

London's Air Ambulance Charity

said;

"When a patient is critically

injured, there is often no time to

get that person to hospital. In

those instances, our teams can

provide a lifeline, arriving within

11 minutes to perform advanced

interventions at scene to try and

save a life. But they can only

be there thanks to our generous

supporters. It costs around

£10million to deliver our service,

the vast majority of which we have

to find from donations. In addition

we know that by 2024 we also

need to raise an additional

£15million so we can replace our

current helicopter fleet.

That is why we are so grateful to

the Duke for his sincere support

for our cause, as shown by his

attendance and heartfelt speech

at the Gala. He continues to help

us raise awareness of the unique

work we do and inspire vital

support so that we can continue

to save lives.

"It is humbling to see so many

people donating so generously

to our charity, making it our most

successful Gala to date. All the

funds raised will help us continue

to be there for London when a life

is on the line.

"We are also very grateful to

our committee, our sponsors

AlbaCore Capital and CoinShares

International Limited; to each

of the table hosts, and to our

auctioneer Lord Harry Dalmeny

for helping us raise so much on

the night."

World Extreme

Medicine prepares

for greatest

challenge on

Ukraine's frontline

Born out of expeditions over

25 years ago, World Extreme

Medicine is now in the middle

of one of its greatest challenges

- delivering highly specialised

trauma care equipment to its

network on Ukraine's frontline.

World Extreme Medicine is one

of the world's leading providers

of education, conferences,

consultancy, and medical cover

in extreme medicine. Every year

it helps thousands of medical

and healthcare workers push the

boundaries of their abilities and

enables them to thrive and deliver

in remote, austere, and hostile

environments.

Now a series of convoys,

known as Medics4Ukraine, are

being co-ordinated by a team

of medical professionals and

extreme medicine experts from

its network, carrying highly

specialised and focused medical

equipment. The first convoy

successfully delivered its cargo of

urgently needed medical supplies

directly into Ukraine in early April,

including tourniquets, airway

management kits, paramedic

bags and bespoke trauma kits for

improvised field hospitals.

Convoy two will transport blood

clotting agents, analgesic pain

relief and antibiotics directly to

frontline units including those in

besieged cities such as Maruipol,

Kherson and Kharkhiv.

"What makes these convoys

different is the network of medics

helping us inside Ukraine, which

means we can bypass many of

the checkpoints and bottlenecks

to get to the people who most

need trauma kits the most – and

quickly," explains Mark Hannaford,

founder of World Extreme

Medicine.

"Hospital staff in Ukraine are

working non-stop in dangerous

conditions, with resources

diminishing by each passing

day. We have been in direct

contact with Ukrainian medical

professionals, and their current

situation is only set to get worse."

Drawing on the experience of

organising successful medical

equipment convoys to Syria

and Myanmar the team have

contacts, medical expertise, and

the logistical setup to deliver

convoys directly to hospitals on

the frontline in Ukraine. Mark

continues, "The objective is

to send over multiple convoys

throughout the conflict, which

will each time supply medical

equipment that is most in

demand."

"The convoy has delivered

lifesaving equipment. We are

all medics. We talk the same

language - the World Extreme

medics can get us exactly what

we so desperately need," says

Dr Olinsky an emergency doctor

stationed in Lviv.

"This was not an easy journey

to make due to the nature of

the conflict and the flow of

the refugees out of Ukraine,"

continues Mark. "It was

heartbreaking to see, but what

drives us on is making sure that

supplies reach the East of the

country, where they are most in

need."

Find out more information and

donate to the 'Medics4Ukraine'

fundraising appeal today. Visit

https://www.gofundme.com/f/

medics4ukraine

(Left to Right) Luca Alfatti World Extreme Medicine Faculty / Co-Lead

for Medics4Ukraine, Dr.Olinsky Emergency Doctor stationed in Lviv,

Ukrainian female soldier and Stepan Skobenyuk © Mark Hannaford,

World Extreme Medicine

AMBULANCE UK - JUNE

Do you have anything you would like to add or include in Newsline? Please contact us and let us know.

89
---
NEWSLINE

London's Air

Ambulance formally

opens new helipad

space following

campaign during

30th anniversary

London's Air Ambulance Charity

has celebrated the official

opening of its new helipad

space which will potentially

give critically injured patients

across London a better chance

of survival by shaving valuable

seconds off the advanced

trauma team's response times.

The new offices are positioned

closer to the flight deck, enabling

the crew to reach the aircraft

faster when a trauma call comes

in. The new office complex also

aims to improve crew wellbeing

by giving space to debrief and

decompress, vital for the mental

health of the teams.

At a ceremony at its base on the

rooftop of The Royal London

Hospital, funders, officials and

crew members formally cut the

ribbon to mark its first day in

operation. The ceremony was

attended by Minister for Health Ed

Argar, who gave a short speech

to mark the Department for Health

and Social Care's support for

the project, and Sally Abbott,

the Head of Fundraising at the

HELP Appeal which provided

a generous grant of £550,000

towards the project.

London's Air Ambulance Charity

successfully bid for a grant of

£1.4 million from the £10 million

capital fund made available by

DHSC to Air Ambulances in 2019.

The grant was awarded to fund

the vital redevelopment of the

helipad base as well as a package

of cutting-edge operational and

training equipment to ensure

the world leading medical teams

continue to lead the way in prehospital

trauma care.

The Charity launched the

campaign to raise the money for

the facilities during a visit from

their Patron, HRH The Duke of

Cambridge to mark the 30th

anniversary of the charity in

January 2019.

After initial feasibility work, the

construction of the new facilities

begun in September 2021. The

facilities, which guests were able

to view during the ceremony

include;

• An elevated operations room

directly underneath the flight

deck for pilots, fire crew and

medical team. This will provide

quicker access to the aircraft

for faster dispatch and is

anticipated to save 20-30

seconds off each launch.

• A quiet space for post-mission

debriefs

• A "safe space" for on-duty

teams to find respite after

challenging missions

• A large multi-use training room

/ simulation theatre for teaching

and moulages

• Rest pods for frontline crews.

Jonathan Jenkins, CEO of

London's Air Ambulance Charity,

said;

Every second counts for seriously

injured patients. By reducing

the time it will take to get the

helicopter airborne, the service will

be able to respond to its patients

ever faster, improve training and

make sure its crews have the

space they need for their mental

health and wellbeing. It will also

ensure that the world-class, world

renowned service has the facilities

to reflect this.

We are immensely grateful to

the DHSC, to the County Air

Ambulance Trust, to our partners

Barts Health NHS Trust and to the

people across London who gave

so generously to support this vital

work. Thanks to them our doctors

and paramedics can get to the

side of a critically injured person

as quickly as possible, providing

rapid response care at the scene

when there is no time to get to

hospital.

Minister for Health, Edward Argar,

said;

"Our £10 million funding for air

ambulances has helped fantastic

organisations such as London's

Air Ambulance Charity to invest

in innovative operational and

training equipment and crucial

infrastructure so response teams

continue to be ahead of the game

in pre-hospital trauma care.

"Air ambulances play a life-saving

role in our emergency services

by supporting the NHS and

treating people in the most critical

condition – I am thankful for all our

rapid response teams, and it was

a pleasure and privilege to visit

the London's Air Ambulance team

once again, following my visit in

January 2020."

A grant of £550,000 was also

provided by the HELP Appeal,

which is the only charity in the

country dedicated to funding NHS

hospital and air ambulance base

helipads.

AMBULANCE UK - JUNE

Sally Abbott, Head of Fundraising

at the HELP Appeal, said;

"The HELP Appeal charity focuses

on saving lives, whether that's

funding NHS hospital helipads,

critical care cars or air ambulance

medical equipment. We are

extremely proud that this is the

first time we have funded a facility

90

For further recruitment vacancies visit: www.ambulanceukonline.com
---
NEWSLINE

which will help the fabulous air

ambulance crew, who are under

immense pressure to save lives in

incredibly difficult situations. We

hope this much needed space will

give them the opportunity to rest

and recover from their missions."

Alistair Chesser, Group Chief

Medical Officer at Barts Health

NHS Trust, said;

"We are incredibly proud to

be partners of London's Air

Ambulance. Thanks to these new

facilities our doctors will be able

to provide life-saving care for

patients across London as soon

as possible."

London's Air Ambulance expert

teams can deliver complex lifesaving

interventions at the scene

of an incident such as pre-hospital

emergency anaesthesia; blood

transfusion; thoracotomy (a

surgical procedure which opens

up the rib cage cavity to manually

massage the heart) and REBOA

(where a balloon is fed into the

major blood vessels through an

injection into the leg), all of which

are known to have increased

patient survival rates after

traumatic injury.

London's Air Ambulance is a

charity, operating in partnership

with Barts Health NHS Trust

and London Ambulance Service

(LAS) NHS Trust. Barts Health

NHS Trust employs and pays

the doctors and provides the

helipad space and LAS provide

the paramedics as well as the

flight paramedic situated in the

control room who is responsible

for dispatching London's Air

Ambulance to the most critically

injured people in London, 24

hours a day.

Since its inception London's

Air Ambulance has developed

cutting-edge medical care

normally only found in the hospital

Emergency Department for use at

the roadside. The innovations and

procedures it has developed have

been adopted across the world to

help save lives.

St John Ambulance

CYMRU - Rhayader

Presentation Day

The amazing work of our

Rhayader volunteers was

recognised recently at a special

event held at their ambulance

hall.

Active for nearly 80 years, the

division has established itself as a

hub of the community, supporting

events big and small and caring

for those who need them.

In 1999, they started a community

first responder service, which has

rapidly grown to become a lifeline

for locals across Mid Wales. In

2021 alone, they responded to

a massive 570 emergency calls,

which they're on track to exceed

in 2022.

At the event, awards were

presented by a number of special

guests, including Jason Killens,

WAST CEO; Robin Gibson Watt,

Deputy Lord Lieutenant; and

Councillor Mrs Lee Price, Mayor

of Powys.

Also in attendance was our

Prior for Wales Sir Paul Williams

and Chief Executive Officer

Helen Smith, who presented

a commemorative plaque to

Divisional Officer In Charge (Unit

Manager) Martyn Price.

Our Chief Volunteer Richie Paskell

said:

"St John Ambulance Cymru

have a proud history, helping

communities for over one hundred

years. Our presence in Wales has

always meant that there will be a

first aider close by when people

need one. The Rhayader volunteer

first responders and the service

they provide to the communities

of Mid Wales truly embodies this,

and I am so proud of them all."

corpuls now

connects with iOS

via Bluetooth

corpuls devices now fully

integrate with Apple iOS, the

first defibrillator/ monitor on the

market to do so. This was the

next logical step for corpuls,

being fully interoperable with all

systems, allowing Services to

reap the benefit of innovations

in the transfer, analysis, and

interpretation of data.

The NHS Long Term Plan

underpins the importance of

technology and its role in the NHS

moving forward; setting out the

critical priorities that will support

digital transformation and provide

a step change in the way the NHS

cares for patients.

Paramedics in England will benefit

from the roll out of 30,000 iPads

aimed at increasing patient care

by faster and more accurate

transfer of data, access to patient

records, and virtual collaboration

with other relevant clinicians whilst

on scene.

The full suite of corpuls products,

available for purchase or lease

from The Ortus Group, help

fully realise the benefits brought

by digital transformation and

seamless, secure data transfer.

Fully integrated wireless

transmission of data over WiFi,

4G, or locally via Low Energy

Bluetooth (LE BT) allows bidirectional

transfer of live data to

Electronic Patient Records (ePRF),

Hospitals, specialist clinicians or

other tactical units that may be

providing support.

With iOS integration, ePRF

systems can now push patient

data direct to corpuls devices,

so the paramedics don't have to.

All D-ECGs, vital parameters and

events can be sent automatically

to the ePRF allowing for smoother

and more accurate handover of

patients to receiving hospitals.

When connected via GSM or

WLAN, live transmission of all

mission data can be sent to

hospitals or specialist clinicians to

help provide immediate support

where required or make decisions

on where to take patients for

further treatment. Utilising the

conferencing facility, missions

using the corpuls system can

initiate video calls with multiple

other 'tactical units' at once,

sending images, videos, voice

notes and messages.

Corpuls devices are available to

the UK market from

The Ortus Group

www.theortusgroup.com

08454594705

AMBULANCE UK - JUNE

For the latest Ambulance Service News visit: www.ambulancenewsdesk.com

91
---
IN PERSON

WAS News

Trust appoints two new Non-

Executive Directors

The Welsh Ambulance Service has

appointed two new Non-Executive

Directors to its Board.

Ceri Jackson, who has held a number of senior

roles in the charity sector, and Hannah Rowan

(nee Burch) who also has eight years' experience

in the third sector after beginning her career as a

teacher, took up their posts on 01 April 2022.

Ceri, who lives in Cardiff, has over the last year

been interim Non-Executive Director for the

Trust and is also a Non-Executive Director for

the Stroke Association and Sight Life.

Hannah Rowan (nee Burch)

Non-Executive Directors are appointed on

a fixed term basis by the Health Minister

and bring to the Board independence of

judgement, diversity of background and a wide

range of skills and expertise drawn from public,

third and private sectors.

They work with Executive Directors to develop

strategy, policy and ensure sound governance,

and ensure the Trust delivers services

and performs effectively at a strategic and

operational level.

News

London's Air Ambulance

Charity boosts diversity by

appointing five new trustees

to its board

She said: "I am delighted to be joining the

Board of WAST as Non-Executive Director

after a year in the interim role.

"I have thoroughly enjoyed the challenge and

am excited to help shape the future of this

proud organisation as it looks to transform

services across Wales."

Ceri was the Interim Director of Strategy and

Transformation at Ty Hafan children's hospice

until 2020, and has previously worked as both

the Director and Head of Community at the

Royal National Institute of Blind People (RNIB).

Hannah, also from Cardiff, is currently Change

Manager for Citizens Advice and is also a Non-

Executive Director for Qualifications Wales, the

regulator for all non-degree qualifications in Wales.

Hannah has a background as a business

coach and specialises in high-level problem

solving and strategic oversight.

She said: "I am an enthusiastic advocate for

equality, diversity and inclusion and the positive

impact that this can have on the culture and

performance of an organisation.

London's Air Ambulance Charity has

announced the recruitment of five new

trustees to the Charity's board.

Rita Chadha, Bianca Gill, Sheri Adigun, Gordon

Pitman and Nick Goodwyn were appointed

following a competitive process which saw

over 40 applications to join the life-saving

charity. It comes at a time of change on the

Charity's board with a new Chair, Bob Forsyth,

appointed in March, a new Deputy Chair,

Gemma Sherrington and two further trustees

standing down in the summer.

She has previously sat on several Boards

in Wales in order to help review policy and

practice across a range of areas, including

health, social care and housing.

"It is an honour to be joining the Board in the

Non-Executive Director role and I am looking

forward to working with colleagues in the Trust."

Martin Woodford, Chair of the Welsh Ambulance

Service, said: "We're delighted to have both Ceri

and Hannah join us on the Board.

"They bring with them a wealth of experience

and strategic insight which will prove crucial to

the Trust as we navigate change in this postpandemic

period.

Jonathan Jenkins, CEO of London's Air

Ambulance Charity said;

London is the most diverse city in the world and

we are committed to ensuring that we reflect

the community we serve, from top to bottom.

The addition of these five new trustees boosts

expertise in areas including aviation, strategic

finance, and diversity and inclusion and also

ensures that we are more reflective of our

incredible, vibrant city that we are so proud to

be a vital part of.

AMBULANCE UK - JUNE

Ceri Jackson

"I know colleagues will join me in extending

a very warm welcome to them both and look

forward to the contributions they will make to

our development."

The Trust's Board is comprised of the

Chairman and Non-Executive Directors, Chief

Executive and Executive Directors as well

as Trade Union partners, all of whom work

collectively as the Board.

This comes at a particularly important time

for the Charity as we are about to launch our

biggest ever public appeal to raise £15million

by 2024 to replace our current helicopter fleet.

We are delighted to have the new trustees part

of the team that will help make that happen."

The new trustees are;

Sheri Adigun, Senior Commercial Finance

92

For more news visit: www.ambulanceukonline.com
---
IN PERSON

Manager at the Wellcome Trust, overseeing

International activities & UK finance.

incident. Since launching 33 years ago, the

service has treated over 43,000 patients.

Rita Chadha, who has had a lifelong career

in the not-for-profit sector, working for over

twenty different international, national, and

local charities and is currently Director of City

Sikhs.

Bianca Gill, an audit associate partner at Ernst

& Young, where she has spent over 20 years

auditing both private and listed companies in

the real estate and construction sectors.

Nick Goodwyn, Flight Operations Officer at

the Civil Aviation Authority and Master at the

Honourable Company of Air Pilots.

Gordon Pitman, Chief HR Officer at GKN

Aerospace since 2016 and is a member of the

Aerospace Executive team.

London's Air Ambulance delivers an advanced

trauma team to critically injured patients when

time is of the essence and serves the 10 million

people living and working within London. The

charity is the only one of its kind in London

to perform immediate life-saving medical

procedures normally only found in a hospital

emergency department at the scene of an

News

Medic of the Year 2021

Each year, the Council of Members choose

someone in the medical community who

has provided medical excellence above

and beyond their daily medical practice.

The Council of Members is a membership

programme where medical professionals

can join the College and be part of the

team. https://corom.org/membership/.

Dr Regan is an emergency medicine and

prehospital physician in the Scottish Highlands.

He has managed patients who have fallen in

ravines and drowned in the North Sea.

Dr Luke Regan was trauma lead at Raigmore

Hospital Inverness and is the founder of the

Highland PICT Team, the prehospital trauma

team for the Scottish Highlands. He has been

pivotal in the provision of high quality enhanced

care in the Scottish highlands - an area

traditionally under-served in this regard.

Dr Regan has published widely in relation to

rural prehospital care. Recently in relation to

PoCUS: The effectiveness of ultrasound in the

detection of fractures in adults with suspected

upper or lower limb injury: a systematic review

and subgroup meta-analysisN Champagne,

L Eadie, L Regan, P WilsonBMC emergency

medicine 19 (1), 1-15, 2019

Luke was nominated for his ongoing work to

develop a high quality evidence base for the use

of prehospital ultrasound and his central role

in guiding the PICT team to fruition as a 7 day

a week prehospital, physician-lead, enhanced

care service for the Scottish Highlands.

AMBULANCE UK - JUNE

Do you have anything you would like to add or include? Please contact us and let us know.

93
---
COMPANY NEWS

AMBULANCE UK - JUNE

VCS placed first

on new NHS

national framework

for ambulance

converters

VCS, the UK's leading

ambulance conversion

specialist, has achieved the

highest combined score of

all bidders in the new NHS

Collaborative Procurement

Hub Framework Agreement

for Ambulance and Specialist

Vehicle Conversions.

Assessed on its technical

ability, exceptional quality

and financial offers, the

Bradford-based manufacturer

is now positioned at the top

of the framework. It will look

to continue its innovative

approach to ambulance

production, continually

striving to achieve technical

advancements.

The NHS Collaborative

Procurement Hub Framework

Agreement for Ambulance and

Specialist Vehicle Conversions

is a new initiative to bring the

specification of all ambulances in

the UK under a single standard.

The new framework will be in

place for two years with the option

to extend for a further year to a

three year term.

Being accepted onto this

framework allows VCS to

undertake conversions of the Fiat

Ducato dual crewed ambulance

for NHS ambulance services

across the UK. This builds upon

the company's rich history in

providing vehicles for NHS fleets

such as East Midlands Ambulance

Service and West Midlands

Ambulance Service.

Paul Croom, Director of Sales

at VCS, said: "Our top position

placement on the new NHS

framework not only confirms

the superb quality, innovation

and value for money that VCS

offers, it also secures our future

and provides an excellent

platform for growth. This result is

testament to the great work done

every day by our engineering,

manufacturing and commercial

teams, and allows us to continue

development and maintain our

position as a market leader in

zero emission ambulances, and

lightweight conversions."

Mark Kerrigan, Managing Director

of VCS, said: "Our placement on

the new NHS framework proves

that VCS truly is the UK's leading

ambulance conversion specialist.

However, we don't plan to rest on

our laurels; VCS is committed to

making our vehicles even more

innovative, advanced and efficient.

We're looking forward to sharing

future developments with the

market in due course."

Tony Page, Head of Fleet and

Facilities Manager at West

Midlands Ambulance Service,

said: "Having first started working

with VCS in 2011, we are

delighted to be able to continue

our relationship under this new

framework. VCS's innovation

and attention to detail enables

us to operate one of the most

responsive, accessible and

efficient services in the country."

Steve Farnsworth, Assistant

Director of Operational Support

at East Midlands Ambulance

Service said: "We have worked

with VCS since 2013 and the

quality and technical capability

of its products have always lived

up to expectation. We're pleased

that we will be continuing to work

with them for years to come

now that they will be delivering

the new national framework,

and ambulance services across

the country will benefit from the

vehicles we have utilised for

many years."

Bluelight UK Ltd has

just opened another

vehicle storage

facility

Bluelight UK Ltd has just

opened another vehicle

storage facility in Ashton in

Makerfield near St Helens.

This site will allow the

company to take on more

assets for its remarketing

operation and is equipped

with workshops and offices.

"We are constantly evolving,"

commented managing director,

Simon Forster. "Good secure

storage has always been one of

our biggest concerns and with

this important addition to our

armoury we now can stock up

to 150 vehicles. We are selling

more ambulances than ever,

but sometimes the timeframes

can be stretched due to

charities, committees and export

procurement processes. This

space provides us with a mass

of opportunities. In addition to

this, our site at Atherton is being

extended which will enable us to

deliver even more vehicles."

Due to demand there are just

15 frontline ambulance vehicles

in stock today including 2015

and 2016 Sprinters and national

specification Ducatos, as well as

a fleet of well-maintained PTS

vehicles.

"We are preparing for a glut

of incoming Patient Transport

Service vehicles ranging from

Wheelchair Accessible Vehicles to

Bariatric over the coming weeks.

This has been delayed due to the

replacement vehicle supply, but

we are ready. We are also due to

take delivery of another 9 brand

new High Dependency Units in

the next few weeks and have

more Rapid Response vehicles

arriving soon with more Front

Line National Spec ambulances

due in the next four to five

months." added Simon. "This

year in addition to our normal

UK business, we have already

supplied pre-owned vehicles to

Ireland, Northern Ireland, Malta,

Uganda, Mozambique. We don't

make a song and dance about

how we are helping in Ukraine,

but we are currently aiding the

cause on many fronts".

Bluelight UK is also heavily

involved with new vehicle supply

(not exclusively) for the UK

market, in particular specialist

conversions such as High

Dependency Units (B category),

Secure and Non-Secure Mental

Health Transport Units and Driver

Training Units as well as Support

Vehicles and other specialist

medical transport solutions.

Their experience in this field is

invaluable and the team also

has expertise in helping new

businesses establish themselves,

providing sound advice for

anyone planning a new "start-up"

private ambulance business.

All the vehicles in stock are ex

NHS Trust and have been wellmaintained.

Pre-owned vehicles

(especially ex NHS Trust) can

make a huge difference to your

capital expenditure. Repurposing

vehicles is also good for the

environment.

With the current exhaustive

new vehicle lead-times Bluelight

UK can often offer solutions for

short, medium and long term

whether you normally purchase or

lease your vehicles. Their rental

ambulances can also provide you

with a stop-gap for delayed new

vehicle builds, VOR downtime or

new contracts.

If you are interested in new or

used ambulance or PTS vehicles,

you can contact Bluelight UK Ltd

on 01942 888800 or

sales@bluelightuk.co.uk.

Alternatively you can find them on

www.bluelightuk.co.uk

94

For further recruitment vacancies visit: www.ambulanceukonline.com
---
Preparing our Emergency Services

For Every Response

At The Emergency Services Show you will

discover the latest innovations in vehicles

and fleet, IT and communications, protective

clothing and uniforms, training solutions,

medical response, recovery equipment and

more, to transform our emergency services.

10,000+

BUYERS

450+

SUPPLIERS

CPD

ACCREDITED

CONTENT

INCORPORATING

FUTURE

POLICING

Get Involved TODAY!

www.emergencyuk.com

For the latest Ambulance Service News visit: www.ambulancenewsdesk.com
---
VENTILATION SIMPLIFIED

Z Vent ®

Portable Ventilator

• Easy to use – Smart Help assists

with alarm resolution

• Portable – light and easy to carry

• Durable – designed to surpass

military standards

For more information, visit us at www.zoll.com

zoll.emsfire @zollemsfire www.zoll.com/zvent 0808-168-9000

© 2020 ZOLL Medical Corporation. All rights reserved. Smart Help, Ventilation Simplified, Z Vent, and ZOLL are trademarks or registered trademarks of ZOLL Medical Corporation in the

United States and/or other countries.

MCN EP 1811 0246