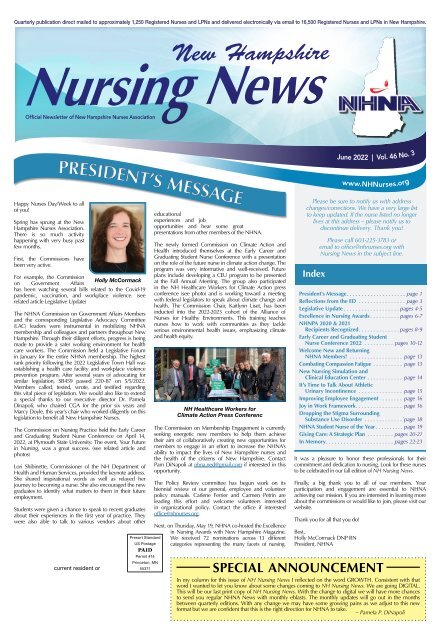 New Hampshire Nursing News - June 2022
You also want an ePaper? Increase the reach of your titles
YUMPU automatically turns print PDFs into web optimized ePapers that Google loves.
Quarterly publication direct mailed to approximately 1,250 Registered Nurses and LPNs and delivered electronically via email to 16,500 Registered Nurses and LPNs in New Hampshire.

New Hampshire

Nursing News

Official Newsletter of New Hampshire Nurses Association

PRESIDENT'S MESSAGE

www.NHNurses.org

June 2022 | Vol. 46 No. 3

Happy Nurses Day/Week to all

of you!

Spring has sprung at the New

Hampshire Nurses Association.

There is so much activity

happening with very busy past

few months.

First, the Commissions have

been very active.

For example, the Commission

Holly McCormack

on Government Affairs

has been watching several bills related to the Covid-19

pandemic, vaccination, and workplace violence. (see

related article Legislative Update)

The NHNA Commission on Government Affairs Members

and the corresponding Legislative Advocacy Committee

(LAC) leaders were instrumental in mobilizing NHNA

membership and colleagues and partners throughout New

Hampshire. Through their diligent efforts, progress is being

made to provide a safer working environment for health

care workers. The Commission held a Legislative Forum

in January for the entire NHNA membership. The highest

rank priority following the 2022 Legislative Town Hall was

establishing a health care facility and workplace violence

prevention program. After several years of advocating for

similar legislation, SB459 passed 220-87 on 5/5/2022.

Members called, texted, wrote, and testified regarding

this vital piece of legislation. We would also like to extend

a special thanks to our executive director Dr. Pamela

Dinapoli, who chaired CGA for the prior six years and

Marcy Doyle, this year's chair who worked diligently on this

legislation to benefit all New Hampshire Nurses.

The Commission on Nursing Practice held the Early Career

and Graduating Student Nurse Conference on April 14,

2022, at Plymouth State University. The event, Your Future

in Nursing, was a great success. (see related article and

photos)

Lori Shibinette, Commissioner of the NH Department of

Health and Human Services, provided the keynote address.

She shared inspirational words as well as relayed her

journey to becoming a nurse. She also encouraged the new

graduates to identify what matters to them in their future

employment.

Students were given a chance to speak to recent graduates

about their experiences in the first year of practice. They

were also able to talk to various vendors about other

current resident or

Presort Standard

US Postage

PAID

Permit #14

Princeton, MN

55371

educational

experiences and job

opportunities and hear some great

presentations from other members of the NHNA.

The newly formed Commission on Climate Action and

Health introduced themselves at the Early Career and

Graduating Student Nurse Conference with a presentation

on the role of the future nurse in climate action change. The

program was very informative and well-received. Future

plans include developing a CEU program to be presented

at the Fall Annual Meeting. The group also participated

in the NH Healthcare Workers for Climate Action press

conference (see photo) and is working toward a meeting

with federal legislators to speak about climate change and

health. The Commission Chair, Kaitlynn Liset, has been

inducted into the 2022-2023 cohort of the Alliance of

Nurses for Healthy Environments. This training teaches

nurses how to work with communities as they tackle

serious environmental health issues, emphasizing climate

and health equity.

NH Healthcare Workers for

Climate Action Press Conferenc

The Commission on Membership Engagement is currently

seeking energetic new members to help them achieve

their aim of collaboratively creating new opportunities for

members to engage in an effort to increase the NHNA's

ability to impact the lives of New Hampshire nurses and

the health of the citizens of New Hampshire. Contact

Pam DiNapoli at nhna.ned@gmail.com if interested in this

opportunity.

The Policy Review committee has begun work on its

biennial review of our general, employee and volunteer

policy manuals. Carlene Ferrier and Carmen Petrin are

leading this effort and welcome volunteers interested

in organizational policy. Contact the office if interested

office@nhnurses.org.

Next, on Thursday, May 19, NHNA co-hosted the Excellence

in Nursing Awards with New Hampshire Magazine.

We received 72 nominations across 13 different

categories representing the many facets of nursing.

Please be sure to notify us with address

changes/corrections. We have a very large list

to keep updated. If the nurse listed no longer

lives at this address – please notify us to

discontinue delivery. Thank you!

Index

Please call 603-225-3783 or

email to office@nhnurses.org with

Nursing News in the subject line.

President's Message ....................page 1

Reflections from the ED ................page 3

Legislative Update ...................pages 4-5

Excellence in Nursing Awards ..........pages 6-7

NHNPA 2020 & 2021

Recipients Recognized ..............pages 8-9

Early Career and Graduating Student

Nurse Conference 2022 ..........pages 10-12

Welcome New and Returning

NHNA Members! .................. page 13

Combating Compassion Fatigue .......... page 13

New Nursing Simulation and

Clinical Education Center ............ page 14

It's Time to Talk About Athletic

Urinary Incontinence ............... page 15

Improving Employee Engagement ....... page 16

Joy in Work Framework ................ page 16

Dropping the Stigma Surrounding

Substance Use Disorder .............`page 18

NHNA Student Nurse of the Year ..........page 19

Giving Care: A Strategic Plan .........pages 20-21

In Memory .......................pages 22-23

It was a pleasure to honor these professionals for their

commitment and dedication to nursing. Look for these nurses

to be celebrated in our fall edition of NH Nursing News.

Finally, a big thank you to all of our members. Your

participation and engagement are essential to NHNA

achieving our mission. If you are interested in learning more

about the commissions or would like to join, please visit our

website.

Thank you for all that you do!

Best,

Holly McCormack DNP RN

President, NHNA

SPECIAL ANNOUNCEMENT

In my column for this issue of NH Nursing News I reflected on the word GROWTH. Consistent with that

word I wanted to let you know about some changes coming to NH Nursing News. We are going DIGITAL.

This will be our last print copy of NH Nursing News. With the change to digital we will have more chances

to send you regular NHNA News with monthly eblasts. The monthly updates will go out in the months

between quarterly editions. With any change we may have some growing pains as we adjust to this new

format but we are confident that this is the right direction for NHNA to take.

– Pamela P. DiNapoli
---
community

Mission-driven

center jobs. No holiday

health

12-hour shifts or call.

hours,

or no weekend hours.

Few

Page 2 • New Hampshire Nursing News June, July, August 2022

Guidelines for Submissions to NH Nursing News

NH Nursing News (NHNN) is the official publication

of the NH Nurses' Association (NHNA), published

quarterly – and available in PDF format at our website:

www.nhnurses.org. Views expressed are solely

those of the guest authors or persons quoted and do

not necessarily reflect NHNA views or those of the

publisher, Arthur L. Davis Publishing Agency, Inc. NHNA

welcomes submission of nursing and health related news

items, original articles, research abstracts, and other

pertinent contributions. We encourage short summaries

and brief abstracts as well as lengthier reports and

original works. An "article for reprint" may be considered

if accompanied by written permission from the author or

publisher. Authors do not need to be NHNA members.*

Sign-on bonuses, 401k,

benefits, loan-repayment

options, paths for growth

FT, PT, per-diem

NH Seacoast region

Manuscript Format and Submission:

Articles should be submitted as

double spaced WORD documents

(.doc format vs. .docx, please) in 12

pt. font without embedded photos.

Photos should be attached

separately in JPG format and

include captions.

Submissions should include

the article's title plus

author's name, credentials,

organization / employer represented,

and contact information. Authors should state any

potential conflict of interest and identify any applicable

commercial affiliation. Email as attachments to office@

nhnurses.org with NN Submission in the subject line.

Publication Selection and Rights:

Articles will be selected for publication based on the

topic of interest, adherence to publication deadlines,

quality of writing and peer review. *When there is space

for one article and two of equal interest are under review,

preference will be given to NHNA members. NHNA

reserves the right to edit articles to meet style and

space limitations. Publication and reprint rights are

also reserved by NHNA. Feel free to call us with any

additional questions at 877-810-5972.

Advertising:

Product, program, promotional or service

announcements are usually considered advertisements

vs. news. To place an ad, contact: Arthur L. Davis

Publishing Agency, Inc. Email sales@aldpub.com or

call 800-626-4081. Ad sales fund publication and

mailing of NH Nursing News and are not paid to

NHNA.

Vol. 46 No.3

Official publication of the New Hampshire

Nurses' Association (NHNA), a constituent

member of the American Nurses Association.

Published quarterly every March, June,

September and December. Library subscription

rate is $30. ISSN 0029-6538

Editorial Offices

New Hampshire Nurses Association, 25 Hall St.,

Unit 1E, Concord, NH 03301. Ph (603) 225-3783,

E-mail office@NHNurses.org

Editor: Jessica Reeves, MSN, MPH, APRN

NHNA Staff

Pamela P. DiNapoli, PhD, RN, CNL,

Nurse Executive Director

NURSING NEWS is indexed in the Cumulative

Nursing Index to Nursing and Allied Health

Literature (CINAHL) and International Nursing

Index.

For advertising rates and information, please

contact Arthur L. Davis Publishing Agency,

Inc., PO Box 216, Cedar Falls, Iowa 50613,

(800) 626-4081, sales@aldpub.com. NHNA

and the Arthur L. Davis Publishing Agency, Inc.

reserve the right to reject any advertisement.

Responsibility for errors in advertising is limited

to corrections in the next issue or refund of price

of advertisement.

Acceptance of advertising does not imply

endorsement or approval by the New Hampshire

Nurses Association of products advertised,

the advertisers, or the claims made. Rejection

of an advertisement does not imply a product

offered for advertising is without merit, or that

the manufacturer lacks integrity, or that this

association disapproves of the product or its

use. NHNA and the Arthur L. Davis Publishing

Agency, Inc. shall not be held liable for any

consequences resulting from purchase or use of

an advertiser's product. Articles appearing in this

publication express the opinions of the authors;

they do not necessarily reflect views of the staff,

board, or membership of NHNA or those of the

national or local associations.

VISION STATEMENT

Inspire New Hampshire nurses as leaders to expand

the power of the nursing profession to improve the

health of the people of New Hampshire.

MISSION STATEMENT

Promote nursing practice and the wellbeing of

New Hampshire nurses by providing professional

development, fostering nurse innovation and

leading in health advocacy to enhance the health

of the people in New Hampshire.

Adopted 11-10-2021.

CORE VALUES

Caring • Integrity • Excellence

Diversity/Inclusion/Belonging
---
June, July, August 2022 New Hampshire Nursing News • Page 3

REFLECTIONS FROM THE ED

The word I would like to reflect

on for this issue of NH Nursing

News is GROWTH. In this

issue we celebrate the growth

of the profession through our

student nurse conference,

our award winners and MS/

DNP graduating student

capstone projects. But we also

recognize in this issue that

there are significant challenges

and barriers to the growth of

our workforce. By now we all

Pamela P. DiNapoli

recognize that there is a nursing

shortage. Those of us that have been in the profession for

several years have seen shortages come and go. When I

was in school, we were debating entry into practice, and

we were experiencing a nursing shortage. At the time one

of our professors told us not to worry about shortages, that

historically nursing was a "washing machine profession."

Meaning that nurses would work when they needed a new

"washing machine," in other words, the workforce was

influenced by economic growth and economic downturns.

Good economy, nursing shortage, bad economy, nursing

saturation. That has always stuck with me. So conventional

wisdom would suggest that because the economy is

heading towards a recession, more nurses will enter the

workforce and the nursing shortage will soon be over, right?

Unfortunately, times have changed, while we still may be

debating entry into practice, the Registered Nurse (RNs)

shortage is now expected to intensify as Baby Boomers age

and the need for health care grows.

We can celebrate that our profession has seen considerable

growth and respect since those "washing machine days,"

giving nurses many and varied career opportunities. Nurses

make up the largest segment of the healthcare workforce.

But the number of nurses entering the workforce has not

kept pace with the need for registered nurses. Despite a

growth in enrollment of 5.1% in entry-level baccalaureate

programs this is not sufficient to meet the demand for

nursing services. Nearly every healthcare encounter

includes an RN to perform history and physicals, to

interpret critical information, to make decisions about

treatments and medication and to coordinate care across

multiple health care disciplines.

So, what are the factors impacting growth? The average

age of nurses is now 50 years old which may signal a large

wave of retirees not likely to reenter the workforce based

on economic pressures. It is projected that more than 1

million nurses will leave the workforce by 2030. And as

the nursing workforce is aging so is the population. The US

census predicts that by 2030 there may be over 82 million

people over the age of 65 with increased needs to care for

chronic illness and comorbidities attributed to aging. There

are also generational attributes contributing to the current

workforce. The current workforce is more mobile, 13% of

newly licensed RNs had changed principal jobs after one

year, and 37% reported that they felt ready to change jobs.

The growth of travel nursing has contributed to a migrant

workforce impacting the work environment.

The result of the lack of growth in the workforce is

ultimately increasing stress on nurses, lowering patient

care quality and causing more nurses to leave the

profession sooner than expected. The news is not all

bad. The face of the workforce has become more diverse

and there will be a need for continued diversity as the

population continues to change. Covid 19 has brought

more attention to the healthcare workforce and the release

of the Nurse of the Future 2020-2030 report has highlighted

the increased number of opportunities for nurses in the

areas of community health, public health and certainly

the focus on social determinants of health has put more

emphasis on population health.

For too long we have focused on economic reasons for

the ebb and flow of the nursing workforce. To sustain

growth in our workforce we need to focus on the root

causes. We need to grow our faculty workforce to build

capacity in our academic programs. Without a growth

in programs like faculty loan repayment nurses are not

incentivized to enter academics. Similarly, the current fee

for services structure and low Medicaid and Medicare

reimbursement rates limit the number of providers

willing to serve as preceptors. We look to funding from

the CARES Act to infuse new money into initiatives that

will grow the workforce like loan repayment. We also

need growth in media such as public service campaigns

to encourage more people to enter the profession. With

these public service campaigns come efforts to adopt

improved staffing policies, higher wages, and other

initiatives designed to improve working conditions.

Finally, we need to embrace the word innovation and

grow opportunities to rethink our practice. Nurses know

nursing! We need to look for innovative ideas from

nurses to solve problems faced at the bedside. Clara

Barton said: "'It irritates me to be told how things have

always been done. I defy the tyranny of precedent. I go

for anything new that might improve the past.'" Good

ideas and the willingness to disrupt the status quo could

be the answer to growing the workforce. We will not

know if we do not try. Nurses need to be at the table

bringing their innovative ideas and solutions to daily

problems.

One definition of GROWTH is to broaden as to broaden

one's horizons. In nursing practice, we need to "broaden

our horizons with a change of scenery and culture" by

embracing and diversifying the workforce in a changing

work environment. Another definition of GROWTH is to

widen as "to encompass more people, ideas and things."

We need to widen the pipeline to ensure an adequate

workforce by increasing educational opportunities.

GROWTH is expansion" as in expansion of the

healthcare industry." We need to expand and evolve to

face the complex healthcare issues that are and will be

facing us well into the future.
---
Page 4 • New Hampshire Nursing News June, July, August 2022

LEGISLATIVE UPDATE

TABLE 1: Legislative Town Hall Forum Bill Rankings

Bill TITLE STATUS

HB1017/2013

HB1633/2049

HB1224/2361

HB1233/2426

HB1351/2631

HB255

HB 1210

HB1604/2142

SB 422/HB 103

HB1332/2458

HB1014/2054

SB277/2939

HB1659

HB1030/2372

HB1260/2141

establishing criminal penalties for

harming or threatening to harm an

essential worker.

relative to requiring COVID-19

vaccination for school attendance.

prohibiting state and local governments

from adopting certain mandates in

response to COVID-19; and prohibiting

employers and places of public

accommodation from discriminating on

the basis of vaccination status.

prohibiting higher education institutions

receiving state funds from requiring face

masks and COVID-19 vaccinations for

attendance.

prohibiting certain employers from

requiring a COVID-19 vaccination as a

condition of employment.

relative to prohibiting vaccine mandates

by New Hampshire employers. –

RETAINED from 2020

Relative to exemptions from vaccine

mandates.

including state medical facilities in the

statute providing medical freedom in

immunizations.

AN ACT establishing an adult dental

benefit under the state Medicaid

program.

excepting public universities and colleges

from requirements under medical

freedom in immunizations.

allowing public meetings to be

conducted virtually.

relative to emergency or temporary

health care licenses.

relative to criminal history background

checks for certain health care workers.

relative to licensure by alternate

experience for licensed nursing assistant.

making immunization status a protected

class.

Replaced by SB 459FN

(See Below)

House Vote: ITL (21-0) *

House Vote: Refer for Interim Study

(19-0)**

House vote: Lay on Table ***

House Vote: ITL

Amended to HB 1210

House Vote: Lay on Table (213-142)

House Committee OTP/A #0724h (11-10)

****

OTP/A # 2022-0724h (181-155) 3/17/22

Senate Committee Report: Referred to

Interim Study (4-1)

Senate Vote: Interim Study

House Vote:

OTP/A (Vote 176-174) 2/16/22, Referred

to Finance 2/16/22; OTP/A 1160h 3/31/22

Senate Vote:

Committee Report: OTP/A #1566s

4/21/22 (Vote 5-0); Finance Committee

Report: OTP (6-0) 5/5/22

House and Senate Concur: To the

Governor to Sign

Lay on table (172-142) 3/16/22

Lay on Table 175-155 03/16/2022

Ought to Pass with Amendment

Motion Adopted Voice Vote 05/04/2022

Motion Adopted, Voice Vote

Motion Adopted, Voice Bote

ITL 3/10/22

HB1379/2527

HB1358/2789

SB222/2896

HB1606/2150

HB1035/2182

HB1439/2492

SB 459FN

relative to the department of health and

human services' rulemaking authority

regarding immunization requirements.

requiring public and private employers to

establish procedures and exceptions for

the use of mandatory intrusive testing as a

condition of new or continued employment.

permitting licensing boards to conduct

remote meetings.

making the state vaccine registry an optin

program.

relative to exemptions from school

vaccine mandates.

relative to hospital visitation policies.

Relative to healthcare workplace violence

prevention programs

Refer to Interim Study 4/21/22

ITL 3/10/22

Language amended to HB 1210

Motion Adopted Voice Vote

Committee Report: OTP/A #1687s (4-1) 5/5/22

As amended program is opt-in/opt-out

a single time for all vaccines. NHNA

Supports the amendment

Committee Report: OTP 4/21/22

(Vote 5-0)

Amendment Adopted, Voice Vote;

04/21/2022

Motion Adopted: To the Governor for

signing

*ITL refers to inexpedient to legislate indicating there is no benefit to creating rules of

law to implement this bill

**Interim Study means that the bill is not currently in a form that both the house

and senate agree on, while there may be merit to the content there is not currently

consensus. It needs more study.

***Lay on the Table: The bill is killed

****OTP-A this indicates that the bill "ought" to pass. When there is an A attached it

means that the bill has been amended.

The 2022 legislative session was an active one with as many as 47 Covid 19 bills

related to immunizations and masks. NHNA followed all of these bills partnering

with the Healthy 603 Coalition. The Coalition was formed with a large group of

stakeholders from healthcare, business, and education sectors among others. The table

summarizes the house and senate actions up to date at press time. Use the hyperlinks

to read the current status of each bill. The biggest win for NHNA was the passage

by both House and Senate of HB 459 which creates a Workplace Safety Commission

charged with collecting and trending healthcare workplace violence data. The

definition in the final version of the bill includes:

"Workplace violence" means any act or threat of physical violence, harassment,

intimidation, or other threatening behavior.

"Hostile words" means aggressive and belligerent verbal abuse in which the recipient

reasonably believes that the speaker intends to injure or create excessive stress, or in

which the recipient suffers actual psychological trauma.

The Bill now will go to the Governor's desk. Look for updates on our social media

channels

Instagram: nh.nurses | Twitter: Nhna_nurses | Facebook: @NHnurse

Linked In: NEW HAMPSHIRE NURSES ASSOCIATION

We're Looking

For The Best.

Come Join Our Team!

We have many opportunities available at Memorial

Hospital in North Conway and the Merriman House.

RN openings:

Clinical Manager, Family Birthing Center

Emergency Department • General Surgery

Heart Health & Wellness • Med Surg

Long Term Care – New Grads Welcome!

LNAs: • Long Term Care

Excellent work/life balance in an outdoor

enthusiasts' dream location! Memorial

Hospital is critical-access hospital, with

a friendly close-knit vibe, located in New

Hampshire's White Mountains region.

Candidates can apply online at

www.memorialhospitalnh.org

An Equal Opportunity Employer

100 Saint Anselm Drive

Manchester, NH 03102

(603) 641-7086

www.anselm.edu/cne

Committed to Promoting Excellence

in the Practice of Nursing

Saint Anselm College is approved as a provider of nursing

continuing professional development by the Northeast

Multistate Division, an accredited approver by the American

Nurses Credentialing Center's Commission on Accreditation

3

3
---
June, July, August 2022 New Hampshire Nursing News • Page 5

LEGISLATIVE UPDATE

The Honorable Barbara French, BSN, MEd

Reprinting the remarks given on the House floor on May 5, 2022 by Rep. Linda Tanner

in honor of The Honorable Barbara French (see In Memorium)

Today we honor a former Democratic member of the

House, the honorable Barbara Connor French of Henniker,

who passed away at the end of last month at the age of 96

just shy of her 97th birthday.

With us today in the gallery are her daughter, Susan,

son, Michael, and best friends, Eileen Kelly and the

Honorable Beth Rodd. Standing with me are some

fellow Representatives who served with Barbara and her

Representatives from Henniker.

I had the good fortune to work with Barbara in my

freshman term when I helped with a continuing resolution

in her committee, recognizing the Cadet Nurses of WWII

and that resolution became my first floor speech. Barbara

had grown up in that generation we affectionately call

the greatest generation, who answered the call of their

country and accepted responsibilities for the home front

during WWII. She knew people who had joined the Cadet

nurses. At a time when college was not always an option

for women, Barbara was accepted to and graduated from

UNH. She then went on to get a BSN degree in New

York City from the Cornell University Hospital and started

her career as a clinical nurse. She later followed up with a

Masters in Education Degree.

Nursing takes a special type of person: intelligent, strong,

determined, persistent, caring. and compassionate. Barbara

was all that and more. In NH her career continued as

Head Nurse Instructor at the NH State Hospital, as a NH

Child Welfare Social Worker, a Consultant for the NH

Department of Education in Drug Education and as a

school nurse in the Concord schools for 27 years. She

served her community as a member of the Henniker

planning board, as a member of Henniker Peace

Community and was active in the local Democratic party.

She attended weekly peace vigils up to a few weeks before

her hospitalization.

Barbara served for 20 years in this House as the State

Representative from Henniker. Although she was vertically

challenged, her voice was strong and big. She was a

sponsor and co-sponsor of numerous bills - too many to list

here- that were signed into law. These ranged from issues

involving health care, the environment, and her passion,

the well being of children and families as well as a bill for

sampling beer or wine at farmers' markets.

She took great pride in her work in the creation of the

NH Healthy Kids corporation, which provides healthcare

to thousands of NH children, and the Child and family

resource centers that support wellness and primary

prevention services for children and families at the

community level.

Barabara received many awards recognizing her hard

work, advocacy and service, including recognition awards

from the National Association of School Nurses, the NH

NEA Retired Educators Award, and the prestigious NH

Democratic Party's Eleanor Roosevelt Award.

In her personal life she was concerned with fitness and

health. She loved to swim in her lake, Massacecum,

and she would persist in a daily swim until October as

long as she was able. Bette Davis once said that "old

age is not for sissies" and Barbara was not a sissy! She

bravely met aging with grace, humor, daily physical

activity and being involved in current events. Long

after she retired from the House, several of us would

get calls from Barbara who wanted more information

or updates on bills she was following or to share her

reaction and opinion on current political news. She

kept involved with the NH School Nurses Association

who created a legislative advocacy award in her name.

When election time rolled around, Barbara was there to

help, give advice and as an advocate for her Democratic

candidates.

She was a force to be reckoned with, highly respected by

those who knew and worked with her, and a dedicated

fighter for quality public education, wellness, accessible

and affordable health care for all, protection of women's

reproductive rights, and protection for the environment.

She worked to protect and provide for those in need, the

vulnerable - the young and the elderly. We will miss her in

this fight for a better world for all.

For most people I would end a eulogy by saying "rest in

peace." But that doesn't seem right for Barbara. I think it

should be "Godspeed Barbara," because I know she won't

rest, she will be directing and keeping all those angels on

their toes and on task.

May your memory be a blessing.

Linda Tanner

NH State Representative

Sullivan District 9

Education Committee
---
Page

Excellence

6 • New Hampshire Nursing News

in

June, July, August 2022

Nursing Awards

Advanced Practice Registered Nurse

Sandra J. McDonald MSN, ACNP-

BC, APRN, Lead Advanced Practice

Provider, Neurocritical Care

Dartmouth Health's Dartmouth-

Hitchcock Medical Center, Lebanon

At Dartmouth-Hitchcock Medical

Center, Sandy McDonald is the lead

advanced practice provider in the

Neurocritical Care Unit. She leads

a team of nine APPs in providing

comprehensive care for these patients in collaboration

with physicians, nurses and respiratory therapists.

Sandy stresses the importance of empathy in her role,

and never loses sight of the fact that each patient has

a life outside the walls of the unit. To quote Sandy, she

says that "In NCCU, the expected length of stay is longer

than in other inpatient units. That affords us the unique

opportunity to really get to know our patients and their

families quite well. It's a privilege and an honor to be

allowed into patients' lives during what can be one of the

most difficult times they have experienced."

Ambulatory Care Nursing

Laurie B. Kofstad BSN, MSN, RN,

Nurse Transplant Coordinator

Manchester VA Medical Center,

Manchester

When one of the veterans who has

served our country needs an organ

transplant, Laurie Kofstad is at their

service. She oversees identifying,

evaluating and coordinating their

care at the Manchester VA Medical

Center. Among her many skills, she excels at providing

care and compassion without judgment, listening to her

patients as they share their fears, making sure they feel

heard, and so they know they are not alone.

Laurie began her career in 1995 at Home Health and

Hospice Care in Merrimack after graduating with an

associate's degree in nursing. Her colleagues in the

profession, both past and present, have inspired her

throughout her journey, especially her nurse mentors

who encouraged her to continue her education and

offered support as she completed her BSN and MSN.

Today, she says, "Being the transplant coordinator has

become my greatest achievement in my nursing career."

Excellence in Nursing Awards Photos

courtesy of Kendal J. Bush Photography

Cardiovascular Nursing

Monica Matulonis RN, ICU

Clinical Nurse Specialist

Catholic Medical Center,

Manchester

Monica Matulonis' years of

experience enable her to remain

unruffled in a crisis. She's

learned that as in ICU nurse, the

most important trait is to remain

calm during emergencies.

For the past eight years, she's been primarily caring

for post-open heart surgery patients at Catholic

Medical Center, and during the past three years,

she's been the specialist who gives training and

practical experience to nurses new to their role in

CMC's nationally renowned unit.

Although she's an expert cardiac nurse, she had

to take on a new role in 2020 during the height of

the pandemic when she was tasked with being the

charge nurse in the Covid intensive care unit.

Not only is she composed, she is compassionate,

telling us that, "What inspires me to be an excellent

nurse is to utilize empathy with each and every

patient. My goal is to treat every patient and family

member like they are my family or close friend."

family's worst day.

Emergency Nursing

Melissa Eastman Resource

Person, CEN, BSN

Concord Hospital, Concord

Melissa Eastman has been a

nurse for 27 years, serving

for the past 15 of them in

Concord Hospital's emergency

department, where on every

shift she is in situations that put

her in the middle of a patient or

Although she says the last years were especially

challenging, she stays motivated by knowing that

she's making a difference for patients and their loved

ones.

As the resource nurse, she must be adept at juggling

multiple priorities at once, and she is responsible

for patient flow, resource allocation, and clinical

mentoring and support for ER nurses. She manages

the day-to-day operations in the ER while on shift,

triaging ambulance traffic to make sure that patients

entering the department are getting the appropriate

care by matching clinical experience to patient

assignments and acuity.

Front Line/Administrative Nursing Leader

Anna Ivy M. Park BSN, RN, OCN,

MED-SURG-BC, Unit Nurse

Manager Oncology Inpatient Unit

and Hematology Cellular Therapy

Unit

Dartmouth Health's Dartmouth-

Hitchcock Medical Center,

Lebanon

Anna Ivy Park has been a nurse

for 14 years, and has been in a

leadership role for the past five. The pandemic made

the last three of those especially demanding, because

all patients in the unit where she is the nurse manager

at Dartmouth-Hitchcock Medical Center are immune

compromised.

Anna's was the only unit that did not accept Covidpositive

patients, so the team had to be even more

protective than usual. Still, though over-stressed and

over-taxed, they answer every bell.

Anna says it fuels her fire to be a mentor to her fellow

nurses, telling us that she loves to, quote, "See the

sparkle in their eye when they realize, 'I've got this.'"

Hospice-Palliative Care &

Gerontological Nursing

Jacob Fox RN, Nursing Supervisor

Maplewood Nursing Home of

Cheshire County, Westmoreland

After 13 years spent in the

manufacturing sector, Jacob

heard the call and enrolled in

the LNA program at River Valley

Community College in 2007.

His philosophy is to accentuate the

positive. That sets the tone and creates the environment

for patients and staff at the Maplewood Nursing Home of

Cheshire County. Jacob, who has been with Maplewood

since 2008, is a graduate of Vermont Tech's practical

nurse program and earned his associate's degree in

the science of nursing in 2018. He's grateful to the

Maplewood nurses who have guided and supported

him through the years, who have helped him progress,

teaching and mentoring him along the way, and have

inspired him to, as he says, "be the best that I can be."

Maternal-Child Health Nursing

April Henry MSN, RNC-OB, CNL,

Director of the Family Center and

Center of Reproductive Care and

Maternal Fetal Medicine

Exeter Hospital, Exeter

Though she's been a maternalchild

nurse for a quarter-century,

each birth remains magical for

April Henry, who is the director

of Exeter Hospital's Family Center

and the Center of Reproductive Care and Maternal Fetal

Medicine.

In her dual roles, she oversees labor and delivery, postpartum,

pediatrics and the nursery. She has spent 20

years at bedside and worked in underserved areas in

Southern California, high-risk obstetrics in New Jersey

and the community hospital in Exeter.

April's motivation is her patients and her team,

emphasizing that she is fortunate to lead a wonderful

team who consistently rise to the occasion, despite the

substantial challenges of the last couple of years.
---
June, July, August 2022 New Hampshire Nursing News • Page 7

Medical Surgical Nursing

Caitlin Kretschmar BSN, RN,

PCCN

Wentworth-Douglass

Dover

Hospital,

In high school, Caitlin Kretschmar

suffered a brain aneurysm and

later a stroke. Crediting the nurses

who cared for her at Boston's

Children's Hospital, she decided

she wanted to be a nurse just like

the ones who saved her life.

She started at Wentworth-Douglass after graduating

from UNH's nursing program in 2015, and now serves

as a nurse/charge nurse on a telemetry/medical surgical

unit but had to adjust to a critical change when it was

transitioned into a Covid unit in March 2020.

Despite the rigorous demands of the job and tireless

hours required, Caitlin is like the nurses who inspired

her to join their profession – she continues to provide

excellent care, compassion and empathy for her patients.

Ambulatory Clinical Nurse Educator

Jennifer Miller MSN, RN-BC

Elliot Medical Group, Manchester

In the fourth grade, Jennifer Miller

wrote a book report on Florence

Nightingale, and from that point

on, her heart was set on this

profession. After graduating from

the University of Virginia's School

of Nursing, she served four years

as a U.S. Air Force nurse, and in

the 25 years since, she's lived in eight states and worked

in a variety of settings that contributed to her knowledge

and experience.

As the nurse educator for the primary and specialty care

clinics, she creates content and presents the orientation

courses for medical assistants, LPNs, and RNs. For

current staff, she encourages professional development

opportunities and connects them with resources. Jennifer

believes that one of the most important character traits

for someone in her specialty is an attitude of humble

inquiry.

She says educating others is a privilege, one that she

enjoys and takes seriously. Over the years, she says,

she's kept up with former students and peers, and that

it's been, quote, "Wonderful to see careers flourish and

dreams come true."

Pediatric & School Nursing

Jennifer Orbeso Charge Nurse,

DNP, MAN, RN NICU, Nursing

Diversity & Inclusion Specialist/

Clinical Nurse NICU

Dartmouth Health's Dartmouth-

Hitchcock Medical Center,

Lebanon

At Dartmouth-Hitchcock Medical

Center, Jennifer Orbeso fulfills

dual roles as a clinical nurse in the

neonatal intensive care unit and as the nursing diversity

and inclusion specialist in the office of nursing support.

As the diversity and inclusion specialist, she takes the

lead in improving the recruitment, engagement and

retention needs of nurses who come from culturally

diverse backgrounds, and those who were trained

internationally. In her role as a clinician, she takes care

of premature neonates and other babies born with

a medical condition requiring critical care, and that

expands to taking care of the neonate's family.

She helps empower parents to take care of their

babies, so they can be prepared to take good care of

them when they go home, knowing that they have

already undergone a stressful experience in their early

parenthood journey.

Psychiatric & Mental Health Nursing

Christina (Tina) Favero RN, Clinical

Nurse Emergency Department

Dartmouth Health's Dartmouth-

Hitchcock Medical Center,

Lebanon

Tina Favero is a psychiatric RN

working in the Dartmouth-

Hitchcock Medical Center

emergency department with

high-acuity psychiatric patients.

She provides crisis intervention and stabilization for

those with suicidal ideation, anxiety, depression,

substance use disorders and a myriad of other

mental health diagnoses and conditions.

She is proud of the ability to utilize humor and

therapeutic listening when working with patients to

help them see that health care providers recognize

them as individuals and not as their diagnoses. This

facilitates trust and empowers patients to actively

participate in their own care through self-efficacy

and accountability.

Before joining the DHMC staff in 2017, she was a

charge nurse on a 15-bed, LGBTQIA+ adult inpatient

psychiatric unit as well as a clinical nurse leader on a

10-bed inpatient psychiatric unit in Vermont.

Public Health Nursing

Darlene Morse MSN, RN, MEd,

CIC, Public Health Nurse

Program Manager

NH Division of Public Health

Services, Bureau of Infectious

Disease Control, Concord

Before retiring, Darlene Morse

filled several roles. She managed

and worked with seven nurses

who investigate and make

recommendations around reports of infectious

disease. She was the State of New Hampshire

tuberculosis (TB) nurse consultant, providing expert

consultation to providers and nurses regarding TB

case management. During the Covid-19 response,

her role expanded to assisting in the investigation

and contact tracing of cases.

She says nurses in her field need to be extremely

nimble, as it is distinct from any other type of

nursing, especially in disease investigation. Any

Opportunity Awaits

REGISTERED NURSES

Emergency Department

IPCU

Specialty Clinic

Psychiatric Inpatient

Adult Day Program

To view all current job

opportunities, and to apply

please go to:

https://

springfieldhospital.org/

careers/

Equal Opportunity Employer

suspected outbreak, cluster of illness, unusual

occurrence of communicable disease, or other

incident that may pose a threat to the public's health

must be reported within 24 hours of recognition.

To quote Darlene, "These nurses are the emergency

responders of public health. The nurses may find

themselves working on infectious disease reports

that have come in, and then have an investigation

blossom into a huge investigation that requires

several nurses to participate. Public health nursing is

so different from hospital or long-term care settings

in that we deal with the report of the individual

with an infectious disease and how they affect the

group of people around them. That investigation may

involve situations that may not end at the end of the

workday," she says.

Senior Nursing Leader

Amy Matthews DNP, RN, CENP,

Chief Nursing Officer and Vice

President of Patient Care

Services

Dartmouth Health's Cheshire

Medical Center, Keene

Health care is a complex

environment and those on the

top management team face

unique challenges at every

turn. Empathetic leadership is crucial, says Chief

Nursing Officer Amy Matthews. It's empathy and

compassion, she says, that help nurse leaders create

an environment of value, respect and well-being.

Through interdisciplinary collaboration at the

executive level, she endeavors to make sure that

Cheshire Medical Center advances the health and

wellness of those in the Monadnock Region.

Even after 35 years in the profession, she remains

motivated by her desire to help other nurses follow

her path into leadership roles, and she is continually

inspired by her patients, who give her a deeper

appreciation for the full human experience.
---
Page 8 • New Hampshire Nursing News June, July, August 2022

New Hampshire Nurse Practitioner Association

2020 & 2021 Recipients Recognized

The New Hampshire Nurse Practitioner Association

dedicated to empowering NH NPs and championing

their practice, recently recognized award recipients

for both 2020 and 2021! Three distinct awards were

presented. NHNPA appreciates the efforts of the

awardees and those who took the time to provide

nominations, which have been shared below.

The NP of the Year for 2021 was recognized for

their significant contribution to the role of the Nurse

Practitioner at the state and/or national level, in the

areas of clinical, legislative, education and/or research.

This year's NP of the year award went to Bridget

Linehan. Bridget Linehan, PhD, APRN is described as

"truly dedicated to the role of the Nurse Practitioner at

both the state and national level, investing her time in

clinical, educational, and research-based aspects of

patient care." She has been an APRN since 2006 and

earned her PhD from the University of Massachusetts

Amherst in 2011 with a commitment to excellence in

NP practice. She is a clinical expert in pediatric primary

care and specializes in spina bifida, urinary incontinence

among athletes, bladder dysfunction and adverse

childhood events, bowel and bladder dysfunction, and

nurse practitioner precepting and education. She is

devoted to providing excellent, patient-centered care

while empowering others around her. Below are some

of her many accomplishments: Bridget specializes

in Pediatric Nephrology and Urology at Dartmouth-

Hitchcock Medical Center, providing high-quality care to

pediatric patients. She touches the lives of her patients

through her caring, informative, and patient approach to

care. Her dedication to optimal clinical care is evident

in the way she works to inspire and empower other

members of her team. Bridget Linehan also has a special

interest in athletic urinary incontinence (AUI) and has

previously published a study that she designed and

performed at a local high school near the hospital. She

continues her work in this field through AUI instrument

development and validation. This is just one example

of her commitment to the advancement of healthcare

and overarching goal of improving patients' quality

of life. Bridget Linehan also collaborates with another

NP to organize and implement the iSURF Nursing

program through the NH-INBRE Network providing

undergraduate nursing students, the opportunity to

explore nursing research.

WE HAVE OPPORTUNITIES FOR FULL TIME RNs and LPNs IN KEY ROLES:

• Charge RN- Emergency Room

• Emergency Room

• Primary Care

• Operating Room

• Maternal/Child Health

• OB/GYN Practice

• Cardiology Office

• Pediatrics Practice

The Advocate of The Year Award is given to an

individual who has made a significant contribution

toward increasing awareness and recognition of NPs.

Examples of past recipients have been physicians,

legislators and educators. This year our advocate of

the year award was presented to Debra Fournier, the

Director of Quality and Nurse Practitioner Services

at New Hampshire Hospital. Deb is an advocate for

empowering nurse practitioners, modeling excellence

in clinical practice, fostering respectful collaboration

with varied disciplines, and promoting ongoing quality

care. She supports APRNs working in the full scope of

practice and encourages engagement in leadership

opportunities. She has led the growth of an incredible

and highly skilled NP Team at NHH, a team meeting

the challenges of providing care to some of the most

vulnerable and challenging psychiatric patients in the

state. She has supported and commended the NP Team,

while encouraging a healthy work-life balance for those

providing care. She has championed the expansion of

the psychiatric nurse practitioner preceptor program

at NHH, a valuable asset in our state that will help

to develop and enhance the knowledge and skills of a

developing workforce of psychiatric nurse practitioners.

Although she has a quiet and humble presence,

Deb has led with advanced skills, insight, contextual

understanding, and diplomacy. She empowers the

NPs and those around her and allows for uncovering

continued opportunities where Advanced Practice

Nurses can shine.

The Lifetime of Service Award is presented each year

to an NP who, during their professional career has

made significant contributions to the role, scope and

development of NH Nurse Practitioners. This year,

NHNPA recognized Marcy Ainslie for her dedication

not only in patient care and advocacy but also her

dedication to educating nurses in a Nurse Practitioner

role. Marcy has worked for many years simultaneously

in the clinical setting as well as the classroom with a

clear dedication to healthcare and the role Nurse

Practitioners fill. She has over 22 years of Nurse

Practitioner experience, including in Emergency Room,

Family Medicine, Gero- Psychiatric Behavioral Health,

and Pain Management. She has been an integral part

of the Graduate faculty at both Rivier University and

now the University of NH. Marcy is known for her

intellect, and ability to elicit the clinical transformation

of a bedside nurse to decision making provider. She

never ceases to amaze her students with her valuable

knowledge and her patient who benefit from her

clinical skill and mind. Marcy has dedicated her life to

healthcare.

The recipients of the Advocate of the Year and NP of

the Year awards in 2020 were also nominated for the

2021 American Association of Nurse Practitioner

awards program. We are excited to announce that,

in June, Kim Mohan will receive the AANP NH State

Advocate of the Year award and Siobhan Benham will

receive the AANP NH State NH of the Year award.

You can learn more about these awardees and others

who were recognized for their contribution in 2020

below.

Kim Mohan, the owner, of the Tandem Group LLC,

was recognized as the NP Advocate of the Year. She

initially started working with our organization as a per

diem contractor assisting with moving our organization

to the next level with regard to our annual conference
---
June, July, August 2022 New Hampshire Nursing News • Page 9

and marketing. She continued to learn and advocate for our organization and

with her background and experience easily transitioned into our first full-time

Executive Director role. She has served as the Executive Director for two years and

has continued to ensure our mission, vision, and goals are clear with a direction

forward. She has continued to elevate our organization by developing processes

and relationships with key personnel from around the state and region, including

the front lines of the statehouse with policy. She sits on all of our board committees

to guide and support our work. She sits on various state-level committees to ensure

the voice of nurse practitioners is at the table. She works closely with our lobbyist to

ensure our goals and advocacy is at the highest level. She has been instrumental in

the growth and steadiness throughout these very challenging years.

Siobhan Benham, owner, and provider of Hearthside Family Health was recognized

as NP of the Year. She is a humble, quiet advocate for nurse practitioner students

and patients. Ms. Benham served as faculty at Rivier University for four years,

serving as lead faculty for women's health and pediatric curricular development.

Current practice experience enhanced the quality of her teaching. After 12 years

in clinical practice and increasing frustration with a healthcare system designed

around insurance company requirements, she opened Hearthside Family Health

in 2017 under the Direct Access Model. She provides individualized care with

direct communication to and from her patients in an affordable, cost-transparent

model. Families and patients with high insurance deductibles, lack of insurance,

or seeking comprehensive, individualized primary care services are able to

access full-service primary care. She continues to provide evidence-based care,

with compassion and kindness, all while paying attention to the cost and delivery

of every medical choice. She does not compromise care, but advocates for her

patients by finding care that works for each patient all while staying an integral

part of the local medical community. Siobhan is a team player, motivated by

caring for others, and is a personal and professional role model for all who have

the pleasure to work with or know her.

Last year, Mary Sanford, APRN was recognized for the NHNPA Lifetime

Achievement Award. Mary has been an outstanding role model and advocate for

Nurse Practitioners since becoming the first NP to work in the ICU at Catholic

Medical Center. She has been involved in forwarding the profession of Advanced

Practice Nursing since serving on the NHNPA as the vice-president and president

working with the efforts of the NHNPA to acquire full practice authority for NPs in

NH. Mary is an outstanding clinician whose career has been marked by significant

accomplishments. She created a role for Advanced Practice Nurses to oversee

patient management in a busy medical/ surgical ICU. This was at a time when

nurse practitioners were not a mainstay as inpatient hospital providers. She worked

closely with the ICU intensivists and is responsible for a myriad of policies and

procedures that guide the care of these medically complex patients. After building

this unique role her focus shifted to advocacy for the nurse practitioners within

Catholic Medical Center and forged the way for institutional changes that were then

mirrored by area hospitals. She developed the Allied Health committee as a means

to provide a voice for advanced practice providers in an institution where APP was

a new phenomenon. She spent her time educating physician peers regarding the

role and scope of practice of nurse practitioners outlining the valuable resources

an APRN can bring to the inpatient arena. Through her efforts, the prevalence of

APRN's in the inpatient setting within all disciplines is an example of the confidence

the institution has in the APRN model of care. Based on the development of the

Allied Health Committee this has since evolved to an APP committee, an organized

venue for APP advocacy within the institution now with a dedicated seat on the

Medical Executive Committee and voting rights. Mary is well known as an expert

clinician, admired by all who have had the opportunity to work with her. Mary

went from being the first and only ICU NP to an ICU now managed by a team of

Nurse Practitioners. She is the sole reason that nurse practitioners are sought

after in the inpatient arena, she has demonstrated the value of NP expertise and

has paved the way for all who came in her wake. She has presented at numerous

national conferences on the care of ICU patients specifically post-op management

of coronary artery bypass patients having done original research on the rewarming

protocol of post-surgical patients.

Debra Fournier, Advocate of the Year with

Jillian Belmont, outgoing President of NHNPA.

Marcy Ainslie, recipient of the LIfetime of Service award

with Jillian Belmont, outgoing President of NHNPA.

Bridget Linehan NP of the Year pictured with

Jillian Belmont, outgoing President of NHNPA.

Siobhan Benhamp '20 NP of the Year, Mary Sanford '20

LIfetime of Service recipient, Kim Mohan '20 Advocate of the Year
---
Page 10 • New Hampshire Nursing News June, July, August 2022

Early Career and Graduating Student Nurse

Conference 2022 – Your Future in Nursing

We were delighted that this year the NHNA Student Nurse Conference was held as

an in-person event on April 14, 2022, at Plymouth State University. In recognition

that the past two years graduating students did not have the opportunity to attend an

in-person event registration was opened to Early Career Students as well. We were

delighted to have over 100 registrants from 6 schools, mostly from the North Country.

We counted on the generous donations from sponsors to support the event. We were

able to defray the costs for lunch and breaks thanks to our lunch sponsor Southern

New Hampshire University and our break sponsors University of Southern Maine

and Cheshire Hospital. (Names of the other Gold, Silver and Friends sponsors can be

found elsewhere in this issue). The annual program is planned by the Commission on

Nursing Practice. Thanks to the Commission members in Table 1 below.

Table 1: Commission on Nursing Practice Members

Carol Allen-Chair

Teresa Knight

Jamye Cutter

Kerriann Reynolds

Shelley Freidman-Davis

Pamela Kallmerten

Bonnie Aybar-Crumley

This year's program was based on the theme "Your Future in Nursing." The idea

emerged organically from conversations the commission members engaged in

related to the challenges and realities of the nursing profession. Considering the

National Institute of Medicine's publication of the Nurse of the Future 2020-2030

document the Commission wanted to focus on the themes identified including

a focus on opportunities in public health and community health post pandemic,

social determinants of health and climate action. This cohort of students has been

presented with challenges and they have proven their resilience. The Commission

wanted to focus on the many innovative opportunities students will encounter in

their careers as professional nurses. We thank our agenda of speakers for a very

engaging day.

Holly McCormack, RN DNP the current president of NHNA began the program

with her opening remarks congratulations to the attendees and acknowledged

all they have endured during their education. She also referenced how grateful

NHNA was to be able to have an in person event. As President and CEO of Cottage

Hospital she recognized the unique needs of the north country and was delighted to

be able to host an event at Plymouth.

Dr. McCormack then introduced the director of the Plymouth State University

Nursing Department, Donna Driscoll who introduced the PSU President Dr. Donald

L. Birx, Ph.D who humorously referred to himself as Dr. Birx's sister (the American

physician and diplomat who served as the White House Coronavirus response

coordinator). He recalled the healthcare service by several of his family members

and thanked the students for choosing nursing and wished them well.

Shelley Friedman

with Caitlin Yazel

Julie Cote

Lori Shibinette –

Keynote

The keynote speaker was the Commissioner of the Department of Health and Human

Services, Lori Shibinette. The Commissioner gave a very engaging presentation about her

trajectory in nursing. Starting as a nurse at NH Hospital not realizing it was a psychiatric

facility, she wanted to be a Maternity Nurse. She eventually fell in love with psychiatric

nursing. When she found that she was looking for advancement opportunities she

ended up leaving NH Hospital and the rest is history. The key point that she made to

the audience was the importance of life work balance. Her message stressed that finding

the perfect job did not necessarily mean finding the job that offered the most money but

students were asked to consider all of the other factors that would influence their longevity

in the profession. She asked them to consider continuing education opportunities, flexible

benefits, advancement opportunities and other non-monetary considerations.

In advance of a Workforce Roundtable that the Commissioner was hosting on April

18, 2022 (see Giving Care: A Strategic Plan to Expand NH Workforce in this issue),

she asked the audience for ideas. She asked: If you could present a package to the

Governor that would expand the workforce what should it include? The major themes

that emerged were loan repayment and expanded pathways to becoming a nursing.

Many commented on the many barriers to nursing program admission, while others

felt that advancement through education is not attainable because they will have

outstanding loans that will in themselves be difficult to repay. The Commissioner

promised to take these ideas back to the roundtable.

The perennial program favorite was a panel discussion with recent graduates. This year

there were two recent graduates Benson Canfield RN, who currently works at Cottage

Hospital and Abigail Buchanan RN who currently works at Dartmouth Health. They both

clearly love their jobs. Carol Allen, Chair of the Commission facilitated the discussion. The

biggest take home point the new graduates shared was: ask for help. They talked about

how one day you are a student and the next you are "the nurse." Asked how they flipped

the switch they both stated that they had to remind themselves to use and be confident in

the knowledge and skills they learned in school. They also cautioned though that there are

times that you need to use your resources. "There may be tears!"

Students in the audience were most interested in how to pass NCLEX. Both panelists

passed the exam on their first attempt (not without angst) using different testing strategies,

Abigail was determined to pass because she had a job waiting for her, so she used UWorld

and maxed out on the number of practice questions she took. Benson used the program
---
June, July, August 2022 New Hampshire Nursing News • Page 11

he used in school, ATI. Benson noted that he thought that

ATI was harder than NCLEX but was still sure leaving the

testing center that he had failed. Fortunately, both passed

the exam and are currently licensed. We wish them both

long and successful careers.

There were three live presentations based on the theme of

Your Future in Nursing

Caitlin Yazel BSN, APRN, CPNP, Nurse Manager

& Pediatric Nurse Practitioner in the Department of

Dermatology – Dartmouth Hitchcock Medical Center

focused her presentation on Your Future in Nursing

Ambulatory Care. Here are her key messages

1. There is a gap between the world of in-patient nursing

and outpatient nursing and we have to find where

these two worlds collide. We know what the day-today

work of the inpatient nurse is but we have to find

a way to define the role of the ambulatory care nurse.

The ambulatory care nurse role is to help patients

adhere to treatment with the restrictions the pandemic

places on the system.

2. There is good news we are on the cusp of a massive

change in healthcare! It scares some, but it shouldn't!

Change=powerful Nursing talents are becoming

highlighted now more than ever because of the

shortage.

3. How nurses can get involved: Nurses on Boards,

Nurses as authors, Nurses in leadership positions (find

a mentor) and Nurses as innovators

Kaitlyn Liset, RN, MS Chair of the Commission on Climate

Action and Health and her panel of Brooke and Jacob

McGinnis and Brooke Hall, both student members from

UNH DEMN program presented: Your Future in Nursing:

Climate Action and Health. Their key messages included

1. The link between climate change and health:

"Between 2030 and 2050, climate change is expected

to cause approximately 250,000 additional deaths

per year, from malnutrition, malaria, diarrhea and

heat stress." https://www.who.int/news-room/factsheets/detail/climate-change-and-health.

"We in

New Hampshire are no longer immune to poor air

quality, extreme heat, flash flooding and its associated

soil erosion and run-off contamination, unexpected

drought as happened this year, warming waters and

their effect on fish, shellfish and food safety, longer

pollen and allergy seasons, more weeds and pests,

increased tick and mosquito hosts for Lyme disease,

West Nile and Eastern Equine Encephalitis, let alone

the inevitable coastal flooding from sea level rise."

2. An example of how climate change is linked to health

is the increasing risk for Lyme Disease as the climate

in our area is warming, is wetter, and LD is already

endemic. We do have opportunities to provide better

education and increased awareness among patients

and the population. Early recognition and treatment

are highly effective in preventing the downstream

consequences of Lyme Disease. Nurses can:

- Increase awareness

- Prevent exposure

- Assist in diagnosis and prompt treatment through

identification

- Assess and monitor risks

- Report for tracking and trending

For more information about Climate Action and Health

visit: https://www.nhclimatehealth.org/

Julie Cote, DNP, MBA, RN, CNE focused her presentation

on: The Future of Nursing: Advancing Health and Health

Equity. Dr. Cote centered her remarks on the Upstream/

Downstream Parable of Health Equity. Here are her key

messages:

• Downstream. Chronic disease treatment—

emergency services, pharmacology, surgery, and

dialysis.

• Mid-stream. Modifying individual behavior—physical

activity, nutrition, tobacco use, maternal health, high

school graduation, and violence control.

• Upstream. Addressing social determinants of

health—conditions in which people are born, grow,

live, work, and play.

The point being that in healthcare we need to consider

the Social Determinants of health and being to shift our

focus from downstream (individual treatment) to upstream

(prevention strategies for the whole community, with a

focus on the vulnerable). Dr. Cote engaged the student

with her own experiences illustrating the parable.

ANA was offering a webinar presentation on the Top

Ten Workplace Hazards, a program designed for New

Graduates and Early Career Nursing. The 90 minute

live webinar was streamed during the program. The

common workplace hazards including commonly cited

hazards and how to avoid them included slips, trips

and falls, ergonomic or back injury, needlestick injury,

chemical hazards but most importantly was the hazard

of workplace violence. Attendees were sent the link to

access and share the webinar after the program. We

received positive feedback from the conference attendees

and also some feedback on how we can improve the

conference in the future which we will consider for our

2023 in person conference. The date and location will be

announced well in advance to encourage as many schools

as possible to send students for this important professional

opportunity.
---
Page 12 • New Hampshire Nursing News June, July, August 2022

Early Career and 2022 Graduating

Student Nurse Conference

NHNA WISHES TO EXTEND A THANK YOU TO 2022

CONFERENCE SPONSORS:

Catholic Medical Center – Manchester

Jennifer.Torosian@cmc-nh.org

New Hampshire Hospital

http://www.dhhs.nh.gov/dcbcs/nhh

Rivier University

landing.online.rivier.edu

Cheshire Medical Center -- Keene

http://www.cheshiremed.org/careers

Solution Health: Elliot Health System

& Southern New Hampshire Health –

Manchester and Nashua

www.ElliotHospital.org

www.SNHCareers.org

Saint Joseph's College of Maine

http://www.sjcme.edu/nursing

Cottage Hospital

www.cottagehospital.org/careers

Granite VNA --Concord

http://www.granitevna.org/

Southern New Hampshire University

snhu.edu/nursing

Dartmouth-Hitchcock –

Lebanon – Concord – Manchester – Nashua

www.DHnursing.org/NRP

Grand Canyon University

www.gcu.edu

University of New Hampshire

https://chhs.unh.edu/nursing/graduateprograms

Encompass Health – Concord NH

and Massachusetts

http://www.encompasshealth.com/

Quinnipiac University

Qu.edu/nursing

University of Southern Maine

kate.flanders@apdegrees.com
---
June, July, August 2022 New Hampshire Nursing News • Page 13

WELCOME NEW and RETURNING NHNA MEMBERS!

NHNA welcomes these new and returning members. Thank you!!! What do these 45 nurses and over 1,100 NHNA members know that you don't?

If you are not a member ask your neighbor on this list why they joined! Go to nhnurses.org where joining is easy and one of the best

professional values for your money! We want to see your name here in the next issue of the NH Nursing NEWS!

Amherst

Nicole Maher-

Whiteside

Antrim

Monica Stevens White

Atkinson

Michelle Dianne

Chianca

Barrington

Jillian Fitzpatrick

Bartlett

Mary O'Keefe

Belmont

Heather Jean Phelan

Bethlehem

Tina Williamson

Canterbury

Kerrie Haynes

Claremont

Ryan Terry

Colebrook

Sharon W. Milan-Snow

Concord

Angelique Catherine

Carrier

Derry

Deanna L Benjamin

East Hampstead

Jennifer Denise

Thebodeau

Farmington

Briana Posanka

Goffstown

Bobbi Harrington

Hillsboro

Mary Marciniak

Hopkinton

Glennis McKinley

Hudson

Joy A Baum

Colin Evans

Kristen Veneman

Laconia

Patricia J O'Connor

Lisbon

Mary I Carlson

Manchester

Gale Lyman

Alicia Colleran

Merrimack

Grace Desrosiers

Marylee Verdi

Christopher Malachite

Milton Mills

Jane Rosa

Nashua

Kathleen Hughson

New Ipswich

Emily Spenski

New London

Gia Paone

Maura C Marshall

Newmarket

Melody I Gibson

Newton

Roxanne Ashby

North Haverhill

Laura Hitchmoth

Pembroke

Susan Lynn Rooks

Pittsburg

Monique Blair

Pittsfield

Danielle Lemieux

Rindge

Natalie Kennett

Rochester

Virginia Lawrence

Rumney

Brittany Hilton

Strafford

Spofford Wilkinson

Warner

Valerie Smith

Windham

Dierdre H Gilroy

Wonalancet

Amy Russell

Combating Compassion Fatigue and Burnout During the Pandemic

Two years into the COVID-19 crisis, healthcare professionals have continually seen and

dealt with the dramatic changes that the pandemic has brought. Specifically, the nursing

profession has felt the pressures of the severity of the situation with ongoing shortages and

what has felt like a lack of permanent relief efforts. Even before the ongoing pandemic,

healthcare workers were dealing with an internal epidemic; a nursing shortage that has led

to continual burnout and compassion fatigue (CF). With the constant stress of increased

workloads, high infection risks, and unsafe working conditions, nurses are calling for a

need of advocacy and support for those once known as healthcare heroes.

Nursing burnout and CF are areas in healthcare that are often spoken of, but little less

than acted upon. With the exacerbation of the pandemic and the strain of an already

demanding population, the mental health aspect associated with the lack of solutions

can be cause for exponential consequences in an already failing system. As the average

age of nurses continues to climb, the U.S. Bureau of Labor Statistics predicts over one

million nurses to retire by 2030, furthering the burden on healthcare needs (U.S. Bureau of

Labor Statistics, 2021). Obtaining and retaining nurses at this time should be a priority for

healthcare institutions, yet those experiencing burnout and CF voice their concerns over

the lack of value seen and felt within recent years. For Barnabas Crozby*, who works in

the float pool at Northern Light Eastern Maine Medical Center (NL-EMMC), there is a lack

of concern felt, as little has been done by the facility to retain nurses or provide mental

health support. "They've done nothing. [Eventually] the minimum wage was raised, but

this wasn't done until after we lost a lot of techs, dietary, housekeeping, etc." states Crozby,

"So, naturally, nursing is filling all these gaps while still being expected to continue taking

the same number of patients, often at higher acuity." The realities of burnout and CF are an

ongoing concern for the general nursing population due to the increased difficulties that

lead to burnout. For Crozby, the lack of acknowledgment and support from management

has been detrimental to what was once a passion for quality care in nursing. After over five

years working as a bedside nurse at NL-EMMC, Crozby is left questioning their career: "I

am not entirely sure I want to be a nurse anymore."

A career in nursing comes with the burden of mental, physical, and emotional stress.

With the already known shortages in addition to burnout and CF, the pandemic has

simply exacerbated and shed light on the epidemic of mental health in nursing. Nursing

quality of life has rapidly declined since the start of the pandemic, with studies showing

the number one component for the rise of mental health in nursing being that of poor

working conditions (Havaei et al., 2022). This can be seen as due to increasing nurse-topatient

ratios, higher acuity patients, lack of support and resources, as well as requirements

to work overtime. Overworking nurses causes mental and emotional exhaustion,

which many are currently experiencing in addition to increased stress and depression

levels (Murat, Köse & Savaser, 2020). Largely, the core of the issue not only comes from

a nursing shortage but also due to the focus of healthcare administration being that

of profit over safety in patient care. This is what has led to a healthcare system creating

liability due to the inconsistencies of health support for the caregivers who provide care.

The consequences of allowing nurses to continue to work in harsh environments will

only further impair the healthcare system by facilitating shortages as burnout has been

associated with lack of sleep, depression, anxiety, PTSD, and even suicide (Schlak et al.,

2022). Burnout has also been related to increasing losses in revenue as a 2019 study by

Annals of Internal Medicine estimated that burnout costs the healthcare industry up to $4.6

billion a year (Han et al., 2019).

Advocating for safety in nursing leads to the promotion of quality of care in

patients as burnout and compassion fatigue are seen to be linked to decreased

patient satisfaction, high infection rates, increased risk of errors, poorer quality

care, longer hospitalizations, and increased risk of mortality (Schlak et al.,

2022). The need to implement mental health policies to mitigate burnout and

CF is crucial to effectively support professional quality of life in nursing and

increase patient safety. Developing strategies to combat burnout and CF requires

immediate action to remedy the issue at the core and will further decrease

healthcare costs and increase retention in healthcare. Strategies include

increasing promoting self-care, recruitment efforts, acknowledging good work

ethic, building a sense of community, and pushing for safe staffing regulations

(American Nurses Association, 2019). Providing a culture of well-being and peer

support into the work and home environment allows for a sense of appreciation

in a job that has little acknowledgment.

The need to advocate for healthcare professionals is higher now than ever.

The demand for nursing retention requires providing empathetic nurse leaders,

increasing pay, and engaging nurses in decision-making efforts (Hoang, 2021).

Effective communication between management and staffing, as well as

supporting safe-staffing ratios and implementing mental health support, will

further enhance professional quality of life. We must make these changes that

can save the lives of nurses, patients, and the communities that we serve. We

must promote patient outcomes, and that begins with nurturing the lives of our

healthcare heroes.

*Name has been changed for privacy

References:

American Nurses Association. (2019). Nurse Staffing Advocacy. ANA. Retrieved from https://www.

nursingworld.org/practice-policy/nurse-staffing/nurse-staffing-advocacy/?__hstc=249295192.

b37650795b2320ea68fe4b88d63e7eaf.1646575636791.1646575636791.1646577542605.2&__hs

sc=249295192.1.1646577542605&__hsfp=999455785

Han, S., Shanafelt, T. D., Sinsky, C. A., Awad, K. M., Dyrbye, L. N., Fiscus, L. C., Trockel,

M., & Goh, J. (2019). Estimating the attributable cost of physician burnout in the

United States. Annals of Internal Medicine, 170(11). https://doi.org/10.7326/m18-1422

Havaei, F., Tang, X., Smith, P., Boamah, S. A., & Frankfurter, C. (2022). The association

between mental health symptoms and quality and safety of patient care before

and during COVID-19 among Canadian nurses. Healthcare, 10(2), 1–13. https://doi.

org/10.3390/healthcare10020314

Hoang, S. (2021). 3 strategies for combating nurse burnout during and after the

pandemic. Oncology Nurse, 14(1), 14.

Murat, M., Köse, S., & Savaser, S. (2020). Determination of stress, depression and burnout

levels of front-line nurses during the Covid-19 pandemic. International Journal of

Mental Health Nursing, 30(2), 533–543. https://doi.org/10.1111/inm.12818

Schlak, A. E., Rosa, W. E., Rushton, C. H., Poghosyan, L., Root, M. C., & McHugh, M.

D. (2022). An expanded institutional- and national-level blueprint to address nurse

burnout and moral suffering amid the evolving pandemic. Nursing management,

53(1), 16–27. https://doi.org/10.1097/01.NUMA.0000805032.15402.b3

U.S. Bureau of Labor Statistics. (2021, September 8). Registered nurses : Occupational

outlook handbook. U.S. Bureau of Labor Statistics. Retrieved from https://www.bls.

gov/ooh/healthcare/registered-nurses.htm
---
Page 14 • New Hampshire Nursing News June, July, August 2022

Rivier University's new Nursing Simulation and Clinical Education

Center is transforming the delivery of nursing education

Rivier University's nursing labs have been

transformed with a $5 million total renovation.

The Nursing Simulation and Clinical Education

Center is open and fully operational for handson

learning and high-tech simulation for nurses

and nurse practitioners. State-of-the-art skills and

simulation labs offer the newest technology for

clinical assessment, community nursing, and telehealth simulation. The 17,825-squarefoot

facility provides students the opportunity to gain real-world experience in

controlled clinical settings and is the most recent advancement in the University's

multi-year campus enhancement plan.

"The future of nursing education is here," says Sister Paula Marie Buley, IHM, Rivier's

President. "Rivier has long been at the forefront of simulation-based learning, and

the new center offers nearly limitless opportunities for students to gain sophisticated

clinical skills in our fully accredited ASN, BSN, RN-BSN, MSN, and DNP programs."

The center spans the second level of Sylvia Trottier Hall and includes six simulation

labs and assessment areas, two classrooms, a lecture hall, a suite of nursing

administrative and faculty offices, and several areas for faculty-student collaboration.

Simulation labs mirror the settings in which nurses most often provide care: medical/

surgical and pediatric/neonatal hospital rooms, an obstetrics room, examination

rooms, and telehealth offices. Designated labs accommodate undergraduate nursing,

public health, and advanced nurse practitioner training.

"As healthcare advances, Rivier adapts," shares Dr. Paula Williams, Dean of the

Division of Nursing and Health Professions. "The new center is fully equipped with

state-of-the-art technology, which allows us to manage, record, and assess simulation

training for practice in real-world health environments. We have a wide variety of

high-fidelity simulators including pediatric Hal, the world's most advanced wireless

pediatric simulator and the first to simulate lifelike emotions through dynamic facial

expressions, movement, and speech."

The University is a nationally ranked top 100 nursing school out of 3,000

institutions evaluated across the country by Nursing Schools Almanac and

honored as the #1 private nursing school in New Hampshire. The RN-BSN

online program is ranked #1 in the state by RegisteredNursing.org. Additionally,

Intelligent.com has ranked Rivier in the Top 50 for Best Nurse Practitioner

Degree programs nationally.

Focused on continuous improvement and innovative technology, the University

has launched a $5 million renovation of facilities for business and security

studies. The enhanced facility will welcome students for the fall semester and

will mirror modern business environments with cybersecurity labs, an Enterprise

Zone fostering interaction and innovation, an office suite and conference room,

and university technology services. The facility will support the education

of management, finance, marketing, sport management, cybersecurity

management, and homeland and international security majors.

The University is accepting applications for all programs and offers on-the-spot

admission decisions. Test scores are not required, and there is no application fee.

Interested students can access more information at www.rivier.edu and contact

the Office of Admissions at (603) 897-8507 or admissions@rivier.edu. Oneon-one

virtual meetings with enrollment advisors can be arranged by visiting

www.rivier.edu/admissions/team/.

Rivier University www.rivier.edu

420 South Main Street

Nashua, NH 03060

WE ARE HIRING

COTTAGE HOSPITAL. WOODSVILLE . NEW HAMPSHIRE

REGISTERED NURSES

FULL-TIME, PART-TIME AND PER DIEM

DAY AND NIGHT SHIFT - BENEFIT ELIGIBLE

MED SURG/ICU

SURGICAL SERVICES

EMERGENCY DEPARTMENT

GERIATRIC PSYCH

SIGN-ON BONUSES OFFERED FOR SOME POSITIONS!

WHY COTTAGE? FOR MORE THAN 115 YEARS, COTTAGE HOSPITAL HAS SERVED

THE RESIDENTS OF THE UPPER CONNECTICUT VALLEY. TODAY, COTTAGE HOSPITAL IS A LEVEL IV

TRAUMA CENTER AND MODERN 35-BED CRITICAL ACCESS HOSPITAL THAT HAS BEEN RECOGNIZED

FOR PROVIDING EXEMPLARY CARE. OUR HOSPITAL OFFERS LOW-COST, HIGH-QUALITY HEALTHCARE

DESIGNED FOR YOUR SCHEDULE. "WE'VE CREATED AN ATMOSPHERE WHERE EVERYONE STRIVES FOR

EXCELLENCE." THIS "CULTURE OF EXCELLENCE" IS EVIDENT IN THE HOSPITAL'S QUALITY CARE RESULTS!

We are an equal opportunity employer

APPLY TODAY! COTTAGEHOSPITAL.ORG/CAREERS

About Rivier University

Founded in 1933 by the Sisters of the Presentation of Mary, Rivier University

is a Catholic institution recognized for distinctive academic programs, offering

many of the region's leading programs at the undergraduate, professional

studies, graduate, and doctoral levels with on-campus and online options. The

Rivier experience ensures that students develop leadership skills as well as an

awareness and appreciation of diverse cultures in New England and around the

world.

Registered Nurses

Full Time – 3 day work week

Part Time – All Shifts

Psychiatric Specialty Areas:

Young Adult, Adult, Geriatric & Crisis Stabilization

Competitive Benefits & Pay Scale

Extensive Paid Orientation | Recent Graduates Welcome!

View job specifications and how to

apply for external RN postings:

http://das.nh.gov/jobsearch/Employment.aspx

New Hampshire Hospital

NH Department of Health and Human Services

36 Clinton Street Concord, NH 03301

Human Resources 603-271-5855
---
June, July, August 2022 New Hampshire Nursing News • Page 15

It's Time to Talk About Athletic Urinary Incontinence

Hailey Stevens & Bridget Linehan, PhD, APRN

Most women are familiar with the concept of stress urinary incontinence, in which the

pressure or 'stress' on the bladder causes a person to leak urine. Stress incontinence

affects 29 million women in the United States (Patel et al., 2022). Along the same lines,

many women experience stress incontinence during exercise. The forces that occur

during exercise increase intra-abdominal pressure, overcoming the resistance provided

by the pelvic floor, increasing the chance that women will have urinary incontinence

during exercise.

This leakage of urine during activity or exercise has been named Athletic urinary

incontinence (UI), and this topic has become an increasingly popular focus of study

in the past three decades, particularly since 2019. The prevalence of Athletic UI

varies dramatically from sport to sport, with low rates in low-impact sports such

as swimming and golf, and high rates in high-impact sports such as gymnastics,

trampoline, and volleyball (Bø & Nygaard, 2020; see figure 1).

Athletic UI is not a small concern for many women, and there can be a significant

social stigma about incontinence. It can cause worry, frustration, and embarrassment

for female athletes and active women. Visible leaks are bothersome for athletes,

especially in gymnastics and other sports where uniforms provide minimal coverage.

Greater than 60% of gymnasts and cheerleaders reported that urine leakage caused

them embarrassment (Skaug et al., 2021). Exercising in public and knowing they might

leak at any moment can make women feel vulnerable. As one female weightlifter

explained, "It sucks having this issue, it affects my confidence, security, and potential

of missing or making lifts" (Wikander et al., 2021).

The stigma, worry, and embarrassment about incontinence causes many women to

exercise less, exercise only in particular locations or at certain times, or stop exercising

altogether. One out of every five athletes with UI occasionally avoids training and

specific exercises due to leakage (Skaug et al., 2021). Physical activity and exercise are

known to improve health and reduce the risk of developing many chronic diseases,

such as hypertension, diabetes, and hypercholesterolemia. Therefore, if Athletic UI

causes women to reduce the amount or type of physical exercise or stop exercising

altogether, there is a risk that it could negatively affect their overall health.

Prior studies have shown that women are very private about their Athletic UI and do

not talk to anyone about it. In our recent study of 61 active women, only one-third

talked about their incontinence with a healthcare professional. As nurses, we can help

by asking about incontinence and encouraging women to seek help. Each time we

reach out to ask a woman about incontinence, we are supporting her ability to stay

engaged in exercise and self-care, enabling her to reap the many physical and mental

health benefits of regular exercise.

References

Bø, K., & Nygaard, I. E. (2020). Is Physical Activity Good or Bad for the Female Pelvic Floor?

A Narrative Review. Sports Medicine (Auckland, N.Z.), 50(3), 471–484. https://doi.

org/10.1007/s40279-019-01243-1

Nygaard, I. E., Thompson, F. L., Svengalis, S. L., & Albright, J. P. (1994). Urinary incontinence in

elite nulliparous athletes. Obstetrics and gynecology, 84(2), 183–187.

Patel, U. J., Godecker, A. L., Giles, D. L., & Brown, H. W. (2022). Updated Prevalence of

Urinary Incontinence in Women: 2015-2018 National Population-Based Survey Data.

Female pelvic medicine & reconstructive surgery, 28(4), 181–187. https://doi.org/10.1097/

SPV.0000000000001127

Skaug, K. L., Engh, M. E., Frawley, H., & Bø, K. (2021). Urinary and anal incontinence among

female gymnasts and cheerleaders-bother and associated factors. A cross-sectional study.

International Urogynecology Journal. https://doi.org/10.1007/s00192-021-04696-z

Wikander, L., Kirshbaum, M. N., Waheed, N., & Gahreman, D. E. (2021). Urinary Incontinence

in Competitive Women Weightlifters. Journal of Strength and Conditioning Research.

https://doi.org/10.1519/JSC.0000000000004052

We have recently begun a study to test out a questionnaire that assesses UI in active

women, called the Active Women's Incontinence Screening Tool (AWIST). This

questionnaire was designed to serve as a comprehensive assessment of the many

variables that affect UI, including activity level, type of activity, embarrassment, bowel

and bladder habits, fluid intake habits, obstetric history, and other important factors. If

you would like to participate in the AWIST validation study, please scan the QR code

below.

It is our hope that nurses and other healthcare providers will ask women about

incontinence and help them connect with skilled nurse practitioners and midwives,

pelvic floor physical therapists, gynecologists, and urologists who can help treat their

symptoms and keep them active and engaged in life as they would like to be.

Figure 1.

Percentage of Women Who Experience UI by Activity Type

Note. Graph created by Jess Perkins. Percentages from Nygaard et al. (1994).
---
Page 16 • New Hampshire Nursing News June, July, August 2022

Improving Employee Engagement

on an Inpatient Unit: A Quality

Improvement Project

Holly A. McCormack DNP RN

Abstract

BACKGROUND: Engaged employees are paramount

to the success of an organization. They are more

invested in their organization and the unit on which

they work. This investment in the organization results

in higher patient satisfaction and safety, less staff

turnover, and improved quality. According to the

literature, generational differences may be necessary

to consider when improving employee engagement.

To successfully lead a multigenerational workforce,

nurse leaders should consider these differences

and incorporate them into their strategic plan for

employee engagement.

METHODS: A pilot survey was conducted on a

medical-surgical unit to assess a perceived lack of

engagement. Subsequently, work engagement was

evaluated utilizing a validated tool called the Utrecht

Work Engagement Scale. This quantitative tool was

combined with four qualitative questions to assess

the demographics of the respondents. Eighty-six staff

received the link for the anonymous survey; 28 staff

responded to the survey, a 32% return rate.

INTERVENTIONS: A Think Tank, via the Zoom platform,

was organized as a method that enabled a broader reach

to a larger audience. Nursing leaders from two participating

organizations were invited to attend. The Think Tank

provided an opportunity to collaborate on employee

engagement and the recommendations surrounding the

issue. Generational implications of employee engagement

were a highlight. Including the project lead, eight nursing

leaders participated in the Think Tank.

RESULTS: The Utrecht Work Engagement Scale

demonstrated an average employee engagement

at each participating organization. The additional

qualitative questions showed a trend in generational

response and participation in the engagement survey.

These responses provided the subject matter for the

ensuing Think Tank with the hospital nursing leaders.

CONCLUSION: The Utrecht Work Engagement Scale

demonstrated that the respondents to the survey were

engaged at an average level. The demographical

questions suggested that there may be a link between

the generational cohort and survey response. This

link is essential for nursing leadership as the Baby

Boomer and Generation X nurses exit the workforce.

Additional research on this topic is warranted.

Utilizing a Think Tank to collaborate on shared

experiences and recommendations for improving

employee engagement of a multigenerational medical

surgical staff is an effective strategy for reaching a

broad audience.

Keywords: employee engagement generational cohort,

nursing, generations, quality improvement, medicalsurgical,

think tank

Florence

Nightingale.

Clara Barton.

Radonda Vaught?

The guilty verdict in the

Radonda Vaught trial has the

very real capacity to shape

nursing for decades.

Jessica Reeves, MSN, MPH, APRN

Editor, New Hampshire Nursing News

Mistakes and errors are regrettable but inevitable risks of

the job. As nurses, we are trained to report mistakes and

errors when they happen; maintenance of transparency in

this way is an important element of our profession and is

intended to inform improvements that will, in turn, reduce

the likelihood of a recurrence of the error.

The context in which Radonda's error occurred may be a

familiar one to many nurses. Overworked and understaffed.

Unsustainable staffing ratios and workload. Ever-changing

workflows, technology updates and unofficial shortcuts and

workarounds. All of this is a recipe for disaster – not only for

patients, but for nurses as well.

When this error came to light, Radonda's employer was

also investigated. Serious gaps in patient safety policies and

systems were found, determined to present an immediate

danger to patients. Radonda's employer did not face

criminal charges (civil charges were brought, and settled out

of court with the family), and received no punishment from

the state health department.

Will the Implementation of the

Joy in Work Framework Improve

Nurse Leader Resiliency?

Susan Santana, DNP, MBA, RN, NE-BC

Vice President of Patient Care Services and

Chief Nursing Officer

Southern NH Medical Center

Abstract

Introduction: Nurse leaders are a critical part of

the healthcare team and are faced with increasing

responsibilities and multiple ongoing stressors that

have a daily and damaging impact on the leader's

ability to succeed. Nurse leaders are at high risk for

burnout and at risk for leaving the profession and

as a result, nurse leaders must develop and sustain

a significant capacity of resilience to thrive and

succeed as transformational leaders in healthcare.

The purpose of this study is to use the Institute for

Healthcare Improvement's Joy in Work Framework

to help discover and improve the conditions that

contribute to nurse leader's joy in the workplace.

Methods: An interventional mixed methods design

was used for this study. The intervention included

the introduction and implementation of the Joy

in Work Framework. The quantitative design

utilized the Connor Davidson Resilience Scale

(CD-RISC) and a Paired Samples t-Test was used

to compare the data points from the CD-RISC 25

tool pre and post intervention. The qualitative

design assessed the nurse leader's responses to

the Framework during group interview sessions.

The implementation included two 1-hour sessions

conducted with 27 nurse leaders over a 2-month

time-frame.

Results: The Paired Samples t-Test indicated a

statistically significant increase in the total CD-

RISC-25 score after the intervention compared

to pre-intervention (81.81 post vs. 76.85 pre, t=-

2.16, p=0.04/p
---
June, July, August 2022 New Hampshire Nursing News • Page 17

Do We Really Know What is In Our

Food? The Connection Between

Dietary Mycotoxin Exposure and

Pediatric Crohn's Disease

Susan Gonya, MA, RD, RN, CCRN

Upper Valley Community Nursing Project has some exciting news. We have

changed our name to Community Nurse Connection. Kristin Barnum, RN, BSN,

MBA is our new Executive Director and Jill M. Lord, RN, MS is our new Board

Chair.

Our aim is to unite, strengthen and support regional Community Nursing

Programs.

Our beliefs are based on a holistic philosophy of nursing, which dates

back to the mid 19th century—a time when nurses focused on the health of

individuals, families, and groups within a community.

Our focus is on the health people drawn together by such commonalities as

location, religious affiliation, social connections, or fraternal association.

We believe every community deserves access to a community nurse.

Please visit our website: communitynurseconnection.org or email

kristin@communitynurseconnection to learn more about connecting more

communities with nurses.

NHNA Supports MCED Legislation

Pamela P. DiNapoli, PhD, RN, CNL

Executive Director, NHNA

Unity in politics, we hear all too often, is something more honored in the breach

than the observance. But it does happen, and it should be celebrated when it

occurs—especially if it helps to save lives.

Congress has a number of urgent priorities, but the fact remains that cancer

will take the lives of more than 600,000 Americans this year alone. Recently, I

am happy to note, the entire New Hampshire delegation to Congress signed the

Medicare Multi-Cancer Early Detection Screening Act (https://www.congress.

gov/bill/117th-congress/house-bill/1946/all-info?r=6&s=1), legislation that will,

ultimately, enable millions of Americans to detect cancer in its earlier, more

treatable stages. As an exemplar of unity in politics, it does not get much better

than this.

As registered nurses, patient care and interactions place us in the front row to the

emotional and physical cost cancer patients, and their families, endure. Therefore,

as a the executive director of New Hampshire Nurses Association, a membership

organization that values caring and the health of the NH population, I am happy

to see that our Congressional Delegation took notice and acted with patients in

mind. Here in New Hampshire, cancer is the leading cause of death. There were

an estimated 2800 deaths from cancer this year with an estimated 9,340 more of

our citizens diagnosed with the disease this year alone. Cancer remains the second

leading cause of death in America and early diagnosis and treatment are our best

weapons in the battle against cancer.

There is no doubt that the right thing to do is to take advantage of all available

cancer screenings. Tests like pap smears, mammograms and colonoscopies save

lives with early diagnosis. Identification of cancer in its earliest stages yields a fiveyear

survival rate of 89%.

Sadly, there is a lack of early screening for most cancer types. At present, we only

have the ability to test for five of the more than 100 common cancers. There is

hope on the horizon. Multi-cancer early detection ("MCED") technologies,

currently in front of the Food and Drug Administration, will allow healthcare

professionals to test for dozens of cancer types with a single cancer. The Medicare

Multi-Cancer Early Detection Screening Coverage Act, supported by our NH

delegation, would create a pathway for Medicare to cover these potentially

lifesaving innovations upon approval by the FDA with a single screening.

President Joe Biden announced a challenge to his own administration and those

that follow to: reduce the cancer mortality rate by 50% over the next quarter

century. He dubbed this the "Cancer Moonshot," something akin to the challenge

President John F. Kennedy posed to Americans that resulted in our landing on the

moon. A crucial component of this moonshot, President Biden noted, would be

"a call to action for cancer screening and early detection." Additionally, President

Biden spoke to the promise of new multicancer technologies.

As the president then exclaimed, "When we work together in America, there is

nothing — nothing beyond our capacity. Nothing. So, let's show the world what's

possible. Let's show the world that we're committed."

Abstract

BACKGROUND: The incidence of pediatric Crohn's disease (CD) has increased

over the past few decades. The etiology of CD has not yet been elucidated. Still,

researchers have identified variables associated with the disease process, including

genetic predisposition, environmental triggers like a poor-quality diet, air pollution,

water pollution, and a dysbiotic microbiome with increased fungal diversity as

predisposing factors. Fungal mycotoxin contamination in the food supply from

toxicants like Deoxynivalenol (DON), a highly prevalent gastrointestinal irritant,

has largely been ignored as a potential factor influencing the fungal dysbiosis

and symptoms associated with the disease process. It is hypothesized that global

and intermittent exposure to mycotoxins like DON may negatively affect the

gastrointestinal health of pediatric CD patients.

OBJECTIVE: The objective of this two-part thesis project was to search the literature

for evidence of widespread mycotoxin contamination in the food supply. Then, to test

local food commodities for mycotoxins to assess the need to develop a low-mycotoxin

diet as a potential treatment modality for pediatric CD.

METHODS: An integrative review of studies measuring global DON prevalence was

conducted and presented in table and narrative format. With evidence that wheat and

corn crops are routinely contaminated with mycotoxins, these flours were directly

tested for DON using lateral flow screening technology. Wheat bread and pasta

samples were also analyzed and sent to Trilogy laboratory for liquid chromatography,

mass spectrometry-mass spectrometry mycotoxin testing. Descriptive statistics were

used to quantify chemical testing results.

RESULTS: Results showed that globally, wheat, corn, bakery products, pasta, and

mothers' milk were routinely contaminated with DON. There was sufficient evidence

to suggest that other grain-based crops, soy, coffee, tea, dried spices, nuts, certain

seed oils, animal milk, and various water reservoirs are intermittently contaminated.

Direct measurement of foods in a typical child's diet, such as pasta, bread, and

raw ingredients such as wheat- and corn-based flours, also demonstrated routine

contamination with DON. Some pasta samples were also contaminated with HT-2

toxin. Contamination rates were significantly higher in 2021 than in 2019, showing the

problem may be escalating.

DISCUSSION AND CONCLUSIONS: Universally, children appear to be at risk

for higher exposures to DON than adults due to their increased intake of cerealbased

foods relative to their lower body weight. This study suggests that mycotoxin

contamination in the food supply is common. The cumulative effects of multiple

mycotoxin exposures by pediatric CD patients may pose serious health risks.

Further investigation into the role mycotoxin contamination plays in the disease

process, microbial perturbations, and fungal dysbiosis inherent in CD is needed. The

information obtained here demonstrates a need to develop a "Low Mycotoxin Diet"

for pediatric CD patients to help mitigate the common occurrence of these biohazards.

KEYWORDS: Crohn's disease, Pediatrics, Deoxynivalenol, Diet, and Mycotoxin

NursingALD.com can point you

right to that perfect NURSING JOB!

NursingALD.com

Free to Nurses

Privacy Assured

Easy to Use

E-mailed Job Leads

Thank you to our NH delegation for support on this important legislation and the

promise for advances in early detection and treatment leading to increases survival

rates.
---
Page 18 • New Hampshire Nursing News June, July, August 2022

Dropping the Stigma Surrounding

Substance Use Disorder

There once lived a beautiful, astute, and kind

Advanced Practice Registered Nurse (APRN). She

was very frustrated with her pervasive religion and

family life expectations. She wanted a divorce from

a 20-year marriage to her husband and friend; she

was not in love with him anymore, and, they had no

children to unite them. She struggled with the threat

of admonishment and rejection in her personal life

for years. She put her affairs in order, diverted drugs

from the hospital, rented a hotel room, started an

intravenous line, and left us behind.

One fine sunny day, a different APRN broke her leg

while skiing. After surgery, she became addicted

to narcotics prescriptions. Upon returning to work,

struggling with the withdrawal symptoms from

oxycontin, she diverted unused fentanyl instead of

wasting it. Her addiction quickly escalated. When

her family and coworkers noticed a behavior

change, they collaborated with a professional and

planned an intervention. Despite resistance to help

and fear of the unknown, this brave nurse allowed

them to take her to inpatient treatment, followed

by intensive outpatient treatment, counseling,

and immersion into a 12-step recovery program.

She reported to her states' monitoring program,

completed probation, and safely returned to work.

She is now 22 years sober, still active in a 12-step

recovery program, and happily dedicated to helping

others find help and hope from addiction.

Nursing is a challenging profession where situations

change at a moment's notice, and reactions can

be very critical. RNnetwork surveys from 2016

and 2018 recognize burnout, staffing shortages,

and harassment as job-related impacts on nurses'

mental health and report that about half of all

respondents (49%) have considered leaving

nursing in the past two years (Cornwall, 2018,

December 12; Sutherland, 2017, February 28).

Sadly, researchers at the University of California,

San Diego, found that nurses have a higher risk of

suicide than the general population, with female

nurse 1.4 times more likely than female non-nurses

and male nurses 1.2 times more likely than male

non-nurses (Davidson et al., 2020). The probable

impact of COVID-19 on these numbers is cause for

alarm.

Although many choose nursing as a career for the

benefits of it being a rewarding profession with

steady, reliable work and income, a healthcare

career comes with some inherent stressors that

mingle with everyday life challenges. Nurses

experience on the job violence, patient deaths,

and work compression, that contributes to physical

and mental pain. Dupont & Merlo (2018) indicate

that the reasons healthcare providers are at risk for

Substance Use Disorder (SUD) include high-stress

environments, difficulty seeking help from others,

and access to drugs. Stone et al. (2021) define

SUD as "a chronic, relapsing, potentially deadly

condition [which] occurs when the recurrent use

of substances significantly impairs an individual's

health and the ability to meet major vocational,

academic, or personal responsibilities." Over

time, the disease of addiction results in long-term

changes to the brain's neurotransmitter circuitry

(e.g., dopamine, serotonin) (Bartlett et al., 2013).

The condition can be mild, moderate, or severe

depending on the number of behavioral and

physiological criteria met per the Diagnostic and

Statistical Manual of Mental Disorders, Fifth Edition.

Despite SUD being a known occupational hazard

among healthcare workers, the prevalence may

be challenging to exact, ranging from 8% to 20%

(Mumba & Kraemer, 2019; Wright et al., 2012).

Complicating the landscape are mental health

concerns that may be independent or coexist with

substance misuse and SUD.

Courtright (2010) recognizes that historically,

society viewed addicted persons as morally

flawed or lacking self-control. Fortunately, this

stigma is changing. In 2018, Governor Chris

Sununu authorized the New Hampshire Board

of Nursing (NHBON) to establish an alternative

recovery monitoring program. The New Hampshire

Professionals Health Program (NHPHP) was

tasked in July 2019 to carry this out. The NHPHP

encourages self-reporting of drug misuse, including

alcohol, and referral to treatment with monitored

recovery that continues when a nurse returns to

duty. Self-reporting along with a leave of absence

is a voluntary, non-punitive option that protects

patients by establishing the addiction treatment

impaired providers need while potentially

preserving licenses. The NHPHP provides free

education and resources to institutions and

organizations. Although the NHPHP does not offer

treatment, they provide assessments, treatment

referrals, ongoing support, and monitoring.

Engagement in NHPHP lasts three to five years

and can include random drug testing, stopping

work until cleared, and attending peer support

groups. The Office of Professional Licensure Annual

Report stated that for Fiscal Year 2019, the NHBON

received 179 complaints, of which 37 were related
---
June, July, August 2022 New Hampshire Nursing News • Page 19

to diversion of medication, impairment, alcohol,

and other drugs. For Fiscal Year 2020, the NHBON

received 310 complaints; however, the data for

categorizing and tallying the complaints was not

listed on the OPLC Annual Report or captured by

the NHBON (L. Courtney, personal communication,

January 22, 2021). The NHPHP is currently

monitoring 23 nurses and four Licensed Nursing

Assistants known to the NHBON, and they also

have four nurses under voluntary monitoring that

are unknown to the NHBON (S. Garhart, personal

communication, November 9, 2020).

Diverting controlled substances is a tactic that

healthcare providers with SUD sometimes employ.

Communication, interventions, and programs for

people in crisis or who misuse substances are not

benign. In the past, impairment and diversion were

often met with only discriminatory and punitive

practices where the process of being worked up

for SUD in the workplace or licensure board led to

bad outcomes. The thought of losing one's license

and means of making a living, not having money

for treatment, medications, or legal fees can be

devastating. The result is individuals do not seek

help. This alienates colleagues, co-workers, and/or

work supervisors whou could assist the individual,

by connecting them to a non-punitive pathway

of self-reporting and treatment options through

the NHPHP. Workplace policies can outline these

non-punitive pathways. Today, we can empower

our nursing workforce to self-report rather than

gamble with broadly administered discipline once

misconduct is reported or risk patient harm. Much

time, energy, and money go into shaping highquality

providers, as the healthcare workers'

shortage exemplifies. Access to quality treatment

for nurses and healthcare workers who struggle with

SUD needs to be readily available to protect the

public, the families of the providers, and hopefully,

allow for a return to safe practice.

The appropriate treatment level for someone with

SUD may include residential care or intensive

outpatient therapy; an extended monitoring

program follows both. In a meta-analysis, Geuijen

et al. (2021) found that monitoring programs, like

NHPHP, demonstrated pooled success rates of 72%

for abstinence and 77% for work retention. Much

less is known about those who have fallen through

the cracks or were lost to suicide. Organizations

that successfully incorporate recovered nurses

foster support rather than stigma, provide exemplars

who have overcome addiction, and better detect

undiagnosed addictions, improving workforce

quality (Parsa, 2011). Stigma and lack of awareness

may result in the underutilization of alternative to

discipline programs like the NHPHP. Preserving

professional viability by facilitating treatment and

reducing discipline benefits the healthcare system

and the public.

Does your organization have a comprehensive

program that speaks to suspicion of impairment and

diversion? Is there routine education of all providers

on the clinical presentation of SUD and resources

to approach it? If not, there are resources to

develop and institute a process for safely addressing

situations. A milieu can be established where

nurses know that facing seemingly unbearable

personal or professional challenges can happen

and that seeking support is the right thing to do.

There is hope. Those suffering from SUD are not

alone; they can get help and arrive in a better

place. As with many diseases, the sooner signs and

symptoms are addressed, the more opportunity

there is to circumvent catastrophic consequences.

You can spread the word that addiction benefits

from treatment, notice and address concerning

behavior in your family, friends, and colleagues,

and support the alternative to discipline approaches

for concerns related to alcohol and other drugs.

Ensure that your team and our nursing workforce

understand that NHPHP is confidential and ready

to support practitioners experiencing various

difficulties, including SUD (nhphp.org). National

resources include the Substance Abuse and Mental

Health Services Administration's national helpline

(1-800-662-HELP), Narcotics Anonymous (na.

org), Alcoholics Anonymous (aa.org), and the

National Suicide Prevention Lifeline (1-800-273-

8255). Because patient safety is a priority, we as a

community can better protect patients, preserve

careers, and save lives when the risks of SUD in

healthcare providers are addressed early.

Kisha Thompson MS, CRNA, is a per-diem Nurse

Anesthetist at Cheshire Medical Center in Keene,

NH. She is a Board Trustee for the New Hampshire

Association of Nurse Anesthesiology. She is also a

State Peer Advisor for the American Association of

Nurse Anesthesiology. As such, she is available to

provide support and information for those engaged

in substance misuse. Her past education includes

a Bachelor of Science degree from Johns Hopkins

University and a Master of Science degree from

Georgetown University. Additionally, she retired, at

the rank of major, from the Army Reserve.

I have no conflicts of interest nor any commercial

affiliation.

Contact Info:

Kisha Thompson MS, CRNA

Kisha.lifgren@gmail.com

914-260-2218

References

Cornwall, L. (2018, December 12). RNnetwork 2018

Portrait of a Modern Nurse Survey. RNnetwork.

https://rnnetwork.com/blog/rnnetwork-2018-portraitof-a-modern-nurse-survey/

Davidson, J. E., Proudfoot, J., Lee, K., Terterian, G.,

& Zisook, S. (2020). A longitudinal analysis of

nurse suicide in the united states (2005-2016)

with recommendations for action. Worldviews on

NHNA Student Nurse of the Year

Sara Fazzi Garcia

The NHNA Commission on Nursing Practice hosts

an annual graduating student nurse conference at

which time we award the NH Student Nurse of the

Year Award. Commission members have identified

five qualities that should be exemplified by the

professional nurse these include: Professionalism

(Competence and Qualities), Patient Advocacy,

Leadership, and Involvement in Nursing/Community

ANA Enterprise. This year's award winner was Sara

Fazzi Garcia, a second year Direct Entry Master's

Student from the University of New Hampshire. Sara

was nominated by her advisor Pamela Kallmerten,

RN, DNP, PHD. The nomination narrative included

the following:

Ms. Fazzi Garcia entered the Direct Entry Master's

in Nursing (DEMN) program with a previous degree

in Fashion Technology and from the beginning, it

was clear that she had made the right decision for

nursing. While she has had faculty report that she

needs support for caring for her patients through

psychomotor skills due to the disparate competencies

between her previous program of study and nursing,

there is never any doubt for her caring about her

patients well-being. She constantly nurtures those

in her care in the professional as well as informal

Evidence-Based Nursing, 17(1), 6-15. https://doi.

org/10.1111/wvn.12419

DuPont, R. L., & Merlo, L. J. (2018). Physician health

programs: A model for treating substance use

disorders. Judges' Journal, 57(1), 32-35.

Geuijen, P. M., van den Broek, S. J. M., Dijkstra, B. A.

G., Kuppens, J. M., de Haan, H. A., de Jong, C. A.

J., Schene, A. H., Atsma, F., & Schellekens, A. F. A.

(2021). Success Rates of Monitoring for Healthcare

Professionals with a Substance Use Disorder: A

Meta-Analysis. Journal of Clinical Medicine, 10(2).

https://doi.org/10.3390/jcm10020264

Mumba, M. N., & Kraemer, K. R. (2019). Substance use

disorders among nurses in medical-surgical, longterm

care, and outpatient services. MEDSURG

Nursing, 28(2), 87-118.

Parsa, N. (2011). Reasons to Hire Recovered Physicians.

Physician Executive, 37(4), 58-61.

Stone, L., Rice, J., & Garcia, R. (2021). Addressing

substance use disorder and diversion in the

healthcare environment. American Nurse Journal, 16

(2). https://www.myamericannurse.com/addressingsubstance-use-disorder-and-diversion-in-thehealthcare-environment/

Sutherland, S. (2017, February 28). Portrait of a modern

nurse survey finds half of nurses consider leaving the

profession. RNnetwork. https://rnnetwork.com/blog/

rnnetwork-nurse-survey/

Wright, E. L., McGuiness, T., Moneyham, L. D.,

Schumacher, J. E., Zwerling, A., & Stullenbarger, N.

E. N. (2012). Opioid abuse among nurse anesthetists

and anesthesiologists. AANA Journal, 80(2), 120-128.

caregiver roles. She is an authentic listener and

manages to care for her family, their friends, her

peers and her patients.

The ideal nurse has an appreciation for the skills for

entry into practice and she (Sara) is competent in this

regard. She reflects in the moment as well as after the

moment has passed-the ability to reflect in action and

on action. She verbalizes "how could I have improved

my care?" She goes beyond what is competent

to what is exemplary practice during a time of

compassion fatigue. It is clear that the tenets of

diversity, equity and inclusion are woven throughout

her practice. It is clearly demonstrated with her

actions that her sense of social justice and health

equity are foremost in her mind. She has an uncanny

ability to stop everything and ask "what really matters

here" and is not afraid to let things go to prioritize

the needs of the vulnerable person whether it be a

patient, their family or someone from her personal

encounters. She is always a nurse, demonstrating that

she sees her role as their advocate.

She is an authentic, humble leader who will do

doubt continue to represent the best of nursing

during these challenging times. Like her peers,

she has had many opportunities for community

based care including vaccination clinics. She was

also recently inducted into the Eta Iota At Large

Chapter of Sigma Theta Tau International. She is a

certified lactation consultation and is leveraging

this knowledge for a quality improvement project to

support the Baby Friendly Hospital Initiative at her

organization. She was invited to apply to become

a member of the organizational team before midsemester

of her immersion. It is my belief that they

recognize her potential as I do for a life-long career

in service to her community.

Like her peers, she has had many opportunities for

community based care including vaccination clinics.

She was also recently inducted into the Eta Iota At

Large Chapter of Sigma Theta Tau International. She

is a certified lactation consultation and is leveraging

this knowledge for a quality improvement project to

support the Baby Friendly Hospital Initiative at her

organization. She was invited to apply to become

a member of the organizational team before midsemester

of her immersion. It is my belief (Dr.

Kallmerten) that they recognize her potential as I do

for a life-long career in service to her community.

CONGRATULATIONS SARA
---
Page 20 • New Hampshire Nursing News June, July, August 2022

Giving Care: A Strategic Plan to Expand and Support

New Hampshire's Health Care Workforce

Executive Summary—March 2022

Prior to the pandemic, New Hampshire was second

among states hardest hit by labor shortages overall. 1 In

2019, New Hampshire employed an average of 94,100

workers in its health care and social assistance industry. 2

The industry's average growth of 1.6 percent between

2017 and 2019 outpaced that of the state's workforce

overall, which grew an average of one percent during the

same time period. 2 In addition to being the fastest growing

industry, the health care sector had the most unfilled jobs. 3

The pandemic exacerbated both the need for and strain

on health care personnel. In the Granite State, burnout

led to staff losses across the health care spectrum,

but especially in nursing homes, home health, and

community care settings. 4 In its November 2021 letter to

the Governor and Commissioners of the New Hampshire

Departments of Health and Human Services and Business

and Economic Affairs, the Health Care Workforce

Coalition explained that "the difficulty to recruit, retain,

and fully staff facilities and programs is seriously impinging

on patients' access to care and deepening financial stress

for our state's health care providers." 5 The aging of the

state's primary care provider workforce also complicates

recruitment and retention; 24% of its nurse practitioners

and 27% of its primary care providers are over age 60. 6,7

As well, New Hampshire is projected to be 10th among

U.S. states with the most severe nursing shortages. 8

According to the Health Care Workforce Coalition,

such shortages exist across the health care spectrum,

including all provider types and those providing other

vital support functions. 9 Ensuring an adequate supply

of qualified workers is essential to meet the needs of

the state's aging residents and its increasingly diverse

population. Given its size and rate of growth, the

strength of the health care sector is critical to New

Hampshire's overall economy. 10

While the bench of health care workers is simply not deep

enough, it also lacks sufficient diversity to address the

needs of the state's increasingly diverse population. The

workforce is also impacted by:

• Stress, mental health, and barriers to care. Health

care workers have endured heightened stress due

to risks the pandemic posed to their own health,

caring for critically ill patients, too few resources,

and a constantly evolving understanding of the virus,

prevention measures, and treatment options. Workers

experiencing mental health issues experienced the

challenges that face the general population, namely

stigma and problems accessing care.

• Low wages and high costs to live in New

Hampshire. Many health care workers in low-paid

entry-level and support positions that put them

at risk for exposure to COVID-19 were forced to

work multiple jobs to make ends meet while others

transferred to other industries for more money and

less risk. Low wages also make it difficult for health

care employers to compete with employers in other

states and other professions. Health care workers

struggle to afford a range of necessities to live in

New Hampshire, including quality and affordable

housing, transportation, and childcare, all issues that

should be addressed by public policy.

• A thin pipeline and barriers to post-secondary

education and training. Too few potential workers

have an interest in or adequate understanding of

the range of roles available within health care.

Investment in efforts to diversify the workforce,

including outreach and marketing, have been

insufficient. The high cost of education poses a

barrier to entry and advancement in health care

roles. Too few training and education opportunities

exist (e.g., apprenticeships, post-secondary

programs, clinical placements), as well as too few

supervisors to train health care workers. There

is poor alignment of existing education/ training

programs with workforce shortages. Employers lack

capacity to ensure an adequate pipeline of workers

for their organizations. Competition for employees

creates a barrier to collaboration among health care

organizations to share best practices and address

their common workforce challenges.

...the strength of the health

care sector ıs critical to New

Hampshire's overall economy.

• Reimbursement issues. Low reimbursement rates;

lack of reimbursement for critical services; and a

lack of parity for mental health services affect the

wages employers can offer and their ability to recruit

and retain workers, as well as the ability of health

care workers to make ends meet. By rewarding

procedures and quantity over outcomes and quality,

current reimbursement structures do not incentivize

coordination and integration of care, practices that

are essential to quality outcomes. By pressuring

providers to maximize the number of patients they

see, the current structure adds to provider stress

and discourages their participation in professional

development opportunities and providing clinical

placements and supervision.

• Regulatory barriers and constraints. Complying with

burdensome regulations and documentation means

providers have less time to spend with patients and

presents additional barriers to attracting and retaining

staff. Licensing and credentialing processes and

requirements discourage qualified professionals from

seeking employment in New Hampshire and cause

major delays in being able to recruit, on-board, and bill

for services provided by new employees, particularly

those from other states.

• Policy barriers. Multiple policy-related challenges

exist. Insufficient funding for the state's community

college and university systems, health care

apprenticeship programs, and help to relieve students

of education-related debt impede the ability to

train an adequate number of workers. Government

employment policies, such as prohibiting the filling of

positions until vacancies exist, cause delays in hiring

and create gaps in staffing. Temporary policy and

regulatory changes that supported telehealth during the

pandemic should be made permanent.

• Siloed workforce development efforts. While many

initiatives exist within the state to bolster the health

care workforce, they are largely siloed and lack

coordination.

• Data challenges. Data on the health care workforce

are collected by multiple entities in varying ways. No

central repository exists. Thus, it is difficult to know

which data exist and where they can be found. Data

can be hard to access, interpret, and use to inform

policy and planning. There is a lack of common

vocabulary and definitions, an insufficient level

of detail, and too few data scientists to assist with

understanding and interpreting data.

Beginning in 2020, given the current and anticipated impact

of workforce shortages on the health of the population and

the state's economic well-being, the Forward Fund at the

Endowment for Health prioritized the creation of an actionoriented

state plan for health care workforce development.

SAVE SENIOR CARE FROM

Paid for by the

New Hampshire Health Care Association
---
June, July, August 2022 New Hampshire Nursing News • Page 21

The assessment phase engaged over 50 stakeholders

and led to a shared understanding of workforce needs

and activities across the state. Thereafter, in a series of

facilitated meetings, a diverse group of over 60 stakeholders

participated in four workgroups to develop the plan's

goals, objectives, and strategies. The plan, intended for

implementation within two years, includes 107 strategies

to address the pipeline, recruitment, and retention needs

facing the state; critical policy and regulatory issues; and

data needs, and provides a mechanism for coordination

and governance of workforce development efforts.

The strategic plan is intended for multiple (sector)

audiences, including state government, legislators, the

health care industry/employers, health and behavioral

health professional associations, health insurance/ payers,

educators and trainers of health care personnel and those

that contribute to the pipeline of health care workers (e.g.,

high schools, vocational/technical schools, community

colleges, universities, employer- based training programs,

Area Health Education Centers), advocacy groups/

organizations, the business community (i.e., private

industry, both associated with health care and not), and

philanthropy. To learn more about the strategies and how

you can support health care workforce development in

New Hampshire, please contact the Endowment info@

endowmentforhealth.org.

The Vision

The New Hampshire health care workforce is

strong and diverse due to factors that include

competitive, equitable wages commensurate

with experience, training, education and an

environment that supports diversity, quality care

and continuous professional growth. As a result,

community outcomes are improved and patients,

clients, and the workforce are engaged and healthy.

1 Dean, Grace. (2021). Nebraska, New Hampshire, and

Vermont are states struggling hardest to fill jobs in the US

labor shortage, new research suggests. Business Insider

(September 24). https://www.businessinsider.com/laborshortage-dc-nebraska-new-hampshire-vermont-jobshawaii-employment-2021-9

2 New Hampshire Economic Conditions. (2021). Temporary

Staffing in New Hampshire's Health Care Industry.

(September). https://www.nhes.nh.gov/elmi/products/

documents/ec-0921-article.pdf

3 Presentation by Brian Gottlob to the Foundation for

Healthy Communities, Concord, NH, June 2021.

4 Wagner, E., Amin, K., Cox, C. & Hughes-Cromwick, P.

(2021). Health Spending: What Impact has the Corona

Virus had on Health Employment. Peterson/ Kaiser

Family Foundation Health System Tracker. (December

10). https://www.healthsystemtracker.org/chartcollection/what-impact-has-the-coronavirus-pandemichad-on-healthcare-employment/

5 November 2021 Health care Workforce Coalition

letter available at: http://dupontgroup.com/covid-19-

resources/workforce-letter/

6 Nurse Practitioner Data available at: https://

dashboard.nh.gov/t/DHHS/views/2018-

19APRNWorkforceDataReport/ Demographics?%3Aiid

=1&%3AisGuestRedirectFromVizportal=y&%3Aembed

=y

7 Primary Care Physician Data available at: https://

dashboard. nh.gov/t/DHHS/views/2019PhysicianWorkf

Nursing Career Path

At Amedisys, we build on skills throughout

our careers and provide opportunities for

growth with ongoing training and support.

Join our family and see how you can step into

a new role and make a difference today!

Learn more at amedisys.com/careers.

THINK OUTSIDE THE HOSPITAL

orceDataReport/ Demographics?%3Aiid=1&%3AisGues

tRedirectFromVizportal=y&%3Aembed=y

8 University of St. Augustine for Health Sciences. (2021).

The 2021 American Nursing Shortage: A Data Study.

Online Blog Post. (May). https://www.usa.edu/blog/

nursing- shortage/

9 https://www.nhproviders.org/new-hampshire-health-careworkforce-coalition

10 Institute on Assets and Social Policy, The Heller School

for Social Policy and Management, Brandeis University.

(2014). Strengthening New Hampshire's Health Care

Workforce: Strategies for Employers and Workforce

Development Leaders. (December). https://heller.

brandeis.edu/iere/pdfs/jobs/NH-health-care-workforce.

pdf

RN's, LPN's & LNA's WANTED!

Full-time openings 2nd & 3rd shifts!

Great starting pay with raise

in 90 days! Earn additional $2

on weekends on top of great

shift differentials! Excellent

benefit package for those

who qualify including health,

dental, life, 401k with employer

match, disability, prepaid

legal, referral & longevity

incentives, generous PTO plan,

professional development

reimbursements and more!

Must have valid NH license.

Please apply online at

www.websteratrye.com
---
Page 22 • New Hampshire Nursing News June, July, August 2022

IN MEMORY OF OUR COLLEAGUES

The New Hampshire Nurses Association honors the

memory of and acknowledges the practice of deceased

nurses who have graduated from New Hampshire

nursing schools or who have actively practiced in New

Hampshire during her career. Sharing their names and

information about their career is one way we honor

their contribution to the profession. Brief submissions

are welcome.

Viet Nam Vet

Madeline Ann Blidberg, 82, died on

December 14, 2021. She attended Mary

Hitchcock School of Nursing in

Hanover, NH where she received her

RN and Boston University where she

received her BSN. She later attended the

Frontier School of Nursing in KY and

became a midwife. She joined the Army

and was a Viet Nam War veteran and

also served in Germany and several

places in the United States. She retired

from the Army Reserves as a Lt. Colonel.

She was a Labor and Delivery room nurse at the Elliot

Hospital in Manchester for more than 35 years.

Madeline was a private pilot and was licensed in both

single and twin-engine aircraft.

Concord Hospital Grad

Sandra Rae (Palmer) Rhodes, passed

away on January 29, 2022. She

graduated from the Concord Hospital

School of Nursing with the class of 1960.

She practiced as a pediatric nurse at

Concord Hospital, then at the NH State

Hospital. She also practiced as a school

nurse, a private nurse and visiting nurse.

When her children entered school, she returned to full

time nursing at Concord Urology until her retirement.

School Nurse

Carol Ann (Walsh) Edmunds, 78, Florida

passed away on February 8, 2022, in

Florida. She practiced at the Barrington,

NH District School many years as a

school nurse and retired in 2002.

Psych Nurse

Winona (Witham) Blake, 84, died on

February 9, 2022. A Plymouth native,

she obtained a Bachelor of Science in

Nursing in 1959 and went on to attain a

master's degree in Adult Psychiatric

Nursing in 1978, both from Boston

University. She started her nursing career

at Memorial Hospital in Nashua, NH, as

an obstetrics nurse and a teacher for incoming nurses.

She later moved to being a head nurse at Head Start in

Nashua, NH. She became a Certified Psychiatric Nurse

Clinical Specialist and continued her work in

Massachusetts in mental health.

OR Nurse

M. Beryle Johnston, 90, passed away

February 11, 2022. She obtained a

nursing diploma in 1953 from the New

England Deaconess School of Nursing in

Boston. She practiced at Mary Hitchcock

Memorial Hospital in the Fall of 1953,

progressively working her way up in the

Surgical Department of the Operating

Room, from a Surgical "Scrub" Nurse and retiring in the

Spring of 1989 as a Surgical Buyer.

Visit nursingALD.com today!

Search job listings

in all 50 states, and filter by location and credentials.

Browse our online database of articles and content.

Find events for nursing professionals in your area.

Your always-on resource for nursing jobs, research, and events.

School Nurse

Jeanne (Bonenfant) Descoteaux, 90,

passed away on February 18, 2022. A

Manchester native she obtained a

nursing diploma from the Notre Dame

Hospital School of Nursing and later

earned a degree in Psychology from

New England College. She practiced at

Notre Dame and then the Allenstown

School system as a school nurse for over 20 years. She

also volunteered her time as a nurse for the Pine Haven

Boys School and for the Community Action Program.

VA Nurse

Jean C. Acton, 92, died on February 19,

2022. She obtained her nursing diploma

in Massachusetts in 1951 and moved to

Manchester in 1962. She had a 32-year

nursing career at the VA Medical Center

in Manchester where she was, among

other roles, the nursing supervisor for the

busy medical/surgical floor.

Moore General Grad

Ann Rebecca (Shirley) Toll, 87, died on

February 21, 2022. A Manchester native,

she obtained her nursing diploma from

the Moore General Hospital in

Goffstown, in 1955.

Care Management Nurse

Patricia "Pat" A. (Guercio) Davis, 74,

passed away March 2, 2022. She earned

her LPN in 1967 and practiced at

Memorial Hospital (now Southern NH

Medical Center). She continued her

career at the Matthew Thornton Health

Plan, the First HMO in NH, which was

acquired by Dartmouth-Hitchcock

Clinic, where she headed the Care Management

Department, retiring after 25 years. While at

Dartmouth, Pat obtained an associate degree as an RN

from Rivier College.

Notre Dame Grad

Helene Claudette Tremblay, 85, died on

March 4, 2022, in North Carolina. A

Manchester native she obtained a nursing

diploma in 1957 from the Notre Dame

Hospital School of Nursing. She later

earned a Bachelor of Science from the

State University of New York-Oneonta.

She retired from nursing in 2004.

Concord Nurse

Noreen Margaret (Teehan) Falzone, 62,

died unexpectedly March 6, 2022. She

obtained a BSN from Salem State

University in 1981. As a nurse for over

40 years, she practiced as a VNA nurse,

school nurse at Pittsfield High, and triage

nurse for Concord Hospital.

St. Joes Nurse

Lorraine T. (Maxfield) Duval, 90,

passed away March 9, 2022. She was a

graduate of the St. Joseph Hospital

School of Nursing in Nashua. She had a

lengthy career as a registered nurse at

the St. Joseph Hospital.

Nurse Entrepreneur

Bernadine (Blasczak) Herron, 80,

passed away March 9, 2022. She

obtained a nursing diploma in West

Virginia and practiced at the Elliot

Hospital. Later she went on to become a

co-founder of Herron and Smith medical

equipment and services company in

Hooksett, N.H.

Community Nurse

Shirley Jean (Jasper) Stockwell, 87, died

March 15, 2022. She received a B. A. in

Nursing from Worcester State College.

She retired from Community Health and

Hospice of Laconia, NH.

Psych Nurse

Gero Nurse

Virginia I. (Jones) Williams, 91, died

March 16, 2022. She obtained a nursing

diploma in 1952 and a BS in Psychology

in 1955, both in Pennsylvania. After

moving to New Hampshire, she

practiced as a substance abuse nurse at

Seminole Point in Sunapee and Catholic

Medical Center in Manchester.

Cheryl Ann (Roberts) True, 65, died

unexpectedly on March 19, 2022. As a

RN she practiced at Rochester Manor,

Goodwin's, Langdon Place of Exeter, and

Webster at Rye.

Concord Nurse

Madeline (Finley) Morgan, 93, died

March 24, 2022. She obtained a nursing

diploma from the Margaret Pillsbury

School of Nursing in Concord.

Madeline's career spanned over 30 years

as Registered Nurse and caregiver at

Concord Hospital.

Rivier Grad

Lisa (King) Lull, 68, died March 27,

2022. She obtained her nursing diploma

in Boston and earned her bachelor's

degree from Rivier University. She

practiced at the New London Hospital,

Dartmouth Hitchcock Medical Center,

Kearsarge Regional Elementary School in

New London and Woodcrest Village.

Concord Nurse

Joan E. (Glidden) Doucette, 75 passed

away on March 27, 2022. She practiced

as a registered nurse for over 41 years at

Concord Hospital.

Goffstown Nurse

Elaine (Colby) Emerton, 94, passed

away on April 1, 2022. She obtained her

nursing diploma in Massachusetts and

practiced at Concord Hospital, Moore

General Hospital, and the Lemire

Nursing Home in Goffstown. After her

nursing career, Elaine worked for the

Town of Goffstown for over 20 years,

first as the Deputy Town Clerk and then was elected as

the Town Clerk until her retirement.

NHTI Grad

Jo-Ann E. (Lyons) Nolan, 59, passed

away on April 7, 2022. She was a 1997

nursing graduate of the NHTI. She

practiced for 22 years at Lakes Regional

General Hospital and then the Laconia

Clinic until her breast cancer diagnosis.

Med-Surg Nurse

Sally A. (Crowell) LaBarre, 87, passed

away on April 7, 2022. She was a

graduate of the Mary Hitchcock

Memorial Hospital School of Nursing.

She practiced in orthopedics at Mary

Hitchcock Memorial Hospital, for six

months. She then transferred to the

former Elliot Community Hospital (now

Cheshire Medical Center) in Keene, taking a position as
---
June, July, August 2022 New Hampshire Nursing News • Page 23

IN MEMORY OF OUR COLLEAGUES

Head Nurse in the Medical-Surgical area, leading to the

role of Night Supervisor. She was instrumental in

developing and heading up the Elliot Hospital's first

post-anesthesia recovery unit in 1958. Sally transitioned

to the clinic setting, working for 34 years as a

Registered Nurse at the Keene Clinic, now Dartmouth

Hitchcock Clinic in Keene. She spent her last 28 years

as a urology nurse working alongside Dr. Arthur

Cohen. She retired in 1998.

Barbara Anne (Connor) French

Notre Dame Grad

Gabrielle 'Gaby' L. (Pratte) Drouin, 93,

passed away on April 14, 2022. She

graduated from the Notre Dame

Hospital School of Nursing with her

nursing diploma in 1949. She enjoyed

going out regularly with the

"Nightingales," her fellow retired RNs.

St. Joes Nurse

Frances (Catoggio) Parrott, 83, passed

away on April 17, 2022. She practiced

for many years at the St. Joseph Hospital

in Nashua.

St. Joes Nurse

Lois D. (Mowrey) Velcheck, 80, passed

away on April 18, 2022. She practiced in

the delivery room, as an elementary

school nurse and then an orthopedic

nurse for many years for St. Joseph's

Hospital in Nashua before retiring in

2005.

Psych Nurse

CMC Nurse

Janice I. Smith, 79, passed away April

22, 2022. She practiced as a RN at the

NH State Hospital for many years.

Dorothy J. (Feeney) McCarthy, 84, died

April 23, 2022. She obtained her nursing

diploma in Maine in 1958 and practiced at

Catholic Medical Center, Lakeshore

Hospital, and VNA Hospice. Following her

retirement, she dedicated her time and

talents to volunteering for the Catholic

Medical Center Parish Nurse Program.

State Representative

Barbara Anne (Connor) French,

95, died on April 16, 2022. A New

Hampshire native, she obtained a BS in

biology from UNH in 1947. She went on

to Cornell University, affiliated with the

New York Hospital School of Nursing,

and obtained a BSN in 1950. She first

practiced as an RN at the NH State

Hospital, as a head nurse and nursing

instructor for the School of Nursing. She

went on to practice as a child welfare

social worker for the State of New

Hampshire Department of Welfare and

drug education consultant at the New Hampshire

Department of Education. In 1963 she began a

lengthy career as a school nurse serving the Concord

School District for over 35 years with 15 years spent

at the Rundlett Junior High School. In 1967 she

obtained a Master's in Education from Mount St Mary

College in Hooksett.

During her years as a school nurse, Barbara served

as a member of the National Association of School

Nurses (NASN). In 1968, she was the first secretary

for the just formed NASN. In appreciation of her

service to the children of New Hampshire, she was

the recipient of the NHNSA School Nurse of the

Year Award in 1990. Today, the NHSNA recognizes

important contributions to school nursing by

presenting the Barbara French Award.

Barbara was active in her hometown

politics of Henniker, New Hampshire.

She was a member of the Henniker

Planning Board as well as a member

and chair of the Henniker Democratic

Committee. She was elected to her first

term in the New Hampshire House of

Representatives in the 1992, representing

Merrimack, District 5. Though defeated

in the 1994 election she ran for office

again, and served as representative from

1996 to 2010, and from 2012 to 2016.

Representative French served for ten

elected terms, a total of 20 years. While

in the legislature she served on numerous committees

including the NH Women's Lobby Board of Directors

and was a member of Advocates for Women and

Families and the Children's Caucus.

She became a member of the New Hampshire

Nurses Association upon her graduation from Cornell

and RN licensure in 1963, a membership she held

continuously. She was active in NHNA's Commission

on Government Affairs attending and frequently

speaking during nurse legislative day programs.

She never forgot her roots as a school nurse and

combined her legislative talents focusing on the health

needs of children and their families. In honor of her

achievements the policy and practice arena nurses of

New Hampshire recognized French as the 1998 New

Hampshire Nurses' Association Legislator of the Year.

Lifelong Learner

Donna Louise (Carvalho) Moody, 76,

passed away on April 26, 2022, in

Vermont. She worked in various

settings as an LPN for 15 years. In

1982, she graduated from the NHTI in

Concord having earned an associate

degree and her RN. She practiced for

42 years in active nursing working in

Med/Surg, ICU, Home Health Care, and Hospice.

After leaving the Wonderful World of Nursing,

Donna earned a BA in 2011, a MA in 2013 and her

PhD in 2016 in Anthropology from UMass Amherst.

Donna taught at UMass Amherst as a Graduate

Student and most recently at Franklin Pierce

University. Donna worked tirelessly for 20 years with

local, State, and Federal entities as the Repatriation

Coordinator for the Abenaki Nation. Those efforts

culminated in the return and reburial of over 200

Abenaki Ancestors

Exeter Nurse

Sandra 'Sandy' (MacDougall) Cross, 83,

passed away on April 27, 2022. She

obtained her nursing diploma from

Boston City Hospital and went on to

obtain a BSN from UNH. She practiced at

Exeter Hospital, for many years, as an RN

in the OR, and eventually working at

Eventide Home as an administrator for 30

years, assisting the Elderly, where she retired in 2003.

Advance your nursing career in our state-of-the-art

Health Sciences Simulation Center

For more info: chhs.unh.edu/graduate-nursing

Online and in-person degree and certificate

programs, MS through DNP

Highest ranked nursing master's program in

northern New England – U.S. News &

World Report