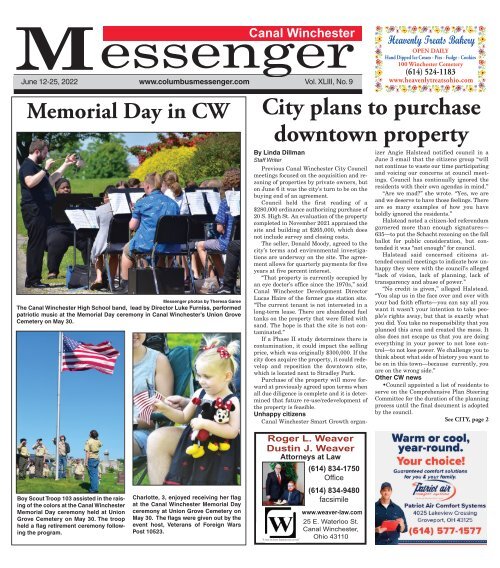 Canal Winchester Messenger - June 12th, 2022
You also want an ePaper? Increase the reach of your titles
YUMPU automatically turns print PDFs into web optimized ePapers that Google loves.
Messenger

Canal Winchester

June 12-25, 2022 www.columbusmessenger.com Vol. XLIII, No. 9

Heavenly Treats Bakery

OPEN DAILY

Hand Dipped Ice Cream - Pies - Fudge - Cookies

100 Winchester Cemetery

(614) 524-1183

www.heavenlytreatsohio.com

Memorial Day in CW

Messenger photos by Theresa Garee

The Canal Winchester High School band, lead by Director Luke Furniss, performed

patriotic music at the Memorial Day ceremony in Canal Winchester's Union Grove

Cemetery on May 30.

City plans to purchase

downtown property

By Linda Dillman

Staff Writer

Previous Canal Winchester City Council

meetings focused on the acquisition and rezoning

of properties by private owners, but

on June 6 it was the city's turn to be on the

buying end of an agreement.

Council held the first reading of a

$280,000 ordinance authorizing purchase of

20 S. High St. An evaluation of the property

completed in November 2021 appraised the

site and building at $265,000, which does

not include survey and closing costs.

The seller, Donald Moody, agreed to the

city's terms and environmental investigations

are underway on the site. The agreement

allows for quarterly payments for five

years at five percent interest.

"That property is currently occupied by

an eye doctor's office since the 1970s," said

Canal Winchester Development Director

Lucas Haire of the former gas station site.

"The current tenant is not interested in a

long-term lease. There are abandoned fuel

tanks on the property that were filled with

sand. The hope is that the site is not contaminated."

If a Phase II study determines there is

contamination, it could impact the selling

price, which was originally $300,000. If the

city does acquire the property, it could redevelop

and reposition the downtown site,

which is located next to Stradley Park.

Purchase of the property will move forward

at previously agreed upon terms when

all due diligence is complete and it is determined

that future re-use/redevelopment of

the property is feasible.

Unhappy citizens

Canal Winchester Smart Growth organizer

Angie Halstead notified council in a

June 3 email that the citizens group "will

not continue to waste our time participating

and voicing our concerns at council meetings.

Council has continually ignored the

residents with their own agendas in mind."

"Are we mad?" she wrote. "Yes, we are

and we deserve to have those feelings. There

are so many examples of how you have

boldly ignored the residents."

Halstead noted a citizen-led referendum

garnered more than enough signatures–

635–to put the Schacht rezoning on the fall

ballot for public consideration, but contended

it was "not enough" for council.

Halstead said concerned citizens attended

council meetings to indicate how unhappy

they were with the council's alleged

"lack of vision, lack of planning, lack of

transparency and abuse of power."

"No credit is given," alleged Halstead.

"You slap us in the face over and over with

your bad faith efforts–you can say all you

want it wasn't your intention to take people's

rights away, but that is exactly what

you did. You take no responsibility that you

planned this area and created the mess. It

also does not escape us that you are doing

everything in your power to not lose control–to

not lose power. We challenge you to

think about what side of history you want to

be on in this town–because currently, you

are on the wrong side."

Other CW news

•Council appointed a list of residents to

serve on the Comprehensive Plan Steering

Committee for the duration of the planning

process until the final document is adopted

by the council.

See CITY, page 2

Boy Scout Troop 103 assisted in the raising

of the colors at the Canal Winchester

Memorial Day ceremony held at Union

Grove Cemetery on May 30. The troop

held a flag retirement ceremony following

the program.

Charlotte, 3, enjoyed receiving her flag

at the Canal Winchester Memorial Day

ceremony at Union Grove Cemetery on

May 30. The flags were given out by the

event host, Veterans of Foreign Wars

Post 10523.

Roger L. Weaver

Dustin J. Weaver

Attorneys at Law

(614) 834-1750

Office

(614) 834-9480

facsimile

"A name you know, Experience you can trust"

www.weaver-law.com

25 E. Waterloo St.

Canal Winchester,

Ohio 43110
---
PAGE 2 - CANAL WINCHESTER MESSENGER - June 12, 2022

Canal Winchester's Music in the Park

Canal Winchester invites families with

children of all ages and adults to the city's

2022 Music in the Park free summer event

series at Stradley Park, 36 S. High St.

The next event is "Touch-A-Tractor" on

June 17 from 6-9 p.m. including live music

from local favorites the Hot Rod Lincolns.

Then on July 15, the Gas Pump Jockeys

return for a record 15th season for the annual

Cruise-In Car Show, hosted by C-Town

Cruisers. Attendees are encouraged to bring

a lawn chair and picnic, or carry-out from

one of our downtown restaurants. Alcohol is

not permitted within the park.

Visit www.canalwinchesterohio.gov for

information.

CW athletes at State Track Meet

www.columbusmessenger.com

Hann Farm's Market

STORE HOURS:

Monday-Saturday

10 a.m. - 6 p.m.

and

Sunday

12 p.m. - 5 p.m.

4600 Lockbourne Road, Columbus, Ohio

(614)-491-0812

hannfarmsmarket.com

Hann-Farm-Market-LLC

Messenger photos by Pat Donahue

Canal Winchester senior Ishmael Moss (above left) takes the baton from senior Dexter

Mounts to run the second leg of the 4x200 meter relay while (below) senior Elike

Heh makes the handoff to sophomore Karson Martino to finish the race. The foursome

were a part of the group of nine CW athletes competing in five events at the

Ohio High School State Track and Field Tournament held June 3-4 at the Jesse Owens

Memorial Stadium. They were joined by Hayden Hull and Dylan Randall, both seniors,

and sophomore Aaron Rodoski, freshman Jacob Tisdale, and Avante Johnson. They

teamed up for the 4x100, 200, and 400. Dexter Mounts ran 49.82 to finish 12th in the

400 meter dash. Dylan Randall finished 11th in the 100 meter dash with 10.75.

For Appointment Information Call

(614) 837-7337

Meet Our Canal Winchester Physicians

Nicholas Stevens, MD H. Scott Tyson, MD

Shari Burns, MD Wendy Stevens, MD Aila Co, MD

7750 Diley Road, Suite A, Canal Winchester, OH 43110

CITY

Continued from page 1

Members of the committee include:

Mayor's Appointment — Brooks Davis, City

Council — Laurie Amick; Planning and Zoning

Commission — Deborah McDonnell;

Landmarks Commission — Rich Dobda;

Chamber of Commerce — Denise Mathias;

CW Historical Society — Brandon Hord; Old

Town Business Association — Marla Baker;

Destination Canal Winchester — Karen

Stiles; Ashbrook HOA — Marvis McGowan;

Canal Cove HOA — Tim Brunney;

Charleston Lakes HOA — Eileen Goodin;

Villages at Westchester HOA — Rick Deeds;

and residents — Ann Bennett, Laura Taylor,

Michael Vasko and Richard Brown.

Two representatives for Fairfield County

were added before council approved the

list–Will Bennett and Kristin Ankrom,

along with a CWJRD representative–Matt

Krueger.

•An old water line along Trine Street

from Oak to Hocking is getting new life after

council approved an emergency ordinance to

waive competitive bidding for the $110,000

project. By overlapping pavement of the waterline

with the city's annual street project,

it could potentially save Canal Winchester

$25,000.

"Last year, we had two breaks on it at the

same time," said Public Service Director

Matt Peoples. "It is one of our oldest lines."
---
Township community center costs could rise

www.columbusmessenger.com June 12, 2022 - CANAL WINCHESTER MESSENGER - PAGE 3

By Linda Dillman

Staff Writer

The cost for use of the Madison Township

Community Center could go up and no more

free rides for meeting space for non-profits

and other township-based organizations

could be on the horizon.

Madison Township Administrator Susan

Brobst said the rates for the community center,

located at 4575 Madison Lane in Groveport,

have not changed since 2010.

For township residents the cost is $20 for

the first four hours and then $10 for each

additional hour. For non-residents, the cost

is a flat $20 per hour fee. There is no charge

for non-profits, school use, township businesses,

employees, and funeral repasses.

Currently there is no cleaning fee.

In 2019, there were 159 resident reservations,

76 non-resident reservations and 43

reservations at no charge.

Costs, such as changes in sanitation, are

going up and Brobst said the township is not

breaking even on the charges it assesses for

community center use.

"I felt it was time to look at the fee schedule,"

Brobst told the Madison Township

trustees at their May 25 meeting.

She asked the trustees to discuss the fee

schedule and wanted to give the public time

to weigh in on the issue as well before a decision

is made no later than the trustees'

July meeting.

"We need to have a substantial

increase for non-residents. I want to

make sure there is a healthy difference

between what our residents

pay and what non-residents pay."

- John Pritchard, trustee

Madison Township

"I am recommending no more free use

and a flat cleaning fee of $20," said Brobst.

"The cost for residents would be $25 per

hour for the first four hours and the same

$10 for each additional hour. Non-residents

would pay a flat $30 per hour. We need to

do something."

Based on 2019 figures before the pandemic

impacted reservations, Brobst said a

breakdown of average expenditures indicated

each event cost the township approximately

$116. Prices for residents and local

businesses are lower than those for non-residents

since non-residents do not pay property

taxes.

Trustee John Pritchard pointed out the

12 year span since rates were last changed

and said the township is presently just offsetting

costs, but not breaking even.

"We need to have a substantial increase

for non-residents," said Pritchard. "I want

to make sure there is a healthy difference

between what our residents pay and what

non-residents pay."

Other township news

•Madison Township Assistant Fire Chief

Chas Adams updated the board regarding a

South Hamilton Road property that was

deemed a nuisance before a second fire resulted

in a call for service.

Adams said the house is extremely dangerous

and was boarded up following the

most recent fire. The Red Cross is assisting

victims who were living in the house even

after extensive damage from the first fire.

"It's a public health hazard right now,"

said Adams.

•Nuisance properties also resulted in almost

50 being tagged for attention last

week. While property owners rectified

many, seven resulted in action by the township

for trash and 22 for grass. Superintendent

Dave Watkins said a number of spring

rainstorms contributed to the proliferation

of nuisance calls.

"That seems to be a lot more than I remember,"

said Pritchard.

Brobst said the township assesses a prorated

$300 an hour fee if members of

Watkins' department need to mow a private

residence due to inaction after notification.

Residents are urged to contact the township

office when a property becomes a nuisance

due to trash and/or tall grass.

CW Schools news

Canal Winchester Schools Superintendent

James Sotlar said the district is sticking

with the current four-tier building start

time system for the upcoming 2022-23

school year.

The middle school hours are 7:15 a.m.–

1:35 p.m.; high school is 7:55 a.m.–2:20

p.m.; Winchester Trail is 8:55 a.m.–3:05

p.m.; and Indian Trail is 9:35 a.m. to 3:45

p.m. In addition, lunch prices will remain

the same for the new school year.

We are the BEST community newspaper!

Need advertising?

Call 614-272-5422 today.

Keep tabs on the news

in Canal Winchester

Look for CW Messenger on

Become a fan!

eastside

Messenger

(Distribution: 6,500)

Rick Palsgrove........................Canal Winchester Editor

southeast@columbusmessenger.com

Published every other Sunday by

The Columbus Messenger Co.

3500 Sullivant Ave., Columbus, Ohio 43204-1887

(614) 272-5422

•Assorted Steaks

•Frozen Lobster Tails

•Walleye Fillets

•King Crab Legs

•Faroe Island Salmon

•Swordfish Steaks

FATHER'S DAY FEAST

•Exotic Wild Meats

WE ACCEPT

•Halibut Fillets

All Major Credit Cards

•Snow Crab Clusters

EBT Cards (SNAP)

•Orange Roughy

•Lake Perch Fillets

•Live Lobsters via Special Order Only!

SUPPORT YOUR LOCAL SMALL BUSINESSES
---
PAGE 4 - CANAL WINCHESTER MESSENGER - June 12, 2022

www.columbusmessenger.com

A fairy wonderland at Wagnalls

See Page 7 for

Canal Winchester

Graduates

Class of 2022

By Linda Dillman

Staff Writer

Look closely when visiting the gardens of Wagnalls

Memorial Library in Lithopolis and you may get a peek

of fairies visiting one another or see where the fairies

reside after their day-to-day flower sojourns.

Just be cautious of the resident tyrannosaurus rex

that has a penchant for gnomes living alongside the

fairies in the Walker-Hecox-Hickle Gardens.

Inspired by Master Gardener creations added to the

beds around the site, Wagnalls Memorial Library Director

Tami Morehart said grant money was spent in 2021

to purchase fairy garden pieces, which teenage gardeners

used to produce their own creations in the garden.

"In May 2022 we added the large fairy house under

the pine trees for small children to play in," said Morehart.

"This and other pieces we are adding are part of a

memorial to Ruth Jones who was a lover of the outdoors

and reading. The fairies are located throughout the

main garden area. As you walk along the pathways,

you will find them tucked in amongst the flowers.

Watch out for the T-Rex, he tends to carry off gnomes

from their homes."

Master Gardener Nell LaRock is the library's resident

fairy garden expert and wrote, "The Animal Library

and Blue (a fairy comes to the Wagnalls

Gardens)." She said a fairy garden is a little spot which

has a fairy or is suspected of fairy activity.

"If you think nobody takes fairies seriously, check out

the lawsuits in the British courts about fairies," said

LaRock, who noted one lawsuit involving a famous author–Sir

Arthur Conan Doyle and the Cattingly

Fairies. "Sir Arthur believed two little girls who saw

fairies. In Iceland, a major highway has a divide in it to

allow a fairy mound and bush to stay in place."

Morehart wanted to make the garden a space where

families could enjoy walking through, see the plants,

and learn their names, as well as have fun finding the

fairies. Each year, more fairies and gnomes are added

throughout, which she said is a complement to the little

fairy villages.

"We started out around the birdhouse three years

ago," said LaRock, "and it has started moving its way

around the garden. Now, more and more gardeners in

our group come in with their own pieces. The most important

impact of the garden has been the personal connections

we've made with the community. One of my

favorite sights was one of Wagnalls' maintenance staff

walking a state inspector around. Both men were laughing

and pointing at the fairy installations."

OSU Fairfield Master Gardeners maintain the gardens

and each volunteer–who is responsible for their

own area–is under the leadership of Pam Jarvis.

Plants and features are added as the seasons change

and while the garden is permanent, the fairies are only

out from May through September. Programs are held in

the gardens as well.

"We have an Art Festival in June, and our Summer

Township Police statistics

May crime statistics from the Madison Township Police:

8 accidents with injuries, 11 animal complaints, 5

assaults, 71 patrol security checks at Brobst Park, 2 burglary,

1 dog bite, 31 domestic complaints, 3 DUI/OVI, 3

fights, 2 fireworks complaints, 13 hit skip accidents, 21

juvenile complaints, 25 larceny/theft, 3 missing persons,

22 parking violations, 1 person with gun, 16 property

damage accidents, 3 sex offenses, 8 shots fired in area,

3 suicide/suicide threat, 7 suspicious cars, 24 suspicious

persons, 27 suspicious persons/vehicles, 8 threats or harassment,

123 traffic stops, 7 vandalism.

Messenger photo by Linda Dillman

Nanny Hannah Anderson and two-year-old Micah

McCullough enjoy visiting the whimsical fairy

homes on the grounds of Wagnalls Memorial.

Reading Program during June/July. We hope to do some

outdoor concerts in the future," said Morehart. "In the

fall, we have story walks through the gardens. We also

are part of the Lithopolis Honeyfest. We talk about pollinators

in the gardens and how they are so important.

We hope to do a Halloween theme this year."

Morehart said patrons come in everyday telling staff

how beautiful the gardens are and enjoy returning

weekly to see the changes in the garden as well as what

new fairies are added.

"One patron said it just makes her smile," said Morehart.

"It brings back fond memories of childhood. Our

gardens are multi-generational, too. There is something

for everyone to enjoy.

A trip to Wagnalls is an outing.

"Get your books, movies, and then take a stroll in the

gardens, bring your lunch, and have a picnic," said

Morehart. "The best part is that everything is free. You

can come inside and see more fairies. Even on a rainy

day there is something fun to see and do."

Wagnalls Memorial is located at 150 E. Columbus St.

in Lithopolis. For information visit wagnallsfoundation.org

or call 624-837-4765. The library is closed on

Friday and Sunday, but the gardens are always open to

the public.

CW City Council meetings

Canal Winchester City Council meetings are held on

the first and third Monday of every month. Meetings

begin at 7 p.m. The meetings are open to the public.

CW school board meetings

The Canal Winchester Board of Education meets on

the third Monday of each month at 7 p.m. in the Canal

Winchester Education Center, 100 Washington St. on

the second floor in room 204/206. The public is welcome

to attend.
---
www.columbusmessenger.com June 12, 2022 - CANAL WINCHESTER MESSENGER - PAGE 5

Tiny art: creative miniatures in every day settings

By Linda Dillman

Staff Writer

Canal Winchester resident and artist

Jackie Marion sees things in a very small

way.

Her finely detailed creations in clay and

other materials show life in miniature in

every day settings mainly comprised of recycled

items such as tea cups, baskets and

boxes. One of her little worlds is now on display

at Wagnalls Memorial, located at 150

E. Columbus St. in Lithopolis.

"I have boring evenings and am always

looking for something to multi-task, watch

movies, and be creative," said Marion, who

is also a Master Gardener. "I have been

making miniatures at Christmas for CornerSmiths

for several years and wanted a

spring project. This spring I decided to make

a store for the fairy gardens at Wagnalls.

The Master Gardeners of Fairfield County

and others create them in the spring."

Marion's original creation was a vegetable

and fruit market, but she realized it

was not weatherproof. That hurdle did not

stop her. While she explored ideas for

weather protection, she kept making other

miniatures.

"Before I knew it, I was out of control and

in addition to the market, made a fairy hat

store, a fancy dress shop, an ice cream parlor,

a bakery and my favorite, a community

garden maintained by gnomes and supervised

by a fairy," said Marion, who also created

a ceiling full of handmade paper

origami birds this year for CornerSmiths.

While a wide variety of miniatures are

available online for purchase–generally for

use in doll houses–Marion found it costly

to purchase them pre-made.

"For my first miniature, the market, I

made the cabinets and did the displays, but

it cost a fortune for the fruit and veggies.

One of my fellow Master Gardener friends,

who makes the houses for the garden, suggested

I try clay. That opened up a whole

new world for me. And such fun. I also use

fabric, paper, wire, and things I scrounge up

for props."

Marion said her favorite miniature to

create was the community garden and found

it very entertaining to handcraft the vegetables.

The tool shed is made from a hinge and

the gourd trellis is a napkin holder. She also

uses PVC pipe in some of her miniatures.

In trying to solve the problem of weatherizing

her tiny creations for Wagnalls, the

opportunity to share her art inside Wagnalls

Memorial opened up.

"I was selected to display them because I

stopped to see Tami (Morehart) and told her

my dilemma about putting them outside

and she offered a showcase inside. I was

thrilled as my outside presentation possibilities

were limited," said Marion, who anticipates

her creations will be on display

throughout the summer.

Messenger photo by Linda Dillman

Jackie Marion shares her miniature versions of gardens and shops with the public,

which are on temporary display inside Wagnalls Memorial Library.
---
PAGE 6 - CANAL WINCHESTER MESSENGER - June 12, 2022

www.columbusmessenger.com

Lithopolis Honeyfest

The Lithopolis Honeyfest will be held

Sept. 9 from 3-7 p.m. and Sept. 10 from 10

a.m. to 7 p.m. in downtown Lithopolis. Free

admission, parking, and shuttle service. The

event features bee beards, beekeepers, art,

live music, honey bake-off, Ohio Honey

Show, honey extracting, hive inspection, junior

beekeeping, American Honey Princess,

food trucks, photo contest, honey, and honey

tasting. For information call 614-769-3824

or visit lithopolishoneyfest.com. "Saving the

planet, one honey bee at a time!"

I've always longed for the adventure in life. My

journey never goes the way I plan, but sometimes

along the way, after all the twists and turns, I try to

settle in and enjoy the path God has for me.

In September 2016 I started my business, Grace

Noelle Florals, in a four seasons room in my home.

From the time I was little, it's all I wanted to do. I

absolutely love flower arranging! And I love the

joy it brings my customers. My husband, Tim, said,

"Do what you love and you'll never work another

day in your life."

First ursday

Groveport's First Thursday summer festival

series is held the first Thursday of the

month in July, and August from 4:30-7:30

p.m. in Cruiser Park, 4677 Bixby Road. It

features food trucks, more than 40 vendors,

a petting zoo, kids' craft tent and bounce

house, a dog show in August, and live music.

The music: July 7 - Jack Middleton; and

Aug. 4 - The Morning Lumber Co. Giveaways

to the first 200 attendees each date.

Giveaways: July 7 - hand sanitizer; and

Aug. 4 - travel bowl. Call 614-836-3333.

PAID ADVERTISING

All things flowers

In 2017, my oldest daughter Ashley became terminally

ill. Life, as we knew it, changed forever.

In September 2019 Ashley passed away and I reduced

my business to weddings and events. I took

the time needed to grieve and be mom to my

youngest daughter, Abbey.

I'm Angela Roehrenbeck and this is my dream!

On June 20, 2022 we will be celebrating our Grand

Re-Opening for all things flowers. I cannot wait to

meet you and create beautiful florals for my wonderful

city, Canal Winchester.

We're Open to

Brighten your Day!

CW summer events

•Music in the Park - June 17 from 6-9

p.m. in Stradley Park, historic downtown

Canal Winchester featuring live music from

local band Hot Rod Lincolns. Come out for

live music and activities for kids and adults

alike. June's Music in the Park will also

have touch-a-tractor for the chance to get an

up-close look at a variety of tractors and

equipment.

•Movie in the Park — July 8 and Aug. 12.

Activities begin at 8 p.m., movie begins at

dusk in Hanners Park — 458 Groveport

Road, Canal Winchester. Come out for a

free family-friendly movie at Hanners Park.

Enjoy the film drive-in style from your car,

or bring a chair and blanket to watch from

the lawn. Free activities and treats will be

available prior to the start of the show. This

event is a partnership with Destination:

Canal Winchester.

•Music in the Park — July 17 from 6-9

p.m. in Stradley Park, historic downtown

Canal Winchester featuring live music from

The Gas Pump Jockeys. Come out for live

music and activities for kids and adults

alike! July's event will also feature the signature

Cruise-In Car Show, hosted by C-

Town Cruisers. Free registration and prizes

will be awarded. Limited to the first 50 cars.

•Blues & Ribfest — July 29-30. Hosted by

Destination: Canal Winchester in historic

downtown CW. A two-day summer street

celebration featuring live blues music,

world-class ribs, a wide variety of quality

non-rib food options, children's activities,

fan-cooled dining areas, and a beer & wine

garden for our Blues/Rib-loving guests 21

and over. Visit www.bluesandribfest.com

for information.

•100th Annual Canal Winchester Labor

Day Festival — Sept. 3, 4, 5. Hosted by the

CW Labor Day Committee in historic downtown

CW. Enjoy three days of family fun at

the oldest and largest Labor Day Festival in

Ohio. Live music, midway rides, car show,

parade, and more. This year's Sunday headliner

is Uncle Kracker, a country pop artist

with a number of Billboard 100 hits. For information

visit www.cwlaborday.org.

CW swimming pool opens

The city of Canal Winchester invites you

to cool off this summer at the Canal Winchester

Municipal Swimming Pool. The pool

season began May 26 and runs through

Sept. 4. A list of pool hours is on the city's

website. Pool memberships and party sales

are available to purchase. Visit www.canalwinchesterohio.gov

for information.

Grace Noelle Florals

Angela Roehrenbeck - Owner/Designer

• Fresh Beautiful Flower Arrangements

• Creative Design

• Weddings

• Birthdays

• Sympathy

• Special Occasions

614-829-2860

gracenoelleflorals.com / angela@noelleflorals.com

DestinationOutlets.com

800-213-9083

8000 Factory Shops Blvd.

Jeffersonville, OH 43128

DOWNLOAD OUR

MEMBERSHIP APP
---
www.columbusmessenger.com June 12, 2022 - CANAL WINCHESTERMESSENGER - PAGE 7
---
PAGE 8 - CANAL WINCHESTER MESSENGER - June 12, 2022

CW Library Branch

The Canal Winchester Branch of the

Columbus Metropolitan Library, 115

Franklin St., is located in the rear portion

of the former school at 100 Washington St.

For information visit www.columbuslibrary.org

or call 614-645-2275.

Barber Museum

The National Barber Museum in Canal

Winchester is located at 135 Franklin St.

(behind the former CW High School building).

The museum, housed in approximately

5,000 square feet, showcases art, artifacts,

and memorabilia from decades of the barbering

profession. For information call(614)

837-8400.

Messenger

Canal Winchester

BEST COMMUNITY NEWSPAPER in Canal Winchester

Pick-Up At These

Locations:

Walgreen's - Gender & Winchester Blvd.

BP Gas Station - Gender Rd. & Freeway

Aldi - Gender Rd. & Freeway (behind BP Station)

Kroger - Winchester Square

The Wigwam Restaurant - 4 South High St.

Shade on the Canal - 19 South High St.

Canal Winchester Library - 115 Franklin St.

CW City Hall and Community Center – 45 E. Waterloo Street

Canal Winchester School Adm. - 100 Washington St.

Harvest Moon - 7 N. High St.

Rex Barber Shop - 1 W. Waterloo

Sunoco Gas Station - 501 W. Waterloo St.

Panera - 685 W. Waterloo St.

Schirm Farm Apts. - 6340 Saddler Way

READ US ONLINE: www.columbusmessenger.com

www.columbusmessenger.com

ey left Fairfield County

better than they found it

Bill Pierson might be remembered as a

dreamer, but his firm handshake spoke only

of hard work. His face lit up when he spoke

of his two loves–his wife, Betty, and preserving

history, especially covered bridges.

Bill met Betty Griffith at Lincoln High

School in 1949. They married in 1950 and

raised three children. In 1980, they purchased

acreage on Sullivan Road and

named it Misty Valley.

Their passion for preserving Fairfield

County history began in 1980 when they approached

county commissioners and were

given the Shade Covered Bridge, which had

been slated for destruction, that had

spanned Little Walnut Creek since 1883.

The stipulation was it had to be rebuilt in

Fairfield County. Vandals had damaged

the siding and set fires inside. Heavy truck

traffic had cracked the double layer oak

floor. Taking the giant wooden puzzle apart

wasn't easy. The 122-foot weather beaten

structure had both arches and vertical

beams. This design was known as "belt and

suspenders," indicative of the bridge's double

support system.

For months the Piersons and friends

worked on this piece of history. They removed

the siding, lath, tin roof, and rafters.

Then each timber, board, and beam was

numbered according to its position on a detailed

sketch drawn by hand. No machinery

was used - mainly ropes, ladders, log chains

and cables. Poles were used to support the

framework. Heavy cords and cross beams

were lowered with ropes. Two hundred and

thirty 10-inch thick wooden floor planks

were removed, along with four arches, 124

oak rafters and 120 sheets of metal. Nails

were pried out one at a time. Rusty bolts

that were 15 feet long were oiled and removed

with a car jack. The bottom cross

members were in three pieces bolted together

and weighed 600 pounds. Thousands

of numbered pieces were transported to

Sugar Grove. The project faced many obstacles,

including damage caused by storms.

The family and volunteers endured heat, fatigue

and poison ivy, but their enthusiasm

never wavered.

An assortment of neighbors, hikers, cyclists,

and passersbys stopped to chat about

the bridge and its history. Bill welcomed

them all, handing each an original nail from

the bridge made by blacksmiths in the

1800s. He kept a journal of the bridge-moving

odyssey full of humorous details about

each day spent on his labor of love. It is titled

"If It Falls To The Left, Jump To The

Right" and can be read at savetheshade.org.

Once the Shade Bridge was rebuilt at

Misty Valley, it was established as a museum

of Fairfield County history. Artifacts

included farm tools, animal carvings, and

antique farm machinery. A covered wagon

was parked ahead of a 1958 Edsel. Other

horse drawn wagons sat beside displays of

handmade rag rugs and poems by Max

Prouty. Pottery, bone shards, axe heads and

Guest column

flint arrowheads that

date back to prehistoric

man were on display.

The original

Connie

Pierson

Downour

handmade wooden

pins and bolts from

the Shade were there,

along with the bridge siding carved with initials

and the date 1886.

Also on the property was a reconstructed

1840 era log cabin donated by the Sandusky

family and moved from Buckeye Lake. It

was furnished with antiques and was a popular

site for apple butter making and cast

iron kettles full of chili in the fall.

The Piersons conducted tours for scout

troops, church groups and school field trips.

They offered the site for reunions, birthday

parties, hay rides,weiner roasts, Halloween

parties, and weddings. Senior groups, old

car clubs, photography clubs, motorcyclists,

history buffs, and covered bridge enthusiasts

from all over the United States came to

visit Misty Valley. With the Shade and Mae

Hummel bridges restored, Fairfield County

surpassed Ashtabula County in having the

most original covered bridges.

Maintaining these historic structures

was always being done to ensure safety and

preservation. Bill and Betty worked tirelessly

in their retirement years to give others

the chance to relive history.

The second bridge the Piersons saved

was the 103-foot Mae Hummel that originally

stood over Rush Creek on Hansley

Road since 1875. Its remains had lain in a

park in Sugar Grove for years until the Piersons

and friends moved and rebuilt it at

Misty Valley. It still stands in good condition

despite being slated for demolition. To

find out why this significant piece of history

will be lost forever, go to savetheshade.org.

The George Hutchins Covered Bridge

was built in 1904 and crossed Clear Creek

on Strickler Road. In 1987, the bridge was

dismantled and taken to Alley Park. Due to

lack of funding, it was stored for 12 years.

Bill accepted the challenge by gathering a

group of men who had the knowledge and

desire to restore history. As a result, the

Friends of Lancaster Parks undertook a

major fund raising effort and in 1999 they

raised $30,000 for the project. Site work

began in the fall of 1999 by Bill and the park

staff, including Jim Thompson and Mike

Clifford. On Oct. 20, 2000, a ribbon cutting

and dedication took place. It still stands

overlooking Lake Loretta and is open to foot

traffic only.

Bill was instrumental in preserving another

piece of history when Columbus Metro

Parks gave Lancaster Parks and Recreation

a two story log house. It was built in 1850

and named the Green Blanpied House. In

See THEY, page 9
---
www.columbusmessenger.com June 12, 2022 - CANAL WINCHESTER MESSENGER - PAGE 9

Metro Parks wildlife advice

THEY

Continued from page 8

Spring is here and its the season for calls about orphaned

and abandoned animals. Metro Parks is unable

to rehabilitate wildlife, but there are some steps you can

take.

According to Metro Parks officials, if you find an animal

in a park that is orphaned, abandoned, or injured,

leave it alone and call the ranger cell number, posted

on bulletin boards and around the park. Sometimes, babies

are left alone while mom is looking for food, and

will return to the nest, other times they will require

care or monitoring. Do not take them out of the park.

If you find an animal in your yard, leave it be. Call

the Ohio Wildlife Center 614-793-9453 and leave a message,

or visit their website at ohiowildlifecenter.org for

information on how to help.

Photo courtesy of the

Pierson family

Bill Pierson (at right)

working on the

Shade Covered

Bridge.

Sadly, on March 9,

2022, the Shade

Bridge collapsed. To

read about why this

significant piece of

history will be lost

forever, go to

savetheshade.org.

For information

about the fate of

Misty Valley, go to

savetheshade.org.

For information email

pierson0323@gmail.

com.

Bill Pierson passed

away in July 2001.

early 2001, led by the Piersons' enthusiasm as members

of Friends of LPR, fund raising began. Bill's vision was

to move this cabin from Clear Creek Metro Park to Alley

Park where it would become the backdrop for Frontier

Spirit, the Pumpkin Walk, and Santa in the Park. He

never dwelled on his past accomplishments, but always

looked ahead to what needed to be preserved next.

Sadly, Bill passed away in July 2001. Betty then

began a 13 year campaign of advocating and fund raising

to see this project through to the end. She encountered

many setbacks, but she was relentless and the

dedicated Alley Park employees, along with family

friend Bill Sands, completed the Green Blanpied House.

In October 2016, it was dedicated to Bill and Betty.

When Sugar Grove formed a development committee,

they called on the Piersons. Bill and Dave Nessley,

along with Betty and Jean Fox restored the original

1830 jail in the village. Bill asked local artist Lois Bondurant

to paint a mural of how Sugar Grove looked in

the 1800s. She did a beautiful job of depicting the

canals, trains, and buggies. I

In 2004, Sugar Grove gained a visitors center in the

form of a C&O Railroad caboose. For many years, Bill

and Monsignor Geiger had searched for one. With help

from Kathy LeVeck and the Fairfield County Visitors

Bureau, they were able to secure grants and funding.

The development committee purchased one of the 26 remaining

red cabooses out of 100 made by the American

Car & Foundry Company. A flowering crab apple tree

planted beside the caboose was dedicated in memory of

Bill Pierson.

Betty continued to give back to her community by becoming

a Meals on Wheels board member. She volunteered

weekly as a Twig member working in the gift

shop at Fairfield Medical Center. In 2006, she became

a founding member of "A Priest and Six Old Ladies"

along with Barbara Uhl, Jean Fox and Father Geiger.

These volunteers, along with David Fey, raised $52,000

to bring a sculpture park to Berne Township. They commissioned

artist Ric Leichliter to create a red tailed

hawk that weighed 2,500 pounds stands on a 30 foot column.

More sculptures were added, including white tail

deer and wild turkey gobbler and hen.

After Bill's death, Betty and her children continued

to maintain Misty Valley and kept the historical structures

open to the public. In 2013, Betty's last wish was

to leave this earth from her home overlooking the Shade

Bridge and its beautiful surroundings. Hospice and her

children made that wish happen. Then came the hard

decision about how best to keep the Piersons' dream

alive. The sale was completed in 2015.

Bill and Betty Pierson did not like the spotlight. They

didn't do it for the notoriety or to make money. They

preferred to quietly preserve history for future generations

to enjoy. Separately they accomplished much, together

they were unstoppable for 51 years. They left

Fairfield County a better place than they found it.

Sadly, on March 9, 2022, the Shade Bridge collapsed.

To read about why this significant piece of history will

be lost forever, go to savetheshade.org.

For information about the fate of Misty Valley, go to

savetheshade.org. The family can be reached at pierson0323@gmail.com.
---
PAGE 10 - CANAL WINCHESTER MESSENGER - June 12, 2022

www.columbusmessenger.com

CLASSIFIED ADS

Deadlines: Groveport and West editions, Wednesdays at 5 p.m., • South/Canal Winchester, Grove City, Madison editions, Tuesdays at 5 p.m.

All editions by phone, Tuesdays at 5 p.m. • Service Directory, Tuesdays at 5 p.m.

xEmployment

NOW HIRING

School Bus Driver and Trainees

Community Bus Services is now hiring school bus drivers and school bus driver trainees

at our Groveport location to join our team! This is an amazing opportunity in a growing

industry! As a school bus driver at Community Bus Services, you are not only an essential

worker, but also a HERO to children every day! We are looking for candidates

who are responsible, love children, and are very reliable.

No experience necessary for Trainees!

$$ PAID $$ TRAINING PROGRAM

TO BECOME A SCHOOL BUS DRIVER! EARN WHILE YOU LEARN!

OPPORTUNITY TO MAKE EXTRA INCOME!

Summer work available!

Job Duties:

● Transports students in a safe and timely manner

● Maintain order amongst students during transport

● Read, follow, and maintain a scheduled route

● Track route times and mileage

● Provide passenger assistance for vehicle entry and exit Requirements:

● At least 21 years of age

● Valid Ohio Driver's License

● Minimum 2 years U.S. driving experience

● Acceptable FBI, BCI background check and Motor Vehicle Report

● Pass T-8 physical, drug test and in an emergency the ability to lift 50 lbs.

Please see our website to submit a resume or application:

www.com-bus.com

ASSOCIATION ADS

Safe Step. North

America's #1 Walk-in Tub.

Compreshensive lifetime

warranty. Top-of-the-line

installation and service.

Now featuring our FREE

shower package & $1600

off for a limited time!

Financing available. Call

Safe Step 1-833-356-1954

The Generac PWRcell

solar plus battery storage

system. Save money,

reduce reliance on

grid, prepare for outages

& power your home. Full

installation services. $0

down financing option.

Request free no obligation

quote. Call 1-877-

539-0299

ASSOCIATION ADS

Vivint Smart Security.

Professionally installed. 1

connected system for total

peace of mind. Free

professional installation! 4

free moNths of monitoring!

Call to customize your

system. 1-833-841-0737

Attention Viagra users:

Generic 100 mg blue pills

or generic 20 mg yellow

pills. Get 45 plus 5 free +

S/H. Call Today 1-877-

707-5518

Paying top cash for men's

sportwatches! Rolex,

Breitling, Omega, Patek

Pillippe, Heuer, Daytona,

GMT, Submariner and

Speedmaster. Call 833-

603-3236

ASSOCIATION ADS

Aloe Care Health medical

alert system. The most

advanced medical alert

product on the market.

Voice-activated! No wi-fi

needed! Special offer

w/code CARE20 for $20

off Mobile Companion. 1-

855-341-5862

BATH & SHOWER UP-

DATES in as little as

ONE DAY! Affordable

prices - No payments for

18 months! Lifetime warranty

& professional installs.

Senior & Military

Discounts available. Call

855-761-1725

ASSOCIATION ADS

Safe Step. North

America's #1 Walk-in Tub.

Compreshensive lifetime

warranty. Top-of-the-line

installation and service.

Now featuring our FREE

shower package & $1600

off for a limited time!

Financing available. Call

Safe Step 1-855-417-1306

READY TO BUY, SELL

OR RENT YOUR

VACATION HOME OR

HUNTING CAMP?

Advertise it here and in

neighboring publications.

We can help you. Contact

MACnet MEDIA @

800-450-6631 or visit our

site at MACnetOnline.

com

DO YOU HAVE

A POSITION

TO FILL?

ADVERTISE IT!

Call

Kathy

At The

Columbus

Messenger

For Rates

272-5422

ASSOCIATION ADS

New authors wanted!

Page Publishing will help

self-publish your book.

Free author submission

kit! Limited offer! 866-

951-7214

Don't let the stairs limit

your mobility! Discover

the ideal solution for

anyone who struggles on

the stairs, is concerned

about a fall or wants to

regain access to their

entire home. Call

AmeriGlide today! 1-844-

317-5246

Vivint Smart Security.

Professionally installed.

One connected system for

total peace of mind. Free

professional installation!

Four free months of

monitoring! Call to

customize your system. 1-

855-870-2073

SELL YOUR ANTIQUE

OR CLASSIC CAR.

Advertise with us. You

choose where you want

to advertise. 800-450-

6631 visit macnetonline.

com for details.

DISH TV $64.99 FOR 190

Channels + $14.95 High

Speed Internet. Free Installation,

Smart HD DVR

Included, Free Voice Remote.

Some restrictions

apply. Promo expires

1/21/23. 1-866-479-1516

Employment

ASSOCIATION ADS

The Generac PWRcell, a

solar plus battery storage

system. SAVE money,

reduce your reliance on

the grid, prepare for power

outages and power

your home. Full installation

services available. $0

Down Financing Option.

Request a FREE, no obligation,

quote today. Call

1-855-900-2894

Prepare for power outages

today with a GENERAC

home standby generator.

$0 Money Down + Low

Monthly Payment Options.

Request a FREEQuote--

Call now before the next

power outage. 1-855-465-

7624

DENTAL INSURANCE

from Physicians Mutual

Insurance Company.

Coverage for 350 plus

procedures. Real dental

insurance - NOT just a

discount plan. Do not wait!

Call now! Get your FREE

Dental Information Kit with

all the details! 1-877-553-

1891

www.dental50plus.com/

macnet#6258

The bathroom of your

dreams for as little as

$149/month! BCI Bath &

Shower. Many options

available. Quality

materials & professional

installation. Senior &

Military Discounts

Available. Limited Time

Offer - FREE virtual inhome

consultation now

and SAVE 15%! Call

Today! 1-877-540-2780

DISH TV $64.99 for 190

Channels + $14.95 high

speed internet. FREE installation,

Smart HD DVR

included. Free Voice Remote.

Some Restrictions

apply. Promo Expires

1/21/23. 1-866-590-5561

Parkfield Insulation

is looking for Insulation

installers to join our crews.

We have openings for Cellulose, Fiberglass, and Spray

foam insulation installation.

We offer the top pay for insulation installers starting

at $16 an hour for untrained installers to piece rates

where installers have made over $1800 a week.

If you want to write your own future in the insulation

market please do not hesitate to reach out and see

how you can be a contributor to our success.

We offer full benefits such as Health insurance,

dental, vision, and 401K

614-285-2307

ASSOCIATION ADS

AT&T Internet. Starting at

$40/month w/12-mo agmt.

1 TB of data/mo. Ask how

to bundle & SAVE! Geo &

svc restrictions apply. 1-

855-364-3948

Dental Insurance -

Physicians Mutual Insurance

Comopany. Covers 350

procedures/ Real insurance -

not a discount plan. Get your

free dental info kit! 1-855-

.526-1060 www/dental50

plus.com/ads #6258

WANTED!

MOTORCYCLES!

ANTIQUE AND CLASSIC.

Honda, Kawasaki, Suzuki,

Yamaha, Triumph, BSA

and other foreign models.

$$PAYING CA$H$$

717-577-8206

KRMiller1965@yahoo.com

Attention oxygen therapy

users! Inogen One G4 is

capable of full 24/7 oxygen

delivery. Only 2.8

pounds. Free info kit.

Call 877-929-9587

ASSOCIATION ADS

LONG DISTANCE MOVING:

Call Today for a FREE

QUOTE from America's Most

Trusted Interstate Movers.

Let us take the stress out of

moving! Call now to speak to

one of our Quality Relocation

Specialists: 877-541-6320

Eliminate gutter cleaning

forever! LeafFilter, the

most advanced debrisblocking

gutter protection.

Schedule a FREE LeafFilter

estimate today. 15% off

Entire Purchase. 10% Senior

& Military Discounts.

Call 1-855-791-1626

Looking for auto insurance?

Find great deals

on the right auto insurance

to suit your needs.

Call today for a free

quote! 866-924-2397

Prepare for power

outages today with a

GENERAC home standby

generator. $0 Down + Low

Monthly Pmt. Request a

free Quote. Call before the

next power outage: 1-855-

948-6176
---
www.columbusmessenger.com

xCome & Get It!

COME AND GET IT!

Need to Get Rid of Something Fast - Advertise It Here For FREE!

Deadlines are Mondays by 5 pm.

Call For Publication Schedule 614-272-5422

FREE Garden Straw for gardens or bedding. Call for appointment for pickup.

Circle S Farms, 9015 London-Groveport Road, Grove City, 43123

Grove City - 614-878-7980

.FREE - Downed Tree, needs cut into sections. Free for anyone that wants it.

CC - Obetz - 614-632-1013

. Come and Get It! is a bi-weekly column that offers readers an opportunity to pass

along surplus building materials, furniture, electronic equipment, crafts, supplies,

appliances, plants or household goods to anybody who will come and get them - as

long as they're FREE. NO PETS! Just send us a brief note describing what you want to

get rid of, along with your name, address and phone number. Nonprofit organizations

are welcome to submit requests for donations of items.

Send information to The Columbus Messenger, Attention: Come and Get It, 3500

Sullivant Ave., Columbus, OH43204. Deadline is Tuesdays by 5 pm for following

Mondays publication. Messenger Newspapers is not responsible for any

complications that may occur. Please contact us when items are gone. 272-5422

ASSOCIATION ADS

Protect your home w/home

security monitored by

ADT. Starting at $27.99/

mo. Get free equipment

bundle including keypad,

motion sensor, wireless

door & windows sensors.

833-719-1073

NEED IRS RELIEF

$10K-$125K+ Get Fresh

Start or Forgiveness.

Call 1-844-431-4716

Monday through Friday

7am-5pm PST

READER

ADVISORY

The National Trade Association

we belong to has

purchased the following

classifieds. Determining

the value of their service

or product is advised by

this publication. In order

to avoid misunderstandings,

some advertisers do

not offer "employment"

but rather supply the

readers with manuals, directories

and other materials

designed to help

their clients establish mail

order selling and other

businesses at home. Under

NO circumstance

should you send any

money in advance or give

the client your checking,

license ID or credit card

numbers. Also beware of

ads that claim to guarantee

loans regardless of

credit and note that if a

credit repair company

does business only over

the phone it's illegal to request

any money before

delivering its service. All

funds are based in US

dollars. Toll Free numbers

may or may not

reach Canada. Please

check with the Better

Business Bureau 614-

486-6336 or the Ohio Attorney

General's Consumer

Protection Section

614-466-4986 for more

information on the company

you are seeking to

do business with.

Come & Get It!

ASSOCIATION ADS

IMPORTANT

NOTICE

The following states: CA,

CT, FL, IA, IL, IN, KY,

LA, MD, ME, MI, MN,

NE, NC, NH, OH, OK,

SC, SD, TX, VT and WA

requires seller of certain

business opportunities to

register with each state

before selling. Call to

verify lawful registration

before you buy.

HELP WANTED

Concrete finishers &

Laborers needed. Must

have own transp. & be

dependable. Exp needed.

Competitive wages. 614-

871-3834 btwn 6 & 9 pm.

Licensed Barber Needed

to take over for retiring

barber. Full or Parttime.

located in Great Southern

Shopping Center. Call

Cindy for more info

614-239-1976

Surgeon (job code_9645)

to work in Bellefontaine,

OH (multiple locations).

Send resume to Lynnsi

Barnett, hrd@maryrutan.

org. Mary Rutan Hospital.

Must ref job code listed

above.

NOW HIRING!

KIDDY GROVE DAY CARE

With SIGN-UP BONUS!

614-402-8937

PT Helper Needed

for Lawn Care Service

3-4 Days a Week

Call 614-935-1466

DATED SALES

COMMUNITY

GARAGE SALE

ASHVILLE SENIOR APTS.

100 Abby Court,Ashville

Fri., June 17th - 9am-5pm

Sat., June18th - 9am-1pm

WANT TO BUY

WE BUY JUNK CARS

Call anytime 614-774-6797

BUYING VINYL RECORDS.

LPs and 45s - 1950-80s

Rock, Pop, Jazz, Soul.

614-831-0383

We Buy Cars & Trucks

$300-$3000.614-308-2626

ANTIQUES

WANTED

Victrolas, Watches,

Clocks, Bookcases

Antiques, Furn.

Jeff 614-262-0676

or 614-783-2629

We Buy Junk Cars &

Trucks. Highest Prices

Paid. 614-395-8775

MISC. FOR SALE

Electric Wheelchair - If

interested, call 614-928-2352

Generator: elec. start,

12 volt battery,

8000 running watts.

Call to see 614-829-5522

RENTALS

WEST HALF DOUBLE

2BR, Rent $850 dep. $850

3BR, Rent $950, dep $950

Realtor 614-226-6767

USED VEHICLES

2007 Cavalier-$3700 obo

614-274-4210

cll btwn 7pm010pm

88 Ford Mustang

Convertible, Southern car,

5.0 engine, 5 spd trans,

marooon, 2nd owner, very

clean $7900. 614-440-6681

2010 Dodge Grand

Caravan, 41,000 miles,

Handicap Vehicle, 10" floor

access for 2 wheelchairs,

front passenger elec. side

ramp. $25,000 obo

614-395-5339

June 12, 2022 - CANAL WINCHESTER MESSENGER - PAGE 11

xClassified Services

AIR CONDITIONING

AIR CONDITIONING

Complete System

Clean & Check

$49.95

BLACKTOP

AGM OHIO

ROOFING &

SEALCOATING

Free Estimates

Cell 614-512-1699

SANTIAGO'S

Sealcoating & Services LLC

Quality Materials Used

SPRING IS HERE!

Driveway Seal & Repair!

Top Seal Cracks!

Residential & Commercial

Mulching, Edging & Clean-ups

"Ask for whatever you need."

BBB Accredited-Fully Insured

Call or text for Free Est.

614-649-1200

CARPET SALES

CARPET

Gray Saxony

270 sq.ft. w/6 lb Pad

$398.00

Other Carpet AvailableA

Phone or text Ray

740-927-3504

Delivery & Inst. avail.

INFORMATION

7/3 A

Free Electronic Leak Testing

All Makes • All Models

46 Yrs. Exp. • Senior Discount

614-351-9025

6/19

A/M

BLACKTOP SEALING

Driveways & Parking Lots

614-875-7588

6/5 e/se

CLEANING

Looking for Mrs. Clean?

For excellent cleaning serv

at reas. rates w/great refs,

dependable. 10% Seniorr

Disc. Free Est. Also runs

Errands - Gwen 614-226-5229

CONCRETE

ALL-CITY CUSTOM

CONCRETE

All Types Concrete Work

New or Tear Out-Replace

40 Yrs. Exp.

(614) 207-5430

Owner is On The Job!

AJ's Concrete,

Masonry

Good Work - Fair Prices

Block Foundations

Driveways • Sidewalks

Epoxy/Overlay Floors

Bonded-Ins. • Free Ests.

614-419-9932

www.hastingsnsons.com

Driveways & Extensions

Patio & Walkways,

Porches & Steps,

Garage/Basement Floors

Hot Tub/Shed Pads,

Stamped/colored concrete

Sealing of new &

existing concrete.

FREE ESTIMATES

Contact Adam

614-756-1754

hastingsandsons.

columbus@gmail.com

EDDIE MOORE

CONSTRUCTION

Quality Concrete Work

Lt. Hauling & Room Add.,

Block Work & Excavation

Stamp Patios,

Bsmt. Wall Restoration

36 Yrs Exp - Lic & Ins.

Free Ests. 614-871-3834

INFORMATION

ONLY

$50.00

For This Ad In Our

South/Canal Winchester

& Groveport

For Info Call

614-272-5422

INFORMATION

LOOK TO

THE PROFESSIONALS

IN OUR

SERVICE DIRECTORY

For Service

"That Is Out Of This World"

7/3 A

GUTTERS

Bates & Sons

GUTTER CLEANING

5 ★ Google Reviews

614-586-3417

HAULING

DEAN'S HAULING

614-276-1958

HOME

IMPROVEMENTS

SINCE 1973

Phil Bolon Contr.

Windows & Siding

Decks, Kitchens, Baths

Room Additions,

Flooring, Roofing

Bsmt Waterproofing

Deal With Small Non-Pressure Co.

47 Yrs. Exp. - Refs. Avail.

Lic.-Bond-Ins.

Free Est. - Financing Avail.

Member BBB Of Cent. OH

O.C.I.E.B. ID #24273

614-419-3977

or 614-863-9912

C&JHandyman

Services LLC

Minor Plumbing

& Electric

Install Hot Water Tanks,

Dishwashers & Disposals

Also Fencing &

Interior/Exterior Painting

Free Est. ~ 18 Yrs. Exp.

CDC/EPA Approved Guidelines

614-284-2100

HOME

REMODELING

Classified Services

7/3

A/M

KLAUSMAN HOME

IMPROVEMENT

Siding-Windows-

Doors-Roofing-Soffit-

Fascia-Gutters-Trim

Earn FREE Seamless

Gutters with Siding Over

1000 Sq. Ft.

FREE Shutters with

Soffit & Trim

EPA Certified

Member of BBB

Financing Available

Over 20 yrs exp. • Free Est.

Licensed-Bonded-Insured

Owner & Operator

James 614-419-7500

MultiCraft Const.

& Handyman Services

All Types Handyman Services:

Decks, Fences

Kitchen/Baths

Window/doors installed

Interior Painting

Drywall Repairs

All Types of Flooring

Call/Text 614-774-2923

multicraftconstruction@gmail.com

6/19 A

6/19 A

7/3 A

PEST

CONTROL

TERMITE &

PEST CONTROL

614-367-9000

TORCO®

TERMINATES

TERMITES

Locally Owned & Operated. Any Pest. Anytime.

$

50 00 OFF Service

Free Termite Inspection

HOME

MAINTENANCE

SMALL HOME REPAIRS?

Call Sonny

380-209-3646-local #

LAWN CARE

The Lawn Barber

Cut, Trim, Blow away

Hedge Trimming, Edging

614-935-1466

LET US MAINTAIN

YOUR LAWN & GARDEN

FOR YOU

Summer, Spring,

Winter or Fall

WE DO IT ALL!!!!

Lawn Cuts, Edging,

Trees & Shrubs, Garden,

Mulching, Hauling,

Garden Pond &

Home Maint.

Free Ests. Low Rates

$20 & Up

Kevin - 614-905-3117

MOWER REPAIR

LAWN MOWER DR.

"House Calls Only"

Overall Checkups

Oil Change & Filter,

Spark Plug &

Blades Sharpened

MINOR REPAIR

John

614-395-7909

johnellis0333@sbcglobal.net

PAINTING

Painter Over 30 Yrs. Exp.

Free Est. Reas. Rates

Daniel - 614-226-4221

A Job Well Done Again

A lic. General Contractor

Some Skilled Services

Incl: Painting • Stucco,

Repair•Carpentry•Exterior

Drainage & Home Maint.

Call Today! 614-235-1819

PLASTERING

6/12 A

DRYW

YWALL &

PLASTER

7/3

A&M

REPAIR

Textured Ceilings

614-551-6963

Residential/Commercial

BIA

PEST

CONTROL

PLUMBING

All About Drains & Plumb.

Will snake any sm drain

$145. 614-778-2584

CHRIS'

PLUMBING

"Plumbing & Drain Professional

That You Can Count On"

24 Hrs., 7 Days/Week

No Overtime Charges

24 Yrs. Exp. in Plumbing &

Drain Cleaning Field

Call For A Free Phone Estimate

$100.00 For Any Small Drain

614-622-4482

30% OFF with AD

POWERWASHING

POWERWASHING

at Reasonable Rates

Gwen 614-226-5229

MRS. POWERWASH

Any house wash $149+tax

Single deck $69+tax

2 Tier deck $99+tax

Best Wash in Town

Over 45,000 washes

Ashley 614-771-3892

Bates & Sons

Soft Wash & Powerwash

5 ★ Google Reviews

614-586-3417

SEWING MACHINE

REPAIR

REPAIR all makes 24 hr.

service. Clean, oil, adjust

in your home. $49.95 all

work gtd. 614-890-5296

TREE SERVICES

Brewer & Sons Tree Service

• Tree Removal

• Tree Trimming 6/19

A&M

• Stump Grinding

• Bucket Truck Services

Best Prices • Same Day Service

614-878-2568

BURNS TREE SERVICE

Trimming, Removal &

Stump Grinding.

614-584-2164

7/3 A&M

6/19 A
---
PAGE 12 - CANAL WINCHESTER MESSENGER - June 12, 2022

Mosquito management

The city of Canal Winchester contracts

with Franklin County Public Health for

mosquito control.

Franklin County Public Health takes a

proactive, concentrated approach to mosquito

management.

The agency's Integrated Pest Management

Program focuses on prevention, education,

and controlling pests at their most

vulnerable stage while minimizing hazards

to the environment. Data about mosquito

breeding locations, areas that traditionally

have high adult mosquito populations, and

the frequency and distribution of mosquitoborne

diseases throughout Franklin County

is regularly monitored and treatments are

applied when appropriate.

The city's Urban Forestry Department

will begin routine random larval mosquito

surveys in late May 2022, providing documentation

of mosquito production as a basis

for treatment.

Native fathead minnows may be released

by the City as an aquatic biological larval

control, possibly offering some decrease in

local adult mosquito populations.

Residents can help by reporting areas

that they suspect may be mosquito breeding

grounds and by reporting increases in adult

mosquito activity to Franklin County Public

Health.

Mosquitoes breed easily in standing

water. Check for and drain any standing

water around your home to help control the

mosquito population.

Common and easily overlooked mosquito

habitats include: tires, buckets, cans, bottles,

and plastic containers; bird baths

(drain and refill every 3-4 days); wading or

kiddie pools (drain and refill frequently);

pools and hot tubs (keep chlorinated, covered,

or keep completely dry); pool covers

that hold water; boats, boat covers, and

tarps; pet food containers and water dishes;

clogged gutters and downspouts; leaky outside

faucets that create puddles; rain barrels

that are not properly screened or

treated; low areas that form puddles and

hold water; planters and pots, including

saucers and catch trays; trash cans (use

tight fitting lids and keep them covered);

mature trees that have developed holes that

hold water — fill the voids with sand; anything

that has the potential to hold even

small amounts of water.

Information about Franklin County Public

Health's mosquito management program

and a form report an area of concern is

available online at mosquito.myfcph.org or

by calling Franklin County Public Health's

Mosquito Bite Line at (614)525-BITE

(2483).

Fourth of July in Groveport

Groveport's "Fourth of July Celebration

and Parade" will be held July 4. The kids'

parade begins at 10:30 a.m. The Main Street

parade starts at 11 a.m. There will be food

vendors all day, kids' activities from 1-6

p.m., and live music from 2-9:45 p.m. Fireworks

at dusk. For information call 614-836-

3333.

CW canal bridge

Our Pictorial Past

www.columbusmessenger.com

This is a view of the turn bridge over the Ohio and Erie Canal on Canal Winchester's

South High Street in the early 20th century. The large building in the background is

the Whitehurst and Gehm warehouse. According to canal historian David Meyer in

his book, "Life Along the Ohio Canal," this iron turn bridge was installed in 1883 replacing

a fixed iron bridge. A turn bridge could be pivoted to let canal boats pass.

Moses-Mouser Eye Care

Dr. Joshua Morris is an Optometrist who grew

up in Bellville, Ohio. He completed his undergraduate

degree at the University of Akron, where

he graduated magna cum laude with honors.

Dr. Morris attended The Ohio State University

College of Optometry and graduated cum laude

with honors to receive his Doctor of Optometry Degree in May 2019. After

completing his studies, he was awarded the "Primary Vision Care Clinical

Excellence Award", in 2019.

Dr. Morris is a member of the American Optometric Association, the Ohio

Optometric Association, and The Ohio State Alumni Association. He is

excited to practice full scope optometry, diagnosing and treating a variety

of ocular disorders and diseases in patients of all ages, but has a special

interest in contact lenses and ocular disease.

On a personal note, Dr. Morris and his wife Tess, enjoy spending time with

their family, friends, and their Bernese Mountain dog Maverick, cheering

on The Ohio State Buckeyes, trying new foods, and exploring Columbus

breweries.

Q: What are floaters and what causes them?

A: Floaters are small dark shapes that move across your vision. They can appear

as dots, threads, squiggly lines, or even like cobwebs. Most floaters are caused

by normal changes in the eye. As you age, small strands of vitreous (gel-like fluid

that fills your eye) can clump together and cast a shadow on your retina (the

light-sensitive tissue at the back of the eye). Those shadows appear as floaters

that drift across your vision. You may notice floaters more when you look at a

bright background, like a computer screen or a blue sky.

Q: How often should someone with new

floaters get an eye exam?

A: Someone experiencing new floaters, a large increase in the number of floaters,

or flashing lights should see an eye care professional immediately. Sometimes

floaters have a more serious cause, including: infection, injury, inflammation,

bleeding, retinal tear or retinal detachment.

Someone with a few stable floaters should see an eye care professional at least

once a year for a comprehensive dilated eye exam.

Schedule your comprehensive eye exam

today with Dr. Morris

6441 Winchester Blvd. E., Canal Winchester, OH 43110 614-963-3827