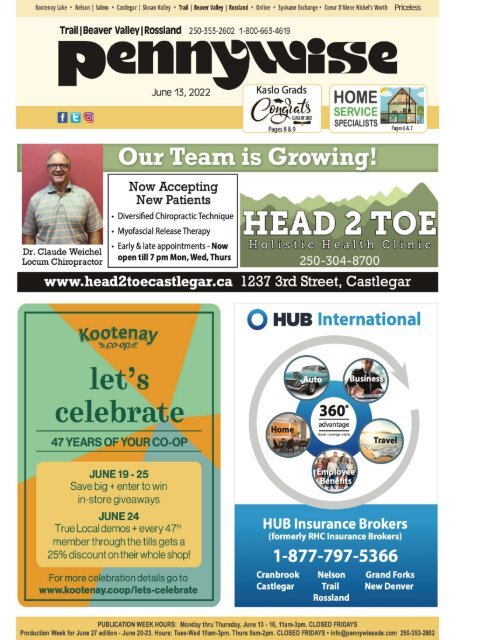 June 13, Pennywise – Trail, Beaver Valley, Rossland
Complete coverage of Trail, Rossland, Fruitvale, Montrose.
Complete coverage of Trail, Rossland, Fruitvale, Montrose.
SHOW MORE
SHOW LESS
Create successful ePaper yourself
Turn your PDF publications into a flip-book with our unique Google optimized e-Paper software.
and mattresses!

We're

Cleaning

Better Late Than Never!

Save up to

60%

ON FURNITURE

AND MATTRESSES!

Major appliances also on SALE!

Next Pennywise Publication Date: Monday, June 27

Next Ad Deadline Wednesday, June 22 • 3 pm 1-800-663-4619

Puzzle solutions: page 16

Animals/Pets .................................................................................................................14, 15

Automotive ...................................................................................................................15, 16

Auto Parts/Service ............................................................................................................. 16

Boats/Watercraft ..........................................................................................................15, 16

Building Supplies ................................................................................................................. 4

Bulletin Board.................................................................................................................... 2-4

Cars ...................................................................................................................................... 15

Computers/Electronics ........................................................................................................ 4

Services, Contractors/Trades ..................................................................................7, 10-14

Education/Classes/Workshops ......................................................................................... 14

Employment/ Hiring ........................................................................................................ 5, 6

Events .................................................................................................................................... 3

Free for Free ......................................................................................................................... 4

Furniture & Appliances ....................................................................................................... 4

Gardening/Landscaping .................................................................................................... 13

Garage Sales ......................................................................................................................... 4

Health/Personal Care ..................................................................................................13, 14

Help Wanted ......................................................................................................................... 6

Markets/Fairs .................................................................................................................... 3, 4

Merchandise ..................................................................................................................... 4, 5

Motorcycles ........................................................................................................................ 15

Notices/Announcements .................................................................................................. 14

Puzzles ................................................................................................................................... 3

Real Estate/Agents/Land ................................................................................................... 16

Rentals/Commercial Rentals ............................................................................................ 16

RVs/Campers ...................................................................................................................... 15

Seniors Discounts .............................................................................................................. 16

Sporting Goods .................................................................................................................... 5

SUVs ..................................................................................................................................... 15

Thank You ............................................................................................................................. 4

Wanted/Looking For ............................................................................................................ 6

OBITUARIES

Patricia Frie ...................................................................................................................... 9

email: info@pennywiseads.com editorial@pennywiseads.com

Printed in Canada. All Rights Reserved. © 2022 by KS•Perry Publishing Ltd.,

Karma Halleran, Publisher. We reserve the right to edit or reject submissions or

advertising that are not within our guidelines, see at www.pennywiseads.com

Slocan Valley

BEAT THE HEAT SALE!

Air conditioner units in stock*

All sale priced!

Lawn Mowers

Weed

Whackers

Sun Hats and Garden Boots

Open

7 days

a week

Located halfway between

Trail and Castlegar

1790 HomeGoods Rd, Genelle BC

250-693-2227

Check out our website HomeGoodsFurniture.com and see us on Facebook!

Come and see

our new working

kitchen designed by

JMK Kitchens

Shop now

for best

selection!

Kitchens & Custom

Woodworking Ltd

Lawn &

Garden

Tools

*Not exactly

as shown

• lawn seed

• soil

• manures

• Flower and

vegetable seeds!

• Canning jars and lids

Cement,

Paving Stones,

Drywall

largest supplier of fencing, posts,

corral panels in the kootenays!

Bundle pricing on posts available

5763 Hwy 6, Winlaw | 250-226-7771

Open 9-5 Monday-Friday, 10-4 Saturday

Closed Sundays

& O

Bulletin Board Bulletin Board Bulletin Board Bulletin Board Bulletin Board

AFFORDABLE & SECURE HOUSE-

HOLD STORAGE CONTAINERS: 20´

& 40´ units for sale or rent. Kootenay

Containers, Castlegar. 250-365-3014.

ALERT, PHONE NUMBER SCAM:

Please be aware of a phone number

scam using 1-800-353-2602. This is

NOT the Pennywise toll free number

and if you call it in error, do not follow

the instructions, hang up. Pennywise.

APPLEWOOD MASSAGE THERAPY:

Paul Chernoff, Registered Massage

Therapist, injury related treatments,

deep tissue therapy, ICBC, RCMP, VA,

MSP. Appointments, please call 250-

365-7752. 785 Silverbirch Lane, in the

Oglow Subdivision, Castlegar.

BIBLE STUDY: Don, 778-877-0579.

BOIL WATER NOTICE for Fletcher

Creek Improvement District water

users. Please inform all renters &

guests. FCID has a moratorium on all

connections until further notice. Visit

www.fletchercreekwater.com

BOATERS THE LAKE IS UP! Time

to enjoy boating Kootenay Lake.

Cruise to Woodbury Resort and Marina!

Fuel, Tackle, and Family Friendly

Pontoon and Fishing Boats to RENT

and guest boat parking. Plus JB's Pub

and Family Restaurant, family dining

or takeout, off-sales beer and wine!

250-353-7716.

BUYING ALL GOLD & SILVER!

Coins, 9999 Bullion, Bars, Rounds, Ingots,

Jewelry, Nuggets, Etc. Also buying

Coin Collections, Old Coins, Royal

Canadian Mint Coins +++. Todd, 250-

864-3521.

CALL THE BLINDMAN for Awnings

and Window Coverings. 25 years of

quality service. Free consultations,

250-352-3800.

CASTLEGAR CHRISTMAS CRAFT

FAIR 2022 will be held Sunday, Dec.

11. For vendor information call Cathy,

250-359-7904.

CEDAR LUMBER: Fencing, fence

posts, siding, decking, tongue and

groove, garden beds, etc. 250-505-

4207.

CHECK OUT DISCOVER SIXTY-FIVE

Kootenay Seniors Living Magazine at

www.discoversixty-five.com

CHIROPRACTOR in KASLO: 409

Water St, (behind Figments), DR. McK-

ENZIE, Tuesdays, 250-551-3225. For

appointments, 250-352-1322.

CHIROPRACTOR, DR. McKENZIE,

SALMO: Thursdays, Willow Healing

Arts Centre. Call 250-551-3225. NEL-

SON, M.W.F, Community First Health

Co-op, 250-352-1322.

FIGMENTS HAS LOTS OF BEAUTI-

FUL new gifts in-store. Stop by and

enjoy a browse - open every day. 250-

353-2566, www.figmentscanada.com

CHOOSE KASLOCAL! When you

choose Kaslocal, by buying goods

and services from our local shops you

are helping our communities thrive.

www.kaslochamber.com

DR. McKENZIE, CHIROPRACTOR

has closed his Slocan office and is

accepting patients in his Nelson or

Salmo offices. Call 250-352-1322 for

appointments.

FATHER'S DAY AT JB'S PUB AND

FAMILY RESTAURANT: Treat Dad

on Saturday, June 18 or Sunday, June

19 with our weekend special. 14oz

T-Bone Steak with Sautéed Button

Mushrooms, Loaded Baked Potato

and Seasonal Veggies, including a

dessert for Dad. $39. Regular menu

available. Call 250-353-7716 to make

a reservation!

FATHER'S DAY CARDS AT FIG-

MENTS, and lots of new gifts too!

Open every day. 250-353-2566, Kaslo.

Furniture & Antiques at OLD

SCHOOL FURNITURE: Our shop

is located at 434 Rossland Ave

in Trail, or book an appointment

to view our WAREHOUSE or all.

We BUY, SELL & TRADE furniture!

Follow us on Facebook or Instagram

for exclusive offers! Inquire

for summer hours, 250-521-3028.

IDIDARIDE & RUN KASLO: Sunday,

July 3, 2022. www.ididaride-kaslo.ca

JB'S PUB AND FAMILY RESTAU-

RANT: Your local getaway! Dinein

or takeout our famous food!

Beer and wine to go! Open 3-8pm,

Wednesday-Sunday. Join us for happy

hour 3-6pm! Call 250-353-7716

for reservations.

2 June 13, 2022 Your local shopper N picture online: www.pennywiseads.com
---
Professional, Reliable, Quality Service Providers

Septic system installation,

maintenance and repair

Grease trap servicing

Sump pits and

lift stations

Drain auguring

and flushing

Call Today!

IDidaRide deets

The 30 km has been finalized!

You will start at the Kaslo Arena and head west on Arena

Ave climbing the Hemlock network to the gravel pit. Riders

will cross the gravel pit to climb the short dirt road to 'N' Zone',

continuing up 'Spanish Moss' to 'Sleepy Hollow', onto the Connector,

'Strawberry Ridge', 'Straight Face', then bounce out onto

Bjerkness Road. You will turn left and head up Bjerkness, past

the 'Sourdough' turn off, till you come to a Y – go right and

climb for a bit 'til you come to the newly discovered hand-built

single track 'Chainsmoker', a black diamond downhill. The

trail then winds its way back down toward Kaslo and intersects

with 'Look Waaaay Up', continues on to 'I'll Call Rusty'

and back to the Arena on the 'Lettrari Loop'.

Registered

Onsite

Wastewater

Practioner

IDidaRide

All-Around Septic Services Ltd.

250-354-3644 • 250-359-8282

allsepticvac@gmail.com

www.allaroundsepticservices.com

A

division

of

LICENSED PRACTICAL NURSE

Castleview Care Centre is currently seeking LPNs to join our

team. We are a smaller home, offering a comfortable and

relaxed atmosphere for our residents instead of the large

institutional type of seniors' facility. All our seniors get their own

private rooms, we have fantastic outdoor space, and great staff.

"Our residents do not live in our workplace;

we work in their home."

Qualifications:

Current CLPNBC License

First Aid CPR

Current Criminal Record Check /working with vulnerable sector

TB test

Good communication skills

Able to work independently

Fully Covid-19 vaccinated

If you are looking for a great team to work with and have a

passion for delivering excellent seniors care, please submit

your resume in the strictest of confi dence.

Compensation at top market rate.

How to apply:

recruiter@chantellegroup.com

or FAX to 250-365-3291

Attn: Administrator

Bulletin Board Bulletin Board Bulletin Board Bulletin Board Bulletin Board

KASLO E-KRUISE SERVICE CEN-

TRE NOW OPEN! We service all

traditional, mountain and e-bikes.

423 Front St. 250-300-7923,

https://www.ekruise.com/kaslo/

MIRROR LAKE WATER USERS

COMMUNITY: Boil water advisory

for all users. Inform renters and

guests.

RV CAMP SITES, fully serviced.

Tent sites. Chalet and Motel

rooms. Woodbury Resort has it all

for your getaway! 250-353-7717,

www.woodburyresort.com

SELKIRK TRUSS, can provide all

your custom trusses for your reno

or new build. Visit our website www.

selkirktruss.com and get the answers

to many of your questions. Selkirk

Truss, 2894 Sentinel Rd, South

Slocan. 250-359-7000.

SHARPENING SERVICE: Saws,

tools, scissors, knives, clipper

blades. C&D Sharpening Service,

250-365-3658.

SHIPPING CONTAINER SALES,

RENTALS & SELF-STORAGE: Call

250-304-5955. MKV International

Trading, 2812 Popoff Rd, South

Slocan, BC.

SPECIAL DELIVERY ClassiCanadian

Crosswords. Brand new, straight to

you. Check your inbox, Wednesday's

the day. For weekly delivery subscribe

at www.ClassiCanadianXwords.ca

USA - AUCTION, AUCTION, auction!

Bonners Ferry farm, ranch and

household auction 2718 Parker Canyon

Rd. One day only, Saturday, June

25th, same day preview. 8:30am-

10am; auction 10am. For picture previews,

visit JKernauctiongroup.com,

208-920-3286.

THE TREASURE SHOP CASTLE-

GAR IS OPEN Tuesday, Thursday,

Saturday, 11am-3pm. Donations accepted

Tuesday & Saturday, please

call 250-365-7317 before bringing

your donations. Check out our

summer clothing and our auction.

www.castlegarhospitalauxiliary.org

Looking for volunteers, apply on our

website or stop by the shop! See you

there!

THRIFT STORE KASLO: Wednesday

through Saturday, 11:30am-

2pm. Lots of new spring items. Call

250-353-1037 if you would like to

volunteer in our store.

USA - BECOME A PUBLISHED

AUTHOR. We want to read your

book! Dorrance Publishing trusted

since 1920. Consultation, production,

promotion & distribution. Call for free

author's guide 1-877-729-4998 or

visit dorranceinfo.com/ads

WANECO ENTERPRISES CUSTOM

SAWMILLING: Fir, cedar, clears,

decking, timbers. 250-353-7126,

wanecoent@gmail.com

ZYCOPTERA GEOSPATIAL: Need

aerial drone imagery? Rural property

or garden development, inspection,

assessment. We provides high

res. aerial imaging and mapping.

250-505-2404,zycoptera6174@gmail.

com

N picture online: www.pennywiseads.com Your local shopper • Pennywise T June 13, 2022 3

Events

NELSON COMMUNITY BAND

CONCERT with Trail's Maple Leaf

Band! 7:30pm, Saturday, June 21.

611 5th St, Nelson. $10.

NOTABLY IS TURNING 1! Join us

Saturday June 18th for door prizes,

gifts with purchases, sales and cake!

454 Ward St. Nelson. 250-354-0148

The Largest Collection of

LOCAL ONLINE CLASSIFIEDS IS

at www.pennywiseads.com

Markets/Fairs

JUICY STRAWBERRIES & RASP-

BERRIES AVAILABLE in Winlaw

starting end of June. Organically

grown, $7/lb. 250-226-7074.

KASLO SATURDAY MARKET: Every

Saturday, 9am-1pm at Front St.

Park in downtown Kaslo. Farmers,

bakers, crafters and more. Come

down and join us!

SLOCAN VALLEY BLACK ANGUS

BEEF: Sides $4.99/lb; ground beef

special, $100 freezer packs; 50lb

dog bones, $49.99, soup bones and

organs. Government inspected.

Home of the Happy Cows. Wayne

Savinkoff, 250-226-BEEF.

SHOPPERS ARE ALWAYS LOOK-

ING FOR SOMETHING NEW

AND EXCITING? Anything you'd

like to tell them about your shop

or service? Advertise in Pennywise

- you'll get results! Deadline

Wednesday, 3pm. 1-800-663-4619

or www.pennywiseads.com
---
Still a Great Selection of Bedding Plants!

Over 300 Perennials starting at $6 99

Flowers & veggies

4 pac $2 99 – 6 pac $5 99

All annual

Single 3 1/2" veggies $2 19 bedding plants

1 gal tomato plants $12 99

35% off

4" flowers $3 59

Fruit & shade trees

Hanging Baskets

& Planters 20% off

Shrubs & evergreens

Many small fruits

Perennials

20% off

Wasabi & horseradish root

Landscape Fabric

3' to 15.5' widths, buy by the foot or by the roll

Roses: David Austin, fragrant shrub roses, climbing roses

Soils, manures, fertilizers, grass & clover seed

Friendly, knowledgeable

advice backed by 37 years of

growing experience.

Four Seasons

Greenhouse & Nursery

5531 SLOCAN RIVER RD, WINLAW 250-226-7254

Turn left at Mama Sita's Café, left off Winlaw bridge 1.5 km

Only 45 minutes from Nelson or Castlegar

OPEN 9-5 DAILY

Thank you

to our generous

sponsors!

START SEPTEMBER 2022

APPLY

TODAY!

OUR MAJOR TROPHY SPONSORS

Thompson, LeRose & Brown Law

C.J. Logging Ltd.

D.W. Sicotte Trucking Ltd.

Settle Holdings Ltd.

KS•Perry Publications Ltd. (Pennywise)

Megla Trucking

North Kootenay Veterinary Services

Ace Building Centre Kaslo

Gilbert Parts Depot Ltd.

Stan Baker Trucking Ltd.

Kaslo Automotive

Balfour Auto Body & Mechanical

JB's Restaurant & Pub

Kootenay Kustoms

Kaslo Mechanical

Schroeder Creek Resort

Tom Humphries

OUR OUT-OF-TOWN SUPPORTERS

Ainsworth Hot Springs Resort

OUR IN-TOWN SUPPORTERS

Bill's Heavy Duty Ent.

Arnie & Judy

Glacier Honda – Castlegar

Cornucopia

Jones' Boys Boats – Ainsworth

Eric's Meat Market

Lordco – Nelson

Figments Fine Canadian Crafts

Main Jet Motorsports – Nelson

Front Street Market

Midas Muffler – Nelson

Honey Candles

NAPA – Nelson

T.H.E. Pharmacy

Nelson Chrysler

Kaslo Golf Club

Kootenay Glass and Mirror

Kaslo Hotel

Gilbert Parts Depot Ltd.

Kaslo Husky

Inland Kenworth

Kaslo Ins. Office-Western Financial

Woodbury Resort

Kaslo Pump (Esso)

Kal Tire

Kootenay Savings Credit Union

The Bluebelle

Signs by Len

The raffle for the Model Fire Engine done by

Treehouse Restaurant

Phil Trotter, was won by Collin Sherbinin

Kaslo Home Hardware

Village of Kaslo

and generated $384 for "Trust for Kids".

Willow Home Gallery

The Show and Shine committee would like

Yellowhead Road & Bridge

Chez Serge

to thank all those who purchased tickets

Kaslo Adventure Centre

for this worthy cause.

Interested in helping build

healthy communities?

In-demand and rewarding careers await.

Be job-ready in as little as 8 months!

Certificate, Diploma, and transfer options available.

• EARLY CHILDHOOD CARE & EDUCATION

• EDUCATION ASSISTANT & COMMUNITY SUPPORT WORKER

• SOCIAL SERVICE WORKER

Questions? Email hello@selkirk.ca

selkirk.ca/school/human-services

Bulletin Board Bulletin Board Bulletin Board Merchandise Merchandise

Markets/Fairs

Garage Sales

Thank You

Building Supplies

Computers/Electronics

TARZWELL FARMS: Top grade, locally

grown & naturally raised beef.

Grain & grass finished, available yearround.

Delivery to Nelson, Castlegar

& Trail available. 250-428-4316 or

find us on Facebook!

Garage Sales

BONAVENTURE FIRESMART GA-

RAGE SALE & BAKE SALE: Saturday,

June 18 from 10am-2:30pm, weather

permitting. 2714 Lower Six Mile Road,

Nelson, at the entrance of the park.

GRANDVIEW HEIGHTS 12TH AN-

NUAL GARAGE SALES: Multi-family

garage sales! Saturday, June 18, 9am-

2pm, Castlegar.

MOVING/DOWNSIZING/GA-

RAGE SALE! Antiques, furniture,

china, kitchenware, books. Saturday,

June 18, 9am-3pm, 617 Carbonate

St, Nelson. Rain or shine,

under the verandah.

MOVING/GARAGE SALE: Canopy

for Tacoma, lots of items for sale,

free stuff too! 503 B Cedar St, Nelson,

8am-6pm, through month of August.

Call 250-352-6294 for info.

YARD SALE JUNE 25-26, 8am-2pm,

2378 Pass Creek Rd, Castlegar. Rain or

shine. Household, outdoor, vintage.

Free for Free

BUBBLE WRAP: Perfect for potters

or other delicate packing. Otter Books

398 Baker St, Nelson. 250-352-3434.

TV STAND: W/drawers and shelves,

50˝Hx54˝W, photo available. 250-

353-7128, Kaslo.

Thank You

KASLO LEGION LADIES AUXILIA-

RY would like to Thank Kaslo Front

Street Market and the Kaslo Fire Department

for helping us help others.

THE KASLO GOLF CLUB extends a

huge THANK YOU!! to Kaslo Loggers

Sports, Angry Hen, Chamber of Commerce,

Village of Kaslo and all of the

volunteers who helped in making the

Beer Gardens the successful event

that it was.

Merchandise

Building Supplies

COME IN AND EXPERIENCE

WHAT WE CAN DO FOR YOU! Nelson

Home Hardware Building Centre,

101 McDonald Dr, 250-352-1919.

PERRY RIDGE PANELLING: Manufacturer

of cedar, pine, knotty fir/

clear fir, edge or flat grain into siding,

molding, panelling, flooring, decking

and trim. 250-226-7530.

WANECO ENTERPRISES CUSTOM

SAWMILLING: Fir, cedar, clears,

decking, timbers. 250-353-7126,

wanecoent@gmail.com

HARROP-PROCTER FOREST

PRODUCTS: Your local source for

sustainably harvested building materials.

A wide variety of cedar/fir lumber

for every project. We also custom

cut to order. Go green by supporting

BC's only Eco-Certified Community

Forest. Check out our products at

http://www.hpcommunityforest.org

Call 250-551-5452 or email sales@

hpcommunityforest.org for a quote.

Monday-Friday, 8am-4:30pm & Saturday,

9am-3pm.

Computers/Electronics

HEXA-TEK REPAIR: Computer repairs,

upgrades, maintenance, diagnostics,

406 Baker Ave, Salmo. 250-

357-9271, www.HexaTek.ca

TEKKNOW is OPEN! Onsite and

remote services. Training. Networking.

Computer and printer repair.

Data safety and backup plans!

jason@tekknow.ca, 250-551-0282.

INK CARTRIDGES FOR BROTHER

PRINTER: NEW black 2 pack, (LC

51BK) paid $78.49, $50; 2 NEW yellow

(LC 51Y) & 1 NEW magenta (LC

51M), paid $77.27, all 3, $50. FREE

used cyan, yellow, magenta & black

cartridges. Call Liz 250-353-2465,

Kaslo.

WINLAW FINE COMPUTING.....

www.winlawtech.com, Windows, Apple,

Linux. Pat, 250-226-7215.

Furniture & Appliances

AMANA WASHER & DRYER: Good

working condition, $150. 250-362-

7751.

Misc Merch

9.9HP MERCURY 2-STROKE MO-

TOR, runs well, $500obo; Toro

22˝ self-propelled brush cutter,

$500obo. Tony, 250-399-4454.

4 June 13, 2022 Your local shopper N picture online: www.pennywiseads.com
---
Patricia Frie

The family of Patricia Frie

sadly announce her passing

in Kaslo, BC at the Victorian

Health Centre. She was born

in Canley Vale, NSW, Australia

and trained as a Registered

Nurse and Midwife there prior to moving to Canada in

July 1961. She met and married long-time Kaslo resident

Kenneth Frie on October 20, 1962. Patricia is survived

by her children Gavin (Marnee) and Tana; grandchildren

Camryn, Jenna; sister Elaine Joy Merrett (Alice

Springs, NT, AUS); sisters-in-law Irene Edwards, Verna

Booth (Ken) and Marie Frie; 11 nephews, and six nieces

in Canada and Australia. She was pre-deceased by her

husband Kenneth, parents John and Gwyneth Hoad,

brother Noel Hoad, brothers-in-law Albert Edwards,

Denis Frie and nephews Rocky Frie and Jeffery Booth.

She nursed many residents of Kaslo and area for 38 years

until she retired in 1999. She was often commended on

her X-ray skills from the chief radiologist in Nelson at

that time. She was an excellent nurse but she should

have been a doctor. To that she would say, that she was

glad for her nursing career as she enjoyed the hands-on

care that she could give. She made the front page of the

Nelson Daily News in July of 1966 for shooting a bear

out of her bedroom window in one shot and had done

so with permission of conservation officers at that time.

She was very active with her husband in Kinsmen and

Kinettes and with the Kaslo and District Figure Skating

Club. They were active RVers and especially loved camping

at Davis and MacDonald Creek Provincial camp

sites. In their later years they both enjoyed the Seniors

Exercise classes at St. Andrew's United Church and were

often spotted out walking together around the Village

hand-in-hand. She was a voracious reader and was often

most happy with her nose in a book and didn't go many

places without one.

She developed a slow growing benign brain tumour that

eventually took the eyesight in her left eye and she was

deeply self-conscious about it. As per her wishes, there

will be no funeral services and the family will do a scattering

of her ashes at a later date.

In lieu of flowers please make donations to the Kaslo

Ladies Hospital Auxiliary.

1-778-738-1697

LIKE US ON FACEBOOK TO KEEP UP TO DATE ON ALL THE LATEST HOMES ON THE MARKET:

www.facebook.com/PropertyGuys.comWestKootenays

ROSSLAND 198499

1-778-738-1697

$724,500

Great 3 bed 2 bath home in

Rossland! Move in ready! No

backyard neighbours! 5 min

drive to Red Mountain Ski

Resort. Ideal for a family or a

couple. Lots of natural light,

beautiful details throughout.

NEW DENVER 199121

1-250-358-2280

JOHNSONS LANDING 199089

$549,000

3.98 acres with 522 ft of lakefront, a

cozy 1 bed cabin with large wrap around

deck. Prime for a lakehouse!

1-778-738-1697

ROSS SPUR 198504

$974,500

Private executive 4 bed 3 bath home

on 2+ acres next to Beaver Creek, with

water rights. Detailed high-end build.

1-778-738-1697

CANYON 198535

$1,590,000

Executive 4 bed 3 bath home on 9+

acres with 2 year round creeks! Fully

fenced & landscaped with irrigation!

1-778-738-1697

ARROW CREEK 198519

$399,700

coming soon

Wonderful 2 storey home

with 3 beds 1.5 baths, great

location, move in ready

fabulous recent upgrades!

Steps to shopping and lake!

Viewing by appointment only,

call seller.

NAKUSP 198859

$947,000

1-778-738-1697

GRAND FORKS 199093

1-778-738-1697

$1,150,000

Fantastic property! Amazing

2 bed 2 bath, barn style home

& guest house on 4.87 Acres!

Extensive upgrades! Garden!

Privacy and more! Guest house

for family/visitors or rented out

as additional income.

250-304-2269

WINLAW 199095

$465,000

LOCATION! Unique property at the edge of

Valley View Golf Course! 5 acres with 600

ft of river frontage & 2 bed 1 bath home.

1-514-591-3939

GRAND FORKS 198845

COMING SOON

Private! Build new and live in mobile 2 bed

Completely private with lake and moun-

Nearly 25 acres of lush forested land, cozy

1 bath unit! 2.84 acres backs onto Crown

tain view, 4 bed home with separate guest

600 sq.ft cabin! Property can be developed

Land. Easy access, level property.

suite, 12.73 acres on edge of town.

for permaculture or a getaway home!

1-778-738-1697

SALMO 198532

SOLD

$16,000 IN

COMMISSION SAVED!

JOHNSONS LANDING 198999

$319,000

1-250-317-5100

CASTLEGAR 199128

$725,000

Amazing one-of-a-kind engineered post

& beam, 3 bed 2 bath home with great

views! Barrier free, all one level.

1-778-738-1697

BALFOUR 198929

$299,900

Unique turn key vacation property or new

home build lot! Several options to consid-

er. Power, water, septic, mins to lake.

1-250-229-4137

$579,000

Columbia River view! 4 bed 2 bath family

Lakefront property! Located on Kootenay

home with a landscaped yard. This gem

Lake, this 3.76 acre lot with 285 ft of lake

holds a ton of promise! Quiet location

frontage has much to offer!

with privacy and deck with views.

TRAIL 198490

SOLD

$11,700 IN

COMMISSION SAVED!

CASTLEGAR 199067

1-778-738-1697

CANYON 198901

SOLD

$22,450 IN

COMMISSION SAVED!

1-778-738-1697

KASLO 198507

SOLD

$23,500 IN

COMMISSION SAVED!

Must see 3 bed 4 bath home on private

1 acre lot with basement suite & cabin.

Rental income is $5200 a month!

CHRISTINA LAKE 198977

$599,999

Cozy barn style post & beam, 3 bed 2

bath home with 2 decks on private 2.5

acre lot with room to grow!

1-778-738-1697

ROSSLAND 198517

$1,398,000

Right in the heart of ski country! 5 bed 3

bath chalet style home on 6.1 acres with

lots of privacy, hobby farm, rental suite.

1-778-738-1697

CHRISTINA LAKE 198921

$999,999

1 block from Christina Lake beaches!

Stunning 5 bed 3 bath log style home

with views, open concept floor plan.

1-778-738-1697

CRESTON 198472

$135,000

Fantastic but quiet Creston location

for this 0.16 acre vacant lot. Peaceful

neighbourhood and lovely views.

1-778-738-1697

ERICKSON 198430

SOLD

$32,200 IN

COMMISSION SAVED!

BALFOUR 199091

1-778-738-1697

$649,000

Lake view, 4 bed 2 bath

home - steps from the beach

with a full suite on lower level!

Covered deck & a patio! Rental

income is $2600/month, close

to amenities & walking trails,

private & fully landscaped.

BOSWELL 198521

1-778-738-1697

GRAND FORKS 199101

$765,000

Wow! Awesome acreage, panoramic

views on nearly 35 acres, 20 minutes

to town. 4 bed, huge shop & barn.

1-778-738-1697

GRAND FORKS 199102

$749,000

Lovely acreage with 4bed 1bath home!

Level and landscaped! Fenced! Ideal for

horses or small farm!

1-778-738-1697

CRESTON 198520

$160,000

Ideal home for 55+. Rare double wide

modular in Creston Estates. 3 bed 1 bath

well kept home w. deck, carport, garden.

1-778-738-1697

CASTLEGAR 199129

$255,000

Wonderful lot location just above

Castlegar. 1.32 acre vacant lot on Crestview

Crescent. Great city & valley view!

1-778-738-1697

BURTON 198797

SOLD

$12,500 IN

COMMISSION SAVED!

$495,000

Kootenay Lake front! Destiny

Bay area has a 1.1 acre parcel

seeking a new owner! This is

a rare piece in a beautiful area

of the lower arm of Kootenay

Lake. Small private beach with

amazing views.

KASLO 198937

$699,999

5 bed 3.5 bath, 2 storey home in lovely

quiet location on large landscaped lot.

Close to all amenities.

1-778-738-1697

GRAND FORKS 199115

$319,000

Charmer with promise! This 2 bed 1 bath

home is situated on a level lot in quiet

neighbourhood. Ideal for small family.

1-778-738-1697

SANCA 198522

$749,777

Country living! Beautiful 3 bed 2 bath

home on 4.29 acres. Sun porch, gardens,

garage, creek running through property.

1-778-738-1697

FRUITVALE 198536

$749,800

Private, great location! Immaculate 3

bed 2 bath home with potential for 4th

bedroom! Right next to park & trails.

1-778-738-1697

SANCA 198265

$1,950,000

The ultimate Kootenay lakefront retreat

awaits! Almost new 3000+ square foot

2 level, 5 bed 3 bath home with walk out

lower level boasting a private sandy beach

1-778-738-1697

Legal disclaimers - propertyguys.Com inc. (Collectively 'us' or 'we') is a private sale marketing company and we represent neither the buyer nor the seller. We do not trade in real estate. We neither warranty nor make any representations as to the outcome of a property sale. *Our pro approach

may include services which are performed for our customers by third party service providers. Such services are not performed or provided by us. * "List now. Pay later." (Our "pay nothing upfront" program) is a payment program offered through a third party provider, and is only available in

participating franchise areas. The program is offered on approved credit, certain conditions do apply. The telephone numbers associated with these listings are those of the private sellers or their personal answering service. Any amount of commission saved referenced above is for illustrative

purposes only. It represents the potential money saved if the private seller had paid commission to a real estate agent instead of using propertyguys.Com. *© 2015 Propertyguys.Com inc., All rights reserved.

Merchandise Merchandise Merchandise Merchandise Employment

Misc Merch

Misc Merch

Misc Merch

Sporting Goods

Hiring

BEAUTIFULLY CARVED TOUR-

MALINE BIRD on quartz; Sodalite

carved bird on quartz, $125/ea; Body

Vibe (circulation) w/facial accessories,

($800 value) $450. 250-512-0909.

BOSE ACCOUSTIMASS -10 surround

sound, $500; Denon AVR-E400

receiver, $350; LG 55" UHD TV, $350.

Call 250-505-3242.

CHEST FREEZER, 30˝Wx37˝D, $50;

Dirt Devil upright vacuum, $20; 170+

6˝x2´ ceramic tiles, light multi-brown,

indoor use, $300; 45Wx71Hx18D buffet,

$75; 32˝ Westinghouse TV, $50;

countertop oven, $50; food processor,

$50. FREE: NEW single bed frame,

wire hangers, 3 small patio tables &

lawn chairs. 250-367-7907.

SEVERAL CANNING JARS; desk

lights; fans; floor registers; trapping

items; pressure cooker; counter

ice machine; coffee maker; speakers;

grass trimmer. Make an offer.

250-825-0014.

ELECTRIC WHEELCHAIR PORCH

LIFT by Freedom Lift Systems,

28˝ lift height, 750lb max weight,

$4000obo. 705-345-7828.

TREES COMPANY GARDEN SUP-

PLIES: Organic Fertilizers and Soil

amendments. Soil Mixes. Garden

seeds & cannabis seeds. Irrigation

pipe. Trickle irrigation supplies,

pumps & controllers. Greenhouse

poly, ground cover, crop cover,

shade cloth and much more. 7030

Powell Rd, Winlaw. Monday-Friday

9am-5pm, Saturday 10am-

2pm to June 30. 250-226-7334 or

1-800-661-4461.

HOUSEHOLD STORAGE: Steel

shipping containers for sale/rent.

20´ & 40´ units. Kootenay Containers,

Castlegar. 250-365-3014.

YOUR FAVOURITE NEIGHBOUR-

HOOD HARDWARE STORE! Slocan

Valley Home Hardware, 5763

Hwy 6, Winlaw. 250-226-6748.

Sporting Goods

FEDERER JUNIOR TENNIS RAC-

QUET: Small grip, lightweight,

good for a young player; Antique

Slezenger wooden racquet,

w/frame. 250-352-6570 or

bakerbon@gmail.com

BUYING, SELLING & TRADING

FIREARMS: BEST PRICES PAID. Call

Wally, 250-231-3721.

LYNX OFF GRID TECHNOLO-

GY: High quality rechargeable

headlamps. Kootenay based.

250-777-7918, www.lynxogt.com

Employment

Hiring

DEBRI RESOURCES IS LOOKING

FOR qualified chain and brush saw

operators. Willing to train new hires

if you are the right fit. Competitive

wages and potential to be part of a

company benefit plan after 3 months.

Local work and work out of the area.

Chain saw rental pay and living out

allowance when working out of the

area also included. Must be physically

fit and able to work in all conditions.

If you're interested please send

a resume to debri_resources@shaw.

ca. or fax 778-463-0091.

DJM CONTRACTING LTD IS

LOOKING FOR SKILLED CAR-

PENTERS: We offer competitive

wages, benefits package &

pension plan. Send resume to

info@djmcontracting.com

GALENA CONTRACTORS LTD. is

seeking a heavy-duty mechanic, experienced

with logging equipment.

This is a permanent full-time position

that offers competitive wages

and a health benefit plan. To apply

please contact Kevin by email at

shop@galenacontractors.com

INTERFOR OPPORTUNITY TO

BUILD a long-term and stable

career in the Kootenays. Entry

Level labour positions starting at

$31.30/hr. Permanent Millwright

positions also available. Locations

in Castlegar and Grand Forks. Apply

online at interfor.com/careers/

and filter by location.

N picture online: www.pennywiseads.com Where locals shop. June 13, 2022 5
---
info@hadean.ca | 778.774.7625

Locally owned and operated, we strive to

achieve superior customer service.

Pre-Sale Beautification

Installations

Firesmart Yards

Waste Removal

Beach Cleaning

Small Engine

Service

250.352.7447

betterlawnandgarden.com

Lighting Layout & Design

Residential and Commercial

Traditional Fixtures or the Latest in Trends and LED

Great selection of table & floor lamps

Repairs to favourite old lamps

301 11 th Ave, Castlegar

250-365-0500 • www.mhlighting.ca

Landscaping Specialists Lighting

Window Cleaning Specialist

Home Service

We have the aggregates you need to

complete your project!

• Stone slinging services

• Gravel delivery services

• Road gravel

• Sand • Drain rock

CLOSE, CONVENIENT, LOCAL, OPEN TO PUBLIC

2306 Crystal Springs Road, Nelson

Designing and

crafting unique

timber frame

homes since 1989

Hamill Creek

Timber Homes

Meadow Creek, BC

250-366-4320 • 1-888-713-1800

sales@hamillcreek.com

HamillCreek.com

Timber Framing

Book

online until

Wed, June 29

Sunday, July 3, 2022

Green and Clean

We're your best decision for

heating and cooling!

Serving the Kootenays over 15 years

250-304-0455 or 250-505-8209

www.canadianaerothermal.ca

Heating/Cooling

Kaslo - book online

www.iDIDaRide.ca

Package pickup and

walkup registration

Saturday,

July 2

Underground to overhead

Residential or commercial

All your electrical needs

250-304-8930

Flooring

• Refinishing Services • Staircases

• ENG/Solid Hardwood • Cork/Vinyl/Tile

• Sales/Installation • Flooring Design

www.samuraihardwood.com

295 Baker Street, Nelson

778-463-5388

Employment Employment Employment Employment Wanted

Electrical

Garage Door Specialist

Commercial, Industrial and Residential

Garage Door Sales, Service, Repair &

Installation. 24 hour emergency service

bobsdoorserviceinc.com

bobsdoorservicerh@gmail.com

236-972-BOBS (2627)

Contracting Specialist

Hiring

Hiring

Hiring

Help Wanted

Looking For

INTERESTED IN WORK TO RE-

DUCE YOUR CARBON FOOT-

PRINT? Explore the future of

bio-diesel and as a bonus learn to

build with Hemp-Lime-Crete. We

need energetic, trustworthy, curious,

and creative team members

to assist in moving our Kootenay

projects forward. Let us know why

you believe you will be a great addition

to our team! Forward any

and all comments and relevant

information about yourself to

the following email address: Biodee-Hempcree@protonmail.com

LOOKING TO HIRE IMMEDIATE-

LY: Sign on bonus of $2500. Operations

Manager; Dismantlers; and

Tow Truck drivers. Please apply w/

resume and phone number. Scrap

King Auto Wrecking & Towing Ltd,

1660 Airport Rd, Salmo. scrapking@

telus.net

LOOKING FOR A PART-TIME CARE

WORKER, ABILITY TO BE ON CALL

PREFERRED, with caregiver training,

in Nelson. Call Jonathan White,

250=354-4194 or email jcwhite25@

hotmail.com

LOOKING FOR FEMALE HOME

SUPPORT WORKER: Job will consist

of various tasks in my Kaslo home,

5-10hrs/wk. Experience with lifts, etc

preferred but not required. Please

email expressions of interest/resume

to izzy11866@gmail.com

PORCUPINE WOOD PRODUCTS

has several full time positions available.

Offering Competitive Wages,

Benefits and Pension. See ad in this

weeks Pennywise. 8564 Hwy 6, Salmo,

BC.

SMALL BUSINESS OWNER SEEKS

QuickBooks bookkeeper (classes in

place). 2yrs experience required, reply

up to July 30 to: barrow1hutchison@gmail.com

WANTED EXPERIENCED YARD

AND GARDEN MAINTENANCE

PERSON: Part-time basis, Castlegar.

250-365-3014.

Business Opportunity

FREE BUSINESS COUNSELLING

FOR BUSINESS STARTUPS:

Community Futures (CF) business

counsellors are available for

phone/in-person appointments

on June 16, 23 & July 7. Email

info@futures.bc.ca to make an appointment.

CF also offers Business

Loans and the Self Employment

Program. www.futures.bc.ca

Help Wanted

CAREGIVER REQUIRED FOR

HOME CARE IN KASLO: 8am-1pm,

Monday-Friday, $22/hr. Contact

France, 250-661-5268 or flachmoi@

yahoo.com

GARDENER NEEDED one to two

days/wk. High school student welcome.

Nelson property. Call Barrow,

808-938- 4773.

GARDENER WANTED in Ainsworth

Hot Springs for weekly lawn care

and clean up. Please call 250-229-

2189.

SENIOR NEEDS A FENCE BUILT

sooner than later. serious inquiries

only. 250-364-1442.

Wanted

Looking For

$$$ COIN COLLECTOR LOOKING

TO PURCHASE COLLECTIONS,

Accumulations, Royal Canadian

Mint Coins & Sets, Olympic, Gold

and Silver Coins, Paper Currency,

etc. Please call Chad 250-863-3082

cell, 250-499-0251, Kootenays.

FIREARMS: Call John Urquhart in

confidence anytime. I will come to

your home. 250-367-7540.

OLD BEER/POP SIGNS, wooden/

metal crates, old gas/service station

items, old Coke/pop machines. 250-

231-9397.

USA - !!OLD GUITARS WANTED!!

GIBSON, FENDER, MARTIN, Etc.,

1930's to 1980's. TOP DOLLAR PAID.

CALL TOLL FREE 1-866-433-8277.

USA - PAYING TOP CASH FOR

MEN'S SPORTWATCHES! Rolex,

Breitling,Omega, Patek Philippe,

Heuer, Daytona, GMT, Submariner

and Speedmaster. Call 833-603-

3236.

WE BUY CEDAR POLES! Bell Lumber

& Pole, Rossland. Contact Colin

Roy, 250-908-7337.

6 June 13, 2022 Your local shopper N picture online: www.pennywiseads.com
---
Specialists

Painting

We are your newest

ALTERNATIVE CHOICE

for all your glass needs.

With 27 years in the industry,

we specialize in commercial &

residential buildings; interior

& exterior design; custom showers & mirrors; deck

railings; windows & doors; even automotive.

Call us today to discuss your next project.

250-551-3446

sales@acglass.org • www.acglass.org

Glass Specialist

Building Supplies

Water Heaters Deck & Rail Specialist

Gutter Specialist

Roofing Specialists

Heating Specialists

HEATING SPECIALISTS

Wood • Gas • Pellet

Sales & Service

WETT Inspections

250-227-9315

graycreekstoves@gmail.com

Trail Roofing

Trail Roofing

• Gov't Certified

• Commercial

• Industrial

• Residential

Free Estimates

8110 Old Waneta Rd

Excavation Specialist

ltd

Specializing in:

- Torch on - TPO

- Single Ply

- Shingle & Steel Roofing

- Custom Sheet Metal Fabrication

www.trailroofing.ca

BONDED & INSURED

250-364-2900

ltd

trailroofing@telus.net

For a free estimate call 250-859-3088

Or email us at

info@treelinedeckandrail.com

"Your West Kootenay waterproof deck

and aluminum railing specialists"

www.treelinedeckandrail.com

SAME DAY

SERVICE! *

*when possible

Clip this ad

and keep it on

your fridge…

FREE

QUOTES!

…you may

need it

some day

- Gas & Electric Water Heaters

- On Demand Units

250-362-5665

...for the

most

supreme

gleam!

Professional Commercial Janitorial Services

Expertly tailored to your business!

Commercial High Dust Services

Custom Janitorial: Daily Weekly, Monthly

Real Estate: Sale-Ready, Post Reno

Floors: Strip/Wax

BnB: Turnovers • & More

Text Marilyn at 250-505-8346

or visit cleaninggenies.ca

Over 30 years

in business!

Residential and commercial

repaint and coating specialists.

Interior and exterior.

Bonded, licensed, insured.

All personnel police

Nelson 250-354-9015

background checked. Castlegar 250-304-5237

Trail 250-368-1044

email: office@aapainting.ca

Website: www.aapainting.ca

Visit the friendly,

knowledgeable

staff at your

local building

supply dealer.

Ace Building Centre

Kaslo

250-353-7628

www.kaslobuilding.com

email kaslo.building@telus.net

6521 Highway 31 Kaslo

←

Your Ad Here

looking for:

←

Excavation Specialist

Contact Larissa Scott

250.353.2602

larissa@pennywiseads.com

Services Services Services Services Services

Contractors/Trades

Contractors/Trades

Contractors/Trades

Contractors/Trades

Contractors/Trades

A.D. CONTRACTING: Residential

Renovation and Construction, Windows,

Doors, Kitchens, Bathrooms,

Decks, Rot Repair, Laneway Homes

and more. Red Seal. acrrodesign@

gmail.com 778-962-0707.

A&A PAINTING LTD. 32 YEARS

IN BUSINESS: Professional and

best service guaranteed. Bonded,

licenced and insured. Call

now 250-354-9015 Nelson; 250-

304-5237 Castlegar; 250-368-

1044 Trail. office@aapainting.ca

www.aapainting.ca

AINSLO ELECTRIC LTD.: Fully Licenced,

Bonded & Insured. Residential,

Commercial, Industrial. Technical

Safety BC Licence # LEL0211358.

Serving Kaslo, Nelson and Area.

Give us a call at 250-353-1888. Available

24/7.

ALL AROUND SEPTIC SERVICES

LTD.: Offering sewage pump-outs,

septic system evaluations & installations,

and commercial grease

trap services. 250-354-3644, www.

allaroundsepticservices.com

ALL PHASES HOME RENOVA-

TIONS: Kitchens, bathrooms, windows

& doors. Licensed, registered,

insured. Photos, references. Book in

advance. Michael Nesbitt Contracting,

250-825-4771.

ALL TYPE ROOFING & RENO-

VATING: For all your general contracting

needs, since 1993. 250-368-

8857.

ALUMINUM RAILINGS AND VI-

NYL DECKING: Free estimates. Call

Royal Vinyl Decking at 250-231-7905

or email royalvinyl@shaw.ca

ARE YOU THINKING OF PAINT-

ING THIS SUMMER?? Save time

and hassle by letting us do it for

you! Why Hire Us? -Free Estimates

-Support Local University Students

-3yr Warranty -5 Million Liability

Insurance -Full WCB Coverage on

all employees -100% Satisfaction

Guaranteed. No job is too small

or too large! Residential and Commercial,

Interior and/or Exterior,

Decks and Fences! Call/text Brady

250-231-9341, or email brady@

studentworks.ca

AVIS EXCAVATING, Winlaw: Landscaping,

Driveways, Waterline Ditches,

Property Development, Land

Clearing, Tree Removal, Fire Mitigation,

Gravel & Topsoil Hauling, etc.

Larry Avis, 250-226-7849, lmavis@

telus.net www.avisexcavating.com

BASED IN HARROP, SERVING

KOOTENAY LAKE AND NELSON:

EAE Electrical Contracting offers affordable

rates for any size of job.

Call or text 250-551-5511.

BILSKI MASONRY: Serving the

Kootenays since 1992. For high quality

tile work, custom showers, stone

work, etc. Call Peter Bilski, 250-229-

2157 or 250-505-3005 (cell).

BRENTON INDUSTRIES LTD: Kaslo

Excavation Contractor, Septic &

Utility Installations, Land Clearing &

Tree Trimming. Call Sean, 250-551-

4058, www.brentonindustries.ca

BULLDOG CONCRETE FINISH-

ING: Your Kootenay Concrete Specialist!

Basement/garage floors,

patios, driveways, form to finish. Organized

journeyman. 250-365-5573,

www.bulldogconcretefinishing.ca

CLELAND ROOFING & REPAIRS:

30yrs experience, 23yrs certified.

Certified roofers are the only way to

get your manufacturer's warranty,

10yr transferable warranty. Old-fashioned

service. Call 250-231-0142.

N picture online: www.pennywiseads.com Where locals shop. June 13, 2022 7
---
A NEW podcast hosted by

Kootenay Mountain Culture Magazine's Editor-in-Chief

Mitchell Scott, and brought to you by Columbia Basin

Trust, is out now!

Listen at headwaterspodcast.com.

RCAC Resilience Awards

With the generous support of the BC

Arts Council, the Rossland Council for

Arts and Culture is once again able to offer

local artists and arts groups an opportunity

to apply for a Resilience Award. These

awards are intended to help mitigate the

impacts of the Covid 19 pandemic on local

artists, and Arts and Culture organizations.

It is hoped that these awards will be used to

fund art works and projects that will generate

work for local artists, and retain the

cultural capacity of our community.

This is in support of the reopening of

local venues, and the restart of exhibitions

and performances, now the current public

health orders have been lifted. The awards

are intended to develop artistic works that

will be shared with audiences, and arts and

culture lovers in the Rossland community.

"We are so excited to be able to support

Notably is turning 1!

Saturday, June 18th!

Door Prizes!

Gift with purchase!

Selected items on sale!

Cake!

Come Celebrate with us!

local artists above our regular programming

through the funding we have received from the

BC Arts Council," says Meghan Hall, the RCAC's

administrator. "COVID-19 hit the arts community

hard and we're just glad we can pay it forward

to local artists."

Details of the awards

• Cash awards of up to $5,000 per application.

• Only one application shall be allowed per

artist or organization

• All applications must be received by Friday,

June 24, 2022

• In order to qualify the applicant must

demonstrate that the award will:

• be used to fund a local artist, or local arts

and culture production

• generate an artistic work that will be

shared with, or benefit the Rossland community.

• ensure that art work or project can be

completed by 15 December 2022.

All qualifying applications will be reviewed

by a jury of RCAC board members to determine

which proposals will receive the Resilience

Award. Applicants who were not recipients of the

2021 Resilience Awards shall be given preference

over those awarded funds under last year's program.

Successful applicants will be notified by

Thursday 30 June, 2022. The jury's decisions shall

be final.

How to apply

Contact Meghan Hall at rosslandarts@gmail.

com to get the application document. Submit the

application and any supporting documents by

Friday, June 24, 2022

Rossland Council for Arts and Culture

We have casual men's sandals for your

laid-back summer lifestyle - in stock

NOW!

NAOT

Arthur

NAOT

Mikael

454 Ward St.

250-354-0148

Open Mon - Fri 10-5:30, Sat 10-5

notably.ca

Fishout on the Columbia

This summer Castlegar will host the Invasive

Species Fishout Derby on the Columbia River.

The intent is to catch as many walleye and northern

pike as possible because both species were

introduced to the waters here and are detrimental

to the native species of trout, Kokanee, and

others.

Hosted by Destination Castlegar in conjunction

with Fishing BC, the derby will be held

July 22-31 and there are $3,000 worth in prizes,

including $600 for the longest walleye caught.

The Invasive Fish Out is an online tournament

run through Angler's Atlas website and their

mobile app MyCatch.To enter your catch and be

eligible for prizes, you'll need a mobile device to

take the photo and upload it to MyCatch.

Anyone can participate; it is for all ages.

You must register ($25 fee) to enter the tournament.

www.anglersatlas.com/tournament/547/2022-castlegar-invasive-fish-out-2022

Services Services Services Services Services

Contractors/Trades

Contractors/Trades

Contractors/Trades

Contractors/Trades

Contractors/Trades

CRESTVIEW PAINTING: 25yrs+ experience,

reliable/quality work that

lasts, new construction, residential,

repaints, certified journeyman. Fully

insured. 250-304-5197.

CURRY'S EXCAVATING: EX-120

and 5T Mini for all your digging

needs!! WAYNE CURRY, 250-226-

7661, valhallacur@hotmail.com

EAS ELECTRIC: Rewires, service upgrades,

renovations and more. No

job too small. Free estimates. Fully

licensed, insured and bonded. Call

Eddy, 250-231-9950.

ELECTRICIAN FOR HIRE: Licensed,

experienced, semi-retired. Back-up

power generator install, renos, small

jobs, serge protection. Reasonable

rates. Jim Rogan, 250-353-9638, 250-

354-8910.

MS STEEL DESIGN LTD: Steel shelters,

carports and more. 250-365-

2971, www.mssteeldesign.com

EXCAVATOR AND OPERATOR

FOR HIRE: Septic installation, water

lines, roadways, rock walls. Versatile.

250-304-7697, 250-304-1718.

FLOW PLUMBING & HEATING

LTD: We make it drain! Competitive

pricing, no job too small. 250-685-

8177.

HEAT-CHECK: WETT Inspections,

chimneys, woodstoves, liners, duct

work, HRV. Call 250-355-2338.

JUSTHINK PAINTING: Serving Kaslo

& Area. Residential, commercial,

interior & exteriors. Seniors discount.

Free estimates. 25+ yrs experience.

All work guaranteed. Call Stephan

250-353-7128, 250-353-8763.

FALCO HANDYMAN SERVICES:

Since 2017. Need help around the

house? Small projects no problem.

Licensed, insured, references. Call or

text Chris, 250-231-4920.

HIM N HER CONTRACTING: Home

renovation, maintenance & repair,

licensed and insured, over 32yrs in

construction industry. Excellent references

and photos available, check

us out on Facebook. For fast, friendly

and courteous service please call

Vanessa or Dusty, 250-212-2384.

HOOVER MASONRY, CERTIFIED

EXPERIENCED MASON: Stonework,

Bricklaying, Tile Setting, Custom

Masonry Fireplaces, Restoration,

Chimney Re-pointing, Stone

Patios & Stairs, Retaining Walls,

Manufactured Stone. Communication...Service...Satisfaction!

250-551-

3245, hoovermasonry@gmail.com

IN NEED OF BARGE SERVICES?

Brooklyn Barge & Tug Services Ltd,

info@brooklynbt.ca, 778-671-2780,

http://brooklynbt.ca

KULIC CONSTRUCTION: Concrete,

framing, finishing. Specializing in

new construction, renovations, interiors/exteriors,

free estimates. Licenced

& insured. 250-551-9647.

DINNISSEN DESIGN CO LTD:

Kitchen And Bath Design & Custom

Millwork. Call Us For Free

In-Home Consultation. 250-521-

0537, www.dinnissendesign.com

LOKI TREE SERVICE: Complete tree

& forest services. Certified Arborists

& Fallers. Hazardous Tree Removal,

Pruning, Chipping, Stump-Grinding,

Forest Management, FireSmart. No

job too big or small. 250-353-2405,

www.lokitree.com

PULPIT PLUMBING: Call us for all

your plumbing and heating needs.

250-551-6575, www.pulpitplumbing.

com

General Services

A MAN AND HIS DOLLY MOVING

COMPANY: 1T cube van. Moving

to and from most places in BC and

Alberta. Accepting VISA, Mastercard

and Debit at your door. www.

AManAndHisDolly.com 250-304-

8400.

TRACK DOWN A LOST ITEM or

find a rare one in the Pennywise

Classifieds.

10 June 13, 2022 T Your local shopper N picture online: www.pennywiseads.com
---
Free to roam in your new home

on

wheels...

See Rock Island RV for

NEW, USED Parts & MORE!

250-364-2323 Parts 250-364-1267 Toll Free 1-888-817-2323

2022 Keystone Hideout

Travel Trailer

179 RB

sleeps 4, 1 slideout,

Weight 3700 lbs

Bi-Weekly $117 Was $37,995

NOW ONLY $34,995

VIN #44315

PLUS TAX

NEW

2021 Forest River

2251 LE Class C

Motorhome

Sleeps 4 , 1 slideout,

backup camera, cruise control,

only 14,000 km!

Bi-Weekly $350 Was $121,995

NOW ONLY $116,995

VIN #U99990

PLUS TAX

2022 Keystone Montana

Fifth Wheel 3781 RL

Legacy edition

NEW

2022 Forest River

R POD 193 Hood River

Travel Trailer

NEW

2021 Dutchmen Coleman

Rubicon 1608

Travel Trailer

NEW

2022 Palomino Solaire

243 BHS

Travel Trailer

NEW

sleeps 4, 4 slideouts,

Weight 13485 lbs

sleeps 5, 1 slideout,

Weight 3210 lbs

sleeps 3, 1 slideout,

backup camera prep

1 slideout,

Weight: 5400

Bi-Weekly $455 Was $159,995

NOW ONLY $142,995

VIN #37881

PLUS TAX

Bi-Weekly $158 Was $47,995

NOW ONLY $44,995

VIN #23200

PLUS TAX

Bi-Weekly $135 Was $44,995

NOW ONLY $40,995

VIN #12343

PLUS TAX

NOW ONLY $55,995

VIN #87234

PLUS TAX

New 2022 Keystone

Cougar Fifth Wheel

24 RDS 1/2 TON

sleeps 4, 2 slideouts,

Weight 7350 lbs

Bi-Weekly $237 Was $74,995

NOW ONLY $71,995

VIN #02085

PLUS TAX

NEW

2022 Keystone

Cougar 22 MLSWE

Travel Trailer

Sleeps 4

1 slideout

Weight 5,700 lbs

Was $64,995

NOW ONLY $60,995

VIN#009876

PLUS TAX

Rock Island RV

NEW

2022 Keystone

Hideout 25 DBWE8

Travel Trailer

Sleeps 6

1 slideout

Weight 6,000 lbs

Bi-Weekly $164 Was $51,995

NOW ONLY $47,995

VIN#45468

PLUS TAX

NEW

2011 Tiffin Allegro

Bus Class A

Motorhome

Diesel

Only 34,500 km!

Sleeps 6, 37 ft.

Was $269,995

NOW ONLY $232,995

8023 Old Waneta Road, Trail

www.rockislandrv.com DL#9096

VIN#U87251

PLUS TAX

Get a NEW START this SPRING!

2021 Ford Bronco

Sport 4X4 1.5L Ecoboost,

7,206 km #PW0806

SALE PRICE $37,500

2019 Ford F150 4x4

XLT 3.5L EcoBoost with

Max Tow Pkg 42,985 kms #22SD0288A

SALE PRICE $48,900

2019 Ford F150 4x4

Lariat, leather, loaded

56,195 kms #22LT2874A

SALE PRICE $59,500

DROP IN

TODAY

and

take

one

for a

TEST

DRIVE!

NEW

2021 Ford Ranger

4x4 XL STX Special Edition Pkg

18" black aluminum wheels #PW0799

SALE PRICE $44,989

2018 KIa Sportage EX AWD

112,440 kms#22MU8347A

SALE PRICE $25,800

2022 Ford Escape SE AWD

SE 200a Cold Weather Pkg,

1.5L Eco Boost #22EC7390

SALE PRICE $35,744

Nelsonfordsales.com

623 Railway Street, Nelson BC DL 28082

NEW

NEW

NEW

250-352-7202

1.888.955.5528

2022 Ford Escape SE AWD

200a Convenience Pkg,

1.5L Eco Boost #22EC1854

SALE PRICE $36,744

2022 Ford F150 4x4

Tremor Cancelled Order -

IN STOCK, BUY NOW!! #22LT5806

SALE PRICE $81,355

2022 Ford Edge AWD

S201a Cold Weather Pkg,

2.0L Eco Boost #22ED9079

SALE PRICE $47,944

Prices are + taxes & $699

admin fee. Financing

rates from 4.99% OAC

Services Services Services Services Services

Contractors/Trades

MONASHEE CONSTRUCTION:

Serving the community for over

30yrs. Home renovations, bathrooms,

kitchens, basements, etc. Fully

insured & licensed. 250-368-1850.

R.J. EARTHWORKS EXCAVATING

AND CONTRACTING: E50 Bobcat,

dump trailer. Land development,

site prep, land clearing, driveways,

boulder walls, retaining walls, basements,

septic, underground utilities,

fencing, hauling. Fully insured, fast,

efficient. Call/text 250-551-7347,

r.j.earthworks@gmail.com

Contractors/Trades

MY PLUMBER: No job too small.

Maintain, service, install, plumbing

systems, blocked sewer lines. 250-

521-0206, 250-687-9041 (cell), email

columbiamyplumber@gmail.com

PARADISE VALLEY PLUMB-

ING: Plumbing contractor serving

the Kootenay area, www.

paradisevalleyplumbing.ca 250-

226-7947, 250-777-3588 (cell) or

schaferspeare@gmail.com

R&S ROOFING: Seamless Gutters

too! Call for free estimate. WCB/insured,

licensed, workmanship guaranteed

on labour. Booking for 2022!

Richard, 250-367-9404.

RENK MASONRY & TILE: High

quality stonework, tile, bricks,

blocks, etc. Call Brian Renk,

250-354-8439 (cell) or email

brianrenk@shaw.ca

Contractors/Trades

RNR ELECTRIC & CONTROLS:

Your local Kaslo & Area electrician

for residential, commercial

and industrial projects. Call Randy,

250-366-0087.

SAMURAI HARDWOOD FLOOR-

ING: Residential/Commercial Flooring

and Tiling Services, Professional

Installations, Custom Stairs, Refinishing

Services. 295 Baker St, Nelson,

778-463-5388.

WOLFGANG'S PLUMBING: Serving

the Slocan Valley and surrounding

area. Qualified pump installer. 250-

226-7320, wteiner@netidea.com

Contractors/Trades

SELKIRK INSULATORS a division

of Seib Contracting: For all

your residential and commercial

insulation needs. Certified spray

foam installation, conventional &

blown-in residential. Licensed, Insured,

and WorkSafeBC. Serving

Trail, Rossland, Castlegar, Fruitvale,

Nelson and Grand Forks area.

250-231-2837.

TRIXIE'S CLEANING AND JUNK

REMOVAL IS NOW BOOKING

junk removal and demolition jobs.

Have a garage or shed that's broken

and need it gone? Moving

and need to get rid of stuff? We

can get rid of it for you! Also hiring

for a house cleaning position

in Castlegar. Email trixiejennifer@

gmail.com or text 250-365-9313.

www.trixiecleaners.ca

WITH AN ACCENT FINE CAR-

PENTRY: Specializing in interior

finishing, built-ins and railings.

250-551-1842.

Contractors/Trades

WATER FEATURES, excavation

services, paver installations, decks,

fences, retaining/garden walls,

stone work -natural/faux. 250-505-

6004, www.cascadialandscaping.ca

General Services

A HANDY HUSBAND: Repairs, replace,

maintenance, decks, fences

and most everything else. 250-354-

8598.

BEKKER TRUCK WORX: Towing &

Hauling Vehicles, Sea Containers,

Light Equipment, Building Supplies.

Roll-back truck with 20´ tilt deck.

Call Niko, 250-353-1091.

N picture online: www.pennywiseads.com Where locals shop. June 13, 2022 11
---
SERVING the KOOTENAYS: 24 hr towing

Heavy Duty Recovery & Rigging Specialists

FREE CAR REMOVAL

(Some exceptions)

AND SOME WE BUY

Full Service Shop

Used and

aftermarket parts

We'll Get You Hooked

Any Time, Anywhere

Salmo Area 250-357-2091 • Creston Area 250-428-2323

Just added

to our fleet:

50 TON TRI-DRIVE

WRECKER!

All other areas toll free 1-888-357-2091 Open Mon to Frid 8am to 5pm

Commercial, Industrial and Residential

Garage Door Sales, Service,

Repair & Installation

24 HR

EMERGENCY

SERVICE

bobsdoorserviceinc.com

bobsdoorservicerh@gmail.com

236-972-BOBS (2627)

Would your acreage benefit from soil amendment?

Mercer Celgar is looking for landowners with 2 or more acres within 55 km

that would benefit from using their Celgrow soil amendment. Pastures and

hay fields are good options.

Mercer Celgar will cover the costs of a Qualified Professional performing

soil sampling, obtaining government authorization and delivery costs of Celgrow

soil amendment based on access with a large truck/pup combination.

Acreage should be able to accommodate at least 6 truck/pup loads. The two

major components of Celgrow are individual wood fibres lost from the pulping

process and surplus bacteria from the wastewater biological treatment

facility. Wood fibres enhance soil moisture retention and bacteria are a good

source of soil nutrients. The landowner is responsible for spreading and incorporating

Celgrow into their soil.

If interested, please contact Len Hewat

Email: leonard.hewat@mercerint.com • Phone: 250-608-3513

PROTECT YOUR INVESTMENT

with an

engineered

steel shelter

Single/Double/Custom

FREE estimates

SPRING SALE!

LTD

mssteeldesign.com

USES: Cars/RVs/Boats • Storage • Picnic Areas & more

250-505-4703 1745 Hwy 3A Castlegar solutions@mssteeldesign.com

After winter is before winter!

~

Consulting • Market Evaluations • Buyer & Seller Agency • FULL MLS Services

15+ Years Local Area Real Estate Buying & Selling Experience.

Your Guide to the Kootenays Residential/Commercial/Recreational.

Greg Gritchin • 250-365-9791 • KootenayConnection@gmail.com • KootenayConnection.ca

K O O T E N A Y S

Is there untapped value in your land?

We buy cedar poles

Contact us today to discuss selling

your private timber.

LUMBER & POLE

SINCE 1909

Contact: Colin Roy 250-908-7337

Bell Lumber & Pole Canada,

ulc Rossland, BC

Services Services Services Services Services

General Services

ASK OUR EXPERTS for your

home furnishings and appliance

deliveries. We deliver for Bears,

Floyds and Kootenai Moon. Found

it on Facebook? We will pick it up

and deliver it to you. Call Positive

Apparel, 250-505-5444.

BEAVER'S SEPTIC TANK CLEAN-

ING SERVICE: Serving the Kootenays.

Goes the distance! 250-354-

3508 (cell) or 250-357-9724.

CLEANING GENIES: Professional

Clean Team. You've tried the rest,

now call the best! Fully insured,

WorkSafeBC. All employees on

payroll. Call Marilyn, 250-505-8346.

www.cleaninggenies.ca

COOL BEAMS MOBILE SAWMILL

SERVICE: Turning your logs into

lumber on-site. 250-777-7366.

EXPERIENCED PAINTER, 20

YEARS: Exterior painting. Free

quotes. Ron, 778-932-2528 (cell).

General Services

FOR ALL YOUR DRYWALL AND

PAINTING NEEDS: Steel stud and

suspended ceilings. No Job Too

Small! Serving Trail & Castlegar areas.

Rob, 604-551-8554, Fruitvale.

G.W. CONTRACTING: Decks,

retaining walls pavers, siding, leaky

basements & much more! 250-231-

4532, bit.ly/3ilFCIp

GARBAGE CAN DAN JUNK RE-

MOVAL: Full estate clean-outs, flat

rates, we haul quick inside and out!

"Cleaning up the Kootenays." 250-

608-7274, www.garbagecandan.com

HANDYPERSON SERVICES: Small

jobs & weekdays only. $50/hr, cash

only. Text Ben 403-246-5221, Nelson.

HUB INTERNATIONAL: Offering

tailored personal and business insurance

solutions for our clients. Formerly

RHC Insurance Brokers. 1-877-

797-5366.

General Services

KERRY'S STITCHERY: Custom sewing,

alterations & repairs, including

denim, leather, canvas & drapery. In

Kaslo, 250-353-7722.

KOOTENAY CURRENCY EX-

CHANGE: For all your foreign currency

needs. Better than bank rates

when buying or selling US dollars.

Canadian Gold and Silver. Call 250-

354-1441.

NELSON MINI-STORAGE: 1.6kms

from City Centre, heated, easy access,

18yrs of friendly, personalized

service. 1393 Knox Rd, 250-354-8289,

www.nelsonministorage.ca

PASS CREEK TOOL REPAIR: Air and

electric tools, small compressors,

quality repairs, fair price. 250-304-

4811.

SHARPENING SERVICE: Saws,

tools, scissors, knives, clipper blades.

C&D Sharpening Service, 250-365-

3658.

General Services

PROFESSIONAL DELIVERIES,

Junk Removal, Plumbing, Sewer

Backups, Dry Cleaning, Laundry

Service, Furnace/ Air Duct Cleaning,

Carpet Cleaning. 24/7 Emergency

Service. 250-231-8529, 250-

921-4356, 250-364-0145. http://

kootenaymoveandjunk.vpweb.ca

http://dirtbusters.vpweb.ca

PROFESSIONAL PLUMBING

SERVICES: 24/7 EMERGENCY! Licensed,

WCB, Bondable, work and

materials guaranteed C.V.M.S. 250-

921-4356. facebook.com@CVMS/

CVMS.vpweb.ca.

RBT ACCOUNTING SERVICES: Accepting

New Clients. Bookkeeping,

Personal and Corporate Taxes, GST,

Payroll and Other Services. Call 250-

354-7107 or email rbtcpa@outlook.

com

TOPSOIL, GRAVEL, SAND AND

DRAIN ROCK: Can deliver or you pickup.

250-357-0080, 250-777-4441, cell.

General Services

RUBBISH REMOVAL & RECYCLE,

LAWN MAINTENANCE, estate removal,

gutter cleaning/sealing, moving,

deliveries, building demolition.

250-231-9397.

SERVING ALL YOUR ELECTRICAL

NEEDS in Nelson, Kaslo and Area.

AINSLO ELECTRIC LTD. Fully Licenced,

Bonded & Insured. Residential, Commercial,

Industrial. Technical Safety

BC Licence # LEL0211358. Give us a

call at 250-353-1888. Available 24/7.

VALHALLA SEPTIC SERVICES

LTD.: Fully insured for all your

residential and commercial septic

pumping needs. 778-454-2221.

12 June 13, 2022 Pennywise Publishing every 2nd week N picture online: www.pennywiseads.com
---
New disaster planning tool

Community Futures has launched a free online tool to help

businesses with emergency preparedness planning.

The Business Continuity Planning Tool helps business owners

identify hazards to their business, core assets and functions, and

how to mitigate those risks. The tool has been tested in group

settings for over four years and has received glowing reviews.

"This free online tool allows business owners to take steps now

to reduce any negative impacts that a disaster or emergency will

have on their business in the future," said Andrea Wilkey, executive

director of Community Futures Central Kootenay. "The

best time to strategize is when you're not in an emergency situation."

The past two years have been challenging for businesses

of all sizes. British Columbia experienced multiple natural

disasters on top of having to cope with the lingering effects of

COVID-19 on the economy.

Tanya Finley, owner of Finley's Bar and Grill, completed a

Business Continuity Plan for her restaurant in Nelson.

"We are living in a world of very uncertain times and being

prepared is key," Finley said. "I find myself feeling a sense of

calm since having my Business Continuity Plan ready to go."

The Business Continuity Planning Tool guides you through

each step of planning for an emergency, from gathering your

key documents and contact information to creating a grab and

go kit. You can work through each step of the planning process

at your own pace. Kootenay business owners can sign up for a

webinar on Wednesday, June 15 at noon, to learn more about

the tool and how to prepare for a disaster.To register for the

webinar and/or start using the Business Continuity Planning

tool for your business, visitfutures.bc.ca/business-continuity/

Community Futures

Emergency Preparedness Resources:

Provincial resources to prepare or recover from a disaster:

https://tinyurl.com/8k92urh6

The RDCK is also an important resource for all businesses

and residents in case of emergency.

Go to www.rdck.ca/eocinfo in order to

• Sign up for RDCK Emergency Notification System

• Learn about current evacuation alerts, orders and

rescinds. (You can also call 250-352-7701)

• Learn tips and find local contact information

Flooding

• Report flooding or any new hazards to the 24-hour tollfree

provincial emergency number at 1-800-663-3456.

• Follow the BC River Forecast Centre for flood warning

and advisories http://bcrfc.env.gov.bc.ca

• Kootenay Lake Level Monitoring www.fortisbc.com

(choose the "In your community" tab)

Public Weather Alerts for BC

https://weather.gc.ca

Fortis BC Outage Map

https://outages.fortisbc.com or call 1-866-436-7847

BC Hydro Outage Map

www.bchydro.com/power-outages or call 1-800-224-9376

Nelson Hydro 1-877-324-9376

Highway Closures and Road Conditions

https://drivebc.ca

Report a Highway Hazard:

Yellowhead Road and Bridge (YRB) 1-888-630-1420

Report a Wildfire: 1-800-663-5555 or *5555 on a cell phone

CLIP & SAVE

White

Summer

Smiles

Now accepting new patients.

810 Vernon St, Nelson, BC V1L 4G4

250-352-5012 • http://redcloverdental.net

Office hours: Monday -Thursday 8:30am - 4:00pm

Do You Have Sleep Apnea?

Are you currentluy using a CPAP device? Are you on Home Oxygen?

Professional and Versatile

Serving Nelson, Castlegar

and Kootenay Lake

West Kootenay Arborist Inc. Jay Venning

Owner &

WestKootenayArborist

Operator

westkootenayarborist@gmail.com

We provide:

We are insured, WorksafeBC registered

236-866-9544

www.WestKootenayArborist.com

The only locally owned and operated Respiratory Therapy Office with Clinics throughout the

Kootenay Boundary including Trail, Nelson and Grand Forks.

Contact our office for a consultation with a Respiratory Therapist. NO REFERRAL REQUIRED.

Services Services Services Services Services

General Services

TREE SERVICE: Certified, Licensed,

Insured. Pruning to removal of hazardous

trees. Free Estimates. 250-

505-6114, www.fallguy.ca

VALLEY WATER EXPRESS: Nelson's

only 24hr self-service purified

water depot. 620 Lakeside Dr. next

to Gilbert Parts Depot.

Gardening/Landscaping

*AAATREEWORKSNELSON.COM

BY WYLEE WORKS INC: Serving

the West Kootenay since 2005. Professional

Tree Care and Wildfire

Protection. WCB Certified Fallers

and ITA Arborists. WorkSafe & Commercially

Insured. Large Residential

Removals, Selective Harvesting and

Wildlife/Hazardous Tree Assessments.

15˝ Tree Chipper, Stump

Grinder, 14´ Dumper Trailer and

4x4 John Deere Loader w/12,000lb

Winch. Free estimates. Wylee Charbonneau,

250-551-4672.

Gardening/Landscaping

*GLACIER VALLEY TREE CARE:

Local danger tree professionals.

Utility certified lift trucks. Whole

tree chippers. Stump grinding.

Pruning. Land clearing. Certified

arborists, fallers, assessors. Free

same day assessment and advice.

Certified & insured WCB. Jim Sipkes,

25yrs experience. 250-304-

3774, jim@glaciertree.com

BAUMAN ENTERPRISES servicing

Castlegar and surrounding area. We

provide scheduled mowing, hedge

trimming, and irrigation service. Call

Rick, 250-687-1345.

BEETLE'S STUMP GRINDING:

Why dig it when you can grind it!

Best rates, insured, free estimates.

Ben, 250-304-6963.

DETAILED CONCRETE LAND-

SCAPE & GARDEN ORNAMENTS,

Planters & Stepping Stones, etc.

250-357-2266.

Gardening/Landscaping

COLUMBIA TREE SERVICES/SIMS

CONTRACTING LTD: Call Pat Sims

for a free estimate for 60´ bucket

truck, chipping, climbing/rigging,

stump grinding, soil delivery. Certified,

Insured, WorkSafe. Thousands

of satisfied customers since 1980.

250-367-7939.

COW MANURE: Delivered by the

truck load, fresh and aged. Also

straw. Wayne Savinkoff, 250-226-

BEEF.

You can depend

upon Pennywise

advertising to get

you results.

Next deadline 3pm Wednesday

June 22 for the June 27

edition. 1-800-663-4619.

Gardening/Landscaping

HADEAN AGGREGATE SOLU-

TIONS: Stone slinging services,

road gravel, gravel delivery services,

sand and drain rock. 778-

774-7625.

LOKI TREE SERVICE: Complete

tree & forest services. Certified

Arborists & Fallers. Hazardous

Tree Removal, Pruning, Chipping,

Stump-Grinding, Forest Management,

FireSmart. No job too big

or small. 250-353-2405, www.

lokitree.com

PRUNING AND SPRAYING SER-

VICES: Fruit trees, hedges, shrubs

and small tree removal. Phone/

text Don 250-512-7217, Trail.

TOPSOIL & BEAUTY BARK

MULCH: $55/yd. Delivery available.

250-365-1632.

YOU WILL FIND IT IN

PENNYWISE!

Gardening/Landscaping

SPRING HAS SPRUNG, and it's

spring yard cleanup again. Add

in some new soil or mulch! Thinking

of adding some new trees or

shrubs? Or a landscape redesign?

Please call for a free onsite quote.

Carrie @ Creative Cut Landscaping,

250-809-8971.

TREES COMPANY GARDEN SUP-

PLIES: Organic Fertilizers and Soil

amendments. Soil Mixes. Garden

seeds & cannabis seeds. Irrigation

pipe. Trickle irrigation supplies,

pumps & controllers. Greenhouse

poly, ground cover, crop cover, shade

cloth and much more. 7030 Powell

Rd, Winlaw. Monday-Friday 9am-

5pm, Saturday 10am-2pm to June 30.

250-226-7334 or 1-800-661-4461.

Health/Personal

NEW LOCATION: Red Clover Dental

is now located at 810 Vernon St. Nelson.

Accepting new patients. 250-352-

5012.

N picture online: www.pennywiseads.com Where locals shop. T June 13, 2022 13
---
In need of Barge Services?

~ we drive pilings

~ set or move anchors

~ move anything in or across the water

(equipment, campers, ATVs, freight, etc)

EXPERIENCE

Always the best inventory

Always the best prices

Always a team that works hard for you

4 NEW vehicles under 34K. Order yours today!

Ford Maverick is the perfect vehicle for utility

Ford EcoSport stands for economical

Kaslo and area – book now

for barge work at the end of June.

Available to go to Lardeau as well.

Serving Crawford Bay area next.

NOTE: All pilings and anchors need

permits. Time is ticking! You need to

apply ASAP to be able to complete

your project this season.

http://brooklynbt.ca

778-671-2780

info@brooklynbt.ca

FWD starting at $27,750

AWD starting at $29,750

FWD starting at $24,399

AWD starting at $26,499

Ford Bronco Sport is a tiny-tough small SUV

Ford Escape is nicely sized, practical and safe

Porcupine Wood Products, located near Salmo BC, is a leading

producer of Western Red Cedar products, supplying premium

products for the North American lumber markets. Ongoing

upgrades to our production facilities have contributed to our

ability to diversify products, remain competitive in the market, and

provide continued employment stability. As we continue to grow

our company and our markets, find out how you can grow your

career with us with new starting wages.

JEB JEBGROSSUT

SALES ASSOCIAT

We currently have the following full-time positions available:

• Planer/Moulder Technician

• Sawmill Production Workers

• Millwright • Welder/Fabricator

Premium paid for those with a valid OFA3.

Offering Competitive Wages, Benefits and Pension.

Apply with resume to: sasha@porcupinewood.com

or Main Office - 8564 Hwy 6, Salmo BC

AWD starting at $33,999

with $1000 down

2795 Hwy Dr

Trail BC

DL# 7336/30770

ALL MAKE SERVICE WITH 10 AUTO TECHNICIANS

Visit us at

AMFORD.COM

LOAN BY

PHONE

1-800-961-0202 250-364-0202

FWD starting at $29,699

AWD starting at $31,199

Plus Delivery and Destination from Ford Canada and $789 AM Ford Admin/Documentation Fee

WE WANT TO BUY YOUR USED VEHICLE. WE PAY TOP DOLLAR.

8000 Hwy 3B

Trail BC

DL# 7336/30770

Services Services Notices Page Notices Page Animals

Health/Personal

Health/Personal

Notice

Announcement

Pets

ACCEPTING NEW PATIENTS:

Head 2 Toe Holistic Health Clinic,

1237 - 3rd St, Castlegar. Call 250-

304-8700 or book online www.

head2toecastlegar.ca

ARE YOU TIRED? DO YOU SNORE?

You may have sleep apnea. Call Columbia

Respiratory for your free consultation,

no referral required. 1-844-

440-0277.

GLASS HOUSE OPTICAL: 701 Front

St, Nelson, 250-354-3937 and Unit 2,

688 18th St, Castlegar, 250-365-2026.

Free sight testing at both locations.

SHADE TREE MASSAGE THERAPY

NOW WELCOMING new and returning

clients for therapeutic and

relaxation treatments. Clean, quiet,

professional office located in Winlaw.

Jessica Coonen, RMT 250-226-

6887, shadetreemassagetherapy@

fastmail.com

TRY REIKI WITH AN INTUITIVE

MEDIUM and see how you feel! A

reiki treatment will leave you feeling

re-energized, and re-motivated! Located

near Balfour. Sue Berard 204-

223-2735, sue@divineconnection.ca

www.drashleyromanchuk.com

Notices Page

Notice

DID YOU KNOW... Pennywise ad

payments (cash or cheques) can be

dropped off at And More Second

Hand Store, 1398 McQuarrie St,

Trail during regular store hours?

Questions? Call 1-800-663-4619.

Thank you, Pennywise.

THE KASLO AND DISTRICT ARE-

NA ASSOCIATION AGM is on

Monday, June 27 at 7pm in the

Arena Meeting Room. New Board

Members welcome.

Announcement

CHECK OUT DISCOVER SIXTY-FIVE

Kootenay Seniors Living Magazine at

www.discoversixty-five.com

PROFESSIONAL ENERGY HEAL-

ING + AKASHIC SOUL READ-

INGS: For Physical Health, Emotional

+ Mental Balance + Wellness,

and Spiritual Connection. www.

shelleytomelin.com

THE HEADWATERS: Stories From

The Source. A new podcast brought

to you by Columbia Basin Trust.

www.headwaterspodcast.com

Education

Classes/Workshops

COMMUNITY EDUCATION &

WORKPLACE TRAINING: Selkirk

College,1-866-301-6601. www.selkirk.ca/ce

INTERESTED IN HELPING BUILD

HEALTHY COMMUNITIES? In-demand

and rewarding careers await.

Certificate, diploma and transfer

options available at Selkirk College.

For more details visit www.selkirk.

ca/school/human-services

F1 TRICOLOUR BERNEDOODLE

PUPPIES: Low to no shedding,

$1000-$3500. 250-505-1144.

GERMAN SHEPHERD PUPPIES:

Ready for June 15, unregistered,

first shots, dewormed. 250-551-

5397.

PURE BRED NORWEGIAN ELK-

HOUND PUPS: Midsized dogs with

excellent temperament, protective

but not aggressive. Great hiking

companions, rodent control, great

family dogs. Both parents here on

our farm. Ready June 19. Call/text

250-364-0990.

14 June 13, 2022 Your local shopper N picture online: www.pennywiseads.com
---
1-800-961-0202

NEW PRE-OWNED ARRIVALS

2020 FORD F-150 XLT 2020 FORD EXPLORER XLT 4WD 2021 FORD RANGER LARIAT 4WD 2017 CHEVROLET TRAVERSE 2017 TOYOTA TACOMA 4WD

THE TIME IS NOW!

Ordering for Summer/Fall 2022!

WE'RE

OPEN!

4WD, SuperCrew, 6.5' box, 3.5L V6,

28,555km, STK#63121

$

25

DAILY

$

346

BI-WEEKLY

$49,989

$

24

DAILY

59,350 km, 300hp 2.3l 4 cyl

STK#74089

$

339

BI-WEEKLY

$48,989

SuperCrew 5' box, 10,013 km,

270hp 2.3l 4 cyl STK#D34368

$

31

DAILY

$

428

BI-WEEKLY

$59,989

AWD, LT 54,551 km 281HP 3.6L V6

STK#88292

$

22

DAILY

$

306

BI-WEEKLY

$35,989

DoubleCab v6 auto TRD, 111,874 km,

278hp 3.5l v6 cyl STK#107967

$

28

DAILY

$

387

BI-WEEKLY

$47,989

Come see our exceptional

model homes!

2020 TOYOTA TACOMA 4X4

2020 HYUNDAI SANTA FE

2018 KIA FORTE LX AUTO

2011 TOYOTA VENZA

2015 FORD FUSION

4460 Minto Rd, Castlegar, across from the Brick

Give Wayne a call! 250-365-0048

Double Cab, auto SB, 62,016 km,

278hp 3.5L V6 STK#19920

$

25

DAILY

2019 FORD SUPER DUTY F-350 SRW

Lariat 4wd CrewCab 6.75' box, 93,329 km,

450hp 6.7l 8 cyl 4WD, STK#85381

$

45

DAILY

$

345

BI-WEEKLY

$

621

BI-WEEKLY

$49,989

$82,989

2015 JEEP WRANGLER UNLIMITED

2.4l essential AWD w/safety, 19,835 km,

185hp, 2.4l 4 cyl stk#64857

$

18

DAILY

$

252

BI-WEEKLY

$36,989

2018 FORD ESCAPE SE 4WD

80,251 km, 179hp 1.5l 4 cyl, 4WD,

STK#B91377

$

14

DAILY

$

199

BI-WEEKLY

$26,989

2015 JEEP WRANGLER UNLIMITED

94,242 km, 147hp 2.0l 4 cyl, FWD

STK#213398

$

10

DAILY

$

144

BI-WEEKLY

$19,989

2017 FORD ESCAPE

4WD, 4 dr SE, 179HP 1.5L 4 Cyl,

27,269 km, STK#18491

$

17

DAILY

$

234

BI-WEEKLY

$27,989

171,286 km,4wd doublecab v6 auto

236hp 4.0l V6, AWD STK#026547

$

28

DAILY

$

398

BI-WEEKLY

2020 FORD RANGER

Lariat 4WD SuperCrew, 5' box,

66,945 Km, 270HP 4 Cyl Stk#A00295

Please Call

$18,989

2017 FORD FOCUS

4 dr sedan, Titanium, AWD, 231HP 2.0L

4 Cyl, 137,532 km STK#270914

$

16

DAILY

$

215

BI-WEEKLY

$18,989

2019 FORD FI50 XLT

4WD Supercab, 8' box, 106,102 km,

395HP 5.0L 8 cyl STK#56949

$

25

DAILY

$

351

BI-WEEKLY

$45,989

2019 FORD EDGE SEL AWD

Why not get

them both?

50%

Off Sale

4WD 4dr Rubicon, 133,436 Km,

285hp 3.6l V6 Cyl Stk#523407

Please Call

4WD 4dr Sport, 84,364 km,

285hp 3.6l v6 cyl stk#633147

Please Call

PRE-OWNED

1-800-961-0202

$

11

DAILY

4 dr HB SEL, 116,965 km,

2.0L 4 cyl FWD STK#5267

$

155

BI-WEEKLY

$18,989

$

20

DAILY

35,507 km, 250hp 2.0l 4 cyl

STK#B58464

$

273

BI-WEEKLY

$39,989

JEB JEBGROSSUTTI

SALES ASSOCIATE

2017 FORD ESCAPE

4WD, Titanium, 2.0L 4 cyl, 78,473km,

STK#0540

$

18

DAILY

$

253

BI-WEEKLY

$31,989

2016 FORD F-150 XLT

2008 JEEP WRANGLER

4WD, Rubicon, 3.8L V6, 259,358km,

STK#0637

$17,989

2016 FORD EDGE AWD

2021 FORD F-150 SUPERCREW

Lariat 4WD5.5' box, 40,632 km,

400hp 3.5l v6 STK#A01302

$

39

DAILY

$

539

BI-WEEKLY

$74,989

2017 HYUNDAI SANTA FE

2017 FORD ESCAPE

4WD 4 dr SE, 245HP 2.0L 4 cyl auto,

115,032 km, STK#B47524

$

17

DAILY

$

236

BI-WEEKLY

$29,989

2019 GMC TERRAIN SLT

2007 TACOMA

171,286 km,4wd doublecab v6 auto

236hp 4.0l v6, 4WD STK#08830

$23,989

2019 GMC CANYON

Sale ends

June 15 th

2022

50% off a complete set of glasses

(frames and lenses, see in store for details)

All designer frames and all lenses included!

SuperCrew, 4WD, 5.0L 8 cyl, 75,758km,

STK#29051

$

26

DAILY

$

359

BI-WEEKLY

$39,989

Titanium, 2.0L 4 cyl, 46,660km,

STK#69110

$

20

DAILY

$

278

BI-WEEKLY

$32,989

SE, Sport, AWD, 4 dr, 2.0T, 2.0L 4 cyl,

103,802km, STK#475311

$

15

DAILY

$

207

BI-WEEKLY

$26,989

$

25

DAILY

AWD, 4 dr, 25,814km,

STK#64455

$

347

BI-WEEKLY

$44,989

4WD, CrewCab, 140.5", leather,

79,545km, 3.6l, 6cyl stk#93906

$

23

DAILY

$

317

BI-WEEKLY

$42,989

*See in store for details. Some restrictions apply.

2016 TOYOTA SIENNA

2019 HONDA RIDGELINE

2018 FORD EDGE

2017 FORD F-150

2017 FORD ESCAPE SE

701 Front St, Nelson

250.354.EYES (3937)

XLE, 5 dr 7 passenger, AWD, 3.5L V6,

107,101km, STK#145888

$

24

DAILY

$

340

BI-WEEKLY

2795 Hwy Dr Trail BC

DL# 7336/30770

$37,989

$

27

DAILY

Images are for illustration purposes only. STK#74089 / STK#61263.

Sport, AWD, 41,050km,

STK#502223

$

371

BI-WEEKLY

$48,989

AWD, Titanium, 2.0L 4 cyl, 111,119km,

STK#92304

$

19

DAILY

$

270

BI-WEEKLY

$33,989

LOAN BY PHONE

1-800-961-0202

NO PAYMENTS

FOR 90 DAYS

4WD, SuperCrew, Lariat, 3.5L V6,

93,296km, STK#68298

$

28

DAILY

$

396

BI-WEEKLY

$48,989

4WD, 2.oL 4 cyl, 4 dr, 115,032km,

STK#B47524

$

17

DAILY

$

236

BI-WEEKLY

$29,989

$3000 Down or trade equity/7.49%/OAC, all administration / documentation fees of $789 included in stated bi-weekly/daily payment. DL#7336/30770

8000 Hwy 3B, Trail BC

DL# 7336/30770

Tuesday-Friday 10am-5pm

Saturday 10am - 4pm

Free sight testing both locations

Unit 2, 688 18 th St,

Castlegar • 250.365.2026

Near Common Grounds Coffee Shop

Animals Automotive Automotive Automotive Automotive

Pets

INTRODUCING MITCH! This very

handsome boy is a purring machine.

It is not unlikely to find him

waiting and begging for some love

and there is a lot of him to love. He

is good with being picked up, although

he is quite heavy so sitting

beside him is best. He would make

a wonderful addition to anyone's

home. Submit an application: spca.

bc.ca/adoption/application-forms/

Staff will contact you to come in

for a visit! License, Leash, and Love

your pets!

WANTED: BLACK FEMALE MIXED

BREED PUPPY, who will grow up to

be a large dog. 250-359-7661.

Cars

1984 CADILLAC COUPE DEVILLE:

57,000kms, non-running, stored

since 2005, never seen winter, $3500.

250-229-4395.

2009 MITSUBISHI LANCER: Black,

4dr, loaded w/leather, heated seats,

sunroof, sub-woofer, 161,000kms,

REDUCED $6800. 250-304-4445 (day

cell), 250-304-2069 (eves).

SELLING A VEHICLE? On average

4726 Pennywise readers (within the

year) are looking to buy a used vehicle!

*Low estimate, according to our

2021 independent CVC audit. Sell

your vehicle here for as little as $3.50

& GST per classified ad. Call 1-800-

663-4619, or submit online at www.

pennywiseads.com/ad-submit

SUVs

2009 HYUNDAI SANTA FE AWD:

V6, new windshield, newer sets of

summer and winter tires on rims,

fresh oil change, clean. 250-365-5530.

RVs/Campers

30´ 2012 SURVEYOR TRAILER:

Excellent condition, two slide outs,

a/c, refrigerator/freezer, oven/stove

w/range hood, water heater, bathroom

fan, shower, main bedroom w/

queen bed, living room w/La-Z-Boy

sofa bed, dining table/chairs. Stored

under roof, clean, non-smoking, no

pets, $20,000. 778-928-7560, Harrop.

30´ 1997 TAHOE 5TH WHEEL:

Nice shape, $5000. 250-353-2223.

34´ 2010 COUGAR 5TH WHEEL:

Winter package, 4 slide outs, central

heat, a/c, 9´ ceilings, 2nd owner,

well-maintained, $22,000obo or trade

for building supplies. 250-304-7697

RVs/Campers

USA - 2020 HEARTLAND 335 fuel

5th wheeler toy hauler, 13' cargo

bed, party deck, 2 slideouts with

covers, 5500 Onan gas generator, 2

AC units, fuel storage, wheel covers,

very clean, like new. $64,900USD,

208-818-9308.

Motorcycles/ATVs

2005 HARLEY-DAVIDSON SPORT-

STER 1200 CUSTOM: Low kms,

approximately 45,000, show condition!

$6500 firm. 250-687-0301.

Motorcycles/ATVs

BOSS MOTORCYCLE CARRIER:

Hitch mounted, steel, tilting, light

kit, instructions, 450lbs max capacity,

never used, $650obo. 250-366-

4267, Kaslo.

STINGER FOLDING MOTORCY-

CLE TRAILER: Used once, perfect

shape, new $2500, asking $2000.

250-353-2244, Kaslo.

Boats/Watercraft

14´ BOAT AND TRAILER: 2005

9.9hp Yamaha, good condition,

$2200obo. 250-226-7953.

N picture online: www.pennywiseads.com Where locals shop. June 13, 2022 15
---
Local shoppers

read the

"Someone is

sitting in the

shade today

because

someone

planted a

tree a long

time ago."

~ Warren Buffet

Advertising

will help get you there.

1-800-663-4619

Invest in

yourself,

advertise!

Do you want

to sponsor

our popular

Sudoku/

Crossword

puzzle page

in the Castlegar/

Slocan Valley

Pennywise?

Contact:

Adam Prisciak

Ph 250-505-2921

1-800-663-4619

adam@pennywiseads.com

ACROSS

1 Word sung with "to Run" and

"in the U.S.A."

5 Ivanka's husband

10 Used to be

14 Some but not many

15 Redundant partner of over

16 Stage surname of Billy Broad

17 Pkg. label stat

18 *Deeds on the dark web, say

20 User cost

21 Higgs ___ particle

22 "They can go ahead, f'rall I care"

23 *Olestra, say, in diet-friendly

foods

26 Gendered ending

27 Web page top banner

30 In a ruffled state

33 Not feral

36 Native of Gdansk

37 Spooky seance sound

38 *Volcanic avalanche

41 Strike caller

42 Four before K

44 Prefix meaning "eight"

45 "That's how I ___" ("Ditto")

47 Prevents, in legalese

49 Heroic pilot

50 *Top 40 tracks for the

nostalgic

57 Key prefix for a cheapo

59 ___-ground missile

60 Singer Chris or actor Stephen

61 *Maker of neighbourly

relations, to Frost

63 With 69-Across, quintet hinted

at (twice) in the answers to the

starred clues

64 Yes-___ question

65 Noted conductor Zubin

66 CBC girl "With an E"

67 Enclosure for an R.S.V.P.

68 ___ fixes (obsessive thoughts)

69 See 63-Across

DOWN

1 Albertans' park "playground"

2 Cup ___ (preference)

3 Give another licking, say

4 It has a bear-shaped lic. plate

5 Dickens's Marley, and others

6 Infinite depth

7 Iron man?

8 "Duh! ___ knew that!"

9 "___ Spiegel" (German

newspaper)

10 Bug on the phone

11 Made a dele?

12 Vatican City city

13 Pre-secondary sch.

For brand new puzzles by email, sign up at

www.ClassiCanadianXwords.ca

Hidden Agenda

19 Game with Mr. Boddy

21 ___ move (do some dancing)

24 Match, as a poker bet

25 Ex-Flame Fleury, as he's known

28 Sailor's saint

29 Result of an unpaid car loan,

casually

30 Craving

31 Tuba sounds

32 Pots near "ptui" sounds

33 What C.B.D. oil lacks

34 Stern on a sternwheeler

35 Prov. riding rep

39 46-Down equivalent

40 Loony tune

Barbara Olson

© ClassiCanadian

Crosswords

June 13

43 An anonymous plaintiff

46 Verbal hand-wobble

48 Big man on campus, maybe

49 Assumes the role of

51 Waxed no more

52 Lac La ___, Alberta

53 Narrow mountain ridge

54 "The Faerie Queene" woman

55 Wee

56 "For heaven ___!"

57 I's in psychoanalysis

58 Canadian breakfast chain

62 Bowie's old record label

SUDOKU

Sudoku puzzles are formatted as a 9x9 grid, broken

down into nine 3x3 boxes. To solve a sudoku, the

numbers 1 through 9 must fi ll each row, column and box.

Each number can appear only once in each row, column

and box. You can fi gure out the order in which the

numbers will appear by using the numeric clues already

provided in the boxes. The more numbers

you name, the easier it gets to solve the puzzle!

Solutions on Page 2 or

pennywiseads.com/local news/puzzles&solutions

Get text alerts for toxic drugs

In response to the ongoing toxic drug emergency, a new health

alert system has been launched across Interior Health.

"Across the province – in every community – we continue to see

tragic deaths due to the toxic drug supply. The new alert system is

an example of innovation and community collaboration to save lives

in this crisis," said Minister of Mental Health and Addiction Sheila

Malcolmson.

The Toxic Drug Alerts system uses text messaging to send alerts as

a public health measure to prevent drug poisonings and deaths, and

provides timely information and up-to-date resources to people who

use drugs and community members.

"We are thrilled to have this new tool available in the Interior to

support people and to get information out immediately to those who

need it most," said Interior Health president and CEO, Susan Brown.

"As the number of lives lost continues to grow, we are focused on

removing barriers to supports, and implementing new strategies to

prevent drug poisonings and deaths and mitigate harm from the

toxic drug supply."

People who use drugs, those who support them, and community

members are encouraged to opt-in for toxic drug alerts by sending

the keyword JOIN to ALERTS (253787). They will receive toxic drug

and drug poisoning alerts and, in the future, public health alerts,

such as COVID-19 related information.

"Timely and targeted information regarding the current drug supply

is vital when we are seeing the toxicity of illicit drugs increase

at an alarming rate. Alerts will help people make better informed

decisions and ultimately help reduce harms, including overdose

and death, from poisoned drugs," said Jessica Bridgeman, Interior

Health sexual health and harm reduction manager.

To further help keep communities safe, subscribers can anonymously

submit information relating to toxic drugs or drug poisonings

via text using the keyword OD.

"The priority is to get people access to safe supply, but while we're

waiting, toxic drug alerts will be really helpful in letting us know

what is going around in our communities, and can help people make

harm reduction decisions for themselves," said Sara Young, manager

of Harm Reduction at BC Centre for Disease Control.

Drug alerts play an important role in empowering people who use

drugs to do so more safely.

"I have been so glad that I have been getting the drug alerts in

my area and surrounding areas because anything that is in the surrounding

areas is going to make it here eventually," said one person

with lived experience who was involved in developing the new system.

"I used this information to prepare myself for any toxic drugs

that could be coming our way by doing smaller testers, trying to get

samples into the drug testers, asking my peers what they think and

informing my peers of the drug alerts. It helped a lot when there

were photos in colour. The description was also helpful."

Interior Health is the first health authority to be launching the new

system which is developed by the BC Centre for Disease Control

and the Office of Virtual Health at the Provincial Health Services

Authority in partnership with regional health authorities. The alert

system is expected to expand to additional health authorities summer

2022.

A program called RADAR has been managed as a research project

in Vancouver Coastal Health since 2015. It has demonstrated the

success of a text message-based drug and overdose alerting system.

To learn more about the DOPhE system visit towardtheheart.com.

For more information about substance use and the toxic drug crisis

visit interiorhealth.ca.

Automotive Real Estate Real Estate Rentals Seniors

Boats/Watercraft

17.5´ HELLMAN CANOE: New,

only used 3 times, $1500obo.

250-367-6692.

Auto Parts/Services

BODYWORK-PAINT SPECIALS:

Satin finish, base clear, single stage,

specialized coatings. Equipment bay.

40+yrs experience. Pickup & delivery.

Brokerage Special: 40' custom Atlas

trailer. 250-551-8685, 778-206-0969.

BORDERLINE TRANSMISSIONS is

your automatic transmission specialist.

Ed Batt Owner/Operator has over

45 years of rebuilding experience.

250-368-3231.

FOUR NEW SUMMERS W/RIMS

215/70R15, $500; back bench

seat, $40. All from Dodge Caravan.

250-512-0909.

SCRAP KING AUTO WRECK-

ING AND TOWING: Salmo's

one-stop shop for any used auto

part. www.scrapkingauto.com

Agents

DID YOU KNOW THERE IS A WAY

TO SELL YOUR HOME conditional

on finding and securing your future

home? Call for a free no obligation

market valuation of your home.

Thinking of buying or selling? Contact

Sarah Rilkoff Valhalla Path Realty,

250-509-0006.

Agents

LOCALLY OWNED, COMMUNI-

TY MINDED: Castlegar Realty Ltd,

1761 Columbia Ave, 250-365-2166.

www.castlegarrealty.ca

THINKING OF SELLING? Leverage

my experience and marketing

tools to turn 'Selling into Sold'. Greg

Gritchin, Fair Realty, 250-365-9791.

Land

LOOKING TO PURCHASE OR

LEASE A SMALL PIECE OF LAND

behind Ainsworth, BC off the trail

system/logging roads. 403-889-5985,

sgconway@hotmail.com

Commercial Rentals

5000 SQ.FT. SHOP INCLUDES

HIGH TRUCK BAY: 3 phase power,

10 acres flat cleared storage land,

great Hwy frontage 6051 Hwy 3, Salmo

BC. Covered outdoor butler work

area. Could be shared and/or multiple

lease areas: equipment storage,

light industrial, fabrication, mechanical

shop, etc. 604-802-7551.

Seniors

Discounts

CORNUCOPIA SENIORS DAY:

10% off your purchase EVERY Friday,

9am-5:30pm. 422 Front St,

Kaslo. 250-353-2594.

SENIORS RECEIVE 10% OFF supplement

purchases at Sunnyside

Naturals everyday. 404 Front St,

Kaslo, 250-353-9667.

SMALL ENGINE TUNE-UPS AND

REPAIRS: All makes and models.

Mowers/riders, chainsaws, etc. Senior

Discount offered. 250-365-0005.

Discounts

SENIORS DAY 2/1 ELEC-

TRIC BIKE RENTALS EVERY

MONDAY: Please book by

Saturday so we can have a

bike ready to go. Call Neil at

250-300-7923 or book online

at https://www.ekruise.com/

kaslo/

SENIORS! SHOP THE FIRST

WEDNESDAY OF EVERY

MONTH and receive 10%

off your purchase. Some exclusions

apply. Kaslo Front

Street Market, 411 Front St,

250-353-2331.

SCAM ALERT

ALERT, PHONE NUMBER SCAM:

Please be aware of a phone number

scam using 1-800-353-2602. This is

NOT the Pennywise toll free number

and if you call it in error, do not follow

the instructions, hang up. Thank

you. Pennywise.

16 June 13, 2022 T Your local shopper N picture online: www.pennywiseads.com