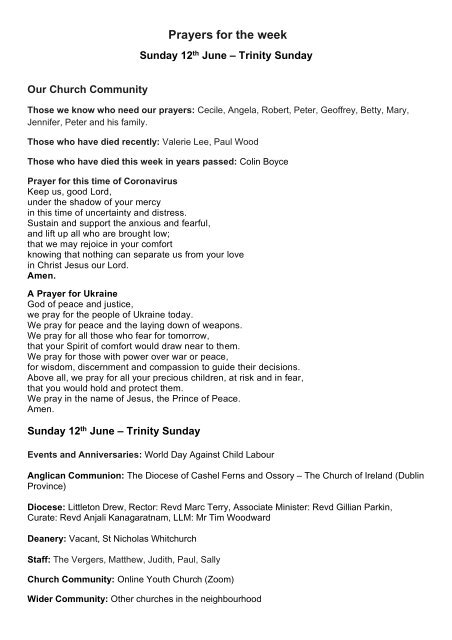 St Mary Redcliffe Prayers for the Week 2022 06 12
Create successful ePaper yourself
Turn your PDF publications into a flip-book with our unique Google optimized e-Paper software.
Prayers for the week

Sunday 12 th June – Trinity Sunday

Our Church Community

Those we know who need our prayers: Cecile, Angela, Robert, Peter, Geoffrey, Betty, Mary,

Jennifer, Peter and his family.

Those who have died recently: Valerie Lee, Paul Wood

Those who have died this week in years passed: Colin Boyce

Prayer for this time of Coronavirus

Keep us, good Lord,

under the shadow of your mercy

in this time of uncertainty and distress.

Sustain and support the anxious and fearful,

and lift up all who are brought low;

that we may rejoice in your comfort

knowing that nothing can separate us from your love

in Christ Jesus our Lord.

Amen.

A Prayer for Ukraine

God of peace and justice,

we pray for the people of Ukraine today.

We pray for peace and the laying down of weapons.

We pray for all those who fear for tomorrow,

that your Spirit of comfort would draw near to them.

We pray for those with power over war or peace,

for wisdom, discernment and compassion to guide their decisions.

Above all, we pray for all your precious children, at risk and in fear,

that you would hold and protect them.

We pray in the name of Jesus, the Prince of Peace.

Amen.

Sunday 12 th June – Trinity Sunday

Events and Anniversaries: World Day Against Child Labour

Anglican Communion: The Diocese of Cashel Ferns and Ossory – The Church of Ireland (Dublin

Province)

Diocese: Littleton Drew, Rector: Revd Marc Terry, Associate Minister: Revd Gillian Parkin,

Curate: Revd Anjali Kanagaratnam, LLM: Mr Tim Woodward

Deanery: Vacant, St Nicholas Whitchurch

Staff: The Vergers, Matthew, Judith, Paul, Sally

Church Community: Online Youth Church (Zoom)

Wider Community: Other churches in the neighbourhood
---
Monday 13 th June

Anglican Communion: The Church of Nigeria (Anglican Communion)

Diocese: Nettleton, Rector: Revd Marc Terry, Associate Minister: Revd Gillian Parkin, Curate:

Revd Anjali Kanagaratnam, LLM: Mr Tim Woodward

Deanery: Vacant, St Luke's, Brislington

Staff; The Music Department, Andrew, Graham, Claire

Church community: Members of SMR who are ill

Wider local community: Those attending funeral's here

Tuesday 14 th June

Events and Anniversaries: 1982 (40) End of the Falkands War

Anglican Communion: The Diocese of Chandigarh – The (united) Church of North India

Diocese: North Wraxall, Rector: Revd Marc Terry, Associate Minister: Revd Gillian Parkin,

Curate: Revd Anjali Kanagaratnam, LLM: Mr Tim Woodward

Deanery: Bishop Lee

Staff: The Office, Sarah P, Rebecca, Heloise, Rhys, Sarra, Maria, James

Church community: Family and friends of Valerie Lee

Wider local community: Redcliffe Workers' Lunch

Wednesday 15 th June

Events and Anniversaries: 1922 (100) The Permanent Court of International Justice sat for the

first time. (Replaced by the International Court of Justice in 1986.)

Anglican Communion: The Diocese of Chelmsford – The Church of England (Canterbury

Province)

Diocese: Slaughterford, Rector: Revd Marc Terry, Associate Minister: Revd Gillian Parkin,

Curate: Revd Anjali Kanagaratnam, LLM: Mr Tim Woodward

Deanery: Licensed Lay Ministers

Staff: The Outreach Department, David, Sarah J, Phil, Dionne, Andy

Church community: Our Readers and Intercessors

Wider local community: The bereaved
---
Thursday 16 th June

Events and Anniversaries: International Day of the African Child

Anglican Communion: The Diocese of Chester – The Church of England (York Province)

Diocese: West Kington, Rector: Revd Marc Terry, Associate Minister: Revd Gillian Parkin,

Curate: Revd Anjali Kanagaratnam, LLM: Mr Tim Woodward

Deanery: Dioceses of Mbale and North Mbale (Uganda link dioceses)

Staff: The Ministry Team, Dan, Kat, Aggy, Anthony, Peter, Stephen, Simon, Becky

Church community: Kat and her family

Wider local community: Those seeking employment

Friday 17 th June

Anglican Communion: The Diocese of Chhattisgarh – The (united) Church of North India

Diocese: Yatton Keynell, Rector: Revd Marc Terry, Associate Minister: Revd Gillian Parkin,

Curate: Revd Anjali Kanagaratnam, LLM: Mr Tim Woodward

Deanery: Derek Maddox, St Andrew's, Hartcliffe, Withywood Centre

Staff: The Vergers, Matthew, Judith, Paul, Sally

Church community: Aggy and her family

Wider local community: The Anxious

Saturday 18 th June

Anglican Communion: The Diocese of Chicago – The Episcopal Church (V (5) Province)

Diocese: Diocesan Safeguarding Team, Caroline Jowett-Ive, Adam Bond, Katheryn Caithness,

Nick Papuca, Helen Styles

Deanery: Deanery Leadership Team

Staff: The Music Department, Andrew, Graham, Claire

Church community: Simon and his family

Wider local community: All in need of our prayers

Sunday 19 th June – The First Sunday After Trinity

Events and Anniversaries: World Sickle Cell Awareness Day
---
Anglican Communion: The Diocese of Chichester – The Church of England (Canterbury

Province)

Diocese: Chippenham with Tytherton Lucas, Vicar: Revd Rod Key, Curate: Revd Anton Campbell,

LLM: Mr Neil Pidduck

Deanery: Vacant, Filwood Park, St Barnabas

Staff: The Office, Sarah P, Rebecca, Heloise, Rhys, Sarra, Maria, James

Church Community: Junior Earth Church

Wider Community: SMR members in Sheltered Housing