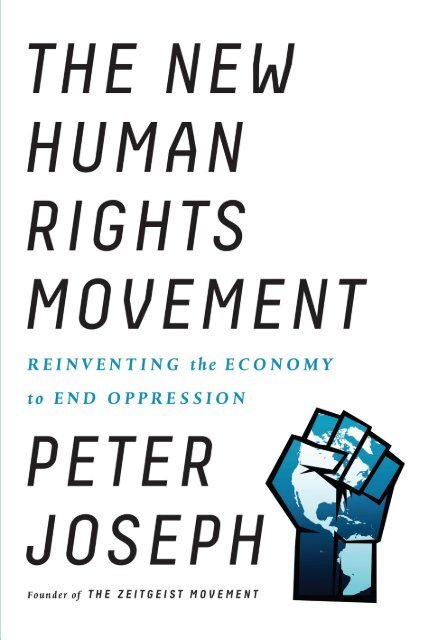 The New Human Rights Movement: Reinventing the Economy to End Oppression
by Peter Joseph
by Peter Joseph
SHOW MORE
SHOW LESS
Create successful ePaper yourself
Turn your PDF publications into a flip-book with our unique Google optimized e-Paper software.
Praise for The New Human Rights Movement

"Peter Joseph is one of the great visionaries of our time. If there's a

beautiful future—and I think there will be—then his fingerprints will

be all over it."

—MARIANNE WILLIAMSON,

#1 NEW YORK TIMES BESTSELLING AUTHOR
---
THE NEW

HUMAN

RIGHTS

MOVEMENT
---
THE NEW

HUMAN

RIGHTS

MOVEMENT

REINVENTING the ECONOMY

to END OPPRESSION

PETER JOSEPH

BenBella Books, Inc.

Dallas, TX
---
Copyright © 2017 by Gentle Machine Productions LLC

All rights reserved. No part of this book may be used or reproduced in any manner whatsoever

without written permission except in the case of brief quotations embodied in critical articles

or reviews.

BenBella Books, Inc.

10440 N. Central Expressway, Suite 800

Dallas, TX 75231

www.benbellabooks.com

Send feedback to feedback@benbellabooks.com

Printed in the United States of America

10 9 8 7 6 5 4 3 2 1

Library of Congress Cataloging-in-Publication Data

Names: Peter Joseph, 1978- author.

Title: The new human rights movement : reinventing the economy to end

oppression / Peter Joseph.

Description: Dallas, TX : BenBella Books, 2017.

Identifiers: LCCN 2016043997 (print) | LCCN 2016059808 (ebook) | ISBN

9781942952657 (hardback) | ISBN 9781942952664 (electronic)

Subjects: LCSH: Human rights movements. | Human rights—Economic aspects. |

Business and politics. | BISAC: POLITICAL SCIENCE / Political Freedom &

Security / Human Rights. | POLITICAL SCIENCE / Economic Conditions. |

SOCIAL SCIENCE / Poverty & Homelessness. | PHILOSOPHY / Social.

Classification: LCC JC571 .P47 2017 (print) | LCC JC571 (ebook) | DDC

330—dc23

LC record available at https://lccn.loc.gov/2016043997

Editing by Vince Hyman

Copyediting by Brian Buchanan

Cover design by Pete Garceau

Jacket design by Sarah Dombrowsky

Text design and composition by Publishers' Design and Production Services, Inc.

Proofreading by Amy Zarkos and Lisa Story

Printed by Lake Book Manufacturing

Distributed by Perseus Distribution

www.perseusdistribution.com

To place orders through Perseus Distribution:

Tel: (800) 343-4499

Fax: (800) 351-5073

E-mail: orderentry@perseusbooks.com

Special discounts for bulk sales (minimum of 25 copies) are available. Please contact

Aida Herrera at aida@benbellabooks.com
---
To the unpersons,

those who embody the evidence of our grand social failures
---
Contents

Acknowledgments

Preface

Introduction

xi

xiii

xvii

Chapter One: System-Bound: Realizing Relationships 1

Chapter Two: Beyond the Pale: Our Social Mythology 31

Chapter Three: Structural Bigotry: The Economics of Oppression 97

Chapter Four: Public Health: Spectrum of Disorder 157

Chapter Five: Designing Out: Where We Go from Here 237

Appendix A: Post-scarcity Potentials 301

Appendix B:

Economic Calculation and Broad System

Conception 329

Glossary 343

Endnotes 365

ix
---
Acknowledgments

A

FEW BLOCKS FROM MY PRODUCTION STUDIO in downtown Los Angeles

rests the historic central public library. Built in 1926, it is one

of the largest library systems in the world, a gateway to about 6 million

volumes. It was here I set up shop to compose this book over the course of

15 months. As an institution, the very idea of a library is quite interesting.

In a world dominated by property rights and general economic restriction,

the library has been a rare source of sharing for many centuries. In

fact, not only does the library signify an intuition that knowledge should

be free, given its critical role in societal development, but it also serves

as a poetic metaphor for human consciousness itself. Astronomer Carl

Sagan, referencing the destruction of perhaps the grandest library in

human history, the Library of Alexandria, some 1,800 years ago, wrote:

"It was as if the entire civilization had undergone some self-inflicted

brain surgery, and most of its memories, discoveries, ideas and passions

were extinguished irrevocably." 1

I find great solace in such a socially connected perspective. It hints

at the truth of the human condition. Understanding the social nature

of human development, a dynamic interplay of what could be called our

"group mind," makes a healthy mockery of the egoism and proprietary

neurosis all too common in modern culture. Fueled by a socioeconomic

condition that financially and through accolades of "success" rewards

individual action while ignoring the social process that led to that action,

we remain stuck in a very immature place. The fact is, world society as

we know it is a purely social consequence, ultimately cultivated by a process

of sharing. The library, in all its ancient glory and hidden intuition,

signifies this deeper wisdom. As such, and as clichéd as it may sound, it

is to this process I acknowledge credit of this text. This is not to dismiss

xi
---
xii

Acknowledgments

the many people past and present who have had a direct influence on

this work's creation, but to embrace them all in their proper context. I,

like them, am just a link in a chain.

Moreover, as inspiring and helpful as the downtown Los Angeles

library has been while this work was formed, there was another feature

of relevance present—a feature I doubt comes to mind when most consider

this institution: the homeless. With about 80,000 homeless on the

street each night in Los Angeles County, the libraries have served as a

common refuge. It is here where the homeless can escape summer heat,

use a bathroom, drink from a water fountain, and even use a computer.

It took me some time to gain perspective of just how many homeless and

poverty-stricken people there were on any given day, but their presence

was overwhelming. Yet, at the same time, in an eerie way, they also didn't

exist at all. They moved like shadows or ghosts that the general public and

workers simply ignored. As it is on the street, where the more fortunate

glide along with barely a passive acknowledgment of these fixtures of

human dispossession, the homeless and destitute exist in a rather dismissed,

ignored, and forgotten universe. To invoke George Orwell, they

are a type of the unpersons.

As I sat each day surrounded by people who effectively don't exist

in the eyes of society at large, I began to understand that the homeless

and poor are really walking threats to the way most wish to think

about the world. They are threats to the way most wish to think about

themselves. They are society's black mirrors, reflecting the vast denial

of our human incompetence. To acknowledge them is to admit a tragic

fault. Consequently, people go out of their way to pretend those ghosts

lurking about them really don't exist at all. And so it is to these people

that I extend my acknowledgment. The homeless in that library served

as a daily reminder of what is at stake, further inspiring my need to help

understand and fix what continues to go horribly wrong in this world.
---
Preface

A

S PLAYWRIGHT GEORGE BERNARD SHAW eloquently put it, "The single

biggest problem in communication is the illusion that it has taken

place." The depth of this statement took a while for me to understand.

Over the course of the past decade, my professional work in film, television,

and online media has, to my humble amazement, been experienced

by roughly a quarter of a billion people and translated into more than

130 languages. I have spoken in a dozen countries, given hundreds of

hours of interviews and expositions via radio shows and podcasts, and

answered literally thousands of questions from people concerned about

the state of society.

Yet, in my various attempts, effective communication is still something

of an ongoing experiment, especially when it comes to the content

presented here. Naturally, any idea, theory, or proposal is only as valuable

as how well it is relayed. Each individual is a complex mix of rational

thoughts and convoluted biases. There is a threshold of rationality when

it comes to the human condition and I state this not from a paternalistic

standpoint but from the standpoint of just another flawed, emotional

mind. True intelligence is self-awareness—including a sense of just how

wrong you likely are most of the time as a result of your biases. As with

any educational content, the more controversial the subject matter, the

more difficult the communicative challenge. And there isn't anything

more controversial than questioning culture itself. Being the social creatures

we are, our very identity is linked to the values and traditions

that surround us. This gravitation is largely out of our control. Hence,

questioning culture and its norms invariably turns the question to one's

self. This is delicate territory, no doubt.

xiii
---
xiv

Preface

Contemplating this problem led me to the context of this work, as

inspired by the writings of Frederick Douglass. Frederick Douglass was

born into chattel slavery in the American South in the early nineteenth

century. After escaping to freedom in the North, he became one of the

most outspoken and effective leaders of the American abolitionist movement.

His work led me to recontextualize my activist focus under the

umbrella of civil or human rights. Douglass's literary style itself was also

influential. His writing is deliberate, incisive, and motivating. There is

idealism and yet pragmatism existing at once. So, not only do I hope the

core argument of this work will be properly embraced as an extension of

the global abolitionist movement, I also hope it will be as efficient in form

and tonality as I found Douglass's literary expression to be.

As for detail, much here has been necessarily generalized in an

attempt to be concise and accessible. The caveat, of course, is that I have

made assumptions about what readers may or may not already be familiar

with. While I have done my best to avoid unnecessary complexity,

tedious clarifications, and fringe terminology, there is only so far one can

go before generalizations become self-defeating. Given this, the reader is

encouraged to review the source material in the endnotes. A great deal

of care has been taken to anticipate unfamiliar subjects, providing rather

extensive references to help further exploration and justification. A glossary

has also been added to help with custom concepts and general clarity.

In most cases, terms presented in italics are included in this glossary.

Regarding form, the style here is a combination. Publishing interests

originally requested not only a treatment on social justice, but also something

of a memoir. This approach did not strike me as productive initially.

First, it seems confusing to mix a serious treatment about socioeconomics

with personal anecdotes. Second, in the past I have deliberately not

talked about my life history or myself in any real way, as I generally

find it inhibiting to an audience's judgment. My goal is not to impose

conclusions from the position of authority but to show the reasoning or

train of thought that arrives at those conclusions. Yet, because I am not

credentialed in any particular way, coming from a self-educated perspective,

it has been difficult to crack the vault of mainstream dialogue.

While I have certainly done my homework over the past decade,

exploring hundreds of texts on social theory, history, and economics,
---
Preface xv

I have no plaques or honorary degrees to impress you with. Given the

emphasis our society places on perceived authority, the cynicism I often

sense is not surprising. It is also natural that in our fast-paced, timedeficient

world, most people simply want someone to "tell them what

to think." Yet there is a serious problem here, as there is a tendency

by modern academia to perpetuate existing normative assumptions—

especially when it comes to socioeconomic theory. Most people who rise

through the ranks of orthodox higher education experience an almost

inevitable process of indoctrination. As with many cultural matters, so

much has been presupposed about our way of life over time, people tend

to assume the social institutions around them are all there is and ever

was. Values become entrenched, identities become locked, and dogma

is cultivated. The prevailing intelligentsia is far from exempt from this

"normalizing" process and sometimes one needs to exist far outside the

box to make a difference.

That stated, I decided I would let down my guard on this issue and

try the experiment of explaining a little about where I came from and

why I have the focus I do. This humanizing aspect will also, I hope, trigger

associations within the reader that make the subjects more relatable.

Surprisingly, it wasn't until I began to compile these stories that I came

to understand just how predictable my life's unfolding has been. Many

seemingly mundane events in my history have actually had profound

implications hidden within. I simply didn't have the vocabulary at the

time to understand them. However, I do wish to stress that these stories

are not to be construed as actual evidence in defense of the conclusions

argued. The technical scholarship of this work stands on its own and

the anecdotes are merely supplemental in the hope of sparking a better

sense of connection to the reader.

Finally, I want to point out that there is some repetition throughout

the work. Due to certain topics existing in multiple contexts at once,

the chapters often cross-reference one another, weaving in and out. This

is mostly done to bypass anticipated confusion or incompleteness. By

far the biggest challenge in writing this text has been keeping things

connected, properly supporting the larger arguments. As abstract as

the following comment may seem, the kind of thinking required here

is actually not linear, but systemic. What I mean by that will become
---
xvi

Preface

clear as you move forward. At the same time, I find that it doesn't hurt

to periodically remind the reader of critical themes, especially given how

unfamiliar some of this content and overall train of thought may be to

some. While this text has been designed for people who have not been

exposed to socioeconomic theory before, I admit there is a certain level

of complexity that I hope will be tolerated and appreciated.
---
Introduction

We are all one. And if we don't know it, we will find out the

hard way. 1

—BAYARD RUSTIN

A

CENTRAL MESSAGE OF THIS BOOK is that solutions to modern social

problems are less about the moral aptitude of society and more about

how society is technically organized. If I had to reduce the idea to a

singular term, I would say the perspective is structuralist. Structuralism

simply means we are accounting for larger-order relationships when

thinking about social affairs. It is a derivation of a more generalized

concept called systems theory (chapter one).

In terms of structuralism, if we had to locate the most influential

man-made force affecting the human condition, there is no doubt that

a society's social system would be most prominent. A social system is

defined as the means by which a society organizes itself to facilitate

survival, prosperity, and, ideally, peaceful coexistence. From networking

the behavior of individuals and institutions, to characteristics such as

security, medical access, resource management, political processes, and

transport infrastructure, the defining features of a social system can vary.

Overall, a social system serves to maintain and improve public health

(chapter four). Public health is an umbrella idea that embraces many

factors and outcomes. As a broad measure, the quality of overall public

health in a society ultimately reflects the quality of its social system. If it

happens to be that a system is allowing or even facilitating unnecessary

disease epidemics, pollution, starvation, violence, crime, deprivation,

social oppression, bigotry, and other harmful features, then the integrity

of that social system is brought into question.

xvii
---
xviii

Introduction

However, any challenge to the integrity of the system is really a challenge

to the integrity of its core foundation, and that core foundation is

economic. How a society organizes its resources, labor, production, and

distribution is by far the most defining and influential feature of culture.

This is why when people discuss social systems in general they usually

refer to them by their economic modes.

Capitalism, communism, socialism, feudalism, mercantilism, and so

on, each have specific economic properties that temper the entire social

construct. The economic foundation of society is what determines not only

the kind of political and social institutions it has, but also its dominant

cultural values (chapter two). An example of the latter is the cultivation of

consumerism. Consumer culture reflects a sociological adaptation to the

structural needs of our prevailing economic mode. The most optimized

state of market capitalism is one of high product turnover. Without this,

economic expansion would not be possible in technical terms. Therefore,

a culture that is motivated to buy and sell as much as possible is one favorable

to the structure of a market economy (chapter four).

I wish to clarify that throughout this work various terms will be

used to reference our current economic mode. Free market, capitalism,

market, market system, market economy, and market capitalism will be

used in both a detailed and generalized context. To the chagrin of any

traditional economic purists reading this, once this text establishes

its core definition of a market economy, such terms become mostly

interchangeable in use (chapter two). While direct clarification will

still be made at times, the decision to use one term over another will

be contextually subtle. For example, if the context pertains to class

relationships, perhaps highlighting the historical wealth and power

divide between "owners" and "workers," the term capitalism will likely

be used. This is because inherent to that term is the structural distinction

between the two labor classes. In contrast, if the context is about

dynamics related to trade itself, such as general equilibrium theory, I

will likely use the term market economy since it is more specific to the

dynamics of exchange.

There is, however, one term that is very specific and will be used a

great deal. That term is socioeconomic. This refers to economic activity

that connects to social and personal outcomes. It can be used to describe
---
Introduction xix

a cause, or it can be used to describe an effect. A simple example is poverty.

Modern poverty is actually not an inevitable byproduct of humans'

sharing a planet that is supposedly deficient in resources. Rather, poverty

today is a systemic consequence native to our current economic mode. In

other words, its existence is artificial and contrived, not natural. Poverty

is simply a negative externality of the market economy, just as industrial

pollution often is (chapter three). However, while poverty is certainly an

effect of the social system, it can also be separated as a cause. In modern

sociological research, poverty is frequently referenced as a starting point,

or precondition, that leads to a spectrum of socioeconomic problems.

These include premature mortality, violence, social destabilization, epidemic

disease, crime, suicide, mental illness, domestic abuse, and many

other public-health concerns.

Yet, poverty is just one feature of the overall phenomenon of socioeconomic

inequality. Socioeconomic inequality links to a range of detrimental

social problems, many of which are quite surprising (chapter

four). For example, as odd as it may seem, a person living in a generally

wealthy nation, with a smaller income gap, may experience very different

public-health outcomes than a person living in another generally

wealthy country that has a larger income gap. This statistically occurs

even if those people have the same absolute income. The more economic

inequality, the unhealthier a country's people are on average. 2

Put succinctly, socioeconomic inequality is the greatest detriment

to human health and social stability in the world today. It is a systemic

problem that has far-reaching consequences. The New Human Rights

Movement is about ending it or coming as close as we possibly can.

This is not to ignore other issues of social injustice such as racism, discrimination,

or xenophobia; nor is it to bypass growing socioecological

problems such as biodiversity loss, climate change, water pollution, and

other problems that will harm the poor of the world long before the rich.

Rather, The New Human Rights Movement serves to unify these issues.

While a fragmented focus has been required in pursuit of social and

environmental justice historically, there is a dominant through-line that

has consistently been missed or ignored. That through-line is that almost

all forms of social oppression are rooted in socioeconomic inequality. And

most forms of destructive environmental destabilization are rooted in
---
xx

The New Human Rights Movement

the essential nature of our economic mode. These two issues are critical

to understand.

Causality surrounding them may not always be direct or obvious. As

will be discussed, our minds have a hard time understanding extended

chain reactions. We tend to think in a very proximal sense rather than

a systemic one (chapter one). This means when we see, for example, a

company polluting a water supply, hurting a local population, we tend

to blame the company, ignoring the larger structural pressures that may

be occurring beyond that company, motivating or even coercing its decision

to pollute.

The bottom line is that when we trace the systemic chain reactions

of our most detrimental social problems, we almost invariably end up

at the doorstep of the economy. If we expect to achieve new levels of

prosperity, peace, and social justice on this planet, while also stopping

or reversing many detrimental trends currently on pace, then it is about

time we started to expand our sense of possibility. While the future has

yet to be seen, it is safe to say that a "business-as-usual" scenario can

only lead to increasing social problems at this stage of social evolution.

While we have seen great strides over the past 200 years, the value of

those strides is only as good as our ability to maintain them. Social and

ecological trends now show not a path toward further prosperity, but

a path toward social destabilization and an overall public-health crisis

(chapter five).

I wish to reiterate that the real issue of concern today isn't moral; it

is structural. It has little to do with people's general, day-to-day intent

and everything to do with the organizing framework of global society.

All the best intentions in the world are not going to stop the existing

and emerging problems as long as the current socioeconomic framework

remains unaltered. What we have today is an increasingly incompatible

social system, clashing with a world very different than the one it evolved

out of. While it is convenient to assume that we humans, as smart as

we are, will naturally adapt society to new requirements, given current

trends this very well might not be the case. In the same way the abolition

of abject slavery or apartheid didn't occur through polite, rational conversation,

at no time has the march toward social equality and rational

societal adjustment been fluid.
---
As will be detailed, the character of our social system favors preservation

and elitism (chapter three). Social dominance and the facilitation

of social control and oppression is structurally codified in the system;

a normative function born from its inherently competitive, scarcitydriven

ethic. Given this, the odds of any kind of easy transition are slim.

That is because those with great power and wealth, those who have been

rewarded greatly by the system, naturally find cognitive dissonance with

the idea of altering the very mechanism that has rewarded them so disproportionately.

In the words of Frederick Douglass: "Power concedes

nothing without a demand. It never did and it never will. Find out just

what any people will quietly submit to and you have found out the exact

measure of injustice and wrong which will be imposed upon them . . ." 3

Therefore, the need for social movement on the global scale, with

very specific and strategic plans to shift the social architecture, is now

critical to progress. These needed adjustments have already been made

clear by both modern trends in economic or productive means and the

sociological and ecological revelations presented by contemporary science.

The train of thought as to what socioeconomic preconditions will

allow for a highly sustainable and socially just world is virtually selfevident.

How we get there—and if we get there in time—is the ultimate

question.

xxi
---
Chapter One

SYSTEM-BOUND: REALIZING

RELATIONSHIPS

Whatever affects one directly affects all indirectly. For some

strange reason, I can never be what I ought to be until you are

what you ought to be. You can never be what you ought to be

until I am what I ought to be. This is the interrelated structure

of reality. 1

—DR. MARTIN LUTHER KING JR.

W

HEN I WAS ELEVEN YEARS OLD, I was assaulted by a young black

teenager who stole the expensive new bike my mother had recently

bought for me. The gift was fairly rare, likely provided out of guilt from

my parents' recent divorce. At that time, I was living with my father in a

poor urban area of Winston-Salem, North Carolina, having moved there

from a more rural setting years before. The region was a strange mix of

subsidized housing projects and large, circa-WWI Victorian homes in

bad repair. It was basically the outcome of what some have termed "white

flight" from the decades prior. 2 During more racially turbulent times in

America, Caucasians migrated en masse from the cities to the suburbs.

The end result was economic stagnation in the regions left behind. While

the demographic in the area varied, my Italian-German family was certainly

in the minority.

Running home after the attack, bruised and traumatized, I was

relieved to find my older brother. In my emotional state I explained the

situation. Furiously, protective of his younger sibling, he grabbed a golf

1
---
2 The New Human Rights Movement

club and dragged me out the door and into the car. Speeding around

the neighborhood, we ended up in a crowded mall parking lot. Near the

top of a hill, I noticed the silhouettes of a couple of young kids, working

their way up on their bikes against the setting sun. One of the bikes

appeared to have the same spoke structure as mine but I wasn't sure. In

my delirium, I really wasn't able to make much sense of anything.

"Is that him?!" my brother demanded. I didn't know and shied away

from any further pursuit. I just wanted it all to end.

When my father came home from work, I could sense his outrage

as he examined me. As a second-generation Italian immigrant raised in

New York poverty, he had a deep culture of family protection and honor

ingrained in him. As in the clichés of Italian vengeance popularized in

Hollywood Mafia films, I could sense his overwhelming need to "do

something" about what had happened to me. This sense of retribution

was gestural. After all, it was just a kid and no one was going to hunt

him down and harm him. The police were notified and a general lookout

for the young man went on for a few weeks. Though he was a minor, his

being arrested, prosecuted, and penalized would have been the common

path of what we call criminal justice in the United States. He was never

caught, however.

As I will explain in a moment, I'm glad he wasn't.

SYSTEMS THEORY

I have set up this childhood story to contextualize a series of observations.

Before I begin, however, let's review a tool needed to frame this

assessment—something called systems theory.

Systems theory was made popular by biologist Ludwig von Bertalanffy

in the late 1960s. It is a nonreductionist approach to understanding

complex phenomenon, focusing attention on larger-order relationships

rather than smaller parts. 3 There has been a tendency throughout the

evolution of science to fragment fields, examining them independently.

In school, we study biology, mathematics, psychology, sociology, physics,

and other areas generally in isolation. This reductionism is logical in a

preliminary phase of investigation. However, it becomes limiting if those
---
System-Bound: Realizing Relationships 3

Genetics

Physiology

Neurology

Disability

. . .

Biological

HEALTH

Psychological

Beliefs

Neurosis

Skills

Personality

. . .

Social System

Culture

Economic Status

Religion

. . .

Social

BIOPSYCHOSOCIAL (ECO)

Ecological

FIGURE 1A. While incomplete, this conceptual graphic represents the biological,

psychological, and social (biopsychosocial) influences that intersect to define the

health and character of a human being. The larger context of ecology has been

included to emphasize the total influence habitat has on all factors.

fields are not eventually viewed in connection with each other, as they

are in the real world. Systems theory highlights this need for inclusive

comprehension in the search for causality in nature.

As is the case with the study of the human body, understanding the

singular properties of parts only, such as cells or organs, is incomplete.

We need to understand how all those parts work together, producing the

human being as a single system. Yet at the same time the human body

itself is not an island. It is also a falsely detached construct, as much as

we are inclined to separate ourselves in consciousness. A human being is
---
4 The New Human Rights Movement

inclusive to the larger-order ecosystem or habitat from which it evolved

and upon which it relies for survival and health. It is also inclusive to

our manmade social structures and institutions, such as political, legal,

and economic traditions.

The term biopsychosocial is commonly used in the public-health

community to embrace such mixed influences. 4 As conceptualized in

Figure 1a, our biology, our psychology, and the social conditions in which

we live interconnect to define us as individuals. Who we are, what we

think, and the quality of our health is a consequence of these influences.

The figure includes a few listed examples. This attempt to delineate specifics

is very general and incomplete. For instance, while genetics as a

field of study is considered unique within biology, the broader notion of

physiology can be used to embrace both biology and genetics together.

Any attempts at hierarchies of this nature are rather ambiguous, as there

is always overlap when we are trying to isolate attributes. Noted at the

bottom of the figure, ecology has been added as a macro influence overall,

basically extending the social component to the habitat.

As will be explored further, our habitat and its dynamics influence

our social and personal lives in complex ways. For instance, any largescale

environmental disaster could deeply affect our biopsychosocial

condition. An earthquake that creates a water shortage in a city is an

example. This could trigger social disorder, reducing public safety in

terms of both poor sanitation and stress-induced crime. Those suffering

from dehydration could suffer serious physiological harm. Likewise, a

person genetically predisposed to anxiety disorder might have behavioral

reactions that in turn negatively affect others. Some may become

so desperate that they end up drinking unsanitary water, triggering the

spread of disease. This would further increase negative social stress and

other chain reactions.

As expressed by this example, while the general idea of extended

causality and interacting systems may be simple in theory, the technical,

real-world dynamics are overwhelmingly complex. The main focus here

is systems theory as related to sociology. Niklas Luhmann is a notable

historical figure in this field and worth referencing. Luhmann basically

reduces all social-system phenomena to processes of communication. 5

This makes sense since most all societal features, such as economy, law,
---
System-Bound: Realizing Relationships 5

politics, religion, and the like, are ultimately about human interaction.

Each of these subsystems or institutions interconnect to define the largerorder

social system and its dynamics.

This overlap between subsystems, such as how an economy can affect

the well-being of a family, is termed an "intersection" by Luhmann. In

this example, the intersection is between the needs of a family and the

tradition of economic organization. He refers to everything outside of

such interacting (or unifying) systems as the "environment," with this

environment housing the delineated, intersecting systems perceived. A

simple analogy is to consider Earth in the void of space. Given the vast

distances between celestial bodies, we experience the Earth as a "closed"

system, composed of endless subsystems, such as oceans, forests, and

even the human species. In this analogy, space would be the environment,

assuming we ignore the sun and other factors actually affecting

Earth in an even larger relationship. Necessarily, the study of systems

is a process of isolating them on some level, even though the intent of

systems theory is the daunting task of comprehending the widest range

of intersections, seeking as much unification as possible.

How the human being intersects with his or her environment,

whether social or ecological, is fundamental to all human sciences. A

core observation is that we appear to be built with certain biopsychosocial

propensities and expectations. In other words, we have hard-wired

aspects linking our biological and psychological selves to the social

condition. We have evolved not only basic physiological needs but also

psychological ones built around our social nature. Just as we completely

depend on adults for survival in the first years of life, evolution has

wired us for social connection and bonding in deep and profound ways

throughout the life cycle. 6

Youth development in general is no doubt the most critical phase of

life. For example, in the thirteenth century, King Frederick II of Sicily

conducted a wildly primitive experiment. Curious what the "natural

language" of human beings may be, he commandeered some children

from his kingdom and had them raised in complete isolation for years.

Each child was given its own room and all the needs assumed required

for survival, such as food, clothes, warmth, etc. However, no one was

allowed to talk or communicate with them in any meaningful way. In the
---
6 The New Human Rights Movement

meantime, the king and his associates speculated on what language the

children would eventually speak. Would it be Greek? Would it be Italian?

Unfortunately, the experiment was inconclusive as all the children died

of what is called stress or psychosocial dwarfism. 7 Also known as Kaspar

Hauser Syndrome, this is the phenomenon in which extreme emotional

deprivation leads to endocrinological disturbances that harm development

and can even lead to death. 8 The same phenomenon has been witnessed

with feral children, who are often abused through social isolation.

Some of these children can never learn to speak, in fact, because the

critical learning period for language attainment was also never utilized. 9

In order to achieve healthy outcomes, there are things that should

occur during child development and things that simply should not. 10 If a

child is severely abused or traumatized, there is an increased likelihood

that that child will develop destructive tendencies as an adult or suffer

health complications. 11 In contrast, supportive emotional bonds can

have powerful, long-term positive effects on children, even in infancy.

For instance, caring for infants in very deliberate and physical ways has

been linked to stronger immune systems. 12 A prominent study conducted

by Tiffany Field of the University of Miami School of Medicine found

that simply touching premature infants each day in neo natology wards

sparked growth-hormone reactions that increased development rates

by almost 50 percent, along with a host of other positive outcomes. 13

Such findings coincide with a large body of research demonstrating the

biological importance of positive human (or social) connection.

Extending this logic, if aspects of adult well-being and behavior

can be linked to childhood treatment, the question then becomes what

factors or conditions set the stage for childhood mistreatment. Given

the intersecting nature of things, both children and those responsible

for them are subject to larger-order socioeconomic conditions. If those

conditions aren't supportive to such nurturing, then we have a problem.

For example, if a family lives in extreme poverty, the kind of social and

material support needed to raise children properly simply may not be

possible. It is here where the term precondition is worth introducing.

A precondition is defined as something that comes before or is necessary

to a subsequent result. For example, a precondition to driving a

car would be obtaining a driver's license. Medically, the term is used to
---
System-Bound: Realizing Relationships 7

denote factors that may lead to a statistically probable result, such as

smoking tobacco leading to lung cancer. Sociologically, the term is used

the same way. As opposed to individual health, however, the context

is public health: health outcomes occurring on a population level. For

example, as will be discussed in detail in chapter four, poverty is highly

determinant of many negative outcomes, including child abuse and

neglect. While society tends to view parents as the starting point of these

problems, as does the legal system, this inclusion of social preconditions

extends the chain of causality. For example, researchers at the American

Academy of Pediatrics directly linked an increased unemployment rate

to child maltreatment. 14 In this case, this precondition, unemployment,

is being correlated to child abuse or neglect. Unemployment does not

literally cause child maltreatment, but rather there is a statistical correlation

between the condition of unemployment and chain reactions

linked to it. Extending the example, the precondition of unemployment

has actually been shown to correlate to a wide array of problems. In the

United States, between 1991 and 2000 the annual unemployment rate

went from 6.8 percent to 4.8 percent. According to a study by the Uniform

Crime Report (UCR), that same period produced a 42.9 percent

reduction in murder, a 33.6 percent decline in violent crime, and a 28.8

percent reduction in property crime. 15 A 2015 study focusing on sixtythree

countries found that about 46,000 suicides were associated with

unemployment in 2008, marking a dramatic rise related to the global

financial crisis. 16 These people were stressed to the point of mental illness,

predisposed or not.

In academic literature the terms rational and structural are often

used, with the former referencing isolated human decisions and the

latter referencing decisions manipulated by larger-order influences.

Such structuralist correlations linking environmental preconditions to

behavior and health are also replete throughout modern sociological

and epidemiological literature. Yet policy makers have mostly ignored

such informative research on how social conditions lead to detrimental

public-health outcomes. There are some exceptions where attempts

to limit negative social preconditions exist, such as the public-welfare

systems of Nordic countries; however, the world generally neglects the

concept. As will be explored throughout this work, our social system,
---
8 The New Human Rights Movement

despite any positive intentions and degree of supportive success, is at the

same time the driver of extreme and unnecessary negative public-health

outcomes. But the dominant political, legal, and economic institutions

of society largely ignore or are oblivious to the depth of such problems.

Overall, I find that there are two reasons for this.

First, regardless of the science, this kind of thinking is very counterintuitive.

We tend to perceive in very linear and superficial ways, as

opposed to broader, more thorough ways. This contrast could be termed

localized perception vs. systems perception. Localized perception is what

you see directly around you, drawing conclusions and building associations

from the incomplete sensory data coming through your five-sense

reality. Systems perception or systems thinking is about understanding

intersecting processes and chain reactions. Unfortunately, such thinking

does not come naturally to us. We tend to see the world as a façade,

perpetuating illusions of reality.

In fact, I would argue that this perceptual flaw is at the root of most

all superstitions and false theories of the past. For example, ancient societies

would look up at the sky and watch the sun, moon, and stars appear

to "circle" the "flat" Earth. Why? No other reason than that it simply

looked that way. Likewise, as we gaze outward it is also easy to forget that

the light we see is only a tiny portion of the electromagnetic spectrum.

It took the creation of advanced tools and more-scientific approaches for

us to witness and better understand these once-hidden features. Even the

most commonsense perception you have of yourself is largely an illusion.

We experience our bodies as closed, free-moving systems. Our minds

have a powerful sense of individuality and free agency. Yet the air we

breathe, the gravity that defines our movement, the sun that powers life

itself, and the culture that orients our values are just as much a part of

us as the arms we extend. Our biopsychosocial nature primes and alters

our thoughts, reasoning, and reactions, putting into question the degree

of free will we think we have. 17

Likewise, research shows how difficult it is for us to think in terms

of probabilities. Probabilistic assessment is a critical mechanism of scientific

evaluation and the understanding of complex, real-world interactions.

18 Today, we have firm understandings about social preconditions

that lead to probable outcomes such as terrorism, violence, property
---
System-Bound: Realizing Relationships 9

crime, family abuse, mental disorders, sexual perversion, conflict, drug

addiction, and a host of other behaviors once relegated to the realm of

free will entirely. Without statistical study at the population level over

time, many such connections would remain invisible, just as the link

between smoking and lung cancer was once hidden. Similarly, we also

tend to operate with heuristics in our everyday lives, using quick means

to make decisions based on personal experience rather than through

detailed analysis. 19

All of this is to say that our minds naturally gravitate toward very

narrow and superficial thinking. Only with the advent of science has our

comprehension become more refined. Socially, we have come a long way

from simply declaring a person evil because of an offensive act. Today,

we have a better understanding of the systemic preconditions that create

aberrant human behavior as a chain reaction. 20 As time has moved

forward, we have continued to improve our tools and models, refining

our understandings, just like we finally realized that the Earth was not

flat and the sun did not orbit around it.

The second reason society tends to ignore the relationship between

social conditions and public well-being is because this knowledge

clashes with the nature of the established political, social, and economic

order. This order includes the major philosophies and belief systems

that underscore such dominant traditions, including theistic religion.

Religious thinking is fundamentally nonsystemic, as it tends to separate

humans from the natural world, focusing on individual behavior and

human privilege. It implicitly assumes people have total free will and

are isolated and responsible in their actions without any connective

nuance. This makes sense since at the time most fundamental religious

texts were written there was no real understanding of these systemic or

scientific relationships. This kind of thinking is yet again a flaw of localized

perception, as is the case with the overall idea of theism in general.

To see ourselves as connected to and the same as everything else in the

world, as science has shown, is a very unromantic detour from ancient

belief systems determined to convince us that we are special. Hence,

systems thinking puts into doubt the major foundations of religious

belief, eliminating the idea that human beings have a privileged position

in the universe.
---
10 The New Human Rights Movement

Secularly, the established socioeconomic-political system has been

built upon similar archaic and superficial assessments. For example,

our economy is premised on a very early stage of civilization. As will

be expanded upon in chapter two, the economy narrowly focuses on

individual behaviors, without any real consideration of larger-order or

aggregate consequences of such behaviors combined. For example, when

people buy and sell in the market, they generally do so on the basis

of their personal, short-term preferences. The collective result of these

actions can create negative outcomes or chain reactions such as industrial

pollution or resource overshoot that have nothing do to with the

intent of individuals acting in the market. This lack of comprehension,

rooted in a truncated or incomplete understanding of systemic economic

outcomes, creates constant socioeconomic disorder, as we continue to

see throughout the modern world. The same goes for our political and

legal methods. These practices were also born from periods that had very

little scientific foundation, assuming highly localized or truncated ideas

about the human condition. Today, intellectual progress has literally

left the socioeconomic-political system behind. A massive sociological

cultural lag has been occurring for about a century now, wherein

modern understandings that can dramatically improve human life go

utterly unincorporated.

This is not hard to understand since power systems inherently fight

interfering change, as noted earlier. After all, large changes to the social

system could mean disturbance to those who benefit disproportionately,

along with those in political control. The truth is that if the potential

for positive change were truly realized, the entire architecture of society

would be forced to shift dramatically. As such, there should be little

wonder as to why modern sociological revelations have gone mostly

ignored by policy makers.

FALSE CAUSALITY

With this systems framework in mind, let's now return to my story. As

stated, from the standpoint of the criminal justice system, my assailant's

being arrested, prosecuted, and penalized would have been the
---
System-Bound: Realizing Relationships 11

traditional path. As a minor, he likely would have landed in juvenile

detention for the aggravated theft of that $200 bike. The United States

not only incarcerates more of its citizens than any country in the world, it

incarcerates more of its youth than any other country in the world. 21 Racism

is literally built into the entire system, as almost half of those incarcerated

are of African descent, with black youths six times more likely to

be incarcerated than white youths for the same offenses. 22 As civil rights

lawyer Michelle Alexander notes: "[Y]outh of color are more likely to

be arrested, detained, formally charged, transferred to adult court, and

confined to secure residential facilities than their white counterparts." 23

The result of this highly punitive and bigoted system is the destruction

of children's lives, especially black and minority children, since

statistics show that youth incarceration actually increases the likelihood

of future offenses, on average. A 2013 study produced by Massachusetts

Institute of Technology found that: "Estimates based on over 35,000

juvenile offenders over a ten-year period from a large urban county in

the US suggest that juvenile incarceration results in large decreases in the

likelihood of high school completion and large increases in the likelihood

of adult incarceration." 24 When you statistically examine the punitive

outcome affecting black males in America, combining recidivism rates

among both juveniles and adults, you begin see that the US criminal

justice system is a machine that harms anyone subject to it, and specifically

chews up and spits out blacks and minorities, ruining countless

lives. The system also doesn't end at incarceration. Federal convictions as

adults can remove possibilities for future employment, remove the right

to vote, generate housing discrimination, lead to the denial of educational

opportunities and loans, and remove access to social welfare benefits,

along with other legal forms of what can only be called oppression. 25

In light of these statistics, coupled with how the peak of this highly

punitive approach was occurring in the early 1990s as far as juvenile

arrest and incarceration are concerned, I can honestly say I'm glad my

offender wasn't caught. While I certainly didn't enjoy his pummeling or

the loss of my bike, the probability that his life could have been set on a

path of destruction through a barbaric and structurally racist criminal

justice system is much more offensive to me. Kids make mistakes and

a great deal of compassion is needed to correct them. The US criminal
---
12 The New Human Rights Movement

justice system has proven not to be a means of reform but rather a mechanism

to exacerbate many problems. Also, since the system has been

shown to actually breed violence, as will be touched upon in a moment,

it's possible that other people could have been victimized as a result of

his exposure to such punitive conditions.

All this begs the question of how such a distorted penal system came

to be and why the black and minority population have been so disproportionately

victimized by it. What cultural, socioeconomic, and historical

influences have intersected to produce such an institution? At this

time of writing, not only have the US criminal justice system and its

systemic racism been under attack by activists, but there is great outcry

over repeated acts of police brutality against blacks and minorities as

well. Organic grassroots organizations such as the Black Lives Matter

movement, coupled with older, more established rights groups such as the

ACLU (American Civil Liberties Union) and NAACP (National Association

for the Advancement of Colored People), have made these concerns a

top priority in public appeal. Of course, the efficacy of any policy proposals

can only be as good as the cause and effect understood. To consider

this further, let's first review the basic premise of criminal justice itself.

While approaches vary from country to country, the idea that operant

negative conditioning will deter unwanted behavior is the central

theme. In other words, punishment or the threat of punishment is the

assumed means of control. While the term "rehabilitation" is often used

in regard to incarceration or parole, it's hard to take that term seriously

when the mechanism is mostly punishment. While it is true that operant

conditioning works to a degree, as in the case of a child who learns not

to touch a hot stove after being burned, the approach is incomplete. 26

It is once again localized, not systemic. The justice system generally

ignores the social preconditions that lead a person to commit crime. The

consideration of how economic and societal pressures distort human

behavior, or perhaps even make an entire minority demographic vulnerable

to legal persecution, is virtually nonexistent. Instead, a superficial

process of individual judgment occurs, with no consideration for one's

life experience or social condition.

While removing behavioral threats from society may be required,

just as the need arises to quarantine a person with a highly contagious
---
System-Bound: Realizing Relationships 13

disease to prevent its spread, the overall premise of legal judgment is

fundamentally shortsighted. In the words of Bertrand Russell:

When a man is suffering from an infectious disease he is a danger

to the community, and it is necessary to restrict his liberty

of movement. But no one associates any idea of guilt with such

a situation. On the contrary, he is an object of commiseration to

his friends. Such steps as science recommends are taken to cure

him of his disease, and he submits as a rule without reluctance

to the curtailment of liberty involved meanwhile. The same

method in spirit ought to be shown in the treatment of what is

called "crime." 27

Such a medical or public-health perspective is mostly missing in legal

practice, especially in the United States. There are a few nations that have

worked to incorporate a more humane approach, such as the Nordic

countries. Sweden has one of lowest incarceration and recidivism rates

in the world, being less punitive and more therapeutic in its methods.

In fact, as of 2015, Sweden has actually been closing prisons, in stark

contrast to the United States. 28 With 65 per 100,000 Swedish citizens

incarcerated vs. 700 per 100,000 in the US, there is a clear difference at

work. 29 However, that difference is not simply how criminal justice or

rehabilitation is administered. The Nordic counties have also adjusted

their market economies to include vast social-welfare safeguards, reducing

socioeconomic stress. The social condition there is very different than

in America, which has perhaps the weakest social-welfare system of any

industrialized nation.

While effective rehabilitation is important, real success lies in preventing

a criminal violation to begin with. This means the proper social

preconditions that help ensure human well-being and the avoidance of

criminal or offensive behavior must be in place. Hence, if the goal of society

is to stop such behavior, the main focus can only be socioeconomic

reform, not punitive threat. As research has shown, reducing negative

social stress is critical, for such pressures can alter one's self-control.

Consider an unemployed American minority male living in a poor

area with a felony on his record and a bad credit rating. His circumstances
---
14 The New Human Rights Movement

make it difficult to find a decent job, get a loan, or generally take care

of himself or his family. Backed into a corner, examining the options

in his region, he may resort to selling illicit drugs. He may dislike it. He

may morally disagree with it. Ultimately, though, the instinct to survive

will trump ideology and ethics when stress becomes high enough. 30 Put

another way, moral principles, as will be discussed in the next chapter,

are really only useful when pressures to violate such principles are low.

That understood, let's now home in on the highly punitive US criminal

justice system, including its disproportionate focus on blacks and

minorities. As stated, the US maintains the most punitive attitude in

the world when it comes to criminal prosecution and incarceration. 31

This includes juveniles as well as adults. 32 It has indeed been found that

these harsh practices actually increase recidivism as compared to other

nations. 33 The harsh nature of incarceration takes a traumatic psychological

toll and effectively the opposite of rehabilitation appears to be occurring

overall. Dr. James Gilligan, prison psychiatrist and former director of

the Center for the Study of Violence at Harvard Medical School, actually

refers to US prisons as "graduate schools for crime." He stated:

Prisons have often been called "schools for crime," I'd call them

graduate schools for crime. People often have to become violent

in order to survive in them. Or, even if they're not attacked

by others, they are subjected to conditions of degradation and

humiliation and intimidation and threats that I think might

drive the most saintliest of people . . . to become violent in

response. 34

The US has a disproportionate prevalence of overall criminal behavior as

compared to other developed countries. In 2011, there were 12,408,899

arrests. 35 This is the highest in the world; the second highest, Germany,

had 2,112,843. 36 That translates to about 4,000 per 100,000 in the US vs.

2,300 per 100,000 in Germany, almost twice the rate. Some argue that

America's signature draconian drug laws alone account for this spread,

but this is incomplete. 37 Yet, if we remove drug arrests (1,531,251) entirely,

it only brings the total down to 10,877,648. This makes the ratio 3,500

per 100,000, only a mild difference on the whole. Today, nearly one out of
---
System-Bound: Realizing Relationships 15

every 100 adults is in prison or jail in the US, five to ten times more than

in Western Europe and other democracies. 38 This particular feature of

imprisonment indeed blossomed with the application of highly punitive

and intolerant judicial practices peculiar to the "tough on drugs" laws

that burgeoned from the 1970s onward.

I wish to point out that while the punitive attitude is a serious policy

problem, it doesn't change the fact that America still produces more overall

crime than any other First World nation. There is some speculation

as to why this is, but evidence points in part to the lack of social welfare,

as touched upon before. Another reason appears to be inequality itself,

something the US also leads the way in. As will be addressed later in

this text, socioeconomic inequality is a powerful social destabilizer—and

the more inequality in a society, the more problems, including violent

crime, tend to occur.

As for how black and minority culture have been disproportionately

affected, there is a systemic problem at work. Today, one out of every

three black men will find himself in prison at some point in his life. 39 An

extensive 2014 report on discrimination in the criminal justice system,

Falling Further Behind: Combating Racial Discrimination in America,

stated:

Discrimination and racial disparities persist at every stage of the

U.S. criminal justice system, from policing to trial to sentencing.

The United States is the world's leading jailer with 2.2 million

people behind bars. Perhaps no single factor has contributed

more to racial disparities in the criminal justice system than

the "War on Drugs." Even though racial/ethnic groups use and

sell drugs at roughly the same rate, Blacks and Hispanics comprise

62 percent of those in state prisons for drug offenses, and

72.1 percent of all persons sentenced for federal drug trafficking

offenses were either Black (25.9 percent) or Hispanic (46.2

percent), many of whom often face harsh mandatory sentences. 40

Generally, racism and discrimination are observed as fairly straightforward

phenomena. We understand them as something of deliberate intent

by clearly bigoted mentalities and actions. But what is occurring in the
---
16 The New Human Rights Movement

US criminal justice system is different. The intersection of historical,

socioeconomic, legal, and cultural factors has created a dynamic that

generates racist outcomes without directly racist intentions. In other

words, it isn't the outcome of a sea of overtly bigoted police officers,

lawyers, judges, parole officers, and other personnel. Rather, it is a confluence

of America's racist historical baggage, the primitive legal logic of the

justice system itself, and cultural bias that is subconsciously generated

by the repetition of disproportionate minority arrests, along with the

socioeconomic reality of minority poverty and inequality. These four

preconditions ensure destructive and punitive outcomes against blacks

and minorities throughout the system.

The 1960s civil rights activist Stokely Carmichael was perhaps the

first to popularize this kind of systemic observation. Coining the term

institutional racism, he stated: "Racism is both overt and covert. It takes

two, closely related forms: individual whites acting against individual

blacks [and] in the operation of established and respected forces in the

society [that] receives far less public condemnation than the first." 41 He

continues: "This is not to say that every single American consciously

oppresses black people. He does not need to. Institutional racism has

been maintained deliberately by the power structure and through indifference,

inertia and lack of courage on the part of white masses as well

as petty officials." 42

The concept of institutional racism is an application of systems theory

to express how racist outcomes occur without directly racist intentions.

While Carmichael's stated context is a bit more narrow in focus,

the same structuralist logic is critical to understanding not only the

bigotry built into the US criminal justice system, but also the overall

phenomenon of group oppression in the world today.

SYSTEMIC RACISM

As will be discussed further in chapter three, there is a kind of structural

bigotry in society that links to our economic system. As in the prior case

study, trying to understand the systemic factors that have culminated in

a bigoted criminal justice system in America, the economic attribute is to
---
System-Bound: Realizing Relationships 17

be found as powerfully influential. The other factors mentioned—legal,

historical, and cultural— actually all link back to political economy as

well, both in the present and in the past.

As for the historical relationship specifically, while many countries

employed abject slavery long ago, the focus on race-based slavery, with

the condition of servitude even passed from parent to child, was fairly

unique to the emerging US of the seventeenth century. 43 This set in

motion a cultural divide that differs from such divides in other nations.

The long-term result is a turbulent process of societal integration. From

abject slavery to segregation to the spectrum of civil rights abuses, the

racist baggage of US history is visceral and entrenched. And as much

as many assume or demand a "color-blind" society in the twenty-first

century, the truth is that American culture is still trapped in a systemic

unfolding that goes back centuries.

Yet seldom does one ask how race-based slavery came to be. The

prevailing view often taught in elementary school is that white Europeans

enslaved black Africans because they simply thought Africans were

inferior. While the idea of white superiority is certainly documented,

especially during the late nineteenth and early twentieth century with

blacks deemed "natural slaves" through what is now termed "scientific

racism," this isn't the real origin of American slavery. 44 Rather, American

slavery was a market-based economic decision to secure cheap labor and

profitable investments. In the words of sociologist Robin M. Williams Jr.:

In a very basic sense, "race relations" are the direct outgrowth

of the long wave of European expansion, beginning with the

discovery of America . . . [T]he resulting so-called race relations

had very little to do with "race"—initially it was historical

accident that the peoples encountered in the European expansion

differed in shared physical characteristics of an obvious

kind. But once the racial ideologies had been formed and widely

disseminated, they constituted a powerful means of justifying

political hegemony and economic control. 45

While eons of slavery have been common by way of war, conquest, or

debt, justification by physical appearance alone was little practiced until
---
18 The New Human Rights Movement

the time of the American colonies. Upon settlement, white European

indentured servants were mostly used. However, they had fairly short

multiyear terms and became limited in number as time went on. Eventually,

African slaves were sought when it was obvious they were better

business investments than the indentured Europeans. As explained by

professor of sociology William Julius Wilson:

The conversion to slavery was not only prompted by the heightened

concern over a cheap labor shortage in the face of the rapid

development of tobacco farming as a commercial enterprise and

the declining number of white indentured servants entering the

colonies, but also by the fact that the slave had become a better

investment than the servant. As life expectancy increased,

resulting from the significant decline in the mortality rate from

disease, planters were willing to finance the extra cost of slaves.

Indeed, during the first half of the 17th century, indentured labor

was actually more advantageous than slave labor. 46

During the initial stages of African slavery in the colonies, racial bias

wasn't much of an issue. Black slaves worked alongside white indentured

servants as equals. They even intermarried and had common social distinctions.

This was before the artificial construct of "race" was legally

created. As detailed by civil rights professor Carter A. Wilson:

Color prejudice against Africans was rare in the first two-thirds

of the 17th century. Legal distinctions between black slaves and

white servants did not appear until the 1660s. At first, the plantation

owners relied more on European indentured servants

than African slaves . . . Initially, attitudes and behavior toward

the African slave differed little from those toward the European

servant, except that the servant served only a short-term, usually

seven years, and the slave generally, but not always, served for

life . . . Interracial marriages were common in the first half of

the 17th century and . . . at this time they provoked little or no

reaction. Christian status and Christian morals were important.

Race was not. 47
---
System-Bound: Realizing Relationships 19

The true dawn of American racism was not slavery itself but how the

frame work of slavery was eventually supported and justified. The full

transition from temporary white servants to lifetime-bound black slaves

started around the last half of the seventeenth century, with enormous

population increases by way of the global African slave trade. Expanded

commercial agriculture in the Southern states specifically created

demand. 48 Around this time, public policy started to change with the

specific interest to create division between existing white servants or poor

whites and black slaves. Historian Edmund S. Morgan notes that Indians

were also being enslaved and alienated in the same way, referencing the

actions of a government assembly in Virginia. He stated:

[T]he assembly deliberately did what it could to foster contempt

of whites for blacks and Indians . . . In 1680 it prescribed 30

lashes . . . 'if any Negro or other slave shall presume to lift up

his hand in opposition against any Christian'. This was a particularly

effective provision that allowed servants to bully slaves

without fear of retaliation, thus placing them psychologically on

par with masters. 49

It was this tactic of social division, separating black slaves from poor

whites, that served as a form of security through hierarchical dominance,

stabilizing the economic practice. Over time, various excuses for black

inferiority were concocted. These ranged from being non-Christian heathens

to being "beasts of burden." This reorientation slowly generated a

culture of bigotry and dominance that echoes to this day. So, in a sense,

racism has effectively been a system reinforcer to optimize slave labor

by way of sociological manipulation.

Moving on to the legal relationship, the evolution of legal statutes

in America has obviously included very racist decrees linking back to

slavery once again. The interest in controlling the black population as

conditions moved away from slavery has been obvious. By the time of Jim

Crow laws in the late nineteenth century, segregation served this means,

locking black society into certain areas, bound to grinding poverty and

consistent political and economic oppression. Such communities were

easily and routinely victimized by a judicial system, controlled by whites,
---
20 The New Human Rights Movement

that allowed blacks very few truly recognized rights. By the time activists

were able to force alleviation of direct legal oppression by the midtwentieth

century, the sociological damage already done was substantial.

Here you had a large, poverty-stricken minority population, isolated

in poor regions with limited economic opportunities. Not only was the

cultural baggage from generations of white oppression lingering, but the

black community was faced also with internal destabilization due to a

lack of basic means. By the 1970s, there was strong outrage and general

disorder. Sensing this, a paranoid white political establishment gravitated

toward policies to further control the black community. Richard

Nixon's chief of staff, H. R. Haldeman, noted in his diary that Nixon held

highly racist views. He wrote that Nixon "emphasized that you have to

face the fact that the whole problem is really the blacks. The key is to

devise a system that recognizes this while not appearing to." 50 Nixon

is famous for starting the War on Drugs in 1971, which was eventually

escalated by Ronald Reagan in the 1980s and then Bill Clinton in

the 1990s, resulting in an enormous, disproportionate increase in black

arrests and overall lower-class minority incarceration. 51

Most serious researchers today are hard-pressed to view the origins of

the American drug war as anything but a war, covertly rooted in policy,

fought against the black community, the lower class, and subversive counterculture

youth in general. This isn't to say the drug war was entirely

deliberate in its targeting. But it is easy to see how policy makers could

find ways to justify such actions in euphemistic ways, with the thought of

social control and systemic oppression clearly in the back of their minds.

After all, during the time of the drug war's conception, the two great

forces proving they could alter the political establishment were youth

and minority culture. The 1960s had some of the most effective social

and civil rights movements in history. It is not out of the question for the

political establishment to see this subculture as a threat, seeking means to

deflate its power. As will also be discussed in chapter two, such dominance

patterns have been constant throughout social evolution for a long time.

In sum, the legal system morphed from direct racial oppression to

indirect by targeting the outcomes of historical and present socioeconomic

inequality, rather than any specific group. Between the draconian

drug laws and the effects of destabilizing poverty and deprivation in
---
System-Bound: Realizing Relationships 21

the black community, law enforcement could easily fill its arrest quotas.

Racial profiling doesn't need to be police policy when all police see,

day in and day out, is minority crime. They have been conditioned by

superficial experience to associate black culture with criminal behavior.

This association can be largely unconscious, in the same way the white

community has grown to associate the young black male with crime due

to decades of biased portrayals in the news media. 52

Then we have cultural relationships. Returning to my story, after

my attack I found myself reacting nervously when I would see a man of

color walk toward me on the street. It was an irrational fear, emotionally

triggered, as I had understood even at my young age that race wasn't real.

Before my attack, this irrational fear wasn't an issue. Something snapped

in my brain because of the trauma. While the effect went away after a

few years, particularly when I attended a mixed-race, international art

school from the age of thirteen on, I realized later that it wasn't just the

traumatizing attack that created the effect. It was the overall social climate

of paranoia and racism in the American South that primed me for

the reaction, specifically the highly negative stereotyping of the young

black male.

For instance, there was a popular television show in my youth called

COPS. This show featured white police arresting poor black men constantly.

At the same time, news footage I would see of American prisons

always showed a sea of dark-skinned people, while depictions of crime

in drug-infested black ghettos painted a primitive, uncivilized picture of

black society. Even in my elementary school, there was a subtle segregation,

with black youths often undergoing more scrutiny and accusation

than white youths. These children were also likely to underperform on

tests. Such outcomes are troubling because they again reinforce superficial

and bigoted assumptions. If people see statistics such as black children

performing worse on academic tests, black adults arrested and

incarcerated more, or higher black unemployment, they may superficially

gravitate toward assuming it is "just the way they are," having no

other information. Our localized perception fails us in this way. Rather

than looking at the condition the culture finds itself in as cultivated

over time by such former pressures as abject slavery and Jim Crow segregation,

compounded by ongoing economic deprivation and poverty, it
---
22 The New Human Rights Movement

isn't difficult to see how a culture of misguided bias can be created and

perpetuated, even without malicious intent.

Now, returning to the issue of economy, the central argument here

is that the economic foundation of our society is at the root of the problem.

The early economic decision to exploit Africans for labor and profit

helped give birth to the nature of our modern criminal justice system,

resulting in a self- perpetuating machine of bias and bigotry. It is not just

the generational tradition of racism in the white legal community that

has created this pattern, but the ongoing socioeconomic inequality that

has been common to the black community ever since. This has created

a feedback loop that condemns the natural outcomes of socioeconomic

deprivation (i.e., crime, lack of education), further securing systemic

oppression of the black (and minority) community by law enforcement

and even society at large.

A culture of aberrancy has also been groomed, such as the modern

epidemic of black-on-black gang behavior in inner cities. While superficial

assumptions condemn gang behavior, blaming the people involved,

the reality is that this behavior has been the culmination of intersecting

socioeconomic pressures over generations. In short, the consequences

of systemic racism are now producing preconditions that ensure the

future preservation of systemic racism. It is a cycle, and this cycle can't

be broken in a real way without the removal of poverty and low socioeconomic

status.

Dr. Martin Luther King Jr. understood this. While remembered

mostly for his help in enforcing black voting rights, ending segregation,

and promoting the Gandhian vision of nonviolent civil dissent, he also

led an antipoverty movement few seem to be aware of. Before his death,

King was working on an Economic Bill of Rights to basically end poverty

in the United States. 53 He knew that all the prior civil rights successes to

help black culture prosper would not be as effective if the perpetuation

of poverty continued. The systemic consequences of poverty were too

strong, preserving bigoted reactions and oppression. To put it another

way, the black community, no matter what legal or civil rights it obtained,

was still locked into a tragic cycle of discrimination, and poverty was the

binding factor. King made his position clear in his final book, Where Do

We Go From Here: Chaos or Community? He wrote:
---
System-Bound: Realizing Relationships 23

We have come a long way in our understanding of human motivation

and of the blind operation of our economic system. Now

we realize that dislocations in the market operation of our economy

and the prevalence of discrimination thrust people into

idleness and bind them in constant or frequent unemployment

against their will. The poor are less often dismissed from our

conscience today by being branded as inferior and incompetent.

We also know that no matter how dynamically the economy

develops and expands it does not eliminate all poverty. 54

His solution was direct. Since the market system will unfold as it does,

perpetuating its signature feature of economic inequality, the simplest

approach was to install a universal minimum guaranteed income to

counter it. He stated: "I am now convinced that the simplest approach

will prove to be the most effective—the solution to poverty is to abolish

it directly by a now widely discussed measure: the guaranteed income." 55

He also added in the same spirit: "For years I labored with the idea of

reforming the existing institutions of society . . . a little change here

and a little change there, but now I feel differently. You have to have a

reconstruction of the entire society, a revolution of values." 56 Universal

minimum guaranteed income means each citizen gets paid to live, with

no job requirement. Whatever the poverty line may be, each person is

supplied with that income directly, ending poverty.

While King's solution was not systemic in the sense of seeking to

change the actual mechanisms creating poverty itself, his understanding

of the consequences of poverty certainly were. However, as this text

will argue in later chapters, while patches such as universal minimum

guaranteed income are just as relevant and needed today as they were in

King's time, they are still only one step in the right direction, seeking,

as he put it, "a reconstruction of the entire society."

PRECONDITIONS

Now, with the framework of systems theory in place, coupled with this

background knowledge of the historical, cultural, and economic roots of
---
24 The New Human Rights Movement

institutional racism, and along with our understanding of how poverty

and socioeconomic inequality are fueling the residual oppressive condition

today, I will return to my story. Let's put ourselves in my assailant's

shoes as a young black teenager existing as an extension of historical

African American oppression. I would like to consider possible preconditions

that may have guided him to commit the assault and theft.

The first and most obvious precondition is poverty itself, a characteristic

inherent to the neighborhood and, judging by his torn and

dirty clothes, likely his economic state. Perhaps he needed the bike for

transport or wished to sell it for money. These are fairly obvious and

common considerations, so I won't belabor them.

A second, less obvious possibility could be an interest in social status.

It was clear that the bike was of high value and, as we all know,

appearances are given great weight in modern culture. Social status has

become synonymous with material wealth while the appearance of poverty

implies personal failure.

Interesting studies conducted on class inequality found that highstatus

(or high-priced) goods are of more interest in places with larger

wealth gaps between the rich and poor. 57 Such research also notes how

people in a more unequal region, closely witnessing material wealth

outside their reach, are more prone to risky behavior to fit in or try

to match others' status symbols. Psychologists have referred to this as

"wealth signaling" or conspicuous consumption. 58 On one end, we see

strained purchases of high-status goods that have little to do with real

human need by those who simply cannot afford them, including people

going into debt simply to keep up appearances. On the other end, we see

violent crimes of material lust, such as a teenager killing another for a

pair of high-dollar sneakers or an expensive designer jacket. 59

Underlying this tendency, as touched upon earlier, is our deeply social

nature. Generally feeling connected, respected, and accepted by others to

some degree is not a subjective preference; it is a hard-wired emotional

requirement for good health. 60 How this expresses itself may be tempered

by an individual's characteristics, but it is generally a universal phenomenon.

Being without a sense of social inclusion, humans can become

neurotic, just as our non human primate brethren have also been shown

to do in controlled experiments. 61 As independent as we may feel, social
---
System-Bound: Realizing Relationships 25

connection is a deep need, built directly into our evolutionary psychology.

If connection is not obtained, imbalance and biopsycho (biological–

psychological) distortion can occur. 62 The effects of exclusion, disrespect,

and overall social-class hierarchy can produce a spectrum of negative

outcomes. Feelings of being marginalized or of having lesser value than

others have been correlated with mental illness, violence, crime, heart

disease, and a host of other public-health issues. 63 It is just as much physical

as it is psychological, meaning people can be in social settings but still

feel excluded owing to status perception and other influences.

The materially obsessed consumer behavior we see today is really

less about a given item's purpose and more about what that item means

in terms of societal bonding. In effect, mere wants have been artificially

turned into emotionally demanded needs by the drive for social inclusion.

While many economists have argued that this insatiable desire is

simply part of our shared human nature, it appears this tendency is only

human nature in the sense of a shared social reflex, not some uncontrollable

compulsion for material gain. As will be further explored later

in this text, such materialism is really a byproduct of the nature of our

economy itself, structurally induced.

At the same time, this pattern also produces a kind of perpetual

human dissatisfaction. 64 In the words of psychologist David G. Myers,

"Compared with their grandparents, today's young adults have grown

up with much more affluence, slightly less happiness and much greater

risk of depression and assorted social pathology . . . Our becoming much

better off over the last four decades has not been accompanied by one

iota of increased subjective well-being." 65 Because social connection and

self-worth has been partly relegated to relative material success, people

find themselves on what some social psychologists label the hedonic

treadmill. 66 The more wealth people generate in this environment, the

more they tend to expect things, thus reducing their capacity to be happy

with less. The effect also trickles down in a socioeconomically stratified

society from the public perception of the opulent, creating a reduced

sense of inclusion. It has been exacerbated in more recent times by the

accelerated rise of modern consumerism.

Avner Offer, professor of economic history at Oxford University,

details this evolution in his book, The Challenge of Affluence. He states
---
26 The New Human Rights Movement

regarding the effects in Britain and the US: "The goods in question, however

dispensable in other cultures, were truly vital for social participation

. . ." 67 As the twentieth century unfolded, newly created conveniences and

material goods became looked upon as essential, and to "be without them

was to be poor," he wrote. 68 The rise of consumerism will be discussed

more in chapter four.

Returning to my story, given this cultural climate, there is the possibility

that the visually stimulating, high-dollar bike was less a means of

utility or a source of monetary value than a status symbol—something

he could show off to his friends.

A third and perhaps even less-considered possibility is that of my

assailant's feeling power and control in the act of dominating another.

Poverty, while often talked about only in terms of material deprivation,

is also about a lack of control, lack of respect, and feelings of shame and

helplessness. Dr. James Gilligan, again the former head of Harvard's

Center for the Study of Violence, had this to say about the relevance of

power and respect in such acts:

I used to think that people committed armed robberies in order

to get money; and indeed, that is the superficial explanation that

they would often prefer to give, to themselves and to us. But

when I actually sat down and spoke at length with men who

had repeatedly committed such crimes, I would start to hear

comments like "I never got so much respect before in my life as

I did when I pointed a gun at some dude's face." 69

Psychological research shows that feelings of shame, inferiority, and

being disrespected are foundational preconditions for violence and

crime. 70 If you have seen a bar fight in which the cause was merely one

stranger uttering an insult to another, you have witnessed the reactive

need for social respect. Because status is linked to material success in

modern society, growing income disparity translates into a self-worth

disparity. Therefore, it is no mystery that feelings of inferiority, shame,

and humiliation are staples of modern culture. There is strong epidemiological

evidence that correlates the amount of violence in a region to

the amount of class inequality. 71 Gilligan and others have concluded that
---
System-Bound: Realizing Relationships 27

the broadest predictor of violent behavior is socioeconomic inequality

itself. This is due not only to the material deprivation of poverty, but

the stressful feeling of shame related to simply being lower in perceived

status than other people. 72

Studies also show this pattern with our nonhuman primate brethren.

In strict hierarchical baboon troops of Africa, chain reactions of upper to

lower status abuse have been observed. First, a dominant baboon strikes

and humiliates a subordinate. The subordinate, knowing he cannot strike

back, turns to strike his own subordinate to release the angst or save face,

and on down the line it goes. 73 These primate dominance reactions, often

termed displaced aggression, mirror patterns in the human population,

such as domestic abuse. 74 Studies of husbands beating wives and children

often find triggers related to job problems or other sources of emotional

stress, ego loss, and feelings of inferiority. Sourcing a range of studies,

domestic violence researchers Van Wormer and Roberts state: "Low economic

status of men and the inherent stress of trying to eke out a living

can also be a factor associated with violence, most likely in the form of

displaced aggression by the husband onto the wife . . . Investigation of

correlates of domestic violence found that the strongest contextual risk

factor for intimate partner homicide is an abuser's lack of employment." 75

This overall line of thinking has led Gilligan to conclude: "If we wish to

prevent violence, then, our agenda is political and economic reform." 76

As for my assailant, one could speculate on a range of such possible

influences, specifically related to his African American history. Perhaps

I was a symbol of white oppression or elitist wealth given the race-class

tensions common to the American South at that time. Perhaps his family

upbringing had clear victimization by white forces, part of a tradition of

bias. Perhaps a perceived injustice occurred that very day that offended

the young man, who then felt the need to take it out on me. In other

words, his targeting me may have had a deeper, even subconscious basis,

seeking to elevate his sense of control, power, and integrity.

More broadly, the same kind of analysis can be applied to impulsive

group violence such as "race riots," where people assault each other for

no other reason than symbolic differences. For example, the Los Angeles

riots of 1992 had many such characteristics. The poor, centralized black

and minority population exploded in rage, ostensibly because of the
---
28 The New Human Rights Movement

acquittal of abusive police in a high-profile court case involving the beating

of an unarmed black man. Yet many sociologists today source this

rage to the poverty and oppressed socioeconomic conditions inherent

in the community, with the acquittal of the white police merely a trigger

for pent-up anger. 77 In the words of sociologist Joel Kotkin, "This wasn't

a race riot, it was a class riot." 78

PROBLEM SOLVING

Mohandas Gandhi was clearly aware of the influence societal structures

have in shaping values and outcomes. He is famous for saying:

"Poverty is the worst form of violence . . . It little matters to me whether

you shoot a man or starve him to death by inches." 79 This implicitly

criticizes the existence of class inequality and its systemic effects. His

view is unique as it alludes to a subject that will be discussed in detail

later—something called structural violence. Structural violence, meaning

"preventable violence resulting from human-generated institutions,"

is an all-encompassing kind of indirect harm. In our localized sense of

experience, we tend to think of violence as a direct, human-to-human

affair, not a systemic outcome that tends to mask its original source.

Stokely Carmichael also alludes to this systems-based view in the

context of institutional racism. He wrote in 1967:

When white terrorists bomb a black church and kill five black

children, that is an act of individual racism, widely deplored

by most segments of the society. When in the same city—

Birmingham, Alabama—five hundred black babies die each year

because of the lack of proper food, shelter, and medical facilities,

and thousands more are destroyed and maimed physically,

emotionally and intellectually because of conditions of poverty

and discrimination in the black community, that is a function

of institutional racism. 80

Norwegian sociologist and mathematician Johan Galtung, who was

highly influenced by Gandhi, formally introduced the term "structural
---
System-Bound: Realizing Relationships 29

violence" in 1969 and has written extensively about it since. 81 In his work,

he defined Gandhi as a "structuralist," stating:

[Gandhi saw] conflict in the deeper sense as something that was

built into social structures, not into the persons . . . Colonialism

was a structure and caste was a structure; both of them filled

with persons performing their duties according to their roles

or statuses . . . The evil was in the structure, not in the person

who carried out his obligations . . . Exploitation is violence, but

it is quite clear that Gandhi sees it as a structural relation more

than as the intended evil inflicted upon innocent victims by

evil men. 82

As mentioned in the introduction of this book, this structuralist, systemsbased

worldview is deemed critical to effective problem solving. This fact

applies not only to human behavior, but the spectrum of public-health

and ecological problems occurring in the world today. Any given problem,

irrespective of its nature, will have systemic roots that facilitate or support

it in some way. The question is, Can those roots be changed to stop the

negative chain reactions? This is not to argue that all negative outcomes

can be eliminated or controlled by this approach. There are limitations,

just as we cannot today stop the everyday spread of the common flu. Yet

we can strategically limit our exposure to the flu and ensure the best

conditions in our environment to lower the odds of its occurring.

I doubt many reading this would decide to re-plaster a ceiling that

keeps leaking every time it rains, knowing the real leak is on the roof

of the building. Yet our localized view of the human condition is still

plastering away. To stop the leak, we need to seek out and resolve root

causes that continue to lead to social oppression, ecological disregard,

and other influences that reduce human well-being. It has only been in

the modern age that sociological research has provided powerful evidence

of what's needed to resolve these problems. These new frameworks

or models for understanding society must be applied if we expect to see

true social progress.
---
Chapter Two

BEYOND THE PALE: OUR

SOCIAL MYTHOLOGY

This tendency prevails from the Continental Rationalists on.

Leibniz, Spinoza, Descartes, Berkeley, Kant, and Hegel, for

example, more or less entirely presuppose the social regime of

their day and its constituent forms as in some way the expression

of a divine Mind, which they see it as their rational duty

only to accept or to justify. 1

—JOHN MCMURTRY

W

ORLD HISTORY IS INTERWOVEN with an endless thread of unique

myths about the origin of life, powerful deities, heroic quests, afterlife,

the end of the world, destiny, and various other sacred ideas and

narratives inspired by existence. From Greek mythology, with its twelve

pantheon deities staged to demand obedience from us mere mortals, to

Cavillace, the virgin goddess of the Incas who ate fruit that impregnated

her, only to then throw herself and her newborn into the ocean to be

turned into rocks, humanity's depth of creativity and capacity for invention

is quite fascinating.

Underlying these stories and symbols are attempts to make sense

out of a chaotic, daunting world. The drama of the human condition

certainly creates a need to believe something in an attempt to organize

reality and better understand our own lives. It is no wonder then

why moral dilemmas, dualities of good and evil, astrological determinism,

destiny, controlling gods, judgment, and a litany of other common

31
---
32 The New Human Rights Movement

mythological attributes are replete in almost every historical culture on

Earth. Since myths are culturally shared beliefs by definition, regardless

of their truth, we can also understand the importance they have had in

creating social cohesion, group mobilization, trust, and deep spiritual

and philosophical bonds between people.

It is in this framework that I would like to turn attention to secular

mythology. As opposed to the traditional or sacred types just touched

upon, secular mythology comes in the form of social, ideological, or

political narratives. 2 These narratives include a spectrum of ideas that

effectively serve to bond people around normative societal traditions,

structures, and methods. Social psychologists have categorized aspects

of this tendency in the term legitimizing myths—meaning myths that

serve to protect the status quo and assist social control. 3 Whether dealing

with nationalist, political, or economic loyalties, prevailing moral

codes, underlying philosophies, or other dominant characteristics of

society, there are numerous supportive myths that form a protective

barrier around traditional values and practices.

OUR TRIBE

When it comes to secular mythology, there is perhaps no better case

study than the nation state and its tribal politics. Loyalty to a country, its

people, and its methods, and shared opposition to its decreed enemies,

is facilitated by a catalog of symbols, stories, ceremonies, revisionist

history, and other elements that serve the interests of social cohesion

and status quo support. If you've ever had that looming feeling of being

brainwashed when singing your country's national anthem or pledging

allegiance as a child, you are familiar with such ceremonial reinforcement

reminiscent of religion itself.

Nation states also tend to employ sacred symbols, another signature

of religious culture. A nation's flag is one such example. Virtually all

states, present and modern, have superimposed their sanctity onto flags,

even including severe punishment if the flag is ever desecrated or disrespected.

This patriotic protectionism reflects just how serious keeping

national respect is, especially during times of war. In fact, perhaps the
---
Beyond the Pale: Our Social Mythology 33

highest utility of such national mythology is to ensure that a citizenry

willfully sanctions acts of state power, with any opposition considered

"sacrilegious" or unsupportive of the national tribe.

This tradition of unquestioningly holding military forces in high

public esteem, psychologically buttressed by ubiquitous ceremonialism

including medals, parades, and other adornments, has been a historical

constant across the world. The taboo against criticism is even extended

to where questioning any aspect of the war apparatus is condemned as

showing disrespect for the sacrifice of the honored, noble soldiers. In

modern-day America, the current global empire, gestural yet irrational

slogans such as "I am against the war but for the troops" are common,

creating a form of Orwellian doublethink that limits critical judgment. 4

Likewise, a vast array of euphemistic language and rhetoric is common

to war politics, specifically on the side of an aggressor nation.

American journalist Walter Lippmann, famous for his concept of "manufacturing

of consent," a euphemism itself for how state power often uses

propaganda and myth rather than direct force as a means of social control,

sarcastically stated, "we must remember that in time of war what

is said on the enemy's side of the front is always propaganda, and what

is said on our side of the front is truth and righteousness, the cause of

humanity and a crusade for peace." 5 As George Orwell wrote in his classic

1964 essay "Politics and the English Language":

In our time, political speech and writing are largely the defense

of the indefensible. Things like the continuance of British rule

in India, the Russian purges and deportations, the dropping of

the atom bombs on Japan, can indeed be defended, but only by

arguments which are too brutal for most people to face, and

which do not square with the professed aims of political parties.

Thus political language has to consist largely of euphemism,

question-begging and sheer cloudy vagueness. 6

Social critic and comedian George Carlin satirized this phenomenon by

coining the term "humanitarian bombing." 7

Since we effectively think in language, cultural associations made

to specific terms outside of their clinical meaning can often bias one's
---
34 The New Human Rights Movement

reasoning in an irrational way. For instance, stigmatizing labels can

deter examination of issues simply by a kind of branding. Derisive use

of the term "communist" in the early-to-mid twentieth century is an

example. This label was often imposed upon anyone with anti-capitalist

sympathies, even when the accused might have had no other interest than

to see a more egalitarian and equitable society. 8 The term "conspiracy

theorist" is another, more modern label, which serves to deter people

from inquiring into any dishonest acts on the part of government or

business. 9 This term has become synonymous with "irrational," used

mockingly by politicians and the media.

Likewise, the term "terrorism" has become the preferred politicized

imperial symbol to incite fear and insecurity in a population. It can be

viewed as a more modern version of the term "communism" in this sense.

This insecurity helps open the door to various power abuses, as seen in the

past with the spying and intimidation that occurred during McCarthyism

in the 1950s. Today, the "threat of terrorism" is used similarly, justifying

power abuses on the part of the government and allowing for acts of civil

oppression and military aggression that otherwise would have no justification.

As political theorist Carl Schmitt often argued, without a perceived

enemy of a given society, something the majority feels threatened

by in a unifying way, social cohesion and control may be jeopardized. 10

Overall, political language by its very nature imposes an associative

mental framework that, if reinforced properly, can narrow one's

thoughts about social issues. Through this process, people lose focus

on other possible factors or viewpoints. Political language also exploits

our innate tendency to be superficial, shortsighted, and fragmented, as

explored in chapter one. Language, therefore, beyond being our main

tool to learn and communicate, can also function as a tool for social

control by strategically imposing or restricting ideas, values, and biases

through associative influence. 11

Historically, the use or threat of violent force has been the general

route to ensure public compliance by state power. We still see this extremism

in societies such as Saudi Arabia's that engage in stoning, beheading,

limb removal, crucifixion, and other barbaric practices for fairly modest

crimes. 12 Highly controlled state media, propagandized education, and

concentrated political power have also contributed to ensuring social
---
Beyond the Pale: Our Social Mythology 35

uniformity and compliance. However, the past half century has seen a

rapid rise in demand for "democracy and freedom." I place these terms

in quotes since how they are defined is highly subjective, as this text will

explore in future chapters. Regardless, the Arab Spring event triggered

in 2010 is a modern example of this general growing global interest in

moving away from overt dictatorship, monarchy, regimentation, and

other echoes of older methods of state oppression and elitism. 13

This long-term trend toward democracy, to whatever degree of definition

or application, has challenged the nature of how national loyalty

and status quo preservation is to be maintained. In other words, with

populations becoming increasingly intolerant of overt oppression, other

methods of social control by the establishment have been required, effectively

cloaking the dominance effect. These newer techniques are perhaps

best thought about as similar to those used in mass-media persuasion or

commercial advertising. It is increasingly about cultural manipulation

rather than direct violent force. Interestingly, as shadowy as all this may

seem, such control theory is far from obscure, despite the contradictory

mythology assumed by most living in the self-proclaimed "free societies"

of today.

There has been consistent discourse among the intelligentsia that

people simply need to be controlled. This has been viewed as a social

imperative, not a nefarious act. One prestigious advocate of this view was

Edward Bernays, who wrote a classic text appropriately titled Propaganda

in 1928. 14 As will be addressed later in this book, Bernays's work also

strongly shaped American advertising, helping to engineer a culture of

material dissatisfaction to boost an economy driven by consumption.

However, his ideas have also been applied to political persuasion. In fact,

Nazi propagandist Joseph Goebbels is noted to have regarded Bernays's

work quite highly in this context. 15 Yet Bernays was not malicious and

simply saw this kind of need for social control as natural and necessary.

He casually described the use of dishonesty and influence as though he

was talking about an academic, anthropological reality. In Propaganda,

Bernays writes:

The conscious and intelligent manipulation of the organized

habits and opinions of the masses is an important element in
---
36 The New Human Rights Movement

democratic society. Those who manipulate this unseen mechanism

of society constitute an invisible government which is the

true ruling power of our country. We are governed, our minds

are molded, our tastes formed, our ideas suggested, largely by

men we have never heard of. This is a logical result of the way

in which our democratic society is organized. Vast numbers of

human beings must cooperate in this manner if they are to live

together as a smoothly functioning society. 16

Within this context of propaganda, we find consistent mythological patterns

that tend to exist in all nations. Revisionist history, or the sanitizing

of a nation's past to control perception, is a classic example. Most

nations tend to build great statues of their historical heroes as though

the actions taken by those people were with the intention of the current

population's well-being. Like most Americans, I was taught that the

"great explorer" Christopher Columbus "discovered" America, setting

the stage for the creation of the "land of the free and home of the brave."

I was taught the settlers worked to "civilize" the stubborn Native Indian

savages, bringing advanced knowledge and tools to help them "evolve."

I was also taught that the founding fathers preached how "all men are

created equal," and every American shall be granted the right to "life,

liberty, and the pursuit of happiness."

Of course, none of those things are true. Millions were living in

North America before Columbus's arrival, settlers systematically closed

in on the Native cultures with genocidal techniques, the founding fathers

omitted those of African descent from any form of equality to justify

slavery, and the right to the pursuit of happiness could only have been

directed toward the property- owning, white male elite who were the

ones originally granted political privilege. At the time of the first major

presidential election in 1789, only 6 percent of the population (white male

property owners) was eligible to vote. 17

From Genghis Khan, to Napoleon, to Alexander the Great, to Francisco

Pizarro González, we see regional homage still given to these

"great conquerors" today. The rhetoric is as though their actions were

of a benevolent loyalty to "their people." Of course, if the true acts of

any of these figures were witnessed in the modern day, they would be
---
Beyond the Pale: Our Social Mythology 37

seen as intolerant, xenophobic monsters. 18 Modern variations on this

theme range from the suggested worship of political leaders via noble

portraits hanging in civic areas, as made famous by more totalitarian

regimes, to the soft idolatry of naming libraries or airports after past

US presidents. These are echoes of a long tradition of power worship,

harking back to such doctrines as the notorious "divine right of kings"

of seventeenth-century Europe, which declared the monarch was subject

to no earthly authority, deriving the right to rule and act directly from

the will of God. 19

This general pattern of codified or implied group superiority represents

perhaps the most common and effective dominance myth in

history. The view that one nation, religion, race, or whatever group is

fundamentally superior to another has been at the root of vast historical

injustices and atrocities. Of the numerous wars conducted over the

past couple of centuries, very few have been publicly justified in terms

of stealing something from another group of people or seeking strategic

advantage over them, even though that has indisputably been the case

overall. Arguably, all acts of war are foundationally acts of dominance,

conquest, colonialism, or imperialism. 20 Yet, this aggression is generally

cloaked with the claim of defense or a humanitarian act of help. Today,

this syndrome is best exemplified by the now-clichéd Western imperial

ruse of seeking to spread "freedom and democracy." 21 Similar to the

exploited claim of "fighting communism" in the early twentieth century,

this paternalistic position suggests that the current political condition

of a targeted nation is simply too corrupt or inhumane. Therefore, intervention

to "free" its citizens or stop the spread of ill thought becomes a

moral obligation of the invading power (as the rhetoric goes).

This pattern of justification is also paralleled with the centuries

of religious warfare and military evangelism common to the spread

of Christianity, Islam, and other religions. The excuse to "civilize" a

population with ostensibly more appropriate ethical or moral values

has been common. From the Spanish conquistadores to the Crusades

to the persecution of Native Americans in the pre-United States, paternalistic

excuses abound. For example, with respect to the latter, James

Knowles, an early nineteenth-century pastoral professor out of New

England, famously argued that it was a religious mission to convert the
---
38 The New Human Rights Movement

Native Americans to Christianity. If they refused, it was morally acceptable

to destroy them, as they were simply not respecting God's will. 22

It is also worth noting that while many view the Crusades and

other "religious wars" as purely ideological, evidence shows that material

interests and trade expansion generally underscored these wars,

as well. 23 Religion often serves to help galvanize and justify aggression

or defense. This can be said about the modern Israeli-Palestinian conflict,

too, where religious differences are really secondary to the dispute

over land, security, and resources. This isn't to deny the existence of

intolerant religious extremism. However, it will be found that regions

with the most religious conflict or insurgent terrorism tend also to be

regions with the greatest destabilization, insecurity, and history of foreign

exploitation, scarcity, and deprivation. 24 The process is systemic,

with increased bigotry, racism, and xenophobia in themselves natural

consequences of social and economic insecurity overall, even if disconnected

in perception over time. 25

As a final historical example of this cloaked ideological justification

for war, the same rationale for eventually justifying the enslavement

and inferiority of Africans in the early United States also led a

pseudo-scientific charge to justify a colonial war to annex the Philippines

at the turn of the twentieth century. Fulfilling the emerging ideal of

America's Manifest Destiny, this war was blatantly characterized in US

media as battling a "primitive," backward people, even prompting the

1904 World's Fair to have on display imported villagers from the Philippines.

Believe it or not, they were featured in the context of "early man"

and "stages of evolution." 26 This display clearly reinforced the American

public's sense of superiority and the illusion that the US invasion was

"for the better" in some paternalistic way.

President Theodore Roosevelt did not mince words on the elitist

view, stating in his 1902 Memorial Day address: "Just at this moment

the Army of the United States . . . is carrying to completion a . . . war

in which is involved not only the honor of the flag but the triumph of

civilization over forces which stand for the black chaos of savagery and

barbarism . . . The warfare that has extended the boundaries of civilization

at the expense of barbarism and savagery has been for centuries one

of the most potent factors in the progress of humanity." 27
---
Beyond the Pale: Our Social Mythology 39

This claim of cultural superiority also paves the way for other

degrees of exceptionalism, invariably influencing the views of citizens

almost subconsciously due to repeated media persuasion. Today,

for instance, when American citizens hear about US-led international

drone airstrikes that assassinate people deemed a threat to US interests,

there is great public outcry when apparent mistakes are made.

For example, in Pakistan, US drones have killed hundreds of innocent

civilians in recent years. 28 Yet little is said about why the US is somehow

exempt from international law and can send drones into almost any

country, killing people with robots. That the US has not been at war

with Pakistan, and Pakistan certainly does not approve of the drones'

being sent into their region, makes it illegal. 29 Yet the Western population

has been so indoctrinated into this assumed exceptionalism,

currently under the guise of "anti-terrorism," that it barely raises an

issue with the overt criminal behavior in and of itself, only questioning

the apparent mistakes.

DOMINANCE THEORY

Building on the phenomenon of cultural exceptionalism, the study

of social dominance has been a long-standing interest of sociologists.

Whether we are dealing with international dominance between countries,

or socioeconomic dominance between domestic classes, certain

features and dynamics are consistent, leading to various theories

attempting to explain why. One highly influential model is termed social

dominance theory (SDT), established by psychologists Jim Sidanius and

Felicia Pratto. 30 This theory attempts to explain the origin and consequences

of social hierarchy and its related oppression.

They state: "Prompted by the ubiquitous nature of group-based prejudice

and oppression, we developed social dominance theory. The theory

postulates that societies minimize group conflict by creating consensus

on ideologies that promote the superiority of one group over others.

Ideologies that promote or maintain group inequality are the tools that

legitimize discrimination." 31 "The theory views all of the familiar forms

of group-based oppression (e.g., group-based discrimination, racism,
---
40 The New Human Rights Movement

ethnocentrism, classism, sexism, etc.) as special cases of a more general

tendency for humans to form and maintain group-based hierarchy." 32

In short, the theory claims humans are predisposed to group-based

social hierarchies by nature. Strategic oppression through personal, social,

and institutional means is hence deemed an immutable consequence of

human nature. 33 The theory also observes and catalogs various characteristics

of social- dominance hierarchies, notably hierarchy-enhancing and

hierarchy-attenuating attributes. An example of a hierarchy-enhancing

attribute is the police. They are designed, in part, to react against any

insurrection that may arise from the lower-class "have-nots" against the

upper-class "haves." This is not an issue of conscious police bias per se;

it is simply the structural reality of their position. On the other hand,

civil rights movements are hierarchy-attenuating, for they work against

forces of disproportionate power and oppression. 34

This theory also implies that without this structural oppression and

elite-preserving controls, society would be unstable. The authors state:

"Social dominance theory (SDT) does echo elite theories stating that,

without a culturally normative and institutionalized control of power,

social instability can devolve into extremely violent civil warfare." 35

While proponents of SDT are quick to condemn any use of their theory

as blanket political justification for social oppression, along with a rather

vague denial of promoting any absolute biological determinism, the overall

observations and hypotheses made undeniably gravitate toward those

implications. 36

Sidanius and Pratto state: "[Social Dominance] theory views group

conflict as having less to do with 'structural' features of the economy

or culture than as being primarily driven by a ubiquitous human drive

towards domination and group-based hierarchical social organization." 37

The theory argues that a human predisposition termed social dominance

orientation (SDO) drives this group-based hierarchy phenomenon. This

is implied as an evolutionary trait in human psychology, generating a

tendency toward favoring domination of others and other nonegalitarian

interests. Surveys designed for this apparently measure the degree

of SDO people have on a sliding scale, as utilized by SDT researchers. 38

Social dominance theory goes on to distinguish three forms of

dominance hierarchies. One relates to age hierarchy, such as children
---
Beyond the Pale: Our Social Mythology 41

dominated by parents; another relates to gender, observing the historical

pattern of women dominated by men; and the final distinction is

termed "arbitrary-set" group hierarchies, which is basically all other

types. 39 While the first two distinctions are arguably worth debating,

the arbitrary-set hierarchies will be focused on here as they are the most

relevant to the discussion. The authors state, "The arbitrary-set system is

filled with socially constructed and highly salient groups based on characteristics

such as clan, ethnicity, estate, nation, race, caste, social class,

religious sect, regional grouping, or any other socially relevant group

distinction that the human imagination is capable of constructing." 40

Furthermore, while not directly stated in such terms by the researchers,

there is effectively an environmental precondition that triggers the

SDO personality trait, driving the creation of these group-based hierarchies.

This has to do with the introduction of an "economic surplus,"

according to the authors of the theory. When a society has sustained an

economic surplus or excess of resources, people are theorized to have a

predisposition to then create uneven distributions, manifesting social

hierarchies. The authors write: "Even though there are temporal and

intersocietal differences in the 'degree' of group-based social hierarchy,

the sad fact of the matter is that all known surplus-producing social

systems are, in fact, organized as group-based social hierarchies. There

are no known exceptions." 41

Superficially, this idea of an existing "economic surplus" leading

to the development of hierarchy is interesting, given how other social

theories tend to link scarcity, not surplus, to hierarchy-generating conflict

overall. In much of the historical scholarship regarding factors that

create and increase the propensity for most social conflict, resource

scarcity, unequal wealth distribution, and deprivation are consistent

preconditions. 42

Naturally, many intersecting factors contribute to social destabilization

and the push for increased hierarchical oppression. However, while a

society's political system, religious values, and overall culture are important

influences, the relevance of economic survival by way of needed

resource access is no doubt the most critical. Any society, confronted

with a severe survival risk, will likely become more divisive, aggressive,

and competitive. 43 The consistent emergence of property crime,
---
42 The New Human Rights Movement

inner-city gangs, sectarian violence, and even terrorism in areas plagued

by insecurity and limited means shows how deprivation, along with the

consequential feeling of injustice, sets the stage for not only appropriative

competition, violence, and war, but also jingoism, racism, and bigotry. 44

In fact, the effects of scarcity and related environmental conditions

can be recognized both on a micro and macro scale as well as short-term

and long-term. Aside from the micro focus just mentioned, which can

occur in a single generation, broad socio-environmental conditions experienced

over long periods of time also appear to have powerful cultural

effects. This field of study has been termed "cultural anthropology" and

was notably made famous by Stanford anthropologist Robert Textor

in his epic work, A Cross-Cultural Summary. 45 It has been found that

cultures spawned from resource-scarce desert regions are more prone

to monotheism, conflict, stratification, male dominance, and female

oppression, while cultures originating from lush, abundant forest regions

tend to be more prone to polytheism, egalitarianism, fewer sexual taboos,

improved women's rights, and less conflict. 46 Naturally, these are broad,

averaged, long-term observations with exceptions, but the consistency

is nevertheless striking.

Even nonhuman primates exhibit this broad geographical influence.

Anthropologists have compared chimpanzees to bonobos, two species

of apes that are the closest living genetic relatives to humans. 47 Scientists

found that due to their different environments, each ape culture has

dramatically different social behaviors. Bonobo troops, living in lush,

abundant rainforests, with females in alpha roles, have very little conflict

relative to chimpanzees. In contrast, chimpanzee troops, living in raw,

resource-scarce desert landscapes, with males in the alpha roles, have

consistent conflict both in and out of a troop. 48 Yet these two species

are genetically almost identical. 49 Of course, such primate analogs are

never declaratory in and of themselves. Humans are simply not chimps

or bonobos. Nevertheless, the correlations do have merit, given our evolutionary

relationship.

Overall, the evidence shows that higher relative abundance, coupled

with equitable distribution, correlates with a less stressful, more tolerant,

and more peaceful society. 50 Of course, this certainly doesn't mean

a simple reduction of relative scarcity and inequality would immediately
---
Beyond the Pale: Our Social Mythology 43

change culturally ingrained behaviors. Assuming a culture had already

adapted to a life of scarcity and inequality, it would take adjustment away

from the customs and values cultivated by that scarcity-based condition.

Economist Herschel Grossman talked about the "paradox of anticipated

abundance," where groups who are expecting more resources will actually

fortify protectionist activity and prepare for future conflict rather

than simply ease such activity. 51 In other words, economic surplus can

create an immediate fear of future loss in this context, not a sense of

ease. This makes sense given thousands of years of psychological, sociological,

and structural patterns reinforcing the existence of conflict and

dominance. In effect, we have generated a culture of conflict based on

fear. This is not to deny evolutionary psychology as a factor but to point

out the extensive power that cultural tradition has over human behavior

and social institutions.

SDT OMISSIONS

While social dominance theory (SDT) offers insight into certain dynamics

of how group-based human hierarchies interact, its view of causality

is highly suspect. Social dominance orientation (SDO), the deterministic

"ubiquitous drive" that is said to lead to these hierarchies, generally omits

the role culture plays in influencing behavior. Again, the basic logic is

that once an "economic surplus" is introduced into a society, the SDO is

triggered via people's evolutionary psychology and groups then divide

into hierarchies. As convenient as this theory is and as empirical as the

evidence may appear—environmental, social, and cultural factors are

profoundly downplayed, as will be argued.

The aforementioned statement, "the sad fact of the matter is that

all known surplus-producing social systems are, in fact, organized as

group-based social hierarchies [and] [t]here are no known exceptions,"

is interesting because the distinction made is clearly in reference to

hunter-gatherer societies, which (according to anthropologists) were

generally without social hierarchy and did not have an "economic surplus"

according to the definition of SDT proponents. I submit that when

we contrast the relatively egalitarian hunter-gatherer cultures with more
---
44 The New Human Rights Movement

recent hierarchical societies, the relevance of socio-environmental influence

and culture becomes quite strong. In other words, there is more to

it than simply the introduction of "economic surplus." To explore this

further, let's go back in time.

Roughly 12,000 years ago the human species transitioned from

nomadic hunter-gatherer societies, tribes foraging and hunting with no

agricultural skills, to farm-cultivating, settled societies. This transition

has been termed the Neolithic Revolution and set the stage for civilization

as we know it today. 52 This change marked a kind of technological

shift. Like the advent of mechanization in the Industrial Revolution of

the late eighteenth century, the discovery of agriculture was also the

application of new economic technology. I point this out because it will

be found that the most influential characteristic of a civilization is the

kind of technological means it has and how it is applied. When very large

changes in applied technology occur, human culture and behavior tend

to change as well. 53

It is interesting to think that for roughly 99 percent of our existence,

Homo sapiens lived as hunter-gatherers, very few of which remain today.

The different characteristics in social behavior between hunter-gatherer

societies and modern settled societies are quite informative. Apart from

being generally egalitarian with no real dominance hierarchy, it has been

well argued by anthropologists that they also had much less violence

and no large-scale organized warfare. 54 They generally thrived in areas

with a rich bounty of cereal grains and wild livestock. Their subsistencelevel

existence created a unique kind of minimalistic affluence, where

scarcity was not an overarching sociological pressure. 55 Such conclusions

have been drawn partially from archaeological evidence from the pre-

Neolithic period, but mostly from analysis of the few hunter-gatherer

tribes that have existed in remote regions of the world over the past

few centuries.

Contrasting the hunter-gatherer society with modern society,

anthropologist Marshall Sahlins states:

Hunter-gatherers consume less energy per capita per year than

any other group of human beings . . . [yet] all the people's material

wants were easily satisfied. To accept that hunters are affluent
---
Beyond the Pale: Our Social Mythology 45

is therefore to recognize that the present human condition of

man slaving to bridge the gap between his unlimited wants and

his insufficient means is a tragedy of modern times . . . Modern

capitalist societies, however richly endowed, dedicate themselves

to the proposition of scarcity. Inadequacy of economic

means is the first principle of the world's wealthiest peoples.

The market-industrial system institutes scarcity, in a manner

completely without parallel. Where production and distribution

are arranged through the behavior of prices, and all livelihoods

depend on getting and spending, insufficiency of material means

becomes the explicit, calculable starting point of all economic

activity. 56

In terms of sustainability, the economic simplicity of life made living

beyond one's means virtually impossible. Unlike today, with the high

technology to both create and destroy, there was a primitive natural

balance with nature. At the same time, the inherent characteristics of

nomadic life resulted in a very different sociology and culture from

what we have today. For instance, since mobility was essential, hoarding

property or basing identity on material possessions would have been

impractical. The very idea of "property rights," which underscores modern

economics and in many ways our society itself, really didn't exist in

hunter-gatherer culture. 57

If we were to put these concepts in modern terms, hunter-gatherers

had a gift economy in their communities, where they shared with no

expectation of reciprocation. In fact, there are stories of outsiders being

given handcrafts from existing tribes, only to feel the need to give something

in return, as many in modern culture do. This reciprocal behavior

was considered offensive by the tribe, as they felt the "exchange" was

a refusal of friendship. 58 British anthropologist Tim Ingold highlights

the idea that the difference between "giving" and "exchange" has to do

with social perception based around autonomous companionship vs.

involuntary obligation. He states: "Clearly, both hunter-gatherers and

[agricultural] cultivators depend on their environments. But whereas for

cultivators this dependency is framed within a structure of reciprocal

obligation, for hunter-gatherers it rests on the recognition of personal
---
46 The New Human Rights Movement

autonomy . . . the contrast is between relationships based on trust and

those based on domination." 59

The Neolithic Revolution set in motion a chain reaction, moving

society toward very different social structures and values. The central

mechanism of this change was the increased dependence on those geographical

features required for economic success in the new paradigm of

agriculture and settlement. In what has been called geographical determinism,

it has been established that certain societal characteristics of

a particular culture are historically shaped by geographic conditions.

Similar to the aforementioned work in cultural anthropology, with

unique differences developing between desert and forest societies over

long periods of time, these ancient environmental preconditions set in

motion trajectories for development that tend to become separated from

their origins. In other words, over generations, people lose touch with

why their traditions and practices exist, perpetuating them regardless.

As extensively argued by researcher Jared Diamond, the developmental

path of human society, specifically the modern reality of

socioeconomic and national inequalities, has been linked to different

geographic exposures since the Neolithic Revolution. 60 From the standpoint

of farming, animal domestication, resource extraction, and other

practices common to the new post-Neolithic era, the surface of the Earth

was certainly not uniform in capacity. Some regions were more favorable

than others, with more ideal climates, terrains, conditions, and

resources. Keep in mind, thousands of years ago our ancestors lacked

advanced technology such as trains, synthetic fertilizers, and other modern

realities that help level the economic playing field. There was no

chance of farming arid zones or building cities in the desert, as we now

have in places like Las Vegas.

These early differences have had a dramatic effect on the evolution of

human civilization since the geographical advantages and disadvantages

inherent resulted in some regions developing technology and improved

means faster than others. This unequal development set the stage for

material inequality and disproportionate power in terms of a region's

capacity for conflict and war. 61 For example, if one regional group discovered

how to make guns while another regional group was still using

only swords, the latter region would clearly be at a disadvantage in times
---
Beyond the Pale: Our Social Mythology 47

of war. This unequal regional advancement in technology throughout

history has strongly affected the state of the modern world.

At the same time, these new environmental pressures and dynamics

of the agricultural mode of production became the framework for

a new culture. A natural logic based on the emerging requirements of

survival guided development into predictable patterns of psychological

and sociological thought, molding institutional practices. Expanding

vocations and specialization is one such pattern, since division of labor

generally improves overall productive efficiency. A specific person in the

community is tasked to create a tool the community can use, developing

a disproportional skill over time. Suddenly that skilled person has

a differential value compared to those who lack that specific skill, but

maintain other skills that may also be helpful. This then logically leads

to barter, credit systems, and other means of trade, slowly evolving economic

exchange networks between and within communities.

Furthermore, the practice of expanding trade naturally stimulates

the formal institution of property and the need for rights and protection

to help ensure some security and fairness. After all, creating a basic tool

in early history could be very time-consuming and resource-intensive.

Growing a field of corn, only to have it rot or be stolen, was certainly

something to protect against. From this emergence of property, we get

the root foundation of state regulation and institutional force. We also

get the formation of a culture whose people begin to perceive life through

a kind of scarcity-and-protectionist worldview. Again, this is something

that really didn't exist in prior hunter-gatherer reality. Given disproportionate

production skills and the unequal benefits of certain geographical

features (geographical determinism), the outcomes of inequality,

competition, and conflict were inevitable.

As such, it isn't difficult to understand how the requisites of the

new agricultural mode of production and its related dynamics would

create ever-hardening values around protectionism and competitive selfinterest.

This self-interest generates a psychological gravitation that then

extends into a sociological one, in turn forming social structures, institutions,

and customs derived from the scarcity, competitive, and protectionist

worldview. From there, it is also easy to see how the offensive and

defensive tendencies of dominance, war, and appropriative conflict would
---
48 The New Human Rights Movement

materialize in an institutionalized or normative way. Once established,

this then solidifies an overall culture based upon competition, inevitably

fostering inequality and insecurity in a vicious, self-perpetuating cycle

of fear and dominance.

Worse, this worldview was compounded by the fact that the new

mode of production (agriculture) was proving inefficient as population

tried to grow, specifically with regard to a phenomenon and time

period now termed the Malthusian Trap. 62 The Malthusian Trap refers to

the eon-long inability to substantially increase the income (or resource

consumption) of the overall population, resulting in little expansion in

overall human well-being or population growth before the nineteenth

century. Population could only expand so far, due to insurmountable

scarcity and lack of means inherent to the new economic mode, causing

die-offs. After the die-offs, things would even out a little, only to have the

process repeat over and over again. This locked income and population

growth into a cycle of expansion and contraction. The term is named

after eighteenth-century economist Thomas Malthus, who insisted this

pattern was a "law of nature," with human population and income unable

to expand in any real way due to the natural state of the world itself. 63

Malthus even suggested that helping the poor was more or less pointless

and that their suffering and death should be looked upon as a welcomed,

natural process. 64 He was proven wrong by the Industrial Revolution,

which dramatically increased economic efficiency through advancing

technology. This efficiency sparked an exponential increase in incomes

and population growth, as we see today (this important shift will be

discussed further in chapter five). In the words of economic historian

Gregory Clark:

Indeed, in 1800 the bulk of the world's population was poorer

than their remote ancestors. The lucky denizens of wealthy societies

such as eighteenth century England . . . managed a material

lifestyle equivalent to that of the Stone Age. But the vast swath

of humanity in East and South Asia . . . eked out a living under

conditions probably significantly poorer than those of cavemen

. . . The average [hunter-gatherer] . . . had a diet and a work life,

much more varied than the typical English worker of 1800 . . .
---
Beyond the Pale: Our Social Mythology 49

[H]unter-gatherer societies are egalitarian . . . [and] [m]aterial

consumption varies little across [their] members. In contrast,

inequality was pervasive in the agrarian economies that dominated

the world in 1800. 65

Broadly, the emergence of class inequality or socioeconomic stratification

is a consequence of the Neolithic Revolution. Since that time, people

have been divided into two groups: those who toil for little reward and

have little social or political power and those who maintain vastly disproportionate

wealth, social influence, and political power, generally at

the expense of those toiling. 66 We see this broad socioeconomic duality

across all historical social systems, such as abject slaves and ruling

monarch-deities in ancient Egypt; vassals and lords in medieval feudal

societies; handicraft merchants and state monopolists of mercantilism;

and workers and owners in contemporary capitalism. Regardless of the

era, economic and social inequality has persisted for millennia. While

terms for the privileged or elite "in-group" have changed over time, from

god-kings to aristocracy to bourgeoisie to today's ownership or investment

class, the systemic framework that has assured one group will be

superior to another has not changed.

Given this, some researchers have even referred to the Neolithic

Revolution as an inevitable mistake, separating man from a primitive yet

unique balance with nature. In the words of Stanford neurologist Robert

Sapolsky: "Hunter-gatherers [had] thousands of wild sources of food to

subsist on. Agriculture changed all that, generating an overwhelming

reliance on a few dozen food sources . . . Agriculture allowed for the

stockpiling of surplus resources and thus, inevitably, the unequal stockpiling

of them—stratification of society and the invention of classes. Thus

it has allowed for the invention of poverty." 67 This perspective is certainly

not to argue that humanity should revert back to such primitive times,

as though that would even be possible. Rather, it serves to give a sense of

how the introduction of new means for survival can create complex and

even negative trajectories as social evolution plows forward. In fact, how

we define progress itself in society becomes equally complex, for what

may seem like a logical step in the right direction at one time may very

well prove problematic in certain ways as time goes on.
---
50 The New Human Rights Movement

Now, to put this overall development concisely: Since the Neolithic

Revolution, we've had a process of economically driven cultural adaptation

built around the survival requisites of the relatively new, settled

agrarian paradigm. This evolution of post-Neolithic culture was selfguided

by systemic environmental pressures and survival inferences

common to the natural dynamics of the new mode of production. This

gave birth to dominance-oriented incentives, values, and protections,

evolving patterns of conflict, hierarchy, and disproportional allocation

of physical and social resources. Over time, these incentives, values,

and protections became accepted as "just the way it is" and what most

consider "normality" today has been the result.

That understood, let's return now to the idea, promoted by social

dominance theory (SDT), that "economic surplus" is the precondition

that triggers the noted social dominance orientation (SDO) trait—the

trait that, in turn, leads to group-based hierarchy. It seems clear that

this idea is grossly oversimplified, if not fundamentally wrong. Conflict

and group-based hierarchy was inevitable to the new mode of production,

regardless of any assumptions related to human nature. It was a

geographically determined recipe for social inequality and the institutionalization

of competition, conflict, and dominance. Saying that it

could go another way would be to assume early cultures would choose

to misalign with what was going to serve their advantage for survival. In

short, as stated by Tim Ingold prior, the culture went from one of "gift

giving" trust (of hunter-gatherer culture) to one of "trade strategizing"

dominance (of the newly settled cultivating culture).

As SDT also implies, hunter-gatherers are claimed to not have

expressed this SDO trait for hierarchy because they simply didn't

have the "economic surplus" precondition. This is again a very weak

assumption because it ignores all aforementioned issues regarding sociogeographical

influence and the structural pressures inherent to the new

mode of production. However, to further challenge the suppositions

underlying SDT, there is good reason to assume that a sustained surplus

of resources would not disrupt hunter-gatherer life, forcing the emergence

of hierarchy in and of itself. In fact, many hunter-gatherer groups

already had quite abundant resources by nature in the lush regions where

they flourished. More important, hunter-gatherers are known to have
---
Beyond the Pale: Our Social Mythology 51

generated a culture based upon cooperation, interdependence, sharing,

and equality. 68 They actively created a culture of egalitarianism. They

were conscious of the interest in equality and if others attempted to "rise

up" or assume control, the tribe as a whole would correct the behavior

though various strategies, something anthropologist Christopher Boehm

termed reverse dominance hierarchy. 69 Evolutionary psychologist Peter

Gray theorizes other cultural factors that preserved the egalitarian ethos,

including the playful nature of their socialization and the customary

manner of childbearing. 70

So, the power of culture being what it is, there is little reason to

assume such established social norms would be changed into groupbased

hierarchy by members consistently bringing back a "surplus" to

store. In truth, we can't even really know what constitutes a "surplus"

when the mode of production is hunting and foraging as opposed to agriculture.

One wonders if the notion of economic surplus, meaning stored

goods in excess of current needs, was even possible in the pre-Neolithic

time to the same degree as in the post-Neolithic time. Assuming it was,

is there still any reason to think the egalitarian nature of hunter-gatherer

culture would then be disturbed into group-based hierarchies, without

the additional influence of settled agriculture and its extensive social

ramifications, as noted before? From a historical, sociological perspective,

the evidence and logic supports a synergy of influences linking

back to the structure of the new economic mode and the incentives it

creates. Economic surplus can hence only be relevant in the context of

other determining features and pressures inherent to the post-Neolithic

world, as discussed.

As summarily rebuked by Turner and Reynolds in the British Journal

of Social Psychology:

SDT is both reductionist and philosophically idealist in that

it seeks to derive all political ideologies, intergroup relations

and indeed the whole social structure from one psychological

drive . . . abstracted, reified and distorted to stand for some hardwired

original sin of biology ("the beast within"). Whereas, in

fact, intergroup attitudes are not prior to but follow from social

structure; they follow from the beliefs, theories and ideologies
---
52 The New Human Rights Movement

which groups develop to make sense of their place in the social

structure and the nature of their relationships with other groups.

SDO is a product of social life rather than an underlying cause. 71

SCARCITY CULTURE

SDT aside, we further see the power of this socioeconomic development

in the evolution of intellectual culture. With the advent of writing around

3200 BCE, this scarcity- and conflict-based worldview slowly became formalized

in educational awareness. Recorded history is replete with conclusions

similar to those that Malthus reached with his theory, further

supporting the perpetuation of inequality, hierarchy, and dominance.

For example, a century prior to Malthus, Thomas Hobbes, considered

the father of political philosophy, famously proposed that humanity's

natural state was "one of war." Therefore, a dictatorial sovereign power to

oversee society and keep control was required to keep stability. 72 When

Charles Darwin came along with his theory of evolution, the "survival

of the fittest" notion was quickly bastardized to mean "survival of the

dominant class" in support of the Malthusian worldview. It was haphazardly

called "social Darwinism," furthering intellectual speculation

that dominance and inequality must not only be a fact of life, but being

aggressive and "winning" also means you are doing a just service to the

natural order itself. 73

As to be expected, these prevailing assumptions became codified in

the very architecture of society; its systems, structures, institutions, and

traditions, with the most notable and powerful manifestation arguably

being the market system of economics. This system is premised in the

Malthusian period. Its root dynamics are based upon the observation

of universal scarcity and the need for strategic dominance for survival,

with its mantra being "not enough to go around." The very foundation

of market theory and practice reinforces a social view that makes any

notion of equality or abundance almost inconceivable and the gravitation

toward dominance and exploitation virtually inevitable.

Anything contrary to those assumptions simply doesn't exist in the

lexicon of market theory or the behavior it incentivizes. This is why,
---
Beyond the Pale: Our Social Mythology 53

for example, profit is directly tied to scarcity and the scarcer an item in

demand is, the higher its exchange value will be. Therefore, the incentive

system of the market actually prefers a general condition of scarcity,

since it translates into more short-term gain for producers of an

in-demand good or resource. Abundance, on the other hand, has no

value in this kind of economic logic. In other words, abundance has

no structural function or reward. Creating or preserving abundance

doesn't help income, job creation, or economic growth. If you think

about it, preservation, abundance, and even sustainability are problematic

for the market economy, as they remove instruments of exchange.

As a mechanism, the market is based entirely upon the need for real or

assumed deficiency and insecurity. In fact, not only is a threshold of

resource or goods scarcity ideal to keep prices higher, increasing profits,

but an insecure culture conditioned to want more and more material

possessions is also ideal. Emotional insecurity, groomed to be rectified

by material gain, neurotically becomes a positive feature of culture as it

helps the market system work via increased demand.

Pick up any introductory textbook on market theory and you'll

notice the rationale of the market's very existence starts with one basic

premise—resources and means are scarce. 74 From that premise, the architecture

of not only the economy but of society itself has been derived,

again rooting back to trajectories set in motion from the Neolithic Revolution

onward. This root socioeconomic orientation then justifies competition,

self-interest, hierarchy, inequality, and oppression. It is important

to make clear that the economy is not some secondary institution that is

only engaged when needed. Rather, economic decisions permeate virtually

everything we do.

From the stability of personal relationships, to the focus of vocation,

to one's sense of security, to our perspectives on violence, crime,

and competition, to the very vocabulary of political and social action,

the prevailing economic method and its institutions are the strongest

root sociological influence there is. One could argue that this economic

orientation is perhaps second only to established religion; however, the

retributive, polarized, and fear-based worldview rooted in most established

religions actually shares the same stamp of economic scarcity

and resulting xenophobia. This makes sense since the two dominant
---
54 The New Human Rights Movement

religions in the world today, Christianity and Islam, are desert-derived.

As noted prior, they are rooted in a socio-geographical precondition

that, among other things, distinctly highlights similar competitive and

hierarchical worldviews. 75

The main point here is that there is constant operant conditioning

occurring, reinforcing behavior that narrowly serves a person's or

group's economic success. This creates value systems and justifications

that perpetuate a culture oriented around fear, self-interest, competition,

and inevitably oppression and dominance. Put another way, a thought

syntax is created in which people narrowly navigate life, focused on a

contrived game of economic survival. This tunnel vision can blind us

to the relevance of other issues, such as long-term social and ecological

repercussions of our economic actions. The sustainability and pollution

crises we see abundant today have been driven mostly by narrowly

focused economic behavior, for example.

And it isn't just the procedural incentives of market behavior that are

the problem. Over time our brains literally become wired to this dominant

worldview, as has been confirmed by research in social cognitive

neuroscience. 76 Given this, it isn't difficult to see how patterns such as

what we call "greed" can become second nature. One would rationally

expect a person to ease his or her sense of self-interest once he reaches a

higher degree of wealth. Yet the very wealthy often conduct their business

with the same self-maximizing, strategically competitive logic regardless

of their current financial security and lack of need. The fact that they

may have a billion dollars in the bank has no relevance. They only see

the game, as oriented by this root socioeconomic orientation that is based

upon scarcity, competition, and self-interest. As such, they are able to

rationalize walking over homeless people in the street without a second

thought. That reality has been accepted as "just the way it is," as per the

thought syntax, expressing the win-lose gaming mentality.

To conclude this section, let's now examine the ramifications of competition

itself, which is the basic driver of resulting dominance hierarchies.

I'm sure we have all been in a social setting where the subject of war

or conflict is being discussed, and somebody inevitably interjects, "Well,

humans are just competitive and warlike." End of story. Such an intuitive

diagnosis certainly seems to make sense from a superficial view of
---
Beyond the Pale: Our Social Mythology 55

recorded history. Under the surface however, we see a complex mixture of

collaborative and competitive behavior throughout time. Social science

finds that we have the option to be competitive or collaborative, peaceful

or warlike—both of which arise given the circumstance or environment

in which we find ourselves. 77 We are adaptive to circumstance and culture

and will generally conform to "what is working." As noted earlier, one

of the great misinterpretations that has led to confusion surrounding

competition was the introduction of the term "survival of the fittest" (in

relation to Darwin's concept of natural selection 78 ). This phrase has been

abused for over a century as meaning "survival of the strongest, fastest,

and most aggressive." Yet, "fittest" actually refers to what best suits the

environment. This could be a range of behaviors including collaboration,

tolerance, patience, and so forth. Survival of the fittest is about adaptation

to a given environment, not the reign of the most dominant.

Unfortunately, such fatalistic views of competition have been part of

a long-standing hierarchy-enhancing mythology, with endless historical

claims invoking the idea that competition is an insurmountable impulse

of human nature. In 1937, anthropologist Margaret Mead published a

book called Cooperation and Competition among Primitive Peoples. 79 This

work profiled thirteen indigenous cultures, finding that the variability

among cultures could only mean "being cooperative, competitive and

individualistic is the result of the culture they live in, and is a habit, a

taken-for-granted daily activity, learned from parents and other members

of the society." 80

More recently, human and nonhuman primate anthropological

research, coupled with work in behavioral neuroscience, has suggested

the more-radical argument that humans are, by nature, actually more

prone to cooperative, altruistic, and prosocial behvaiors as opposed to

competitive ones. 81 It appears competition, aggression, and violence are

natural reactions to stress, tempered by cultural influence. Anthropologist

Douglas P. Fry's monumental work, War, Peace, and Human Nature:

The Convergence of Evolutionary and Cultural Views, summarized the

issue with respect to the myth of universal war:

The grand conclusion . . . from archaeological, nomadic forager

studies, primatology, and evolutionary theory, as applied afresh
---
56 The New Human Rights Movement

to aggression, is that in humans, war is recent, not ancient and

war is a capacity, not an evolved adaptation. In short, war was

rare to nonexistent under the conditions in which our species

evolved but obviously prevalent in more recent times that are

dramatically different ecological and cultural circumstances. 82

Therefore, we must look for the roots of aggression, conflict, and competition

within our modern social structure and the culture of stress it

has created. The global economy, which presents competition as a virtue,

pushes an "earn a living," in-group/out-group ethic that basically says

you either compete and win or you suffer and lose. We have nations

competing against other nations for physical resources and power. We

have corporations competing for profit and market share and we have

average workers competing for survival itself. We also have employers

competing against workers and unions for lower wages. We have companies

competing against government for lower taxes and we have the

upper class competing against the lower class to ensure its place in the

hierarchy. While the term "war" is often used in the context of military

or armed conflict, it is accurate to say that the entire society is basically

founded upon a general war ethic. It is built right into the very architecture

and belief systems of culture as we know it.

And while some good may come from competition in the context

of business, such as a degree of technological innovation, society tends

to overlook resulting problems like human exploitation, violence, and

abuse. Numerous sociological and psychological studies have been done

to reveal that the romanticism that ennobled the competitive ethos in

modern life is almost entirely a myth. Competition is a mechanism for

destabilizing conflict and weakening public health, not a virtuous source

of collective human progress. In her paper Competition as a Public Health

Problem, Pauline V. Rosenau exposes the mythology of competition as

being some benign mechanism that drives social progress and health.

She states:

Certain forms of competition may have quite serious negative

effects on human health and productivity. The dynamic by which

they do so are known and have been extensively studied—for
---
Beyond the Pale: Our Social Mythology 57

example, they increase stress at the individual level. Destructive

competition may also exacerbate already existing inequality

among individuals, within societies, and between countries.

Increased inequality is one of several social determinants of

health. While commonly assumed to generate incentives for

increased productivity, scholars in several academic disciplines

have called the evidence for such an effect into question . . . There

is little evidence that the current forms of unrestricted global

competition maximize the health of populations or improve

productivity. 83

Furthermore, we should also reflect on how this ever-reinforced competitive

fetish has generated a culture obsessed with war and conflict in

entertainment and play. Competition and violence is not only a featured

plot of almost every film, TV show, and video game, but it also underscores

the extreme popularity of competitive sports. I am not saying

that such themes shouldn't be of interest in general, but the tendency or

obsession appears extreme. The belief in a competitive society preys on

our natural gravitation toward group inclusion, exacerbating our divisive

propensity to seek "in" and "out" groups, setting the stage for "winners

and losers" and ultimately bigotry. Moreover, our competitive orientation

also implicitly justifies the state of the world as it is, including ongoing

imperialism, poverty, inequality, and other social injustices. 84 It is no

wonder that the US Pentagon actually spent almost $7 million between

2012 and 2015 to fund "patriotic displays" at football and other games in

an effort to boost military recruitment and support for national defense. 85

In effect, these popular sporting rituals help assist social control.

Ironically, this is also the same kind of confused thinking that has conditioned

many in poverty to fawn over billionaires. Many admire the rich

as though they are beacons of social success to which all should aspire.

Yet, it is statistically impossible for the vast majority ever to achieve this

position, since the structure of capitalism is provably slanted in favor of

certain interests, as will be further discussed in chapter three. 86 Theorist

Antonio Gramsci, who formed the concept of cultural hegemony, perhaps

best expressed the idea of social domination by influencing the thoughts,

behavior, and expectations of general society, thus conditioning them
---
58 The New Human Rights Movement

to support the worldview of the ruling class. In doing so, they tend to

support the mechanisms and institutions that actually oppress them. 87

In ancient Rome, the horrific gladiator games served many roles

in securing social acceptance of the Roman Empire's atrocities, in the

same way boxing matches, football games, and other sports do today. In

the words of Rome researcher Alison Futrell, "the amphitheater was a

politicized temple that housed the mythic reenactment of the cult of the

Roman statehood. The death of a gladiator served as a foundation sacrifice

that answered the crisis of empire, validating the Roman struggle

for power and offering a model for understanding the basis of Roman

power." 88 Fueling this competitive spirit, coupled with constant reinvigoration

of an irrational sense of loyalty to some team (or tribe), gives

a foundational psychological pretense toward further supporting acts of

state war, class war, conflict, and general out-group human indifference.

THE MARKET

Now, to restate a critical thesis of this chapter, the Neolithic Revolution

set in motion agricultural-based economic practices that triggered

the development of fixed settlements, labor specialization, and eventually

trade. The disproportional layout of the Earth's surface in regard

to climate, resources, and suitability to this new means of survival can

be viewed as a structural imposition (geographical determinism) that

effectively molded a certain kind of cultural thought and practice. Rather

than forage and follow animal migrations, people of the post-Neolithic

world became tied to the land in a more direct way, critically dependent

on factors such as regional suitability for crops and availability of food for

domestic animals. This adaptation then led to inevitable borders between

settlements that also didn't exist in nomadic life. As such, emerging

settlements were vulnerable, requiring protection of their location and

economic productions. This then meant the need for increased organization

through new social institutions.

To translate into terms of modern political economy, you thus have

the basis for property (ownership); capital (means of production); labor

specialization (jobs); regulation (government); and protection (law/
---
Beyond the Pale: Our Social Mythology 59

police/military). In other words, you have grounds for what is now

the ultimate mechanism of survival once again: the market system

of economics.

Now, I say "system" of economics as these attributes are indispensable

to its real-life functionality. While trade in one form or another has

been with humanity for thousands of years, it wasn't until the Enlightenment

that a truly formalized conception of market behavior and economy

was born. This is perhaps best categorized by the term free-market theory,

which is the market economy's purest theoretical formula for economic

behavior. In traditional education, a pure free market is idealized as

self-regulating, without the need for outside interference, such as government

regulation. A pure free market is said to feature unobstructed

trade between "voluntary" parties, with the prices people pay determined

through supply and demand. Supply and demand is the self-regulating

mechanism of price determination, adjusted dynamically by the ongoing

actions of buyers and sellers in the marketplace. While both buyers and

sellers effectively compete to gain the most optimal price in exchange,

sellers also compete against other sellers to ensure they get enough sales

or market share from the consumer public. This competition is also considered

self-regulating, with the assumption that ineffective marketing

strategies or poor relative product quality on the part of a given seller will

naturally lose buyers, while the opposite will attract buyers—reallocating

market share to the best performer.

Of course, this "pure," fully autonomous, self-regulating market

economy is actually not possible in real life, even though many are still

convinced that it could be. Simply put, such self-regulatory market forces

have a limited range of effect and once factors of fraud, desperation,

irrationality, and the host of detrimental externalities come into play,

the whole thing falls apart into disorder and abuse. As such, most of the

world has accepted that some degree of intervention is needed, realizing

that social welfare policies such as a minimum wage or institutional

oversight are dire necessities to ensure some fairness and security in the

arena of market warfare. 89

Yet the issue continues to be controversial, with ongoing debate over

just how much regulation or interference the government should impose.

In fact, most of the major economic schools divide themselves along
---
60 The New Human Rights Movement

these lines. Terms such as "neoliberal," "laissez faire," "deregulation," or

"nonintervention" are common to those who feel the market should be

more "free" in order to be most economically efficient. Conversely, those

who argue for increased regulation, state controls, unions, welfare, and

increased legal safeguards tend to be categorized along an ever-slippery

slope that leads to the derided, pejorative bowels of market "socialism"

at the other extreme of thought. The bias, of course, is always toward

the former side, not the latter, since free-market theory is foundationally

based on the reduction of interference, as the term denotes.

Put another way, at the very epicenter of the debate is the degree

of faith in market self-regulation. Adam Smith, the eighteenth-century

philosopher largely considered the father of this worldview, coined the

now famous term invisible hand to suggest that people, acting selfishly

in their economic behavior, will paradoxically produce outcomes that

improve society as a whole. Smith wrote:

[E]very individual necessarily labors to render the annual revenue

of the society as great as he can. He generally, indeed, neither

intends to promote the public interest, nor knows how much

he is promoting it . . . he intends only his own gain, and he is in

this, as in many other cases, led by an invisible hand to promote

an end which was no part of his intention . . . By pursuing his

own interest he frequently promotes that of the society more

effectually than when he really intends to promote it. 90

Smith's concept of the invisible hand basically laid the foundation for

general equilibrium theory. 91 This theory seeks to explain the functioning

of the market as a whole in terms of the dynamics of supply, demand, and

prices, generally arguing for a kind of inherent resulting balance. The

theoretical ideal assumes that through this self-regulation, market forces

should find "equilibrium" and be stable to an acceptable degree without

institutional intervention. In other words, it is assumed that people rationally

going about their self-interested economic pursuits will somehow

create balance, preventing things like banking failures, extreme wage

differentials, goods shortages, and other destabilizing imbalances that, as

we know, have been constant in capitalist society for a long time. Given
---
Beyond the Pale: Our Social Mythology 61

the popularity of Smith's proposal, numerous traditional economists set

out to prove his theory both formally and empirically. Not surprisingly,

they have all failed. 92 While some equilibrium is present, such as the ebb

and flow between low product demand tending to trigger lower prices

and high product demand tending to trigger higher prices, the whole

economy quickly moves to disequilibrium or destabilization when left

to its own devices.

A notable modern example was the 1999 financial deregulation of

US banks through the repeal of the Glass-Steagall Act. This act was

introduced after the Great Depression in 1933 to help ensure commercial

banks would no longer get involved with investment banks, pursuing

risky speculation with their customers' assets. However, once repealed

after about $300 million in lobbying efforts, commercial banks turned

around and engaged in credit-default swaps and other high-risk derivatives,

paving the way for the 2008 global financial crisis. 93

Needless to say, there was no equilibrium to be found in the deregulated

environment, which serves as yet another historical case study

illuminating the fact that markets simply are not inherently stable. In

the words of Harvard researcher and author Jonathan Schlefer:

Beginning in the 1870s, theorists sought to build a model of

the invisible hand. They wanted to show how market trading

among individuals, pursuing self-interest, and firms, maximizing

profit, would lead an economy to a stable and optimal equilibrium.

Those theorists never succeeded. Quite the contrary: in

the early 1970s, after a century of work, they concluded that no

mechanism can be shown to lead decentralized markets toward

equilibrium, unless you make assumptions that they themselves

regarded as utterly implausible. 94

Again, while most people today generally understand that markets need

regulation, it is interesting to see how little attention this destabilizing

tendency gets. What it means is that markets are fundamentally unstable

and have negative consequences that can hurt people. Not only did the

2008 financial crisis trigger millions of home foreclosures, but an estimated

10,000 suicides between 2008 and 2010 have also been linked to
---
62 The New Human Rights Movement

the related "Great Recession" across America and Europe, along with

500,000 deaths worldwide from cancer due to a lack of medical attention

as a result of financial loss, unemployment, and/or loss of public health

care benefits. 95

The belief in the "free market," as it is still politically termed across

the world, is a critically important myth to modern society. The public's

faith in the market system, with all its claims of "freedom" and "empowerment,"

serves to protect the status quo, dominance hierarchy, and, most

important, the vast social and economic privilege enjoyed by the elite

minority. It is a system, as will be explained, that paints the illusion of a

nontotalitarian social order that engages in no real coercion or violence

against the population. Yet the truth is that the market is at best only a mild

improvement in the development of historical social systems still based

upon the root socioeconomic orientation noted earlier: scarcity, self-interest,

competition, and dominance. Ancient slavery, feudalism, mercantilism,

and all post-Neolithic social systems thus far have been foundationally

elitist in their mechanisms and loyalties, sharing this common thread.

Even communism, as historically practiced, required large-scale

social control with heavy propaganda and legitimizing myths to maintain

a controlling elite, just as capitalism does. Communism (as practiced)

was a form of authoritarianism that simply approached social dominance

in a different way. While I do not condone the practice of communism as

it unfolded in the twentieth century, the highly biased Western mythology

surrounding it does a great disservice to better understanding world

history. It is true that communism suffered great economic inefficiency

and corruption that led to famines, civil wars, violent political oppression,

and forced labor. Some historians have estimated a death toll of

around 94 million across all major practicing countries, with this figure

sourced from a text called The Black Book of Communism that has been

widely criticized for bias and inflating death tolls. 96

Regardless, for the sake of argument let's assume this death toll is

correct. When you strip away the traditional manner of thinking about

violence, capitalism is far from an improvement when it comes to the

structural nature of its effects. The difference is in how one defines violence

and oppression. As will be expanded upon in chapter four, capitalism

is and has always been vastly inefficient in its allocation of resources
---
Beyond the Pale: Our Social Mythology 63

across populations, with now virtually half of the world's wealth owned

by 1 percent of the population. To put these figures into perspective, it is

estimated that the annual income of the richest 100 people is enough to

end extreme global poverty four times over. 97 Given this characteristic

of the market to create inequality and relative poverty, researchers in

the 1970s found that roughly 18 million people die every year due to

these uneven distributions. 98 Extrapolated for the twentieth century,

that is 1,800 million deaths due to perhaps the most fundamental social

characteristic of capitalism: inequality. In less than six years, capitalism's

inequality arguably kills as many people as communism is claimed to

have killed during the entire twentieth century. While communism in its

original Soviet-style form is now a thing of the past, millions continue to

die unnecessarily every year in the now overwhelmingly capitalist world

due to economic inequality.

When the end result is unnecessary death and suffering, what is the

difference between people who are consciously executing mass genocide

and those who participate in a game of commerce that systemically creates

comparable group death tolls, even if not deliberately intended? To

repeat the words of Gandhi: "It little matters to me whether you shoot

a man or starve him to death by inches." 99 So, I would again argue that

while there are indeed improved features of capitalism relative to prior

systems, the main difference between its method of oppression and older

systems is really the degree of public acceptance and identification with it.

The beauty of this "free market" mythology is that, from the standpoint

of elitism, it poetically cloaks the severe dominance implications, giving

the public a shallow illusion of volition, social mobility, and freedom.

In fact, this mythology has been so deeply politicized and moralized as

some mechanism of human dignity, you will find "free markets" often

associated with democracy itself in political and economic discourse.

People are even said to "vote with their dollar," which is ironic since that

is exactly the problem when it comes to most corruption in the world

today. A person with a billion dollars can certainly "outvote" the vast

majority of people in the world, as we know all too well from global

corporate lobbying of governments.

And this brings us back to the polarized debate between free markets

and government regulation. Again, how and to what extent should
---
64 The New Human Rights Movement

governments regulate markets or interfere is an endless debate when

it comes to political economy. In principle, the ultimate issue is what

condition creates the best economic efficiency and stability. Those on the

political "left" tend to want more control and safeguards, while those on

the political "right" tend to want more market "liberalization" or selfregulation.

However, when you begin to think more deeply about the

synergy of the market and government, noticing how blurred the lines

really are when it comes to loyalties, these ideological debates appear

increasingly less coherent. It isn't that regulatory actions taken by state

power don't often have negative consequences on trade efficiency in specific

circumstances. This is often quite true, to the credit of proponents

of laissez faire. The problem is that people misunderstand why certain

government actions are taken to begin with, missing the motivation.

A simple example is the tariff. A tariff is a tax placed on imported

or exported goods by a government. Macroeconomic theorists have

long argued that tariffs are inhibiting to broad economic efficiency as

they hurt the flow of capital and goods while disturbing natural price

relationships. So why is it done? Of all the forms of taxation a government

can impose, why this one? Is it possible a tariff is actually a tool

that helps to protect certain favored industries from the risk of outside

competition? If so, what does that say about the focus of government

itself when it imposes such things? Isn't government intervention in the

market generally argued to help secure larger-order market efficiency

for the greater good, without bias? The truth is that governments are

really vested interests, just like the businesses they claim to regulate, and

tariffs exist to restrict trade between regions, generally favoring internal

domestic industries. In other words, government intervention can be

just as much about securing competitive advantage for profit-seeking

industries as it can be about trying to keep market operations stable.

Similarly, a notable advocate for laissez faire markets, Ayn Rand,

is famous for arguing that the development of monopoly and cartel are

actually the result of government collusion and that a pure free market

could never allow for monopoly due to market self-regulation. 100

In theory, there are kernels of truth to that conclusion, if we were to

consider only her myopic definitions. In reality, Rand, along with other

orthodox free-market adherents, denies the relevance of the fact that
---
Beyond the Pale: Our Social Mythology 65

idealized free markets are actually impossible given the basic requirement

of governmental oversight to ensure, to whatever degree, respect

of property rights and some general honesty in trade. Given this capacity

and power, the belief that government would ever be neutral and

without hidden agendas or vested interests is deeply naïve. Whether a

monopoly is government-sanctioned, as in the case of a state-run utility

company, or a huge corporation is favored in trade policy to be a virtual

monopoly in their industry, there is little difference in the end. Governments

are effectively defined and composed of the business industries

that fund them.

Yet the mythology persists that collusion between market interests

and state power is an anomaly to be dealt with as though a few "bad

seeds" are being "corrupt." On the contrary, the market economy is and

has always been one of direct and constant collusion with state power,

because they are interlinked as one synergetic system. The mythological

idea that markets are a system of "natural liberty" and that any "corruption"

is a rare, "moral" problem simply serves establishment preservation

by distracting attention from a deeper and much more troublesome

reality. Now, since this line of thinking may be new to some readers, I

have created a semi-satirical short story depicting what happens when

the basic logic of "free-market trade" is taken to its final conclusion.

Tom wants an apple. John has an apple and offers it for $1. Tom counter-offers

50 cents. John re-counters at 75 cents. They agree. Sale. John

decides this is a business he likes. But he notices other sellers are nearby.

So, John needs to be competitive. One day John has some older apples

that he normally doesn't sell. But he thinks they are still good and he

really needs the income. Tom buys these apples—eats them—and gets

sick. Tom returns to John and asks for his money back. John refuses,

claiming Tom has no proof it was his apples that made him sick. Tom

calls his lawyer and sues John to pay for his doctor's visit. John goes to

court and loses. John learns a lesson about the power of the government.

Yet Tom wasn't alone in reporting bad apples. Besides John, others

have also been selling bad goods, causing many lawsuits. So the government

decides to set up an organization to regulate the production and

distribution of apples. John, bothered now by costly new regulations that
---
66 The New Human Rights Movement

are threatening the profitability of his apple business, decides to befriend

the regulators and offers money in exchange for leniency. They agree,

albeit covertly, and suddenly John has even better profitability, with his

competitors now at a disadvantage.

Over the next few years, John expands his apple business, buying

up other shops in the region to limit competition. At a certain point, he

is able to undercut just about everyone else around due to mass production,

putting many small shops out of business. One of the people he put

out of business goes to the government and complains that there is no

way others can compete with John in the market. The official decides

the man is correct and, under public pressure, forces John to break up

his apple-shop monopoly. John, who has become quite wealthy by this

point, does not like this and quietly arranges for his executive friends to

take control of the now divided apple-shop monopoly. Then, in secret,

the different shops work together to ensure they get maximum returns

by keeping prices fixed overall, creating a cartel.

Over time, John's public stature in the community grows as he gives

to charities, attends fundraisers, and makes friends with government

officials. John is happy. That is until it comes to his attention that a new

apple shop is working to import apples from another town, posing a

competitive threat. So, John, who gave generously to financially help a

government friend get re-elected to office, asks for a return of the favor—

that being to increase the town tariff on apple imports, making the cost

high enough to ensure the other shop would no longer be profitable. It

works and John is happy again—but not for long. It appears John's apple

farm has been employing illegal workers and paying them very little. A

gaggle of annoying human rights activists then come to his farm, causing

a stink. John claims he was unaware of the illegal hiring and fires

some of his staff as scapegoats. He then rectifies the situation, assuring

his regulator friends it was all just an honest mistake.

Unfortunately, one of John's former staff members, upset by being

fired, then goes to the authorities with legal documents and memos proving

not only that John gave orders to hire illegal workers but also revealing

payments to the apple-shop regulators, the conspiracy to ensure cartel

power, and the collusion with government officials for the tariff hike. After

being found guilty on all counts, John stands up to face the judge in court:
---
Beyond the Pale: Our Social Mythology 67

JUDGE: Do you understand the crimes you have been proven guilty of?

JOHN:

No, sir. I was only following the ethic of the free market.

JUDGE: Clearly you must have failed economics in school, as you have

engaged in government collusion, conspiracy, price fixing, and

illegal employment.

JOHN:

No, sir. I have simply let supply meet demand and voluntary

choice decide each action.

JUDGE: So something like price fixing is not against the theory of freemarket

practice? Last time I checked a free market was to be free

of interference and collusion.

JOHN: No, sir. A free market is having the freedom to trade and compete

as you see fit, buying and selling whatever you choose, with all

parties voluntary in exchange.

JUDGE: That may be so, but your actions, such as conspiracy in tariff

fraud, are clearly going against such principles, as you are using

force to stifle your competitors.

JOHN: Your reasoning confuses me, sir. All acts of competition exist

to stifle and outperform competitors. Only voluntary exchange

binds how the act of competition unfolds in a free market. One

does not make your claim when a company purchases advertising,

disproportionately exposing consumers to an item over

other competitors'. Using government to my advantage is the

same thing.

JUDGE: So let me get this straight. You are telling me that the free market

allows for buying and selling of the very mechanisms designed

to regulate the free market?

JOHN: That is correct, sir. The free market includes the freedom

to take away the market freedom of others through the act

of competition.

JUDGE: Well, I'm sorry to break it to you, John, but not everything in

this world can be bought and sold. Our society was not set up

to benefit those with the most money. Your sentence is 15 years

in jail or a $50 million fine.
---
68 The New Human Rights Movement

The judge then drops his gavel in a bold sign of dignity and satisfaction.

John pauses, grins in amusement, and pulls out his checkbook. He pays

the full fine, gets in his Ferrari, and goes back to his mansion in time

for a dinner party.

Welcome to the true free market.

I call this the paradox of free trade. This paradox points out that to decide

what is and is not for sale in the market is entirely subjective. Who is to

decide if buying an apple is any different from buying government policy?

The truth rests in the contradiction. Either we have a real, pure free market

that requires no respect for law, buying and selling anything and everything;

or we don't have a free market and never possibly could, for the act

of buying and selling the mechanisms used to regulate the free market

or simply interfering in general through monetary means will always be

a problem, voiding the logic of its idealized foundation. I would add that

in my personal experience with debating this issue, proponents of free

markets tend to dismiss this ever-present reality as "crony capitalism."

They view the phenomenon as moral corruption rather than a natural

gravitation of market strategy to seek advantage along a competitive continuum,

hence creating a morally relativistic logical fallacy.

BUSINESS DEMOCRACY

In the words of famed nineteenth century–born economist and sociologist

Thorstein Veblen: "Legislation, police surveillance, the administration

of justice, the military and diplomatic service, all are chiefly

concerned with business relations, pecuniary interests . . . [T]hey have

little more than an incidental bearing on other human interests." 101

The impression that our major civil institutions exist to help perpetuate

the well-being of society as a whole is one of the more notorious

social mythologies to be found because it is a half-truth. We are taught

that the police are there to protect the individual; the military works to

protect the nation; legislation exists to ensure fairness and safety; while

self-proclaimed democratic government itself represents the interests of

the majority, adapting the society for the betterment of everyone.
---
Beyond the Pale: Our Social Mythology 69

In reality, while the average person will find some modest protections

and benefits from these institutions as per the traditional claims, government's

underlying loyalty and priority is and has always been to protect

dominant business and economic interests. This is not to say that the

average employee involved in law enforcement or legal service willfully

and consciously focuses his or her attention away from general public

good. It isn't necessarily about conscious, personal intent. Rather, it is

about the structural function those civil service positions serve within

the social structure itself—a social structure that is built upon a foundation

of hierarchical loyalty and dominance, driven by the mechanism

of market economics.

For instance, while a policeman may come and get your cat out of a

tree or chase down a purse-snatcher on the street, the police as an institution

are there to preserve the existing status quo of a nation. As such,

their loyalty will always generally be toward established interests. This

is why the history of activism, civil rights, and social change is replete

with violent entanglement with law enforcement, regardless of the merit

of the activist pursuit. This is also why most arrests and prosecutions

originate from the lower socioeconomic classes, as they are the most

profiled by the police due to the constant backlash that emerges from

economic deprivation and inequality—two features that (as I've shown)

are inseparable from market capitalism.

The ethic and practice of business runs throughout governmental

organization. While it is true that money can "buy" politicians and

policy, as charged in common rhetoric and activist outcry, the reality is

much starker. If monetary influence is considered something that can

corrupt government, why would corporate lobbying be globally legal?

The public seems to miss the implications of this exceptional fact. While

the principle of lobbying is based on the idea of simply working to inform

and persuade government on behalf of a social interest, such as a public

petition to improve highways, that isn't the norm. Instead, lobbying is the

route by which business uses government to its competitive advantage.

This method of influence is so dominant today, I would further argue that

governments are not merely vulnerable to business interests—they are

business interests, even if our politicians have convinced themselves they

are serving "the people" and not business. Again, there are structural
---
70 The New Human Rights Movement

roles in play that override individual intent. The economic orientation

of any society precedes its government, dictating what the fundamental

functions of government are to be. Consequently the greatest priority for

protection are business interests, and the larger the interests, the more

outstanding the protection.

Now, since America is the current reigning empire and general father

figure for much of the world, especially in regard to economic influence,

it serves as an excellent case study of how business interests dominate

and benefit from governmental decisions. Please note that I do not view

America as an exception. True, there are other countries with apparently

less collusion, as in some of the social democracies of Europe, but they

merely exist at different stages of the same maturing disease. America is

at a much more advanced stage of the problem, exacerbated by its global

economic dominance and geopolitical power.

As of 2015, more than half the members of the United States Congress

are millionaires. 102 It has been estimated that the number of working

lobbyists in the US is around 100,000 and that lobbying brings in

$9 billion annually. 103 The infamous "revolving door" between big business

and politics is an everyday, characteristic feature. It's now standard

operating procedure for political figures to come from powerful business

origins only to eventually leave office and either return to those

prior vested interests or actually become lobbyists themselves. Thomas

B. Edsall, researching for the New York Times, concluded:

When Washington politicians leave office, many, if not most, no

longer return home. Instead, they head straight to the lucrative

world of K Street, the nation's lobbying corridor, which runs

through the heart of Washington. A former member of the

House or Senate with even modest seniority can now expect

to walk into a job paying up to $1 million or more a year—and

much more when bonuses are paid for bringing in new clients. 104

Given this, it is no wonder that a detailed study in 2014 conducted by

Professors Martin Gilens of Princeton and Benjamin Page of Northwestern

University concluded that "the preferences of the average American

appear to have only a minuscule, near-zero, statistically nonsignificant
---
Beyond the Pale: Our Social Mythology 71

impact upon public policy." The researchers concluded that lawmakers'

policy actions tend to support the interests of the wealthy, Wall Street,

and big corporations. 105 Even American history reveals the governmental

foundation to ensure disproportional favoritism for those of great wealth,

regardless of the mythology surrounding the founding fathers' claimed

quest for "a government for and by the people." The American constitutional

model, while progressive for the time, was still based upon the

European model of aristocracy, only this time the aristocracy was born

from class, ownership, and wealth, not family bloodline.

James Madison, known as the father of the U.S. Constitution, made

it very clear in the Federal Convention of 1787 why the Senate should

be created. He stated, "They ought to be so constituted as to protect

the minority of the opulent against the majority. The Senate, therefore,

ought to be this body; and to answer these purposes, they ought to have

permanency and stability." 106 The founding fathers of America really

had no interest in the resolution of class differences, and ensured, as it

remains today, that disproportionate support and power was to be given

to the "opulent" minority. They knew that a true democracy would force

a vast redistribution of wealth, since, of course, the vast majority historically

have been poor. In fact, it should be a fairly obvious feature of all

national governments in the world that this kind of protection of the

rich is structurally secured through governmental policy.

I would like to restate this for emphasis: If a pure democracy ever

occurred—meaning every individual is given an equal, active influence

on policy and could work in the majority interest to adjust society to

actually benefit itself—it would be impossible for the modern reality of 1

percent of the world's population to own almost 50 percent of the world's

wealth. The poor majority would simply create policy to reallocate economic

wealth directly, as James Madison understood.

Now, earlier in this section Thorstein Veblen was referenced. He

is highlighted because his analysis of the nature of government in the

capitalist system has been instrumental in understanding the obscured

economic loyalty of state power. A notable scholar of Veblen is Australian

economist John C. Wood. Since Veblen's work can be verbose, the

following passage from Wood's analysis will serve to concisely explain

Veblen's important perspective. Wood states:
---
72 The New Human Rights Movement

Veblen wrote extensively and insightfully on the relation between

capitalist government and the class struggle. For Veblen, the

ultimate power in the capitalist system is in the hands of the

owners because they control the government. The government

is the institutionally legitimizing means of physical coercion in

any society. As such, it exists to protect the existing social order

and class structure. This means that the primary duty of government

is to enforce private property laws and protect the privileges

associated with ownership. Veblen repeatedly insisted that

"modern politics is business politics . . . " The first principle of a

capitalist government is that [to quote Veblen] "the natural freedom

of the individual must not traverse the prescriptive rights

of property. Property rights . . . have the indefeasibility which

attached to natural rights." The principle freedom of capitalism is

the freedom to buy and sell. The laissez-faire philosophy dictates

that [to quote Veblen] "so long as there is no overt attempt on life

. . . or liberty to buy and sell, the law cannot intervene, unless

it be in a precautionary way to prevent prospective violation

of . . . property rights." Thus above all else [to quote Veblen] a

"constitutional government is a business government." 107

Given all this, the very idea of any kind of effective democracy becomes

increasingly illusory. The system simply isn't designed to cater to the

well-being of the general public as a priority. Rather, it is designed to

facilitate the affairs of business and most of all the protection of big

business, which are naturally the dominant interests in the revolving

door of government. In fact, if you look closely, the dominant political

parties in the world today reflect not so much different social views held

by the public, but different underlying business and economic views.

And if you are wondering why the average population is granted

the liberties and degree of choice it does have, for its benefit, the answer

can be found back in social dominance theory. As accurately observed

by Sidanius and Pratto, "a certain level of oppression is assumed to

increase the survivability of a social system, while 'too much' oppression

will tend to decrease the survivability of a social system. Therefore,

in social systems that are relatively stable, we expect . . . an oppression
---
Beyond the Pale: Our Social Mythology 73

equilibrium." 108 Put another way, those at the top of the hierarchy, who

are invariably the large business-political powers today, are often delicate

in their acts of strategic self-interest and elite preservation since they

know that too much imbalance, inequality, or oppression will result in

social backlash that can put their positions at risk.

Now, I would like to conclude this section by emphasizing that people

in government and business engaging in this preferential behavior at

the expense of public well-being generally do not do so with malicious

intent. It is rather their belief system that is the problem. They may very

well be somewhat indifferent, but the socioeconomic belief system they

subscribe to allows for the rationalization of such abuse and imbalance,

in the same way religion can justify inhumane behaviors. It is simply part

of a moral ethic, as per the supposed virtues of business and "freedom."

In the words of Thorstein Veblen once again: "It is not that these captains

of Big Business . . . are naughty. It is not that they aim to shorten human

life or augment human discomfort by contriving an increase of privation

among their fellow men . . . The question is not whether this traffic in

privation is humane, but whether it is sound business management." 109

As long as there is no "sin" in one's behavior, as dictated by the

market faith, all resulting outcomes and atrocities can be dismissed,

including global poverty, human trafficking, resource overshoot, climate

change, sweatshop slavery, water pollution, and other externalities

that the market god need not recognize or understand. I would argue

un-metaphorically that money and markets now serve as the prevailing

religious order of the modern world. The "free market," with its stillupheld

religious invocation of the all-seeing and all-knowing invisible

hand, is the center of the faith. This idea that one can navigate selfishly

and then expect outcomes for the greater good is profoundly mystical.

As such, why should money and business, in all of its all-knowing

omnipotent glory, not be the force that drives public policy? At the time

of writing there are many frustrated grassroots campaigns saying, "Get

money out of politics!" As well-meaning as they are, this is equivalent to:

"Get liquid out of soup!" We live in a world where everything is for sale

and the act of sale is considered sacrosanct. Life has been commodified,

packaged, and made available to the highest bidder. So why should the

line be drawn with government when it is drawn virtually nowhere else?
---
74 The New Human Rights Movement

MORAL ILLUSIONS

My first real introduction to the business world was a corporate desk job

as an entry-level video editor and music composer for a small production

company in midtown Manhattan. Within two years I found myself as a

manager, overseeing the work of a small creative team. Everything was

fine for a while, but slowly the company started to fall apart. Paychecks

started to be delayed here and there. And then they stopped. The bosses

promised the issue was due to pending client payments. We became used

to the ebb and flow of inconsistency, working diligently as we were told

with confidence that everything would work out in the end. Unfortunately,

that end proved more and more distant and eventually the entire

staff found itself almost half a year behind in payment.

I decided to go to city hall and look up the company to see if it was

going bankrupt. It turned out it was, and if the company kept up appearances

long enough, it would not only void its debts, but it wouldn't have

to pay the employees, either. I certainly needed to move on, but losing

the money the company owed me was not an option. I was now in substantial

debt, living off credit cards to make ends meet. I thought about

small-claims court, but if the bankruptcy went through, the company

would not be held accountable either way.

It was a trying personal experience, not only for myself but also for

the other desperate employees, many of whom had families and children

to take care of. Talking to the bosses proved fruitless, as they were not

going to level with us given what they had at stake. I think in the back of

their minds they were honestly trying their best, seeing the bankruptcy

as a proactive stopgap, hoping they would turn the ship around for the

sake of everyone. Unfortunately, when the walls start closing in and risk

takes hold, ensuring personal survival is often not conducive to social

goodwill or honesty.

So, growing increasingly desperate, knowing there was value to the

data and projects I had on my server, I transferred files I had been working

with onto an external hard drive and held them hostage. Upon quitting,

I explained I had the files and would not return them until I received

the salary owed me. After a week, I was sent a check and I returned the

data. As it turned out, I was the only one who ever received back payment,
---
Beyond the Pale: Our Social Mythology 75

leaving about a dozen others with aggregate loses of almost $200,000

after being officially laid off.

This experience really made me think about not only the market

economy's inherent ethical challenges, but also how long one's moral

convictions to be respectful and honest can withstand increasing levels

of financial stress. The bosses were a married couple and they had just

given birth to a second child a month prior. From their perspective, I

suspect the well-being of their employees was secondary to family, as

would probably be the case with most people. Was their decision to cover

up what was going on unethical? What about my behavior of holding

their files for ransom? Was it unethical for me to have held those files

and not demand payment for all the employees, rather than just myself?

In an economic reality where it is expected that some companies will fail

as a natural law of competitive-market dynamics, how are moral lines in

behavior to be drawn when well-being or survival is constantly at risk?

To consider such questions (which will be returned to later), let's

examine the general history of moral debate. While it's certainly a vast

and complex subject, with a range of theories as to the nature of what

it means to be "right" or "wrong," most traditional discourse revolves

around the duality between moral relativism and moral objectivism.

Moral relativism means different people (or different cultures) can

hold different moral views of the same situation. For example, a person

with the conviction that eating meat is immoral, hence deciding to be a

vegetarian, stands in contrast to a person who sees no moral issue with

the harvesting of animals for food. Yet that same person who does eat

meat might find certain kinds of meat appropriate while other kinds

not so much. For example, a Western meat eater, accustomed to the

traditional fare, along with a culture of dog domestication, might very

well find it repulsive and immoral that in areas of Asia people eat dog.

Such is the nature of moral relativism.

German anthropologist Franz Boas extended this theory to demonstrate

the power of culture itself in determining core values and beliefs

of people within it. Boas coined the term cultural relativism, a further

distinction expressing the strong influence social tradition has when it

comes to what individuals consider appropriate or not. 110 Cultural relativism

is obvious from a historical perspective, with a vast spectrum of
---
76 The New Human Rights Movement

deemed moral behaviors common to some cultures standing in stark

contrast to others. From accepted human sacrifice of the Aztecs, to the

polygamy of Mormonism, to the endocannibalism of the Yanomami

tribe of the Amazon, social variance across time and region is quite

fascinating. It is also easy to see how one's acceptance of a given belief,

moral or not, can become reinforced simply because it is shared by many

in the same culture.

Moral objectivism, on the other hand, says moral truths must be

universal; that is, they are "external" to the beliefs of an individual or

culture, like a law of nature. 111 This view is where the debate really heats

up, since moral relativism is more of an observation than a method for

analysis. There is something to be learned from the phenomenon of relativism,

such as the power of culture to shape people's beliefs, along with

the day-to-day heuristic logic that leads individuals to come to moral

conclusions, based on their personal experiences. However, most moral

concerns gravitate toward an imposition on others. After all, anyone with

a true moral conviction generally expects others to conform to that belief

as a matter of general integrity. They tend not to just sit by and allow the

seemingly immoral behavior of others to go unaddressed, especially if

they deem it severe. I have yet to meet a person who holds a strong moral

belief who isn't socially active on some level, seeing the need to try to

persuade others to share his or her view as a moral obligation. Philosopher

of science Michael Ruse argues that humans evolved to think of

morality as objective to motivate us to act. 112 If we do not feel the need to

act and influence others, it could even be argued that the very purpose

of moral conviction (or morality in general) is useless.

Yet, moral objectivism as a theory has serious faults. The first is the

reality of conflicting moral dilemmas. A man comes to your house and

asks if you know where a friend of yours is, saying he is going to kill him.

You do know where he is and you happen to have the moral conviction

not to lie. Yet, if you tell the truth, your friend will be in danger. Since

you also hold the conviction that murder is wrong, you have a conflict.

What do you do? Well, as most would, sacrificing one conviction (truth

telling) to uphold the other (no murder) is the rational compromise. One

is simply deemed more important than another, given the context and

severity of consequence.
---
Beyond the Pale: Our Social Mythology 77

The problem with objective moral assumptions is they are isolated

or localized, ignoring the systemic nature of causality. Moral logic cannot

simply be reduced to singular instances. What may seem like moral

behavior in one instance can very well create a systemic chain reaction

that leads to highly immoral outcomes. To the extent that negative consequences

can be predicted, they become a critical part of the assessment

of any decision. In fact, I would go so far as to argue that reductionist

morality—meaning moral judgments isolated to a given moment only—

can be immoral in and of themselves since they forgo consideration of

larger-order effects.

Another associated problem is the continuum fallacy. A continuum

fallacy occurs when two or more different states or distinctions are

assumed, while those distinctions actually exist along a fluid continuum

of states that cannot be differentiated. A common example would be

the debate on abortion. The continuum is human life itself. The general

moral view is that murder is wrong. Obviously, we have laws to deter

murder in society, even though many societies do allow for murder when

it comes to combat, capital punishment, or self-defense. Regardless, on

the whole, murder of human beings is generally seen as "wrong" and

the abortion debate asks, At what stage of pregnancy a fetus is to be

protected as a "human being"? Pro-life moderates may say it is okay

to abort a fetus before six-to-eight weeks, with various explanations as

to why. But regardless of these attempts to create a distinction, there is

really no defensible starting point for the initiation and development of

singular human life other than conception itself. All arguments to draw

lines through time principally fail as a continuum fallacy, since how life

is to be defined cannot be objectively differentiated once fertilization has

started. The human life cycle is a process that starts with conception and

ends with death.

Is there a way to create differentiation that avoids the continuum

fallacy? Yes, but only when external factors are weighed in, bypassing

the localized view and moving into a systems view. What are the possible

long-term outcomes of having a child, based on the social condition? Is

the fetus healthy or will it have a severe, painful, lifelong disability? Is the

family in a financial position to support the child, ensuring good-quality

upbringing? Is the region or even society itself equipped to accommodate
---
78 The New Human Rights Movement

another human life? These are difficult yet relevant questions, for if it

is predictable that that child's birth is to set in motion a life of abuse,

deprivation, illness, and suffering, the notion of what is moral then takes

on a different tone. It could very well be that the most immoral thing

a parent could do is to bring a child into conditions unfavorable for

development. If pro-life concerns secure the birth of a child into an

unfavorable precondition, and that child grows up as an abberated adult

who kills another human being due to such life distortion, is the initial

moral righteousness to "save the baby" still preserved?

Of course, one could turn that around and argue that if the issue is

poor development, personal suffering, or a statistical threat to others,

then why not just kill anyone at any age with those deemed issues? This

argument fails because social factors change when a child is born, along

with where the child is in the life cycle. In our basic drive to survive, it is

an act of conscious self-interest to see to it that murder and violence are

not wholly sanctioned by society, given our most basic social goals of a

peaceful and fruitful coexistence and reduced suffering.

First, there is the clear destabilization that occurs in societies that

constantly fear violence. I am unaware of anyone who prefers a gangland

society, where people can be killed at whim for differing beliefs or just

for walking down the street. Second, people in society naturally connect

with others and become larger than themselves. We are social creatures

and our very existence depends on and is defined by others. This means

one's death can be not only emotionally traumatizing for others, even

affecting their long-term mental health, but it can also lead to retributive

murders, generating destabilizing chain reactions. We strive for rules of

tolerance and advocate general peace in communities, not only because

we may have a moral conviction but also because if we didn't, we would

personally be at risk, along with social integrity itself.

This socially connected experience is not the same for a fetus in

utero since the social bond is almost exclusively between the mother

and child. This is why the pro-choice view focuses on the mother, as

she is the one who has the most to endure as far as immediate risk is

concerned. It is the mother who can suffer direct complications from an

abortion or childbirth and is most prone to having long-term trauma,

both physically and emotionally, from either event. It is also the mother
---
Beyond the Pale: Our Social Mythology 79

who, assuming no legally recognized father, is responsible for the child

when born. While it is indeed difficult to consider the level of awareness

of an unborn child in utero, especially at the later stages of pregnancy,

we do know that the unborn have yet to experience social existence in

a real way. That can only occur once born, locking in a range of social

bonds between mother, father, and other members of the family or tribe.

The bottom line here is that there can be no singular "right or wrong"

view of this issue or, in fact, any issue. Moral assessments can only be

made in consideration of context, with extended variables and consequences

factored in. Put another way, a systems-based assessment is

needed to make the most appropriate judgment for a given circumstance.

Now, this is not to say general moral guidelines have no role. The

cultural decision to generally value human life and its protection is a

viable moral worldview because it translates into increased personal and

social security. However, that doesn't make it objective in the sense of

being universally applicable without exception. The complexity of life

poses far too many circumstantial variations and conflicts in which the

violation of general moral principles can be justified.

Of course, superficial perceptions of this kind of thinking tend to

make people nervous, and with good reason. It could be countered that

if everyone freely evaluates a situation to decide on the morally appropriate

course of action, people could justify destructive or immoral actions

by subjective, biased, or poor rationalizations. A classic example is the

"greater good" claim regarding war crimes by leaders, as noted earlier

in this chapter on cultural superiority. History is full of genocides and

murders led by seemingly ethical people, claiming that their actions

are morally right in an "end justifies the means" kind of logic. Still,

as problematic as this is, it does not change the fact that judgment is

invariably contextual and multidimensional. So, just because an apparent

wrong judgment occurs does not suddenly mean the only solution

is the objectivist view.

We see this mistake made by religious institutions, codifying moral

laws such as the Ten Commandments. It is very easy to simply declare

that some singular act should be right or wrong. Social establishments

have attempted this for thousands of years, with great, hypocrisy-ridden

failure. The old but still-common view that religious moral objectivity is
---
80 The New Human Rights Movement

required by society to have any hope of not producing rogue, murderous,

raping cannibals has also been a long-standing myth of many faiths. 113

The truth is that moral reasoning is really no different from any other

form of intellectual judgment in the interest of truth. As such, the proper

context for moral evaluation is epistemological, which simply means

there must be some kind of justifying and inferential framework for

validating ideas and knowledge.

From this epistemological perspective, moral objectivism, as in

the nature of religious moral codes, falls under the umbrella of what

is termed philosophical foundationalism. Foundationalism is the view

that all knowledge ultimately rests on a foundation of non-inferential

understandings or pre-justified belief. 114 Non-inferential means that at

some point a given idea or statement of fact requires no further justification.

It's deemed a fact and that is that. In other words, it should no

longer be questioned. To use a tree metaphor, the firmly rooted trunk

is like an unquestioned, foundational belief, while the branches are

derived beliefs, built upon (or inferred) from the foundational trunk.

For example, "There is a God" is a foundational statement that, through

faith in its truth, requires no further justification. From there, people

can inferentially build or justify a host of other beliefs, as is common to

theistic religious philosophies.

Foundationalism is partly a response to an intellectual phenomenon

known as the infinite regress. Infinite regress is considered the central

problem in fully understanding anything. It expresses the fact that logically,

any proposition or statement of assumed fact requires a justification.

115 Yet all justifications must in turn be justified by something

else. This means that any proposition or statement of assumed fact can

be endlessly questioned to infinity. A classic example of this regress is

in questioning the existence of God. Somebody says, "God created the

universe," with the logical thinker next to him chiming in with, "OK,

then, who created God?"

Aristotle was perplexed by this problem, as it makes trying to understand

anything rather unstable. If every cause is also an effect in reason,

then how do we find any universal truths? So Aristotle argued that there

must be a stopping point where a proposition or belief no longer requires

further justification. 116 He vaguely described a kind of innate knowledge
---
Beyond the Pale: Our Social Mythology 81

related to our built-in sense perception where, like a hierarchy, knowledge

is built upon a foundation of these "true facts." To date, I have

yet to read a really clear treatment on the issue, despite its popularity.

René Descartes is famous for saying, "I think, therefore I am," implying

that one can at least be sure of one's own existence, hence also arguing

there must be some kind of an unquestionable foundation to all

knowledge. 117 Again, how this pragmatically relates to viable inference

and decision making is never made clear. What seems to be argued by

Aristotle appears related to what biologist Edward O. Wilson termed

sociobiology, which links our basic biological and perceptual nature to

certain propensities as a species. 118

An example of a possible sociobiological link to moral thought could

be mirror neurons. As studied in many primate species, these are neurons

that fire when one observes an event endured by another, generating an

empathic response. 119 This kind of response is physiological, not logical,

meaning it occurs in most people as an automatic reaction to observing

others' behavior or experiences. An example is a person in great emotional

distress. On average, people sense the distress and can become

sad themselves. We see this phenomenon in the effect of movies, as the

viewer identifies with a character and feels his or her experience, even

though the character may be fictional. Generally, if there was ever evidence

for something of a human nature related to moral sensibilities,

mirror neurons seem to be the closest evidence for it. These neurons,

apart from also assisting learning, seem to be a means to bond people,

creating a sense of connection and compassion. 120

However, as relevant as this phenomenon may be to human society,

it doesn't serve our purposes here. The point here is to establish intellectual,

defendable reasons for moral conclusions. If the evidence of mirror

neurons and sociobiology does hold weight, then empirical observations

of the phenomenon can be measured and included in larger-order

arguments, just like anything else. For now, we will focus on the purely

intellectual issues since there is no clear way at the present time to understand

how such sociobiological reactions translate into full, defendable

moral ideologies.

Now, the archenemy of foundationalism is called epistemological

coherentism. As with foundationalism, there are many subtle distinctions
---
82 The New Human Rights Movement

around this idea, with no shortage of tedious historical debate. 121 For the

sake of simplicity, all we really need to understand about coherentism

is that for a belief to be justified it must be consistent (or coherent) with

other beliefs. 122 These coherent beliefs generally form a belief system,

where each singular belief in the system is supported by all the other

beliefs in the system. In stark contrast to foundationalism, there are no

absolute foundational or "privileged" ideas that can go unquestioned.

Coherentism rejects this absolutism on the grounds that the infinite

regress is not that much of a problem to understanding reality. By inferentially

associating belief in linear and nonlinear ways, we can realize

a kind of averaged equilibrium of truth that serves a functional role.

Of course, just because a belief finds coherence with other beliefs

doesn't mean anything is actually true. Just as with people voting to

reach a consensus about something (social coherence), they could all

very well be wrong, regardless of their agreement. So, coherentism is

really a probabilistic model of intellectual validation. A classic real-world

example is the case of Dr. Ignaz Semmelweis, who in 1847 realized that

simply washing his hands was reducing infection-driven deaths of mothers

after childbirth. 123 This was well before Louis Pasteur discovered

the germ theory of disease. Unfortunately, Semmelweis's findings were

rejected by the mainstream medical and scientific community at the

time, for they did not fit the prevailing system of belief put forward.

It wasn't coherent, even though correct, as many deaths continued for

years after as a result.

So putting all of this together, it's easy to see how ideas about reality

can form based upon a small number of core beliefs, as foundationalism

suggests. Yet it is also easy to understand how those "core beliefs"

can very well be wrong. And if the very foundation of any inferentially

derived ideas is wrong, it is safe to assume that so are those inferentially

derived ideas. This is why coherentism does not assume any "privileged"

root beliefs, and why its theory rejects such absolutism outright. Rather,

it "floats" the idea of truth, using inference to both consider the structure

that supports an idea and compare seemingly disconnected ideas to find

validating consistency.

Now, why is all of this important? If we look beyond the polarized

simplicity of moral relativism and moral objectivism, focusing on
---
Beyond the Pale: Our Social Mythology 83

epistemological structures common to the assessment of knowledge,

we can create an improved model of moral evaluation. Aforementioned

problems such as conflicting moral dilemmas or continuums can be better

addressed within the framework of epistemology, as opposed to

elevating human morality to something outside of rational thought.

Regardless of our emotional reactions, one's morality is really a belief

system like any other intellectual process. As such, epistemological

coherentism appears to be the best framework of evaluation as it is

systemic, without the baggage of ideological preconception we find

with foundationalism.

With this in mind, let's now return to the four questions I posed

regarding my experience with the company that stopped paying its

employees as it secretly went bankrupt to avoid all liability. Was the

company's decision to cover up what was going on unethical? Well, if

the owners had explained to the employees that they had just filed

for bankruptcy and there would be no paychecks for months more or

possibly never, destabilization of the office would have been certain.

Small-business bankruptcy is complex, with a range of protections and

vulnerabilities at different stages depending on the type. Under some

conditions, the employees could have sued for back payment. This would

have meant what money the owners did have could have been taken. If

they were honestly working to save or transform the company through

bankruptcy, it isn't hard to see how they could have morally rationalized

their dishonesty in not presenting the truth because they wished to

avoid such destabilization, assuming the best interests of the employees

in the end.

What about my behavior of taking their files and holding them for

ransom? While certainly illegal, this action didn't trouble me given the

state of desperation I was in financially, owing back rent and living off

credit cards. Effectively mirroring the logic for the owners to file for

bankruptcy as a fail-safe, knowing it would mean screwing the employees

in the end, my self-interest was also in play, coupled with the sense

that I had worked hard for the salary owed to me and that getting that

payment was an ethical right. Such is the nature of living in a social

system that's foundationally oriented around competition, generating

winners and losers.
---
84 The New Human Rights Movement

Was it unethical for me to have held those files and not demand payment

for all the employees, rather than just myself? While common-good

interest has always been something I feel is morally important in general,

there was a good possibility that the large amount of money owed to the

whole workforce exceeded what the owners had in total. Attempting to

use the file-ransom tactic to help everyone reduced the possibility of

getting anything at all.

And finally and most important: In an economic reality where it is

expected that some companies will fail as a natural law of competitivemarket

dynamics, how are moral lines in behavior to be drawn when

well-being or survival is constantly at risk? This question illuminates a

systems view of market economics—one that creates a coherent framework

to better understand not only the other three questions, but the

entire sociological condition.

While we may look at isolated actions in this world and try to judge

their moral integrity one by one, the real moral evaluation occurs on the

systems level. Remember, modern society, with its basis in market capitalism,

as derived from the root socioeconomic orientation of scarcity,

self-interest, and competition (as born out of the Neolithic Revolution),

functions like a game, except this competitive game is about survival

and well-being. As such, the game takes on a very different dynamic

than a game in which there is nothing to lose. Not only does this game

pose the threat of loss, but its very architecture actually makes loss and

suffering inevitable for a large percentage of players. Given this, society's

long-standing moral claims and ethical demands find limited expression

in such a condition. If the moral goal of society is to try to create

the best condition of public health, happiness, and stability possible for

the world's population, seeking to prevent suffering, it must be realized

that the structural impositions of our economy actually work against

that goal.

Contrary to prevailing philosophical mythology, moral behavior

isn't just about people's individual nature, their education, parenting,

peers, social bonds, personal intentions, or other such factors commonly

discussed concerning a person's character. This mythology—

that morality is only about individual behavior—ignores the incredible,

stress-inducing pressure placed upon a civilization that is based upon
---
Beyond the Pale: Our Social Mythology 85

its members fighting with each other to survive. In such a world, ethical

behavior as we traditionally consider it is severely limited in its capacity

for expression. It isn't that people aren't capable of more caring, compassionate,

helpful, and socially respectful behavior—it is that the socioeconomic

system won't support it. In fact, I would argue that the more

ethical you are, the more likely you will fail in the game of commerce.

The system simply doesn't support real human compassion on the sociological

level. It isn't designed to.

FREE WILL

Now, a great deal has been covered in this chapter thus far. Before we conclude

with what is perhaps the most core and paradoxical of all secular

social mythologies—free will—I would like to quickly re-contextualize

some of what has already been addressed.

In this exploration, the structural importance of the Neolithic Revolution

has been emphasized, along with its cultivation of trade, settlement,

specialization, property, protectionism, and other characteristics

that continue to define modern society. In contrast to the assumptions

of social dominance theory, with its conclusion that humans are wired

to group-based hierarchy by nature once an economic surplus is created,

regardless of the social system, the adaptive capacity of humans appears

far more flexible. This is not to argue a behaviorist view of human nature,

which, in extreme interpretation, views the individual as infinitely malleable

by culture. Rather, this is about the highly deterministic role of

anthropological effects related to broad shifts in economic conditions.

In this, the term root socioeconomic orientation has been coined and

defined. This specifically refers to the nature of a society based upon

competition, self-interest, and ultimately, a sociology formed around

scarcity, fear, and in-group/out-group bias. While many may counter by

pointing out that the animal kingdom generally operates in this same

primitive way and humans should therefore not be expected to be any

different, this response misses the fact that most species have no option

but survival through force and competition. In contrast, humans are

not like any other species when it comes to intelligence, variability, and
---
86 The New Human Rights Movement

adaptation. The real problem is that we have blindly accepted as custom

a society based upon competition and scarcity, regardless of our vast

intellectual ingenuity and the growing scientific evidence that we could,

indeed, live quite differently if proper structural adjustments were made.

In other words, we are reacting within a social system we have grown to

perpetuate and assume is final, not reacting to some immutable restrictions

imposed by the earthly habitat, human nature, or some natural law.

It is also important to make clear that the current economic mode

of capitalism, while touted as the most productive and "free" system

humanity has ever known, is really a system of social control, like all

prior systems post-Neolithic Revolution. Its trademark is socioeconomic

inequality, a feature that artificially partitions human well-being and

power in favor of a very small minority. The modern manifestation of

this is called "business," which is the competitive mechanism that sets

in motion the inevitable inequality we see, organized in lockstep around

government power, defusing any attempts at meaningful democracy.

Government, used as a means to create stability in commerce (since

there is no true "invisible hand" to be found), is also used to secure

competitive advantage by a select breed of large business powers. These

business powers circumscribe government behavior overall, even though

the myth that government exists as an extension of the general public

(i.e., as "the will of the people") persists today. This is why the noted

national or tribal mythology has been so critical for social compliance

and order. The statues, symbols, language, taboos, and other means of

cultural manipulation are constant since the needed cohesion to stifle

any interfering social change depends on it.

In this, the use of moral impositions and the idea that the problems

of the world exist on the individual level and not the structural level are

very powerful in effect. As argued, there is a tendency to be objectivist

with our moral views, with overly simplistic slogans such as "just say

no" or "do the crime and do the time," etc. Yet, moral decisions cannot

really be separated intellectually from overall reasoning and logic. In

this, we are faced with a systems-based reorientation since everything is

far more entrenched in causality than has ever been understood before.

Science has opened these doors and each situation presents a new set of

variables. Proper decisions are contingent on a range of considerations,
---
Beyond the Pale: Our Social Mythology 87

not static moral declarations. And the ultimate moral conundrum today

is this: How can we expect highly moral or ethical decisions by a population

submerged inside a social system that rewards the exact opposite behavior?

Market capitalism is simply not conducive to mutual human concern. It

is a system based on social warfare, cultivated by its root socioeconomic

orientation. Now, with that stated, the final subject of this chapter will

extend this primitive moral mythology to the notion of free will.

Free will is the most reinforced and consistent ideological assumption

in the world today. Not only does it rest on the foundation of the

central moral and philosophical belief systems of modern civilization,

but it also appears to validate itself at every turn in society's architecture

and institutions. Every human action is generally assumed to be a conscious,

willful, free decision by both others and ourselves. It is a powerful

intuition we all share. Our minds are simply wired this way. 124 Yet, once

a systems perspective is taken, accounting for statistical research showing

the effects of larger-order environmental and social conditions, and

coupled with modern understandings in cognitive neuroscience, the

mythology of free will quickly begins to unravel.

Returning to the subject of preconditions from chapter one, it is easy

to notice the power of regional culture in determining the language we

learn as a child, the religion we are taught, or the customs we embrace.

It is less easy to notice how people can develop predictable, long-term

behavioral propensities as a result of childhood experiences. It has taken

advanced scientific study to identify our bio-evolutionary requirements,

whereby certain things generally need to happen in child development

to ensure long-term mental and emotional well-being, while certain

things should not happen for the same reason. Our biology has been

preprogrammed by evolution to respond in certain ways to stimulus and

stress, with predictable outcomes when certain experiences happen. As

one's life progresses, the biopsychosocial synergies of life dramatically

shape one's thoughts, beliefs, impulses, and actions. This shaping makes

certain propensities highly probable, with others highly improbable,

regardless of the "free will" of the person.

Drug addiction, as noted by neurologists and pharmacologists, is

a kind of "hijacking" of the brain that subconsciously leads a person's

behavior toward the reward of use. 125 The addict is often fully disgusted
---
88 The New Human Rights Movement

by his (or her) actions, but the addiction pattern continues as changes to

brain chemistry drive changes to both thoughts and behavior, justifying

the next use of a drug. One may indeed overcome an addiction by

choice, willpower, and likely external help, but that single end does not

discount the general loss of control found during the addiction period.

Likewise, analysis that takes a biosocial view of the issue finds great

evidence that child abuse, stress, and emotional loss can contribute to

one's development of addiction as a form of self-medication. 126 In fact,

an entire range of health and behavioral issues can arise later in life,

since childhood abuse literally changes and damages the brain. Not only

can abuse disturb the brain's neurochemistry, but it can also shrink and

distort critical areas, such as the hippocampus. 127 This can lead to severe

impairments in one's ability to make decisions and judgments, in the

same way a person who has severe brain damage from head trauma in

a car accident may no longer be able to speak. Do we judge a person's

speech impairment in such a case as a problem of free will? No, we

understand the impairment.

In 1966, Charles Whitman, an American with no prior history of

mental instability, suddenly murdered his mother and wife. He then

proceeded to the University of Texas, climbed inside a tower, and killed

fourteen others with a gun before taking his own life. In his suicide note

he talked about his feeling of going insane and not understanding his

thoughts, and he even requested an autopsy. While the public stood in

horror at this "monster" mass-murderer, doctors discovered that he had

a brain tumor pushing against his amygdala, in the prefrontal cortex.

This was, without a doubt, a major factor in his violent acts. 128 While

this is a rare case, it raises the question of where along the continuum

of body-mind influence we can draw the line and conclude that a person

is 100 percent responsible for his or her behavior. In modern culture,

most people draw very clear lines between decisions they feel are "free"

and decisions they feel are not, often with unrelenting judgment and

criticism of others who act in ways deemed unsavory. This moral high

ground is ever-present, which makes perfect sociological sense because

once again, mainstream society flaunts the ideas of independence, free

will, volition, and human choice as the starting point of all personal

success and human virtue.
---
Beyond the Pale: Our Social Mythology 89

There is a term in social psychology called the fundamental attribution

error. This is an error of judgment people make when they experience

a person's behavior as unethical, without knowing about other factors

involved. 129 A simple example is a man who dines at a restaurant and,

upon paying the check, exits without leaving a customary tip. From the

standpoint of the wait staff, that person could be judged as inconsiderate.

After the employees share a cathartic verbal bashing of the seemingly

rude person, the man then reenters and puts down a tip. When asked

about leaving, the man explains he had no more money on him and

needed to get some out of his car.

This idea of mistaking a person's apparent behavior as being entirely

representative of his or her character can be extended to one's life experience

and biology. In a sense, the entire criminal justice system is predicated

upon expressing the fundamental attribution error as a formalized

method of evaluation. This is not to argue that all human actions can

always be clearly traced to delineated preconditions, nor is it to absolve

anyone of wrongdoing by default. It is to point out the general dismissal

of such considerations in legal practice, focusing on the fragmented

actions of the single person. 130 I would even argue that to exclude the

biosocial condition of a person is really a crime in and of itself when one

attempts to evaluate someone's actions. The myth of free will makes it

easy, while helping to preserve the legal system's role as a means of social

control, once again.

The same goes for the economy, which has a clear coherence with the

legal view. If you happen to believe that every human being has absolute

freedom in thought and decision making, with no biological or environmental

preconditions that can influence behavior to make it uncontrollable,

then you would conclude that any action taken is a person's moral

responsibility entirely. Similarly, if you also happen to believe the common

capitalist myth that economic prosperity is available to everyone

who "works hard," disregarding any structural elements that may create

insurmountable social immobility, then you will likely agree that everyone

who becomes wealthy or poor simply deserves what they get.

It also isn't difficult to see how such root assumptions can then form

a basis to infer more extended beliefs. For example, from the "you get

what you work for" dogma, one could reason support for more right-wing
---
90 The New Human Rights Movement

or conservative politics, also leading to support for more "free trade" or

neoliberal policies. This could also mean finding little rational motivation

for, say, increasing state-funded social welfare to help the poor.

Likewise, if market virtue rests on free, "democratic" exchange and the

maximization of utility "for the greater good," then any intervention by

government can only be sacrilegious. To throw one more coherent validation

into the mix, if social dominance theory is assumed to be true,

then the inequality and poverty in the world can really only be natural

and even necessary to some degree to ensure the larger-order stability

of society. Such shared social characteristics derived from this free-will

foundation are enormous in modern culture.

In the realm of philosophy, the assumption of human choice is a

bedrock of discussion since philosophy is just as much about principles

of proper behavior as it is about the investigation of knowledge and reality.

Perhaps the most dominant moral philosophy today is utilitarianism.

This is the view that the correct moral choice in any given situation is the

one that produces the greatest utility (usefulness) in terms of generating

happiness and reducing suffering. It is basically hedonistic, viewing the

individual as interested in maximizing his or her own utility (benefit)

at all times, while at the same time trying to maximize utility for the

largest number of people, making them happy too. 131 Sounds great, right?

While poetically viable, the way this theory has unfolded in the context

of market economics has deviated quite far from its original intentions.

Basic economic utilitarianism says that all market behavior is to be

reduced to rational, strategic attempts to maximize gain and avoid loss.

This reasoning occurs in the purchase of a consumable good, the hiring

of labor, or the process of capital investment. It is basically a form of game

theory. In a way it is the theory of how humans behave and how they

ought to behave in the context of "rational" economic decisions. In this

process of rational self-maximization, as per the ideal of Adam Smith's

"invisible hand," the greater good is to be achieved. 132

While much could be said on the issue, what this theory effectively

does is reduce human beings to mere gaming agents, shifting focus

away from the actual nature of economic production and of real-life

and societal interaction. The theory focuses only on the abstraction of

trade itself. In a way, it creates a false view of equality among everyone
---
Beyond the Pale: Our Social Mythology 91

in the economy, reducing people to hedonistic exchangers. As such, it

distracts attention from structural and imbalance problems, justifying

the market's basis in competition and narrow self-interest.

One important idea found within this school of utilitarianism is

that of voluntarism. Quite popular in modern libertarian circles, voluntarism

is about action based solely on free will, without any force. In

market behavior, the act of "voluntary" trade is considered the ultimate

moral priority. So, a woman has a ring. She goes into a pawnshop and

sells it. From this perspective, the exchange is considered to be mutually

beneficial to both parties since the woman willfully sold the ring

and the shop willfully bought it. This simple idea of exchange is held up

by microeconomic theorists to argue that a trade always serves the best

interests of both parties, and even does so equally, since they are both

just "exchangers," maximizing their utility (or personal benefit).

The problem with this view is that it ignores all other pressures that

distort the will of the individual making the trade. From a voluntary,

utilitarianism perspective, it doesn't matter why the trade occurs, as long

as it appears both parties are acting on free will in the exchange. But

what if the ring being pawned was her dead husband's, who had recently

been in a fatal accident, leaving his family with no income or means?

In distress, with bills to pay and no social safety net, the wife sees no

alternative but to sell off a highly sentimental personal item. Can we still

call it voluntary? In abstraction, yes. But in reality that circumstance

cannot be dismissed as simply voluntary, just as we can't view as simply

voluntary the choice of an impoverished, drug-addicted, and mentally

handicapped prostitute to exchange sex for more drugs. Life is a sea of

complex coercive pressures and external forces, occurring both consciously

and subconsciously. The snapshot of a "voluntary exchange" is

a dangerous free-will illusion as it distorts social perception of causality,

limiting more thorough understandings.

At the same time we are faced with the question of rationality itself.

While we are naturally unaware of choices and factors outside of our

education or experience, making those choices or factors unavailable

for consideration, we also have common inhibitions that interfere with

the information we do have. These are referred to as cognitive biases.

Cognitive biases are errors and gravitations in thinking and judgment
---
92 The New Human Rights Movement

usually tied to our social condition. Being the social organisms we are,

arguably defined by others and culture itself in terms of personal identity

and self-worth, the power of our social nature often gets the best of us.

A notable theoretical framework to understand this is called social

identity theory. In short, people have a propensity to identify with groups,

drawing their identity and sense of status from them in many ways. It

is observed that people often view their own group as "in," with other

perceived groups as "out," as is characteristic of racism and other forms

of group-based bigotry. 133 Consequently, this ubiquitous social tendency

for inclusion and approval creates serious psychological problems when

it comes to rational choice and critical thought.

One such problem is the tendency toward social conformity (or

the bandwagon effect). A herd mentality often arises, such that people

gravitate toward being consistent with their group's actions or beliefs,

suspending critical thought. 134 One famous study conducted in the 1950s

entailed asking a group of people to make simple decisions about visual

images, such as which line on a screen was the longest of a set. However,

all but one test subject was in on the study. These other participants were

fakes, planted to purposely agree on the wrong answer and encourage

the test subject to go along with their group decision about the correct

match. The controlled study proved a strong effect of peer pressure, with

more than 75 percent of the participants in the total of 12 repeated tests

conforming at least once. This is in contrast to the control group (no

pressure to conform) where less than 1 percent conformed. 135

It is not difficult to imagine how this same effect can occur in groups

with shared values, such as political parties. People also seem to prefer

being on the "winning," majority side of a given situation, bypassing true

critical thought. Bandwagon persuasion is everywhere in the world today

and can rightfully be deemed a natural gravitation of our evolutionary

psychology. From advertising slogans declaring "millions of satisfied

customers can't be wrong," to the self-fulfilling prophecy of stock market

bubbles in which rising prices driven by buyers simply encourage

more buyers in a euphoric trend. Political persuasion is also similar.

The media need do little more than present the idea that a candidate,

concept, or policy already enjoys popular approval, and the herd will

usually follow blindly.
---
Beyond the Pale: Our Social Mythology 93

There is also the tendency of group bias in general. This means

the propensity to favor your group (in-group) while disfavoring others

(out-group). This is most common when the groups have some relationship

to each other, such as rival baseball teams, religions, or nations.

The development of prejudice is predictable, with the history of bigotry

largely a group-based phenomenon. An informal yet famous study on

this phenomenon was done by an elementary school teacher named

Jane Elliot, who divided her third-grade class into two groups based on

whether the children had blue or brown eyes. She then explained to the

kids that those with blue eyes were naturally smarter than those with

brown eyes. Amazingly, this simple act rapidly created group tension and

conflict, including name calling, shaming, and discrimination against

the brown-eyed kids. 136

Now, I wish to clarify that this is not about absolute determinism. It

is about a general propensity, linked to our evolutionary psychology, for

humans to gravitate toward group identification and to develop biases

based upon that identification. As Charles Mackay wrote in his famous

text, Extraordinary Popular Delusions and the Madness of Crowds, "Men,

it has been well said, think in herds; it will be seen that they go mad in

herds, while they only recover their senses slowly, and one by one." 137

Our social nature being what it is, this tendency clearly does not favor

critical evaluation of information. It takes a great deal of self-awareness

to notice the propensity when it is occurring.

As for causality, our nervous system seems to reflexively "want" to

remain part of a group identity, falling victim to the power of its social

influence. Neurobiologist and researcher Vasily Klucharev writes that

"the deviation of individual opinion from the group behavior (opinions)

is interpreted by the nervous system as behavioral error or 'reward prediction

error', which starts the process of behavior change, based on the

dopaminergic mechanism of reinforcement learning." 138 In other words,

our very brains are somewhat trapped between rational thinking and

impulsive counter reactions that seek to prefer in-group conclusions.

These lower brain reactions make us vulnerable to numerous thoughtless

behaviors triggered by brain chemistry and make us susceptible to

external manipulation. The arenas of marketing and politics are perhaps

where the greatest damage is done today.
---
94 The New Human Rights Movement

In general advertising, for example, much work has been executed

in the field of subliminal effects that create unconscious bias. This has

even led to making the practice, called subliminal advertising, illegal

in many countries. However, more recent research has shown that the

influence of general advertising has a similar subconscious effect. In a

2010 article published in the journal Science, psychologists Custers and

Aarts report how the "unconscious will" has a powerful role in decision

making, without our being aware. 139 Custers and Aarts write that people

"should be much more scared of commercials they can see, rather than

those they can't see," for the effect of things like psychological positivereward

cues can create bias.

Using an example of a soda commercial, Custers and Aarts write,

"If you are exposed to these advertisements over and over again, it does

create an association in your mind, and your unconscious is more likely

to suddenly decide you want a Coke." 140 It isn't enough to simply be

critical when watching a commercial; the ad can affect your subconscious

even when you think it has had no power. It does this simply by

repetition and by the (usually) positive emotions associated with the

product. The only way to avoid the possible influence is to completely

avoid the ad. This understanding also brings up a powerful question of

ethics, for if people are exposed to repeated ads promoting unhealthful

behavior, their "unconscious will" may influence them, leading to

sickness. In this sense, we can rightfully view advertising as a possible

form of violence.

Now, to conclude this chapter I wish to clarify my basic position on

free will. Taking determinism to its extreme, we could see all human

behavior as involuntary, a biological clockwork affecting every thought

and cell, driving every event, shaping all aspects of reality with its massive,

singular motion. Such an extreme perspective accomplishes little.

It is much more productive to view the individual and his or her surroundings

as a dynamic synergy of cause and effect. As the evidence

shows, due to biological, social, and other factors, one's capacity to make

choices is inhibited—sometimes profoundly—at every moment of existence.

Grasping this gives us a more comprehensive understanding of

not only human behavior, but of reality itself. After all, to view yourself

and others as partly self-propelled and partly vulnerable to biological
---
Beyond the Pale: Our Social Mythology 95

and cultural influences forces a very different sense of how and why the

world is the way it is.

It is also important to point out that no matter what the truth may

be in terms of exactly how much free will we have, to believe we are in

control is very important to our psychology. Research has shown that

people who believe they have control over their lives are much happier

and more motivated, which makes perfect sense. 141 After all, who wants to

feel like one has no control over anything he or she is doing? Yet the cold

reality is that on a certain level we are not free and we are not rational.

There is a surprising kind of automaticity to our existence, meaning we

are doing many complex things automatically. 142 In this, we are faced

with a very uncomfortable sense of self and identity. We have to admit

that on a certain level we are simply out of control. We are not in full

control of our thoughts and behaviors and neither are the people around

us. Yet, in recognizing this, we are then able to better understand human

limitations and weaknesses, allowing for more-intelligent decisions on

how to better adjust our society to improve well-being, public health, and

social relations. This view, once again, rests on a system-based context

of our existence.

While having some purpose in supporting our required sense of

identity and sanity, the highly propagated, dogmatic, and institutionalized

idea of free will and morality is also what keeps us from better

understanding the causal factors paralyzing the world, perpetuating the

same destructive patterns in public health, civil injustice, and environmental

destruction. We are constantly judging people and their individual

actions, rather than factoring in the structural roles, cultural

pressures, modulating stressors, incentivizing influences, dominance

mechanisms of control, human vulnerability to submission, cognitive

biases, and the litany of other system-based factors that keep the vicious

cycles of human disorder in motion. When this higher view is taken—

one that positions the individual in a network of factors, bypassing the

illusion of singular will and autonomy—a more holistic and effective

sense of problem solving emerges.

As such, social activism must become a social science in and of itself.

The synergetic, biopsychosocial nature of the human condition needs to

be not only understood but also used as a strategy for instigating needed
---
96 The New Human Rights Movement

social change. We also need a firm grasp of history and its effects, knowing

that our society's root socioeconomic orientation, as derived from the

geographical determinism of the post-Neolithic Revolution, has evolved

a condition based upon factors of competition, dominance, and scarcity.

These factors have been fully absorbed into virtually every aspect of our

lives, from the social system, to its institutions, to the prevailing psychology

of the masses.

Without these foundational understandings, very little progress can

be expected in the realm of human justice and equality as we move

further into the twenty-first century. The negative forces preserving the

status quo today are not substantially affected by street protest, public

outcry, media exposure of corruption, or other traditional methods. It

is fruitless for us to demand idealized or "more just" behaviors from

our existing institutions, since they have been built around a value and

incentive system that thrives on the very behaviors we wish to change.

Only deep system changes will prove to have long-standing effects, as

will be argued in future chapters.
---
Chapter Three

STRUCTURAL BIGOTRY: THE

ECONOMICS OF OPPRESSION

Where justice is denied, where poverty is enforced, where ignorance

prevails, and where any one class is made to feel that

society is an organized conspiracy to oppress, rob and degrade

them, neither persons nor property will be safe. 1

—FREDERICK DOUGLASS

A

FTER HIGH SCHOOL I moved to New York City to attend a music conservatory

in pursuit of a degree in classical percussion performance.

As passionate as I was about music, the financial reality of my student

loans quickly polluted the circumstances. Combined with a growing

disillusionment with having to "monetize" an art form I considered

sacred—a tool for meditation and personal growth—I ended my college

career at the age of twenty after a mere two years. Amazingly, the

interest-bearing loan schedule for this short time projected values of

over $40,000, a shocking sum for a young adult just entering the "earn

a living" reality. Of course, watching my friends graduate with master's

degrees from prestigious institutions such as the Juilliard School, only to

moonlight in coffee shops thereafter as they struggled with low-paying

gigs, wasn't very encouraging, either. While I was disappointed at the

time, the prudence of the decision is as clear to me today as it was then.

As expressed in the previous chapter, economic deregulation and

privatization are considered sacrosanct requirements of a supposedly

free world. Ironically, the "freedom" of markets means effectively nothing

97
---
98 The New Human Rights Movement

should ever be free, and being $40,000 in debt certainly didn't give me

a sense of liberation. I suspect I have not been alone in that feeling. As

of 2015, American student loan debt was about $1.2 trillion, surpassing

the GDP of Australia, New Zealand, and Ireland combined. 2 One

may rightfully wonder why a society that ostensibly seeks to educate

and prepare young people to be intelligent problem solvers and creators

would perpetuate a system that shackles them with immobilizing

debt the moment they enter the post-education workforce. One may

also wonder why many other countries that subsidize higher education

through strategic taxation, making sure young people are not inhibited

by financial limitation or debt, consistently outperform the United States

in global test comparisons. 3 Yet this is only curious if one is unaware

of the dominant socioeconomic philosophy of the United States, along

with its position as a global empire.

Today, the US leads the world in terms of both economic influence

and military force, endlessly pushing the neoliberal values of "free trade"

as a root priority. Like a philosophical crusade, it has been deemed an

imperative of Western business-political leaders to ensure that people

comply with what is in effect the new global religion—a religion that

invariably prioritizes commerce over everything else, with human rights

increasingly subordinated to business rights. When one understands how

the rules of trade, property, and exchange have become the determining

mechanisms of society, decoupling focus from actual life-supporting

means and factors of social trust, the dehumanized, conflicted-ridden

nature of the modern world begins to make a lot more sense. Given this

ethic, education is simply another product to be bought and sold and

little more. The US government allocates roughly 2 percent of its annual

budget to education. This is in stark contrast to the 20 percent allocated

to the military, suggesting war is more beneficial to the nation's leaders

than an educated population. 4

At any rate, with the minimum debt payments from my student loan

mounting, I quickly sought whatever work I could find. Within a few

weeks, I found myself in the glamorous field of work as a "cater waiter."

In comparison to traditional restaurant service, this job consisted of

being bused around New York City from one privileged upper-class

event to another. We were an army of servants in tuxedos, following the
---
Structural Bigotry: The Economics of Oppression 99

wealthy 1 percent around the Big Apple. While certain traditional functions

had endearing merit, such as weddings and birthdays, the majority

were corporate, political events and superficial charity fundraisers. I

say superficial because if the goal of charity is to help those in need, you

certainly wouldn't know it based on the degree of waste and decadence

present. There is something fundamentally wrong when people are eating

extravagant meals, wearing $5,000 suits, and drinking $800 bottles

of champagne while a guy on stage preaches about global starvation and

poverty. This is particularly troubling in New York City, a place with

about 60,000 homeless on the street each night. 5

Nevertheless, it was certainly an education to be a fly on the wall. At

one event executives from the Walt Disney Corporation were being honored

for both their apparent philanthropy and record profits, explaining

how they were bringing needed jobs to impoverished people in Bangladesh

and Haiti. It wasn't long after I saw Disney exposed on the news for

facilitating some of the worst human-rights abuses in sweatshop-labor

history, paying as little as four cents an hour; denying basic labor rights

and benefits; tolerating the beating of workers for failing to meet quotas;

sexual harassment; using children as labor; and more. 6 It's a unique state

of mind when a company moves operations to impoverished areas of

the world, exploiting the vulnerable for cheap labor, only to then try to

convince themselves and others they are doing the region a favor.

In the end, during this time as a cater waiter, I was able to see a

side of society I think most do not. Coming from a lower middle-class

upbringing, my father a postman and my mother a social worker, I had

little exposure to such privilege. What I came to realize is that there is

often a distinct detachment from reality in wealthy culture. It wasn't that

these folks were overtly disrespectful or mean. Most were quite polite

when "dealing with the help." Sometimes, I would end up at mansions

and exotic penthouse apartments serving as a family's personal servant

for the evening. These were generally kind people and clearly caring when

it came to their home life. Still, a clear disconnect from general society

was obvious—a kind of cultural alienation, if you will. Given the access

the wealthy have to means and conveniences that most do not, coupled

with different social atmospheres and other cultural nuances, this alienation

isn't difficult to understand. In the same way we can understand
---
100 The New Human Rights Movement

why the Amish tend to isolate themselves as a community, the rich tend

to do the same, losing touch with the plight of the normal world.

Rather than simply demonize the wealthy, it is important that we

realize they are victims of circumstance and groomed into their characteristic

worldviews and behaviors by larger-order forces like everyone

else. They are only partially responsible for their actions, as expressed

in this chapter. This fact is important, for viewing society through this

system-oriented lens is needed to better understand the true nature of

class conflict. It is also needed to establish a new level of compassion

toward others. There is little value in "group vs. group" thinking, as the

real problem is not the nature of any group but how that group manifested

its values and biases to begin with. I view those whose values and

worldview are distorted by power and wealth as little different from those

suffering from any other biopsychosocial derangement of culture. In

the same way that we can expect certain social preconditions to lead to

problematic outcomes within the lower class such as street gangs, crime,

and violence, similar sociological processes all too often lead the rich to

develop selfish, apathetic, and power-hungry behaviors.

SOCIAL PSYCHOLOGY

As F. Scott Fitzgerald cogently wrote, "Let me tell you about the very

rich. They are different from you and me . . . [t]hey think, deep in their

hearts, that they are better than we are because we had to discover the

compensations and refuges of life for ourselves. Even when they enter

deep into our world or sink below us, they still think that they are better

than we are. They are different." 7 Social status is not just about material

access and social privilege. Our sense of rank has a deep impact on our

self-identity. It doesn't have to be money that creates the difference, but

in the world today this is by far the most defining cultural modulator.

And the unsettling truth is that there are, on average, pronounced psychological

differences between upper and lower classes.

Confidence and self-esteem is an example. As was touched upon in

the preceding chapter with respect to in-group/out-group associations,

our social nature is a feedback system and how we perceive ourselves is
---
Structural Bigotry: The Economics of Oppression 101

inexplicably linked to others. In a 2004 study focusing on two different

ranking social castes (birth classes) in India, it was found that if the

whole combined group did not know they were a mix of two castes, their

performance on problem-solving tests was different from the results

when they did know. When the caste was not announced, the two castes

performed basically the same on the test. When the caste was announced,

the lower caste did far worse. 8 This study is one of many confidence studies

showing that if people feel inferior and lower in value, they very well

may act that way, losing confidence. This is called the golem effect and it

has been widely researched. 9

There are also measurable neurobiological effects of perceived

social status. In a 2002 study with macaque monkeys, it was found that

those in lower ranks had less dopamine activity in the brain as compared

with those in upper ranks. This effect would then change when

the monkeys were strategically regrouped; when lower-status monkeys

assumed higher-status positions, they had more dopamine activity, while

the prior alphas had less. 10 This shows a direct correlation between perceived

social rank and biological expression—a pretty damning link that

reveals public-health ramifications to social status in a very clear way.

Reduced dopamine activity can lead to serious psychological and emotional

effects, including depression, loss of motivation, anxiety, attention

problems, and other problems. 11

What such studies also highlight is how psychological traits can

be consequential to a social condition, as opposed to determinant. In

other words, when people see the confidence, will, motivation, apparent

intelligence, and other virtuous traits celebrated as characteristic of the

rich and "successful," superficial reasoning suggests that they gained

their financial success owing to those traits. While that may be true at

times, the biopsychosocial reality is that those traits also arise from the

mere privilege of simply being in a high-class, respected, and rewarded

position to begin with. Hence, one's sense of status can become a selffulfilling

prophecy.

Perhaps more troubling are differences in empathy and compassion

between upper and lower classes. A 2010 study found that higher-class

individuals actually had a more difficult time recognizing emotions in

others. It appears the lower class develops more perceptive social skills
---
102 The New Human Rights Movement

than the upper, including the ability to better recognize emotional details

in others, making empathic connections. One of the study's researchers

concluded, "Upper-class people, in spite of all their advantages, suffer

empathy deficits . . . and there are enormous consequences." 12 Likewise,

numerous studies examining differences in compassion suggest that

the more one's bank account increases, the less compassionate he or she

becomes. In a paper titled "Having Less, Giving More: The Influence of

Social Class on Prosocial Behavior," the relative poor were found to give

over twice as much to charity as the relative rich in percentage terms.

The study also stated: "[L]ower class individuals proved to be more generous,

charitable . . . trusting . . . and helpful . . . compared with their

upper class counterparts. Mediator and moderator data showed that

lower class individuals acted in a more prosocial fashion because of a

greater commitment to egalitarian values and feelings of compassion." 13

A similar study by the Chronicle of Philanthropy showed that households

earning between $50,000 and $75,000 a year give an average of

7.6 percent of their discretionary income to charity, while those making

more than $100,000 gave only 4.2 percent. In some of the wealthiest

neighborhoods with the largest share of people making in excess of

$200,000 a year, the average giving rate was only 2.8 percent. 14 In the

words of Ken Stern, writing for The Atlantic:

One of the most surprising, and perhaps confounding, facts of

charity in America is that the people who can least afford to

give are the ones who donate the greatest percentage of their

income. In 2011, the wealthiest Americans—those with earnings

in the top 20 percent—contributed on average 1.3 percent of their

income to charity. By comparison, Americans at the base of the

income pyramid—those in the bottom 20 percent—donated 3.2

percent of their income. 15

Again, while these percentage numbers may seem small, 1.3 percent to

3.2 percent actually means the poor are giving well over twice the amount

in percentage terms.

I remember going to work early one winter morning, riding the

subway into Manhattan from Brooklyn. An older homeless man was
---
Structural Bigotry: The Economics of Oppression 103

making his way through the mostly empty train car, pausing in front of

me as I scrounged for whatever change I had to put into his empty cup.

After I dropped in two quarters, the man thanked me and moved on.

At the other side of the train was a clearly poor woman, bundled up and

appearing to try to sleep. The man shuffled along as though to pass her,

only to stop and make eye contact. After a brief moment of interaction,

he reached into his cup and took out one of the two quarters and gave it

to her. I was stunned to see the compassion. While I did not know the

man's circumstances, there is good reason to assume that with that act

of charity, he actually gave away 50 percent of all the money he had in

the world to a stranger. While today many fawn over the "billions" given

by this or that wealthy icon, the real measure of compassion has to do

with how giving affects you personally, and that is why the percentage

people give is more telling than the absolute values.

Sociological research also suggests that something happens to people's

ethics as they move up the economic ladder. While there are always

exceptions, a general loss of social concern appears common. In a 2011

study from the University of California, Berkeley, it was found that:

[U]pper-class individuals behave more unethically than lowerclass

individuals . . . upper-class individuals were more likely to

break the law while driving, relative to lower-class individuals.

In follow-up laboratory studies, upper-class individuals were

more likely to exhibit unethical decision-making tendencies,

take valued goods from others, lie in a negotiation, cheat to

increase their chances of winning a prize, and endorse unethical

behavior at work than were lower-class individuals. Mediator

and moderator data demonstrated that upper-class individuals'

unethical tendencies are accounted for, in part, by their more

favorable attitudes toward greed. 16

It has been something of a historical cliché that those who achieve great

financial success in business tend to be ruthless or desensitized. It has

even been said that the more caring and empathic you are, the less likely

you are to succeed in capitalism. It appears the Ebenezer Scrooge phenomenon

is not far off the mark as per modern social science. Given
---
104 The New Human Rights Movement

the self-interested focus required in economic competition, increasingly

rewarded as one climbs the socioeconomic ladder, it makes sense that

such disassociated values become dominant. Detached from the plight

of the lower class, the rich begin to think the padded world they experience

is the world everyone else experiences. In other words, people in

the lower classes are more attuned to the common suffering and hence

more compassionate. 17 Some call this the empathy gap, embracing both

the lack of exposure the rich have to the plight of common folk and the

psychological changes that reinforce social indifference. 18 Needless to say,

it doesn't bode well for general society when those of great wealth and

resulting power tend have a propensity to be indifferent and apathetic.

Another feature of this phenomenon is the relationship between

the degree of apathy and selfishness and the prevailing socioeconomic

climate. The United States is a unique case for observing this, given its

status as a kind of "forbidden experiment" in class extremity and material

culture. During the "Great Recession," it was found that those who

made more than $200,000 a year donated 5 percent less than in prior

years, while those who made $25,000 or less a year actually increased

giving by 17 percent. 19 The Proceedings of the National Academy of Sciences

found that as income inequality increases, the wealthy tend to

give less. 20 The research suggests that elite wealth concentration tends to

lead to "the belief that one is more important and deserving than others"

and "that resources rightly belong to them" in an increased sense

of entitlement. This tendency has also been verified by an extensive lab

study led by psychologist Paul Piff, who found that in a rigged game

of Monopoly, with one player given more turns, more initial money,

and every advantage ensuring an inevitable win, those winning subjects

actually acted as though it was their cunning and smarts that led to the

outcome when interviewed afterward. 21 This finding has a clear parallel

with the real world, where the social system, as will be further discussed

in this chapter, provides great structural advantages to a small minority.

People simply want to believe they are "getting what they deserve,"

ignoring the unearned advantages they happen to have over others. Put

bluntly by Piff, "While having money doesn't necessarily make anybody

anything . . . the rich are way more likely to prioritize their own selfinterests

above the interests of other people. It makes them more likely
---
Structural Bigotry: The Economics of Oppression 105

to exhibit characteristics that we would stereotypically associate with,

say, assholes." 22

There is also a correlation found between wealth status and what

charitable causes donated money goes to. Unsurprisingly, the rich tend

to give to elite schools, museums, symphonies, and other more "tasteful"

interests on average, bypassing social-welfare programs such as homelessness

or poverty. In 2012 "not one of the top 50 individual charitable

gifts went to a social-service organization or to a charity that principally

serves the poor and the dispossessed." 23 While it is true that in

monetary terms the upper class gives more than the lower, even though

substantially less in percentage terms, the fact that their focus tends to

avoid core social-welfare interests, favoring more luxury interests such

as higher education, arts, and research, is certainly troubling. It isn't

that those interests are not important, but with almost a billion people

failing to meet basic daily nutritional requirements, we need to question

the sense of priority. 24

PHILANTHROPY

It is interesting how the term philanthropy, defined as "the desire to

promote the welfare of others," has become associated almost exclusively

with the wealthy; a badge worn to show how they "give back" to the community.

Yet, rarely is the question of why there is the need to give back

considered from the standpoint of market dynamics itself. While there is

indeed growing global concern about increasing inequality, existing poverty,

and so on, little real effort is being made to counter the problem from

the standpoint of altering the social structure to correct what are clearly

systemic problems inherent in our society. In fact, philanthropy appears

to be the only practice to redistribute wealth that isn't met head-on with

great disdain by the prevailing intelligentsia, especially in America. Even

quite basic traditional platforms, such as increased taxation of the rich,

are routinely met with contempt by gatekeepers of the capitalist religion.

In the words of conservative Forbes contributor Jeffrey Dorfman,

"once you admit that income redistribution is fair, there is no logical

stopping point short of communism." 25 By this, Dorfman essentially
---
106 The New Human Rights Movement

implies that there is no stopping point short of everyone's simply getting

"the exact same" distribution of income regardless of what job they

perform. From there, of course, the gesture suggests this path can only

lead to gulags, indifferent central planners, and the loss of individuality

and liberty itself. This kind of anti-socialist dogma is nothing new,

prominently set in motion in the early to mid-twentieth century when

the threat of communism was putting capitalist hegemony at risk. The

long-term consequence has been a reactionary Western culture that sees

any direct government action toward economic equality, especially if it

inconveniences the wealthy, as little more than a move toward bureaucratic

tyranny.

Not only does this bias vindicate the idea of philanthropy as the only

acceptable solution to inequality and its consequences, but it also ignores

the simple fact that the market economy is a process of wealth redistribution

in and of itself. That is what the market does. It redistributes,

literally, existing wealth and materials, whether raw, produced, recycled,

financial, intellectual, or otherwise. As such, market dynamics cannot

be merely assumed to be untouchable simply because its mechanics are

seen as an "objective" process. In other words, it is deemed sacrilegious

to impose equality-targeting taxation since the market faith rests on

the "invisible hand" of the market god to make everything OK. If this

god is fallible, then the whole belief system becomes suspect. But there

is nothing but evidence, formal and empirical, that the market god is

horribly incompetent at best.

Thomas Piketty, a French economist who became famous in 2014

for his treatment Capital in the Twenty-First Century, makes a strong

case, concluding that there is no way the growing global class divide can

subside given the way capitalism is unfolding in its natural, "financially

liberalized" state. The amount of money being made off existing wealth

itself will continue to far exceed what normal people make through

labor income. High-level capital investment in the form of financial

instruments such as stocks and other means are producing returns far

exceeding anything the public can generate without such existing levels

of wealth to invest. The technical term is the "wealth to income ratio"

and the higher it is, the worse off the general population. A 2015 Oxfam

study found that by 2016, 1 percent of the global population will own
---
Structural Bigotry: The Economics of Oppression 107

more than the other 99 percent combined, with dire implications for

related social problems. 26

Piketty's proposal to stop this trend is the most expected one—a

large progressive annual tax on wealth. Yet, even with this practical,

commonplace attempt at a solution, the wealthy community quickly and

expectedly condemned the idea. Most notable was the response by Bill

Gates, the founder of Microsoft, who is worth almost $80 billion and

the richest person in the world as of 2015. He partly contested the idea

of capital taxation since, in his view, philanthropy by the rich should be

considered a viable institution in itself. 27 He argues that those who choose

to be philanthropic with their wealth should not be treated the same as

wealthy folks who simply buy yachts and sports cars. While the gesture

of this is respectable, given how Gates and his famous Bill and Melinda

Gates Foundation have indeed performed positive charitable acts, we

need to step back and examine what he, along with an entire culture of

high-level, "big money" charities, are actually saying.

Naturally, the main focus of society should be to solve problems

directly, addressing root origins. In fact, I would argue that a true philanthropic

"desire to promote the welfare of others" could only seek to

alter the preconditions creating social problems to begin with. The ongoing

need for social-welfare charities is really a response to an inefficient

economic system. It is a supplemental action to help those who are not

as "fortunate." The idea of turning this supplemental act of charity into

an established social institution, deemed inclusive to the system of capitalism

itself, implies the society is no longer to view outcomes such as

poverty and other interests common to philanthropy as a real problem.

Rather, it is a tacit admission that the resulting deprivation must be necessary,

expected, and effectively accepted as "just the way it is." Forget

trying to change the preconditions leading to these problems—let's just

focus on "giving back" after the fact. That is the message—and it is a

terrible one, as it avoids examining the structure of the economy itself.

So, neither Piketty nor Gates offers actual solutions. Taxation, as suggested

by Piketty, is only a "patch," as it doesn't address the structural and

systemic mechanisms that converge to create inequality. As with a car

engine constantly leaking oil, you do not cover up the problem by continuing

to refill the oil tank, pretending everything is fine. You fix the engine
---
108 The New Human Rights Movement

or replace it to stop the leaking. Gates, however, takes things to a new level

by arguing he and other people of great wealth should simply use their

charitable foundations to affect the disadvantaged world directly. Forget

government, public policy, democracy, transparency, or even accountability—private

foundations built by billionaires will now save the world.

While all charity is admirable, once it becomes institutionalized and

funded to the extent seen by organizations such as the Gates Foundation,

it turns into something different, with extended social ramifications. 28

These elite charities are true, large-scale institutions with power, engaging

in lobbying, transnational partnerships, political policy alignments,

and so on. Where and how the George Soroses and Bill Gateses of the

world mobilize money can have powerful effects on industry, politics,

culture, academia, scientific research, national policy, and the like. In

the case of Gates, his foundation is "undeniably, the most powerful and

influential global health charity in history," in the words of health-law

professor Lawrence Gostin. 29 What critics rightfully point out is that,

regardless of good intentions, unaccountable, singular private power in

global health affairs poses serious problems, in the same way autocratic

dictatorships pose serious problems for democracy and liberty. Any organization

with the power to actually affect the lives of millions of people

needs transparency, accountability, and a democratic presence. These

private institutions have little to none. 30

So, what we have is the rise of a new breed of pseudo-egalitarian

capitalists. They generate their great wealth by way of often ruthless

competitive behavior in the private sector, arguably promoting the very

mechanisms that have led to the vast structural violence and extensive

poverty existing on Earth to begin with. They then turn around and offer

their charity as the solution to the problems created by the very system

that rewards them. Once again, this has nothing to do with intent. It

is about an underlying hypocrisy that bypasses and obscures the real

problem-solving focus desperately needed to further human-rights justice.

That focus can only be structural.

At the same time, this institutionalization of philanthropy also

serves to placate the public, giving a caring face to those who have often

extracted such great wealth at the cost of others' well-being. In the words

of activist Slavoj Žižek, "Charity is the humanitarian mask hiding the face
---
Structural Bigotry: The Economics of Oppression 109

of economic exploitation." 31 As shown before with the research regarding

how people tend to change as they gain more wealth and advantage,

there is a deep psychological need in those of great wealth to feel that

their exceptionalism is justified. They naturally wish not only to ensure

everyone believes they deserve what they have, but also to justify it to

themselves. An example of this is the "Giving Pledge," wherein a group

of more than130 people, mostly billionaires, have promised to give half

or more of their wealth to charity before or after their death. 32 This now

globally recognized project has been met with great humanitarian accolades

in the media, especially given its timely creation as public outcry

against inequality grows. Yet it's very difficult not to view the entire

project as a PR stunt for the upper 0.1 percent. As the organization states:

"The pledge is a moral commitment to give, not a legal contract. It does

not involve pooling money or supporting a particular set of causes or

organizations." 33 In other words, it is first and foremost a gesture and

no one signing the prestigious pledge has any obligation to do anything.

There is also no transparency, so the public might never know whether

a person gave or not.

For those who do follow through, there are prominent tax incentives,

specifically in the United States. Since donations to charity and philanthropic

foundations allow for reduced tax liability for the rich, giving

money away often becomes an act of strategic self-interest. Very often,

the rich simply set up their own foundations and move money through

them via tax loopholes. For example, the infamous Walton family, five

people with a combined net wealth of over $139 billion as of 2014, more

than what the bottom 40 percent of Americans have combined, do some

fantastic tax gymnastics through their foundation. 34 An independent

audit of the Walton Family Foundation found that not only did only

.04 percent of its wealth make it to charity in its generation's lifetime,

but it also stated, "The Walmart heirs have built one of the largest and

most powerful private foundations in the country—at almost no cost

to themselves . . . In addition, the Waltons are exploiting complex loopholes

in the tax code in order to avoid billions of dollars in estate taxes

by funding their Foundation with special trusts." 35

Estate taxes are interesting as they relate to the rich only. In the US

when people with more than $5.43 million die, the tax is 40 percent as
---
110 The New Human Rights Movement

of 2015. 36 The rich work around this tax in various ways, with charitable

foundations forming the most common means. Billionaire Albert

Ueltschi signed the Giving Pledge in 2012, and died later that year. It was

reported that in his will, he made the condition that nothing would go

to charity if there was no US estate tax. Since there was one, he followed

through, moving that money to his own charities. 37 This is also interesting

as a general correlation. A study done by the Tax Policy Center in

2003 found that "the estate tax encourages charitable giving at death by

allowing a deduction for charitable bequests" and "also encourages giving

during life." 38 The center calculated that if the estate tax was removed,

there would be a reduction of charitable giving upon death of up to 37

percent, while the Congressional Budget Office corroborated this finding

and added that during life, this same class would also reduce giving

by up to 11 percent. 39

What this means first of all is that the giving doesn't appear to be

entirely genuine. We can understand a poor family donating to a charity,

knowing they can write the donation off their taxes if the deduction is

itemized. They might not be able to afford the donation otherwise. The

wealthy have no such excuse and sociologically that is quite interesting.

What they are really doing is bypassing state funding in favor of their

own interests. Moving money to charity foundations, effectively consolidating

wealth in the hands of private interests rather than government,

is a logical method to better keep things "in the club" of private business

power. Keep in mind the state is deeply flawed, as noted previously.

But at least the state has some basic formal responsibility to the public,

regardless of how corrupted it may be by vested interests. The Giving

Pledge is partly just another avenue for this anti-government and hence

antisocial behavior.

In the words of German multimillionaire Peter Krämer, an open

critic of the Giving Pledge, "It is all just a bad transfer of power from

the state to billionaires. So it's not the state that determines what is good

for the people, but rather the rich want to decide. That's a development

that I find really bad. What legitimacy do these people have to decide

where massive sums of money will flow? . . . That runs counter to the

democratically legitimate state." 40 Pablo Eisenberg, a senior fellow at the

Center for Public and Nonprofit Leadership, said regarding the pledge:
---
Structural Bigotry: The Economics of Oppression 111

"What concerns me is that no one has said what the pledge is going to

do, who it will serve and how it will be accountable . . . it will increase the

number of mega-foundations, and I worry that will hurt our democracy

because of the influence these institutions will exert." 41 These are legitimate

social concerns given how such high-level, unaccountable private

power is similar in effect to that of regulatory dictatorship.

This is something deeply obscured in prevailing views of capitalism.

While the world still seems to associate markets with freedom and

democracy, the very structure of private business is actually in direct

opposition to both. In the words of political economist Robert Brady:

"Within the corporation . . . all policies emanate from the control above.

In the union of this power to determine policy with the execution thereof,

all authority necessarily proceeds from the top to the bottom and all

responsibility from the bottom to the top. This is, of course, the inverse

of 'democratic' control; it follows the structural conditions of dictatorial

power." 42 The accelerating rise of private charity foundations have the

same flaw, as they can set their own public health and social standards,

bypassing public participation in areas that require it.

INEQUALITY MACHINE

As expressed, the socioeconomic system produces predictable outcomes

in social psychology, and better understanding the characteristics of

the upper class is specifically important. After all, it is this class that

indisputably dominates social affairs. Again, this has nothing to do

with deliberate conspiracy or the like. It is simply a systemic result

inherent to the logic, values, and structure of capitalism. The sense of

superiority naturally cultivated by the upper class, coupled with measurable

losses of empathy, compassion, and ethics, makes the condition of

modern power highly troublesome. The more people become rewarded

by market economics, the more they tend to identify with the market,

assuming its integrity. Hence, the rewarded wealthy are naturally the

last to be critical of the very system that allowed for their flourishing

and they are certainly hesitant to change it. Such is the historical nature

of class conflict itself.
---
112 The New Human Rights Movement

Yet it goes deeper than elitist behavior or general policy administration.

Mechanisms of social oppression come in many complex forms,

some of which are built directly into the architecture of the social

system—something referred to as structural bigotry. Building upon the

idea of Stokely Carmichael's institutional racism, structural bigotry recognizes

mechanisms in the social structure that create and reinforce

social oppression indirectly. Unlike the aforementioned personality distortions

and system loyalties of the upper class, guiding biased behavior

almost subconsciously, these indirect mechanisms tend to go unnoticed.

At least bad decisions and policies of biased politicians or corporate leaders

can be exposed and (ideally) corrected within the realm of political

or legal action. However, these more indirect mechanisms tend to go

unnoticed or misunderstood.

By "indirect" I mean they are engaged in a procedural way, without

deliberate intent to cause harm. This involves the interaction of essentially

everyone in society. We are all pulling levers on a giant machine and

the consequences of these actions go far beyond our localized perception,

making our ability to comprehend the outcomes difficult. Structural

bigotry is about relationships and reactions, not necessarily individual

decisions or events. While one may argue that a government's tax policies

are structurally oppressive if they favor the rich by allowing loopholes,

reduced maximum rates, and so on, it isn't exactly structural by my definition,

as tax policy is actually designed to change and commonly does. 43

What I am referring to goes deeper and I will focus on two mechanisms.

The first has to do with the incentive psychology inherent in

market behavior itself and the structural interplay that naturally leads

to highly unequal outcomes and ultimately injustice. The second mechanism

is slightly more obvious than the first, addressing the nature of

the monetary system itself— specifically the existence of and dynamics

related to debt. These are both structural in that they are interactive

frameworks engaged by everyone, with very little objection. You will

likely not see voter referendums related to them, protests in the street,

or official governmental meetings about altering them in root form.

Rather, what you do see are constant protest movements and public

outcry against the chain reactions created by these hidden structural

mechanisms. Again, society is constantly battling symptoms, not causes.
---
Structural Bigotry: The Economics of Oppression 113

For example, to revisit a subject from chapter one, at the time of

writing there is a growing social movement in America called Black

Lives Matter, which protests for justice and seeks solutions to a modern

epidemic of racially charged American police brutality and general discrimination.

The work is very much an extension of the 1960s civil rights

movement in America, and eerily so. To really understand the origins

of such problems as police brutality and discrimination, one must look

beyond the current political environment, specific police department

policies, or even the lone mentality of the individual perpetrators. The

problem is sociological as opposed to political or moral. These sociological

issues stem from early economic practices—namely abject African

slavery. Like an infection that is constantly reinvigorated by contaminated

conditions, racism between white and black culture has continued

as a form of class conflict, long after abject slavery ended. In fact classism

is really racism's father. In the words of Dr. King:

Racial segregation as a way of life did not come about as a natural

result of hatred between the races immediately after the Civil

War. There were no laws segregating the races then . . . the segregation

of the races was really a political stratagem employed by

. . . the South to keep the southern masses divided and southern

labor the cheapest in the land. You see, it was a simple thing to

keep the poor white masses working for near-starvation wages

in the years that followed the Civil War. Why, if the poor white

plantation or mill worker became dissatisfied with his low wages,

the plantation or mill owner would merely threaten to fire him

and hire former Negro slaves and pay him even less. Thus, the

southern wage level was kept almost unbearably low. 44

As such, impoverished white society was forced into competition with

the now semi-free impoverished black society. This sparked a complex

reinforcement of "in-group/out-group" fear and exacerbating bigotry

that has pushed racial tensions ever since. Coupled with the consolidation

of poor blacks in urban areas after segregation, with reduced means

and options, the focus of law enforcement has been disproportionately

targeting blacks and minorities to help meet arrest quotas because it
---
114 The New Human Rights Movement

is easy given how vulnerable and often desperate those impoverished

communities have been. From there, the racial profiling begins to take

on a life of its own and suddenly a white cop, who likely has many black

friends and doesn't think he is racist, still conditioned by his experiences,

impulsively shoots a black man in a middle-class neighborhood with no

viable provocation. The racism is ingrained in his mind through a web of

influences, literally stretching back hundreds of years. Yet activist communities

still tend to fragment things in a more localized way, missing

deeper connections.

While we cannot go back in time to change the history of economic

slavery to stop the toxic chain reactions that brought us to where we are

today, we can, however, change the current conditions that continue to

preserve and inflame those traditionally bigoted associations. This is

something Dr. King knew well as he pushed his Poor People's Campaign

of 1968. He understood that if we could just remove general poverty,

easing desperation and labor fear, many of the pressures and associations

creating racial bias would dissipate. It is not a complete solution,

but it would help. As will be detailed in chapter four, racism, bigotry,

and xenophobia, including resulting consequences such as minoritytargeted

police brutality, are ultimately linked to mechanisms of economic

inequality and its consequences. Until economic inequality and

its causes are reduced or stopped, bigotry and social injustice on many

levels will continue as a systemic result. In fact, as I will also argue, positive

social trends that have occurred have a good probability of reversing

in certain ways as looming negative social and ecological pressures

mount. I have little doubt that if our "business-as-usual" socioeconomic

practice remains, the growth of bigotry, race-based or not, will continue

to accelerate rather than decline.

"RATIONAL" CHOICE

Now, the first class-dividing structural mechanism to discuss has to do

with the inherent gaming logic or so-called rational behavior demanded

of the market economy to ensure survival. This is again about the sharedincentive

psychology of the interacting masses. While the generally
---
Structural Bigotry: The Economics of Oppression 115

caustic nature of competition itself was already touched upon in the

previous chapter, the issue here is specific to the actual dynamics of

mass competitive behavior. What is to be found is that inequality and

oppression are systemically reinforced through the market's most basic,

trivial, incentivized gaming behaviors, regardless of the personal intentions

of people.

In the prior chapter, utilitarianism was introduced. This idea of

people seeking to "maximize their utility" (or self-interest) in economic

decisions was further codified in microeconomics by rational choice

theory. This is defined as an "economic principle that assumes individuals

always make prudent and logical decisions that provide them with the

greatest satisfaction and act in their highest self-interest." 45 This simplistic

principle raises difficult philosophical questions about what exactly

rational or prudent decisions are and to what degree they are rational

and prudent. What exactly is "self-interest" in the long run?

For simplicity, let's divide market-decision considerations into two

categories, primary and secondary. Primary considerations have to do

with the root incentive logic of markets. This means reducing costs and

maximizing income. Each one of us orients our economic behavior this

way in general. From buying discount clothes, to selling off the old family

car for the highest possible price, to running a company, we naturally

seek to maximize our income and reduce our expenditures as best we

can. In fact, most do not even think about this procedure today, as it is

now so customary. Every day, our lives revolve around the abstraction

of minimizing costs and maximizing gain.

Secondary considerations are actual real-life considerations, such as

gauging how your actions may tangibly affect the well-being of others and

the environment. These decisions enter the realm of morality or ethics.

Do you buy slave-harvested chocolate or clothes made by children in

sweatshop conditions because they are less expensive, even though your

purchase is maintaining abusive labor demand? Should your company

use a cheaper part in a product to save money and increase profits, even

though it will prematurely break and contribute to waste and pollution?

Should your company maximize the price of a scarce resource in

a poor region to ensure optimized profits, even though it may further

impoverish the locals?
---
116 The New Human Rights Movement

Primary considerations are abstract considerations, made irrespective

of real-world conditions. They are morally or ethically life-blind,

which is why secondary considerations are needed. For example, a company

could dump toxic waste into a local water supply to save money

on disposal, while also cornering their market through cartel power to

sell their product at many times the market value, exploiting consumer

vulnerability. While considered unethical, the logic is in perfect accord

with primary market rationalization. When the Bayer pharmaceutical

company willfully and knowingly sold HIV-tainted drugs across

the world in the 1980s, killing thousands, simply because "the financial

investment in the product was considered too high to destroy the inventory,"

basic moral integrity was no doubt in question. 46 But where do we

draw lines in more subtle cases, where people succumb to undertaking

negative behaviors not because they are malicious, but because the pressures

of their circumstances require acting for market survival? When

it comes to ethical assessments in the market game, the real calculation

very often comes down to how much "ethics" you can afford, not what

you think is morally correct.

Once again, the root socioeconomic orientation of commerce is based

upon scarcity. This means that regardless of the reality of the human

condition, the market system looks for deficiency and seeks to capitalize

off of it. This is built directly into the logic of every business decision by

way of the primary incentive framework of "reducing costs and maximizing

income." All players are seeking advantage in every circumstance,

fundamentally denying the well-being of others by strategic default.

Therefore, the moral continuum resulting from primary market logic

is already structurally biased in an inhumane (or at best indifferent)

way. This makes whatever extreme of perceived moral violation merely

a matter of degree.

In other words, when it comes to primary rationale, there is no difference

in principle between selling people HIV-tainted drugs to save money

and increase profits and knowingly selling people cheap processed foods

that contain sickness-causing additives to reduce production costs and

make the product more "affordable" in the competitive market place.

There is no difference in principle between exploiting the labor of an

intern fresh out of college at minimum wage and exploiting the extreme
---
Structural Bigotry: The Economics of Oppression 117

poor in the Third World for two cents an hour. There is no difference in

principle between dishonestly selling a used computer that has a major

hidden defect to a person who isn't the wiser and a corporation selling

factory-new computers that have inferior quality components in them

so the corporation can save money in the short term and increase profits

in the long term by repeat purchases. 47 In a system fundamentally based

upon the exploitation of economic circumstances, morality becomes

one massive grey area along a continuum of general social indifference.

That understood, let's now extend this primary rationale from individual

actions to interactive or systemic actions. In other words, instead

of thinking about one person making such decisions, let's consider many

people making them, interacting and competing with one another, as

is the case in reality. Related to the equilibrium ideal behind Adam

Smith's "invisible hand," mass interaction based on primary market logic

results is what can be called competitive self-regulation. Competitive selfregulation

is about the dynamic of multiple, interactive parties in trade,

producing mutually affecting systemic outcomes. It can be considered a

sub-mechanism of market self-regulation, focusing specifically on competitive

dynamics between agents. A simplified example is a storeowner

who buys goods wholesale and sells them retail. The prices he ends up

selling his goods for are not randomly decided at whim. They are semidetermined

based upon market factors, such as the cost of inventory

and the prices set by his competitors. This economic interaction helps

determine the "market price" of his goods, based upon competitive selfregulation.

This was already touched upon in chapter two.

However, determining prices is just one of many consequential outcomes

of competitive self-regulation. Returning to the foundation of

systems theory from chapter one, by definition systems produce consequences

undetermined by the sum of their parts. The dynamics of competitive

self-regulation are what link and turn individual human actions

into collectively generated system-level outcomes. And these outcomes

can arise with no direct intention on the part of the players. Again, this is

very important to understand, as our world has been obsessed with ethical

arguments to improve things, missing the system-level outcomes that

have little to do with an individual's moral compass. The specific outcomes

I would like to focus on here can be categorized as negative externalities.
---
118 The New Human Rights Movement

An externality is generally defined as "a consequence of economic

activity that is experienced by unrelated third parties, positive or negative."

A common negative example is pollution. Oil businesses that pump,

refine, and distribute oil products factor in only their internal financial

costs of operation, generally basing their prices only on supply and

demand. If pollution occurs, the costs associated with that problem, such

as cleanup, are usually not factored in. They are external costs and they

will need to be paid by someone. Yet, while from an economic standpoint

external costs are to be measured in financial terms, these costs also far

exceed something one could put a price tag on. In many cases damage

caused is irreversible, posing serious threats to entire ecosystems and to

public health. And while certain industries or even specific companies

can be sourced to certain problems, with legal actions taken to get them

to change their behavior or cover costs, the deeper problems are those

that cannot be easily linked to any single company or industry. They are

system-level problems and just about everyone is to blame to some extent

for participating in the market economy itself.

When we consider overall pollution, inequality, poverty, resource

depletion, species extinction, loss of biodiversity, reductions in public

health, civil conflict, behavioral violence, overall structural violence,

and other pervasive social and ecological problems, we are looking at

consequences not of one person, one institution, or one industry. We

are looking at problems literally produced by market behavior itself,

like an old combustion engine constantly spewing caustic exhaust.

These problems are really categories of problems, with one externality

triggering many others. For example, imagine a company that over

the course of years pollutes a water source to save money on proper

disposal. That polluted water is linked to a town's water supply, leading

some people to get cancer, not knowing why. In one family, this

pollution leads to the sickness and death of a father. Since the father

was the breadwinner, the widow is now trying to afford to take care

of two kids. This financial strain increases their debt, with the oldest

child then unable to attend college, as he needs to help support the

family, etc. You can see how chain reactions spread in complexity and

are difficult to track due to unforeseen consequences linked to negative

externalities.
---
Structural Bigotry: The Economics of Oppression 119

A defining characteristic of externalities is that they require actions

outside of the market's primary logic for resolution. This is another

reason why mainstream economists take such a positive view of charity.

Since those who are homeless and poverty-stricken clearly have no

money to buy things, charity is the only real option as a workaround.

In fact, these system-level externalities explain why there are so many

nongovernmental organizations (NGOs), charities, activist groups, and

nonprofits in the world today. These groups are mostly trying to help

clean up the constant mess the market leaves in its wake. In essence,

these organizations represent the secondary considerations mentioned

previously, trying to correct the real-world consequences constantly created

by the primary ones. Unfortunately, as will be detailed, no matter

what such groups do within the existing socioeconomic system to help,

problems resulting from these negative external forces will remain to

one degree or another.

Now the central point here is how these costs, both financial and

in terms of real public health, unequivocally hurt the lower class. As

phrased concisely by Charles M. Kelly, author of Class War in America,

"negative externality is the fundamental reason we need regulations

for every aspect of corporate activity that impacts the environment.

However, the same thing can be said about all other corporate behaviors

that transfer what should be their own costs onto workers, the economy,

the taxpayers, or the community." 48 The socialization of external costs

from big business to the general public happens through taxation or

subsidization and systemic servicing. By systemic servicing I mean each

related consequence has to be dealt with on a per-case basis, connected

to a complex chain reaction, such as the example above with the father

getting cancer. There is the financial cost of cleaning up the water source,

medically treating the cancer, possible government income subsidization

to help the family after the father's death, etc. These are difficult costs

to track as they blend into the normal, everyday world of problems.

However, they are not normal, and the literal costs of these externalities

reach into the many trillions each year.

For example, a 2015 economic report by the International Monetary

Fund put the external costs of fossil fuel alone at $5.3 trillion a year (6.5

percent of global GDP). 49 This report attempts to account for extended
---
120 The New Human Rights Movement

health and environmental costs associated with fossil-fuel use both on

the side of the producer and the consumer, but not factored into its price.

The economists stated, "The fiscal implications are mammoth: At $5.3

trillion, energy subsidies exceed the estimated public health spending

for the entire globe." 50 Their general use of the term "subsidies" is not to

be confused with direct government subsidizing of fossil fuels, which is

about half a trillion a year. 51 Rather, it is about the collective costs (including

systemic servicing) that have to be paid in general, distributed across

the population. More dramatically, in a 2013 report on behalf of The

Economics of Ecosystems and Biodiversity (TEEB) program sponsored

by United Nations Environmental Program, it was found that, in effect,

no major industries in the world could be considered profitable from the

standpoint of external costs. 52 In other words, if our core industries actually

had to pay for fixing the external problems they create, they simply

would not be profitable. The major profits gained are occurring without

regard for the long-term destruction they are creating.

How all this affects the poor disproportionately is twofold. The first

is the direct financial burden. The direct tax subsidies come from public

coffers that could be used to better help the poor, improve education,

and expand other social-welfare programs. While one can argue the

lower prices obtained by subsidization help the poor as well, such that

in some regions an increase of $.25 per liter in fuel would reduce the

purchasing power of a poor household by more than 5 percent, poor

households actually account for only a small portion of total fuel use. 53

The stark reality is that households with incomes in the top 20 percent

get the majority of the financial benefits. 54

At the same time, real-world public-health and ecological problems

fall predominantly upon the lower class. The most notable example is

climate change, which is already affecting the poor across the world disproportionately.

55 As Kermal Dervis of the United Nations Development

Programme concluded, "Ultimately, climate change is a threat to humanity

as a whole. But it is the poor, a constituency with no responsibility

for the ecological debt we are running up, who face the immediate and

most severe human costs." 56 Water pollution, which is largely attributed

to industrial behavior, has been estimated to account for 40 percent of

all global deaths. 57 This negative externality and its consequences targets
---
Structural Bigotry: The Economics of Oppression 121

the poor overwhelmingly. On both a global and domestic level, such as

in the US, the well-to-do have the option to avoid polluted water supplies

for consumption. The poor generally cannot afford such options and

rely on basic infrastructure such as tap water or local reservoirs. These

types of examples go on and on. The point being, while in the long run

pollution and other externalities can affect everyone on Earth, they will

engulf the poor and lower classes first and foremost. This disadvantage

furthers their individual economic inhibition and class suppression not

only by way of an increased economic burden but by way of health and

social problems as well.

And as a final variation of this analysis, externalities create economic

imbalances that have chain reactions throughout the business network,

due to competitive self-regulation. Like a trapped air bubble being pushed

around poorly hung wallpaper, shifting but not really going away, an

unexpected cost incurred by one agent can start a chain reaction of

adjustment across many agents. For example, imagine a tuna company

that has been profitable and stable for some time. One day it is found

that the tuna it has been fishing is highly polluted with mercury. This

mercury pollution is an externality coming from power plants nearby.

People who have become sick bring lawsuits against the tuna company,

and it loses business. The company cannot in turn sue the power plants

for its resulting losses, as the tuna company is not directly in trade with

the power plants and hence the pollution is legally seen as an "act of

God." The tuna company is stuck with costly litigation, a need to shift

its fishing to another region, and the loss of sales. So, bound by the law

of competitive self-regulation, the company has to make adjustments in

order to adapt and stay competitive with other tuna producers who are

not weighed down by these external costs.

Hence, the tuna company is now highly disadvantaged and perhaps

even desperate. And with desperation, the grey area of what constitutes

moral behavior in business starts to widen. Up until this time, the tuna

company was held in high social esteem. It had clean boats with no fuel

leakage, cared for workers with extensive benefits, and was even careful

not to overfish, to prevent depletion. However, with this new pressure,

those high standards have to be lowered for the sake of company survival.

So the company lays off some employees, extends the hours for others,
---
122 The New Human Rights Movement

and reduces medical benefits. It also curtails equipment inspections and

mechanical updates, while raising fishing quotas so it has more tuna to

sell. While these changes return the company to profitability, new external

costs have been created that otherwise would never have occurred.

The employee layoffs have put more pressure on the city's

unemployment-insurance program, increasing taxes on the general public.

The extended work hours result in more employee injuries, while

the loss of medical benefits puts them and their families in debt, injuring

overall financial health. The reduced equipment inspections and

mechanical updates lead to equipment decay, and some of the boats start

to leak fuel, causing even more pollution. Meanwhile, the higher quotas

hurt the ecosystem, reducing tuna fertility and increasing regional

scarcity. This scenario has immeasurable downstream effects. The point

is that once an externality is set in motion it can trigger many others as

companies try to compensate for the disequilibrium.

As financial stress increases, companies become less "ethical" as

they try to remain competitive and profitable. And who suffers disproportionately

in these "corrective" circumstances? The workers and, in

general, the lower class. In fact, all debilitating influences that reduce

market efficiency, regardless of what they are or where they came from,

will hurt and suppress the health, income, and options of the lower class

more than the upper class. This unfolding in turn maintains downward

negative pressure. Such reality becomes even more frustrating when one

realizes that no matter what the market system does, these problems will

arise over and over again because the market's function is constrained

by its own "rational choice" mechanisms. It creates negative externalities

not as an anomaly but as a constant predictable attribute of its systemlevel

behavior.

All this is particularly alarming when we look at current large-scale

negative externalities that are trending into more and more ominous

territory. While this will be addressed in detail in chapter four, there is

no doubt a sociological correlation between desperation and less-ethical

behavior. Therefore, the more pressure put on the profitability of existing

companies, the less ethical they will tend to become, no different from

how perceived scarcity and desperation can affect one person's decisions.

In fact, you might notice how consumers today are encouraged
---
Structural Bigotry: The Economics of Oppression 123

to be "socially conscious" with their purchases or to "vote with their

dollar." Yet, the inconvenient fact is that being socially conscious is contingent

upon one's financial flexibility. Many who would prefer to avoid

items made in morally questionable circumstances such as sweatshops

often still end up making those purchases because of the lower prices.

A debt-strapped single mom working for minimum wage will be hardpressed

to be selective when buying her child shoes, even if those shoes

were produced in an unethical way. People can only spend within their

limits and there is no doubt that ethics are expensive. So, competitive

self-regulation is not just a determinant of prices and other economic

variables; it is also a determinant of ethical capacity. It comes down to

what degree of morality can be afforded, depending on how badly profitability

or survival is hindered by external pressures.

DEBT BONDAGE

Shifting gears here, the second mechanism of structural bigotry I wish

to discuss is a little more straightforward than the winding road of negative

externalities and competitive self-regulation. This mechanism deals

with debt and its dynamics. Stretching back thousands of years, credit

and debt practices can be found in virtually all societies with written

records. In fact, it appears early civilizations actually used debt systems

for trade even before they used money. 58 One could imagine how an early

farmer, experiencing a bad crop season, might go to a neighbor to borrow

some grain. The loan is made under the condition it will be paid back

in a future return of grain or something deemed to be of similar value,

with the lender also asking for an extra amount as a service charge—

what we now call interest. Over time the practice of making loans and

storing deposits has evolved into the powerful banking/financial system

we know today—a system that effectively underscores the entire global

market economy.

However, this seemingly innocuous practice has a very dark history.

In fact, to track the history of debt is also to track the history of something

else: class conflict and slavery. They are so interlinked throughout

the evolution of human civilization that an entire college course should
---
124 The New Human Rights Movement

be dedicated to it. In the words of anthropologist David Graeber, "For

thousands of years the struggle between rich and poor has largely taken

the form of conflicts between creditors and debtors . . . the rights and

wrongs of interest payments, debt peonage, amnesty, repossession, restitution,

the sequestering of sheep, the seizing of vineyards, and the

selling of debtors' children into slavery." 59 The practice of debt peonage,

also called servitude or bondage, has been a formal institutional practice

throughout the past 5,000 years, coupled with debtor prisons that existed

up until the mid-nineteenth century.

Of course, most First World cultures today see debt slavery as a

relic of the past, along with abject or chattel slavery. Unfortunately, the

obscured reality is quite different. First, I would argue that the only real

reason we do not have debtor prisons anymore is that people in prison

are not generating any value. Unless it is a slave-labor prison, there is

no real point since the creditors gain nothing. And the reason we have

very little abject slavery anymore, meaning the complete ownership and

control of people, is that time has eroded its feasibility and necessity. 60

During the post-Neolithic Malthusian Trap, abject slavery became "justified"

partly because labor and survival were highly arduous. This climate

led to serfdom and slavery as a social-dominance reaction by those who

could assume such power and control, embracing the competitive nature

of survival.

However, once the Malthusian Trap broke upon the Industrial Revolution,

things started to change rapidly. Most countries moved to abolish

chattel slavery in the early nineteenth century, starting with the British in

1833 and the United States in 1863. There is a seldom-talked-about correlation

between applied mechanization in production and the reduction

of abject slavery. With the rise of technology in farming and the slow shift

from land to factory work, the nature of labor itself has changed, becoming

more and more interactive with efficiency-improving technology. As

generalized by The Abolition Project, "[A]s the Industrial Revolution took

hold in the 18th century, Britain no longer needed slave-based goods.

The country was more able to prosper from new systems." 61 From there,

the ever-looming moral quandary grew more compelling to resolve, with

each country further incorporating low-wage "free labor" upon the rise

of modern industrial capitalism. Well, at least to a degree. European
---
Structural Bigotry: The Economics of Oppression 125

countries still specifically traded for America's slave-made cotton long

after their abolitions since it was still the cheapest on Earth. By 1860,

80 percent of the cotton grown was exported across the Atlantic, much

of it to Britain. 62 In fact, the American South's cotton production of the

nineteenth century dominated global markets and was the cornerstone

of the Industrial Revolution.

There is a long-standing economic myth that "free labor" proved to

be more efficient than slave labor and the transition away was economically

practical. 63 This is untrue and appears to be mere hopeful dogma;

essentially, it's an attempt to avoid the reality that slavery is inherent in

the true roots of capitalism. There is no empirical or statistical evidence

that paid labor on its own was or is more profitable or productive than

slave labor. US cotton production had reached a staggering four million

bales a year in 1860, up twenty-two times the rate from 1790, meeting

enormous global demand. 64 Cotton was the "oil" of the world in economic

force, setting the stage for the emerging US empire. In Edward

Baptist's work The Half Has Never Been Told, he explains how the real

driving force that increased productive output by slaves was not just

more slaves being brought over through the slave trade, but strategic

torture. "What enslavers used was a system of measurement and negative

incentive. Actually, one should avoid such euphemism. Enslavers

used measurement to calibrate torture in order to force cotton pickers

to figure out how to increase their own productivity." 65 While it may

superficially seem that "free labor" was more efficient than slave labor

due to the increase in productivity, once the Malthusian Trap broke, it

was actually the cultivation of technology that set this trend. This trend

very slowly eased stress on low-status labor roles, as machines assisted

tasks, increasing efficiency.

That being noted, the main evolutionary link between modern

capitalism and abject slavery rests with the practice of debt slavery,

something still with us to this day. After the American Civil War, millions

of slaves were suddenly free in the South. Quickly, a troubling yet

not unexpected practice termed convict leasing arose. With the white

Southern population in economic disarray, a very deliberate method of

arresting and charging former black slaves with bogus crimes became

common. Vague vagrancy laws and other fraudulent means to conduct
---
126 The New Human Rights Movement

an arrest sent enormous numbers into the courts. When inevitably

found guilty, they would usually be charged a fine. They could either

pay that fine, get a bondsman to pay the fine, or go to jail—except it

wasn't jail. It was forced labor, then still legally allowed for criminal

punishment by the Constitution. 66 So, if the person could pay the fine,

which was rarely the case, then he would be free—at least until the next

bogus arrest. If he couldn't pay, he would be sent off to forced labor by

private contract to pay off the "debt."

Or, the person could get a bondsman, who was usually a former slaveplantation

owner sitting in the corner of the courtroom. The bondsman

would pay the debt for the person, then force him to sign a contract to

work until the new debt was paid off. Since literacy was almost nonexistent

for former slaves, rarely did they know what they were signing. Many were

multiyear contracts, effectively putting them right back where they were

before emancipation. The practice was so popular that by 1898 convict

leasing constituted 73 percent of the state of Alabama's total revenue. 67

This brutal practice, which caused immense suffering and death since

convict workers were considered easily replaceable, was very slowly shut

down by the federal government over many decades. It really wasn't until

1951 that the government finally created comprehensive statutes against

any form of "involuntary servitude," including such debt peonage. 68

As an aside, what this convict-leasing version of debt slavery also

reveals is a feature buried deep inside the American criminal justice

system. The general practice of imprisoning people who cannot pay fines

while employing private prisons that use prisoners to create goods for

corporations is alive and well in the United States and elsewhere. In fact,

just like convict leasing in the late nineteenth century, in which corrupt

arrests were made based upon meeting labor-demand quotas, today private

prisons actually have contracts with state and local governments

that effectively encourage the same thing. These contractual agreements

require a certain number of "occupants" to be sent by the courts to the

prison. The state complies, agreeing to meet a prison-occupancy quota,

and if the state doesn't, then it (or the taxpayers) must pay for the empty

cells. 69 One may argue that this quota stipulation is a simple technicality

for the service offered by the private prisons, but it actually encourages

maximum occupancy of the prisons, regardless of the level of crime in
---
Structural Bigotry: The Economics of Oppression 127

a region. In fact, this incentive has manifested in predictable associated

corruption, including the 2008 scandal known as "kids for cash," in

which two judges in Pennsylvania were caught taking millions in bribes

from a for-profit prison company to increase the number of inmates. 70

As far as labor goes, numerous corporations exploit prison populations

today. 71 Earning as little as twenty-three cents an hour in some

cases, modern prisoners make things for the US military, McDonald's,

Microsoft, and Starbucks, along with furniture, car parts, solar panels,

and a host of other goods. 72 The façade is that convicts are "learning a

trade" so they can be better prepared when they get out of prison. Convict

leasing, which was an extremely violent, racially targeted practice

to enrich the corporations of the postbellum South, is just a variation

on the common theme of labor exploitation by whatever means businesses

can get away with. Modern private prisons making money off of

inmates, along with prisoners working for corporations, are principally

the same thing. This pursuit of cost-efficiency is what notably defines

market efficiency and hence profitability. This is simply the nature of

capitalist logic, and the still-common idea that the rise of capitalism

was somehow instrumental in the general ending of abject slavery on

the structural level is little more than denialism.

That noted, what I find most interesting about debt slavery as a

through-line of labor exploitation and coercion is how almost all the

prior forms of its use—going back 5,000 years—still exist on Earth to one

degree or another. As recognized by the United Nations, for two decades

now, it has been estimated that there are roughly 27 million slaves in

the world, more in absolute terms than ever before in human history. 73

However, these numbers have recently been challenged. In 2016, an organization

called the Walk Free Foundation released new estimates, finding

a startling total of 46 million slaves. 74 The vast majority of those slaves are

bonded laborers (debt slaves) in India, Pakistan, Bangladesh, and Nepal,

according to expert Kevin Bales. 75 Human trafficking is also a large part

of the problem, moving coerced prostitutes, domestic servants, and other

groups around the world. General debt bondage industries include brick

making, mining, jewelry making, carpet weaving, and a vast amount of

agricultural labor. As expected, the areas where people are most vulnerable

to this exploitation are in extreme poverty. In the words of Bales,
---
128 The New Human Rights Movement

"The question isn't 'Are they the right color to be slaves?' but 'Are they

vulnerable enough to be enslaved?' The criteria of enslavement today do

not concern color, tribe, or religion; they focus on weakness, gullibility,

and deprivation." 76 Debt bondage is so strong in some areas today it can

still actually be passed through generations, with children literally being

born into slavery due to a parent's debt. 77

MONETARY SYSTEM

Now, with all that in mind, let's examine where we are today. Credit,

debt, interest, and money creation are deeply connected, with debt resting

at the epicenter. While for a time in the modern period money was

"backed" by precious metals such as gold and silver, its root association

is and has always been based around credit and debt. Today, this relationship

is even more apparent, since quite literally money is brought

into existence by a process of inventing debt at the exact same time. As

odd as it may seem, virtually all money is created out of debt by banks

"extending credit" or giving loans. If all the debts of the world were paid

off, there would be no money in circulation.

How does this occur? Allow me to oversimplify, starting with government.

When a government needs money, it creates bonds. These bonds

represent debt. It then exchanges these bonds with its central bank, an

institution granted the ability to create money. Of course, governments

can also sell the bonds to the general public and even foreign nations

to raise money, but that doesn't actually create money—only banks can

do that. Though considered investments, these bonds are really interestbearing

loans. If I buy a government bond for $1,000, I have actually

loaned that amount to the government with the expectation that it will

pay me back with interest accrued. Likewise, when the government sells

bonds to its central bank, the central bank is technically loaning the

newly created money, expecting interest payments. Bear in mind, both

the government and the central bank are exchanging things invented

out of thin air by essentially the transaction itself.

Of course, the central bank doesn't just create money to loan to government,

it also has the power to create money and loan it to common
---
Structural Bigotry: The Economics of Oppression 129

commercial banks, effectively upon request. The commercial banks in

turn make loans to the general public, setting in motion what is actually

the most active money-creation process of the global economy. While

most tend to believe governments create money and that money is simply

put into circulation, that is not at all what happens. The government

acts as another "debtor" of the banking system, albeit one with special

privileges. The vast majority of the money supply is actually created by

commercial banks through a process of deposits and loans. All that is

really needed to create new money is, first, a demand for a loan, such as by

a family who wants to buy a car, and second, a bank's meeting a required

reserve percentage in existing deposits. This reserve requirement, which

is usually 10 percent, simply means a bank can create new money by issuing

loans of up to 90 percent of the value of its existing deposits. So, let's

say a person is approved for a $9,000 automobile loan by his or her local

bank. The loan will not come from existing stores of deposits in the bank,

as is commonly assumed. Rather, the bank invents the money through

credit, out of debt, assuming it has at least $10,000 (90 percent of $10,000

is $9,000) in existing deposits to "base it on." In other words, that $9,000

is literally created when the debtor party signs the loan contract.

Likewise, since most money in the system just moves between banks,

if that $9,000 is indeed loaned out, it will likely end up as another deposit

in another bank. So, let's say you borrowed $9,000 from a local bank to

buy a car, giving a check for that amount to the car dealer upon purchase.

The car dealer will then deposit that check into its own bank account.

And with that deposit this money-creation process can repeat. Given the

10 percent "required reserve," that bank is now able to create/loan out

$8,100 (90 percent of 9,000 is $8,100) in new credit money upon demand.

If that new loan does occur, the $8,100 will then likely make it to another

bank, becoming the basis for $7,290 in new loans . . . and so on. Taken

to its mathematical extreme, an initial $10,000 deposit that is repeatedly

used as a basis for new loans can create about $90,000 in new money. 78

Of course, each time a loan is paid back, that money disappears. So, like

a financial monster breathing in and out, the money supply expands and

contracts as loans are given and returned.

However, there is a severe problem with all of this. Since the business

of banking needs profit like any other, each loan given is done
---
130 The New Human Rights Movement

with interest attached. So, if a person borrows $9,000 for a car loan at 6

percent interest, she will need to return $9,540. Yet, if all money comes

into existence through loans, with the returning of those loans removing

the money from the money supply, where does the money to pay

the interest come from? To better understand the question, consider a

small island with 100 inhabitants. They have a bank that creates and

loans money. Let's assume each person gets a $100 loan. This means

$10,000 has been created as the island's total money supply. Everyone

then buys goods and services, exchanging this money with each other,

generating economic activity. This $10,000 in loans could then technically

be returned to the bank, fulfilling the society's loan obligations,

removing all money from existence. However, if interest is charged,

more money needs to be returned than actually exists. If each of those

$100 loans required has a 10 percent interest fee, then while the total

money supply is still $10,000, the actual value owed back to the bank is

actually $11,000. So where does that extra $1,000 come from?

In modern society, with its enormous amount of economic activity,

it is very easy to miss this reality. In theory, if the velocity or rate

of money changing hands is quick enough, then society—paying back

and loaning money at a certain simultaneous pace—could theoretically

operate without experiencing shortages. But that is far from the case

in reality. Rather, the entire world is producing debt by way of interest

charges that are mathematically impossible to repay, and there are

severe consequences. The proof of this is in plain sight. As of early 2015,

there was $199 trillion in debt in the global economy, 286 percent of

GDP. 79 So just how much money is in our global economy, you ask?

About $81 trillion as valued in US dollars, well under half the amount

of debt outstanding. 80 See the problem? The only outcomes that reconcile

it are bankruptcy, defaults, property repossession, or more loans

to extend the day of reckoning. It is like a game of musical chairs. At

some point, certain people somewhere are not going to have the money

to pay back their loans. As the world witnessed to an extreme in the

2007 US housing crisis, when defaults occur, the most common step is

repossession. In this, the same banking system that created money out

of nothing and loaned it at interest can now take ownership of physical

assets, such as houses or cars.
---
Structural Bigotry: The Economics of Oppression 131

It is bad enough that debtors can pay off 99 percent of a debt and

still have 100 percent of the property repossessed if the final 1 percent

isn't paid. But often the failure to repay is not even an issue of responsibility

or personal choice—it is a mathematically inevitable result due to

the amount of debt in the system. In this scenario, what we really have

is a structurally induced transfer of wealth from the lower class to the

upper class, for guess who owns the banks? The lucrative financial sector,

including lending institutions, is the realm of the wealthy 1 percent.

Now, a traditional economist hearing that would quickly object, noting

how the bank will often take a loss on a loan when it sells off property

at auction after repossession. This is true on paper. But remember, in

real life the money for the loan was created out of thin air, whereas the

property is real. Banks merely deal in bookkeeping ledgers.

At the same time, since money is debt and when it is moved or spent,

the debt "separates" from the money, you can better understand why the

people in the lower class are most injured. Consider the island example

of 100 inhabitants again. Ignoring interest, if each takes a $100 loan,

creating $10,000 in the money supply, and through capitalist gaming

for profit $9,000 ends up in the hands of only one person; the other 99

percent still need to pay back $9,000 in debt, abstractly speaking. Yet they

only have $1,000 among them. As of late 2015, US household consumer

debt, which includes mortgages, student loans, credit cards, and the like,

was over $12 trillion. 81 Once again, that is only consumer debt, with the

total outstanding US money supply at about only $12.2 trillion (based

on M2 data). 82 Needless to say, it is the lower class that takes on most

consumer debt by a long shot, in effect creating $12 trillion. So where

did all that money go? Why do 62 percent of Americans not even have

$1,000 in savings, living paycheck to paycheck? 83

Obviously, the loans creating the money supply are spent in the

economy and, due to the magic of structural classism, much of that

money trickles right up to the upper class. I liken it to taking out a loan

to buy a house, and paying the mortgage, while another person lives there

without you. The poor create the money and debt, while the upper class

extracts the money, leaving them with the debt. In the words of Dimitri

Papadimitriou of the Levy Economics Institute of Bard College: "The

evidence demonstrates that the de-leveraging [debt reduction] of the
---
132 The New Human Rights Movement

very rich and the indebtedness of almost everyone else move in tandem;

they follow the same trend line . . . there's a strong and continuous correlation

between the rich getting richer, and the poor—make that the

90%—going deeper into debt." 84

Likewise, this debt system that suppresses the lower classes further

rewards the upper class by way of capital investment. While a lower-class

person may take on the burden of common loans and interest payments,

an upper-class person who has no need for such loans can simply invest in

things like interest-bearing certificates of deposit (CDs) or other financial

vehicles to create interest income. For instance, a person who puts $1

million into a CD at 5 percent interest will generate $50,000 a year merely

for that investment alone. This situation relates back to the research of

Thomas Piketty, showing that the wealth capital inherent to the upper

class leads to highly disproportionate gains by the rich as compared to

everyone else, increasing economic inequality. While interest income

is one of many kinds of returns possible for the investment class, what

is really happening is also a transfer of wealth. Although indirect, the

interest payments from the lower, consumer class are effectively being

funneled into the pockets of the upper, investment class.

Then we have inflation. Inflation is generally defined as "the rate at

which the general level of prices for goods and services is rising, and,

subsequently, purchasing power is falling." 85 While the causes of inflation

are nuanced, devaluation of a currency by way of money supply increases

is the most powerful. 86 The hyperinflationary period in Germany after

the First World War—old photos show people loading billions of marks

into stoves to burn for heat—is a classic example of what increasing the

money supply too much can do. 87 Germany had massive deficits after the

war and decided just to start printing money itself. By 1923, it took 200

billion marks just to buy a loaf of bread. With respect to debt, there is

naturally a correlation since money is created out of debt; the more debt,

the more money and the more inflation, generally speaking. 88

In the US, $100 in 1950 is equivalent to almost $1,000 today in its

power to purchase things, an almost 900 percent cumulative increase

in sixty-five years. 89 So a $50 dinner today would have cost you $5 in

1950. Of course, while there is often great time lag in the relationship,

economists rationalize "modest" inflation as acceptable since wages
---
Structural Bigotry: The Economics of Oppression 133

also tend to rise along with the price of goods. But what isn't talked

about is how inflation functions as something of a hidden tax, strongly

affecting people's savings and people with fixed incomes. While people

are encouraged to counter inflation by putting money into interestbearing

savings accounts or the stock market, not everyone has or

prefers those options. Eighty-three percent of all US stocks today are

owned by 1 percent of the population. 90 Only the rich really have the

risk threshold to take full advantage of the financial market's ability to

offset inflation, not to mention most savings accounts as of 2015 offer a

mere 0.06 percent annual interest on average. Meanwhile, annual inflation

averages 3 to 5 percent, conservatively measured. 91 So, a person

with a life savings of $30,000 will only have the purchasing power of

$21,000 after ten years given a 3.5 percent rate of inflation. While this

applies to any value, a person with $1 million in savings will clearly

be better able to absorb or counter the devaluation than a person with

only $30,000. More important, what the rich and poor tend to buy and

the proportion of income spent on such things varies greatly. In other

words, different income groups tend to have different consumption

habits; for example, the poor generally spend a much higher percentage

of their income on food. 92

German economist Michael Grimm has studied these effects, concluding

that inflation, especially in poorer countries, leads to crippling

inequality and social disadvantages, such as children not being able to

go to school. 93 In a global study titled "Inflation, Growth, and Income

Distribution: A Cross-Country Study," it was found that "inflation worsens

income distribution; increases the income share of the rich . . . and

reduces the rate of economic growth." 94

Now, short-term inflation and deflation usually relate to expansion

and contraction in the economy, something commonly referred to as the

boom and bust cycle. While there are many variables, generally speaking

the more money in the system, the more it is "put to work" and

the more goods and services are created and sold. GDP rises, employment

increases, and so on. However, monetary expansion and economic

growth can't go on forever, owing to a number of factors, namely the

increasing parallel debt and eventual inflation. As a result, contraction

has to occur at some point to reset the cycle.
---
134 The New Human Rights Movement

Perhaps you have noticed how central banks often manipulate interest

rates. This is a kind of acceleration and deceleration on the rate of

money being created, as interest rates go up or down. When interests

rates go up, borrowing becomes more expensive, leading to a reduction

in loans given—meaning less money being created. Since this behavior

is generally in an economy already saturated with debt after a period of

credit expansion, the existing loans will start to be repaid faster than

loans given, effectively removing money from the money supply. This

means that debt that cannot be repaid is brought to the surface as the

pool is drained. And it is the poor who are "holding the bag," suffering

defaults and enduring unnecessary economic stress. Bear in mind that

in 2003, 43 percent of American households spent more each year than

they actually earned. 95 Now, we can argue that they are "living beyond

their means"; however, it isn't that simple. The debt burden of mortgages,

student loans, and credit cards, supported by average-paying jobs, often

means that taking on more credit is the only option to keep up. And

once the availability of jobs, wages, and loans starts to dry up, low- and

middle-class households, with proportionally greater debt, suffer first

and foremost.

While considered natural to capitalism, this boom-bust process is

a vehicle of class war, highly destructive to those who hold most of the

debt in society. Likewise, in times of recession, values of many assets

and businesses diminish, making them more affordable to the wealthy.

Business consolidation is very common during these periods as vulnerable

small businesses can be wiped out, then absorbed by larger ones for

pennies on the dollar. Recessions also help tame labor rights and reduce

union expectations, benefiting owners. The creation of increased unemployment

naturally works in favor of the upper classes as it increases

labor power surplus, consequently lowering wages. When you add these

factors together, not to forget the debt default-driven redistributions of

wealth, you find a powerful, largely hidden systemic mechanism that

moves wealth from the lower to the upper class, periodically over time.

The 2007 Great Recession, while extreme, is an excellent example

of it all. In the US, a massive housing bubble was in play prior, peaking

around 2006. Bubbles are characteristic of monetary expansion/economic

growth and represent concentrated capital accumulation usually
---
Structural Bigotry: The Economics of Oppression 135

confined to one sector of the economy. Before the housing market bubble,

we had the dot-com bubble, which crashed in 2000. After the dot-com

bubble, the US central bank "primed the pump" by expanding credit,

freeing money for more speculation. The housing bubble was also fueled

by profit-seeking banks pushing risky loans. Many of these loans went to

poor families that likely wouldn't have secured the loans if not for bubble

fever. Regardless, when the housing bubble finally popped, these highly

vulnerable communities, which were effectively preyed upon more than

usual by lenders, quickly defaulted as housing values tanked. 96 And since

the banks were at the same time and in large-scale "securitizing" those

mortgages—meaning turning them into financial assets to hedge and

gamble with—these post-bubble defaults caused a complex chain reaction

that spread across not only the US but also the world financial system.

It was the largest economic downturn since the Great Depression.

Since then, as of 2015, almost 7 million people have lost homes to

foreclosure in the US alone. 97 As an aside, the ratio of empty homes to

homeless people is troubling to think about. In Europe there are about

11 million empty homes and 4 million homeless—a ratio of just under

three homes for every one homeless person—while in the US the ratio

is six empty houses to one homeless person. 98 In the UK alone, there are

ten empty houses for every homeless family. 99 This is no doubt a clear

indication of serious structural inefficiencies in the economic system.

Beyond that, while unemployment has been a notable problem since the

end of the Great Recession, with the real US rate at about 10 percent as of

2015, 100 wages have also declined. As reported by the National Employment

Law Project, since the recession, "most workers have failed to see

improvements in their paychecks . . . taking into account cost-of-living

increases since the recession officially ended in 2009, wages have actually

declined for most U.S. workers." The report added that the trend was only

really accelerating, stating, "The declines in real wages since the Great

Recession continue a decades-long trend of wage stagnation for workers

in the United States." 101 As far as related small US business failures

are concerned, between 2008 and 2010 alone 170,000 were destroyed,

subsequently causing countless jobs losses. 102

Of course, the wealthy took a hit too upon the collapse, and naturally

so. The housing bubble had deep ties to Wall Street and the financial
---
136 The New Human Rights Movement

sector. From late 2007 until its "official" end in 2009, the top 1 percent

of America saw its income drop about 36 percent, while average family

income dropped by about 17 percent. However, that was just a transition

phrase. From 2009 to 2012, the 1 percent gained 31 percent while the

99 percent gained 0.4 percent. In effect, 1 percent captured 95 percent

of the total wealth growth in the US recovery. 103 In fact, if you track

the ebb and flow of expansion and contractions, there is a common

theme. The rich do lose with everyone else during recessions, usually a

bit more in percentage terms, but once the boom starts again, the rich

gain substantially more than everyone else, while pushing inequality

higher. 104 In 2012 the top 10 percent took 50 percent of all income, an

amount unprecedented in US history. The moral of the story is that in

the long run recessions simply help the rich overall, and it has been

that way for a long time. There may be upper-class carnage with this or

that mega-failure, but that is minor compared to the enriching power of

adjustment and monetary "stimulus" that sets the stage for expansion

and disproportionate upper-class wealth gain.

And this brings us to quantitative easing (QE). When things get

really bad, beyond the economic failures of the lower class, more is

needed than common monetary-expansion tactics through enticingly

low interest rates. These methods include QE, an increasingly common

practice of central banks. From 2008 to 2015 the US central bank, called

the Federal Reserve, bought bonds in order to inject almost $4 trillion

into the troubled economy. 105 With the bonds being bought from the

holdings of financial institutions such as commercial banks, pension

funds, and insurance companies, all that money was basically funneled

right into Wall Street, not Main Street. While some "trickle down" helped

create jobs and expand the general economy, the profit gained by the

existing rich has been substantial. In the words of economist Anthony

Randazzo, "[QE] is fundamentally a regressive redistribution program

that has been boosting wealth for those already engaged in the financial

sector or those who already own homes, but passing little along to the

rest of the economy. It is a primary driver of income inequality." 106

A report by the Bank of England stated that its QE program raised

the value of stocks and bonds by 26 percent, or about $970 billion, with

about 40 percent of those gains going to the richest 5 percent of British
---
Structural Bigotry: The Economics of Oppression 137

households. 107 In fact, in 2013 Andrew Huszar, a former US central bank

employee, made a rather dramatic guilt-driven admission, as reported

by the Wall Street Journal. He stated:

I can only say: I'm sorry, America. As a former Federal Reserve

official, I was responsible for executing the centerpiece program

of the Fed's first plunge into the bond-buying experiment known

as quantitative easing. The central bank continues to spin QE

as a tool for helping Main Street. But I've come to recognize the

program for what it really is: the greatest backdoor Wall Street

bailout of all time. 108

It is troubling to realize that the institutions most responsible for creating

economic crises are actually the ones to gain disproportionately by

attempts to fix them.

Now, very often in public talks and conversations on these issues the

idea of simply removing debt and interest from the economy is brought

up. But these features are predominantly structural. Debt goes back thousands

of years and forms the root of capitalist exchange, since exchange

is about mutual values being traded. In cases where a need is required

but equal exchange cannot be satisfied at the moment, debt is created.

The implications of this led to control and domination as a natural side

effect, once again. 109 To simply get rid of debt from the economy, in the

sense of a "policy shift," would effectively change the nature of things

beyond the scope of what we could call capitalism. Debt is foundational

to the market system. The same goes for interest, but to a lesser degree.

Interest itself simply represents profit for the service of loaning money.

Like the retail markup on any inventory, interest is principally just a fee.

Could it be removed from the equation? Yes, it is possible. But it would

first require that the entire banking system be turned into a nonprofit

agency, funded directly by other means. However, as will be explained in

the next section, the financial sector itself has now become the epicenter

of the super-rich. As such, it is also the epicenter of political lobbying

power and hence the cornerstone of the revolving door of plutocracy.

Bank nationalization and other dramatic changes, therefore, would be

met with fantastic resistance.
---
138 The New Human Rights Movement

FINANCIALIZATION

As discussed, the Neolithic Revolution gave birth to the slowly evolving

organism we know as market economics today. While the root socioeconomic

orientation has remained the same, unique mutations have

occurred. If Adam Smith were alive today, he would likely be baffled at

the incredible rate of technical advancement and how what was once a

world marked by great scarcity and endless strife has transformed to

one where machines are replacing jobs entirely, increasing technical

efficiency exponentially. And while he might not be too surprised by

how the colonialism of his day has merely morphed into a higher-tech

version now termed globalization, he would still be shocked by how powerful

transnational corporations have become. These operate with larger

GDPs than many countries, have little loyalty to specific nations, have

built global trade agreements that act like their own legislative authority,

and effectively have transcended national sovereignty through a kind of

financial "deterritorialization." In effect, big transnational businesses

have been slowly morphing into a kind of sovereign entity network in

and of themselves, making their own rules. 110

However, I think the most shocking thing Smith would notice is the

financial system, with its trillions in stocks, bonds, derivatives, and other

assets, and how it increasingly overshadows in performance the tangible

productive market. In effect, gambling and service fees are replacing

real production, with the financial sector becoming proportionally the

most profitable sector on the planet. Yet, it creates nothing of any tangible

relevance and, in point of fact, has no true structural importance

to meaningful economic production. I state that, of course, not from

the standpoint of capitalist operations, but from the perspective of pure

technical economic reality. I suspect that never in a million years did

Adam Smith think the real-world market of handicraft, basic services,

and physical trade would evolve into the abstraction of financialization,

while giving birth to the mutant monster known as Wall Street.

I was first introduced to Wall Street and financial trading when I was

about twenty-five. This was a few years after my cater-waiter days and

that dubious first corporate job I spoke of previously. At this point I was

working at an ad agency in lower Manhattan, doing audiovisual design
---
Structural Bigotry: The Economics of Oppression 139

work to sell high-end real estate. As in my cater-waiter days, the clients

were super-rich and the focus was on luxury properties only they could

afford. Basically, we would make "movies" to sell these overpriced places

to people with money to burn. It was the ultimate vulture institution, as

advertising companies generally are. At one point it was leaked that the

bosses would ask for around $75,000 to produce a two-minute promo,

paying my production team about $7,000 in salary to produce it. That

is enough "surplus value" exploitation to give Karl Marx a stroke. 111 Of

course, the rich clients simply had no concept of real production costs

and hence could be milked for their ignorance, as they routinely were.

Needless to say, I was far from fulfilled in this job and tired of working

ten hours a day with harsh deadlines and aggressive, stressed-out

coworkers. However, I didn't just want out of that job and the industry, I

wanted out of the entire top-down dictatorial structure inherent to business

itself. So I looked around and eventually homed in on short-term,

private stock trading. In hindsight, I'm not quite sure which I find more

offensive—advertising or the financial markets—but from the standpoint

of personal freedom, equity trading from a private account is the only

job I know of that literally has no boss and no clients, and that is all that

mattered to me at the time.

So, with the little savings I had, I shifted my ad work to part-time

freelance and focused on equity trading in the morning markets. The

learning curve was steep and I had expensive mentorships with various

professional traders. These were people mostly like me in that they had

just wanted to be outside the corporate structure. While I certainly have

met some traders with truly distorted worldviews, the guys I learned

from were not inhumane, soulless people. They were simply professional

game players, not insiders, who understood risk management, macroeconomics,

and mass human psychology. It was through this training

and related research, via reading literally hundreds of texts on economic

theory and behavioral psychology, that I began to really understand

the nature of capitalism, leading me to where I am today as an activist,

interestingly enough.

Now, for those unfamiliar with the history of financial markets and

where they came from, allow me to summarize. The global financial

markets, including stocks, bonds, futures, currencies, options, and a host
---
140 The New Human Rights Movement

of other "derivatives," are an outcome of thousands of years of what I

consider the "maturation" process of trade-based economics. While the

root socioeconomic orientation of capitalism is built around scarcity, competition,

and dominance, as noted in the previous chapter, the financial

markets embrace the pure abstraction of capitalism's primary incentive

structure—that being the art of reducing costs and maximizing income.

This translates into buying an asset at one price and selling it at a higher

price, making a profit. It doesn't matter what that asset is or even if it

exists, just as long as one can reasonably assume it will gain value and

can be sold back off, securing profit.

The evolution of this practice is in lockstep with the rise of merchant

capitalism. Upon the advent of agriculture and settlement, labor specialization

and good markets slowly emerged, along with mediums of

exchange or money. A merchant class developed where producers would

create goods and their merchants would take them to public market

centers and sell them. This division of labor then led to more modern

systems of distribution, where the merchants simply bought items in

advance, selling them independently at higher prices. At this stage, you

can begin to see how the idea of trade for the sake of trade started to

take hold as an abstraction. It didn't matter what the merchants bought

and sold, they simply made profit on the act of exchange.

By the late nineteenth century, the practice of raising capital to start

new companies was common. In this, representative company shares or

"stock" would be issued to those who invested, with that stock entitling

them to a percentage of ownership and profits of the company. If there

were ten investors, for example, there would be ten shares of stock and

each would get a tenth of the profits. This practice evolved into the idea

of public ownership, in which stocks would be offered and sold to the

public to raise money, with the owning public then being paid dividends,

which could be fixed or variable.

However, in the midst of all of this, the merchant mindset of simply

trading for the sake of trading shifted focus. Stock exchanges allowed

people to trade their shares of stock with other people they had never

met. And while gaining dividends was once a major focus, trading the

stock itself and speculating on its price moves emerged as the main

interest for profit. Initial public offerings of company stock now grew
---
Structural Bigotry: The Economics of Oppression 141

to include millions or billions of shares depending on the interest and

company size. Likewise, commodity markets (trading in staples such as

wheat, cotton, steel, etc.) went from finding value based on real material

supply and demand, to prices being pushed around by speculative traders

through commodity futures (the speculated future cost of a commodity).

Currency-exchange markets allowed people to literally make money off

of money, gambling on how the value of one nation's currency would

change relative to another's. Of course, this idea of speculation goes back

hundreds of years, with the Tulip Mania of the seventeenth century a

notable highlight. In Holland, people became obsessed with tulip bulbs

and the bulbs skyrocketed in price as people paid more and more for

them. Some even sold off their homes to buy the flowers, assuming the

value would keep rising. 112

Now, to correct a common misconception, the actual real-world

performance of a publicly owned company is not directly related to its

stock price. Rather, prices are driven by the perceptions of people as they

buy and sell existing stock shares, moving share prices around by their

collective actions. While the performance of the company is a factor, it

is just information or news to the trader or investor. There is a predictable

psychology that tends to move prices in certain ways on the basis of

different performance metrics released by a company, but these metrics

are still superficial. For example, it could very well be that the CEO of a

company gets caught cheating on his wife, sending his company's stock

lower because of emotional public reactions. Just as easily, a company

could lie about record profits, sending the stock price upward. As one

of my trading mentors used to always say: "We don't trade stocks. We

trade people."

So, what we have is a kind of financial parallel universe. There are

real producing companies and resources in one universe and these proxy,

avatar-like financial representations of them in the other. A company

such as Apple has a market capitalization of about $700 billion as of

2015. This number represents the total value of its more than 5 billion

stock shares outstanding. Does this mean Apple is worth $700 billion

as a "wealth creation" industry, turning raw materials and information

into tools for people to improve their lives? No, the value is derived from

mass speculation after an initial public offering of the stock (IPO) and
---
142 The New Human Rights Movement

little more. As of 2015, the US stock market itself was valued at about

$25 trillion, with the global stock markets at about $70 trillion. 113 Total

global financial securities value, meaning not only stocks but also bonds,

options, and other such assets, was about $300 trillion. 114 Then we have

derivatives, which are financial instruments that "link" to underlying

assets created out of thin air once again. These are cartoonish proxy

instruments that take anything from stocks, bonds currencies, interest

rates, indices, options, commodities, credit, or just about anything two

financial parties can agree upon, deriving a new instrument for gambling.

Of course, if you read mainstream views of derivatives, they are

defended as "hedging," or a means of lowering risk for some party. While

this may be true in the fantasyland of abstract investment, the argument

defends nothing as to their root absurdity. Today, the total value of these

derivatives has reached epic levels, with conservative estimates being

about $700 trillion in notional value. 115 If we add common securities,

we get an estimated global market value of more than $1 quadrillion.

This number, which is about 1,300 percent of global 2015 GDP, would

be almost funny if it didn't have such serious real-world implications,

such as the 2007 global financial crisis that destroyed 45 percent of the

entire planet's financial wealth in one swoop. 116

Now, this abstract trading reality is only part of a larger trend termed

financialization. Financialization can broadly be defined as a "pattern of

accumulation in which profit making occurs increasingly through financial

channels rather than through trade and commodity production." 117

Generally, it has to do with the increase in the scope, power, and range of

application of the world economy's financial sector. The financial sector

is composed of financial services. These deal with the management and

administration of whatever financial activities are in play, usually based

around bank loans, stocks, investment services, insurance, and so on.

Financialization is an evolutionary outcome of market capitalism,

prevalent in economically mature nations. It appears to be part of an

increasingly common developmental path as countries' true productivity

declines, pushing nonproducing mechanisms for income. Now emerging

as, indeed, the most profitable industry on the planet, this economic

mutation from merchant capitalism into financial capitalism is further

expanding the already problematic inequality and oppression-producing
---
Structural Bigotry: The Economics of Oppression 143

tendency inherent to the system. Like the growth of cancer in an organism,

the global market economy is becoming increasingly more lifeblind

and polarized as financialization takes over and abstraction

becomes reality.

From the broad view, given trends over the past forty years, it is

difficult not to view the growing financial sector as little more than an

upper-class money machine that does little for the normal economy.

Its growth and profitability has eclipsed other sectors' growth, even

though there is little evidence this disproportionate income has had

any benefit for anyone in the world but the investment banks, brokers,

and other financial players. In fact, if you compare the profit trends

from the manufacturing sector to the financial sector, you will notice

they are now inversely related. 118 The production of goods is becoming

less profitable while immaterial financial services are becoming more so.

This is particularly bothersome since the number of people employed in

the financial sector has virtually stayed the same, while the amount of

profit they extract has skyrocketed.

According to economist Michael Konczal, "Between 1980 and 2006,

while [US] GDP increased five times, financial-sector profits increased

sixteen times over. While financial and nonfinancial profits grew at

roughly the same rate before 1980, between 1980 and 2006 nonfinancial

profits grew seven times while financial profits grew [again] sixteen

times." 119 In 1950, the US financial sector accounted for about 2 percent

of GDP, growing to 9 percent by 2013. 120 In the 1980s, profits in this

sector were about 10 percent of GDP, while thirty years later they are

more than 30 percent. 121 Yet, the number of people employed in this US

sector has been less than 5 percent since 1950. 122 That is a ton of money

going to very few people. Again, we are talking about an industry that

deals with intangible financial assets and fees, not true production. This

radical income growth has been occurring during a time when wages for

the rest of the American (and global) economy have been stagnating for

decades. 123 In fact, research conducted on countries with large financial

sectors has found that this trend is actually detrimental to overall economic

expansion and prosperity. Admittedly, it is difficult to imagine

how the growth of any given sector of a country's economy could be a

negative pressure in general, but that is exactly what has been found. 124
---
144 The New Human Rights Movement

In fact, the correlation of financialization to inequality, counterproductive

effects on general economic expansion, wage stagnation, and

periodic crises such as the staggering 2007 derivative-triggered economic

collapse invites the question of what this institution (and phenomenon)

really means and why it is tolerated at all. Economist Gerald A. Epstein

in his text Financialization and the World Economy states:

Finance benefits handsomely from the same processes that create

economic crises and injure so many others. Hence the costs of

financial crises are paid by the bulk of the population, while large

benefits accrue to finance . . . [F]inancial institutions and owners

of financial assets . . . have been able to greatly increase their

shares of national income in a variety of OECD [Organisation

for Economic Co-operation and Development] countries since

the early 1980s . . . [F]inancialization has had a profound and

largely negative impact on the operations of US non-financial

corporations. 125

Epstein's research also explores how the growth of financial power is

deeply related to globalization and neoliberalism. With globalization

being the expansion of market networks across the world and neoliberalism

being the view that deregulated "free trade" is the proper mode of

markets, financialization is well-argued to be a natural development in

this supposed "liberalization" of the world economy.

To complete this section, I would like to pause and consider the

sociological ramifications of all this on the cultural level with regard

to how we view ourselves. The rise of financialization is the rise of an

economic abstraction that exacerbates the already dehumanizing, "commoditizing"

nature of market capitalism. Like a large, suffocating tumor

spawned from a long-existing underlying cancer, the life-blind nature of

this development reveals where global society is heading. While financialization

is contextualized here as a structural development furthering

class separation and oppression, there is a deeper sickness in play—one of

enormous moral hazard. I extend this definition of moral hazard to anything

that encourages the disregard or injury of others, including apathy

to other people's suffering. What we have is a kind of sociopathology born
---
Structural Bigotry: The Economics of Oppression 145

from commercial enterprise, compounded by the now ever-expanding

financialization of the world.

From the creation of securitized slave mortgages in the early nineteenth

century American South that allowed many "anti-slavery" countries

to invest in slave labor while hedging financial risk on the part of

slave owners, 126 to the modern practice of "dead peasants" life insurance,

in which companies take out policies on their employees, wagering on

their lives and making money when they die, the sickness is palpable. 127

This moral hazard is in lockstep with the reality that the financial industry

is constructed around making money in "both directions." In the

stock market, one can execute what is called a "short sale." This is the

practice of "selling before you buy," which simply means you are gambling

on the decline of a company's stock. This type of bet exists in

virtually all financial trades, including complex "hedging" derivatives

like credit-default swaps. In the case of mortgage swaps, investors are

basically betting on whether people will lose their homes or not. And

someone will make money if they do. Also, high-energy mass speculation

in commodity markets can artificially raise the real exchange price

of things like food and energy, deeply affecting the lower classes that

rely on affordability. In fact, since the repeal of the Glass-Steagall Act

and other adjustments, speculation in the commodity markets went

from 12 percent to 60 percent, with a great deal of detrimental volatility

ever since. 128

While more extreme, let's not forget that financialization and the

ability to profit directly off of social failure and human suffering is really

just a variation on a long-standing theme. While Wall Street incentivizes

human indifference in a more direct way, commoditizing destruction,

Main Street also structurally requires general disregard for competitors,

employees, and even consumers. When a competing business fails, it is

in the best interest of other competitors. When employees are vulnerable

and desperate, it is in the best interest of employers. When people are

unsatisfied and even sick, it is in the best interest of industries catering to

those needs, such as the medical community. However, at least on Main

Street everyone is frequently reminded that we are all human beings,

usually bringing out some basic moral, empathic sense. On Wall Street,

however, the human aspect is removed, replaced by abstractions that are
---
146 The New Human Rights Movement

utterly detached from any sense of humanity. I call it "drone warfare"

economics. The military people today who command remote-controlled

drones into distant territories to kill others do so in the abstraction of a

video game, losing a sense of reality. I consider the rise of financialization

as a means for capital accumulation a cogent parallel.

CLASS WAR

To conclude this chapter, I would like to now step back and examine

the overall state of class conflict. Perhaps best formalized by sociologists

Karl Marx and Max Weber, class conflict or class war is defined as an

antagonism between socioeconomic groups, with the dominant class

minority disproportionately favored against the subservient class majority

by a range of social factors. There are many intersecting mechanisms

in play, including class-biased psychology, sociology, politics, legislation,

economic policies, and so on.

Culturally, we have what historian Carl Becker called the climate of

opinion. Commenting with respect to recorded history, Becker wrote,

"the facts which historians include or omit, the interconnections between

the facts given which they stress, depend in no small part upon the

'approach' which seems to them a meaningful one, and that approach

which at any time will seem significant to the historian depends in no

small part upon the social situation in which he finds himself—in short,

upon the preconceptions and value judgments . . . of the age in which

he lives." 129 In the age in which we live today, with all the media power

to remind us of what we are supposed to agree with or not, the climate

of opinion still overwhelmingly favors materialism, competition, selfishness,

dissatisfaction, war, and elitism. These are critical social values

for maintaining the capitalist social order. Anything contrary to those

values is fundamentally a threat.

Needless to say, there is nothing more important to modern class

war than the widespread belief that capitalism is in the best interest of

everyone and any alternative will only lead to social destruction. Any

speculation that the market system may indeed function as a means of

oppression and social control, or is perhaps just highly inefficient in its
---
Structural Bigotry: The Economics of Oppression 147

assumed purpose, must be actively countered and made to appear irrational.

Such activity was notably ramped up in the late nineteenth and

early twentieth century upon the first and only great mass global revolt

against capitalism thus far. Fearful corporate and political power centers

in the United States responded by unleashing an unprecedented publicrelations

campaign. It was not only a reaction to the growing spread of

anti-capitalist ideas and socialism; it also directly targeted emerging

labor unions that were demanding better circumstances.

The tactic was to associate organized labor with communism and

tyranny, portraying it as un-American. Before this, American labor was

literally embroiled in a bloody class war, resulting in a great deal of

violence against workers trying to strike or formally organize. 130 From

the machine-gunning of striking coal miners in Pennsylvania in 1897,

to the Colorado labor wars of 1903, to the Ludlow Massacre of 1914, to

the 1917 lynching of prominent American Labor leader Frank H. Little,

to the far-reaching union-busting espionage and sabotage activities that

became formalized near mid-century, the rise of "free labor" was far from

free. 131 However, once the Wagner Act of the 1930s was passed as part of

Roosevelt's New Deal, legally protecting union formation and collective

bargaining, business owners realized force wasn't the best route. It was

time for pro-capitalist psychological warfare.

The National Association of Manufacturers (NAM) conducted a

massive media blitz, painting unions as anti-American and communistic,

the New Deal as slavery, public ownership as totalitarian, and

free-market capitalism as the only true savior of humanity. This propaganda

was incorporated in schools, social events, and every major form

of media. According to the Hagley Archive (a museum and library of

business material), the NAM public relations team "circulated 2 million

copies of cartoons, 4.5 million copies of newspaper columns written

by pro-business economists, 2.4 million foreign language news pieces

and 11 million employee leaflets. It also displayed 45,000 billboards,

which were seen by an estimated 65 million Americans daily, while its

film series was viewed by approximately 18 million." 132 In Elizabeth A.

Fones-Wolf's Selling Free Enterprise: The Business Assault on Labor and

Liberalism, 1945–60, she further details the vast extent of this campaign.

She writes, sourcing primary materials:
---
148 The New Human Rights Movement

The NAM was joined by several trade associations, including the

American Petroleum Institute, the National Association of Electric

Power Companies and the American Medical Association,

in an effort to derail Fair Deal programs on such issues as natural

resources, public power, and healthcare. J. Warren Kinsman,

chairman of the NAM's Public Relations Advisory Committee

and vice president of Du Pont, reminded businessmen that "in

the everlasting battle for the minds of men" the tools of public

relations are the only weapons '"powerful enough to arouse public

opinion sufficiently to check the steady, insidious and current

drift towards Socialism." In 1950, the NAM turned to television,

launching a weekly program, "Industry on Parade," which

showcased companies, explained how products were made, and

demonstrated what industry gave to individuals, communities,

and the nation . . . In early 1952, Oklahoma City reported that

the series ranked among the first five programs in popularity,

and Milwaukee gave "Industry on Parade" a higher audience

rating than "Meet the Press," telecast in the same segment.

She continues:

Corporations as well as the NAM saw advantages in movies and

television . . . Ford, for example laced its "Ford Sunday Evening

Hour" with attacks on New Deal programs and government

interference in business . . . The Bohn Aluminum and Brass

Corporation's NBC program, for instance, regularly warned

the public about the dangers of "socialist schemes" that looked

safe but in reality were "deadly poison" that limited "individual

rights and freedom." Other firms dramatically expanded

their production and distribution of movies into clubs, schools,

churches, and theaters as well as to television. These movies

range from simple company promotions to sophisticated attacks

on what business viewed as a growing socialistic economy. By

late 1951, business-sponsored movies reached an audience of

20 million people per week, more than one-third of the nation's

weekly attendance at commercial movies. 133
---
Structural Bigotry: The Economics of Oppression 149

In short, it was perhaps the largest propaganda campaign in American

history. While unions survived, the overall pro-capitalist climate this

campaign established still lingers, to be sure.

As for the place unions have in this evolution, labor has always been

at the heart of class struggle. And it is important to recognize that the

world's labor movements are really extensions of abolitionism. From

abject and debt slavery to "free labor" by wage, there is a continuum

of exploitation in play that goes mostly unacknowledged by historians

and social theorists. Again, from the standpoint of owners, laborers factor

in as economic commodities, in the same way abject slaves were. I

state this not to be sensational but to be principally factual. No matter

how wealthy and happy a slave may be, it doesn't change that he or she

is being coerced into labor for the disproportionate gain of an owner.

The qualifying difference has to do with the degree of coercion or force

perceived. Where in the continuum of coercion do you draw the line

saying one form of labor is "free" while others are not?

In today's modern era, most would agree that chattel slavery, meaning

direct human ownership through violent force, is incomprehensibly

inhumane. But what about debt bondage? While humans are not technically

owned, they are bound to contracts to work off debts, often in

extremely inhumane circumstances. Again, tens of millions of people

in the world today exist in this condition and even the UN refers to it as

slavery. Then we have wage slavery. In this case, the coercion comes from

various unrelated pressures that appear to exist outside of the labor role

itself. There is no gun held to one's head and no debt contract looming.

Instead, there are systemic forces that constantly put "free laborers"

into vulnerable conditions such as the pressure of unresolvable debt, as

noted, or the simple threat of poverty itself. While they may have some

"choice" as to whom they work for, they have no choice but to submit.

And it doesn't matter if one can select between two companies or two

million companies, it does not change the structural, manmade coercion

present. 134 Obviously, the majority of this chapter has been about such

forces, ultimately keeping the working class vulnerable and submissive.

The most cogent example to me is sweatshop slavery. The sheer destitution

in poor, developing nations forces people to "volunteer" for grueling,

low-wage jobs—and yet it's referred to as "free labor."
---
150 The New Human Rights Movement

Overall, the general economic slavery of the majority has been well

masked by the neoclassical, utilitarian euphemism of "mutual exchange,"

often condemning those who talk about structural coercion and exploitation

as whiny, annoying "Marxists." This has also been a common

aspect of the strategic climate of opinion that helps ensure docility, creating

the illusion that people are as free as they ever could be. Today,

many pro-market theorists actually deny the structural reality of labor

exploitation outright, turning the tables to argue that everyone is simply

"helping everyone else," networking specialization for mutual benefit

through "voluntary" trade. While I certainly appreciate my dentist and

will exchange money for the service, reciprocating in a mutually satisfactory

way, this singular exchange is not even close to what defines capitalism

as a structure or its systemic effects. This myopic, overly reductionist

perspective simply avoids the nature of inevitable hierarchy and the

primary logic of reducing costs and maximizing returns.

Moreover, laissez faire or neoliberal predominance in economic

policy, specifically in the West, constantly refocuses attention on the

importance of the ownership class rather than the wage-working majority.

The mantra that the rich need more tax breaks since they are the

"job creators," along with the vast exceptionalism big business experiences

when problems arise, reduces any ambiguity as to who is deemed

socially important. These laissez faire views were reinvigorated in the

1980s during the Reagan and Thatcher era, when further tax cuts for the

rich, deregulation, and a move from public provision to private provision

were seen as the only solutions to social woes. The long-term result

has been an exacerbation of inequality and further loss of public and

environmental health.

At the same time, the "free trade" or "market discipline" hypocrisy

is palpable, as it most certainly doesn't apply to the rich and powerful.

From "too big to fail" bailouts, to massive corporate subsidies and general

international protections, the truth is that big business and the rich elite

operate with direct, nonmarket, "socialized," top-down controls. As put

succinctly by Dr. King with respect to America, "This country has socialism

for the rich, rugged individualism for the poor." 135 It seems the lower

class can battle it out in the "free market," fighting, failing, and suffering,

while the rich tend to enjoy a general exceptionalism, unsusceptible to
---
Structural Bigotry: The Economics of Oppression 151

market forces when things get bad. Of course, as expressed in chapter

two, I say "hypocrisy" only in gesture. It is only hypocritical if you were

to believe the current system was actually supposed to respect true laissez

faire principles, applied to everyone regardless. The truth, as I hope

this text demonstrates, is that capitalism is a system of structural class

oppression and social control, with only the naive illusion that these

pure "free market" principles are universal, effective, or even possible.

One example is low-wage labor subsidization. At the time of this

writing there are US protests demanding higher wages for lower-class

jobs. Since the minimum wage is far from livable for many, welfare support

from the state is needed for millions of people. Some of the most

profitable companies such as McDonald's and Walmart are able to keep

these low wages because the state is filling in the gap. In other words, the

state is subsidizing the wages, effectively saving these big corporations

responsibility and money by taking tax dollars from the public. One

estimate put the value of this subsidization at $153 billion a year, as of

2015. 136 Meanwhile, while wages generally stagnate, CEO pay continues

to grow globally. Naturally, the US leads the way, with CEOs earning

about 354 times more than their average employee, while often-deemed

"socialist" Canada trails with a modest 206:1 as of 2014. 137 In fact, in a

study conducted by the Canadian Centre for Policy Alternatives, it was

found that Canada's top CEOs make an average worker's yearly salary

in just three hours. 138 Meanwhile, general corporate welfare practice is

found throughout the industrialized world and in various forms, working

in concert with strategic tax avoidance. The UN estimates about

$200 billion is avoided in annual tax each year by corporations owing to

offshore holdings alone. 139 In 2016, 11.5 million documents were leaked

by an anonymous source, revealing the financial specifics of over 214,400

offshore entities sheltering in what would otherwise be known as tax

havens. 140 Now called the "Panama Papers," this leak revealed the enormous

amount of tax avoidance and other schemes practiced in the world

today by the super rich, with reportedly an estimated $21 trillion to $32

trillion invested virtually tax-free as of 2010. 141

We also can't ignore the legal exceptionalism inherent. As common

to all historical royalty, those in power generally make the rules, not follow

them. Of course, to ensure the appearance of democracy, examples
---
152 The New Human Rights Movement

must be made and every now and again a very powerful, rich figure

will be prosecuted, with great fanfare, in lieu of addressing the modern

epidemic of corporate crime. But generally, as author Glenn Greenwald

would put it, most are "too big to jail." In his work Liberty and Justice for

Some: How the Law Is Used to Destroy Equality and Protect the Powerful,

Greenwald catalogs the modern history of white-collar and political

crime. From hedge-fund managers getting away with hit-and-runs to

banks absolved of rampant fraud, Greenwald concludes in regard to

the US financial elite, "Worse still, the scope of these financial crimes is

so vast, and the suffering they have caused so deep and enduring, that

the refusal to impose any consequences on the culprits proves the nearabsolute

nature of this elite law breaking license. It is now clear that there

are virtually no limits on the magnitude of the crimes that the nation's

most powerful private actors can commit with impunity." 142

At the same time, as touched upon in chapter one, the general US

population experiences a legal punitiveness unmatched in the industrialized

world, with much higher levels of incarceration, longer sentences,

worse prison conditions, and other draconian attributes. While most

politicians give lip service to an ideal society without crime or insurrection,

a looming sense of public fear and a certain amount of crime

actually assists the preservation of the ruling class. On the most basic

level, criminal behavior consequential to the precondition of socioeconomic

inequality within the lower class allows for a systemic targeting

by legal forces. Again, it is within this lower-class demographic that

society can expect the majority of common crime, along with political

or economic disapproval. In other words, the subculture most likely

motivated to change society, to alleviate their plight, are also these poor

or lower-class demographics. So, keeping highly punitive attitudes in

legal justice proceedings is a straightforward act of social oppression of

this demographic, helping to keep sources of insurrection fragmented

and at bay. Again, this is a systemic consequence, like a feedback loop

that structurally favors the preservation of existing power.

Another level has to do with dependence. We again see this with the

highly politicized use of "terrorism" as it makes the general population

feel as though they must succumb to the whims of state power for some

kind of alleviation. This has led to a general public sanction of arguably
---
Structural Bigotry: The Economics of Oppression 153

fascist social policies that have systemically reduced civil rights while

allowing for numerous human rights violations on the whole. The phenomenon

is really no different than the "war on drugs," only this "war

on terrorism" extends what was mostly US class oppression into global

nation-class oppression. Politicized or not, "terrorism" has become an

excuse to inject social dominance both domestically and internationally,

justifying war, theft, and violence against the global poor.

Regarding war, it is important to realize that when it comes to root

cause, all wars are class wars. While the lower social classes tend to have

limited options, partly serving as cogs in the wheel of upward wealth

redistribution, the rise of national empires exploiting their vassal or

tributary states is effectively the same thing. In other words, we can view

the nations of the world as stratified in a power-and-wealth hierarchy

in the same way a national population is. The United States empire,

like Britain and many before them, has great geopolitical and economic

power over the affairs of much of the world. With nearly 800 military

bases across 70 countries, the US casts a wide shadow. Through what is

the new colonialism, by way of globalization, neoliberalism, and financialization,

the US and its parallel Western interests have been pulling

the world into a tight web of international financial and transnational

trade agreements that favor Western imperial business interests.

Over the past century, highly privatized, deregulated economic policies

have spread globally, often by force. Many wars have resulted in the

overthrow of old national regimes, giving way to this expansion, while

the growth and power of international finance institutions has increased.

These dominant global trade and banking institutions—the World Bank,

World Trade Organization, and the International Monetary Fund, which

are Western in origin—blatantly subscribe to these neoliberal views,

constantly imposing welfare-removing austerity on poor countries in

debt, leading policy shifts in favor of "free trade," "liberalization," and

so forth. This process of conformity only strengthens the power of US

transnational corporations, as the leverage they hold is already vast in

the globalization game. This is not speculation. You can simply examine

the growth and influence of these powerful corporate entities statistically

as they have expanded via free-trade agreements and structuraladjustment

policies.
---
154 The New Human Rights Movement

Even the smaller, socially democratic Scandinavian countries that

are often praised as examples of what capitalism "should be" since they

have generally had less inequality and stronger social safeguards are systemically

being dismantled with the spread of financialization, globalization,

and neoliberalism. 143 In fact, all OECD (Organisation for Economic

Co-operation and Development) countries are seeing inequality rise, as

tracked by comparing Gini coefficients (which measure income inequality).

144 Government subsidies for education, transportation, health care,

food, housing, and so on are continually being eroded, replaced by privatization.

Understanding this as a global trend is important, as it has

become very common for economists to assume what is going on in one

country can simply be applied to another. Norway, Denmark, Sweden,

and other countries have had low inequality, high relative standards of

living, low crime, low unemployment, and fairly stable overall economies

as compared with the erratic and elitist West. It is almost like they are

two different worlds. Can't countries like the US just copy their policies?

While there is certainly good sociological information found in

understanding how other nations are successful in specific ways, the

mistake is to assume they are isolated from global dynamics, each existing

in a vacuum. The rise of empires, a historical constant for thousands

of years, reveals a systemic drive for dominance inherent in global affairs.

This has become much more apparent with the rise of advanced weapons,

communication, and transport technology, with the British Empire the

first to really have the ability to control vast amounts of territory from a

small plot of land. By 1922, it covered 13,000,000 square miles, dominating

20 percent of the world population and controlling 25 percent of the

world's lands. 145 The resonance of European ideas and policy certainly

made its mark as well, as is the case with the United States empire today.

The dominance of American media and fashion alone demonstrates the

power of its presence and the same goes for its social and economic views.

In fact, we really cannot understand the state of the world crisis today

without understanding the role of the United States' influence.

With the growth of technology in the twenty-first century, the power

wielded by US-centered Western interests has also increased, enabling

the American empire to extend its influence in ways once impossible.

There is far less of a need for physical colonial invasion anymore, since
---
Structural Bigotry: The Economics of Oppression 155

the dynamics of trade agreements and financial negotiation can create

the same subservience and exploitation of resources and labor. This isn't

to say military power isn't apparent or utilized, as the world continues to

impoverish itself by way of global military spending. However, it is now

mostly an ominous backdrop to the highly strategic economic warfare

constant at all times among and surrounding today's major industrial

powers—the US, China, and Russia. All of this is to say that no country

is an "island" and the interplay of global affairs creates outcomes across

countries in the same way socioeconomic classes self-arrange in a given

nation. In the world of nation-states, the Scandinavian countries play

the same role as the fleeting "middle class" in American society, with

security, fulfilling jobs, little debt, reliable transport, a good home, and

overall balance. These countries are the resulting "global middle class"

and exist only because of the extremes surrounding them. And, like

domestic classes today, they are also slowly being eroded by the ongoing

pressure of neoliberalism, which is again really the socioeconomic

colonization of the modern era. Contrary to popular belief, this game of

strategic international exploitation and geopolitical dominance has not

declined in the past century, only morphed into new methods.

French colonial secretary of state Albert Sarraut stated bluntly in

1923 regarding African resource expropriation:

What is the use of painting the truth? At the start colonization

was not an act of civilization, nor was it a desire to civilize. It

was an act of force motivated by interests. An episode in the vital

competition which, from man to man, from group to group, has

gone on ever increasing; the people who set out to seize colonies

in distant lands were thinking primarily of themselves, and were

working for their own profits, and conquering for their own

power. The origin of colonization is nothing else than enterprise

of individual interests, a one-sided and egotistical imposition of

the strong upon the weak. 146

This is as true today as it ever was, despite modern rhetoric. Only today,

the profiting interests Sarraut speaks of operate in plain sight, with no

shame. This pattern of dominance is facilitated by an increasingly fluid
---
156 The New Human Rights Movement

global infrastructure that, like a well-oiled machine, extracts wealth for

the benefit of a small elite while ensuring resulting concentrations of

power are protected from all sides.

Why? Because this is what the economic system is and what its

structure creates. The social psychology it manifests, compounded by

the historically self-generating culture and its customs, fueled by structurally

consequential negative pressures that constantly reinforce the

psychological need to fear and fight, brings out the worst of the human

condition. The structural bigotry inherent only mutates, never changes.

As will be discussed further in the next chapter, the gravity of this entire

sociological predicament is and has been tearing the fabric of humanity

apart, resulting in a schizophrenic culture that is quickly moving toward

social and environmental oblivion.
---
Chapter Four

PUBLIC HEALTH: SPECTRUM

OF DISORDER

Not only does structural violence kill more people than all the

behavioral violence put together, structural violence is also the

main cause of behavioral violence. 1

—DR. JAMES GILLIGAN

W

HAT IS POVERTY? Poverty is generally defined as "the economic

condition where people are unable to meet their most basic needs."

Yet there is natural ambiguity as to what defines a "basic need" after a

certain standard of living is achieved. Generally, poverty takes on three

forms. First, there is extreme or absolute poverty. This is where people

are not meeting nutritional requirements and/or are vulnerable to

debilitating environmental conditions. Today, nearly 1 billion people fit

this criterion, the bulk of whom live in the Southern Hemisphere. The

"Global South," as it is often referred to, houses most of the "developing"

and Third World regions, such as Africa, Latin America, and parts of

Asia. The prevalence of poverty, pollution, and communicable disease

there is dramatically higher than in the wealthier North, meaning the

US, Canada, Western Europe, etc. While absolute poverty is certainly

present in the North and widely so, it doesn't compare in scale to the

deprivation, destitution, and preventable disease epidemics found in the

Global South. Forty-five percent of all child mortality under five years of

age links to malnutrition, amounting to about 3.1 million deaths a year,

most of which occur in sub-Saharan Africa. 2

157
---
158 The New Human Rights Movement

A second type of poverty is relative. Like absolute poverty, relative

poverty is a socioeconomic condition that leads to a decrease in one's wellbeing;

people in relative poverty are unable to rise to the most common,

shared standard of living in a country or the world. While appearing

almost trivial on the surface since it is relativistic, meaning it is based

on comparisons and not absolutes, this inequality is a powerful driver

of negative public-health outcomes. Only recently have social scientists

come to realize the destructive nature of relative poverty, as the problems

associated with it tend to blend into the general disorder of society. As

will be explored further, the very existence of socioeconomic stratification

or class generates a vast range of problems. It isn't just about inequity,

with its lack of true life-supporting resources; it is also about the stress

of social comparison and the sense that well-being is not shared fairly.

The way society morally justifies unnecessary human suffering due to

such inequality imposes some of the most profound existential questions

about what it means to coexist.

Overall, modern social science shows that an economically stratified

society is fundamentally destabilized, manifesting a range of publichealth

problems. While social dominance theory and other elitist views

regarding group-based hierarchy see stratification as necessary for "social

stability," as touched upon in chapter two, it is a fact that public health is

directly inhibited in vast and complex ways. This phenomenon is a fairly

new area of study that is increasingly being explored by epidemiologists. 3

From the prevalence of physical and mental health disease that targets the

lower class, reducing life expectancy and well-being, to the psychosocial

stress of social exclusion generating antisocial behaviors such as violence,

relative poverty is caustic, unnecessary, and extremely inhumane.

The third form of poverty to introduce could poetically be termed

poverty of the spirit. I first heard this phrase used by Dr. Martin Luther

King Jr. in describing the maladjusted way society utilizes the material

success it has gained through science and technology. He eloquently

stated in his 1964 Nobel Peace Prize acceptance speech:

Yet, in spite of these spectacular strides in science and technology,

and still unlimited ones to come, something basic is missing.

There is a sort of poverty of the spirit which stands in glaring
---
Public Health: Spectrum of Disorder 159

contrast to our scientific and technological abundance. The

richer we have become materially, the poorer we have become

morally and spiritually. We have learned to fly the air like birds

and swim the sea like fish, but we have not learned the simple

art of living together as brothers. Every man lives in two realms,

the internal and the external. The internal is that realm of spiritual

ends expressed in art, literature, morals, and religion. The

external is that complex of devices, techniques, mechanisms,

and instrumentalities by means of which we live. Our problem

today is that we have allowed the internal to become lost in the

external. We have allowed the means by which we live to outdistance

the ends for which we live. So much of modern life can

be summarized in that arresting dictum of the poet Thoreau:

"Improved means to an unimproved end." This is the serious

predicament, the deep and haunting problem confronting modern

man. If we are to survive today, our moral and spiritual "lag"

must be eliminated. Enlarged material powers spell enlarged

peril if there is not proportionate growth of the soul. When the

"without" of man's nature subjugates the "within," dark storm

clouds begin to form in the world. 4

Beautifully put, to be sure. However, if we were to technically reduce

his poetry, this "poverty of the spirit" really signifies a value-system disorder.

While Dr. King's views express it as a moral problem, which it is

by extension, the root is still sociological. As such, these characteristics

invariably link back to the structure of society and what is incentivized

by the social system. As expressed, there is a primary market logic

that leads people to operate in very shortsighted and ultimately neurotic

ways. This is consequential of the overall root socio economic orientation

of assumed scarcity and competition, also discussed before. This orientation

continues to mold and reinforce a destructive kind of tunnel

vision that guides human focus along a detrimental path, favoring values

actually needed to perpetuate capitalism, not perpetuate sustainability,

justice, or social well-being.

Many philosophers frequently imply that moral maturity is a solution

to our poverty of the spirit. However, it is incomplete to argue for improved
---
160 The New Human Rights Movement

morality merely through personal growth and increased empathy. It is not

enough to "change yourself." From a systems perspective we cannot rationally

conclude that an ideal moral compass can be fostered or perpetuated

in a socioeconomic condition that doesn't reward it. People typically can

only walk against the current so long, no matter how strong their convictions.

Humans are far too vulnerable to pressures in their environment.

Without the social structure's changing to directly embrace our idealized

moral strides, little progress can be expected. The fact is, no matter how

moral we may think we are or how moral we think the world could be,

the structural bigotry inherent in market logic will forever get the best of

us, undermining integrity, fueling this poverty of the spirit relentlessly.

IMPOVERISHED VALUES

This value-system disorder, from in-group, upper-class dominance to

the casual discrimination common to everyday competitive thinking,

has already been touched on in various contexts. In the next two sections

I will home in on two specific distortions: the first being a general

incapacity to problem-solve accurately, given that overwhelming loyalty

to market values blinds society to mechanisms of true improvement;

and the second being the rise of consumerism, infinite wants, and the

commodification of reality.

With respect to problem solving, almost all modern attempts to

resolve existing social problems seek to use markets as the means. You

may recall that we explored this some in the prior chapter in the context

of the role charity plays in mitigating negative externalities. This marketbased

attempt at a solution is particularly troubling given that in most

cases the very dynamics of markets are what have created the problems to

begin with. Society pays great lip service to poverty resolution, increased

equality, improved democracy, resource conservation, ecological sustainability,

and the general hope for social and environmental justice.

Yet regardless of the media fanfare, highly publicized conferences, the

UN's "Millennium Development Goals," ubiquitous protest movements,

and endless "green" rhetoric, we've effectively been running in place with

only minor improvements for decades.
---
Public Health: Spectrum of Disorder 161

Of all the conceivable ways to approach socioecological problems,

the most common solution proposed has merely been the pursuit of

more "economic growth." Increased economic growth along with other

market-based initiatives continues to be pitched as the solution for just

about every social problem there is. Those areas where economic growth

can't be at least gestured at as a solution are simply ignored outright,

further adding to the endless frustration of the activist community.

Given the very nature of the market economy, economic growth has,

indeed, helped alleviate some poverty and some loss of opportunity,

and so economists speak of it as though it is the only possible solution.

Yet, economic growth is far from a universal positive in its dynamics.

Economists tend to ignore its fundamentally problematic nature, forgetting

that market-based economic growth is first and foremost a function

of human and habitat exploitation.

The United States, which is home to 5 percent of the world's population,

consumes 25 percent of the world's energy production and 50

percent of the world's production of raw materials, and produces 40

percent of the world's waste. 5 In fact, only 20 percent of the world's

wealthier population consumes a massive 80 percent of the world's

goods. 6 What this means is that the standard of living enjoyed by the

United States and the Global North is largely built upon international

trade, and that trade is highly incentivized to find and utilize cheaper

resources and labor. The decision to globalize, moving industries and

markets to developing regions, is not based upon goodwill or an interest

in relieving poverty. It is done to exploit countries and improve profits,

with any alleviation of social woes in the long run merely a side effect

or afterthought.

There is no question that over the course of the last few centuries the

fruits of the Global North have been built on the resources and labor of

the Global South, exploited for the purposes of the North's economic

growth. 7 This isn't to say that many poor nations of the world currently

fill this subservient role, for many have already been effectively used,

gutted, and tossed aside after decades of exploitation. As a result, these

regions tend to fester vast internal corruption, regional fracturing, and

destabilizing tribal warfare, as evidenced by areas such as sub-Saharan

Africa, home to perhaps the greatest foreign exploitative abuse. Once one
---
162 The New Human Rights Movement

of the most resource-rich places on Earth, it is now largely a vast expanse

of destitution and corruption. Many observers fail to see this chain of

causality, sharing the view that these countries were "always corrupt"

or "always poor." As described in what has been termed "postcolonial

theory," the long-term socioeconomic and cultural effects of historical

imperial abuses have proven highly caustic. 8

In the words of Vandana Shiva of the International Forum on Globalization,

responding to the myth that the poor of the world have simply

not implemented proper market reforms and are the authors of their

own poverty:

This is a totally false history of poverty. The poor are not those

who have been "left behind"; they are the ones who have been

robbed. The riches accumulated by Europe are based on riches

taken from Asia, Africa and Latin America. Without the destruction

of India's rich textile industry, without the takeover of the

spice trade, without the genocide of the Native American tribes,

without Africa's slavery, the Industrial Revolution would not

have led to new riches for Europe or the US. It was this violent

takeover of Third World resources and markets that created

wealth in the North and poverty in the South. 9

Put mildly, economic growth or development results in inequality as

a side effect. This is due to the inherently exploitative and imbalanced

procedural dynamics of market economics. This inequality materializes

both within nations and between nations in the same basic way, as we see

with globalization. We have been told that "rising tides lift all boats" and

while that idea may be somewhat true over time, it is a grossly misleading

aphorism. The truth is that this "rise" only occurs in tandem with

the creation of corrosive inequality, including many stages of adjustment

and abuse before the possibility that those "drowning boats" find

mild buoyancy. In the words of Gavin Kitching, professor of social science

and international relations at the University of New South Wales:

"[E]conomic development as a long-term process of structural change,

as a historical process, poses awful and awesome moral and political

dilemmas which, even to be confronted adequately, require hard and
---
Public Health: Spectrum of Disorder 163

informed thinking . . . Development is an awful process. It varies only,

and importantly, in its awfulness." 10

Likewise, the positive outcomes of the growth process are limited

to areas that have a certain degree of relative economic development

already. In other words, the extreme poor are less affected by broad

economic growth because their regions lack the proper infrastructure

and resources to benefit. As concluded by Matilda Dahlquist in a detailed

study of low-income countries, "Does Economic Growth Reduce Poverty?":

"Economic growth does not appear to be sufficient a tool when

the level of extreme poverty is high. This seems to indicate that poverty

reduction must be triggered, the gears must be set in motion, especially

in countries with a large portion of extremely poor . . . Accounting for

this fact should, if something, be an initiative for governments across the

world to invest in poverty reducing activities targeted strongly toward

eradication of extreme poverty." 11 Africa has 75 percent of the world's

poorest countries, with only nominal poverty reduction over the past

few decades. The number of African people living on less than $1.25 a

day has declined a mere 8 percent since 1990. 12 Not to mention that the

$1.25 guideline put forward by the United Nations in its original Millennium

Goals as the working threshold of global poverty is far from viable

as a public-health measurement. Even with the recent 2015 elevation of

the poverty line to $1.90 a day, it is still not enough. Arguably a more

accurate measure, termed by some researchers as the ethical poverty line,

puts the dollar value much higher, revealing a different picture of reality.

As articulated by Jason Hickel of The Guardian in late 2015:

If we want to stick with a single international line, we might use

the "ethical poverty line" devised by Peter Edward of Newcastle

University. He calculates that in order to achieve normal human

life expectancy of just over 70 years, people need roughly 2.7 to

3.9 times the existing poverty line. In the past, that was $5 a day.

Using the [World] bank's new calculations, it's about $7.40 a day.

As it happens, this number is close to the average of national

poverty lines in the global south. So what would happen if we

were to measure global poverty at this more accurate level? We

would see that about 4.2 billion people live in poverty today.
---
164 The New Human Rights Movement

That's more than four times what the World Bank would have

us believe, and more than 60% of humanity. And the number

has risen sharply since 1980, with nearly 1 billion people added

to the ranks of the poor over the past 35 years. The UN's sustainable

development goals, launched in September, are set to use

the $1.90 line to measure poverty. Why do they persist with this

implausibly low threshold? Because it's the only one that shows

any meaningful progress against poverty, and therefore lends

a kind of happy justification to the existing economic order. 13

This means that the effective use of market solutions and financial measures

to address the problem of poverty, unemployment, and deprivation

is limited and can often be misleading. This orientation simply continues

to injure global society in the long run, regardless of minimal gains, distracting

from the underlying economic problems inherent in the system

itself. This issue becomes clearer when we consider economically rooted

environmental problems.

Proposed solutions to resolve pollution, biodiversity loss, and resource

overshoot have only recently brought the issue of capital accumulation

and economic growth into question. Today, particularly with respect

to climate change, the idea that capitalism in and of itself just might be

detrimental to earthly sustainability is slowly entering the conversation,

and inevitably so. However, all it has generated is confusion and cognitive

dissonance since any talk of grand revisions to the economic system is

still taboo. Society has persisted with the Malthusian view that our ecological

problems are mostly inevitable, and only a proportional decline

in human population or standards of living can result. Hence, "survival

of the fittest" is deemed justified and the fortunate can go to bed at night

thinking they "did what they had to do" and this is "just the way it is."

Once again, it is the poor who disproportionately suffer from environmental

problems, making the issue less about "green activism" specifically

and more about social justice itself. The fact of the matter is that

the current state of ecological affairs is far from natural, with industrial

inefficiency and the deliberate, system-specific creation of unnecessary

waste to blame. As will be argued in chapter five, capitalism's industrial

orientation, meaning how the actual processes of production and
---
Public Health: Spectrum of Disorder 165

distribution are conducted, is arguably the most inefficient mode of economic

behavior one could come up with in light of modern possibilities.

It basically favors the opposite of what is needed to ensure environmental

sustainability, perpetuating extremely inefficient resource allocation

across the global population.

Classical market economics teaches us that supply and demand

power the world. Yet it ignores the fact that constant supply and demand

is actually required. Structurally, the market can basically be reduced to

interaction between consumers and producers. The wheels of economic

growth only turn when people produce, sell, and buy at an increasing

rate. That is the root mechanism powering our economic survival, like

a vehicle's gas pedal. The more people produce, sell, and buy, the better

the "health" of the economy and supposedly the population. This means

that in order for people to get work, they must be needed, according to

existing demand. Where demand is low there is no need to employ and

those who are unemployed cannot help the economy by spending money

back into it, fueling it, since they have no income to spend.