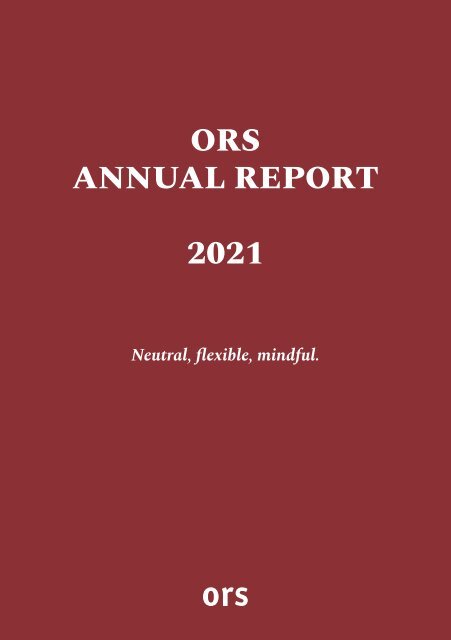 Create successful ePaper yourself
Turn your PDF publications into a flip-book with our unique Google optimized e-Paper software.
ORS

ANNUAL REPORT

2021

Neutral, flexible, mindful.

1
---
ORS believes in the importance of equal opportunity. We use gender-neutral language

in this Annual Report to refer equally to female, male and non-binary individuals.

2
---
CONTENTS

Editorial: Acting on opportunities

ORS Group facts & figures

ORS Switzerland – acting on opportunities in times of crisis

Senad Delic – from driving a lorry to steering an asylum centre

Leeann Grace – from refugee to language teacher

Julian Gerber – working for better opportunities in the job market

ORS Germany – growth despite COVID-19

Wahid Karimi – from talented linguist to head of support

Christian Hess – from asylum support to technology manager

Natalia Borovik – from Eastern Siberia to Sigmaringen

ORS Italy – walking a tightrope between expectation and reality

Cinzia Sollai – second chances can be better

ORS Austria – milestones in 2021

Sigrid Bauly – life experience as an opportunity for a career change

Education and training

HR figures

Annual results 2021

ORS Advisory Board – interview with Thomas Bäumer

Group management and management values

Our values

Glossary

Our locations

Imprint

4

6

8

12

14

16

18

22

24

26

28

32

34

36

38

40

42

46

48

50

52

54

55

3
---
EDITORIAL

'The commitment of

our staff

is our backbone in

turbulent times.

Crises bring to light

hitherto undiscovered

talents.'

Dear Readers,

Every day brings each of us the opportunity to develop and grow, whether in a professional

context or when we're making those big decisions in life. It is up to us to spot and act

on these opportunities. In recent years I have repeatedly seen our colleagues roll up their

sleeves and help to tackle crises. Situations such as these offer opportunities to evolve and,

for example, take on a leadership role. The portraits in this Annual Report illustrate the

exciting prospects that can unfold when we believe in ourselves and act on the opportunities

on offer.

One crisis ends, another begins

Dealing with COVID-19 has become routine but has demanded a lot of us. During COV-

ID-19, being able to maintain the seamless services agreed upon with our partners was not

a matter of course. Handling the criticism we faced from some parts of the media and from

4
---
idealogical organisations taught us not to allow ourselves to be deterred. Our work found

itself under scrutiny several times and that has served to make us stronger. We also had the

backing of our partners, who saw that they could rely on our loyalty and professionalism

throughout.

Our hope of a 'calmer' post-COVID-19 phase was quashed by the outbreak of war in

Ukraine a few months ago. We felt the immediate impact of the crisis and, not for the first

time, I feel immensely proud of all of our teams, who have again stepped up to the challenge

with dauntless pragmatism.

Greater efficiency through digitalisation

The world of work is evolving, and we are not unaffected by the changes. During COVID-19,

we digitalised many of our processes in, for example, HR, finance and training. Many of our

courses are now available online, and our staff at headquarters and in our offices can now

work out of office or from home thanks to the newly introduced flexible working model.

This and a raft of other measures have led to a notable increase in efficiency, as the figures

reflect – our operating profit has improved in comparison with the previous year, contributing

to a further stabilisation of the ORS Group. In the meantime, our focus is fixed on

what matters most – doing our utmost to serve our partners and support the people who

live in the accommodation we manage.

Experience as opportunity

The story of ORS is a success story. This year we look back on 30 years of ORS. Founded

in Switzerland in 1992, we are now among Europe's leading organisations for state-outsourced

services in the migration sector. Not wishing to rest on our laurels, we are determined

to remain a reliable partner for the public sector, offering quality and expertise. It is

a tremendous opportunity, both for them and for us. I hope you enjoy reading our Annual

Report.

Kind regards,

Jürg Rötheli

5
---
FACTS & FIGURES

As at 31/12/2021

6
---
Operations in 4 countries

2 national representations

1 EU Liaison Office

7 countries

CH Zurich

DE Freiburg

AT Vienna

IT Rome

ES Madrid

GR Athens

BE Brussels

Number of employees

CH 900+

1'400+

DE 450+

IT 100+

AT 5+

+ 14%

80+

Support facilities

mandates

CH 60+

DE 10+

IT 3

AT 2

Bed capacity

14'000+

CH

8'000+

DE 5'500+

IT 700+

AT 100+

+ 28%

7
---
MILESTONES

2021

01/2021

Implementation of the 5-stage integration

model for the restructuring of asylum

and refugee support in the canton of

Bern (NaBe) and opening of the federal

asylum centre for disruptive asylum

seekers in Les Verrières (NE)

06/2021

Opening of

Uferweg Burgdorf (BE)

collective accommodation

02/2021

ORS becomes member

of 'Myni Gmeind'

association

04/2021

Conflict managers,

aka 'floor walkers', appointed

to expand support teams in

federal asylum centres

JANUARY

FEBRUARY

MARCH APRIL MAY JUNE

8
---
08/2021

Switzerland

Confirmation of mandate for the municipality of Dübendorf (ZH)

09/2021

Additional contract in mandate for Aargau

for special and exceptional circumstances

10/2021

Launch of 'Assisted Cooking' at

Basel BAZ and Kappelen BAZ (BE).

Relocation from Adliswil repatriation

centre (ZH) to transit centre in

Sonnenbühl Ober-Embrach (ZH)

11/2021

Recognition of medical

support as a SPITEX service

provider in the canton of

Fribourg

12/2021

Digital data

logging successfully

integrated into

support for asylum

seekers at the federal

asylum centres in

NAVISION IT system

JULY AUGUST SEPTEMBER OCTOBER NOVEMBER DECEMBER

9
---
MILESTONES

2021

ORS Switzerland – acting on opportunities in

times of crisis

COVID-19 meant that our teams in

the facilities, most of which provide

collective accommodation, regularly

had to deal with the consequences

of quarantine and isolation measures.

Despite considerable additional

expense, we succeeded in keeping the

centres running normally at all times.

We benefited here from excellent collaboration

with our partners at the

federal, cantonal and municipal level.

Federal

The introduction of floor walkers in

the federal asylum centres played a

key role in preventing violence. This

conflict prevention measure has since

been successfully rolled out throughout

Switzerland. ORS was also tasked

with managing support at the special

centre for disruptive asylum seekers

in Les Verrières (NE). Getting the

asylum seekers involved in preparing

meals proved to be a meaningful

activity. 'Assisted Cooking' was therefore

introduced at Basel BAZ and in

Kappelen (BE).

Cantonal mandates

We continued our flawless support

work in the transit and repatriation

centres in Solothurn, Bern and Zurich.

Hostility from refugee support networks

and politically motivated activists

did not prevent us from focusing

on delivering professional and impartial

support. An investigation by the

national Committee for the Prevention

of Torture, carried out on behalf

of the canton of Bern, found that our

employees' work was recognised and

appreciated. We acted upon suggestions

for improving the repatriation

centres in the canton of Bern, in particular

with regard to the infrastructure,

and took measures to optimise

living conditions for the people in our

care.

In the cantonal mandate in Zurich,

the focus was on relocating the residents

and fixtures from the ramshackle

temporary repatriation centre

in Adliswil to Ober-Embrach. ORS

used to run the Sonnenbühl centre

years ago, so the change of scene felt a

little like a homecoming.

10
---
Switzerland

Demographic trends mean that support

and care for the sick and the

elderly in refugee structures is growing

in importance. Last year we developed

a special support and care concept

for this group and implemented

it in coordination with the canton of

Fribourg. As we are now recognised

by SPITEX, our medical care services

are now eligible for coverage by

health insurance.

Integration

Integrating refugees in the municipal

mandates and in the cantonal mandate

of Emmental-Oberaargau (BE)

represents a major task. In the canton

of Bern, our 5-stage integration model

accompanies those in our care as they

make their way towards independent

living. Alongside language courses

and access to qualifications we help

those who are fit to work to find a job

and ensure that they are able to move

into their own accommodation.

We are also pleased to have been

able to win new mandates and confirm

existing ones in German-speaking

Switzerland. We are particularly

delighted to continue our mandate

in the municipality of Dübendorf, the

location of the central point of contact

for all local and integration mandates

in the Zurich and Aargau region.

Safety and cleanliness

Clean accommodation and compliance

with safety standards are key

prerequisites for pleasant living conditions

in the asylum accommodation

facilities. In order to maintain safety

and order, ORS took on a full-time

'Head of Safety and Cleanliness' in

2021 to check that we are maintaining

our high standards and initiate

improvements.

11
---
'If you are open to

change, you will

have opportunities

to change yourself.

All you have to do is

act on those opportunities.'

Senad Delic

Senad Delic was born in Bosnia in 1988 and grew up in Switzerland. He

gave up his work as a lorry driver in order to make the temporary stay

in the Gampelen BE repatriation centre as pleasant as possible for the

occupants.

12
---
From driving a lorry to steering an

asylum centre

Sitting at the wheel of a 40-tonne

truck and transporting goods from

A to B was Senad Delic's day-today

routine for many years. But he

became increasingly disenchanted

with life on the road, never knowing

whether he would get home in time

to spend the evening with his family.

'Senad, you're the perfect person for

ORS. You should join us,' his neighbour,

who was already at ORS, urged

him, awakening his interest in working

with asylum seekers.

But let's start at the beginning: shortly

after his birth in Bosnia, his family

settled in Switzerland. After finishing

school, he trained as a painter and

decorator. That practical training and

his experience as a lorry driver made

him the ideal candidate for a maintenance

role at the Gampelen (BE) repatriation

centre.

'I set to work where I'm

needed and help where

there is hardship.'

His insight into human nature helped

him acclimatise quickly to dealing

with the people living there, who had

been turned down for asylum. His

readiness to help and his mindful

conduct earned him recognition. He

soon became deputy team leader and

was later asked whether he would be

prepared to take on overall responsibility

for the accommodation centre.

'I enjoy working with people and love

it when things work out. The experience

of interacting with people is

priceless,' states Senad, adding that

he treats everyone equally, whatever

their asylum status. Even in challenging

situations, he retains his calm demeanour.

Last year he was the victim

of a knife attack, which luckily left

him with only minor injuries. Despite

this, he doesn't feel fear carrying out

his job.

'You never stop learning. That's why

I'm so grateful to ORS for giving

me the chance to further myself in

leadership.' He wants to pass on his

experience – both of support work

and as a human being. Since things

are going well for him, he would like

his success to benefit others. He has

therefore set himself the task of helping

at least one poverty-struck family

a month – whether in Switzerland or

in his native Bosnia. 'When you see

the smiles on the faces of the people

who've been helped, that's worth

more than gold. What you get is usually

more than you give.'

The residents of the centre are also

to benefit from Senad's experience.

The trained decorator is planning

to buy some paint and work with

the people living there to freshen up

the corridors and common rooms.

It's a chance to vary the day-today

routine and an opportunity to

brighten up the living environment.

13
---
'People who

are understood

and can

communicate

adequately have

a better chance

of integrating.'

Leeann Grace Isegere

Leeann 'Tata' Grace was born in Africa in 1993. To this day she is still

eternally grateful to her grandmother Tata, who had not been allowed to go

to school as a child but insisted that her own children and grandchildren

should not miss out on an education. Leeann is currently in the final stages

of a master's degree in linguistics. For the past year she has been working

with refugees in the canton of Fribourg as an ORS language teacher.

14
---
Education is the greatest opportunity:

from refugee to language

teacher

In many African countries attending

school involves paying school fees,

so parents tend to have high expectations

of their children. Leeann has

mixed memories of her school days

in Africa. She wanted to become a

bouncer when she finished school,

so that she could protect people and

their homes. Her mother's response

when she told her was not positive –

in fact, she was given a beating. After

all, in her parents' minds, they weren't

paying all that money for an education

just to see her end up in such

a lowly job.

Today Leeann laughs at her naive,

childish notion. Nevertheless, that

passion to protect people has not left

her.

Leeann fled to Switzerland as a result

of political unrest. She spent the

first few months in a federal asylum

centre in the French-speaking part of

Switzerland. Later she was assigned

to the canton of Fribourg and officially

recognised as a refugee. 'It was the

ORS staff who made me feel safe and

showed a human touch in this unfamiliar

world.' She took a language

course to learn French. To her ears,

'Bonjour' was just an undefined series

of sounds rather than a greeting. But

she gradually acclimatised to the new

language and the new structures and

began to feel at home. Having arrived

in Switzerland as a refugee, she went

on to study psychology and languages

after she had finished school. She was

supported by ORS throughout her integration.

'I am grateful to have

had so many opportunities

in my new home'

After her studies, the dream job

Leeann had spoken of as a child became

a reality. She applied to be a

attendant and mediator at ORS and

began work at the very place that had

represented a turning point in her life

many years earlier: the federal asylum

centre. 'The refugees I tutor seem to

mirror of my own past and present. I

can empathise with them, although

I'm well aware that not all of their

wishes for a better life are going to

be fulfilled.' She is now involved in

integration, teaching French to unaccompanied

minors and adults at a

language school run by ORS. She has

found her calling here: 'People who

are understood and can communicate

adequately have a better chance of

integrating.' When she looks around

the classroom today and meets the

gazes of the students in front of her,

she likes to think back on a time

when she was sitting in their place

and learning to seize the opportunity

of a new life.

15
---
'If you are willing to

integrate, the right

opportunities will

usually

come along.'

Julian Gerber

Julian Gerber (34) trained in business and, before joining ORS, worked in

customer advice and marketing. He has also worked in administration at

a refugee accommodation centre. 'It is important that everyone takes responsibility

and looks beyond their own picket fence so that we can create

new opportunities.'

16
---
Working for better opportunities

in the job market

Julian Gerber sees his role as opening

doors for recognised or provisional

refugees who are looking to establish

a new existence in Switzerland without

having to rely on benefits. He has

worked in recruitment in the canton

of Bern since 2020. He regularly asks

businesses in the Emmental-Oberaargau

region what their staffing needs

are and compares their job specifications

with the qualifications held

by recognised refugees who are supported

by ORS. Work placement, apprenticeship,

training, temporary or

permanent job: what is important

to Julian is that the mutual expectations

of employer and prospective

employee match as closely as possible,

although he is well aware that the

relationship between the two parties

needs to prove itself in practice rather

than on paper.

In recruitment Julian works closely

with a team of job coaches who mentor

the candidates and optimise their

prospects on the job market by recommending

additional qualifications.

Good language skills offer a firm

foundation.

The focus is always on the individual

and their personal needs and abilities.

Julian finds it disappointing when

everything seems to be on track on the

recruitment side, then it all suddenly

falls through. At moments like this,

it's important to take a deep breath,

analyse what happened and not lose

faith in new opportunities. Optimism

is central to his day-to-day work.

One encounter in particular last year

has stayed with him: a man who had

been placed by ORS with a road-building

firm came to the ORS desk in full

construction worker gear, including

helmet, and complained that he had

'The most important

thing is the will to try

something new. Everyone

deserves a chance

and needs to be supported.'

already been waiting five minutes. He

made it clear that he didn't have time

to wait. The asphalt was ready a few

streets away and the roller would be

arriving any moment. For him every

minute counted. 'We can't waste time

when it comes to acting on opportunities.'

He believes it is vital to integrate asylum

seekers and refugees. Opinions

and ideas on the matter may vary, but

you will always find an extensive willingness

to help. Julian is passionate

about persuading businesses of the

benefits of offering career prospects

to people who have been officially

recognised as refugees or admitted to

Switzerland with temporary protection.

The success stories show that he

is right.

17
---
MILESTONES

2021

03/2021

Düren ZUE

Accommodation & day-to-day support,

catering and healthcare

Sigmaringen LEA –

facility management

Technical operation, maintenance and

upkeep of all operational systems

on the premises

04/2021

Expansion into

Rhineland-Palatinate:

Hermeskeil AfA &

Kusel AfA

Accommodation, day-to-day

support and social counselling

JANUARY

FEBRUARY

MARCH APRIL MAY JUNE

18
---
Germany

10/2021

Return to Berlin:

opening of Bäkestraße GU

Accommodation, day-to-day support

and social counselling

11/2021

Closure of

Eggenstein EA

Accommodation and

day-to-day support

JULY AUGUST SEPTEMBER OCTOBER NOVEMBER DECEMBER

19
---
MILESTONES

2021

ORS Germany in year two of COVID-19

Spring 2021 – growth spurt

Additional contracts in North

Rhine-Westphalia and Rhineland-Palatinate

at the end of 2020/beginning

of 2021 brought turbulent times for

us. Our HR team was faced with the

challenge of recruiting and inducting

150 new ORS colleagues within a

matter of weeks. This only succeeded

thanks to the dynamic support of

our colleagues from the facilities and

the ORS Group. Internal support and

team spirit in a time of crisis proved

themselves yet again, making us

proud of what we have achieved and

optimistic about what is still to come.

New accommodation 2021

We were delighted to launch our

third accommodation centre in North

Rhine-Westphalia – Düren ZUE in the

administrative district of Cologne,

which opened on 1 March. At the

same time we took charge of facility

management at the Sigmaringen regional

reception centre, taking on responsibility

for technical operations,

maintenance and the upkeep of all

operational systems on the premises.

On 1 April we expanded into Rhineland-Palatinate,

taking on support responsibilities

in two accommodation

centres: these additional contracts

for the reception facilities for asylum

seekers (AfA) in Kusel and Hermeskeil

mark an important milestone for us.

Our new partner, the Trier State Inspectorate,

expressed great interest

in our concepts, and dialogue quickly

developed. Following an intensive

set-up phase, we are also experiencing

challenges here, however – the rural

setting is making it difficult to find

local specialists to fill vacancies. We

launched an extensive internal initiative

to expand recruitment. Among

other things, this saw us create a larger

recruitment team, widen our search

to cover the whole European area and

enter into partnership with a recruitment

agency.

Autumn was dominated by our return

to Berlin. Having had to hand over

our accommodation in Colditzstraße

to our successor in December 2020,

we were delighted at the return to the

'Bäkestraße' hostel, where we were

able to welcome back a large per-

20
---
Germany

centage of our former team. Despite

extensive efforts to retain the Eggenstein-Leopoldshafen

reception centre

near Karlsruhe, our bid lost out to that

of another operator at the end of November.

Forging ahead with digitalisation

At the beginning of 2021 we took a

further step towards digitalisation

in HR: our colleagues can now record

and manage their hours and

check our shift planner via a mobile

phone app. We have digitalised

parts of our induction programme

and made video clips highlighting

our support processes to make induction

easier for new colleagues.

Prospects for 2022

2022 got off to an eventful start, with

the number of employees working

for ORS Germany passing the 500

mark for the first time. On 1 January

we took over the support services at

Bonn EAE and also expanded our remit

in Rhineland-Palatinate from 1

February, taking on responsibility for

providing healthcare for individuals

who are due to be repatriated from the

detention facility (GfA) in Ingelheim.

Using digital media: alongside regular training, our

new colleagues can now access 10 new video clips

introducing them to day-to-day support work.

21
---
'With patience and

experience, you can

master challenging

tasks. I am proud of

my team. We acted on

opportunities.'

Wahid Karimi

Wahid Karimi was born in Afghanistan in 1988 and grew up in Austria.

He has been providing professional support for asylum seekers with ORS

for 12 years. In 2021 he was promoted to head of support at the Sankt

Augustin ZUE.

22
---
'It is a privilege to be able to act

on opportunities'

As a young boy, Wahid dreamed of

becoming a ship's captain and sailing

around the world. His travel dreams

were soon to become a reality – although

not quite in the way he had

planned. At the end of the 90s he and

his family fled Afghanistan. Life in

war-torn Hindu Kush had become

too precarious. Wahid found refuge

in Austria, quickly learned German

and completed secondary school.

When his family or other people of

Afghan origin had to attend official

appointments, he acted as an interpreter,

becoming a cultural mediator

and linguistic go-between. He saw

his migration background as an opportunity.

Even though he was often

met with incomprehension and xenophobia

as an adolescent, he sticks

to his motto: 'There are idiots everywhere

you go. Don't let them get to

you. Don't be afraid and keep doing

what you're doing.'

Wahid is a talented linguist and not

only speaks German, English, Russian

and Farsi but four other languages

as well. He ended up basing his

career around languages. He set up a

business offering interpreting services

which eventually employed up to

16 staff. During his military service in

2015, he witnessed the refugee crisis

up close on the border with Slovenia.

It was then that Wahid decided he

wanted to work with refugees. He still

remembers the interview with ORS

in a little room around four metres

square: 'There was a smell of sweat

and dust in the air. Whether that was

down to my nerves or the specific

location isn't clear. There were refugees

everywhere, waiting for help. So

many people arrived that some had to

spend several nights sleeping in the

open. And then hearing the stories

of all the traumatised asylum seekers

who'd been tortured in Syrian prisons.

It was very tough for me and my

team.'

These extraordinary experiences

left their stamp on Wahid. After five

years in refugee support in the Alpine

republic, he took the opportunity to

apply to ORS in Germany. 'When an

organisation grows and they offer you

to chance to develop in both professional

and personal terms, you have

to take it.' His ability to understand

people, his empathy for those who

have fled their homes and his management

experience have helped him

to work his way up from deputy head

of support to head of support at the

Sankt Augustin ZUE, where he now

manages a workforce of 60.

'Discover your

employees' strengths.'

'Discover your employees' strengths'

is his leadership motto. Today, like

the ship's captain of his childhood

dreams, he stands at the helm, using

the opportunities that arise to make

sure everything stays on course.

23
---
'If you are willing

to think

outside the

box, different

opportunities

will soon come

along.'

Christian Hess

Originally from Rhineland-Palatinate, Christian Hess (37) now lives near

Freiburg im Breisgau. A trained IT specialist, he has been responsible for

sorting out all the hardware and software problems in the ORS network

for the past five years. He also works in quality management.

24
---
From asylum support to technology

manager

Whenever there are problems with

computers at ORS, all roads lead to

the IT department. It is only when

things don't work that we notice how

indispensable the men and women in

the background are. One of them is

Christian Hess. For the past five years

he has been the first port of call for

computer, printer, server and mobile

problems.

Chris changed course mid-career and

turned his passion for bits, rams, etc.

into his day job. 'I am happy that ORS

saw my potential and encouraged

me. They offered me the chance to

develop in a different direction.' His

first contact with ORS was as a volunteer

during the 2015 refugee crisis.

Witnessing the needs of the myriad

people seeking protection, he felt

compelled to take on a full-time role.

Shortly after joining us, he was appointed

facility manager at a refugee

accommodation centre in the Black

Forest. His know-how was called for

when it came to setting up and installing

computers, and when he was offered

the opportunity to become fulltime

head of infrastructure and take

over the maintenance of all PC workstations,

he saw that he had invested

his talent in the right organisation.

'You can't expect everyone working

at the accommodation centres to

be tech-savvy. Their strengths lie in

supporting people,' explains Chris,

highlighting the difference between

his old and current jobs, adding: 'You

need to explain things simply and

concisely.' He sees the different needs

and expectations that partners, staff

and residents have of IT specialists as

an opportunity. Pragmatism is called

for in order to come up with good

solutions.

During COVID-19, Chris' skills were

particularly in demand. He had to ensure

that all staff working from home

were hooked up to the network and

could access documents and programs.

He also had to expand the wifi

'I provide technical

support so that our

support work functions.'

capacity in new and existing centres

to ensure in particular that residents

in quarantine or isolating were not

completely cut off from the outside

world. 'Crises are opportunities. It

taught me a lot about technology and

people.' Chris feels there is potential

to improve project management to

make ORS administration even more

efficient in future without having

to restrict the quality of support for

those seeking protection.

Barely are the words out of his mouth

when he turns back to the screen. A

new email has come in, asking him – as

so often – to help sort out an IT issue.

25
---
'Act on

opportunities

when they are

offered to

you.'

Natalia Borovik

Natalia Borovik was born in Russia in 1984 and has been living in Germany

for nine years. A trained industrial engineer, she has been a support

worker for ORS since 2016 and is based at the regional reception centre

in Sigmaringen. Her empathy for the refugees goes hand-in-hand with her

impressive leadership skills, a combination that led to her appointment as

deputy head of support on 1 May 2021.

26
---
From Eastern Siberia to

Sigmaringen

'Act on opportunities when they are

offered to you' – a motto that perfectly

describes Natalia Borovik's journey

through life. She was born and grew

up in a region of Siberia known for

its coal mining. She moved to St Petersburg

to study and later carved out

a career there as an industrial engineer

and business economist, working

for a state-owned enterprise. Love

led her to Germany. 'I had to learn a

new mindset in a new country and

was open to everything.' The huge demand

for staff in the refugee support

sector spurred her to apply for a post

at the Sigmaringen regional reception

centre (LEA). At the outset, she found

dealing with people from different

cultures a challenge. On the one hand

she wanted to help people who were

seeking protection. On the other

hand, she needed to set boundaries.

'I found it difficult at the start. Especially

when people were disrespectful

to me,' she acknowledges. Regular

discussions with colleagues about

their experiences and the training

offered by ORS on subjects such as

'Closeness and Distance' or 'Dealing

with Violence' helped her to feel more

confident.

Today Natalia cannot imagine a better

job. She enjoys helping out wherever

she is needed and is always happy

when residents she encounters in

the rambling LEA premises greet her

with a cheery smile.

On 1 May 2021 Natalia was promoted

to deputy head of operations. She

is solely responsible for the social

sphere. The coronavirus pandemic

proved challenging Natalia and her

support team. The creation of isolation

and quarantine areas on the

rambling premises of a former army

'Every opportunity is a

chance to develop.'

barracks meant she virtually ended

up managing two separate facilities.

Looking back, she is happy that collaboration

with our partner, the Regional

Authority of Tübingen, worked

well. 'We grew together as a support

team and consolidated our partnership

with the authority.' She hopes

that, post-pandemic, it will be possible

to offer activities and events for

the residents of the LEA again.

As a result of the conflict in Ukraine,

Natalia feels she is subject to particular

scrutiny as a Russian citizen. She is

shocked at the human suffering and is

wishing for a peaceful resolution for

everyone involved. 'Everyone deserves

a chance. I am here to help, wherever

people come from.'

27
---
MILESTONES

2021

01/2021 MONASTIR

More than 80 refugees manage to reach Sardinia by boat, despite stormy weather.

The ORS team provide the newly arrived refugees with essentials, accommodate

them in the centre and ensure they receive support and medical treatment.

All new arrivals must take a COVID-19 test and isolate for fourteen days as a

precaution.

02/2021 MONASTIR

Violent skirmishes involving the use of dangerous objects (knives,

iron bars and stones) result in 15 residents of the centre being

injured, two of them seriously. The ORS team mediates between

the residents and the police. Thanks to the support of ORS staff,

further escalation is avoided.

03/2021 MONASTIR

ORS is appointed an official member of the Committee

on Order and Security of the province of

Cagliari. The police headquarters (questura) praises

the valuable and outstanding work achieved by

the centre's management team.

JANUARY

FEBRUARY

MARCH APRIL MAY JUNE

28
---
10/2021

MACOMER

The prefect and the local police commissioner

of Nuoro and the mayor of Macomer visit the

centre. Collaboration between the authorities,

police and ORS is very much appreciated.

07/2021

MONASTIR

The United Nations High Commissioner

for Refugees (UNHCR) visits the Monastir

repatriation centre CAS.

MACOMER

A UNHCR delegation visits Macomer CPR

and is impressed by the professional management

of the centre.

11/2021

Italy

ORS Italia is awarded three

new contracts for reception

and support in the Milan

reception centre, the Bologna

reception centre and the

Rome repatriation centre

with a combined capacity of

over 500 places. The Milan

reception centre opens on 1

November and the centre in

Rome at the start of 2022.

08/2021

MONASTIR

Launch of the first large-scale COV-

ID-19 vaccination campaign for the

residents, accompanied by awareness

training and psychological support.

MACOMER

Wildfires break out all over Sardinia.

Flames threaten the centre in

Macomer. The fire service is able to

prevent the evacuation of the centre

at the last minute.

Monastir CAS

JULY AUGUST SEPTEMBER OCTOBER NOVEMBER DECEMBER

29
---
MILESTONES

2021

ORS Italy – walking a tightrope between

expectation and reality

Operations in Italy were primarily

restricted to Sardinia in 2021.

We are responsible for managing

the repatriation centre in Macomer

in the province of Nuoro. Legislation

severely restricts freedom of

movement for the people accommodated

in the repatriation centre.

Dealing with tension

For these refugees the situation inside

the centre is intensified by a

sense of despair and hopelessness.

ORS employees have to carry out constant

and continuous mediation and

de-escalation work and ensure that

all refugees are treated with respect

on a day-to-day basis.

Owing to the complexity of the different

interest groups living and

working there – police, military, authorities,

administration and refugees

– there is often serious tension

at the centre. Feedback from politicians,

government officials and institutions,

however, indicates that the

professional management of the centre

is highly appreciated.

Arrival of refugees by boat

Our second centre is situated in the

south of the island. The Monastir reception

centre takes in people who

arrive in Sardinia by sea seeking protection.

Most of these refugees arrive

in small boots and dinghies, often

after having been adrift on the open

water, and are picked up by the coastguard.

Implementing regulations that

are in place to curb the spread of the

coronavirus pandemic involves a significant

amount of extra work for the

ORS staff. Every refugee who reaches

land is welcomed, whatever the time

of day or night, provided with essentials,

food and accommodation, given

a medical examination and tested for

COVID-19 They then have to spend

up to 14 days in the quarantine ward.

For those who are looking to reach

family members or onward destinations,

the feeling of being locked up

can prove particularly frustrating and

inevitably leads to a high risk of unrest

and conflicts inside the centre.

Violence and riots involving injuries

and threats to ORS employees are a

frequent occurrence.

30
---
Italy

One of the many support tasks is to

mediate, channel, understand and organise.

Walking a tightrope between

closeness and distance, the ORS involvement

is appreciated, as manifested

by our official appointment to

the Committee for Order and Security

in the province of Cagliari.

New mandates

In Italy the need for support services

in the refugee sector is constantly

growing. ORS Italy responded to invitations

to tender in several regions

in 2021. Most of these tendering processes

for reception accommodation,

however, specify that the organisation

making the bid must also provide

the bricks-and-mortar facility. In

many respects this represents a major

obstacle to our growth. Nevertheless,

we succeeded at the end of the year

in winning bids to manage centres

in Milan, Turin, Bologna and Rome.

This means we will be expanding our

activities in Italy in 2022 and continuing

our growth despite the challenging

conditions.

Centro Fantoli Milano

31
---
'I love the cultural

diversity and enjoy

working with

people.'

Cinzia Sollai

Born in 1973, Cinzia Sollai studied languages and literature at the University

of Cagliari until a twist of fate forced her to abandon her degree

course. As a single mother, she initially worked in sales. In 2018 she applied

to become a support worker for ORS at the Monastir CAS reception

centre. Today she is deputy head of the centre and is grateful for the opportunities

that refugee support work offers her.

32
---
Second chances can be better

When you live on Sardinia, your life is

inevitably connected with the sea. It

is little wonder, then, that as a small

girl, Cinzia Sollai dreamed of becoming

an admiral in the Italian navy and

sailing the world's seas. That girlhood

dream of a career in the military

never became a reality

In 2021 just under 68'000 refugees

came across the sea to Italy – some

of them landing on the island of Sardinia.

At the Centro di Accoglienza

Straordinaria CAS in Monastir, a central

reception centre near Cagliari,

the ORS support team is responsible

for initial care for refugees arriving

by boat and other asylum seekers.

Cinzia too is involved in ensuring the

well-being of refugees at Monastir

CAS. 'Unfortunately we also have to

deal with violent people who don't

appreciate what we're trying to do.

That's when we rely on support from

the police. But luckily there's also a

lot of gratitude from people who we

help,' she explains. Cinzia sees her

role as building a bridge between

the interests of the refugees and the

requirements of the authorities. 'I

love the cultural diversity and enjoy

working with people. They deserve a

chance.' Nevertheless, she is keen to

stress that she remains neutral and

keeps a professional distance from

the people she supports.

She has been working for ORS for

three years. Initially she was afraid

of not living up to expectations. But

those worries soon vanished. 'My line

manager was an exceptional woman

who did so much to help me develop

personally and professionally. She

always believed in me, showed more

and more trust in me and delegated

responsibility.' She sees ORS as a

reputable service provider with wellhoned

processes and tremendous

team spirit, an organisation that is

constantly confronted with changing

situations with the arrival and departure

of refugees.

'Stand still and you miss out,' is her

motto in life, and she adds:

Cinzia has accumulated a great deal

of experience in providing support

for people in need of protection. Last

year she was appointed deputy head

'When you're faced

with difficulties, it's

important not to stand

still. You need to look

for solutions. That's

when new opportunities

come along –

whether personal or

professional.'

of Monastir CAS and sees this as a

vindication of her belief that, when it

comes to careers, second chances can

sometimes be better.

33
---
MILESTONES

2021

For ORS Austria, the first year after the

discontinuation of our support activities

in the federal mandate largely involved

realigning our services. While we previously

managed large arrival and distribution

centres with collective accommodation

for the Federal Ministry of

the Interior, our support work is now on

a smaller scale. With our team of nine,

we are focusing on providing assisted

living services on behalf of the federal

states. These are mandates that we have

been fulfilling for several years now.

Our mobile social teams were at work

in the states of Carinthia and Styria all

year round, finding accommodation for

recognised refugees. In the second half

of the year we expanded these activities

to Lower Austria. At a low level we are

experiencing a constantly growing need

for accommodation for refugees.

After nine intensive and highly successful

years as managing director in Austria

with responsibility for new markets,

Wilhelm Brunner has decided to make a

fresh start and Maurizio Reppucci and

Martin Nyfeler are to take over as joint

managing directors. Work in the refugee

sector has always been subject to

high volatility. Following the slump in

Austria in the first half of the year we

were pleased to see an upward trend

return by the year's end.

Vienna Migration Conference

In October ORS had a presence at the

Vienna Migration Conference. The

international conference, attended by

high-profile members of government

and of various authorities, allowed us

to present our support services in the

refugee sector to a wide audience. We

are fortunate enough to have an existing

partnership with the ICMPD, International

Centre for Migration Policy

Development, whose director Michael

Spindelegger is also a member of the

ORS Advisory Board.

01/2021

Move to new ORS office in Graz

JANUARY

FEBRUARY

MARCH APRIL MAY JUNE

34
---
07/2021

Austria

Change of managing director: Maurizio Reppucci and

Martin Nyfeler take over joint leadership

08/2021

Further accommodation unit added. Expansion

of approved places and homes in St Veit an der

Glan (Carinthia)

10/2021

New contract for assisted living mandate

in Lower Austria

11/2021

Increased quarantine

arrangements for refugees

in Carinthia and Styria

require increased support

spending

12/2021

Increase in support

capacities in Söchau

(Styria). At the end

of the year approved

accommodation in all

federal states was at

full capacity.

JULY AUGUST SEPTEMBER OCTOBER NOVEMBER DECEMBER

35
---
'Everyone deserves

a chance.'

Sigrid Bauly

Born in 1958, Sigrid Bauly first studied law and, as the daughter of a

lawyer, was convinced that law and justice went hand-in-hand. Everyday

life, however, showed her a different reality. She decided to train as a mediator

and counsellor but found that her age was a barrier when it came

to opportunities on the job market. Seven years ago she began her support

career at ORS and discovered that she wasn't ready for the scrapheap yet.

36
---
Life experience as an opportunity

for a career change

No one should be consigned to the

scrapheap at the age of 56. Yet Sigrid

Bauly had to fight long and hard

to show that her life and career experience

could provide added value

for businesses. A qualified marriage

guidance, family and life counsellor,

she tried in vain several times to move

to a new career. Age always proved an

obstacle for the mother of three – until

she came to ORS. In 2015 she saw

a job advert looking for support staff

for refugees. She was interviewed and

was appointed immediately. Initially

she worked at a provisional camp in

Carinthia that housed asylum seekers

from Syria and Afghanistan. 'Never

have any prejudices about foreign

cultures. No one leaves their family

and home without a very pressing

reason. Everyone deserves a chance"

Sigrid, who had been born in Carinthia,

later moved from the provisional

camp to a regular distribution centre

for asylum seekers and two years ago

she took on a new role as a social

counsellor in mobile refugee support.

'At first I was helping to make the early

days in Austria easier for new arrivals.

Now I'm helping the ones who've

stayed to find their feet in their new

home.' She drives from home to home

in Carinthia and Styria and is the

first point of contact for asylum seekers

who have been transferred from

federal support to the regions and

are awaiting a definitive decision on

their case. She pays out the daily subsistence

allowance, distributes food

and hygiene products, organises appointments

with doctors, schools and

local authorities and always makes

sure to take time to talk and answer

questions. Her work involves cooperation

with local support networks,

which provide valuable assistance,

'If you are integrated,

you have better

opportunities: professionally

and socially.

I see myself as

an integrative

opportunity provider'

particularly where job opportunities

and language courses are concerned.

She has built a relationship of trust

with the 50 or so people in her care.

Today Sigrid Bauly is happy to be

with ORS. She works in a small team

of five social support workers. 'We

work very well together. We automatically

help each other wherever

there's a need. But everyone still has

the chance to work independently

and responsibly in their own particular

area. From my point of view, it

doesn't get better than that.'

37
---
EDUCATION AND TRAINING

The protective measures put in place

by governments and authorities to

curb the coronavirus pandemic had a

direct impact on training opportunities

for our staff. Contact restrictions

and mandatory working from home

resulted in the cancellation of several

courses. We acted on the opportunity

to move our training to an eLearning

format. As a result, we were able to run

99 courses – in German, French and

Italian, depending on the regional language

of the participants.

All staff are encouraged to participate

in starter courses and specialist

training, ensuring that we constantly

optimise the quality of our work in

the field. One particular staff development

focus is on leadership training.

In October our Leaders' Conference

was attended by around 30 managerial

staff from all of the national sections.

Under the motto 'Dare to trust', the

participants developed different forms

of working and leadership designed

to promote communication with one

another and collaboration within the

teams.

Alongside internal training programmes,

ORS also contributes towards

the costs of external training

courses our colleagues take – provided

the training adds value to their role

within the organisation. In 2021 we

supported 50 training programmes.

Leaders' Conference under the motto 'Dare to

trust', October 2021

38
---
We value the experience of our employees

and see the tremendous potential

in their skills. In 2022 we will

therefore continue to promote the personal

and professional development of

our colleagues. Our diverse choice of

courses combines webinars and classroom

training and offers all levels of

management and all roles the opportunity

to expand their horizons.

and get to know other ORS Group employees.

This new approach, instigated

by our new head of human resources

development, Maurizia Walzthöny,

reflects the importance we attach –

throughout the entire ORS Group – to

ensuring quality of support, promoting

leadership skills and strengthening

team spirit among our employees.

New schemes such as Lunch & Learn

and our 'Supervisions' programme also

offer staff the opportunity to network

OUR QUALITY MANAGEMENT

ORS attaches great importance to delivering high-quality professional support

with people at its heart. Internal audits and regular reviews by our partners

provide us with important indications of where further improvements

could be made. We are also the proud holders of ISO certification, awarded by

the leading Swiss organisation for certification and assessment services, SQS.

39
---
HR AND STAFF DEVELOPMENT

Acting on opportunities in staff

development

When a pandemic like COVID-19

hits large swathes of the population,

it has inevitable implications for any

organisation's HR department. The

virus did not spare ORS employees.

Despite a large number of positive

tests, looking back, we are grateful

that severe cases remained the exception

and that our staff were willing to

step in at short notice to ensure that

our facilities remained operational at

all times. Information to our staff essentially

focused on the latest COV-

ID-19 protection measures. Willingness

to be vaccinated was very high

among our colleagues. At the same

time, we introduced mandatory testing

during working hours for all as of

yet unvaccinated staff – where not already

prescribed by law.

New forms of working shape our

day-to-day routines

We used the COVID-19 phase to establish

the practice of working from

home. Our experience encouraged us

to switch permanently to a flexible

working model post-COVID-19. We

are convinced that the office of the future

will be a meeting place where the

focus is on communication between

colleagues, while the hard grind and

the solid brain work – particularly in

administrative fields – will be carried

out from home. As a result, we have

begun converting rooms in our offices

so that they can be used flexibly according

to needs rather than having a

fixed purpose. Despite the challenges,

the sense of team spirit has grown.

We are also pressing on with digitalisation

in the HR area.

Digitalisation

From application management to

payroll accounting, software tools

are set to simplify our working lives.

ORS is an attractive employer that is

striving to meet its growing need for

committed and qualified employees

by offering modern working conditions

and personal career planning.

We provide both new and existing

colleagues with a range of opportunities

for personal development.

Certification and audits

Regular reviews of our working conditions

and terms of employment by

our partners and by recognised certification

bodies offer us the opportunity

to reflect on our processes and,

where necessary, introduce further

improvements. We believe in equal

rights, are committed to equal pay

and practise inclusive dialogue with

our employees.

40
---
Facts and figures

Status 31/12/2021

Number of employees

Number of nationalities

of employees

CH 910

DE 497

IT 76

AT 9

+ 14%

CH

DE

IT

AT

67

56

10

3

Percentage women

Women in managerial positions

CH

42%

CH

47%

DE

45%

DE

47%

IT

34%

IT

67%

AT

44%

AT

50%

+ 4% + 10%

Increase in comparison with previous year with

reference to the ORS Group.

We are aware that working in the asylum sector can be very challenging for

our staff – which makes us all the more grateful to our almost 1'500-strong

workforce for their hard work and the commitment they have shown to ORS.

41
---
ANNUAL RESULTS

2021

Review and outlook

Asylum applications in Europe rose

by over 30% in comparison with the

previous year in 2021. In spring, once

most of the travel restrictions introduced

to curb the spread of the coronavirus

pandemic had been lifted, the

monthly number of asylum applications

made in Europe began to rise

steadily again and in August resumed

the level we were seeing in 2019.

In contrast, operational work in the

facilities did not become notably easier

than in the previous year. Low occupancy

and increased expenditure

on COVID-19 protection measures in

our facilities have had an impact on

our overall result.

Despite more difficult conditions,

we succeeded again in realising the

planned growth and further consolidating

the profitability of the ORS

Group. This is all the more pleasing

when we consider that some of our

competitors list the same fees – and

even demand deficit guarantees – yet

have reported a loss. We are committed

to our mission of making efficient

use of the public money entrusted to

us and boosting the attractiveness of

our organisation.

As a result of the political situation

in southern Europe and particularly

in Ukraine, we can assume that the

number of asylum applications in Europe

and the ORS markets is set to

rise significantly. New opportunities

are likely to arise in countries where

the ORS Group is not yet active, in

particular in southern Europe (Spain

and Greece), but also in the existing

markets.

Switzerland

In 2021, around 15'000 asylum applications

were made in Switzerland –

an increase of at least 35% against the

previous year. This places the rise in

asylum applications in Switzerland

above the European average of 30%.

The increase in asylum applications

led to higher overnight accommodation

figures and, accordingly, to

a higher turnover than the previous

year.

In the reporting year, support work

in the federal asylum centres was the

area that produced the highest turnover

in Switzerland. This can be attributed

to the fact that capacities in

this mandate have been continuously

expanded over the past two years, in

part due to the coronavirus pandemic.

42
---
Finances

Germany

In 2021 the number of initial asylum

applications rose sharply against the

previous year, leading to an increasing

need for support places (2021:

148'000; 2020: 102'000). In addition,

increasing demands have been put in

place by our partners since the end of

the refugee crisis. During the ongoing

COVID-19 crisis, the need for distancing

in the facilities remained, so

we had to provide more space for the

people in our care. This meant that

existing contracts remained at almost

the same volume, despite the drop in

capacity utilisation.

Despite the COVID-19 crisis and

the ensuing complications in the accommodation

facilities, the overall

business trend remained stable in

2021. Turnover rose by around 41%

as a result of new mandates in North

Rhine-Westphalia, Rhineland-Palatinate

and Berlin and an expansion

of services in the existing mandates.

This went hand-in-hand with a steady

expansion of personnel resources.

Italy

ORS Italia S.r.l. was able to win further

mandates over the past year. After

many tendering processes were

delayed by both a change of government

and the ongoing pandemic situation

in the previous year and at the

start of 2021, we were able to implement

our growth strategy once more

in the reporting year.

Austria

Asylum applications in Austria rose

significantly last year and were up

around 131% on the previous year.

The increase in asylum applications

had very limited impact on the assisted

living mandates we retain in Austria

(following nationalisation of the

mandate with the BM.I). Towards the

end of the reporting year we were able

to win a new assisted living mandate

in the state of Lower Austria.

Sources:

Asylum Statistics 2021 – State Secretariat for Migration SEM, Bern-Wabern, 15 February 2022 (CH);

BMI Asylum Statistics 2021 (AT);

Federal Office for Migration and Refugees (BAMF) Statistics 2021 (DE)

43
---
ANNUAL RESULTS

Turnover per country (in thousand CHF) 2020 2021

Switzerland 71'884 79'702

Austria 34'285 723

Germany 19'898 27'471

Italy 1'462 2'319

Total 127'529 110'215

Operating profit* 1'322 2'579

* Operating profit excluding exceptional items

Turnover split Switzerland (in thousand CHF) 2020 2021

SEM 24'148 30'903

Collective accommodation 25'383 26'133

Local mandates 20'108 18'095

Integration 2'245 4'571

Operating profit ORS Switzerland 71'884 79'402

The consolidated annual statement for 2021 was prepared in accordance with Swiss GAAP FER guidelines

and audited by Baker Tilly OBT. The auditor's report contains no findings of discrepancies.

44
---
Finances

Germany

CHF 27'471

Switzerland

CHF 79'702

Total

Austria

CHF 723

CHF 110'215

Italy

CHF 2'319

45
---
ADVISORY BOARD

Our Advisory Board is a professional body that advises ORS on current and

future migration issues. It recommends approaches for implementing the

strategy and developing the business. It is composed of prominent political

figures, entrepreneurs and migration experts from the DACH region:

Ruth Metzler-Arnold (President)

Former Federal Councillor (CH),

Minister of Justice and Police,

President Switzerland Global Enterprise,

member of several boards

of directors

Rita Fuhrer

Former member of the cantonal

government of Zurich, Department

of Social Affairs and Security (CH)

and former Minister of Economic

Affairs (CH)

Thomas Bäumer

CEO of Colosseum Dental Germany,

former CEO Adecco Germany

and Austria, committee member of

the Confederation of German Employers'

Associations (BDA, DE)

Erwin Jutzet

Former member of the cantonal

government of Fribourg, Department

of Security and Justice and

the National Council (Switzerland)

Dr Michael Spindelegger

Former Vice-Chancellor and Foreign

Minister of Austria (AT), General

Director of the International

Centre for Migration Policy Development

(ICMPD)

Dr h.c. Fritz Schramma

Former Lord Mayor of the City

of Cologne and President of the

German Association of Towns and

Municipalities (DStGB)

46
---
Interview with Thomas Bäumer

Thomas Bäumer has pursued a whole range of opportunities in his professional and personal

life. But the 59-year-old has always retained a close connection to his home town

of Münster. Having originally trained as a plumber, he has enjoyed a diverse career that

has seen him become a committee member of the Confederation of German Employers'

Associations. Today he is CEO of Germany's leading network of dental practitioners.

Thomas Bäumer has been a member of the ORS Advisory Board since 2020.

What motivated you to join the ORS Advisory

Board?

ORS's work centres around people and ensuring

that they are cared for, supported

and integrated with dignity. Integration is a

key issue. I am able to bring my expertise as

a representative of industry to a professional

body that features high-profile representatives

of the world of national and international

politics.

What is your life/leadership/work motto?

Take whatever you can! What I mean by that

is always make the most of any possibility

and potential and, at the same time, use

them wisely.

As a manager, I believe that trust needs to

play a key role. If you want to be successful,

you need to know how to let go of the

reins a little, delegate responsibility and the

authority to make decisions. In short: clear

leadership with invisible reins.

My work motto is: Leave room for creativity.

I leave 30% of my time unscheduled.

Because creative thoughts and ideas need

scope to unfold.

What do you advise people when it comes to

planning a career/acting on opportunities?

You can't wait for opportunities to be presented

to you on a silver platter. In order to

spot them and act on them, you need to be

alert and to identify strongly with the profession

and the business. At the end of the

day, in your career it's just like it is in life –

you can't plan everything. Chance, luck and

the timing should not be underestimated.

In many respects, 2021 was a special year.

What were your main preoccupations at work

this year?

The COVID-19 crisis forced the world of

work to evolve. Digitalisation has advanced

rapidly and working from home, digital

conferencing and online meetings are now

central to our day-to-day routines. During

the crisis, we acted on the available opportunities.

So far the German economy has

made it through the crisis in a strong position.

I wasn't expecting that.

I wasn't expecting that at the start of the

pandemic.

Despite the challenges, we were able to

continue our growth trajectory at Colosseum

Dental Germany. I hope that we will not

be so preoccupied with COVID-19 in the

second half of 2022. I am optimistic about

the future and believe that the medical and

pharmaceutical sectors will soon continue

to grow rapidly, creating the ideal conditions

for bringing an end to the pandemic.

47
---
GROUP MANAGEMENT

'Professionalism and

flexibility open up

opportunities for trusting

partnerships.'

Jürg Rötheli

CEO ORS Group

Carolin Wälz-Fabregon

Managing Director

ORS Germany

Claude Gumy

Co-director

ORS Switzerland

'Crises are opportunities

through which we can grow,

together.'

Maurizio Reppucci

Managing Director ORS Austria,

Italy and Spain

48
---
Daring to trust helps us make

the most of opportunities

Demonstrating trust, being mindful, leading by example, making reliable decisions

and communicating appropriately are all leadership values that motivate

employees and help them to identify with the organisation. We make the

most of internal and external opportunities to act responsibly.

'Our outcome-oriented

approach is based on

experience and an extensive

understanding of the needs

involved.'

Martin Nyfeler

CFO ORS Group

Lutz Hahn

Head of Communications &

Public Affairs

'Wanting to understand is

the first step towards being

understood. We can play

our part here by ensuring we

share information promptly

and transparently.'

49
---
OUR

VALUES

Neutral

We are politically and religiously neutral. We provide competent

and reliable services to support and integrate refugees.

We are approachable and committed without sacrificing

objectivity. We work transparently, and we proactively

and critically evaluate the quality of our services.

Flexible

We offer a care-free package for authorities and society.

Our years of international experience enables us to call on

proven processes. This means that we can act in an agile

and cost-effective manner. We respond quickly and efficiently

to short-term changes with effective solutions for

our partners and the people in our care.

Mindful

People are at the heart of our work and we seek to communicate

eye to eye. Our goal is to broaden perspectives and create

added value, both for refugees and the local population.

We always set ourselves the highest goals and pursue them

with decency, modesty and care.

50
---
51
---
GLOSSARY

Abbreviations – Switzerland

NaBe – restructuring of asylum and refugee support in the canton of Bern

SPITEX – organisation for outpatient help and care

BAZ – federal asylum centre

RKZ/RZB – repatriation centre

KU – collective accommodation

MNA/UMA – unaccompanied minor asylum seeker

SEM – State Secretariat for Migration

Cantons

AG – canton of Aargau

BE – canton of Bern

BL – canton of Basel-Landschaft

FR – canton of Fribourg

SO – canton of Solothurn

TG – canton of Thurgau

ZH – canton of Zurich

Abbreviations – Germany

BU – support centre

LEA – regional reception facility

ZUE – central refugee facility

EA – reception facility

AfA – reception facilities for asylum seekers

GU – hostel

German states

BW – Baden-Württemberg

NRW – North Rhine-Westphalia

RP – Rhineland-Palatinate

52
---
Abbreviations – Austria

BM.I – Federal Ministry of the Interior

BBU – Federal Agency for Reception and Support Services

ICMPD – International Centre for Migration Policy Development

Abbreviations – Italy

UNHCR – United Nations High Commissioner for Refugees

CAS – reception centre

CPR – repatriation centre

53
---
OUR

LOCATIONS

As at 31/12/2021

Headquarters

Office

Accommodation

Germany

Belgium

EU Liaison Office Brussels

Austria

Switzerland

Italy

Spain

Greece

54
---
Contacts

Switzerland

ORS Group AG

Röschibachstrasse 22

8037 Zurich, Switzerland

Tel. +41 (0)44 386 67 67

info@ors.ch

www.ors-group.org

ORS Service AG

Röschibachstrasse 22

8037 Zurich, Switzerland

Tel. +41 (0)44 386 67 67

info@ors.ch

www.ors-schweiz.ch

Germany

ORS Deutschland GmbH

Güterhallenstrasse 4

79106 Freiburg im Breisgau, Germany

Tel. +49 (0)761 769 931 20

info@orsdeutschland.de

www.ors-deutschland.de

Austria

ORS Service GmbH

Mooslackengasse 17

1190 Vienna, Austria

Tel. +43 1 25301 62362

info@orsservice.at

www.ors-austria.at

Italy

ORS Italia S. r. l.

Piazza Annibaliano 18

00198 Rome, Italy

info@ors-italia.com

www.ors-italia.it

Spain

ORS España

Servicios Sociales S.L.

Avenida Felipe II, 17

1° oficina 1

28009 Madrid, Spain

www.ors-espana.es

Greece

ORS Greece Monoprosopi A.E.

280 Kifisias Avenue

15232 Chalandri, Greece

EU Liaison Office Brussels

ORS Group

Rond Point Schuman 6, Box 5

1040 Brussels, Belgium

www.ors-group.org

Imprint

Publisher

ORS Group AG, Zurich

June 2022

© ORS Group AG, Zurich

Concept and design

Ellinor Amini

Layout & graphics

ORS Deutschland GmbH

Editor

Lutz Hahn

Head of Communications & Public Affairs

ORS Group AG

55
---
www.ors-group.org

56