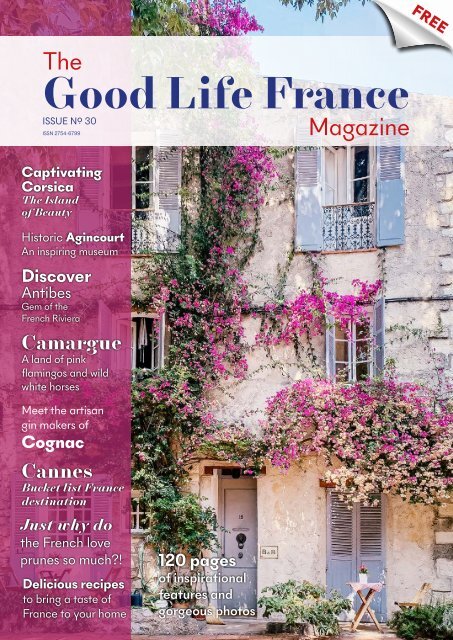 Summer 2022, issue No. 30
Discover captivating Corsica, the island of beauty and glitzy, cinematic Cannes. Explore Antibes, less well known than it's neighbours Nice and Cannes, it's incredibly pretty and authentic, and the Camargue in the south of France where wild white horses and pink flamingoes roam. Come with us to arty Arles, historic Agincourt and Aisne in Picardy - the ancient cradle of France. Meet artisan gin makers in Cognac, discover the prune route of France, fabulous recipes, guides, gorgeous photos, the best tours, what's new in France and delicious recipes - and more...
Discover captivating Corsica, the island of beauty and glitzy, cinematic Cannes. Explore Antibes, less well known than it's neighbours Nice and Cannes, it's incredibly pretty and authentic, and the Camargue in the south of France where wild white horses and pink flamingoes roam. Come with us to arty Arles, historic Agincourt and Aisne in Picardy - the ancient cradle of France. Meet artisan gin makers in Cognac, discover the prune route of France, fabulous recipes, guides, gorgeous photos, the best tours, what's new in France and delicious recipes - and more...
SHOW MORE
SHOW LESS
Create successful ePaper yourself
Turn your PDF publications into a flip-book with our unique Google optimized e-Paper software.
FREE

The

Good Life France

ISSUE Nọ 30

ISSN 2754-6799

Captivating

Corsica

The Island

of Beauty

Historic Agincourt

An inspiring museum

Discover

Antibes

Gem of the

French Riviera

Camargue

A land of pink

flamingos and wild

white horses

Magazine

Meet the artisan

gin makers of

Cognac

Cannes

Bucket list France

destination

Just why do

the French love

prunes so much?!

Delicious recipes

to bring a taste of

France to your home

120 pages

of inspirational

features and

gorgeous photos
---
Bienvenue

Bonjour and bienvenue to The Good Life France Magazine

Summer 2022 issue.

I am not exaggerating when I tell you that this issue is

absolutely brimming with fabulous photos and fantastic

features. And with travel now open, it's brilliant to be able to

take that holiday you've been dreaming about, visit friends and

family – and discover the very best of France with The Good

Life France.

Discover Corsica, the island off the coast of Nice that

captivates all who visit, I certainly left a piece of my heart

there. We have features on Cannes, the glitzy, glamourous

cinematic city on the French Riviera, and it's nothing like its

neighbour Antibes, an absolute gem of a town. Be inspired by

Arty Arles and the Camargue, an unspoiled part of southern

France where wild horses roam and pink flamingos paddle.

We go off the beaten track and discover the Prune Route of

France, visit Aisne in Picardy – the ancient cradle of France,

and historic Azincourt (Agincourt as non-French call it) with its

fabulous museum. Meet the artisan gin makers in Cognac, find

out about France's biodynamic wines, and meet our new wine

expert. Read about the world's greatest floral artist and the

UNESCO-listed treasure of Burgundy-Franche-Comté.

And there's heaps more.

Don't forget to subscribe – the magazine is free (see page 4)

and share this issue with your friends – that's free too!

I wish you a very happy summer

Bisous from my little corner of France

Janine

Follow us on Twitter,

Instagram & Facebook

Janine Marsh

Editor

The Good Life France | 3
---
To Subscribe to

THE GOOD LIFE FRANCE MAGAZINE

CLICK HERE

SUBSCRIBE

The magazine is free to read, download and share

Contributors

Kit Smyth is a

retired chef with a

passion for French

cuisine. Originally

from Australia, Kit is

dedicated to exploring

both old and new

ingredients, techniques

and styles, and

developing recipes for

home cooks. She also

teaches these recipes

online and in-person.

Find out more at her

website: TheBiteLine

Gillian Thornton is an

award-winning travel

writer and member

of the British Guild

of Travel Writers,

specialising in French

destinations and

lifestyle. Her favourite

place? 'Usually where I

have just been!'

Laurent Yung was

born and raised in

his 5-generation

family vineyard in

Bordeaux, France.

He now runs, from

San Diego, California,

SomMailier.com, a

fabulous and unique

Wine Club 100%

dedicated to French

wines in the USA. He is

passionate about wine,

especially the small

hard-to-find French

wines.

Sue Aran is a writer,

photographer, and

tour guide living in the

Gers department of

southwest France. She

is the owner of French

Country Adventures,

which provides

personally-guided,

small-group, slow travel

tours into Gascony, the

Pays Basque, Provence

and beyond.

Philip Reddaway

holds a Wine and Spirit

Educational Trust

diploma, qualified as

an AIWS (Associate of

the Institute of Wine

and Spirits) and is a

WSET approved wine

instructor. He runs

Rhone Wine Holidays

fabulous wine tours in

the Rhone Valley.

The Good Life France Magazine

Front Cover: Antibes by photographer Marianne Furnes,

@myfrenchmap Instagram

Editor-in-chief: Janine Marsh

Editorial assistant: Trudy Watkins

Press enquiries: editor (at) the Good Life France.com

Advertising: sales (at) the Good Life France.com

Digital support: websitesthatwork.com

Layout design: Philippa French littlefrogdesign.co.uk

ISSN 2754-6799 Issue 30 Summer 2022, released June 2022

4 | The Good Life France
---
CONTENTS

The Good Life France Magazine

No. 30/Summer 2022

ISSN 2754-6799

8

ON THE COVER

8 Captivating Corsica

A cruise around the island

of beauty captures

Janine Marsh's heart.

38

32 Camargue – France's

cowboy country

Gillian Thornton discovers a

land of pink flamingos and wild

white horses.

38 Historic Agincourt

Glorious countryside and an

inspiring, revamped museum.

44 Antibes

Janine Marsh explores this gem

of the French Riviera.

50 Bucket list France: Cannes

New Series: Janine Marsh

visits the glitzy, glamorous

cinematic city.

76 The Prune route of France

Kevin Pilley and Janine Marsh

uncover the history of France's

love of prunes

44

DISCOVER

18 Spotlight on Aisne

Janine Marsh heads to

Picardy and finds Champagne

vineyards, and historic

sites galore.

The Good Life France | 5
---
26

26 The Treasures of Arles

Gillian Thornton reviews

the history and heritage of

arty Arles.

54 The Raphael of Botanica:

Pierre-Joseph Redouté

Sue Aran explores the life of

one of the world's great

floral artists.

60 Green wines of France

Phillip Reddaway checks out

the biodynamic wines that are

making a splash in France.

64 The artisan gin makers

of Cognac

Janine Marsh finds that passion

is the secret ingredient of a very

fine gin.

70 UNESCO listed Burgundy-

France-Comté

Discover the treasures of this

diverse region.

90

80 Château de Digoine,

Burgundy

Catherine Scotto finds out

what it's really like to live in a

chateau.

PHOTO SPECIALS

90 Your Photos

Featuring the most beautiful

photos shared on our

Facebook page.

REGULARS

86 What's New

All the news and events you

need for your next trip to

France.

64

92 Tours de France

The very best of France for

tours and holidays.

6 | The Good Life France
---
94 Language

5 Minute French Lesson.

106 The Wine Expert

New series –

everything French wine!

118 Last word

Life in rural France.

GUIDES

97 Lights, Camera… Action!

Joanna Leggett looks at some

of the most cinema-worthy

places to live in France.

102 How to become resident

in France

The experts explain the

different types of visas.

106

105 French Gift tax

Expert advice on how it works.

BON APPÉTIT

111 Easy, cheesy Camembert

Scrumptious tear and share

baked Camembert.

97

112 Chicken with 40 cloves

of garlic

Yes – really. And it's delicious!

114 Far Breton cake

This classic cake from Brittany

is delectable and easy to make

says chef Kit Smyth.

116 Prune sticky toffee pudding

Kit Smyth's mouth-watering,

moreish recipe will have you

pining for prunes!

116

4 Subscribe to The Good Life

France Magazine

Everything you want to know

about France and more.

The Good Life France | 7
---
Captivating

Calanques de Piana

Cruise of CORSICA

The Island of Beauty

8 | The Good Life France
---
Crystal clear waters and picture-postcard-perfect beaches, wild and unspoiled nature

where flowers and cactus grow everywhere, chestnut and cork forests splattered with wild

fig, lemon and olive trees surround medieval villages, and folk are welcoming. Janine Marsh

takes a cruise and falls head over heels for the island the ancient Greeks called "the most

beautiful"…

Bonifacio

Corsica is one of the best-kept secrets of the

French. A whopping 80% of visitors to the

island are from France, and just 20% are

from Europe and the rest of the world. For

the last two years my plans to visit had been

scuppered but I finally made it in the spring of

2022…

Arriving at the port in Nice on a rather dull

and drizzly day, it was easy to spot the cruise

ship Belle des Oceans which was to be my

home for the next week.

Guests were welcomed aboard by a violinist

and the ship's staff. It set the scene for the

rest of the trip – right from the start you're

made to feel valued. My room was spacious

and modern with a good sized window from

which I could see dark clouds forming over the

hills of Nice.

Before we left port, there was a safety drill, life

jackets on, counting heads and there are no

exceptions. It was a good chance to see my

fellow residents – mainly French, a smattering

of Australian, Canadian and America, mostly

in the older age range, some families and no

kids (there are other cruises that cater to kids).

As we set sail in the evening, dinner was

announced. The servers stood in the doorway

and wished everyone a good evening,

sometimes they broke out into song and

warbled us through the doors – it made

everyone laugh and broke the ice. By the

end of dinner – a very French gastronomic

The Good Life France | 9
---
affair, four courses and wine – everyone was

chatting. The crew asked English speakers

beforehand if they'd like to sit with fellow

Anglophones – some do, some don't - and

I found myself sitting with a couple from

Michigan and a couple from Canada.

For the next 7 days the boat was to cruise

around the island, which is closer to Italy than

France, taking in the main historic cities,

off the beaten track villages and beaches,

including wine tastings and lunch in gorgeous

little family-run traditional restaurants. There

is a choice of excursions each day – classic

tours take in the major sites and discovery

tours take you to more secret and hidden

gems, with French and English speaking

guides. It's a brilliant way to see a lot of

Corsica while you relax, enjoy the sites and

simply soak the atmosphere where joie de

vivre meets la dolce vita.

Lunch at Figari

Ajaccio and Iles

Sanguineres

We arrived the next morning to brilliant

sunshine in Ajaccio, birthplace of Napoleon

Bonaparte. There's plenty to see and do in the

rather upmarket and picturesque town and

you can't help but notice the number of bars

and shops dedicated to the famous French

General! There's a Napoleon Museum and the

fabulous fine arts Fesch museum. Corsicanborn

Joseph Fesch was half uncle of Napoleon

Bonaparte, a cardinal and archbishop of Lyon.

Born in Ajaccio he donated his enormous

collection of some 16,000 artworks to

museums and the Musée Fesch contains a

huge chunk, including works by Botticelli,

Giovanni Bellini and Titian amongst others.

From here we visited La Parata along the

coast of the Iles Sanguineres, a classified

Grande Site de France, in time to watch

the sun slowly dipping into the sea. Famous

French crooner Tino Rossi had a home in this

most beautiful area with its pointy islands

poking through the top of waves like tiny

pyramids. A Genoese tower sits atop a hill,

Ajaccio

10 | The Good Life France
---
one of many built along the coastline to

defend the island. Corsica's history tells

a turbulent tale of invasion, rebellion and

social upheaval. Conquered by the Greeks

in 565BC, ruled by Genoa for hundreds

of years, and changing hands between

the Italians and French. Corsica is now

classified as a region of France with two

departments, Corse-de-Sud, and

Haute-Corse.

What's immediately apparent is just how lush

and flowery Corsica is. Everywhere there are

wild lemon, fig and olive trees, cactus plants,

lavender and poppies vie for attention. Every

verge is covered in greenery and brightly

coloured flowers, and the ever present

aromatic maquis, a bit like the garrigue of

southern France, an undergrowth of herbs

bush shrubs which blanket the ground. It was

only our first day in Corsica and already I

was a little in love with it.

Tower of Parata, built 1550, it was one of 90 Genoese towers created to defend

the coast of Corsica

Iles Sanguineres

The Good Life France | 11
---
Calanques de Piana

Piana

Calanques de Piana

A coach took us via mountain roads several

hundred metres above sea level to the town

of Porto. We passed the Chateau de la Punta

built partially from the stones of the Palace of

the Tuileries in Paris which once belonged to

Catherine de Medici but was destroyed by fire

in the late 1800s. And past Corsica's highest

vineyard at 500m, the area where Corsica's

"king of the outlaws" Nunzio Romanetti once

lived. He was no Robin Hood although he

was romanticised by many including those

with power and influence including Baron

Haussmann of Paris and the writer Flaubert.

We stopped at the village of Piana, officially

one of the prettiest in France, where – typically

laid back Corsica, the church bells struck

10 o'clock at eight minutes past, as we admired

the dazzling views over the Golfe de Porto. In

Corsica, you feel it just can't get any more lovely

and then you come across another gorgeous

village, vineyard, beach, town. From there we

headed to the village of Ota, a popular starting

point for hiking the spectacular gorges de

Spelunca via an ancient mule trail, and Aitone

Forest, to board a boat for the Calanques (or

calanche in Corsican) de Piana, a UNESCO

World Heritage site, and the highest calanques

in Europe. Sheer cliffs and dramatic rock

formations jutting out of the inky sea are

magnificent, majestic and mesmerising, home

to birds including eagle-like ospreys.

Mexican belumbra tree Porto Vecchio

Porto Vecchio

The glittering coastal city of Porto Vecchio

on the south side of the island is built on salt

marshes where salt is still harvested, the

salt pans glinting in the sun as you look out

from the town. This is the most deluxe part

of Corsica. Several celebrities have homes

here, Rihanna was spotted here on holiday

recently and George Clooney I'm told – though

not together, don't be starting any rumours!

Fabulous beaches and a lively, picturesque

town make this a favourite with tourists.

12 | The Good Life France
---
Bonifacio

Sunrise on deck arriving at Bonifacio

Bonifacio and Lavezzi

Islands

The best way to see this historic city for the

first time is from the sea. As our boat pulled

into the harbour, the top deck was bathed

in the rays of the rising sun and we tucked

into snacks and drinks to the sound of soft

music. The towers of Bonifacio were bathed

in a soft light, the sky was luminescent blue

with hints of pink. There is something ancient

about the sight of those soaring cliffs turning

apricot coloured as the sun burns off the light

mist sitting over the inky waters of the Med.

Big cruise ships can't get through the narrow

opening but we glided through and it felt

magical to witness this special sight.

Bonifacio feels authentic. It's stunningly

hilly and its maze of cobbled winding streets

are lined with medieval buildings and tall

old houses in shades of muted yellows and

oranges with delicate iron work balconies from

which washing hangs, pale pastel coloured

shutters closed against the growing heat of

the dawning day.

There are plenty of restaurants and bars,

and shops selling jewellery carved from local

red coral – said to ward off the evil eye. At

Rocca Serra ice cream bar, they sell an ice

cream flavoured with clementine, mandarin

and macquis which legend claims was

invented when Napoleon fell in love with a

local woman and gave her a coral necklace

– and in return she gave him an ice cream

made to that recipe! Corsica is known as the

'city of coral' inspiring Matisse to capture it

on canvas.

One of the most incredible sites in the city is

The Good Life France | 13
---
TOUJOURS LA FRANCE

Warm, uplifting and

effervescent, Janine Marsh's

voice and humour bubble

right off the page, making

you want to pack your

bags and head off to

rural France...

From Amazon,

Barnes & Noble, Waterstones

and all good bookshops this spring

14 | The Good Life France
---
the King of Aragon's staircase. I'd seen a

photo of the 187 steep stairs carved into

the chalk white cliffs but nothing prepares

you for the reality. Do not attempt to use

the stairs if you have a fear of heights –

though a safety rail has recently been

added – it's rather harrowing. Legend says

Argonese soldiers created the 187 stairs in

a single night!

After lunch in a picturesque and deliciously

rustic traditional restaurant in the

countryside, we toured the remote Lavezzi

Islands which looks as if the Caribbean

has been plonked down just off the coast

of Bonfacio. You can only reach them by

boat, and you'll find a haven of wild birds,

and one swanky inhabited island where

the rich and famous craving anonymity

holiday, locals claim to have seen Beyonce,

Princess Caroline of Monaco and former

President Sarkozy there!

Bonifacio street

Cap Corse

Docking in Bastia, a town of art and

history and immense charm, we headed

to Cap Corse making a stop at Clos

Santini vineyard for a wine tasting where

they poured generously and plied us

with cheese and Corsican charcuterie

– figatellu, smoked pork liver and other

cured meats.

From here we went to Barrettali for lunch

at a restaurant at the Giottani Marina

overlooking a fabulous beach. It's one of

those places that you see in French films,

romantic, unspoiled and unbelievably

beautiful. But you know you will never find

it. Well here it is, one restaurant, one hotel

and a whole lot of paradise.

On the way back to the ship, we stopped

off at Erbalunga, a charming and typical

Corsican town, where a game of boules

was taking place on the town square, little

alleyways lead to the sea, and friendly bars

and restaurants sit alongside shops selling

clothes and handmade jewellery.

The Good Life France | 15
---
GREAT CANAL, RIVER AND OCEAN CRUISES IN FRANCE

WHY CHOOSE TO CRUISE WITH CROISIEUROPE?

Europe's largest river

cruise line

French canal journeys

aboard elegant hotel barges

6-NIGHT CRUISES IN ALSACE, BURGUNDY, CHAMPAGNE,

LOIRE, PARIS AND PROVENCE

45 years' experience

and 55 ships

All inclusive for drinks

onboard

French coast

Corsica and its hidden treasures

7-NIGHT CRUISE FROM NICE

50% OFF SECOND PERSON

OR NO SINGLE SUPPLEMENT

Departures in July and August 2022

From £ 1 714 per person £ 2 285

50% OFF SECOND PERSON

OR NO SINGLE SUPPLEMENT

Departures in July and August 2022

From £ 1 720 per person £ 2 294

INFORMATION AND RESERVATIONS: Tel. 0208 3281 281 • resuk@croisieurope.com

www.croisieurope.co.uk

16 | The Good Life France IM067100025. Non-contractual photos - Copyrights: Letabatha.net, Alexandre Sattler - CreaStudio 2206004.
---
Calvi L'Île-Rousse

Arriving at the Port of L'Île-Rousse we made

our way to the city of Calvi along roads

lined with pine trees and eucalyptus from

Australia and New Zealand. It's claimed

Christopher Columbus was born here, and

we stopped at the remains of what the locals

claim was his ancestral home in the famous

Citadel which dominates the town. Just 30

people still live here in the "Carcassonne

of Corsica". The roads are steep and wind

around like a helter-skelter of steps. Nelson

stood here at the siege of Calvi in 1794, the

sense of history is palpable.

Below the citadel is a bustling town,

where Rue Clemenceau is known to the

locals as "shopping street" and you'll

find shops peddling everything from

chic summery clothes to spicy sausages.

The marina is lined with fabulous

restaurants. Nip to the streets beyond

rue Clemenceau where everything is less

touristic. The cafés that don't have a view

over the bay are where the locals go, like

Brasserie à Macagna where the smell of

cooking – garlic and herbs makes your

mouth water. Join locals gathered at

the bar for a pre-lunch glass of Corsican

wine before tucking into the dish of the

day – Moules de Diane, with mussels from

L'etang de Diana, Diane's lake in Aleria,

once the Roman capital of Corsica, and

renowned for its succulent oysters.

Life on board a Croisi-

Europe cruise

Being on board is a cross between a

country house hotel where every guest

is known. Each morning I was asked if I

wanted my usual "Earl Grey, no sugar or

milk?" Each evening – "a glass of red, not

too dry?" And though you get to see a lot

on this trip, it is never hurried, never rushed,

always relaxing, slow travel at its very best…

Find our more at: CroisiEurope

Calvi

Ota

The Good Life France | 17
---
Spotlight on: Aisne

The department of Aisne in Picardy is the ancient cradle of France. Its capital Laon was

once also the capital of France, and it is the only place in the world where Champagne is

produced - outside of Champagne. Discover a land brimming with historic cities, glorious

countryside, picturesque villages and monumental cultural sites…

Laon

The great French writer Victor Hugo once

said, "everything is beautiful in Laon." Almost

200 years after his visit, he would recognise

its Cathedral and winding streets of ancient

buildings – a whopping 84 listed monuments –

and surely feel the same way.

This ancient city with its ramparts and stone

gateways was the capital of France from the

8th to 10th centuries when Paris was still a

village. Perched on a hill 180m high, the site

is perfect for defence, and Queen Berthe au

Grand Pied (the unlikely named Bertha of the

Big Feet), mother of the great Charlemagne,

made Laon her seat of government. It was

only when Hugues Capet was made King

in 987, that Paris became the capital. Laon

18 | The Good Life France
---
Laon Porte © Vincent Colin/ Agence Aisne Tourisme

though, remained an important religious city

and a centre of learning.

The 800 year old cathedral of Notre Dame,

a Gothic masterpiece, dominates the upper

town. Flanked by two magnificent turreted

towers, from which large stone oxen peer.

They are a nod to the sturdy beasts who

dragged the stones to build it and the local

legend that when an exhausted oxen fell to

the ground, a white ox was sent by God to

help carry the stones. The façade is intricately

carved and inside there are beautiful 13th

century stained glass windows. The sound

of monks chanting creates a spiritual

atmosphere.

Laon

The Good Life France | 19
---
The streets around the Cathedral are lined

with old buildings, all encompassed within

the medieval ramparts from which there are

wonderful views over the town below and the

countryside. On clear days you can see as far

as the plain of neighbouring Champagne.

Look closely at some of the buildings and

you'll notice fossils and shells embedded in

the walls. They're left over from the time when

the area was under a tropical sea - some 65

million years ago. And many of the buildings

are listed historic monuments including the

tourist office which is located in a building

dating to 1167 and the underground passages

of the Citadel. There is a legend that at the

16th century Cour du Change, formerly known

as the Hotellerie du Dauphin in rue Sérurier,

King Louis XIII stayed on a stormy night in

1638. He and his wife Anne of Austria had

prayed for children but to no avail. However

that night, Louis XIV was conceived. Just don't

check the dates too carefully, you might see

that there are 13 months between the night

Louis XIII stayed and Louis XIV's birth!

Laon is also where

Abelard and Heloise

met – the Romeo

and Juliet of France.

It was a tragic love

story, the student,

Heloise falling for the

teacher, marrying

in secret and having

a baby against the

wishes of her uncle/

guardian. The lovers

were torn apart and

she was sent to an

abbey whilst he was

castrated on the

orders of Heloise'

uncle. You'll spot

their likeness in the

fabulous street art

that illuminates the town.

Abelard Laon

You can book guided tours at the town hall to

discover Laon's many secrets and charms.

Tourisme-paysdelaon.com

© Horizon Bleu/Agence Aisne Tourisme

20 | The Good Life France
---
Familistère of Guise – a most unusual Museum

Guise was once an important border town

ruled by the powerful Dukes of Guise. Now it

is a rather sleepy place with pretty streets, a

ruined castle and superbly restored fortified

church. But its most famous attraction is the

monumental Familistère – a 'social palace.'

It was created by Jean-Baptiste André

Godin, founder of the famous Godin stoves

company. He was born in 1817 in Aisne, the

son of a locksmith and left school at the age

of 11. At 17 he moved to Paris, taught himself

architecture. In 1840 he returned to Aisne and

began manufacturing a cast-iron heatingstove

which he had designed. To this day

they are known as Godins in France and an

astonishing number of them have survived, still

working to this day – I have one myself!

Godin made a fortune from his stoves and

at its height his factory in Guise employed

almost a thousand workers. In 1856, moved by

the plight of workers living conditions, Godin

started to build the Familistère, a place where

his employees and their families could live.

It had a nursery, school, laundrette, shops,

600-seat theatre and swimming pool. The

monumental residential building was based on

the Palace of Versailles with apartments for up

to 900 people. It was essentially a small town,

and all within easy walking distance of the

huge factory.

Familistère GODIN

He called it a social palace.

Around 75% of the workforce lived there

with their families. He paid workers well,

around 150 francs per month and their

rent was just 8-12 francs. He set a 10 hour

working day when the norm at the time was

13-15 hours. And gave his workers Sunday

off. He set up a workers union who decided

the rules in the factory via a series of

committees.

It seemed like utopia… But when he died

in 1888 having lost his only son just 15 days

before, the running of the factory fell to the

committees and without his influence it all

fell apart as infighting and disagreement

took over.

The German army occupied the site from 1914

to November 1918. They turned the theatre

into a jail, the central palace became military

hospital and they destroyed some of the

buildings.

The Utopia Project began in 2002 to restore

the palace and remaining buildings. It is a

triumph. You can tour an apartment, have a

guided tour, visit the theatre and pool and

discover this extraordinary tale. There's a cafe

on site and a great shop where you can buy

Godin products.

Familistere.com

The Good Life France | 21
---
22 | The Good Life France
---
Saint-Quentin – Art Deco dazzler

What is art deco?

Born in France, Art Deco began in 1908 – a merging of art of various influences:

antiquity, cubism, the arts of Africa and the Far East.

Saint-Quentin © Sylvain Cambon / Agence Aisne Tourisme

St Quentin station buffet

Saint-Quentin has been through a lot. Founded

by the Romans, it was a major medieval

trading centre. It's been invaded, conquered,

besieged and finally all but destroyed during

World War I - the Great War as the French call

it. Rebuilt in the 1920s it has many Art Deco

buildings including the extraordinary railway

station where trains ran from as early as 1850.

It became a key site in the 1940s when Saint-

Quentin once more come under foreign control

and the city became the headquarters of the

2nd German army.

Visit now and you'll find a hugely cultural city

with 9 museums and extraordinary buildings.

The station buffet, a listed historical

monument, is pure Art Deco with walls and

furniture covered in soft silver and glistening

gold mosaics with an accent of bright red,

featuring flowers and Normandy ocean liner

window design.

From the station it's a short walk across the

canal to the town. Built in 1801, it was the

first canal north of Paris and inaugurated by

Napoleon in recognition of its importance to

France.

In the city, the Art Deco vibe is everywhere.

There are some 3000 buildings that feature

the Art Deco style of which 300 are classified

as Historic Monuments. This includes the

tourist office where you can book an audio

guide and route map.

Whatever you do don't miss

the Musée des Beaux-Arts

Antoine Lécuyer which in

my opinion is the city's

star. There is a superb

collection of pastels by

Maurice Quentin de la

Tour, known as the 'King

of the Pastels', an artist

who 'looked into the souls'

of his subjects and then captured

their likeness with pastels in a way never seen

before or since. Sadly not all the pastels were

out on display when I visited but enough for

me to be able to be completely amazed.

Destination-saintquentin.fr

The Good Life France | 23
---
4

Must-sees

in Aisne

Champagne

Chateau-Thierry in Aisne is the only place

in the world outside of champagne where

champagne is made. There are cellars dating

to the 12th century and 400 vineyards

producing Champagne. Visit Champagne

Pannier for a tour and tasting and to stock up

on their superb fizz.

champagnepannier.com

Chemin des Dames

During World War I, the Chemin des Dames

was a frontline position where violent fighting

took place. There an underground quarry

called 'The Caverne du Dragon' which was

turned into army barracks. Today you can

visit the galleries and see the chapel, first aid

station, command post and No Man's Land

which movingly testify to the lives of the

soldiers - both French and German – who

fought and lived, sometimes even side by

side, within the confines of the cavern and the

countryside around.

chemindesdames.fr

Chateau de Conde

Once home to the Princes of Conde and still

lived in, this glorious castle was transformed

into the Renaissance gem in the 16th century

for Louis de Bourbon. Sumptuously decorated

with gorgeous gardens, it's well worth a visit.

chateaudeconde.com

Château de Condé

Jardin Viel Maison

There are 16 sections to this magnificent

private garden and it looks different in each

of the four seasons. In the distance you can

hear the town church bells, spot woodpeckers

and wild birds and wander at will to enjoy the

superb planting.

Book in advance: jardins-vielsmaisons.net

24 | The Good Life France
---
25 | The Good Life France

The Good Life France | 25
---
The Treasures

of Arles

© David Juricevich

26 | The Good Life France
---
Listed by UNESCO for its architectural heritage, Arles offers an irresistible

Mediterranean lifestyle at the gateway to France's largest wetland. Gillian Thornton let

herself go with the flow.

Roman theatre, Arles

There are many good reasons why I would love

to live in Arles. The warm Provençal sunshine.

That enviable Mediterranean lifestyle. And the

irresistible buzz of art and architecture from

ancient times to the present day. But there's

another reason.

I'd really love to ask friends to 'Meet me by

the Roman Theatre at midday' or 'Catch up

outside the Arena at 7 tonight'. Not many

places can boast such monumental Roman

meeting places as Arles in the heart of a 21st

century city.

Historic past –

Roman legacy

Northern gateway to the wetlands of the

Camargue, Arles, in the department of

Bouches-du-Rhône, stands on the right

bank of the Rhône and was originally a

Celtic city, later colonised by the Greeks.

The Romans arrived in the 1st century AD,

quickly expanding the city until it was home

to some 50,000 people. More than 21,000

toga-clad citizens could watch high-octane

combat in the vast amphitheatre of Roman

Arelate, whilst just a short walk away across

the paved streets, the theatre was the

place for more intellectual entertainment.

Local citizens have been meeting by these

monuments ever since.

In the Middle Ages, the 130-metre arena

was redeployed as a fortified community,

but today you can still sit in the ancient tiers

and enjoy events such as the popular Course

Camarguaises, or Bull Races. No bulls are

harmed in this test of man versus bovine, but

human competitors can expect a few sharp

scratches if they try to snatch rosettes from

the up-turned horns of the local black bulls.

Too much excitement? Then buy a ticket for a

summer concert or drama production at the

Roman theatre, a chance to slip back in time,

even without a toga. And Roman immersion

doesn't stop there. Explore the Baths of

Constantine, close to the banks of the Rhône;

visit the city's well-stocked archaeological

museum, the Musée Départemental Arles

Antique; and stroll the tree-lined Alyscamps

lined with Christian tombs. Couturier Christian

Lacroix, who was born in the city in 1951,

recalls happy childhood games amongst these

ancient stones.

The Good Life France | 27
---
28 | The Good Life France
---
Place de la Republique with Obelisk and Saint Trophime Church

Medieval Marvels,

Renaissance gems

But Arles isn't all about the Romans. Fast

forward to the 12th century when the city

was further embellished with a wealth of

Romanesque monuments. If you have time for

just one, make it the Church of Saint Trophime

with its spectacular carved portal and doubledecker

cloister. Invest a handful of euros

for the experience of standing on the upper

gallery and looking down into the tranquil

space. And in the square outside, what else

but a Roman obelisk, originally positioned in

the Roman Circus.

In 1981, UNESCO

bestowed World Heritage

status on Arles for its

abundance of Roman and

Romanesque buildings,

but turn the clock

forward yet again to the

17th century to add fine

Renaissance mansions

to the architectural mix,

testimony to the wealth of

their well-to-do owners.

Saint Trophime from the upper cloister gallery

The Good Life France | 29
---
Artists in Arles

No surprise then that this multi-layered city

attracted the artistic eye of Vincent Van

Gogh who spent his most productive spell

here. The Dutch artist arrived on a cold

winter's day in 1888 in search of light and

found so much of it that he painted 200

paintings and produced almost as many

drawings and letters in just 15 months.

Sadly none of Vincent's paintings are on

permanent display here, but it's still spinetingling

to follow in the artist's footsteps and

stand at the spots where he placed his easel.

Download the self-guided trail from www.

arlestourisme.com to find ten reproductions

of his work, particularly atmospheric at night

when you can appreciate his vision of La Nuit

Etoilée from the banks of the Rhône and the

illuminated canopy of Le Café 'Le Soir' in

Place du Forum.

After three psychotic attacks, one of which

involved cutting off part of his ear, Van Gogh

left the city in May 1889 for a sanatorium in

Saint-Rémy-de-Provence, but his presence

infuses the city streets to this day. Other

artists left a more tangible legacy. Pablo

Picasso fell in love with the Réattu Museum

of fine arts, modern and contemporary art

that was launched in the 19th century with a

donation of works by neo-classical painter

Jacque Réattu.

The collection is housed in the former Grand

Priory of the Knights of Malta and in 1971,

Picasso donated 57 of his drawings to what

became one of the first public collections of

his work. Don't miss the city's only original

Van Gogh – a letter written by Vincent to

Paul Gauguin in 1889.

The Musée Réattu was also the first French

fine arts museum to have a photography

department and the city has since become

synonymous with photographic images. Visit

any time from July through September to

see photos on show in a variety of indoor and

outdoor spaces as part of the International

Photography Festival.

Arles, Espace Van Gogh © Helen Wong Hsing

© Grace Marshall

30 | The Good Life France
---
Tour Luma Adrian de Weerdt

LUMA

Most recent addition to the city skyline is

LUMA Arles, an eye-catching art and culture

centre on the site of a former railway siding.

Designed by Frank Gehry, the 56-metre high

twisted tower is made from recycled materials,

rising from the Parc des Ateliers and visible

from all over the city.

Inside its wonky walls, experimental artists,

scientists and thinkers of all kinds seek to

challenge conceptions through exhibitions,

accessible archives, and public events, not

just around art and culture, but human rights,

the environment, and research. Check out

their programme at www.luma.org/arles and

make time to wander the 4-hectare park,

landscaped as a journey through the flora and

fauna of the region.

Some love it; others loathe it. But whatever

your view on LUMA Arles, there's no denying

that this controversial building is just the

latest phase in a city that has been pushing

the boundaries for almost 2,000 years.

Visitor information

Visit www.arlestourisme.com to plan your

trip and once in town, head for the Tourist

Information Office on Boulevard des Lices

to book themed guided tours and pick up

self-guided trail maps. A Pass Liberté is

valid for one month and gives access to four

monuments/museums of your choice for 12

euros (concessions, 10 euros).

Take a tour of Arles with Ophorus Tours

The Good Life France | 31
---
The wild

wetlands

of France

Where white horses roam and pink flamingos flock…

France's largest wetland is much more than

just marshland. Gillian Thornton explores

this diverse landscape on foot and by boat,

four wheels and four legs.

Sunset over the Camargue and the still water

of the lagoon turn slowly silver as the sky

morphs through a palette of pastel blues and

pinks, deep yellows and burning orange. Rosetinted

flamingos sift the shallows in search of

supper, whilst a sturdy coypu watches intently

from the bank for an unsuspecting fish.

It's a magical moment for any lover of wildlife

and open spaces, but particularly when seen

from the back of a horse. Our leader turns his

mount into a shallow lagoon and we trustingly

follow in his wake, an enthralled band of riders

mounted on the surefooted white horses of

this legendary wetland.

Situated at the heart of the Bouches du

Rhône department in western Provence,

the Camargue forms a triangle between the

ancient Roman city of Arles to the north, and

the two liquid arms of the Rhône delta. Le

Petit Rhône to the west is a protected nature

reserve that joins the Mediterranean at Les-

Saintes-Maries-de-la-Mer, whilst Le Grand

Rhône carries commercial river traffic from

Lyon and Avignon to the west.

Fly into Marseille – less than an hour's drive

from Arles – and the flat landscape of the

delta doesn't look overly inviting from the air,

but seen from ground level, it's a different

story altogether. Covering more than

100,000 hectares with 75km of coastline,

the Camargue embraces a wide variety of

eco-systems that include salt plains and

32 | The Good Life France
---
freshwater marshes, salt marshes and lagoons,

sandy beaches, paddy fields and dunes. Birdwatchers

can find an incredible 237 species

here, one-third of all those seen in Europe,

and the closer you look, the more surprises are

in store.

Listed by UNESCO as a World Heritage Site

and famous for its white horses, black bulls,

and pink flamingos, this glorious wetland is a

must-do for anyone who likes big skies, wide

horizons, and a wealth of soft-adventure

activities. You can take a guided nature tour

in a 4x4 or take a leisurely look from a horsedrawn

carriage; book a birdwatching tour or

enjoy the landscape from water level with a

boat trip on the Petit Rhône. Visit the Arles

Tourism website and Camargue Tourist Guides

for inspiration and online booking.

The Good Life France | 33
---
For a lifelong rider like me, the chance to

explore on horseback was top of my priority

list, but you don't need to be a gardian – or

camarguais cowboy – to access this stunning

landscape on horseback. Simply settle

yourself in the comfortable saddle, take up

the reins, and proceed at a leisurely pace. I

shared the 2-hour Sunset Lovers experience

from L'Auberge Cavaliere du Pont des Bannes

in a mixed-ability group. Those of us with

experience were able to enjoy a gallop behind

the dunes, whilst the other mounts proceeded

obediently at a stately walk, but most of the

ride was conducted at a stately walk with eyes

wide open. Speed doesn't matter in a natural

environment like this and the slower you go,

the more you see.

Take those famous flamingos. Pass any stretch

of shallow water in the Camargue and you'll

almost certainly spot small groups of these

improbable birds with their downturned beaks

and 'back to front' legs. But for the full-on

flamingo experience, book onto a guided tour

to see Europe's largest breeding colony - some

10,000 pairs who hatch their young every year

at the protected Etang du Fangassier. Tours

Aigues-Mortes

Salt pans

34 | The Good Life France

Saintes-Maries-de-la-Mer

Saintes-Maries-de-la
---
un from April through September, bookable

through Camargue Nature Guides along with

a wide range of environmental excursions, all

available in French and English.

Expert guides Frédéric Bouvet and Christophe

Giraud gave me a fascinating insight into

local agriculture and wildlife, as we made

our way by Land Rover and then on foot

across salt plains dotted with tree stumps

bleached by sun and salt. Finally we arrived

at a viewing platform erected at a ruined

17th century customs post and, through

powerful binoculars, were treated to a unique

view of the quivering mass of pink feathers.

An unforgettable Attenborough moment in

anyone's book! On the way back to base,

there was another colourful bonus as Frédéric

drove us past a sandbank to watch multi-hued

bee-eaters flying in and out of nesting holes.

The Camargue's resident bulls may not be as

eye-catching in colour but they're certainly

full of character. Smaller than their Spanish

cousins, Camargue bulls have horns that

point upwards rather than forwards and are

used in the local course camarguaises or bull

games, a popular family entertainment that

is played out at arenas across the Camargue

throughout the summer months.

Aigues-Mortes © Ann Schmidt

-Mer

The Good Life France | 35
---
36 | The Good Life France
---
On the church roof at Saintes-Maries-de-la-Mer

Mas de Peint

Traditional Camargue cabin

After a rousing parade through the streets, bulls

and all, the human contestants on horseback

– the raseteurs – attempt to pluck a rosette or

cockade from between the bull's horns. Each

contest lasts 15 minutes and at the end of the

day, the bulls are taken back home for a quiet

night at the ranch. A good cockardier – or

competitive bull – is a much-prized beast and

there's a vibrant statue of one fine specimen

outside the bull ring in Saintes-Maries-de-la-

Mer, a jolly, whitewashed seaside resort with an

intriguing backstory.

The town takes its name from the three Marys

who were the first witnesses to Jesus's empty

tomb after the Resurrection. Legend has it

that that Mary Magadalene, Mary Salome,

and Mary Jacobe arrived here in a boat

after being expelled from Jerusalem around

AD40, together with their black servant Sarah

who became patron saint of the gypsies.

Every May, gypsies from all over Europe

gather in town for a religious festival in Sara's

honour. See her statue – dressed in layers of

gypsy clothes – in the vaulted crypt of the

Romanesque church where the air is heavy

from the heat of candles.

Then head from the depths of the church up

the narrow spiral staircase to the roof, once

used as a lookout post against maritime

invaders. Take in the views to the marina

then head past the boats towards the beach,

backed with a line of whitewashed cabanes.

Thatched with reeds, they were traditionally

used by fishermen and farm workers.

With waterways in every direction, it wouldn't

seem right not to take a duck's eye view

of this extraordinary wetland. Some 10km

inland from Saintes-Maries, I enjoyed a

nature discovery cruise by Zodiac with

Kayak-Vert Camargue, who also offer

excursions by kayak, paddle board, or

mountain bike. But if all this sounds too

energetic, there's yet another way to enjoy

this unique area at water level.

As well as exploring the Camargue

independently, I have cruised the Petit

Rhône on board a leisurely hotel barge

operated by CroisiEurope, Europe's biggest

river cruise operator. The 7-night trip

travels from Sète on the Mediterranean

coast to Arles – or the reverse - and

includes visits to a traditional manade or

camarguais ranch, as well as Les Saintes-

Maries and the walled town of Aigues-

Mortes.

With no strategic port on the western

Mediterranean coast, French king Louis

XIV commissioned Aigues-Mortes in the

13th century, six kilometres inland and

surrounded by malaria-infested swamps.

But today, this enchanting town is a mix

of historic buildings, shady squares, and

rampart walks without the inconvenience

of malaria. Visit the commercial salt pans

beneath the city walls and buy a bag to

enjoy at home with some camarguais rice -

an authentic taste of one of Europe's most

inspiring wetlands.

The Good Life France | 37
---
AGINCOURT

revisited

Words: Gillian Thornton and Janine Marsh

38 | The Good Life France
---
There are no real winners when two nations

fall out, but today we live in an age when wars

can rumble on for years and involve countless

civilian casualties. So it's a surreal experience

to look over a field where an international

conflict – legendary for hundreds of years –

was all wrapped up before teatime.

The Battle of Agincourt kicked off in heavy

rain late in the morning of October 25th 1415,

St Crispin's Day, and by mid-afternoon, the

cream of French nobility had been cut down in

the mud by the firepower of English archers.

The English army, believed to be around

8,500 men, marching to Calais to return

home by boat after a campaign in Normandy

and led by King Henry V, faced a French

army of around 12,000 men. Henry's army

of English soldiers and largely from Wales

archers, were already exhausted and suffering

from dysentery. Some of them removed their

trousers and fought half naked. Many of them

kissed the earth of this corner of Pas de Calais

in northern France, believing they would be

buried in it later that day. Henry V heard Mass,

not just once, but three times.

The French were led by the Constable of

France Charles d'Albret and Marshal Jean

II le Meingre (Boucicaut). The battle 'barely

lasted a few hours' says Ludovic Hiltenbrand,

manager of the Centre Azincourt 1415, but

it was a decisive victory for the English and

became the stuff of legend. The French,

wearing heavy armour and bogged down

in mud were cut down as armour-piercing

arrows with a range of 250 yards were

unleashed from the innovative longbows of

their enemy. Among the lost was Gallois de

Fougières, a Marshall of France, effectively

the first recorded gendarme to have died in

the line of duty. The uniformed official we

know today, the 'Gendarme', is a derivative of

'gens d'armes', or people with arms (weapons),

hence the expression 'to take up arms.'

Look for Agincourt on the map and you won't

find it. The village is actually called Azincourt,

nestled in the lush countryside of The Seven

Valleys. The change of spelling is down to a

mispronunciation by an English knight when

asked by Henry V for the name of the nearby

fortress.

You can still see the field where the face off

took place, most of it now farmland and all

of it bordered by quiet country roads – a 4km

circuit on foot or by car.

In the heart of the village, you'll find the

excellent Centre Azincourt 1415 museum.

The Good Life France | 39
---
Centre Azincourt 1415

The totally revamped museum (2021) aims

to tell the true story of the great 15th century

battle and provides new detail about the

Anglo-French conflict dubbed The Hundred

Years War.

The new museum was designed by British

Professor and author Anne Curry Emeritus

Professor of Medieval History at the University

of Southampton and French historian and

author Christophe Gillot, Director of the

Centre. They pored over material pertaining

to the Battle of Agincourt that has survived

in the National archives in the UK as well as

chronicles and material in France. Their work

has led to a new understanding of the battle.

For many centuries much of our 'knowledge'

of Agincourt has come from William

Shakespeare. Who can listen and not be

moved by the stirring speeches the English

king gives in Shakespeare's Henry V (1599):

They are words which have inspired time and

again, representing "Englishness" and triumph

in the face of adversity. Some 500 years

later Laurence Olivier's famous film of the

play, released in 1944, was dedicated to the

commandos and airborne troops who made

D-Day possible. A great piece of propaganda.

But not everything we think we know is true

and the Centre Azincourt1415 sets out to

dispel the myths and examine the real and

extraordinary story.

The museum gives a lot of information in

an easy and digestible way – in French and

in English. Try games like Sovereigns of the

Hundred Years' War; discover what soldiers

ate, and words from the Middle Ages, and

details of daily life, the clothes of the period,

the illnesses, the treating of wounds.

The section devoted to armour shows how

different ranks were protected, the richer you

were, the better your equipment of course.

'Once more unto the breach, dear friends, once more;

And

'We few, we happy few, we band of brothers'

40 | The Good Life France
---
Step back in time

and discover the past at

Azincourt 1415 historic centre

Azincourt1415.com

24 Rue Charles VI

62310 Azincourt

The Good Life France | 41
---
A video demonstrates how a knight put on

his armour (not an easy task), and you get a

chance to feel the weight of a helmet, handle

a medieval sword and feel the force needed to

shoot a longbow. There are interactive screens

to play with, videos and clever touches – listen

to the Hundred Years' War explained in 100

seconds.

The Centre Azincourt 1415 puts on events

every year – medieval banquets, Night at

the Museum, exhibitions and more. (See the

website for details)

What to see around and

about

But Azincourt isn't the only reason to stop

over in this delightful area of gentle, rolling

farmland dotted with small villages and farms.

Five small rivers flow south to join two larger

rivers – the Canche and Authie, hence the

name Seven Valleys. Drop into the Tourist

Office in historic Hesdin, for information on

outdoor activities such as hiking, cycling and

fishing.

42 | The Good Life France
---
Follow the Canche through the Seven

Valleys towards its estuary at Le Touquet and

you pass through Montreuil-sur-Mer, worth

a stopover in anyone's book for its rampart

walks, historic citadel and associations with

Victor Hugo who set part of Les Misérables

here.

Montreuil has also become a hot destination

for foodies, thanks to an indecent number

of good restaurants for a town of just 2,500

people. Enjoy Alexandre Gauthier's Michelinstarred

fare at La Grenouillère beneath the

ramparts or another of his three restaurants in

the cobbled streets of the old town.

Montreuil has plenty of interesting

independent shops, the sort you rarely see

on British high streets nowadays. Cheese

fans should pack a cool bag to stock up

from Fromagerie Caseus on Place Général

de Gaulle, where a large market is held on

Saturday mornings. On the opposite corner,

Aux Douceurs d'Antan stocks a range of local

products from chocolates and biscuits to soup,

jam and beer. Children will love Dragibonbons,

a sweet shop on rue d'Hérambault that makes

its own themed 'cakes' from sweets, whilst

Oliviers near the Citadel is an Aladdin's cave

of wines and spirits.

DETAILS

Centre Azincourt 1415, 24 rue Charles VI, 62310 Azincourt, azincourt1415.fr

Open all year round: 10 am – 5:30 pm except Tuesdays (10am – 4:30pm);

July/August: 10 am – 6:30 pm

The Good Life France | 43
---
Antibes Juan-les-Pins

– paradise on the

FRENCH RIVIERA

44 | The Good Life France
---
Antibes Juan-les-Pins is located in the heart of

the French Riviera, between Cannes and Nice

and yet unlike either of them. Antibes is home

to the Picasso Museum, a fabulous Provençal

market and a stunning old district while the

famous Jazz in Juan festival takes place in

Juan-les-Pins. With 24km of coastline and

picturesque rampart walls which flush coral

pink at dusk, Antibes stands out against the

backdrop of the Alps.

Antibes is one of those places that you

stumble upon and realise that you've found a

sun drenched French corner of paradise. Of

course others have found this too, Picasso,

Scott Fitzgerald and Hemingway all fell in

love with its charms. They would probably

recognise its famous sites today, almost a

hundred years after they partied here in the

roaring twenties.

Wander the old district of Antibes and the

scent of orange blossom, lavender and

jasmine fills the air. Narrow winding roads

with ornamental cobbles lead you past tall old

houses dripping with bright pink bougainvillea.

In the centre, numerous bars, restaurants

and shops lead off from the central Cours

Masséna where the market is held and wind

around the port. It's a smallish town but there's

plenty to see and do…

Picasso Museum

The former Grimaldi Chateau which houses

a permanent exhibition of Picasso's works as

well as temporary exhibitions, is the number

one attraction in Antibes. You don't need

to be a Picasso fan to enjoy it, the castle is

lovely with fabulous views over the sea from

its statue-strewn terrace. If you are a fan,

you'll love the sense of the artist that you get

here. He had a key to the castle and spent

from September to November 1946 here,

creating huge paintings in the vast space

and a collection of black and white photos

portray his time in Antibes.

The Good Life France | 45
---
Le Marché Provençal

The daily covered market in the centre of the

walled old city is one of the best I've ever been

to. Tables groan under the bounty of Southern

France: spices and lavender, olives and oils,

fig vinegar and jams with violet, hibiscus and

lavender. Amazing vegetables of jewel-like

colours, glistening celery, dried fruit, salt from

the Camargue, colourful Italian pasta, gold

medal winning saucissons from Corsica on

the stall of "Tony and Nadia", skewers strung

with meat, peppers and onions, slathered

in fresh pesto that make you long to light

the barbecue, cheese and yoghurts. Giant

courgette flowers ripe for stuffing, truffleeverything

from mustard to oil and pasta,

macarons in every colour, flowers and berries.

Nature is clearly kind in this part of France

and the bounty is well… bountiful.

For the best bread, it's a stone's throw from

the market to Boulangerie Veziano (2 rue de

la Pompe). Baker Jean-Paul Veziano made

the bread for the wedding of Prince Albert of

Monaco and is famous for this Main de Nice

bread. Literally translated as 'hand of Nice'

this once traditional bread is rarely to be seen

in the south of France.

And when the market ends around mid-day,

the square is covered with tables and chairs

from the surrounding bars and restaurants.

A town of art and culture

Antibes has lured many artists. Graham Greene

lived in a modest apartment here for 24 years

and lunched most days at Café Felix (still

there) by the archway to the port. Russian-born

artist Nicolas de Staël lived and worked here,

unhappy in love and lacking confidence in his

own talent , a dawn to dusk painter, he jumped

to his death from his studio, marked with a

plaque, overlooking the beach.

It's still very arty. All along the Boulevard

d'Auillon, the former casemates, rooms in

the rampart wall, have been converted to

artists ateliers including potters, painters,

46 | The Good Life France
---
ceramicists, and master glassblower, Didier

Saba.

Fulfil your literary desire for English language

books at Antibes Books. It's a lovely bookshop

and my opinion has zero to do with the fact

that I did a double take when I went in and

saw all three of my own books in the best

sellers and new releases sections!

Absinthe makes the heart

grow fonder

Absinthe was a favourite drink of many artists

from Van Gogh to Picasso. Find out what they

loved about it at the fabulous absinthe bar (25

Cours Masséna). Three generations have run

the bar and serve 50 varieties of the "green

fairy." I have to say, it was my first time and

it was much nicer than I expected. Slightly

liquorice-y, sweet, refreshing and rather

surprisingly not strongly alcoholic tasting! It's

served the correct way, ice cold water drips

from a fountain on the table, through a lump

of sugar on a flat silver spoon to dilute the

pure absinthe. And all this inside a former

Roman well where you are encouraged to

wear an old-fashioned hat from a selection –

just as they did in the old days!

Safranier district

There is a flowery little corner of Antibes

known as the Safranier district which is a 'free

commune.' Created in the 1960s, this small

area has its own Mayor who is powerless

but whose job it is to organise festivities

year-round! This includes the making of a

record-breaking yule log at Christmas which

measures some 14 metres. It's a great place

to go for a meal or an aperitif and soak up the

fun atmosphere. Head to café Lilian Bonnefoi,

the restaurant of head pastry chef at the very

prestigious hôtel du Cap-Eden-Roc, in Place

Safranier. It's also a cake-making laboratory,

where you can take cookery lessons and or

enjoy a gourmet coffee break treat.

Lilian Bonnefoi

The Good Life France | 47
---
48 | The Good Life France
---
Juan-les-Pins

You can walk to Juan-les-Pins from the centre

of Antibes in around an hour. Or just hop on

the train for a couple of euros and be there

in minutes. There's a very different vibe here,

it's buzzy and more commercial. The beaches

are fabulous, but head around the bay to see

the swanky homes of former artists, writers

and the great and good of the day. And treat

yourself to a cocktail at the Belle Rives Hotel,

which was once the Villa St. Louis, home to

Scott Fitzgerald and his troubled wife Zelda.

Peynet Museum

Peynet Museum

Looking rather like a repurposed post office

building, the Peynet Museum is a hidden gem.

Raymond Peynet is famous for his whimsical

drawings of a young romantic couple, but

at the museum you see more of his artwork

which reveals an artist who had a deft touch,

delicate drawings and a droll sense of humour.

Sometimes his art is sneaky, sometimes lustful,

other times witty. His commercial posters and

illustrations are beautiful.

A place to enjoy the

good life

This isn't a place for racing around. Here you

relax, take your time, swim or sunbathe on one

of the long sandy beaches, people watch, sit

at bars where 6pm is celebrated with a glass

of wine brought to you with a smile and a

cheery 'avec plaisir' and petanque games go

on from morning to nightfall.

Eat at: There's a fabulous choice of

restaurants here but don't miss Restaurant

Bistrot Margaux. Just a few minutes' walk

from the centre, it faces Port Vauban and

chef Frédéric Buzet creates mouth-wateringly

memorable dishes.

bistrot-margaux-antibes.fr

Stay at: I stayed at the lovely Hôtel La Villa

Port d'Antibes & Spa**** which opened in

June 2020. Ideally located a stone's throw

from Port Vauban and the ramparts of the old

town. villa-port-antibes.com

Practical information:

Antibes-juanlespins.com

The Good Life France | 49
---
BUCKET LIST

France: Cannes

50 | The Good Life France

La Croisette
---
Cannes on the Cote d'Azur, which English speakers call the French Riviera, is famous for the

world's most glamorous annual trade show – the Film Festival. Each May, the sunny city attracts

the great, the good and the wannabees of the movie world – drawn to the glitzy, glamorous

town like moths to a flame. For the duration of the event, red carpets abound, parties are held,

superstars parade and blow kisses to celebrity-spotting fans and paparazzi, Champagne corks

pop and Cannes' beaches are groomed to photo-op ready perfection.

But there's a different side to Cannes that makes it a year-round bucket list destination

and a perfect weekend getaway…

Explore the old town

Head to the old district of Cannes, built

on a hill, it's known as Le Suquet. Once a

fishermen's quarter, it's home to steep cobbled

alleys and candy-coloured houses their

window boxes dripping with flowers. Wander

and get lost in the little winding streets where

you'll find plenty of boutiques, bars and

bistros. Don't forget your camera because

this is a very photogenic little part of Cannes

with fountains and hidden gardens, and make

your way to the top of the hill of Le Suquet. It

now houses a collection of paintings and puts

on a different exhibition each year. From this

lofty position, which has a tranquil feel, quite

different from the Cannes that lies below, you

have sweeping views over the bay of Cannes.

Climb the 109 steps of the square tower which

crowns the chateau, for a bird's eye view and

360 degree panorama. If you don't fancy the

hike to the top, hop on the Little Tourist Train.

At the base of Le Suquet, visit Marché Forville

the city's outdoor produce market near the

Maritime port. Each morning, stalls are piled

high with local produce, delectable olives,

cheeses, fresh vegetables and pasta daily except

Monday, when it becomes a flea market.

Le Suquet

Life's a beach

In the centre of Cannes there are 33 sandy

beaches spread over 7.5km. Every year the

city funds the reclamation of sand washed

out to sea in the winter. As a result, the width

of beaches has increased from 25 to 40

meters. Scattered among the private beaches

Marche Forville

The Good Life France | 51
---
Mademoiselle Gray beach bar and restaurant © Jean Michel Sordello

are public areas including les Rochers,

Nadine, Pointe Croisette, Roubine, Mace and

Gazagnaire. Each summer the town protects

bathers from jelly fish and the latter three

beaches have special nets in place until the

end of September. Locals favour the miles of

public beach along the Boulevard du Midi les

Rochers (opposite La Bocca railway station), a

bit of a local secret, and great for snorkelling.

Take some bread and the fish will eat out of

your hands.

Promenade. It seems everyone who visits

Cannes just loves to walk along the Croisette.

I've never seen so many glittery T-shirts in one

place! There are plenty of kiosks selling food

and drink en route, and chairs are available

(free) to drag under the shade of trees or

sit and soak up the sun. Spot your favourite

celebrity's handprints on the star-studded floor

in front of the Palais des Festivals!

Go island-hopping

Off the coast of Cannes lie the Îles de Lérins,

the Lérins Islands. You can visit the Île Sainte-

Marguerite and Île Saint-Honorat by taking

a short shuttle boat ride which run regularly

throughout the year from Quai St Pierre. It's a

real escape from the hustle and bustle of the

city. Saint-Honorat, which has been home to

monks for more than 1600 years. Nowadays,

the 25 monks who live here produce wine from

eight hectares of vineyard as well as a local

speciality, Lerina liquor, and honey. Wander the

pine tree-lined paths and visit the abbey, there

are a couple of restaurants and it's an ideal

place for a picnic, idyllic and tranquil.

The Musée de la Mer on the Île Ste-Marguerite,

the largest of the islands and separated from

Saint Honorat by just 600m of water, is in the

former Royal Fortress. Built by Richelieu, the

prison once housed the Man in the Iron Mask.

Film tour

Even when the

Film Festival is

over – Cannes film

credentials are ever

present – take a

guided tour to see

the street art and famous locations.

Where to eat

The Croisette beaches are lined with

Instagrammable restaurants and dining here is

one of the Riviera's great pleasures.

52 | The Good Life France
---
Wine and dine: Fouquet's Brasserie, 10,

boulevard de la Croisette at the Majestic puts

a Riviera touch to the cuisine of the Champs-

Élysées landmark of the same name. The menu

has been designed by 3 Michelin-star Chef

Pierre Gagnaire, and their Sunday brunch at a

civilised 12-4pm, complete with Champagne,

is superb.

Locals love: In the old district of Cannes you'll

find the city's oldest restaurant da bouttau

founded in 1860. Picasso dined here and it's

long attracted the film festival stars from Sean

Connery to George Clooney.

Shop until you drop

If you're a fan of shopping and in particular

posh brands, head to two long parallel streets:

La Croisette and rue d'Antibes. All the big

names are there – and you'll need a big purse.

Enjoy a sundowner

da bouttau restaurant

Aperitif time on the Cote d'Azur is one of life's

great pleasures. There's plenty of choice in

Cannes from the bars in the old town, along la

Croisette and in the city. La Rotonde Grande

Dame Champagne Bar is just about perfect –

Room with a view, Hotel Le Gray d'Albion © Jean Michel Sordello

listen to the gentle lapping of the waves while

you gaze at the sun setting over the Lerins

Islands.

Where to stay –

bucket list hotel

For a luxury stay (de rigeur in Cannes), Hôtel

Barrière Le Gray d'Albion is ideal. It's long

been the secret refuge of the stars of cinema

who love it for its refined comfort. All 200

designer rooms and suites are decorated in an

understated muted palette of soft colours –

very Chanel-like and not ostentatious. Nearly

all rooms have balconies and the views over

the sea or rooftops of Cannes are superb. The

big King size beds have a cocooning effect

– essential for your beauty sleep in this city

of beautiful people. There's a great terrace

restaurant that's like a little oasis in the city,

and a perfectly air-conditioned designer bar.

Guaranteed to make you feel like a celebrity,

the hotel is in a perfect location, just steps

from La Croisette where you'll find the hotel's

beachside restaurant Mademoiselle Gray and

beach area Plage Barrière, and a stone's throw

from Le Suquet.

Hôtel Barrière Le Gray d'Albion

The Good Life France | 53
---
Jardin des Plantes

Pierre-Joseph Redouté:

Sue Aran explores the life of

one of the world's greatest floral artists…

54 | The Good Life France
---
It was in June of 1840, the month of roses,

when Pierre-Joseph Redouté died suddenly at

the age of eighty. His coffin was laid to rest in

Père Lachaise Cemetery in Paris with a wreath

of roses and lilies, the two flowers he loved the

most. Although he never met a flower he didn't

like, the rose and the lily were the perfect

epitaph by which he was remembered. He is

still considered the greatest botanical painter

of all time.

Pierre-Joseph Redouté was born in 1759 in the

village of St. Hubert, in the province of Liége,

a part of the Ardennes that then belonged to

the Duchy of Luxembourg and now belongs

to Belgium. He was the grandson, son and

brother of painters, so it was almost inevitable

that he would follow in their footsteps. He left

home at the age of thirteen and spent the

next ten years living a precarious life painting

interior decorations, portraits and religious

commissions. He travelled across Flanders

and the Low Countries studying the works

of the master Flemish and Dutch botanical

painters Jan van Huysum, Rachel Ruysch and

Jan Davidsz de Heem.

The Good Life France | 55
---
At the age of 23, Redouté arrived in Paris

where he spent the rest of his life, joining his

eldest brother, Antoine-Ferdinand, who was

a stage designer for the Théâtre des Italiens.

In Paris it was the very end of the Age of

Enlightenment when the city was a mecca

for science and culture. When Redouté

wasn't working at the theatre, he frequently

visited the Jardin du Roi, now the Jardin des

Plantes and would draw for hours on end. It

was there that he caught the eye of Charles-

Louis L'Héritier de Brutelle who encouraged

him to produce botanical studies, offering

him free access to his botanical library and

plant collection. A noted French aristocrat,

the Superintendent of Parisian Waters and

Forests, a biologist and plant collector,

L'Héritier became Redouté's instructor,

teaching him to dissect flowers and portray

their specific characteristics precisely.

Portrait of Redouté by Louis-Léopold Boilly, 1800

L'Héritier was so impressed with his new

student he commissioned him to illustrate two

books on botany. As a result Redouté created

more than 50 drawings which were included

in L'Heritier's Stirpes Novae, New Plants,

and Sertum Anglicum, An English Garland.

L'Héritier generously recommended Redouté

to Gérard van Spaendonck, the miniature

and flower painter to King Louis XVI. Together

with other artists, van Spaendonck produced

drawings and paintings for the famous Vélins

du Roi, Royal Collection of Paintings on

Vellum, archival drawings and paintings of

all the specimens brought to the Jardins du

Roi, containing nearly 7,000 gouaches and

watercolours on vellum representing flowers,

plants and animals.

Spaendonck recruited Redouté as a pupil and

staff painter, and he subsequently contributed

over 500 paintings to the ongoing Vélins

project. Spaendonck taught him a special

watercolour technique that produced flower

paintings on vellum with an unusually bright

translucency. By his own account, his student's

work was finer than his own.

In 1787 Redouté and L'Héritier left France to

study plants at the Royal Botanic Gardens

56 | The Good Life France
---
Flower loving Queen Marie-Antoinette by Elisabeth-Louise Vigée Le Brun, 1783,

it's said that roses and violets were her favourites and at the Trianon, Versailles,

roses were said to flower all year long in greenhouses

at Kew, near London, returning the following

year. While at Kew, Redouté collaborated

with the greatest botanists of the day and

participated in nearly 50 publications

depicting both the familiar flowers of the

French court and rare plants from places

as distant as Japan, America, South Africa,

and Australia. Redouté produced over 2,100

published plates depicting over 1,800 different

species, many never rendered before.

L'Héritier also introduced Redouté to

members of the court at Versailles, following

which Marie Antoinette became one of his

patrons. She appointed him her personal court

painter. Even though encounters with the royal

family were few, one biography cites a famous

incidence when Redouté was asked to visit the

royal family in prison during the Revolution.

They wanted him to capture the beautiful

moment of a rare cactus in bloom. With skill

and savvy, Redouté survived the political

turbulence of the French Revolution and the

ensuing Reign of Terror.

The Good Life France | 57
---
During the 1790s, Redouté gained

international recognition as one of the

most popular flower painters in the world.

His renderings of plants remain as fresh

now as when he first painted them. He was

recognized as a celebrity with a fashionable

clientele, a private apartment in the Louvre,

a country residence outside of Paris and a

salary of 18,000 francs ($200,000) a year.

He perfected the colour stipple engraving

technique, which he had learned during

his stay in London and first applied it in

his illustrations for L'Héritier's publication

of Augustin Pyramus de Candolle's work,

Plantes Grasses Succulents. It was Redouté's

first major botanical work featuring only

colour-printed plates, and his last publishing

collaboration with L'Hériter.

In 1798 the Empress Josephine Bonaparte,

the first wife of Emperor Napoléon

Bonaparte, became his patron and

appointed him to paint the flowers of her

garden at Château de Malmaison. She was

resolute in filling her gardens with the finest

specimens of nature as well as having their

essence preserved on paper.

That same year Redouté published 500

plates of exquisite lilies in his book Liliacées.

In 1819 his paintings were exhibited at the

Louvre. In 1824 his most famous work, Les

Roses, was published. It was said that each

delivery of the finished colour copperplates

was received with a storm of enthusiasm.

It was these two works which distinguished

Redouté as a true artist and not merely an

illustrator. Between 1802 and 1816, eight folio

volumes were printed, each dedicated to

Empress Josephine.

After Joséphine's death, Redouté was

appointed a Master of Draughtsmanship for

the National Museum of Natural History. He

became a Chevalier of the Legion of Honour

in 1825. Between 1827 and 1833 Choices of

Beautiful Flowers and Fruits, was printed. By

then Redouté had become a master engraver

of such singularity that he was able to apply

all of his colours at once on one single copper

plate. Folio editions of this masterwork

58 | The Good Life France
---
were published

each year for

seven following

years. In 1834

he was awarded

the prestigious

Order of Leopold

of Belgium

for his artistic

contributions.

Eva Mannering,

who wrote the

introduction

to the 1954 publication of Pierre-Joseph

Redouté's Roses remarked, "The conditions

which made possible a work like this exist

no longer, nor do the roses themselves

as they are illustrated in this book… They

are reminders of a more leisurely age,

pleasing and delighting us in their colourful

abundance. For by giving us one rose, he has

given us at the same time, all the roses of all

summer days."

https://frenchcountryadventures.com/

The Good Life France | 59
---
Green wines

of France…

60 | The Good Life France
---
Winegrowers in France are going big on biodynamic viticulture. Over the last few years,

wine growers have turned to organic methods of caring for the vines – not just because of

concern for the environment but because of the high quality of the wines that result. Phillip

Reddaway of Rhone Wine Holidays explains how this growing movement is set to stay…

What are biodynamic wines all about?

Biodynamic wine culture is essentially organic farming-plus. Biodynamics as a philosophy of

farming was the brainchild of Austrian-born philosopher, spiritualist and intellectual Rudolf

Steiner (1861-1925). At the core of his beliefs was that optimal plant health is achieved through

minimal chemical intervention - especially zero pesticides

and fertilizers. Instead, he preached substituting these

interventions with natural homeopathic treatments and a

holistic approach in recognition that plant health is a function

of myriad factors, not only from the soil below but also the

sky above, and the microclimate that surrounds the growing

area. Biodynamics covers all farmed plant crops not just wine

though – you will even find biodynamic canned peppers in

health shops!

When it comes to wine growing, most people focus on the

seemingly weird practices of biodynamics, like filling cow

horns with dung and burying them in vineyards and aligning

certain chores with phases of the moon and stars. That said,

The Good Life France | 61
---
that less is more when it comes to chemicals

– though this makes heaps more work. It's also

very common for biodynamic producers to

keep livestock on or around their vineyards. I

have seen carthorses, sheep, goats and even

a herd of Llamas at Domaine Creve Coeur!

It's part of the artisanal way of production,

of sustaining the land, creating a balance

between nature and the farm. And of course,

keeping down the weeds on the land!

several scientific studies have shown it can

be effective, even if the underlying reasons

are not yet understood. Indeed, those who

are new to biodynamic farming might think

it's a world populated strictly with neohippies.

Absolutely not so, some of the biggest

wine names in France - Leroy in Burgundy,

ZindHumbrecht in Alsace and Chapoutier in

the Rhone are converts and these are very

serious businesses. In the UK both Tesco and

Marks and Spencer's wine buyers have gone

on record to say they prefer to organise trade

tastings on biodynamic calendar

days best suited to tasting wine.

When I'm researching the finest

vineyards in the Rhone, trying

wines and generally discovering

everything about Rhone wines,

it's become abundantly clear that

when it comes to biodynamic

wines, the producers have one

thing in common - a passionate

obsession with tending their vines.

They use plant base infusions

and remedies and home-made

fertiliser - that's where that

buried cow dung comes in – all

practices which take a lot of time

and effort. Their whole ethos is

The biodynamic calendar is based on

the belief that not only moon cycles but

astrological cycles have varying influences

on plant life and farming. Every day in the

biodynamic calendar is categorized as either

a flower/leaf/root/fruit day according to the

position of the moon/planets. Each category

determines an ideal focus in the vineyard/

winery. For example, root days are ideal for

pruning. Flower days are better for working in

the winery. Biodynamic adherents follow the

calendar suggestions but most are pragmatic

- weather considerations usually trump the

calendar suggestions!

And this attention to detail, to getting closer

to the growing process, inevitably shows

through in wine quality. So, it doesn't matter

whether you sign on for the belief system,

the wines just have a TLC advantage over

regular wines.

62 | The Good Life France
---
Want to try biodynamic French wines?

You can spot bottles of biodynamic wines in France by the orange and green 'flag' logo

of Demeter International or Biodyvin who certify the wines. You may spot certification as

Agriculture Biologique or Ecocert – but this simply means organic.

Even better – visit a biodynamic wine maker and see behind the scenes. Many vineyards open

their doors to visitors and share their biodynamic philosophy and working ways. Domaine

Montirius in Gigondas-Vacqueyras in Provence, for instance, hold workshops which include a

tasting of their entire range of wines, cellar visit and an introduction to their approach to wine

production. And like most of the biodynamic wine producers I meet, they never use their beliefs

as a marketing tool, on the contrary, they tend to be self-effacing about the practice, preferring

to talk about the health of their vines and what you can taste in your glass. And that is the best

way to judge the wines and make up your own mind…

Join Philip on a Rhone Wine tour for an exceptional wine experience in Provence:

RhoneWineHolidays.com

Exceptional arts and

crafts made in Provence

L'AUGUSTE Provence

create a unique artisanal

collection of bags and

accessories from exclusive

watercolors to bring a little

Provencal style into your

life wherever you are.

laugusteprovence.com

The Good Life France | 63
---
The expat

ARTISAN GIN

makers of Cognac

64 | The Good Life France
---
Janine Marsh meets expat gin makers distilling

an award winning gin in the living room of a house

in Cognac…

"The gin and tonic has saved more

Englishmen's lives, and minds, than all the

doctors in the Empire…" So said Winston

Churchill, and it has to be said, gin is generally

thought of as an "English" drink. However, gin

originated as a medicinal drink (yes really),

distilled by monks and alchemists in the

Netherlands and later in Europe including in

Flanders, now northern France. Then it was

called "genever", an eau de vie made from

juniper berries. But when William III of England

banned imports of foreign alcohol, English

distillers created 'gin', a cheaper version,

which wreaked havoc on the working classes

and earned it the nickname "mother's ruin."

Eventually controls over production were

brought in and the gin and tonic became a

popular drink around the world.

In France "le gin and tonic" has never been

more popular than now, inspiring a legion of

artisan distillers to create new, exciting gins.

And in the heart of Cognac country, in the

living room of his house, a distiller called Miko

has been quietly creating his intoxicating and

sensational Pink Pepper Gin…

Miko, AKA "the man in the lab", from Sydney,

Australia looks every inch a mad scientist!

He moved to Cognac from London where

he'd been working, in 2011 and worked as a

Cognac distiller. But his real passion was for

gin. Inspired since he was a teen by his mum

Nici who made fruit liqueurs from family

recipes and dad Michel to understand the

process and flavours of spirits, he'd long been

experimenting but it was in Cognac that he

had his Eureka moment. He developed a

honey-led gin but felt it wasn't quite there.

Remembering a pink peppercorn tree in the

family garden, he added some of the spicy

pods to another 8 botanicals (herb and plant

derivatives) in the mix – and a star was born.

In 2014 Miko met Ian, an English expat who

The Good Life France | 65
---
moved to Cognac in 2008 to do up a manor

house. Ian set up a soup stall in the local

market and when Miko offered to swap gin for

soup, Ian was so impressed he joined Miko's

newly formed company Audemus Spirits. The

taste of Pink Pepper Gin has wowed all who

taste it and the company has taken off but,

says Ian, production is still done in the front

room of Miko's house.

Ian explains how Audemus Spirits have

become one of the best gin-makers in France:

The Audemus Distillery is a little atypical

for the Cognac region, where we usually

encounter giant copper beasts which can

churn out hundreds of litres of their spirit

a day. In fact, there are only a handful of

distilleries around the globe that create the

way we do.

We operate a vacuum distillery out of Miko's

living room. Every botanical we distil is done

individually, with its own specific method.

The maceration time, botanical ratio,

alcohol ABV, distillation time, pressure and

temperature will all depend on the botanical's

character. If we're looking for delicate

flavours, everything will be done with a gentle

touch. If we're looking for spicier and stronger

notes, we will increase the intensity at which

we extract flavour.

Once we have distilled all the botanicals which

go into the gin – we blend them together in

their specific ratios with a French neutral grain

spirit and filter it lightly before bottling; giving

the different elements time to rest before

every stage of production.

Our form of distilling is at the cross-roads

between distillation, perfumery and chemistry

– and is an entirely empirical operation.

There are no textbooks that give us direction.

Everything is born from experimentation

and a love for the work we do. We don't just

make gin, we make all sorts of products –

liqueurs, bitters, hybrid spirits that don't fit into

any category and so on. Our methodology

changes depending on what we're making.

Being in the heart of the 'Spirits Valley' in

Cognac, we have numerous resources at

our fingertips, from coopers to traditional

distilleries. While we work with innovative

and new technologies to produce drinks that

are representative of our epoch, we maintain

absolute respect for the time, passion and

effort needed to create beautiful things.

Each new batch of Pink Pepper Gin is

dedicated to someone we love, the people

that have helped us on our journey. But we

also make different gins – Umami Gin is

another member in our permanent range (or

66 | The Good Life France
---
family) of products. And we make limited

edition gins (Hoppy, Dive Bar, Old Ma's) and

bespoke gins for other people (Anne Sophie

Pic Gin for example).

We only work with fresh, dried botanicals

– nothing artificial. Pink Pepper Gin has 9

botanicals: Pink Peppercorns and Cinnamon

from Madagascar, Italian Juniper, Cardamom

from Guatamala, Honey from the Cognac

region, Tonka Bean from Brazil and Vanilla

from Sāo Tomé. Plus two secret ingredients.

We work closely with all our suppliers and

ensure that each botanical used is grown

and harvested sustainably. For the vanilla

for example we have partnered with a small

co-operative on the tiny island of São Tomé.

Miko visited and invested in the co-op who are

trying to re-establish the vanilla production

following years of neglect. We receive a small

percentage of each crop as a return on our

investment.

The Good Life France | 67
---
It's so nice out...

Dear Holiday Home Owners,

Luxury bedding at professional prices

Contact hello@lachambreparis.com

for more details.

www.lachambreparis.com

68 | The Good Life France
---
We just won the highest award at the 2022

IWSC spirits challenge, a Gold Outstanding.

I'll quote the judges here: "Bold and bright,

here we have fantastic notes of black pepper

spice on the nose, alongside a charming

perfume of dried herbs. Fresh and crisp, yet

beautifully round. An absolutely fascinating

flavour profile and an exquisite example of its

kind."

For us it's all about experimentation, being

inspired by the things around us. Covert Fig

Leaf Liqueur is a perfect example of this,

it was inspired by the fig tree next door!

The recipes take months of tweaking and

development, and nothing leaves the Lab

(living room), however many times we have to

taste a product, unless Miko is 100% happy

with the finished result.

You can buy Pink Pepper Gin and all the

liqueurs online (and find details of outlets

around the world) at: audemus-spirits.com

Shaken and stirred…

Audemus Spirits tips for making a great Gin & Tonic: Fill the glass with as much ice as

you can possibly fit into it. When the ice melts it dilutes the flavours and can ruin a G&T, and

the more ice you put into the glass, the slower it melts. We love a 50ml shot of Pink Pepper

Gin and roughly twice the amount of premium tonic. And - experiment with garnishes – we

love something herbal, a bay leaf or sprig of rosemary for example. Citrus is also good –

pink grapefruit or a slice of lemon.

French 75 gin cocktail

French 75, also called a

75 Cocktail, or in French

simply a Soixante-Quinze

is a classic gin cocktail. It

is named for the French

75-millimeter gun used by

Allied troops, including,

according to one story,

Capt. Harry S. Truman.

Ingredients ; 1 tablespoon

sugar syrup, 1 tablespoon

fresh lemon juice, 50ml

(1oz) gin, Champagne,

lemon twist (optional).

Pour the lemon juice,

sugar syrup and gin into a

cocktail shaker then fill up

with ice. Shake well then

strain into a champagne flute. Top with champagne, leave to settle (as it will bubble

up) then fill up with more champagne. Swirl gently and garnish with a strip of lemon

zest if you like.

The Good Life France | 69
---
The UNESCO listed

treasures of

Burgundy-Franche-Comté

The region of Burgundy-Franche-Comté boasts traditional French gastronomy and world

class vineyards as well as castles, majestic churches and charming villages. It also shares

first place with the region of Occitanie (Languedoc-Roussillon, Midi-Pyrénées) for the

highest number of UNESCO World Heritage Sites…

70 | The Good Life France

Clos Vougeot
---
Burgundy's UNESCO World Heritage sites

The Climats du Vignoble de Bourgogne

Awarded UNESCO World Heritage List status in 2015, the Climats du vignoble de Bourgogne

(Burgundy) vineyards are recognised as a "cultural landscape" which embodies "the

combined works of nature and man and express a long and close relationship between the

people and their environment".

Don't be deceived by the term "Climat". It doesn't mean climate or weather in this instance,

instead it is a local word for a specific plot of vines with a precisely defined border, producing

wine with a unique taste and which bears its name. There are more than 1,200 Climats

across the entire listed area, between Dijon and the Maranges, to the south of Beaune. The

"Climats" are the result of a unique combination of a 2000 year old cultural heritage, a

diverse landscape and the know-how of the wine growers. The area features stone walls and

shelters in the vineyards, winegrowers' houses in the villages and monuments in the towns of

Dijon and Beaune.

climats-bourgogne.com/en/

Cistercian Abbey of

Fontenay

Founded in 1118, the Cistercian Abbey of

Fontenay is one of the oldest abbeys in

France and the only one founded by Saint

Bernard which has remained intact.

The abbey was officially recognised for its

valuable contribution to humanity in 1981.

It went through a brief transformation as

a paper mill during the French Revolution

– thanks to the Montgolfier family of

hot air balloon fame. Despite this and

having welcomed millions of visitors over

the centuries, it has retained a mystical

charm. Incredibly almost all of the original

buildings have survived intact including

the church, dormitory and refectory.

Saint Bernard designed the abbey to

represent the Cistercian principles of

simplicity, self-sufficiency and usefulness.

Its Romanesque lines are pure and

symmetrical with no decorative elements,

which gives it a uniquely harmonious look

and feel that's very spiritual.

abbayedefontnay.com

Fontenay

The Good Life France | 71
---
Basilica and hill of Vézelay

An hour west of Fontenay brings you to another UNESCO listed abbey, and town. The village

of Vézelay is a classified "Sanctuary city in France" and together with the 17 communes that

surround it, a classified 'Grand Site de France.' Winding streets are lined with Renaissance houses

and 17th and 18th century buildings with sculpted doorways. The Basilica sits atop a hill at the

end of the main street above the ramparts. Known as the "Eternal Hill" it has played its part in the

history of Burgundy, acting as a beacon to welcome and guide pilgrims and crusaders.

Shortly after its foundation in the 9th century, the Benedictine abbey of Vézelay claimed to

have acquired the relics of St Mary Magdalene and since then it has been an important place of

pilgrimage, not to mention a great spot to overlook the Morvan Valley.

destinationgrandvezelay.com/

Vezelay

Chapel Notre Dame Ronchamp

Chapel Notre-Dame du

Haut, Ronchamp

The chapel Notre-Dame du Haut, the

pilgrim's shelter, the chaplain's house and

the pyramid of peace, built by architect Le

Corbusier (1887-1965) have been listed as

UNESCO World Heritage sites since July

2016 along with 16 other Le Corbusier sites.

The chapel, built in 1955 was criticised by

some, while others recognised that it heralded

an architectural revolution. Le Corbusier

designed the chapel furniture and even

painted some pieces.

collinenotredameduhaut.com

72 | The Good Life France
---
Church of Notre-Dame,

La Charité-sur-Loire

La Charité-sur-Loire was once an

important port originally called Seyr.

However in the 11th century, the monks of

the local abbey grew such a reputation

for kindness to pilgrims that locals started

to call it La Charité – and the name

changed. The monks church was the

second biggest in France at the time, after

the mighty Abbey of Cluny. A fire in 1559

destroyed a large part of it though it still

has four of its five original naves, which

were rebuilt in 1695. The Church is famous

thanks to its sculpted decor: pillars,

capitals, lofty arcades and the bestiary

are all typical of Cluny's richly inspired

architecture. In 1998, Notre-Dame church

became a UNESCO World Heritage site

as it is a major stage on the "Route of

Santiago de Compostela".

lachairtesurloire-tourisme.com

Charite sur Loire

The Good Life France | 73
---
74 | The Good Life France
---
Franche-Comté's UNESCO World Heritage sites

Besançon

The 17th century Citadel dominated the

city of Besançon. Designed by Louis XIV's

military engineer Vauban in 1668, the citadel

and 11 other impressive military architectural

sites were recognised as a UNESCO World

Heritage Site in 2008. The fortifications cover

11 hectares and look out over the old town

and the Doubs River. The site is encircled by

ramparts with walkways and watchtowers,

step out on to the Chemin de rond to walk

along the citadel's outer ramparts though if

you've not got a head for heights you may not

enjoy it. Set atop a hill 100 metres above the

city, the walls are up to 20 metres high and 5

to 6 metres thick.

The Citadel is home to three museums: the

Comtois museum (local life and history), the

French Resistance and Deportation museum

and the Natural History museum.

citadelle.com

Besancon Citadel

Saline Royale (Royal Saltworks),

Arc-et-Senans, Doubs

Inscribed on the UNESCO World Heritage

List for 40 years, the Saline Royale of Arcet-Senans,

commissioned by Louis XV, is

the masterpiece of Claude-Nicolas Ledoux.

Built between 1775 and 1779, the factory was

dedicated to salt production from the briny

water of natural springs at Salins some 16km

away. A unique monument consisting of eleven

buildings, where almost the entire workforce

lived as well as worked.

salineroyale.com

Saline Royale © Landscape-drone

Grande Saline

Saltworks, Salins-les-Bains

The Grande Saline salt factory is one of the

most ancient industrial sites in France. Salt

was produced in this town for more than 1200

years. Sourced from natural saltwater springs,

saltier even than the Dead Sea, in the 13th

century an underground gallery was created.

The cathedral like tunnel is 165m long and

part of a vast industrial complex covering

two hectares which was built by the Dukes of

Burgundy in the Middle Ages to produce the

coveted 'white gold.'

salinesdesalins.com

Prehistoric pile dwellings Chalain and Clairvaux Jura

In 2011, 111 Prehistoric palaeolithic sites around the Alps were inscribed on

the UNESCO World Heritage List as being "representative of prehistoric

habitats" from 5000 to 500 BC, located near the main water bodies

in the Alpine arc. The Lake Dwelling is an "invisible cultural property."

These prehistoric dwellings were the first underwater cultural property to

be inscribed. Now buried and covered with water, the remains including

artefacts of every day life including food and fabrics, have been remarkably

well preserved in this waterlogged and oxygen deprived environment.

clairvaux-les-lacs.com

The Good Life France | 75
---
© Agen Tourisme

THE PRUNE

route of France

Kevin Pilley and Janine Marsh uncover the history of France's love of prunes!

76 | The Good Life France
---
You don't get any of that at the Louvre.

Or by staring up at the Sistine ceiling.

The New York Met and Tate London have

nothing on Musée du Pruneau on the Berino-

Matinet farm in Lafitte-sur-Lot in Lot-et-

Garonne.

"Awe" is the only word for it.

It's the only way you can describe the feeling

you get when you find yourself in the presence

of the world's two oldest prunes.

The star attractions and most prized of the

world's first – and so far only - prune museum,

are two elderly and very frail plums. They

are the oldest and most wizened prunes in

captivity. Experts believe them to be priceless.

Although they will never be auctioned. Food

safety regulations assure that.

"Le Musée du Pruneau Gourmand" houses

a unique collection of prune-related

paraphernalia. Its famous pickled relics,

which are kept in an airtight and thief-proof

cabinet to deter private collectors (yes really),

date back to 1857. They are local celebrities.

Although no longer edible, they are of great

historical significance.

The oldest prunes in the world

There is a museum near Agen in south-west

France that will move you in a way no museum

has moved you before.

You'll feel your body's bile production surge,

blood sugar level stabilize, ossification

parameters dramatically improve and

cholesterol rapidly plummet. You may even

feel the toxins being flushed away. The

relaxation is tangible. The soluble fibre

palpable.

The Good Life France | 77
---
Agen

Agen is the centre of France's plum-growing

and prune-producing industry. This is a region

that is steeped in prunes. Every September,

millions of purple, velvety soft plums are

shaken into huge, inverted umbrellas in the

Lot-et-Garonne region. Agen plums have a

high sugar content which allows them to fully

ripen on the tree – without fermenting around

the stone. Around 30% of them are made into

prunes. Agen produces an average of 45,000

tonnes of prunes each year.

"La Route du Pruneau" is an official

signposted tourist route which takes you

around prune-dependent villages like

Beauville, Bonaguil, Lacapelle-Biron,

Mouflanquin, Villeneuve-sur-Lot and the

medieval village of Pujols which has a weekly

market at which plums and prunes take

centre stage. Local prune farms offer tastings

to the passing trade. In some towns there

are "prune boutiques" selling a wide variety

of pruney things. Think prunes covered in

dark chocolate and perhaps a sprinkling

of Espelette pepper, cream of prunes, and

prunes immersed in rum, Eau de vie de Prune

d'Ente and Pruneaux à l'Armagnac. Ditch

those memories of prunes and cold custard

you may have had at school – prunes are

cool!

Agen holds an annual "Great Prune Show"

during the last weekend in August. The Town

Hall at Place Esquirol is bathed in prunecoloured

light. The main street is turned into

Le Boulevard des Pruneaux and prunes are

given away for free.

Prunes are everywhere. You half expect to go

to your hotel room and find a prune waiting for

you on your pillow.

At the shop of the Maitre Prunille factory

in Casseneuil they will tell you 'We French

treasure our prunes. They are in our blood.

Our mothers brought us up with prune bread,

glazed tarts, soft custard filled pastries, petit

fours filled with prunes. At Christmas, the

turkey is always stuffed with prunes.'

The surprisingly

fascinating history of

the prune

In French "une prune" is, in fact, a plum and

a prune is "un pruneau". The Agen prune,

which received its official appellation in the

eighteenth century, was first known as the

"Prune de Bordeaux" because it was shipped

in great quantities to England and Holland

from the port of Bordeaux.

Plum seeds first made their way to France

from China, transported by merchants via the

Silk Road. The Romans planted plum trees in

Gaul and Benedictine monks of the Abbey of

Clairac (in the Lot-et-Garonne) brought back

the plum trees that we know, on their return

from the Crusades in the 12th century. One

of the most popular varieties today is prune

d´Ente, which comes from the old French word

'enter', which means to graft, due to the monks

grafting the trees to make them bear fruit.

Prune cultivation developed in the 16th century.

Agen prunes are the only dried fruit to

have an European Union PGI (Protection

Geographical Indication Origine).

78 | The Good Life France
---
Prunes, prunes and

more prunes

Throughout the region of Lot-et-Garonne,

you will find prune dishes on menus in most

restaurants. Prune bread, prune tajines, potato

and prune vegetable dishes, and pretty much

everything from guinea fowl breasts, duck

and geese to mushrooms stuffed with prunes.

And for dessert, prune crumble with the local

Armagnac grape is rather delicious. They're

also popular at the bottom of a glass of hot

wine at Christmas.

To create a prune, cooking time is determined

by the plum's sugar level. Usually this is

between 18-26 hours at 75 deg C. Two

centuries ago they were dried over brambles,

then in a fournière, or bread oven. After

drying, called le machonnage, the prunes are

graded. It takes 3 kilos of plums to produce

one kilo of prunes.

At Confiserie Boisson sweet shop in the

backstreets of Agen, six generations of the

Boisson family has been bathing and boiling

prunes in big brass pots and oven-drying them

since 1835. The shop is crammed with prune

conserves, jams, bon bons and their speciality,

chocolate-truffle prunes with prune paste.

One visit to this shop, and you'll become a

regular…

Useful sites:

Musee-du-pruneau.com

en.destination-agen.com

See a recipe for

Far Breton, the most

popular prune cake in

France on page 114, and

sticky toffee prune

pudding on page 116.

The Good Life France | 79
---
Château de Digoine,

Burgundy

Have you ever wondered what it's like to live in a chateau? Nearly half of France's

44,000 heritage sites are castles in various states of repair and author Catherine

Scotto embarked on a journey to find out who lived in these medieval fortresses, and

what they were like inside…

The greenhouse adjoining the château, commissioned by Chabrillan in 1830

80 | The Good Life France
---
From the moment that Jean-Louis Remilleux took in hand the extraordinary feat implied in

its preservation, Digoine, nestling in its vast Burgundian demesne, can once again reveal its

splendor. The château invites us to take a nostalgia-free deluxe promenade through the universe

of this captivating art collector.

The north-facing Summer Dining Room, also referred to as the Buffet Room, is equipped with two devices for reheating and cooling dating from the eighteenth

century, which did service for both dining rooms. On the table can be seen a spectacular Temple of Love in bisque porcelain, a present from Napoleon to the

Empress Marie-Louise.

The Never-Ending Story

Remilleux is a lucky man. A former journalist

who currently produces the TV program

Secrets d'Histoire, he explains his success as

follows: Before buying Digoine in 2012, he

had owned the Château de Groussay (just

west of Versailles), the celebrated residence of

Charles de Beistegui, which he sold after ten

years of passionate loving care. In order to be

able to afford Groussay he had sold a small

eighteenth-century house in the Berry region.

He started from nothing—but not everything

can be explained by chance.

A great lover of decorative art, whose

expertise and aesthetic make him the envy of

his profession, he is a prudent collector whose

taste was formed at a very early age in the

flea markets of Paris and London, as well as

in auction houses. "I've done the only thing I

know how to do: please myself," he explains

by way of justification, accusing himself of a

bulimic urge to acquire the inordinate number

of books, items of furniture and works of art

that surround him. Jean-Louis Remilleux

has found in the Château de Digoine an

endless playground, endowed with hundreds

of hectares of land, a pond, and several

outbuildings, which he is restoring with gusto.

But this is a man for whom nothing is set in

aspic. In September 2015 he sold off part of

Digoine's furnishings to Christie's. "When I run

out of space, I sell something off. Rather like

being at the casino, where you cash in your

chips and leave. I am fond of my possessions,

but they are not human: they remain objects."

Within five years the empty spaces left by

The Good Life France | 81
---
82 | The Good Life France

https://www.cognac-no22.com/
---
Jean-Louis Remilleux never parts

company with these two jealously

guarded ceramic baboons

placed on the mantelpiece of the

small green drawing room-cumlibrary.

The clock, acquired in

the Portobello Road flea market

in London, also has sentimental

value. A portrait of the Duchess

of Bourbon (Mademoiselle de

Nantes, daughter of Madame

de Montespan and Louis XIV) in

mourning hangs on the wall.

these sales have already been filled up again.

The decor of each room is executed with

exquisite taste, the fruit of feverish trips to

antique shops, or the painstaking study of

auction house catalogs. Remilleux never

tires of telling the story of his finds; to follow

him through the maze of his château is to be

guaranteed protection against boredom.

Every piece of furniture, every painting and

every ornament provides the backdrop to

an enthusiastic digression, peppered with

hilarious anecdotes that cannot fail to amuse

the listener. A natural storyteller, he considers

himself both lucky and lazy, but is a man of

true culture notwithstanding, combined with

a strong will. "Ornaments, whether taken

separately or together, besides the fact that

they are poems, are a way for the connoisseur

to express himself in secret, to whisper secrets

to all and sundry," as Paul Morand aptly puts it

in L'Enfant de cent ans. Jean-Louis Remilleux's

residence is far more than a pretty interior.

Everything had to be started from scratch

in the case of Digoine; fortunately, the sale

of Groussay, coming as it did as a sort of

miraculous manna from heaven, rendered

the task that much easier. "I've been here ten

years now; who knows, perhaps one day I'll

grow tired of it. People are prisoners of family

The Good Life France | 83
---
ties. As for me, I didn't inherit a château and

can sell it if the fancy takes me. I like to vary

my pleasures."

A diversionary tactic? It's difficult to imagine

Jean-Louis Remilleux abandoning the

peaceful Charolais-Brionne countryside…

The Great Salon has beautiful views of the garden-level ceremonial rooms. The

architraves above the doors, executed in grisaille, are perfectly preserved. A

ceramic vase by Théodore Deck (1823–1891) is a nod to its neighbor, which dates

from the Second Empire. A collection of ornithological plates manufactured by

Darte can be seen on the console table.

Extracted from French Chateau Style: Inside France's Most Exquisite Private

Homes Text by Catherine Scotto; Images by Marie Pierre Morel. Published by

Prestel, 2022

The Story of Digoine

The lords of Digoine had owned the terrain

that bears their name since the eleventh

century. Following the marriage of Marie de

Digoine to Robert de Damas, the ancient

medieval castle began to take on the aspect

we recognize today. The Damas of Digoine

thought big: the construction had to be rock

solid. Two imposing towers protected the north

façade, while two others were constructed at

the end of the south esplanade, enclosed by

dry moats.

When the wealthy Reclesne family bought

the demesne in the eighteenth century,

the castle was turned into a château

de plaisance. Transformations, in which

architect Edme Verniquet played a key role

from 1750 on, lasted fifty years. The founder

of the School of Fine Arts in Dijon and a

friend of Buffon, Verniquet had participated

in the laying out of the Jardin des Plantes in

Paris, as well as designing several imposing

townhouses in the capital.

Throughout his career the architect was

responsible for designing a dozen or so

châteaux in his native Burgundy, including

that of Digoine. Under his supervision the

austere north façade was endowed with a

double colonnaded portico, a pilastered top

floor surmounted with a carved trophy (in

the eighteenth century the term "trophy"

referred to military exploits), and superb

wrought-iron balconies. The metamorphosis

reached its apotheosis with the entrance

to the south façade, adorned with two

high French windows and a neoclassical

pediment. The two medieval towers

surrounding the new construction were

graced with lantern domes.

84 | The Good Life France
---
The bed of

Madame Roland,

a society lady

guillotined in

1793, entirely

restored in a silk

workshop in Prelle

by the Burgundian

tapestry artist

Beccat. A medley

of vases can

be seen on the

mantelpiece,

together with

some Louis XVI

perfume-burners.

The first half of the nineteenth century saw

Digoine at its most splendid. Its new owners,

Count Aimé de Chabrillan, chamberlain to

Napoleon, and Countess Zéphyrine Olympe

de Choiseul Gouffier, heiress of Digoine,

continued the transformation, adding a

heated greenhouse, a library and a small

theatre in which Jacques Offenbach and

Sarah Bernhardt performed. The count,

whom Remilleux nicknames "Le Beistegui

de Digoine," had benches installed in

the vestibule, bas-reliefs, and consoles

supported by legs carved in the shape of

lions' paws, designed by Clodion, which the

Count had inherited: they came from the

monumental nymphaeum of the Hôtel de

Besenval (now the Swiss Embassy) in Paris.

Digoine was sold in 1908 to the Marquis

de Croix, who bequeathed it to his

descendants. When Remilleux bought the

château in 2012, it was empty. However, he

succeeded in buying some of its furniture

during a large auction organized by

auctioneers Beaussant-Lefèvre. Having

made further improvements with the

help of pieces from his own collection, he

embarked on an enormous restoration:

floors, paintwork, roof repairs, electricity,

and the installation of cast-iron radiators.

An additional, prestigious project is on the

horizon: the restoration of the small amateur

theatre, designed in 1842.

The soon-to-be-renovated tiny amateur theatre, whose curtain and decorations

were painted by Pierre-Luc-Charles Ciceri (1782–1868), chief scenographer

at the Opéra in Paris. He had considerable influence on the development of

scenography during the first half of the nineteenth century.

The fireplace in the Great Salon is surmounted by a Louis XVI clock and two

portraits of the Mademoiselles de Blois and de Nantes, two of the daughters

born to Louis XIV and Madame de Montespan.

The Good Life France | 85
---
What's

New?

Roundup of openings and major events

Chartres © Gojira photographie © Spectaculaires

Chartres-en-lumière, Chartres lights up!

Until 14 January 2023, the town of Chartres in the Centre-Val de Loire region, will light up

for the largest heritage highlighting operation in the world. The glorious Gothic Cathedral of

Chartres, the bridges and washhouses on the banks of the River Eure, the Montescot mansion,

church, theatre and museums – more than 20 monuments are included in this free and fabulous

programme. Chartres-en-lumière takes place every night from dusk to 1am until October 31,

then from dusk to 10.30 pm until 14 January. chartresenlumieres.com

© eric Barnabe Photographie

Dive into a new underwater

eco-museum, Cannes

The first underwater eco-museum in France has opened in

Cannes, off the island of Sainte Marguerite. British sculptor

Jason deCaires Taylor has created six statues made of an

ecological material to raise public awareness and promote

the return of underwater flora and fauna to this now protected

space where boat mooring is prohibited. To enjoy, a mask and

snorkel are all you need.

cannes-destination.com

86 | The Good Life France
---
Pressoria, Champagne

Pressoria is a new visitor centre dedicated to understanding the

production process, history and culture of champagne. Housed in

the former Pommery press in Aÿ near Epernay it offers multi-sensory

exhibitions as well as a tasting area with a view of the vineyard listed as

a UNESCO World Heritage Site.

pressoria.com

© BOEGLY+GRAZIA

© Sophie Spiteri

Aix-en-Provence Festival –

4-23 July 2022

The Aix-en-Provence Festival, one of the most

famous classical music and opera festivals

in France, takes place each year in July,

attracting major European orchestras and top

conductors.

festival-aix.com

Cité du Vitrail – Stained

glass museum, Troyes

Troyes in the Champagne region has been

known for centuries as the stained glass

capital of Europe. This year, the city, which

is also famous for its medieval quarter with

beautiful half-timbered houses and Gothic

churches with striking windows, will open

a new museum dedicated to stained glass.

The Cité du Vitrail will be housed in the

magnificently restored 18th Century Hôtel-

Dieu-le-Comte, with more than 32,000

square feet to showcase stained glass works

dating from the 12th to 21st centuries.

Cite-vitrail.aube.fr

Castle of Villers-

Cotterêts in Picardy, to

reopen to the public

Abandoned for decades, the only

Renaissance castle, built by French King

Francis 1 in the Picardy Region of Northern

France, Château Villers-Cotterets, will

reopen to the public in autumn of 2022.

It was here in 1539 that Francis 1

signed an ordinance which ruled that

the French language was to be used in

all administrative and judicial areas of

work and not Latin which had been used

for centuries. This link with the French

language has endured over the centuries:

The great medieval writer François Rabelais

stayed at the castle, Molière presented

Tartuffe there, and Alexandre Dumas was

born in Villers-Cotterêts.

Cite-langue-francaise.fr

Les Chorégies d'Orange,

Provence –

August 2022

Les Chorégies d'Orange, world famous

opera festival, is staged in the exceptional

location of the UNESCO listed 1st century

AD Roman amphitheatre at Orange. The

Chorégies d'Orange—with a program of

operas, ballets and recitals, is the oldest

French festival and the world's oldest

opera festival, dating back to 1869.

choregies.fr

The Good Life France | 87
---
Marathon du Médoc, Bordeaux: September 10, 2022

The Medoc Marathon is a festive and eye-popping event held every year on the second

Saturday of September. The run takes place through the vineyards of Bordeaux's Médoc area

and features wine and fine food stops! If you don't get on the running list for this year – add it to

your must-do for next year or cheer on from the vineyards…

marathondumedoc.com

© Yves Mainguy

Trafic%5D-%5Bthegoodlife_france%5D-%5B300x-

250%5D-

88 | The Good Life France
---
American Film Festival, September 2022

The American Film Festival highlights the diversity of American cinema, from major Hollywood

productions to independent films. It is the only European festival of this scale to open its doors

to the public, presenting each year more than a hundred films and attended by major American

actors and stars.

festival-deauville.com

2023

Rouen-Armada of Tall

Ships: June 8 -18, 2023

The largest sailing ships in the world will gather

in the port of Rouen in Normandy, in June

2023, joined by warships and barges and

nearly 8,000 sailors. Enjoy free entertainment,

access to the ships and demonstrations, plus

concerts and fireworks. This major event

takes place roughly every 4 years – and it is

unmissable.

armada.org

Coming soon....

The Good Life France podcast

Everything you want to know about

France and more...

thegoodlifefrance.com

The Good Life France | 89
---
Your Photos

Every weekend we invite you to share your photos on Facebook – it's a great way for

everyone to "see" real France and be inspired by real travellers snapping pics as they go.

Every week there are utterly gorgeous photos being shared, and here we showcase just a

few of the most popular. Share your favourite photos with us on Facebook, the most 'liked'

will appear in the next issue of The Good Life France Magazine

Spring in Paris by M France

With a whopping 26000 likes on

Facebook, this gorgeous photo really

captured our hearts…

90 | The Good Life France
---
Mont-Saint-Michel by Basia Michalowska

The mysterious beauty of the 'Pyramid of

the Seas' is mesmerising…

Sault, Provence by Marianne Furnes

You can't help but fall in love with this

gorgeous pink door…

Join us on Facebook and

like and share your favourite

photos of France...

The Good Life France | 91
---
Tours de France

Travel is back! And the early signs for

2022 are that tourism in France is surging.

Frankly, we're not surprised, France has

it all. Some of the world's most iconic

landmarks, outstanding gastronomy, art,

architecture, beaches and ski resorts,

rivers and canals just made for cruising, the

Mediterranean Sea, historic cities, gorgeous

little villages and a simply staggering

amount of history.

So if you're dreaming of visiting France

here are some of our top tour & destination

recommendations:

Ophorus Tours of France

Family run Ophorus Tours, one of the most

renowned and popular tour companies in

France, adds Provence to its impressive list

of tour destinations. They have a huge range

of half and full day trips with the best English

speaking guides in the business. Private tours,

group tours, excursions and longer tours of 5

days take in the very best of Provence.

Ophorus.com

'Real' South of France Tours

Occitanie – formerly Languedoc-Roussillon

and Midi-Pyrenees – is to many the real south

of France. Full of hidden gems and home to

captivating Carcasssonne, the vineyards of

Saint-chinian where some of the very best

wines in France are produced, the historic

town of Perpignan and more. The Real South

of France Tours 6 and 7 day small group tours

take you to the heart of this area and reveal its

innermost, delicious and fascinating secrets.

Discover real France with 'Real' South of

France Tours…

realsouthoffrancetours.fr

92 | The Good Life France
---
© Helwin Goetzinger

CroisiEurope – the best

for cruises

The largest cruise operator in France,

CroisiEurope's cruises are unbeatable. Sail

the rivers, canals and Mediterranean Sea

and discover the culture, gastronomy and

cultural wealth of France. Enjoy all-inclusive

life onboard with the finest food and wines and

fabulous tours that take you to the heart of

each destination. No stressing, no driving, no

wondering how to fit in all the glorious must-see

places or how to reach the off the beaten track

gems, CroisiEurope's cruises and excursions

take you to the very best of France – in style.

croisieurope.co.uk

Perigourmet – a true taste

of Dordogne

Take a gastronomic tour of Dordogne by 2CV

and discover hidden gems, delicious bakeries,

regional specialities, fabulous restaurants,

cooking classes with local chefs, wine tasting

and more. And they also offer a 2CV and driver

for half or full day excursions to discover the

historical and prehistoric heritage of Dordogne,

villages classified among the most beautiful

villages in France, unspoiled nature and the

region's culinary treasures.

perigourmet.com

Goût et Voyage Winter

Holiday Tour in Provence

Planning for an end of the year seasonal treat?

Join Goût et Voyage's Winter Holiday Tour of

Provence. It's a small group tour that features

fabulous food and wine, truffle hunt, santon

markets, beautifully decorated towns and

villages including arty Saint-Rémy-de-Provence

Arles and Aix-en-Provence, cooking lessons with

chefs and holiday shopping. Seasonally sublime.

goutetvoyage.com

The Good Life France | 93
---
What's the Best Way to

Learn French Online?

With a wealth of online resources and tools, there has never been a better time to learn

French online. Studying French through websites and apps allows you to study little-andoften,

wherever you are.

Top Ten Tips to Learn French Online

1. Study with an online French graded

newspaper, such as Newsdle.

Studying French with graded news is a

great way to learn through engaging,

authentic content. With new lessons

published each day across website an

app, there's something for everyone!

2. Spaced repetition (SRS) software.

SRS flashcards are a great way to learn

and reinforce vocabulary. You'll be tested

more on words you remember less.

Tip: organise your words into groups to

lighten the load!

3. Feeling brave? Switch your email and

phone to French system language!

Why not switch your email and

phone settings to French? As these

are platforms that you're already

familiar with, you'll get exposure

to new vocabulary without feeling

overwhelmed.

4. Meet a French language partner

online.

Studying with language exchange

partners is a great way to practice

your French language skills and make

new friends in the process. There are

loads of online platforms to help you

find someone suitable. Just remember

to take steps to stay safe online!

5. Get an online tutor!

Study with the help of a teacher

without needing to leave your home.

This is a great option if you don't get

so much exposure to French language

in your daily life.

6. Watch French TV and films online.

You can use free tools such as

YouTube or subscription service such

as Netflix to learn French. This is

a great way to expose yourself to

accents from across the Frenchspeaking

world!

94 | The Good Life France
---
7. Listen to French podcasts on streaming

platforms.

A great option if you're on the go! Study

French as you travel, exercise, or relax

through podcasts!

8. Try a learning French browser

extension.

Hover over words on websites for

immediate translation for an easy win!

9. Use an online dictionary tool.

Put your words and texts into an online

dictionary tool to help decipher the

meaning. Even better, find one that links

to your SRS flashcards to build the new

words into your daily study routine!

10. Learn to sing French songs!

Learning songs is a great way to learn

vocabulary in context and have fun when

learning French. Get those endorphins

flowing with a French karaoke session!

If you want to learn French through a

graded online newspaper, why not try

Newsdle? There are new lessons every

day from beginner to advanced levels,

as well as loads of tools to support your

language learning journey!

Use discount code goodlife25 for 25% off initial

transaction amount through the website at

newsdle.com

The Good Life France | 95
---
MOVING TO FRANCE?

ClickMoves.com can help. They take care of all

the paperwork, the packing and your precious

things. Get a free quote and expert help.

FOR MORE INFORMATION CONTACT

CLICKMOVES.COM - ENQUIRIES@CLICKMOVES.COM

96 | The Good Life France
---
LIGHTS …

CAMERA …

ACTION –

France in film…

The Good Life France | 97 Chamonix
---
France has huge allure for movie producers, let alone actors lucky enough

Paris, like a film set © Peter Jones

Seduced by wonderful architecture, beautiful

cities and towns and wonderful countryside,

France provides the perfect movie location.

Add in the glorious golden light of Provence,

seascapes perfect for Bond girls, mountains

for feats of bravado and derring-do, châteaux

providing the most romantic of settings -

France deserves its own billing!

Then there's the food – and wine – that every

film shot in France seems to focus upon at

some stage. The 100 foot Journey with Helen

Mirren shot in the Midi Pyrénées was all about

cuisine and a restaurateur's quest for an

elusive second Michelin star!

Perhaps the attraction of France as a movie

location came when French films started to be

shown overseas in the 50's and 60's. I mean

just look what Brigitte Bardot did for St Tropez

in 1956 with And God created Woman. In

1964, Les Parapluies de Cherbourg (filmed in

Normandy) launched the career of Catherine

Deneuve with her luminous beauty, and was

nominated for 5 Academy Awards in the USA.

Iconic films featuring

Paris

Audrey Hepburn enchanted us in several

movies, including the iconic Charade – a

love story set in Paris featuring Cary Grant.

Although her stunning apartment, beside

the Parc Monceau, is actually a museum,

the Jardins des Champs Elysées and the

Palais Royale also feature as well as a bateau

mouche along the Seine by night. It's the

98 | The Good Life France
---
to film here says Joanna Leggett…

perfect introduction to this wonderful city -

with timeless Givenchy couture to boot.

In the wonderfully quirky Amélie with Audrey

Tatou, Paris, and Montmartre in particular,

was almost a character in its own right. La

Vie en Rose included a visit to Edith Piaf's

favourite restaurant, Julien, an Art Nouveau

brasserie in the 10th arrondissement. And,

while we're talking Parisian bistros, La

Renaissance in the 18th has featured in almost

a dozen films including Tarantino's Inglourious

Basterds as well as Stuntwoman starring the

late, great, Jean Paul Belmondo.

Then there's Le Grand Vefour restaurant

in rue du Beaujolais, where time seems to

have been suspended since the 19th century.

It's been frequented by everyone from

Bonaparte to Coco Chanel. It played its part

in the film Coco before Chanel as well as in

Midnight in Paris, which spotlights a veritable

smorgasbord of gorgeous Paris locations.

Time for Action!

Time to move south to Marseille – perhaps

first put on the entertainment map by

Alexandre Dumas who set the Count of

Monte Cristo in the Château d'If, on a rocky

© Wazim

The Good Life France | 99
---
Villefranche-sur-Mer © Peter Jones

island off the coast. In 1971, Marseille was

the location for The French Connection

starring Gene Hackman. A few years later,

also speeding through Marseille's streets, was

Luc Besson's action comedy Taxi, where a

pizza delivery boy raced around with reckless

abandon! And in Love Actually, Le Bar de

la Marine in Marseille is where Colin Firth's

character proposes to Aurelia.

Meanwhile the world's favourite spy 007 had

many visits to France. Sean Connery's Bond

visited Cap d'Antibes during Diamonds are

Forever. Various locations along the French

Riviera have featured, including a motorcycle

chase between Bond and the SPECTRE

baddies with stunning scenery courtesy of

Menton and Villefranche-sur-Mer. Other

Bond locations include the magnificent

chateau at Vaux le Victome (just an hour

south of Paris) in Moonraker. He also visited

the stables at Chantilly. Moving on a few

years Pierce Brosnan got up to all sorts of

hair raising tricks along the Riviera before

dodging real life avalanches during extreme

skiing in Argentière near Chamonix. Connery,

a confirmed Francophile, even bought a

magnificent villa overlooking Nice!

The south of France in film

Long after the book A Year in Provence

first enticed readers to the joys of southern

France, echoes of Peter Mayle's prose linger.

One of his later books was the basis of

A Good Year filmed in the Luberon close to

where Mayle and director, Ridley Scott, had

homes. Locations included the Château la

Canorgue in Bonnieux, Cucuron and Gordes

where Russell Crowe waited at table.

Hugh Jackman trekked to freedom in Les

Miserables around the beautiful village of

Gourdon with incredible views out to the Med!

After Pride and Prejudice many women

waited a long time for Colin Firth to dive

into another lake and he actually did

in the Var, just outside Vadauban, for

Love Actually. However one of the more

memorable films made around here must be

Hitchcock's To Catch a Thief starring Cary

Grant and Grace Kelly, who met her Prince

in the south of France while attending the

Cannes Film Festival. The famous film fest is

a chance for the great, the good and many

wannabe's to hobnob and promote their

offerings each May.

100 | The Good Life France
---
5

stunning locations which have

featured in famous films and where

you may find your dream home:

Brittany: Back in the '50's Monsieur Houlot

(aka Jacques Tati) famously dipped his toes in

the sea on the coast of Morbihan. Meanwhile

Kirk Douglas flexed his muscles in the Vikings

at Fort la Latte, Cap Frehel Cotes d'Armor.

Homes for sale Brittany.

Christopher Nolan's blockbuster Dunkirk was

filmed largely on location on the beaches of

Dunkirk in Nord-Pas-de-Calais. The closest

area to the UK, separated by just 21 miles of

English Channel, Pas-de-Calais offers the

quintessential French lifestyle.

Homes for sale Pas-de-Calais

Good enough for Bond: Chamonix in Haute-

Savoie is close to where The World Is Not

Enough was filmed and this area really does

have star quality.

Homes for sale in Haute-Savoie

Ridley Scott's first film "Les Duellistes", was

shot in Dordogne, in particular between Les

Eyzies and the beautiful medieval town of

Sarlat.

Homes for sale in Dordogne

Chocolat, the deliciously romantic film based

on Joanne Harris's book of the same name

featured Flavigny-sur-Ozerain, Cote d'Or, in

Burgundy. And though the chocolate shop

doesn't exist in real life, the area offers a sweet

taste of the good life in France.

Homes for sale in Burgundy

Brittany, © Bretagne Toursme

Saint-Tropez ©Dave McNeill

Chateau de Vaux-le-Vicomte

Sarlat © Jim Steinbach

The Good Life France | 101
---
How to become a

France

No matter which French visa you arrived

on, there may come a moment when you

realise it will expire in a few months and you

don't want to leave.

Perhaps you just came over on a 6 month

short stay visa for an extended holiday. Or

maybe you opted for a 12 month long stay visa

to see if you like the lifestyle.

Either way, it has all gone too quickly. You've

fallen in love with France and want to make it

your permanent home, but you're not sure how

to go about it.

That's where we can help

French Connections HCB was set up a

few years ago to help people from around

the world to navigate the administrative

complexities in moving to France. Since then,

we've helped thousands of people move and

settle permanently over here. And of course,

the first step in achieving that is to apply for a

residency permit.

Let's start with the

good news

If you are here on a 12 month long stay visa,

you'll be able to apply from France without

leaving the country. You just need to start the

residency application process two months

before your visa is due to expire.

If you are here on a short stay 6 month visa,

you will need to leave France and apply for a

12 month long stay visa to allow you to come

back. Once here, you will be eligible to apply

for residency before that 12 month visa expires.

Is it difficult to apply?

Applying for residency is quite a long process

but almost always successful if you meet the

necessary criteria and produce the correct

documents.

If you don't have the time or confidence do it

yourself, we offer a Residency Application service

that takes care of the entire process start to finish.

This is how it works

Firstly, we'll invite you to talk to our friendly

relocation specialist, Diana. She will discuss

your current status with you to make sure that

all the requirements are met before you start

your application.

We'll then ask you to provide the documents

required by the French administration. Some

have to be the original, so it is always a good

idea to make a copy before handing them over.

Your originals will be returned to you by the

French administration at the moment of your

interview, which is the last step in the process

and much less scary than it sounds!

Typically, you will need to provide:

• Your passport

• Proof of French residency, such as a recent

utility bill that is less than three months old

• A copy of your Private Health Insurance /

Social Security Number/ S1

• Proof that you have sufficient funds to

support yourself

Once we have everything we need, we will

then apply online on your behalf, upload the

documents and track your application as it

progresses through the administrative system.

102 | The Good Life France
---
esident in

Once your dossier has been accepted you

will be invited to an appointment at your local

Prefecture. Here you'll be asked to provide your

fingerprints electronically, plus 3 passport-style ID

photos and any additional information they need.

After that there is nothing more to do. You will

receive your residency permit in the post a

couple of weeks later, unless you are invited to

collect it in person from the prefecture.

How long does it all take?

From start to finish, the residency application

process can take several months so don't worry

if it drags on. This is completely normal!

The next steps

If you'd like to find out more or talk about how

we can help, simply book your FREE initial

consultation with relocation specialist Diana

via our website frenchconnectionshcb.com

Alternatively, you can reach her at

diana@frenchconnectionshcb.com

We look forward to talking to you about

becoming a permanent French resident!

The French Connections HCB Team

NEW FRENCH PERSONAL

ASSISTANT SUBSCRIPTION

SERVICE

If you need on-going support

having already moved to France,

our monthly subscription service

could be just what you need.

Moving to France, made easy

Relocating to a new country can be frustrating and

sometimes stressful, especially in a different language

For just 89€ per month, it

will save you time and limit

frustration while you enjoy your

life in France.

Contact us today for more

information.

BUT DON'T WORRY

French Connections HCB is your one-stop administration partner in France.

HOUSE PURCHASES • RESIDENCY DOCUMENTATION • VEHICLE REGISTRATION

PROCESSING • DRIVING LICENCE EXCHANGE • BUSINESS CONSULTANCY

FINANCIAL ADVICE SERVICES • PROPERTY DEVELOPMENT ADMINISTRATION

...and a whole host of other support services.

TO FIND OUT MORE ABOUT HOW WE CAN HELP OR TO

BOOK A FREE 15 MINUTE CONSULTATION, GO TO

FRENCHCONNECTIONSHCB.COM OR SCAN THE QR CODE

info@frenchconnectionshcb.com

+33 1 85 65 74 98

frenchconnectionshcb.com

The Good Life France | 103
---
Beacon Global Wealth Management

Standing out, amongst the best

UK and French financial advice

Tax and investment advice

Inheritance advice

Reviewing pension arrangements

It's simple...

We care about you and your money

Our vision is to build a long term strategy

to take care of your financial requirements

for your life in France.

Please contact

Our UK office 0044 33 3241 6966

enquiries@bgwealthmanagement.net

https://beaconglobalwealth.com/

104 | The Good Life France
---
What is French Gift Tax

("Droits de Donation")?

Paul Flintham, an International Financial Advisor at Beacon Global

Wealth Management explains how French Gift Tax works…

In simple terms, with French gift tax the donor

makes the gift. The donee receives the gift and is

responsible for paying any tax that is due (droits

de donation).

Residency

If the donor is tax resident in France, tax is payable

on all worldwide assets transferred in excess of the

allowances available.

If the donor is non-resident, but the donee has

been a tax resident of France for at least six out of

the last ten years, liability arises on all worldwide

assets transferred to the donee in excess of the

allowances available.

If both donor and donee are non-resident, tax is

payable on the gift of real estate only in France.

Relationships

The gift free allowances are only for family

members and are variable according to the

relationship to the donor. The donor must also be

under 80 years old, and the donee over 18 for the

allowances to apply.

A gift made every 15 years may be made free of

gift tax, provided it does not exceed the exemption

limits (below). If the donor dies within the 15 years

the gift may then incur a tax penalty.

The exemption limits in 2022 are as follows:

• Spouses/Partners – €80,724 between

spouses, PACS and those in civil partnership.

• Children – €100,000 from each parent to

each child (or child to parent).

• Grandchildren – €31,865 from each

grandparent to each of their grandchildren.

• Brother/Sisters – €15,932 to brothers and

sisters.

• Nieces/Nephews – €7,967 to nieces and

nephews.

In addition to these allowances, it is also possible

to make tax-free family gifts in cash (dons

familiaux de sommes d'argent) of up to €31,865

to each child, grandchild, or great grandchild

from each donor, or, in the absence of these

descendants, to a niece or nephew.

These allowances can be cumulative so, for instance,

a child may receive gifts from parents, grandparents

and great grandparents individually, without one

affecting the exemption limits of the other.

Survivorship Period

Even though a gift may be made tax-free every 15

years, if the donor dies within the 15-year period

then the gift is added to the total value of the

estate for the calculation of inheritance tax. This

process is called the 'rapport fiscal.'

The child allowances for inheritance tax are the

same as those for gift tax. If gifting real estate

then the situation can be made easier by applying

the 'reversionary interest' in the property, whilst

the donor retains the 'life use' of the property.

If the gifts made are above these exemption limits,

then tax is applied rom 5% (less than €8,072 up

to 20% (from €15,932 - €552,324).

For more details and information on how to

manage, maximise and protect your assets for you

and your family, contact

enquiries@bgwealthmanagement.net

beaconglobalwealth.com

This communication is for informational purposes only based on our

understanding of current legislation and practices which is subject to

change and is not intended to constitute, and should not be construed as,

investment advice, investment recommendations or investment research.

You should seek advice form a professional adviser before embarking on

any financial planning activity. Whilst every effort has been made to ensure

the information contained in this communication is correct, we are not

responsible for any errors or omissions.

Beacon Global Wealth Management are members of Nexus Global

(IFA Network). Nexus Global EU is a division of Blacktower Financial

Management (Cyprus) Limited (BFMCL) and Blacktower Insurance

Agents & Advisors Ltd (BIAAL). Beacon Global Wealth Management is an

Appointed Representative of BFMCL which is licensed and regulated by the

Cyprus Securities & Exchange Commission (CySEC) - Licence No. 386/20.

Beacon Global Wealth Management is an Appointed Representative of

BIAAL which is licensed and regulated by the Insurance Companies Control

Service (ICCS) - Licence No. 5101

The Good Life France | 105
---
The Wine Expert's

GUIDE TO THE

Languedoc

106 | The Good Life France
---
Situated on the south coast of France,

Languedoc is one of the biggest wine

producing regions in the world. Annual

production is the equivalent of 1.8 billion

bottles. That's around 30% of the output

of wine produced in France, and more than

the whole of Australia's production. Wine

has been made here since the 5th century

BC when the Greeks introduced vines to the

area. The wily Romans expanded production,

knowing a good thing when they drank it.

It was also their practice to plant vines as

they expanded throughout France – they

mixed wine with water because the alcohol

kills microorganisms, which helped to keep

the army strong and healthy. The prolific

production of wine here doesn't mean lower

quality wines. If you've not tried Languedoc

wine then you really are in for a treat, and if

you have, then you're probably a fan already.

In terms of quality, Languedoc's wines are

considered to be among the best in the

world, especially for their red (around 60%)

and rosé (around 19% and more than the

whole of Provence) wines, however, quality

white, sweet and sparkling wines are on the

rise. Languedoc boasts varieties such as

Syrah, Grenache, Mourvèdre, Roussanne,

Marsanne and more! And the area is the

largest producer or organic wines in France.

Many of the wineries are small family holdings

that date back generations and that handing

down of knowledge is part of what makes

these wines so very special. Fermenting

different grape varieties separately – plus the

art of then assembling them – and growing

The Good Life France | 107
---
methods, shape Languedoc AOCs, producing

structured, full-bodied wines.

Among the 23 Languedoc appellations

that unfurl across 40,000 hectares of

vineyards, no two wines are alike. The only

common denominator since antiquity is the

Mediterranean. The Mediterranean is to thank

for the mild, bright winters, the russet of hot,

dry summers, the fragrance of scrubland and

the winds carrying the sea air.

Nestled in the heart of the region of

Languedoc-Roussillon the wine appellation

Saint-Chinian (AOC Saint-Chinian) is one

of the best areas for wine. Spread across

some 3,300 hectares and home to 450

wine producers including 110 wineries and

8 cooperatives, there are rich pickings here

for the wine connoisseur with an abundance

of different grapes, blends and processes.

Historically producing reds and rosés but

more recently producing classified whites too,

whether you're a serious and informed wine

drinker or just an enthusiast starting out on

your wine journey – the wines of Saint-Chinian

are really pretty much unbeatable.

And what about the area? Languedoc takes

in the Roman town of Nîmes, with hints of the

Camargue and the Cévennes. The arty city

of Montpellier with its historical heritage and

Béziers, a town that has endured 27 centuries

of history peppered with periods of prosperity,

revolt and massacre. Narbonne, described as

a little Rome, and unforgettable Carcassonne,

boasting the biggest medieval fortress-town in

Europe.

It can get very hot here in the summer months.

Autumns and springs are mild, although

morning frosts are sometime seen into the

month of April. Winters are mild and sunny with

temperatures barely dipping below 0°C. Rainfall

levels are low (among the lowest in France in

some communes) and the Tramontane wind is

omnipresent, drying the vines and warding off

disease. It is an ideal climate for growing vines.

But the Mediterranean's grasp is reduced in

the far west of the region, in the appellations

of Cabardès and Malepère in particular, where

the climate here is transitional: the mild Atlantic

meets the intense Mediterranean.

And the terroir (that impossible to translate

French word which refers to the soil and growing

conditions) differs vastly across the region,

depending on ancient geological formations.

In some parts terraces of smooth pebbles,

sandstone and marl, in others you'll find

limestone and shale, clay soil, pudding stone,

sandy soil, molasses, etc. It gives wines grown

here unique qualities and a whole range of

very different tastes, with countless aromatic

variations – sometimes even within the same

appellation. The soils play a very important role

because they dictate what grape varietal is

grown, you see grapes are very picky about heat

and water retention and have very demanding

preferences on what kind of soil type they like

best! And because of the large array of soil

types, Languedoc-Roussillon can offer many

different wines to please every sipper.

Shop Wines from Languedoc with

SomMailier.com, the French Wine Club

in the USA, and get 10% off your first

order with the code TGLF2022

108 | The Good Life France Photo: © Caroline Faccioli
---
Did you know: Ask the Wine Man…

Why should you store wine on its side?

It's a good question. After all, go into most shops and you'll see

the vast majority of bottles of wine standing upright on the shelf.

The answer is simple – wine stored on its side keeps longer – if

it has a cork stopper. In a shop, it's assumed that there will be

rapid turnover and therefore it's considered ok to stand it up

which makes it easier for shoppers to see and buy. But at home,

you might not drink it straight away. In fact you might intend to

keep it for months or much longer. And if that bottle has a cork

stopper, then the cork can dry out, then it will shrivel, dry out

and start breaking, which lets in air and ruins the wine you've

been waiting to enjoy.

If the wine has a screw-cap top or plastic stopper, which is increasingly common these days.

There's no need to store the bottle on its side.

However it's sealed, you should store your wine in the dark as much as possible as UV rays

from sunlight can damage wine's flavors and aromas!

Santé! Cheers!

Laurent, AKA the Wine Man, SomMailier.com

The ONLY

Authentic

French Wine Club

in the U.S.

The Perfect Gift:

Exclusive Boutique

French wines!

somMailier.com

The Good Life France | 109
---
Your one stop shop for the finest quality

food from Britain and Ireland.

WE OFFER THE LARGEST REFRIGERATED HOME DELIVERY

NETWORK ACROSS MAINLAND EUROPE.

Quality Fresh Beef, Pork and Lamb, Cheeses, Clotted Cream,

Fresh Cream, Pies, Sausages, Bacon, Pudding, Tea & Coffee, Sauces,

Crisps & Chocolate, plus Vegetarian and Vegan products

Free home delivery France, Belgium & Luxembourg

baconbythebox.com
---
Easy cheesy

tear and share

baked camembert

in bread

This is a super easy to make dish, plus it's

absolutely perfect for sharing, has plenty

of wow factor and takes next to no time to

prepare!

INGREDIENTS

I round loaf – sourdough, rye, brown or white

(about 400-500g, a large loaf)

250g whole Camembert

3-4 garlic cloves

Few sprigs of thyme leaves

Sprig of rosemary

2 Tablespoons white wine (optional)

2 Tablespoons runny honey

3 Tablespoons Olive oil

METHOD

Preheat the oven to gas 4, 180°C, fan 160°C.

Slice the top of the loaf off (like a lid). Cut

a round hole in the middle of the loaf, deep

enough to pop the whole round of Camembert

in. Keep the cut pieces of bread to one side.

Score the top of the bread across the top.

Unwrap the Camembert and place in the hole

in the bread, then pierce the top of the cheese

all over with the tip of a knife. Place on a

baking sheet.

Mix the garlic and olive oil and pour over the

cheese and into the scores of the loaf. Push

the thyme and rosemary into the holes in the

cheese. Pour the wine over the cheese and

drizzle the honey over the cheese and bread.

Tear the remaining pieces of bread (from

step 1) into chunks. Scatter on the baking tray

and drizzle with olive oil.

Bake for 20-25 minutes, until the bread is

golden and toasted and the cheese is melted

and scrumptiously gooey.

Slice the bread from the outside in and use the

crispy croutons for dipping into the cheese.

The Good Life France | 111
---
Chicken with

40 cloves of garlic

112 | The Good Life France
---
Yes – you read that right. 40 cloves of

garlic. Apparently it was popular in the old

days when cooking an old chicken. The

great American cook Julia Childs liked to

cook three heads of garlic whole leaving a

buttery and sweet taste and "still kissable".

When cooked, squeeze the soft flesh of the

garlic and spread it on bread, big hunks of

baguette, to enjoy with the chicken and

the juices…

There are loads of different versions

for this recipe, add cream, or cognac,

some use pieces of chicken. This recipe

is an easy to make version using a whole

chicken. And it's utterly scrumptious.

Serves 4

INGREDIENTS

40 cloves of garlic

1 chicken

2 tablespoons olive oil

250 ml dry white wine (1 cup)

One onion

One carrot

2 stalks celery (leaves can be left on)

2 sprigs or teaspoon rosemary

4 sprigs or teaspoon thyme

Tablespoon chopped parsley (optional)

METHOD

Preheat oven to 400°F/200°C (Gas Mark 6).

Peel the garlic.

Pop half of the chopped celery, rosemary,

thyme, parsley and 6 cloves of garlic inside

the chicken.

Slaver the chicken with oil and season well.

Scatter 10 cloves of garlic in the base of

a cooking dish with the rest of the celery,

rosemary and thyme, plus roughly chopped

carrot and onion.

Place the chicken in the dish, add the wine

to the dish. Cover and bake for about 1hr 20

minutes. The juices should run clear when you

pierce the leg with a skewer.

Lift the chicken out and leave to one side.

Strain the juices into a pan and boil for a

couple of minutes to thicken it.

Serve the chicken with some of the garlic

pieces and the juices. Spread the garlic over

bread, or toasted bread. You can also add

the garlic to soups and stir fries for a burst

of flavour. You can keep it in a small, sealed

container in the fridge for up to 2 weeks.

The Good Life France | 113
---
Far Breton

A rich custard and prune tart

by Kit Smyth

114 | The Good Life France
---
Prep Time: 15mins +

overnight rest time

Cook Time: 1hour

Total Time: 1hour 15mins

(+ overnight rest time)

Portions: 8

INGREDIENTS

500ml / 2 cups whole (full-cream) milk

3 large eggs

125g / ½ cup sugar

125ml / 5tbsp butter, melted and cooled

¼ teaspoon vanilla extract

Pinch salt

95g / ¾ cup all-purpose flour

180 / 6oz / 1 cup prunes, pitted

(Agen prunes are perfect!)

120ml / ½ cup water

85ml / 1⁄3 cup raisins

60ml / ¼ cup Armagnac, Cognac, or Pineau

Powdered sugar

Far Breton has been a French favourite,

especially in Brittany, for hundreds of years.

The word 'far' comes from the Breton "farz

forn" which literally means far in the oven. The

origin of this rich custard tart dates is said to

date to the 18th century when it was dished up

is a salty version and without prunes, alongside

meat. According to a Breton baker we spoke

"Prunes were widely used in Breton seafarers

communities because they are easily stored and

are an ideal nutritional asset to keep you going

on a long journey. Adding them to this already

popular dish with sailors was a good way to

enhance nutrition."

Bretons recommend a glass of cider goes well

with Far Breton!

METHOD

Prep ahead:

Part 1: Custard: In a bowl or jug or blender,

process the eggs, melted butter, milk, sugar,

salt and vanilla until smooth. Strain the

liquid through a medium sieve into a clean

container, and chill in the fridge overnight.

Part 2: Prunes: Place the prunes and water

in a pan and cook on a medium heat until the

prunes start to soften, about 10-15mins - most

of the water should boil away. Once the liquid

is reduced, pour in the alcohol, and using either

long-stemmed match or gas-lighter, from a

safe distance, ignite the warmed spirit to cook

off the alcohol - give the saucepan a light jiggle

to ensure all of the liquid is reached.

Once cooled to room temperature, transfer to

a container and store in the fridge overnight.

Main event:

Heat the oven to 180˚C/375˚F/Gas Mark 4.

Butter a 20cm/8inch diameter and 4-5cm/2inch

high sided cake pan – not one with a loose

bottom! Line the bottom, with greaseproof

baking paper, and butter again. Then dust the

inside of the baking pan lightly with plain flour.

To assemble your Far Breton, remix the

custard to make sure it's all combined evenly

and pour into the prepared baking pan. Tap

the pan lightly on the kitchen countertop

once or twice to dislodge any air-bubbles.

Roll the prunes in flour (so they don't sink to

the bottom), and carefully transfer the filled

baking pan to the oven: If carrying a semi-full

baking tray is daunting, place it on a larger

baking tray, and this will also catch any spills

or overflow as it rises.

Bake on a middle rack for about 1 hour or until

the pudding fluffs up and the edges are lightly

brown. The centre of the tart should only jiggle

a little bit when gently shaken.

Leave to cool completely on a wire rack, do

NOT attempt to remove the Far Breton from

the pan until it is cool.

When ready, lightly run a knife around the edge

of the pan, and then place a large plate over

the top before inverting to remove the pudding.

Once freed, dust with icing/powdered sugar,

and cut into portions. Serve with crème fraîche.

The Good Life France | 115
---
Sticky Prune &

Toffee Pudding

116 | The Good Life France
---
Indulge your tastebuds with this

delectably mellow sticky prune and

toffee pudding with a hint of spices

and deliciously sweet toffee sauce.

Kit Smyth's more-ish recipe is easy

to make and super scrumptious…

Serves 6

INGREDIENTS

300g (10.5 oz) prunes (preferably

fresh prunes, d'Agen are perfect)

300ml (10 fl oz) water, boiled

75g (2.6 oz) butter, softened

75g (2.6 oz) brown sugar

3 large eggs

225g (8 oz) plain flour

3tsp baking powder

1 tsp cinnamon

½ tsp each cloves and nutmeg

For the toffee sauce

300ml double cream

75g (2.6 oz) brown sugar

75g (2.6 oz) butter

METHOD

Place the pitted prunes in a small high-sided

bowl and cover with boiling water. Leave for

20 minutes to soak.

Preheat oven to 180˚C/360˚F/Gas Mark 4

and grease an ovenproof dish.

Blend together half the butter and sugar

until light and fluffy, add the eggs one at a

time, and mix until thoroughly combined.

Mix the plain flour, baking powder, and

spices, then add to the wet ingredients and

mix thoroughly until smooth.

Purée the prunes and water together then

add to the mix, this will give a chunk-free

pudding. If you prefer it to have chunks,

chop the prunes finely or crush them with

a form, then fold in the chopped prunes

and water until evenly distributed through

the batter.

Pour the batter into the baking dish,

smooth it out evenly, and place in the oven

for 25-30 minutes, or until a cake tester

comes out clean.

While the pudding is baking, make the

toffee sauce:

Over a low heat, melt together the butter

and sugar. Once dissolved, add the cream

and bring to the boil. Once bubbling,

remove from the heat and keep warm.

Remove the pudding from the oven when

ready, and pierce all over with a fork. Pour a

third of the sauce over the hot pudding, and

let it cool for 5-10-minutes before slicing

into portions and serving.

Serve in a bowl with extra sauce, and a

dollop of rich vanilla ice cream.

The Good Life France | 117
---
Last

Word

In the last 18 years since I bought my old farmhouse in the middle of nowhere rural

northern France – much has changed in my village, and much has not.

With a new, young and energetic mayor came streetlamps, pavement, a football

pitch and fast internet. The local supermarkets now open on a Sunday morning,

though most shops still close for the sacrosanct 2-hour lunch break and Sundays.

What hasn't changed are the people and the way they choose to live.

Bread Man delivers cakes, bread and pastries three times a week. You can hear

the hooter of his little van as he drives up and down the valleys alerting customers

to his arrival. When the previous Bread Man retired and there was talk of the

service being cancelled, it caused uproar in the village. A new Bread Man was

swiftly appointed.

The annual straw sculpture contest between the villages is still one of the highlights

of the year, as are the village ducasses (an old French word for party) and summer

illuminations (don't get excited, people light candles and hang up Christmas lights

in the front garden – might as well get more use from them!).

My personal favourite tradition of summer in these here parts is the barter and

sharing of produce. Over the years we've helped neighbours with whatever has

been needed from potato picking to looking after animals, been roped in for rat

catching, mended things from fences to gates, roofs to doors (my other half is a

carpenter) and helped build the village boules pitch. It's all about community.

In return our neighbours have befriended us and are generous when it comes to

the fruits of their labour. Always first to arrive is Jean-Claude with lettuces grown

under glass in his garden. Salade, he calls it. This is cause for celebration. Wine is

served and we sit and admire the green leaves. And always he shares instructions

for how it should be eaten. Torn, not cut (that makes the leaves go brown), served

on its own with vinaigrette "it doesn't need anything else."

Trays of ripe cherries are left on the doorstep, boxes of new potatoes, bags of

tomatoes and as the season progresses, plums, apples and jars of home made jam.

Life here is like Jean-Claude's lettuce, being surrounded by such welcoming

friendly people – it doesn't need anything else.

Janine

Janine Marsh lives in France with her husband and 72 animals. Her latest book,

Toujours la France: Living the Dream in Rural France, is out now on Amazon

and all good book shops.

118 | The Good Life France
---
The Good Life France | 119
---
WE LOVE TO SHARE

JOIN US ON:

Subscribe to our weekly newsletter for a ray of sunshine from

France – just click the website link below

www.thegoodlifefrance.com