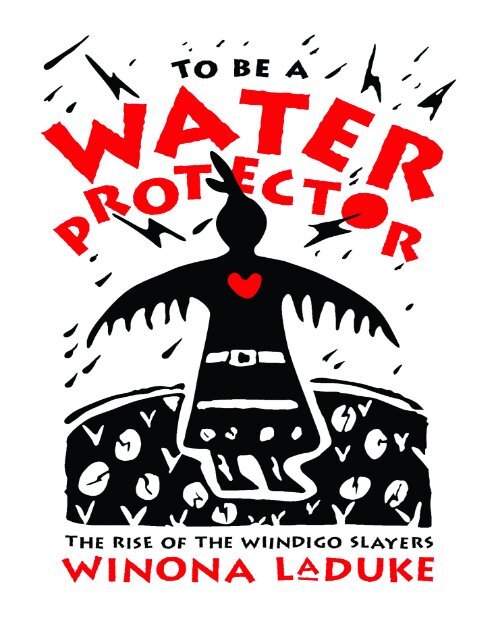 To Be a Water Protector: The Rise of the Wiindigoo Slayers
by Winona LaDuke
by Winona LaDuke
SHOW MORE
SHOW LESS
You also want an ePaper? Increase the reach of your titles
YUMPU automatically turns print PDFs into web optimized ePapers that Google loves.
1: Omaa Akiing: Here on Earth

Part

Count

Winter

to Be Better Ancestors

How

Holy Land Is Here

The

2: Relatives

Part

of Hope: Mino Gitigaaning

Seeds

In Praise of Frogs

Omaakaakii:

Miss You

I

the Snake

Free

Do We Grieve the Death of a River?

How

Should Save the Amazon

Amazon

Mexico

Viva

A Rebirth

Borinquén:

Is Time for Reparations

Thanksgiving

3: Mni Wiconi

Part

Buffalo to Black Snake

From

Deep North

The

Seventh Generation

The

Rise of the Water Protector

The

Siege at River's Edge

The

Art of Indigenous Resistance

The

The Dust Settles

How

4: The Last Tar Sands Pipeline

Part

Pipeline Runs Through It

A

Contents

Introduction

The Month You Remember Me

The Telescope and the Mauna

Spreading the Sacred Fire

Sandpiper Timeline
---
Minnesota Nice

Not

Let's Be Good Neighbors

Palisade:

Necessity Defense

The

Dirty Secrets: Enbridge and That Indigenous Peoples Policy

Whispering

Violence, Fossil Fuels and Enbridge

Sexual

Can Only Be One

There

the Party's Over: Starving the Wiindigoo

When

to the Kill Zone: The Shadow of Husky

Welcome

on a Dime

Turning

Finland, Must You?

Really

New Iron Horse

The

Sweet It Is

How

Renaissance of Cannabis

The

Hearts — Poetry and the UN Declaration

Lifting

Dish One Spoon

One

Reconciliation, Just Transition

Beyond

When the Bat Challenged the Wiindigoo

Part 5: Eighth Fire

Notes
---
Introduction

is Life. I live at the headwaters of the Ottertail River. I live at the place

Water

Round Lake meets the Ottertail River. is river is clean; swans, geese

where

eagles greet you. I live in the place where the wild things are. When the

and

leaves my beloved lake, it is clear and clean. is water travels down to

river

the Red River, joining there with many other tributaries until its

nal

Hudson Bay and the Arctic Ocean. By the time this river is

destination,

this same water to which I pray is not so clean or so full of good life.

there,

what I know.

at's

is the time of the Water Protectors. It has always been. It's also the time of

It

Wiindigoo. I am writing and editing this book at a time when the world

the

still, quarantined with -19, a virus. It is an amazing time. I'm

stands

to be here and to share these stories of Water Protectors. Or as Isaac

grateful

tells us,

Murdoch

In the future, our descendants will be sitting around a

re in their

telling this story of when the two legged tried to destroy the

lodges

We are no doubt in a sacred legend that will be told for thousands

earth.

years. For whatever reasons, we have been speci cally placed here on

of

to participate in this incredibly sacred time. We need to believe in

earth

what our heart tells us and to nd the strength to follow it.

is sacred

needs heroes and we are the chosen ones. Rise strong and never

story

believing in the great power of this earth. We are completely

stop

surrounded by our ancestors. 1

I am not the

rst Water Protector, nor the last. And as I write this

I want to acknowledge the Water Protectors I have known —

beginning,

role models and leaders. ere are many, they are young and old.

great

I remember riding a train with the great Creek leader Phillip Deere.

e

year was 1977. I had seen 18 winters, and we'd just

nished the UN

on Discrimination against Indigenous Peoples and the Land.

Conference

years later, that historic gathering would have launched three decades

irty
---
international work to recognize and protect the rights of Indigenous

of

at was the beginning of what, 30 years later, would result in the

Peoples.

of the UN Declaration on the Rights of Indigenous Peoples.

passage

Deere and I are on a grand adventure. We are sitting on a train, and

Phillip

said to me, "One day, water will be more expensive than oil." And, I didn't

he

understand what he meant. I thought that sounded strange, but now I

really

understand.

e world needs water, not oil; that's the basics. And, as a liter

Fiji Water, having traveled 8000 miles so I can pick it up, costs $7, we see

of

water costs more than oil. What that's really about is that Water is Life,

that

oil is not.

and

as Mohawk Chief Sakokwenonkwas (

Indeed,

omas Parker) told a

University audience in 1972, "Someday President Nixon and the

Harvard

world leaders are going to nd out that once they catch the last sh,

other

they cut down the last tree, they won't be able to eat all the money they

once

in the banks." 2 He would know, as the Akwesasne Reserve was heavily

have

by a set of industries, and their water quality severely

contaminated

impacted.

for decades Indigenous Peoples have been saying this and putting

Indeed,

bodies on the line for our water. People have opposed mega dam

our

ranging from those on the Klamath River to those on the Columbia.

projects

like the Dalles (Celilo Falls), Kinzua (Seneca Territory), to the battles

Dams

the dams in James Bay, in northern Ontario, and throughout the

against

People who live with water still understand that Water is Life. e

Amazon.

is old, and it's profound.

teaching

narrative is subsumed by corporate advertising and mythology,

at

for instance, Enbridge Energy uses the moniker "Life Needs Energy."

where,

relationship with water has changed dramatically — ocean

People's

oceanic nuclear testing in the Paci c, over shing, more plastic in

dumping,

ocean than sh, the list goes on. A er consuming a lifetime of Pepsi

the

a good lot of people become consumed by Wiindigoo Economics,

products,

perhaps become Wiindigoos themselves. In a way, this book is a calling

or

to that. And a reminder to be sensible people, to do things which make

out

sense. good

begin this book, I want to acknowledge those who I remember rst

To

"Water is Life," and reminded us all of that. John Trudell, in the early

saying

1980s, began this Water is Life set of concerts, music and awareness.
---
emember

We

water is our beginning

the

hear the ocean

I

her song

Singing

with musicians like Jackson Browne, Jesse Ed Davis, Bonnie Raitt,

Working

Kristo erson and others, Trudell traveled up and down the west coast

Kris

with that message. He understood fully.

life before pro t

choosing

water is our relative

the

water loves us

e

us her power is real

Telling

Water for Life 3

long ago spoke of the rights of Mother Earth. More than just civil

Trudell

or human rights, it is Natural Rights. I am grateful to him for his

rights

I knew Trudell through ve decades of my life. He was a friend

teachings.

mentor, and his commitment to life, art and protecting Mother Earth

and

an inspiration to so many of us. A Santee man, born in Nebraska, he

was

politicized a er he returned from the military in 1968. e

became

of Alcatraz was the moment for John, like many young Native

Liberation

on the west coast, and nationally, as Native people demanded the

people

of the former military prison, something which is provided for

rematriation

federal law.

under

used his skill set to establish Radio Free Alcatraz and served as

Trudell

of the American Indian Movement for most of the 1970s. at's when I

chair

Trudell. A profound thinker and orator, Trudell's in uence was

met

cant. As the power of the movement grew, so did the repression, as

signi

other federal intelligence, police and military programs

and

into the reservations and Indian Country. A er his pregnant wife,

moved

Manning, and his three children and mother-in-law died in 1979 in a

Tina

house re, John's life turned to more music and he ranged further

suspicious

further. His poetry, music and acting lit up a generation of youth, with

and

word and political insight. In 2012, he formed Project Hempstead,

spoken

Willie Nelson, to co-create the hemp economy. His words live on in

with

lm and music, with Bad Dog. John crossed boundaries. He crossed

books,
---
nal boundary to the spirit world in December of 2015. Or as John

that

say, "I caught my ride." I had visited him two days before.

would

Trudell.

John

raise my hands to you.

I

~~~

sing praises for the Water Protectors. I sing praises in these words.

I

Mandamin, a Water Warrior, is also one of those whom I look to

Josephine

guidance, as a living being and as a spirit woman.

for

have known for a long time that water is alive. Water can hear you.

We

can sense what you are saying and what you are feeling. ere's a

Water

I put tobacco in the water where the water is so still. It was dead. I

place

for it, I put my tobacco in the water and it started oating

prayed

So the water was alive, it heard my prayers. It heard the song.

around.

I know it listened. I know that if you pay attention to it, it can come

So,

alive. Give it respect and it can come alive.… Give it love. 4

Indeed, the Japanese scientist Masaru Emoto in his NYT bestseller

e

Messages in Water, documented the same knowledge in a scienti c

Hidden

Emoto would freeze water into crystals from di erent locations, some

form.

polluted and some pristine.

e water crystals were all di erent, but the

water was highly deformed. He found that water crystals from clear

polluted

and crystals that were exposed to loving words were complex,

springs

and colorful. His scienti c research created a new awareness of the

brilliant

of good intent and practices to heal water and ourselves.

possibility

I came to know Josephine Mandamin in the

ree Fires Midewin Society,

she too prayed with the Anishinaabeg for the good life and healing.

where

Anishinaabe from Fort Williams Reserve, Josephine had grown up in the

An

shadow of the

under Bay Smelters, where acid rain and mining projects,

gold to uranium, plagued the waters of her territory, as well as mercury

from

at Grassy Narrows. Josephine became a Water Walker, a leader of

poisoning

movement and an inspiration to thousands of people for her

this

to the Great Lakes. She walked around the Great Lakes, in

commitment

and with companions.

prayer

the ree Fires Midewiwin Society, spiritual leaders told of a time when

At

will cost as much as gold." at time was the year 2030. e

"water

to care for the water is with Ojibwe women. We are entrusted

responsibility
---
with water ceremonies and songs.

at movement and traditional way was

revitalized and brought back in a strong way by Josephine. In 2003,

really

began her rst walk, walking the perimeter of Lake Superior, carrying a

she

copper bucket and praying for the water.

at was the beginning of many

walks, and more walks inspired by other

ree Fires Lodge members like

Sharon Day, another Water Walker.

e movement has grown and continues

prayers for the water. It is estimated that Josephine walked more than

the

kilometers during her lifetime for the water. Josephine completed her

25,000

sacred walk in 2017, passing over the next year. 5

nal

Mandamin

Josephine

I raise my hands to you.

~~~

was a long time back that I came to meet Milton Born With A Tooth. He

It

a Water Protector. A Peigan leader of the Lone Fighters Society, Milton's

was

was with the Oldman Dam on the ree River, a dam project not

battle

the Kinzua Dam. "I was born by that river," Milton would tell me.

unlike

in a small house to a large family that made their life in that world of

Born

Old Man River.

the

the Alberta government proposed a new dam on the river, this one

When

both electricity and to provide ood control for agricultural interests in

for

region, Born With A Tooth restored the Pikani Lone Fighters Society, an

the

medicine society, to protect the river. In the 1990s, when I came to

ancient

him, Milton spoke of a dream about a beaver, noting, as others have,

know

"beavers are the only ones allowed to make dams in our territory."

that

by the beaver, Born With A Tooth, who argued that the Pikani

Inspired

the rights to the water in the river and that the dam would result in

owned

ooding of sacred places, resorted to a beaver-like action. at's to say,

the

With A Tooth borrowed an excavator on the construction site and

Born

the river into a canal bed. is action ended in a shootout with

redirected

the

and jail time for Born With A Tooth. Legal challenges continued

the dam was built, but the commitment of a man to a river remained.

and

2003, a 32 megawatt hydroelectric plant has operated, providing 114

Since

gigawatt hours per year.

at hydro plant is 25% owned by the Pikani

Milton Born With A Tooth passed away in 2019.

Nation.

will never be peaceful. It's like a nice beautiful day that changes

"Change

into a thunderstorm, or a snowstorm — that's how change is going to be."
---
Born With A Tooth.

Milton

raise my hands to you.

I

~~~

Caceras is another Water Protector. She too has passed on, though in

Berta

case it was a bullet, not cancer, that ended her life. Hers is the story of

her

water and land protectors everywhere, as hundreds of us are

Indigenous

by corrupt governments and corporate goons. A Lenca Indigenous

killed

from Honduras, Caceras also faced a dam project, Agua Zarca,

leader

dam that supported rich interests in a corrupt country. In 1993, she

another

an Indigenous Honduran organization, Consejo Cívico de

co-founded

Organizaciones Populares e Indígenas de Honduras (

, Council of

and Indigenous Organizations of Honduras), which is committed to

Popular

protection of Indigenous Peoples and the environment, particularly the

the

Lenca people in Intibuca.

e organization's 2004 history recalls that the

"began to discover their indigenous face, a face of resistance and

Lenca

identity." 6 at is a story everywhere, from the Zapatista Movement

national

the movement of Water Protectors.

to

organization was known for mobilizing masses. In 1994,

e

on the Honduran capital, Tegucigalpa, with multiple demands.

marched

other things, they demanded self-government, a moratorium on

Among

and investigation into violence against Indigenous Peoples. In

logging

to the protest, the Honduran government signed a 48-point

response

7 In another action, on October 12, 1997, the anniversary of the

agreement.

arrival in the Americas, about 150 protestors knocked down a statue

Spanish

Christopher Columbus in Tegucigalpa. Arguing that they were protesting

of

history of exploitation of Indigenous Peoples, one of the leaders arrested

a

this action, Salvador Zuniga, declared, "It would seem that in this

for

clay leaders matter more than the real problems faced by indigenous

country

If there is justice, we will be released, but we are not sorry for the act

people.

dignity carried out on October 12." 8

of

Cáceres was a leader in the movement opposing the Aqua Zarca

Berta

project. She was assassinated in her home on March 3, 2016. A

hydroelectric

weeks later, another Indigenous leader, Nelson Garcia, was also

few

While Cáceres' assassins were later convicted, Honduras

assassinated.

a place where Water Protectors are always in danger. A 2016 survey

remains

by Global Witness found that 185 water and land protectors in 16

conducted
---
were killed in 2015 alone. Eight of those were in Honduras. 9

countries

sometimes those deaths stop projects. e Aqua Zarca project had

Yet

$17 million, or just under 40% of the necessary funding from its

received

major European funders, when an employee of the company building

three

dam was charged with Cáreces' murder. Amidst international outrage at

the

murder and other human rights violations, the banks divested. " e

the

is no longer funding the project. Nor is there any intention to further

bank

in the project. Each bank is going to have their own exit strategy. Our

invest

stopped all disbursements," said a spokesperson for the largest investor,

bank

Cabei. 10 e

I raise my hands to you and to other Water Protectors and Friends of

Berta,

Butter ies who are killed by the Wiindigoos.

the

are many more Water Protectors, and as the younger generation

ere

like Clayton omas Muller, Gitz Crazy Boy Eriel Deranger, Dawn

emerges,

Kimberly Smith, Tara Houska and Melina Lubicon, they continue

Goodwin,

work to protect the waters of the north. I raise my hands and put them to

the

heart. You are loved.

my

book is written in the spirit of acknowledging that Water is Life.

is

is

book is a testimony to the resistance and defeat of the Wiindigoo.

e term

Protector" became mainstream under a hail of rubber bullets at

"Water

Rock. is book is about that spirit, and that spirit is forever.

Standing
---
Part 1

Akiing:

Omaa

on Earth

Here
---
Winter Count

ancestors and those to the west used to keep track of historic events on

My

wiigwaas, our bark, or Winter Counts — records inked on bu alo and

our

robes. Our ancestors would remember in these Winter Counts the winter

elk

the snow was higher than the tipis, when the smallpox came and when

when

the people were victorious in a battle.

ey would remember important

events.

this era, I am not sure how I keep track of these moments; maybe

In

or perhaps in my writing. I have yet to draw a Winter Count,

Facebook

on robe or perhaps hemp canvas. at may, however, be in the

recording

What I know now is that I write, usually each day.

future.

will remember this as the year that the Bat Changed the World.

We

at's

for sure.

e fact is that a virus brought to us by a bat is changing the world,

world of the Wiindigoo. We have some stories of the epic bat in Ojibwe

the

and this will be a new one.

history,

has caused unprecedented social disruption and wreaked havoc

-19

the markets, but it has also resulted in lower energy demand and a

in

signi cant reduction in global greenhouse gas emissions.

is is where we

understand that crisis is opportunity.

is will be remembered, I am sure, as

time when we changed our direction, and that is because of a bat.

the

are long ago stories. Sometimes the changes come fast, and then it

ere

we slumber for years of solitude. We come to take a moment for

seems

a person for permanent. We are a transient bunch, myself

permanent,

We travel faster than perhaps our spirits can travel, and our

included.

of time change. When we return home, Giiwedinong, we look

perceptions

something familiar, or maybe, in some cases, an improvement, a healing

for

a horse, a person or a place; scar tissue remains. Travel changes your

of

perception of time.

ere is much that can be missed.

we are home, or perhaps when we return home, we remember the

When

of the land. at's not digital, hourly or mechanical. e time when the

time

maple syruping season is when the crows gather; it's called Aandeg Biboon,
---
Crow Month, the time when winter is breaking, the Wiindigoo is leaving,

or

and the sap will run. en there's a snow storm, and it's the

GaaBiboonoke,

for the maple. at's the time on the land. en the swans come.

time

Hearty and majestic, they stand on small ice patches at the

Waabiziiwag.

beginning of the Ottertail River.

at river, traveling to the Red and one day

Hudson Bay, begins on my lake, Round Lake, Gaawaawiye Gaamag. Here

to

water is clean, long before industrial agriculture and long before it turns

the

the Red River and carries the bodies of my sisters, the Missing and

to

Indigenous Women. Long before the polar bears of Churchill

Murdered

Manitoba. Here it is peaceful.

e pheasants are enjoying some early thaws;

and turkeys, they stay the winter.

eagles

friend Georgianne Baker used to talk to me about calling your spirit.

My

we travel so fast that our spirit may not catch up with us,

Sometimes

behind, stunned or pleased by the moment. She used to make a call,

remains

tell the spirits she was home, remind her spirit to be present. In the time

to

air travel, digital time and the jackhammer of the industrial world, I nd

of

caught. I call my spirit back, back to the lake, the birds and the

myself

horses.

return each winter, as my ancestors did, to see who has survived this

I

survived the time of the Wiindigoo, the harshest of winters. ey

winter,

used to talk about the times of the plagues.

ose came to our people with

missionaries and traders. Many would pass, according to the Winter

the

of the west. Omaa Akiing, here on this land and memories, you

Counts

know the family had perished when the smoke no longer came from

would

wigwam. at is what we remember.

the

year, I watched the deaths of the young from heroin overdoses and

is

and the old from illness. e smoke no longer comes from their

violence,

wigwams.

winter, to my modern day Winter Count, I remember the storms and

is

cold. I remember the big storm which froze the Dakotas, Iowa,

the

Minnesota, Wisconsin into a stillness. I remember feeling

Manitoba,

and knowing I knew better. I remember this year past, of the

unprepared

to the west, the winds and water to the south, and I prayed for more

res

to prepare for a future that is transforming patterns forever by climate

time

And then came a searing spring and a summer of water, water to

change.

wash everything.

en I remember the time of the Bat.
---
you travel far, you may sometimes see what is coming towards you,

When

climate change or who has learned good lessons. You take these

whether

and teachings home for the people and the future generations. You

lessons

just as in days of old, the sadness, joy and beauty of the large world. But,

see,

the fast-paced time, you forget your own Winter Count. We forget to be

in

now. To call our spirits home.

here

bi daagoshin. It is a new spring which comes. Recognized as the

Ziigwan

venture out, the aandegoog, crows, move in large numbers. ey

waabiziwag

to the skies and signal that it is time to tap our trees and venture from

take

wigwams, our warm houses, into the woods, hoping that smoke comes

our

many res. It is time to go into the woods; nopeming to be grateful for

from

homecoming. It is time to call our spirits home. I pause from my travels

this

and look to see my world; she is beautiful.
---
How to Be Better Ancestors

long are you going to let others determine the future for your

How

Are we not warriors? When our ancestors went to battle they

children?

know what the consequences would be, all they knew is that if they

didn't

nothing, things would not go well for their children. Do not operate

did

of a place of fear, operate out of hope. Because with hope anything is

out

possible.

— under Valley Community Development Corporation 1

to many who read this, to be a warrior may be something that rankles

Now,

sensibilities, but let us say that in the face of daunting forces we must

your

our courage, our hearts, our minds, and work together. Zapatista

summon

Marcos would say: "Our word is our weapon." Or

Sub-Commandante

your organic goat cheese, your small energy company, your

maybe

way of teaching is your tool, your weapon. To be courageous

enlightened

thoughtful, perhaps, is the key to being good ancestors.

and

Anishinaabeg, sort of like old guard Anishinaabeg, the cool ancestors.

Gete

are larger than life and memory and continue to be present in one of

ey

eight worlds that surround the Anishinaabeg. ey are courageous and

the

practiced, intelligent, and kept a covenant with the Creator to

thoughtful,

for all we are given and be grateful. ey are my role models.

care

believe in place. Anishinaabe Akiing, the Land to which the people

I

that's where I live.

belong,

live in the same area my great-great-great-great grandparents lived.

I

I harvest wild rice on the same lakes, canoe to the same

Nimanoominike,

patches and am eternally grateful for their consistency, their

berry

to land and ceremony, and to those who had not yet arrived,

commitment

myself. My lake itself, Round Lake, is where the so-called last Indian

like

in Minnesota occurred. And I am eternally grateful to the Skip In

uprising

Day family for demanding justice on our Lake, and stopping the timber

e

from stealing all of our great and majestic pines. In walking, riding a

barons

horse or canoeing these lakes and this place, I remember those ancestors.
---
And I o er them food and prayers.

ose are cool ancestors, great role

models.

my mother, the artist Betty LaDuke's side, my family originates in the

On

Jewish farmers who became union workers in New York City. My

Ukraine.

grandfather had a windmill to grind wheat and was displaced by

great-great

burning of coal and the progress of new mills. My grandmother worked

the

the garment district and my grandfather worked as a house painter.

in

Decent people. Courageous, humble, sensible people.

ere's something

about that

imprint which maybe reminds me of where their journeys

them. Some days, I feel I continue their journey or see, perhaps, my

took

continue those journeys.

children

I re ect on the question of how to be good ancestors, I re ect on

As

accountability. How do I account for my behaviors and

intergenerational

to my ancestors and to my descendants?

decisions

is easier for some of us than others. America does not stay in

is

Akiing. Privileged by the fossil fuel economy, which has put all

Anishinaabe

on steroids, we are transient, we move. Few people live in the same

things

as their ancestors, and many more of us have historical amnesia.

place

always trying to run away from what we've done, so amnesia

We're

becomes the coping mechanism.

en we continue in our anthropocentric

thinking we are kings and continuing as slave holders. Ecological

world,

holders that is. Not knowing history has huge perils. Ecological

slave

is when we forget what was there, complicated by all of this

amnesia

transience.

means that we do not come to know and love a place; we move

Transience

and as such are not accountable to that place. Always looking for greener

on,

a new frontier, I fear we lose depth, and a place loses its humans

pastures,

would sing to it, gather the precious berries, make clean the paths and

who

the waters.

protect

on a worldwide scale, Indigenous Peoples represent about 4%

Remember,

of the world's people, but we live with 80% of the world's biodiversity.

at's

worth

ghting for. My counsel is stay, make this place your home and

this land like a patriot.

defend

look to minobimaatisiiwin, the excellent life o ered to the Anishinaabeg

I

the Creator. In this life, the basic teachings are elegant and resonant: care

by

yourself, the land and your relatives. Remember that this world is full of

for
---
spirit and life and must be reckoned with.

e land of berries, wild rice,

syrup and medicines comes with a covenant, an agreement between

maple

Anishinaabeg, or myself, and the Creator. Keep that covenant, that

the

that we will take care of what is given to us, and your descendants

agreement

be grateful.

will

your responsibility for this moment. I understand mine. As I

Understand

my brothers and sisters to the west at Standing Rock facing rubber

watched

tear gas and the spraying of poisons to protect the water, I was awed,

bullets,

and reminded that I am one of them. In this moment, not unlike

inspired

Selma Moment, be present.

the

the Dark Lord rises in the East, nd your courage, my Hobbit brothers

As

sisters… (Wait, I can't actually say that?), but remember the shire is

and

and your descendants would appreciate your voice, words and

everywhere,

action.

Rock is not only a place; it is a state of mind, it is a thought and it

Standing

action. In a time when the rights of corporations override the rights of

is

stay human, and remember that the law must be changed. For civil

humans,

is made, as democracy is made, by the hands of people, courageous

society

and is not a spectator sport. While at one time slavery was legal; it is

people,

longer, and soon we must free our Mother Earth from her slavery to an

no

economy and ensure her rights.

exploitive

each day there is a heartbreak of story, a constant heartache for our

In

whether they have wings, ns, roots, paws or hands, but there is

relatives,

much beauty and joy. Remember always that in these times of -

also

the virus brought by a bat, we retreated into our human worlds, and

19,

took a breath, strolled our streets with ease and enjoyed a fresh

animals

day. Hold your sorrow and grief to remember, but be grateful for this

spring

life.

e Creator has given us a good one. And your descendants will be

for this good life, this minobimaatisiiwin.

grateful

this time, do not underestimate yourself, nor the power of the larger. As

In

saw at Standing Rock, unity, hope, a worldwide outpouring of love and

we

emboldens Water Protectors worldwide — and that is something we

support

all need, along with our Mother. How that power is actualized is up to

will

of us, but acknowledging our responsibility for power is how we are

each

intergenerationally.

accountable,

lessons I take from one of my great teachers, Wes Jackson of the Land

Two
---
Institute. As you contemplate your choices, mill about.

is is to say, if you

live in your one acre, do so, mill about on that one acre, and do not

can

Perhaps that lesson is to live simply and care for the place you know

move.

so that those who follow can live there too. He calls it the Mill About

eory.

believe. Wes said one time that if you're working on something that you

And

on nishing in your lifetime, you are not thinking big enough. Let us

plan

the gi of our thoughts, and in the words of the Great Hunkpapa leader

use

Bull, "Let us put our minds together to see what kind of future we

Sitting

can make for our children."

en we will be great ancestors.
---
The Holy Land Is Here

Native People, the Holy Land is here. Whether Bear Butte, Manitoulin

For

Mni Sose or Gichi Gummi, people who have lived on this land for

Island,

years know this as the Holy Land, not elsewhere.

10,000

recognition is growing into a body of law, not just in North America,

is

worldwide. It's about time, or as Indigenous Peoples will say, it's time to

but

to the Creator's law. ese laws are considered the Rights of Nature,

return

the Rights of Mother Earth, a body of new jurisprudence which is

or

internationally.

growing

2017, Mount Taranaki in New Zealand was granted the same legal rights

In

a person, in turn becoming the third major geographical feature in New

as

Zealand to be granted a "legal personality."

e mountain is sacred to the

Maori People.

e mountain, named — poorly — Mount Egmont by

Cook a er the Second Earl of Egmont, was formally stolen with pen

Captain

paper by the New Zealand government in 1865. In 1978, the mountain

and

returned to the people of Taranaki by federal jurisdiction. 2

was

legal designation follows a set of similar acknowledgements, most

is

from India, which granted the Himalayan glaciers, rivers, streams,

recently

air, meadows and forests the same legal rights as persons, joining

lakes,

sacred Ganges and Yamuna Rivers as having standing under the law. 3

India's

legal recognitions are intended to protect those living beings. is

ese

set of international rulings represents the most signi cant creation of

new

legal rights for Nature since 2010, when Bolivia passed the Law of

new

Earth as a part of their constitution, 4 with a similar law being passed

Mother

the Ponca Nation of Oklahoma (2017) and the Ho Chunk Nation of

by

Wisconsin. 5

e 2017 jurisdictional decision by the Ponca Nation

the rights of Nature Nature came in response to their

recognizing

to the water. "We all know that water is life. e years of sh

responsibility

related to the fracking and injection wells amount to environmental

kills

said Casey Camp-Horinek. "It is going to take all of us humans

genocide,"

because we're speaking for those without voices, for the deer, the cattle,
---
the Laws of Men Are Wrong

When

a moment when the law begins to change.

It's

that y. In our tribe we have a funeral a week now. We're being fracked

those

death and it's time to take a stand for our people and defend the earth." 6

to

we look around us, we can see that the legal systems of nation states

As

failed Mother Earth and Indigenous Peoples. While laws like the

have

Species Act really speak to the essence of the right of a "species"

Endangered

exist in the United States, the broad application and practice of regulatory

to

and law do not protect a river, a watershed, a species, a mountain

authority

an ocean.

or

at's the moment, when the

— created primarily by papal law, English common law and then

laws

law — have created an untenable situation for most of the world's

corporate

beings, from animals to rivers to people.

living

in the United States and Canada the situation is untenable, and

Indeed,

gives corporations more rights than humans, and certainly more rights

now

Nature. What the Canadian Supreme Court decided in the Percy

than

case was that corporations owned life. And what has happened in

Schmeiser

case law is that the rights of corporations have exceeded the rights

American

most of us. Corporate personhood is the legal notion that a corporation

of

at least some of the legal rights and responsibilities enjoyed by humans.

has

Supreme Court decisions, like Citizens United and Burwell v Hobby Lobby

In

the Court has ruled in favor of corporations, even extending religious

Stores,

to corporations.

freedom

the case of Hobby Lobby, this ruling of the right to religious freedom

In

the corporation does not have to provide contraception as a part of a

means

care package to employees. Not only do corporations have rights,

health

religious freedom, but their rights are stronger than yours or

including

And their rights extend inside your body.

mine.

the time of Standing Rock, I was assured that Energy Transfer Partners

In

more rights than the Lakota People and the Water Protectors. In the

had

of Quebec Hydro and Manitoba Hydro (Muskrat Falls), what's clear is

case

these corporations exercise authority over the rights of people and

that

rivers.

at's an aberration of justice.

be in reality. Corporations are ctitious creations, and the natural world

Let's

… well real. I also o en muse that if a corporation was a person, it would

is
---
e a person with a multiple personality disorder. A er all, those mergers,

likely

and bankruptcies can certainly change your identity.

acquisitions

we enter the New Year in that Gregorian calendar, I remember the Holy

As

is also here.

Land

us take the case of Mahto Paha, or Bear Butte, in the heart of the Paha

Let

or the Black Hills. According to a Lakota story, long ago a giant bear

Sapa,

a water monster similar to a dinosaur battled for many days and nights.

and

of the erce battle, valleys lled with blood. e giant bear,

Because

wounded by the sea monster's jagged teeth, crawled away to die.

e bear's

disappears, leaving in its place a hill in the shape of the bear's sleeping

body

which continued to rumble and smolder. Today, hambleceya, vision

body

is o en done at Bear Butte, a sacred place, as sacred as Mount Sinai.

quest,

so di erent is the story of Mni Sose, the Missouri River. e longest

Not

in North America, when combined with the Mississippi, forms the

river

fourth longest river system. e river, once drinkable, has been life

world's

all of us for thousands of years. It gave rise to the ancient agricultural

for

of the Mandan, Hidatsa and Arikara Peoples and was a super

empires

highway for trade travel.

e fertile Nile river valley of the Northern Plains.

that river is an industrial sewer to corporations that rarely pay nes,

Today,

alone remedy their crimes against Nature. Just as an example, since

let

of 2016 over 100,000 gallons of crude oil, waste oil, bio solids,

January

gas and brine have been spilled into the waters of the region, along

natural

about 50,000 gallons of slaked lime solids which slid directly into the

with

River. e river is choked with industrial and agricultural runo

Missouri

solids. Indeed, in some cases, a river, like the Animas River ( owing

and

Ute and Dine Territory of the Colorado Plateau), may be legally

through

dead, devoid of life from acid mine drainage or toxins. Who has the

termed

to commit ecocide? And conversely: Should a river have a right to live

right

free? poison

reality is that American, Canadian and other legal institutions are not

e

of regulating the intergenerational violence of technology. What is

capable

in war and in industry exceeds the experience of any generation before

done

in scope and damage, and our regulatory institutions have no framework

us

understanding the impact of these decisions.

for

rather than being cautious, the legal institutions, to which Native

Sadly,

are asked to subjugate themselves, are inadequate to address

Peoples
---
prudence and indeed justice. Historically, North American legal

regulatory

have protected the rights of private property holders, not Nature

systems

Indeed, private corporations continue to pillage the commons,

herself.

toxic poisons from their world into the world of rivers,

transferring

and sacred places.

mountains

leadership on the transition to a more enlightened set of legal canons

e

is being provided by Indigenous Peoples.

at's because our legal systems

and will postdate those of the church and the nation states.

predate

away, the question of the life of a river has taken on a new legal

Oceans

In 2012, the Whanganui River became a legal entity 7 and in 2017,

meaning.

given the same status as a person under New Zealand law. 8 In an

was

between the Maori and the Crown, the river has been given legal

agreement

under the name Te Awa Tupua, and two guardians, one from the

status

and one from the Maori, have assumed the responsibility to protect

Crown

river. is responsibility is a rea rmation of Indigenous practice and is

the

to the laws of nation states. One can easily argue that many

transformative

in an American or Canadian regulatory process are only

"stakeholders"

in their rights and rarely interested in their "responsibilities." In

interested

recently signed treaties like the Bu alo Treaty 9 and the Treaty of

contrast,

Salish Sea, 10 between Indigenous Nations, pledge to care for the

the

of humans in relationship to these great spiritual beings, the

responsibility

alo Nation and the Salish Sea.

Bu

on Turtle Island, another river is recognized. In May of 2019, the

Here

Tribal Council voted unanimously in favor of a resolution

Yurok

the rights of the Klamath River, spanning through Modoc,

establishing

Hoopa, Karuk Territory to the Paci c Ocean.

to the Yurok Tribe, the resolution "establishes the Rights of

According

Klamath River to exist, ourish, and naturally evolve; to have a

the

and healthy environment free from pollutants; to have a stable

clean

free from human-caused climate change impacts; and to be free

climate

contamination by genetically engineered organisms."

from

is resolution provides another powerful tool to protect our river,

"

has sustained the Yurok people since time began," said Joseph L.

which

the Chairman of the Yurok Tribe. "We have always and will

James,

always do everything in our power to preserve and enhance the
---
Klamath for all future generations." 11

is the time to make legal institutions that re ect the world we live in,

Now

the anthropocentric world we fantasize is a reality. It really is not

not

to regulate watersheds until there is no water in a river. Now is the

prudent

to make laws which rea rm the spirit of place, of beings, and rea rm

time

the relationship between humans and the Holy Land. Omaa Akiing.
---
The Month You Remember Me

is this magical made-up time in the United States between so-called

ere

Day (or Indigenous Peoples' Day for the enlightened) and

Columbus

anksgiving, where white Americans think about Native People.

at's sort

our window. Honestly. Now, let me tell you the truth; I think about white

of

every day … every day. How o en do white Americans think of

people

people? Rarely.

Native

2019, November was known as Native American Heritage Month,

Until

in the middle is that Halloween thing, and until about three years ago,

plus

of the most popular Halloween costumes was Pocahontas. So, people

one

nothing about us, but like to dress up like us, or have us as a mascot.

know

President Trump renamed Native American Heritage Month as

Sadly,

Founding Fathers Month, so we might have lost out on a few

National

of collective acknowledgement. In other words, will you still think

seconds

Native People if we don't have a month?

about

are invisible. Take it from me, I travel a lot, and o en ask this question:

We

you name 10 Indigenous Nations? Sometimes I ask for 25. You can ask

Can

in a room full of PhDs, or a lecture hall full of college students, and

this

en no one can name us. If we are to be named, it is Lakota, Cherokee,

o

Cheyenne, Blackfeet, mostly Native People from westerns, or maybe

Navajo,

that Cherokee great-grandmother someone believes they have.

is is the

of history: writing out the victim, making the victim disappear;

problem

is no victim so there was no crime. We just disappeared.

there

always, when I am traveling, there will be this feeling that someone

And

seen a unicorn in the airport. at would be me, in my Pendleton jacket

has

an apparition from times long ago. ere will be that awkward question

—

whether I am Navajo or Cherokee, and then we will sort it out …

about

on how much patience I have. Most people are very well

depending

intentioned.

do I want to tell you while you are thinking of me? Let me squeeze

What

in: ere are over 700 Indigenous Nations in North America, and, in

this
---
and Bolivia in South America we are the majority population.

Guatemala

Indigenous presidents have been elected — Evo Morales in Bolivia and

Two

Chavez in Venezuela. We are doctors, lawyers, writers, educators, and

Hugo

are here. we

are land-based and intend to stay that way. Our land and water is our

We

I hear White People (using the term White as a social construct) talk

life.

how the Americans gave us land. Treaties reserved land, and

about

were reserved. America was stolen, or purchased for a pittance.

reservations

Andrew Jackson forced the removal of thousands of our people,

President

then sold our land. Some historians point out that Jackson's Louisiana

and

knocked US debt from $58 million in 1828 to $38,000 in 1834.

purchase

deal, except for us. Of the 4% of our land base that remains, we intend

Good

keep it. Of our treaties which were signed between our ancestors and your

to

we intend to stand by them.

ancestors,

are not you. Worldwide, there are about 7,000 languages in the world

We

and they are primarily Indigenous. Some languages are very close to

today,

At least 52 North American Indigenous languages have

disappearing.

46 languages are known to have just one native speaker, while

disappeared,

languages have fewer than 50 speakers. 12 Of those languages, this means

357

roughly 2680 languages are facing a risk of extinction. 13 It's called

that

the forced loss of a language, and the US government and

linguicide,

carried it out well. e UN has declared 2019 the year of

churches

languages, to raise awareness about their loss. Lakota and

Indigenous

are two of the strongest living languages in North America. We

Ojibwe

to keep our words.

intend

intend to keep our spiritual and religious practices — I am not a

We

and it was not until 1978, with the passage of the American

Christian,

Freedom of Religion Act, that Native people could freely practice our

Indian

religions.

at is, unless someone wanted to mine your sacred site or put a golf

on it. course

women are here, and we birthed this Nation. We created the agro

Native

of 8000 varieties of corn, and a multitude of beans, squash and

biodiversity

varieties which are now touted by big agriculture and are the

melon

for most crops. We are the ones whose hearts cannot fall on the

foundation

Despite that my heart breaks every day I see an opioid epidemic

ground.

brought to me by the pharmaceutical industry or see another Native person
---
cannot get health care.

who

are also at risk; been that my whole life. I, like many other Native

We

have been beaten, and have a female relative who was missing,

women,

and ended up in the Mississippi River. Over a thousand Native

murdered

are missing or murdered in the past decade. I am tired of being

women

to you all. I am tired of the lack of compassion of the settler state, or

invisible

president who slashes health care and access to food, or the state that seeks

a

contaminate the remaining wild rice with sul de to keep a dying mining

to

a oat. And I am tired of North Dakota pretending that Standing

industry

does not exist. I am tired of being invisible and demand that you see me.

Rock

right here, I'm the stu this country is made of. Honest.

I'm

I want to say is that we are beautiful, amazing, tough-as-can-be

What

It would be nice if we thought of each other kindly and with

people.

Civil society would bene t; the legal, political, economic,

compassion.

systems would bene t if Indigenous Peoples were not written out of

judicial

public policy and thinking. A er all, if you want to gure out how to

history,

out on the continent for 8000 years or so, you might want to see us.

hang

I want Native American Heritage Month back. But more, I want to be

And

seen, heard and respected.
---
Part 2

Relatives
---
Seeds of Hope: Mino Gitigaaning

father used to say that there will be a time when there will not be food in

My

stores. at would be a good time to know how to grow food. I am

the

what American historians would call a Victory Garden. Well a

planting

of them. I am calling it Mino Gitigaaning. A Good Garden. It is full

couple

heritage varieties of corn, beans, squash, potatoes, Jerusalem artichokes,

of

and hemp. en, there's a he y tomato, basil, cucumbers, eggplants

tobacco

other produce section of the gardens, and more to come. I am planting

and

and a commitment to the covenant I have with this world. I am

hope

in a time of ongoing wars. I'm planting for life, because I love her.

planting

Garden: a vegetable garden, especially a home garden, planted to

Victory

food production during a war. Answering the federal government's

increase

by May 1943, there were 18 million victory gardens in the United

challenge,

— 12 million in cities and 6 million on farms. Together, they

States

almost 10 million short tons of food. In 1944, that was an amount

produced

to all commercial production of fresh vegetables. 1 It's time for a

equivalent

Garden as our transition to the next economy. Or maybe a Garden

Victory

Gratitude and Joy.

of

fact is that food systems of the globalized capitalist economy are

e

failing.

ey are Wiindigoo Economics at their best. We see shrimp raised in

deveined in China and served on a platter at Walmart in North

Scotland,

at's not a web that can last. In 2020, we saw this unravel quickly

America.

as the coronavirus moved through globalized economies.

e New York

reported that, as restaurants, hotels and schools close in the face of the

Times

pandemic,

Wisconsin and Ohio, farmers are dumping thousands of gallons of

in

milk into lagoons and manure pits. An Idaho farmer has dug huge

fresh

to bury 1 million pounds of onions. And in South Florida, a

ditches

that supplies much of the Eastern half of the United States with

region

produce, tractors are crisscrossing bean and cabbage

elds, plowing

perfectly ripe vegetables back into the soil….
---
e amount of waste is staggering.

e nation's largest dairy

Dairy Farmers of America, estimates that farmers are

cooperative,

as many as 3.7 million gallons of milk each day. A single

dumping

chicken processor is smashing 750,000 unhatched eggs every week. 2

at's tragic.

e response by people has been life. Seed companies are

a surge in sales, back orders and more as people become home

experiencing

People want to grow food, and that's a great thing. Crisis is

gardeners.

opportunity…

I had to put my thumb on it, I would say people are worried about their

"If

security right now," said Emily Rose Haga, the executive director of the

food

Savers Exchange, an Iowa-based nonpro t devoted to heirloom seeds.

Seed

lot of folks even in our region are putting orders into their grocery stores

"A

having to wait a week to get their groceries. Our society has never

and

a disruption like this in our lifetime." 3

experienced

seems that my father was right about the grocery stores. His name was

It

LaDuke, his name was also Sun Bear. Now looks to be that time,

Vincent

time to garden and return to the seeds.

that

e New York Times reminds us, "

is isn't the rst time in recent years

there has been a run on seeds. 'When the market crashed in 2008, there

that

a big increase in people starting to grow their own food,' Ms. Kruysman,

was

Johnny's Selected Seeds, said. But that uptick was more gradual." And of

of

our Elders who lived through the Great Depression remember times

course

these, and they remind us that "this is the time to be saving these seeds

like

making sure that we can feed ourselves." Native Seed Search is one

and

that sells seeds to the public, "But our priority is seeds for

organization

communities,' Mr. Schlager said, pointing out that the Navajo

Indigenous

Nation is already su ering because of the new coronavirus. '

ey're

o entimes the last place where real aid, or

support, or anything really

handed out to people,' he said." 4

gets

and water will be pretty essential, perhaps with more long-term

Seeds

bene ts than federal

support.

the corporate food system fails, President Trump further destabilized

As

foods with his unrelenting attack on people of color. Of the l.5 to

American

million people working in agriculture today, 50–70% of them are

2

farm workers, according to a report by the American Farm

undocumented
---
5 Donald Trump has suggested the deportation of many of those

Bureau.

ere are about 11 million of them. It was particularly striking

immigrants.

many of these workers were deemed "essential" during the -19

that

but they are still "illegal." Business Insider reports that if the

pandemic,

sector were to eliminate all undocumented workers, the US

agriculture

be le with a $30–$60 billion food production loss. 6 ( ink of the

would

A Day Without a Mexican). I am not sure who is going to pick my

lm

for me, frankly, let alone most of the food that comes from

avocados

Central Valley.

California's

to the deportations, retail food prices could increase by 5–6% on

Due

with some categories seeing higher jumps than others. For example,

average,

National Milk Producers Federation expects a 90% increase in milk

the

if the country removes the immigrant labor supply. 7 Add to that a

prices

million loss from the 2016 California drought 8 and the unstable

$603

brought to us by climate change. Sprinkle that with some bad water

weather

California is using groundwater in fracking operations, and Nestle

policies:

sucking up groundwater in California and elsewhere to bottle.

is

is about a promise and hope. Gardening and rebuilding our

Gardening

relationships with the relatives which have roots. Rea

rming relationships

with plants is a rea

rmation of our agreements and responsibilities with

Mother Earth.

at's if, indeed, we are able to survive.

grow a really old squash. We call it Gete Okosomin, or "really cool old

We

at variety has been around 800 or more years and is well adapted

squash."

northern Minnesota. It keeps over the winter, and when opened up,

for

well over a thousand seeds within beautiful orange esh. Each year,

contains

plant more heritage varieties, watch them grow with wonder, have a large

we

family who weeds together, a pony we use to cultivate, and some

extended

that we are intent upon improving a er forty years of scorching with

soils

agriculture's pesticides, herbicides and fertilizers. All together we

industrial

looking to grow not only food for our community, but with our

are

family by family. And we are intent upon growing hemp, or

community,

as the anecdote to the fossil fuel era. A er all, in the early days of

cannabis,

American farming community, people would grow a half acre of hemp

the

a half acre of ax — which would supply the needs of each extended

and

before cotton from Pakistan, before polyester from China. Native

family

people also grew hemp; it was a useful and magical plant.

e White Earth
---
hemp crop, focused on ne textile varieties, is ourishing, well over

tribal

high by the fourth of July. We are ready for peace and victory.

knee

is a wondrous time now. Mandaamin, the Anishinaabe word for corn,

It

wonderous seed, and in many ways re ects understandings from

means

land-based cultures. Vandana Shiva, Indian physicist and political

other

reminds us that seed is sacred. In Hindi, seed is bija or "containment

leader,

of life."

is created to renew, to multiply, to be shared, and to spread. Seed is

Seed

itself.… Globalized industrialized food is not cheap," Shiva writes,

life

"it is too costly for the Earth, for the farmers, for our health.

e Earth

no longer carry the burden of groundwater mining, pesticide

can

disappearance of species and destabilization of the climate.

pollution,

can no longer carry the burden of debt, which is inevitable in

Farmers

farming with its high costs of production. It is incapable of

industrial

safe, culturally appropriate, tasty, quality food. And it is

producing

of producing enough food for all because it is wasteful of

incapable

water and energy. Industrial agriculture uses ten times more

land,

than it produces. It is thus ten times less e cient. 9

energy

understanding guides me in the Victory Garden — Mino Gitigaaning,

at

Good Garden.

my

have been planting my eld of dreams. I started early this year, as it was

I

degrees in May–August weather. I plant for peace and so that people will

90

have food this year and in the years ahead. I plant for victory and hope.
---
Omaakaakii: In Praise of Frogs

I would like to sing the praises of frogs. Omaakaakii.

at's the Anishinaabe

for them. Ancient beings here of this place, maligned in European

word

of frogs and princes; I love them. As a young child, in a small town in

fables

Oregon, we lived on the hill, next to the irrigation ditches that ran

southern

the reservoir to the elds. I remember frogs. ey were loud, in

from

abundance, captured, looked at in wonder and then released.

at was the

of my mother.

request

know how this story ends.

You

ere are no frogs in those irrigation

these days; victims of pesticides and chemical poisoning, they

ditches

perish.

days remain here in the north, but in less abundance; that's on a

Frog

scale. e frog populations are plummeting. ey are, in many

worldwide

a mirror of our relationship to that land and water. I have unearthed

ways,

sleeping peacefully in the garden, dormant, almost corpselike for the

them

I am always happy, relieved, when they return to the marshes and

winter.

of our north country. Spring, Ziigwan, is welcomed by their songs.

lakes

nights, during a certain rain, the frogs move by the thousands — I am

Some

sure why. I only worry and fret as I drive the northern roads, hating to

never

them in my fast life and deadly combustion engine.

kill

all know what happens to the frogs. Amphibians, they absorb

We

everything we put in the environment.

ey live between land and water. As

we, 60% water. As Anishinaabe People, we always recognize that we are

do

related, even the little guys.

all

fact is that industrial agriculture doesn't really recognize this. Atrazine

e

one example. According to the National Academy of Science, "atrazine can

is

turn male frogs into females that are successfully able to reproduce.

e

suggest that atrazine … a weed killer used primarily on corn crops,

results

have potentially harmful e ects on populations of amphibians,

could

animals that are already experiencing a global decline."

at's what Tyrone

B. Hayes of the University of California, Berkeley said in the study. 10
---
Atrazine is banned in Europe.

Lost Boys of Aamjiwnaang

ere's a reason it's banned in Europe. Maybe this is it:

ere's an

reserve in southern Ontario surrounded by a bunch of

Anishinaabe

plants and tar sands re neries. Some of the chemical companies

chemical

include Dow and Syngenta, and

is the big tar sands re nery.

62 separate industrial facilities cluster there, comprising 40% of

Actually

chemical facilities. 11 e village there, Aamjiwnaang, has been the

Canadian

of numerous international studies, mostly because of the birth ratio.

subject

how it goes: over the past twenty years, there's been two times as

Here's

girls born as boys. Writing for Men's Health, Melody Peterson and

many

LaMarca pen: " ese tribal lands have become a kind of petri

Christopher

for industrial pollutants. And in this vast, real-time experiment, the

dish

of Aamjiwnaang (AHM-ju-nun) are the lab rats." 12

children

go on to explain: "Scientists turned their attention to the reserve a

ey

years ago, a er a study of the tribe's birth records con rmed what tribe

few

had already sensed: a steady plunge in the number of boys born

members

1993 and 2003. In fact, by the end of the study period, two girls had

between

born for every boy — one of the steepest declines ever reported in the

been

of boys to girls. With fewer boys, the community of 850 has had to

ratio

adjust, although in subtle ways so far. One year, the tribe had enough girls
---
for three baseball teams, but the boys could ll just one team.

e boy's

team has been disbanded." 13 And so forth.

hockey

here I am; it's spring. ere are no frogs in the valley of my youth. And

So,

I remember them. I do not have ecological amnesia. I remember not only

yet,

frogs but the stories.

the

Coastal Tlingit stories speak of Frog Woman, who called the

Northwest

forth when the frogs were abused. Volcanoes erupt worldwide in

Volcanoes

Ring of Fire. I am going to say that at some deep level, we are all related.

the

that Frog Woman asks us to be mindful. It is a metaphor; take it for that.

And

on the so-called Ponsford Prairie, the atrazine from the corn and

Back

has wiped out the frogs, or changed their sexes, most likely. I even

potatoes

a one-eyed frog once. By and large, they are no more. Spring is here,

saw

and each year we can make new decisions. My companion has a

however,

which had no frogs a er six years of agricultural chemicals, and now,

farm

er three years of organics, the frogs have returned. Omaakaakii giiwewag.

a

frogs come home.

e

do my part, and kiss more frogs happily in my life, taking one for the team

I'll

it were… Noopeming, back in my woods I hear them still, clinging to

as

and water; a place between land and water, where the Omaakakii

marshes

live. Here Omaa akiing. On this land.
---
have missed you. I missed the butter ies for sure. My yard has milkweed in

I

— and there were no pods. I am not sure why, but I saw very few

it

ies. Monarchs are particularly impacted by Monsanto's BT corn,

butter

is genetically modi ed to produce an insecticide. But it's more than

which

it's all of you … little bugs, big bugs, mosquitoes … the windshield full

that;

bugs, no longer. A fog of bugs, no longer by the lake. Where have you

of

I canoed and rode horse throughout the north country, and missed

gone?

e Ace Hardware, Menards, Fleet and every store is full of ways to kill

you.

pretty well documented, as colonies collapse; the story of why is told

been

retold, attributed at one time to the cell phone towers, and then nally

and

neonicotinoids, the powerful pesticides now banned through most of

to

In short, in 2017, 33% of the bee colonies died o , down however

Europe.

previous years. From 2012 to 2013, nearly half of the nation's colonies

from 14 died.

in every three bites of food is directly or indirectly pollinated by

One

and other pollinators. 15 Honeybees alone pollinate about $15

honeybees

300 species of plants, another 300 species of birds, tens of species of

to

and uncounted hundreds upon hundreds of insect species. Fast

mammals,

to late summer 2012, when the air should have been buzzing with

forward

and few will be found. One survey of an Iowan corn eld turned up

bugs,

six creatures we might call bugs. 17 (Not simply six species — six

exactly

bugs.) Two grasshoppers, an ant, a red mite, and a cobweb spider

individual

a crane y. Otherwise, silence. I attest to this, as I farm in the middle

eating

the industrial agricultural zone known as the Ponsford Prairie. e prairie

of

I Miss You

they have been pretty successful.

bugs;

all of you.

Congratulations

however, am pretty concerned … and I nd I miss them all.

I,

being called an Insect Armageddon. Now, of course, the bee die-o has

It's

worth of US crops each year. 16 Not to mention life.

billion

the die-o is widespread. In the early 1900s, Iowa's prairies were home

But
---
dominated by R.D. O utt and other farmers who overspray the elds.

is

days I have worked in the elds to the sound of crop dusters on both

Some

of me, and some days we have been over sprayed.

sides

eld, the non-sprayed eld, has insects in it. e rest do not. at's the

My

nationally and internationally. A well-documented German study

norm

in the last 27 years, the ying insect biomass measured in protected

found

nature reserves declined an average of 76%, with an 82% drop

German

the midsummer season, when insect populations should be

during

18 Another study found that Germany experienced a 15% drop in its

thriving.

population over the last decade. 19 Clearly, an insect collapse also a ects

bird

birds who feed on them.

the

here we are, the land of 10,000 lakes and hopefully a gazillion sh. What

So,

was raised by an entomologist, a bug man. His name was Peter Westigard,

I

Norwegian by genetics, who worked on the insects of fruit trees. My father

a

to tell me that there were 800 million species of insects in the world

used

nothing could diminish the biomass of the insects. Now I wonder…

and

as we go dormant for the winter, I pose the question that Rachel

So,

brought forth some y years ago in her book Silent Spring. e epic

Carson

manifesto documented the detrimental e ects on the

environmental

of the indiscriminate use of pesticides. Silent Spring was met

environment

erce opposition by chemical companies, but it spurred a reversal in

with

pesticide policy, led to a nationwide ban on for agricultural

national

and inspired an environmental movement that led to the creation of the

uses

Environmental Protection Agency. To be sure, Donald Trump's

US

are unlikely to read this book.

appointees

am going to do my part to bring back those "pests," a short-sighted term

I

has been misapplied. I will grow organically, plant for bees, and in the

which

I plan to launch my beekeeper career. A er all, the Bear Clan should

future,

began on January 1, 2018, in Maryland. Connecticut followed suit

pesticides

a er Maryland. 20 Maryland lost 60% of its bees in 2015. 21 It is time to

shortly

into the billion pounds of pesticides applied in the US annually and

look

out if all the killing is worth it. I remember Joni Mitchell lyrics, "You

gure

the sh going to eat if all the insects are gone, smart guys? What about all

are

our pollinators?

of

secure with honey.

be

rst US ban on sales of products containing the neonicotinoid class of

e
---
know what you've got till it's gone."

don't

think my six-legged relatives are part of what we need. In the meantime,

I

is coming. Please rest, my six-legged relatives. I hope to see you in the

winter

I miss you.

spring.
---
Free the Snake

For the

rst time in 131 years, a Nimiipu (Nez Perce) dug-out canoe

the Snake and Columbia Rivers as a part of a restoration of

traversed

and salmon to a place. Each fall, Nimiipu and their allies from

relationship

Palouse, Colville and other nations, as well as hundreds of supporters,

the

on Timothy Island, just down from Lewiston, Idaho, on the

gathered

Greeting some strong-backed individuals who had canoed 17

Columbia.

to honor ancestors and a river, the Save the Snake otilla, the largest

miles

gathering to date, pushed ahead in dam removal.

e focus: the Ice,

Monumental and all the dams that are aging.

e tribes want the dams

and so do millions of those downstream.

removed,

Talequah, the mother orca who carried her dead calf for 17 days in

Perhaps

a grieving, tells this story best.

ere are no salmon because of the dams,

and the orcas are starving. "

e southern resident orcas of the Salish Sea are

ing toward extinction. eir population has dwindled to just 75

dri

Every calf that has been born in the last three years has died

individuals.

it could reach maturity," D.R. Mitchell writes in the Seattle Times. 22

before

are the keystone species of the ecosystem, feeding not only the

Salmon

and the shers but the bears, eagles and every species with excellent

orca

e Columbia used to have one of the largest salmon runs on the

taste.

o en 10 million salmon a year. Today, only a fraction return to

continent,

in an enormous unused habitat. A series of dams, beginning on the

spawn

cut the river from the sea; the Grand Coulee Dam, the largest of all,

Snake,

built without a sh ladder, so salmon are trucked up the river to spawn.

was

makes sh and it makes soil. Fish are life. Today very few sh

Spawning

And if you want to save the orcas, you have to feed them.

return.

aquatic world is worsened by climate change. Salmon need moving

eir

and cold rivers. Dams cut the movement, climate change heats things

rivers,

In 2015, 250,000 salmon died at the mouth of the Columbia — the

up.

warm water, a result of climate change, and slack water. 23

culprits:

Dams are o en touted as green energy, but the fact is that mega dams are
---
from that. While Canada still pretends that big dams are a solution and

far

so en the country's climate criminal status, the US is removing dams.

will

United States removed roughly 900 dams between 1990 and 2015, with

e

50 to 60 more removed every year. 24 In southern Oregon and

another

California, the Klamath River dams are slated for

northern

the Elwha Dam is decommissioned.

decommissioning;

federal dams were built on the Snake River in the 1960s and 70s to

Four

atwater negotiations between Lewiston and the lower Columbia. 25

provide

Nez Perce tribe, in close collaboration with the State of Oregon and

e

has successfully challenged ve ine ective federal plans to

conservationists,

the damage done by the dams, 26 and a er signi cant expenditures,

mitigate

integrated plan to decommission the dams is under review at the federal

an

Removing four lower Snake River dams would yield bene ts that

agencies.

outweigh the costs, according to a recent study. e study calculated the

far

costs of dam removal at $2.21 billion for loss of grid services the dams

net

$1.08 billion for actual dam removal and $170 million related to

provide,

On the other hand, the study also found that $90 million would

irrigation.

saved on transportation, mainly due to reduced operations and

be

costs, and $1.04 billion gained in the recreation category. With

maintenance

billion in non-use bene ts, that brought the total value of dam

$10.97

to $8.65 billion. 27,28

removal

lobbies of agricultural interests push against the tribes and the

Large

complicating the situation with a set of agricultural choices based

salmon,

access to water, in an area with little. Once, thousands of horses, antelope,

on

and deer ranged the territory, now largely bere of those creatures. I

moose

reminded of Charles Darwin's theory of the "survival of the ttest" and

am

reminded that the decisions of men (and I say men deliberately) cause

then

Some would say, our minds are not t.

extinction.

the Nimiipu, and so many others of salmon cultures, it is impossible to

For

a salmon people without salmon. Today, as diabetes rages in Indigenous

be

it's clear that quality of diet and emotional and physical health

communities,

without salmon. Fishing is not only a source of food; it is what

decline

do. Loss of salmon is loss of culture and well-being; study a er study

people

a rm that. For me, I have been gi ed some salmon from the river by a

will

Perce leader, Brooklyn Baptiste, and I hold close to the gi ; the salmon

Nez

return.

must
---
the upcoming years, a window of federal review opens, as state, tribal,

In

and other interests look to federal decisions. A federal court has

shers

ordered a review, and the Nimiipu and the state push for an exit plan.

e

River Treaty is the 1964 agreement between the United States and

Columbia

that provides joint management of the river system. In May 2018,

Canada

US and Canadian o

cials began renegotiating the treaty. 29 Freeing the river

provide salmon to 5500 square miles of forests, lakes and ecosystems. As

will

come down to the south, policy makers come to recognize that old

dams

is not good technology in this case. And, for those who lack an

technology

geography, almost every dam has ooded a Native community

Indigenous

from Celilo (Columbia) to Oahe (Missouri/Standing Rock) — with

—

impacts.

devastating

story of Snake River and the dams is hardly unique to the region. Most

e

dam projects, from the Garrison to the Colorado River Project, have had

US

results for Native People. Canada is the same. With over 900

devastating

dam projects, the largest, whether Quebec Hydro, Manitoba Hydro,

mega

Hydro or BC Hydro, drown Native People.

Ontario

of resistance to James Bay 2 saved part of the ecosystem, but new

Years

came online just the same. Villages like South Indian Lake and Cross

dams

have been devastated by these dam projects as the world they know is

Lake

beneath turbulent waters. Time and time again, the Canadian

drowned

has promised Indigenous Peoples that dam projects will bring

government

but the truth is always far from that. As James B. Waldram from

prosperity,

Department of Native Studies, University of Saskatchewan, would write,

the

And in 1965, when the

rst winter's snows melted around the new

community of Easterville making painfully visible the

Chemawawin

of soil and vegetation, and as the waters rising behind the Grand

lack

dam changed forever the face of the lake they knew so well,

Rapids

not only the shoreline but also the habitat for moose,

obliterating

and sh, the importance of this clause became evident. How

muskrat

the economy and the lifestyle of the Chemawawin people be

would

maintained in the face of such devastation? 30

with big dam projects continues to be a Canadian strategy,

Greenwashing

the British Columbia government announces it will move ahead with the

as

highly controversial Site C Dam project near Fort St. John.

e C$10.7
---
(US$8.32 billion) Site C hydroelectric dam project approved by the

billion

Canadian province's previous government has not surprisingly

western

anger and threats of court cases.

provoked

Columbia Premier John Horgan said he was continuing with the

British

Site C project with "a heavy heart," but feared that electrical costs would rise.

is not a project that we favor, or a project that we would have

is

Horgan told reporters. e project, which would provide

started,"

electricity for about 450,000 homes a year, would ood more

enough

5,000 hectares (12,355 acres or about 19 square miles) of land in

than

British Columbia, spurring opposition from local farmers and

northeast

groups.

Indigenous

forward with Site C is a "major setback to reconciliation,"

Moving

of First Nations national chief Perry Bellegarde said in a

Assembly

statement, adding that the "next step will be legal challenges." 31

on a river about to see freedom, it's a di erent feeling. I canoed slowly

Back

to a dug-out canoe, ate salmon and berries from the river and thought

next

the future. To the people of river and lakes, salmon and sh are our

about

e waters are a part of people as are the lands. And, the taste of justice

lives.

for a river, in this case the Snake River, is a good taste.
---
Do We Grieve the Death of

How

River? a

Grandfather Disaster

The

Krenak told me about the river his people call Waatuh, Grandfather,

Ailton

Our people blocked the road. When the troops arrive, we will face them.

— Ailton Krenak, Krenaki People, Brazil

2014–2015 we saw three of the largest mine tailings pond disasters in

In

ese stories, like so many others, do not make many headlines,

history.

raising so many questions about public policy, mining safety and

despite

liability concerns. ey certainly don't raise concerns about the

economic

important question: what are the moral implications of the death of a

most

is became increasingly apparent as I interviewed Ailton Krenak,

river?

of the Onassis International Prize and a leader of the Indigenous and

winner

movement in Brazil.

forest

sing to the river, we baptize the children in this river, we eat from this

"We

the river is our life." Really, how do you express condolences for a river,

river,

a life, to a man for whom the river is the center of the life of his people?

for

is a question we must ask ourselves.

at

November 2015, the collapse of two dams at a Brazilian mine on the

In

River released a deluge of toxic sludge over nearby villages and

Doce

changed the geography of a world. "

e dam collapse cut o drinking water

a quarter of a million people and saturated waterways downstream with

for

orange sediment. Nine people were killed, 19 are still listed as missing,

dense

500 people were displaced from their homes when the dams burst at an

and

ore mine in southeastern Brazil on Nov. 5. e sheer volume of water

iron

mining sludge disgorged by the dams across nearly three hundred miles

and

staggering: the equivalent of 25,000 Olympic swimming pools or the

is

carried by about 187 oil tankers." 32

volume

Brazilians compare the damage to the BP oil disaster, calling it one of

e
---
EPA Disaster

The

2015 saw a similarly disastrous failure in a tailings pond feeding into

August

the worst environmental disasters in Brazilian history.

e water has moved

the ocean — not only into a delicate ecosystem, but also right into the

into

area for endangered sea turtles. "Renowned Brazilian documentary

nesting

Sebastiao Salgado, whose foundation has been active in e orts

photographer

protect the Doce River, toured the area and submitted a $27 billion clean-

to

proposal to the government. 'Everything died. Now the river is a sterile

up

lled with mud,' he told reporters." 33

canal

When the mining companies — including Australian-based

Billiton,

largest mining company in the world and the one that sold a 60-year-old

the

strip mine to the Navajo Nation in 2013 — wanted to come back, "we

coal

blocked the road," Ailton Krenak told me.

the Animas River in Southern Colorado.

e amazing thing about this dam

was that it was caused by the Environmental Protection Agency. In

failure

case, the was looking into a mine water tailing pond at the Gold

this

King Mine near Silverton Colorado.

e mine had been abandoned, one of

astonishing 22,000 abandoned mines in the state, 34 meaning,

an

there could be more to come. It seems that on August 5, 2015,

unfortunately,

along with workers for Environmental Restoration

personnel

the release of toxic wastewater when attempting to add a tap to the

caused

tailing pond for the mine.

e workers accidentally destroyed the dam

held the pond back, causing 3 million gallons of cadmium-, arsenicand

which

lead-laced mine waste water and tailings to gush into the oddly named

Creek, a tributary of the Animas River. e was criticized for

Cement

warning Colorado and New Mexico until the day a er the waste water

not

spilled.

e Navajo Nation, directly downstream, also did not receive the

memo.

e

did take responsibility for the incident and had the area declared a

disaster zone.

e Navajo Nation has sought disaster relief, since this was a

source of water for Navajo livestock and agriculture, many of which

major

not survive the spill as the Dine irrigation system had to be cut o . e

did

Nation had a bit of time to prepare for the onslaught, in that

Navajo

way that you know your life is about to change dramatically. By

terrifying

August 7, the waste reached Aztec, New Mexico, then the next day, it
---
Salmon Disaster

The

exactly a year before, in August 2014, in northern British Columbia,

Almost

Farmington, a major Navajo city, before the orange ood moved

reached

the San Juan River. As of August 11, acidic water continued to spill at a

into

of 500–700 US gal/min (1.9–2.6 m 3 /min) while remediation e orts were

rate 35 Reporters noted, " e heavy metals appeared to be settling to

underway.

bottom of the river because largely, they are insoluble unless the entire

the

becomes very acidic." 36

river

e Navajo Nation attempted to sue the

to the tune of $130 million,

but in 2017 the

declared that it was legally protected from damages

caused by the spill and asked that the claims be dismissed. 37

is, despite the

that a Freedom of Information Act request found that government

fact

cials "knew of 'blowout' risk for tainted water at mine" for at least a

o

38 Perhaps one of the most tragic sidebars of this story is that the Gold

year.

Mine itself was abandoned in 1923. And, prior to the spill, the Upper

King

water basin was already devoid of sh due to previous acid mine

Animas 39 drainage.

Mount Polley Mine disaster spilled an estimated 1.2 billion gallons of

the

waste from the Imperial Metals mine into the pristine forests and

mine

waterways of the remote region. 40 "

e dam's failure was catastrophic,

nearly the entire contents of the mine's tailings pond — an area the

allowing

of New York's Central Park holding years worth of mining waste — to

size

out into Hazeltine Creek, Polley Lake and Quesnel lake." 41

ow

Lake is one of the deepest ord lakes in the world, and home to

Quesnel

of BC's salmon population. 42 e Secwepemc First Nation, on whose

25%

lands the spill happened, were on the nearby Fraser River

traditional

the largest sockeye salmon return in recent history. Instead they

awaiting

a river overrun with toxins from the largest mine waste spill in

found

history. In the days following the disaster, Secwepemc Elder Jean

Canadian

said, " e loss of the salmon for us as Secwepemc people is a

Williams

of life or death for our culture. Can our salmon survive this

matter 43 Indeed, a study commissioned by the First Nations Health

devastation?"

found that there were signi cant economic and social impacts on

Authority

surrounding communities:

the

Emotional stress and trauma as a result of the spill was shared across
---
22 communities which participated in the study.

the

impacts to traditional territory, such as loss of access to sacred

Direct

traditional foods and medicines, in three First Nations — Xat'sull

land,

Nation, Williams Lake and Lhatko Dene First Nation. Impacts

First

immediate and ongoing.

were

decrease in individual

A

shing practice reported by almost all

resulting in changes to diet composition, physical activity

communities,

cultural practices.

and

Impacts to commercial

sheries in six communities, leading to

economic income and employment opportunities for

reduced

members. 44

community

over the potential devastation from spills of this kind spread

Concerns

even before the cause of the breach was known, Native communities in

and,

parts of the province began to speak out against mining operations on

other

lands. their

e spill's rami cations rippled to Imperial's Red Chris mine in

"

BC, where elders from the Tahltan Central Council (with

northern

the company previously had a positive working relationship)

whom

a blockade to voice their concerns about the potential of a

established

incident in their territories."… In order to continue operations,

similar

company was forced to sign an agreement that would allow third-

the

party inspection of the operation under the band's auspices. 45

that they would be powerless in the face of another spill, "the

Concerned

took what some might feel was a bold step: It invoked its rights

Secwepemc

a sovereign First Nation of Canada and evicted Imperial Metals from its

as

It also announced that it now had mining policies of its own, and

land.

enforce from herea er." Invoking the UN's Declaration of Indigenous

would

the Secwepemc Nation argued that it's their right to "determine and

Rights,

priorities and strategies for the development or use of their lands or

develop

and other resources," including the right to close the mine and

territories

mining companies as it sees t. As Jacinda Mack, council coordinator

evict

the Secwepemc Nation, said, "One thing I want to make perfectly clear is

for

policy isn't a wish-list. is is Indigenous law." 46

this

two years a er the disaster the mine was repaired and reinforced

However,
---
of the River?

Rights

2012, New Zealand's Whanganui River became a legal entity and was

In

was once again fully operational. Shortly a er that, the provincial

and

announced that there would be no provincial charges related to

government

tailing ponds collapse. A year later it was announced that there would be

the

private charges. e h anniversary — and the deadline for federal

no

— came and went with no charges being laid. 47 And some residents

charges

still reluctant to drink the water.

are

mining economy of northern British Columbia continues, along with

e

fracking pipelines and a host of extreme energy proposals, which seem

the

to be undertaken out of sight and out of mind, except if you live there.

the same status as a person under the law. In an agreement between

given

Maori, represented by the Whanguanui iwi, and the Crown in

the

the river has legal status under the name Te Awa Tupua. Two

Parliament,

one from the Crown and one from a Whanganui River iwi, are

guardians,

given the responsibility of protecting the river.

agreement which recognizes the status of the river as Te Awa

"Today's

(an integrated, living whole) and the inextricable relationship of

Tupua

with the river is a major step towards the resolution of the historical

iwi

of Whanganui iwi and is important nationally," said New

grievances

Zealand's Minister for Treaty of Waitangi Negotiations. 48

the Animas River, the Fraser River and the Rio Doce have similar

Should

or standing? Should the St. Louis River, or Gichigami Ziibi (River

rights

Runs to the Sea) as it is known in Anishinaabemowin, have similar

which

And, importantly, who gets to determine what is alive?

status?
---
Should Save the

Amazon

Amazon

Ever worry that one day you will wake up and

nd you are owned by

Amazon?

ey keep growing. With all their in uence, gobbling and growth,

would be great if they would do something good with it. Like save the

it

Amazon.

though, they are buying everything, and some days, I have to pinch

Really

to see if I am really me or owned by Amazon.

myself

from deep in the woods, I watch a circus of corporate

Nopeming,

You've got Bayer buying Monsanto; General Electric — the guys

takeovers.

make appliances and nuclear power plants — well they own 80% of

who

; Enbridge bought Spectra; Exxon bought Mobil; Delta

and

Northwest; and Amazon bought Whole Foods. Kind of like watching

bought

Pacman game.

a

just can't keep track of the drama in the corporate world. Seems like their

I

come and go so quickly, it must be hard to keep the right make up,

identities

logo, on. I don't really know who they are … I don't think they really

or

who they are.

know

And then, they go bankrupt and aren't around anymore. Poof.

ey are

gone.

at, however, usually occurs a er they have a catastrophic accident

Union Carbide, a er the Bhopal disaster).

(i.e.,

California's Paci c Gas and Electric.

Take

is one of California's largest

corporations, providing power transmission to 16 million customers.

ey

not take care of their powerlines, so, those lines caused a re, aka the

did

Fire. Camp

was the one that took out the town of Paradise, where 86 people died.

at

is ling for bankruptcy, because they have $30 billion in liability. 49

Now

means that they have to pay o their creditors rst — the guys who

at

them money. It's unknown how much will trickle down to Paradise.

gave

And poof, they are gone.

at corporation is no more. Somehow I am

trying to rectify in my little head why the president of

gets to sit in his
---
Brazil

only that big Amazon would help save the actual Amazon.

If

in Bermuda, or wherever, having sucked millions annually out of

armchair

and not having to pay for any of the disaster he's caused. 50

California,

corporate gobbling and getting rich thing is really bothersome to me.

is

also boggles me why a corporation is considered a person under the law,

It

the same rights as you and I. Now, a corporation is not actually a

with

because a person has a soul. And, besides that, if a corporation was a

person,

I think they would be su ering from a multiple personality disorder

person,

er all those mergers and limited liability things are sorted out.

a

Now back to Amazon.

at corporation is one of my favorite corporations;

love that Amazon Prime. Now, Amazon is getting bigger. Je Bezos, the

I

has done well. Bezos is the rst person in modern history to

,

a fortune of over $200 billion, according to the latest Forbes

accumulate

of his net worth. e company is now worth $1.49 trillion. 51

estimates

e rainforests

getting clear cut, dams are breaking and killing people, mining

are

are running amuck, and Brazil's president, Jair Bolsonaro, has

companies

an assault on environmental and Amazon protections by

launched

the regulation of Indigenous reserves to the agriculture

transferring

— a ministry known to be controlled by the powerful agribusiness

ministry

lobby.

at the 2019 Bioneers Conference, executive director of Amazon

Speaking

Leila Salazar-López, notes that Brazil had over 100,000 res in 2019

Watch,

burning 3 million hectares of Amazon forest, and puts the blame for

alone,

squarely on the shoulders of the Bolsonaro administration:

this

lot of people ask us, well, who's responsible?… It is the Bolsonaro

A

Let's not make light of it. e Brazilian government has …

government.

only the rhetoric, but the policies to destroy the Amazon to make

not

for economic development, to make way for agribusiness, to make

way

for soy and cattle, to make way for mining. It is their policy to

way

the Amazon for economic development. So it's not a mistake.

destroy

It's not a wild re. It's intentional, and malicious, and destructive.…

e

moment Bolsonaro got in o

ce, he rolled back the rights of Indigenous

merged environmental and agribusiness ministries to

peoples,

destroy the lands and the rights of Indigenous peoples. 52

intentionally
---
Peru

to the west, Peru is moving quickly into the Amazon. One of the

Meanwhile,

ere will be an increase in deforestation and violence against indigenous

"

Dinaman Tuxá, executive coordinator of the Articulation of

people,"

Indigenous People of Brazil (

), said. "Indigenous people are defenders

protectors of the environment." 53

and

of Indigenous reserves was previously controlled by the

Demarcation

agency Funai, which fell under the justice ministry until

Indigenous

attempted to move it to a new ministry of human rights, family

Bolsonaro

women, under the control of an evangelical pastor. Fortunately,

and

cant public pressure forced him to return Funai to the justice ministry.

signi

original executive order also gave Bolsonaro's government secretary

e

far-reaching powers over non-governmental organizations

potentially

in Brazil, clearly targeting the successful work to support

working

Peoples. Bolsonaro, a political combination of Andrew Jackson

Indigenous

Donald Trump, issued an ominous statement, "More than 15% of

and

territory is demarcated as indigenous land and quilombos. Less than

national

million people live in these places, isolated from true Brazil, exploited and

a

by s. Together we will integrate these citizens." 54

manipulated

health minister, Luiz Henrique Mandetta, is doing his part too

Bolsonaro's

spending cuts to health care for Indigenous People. "We have gures

with

the general public that are much below what is spent on health care for

for

indigenous," he said. 55

the

ending the demarcation of new Indigenous lands, reducing the

Well,

of environmental agencies and freeing up mining and commercial

power

on Indigenous reserves were key elements of Bolsonaro's election

farming

so it's not like this is a surprise. It's like the 2019 version of the

campaign,

Allotment Act, which allotted reserve land to individual Indigenous

General

to create a more European model of land holding.

People

projects, the $2 billion Inter-oceanic Highway, connects Peru and

biggest

by way of the Amazon. e 2600 kilometers of highway travels over

Brazil

Andes and through a large chunk of the Amazon. 56 Elsewhere, the Belo

the

hydroelectric dam, licensed under Lula's government, was brought to

Monte

November 27, 2019, in the presence of Bolsonaro.

life

response to the "Blue Gold Rush" a sort of a green energy

In

asco
---
Amazonian Tribes and COVID-19

Isolated

gold means a gold rush, and during a pandemic like

e

as huge hydroelectric dams threaten other parts of the

internationally,

the Movimento Xingu Vivo para Sempre (Xingu Alive Forever

Amazon,

Movement), issued a statement damning the dams:

a time when the people of the Xingu agonize over their lack of water,

At

hails the nal turbine of Belo Monte. At a time when the sh

Bolsonaro

the Xingu River are reduced to skin and spine because there are no

of

nutrients in the river, Bolsonaro celebrates Belo Monte. When the

more

tumbles like it never has before in the areas of Belo Monte …

forest

honor him by setting res to the forest.…

supporters

Monte, as expected, is killing the Volta Grande of Xingu, and

Belo

new turbine requires more and more water for it, further

every

the river and its people.

endangering

you all! May those who commemorate Belo Monte be cursed.

Damn

the one who comes to inaugurate the last turbine of the dam be

May

May the pain of Volta Grande keep you up at night, take away

cursed.

peace and quiet, and may it strip the laughter from your mouth.

your

all of the violence against the Xingu people come to haunt you one

May

day. Damn you all! 57

then there's gold. Peru is the world's sixth-largest gold producer, and

And

much of it comes from Andean mines, a growing portion — by some

while

16 to 20 of the 182 tons that Peru exports annually — comes from

estimates,

or quasi-legal mining along the rivers. e mercury will choke and

illegal

poison the rivers, all for some baubles on a nger.

e Peruvian government

that 30 to 40 tons are dumped into the country's Amazonian rivers

estimates

year. 58 each

, that's a bad

for anyone. e rst -19 death in the Amazon was reported on

thing

9, 2020. at, according to National Geographic, is a Yanomami youth

April

moved back and forth through an area full of wildcat gold miners.

who

isolated Indigenous communities have been protected under federal

Brazil's

since 1987, barring outsiders from entering the territories of these

policies

principally because Indigenous Peoples have no immunological

nations,

defense.
---
that matters.

Now

Federal Public Ministry "warned on April 8 of the 'risk of genocide'

Brazil's

amid allegations that

, Brazil's indigenous a airs agency, had done

little to protect native communities from the coronavirus contagion.

e

Public Ministry also repeated its call for the immediate removal of

Federal

Lopes Dias, an evangelical missionary appointed in February to

Ricardo

head

's Department of Isolated and Recently Contacted Indians."

is concern that Dias's history as a missionary might lead him to

ere

the department away from its strategic role of shielding isolated tribes

"steer

the forces of the outside world." e con rmed 28 — and suspected 80

from

— communities living in "extreme isolation" have been protected from

more

since 1987, principally to protect the tribes from communicable

outsiders

diseases.

National Geographic explains, "Many of their villages have little or no

As

with the outside, but their sprawling reserve has been illegally

contact

ltrated by thousands of gold prospectors, posing a grave threat to the

in

Yanomami leaders have been pleading with o cials for weeks to expel

tribe.

miners. "You should do your work to avoid the penetration of the

the

into our homes along the pathways opened by the non-indigenous

epidemic

warned the Hutukara Yanomami Association in an open letter on

invaders,"

19, 2020, to federal health and Indigenous a airs o cials."

March

e

-19 death wasn't the only tragic death in these communities in

2020. As National Geographic reports, "On March 31, (2020) Zezico

early

a leader of the Guajajara people, was found shot dead outside his

Rodrigues,

in the Arariboia Indigenous Territory in Maranhão. Investigators

village

yet to produce a suspect, but the Guajajara have been locked in a war

have

with illegal loggers that has le

ve of its members dead since last

While the political power of the Kayapo has resulted in an

November."

with miners to withdraw from their territory, and other nations,

agreement

the Muduruku, have posted signs prohibiting trespass into their areas, in

like

regions, illegal miners, loggers and land speculators continued their

other

moves into Indigenous territory during the crisis. 59

aggressive

is considered the second-largest contributor to climate

Deforestation

a er fossil fuel use, accounting for about 10 percent of greenhouse

change,

emissions. Forests act as sponges for carbon dioxide, soaking it up and

gas

converting it into plant material. And oxygen.

e Amazon is the lungs of
---
Earth and the people who live there, the ones who have forever, they

Mother

want to be le alone. ere's even about 5000 of them who are

just

— that means they want nothing to do with the rest of us. I,

"uncontacted"

one, want to support that. Leave them alone. A er all, oil mining

for

are causing enough messes in the Amazon, and I'd like to see

corporations

"Garden of Eden," or maybe just a safe place for nature.

one

let me be clear about this. In 2018, Amazon, the company, was worth

So,

billion, and earned $11 billion in pro ts. 60 ey will pay zero in federal

$600

It used to be that when I thought of the Amazon it was the lungs of

taxes.

Earth, but a Google search will rst point me to shopping. ey

Mother

the name of a place, and apparently don't give a damn about

appropriated

place. I nd that sad.

that

stated, before you gobble up anything else Mr. Bezos, aka. Mr.

Simply

can you pay some royalties to the protection of the Amazon? Or

Amazon,

some of what you could have paid in taxes if you didn't have all those

maybe

the little people don't have. ose Forest Guardians, the guys with

breaks

on scooters protecting the Amazon, could use some gear and some

machetes

Maybe get it delivered Amazon Prime to a nearby town. at

support.

would be swell.
---
Viva Mexico

ey tried to bury us.

ey did not know we were seeds.

—Mexican proverb

Ihave always loved that quote, rooted, ancient and resilient.

at is my

not the Mexico of Donald Trump tales. Forty thousand years of

Mexico,

the origin of corn, potatoes, tomatoes, avocados and, let me say it,

history:

chocolate.

e Mayans have a Goddess of Chocolate, Ixcacao. Now I can

that. A land which remembers, people who remember and are

understand

as seeds. And a river, reborn.

reborn,

early September 2018, I was invited to a conference on de-growth in the

In

city in the world, with 21 million people, Mexico City. ere,

largest

and leaders of social movements talked of how we might live in

academics

for another 100 years, maybe 1000. A er all, if the ecosystems

societies

and there is no food, air or water and a few people head to another

collapse,

well that's not really a long-term plan. e conference, held at the

planet;

Nacional Autónoma de Mexico's Museum of Medicine,

-Universidad

me pause, as I listened not only to academics but to the voices of a

made

social movement in Mexico. A movement for change and resilience.

strong

does this story begin? With land and water, far before the people.

Where

e Colorado River is one beginning.

e river was once alive, the delta

that invisible line called a border encompasses 3,000 square miles.

spanning

size of Rhode Island, the Colorado Delta is one of the largest desert

e

estuaries in the world.

e nutrients brought by the river nourished

the rare vaquita porpoise and an enormous relative to the white

dolphins,

bass which grew to 300 pounds, spawning in the brackish water and

sea

the Sea of Cortez. When the Spaniards arrived, they spoke of ocks

ranging

birds so abundant they darkened the sky, deer, bobcats, beavers and

of

coyotes.

e people there, the Cocopah, have an origin story which reminds

they are children of the gods. When the Spaniards saw them, there

them

thousands of them, tall and strong, the women adorned with feathers

were

that fell from the waist, feasting on a cornucopia of gardens, with soils rich
---
Indigenous Candidate

The

de Jesus Patricio Martinez — or Marichuy, as she's known — an

Maria

a river delta and harvests plentiful.

from

was before the dams. e United States has squeezed the lifeblood out

at

of the Colorado River, literally.

e Hoover Dam, built in 1935, reduced the

ow of the river to ll Lake Mead, the water supply for Los Angeles.

en

the Glen Canyon Dam, cutting the river ow for 17 years, then the

came

and Morelas dams, until the Delta is without water. Choked. e

Imperial

fewer in numbers, many refugees in their own country, and sad for

people

world they knew. As Joni Mitchell would say, "You don't know what

the

you've got till it's gone."

at is a story of a river, one of so many stories.

o cial period of the Mexican Inquisition was from 1571 to 1820. 61

e

a pretty long run as inquisitions go. at's where a good deal of

at's

burning of witches occurred and a good deal of torture.

e conference I

attended was in the former Holy O

ce of the Inquisition, the "palace" now

called the Museum of Medicine.

ick stone walls still smell like blood of

the tortured, I swear.

at's another beginning of this story, little vignettes of

history.

Mexican

am reminded of the Inquisition in Diego Rivera's mural "Dream of a

I

Sunday a ernoon in the Alameda." Mexican history is told in art.

e city

boasts more museums and public art than any in the world.

at's along

free education, from grade school to graduate school. It is beautiful,

with

Mexico.

woman backed by the Zapatista National Liberation Army

Indigenous

), ran for the presidency of Mexico. Her campaign changed the

(

in Mexican national politics and focused on the rights of women,

dialogue

Peoples and nature. Running as an independent — which was

Indigenous

allowed for the

rst time in the country, on condition of collecting a

of 850,000 signatures — she collected signatures and told the

minimum

of Indigenous Peoples and the Zapatistas. Although Marichuy's

story

was not successful, she was able to gain broad community

registration

and marked a change in Indigenous politics. 62 In a country with one

support

the highest death rates for Indigenous and environmental leaders,

of

courageously traveled the country and provided courage and a

Marichuy

voice. A spokeswoman for the National Indigenous Congress, the political
---
River The

then there is the river, resilient and hopeful. On March 23, 2014, the

And

arm of the

, she brought to the electoral politics a strong movement. As

record numbers of Indigenous women run for o

ce in the US, we are also

inspired.

shunned party politics generally, the Zapatistas and the National

Having

Indigenous Congress (

) formed independent autonomous communities

known as "Caracoles" across the country.

ese are founded on the principle

self-determination and are seen as resilient models of self-government for

of

across the globe. is campaign marks a move into national political

people

arenas.

however, have come. Andres Manuel Lopez Obrador is the new

Changes,

of Mexico, a progressive leader, former Mexico City mayor,

president

and le ist. at's who Trump is trying to get to pay for that wall.

nationalist

Dam groaned open, unleashing a surge or "pulse ow" of water into

Morelas

thirsty Colorado River. As the gray-green torrent roared south, children

the

had only known a dry riverbed played as the Colorado River came back

who

life. e Environmental Defense Fund's Colorado River Project helped

to

through an international multi-agency initiative allowing the release of

work

acre-feet of water (52,000 Olympic-size swimming pools). e goal:

106,000

restoration of the Colorado River Delta. 63 In September 2017, the

jump-start

administration's Interior Ministry allocated 210,000 acre-feet of

Trump

water annually for delta restoration over the next nine years. 64

at's a

Life returns. Egrets, geese, cormorants, sandhill cranes, who

beginning.

in the north country, to the Colorado Delta they y. To them, and

summer

the Cocopah, this is life.

at is my Mexico.
---
Borinquén: A Rebirth

does Puerto Rico's catastrophic 2017 hurricane teach us about

What

how we treat each other and the future? e Taino name for the

ourselves,

island is Borinquen; it is still that land. A er the disasters of

beautiful

Irma and Maria, very little has changed. e country was

Hurricanes

by the worst natural disaster to hit the island region, about 3,000

devastated

died, and President Trump bumbled a lot, including throwing paper

people

at Borinquenos and criticizing the Mayor of San Juan. And, as Naomi

towels

reminds us, there is nothing natural about this disaster:

Klein

major causes of death were people being unable to plug in medical

e

because the electricity grid was down for months; health

equipment

so diminished they were unable to provide medicine for

networks

diseases. People died because they were le to drink

treatable

water because of a legacy of environmental racism.

contaminated

died because they were abandoned and le without hope for so

People

that suicide seemed the only option.

long

deaths were not the result of an unprecedented "natural

ose

or even "an act of God," as we so o en hear.

disaster"

the dead begins with telling the truth. And the truth is that

Honoring

there is nothing natural about this disaster. 65

According to a study published in 2019,

federal government responded on a larger scale and much more

e

across measures of federal money and sta ng to Hurricanes

quickly

and Irma in Texas and Florida, compared with Hurricane Maria

Harvey

Puerto Rico. e variation in the responses was not commensurate

in

storm severity and need a er landfall in the case of Puerto Rico

with

with Texas and Florida.

compared

even today, the administration is sitting on $18 billion in

Indeed,

aid to Puerto Rico that has been approved by Congress. 66

recovery

ere's a lot of reasons: racism, ignorance, a hundred years of colonialism,
---
archaic colonial law called the Jones Act, which is basically stopping aid

an

getting in, an economy constantly structurally adjusted to

from

corporate interests and a crushing debt. But Puerto Ricans

accommodate

with allies on the mainland and internationally, have a new and

themselves,

better plan for their country; that vision is being born.

a

little history lesson: 2017 marked the 100th anniversary of the US

A

absorption of Borinquén, or Puerto Rico, under the Jones Act,

political

citizenship, but not the full bene ts of citizenship. As an

conferring

territorial possession, Puerto Rico is the world's oldest

unincorporated

Residents are US citizens, but have no say in presidential elections.

colony.

can die for this country in the military, but they cannot vote. And the

ey

Act — the shipping law that requires that all goods entering Puerto

Jones

from the mainland arrive via US ships, dramatically driving up costs

Rico

limiting options 67 — restricts what can come into Puerto Rico and is a

and

signi cant factor in Puerto Rico's economic di

culties, and it's killing

today. Something is profoundly wrong about that second-class

people

which should rankle not just Puerto Ricans, but us all.

citizenship,

is not surprising that colonialism has not worked well for Puerto Rico.

It

the economic dominance of the sugar industry, to the military

From

of Vieques, a small Puerto Rican island, Puerto Rico has seen the

occupation

kind of relations as much of Indian Country. Take the example of

same

Between 1941 and 2003, two-thirds of this small island was

Vieques.

by the US Navy. Bombed an average of 180 days per year; in 1998,

occupied

last year before protests interrupted maneuvers, the Navy dropped

the

bombs on the island, the majority of which contained explosives.

23,000

the course of US Navy occupancy, nearly 22 million pounds of

"Over

and industrial waste, such as oils, solvents, lubricants, lead paint,

military

and 55 US gallon (200 L) drums were deposited on the western portion

acid

the island." 68 e US Military is the largest polluter in the world.

of

sounds quite a bit like many cases in Indian Country, whether the Ho

is

Badger Munitions Site, Fort Wingate, Western Shoshone Territory or

Chunk

Pine Ridge's Gunnery range, all territories occupied by the US military.

e

did some work to clean up Vieques, but by 2003 they had handed most

Navy

the island to the Department of Interior, who had the lands reclassi ed as

of

wildlife refuge. Since humans are not allowed to enter wildlife refuges, that

a

up can be avoided. is sounds a great deal like Badger Munitions in Ho

clean
---
New Birth for Puerto Rico

A

brings opportunity. I think it's time to support Puerto Rico to become

Crisis

Territory.

Chunk

scholar Nelson Davis writes,

As

er one hundred years of citizenship, Puerto Ricans are prohibited

A

managing their own economy, negotiating their own trade

from

or setting their own consumer prices. Puerto Rico has been

relations,

more than a pro t center for the United States: rst as a naval

little

station, then as a sugar empire, a cheap labor supply, a tax

coaling

a captive market, and now as a municipal bond debtor and target

haven,

privatization. It is an island of beggars and billionaires: fought over

for

lawyers, bossed by absentee landlords, and clerked by politicians. 69

by

results: economic refugees, who leave their beloved homeland and are

e

onto the mainland, where they continue to be treated as second-class

forced

citizens. From 2006 to 2015, more than 700,000 people

ed debt-ridden

Rico, to cities like Orlando, New York, Philadelphia and Miami. 70

Puerto

knew they were US citizens? One poll found that only 54% of

Who

knew that Puerto Ricans were American citizens, 71 therefore

Americans

to the same disaster relief a orded Houston or any other city facing

entitled

climate change disasters. Donald Trump appeared quite unaware of this.

self-reliant, multi-racial and beautiful country, as it was intended. Early on,

a

Elon Musk came out and said that Puerto Rico should just go solar,

Tesla's

that was a moment to re ect. It turns out that a movement of Puerto

and

like Resilient Power Puerto Rico, supported by many allies, is

Ricans,

a future. As Naomi Klein writes in the Intercept, "Under the banner

creating

a 'just recovery' for Puerto Rico, thousands have come together to design

of

bold and holistic plan for the island to be rebuilt as a beacon for a safe,

a

and thriving society in the era of accelerating climate chaos,

resilient,

economic inequality, and rising white nationalism." 72

spiraling

is, frankly, an opportunity to do the right thing. A er all, a resilient

is

and energy system is sure better than a non-working system, and

economic

climate change disasters on the increase, we will need to be prepared.

with

Puerto Rico's energy system was ine

cient and outdated before the

hurricanes. So how bad was it? Imagine that they are operating on
---
petroleum.

at's right, until 2012, 65% of their electricity came from

petroleum, with only 1% coming from renewables.

is has changed slightly

recent years. In 2019, 40% of Puerto Rico's electricity came from

in

39% from natural gas, 18% from coal and 2.3% from renewable

petroleum,

energy. 73

at's expensive and is forced through a surcharge in the US, via

Jones Act, which requires Puerto Rican imports to touch US soil. So, the

the

Rican Electrical Company uses fuel oil no. 6 (the heavy, dirty version

Puerto

New York City has banned), or fuel oil no. 2, which costs about $3 per

that

It's so expensive that the Puerto Rican Electrical Company decided to

gallon.

cash from its capital works fund — up to $100 million — to buy oil. It's

take

surprising that Puerto Rico's electricity costs — at about 27 cents per

not

— are about twice what they are on the mainland. Puerto

kilowatt-hour

however, use much less power. 74

Ricans,

let's say we set up a power grid and a local food system which would feed

So,

people, reduce the debt and make sure that they still had power in the

island

next hurricane.

en maybe get rid of that Jones Act.

this plan. Sunrun and Tesla, two solar companies, brought over

at's

solar panels with powerwall batteries to power water desalination

smaller

Funding for the project was provided by Empowered by Light (a

tanks.

backed by Leonardo DiCaprio), roo op company Sunrun Inc. (which

group

donated the solar panels) and GivePower, a nonpro t that specializes in

also

installation in con ict regions. 75 at's some solutions. It's a

solar

e ort for these companies, but it's also a chance to showcase

humanitarian

energy source capable of enduring natural disasters. e Solar Energy

an

Association has received pledges for more than $1.2 million in

Industries

and monetary contributions from its network. 76

product

than perpetuate the island's dependence on vulnerable distribution

"Rather

and carbon-heavy fuel," Resilient Power explains on its website,

hardware

prioritize clean production of energy that allows each household to be

"we 77

self-reliant."

well, many of the island's farmers are creating a similar revolution in

As

Most of the season's crops were destroyed by Maria, but the

agriculture.

for a restorative agriculture system is clear. Because so much of the

potential

farm land is not being cultivated, Puerto Rico has been importing

potential

of its food. Even before the hurricanes there was a movement to restore

80%

or Indigenous knowledge and modern appropriate

"agroecology,"
---
into farming, adding in the bene t of carbon sequestration. It

technologies

out that organic agriculture sequesters carbon, which is what we need.

turns

like Boricuá Organization for Ecological Agriculture have

Organizations

brigades," now traveling from community to community to

"agroecology

seeds and soil so that residents can begin planting crops immediately.

deliver

Naomi Klein writes, "Katia Avilés-Vázquez, one of Boricuá's farmers, said

As

a recent brigade: 'Today I saw the Puerto Rico that I dream being born.

of

week I worked with those who are giving it birth.'" 78

is

and nationally, internationally acclaimed musician Maria Isa,

Locally

Borinquena, worked with leaders like Minnesota State

Minneapolis-raised

Melissa Lopez Francis (Edina) to leverage relief, and as of May 2018,

Senator

$270,000 and delivered it directly to Puerto Rico. 79 e Puerto Ricans

raised

Minnesota Coalition along with Borinquen will continue to support the

of

of a new Puerto Rico. And in its own example of being, so much like a

birth

reservation, let us support this rebirth, as it is our own.
---
Theft Continues

Land

not going to give a long speech about the Wampanoags and the Pilgrims.

I'm

Is Time for

Thanksgiving

Reparations

anksgiving morning. Everywhere in America. anksgiving seems

It's

important to white folks, but it needs to mean something to Native

pretty

people too. Perhaps it could mean something like justice and reparations.

a brutal history that begins with the beheading of their leaders (which

It's

then displayed on spikes for decades in Puritan towns) and continues

were

the most recent attack on the People of the First Light by the Trump

to

administration.

March 2020, the Secretary of the Interior made the unprecedented

In

to take the land of the Wampanoag Cape Cod Reservation out of

decision

trust and disestablish the reservation.

e status of the trust had been in

for some time, but the announcement of the decision, coming

question

late Friday a ernoon in the middle of the coronavirus pandemic is

down

said William Keating, Massachusetts senator. Tribal Council chair

"cruel,"

Cromwell said, "It feels like we've been dropped o into a new world

Cedric

never seen before, i.e., in this pandemic and the way my tribe is being

we've

With this happening now, this is a direct, hardcore blow to

treated.

and disestablishing my tribe." 80

dissolving

Pierite, of the North American Indian Center, argues that this is

Jean-Luc

power grab and a land grab by the Trump administration." He suggests

"a

this, along with a decision to withdraw trust status from lands owned by

that

Santa Ynez Band of Chumash Indians in California, demonstrates that

the

Trump administration is willing to use its discretionary powers to

the

to take lands away from tribes. 81

attempt

real estate, like Cape Cod, is always a bitter ground for Native

Prime

people; just ask the Hawaiians or the Wiyots of California.
---
Parks as Land Theft

National

well-being is land based. And, nationally, most of that land is not

Indigenous

by Native people. Prime real estate is not the only land that has been

held

from Indigenous Peoples — national parks are literally a treasure

stolen

stolen from Native people. Historian Phil Burnham describes the

chest

of tribal lands for national parks in his book Indian Country, God's

taking

A few of the takings include Glacier, Badlands, Mesa Verde,

Country.

Yellowstone, the Grand Canyon, Death Valley and of course the

Yosemite,

Hills. Black

the west, the Pikuni, or Blackfeet Nation, have begun to push for more

To

to Glacier Park. Indeed, the Lame Bull Treaty of 1855 recognized the

access

lands, as well as those lands to the north and south in Glacier

Blackfeet

by Kootenai and Salish people, respectively. But in 1896, because

occupied

potential mineral resources on the land, the Blackfeet were starved into

of

transferring more land to the federal government for $1.5 million.

ey sold

or perhaps leased — the land, but on the grounds that it remains public.

—

the land was declared a national park in 1910, Blackfeet hunting and

When

rights were revoked, though gathering rights remained. Since then,

shing

people have been arrested and forced to ght in court for their use

Blackfeet

the land. of

2019, the Blackfeet announced their own national park project, led by

In

DesRosier, a thirty-year veteran of park tourism and owner of Sun Tours,

Ed

Loren BirdRattler, project manager for the Blackfeet Nation's

and

Resource Management Plan. Approximately 55 percent of

Agricultural

biodiversity is present on Blackfeet Nation's 1.5 million acres,

Montana's

tourism an important industry in the area. But the revenues do not

making

t the Blackfeet Nation, so some members have decided to change that

bene

opening a national park as "a way to assert the tribe's place in the region's

by

protect its natural resources and provide new economic

history,

to its members." A er all, the history of Glacier is the Pikuni,

opportunities

they call themselves. 82

as

the Salish and Kootenai continue a collaborative management

Nearby,

with the National Bison Range, carved entirely out of their

initiative

Meanwhile, here in Minnesota, the Tamarac National Wildlife

reservation.

was carved out of the White Earth Reservation, and really should be

Refuge
---
Stolen Land

Returning

there are many ways to make good on this

Fortunately

to the tribe. Almost one-third of the White Earth Reservation is

returned

by federal, state or county governments, all of it taken illegally.

held

fact is that the national parks and wildlife refuges hold more land than

e

people nationally. As Keller and Turek point out in American Indians

Native

National Parks, "tribes today contain 50 million acres; the Park Service

&

approximately 80 million." 83 at's ironic and tragic.

controls

anksgiving and

On October 21, 2019, Tuluwat, known as Indian Island, was

beyond.

to the Wiyot Tribe of northern California. e Wiyots are

returned

speakers, a linguistic miracle, thousands of miles from the rest of

Algonquin

linguistic family. e Wiyot tribe, who still live on this small stretch of

our

had begun purchasing plots of land years ago, but in 2015 Eureka city

land,

began to explore returning the land to the tribe. In 2019, it was

council

nally approved. 84 "

is is the rst known transfer of land from a city to a

of this kind," Eureka Councilwoman Natalie Arroyo said. "We are all

tribe

to do what we can to actively participate in healing. I will be so

responsible

as to say under current conditions Eureka owns the land, but it was

bold

truly ours." Eureka Mayor Susan Seaman con rmed that "the vote to

never

the Tuluwat island to the Wiyot Tribe was unanimous and the motion

return 85 passed."

at's a good way to begin reparations. Return of stolen land.

ere's a lot of

on that island. In 1860, Tuluwat was the site of a massacre, one of over

blood

dozen that occurred in a ve-day period in the area. Most of the adult men

a

away, bringing back essentials for their Earth Renewal Ceremonies,

were

the massacre, which took the lives of about 250 men, women and

when

children, occurred.

local newspaper, the Northern Californian, described the scene

Arcata's

follows: "Blood stood in pools on all sides; the walls of the huts were

as

and the grass colored red. Lying around were dead bodies of

stained

sexes and all ages from the old man to the infant at the breast.

both

had their heads split in twain by axes, others beaten into jelly with

Some

others pierced or cut to pieces with bowie knives. Some struck

clubs,

as they mired; others had almost reached the water when

down

and butchered." 86

overtaken
---
Back the Land

Taking

2018, the Leech Lake Band of Ojibwe secured the return of part of the

In

Brutal indeed.

e work of vigilantes, but also the responsibility of those

stood back and said nothing.

who

Tuluwat/Indian Island massacre was part of a coordinated

e

attack on other Wiyot villages, including those on the Eel

simultaneous

and South Beach. ough the attack was widely condemned in

River

outside Humboldt County, no one was ever prosecuted for the

newspapers 87 murders.

e only compensation for land is land.

at's what Oren Lyons, the

Faith Keeper, has always reminded us. "Land acknowledgements"

Onondaga

a start. Indigenous People's Day declarations begin a process. But the

are

only compensation for land is land.

Chippewa National Forest.

at was about 11,700 acres stolen from the

band by the National Park Service in the 1940s.

at's the story of Indian

However, although the Leech Lake Reservation is the second

Country.

reservation in Minnesota and is wealthy with water and land, less

largest

5% of the Leech Lake Reservation actually remained in Ojibwe hands.

than

of the reservation's prime lakeshore and islands were held by non-

Most

lakeshore owners.

Indian

why, in 2017, Leech Lake made the decision to phase out leases to

at's

Over 350 lots of prime land along the lakeshore were occupied

non-Natives.

non-tribal members. At the same time, noted former Natural Resources

by

Levi Brown, there were 500 homeless tribe members looking for

Director

to live on the reservation, and 100 more applying for tribal land

places

where they can build a home.

allotments

Brown told Minnesota Public Radio, "You can put a dollar sign on what

As

have to spend on somebody. Or you can say, 'You're Anishinaabe. You're

you

from the water. We're going to allow you to live and be who you

people

are.'" 88

same year, the Bad River Band of Ojibwe in Wisconsin also ended

at

with non-band members. In 2014, the band made the decision not to

leases

the 50-year lease, up in 2017, of 17 plots of land that were held by

renew

members in the remote and pristine Amnicon Bay on Madeline

non-band

Island. 89
---
the long arc of history, we nd that enlightenment is possible. And on

In

anksgiving, I am reminded that the brutality of history only nds

this

redress in reparations and justice.
---
The Telescope and the Mauna

e Mountain brought us together," Luana Busby tells me. It's 200 days into

"

prayer vigil and blockade which has brought the proposed irty Meter

the

( ) to a stop in Hawai'i. at's to say, the project, the fourteenth

Telescope

telescope in Hawai'i, has met with resistance, big time. Luana is one of

giant

Kapuna, or Elders, who was arrested in July of 2019.

the

is the rst major Indigenous occupation since Standing Rock, and,

is

Standing Rock, it's a Selma Moment. It's a moment which unites people

like

understanding with water and land. ousands have come.

and

Understanding this as a battle over the

, one also sees a story that is not

about a telescope, but about who gets to decide the future and

just

and interpret the world. It's about deciding if we will look to the

understand

or the Earth. And it is about deciding if we want bombs or water. It's a

stars

of the Kia'i, or the Protectors.

time

is is the place where the Earth is born.

e farthest and most remote set

of islands in the world is a magical land. Pele rules.

at happened in a big

way in 2018, when a four-month lava

ow out of the Kilauea volcano

the landscape of the island, vaporizing a lake, covering a bay

transformed

toasting 700 homes. Pele is a force to be reckoned with and not one that

and

can be controlled by humans.

at's this place too. Mauna Kea is not only

to some 13 giant telescopes, but it's also home to a huge military

home

range and a volcano which erupts and transforms the Earth. ere

bombing

some strange bedfellows in the military industrial complex.

are

July 17, 2019, Native Hawaiian Mauna Protectors faced o with 200

On

police on the Hawaiian Homesteads Road to the proposed site of the

riot

billion . Native Hawaiian Kia'i or Protectors watched as the oldest

$1.9

among them were carted o , one by one, by law enforcement o

cers. Some

in wheelchairs or using canes or walkers. Some 35 Elders were arrested

were

day, as they told their children and supporters to stay calm. " ey

that

arrested our 80-year-old Kapuna

rst. Kapunas are the bedrock of the

communities, they created our front line.

ese are our beloved sacred
---
Kapu System

The

the center of the occupation is culture and a worldview of the Mauna as a

At

Luana Busby, one of the defendents tells me in an interview. "We

Kapuna,"

charged with the obstruction of the road. We really shouldn't be

are

charged."

being. To Indigenous Peoples, the Earth is alive, and there is no place

sacred

this is more obvious than here on the Big Island, the land of the

where

Each island has a spirit and a place in the universe. "Kapiko o

volcano.

that's the summit of Mauna Kea. at's the umbilical cord to the

Wakea,

Luana explains to me patiently. "Piko of Kanaloa or Kaho olawe,

heavens,"

was the umbilical cord of the sea. e shining vagina of the ocean. Kaho

that

like Mauna Kea, is a portal of the spirits." Hawaiians are clearly much

olawe,

sexually liberated than their colonizers.

more

camp, set up there to resist construction of the telescope, "works under

e

strict discipline. Everything is based on ritual and based on the

the

of our ancestors," Pua Case, one of the leaders in the Mauna Kea

framework

tells me. "Our traditional practice includes Cities of Refuge, a

movement,

Kapu system and village system.

at's the model we use here, our

traditional governance and organization."

is means there's a list of rules,

those who are here agree to the rules and the boundaries, including no

and

and no smoking of any kind. " at keeps us clean," Pua tells me.

alcohol

this is a well-run camp. I have developed a theory that women are

Indeed,

campers and good camp leaders. A er all, feeding big families and

practiced

all those needs is good practice. Women are pretty practical.

juggling

from Standing Rock, the medical tent at the Mauna Camp is

Learning

ed by doctors and health practitioners, and includes an examination

sta

a lot of basic medical supplies, a room for acupuncture and

room,

healing massage. "We are keeping the camp small for now,"

traditional

tells me in the middle of January 2020. New arrivals are encouraged

Noelani

to sign in at an orientation station.

ere is a tented cafeteria providing free

meals and a community-run medic station, daycare and school.

e camp

Hawaiian Kapunas, traditional, and a good group of Water

includes

and allies. "We set up a university," Chancellor tells our group.

Protectors

ere are over 200 classes being taught here. We are also challenging who

"

to set up a university."

gets
---
to God

Closer

irty Meter Telescope project was birthed in California universities.

e

the Hawaiian tradition, it's the season of Lono, and not the time for war,

In

is why there is basically a truce between the Hawaiian police and the

which

Protectors, or Kia'i, the Protectors. Each day, people gather three

Mauna

for ceremony, morning, noon and night. " at way, we remember why

times

are here," Case tells me. It's a highly organized camp, again, with some

we

taken from Standing Rock.

notes

It doesn't look like anyone is going anywhere soon.

e camp is

Kealoha Pisciotta, one of the Kia'i leaders and a spokesperson

ourishing.

Mauna Kea Anaina Hou, a Native Hawaiian group, said even the arrests

for

ect how the ongoing protest has played out so far: emotional, respectful

re

tense. "It's a temple. You can't make war in a temple. You can stand for

and

righteousness. It demands aloha."

at's a good start. And, in this Selma

this set of Kai'i water and land protectors have stopped, thus far, a

Moment,

billion telescope project.

$1.6

at the University of California and Caltech began development of

Scientists

design that would eventually become the , consisting of a 492-segment

a

mirror with nine times the power of the Keck Observatory, latest

primary

thing. e Gordon and Betty Moore Foundation put up a good $200

big

for the project. While the idea was born, the telescope has not been.

million

was due originally to start in 2014, but was temporarily

Construction

due to a blockade of the roadway. While construction of the telescope

halted

set to resume on April 2 and later on June 24, 2015, it was blocked by

was

protests each time. In 2015, Governor David Ige announced several

further

to the management of Mauna Kea, including a requirement that the

changes

site will be the last new site on Mauna Kea to be developed for a

's

at made it look a lot better, in his mind. But that did not satisfy

telescope.

Native Hawaiians, nor in fact many Hawaiians, who are increasingly

the

to the fragile ecology of the islands.

loyal

e guys put rocks in the road. at's how they nally stopped the police.

"

June 24, 2015, there were around 40 people there at the Mauna. e line

On

had people in lines about twenty feet apart. By the time all the

captains

came, we had 700 people on the Mountain," Mililani Trask, another

police

Native Hawaiian defendant in the Mauna case and long-time political leader,
---
is is, indeed, how ballads and legends are made: " e women

remembers.

the babies held them o for about ve hours." en they had to go

and

the fog which had emerged, "you could not see 10 feet in front.

through

the fog li ed the cops found the rocks in the road. e police nally

When

began arrests."

Kanuha, a Hawaiian language instructor, had been charged in

Kaho'okahi

2015 blockade of the road for Mauna Kea. He only spoke in Hawaiian.

the

told a story of a Chief long ago who had to stop an invading force from

"He

up the Mountain. at is what the Chief of long ago did. en

coming

explained that the Chief was his ancestor. 'I was not able to stand

Kaho'okahi

before, but I am standing here now. I have the same right as my Chief.'

here

was magic. He was a Native person speaking in a Native language in the

It

ey had to bring an interpreter for him," Mililani Trask remembers.

court.

at was in 2015, and the story continues.

is is a story of a genealogy, a

set of beings — mountains, islands, sky and water — and it's a story

living

a land and its people.

about

the Board of Land and Natural Resources approved the

Nevertheless,

but the Supreme Court of Hawaii invalidated the building permits

project,

December 2015, ruling that the board had not followed due process. On

in

30, 2018, the Court approved the resumption of construction, and

October
---
Long Occupation

The

been ghting telescopes and the military for

"We've

Gov. David Ige announced that construction would resume the week

Hawaii

July 15, 2019. at's when the Hawaiians threw down on the road. In

of

words, the current protest is just the latest time over the past ve years

other

Protectors have intervened at the construction site, and the second time

that

they've halted construction altogether.

y years,"Luana Busby

me. Indeed Hawaiians have been protecting their waters and lands

reminds

long before the time of live Facebook feeds. at is, pretty much since

since

the illegal overthrow of the Hawaiian Kingdom.

e military occupation

continues.

we are all looking at this giant telescope project, the ultimate phallic

While

right next to the telescope project there's this military base called

symbol,

at's a bombing range for the US military where they just bomb

Pohakuloa.

side of the island without a live volcano. Because the military seems to

the

that's a smart thing to do. And they want more land. A er all, the

think

is the largest land owner in Hawaii, or thief of land, since

military

most of the Hawaiian lands belong to the Hawaiians, since they

technically

never relinquished title.

e road to the Mauna Kea observatories is a good

of this, as the road actually belongs to the Hawaiian Homelands.

example

the end of World War II, Hawaii has been the center of the US

Since

military's Indo-Paci c Command (

), from which all US forces

the region are directed. It serves as an outpost for Paci c expansionism,

in

with Guam and the Marshall Islands, Samoa and the Philippines.

along

the center of US military activities over more than half the

is

from the west coast of the US to Africa's east coast, from the Arctic to

earth,

Antarctica, covering 70% of the world's oceans. 90

at's not getting any

smaller with the US military budget.

at's to say, if the US spends 57% of

the federal budget on the military, half of that is spent in Hawai'i.

is is big

. stu

military owns or controls more than 200,000 acres, about 5% of the

e

state's total land area.

e army has the largest landholdings: approximately

acres. Although Hawai'i Island has the largest acreage devoted to the

150,000

(102,000 acres) much more signi cant are the roughly 80,000 acres

military

the military controls on O'ahu — a staggering 21% of the island's limited
---
ase. 91 land

is big business. "Direct and indirect impacts of military expenditures

War

reported to generate $14.7 billion into Hawai'i's economy, creating more

are

102,000 jobs for residents that collectively report household incomes

than

$8.7 billion. Military expenditures totaling $8.8 billion annually have

around

the defense industry. Military procurement contracts amount to

elevated

$2.3 billion annually, making it a prime source of contracting

about

for hundreds of Hawai'i's small businesses. 92 Hawai'i has also

opportunities

the presence of the nation's top prime defense contractors: Boeing,

secured

Martin, Northrop Grumman, Systems, General Dynamics,

Lockheed

and several others.

Raytheon

are new military and there are old military sites on the islands. In

ere

report, the military determined that there were over 236 former military

one

in Hawai'i, at 46 separate installations, all of which were contaminated.

sites

just to be clear, the military is bombing an island with a live volcano.

So

guys for sure. e Pohakuloa training area ( ) is a 108,793 acre

Smart

range between the sacred mountains of Mauna Kea and Mauna

bombing

in the center of the big island, Hawai'i. Right next to the telescopes. And

Loa

in this, an old traditional name for Mauna Kea comes to mind,

somewhere

at means the water holder or water vessel. e Mauna is actually a

Ka'ohe.

aquifer, a mountain lled with fresh water. Bombing an aquifer is a

huge

proposition, particularly because even the military needs water.

dangerous

least seven million rounds of ammunition are red annually at that base

At

Pohakuloa has the "highest concentration of endangered species of

alone.

army installation in the world" according to former commander Lt. Col

any

Owen, and it has over 250 ancient Hawaiian archaeological sites. 93

Dennis

species and archaeological sites are pretty much "toast" with the

ose

in charge. e military proposes to expand the base by 23,000 acres,

military

the Military Transformation Proposal, and has brought the Stryker

under

to the area. e latest military expansion was 79,000 more acres. 94

brigades

ongoing battles of the Hawaiians against the military occupation of

e

lands continue. Each year, from the Makua bombing ranges in Oahu to

their

successful battle against the Super Ferry in Kauai, the stories grow in

the

"It was like Fern Gully," a Native Hawaiian teacher told me. "A

number.

of us old farts went to non-violent civil disobedience training" and

bunch

of us were out on paddle boards. "It's a bard's heaven, the stu legends

more
---
allads are made of, for sure."

and

occupation of Hawai'i began with the illegal overthrow of Queen

e

Liliokalani in 1893 by Samuel Dole.

e military has continuously taken

from the Hawaiians, and in 1941, Hawai'i was placed under martial law

land

er the attack on Pearl Harbor. at's when the US military took over

a

operations on the island of Kaho'olawe.

e Navy began ship-to-shore

bombardment of the island.

en the military began the destruction on

island, detonating three 500 ton Trinitrotoluene (

) charges which

the island. Ultimately, the military "cracked the bedrock of the

buckled

the military bombed it so hard, they broke the bedrock of the island.

island:

means that the aquifer broke, seeped through the crack in the bedrock

at

now there's just saltwater on the island. ey broke the bed rock," Busby

and

me. I really can't imagine a more violent act.

tells

is the Hawaiian island you will never visit, that and Ni'ihau.

Kaho'olawe

is the place where Hawaiians can live as Hawaiians, in other words

Ni'ihau

no tourists there. But Kaho'olawe was the only national historic site

there's

used as a bombing range.

also

1976, Dr. Emmett Aluli, a Native Hawaiian medical doctor, led Aluli v.

In

challenging the military occupation of the island in federal district

Brown, 95 A 1977 judgement in favor of what would become the Protect

court.

Ohana began the process of Hawaiian recovery of the island, and

Kaho'olawe

a 1980 Consent Decree between the military and the Protect

ultimately

Ohana began the full military decommissioning and clean up.

Kaho'olawe

$400 million later, the island is less full of ordnance, but still full of

Some

And there is no aquifer or bedrock.

craters.

however, is far from the only Paci c Island used by a military.

Kaho'olawe,

1946 and 1996, the United States, Britain and France conducted

Between

testing in the deserts of Australia and the atolls of the central and

nuclear

south Paci c. Over

ve decades, more than 315 nuclear tests were held

the region. "Later underground testing fractured the base of fragile

across

contaminating the marine environment." 96 at radiation doesn't stay

atolls,

the test site; that's an unfortunate reality.

at

arrogance met a citizens movement, of which Protect Kaho'olawe

Military

a big part. From the 1950s, churches, trade unions, women's

was

and traditional leaders on the islands opposed these nuclear

organizations

tests. Networks like Nuclear Free and Independent Paci c (

), the Paci c
---
TMT The

are realms we do not belong in.

ese

of Churches ( ) and the Paci c Trade Union Forum ( )

Conference

self-determination for Paci c colonies and the abolition of

supported

weapons. Protests were diverse, with demonstrations at embassies,

nuclear

writing, trade union bans and boycotts of French products.

letter

was widespread, from Polynesians, and from Europe, leading to

Opposition

French Intelligence agents sinking the Greenpeace ship Rainbow Warrior

the

the Auckand, NZ, Harbor in 1985. "Operation Satanique" was carried out

in

the French military and intended to stop the opposition to French

by

testing. Fernando Pereira, a photographer, died in the sinking, and

nuclear

act of state terrorism solidi ed a movement to end nuclear testing. 97

the

a clear result of the alliance between Paci c Islanders and the people

As

the countries which bombed their islands, more countries withdrew

from

nuclear and conventional weapons testing. In the 1980s, at the height

from

the US–Soviet arms race, Vanuatu, Palau and New Zealand declared their

of

nuclear-free. On Hiroshima Day in 1985, members of the Paci c

territories

Forum also signed the Rarotonga Treaty for a South Paci c Nuclear

Islands

Free Zone (

), an important regional contribution to global nuclear

Australian disarmament campaigners worked to strengthen

disarmament.

Rarotonga Treaty, in the face of government attempts to limit its scope to

the

US nuclear deployments in the Paci c. 98

protect

Aluli (Aluli v. Brown) remembers, "In the 1980s, we sent

Emmett

out to talk to di erent countries about withdrawing from

delegations

that's the tests that they do of the weapons every other year. We

;

successful in getting New Zealand, France and Japan to withdraw from

were

1983–4." at's how change is made, by people like Emmett Aluli

in

a strong Nuclear Free and Independent Paci c movement, challenging

and

militaries from around the world, continuously.

the

ose are the realms that proliferate

forms on the planet and they need to do what they do without us in

life

realm. their

— Luana Busby

ey are saying that the telescope project may go to the Canary Islands.

"

we've always opposed the telescope project, we've been opposing

Because
---
Is It about Telescopes?

What

people always have to look to space. It's an ironic moment of

White

telescopes for

y years. In the Canary Islands they are not so opposed to it

we are," Luana tells me. Indeed, with the advent of live Facebook feeds

as

of course the added presence of superstars like Jason Momoa and

and

Johnson, aka the Rock, it's clear that this movement has big support.

Duane

one ever heard our story before, but with all the technology we are

"No

able to get our story out more.

e Mauna is about that there are a lot of

who have found themselves getting clean up there," Luana tells me.

people

in my limited experience with front-line occupations, it's a

Indeed,

community up there, so you have to be clean. "We need to keep

functional

papa clean. No drugs, no alcohol, no cannabis. A'ha morning, noon and

our

All of this is built on the well-being of the Mauna." I stand in a

evening.

of new visitors to the camp. We are all being told clearly that this is

group

the Mauna; it's not about us. "Pick up your garbage, including your

about

garbage," the Kapuna tells us. "Even sacred people pick up

metaphysical

trash and wash dishes," our guide tells us.

is is indeed a spiritually

grounded and well-disciplined movement.

systems. Polynesians, like the Hawaiians, navigated the Paci c

knowledge

thousands of years, guided by the stars. A very di erent worldview is that

for

the realm of science, where universities and surprising entities like the

of

continue a quest to look far into space. As such, Native Hawaiians

Vatican,

not the rst to be embroiled in a battle over a telescope project.

are

Graham — called in Nnee biyati' (Western Apache) Dził Nchaa

Mount

"Big Seated Mountain" — was at the center of a bizarre battle between

Sí'an

Apache and the Vatican, which erected a large meter telescope,

the

a ectionally known as the Pope Scope, or

: Vatican Advanced

Telescope.

Technology

are usually not long-term employment opportunities. But

Megaprojects

they sure look big.

may employ up to 300 people, but that number will

replaced with a much smaller number of astronomers. If Hawaii was

be

interested in creating jobs, rebuilding the homes and buried

actually

a er the 2018 lava ow might employ more. Or maybe just

infrastructure

the masses of people, some farming and all. One thing's for sure, it's

feeding

busy on the island without the .
---
always about payo s and corruption in Hawaii. Make no mistake, this is

It's

pretty corrupt state. In September of 2019, investigative journalists found

a

of con icting interests with Governor David Ige's agencies and

evidence

interests friends receiving $3 million in payments to promote the

private

project. 99

part of the Mount Graham International

is

on Mount Graham in southeast Arizona and

Observatory

operated by the Vatican Observatory, one of the oldest

is

research institutions in the world, in

astronomical

partnership with the University of Arizona.

at project,

the Mauna Kea, pitted a Native people against a set of

like

and political forces. e land is Apache land, but

academic

1873, Mount Graham was removed from the

"in

of the San Carlos Reservation and placed in

boundaries

the public domain.

e spiritual value of Mount Graham

to the Apache was not considered.

is action set the stage

for con ict a century later."

land had been transferred to the Forest Service, but

e

1988, the United States Congress authorized

in

of the observatories on the mountain by a

construction

peace-time Congressional waiver of US

rare

laws. In 1984, the University of Arizona

environmental

the Vatican selected Mount Graham as a site for a

and

of 18 telescopes. To get around the legal barriers

complex

the American Indian Religious Freedoms Act, the

of

hired a lobbying rm to put pressure on

university

to remove this and other regulatory roadblocks.

Congress

the declarations of the sacredness of Mount

Following

by the Apache Survival Coalition and the San

Graham

Apache Tribe, the Vatican in 1991 declared that

Carlos

Graham was not sacred because it lacked religious

Mount

Jesuit Father George Coyne, director of the

shrines.

Observatory, indicated that he could not nd an

Vatican

authentic Apache who thought the mountain was sacred.

F th r C n t t d th t t n in him th t th
---
"Why Is the Vatican the Largest and Longest Owners of Telescope

Source:

Including the Newest Named L.U.C.I.F.E.R.? Aplanetruth

Observatories,

Coyne stated that to convince him that the

Father

was sacred he would need to see evidence of

mountain

and that he would not accept Apache oral history

shrines

statements by Apache-speaking Euro-American

or

Father Coyne further declared that

anthropologists.

beliefs were "a kind of religiosity to which I cannot

Apache

and which must be suppressed with all the force

subscribe

can muster." Tough sledding with the Vatican for sure.

we

.

known corruption and the hiring of more private security forces

Despite

rumored that $10 million was appropriated to quell the Kia'i), rumor has

(it's

that the political and social consequences of the telescope project are

it

it more di cult than ever. " can't a ord to go up in the

making

future. ey don't have the funds to go up. ey don't feel safe to

foreseeable

up," Busby explained. Arresting 80-year-olds for a telescope project seems

go

to be a public relations problem for the proponents.

at "gave us a two-

break, kind of like a détente. And they moved ahead with their

month

for the Canary Islands."

permit

within a week of the arrests, old friends from the Canary Islands

Literally,

to make statements. e agency that manages telescopes in the

began

Canary Islands says it's "ready" to support the irty Meter Telescope. 100

Duque, Spain's minister of science, innovation and universities,

Pedro

local and national government entities would support if the

said

cancels its plans for Mauna Kea and opts for its back-up site in

project

Canary Islands, according to Spanish media reports. But so far,

the

telescope o

cials have said they still prefer to build in Hawaii.

e site in La Palma is an excellent place for astronomy. We have not

"

all the regulatory processes complete there and there's no time

had

for when so it is not viable in that sense at this time," said Gordon

frame

vice president of external a airs for .

Squires,

e Canary Islands is an "autonomous community" of Spain.

e

archipelago in the Atlantic Ocean is home to the Observatorios de
---
Up Some Old Messes

Cleaning

proponents have cried out about the potential loss of this

Telescope

of the Times

Lessons

are … joining the world's indigenous movements,' Pisciotta says. 'We

"'We

Canarias, with telescopes on the islands of Tenerife and La Palma. 101

project. "Hawaii will lose its status as a world leader in astronomy

telescope

the telescope isn't built, Bob McLaren, the director of the University of

if

Institute for Astronomy, worried. Existing telescopes may not want

Hawaii's

upgrade facilities and make further investments, and it could lead to a

to

spiral for the eld, he said." 102 It appears the sky is falling for

downward

In the meantime, the Kia'i have forced movement in a state which

some.

to rarely hold either the military, the tourist industry or any industry

seems

that matter, accountable. e rst of ve old, rundown telescopes is

for

decommissioned.

being

ve old telescopes; now that's going to create jobs, and

Decommissioning

It turns out astronomical garbage exists in space as well as on Earth,

friends.

countries look to the skies to gure out how to clean up some old

as

and "space junk."

satellites

on Earth, the Hawaii Tribune Herald reported that on January 13,

Here

the Mauna Kea Management Board approved environmental

2020,

for the Caltech Submillimeter Observatory. e observatory is

assessments

of ve telescopes scheduled to be dismantled. A number of them had

one

been out of use but had remained on the mountain, essentially as

already

garbage. Now, in a time of "deal making" in exchange for permitting

space

construction of the irty Meter Telescope, there will be some space

the

clean-up. at's if all goes according to the state's wishes. e

junk

remains on schedule to be removed by the end of 2021, said

observatory

Simons, a management board member. e observatory

Doug

process involves a full site restoration, including removing

decommissioning

structure, lling its foundation and restoring the terrain to its original

the

Simons said.

topography,

e idea would be that, by the end of next year, you wouldn't even know

"

was a telescope here at all," he said. 103 at's hopeful.

there

need Kapu Aloha … to bring back the balance from the insanity and
---
of our earth.' We want to show the world how 'to really live

destruction

erently' while protecting the land." For any veteran of Standing Rock,

di

story resonates. "Another world is not only possible, she is on her way.

that

a quiet day, I can hear her breathing," said Arundhati Roy.

On

Native Hawaiians, there is a question of our right to selfdetermination

"'For

as de ned by international law, but I think it's so much bigger

that,' said Pisciotta. 'It's about us learning to live and be

than 104

interdependent.'"

Pisciotta, a spokesperson for Mauna Kea Anaina

Kealoha

told Michelle Broder Vandyke from the Guardian

Hou,

newspaper: "

e movement is 'pushing back on the

culture' through Hawaiian concepts of 'Kapu

corporate

which emphasizes compassionate responses,

Aloha,'

towards opponents, and 'Aloha 'A¯ina,' a saying

especially

translates to 'love of the land.'"

that

a larger sense it is about two di erent worldviews, and who gets to

In

the future. As Doug Hernan would write in the Smithsonian

determine

"For many … Indigenous peoples, sacredness is not merely a

magazine,

or label. It is a lived experience of oneness and connectedness with

concept

natural and spiritual worlds. It is as common sense as believing in

the

is experience is very much at odds with the everyday secular….

gravity.

of course, seeing nature as inert facilitates both commercial

And

and scienti c exploitation." 105

exploitation

a time of con ict between sacred beings and technology. And it's also a

It's

of the Water Protector. Kalani Souza, a Hawaiian scholar, talks about

time

beyond the Doctrine of Discovery, to the Doctrine of

moving 106 He reminds me again, "It's really about the water, a name for

Relationship.

mountain is also Ka'ohe, the Water Holder, but the name also refers to

the

at's because this is the largest freshwater aquifer in the world. It

bamboo.

created in the ice age. From the inside of the largest mountain in the

was

— that's Mauna Kea. "Snow, rain, are living entities that have a

world"

on the earth, it's all this that we are ourishing from…. ose

purpose

are interconnected from the Wakea to the bottom of the ocean."

beings

Native Hawaiian traditional knowledge of realms above and below led to
---
their success in navigating the largest body of water in the world.

e

Nation treatied with over 140 nations in the world and navigated

Hawaiian

world long before Captain Cook. As we understand the genius of

the

Hawaiian thinking, adapted over the centuries, one can't help be in awe.

e

Iolani Palace had electricity before the US president had electricity

Hawaiian

the White House. As the Hawaiians contemplate the most complex of

in

systems, the people know the Mauna is a sacred living being.

knowledge

knowledge is not held by those who seek to colonize land and space.

at

You must remember, never cease to act because you fear you may fail.

— Queen Lilio'kalani
---
Part 3

Mni Wiconi
---
From Buffalo to Black Snake

2016, late summer, and the weight of American corporate interests has

It's

to the Missouri River, the Mother River. is time, instead of the

come

Cavalry, or the Indian police dispatched to assassinate Sitting Bull,

Seventh

is Energy Transfer Partners and Enbridge, with their Dakota Access

it

Pipeline (

). Every major pipeline project in North America must cross

lands, Indian Country. And these days, every project faces bold

Indigenous

But something special is happening here. e people of the Oceti

resistance.

(Great Sioux Nation) and their allies have gathered en masse to

Sakowin

the river.

defend

road west of Fargo is rarely taken. In fact, most Americans just y over

e

Dakota, never seeing it. Let me take you there.

North

head clears as I drive. My destination is the homeland of the Hunkpapa

My

the Standing Rock Reservation. It is early evening, the moon full. If

Oceti,

close your eyes, you can remember the 50 million bu alo—the single

you

migratory herd in the world. e pounding of their hooves would

largest

the Earth, make the grass grow.

vibrate

were once 250 species of grass. Today the bu alo are mostly gone,

ere

by 28 million cattle, which require grain, water and hay. Many of

replaced

elds are now in a single crop, full of so many pesticides that the

the

butter ies are dying o . But in my memory, the old world remains.

monarch

you drive long enough, you come to the Missouri River. Called Mnisose,

If

great swirling river, by the Lakota, she is a force to be reckoned with. She is

a

" e Missouri River has a xed place in the history and

breathtaking.

of the Lakota and other Indigenous nations of the Northern

mythology"

author Dakotah Goodhouse explains. 1

Plains,

the time before Sitting Bull, the Missouri River was the epicenter of

In

agriculture, the river bed extremely fertile. e territory was

northern

known as the fertile crescent of North America.

at was then, before the

that reduced the Lakota land base. But the Missouri remained in the

treaties

— the last treaty of 1868 used it as a boundary.

treaties
---
came the the of land by the US government and the taking of the

en

Hills in 1877, in part as retaliation against Sitting Bull's victory at the

Black

of the Little Big Horn. In a time prior to Native Lives Matter, great

Battle

like Sitting Bull and Crazy Horse were assassinated at the hands of

leaders

police.

e Lakota people have survived much.

into reservation life, the Lakota attempted to stabilize their society,

Forced

the dams came. Over the course of 20 years, the six large dams

until

authorized by the 1944 Pick Sloan Plan

ooded out the Missouri River

displacing thousands of tribal people and taking the best bottom

tribes,

from the Mandan, Hidatsa and Arikara, the Lakota and Dakota. e

lands

Oahe and Fort Randall dams created some of the largest reservoirs

Garrison,

North America, eliminating 90% of timber and 75% of wildlife on the

in

destroying infrastructure that to this day has never been

reservations,

inundating entire tribal communities and desecrating countless

rebuilt,

archaeological sites. 2 On the Standing Rock and Cheyenne River

ancient

alone, over 200,000 acres were ooded by the Oahe Dam itself,

Reservations

not only relocation but a loss of the Lakota world. According to

forcing

author, historian and activist Vine Deloria Jr., the "Pick-Sloan Plan

Lakota

without doubt, the single most destructive act ever perpetrated on any

was,

by the United States." 3

tribe

is how a people are made poor. Today, the Standing Rock poverty rate

at

triple the national average, food insecurity is widespread, and many go

is

electricity, running water or access to health care and education. 4

without

land and Mother River are what remain, a constant, for the people. at

e

what is threatened today, as Enbridge and Energy Transfer Partners

is

to drill through the riverbed at Lake Oahe, where the Cannonball

prepare

joins the Missouri.

River

September 3, 2016, private security forces working for the pipeline

On

attacked Water Protectors with dogs as they put their bodies in

companies

of heavy equipment to stop the intentional destruction of a known

front

site, sacred ground. On that day, LaDonna Brave Bull Allard,

archaeological

historian and genealogist, matriarch of the o resistance and

tribal

of the Sacred Stone Camp, published an article honoring the 153rd

founder

of the Whitestone Massacre of September 3, 1863. 5

anniversary

On this day, 153 years ago, my great-great-grandmother Nape Hote
---
(Mary Big Moccasin) survived the bloodiest con ict between the

Win

Nations and the US Army ever on North Dakota soil. An

Sioux

300 to 400 of our people were killed in the Inyan Ska

estimated

Massacre, far more than at Wounded Knee. But very few

(Whitestone)

the story.

know

we struggle for our lives today against the Dakota Access Ppipeline,

As

remember her. We cannot forget our stories of survival.

I

50 miles east of here, in 1863, nearly 4,000 Yanktonais, Isanti

Just

and Hunkpapa gathered alongside a lake in southeastern

(Santee),

Dakota, near present-day Ellendale, for an intertribal bu alo

North

to prepare for winter. It was a time of celebration and ceremony —

hunt

time to pray for the coming year, meet relatives, arrange marriages,

a

make plans for winter camps. Many refugees from the 1862

and

in Minnesota, mostly women and children, had been taken in

uprising

family. Mary's father, Oyate Tawa, was one of the 38 Dah'kotah

as

in Mankato, Minesota, less than a year earlier, in the largest

hanged

execution in the country's history. Brigadier General Alfred Sully

mass

soldiers came to Dakota Territory looking for the Santee who had

and

ed the uprising.

is was part of a broader US military expedition to

white settlement in the eastern Dakotas and protect access to

promote

Montana gold elds via the Missouri River.

the

my great-great-grandmother Mary Big Moccasin told the story, the

As

came the day a er the big hunt, when spirits were high. e sun

attack

setting and everyone was sharing an evening meal when Sully's

was

surrounded the camp on Whitestone Hill. In the chaos that

soldiers

people tied their children to their horses and dogs and ed.

ensued,

was 9 years old. As she ran, she was shot in the hip and went

Mary

She lay there until morning, when a soldier found her. As he

down.

her into a wagon, she heard her relatives moaning and crying on

loaded

battle eld. She was taken to a prisoner of war camp in Crow Creek

the

she stayed until her release in 1870.

where

grew up on the banks of the Cannonball and Missouri rivers and

Allard

a young girl when the oods came in the late 50s. She remembers it

was

well:

ey took all our trees, all our forest, when they ooded us.

ey took all
---
our medicines, our plants, the things that we survive on. And so, if you

of

to the people that are my age and older, you can hear the grief in our

talk

because we still grieve for the loss of this land. And they moved us

voice,

top of the hills, where it is more of a clay-based soil, so we could no

on

grow gardens, we could no longer plant trees, we could no longer do

longer

things that we did. 6

the

As the Standing Rock Sioux Tribe's former historic preservation o

cer and

historian and genealogist, Allard also carries the larger history of

current

land: that

the Cannonball River joins the Missouri River, at the site of our

Where

today to stop the Dakota Access Ppipeline, there used to be a

camp

whirlpool that created large, spherical sandstone formations.

e river's

true name is Inyan Wakangapi Wakpa, River

at Makes the Sacred

and we have named the site of our resistance on my family's

Stones,

the Sacred Stone Camp. e stones are not created anymore, ever

land

the US Army Corps of Engineers dredged the mouth of the

since

River and ooded the area in the late 1950s as they nished

Cannonball

the Oahe Dam.

ey killed a portion of our sacred river.

north and east now, toward the construction sites where they

Look

to drill under the Missouri River any day now, and you can see the

plan

Sundance grounds, burial grounds, and Arikara village sites that the

old

would destroy. Below the cli s you can see the remnants of the

pipeline

that made our sacred stones. Of the 380 archeological sites that

place

desecration along the entire pipeline route, from North Dakota to

face

26 of them are right here at the con uence of these two rivers. It

Illinois,

a historic trading ground, a place held sacred not only by the Sioux

is

but also the Arikara, the Mandan, and the Northern Cheyenne.

Nations,

it is the US Army Corps that is allowing these sites to be

Again,

destroyed.

US government is wiping out our most important cultural and

e

areas. And as it erases our footprint from the world, it erases us

spiritual

a people. ese sites must be protected, or our world will end, it is

as

that simple. Our young people have a right to know who they are.

ey

have a right to language, to culture, to tradition.

e way they learn

these things is through connection to our lands and our history.
---
we allow an oil company to dig through and destroy our histories,

If

ancestors, our hearts and souls as a people, is that not genocide?

our

on this same sacred land, over 100 tribes have come together to

Today,

in prayer and solidarity in de ance of the black snake. And more

stand

keep coming.

is is the rst gathering of the Oceti Sakowin (Sioux

since the Battle of the Greasy Grass (Battle of Little Bighorn) 140

tribes)

ago. years

father is buried at the top of the hill, overlooking our camp on the

My

below. My son is buried there, too. Two years ago, when

riverbank

Access rst came, I looked at the pipeline map and knew that

Dakota

entire world was in danger. If we allow this pipeline, we will lose

my

everything.

are the river, and the river is us. We have no choice but to stand

We

up. 7

I drive west through the Plains towards the Missouri River and take the

As

route around the roadblock that state law enforcement has put up in

scenic

of dissuading people from joining the protest camps or spending

hopes

at the tribal casino, I remember the bu alo. I remember the grass. I

money

the beauty of the way of life so freshly taken from these people.

remember

I am grateful for memory. e great Lakota leader Mathew King once

And

"the only thing sadder than an Indian who is not free, is an Indian who

said,

not remember what it is to be free."

does
---
movement here at Standing Rock represents that ongoing struggle for

e

and the future of a people. ere are many at Standing Rock today

freedom

remember their history and the long stando at Wounded Knee in

who

a similar battle for dignity and human rights. In fact, many of those at

1973,

Rock today were there.

Standing

am not sure how badly North Dakota wants this pipeline. If there is to be

I

siege, it will be here. For a people with nothing else but a land and a river, I

a

not bet against them.

would

this is also a battle for a future for all of us. An old Lakota prophecy

But

of a time when a great black snake would come to the land, bringing

tells

and destruction not only to Lakota and Dakota communities, but to

sickness

water and land of all Mother Earth. And that the people would have to

the

come together to kill that black snake.

at time is now.
---
The Deep North

Dakota did not become the Deep North, as it is now called, overnight.

North

people have been treated poorly here for more than a 150 years,

Native

with the Indian Wars and the smallpox epidemics that wiped out

starting

of their population. en the dams drowned their villages, drowned

90%

agricultural wealth, drowned their history and rewrote it into

their

manual of agricultural progress. ere is an unspeakable poverty

America's

of loss, and it is di

cult to imagine a deeper grief.

most, North Dakota is something unknown. We y over the plains,

For

about how the movie Fargo was funny and wonder sheepishly how it's

talk

out in the Bakken. Very few visit, and there is almost no civil

working

to advocate for the environment or the people — as evidenced by the

society

that, before o , the Sierra Club had one sta person in North

fact

and the American Civil Liberties Union had one sta member

Dakota,

both North and South Dakota. It is as if North Dakota is just too

covering

for a progressive movement. Instead, we have watched.

uncomfortable

North Dakota is a place of entrenched, systemic racism. It is a place

Today,

Nazis move. e Native incarceration rate is six times higher than that

where

whites, 8 Native suicide rates are several times that of North Dakotans

of 9 and basic infrastructure on the reservations — like hospitals,

overall,

schools, grocery stores — is profoundly insu

cient. People freeze to death

overdose in the shadow of the Bakken oil elds.

and

of this is just a second layer of abuse, of course, underneath the day-to-

All

discrimination, harassment by cops and white supremacists now

day

by Morton County and the Trump government, and the

emboldened

of missing and murdered Indigenous women. Almost every family

epidemic

my community has one of those women. It's not because we're not

in

anything. It's an ongoing stress in the community, something we live

"post"

every day.

with

population decline of North Dakota was pretty well documented in

e

and Deborah Popper's book e Bu alo Commons. Young people

Frank
---
Mother Earth

Cannibalizing

I'm an economist by training, and I refer to our current economic

Now,

moving out, to anywhere but North Dakota, so the state became a

started

people le , particularly white people. Native populations continue to

place

dramatically, at a rate almost twice that of non-Indians. In the midst of

grow

a state that clearly had some populist progressive history became

this,

conservative.

increasingly

comes the oil industry. Along the gentle rolling hills of the northern

In

Missouri River is the Fort Berthold Reservation, home to the

ree

A

liated Tribes, the Mandan, Hidatsa and Arikara. It is also known as the

spot for Bakken crude oil. I went to Fort Berthold a er riding

sweet

with family, friends and allies to raise awareness about a pipeline

horseback

to pump this fracked oil through my community and the sacred

intended

of Lake Superior. I wanted to see what was happening at the source,

waters

where this oil is extracted.

as Wiindigoo Economics. In our Anishinaabe stories, the Wiindigoo

system

a giant murderous monster that used to rampage through the north

is

fueled by an insatiable greed and a relentless desire for human esh.

woods,

fuel era capitalism is like the Wiindigoo: a predator economics, the

Fossil

of a cannibal. It is a system based on colonization, wastefulness

economics

ravenous greed, a system that destroys the very source of its own wealth

and

well-being, Mother Earth. In my lifetime, we've consumed 50% of the

and

oil. at means there's still a whole bunch le , but most of it is really,

known

hard to get out of the ground. So this system of cannibal economics,

really

the Lakota might call Wasicu, Taker of the Fat, economics, has led us

which

the era of extreme extraction. Extreme extraction is when you blow the

to

o of 500 mountains in Appalachia to get coal for export to Asia; it's

tops

you strip mine tar from the oil sands of Northern Alberta and turn

when

First Nation communities into sacri ce zones; it's when you inject

entire

of millions of gallons of chemical-laced water into the bedrock of

hundreds

Earth at such pressures that you cause earthquakes. at's where we

Mother

at right now.

are

around 2007, extreme extraction came to the Northern Plains in

Starting

form of horizontal drilling and hydraulic fracturing, also known as

the

— two relatively new technologies that allowed the pro table

fracking
---
Needs Regulations Anyway?

Who

North Dakota, sex tra cking, violence, pollution and corruption have

In

of tight shale oil formations like the Bakken Formation of North

extraction

e resulting boom was dramatic. By 2011, the State of North

Dakota.

had a billion-dollar budget surplus and the lowest unemployment

Dakota

in the country. 10 Along with the money and rapid population growth

rate

profound housing shortages, skyrocketing rates of violent crime and

came

of drug and sex tra cking. 11 e man camps — temporary trailer

epidemics

where transient oil workers are housed — are hubs for all of this.

parks

men have more money than they know what to do with, and they are

ose

from their families. Indigenous women and girls from surrounding

far

are kidnapped, bought, sold and murdered.

communities

industry claims about health and safety, fracking is actually just a

Despite

experiment, made possible by a lack of regulation and the unlimited use

big

the commons as a dumping ground. Fracking involves the use of

of

amounts of water mixed with salt and toxic chemicals. Proponents

immense

to say that the process uses chemicals that are regularly found in the

like

home. at might be true — if we all ran meth labs out of our

average

In fact, the water used by fracking companies is laced with over 1000

houses.

and carcinogens. 12 ose chemicals are considered trade secrets and

toxins

so are not subjected to federal scrutiny. 13

is has become a bit of a problem.

with spills simply do not know the nature of the chemical

Communities

contamination.

of the polluted water is simply being dumped into deep

Much

caverns. A 2017 report found that "US industries have injected

underground

than 30 trillion gallons of toxic liquid deep into the earth, using broad

more

of the nation's geology as an invisible dumping ground." 14 It seems

expanses

have built an entire industry on the unquestioned belief that what goes

we

can't come up.

down

the state's capacity to address them. Or perhaps it is the

overwhelmed

that have overwhelmed the state. In North Dakota, as with

corporations

corporations direct state policy. Known as "regulatory capture,"

everywhere,

and gas companies move in, take control of a state's regulatory process

oil

manipulate it to serve their bottom line. In other words, North Dakota

and

sold not only its water, but also its soul, to the oil companies.

has
---
Flares

Gas

Berthold is the tribal epicenter of the fracking industry, home to about

Fort

this happens, states nd themselves doing weird stu , like excusing

When

spills without penalty. Less than one 1% of spills result in nes from the

oil

Dakota Industrial Commission or Department of Health, and even

North

they do issue nes, companies o en negotiate them down to a fraction

when

of the original amount. 15

is is hardly surprising since states regularly fall

over themselves to ensure corporations don't have to compromise their

all

ts by putting money into the public purse.

pro

some of the other decisions made by the state may be more surprising.

But

the decision to legalize nuclear waste in municipal dumps. Yes, you

Like

that correctly. In 2016, in an e ort to accommodate the fracking

read

the North Dakota Department of Health approved a 10-fold

industry,

to the allowable level of radiation in municipal and county

increase

lls. 16 ey call it — Technologically Enhanced Naturally

land

Radioactive Materials. It's naturally occurring so it must be safe,

Occurring

I testi ed against it at the public hearings, but they approved it

right?

anyway.

at same year, a study conducted by Duke University found soil at

spill site that was contaminated with radium, and at one site, "high levels

a

contaminants were detected in residual waters four years a er the spill

of

17 So nuclear waste is in our dumps, our soil and our water. And,

occurred."

our bodies.

undoubtedly,

the height of the oil boom in 2012, the Associated Press in Bismarck

At

that North Dakota had experienced over 300 oil spills and 750

announced

eld incidents" in just over a year and a half. Not one of these 1000+

"oil

was reported to the public. Why? Because regulators are not

"incidents"

by state law to do so. 18 Of course, this corporate takeover of

required

processes has been supported at the federal level. e

regulatory

Amendment" of the 2005 Energy Policy Act, which exempted

"Halliburton

sectors of the oil and gas industry, especially fracking, from most major

key

environmental laws, is a particularly egregious example of this. 19

of the state's oil wells. 20 At night, Fort Berthold is lit up with gas aring

20%

the wells, like the omnipresent lidless Eye of Sauron. ese ares burn

from

natural gas that is a byproduct of crude oil extraction. Without enough

the

to transport the gas, about a third of what's released each day —

pipelines
---
$1.4 million — goes up in smoke. 21 According to Bloomberg News,

worth

a percentage basis, more gas was ared in the state [of North Dakota]

"On

in any other domestic oil eld and at a level equal to Russia and twice

than

in Nigeria." 22

that

there is twice as much aring on the reservation as anywhere else in

But

state. Tribal members say as much as 70% of gas from wells on the

the

is ared. "Every single day, more than l00 million cubic feet of

reservation

gas is ared away. at's enough to heat half a million homes. at's

natural

much carbon dioxide emitted as 300,000 cars," Fort Berthold tribal

as

Kandi White observes. " at's crazy."

member

White is sta with the Indigenous Environmental Network and part

Kandi

the grassroots advocacy group is Is Mandaree, along with many other

of

community members, like

eodora and Joletta Birdbear. Together with

like Lisa Deville of Fort Berthold Protectors of Water and Earth Rights

folks

), is Is Mandaree has been ghting the threats to their community

(

for over a decade. "

e companies have generously put up signs for us to tell

that the toxins are present in the air," says White. "What do we do? Just

us

breathing?"

stop

health of the Missouri River has been especially taken for granted.

e

the Missouri is the seventh most polluted river in the country. 23

Today,

runo and now fracking have contaminated the river. In the

Agricultural

days of the Sacred Stone Camp, my sister shed a gar out of the river, a

early

prehistoric sh, only to nd it covered with tumors.

giant

2013, North Dakota su ered the largest oil spill in state history when a

In

Tioga farmer discovered 800,000 gallons of oil in his

elds, about two

a er it had started seeping out of a quarter size hole in a pipe. It

months

ve years and $100 million to clean it up. 24 Two years later, another

took

occurred at the Garden Creek gas processing plant resulting in a

"incident"

spill of about 10 gallons. at's fairly insigni cant as far as spills go.

reported

that it turns out they lied. A whistleblower later revealed it was

Except

over 11 million gallons, larger than the devastating Exxon Valdez

actually

25 Not so insigni cant a er all.

spill.

out these companies have a bit of a problem with truth-telling.

Turns

companies generally claim a 99% safety record, but studies have

Pipeline

that to be grossly inaccurate. A 2012 study by the US Pipeline and

found

Hazardous Material Safety Association, found that "the 'average' pipeline
---
Toxic Garbage

More

the while, North Dakota has become a petri dish for neo-Nazis.

All

has a 57% probability of experiencing a major leak, with

therefore

over the $1 million range, in a ten-year period." 26 Not good

consequences

odds.

is against this backdrop — of lackluster regulation, regular spills,

It

contamination and outright lies — that the Dakota Access Pipeline

obscene

proposed to cross the Missouri River just upstream of the tribe's water

was

intake. What could go wrong?

at's to

say, in the midst of chaos, more chaos came.

e town of Leith, North

was the focal point for an attempted takeover by white supremacist

Dakota,

Cobb, an American Canadian white nationalist neo-Nazi. In 2010, he

Craig

to the town of 16 and purchased 12 plots of land with the intention

moved

building a community of people that share his white nationalist ideology,

of

gaining the electoral majority. His battle for political power

thereby

failed as a result of multi-racial organizing and opposition. e

ultimately

Welcome to Leith, which was directed by Michael Beach Nichols and

lm

Walker and premiered at the 2015 Sundance Film Festival,

Christopher

documented the con ict over Leith.

at was right before Standing Rock.

Christopher Hagen, a reporter for the High Plains Reader (

), really

have received a Pulitzer Prize for his writing on Standing Rock and

should

undercover journalism in North Dakota. His January 25, 2017,

his

entitled "White Supremacists' Hit List of Small Towns" documents an

article

movement.

ongoing

the town of Leith's victory against white supremacists, eleven

Since

across North Dakota made their hit list. e towns range from

towns

of 16 to nearly 7,000. Listed by names, pictures and real

populations

advertisements by Pioneer Little Europe North Dakota, a white

estate

operation welcoming Nazis, the Creativity Movement, Ku

supremacist

Klan, militants, white nationalists and racialists, the North Dakota

Klux

are the group's next targets to become Aryan enclaves. Known

towns

Underwood, Carson, Kenmare, Washburn, Tioga, Newburg,

targets:

City, Antler, Sherwood, Landa and Leith. Operative concept:

Valley

Little Europes are identi ed as the "vanguard model for the

Pioneer

next form of a white community, a vessel for its cultural revival,"
---
to white supremacist Hamilton Michael Barrett, a prominent

according

and author of the operation. Operative goal: create "arks of

gure

for the white race, and prepare for RaHoWa, or racial holy

survival" 27 war.

a pretty tall order in the face of climate change.

at's

Dakota represents a state of mind and a moment in history. One

North

for sure, the Native community is not going anywhere; in fact, it's

thing's

Another thing: We will all be drinking the same water.

growing.
---
The Seventh Generation

April 2016, with snow still on the ground, a small group of Standing Rock

In

members erected a tipi and lit a sacred re on Ladonna Bravebull

tribal

Allard's land at the mouth of the Cannonball River.

e Sacred Stone Camp

founded. For months the camp remained small, made up mostly of

was

of the local community of Cannon Ball. e Dakota Access

members

had been proposed to cross just north of the reservation, a 570,000-

Pipeline

pipeline to carry that fracked oil.

barrel-a-day

July, a group of Standing Rock youth organized a prayer run to hand

In

petitions opposing the pipeline. ey rst ran from Cannon Ball to

deliver

Army Corps of Engineers Omaha District branch in Nebraska, then

the

on to Washington DC, over 2000 miles in all. e youth named

continued

campaign "Rezpect Our Water" and quickly gained the support of a

their

key celebrities that helped amplify their voices. In addition to the

few

of the black snake, there is a second prophecy held by many tribes

prophecy

reiterated in the nal vision of Lakota Chief Crazy Horse, that tells of a

and

that the seventh generation would rise up and join with those of other

time

to bring healing and unity to the world. ese courageous young

nations

announced their arrival on the world's stage as the ful llment of that

people

As 23-year-old Terrell Iron Shell put it, "We're the answers to our

prophecy.

prayers." 28

ancestor's

August 1, we nished the spiritual horse ride of our fourth annual Love

On

Not Oil tour in Northern Minnesota, with a celebration feast in our

Water

Rice Lake, on the White Earth Reservation. We rode and prayed

community,

our Dakota relatives for two weeks, along the route of the proposed

with

and Line 3 pipelines. e next day, we threw a party in Bemidji to

Sandpiper

the tour, with fabulous music, food and friends. As we drove away

conclude

the venue and watched the northern lights dance on the horizon, we

from

the phone call saying that the Sandpiper project was likely dead.

got

had just announced their purchase of 28% of the Dakota Access

Enbridge

Pipeline, with plans to terminate their joint venture partnership with the
---
anchor shipper, Marathon Petroleum. 29

Sandpiper's

proposed Sandpiper would have carried 640,000 barrels a day of

e

oil out of the Bakken in North Dakota, weaving through the Ojibwe

fracked

of Northern Minnesota and through a vast aquatic ecosystem of

reservations

lakes, wetlands teeming with biodiversity and some of the largest

pristine

rice beds in the world. Enbridge said it was the only route that would

wild

And so for four years our people went to every single regulatory

work.

and, whether single mom, traditional rice harvester or tribal

hearing

said the same thing: Gaawiin, No. We prayed, we held

government,

and we rode our horses. We fought in the courts, in the media,

ceremonies,

the streets and on the land and water. And we were not alone, because

in

is not North Dakota, and a lot of non-Indian people love the

Minnesota

as much as we do. And we won.

water

was a historic victory, one that showed us how powerful we are when we

It

together and take a stand. Enbridge, the largest energy infrastructure

come

in North America, had planned to be long nished with

company

by then, but we stopped them. But it was also a bittersweet

construction

for although we won the battle, the war remained. e black snake is

victory,

hydra — cut o one head and two more will emerge.

a

headed west to team up with Energy Transfer Partners, which

Enbridge

not on the best nancial footing, to help get that oil out of the Bakken.

was

by four years of accountability in Minnesota, they changed

Frustrated

course to follow the path of least resistance.

ey thought that, as usual, no

was paying attention to North Dakota. And so, although our

one

in Anishinaabe Akiing still faced the expansion of the Alberta

communities

pipeline, a proposed new Line 3 pipeline in a brand new corridor,

Clipper

daily threat of a whole set of ancient crumbling pipelines already in the

the

and proposed nickel and copper mines that would poison

ground

we have le , we too headed west, to answer the call from the

everything

Stone Camp and stand with our Lakota and Dakota relatives.

Sacred

Lakota legal and regulatory objections, construction on the Dakota

Despite

Ppipeline had recently begun, in May 2016, a er an egregious rubber

Access

job by the states and the US Army Corps of Engineers, without tribal

stamp

consultation or meaningful environmental review.

e 1600 mile route

to snake through North and South Dakota, Iowa and Illinois, where it

began

to connect to a larger pipeline network with access to the re neries in

was
---
Cancer Alley and export markets via the East and Gulf Coasts. A

Louisiana's

pipeline, Dakota Access would carry a proposed 570,000

30-inch-diameter

a day of fracked Bakken crude oil, crossing hundreds of water bodies

barrels

hundreds of historic and archaeological sites.

and

important but o en forgotten detail: the Dakota Access Ppipeline was

An

slated to cross the Missouri River just upstream of Bismarck. But

originally

order to avoid the predominantly white population — indeed, in response

in

concerns about proximity to their drinking water source — the company

to

the route south to Lake Oahe, just 500 feet from of the boundary of

moved

Standing Rock Reservation and just a mile above the tribe's water intake

the

30 One cannot imagine a clearer or more egregious example of overt,

valves.

environmental racism.

intentional

late July, the Standing Rock Sioux Tribe, represented by Earthjustice,

In

a lawsuit in US District Court for the District of Columbia, against the

led

US Army Corps of Engineers. 31

e Army Corps has jurisdiction over all

waters in the country and must issue a permit each time a

navigable

pipeline is to cross one. Standing Rock claimed that the Army

proposed

Corps' approval of

's crossing of the Missouri River violated federal law

failing to uphold the trust responsibility to protect rights guaranteed to

by

Great Sioux Nation in the treaties — in this case, hunting, shing and

the

gathering rights. Standing Rock also

led an intervention at the United

in coordination with the International Indian Treaty Council.

Nations,

Chair David Archambault Jr. explained, " e Environmental Protection

As

the Department of the Interior and the National Advisory Council

Agency,

Historic Preservation supported more protection of the tribe's cultural

on

but the Corps of Engineers and Energy Transfer Partners turned a

heritage,

eye to our rights. e rst dra of the company's assessment of the

blind

route through our treaty and ancestral lands did not even mention

planned

tribe." 32 e Army Corps had approved the water crossing without even

our

conducting an environmental impact statement (

). Instead, they issued a

brief document that simply concluded a " nding of no signi cant

very 33 A rubber stamp.

impact."

is this possible? Well, through the usual loopholes. One of the main

How

of pushing these projects through is fragmentation — divide it up

strategies

that many di erent jurisdictions each look at their own small piece, such

so

no one is responsible for the whole thing and no one even seems to have

that
---
the power to say no.

e particular loophole used in this case takes

to the extreme. As they have done for many other pipelines,

fragmentation

Army Corps approved the 203 water crossings using a fast-track

the

called "Nationwide Permit No. 12," a general permit process for the

process

Water Act and National Environmental Policy Act that grants

Clean

from environmental reviews for small construction projects with

exemption

impact. 34 e general permit program was intended for things like

minimal

ramps, mooring buoys and small recreational facilities. But by abusing

boat

program and arti cially treating the project as simply a collection of

that

of tiny, separate construction projects, the Corps avoided entirely

hundreds

transparent and thorough review process required by federal law.

the

September, Honor the Earth, the Indigenous Environmental Network

In

the Sierra Club sent a letter to the US Army Corps of Engineers, making

and

case and asking for a full environmental impact statement on the

this

Dakota Access Pipeline. at never happened.

proposed

wish I could say that what happened to Standing Rock was unusual, but it

I

not. Typically, what passes for "tribal consultation" is, at best, simply a

was

for the corporation to "get to yes." Sometimes, it is just a letter sent to

way

tribe to inform them of the corporation's plans. For me, consultation

the

doesn't mean that. It's just like sex: each party has a right to say no.

is is

in the United Nations Declaration on the Rights of Indigenous

articulated

which sets the standard of "Free, Prior, and Informed Consent."

Peoples,

state of North Dakota and the federal government say to the tribe,

e

you didn't participate in our process!" But the tribe had voiced their

"Well

clearly and directly, at a tribal council meeting held on Sept. 30,

concerns

when and the ND Public Service Commission rst noti ed them

2014,

the new route. And frankly, I have participated in "the process." I have

of

time and time again to work within the system. Even in Minnesota, a

tried

with at least the accouterments of a sensible regulatory structure, the

state

is thoroughly skewed against us. In North Dakota, the system is

system

screwed.

totally

came the desecration. In mid-August, Standing Rock Tribal Chair

en

Archambault II and Councilmember Dana Yellowfat were arrested by

Dave

police, a er charging onto a construction site when archaeological

state

were found.

remains

are laws to protect historic and sacred sites. On Friday, September 2,

ere
---
day before Labor Day weekend, Standing Rock submitted to the court

the

ndings of rare cultural sites, which include 27 graves, stone prayer

detailed

and other sacred artifacts directly in the path of the proposed pipeline.

rings

are at least 380 archeological sites that face desecration along the

ere

entire pipeline route. Early the next morning,

responded by bringing

construction crews and bulldozing the speci c areas described by

in

Rock in their ling. When protectors of the site entered the

Standing

area, private security guards attacked them with dogs and

construction

spray.

pepper

is demolition is devastating," Tribal Chair Archambault said. " ese

"

are the resting places of our ancestors. e ancient cairns and stone

grounds

rings there cannot be replaced. In one day, our sacred land has been

prayer

into hollow ground." 35

turned

National Historic Preservation Act expressly prohibits the Corps from

e

the nal permit for the river crossing if it is shown that the company

issuing

destroyed or impacted potential historic sites along the

intentionally

path. But despite our e orts to hold them accountable, the Corps

pipeline's

a blind eye.

turned

in Iowa, as the lawsuit of three Iowa farmers moved forward

Meanwhile,

the pipeline company and the Iowa Utilities Board attempting to

against

the loss of their land through eminent domain, three res erupted

prevent

heavy damage to equipment and an estimated $2 million in

causing

Investigators suspected arson. 36

damages.

oil companies are a lot like Custer, no idea what they're walking into.

ese

clearly thought they'd bought a slam-dunk pipeline. ey were wrong.

ey
---
The Rise of the Water Protector

Protectors. ey came from the four directions. ey came from the

Water

ey came from the mountain they stood and protected. ey came

stars.

from the depths of the beautiful ocean.

ey came from the corn pollen

and sage they had gathered in their hands.

ey came wounded from

generations of pain.

ey came bearing gi s of strength, tears, and song.

is is where they stood in the four directions.

—Inyan Wakankagapi Wakpa, Sara Juanita Jumping Eagle

simply do not know what brought about the rise of the Water Protector.

We

our people have been protecting water since time immemorial, and we

Yes,

continue to do so as long as we live. But something special happened at

will

Rock in 2016 — a ful llment of prophecy, the blossoming of a

Standing

social movement led by Indigenous Peoples and rooted in

historic

teachings, but o ering a home to anyone, of any race or culture,

Indigenous

to ght for the water. Water Protectors are everywhere.

willing

of all places, why Standing Rock? We do not know. I do not say that to

But

in any way, the courage of LaDonna and Joye Braun and the

diminish,

people who founded the Sacred Stone Camp, or the power of those

young

youth's 2000 mile run to Washington DC. With no material

Lakota

beyond their own willingness to take a stand in the face of

resources

odds, they started a movement. All alone, they stuck their necks

impossible

to demand clean water and defend their sacred sites. And they ended up

out

the rst gathering of the Oceti Sakowin since the Battle of the

convening

Grass in 1876. ey inspired the largest gathering of North

Greasy

American tribes in modern history.

ey started the most powerful and

confrontation of colonial and corporate resource extraction in recent

direct

right in the heart of America's most backward petro-state.

memory,

why here? Why now? Of all the terrible projects constantly being

But

and resisted across Indian Country, why was Dakota Access the

proposed

one that ignited a movement?

e answer, most will say, is in the stars and

with the greatest of mysteries.
---
st exposure to the American Indian Movement was at 17. Having

My

my rst year at Harvard, I went to work for the International Indian

nished

Council in researching natural resource exploitation on Indigenous

Treaty

at was in l977. e International Indian Treaty Council had just

lands.

in 1974. In 1977, the Council held their meeting, prior to the rst

formed

Nations Conference on Discrimination against Indigenous Peoples,

United

Wakpala on the Standing Rock Reservation. Indeed, the modern political

at

of the American Indian Movement was formed at Standing Rock,

arm

the leadership of the Lakota traditional Chiefs of the Oceti

following

and the Lakota Treaty Council, who had strong convictions and

Sakowin

spiritual guidance. A er all, the Lakota had rejected the proposed

stronger

Claims Commission settlement of $105 million for the Black Hills of

Indian

Dakota, reminding the US that the Black Hills were not for sale. As

South

interest on the account increased (it's over $1 billion now), the Lakota

the

to the United States with a bill, telling Congress that the only

returned

for land is land. Called the Bradley Bill (introduced by former

compensation

Jersey Senator Bill Bradley), the bill called for the transfer of 1.3 million

New

of Black Hills National Forest land to the Great Sioux Nation, lands

acres

excluded Mount Rushmore National Memorial, private lands,

that

and other park lands. Interest from the judgment award

municipalities

be distributed amongst the tribes as compensation for the loss of use

would

the land; the principal would remain in the trust fund. Appropriations

of

be provided to assist the Sioux Nation in managing the returned

would 37 lands.

this is to say that, as astonishing as it is, some people still have integrity

All

moral convictions that remind them that money is not God, and that a

and

wellspring, like the Black Hills or the Missouri River, is in fact

spiritual

at said, even without looking back to the 70s and the

sustaining.

Indian Movement, the constant struggle to survive as Indigenous

American

in a place as repressive as the Dakotas meant endless legal cases,

Nations

defense of children and human rights — and always ghting to

advocacy,

our water. e emergence of stronger sovereign governance

protect

and the increasing aggression of late stage extractive capitalism

structures

more organizing, that is, tireless organizing which laid the

meant

for more Indigenous resistance — from Idle No More and

groundwork

opposition to extraction in the Bakken, to tribal resistance to the

grassroots
---
Here and Now

Why

that proposed Keystone XL pipeline, for example.

Consider

Are the Water Protectors?

Who

the summer, it was mostly local folks from Cannonball and

roughout

Keystone XL pipeline.

proposed

scientists and historians can always identify the conditions that

Social

it possible — the long history of oppression that eventually reached a

made

point, the vision and bravery and leadership that paved the way —

tipping

there remains a mysterious spark that eludes all attempts at analysis.

but

no exactness in the re of a social movement. We hope that people

ere's

will

nd their power, their understanding and the strength of collective

as it is there that change is made. But what is it that brings about a

action,

James Cameron, director of Avatar, would say that righteous

moment?

and hope are the tipping point, when people come together and

indignation

— like the Zapatista did — "Enough." Or take to becoming magical

say

and rage against the machine. We can make plans, we can develop

beings

strategies and workplans, but there are forces at play much larger than

goals,

ourselves, and sometimes that spark comes when we least expect it.

e threats

by the two pipelines to the environment, public health and tribal and

posed

rights are strikingly similar. But before it ever received permits,

human

a seven-year, multi-million-dollar campaign of opposition led by some

saw

the largest environmental nonpro ts in the world, with regular media

of

attention in major international outlets.

e advocacy campaign to stop

Access — well, there wasn't one. It passed largely under the radar.

Dakota

in early August, as the youth ran to DC and a dozen people from

Even

Stone set up a tipi on the North Dakota capitol lawn during a special

Sacred

session, many assumed the pipeline to be a done deal. It seemed it

legislative

simply end up like the 16 other crude oil pipelines already operating

would

North Dakota. 38 But just a few weeks later, a thousand people from across

in

continent were camped at river's edge, many of them prepared to

the

ce everything to keep that pipe out of the ground. A people had been

sacri

awakened. A historic siege had begun.

communities on the Standing Rock Reservation holding it down at

nearby

Sacred Stone Camp. When construction began in early August, just days

the
---
er the youth runners reached DC, people from Sacred Stone started

a

vehicles from entering the nearby Cannonball Ranch. ey were

blocking

arrested. Upon rumor that

had encountered archaeological artifacts,

Rock Tribal Chair Dave Archambault II and Councilmember Dana

Standing

were arrested while attempting to push through the police line to

Yellowfat

39 Each day the confrontation escalated, and each day more and

intervene.

people showed up, mostly from Standing Rock, Cheyenne River,

more

Pine Ridge and other Lakota and Dakota reservations. But many

Rosebud,

tribes from across the continent were soon represented, and plenty of

other

allies answered the call to support as well. Soon, LaDonna's land

non-Native

couldn't t another tipi or tent, so new arrivals were sent to camp on

simply

adjacent federal land, just on the other side of the Cannonball River.

the

they just kept coming. Something magical was happening. Prayers

And

being answered. Whole families were showing up, with Elders,

were

horses. ere was excitement in the air. A paddle demonstration

children,

organized and the Cannonball River was covered in canoes all the way

was

the con uence with the Missouri. At night, hundreds of camp res lit up

to

sky across the prairie. It became clear that the "Over ow Camp" had in

the

become the setting for the rst gathering of the Oceti Sakowin, the

fact

Seven Council Fires, in 140 years.

us was born the Oceti Sakowin Camp.

within it, dozens of other smaller camps soon emerged — Rosebud

And

Red Warrior Camp, Two-Spirit Camp. Wild Oglala, Ponca, Yankton.

Camp,

whole tribal universe.

A

really are no words to describe what that space meant for people, the

ere

power in it. If you were there, you understand.

at is really all we can say.

me, it was in the camps at Standing Rock that we remembered what it

To

like to be free. We remembered what it was like to create a village of

feels

of people, a powerful Indigenous space that welcomed people of

thousands

di erent colors and nations. And we remembered what it feels like to

all

the infrastructure we need to care for ourselves entirely outside the

create

money economy — to feed and clothe our people, to have stable

colonized

and quality medical care for everyone, to have control of our

housing

upbringing, to practice our spirituality freely and share our stories

children's

Every single night, all through the night, the drums would echo

unafraid.

across the plains — the heartbeat of Mother Earth — and the singers

out

would pour every bit of themselves into those songs, their ancestors owing
---
them as they cried out to future generations that we were all there

through

protect. I was so proud to be a part of that moment. Everyone was.

to
---
came from the far corners of the world. Many gave up their jobs,

People

houses, even their relationships back home. ey came with the shirts

their

their back and found a place in the movement. Some felt called to the

on

lines, others helped cook and wash dishes, cared for children, chopped

front

winterized shelters or supported the legal defense of those

rewood,

e Standing Rock Medic and Healer Council was sta ed by top-

arrested.

professional herbalists, doctors, nurses and other medical

notch

from around the world, but drawing on generations of plant

practitioners

held by Linda Black Elk and other Indigenous leaders. Families

wisdom

child care, and Sacred Stone Camp built a beautiful school. People

organized

what was going on and said, "You know, I want to be the person that I'm

saw

to be. I'm going to go to Standing Rock to nd myself." And that's

supposed

we did; we found ourselves at Standing Rock.

what

siege escalated quickly, with the State of North Dakota declaring a

e

State of Emergency in order to fund their brutal response, including setting
---
a military style checkpoint on the highway between Bismarck and the

up

as a form of economic sanction against the tribe, which relies on

reservation

casino revenue to survive.

e rst lockdown actions came at the end of

when two Lakota Water Protectors — one from Standing Rock and

August

from Rosebud — locked their bodies to heavy equipment and stopped

one

for the day as Morton County Sheri s spent more than six

construction

clumsily and recklessly trying to extract them. In early September, the

hours

companies intentionally desecrated the sacred sites disclosed by the

pipeline

archaeologist in a legal ling the day before. When Water Protectors

tribe's

to intervene, private security guards attacked them with dogs, injuring

tried

including one pregnant woman. A few days later, the Canoe Families

several,

the Salish Sea and across the Paci c Northwest paddled down the

from

to the camps — some 18 canoes in all, massive ocean-going vessels

Missouri

in a majestic display of pride and solidarity. e journey ful lled a vision

—

the late Tribal Canoe Journey Elder Tom Heidlebaugh had over 20 years

that

in which he saw the canoe people and the horse people come together at

ago

mighty river to join forces to protect the earth.

a

of such visions and prophecies were not uncommon, and tribal

Stories

became almost a daily occurrence, as representatives from

delegations

all over the world were received at the sacred re in the Oceti Camp,

nations

gi s, words of support and resolutions of solidarity from their tribal

bearing

By fall, the main dirt road in camp was lined with hundreds of

councils.

ags. Many came in full regalia and o ered their traditional songs and

tribal

ere was a spirit of celebration, reverence and determination. e

dances.

people of Northern Russia and Scandinavia sent a delegation. e

Sami

community of Sarayaku, in the Ecuadorian Amazon, sent a

Kichwa

in ful llment of the ancient Incan prophecy of the Eagle and the

delegation,

in which the Indigenous Peoples of North America and South

Condor,

come together and the Earth awakens. Delegations also arrived

America

non-Native liberation movements — the Palestine Youth Movement,

from

Lives Matter — and from faith communities of countless di erent

Black

religions and denominations.

e Veterans came, in an epic show of

and force, and found their place in a moment of struggle

commitment

enemies foreign and domestic. ousands of people came to

against

Standing Rock, thousands of Water Protectors.

ey came from everywhere,

from every economic sector; clergy, veterans, school children, families,
---
Native people from all these categories, elected o

cials and many more.

ey came because they wanted to protect the water.

ey came because

Earth needs us.

Mother

sent semi loads of logs for rewood, endless bu alo meat, dried

Tribes

salmon, plant medicines.

e food was good, our spirits and prayers

For all of us it was a magical place to be, to have an understanding

renewed.

a battle on the ground, to see yourself in history. Walking through camp or

of

Rock's Prairie Knights Casino (that's where you could get a hot

Standing

if you had a friend) was like time traveling. People who had known

shower

other for four or more decades, veterans of other Indian Wars, veterans

each

social justice struggles, would meet and smile, greet each other and be

of

pleased that we were in this moment in time.

en we would look and see

children and our future. We were together. We were epic, and we still

our

are.

the battle continued and the state's militarized response escalated,

As

continued to build, beyond what anyone imagined was possible.

energy

faced an outrageous militarized and violent response from North

ey

law enforcement with knowledge that millions all over the world

Dakota

watching and supporting us. In addition to the hundreds of tribes

were

resolutions in support, labor unions started to follow suit, then

passing

cities across the US — Los Angeles, Seattle, Cleveland, Minneapolis,

major

St. Louis, Nashville and more. In mid-November, organizers in the

Portland,

called for a National Day of Action, and demonstrations were

camps

online in over 300 cities across the world, including several

registered

numbering in the thousands.

protests

yet, on some level it was a moment we all knew had been coming, in

And

the violence and perversion of our economic system would start to

which

It was a moment of extreme corporate rights and extreme racism

unravel.

by courage, prayers and resolve. It was remarkable what our

confronted

were able to do. We learned that when we work together, we can

people

change, that when we stand together, we can nd our courage. For

make

of us, Standing Rock was a Selma Moment where all of our mettle and

many

was tested as we faced down large multinational corporations

determination

lots of guns and said: "We're still standing." A moment when we all

with

woke up and said, "

is is when we become the ancestors our descendants

will be proud of."
---
not that we were free

It's

really not

on a clear day

But

could see what

we

looked like

freedom

Tilsen 40

—Mark

The Siege at River's Edge

I did not experience these confrontations with police rsthand, but have

Note:

my best to reconstruct the events based on descriptions from my relatives

done

did. who

A small procession of women walks slowly, humbly, towards a pink

Dawn.

and orange sky.

ey carry a copper vessel to the bank of the Cannonball

o er prayers and tobacco and sing songs for the water, as they do each

River,

It is October 27, 2016, a day that will be remembered for many

morning.

to come.

generations

four days, Water Protectors have maintained blockades on the two

For

connecting the camp (and the reservation) to the rest of North

roads

A small radio tower has been erected to facilitate communication

Dakota.

outposts. And a new encampment has blossomed on the

between

Ranch, the private land adjacent to the Army Corps' land where

Cannonball

the Oceti Sakowin camp is located.

e 1851 Treaty Camp, as it has come to

called, is located directly in the path of the pipeline, just across the

be

from the sacred ground that was intentionally desecrated in early

highway

on the day of the dog attacks. It is called the Treaty Camp

September

this land was never ceded to the US government, and in fact it was

because

preserved as sovereign territory of the Oceti Sakowin by the Fort

explicitly

Treaties of 1851 and 1867.

Laramie

autumn deepens, this escalation in tactics has birthed a new sense of

As

Water Protectors have gone on the o ensive. e resistance has

power.

beyond questions of environmental racism and cultural preservation,

moved

an assertion of fundamental rights to the land, a questioning of settlement

to
---
People have literally put their physical bodies in the way of

itself.

e point is not just to shed light on the fact that the state is

colonization.

of trespass, that the treaties have been consistently violated for the

guilty

of corporate resource extraction ever since their signing. e idea

purposes

to take the land back.

is

absurd as North Dakota's hyper-militarized response to unarmed

As

on prayer walks has been, to some extent the two sides have been

people

on this deeper level all along. Why else would hand drums

communicating

sage smudges be met so consistently with tanks, assault ri es and

and

weapons? e deployment of police forces to protect the oil and

chemical

barons and keep money owing out of the ground is nothing new, but

gas

case has been di erent — Water Protectors have faced a uni ed, well-

this

military force of oil industry personnel, local, state and federal

coordinated

enforcement, federal intelligence agencies, the National Guard and

law

from unlicensed paramilitary organizations fresh from the war

mercenaries

of Iraq and Afghanistan. In many cases, the line between that o cial

zones

and everyday white supremacist North Dakotan vigilantes has

structure

blurry to say the least. You see, the memory of genocidal colonial

been

is fresh here; in fact it is still happening, and North Dakota seems

violence

understand very well a fact that much of the rest of America has managed

to

forget — that its entire economy and way of life is predicated on the the

to

Indigenous lands.

of

is why they have come for the Water Protectors on this beautiful fall

is

wielding all their toys. A battalion of cops decked out with riot gear and

day,

tactical equipment, armored tanks and snipers on the

state-of-the-art

come to clear out a few handfuls of tipis and tents. ere are long

hillside,

of tense confrontation as the Water Protectors gather to face the

moments

line. Eventually, a er an extended performance of Orwellian police

police

and threats over the loudspeaker, that line advances, and the Water

warnings

are pushed backward. Some are snatched to the other side and

Protectors

Some are snatched back. As a young woman is seized by police and

arrested.

to the ground, live gunshots are red. Cops with assault ri es slash

wrestled

canvas walls of tipis and drag half-naked Elders out of their sweat lodges.

the

are beaten with batons and thrown to the ground. Pepper spray ies

Bodies

the gallon. e sound cannon (long range acoustical device, or )

by

across the plains. Police shoot tasers, rubber bullets and bean bag

echoes
---
ounds.

is disagreement among the Water Protectors about whether to stand

ere

retreat — barricades are built, then dismantled, then built again. One is

or

on re. Vehicles and trailers are placed in the path of the police, and

set

dive under them and lock their necks to the steel. New tipis are

people

at lightning speed, hay bales are dragged and logs rolled frantically

erected

a desperate attempt to slow things down. But the police line keeps

in

and the Water Protectors lose inch a er painful inch. Suddenly,

advancing,

the east, the bu alo herd is charging, ying over the hills in a cloud of

to

e Water Protectors cheer and war whoop. A group of young Lakota

dust.

horse riders has herded them towards the con ict, and cops on

s have

pursuit, ring rubber bullets at the riders in full gallop.

given

the midst of all the chaos, a private security worker races his truck

In

the road full of people, with an assault ri e visible through the

through

Water Protectors quickly hop in a vehicle and ram the truck o the

window.

He jumps out and is chased into a backwater of the river, standing

road.

deep as he points the assault ri e at the Water Protectors, nger on the

waist

Eventually he gives up the weapon to a Bureau of Indian A airs cop.

trigger.

the blockade of the other main access road has been lit on re.

Meanwhile,

crude pile of logs and tires blazes, and a vehicle has been ipped upside

A

into the ames, barring a second unit of police from anking the

down

Protectors in retreat. People will go to prison for this. On the side of

Water

road near the burning vehicle, a few small bodies huddle around a pan

the

of sizzling grease, making frybread.

e tanks and riot cops are just beyond

crest of the hill.

the

the police reach camp, Water Protectors retreat to what will later

Before

become known as "Backwater Bridge."

ere, in a move of questionable

they build a massive blockade, and as darkness approaches they set

strategy,

on re, facing o with police all through the night. In the morning, two

it

military trucks will have been burned, and their charred frames

heavy-duty

remain on the bridge dressed in gra ti for weeks, a new obstacle

will

blocking tra

c between camp and the pipeline route, as well as between the

and the outside world. Over 140 Water Protectors will wake up

reservation

jail. in

Militarization
---
there is a turning point in the story of o resistance, this is it —

If

27, the raid of the Treaty Camp. e weeks leading up to it had seen

October

steady escalation on the part of law enforcement in response to relentless

a

actions by Water Protectors, shutting down work sites day in and day

direct

In addition to consistent lockdowns, and daily marches and prayer

out.

Water Protectors also led Toxic Tours, where caravans of dozens of

walks,

would gather at one of the camp's exits and proceed to active

cars

sites to stop work. O en these actions would result in mass

construction

with police actively targeting journalists and medics, in violation of

arrests,

humanitarian law. Just days before, on October 22, over 140

international

were suddenly arrested a er walking many miles down the pipeline

people

followed by police, singing songs and burning sage.

corridor,

enforcement assembled an army over 1300 strong, drawing from

Law

across North Dakota and nine other states, through what is called

counties

Emergency Management Assistance Compact, an interstate agreement

the

to facilitate the sharing of resources for natural disaster relief.

intended

own Hennepin County, home to Minneapolis, sent many

Minnesota's

cers, and they proved to be some of the most brutal.

o

Armed with mine-resistant armored personnel carriers (

), long range

devices, rubber bullets, mace, tear gas, water cannons, bean bag

acoustic

concussion grenades and razor wire, and with the full force of the

guns,

government behind them, law enforcement injured, tormented,

federal

and humiliated hundreds of Water Protectors. Many of those

taunted

were stripped and cavity searched and placed in dog kennels in

arrested

cold conditions, with numbers written on their arms with

freezing

marker. Some had hoods placed over their heads, a practice

permanent

considered torture.

generally

was not until months later, thanks in large part to leaked documents and

It

excellent investigative journalism of e Intercept, 41 that we fully

the

the degree to which this multi-agency army of cops, feds, private

appreciated

and oil men was actually coordinated by the private paramilitary

security

TigerSwan. Folks had grown accustomed, in the tragic way that

group

get used to trauma, to the daily low-level ights of privately owned

humans

planes and helicopters circling over the camp, despite the "noy

surveillance

zone" declared by the . We knew they were using hi-tech equipment

to jam our cell phones, folks had found bugging devices in their hotel rooms
---
Promises

Empty

er the raid of the Treaty Camp came something of a stalemate, North

A

the casino, and we assumed there were in ltrators among us. But we did

at

know that the hyper-militarized police program was being led by a

not

"war on terror" defense contractor hired by a Fortune 500 oil

private

comparing us to "jihadist insurgents" in order to sell the rural

company,

on the need for "aggressive intelligence preparation of the battle eld."

cops

did we appreciate the depth of the so-called "counter-terrorism

Nor

they led, with a level of surveillance, in ltration and provocation

program"

seen in Indian Country since the 's of the 1970s, an

not

to destroy the American Indian Movement, the Black Panthers and

attempt

revolutionary groups, by any means necessary.

other

le the burned trucks on Backwater Bridge for many weeks,

Dakota

that the bridge itself might be structurally compromised. But

claiming

everyone knew the bridge was ne.

e truth was that the images of the

trucks provided media cover for their brutality, plus they got a free

burned

out of the deal. e blockage of the highway connecting Bismarck

roadblock

the Standing Rock Reservation was absolutely critical to their strategy, a

to

war tactic of restricting freedom of movement and su ocating the

classic

enemy economically.

e tribe lost millions in casino revenue, its main

of income. Meanwhile, construction could proceed on the

source

Ranch and Water Protectors had no way of accessing it — they

Cannonball

trapped in camp. Life went on, direct actions continued, and the

were

movement of solidarity ourished, but the tribe's legal

international

were gaining no traction, and winter was on its way.

challenges

early November, Water Protectors used canoes and a makeshi oating

In

to cross backwater creeks and attempt to occupy a small hill north of

bridge

e hill, which came to be known as "Turtle Island," is a sacred burial

camp.

home to the remains of several children and well-known local

ground,

women. ey climbed the hill to protect the sacred site, but law

Lakota

attacked with tear gas and pepper spray from atop the hill and

enforcement

motorized boats, destroying the bridges. So people swam across, in ice

from

water, only to emerge shivering at the base of the hill and be doused

cold

pepper spray. On that exact same day, President Obama spoke about

with

the situation publicly for one of the rst times, making vague statements
---
a possible reroute but saying "we are gonna let this play out for a few

about

weeks." No reroute considerations were announced, he did not

more

to stop the violence, and his federal agencies continued to work

intervene

with TigerSwan and North Dakota cops to repress the resistance.

closely

had visited Standing Rock personally in 2014, becoming only the

Obama

US president to ever visit a reservation, and as he kissed the babies he

third

the tribe he would be "a president who honors our sacred trust and who

told

your sovereignty." More empty promises.

respects

than a week a er the stando at Turtle Island, Donald Trump was

Less

as the 45th president of the United States.

elected

November 20, Water Protectors tried to clear the trucks o the bridge.

On

ensued was one of the most dangerous and terrifying clashes of the

What

campaign, the Battle of Backwater Bridge. Law enforcement blasted

entire

Protectors with water cannons in freezing temperatures for nearly

Water

eight hours, causing widespread hypothermia.

ey sprayed mace and red

gas and rubber bullets, o en aiming for the groin and the face.

tear

were injured, including multiple fractured bones, one grand mal

Hundreds

one permanent eye injury, severe lacerations, blunt traumas and

seizure,

bleeding. Twenty-one-year-old Sophia Wilansky's arm was blown

internal

by a concussion grenade. Linda Black Elk, matriarch of the Standing

apart

Medic and Healer Council, said, "We are 100% con dent that if our

Rock

medics and the Standing Rock

had not been there … local law

would have deaths on their hands."

enforcement

weeks later, on December 4, as a group of thousands of US military

Two

arrived at Standing Rock to stand in solidarity with the Water

veterans

with talk of marching in formation to overtake the drill pad, the

Protectors,

Corps of Engineers announced a delay in granting the essential

Army

for to drill under the Missouri River, with plans to rst

easement

an environmental impact statement to "evaluate reasonable route

conduct

We all wondered, had the Obama administration nally

alternatives."

listened? Some celebrated, cautiously.

en the sun set and the oodlights

on the hill overlooking the camps. Snow dri ed down onto the

remained

wire of the walled fortress surrounding the drill pad. e national

barbed

police and armored vehicles stayed in place. Nothing changed.

guardsmen,

Transfer Partners described the decision as a "purely political

Energy

action" written in obvious "Washington code" and consistent with the
---
Filth of North Dakota

The

January of 2017, a newly elected Governor Burgum worked with North

In

handling of the situation for the previous four months —

administration's

intention to delay a decision in this matter until President Obama is

"their

out of o

ce." 42 Sadly, their take on the situation was one of the most

accurate.

is uent in the language of death, destruction and lies, and at

moment when President Obama asked Native people to love him even

that

er his government had once again brutalized our grandmas and our

a

children,

understood him perfectly. He was simply delaying a crisis and

kicking the can to Donald Trump.

authorities to peddle a story to the media about the feces and

Dakota

runo into the river from the Oceti Sakowin Camp, requiring their

garbage

attention as a public health risk. 43 Rather ironic, since the state

immediate

ago removed all sanitation support to the thousands of people who

long

to live in the l4th largest city in the state of North Dakota. Forced out

came

thousands of pounds of food was bulldozed and tossed by federal

midwinter,

stores for a winter camp that might have gone to people, tents,

authorities,

the whole is gone, along with strawbale structures, greenhouses and

tipis,

more. All of this to clean up a er "protestors."

e spin continued in North

corporate fed media. As Dr. Jumping Eagle explained in a

Dakota's

post:

FaceBook

biased media use this as opportunity to talk smack once again.

Racist

empty tents and cardboard can be recycled, etc.… benzene, oil,

Some

other chemicals in the water cannot be removed. So … when it

and

to trash and waste, I will take some jacked up tarps any day, over

comes

years of contaminated water from oil pipeline spills and frack

50–100

contamination. It's too bad that Morton County doesn't look in

waste

own trash — maybe they would nd their integrity, honesty, and

their

buried in there somewhere. ey likely burned them while

humanity

were busy taking sel es with half naked freezing Water Protectors

they

cages in the background ala Guantanamo Bay and Auschwitz.

in

be honest. North Dakota does not care about garbage. Nor pollution.

Let's

fact, in 2015, the state decided that instead of protecting citizens from the

In

radioactive waste from fracking, they would just increase the recommended
---
Those Pipeline Spills

About

January 2016, more than 100,900 gallons of crude oil, waste oil, bio

Since

allowance of radiation allowed in the state from 5 picocuries per gram

daily

50 picocuries per gram. 44 In Orwellian terms, "Technically Enhanced

to

Occurring Radioactive Materials" is really just a word for fracking

Naturally

Let me remind Governor Burgum, that at no point has radiation

wastes.

safer for your citizens.

become

just the beginning of the garbage insanity. Morton County sprayed a

at's

of unknown toxins onto the Water Protectors — from antifreeze-laden

lot

cannons, to mace — which then ended up in the river.

water

then there's David Meyers, a "rancher" who purchased 40,000 pounds

And

Rozol, a prairie dog poison that causes animals to bleed to death, for use

of

land adjoining the Missouri River. An Environmental Protection

on

investigation determined that the Rozol poison had been

Agency–led

distributed across more than 5,400 acres on both the Cannonball

illegally

and the Wilder ranches. As the investigation noted, instead of

Ranch

applied into the prairie dog burrows, the bright blue poison pellets

being

broadcast on the ground. Dead prairie dogs were le where they died

were

of being expeditiously removed to protect other wildlife. Six dead

instead

were found in April, and dead bison were also found as recently as

eagles

documents said. According to the report, Meyer did not have

August,

pesticide certi cation to apply the Rozol. Meyer was given probation

proper

return for a timely guilty plea, $58,000 in restitution fees and a $50,000

in 45 ne.

you were worried, Meyer's had no problem paying those fees. Six

Lest

a er he poisoned the land, Meyer sold the Cannonball Ranch to

months

Transfer Partners for a reported $18 million. 46 Nice ranching. And,

Energy

some garbage that will not be easy to clean up.

that's

natural gas and brine were spilled in North Dakota and surrounding

solids,

according to the North Dakota Department of Health records. It's

areas,

a weekly asco. Approximately 50,000 gallons of slaked lime solids

almost

into the Missouri River in June causing unknown impacts.

slid

companies are ever ned, in a North Dakota regulatory system that

Few

to be controlled by oil companies. According to the Bismarck

appears

Tribune, in early 2016, the Commission reviewed six outstanding spill cases
---
with nes totaling $600,000. 47 As journalist Chris Hagen writes,

past spills are still being cleaned up around the state, such

Additionally,

the Tesoro Corp. spill of 2013, the Energy and the Oasis

as

Inc. spills of 2014 and 2015, according to Bill Suess, Spill

Petroleum

Program manager of North Dakota Department of

Investigation

Spills occur on a daily basis, Suess said, the cleanup is costly,

Health.

companies are rarely ned. "Not everyone gets ned," Suess said.

and

"Usually we hold o as long as we can on the

nes because it is a

motivator to get them cleaning it up." 48

2015 and 2016, North Dakota Industrial Commission proposed a total

In

$4,525,000 in penalties, collecting a paltry $125,976. 49 So, let us talk about

of

North Dakota.

garbage

North Dakota cheered the completion of the pipeline, the Trump

As

Administration buried an Interior memorandum which rea

rmed the

of the permit. A er all, if the pipeline was not good enough for the

denial

supply of Bismarck, why would it be good enough for the water supply

water

Standing Rock?

of

things change but a lot do not. While the Water Protector clearances

Some

out by the Burgum administration were portrayed as being in the

carried

of public health, there's something pretty egregious about destroying

interest

and housing in the middle of winter. LaDonna Brave Bull Allard

food

us of the Whitestone Massacre, where General Sully, not unlike the

reminds

National Guard, Morton County and

cops, destroyed the food of a

people.

to historical sources, Sully ordered all the Indian property

According

abandoned in the camp to be burned.

is included 300 tipis and 400,000 to

pounds of dried bu alo meat, the winter supplies of the Indians and

500,000

product of 1,000 butchered bu alo. 50 Some things don't change much.

the

can't say it's water under the bridge, at this point. I can say that North

I

Governor Burgum has a lot of work cut out for him to clean up the

Dakota

of the state. Not only the toxins of an oil industry, unregulated, but

garbage

toxins of human rights violations. is will be a challenge.

the

think North Dakota has violated the covenant with the Creator, and

I

of Nature. Filth is everywhere. It is time to come clean.

Rights
---
Art of Indigenous

The

Resistance

the machines tore into sacred ground on the horizon, Dakota artist

As

Rencountre created a statue. Not Afraid To Look sits on a blu

Charles

the Missouri River, directly above the site of the Sacred Stone

overlooking

at the mouth of the Cannonball River. Today, the statue is the only

Camp

that remains — the tents, the tipis, the barracks, the schools, the

thing

and inipis (sweat lodges) constructed during the o resistance

clinics

all been bulldozed.

have

is a traditional pipe carver, and the statue is modeled on what

Rencountre

called an "e gy pipe," a smoking pipe originally carved in the l820s. e

is

one of which wound up in the collection of President Andrew Jackson,

pipe,

a small Native gure carved into the shank and facing the attached bowl,

has

depicts the face of a white man. e pipe had a name: Not Afraid To

which

at the White Man. "How much courage does it take to sit on the earth

Look

no weapons looking straight ahead into the eye of the storm with no

with

It is much like counting coup on an enemy in the sense that one only

fear?

to touch the enemy, not take his life. Touching the enemy with your

needs

with your gaze, is the highest capacity of honor, courage and

eyes,

he explains. 51

compassion,"
---
found Charles Rencountre and his rst Not Afraid To Look statue at the

I

for American Indian Arts in Santa Fe, New Mexico. e statue

Institute

large over us both, and his story was compelling — to take the gi s

loomed

from our ancestors and bring them into a modern medium.

collected

Rencountre's great-great-great grandfather was a signatory of the 1851
---
of Fort Laramie, between the US government and the tribes of the

Treaty

Sioux Nation. As the o resistance blossomed in the late summer

Great

2016, he came to Standing Rock to build another Not Afraid To Look, this

of

on Ladonna Allard's land overlooking the river.

time

Afraid To Look begins as a symbol from my Plains ancestors, who

Not

me that although we have faced genocide — we continue to

remind

in many good and surprising ways. We are here. And we are here

thrive

outsiders who tried to kill or erase us all. We are also changing.

despite

the human people face today is similar to what my ancestors

What

in the 19th century. Not Afraid To Look comes out of a living

faced

and worldview. It may remind human people to use the

cosmology

instilled within us to endure and face what seems

power

insurmountable.

e piece symbolizes our relationship when we human

connect with the earth because that is the lineage it comes from.

people

the earth has faced many forces evoked by fear, anger, delusion,

ough

denial by the human people, the earth endures and will endure.

and

people can do this too. ere is truth that when we listen we

Human

face things that look like hell realms and still nd ways that are

can

and valuable to us … we, as human beings, have the

meaningful

to overcome historical di erences, wounds and antipathies, to

capacity

together for what is sacred and what is our right to respect, to

work

protect, and to live, as part of its life. 52

will be more of these statues elsewhere, I assume. Rencountre and

ere

wife, Alicia Rencountre-Da Silva, want to build one here on the shores of

his

(Lake Superior), in New York and Washington DC, and in the

Gitchigami

alley" of Louisiana.

"cancer

artists, my wife and I have visions to place Not Afraid To Look in

As

that are in need … places where humanity is avoiding

places

to look at what is happening … Art creates a response

responsibility

builds community; that re ects and gives voice to those in need of

that

truths — and it is our way to move forward. We see art as a

its

and a gesture within and from a community that begins a

relationship

process for healing of that which has been unheard and denied. 53

e o resistance at Standing Rock brought together some of the best
---
and brightest Native artists and compelled them to create.

e result was no

than a renaissance of Indigenous resistance art in a multitude of

less

erent media, from tattoos to poetry and everything in between. New t-

di

banners and murals abounded in the camp, with new artists

shirts,

silk screens on site, in a time of wearable art everywhere. And

producing

er the siege had ended, the ood of creativity and expression that began at

a

Rock spread across the continent, breathing life into other

Standing

and struggles while processing the emotions and trauma, the

campaigns

and defeats, of the history that had just been made on river's edge.

victories

Standing Rock it grows.

From

could, of course, never name them all — but here is a short sample of

I

of the incredible work inspired and ampli ed by the movement: the

some

Rock underbird Tattoo by Stephanie Big Eagle; poster art by

Standing

Moon; murals and music by Annie Humphrey; the roo op mural at

Jackie

Indian Community Housing Organization in Duluth, Minnesota,

American

Votan; hip hop from Nataani Means, Immortal Technique, Yaz Like Jaws,

by

and others; clothing line Obsidian, recently featured in Vogue

Tufawon

visual art from Isaac Murdoch and Christi Belcourt of the

magazine;

Collective; It Ain't Over Until We're Smoking on the Drill Pad, a

Onaman

of poetry by Mark Tilsen; Standing Strong, a book of photography of

book

o movement by Josue Rivas; Akicita: e Battle of Standing Rock, a

the

directed by Cody Lucich. Honor the Earth has also sponsored two years

lm

an exhibit called the Art of Indigenous Resistance, curated by Dine artist

of

Smith. It includes primarily paintings, giclees and fabric pieces, as

Kimberly

as mounted wheat paste murals. Smith explains the thinking that

well

guided the creation of the exhibit:

reservation areas where high rates of addiction, poverty, and loss of

In

threaten our way of life, we have to create ways to engage and

culture

our communities. Our mission is to create awareness for, and

upli

social and environmental issues, and to showcase empowering

support

indigenous art from across the country.

rough this indigenous lens,

want to show that indigenous self-expression is deeply embedded in

we

tradition and culture. Song, dance, storytelling, and prayer

indigenous

all done to honor Mother Earth and to heal. Our connections to

are

Earth through cultural practices have sustained us for

Mother
---
Art has power. Art has the ability to wake up the people.

millennia.

it, we can evoke emotion, tell stories, inspire and motivate, and

rough

channeled as a vehicle for issues of consciousness, it can become a

when

for meaningful change. People are working hard to make a shi

catalyst

and socially, and we must take this opportunity to show

politically

and remind our communities of how resilient we are. With a

solidarity

of art, music, and activism, we are taking this opportunity as

blending

people to step up, be innovative, support one another, and grow

young

into our roles. 54

too must be not afraid to look at the enemy or at our own weaknesses.

We

the beauty of art should be in the darkest and brightest of times both.

And
---
How The Dust Settles

January 18, 2017, the Standing Rock Tribal Council voted unanimously

On

close the camps and serve eviction notices. 55 ey had been telling people

to

go home ever since the Army Corps delayed the key river crossing permit

to

early December, but hundreds had ignored that request and persevered

in

a harsh winter. With blockage of the highway strangling the tribe

through

they nally canceled plans for a separate winter camp and

economically,

they would bring in law enforcement and equipment to clear the

announced

at the end of the month. eir repeated instructions to have faith in the

area

and the legal process were curious; for the past six weeks,

had been

taking control of the federal government.

literally

days a er the Army Corps' decision in early December, former Texas

Just

Rick Perry resigned from the board of directors of Energy

Governor

Partners, parent company, and was named Trump's rst

Transfer

for Secretary of Energy. 56 Trump also tapped three other friends of

choice

join his cabinet: Rex Tillerson, the of Exxon, one of the main

to

shippers of oil through

, as secretary of state; Wilbur Ross, the majority

shareholder of Navigator,

's major export partner, as secretary of

commerce; and Gary Cohn,

of Goldman Sachs, a major nancer of

as director of the National Economic Council and chief economic

,

to the president. 57 On January 20, two days a er the tribe's decision,

advisor

became the 45th president of the United States. Four days a er that,

Trump

signed an executive order directing the Army Corps to scrap the

he

Impact Statement and issue the permit to drill under the

Environmental

immediately. 58

river

Protectors made their last stand on top of a hill just outside of camp,

Water

the Backwater Bridge, on unceded treaty land owned by .

overlooking

Child Camp was created in honor of Crazy Horse, who had founded

Last

warrior society of the same name. On February 1, a highly militarized

the

force once again raided the camp, tearing down tipis, disrupting

police

and arresting 76 people. e Standing Rock Tribal Council sided

ceremonies
---
law enforcement and North Dakota's corporate media in dismissing

with

arrested as "rogue protestors" acting outside the "original intent of the

those

Protectors." 59 A week later, the Army Corps issued the nal permit.

Water

free to drill under the river.

was

North Dakota governor Doug Burgum issued an evacuation

Incoming

cra ing a tall tale about trash in the camps and saying, with painful

order,

that evacuation was necessary "to avoid an ecological disaster to the

irony,

River" in the spring. 60 e Standing Rock Tribal Council issued its

Missouri

trespass notice to Ladonna Allard, evicting the entire Sacred Stone

own

from her land on the reservation. Ladonna was shocked. Not only

Camp

the tribe supported the founding of the camp with a formal resolution,

had

also, she was unaware that some of her siblings had sold their portions

but

the family land back to the tribe many years ago, giving the tribe a

of

ownership of the parcel. On February 21 and 22, the Oceti Sakowin

majority

Camp was raided by

teams, riot cops, helicopters and tanks, arresting

50 people. Several structures were burned to the ground before they

nearly

be seized, and one Water Protector was trapped inside a burning

could

su ering third degree burns across her head and face. A few days

tarpie,

the entire Sacred Stone Camp was bulldozed to the ground. Along with

later,

straw bale school, the kitchen, greenhouses, composting toilets, tipis and

the

went countless memories and visions for a permanent cultural

wigwams,

where young people could come to live close to the land and learn

camp

language and history. is was not the ending that anyone had

their

Water Protectors were forced to remove, as thousands of our

imagined.

before. In less than a month, had nished construction on

ancestors

the entire pipeline and lled it with oil.

Searching for Justice

all was said and done, how did the dust settle from this historic event?

When

battle continues to this day in courtrooms across the country. Of the

e

of legal cases that came out of it, did anyone get justice?

hundreds

July 11, 2017, Water Protector Red Fawn Fallis was sentenced to 57

On

in federal prison, followed by three years of probation. 61 Originally

months

with the attempted murder of a police o cer, she ended up

charged

guilty to "civil disorder" and "possession of a rearm by a convicted

pleading

e feds dropped the main charge, "discharge of a rearm in a felony

felon."
---
of violence."

crime

the day before, President Trump had pardoned two Oregon cattlemen,

Just

and Steven Hammond, both convicted in 2012 of arson for the

Dwight

of destroying federal property. A good friend of Vice President

purposes

Mike Pence even gave them a ride home in his private jet. 62

e Hammonds'

had been the inspiration for Aamon and Ryan Bundy and their rightwing

case

militia's armed occupation of the Malheur National Wildlife Refuge in

in 2016, for which the Bundys were later tried and acquitted of all

Oregon

e system works di erently for Native people.

charges.

that "civil disorder" charge, for example. It's a vague statute that is

Take

rarely used; in fact it is used almost exclusively to repress social

very

It was created in the late 1960s at the height of the Black Power,

movements.

Power and anti-war movements. It was used against members

Red

involved in the occupation of Wounded Knee.

is is not a coincidence. As

Baldwin said, "History is not past. It is the present." Indigenous

James

movements in this country have a clear lineage, as does the

resistance

of those movements by the US government. In Red Fawn's case,

repression

attorneys alleged that she red a gun while being arrested on October 27,

US

during the raid of the 1851 Treaty Camp. e gun was later revealed to

2016,

belonged to her boyfriend, Heath Harmon, from the Fort Berthold

have

who she met in the camps but turned out to be a paid

Reservation,

informant. He never revealed this fact to her, continuing his

undercover

even during visits to see her in jail — the truth came out only through

lies

investigative journalism of e Intercept. 63 Harmon's uncle had been a

the

cer that fought alongside the , against , during the occupation

o

Wounded Knee, and then with the 's Special Operations unit was

of

to every major Native con ict that happened in the US." 64 Not

"detailed

that one of Harmon's roles in the o camps was to con rm

surprising

the the presence of speci c members. Red Fawn, who he clearly

for

grew up in the American Indian Movement; her mother had

targeted,

start the Colorado chapter in the early 1970s. Red Fawn and her

helped

maintained her innocence, stating that she was forced to accept

supporters

plea deal because she could not receive a fair trial due to bias in the

the

Dakota jury pool and the prosecution's withholding of evidence.

North

addition to Red Fawn, six other Water Protectors were charged at the

In

level, all of them Indigenous. Five were charged with "civil disorder"

federal
---
"use of re to commit a felony," for their alleged role in the burning of

and

during the raid of the Treaty Camp: Michael Markus (Rattler),

barricades

White (Angry Bird), Michael Giron (Little Feather), Dion Ortiz and

James

Miller-Castillo. All of them accepted plea deals except Miller-

Brandon

who still has not been arraigned. Red Fawn and Rattler remain in

Castillo,

Little Feather, Dion Ortiz and Angry Bird are still under mandatory

prison.

supervision.

federal

Nastacio was one of the Water Protectors who stopped Kyle

Brennan

the private security worker who was chased into the river while

ompson,

an assault ri e at people during the raid of the Treaty Camp.

pointing

Nastacio likely saved lives, he was charged with federal-level

Although

terrorism charges. 65 ompson himself was never charged with a

felony

(neither was the man who pulled a gun on Water Protectors during a

crime

at the Mandan rail yard). Nastacio's charges were eventually

demonstration

dropped a er

ompson himself did an interview expressing regret for his

and saying "It was just a miscommunication on both sides." Two

actions

Water Protectors, Mike Fasig and Israel Hernandez, were charged with

other

level felonies for their role in de-escalating ompson. ey agreed to

state

diversions and, a er paying nes and doing community service,

pretrial

had their charges dismissed. 66

eventually

Reznicek and Ruby Montoya, two young women from the

Jessica

Stand" o camp in Iowa, were indicted in late 2019 on

"Mississippi

federal felony charges, a er publicly claiming responsibility for

multiple

the pipeline with acetylene torches and re, causing millions of

sabotaging

of damage. eir trial is scheduled for June 2020, and they each face

dollars

to 110 years in prison. 67

up

the state level, over 750 people were arrested, producing more than 800

At

criminal cases, with charges ranging from misdemeanor trespassing to

total

rioting. 68 Nearly 400 of those cases were thrown out, mostly for lack

felony

evidence. Only about 170 resulted in convictions, most of those through

of

agreements. Nearly 200 cases were resolved through pretrial diversion,

plea

the case is postponed and the charges eventually dismissed if the

where

meets certain conditions. Forty-two were acquitted at trial,

defendant

the judges' refusal to move trials to a di erent part of the state that

despite

not been as saturated with biased media. A survey by the National Jury

had

Project found that about 80% of the potential jury pool in Mandan and
---
had already prejudged the Water Protector defendants as guilty,

Bismarck

it impossible to get a fair trial.

making

A Purple Heart for Sophia

then there is the case of Sophia Wilansky. Long a er the camps at

And

Rock were cleared and oil was already owing through the

Standing

I found myself on the Fourth of July at the Sisseton Dakota Pow

pipeline,

where everything that is important to me was popping … dancing,

Wow,

moccasin games and thousands of beautiful Native people. As is

rodeo,

at the opening, veterans and patriotism are honored. at is

customary,

I found Sophia Wilansky, being honored at the Sisseton Powwow, for

where

sacri ces she made protecting Mni Sose, the Missouri River. I would like

the

give her a purple heart.

to

Sophia Wilansky is someone that North Dakota would like to

Frankly,

A er all, when 21-year-old New Yorker Wilansky's arm was blown

forget.

by a concussion grenade during the Battle of Backwater Bridge,

apart

County Sheri Kirchmeier suggested that the Water Protectors were

Morton

perpetrators. Her father, attorney Wayne Wilansky, di ered, " e police

the

not do this by accident — it was an intentional act of throwing it directly

did

her." As Wilansky's father's statement went viral, subsequent police reports

at

Wilansky's arm was injured when a propane canister she was

stated

to throw exploded.

attempting

the hospital, police took her clothing and the shred of shrapnel removed

In

her arm. ey then convened a secretive grand jury and attempted to

from

the Water Protector that had driven her to the hospital. He

subpoena

that subpoena and refused to testify. Wilansky and her attorneys

resisted

for almost two years to get the evidence back, but the federal

tried

has refused, saying it is "needed for the ongoing investigation."

government

November 2018, Wilansky sued Morton County for millions of dollars for

In

force, assault, negligence, emotional distress and defamation. 69 To

excessive

day, the government refuses to give up the evidence, and no one has

this

arrested or indicted in relation to her injury. 70

been

I saw Sophia at the pow wow, she had a big support system for her

When

and looked frail, but resolved. I gave her a small hug, introduced myself

arm

gave her a kiss on the forehead. I thanked her for her courage, and I

and

in awe and wonder at the Sisseton Dakota Powwow, full of

walked
---
joy and honor. I am always in awe of the Dakota people, perhaps

celebration,

of the most persecuted Native people in this country. ey received

some

wrath of General Sibley, were massacred by the Army, forced into prison

the

hung in the largest mass hanging in US history and expelled from

camps,

homelands with bounties on their heads. But there they were, honoring

their

Wilansky, fellow patriot to the land.

Sophia

long list of other civil lawsuits were led a er the camps at Standing

A

nally cleared. Two more were led against law enforcement for their

Rock

that same night during the Battle of Backwater Bridge, one by a

brutality

of nine Water Protectors who su ered injuries at the hands of police, 71

group

the other by Marcus Mitchell, a young Dine (Navajo) Water Protector

and

was shot in the eye by a beanbag round. Mitchell permanently lost

who

in his le eye and all other senses in parts of his face. His cervical

vision

was injured during a brutal arrest, and police later concealed his

spine

from family for days while they shackled him to a hospital

whereabouts

and interrogated him incessantly. 72 Both those cases are still pending.

gurney

members of the Standing Rock Sioux tribe and a reservation priest

Two

law enforcement and state o cials over the prolonged shutdown of the

sued

claiming it violated tribal members' constitutional rights to travel,

highway,

pray and express themselves. ey also claim the highway closure

assemble,

a form of extortion against the tribe and an attempt to manipulate

was

coverage of the Water Protector camps. 73 at case is still pending.

media

Transfer Partners sued Greenpeace and other environmental

Energy

for racketeering and defamation, seeking $300 million in damages

groups

claiming that the entire o movement was concocted by "a

and

of putative not-for-pro ts and rogue eco-terrorist groups who

network

patterns of criminal activity and campaigns of misinformation to

employ

legitimate companies and industries with fabricated environmental

target

claims." 74

at case, which was clearly nothing more than an intimidation

was thrown out in February 2019. 75

tactic,

mentioned previously, a North Dakota rancher named David Meyer

As

guilty to federal charges for killing six bald eagles through improper

pled

of a poison called Rozol. 76 Meyer was the owner of the Cannonball

use

the private land adjacent to the Oceti Sakowin camp, on which the

Ranch,

Treaty Camp was established and raided. In early 2016, just as the

1851

Sacred Stone Camp was rst being founded, Meyer spread over 40,000
---
of Rozol across 5400 acres of his ranch. Dead bu alo, bald eagles,

pounds

other wildlife were found on his ranch and on the reservation nearby. In

and

2016, Meyer sold the entire 7000 acre ranch to Energy Transfer

September

It turns out that Meyer did not have the required license to use the

Partners.

poison, and he failed to follow

guidelines for applying it — instead of

it underground in the prairie dog burrows, he just spread it all over

putting

surface. He also failed to dispose of the dead prairie dogs correctly. 77

the

his federal conviction, Meyer was let o with probation and some

Despite

nes. Many Water Protectors feel the Rozol might be responsible for

small

" cough," the horrible respiratory infections and ailments that

the

of people su ered from in the camps.

hundreds

Symptoms of the

cough include coughing accompanied by severe

deep lung congestion and discomfort. Not cured by antibiotics,

fatigue,

o en lasts from two to 16 weeks. Some report bloody noses and brain

it

Others report coughing up blood. Some say the cough is a simple

fog.

to the weather and the rough winter living conditions at camp

response

a possible reaction to repeated exposure to chemicals sprayed by the

or

at the front line. Others blame low- ying crop-dusting planes

police

that might be dropping chemicals on the camps late at night. 78

investigation into the chemical spraying of Water Protectors is

e

In March of 2020, Indigenous Life Movement posted the following

ongoing.

to Facebook,

WHO WERE IN STANDING ROCK OCTOBER

INDIVIDUALS

NOVEMBER 2016

THROUGH

you were in Standing Rock the months of Oct to Nov 2016, you

If

intentionally poisoned by the Governor of North Dakota Jack

were

Kyle Kirchmeier of Morton County Sheri s Department

Dalrymple,

the pilot who knowingly sprayed poisonous chemicals over the

and

Rock Oceti Sakowin and Sacred Stone Camps.

Standing

this time, the Morton County Sheri s Department directed a

During

operation where they sprayed an aerosol called Chlorophacinone,

secret

known as (a poison used to kill prairie dogs). e poisoning

also

human life took place during the overnight hours nearly 7 weeks by

of

agricultural aircra .

an
---
who were at the camps were poisoned by the State of

Individuals

Dakota and may have developed severe memory loss (short and

North

term), behavioral changes (anxiety, paranoia, delusions),

long

and various forms of cancers (brain, breast and lungs)

depression

their time at the Standing Rock camps.

following

to be released show the agricultural aircra spraying chemicals

Photos

the "Oceti Sakowin" camps.

over

individuals who were at the camps during these months contact us

All

you noticed a change in your health following the Standing Rock

if

Please help us make the connections between changes in your

Protest.

health following November 2016 and the

spraying.

Please message

through the message section on our page.

you ank

of you are familiar with the severe cough that followed the

Many

in Standing Rock and many who were attending have developed

protest

brain tumors, various forms of cancers and other severe health

rare

issues. 79

North Dakota attorney general is suing the federal government to

e

money the state spent policing the protests. 80 State law enforcement

recoup

emergency management agencies spent $43 million policing the

and

funded by loans from the state-owned Bank of North

demonstrations,

Dakota.

ey were reimbursed $15 million from pipeline owner Energy

Partners and $10 million from the federal government 81 and are

Transfer

suing the feds for the remainder. 82,83

now

North Dakota Private Investigation and Security Board led a civil

e

against TigerSwan, the private security company that led the multi-

lawsuit

agency intelligence operation.

e lawsuit stated that the security company

its founder worked illegally in North Dakota. 84 e had noti ed

and

in September 2016 that it was illegally providing security services

TigerSwan

North Dakota. TigerSwan then applied for licensure twice and was

in

both times. But according to the lawsuit, TigerSwan's mercenaries,

rejected

with semiautomatic ri es and sidearms, continued security services

armed

during and a er its license application was rejected. TigerSwan

before,

that within North Dakota's borders it provided only consulting

maintains

e case against them was dismissed in May 2018, 85 and the ND

services.
---
Court upheld the decision in August 2019. 86

Supreme

Transfer Partners themselves faced 83 counts of permit violations

Energy

during construction of the pipeline.

e North Dakota Public Service

let them o with zero nes, just promises to plant some trees. 87

Commission

how about the pipeline itself? Standing Rock and three other tribes

And

suing Energy Transfer Partners and the federal government over the

are

of the Dakota Access Ppipeline itself, hoping to get it shut down.

approval

As that case proceeds,

has proposed to double the capacity of the line. In

March 2020, just as this book went into publication, a US District Court

late

ordered the US Army Corps of Engineers to go back and conduct a

Judge

environmental impact statement, ruling that they had not met the

full

of the National Environmental Policy Act. e judge has asked for

standards

legal brie ngs from both sides about whether to shut the pipeline

further

in the interim.

down
---
Spreading the Sacred Fire

the future, our descendants will be sitting around a re in their lodges

In

this story of when the two legged tried to destroy the earth. We are

telling

doubt in a sacred legend that will be told for thousands of years. For

no

reasons, we have been speci cally placed here on earth to

whatever

in this incredibly sacred time. We need to believe in what our

participate

tells us and to nd the strength to follow it. is sacred story needs

heart

and we are the chosen ones. Rise strong and never stop believing in

heroes

great power of this earth. We are completely surrounded by our

the

ancestors.

—Isaac Murdoch, Anishinaabe artist

the sacred res of the o camps at Standing Rock were nally

When

they spread across the continent. Water Protectors had given

extinguished,

everything to be there, formed new connections and gained new skills,

up

gotten the world's attention. We had tasted the power that comes from

and

land, our ancestors, our prophecies and our coming together to face our

the

and stand for Mother Earth. e ght against zuzeca sapa, the black

enemies

continues.

snake,

Protectors headed east to resist the Mountain Valley pipeline in

Water

and the network of Enbridge pipelines in the Great Lakes,

Appalachia

a proposed new tar sands pipeline called Line 3 right here in our

including

Anishinaabe communities of Northern Minnesota.

ey headed south to

the other portions of Dakota Access in Iowa, Illinois and the swamps

battle

Louisiana, where Cherri Foylin and the folks at L'eau Et La Vie Camp

of

months of delay in the line's completion. In Florida, the Seminole

caused

led massive opposition to Enbridge's Sable pipeline. In Texas, the Two

youth

Camp and Society of Native Nations led direct action campaigns

Rivers

the Trans-Pecos pipeline, another project. In Tennessee, Osage

against

Muskogee youth leaders blockaded the entrance to the Valero re nery,

and

of the proposed Diamond Pipeline. In New Mexico, the Diné

endpoint

(Navajo) and their allies successfully stopped the Piñon Pipeline proposed
---
Chaco Canyon, a World Heritage Site. And, in Oregon the battle against

for

Pembina Pipeline Company, another Calgary-based black snake,

the

continues to rage.

e state has opposed the pipeline, landowners and tribal

have stood in its way, and, in the time of the Trump regime, new

people

attempt to tear jurisdiction from state hands. In February 2020,

regulations

Federal Energy Regulatory Commission postponed a critical decision,

the

more insecurity for investors and some reprieve for Water

leaving

Protectors.

the north, Indigenous-led resistance continues to this day against the

To

Trans Mountain Pipeline expansion and the Coastal Gas Link

proposed

which threatens the unceded territories of the Wet'suwet'en Nation,

pipeline,

encampments supported by the hereditary Chiefs of all ve clans have

where

blocking construction for years. e Lakota and Dakota are now

been

the proposed expansion of Dakota Access, which would double its

battling

and have also turned their attention to new proposals for uranium

capacity,

in the Black Hills, as well as the Keystone XL pipeline, resurrected by

mining

a er a successful seven-year campaign had killed it during the

Trump

era. And of course, our relatives in Hawaii continue the ght to

Obama

their sacred mountain, Mauna Kea.

protect

about these battles is new — Indigenous Peoples have been

Nothing

their water, sacred sites and territories for thousands of years,

protecting

against the threats of extractive industry. But Standing Rock

especially

two things. First, it breathed new life into these struggles. More

changed

once in the months following the siege on the Missouri River I was

than

in my writing by a string of young grandchildren tumbling

disturbed

my kitchen on Round Lake, all carrying shields and wearing

through

and gas masks and bandanas.

helmets

I write this, Enbridge is trying to gure out how to reroute its old Line 5

As

around the Bad River Reservation in Northern Wisconsin, a er the

pipeline

refused many millions to renew their easement and has sued the

tribe

demanding removal of the line. e mid-term elections of 2018

company,

a record number of Native American candidates, and Deb Haaland

saw

Pueblo) and Sharice Davids (Ho-Chunk) became the rst two

(Laguna

American women elected to Congress. 88 In North Dakota, Ruth Anna

Native

alo, from the Fort Berthold Reservation, won a state house seat by

Bu

ousting the author of the racist Voter ID bill that would disenfranchise
---
voters, which passed just before the mid-terms. 89,90 Water Protectors

Native

everywhere.

are

the struggle at Standing Rock shed new light on Native people and

Second,

struggles. It has done more for Native visibility than any other event in

our

memory. Many had forgotten, but in fact we are still here.

recent

has in turn changed the conversation around fossil fuels in this

is

by humanizing the abstract debates around carbon emissions and

country,

front-line communities slowly towards the center of the discussion

moving

the climate crisis and the urgent need to transform our energy system.

about

Rock put legs on recent proposals for a Green New Deal and

Standing

people to infuse those proposals with a consideration of "climate

forced

Indeed, the plan's architect, Alexandria Ocasio Cortez, was also at

justice."

Rock. She talks about feeling like a magnet, driving to Standing

Standing

and the watershed moment it was for her individually and our

Rock,

movement. Lakota People's Law Project lead counsel Chase Iron Eyes said,

so encouraging to see Alexandria Ocasio-Cortez say that the

It's

for her historic run for Congress was what happened at

impetus

Rock: the Grand Awakening, the spiritual awakening of all of

Standing

people who nd themselves in our hemisphere, who nd a home in

our

Green New Deal movement, we've always had a home for you….

the

we nd ourselves in this struggle together. Every aspect of the

Now,

New Deal must be implemented now. We have to take this

Green

… hit the streets with it, hit every dusty road with it, and go

initiative

right into the halls of Congress. 91

the Indigenous Just Transition movement is growing nationally and

Today,

recognizing that 80% of the world's biodiversity is in

internationally,

territories and that First Nations have a long history of

Indigenous

ese proposals include work to move away from fossil fuels,

sustainability.

agriculture, create the next economy with hemp and ensure justice

restore

Mother Earth as well as people.

for

communities continue to lead the transition to renewable

Indigenous

In fact, the rst solar farm in North Dakota went up this year, the

energy.

Community Solar Farm on the Standing Rock Reservation.

Cannonball

from the ashes of the Dakota Access Pipeline battle, the project shows

Born

us all what the future looks like. It has added 300 kilowatts into the grid,
---
the Cannonball Youth Center and the Veterans Memorial

powering

Building.

some of the largest coal mines and coal power plants are being closed

As

on the Navajo Nation, the largest tribe in the country is

permanently

renewable energy to market on the same power lines that carried

moving

generation for 50 years. In 2017, the Kayenta Solar Facility came online

coal

27 megawatts of power, a wholly owned Navajo project and the rst

with

solar project within the Navajo Nation. Dozens of solar and

utility-scale

projects are popping up all over Indian Country. Native people are

wind

the way.

leading

fact, Indigenous Peoples carry the answers to many of the political,

In

ecological and social crises of our time. We have lived in balance

economic,

Mother Earth, honoring our covenants with the Creator, for many

with

of years. It is a question of relationships. Standing Rock forced all

thousands

us to question our relationships with the water and the land and with all

of

beings, with one another as Indigenous and non-Indigenous peoples.

living

the Lakota are not free, we are not free. If the river is not free, we are not

If

free.

Rock is an unpredicted history lesson for all of us. More than any

Standing

I recall since Wounded Knee, the Vietnam War or the time of

moment

Luther King, it stands as a crossroads in the battle for social justice. It

Martin

about economic system transformation and profoundly a question of

was

future of this land. Standing Rock rekindled a memory of a people, not

the

a free people, but a people who faced their fears, knowing that the

only

of the Wasicu is a powerful force, but it is not as powerful as the

economy

we know.

world

Rock is not only a place, it is a state of mind, and it is action. In a

Standing

when the rights of corporations override the rights of humans, stay

time

and remember that the law must be changed. For civil society is

human

as democracy is made, by the hands of people, courageous people,

made,

is not a spectator sport. While at one time slavery was legal, it is no

and

and soon we must free our Mother Earth from her slavery to an

longer,

economy and ensure her rights. Absent any legal protections and

exploitive

a regulatory system hijacked by oil interests and a federal government

with

crisis, the people and the river remain the only clear and sentient beings.

in

is the time of the seventh generation, rising up to save Mother Earth.

is
---
your responsibility for this moment. I understand mine. As I

Understand

my brothers and sisters in every direction continue to ght for the

watch

and water, I am awed, inspired, and I remember that I am one of them.

land

this moment, be present. Your descendants would appreciate your voice,

In

and action.

words

LaDonna Bravebull Allard reminds us,

As

want to destroy this movement because it is too powerful because

ey

stand in prayer. ey don't know that this is just the beginning.

we

we will be stronger in prayer. Remember how history will

Tomorrow

you as the people who stood up to save the water and the world

record

the people who betrayed the world. You all have a name in history.

or

are you in this time and place? e world is watching. 92

Where

corporations are some of the most powerful in the world. And the

ese

systems are set up to protect them, not the water and de nitely

regulatory

us. In other words, our ght continues. So we must continue to devote

not

full selves, and all our power, towards protecting our water and our

our

Earth, from all that which would destroy us.

Mother

at the same time, we must create the future we want. In our

And

prophecies we are told of a time when we would have a choice

Anishinaabe

two paths… one path is well-worn but scorched, and the other path

between

is green.

is is known as the prophecy of the seventh re. And that is where

are today. Now is the time to choose the green path over the scorched

we

e stakes are raised daily: Fires burn to the north, west, south and

path.

and we all feel the grief of our Mother Earth, for we are her children. It

east,

time to be a Water Protector. It is time to be a Black Snake Killa. It is time

is

be a Wiindigoo Slayer — that is, it is time to stop the monsters and

to

that plague our villages. It's time for this generation to summon up

cannibals

our courage, vision and prayers.

ey have the money, but we have the

We also have a vision for life in the future.

people.

are not just ghting against something, but clearly and decidedly

We

walking with open eyes and hearts down the path that is green.

is is the

we belong to, and we will continue to protect it, as our ancestors did

land

us. is is our covenant with the Creator and with Mother Earth. Let

before

take time to be grateful for all we have accomplished. Let us celebrate the

us

and commitment it took. And let us keep moving forward.

courage
---
Part 4

The Last Tar Sands Pipeline
---
A Pipeline Runs Through It

It's a moment in time. Standing with one-

h of the world's water are the

the people of the manoomin and sturgeon. And they are

Anishinaabeg,

three million barrels a day of tar sands oil. Regulatory systems

facing

to serve "the public" have been compromised for the sake of

intended

corporations, many of them Canadian-born. An epidemic of

multinational

a

uenza has caused confusion.

is late stage Wiindigoo Capitalism. Wiindigoos are cannibals in

It

knowledge, and that's what this is. at's when the economics

Anishinaabe

extraction are brutal, or as the United Nations has explained, "because

of

are for the rst time in human history shi ing to energy sources

economies

that are less energy e

cient, production of usable energy (exergy) will

more, not less, e ort on the part of societies to power both basic and

require

human activities." 1 at's extreme extraction, the bottom of the

non-basic

so to speak, from tar sands to copper mining.

barrel

fact is that the United Nations itself, and many leading scientists, have

e

out that the economic models of extreme extraction and late stage

pointed

must go: "It can be safely said that no widely applicable economic

capitalism

have been developed speci cally for the upcoming era. Here we

models

underutilized tenets of existing economic-theoretical thinking that

highlight

assist governments in channeling economies toward activity that causes

can

radically lighter burden on natural ecosystems and simultaneously ensures

a

equal opportunities for good human life. Our focus is on the transition

more

the next few decades." 2

period,

is is a story about the infrastructure we build in North America.

is is

story about what the Anishinaabeg refer to as the time of the Seventh Fire,

a

time when it is said that we will have a choice between two paths — one

a

well worn and one scorched.

is is, from Calgary-based Enbridge's

a story about their biggest proposed project — Line 3

perspective,

a $7.5 billion proposal to build an entirely new pipeline in a

Replacement,

new route through the heart of pristine lakes and wild rice territories in
---
Anishinaabeg

The

invisible colonial line crosses through the heartland of Anishinaabe

An

or Anishinaabe Territory, and this is a story about the people

Minnesota,

oppose that line and why they oppose it.

who

the land to which the people belong. Today, Anishinaabe People are

Akiing,

three Canadian provinces and ve American states. We remain. Seven

in

remain in the north of Minnesota: Leech Lake, Fond du Lac,

reservations

Earth, Red Lake, Grand Portage, Mille Lacs and Bois Forte

White

Reservations.

ere are around 50,000 Anishinaabeg in Minnesota, and

territory spans about three million acres, with additional tribal

tribal

in the 1837, 1854 and 1855 Treaty Territories. Manoomin, or

jurisdiction

rice, is a centerpiece of both the ecosystem and economy of the

wild

— providing food for not only the belly, but the soul, as well as

territory

for the family. Manoomin is the most sacred food of the

income

and is explicitly protected under treaty.

Anishinaabeg

Anishinaabeg are numerous. Not as numerous as we once were, but

e

there are over 50,000 Anishinaabeg in Minnesota, most from the

certainly

reservations in the north.

is is important because Enbridge's history of

is largely with smaller First Nations in Canada.

"negotiations"

is di erent. We have large reservation lands, and politically the

Minnesota

exercise more jurisdiction in the state than in Canada, and arguably

bands

more political power. ere's a history written on the land.

exercise

dam projects and big mines came rst — the copper boulders

Clearcutting,

the big pines. Seventy- ve million acres of forest were clear cut in

and

Territory, most of the Wisconsin, Michigan and Minnesota

Anishinaabe

laid to waste over the course of 50 years of exploitation. at built

forests

empires, like Weyerhauser, one of the largest lumber companies in the

some

at also brought on an apocalypse of the Wiindigoo. As Elaine

world.

Fleming writes in several essays in Tribal College Journal,

building the dams on the Mississippi River, which runs through our

In

42,000 acres of land were ooded. We are water people.

reservation,

villages and burial sites were next to the lakes and rivers. When the

Our

society built its dams to provide energy for the mills in St. Paul

settler

Minneapolis, and also to help oat the logs downriver to support

and

logging industry, the Ojibwe people were not asked how we would

the
---
Come to the North Country

Pipelines

in the 1950s, a er all these dams, railroads, toxic waste dumps and

Starting

be a ected.

e e ects were devastating, destroying our wild rice beds,

bogs, villages, and ooding our gravesites.

cranberry

Wiindigoo killed us in many ways, taking our land and culture.

is

1880, dams were constructed on Leech Lake and Lake

In

Our reservation is currently 50% water. In Minnesota,

Winnibigoshish.

the third,

h, eighth, and twel h largest lakes are on our reservation.

lakes are now reservoirs, no longer natural. We are water people.

e

harvest wild rice and eat sh. We gather swamp cranberries. Our

We

homes and villages were next to the lakes and streams.

ey were our

Our gardens and graveyards were also next to the water. Water

"roads."

on these lakes were raised 9 to 11 feet and ooded 42,000 acres of

levels

our land.

e water destroyed our rice beds that grow best in two to

feet of water. According to Anton Treuer, a noted Ojibwe scholar

three

language professor, the ooding resulted in clear cutting, poverty,

and

on annuities, destruction of gravesites, malnutrition and

dependence

illness, and death. With the completion of Winnibigoshish

starvation,

Dam, not only were 62 square miles of land

ooded, but we also

a smallpox epidemic. Wiindigoo continued to eat our

experienced

up.… Federal Dam was completed on Leech Lake and 78 square

people

of land was ooded. Today, 75% of the land within the Leech Lake

miles

is this Chippewa National Forest. Because of the huge

reservation

of white pines on our reservation, the logging industry

stands

our lands.… Less than 4% of the land within the reservation

deforested

is held by the Leech Lake Band. at's what colonialism looks like. 3

politicians, sociologists and more always talk about the resilience

Scholars,

Native people. A er all, we are still around a er all these Wiindigoos.

of

because we are a strong people. Nice to be acknowledged, but most of

at's

would rather just have an opportunity to live happily, not just survive and

us

be resilient.

third world treatment and racism, Interprovincial Pipeline Company

the

its US subsidiary, Lakehead Pipeline Company, began building crude oil

and

across Anishinaabe Territory. It built four crude oil pipelines,

pipelines

unimaginatively Lines 1, 2, 3 and 4, across northern Minnesota to

called
---
Superior, Wisconsin.

ese connected to Line 5, which transported oil to

and Detroit via northern Wisconsin and the upper peninsula of

Ontario

and to Line 6, which brought Canadian crude to Chicago.

Michigan,

pipelines were constructed before the creation of federal

ese

laws like the Clean Air Act and Clean Water Act, and

environmental

chose the route through the Anishinaabe reservations, all quickly

Lakehead

by the Bureau of Indian A airs, and during a time when federal

approved

policies were underway as well as the relocation era — moving

termination

people to the cities. e pipes ran through many Anishinaabe

Native

including Red Lake, Leech Lake and Fond du Lac

communities,

in Minnesota, the Bad River Reservation in Wisconsin and the

Reservations

Odawa Territory in Michigan.

e Anishinaabeg share treaties throughout

territory taken by these pipelines, but the pipelines were built with

the

for our Treaty Rights. During the 1980s and 90s Canadian crude

disregard

production grew slowly, and Lakehead responded by pushing more oil

oil

its existing pipelines. ese pipelines became known as the

through

System." In early 1998, Interprovincial Pipeline Company

"Mainline

its name to "Enbridge Inc.," which is a contraction of "energy" and

changed

as a public relations move that kicked o a new and more

"bridge,"

phase of oil extraction: tar sands and then fracked oil. As

dangerous

Enbridge will tell a history:

work was pivotal in spurring the growth of Western Canadian oil

Our

In our rst full year of pipeline operations, we shipped 30.6

production.

barrels of oil. Today we transport an average of 2.8 million

million

of oil every day. rough the years, we've continued to open new

barrels

for Canadian crude, and played a critical role in developing

markets

American energy infrastructure.

North

Feb. 27, 2017, Enbridge Inc. and Spectra Energy Corp. nalized

On

terms of a de nitive merger agreement. e transaction created the

the

energy infrastructure company in North America, and one of

largest

largest in the world — with an enterprise value of approximately

the

billion (C$166 billion), a US$58 billion (C$75 billion)

US$126

of secured and potential capital growth projects, and

inventory

anticipated annual dividend growth of 10 percent through 2020. 4

The Forgotten Oil Spills
---
Black Snake Grows: Tar Sands and Fracked Oil

The

Pipelines

early pipelines brought oil spills to Anishinaabe Territory for the rst

ese

in history, including many of the largest on-land oil spills recorded in

time

US. For example, just in the US, Line 3 alone spilled 1.9 million gallons

the

the 1970s, when it was new, 1.8 million gallons in the 1980s and 2.8

in

gallons in the 1990s, for a total of 6.5 million gallons of crude oil.

million

leak, and they contaminate our water. For example, on March 3,

Pipelines

5 the Line 3 pipeline ruptured near Grand Rapids, Minnesota, spilling

1991,

1.7 million gallons of oil into the Prairie River, a er a negligently

over

delayed response by the company. 6

e Prairie is a tributary of the

so were it not for the 18 inches of ice on top of the river, the spill

Mississippi,

have poisoned the drinking water of millions downstream, and would

could

likely be remembered very di erently.

ankfully, this was back in the days

our territories were still frozen and snow-covered in March, before

when

change had begun to sink its teeth in.

climate

to sheer luck, the cleanup was relatively quick and e ective, so the

Due

received nowhere near as much media attention as the catastrophic

spill

Kalamazoo River spill of 2010.

sands (also known as oil sands) is a low quality form of oil that

Tar

of bitumen mixed with sand, clay and water. Vast quantities of

consists

substance are found in Alberta, Canada, and in eastern Venezuela.

the

deposits are known to exist in Utah, parts of Russia, Congo

Other

Madagascar and elsewhere, but it is currently only

(Brazzaville),

produced in Canada and Venezuela.

commercially

sands is extreme oil in every way. Its extraction is particularly

Tar

and water-intensive, polluting, and destructive. It is either strip

energy

or produced by injecting high pressure steam into the ground to

mined

the bitumen and get it to ow to the surface. To process it into

melt

fuel requires complex upgrading and re ning that is also highly

usable

intensive and polluting. 7

energy

sands oil needs a lot of special processing because it's about the

Tar

of peanut butter and that won't work out well. ere are

consistency

basically two ways to process the bitumen or tar sands oil. As Inside Climate
---
explains, "Some tar sands producers use on-site upgrading facilities to

News

the bitumen into synthetic crude, which is similar to conventional

turn

oil. Other producers dilute the bitumen using either conventional

crude

crude or a cocktail of natural gas liquids. e resulting diluted bitumen,

light

dilbit, has the consistency of conventional crude and can be pumped

or

pipelines." What comprises the diluent is a trade secret, making it

through

even bigger challenge to clean up. One of the knowns in the cocktail is

an

a pretty well known carcinogen. 8

benzene,

sands oil is also more dangerous to transport because it's corrosive.

Tar

to say, it began as sand, so has a good deal of quartz in it, causing

at's

friction. More than that however the dilbit requires dilution.

at diluting

involves a lot more chemicals, all of which are corrosive.

ere are all sorts

Canadian studies which say that it's not corrosive, but the fact is that the

of

are corroding. e US is crossed by about two million miles of

lines

pipelines. Every year there are leaks. As Scienti c American reports,

charge that pipelines carrying diluted bitumen, or 'dilbit' — a

Critics

oil extracted from tar sands mined in northern Alberta — pose a

heavy

risk because, compared with more conventional crude, they

special

operate at higher temperatures, which have been linked to

must

corrosion. ese pipelines also have to ow at higher

increased

that may contribute to rupture as well. Environmental group

pressures

Natural Resources Defense Council (

) notes that pipelines in the

Midwest that routinely carry oil from tar sands have spilled 3.6

upper

more oil per pipeline mile than the US average.…

times

chemistry of the tar sands oil could contribute to corrosion as

e

In processing, the tar sands are boiled to separate the bitumen

well.

the surrounding sand and water, and then mixed with diluent —

from

hydrocarbons produced along with natural gas — to make the oil

light

viscous and able to ow. But even so, the resulting dilbit is among

less

lowest in hydrogen as well as the most viscous, sulfurous and acidic

the

form of oil produced today. 9

c American goes on to talk about the Pegasus Pipeline spill in

Scienti

e Pegasus, built in the 1940s, carries 100,000 barrels of oil per

Arkansas.

from Illinois to Texas. But given its age, to carry tar sands oil

day

had to retro t the tube to "compensate for the demands of

ExxonMobil
---
3 Redo

Line

get old and pipes get brittle. Enbridge's main line was built over 50

Pipes

tar sand oil through in the opposite direction, but the higher

pushing

and pressures may nonetheless have contributed to the rupture

temperatures

sped up preexisting corrosion."

or

the while the Alberta government has been saying that tar sands oil, or

All

is no worse for pipelines than conventional oil. A study found that

dilbit,

is not corrosive at pipeline temperatures, though it is highly corrosive

dilbit

re nery temperatures, suggesting that the higher temperatures might even

at

bene cial, killing o bacteria that does corrode pipelines. "' ere is no

be

that dilbit causes more failure than conventional oil,' geologist John

evidence

of the provincial government research rm Alberta Innovates said….

Zhou

helped prepare the Canadian province's analysis of dilbit." In the

Zhou

Glen Hooks of the Sierra Club in Arkansas points out what

meantime,

might be obvious to some. "

ere is no reason to trust oil companies when

they say pipelines are safe when there's been spill a er spill a er spill." 10

ago and represents the life blood of Canadian tar sands exports. With

years

press a er the Kalamazoo spill and some signi cant regulatory

bad

proceedings, Enbridge entered what's called a "consent decree."

is is part

Enbridge's problem.

of

July 19, 2016, the US Justice Department "announced a consent decree

On

Calgary based Enbridge agreeing to pay $177 million and improve

with

safety, resolving claims from oil spills in Illinois and in Michigan in

pipeline

e consent decree also said Enbridge 'shall' replace 'Line 3,' a 292

2010.

pipeline that carries Canadian crude from Neche ND to Superior

mile

Wisconsin.

e decree said Enbridge should replace the pipeline 'as

as practicable a er receiving required regulatory approvals

expeditiously

permits.' If Line 3 isn't replaced by December 31, 2017, Enbridge will be

and

with additional safety and monitoring requirements, according to

saddled

settlement agreement." 11

the

the Line 3 was easy to approve in Canada. A er all, if Enbridge

Politically

been shipping 75% of the tar sands oil, there was no way that a

had

government was not going to support that. Enbridge is the third

Canadian

corporation in Canada, and they billed it a replacement project, since

largest

they would be replacing a decaying pipeline.

at reality was not the
---
Minnesota reality.

e Leech Lake Band of Ojibwe refused Enbridge's o er

rebuild the line in place, noting that they had already the burden of the

to

lines and the new Alberta Clipper (2010) line. at forced

remaining

to look for a new corridor. Now the company had a new pipeline

Enbridge

doubled in capacity, and a third of the route would have to be a

proposed:

route. new

2013, Enbridge began to work on the route — that is, the company

In

a pipeline, known as the Sandpiper, which was intended to carry

proposed

barrels a day of fracked oil from North Dakota's Bakken elds to the

640,000

Re nery (now Husky) in Superior Wisconsin, and then on to the

Calumet

of the east. at project began so ening up the politics of northern

pipelines

looking for a new route outside the Leech Lake Reservation.

Minnesota,

selling pipelines is not the easiest thing, and in northern Minnesota it's

Now

proven to be more di

cult than in Canada.

project opened awareness about the state of Enbridge's increasingly

e

infrastructure, and a new multi-racial alliance was formed between

risky

shore owners who would be impacted by the project, Ojibwe tribes and

lake

rice harvesters, as well as an increasingly vocal and powerful

wild

environmental and climate movement.

e Sandpiper opposition, however,

received the national attention nor the support of major

never

groups, largely because it was a fracked oil pipeline and the

environmental

climate groups did not deem the danger to the environment to be of the

big

caliber as the very dirty tar sands pipelines, like the Keystone XL.

same

opposition was at a local level in Minnesota, largely led by Native

Instead,

like Honor the Earth and grassroots citizens organizations like

organizations

Friends of the Headwaters and Northern Water Alliance, comprised of

the

owners around the Park Rapids and Brainerd areas, a prime resort

lakeshore

and lake home area.

at pipeline project was defeated in 2016, as the

moved to the Dakota Access Pipeline to insure access to the

company

fracked oil elds. (Just to be clear the fracked oil is also pretty

Bakken

and volatile.) In addition to the extreme nature of fracking, the

dangerous,

2013 Lac Megantic Quebec oil train disaster was fracked oil from the

July

Bakken. 12

opposition to the proposed project was strong. It's not surprising

e

the proposed route ran through the center of wild rice territory. All

because

of the Ojibwe bands are concerned, and most questioned if the Public
---
to Minnesota: Enbridge Returns after Standing

Back

and the Line 3 Regulatory Capture

Rock

Commission has the sole authority to grant permits over tribal

Utilities

within the 1855 treaty area. Six Anishinaabe governments came out

lands

opposing the project. In the

rst round on the Sandpiper, cultural

and any consultation were sorely lacking.

assessments

is not possible to identify — let alone to avoid — sites of historic,

"It

and cultural signi cance, without consulting with the Tribal

archaeological,

Preservation O ce. Not doing so raises serious concerns about

Historic

ability," Susan Klapel, Commissioner of Natural Resources for the

Enbridge's

Lacs band of Ojibwe, wrote in a letter to the Public Utilities

Mille

"I ask you to not grant Enbridge (Sandpiper) permits through

Commission.

proposed southern route," Klapel wrote.

the

pipeline would cross lakes, creeks and watersheds, including

Enbridge's

where tribes have worked long and hard to restore native sturgeon

those

and to protect wild rice. Imagine that one day you wake up and

populations

out that a pipeline company wants to run a thirty-inch pipe pumping

nd

barrels of oil per day under high pressure through your burial

640,000

sacred sites, medicinal plant harvesting areas, and no more than a

grounds,

from your biggest wild rice harvesting areas. And, they didn't even bother

mile

mention it. at is to say that the company almost entirely neglected to

to

wild rice in the environmental impact assessment.

mention

it is that Enbridge pursued the Sandpiper, and a er a three-year pitched

So

with tribal governments and local citizens, a lawsuit was led by non-

battle

organization Friends of the Headwaters. e lawsuit resulted in a

Native

Court ruling to require an Environmental Impact Statement, and

Minnesota

lost. at is, the company withdrew its application for the project

Enbridge

a er four years. 13 en, in August of 2016, Enbridge purchased the

—

Access Pipeline — well, 28% of it. e epic story of the battle at

Dakota

Rock is well known; what's not so well known is that Enbridge's

Standing

shored up the project, providing the security of the largest pipeline

money

company in North America as a backer.

$38 million in military force and winter came to Standing Rock,

As

returned to northern Minnesota, prepared to create a new

Enbridge

dialogue on their "replacement" project, which was not exactly a
---
eplacement.

December 13, 2016, Enbridge held an informational meeting in Bemidji

In

aimed at white landowners and county commissioners. But when

primarily

Barrett, aka omas X, learned of the meeting, he shared the

omas

widely, and Enbridge representatives found themselves in a

information

of 100 plus concerned landowners, many from Leech Lake, Red Lake

room

White Earth.

and

was an uncomfortable moment for the corporation. A er all, the

It

Energy Board of Canada had, on November 29, 2016, denied

National

to Enbridge's $3.5 billion Northern Gateway Pipeline project. Nine

approval

earlier, at Backwater Bridge on Standing Rock, a full military assault on

days

Protectors had resulted in a number of injuries, including that of

Water

Wilensky, whose arm was brutally torn apart by a compression

Sophia

lobbed by security forces.

grenade

e Sandpiper had been cancelled on August 2, 2016.

at's when

bought 28% of the Dakota Access Pipeline Project. A lot of those

Enbridge

who opposed the Sandpiper had become politicized by big oil

people

projects, and when they heard about Standing Rock, a lot of them

pipeline

out there. ousands of Minnesotans went to Standing Rock, including

went

leaders, school groups, veterans and state representatives.

church

meeting did not go as Enbridge had planned. at's to say the least.

is

company had planned a meet-and-greet in Bemidji at the Doubletree,

e

a cold day in December. Everyone was crowded into a small room. e

on

representatives had set up tables around the perimeter of the

Enbridge

a set of learning stations, like a science fair. ey had some cookies to

room,

out. I walked into the room just to see what was going on. Magistrate

give

Treuer was leaning up against the wall with her oxygen tank, a couple

Peggy

Elders were standing there looking at things, and there were no chairs.

other

seemed rather, well, inhospitable.

at

were a lot of Natives mulling about, far more than non-Natives.

ere

folks were talking earnestly to a few of the non-Indians, but they

Enbridge

seem very keen to talk to the Native people.

didn't

I decided to ask a question. I see that omas X is there, and I say to

So,

someone should say something. He said, 'You should, you know the

him,

about it.' So I did, in my biggest Mom voice, I asked: "As one third

most

owner of the Dakota Access Pipeline project, is Enbridge responsible for the
---
to our people? Are you going to shoot us here for your pipeline

injuries

project?"

pretty much what I asked.

at's

answer from the company's representatives who had been passing out

No

And, then, a lot of other people started demanding an answer, and

cookies.

got loud. And then the police came. at's how it started: Round Two of

it

with Tanks.

Enbridge

began a confusion of regulatory proceedings.

en

Minnesota Court of Appeals had ordered an environmental impact

e

on the proposed Sandpiper pipeline project. Prior to that the

statement

Utilities Commission had thought that it could approve these mega

Public

without an environmental impact statement. e through the

projects

of Commerce did the scoping for Sandpiper and Line 3

Department

but then when Sandpiper was withdrawn, the did not provide

together,

comment process to allow consideration of Line 3 by itself. In good form,

a

and the Minnesota decided to hold a series of public

Enbridge

In the depth of winter. In hard to reach locations. With very little

meetings.

notice. at was the Sandpiper style. What Enbridge and the

public

anticipate was the depth of conviction of our people. So we all went,

didn't

across those scary roads at ten below zero to Fosston, Halstad, ief

skated

Falls, Bagley and all sorts of small towns in a depressed agriculture

River

in the north. Pipelines had been presented, basically as panaceas for all

sector

of the economy. Have a depressed rural economy? What you need is a

woes

a Canadian pipeline. Enbridge started making promises it would

pipeline,

be able to keep.

never

the and Enbridge switched pipeline projects, many of us had

When

pretty extensive testimony on the impact of the Sandpiper on our

prepared

and wild rice, and now found we were in a di erent regulatory

water

at was pretty confusing. en add in the police force, which

hearing.

to show up in numbers at the public hearings. At one point, in the

began

town of Hackensack, citizens who wanted to testify had to walk

small

a gauntlet of police just to get into a public meeting, James Reents

through

the Northern Water Alliance told me, irritated, for sure, that the public

of

being so heavily policed for a Canadian project.

was

process became more cumbersome and confusing. Forced into an

e

impact assessment project, the Public Utilities Commission

environmental
---
Intervenors

The

have to stand up against government agencies and corporations.

People

that the Department of Commerce should complete the

insisted

review, not the Minnesota Pollution Control Agency, which,

environmental

700 sta and a large budget for environmental review, seemed to be an

with

choice. Administrative Law Judge Ann O'Rielly presided over the

obvious

e 22 "public information" meetings during the process and

hearings.

/ process were in June 2017. e public hearings (the ones

early

over by ALJ O'Reilly) were in September and October 2017 just

presided

the Line 3 evidentiary hearing in early November 2017.

before

these hearings hundreds of people would stand there to talk. Or sign up.

At

times, getting to talk was, well, sort of like winning the lottery. We

Many

each given three minutes to ask questions and present our views. We,

were

people, would cry, explain ecosystems, our culture, our wild rice,

the

treaties, climate change and scienti c data.

those people are from di erent walks of life, but they all agree on

Sometimes

point, in this case, that no one wanted an oil company to put a new

one

through our collective watersheds and into our collective future. To

pipeline

the regulatory process which had been created, a set of citizens,

address

and corporations became intervenors in the Public Utilities

tribes

process — that is, weighing in on either the side of the water or

Commission

oil. the

intervenors included the tribal governments of Leech Lake, Fond du

e

Mille Lacs, Red Lake and White Earth. It also included grassroots

Lac,

organizations like the Northern Water Alliance (represented by Jim

citizens

and Mary Ackerman), Friends of the Headwaters (Richard Smith,

Reents

legal counsel Scott Strand from Minnesota Center for Environmental

with

and Youth Climate Intervenors, a group of high school and

Advocacy)

students who, like others nationally and internationally, had come to

college

for future generations and against climate change practices

speak

also included Donovan and Anna Drydal, a farming couple

Intervenors

whose land would be crossed by the proposed Line 3 pipeline project.

e

Club also intervened in the process. On the Enbridge team were

Sierra

of labor and oil interests. Kevin Pranis appeared on behalf of

representatives

Laborers District Council of Minnesota and North Dakota (Laborers
---
Council).

e rest of the interests were largely represented by attorneys.

Anna Friedlander, O'Donoghue & O'Donoghue,

and Sam Jackson,

& Cummins, appeared on behalf of the United Association of

Cummins

and Apprentices of the Plumbing and Pipe Fitting Industry of

Journeymen

United States and Canada, - (United Association). Michael

the

Dorsey & Whitney, , appeared on behalf of Shippers for Secure,

Ahern,

and Economical Petroleum Transportation (Shippers).

Reliable

while the administrative law judge was listening to our comments, all

But

of them, against the pipeline, Enbridge was busy lobbying the Public

68,000

Commission. ey spent a total of $11 million in Minnesota

Utilities

when all was told. 14 And, that's how a democracy gets bought by a

lobbying,

corporation. ey focused on the Public Utilities Commission,

Canadian

there, they only had to move ve people. And those people were not

because

they were appointed. And, the Public Utilities Commission

elected,

appeared to believe they were above the law.

generally

tribes became more frustrated with their exclusion from the process,

e

that the pipelines not only crossed tribal lands, but also crossed the

noting

Treaty Territory, where the Anishinaabeg harvest signi cant wild rice.

1855

mid-March 2017, Minnesota's Public Utilities Commission rejected a

In

appeal by White Earth and other tribal nations to consider a survey of

joint

cultural properties in the nal decision to approve or reject the new

tribal

3. 15 Fond du Lac, like Leech Lake Reservation, had already been

Line

by the Enbridge Main Line and was not only facing the Enbridge

crossed

but also proposals for new mining in their watershed — two giant

expansion

which threated their nation. Fond du Lac's position on Enbridge

projects

with negotiations and money over time, and the tribe began

weakened

with Enbridge and the state to complete a review of 65 miles of the

working

For public relations purposes, it appeared that a division was forming

line.

the tribes in the north, each faced with more threats to their

between

daily.

livelihood

e 's message sticks to that old story: yeah, we get it, Native culture is

"

so we'll support a survey … but it doesn't matter enough to

important

factor into our nal decision to deny Enbridge's new project or send

actually

new tar sands line through tribal treaty lands and Minnesota's wetlands,"

a

Houska, then National Campaigns Director for Honor the Earth, said.

Tara

comparison, the Minnesota Department of Human Rights also weighed

In
---
saying the completion of the cultural survey prior to the nal decision is

in,

least the can do, and, as Houska notes, "pointedly reminding the

the

the resistance at Standing Rock and the need to move past historical

of 16 injustices."

at the Republican-controlled Minnesota legislature, pipeline

Meanwhile,

began pushing bills which would eliminate entirely a regulatory

proponents

on the pipeline. Later bills would appear which would limit civil

process

and the rights of assembly and freedom of speech to those who

liberties

pipelines as well as most protests, from those against gun violence to

oppose

brutality. 17 ose bills continue to be introduced in Minnesota and

police

nationally.

opposition to these bills continued to grow. Packed hearing

Fortunately,

included people from all walks of life. Dawn Goodwin testi ed at the

rooms

hearing on behalf of White Earth Elders and talked about Rice Lake

3759

eloquently, on perhaps her hundredth time making the trek to a

Village,

"I can have $1000 in my pocket, but if I don't have wild rice,

hearing.

tea and maple syrup I'm poor."

blueberries,

although exhausted from driving all over the state, we prepared for

Next,

Hearings in St. Paul. ere we heard from Enbridge, and more

Evidentiary

Enbridge, and did not even hear our sacred wild rice mentioned.

e

law judge then held more hearings, about 60 of them. In total

administrative

72,000 people testi ed at hearings involving Enbridge's Line 3. Of that

about

68,000 people testi ed against the project.
---
Ticking Time Bomb?

Which

3 is now over 50 years old, well past its intended lifespan. Enbridge's

Line

Corridor has six pipelines in it — the old Lakehead Lines 1, 2, 3

Mainline

4, plus the new Alberta Clipper and its diluent companion, Line 13.

and

governmental reports refer to Lines 3 and 4 as a single unit, because of

Many

complicated ways they work in tandem. Together, they are responsible

the

not only the 1991 Grand Rapids spill, but also the catastrophic 2002 spill

for

Cohasset, MN; the 2007 explosion in Clearbrook, MN, that killed two

near

a serious spill in Regina, Saskatchewan, in December 2014; and

workers;

other ruptures and spills. 18 Enbridge reports that since 1990, Line

countless

has had at least 15 large spills (more than 50 barrels each), but the number

3

small spills and leaks is anybody's guess. At one point, the number was

of

Greenpeace reports that, "over the past decade, hazardous liquid

800.

spills in the US have led to 20 fatalities, 35 injuries, $2.6 billion in

pipeline

and over 800,000 total barrels spilled (34 million gallons, or more than

costs,

gallons every day." 19 at's some oil.

9,000

3 is crumbling. According to Enbridge's own data, it has 10 times as

Line

corrosion anomalies per mile than any other pipeline in their

many

Mainline System.

ey estimate over half a million structural anomalies in

3, or about 1 every 10 feet. Enbridge Integrity Supervisor Laura