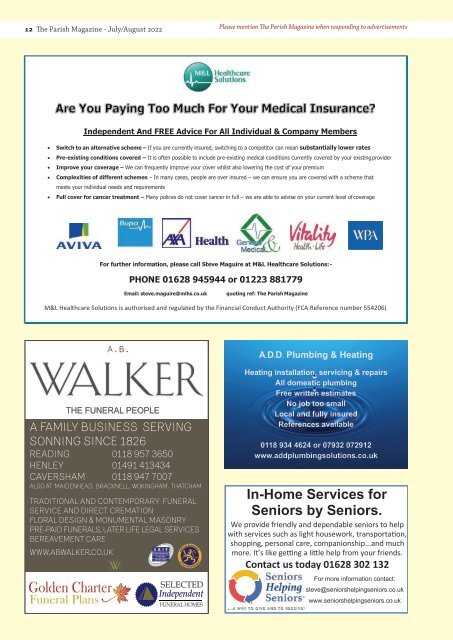 The Parish Magazine July August 2022
Serving the communities of Charvil, Sonning and Sonning Eye since 1869
Serving the communities of Charvil, Sonning and Sonning Eye since 1869
SHOW MORE
SHOW LESS
Do you know the secret to free website traffic?
Use this trick to increase the number of new potential customers.
12 The Parish Magazine - July/August 2022

Please mention The Parish Magazine when responding to advertisements

Independent And FREE Advice For All Individual & Company Members

• Switch to an alternative scheme – If you are currently insured, switching to a competitor can mean substantially lower rates

• Pre-existing conditions covered – It is often possible to include pre-existing medical conditions currently covered by your existing provider

• Improve your coverage – We can frequently improve your cover whilst also lowering the cost of your premium

• Complexities of different schemes – In many cases, people are over insured – we can ensure you are covered with a scheme that

meets your individual needs and requirements

• Full cover for cancer treatment – Many polices do not cover cancer in full – we are able to advise on your current level of coverage

For further information, please call Steve Maguire at M&L Healthcare Solutions:-

PHONE 01628 945944 or 01223 881779

Email: steve.maguire@mlhs.co.uk

quoting ref: The Parish Magazine

M&L Healthcare Solutions is authorised and regulated by the Financial Conduct Authority (FCA Reference number 554206)

A.D.D. Plumbing & Heating

THE FUNERAL PEOPLE

A FAMILY BUSINESS SERVING

SONNING SINCE 1826

READING 0118 957 3650

HENLEY 01491 413434

CAVERSHAM 0118 947 7007

ALSO AT MAIDENHEAD, BRACKNELL, WOKINGHAM, THATCHAM

TRADITIONAL AND CONTEMPORARY FUNERAL

SERVICE AND DIRECT CREMATION

FLORAL DESIGN & MONUMENTAL MASONRY

PRE-PAID FUNERALS, LATER LIFE LEGAL SERVICES

BEREAVEMENT CARE

WWW.ABWALKER.CO.UK

SELECTED

Independent

FUNERAL HOMES

Heating installation, servicing & repairs

All domestic plumbing

Free written estimates

No job too small

Local and fully insured

References available

0118 934 4624 or 07932 072912

www.addplumbingsolutions.co.uk

In-Home Services for

Seniors by Seniors.

We provide friendly and dependable seniors to help

with services such as light housework, transportation,

shopping, personal care, companionship...and much

more. It's like getting a little help from your friends.

Contact us today 01628 302 132

For more information contact:

steve@seniorshelpingseniors.co.uk

www.seniorshelpingseniors.co.uk