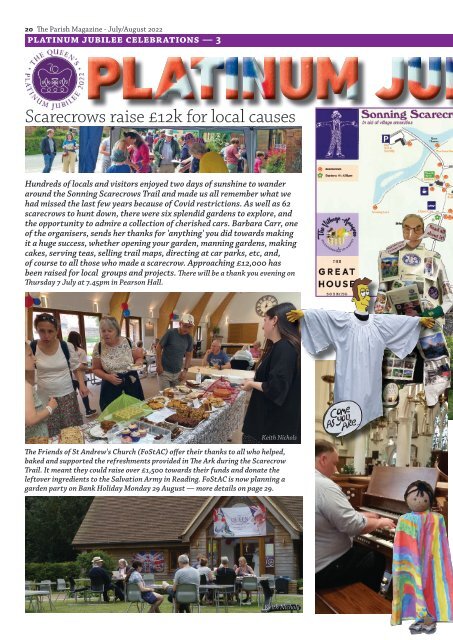 The Parish Magazine July August 2022
Serving the communities of Charvil, Sonning and Sonning Eye since 1869
Serving the communities of Charvil, Sonning and Sonning Eye since 1869
SHOW MORE
SHOW LESS
Do you know the secret to free website traffic?
Use this trick to increase the number of new potential customers.
20 The Parish Magazine - July/August 2022

PLATINUM JUBILEE CELEBRATIONS — 3

Scarecrows raise £12k for local causes

Hundreds of locals and visitors enjoyed two days of sunshine to wander

around the Sonning Scarecrows Trail and made us all remember what we

had missed the last few years because of Covid restrictions. As well as 62

scarecrows to hunt down, there were six splendid gardens to explore, and

the opportunity to admire a collection of cherished cars. Barbara Carr, one

of the organisers, sends her thanks for 'anything' you did towards making

it a huge success, whether opening your garden, manning gardens, making

cakes, serving teas, selling trail maps, directing at car parks, etc, and,

of course to all those who made a scarecrow. Approaching £12,000 has

been raised for local groups and projects. There will be a thank you evening on

Thursday 7 July at 7.45pm in Pearson Hall.

Keith Nichols

The Friends of St Andrew's Church (FoStAC) offer their thanks to all who helped,

baked and supported the refreshments provided in The Ark during the Scarecrow

Trail. It meant they could raise over £1,500 towards their funds and donate the

leftover ingredients to the Salvation Army in Reading. FoStAC is now planning a

garden party on Bank Holiday Monday 29 August — more details on page 29.

Keith Nichols