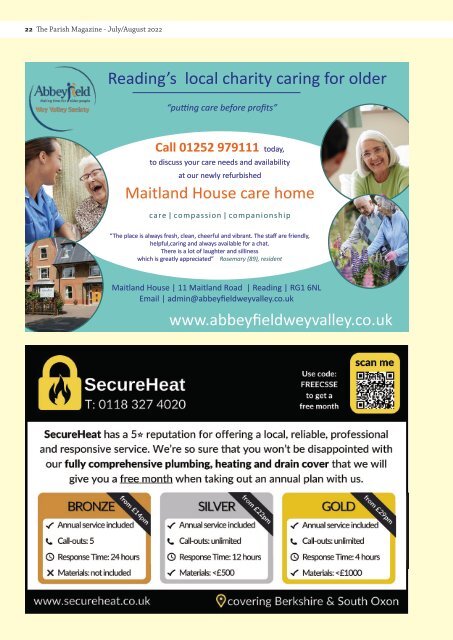 The Parish Magazine July August 2022
Serving the communities of Charvil, Sonning and Sonning Eye since 1869
Serving the communities of Charvil, Sonning and Sonning Eye since 1869
SHOW MORE
SHOW LESS
Do you know the secret to free website traffic?
Use this trick to increase the number of new potential customers.
22 The Parish Magazine - July/August 2022

Reading's local charity caring for older

"putting care before profits"

Call 01252 979111 today,

to discuss your care needs and availability

at our newly refurbished

Maitland House care home

care | compassion | companionship

"The place is always fresh, clean, cheerful and vibrant. The staff are friendly,

helpful,caring and always available for a chat.

There is a lot of laughter and silliness

which is greatly appreciated" Rosemary (89), resident

Maitland House | 11 Maitland Road | Reading | RG1 6NL

Email | admin@abbeyfieldweyvalley.co.uk

www.abbeyfieldweyvalley.co.uk