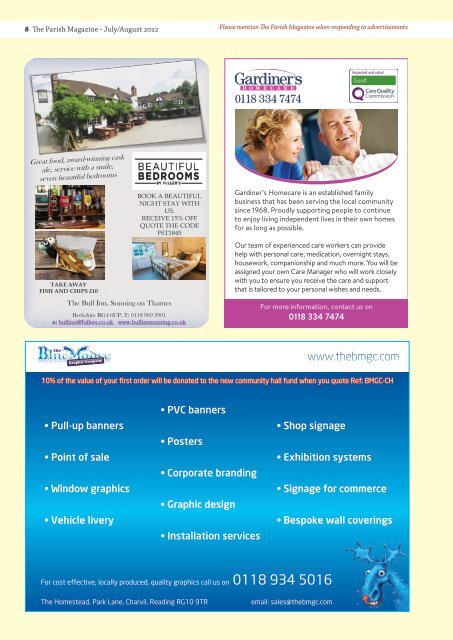 The Parish Magazine July August 2022
Serving the communities of Charvil, Sonning and Sonning Eye since 1869
Serving the communities of Charvil, Sonning and Sonning Eye since 1869
SHOW MORE
SHOW LESS
Do you know the secret to free website traffic?
Use this trick to increase the number of new potential customers.
8 The Parish Magazine - July/August 2022 Please mention The Parish Magazine when responding to advertisements

TAKE AWAY

FISH AND CHIPS £10

BOOK A BEAUTIFUL

NIGHT STAY WITH

US.

RECEIVE 15% OFF

QUOTE THE CODE

FST1845

The Bull Inn, Sonning on Thames

Berkshire RG4 6UP, T: 0118 969 3901

e: bullinn@fullers.co.uk www.bullinnsonning.co.uk

Gardiner's Homecare is an established family

business that has been serving the local community

since 1968. Proudly supporting people to continue

to enjoy living independent lives in their own homes

for as long as possible.

Our team of experienced care workers can provide

help with personal care, medication, overnight stays,

housework, companionship and much more. You will be

assigned your own Care Manager who will work closely

with you to ensure you receive the care and support

that is tailored to your personal wishes and needs.

For more information, contact us on

0118 334 7474

www.thebmgc.com

10% of the value of your first order will be donated to the new community hall fund when you quote Ref: BMGC-CH

• Pull-up banners

• Point of sale

• Window graphics

• Vehicle livery

• PVC banners

• Posters

• Corporate branding

• Graphic design

• Installation services

• Shop signage

• Exhibition systems

• Signage for commerce

• Bespoke wall coverings

For cost effective, locally produced, quality graphics call us on 0118 934 5016

The Homestead, Park Lane, Charvil, Reading RG10 9TR

email: sales@thebmgc.com