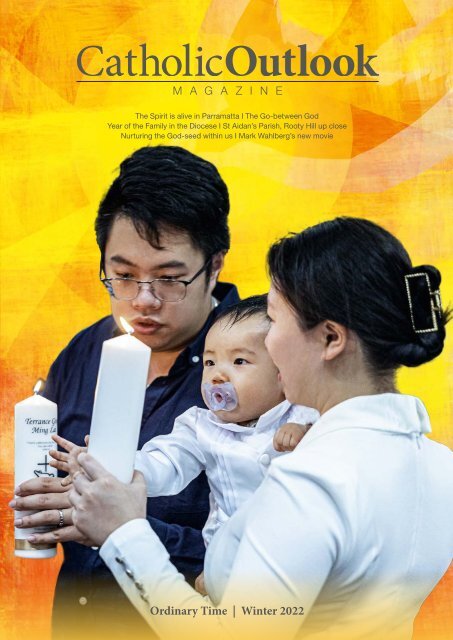 Catholic Outlook Magazine Ordinary Time Winter Edition 2022
The official publication of the Diocese of Parramatta
The official publication of the Diocese of Parramatta
SHOW MORE
SHOW LESS
Create successful ePaper yourself
Turn your PDF publications into a flip-book with our unique Google optimized e-Paper software.
M A G A Z I N E

The Year of St Joseph The – time Spirit to is be alive receptive in Parramatta to God's I plans The Go-between | Being a friend God to yourself and others

Sorting Year of out the your Family kid's in the friendships Diocese I | St Book Aidan's giveaway Parish, for Rooty Grandparents' Hill up close Day

Nurturing the God-seed Why Ordinary within Time us I is Mark not Wahlberg's ordinary new movie

Ordinary Time | Winter 2022 2021
---
Imprimatur and Publisher:

Bishop Vincent Long OFM Conv

Bishop of Parramatta

(02) 8838 3400

PO Box 3066,

North Parramatta, NSW, 1750

bishop@parracatholic.org

www.catholicoutlook.org

Editor & Vicar for Communication:

Br Mark O'Connor FMS

(02) 8838 3400

PO Box 3066,

North Parramatta, NSW, 1750

comms@parracatholic.org

Communications Manager:

Christina Gretton

Communications Officer:

Mary Brazell

Nihil Obstat:

Fr Wim Hoekstra

Accounts:

Alfie Ramirez

(02) 8838 3437

alfie.ramirez@parracatholic.org

Printing:

IVE Group Australia Pty Ltd

All material in this publication is copyright and

may not be reproduced without permission of

the publisher. 43,500 copies are printed and

distributed to 47 parishes and more than 80

schools, after school care centres and early

learning centres in Western Sydney and the

Blue Mountains.

Catholic Outlook is a member of the

Australasian Catholic Press Association.

© Diocese of Parramatta 2022

In the spirit of reconciliation, we acknowledge the traditional custodians

of the lands in which our Diocese sits, the land of the Darug and

Gundungurra people.

We would like to pay our respects to the Aboriginal Elders past, present

and future, for they hold the traditions, memories of Mother Earth on

which we place our feet upon today.

Pictured: The artist Josh Sly is a proud Biripi, Worimi and Wiradjuri Guri (man).

Josh works as Aboriginal Cultural Officer at the Catholic Education Diocese of

Parramatta (CEDP) Jarara Indigenous Education Unit in Mount Druitt. His artwork

highlights the CEDP commitment to walk alongside Aboriginal and Torres Strait

Islander peoples for reconciliation. It is featured in CEDP's first Reconciliation

Action Plan available online at parra.catholic.edu.au/reconciliation.

The Diocese of Parramatta reaffirms the

wise axiom attributed to Saint Augustine of

Hippo, "In essentials, unity; in non-essentials,

freedom; in all things, charity." In this spirit,

Catholic Outlook publishes a variety of

Catholic viewpoints. They are not necessarily

the official views of the Diocese of Parramatta.

Cover Image: Violet Wang and Kevin Lai and their son at the Easter Vigil

Mass at St Michael's Church, Parish of Baulkham Hills.

Image: Diocese of Parramatta
---
From Bishop Vincent

Dear Sisters and Brothers,

It is helpful to remind ourselves, as we celebrate

Pentecost in 2022, that the images of God's

transforming Holy Spirit are wind and fire. That is the

incredible personal presence we have inside each

of us.

This is the power through which God became one of

us in Palestine and then fills the disciples' hearts at

Pentecost with courage and creativity.

Our annual celebration of the season of Pentecost

especially reminds us that our Lord and Liberator,

Jesus of Nazareth, is not just some figure

from history. In some mysterious way, beyond our

understanding but not beyond our belief, Jesus is still

with us.

For Jesus promised us his deep abiding presence

until He comes again in glory. At Pentecost we

especially remember that He keeps his promise!

For Jesus of Nazareth sent his Holy Spirit to

empower us to go out and preach and live out the

Gospel especially to those on the margins.

Our front cover of this Catholic Outlook edition shows

the joy and wonder of parents and their baby being

filled with the Holy Spirit, during a recent baptism at

the Easter Vigil.

It reminds us that our own

baptism, is the same powerful

force that, like a wind, blows

all the cobwebs of sin and

selfishness away and that

burns down all barriers we erect

against living our Christian

life. For we are baptised into an

ongoing and intense union with

the Spirit of Christ.

The bus driver going about his work, the nurse

caring for the patients in hospital, because they are

baptised Christians, are bathed in the presence and

energy of the Spirit of God. And so are all of us,

as we journey through the ups and downs of our

daily lives.

As our chaotic world stumbles from one crisis to

the next, let's never forget the Spirit is 'hovering'

over the seeming chaos of our unsettling times and

mysteriously giving birth to the Kingdom of God.

This Pentecost may we accept this grace of the Holy

Spirit close by, especially in this the great Southern

Land of the Holy Spirit. For:

Without the Holy Spirit God is far away. Christ stays

in the past, The Gospel is simply an organisation,

Authority is a matter of propaganda, The liturgy is

no more than an evolution, Christian loving a slave

mentality.

But in the Holy Spirit the cosmos is resurrected and

grows with the Birth pangs of the kingdom.

The Risen Christ is there,The Gospel is the power

of life,The Church shows forth the life of the

Trinity, Authority is a liberating science, Mission

is a Pentecost, The liturgy is both renewal and

anticipation, Human action is deified.

Come Holy Spirit!

Bishop Vincent Long OFM Conv

Bishop of Parramatta

01
---
CATHOLIC EDUCATION

DIOCESE OF PARRAMATTA

Enrolling now

for 2023

Belong.

BE WELCOMED | BE VALUED | BE CONFIDENT

Visit www.parra.catholic.edu.au today to find your local Catholic school and join one of our

caring, faith-filled communities.
---
16

46

40

On the Inside

Ordinary Time | Winter 2022

Get instant updates on Catholic

Outlook stories and news from

our Diocese - follow the Diocese

of Parramatta Facebook page

facebook.com/parracatholic.

Subscribe to Catholic Outlook

online at catholicoutlook.org

to get Catholic news, opinions

and worship resources delivered

straight to your inbox totally free

of charge every week.

04 OutlookLooks

08 Short & Sweet

09 A prayer for strong faith

10 We can all walk with refugees

12 St Bernadette's parishioners

welcome strangers as new

friends

14 Family is where it all begins

16 Families - wonderful and fragile

18 The Parramatta Way of looking

out for each other

20 The Parramatta Way of

Safeguarding

22 Love without end - Noel and

Honorine McKertich

24 Fun, love and understanding:

the fruits of intergenerational

connection

26 Serving local families through

faith and community

28 School leadership is all about

heart

30 Catholic Care starts a new

chapter

32 Looking deeper

34 Pentecost - accepting variety

and difference

36 The go-between God

38 Faith in the ordinary

40 Nurturing the God-seed within

us

42 Nurture the God-Seed in the

Diocese of Parramatta

44 A cuppa with the Priest: Fr Alan

Layt of St Aidan's Rooty Hill

46 Parish Profile: St Aidan's Parish

Rooty Hill: Small Parish, Big

People

48 Diocese of Parramatta walks

towards the Synod of Bishops

2023

50 Accompanying seminarians

to be beacons of light to the

people

52 Watch, Listen, Read, Think

54 Pray with the Pope

55 Kid's Corner

56 Directory of services

57 Latest appointments

57 Voice of the people
---
OutlookLooks

Healing during Refugee Week

Refugee Week runs from 19 to 25 June 2022. This year's theme,

'Healing' highlights the opportunity to hit the 'reset' button on how we

behave towards each other, particularly as the importance of human

connection was highlighted during the pandemic. The National

Refugee Week website has a host of resources to explore, links to

movies you can watch during the week and a CANVA page of designs

you can adapt for your social media feed. Image at left: @refugeeweek

Check them out at refugeeweek.org.au

Image: Shutterstock.

Food drive for refugees

Refugee Week is a great opportunity to organise your parish or

school group to donate much-needed food and toiletries for refugee

organisations in the Diocese of Parramatta. Jesuit Refugee Service,

Parramatta and the House of Welcome, Granville provide food and

other essentials for refugees and people seeking asylum who have little

other support.

Sign up to the Diocesan food drive roster at

parracatholic.org/diocesanfooddrive

Ready to travel in 2023?

Bishop Vincent invites all young people of the Diocese of Parramatta to join him and Catholic Youth Parramatta on

pilgrimage to World Youth Day (WYD) 2023 to be held in beautiful Lisbon, Portugal during the month of August.

The event will attract hundreds of thousands of young pilgrims ready to deepen their faith, encounter Christ with others

around the world and worship with Pope Francis - in short, the experience of a lifetime. The Diocese of Parramatta has

prepared an itinerary that begins in Paris and ends in Assisi – journeying through four countries encountering the lives of

ordinary people who became extraordinary Saints.

Experience St Vincent de Paul, St Thérèse of Lisieux, Our Lady of Lourdes, St Bernadette, St Ignatius of Loyola, St

Dominic, St John of the Cross, St Teresa of Avila, Our Lady of Fatima, Bl Carlo Acutis, St Francis of Assisi and St Clare

over 22 days!

More details will be released in the coming

weeks. You're also invited to the WYD23

launch in the Diocese of Parramatta on the

evening of 18 August when Fr Rob Galea

will be joined by FRG Ministry Band at

St John XXIII Catholic College, Stanhope

Gardens.

Young pilgrims from the Diocese of Parramatta

in Panama for World Youth Day 2019. Image:

Diocese of Parramatta.

Contact James Camden, Head Mission

Engagement at met@parracatholic.org

04
---
OutlookLooks

A season to give

Fourteen young men are training to become beacons of

Christ's light in our Diocese at the Holy Spirit Seminary

in Harris Park. Watch the video of a day in the life of our

seminarians as they prepare for the priesthood. Your

donation to our Good Shepherd Appeal will support our

seminarians respond to God's call.

See the video and donate at catholicoutlook.info/

goodshepherds

Image: Shutterstock.

#10familytips for Year of the

Family

Image: Diocese of Parramatta.

Our video on life as a seminarian at Holy Spirit Seminary can be

viewed at catholicoutlook.info/goodshepherds.

Consider Caritas

For over 55 years, Caritas Australia has been working with

vulnerable communities around the world to end the cycle

of poverty. Through partnerships with local organisations

and Churches we are able to reach where the need is

greatest and work towards an equal future for all.

The universal Catholic Church is celebrating the

conclusion of the Year of the Family in June 2022.

This special year, which commenced in March

2021 highlights the special role that families play

in our Church. Family, after all, is the first place we

find and learn about love and caring for others. The

Vatican has launched a campaign of #10familytips

relevant to all families based on Pope Francis'

letter Amoris Laetitia meaning "The Joy of Love".

Download the tips and more at our new family

hub parracatholic.org/family

Find out more at caritas.org.au

Revolutionary Goals

On Earth Day in April this year, the Diocese of Parramatta

launched its journey towards the seven Laudato Si' goals.

These are goals set by Pope Francis to revolutionize our

approach to the environment and the poor. The goals follow

on from his ground-breaking letter on the environment,

Laudato Si'. Find out how you can join with the Church in

Western Sydney and the Blue Mountains to make lasting

change.

Watch the video inviting you to join our Diocese's seven year

journey to the Laudato Si' goals at parracatholic.org/laudatosi.

Details at parracatholic.org/laudatosi

Image: Shutterstock.

Winter family time

Winter presents a special time to build family

togetherness indoors. Recognise the talent within

your family with a family talent show. Don't accept

any excuses, God has given everyone something to

be good at, sometimes it just needs encouragement

to let it shine.

Find this and other ideas to help your family talk

about faith at catholicoutlook.info/familyideas

05
---
OutlookLooks

NAIDOC Week in the Diocese

of Parramatta

With the largest urban population of Aboriginal people in

Australia living within the Diocese of Parramatta, there is plenty

to celebrate in NAIDOC Week 3 to 10 July 2022. This year's

theme is 'Get Up! Stand Up! Show Up!' encouraging all of us

to continue to work for change and equal rights.

Aboriginal Catholic Services are holding a day of celebration

for both Aboriginal and non-Aboriginal people on Monday

4 July 10am to 2pm. There'll be entertainment, music, face

painting, rides and more. Show your solidarity and have some

family fun with members of our local Aboriginal community.

The celebration will be held at Aboriginal Catholic

Services, 254 Luxford Rd Emerton.

What's On

in the Diocese?

6-12 JUNE

Safe Parishes Week. Find out more about making

your parish a safe space at safeguarding.org.au

24 JUNE

Fr Patrick McInerney from the Columban Centre

will be presenting on Interfaith Dialogue at 10am.

Call Maree on 02 8838 3486 to register.

26 JUNE

World Meeting of Families parish celebrations.

Contact your parish for details.

3 JULY

National Aboriginal and Torres Strait Islander

Sunday. For information go to natsicc.org.au

4 JULY

NAIDOC Week celebration 10am to 2pm. Join

our Aboriginal brothers and sisters to celebrate

Aboriginal culture and the achievements of

Aboriginal people. Family fun with stalls,

entertainment, face painting and rides.

Aboriginal Catholic Services, 254 Luxford Rd,

Emerton

11 AUGUST

Ministry Leadership Program, Blacktown – a 10

week faith formation to support you in pastoral

leadership and personal faith. For upcoming and

current leaders aged over 18 in parishes and faith

communities. Details at parracatholic.org/met

12 AUGUST

Faith in Marriage seminar. Contact met@

parracatholic.org for details.

Boost your spirituality during

Ordinary Time

Following the high points of Lent, Easter, and Pentecost,

our Church has a period known as 'Ordinary Time'. But

don't be mistaken that this means our spiritual lives

become ordinary. After the fasting and the feasting of the

previous season it's a time to bring our connection back

'into order' through reflection, community and service. Put

your hand up to be an active participant at Mass, or check

what courses and discussion groups are on offer to give

your faith a boost.

Find out more in our articles on forming your spirituality

on page 40 and opportunities in the Diocese on page 42.

18 AUGUST

The Diocese of Parramatta launches World Youth

Day 2023. Join Bishop Vincent, Fr Rob Galea and

the FRG Ministry Band at St John XXIII Catholic

College, Stanhope Gardens. For details email

James Camden met@parracatholic.org

1 SEPTEMBER

Adult Confirmation at St Patrick's Cathedral,

Parramatta. A community celebration for those

who have received both the sacraments of

Baptism and Eucharist. Find out more at

officeforworship.org.au

5, 12, 19 SEPTEMBER

Liturgical Ministry Formation Course. For

those who wish to serve at the altar at Mass.

Information at officeforworship.org.au
---
For more than 55 years, we have been working with vulnerable

communities around the world to forge a path out of poverty.

Working together for justice and dignity. Walking together in hope.

Forging a just world together.

Your generous support today can help to change the

lives of some of the world's most vulnerable people.

www.caritas.org.au | 1800 024 413
---
Short & Sweet

A 'family-friendly' society is

possible, because society is born

and evolves with the family.

His Holiness Pope Francis

Image: Shutterstock.

The Church in this country is an immense contributor

to our society, through our parishes, our schools,

our hospital and aged care, our social services and

countless other ministries.

As we continue to contemplate how we live out the

Gospel in this age, including through the Plenary

Council, I look forward to working with my brother

bishops and the People of God to carry forward

Christ's mission.

Archbishop Timothy Costelloe SDB

President-elect of the Australian

Catholic Bishops Conference. His

term will commence 13 July 2022.

Image: ACBC.

Here on this sacred land of the Darug and

Gundungurra people, and elsewhere, and in the

spirit of the Gospel, we seek to bring healing and

restore trust. We commit to the Uluru Statement of

the Heart: to work for a fair and truthful relationship

with the people of Australia and a better future for

our children based on justice and

self-determination.

Bishop Vincent Long OFM Conv

Bishop of Parramatta in the Catholic

Education Diocese of Parramatta

Reconciliation Action Plan, April 2022

It is a battle not just for democracy against autocracy,

but for freedom against slavery, for truth against

falsehood, for life against death, for good against

evil. In such a battle the Church cannot remain

neutral, which is why we write to you now to express

our unqualified solidarity with you and your people.

Australian Catholic Bishops

Conference President, Archbishop

Mark Coleridge to Major Archbishop

Sviatoslav Shevchuk of the Ukrainian

Greek Catholic Church, May 2022

Image: ACBC.

Support our seminarians

to become beacons of

Christ's light

"

As brothers and sisters in Christ, we are all

involved in the formation of these faithful men.

Bishop Vincent Long OFM Conv, Bishop of Parramatta

Please give generously to the

Bishop's Good Shepherd Appeal

yourcatholicfoundation.org.au/appeal-shepherd
---
A PRAYER FOR

Strong Faith

May you find the beauty of Mother Earth fills your spirit

and your life to strengthen your prayer and your work.

May you find a stillness in the running water that

cleanses you and quenches your thirst. May the

land and its bounty connect your feet and your spirit

to give you food for your journey.

May your dreaming find you in a liminal space where

you draw strength and inspiration from the past

to go forward courageously, to co-create the future.

May you experience the gentleness of the Father's

love that touches the land, touches the wild things and

touches you. May you find strength in allowing the Holy

Spirit to guide you,

And may your connectedness to the land and your trust

in the Lord strengthen the bedrock of your faith so that

He may build His House in you.

Amen.

Frances Brown, Ngemba Woman, 2018

From Aboriginal and Torres Strait Islander Spirituality: Prayers and Quotes

By the National Aboriginal and Torres Strait Islander Catholic Council and

Aboriginal Catholic Ministry in Canberra.

The publication will be available to purchase in the coming months.

Details at natsicc.org.au

Image: Shutterstock

09
---
Tamara Domicelj, Country Director of JRS Australia right, with

from left, Bishop Vincent Long OFM Conv, Bishop of Parramatta,

and refugees Hava and Magdalene. Image: Diocese of Parramatta.

We can all walk

with refugees

STORY TAMARA DOMICELJ

If one part suffers, every part suffers with it;

if one part is honoured, every part rejoices with it.

1 Corinthians 12:26

10
---
When issues such as the refugee crisis seem

overwhelming, Tamara Domicelj, Country

Director JRS Australia, reassures us that actions

we take at the local level make a difference.

This is an abridged version of the address

she gave to leaders from our parishes

at a March gathering organised by the

Diocese of Parramatta initiative, Diocesan

Journey…Walking with Refugees and People

Seeking Asylum.

Local engagement - human-to-human acts - are

an increasingly prominent part of a global fabric

of determined goodwill which I believe is gaining

strength in these volatile and harrowing times.

We are all bearing witness, here in Australia and

overseas, to so many tragedies (not all refugeerelated),

with a devastating toll upon human lives,

family unity, infrastructure and the environment.

We stand alongside Pope Francis and the broader

Catholic Church in lamenting the 'diabolical

senselessness of violence', in the Ukraine and

Afghanistan – and in Myanmar, Ethiopia, Yemen

and beyond.

Amidst such calamitous scenes and stories, it is

normal to feel overwhelmed and even pulled towards

despair. We yearn to do more for those who are less

safe than we are, and we can feel pained by our very

human limitations.

And yet, we also bear witness to countless everyday

acts of generosity and courage, small and large,

which collectively are worthy beyond measure.

Prams left at train stations for fleeing Ukrainian

parents to retrieve. Welcoming toys lined up across

border-line bridges to comfort children. Algorithms

developed to connect those with spare rooms with

those who need them. Here, locally, neighbours

saving neighbours from rooftops, in tinnies, amidst

raging brown waters and debris. And everywhere,

acts of proud defiance and resistance, as people

speak truth to power: nuns kneeling before troops in

Myanmar; crowds standing before heavily armoured

tanks in the Ukraine; girls marching for access to

their closed schools in Afghanistan.

We know that there is so much that we do not see,

on our phones and news bulletins, from where

cameras are no longer present, or never were, or

from where footage cannot safely emerge.

Everyone has a role – and every contribution does

count. Individually and collectively, they help to save

and rebuild shattered lives.

Australia was amongst the majority of nations that

affirmed the Global Compact on Refugees a few

years ago. Over 70 years ago, it was Australia's

signature, the 6th amongst nations, which brought

the International Refugees Convention into effect.

Australia has, at times, played a pivotal role in this

arena - including, historically, with our refugee

resettlement program and humanitarian responses,

such as under the Comprehensive Plan of Action in

the late 1980s and '90s, when we welcomed around

70,000 refugees to our shores – mostly from Vietnam

- many of whom have, of course, gone on to make

extraordinary contributions to this country.

Currently much of Australia's approach is relentlessly

punitive, profoundly ill-conceived, and widely,

globally, decried.

The financial, physical, psychological, ethical and

reputational costs of all of that are immense.

We may be starting to see the fracturing of our

egregious so-called "offshore processing" regime.

There is much still to undo, but after nine long years

Australia has finally accepted New Zealand's offer

to resettle 450 refugees. And people are also now

leaving for the USA and Canada. There is extensive

and sustained people power behind all of that.

I believe we can roll back this global crisis in

humanitarian response. It will take time and tenacity.

And we will need to be constant and collaborative in

all of our efforts.

We are reminded in 1 Corinthians 12:26: "If one

part suffers, every part suffers with it; if one part is

honoured, every part rejoices with it".

Please know that your donations of funds, material

goods, and displays of compassion and care

assure those refugees whom we serve, that they are

welcome here; that we see and honour their courage

and dignity; and that, in our shared humanity, we will

continue to walk alongside them.

To find out how you can support refugees

through your deanery, parish or school, or be

involved in the "Diocesan Journey… Walking

with Refugees" in the Diocese of Parramatta go

to parracatholic.org/socialjustice

National Refugee Week takes place

19 to 25 June 2022.

Tamara Domicelj, is Country Director of JRS Australia, one of

several Catholic organisations which support refugees in the

Diocese of Parramatta.

11
---
The St Bernadette's parish mentor group recently gathered to celebrate Eid with the Samim family (centre of pic)

who are refugees from Afghanistan. Joanne Long is second from left. Image: Diocese of Parramatta.

St Bernadette's

parishioners

welcome strangers

as new friends

STORY DEBRA VERMEER

Parishioners from St Bernadette's at Castle

Hill are building on the parish's long history of

supporting refugees by forming a new group to

mentor an Afghan refugee family who arrived in

Australia following the Taliban's takeover of their

homeland.

The mentoring relationship is part of Catholic Care's

Parish Group Mentorship Program which is a

partnership between Catholic Care Western Sydney

and the Blue Mountains and Community Refugee

Sponsorship Australia (CRSA).

Catholic Care's Manager of Community Engagement,

Celia Vagg says parish mentorship of refugees offers

a way to demonstrate love to our new neighbours,

to show our solidarity with the marginalised and

suffering, and welcome strangers as new friends.

The program helps refugees successfully settle and

integrate into their new communities and fosters

connection between locals and refugees.

Joanne Long, a parishioner at St Bernadette's

who leads the parish group, says she first became

involved after seeing Catholic Care's notice about the

program on the parish's Facebook page.

"I know Fr Fernando was keen to have our parish

help refugees and I was happy to be part of it,

because I'd seen how my brother-in-law's family are

still in touch with a Vietnamese refugee family they

supported years ago, and how lovely that is."

Joanne says there are currently six other people

from St Bernadette's and four members of the wider

community involved in the refugee support group.

They are mentoring a young Afghan couple and

their children who arrived as refugees in December

and are living in the Hills district in Sydney. The

couple, in their 30s, have four children under six

years of age. Both parents have university degrees.

The wife was working in Human Resources for an

12
---
international company when the Taliban took over

and the husband worked with a company which had

Australian links, and which helped them to escape

over the border into Pakistan.

She says CRSA provided training and support for

group-members and continues to do so.

"We all had to do the usual security and Working

With Children Checks," she says. "And then,

because of COVID, we did our six-hour training

course online over two days. Normally CRSA would

hold in-person workshops. They work with lots of

groups from all over Australia and the world, so we

feel very well supported by them."

The first request for the group was to help find a

computer for the refugee family, as they had to leave

theirs behind when they fled Afghanistan, and they

require one to complete their online English courses

through TAFE, among other day-to-day reasons.

"We've also helped set the family up on their mobile

phones and the parish raised money over Christmas

which helped provide them with food voucher debit

cards, as they've arrived with no money and no job.

We've met for coffee, walks, picnics and provided

general information about government processes,

job-seeking, community links, playgroup and

sport and helped with school fees, uniforms and

household bills.

"In the future we'll help them get their driver's licence

and get their driving hours up.

"A big part of it though, is just friendship. They've

arrived in a new country, with few connections, so

friendship is really important."

St Bernadette's has a long history of supporting

refugee families, going back to the 1970s when

parishioners took in Vietnamese refugee families and

helped them settle into life in Australia.

"We put out a call in the parish newsletter and

one parishioner, who works for a major financial

services company, donated 12 laptops which were

almost brand-new, and we've been able to distribute

them to other refugee families across Sydney,"

Joanne says.

To learn more about how your parish could

mentor a refugee family contact Celia Vagg

at Catholic Care: (02) 8843 2550 or

celia.vagg@ccss.org.au

Debra Vermeer is a freelance writer.

13
---
Family is where

it all begins

STORY SOPHIE BOFFA

When you think of an image that represents the

Church, what comes to your mind?

It might be a building, such as the parish you go to,

or a church that means something to you, or it might

be a person or a group that has supported you in

faith. If we look a little longer and go a little deeper,

we might come to see that a good image of the

Church could be a family.

Family the beginning of faith

The Bible begins with God creating people – men

and women – to live in relationship with one another

and to bear life. It tells countless stories of families

who followed God's ways. And it tells us that God

Himself chose to be born and to grow in a family.

Family is the place in which we first encounter God's

love and where we learn how to love others in the

spirit of Jesus.

This year, the Church is honouring the fundamental

importance of families in a special way. We are

continuing the Year of the Family and preparing for

the World Meeting of Families in June.

The Year of the Family

On March 19, 2021, the Year of the Family began.

This date isn't only the Solemnity of St Joseph, but

it also marked the fifth anniversary of publication of

Pope Francis' Apostolic Exhortation, Amoris Laetitia,

or "The Joy of Love".

You might wonder why we need a Year of the Family,

and what it might offer for your family today.

This special year strives to ensure all families across

the world, in every situation, are heard, valued and

reached through evangelisation, catechesis and

formation.

The World Meeting of Families

The Year of the Family will officially conclude with

the Tenth World Meeting of Families from 23 to 26

June 2022. The World Meeting of Families, which

was initiated by Pope St John Paul II in 1994 and

is held every three years, brings together families

from all around the world. It includes official events

in the presence of the Pope, catechesis, a Festival

of Families, and a closing Eucharistic celebration

at which Pope Francis will deliver his Mandate to

Families.

Each World Meeting of Families has its own unique

theme. The theme for the Tenth World Meeting of

Families is "Family Love: A Vocation and a Path to

Holiness". Given the current global situation, the

Meeting will be attended in person by delegates and

representatives from Episcopal Conferences and

international family movements.

The Bible begins with

God creating people

14
---
Celebrating my family and the family

of the Church

The Diocese of Parramatta is encouraging all

parishes to celebrate the World Meeting of Families

on 26 June 2022. Contact your parish for details.

There are many resources and tools you can use to

grow as a family and to recognise your own place at

the heart of the Church.

Our Diocese of Parramatta is proud to launch

its Family Hub. This hub is the place where you

can access videos, interactive tools, and prayer

resources, and where you have the opportunity to

share the joys of your family life. It also has important

information and updates about the Year of the Family.

The Dicastery for Laity, Family and Life has many

resources aimed to promote the Year of the Family,

including videos, catecheses, and prayer materials.

To find the Diocese of Parramatta's family

hub with resources and links to the Vatican's

Dicastery for Laity, Family and Life go to

parracatholic.org/family

One of the family tips the Vatican is promoting to spread family

love and kindness. Image: Dicastery for Laity, Family and Life.
---
Mary, Queen of the Family Parish, Blacktown

parishioner Cryste Degollacion (left) with her parents

Crystal and Steve and brothers Joey and Oscar.

Image: Supplied.

Families – wonderful and fragile

STORY MARY BRAZELL

In preparing for the Vatican's World Meeting of

Families we are asked to recognise family love

is fragile and needs to be cared for. Members of

our Diocesan community share their tips.

Catholic Care's Aleksandra Kadiroglu, a Family

Therapeutic Caseworker, supports vulnerable families

in our community who are dealing with an array of

complex issues.

"There is a sense of accompaniment in the work that

we do," she told Catholic Outlook.

Aleksandra explained that a family might have

issues that need sorting out including a lack of

communication, blaming and shaming family

members, ostracising and scapegoating, mental

health, drug and alcohol abuse and complex trauma

Some families from culturally diverse backgrounds

may also experience isolation from their communities

due to the stigma of seeking professional support

from outside of the family or community and they

may have limited access to services due to a

language barrier.

When asked what a 'strong' family looks like,

Aleksandra said that it may not necessarily be

a family that has it 'all together', but one that

understands the individual members of the family

and their needs.

"A strong family sees that if there is a problem,

there's a solution and they work hard to repair

those issues."

"They need to be supported and be given

opportunities to work out these issues with love,

support, care and compassion."

16
---
The Degollacion Family – Mary, Queen of the

Family Parish, Blacktown

For Cryste Degollacion, a young parishioner of

Mary, Queen of the Family Parish, Blacktown, the

welcoming of her youngest brother, Joey, has been a

wonderous time for the family. "He keeps the whole

family on our toes," she explains.

"Even at such a young age, he shows such a strong

child-like love for God, which in turn, reminds our

family to be child-like in the way we talk, care and

show love with one another."

Attending Mass together and sharing a meal

afterwards is one way Cryste's family's bond is

strengthened and provides an opportunity for the

family to share moments of their week.

"This time with God as a family strengthens our own

family bond because we get to share the love of God

with Joey and lead by example with how important

our faith means to us.

"Dad always taught me to never go to bed angry

and Mum always said, 'if there's three things that

every family should always say, it is 'thank you',

'I love you', and 'I'm sorry'.'"

The Rodricks Family – St Patrick's Parish,

Guildford

For Blannie Rodricks, an Acolyte at St Patrick's

Parish, Guildford, the faith he and his wife Caroline

share, has set the benchmark for their two teenage

daughters, Taylor and Tracey.

"The foundation of the faith is at home, and if you

get it right at home, you can then take it out into

the world.

"My wife and I have developed a 'no fear' culture

in our house where my children can ask questions

about their faith and society openly and honestly,

and no matter what they ask, my children will

be respected.

"Being a good listener goes a long way to making

them more comfortable with you, and more likely for

them to share their feelings, whether good or bad."

To contact Catholic Care, visit

catholiccarewsbm.org.au

Find out more about the World Meeting

of Families through our family hub at

parracatholic.org/family.

Aleksandra's tips for keeping the family

strong, healthy and connected:

Childcare Services

built on Catholic values

ENROL NOW!

• Sound routine provides kids and families with safety

and predictability however flexibility also comes into

play when it comes to healthy family routines.

• Sharing a meal together at least once per day

keeps the family connected.

• Organised family time at least once per week

such as big family dinners, picnics, sports, movies

or visits to extended family members is also

important in terms of connection, and building

strong individual identity as well as building

trustworthy relationships.

• Open communication, providing safe space for

members to communicate their individual needs

and emotions, communicating love and high

regard for individual family members are a must.

• Setting clear boundaries and expressing

disappointment for actions, not for a person.

Don't 'blame and shame', instead, allow mistakes

to happen and provide safety and support when

mistakes are made.

Ambrose Early Learning Traditional and

extended hours Preschool education

Ambrose School Age Care Before and

After School Care (OSHC) for K-6 children

Ambrose Activities Innovative afternoon

Masterclasses led by schoolteachers,

covering exciting topics like art, sport,

robotics, dance and cooking

Vacation Care School holidays and

pupil-free days, K-6 children enjoy fun activities

in professionally supervised, caring environments

A social enterprise of Catholic Diocese of Parramatta Services Limited (CDPSL)

ENROL NOW!

Government subsidies available to eligible families.

Visit ambrose.org.au or scan the QR Code

17
---
The Parramatta Way of

looking out for each other

It's an approach that encourages participation

and looking out for each other.

STORY CHRISTINA GRETTON

Everyone in the Diocese of Parramatta has a role in 'The

Parramatta Way', a way of thinking about Safeguarding throughout

the Church in Western Sydney and the Blue Mountains.

Designed by a group representing the Church community in the

Diocese, the Parramatta Way asks parishioners, employees, and clergy

to act with justice, love tenderly, acknowledge the diversity in the

Diocese and promote Catholic social teachings.

It's an approach that encourages participation and looking out

for each other.

Brett Groves

Bishop Vincent OFM Conv, Bishop of Parramatta explained the origins.

"The Parramatta Way of Safeguarding is built on the foundation of

Christian faith. We mirror the way of Jesus who came to empower all

to live life to the full. May we help create and facilitate safe, caring and

nurturing environments for our children to thrive," he said.

Nathan Khoury, who was a student of Parramatta Marist High

School, Westmead in 2021, was invited to participate in the working

group which developed the statement. The diverse group discussed

how to articulate what Safeguarding means and consisted of

members of parish communities and the CEDP school community,

youth and employees.

"Everyone in the group felt they had an obligation to ensure

the Parramatta Way covers all people," says Nathan."We felt

Safeguarding is a way that members of the Diocese can follow the

footsteps of Christ, as people of the Church. We can be there for those

that need protecting."

Nathan explained the responsibility the group felt for past survivors of

abuse. "So many people have been through so much," he said. "We

need to let people who have been harmed through the Church know,

that 'we are here for you'."

18
---
Nathan Khoury in 2021 as a student at

Parramatta Marist High School, Westmead

speaking at CYP CEDP LIFTED with the

Bishop. Image: Diocese of Parramatta.

At the same time, the statement needed to set

the direction for the future. Nathan explains the

deliberate inclusion of 'zero tolerance of abuse'. "We

want to make it clear that no abuse is acceptable."

"The Diocese of Parramatta is one of the most

diverse communities in Australia," he explained.

"We realised we also needed to honour the diverse

gifts and talents our people can bring no matter their

background or ability. Knowing you can bring your

gifts to Church life, helps people to thrive.

"We wanted the words to reflect that sense of

belonging for everyone, which also comes with

protection and support."

The Parramatta Way acknowledges the traditional

custodians of the land in which the Diocese sits – the

Durag and Gundungurra people. Indigenous artist

Brett Groves who grew up in Mt Druitt and now lives

in the Blue Mountains developed the artwork for

the statement.

The artwork represents the 47 parishes plus the Holy

Spirit Seminary, the two rivers, the mountains and the

people of the Diocese of Parramatta. He explained

that he was attracted to the project because the

project felt inclusive, and felt that it was helping "right

the wrongs of the past."

Tracy McLeod-Howe, Head of Safeguarding hopes

that parishes will also display the artwork on their

websites and in their churches and buildings.

"We want everyone in the Diocese of Parramatta to

have access and understand this is how we treat all

people, especially the vulnerable," she said. "The

Parramatta Way asks us to act as God has asked us

to, as explained by the verse Micah 6:8 'This is what

the Lord asks of you: only this, to act justly, to love

tenderly and to walk humbly with your God'."

The Diocese of Parramatta is holding Safe

Parishes Week from 6 to 12 June. For information

on the Parramatta Way and Safeguarding in the

Diocese of Parramatta, go to safeguarding.org.au.

19
---
The Parramatta Way

of Safeguarding

is to...

Act with Justice, and state that we have a

zero tolerance for any form of abuse or

harm to children or any person

And it is to

Love tenderly, as we accept all who

come to the Diocese of Parramatta

from all walks of life, cultures, and

abilities

Love tenderly, as we accept any

person for who they are and where

they are at in their lives

Love tenderly, as we look after and

prioritise children and care for those

at risk of harm for whatever reason

Love tenderly, as we are servants of

the Church, and our role is to walk

beside you and support you
---
Act with justice and ensure that laws

and obligations are upheld, and

safety is paramount

And acknowledge

The traditional custodians of the land

in which the Diocese of Parramatta sits

– the Darug and Gundungurra people

The lifelong trauma of abuse victims

and those failures of the Church to

protect children and all adults at risk

The diversity of many cultural groups

that reside in Parramatta creating a

kaleidoscope of diversity and beliefs

that are valued and respected

And celebrate the talents and gifts

of the community and families of

all abilities

And promote

The principles of Catholic social

teaching of dignity, respect,

association, participation, support for

the vulnerable, solidarity, stewardship,

subsidiarity, equality and the principle

of the common good.

"This is what the Lord asks of you:

only this, to act justly, to love tenderly

and to walk humbly with your God."

(Micah 6:8)
---
Love is a very important thing,

As St Paul said,'the greatest of all is love'.

Love without end –

Noel and Honorine McKertich

STORY MARY BRAZELL

How to love for 60 years? It's how you approach

it, say Noel and Honorine from St Anthony of

Padua Parish, Toongabbie, who celebrated their

diamond wedding anniversary last month.

Sitting down in the kitchen/dining room of their

Girraween home where they have lived for 47 years, I

ask Noel and Honorine McKertich about the happiest

moments of their 60 years of marriage.

"Every moment has been happy," Noel, 92, replied.

In May this year, Noel and Honorine celebrated their

diamond wedding anniversary with a Mass at Sacred

Heart Church, Westmead, followed by a reception

with family and friends.

But, the couple told me, it almost wasn't to pass.

Growing up in the southern parts of India, the couple

first met at a wedding. They met up again five years

later at a local dance. "After the music stopped, I

kept holding his hand, and he kept holding my hand,

and that was it," Honorine said, beaming. "It was

electric. It was love straight away. I knew then he was

the one for me, no doubt."

Noel and Honorine McKertich are seen during their 60th

wedding anniversary celebration at Sacred Heart Parish,

Westmead. Image: Mary Brazell/Diocese of Parramatta.

A couple of weeks later, due to family pressures,

Honorine was asked not to see Noel again and she

made the hard decision to end the relationship.

Meeting up by chance a week later, Honorine realised

her true feelings: "Then and there, I made up my

mind. I felt strongly about my love I had for Noel and

I wanted him to be my life partner. We made a date

for the next day," she chuckled.

"We never broke up after that," Noel added.

Married and with five children, they migrated to

Australia, renting in Toongabbie in 1971.

22
---
The whole family would walk two kilometres to

Mass at St Anthony of Padua Parish, Toongabbie

every week. They would attend Confession every

month and would recite their night prayers along

with the Rosary.

In their role as parents, grandparents and greatgrandparents,

both Noel and Honorine try and

spread the Good News amongst their family, whether

it be giving them small reminders to attend Mass,

gifting prayers, icons and statues as presents or just

simply offering prayers for them at one of the three

altars they have set up in their home.

"We share our faith by loving our five children, 14

grandchildren and four great-grandchildren (so far),

caring for them and teaching them to be good, kind,

honest and forgiving people," they said.

"We assure them that prayers do work miracles and

can move mountains."

When asked for advice they could share with younger

couples, Noel and Honorine emphasised always

being there for each other, being compassionate,

loving unconditionally and having faith in God, the

Church and each other.

"Every marriage has 'ups and downs', it's just how

you approach them and how you deal with them

and that you work them out together with patience,

sometimes silence, tears, apologies, hugs and kisses

and lots of love.

"Couples must learn the art and form of giving,

loving, sharing, serving, praising one another.

"Most of all, keep your faith strong and practise it

every day. Keep the Holy Family close, and pray to

Jesus to stay near you each hour of each day."

In reflecting on what has kept them together over

60 years, the couple mentioned the deep love and

commitment they share with each other and with

God, practising their faith and always remembering

the vows they made on their wedding day.

"Love is a very important thing," Noel said. "As St

Paul said, 'the greatest of all is love'."

Noel and Honorine's five ways to love:

Listen without interrupting (Proverbs 18)

Give without sparing (Proverbs 21-26)

Answer without arguing (Proverbs 17:1)

Promise without forgetting (Proverbs 13:12)

Love without ending – Honorine.
---
Fun, love and understanding:

the fruits of intergenerational connection

STORY DEBRA VERMEER

Fostering relationships between children and

grandparents or other elderly people is crucially

important for our society, says Pope Francis

– a teaching that the youngsters attending the

Ambrose School Age Care service at Our Lady

of the Way (OLOW) in Emu Plains couldn't agree

with more.

Apart from spending time with their own

grandparents, some of the children attending the

OLOW after-school care have been involved in a

program where they visit residents in the Edinglassie

residential aged care facility just up the street.

Ruth Apelu, acting Service Coordinator, says the

program, which operates when COVID-safe visiting

regulations allow, delivers a range of benefits for both

the children and seniors.

"It's been an important way of fostering the

connection between children and older people," she

says. "They've learnt so much from it, in terms of

values like respect and compassion."

Ruth says the program has also helped the children

to understand some of the challenges of older age,

including memory loss.

"These things provide an educational opportunity to

teach the children that the elderly residents are not

necessarily sick, they are just older and sometimes

their memory might not work as well as younger

people. Children are resilient and curious, and they

ask lots of questions. Learning about this helps them

develop empathy and caring for others."

Kate Easthope, the OLOW Service Coordinator,

currently on parental leave, was an instrumental part

of developing the program.

It's great. It creates this wonderful

intergenerational connection.

Paul Lowe and his granddaughter

Kathryn at the Ambrose School

Age Care service at Our Lady of

the Way, Emu Plains.

Image: Diocese of Parramatta.
---
"I was part of a Vinnies group in Emu Plains and we

had a friendship group there, which started going to

Edinglassie to visit and I noticed there were some

elderly people there who had no visitors, or very

infrequent visitors," she says.

"So, I thought it would be great to have some

kids come down of an afternoon and play games,

do craft activities and just hang out with the

elderly residents."

"It's great. It creates this wonderful intergenerational

connection," she says.

Kate says the elderly residents also benefit from

the visits.

"It helps them build on their sense of self-worth. For

residents who don't receive many visitors, they know

that at least once a week, the kids come and visit.

They feel they are still beneficial to society and can

still contribute by passing on some of the lessons

they've learnt in their life," she says.

"Their whole face lights up for that hour they

spend together."

During the pandemic, Ruth says the children have

been keeping in contact with the Edinglassie

residents by writing letters and cards and sending

cookies and hampers.

In January 2021, Pope Francis announced the

World Day for Grandparents and the Elderly, to be

celebrated each year on the fourth Sunday of July,

coinciding with the feasts of the Blessed Virgin

Mary's parents and Jesus' grandparents, Saints

Joachim and Anne.

The theme for this year's World Day for Grandparents

and the Elderly is: "In old age they will still bear fruit"

(Psalms 92:15).

"I have chosen this theme for the Second World

Day for Grandparents and the Elderly, to be held

on 24 July 2022, to promote dialogue among the

generations, especially between grandparents and

grandchildren," the Pope said.

Paul Lowe, grandfather to six-year-old Kathryn who

attends the Ambrose service at OLOW, says this

inter-generational dialogue is a product of spending

time together.

"I've got seven grandchildren from age 14 down,

and I spend time with all of them," he says. "Over

the years, I've picked them up from school or looked

after them at home when their parents work.

Ruth Apelu.

Image: Diocese of Parramatta.

"Kate and her mother, my daughter, live with us, so

we spend a lot of time together.

"It's good for all of us. I lost my wife over eight years

ago, and thanks to the love my wife fostered, we

have a very strong family and we enjoy spending

time together.

"When we're together they get to know a bit of what

my lifestyle is like at 73 and I learn from them too.

They've got plenty of energy and enthusiasm which

is good to be a part of. They know I don't mollycoddle

them, but sometimes of course I do spoil

them, like all grandparents.

"I get such a kick out of them. Each generation

has got something to teach the others and I know

I share my strong values and thoughts on things

with them."

Ambrose® early years education and school

age care services are run by Catholic Diocese of

Parramatta Services Limited, an agency of the

Diocese of Parramatta. To find a service near you

go to ambrose.org.au.

Debra Vermeer is a freelance journalist.

25
---
For where two or three are gathered

together in my name, there am I in

the midst of them.

Matthew 18:19–20

Serving local families through

faith and community

STORY MARK SMITH

From the first COVID-19 lockdowns in the Easter

of 2020 through to the present, thousands of

teachers across the Diocese have witnessed the

love and light of Christ as they responded to the

profound and changing needs of local families.

While leading the remote learning for their students,

many teachers helped their own children learning at

home too. Many also shared the experiences of local

families isolated from loved ones, particularly elderly

family members. This created a strong sense of

solidarity as school staff sought to support students

and their families.

Our teachers have offered a calming presence of

faith during times of fear and chaos. This has been

a ministry of presence, walking alongside students

and families as a tangible example of the pilgrim

church called by the Second Vatican Council

(Lumen Gentium 8).

Our teachers have lived the "call to holiness" as

the saints next door referred to by Pope Francis

in Gaudete et Exsultate (Rejoice and Be Glad): On

the Call to Holiness in Today's World (2018). This

call to holiness has involved many steps, often

behind the scenes.

The following words from Anthony Matthews, a

teacher and leader of Religious Education at St John

XXIII Catholic College Stanhope Gardens, offer a

special insight into these steps:

"The pandemic saw our role as educators become

a continued actual fraternal opportunity where we

had the awesome privilege to be able to respond and

care for one another in a time of challenge.

"This opportunity bore witness in our daily life,

moving to pastoral care conversations daily with

families, staff fundraising and community support of

one another, to the opportunity to be able to pray,

hope and love - the new paradigm was endless.

"The most awesome experience was leading weekly

and frequent prayer and liturgy opportunities online

where not only the student, but the family were able

to connect and be in communion with one another

'actually' not just 'virtually' as the presence of Christ

is with us all."

Isabella Plust, teacher at St John Paul II Catholic

College at Maryong shares her experiences:

"It is safe to say that COVID-19 has not only

reshaped our thinking of education but ministry and

formation also. During the lockdowns of 2020 and

2021, the call to respond to the needs of families and

the longing for human interaction was increasingly

evident. Students were restless with constant

Zooms, classwork and screen time, that many would

reach out to their homeroom teachers just to have a

listening ear.

"As a religious education teacher and youth minister,

I am forever grateful for the moments we were

able to connect with students online and speak

to 'real-world' events. Praying with students and

accompanying them on their faith journey will

be something I will cherish forever. Although the

future may hold a sense of uncertainty, teachers

will continue to strive to support students and

dialogue with their families, during this time

of accompaniment."

26
---
Gilroy Catholic College teacher Declan Horan together with students from the Class of 2021. Image: CEDP.

St Mary's Primary Rydalmere parent Anthony Ellard

really valued the support from his daughter Caitlin's

school during the period of intense COVID-19

restrictions in Western Sydney. This included regular

calls from Caitlin's teacher for feedback on learning,

providing valuable assurances about the way that her

parents were helping with her schoolwork.

"Our teachers did a fantastic job to ensure families

had the support that we needed during the

lockdown, including parents like us working from

home," Anthony said. "The communications from

the principal and teachers was phenomenal, really

keeping families up to date and supporting kids

during the break."

What these many steps all have in common is that

they are each encounters of love within the dayto-day

lives of our communities. They are also

evidence of teachers living a vocation - more than a

job. Teachers have also done this together with their

fellow colleagues as a faith community. Our teachers

have prayed together and with their students, calling

on God for guidance, comfort and inspiration. In

this they have invited the Holy Spirit to be with

their communities.

Our teachers have asked for the gift of Christ's

peace for students and families in turbulence.

In times of darkness and uncertainty, they have

called on the light of Christ.

The pandemic is unfortunately not over and we can

trust that our teachers will continue to accompany

our families, guided by the light of Christ. So let us

give thanks, pray for our teachers and remember the

vital role schools hold in our communities.

Do you have a family member who may be called

to the powerful vocation of teaching? It is a

privilege that will challenge, and an opportunity

to serve others in a truly powerful way. If there is

someone in your family who you can see would

flourish in this calling, why not invite them to

consider it?

Mark Smith is a member of the Mission Team for Catholic

Education Diocese of Parramatta.

27
---
School leadership is

all about heart

STORY MONICA FITZALAN

Monica Fitzalan and students at St

Patrick's Primary School, Blacktown.

Image: CEDP
---
Growing up on a beautiful farm in Bathurst, taught

me to be positive, calm, grateful, committed to

helping others, and always see the bright side of

life. What I learned from my parents and from my

own Catholic education, is that faith, hope and

love are the ingredients to happiness

and success.

This is my fourth year as a School Principal and I

intend to follow this calling for many years to come. I

am blessed to work with and lead the dedicated staff

at St Patrick's Primary Blacktown. Knowing that I can

make a difference in the lives of students, creating

a rewarding working life for staff and long-lasting

learning experiences for students is my passion.

Each day I greet the staff and students as they

arrive for school. Checking in with everyone is a

highlight of my day - noticing who has a birthday or

a broken arm really helps me to know what is going

on in our community. Communication and building

relationships are the foundation of my work. Being an

active listener who is understanding of where people

are coming from and the life experience they bring

to school with them, always helps me to understand

children more.

Feel God in every gentle touch.

See God in every happy face.

Hear God in every caring word.

Receive God's blessings every

day of your life.

Motivational words of wisdom

My favourite part of each day is seeing the learning

that is happening in our learning spaces. Engaged,

challenged students are what we are all about!

Seeing the JOY in a child or a staff member's

face when you recognise a talent, achievement or

something to celebrate is what inspires me each

day. The opportunity to make life or conditions

better for learning is what calls to me and helps me

jump out of bed with a spring in my step. No day is

ever the same and we always have lots to celebrate.

Seeing students graduate as outstanding young

citizens who can make positive changes in the

world is so rewarding. 'Be the change' is something

that inspires me every day - we can make a big

difference! The students I work with today will be

our future doctors, scientists, teachers, parents,

scriptwriters, OTs, nurses, and accountants. They

may one day save your life!

Working in our Catholic community is an extension

of my own personal faith and life, so I have the

opportunity to enrich the lives of others.

I am blessed to have my own wonderful husband

Matt, and three children, Georgia, Brianna and

William, who support me, laugh with me, journey

through the 'everyday-ness' with me and nourish

my soul. Catholic education and our own parish,

St Bernadette's, Castle Hill, have been a wonderful

blessing for our children too.

Watching passionate staff work side by side with

their students is life-giving. The team brings out

curiosity in their students and guides their learning

through inquiry: I feel so proud of my fabulous

staff. Seeing the light in staff and students' eyes

when you acknowledge their great work is the best

feeling. No wonder I smile a lot!

Working with children and shaping their lives is

a privilege and a pleasure. If teaching/school

leadership calls to you, go for it! We need more

wonderful teachers in our system who are

committed to the Catholic faith and sharing it

with others.

Monica Fitzalan is Principal of St Patrick's Primary

School, Blacktown.

29
---
Catholic Care starts

a new chapter

Catholic Care exists to do

Christ's work in the community.

in distress could receive professional care from

the Catholic Church, Catholic Care has grown to

become a well-respected organisation that reaches

thousands of people in the community each year

through the work of more than 200 committed staff

and volunteers.

For more than 70 years, Catholic Care has been

here for people who need us. People from all

walks of life.

Those who may need somewhere to sleep, help

caring for their newborn baby, or perhaps they are

lonely and need someone to talk to.

There are those who need help to protect their family

from violence and those who want to stay living

independently with a little support, and those looking

to stay active and connected with their community.

Our care and support through the church is all about

making sure no one is left behind. It always has been,

and it always will be.

From our humble beginnings in the 1940s when four

Sydney women dreamed that the poor and anyone

In an ever-changing environment, we have continued

to grow as an organisation to ensure we are filling the

gaps and meeting the needs of the most vulnerable

and disadvantaged members of the community.

2022 signals the start of a new chapter for Catholic

Care Western Sydney and the Blue Mountains. It's

a time to reach further into the community, digging

deeper to help more people by telling more people

who we are and what we do. By reaching out with

better services and more services, having delved

deeper into what our community really needs.

This new chapter starts with our people – our staff

and our volunteers and the work we have done over

the past year or so in developing the values that

guide us in our work and in our decision-making.

Our values and our links to the Catholic Church are

the foundation of our organisation.

30
---
With honesty and openness, our staff created our

values to guide how we work and engage with those

we serve in our community.

Fundamental to the way we work, is that we embrace

every journey with love and gratitude, for our clients,

the community and each other.

And to live up to this value, each and

every day we:

Are available with an open mind and heart

Advocate with patience and passion

Build trust with integrity and respect, and

We persevere with resilience and belief.

With these values now embedded in all that we

do, we are looking at this new chapter in our

organisation's history as an opportunity to better

listen and hear what our clients need. And better

respond. To aim higher in all that we do while staying

grounded. To share more about who we are and what

we are here for.

This is a truly exciting time for our people, our

community, our clients, our parish, and our Diocese.

It's a time for us all to remember why we are here

reaching out our hands to those who may be

suffering or vulnerable.

No one can be saved alone, but as a community

carrying out the work of Christ, we can help to heal

lives and enable human flourishing even through the

most challenging of times.

As we turn the page on this new chapter, you will

see changes. Some new faces, a new logo, a new

website. All of these changes aim to ensure we are

better reaching those who need us, by making it

easier for those who need us to reach out.

What won't change is our work as the face of Christ,

our drive to make a positive difference in the lives of

those who need our support, and to help them find

joy and purpose in life.

We are here.

Visit catholiccarewsbm.org.au to find out more.

Maureen (right) is supported to stay in her

own home by the team at Catholic Care.

Image: Catholic Care WSBM.
---
Basilica of St. Francis of Assisi

(Basilica Papale di San Francesco)

at sunset in Assisi, Umbria, Italy.

Image: Shutterstock.
---
Looking Deeper

Looking deeper

The following articles encourage deeper reflection,

prayer and personal learning.
---
Pentecost – accepting variety

and difference

STORY DR LAURIE WOODS

The earliest Christians had to consider whether

they would impose restrictions on their new faith

as followers of Christ. Who could join? Dr Laurie

Woods considers the lessons they learned in the

context of today.

Pentecost represents the fulfilment of Christ's

work. His band of disciples had quickly grown into

a community of dedicated followers committed to

living out the values of the Master. Christians do

not always demonstrate awareness that nearly all

of these people were Jewish and were, in reality, a

sect of Judaism. They were still praying at the temple

in Jerusalem and kept faith with the customs and

religious practices of Judaism.

The Eastertide readings from the Acts of the Apostles

give us a glimpse of the trials and decisions that

these early Jesus people had to face as their

numbers grew. One of the chief matters of concern

was the qualification for membership. Who should

be allowed to join? Should there be any restrictions?

Were non-Jews welcome? And if so, should they be

obliged to follow Jewish laws and customs?

We know from his letters that Paul was opposed

to any policy that might require newly baptised

gentile members to follow Jewish laws and customs

that insisted on male circumcision, observance of

food regulations and ritual cleanliness customs.

He maintained that it was only necessary that new

members commit in faith to Jesus Christ and his

values. Acts and the Pauline letters also reveal

factions who opposed each other quite strongly on

some of these issues. In time, the leading Apostles

agreed that non-Jewish converts did not have to go

to Christ through the doorway of Judaism.

The difficulties the early Jesus people had to deal

with have their counterparts in our Church and

society today. How well do we accept difference?

Can we learn from the almost infinite diversity

in nature that our God is the maker of variety

and difference?

Jesus was a model of living with difference and being

comfortable with all kinds of people. He was good

at accepting individuals where they were at. He was

criticised by the self-righteous for mixing with tax

collectors and sinners, but then he saw the potential

in every human being and never wrote anyone off.

Jesus reminded Simon the Pharisee how unfair he

was in passing judgment on the woman who wept at

his feet. He refused to condemn the woman accused

of adultery but he pointed out to her that what

she was doing was no way to live, no way to grow

to wholeness.

He touched the untouchables and restored them as

much with his compassion as with healing power.

He challenged the rich man to follow him but did not

love him any less when the man could not make the

leap to discipleship. He did not pass judgement but

accepted that the man was not ready.

Pentecost can prompt us to reflect on the broadminded

thinking of Jesus who relished variety and

difference in everyone he met. As he said, "The Spirit

moves where it wills," and it is up to us to look for

the Spirit in the events and people that come into our

life. Seeing the good and the potential in others is to

imitate the attitude of Jesus as well as being a mark

of sound mental health.

Dr Laurie Woods is a retired senior lecturer in Biblical

Studies from the Australian Catholic University and currently

conducts teacher inservice sessions and parish reflection

days. He lives in the Diocese of Parramatta and is a member

of Our Lady of the Nativity Parish, Lawson.

34
---
Looking Deeper

Pentecost can prompt us to reflect on the

broad-minded thinking of Jesus who relished variety

and difference in everyone he met

Image: John Nava Eastend Arts, Inc.
---
Image: Jan Richardson Images

The go-between God

BR MARK O'CONNOR FMS

The wind blows where it pleases; you can hear its

sound, but you cannot tell where it comes from or

where it is going. So it is with everyone

who is born of the spirit.

John 3:8
---
Looking Deeper

This season of Pentecost, let's remind ourselves

that nothing is more important than experiencing

the grace and beauty of the Holy Spirit of

the Risen Christ, who breathes on us every

day afresh.

Listen again to St John Paul II's encouraging and

prophetic words about how the Spirit has been so

present in our ancient land. His words spoke so

powerfully to the indigenous people at Alice Springs

in 1986:

"For thousands of years you have lived in this land

and fashioned a culture that endures to this day.

And during all this time, the spirit of God has been

with you. Your 'Dreaming', which influences your

lives so strongly that, no matter what happens, you

remain forever people of your culture, is your only

way of touching the mystery of God's spirit in you

and in creation. You must keep your striving for God

and hold on to it in your lives."

Sadly, in our sceptical and pragmatic Australian

culture, we can, however, become agnostic about

the Holy Spirit.

Many of us often neglect or fear the life of the

Holy Spirit. But if there is a God, then certainly

experiencing the grace of the Holy Spirit is the

only realism.

That is why I treasure J.V. Taylor's book on the Holy

Spirit, The Go-Between God. It is the best book I

have ever read on the Holy Spirit. For Taylor, the

Spirit is literally the 'Go-Between God', the bond

between the Father and the Son, and the One

through whom they are present to us.

Taylor makes the Spirit come alive through

describing how the Holy Spirit works in the 'nittygritty'

of personal relationships in daily life. The

Spirit does this by helping people to see other

individuals as entirely 'other' from them; by helping

people to realise that the other persons they

encounter see the world through entirely different

lenses shaped by their own experiences.

Drawing heavily on Martin Buber's I and Thou,

Taylor's main point is that the Holy Spirit primarily

works as a 'go-between'. In other words, when

individuals meet and converse, the Spirit is not

merely 'in' each of the individuals but is his own

personality working between them.

Taylor explains: "To live in prayer, therefore, is to

live in the Spirit; and to live in the Spirit is to live in

Christ … to live in Christ is to live in prayer. Prayer is

not something you do; it is a style of living."

A 'style of living' that Taylor illustrates in one

ordinary but very beautiful experience of the

Holy Spirit.

He describes a West Indian woman in London,

who in her flat had just received the news that her

husband had been killed in a street accident. She

sat in the corner of the sofa, paralysed. Nobody

could get near to her; it was as if she were in a

trance. And then the teacher of one of her children

came in, saw the situation in a moment and sat

down beside her, and put her arm across her

shoulders and held her tightly. The white face was

pressed to the brown one. And as the intolerable

pain of this seeped through to the visitor, her

tears began to fall, onto their hands clasped in

the woman's lap. This went on until the grieving

woman herself began to weep, and their tears were

mingled, and the healing began.

Taylor's comments: "That is the embrace of God.

That is his kiss of life. That is the embrace of his

mission with our intercession. And the Holy Spirit

is the force in the straining muscles of an arm; the

Holy Spirit is in the thin film of perspiration between

a white cheek and a brown one. The Holy Spirit is

in those mingled tears falling onto those clasped

hands. He is as close and as unobtrusive as that,

and as irresistibly strong."

The Holy Spirit, then, is the invisible third party

who stands between me and the other, making us

mutually aware. The Spirit opens our eyes to Christ

and also opens our eyes to our brothers and sisters

in Christ—especially the poor.

More than ever, inside and outside the Church, we

all need to be on the lookout for the presence of this

'Go-Between God'.

Come Holy Spirit!

Br Mark O'Connor FMS is the Vicar for Communications

in the Diocese of Parramatta.

37
---
Faith in the ordinary

STORY PAOLO GRELLA

Paolo, 28, is a parishioner at Our Lady Queen

of Peace, Greystanes, and currently working

as a Campus Pastoral Associate at ACU

North Sydney Campus. He shares about his

relationship with Jesus.

Comforting and reassuring.

It was not always like that but right now He is very

much a friend and a source of comfort, strength and

reassurance. I was brought up Catholic, would pray,

but coming into my teenage years where you do start

questioning things you aren't really sure about, faith

was not at the forefront of my mind - neither was my

relationship with Jesus. I still went to Mass but very

much questioned whether it was real or the point of

it. I was involved in the music ministry which kept me

going to Mass.

In 2015, I was invited by Catholic Youth Parramatta

to a retreat called LIFTED. Initially, I did not want to

go but I remember it was the last day to register. I

was reading and I got up to go to the study, where

my Mum was helping my brother register, and I said,

"Oh you are still registering? Can you register me

too?". They were stunned 'cause I had been telling

them "No I don't want to go," for a month straight.

I felt this interior tug to go. When I got there, there

were just so many young people which I found odd

because there are usually so many old people at

Church. It was a beautiful moment.

One night we had adoration, which was my first

experience of it. I remember just being there, Jesus

just present, and I just sat there looking up at the

monstrance and thinking I did not know what I was

doing with my life. Then this feeling of warmth just

filled me and there is no other way of describing it

but this pure love radiating, and I burst into tears.

It was such a powerful moment, and I went to

Reconciliation and had a really honest confession. It

hit me that I just need to focus on what's important

in life and from that moment I knew Jesus was real,

He loves me, and I believe. I attended more retreats,

met an amazing community at the university I was

attending at the time, going to daily Mass on campus

to learn more about the faith.

Faith in small moments

I think a lot of times we can think of faith and look

at some of the saints' lives and the extraordinary

things that happened like St Padre Pio who had

the stigmatas. But it does not always have to be

extraordinary. It can be just those small moments in

your life where God is there, where you can see God

moving in a conversion or in a moment. It could be a

decision you have to make in terms of work or study

or in the ordinary day-to-day things, and faith can

definitely be present. I think practising gratitude helps

with that; you can feel that this did not happen by

chance, there is a Creator who created all of this.

On a day-to-day basis I am reassured by God's plan

for my life and live my life on purpose. It's about

trying to live that plan even if I don't know what the

next step is yet. For me, God is a central part of my

life. He isn't just something on the side - it's small

prayers throughout the day, having a conversation

with God, and keeping Him in the loop in my life.

Young people in the Diocese of Parramatta

are invited to find out more about Catholic

Youth Parramatta. Find details at linktr.ee/

catholicyouthparra.

38
---
Looking Deeper

Paulo Grella. Image: Supplied.

Have you been considering

broadening your faith

understanding?

Wondering where to next in your pastoral activities?

What paths study may lead to?

• Many tertiary theological degrees to choose from

• Small class sizes and quality of lecturers ensure a personalised learning experience

• Classes can be audited (attended without completing assessment)

• Government assistance for tuition fees is available to eligible students

For more information contact us on:

T: 02 9752 9500 I e: registrar@cis.catholic.edu.au

or visit our website: www.cis.catholic.edu.au

CIS is a Partner Institution of the University of Notre Dame, Australia

99 Albert Road, Strathfield NSW 2135
---
Our spiritual potential is birthed in a faith community. Parishioners with Fr Wim Hoekstra at St Michael's Church,

Baulkham Hills. Image: Diocese of Parramatta.

Nurturing the

God-seed within us

You have made us for yourself, O Lord and

our hearts are restless until they rest in you

STORY SR PATTY ANDREW OSU

St Augustine

Sr Patty Andrew osu explains why, just like we

grow and learn from our family and community,

our spiritual heart can be awakened though our

faith community.

The English poet, William Wordsworth (1802)

captured the truth and wonder of our Divine origins

in the verse "Our birth is but a sleep and a forgetting;

trailing clouds of glory do we come from God, who

is our home." Parents are reminded of this reality

again and again as they give birth to their children.

Whether they are people of faith or not, as they

experience and witness the pain, the beauty and joy,

of childbirth, parents sense they are in the depthless

field of mystery.

Each of us is born with the indelible imprint of God

who is our creator. In our Catholic tradition we name

this as the "imago dei", the image of God. Through

the centuries this little piece of infinity in each of us

40
---
Looking Deeper

has been captured in a range of beautiful metaphors.

The Jesuit poet, Gerard Manley Hopkins speaks

of the divine imprint as "the immortal diamond".

The Vatican II Document, Gaudium et spes (1965)

describes it as the "God-like seed".

Daniel O'Leary speaks of our humanity as the

"womb of the divine."

He assures us that already we carry within us

unknowingly, the fresh wells we thirst for and

beckoning horizons for which we long. In recent

years Richard Rohr talked about each of us

receiving the "kiss of the divine then." It is therefore

more accurate to honour our divine origins by

understanding ourselves as first and foremost

spiritual beings who are becoming human.

apostles which conquered fear. Such a deep infusion

of the power of the Holy Spirit gifted each one

with an intuitive grasp of the whole, gracing them

with a heart understanding of Christ's death and

Resurrection. This deep perception opened the eyes

of their hearts as they became aware of the profound

meaning of a self-emptying God incarnated in Jesus.

It was this "heart seeing" which empowered them

with the courage to spread the Good News.

As people of faith we desire to live life with an

openness to the transcendent – that which is beyond

us. We express this way of being in mission which

Pope Francis reminds us is about bringing "light,

blessing, enlivening, raising up, healing and freeing"

(Evangelii Gaudium). Our spiritual unfolding is

increased through taking formal opportunities for the

awakening of the heart.

This divine imprint is spoken of as residing in the

heart, which we know is not in essence physical.

Hence it cannot be located in a particular place

within the body. When we speak about matters of the

heart, we are referring to that which is at the hidden

centre of our being, beyond the grasp of reason. Our

tradition teaches us that only the spirit of God can

fathom the heart and know it fully.

Everyone's unique life journey is about many things

as it unfolds with surprising twists and turns. Along

the way, we can observe and measure physical

growth and enjoy acquiring new skills and knowledge

as we allow our potential to unfold and develop. In

our growth to human wholeness, we also need to

nurture the 'God-seed' planted within each of us.

Like all our human possibilities, unless the capacity

of our heart is awakened and nurtured, it will remain

asleep within us.

Sr Patty Andrew osu is an Ursuline Sister in the Diocese of Parramatta.

As well as teaching on faith and spirituality matters, she is a chaplain

with Kairos Outside for Women, a support organisation for women with

incarcerated relatives.

Sr Patty Andrew osu

Image: Supplied.

As it is with every aspect of our human development,

we cannot do this alone. The infant child acquires

the complexity of language and the ability to walk,

always through the belief and encouragement of

others. Likewise with the awakening of our spiritual

potential. This is birthed in a faith community

grounded in a deep sense of the sacred.

At Pentecost we recall a time in the missionary

outreach of our Catholic tradition when collectively

the heart of the early Christian community was

deeply awakened. As we read the account of this

historic event, from the Acts of the Apostles, it is

evident that something was released within the

41
---
Nurture your God-seed in the

Diocese of Parramatta

The Mission Enhancement Team in the Diocese of Parramatta has a full program of courses,

retreats, and other events to boost your spiritual life and nurture your 'God-seed'.

Faith

LIFTED Retreat – a weekend of prayer, formation

and connection: for young adults 18+.

1-3 July

Grose Vale

Ministry Leadership Program: for upcoming

and current adult leaders in parishes and

faith communities.

Ten Thursdays commencing 11 August

Blacktown

Themes of Faith: for adults keen to explore key

themes of Catholic life and faith.

Flexible, minimum of eight required

Online or Blacktown

Adult Confirmation Catechesis Day: for adults

aged 16+ who have received the Eucharist and

Baptism and would like to receive the Sacrament

of Confirmation.

20 August

Blacktown

Rite of Christian Initiation of Adults Seminar:

for adults who are wanting to become Catholics.

Four Wednesdays starting from 10 August

Blacktown

Youth

World Youth Day 2023 launch in the Diocese of

Parramatta: for young people aged 16 to 35 wanting

to find out about the once-in-a-lifetime pilgrimage to

France, Spain, Portugal and Italy.

18 August

St John XXIII Catholic College, Stanhope Gardens

I know Theology is not

easy but it has given

me glimpses of what

the Church offers. In

how to relate to others,

this ministry will help

me to be more open

to others, be mindful

of their individuality

and really, I will be

more confident in

serving others.

I find the sessions very

reflective and they

have assisted me so

much in some of my

struggles. I have really

felt lifted up in my

faith!!

Len from Our Lady of the

Nativity Church, Lawson

Parish, a participant in

the Ministry Leadership

Program.

Pearl from Holy Spirit

Parish, St Clair, a

participant in the Ministry

Leadership Program.

42
---
Looking Deeper

Visit parracatholic.org/met for details on

these events and courses and more

Domestic Church

Natural Family Planning Fertility Awareness:

for couples wishing to find out about natural

family planning.

21 June

Online

Service

Liturgical Ministry Formation Course for Readers:

for adults seeking to serve at Mass in their parish as

a reader.

12 and 19 August

Blacktown

World Meeting of Families Local Celebrations –

liturgy and community event: for catholic families

and parish communities.

26 June

Local Parishes

Pre-marriage preparations: for engaged couples

who want a great Catholic marriage.

8 to 10 July

Blacktown

Faith in Marriage Seminar "Living marriage, living

faith: ideas to inspire your children": for married

couples.

Liturgical Ministry Formation Course: for adults

seeking to serve at Mass in their parish.

5 August

Blacktown

Social Justice

Cry of the Earth, Cry of the Poor Tri-diocesan

Social Justice Reflection Evening: for adults

wishing to hear speakers and reflect on the Australian

Catholic Bishops' Social Justice Statement.

20 July

Blacktown

12 August

Blacktown

I don't want to tell

anyone what to

expect, you have to

come and experience

it for yourself – but

you'll probably like it!

Roderick from Mary

Immaculate Parish

Quakers Hill, a participant

in the Liturgical Ministry

Formation Course.

I'm pretty excited to be

a Eucharistic Minister

and a reader, because

it's another way of

being involved in the

parish and deepening

your faith by serving.

I wanted to be more

involved and deepen

my faith.

Revathi from St Andrew

the Apostle Parish,

Marayong, a participant

in the Liturgical Ministry

Formation Course.

43
---
When anyone experiences

suffering, Jesus is sharing his

cross with them.

A cuppa with the priest

Fr Alan Layt

St Aidan's Parish, Rooty Hill

STORY CHRISTINA GRETTON

Fr Alan Layt has been Parish Priest of St Aidan's

Parish, Rooty Hill for the past 11 years. Born and

bred locally, he has spent his life dedicated to

the welfare of others in both social and spiritual

contexts.

A late vocation at age 47, Fr Alan had been a high

school teacher before he was ordained in 1996 by

Bishop Bede Heather, the first bishop in the relatively

newly formed Diocese of Parramatta. Fr Alan had

grown up in Silverwater, formed by the Pallottines, an

order from Germany. After leaving school, he entered

their seminary, but only stayed for around three

years. During his years teaching, he also became

involved in the union movement, inspired by his

grandfather who had been Mayor of Auburn and a

member of the steering committee of the then Labor

Premier Jack Lang who saw NSW through the Great

Depression. Speaking with him about his work as a

Parish Priest today, it is clear his focus is on still on

the care of others, and in particular their relationship

with Christ.

When he first arrived at St Aidan's in 2008, then

Parish Priest Fr Renato Paras recognized his

strengths and appointed him to minister to youth, in

particular, to prepare them for World Youth Day 2008.

Today he continues to want to see young people

strong in their faith, and believes formation is critical.

He appreciates the St Aidan's parishioners who

are also members of Opus Dei who have assisted

with formation of the young people of the parish.

Currently the youth group meets regularly and he

happily reports the young people are now instructing

other young members of the group.

He is concerned about the apparent drop in numbers

of parishioners returning to Mass after COVID

restrictions. Not only does this situation impact

parish communities, his real concern is for the impact

on the individuals themselves and how they are

missing out on the chance to be close to Christ.

He calls on all Catholics to reach out to others with

their faith. "Be prepared to do it," he says to all lay

Catholics encouraging them to evangelise. "You

have brothers and sisters sitting around you who are

depending on your faith," he says, cautioning that

the "It'll be alright Jack" approach doesn't address

the urgency of the situation whereby numbers of

Catholics living in the faith are decreasing.

It's one of the reasons he has created a welcoming

committee for the parish, and happily found no

shortage of parishioners wanting to sign up.

Given this has been the universal Catholic Church's

Year of the Family, he has a good sense of the

connection between family and faith community.

"Church is family," he says. "People tend to say that

Church is like a family, but Church is the true family.

We are united by the Holy Spirit."

Reflecting on why older people make up such a

large proportion of members of parish communities,

he says they come to understand how Church is

their family. "It's a place for them," he says before

explaining the vital role they play in parish life.

He cautions against the thinking that our society

sometimes appears tohave: that younger people are

making a more valuable contribution than the older

generation who, because of ailments and issues that

arise when we age, tend to suffer more. To counter

this perception, he poses one question:

44
---
Looking Deeper

"When was Jesus at his most powerful?"

Fr Alan explains his answer.

"When anyone experiences suffering, Jesus is

sharing His cross with them," he says.

"If they are prepared to accept it and offer it with

Jesus to the Father, especially at Mass, then they are

co-redeeming with Him.

"They may feel their contribution is small by

comparison - and it is - just the way that small boy's

seven loaves and two fish were too tiny to make

much difference among 5,000. It is what Jesus can

do with it that counts, and that turns on the faith in

Jesus of the person who suffers with Him."

When we suffer with Jesus, three things happen

says Fr Alan.

The first he says, is that He suffers less. "Secondly,"

he continues, "we are suffering here for our sins

instead of Purgatory, and it is better to do it here than

there because here we can merit in the eyes of the

Father because we accept suffering through faith

in Jesus."

"You can't do that in Purgatory," he reminds us.

"Thirdly, and more importantly, we are involved in

saving the souls of others."

"If you think about it, this is a real expression of

the twofold law of love. You know you really love

someone when you share their suffering, and we

do that for Jesus and for the souls of those in need

of salvation."

Fr Alan returns to his point about the suffering

of the elderly.

"Just as Jesus was at His most powerful on the

cross" he says, "when He was at His most helpless

physically, so any person suffering - and that

includes those experiencing all the problems of

getting older - who accepts their suffering with faith

and trust in Jesus, is the greatest asset to any parish

and to the Church as a whole."

Fr Alan Layt, Parish Priest of

St Aidan's Parish, Rooty Hill.

Image: Diocese of Parramatta.
---
The altar of St Aidan's Church, Rooty Hill.

Image: Diocese of Parramatta.

Parish Profile – St Aidan's Parish,

Rooty Hill: Small Parish, Big People

STORY MARY BRAZELL

Growing up as a child in Samoa, Emma Iliae

would go with her mother and other women

of her village to help clean and decorate their

local church.

Now, as an adult, she does the same thing for St

Aidan's Parish, Rooty Hill, her parish since 2014.

"In my heart, I knew I wanted to do what they do,"

she told me. "And now, I work here, I do this and I

love to come here, and when I work, I am with God

and Jesus is looking down on us."

Rosemarie Estigoy, the parish's Special Religious

Education coordinator and a member of the Legion

of Mary group, explains that by volunteering for

the parish, she is able to share her faith and the

blessings the Lord has given her with others.

"I cannot just have my faith on my own, I have to

share it, and others have to know the love of God –

why just keep it to yourself?" she asks.

"If you are feeling blessed, you have to share it."

Sacristan and Chief Acolyte Stan Pakulski adds,

"God has done so much for me throughout my whole

life, this is my way of giving back, albeit in a small

way, for everything He has done."

Meeting with the parishioners, they describe the

parish as being welcoming, vibrant and caring.

"We have so many different nationalities here –

everyone gets along so very well," Stan said.

Assistant Priest Fr Galbert Albino, who has been at

the parish for four years, describes his joy at seeing

parishioners from all nationalities working together

on projects for the church. "People are very keen

to help," he said. In particular, he describes how

parishioners will go and collect older parishioners

to bring them to Mass. "It's a way we can directly

express our love for God," he says. "They [the

parishioners] own that."

46
---
Looking Deeper

Parish priests inspire others to care

The parishioners say they are 'very blessed' to have

such 'beautiful' priests in Fr Alan Layt and Fr Galbert.

"Our priests are so fatherly, very supportive and

they help us grow in our faith with their beautiful

and powerful homilies," parishioner of 34 years Nina

Chavez described.

Youth team member Maelody Gevero is grateful

that both priests are supportive of the youth, and

their initiatives to look after the spiritual needs

of the parish. "They really care about our souls,

and that makes us want to take the initiative to

care for everyone else's souls," she said. "They

are witnesses, so you want to be a witness just

as much."

Rosemarie added, "Fr Alan is always open and he

doesn't say no. He would like us all to be saints, and

he's really guiding us to be holy."

Holy Spirit providing fruitful gifts to the parish

The parishioners feel that it is through their witness,

and that of their priests, that the Holy Spirit is at work

in their parish.

"We've had many new parishioners, people who have

moved to the area and are finding the church and are

being welcomed to the community," Rosemarie said,

adding that she often carries an extra bulletin in her

bag in case someone from Church recognises her.

Parishioners at St Aidan's Parish, Rooty Hill.

Image: Diocese of Parramatta.

Fr Galbert Albino (left) and Fr Alan Layt.

Image: Diocese of Parramatta.

Working towards an ever wider 'we'

In his 2021 message for World Day of Migrants and

Refugees, Pope Francis said, "We are all in the same

boat and called to work together so that there will be

no more walls that separate us, no longer others, but

only a single 'we', encompassing all of humanity."

The parishioners agreed with the Holy Father, as

many of them have migrant backgrounds.

Emma said, "I think it's very important in every parish

to work together as a community because we are

One Body, One Spirit, we are the children of God, we

must work together, treating everybody the same."

Stan added, "it doesn't really matter where we come

from, we're all here for the same reason because

God put us here."

Nina said, "We are a multicultural community, and

we welcome people from all walks of life. We try

to become one big, good family because of the

Christian teachings from the homilies of our two

beautiful priests, who hope that we are holy Christian

people practising not only by words but in deeds as

well, and to be an example for others.".

47
---
Diocese of Parramatta walks towards

Synod of Bishops 2023

STORY SR GRACE ROCLAWSKA CSFN

An historic event is taking place in our

Church as the Vatican's Synod of Bishops

considers the responses by ordinary Catholics

to the Church today. Here in the Diocese of

Parramatta, Sr Grace Roclawska explains the

gifts of walking together and how we have

participated.

Imagine walking on your own through your

neighbourhood. You are enjoying your time of quiet

and solitude, maybe breathing, planning the rest

of your day, or simply looking around. Imagine,

that on your way you meet a friend who walks

with a couple of little children. The way you walk

changes as you need to follow the pace of the little

ones. You need to stop from time to time or help

your friend to run after the child who decides to

wander away.

Imagine you meet your old friend in a wheelchair

on your walk as he leaves the retirement village.

The way you converse with your friend requires

you to bend over at times and speak louder.

Walking with others changes your own experience,

sometimes it even changes the direction or the goal

you want to achieve.

The idea of 'walking together' is the core image

which Pope Francis presented to the faithful when

convoking the Synod on Synodality in 2021.

He called on us: "Let us have a good journey

together," and asked that we be "pilgrims in love

with the Gospel and open to the surprises of

the Spirit." At the opening Mass of the Synod in

October 2021 he urged us not to miss out "on

the grace-filled opportunities born of encounter,

listening, and discernment."

This is the essence of what has been experienced

over the past nine months in the Diocese of

Parramatta. Following the call from Pope Francis,

Bishop Vincent Long OFM Conv, Bishop of

Parramatta invited all members of the Diocese to

participate in the Synod of Bishops by submitting

their thoughts on questions around communion,

participation and mission.

At the same time, a Diocesan Committee for the

Consultation on the Synod of Bishops and the

Diocesan Synod Writing Group worked together

on listening and discerning the voices of people in

Western Sydney and the Blue Mountains.

The Final Synthesis document resulting from this

consultation has now been published. After a period

of viewing and exhibition of the document in late

April 2022, the parishioners of Our Lady of Lourdes,

Seven Hills welcomed Bishop Vincent and members

of both committees who prepared the Diocese

of Parramatta submissions to celebrate the final

document in early May.

As Bishop Vincent stated in his homily, "Let us renew

our commitment to co-create with Pope Francis a

Church that is fit-for-purpose going forward, one that

is humble, transparent, accountable and faithful to

the command to evangelise the world."

Imagine… if we continue walking and listening…

that truly would be the synodality in action as Pope

Francis wants us to live.

You can read the Synthesis document of

submissions by parishioners in the Diocese of

Parramatta at bit.ly/synod2023.

Sr Grace Roclawska csfn is Head of Formation for Mission in

the Diocese of Parramatta.

48
---
From left Sr Grace Roclawska, Padmi Pathinather, Anastasia Boulus, Wendy Goonan, Bishop Vincent Long OFM Conv,

Bishop of Parramatta, Anne Benjamin, David Bourne and Leo Tucker at the celebration of the Final Synthesis at our Lady

of Lourdes, Seven Hills on 1 May 2022. Image: Diocese of Parramatta.

Diocese of Parramatta Committee for the

Consultation on the Synod of Bishops:

Sr Grace Roclawska

James Camden

Fr Shinto Francis

Wendy Goonan

Leo Tucker

Padmi Pathinather

Fr Joseph Lam (theological advisor)

Synthesis Writing Group:

Anne Benjamin

Anastasia Boulus

David Bourne

Wendy Goonan

Walking with others changes

your own experience, sometimes

it even changes the direction or

the goal you want to achieve.

Go out into the Deep:

Become the Church Christ calls us to be

Final Synthesis

Contribution to the Synod for a Synodal Church: Communion, Participation, Mission,

from the Diocese of Parramatta

Acknowledgement of Country:

"We acknowledge the traditional custodians of the unceded lands on which we walk, the lands

of the Darug and Gundungurra Peoples. We pay our respects to them and to all Aboriginal and

Torres Strait Islander Elders – past, present and emerging. We recognise that they hold the

memories, traditions, culture and hopes of Indigenous Australia and the wisdom of Mother

Earth, and we wish to learn from them as we journey forward."

49
---
Second-year seminarians Menard Gaspi (left) and Patrick

Laurente (centre) are seen in prayer at the Holy Spirit Seminary,

Harris Park. Image: Mary Brazell/Diocese of Parramatta.

Accompanying seminarians to be

beacons of light for the people

STORY MARY BRAZELL

Our faith teaches us the importance of

community, and nowhere is this more evident

than in our Diocese of Parramatta. Every day,

members of the community support one another

in countless ways through their prayer, faith in

action and charitable works.

This generosity of heart and spirit can be carried

through to the formation of our future priests. Our

Holy Spirit Seminary at Harris Park is carrying out

its mission to prepare men who have been called

by God to become His disciples and priests for the

people and with the people, not for themselves.

The Diocese of Parramatta has 14 men who have

chosen to answer God's call and are currently going

through their formation.

"I really admire these men for saying 'I'm going to try

this call I feel I'm receiving'," Fr Paul Marshall, the

new Rector of the Holy Spirit Seminary said. "It takes

a lot of courage and a lot of hard work.

"It's a brave decision, requiring an incredible

leap of faith."

Patrick Laurente, in his second year of formation,

explained that by attending World Youth Day in

Panama, he was given the opportunity to meet

different people who are living out God's vocation

with "fire and zeal".

"One thing led to another, and I finally decided to

respond to God's invitation. That meant being more

involved in my parish, developing a consistent prayer

life, and attending Mass and receiving Our Lord

daily," Patrick said.

"Prior to entering the seminary, I was on a career

change to become a physiotherapist. But I guess

when God calls, He calls."

Menard Gaspi, also a second-year seminarian,

devoted 14 years to working as a missionary before

he decided to take the next step towards a life

dedicated to serving God as a priest.

"From a young age, I would serve at our church

and I always thought about the priesthood,"

Menard explained.

"My vocation was nurtured in my family. My love for

family and missionary experience has guided my

50
---
desire to serve the Lord and His Church. I believe

that's where my gifts and talents can bear the

most fruit."

Both seminarians are very clear about how they see

their role as priests and how they wish to serve our

faith community in the future.

"I would like to help inspire them to give life to the

world and make it a better, more fulfilled place,"

Menard said. "I would like to help guide people to

live out the essence of the Church, a beacon of light

that leads the way to Christ."

Patrick agreed, "it's about promoting unity in what

we do and how we can be that light for all walks

of life, not just Catholics in our parish. Because we

never know who we might encounter, as God calls all

of us to love."

As our Diocese continues to grow, we need to train

more visionary young men to join Patrick and

Menard in becoming beacons of light for the people.

"Seminarians are formed with the people and for

the people, not for themselves. Therefore, I invite all

of God's people in the Diocese to be the extended

formation community for these faithful men. You

do so by your prayer, support and when and where

possible, accompaniment," Bishop Vincent Long

OFM Conv, Bishop of Parramatta said.

Your donation to our Bishop's Good Shepherd

Appeal will support our seminarians to answer the

calling in their hearts and follow the path to a life of

service to God and our community.

"Your kind donations allow us to devote our lives to God, sharing the

Gospel, and to serving you and your families – our faith community,"

Menard said. "Thank you for your kind accompaniment."

To donate, please call (02) 8838 3482 or visit

yourcatholicfoundation.org.au/appeal-shepherd

Classifieds

To place your ad in Catholic Outlook and reach over

43,000 families in Western Sydney and the Blue Mountains

contact Christina Gretton at comms@parracatholic.org

ADVERTISEMENT

Hugh McDermott MP

STATE MEMBER FOR PROSPECT

Standing

up for our

community.

Contact Prospect Electorate Office,

2/679 The Horsley Drive, Smithfield NSW

Telephone (02) 9756 4766

Email prospect@parliament.nsw.gov.au

Authorised by Hugh McDermott MP, 2/679 The Horsley Dr, Smithfield NSW produced using Parliamentary Entitlements June 2022.
---
Play it

Check out these Spirit-filled music recommendations,

courtesy of Geraldine Vytilingam, a member of the

Gen Bryant Ministry team.

Watch, Listen

Read, Think

Use the winter months to

nourish your faith with

these recommendations.

Fresh Wind by Hillsong Worship featuring

Brooke Ligertwood and David Ware.

Same God by Elevation Worship featuring

Jonsal Barrientes.

Always Will Be by Jonathan Ogden.

Now I Know by Gen Bryant.

Declaring Glory (The Earth Sings its Refrain)

by The Porter's Gate and Jon Guerra

featuring Audrey Assad and Page CXVI.

Watch it

Father Stu

Peter Malone MSC of Australian Catholics

Magazine has some advice if you haven't

already seen Fr Stu, the Mark Wahlberg movie

on the life of Fr Stuart Long, the American

boxer-turned-priest currently in cinemas. He

advises Catholic viewers: be patient as it might

not be what you are expecting, accept that

the strong language used is part of sharing

Stu's life, and go see the movie before looking

up the true-life story of Stuart Long. He says

"See the film and share the complexities of

Sturt Long's life and life choices from a fresh

perspective. You will have mixed emotions

along the way. But the ending will be credible.

For many audiences quite moving."

Father Stu stars Mark Wahlberg, Mel

Gibson, Teresa Ruiz, Malcolm McDowell

and Jacqui Weaver. Rated M.

With thanks to Peter Malone MSC.

Image: Stuart Long (Mark Wahlberg) in Columbia

Pictures' Father Stu. Courtesy of Sony Pictures.

©2021 CTMG, Inc. All Rights Reserved.

52
---
Tube it

Have you explored the

spiritual nourishment

available on YouTube?

Here's a few to try.

Sr Joan Chittister a

Benedictine Sister of

Erie, PA. and a leading

voice on peace, human

rights, women's issues

and church renewal. She

is a best-selling author,

having written more

than 60 books and cochairs

the Global Peace

Initiative of Women.

Fr Richard Rohr OFM a Franciscan priest has been

called "one of the most popular spirituality authors

and speakers in the world." He founded the Center for

Action and Contemplation which introduces seekers

to the contemplative Christian path of transformation.

Fr Richard has numerous YouTube clips to explore, and

you can also sign up for short daily meditations.

Walter Brueggemann is a renowned author and Old

Testament scholar and has been described as "one

of the world's great teachers about the prophets who

both anchor the Hebrew Bible and have transcended it

across history."

Yale Divinity School – Yale University has numerous

videos from its Divinity School lecturers. You can

watch hours of videos on topics including the history

of Early Modern Christianity, peace, justice and

dismantling racism.

Sr Joan Chittister. Image Diocese of Parramatta.

Listen in

Soul Food

Produced by the Pastoral

Formation team in the

Diocese of Parramatta, this

podcast series brings you

stories of faith and hope.

Image: Diocese of Parramatta

Find it on Spotify or

though the website

pfparra.org.au/soulfood

Read it

God's Guide for Grandparents

"Very often it is grandparents who

ensure that the most important

values are passed down to their

grandchildren, and many people

can testify that they owe their

initiation into the Christian life to

their grandparents." - Pope Francis,

Apostolic Exhortation The Joy of Love.

As fun and special as time spent with

grandchildren can be, we know that

being a grandparent is a supporting -

and not a starring - role. So, how can

grandparents truly make a difference

in their grandchildren's lives?

God's Guide for Grandparents

draws on sacred Scripture, the

example of the saints, the teachings

of the Church, the writings of Pope

Francis, and anecdotes from today's

grandparents. Grandchildren are

always watching. Make the most of

your opportunity to have a positive

and lasting impact in their lives.

God's Guide for Grandparents

By Susan M Erschen

Published by Our Sunday Visitor

Publishing. Available at Freedom

Publishing.

53
---
Pray with Pope Francis

Pope Francis' care for humanity and the

mission of the Church are expressed through

the monthly Pope's prayer intentions. You can

find videos of the Pope's monthly intentions at

thepopevideo.org

JUNE | For families

We pray for Christian families around the world;

may they embody and experience unconditional

love and advance in holiness in their daily lives.

JULY | For the elderly

We pray for the elderly, who represent the roots

and memory of a people; may their experience

and wisdom help young people to look towards

the future with hope and responsibility.

AUGUST | For small businesses

We pray for small and medium sized businesses;

in the midst of economic and social crisis, may

they find ways to continue operating, and serving

their communities.

On 24 July 2022 the Catholic Church celebrates World Day for

Grandparents and the Elderly with the theme "In old age they

will still bear fruit." Read our article on the special relationship

between grandparents and grandchildren on page 24.

Photo © ACN International

EMERGENCY

APPEAL

forUkraine

at this time. Please pray for peace

and protection for this country and

its inhabitants who have already

endured so much suffering and

pain. Despite difficulties and

hardship, the Church promises

not to abandon its faithful,

whatever might happen.

Aid to the Church in Need

Australia has launched an

emergency appeal to support the

Catholic Church in Ukraine. ACN is

committed to strengthening and

supporting the Catholic Church

in Ukraine, as we have done for

the past 70 years. The appeal has

been given the support of Bishop

Mykola Bychok CSsR, Eparch of

the Ukrainian Catholic Church

in Australia, New Zealand and

Oceania.

ACN began its support to

exiled Ukrainian Christians in

1953. ACN

was crucial in

helping rebuild

Church life and

still has many

projects in

Ukraine. These

include the formation of some

900 seminarians - of both Latin

and Eastern Catholic Churches -

and the upkeep and restoration

of seminaries, churches and

monasteries.

Please make a generous offering

to help ease the burden that the

people of Ukraine are shouldering

GIVE

Founded in 1947, ACN is the only international

Catholic Charity dedicated to the pastoral

support of suffering and persecuted Christians.

NOW

To make an offering

scan the QR code

OR visit

www.aidtochurch.

org/helpukraine
---
KIDS' CORNER

At Pentecost, the Holy Spirit came down on Jesus' disciples to allow them

to share the Good News with everyone around the world.

The flames on the heads of the disciples are a symbol of the Holy Spirit.

As you colour in this picture, think of all the symbols of the Holy Spirit you can.

3rd Glorious Mystery: Descent of the Holy Spirit. © TheCatholicKid.com

55
---
Directory of services

(02) 8843 2500 or visit catholiccarewsbm.org.au

Chancery Office

www.parracatholic.org

(02) 8838 3400

diocese@parracatholic.org

Bishop Vincent Long OFM Conv

(02) 8838 3400

bishop@parracatholic.org

Catholic Education

Diocese of Parramatta

parra.catholic.edu.au

(02) 9840 5600

communityliaison@parra.catholic.edu.au

Catholic Diocese of Parramatta

Services Limited

(02) 9407 7044

enquiries@cdpsl.org.au

Ambrose Early Years Education

and School Age Care

(02) 9407 7044

ambrose.org.au

Catholic Care Western Sydney

and the Blue Mountains

(02) 8843 2500

catholiccarewsbm.org.au

Mission Enhancement Team

(MET Parramatta)

Catholic Youth Parramatta

Marriage, Family and Natural Fertility

Pastoral Formation

Peace, Justice and Ecology

Worship

met@parracatholic.org

parracatholic.org/met

Confraternity of Christian Doctrine

(02) 8838 3486

ccd@parracatholic.org

Tribunal Office

(02) 8838 3480

tribunal@parracatholic.org

Vocations

(02) 8838 3460

vocations@parracatholic.org

Parramatta Catholic Foundation

(02) 8838 3482

yourfoundation@parracatholic.org

Diocesan Development Fund

(02) 8839 4500

enquiries@parraddf.org.au

Holy Spirit Seminary

(02) 9296 6300

Office for Safeguarding

(02) 8838 3419

safeguarding@parracatholic.org

Ageing Well

Whatever your age, you will never be invisible to the people at Catholic Care. Our range of

supports aim to keep you living independently in your own home for as long as possible,

while staying connected with your friends and community.

Our Commonwealth Home Support Program support elderly people to stay living

independently at home, while our Community Visitor's Scheme aims to reduce loneliness

and enrich people's lives through fortnightly visits to residents at aged-care facilities.

Bringing a baby into the world

There are few things more important than caring for a newborn child. Our programs have helped

many young women who are feeling lost or have been excluded from their community and are

at risk of homelessness, to get the support they need. Our parenting support program supports

new parents finding the challenges of a newborn overwhelming.

Chaplaincy

Our chaplains provide spiritual and emotional support for patients and inmates, their

families and staff in the seven hospitals and three correctional centres throughout the

Diocese of Parramatta. An inclusive ministry available to all faiths, our 15 chaplains work

alongside others involved in the care of patients and inmates.

Children

Catholic Care offers a range of support services to ensure children are taken care of in any

situation. It starts with early years learning and childcare — our home-based early learning and

parenting program for families with young children helps them and their parents develop skills,

and our family day care helps kids get a good start with their education. Our creche is a thriving

early learning centre, providing care for children of Sudanese refugee women enrolled in English

classes offered on the grounds of Catholic Care.

Connecting with my Community

Our drop-in centres provide a safe place for people to belong and connect with others.

They are a place to be, a place to get information, join a group, and be accepted.

In Emerton, Aboriginal Catholic Services is a drop-in centre led by Aboriginal people for

Aboriginal people. In Blacktown, culturally and linguistically diverse families are accessing

support to settle into life in Australia by the team at All Saints of Africa. And at our Springwood

Drop-in Centre, established to support the community after the 2014 bushfires, clients stop by

for a chat, join a reading group or seek support with their mental health.

Living well with Disability

We all need a support network to live our lives to the fullest. Our disability support team, can

help you with living, learning and overcoming obstacles on your journey, whatever they may

look like. We can help you set goals, and achieve them, and help you build a brighter future.

As a registered National Disability Insurance Scheme (NDIS) provider, we support clients

at home and in the community, whether you want to learn how to cook, need support with

personal care, or want to play sport.

Support for my Family

When life gets tough for our families, the people we care about most can suffer. Our range

of family support services can support you to better relate to your spouse and understand

their behaviour, to deal with dependence or gambling problems, single parenting, or just

connecting with your kids.

We support families who are going through the most difficult of times to cope through

separation, and with grief and loss. We help parents deal with all the stresses that can

impact your family, from anxiety and depression to money worries, gambling—we have the

people, the resources and the support to help you make it through.

56
---
Latest appointments

Most Rev Vincent Long OFM

Conv, Bishop of Parramatta, has

confirmed these appointments in

the Diocese of Parramatta:

Fr Floyd Kanongi Gatana SM

Assistant Priest at St Andrew the

Apostle Parish, Marayong

from 20 March 2022.

Fr John Walenciej SDB

Assistant Priest of Our Lady of the

Rosary Church, St Marys

from 29 April 2022.

Deacon HuYao Zhang OSA

Assistant Deacon of Holy Spirit

Parish St Clair

from 2 May 2022.

Deacon Andrew Rooney

Deacon of St Michael's Church,

Parish of Baulkham Hills

from 9 May 2022.

Voice of the people

What does family love

look like to you?

"Family love to me looks like being

connected, sharing the good and hard

moments, praying together, forgiveness

and sacrifice. With a young family, it

is shown in little moments amongst

the busyness of life – helping each

other, listening to each other, laughing

together and showing the love of Christ

to each other."

Tanya Castellino - Mother of four and parishioner of Our Lady of the

Angels Parish, Rouse Hill.

Image: Supplied

"Family love is the love that

keeps a family together. It's an

important part of a home. Our

Christian values of faith, trust and

our commitment moulds us as a

unit, not only in the home, but in

society and wider world, home to

all God's living creatures."

Noel McKertich - Parishioner of St Anthony of Padua Parish,

Toongabbie.

Image: Diocese of Parramatta.

"Family love is a special type of love

that comes with its unique feelings,

behaviours, challenges and rewards. It's

a group of people that function as a unit

that faces challenges together, shows

respect for each other, works together,

takes responsibility, makes time for

each other and practises forgiveness."

Honorine McKertich - Parishioner of St Anthony of Padua Parish,

Toongabbie.

Image: Diocese of Parramatta.

"It has the potential to be an authentic altruistic

experience. It is nursing COVID-19 or broken hearts and

then watching the joy on the faces of people who have

made new discoveries about themselves and the world.

It is courageous, joyous, infuriating, vulnerable, hopeful,

sacrificial and occasionally, transcendent."

Francis O'Callaghan - Religious

Education Coordinator at St Columba's

Catholic College, Springwood.

Image: CEDP.

"It is a basic ecclesial community wherein every member is

shown mutual love, respect and understanding regardless of

differences. For me, that is the very foundation that every family

should have. Much more, love of family can remain strong if it is

deeply rooted in the love of God."

Fr Galbert Albino - Assistant Priest of St

Aidan's Parish, Rooty Hill.

Image: Diocese of Parramatta.