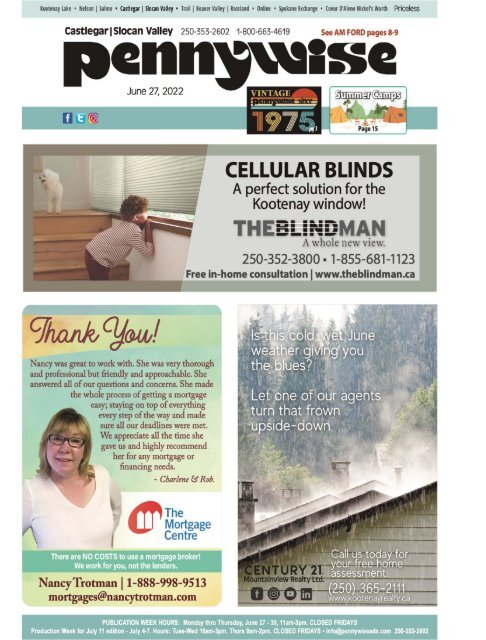 June 27, Pennywise – Castlegar, Slocan Valley
Total coverage of the City of Castlegar, Genelle, South Slocan, Crescent Valley, Thrums, Slocan Park, Winlaw and Slocan.
Total coverage of the City of Castlegar, Genelle, South Slocan, Crescent Valley, Thrums, Slocan Park, Winlaw and Slocan.
SHOW MORE
SHOW LESS
You also want an ePaper? Increase the reach of your titles
YUMPU automatically turns print PDFs into web optimized ePapers that Google loves.
Next Pennywise Publication Date: Monday, July 11

Next Ad Deadline Wednesday, July 6 • 3 pm 1-800-663-4619

Animals/Pets .................................................................................................................13, 14

Arts & Crafts ......................................................................................................................... 5

Automotive ...................................................................................................................14, 15

Auto Parts/Service ............................................................................................................. 15

Boats/Watercraft ................................................................................................................ 14

Building Supplies ................................................................................................................. 5

Bulletin Board.................................................................................................................... 2-5

Computers/Electronics ........................................................................................................ 5

Services, Contractors/Trades/ General Services .........................................................7-12

Classes/Workshops ............................................................................................................ 13

Education ............................................................................................................................ 13

Employment ..................................................................................................................... 6, 7

Events ................................................................................................................................ 3, 4

Firewood ............................................................................................................................... 5

Free for Free ......................................................................................................................... 4

Furniture & Appliances ....................................................................................................... 5

Gardening/Landscaping ..............................................................................................12, 13

Garage Sales ......................................................................................................................... 4

Health/Personal Care ........................................................................................................ 13

Heavy/Farm Equipment .................................................................................................... 14

Help Wanted ......................................................................................................................... 7

Hiring ................................................................................................................................. 6, 7

Markets/Fairs ........................................................................................................................ 4

Merchandise ..................................................................................................................... 5, 6

Motorcycles ........................................................................................................................ 14

Notices/Announcements .................................................................................................. 13

Personals .......................................................................................................................... 4, 5

Puzzles ................................................................................................................................... 4

Real Estate, Agents ............................................................................................................ 15

Rentals ................................................................................................................................. 15

RVs/Campers ...................................................................................................................... 14

Seniors Discounts .............................................................................................................. 15

Sporting Goods .................................................................................................................... 6

SUVs ..................................................................................................................................... 14

Trucks .................................................................................................................................. 14

Wanted/Looking For ............................................................................................................ 7

OBITUARIES/IN MEMORIAM

Jackie Fletcher ............................................................................................................... 14

Advertising Strategists

Adam Prisciak

adam@pennywiseads.com

Castlegar/Nelson/Trail Area

250-505-2921

Karma Halleran

karma@pennywiseads.com

Kaslo Area - Ainsworth

250-353-2602

Larissa Scott

larissa@pennywiseads.com

WK Features/Sales Support

250-353-2602

This Week's Puzzle Answers

You Do the Math

June 27

Larger solution online

https://www.pennywiseads.com/

puzzle-solutions/

© ClassiCanadian Crosswords

N A L 56 L 57

C O O P E 58 R A T E

E R L E K O S A U G E R

60 61 L A Y S S 63 K S 64 R E E S E

44

A I R E 45 46

W I S E T O

I S C O U 48 R

49 A

50 G E S 51 D R T

O M A 53 P O L L E N 54 P A H

E I 35 N

36 C A R N A T I 37 O

38 N

39

T E U T O N E

40 P I S

41

3 4 5 6 7 8 9 10 11 12 13

P E C S A M A O S K A R

R N D T 15 M I S 16

I C A R E

E T E R G 18 E N T 19 D A R L A

T R A 21 E N E I 22 D

23 R E E L

T A 25

F L U O R E 26 S C E N T

I C C 28 E D 29 B L I M E Y

E T R 31 S

32 P 33

I R I T

email: info@pennywiseads.com editorial@pennywiseads.com

Box 430, #209 312 4th St, Kaslo, BC V0G 1M0

Pennywise also publishes the Go & Do Regional Guide, Visit Kaslo Guide, 4 Seasons in Salmo

the Central Kootenay Farm & Food Directory, Discover Sixty-Five

You Do the Math by Barbara Olson

Printed in Canada. All Rights Reserved. © 2022 by KS•Perry Publishing Ltd.,

Karma Halleran, Publisher. We reserve the right to edit or reject submissions or

advertising that are not within our guidelines, see at www.pennywiseads.com

L

43

R

34

2

S

62

M

59

O

55

R

52

D

47

C

42

T

30

S

27

E

24

D

20

D

17

1

S

14

A

Bulletin Board Bulletin Board Bulletin Board Bulletin Board Bulletin Board

AFFORDABLE & SECURE HOUSE-

HOLD STORAGE CONTAINERS: 20´

& 40´ units for sale or rent. Kootenay

Containers, Castlegar. 250-365-3014.

ALERT, PHONE NUMBER SCAM:

Please be aware of a phone number

scam using 1-800-353-2602. This is

NOT the Pennywise toll free number

and if you call it in error, do not follow

the instructions, hang up. Pennywise.

All 'Personals' Ads are FREE in July

and August. Looking for a hiking

companion? A fishing buddy? Someone

to take dancing? Your personal

ad will run for free in July and August.

If you are 60+ it will also run in the

Discover 65 Seniors Magazine. Call

1-800-663-4619 or email info@penny

wiseads.com to place your ad :)

BIBLE STUDY: Don, 778-877-0579.

BOATERS THE LAKE IS UP! Time

to enjoy boating Kootenay Lake.

Cruise to Woodbury Resort and Marina!

Fuel, Tackle, and Family Friendly

Pontoon and Fishing Boats to RENT

and guest boat parking. Plus JB's Pub

and Family Restaurant, family dining

or takeout, off-sales beer and wine!

250-353-7716.

BOIL WATER NOTICE for Fletcher

Creek Improvement District water

users. Please inform all renters &

guests. FCID has a moratorium on all

connections until further notice. Visit

www.fletchercreekwater.com

BUYING ALL GOLD & SILVER!

Coins, 9999 Bullion, Bars, Rounds,

Ingots, Jewelry, Nuggets, Etc. Also

buying Coin Collections, Old Coins,

Royal Canadian Mint Coins +++. Todd,

250-864-3521.

LOOKING FOR LANGHAM INFO?

Visit www.thelangham.ca

CEDAR LUMBER: Fencing, fence

posts, siding, decking, tongue

and groove, garden beds, etc.

250-505-4207.

CHECK OUT DISCOVER SIXTY-FIVE

Kootenay Seniors Living Magazine at

www.discoversixty-five.com

CHERRY SEASON IS HERE! Also

available Grand Forks lettuce & spinach.

The Apple Guy, across from

Chances in Castlegar.

CHIROPRACTOR in KASLO: 409

Water St, (behind Figments), DR.

McKENZIE, Tuesdays, 250-551-3225.

For appointments, 250-352-1322.

FIND GREAT GIFTS AT FIG-

MENTS: Kaslo souvenir items, summer

clothing, and much more! 250-

353-2566, www.figmentscanada.

com Open every day. 250-353-2566.

DID YOU KNOW... Pennywise ad

payments (cash or cheques) can be

dropped off at And More Second

Hand Store, 1398 McQuarrie St,

Trail during regular store hours?

Questions? Call 1-800-663-4619.

Thank you, Pennywise.

DR. McKENZIE, CHIROPRACTOR

has closed his Slocan office and is

accepting patients in his Nelson or

Salmo offices. Call 250-352-1322 for

appointments.

FIGMENTS HAS LOTS OF

BEAUTIFUL new gifts in-store.

Stop by and enjoy a browse -

open every day. 250-353-2566,

www.figmentscanada.com

CHIROPRACTOR, DR. McKENZIE,

SALMO: Thursdays, Willow Healing

Arts Centre. Call 250-551-3225. NEL-

SON, M.W.F, Community First Health

Co-op, 250-352-1322.

FOOD FOR FOOD! On Wednesday,

April 27 Bakers and Buyers in

the small community of Argenta

raised $710 for "Tarilka" (translates

as Plate) NGO in Ukraine,

that prepares and distributes food

hampers. Think about what your

community might do? Heather

Pittendrigh, Argenta.

Furniture & Antiques at OLD

SCHOOL FURNITURE: Our shop

is located at 434 Rossland Ave in

Trail, or book an appointment to

view our WAREHOUSE or all. We

BUY, SELL & TRADE furniture! Follow

us on Facebook or Instagram for exclusive

offers! Inquire for summer

hours, 250-521-3028.

HEATING AND COOLING FOR

YOUR HOME OR BUSINESS?

Call Canadian Aerothermal serving

the Kootenays for over 15 years.

250-304-0455 or 250-505-8209.

curttoni@noducts.ca

2 June 27, 2022 Your local shopper N picture online: www.pennywiseads.com
---
Meet the amazing francophones

and francophiles

The West Kootenay's Francophone Association (AFKO)

presents Franc Ouest, a new podcast featuring intimate

and captivating stories from some of the region's most

extraordinary francophones and francophiles. Even

though the official launch will take place on June 24, the

first four episodes are available now on Apple Podcast &

Spotify! Listen to the podcast now to take a journey into

the heart of the West Kootenay and be charmed by the

inspiring people who live there.

Season 1: Francophonie Sauvage (Wild Francophonie)

The first season, Francophonie Sauvage, promises compelling,

original and unfiltered content. The guests of

the podcast host Patrick Lac speak about their unique

experiences and the reasons why they are inspirational

figures for many people. Each episode is, for the host, "a

profound encounter with people who have lived a lot and

have a lot to teach us". Throughout the first season, meet

inspiring people who will captivate you, like Mia Noblet,

world slackline champion; Alex Pilon, Nelson's LGBTQ+

ambassador and drag queen, Stéphanie Gauvin, renowned

painter from Rossland; Sonia Ratté, and chef-entrepreneur

of the popular La Baguette bakery in Revelstoke.

Franc Ouest is not just about amazing French people

and francophiles! Several controversial but important topics

are discussed throughout the podcast episodes: gender

diversity, Indigenous and racialized peoples, extreme

sports, youth entrepreneurship and so many more!

Erika

announcements

Moving On

Pennywise would like to thank

Erika Bird for the 20 years she

contributed to the success of Pennywise

and its publications.

She has held our various magazines to a

literary standard we hope to maintain.

She has created interesting and accurate

content for our visitor magazines,

researched, compiled, extrapolated, documented, organized,

managed distribution and liaised with our clients.

She has laughed with, and at us. Her sense of humour and

wit added to the general joy of our office.

Erika has filled a niche – quality control – that has made us all

proud of the products we deliver.

Her sons, the new owners of Eric's Meat Market in Kaslo,

will now be beneficiaries of this talented woman, who is

moving on to help as their 'Right Hand Mom'.

Her hard work, creativity and ideas will be of great value to

her pups; we know, as they were of great value to us.

We wish you all the best, Erika!

Patrick Lak, AFKO

Stepping In

Pennywise would like to announce

Tonya Lefebvre

as the successful applicant for the position

that Erika is leaving.

Tonya brings to our team years of experience

in design, and a calmness (she appears to

share that trait with Erika) as well as great

knowledge of the written word.

She is well known locally for her past

publication of The Kaslo Crow.

She is an artist with diverse interests

including music, painting and

design – all of which we feel will

give great value to our team

as we transition around Erika's

departure.

Welcome Tonya. We are happy

to have you on our team!

FRESH FOAM X

HIERRO V7

Tonya

$

189 95

The Fresh Foam X Hierro V7

employs a Vibram® Megagrip

outsole to create a protective

shell of durability and traction

around the signature Fresh

Foam X cushioning and a

breathable, lightweight upper.

411 HALL STREET NELSON 250-352-6261

TOLL FREE 1-800-337-1622 www.vincedevito.ca

HAPPY BIRTHDAY CANADA!

All in the Family was the top TV series, Captain & Tennille led

the charts for weeks with Love will keep us together.

A 22lb bag of Robin Hood Flour on sale was $2.98,

the movie Jaws was released June 20 – the same day the

first edition of Pennywise hit the stands.

For 47 years we have been bringing buyers and sellers together in

our West Kootenay communities. Millions and millions of dollars

have moved through the Pennywise. We have published hundreds

of visitor magazines and distributed millions of copies all over our

BC, Alberta and the neighbouring US states, helping the West Kootenay

and Kaslo grow into the vacation destination it has become.

From the compugraphic machine in 1975 to our current M1 Mac

mini, we have seen and adjusted to fundamental technological

changes in the tools we use and the procedures we follow

– computers, the internet, cell phones. With our social media

apps, communities have been able to expand way beyond their

natural borders.

It is an interesting time…

As we field calls and emails from people and outlets looking for one

or more of the various 'paper' publications we offer, it is rewarding

to see the Pennywise and our other print products cleared off the

stands regularly. The piles of visitor magazines, vacation maps, farm &

food directories, seniors magazines, that are stored in my basement

dwindle at an alarming rate (we have already printed the Spring

2022 Go & Do twice). I wonder – who are these thousands of people

who are snapping up our paper products? We can hardly keep up on

the deliveries, and it makes us happy.

We look back and remind each other of how publishing was an

intensely manual process… we look forward, wondering what the

next technology we learn will do for us. Will it make production

more efficient? Will it connect us better with our readers?

The best of the old, like answering phones and mailing the Pennywise

directly to you, we have kept. We have made some adjustments

during the tough times to reduce costs, but ultimately they have

helped make us stonger. We eagerly anticipate the new opportunities

that will arise to serve you all, and wonder where the paper/

digital trail will take us in the next 30 years.

Happy Birthday

to us… and thank YOU for reading us and shopping here.

Bulletin Board Bulletin Board Bulletin Board Bulletin Board Bulletin Board

IDIDARIDE & RUN KASLO: Sunday,

July 3, 2022. www.ididaride-kaslo.ca

JB'S PUB AND FAMILY RESTAU-

RANT: Your local getaway! Dinein

or takeout our famous food!

Beer and wine to go! Open 3-8pm,

Wednesday-Sunday. Join us for happy

hour 3-6pm! Call 250-353-7716

for reservations.

KASLO E-KRUISE SERVICE CEN-

TRE NOW OPEN! We service all

traditional, mountain and e-bikes.

423 Front St. 250-300-7923,

https://www.ekruise.com/kaslo/

MIRROR LAKE WATER USERS

COMMUNITY: Boil water advisory

for all users. Inform renters and

guests.

DISCOVER SIXTY-FIVE Kootenay

Seniors Magazine is online at

www.discoversixty-five.com Have a

peek!

RV CAMP SITES, fully serviced.

Tent sites. Chalet and Motel

rooms. Woodbury Resort has it all

for your getaway! 250-353-7717,

www.woodburyresort.com

SELKIRK TRUSS, can provide all

your custom trusses for your reno

or new build. Visit our website www.

selkirktruss.com and get the answers

to many of your questions.

Selkirk Truss, 2894 Sentinel Rd,

South Slocan. 250-359-7000.

SHARPENING SERVICE: Saws,

tools, scissors, knives, clipper

blades. C&D Sharpening Service,

250-365-3658.

PADDLE THE SAMBULYAN CA-

NOE! A 37´ ocean canoe, in Kaslo

Bay on Aug. 6 courtesy of Chris

Cooper, Val Koenig and volunteer

team. Tickets are by donation (suggested

minimum of $10). Choose

your time: -10am -11am -1pm -2pm

-3pm. Ages 12 & up. Life jackets &

paddles provided. All proceeds will

go towards the new library project

in Kaslo. Tax receipts available for

donations of $20 or more. Visit the

Kaslo library to get your ticket today!

info@kaslo.bclibrary.ca

SPECIAL DELIVERY ClassiCanadian

Crosswords. Brand new,

straight to you. Check your inbox,

Wednesday's the day. For

weekly delivery subscribe at

www.ClassiCanadianX words.ca

SWIMMING LESSONS AT GLAYCO

BEACH: Weekdays July 18-29, 2022.

Registration and payment deadline

July 11 at 12pm. $30/child. For

more information email manager@

lardeauvalleycommunityclub.ca

SHIPPING CONTAINER SALES,

RENTALS & SELF-STORAGE: Call

250-304-5955. MKV International

Trading, 2812 Popoff Rd, South

Slocan, BC.

THRIFT STORE KASLO: Wednesday

through Saturday, 11:30am-

2pm. Find your summer read in our

Book Nook. See the changes our

enthusiastic volunteers have made.

Join our team, call 250-353-1037.

USA - AUCTION, AUCTION, auction!

Bonners Ferry farm, ranch and

household auction 2718 Parker Canyon

Rd. One day only, Saturday, June

25th, same day preview. 8:30am-

10am; auction 10am. For picture

previews, visit JKernauctiongroup.

com, 208-920-3286.

Events

FREE SENIORS DROP-IN PRO-

GRAM! Coffee and light refreshments.

Books, puzzles and games.

Guest speakers and presenters.

Every 2nd and 4th Tuesday, 11am-

1pm, Trail Legion Branch 11. All

Seniors welcome! Drop by for a

game of cards or a chat.

N picture online: www.pennywiseads.com Your local shopper • Pennywise June 27, 2022 3
---
Local shoppers

read the

"Someone is

sitting in the

shade today

because

someone

planted a

tree a long

time ago."

~ Warren Buffet

Advertising

will help get you there.

1-800-663-4619

Invest in

yourself,

advertise!

Do you want

to sponsor

our popular

Sudoku/

Crossword

puzzle page

in the Castlegar/

Slocan Valley

Pennywise?

Contact:

Adam Prisciak

Ph 250-505-2921

1-800-663-4619

adam@pennywiseads.com

ACROSS

1 Design particulars

6 "... not an animal, I ___ human

being!" (Merrick line)

9 Schindler played by Liam

14 B.C. Lions quarterback William

15 Prefix with giving or taking

16 "So what, see if ___!"

17 Dissuade + fellow

19 Alfalfa's girl on "The Little

Rascals"

20 Dating shorthand for "So, are

we a couple?"

21 Vowel-heavy Virgil title

23 Wind up on a fishing boat?

24 Landing guesstimate

25 Winter bug + smelter stuff +

aroma

27 Turned the hounds (on)

29 Londoner's "land sakes!"

30 Four: Pref.

31 Seance visitor

34 Jockey's strap + auto +

country

39 Ancient German native

40 Protestant denom.

42 Pointe-___ (Montreal suburb)

45 Clued in about

47 Pog or platter + sharer's word

+ matures

51 Med. role for Richard Gere,

2000

52 Oblong tomato variety

53 Something to sneeze at?

54 Tuba sound with "oom"

55 ___ fours

57 Pigeon patter + a pop +

supped

59 Country legend Haggard

60 Big socks?

61 Manually-turned drill

62 Does in, knight-style

63 Semi-automatic rifle inits.

64 Witherspoon of "Big Little Lies"

DOWN

1 Most heartrending

2 ___-à-porter + stadium level

3 Theatre intermission

4 Cadet's "Charlie, delta, echo"

5 Fire bullets from above

6 "May I see ___?" (diner's

request)

7 Ill-fated actor Sal

8 Showing signs of waking

9 Suffix with andr- or astr-

10 Wound reminder + urban

areas

11 Abdul-Jabbar with a noted

skyhook

For brand new puzzles by email, sign up at

www.ClassiCanadianXwords.ca

You Do the Math

12 Dickinson of "Dragons' Den"

13 Lots to sell?

18 Neuter, as a stallion

22 Actress Winger

26 Pencil skirt feature

28 Dernier ___ + nervous

twitch +

partner in war

31 Covered one's butt, in a way

32 In favour of

33 Road trip refuge

35 Fictional sleuth Wolfe

36 Prepare to play, as songs

37 Where to find a leaning

column?

Barbara Olson

© ClassiCanadian

Crosswords

June 27

38 Petty complaint + fees

41 "I rest my case," on the

playground

42 Some D: drive inserts

43 Big name in little trains

44 Capital of Eritrea

45 React to "Lassie Come Home,"

say

46 Looms, on a doomsayer's sign

48 Neat drink's lack, in bar lingo

49 "Old man take ___ at my life"

(Young lyric)

50 Shiny lip application

56 Guitar great ___ Paul

58 Street of Ste.-Foy

SUDOKU

Sudoku puzzles are formatted as a 9x9 grid, broken

down into nine 3x3 boxes. To solve a sudoku, the

numbers 1 through 9 must fill each row, column and box.

Each number can appear only once in each row, column

and box. You can figure out the order in which the

numbers will appear by using the numeric clues already

provided in the boxes. The more numbers

you name, the easier it gets to solve the puzzle!

Solutions on Page 2 or

pennywiseads.com/local news/puzzles&solutions

70% off all annual

bedding plants

20% off perennials, hanging baskets

& planters

Perennials starting at $6 99 Fruit & shade trees

Flowers & veggies

Shrubs & evergreens

4 pac $2 99 – 6 pac $5 99

Many small fruits

Single 3 1/2" veggies $2 19

Wasabi & horseradish

1 gal tomato plants $12 99

root

4" flowers $3 59

Landscape Fabric

3' to 15.5' widths, buy by the foot or by the roll

Roses: David Austin, fragrant shrub roses, climbing roses

Soils, manures, fertilizers, grass & clover seed

250-226-7254

Newest

Pick Arrives

Tuesdays!

Friendly, knowledgeable

advice backed by 37 years of

growing experience.

Four Seasons

Greenhouse & Nursery

SUMMER HOURS starting July 1: Closed Wednesdays & Sundays

Open 10am-3pm the rest of the week

5531 SLOCAN RIVER RD, WINLAW

Turn left at Mama Sita's Café, left off Winlaw bridge 1.5 km.

Only 45 minutes from Nelson or Castlegar

CHERRY SEASON IS HERE!

Also available: Grand Forks Lettuce and Spinach

PLANT SALE!

Berry Bushes or Vines - 2 for1

Cucumber Plants $1.25 ea

Pepper Plants $1.25 ea

Marigolds $1.25 for 4 inch pots

250-365-1009

Across from Chances,

Castlegar

Open: Tuesday to Wednesday 10am - 5pm

Bulletin Board Bulletin Board Bulletin Board Bulletin Board Bulletin Board

USA - BECOME A PUBLISHED AU-

THOR. We want to read your book!

Dorrance Publishing trusted since

1920. Consultation, production,

promotion & distribution. Call for

free author's guide 1-877-729-4998

or visit dorranceinfo.com/ads

WANECO ENTERPRISES CUSTOM

SAWMILLING: Fir, cedar, clears,

decking, timbers. 250-353-7126,

wanecoent@gmail.com

ZYCOPTERA GEOSPATIAL: Need

aerial drone imagery? Rural property

or garden development, inspection,

assessment. We provides high

res. aerial imaging and mapping.

250-505-2404, zycoptera6174@

gmail.com

WANT RESULTS FROM YOUR

ADVERTISING? Then you are

in the right place. PENNYWISE

WORKS! Ask any of the businesses

you see in these pages, week

after week

Events

PASS CREEK GOSPEL MUSIC

FESTIVAL: Pass Creek Exhibition

Grounds, Saturday July 23,

6-9:30pm and Sunday July 24,

10:30am-12noon. Vancouver based

Singer and songwriter, Yana Zlot

native of Ukraine will be sharing the

stage with Cynthia Pelletier, local

artist. Free admission. All donations

will be directed to a humanitarian

charity in Ukraine. Bring lawn chairs

water and snacks.

Markets/Fairs

JUICY STRAWBERRIES & RASP-

BERRIES AVAILABLE in Winlaw

starting end of June. Organically

grown, $7/lb. 250-226-7074.

KASLO SATURDAY MARKET: Every

Saturday, 9am-1pm at Front St.

Park in downtown Kaslo. Farmers,

bakers, crafters and more. Come

down and join us!

SLOCAN VALLEY BLACK ANGUS

BEEF: Sides $4.99/lb; ground beef

special, $100 freezer packs; 50lb

dog bones, $49.99, soup bones and

organs. Government inspected.

Home of the Happy Cows. Wayne

Savinkoff, 250-226-BEEF.

TARZWELL FARMS: Top grade,

locally grown & naturally raised

beef. Grain & grass finished, available

year-round. Delivery to Nelson,

Castlegar & Trail available. 250-428-

4316 or find us on Facebook!

Garage Sales

JULY 1 & 2, 10am-4pm, behind 301

Davies Ave, Salmo. Household goods,

tools, fishing/sporting gear, sports

collectables, magazines, 100's DVDs.

MASSIVE MOVING SALE: July 2-3,

9am-4pm, 8932 Springer Creek Rd,

Slocan. Antiques, gardening, mechanics

stuff, furniture, tools, housewares,

clothes, books.

MOVING/GARAGE SALE: Canopy

for Tacoma, lots of items for sale,

free stuff too! 503 B Cedar St, Nelson,

8am-6pm, through month of August.

Call 250-352-6294 for info.

Free for Free

CHESTERFIELD: 7´, red, very good

condition, to be picked up. 250-226-

7635, Winlaw.

ELECTRIC STOVE, oven doesn't

work, 3 of 4 elements do; queen mattress

& box spring, clean, 30yrs old.

Pick up in Winlaw, 250-226-7023.

Free for Free

TV STAND: W/drawers and shelves,

50˝Hx54˝W, photo available. 250-

353-7128, Kaslo.

TWO, 3MO. OLD, RHODE ISLAND

RED ROOSTERS: Free to first taker.

250-513-0022.

Personals

All 'Personals' Ads are FREE in

July and August. Looking for a

hiking companion? A fishing buddy?

Someone to take dancing? Your personal

ad will run for free in July and

August. If you are 60+ it will also run

in the Discover 65 Seniors Magazine.

Call 1-800-663-4619 or email info@

pennywiseads.com to place your ad :)

4 June 27, 2022 Your local shopper N picture online: www.pennywiseads.com
---
Seen a wolverine?

Wolverine Watch would like

to hear from you if you see

a wolverine, wolverine sign

(tracks, scats, den), or what you

might think was a wolverine

sign.

They're collecting submissions

from anywhere in Canada,

and are particularly interested

in sightings within the Selkirks,

Purcells, Monashees, Cariboos and Canadian

Rockies. To report your sightings, visit their website

www.wolverinewatch.org

Kootenay Conservation Program

WANTED

JUNK VEHICLES

REWARD $200 * - Bring to us MUST be complete!

Just added

to our fleet:

50 TON TRI-DRIVE

WRECKER!

1660 Airport Rd, Salmo 250-357-2091

DEAD OR ALIVE:

* Some restrictions apply.

Price may change

without notice.

Open Monday to Friday 8am to 5pm

READY FOR THE WORKPLACE IN JUST SIX MONTHS.

Office Administration & Technology

Office Administration is one of the most in-demand jobs

in the Kootenays.

• Flexibility of online learning

• Full-time & Part-time options

• Funding available!

• Instructor lead and supported

Apply now for September 2022 and start your path to

becoming an Office Administrator, Admin Assistant or

Bookkeeper today!

For more information please contact hello@selkirk.ca

or call (250) 505-1363

selkirk.ca/office-technology

Permanent Part-time Employment Opportunity

North Kootenay Lake Community Services Society

Support and Outreach Worker - Community Living BC

8 hours per week including travel and reporting time

Wage $24.06/hr

As a Support and Outreach worker, you will provide person centered

support and services to adults with developmental disabilities, as

well as individuals who have a diagnosis of Autism Spectrum Disorder

(ASD) or Fetal Alcohol Spectrum Disorder and who also have significant

difficulty doing things on their own.

Preferred qualifications and skills:

• Work from a person-centred approach respecting diversity and

self determination

• Good oral and written communication skills.

• Current first aid certificate (training provided if needed)

• Criminal Record Check and adherence to a confidentiality

policy will be required.

• Possess a valid BC Drivers Licence and reliable vehicle

for client transportation

Work Environment

• Community and/or home-based support

• Applicants must be able to confirm they are fully vaccinated against

COVID-19 or to provide proof of an exemption.

Please submit cover letter and resume by e-mail to:

administrator@nklcss.org

Detailed job description on our website www.nklcss.org

This position is open until filled. Only those shortlisted

will be contacted.

NKLCSS is committed to an equitable, diverse, and

inclusive workforce. We welcome applications from all

qualified persons. We encourage members of the BIPOC

and LGBTQIA2S+ communities to apply.

Demi

Play it safe around our reservoirs

Play it safe when boating or swimming this summer. Our reservoirs can be enjoyable recreation

destinations, provided certain common sense safety precautions are observed.

sponsored by

❤❤

Demi is a lovely girl who was brought in as an owner surrender. She

came from a home with another cat but we are finding that she would

prefer to be the only queen of the castle. She enjoys pets and rubbing

up on your leg. She often is found on the cat tower in the outdoor

room so would likely enjoy a catio in her new home.

❤❤

250.509.0297 BC SPCA

West Kootenay Community Animal Centre

124 Heritage Way, Castlegar • https://adopt.spca.bc.ca

Because the water in our reservoirs is utilized for flood control and the production of electricity, reservoir

water levels can rise or fall daily. Reservoir users should be aware that changing water levels can conceal

submerged hazards, particularly in shallow water near the shoreline. It is important that visitors be

aware of these potential dangers and take precautions to stay safe. Canadian Hydrographic Charts are an

excellent reference for boaters and are available at www.charts.gc.ca.

Boating, fishing and swimming above or below a dam or generating station can be very dangerous.

For your own safety and the safety of those with you, obey all warning signs and stay out of restricted

areas.

Boaters must comply with all Canadian Coast Guard regulations and practice safe boating at all times.

Have fun – but be careful!

To learn more, visit bchydro.com.

5955

Bulletin Board Merchandise Merchandise Merchandise Merchandise

Personals

HANDSOME MAN, sixties, honest,

responsible, sincere, seeks a longterm

relationship with single lady,

medium to slim build. Reply to Karl,

PO Box 188 Genelle, BC, V0G 1G0 or

phone 250-693-2131.

Merchandise

Arts & Crafts

DOLLS: Porcelain, costumed, baby,

miniatures, Cabbage Patch, accessories;

collectible magazines. Best

offer, pickup Castlegar, 250-365-

3873.

Building Supplies

ACE BUILDING CENTRE, KASLO:

Check us out for all your building

needs and more! 250-353-7628,

www.kaslobuilding.com

BOB'S DOOR SERVICE: Commercial,

industrial and residential garage

door sales, service, repair and

installation. 24hr emergency service.

236-972-2627.

HARROP-PROCTER FOREST

PRODUCTS: Your local source for

sustainably harvested building materials.

A wide variety of cedar/fir lumber

for every project. We also custom

cut to order. Go green by supporting

BC's only Eco-Certified Community

Forest. Check out our products at

http://www.hpcommunityforest.org

Call 250-551-5452 or email sales@

hpcommunityforest.org for a quote.

Monday-Friday, 8am-4:30pm & Saturday,

9am-3pm.

Building Supplies

WANECO ENTERPRISES CUSTOM

SAWMILLING: Fir, cedar, clears,

decking, timbers. 250-353-7126,

wanecoent@gmail.com

Computers/Electronics

HEXA-TEK REPAIR: Computer repairs,

upgrades, maintenance, diagnostics,

406 Baker Ave, Salmo. 250-

357-9271, www.HexaTek.ca

INK CARTRIDGES FOR BROTHER

PRINTER: NEW black 2 pack, (LC

51BK) paid $78.49, $50; 2 NEW yellow

(LC 51Y) & 1 NEW magenta (LC

51M), paid $77.27, all 3, $50. FREE

used cyan, yellow, magenta & black

cartridges. Call Liz 250-353-2465,

Kaslo.

TEKKNOW is OPEN! Onsite and

remote services. Training. Networking.

Computer and printer repair.

Data safety and backup plans!

jason@tekknow.ca, 250-551-0282.

Computers/Electronics

WINLAW FINE COMPUTING.....

www.winlawtech.com, Windows,

Apple, Linux. Pat, 250-226-7215.

Firewood

DECKED BIRCH LOGS: You cut,

$100 standard pickup load. 250-

367-9663.

Furniture & Appliances

DINING ROOM TABLE: 60˝X60˝,

solid hardwood butcher block construction,

expresso finish, to view

go to FB Marketplace, $200; 4 new

chairs, $300. 250-687-1964.

FRONT RECEPTION/SALON

COUNTER: Glass & black powder

coat metal, like new, w/three stools,

to view go to FB Marketplace, $600.

250-687-1964.

Furniture & Appliances

HOME GOODS FURNITURE: A family

business serving Kootenay families

since 1950. 1790 HomeGoods

Rd, Genelle, BC. www.homegoods

furniture.com and on Facebook.

INDOOR/OUTDOOR SERVICE

BAR: Modern and stylish, great

for entertaining, ss front, glass

top, black frame, w/three stools,

$600obo. 250-687-1964.

OFFERING WHIRLPOOL, MAY-

TAG, KITCHENAID, Bosch, Sealy,

Temper-Pedic, Beautyrest and

much more! Bears Furniture & Appliances,

612 Lakeside Dr, Nelson,

BC. www.bearsbrandsource.ca

N picture online: www.pennywiseads.com Where locals shop. June 27, 2022 5
---
and mattresses!

We're

Open

7 days

a week

Cleaning

Better Late Than Never!

Save up to

60%

Located halfway between

Trail and Castlegar

1790 HomeGoods Rd, Genelle BC

250-693-2227

Check out our website HomeGoodsFurniture.com and see us on Facebook!

ON FURNITURE

AND MATTRESSES!

Major appliances also on SALE!

Come and see

our new working

kitchen designed by

JMK Kitchens

Shop now

for best

selection!

Kitchens & Custom

Woodworking Ltd

The Kaslo Logger Sports Committee would like to send a huge

thank you to all of the people who helped make the 2022 Logger

Sports Show a huge success. After a two-year hiatus, we hit

the ground running, due to the hard work, collaboration and

support of many businesses and individuals. This annual event

relies solely upon volunteers and our generous sponsors.

A special thanks to: all the volunteers - timers, judges, ground

crew, admin. support; George & Irene Brinkman - supplied

milled logs for birling pond; Patty Flanagan - re-setting climbing

poles; SD Sicotte Trucking - trucking logs/firewood; MC - Stirling

Hart; Scottie Thompson - tree act; Athletic Therapist - Logan

Jacobs; t-shirt design - Louis Fortier; concessions - Kaslo

Golf Club & Pepper's Treats Catering; The Village of Kaslo; the

Kaslo & Area Chamber of Commerce; and, our competitors, their

families & you - the fans!

Once again we would like to thank our sponsors, who make this

event possible:

Bekker Truck Worx

A.F. Timber Co. Ltd

Ainsworth Hot Springs Resort

Alpine Logging Ltd

Angry Hen Brewing

Company Ltd

BA Benson & Son Ltd

Big Cranium Design

Boards by George

BRD Logging Ltd -

Klaus Streichert

Chez Serge Takeout

Chris Choquette Enterprises Ltd.

C.J. Logging Ltd

Clint Carlson/Sunshine Logging

Columbia Basin Trust

Cornucopia Enterprises Ltd

D.W. Sicotte Trucking Ltd

Erickson Enterprises

Figments Fine Canadian Crafts

FortisBC

Front Street Market

Galena Contractors Ltd

Gary Burns Consulting Ltd

Glover Contracting

Hairy Productions

Hamill Creek Timber Homes

(2010) Ltd

Irma Aldinger

Interior Lumber

Manufacturers' Association

Iron Peak Logging Inc

Jones Boys Boats (1999) Ltd

J.S.A. Holdings Inc

Kalesnikoff Lumber Co. Ltd

Kaslo & District

Community Forest

Kaslo Building Supplies (1990) Ltd

Kaslo Home Hardware

Kaslo Hotel & Stellar Heliskiing

Kevin Kooznetsoff Trucking Ltd

Kaslo Motel

KS Perry Publishing dba Pennywise

Kootenay Savings Credit Union

Lardeau Forest Products Ltd

MacNicol Enterprises Ltd

Main Jet Motorsports Inc

McKinnon Logging

Megla Trucking Ltd

Minichiello & Company

Mirror Lake Campground

Nakusp & Area

Community Forest

North Kootenay Veterinary

Services Ltd

Narrows Timber Co. Ltd -

Hugh Watt

Nelson Brewing Company

Nelson Ford

Nelson Kootenay Lake Tourism

Porcupine Wood Products Ltd

PRT Growing Services Ltd

Regional District of Central

Kootenay - Area D

Schroeder Creek Resort

Selkirk Snowcat Skiing

Settle Holdings Ltd

SG Equipment

Slocan Integral Forestry

Cooperative

Stan Baker Trucking Ltd

Stella-Jones Canada Inc

Steve Jacksitz

Sunnyside Naturals

Sutco Trucking Specialist

T.H.E. Pharmacy (Kaslo)

& Ward Taylor

The Kaslo Pump

The Treehouse Restaurant

Timberland Consultants 2001

Timber Ridge Contracting Ltd

Trail Tire Nakusp

Vince DeVito's Specialty

Footwear

Waneco Enterprises Custom

Sawmilling

Western Financial Group

Wilf Hewat Repairs Ltd

Willow Home Gallery

Woodbury Resort

Woodland Equipment Inc

Yellowhead Road & Bridge

(Kootenay) Ltd

Merchandise Merchandise Merchandise Employment Employment

Misc Merch

BOSE ACOUSTIMASS 10 surround

sound, $500; Denon AVR-E400 receiver,

$350; LG 55" UHD TV, $350.

Call 250-505-3242.

DIRT DEVIL UPRIGHT VACUUM,

$20; 170+ 6˝x2´ ceramic tiles, light

multi-brown, indoor use, $300;

45Wx71Hx18D buffet, $75; 32˝

Westinghouse TV, $50; countertop

oven, $50; food processor, $50.

FREE: 3 small patio tables & lawn

chairs, wire hangers. 250-367-7907.

ELECTRIC WHEELCHAIR PORCH

LIFT by Freedom Lift Systems,

28˝ lift height, 750lb max weight,

$4000obo. 705-345-7828.

Misc Merch

HOUSEHOLD STORAGE: Steel

shipping containers for sale/

rent. 20´ & 40´ units. Kootenay

Containers, Castlegar. 250-365-

3014.

PRIDE LUXURY LX MOBILITY

SCOOTER: Great condition, $1500.

Call/text Clinton, 250-777-7564.

TWO CPAP MACHINES: Good

condition, Respironics REMstar, Virtuoso.

Best offer, pickup Castlegar,

250-365-3873.

VINCE DEVITO SHOES AND OR-

THOTICS: We carry Blundstone,

Cobb Hill, Dunham, Muck Boot

Company, New Balance, Red Wing

Shoes, Royer, Saucony and Viberg.

411 Hall St, Nelson. 250-352-6261,

www.vincedevito.ca

WE KNOW OUR STUFF! Mallard's

Source for Sports, Castlegar

& Nelson locations. 250-365-5588,

250-352-3200.

Misc Merch

YOUR FAVOURITE NEIGHBOUR-

HOOD HARDWARE STORE! Slocan

Valley Home Hardware, 5763

Hwy 6, Winlaw. 250-226-6748.

Musical Equipment

CD/DVD BLU-RAY PLAYER:

High-end audiophile grade OPPO

(BDP-95). Hardly used, excellent

condition, will deliver if needed,

$700. jhgg37@hotmail.com,

250-442-3036.

Sporting Goods

LYNX OFF GRID TECHNOLO-

GY: High quality rechargeable

headlamps. Kootenay based.

250-777-7918, www.lynxogt.com

Tools

RED LION CEMENT MIXER:

$100; clean 55gal fuel barrel, $50.

250-825-4338.

Hiring

DEBRI RESOURCES IS LOOKING

FOR qualified chain and brush saw

operators. Willing to train new hires

if you are the right fit. Competitive

wages and potential to be part of a

company benefit plan after 3 months.

Local work and work out of the area.

Chain saw rental pay and living out

allowance when working out of the

area also included. Must be physically

fit and able to work in all conditions.

If you're interested please send a resume

to debri_resources@shaw.ca.

or fax 778-463-0091.

DJM CONTRACTING LTD IS LOOK-

ING FOR SKILLED CARPENTERS:

We offer competitive wages, benefits

package & pension plan. Send

resume to info@djmcontracting.com

LOOKING FOR A PART-TIME

CARE WORKER, ABILITY TO BE

ON CALL PREFERRED, with caregiver

training, in Nelson. Call Jonathan

White, 250-354-4194 or email

jcwhite25@hotmail.com

Hiring

GALENA CONTRACTORS LTD. is

seeking a heavy-duty mechanic, experienced

with logging equipment.

This is a permanent full-time position

that offers competitive wages and a

health benefit plan. To apply please

contact Kevin by email at shop@

galenacontractors.com

LICENSED PRACTICAL NURSE:

Castleview Care Centre located in

Castlegar, BC is searching for LPNs

to join our team. Apply at recruiter@

chantellegroup.com

LOOKING TO HIRE IMMEDIATE-

LY: Sign on bonus of $2500. Operations

Manager; Dismantlers; and Tow

Truck drivers. Please apply w/resume

and phone number. Scrap King Auto

Wrecking & Towing Ltd, 1660 Airport

Rd, Salmo. scrapking@telus.net

WANTED EXPERIENCED YARD

AND GARDEN MAINTENANCE

PERSON: Part-time basis, Castlegar.

250-365-3014.

6 June 27, 2022 Your local shopper N picture online: www.pennywiseads.com
---
Be flood prepared

With snowpack levels the highest the province has experienced

since 2012, the risk of flooding in the Regional District of

Central Kootenay (RDCK) continues to increase. It is imperative

that all RDCK residents take the necessary steps to be flood

prepared.

Currently the West Kootenay's snowpack is at 128% of

normal. With the reduced snowmelt rates, rivers, creeks and

streams across the RDCK are flowing at seasonal to below

seasonal levels. Weather plays a key role in whether flooding

occurs, and cooler spring temperatures, periods of extreme

heat, and wet weather can all exacerbate flood risk. The cooler

temperatures through April and May have increased the risk of

flooding if an extended period of extreme heat occurs in June.

The key to emergency preparedness is knowing the risks and

having a plan. Know the hazards in your area and take the time

NOW to assemble your family Emergency Kit and Grab and

Go Bag. Your plan should also include where you will meet if

you need to evacuate, including moving pets and livestock to a

safe area, in the event the situation worsens and an Evacuation

Order is enforced. Sandbags and sand are also available for residents

at any of the locations listed on the RDCK website: www.

rdck.ca/befloodprepared.

Sign up for emergency notifications, through Voyent Alert!

The RDCK uses the mass-notification system to send out critical

information to residents and visitors in the event of an

emergency. Residents should also be aware that the province

has expanded use of its broadcast intrusive system to include

flooding and wildfire messaging. This allows local government

and First Nations to use the service to alert residents if there is

an imminent threat to life and public safety. This system will be

used to amplify Evacuation Orders in the RDCK.

Slocan Valley

Be Flood Prepared!

• SAND BAGS

• SUMP PUMPS

• HOSES

*Not exactly

as shown

NOW IN

STOCK

BEAT THE HEAT SALE!

Air conditioner units

in stock*

ALL SALE PRICED!

Lawn Mowers

Weed

Whackers

Sun Hats and Garden Boots

• Flower and

vegetable seeds!

• Canning jars and lids

Cement,

Paving Stones,

Drywall

largest supplier of fencing, posts,

corral panels in the kootenays!

Bundle pricing on posts available

5763 Hwy 6, Winlaw | 250-226-7771

Open 9-5 Monday-Friday, 10-4 Saturday

Closed Sundays

The RDCK warns everyone to stay away from the edges of rivers,

streams and creeks and report any erosion or flooding to the

Provincial Emergency Coordinator Centre at 1.800.663.3456.

Residents and business along Kootenay Lake are encouraged

to keep a close eye on lake levels and assess what impact rising

lake levels may have on their property and be prepared in

the event there is a sudden rise in lake level. FortisBC provides

daily updates on

current and forecasted

lake levels.

Courses Coming up in Nelson

For the most current

information

and to sign up for

lake level notices,

visit www.fortisbc.

com/lakelevel.

For details

about evacuations

and emergency

preparedness,

along with other

resources, please

visit www.rdck.

ca/eocinfo. Follow

the RDCK website,

Facebook and Twitter

for the most up

to date information.

RDCK

White

Summer

Smiles

Occupational First Aid Level 3 ..................July 4

Canadian Firearms Safety: Restricted .....July 9

Qi Gong: An Introduction & Developing

Your Practice (Zoom) ..............................July 9

Foodsafe Level 1 ...................................July 15

Occupational First Aid Level 1 ..........July 18, 23

Meditation Intro (Zoom) .......................July 23

OFA Transportation Endorsement .........July 24

Emergency First Aid with CPR C

(OFA 1 Equivalent) ................................July 29

Ceramics Course Coming in August:

Introductory Clay/Beginner Wheel

...............................................................Aug 22

selkirk.ca/ce 250-354-3220 for more info

www.facebook.com/SelkirkCommunityEducation

Community Education & Workplace Training

Now accepting new patients.

810 Vernon St, Nelson, BC V1L 4G4

250-352-5012 • http://redcloverdental.net

Office hours: Monday -Thursday 8:30am - 4:00pm

In need of Barge Services?

~ we drive pilings

~ set or move anchors

~ move anything in or across the water

(equipment, campers, ATVs, freight, etc)

Kaslo and area – book now

for barge work at the end of June.

Available to go to Lardeau as well.

Serving Crawford Bay area next.

NOTE: All pilings and anchors need

permits. Time is ticking! You need to

apply ASAP to be able to complete

your project this season.

http://brooklynbt.ca

778-671-2780

info@brooklynbt.ca

A

division

of

LICENSED PRACTICAL NURSE

Castleview Care Centre is currently seeking LPNs to join our

team. We are a smaller home, offering a comfortable and

relaxed atmosphere for our residents instead of the large

institutional type of seniors' facility. All our seniors get their own

private rooms, we have fantastic outdoor space, and great staff.

"Our residents do not live in our workplace;

we work in their home."

Qualifications:

Current CLPNBC License

First Aid CPR

Current Criminal Record Check /working with vulnerable sector

TB test

Good communication skills

Able to work independently

Fully Covid-19 vaccinated

If you are looking for a great team to work with and have a

passion for delivering excellent seniors care, please submit

your resume in the strictest of confi dence.

Compensation at top market rate.

How to apply:

recruiter@chantellegroup.com

or FAX to 250-365-3291

Attn: Administrator

Wanted Services Services Services Services

Hiring

Hiring

Help Wanted

Looking For

Looking For

NORTH KOOTENAY LAKE COM-

MUNITY SERVICES SOCIETY is looking

to hire a permanent part-time

support and outreach worker. For full

job details visit www.nklcss.org

SMALL BUSINESS OWNER SEEKS

QuickBooks bookkeeper (classes in

place). 2yrs experience required, reply

up to July 30 to: barrow1hutchison@gmail.com

WE ARE EXPANDING OUR TEAM:

Now hiring Licensed commercial

transport mechanic and/or a Licensed

automotive mechanic. Earn

up to $45/hr. Full benefits package

after 3 months. Send resume to admin@hywoodtruck.ca

Business Opportunity

3000 SQ.FT. AUTO REPAIR FA-

CILITY FOR RENT OR LEASE: Fully

equipped, turnkey business on

North Shore, Hwy 3a. Call for details,

250-505-7540.

USA - FULL TIME PUBLIC Works

position, West Bonner Water &

Sewer District, City of Oldtown, ID.

Water/ sewer and street maintenance.

Backhoe, grader, snowplow

experience, general plumbing and

electrical knowledge needed. High

school diploma or GED required.

Starts $19-$21USD hour DOE. Health

insurance and state retirement. Closes

July 1st, 2022. EOE, drug free workplace.

Drop off resumes at Oldtown

City Hall, 215 N. Washington Ave.,

Oldtown, ID 83822 or email them to

cityofoldtown@hotmail.com, phone

208-437-3833

Help Wanted

CAREGIVER REQUIRED FOR

HOME CARE IN KASLO: 8am-1pm,

Monday-Friday, $22/hr. Contact

France, 250-661-5268 or flachmoi@

yahoo.com

GARDENER NEEDED one to two

days/wk. High school student welcome.

Nelson property. Call Barrow,

808-938- 4773.

GARDENER WANTED in Ainsworth

Hot Springs for weekly lawn care

and clean up. Please call 250-229-

2189.

SENIOR NEEDS A FENCE BUILT

sooner than late, serious inquiries

only. 250-364-1442.

Wanted

Looking For

$$$ COIN COLLECTOR LOOKING

TO PURCHASE COLLECTIONS,

Accumulations, Royal Canadian

Mint Coins & Sets, Olympic, Gold

and Silver Coins, Paper Currency,

etc. Please call Chad 250-863-3082

cell, 250-499-0251, Kootenays.

FIREARMS: Call John Urquhart in

confidence anytime. I will come to

your home. 250-367-7540.

OLD BEER/POP SIGNS, wooden/

metal crates, old gas/service station

items, old Coke/pop machines. 250-

231-9397.

USA - !!OLD GUITARS WANTED!!

GIBSON, FENDER, MARTIN, Etc.,

1930's to 1980's. TOP DOLLAR PAID.

CALL TOLL FREE 1-866-433-8277.

USA - PAYING TOP CASH FOR

MEN'S SPORTWATCHES! Rolex,

Breitling, Omega, Patek Philippe,

Heuer, Daytona, GMT, Submariner

and Speedmaster. Call 833-603-

3236.

WANTED, CRANK SHAFT for 1983

GMC 4WD pickup. 250-362-7751.

WANTED, LIGHTWEIGHT USED

BOAT TRAILER: Good condition,

250-353-2481.

WANTED, USED NATURAL GAS

INSERT: Good condition, w/remote

if possible. 250-505-2921.

WE BUY CEDAR POLES! Bell Lumber

& Pole, Rossland. Contact Colin

Roy, 250-908-7337.

Services

Contractors/Trades

A.D. CONTRACTING: Residential

Renovation and Construction, Windows,

Doors, Kitchens, Bathrooms,

Decks, Rot Repair, Laneway Homes

and more. Red Seal. acrrodesign@

gmail.com 778-962-0707.

AINSLO ELECTRIC LTD.: Fully Licenced,

Bonded & Insured. Residential,

Commercial, Industrial. Technical

Safety BC Licence # LEL0211358.

Serving Kaslo, Nelson and Area.

Give us a call at 250-353-1888. Available

24/7.

N picture online: www.pennywiseads.com Where locals shop. C June 27, 2022 7
---
How Monstering happens

A new exhibition at the Kootenay Gallery, Vestigial Trail,

features the drawings and written work of Jim Holyoak. It

opens June 23 and runs till August 20, 2022.

All his life, Jim Holyoak has drawn and contemplated

the monstrous, and in recent years he has voraciously

read books on Monster Theory, the scholarly study of

monsters. Whether a 'monster' is perceived as wonderful

or terrible, wrathful or protective, human or nonhuman,

is a distinction made in the eye of the beholder. Monsters

are speculative beings that simultaneously don't, did or

might exist. They are the unknown, the misunderstood and

the profoundly different. There are monstrous situations,

behaviours and attitudes, monstrous feelings, places and

times. Thinking about monsters is an exercise in alterity

– the study of otherness – and our resultant capacities for

empathy, cruelty and indifference – making strange and

making kin. 'Othering' that which is different from oneself

is a process that might otherwise be called 'Monstering.'

The Kootenay Gallery of Art is located at 120 Heritage

Way across from the Castlegar Regional Airport, just past

the Doukhobor Discovery Centre.

The Kootenay Gallery

Our FISHING DEPARTMENT

is NOW BIGGER and BETTER!

Come and

see for

yourself!

We carry

WORMS &

LIVE BAIT!

HUNTING • FISHING • OUTDOORS

1281 Bay Ave Trail, BC

250-364-2242 • www.vfirearms.com

Get a NEW START this SPRING!

2021 Ford F150

Lariat 4x4

PowerBoost, Hybrid, FX4, loaded

2,363 kms #PW0798

SALE PRICE $84,900

2015 Ford F150 Lariat 4x4

Leather, EcoBoost, FX4, 99,853 kms

##22MA1742A

SALE PRICE $40,700

2021 Ford Bronco

Sport 4X4 1.5L Ecoboost,

7,206 km #PW0806

SALE PRICE $37,500

DROP IN

TODAY

and

take

one

for a

TEST

DRIVE!

NEW

2017 Ford

Explorer Sport

Ecoboost, leather, loaded, 54,809 kms

#PW0789

SALE PRICE $40,500

2021 Ford Ranger

4x4 XL STX Special Edition Pkg

18" black aluminum wheels #PW0799

SALE PRICE $44,989

2022 Ford Escape SE AWD

SE 200a Cold Weather Pkg,

1.5L Eco Boost #22EC7390

SALE PRICE $35,744

Nelsonfordsales.com

623 Railway Street, Nelson BC DL 28082

NEW

NEW

NEW

250-352-7202

1.888.955.5528

2022 Ford Escape SE AWD

200a Convenience Pkg,

1.5L Eco Boost #22EC1854

SALE PRICE $36,744

2022 Ford F150 4x4

Tremor Cancelled Order -

IN STOCK, BUY NOW!! #22LT5806

SALE PRICE $81,355

2022 Ford Edge AWD

S201a Cold Weather Pkg,

2.0L Eco Boost #22ED9079

SALE PRICE $47,944

Prices are + taxes & $699

admin fee. Financing

rates from 4.99% OAC

Services Services Services Services Services

Contractors/Trades

A&A PAINTING LTD. 32 YEARS

IN BUSINESS: Professional and

best service guaranteed. Bonded,

licenced and insured. Call now 250-

354-9015 Nelson; 250-304-5237 Castlegar;

250-368-1044 Trail. office@

aapainting.ca www.aapainting.ca

ALL AROUND SEPTIC SERVICES

LTD.: Offering sewage pump-outs,

septic system evaluations & installations,

and commercial grease

trap services. 250-354-3644, www.

allaroundsepticservices.com

ALL TYPE ROOFING & RENOVAT-

ING: For all your general contracting

needs, since 1993. 250-368-8857.

Contractors/Trades

ALL PHASES HOME RENOVA-

TIONS: Kitchens, bathrooms, windows

& doors. Licensed, registered,

insured. Photos, references. Book in

advance. Michael Nesbitt Contracting,

250-825-4771.

ALUMINUM RAILINGS AND VI-

NYL DECKING: Free estimates. Call

Royal Vinyl Decking at 250-231-7905

or email royalvinyl@shaw.ca

AVIS EXCAVATING, Winlaw: Landscaping,

Driveways, Waterline Ditches,

Property Development, Land

Clearing, Tree Removal, Fire Mitigation,

Gravel & Topsoil Hauling, etc.

Larry Avis, 250-226-7849, lmavis@

telus.net www.avisexcavating.com

Contractors/Trades

BASED IN HARROP, SERVING

KOOTENAY LAKE AND NELSON:

EAE Electrical Contracting offers affordable

rates for any size of job. Call

or text 250-551-5511.

BILSKI MASONRY: Serving the Kootenays

since 1992. For high quality tile

work, custom showers, stone work,

etc. Call Peter Bilski, 250-229-2157 or

250-505-3005 (cell).

BRENTON INDUSTRIES LTD: Kaslo

Excavation Contractor, Septic & Utility

Installations, Land Clearing & Tree

Trimming. Call Sean, 250-551-4058,

www.brentonindustries.ca

CRESTVIEW PAINTING: 25yrs+ experience,

reliable/quality work that

lasts, new construction, residential,

repaints, certified journeyman. Fully

insured. 250-304-5197.

Contractors/Trades

FLOW PLUMBING & HEATING LTD:

We make it drain! Competitive pricing,

no job too small. 250-685-8177.

DINNISSEN DESIGN CO LTD:

Kitchen And Bath Design & Custom

Millwork. Call Us For Free

In-Home Consultation. 250-521-

0537, www.dinnissendesign.com

3PM WEDNESDAY IS PENNYWISE

DEADLINE DAY. Darn, did you miss

it? We can still help! We can Live

Load your classified ad on www.pennywiseads.com.

Give us a call right

away! 1-800-663-4619.

Contractors/Trades

CLELAND ROOFING & REPAIRS:

30yrs experience, 23yrs certified.

Certified roofers are the only way

to get your manufacturer's warranty,

10yr transferable warranty.

Old-fashioned service. Call 250-231-

0142.

HEAT-CHECK: WETT Inspections,

chimneys, woodstoves, liners, duct

work, HRV. Call 250-355-2338.

General Services

A MAN AND HIS DOLLY MOVING

COMPANY: 1T cube van. Moving

to and from most places in BC and

Alberta. Accepting VISA, Mastercard

and Debit at your door. www.

AManAndHisDolly.com 250-304-

8400.

VACUUM REPAIRS AND SALES:

Best prices in area. Belts and Bags.

Call 250-231-6041.

10 June 27, 2022 C Your local shopper N picture online: www.pennywiseads.com
---
24

HR

EMERGENCY

SERVICE

Commercial, Industrial and Residential

Garage Door Sales, Service,

Repair & Installation

bobsdoorserviceinc.com

bobsdoorservicerh@gmail.com

236-972-BOBS (2627)

Would your acreage benefit from soil amendment?

Mercer Celgar is looking for landowners with 2 or more acres within 55 km

that would benefit from using their Celgrow soil amendment. Pastures and

hay fields are good options.

Mercer Celgar will cover the costs of a Qualified Professional performing

soil sampling, obtaining government authorization and delivery costs of Celgrow

soil amendment based on access with a large truck/pup combination.

Acreage should be able to accommodate at least 6 truck/pup loads. The two

major components of Celgrow are individual wood fibres lost from the pulping

process and surplus bacteria from the wastewater biological treatment

facility. Wood fibres enhance soil moisture retention and bacteria are a good

source of soil nutrients. The landowner is responsible for spreading and incorporating

Celgrow into their soil.

If interested, please contact Len Hewat

Email: leonard.hewat@mercerint.com • Phone: 250-608-3513

Professional, Reliable, Quality Service Providers

Septic system installation,

maintenance and repair

Grease trap servicing

Sump pits and

lift stations

Drain auguring

and flushing

Call Today!

Registered

Onsite

Wastewater

Practioner

All-Around Septic Services Ltd.

250-354-3644 • 250-359-8282

allsepticvac@gmail.com

www.allaroundsepticservices.com

Free to roam in your new home

on

wheels...

See Rock Island RV for

NEW, USED Parts & MORE!

250-364-2323 Parts 250-364-1267 Toll Free 1-888-817-2323

2017 Gulfstream

Track & Trail 17 RTHSE

Toy Hauler

sleeps 4.

Weight 4300 lbs

Bi-Weekly $128 Was $30,995

NOW ONLY $28,995

VIN #U87641

PLUS TAX

2021 Forest River

2251 LE Class C

Motorhome

Sleeps 4 , 1 slideout,

backup camera, cruise control,

only 14,000 km!

Bi-Weekly $350 Was $121,995

NOW ONLY $116,995

VIN #U99990

PLUS TAX

2022 Keystone Montana

Fifth Wheel 3781 RL

Legacy edition

NEW

2022 Forest River

R POD 193 Hood River

Travel Trailer

NEW

2021 Dutchmen Coleman

Rubicon 1608

Travel Trailer

NEW

2022 Palomino Solaire

243 BHS

Travel Trailer

NEW

sleeps 4, 4 slideouts,

Weight 13485 lbs

sleeps 5, 1 slideout,

Weight 3210 lbs

sleeps 3, 1 slideout,

backup camera prep

1 slideout,

Weight: 5400

Bi-Weekly $455 Was $159,995

NOW ONLY $142,995

VIN #37881

PLUS TAX

Bi-Weekly $158 Was $47,995

NOW ONLY $44,995

VIN #23200

PLUS TAX

Bi-Weekly $135 Was $44,995

NOW ONLY $40,995

VIN #12343

PLUS TAX

NOW ONLY $55,995

VIN #87234

PLUS TAX

New 2022 Keystone

Cougar Fifth Wheel

24 RDS 1/2 TON

NEW

2022 Westland 80

Truck Camper

NEW

2022 Keystone

Hideout 25 DBWE8

Travel Trailer

NEW

2011 Tiffin Allegro

Bus Class A

Motorhome

sleeps 4, 2 slideouts,

Weight 7350 lbs

Bi-Weekly $237 Was $71,995

NOW ONLY $69,995

VIN #02085

PLUS TAX

Sleeps 3

Weight 1540 lbs

Bi-Weekly $117

NOW ONLY $35,995

VIN#65322

PLUS TAX

Sleeps 6

1 slideout

Weight 6,000 lbs

Bi-Weekly $164 Was $51,995

NOW ONLY $47,995

VIN#45468

PLUS TAX

Diesel

Only 34,500 km!

Sleeps 6, 37 ft.

Was $269,995

NOW ONLY $232,995

VIN#U87251

PLUS TAX

Rock Island RV

8023 Old Waneta Road, Trail

www.rockislandrv.com DL#9096

Services Services Services Services Services

Contractors/Trades

WEST KOOTENAY ARBORIST:

Professional and versatile, serving

Nelson, Castlegar and Kootenay

Lake. 236-866-9544

WETT CERTIFIED SWEEPS, inspections,

wood stove and chimney installations.

250-354-3489, redpointchimney.com

redpointchimney@

gmail.com

WOLFGANG'S PLUMBING: Serving

the Slocan Valley and surrounding

area. Qualified pump installer. 250-

226-7320, wteiner@netidea.com

General Services

A HANDY HUSBAND: Repairs,

replace, maintenance, decks,

fences and most everything else.

250-354-8598.

BEAVER'S SEPTIC TANK CLEAN-

ING SERVICE: Serving the Kootenays.

Goes the distance! 250-354-

3508 (cell) or 250-357-9724.

General Services

ASK OUR EXPERTS for your

home furnishings and appliance

deliveries. We deliver for Bears,

Floyds and Kootenai Moon. Found

it on Facebook? We will pick it up

and deliver it to you. Call Positive

Apparel, 250-505-5444.

CLEANING WINDOWS, GUTTERS,

ROOFS, SIDING: Pressure washing

with care. WorkSafeBC insured, 20+

years experience, 40´+ reach! Free

estimates, professional services,

& fulfilling local careers. Request

services at www.ElevateKootenays.

com admin@ElevateKootenays.com

250-353-3136, Kaslo.

COOL BEAMS MOBILE SAWMILL

SERVICE: Turning your logs into

lumber on-site. 250-777-7366.

General Services

BEKKER TRUCK WORX: Towing &

Hauling Vehicles, Sea Containers,

Light Equipment, Building Supplies.

Roll-back truck with 20´ tilt deck. Call

Niko, 250-353-1091.

CLEANING GENIES: Professional

Clean Team. You've tried the rest,

now call the best! Fully insured,

WorkSafeBC. All employees on payroll.

Call Marilyn, 250-505-8346.

www.cleaninggenies.ca

EXPERIENCED PAINTER, 20

YEARS: Exterior painting. Free

quotes. Ron, 778-932-2528 (cell).

FOR ALL YOUR DRYWALL AND

PAINTING NEEDS: Steel stud and

suspended ceilings. No Job Too

Small! Serving Trail & Castlegar

areas. Rob, 604-551-8554, Fruitvale.

HANDYPERSON SERVICES: Small

jobs & weekdays only. $50/hr, cash

only. Text Ben 403-246-5221, Nelson.

General Services

G.W. CONTRACTING: Decks,

retaining walls pavers, siding, leaky

basements & much more! 250-231-

4532, bit.ly/3ilFCIp

IS YOUR MORTGAGE UP FOR

RENEWAL? Before you sign, why

not compare all the options? The

Mortgage Centre, Nancy Trotman.

1-888-998-9513, mortgages@nancy

trotman.com

KERRY'S STITCHERY: Custom sewing,

alterations & repairs, including

denim, leather, canvas & drapery. In

Kaslo, 250-353-7722.

KOOTENAY CURRENCY EX-

CHANGE: For all your foreign currency

needs. Better than bank rates

when buying or selling US dollars.

Canadian Gold and Silver. Call

250-354-1441.

SHARPENING SERVICE: Saws, tools,

scissors, knives, clipper blades. C&D

Sharpening Service, 250-365-3658.

General Services

NELSON MINI-STORAGE: 1.6kms

from City Centre, heated, easy access,

18yrs of friendly, personalized

service. 1393 Knox Rd, 250-354-

8289, www.nelsonministorage.ca

PASS CREEK TOOL REPAIR: Air

and electric tools, small compressors,

quality repairs, fair price.

250-304-4811.

PROFESSIONAL DELIVERIES,

Junk Removal, Plumbing, Sewer

Backups, Dry Cleaning, Laundry

Service, Furnace/ Air Duct Cleaning,

Carpet Cleaning. 24/7 Emergency

Service. 250-231-8529, 250-

921-4356, 250-364-0145. http://

kootenaymoveandjunk.vpweb.ca

http://dirtbusters.vpweb.ca

PROFESSIONAL PLUMBING SER-

VICES: 24/7 EMERGENCY! Licensed,

WCB, Bondable, work and materials

guaranteed C.V.M.S. 250-921-4356.

facebook.com@CVMS/CVMS.vpweb.

ca.

N picture online: www.pennywiseads.com Where locals shop. June 27, 2022 11
---
BUY

MORE

SAVE

MORE

BUY ANY 2 QUALIFYING

KITCHEN APPLIANCES,

SAVE AN

ADDITIONAL $200

Conditions apply. See store for details.

BUY ANY 3+ QUALIFYING

KITCHEN APPLIANCES,

SAVE AN

ADDITIONAL $200

Freshet season to last until late July

With a significant amount of mountain snow pack still remaining,

according to the BC Ministry of Forests – River Forecast Centre, residents

of the Regional District of Central Kootenay (RDCK) can expect

freshet season to be extended to late July. The snow pack is snow on the

ground in mountainous areas that persists until the arrival of warmer

weather. Across the province the average snow pack is well above normal.

Typically by this time of year, three quarters of the accumulated

snow pack has melted; however, due to the abnormally cooler temperatures

throughout April and May it has been delayed. Currently, the

average snow pack in BC is 198% of normal, while in the West Kootenay

region, which includes the entire RDCK, snow pack is at 215% of

normal. This number indicates a continued enhanced risk from snowmelt

related flooding, especially in combination with heavy rain.

The RDCK remains under a High Streamflow Advisory. Earlier this

week the BC River Forecast Centre downgraded the advisory from a

Flood Watch Advisory. Most rivers, streams and creeks have risen to

normal or above normal levels and are extremely vulnerable to heavy

rainfall events. Residents are reminded to exercise extreme caution

around rivers and creeks.

Kootenay Lake is currently at 1751.45 ft. (533.84 metres) at Queen's

Bay. FortisBC has advised all residents that the lake level still has the

potential to exceed 1752 feet. Go to www.fortisbc.com/lakelevel to

access the hourly updated Kootenay Lake level.

Environment Canada forecasts unsettled weather conditions

throughout the RDCK over the next week with no sign of an extended

heat event. However, a significant change in the forecast or thunderstorms

along with heavy rainfall could result in localized floods. There

are currently no Evacuation Alerts or Orders in the RDCK. On Tuesday,

June 14 the RDCK removed the Evacuation Alert for the community

of Six Mile near Nelson BC, as the risk of damage to the Duhamel

Creek Orphan Dike structure has diminished.

RDCK

612 Lakeside Dr., Nelson • 250-352-2202

bearsbrandsource@shaw.ca

bearsbrandsource.ca

Emergency Preparedness Resources:

Provincial resources to prepare or recover from a disaster:

https://tinyurl.com/8k92urh6

The RDCK is also an important resource for all businesses

and residents in case of emergency.

Go to www.rdck.ca/eocinfo in order to

• Sign up for RDCK Emergency Notification System

• Learn about current evacuation alerts, orders and

rescinds. (You can also call 250-352-7701)

• Learn tips and find local contact information

Flooding

• Report flooding or any new hazards to the 24-hour tollfree

provincial emergency number at 1-800-663-3456.

• Follow the BC River Forecast Centre for flood warning

and advisories http://bcrfc.env.gov.bc.ca

• Kootenay Lake Level Monitoring www.fortisbc.com

(choose the "In your community" tab)

Public Weather Alerts for BC

https://weather.gc.ca

Fortis BC Outage Map

https://outages.fortisbc.com or call 1-866-436-7847

BC Hydro Outage Map

www.bchydro.com/power-outages or call 1-800-224-9376

Nelson Hydro 1-877-324-9376

Highway Closures and Road Conditions

https://drivebc.ca

Report a Highway Hazard:

Yellowhead Road and Bridge (YRB) 1-888-630-1420

Report a Wildfire: 1-800-663-5555 or *5555 on a cell phone

CLIP & SAVE

Services Services Services Services Notices Page

General Services

General Services

Gardening/Landscaping

Gardening/Landscaping

Gardening/Landscaping

RBT ACCOUNTING SERVICES:

Accepting New Clients. Bookkeeping,

Personal and Corporate Taxes,

GST, Payroll and Other Services.

Call 250-354-7107 or email

rbtcpa@outlook.com

RUBBISH REMOVAL & RECY-

CLE, LAWN MAINTENANCE,

estate removal, gutter cleaning/

sealing, moving, deliveries, building

demolition. 250-231-9397.

SERVING ALL YOUR ELECTRICAL

NEEDS in Nelson, Kaslo and Area.

AINSLO ELECTRIC LTD. Fully Licenced,

Bonded & Insured. Residential,

Commercial, Industrial. Technical

Safety BC Licence # LEL0211358.

Give us a call at 250-353-1888.

Available 24/7.

TOPSOIL, GRAVEL, SAND AND

DRAIN ROCK: Can deliver or you

pickup. 250-357-0080, 250-777-

4441, cell.

TREE SERVICE: Certified, Licensed,

Insured. Pruning to removal of

hazardous trees. Free Estimates.

250-505-6114, www.fallguy.ca

VALHALLA SEPTIC SERVICES

LTD.: Fully insured for all your

residential and commercial septic

pumping needs. 778-454-2221.

VALLEY WATER EXPRESS: Nelson's

only 24hr self-service purified

water depot. 620 Lakeside Dr. next

to Gilbert Parts Depot.

*AAATREEWORKSNELSON.COM

BY WYLEE WORKS INC: Serving

the West Kootenay since 2005. Professional

Tree Care and Wildfire

Protection. WCB Certified Fallers

and ITA Arborists. WorkSafe & Commercially

Insured. Large Residential

Removals, Selective Harvesting and

Wildlife/Hazardous Tree Assessments.

15˝ Tree Chipper, Stump

Grinder, 14´ Dumper Trailer and

4x4 John Deere Loader w/12,000lb

Winch. Free estimates. Wylee

Charbonneau, 250-551-4672.

*GLACIER VALLEY TREE CARE:

Local danger tree professionals.

Utility certified lift trucks. Whole

tree chippers. Stump grinding.

Pruning. Land clearing. Certified

arborists, fallers, assessors. Free

same day assessment and advice.

Certified & insured WCB. Jim Sipkes,

25yrs experience. 250-304-

3774, jim@glaciertree.com

23 YEARS AS YOUR LOCAL PRO-

FESSIONAL TREE SERVICE. LIMB

WALKER TREE SERVICE: Hazardous

removal, canopy pruning,

chipping, stump grinding, hedges,

FireSmart management. Fully

insured. Jo, 250-354-1627.

BAUMAN ENTERPRISES servicing

Castlegar and surrounding area. We

provide scheduled mowing, hedge

trimming, and irrigation service. Call

Rick, 250-687-1345.

You can depend upon

Pennywise

advertising to get you

results.

Next deadline 3pm Wednesday

July 6 for the July 11

edition. 1-800-663-4619.

BEETLE'S STUMP GRINDING:

Why dig it when you can grind it!

Best rates, insured, free estimates.

Ben, 250-304-6963.

BETTER LAWN & GARDEN: Mowing,

trimming, weeding, deadheading,

installations, waste removal,

beach cleaning & more. 250-352-7447

www.betterlawnandgarden.com

COLUMBIA TREE SERVICES/SIMS

CONTRACTING LTD: Call Pat Sims

for a free estimate for 60´ bucket

truck, chipping, climbing/rigging,

stump grinding, soil delivery. Certified,

Insured, WorkSafe. Thousands

of satisfied customers since 1980.

250-367-7939.

12 June 27, 2022 C Pennywise Publishing every 2nd week N picture online: www.pennywiseads.com
---
Indigenous Internship Program

Today, June 21st, in celebration of the National Indigenous

Peoples' Day, the Community Housing Transformation Centre is

happy to introduce its Indigenous Internship Program.

Across Canada, the Indigenous community housing sector faces

the daily challenge of finding Indigenous individuals with training

to lead their organizations. This lack of human resource capacity

with appropriate cultural and technical knowledge is a significant

obstacle to growing and maintaining Indigenous community

housing. The Centre's internship program is aimed directly at alleviating

this situation. It will increase access to financial resources

and support services including those of the Centre.

Interns wanted -The Centre is looking for Indigenous applicants

who are 30 years of age or less, recently graduated and interested

in a career in community housing or already working in the

sector and would like to further develop their skills.

At the end of the internship, interns will bring new skills, education,

and perspective back to their host organization or be

equipped to seek out leadership opportunities in the sector. The

Centre is also committed to opening at least one position within

its own operations at the end of the first year of the program.

Coach wanted - Coaching and support are critical components

of the project. A full-time Indigenous coach with expertise in

community-based housing will be responsible for implementing

the program at the Centre. The coach will be available to provide

culturally appropriate guidance to interns and will serve as a reference

to help interns establish and achieve their individual professional

development goals throughout the internship.

To learn more about these opportunities, contact us at info@

centre.support.

1-778-738-1697

LIKE US ON FACEBOOK TO KEEP UP TO DATE ON ALL THE LATEST HOMES ON THE MARKET:

www.facebook.com/PropertyGuys.comWestKootenays

Special Offer:

BUY MORE - SAVE MORE!

Discounts available

on multiple lot

purchases!

250-304-2269

JOHNSONS LANDING 199089

$549,000

3.98 acres with 522 ft of lakefront, a

cozy 1 bed cabin with large wrap around

deck. Prime for a lakehouse!

1-778-738-1697

SANCA 198522

SLOCAN 199100 | 199330 to 199338

10 LOTS FOR SALE:

Welcome to Springer Creek Estates – steps from

picturesque Slocan Lake and glorious sandy

beach! Creek front and mountain view lots for

sale! Starting at $39,900 – call to inquire!

JOHNSONS LANDING 198999

$319,000

1-250-317-5100

1-778-738-1697

$579,000

Columbia River view! 4 bed 2 bath family

Lakefront property! Located on Kootenay

home with a landscaped yard. This gem

Lake, this 3.76 acre lot with 285 ft of lake

holds a ton of promise! Quiet location

frontage has much to offer!

with privacy and deck with views.

ROSSLAND 198499

CASTLEGAR 199067

1-778-738-1697

CASTLEGAR 199128

Must see 3 bed 4 bath home on private

1 acre lot with basement suite & cabin.

Rental income is $5200 a month!

CHRISTINA LAKE 198977

$599,999

Cozy barn style post & beam, 3 bed 2

bath home with 2 decks on private 2.5

acre lot with room to grow!

1-778-738-1697

CASTLEGAR 199129

199330 - LOT #15 $99,900

199338 - LOT #5 $39,900

GRAND FORKS 199093

$1,150,000

Fantastic property! Amazing 2 bed 2

bath, barn style home & guest house on

4.87 acres. Extensive upgrades!

1-778-738-1697

KASLO 198937

BALFOUR 199091

$590,000

Lake view, 4 bed 2 bath home - steps

from the beach with a full suite on lower

level! $2600/mo rental income!

1-778-738-1697

CRESTON 198472

Centre de transformation du logement communautaire

$749,777

Country living! Beautiful 3 bed 2 bath

home on 4.29 acres. Sun porch, gardens,

garage, creek running through property.

1-778-738-1697

CANYON 198535

$724,500

Great 3 bed 2 bath home in Rossland!

Move in ready! No backyard neighbours!

5min drive to Red Mtn! Ideal for a family!

1-778-738-1697

BALFOUR 198929

$725,000

Amazing one-of-a-kind engineered post

& beam, 3 bed 2 bath home with great

views! Barrier free, all one level.

1-778-738-1697

CRESTON 198348

$255,000

Wonderful lot location just above

Castlegar. 1.32 acre vacant lot on Crestview

Crescent. Great city & valley view!

1-778-738-1697

ROSS SPUR 198504

$699,999

5 bed 3.5 bath, 2 storey home in lovely

quiet location on large landscaped lot.

Close to all amenities.

1-778-738-1697

BOSWELL 198521

$135,000

Fantastic but quiet Creston location

for this 0.16 acre vacant lot. Peaceful

neighbourhood and lovely views.

1-778-738-1697

ROBSON 199117

$1,590,000

Executive 4 bed 3 bath home on 9+

acres with 2 year round creeks! Fully

fenced & landscaped with irrigation!

1-778-738-1697

ARROW CREEK 198519

$299,900

Unique turn key vacation property or new

home build lot! Several options to consid-

er. Power, water, septic, mins to lake.

1-250-229-4137

NAKUSP 198859

$624,500

Unique opportunity for 5 bed 2 bath

family home with a 2 bed 1 bath full living

suite! Private yard, lots of potential.

1-250-402-9351

GRAND FORKS 198845

$974,500

Private executive 4 bed 3 bath home

on 2+ acres next to Beaver Creek, with

water rights. Detailed high-end build.

1-778-738-1697

NEW DENVER 199121

$495,000

Kootenay Lake front! Destiny Bay area has

a 1.1 acre parcel seeking a new owner!

This is a rare piece in a beautiful area.

1-778-738-1697

NELSON 198959

$324,999

Gorgeous condo at the waterfront on

Arrow Lakes! 2 bed 2 bath with premium

views, hot tub on private deck!

1-778-738-1697

FRUITVALE 198536

$399,700

Private! Build new and live in mobile 2 bed

1 bath unit! 2.84 acres backs onto Crown

Land. Easy access, level property.

1-778-738-1697

$947,000

Completely private with lake and moun-

Nearly 25 acres of lush forested land, cozy

tain view, 4 bed home with separate guest

600 sq.ft cabin! Property can be developed

suite, 12.73 acres on edge of town.

for permaculture or a getaway home!

1-778-738-1697

$425,000

1-778-738-1697

$579,000

Wonderful 2 storey home with 3 bed

1.5 baths, great location, move in ready,

fabulous recent upgrades!.

1-250-358-2280

$1,250,000

5 bed 3 bath home with full makeover

inside and out! Beautiful landscaped

yard & gardens, amazing lake views.

1-778-738-1697

$749,800

Private, great location! Immaculate 3

bed 2 bath home with potential for 4th

bedroom! Right next to park & trails.

1-778-738-1697

FRUITVALE 197894

NELSON 199122

WYNNDEL 198428

NELSON 199112

CRESTON 198487

CRESTON 198532

$519,900

Relax in utmost style & elegance in

this gorgeous 3 bed 2.5 bath home,

conveniently located to all amenities.

1-778-738-1697

$1,600,000

1/2 acre waterfront lot with 100ft of

private sandy beach & boat dock. 4 bed 2

bath home minutes to Lakeside park.

1-778-738-1697

$1,390,000

Stunning 6 bed 3 bath home with 3 bay

garage/loft and lots of upgrades. Legal,

ready to finish in-law suite.

1-778-738-1697

COMING SOON

Lovely Victorian style, 5 bed 4+ bath

heritage lakefront home with Kootenay

Lake views, close to all amenities.

1-778-738-1697

$749,000

Stunning 4 bed 3 bath home with

custom kitchen! Private landscaped yard,

immaculate condition, attached garage!

1-250-254-0498

$749,000

5+ amazing acres of prime

development! All services at the lot line

and ready for you to pick your build site!

1-250-402-9351

Legal disclaimers - propertyguys.Com inc. (Collectively 'us' or 'we') is a private sale marketing company and we represent neither the buyer nor the seller. We do not trade in real estate. We neither warranty nor make any representations as to the outcome of a property sale. *Our pro approach

may include services which are performed for our customers by third party service providers. Such services are not performed or provided by us. * "List now. Pay later." (Our "pay nothing upfront" program) is a payment program offered through a third party provider, and is only available in

participating franchise areas. The program is offered on approved credit, certain conditions do apply. The telephone numbers associated with these listings are those of the private sellers or their personal answering service. Any amount of commission saved referenced above is for illustrative

purposes only. It represents the potential money saved if the private seller had paid commission to a real estate agent instead of using propertyguys.Com. *© 2015 Propertyguys.Com inc., All rights reserved.

Services Services Automotive Automotive Animals

Gardening/Landscaping

COMPOST: $60 per 1/2 yard. Bark

mulch. Topsoil. Deliveries. 250-352-

7447, www.betterlawnandgarden.

com

COW MANURE: Delivered by the

truck load, fresh and aged. Also straw.

Wayne Savinkoff, 250-226-BEEF.

DETAILED CONCRETE LANDSCAPE

& GARDEN ORNAMENTS, Planters

& Stepping Stones, etc. 250-357-2266.

LOKI TREE SERVICE: Complete tree

& forest services. Certified Arborists

& Fallers. Hazardous Tree Removal,

Pruning, Chipping, Stump-Grinding,

Forest Management, FireSmart. No

job too big or small. 250-353-2405,

www.lokitree.com

PRUNING AND SPRAYING SER-

VICES: Fruit trees, hedges, shrubs

and small tree removal. Phone/text

Don 250-512-7217, Trail.

Gardening/Landscaping

SUMMER IS HERE! Need lawn and

yard maintenance? New sod, rock, or

mulch? Taking on small painting projects

also. Call Carrie at Creative Cut

Landscaping, 250-809-8971.

TOPSOIL & BEAUTY BARK MULCH:

$55/yd. Delivery available. 250-365-

1632.

Health/Personal

$37-$47 MASSAGE TREATMENTS:

Massage Student Clinic, RMT Program,

781 Baker St, Nelson, Monday-Friday.

250-354-1995. Book online,

http://kootenaycolumbiacollege.

janeapp.com/

GLASS HOUSE OPTICAL: 701 Front

St, Nelson, 250-354-3937 and Unit 2,

688 18th St, Castlegar, 250-365-2026.

Free sight testing at both locations.

NEW LOCATION: Red Clover Dental

is now located at 810 Vernon St.

Nelson. Accepting new patients.

250-352-5012.

Health/Personal

IF YOU WANT TO DRINK THAT'S

YOUR BUSINESS. If you want to

stop and need help that's ours. Helpline:

250-800-4125. Info/meeting list

aawestkootenays.org

MASSAGE TABLE: Hand crafted,

stationary, $275. 250-365-7726.

SHADE TREE MASSAGE THERAPY

NOW WELCOMING new and returning

clients for therapeutic and

relaxation treatments. Clean, quiet,

professional office located in Winlaw.

Jessica Coonen, RMT 250-226-6887,

shadetreemassagetherapy@fastmail.

com

Notices Page

Found

FOUND, WOMEN'S WATCH: On

Cowan Rd, North of Kaslo. Call or

pop by the Pennywise office to describe

and claim. 250-353-2602,

1-800-663-4619.

N picture online: www.pennywiseads.com Where locals shop. June 27, 2022 13

Notice

DID YOU KNOW... Pennywise ad

payments (cash or cheques) can be

dropped off at And More Second

Hand Store, 1398 McQuarrie St,

Trail during regular store hours?

Questions? Call 1-800-663-4619.

Thank you, Pennywise.

Announcement

DISCOVER SIXTY-FIVE Kootenay

Seniors Magazine is online at

www.discoversixty-five.com Have a

peek!

Education

Classes/Workshops

COMMUNITY EDUCATION &

WORKPLACE TRAINING: Selkirk

College,1-866-301-6601.

www.selkirk.ca/ce

Pets

GERMAN SHEPHERD PUPPIES:

Ready for June 15, unregistered, first

shots, dewormed. 250-551-5397.

MEET DEMI: Demi is a lovely girl

who was brought in as an owner

surrender. She came from a home

with another cat but would prefer

to be the only queen of the castle.

She enjoys pets and rubbing up on

your leg, she is often found on the

cat tower and would likely enjoy a

catio in her new home. Submit an

application: spca.bc.ca/adoption/

application-forms/ Staff will contact

you to set up an appointment to

come in for a visit! License, Leash,

and Love your pets!
---
KS Perry Publications (dba Pennywise)

Want to Distribute? Want to Contribute? Want to Advertise?

email us seniors@pennywiseads.com • 1-800-663-4619, Kaslo

BALFOUR - HARROP -

PROCTER

Balfour Superette

Balfour Seniors

Citizens Branch

Gill & Gift

Old World Bakery

Procter/Harrop Seniors Centre

BEAVER VALLEY/

FRUITVALE

Beaver Valley Residents

Seniors Gym

Beaver Valley Library

Beaver Valley Manor

Canco Gas

Fruitvale IDA Pharmacy

Liberty Foods

You can pick up your copy at these locations -

CASTLEGAR

Bombi Restaurant

Castlegar & District Community

Health Centre

Castlegar & District

Recreation Centre

Castlegar Library

Castlegar Community Services

Castle Wood Village

Castleview Care Centre

Castlegar Medical Clinic Inc

Castlegar Rec Centre

Columbia River Estates

Common Grounds Coffee

Dairy Queen

Hearing Clinic Castlegar

Humble Bean Coffee Co.

Johnny's

Kootenay Market

The Legion

No Frills

Pharmasave

Rosewood Manor

Rota Villa Apts

Senior Citizens Assoc. Br #46

Shoppers Drugs Mart

Sunlife

Talarico Place

T.H.E. Pharmacy

Thrums Market

KASLO

Abbey Manor

Cornucopia

Eric's Meat Market

Husky Gas

NKLCSS

Selkirk College

Sunnyside Natural Foods

T.H.E. Pharmacy

The Treehouse Restaurant

Victorian Health Centre

KOOTENAY LAKE

Duhamel Store

Kokanee Park Marine

NAKUSP

Arrowtarian Rotary Villa

Anderson's Gas

Petro-Can

Halcyon House

Hilltop Convenience

Hoss & Jill's Deli Bistro

The Legion

Minto House

Mountain Top Coffee Co

Nakusp Hospital

Nakusp Pharmachoice

Phase 3

Red Cross/behind Legion

Save-On Foods

Valley Foods

What's Brewing on Broadway

NELSON

7-11 Convenience Store

Georama Growers

Husky Gas

Kootenay Co-op Bakery

Kootenay Co-op

Kootenay Lake Hospital

Kootenay Seniors

Lakeview Village

Mountain Lake Seniors Community

Nelson Box Offi ce

Nelson and District Seniors

Coordinating Society

Nelson Kiwanis Projects

Society (Villa)

Nelson Medical

Associates Clinic

NELSON CONT'D

Nelson Remedy's RX

Share Nelson

Pharmasave Nelson

Polished

Safeway at main door

Safeway by Starbucks

Shoppers Drug Mart

Taghum Shell

Wait's Diner

Waves Hair Salon

NEW DENVER

Apple Tree Restaurant

Canco Gas

New Market Foods

Rutabagas

Sew Much More

Slocan Community

Health Centre

T.H.E. Pharmacy

ROSSLAND

Alpine Drug Mart

Rossland Senior Citizens Assn

Seven Summits Gas

Subway

Ferraro's

SALMO

Salmo Pump

Subway

Dragonfly Cafe

Salmo Drugs

Salmo Library

Skyway Hardware

Salmo Foods

Willow Healing Arts

Salmo Community Services

SILVERTON

Camp Cafe

Silverton Building Supply

SLOCAN VALLEY

Evergreen Natural Foods

Slocan Valley Co-op

SLOCAN

Art & Craft Shop

Harold Street Cafe

Sixty-Five

Bo

Knows

Ball Page 4

Buy fresh, buy local

at the farmers'

market! Page 6 & 7

SLOCAN CON'T

Mountain Berry Foods

Silvery Slocan Social Centre

Slocan Village Market

W.E. Graham Community

Service Society

WARFIELD

Petro Can

TRAIL

Cafe Americano

Cedar Ave Dental

Chateau Manor

Ferarro's

Husky

Info Centre/ Library

Jubilee Place

Pharmasave Trail

Rose Wood Village

Safeway

Senior Citizens Villa

Shoppers Drug Mart

South Kootenay Seniors

Subway

Stitching Arts/And More

2nd Hand Store

Tim Hortons

Town Pantry Chevron

Trail Coffee Co

Trail FAIR Society

Tim Hortons

Trail Aquatic & Leisure Centre

Trail Home Hardware

Trail Legion

Trail Remax

Valley Firearms

Waneta Mall

YMIR

Ymir Store

If you can't find a copy to read, all editions are available online to our flip book.

www.discover65.com - Questions? 1-800-663-4619, Kaslo

D65

Survey

Page 3

Discover

June 2022

Kootenay Seniors Living

Discover Sixty-Five - Want to distribute these magazines? Ca l 1-800-663-4619 June 2022

Want to Distribute?

Want to Contribute?

Want to Advertise?

email us

seniors@pennywiseads.com

A

FREE

The health care sector needs YOU!

Career ready in as

little as 7 months

In-demand and dynamic careers. Near flawless

empl0yability rate for our grads!

• HEALTH CARE ASSISTANT - 7 months, Online theory,

In-person labs, practicum included

• NURSING UNIT CLERK - 8 months, Online,

practicum included

• PHARMACY TECHNICIAN - 15 months,

Online theory, In-person labs, practicum included

Questions? Email hello@selkirk.ca

Announcement

Jack (Jackie) Frank Fletcher,

August 24, 1936 – April 4,

2020. Close friends and acquaintances

of the Fletcher

family are respectfully invited

to attend a come & go

memorial service for Jack

to be held on July 2, 2022,

between 1 and 3 pm at the

J. B. Fletcher General Store,

Ainsworth Hot Springs.

Born in Kaslo, BC, and raised in Ainsworth, he was

trademarked as the "baby" of the family by his 4 protective

older sisters. Though honoured as the baby,

that in no manner granted him any special treatment

when it came to ensuring all of the siblings did their

fair share of helping out at the family-owned and

operated store.

It was a life-long debate between the five Fletcher

siblings on who spent more time doing such things

as stocking shelves or hauling inventory up from

the Ainsworth wharf. As Jack was the last remaining

Fletcher, it is only fitting to host his memorial at the

family beloved store and for it to act as the family and

community anchor one final time.

~~~~~~~~~~~~~~~~~~~~~~~~

APPLY

TODAY!

selkirk.ca/school/health

Animals Automotive Automotive Automotive Automotive

Pets

USA - LAB PUPPIES, yellow &

black Labrador puppies, AKC Reg., 2

males & 3 females available, come

from very active, social, loyal parents,

love to retrieve, will be up-todate

on vaccinations, vet checked,

dewormed & socialized, ready July

11, $900USD to $1000USD each,

taking deposits now. 208-610-4119

Bonners Ferry.

Cars

SELLING A VEHICLE? On average

4726 Pennywise readers (within the

year) are looking to buy a used vehicle!

*Low estimate, according to our

2021 independent CVC audit. Sell

your vehicle here for as little as $3.50

& GST per classified ad. Call 1-800-

663-4619, or submit online at www.

pennywiseads.com/ad-submit

Trucks

RVs/Campers

BOTTOM HALF OF PALOMI-

NO SHETLAND TENT TRAILER:

$200obo. Diane, 250-551-8241.

ROCK ISLAND RV: Not only do we

have RVs but we also have used vehicles

and boats! 8023 Old Waneta Rd, Hwy

3B, Trail BC. www.rockislandrv.com

Motorcycles/ATVs

Motorcycles/ATVs

2003 SUZUKI INTRUDER 800:

Very good condition, 48,000kms,

includes extras, $3000 firm.

250-359-7833, eves.

BOSS MOTORCYCLE CARRIER:

Hitch mounted, steel, tilting, light

kit, instructions, 450lbs max capacity,

never used, $650obo. 250-366-

4267, Kaslo.

Heavy/Farm Equipment

JOHN DEERE HAY MOWER AND

CONDITIONER Model 483, New

Holland Hayliner 370 square baler,

works well. 250-354-9530.

Boats/Watercraft

14´ BOAT AND TRAILER: 2005

9.9hp Yamaha, good condition,

$2200obo. 250-226-7953.

WANTED: BLACK FEMALE MIXED

BREED PUPPY, who will grow up to

be a large dog. 250-359-7661.

Automotive

Cars

2009 MITSUBISHI LANCER: Black,

4dr, loaded w/leather, heated seats,

sunroof, sub-woofer, 161,000kms,

REDUCED $6800. 250-304-4445 (day

cell), 250-304-2069 (eves).

1927 FORD MODEL T: Running gear

ok and a few body parts, motor turns.

Call 250-354-9530.

SOLID WORK TRUCK: Classic 1975

Chev, re-built 350 four-on-the-floor,

3/4T, no computer, no chips, no BS,

$5000obo. 250-366-0041.

SUVs

CASTLEGAR HYUNDAI: Offers a

wide array of new & used vehicles. We

are a smaller lower-cost dealership

with big city selection. 713 17th St,

Castlegar. 250-365-5200.

2005 HARLEY-DAVIDSON SPORT-

STER 1200 CUSTOM: Low kms,

approximately 45,000, show condition!

$6500 firm. 250-687-0301.

1996 HARLEY-DAVIDSON FX-DY-

NA: Good shape, $5000 or trade for

small motorhome. 250-608-9797.

STINGER FOLDING MOTORCY-

CLE TRAILER: Used once, perfect

shape, new $2500, asking $2000.

250-353-2244, Kaslo.

19´ WOODEN BOAT: On trailer,

powered by late 40s Ford Flathead

inboard motor with Navaro aluminum

heads and racing intake.

250-354-9530.

20HP JOHNSON OUTBOARD:

80s model, good condition, runs

well, gas line and 5gal tank included,

$450. 250-226-7828, before 8pm.

BOAT DOCK RENTAL: Crescent

Beach, $650 for the season. Call

403-605-3185.

14 June 27, 2022 Your local shopper N picture online: www.pennywiseads.com
---
Canada Day in Nelson

The Nelson and District Chamber of Commerce is hosting a

free family fun day, July 1st, in celebration of Canada Day! This

year also commemorates the City of Nelson's 125th birthday.

Canada Day kicks off on Baker Street with annual Lions Club

Pancake Breakfast that runs from 8 to 11 am. Activities continue

throughout the day at Rotary Lakeside Park Opening Ceremonies

start at 10:30 am with local dignitaries celebrating our diversity

and culture. Entertainment on stage gets underway at around

10:45 am following the opening ceremonies and runs through

9:45 pm. One of the highlights each year is the giant 4 by 8-foot

Canada Day birthday cake served up at 11 am by Chamber directors

and local dignitaries.

In fact, you can indulge throughout the day at the Rose Garden

Café or enjoy the Rotary Club's annual BBQ from 11 am to 3 pm

at the Rotary shelter.There will be lots of community groups and

organizations at this year's event, all of them offering up family

oriented kids' activities, from sandcastles to bouncy castles, kids'

fishpond, face painting, tattoos and more.

The firework finale at around 10 pm will end off this fun

celebration!

Kaslo Shakespeare Festival Presents

A Midsummer Night's

Dream by William Shakespeare

(abridged)

At the Langham Theatre,

447 A Ave, Kaslo

Saturday July 2, 7pm

& Sunday July 3, 3pm

Tickets $15

Available at the Eurythmy Studio & Bookstore

and at Sunnyside Naturals 250-353-7675

For All Your Currency Exchange Needs

$

Better Than

Bank Rates

when buying or

selling US dollars

kootenay currency exchange

• foreign exchange • drafts

• gold • silver

715 Vernon St., Nelson •250-354-1441

Hours: Monday - Friday 9 am – 5 pm

$

Summer Camps

Camp Koolaree

The mission of Camp Koolaree: to provide

a camp experience in a safe, sustainable

and natural setting and to foster a deeper

individual connection to Community, Creation

and the Creator among campers and

staff. See our ad below for the schedule.

Find your camp and register NOW!! https://

campkoolaree.ca

Camp Spirit

At Camp Spirit we value listening to and

experiencing Sacred Stories, enjoying

times of creativity and science, moving to

music, sharing a meal together, and fostering

community and friendships! Camp

Spirit proudly nurtures a setting that welcomes

the fullness of God's diversity. See

our ad (right) for more details and where

to register.

Kootenay Mountain Biking

Summer camps are a great way to get on

your bike this summer. Bring your young

rider to these fun camps designed to build

skills and give kids confidence. We will challenge

them on and off the trail, fine tune

their skills with drills and games, explore

new terrain, and leave them keen to ride!

Professional coaches will have them

riding both natural and man made features

confidently and safely. Riders will

leave with a good understanding of trail

etiquette,

bike maintenance

and general

recreation

etiquette.

*Minimum bike requirements for these

camps are working hand brakes and 20"

wheels. If you are not sure, please call and

we will assist.

Camp Koolaree

a United Church Camp on the West

Arm of Kootenay Lake since 1931

Outpost: July 11-16 (ages 14-17)

Outpost Camp is geared towards 2SLGTBQIA+ and

allies, giving campers a safe space to be themselves

More information and schedule at

www.kootenaymountainbiking.com/

summer-camps

Other Camps

Novice: July 18-21 (ages 7-9)

Jr. Boys: July 25-30 (ages 10-13)

Jr. Girls: August 1-6 (ages 10-13)

Teen Co-ed: August 8-13 (ages 14-17)

Intergenerational: August 15-20

(all ages, all families & single adults)

financial assistance available

volunteer and paid staff opportunities

www.campkoolaree.ca

Automotive Real Estate Real Estate Seniors Seniors

Auto Parts/Services

BODYWORK-PAINT SPECIALS:

Satin finish, base clear, single stage,

specialized coatings. Equipment bay.

40+yrs experience. Pickup & delivery.

Brokerage Special: 40' custom Atlas

trailer. 250-551-8685, 778-206-0969.

FOUR HERCULES SUMMER TIRES:

225/45R17, $80/all. 250-513-1950.

FROM OIL CHANGES TO FULL-ON

ENGINE REPAIR with everything

in between. Nelson Ford, 250-352-

7202. We are THE Ford Dealer in

Nelson. www.nelsonfordsales.com

IS IT TIME TO BRING YOUR CAR

IN FOR SERVICE? AM Ford has you

covered. We have a wide range of

maintenance and services available

in our service center. 2795 Highway

Dr, Trail, BC. 1-800-961-0202.

SCRAP KING AUTO WRECK-

ING AND TOWING: Salmo's onestop

shop for any used auto part.

www.scrapkingauto.com

Agents

BUY AND SELL ON YOUR OWN

TERMS! Explore how you could

save thousands on commission.

www.propertyguys.com

DID YOU KNOW THERE IS A WAY

TO SELL YOUR HOME conditional

on finding and securing your future

home? Call for a free no obligation

market valuation of your home.

Thinking of buying or selling? Contact

Sarah Rilkoff Valhalla Path Realty,

250-509-0006.

HOME TO HARDWORKING

AGENTS! Remax All Pro Realty, 250-

368-5000, www.allprorealty.ca

LOCALLY OWNED, COMMUNI-

TY MINDED: Castlegar Realty Ltd,

1761 Columbia Ave, 250-365-2166.

www.castlegarrealty.ca

THINKING OF SELLING? Give us a

call today! Century 21 Mountainview

Realty Ltd. 250-365-2111.

Residential

2BDR & DEN (OR STORAGE)

APARTMENT: 3rd floor, in Trail,

$250,000 negotiable, 778-800-1571.

ALERT, PHONE NUMBER SCAM:

Please be aware of a phone number

scam using 1-800-353-2602. This is

NOT the Pennywise toll free number

and if you call it in error, do not follow

the instructions, hang up. Thank

you. Pennywise.

Land

LOOKING TO PURCHASE OR

LEASE A SMALL PIECE OF LAND

behind Ainsworth, BC off the trail

system/logging roads. 403-889-5985,

sgconway@hotmail.com

Rentals

Residential Rentals

2BDR TRAILER: Fenced yard, private.

250-399-4349.

Discounts

All 'Personals' Ads are FREE in

July and August. Looking for a

hiking companion? A fishing buddy?

Someone to take dancing? Your

personal ad will run for free in July

and August. If you are 60+ it will also

run in the Discover 65 Seniors Magazine.

Call 1-800-663-4619 or email

info@pennywiseads.com to place

your ad :)

CORNUCOPIA SENIORS DAY:

10% off your purchase EVERY Friday,

9am-5:30pm. 422 Front St,

Kaslo. 250-353-2594.

Discounts

SENIORS DAY 2/1 ELECTRIC

BIKE RENTALS EVERY MONDAY:

Please book by Saturday so we can

have a bike ready to go. Call Neil

at 250-300-7923 or book online at

https://www.ekruise.com/kaslo/

SENIORS RECEIVE 10% OFF supplement

purchases at Sunnyside

Naturals everyday. 404 Front St,

Kaslo, 250-353-9667.

SENIORS! SHOP THE FIRST

WEDNESDAY OF EVERY MONTH

and receive 10% off your purchase.

Some exclusions apply. Kaslo

Front Street Market, 411 Front St,

250-353-2331.

SMALL ENGINE TUNE-UPS AND

REPAIRS: All makes and models.

Mowers/riders, chainsaws, etc. Senior

Discount offered. 250-365-0005.

N picture online: www.pennywiseads.com Where locals shop. June 27, 2022 15
---
JONI ASKEW

365-4731

REALTOR®

Office 250-365-2170

PROFESSIONALS

GET RESULTS

NIKKI JENSEN

365-2170

Unlicensed Assistant

#110-1983 Columbia Avenue Castlegar, BC V1N 2W8

Joni Askew Homeselling Team www.kootenayhomesales.com

HOT

NEW

LISTING

PRICE

CHANGE!

#1-113 101st Street, Castlegar

Neat and tidy mobile home. Gorgeous .29 acre lot.

Subject to probate.

$269,900

200 Lower Arrow Lake

Castlegar

Cabin in the woods, off the grid,

great sun exposure on 14.26 acres!

MLS 2463880 $239,900

MLS 2463792

259 35th Street, Castlegar

4 bedrooms, 2 full baths, oversize double garage,

level lot.

$599,900

1686 Mountain Ridge Road

Castlegar

High plateau above Robson,

12.74 acres, level, amazing views,

dissected by 3 roads.

MLS 2463881 $299,000

705 30th Street

Castlegar

Potential plus, great square footage,

.99 acres.

MLS 2463070$395,000

595 Hwy 3A

Castlegar

4.47 acres, drilled well,

foundation in place, great view

MLS 2457080 $399,900

3573 Gander Road

Krestova

Move in ready, eat in kitchen, .62 acres,

great garden space, fruit trees.

MLS 2465017 $430,000

309 3rd Avenue

Castlegar

New kitchen, vaulted ceilings, fully

fenced backyard, close to Millennium

Park.

MLS 2464937 $449,900

709 15th Street

Castlegar

Location! Location! Location!

Newer kitchen, in-law suite, level lot.

MLS 2465422 $465,000

5987 Hwy 6

Winlaw

6.61 fully fenced acres, very nice log home,

substantial barn, studio with sauna.

MLS 2465249 $500,000

814 16th Avenue

Genelle

Waterfront, park-like setting, main

house, vaulted ceilings, cottage, triple

garage.

MLS 2465282 $799,000

2015 Hwy 3A

Castlegar

Hobby farm between Nelson and

Castlegar, sprawling rancher, level 4.69

acres, plus great shop.

MLS 2463999 $899,900

1639 Tower Ridge Road

Castlegar

Amazing builder's own home, superior

quality throughout, perfect for

entertaining, steps away from golf course.

MLS 2465033 $1,080,000

SOLD

SOLD

SOLD

C O MMERCIAL

SOLD

C O MMERCIAL

2409 11th Avenue

Castlegar

Great family neighbourhood, close to

schools, new kitchen, vaulted ceilings,

double garage.

MLS 2465124 $569,900

969 Edgewater Place

Castlegar

Executive home, dream kitchen,

almost half acre level lot,

fully fenced back yard

MLS 2463659 $899,900

1914 Martin Street

Fruitvale

Easy care living, close to downtown,

covered parking.

$345,000

2513 Granite Road

Nelson

Mobile home park on 13.72 acres.

Unzoned property.

MLS 2464134 $1,100,000

330 Columbia Avenue

Castlegar

Well established hotel and restaurant,

great bottom line, downtown core

MLS 2462589 $1,300,000

OWNING A HOME IS A KEYSTONE OF WEALTH – BOTH FINANCIAL

AFFLUENCE AND MORE IMPORTANT; EMOTIONAL SECURITY.

- SUZE ORMAN

16 June 27, 2022 C Your local shopper N picture online: www.pennywiseads.com