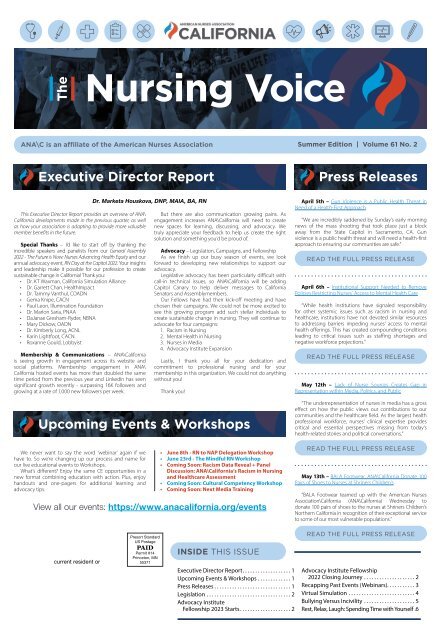 California Nursing Voice - June 2022
You also want an ePaper? Increase the reach of your titles
YUMPU automatically turns print PDFs into web optimized ePapers that Google loves.
Nursing Voice

ANA\C is an affiliate of the American Nurses Association

Summer Edition | Volume 61 No. 2

Executive Director Report

Press Releases

This Executive Director Report provides an overview of ANA\

California developments made in the previous quarter, as well

as how your association is adapting to provide more valuable

member benefits in the future.

Special Thanks – I'd like to start off by thanking the

incredible speakers and panelists from our General Assembly

2022 - The Future is Now: Nurses Advancing Health Equity and our

annual advocacy event, RN Day at the Capitol 2022. Your insights

and leadership make it possible for our profession to create

sustainable change in California! Thank you:

• Dr. KT Waxman, California Simulation Alliance

• Dr. Garrett Chan, HealthImpact

• Dr. Tammy Vanthul, COADN

• Gema Knipe, CACN

• Paul Leon, Illumination Foundation

• Dr. Marlon Saria, PNAA

• DaJanae Gresham-Ryder, NBNA

• Mary Dickow, OADN

• Dr. Kimberly Long, ACNL

• Karin Lightfoot, CACN

• Roxanne Gould, Lobbyist

Membership & Communications – ANA\California

is seeing growth in engagement across its website and

social platforms. Membership engagement in ANA\

California hosted events has more than doubled the same

time period from the previous year and LinkedIn has seen

significant growth recently - surpassing 16K followers and

growing at a rate of 1,000 new followers per week.

Upcoming Events & Workshops

We never want to say the word 'webinar' again if we

have to. So we're changing up our process and name for

our live educational events to Workshops.

What's different? Enjoy the same CE opportunities in a

new format combining education with action. Plus, enjoy

handouts and one-pagers for additional learning and

advocacy tips.

Dr. Marketa Houskova, DNP, MAIA, BA, RN

But there are also communication growing pains. As

engagement increases ANA\California will need to create

new spaces for learning, discussing, and advocacy. We

truly appreciate your feedback to help us create the right

solution and something you'd be proud of.

Advocacy – Legislation, Campaigns, and Fellowship

As we finish up our busy season of events, we look

forward to developing new relationships to support our

advocacy.

Legislative advocacy has been particularly difficult with

call-in technical issues, so ANA\California will be adding

Capitol Canary to help deliver messages to California

Senators and Assemblymembers.

Our Fellows have had their kick-off meeting and have

chosen their campaigns. We could not be more excited to

see this growing program add such stellar individuals to

create sustainable change in nursing. They will continue to

advocate for four campaigns:

1. Racism in Nursing

2. Mental Health in Nursing

3. Nurses in Media

4. Advocacy Institute Expansion

Lastly, I thank you all for your dedication and

commitment to professional nursing and for your

membership in this organization. We could not do anything

without you!

Thank you!

• June 8th - RN to NAP Delegation Workshop

• June 23rd - The Mindful RN Workshop

• Coming Soon: Racism Data Reveal + Panel

Discussion: ANA\California's Racism in Nursing

and Healthcare Assessment

• Coming Soon: Cultural Competency Workshop

• Coming Soon: Next Media Training

View all our events: https://www.anacalifornia.org/events

April 5th – Gun Violence is a Public Health Threat in

Need of a Health-First Approach

"We are incredibly saddened by Sunday's early morning

news of the mass shooting that took place just a block

away from the State Capitol in Sacramento, CA. Gun

violence is a public health threat and will need a health-first

approach to ensuring our communities are safe."

READ THE FULL PRESS RELEASE

April 6th – Institutional Support Needed to Remove

Policies Restricting Nurses' Access to Mental Health Care

"While health institutions have signaled responsibility

for other systemic issues such as racism in nursing and

healthcare, institutions have not devoted similar resources

to addressing barriers impeding nurses' access to mental

health offerings. This has created compounding conditions

leading to critical issues such as staffing shortages and

negative workforce projections."

READ THE FULL PRESS RELEASE

May 12th – Lack of Nurse Sources Creates Gap in

Representation within Media, Politics, and Public

"The underrepresentation of nurses in media has a gross

effect on how the public views our contributions to our

communities and the healthcare field. As the largest health

professional workforce, nurses' clinical expertise provides

critical and essential perspectives missing from today's

health-related stories and political conversations."

READ THE FULL PRESS RELEASE

May 13th – BALA Footwear, ANA\California Donate 100

Pairs of Shoes to Nurses at Shriners Children's

"BALA Footwear teamed up with the American Nurses

Association\California (ANA\California) Wednesday to

donate 100 pairs of shoes to the nurses at Shriners Children's

Northern California in recognition of their exceptional service

to some of our most vulnerable populations."

current resident or

Presort Standard

US Postage

PAID

Permit #14

Princeton, MN

55371

INSIDE THIS ISSUE

Executive Director Report...................1

Upcoming Events & Workshops .............1

Press Releases ..............................1

Legislation .................................2

Advocacy Institute

Fellowship 2023 Starts ....................2

READ THE FULL PRESS RELEASE

Advocacy Institute Fellowship

2022 Closing Journey ....................2

Recapping Past Events (Webinars)...........3

Virtual Simulation ..........................4

Bullying Versus Incivility ....................5

Rest, Relax, Laugh: Spending Time with Yourself .6
---
Page 2 • ANA\C The Nursing Voice June, July, August 2022

Legislation

Legislative Deadlines:

CA State Assembly and Senate –

• May 27- Last day for each house to pass bills

introduced in that house (J.R. 61(b)(11)).

• July 1- Last day for policy committees to meet and

report bills (J.R. 61(b)(14)).

To view any of the following bills, visit https://leginfo.

legislature.ca.gov/ and enter the bill number (e.g. "AB1918").

**Bills we're supporting**

AB 1918 (Petrie-Norris) – California Reproductive Health

Service Corps.

AB 2134 (Weber) – Support for the California Abortion and

Reproductive Equity Act

SB 1375 (Atkins) – Nursing: nurse practitioners.

AB 1930 (Arambula) – Support for Medi-Cal Comprehensive

Perinatal Services Program

AB 2260 (Rodriguez) – Emergency response: trauma kits.

Advocacy Institute

Fellowship 2023

Starts

We have officially launched our second Fellowship!

Based off of the incredible success in our first fellowship we

were able to extended our fellowship participants from four

to six fellows. We have our first first fellowship call mid May

and each fellow will be taking over a previous campaign to

continue the hard work that the previous fellowship started.

We're excited to watch their success over the next year!

At McKenzie-Willamette Medical Center,

we take caring for people very personally.

Join our MWMC family today in the

beautiful Pacific NW!

We have RN positions available in our

Operating Room and Cath Lab.

The Cath, Hybrid, EP, and Operating Rooms are more than just

procedural areas at MWMC. While collaboratively working

to promote operational efficiency, fiscal responsibility, and

purposeful change, we strive to empower each individual with the

tools necessary to foster learning and growth while enhancing

patient, staff, and physician satisfaction.

Sign-on bonuses up to $5,000 available!

Explore our Nursing Opportunities:

https://mckwebcareers.com/

SOLANO COUNTY IS

NOW

HIRING!

IMMEDIATE OPENINGS FOR:

• Clinic Registered Nurse

• Public Health Nurse

• Nurse Practitioner

Join our team of committed health care

professionals and provide high quality care to

our underserved community!

APPLY NOW AT WWW.JOBSATSOLANOCOUNTY.COM

AB 2637 (Rubio) – Nursing: schools and programs:

exemptions.

AB-2586 (Garcia) – Reproductive and sexual health

inequities.

AB-2343 (Weber) – Board of State and Community

Corrections

AB-1995 (Arambula) – Medi-Cal: premiums, contributions,

and copayments.

AB-2684 (Berman) – Nursing.

SB 889 (Bogh) – Nurse Anesthetists:

AB-35 (Reyes) – Civil damages: medical malpractice.MICRA

AB-562 (Low) – Frontline COVID-19 Provider Mental Health

Resiliency Act of 2021: health care providers: mental health

services.

AB-852 (Wood) – Health care practitioners: electronic

prescriptions: nurse practitioner scope of practice: practice

without standardized procedures.

Advocacy Institute

Fellowship 2022

Closing Journey

The Advocacy Institute Fellowship is an immersive

program designed to help nurses develop the skills and

knowledge necessary to lead advocacy initiatives affecting

legislation, regulations, and policies in California.

During their one-year commitment, our inaugural class

of Fellows leveraged ANA\California's network of coalitions,

partners, media, and political contacts to engage new

opportunities for creating sustainable change in nursing.

They advanced our campaigns relating to racism, mental

health, health environments, and the future of nursing.

Connect with your 2022 Fellows here:

• Carter Todd - Racism in Nursing & Healthcare

• Carolyn Dueñas - Mental Health in Nursing

• Alicia Catanese - Healthy Environments

• Make'da Traynum - Future of Nursing Report

Recommendations

American Nurses Association\California is an

Affiliate of the American Nurses Association

The Nursing Voice is the official publication of the

American Nurses' Association\California

ANA\C is located in

The Forum Building

1107 9th Street, Suite 350

Sacramento, CA 95814

Office 916-346-4590

Association E-mail anac@anacalifornia.org

The Nursing Voice Editor

E-mail thenursingvoice@anacalifornia.org

ANA\C BOARD OF DIRECTORS

Officers

Dr. Anita Girard, DNP, RN, CNL, CPHQ, NEA-BC –

President

Dr. Christine "Chris" Tarver, DNP, RN, CNS, NEA-BC –

Vice President

Dr. Alice Martanegara, DNP, RN – Secretary

Dr. Jose Alejandro, PhD, RN, FAAN – Treasurer

Directors

Laura Chelchel, MSN, RN, CNS, CCRN –

Legislative Director

Dr. Robyn M. Nelson, PhD, MSN, RN –

Nursing Education Director

Dr. Liz Dietz, EdD, RN, CS-NP, CSN, FAAN

Nursing Practice Director

Zack Huddleston, BSN, RN, PHN – Membership Director

ADMINISTRATION

Executive Director: Dr. Marketa Houskova,

DNP, MAIA, BA, RN

Communications and Programs Manager: Jared Fesler

Membership Engagement & Communications

Associate: Chelsea Gianna

Executive Assistant: Teresa Manquera

Lobbyist: Roxanne Gould

The official publication of the ANA\C shall be

The Nursing Voice.

The Nursing Voice is published quarterly starting

in March; copy must be received by the first (1st) of

January, April, July and October to be included in the

next publication. The publication is complimentary

to ANA\C members, schools of nursing and their

nursing students, affiliates of the association and their

memberships. If you would like to submit a letter,

article, or manuscript, for publication please read

'Article Submission for The Nursing Voice' in this issue

for submission details.

Reprints and Submissions: ANA\C allows reprinting

of newsletter material. Permission requests should be

directed to the ANA\C office in Sacramento. (916) 346-

4590.

Advertising: Advertising Rates Contact – Arthur L.

Davis Publishing Agency, Inc., PO Box 216, Cedar Falls,

IA 50613, 800-626-4081, sales@aldpub.com.

ANA\C and the Arthur L. Davis Publishing Agency,

Inc. reserves the right to reject any advertisement.

Responsibility for errors in advertising is limited to

corrections in the next issue or refund of price of

advertisement. Acceptance of advertising does not

imply endorsement or approval by ANA\C of products

advertised, the advertisers, or the claims made.

Rejection of an advertisement does not imply a product

offered for advertising is without merit, or that the

manufacturer lacks integrity, or that this association

disapproves of the product or its use. ANA\C and the

Arthur L. Davis Publishing Agency, Inc. shall not be held

liable for any consequences resulting from purchase or

use of an advertiser's product.

Copyright© by the American Nurses Association\California.
---
June, July, August 2022 ANA\C The Nursing Voice • Page 3

Recapping Past Events (Webinars)

April 24th – The Future is Now:

Nurses Advancing Health

Equity

ANA\C hosted our Virual General Assembly. This year,

our annual conference focused on actions nurses can

take to improve health equity in their institutions, their

communities, and within their profession. These were

the topics that they unraveled.

• Simulation's impact on health equity

• Nurse-led, community-based care models

• Insight on ANA\C's Racism in Nursing Assessment

• Other nursing associations' health equity

initiatives

• Review of ANA\C's Future of Nursing Report Progress

We had the privilege to have an outstanding

group of panelists join us in topic discussions – Dr.

KT Waxman, Dr. Garrett Chan, Dr. Tammy Vant Hul,

Gema Knipe, Paul Leon, Dr. Marlon Saria, and DaJanae

Gresham-Ryder. If you attended, thank you for being a

part of this impactful event.

April 25th – RN Day at the

Capital

ANA\C held the biggest nursing advocacy day of

the year! The goal of this conference was to provide

the tools nurses need to effectively participate in the

legislative process and support the nursing agenda

throughout the state of California. Strengthening the

voice of nursing can and will protect and enhance

the nursing profession as well as nursing's position

in political and regulatory arenas. With over 300

participants registered, RNs in CA were able to:

• Hear from members of the California Legislature.

• Learn about the politics behind nursing

legislation.

• Join generations of nurse advocates.

• Learn how to advocate stronger!

March – Increasing Nurses'

Participation in Legislative

Policymaking

In March,ANA\C held a four-part pilot series connecting

nurses with government relations experts to discuss

advancing FON Report 2020-2030 recommendations. This

event was hosted by ANA\California member and DNP

Candidate, Brooke Newman, RN.

Nurses are consistently absent in the rooms where

policymaking discussions are being held. Yet, the

Future of Nursing Report 2020-2030 not only provides

recommendations for where nurses can enter policymaking

discussions but also specifically calls to nurses' unique

attributes that make them especially equipped to advance

these issues.

This was an important series to show nurses the

importance of their participation when it comes to their

state legislation and healthcare laws that directly impact

them!

March 17th – Care

Incarcerated - Detained

Patients in Acute Care

In March, ANA\C member, Dr. Danisha Jenkins held a

one CE webinar discussing her study of caring for people

accused and convicted of crimes which is a required duty

for many nurses working in acute care settings.

The purpose of this study was to give voice to the lived

experiences of nurses and law enforcement officers who

interact with one another in the hospital setting, while

gaining understanding of their individual perspectives

and unique experiences, and how they interpret these

experiences.

March 15th – Nurses In Media

Training Event

I'm sure you have seen us talk a lot about this campaign

so far.. and there's a good reason for it. Going through

Media Training with ANA\C allows our members to:

• Develop the skills to pitch articles to journalists

• Learn how to start or get featured on a healthcare

podcast

• Learn how to speak to the media that's within your

scope of practice (and not get fired over it)

• Be recognized within your institution as a media outlet

and become a media spokesperson

• Develop your own personal brand to help you

advocate stronger

Twenty nurses have already attended our training and

it's been an incredible success so far. Hearing their stories

and guiding them along has been rewarding not only for

our members but for ANA\C because it shows us that

we're actually making a difference! Our next Media training

opportunity will be coming up this fall!

April 4th – Pre-Licensure

Lobby Day

ANA\C partnered with the California Nursing

Students' Association to discuss legislation, regulation,

and policy that directly impacts healthcare in the

state of CA. This event was free and open to all CA

pre-license nursing students and their education

institutions where we discuss the importance of

understanding policy, regulation, and legislation.

The goal of this virtual conference was to provide

the tools that future nurses need to effectively

participate in the legislative process and support the

nursing agenda throughout the state of California.

Strengthening the voice of nursing can and will protect

and enhance the nursing profession as well as nursing's

position in political and regulatory arenas.

NOW HIRING - Navy Nurse Corps (BSN)

Sign on Bonuses up to $100K

For more information and to find out if you qualify:

Call: (925) 595-1708

Always ready to provide world-class care to Sailors,

Marines and their families. To find out how you can

join this team of healthcare professionals visit:

Navy.com/careers/medical

FORGED BY THE SEA
---
Page 4 • ANA\C The Nursing Voice June, July, August 2022

Virtual Simulation: Impact on Clinical Judgment

Amber Kool, MSN, RN

Reprinted with permission from Arizona Nurse April 2021 issue

The need for newly licensed nurses to safely manage multiple complex patients requires

strong clinical judgment skills to appropriately prioritize and delegate (Bittner & Gravlin,

2009). Direct patient care experiences in acute care settings are the typical way nursing

students learn clinical judgment. However, these clinical experiences do not always provide

an opportunity to collaborate, critical think, or make independent decisions that will improve

patient outcomes (Lippincott Nursing Education, 2018). The most recent data from the

American Association of Colleges of Nursing suggests that 80,407 qualified applicants were

not admitted to baccalaureate and graduate nursing programs with insufficient clinical sites

a contributing factor (2020). The COVID-19 pandemic has significantly limited direct patient

care clinical experiences for nursing students throughout the U.S. (Logue et al., 2021). There

is an urgent need to develop teaching-learning practices that will support the development

of clinical judgment as both an augment and substitution for direct care clinicals (Thobaity &

Alshammari, 2020).

This study investigated the impact of a virtual simulation (VS) (Sentinel U's Patient

Management and Delegation and Prioritization of Care) on clinical judgment in a sample of

pre-licensure BSN students. VS utilizes experiential learning as identified by Kolb's Experiential

Learning Theory (1984) to expose the learner to a new experience and requires the student to

reflect, thereby integrating the learning into their knowledge bank (McLeod, 2017). As learners

reflect on their decisions and reasoning, they integrate their previous experiences and the new

knowledge gained through the VS.

Design

Using a one-group, repeated measures design, a paired-samples t-test was used to measure

the change in perceived clinical judgment pre to post-VS intervention. The Skalsky Clinical

Judgment Scale measures the construct using a four-point Likert Scale, with ten questions,

which include assessing perceived abilities in prioritization, delegation, and communication.

Major Findings

There was a statistically significant increase in perceived clinical judgment scores from preintervention

(VS) (M = 32.17, SD = 4.178) to post-intervention (VS) (M = 34.10, SD = 4.992), t (41) =

2.832, p < .007 (two-tailed). The mean increased in perceived clinical judgment scores was 1.929

with a 95%.

Discussion

The positive results suggest that VS may be useful to support teaching-learning practices

related to clinical judgment development. Perceived increases in clinical judgment may make

students more confident and encourage them to practice skills further. Further research is

needed to objectively measure clinical reasoning and resultant patient outcomes that result

from the use of VS as a teaching-learning strategy.

Implications for Nursing the Nursing Profession

Recent evidence suggests that only 10% of newly licensed nurses score within an

acceptable competency range using a performance-based (Kavanagh & Sharpnack, 2021). The

most recent practice analyses by the National Council of States Boards of Nursing suggest that

newly licensed RNs are increasingly required to make more complex clinical decisions (2015,

2018). COVID-19 exacerbated existing pre-licensure nursing education challenges by further

limiting already scarce clinical practicum sites (Dewart et al., 2020). VS may be a useful addition

to direct patient care and high fidelity human patient simulation to learn clinical reasoning

skills. VS may be helpful as an additional strategy in addressing the critical nationwide shortage

of clinical practicum sites. Also, VS may bridge the gap in clinical learning experiences during

times when other opportunities may not exist, such as experienced during the COVID-19

pandemic and in times of emergencies and natural disasters.

VS may likewise prove beneficial for skill development or assessment within clinical agency

orientation and continuing competency efforts. Similar to its use in the academic environment,

VS within practice and continuing education provides a safe environment to make decisions

without potential harm to patients (Verkuyl et al., 2019). In conclusion, given the evolving

technology that underpins VS and its increasing fidelity, the interest in and application of VS

in academic and practice environments will likely increase. Nurse leaders will be challenged to

implement VS in evidence-based ways and monitor and measure outcomes to assure its value.

References

American Association of Colleges of Nursing. (2019). Nursing shortage. Retrieved from

https://www.aacnnursing.org/news-information/fact-sheets/nursing-shortage

Bittner, N. P., & Gravlin, G. (2009). Critical thinking, delegation, and missed care in

nursing practice. JONA: The Journal of Nursing Administration, 39(3), 142-146. doi:10.1097/

nna.0b013e31819894b7

Dewart, G., Corcoran, L., Thirsk, L., & Petrovic, K. (2020). Nursing education in a pandemic:

Academic challenges in response to COVID-19. Nurse education today, 92, 104471. https://doi.

org/10.1016/j.nedt.2020.104471

Kavanagh, J.M., Sharpnack, P.A., (January 31, 2021) "Crisis in Competency: A Defining Moment

in Nursing Education" OJIN: The Online Journal of Issues in Nursing Vol. 26, No. 1, Manuscript 2.

DOI: 10.3912/OJIN.Vol26No01Man02

Lippincott Nursing Education. (2018, June 7). Turning new nurses into critical thinkers.

Combining Domain Expertise With Advanced Technology | Wolters Kluwer. https://www.

wolterskluwer.com/en/expert-insights/turning-new-nurses-into critical-thinkers

Logue, M., Olson, C., Mercado, M., McCormies, C.J., (January 31, 2021) "Innovative Solutions for

Clinical Education during a Global Health Crisis" OJIN: The Online Journal of Issues in Nursing

Vol. 26, No. 1, Manuscript 6. DOI: 10.3912/OJIN.Vol26No01Man06

National Council of States Boards of Nursing. (2015). 2014 RN Practice Analysis: Linking the

NCLEX-RN Examination to Practice - U.S. and Canada. 62. https://www.ncsbn.org/15_RN_

Practice_Analysis_Vol62_web.pdf

National Council of States Boards of Nursing. (2018). 2017 RN Practice Analysis: Linking the

NCLEX-RN Examination to Practice - US & Canada 72. https://www.ncsbn.org/17_RN_US_

Canada_Practice_Analysis.pdf

McLeod, S. (2017, February 5). Kolb's learning styles and experiential learning cycle. Retrieved

from https://www.simplypsychology.org/learning-kolb.html

Sentinel U. (2020, November 30). Nursing prioritization exercises. https://www.sentinelu.

com/solutions/prioritization-and-delegation/

Skalsky, K. (n.d.). Skalsky Clinical Judgment Scale validity. American Sentinel University

Thobaity, A., & Alshammari, F. (2020). Nurses on the Frontline against the COVID-19 Pandemic:

An Integrative Review. Dubai Medical, 1-6. https://doi.org/10.1159/000509361

Verkuyl, M., Hughes, M., Tsui, J., Betts, L., St-Amant, O., & Lapum, J. L. (2017). Virtual gaming

simulation in nursing education: A focus group study. Journal of Nursing Education, 56(5), 274-

280. doi:10.3928/01484834-20170421-04
---
June, July, August 2022 ANA\C The Nursing Voice • Page 5

Getting Clear on Bullying Versus Incivility

Renee Thompson, DNP, RN, CSP

Reprinted with permission from

The Florida Nurse February 2022 issue

Numerous studies show the

prevalence and devastating

impact disruptive behaviors

have on nurse retention and

satisfaction, patient safety

and the financial health of an

organization. Today, more than

ever, the unpredictable, life-anddeath

nature of the pandemic

has created an environment

that is ripe for an increase

in workplace bullying and

incivility. Research at the Healthy Dr. Renee Thompson

Workforce Institute shows an

uptick in bad behavior and nurses are experiencing greater

workplace incivility now more than ever before. Additional

studies show:

• 45.7% of nurses said they witnessed more incivility

than before the pandemic (El Ghaziri et al., 2021).

• 14.3% of surgery patients had higher complications

with surgeons who had one to three reports of

unprofessional behaviors compared to those

surgeons who had no reports of disruptive behaviors

(Cooper et al., 2019).

• 94% of individuals have worked with a toxic person in

the last five years; 51% of the targets stated they are

likely to quit as a result (Kusy, 2017).

Developing successful, targeted interventions to reduce

bullying and incivility among nurses will require that

leaders develop awareness and understanding of nurses'

unique experiences with disruptive behavior. One of the

biggest areas of confusion that makes it difficult to address

and eliminate bad behavior is a misunderstanding about

the differences between bullying and incivility.

An important first step to educating yourself and

your employees is to get clear on those differences.

This will help you raise awareness, set expectations, and

CAREER OPPORTUNITIES

FNPs, RNs, and LVNs

NEW GRADUATES WELCOMED • EXCELLENT BENEFITS

We are a Federally Qualified Health Center licensed by the State

of California Department of Health Services and accredited by the

Joint Commission. We are a member of HRSA Nurse Corp Loan

Repayment Program.

develop appropriate strategies to eliminate each type of

disruptive behavior. Bullying should be a NEVER event, but

not everything is bullying and when we call everything

bullying, we lessen our chances of identifying and

addressing true bullying behavior.

BULLYING

For a behavior to be considered bullying, it must include

three things:

A Target-This target can be a single person or group of

people. Group targets can include the opposite shift, new

nurses, or nurses who have a particular ethnic background.

Harmful-The behavior must be harmful in some way.

This harm can be to the target or harmful to a patient.

Repeated-The most important element of bullying.

The behavior can't be just a one-time event, it must be

repeated over time.

INCIVILITY

Incivility is different from bullying but tends to be much

more pervasive. While the behaviors can be similar, they

tend to be lower level. Incivility shows up as your typical

rude, unprofessional, inconsiderate behaviors: eye-rolling,

condescension, favoritism, alienation, gossiping, mocking,

cursing. Make no mistake about it, incivility is a healthy and

professional workplace killer, and needs to be addressed.

The Bottom Line

Bullying and incivility can destroy work environments

and impact patients in a negative way. The key is to get

very clear on the behavior – is it bullying (target, harmful,

repeated) or incivility (low level, rude, and unprofessional).

We are hemorrhaging nurses due to bad behavior and it's

time we get educated on how to recognize and address

bullying and incivility so that we can cultivate a more

respectful and professional work culture.

References

Cooper, W., Spain, D., Guillamondegui, O., et al.

(2019, June). Association of Coworker Reports About

Unprofessional Behavior by Surgeons with Surgical

Complications in Their Patients. JAMA Surgery, 154(9), 828–

834. doi:10.1001/jamasurg.2019.1738

El Ghaziri, M., Johnson, S., Purpora, C., Simons, S. and

Taylor, R. (2021, July). Registered Nurses' Experiences with

Incivility During the Early Phase of COVID-19 Pandemic:

Results of a Multi-State Survey. Workplace Health & Safety.

doi:10.1177/21650799211024867

Kusy, M. (2017). Why I don't work here anymore: A

leader's guide to offset the financial and emotional cost of

toxic employees. Boca Raton, FL: CRC Press

Bio:

As an international speaker and consultant, Dr. Renee

Thompson tackles the challenges facing healthcare leaders

today. With 30 years as a nurse, Renee is an expert on

creating healthy workforces by eradicating bullying &

incivility. She is in demand as a keynote speaker and has

authored several books on bullying.

Visit nursingALD.com today!

Search job listings

in all 50 states, and filter by location and credentials.

Browse our online database of articles and content.

Find events for nursing professionals in your area.

Your always-on resource for nursing jobs,

research, and events.

Check out our website: arroyovista.org/employment or

at (323) 987-2024 for more career opportunities.

Our Mission: To Provide World Class Care for All

We are looking for passionate professionals:

• Nurse Managers for Operating Room and Psychiatric ER ($129,186.96—

$193,376.88)

• Clinical Nurse Specialist for the Neonatal ICU ($118,224.48 to $176,967.12)

• Registered Nurses for the following areas ($82,920.48 to $124,121.04):

1. Operating Room

2. Adult Medical/Surgical Units & Jail Adult Medical/Surgical Units

3. Critical Care Units

4. Progressive Care Units

Nurse Manager Clinical Nurse Specialist Registered Nurse I

If you are mission driven, concerned about health

equity and make a difference through rewarding

work then you are the perfect fit for LAC+USC

Medical Center, whose mission is to provide World

Class Care For All

Benefits Highlights include:

1. New Graduate Transition to Practice Residency

2. Competitive Benefits and Retirement Packages

3. Promotional and Professional Growth

Opportunities

4. Tuition Reimbursement

5. National Specialty Board Certification

Reimbursement

We are also hiring the following: Licensed Vocational Nurses, Nursing Attendants, Surgical

Technicians, Central Service Technicians and Student Workers, Nursing. To apply, visit:

https://www.governmentjobs.com/careers/lacounty today!

* For complete information, visit: https://hr.lacounty.gov/benefits/

* For additional questions, please contact Nurse Recruitment Team at

(323) 409-4663 or email at lacnurserecruitment@dhs.lacounty.gov.
---
Page 6 • ANA\C The Nursing Voice June, July, August 2022

Rest, Relax, Laugh:

Spending Time with Yourself

Dr. Phyllis Lawrence, DNP, RN, NEA-BC

Reprinted with permission from

Tennessee Nurse February 2022 issue

Rest and Relax

How many times have you been told that you need to

get plenty of sleep for good physical health? Sleep is also

instrumental in maintaining sound mental and emotional

health. Rest is not only the act of sleeping, but you can rest

your body, mind, and tap into your spirit simply by feeling

renewed. Waking up and feeling that you have run a marathon

is a sign of significant activity during your rest period. Either the

mind continues to cycle, or you may be suffering from a sleep

disorder. In either case, you are not at rest.

To rest the mind, you must relax. Relaxation is defined

as the state of being free from tension and anxiety (Google

dictionary, 2022). The Cambridge Dictionary defines

relaxation as a pleasant activity that makes you become calm

and less worried. This definition supports the concept of

complementary and alternative interventions and modalities.

Relaxation can really be a state of mind. One of the most

effective holistic modalities that promotes relaxation is

meditation. Meditation is reflected in many forms, including

guided imaginary, mindfulness, Zen meditation, Mantra

meditation, Transcendental meditation, and Yoga meditation,

NursingALD.com

can point you right to that perfect

NURSING JOB!

just to name a few. Mindfulness has become popular

over the last few years. Being mindful is the basic human

ability to be fully present in the moment, aware of your

surroundings, feelings, and emotions. Try it, sit still in a quiet

place. Place your hands in your lap. Now close your eyes.

What do you hear? What do you smell? Breathe slow and

steady while maintaining the rhythm. Continue this practice

for approximately 10-15 minutes. Notice the change in your

stress level or anxiety. This simple exercise can alleviate stress

and anxiety, and if engaged in regularly, lead to an optimistic

outlook.

Laugh for a Healthier You

Have you noticed that when you laugh, you feel better? It is

harder to cry while you are laughing. Research has found that

laughing triggers the release of endorphins (nature's feel-good

chemicals). It has also been reported that laughter decreases

stress hormones and increases immune cells. We have a

natural response to infection, which helps produce antibodies,

improving our resistance to disease and promoting our overall

well-being. What makes you laugh? Is it a funny commercial,

your loved one(s), maybe your co-workers? Laughter is the

best medicine. In an article by Robinson, Smith, & Segal (July

2021), learn to create opportunities to laugh, watch a funny

movie, TV show, or YouTube video, check out a comedy club,

read the funny pages, check out the humor section in your

NursingALD.com

Free to Nurses

Privacy Assured

Easy to Use

E-mailed Job Leads

bookstore, play with a pet, better yet host a game night with

friends.

I would like to share with you some of the things that

make me laugh. Watching my favorite comedy movies, even

though I know the punch line, dancing to my favorite 80's

jam on YouTube, and serving with a grateful heart. When I see

someone smile, I smile! During hard times, laughter has been

a saving grace for many. Whitman (2017) A new study reveals

how laughter affects the brain, which may be an explanation

why giggles play an important role in social bonding.

When you take time for yourself, you validate your

worthiness and value. Make it a point to celebrate your life. Buy

that neat sweater, go to the movies with your spouse, family,

or friends. Do something that you enjoy, and that makes you

feel good. How about butter pecan ice cream? Take care of

yourself so that you can take care of others. The first step to

self-care is accepting that you are worthy of that care. The care

you require may need to come from a professional source,

and that's okay. There are services available through most

healthcare facilities and organizations. Sometimes you just

might need to talk. It may be a good time to phone a friend.

Take a moment and plan to rest, relax, and laugh. Try

to include at least one activity to cover each one of the

components. Start with resting and relaxing, then let the

laughter begin. Remember, you are worthy, valuable, and

appreciated. Self-worth can only be measured by you. So

make every moment count, and be mindful of your value. I can

sum it up in one word, priceless!!

References

L. Robinson, M. Smith & J. Segal (2021). Laughter is the Best

Medicine. https://www.helpguide.org/articles/mental-health/

laughter-is-the-best-medicine.htm

Mindful: healthy mind, healthy life (2022). https://www.

mindful.org/meditation/mindfulness-getting-started/

Whiteman, H. (2017). Laughter releases 'feel good

hormones' to promote social bonding. https://www.

medicalnewstoday.com/articles/317756

Now Hiring

Registered Nurses on

both Campuses

lJCsF Benioff Children's

Hospitals

Make a Difference

Join our Excellence in Nursing

Team Today/I

BEST

CHILDREN'S

HOSPITALS

10

10

HOT JOBS

•:•PICU •:•OR •:•EMERCiENCY

•:•ACUTE CARE FLOAT POOL

Explore Nursing opportunities with our Oakland and San Francisco Hospitals
---
June, July, August 2022 ANA\C The Nursing Voice • Page 7

8" ads

OPEN

10" ads

OPEN

12" ads

OPEN

*Positions to receive an 8% Cost-of-Living

salary increase effective 07/03/22.